New Age Islam News Bureau
6 Dec 2014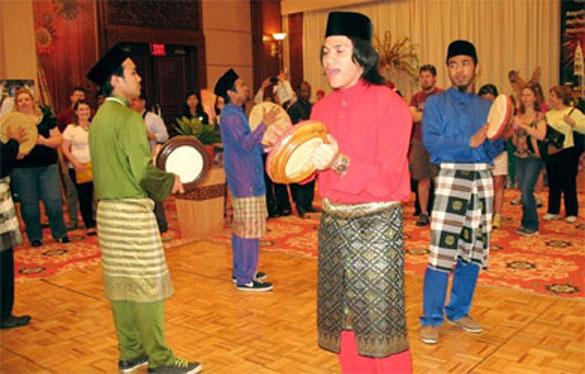 Abdul Raof Nurin urged those who want to play musical instruments to preferably stick to the gong or kompang.. — Bernama
------------
Pakistan
• Qisas (Blood Money) Allows Murderers, Rapists to Go Free
• JUD Demands Establishment of 'Islamic United Nations'
• Al-Qaida's chief of global operations killed in raid, Pakistani military says
• Pakistan suffered $80bn loss in 'war on terror': govt
• Two Aman Lashkar volunteers killed
• Stable Afghanistan in our interest, says PM
• Decision on recounting NA-122 votes likely on Monday: Khan
India
• ISIS Recruit Arif Was Part of a Group of 40 Radicalized Boys in College
• Kashmir Will Be Freed, 1971 Will Be Avenged: Saeed
• Ayodhya fortified for Babri demolition anniversary
• Nephew Arrested For Killing Maulana
• J&K Terror Attack: Food Packets with Pak Markings Found On Militants
• Jihadis at India's doorsteps now come wearing high-end military gear
• Netas Condemn J&K Terror Attacks but Separatists Silent
• Terror Strikes In J-K an Attack on Indian Democracy: Modi
South Asia
• 32 Militants Killed During Operations Conducted By Afghan Army
• NATO Drone Strike Leaves 4 Taliban Militants Dead In Laghman
• 7 Afghan army soldiers martyred in the past 48 hours
• PM: Bangladesh needs no single country in its march forward
Arab World
• Dozens of Terrorists Killed In Deir Ezzor In Eastern Syria
• 'I Will Attack Women,' Al-Qaeda Militant Warns Lebanon after Wife Detained
• Interpol Seeks Arrest of Controversial Egyptian Cleric Qaradawi
• Two bombings kill seven people in Iraq: officials
• Jordan King warns ISIS fight a 'Third World War'
• World's first herbal-cream-written Quran to appear in Dubai show
• Islamic State Group Support Grows in Jordan Town
• Awqaf Must Do More To Monitor Religious Speech Curb, Extremism
Southeast Asia
• Religious Scholars Say 'Haram' For Muslims to Wear Football Kits, Play Guitar, Piano, Trumpet
• Armed Forces under Watch As Police Detect Isis Sympathisers
• IS activities against Islamic teachings, says IIUM lecturer
• Stop meddling in non-Muslim affairs, interfaith group tells Islamic authorities
• Pointing to growing peninsula migration, Sarawak church urges review of 'Allah' ban
Europe
• ISIS Could Expand In Libya: EU Anti-Terrorism Chief
• Kyrgyz Official: Islamic Countries Need Consistent Media Policies
• Risk of militant attack in Europe is real: France
• UK to establish permanent Mideast military base
• After 2 years of captivity, Swiss hostage escapes from Filipino militants
• Henning's death was 'final straw,' say UK ex-soldiers fighting ISIS
• Georgian Chechens Increasingly Play Key Roles in Both Islamic State and Its Rivals
• UN: 53,000 fled Bangladesh, Myanmar by sea
• UK politician blames Muslims for pub closures
North America
• Obama Boosts Aid to Jordan amid Fight against ISIS
• American Held for Passing 'Nuclear Details' To Egypt
• CAIR Calls for Federal Probe of 'Intentional' Killing of Muslim Teen outside Kansas City Mosque
• US Condemns Terror Attacks in J&K
• Hagel, in Kabul, says Afghans to battle back Taliban threat
• US praises improvement in Pak-Afghan ties
Mideast
• Turkish Experts Arrive To Train Counter-Terror Force
• Nine Al Qaeda Militants Killed In Yemen Drone Strike: Security
• American captive in Yemen killed in rescue attempt
• Iran confirms it carried out air strikes in Iraq
• HR Report: Israeli Soldiers Detained 20 Palestinian Women in November
• No alcohol service class for Turkey's tourism students
• Militants check IDs in south-eastern Turkey, police intervene
Africa
• Toll from twin bomb attack in Somalia rises to 15
• South African hostage killed in Yemen raid: Charity
• General Assembly: Youth and Children for Human Rights in Morocco
• Algerian National Gets Two Years In Prison On Terrorism Charges
Compiled by New Age Islam News Bureau
URL: https://www.newageislam.com/islamic-world-news/new-age-islam-news-bureau/qisas-(blood-money)-allows-murderers,-rapists-to-go-free/d/100361
------------
Pakistan
Qisas (Blood Money) Allows Murderers, Rapists to Go Free
06 Dec, 2014
ISLAMABAD: Out-of-court-settlements, if done right, can decrease the burden of the judicial system. But legal experts believe that in most recent cases, such agreements result in a miscarriage of justice. This concern has been highlighted in a number of instances, where those accused of heinous crimes have gotten off virtually scot-free.
In the first such instance, a man accused of raping and killing at least two teenage girls attempted to negotiate just such a settlement.
The accused, an alumnus of the National University of Modern Languages, allegedly manipulated his girlfriend into introducing him to women who he would sleep with. The man claimed to have AIDS and told his girlfriend that sleeping with multiple partners would cure him.
According to testimony, the man's girlfriend introduced him to five women. At least two of these women were raped, murdered and their bodies cremated, ostensibly to conceal evidence.
The accused was arrested when the girls' families reported their disappearance. Police arrested the couple in Feb 2013 and subsequently, they were put on trial.
When the case was in its penultimate stages, the father of one of the murdered girls agreed to settle. He changed his statement before the court, prompting the prosecution to challenge the new account and declare him a hostile witness.
Prosecutors maintained that that the offences he was booked for were non-compoundable offences. Public prosecutor Amir Nadeem Tabish told Dawn that the Pakistan Penal Code (PPC) defines heinous crimes such as rape, kidnapping, concealment or destruction of evidence as non-compoundable offences, over which there can be no compromise.
Legal experts say individuals accused of heinous crimes exploit legal loopholes, coerce victims to escape punishment
The accused, prosecutors in the case maintained, was charged under PPC sections 302 (murder), 364-A (kidnapping), and 376 (rape). Mr Tabish said that a compromise was only possible under section 302, which was still a compoundable offence.
Former police officer-turned-legal practitioner Saleemullah Khan told Dawn that such settlements were one of the reasons why the crime rate had been gradually rising. As per statistics available with Islamabad police, the number of rape cases reported in the capital was 222 in 2011, but two years later in 2013, the number had jumped to 303. Similarly, 117 murders were reported in 2011, but these went up to 128 in 2012.
Then, last week, the murdered girl's father filed an application before an Islamabad district and sessions judge, complaining that the family of the accused had only paid him Rs0.7 million, instead of the promised Rs1 million.
This is not the only such case in recent memory.
The family of a 9-year-old girl, who was murdered in September this year in the Islamabad suburb of Pindorian, also pardoned the murderer through an out-of-court settlement.
The murderer allegedly shot the girl in a drunken stupor. The aggrieved family, fearing lengthy litigation, settled for Rs5 million in blood money in exchange for pardoning the murderer, a lawyer associated with the case told Dawn. The matter is now fixed for hearing on Dec 12.
Sources said that since the case was registered under PPC Section 302, the alleged killer may be freed by the court on the basis of this settlement.
However, things are not looking up for one of the alleged killer's accomplices. Accused of abetment, the associate has not entered into a compromise with the victim's family, which means that he may still be tried for his crime, the case prosecutor said.
Earlier, in 2012, the Supreme Court also took notice of an out-of-court settlement that freed four individuals who were accused of raping a 13-year-old girl in Rawalpindi.
According to the prosecution, the rape took place on March 21. The victim then tried to commit suicide, but survived.
But a Rawalpindi sessions court acquitted the accused last year after the victim's father gave statements in favour of the accused, telling the court that they had been "identified by mistake".
Riasat Ali Azad, an advocate of Supreme Court said that though the rape is a non-compoundable offence where an out-of-court compromise is not possible, but the accused manage to get off by threatening the victim and their family or pressuring them to accept a monetary settlement.
According to Advocate Azad, out-of- court settlements are carried out, in murder cases, under Section 3.23 of the PPC following the payment of Qisas (blood money), he added.
Civil society has, on a number of occasions, expressed concerns over such settlements where vulnerable members of society are coerced to accept a compromise by more privileged individuals.
Human rights activist Tahira Abdullah told Dawn that applications of compoundablity and waivers have contributed towards the proliferation of violent crimes against women. She said that accused parties cases of honour killing also benefit from such unfair settlements.
Mr Saleemullah Khan, who has served as an inspector general of police, pointed out that such compromises were also quite a burden on the exchequer, because the energies of police personnel spent investigating a case and the resources employed could not be reimbursed. In addition, prosecutors' fees and legal costs were quite high in such cases. He suggested that in order to discourage out-of-court settlements, courts can make the accused party bear the legal costs of the case in such matters.
http://www.dawn.com/news/1149139/forced-out-of-court-settlements-qisas-allows-murderers-rapists-to-go-free
------------
JUD Demands Establishment of 'Islamic United Nations'
06 Dec, 2014
LAHORE: Jamaat ud Dawa chief Hafiz Saeed Ahmed has demanded establishment of the "Islamic United Nations" to solve the problems facing Muslims.
He expressed his resolve to end the "slavery of West", during his address to the concluding session of the two-day congregation at Minar-e-Pakistan ground on Friday. Hafiz Saeed appealed Prime Minster Nawaz Shareef should announce a broader vision for Muslim Ummah with economic and defence cooperation among Muslim countries. Saeed also made it clear that his organisation was not struggling for Senate, parliament or rulership and his people were those who sacrifice for the unity of Muslims. The idea of global jihad was lauded by Hafiz Saeed to eradicate all the problems of Muslim Ummah.
He said Kashmir would be freed, 1971 will be avenged, and Ahmedabad, Gujrat victims would get justice. During Friday sermon, Hafiz Saeed condemned terrorism and ruled out any room for suicide and terrorist attacks in Pakistan. He said his organisation would end "politics of violence" by Da'wah (preaching) and humanitarian services. The two-day congregation themed "Two-Nation Theory" was attended by thousands of people under tight security. Bomb Disposal Squad was also present on the venue.
http://www.dailytimes.com.pk/national/06-Dec-2014/jud-demands-establishment-of-islamic-united-nations
------------
Al-Qaida's chief of global operations killed in raid, Pakistani military says
AP | Dec 6, 2014
ISLAMABAD: Pakistan's military said on Saturday that soldiers killed al-Qaida's chief of global operations during a raid in the country's lawless tribal region, a man indicted in the US over a plot to bomb New York's subway system.
Adnan Shukrijumah was killed, along with two other suspected militants, in Pakistan's South Waziristan tribal area early Saturday, the military said.
"The al-Qaida leader, who was killed by the Pakistan army in a successful operation, is the same person who had been indicted in the United Stated," said a senior Pakistani army officer, who spoke on condition of anonymity as he was not authorized to talk to journalists.
Shukrijumah, 39, held a position that once was Sept 11 mastermind Khalid Sheikh Mohammed'S. The FBI lists the Saudi as a "most wanted" terrorist and had offered up to a $5 million reward for his capture.
Federal prosecutors in the US allege Shukrijumah had recruited the three men in 2008 to receive training in the lawless tribal region of Pakistan for the attack. The New York indictment links him to the Manhattan plot and a similar never-executed scheme to attack British subways.
Attorney General Eric Holder has called that plot one of the most dangerous since the terror attacks of Sept 11, 2001.
After the Sept 11 terror attacks, Shukrijumah was seen as one of al-Qaida's best chances to attack inside the US or Europe, captured terrorist Abu Zubaydah told US authorities. Shukrijumah studied at a community college in Florida but when the FBI showed up to arrest him as a material witness to a terrorism case in 2003, he already had left the country.
In 2004, then-Attorney General John Ashcroft called Shukrijumah a "clear and present danger" to the United States.
http://timesofindia.indiatimes.com/world/pakistan/Al-Qaidas-chief-of-global-operations-killed-in-raid-Pakistani-military-says/articleshow/45394288.cms
------------
Pakistan suffered $80bn loss in 'war on terror': govt
06 Dec, 2014
ISLAMABAD: Pakistan suffered a colossal loss of almost $80 billion as well as 50,000 precious lives of civilians and law enforcement agencies during the decade long war against terrorism, government told National Assembly here on Friday.
In a written reply Interior Ministry informed the house that Pakistan has been victim of terrorism for the last ten years. The Parliamentary Secretary for Interior, Maryam Aurangzeb said extremist groups have been active throughout the country with their own ideology and motives. Maryam Aurangzeb said several policy steps have been taken for controlling and improving law and order situation in the country. She said the government has prepared a new policy for strengthening internal security and to improve law and order.
Answering to another question, she told the house that National Alien Registration Authority (NARA) has registered a total of 14369 aliens from January 2008 to August 2014 without biometrics. Parliamentary Secretary for Finance Rana Muhammad Afzal Khan told the House that government's negotiations with IMF have been succeeded and last tranche has been approved. To a question, he said the Federal Board of Revenue (FBR) is striving for a uniform rate of Sales Tax on all commodities. Minister of State for Parliamentary Affairs, Sheikh Aftab Ahmed told the House that 66,555 contract employees of grade one to fifteen have been regularized according to the Cabinet's decision of the previous government.
He was replying to a calling attention notice moved by Muhammad Muzamil Qureshi and others regarding non-regularization of the employees of the federal government, autonomous and semi-autonomous departments despite many years of service at their credit. Chairman Standing Committee on Interior and Narcotics Control Rana Shamim Ahmed Khan presented a report of the Standing Committee on the Bill to rationalize and reorganize the local government system in the Federal Capital. The National Assembly also expressed its deep gratitude to the President for his address to both Houses of the Parliament when the house concluded the debate on it.
Winding up the debate on President's address, Minister of State for Parliamentary Affairs, Sheikh Aftab Ahmed said law and order situation has been improved considerably after the launch of Zarb-e-Azb operation against terrorists. He said the personnel of armed forces and security agencies are rendering sacrifices to protect the frontiers of the motherland. He said the government is making all out efforts to overcome energy crisis in the country. Referring to PTI's protest Minister of State urged the protesting parties to come into the Parliament and play their due role to take the country forward on the path of progress and prosperity. Earlier, taking part in the debate Sahibzada Tariqullah demanded of the government to hold local government elections and conduct population census as early as possible.
http://www.dailytimes.com.pk/national/06-Dec-2014/pakistan-suffered-80bn-loss-in-war-on-terror-govt
------------
Two Aman Lashkar volunteers killed
06 Dec, 2014
BARA: Two volunteers of the Aman Lashkar have been killed in a roadside bomb blast in Khyber Agency. According to the political administration, the Aman Lashkar Tauheedul Islam (TI) volunteers were targeted with a landmine in Nari Baba area. Tauheedul Islam volunteers have been up in arms against militant organisation Lashkar-e-Islam (LI) and casualties have been reported from both sides from time to time.
http://www.dailytimes.com.pk/national/06-Dec-2014/two-aman-lashkar-volunteers-killed
------------
Stable Afghanistan in our interest, says PM
December 6, 2014
LONDON: Prime Minister Nawaz Sharif on Friday affirmed that a stable, prosperous and democratic Afghanistan was in Pakistan's best interest, adding that it looks forward to forging a cooperative relationship with the Afghan national unity government.
The prime minister expressed these views during a breakfast meeting with British Prime Minister David Cameron. He is in the United Kingdom on a three-day official visit.
Upon his arrival at 10 Downing Street, Premier Nawaz was received by his British counterpart. During the meeting, bilateral relations, matters of mutual interest and the regional situation came under discussion. Premier Nawaz appreciated UK's assistance for Pakistan's social sector development, particularly in health and education. He invited British entrepreneurs to invest in Pakistan's energy sector.
The British premier, appreciating Pakistan's sacrifices in the fight against terrorism, stated that "Pakistan has suffered more than any other country in the fight against terrorism", and assured of his government's support to Pakistan in its efforts to root out the scourge of terrorism.
Full report at:
http://tribune.com.pk/story/802605/no-10-meet-up-stable-afghanistan-in-our-interest-says-pm/
------------
Decision on recounting NA-122 votes likely on Monday: Khan
06 Dec, 2014
LAHORE: Pakistan Tehreek-e-Insaf (PTI) chief Imran Khan Saturday recorded his statement before the Election Tribunal in Lahore pertaining to the alleged rigging in NA-122 and hoped that the tribunal will decide on recounting votes on Monday, Geo News reported.
Talking to the media after recording his statement, the PTI chairman said that all the votes should be recounted as all the evidence are present inside the bags carrying votes.
He also said that if he was asked to open the votes bags in Khyber Pakhtunkhwa, he would do so happily, adding that the mass rigging was hidden behind the stay order.
"It will be decided on Monday, whether the votes will be recounted," Khan told.
It may be mentioned that Imran Khan had challenged rigging during polling in NA-122 and arrived at the tribunal to record his statement. The tribunal was hearing Khan's petition against Speaker National Assembly Sardar Ayaz Sadiq.
Full report at:
http://www.thenews.com.pk/article-167881-Decision-on-recounting-NA-122-votes-likely-on-Monday:-Khan
----------
India
ISIS Recruit Arif Was Part of a Group of 40 Radicalized Boys in College
Nazia Sayed,Mumbai Mirror | Dec 6, 2014
MUMBAI: Kalyan engineer Arif Majeed, who quit terror group Islamic State and returned to India last month, has told investigators that he was part of a radicalized group of 40 students at a Panvel college and each one of them was referred to as Naqeeb — Urdu for 'leader'.
Arif — who is being questioned by the National Investigation Agency, Intelligence Bureau, and Maharashtra Anti-Terrorism Squad counter-insurgency experts — has revealed that all 40 in the group spent a lot of time on the internet, mining information on terrorist groups and Islamic preachings. However, when an opportunity came their way to join the ISIS, everyone except Arif chickened out. Eventually Arif left for Iraq with three of his friends from Kalyan.
With this new information, which is part of Arif's written statement, the cops are likely to question more students from Anjuman Islam's Kalsekar Technical College in Panvel, where Arif did his engineering. The investigative agencies have already spoken with the college principal and shared this information with him.
Interestingly, Arif's information on this radicalized group in Kalsekar College is consistent with the Maharashtra ATS's own findings. The ATS had stumbled upon the 'Naqeebs' a few weeks before Arif returned from Iraq. Confirming this, ATS chief Himanshu Roy said: "ATS had already identified a particular group from the college which was involved in radicalization. Investigations in this matter are ongoing."
Full report at:
http://timesofindia.indiatimes.com/india/ISIS-recruit-Arif-was-part-of-a-group-of-40-radicalized-boys-in-college/articleshow/45394204.cms
------------
Kashmir will be freed, 1971 will be avenged: Saeed
06 Dec, 2014
Mumbai terror attacks mastermind Hafiz Saeed criticised New Delhi on Friday for conducting what he termed were sham elections in Kashmir and said "the battle of Indian subcontinent is inevitable".
Saeed also asked why Prime Minister Narendra Modi was "visiting Kashmir again and again", saying this was part of a larger conspiracy to silence the people of the state.
The Jamaat-ud-Dawah (JuD) chief addressed a party convention in Lahore on a day alleged Pakistan-sponsored militants staged a string of attacks in the Valley.
"Ghazwae Hind is inevitable, Kashmir will be freed, 1971 will be avenged and Ahmedabad Gujrat victims will get justice Insha Allah," Saeed tweeted.
Thousands of people arrived in Lahore this week to participate in the two-day convention that began at the Minar-e-Pakistan grounds on Friday. Many of those attending are volunteers and members of the JuD recruited after the outfit carried out relief work in the country through its social welfare wing, the Falah-e-Insaniyat Foundation (FIF).
The BJP wanted to win in Kashmir by foul means to give an impression to the world that Kashmir was not a disputed territory, said Saeed. "We will not let that happen."
The JuD chief said he wanted to get all Pakistani political parties on one platform so they could have a common policy on Kashmir.
Full report at:
http://www.hindustantimes.com/india-news/battle-of-subcontinent-inevitable-hafiz-saeed-challenges-india-from-pak-soil/article1-1293687.aspx
------------
Ayodhya fortified for Babri demolition anniversary
PTI | Dec 6, 2014
AYODHYA: The temple town has turned into a fortress with nearly 10,000 security personnel deployed amid calls by Muslim outfits to mark the 22nd anniversary of Babri mosque demolition, by hoisting black flags even as Hindu bodies seek to commemorate it.
Prohibitory orders have been clamped in the city and mounted police will be among about 10,000 police and anti-riot personnel keeping a vigil.
The local administration has laid a three-tier security cordon around the twin cities of Ayodhya and Faizabad with senior officers manning the key areas.
Two dozens CCTV cameras have also been installed across Ayodhya city.
Muslim organizations have announced to mark it as a black day while appealing to the community to hoist black flags and observe a shut down.
Full report at:
http://timesofindia.indiatimes.com/india/Ayodhya-fortified-for-Babri-demolition-anniversary/articleshow/45393612.cms
------------
Nephew arrested for killing Maulana
Dec 6, 2014
PATNA: Police on Monday arrested 13-year-old son of the head of a Muslim religious organisation in connection with the killing of his uncle Maulana Abdul Gani Zafri, a prominent religious leader here, police said on Monday.
Mohammed Gazi, son of Abdul Sami Zafri - head of Ameer-e-Ahle-Hadees, was arrested from Patna city yesterday, DSP Arvind Kumar Gupta said.
The boy had confessed his involvement in the killing, Gupta said.
The 70-year-old Maulana, elder brother of Abdul Sami Zafri, was hacked to death by unidentified assailants at his residence in Mir Sheekarpur locality under Alamganj police station on November 25, police said.
http://timesofindia.indiatimes.com/city/patna/Nephew-arrested-for-killing-Maulana/articleshow/30057377.cms
-----------
J&K terror attack: Food packets with Pak markings found on militants
PTI | Dec 6, 2014
SRINAGAR: Army on Saturday said food packets found on six slain militants, involved in the daring attack on the Uri camp, bore marks of the Pakistani establishment.
"The food packets, which were found at the encounter site, are generally used by Pakistan Army," a senior Army officer here said.
The officer said the food packets along with the arms and ammunition showed that the militants were planning to engage the security forces for a long time.
The encounter between the Army and the group of militants lasted just over six hours and left 11 security personnel including eight Army soldiers dead. All the six militants were also killed.
Among the other recoveries effected from the scene of the deadly encounter were six AK rifles with 55 magazines, two shotguns, two night vision binoculars, four radio sets, 32 unused grenades and one medical kit.
http://timesofindia.indiatimes.com/india/JK-terror-attack-Food-packets-with-Pak-markings-found-on-militants/articleshow/45393106.cms
------------
Jihadis at India's doorsteps now come wearing high-end military gear
Rajat Pandit,TNN | Dec 6, 2014
NEW DELHI: From Swiss mountaineering boots and fully-padded snow clothing to advanced night-vision devices and GPS sets, the jihadis at India's doorsteps are now well-equipped for high-altitude warfare on par with regular soldiers.
The well-trained militants are also willing to go the whole hog to hit "high-value targets", or conversely, unleash random mayhem in a bid to disrupt the high voter turnout in the ongoing polls in strife-torn J&K.
The Army is somewhat taken aback at the "high-end equipment" being found on the infiltrators killed on the LoC or during terrorist attacks in the hinterland. The six terrorists killed in the Nowgam sector last Tuesday, for instance, were all wearing Koflach mountaineering boots costing $200-300 apiece.
"Similarly, the foreign (read Pakistan) terrorists had insulated jackets and trousers, somewhat akin to what our jawans wear in Siachen. They also had rubberised, insulated shears to cut through the fences," said a senior officer.
Full report at:
http://timesofindia.indiatimes.com/india/Jihadis-at-Indias-doorsteps-now-come-wearing-high-end-military-gear/articleshow/45391890.cms
------------
Netas condemn J&K terror attacks but separatists silent
TNN | Dec 6, 2014
SRINAGAR/PARGWAL (JAMMU): While the political class condemned the terror attacks in Kashmir on Friday in which 11 security personnel and two civilians were killed, there was silence from the separatist quarters - hawks and moderates included. This was surprising considering moderate separatists have been eliminated by the militants in the past, as also the fact that Kashmiri policemen and civilians were killed on Friday.
Home minister Rajnath Singh, saying militants wanted to create fear among the people as they are frustrated by high voter turnout in the assembly elections, sarcastically said, "If Pakistan can't stop these attacks, let it take India's help."
Singh, who was campaigning for party candidates in Jammu, further said, "Militants are entering this country from Pakistan and resorting to death and destruction here. Is it not true that these terrorists get shelter on Pakistani soil but Islamabad always denies this?" he asked.
Strangely, though, PDP chief Mehbooba Mufti said the media could not escape its part of the blame for the serial attacks. Miffed by a question from a reporter, Mehbooba said media's excessive focus and reporting on the high voter turnout in the assembly elections was the reason for the attacks.
Full report at:
http://timesofindia.indiatimes.com/india/Netas-condemn-JK-terror-attacks-but-separatists-silent/articleshow/45391873.cms
------------
Terror strikes in J-K an attack on Indian democracy: Modi
PTI Hazaribagh (Jharkhand), December 06, 2014
A day after terror strikes rocked the Kashmir Valley, Prime Minister Narendra Modi on Saturday said terrorists tried to attack Indian democracy but brave jawans sacrificed their lives protecting the country's security.
The Prime Minister also paid tributes to martyrs who laid down their lives while fighting militants.
"Terrorists tried to attack the democracy of India. But the brave jawans scarificed their lives protecting the country's security," he told an election rally in Hazaribagh.
"I pay my tributes to Jharkhand's brave son Sankalp Kumar Shukla and other brave jawans who scarified their lives.
Sankalp Kumar Shukla's martyrdom will be remembered by future generations in the state," he said.
Full report at:
http://www.hindustantimes.com/india-news/terror-strikes-in-j-k-an-attack-on-democracy-modi/article1-1293794.aspx
------------
South Asia
32 militants killed during operations conducted by Afghan army
Dec 06 2014
At least 32 militants were killed during military operations conducted by Afghan national army soldiers, the Ministry of Defense (MoD) said Saturday.
A statement by MoD said the operations were conducted in Helmand, Kunar, Nangarhar, Ghazni, Logar, Uruzgan and Kpisa provinces in the past 48 hours.
The statement further added a number of militants were also injured during the operations, while various types of weapons, ammunition and explosives, including a motorcycle packed with explosives were confiscated.
According to the Minsitry of Defense, at least 16 suspected militants were also arrested during the operations, which includes an insurgent commander and 4 kidnappers.
The anti-government armed militant groups have not commented regarding the reports so far.
http://www.khaama.com/32-militants-killed-during-operations-conducted-by-afghan-army-9100
---------
NATO drone strike leaves 4 Taliban militants dead in Laghman
06 Dec, 2014
At least four Taliban militants were killed following a drone strike by NATO-led coalition security forces in eastern Laghman province.
According to local security officials, the airstrike was carried out in Alisheng district.
Provincial governor spokesman Sarhadi Zwak confirmed that the militants were targeted in Qala-e-Sharafuddin area.
Zwak further added the drone fired two missiles on a compound where the militants were based and were plotting to carry out insurgency attacks.
He said the civilians did not suffer any casualties following the air raid.
The Taliban militants group has not commented regarding the report so far.
Laghman is among the relatively volatile provinces in eastern Afghanistan where anti-government armed militant groups are active in a number of its remote districts.
http://www.khaama.com/nato-drone-strike-leaves-4-taliban-militants-dead-in-laghman-9101
------------
7 Afghan army soldiers martyred in the past 48 hours
06 Dec, 2014
At least seven Afghan National Army (ANA) soldiers were martyred following militants direct fire and Improvised Explosive Device (IED) attack.
The Ministry of Defense (MoD) said the Afghan army soldiers were martyred in the past 48 hours.
A statement by the Ministry of Defense (MoD) said the Afghan soldiers were martyred due to Improvised Explosive Device (IED) explosion and direct fire by militants, using heavy weapons.
The anti-government armed militant groups have not commented regarding the incident so far.
The Taliban-led insurgency have been rampant since the group launched it's summer offensive earlier this year.
Taliban militants and other insurent grouops frequently use Improvised Explosive Device (IED) as the weapon of their choice to target Afghan and coalition security forces.
According to security officials, the Afghan army deaths stands at 4 service members daily on average which is mainly caused due to improvised explosive device (IED) attacks.
http://www.khaama.com/7-afghan-army-soldiers-martyred-in-the-past-48-hours-9106
------------
PM: Bangladesh needs no single country in its march forward
06 Dec, 2014
Prime Minister Sheikh Hasina yesterday rejected the notion that the country could not move ahead and develop without the help of some specific
countries.
Hasina's remark came following a media report that the relation with the US might deteriorate.
The prime minister, however, said her government does not want to sever diplomatic relation with any country either.
She said this after she was asked about the relation with Pakistan responsible for the massacre in 1971. "It is not the policy of Bangladesh to break up diplomatic tie with any country," she said.
Full report at:
http://www.dhakatribune.com/politics/2014/dec/06/pm-bangladesh-needs-no-single-country-its-march-forward#sthash.zSv4fJii.dpuf
------------
Arab World
Dozens of Terrorists Killed in Deir Ezzor in Eastern Syria
06 Dec, 2014
The terrorist group of ISIL launched a fierce attack against the areas of Hweijet al-Mrei'iyeh and al-Jafra which surrounds the airport in Deir Ezzor, Eastern Syria, yet failed to control any strategic position, military sources said.
The sources asserted that the ISIL suffered heavy losses as dozens of its terrorists were killed or injured by the Syrian army which encountered the attack, Al-Manar reported.
The Syrian army also continued on Thursday targeting terrorists' gatherings across the country, killing large numbers of them, destroying their vehicles and weapons.
Syrian army is gaining upper hand in many battlefields across Syria where has been scene of heavy clashes between legal President Bashar Al-Assad's forces and foreign-backed rebels since 2011.
http://english.farsnews.com/newstext.aspx?nn=13930914000264
------------
'I will attack women,' al-Qaeda militant warns Lebanon after wife detained
6 December 2014
A leading member of Syria's al-Qaeda branch, Abu Ali al-Shishani, has pledged to attack Lebanese women and children and end talks to free more than two dozen members of the Lebanese security forces, after his wife was detained by authorities.
The threat, delivered in a video distributed on jihadist websites, was published on Friday hours before the group said it killed one of the captive Lebanese soldiers it holds.
Lebanese authorities earlier this week said they had detained a wife of Islamic State leader Abu Bakr al-Baghdadi. The wife of Shishani, a fighter in the Nusra Front, al-Qaeda's official Syrian wing, has also been arrested.
The women were apparently viewed by some Lebanese security elements as a possible bargaining chip with the militants to gain the release of the captive soldiers.
Sitting in front of a black flag with two militants by his side, Shishani said Shi'ite Muslim women and children and families of Lebanese soldiers were now legitimate targets.
"My wife, Ola Mithqal al-Oqaily ... was taken two days ago from Tripoli, the city that is called the city of Islam and Muslims," Shishani said.
Full report at:
http://english.alarabiya.net/en/News/middle-east/2014/12/06/Al-Qaeda-militant-threatens-Lebanon-after-wife-detained.html
------------
Interpol seeks arrest of controversial Egyptian cleric Qaradawi
06 Dec, 2014
The international police agency Interpol has issued an arrest warrant for influential Qatar-based Muslim cleric Sheikh Youssef Al-Qaradawi who has close links with the Muslim Brotherhood and is wanted by authorities in Egypt.
The Egyptian-born cleric has been one of the staunchest critics of last year's ouster of Islamist president Mohamed Morsi and Egypt's new authorities.
Qaradawi, one of the most prominent Egyptian Sunni academics, wields significant influence within a large base in the Arab world that watches his religious programmes on Al-Jazeera television from his position of exile in Qatar.
Qaradawi is chief of the International Union of Muslim Scholars.
The oil-rich Gulf state Qatar, whose ties with Egypt nose-dived following Morsi's ouster, offered sanctuary to a number of Brotherhood leaders who fled a harsh state crackdown by Egypt's post-Morsi authorities.
Full report at:
http://english.ahram.org.eg/NewsContent/1/64/117295/Egypt/Politics-/Interpol-seeks-arrest-of-controversial-Egyptian-cl.aspx
------------
Two bombings kill seven people in Iraq: officials
06 Dec, 2014
AGHDAD: Authorities in Iraq say two bombings targeting Shias have killed seven people around the capital, Baghdad.
Police officials say the first attack took place Saturday morning when a bomb exploded near a market in the Shia section of the town of Mahmoudiya, killing five people and wounding 12.
Mahmoudiya is 30 kilometres (20 miles) south of the capital.
Later Saturday, police say a bomb attached to a mini-bus exploded in the capital's north-eastern suburb of Husseiniyah, killing two passengers and wounding nine.
Medical officials confirmed the casualty figures. All officials spoke on condition of anonymity because they're not authorised to talk to journalists.
Nobody immediately claimed responsibility for the attacks, but Islamic militants frequently attacks Shias whom they consider as heretics.
http://www.dawn.com/news/1149178/two-bombings-kill-seven-people-in-iraq-officials
------------
Jordan King warns ISIS fight a 'Third World War'
06 Dec, 2014
Jordan's King Abdullah II warned Friday that the fight against Islamic State of Iraq and Syria (ISIS) militants is a "third world war," as President Barack Obama pledged a sizable U.S. aid increase to his country.
As the two men met at the White House, Obama promised to increase U.S. aid to Jordan from $660 million to more than $1 billion per year.
He also vowed the United States would provide the kingdom with an additional loan guarantee.
King Abdullah said Jordan, the United States and other countries "had to combine our strategies" to combat ISIS, saying he believed it would be a "generational fight."
"We really have to have a pan-regional approach to this issue. This is a Muslim problem. We need to take ownership of this," the Jordanian monarch told CBS television.
"It's clearly a fight between good and evil," he said, adding: "I think this is a third world war by other means."
Full report at:
http://english.alarabiya.net/en/News/middle-east/2014/12/05/Obama-discussing-Islamic-State-with-Jordan-s-king.html
----------
World's first herbal-cream-written Quran to appear in Dubai show
Dec 6, 2014
Taroudant – Heddem Arts, a company that sells in rare Islamic arts and calligraphy, announced its possession of the only handmade herbal cream Holy Quran in the world, which will be showcased in an exhibition to be held in Dubai from December 7 to 11.
Three decades after its creation by Turkish doctor, Unani Doctor Hamdi Taher (1897-2003), this Quran is reportedly made from approximately 200 herbs and "have many therapeutic properties".
"We are honoured to receive this labour of devotion from the late Hakim Hamdi Taher who devoted his life to creating this unique herbal Holy Qur'an," Abdul Azeaz Bin Hassan Moulavi Malabari, Islamic religious advisor at Heddem Arts, told Arabian Business on Friday.
According to the webpage of the company, Herbal cream has been used to write "the letters, chapter names, chapter headings on the top and sides of the pages, border designs, page numbers and edges of the sheets."
Full report at:
http://www.moroccoworldnews.com/2014/12/146137/worlds-first-herbal-cream-written-quran-to-appear-in-dubai-show/
------------
Islamic State Group Support Grows in Jordan Town
Dec 6, 2014
Associated Press
Local authorities quickly stripped away public signs of support for the Islamic State group in this desert town. Black flags have been removed from rooftops. Graffiti proclaiming the extremists' imminent victory have been whitewashed.
But supporters of the Middle East's most radical extremist group are only laying low after their surprise show of strength in protests last summer. Despite government efforts, support for the Islamic State group is growing in Maan and elsewhere in Jordan, one of the West's key allies in the region, say Islamic State activists, members of rival groups and experts on political Islam.
One of the leading Islamic State group activists in Maan said he and others are still working to build their base.
Full report at:
http://abcnews.go.com/International/wireStory/islamic-state-group-support-grows-jordan-town-27409371?singlePage=true
------------
Awqaf Must Do More To Monitor Religious Speech Curb, Extremism
06 Dec, 2014
KUWAIT CITY: Minister of Justice, Awqāf and Islamic Affairs Yacoub Al-Sane said the message of Awqaf is not enough as it did not actualize the objective on spreading awareness among youths to protect them from terrorism, reports Al-Qabas daily. In a meeting organized by Bait Al-Othman recently, Al-Sane stressed the need for the Awqaf Ministry to play a bigger role in monitoring religious speech and controlling extremism.
He then unveiled the ministry's plan to issue a 'fatwa' (edict) regarding those who participate in wars or join terrorist organizations in some countries like Iraq and Syria. He stressed the importance of seeking the assistance of respectable personalities as the typical work will not help achieve true moderation because there are hidden fingers brainwashing the youths by promising them that they will be rewarded in paradise. He added most of these youths are studying in foreign schools.
Full report at:
http://www.arabtimesonline.com/NewsDetails/tabid/96/smid/414/ArticleID/211438/reftab/36/Default.aspx
----------
Southeast Asia
Religious Scholars Say 'Haram' For Muslims To Wear Football Kits, Play Guitar, Piano, Trumpet
Dec 6, 2014
KUALA LUMPUR, Dec 6: Islam allegedly forbids Muslims from playing musical instruments like guitar, piano or trumpets as they go against the Hadiths, a religious scholar said today.
In his paper on Islam and entertainment presented at a national forum here, Abdul Raof Nurin said the Shafie stream of Islam only allows Muslims to listen to music that touches on love for the religion, and urged those who want to play musical instruments to preferably stick to the gong or kompang.
He added that the Shafie School, however, will make an exception for the "gabus", a stringed instrument similar to the guitar, only if they are played according to Islamic laws.
"To listen to music that has nothing to do with religion that includes instruments that is prohibited in Islam, coupled with concerts that allow mixed socialisation, this distracts you from praying.
"Majority of Ulema forbid the use of musical instruments except for those drummed like the kompang, percussions even those with bells," he said.
The forum was organised by the Malaysian Muslim Consumer Group (PPIM) and the Human Development and Investigation Bureau.
Full report at:
http://www.themalaymailonline.com/malaysia/article/religious-scholars-say-haram-for-muslims-to-wear-football-kits-play-guitar#sthash.9Ut9mVSr.dpuf
------------
Armed Forces under watch as police detect Isis sympathisers
06 Dec, 2014
The Malaysian Armed Forces are under police watch as several personnel have been detected to be sympathisers of the Islamic State of Iraq and Syria (Isis) militant group waging war in the Middle East, say intelligence sources.
A senior intelligence official told The Malaysian Insider that two members of the security forces were arrested in Kuala Lumpur late last month on suspicion of channelling funds to Malaysians joining Isis militants in Syria.
"The two who were arrested were influenced into supporting Isis because of social media and befriending like-minded individuals on the Internet.
"Besides the two suspects, who are rank and file personnel, police are also monitoring other security forces personnel who may be Isis sympathisers," a Malaysian intelligence official said.
The official said police were also keeping tabs on various individuals, regardless of whether they were in the public or private sector.
Full report at:
http://www.themalaysianinsider.com/malaysia/article/armed-forces-under-watch-as-police-detect-isis-sympathisers#sthash.gQHHFijp.dpuf
------------
IS activities against Islamic teachings, says IIUM lecturer
Dec 6, 2014
The activities of the so-called IS militant group, which claims to defend the sanctity of Islam, conflict with the concept of jihad according to Islamic laws.
International Islamic University Malaysia (IIUM) Political Science and Islamic Studies lecturer Ahmad El-Muhammady said mass killing of civilians was a clear example of activities carried out by the IS, which were against Islamic teachings.
He reminded Muslims not to be easily influenced by persuasions to join the IS for jihad in Syria.
"Some have become confused by the jihad activities of IS because the group uses verses from the Quran and hadith to attract Muslims to join them," he told Bernama after delivering a ceramah titled 'Penyelewengan Makna Jihad' at a seminar here today.
Ahmad said other forms of jihad manipulation by the IS included detaining and murdering foreigners such as journalists, diplomats and volunteers of humanitarian missions in Syria, as well as exploitation of women through recruitment.
Full report at:
http://www.themalaymailonline.com/malaysia/article/is-activities-against-islamic-teachings-says-iium-lecturer#sthash.fdl4nB5i.dpuf
------------
Stop meddling in non-Muslim affairs, interfaith group tells Islamic authorities
06 Dec, 2014
State Islamic authorities should stop regulating other faiths, including banning non-Muslims from using the word "Allah", as it goes against religious freedom, Malaysia's largest interfaith group said.
President of the Malaysian Consultative Council of Buddhism, Christianity, Hinduism, Sikhism and Taoism (MCCBCHST) Jagir Singh said the Arabic word could be used by non-Muslims in their own religious teachings and practices.
"Our stand has always been that non-Muslims can use the word Allah as long it is not used to proselytise those professing Islam," he told The Malaysian Insider today.
He made the comment in reference to a plea by the Sarawak-based Borneo Evangelical Mission or the Sidang Injil Borneo (SIB) to the prime minister for the right to use the word "Allah" in worship throughout Malaysia
Full report at:
http://www.themalaysianinsider.com/malaysia/article/stop-meddling-in-non-muslim-affairs-interfaith-group-tells-islamic-authorit#sthash.m5yluq0p.dpuf
------------
Pointing to growing peninsula migration, Sarawak church urges review of 'Allah' ban
Dec 6, 2014
KUALA LUMPUR, Dec 6 ? Following the amiable release of some 300 seized bibles last month, one of Malaysia's fast-growing churches pleaded with Putrajaya today to review and revise current laws and directives barring Christians from using the word "Allah" for their God.
The Sarawak branch of Sidang Injil Borneo (SIB) said that 95 per cent of its members worship in the national language and their native languages in which the word of Arabic origin has become an integral part of their belief for decades, adding that many have been severely impacted by the prohibition when they cross the South China Sea to the peninsula, where several state legislations have been drawn up barring non-Muslims from using "Allah".
"They used 'Allah' in their worship all their lives as did some of their parents, grandparents and the generations before them. And naturally, they will continue to do so in Semenanjung Malaysia.
Full report at:
http://www.themalaymailonline.com/malaysia/article/pointing-to-growing-peninsula-migration-sarawak-church-urges-review-of-alla#sthash.TCljH45N.dpuf
------------
Europe
ISIS could expand in Libya: EU anti-terrorism chief
06 Dec, 2014
The Islamic State of Iraq and Syria (ISIS) could expand in Libya, EU coordinator for anti-terrorism Gilles de Kerchove warned on Saturday.
De Kerchove made the statement to Al Arabiya correspondent in Brussels Noureddine Fridhi.
He also said that 30 percent of Arab internet users in Belgium have shown support for the extremist group.
Last month several young people in the eastern town of Derna pledged allegiance to ISIS leader Abu Bakr al-Baghdadi, according to a video posted on the internet.
Dozens of people could be seen in the video posted on social media gathering in Derna to support Baghdadi, who calls himself "caliph," or Muslim leader, of ISIS, an Al-Qaeda offshoot.
There has been growing concern among Western nations and Libya's neighbors that ISIS is trying to exploit lawlessness in the oil producer where militant Islamists and other militias who helped topple Muammar Qaddafi in 2011 are carving out fiefdoms.
Derna, a port halfway between the eastern Libyan city of Benghazi and the Egyptian border, has since 2011 turned into a gathering point for militant Islamists and Al-Qaeda sympathisers.
Fifteen foreign members of ISIS traveled to Derna from Syria in September trying to rally support and establish an ISIS branch in Libya, Egyptian security officials have said.
Authorities were unable to open ballot boxes for Libya's parliamentary elections in June in Derna due to threats from militants.
Derna, already a stronghold of Islamist opposition under Qaddafi, has also made headlines with pictures of Islamic courts and police stations.
http://english.alarabiya.net/en/News/middle-east/2014/12/05/ISIS-could-expand-in-Libya-EU-coordinator-for-anti-terrorism.html
------------
Kyrgyz official: Islamic countries need consistent media policies
Dec 6, 2014
Kyrgyz deputy minister culture and information dissemination and tourism, Aniura Temirbkova said on Wednesday that countering attacks on Islamic values by the western media requires consistent media policies among Muslim states.
Talking to reporters on the sidelines of the 10th Islamic Conference of Information Ministers (ICIM) late Wednesday, she added that extremist groups such ISIL have tarnished Islamic worlds image.
Appreciating Iranian officials for successful holding of ICIM, she further noted that organizing such events is beneficial for Muslims as they provide opportunity for them to exchange information.
No positive future is conceivable for Islamic world in the absence of free information dissemination and cooperation among Muslim nations, the Kyrgyz official said.
Temirbkova called on Islamic states media to make further propagation to counter the phenomenon of extremist groups such as ISIL.
They can play crucial role in the establishment of peace and security by presenting true image of Islam, she said.
The ongoing conference has brought different countries together to change public opinion towards Islam which is currently under attack, she said.
http://www.abna.ir/english/service/centeral-asia-subcontinent/archive/2014/12/04/655959/story.html
------------
Risk of militant attack in Europe is real: France
06 Dec, 2014
The threat of an attack by Islamist militants in Europe is "real" and EU countries must all remain mobilised to counter it, France's interior minister Bernard Cazeneuve warned Friday.
His remarks came amid signs that the number of jihadists leaving Europe to fight in Iraq and Syria continued to increase, raising concerns that some will return to their home countries battle hardened and ready to carry out attacks.
"There are risks which are real today and which require a general mobilisation," Cazeneuve said after a meeting of EU interior ministers in Brussels to discuss the threat posed by foreign fighters.
A European official presented the threat in even starker terms, telling AFP on condition of anonymity that "an attack on European territory is very likely."
Another European source added: "The motives to join the jihad will continue as long as the conflict in Syria and Iraq lasts."
Full report at:
http://english.ahram.org.eg/NewsContent/2/8/117247/World/Region/Risk-of-militant-attack-in-Europe-is-real-France.aspx
------------
UK to establish permanent Mideast military base
6 December 2014
Bahrain will host the first permanent British military base in the Middle East as part of a deal to increase cooperation in tackling security threats in the Middle East, the BBC reported.
The deal "reaffirms our joint determination to maintain regional security and stability in the face of challenging circumstances," Bahraini Foreign Minister Sheikh Khalid said Saturday, Agence France-Presse reported.
The country is part of a U.S.-led coalition carrying out airstrikes on the extremist group, which has carved out vast areas of control in Syria and Iraq.
"Bahrain looks forward to the early implementation of today's arrangement, and to continuing to work with the UK and other partners to address threats to regional security," Sheikh Khalid said.
Full report at:
http://english.alarabiya.net/en/News/middle-east/2014/12/06/UK-to-establish-permanent-Mideast-military-base.html
---------
After 2 years of captivity, Swiss hostage escapes from Filipino militants
06 Dec, 2014
A Philippine military commander said a Swiss hostage has escaped from Abu Sayyaf militants after more than two years of jungle captivity in the restive southern region.
Lt. Gen. Rustico Guerrero said Lorenzo Vinciguerra fought with his in the jungles off Patikul town in Sulu province and was wounded either by gunfire or hacking as he dashed to freedom early on Saturday. The hostage was later found by Army troops and taken to a hospital.
Mr. Vinciguerra was one of two European bird watchers, who were seized by the militants in nearby Tawi Tawi province more than two years ago.
http://www.thehindu.com/news/international/world/after-2-years-of-captivity-swiss-hostage-escapes-from-filipino-militants/article6667643.ece
------------
Henning's death was 'final straw,' say UK ex-soldiers fighting ISIS
06 Dec, 2014
Two former British soldiers currently fighting against Islamic State of Iraq and Syria (ISIS) militants have revealed that the killing of UK aid worker Alan Henning was "the final straw" that compelled them to join the battle in Syria, The Sun reported on Friday.
"Killing the aid worker was the final straw," one of the soldiers, Jamie Read, told the tabloid.
Henning, a British former taxi driver who traveled to Syria to aid refugees, was executed by a masked ISIS militant – known by media outlets as "Jihadi John" – in a video released online in October, following a similar series released by the group.
"There is no justification for their executions – for putting innocent guys on their knees and doing that," Read said.
Full report at:
http://english.alarabiya.net/en/News/middle-east/2014/12/05/Henning-s-death-was-final-straw-say-UK-ex-soldiers-fighting-ISIS.html
------------
Georgian Chechens Increasingly Play Key Roles in Both Islamic State and Its Rivals
06 Dec, 2014
After the followers of Sheikh Abu Bakr al-Baghdadi proclaimed their allegiance to the Islamic State (IS) organization (sedmitza.ru, June 30), some of the rebel forces opposed to Syrian President Bashar al-Assad became polarized. That polarization also affected the Chechen militant groups fighting in Syria, with some of the Chechen fighters siding with the IS, such as those from Umar Shishani's (Tarkhan Batirashvili) group (YouTube, July 1). Others did not recognize the IS, including Jaysh al-Muhajireen wal-Ansar (Army of Emigrants and Supporters), which is under the command of Salautdin Shishani (Feizula Margoshvili), and Junud al-Sham (Soldiers of the Levant), which is under the command of Muslim Shishani (Murad Margoshvili).
The IS, which is an offshoot of al-Qaeda, now seeks allegiance from the leadership of al-Qaeda itself. The IS's primary goal is to unite all Muslims into a single state and its second goal is to target Westerners and allies of the United States. While al-Qaeda has not demanded allegiance from the Muslims of the Caucasus, Crimea or Russia's Volga region, or the Muslims residing in the United States or Europe (harunsidorov.info, November 19), the IS leaders are demanding that all the world's Muslims submit to the authority of the newly founded Caliphate. This evidently threatens other Muslim commanders fighting in Syria and in Iraq because it undermines their ability to recruit fighters to their ranks. Groups like Jabhat al-Nusra are threatened by the calls for a Caliphate and its impact on their own recruitment efforts.
Full report at:
http://www.jamestown.org/programs/edm/single/?tx_ttnews%5Btt_news%5D=43164&cHash=f10e28b7f02b635a3e895869b8174803#.VIO0cNLF84V
----------
UN: 53,000 fled Bangladesh, Myanmar by sea
06 Dec, 2014
A new UN report points to a sharp increase in numbers of boat people mostly from Bangladesh and Myanmar, also known as Burma.
According to the report by the UN High Commission for Refugees says from June 2013 to June 2014 more than 53,000 people have fled by sea from the Bangladesh-Myanmar border region, an increase of 60% from the previous year.
"More than 20,000 boat people fled in the first six months of this year, headed toward the Malaysia-Thailand border or on to Indonesia and Australia."
UNHCR spokesperson William Spindler made the disclosure at the press briefing at the Palais des Nations in Geneva on Friday.
The UNHCR report has found that more people are risking their lives on smugglers' boats in South-East Asia despite the prospect of horrific violence en route.
UNHCR estimates that 54,000 people have undertaken irregular maritime journeys in the region so far this year, based on reports by local sources, media and people who survived the journey.
Full report at:
http://www.dhakatribune.com/labour/2014/dec/06/un-53000-fled-bangladesh-myanmar-sea-2014#sthash.rnie9c9x.dpuf
------------
UK politician blames Muslims for pub closures
06 Dec, 2014
A British politician and former beer brewery boss has been criticized after blaming Britain's growing Muslim population for pub closures across the country, The Independent reported on Thursday.
During a debate in the upper house of parliament, the House of Lords, Lord Hodgson of Astley Abbotts said that "socio-economic factors," including an increasing number of non-drinking Muslims in the country's demographic makeup, were to blame for the country-wide pub closures than "rapacious" pub franchises.
In Nottingham, Leicester, Manchester, Leeds and Birmingham – cities with large Muslim populations "the increase in the Muslim population who don't drink leads to many pub closures," Hodgson said.
Full report at:
http://english.alarabiya.net/en/variety/2014/12/05/Chinese-premature-baby-discovered-alive-two-hours-after-her-burial-.html
------------
North America
Obama boosts aid to Jordan amid fight against ISIS
6 December 2014
President Barack Obama pledged Friday a sizable increase in aid to Jordan, as he met with King Abdullah II to discuss tensions in Jerusalem and the fight against the Islamic State of Iraq and Syria (ISIS) group.
Obama promised to increase U.S. aid to Jordan from $660 million to more than $1 billion per year, and said the United States also would provide the kingdom with an additional loan guarantee.
The increased support, the U.S. president said, aims to boost "political and economic reforms that are taking place inside of Jordan so that not only can the people of Jordan prosper and be self-sufficient, but they can continue to provide an anchor for important efforts that enhance U.S. national security over the long term."
Full report at:
http://english.alarabiya.net/en/business/economy/2014/12/06/Obama-boosts-aid-to-Jordan-amid-fight-against-ISIS.html
------------
American held for passing 'nuclear details' to Egypt
6 December 2014
A U.S. Navy civilian engineer was arrested Friday on charges of trying to steal schematics of a new nuclear aircraft carrier and have them sent to Egypt, the Justice Department said.
An undercover FBI agent posed as an Egyptian intelligence officer to snare Mostafa Ahmed Awwad, 35, from the state of Virginia, who is charged with two counts of attempting to export defense articles and technical data.
He faces a statutory maximum sentence of 20 years in prison on each count if convicted.
Awwad told the undercover agent -- whom he believed was an Egyptian government official -- that it was his intention to utilize his position of trust with the U.S. Navy to obtain military technology for use by the Egyptian government, the Justice Department said.
That included the designs of the USS Gerald R. Ford nuclear aircraft carrier, which is under construction.
Awwad is scheduled to appear for a detention hearing on Wednesday.
http://english.alarabiya.net/en/News/middle-east/2014/12/06/U-S-held-for-passing-nuclear-details-to-Egypt.html
---------
CAIR Calls for Federal Probe of 'Intentional' Killing of Muslim Teen Outside Kansas City Mosque
06 Dec, 2014
WASHINGTON, Dec. 5, 2014 /PRNewswire-USNewswire/ -- The Kansas chapter of the Council on American-Islamic Relations (CAIR-Kansas) today called on state and federal law enforcement authorities, including the FBI, to investigate what police are calling the "intentional" killing of a Muslim teenager outside a Kansas City mosque.
The teenager died Thursday night after his legs were severed when he was hit by an SUV outside the Somali Center of Kansas City. A police spokesman said: "It became pretty clear that this was not an accidental crash, there is a considerable amount of evidence that leads us to believe it was intentional." A male suspect in his 30s was taken into custody. Police said he had a machete and other weapons.
Somali Center officials say a man had been threatening people in the Muslim community for months. According to media reports, that same man pointed a gun at them, threatening to kill them because of their faith.
Full report at:
https://news.yahoo.com/cair-calls-federal-probe-intentional-killing-muslim-teen-134900027.html
----------
US condemns terror attacks in J&K
PTI | Dec 6, 2014
WASHINGTON: The US on Saturday said its policy on Kashmir has not changed and it is for India and Pakistan to decide on the pace and scope of peace talks between them.
"Our policy on Kashmir hasn't changed. We still believe that the pace and the scope and character of India and Pakistan's dialogue on Kashmir is for those two countries to determine," state department deputy spokesperson Marie Harf told reporters here.
"We are concerned about any violence in Kashmir," she said.
"Of course our embassies in both places have raised these types of incidents with their respective host governments and certainly encouraged both to continue working together on the issue," she said in response to a question.
http://timesofindia.indiatimes.com/india/US-condemns-terror-attacks-in-JK/articleshow/45392420.cms
------------
Hagel, in Kabul, says Afghans to battle back Taliban threat
06 Dec, 2014
KABUL: Outgoing US Defence Secretary Chuck Hagel expressed confidence in the ability of Afghan forces to defend Kabul following a spike in Taliban strikes as he arrived in the Afghan capital on Saturday for his final trip to Afghanistan as Pentagon chief.
Hagel's unannounced visit came near the end of the bloodiest year in Afghanistan since the war against Taliban militants began in 2001, and after a particularly violent wave of attacks in the capital.
It also came just weeks before the official end of the Nato-led combat mission and a sharp reduction in western forces.
"I have confidence that the Afghan security forces have the capacity to defend Kabul," Hagel told reporters before landing in Kabul, where he is expected to discuss security in talks with Afghan leaders and US commanders.
A US defence official travelling with Hagel played down the attacks, which led the Kabul police chief to offer his resignation last weekend.
"It is a spike. It seems like it's been a concerted effort by the Taliban to conduct high profile attacks to create perceptions of instability," the official said.
As of early November, about 4,600 members of the Afghan security forces had been killed in 2014, more than 6 per cent higher than the same period of 2013.
Even as US officials including Hagel praised the accomplishments of Afghan forces as foreign troops moved into a support role, the high rate of Afghan casualties is seen as unsustainable. It has also raised questions about their vulnerability when US forces fall to about 10,000 next year.
Full report at:
http://www.dawn.com/news/1149177/hagel-in-kabul-says-afghans-to-battle-back-taliban-threat
------------
US praises improvement in Pak-Afghan ties
06 Dec, 2014
WASHINGTON: The most important step, the new Afghan government has taken in its short time in office is to improve relations with Pakistan, US Secretary of State John Kerry was quoted as saying here on Friday.
And Pakistan's Ambassador Jalil Abbas Jilani also acknowledged this at a briefing, noting that relations between the two neighbours had shown a marked improvement in the last two and a half months.
"During their short time in office, they've taken steps to combat money laundering and corruption, improve the country's fiscal situation, and foster better relations with their neighbours, including importantly – perhaps most importantly – Pakistan," said Secretary Kerry.According to a transcript issued by his office in Washington, Secretary Kerry also said that an agreement Pakistan and Afghanistan signed with Tajikistan, and Kyrgyzstan on Wednesday would bring the much-needed electricity from Central to South Asia.
"Advancing this project to completion would make real the idea of a regional energy market connecting South and Central Asia," he said.
Full report at:
http://www.dawn.com/news/1149109/us-praises-improvement-in-pak-afghan-ties
------------
Mideast
Turkish experts arrive to train counter-terror force
06 Dec, 2014
LAHORE: Four senior officers of the Turkish National Police have joined two-month specialized training as instructors of the first batch of 468 corporals recruited by the Punjab Counter-Terrorism Department as a part of new Anti-Terrorism Force.
They will be joined by an Turkish team on Dec 7 to conduct longest-ever training session of corporals at Elite Police Training School, Baidian Lahore.
As many as 1,271 corporals including 75 females have so been inducted in the CTD on a high pay package and incentives.
Officials told Dawn on Thursday that a group of 42 Turkish police experts of different ranks would impart training to 930 corporals of first two batches from Dec 1, 2014, to March 31, 2015, in two phases.
They said the training would be imparted in the fields of investigation, intelligence and special operations by experts who would use their own state-of-the-art academic courses and physical and tactical training modules.
Officials said Punjab police experts, including Elite instructors, would also assist Turkish instructors during two training sessions.
Full report at:
http://www.dawn.com/news/1149088/turkish-experts-arrive-to-train-counter-terror-force
------------
Nine Al Qaeda militants killed in Yemen drone strike: security
06 Dec, 2014
SANAA: Drone strikes killed nine suspected Al Qaeda militants Saturday in southeast Yemen, where the US military launched a failed operation last month to rescue an American hostage, security and tribal sources said.
"Several drone strikes have targeted Al Qaeda positions in Nusab (in Shabwa province), killing nine members of the network," a security source told AFP.
A tribal leader said soldiers of an unknown nationality were seen parachuting into the area and clashes ensued, suggesting it could be a new operation to try to free the US hostage.
It was not immediately possible to verify that information.
Al Qaeda in the Arabian Peninsula (AQAP) on Thursday threatened the imminent execution of US journalist Luke Somers who was kidnapped more than a year ago in Sanaa.
The United States has said that American and Yemeni forces recently tried unsuccessfully to rescue Somers.
Full report at:
http://www.dawn.com/news/1149163/nine-al-qaeda-militants-killed-in-yemen-drone-strike-security
------------
Iran confirms it carried out air strikes in Iraq
6 December 2014
A senior Iranian official confirmed on Friday that his country had carried out air strikes against Islamic State of Iraq and Syria (ISIS) militants in Iraq, in an interview with UK-based daily The Guardian.
Iranian Deputy Foreign Minister Ebrahim Rahimpour told the newspaper in London that the air strikes were carried out at the request of the Baghdad government but was not coordinated with Washington.
"In this matter, we did not have any coordination with the Americans. We have coordinated only with the Iraqi government," the newspaper quoted Rahimpour as saying.
"In general, every military operation to help the Iraqi government is according to their requests," he added.
The purpose of the strikes was for "the defense of the interests of our friends in Iraq" who he defined as the Baghdad government and the autonomous northern region of Iraqi Kurdistan, who are both fighting ISIS.
Full report at:
http://english.alarabiya.net/en/News/middle-east/2014/12/06/Iran-confirms-it-carried-out-air-strikes-in-Iraq.html
------------
HR Report: Israeli Soldiers Detained 20 Palestinian Women in November
06 Dec, 2014
The Israeli forces rounded up 20 Palestinian women over the past month of November, the human rights centre "Palestine Captives" reported on Saturday.
In a press release, the centre said that most of those detained were released later on but three were still held in custody, PIC reported.
It noted that an ex-detainee was summoned for interrogation, and described the targeting of Palestinian women as a fresh "escalation" against Palestinian women.
The centre noted that the wife and sister of a detainee were arrested during a prison visit while eight were captured in the Aqsa Mosque. It added that a number of others were arrested on the alleged attempt to stab or run over soldiers.
The center appealed to all institutions concerned with women rights to pressure the Israeli regime to stop persecuting Palestinian women.
http://english.farsnews.com/newstext.aspx?nn=13930915000856
------------
American captive in Yemen killed in rescue attempt
6 December 2014
Outgoing Secretary of Defense Chuck Hagel confirmed on Saturday the death of al-Qaeda-held photojournalist Luke Somers during a rescue operation in Yemen, Reuters news agency reported.
A relief group said al-Qaeda militants killed another hostage during the operation, reported to be South African teacher Pierre Korkie.
President Barack Obama said the U.S. condemned what he described as the "barbaric murder" of Somers by al-Qaeda.
"We received with sadness the news that Pierre was killed in an attempt by American Special Forces, in the early hours of this morning, to free hostages in Yemen," Relief group Gift of the Givers it said in a statement on its website.
Earlier, there were conflicting reports about the status of Somers who had been held by al-Qaeda.
Full report at:
http://english.alarabiya.net/en/News/middle-east/2014/12/06/Family-of-al-Qaeda-Yemen-hostage-plead-for-his-life.html
------------
No alcohol service class for Turkey's tourism students
06 Dec, 2014
After adopting a proposal to increase the duration of religious education schooling and recommend compulsory Ottoman language classes, a committee of Turkey's National Education Council has accepted a proposal to abolish a class that teaches tourism students how to serve alcoholic beverages.
Eğitim-Bir-Sen, an education sector trade union with conservative views, put forward the controversial proposal for tourism high schools, which was initially rejected in a vote in commission meetings in the southern province of Antalya on Dec. 5.
However, the proposal was accepted by the commission in a second vote in the afternoon, according to Ahmet Gündoğdu, the chair of Eğitim-Bir-Sen. Unions protesting the proposal stormed out of the meeting in the afternoon, daily Radikal reported.
The proposal will now be voted on by the General Assembly of the National Education Council on Dec. 6. If approved, it will be sent to Turkey's National Education Ministry as an official proposal.
Full report at:
http://www.hurriyetdailynews.com/no-alcohol-service-class-for-turkeys-tourism-students.aspx?pageID=238&nID=75275&NewsCatID=341
------------
Militants check IDs in southeastern Turkey, police intervene
06 Dec, 2014
A group of militants were stopping people driving in their cars and checking their IDs in the Nusaybin district of the southeastern province of Mardin on Dec. 4.
After arriving to the scene, the police dispersed the group using tear gas and water cannons.
The group, reportedly sympathizers of the outlawed Kurdistan Workers' Party (PKK), had built road barricades on a street using garbage containers and stones to prevent the intervention.
The masked group responded to the police by throwing stones. "Revenge Team" was written on some of the group members' t-shirts.
The minor event comes at a time when the government is attempting to give a boost to the ongoing talks to solve the Kurdish issue.
http://www.hurriyetdailynews.com/militants-check-ids-in-southeastern-turkey-police-intervene--.aspx?pageID=238&nID=75274&NewsCatID=341
---------
Africa
Toll from twin bomb attack in Somalia rises to 15
6 December 2014
The toll from a twin bomb attack in the central Somali town of Baidoa has risen to 15, police said on Saturday, as the president decried what he called a desperate strike.
"The number of people who were confirmed dead are fifteen," said Somali police official Osmail Mohamed.
Friday's blast was the latest in a string of attacks and saw a suicide bomber detonate his explosives among a crowd of people drinking at a busy teashop in the town.
A second blast then went off as rescuers went to help the wounded.
Those killed included two journalists, colleagues said on Friday.
Somalia President Hassan Sheik Mohamud decried the attack as an act of desperation.
"The suicide blast which targeted innocent civilians demonstrates solely the desperateness of the violent elements whose agenda is to derail the tranquility and development of this society," he said in a statement.
Full report at:
http://english.alarabiya.net/en/News/africa/2014/12/06/Toll-from-twin-bomb-attack-in-Somalia-rises-to-15-.html
------------
South African hostage killed in Yemen raid: Charity
06 Dec, 2014
A South African hostage has been killed in a failed raid to free captives held by militants in Yemen, a charity said on Saturday, adding that his death came a day before he was due to be released after more than a year in captivity.
"We received with sadness the news that Pierre (Korkie) was killed in an attempt by American Special Forces, in the early hours of this morning, to free hostages in Yemen," said the Gift of the Givers group, which has been negotiating his release.
"The psychological and emotional devastation to (his wife) Yolande and her family will be compounded by the knowledge that Pierre was to be released by Al Qaeda tomorrow," it said.
http://english.ahram.org.eg/NewsContent/2/8/117298/World/Region/South-African-hostage-killed-in-Yemen-raid-Charity.aspx
------------
General Assembly: Youth and Children for Human Rights in Morocco
Dec 6, 2014
Rabat – The World Forum on Human Rights, which was held in Marrakech on November 28 and 29, devoted much time to children's rights.
Following the activities that took place in Rabat last November during the second Model United Nations – Morocco, the National Observatory on Rights of the Child encouraged young leaders and activists to design a new mechanism to improve the situation of youth and children all over the world.
The National Observatory of Rights of the Child, a national autonomous institution, conducted a series of activities regarding children's rights, including the General Assembly for youth rights.
Full report at:
http://www.moroccoworldnews.com/2014/12/146160/general-assembly-youth-and-children-for-human-rights-in-morocco/
------------
Algerian National Gets Two Years In Prison On Terrorism Charges
Dec 6, 2014
Salé – The counterterrorism court in Salé sentenced, on Thursday, an Algerian national to two years in prison.
The defendant, who is a student born in 1990, was found guilty of "forming a band in order to perpetrate terrorist acts as part of a collective scheme aiming to disrupt public order" and of "illegally entering the national territory".
The Algerian national was arrested by an army patrol in the Jbel Hayane border post before he was taken to the Royal Gendarmerie at the Oujda border post.
http://www.moroccoworldnews.com/2014/12/146153/algerian-national-gets-two-years-in-prison-on-terrorism-charges-2/
--------
URL: https://www.newageislam.com/islamic-world-news/new-age-islam-news-bureau/qisas-(blood-money)-allows-murderers,-rapists-to-go-free/d/100361