New Age Islam News Bureau
14 September 2020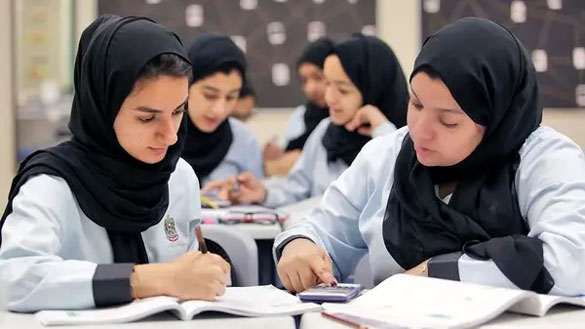 Students learning in a classroom in the United Arab Emirates. (File photo: UAE Ministry of Education)
-----
• Real Hard Work Begins at The Afghan-Taliban Peace Talks
• Trump Says Bahrain Joining UAE In Normalizing Ties with Israel
• Madhya Pradesh: Minor Alleges Rape, BJP Cries Love Jihad, The Accused Mansuri Took Up Hinduism in 2011 And Identified Himself as Sameer Singh
• Morocco Busts ISIS-Linked Cell Plotting Suicide Attacks
• Ex-IRGC Commander: Al-Khalifa Not Able to Keep Monarchy by Betraying Islam
• PAS Chief: Only Malay-Muslim Unity Can Lead and Save The Country
Arab world
• Qatar Curriculum Promotes Intolerance of Religious Minorities, UAE Curriculum Teaches Tolerance: Watchdog
• Three soldiers killed in Lebanon during raid on militant's house: Army
• Top Iraq cleric al-Sistani backs early election after UN meeting
• Macron calls Lebanese parliamentary speaker as new government deadline approaches
• Lebanon's Nabih Berri says his Hezbollah-allied Amal will not be part of next govt
• 60th anniversary: Saudi-led OPEC now doing US bidding
--------
South Asia
• Real Hard Work Begins at The Afghan-Taliban Peace Talks
• Taliban Could Exchange Inmates for Truce: Afghan Govt Peace Chief Abdullah Abdullah
• Afghan govt remains grateful to India's commitment, solidarity with Afghanistan: Acting FM
• War Amid Peace Negotiation Illogical: Stanekzai
• Logar Clashes Claim 4 People Uprising Forces
• Afghan forces, Taliban clash as Doha peace talks continue
--------
North America
• Trump Says Bahrain Joining UAE In Normalizing Ties with Israel
• FM Abdullah Bin Zayed Arrives in Washington To Sign US-Brokered UAE-Israel Peace Deal
• CENTCOM commander admits growing attacks on US troops in Iraq, warns Iran
• US Government More Loyal To Saudi Arabia Than To Its Own People: Scholar
--------
India
• Madhya Pradesh: Minor Alleges Rape, BJP Cries Love Jihad, The Accused Mansuri Took Up Hinduism in 2011 And Identified Himself as Sameer Singh
• A Case Just Fell Flat, But VHP Push Makes UP Police Probe 'Love Jihad'
• Farooq Abdullah Attends Parliament 1st Time After Article 370 Abrogation
• 'Threats Won't Deter Cadres from Defeating Nefarious Designs of Terrorists': Congress
• Pak using underground tunnels to push terrorists, drones to drop arms: J&K DGP
• Wajid Ali Shah's great grandson dies of Covid
--------
Africa
• Morocco Busts ISIS-Linked Cell Plotting Suicide Attacks
• Libya's Haftar committed to ending oil blockade, US says
• Mali Military Junta Backs 18-Month Transition Government
• Libyan protesters torch Haftar-backed govt. headquarters in Benghazi
• Group says Zakzaky's health 'seriously deteriorating', urges his release
• Daesh-linked militants seize two islands in Mozambique
--------
Mideast
• Ex-IRGC Commander: Al-Khalifa Not Able to Keep Monarchy by Betraying Islam
• Israel Forces Palestinian Brothers to Demolish Own Home In Jerusalem Al-Quds
• Palestinians call for protests against Arab-Israeli deals
• Iran Welcomes Intra-Afghan Talks, Underlines Non-Interference of Foreign States
• Israeli protesters keep up pressure on PM Netanyahu over alleged corruption
• Four civilians killed in Saudi air raid on Yemen's Ma'rib
• Dozens injured as Israeli officers assault Palestinian inmates in Ofer Prison
• Outrage growing over Bahrain's normalization with Israel
• Saudi warplanes attack Houthi sites in Yemeni capital: Report
--------
Southeast Asia
• PAS Chief: Only Malay-Muslim Unity Can Lead and Save The Country
• PAS Muslimat chief tells party to be dominant, keep control of three state govts
--------
Europe
• Greece To Acquire 18 French-Made Rafale Jets as Turkey Tension Rises
• EU wants 'credible' Lebanon government before giving more blast aid
• UK to 'triple' size of Oman military base
--------
Pakistan
• Pak Opposition Leader Moves Court Seeking Daily Hearings In Defamation Case Against Imran Khan
• Jamaat decides to keep away from opposition conference
• Armed forces kill terrorist commander Ihsan Sanray, three others, in 'breakthrough' operation
• Terrorist commander among 4 killed: ISPR
Compiled by New Age Islam News Bureau
URL: https://www.newageislam.com/islamic-world-news/qatar-curriculum-promotes-intolerance-religious/d/122854
--------
Qatar Curriculum Promotes Intolerance Of Religious Minorities, UAE Curriculum Teaches Tolerance: Watchdog
Emily Judd
Sep 14, 2020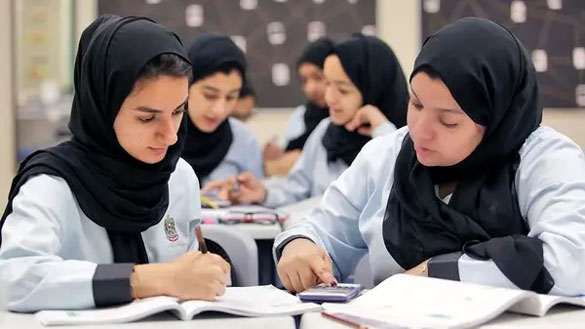 Students learning in a classroom in the United Arab Emirates. (File photo: UAE Ministry of Education)
-----
New reports from a non-profit education watchdog reveal Qatar's government curriculum promotes intolerance of religious minorities, while the UAE educational system champions acceptance of the other.
The Institute for Monitoring Peace and Cultural Tolerance in School Education (IMPACT-se) recently reviewed 238 Qatari textbooks from the last four academic years.
It also reviewed textbooks from the UAE's "Moral Education" curriculum – a government initiative launched in 2016 for public and private schools in the country.
The organization found glaring differences between how the two Gulf countries are teaching young people about people of different religions and backgrounds.
Intolerance in Qatari textbooks
IMPACT-se concluded that Qatar's "curriculum does not meet international standards of peace and tolerance" and that "elements of the Muslim Brotherhood are evident."
While Turkey and Iran are presented in a positive light in the texts, religious minorities are viewed negatively.
Christians are seen as "infidels" who are "expected to go to hell," according to the IMPACT-Se report on Qatar's curriculum.
"Christians, along with Jews…are blamed for causing divisions among Muslims," the report said.
IMPACT-se CEO Marcus Sheff told Al Arabiya English that the textbooks "propagate anti-Semitic conspiracies that Jews control and manipulate world powers and markets."
"I would describe it as falling short of UNESCO standards of peace and tolerance in school education," Sheff said in an interview with Al Arabiya English.
IMPACT-se measured educational content by international standards based on UNESCO and UN guidelines and recommendations on education for peace and tolerance.
Acceptance in UAE textbooks
In contrast, the UAE's Moral Education curriculum - launched in 2006 under the direction of Abu Dhabi Crown Prince Sheikh Mohamed bin Zayed Al Nahyan - "aligns with UNESCO standards and UN declarations," according to IMPACT-se.
Students in the UAE, from grades one to 12, are introduced to "the values of tolerance and respect for themselves, and others, both national and global" through the course, the report found.
For example, a textbook for eight-grade students teaches "one of the core strengths of the UAE is being a home for a diverse and united society, and that the government takes a clear line of tolerance as a fundamental value."
Students in ninth-grade are taught Article 2 of the UN's Universal Declaration of Human Rights, which states that "every human being is entitled to all the rights without any regard to race, color, sex, language, religion, belief, family background, social status, economic status, nationality, or the land in which he was born."
Social justice, particularly with regard to women is highlighted, such as two case studies of young female leaders: UAE Minister of State for Youth Affairs Shamma bint Suhail Faris Mazrui and Pakistani Nobel Prize winning women's rights activist Malala Yousafzai.
Sheff said that the textbooks were a model for all education systems across the Middle East.
"The material we have reviewed so far is a roadmap for young Emiratis towards moderation, respect for the 'Other', peace-making and tolerance," he said.
https://english.alarabiya.net/en/News/gulf/2020/09/13/Qatar-education-promotes-hate-of-religious-minorities-UAE-teaches-tolerance-Reports
--------
Real Hard Work Begins at The Afghan-Taliban Peace Talks
Sep 14, 2020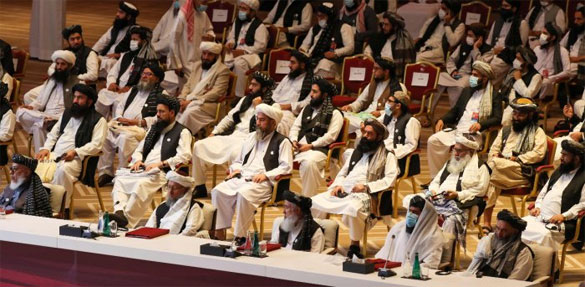 Members of the Taliban delegation attend the opening session of the peace talks between the Afghan government and the Taliban in the Qatari capital Doha. Credit: AFP Photo
-----
DOHA: Afghan government negotiators expressed cautious optimism for progress on thorny issues including ceasefires as peace talks with the Taliban got underway in Doha on Sunday. But the Taliban did not mention a truce as they came to the negotiating table.
The head of the peace process for the Afghan government, Abdullah Abdullah, suggested the Taliban could offer a ceasefire in exchange for the release of more of their jailed fighters. The talks should continue in the "spirit of moving towards peace", he said. "But there should first be a significant reduction in violence." The Afghan government side tweeted that schedules for the talks and a code of conduct were discussed.
Taliban' spokesman Mohammad Naeem also confirmed the beginning of technical talks. "We'll encounter many challenges in the talks over the coming days and months," US secretary of state Mike Pompeo said.
https://timesofindia.indiatimes.com/world/south-asia/real-hard-work-begins-at-the-afghan-taliban-peace-talks/articleshow/78097407.cms
--------
Trump Says Bahrain Joining UAE In Normalizing Ties with Israel
11 September 2020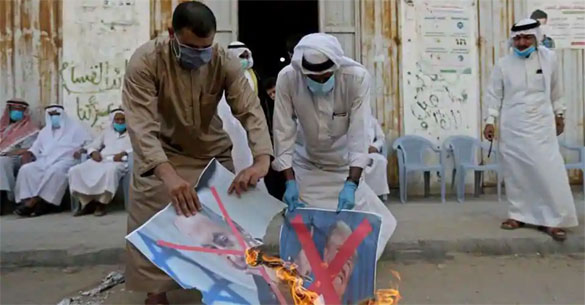 Palestinians burn pictures depicting Israeli Prime Minister Benjamin Netanyahu and US President Donald Trump during a protest against Bahrain's move to normalize relations with Israel, in the central Gaza Strip September 12, 2020.(REUTERS)
------
US President Donald Trump has announced the normalization of bilateral ties between Bahrain and the occupying regime of Israel, the second Arab state to join a deal widely censured as a betrayal of the Palestinian nation and the Palestinian cause.
Trump said in a tweet on Friday that Bahrain had agreed to join the United Arab Emirates (UAE) in striking what he called a peace deal to normalize relations with Tel Aviv.
Another HISTORIC breakthrough today! Our two GREAT friends Israel and the Kingdom of Bahrain agree to a Peace Deal – the second Arab country to make peace with Israel in 30 days!
— Donald J. Trump (@realDonaldTrump) September 11, 2020
The White House said the US president had tweeted out the news after speaking by phone to Bahraini King Hamad bin Isa Al Khalifah and Israeli Prime Minister Benjamin Netanyahu.
Trump also attached to a separate tweet a joint statement, whereby the three had agreed on and expressed commitment to "the establishment of full diplomatic relations between Israel and the Kingdom of Bahrain."
They also boasted the deal in the statement as a "historic breakthrough," and claimed the agreement was aimed at increasing "stability, security, and prosperity in the region."
Bahrain has agreed to formalize the deal with Israel at a ceremony on September 15 at the White House, where the United Arab Emirates would also sign off on its own thaw with the occupying regime announced in mid-August.
Israel and the UAE agreed to a US-brokered deal to normalize relations on August 13. Under the agreement, the Tel Aviv regime has purportedly agreed to "temporarily" suspend applying its own rule to further areas in the occupied West Bank and the strategic Jordan Valley that the Israeli premier had pledged to annex.
The Palestinians have unanimously censured the UAE-Israel peace deal, which runs counter to a long-standing Arab consensus that any normalization of ties with the Tel Aviv regime has to come in the context of the settlement of the Israeli-Palestinian conflict and the establishment of a sovereign Palestinian state.
They say the UAE, as an important Arab player in the region, has stabbed fellow Palestinians in the back with an agreement that does not serve the cause of the Palestinians.
The UAE-Israel agreement has also sparked protests and condemnations from Muslim and other Arab countries, who described it as an act of treason against the Palestinians.
https://www.presstv.com/Detail/2020/09/11/633878/US-Donald-Trump-Bahrain-Israel-normalization-deal
--------
Madhya Pradesh: Minor Alleges Rape, BJP Cries Love Jihad, The Accused Mansuri Took Up Hinduism In 2011 And Identified Himself As Sameer Singh
by Iram Siddique
September 14, 2020
A rape case lodged by a 16-year-old against a 40-year-old man in Satna district of Madhya Pradesh has been termed a case of "love jihad" by BJP leaders, including the state unit president.
The accused, Mohammad Ateeq Mansuri alias Sikander Khan alias Sameer Singh, was arrested within four hours after the victim registered a complaint on September 11. In her complaint, the 16-year-old has alleged that she was raped on the pretext of marriage over the past two years.
Speaking to reporters, state BJP president V D Sharma termed the incident "inhuman" and a "blot on humanity". "This matter of love jihad will not be tolerated in Madhya Pradesh and Chief Minister Shivraj Singh Chouhan has taken serious note of it. The government will look into the network of this love jihad and work seriously on it."
In a press meet late Sunday night, police informed that investigation has revealed that Mansuri "took up Hinduism in 2011 and identified himself as Sameer Singh". He then married a Hindu girl but divorced her in 2017, police said.
A police officer said the 16-year-old complainant met the accused in 2018. The accused took her to a secluded house on the pretext of introducing her to his family and raped her, but after the girl protested, he promised to marry her, the officer said.
He allegedly threatened to kill her family if she told anyone about the incident. In June 2020, the girl learnt that he was married and had children and then registered a complaint.
After reports emerged that the accused allegedly committed similar crimes with other women, SP Iqbal Riyaz constituted an SIT. Police are now set to book him under the National Security Act (NSA). He was produced before the court and sent to police custody for two days.
On Sunday, four more cases were registered against Mansuri. He was booked for possessing fake letterheads of political leaders which he used to send requests for ticket confirmation under emergency quota. He was also booked for having identity documents in two different names. Police have found the farmhouse where the 16-year old was raped was constructed illegally and have ordered its demolition.
Meanwhile, police sources said the SIT is talking to at least three women who have been victims of harassment by Mansuri, but did not lodge a formal complaint.
https://indianexpress.com/article/india/madhya-pradesh-minor-alleges-rape-bjp-cries-love-jihad-6595018/
--------
Morocco busts ISIS-linked cell plotting suicide attacks
10 September 2020
Morocco on Thursday dismantled an ISIS-affiliated cell that was planning suicide bombings, police said, adding explosive belts had been seized and five men arrested.
The five "extremists," aged between 29 and 43, were detained in simultaneous operations at sites in Tangiers and the Rabat region, said the Central Bureau of Judicial Investigations.
Explosive belts, three kilograms (6.6 pounds) of ammonium nitrate, electronic equipment and bladed weapons were seized in raids on homes and businesses of the suspects, the bureau said.
The cell's alleged leader "had planned with his accomplices to target sensitive installations and sites with explosive devices and belts to destabilize... the kingdom," it added.
The group had "carried out reconnaissance missions of targets to be attacked by suicide bombers... in order to serve the destructive agenda of Daesh," it said, using the Arabic acronym for ISIS.
A police officer was reportedly stabbed and wounded during one of the arrests, according to a local media outlet present during the operation, which reportedly involved a large number of Moroccan special forces.
https://english.alarabiya.net/en/News/north-africa/2020/09/10/Morocco-busts-ISIS-linked-cell-plotting-suicide-attacks
--------
Ex-IRGC Commander: Al-Khalifa Not Able to Keep Monarchy by Betraying Islam
Sep 13, 2020
"The failure to contain coronavirus, anti-racism protests and the economic recession have left Trump behind his Democrat rival, and to make up for it, he is seeking a fake foreign policy achievement by pressuring the weak regional Arab states to compromise with the Zionist regime," Rezayee wrote on his twitter page on Sunday.
He added that establishment of relations with the Zionists is an election gift by certain Arab countries to Trump, from the blood and pockets of the Palestinians and is a dagger on the back of unity and aspirations of the Islamic Ummah which encourages the Zionist regime to continue its occupation plans (the process of annexation and Judaization of the holy Quds).
Rezayee noted that today the Bahraini regime lacks popular legitimacy and seeks to win this legitimacy from outside and the most evil enemies of the Islamic Ummah, the Zionists.
"This is not the agreement of the honorable people of Bahrain, but the agreement of the country's regime with the Zionists," he said.
"The regimes that make these relations public (now) already had ties with the Zionist regime, but hypocritically denied these ties and hid it. But history has shown us that their throne will not be preserved by betraying Islam and the Islamic Ummah. This is the tradition of God," he underscored.
US President Donald Trump tweeted the news of the Israel-Bahrain normalization deal on Friday after he spoke by phone to Bahrain's King Hamad bin Isa Al Khalifa and Israeli Prime Minister Benjamin Netanyahu.
Following the announcement at the White House, Palestinian officials condemned the Israel-Bahrain normalization deal announced by US President Donald Trump as another "stab in the back" by an Arab state.
Friday's accord normalizing diplomatic ties between Israel and Bahrain comes one month after the United Arab Emirates (UAE) agreed to normalize ties with Israel under a US-brokered deal.
US President Donald Trump on August 13 announced a deal brokered by his government between Israel and the UAE which he said would lead to full normalization of ties between the two.
Critics see the deal as the latest attempt by Trump to save his presidential campaign against the Democrat Joe Biden.
Bahrain's main opposition group, the al-Wefaq National Islamic Society, in a statement condemned a deal between Israel and Bahrain as an "ultimate betrayal of Islam and Arabs and a departure from the Islamic, Arab and national consensus".
It also said that the Israel-Bahrain agreement is void of any legitimacy whatsoever.
"Bahraini people, with all their religious, political, intellectual and societal differences, are unanimous in adhering to Palestine and rejecting the entire Zionist entity and standing with Palestine until the last piece of land is liberated from it," the group added.
Al-Wefaq concluded that normalization with Israel is "a blatant contradiction to the will of the Bahraini people and a coup against their principled creed in rejecting the occupation of Palestine".
The Iranian foreign ministry also in a statement strongly condemned the normalization of relations between Bahrain and Israel, and said that it is a shameful and humiliating act by the Manama government.
"Undoubtedly, the oppressed and right-seeking people of Palestine and the freedom-seeking Muslims of the world will never accept the normalization of relations with the usurper regime of Israel, and this shameful act will forever remain in the historical memory of the oppressed nation of Palestine and the freedom-seeking nations of the world," the statement read.
The Iranian foreign ministry pointed out that instead of gaining legitimacy from its people, the Bahraini government, in a fundamental mistake, has established diplomatic relations with the Zionist regime and sacrificed the Palestinian cause for the US internal elections.
"The rulers of Bahrain will henceforth be complicit in the crimes of the Zionist regime as a source of the constant threat to security in the region and the Islamic world and the root of decades of violence, killing, war, assassination, and bloodshed in Palestine and the region," the statement reiterated.
It added that certainly, the result of this action of the Bahraini government will only cause the growing anger and lasting hatred of the oppressed people of Palestine, the Muslims, and the free nations of the world.
"The responsibility for all the consequences of this action lies with the Bahraini government and other accompanying governments," the statement further said.
https://en.farsnews.ir/newstext.aspx?nn=13990623000749
--------
PAS chief: Only Malay-Muslim unity can lead and save the country
13 Sep 2020
BY RADZI RAZAK
KUALA LUMPUR, Sept 13 — PAS president Datuk Seri Abdul Hadi Awang today said that a Malay-Muslim unity is needed to save and lead the country to the right direction.
Speaking at the party's annual general meeting (Muktamar) this morning, Abdul Hadi said based on Al-Quran's Islamic politics, philosophy and history the Arabs and Turks who first dominated the world using Islam lost their mandate as their leaders started abandoning the religion.
"The nation that is with Islam must rise so that it is not swept away by the influence of non-Muslims who lose their identity.
"The nation may also be saved by other races who embrace and accept Islam without letting them be drowned by non-Muslims who are forbidden to be guardians or leaders of Muslims based on the word of Allah," he told the 66th Muktamar in Kota Bharu that was streamed live online today.
Abdul Hadi, however, insisted that in this case, non-Muslim rights are still guaranteed.
He said Islam allows to establish relations with a non-Muslim plural society with strong boundaries, to maintain Islam as the aqeedah (creed) of the country.
"The role of non-Muslims in politics is allowed to the extent of holding the positions of Cabinet Minister, State Government EXCO and Local Government Council Member related to management and administrative matters that are not related to policy matters in Islam.
"What Islam emphasises is not racist fanaticism. The most important thing is that Islam accepts the nature of love for one's own race and specifically takes care of one's own family," he said.
In Sept last year, PAS signed a cooperation pact with their traditional rival – Umno in the name of Muslim Unity.
Earlier this year, PAS joined the Perikatan Nasional coalition after taking over the government together with Umno, Bersatu and Sarawak parties.
https://www.malaymail.com/news/malaysia/2020/09/13/pas-chief-only-malay-muslim-unity-can-lead-and-save-the-country/1902766
-------
Arab world
Three soldiers killed in Lebanon during raid on militant's house: Army
14 September 2020
Three Lebanese army soldiers were killed when they came under fire while raiding the home of a wanted militant in northern Lebanon, the army said in a statement overnight.
The patrol from Lebanese army intelligence was attacked with gunfire and a hand grenade when it raided the house near the city of Tripoli in the Minyeh Jabal al-Bedawi area, the army said. A fourth soldier was seriously wounded.
https://english.alarabiya.net/en/News/middle-east/2020/09/14/Three-soldiers-killed-in-Lebanon-during-raid-on-militant-s-house-Army
--------
Top Iraq cleric al-Sistani backs early election after UN meeting
13 September 2020
Iraq's top Shia cleric on Sunday endorsed early parliamentary elections set for June 2021, following his first meeting in nearly a year with a senior United Nations official.
"The parliamentary elections scheduled for next year are of great importance," said Grand Ayatollah Ali al-Sistani, 90, in an online statement after the bilateral meeting.
For all the latest headlines, follow our Google News channel online or via the app.
Iraqis should be encouraged to participate "widely," he added, while warning that failing to hold the polls on time or in a free and fair way would "threaten the unity and future of Iraq's people."
Al-Sistani does not make public appearances and typically issues a weekly Friday sermon through a representative.
He avoids meeting political figures, but has traditionally made an exception for the UN, which is seen as unbiased.
This year, the cleric has been quieter than usual - weekly prayers stopped in late February with the onset of the coronavirus pandemic, which also sparked fears for al-Sistani's health.
On Sunday, al-Sistani hosted the UN's top representative in Iraq Jeanine Hennis-Plasschaert in his modest home in the shrine city of Najaf, 10 months since their last meeting.
"If done in the right way, in the right and credible way, they could open an important chapter for the country," she said, referring to early elections.
Prime Minister Mustafa al-Kadhemi had announced in late July that Iraq would hold parliamentary elections nearly a year early, seeking to make good on one of the main promises he made when he came to power earlier this year.
Al-Sistani has himself been a proponent of early elections since last year, when unprecedented anti-government protests rocked Baghdad and the Shia-majority cities of the south.
The cleric had been increasingly sharp in his criticism of the current fragmented parliament, which was elected in May 2018.
The 329-member body has voted in favor of electoral reform ahead of next year's elections but has yet to decide on key elements, including district size.
https://english.alarabiya.net/en/News/middle-east/2020/09/13/Top-Iraq-cleric-al-Sistani-backs-early-election-after-UN-meeting
--------
Macron calls Lebanese parliamentary speaker as new government deadline approaches
13 September 2020
French President Emmanuel Macron has held a call with Lebanon's parliamentary speaker to try to remove an obstacle to meeting this week's deadline for forming a new government to drag the nation out of crisis, a Lebanese politician said on Sunday.
Speaker Nabih Berri leads the Amal Movement, a Shia Muslim party allied to the powerful Hezbollah group.
Lebanon's leadership promised Macron in Beirut on September 1 that they would form a government of technocrats without party loyalties in about two weeks. They have just days left.
For all the latest headlines follow our Google News channel online or via the app
A senior political source said it would take a "miracle" to meet the deadline. Forming a cabinet usually takes months.
Kassem Hachem, a senior figure in Berri's parliamentary bloc, said Macron, who has led international efforts to help fix Lebanon's crippling economic problems made worse by a huge blast in Beirut last month, spoke to Berri on Saturday.
Hachem said Berri insisted that the finance ministry, at the center of the impasse, should stay in the hands of the Shia community, which has typically held the post under Lebanon's sectarian power sharing arrangements.
The cabinet is being formed by Prime Minister-designate Mustapha Adeeb, a Sunni who quit as ambassador to Berlin to take the post. He has made few public comments, but sources have said he wants to shake up the leadership of ministries, some of which have been controlled by the same sectarian factions for years.
France has drawn up a roadmap of measures to tackle endemic state corruption and deal with a host of other economic problems so Lebanon, facing its worst crisis since the 1975-1990 civil war, can secure desperately needed international aid.
Donors pledged billions of dollars in 2018 but funds were not disbursed because Lebanon failed to deliver reforms.
The finance minister will be central to building the reform program needed to end a banking crisis that sent the currency into tailspin, plunging many Lebanese into poverty.
https://english.alarabiya.net/en/News/middle-east/2020/09/13/Macron-calls-Lebanese-parliamentary-speaker-as-new-government-deadline-approaches0
--------
Lebanon's Nabih Berri says his Hezbollah-allied Amal will not be part of next govt
13 September 2020
Lebanon's parliamentary speaker said his group opposed the way the prime minister-designate was forming a new cabinet and that it would not join on those terms, but that he would still cooperate to stabilize the nation in crisis, his office said.
The office of Nabih Berri, head of the Muslim Shia Amal Movement which is allied to the powerful Hezbollah group, listed in a statement criticisms of the way the cabinet was being formed by Mustapha Adib, including a lack of consultations.
"The problem is not with the French, the problem is internal," Berri's office said in its statement, after an ally said Berri had held a telephone call with French President Emmanuel Macron who is pressing for Lebanese reforms.
https://english.alarabiya.net/en/News/middle-east/2020/09/13/Lebanon-s-Nabih-Berri-says-his-Hezbollah-allied-Amal-will-not-part-of-next-government
--------
60th anniversary: Saudi-led OPEC now doing US bidding
14 September 2020
With Iran and Venezuela sidelined in OPEC under sanctions, Saudi Arabia has shown it would rather guarantee US interests through the oil grouping than risk losing American support, current and former OPEC officials say.
OPEC is marking its 60th anniversary and today (Monday) is the day oil ministers from Venezuela, Saudi Arabia, Kuwait, Iraq and Iran gathered in Baghdad in 1960 to found the group to counter the colonial power of seven US and British oil companies.
This was a historic moment which would transform the oil industry and oil markets, where the countries owning the minerals did not benefit commensurately from the riches which belonged to them and their people.
The founding resolutions stipulate that member countries study how to stabilize prices "by the regulation of production, with due regard to the interests of the producing and of the consuming nations and to the necessity of securing a steady income to the producing countries."
That was how in 1973, Arab members of OPEC brought the US economy to its knees when they imposed their famous oil embargo as retribution for American support for Israel during the Yom Kippur War.
OPEC as a bloc also resisted US pressure to tamper with market prices for decades, notably in 2011 during the uprising against Libya's Muammar Gaddafi, but its record over the past three years has largely been one of capitulation - only under the Saudi domination.
Saudi Arabia and other like-minded OPEC members have repeatedly yielded to pressure from Washington to pump more oil since US President Donald Trump took office at the start of 2017.
Trump has regularly called on Saudi rulers to ensure lower gasoline prices to help him win over US consumers.
"And when prices got too low for US drilling companies to make money this year, OPEC hashed out a deal to bring them back up slightly, in an agreement spurred on by Washington's threat to reduce its military backing for Riyadh," Reuters said Sunday, citing sources which it did not identify.
"Trump orders from Saudi Arabia what he needs for the oil price - and he is served," Chakib Khelil, who was Algeria's oil minister for a decade and OPEC's president in 2001 and 2008, told the news agency.
"So indeed OPEC has changed," Khelil stressed.
OPEC weakened amid sanctions on Iran, Venezuela
Saudi Arabia has been the leading OPEC producer for decades, giving it the biggest sway over policy, but the US sanctions on Iran and Venezuela have only increased its domination much to Washington's delight.
Trump has developed a close relationship with Saudi Arabia's de facto ruler Mohammed bin Salman or MBS who relies on the US for weapons and protection.
According to a forthcoming book detailing a veteran journalist's interviews with Trump, the US president bragged that he had protected MBS from congressional scrutiny after the brutal murder of journalist Jamal Khashoggi two years ago.
Trump also boasted about how much Saudi Arabia relied on the United States, saying that the country "wouldn't last a week if we're not there, and they know it".
That reliance, however, comes with an exorbitant cost and Saudi rulers are always amenable to paying that.
In 2018, as oil prices spiked over $70 a barrel, a level Washington viewed as too high for US consumers, Trump thundered with a barrage of tweets directed at Saudi Arabia.
"Oil prices are too high, OPEC is at it again. Not good!" he tweeted on June 13, 2018, nine days ahead of an OPEC meeting.
As OPEC gathered in Austria on June 22, Trump wrote: "Hope OPEC will increase output substantially. Need to keep prices down!" Later that day, OPEC agreed to raise its output by a million barrels a day.
Two OPEC officials, cited by Reuters, said a Trump intervention on oil prices effectively nudges the Saudi-led organization to discuss or even adjust its production policy.
Earlier this year, Trump wanted something new from OPEC: a production cut, to help US oil companies make money.
According to Reuters, Trump gave Saudi leaders an ultimatum as the United States pressed Saudi Arabia to end its oil price war with Russia.
The threat to upend a 75-year strategic alliance was central to the US pressure campaign that led to a landmark global deal to slash oil supply, scoring a diplomatic victory for the White House, the news agency said.
"Just spoke to my friend MBS (Crown Prince) of Saudi Arabia, who spoke with President Putin of Russia, & I expect & hope that they will be cutting back approximately 10 Million Barrels, and maybe substantially more which, if it happens, will be GREAT for the oil & gas industry!" Trump tweeted on April 2.
"In sum, OPEC does not make decisions anymore on what is best for its members economically, as it is supposed to according to its statutes," Algeria's Khelil said.
Reuters cited Iran's former OPEC governor Hossein Kazempour Ardebili telling the news agency in 2018, when OPEC+ had just raised output following pressure from Trump, that both OPEC and the broader group had begun acting against the interests of their smaller members.
"They gave an oil price gift to Trump while inflicting revenue loss on all OPEC members," he said.
Even so, most members are unanimous in keeping the organization in one piece, believing that OPEC's old good days will come back.
"It's important to be a member of OPEC or OPEC+ so that you can maximize your interests," Reuters quoted what it called a source familiar with Iran's oil policy as saying.
https://www.presstv.com/Detail/2020/09/14/634047/Saudi-OPEC-US-interests
--------
South Asia
Taliban could exchange inmates for truce: Afghan govt peace chief Abdullah Abdullah
12 September 2020
The Taliban could offer a truce in exchange for the release of its jailed fighters, the head of the peace process for the Afghan government said as talks opened Saturday.
The beginning of the US-backed negotiations were marked with a slick ceremony in a luxury hotel in Doha, but major differences divide the two camps meaning a quick breakthrough is unlikely.
For all the latest headlines, follow our Google News channel online or via the app.
Abdullah Abdullah, the chairman of Afghanistan's High Council for National Reconciliation, said "it could be the case" that the Taliban would demand further prisoner releases before committing to a temporary halt to violence.
Under the terms of the force withdrawal deal struck between the US and the Taliban in Doha in February, 5,000 Taliban prisoners have already been released in exchange for 1,000 government forces.
"This could be one of their ideas or one of their demands," Abdullah told AFP in the interview without ruling out the idea.
"It is for the negotiating team to find out what are the things which can help us seize the moment."
In his opening speech, Abdullah called for an immediate, humanitarian ceasefire – but his plea went unanswered by Taliban co-founder Mullah Abdul Ghani Baradar who made no mention of a truce in his opening remarks.
The Taliban have long worried that reducing violence could lessen their leverage but have implemented two temporary ceasefires in the past year alone.
Asked if the approaching US presidential elections in November were the reason for the vigor of Washington's diplomacy, Abdullah said "they have intensified it in the past few months."
"But the urgency is really with the Afghan people," he added.
"The Moria camp (is) the destiny of many Afghan families, large numbers of them, because of the continuation of the war," he said referring to Greece's Moria camp which burned down this week and was home to many Afghans
"It couldn't be more timely or more urgently needed," Abdullah said.
Both sides got to work immediately after the opening ceremony, Abdullah said, with wrangling already underway on a code of conduct and timetable for the talks.
https://english.alarabiya.net/en/News/world/2020/09/12/Taliban-could-exchange-inmates-for-truce-Afghan-govt-peace-chief-Abdullah-Abdullah
--------
Afghan govt remains grateful to India's commitment, solidarity with Afghanistan: Acting FM
Sep 13, 2020
KABUL: The Afghan government remains grateful to India's commitment and solidarity with Afghanistan, the country's acting foreign minister Mohammed Haneef Atmar.
Taking to Twitter, Atmar appreciated external affairs minister S Jaishankar for reaffirming India's support for peace and to the people of Afghanistan.
"My sincere appreciation to EAM @DrSJaishankar and @MEAIndia for reaffirming India's support for peace and the free will of the Afghan people. We profoundly remain grateful to India's commitment and solidarity with Afghanistan," Atmar tweeted.
My sincere appreciation to HE EAM @DrSJaishankar and @MEAIndia for reaffirming India's support for peace and the fr… https://t.co/fbLVlDPUX0
— Mohammed Haneef Atmar محمد حنیف اتمر (@MHaneefAtmar) 1599996608000
Atmar's appreciation for India comes when the peace talks between the Afghanistan government and the Taliban have opened in Qatar's capital Doha to end the decades of war that has killed tens of thousands.
Jaishankar on Saturday participated during the opening ceremony of Afghan peace negotiations in Doha through video conferencing and reiterated that the peace process should be Afghan-led and ensure the interests of minorities and women.
He said Afghan soil should never be used for carrying out anti-India activities and supported the need for an immediate ceasefire in order to establish long-lasting peace in Afghanistan.
Taking to his Twitter, the external affairs minister said, "Addressed the conference on Afghan peace negotiations at Doha today. Conveyed that the peace process must be Afghan-led, Afghan-owned and Afghan-controlled, respect national sovereignty and territorial integrity of Afghanistan, promote human rights and democracy, ensure the interest of minorities, women and the vulnerable and effectively address violence across the country."
https://timesofindia.indiatimes.com/world/south-asia/afghan-govt-remains-grateful-to-indias-commitment-solidarity-with-afghanistan-acting-fm/articleshow/78092142.cms
--------
War Amid Peace Negotiation Illogical: Stanekzai
By Mohammad Arif Sheva
13 Sep 2020
DOHA, Qatar – Head of the Afghan negotiating team Masoom Stanekzai in a press conference Sunday said peace negotiation while war still going on in the country is not logical.
Stanekzai, in joint press conference with chairman of the High Council for National Reconciliation Abdullah Abdullah in Doha, Qatar, said an agenda is being worked on to facilitate Intra-Afghan talks on peace in the country.
He hoped the initial talks will agree on a comprehensive ceasefire in Afghanistan, leading the talks to and end with no deadlock or hindrance.
Addressing the ongoing war, mostly claimed by the Taliban, stanekzai said war amid peace talks in the country is unacceptable.
Meanwhile, Abdullah said the doors for negotiation will not be closed despite conflicting thoughts of both parties.
He stressed on the joint effort, saying it is a responsibility for both sides to push through the process of Intra-Afghan talks after the initials settings have been made on Saturday.
Abdullah, furthermore, denied any exclusive meeting with the Taliban head Mullah Abdul Ghani Baradar in Doha, saying there was no meeting as such.
His remark came at a time sources suggested Abdullah, Baradar and Mike Pompeo of State Secretary attended a trilateral meeting.
On Saturday, the opening session of Intra-Afghan talks were held in Qatari capital Doha, where the Afghan and the Taliban delegation team, including international allies, came together to start the long-waited peace negation that will end the roughly two decades of war in Afghanistan.
https://www.khaama.com/war-amid-peace-negotiation-illogical-stanekzai-2343/
--------
Logar Clashes Claim 4 People Uprising Forces
By Mohammad Arif Sheva
13 Sep 2020
LOGAR, Afghanistan – At least four People's Uprising Forces were killed during clashed with the Taliban insurgents in Logar province, local authorities confirmed.
Dedar Lung, Logar Governor, said the clashes begin in Pul Matani area of Pul Alam city in Logar province.
The Taliban raided PUF post in the area at late Saturday night, which killed at least four uprising forces and wounded further a number.
The battle, which lasted a few hours, has been warded off after security forces were deployed at the scene.
Taliban did not immediately comment on the incident.
Logar is considered one of the most insecure provinces, where armed Taliban have active influences in some cities.
https://www.khaama.com/logar-clashes-claim-4-people-uprising-forces-34534/
--------
Afghan forces, Taliban clash as Doha peace talks continue
13 September 2020
Peace talks between Afghan government and the Taliban were held for the 2nd day, but reports of ongoing violent clashes back in Afghanistan are stark reminder of obstacles ahead.
The peace talks resumed Sunday in the Qatari capital Doha, where the Taliban have a representative office.
The talks are expected to tackle thorny issues, including a permanent cease-fire, the rights of women and minorities, and the disarming of tens of thousands of Taliban militants and militias loyal to warlords.
Constitutional changes and power sharing are expected to be on the agenda as well.
Abdullah Abdullah, the country's former chief executive officer who is heading the Afghan negotiating team, earlier said that achieving a significant reduction in violence and a permanent ceasefire would be among the first issues in Sunday talks.
He said the Taliban could offer a truce in exchange for the release of more of their jailed militants.
"This could be one of their ideas or one of their demands," said Abdullah, who also heads Afghanistan's peace council.
The first day included a formal ceremony and efforts to agree on a framework of the first direct negotiations between the two sides since a deal clinched between the United States and the militant group earlier this year.
At a ceremony opening the talks on Saturday, the Afghan government called for a ceasefire, but the Taliban did not mention a truce as they came to the negotiating table.
Diplomats and delegates warned during the opening ceremony that the negotiations will be arduous and messy.
"We will undoubtedly encounter many challenges in the talks over the coming days, weeks and months," US Secretary of State Mike Pompeo said in Doha.
Observers said that although getting both sides to the negotiating table was a major achievement, this does not mean the path to peace will be easy, especially with violence increasing around Afghanistan.
President Donald Trump made the withdrawal of US troops from Afghanistan a promise before the 2016 presidential election. In the countdown to the November presidential election, Washington has ramped up pressure to start intra-Afghan negotiations.
Afghan forces, Taliban continue to clash amid talks
The Afghan Defense Ministry said that Taliban and the government forces were still fighting in many places across the war-ravaged country.
"With the start of intra-Afghan talks, we were expecting the Taliban to reduce the number of their attacks, but unfortunately their attacks are still going in high numbers," Fawad Aman, a spokesman for the Afghan Defense Ministry said.
"We don't have exact information about the Taliban attacks on Saturday, but I can say the number of attacks has increased instead of decreased."
Local Afghan officials said Sunday at least six police were killed in a Taliban attack in Kunduz overnight, while five officers were slain in another attack in Kapisa province.
A roadside mine blast in the capital Kabul also wounded two civilians, while another explosion in Kabul district resulted in no casualties.
Taliban spokesman Zabihullah Mujahid said in a statement that the militant group attacked a convoy of Afghan forces that had arrived to launch an anti-terror operation along a key highway in Kunduz.
He added that security forces carried out air and artillery strikes on Saturday night in the provinces of Baghlan and Jowzjan
On Friday, the eve of the inauguration of the talks, the Taliban carried out 18 attacks against government forces and installations across the country, inflicting heavy casualties.
The peace talks were held one day after the 19th anniversary of the September 11 terrorist attacks on the United States that triggered the US military invasion of Afghanistan.
The intra-Afghan talks were set to take place in March but have repeatedly been delayed over a prisoner exchange agreement made as part of the United States-Taliban deal signed in February.
Under the deal with the US, the Taliban agreed to stop their attacks on US-led foreign forces in return for the US troop withdrawal from Afghanistan and prisoner swap with the government.
The Afghan government was a party neither to the negotiations nor to the deal, but it has been acting in accordance with its terms, including by agreeing to free the Taliban prisoners.
Official data shows that bombings and other assaults by the Taliban have surged 70 percent since the militant group signed the deal with the United States in February.
Washington invaded Afghanistan and toppled the Taliban-run government in 2001 on the pretext of fighting terrorism following the September 11 attacks in New York.
Afghanistan has been gripped by insecurity since the US and its allies invaded the country as part of Washington's so-called war on terror in 2001. Many parts of the country remain plagued by militancy despite the presence of foreign troops.
American forces have since remained bogged down in Afghanistan through the presidencies of George W. Bush, Barack Obama, and now, Donald Trump.
About 2,400 US soldiers have been killed, along with unknown numbers of Afghan troops and Taliban militants. More than 100,000 Afghans have been killed or injured since 2009 when the UN Assistance Mission in Afghanistan began documenting casualties.
https://www.presstv.com/Detail/2020/09/13/634008/US-Afghanistan-Taliban-Doha-Abdullah-Abdullah-Fawad-Aman
--------
North America
FM Abdullah bin Zayed arrives in Washington to sign US-brokered UAE-Israel peace deal
Tuqa Khalid
Sep 14, 2020
UAE's Minister of Foreign Affairs and International Cooperation Sheikh Abdullah bin Zayed arrived in Washington on Sunday, leading the delegation to the signing ceremony of the UAE-Israel peace deal hosted by US President Donald Trump.
The signing ceremony will take place on Tuesday, in the presence of Israeli Prime Minister, Benjamin Netanyahu.
"The high level delegation comprises Abdullah bin Touq Al Marri, Cabinet Member and Minister of Economy, Obaid bin Humaid Al Tayer, Minister of State for Financial Affairs, Reem bint Ibrahim Al Hashemy, Minister of State for International Cooperation, Dr. Sultan bin Ahmed Al Jaber, Cabinet Member and Minister of Industry and Advanced Technology, Ali Said Matar Al Neyadi, Commissioner of Customs and Chairman of the Federal Customs Authority, Yousef Al-Otaiba, UAE Ambassador to the United States of America, Omar Saif Ghobash, Assistant Minister of Foreign Affairs and International Cooperation for Cultural Affairs, Lana Nusseibeh, Permanent Representative of the United Arab Emirates to the United Nations, and Hend Al-Otaiba, Director of Strategic Communications at the Ministry of Foreign Affairs and International Cooperation, along with a number of officials," the UAE's ministry of foreign affairs said in a statement.
As part of the US-brokered peace deal, announced at the White House on August 13 following what officials said were 18 months of talks, the UAE agreed to normalize relations with Israel, while Israel agreed to continue with plans to suspend its annexation of the West Bank.
The UAE also abolished on August 29 a previous law that mandated an economic boycott of Israel.
https://english.alarabiya.net/en/News/gulf/2020/09/13/FM-Abdullah-bin-Zayed-arrives-in-Washington-to-sign-US-brokered-UAE-Israel-peace-deal
--------
CENTCOM commander admits growing attacks on US troops in Iraq, warns Iran
13 September 2020
Commander of US military forces in the Middle East has again raised concerns about surging attacks against American installations in Iraq, linking it to Iran's vow to drive out US forces from the region but rejecting it as the reason for a major US troop reduction in the region.
"We have had more indirect fire attacks around and against our bases the first half of this year than we did the first half of last year," said commander of US Central Command (CENTCOM) Gen. Frank McKenzie in an interview with the US-based NBC News published on Friday. "Those attacks have been higher."
"They have not been particularly lethal and that's a good thing, but they are continuing," McKenzie stated during the interview conducted while he toured the Middle East, and when asked why the attacks have not been lethal, he claimed: "They're not hitting us."
"We know they have very good weapon systems and they are not employing their high-end weapon systems. They're employing things like 107 mm rockets and mortars, which are not as sophisticated as some of their other weapon systems they have," McKenzie further alleged.
"For whatever reason, it may be by design, we don't know, they're just not that successful at hitting anyone. And that's a blessing," claimed the American commander "I don't know how long we can count on that continuing."
The allegations were made just hours after he declared the reduction of nearly half of US forces in Iraq by the end of this month, with almost 2,200 of them leaving the war-ravaged country.
This is while a US military official was cited as saying that the frequency of attacks on American installations has increased, but the overall number of rockets in each attack is generally lower.
Blaming Iran for the persisting attacks on US forces in Iraq, he further claimed that Iranians have pursued political means to influence Baghdad government to demand the withdrawal of US forces.
Following the US terror killing of top Iranian General Qassem Soleimani, along with a number accompanying Iraqi and Iranian military officials, Iran launched missile strikes against the US-held al-Asad Airbase in Iraq, inflicting major losses, including what Washington has described as traumatic brain injuries on more than 100 American service members.
McKenzie went on to say that the US military has brought in additional defensive capabilities, such as Patriot missile defense systems, to be ready.
"We've done what we need to do to protect our forces," he claimed.
Warning Iran against US "red lines"
The top US commander in the Middle East then expressed concern that Iran could "pursue other objectives by inflicting a level of pain below what they think is the US red line."
"That's very dangerous, because I don't think they have an appreciation for where our red line would be," McKenzie claimed.
According to NBC News, the US has been moving American forces out of its bases around Iraq throughout 2020, consolidating them to a few locations, namely in Baghdad and Erbil.
The US has already left al-Qaim, Qayyarah Airfield West, K-1 near Kirkuk, al Taqqadum, and Camp Taji.
Reducing the number of bases, McKenzie said, has allowed American forces to decrease their "attack surface," or the number of possible targets.
As to whether the US will respond to these attacks, McKenzie stated, "I think the United States will take whatever steps are necessary to protect our forces in Iraq."
Tehran has time and again asserted that it stands ready to defend its interests in the region.
https://www.presstv.com/Detail/2020/09/13/633964/US-CENTCOM-commander-Gen--Frank-McKenzie-attack-in-Iraq-Iran
--------
US Government More Loyal To Saudi Arabia Than To Its Own People: Scholar
12 September 2020
The United States government has "more loyalty to the Kingdom of Saudi Arabia than it has to its own people," according to an American human rights expert and peace activist.
Daniel Kovalik, who teaches international human rights at the University of Pittsburgh School of Law in the state of Pennsylvania, made the remarks in an interview with Press TV on Friday, September 11.
US President Donald Trump has bargged he shielded Saudi Crown Prince Mohammed bin Salman over the gruesome murder of journalist Jamal Khashoggi, according to an explosive new book.
Talking to journalist and writer Bob Woodward, Trump defended bin Salman over the assassination inside a Saudi consulate in Turkey.
"I saved his ass," Trump told Woodward for his upcoming book "Rage," according to an excerpt published on Thursday by Business Insider.
"I was able to get Congress to leave him alone. I was able to get them to stop," Trump said.
Khashoggi, who was a critic of bin Salman, was hacked to death and his body was dismembered at the kingdom's consulate in Istanbul on October 2, 2018.
A UN report found that there was "sufficient credible evidence" to pin the murder on bin Salman and he should be investigated for it.
The Washington Post, for which he was a columnist, reported in November 2018 that the CIA had concluded that bin Salman had personally ordered his killing by a hit squad at the consulate.
The victim used to criticize bin Salman's policies, including the deadly war the kingdom is leading against its impoverished southern neighbor Yemen.
Kovalik said that "it's pretty clear that in fact the Crown Prince of Saudi Arabia was behind torture and brutal murder of Jamal Khashoggi who was a journalist for the Washington Post, obviously a very important American paper and the evidence is clear that he ordered this killing."
"And yeah, Trump is now admitting that he ran interference for him to make sure that Congress would not investigate, and then otherwise he would not be brought to justice, which is a pretty incredible admission given that he killed an American journalist," he said.
"I think all those responsible including the Crown Prince should be brought to justice. I mean that's very clear. It is within the power of the US law enforcement agencies to do that, but again the US doesn't want to do that, because the US government is so close to Saudi Arabia," he stated.
"I mean think about it today's 9/11. Let's remember that this is the anniversary of the 9/11 attacks. Fifteen of the nineteen 9/11 attackers were from Saudi Arabia. There is evidence that in fact Saudi Arabia provided some assistance, certainly for the planning of that attack, even paid for dry run of the attack, and yet the US never went after Saudi Arabia instead they went after countries that opposed al-Qaeda like Libya and Iran," he added.
"And of course you have the US continued support of Saudi Arabia's war crimes in Yemen. So the US turns the other way when it comes to Saudi crimes again, even Saudi crimes against the US itself in the form of 9/11 or against an American journalist. It's a very incredible. What it shows is the US government has more loyalty to the Kingdom of Saudi Arabia than it has to its own people," he noted.
"In truth, it doesn't matter who is president for purposes of US ties with Saudi Arabia. We have to remember that under Obama, his administration was close to Saudi Arabia, his administration sold weapons to Saudi Arabia for their war in Yemen, and assisted Saudi Arabia with setting up the blockade of Yemen, which has caused untold suffering and death in that country," he said.
"So this is a bipartisan issue. This is not about Trump. This is about both parties. This is about the military industrial complex, that Eisenhower was talking about in the 1950s which has only grown greater since then," he concluded.
https://www.presstv.com/Detail/2020/09/12/633922/%E2%80%98US-govt--more-loyal-to-Saudi-Arabia-than-to-its-own-people%E2%80%99
--------
India
A Case Just Fell Flat, But VHP Push Makes UP Police Probe 'Love Jihad'
by Manish Sahu
September 14, 2020
Armed with a list of cases from Kanpur police stations involving Hindu-Muslim couples in the past two years, a nine-member team headed by a Deputy Superintendent of Police-rank officer is looking into allegations of "love jihad". The probe follows claims about such cases in the area by right-wing Hindu organisations, including the VHP.
One of those alleged cases fell flat recently after the woman testified before a magistrate that she was a major and had married a Muslim youth of her own volition.
Inspector General, Kanpur Range, Mohit Agarwal said, "The inquiry would find out if is there any connection between Muslim youths involved in such cases. The probe team would also look into the conspiracy part and see if youths are being funded from abroad."
The police team, headed by DySP Vikas Kumar Pandey, is looking at allegations regarding 11 such cases. The investigation includes collecting information on the couples, recording statements of their family members, as well as checking call detail records of the Muslim youths, Pandey said. Sources said their bank accounts will also be checked.
IG Agarwal said a group of people had met him recently to seek such a probe. He refused to say who they were, except that they were "locals".
Assistant Superintendent of Police, Kanpur, Deepak Bhuker said the team was only conducting an "inquiry" to see if there was any "planning" behind the incidents, and not an "investigation". "The team started its inquiry around a week back and will soon complete it," Bhuker said.
DySP Pandey, who heads the team and is Circle Officer, Govind Nagar (Kanpur), said they had contacted local police stations and sought a report from them on "such cases" and then collected information on the couples.
"We are finding out where and how they met. Has any person played the role of a middleman? The police team is also collecting details from their relatives and friends. We are also finding out if any of the Muslim youths had hidden their real identity. We are also studying call detail records of the youths found involved in such matters," said Pandey, adding that they could look at cases other than the 11 they were probing now, depending on what they find.
One of the alleged cases involves a 21-year-old who left home in July and put up a video a few days later saying she had married a Muslim man and converted. She sought protection saying her parents had lodged a false FIR of kidnapping against him.
Suresh Singh, the Senior Sub-Inspector of Babupurwa Police Station, which probed the case, said the couple had approached the court and the woman had told a magistrate that she had married as per her choice. Since the woman is a major, there was nothing for the police to do and they would conclude the investigation, Singh said.
Another case the team is looking at is from Naubasta, of a Muslim youth called Fateh Khan, who is accused of passing himself off as Aryan Malhotra, and owning separate Aadhaar cards under the two names. The Hindu family in whose house he had rented a room for the past two years had later accused him of abusing their minor daughter.
Station House Officer, Naubasta Police Station, Kunj Bihari Mishra said they had recovered both the Aadhaar cards carrying the same photo. He had since been booked on rape charges and jailed, Mishra said.
VHP sah mantri of Kanpur region, Deen Dayal Gaur, said they had gone to meet the IG, Kanpur range, last month because they "suspected that Muslim youths were targeting Hindu girls who are from poor backgrounds". Muslims youths involved in such cases hid their real identities from the girls, Gaur said. "We requested the IG to look into such cases, and also check if these youths are being funded from anywhere," he said.
Bajrang Dal's Kanpur zila sahyojak Naresh Tomar said, "We demanded from the IG Kanpur to conduct a thorough investigation into such cases so that the conspiracy could unearthed."
https://indianexpress.com/article/cities/lucknow/a-case-just-fell-flat-but-vhp-push-makes-up-police-probe-love-jihad-6595005/
--------
Farooq Abdullah attends Parliament 1st time after Article 370 abrogation
Sep 14, 2020
NEW DELHI: National Conference President Farooq Abdullah on Monday attended the Monsoon Session of Parliament for the first time after a gap of more than a year since the abrogation of Article 370 in Jammu and Kashmir.
Abdullah was among the various Jammu and Kashmir leaders who claimed to have been put into pre-emptive detention in the erstwhile state after the Centre on August 5 last year abrogated Article 370 which gave special status to the region.
Abdullah seemed to seek attention in this session in the backdrop of allegations that some leaders in Jammu and Kashmir were kept under illegal detention after Jammu and Kashmir's status was changed. He was welcomed by senior leaders, including Congress' Shashi Tharoor and Manish Tewari, NCP's Supriya Sule, DMK's A. Raja and Muthuvel Karunanidhi Kanimozhi and All India Majlis-e-Ittehadul Muslimeen (AIMIM) President Asaduddin Owaisi in the Lok Sabha chamber where he was sitting at his designated seat in the second row of opposition benches.
During the debate on the revocation of Article 370 in last year's Winter Session, several opposition leaders had demanded that Abdullah, a seasoned parliamentarian, be allowed to attend Parliament. Abdullah had then spoken to the media in an emotional interview in Srinagar, saying he had to break the door of his house to come out of detention and had rejected Union Home Minister Amit Shah's claim that he was free to move.
Farooq Abdullah was elected to the Rajya Sabha in 2002 from Jammu and Kashmir and re-elected in 2009. He resigned from the Rajya Sabha in May 2009 and won a seat in the Lok Sabha from Srinagar. Abdullah joined the United Progressive Alliance government as a Cabinet Minister of New and Renewable Energy. Abdullah's presence will boost opposition's support when it will hit out at the Centre on various issues during the Monsoon Session which started on Monday and will be held till October 1 amid the coronavirus pandemic.
Abdullah's presence is also likely to bring focus back to Peoples Democratic Party president Mehbooba Mufti's continued detention. While most of the mainstream political leaders from Jammu and Kashmir have been released, including Farooq and his son Omar Abdullah, on March 13 and March 24, 2020, Mufti continues to be held under the Public Safety Act (PSA).
The last parliamentary session was cut short on March 25 following the spread of the deadly Covid-19 disease. The government has decided to do away with the Question Hour and instead only written replies will be given in the Monsoon Session which will hold 36 sittings -- 16 each for both the Lok Sabha and the Rajya Sabha -- without Saturday and Sunday break.
https://timesofindia.indiatimes.com/india/farooq-abdullah-attends-parliament-1st-time-after-art-370-abrogation/articleshow/78099624.cms
--------
'Threats Won't Deter Cadres From Defeating Nefarious Designs Of Terrorists': Congress
Sep 13, 2020
Congress has strongly condemned the threat to several political leaders including Congress party and termed it a cowardly act of frustrated cadres of Pakistan-sponsored terrorists.
Reacting to Hizbul's letter, Jammu and Kashmir Pradesh Congress Committee (JKPCC) chief spokesperson Ravinder Sharma said that such cowardly acts would not deter the Congress cadres committed to defeating the designs of terrorists and their mentors in Pakistan.
However, Sharma said that the top leadership of the Congress party and party cadres are carrying on the political activities against militants at a great risk to their lives. He said the present dispensation under the command of ruling BJP has either withdrawn or downgraded the security cover of most of the party leaders.
Sharma hoped the security agencies would take due cognizance of the situation and do the needful required in such matters to ensure proper security cover to all those who are vulnerable to terrorist threats.
https://www.hindustantimes.com/india-news/threats-won-t-deter-cadres-from-defeating-nefarious-designs-of-terrorists-congress/story-vPjw3gda9nVRnLbfDHMrwO.html
--------
Pak using underground tunnels to push terrorists, drones to drop arms: J&K DGP
Posted by Kanishka Sarkar
Sep 13, 2020
Pakistan is using cross-border underground tunnels to push terrorists into India and drones to drop weapons for them, the chief of Jammu and Kashmir police said Sunday.
Director general of police Dilbag Singh, however, said the anti-infiltration grid is active and anti-tunnelling operations are underway to scuttle "nefarious designs".
"Digging of tunnels beneath the IB is part of the nefarious designs of Pakistan to facilitate infiltration of terrorists into this side to step up terrorism," Singh told reporters in Samba district after inspecting the recently discovered 170-metre tunnel at Galar village along the IB.
The tunnel with a depth of 20-25 feet and originating from Pakistan was found by a BSF team near the border-fencing on August 28.
"I saw this huge tunnel which is almost similar to the one detected in Chanyari in 2013-14. After the Nagrota encounter, we had received specific inputs that infiltration had taken place through a tunnel and was searching for it," the DGP said.
Three Jaish-e-Mohammad (JeM) terrorists were killed in the encounter in Nagrota in January this year.
"The investigation is on but the ground indicators suggest that the tunnel was used by Pakistan in the past to push infiltrators," he said but did not rule out the possibility of more such tunnels.
He said BSF and police personnel are searching the area for any other tunnel.
On the recent recovery of sophisticated weapons, including an M-16 rifle, from a Kashmir-bound truck near Qazigund, he said the investigation is going on and it is believed that the arms were airdropped using drones in Samba sector.
Two overground workers of JeM, who were transporting the weapons in a truck, have identified the place in Samba from where they picked up the consignment for delivery to terrorists active in south Kashmir, officials said.
Asked about the possibility of presence of overground workers of terrorists in Jammu, Singh said the region has always been on the radar of Pakistan and it is evident from suicide attacks on military installations in Jammu, Samba and Kathua districts over the years.
"We have made adequate deployment and are taking all necessary precautions to frustrate the designs of Pakistan both along the border and in the hinterland," he said.
Officials said the DGP reviewed the overall security situation, especially along the IB, in the district during his visit and was also briefed by senior police and BSF officers.
https://www.hindustantimes.com/india-news/pak-using-underground-tunnels-to-push-terrorists-drones-to-drop-arms-j-k-dgp/story-Nb1FgwRQUtGsLtkLYtZ1SN.html
--------
Wajid Ali Shah's great grandson dies of Covid
Sep 14, 2020
Lucknow: The great grandson of Awadh's last king Nawab Wajid Ali Shah and grandson of Nawab Birjis Qadr, Prince Kaukab Quder Sajjad Ali Meerza, died in Kolkata on Sunday evening. The last surviving great grandson of Wajid Ali Shah and Begum Hazrat Mahal, the 87-year-old had tested positive for Covid-19 a week ago, his family said.
He is survived by his wife, Badr-un-Nissa 'Badr' who belongs to Lucknow's famous Khandan-e-Ijtihad and is the daughter of poet Fazl Naqvi. The couple has two sons and four daughters.
He last visited Lucknow in May 2017 at the screening of a film on his great grandmother Begum Hazrat Mahal. The 26-minute documentary was commissioned by the Films Division and premiered in Lucknow for the first time on the 137th death anniversary of the queen.
Kaukab was also a senior trustee of the Sibtainabad Imambara Trust in Matiaburj, Kolkata, where his great grandfather, King Wajid Ali Shah lies buried.
After doing his doctorate in Urdu from Aligarh Muslim University on the 'Literary & Cultural Contributions of Wajid Ali Shah', he joined the same university as a teacher and retired as professor of Urdu in 1993.
"Also known as Dr M Kaukub, he was a popular figure in the billiards and snooker fraternity of the country. He was the founder-secretary of The Billiards & Snooker Federation of India, The West Bengal Billiards Association and also The Uttar Pradesh Billiards & Snooker Association," his son Irfan Ali Mirza said.
He was the chief referee of the first World Snooker Championship held at the iconic Great Eastern Hotel in Calcutta in 1963-64. He remained the chief referee of the National Billiards & Snooker Championship till it left the Palm Court of the Great Eastern Hotel in the 70s.
The rolling trophy of the IBSF World Snooker Championship, the M M Baig Trophy, was designed by him, and to this day remains the prestigious rolling trophy of the World Championship.
He had made his daughter Manzilat Fatima play the Junior National Snooker Championship in 1980 in Ahmedabad, thus making her the first female ever to participate in the National Snooker Championship, the son said.
He had also taken out a pioneering Billiards magazine, The Baulkline, in the 1970s.
https://timesofindia.indiatimes.com/city/lucknow/wajid-ali-shahs-great-grandson-dies-of-covid/articleshow/78096438.cms
--------
Africa
Libya's Haftar committed to ending oil blockade, US says
12 September 2020
Libyan commander Khalifa Haftar has committed to ending a months-long blockade of oil facilities, the US embassy in the country said in a statement on Saturday, but oil ports and fields remained shut.
The statement said the eastern-based Libyan National Army (LNA) had conveyed "the personal commitment of General Haftar to allow the full reopening of the energy sector no later than September 12".
For all the latest headlines, follow our Google News channel online or via the app.
It comes after the United States has led efforts to end the oil shutdown amid a wider diplomatic push to cement a ceasefire and a political agreement between rival factions based in the east and west of the country.
Haftar's LNA and its backers imposed the blockade in January, reducing Libya's oil output from more than one million barrels per day (bpd) to less than 100,000 bpd, and further deepening Libya's economic collapse.
Although authorities in eastern Libya have allowed some stored oil products to be exported in order to ease a power generation crisis in eastern Libya, they have stopped short of lifting the blockade.
https://english.alarabiya.net/en/business/energy/2020/09/12/Libya-s-Haftar-committed-to-ending-oil-blockade-US-says
--------
Mali military junta backs 18-month transition government
12 September 2020
The head of Mali's military junta, Colonel Assimi Goita, vowed to establish an 18-month transition government Saturday, at the close of talks on returning the country to civilian rule following last month's coup.
An expert group appointed by the junta adopted a charter for an 18-month transition government, the president of which would either be a military officer or a civilian.
For all the latest headlines, follow our Google News channel online or via the app.
"We make a commitment before you to spare no effort in the implementation of all these resolutions in the exclusive interest of the Malian people," Goita said.
Last Monday, the West African regional bloc ECOWAS issued a new appeal for Mali to make a "swift" transition to civilian rule following a military coup on August 18.
The 15-nation Economic Community of West African States slapped sanctions on Mali after the putsch, including closing borders and a ban on trade and financial flows, and has called for elections within 12 months.
Mali has long been plagued by instability, a simmering extremist revolt, ethnic violence and endemic corruption, with widespread unrest building until a clique of rebel soldiers detained President Ibrahim Boubacar Keita last month.
Within hours of taking control, the military junta pledged to enact a political transition and stage elections within a "reasonable time."
https://english.alarabiya.net/en/News/world/2020/09/12/Mali-military-junta-backs-18-month-transition-government
--------
Libyan protesters torch Haftar-backed govt. headquarters in Benghazi
13 September 2020
Libyan protesters have reportedly set fire to headquarters of the eastern administration backed by rebel forces under the command of renegade general Khalifa Haftar in the country's second city of Benghazi.
Speaking on condition of anonymity, an official from the interior ministry in the eastern government said a group of demonstrators attacked the cabinet building in the early hours of Sunday and set it ablaze before fleeing the scene.
Police and firefighters quickly arrived but the fire had destroyed the main entrance to the building, according to the official.
Reports also said protests erupted in the northeastern city of al-Marj, with police forces opening fire on demonstrators after they forced their way into the police station.
Protests in Benghazi began late Thursday in the wake of rising anger at regular power cuts, cash shortages and high fuel prices as Haftar imposed blockade against most of the country's oil facilities in January.
Libya — which sits atop the largest oil reserves in Africa — has been forced to halt its oil production as a result of the illegal blockade.
The violence-wracked country used to produce nearly 1.2 million barrels per day last year but that figure plunged to about 90,000 daily barrels since the rebel forces forced the halt to the operations at the eastern oilfields and ports. The blockade has cost the North African nation at least eight billion dollars.
Libya first plunged into chaos in 2011, when a popular uprising backed by a NATO intervention led to the ouster of long-time leader Muammar Gaddafi.
Two rival seats of power have emerged in Libya since 2014, namely the internationally-recognized government run by Prime Minister Fayez al-Sarraj, and the parliament based in the eastern city of Tobruk, supported militarily by Haftar's rebels.
The Libyan rebels are supported by the United Arab Emirates (UAE), Egypt, and Jordan. They launched an unsuccessful military offensive to seize the capital, Tripoli, and unseat the government in April 2019.
The Libyan military has undone many of the rebels' gains with crucial support from its own patron, Turkey.
https://www.presstv.com/Detail/2020/09/13/634027/Libyan-protesters-eastern-administration-Khalifa-Haftar-Benghazi
--------
Group says Zakzaky's health 'seriously deteriorating', urges his release
Sunday, 13 September 2020
A Shia group affiliated with the Islamic Movement in Nigeria (IMN) has expressed concern about the worsening health conditions of prominent cleric Sheikh Ibrahim Zakzaky and his wife, demanding their "unconditional release" from prison.
The Academic Forum, which is a branch of the IMN and focuses on intellectual, cultural and civilizational advancement of the movement, raised fresh concerns on Saturday over the deteriorating health of the 67-year-old leader and his wife, Zinat, in a jail in the northwestern Nigerian state of Kaduna.
The group said information at its disposal revealed that bullets lodged in Zakzazy's skull and body during the December 2015 clash with Nigerian soldiers were threatening his life.
"Available information reaching us revealed that the health condition of Sheikh Ibrahim Zakzaky and his wife Malama Zinat Ibrahim is seriously deteriorating," the Academic Forum's spokesperson Abdullahi Muhammad Musa said.
"Our concern over the deteriorating health of Sheikh Zakzaky is growing, as a person with this critical condition is not supposed to remain in incarceration. How on earth will he continue to be in prison with bullet shrapnel causing more harm to an already worsening situation. This is not implausible that there are some sinister motives behind the regime's insistence on keeping him in the highly congested jail in Kaduna. How else can the actions of the regime be explained," he added.
The Shia group's spokesman said the Nigerian government had prevented physicians from providing medical assistance to the top Muslim cleric, adding that a team of Indian doctors that came to Nigeria for the investigation and review of Zakzaky's case were not permitted to visit him.
"Take for instance the aborted trip to India. From the beginning, after the travel permit was granted by a court, moves were made by the government to frustrate it… The team of doctors that came to Nigeria for the investigation and review of his case were refused access to him. Instead they were substituted with very unusual set of unfamiliar doctors that acted in ways that caused the sheikh and his wife to become suspicious," Musa said.
"It is obvious that the Sheikh's critical health condition has not been given the attention it so requires… His wife suffers from severe arthritis in her knee joints, which her doctors have said can only be treated with knee replacement surgery since at least three years ago. She also has loose fragments of bullet pieces in her abdominal area which cause a large number of episodes of periodic life-threatening complications with her organs," he added.
The Academic Forum's spokesperson pointed to the two strokes the IMN's leader had already suffered while in detention, and said both Zakzaky and his wife needed "urgent and critical interventions to salvage their health."
"In view of the deteriorating health condition of Sheikh Ibrahim Zakzaky and his wife Malama Zinat Ibrahim, we are demanding for unconditional release of the couple," the Shia group said.
Zakzaky has been in detention since December 2015 after his residence in the city of Zaria was raided by Nigeria's forces, during which he was beaten and lost vision in his left eye.
During the brutal arrest, three of his sons were also killed, his wife sustained serious wounds, and more than 300 of his followers lost their lives.
The Nigerian government has been cracking down on Shia Muslim ceremonies for several years and has also banned the IMN, whose members regularly take to the streets of the capital Abuja to call for the release of their leader.
Zakzaky was charged in April 2018 with murder, culpable homicide, unlawful assembly, the disruption of public peace, and other accusations. He has pleaded not guilty, vehemently rejecting all the accusations brought up against him.
In 2016, Nigeria's federal high court ordered Zakzaky's unconditional release from jail following a trial, but the government has so far refused to set him free.
The IMN members say the Nigerian government has turned a deaf ear to all protests calling for the top cleric's release.
https://www.presstv.com/Detail/2020/09/13/633975/Nigeria-Academic-Forum-IMN-Muslim-cleric-Sheikh-Ibrahim-Zakzaky
--------
Daesh-linked militants seize two islands in Mozambique
12 September 2020
Daesh-linked militants in northern Mozambique have seized two tiny islands in the Indian Ocean, threatening sea traffic in an area where a multi-billion-dollar offshore gas exploration project is under development.
The seizure of Mecungo and Vamisse islands comes a month after the terrorists occupied the strategic port town of Mocimboa da Praia, which was used for cargo deliveries for the development of the gas project.
Witnesses said the militants arrived in small fishing boats at night Wednesday and removed people from their houses before torching them.
They ordered residents to leave the islands mostly inhabited by internally-displaced people who fled their villages on the mainland where attacks have escalated.
"They got us together and told us to run away if we want to live. I think everyone left the island," one witness told Agence France-Presse (AFP).
Government forces are still battling to retake the Mocimboa da Praia port since it was occupied on August 12.
France's energy company Total, which is investing $23 billion in the gas exploration project, stated that it no longer relies on the occupied port.
The Takfiri terrorists have carried out attacks in the region since 2017, displacing more than 250,000 people and killing at least 1,500.
There have been a growing number of attacks by militant groups in former colonized countries across East and Central Africa amid the persistent presence of foreign military forces to protect their interests in the mineral-rich yet very impoverished nations.
Following a coup against French-backed Mali's president last month, the European Union suspended its military missions in the former French colony aimed at training the country's army and police forces under the pretext of stabilizing the impoverished nation.
Drawn up in late 2012 to help Mali's army regain control of the country after France drove out militants in the north, the EU military mission (EUTM Mali) has more than 600 soldiers from 28 European countries including EU and non-member states.
Its headquarters in Mali's capital Bamako was targeted by militants in 2016.
The coup in Mali has raised the prospects of further political turmoil in the country which, like other countries in the region, is facing an expanding threat from Daesh-linked militants.
Militants and inter-ethnic violence in Mali and neighboring Niger and Burkina Faso killed at least 4,000 people in 2019, according to the United Nations.
This is while the entire Sahel region is seeing ever more brazen attacks by Daesh-linked militants despite the beefing up of national armies and the deployment of 5,100 French troops.
Other countries in the region, such as Nigeria, Somalia, and Mozambique have also seen a major surge in militancy and many instances of deadly attacks against military and civilian targets in the past decade.
https://www.presstv.com/Detail/2020/09/12/633897/Mozambique-Daesh-linked-militants-gas-exploration-project-Total-oil-company
--------
Mideast
Israel forces Palestinian brothers to demolish own home in Jerusalem al-Quds
13 September 2020
Israeli authorities have forced two Palestinian brothers to tear down their own home in the occupied the occupied Jerusalem al-Quds, a local media report says.
The Palestinian Information Center, citing sources, reported on Sunday that Israeli authorities left Palestinian brothers Mohamed and Mustafa al-Salayma no choice but to demolish their two-story apartment building in Silwan town, a predominantly Palestinian neighborhood on the outskirts of the Old City of Jerusalem al Quds.
The municipality's order to raze the building was issued under the pretext of lacking the necessary construction license, which is almost impossible to obtain.
The municipality had ordered them to raze their building and if they refused to do as ordered, demolition crews from the municipality would do the job, and in that case, the two brothers would have to pay the sum of 15,000 US dollars as demolition costs.
The brothers said that they had tried multiple times to obtain the construction permit but were always denied permission.
The Israeli regime routinely demolishes Palestinian houses in the occupied West Bank, claiming that the structures have been built without permits, which are nearly impossible to obtain. They also sometimes order Palestinian owners to demolish their own houses or pay the costs of the demolition if they do not.
The United Nations (UN)'s Office for the Coordination of Humanitarian Affairs (OCHA) said in a recent report that there had been a sharp increase in the number of Palestinian houses being demolished by Israel in the occupied West Bank during the coronavirus pandemic.
OCHA further said that in August alone, 205 Palestinians had been displaced, more than in any other single month since January 2017.
"The period from March to August 2020 saw the demolition or confiscation of 389 Palestinian-owned structures in the West Bank, on average, 65 per month, the highest average destruction rate in four years," the UN office said on Friday.
Meanwhile, UN Humanitarian Coordinator for the Palestinian territories Jamie McGoldrick warned that Israel's demolition of Palestinian houses during the pandemic would make the Palestinians more susceptible to health risks.
Back in May last year, the Israeli rights group, B'Tselem, said in a report that the Tel Aviv regime uses other strategies to block Palestinian use of land, or demolish the homes Palestinians have already built, thus, clearing the way for new illegal Israeli settlements in the region.
Armed Israeli settlers torch Palestinian farm
Separately, Palestinian media reports said a group of Jewish settlers on Saturday set fire to swaths of agricultural land belonging to Palestinian citizens in Mikhmas town in the northeast of Occupied Jerusalem al-Quds.
Many olive trees were burned in the fire after the local residents faced difficulty in containing the flames due to the rugged nature of the area and the presence of Israeli forces who prevented them from reaching some parts of the land.
According to human rights groups, incidents of sabotage and violence by extremist Israeli settlers against Palestinians and their property are a daily occurrence throughout the occupied territories.
The heightened violence comes amid Israel's plan to annex parts of the occupied West Bank.
In pursuing his aggressive plan, Israeli prime minister Benjamin Netanyahu has been driven ahead by US President Donald Trump, who unveiled a so-called Middle East plan in January that effectively sidelines the Palestinians altogether.
The plan, which Trump himself has described as the "deal of the century," envisions Jerusalem al-Quds as "Israel's undivided capital" and allows the Tel Aviv regime to annex settlements in the occupied West Bank and the strategic Jordan Valley. The plan also denies Palestinian refugees the right of return to their homeland, among other controversial terms.
Trump's plan has been rejected by all Palestinians factions.
More than 600,000 Israelis live in over 230 settlements built since the 1967 Israeli occupation of Palestinian territories of the West Bank and East Jerusalem al-Quds.
All Israeli settlements are illegal under international law. The UN Security Council has condemned Israel's settlement activities in the occupied territories in several resolutions.
Palestinians want the West Bank as part of a future independent Palestinian state with East Jerusalem al-Quds as its capital.
https://www.presstv.com/Detail/2020/09/13/634018/Palestine-Israel-Jerusalem-al-Quds-Mohamed-and-Mustafa-al-Salayma-OCHA--
--------
Palestinians call for protests against Arab-Israeli deals
14 Sep 2020
JERUSALEM: Palestinian leaders on Sunday called for demonstrations against the "shameful" deals the United Arab Emirates and Bahrain are set to sign with Israel.
Officials from both Gulf states are due to attend a ceremony at the White House on Tuesday to formalise ties with Israel, prompting Palestinian factions to unite in appeals for protest.
"We invite our population, in particular those in (Palestinian) refugee camps, to denounce these shameful agreements," a statement read, signed by groups including the Palestine Liberation Organisation (PLO) and Gaza's rulers Hamas.
The statement also called for rallies outside embassies of the US, Israel, Bahrain and the UAE.
The Palestinians last month accused Abu Dhabi of a "stab in the back", as the Gulf country became only the third Arab nation after Egypt and Jordan to announce it would have formal relations with Israel.
Bahrain followed suit on Friday, breaking with the long-held stance of Arab leaders that an Israeli-Palestinian peace deal is a prerequisite for normalising relations.
But in recent years, Israel and the US have been courting Gulf states over their shared animosity towards Iran.
The deals with Israel were dubbed "peace for protection" by Saeb Erekat, PLO secretary-general.
"Some decision-makers now in the Arab world do believe that Arab national security metrics will depend on the protection of Israel," he told journalists on Sunday.
Erekat referred to Washington's longstanding policy of ensuring Israel is militarily stronger than other countries in the Middle East.
Arab nations are not permitted "to have any superiority on Israel on any field," noted Erekat.
However, the policy has come under the spotlight in recent weeks, over reports that the US could sell F-35 stealth fighter jets to Abu Dhabi as part of the deal with Israel.
https://www.dawn.com/news/1579510/palestinians-call-for-protests-against-arab-israeli-deals
--------
Iran Welcomes Intra-Afghan Talks, Underlines Non-Interference of Foreign States
Sep 12, 2020
"The Islamic Republic of Iran welcomes start of intra-Afghan talks among the Afghan government, the political groups and Taliban and hopes that the talks will lead to desirable results to the benefit of the establishment of endurable peace and stability in Afghanistan and security in the region, without foreign meddling and within the framework of comprehensive understanding among Afghans," the Iranian foreign ministry said in a statement.
The statement reiterated Iran's position that the problems in Afghanistan cannot be resolved militarily, adding, "Continued presence of foreign forces is one of the main reasons for continued war in Afghanistan."
"The Islamic Republic of Iran hopes that the government, political groups and the Taliban can reach a lasting agreement by preserving the valuable achievements of the Afghan people, including the constitution, democratic structures, inclusive political participation, the rights and dignity of women, and the rights of ethnic and religious minorities to ensure peace, tranquility, well-being and prosperity of the Afghan people and in turn enable Afghan refugees to return to their country and play their part in the reconstruction, growth and development of Afghanistan," it added.
The statement said that Iran reemphasizes its readiness to assist the advancement of the peace process in Afghanistan, and strongly condemns the US administration for using the intra-Afghan talks as a winning card in the upcoming presidential elections.
In relevant remarks last month, Assistant to Iranian Foreign Minister and Foreign Ministry's Director-General for West Asia Seyed Rasoul Mousavi reiterated his country's support for the peace process in Afghanistan, saying that problems in the war-hit country should be settled through talks.
"We support the peace process by Afghans with the participation of all Afghan groups, including the Taliban, and without any foreign influence and interference," Mousavi said, addressing a meeting of the Heart of Asia - Istanbul Process via a video conference.
He underlined that the problems in Afghanistan have no military solution, adding, "We consider the responsible withdrawal of foreign forces from Afghanistan as a necessary step towards peace."
Mousavi said that Iran invites the Taliban to join the Afghan-Afghan talks, view peace talks as the only way to reach an acceptable political solution and avoid violence during the negotiations.
"We are ready to help strengthening the peace negotiations by the help of our capacity and capability upon the demand of participants," he said.
https://en.farsnews.ir/newstext.aspx?nn=13990622000519
--------
Israeli protesters keep up pressure on PM Netanyahu over alleged corruption
13 September 2020
Thousands of Israelis protested against Prime Minister Benjamin Netanyahu in Jerusalem on Saturday over his alleged corruption and the government's handling of the COVID-19 pandemic.
The crowd rallied outside Netanyahu's residence, blowing whistles, waving signs and flags and calling for his resignation. Smaller protests were held along bridges at major intersections in cities across Israel.
Israeli media estimated that about 10,000 people attended what has become a weekly demonstration in Jerusalem.
For all the latest headlines, follow our Google News channel online or via the app.
The protests built up over the summer as COVID-19 cases spiked. With a population of nine million, Israel has reported almost 150,000 infections cases and more than 1,000 deaths. The country is in a recession as a result of the pandemic and the unemployment rate is hovering above 20 percent.
A survey published in August by the Israel Democracy Institute found that 61 percent of Israelis did not trust Netanyahu to manage the coronavirus crisis.
Some critics of the prime minister say he is preoccupied with his corruption trial on charges of bribery, fraud and breach of trust.
The 70-year-old was indicted in November in cases involving gifts from wealthy friends and for allegedly seeking regulatory favors for media tycoons in return for favorable coverage. His trial opened in May and is set to resume in January.
Netanyahu denies any wrongdoing. He has described his trial as a leftist political witch-hunt aimed at unseating a popular right-wing leader.
He has also condemned the demonstrations against him, accusing protesters of trampling democracy.
A diplomatic breakthrough with the United Arab Emirates in August - followed by Bahrain on Friday - has largely been welcomed by Israelis but has been overshadowed by the economic fears stirred by the coronavirus crisis.
After a media backlash, Netanyahu scrapped plans to travel on an executive jet with his family to Washington on Sunday for a signing ceremony of the Israel-UAE accord, separately from an airliner chartered for the Israeli delegation.
Some media commentators criticized the travel plans as extravagant at a time when Israelis are heading into their second lockdown since March.
The prime minister's aides said the plans to travel separately had been a health precaution. But Netanyahu's office said on Friday he would travel with the rest of the delegation.
https://english.alarabiya.net/en/News/middle-east/2020/09/13/Israeli-protesters-keep-up-pressure-on-PM-Netanyahu-over-alleged-corruption
--------
Four civilians killed in Saudi air raid on Yemen's Ma'rib
13 September 2020
The Saudi-led coalition's warplanes have targeted an area south of Yemen's Ma'rib province, killing four civilians and wounding four others.
In the Sunday attack, a truck parked in a road in Mahliyah district of Ma'rib province was hit by the Saudi-led coalition's jet fighters.
The warplanes also struck a gas station and several shops located in the district.
In a separate incident, the Saudi warplanes have also attacked the international airport of the Yemeni capital, Sana'a on Sunday night.
No further details have been released yet.
The attacks came shortly after Saudi fighter jets conducted airstrikes on positions belonging to the Houthi Ansarullah movement in Sana'a.
Saudi-owned Al Arabiya TV channel reported that the aerial assaults targeted Houthi barracks and military sites early on Sunday and destroyed four drones at al-Delmi air base north of Sana'a.
On Saturday, Yemen's al-Masirah television network reported six Saudi air raids on the Military Engineering Department in Sana'a's Shoub district.
Saudi warplanes, the report said, also targeted a citizen's farm in Sana'a's Bani Heshaesh district.
The strikes come a few days after Yemeni armed forces launched missile and drones strikes against a strategic target in the Saudi capital, Riyadh, in retaliation for the regime's deadly bombing campaign and inhumane siege on their country.
Since early 2015, Riyadh and a coalition of its vassal states have been engaged in a military campaign against Yemen in a futile attempt to reinstall a Saudi-friendly government there.
The Western-backed war, which has been accompanied by a crippling blockade of Yemen, has killed tens of thousands of people and afflicted the already-poorest Arabian Peninsula nation with the "world's worst humanitarian crisis," according to the UN.
Backed by the armed forces and allied popular groups, the Houthi movement has been defending Yemen against the Saudi-led offensive.
https://www.presstv.com/Detail/2020/09/13/634032/https---www-presstv-com-Detail-2020-09-13-633976-Saudi-Arabia-Yemen-Sana-a
--------
Dozens injured as Israeli officers assault Palestinian inmates in Ofer Prison
13 September 2020
Dozens of Palestinian prisoners have suffered injuries after Israeli military forces raided the cells of Palestinian inmates at a detention facility in the central part of the occupied West Bank.
The Palestinian Prisoners' Society (PPS) said in a statement that Israeli commandos, accompanied by a group of attack dogs, assaulted the detainees at Ofer prison, located west of Ramallah, on Sunday.
The PPS noted that the Israeli forces unleashed the dogs during the attack, physically assaulted the Palestinian prisoners and used pepper spray, which left scores of the inmates injured, with some of them suffering from breathing difficulties.
Dozens of other Palestinian detainees were also forcibly transferred to other sections in the prison by the attacking Israeli troops.
The society highlighted it was the third such incident at Ofer Prison since Palestinian political prisoner Daoud al-Khatib died of heart attack on September 3 as a result of deliberate medical negligence by Israeli prison authorities.
Back on September 6, the PPS reported that Israeli guards had violently raided cells at the prison, confiscating all electronic devices and personal belongings of the inmates.
Khatib, 45, had been serving a sentence of 18 years and eight months for his resistance activities against the Israeli occupation. He had been in Israeli jails since 2002.
He was a member of the Palestinian Fatah movement, and was arrested during the Second Intifada, also known as the al-Aqsa Intifada.
More than 7,000 Palestinian prisoners are currently held in some 17 Israeli jails, with dozens of them serving multiple life sentences.
Over 350 detainees, including women and minors, are under Israel's administrative detention, which is a form of imprisonment without trial or charge, allowing authorities to incarcerate Palestinians for up to six months. The duration could be extended for an infinite number of times.
The detention takes place on orders from a military commander and on the basis of what the Israeli regime describes as 'secret' evidence.
Some prisoners have been held in administrative detention for up to 11 years.
https://www.presstv.com/Detail/2020/09/13/634011/Dozens-injured-as-Israeli-officers-assault-Palestinian-inmates-in-Ofer-Prison
--------
Outrage growing over Bahrain's normalization with Israel
13 September 2020
Palestinian factions and the broader international Muslim community have expressed outrage at a fledgling trend of Arab-Israeli normalization that has so far seen the United Arab Emirates (UAE) and Bahrain cozying up to the occupying regime under Washington's auspices.
Palestinians have declared the upcoming Tuesday a "day of rage" over an earlier decision by Bahrain to normalize its ties with Israel under a US-brokered agreement, according to Israel's Walla! website. A similar deal helped the UAE take the same move last month.
"The Palestinian flag will be raised in all Palestinian cities and refugee camps… to emphasize the objection to raising the Israeli flag in Abu Dhabi and Manama," a Palestinian statement read, according to the Israeli outlet, which did not specify the faction or factions releasing it.
The statement also called on Palestinians to hold protests in front of embassies of the US, Israel, the UAE, and Bahrain around the world.
The Central Committee of the Fatah movement -- that leads the Palestinian Authority in the West Bank -- also lamented that the string of Arab betrayal served to compromise the Islamic and even Christian connections to the occupied holy city of Jerusalem al-Quds in the Israeli-occupied territory.
The Arab states, the committee added, were, meanwhile, encouraging the Israeli regime to rev up its illegal land grab and settlement construction activities.
Amid Manama and Abu Dhabi's boast of their "peace" with Tel Aviv, the committee noted that any regional attempt towards peace and stability in the region has to primarily safeguard the rights of the Palestinians.
'Resistance, best way to confront Israel'
The Palestinian Islamic Resistance Movement, Hamas, also condemned the normalization campaign.
The group reflected on the trend in a statement that it released on the anniversary of the Oslo Accords, which were signed between the Israeli regime and the umbrella group of the Palestine Liberation Organization in the early 1990s.
In the same way that the Oslo agreements failed to take away the Palestinian refugees' right to return to their homeland, the current Arab-Israeli normalization drive will also fail to deprive them of this entitlement, Hamas said.
The normalization bandwagon, the resistance group said, is nothing but treachery against Palestine and Palestinians that would bring about nothing but ignominy for the Arab regimes.
The campaign can only be confronted through Palestinian unity, Hamas said, insisting on commitment to the results of a recent plenary Palestinian meeting in Beirut that was held to help close up existing rifts among Palestinian factions.
"Al-Quds will remain Palestine's eternal capital and no one can change it into the occupying Israeli regime's capital," Hamas said, identifying resistance as the best means of confronting Israel and liberating Palestine.
Jordan, Morocco, Turkey, Pakistan, Iraq join chorus
Jordan's Foreign Minister Ayman Safadi said Israel had to stop acts that undermine the "two-state solution and end its illegal occupation of Palestinian lands," Turkey's official Anadolu news agency said.
Morocco's Islamic Tawheed and Islah Movement also described the agreement between Bahrain and Israel as an act of betrayal targeting Palestinians. The party's head, Abdurrahim Sheyhi, told Anadolu that the Persian Gulf Arab states' decision was helping out US President Donald Trump and Israeli Prime Minister Benjamin Netanyahu during their difficult election campaigns.
On Saturday, the Turkish Foreign Ministry also said the Manama-Tel Aviv deal would administer a fresh blow to efforts aimed at defending the Palestinian cause.
"It will further encourage Israel to continue illegitimate practices towards Palestine and its efforts to make the occupation of Palestinian lands permanent," the ministry said in a statement.
Islamabad also reiterated its commitment to the Palestinian cause and people.
"Islamabad is committed to supporting Palestine and Palestinians' legitimate right to independence and freedom," said the Pakistani Foreign Ministry's spokesman Zahid Hafeez Chaudhry.
Pakistan backs creation of an independent Palestinian state based on the 1967 borders, he added, referring to the year when the Israeli regime grabbed huge swathes of Palestinian and Arab territory.
Last month, Pakistan's Prime Minister Imran Khan reacted to the Emirates' normalization decision, saying his country would never recognize Israel.
Addressing a meeting of Iraqi elites, senior Iraqi Shia cleric and political leader Ammar al-Hakim called the Persian Gulf states' decision a strategic mistake, adding that Baghdad would never normalize its relations with Tel Aviv.
"The agenda of State of Palestine will prevail," Hakim, who leads the Iraqi National Wisdom Movement, was quoted as saying.
Bahrain 'betrayed blood of martyrs'
Yemen's Foreign Ministry echoed an earlier condemnation by the country's popular defensive Houthi Ansarullah movement, denouncing Manama's decision in the "strongest" terms, Yemen's al-Masirah television network reported.
With the decision, the Bahraini regime betrayed the blood of the martyrs, who sacrificed their lives for the Palestinian cause, and helped embolden Tel Aviv in its violations, the ministry said.
Normalization unmasks 'enemies of Islam'
In Iran, which was among the first to lash out at both Arab states over their move, World Assembly of Islamic Awakening -- an international Islamic body that was formed following the 2011 mass protests across many regional countries -- reiterated Tehran's outrage at the betrayal.
Ali-Akbar Velayati, who advises Leader of the Islamic Revolution Ayatollah Seyyed Ali Khamenei on foreign affairs besides leading the body, said in a statement that the normalization had served to unmask "the enemies of pure Islam and hypocrites."
Bahrain's ruling Al Khalifah regime took the decision towards normalization by investing "vain hope in the promises of the criminal US regime that is guilty of murdering thousands of Muslims in the region and beyond," the statement read.
This is while American strategists, it added, had started off the trend of normalization just to curry favor with the Zionist lobby in the US and secure its vote in the run-up to the US's elections as well as to save Israel's politically-embattled prime minister.
The Assembly, meanwhile, called on Arab nations and the international Muslim community to invest in their ability to realize the Palestinian cause and "bring about annihilation and fall of the usurping Zionist regime [of Israel]."
https://www.presstv.com/Detail/2020/09/13/633984/Palestine-Israel-Bahrain-normalization-UAE-Jordan-Morocco-Turkey-Pakistan-Yemen-Iran-Velayati
--------
Saudi warplanes attack Houthi sites in Yemeni capital: Report
13 September 2020
Saudi fighter jets have reportedly conducted airstrikes on positions belonging to the Houthi Ansarullah movement in Yemen's capital city of Sana'a.
Saudi-owned Al Arabiya TV channel reported that the aerial assaults targeted Houthi barracks and military sites early on Sunday and destroyed four drones at al-Delmi air base north of Sana'a.
On Saturday, Yemen's al-Masirah television network reported six Saudi air raids on the Military Engineering Department in Sana'a's Shoub district.
Saudi warplanes, the report said, also targeted a citizen's farm in Sana'a's Bani Heshaesh district.
The strikes come a few days after Yemeni armed forces launched missile and drones strikes against a strategic target in the Saudi capital, Riyadh, in retaliation for the regime's deadly bombing campaign and inhumane siege on their country.
Spokesman for the Yemeni Armed Forces Brigadier General Yahya Saree said Thursday that a domestically-developed Zofaqar ballistic missile and four Samad-3 drones were used to hit the "important target" in Riyadh.
The Saudi-led coalition, however, claimed that it had intercepted and destroyed ballistic missiles and explosive drones launched towards the kingdom.
Since early 2015, Riyadh and a coalition of its vassal states have been engaged in a military campaign against Yemen in a futile attempt to reinstall a Saudi-friendly government there.
The Western-backed war, which has been accompanied by a crippling blockade of Yemen, has killed tens of thousands of people and afflicted the already-poorest Arabian Peninsula nation with the "world's worst humanitarian crisis," according to the UN.
Backed by the armed forces and allied popular groups, the Houthi movement has been defending Yemen against the Saudi-led offensive.
https://www.presstv.com/Detail/2020/09/13/633976/Saudi-Arabia-Yemen-Sana-a
--------
Southeast Asia
PAS Muslimat chief tells party to be dominant, keep control of three state govts
12 Sep 2020
KUALA LUMPUR, Sept 12 — PAS' participation in the Federal Government and control of the state governments in Kelantan, Terengganu dan Kedah is something the party should be proud of and maintain going forward.
PAS Dewan Muslimat chief Senator Nuridah Mohd Salleh said the responsibility, however, should be borne by all party members, and not just the leadership.
"PAS needs to be more dominant so as not to be seen as being sidelined — by leading at the executive and the legislative levels.
"The direct involvement of Muslim women in the management of local governments is very important, and drastic and thorough improvements need to be designed and achieved," she said when officiating the 60th PAS Muslimat Muktamar (annual general assembly) here last night. — Bernama
https://www.malaymail.com/news/malaysia/2020/09/12/pas-muslimat-chief-tells-party-to-be-dominant-keep-control-of-three-state-g/1902460
--------
Europe
Greece to acquire 18 French-made Rafale jets as Turkey tension rises
12 September 2020
Greece is set to acquire 18 French-made Rafale warplanes, four multi-purpose frigates, and four navy helicopters amid tension with Turkey in the eastern Mediterranean, Greek Prime Minister Kyriakos Mitsotakis has announced.
Mitsotakis on Saturday announced the "robust" arms purchase program and an overhaul of the country's military.
For all the latest headlines, follow our Google News channel online or via the app.
"The time has come to reinforce the armed forces... these initiatives constitute a robust program that will become a national shield," the PM said in a keynote address in the northern city of Thessaloniki.
Mitsotakis said Greece would also recruit 15,000 new troops and pouring resources into the national arms industry and cyber-attack defense.
New anti-tank weapons, navy torpedoes, and airforce missiles will be secured, the PM said.
The program, which includes upgrades of another existing four frigates, is also designed to create thousands of jobs, he said.
More details on the cost of the program and origin of the weapons purchases will be announced at a news conference Sunday, a government source told AFP.
Mitsotakis is believed to have hammered out the program after talks with French President Emmanuel Macron during a southern European leaders summit in Corsica this week.
In contrast to other EU and NATO allies, France has strongly backed Greece in its burgeoning showdown with Turkey, as well as Cyprus.
Macron has told Turkish counterpart Recep Tayyip Erdogan not to cross "red lines" and has sent warships and fighter jets to the region.
Turkey in August sent an exploration ship and a small navy flotilla to conduct seismic research in waters which Greece considers its own under postwar treaties.
Greece responded by shadowing the Turkish flotilla with its own warships, and by staging naval exercises with several EU allies and the United Arab Emirates in its own show of force.
Turkey "threatens" Europe's eastern border and "undermines" regional security, Mitsotakis said Saturday.
https://english.alarabiya.net/en/News/world/2020/09/12/Greece-to-acquire-18-French-made-Rafale-jets-as-Turkey-
--------
EU wants 'credible' Lebanon government before giving more blast aid
13 September 2020
The European Union's commissioner for crisis management on Saturday called for the urgent formation of a "credible" government in Lebanon before a second phase of financial support for the crisis-hit country can be released.
Janez Lenarcic said the EU had mobilized 64 million euros ($79 million) for the emergency response to a devastating port blast that killed more than 190 people and wounded thousands in Beirut on August 4.
The next round of funding would be for reconstruction, he said, but warned it would have to go hand in hand with reforms because the international community was not willing to support practices "that led to financial collapse and economic crisis."
The tragedy occurred when hundreds of tonnes of ammonium nitrate fertilizer that had been left unattended in a port warehouse exploded.
It came as the Lebanese people were already reeling from the country's worst economic crisis in decades and rekindled smoldering rage over official neglect and a political class accused of corruption.
The government resigned in the wake of the disaster, but Lebanon has rejected an international investigation, saying it would carry out its own probe aided by foreign experts.
"We need a credible government that enjoys the confidence of the Lebanese people and is determined to take the country in the right direction," Lenarcic told AFP after arriving in Lebanon on board a humanitarian aid flight.
"Lebanon's political class has to provide what people demand and this is also what the international community expects. I'm talking about governance, not only economic reforms. There has to be a change in the way this place is governed," he said.
Lebanon's worst economic crunch since the 1975-1990 war has seen the local currency plummet against the US dollar and poverty double to more than half of the population. The government has blamed central bank governor Riad Salameh for the crisis, though he has rejected all charges.
https://english.alarabiya.net/en/News/middle-east/2020/09/13/EU-wants-credible-Lebanon-government-before-giving-more-blast-aid
--------
UK to 'triple' size of Oman military base
12 September 2020
The UK is planning to significantly expand the size of its military base on the coast of Oman ostensibly to enhance the Royal Navy's presence "east of Suez".
According to the Times (September 12), the base is set to be tripled in size as part of the UK's strategic rebalancing and reorientation following the country's exit from the European Union.
— Lucy Fisher (@LOS_Fisher) September 12, 2020 ">http://
NEW: Britain is to triple the size of its military base in Oman to enhance Royal Navy's presence "east of Suez" post Brexit.
Gvt has unveiled new investment into Duqm port, which is deep enough to receive aircraft carriers & submarines.
UK hub to expand from 30 to 90 hectares. pic.twitter.com/9zwiYAopAI
— Lucy Fisher (@LOS_Fisher) September 12, 2020
UK defense secretary, Ben Wallace, has announced that an additional £23.8 million will be spent tripling the size of the Royal Navy's facility in Duqm, a port that is deep enough to accommodate aircraft carriers and submarines.
Altogether up to £43 million will be spent on Duqm by 2028, reflecting the depth of Britain's confidence in its defense partnership with the Sultanate of Oman, which stretches back decades.
Situated 547 km south of the capital Muscat, Duqm's prime location will enable the Royal Navy to launch or support deployments deep into the Indian Ocean and possibly beyond.
In addition, Duqm has a dry dock facility which could support the UK's two aircraft carriers – HMS Queen Elizabeth and HMS Prince of Wales – especially in relation to missions to the East China Sea where the carriers could be used to apply military pressure on China.
Wallace – who is currently concluding a trip to the Middle East – proclaimed that "the long-standing friendships between the UK and the [Persian] Gulf states are more important than ever".
"With shared defense and security interests, it is vital we work together for both regional and global stability".
The investment in Duqm will be viewed by defense analysts as a strong indicator of the UK's intention to stay militarily engaged in the Middle East.
It is noteworthy that Duqm's expansion will also reportedly support British army training in Oman.
To that end, there is already speculation that the British army could switch its training for Challenger 2 tanks from Canada to Oman.
https://www.presstv.com/Detail/2020/09/12/633944/UK-Oman-Duqm-Royal-Navy-Facility-Expansion
--------
Pakistan
Pak opposition leader moves court seeking daily hearings in defamation case against Imran Khan
Sep 13, 2020
LAHORE: Pakistan's opposition leader Shehbaz Sharif has appealed to a sessions court, hearing his defamation suit against Prime Minister Imran Khan, to conduct daily hearings.
In a tweet on Saturday, Sharif alleged that he filed the defamation case against Khan for "his blatant lies of offering him Rs 10 billion".
"In a defamation case that I filed against Imran Khan for his blatant lies of offering him Rs 10 billion, he has sought 33 deferments so far. I have petitioned the court to hear the case on daily basis. IK failed to submit his written reply to the court despite the passage of three years," he wrote.
Sharif had filed a Rs 10 billion defamation suit against Khan in 2017.
The petition, filed under Sections 4 and 9 of the Defamation Ordinance, 2002, said that Imran falsely accused Sharif of making him a financial offer for his "silence over the Panama Papers case", Geo News reported.
It stated that "the facts and circumstances giving rise to the filing of the instant suit are that since the last week of April 2017, the Defendant (Imran Khan) started uttering, spreading and resorting to the publication, communication and circulation of maliciously false, baseless and unfounded oral statements and representations against the plaintiff (Shehbaz)."
According to the suit, Khan claimed that Sharif "offered to pay a sum of (Rs 10 billion) to the defendant in exchange for his withdrawing/backing-off from, or remaining silent on the issue of the Panama Papers' case."
In April 2017, Khan had alleged that he had been made an offer in the Panama case. He made the comments while addressing a gathering at Shaukat Khanum Hospital in Lahore.
"Just imagine how much money he offered me to be silent - Rs 10 billion! If he can offer me this much money, just imagine how much he could offer to others. That is why if we do not maintain public pressure on this issue, then after two months it will be dragged to the next year," Khan was quoted by Geo News as saying.
In an interview after making the comments, Khan did not disclose the name of the person who made the offer, but said the individual was close to the Punjab chief minister.
Sharif had served as Punjab chief minister from 2013 to 2018.
https://timesofindia.indiatimes.com/world/pakistan/pak-opposition-leader-moves-court-seeking-daily-hearings-in-defamation-case-against-imran-khan/articleshow/78087930.cms
--------
Jamaat decides to keep away from opposition conference
14 Sep 2020
TAXILA: While the opposition parties are contemplating efforts to convene a multi-party conference (MPC), the Jamaat-i-Islami (JI) on Sunday announced its decision of distancing itself from the opposition's anti-government front, blaming major opposition parties — the Pakistan Peoples Party and the Pakistan Muslim League-Nawaz — for disunity among opposition ranks.
Talking to the media in Wah on Sunday, JI deputy chief Liaquat Baloch said that his party would not participate in the proposed MPC and instead would launch its own solo flight against the government.
He said that the JI had decided to play the role of "true opposition" in the light of its past experiences of alliance with the PPP and the PML-N. "We will keep in touch with all opposition parties but at this stage, the JI will not attend the MPC of the opposition parties. Rather, we will contact [Jamiat Ulema-i-Islam-F chief] Maulana Fazlur Rehman and other opposition leaders separately to discuss national issues if and when required."
Liaquat says party will hold protests on its own
Mr Baloch said that the JI would not join the opposition alliance against the government as many parties in opposition ranks were not serious to this cause.
He said that the JI would extend moral support to the movement of the opposition parties against the government but it would launch its own protests against the Pakistan Tehreek-i-Insaf (PTI) government as it was unable to address the issues of the poor masses of the country.
Mr Baloch said that the JI Majlis-i-Shura had decided to continue political activities under its own flag.
He said that no legislation had been made to address genuine public issues in the past two years of the PTI government. He said that the masses had witnessed the PTI, the PML-N and the PPP uniting on the foreign- imposed agenda of the Financial Action Task Force (FATF)-related legislation.
Mr Baloch said that the PTI government had disappointed the masses as it had destroyed the economy and every state institution.
He said that a weak and incapable government, which had been imposed on the country, was unable to resolve the crises the country was facing. Therefore, the national leadership should join hands and develop a united strategy to bring the country out of the existing system.
The JI leader said that unemployment and inflation had made it impossible for a common man to afford even one meal per day. He said that the country was being run on the dictation of the International Monetary Fund, the World Bank and the FATF.
He said that the PTI government had burdened the nation with Rs4,300 billion loan and the interior and foreign policies of the government had no logic.
https://www.dawn.com/news/1579488
--------
Armed forces kill terrorist commander Ihsan Sanray, three others, in 'breakthrough' operation
14 Sep 2020
Four terrorists, including militant commander Ihsanullah alias Ihsan Sanray, were killed in an intelligence-based operation (IBO), the army's media wing said on Sunday.
The operation was carried out in Ghariom, Shaktu, near the inter-district boundary of North and South Waziristan, Inter-Services Public Relations (ISPR) Director-General Maj Gen Babar Iftikhar said in a tweet.
The slain terrorist commander Ihsanullah was the mastermind behind several terrorist activities, the ISPR said. Recently, he had planned terrorist attacks in Shaktu which led to the martyrdom of several soldiers as well as officers, including Lt Nasir and Capt Sabih.
Last week, the armed forces had killed terrorist mastermind Waseem Zakeria and four of his accomplices in an IBO in North Waziristan.
The forces had also arrested 10 militants during the operation near Mirali. According to an ISPR statement, Zakeria was the mastermind of 30 attacks, including the targeted killings of government officials and security forces personnel.
Zakeria was also believed to be involved in the assassination of Zubaidullah Khan, a CSP officer of the Federal Information Group, posted as director of the Pakistan Housing Authority in Islamabad.
https://www.dawn.com/news/1579476/armed-forces-kill-terrorist-commander-ihsan-sanray-three-others-in-breakthrough-operation
--------
Terrorist commander among 4 killed: ISPR
Sep 14, 2020
RAWALPINDI: In a breakthrough, terrorist commander Ihsan Ullah, alias Ihsan Sanray, along with three other terrorists, was killed during an intelligence-based operation (IBO) in Ghariom, Shaktoi area, near the inter-district boundary of North and South Waziristan on Sunday.
In a tweet, Inter-Services Public Relations (ISPR) Director-General (DG) Major General Babar Iftikhar said that Ihsan Sanray masterminded numerous terrorist activities. Recently, the terrorist commander was involved in the planning and execution of terrorist attacks in the Shaktoi area which led to the martyrdom of several soldiers and officers, including Lt Nasir Shaheed and Capt Sabih Shaheed, said the ISPR DG.
A Pakistan Army soldier, Sepoy Sajid, 33, embraced martyrdom on Saturday during an improvised explosive device (IED) attack near a check post of the security forces in the Miranshah area of North Waziristan, according to the ISPR.
Security forces cordoned the area for clearance operation after the incident.
Earlier on September 7, security forces killed five terrorists including a high-profile terrorist Wasim Zakaria, and arrested ten others in Mir Ali, the ISPR said.
Commander Wasim Zakaria hailed from the Haider Khel area and had been the mastermind of 30 terrorist attacks since September 2019.
"Terrorist Wasim was involved in target killing activities and the martyrdom of CSS officer Zubaidullah Dawar," said the ISPR in a statement, adding that the militant was also directly involved in attacks on security forces.
https://www.pakistantoday.com.pk/2020/09/13/terrorist-commander-among-4-killed-ispr/
--------
URL: https://www.newageislam.com/islamic-world-news/qatar-curriculum-promotes-intolerance-religious/d/122854
New Age Islam, Islam Online, Islamic Website, African Muslim News, Arab World News, South Asia News, Indian Muslim News, World Muslim News, Women in Islam, Islamic Feminism, Arab Women, Women In Arab, Islamophobia in America, Muslim Women in West, Islam Women and Feminism