New Age Islam News Bureau
8 Jun 2013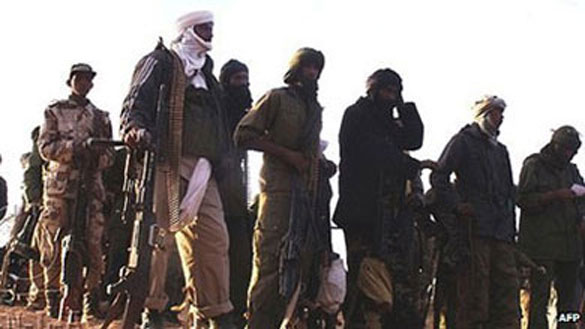 Mali crisis: Human Rights Watch condemns ethnic abuses, AFP
----------
Arab World
• Qaradawi's Fatwa Led to Salafi Gunmen Shooting Dead 14 Shiite Muslims from Karbala, claims Ahlul Bayt News Agency
Car bombs kill 5 in Iraq
• Saudi prince sues Forbes for saying he's only worth $20bn: Report
• Egypt's Brotherhood and Islamists 'march to Jerusalem' in Cairo
• Kurd deserves asylum due to Turkey torture threat: Swiss court
• Hezbollah provoking the world, ex-militia chief says
• Jeddah Urdu lovers honor poet from Abu Dhabi
• Bashar al-Assad led Syrian army raids pro-revolt area near Lebanon
North America
• New documentary warns against Obama's 'Dirty Wars'
• News of U.S. Surveillance Draws Anger of Activists and Militants Abroad
• Kerry quietly releases $1.3bn military aid package for Egypt
• One America News versus Al-Jazeera's jihad on American Cable TV
Southeast Asia
• Anti-Shariah Movement Allegedly Discovered in Aceh
• House Urges Govt To Act on Malaysia Death Row Pair
• Najib declares war against crime
India
• CBI snipes at Narendra Modi in Supreme Court in Ishrat fake encounter case
• Shahzad was not in Batla flat, 2 terror suspects tell court
• At Jamaat-e-Islami meet in Kashmir, a good word for Modi
• US must help Sharif on economy, ties with India: Expert
• Indian International School-Jeddah students win Sir Syed contest
Pakistan
• Pakistan drone strike kills seven in North Waziristan
• 'Pakistan Army to be withdrawn from Swat'
• Pakistan summons US envoy Richard Hoagland over drone strike
• Imran Khan tweets: Dead TTP Commander Waliur Rehman 'pro-peace'
• Chaudhry Nisar Ali Khan to be Pak govt's point man for dealing with Taliban
• Pak-Afghan-Isaf military commanders discuss border control
• Disaster averted as Chamkani police recovers 15,000 kilos of explosive material
• Dr Malik Baloch elected Balochistan CM unopposed
• Lal Masjid cleric seeks FIR against Musharraf, others
• Pakistan PM to visit Afghanistan
Europe
• UK's use of drones in Afghanistan 'may be in breach of international law'
• Moscow Decides to Implement Chechen Blueprint in Dagestan
• Woolwich attack: Student sentenced for 'joke' tweet
• Majority of Netherlands Favours Ban on Sharia Law
• Appeal for calm after London Muslim centre burnt
• France: More than 600 EU citizens fighting in Syria
• Russia's offer to replace peacekeepers in Golan Heights is not possible: UN
• France studies high-tech means to track potential arms for Syrian rebels
• U.N. Requests $5 Billion in Humanitarian Aid for Syria
South Asia
• Thousands join rally supporting two-child policy for Muslims
• China agrees to build economic corridor in PoK
• Bangladesh asks Britain to repatriate Former PM Khaleda Zia's fugitive son
• Myanmar Ethnic groups want constitutional amendments to include federalism
• Three foreign soldiers killed in apparent 'insider attack' in Afghanistan: NATO
• German FM begins Afghan endgame talk
• 1,000 pilgrims from Maldives to perform Haj 2013
• No cause for worry on fundamentalism: Gayoom to India
Africa
• 18 dead in battle over disputed Somali port city
• Malian army and rebels accused of rights abuses ahead of talks
• Mali crisis: Human Rights Watch condemns ethnic abuses
• Ethiopia says it won't bow to Egyptian pressure over Nile dam
Mideast
• Turkey protest demands: The good, the bad, and the ridiculous
• 'Chapulling' in Taksim Square: The new buzz word in Turkey
• Iran condemns deadly Iraq attack on its pilgrims
• Israel asked to free 123 Palestinians
Compiled by New Age Islam News Bureau
URL: https://newageislam.com/islamic-world-news/new-age-islam-news-bureau/qaradawi-s-fatwa-led-to-salafi-gunmen-shooting-dead-14-shiite-muslims-from-karbala,-claims-ahlul-bayt-news-agency/d/11974
------------
Arab World
Qaradawi's Fatwa Led to Salafi Gunmen Shooting Dead 14 Shiite Muslims from Karbala, claims Ahlul Bayt News Agency
June 8, 2013
(Ahlul Bayt News Agency) - Saudi-Backed Gunmen ambushed a group of travellers at a fake checkpoint at a remote desert site in western Iraq on Wednesday and killed at least 14 of them, according to Iraqi officials, in what appeared to be the latest blow in sectarian violence gripping the country.
The gunmen, apparently looking for Shiites to kill, struck near the town of Nukhaib. The town, near the site of a deadly 2011 ambush, sits at a desert crossroads west of the Shiite holy city of Karbala, but is in the Sunni-dominated Anbar province.
The assailants manning the fake highway checkpoint checked the identities of travelers, presumably to identify their sect based on their names, according to officials. Police said they found blood-stained IDs on the ground identifying some of the dead as coming from Karbala, 60 miles south of Baghdad.
Officials said the 14 victims of Wednesday's attack were shot in the head. They said the dead included police and soldiers, as well as civilian residents of the overwhelmingly Shiite Karbala. The officials spoke on condition of anonymity because they were not authorized to release the information to reporters.
There was no immediate claim of responsibility for Wednesday's attack. Iraqi officials believe Sunni insurgents including al-Qaida's Iraq branch as well as loyalists of Saddam Hussein's former regime are responsible for much of the violence against Shiites and government security forces.
Mohammed al-Moussawi, a provincial councilman in Karbala, confirmed that four of the dead ambushed were civilians from the province.
The area around Nukhaib, near where Wednesday's killings happened, was the site of an eerily similar September 2011 ambush on a bus carrying Shiite pilgrims.
In that earlier attack, uniformed gunmen set up a fake checkpoint and hijacked a bus from Karbala that was carrying Shiite pilgrims heading to the Sayida Zeinab shrine in Syria. They told the women and children to stay aboard while 22 men were marched out and shot dead further down the road.
Wednesday's attack came at the end of a Shiite commemoration of a revered Imam Moussa al-Kadhim, buried in Baghdad. Authorities imposed tight security measures in the Iraqi capital to protect pilgrims, and no serious violence was reported there during the commemoration.
It is worth to mentioning that controversial Sunni Sheikh al-Qaradawi issued a Fatwa base on that Alawites & Shiite are even worse than Christians and Jews so severely fight against them. His ridiculous Fatwa escalate tension between Sunni and Shias.
It is against this backdrop that we should view Qaradawi's remarks. There was a time when he had a positive attitude towards Sunni-Shia rapprochement. But when some Western states began to re-assert their power in WANA in the midst of the Arab uprisings, Qaradawi appeared to legitimise their role. He was among the earliest public figures to endorse NATO's air strikes over Libya. In the middle of last year he even opined that if the Prophet Muhammad (peace be upon him) came back today, he would support NATO. This earned him the derisive moniker 'NATO Mufti' among some Arab commentators.
It is Qaradawi's legitimisation of Western hegemony by invoking religious authority that makes his role so perfidious. What is worse, he has been appealing to sectarian religious sentiments which pit Muslim against Muslim, which have led to murders and massacres on a massive scale, in order to perpetuate the interests of both regional actors and global powers. It is a glaring example of the crude abuse of religion by someone who dons the garb of religion.
http://abna.ir/data.asp?lang=3&Id=426763
------------
Car bombs kill 5 in Iraq
June 08, 2013
By Sameer N. Yacoub
BAGHDAD: Authorities say two car bombs, one in a Baghdad Shiite neighborhood and the other targeting an Iraqi police convoy, have killed five people.
Police officials said that the deadlier of the two attacks occurred Saturday morning in a commercial street in the al-Ameen district, killing four people and wounding 18 others. Several shops were damaged in the attack.
Another police official said one policeman was killed and two others were wounded after a car bomb struck a police convoy in the northern city of Mosul.
Two medical officials confirmed the casualty figures. All officials spoke on condition of anonymity because they were not authorized to talk to media.
Violence has spiked in Iraq in recent weeks, raising fears of a return to widespread sectarian bloodshed.
http://www.dailystar.com.lb/News/Middle-East/2013/Jun-08/219795-car-bombs-kill-5-in-iraq.ashx#ixzz2Vclj4Q1I
------------
Saudi prince sues Forbes for saying he's only worth $20bn: Report
Reuters | Jun 7, 2013
LONDON: Saudi billionaire Prince Alwaleed bin Talal has sued Forbes magazine for libel in a British court, alleging its valuation of his wealth at $20 billion was short of the mark by $9.6 billion, Britain's Guardian newspaper reported on Friday.
The prince, a grandson of Saudi Arabia's founder and nephew of King Abdullah, had attacked the US magazine's ranking of world billionaires as flawed and biased against Middle Eastern businesses after he was ranked number 26 in this year's list.
An official at the high court in London confirmed that Prince Alwaleed had filed a defamation suit against Forbes, its editor Randall Lane, and two of its journalists on April 30. Details of the claim were not immediately available.
Through his Kingdom Holding Company, Prince Alwaleed owns large stakes in Citigroup, News Corp and Apple Inc, among other companies. He is also owner or part-owner of luxury hotels including the Plaza in New York, the Savoy in London and the George V in Paris.
This year's Forbes World Billionaires list was published on March 4, and the following day Kingdom Holding said the valuation process used "incorrect data" and "seemed designed to disadvantage Middle Eastern investors and institutions".
The public spat attracted a lot of comment, but Forbes stuck by its estimate of Prince Alwaleed's wealth and published an in-depth article in its March 25 issue entitled "Prince Alwaleed and the curious case of Kingdom Holding stock".
The article gave details about how Forbes had arrived at the figure of $20 billion and criticised what it described as a lack of transparency by Kingdom Holding in detailing its assets.
The article also described Prince Alwaleed's marble-filled, 420-room Riyadh palace, his private Boeing 747 equipped with a throne, and his 120-acre resort on the edge of the Saudi capital with five homes, five artificial lakes and a mini-Grand Canyon.
The high court official in London said the two journalists named in the defamation claim were Kerry Dolan, the author of the article, and Francine McKenna, who was credited with additional reporting.
No date has been set for a court hearing in the case, which is in its very early stages, the official said.
The law firm Kobre & Kim, which the Guardian said was acting for Prince Alwaleed in the suit, declined to comment. New York-based Forbes could not immediately be reached for comment.
The Guardian article quoted the magazine as saying: "We're very surprised at claims that Prince Alwaleed has decided to sue Forbes, particularly if he has done so in the United Kingdom, a jurisdiction that has nothing whatsoever to do with our recent story which raised questions about his claims about his wealth."
Media lawyer Jonathan Coad, of the London firm Lewis Silkin, said London was seen as a more attractive place than New York to bring defamation suits because U.S. libel law made higher requirements of claimants.
"In the U.S., a high-profile claimant has to prove firstly that the article was untrue and secondly that the publisher knew that the article was untrue, which is what we call malice. Those are two hurdles that a UK libel action does not present," said Coad, who is not involved in the Prince Alwaleed case.
Under British libel law, a claimant has only to prove that a publication was defamatory. Then the burden of proof passes to the defendant, who has several possible defences, including that the publication was true.
http://timesofindia.indiatimes.com/world/uk/Saudi-prince-sues-Forbes-for-saying-hes-only-worth-20bn-Report/articleshow/20480318.cms
-----------
Egypt's Brotherhood and Islamists 'march to Jerusalem' in Cairo
7 Jun 2013
Egyptian Islamist groups gathered at the Cairo Stadium on the 46th anniversary of the occupation of eastern Jerusalem by Israeli forces in condemnation of the Israeli occupation and the Judaization of Jerusalem.
The protest started after Friday prayers at the Rabaa Al-Adawiya mosque in Cairo's Nasr City district. Salah Sultan, secretary general of Al-Azhar's Supreme Council for Islamic Affairs, who led the Friday sermon at the mosque, said Prime Minister Hesham Kandil will attend the rally.
Thousands of protesters marched from the mosque to the nearby stadium, according to Al-Ahram's Arabic news website.
Al-Ahram reported that Culture Minister Alaa Abdel-Aziz attended the rally. The crowds voiced their support for Abdel-Aziz who is facing a serious challenge by artists and many ministry employess who have started a sit-in at his office in the ministry's headquarters this week, accusing him of 'Brotherhoodising' the ministry by firing liberal officials.
Muslim Brotherhood Spokesman Ahmed Aref had announced on Thursday that the Egyptian branch will take part in the Global March to Jerusalem.
"We call on everyone to meet in front of the memorial of the Unknown Soldier in Cairo's Nasr City after Friday prayers to participate in the Global March to Jerusalem," added Aref on his official Facebook page.
Tens of parallel marches are scheduled in several countries such as Palestine, Germany, Lebanon, Canada, US, Tunisia and Malaysia.
"The marches aim to highlight the issue of Jerusalem … by which we point out the racism and Judaisation practices of the occupying state against Jerusalem and Palestine," added Aref.
Salafist Al-Asala party, Salafist El-Noor Party, Brotherhood allied El-Wasat Party and members of the World Federation of Muslim Scholars joined Friday's march.
In May, dozens of Islamist protesters gathered at Al-Azhar Mosque in Cairo after the noon prayers to denounce Israeli assaults on Syria and the arrest of Palestine's top Muslim cleric in Jerusalem.
http://english.ahram.org.eg/NewsContent/1/64/73398/Egypt/Politics-/Egypt%E2%80%99s-Brotherhood-and-Islamists-march-to-Jerusal.aspx
------------
Kurd deserves asylum due to Turkey torture threat: Swiss court
7 Jun 2013
A Swiss court on Friday slapped down a decision by the country's migration office to deny a Kurdish activist asylum, ruling there was still a real threat of torture and mistreatment in Turkey.
The Kurdish youth activist, whose name was not given, had his asylum application rejected in 2011 since Switzerland's Federal Office for Migration (BFM) deemed he would not be in danger if he returned to Turkey, the ATS news agency reported.
The man, a member of the now-banned Kurdish nationalist Democratic Society Party, had claimed he had been repeatedly threatened and beaten by police and that intelligence officers had once detained and tortured him for two days, including using electroshock and beating the soles of his feet.
Full report at:
http://english.ahram.org.eg/NewsContent/2/9/73439/World/International/Kurd-deserves-asylum-due-to-Turkey-torture-threat-.aspx
------------
Hezbollah provoking the world, ex-militia chief says
8 June 2013
Former Hezbollah Secretary-General Subhi al-Tufayli criticized the Lebanese Shiite militia group for its military intervention in Syria in a television interview with Al Arabiya News, aired Friday.
He added that the group, which he formerly led, "has provoked the whole world."
Tufayli, who was Hezbollah's chief from 1989 to 1991, said he could not "imagine" why Hasan Nasrallah, the group's current leader, challenged those who differ with him to fight against his group in Syria.
Full report at:
http://english.alarabiya.net/en/News/middle-east/2013/06/08/Hezbollah-has-provoked-whole-world-ex-militia-chief-says.html
------------
Jeddah Urdu lovers honor poet from Abu Dhabi
8 June 2013
Well known Pakistani Urdu poet Zahoor Islam Jawaid was honored by Aalami Urdu Markaz at a poetry evening.
Jawaid, who has been living in Abu Dhabi for 40 years, was in the Kingdom to perform Umrah. He has taken part in more than 28 international poetry events.
"Poetry is not only a showcase of your inner feelings and thinking, but it is a mixture of all that is going on inside you and around you," he said.
Full report at:
http://www.arabnews.com/news/454352
------------
Bashar al-Assad led Syrian army raids pro-revolt area near Lebanon
Jun 08 2013
Beirut : Syrian helicopters fired rockets near a Lebanese border area whose residents back the rebellion against President Bashar al-Assad, a security official said, in the latest incident rasing new concerns of Syria-related escalation in Lebanon.
The late yesterday raid was second such Syrian strike against the Sunni-majority border areas in less than a week.
"Syrian helicopters fired rockets at the Wadi Hmeid area near (the town of ) Arsal. There were no casualties," the Lebanese official said on condition of anonymity.
Full report at:
http://www.indianexpress.com/news/bashar-alassad-led-syrian-army-raids-prorevolt-area-near-lebanon/1126693/
------------
North America
New documentary warns against Obama's 'Dirty Wars'
June 8, 2013
WASHINGTON: A new documentary released Friday portrays US secret raids against terror suspects as a misguided assassination campaign that generates new enemies and tarnishes America's image.
In Dirty Wars: The World is a Battlefield, journalist Jeremy Scahill condemns the "targeted killing" of purported al Qaeda linked militants in missile strikes and night raids by commandos as an ominous, permanent state of war that is "spinning out of control."
The film tries to shed light on operations conducted in the shadows since the September 11, 2001 attacks, focusing on civilians cut down in Afghanistan and Yemen.
The documentary recounts a botched raid by special operations forces in the Afghan village of Gardez that killed five people, including two pregnant women.
Full report at:
http://tribune.com.pk/story/560637/new-documentary-warns-against-obamas-dirty-wars/
------------
News of U.S. Surveillance Draws Anger of Activists and Militants Abroad
By RICK GLADSTONE
2013/06/08
Mohamed al-Hadi, an antigovernment activist in Syria, had just received a Skype briefing from rebels about the Ming military airport near the northern city of Aleppo, a protracted battleground in the country's civil war. Then he learned that the United States government had the ability to monitor that call, as well as a broad range of other information transmitted through the Internet.
"I'm really shocked," he said in a Skype conversation. "Eighty percent of our secrets were already known to the Americans. Now, all of our secrets are disclosed."
In Syria and other conflict zones, activists and militants with diverse politics expressed collective outrage on Friday over the disclosures about the global scope of American data mining and surveillance of phone records and private information conveyed through the Internet, including conversations on Skype, the popular messaging system.
Full report at:
http://www.nytimes.com/2013/06/08/us/news-of-us-surveillance-draws-anger-abroad.html?pagewanted=all&_r=0
------------
Kerry quietly releases $1.3bn military aid package for Egypt
8 June 2013
US Secretary of State John Kerry (L) talks with Egyptian President Mohammad Morsi in Cairo on March 3, 2013. (AFP)
Secretary of State John Kerry last month approved $1.3 billion in annual US military aid to Egypt, despite concerns over democratic progress by the country's new government, a US official said Friday.
All such aid is "carefully considered," State Department spokeswoman Jen Psaki told reporters, but it was felt the funding was necessary to help "preserve important regional interests."
On May 10, Kerry quietly approved the transfer of the annual aid, notifying the US Congress of his decision, she confirmed.
Full report at:
http://english.alarabiya.net/en/business/economy/2013/06/08/Kerry-renews-1-3bn-military-aid-package-for-Egypt-.html
------------
One America News versus Al-Jazeera's jihad on American Cable TV
June 8, 2013
WASHINGTON, June 6, 2013 — Al-Jazeera is about to bring jihad to American cable TV.
Al-Jazeera bought Al Gore's unwatched Current TV earlier this year and plans to convert it to Al-Jazeera America. That's right, the alleged news organization that gets much of it's funding from the Qatar government is coming to American TV screens.
Isn't that what you want on your local cable TV outlet? Al-Jazeera has promised to "Americanize" its US operation. The favored channel of suicide bombers everywhere is going to be "Americanized."
For American's who want to block Al-Jazeera in America and help a real American news channel, there is an alternative.
Full report at:
http://communities.washingtontimes.com/neighborhood/judson-phillips-cold-hard-truth/2013/jun/6/one-america-news-versus-al-jazeeras-jihad-american/
-----------
Southeast Asia
Anti-Shariah Movement Allegedly Discovered in Aceh
June 8, 2013
Banda Aceh. The government in Aceh has claimed that a social media movement aiming to discredit Shariah law in the province exists, though it has refused to provide any details on who may be carrying out the conspiracy.
"We recognize there are still parties who are unhappy with the implementation Islamic Shariah in Aceh," Syahrizal Abbas, the head of Aceh's provincial Shariah agency, said on Friday, as quoted by Antara news agency.
Syahrizal urged all parties in the province to use mass media and social media to promote positive perceptions of Islam.
Full report at:
http://www.thejakartaglobe.com/news/anti-shariah-movement-allegedly-discovered-in-aceh/
------------
House Urges Govt To Act on Malaysia Death Row Pair
June 8, 2013
Legislators have called on the government to assist in the case of two Indonesian brothers sentenced to death last year in Malaysia for killing a burglar who broke into their home, after their appeal was rejected earlier this week.
Nova Riyanti Yusuf, a deputy chairwoman of House of Representatives Commission IX, which oversees welfare labor affairs, said on Friday that legislators would call in the foreign minister, the manpower minister and the Indonesian ambassador to Malaysia to account for the legal assistance they had provided to Frans Hiu, 22, and Dharry Frully Hiu, 21.
Full report at:
http://www.thejakartaglobe.com/news/house-urges-govt-to-act-on-malaysia-death-row-pair/
------------
Najib declares war against crime
JUNE 08, 2013
KUALA LUMPUR, June 8 — The effort to fight crime is a war which needs commitment and continuous support from all levels of society to create a safe surrounding for the people, Prime Minister Datuk Seri Najib Razak said today.
He said the active and pro-active participation from the society is necessary to help achieve the government's aspiration to create a safe and peaceful feeling, as well as free from fear in the society.
"If there is proactive and active participation from the society, not in passive form or lip service, I believe, the support from the community is the most important basis that can bring success to our efforts to combat crime," he added.
Full report at:
http://www.themalaysianinsider.com/malaysia/article/najib-declares-war-against-crime/
------------
India
CBI snipes at Narendra Modi in Supreme Court in Ishrat fake encounter case
TNN | Jun 8, 2013
NEW DELHI: After questioning Intelligence Bureau (IB) officials for providing inputs to the Gujarat Police leading to alleged fake encounter killing of Ishrat Jahan and three others, the CBI on Friday opposed tooth and nail a plea by an accused state intelligence officer who had received the IB input and passed it on to operation wing.
The state intelligence officer, P P Pandey, had gone on leave from May 2 and did not leave information about his whereabouts. Unable to trace him for interrogation, the CBI moved the trial court and got an arrest warrant issued against him. Pandey had moved the apex court seeking quashing of the FIR against him.
Even before Pandey's counsel could open arguments, additional solicitor general (ASG) Indira Jaising launched an intense attack on the petitioner for bypassing the Gujarat High Court, which she said was monitoring the investigations into the Ishrat fake encounter case in which top cops have been arrested.
Full report at:
http://timesofindia.indiatimes.com/india/CBI-snipes-at-Narendra-Modi-in-Supreme-Court-in-Ishrat-fake-encounter-case/articleshow/20486494.cms
------------
Shahzad was not in Batla flat, 2 terror suspects tell court
Aneesha Mathur
Jun 08 2013
New Delhi: Recording their statements via video from the Sabarmati Jail in Gujarat, two alleged terror suspects on Friday told a Delhi court that Shahzad Ahmad, the lone accused in the 2008 Batla House encounter case, was not present in the house on the day of the encounter.
Mohammed Saif, an accused in 2008 Delhi serial blasts case who is lodged at the Sabarmati Jail in connection with another case, told the court of Additional Sessions Judge Rajender Kumar Shastri that he was sleeping in the top floor of Flat No. 108, L-18, Batla House, along with his friends Atif Amin and Mohammed Sajid, when unidentified men entered the room and held them at gunpoint.
Full report at:
http://www.indianexpress.com/news/shahzad-was-not-in-batla-flat-2-terror-suspects-tell-court/1126490/
------------
At Jamaat-e-Islami meet in Kashmir, a good word for Modi
t Jun 08 2013
JAMMU: Gujarat Chief Minister Narendra Modi may be a polarizing factor for politicians across the country, but in J&K his government got appreciation from an unusual quarter - Jamaat-e-Islami, over the issue of prohibition.
Addressing its first ever two-day annual conference held in the sprawling ground of Government Girls Higher Secondary School at Gujjar Mandi in Rajouri town on May 30-31, a senior Jamaat leader criticised Omar Abdullah government for promoting the sale of liquor in the state.
Full report at:
http://www.indianexpress.com/news/at-jamaat-meet-a-good-word-for-modi/1126604/
------------
US must help Sharif on economy, ties with India: Expert
PTI | Jun 8, 2013
WASHINGTON: The Obama Administration needs to come out with innovative steps to help Nawaz Sharif, the new Prime Minister of Pakistan in his endeavor to improve relationship with India and fix the country's fragile economy, a leading expert in the US on South Asian affairs has said.
"The stakes are high. If Sharif's government can stabilize Pakistan's economy, improve domestic security and normalize relations with neighboring India and Afghanistan, there will be reason for hope that his nuclear-armed country of nearly 200 million people can, in time, remove itself from lists of "failing states" and follow a path to growth, stability and sustainable democracy," Daniel Markey wrote in The Washington Post.
Full report at:
http://timesofindia.indiatimes.com/world/us/US-must-help-Sharif-on-economy-ties-with-India-Expert/articleshow/20494018.cms
-----------
Indian International School-Jeddah students win Sir Syed contest
8 June 2013
Indian International School-Jeddah (IISJ) students won the first Sir Syed memorial inter-school speech contest.
The event, held at the IISJ Boys Section, was organized by Aligarh Muslim University Alumni Committee in Jeddah.
Farzan Ahmed Rizvi, president of the AMU alumni committee, highlighted the contributions of Sir Syed, and emphasized the importance of public speaking and leadership skills for all but especially younger generation.
Full report at:
http://www.arabnews.com/news/454357
------------
Pakistan
Pakistan drone strike kills seven in North Waziristan
June 8, 2013
A suspected US drone attack has killed seven people in northwest Pakistan, officials say.
Two missiles hit a compound in a village in the North Waziristan tribal area, close to the Afghan border.
It is the first drone strike since Nawaz Sharif took over as Pakistan's prime minister and demanded an end to the attacks.
Last month President Obama announced stricter targeting rules for the drone campaign against militant suspects.
The missiles reportedly hit the remote village of Shokhel in the Shawal valley, some 45km (27 miles) west of Miranshah - the main town in North Waziristan.
The troubled border region is a known stronghold for al-Qaeda and Taliban militants.
'Just' killings
It is unclear who the target of the attack was, but several militant groups have camps in the area, including the Pakistan Taliban whose deputy leader was killed in a drone strike last week, the BBC's Pakistan correspondent Orla Guerin reports.
Full report at:
http://www.bbc.co.uk/news/world-22820208
----------
'Pakistan Army to be withdrawn from Swat'
June 7, 2013
PESHAWAR: The tenure of the newly-formed Khyber-Pakhtunkhwa (K-P) government will witness the withdrawal of security forces from Swat, The Express Tribune understands a decision in principle has been taken in this matter.
"The decision to withdraw the Pakistan Army from Swat has been taken," Deputy Parliamentary Leader Shaukat Ali Yousafzai announced at a press conference at the Officers Mess in Peshawar on Friday.
Full report at:
http://tribune.com.pk/story/560255/substantial-plans-pakistan-army-to-be-withdrawn-from-swat/
------------
Pakistan summons US envoy Richard Hoagland over drone strike
AP | Jun 8, 2013
ISLAMABAD: Just days after taking power, Pakistan's new government has lodged a protest with the US and summoned a top American envoy to vent its frustration following a US drone strike that intelligence officials say killed seven militants.s
Friday night's drone strike near the Afghan border came just two days after Nawaz Sharif was sworn in as prime minister. Sharif has insisted the US stop such attacks, saying they violate Pakistan's sovereignty.
Full report at:
http://timesofindia.indiatimes.com/world/pakistan/Pakistan-summons-US-envoy-Richard-Hoagland-over-drone-strike/articleshow/20493340.cms
------------
Imran Khan tweets: Dead TTP commander Waliur Rehman 'pro-peace'
June 8, 2013
Imran Khan's twitter activity on the topic of drones and Fauzia Kasuri has enraged some, and confused others in the Twittersphere this morning.
Imran Khan condemned the drone strike that killed seven in Waziristan just a day before in a tweet and proceeded to a second tweet stating,
Replies to his tweet started pouring in immediately after,
Sundus Rasheed
Taliban now considered 'pro-peace'. Not a single woman in the Cabinet. Welcome to Naya, Roshan Pakistan. Let's burn together.
Gharidah Farooqi
WaliurRehman was so "pro peace" he slits throats,razed mosques,schools,markets,killed cmn ppl & soldiers whoever he thought was "anti peace"
Sami Shah
Full report at:
http://tribune.com.pk/story/560646/imran-khan-tweets-slain-ttp-commander-waliur-rehman-pro-peace/
------------
Chaudhry Nisar Ali Khan to be Pak govt's point man for dealing with Taliban
PTI | Jun 8, 2013
ISLAMABAD: Interior minister Chaudhry Nisar Ali Khan will be the new Pakistan government's point man for dealing with law and order problems and a Taliban insurgency while power minister Khwaja Asif has been entrusted the tasking of addressing a crippling energy crisis.
Khan, a hawk considered close to the military and a political heavyweight from the Rawalpindi region, was allocated the interior ministry hours after 25 members of PM Nawaz Sharif's council of ministers were sworn in yesterday.
Full report at:
http://timesofindia.indiatimes.com/world/pakistan/Chaudhry-Nisar-Ali-Khan-to-be-Pak-govts-point-man-for-dealing-with-Taliban/articleshow/20490520.cms
-----------
Pak-Afghan-Isaf military commanders discuss border control
June 8, 2013
RAWALPINDI: A trilateral meeting of military commanders from Pakistan, Isaf and Afghanistan was held today at the General Headquarters in Rawalpindi.
The meeting was attended by Commander Isaf, General Joseph F. Dunford, Afghan National Army's CGS, General Sher Mohammad Karimi and Chief of Army Staff General Ashfaq Pervez Kayani.
The three discussed matters of mutual interest with particular emphasis on improving coordination on the Pak-Afghan border and the standing operating procedures put in place to improve border control.
http://beta.dawn.com/news/1016896/pak-afghan-isaf-military-commanders-discuss-border-control
------------
Disaster averted as Chamkani police recovers 15,000 kilos of explosive material
June 8, 2013
PESHAWAR: Chamkani police recovered a total of 15,000 kilograms of explosive material from a warehouse and two Suzuki pickups vans during an operation on Peshawar's Ring Road.
Police claim to have arrested two suspects and at least one other managed to escape.
Speaking to media representatives, deputy superintendent (DSP) of Chamkani police, Shaukat Khan said that two Suzuki pickup vans which were used to transport potassium chloride for bomb-making had been recovered.
Full report at:
http://www.beta.dawn.com/news/1016887/disaster-averted-as-chamkani-police-recovers-15000-kilos-of-explosive-material
------------
Dr Malik Baloch elected Balochistan CM unopposed
June 8, 2013
QUETTA: Dr Abdul Malik Baloch was elected unopposed to the post of Balochistan chief minister on Saturday after no party nominated any candidate against him, reported Express News.
The formal announcement for the Balochistan CM post will be made tomorrow (Sunday) during a provincial assembly session at 11am. Baloch will take oath at the Governor House at 6pm tomorrow.
Full report at:
http://tribune.com.pk/story/560665/unopposed-no-nomination-papers-filed-against-dr-malik-for-balochistan-cm-post/
------------
Lal Masjid cleric seeks FIR against Musharraf, others
June 8, 2013
ISLAMABAD: In a concise statement submitted over Lal Masjid's Commission Report, the counsel of mosque's cleric Maulana Abdul Aziz has the requested the Supreme Court to issue directions regarding registration of FIR against then president general (retd) Pervez Musharraf, former prime minister Shaukat Aziz, former interior minister Aftab Ahmad Sherpao and those, who participated in the military operation in view of the contents of commission report about the operation.
In response to the SC's April 18 order for filing para wise comments over the Lal Masjid commission's report, Tariq Asad advocate said the commission had given some false observations in the report unilaterally or secretively not based on any prima facie evidence which reflected his integrity doubtful.
Full report at:
http://www.dailytimes.com.pk/default.asp?page=2013\06\08\story_8-6-2013_pg7_12
------------
Pakistan PM to visit Afghanistan
PTI | Jun 8, 2013
LAHORE: Pakistan Prime Minister Nawaz Sharif will soon visit Afghanistan for talks with President HamidKarzai aimed at pushing forward the troubled peace process ahead of the withdrawal of US and foreign forces next year.
PML-N leader Tariq Azeem confirmed Sharif would visit Kabul this month but said no dates had been fixed as yet.
"Prime Minister Sharif has accepted an invitation extended by Mr Karzai recently and the dates of his visit will be finalized shortly," he said.
The two leaders are expected to discuss all issues, including talks with the Afghan Taliban to make them join the peace process in Afghanistan, Azeem said.
Full report at:
http://timesofindia.indiatimes.com/world/pakistan/Pakistan-PM-to-visit-Afghanistan/articleshow/20493395.cms
------------
Europe
UK's use of drones in Afghanistan 'may be in breach of international law'
Campaigning lawyers challenge legal defence set out by RAF as six protesters await trial over mass trespass of UK drone HQ
Owen Bowcott, legal affairs correspondent
8 June 2013
The use of remotely piloted drones by British forces in Afghanistan may be in breach of international law, a controversial legal opinion circulated to peace campaigners and released on Saturday claims.
The argument challenges the well established legal defence set out by the RAF for deployment of unmanned aerial vehicles (UAVs) in the UN-sanctioned conflict.
Publication of the document coincides with the court appearance this week of six anti-drone protesters who pleaded not guilty to causing criminal damage following the first mass trespass inside the RAF's new ground control for Afghan drone operations.
Written by Phil Shiner and Dan Carey of the Birmingham-based Public Interest Lawyers, the legal opinion argues that use of drones inside Afghanistan, which is a UN-declared conflict zone, is subject to the European convention on human rights (ECHR). That principle is already established in British case law, they say, in relation to the case of Al Skeini, which went to judges in Strasbourg and concerned the killing of civilians during British security operations in Iraq.
Full report at:
http://www.guardian.co.uk/world/2013/jun/08/uk-drones-afghanistan-legal-challenge
----------
Moscow Decides to Implement Chechen Blueprint in Dagestan
Mairbek Vatchagaev
June 8, 2013
Dagestan is interesting not only because it is the largest republic of the region, but also because it has by far the strongest Salafist armed resistance in the North Caucasus. That is why every political event in this North Caucasian republic becomes an important topic of discussion across the region. The recent arrest of Said Amirov, the mayor of Makhachkala, Dagestan's capital, was more than simply the arrest of a republican official: it will make other officials in the republics of the North Caucasus concerned about their own future as well (www.rosbalt.ru/federal/2013/06/03/1136553.html).
One of the questions that arises from Amirov's arrest in Dagestan is whether there is any connection to his ouster and the resignation of Vladislav Surkov from the post of Russian deputy prime minister (www.bbc.co.uk/russian/russia/2013/05/130508_surkov_dismissal_analysis.shtml and www.ria.ru/trend/Amirov_detention_01052013/). In all likelihood it is not a mere coincidence that Dagestan's best known politician was targeted after Surkov was removed from his position, from which he oversaw the Kremlin's policy in the North Caucasus. Surkov apparently was one of those people in the Russian presidential administration who considered any quick fixes for the region, such as a reshuffling of clans or redrawing the economy in favor of certain oligarchs, to be too risky.
Full report at: Jamestown Foundation
------------
Woolwich attack: Student sentenced for 'joke' tweet
June 8, 2013
A student who said on Twitter that people wearing Help for Heroes T-shirts "deserved to be beheaded" was arrested after complaining to police about threatening replies, a court has heard.
Deyka Ayan Hassan, from Harrow, sent the tweet in the aftermath of Drummer Lee Rigby's death in Woolwich, south-east London.
The 21-year-old student admitted sending a malicious electronic message.
She was ordered to complete 250 hours of unpaid work by Hendon magistrates.
Drummer Rigby was wearing the charity's T-shirt when he was attacked on 22 May.
Hassan, an English and politics undergraduate at Kingston University, said she had sent the tweet "as a joke" about the design of the T-shirt.
Full report at:
http://www.bbc.co.uk/news/uk-england-london-22821484
------------
Majority of Netherlands Favours Ban on Sharia Law
June 7, 2013
By Daniel Greenfield
Polls don't mean that much unless there are political parties and leaders willing to implement them. The Netherlands may represent the first time that the counter jihad stars have aligned in a single country. Wilders' popularity is rising and tolerance for Islamic terror is declining.
More than three quarters of the Dutch (77 percent) believe that Islam is no enrichment for our country. More than two-thirds – 68 percent – say that there is enough Islam in the Netherlands. It is striking that a majority of voters from all political parties (from PVV to VVD, CDA, D66, PvdA, SP and 50plus) share this view.
Full report at:
http://frontpagemag.com/2013/dgreenfield/majority-of-netherlands-favors-ban-on-sharia-law/
------------
Appeal for calm after London Muslim centre burnt
By JONNY PAUL
07/06/2013
LONDON – Muslim groups in the UK are calling for Islamophobia to be taken seriously after an Islamic centre in London was burned down in a suspected racially motivated attack on Wednesday.
Tensions have been high in the capital since two radical Muslim converts brutally hacked to death Lee Rigby, a British soldier, on a London street last month.
On Wednesday, the Somalian Islamic Bravanese Welfare Centre in Muswell Hill, north London was burnt to the ground in a suspected arson attack. The far-right English Defence League has been linked to the attack after the letters "EDL" were found sprayed in paint on an adjacent wall.
Full report at:
http://www.jpost.com/International/Appeal-for-calm-after-London-Muslim-center-burnt-down-315724
------------
France: More than 600 EU citizens fighting in Syria
7 June 2013
More than 600 European nationals, including 120 from France, are fighting in Syria, French Interior Minister Manuel Valls told Al Arabiya on Friday.
Valls said the "the phenomenon of European fighters in Syria forms a serious and big terrorist and security challenge."
He said many of those jihadists are fighting alongside groups to al-Qaeda, warning that their return could jeopardize the security of their home countries.
Full report at:
http://english.alarabiya.net/en/News/middle-east/2013/06/07/France-More-than-600-EU-citizens-fighting-in-Syria.html
-----------
Russia's offer to replace peacekeepers in Golan Heights is not possible: UN
Jun 08 2013
Moscow : The United Nations said on Friday it could not accept Russia's offer to replace peacekeepers from Austria in the Golan Heights because an agreement between Israel and Syria bars permanent members of the Security Council from the U.N. observer mission.
The United Nations expressed appreciation for the Russian offer, made on Friday by President Vladimir Putin after Austria said it would recall its troops from a U.N. monitoring force due to worsening fighting in Syria.
Full report at:
http://www.indianexpress.com/news/russia-s-offer-to-replace-peacekeepers-in-golan-heights-is-not-possible-un/1126653/
------------
France studies high-tech means to track potential arms for Syrian rebels
June 08, 2013
By Jamey Keaten
PARIS: France's government is investigating high-tech methods to prevent terrorists from using any weapons that Western governments send to Syrian rebels, such as gadgetry that tracks the movement of anti-aircraft missiles or shuts them down from a distance, officials say. Such controls could be crucial to overcoming fears about arming the rebels – and to shifting the balance in Syria's civil war, which has left tens of thousands of people dead. A major fear of the U.S. and its allies is that terrorists could get hold of any missiles delivered to the rebels and use them to target commercial planes.
Full report at:
http://www.dailystar.com.lb/News/Middle-East/2013/Jun-08/219762-france-studies-high-tech-means-to-track-potential-arms-for-syrian-rebels.ashx#ixzz2VcmN7ZO2
------------
U.N. Requests $5 Billion in Humanitarian Aid for Syria
By NICK CUMMING-BRUCE and RICK GLADSTONE
June 8, 2013
GENEVA — The United Nations issued the biggest financing appeal in its history on Friday, asking for more than $5 billion in humanitarian aid for Syria this year to help millions of people affected by the country's civil war and ease the pressure building up in neighbouring countries overwhelmed by Syrian refugees.
"These are massive figures, but they mask a human tragedy," Valerie Amos, the United Nations' humanitarian aid coordinator, told reporters after presenting the appeal to donor government representatives in Geneva. Syria's conflict, now in its third year, has set the country's development back two decades, she said. "We are concerned that as the needs are rising, we are not able to meet them all."
The latest appeal for Syria equals half the financing requested by the United Nations for 16 other countries.
Full report at:
http://www.nytimes.com/2013/06/08/world/middleeast/syria.html?pagewanted=all
------------
South Asia
Thousands join rally supporting two-child policy for Muslims
June 8, 2013
Dateline: More residents of Sittwe, which was known as Akyab during the British rule in western Burma (Myanmar) are coming to the streets supporting the single wife &two-child policy for the Muslim families living in the South East Asian country.
Thousands of residents joined in a rally yesterday supporting the Arakan State government act for the controversial law targeting the Muslim community in two townships of northern Arakan.
The rally was organized by groups of monks, participants of social networking and local politicians in the Arakan capital to show their backing to the province government on its mission to adopt the two child policy for the Muslims.
Full report at:
http://www.bnionline.net/index.php/news/narinjara/thousands-join-rally-supporting-two-child-policy-for-muslims.html
------------
China agrees to build economic corridor in PoK
Saibal Dasgupta, TNN | Jun 8, 2013
BEIJING: China has begun discussing deals for projects in Pakistan-occupied Kashmir, which India claims as its own.
The Chinese foreign ministry has said China is looking forward to building an economic corridor with Pakistan, which will start in its border city of Kashgar, pass through PoK and terminate at Gwadar port in Baluchistan.
Ministry spokesman Hong Lei said construction of the corridor was the most important consensus reached by the two parties during Premier Li Keqiang's visit to Pakistan. China will work with Pakistan to step-up the planning and construction of the project and make it the highlight of cooperation between the two countries, he said.
Full report at:
http://timesofindia.indiatimes.com/world/china/China-agrees-to-build-economic-corridor-in-PoK/articleshow/20486317.cms
---------
Bangladesh asks Britain to repatriate Former PM Khaleda Zia's fugitive son
Jun 08 2013
Dhaka : Bangladesh has asked Britain to repatriate the fugitive elder son of former premier Khaleda Zia to face trial on massive graft charges.
Tarique Rahman, opposition Bangladesh Nationalist Party's senior vice president, is wanted on charges of graft and a deadly grenade attack.
A Dhaka court on May 26 issued a warrant ordering Rahman to face trial on graft charges brought by Anti-Corruption Commission (ACC) during the 2006-2008 emergency rules under the army backed interim government.
Full report at:
http://www.indianexpress.com/news/bangladesh-asks-britain-to-repatriate-former-pm-khaleda-zia-s-fugitive-son/1126698/
------------
Myanmar Ethnic groups want constitutional amendments to include federalism
04 JUNE 2013
NAY LINN HTIKE
During the recent Federalism and Ethnic View Discussion, organized by Former Political Prisoners (FPPs), making amendments to the 2008 Constitution was part of the discussion.
One common concern raised during the June 2 meeting in Yangon was achieving national reconciliation when the constitution doesn't include sufficient provisions for federalism.
"We cannot truly get national reconciliation until details about federalism is included in the Constitution; our country is not Unitary. All the ethnics share these views,'' said Pu Chin Sian Thang, the president of the Zomi Congress for Democracy party (ZCD) . Federalism. Civic rights in the 2008 Constitution are also very vague, according to the ZCD president.
Full report at:
http://www.bnionline.net/index.php/news/bni/15430-myanmar-ethnic-groups-want-constitutional-amendments-to-include-federalism.html
------------
Three foreign soldiers killed in apparent 'insider attack' in Afghanistan: NATO
June 8, 2013
(Reuters) - Three foreign soldiers were killed in Afghanistan on Saturday when a man in an Afghan government army uniform turned his weapon on them in the eastern province of Paktika, a spokeswoman for Afghanistan's NATO-led force said.
The spokeswoman did not give the nationality of the three soldiers but U.S. troops make up the bulk of the force in Paktika.
http://www.reuters.com/article/2013/06/08/us-afghanistan-attack-idUSBRE95706M20130608?feedType=RSS
------------
German FM begins Afghan endgame talk
June 8, 2013
ISLAMABAD: German Foreign Minister Guido Westerwelle is due to arrive in Islamabad today (Saturday) to hold talks with Pakistan's new political leadership on the Afghan endgame.
Westerwelle is the first top diplomat from any Western country to travel to Islamabad following the historic democratic transition from one civilian government to another in the country.
A Foreign Office official told The Express Tribune that the German foreign minister will meet Prime Minister Nawaz Sharif and discuss the regional security situation with a focus on Afghanistan.
Full report at:
http://tribune.com.pk/story/560551/german-fm-begins-afghan-endgame-talk/
------------
1,000 pilgrims from Maldives to perform Haj 2013
8 June 2013
Ambassador of the Republic of Maldives to the Kingdom and Head of the Delegation of Pilgrim Affairs of Maldives, Adam Hassan, said that the efforts by government of Custodian of the Two Holy Mosques King Abdullah and Crown Prince Salman are the subject of pride for all Muslims. The ambassador made these remarks while announcing that 1,000 pilgrims from Maldives will perform Haj this year.
Full report at:
http://www.arabnews.com/news/454351
------------
No cause for worry on fundamentalism: Gayoom to India
June 8, 2013
Considered a powerful player in Maldivian politics, former President Maumoon Gayoom today sought to allay India's concerns over rise of fundamentalism in Maldives by assuring strict implementation of a law to check radicalisation of Islam once his party returns to power.
The 76-year-old Maldivian leader also made it very clear that China was no substitute for India as far as his country was concerned.
Full report at:
http://www.business-standard.com/article/pti-stories/no-cause-for-worry-on-fundamentalism-gayoom-to-india-113060600635_1.html
----------
Africa
18 dead in battle over disputed Somali port city
Abdi Sheikh (Reuters) / 8 June 2013
MOGADISHU - At least 18 people have been killed in gunbattles in southern Somalia's Kismayu, residents said on Saturday, in the heaviest fighting the disputed port city has seen in more than four years.
The clashes, the first since several former warlords staked rival claims on the lucrative port and fertile hinterlands in May, has stoked fears among locals of a return to the clan wars that tipped the country into anarchy two decades ago.
Residents counted at least 13 bodies, nearly all militiamen, in the sandy streets of two neighbourhoods which witnessed the brunt of Saturday's fighting. Five people were killed a day earlier when the clashes first broke out.
"The Ras Kamboni militia now controls this part of the city," Bile Nur, a resident of Kismayu's Calanleey district told Reuters by telephone. "Residents are burying the dead of the militia driven out while Ras Kamboni are burying theirs."
http://www.khaleejtimes.com/kt-article-display-1.asp?xfile=/data/international/2013/June/international_June263.xml&section=international
---------
Malian army and rebels accused of rights abuses ahead of talks
June 8, 2013
BAMAKO — Rights groups on Friday accused Mali's army and Tuareg separatist rebels of torturing and killing civilians despite the presence of France's military, hours before peace talks between the two sides were due to begin.
Amnesty International said a month-long research mission to Mali found the army had tortured dozens of people suspected of collaborating with the MNLA Tuareg rebels or Islamist groups which seized control of north Mali early last year.
It documented more than 20 cases of extra-judicial executions and arbitrary killings by the army and the MUJWA Islamist group in northern Mali. Amnesty said the bodies of Mohamed Lemine and Mohamed Tidjani had been discovered days after they were arrested by the Malian security forces on Jan. 28, the day Malian forces retook the town of Timbuktu.
Full report at:
http://www.saudigazette.com.sa/index.cfm?method=home.regcon&contentid=20130608168934
------------
Mali crisis: Human Rights Watch condemns ethnic abuses
June 8, 2013
Both Tuareg rebels and the army in Mali have committed abuses against civilians because of their ethnic origins, a Human Rights Watch report says.
The Malian army has been advancing towards the last Tuareg-held town.
Soldiers are accused of torturing Tuaregs, while the rebels are said to have rounded up and beating members of rival, darker-skinned groups.
French-led forces this year ousted Islamist militants, allied to the Tuaregs, from most of northern Mali.
Full report at:
http://www.bbc.co.uk/news/world-africa-22811108
----------
Ethiopia says it won't bow to Egyptian pressure over Nile dam
7 June 2013
Ethiopia's construction of a dam on a tributary of the Nile is not open to negotiation, the Addis Ababa government said on Friday, as a confrontation with Egypt over the project escalated.
The Cairo government said this week it would demand the project be halted, after its southern neighbor began diverting a stretch of the river to make way for the $4.7 billion dam that will become Africa's biggest hydropower plant.
Ethiopia said it had summoned Egypt's ambassador to explain comments by politicians in Cairo advising Egyptian President Mohammed Mursi to take hostile action to halt the building of the dam.
Full report at:
http://english.alarabiya.net/en/News/africa/2013/06/08/Ethiopia-says-it-won-t-bow-to-Egyptian-pressure-over-Nile-dam.html
------------
Mideast
Turkey protest demands: The good, the bad, and the ridiculous
8 June 2013
Ceylan Ozbudak
Over the past week, the whole world has watched as a modest protest over plans to revise Gezi park morphed into a national convulsion in which grievant of every stripe hit the street to air all manner of barbarous yawp, none of which, in the end, appear to have had much relationship to the other or to the original grievant in Istanbul. One positive development: On Tuesday, Deputy Prime Minister Bulent Arinç acknowledged the excessive force used by the police in the first responses to the protests, and apologized to the Turkish people. Likewise, on Friday, Prime Minister Erdogan echoed the government's commitment to investigate any police misconduct, which drew the fine line between the public right of dissent, and the government's obligation to sustain order. So what would it take to restore the status quo ante, so that people can go about their business in peace? The Deputy Prime Minister met with a small group from the protestors to receive their demands. So let's break down the demands of the protestors one by one and see the patterns:
Full report at:
http://english.alarabiya.net/en/views/news/world/2013/06/08/Turkey-protest-demands-The-good-the-bad-and-the-ridiculous.html'
--------------
'Chapulling' in Taksim Square: The new buzz word in Turkey
8 June 2013
Turkey's prime minister meant it as an insult when he dismissed protesters as "capulcu" -- "vandals" or "looters." But they've become fond of it, adopting it as their nickname and spreading it via Facebook and Twitter.
It is just one in a flood of edgy jokes and slogans that have kept the young Turks chuckling in between bouts of being chased by police with tear gas and water cannon at protests against the premier, Recep Tayyip Erdogan.
Full report at:
http://english.alarabiya.net/en/life-style/variety/2013/06/08/-Chapulling-in-Taksim-Square-The-new-buzz-word-in-Turkey.html
------------
Iran condemns deadly Iraq attack on its pilgrims
8 June 2013
Iran on Saturday condemned a deadly attack the day before in neighboring Iraq, in which at least 14 Iranian Shiite pilgrims were killed, the official IRNA news agency said.
"Iran condemns this indiscriminate terrorist act, which is contrary to Islamic and human values," it cited foreign ministry spokesman Abbas Araqchi as saying.
Iranian television reports said 14 pilgrims from Iran were killed and 45 wounded on Friday when a parked vehicle rigged with explosives detonated in the restive town of Muqdadiyah north of Baghdad.
Full report at:
http://english.alarabiya.net/en/News/middle-east/2013/06/08/Iran-condemns-deadly-Iraq-attack-on-its-pilgrims-.html
------------
Israel asked to free 123 Palestinians
June 08, 2013
RAMALLAH – A senior Palestinian official asked the Israeli government to release of 123 Palestinians who were arrested before the Oslo Accords in 1993 as a goodwill gesture to help advance the peace process.
Hussein Al-Sheikh, the Palestinian Civil Affairs Minister, told the Israel's Radio that "the Palestinian Authority asked the government of Israeli Prime Minister Binyamin Netanyahu to release the prisoners and still the government's response."
Al-Sheikh, also member of President Mahmoud Abbas Fatah's Central Committee, said that "a few Israeli officials expressed positive positions on the matter."
Full report at:
http://www.saudigazette.com.sa/index.cfm?method=home.regcon&contentid=20130608168983
------------
URL: https://newageislam.com/islamic-world-news/new-age-islam-news-bureau/qaradawi-s-fatwa-led-to-salafi-gunmen-shooting-dead-14-shiite-muslims-from-karbala,-claims-ahlul-bayt-news-agency/d/11974