New Age Islam News Bureau
15 Feb 2019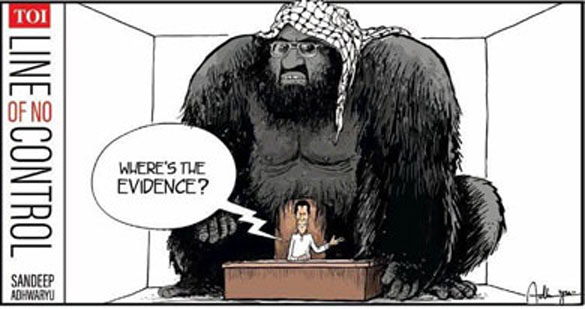 NSG, NIA teams leave for J-K to join probe into Pulwama terror attack
------
• Pulwama Suicide Bomber Was Inspired By Taliban 'Victory' Over US in Afghanistan
• 'Our Struggle Will Go To Delhi and Gujarat': 21-Year-Old Jaish Terrorist behind Pulwama Terror Attack
• No Proof of Sedition against Aligarh Muslim University Students, Say Police
• US-Backed Militants in Hunt for ISIL's Gold Treasure
• Peace Rally from Lumbini in Nepal, Siddharth Gautam Buddha's Birthplace Spreads Communal Harmony
• Saudi-Israel Alliance Possible If Tel Aviv Accepts Riyadh's Terms: Prince
• Terrorists Mustn't Feel Safe Anywhere In World: Iran's Rouhani
• Al-Qaeda Calls for Fight against 'War on Islam' in North Africa
• Western Governments Want To Have More Influence on Muslim Practice with Their Own Borders
India
• Pulwama Suicide Bomber Was Inspired By Taliban 'Victory' Over US in Afghanistan
• 'Our Struggle Will Go To Delhi and Gujarat': 21-Year-Old Jaish Terrorist behind Pulwama Terror Attack
• No Proof of Sedition against Aligarh Muslim University Students, Say Police
• India says is in touch with Russia, Iran & Saudi on US Taliban talks
• India, Pakistan suggest different border crossing points for Kartarpur corridor
• Leader of the Jeep Is the Gazi of the Role': Jaish Message after Pulwama Attack
• NSG, NIA Teams Leave for J&K to Join Probe into Pulwama Terror Attack
• For 2 Years Now, Jaish Has Been Pakistan's Sword Arm
• Terror attack in Pulwama: Allowing civilian vehicles on route proved disastrous
• Pulwama Attack: India's Azhar Stand at UN May Now Change
• Pulwama Terror Attack: 'Despicable Act', Says India, Asks UN to Brand JeM's Masood Azhar A Terrorist
• 'JeM Claiming Responsibility of Pulwama Attack Raises Questions Over Role of ISI': US Expert
--------
North America
• US-Backed Militants in Hunt for ISIL's Gold Treasure
• Foundation Funded By Muslim Donors Gives $650K Grants
• Muslim Charged In Jihad Plot Threatened Trump Children
• Pompeo says 'confronting Iran' key to Mideast peace
• US will not unilaterally withdraw from Afghanistan: Pentagon chief
• FBI: Homemade bombs in plot to attack NY Muslims real
• Pompeo mum on whether he believes CIA on Khashoggi
• US Senator demands answers on Khashoggi murder
• US Updates Warning Over Turkey Travel Amid Rising Political Tensions
--------
South Asia
• Peace Rally from Lumbini in Nepal, Siddharth Gautam Buddha's Birthplace Spreads Communal Harmony
• 7 Taliban Militants Killed, Wounded In a Premature IED Explosion
• Afghanistan recognized as leading young peace-builder by European Commission
• President Trump administration taking up Bangladesh issue
• Sunni groups in Panchagarh attack Ahmadiyyas despite cancellation of 'Jalsha'
• NATO: We continue to train, advise and assist Afghanistan security forces
--------
Arab World
• Saudi-Israel Alliance Possible If Tel Aviv Accepts Riyadh's Terms: Prince
• Syrian Army Destroys Strongholds of Foreign Terrorists in Hama
• US-Led Coalition Evacuates Hundreds of Foreign ISIL Terrorists from Eastern Deir Ezzur
• Iran-linked terrorist group warns of more attacks in Bahrain
• Bomb attack kills 8 Hashd al-Sha'abi fighters in central Iraq
• Roadside bomb kills 8 fighters north of Baghdad
• US-backed Syrian forces clearing Daesh remnants from villages
--------
Mideast
• Terrorists Mustn't Feel Safe Anywhere In World: Iran's Rouhani
• Iran, Russia, Turkey: "Stability, Security" in Syria Strenghtens with US Pullout
• Iran's Rouhani blames US, Israel for attack on Revolutionary Guards
• US, foreign powers support terror groups, Rouhani says in meeting with Erdogan
• Israel attempts to walk back Netanyahu's 'war with Iran' gaffe
• Turkey police nab 52 Daesh suspects in NW province
• US slams Iran for prolonging Yemen war and blocking peace
• Russia tells Turkey to get Assad's 'green light' for safe zone in Syria
--------
Africa
• Al-Qaeda Calls for Fight against 'War on Islam' in North Africa
• Al Shabaab Jumps on the Anti-Israel, Anti-Trump Bandwagon
• Group with ISIS ties claims responsibility for attack on Nigerian governor's convoy
• Sudan accuses protest leaders of threatening national security
• US carries out air strike against al-Qaeda in Libya
• Sudan's opposition groups call on Bashir to step down
• Life in the shadow of al-Shabaab: 'If I don't call, my mother thinks I'm dead'
--------
Europe
• Western Governments Want To Have More Influence on Muslim Practice with Their Own Borders
• Putin: Russia, Turkey, Iran See US Pullout from Syria as 'Positive Step'
• Putin: We must tackle terror hotbeds in Syria
• Path to Supreme Court clear for family of ISIS suspect
--------
Pakistan
• Saudi Arabia, Pakistan Urged To Pull Muslim World Out Of Mire of Problems: Sirajul Haq
• Saudi Crown Prince Urged To Release Prisoners Belonging To KP
• Social Media Forces Karachi Hospital to End Discrimination against Non-Muslims, Ahmedis
• Afghan Taliban Announce Talks with US in Pakistan
• International Court of Justice to take up Indian spy Jadhav's case on 18th
• Saudi investment planned during my tenure: Nawaz
• Prince Salman's visit to herald new era of prosperity, says minister
--------
Southeast Asia
• Key Rebel Stronghold Left Out Of Philippines' Muslim Territory
• PPBM in Sabah could spell trouble for Warisan, says analyst
• Penang PAS demands cancellation of 'Love in Georgetown City'
• Feb. 14 second-most favourite day for weddings in Jakarta
Compiled by New Age Islam News Bureau
URL: https://www.newageislam.com/islamic-world-news/pulwama-suicide-bomber-inspired-taliban/d/117757
--------
Pulwama Suicide Bomber Was Inspired By Taliban 'Victory' Over US In Afghanistan
Feb 15, 2019
NEW DELHI: Adil Ahmed Dar, a young man from Pulwama, was inspired to become a suicide bomber after the Taliban claimed victory since the US announced the withdrawal of its forces from Afghanistan.
Minutes after the deadly terror attack in Pulwama, Telegram channels were abuzz with two videos and a picture of a youth who claimed responsibility. The videos, one in Kashmiri (seven minutes long) and the other in Urdu (10 minutes), presented Adil's 'martyrdom' message. The videos seemed to have been shot in advance by Jaish, way before the attack.
Claiming to be from Jaish-e—Mohammed, the youth identified himself as Adil Ahmed Dar alias Waqas Commander from Gandibagh, Kakapora area in Pulwama. Police sources confirmed Adil as the suspected suicide bomber who drove an explosive laden Scorpio and rammed it into a CRPF bus.
A fair-complexioned young man with a stubble and short hair, Adil, in both the videos, is seen holding an M4 carbine and a Browning pistol. An AK47 assault rifle is kept on his left and a sniper rifle with a night sight scope can be seen on the right.
There are ten grenades and equal number of magazines. The videos have been shot with a Jaish-e-Mohammed banner in the Police sources confirmed the claim made by Adil that he joined Jaish-e-Mohammad a year ago. "After waiting for an entire year, I got the chance to do what I joined the Jaish for," he is heard saying in both the videos.
"By the time this video reaches you, I will be enjoying in heaven... This is my last message for the people of Kashmir," Adil is heard saying. He exhorted the Kashmiri youth to wage jihad against India and for Islam. "Jaish has kept the flame alive and stayed put in adverse circumstances.. Come, join the group and prepare for one last fight," Adil says in a heavily accented boyish voice.
In the Kashmiri language video, it is Adil's picture and voice over, repeating almost the same message except for a few variations. He asks his family, friends and relatives "to celebrate his martyrdom for Islam" the way they celebrate weddings. Adil also gives Kashmiri youth Islamic sermons, urging women to wear veil and boys not to fall in love.
Interestingly, the video after every minute is interrupted by an American female automated voice warning, "created with free version, for non-commercial use" indicating Jaish's access to high technology and social media machinery. A large number of social media accounts, based in Kashmir and Pakistan, became active soon after the attack, rejoicing Jaish's daredevil act.
Towards the end, in the Kashmiri video, Adil says that Muslims across the world need to be freed from foreign occupiers, by way of martyrdom. He underlines the success of jihad waged by Taliban, which he claims ensured the defeat of the US in Afghanistan. The freedom of Muslims in Kashmir, he said, can be attained only by "martyrdom".
https://timesofindia.indiatimes.com/india/pulwama-suicide-bomber-was-inspired-by-taliban-victory-over-us-in-afghanistan/articleshow/68000323.cms
--------
'Our Struggle Will Go To Delhi And Gujarat': 21-Year-Old Jaish Terrorist Behind Pulwama Terror Attack
NASEER GANAI
14 FEBRUARY 2019
21-year-old Jaish-e-Mohammad militant, Adil Ahamad Dar, was behind the bloodbath in Kashmir's Pulwama as he rammed his explosive-laden Scorpio SUV into the CRPF bus, killing 40 paramilitary personnel and leaving scores badly injured on Thursday.
According to police, Dar had studied till Class 11 and was working in a saw mill as a labourer.
He joined the ranks of the Pakistan-based terror outfit in March last year. He belongs to Gandibagh village of Kakpora Pulwama in South Kashmir.
In a 10-minute video message from the militant, which was released by the Jaish outfit on social media, Dar has reportedly talked about past fidayeen (suicide) attacks carried out by the Jaish. He also boasts about the IC-814 hijacking of December 1999, the Parliament attack in 2001 and about attacks on the security forces in Pathankot and Nagrota (both in 2016).
"Listen and understand, we are going to come at you so hard that facing us will not be an option for you," the jaish militant says in the video. He says that the fight of militants is not just limited to Kashmir. "Our fight will go to Delhi and Gujarat," the militant says.
Adil alias Waqas can be seen in the video brandishing sophisticated automatic rifles. He says by the time the video message reaches people, "I shall be in heaven. I have spent one year with JeM and this is my last message for the people of Kashmir."
In his video he asks the people of north Kashmir and central Kashmir to join "the struggle against India as people south Kashmir have been fighting."
The militant is survived by his mother and two brothers.
https://www.outlookindia.com/website/story/india-news-our-struggle-will-go-to-delhi-and-gujarat-21-year-old-jaish-militant-behind-pulwama-bloodbath/325480
--------
No proof of sedition against Aligarh Muslim University students, say police
Feb 14, 2019
The Uttar Pradesh police on Thursday said they were yet to find any primary evidence against 14 Aligarh Muslim University (AMU) students booked for sedition a day earlier.
The students were booked on the complaint of an office-bearer of Bharatiya Janata Party's youth wing after two groups clashed on campus on Tuesday following a protest over an altercation with a Republic TV crew. The 14 have been accused of raising pro-Pakistan slogans.
"We are yet to find primary evidence for sedition charges against the AMU students. Investigations are in preliminary stages and we are taking note of the facts [we are] coming across," said Aligarh's senior police superintendent, Aakash Kulhari.
The Aligarh Muslim University Teachers' Association (AMUTA) condemned the "severe charges like sedition" against the students and wrote to President Ram Nath Kovind over it. It asked Kovind to take cognizance and "send a strong message that sedition charges should be invoked only after thorough inquiry and not on hearsay within a few hours of the alleged incident".
The AMU Students Association also wrote to Kovind. "There have been repeated attacks on the AMU by right-wing forces and some sections of the media with the intention of maligning the university over false charges,'' it said in a letter to Kovind. "Fourteen students have been falsely booked on charges of seven serious crimes including sedition. This has left the students of AMU 'hurt' and 'offended'. The university has been declared an 'institution of importance' and its students have always stood for the country. Repeatedly questioning our loyalty to the country is an insult not only to students but also to the Constitution."
Ajay Singh, who leads another group of AMU students, asked the AMU administration to act against students responsible for violence on the campus. "Else we would launch an agitation."
The AMU management said classes were held and the library was open on Thursday even as students gathered on campus to stage a protest against the sedition charges. Separately, the district administration restored Internet services in the city snapped, day earlier, as a precaution to prevent violence.
https://www.hindustantimes.com/india-news/no-proof-of-sedition-against-aligarh-muslim-university-students-say-police/story-oaikNWk1Ie6HNDD0Ymg2XP.html
--------
US-Backed Militants in Hunt for ISIL's Gold Treasure
Feb 14, 2019
The SOHR reported that the ISIL terrorists had stolen about 40 tons of gold and millions of dollars from the population once under their control in Iraq and Syria, which was later transferred to Eastern Euphrates in Eastern Deir Ezzur.
"The US-led coaltion forces and the Syrian Democratic Forces (SDF) deliberately do not target the the areas under the control of the ISIL terrorists and commanders in Eastern Euphrates in Deir Ezzur as they are trying to locate this treasure by forcing the ISIL militants to speak about its location after surrendering," it quoted informed sources as saying.
They noted that part of the cash dollars and gold have been transferred from Turkey to the areas under the ISIL control by Turkish brokers and intelligence service who have close ties with the ISIL.
Meantime, an SDF Commander, Adnan Afrin, said that the ISIL is now under the siege of the SDF in an area no larger than one square kilometers in Eastern Euphrates.
In a relevan development on Tuesday, a prominent Syrian military expert revealed that Washington plans to transfer the remnants of the ISIL terrorists from Eastern Euphrates to other regions through Turkey and Iraq.
The Arabic-language website of Sputnik quoted Brigadier General Mohammad Issa as saying that less than 600 ISIL militants are stationed in a 4-km/sq region in Eastern Euphrates who will be soon evacuated from the region to foreign territories.
He added that the operations to transfer these militants will be conducted similar to the operations earlier carried out to evacuate the ISIL terrorists from Raqqa, saying that the US forces will transfer them via Iraq or Turkey to some other Arab states for future operations.
Issa questioned the US forces' claims of fighting against the terrorist groups along with the Syrian Democratic Forces (SDF), stressing that the Syrian army will soon move to retake control over this region.
Media reports said on Sunday that the US army had agreed with the ISIL on the latter's exit from areas under Washington's control in Eastern Euphrates.
The US-led coalition troops and the SDF had reached an agreement with the ISIL terrorists on the militants' retreat from areas under the control of the US and its allied forces, the Arabic-language al-Mayadeen TV news channel reported.
It pointed to the preparations by the ISIL to move its terrorists out of Eastern Euphrates, and said that the ISIL terrorists might be transferred to al-Anbar desert of Badiya al-Tanf in Western Iraq.
The report comes as the SDF claimed that it had started the final battle for uprooting the remaining elements of the ISIL from Eastern Euphrates.
http://en.farsnews.com/newstext.aspx?nn=13971124000684
--------
Peace Rally from Lumbini in Nepal, Siddharth Gautam Buddha's Birthplace Spreads Communal Harmony
February 14, 2019
By Matters India Reporter
Lumbini, Feb. 14, 2019: A journey to preserve India's composite culture began on February 13 from Lumbini in Nepal, Siddharth Gautam Buddha's birthplace.
The five-day rally, named "Buddh se Kabir tak" (From Buddha to Kabir), highlights communal harmony and the Indian legacy of love and respect for others.
It will culminate at Magahar in Uttar Pradesh, India's most populous state and some 145 km south of Lumbini, where Kabir Das, the great poet of "composite culture" died.
Around 300 people, who are committed to secularism and peace, have joined the rally which will conclude with a cultural evening on Feb 17 at Gorakhpur University, northeastern region of Uttar Pradesh.
Throughout the journey, the "Prerna Manch" (Forum for inspiration) the theater wing of Vishwa Jyoti Communications in Varanasi, is performing stage dramas and street plays on communal harmony and love and respect for neighbors.
The team will also sing songs on unity, peace and love and thus lead the peace rally.
Gautama Buddha is a symbol of peace, compassion and non-violence and Kabir stands for composite culture, Father Anand Mathew, director of Vishwa Jyoti Communications, one of the rally organizers, told Matters India.
The peace rally is conceived and led by Vinod Mall, the present Director General of Police of Gujarat, who is committed to peace, composite culture and non-violence.
Father Mathew, a member of the Indian Missionaries of Society who collaborates with Mall in the peace rally, says he considers it his Christian duty to spread the message of peace and love.
Vishwa Jyoti Communications has been carrying out similar peace rallies from 2005 when it led a six-month long peace rally through 45 districts of Uttar Pradesh with the message of peace, love of neighbour, respect for people of all faiths, cultures and genders.
http://mattersindia.com/2019/02/peace-rally-from-buddhas-birthplace-spreads-communal-harmony/
--------
Saudi-Israel alliance possible if Tel Aviv accepts Riyadh's terms: Prince
Feb 15, 2019
Saudi Arabia and Israel have the money and political means to forge a powerful alliance provided that they reach peace first, a senior Saudi prince has suggested, criticizing Israeli officials for ignoring Riyadh's peace initiatives.
In a rare interview with an Israeli television network on Wednesday, former Saudi intelligence chief Prince Turki bun Faisal al-Saud said Israeli Prime Minister Benjamin Netanyahu should accept terms that Saudi Arabia has put forward for a lasting peace.
"With Israeli money and Saudi brains, we can go far," the prince said, but added, "Yes, if there is peace. Unfortunately."
"Israel chooses to ignore all the efforts of Saudi Arabia to make peace, and expects Saudi Arabia to put its hand in its [Israel's] hand and go forward on technology, on water desalination, on issues like that. It's not going to happen," the veteran diplomat added.
The prince said the so-called Arab Peace Initiative, first offered by late Saudi King Abdullah in 2002, raised the chances of public and official ties between Arab regimes and Israel.
"Basically it's a quid pro quo: Israel withdraws from occupied Arab territories, in return for Arab recognition of Israel, end of hostilities and normal relations," Faisal said, doubting that Riyadh and Tel Aviv could reach an agreement during his lifetime.
The 73-year-old said he had been to Jerusalem al-Quds and would love to visit the city if Netanyahu and Saudi Crown Prince Mohammed bin Salman sit down for negotiations after resolving the Palestinian-Israeli conflict.
"In my lifetime — and there's very little of it left to come — I don't think I'm going to see that. Not before the Palestinian issue is resolved. I am looking for an Israeli peace initiative. I haven't seen one. What is it that Israel thinks will make peace?"
He accused Netanyahu of trying to appeal to voters by claiming that ties with the Arab world could be warmed without resolving the Palestinian-Israeli conflict.
Turki dismissed as "wishful thinking" what some media reports had claimed about possible division between bin Salman and his father on the issue.
The crown prince "supports the Palestinian cause to the fullest," he said, adding MbS had no differences with his father "on any issue. He does what the king tells him."
It is no secret that Israel and Saudi Arabia have long been working quietly over security issues and have already established a mutual understanding to respect their regional interests.
In October 2017, former Israeli spymaster Efraim Halevy, who led Israel's Mossad at the turn of the century, sat down for a meeting with Turki bin Faisal, who headed Saudi Arabia's intelligence agency for 24 years.
More recently, Netanyahu said on the sidelines of a US-organized conference against Iran in Warsaw, Poland that the event "is an open meeting with representatives of leading Arab countries, that are sitting down together with Israel in order to advance the common interest of war with Iran."
The remarks proved costly for Tel Aviv as Israeli officials, including the PM himself, rushed to explain that by war they did not mean direct military conflict.
Bahrain: Arab world, Israel ties to be normalized 'eventually'
At the opening dinner of the anti-Iran summit at Warsaw's Royal Castle on Wednesday night, Netanyahu said he was delighted to be addressing high delegations from Saudi Arabia, the United Arab Emirates and Bahrain — the three key Arab allies that don't recognize Israel officially despite having established secret ties with the regime.
Bahraini Foreign Minister Khalid bin Ahmed al-Khalifah told Israeli media on the sidelines of the anti-Iran meeting that his country would "eventually" establish diplomatic ties with Israel.
His remarks came days after Israeli media reported that Manama had volunteered to open a diplomatic mission in Tel Aviv in 2017 before changing its mind.
Netanyahu's secret tape of Warsaw meeting
On Thursday, Netanyahu released a video of a closed meeting in Warsaw, in which senior officials from Arab regimes of the Persian Gulf region, including the Bahraini FM, play down the Palestinian cause and describe Iran as the greatest threat in the Middle East.
"We grew up talking about the Palestine-Israel dispute as the most important issue," al-Khalifah says in the video, according to the Associated Press. "But then at a later stage, we saw a bigger challenge. We saw a more toxic one, in fact the most toxic in our modern history, which came from the Islamic Republic, from Iran."
In the video, Saudi and Emirati officials can also be seen making a number of anti-Iran allegations.
The 25-minute clip, recorded on a mobile device, was shown to a group of journalists traveling with Netanyahu before it was taken down on YouTube. It was not clear whether the video was intentionally leaked or accidentally uploaded.
https://www.presstv.com/Detail/2019/02/15/588587/Saudi-Arabia-Turki-Israel-Netanyahu-bin-Salman-peace-Iran
--------
Terrorists mustn't feel safe anywhere in world: Iran's Rouhani
Feb 14, 2019
Iranian President Hassan Rouhani says terrorists must not feel safe in Syria or any other part of the world, warning their supporters about playing the card of terrorism to achieve their goals.
"Terrorists must not feel safe in this country or any other part of the world and their supporters should not assume that they can play the terrorism card to their benefit in domestic, regional, or international equations," the Iranian president said.
Rouhani made the remarks at a tripartite meeting, which was also attended by Russian President Vladimir Putin and his Turkish counterpart, Recep Tayyip Erdogan, in Russia's resort city of Sochi on Thursday.
Unfortunately, the US administration is still backing the terrorists based in Iraq and Syria and uses them to further its own interests as it presses ahead with its "illegal activities" in Syrian territory, Rouhani added.
He said "reliable reports" show that the US has assisted the terrorists enlisted with the Takfiri group of Daesh in traveling around in Syria and also helped some of them leave the country for Afghanistan.
Rouhani said the US has established a military presence in Syria without any Damascus permission, breaching all international regulations as well as the territorial integrity and national sovereignty of an independent country, which is a member of the United Nations.
Pointing to an earlier announcement by the US that it would pull its forces out of Syria, Rouhani said Washington has to act on the claim as soon as possible so the Syrian government's sovereignty is restored, as is the case elsewhere in the country, to the areas lying to the east and north of the Euphrates River.
The Iranian chief executive asserted that intra-Syrian dialog needed to continue without any foreign interference, and Syria's "independence, sovereignty and territorial integrity, and [the principle of] non-interference in the country's domestic affairs should be observed under any circumstances."
The Iranian president, meanwhile, stressed that the international community also had to confront the Israeli regime's arbitrary measures targeting Syria. The regime is also providing assistance to some terror outfits in Syria, he said, adding that Israeli officials themselves had recently owned up to the "heinous act."
The Sochi summit, hosted by Russian President Vladimir Putin, was aimed at solidifying the three countries' cooperation towards returning peace and stability to Syria.
Over the past years, Iran and Russia have been respectively lending military advisory support and aerial backup for the Syrian military in its battle against militants and Takfiri terrorists. The foreign-backed groups started a campaign of bloodshed and destruction against the Arab country in 2011.
The three countries, known as the guarantor states of a ceasefire regime in Syria, have been mediating peace negotiations between representatives from the Damascus government and opposition groups in a series of talks held in the Kazakh capital of Astana and other places since January 2017.
Putin: Iran, Turkey, Russia seek to restore stability to Syria
For his part, Russian President Putin said that the trio was investing coordinated efforts to ensure that stability prevailed in Syria again and to help the Syrians with the reconstruction process. He reminded that tens of thousands of displaced Syrians had returned to their homeland over the past six months.
Putin called on the international community, most importantly the UN and its agencies, to play a more effective role in providing support to all Syrians without preconditions.
"The cessation of hostilities' regime is being followed all over Syria, and consequently, escalation has been reduced, which is a positive result of the joint work of the three states," he said.
"We need to guarantee long-term de-escalation in Idlib after we have succeeded in establishing the cessation of hostilities regime in the province," Putin said.
The northwestern province of Idlib contains the largest remaining concentrations of Takfiri terrorists in the Arab country.
"But this does not mean that we remain silent on what the terrorist organizations are doing; that is why I suggest that we consider practical steps that the guarantor states could jointly take to fully get rid of the hotbed of terrorism in Idlib," he added.
Putin concluded by saying that a UN-backed Constitutional Committee tasked with composing Syria's inclusive constitution had to start its work "very soon," noting that remarkable efforts had been made in this regard.
Rouhani criticizes UN for lack of action in Syria
Following their tripartite meeting, the three heads of state took part in a joint press conference, answering questions regarding various issues related to the current situation in Syria.
There again, Rouhani referred to the US support for terrorists fighting the government of Syrian President Bashar al-Assad.
Iran's president said Washington's relocating of Daesh terrorists to Afghanistan "can pose threats to the entire Central Asian region and other parts of the world," adding, "One must not claim to be fighting terrorism, but help them behind the scenes."
Still addressing the declared plan of the US withdrawal from Syria, Rouhani said "based on our intelligence we know that they will continue to meddle in Syria."
Rouhani once again touched on the issue of Israel's acts of aggression against the Syrian territory, criticizing the UN and other global bodies for their silence on the incursions.
"Israelis bomb anywhere in the region and fly over the Lebanese and Syrian soil whenever they wish, and unfortunately, the United Nations and global authorities are silent about these continued acts of aggression in Syria," Iran's president said, adding, "This silence means that they do not want full security in the region and Syria."
"In this summit, we stressed the importance of combating terrorism in the remaining areas, including Idlib, and it was completely agreed by all that reducing tensions and the presence of guarantors in this region is temporary," he concluded.
Putin: No signs US troops leaving Syria
Putin, for his part, told the press conference that there has been no objective evidence to prove that the US pullout is actually happening.
According to Reuters, he said US President Donald Trump was trying to fulfill his election campaign promises by ordering Syria troop withdrawal, but that he was not always able to live up to his promises, because of "internal political issues."
The Russian head of state noted that such withdrawal would lead to stability and the restoration of Syria's authority over its territories.
Elsewhere in his remarks, Putin stressed that aggressive measures taken by militants in Idlib would not go unpunished.
Putin added that a de-escalation zone planned for Idlib was only a temporary measure and was not meant to substitute the process of combating terrorism.
The Russian president also stated that although the guarantors had agreed to take extra steps to clear Idlib of terrorists, there would be no military operations there.
Iran, Russia, Turkey presidents adopt joint statement
At the end of the Sochi meeting on Syria, presidents of Iran, Russia and Turkey issued a joint statement, stressing strong commitment to sovereignty, independence, unity and territorial integrity of Syria.
The three presidents highlighted that these principles should be universally respected and that no actions, no matter by whom they were undertaken, should undermine them.
They also rejected all attempts to create new realities on the ground under the pretext of combating terrorism and expressed their determination to stand against any effort aimed at undermining the sovereignty and territorial integrity of Syria as well as the national security of neighboring countries.
They added that the US decision for the withdrawal of its forces from Syria, if implemented, would help strengthen stability and security in the country in compliance with the above-mentioned principles.
The presidents of Iran, Syria and Russia also denounced and expressed serious concern about the efforts by Hayat Tahrir al-Sham terrorists to increase their control over the Idlib de-escalation area, and agreed to effectively counter such attempts.
Iran, Russia and Turkey reiterated that there could be no military solution to the Syrian conflict and that it could only be resolved through the Syrian-led and Syrian-owned, UN-facilitated political process in line with the UN Security Council Resolution 2254.
They also highlighted the importance of creating conditions for the safe and voluntary return of refugees and internally-displaced persons (IDPs) to their original places of residence in Syria.
The presidents of Iran, Russia and Turkey also decided to hold their next tripartite summit in Turkey upon the invitation of President Erdogan.
https://www.presstv.com/Detail/2019/02/14/588573/Iran-Syria-Sochi-summit-Rouhani-Putin-Erdogan
--------
Al-Qaeda Calls for Fight Against 'War on Islam' in North Africa
BY BRIDGET JOHNSON
FEBRUARY 13, 2019
Al-Qaeda has seized upon ongoing efforts to secularize education and stop radicalization in North Africa in order to whip up Muslims into fighting against the "war on Islam" countries of Algeria and Tunisia.
Algerian Education Minister Nouria Benghabrit publicly supported the decision of an Algerian school in Paris to stop a student from praying during the school day.
"Students go to school for education," Benghabrit said, adding that prayer "is meant to be done at home, not at school."
"The student went out to the open school yard on the neighborhood to pray in an ostensible act. The school principal did her job. When students go to schools, it is for education and learning. Prayers are performed at home, and role of schools is to provide teaching and learning," she elaborated.
That's sparked debate within Algeria about education reform. In 2017, Benghabrit said that "In the name of God, the Most Compassionate, the Most merciful" should be stricken from all school textbooks except for religion class. Last year, Benghabrit banned teachers from wearing the niqab face veil that exposes only the eyes.
In a statement released in English and Arabic through its Al-Andalus Foundation for Media Production, al-Qaeda in the Islamic Maghreb slammed those who have "abandoned the Shar'iah of Allah and replaced it with what is earthly: constitutions and the laws of the infidels; the Jews and the Christians and those who have no faith."
The terror group accused Benghabrit of ordering "without shame the prevention of prayer in schools, thus defying the feelings of forty million Algerians who believe in Islam, as a creed, a Shar'iah, and as a way of life."
Calling the minister a "Frenchified Algerian," AQIM accused her of committing "the crime of violating the sanctity of Islam" before with a "filthy record" of trying to design an educational system "that is completely free of the foundations and the principles of the Islamic identity."
"The insolent minister is in reality an extension of the Westernizing project that aims, among other things, to destroy the Islamic identity of the Algerian nation, that the French Crusaders sought for a long time during the colonial era," the statement continued. "... If they are not confronted, the generation that will graduate from this system will have nothing to do with the original foundations of islam."
AQIM also lashed out at the official response to an investigative journalism show on Tunisia's El Hiwar El Tounsi channel that profiled a Quranic school in the rural town of Regueb, which was indoctrinating 42 kids between the ages of 10 and 18. The children were reportedly subjected to forced labor and poor living conditions, and some suffered sexual abuse and health maladies.
Schools teaching Quranic study under the supervision of the country's Ministry of Religious Affairs are allowed in Tunisia, but independent madrassas are outlawed. Authorities quickly shut down the school in Regueb, citing the need to protect the children.
Al-Qaeda blamed "heated and repeated media campaigns to incite against Qur'anic schools by the disgraceful media," saying the incident "shows clearly that the issue is masterminded, as was confirmed by the intersection of the hired media and the corrupt politicians."
"Through these intense media and security campaigns, they only want to distort Qur'anic schools in order to shut them down without a major effort. These Qur'anic schools are the ones that continue to resist, like strong fortresses, the campaigns of Westernization and Christianization," AQIM continued.
"Our honorable people in Algeria and Tunisia: silence to those rulers who oppress you, who do not have an atom of honor, pride, or faith, is in itself a crime. How long will you be silent to those criminal scum who have no business other than fighting Islam and demeaning Muslims?" the terror group added, calling upon them to "fight the Jews, the Christians and whoever follows them among the Arab and foreign leaders."
https://pjmedia.com/homeland-security/al-qaeda-calls-for-fight-against-war-on-islam-in-north-africa/
--------
Western governments want to have more influence on Muslim practice with their own borders
Feb 14th 2019
Horst seehofer, the German interior minister and then-leader of Bavaria's Christian Socialist Union, was in a conciliatory mood. Addressing a conference of Muslims in Berlin last November, he publicly reversed his earlier position that Islam did not belong in Germany. It could belong, he told his audience, as long as it embraced German, not foreign, values. His call for assimilation was underlined by the bill of fare at the official reception that evening, which included riesling wines and pork-topped canapés. If Muslims did not like the country's nudity and alcohol, tutted an official, they could go elsewhere.
The drive to integrate Islam on Germany's terms is the brainchild of Markus Kerber, a top civil servant at the interior ministry and founder of the Islam Conference, a gathering of Muslim representatives that Germany has been holding intermittently since 2006. He wants to wrest control of the country's mosques from foreign hands, a task he likens to that of Otto von Bismarck, Germany's first chancellor, when he tried to prise the Catholic church from the Vatican's clutches in the 19th century. Instead of relying on foreign support, Mr Kerber thinks, mosques in Germany could be funded in the same way as Christian and Jewish places of worship: through a voluntary religious levy on registered members of the faith. Foreign imams should be replaced by German ones, who would be trained at the new Islamic-theology departments that some of the German Länder have established at a handful of universities. Within a decade, Mr Kerber hopes, imams will need German certificates to be able to officiate.
https://www.economist.com/special-report/2019/02/16/western-governments-want-to-have-more-influence-on-muslim-practice-with-their-own-borders
--------
India
India says is in touch with Russia, Iran & Saudi on US Taliban talks
Feb 15, 2019
NEW DELHI: With US now scheduled to hold talks with the Taliban in Islamabad, India said Thursday it remained in touch with Washington on peace efforts in Afghanistan. US special envoy Zalmay Khalilzad discussed the situation in Afghanistan with Indian ambassador to the US Harsh Vardhan Shringla, said the government.
"India is also in touch with partners like Iran, Russia and Saudi Arabia on the situation in Afghanistan," said MEA spokesperson Raveesh Kumar.
"India will continue to take all necessary steps to bring peace and stability in the region," he added. The spokesperson said that discussions on Afghanistan will take place with Russia and China at the RIC (Russia, India, China) trilateral later this month. Official sources had earlier said that India was looking to have a dialogue with China on recent developments in Afghanistan, including the US-Taliban talks.
While it has refrained from saying so officially, India remains concerned over the latest `peace' initiative which has seen the US directly talking to the Taliban and which seems to have kept even the government in Kabul out of the loop.
During Khalilzad's recent visit to India, the government had conveyed to him that any agreement with the Taliban must safeguard existing political and constitutional structure in Kabul and that India was against the idea of having an interim government in Afghanistan which is scheduled to go to polls in July.
The MEA spokesperson was responding to queries on media reports saying that the Taliban was going to visit Islamabad next week to meet their US negotiators. According to a Washington Post report, the Afghan Taliban spokesman, Zabiullah Mujahid, said in a statement posted online late Wednesday that the group's plan to visit Pakistan stemmed from a "formal invitation" from the Islamabad government and that its delegates would meet with the Pakistan premier.
The US embassy spokesperson in Islamabad was quoted as saying in response that while the US had noted the Taliban announcement, it had not received any formal invitation for talks and that the US was not going to negotiate in public.
The development though has compounded India's concerns over Pakistan's role in facilitating the US-Taliban dialogue. With its development assistance to Afghanistan exceeding $3 billion, India is the largest donor to the war-torn country in the region.
https://timesofindia.indiatimes.com/india/india-says-is-in-touch-with-russia-iran-saudi-on-us-taliban-talks/articleshow/68001068.cms
--------
India, Pakistan suggest different border crossing points for Kartarpur corridor
Feb 14, 2019
India and Pakistan have proposed different border crossing points for the planned corridor to allow Indian pilgrims to visit Kartarpur Sahib Gurdwara in Pakistan's Punjab and the matter is expected to be resolved when officials of the two sides meet next month, the external affairs ministry spokesperson said on Thursday.
New Delhi had recently provided the coordinates for a crossing point to Islamabad. "From the Pakistan side, we have received a response where they have suggested an alternate border crossing point," spokesperson Raveesh Kumar told a news briefing.
Officials of the two sides, who are expected to meet in New Delhi on March 14, will take up the issue of the different coordinates for the crossing point and the Indian side is hopeful there will be an agreement on the matter, he said.
"We had also proposed that we will hold technical-level discussions (among) engineers and this shouldn't be held hostage to the main meeting which will take place on March 14. We still await a response from the Pakistani side on this," Kumar said.
India believes the technical discussions will facilitate the early establishment of requisite infrastructure and finalisation of the alignment of the corridor, he added.
India and Pakistan were earlier scheduled to hold the first meeting of officials to finalise modalities for the Kartarpur corridor on March 13. A follow-up meeting is expected to be held in Pakistan when required, Indian officials had said earlier.
The two sides unveiled plans last November to build the corridor to facilitate visits without visas by Indian pilgrims to the gurdwara at the site where Guru Nanak, the founder of Sikhism, died in 1539.
Full report at:
https://www.hindustantimes.com/india-news/india-pakistan-suggest-different-border-crossing-points-for-kartarpur-corridor/story-OW1dJ167KMCe3yw0bxK9XK.html
--------
Leader of the jeep is the Gazi of the role': Jaish message after Pulwama attack
Feb 14, 2019
NEW DELHI: Minutes after the dastardly attack on CRPF convoy, pro Jaish-e-Mohammed telegram channels were flooded with messages claiming responsibility for the attack on "Hindu Indian soldiers".
One of the messages which self admittedly originated from Khyber Pakhtunkhwa in PoK claimed that this was the fifth action on the "Indian congress of Jihad." It described the place of attack as "Pampher highway".
"At least 100 Hindu Indian soldiers were killed and destroyed by dozens of vehicles in a frenzy attack..," the message read as.
The message ended with a quote reading: "Who is the leader of the Jeep is the Ghazi of the role." Sources assume that this was in reference to Jaish commander who was driving the explosive-laden SUV.
Full report at:
https://timesofindia.indiatimes.com/india/leader-of-the-jeep-is-the-gazi-of-the-role-jaish-message-after-pulwama-attack/articleshow/67998548.cms
--------
NSG, NIA teams leave for J&K to join probe into Pulwama terror attack
Feb 15, 2019
NEW DELHI: Experts of anti-terror commando force the National Security Guard (NSG) and investigators of the National Investigation Agency (NIA) left for Jammu and Kashmir on Friday to join the probe into the terror attack in Pulwama in which at least 37 CRPF personnel were killed, officials said.
The decision to send the teams was taken in view of the high number of casualties in the worst terror strike in the state since the Uri attack in 2016.
On Thursday, a home ministry official had said an NIA team with forensic experts was being sent to Srinagar to assist Jammu and Kashmir Police in forensic evaluation of the scene of crime.
Explosive specialists of the Black Cat commando force NSG would also join in the investigation into the attack, another official had said.
At least 37 CRPF personnel were killed and five injured in one of the deadliest terror attacks in Jammu and Kashmir when a Jaish suicide bomber rammed a vehicle carrying over 100 kg of explosives into their bus in Pulwama district on Thursday.
Full report at:
https://timesofindia.indiatimes.com/india/nsg-nia-teams-leave-for-j-k-to-join-probe-into-pulwama-terror-attack/articleshow/68003545.cms
--------
For 2 years now, Jaish has been Pakistan's sword arm
Feb 15, 2019
NEW DELHI: Masood Azhar's Jaish-e-Mohammad continues to be Pakistan intelligence agency, ISI's most favoured group for terror attacks in India, after Lashkar-e-Taiba made way for it two years ago.
Intelligence sources in Srinagar told the TOI that Jaish, which has been involved in suicide attacks in Kashmir since its launch in 2000, emerged as a stronger contender against Hafiz Saeed's Lashkar-e-Taiba after the latter's parent organization Jamaat-ud-Dawah announced to enter mainstream politics. Even as its political organization Milli Muslim League (MML) was denied the permission to contest, the Dawah fielded around 260 candidates under a different registered political party Allah-o-Akbar Tehreek in Pakistan's 2018 assembly and general elections.
As a result, Pakistan's Inter-Services Intelligence (ISI), emboldened by China's repeated blockage of India's bid to designate Azhar a terrorist at the United Nations, decided to spend most of its resources on the Jaish. Last year, after China clearly told New Delhi that it was not going to blacklist him, Azhar issued a threat to the BJP government over Ram Mandir, saying that his men were ready to lay down their lives and burn down the temple if it was built.
Founder of Jaish, Azhar is mastermind of several deadly terrorist attacks in India, including the one on Uri military base in Kashmir in 2016 in which 17 security personnel were killed. Though he was detained for a while under 'protective custody' after the Pathankot terror attack, he has been freely and actively holding public rallies and organizing recruitment camps for the Jaish since 2016. In the early 90s, Azhar travelled in Middle East, Africa and the UK to raise funds for Islamist jihad in Kashmir and continues to have a massive following in Pakistan's Punjab province.
Incidentally, Azhar, who was released by India in exchange for the passengers of the hijacked IC814 plane, unlike other chiefs of terror groups based in Pakistan (Hafiz Saeed and Syed Salahuddin), has committed his own family to the jihadist war in Kashmir. He has been sending several of his young nephews to recruit, train and organize terrorists in Kashmir and launch terror attacks.
It became apparent two years ago, when his nephew, Talha Rashid, was killed in an encounter with security forces in Pulwama.
His another nephew Mohammad Usman was killed in a gun-battle in Tral. Usman was believed to have targeted and killed eight soldiers in over a dozen attacks. According to intelligence sources, Mohammed Umer, son of Azhar's elder brother Ibrahim, also infiltrated into Jammu and Kashmir last year. NIA, in 2018, filed a chargesheet against Masood Azhar's brother and Jaish's deputy chief Maulana Abdul Rouf Asgar for planning the attack on an Army camp in Nagrota in November 2016.
Full report at:
https://timesofindia.indiatimes.com/india/for-2-years-now-jaish-has-been-pakistans-sword-arm/articleshow/68000684.cms
--------
Terror attack in Pulwama: Allowing civilian vehicles on route proved disastrous
Feb 15, 2019
NEW DELHI: The Central Reserve Police Force had taken all the precautions on Thursday including road opening party (RoP) sanitizing the Jammu-Srinagar highway for IEDs, men on the lookout for any possible grenade lobbing or firing by the terrorists but being sensitive towards the civilians by allowing them to use the highway during convoy movements proved costly for the paramilitary force.
Senior CRPF officials told TOI that Jaish-e-Mohammad (JeM) suicide bomber Aadil Ahmad used the liberty provided to the civilians as he drove from the service road, connecting local villages, to the highway and "rammed" the explosive-laden Scorpio car in the CRPF bus before Terror attack in Pulwama: Allowing civilian vehicles on route exploding it.
The CRPF was moving 2,547 CRPF jawans/officers in two convoys moving close to each other from Jammu to South Kashmir in 78 vehicles including, buses, armoured vehicles and jeeps.
Officials say the Jammu-Srinagar highway was closed for six days due to which troopers, who had reported back in Jammu from leave, training, etc, were not able to reach their respective duty camps and hence the movement was bigger than usual on Thursday.
Irrespective of that, sources say, every precaution was taken considering there were regular intelligence inputs about possible IED attacks, with latest shared by J&K police on February 8.
CRPF inspector general (operations) in Kashmir – Zulfiqar Hassan told TOI, "The RoP was in place. It had checked the route in the morning. There was no IED and there was no possibility that somebody could have fired upon or lobbed grenade (s) on the convoy. It seems, as of now, that the car came from the side road to the highway and rammed into the convoy, but it is subjected to investigation".
Admitting that they were caught by surprise despite taking all the precautions, other CRPF officials said "it was a completely different modus operandi" used by the terrorists after the ages.
"Usually, keeping in mind that civilians don't feel harassed by our movement, we allow commuter vehicles on the highway when we are on the move. If the Scorpio car had come far, it would have been stopped at some checkpoint, but it probably used a side road to enter the highway like other civilian vehicles," an officer said, requesting anonymity.
He added that they will now change their "strategy" which may include keeping highway out of bounds for the local traffic till the convoys pass.
The director general CRPF - Rajeev Bhatnagar had last year told TOI in an exclusive interview that "use of IEDs had returned to Kashmir which was a worry for them". CRPF has expertise in tracking IEDs on roads but officials said that if a vehicle looks like a normal civilian car, moving adjacent to our vehicle, rams into us, it is something we cannot know despite our thousand checks unless we completely stop such traffic.
The CRPF had last year issued standing operating procedures (SoPs) related to IEDs on the roads, which were regularly checked by RoPs, and commandoes kept an eye on militants trying to fire on convoys. However, the two convoys didn't have the slightest inclination of JeM using such a modus operandi.
Sources say that JeM, known for fidayeen attacks, is frustrated that it has not been able to carry any major attack last year and lost many of its cadres in security operations.
Full report at:
https://timesofindia.indiatimes.com/india/pulwama-attack-allowing-civilian-vehicles-on-route-proved-disastrous/articleshow/68000622.cms
--------
Pulwama attack: India's Azhar stand at UN may now change
Feb 14, 2019
NEW DELHI: Describing the Pulwama terror attack as "heinous and despicable", India used strong words to ask Pakistan to stop supporting terrorists and called upon all other countries to place Masood Azhar in the UN Security Council's counter-terrorism sanctions list.
China has consistently stopped Azhar from being banned, as part of its relationship with Pakistan. Every time Azhar has been proposed for a ban in the UN Security Council's 1267 Committee, China has blocked it.
In its statement, MEA said, the terror attack was "perpetrated by Jaish-eMohammed, a Pakistan-based and supported terrorist organisation proscribed by the United Nations and other countries. This terror group is led by the international terrorist Masood Azhar, who has been given full freedom by the government of Pakistan to operate and expand his terror infrastructure in the territories under the control of Pakistan and to carry out attacks in India and elsewhere with impunity."
Calling for international support against Azhar, India said "we reiterate our appeal to all members of the international community to support the proposal to list terrorists, including JeM chief Masood Azhar, as a designated terrorist under the 1267 Sanctions Committee of the UN Security Council and to ban terrorist organisations operating from territories controlled by Pakistan."
But in all of 2018, India did not push the Azhar case in the UN at all. After the Wuhan summit between Narendra Modi and Xi Jinping, India has been treading on eggshells where China is concerned, going the extra distance to not disturb the fragile peace with China.
This was taken to mean that contentious issues like Masood Azhar was not flagged by India in the UN. The general policy before Wuhan was that India or the US or UK would raise the Azhar issue in the 1267 committee as a way to keep the pressure on China and to expose its support to a terror leader. But in 2018, India eased that pressure.
Full report at:
https://timesofindia.indiatimes.com/india/pulwama-attack-india-hits-out-at-pak-seeks-un-ban-on-jem-chief-masood-azhar/articleshow/67998738.cms
--------
Pulwama terror attack: 'Despicable act', says India, asks UN to brand JeM's Masood Azhar a terrorist
Feb 14, 2019
The government has strongly condemned the attack on security forces in Kashmir's Pulwama that left 43 CRPF jawans dead and many others injured, demanding that Pakistan stop supporting terrorists and terror groups operating from their territory.
The statement, issued by the Ministry of External Affairs late on Thursday evening, also called for terror outfit Jaish-e-Mohammed's leader Masood Azhar to be branded as a 'designated terrorist' by the UN under its provisions.
The statement says, "The Government of India condemns in the strongest possible terms the cowardly terrorist attack on our brave security forces in Pulwama, Jammu & Kashmir earlier today (14 February 2019)."
The statement also says, "This heinous and despicable act has been perpetrated by Jaish-e-Mohammed, a Pakistan-based and supported terrorist organisation proscribed by the United Nations and other countries. This terror group is led by the international terrorist Masood Azhar, who has been given full freedom by Government of Pakistan to operate and expand his terror infrastructure in territories under the control of Pakistan and to carry out attacks in India and elsewhere with impunity."
Stating that the government of India is "equally resolved to fight against the menace of terorrism", the statement says, "We demand that Pakistan stop supporting terrorists and terror groups operating from their territory and dismantle the infrastructure operated by terrorist outfits to launch attacks in other countries."
Full report at:
https://www.hindustantimes.com/india-news/india-condemns-pulwama-attack-asks-un-to-brand-jem-s-masood-azhar-as-terrorist/story-gy0W7b3eX2csMbAo3dTBxI.html
--------
'JeM claiming responsibility of Pulwama attack raises questions over role of ISI': US expert
Feb 15, 2019
The White House asked Pakistan to immediately end "support" and "safe haven" to all terror groups as it strongly condemned the Pulwama terrorist attack.
Pakistan-based Jaish-e-Mohammad (JeM) has claimed responsibility for the attack in Jammu and Kashmir's Pulwama district on Thursday that left at least 44 personnel dead and many critically wounded.
"The United States calls on Pakistan to end immediately the support and safe haven provided to all terrorist groups operating on its soil, whose only goal is to sow chaos, violence, and terror in the region," White House Press Secretary Sarah Sanders said in a late night statement on Thursday.
"This attack only strengthens our resolve to bolster counterterrorism cooperation and coordination between the United States and India," she said in a strongly-worded statement issued by the White House.
The involvement of Jaish-e-Mohammad in Thursday's terrorist attack in Jammu and Kashmir has raised serious questions about the role of the Pakistani spy agency, ISI, in it, American experts on South Asia have said.
The Pakistan-based JeM has claimed responsibility for the attack that left at least 44 personnel dead and many critically wounded. The experts said the terror strike shows the United States has failed to persuade Pakistan to act against Jaish-e-Mohammad and other terrorist groups.
"The self-proclaimed involvement of JeM in the attack raises serious questions about the role of the ISI in supporting the masterminds of this operation," Bruce Riedel, a former CIA analyst, told PTI.
The terrorist attack, which has direct footprints inside Pakistan, poses the first major challenges to Pakistan Prime Minister Imran Khan, said Riedel, who is now a scholar at the Brookings Institute think-tank. "This will be a real challenge for Imran Khan, the first serious challenge of his administration," he said.
Also Read | Arun Jaitley to take charge as finance minister, attend CCS meet today
Anish Goel, a former National Security Council official in the previous Obama administration, said the horrific attack highlights just how actively Pakistan-based terrorist groups still operate in Kashmir.
"By claiming such quick credit for the attack, Jaish-e-Mohammed is clearly indicating that they will continue to cause trouble in the region and stoke tensions between Pakistan and India," he said.
"In the wake of this attack, there will likely be increased pressure on Prime Minister (Narendra) Modi to take action against all militant groups still active in Kashmir," said Goel.
Alyssa Ayres from the Council on Foreign Relations said, "Unfortunately, the attack also shows the limits of US and international policy efforts to date to persuade Pakistan to take serious action against these groups. The urgent question is what else the international community can do." According to Moeed Yusuf from the US Institute of Peace, the current situation has all the making of an India-Pakistan crisis. "Prime Minister Modi cannot take it lying down but Pakistan isn't going to be able to absorb any Indian action either. Things are simply too tense between India and Pakistan," he said.
Ironically, the biggest deterrent to any escalation is the presence of Saudi Crown Prince Muhammad Bin Salman in the region, he said. "Salman arrives in Pakistan Friday and is coming to India too. His visit will be seriously overshadowed. The Saudi relationship is too important for either side to want that to happen," he noted.
"I think the damage to India-Pakistan relations is going to be immense – even if the situation doesn't escalate. The hope was that India and Pakistan will get back to talking after the Indian elections later this year. I think the hawks on both sides are going to make it very difficult for that to happen now," Yusuf said. "Terrorist attacks as in Kashmir are not possible without an ideology or theology that justifies terrorism and brainwashes its followers that massacring others leads a person to paradise. The terrorist mindset must be removed along with the terrorist infrastructure on the ground," said noted Hindu scholar David Frawley.
The latest attack by Jaish-e-Mohammed is another example of how Pakistan's intelligence services continue to sponsor terrorist incursions into India, Washington-based Hindu American Foundation said.
"While it's heartening to see that a wide swath of the international community is unequivocally condemning the attack, such statements of solidarity must be backed up by actions which help bring to an end the ability of such terrorist groups to kill with impunity and destabilize the region," the foundation said.
Overseas Friends of BJP (OFBJP)-USA in a statement demanded that United Nations designate Masood Azhar as global terrorist.
Full report at:
https://www.hindustantimes.com/india-news/jem-claiming-responsibility-of-pulwama-attack-raises-questions-over-role-of-pak-s-isi-us-expert/story-WzFFlQXOJ3GZbGP4KvIowN.html
--------
North America
Foundation funded by Muslim donors gives $650K grants
Feb. 14, 2019
Chicago – A Chicago-based foundation funded by a network of U.S. Muslim donors has given a total of $625,000 to roughly two dozen organizations nationwide it recognizes for improving Islamic life.
Pillars Fund on Tuesday announced the 26 grants to nonprofit groups in nine states and the District of Columbia. Officials say in a release recipients are "elevating American Muslims through political advocacy, health and wellness, research and the arts." Recipients include a Chicago project that aims to raise awareness about companies profiting from or promoting anti-Muslim policies, a New York-based effort to create an in-depth television documentary series on the entire history of U.S. Muslims, and an Ann Arbor, Michigan, organization working to create understandings of black American Muslims.
Pillars Fund says it has awarded $3.5 million since its inception in 2010. Funding comes from 25 Muslim professionals.
https://www.detroitnews.com/story/news/local/michigan/2019/02/14/muslim-donor-network-grants/39057565/
--------
Muslim Charged In Jihad Plot Threatened Trump Children
Feb 15, 2019
An indictment alleges an Ohio man who adopted aliases including Abdur Raheem Refeeq and Salah ad-Deen Osama Waleed threatened the lives of President Trump's children.
The Maple Heights man, Demetrius Nathaniel Pitts, 49, is facing an indictment that includes those counts as well as terrorism.
Scripps Media reported he previously had been indicted on terrorism counts, and the new charges were added in a superseding indictment that now has been released.
He had been facing counts of trying to provide material support to al-Qaida.
"In addition to the original charge, Pitts has now been charged with threats against the president of the United States, threats against immediate family members of the president of the United States and two counts of false statements to law enforcement," the report explained.
He came to the attention of authorities early in 2017 when he posted comments about a possible jihad training camp.
"According to the indictment, in June 2018, Pitts threatened to kidnap the president and cut off his head and hands. He also allegedly threatened Trump's family. The indictment states Pitts said he would, 'Kill his kids. Kill his daughter, son-in-law. Kill 'em all. He (the president) come out 'cause you start killing his kids, chop their heads off … you send his kids back.'"
Court documents say he also lied to law enforcement officers about knowledge of a planned terror attack in Cleveland.
Authorities said in the ABC report Pitts discussed his plans at length with an undercover agent he believed was an al-Qaida operative.
"I'm trying to figure out something that would shake them up on the Fourth of July," Pitts said, according to the report. "What would hit them at their core? Blow up in the, have a bomb blow up in the Fourth of July parade."
The idea reportedly was to park a van loaded with explosives in downtown Cleveland, then set it off.
Full report at:
https://www.wnd.com/2019/02/muslim-charged-in-jihad-plot-threatened-trump-children/
--------
Pompeo says 'confronting Iran' key to Mideast peace
14 February 2019
US Secretary of State Mike Pompeo said Thursday at a security conference in Warsaw that Iran is the top threat in the Middle East and confronting the country is key to reaching peace in the entire region.
Pompeo met with Israeli Prime Minister Benjamin Netanyahu before the opening session at the conference and said "pushing back" against Iran was central to dealing with all the region's other problems.
"You can't achieve peace and stability in the Middle East without confronting Iran. It's just not possible," Pompeo said alongside Netanyahu.
The Israeli leader lauded the participation of high-profile Arab dignitaries at the conference, saying it signaled a shift in regional priorities.
"In a room of some 60 foreign ministers, an Israeli prime minister and the foreign ministers of leading Arab countries stood together, and spoke with unusual force, clarity and unity against a common threat of the Iranian regime," he said before his meeting with Pompeo. "I think this marks a change, an important understanding of what threatens our future."
The US and Poland are sponsoring the conference, which they say is aimed at promoting peace and security in the Mideast but appears to be mainly focused on isolating Iran. Iran has denounced the gathering as an American anti-Iran "circus" aimed at "demonizing" it.
US Vice President Mike Pence is attending along with representatives from numerous Arab countries. But France and Germany are not sending Cabinet-ranked officials, and European Union foreign policy chief Federica Mogherini is staying away.
Russia and China aren't participating, either, and the Palestinians, who have called for the meeting to be boycotted, also will be absent.
For Netanyahu, a longtime opponent of the 2015 Iran nuclear deal, the gathering marks a culmination of his call to unite the world against Israel's arch-enemy of Iran. He's long boasted that Israel has clandestinely developed good relations with several Arab states, despite a lack of official ties.
On Wednesday, he met with Oman's foreign minister, Yusuf bin Alawi, and at the Thursday's opening session he was seated next to the foreign minister of Yemen, as representatives of Kuwait, Qatar and others looked on.
Full report at:
https://english.alarabiya.net/en/News/world/2019/02/14/Pompeo-says-confronting-Iran-key-to-Mideast-peace.html
--------
US will not unilaterally withdraw from Afghanistan: Pentagon chief
Feb 14, 2019
Acting US Defense Secretary Patrick Shanahan has told Washington's NATO allies that the Pentagon will not reduce its troop presence in Afghanistan unilaterally.
Speaking Thursday in Brussels after his first meeting with NATO counterparts, Shanahan said any potential US troop withdrawal from Afghanistan will be done in a coordinated fashion.
"There will be no unilateral troop reduction, it will be coordinated," the Pentagon chief told reporters.
Shanahan said the US-led military alliance would work with NATO members to increase what he called diplomatic leverage over the Taliban militant group as the West seeks a political settlement.
US officials have held several rounds of talks with the Taliban in Qatar since last year, which could pave the way for a political settlement to the 17-year war.
However, the discussions have so far excluded the Afghan government itself.
Frustrated with America's longest war, US President Donald Trump says he wants to reduce and ultimately withdraw the approximately 14,000 US troops currently in Afghanistan.
An additional 8,000 troops from other NATO countries are stationed in Afghanistan as well.
The government of Afghan President Ashraf Ghani — excluded from the talks — has complained about the matter and repeatedly stressed that any peace plan must include the Afghan government.
The Taliban's five-year rule over at least three quarters of Afghanistan came to an end with a US-led invasion in 2001; but 17 years on, the militant group continues to be active on much of Afghan soil.
Currently, Kabul only controls 55 percent of the country's territory, while the militants have a grip on 12 percent of Afghan soil, according to a report by the US Special Inspector General for Afghanistan Reconstruction published in October last year. About a third of the country remains contested.
Full report at:
https://www.presstv.com/Detail/2019/02/14/588565/US-Defense-Secretary-Patrick-Shanahan-Afghanistan-troops
--------
FBI: Homemade bombs in plot to attack NY Muslims real
15.02.2019
By Umar Farooq
WASHINGTON
A new FBI report Thursday shows homemade bombs obtained by authorities in a case of individuals plotting to attack a Muslim community in upstate New York were real, and could have caused damage if used.
In the report, obtained and published by ABC affiliate 13WHAM News, the FBI outlined three improvised explosive devices that had been created and concluded the bombs could have caused not only property damage, but also personal injury and even death.
The FBI did not respond to Anadolu Agency's request for comment.
Brian Colaneri, Vincent Vetromile and Andrew Crysel were arrested last month after the Greece Police Department uncovered a plot to attack the Muslim enclave of Islamberg with explosive devices.
Police also arrested and charged Nicholas Pheilshifter, 16, in connection to the plot.
In addition to the three explosive devices, during the investigation authorities uncovered a stockpile of 23 weapons in the home of Pheilshifter.
While the report was heavily redacted, it showed a full eyewitness account of a 15-year-old boy who said Pheilshifter showed him one of the bombs, a "PVC pipe covered in dark tape," in or around November of last year.
Pheilshifter is currently being held on $1,000,000 bail.
Islamberg, 40 miles away from Binghampton, New York, was founded in the 1980s by Mubarak Ali Gilani, a cleric originally from Pakistan, as a rural enclave for Muslims who were escaping crime and poverty that existed in urban areas. The community is comprised largely of black Muslims.
Right-wing groups claim the town is a haven for extremists and terrorists, however, no evidence has shown to support the allegations.
A 2008 counter-terrorism analysis from the U.S. Military Academy at West Point concluded there is no evidence that Islamberg is a part of a network of "paramilitary training grounds."
Full report at:
https://www.aa.com.tr/en/americas/fbi-homemade-bombs-in-plot-to-attack-ny-muslims-real/1393401
--------
Pompeo mum on whether he believes CIA on Khashoggi
15.02.2019
By Umar Farooq
WASHINGTON
U.S. Secretary of State Mike Pompeo refused to say whether he believed the CIA's assessment that Saudi Crown Prince Mohammed bin Salman played a role in the murder of Jamal Khashoggi.
In an interview Wednesday with CBS News, Pompeo was asked numerous questions on the issues surrounding the killing of the Saudi journalist and columnist for The Washington Post, who was also a U.S. resident.
"That's a ridiculous question," he said, when asked whether the crown prince was involved in the murder.
"There is no nation that acts against violations of human rights in the way the American nation does, and President [Donald] Trump has been at the forefront of doing that as well," he added.
While Pompeo said the killing was unacceptable, he affirmed that the U.S. has an important relationship with the kingdom of Saudi Arabia and that he plans to make sure that relationship is a successful one.
The question of bin Salman's role in the murder was asked multiple times but was met each time with similar answers that skirted the issue.
Khashoggi was brutally murdered inside the Saudi consulate in Istanbul shortly after he entered the diplomatic facility on Oct. 2 last year. Riyadh initially denied any role in the killing but has since sought to blame his death on a botched rendition operation being carried out by rogue agents.
Saudi Arabia has sought to distance the crown prince from Khashoggi's murder, as has Trump.
In November, the CIA concluded with high confidence that bin Salman had ordered Khashoggi's killing, according to The Post.
"President Trump and this administration are committed to holding each individual accountable as we develop fact sets that permit us to do it. We've already applied sanctions to a number of people who were involved in it that we had a fact set that support it – an American fact set that supported it. We'll continue to do that," Pompeo said in the interview.
Earlier Thursday, Sen. Bob Menendez sent a letter to Pompeo asking for all documents related to Khashoggi's murder and specifically requested any records which would indicate that any member of the Saudi royal family, including bin Salman, was responsible for the killing.
Full report at:
https://www.aa.com.tr/en/americas/pompeo-mum-on-whether-he-believes-cia-on-khashoggi/1393404
--------
US Senator demands answers on Khashoggi murder
14.02.2019
By Umar Farooq
WASHINGTON
A ranking Senate Democrat on the Foreign Relations committee on Thursday called on the Donald Trump administration to hand over all documents related to the murder of Saudi journalist Jamal Khashoggi.
Sen. Bob Menendez sent a letter to Secretary of State Mike Pompeo requesting records as to whether any member of the Saudi royal family, including Crown Prince Mohammed bin Salman, were responsible for the killing of Khashoggi.
Menendez also requested all documents relating to the "cause of or circumstances surrounding the death of Jamal Khashoggi" and "efforts to obtain information regarding the death."
Last week, Trump decided not to pursue further punishments against Saudi Arabia over the murder, and failed to send a report to Congress determining whether sanctions are warranted against bin Salman for the murder of the Washington Post columnist and U.S. resident.
Khashoggi was brutally murdered inside the Saudi consulate in Istanbul shortly after he entered the diplomatic facility on Oct. 2. Riyadh initially denied any role in the killing but has since sought to blame his death on a botched rendition operation being carried out by rogue agents.
Saudi Arabia has sought to distance the crown prince from Khashoggi's murder, as has Trump.
The letter called on Trump to respond to the request made by Congress when it made a request to the administration last year to determine whether sanctions should be applied to bin Salman by invoking the Global Magnitsky Act.
Under the Global Magnitsky Act, a president has 120 days to respond to a request from the Senate Foreign Relations chair and ranking member to determine if sanctions are warranted against a person who has been accused of rights violations.
"Despite foreign and international officials investigating this matter who have concluded that senior Saudi officials bear responsibility for Mr. Khashoggi's murder, this administration has been conspicuously reticent to hold senior officials and senior members of the Royal Family accountable," Menendez wrote.
Full report at:
https://www.aa.com.tr/en/americas/us-senator-demands-answers-on-khashoggi-murder/1393250
--------
US Updates Warning Over Turkey Travel Amid Rising Political Tensions
Joyce Karam
February 15, 2019
The US Department of State on Thursday updated its travel advisory for Turkey amid stalled US-Turkey talks on Syria and growing differences over Venezuela and Turkish S-400 deal with Russia.
Turkey announced Thursday it would be going ahead with a purchase of Russia's S-400 missile system, ahead of an informal Friday deadline to respond to a rival US offer.
Turkey, a NATO member, made repeated moves to buy the Russian missile defence system, despite warnings from the US-led alliance that the S-400s cannot be integrated into the NATO air defence system.
The State Department upped the advisory to "Level 3", urging citizens "to reconsider travel the Middle Eastern country due "to terrorism and arbitrary detentions" and to refrain from going to "the Syria and Iraq borders."
"Terrorist groups continue plotting possible attacks in Turkey. Terrorists may attack with little or no warning, targeting tourist locations, transportation hubs, markets/shopping malls, local government facilities, hotels, clubs, restaurants, places of worship, parks, major sporting and cultural events, educational institutions, airports, and other public areas," the advisory read.
It also made reference to mounting detentions by Turkish authorities, which increased this week after the government rounded up more than 700 individuals suspected of having ties to the network of US-based cleric Fethullah Gulen.
"Security forces have detained tens of thousands of individuals, including U.S. citizens, for alleged affiliations with terrorist organizations based on scant or secret evidence and grounds that appear to be politically motivated" the US statement read. It also warned that US citizens have also been subject to travel bans that prevent them from departing Turkey.
The US government urged against "travel near the Turkey/Syria and Turkey/Iraq borders due to the continued threat of civil war in Syria and attacks by terrorist groups."
The warning comes as US and Turkey continue their consultations over establishing a safe zone within Syria's border. Differences over policing the zone and the future of the Syrian Democratic Forces have hampered those plans.
Full report at:
https://www.thenational.ae/world/the-americas/us-updates-warning-over-turkey-travel-amid-rising-political-tensions-1.826028
--------
South Asia
7 Taliban militants killed, wounded in a premature IED explosion
14 Feb 2019
At least seven Taliban militants were killed or wounded in an explosion triggered by an Improvised Explosive Device (IED) in eastern Nangarhar province.
The 201st Silab Corps of the Afghan Military in the East in a statement said the incident took place on Tuesday in the vicinity of Khogyani district.
The statement further added that the incident took place while a group of Taliban militants who were looking to plan an Improvised Explosive Device in Zawi area of the district.
According to 201st Silab Corps, at least 4 militants were killed in the explosion and three others were wounded.
The anti-government armed militants including Taliban have not commented regarding the incident.
https://www.khaama.com/7-taliban-militants-killed-wounded-in-a-premature-ied-explosion-03307/
--------
Afghanistan recognized as leading young peace-builder by European Commission
14 Feb 2019
15th Jan 2019, LONDON: Ayesha has been named a One Young World and European Commission Peace Ambassador – an initiative developed to accelerate the efforts of young leaders in preventing and countering violent extremism, building peace, and promoting conflict resolution globally.
Ayesha is a human rights activist, policy specialist and development enthusiast working on gender inclusive growth and sustainable development issues in Afghanistan including The Imam Initiative Project which has trained over 5000 Imams across Afghanistan to advocate for the social, political and economic rights of Afghan women.
Ayesha was selected to join the Peace Ambassador network as part of a nationwide search for the world's most impactful young peace-builders. In the two years since the initiative was launched, One Young World and the European Commission have identified 120 young leaders from 97 countries building lasting peace. The work of Peace Ambassadors focuses on both the direct and indirect causes of violence – ranging from countering the harmful effects of environmental change to promoting social inclusion.
As a Peace Ambassador Ayesha was invited to participate in the annual One Young World Summit, the global forum for young leaders. Held in The Hague, The Netherlands the Summit brought together 1,800 delegates from every country and sector. Other participants included former UK Prime Ministers John Major and Gordon Brown, Nobel Laureate Professor Muhammad Yunus and Nobel peace prize winner Tawakkol Karman.
In March 2019, the Peace Ambassadors will be gathering again in Kigali, Rwanda, for 'United Futures: Lessons from Rwanda', the One Young World Caucus on Preventing and Countering Violent Extremism.
Other One Young World Peace Ambassadors include:
● Satta Sheriff, Liberia – Founder of Youth in Action for Peace and Empowerment, an NGO dedicated to defending and protecting the rights of Liberian children and vulnerable groups. Satta has won numerous awards for her work campaigning for changes to rape laws, promoting children's rights, and ensuring safe spaces for Liberian girls.
● Irwin Iradukunda, Burundi – A social justice activist leading advocacy work in the fields of human rights and social development. His work focuses on marginalised communities, including the LGBTQI community and sex workers across Africa.
● Achaleke Christian, Cameroon – Founder of Prisonpreneurs, a rapidly-expanding initiative that was established to counter one of the biggest causes of violent extremism: poverty and lack of economic opportunities. It provides employment to young people in prison, many of whom have been radicalised by Boko Haram.
● Ahlem Nasraoui, Tunisia – A nominee of for the UN's Intercultural Innovation Award, Ahlem is fighting the causes of terrorism in Tunisia through the Young Leaders Entrepreneurs – a nationwide campaign promoting the economic empowerment of at-risk young people. Her hackathons and mentorship schemes provide opportunities to opportunities to people suffering from unemployment, and the long era of rigid censorship and silencing.
● Hyppolite Ntigurirwa, Rwanda – Hyppo witnessed his father's murder during the Rwandan genocide at just seven years old, but has chosen to forgive the killers and dedicate his life to advocating for peace. His Be The Peace initiative promotes inter-ethnic friendships, working educate and unite the post-conflict generations in Rwanda.
● Zar Li Aye, Myanmar – A human rights lawyer in Myanmar working to give people a fair trial in a system where 90 per cent of defendants are not allowed a lawyer. With a focus on improving the position of women and LGBTQI groups, Zar Li has lobbied her government to decriminalize homosexual activity and has hosted workshops that bring together lawyers from across Myanmar to improve attitudes to such issues.
Neven Mimica, European Commissioner for International Cooperation and Development, said: "The European Commission is delighted to partner with One Young World on the Peace Ambassador programme for two reasons – firstly, because more than 600 million young people are currently living in fragile and conflict-affected areas across the globe. And secondly, because young people themselves have a crucial role to play in preventing and countering violent extremism, peace-building efforts and conflict resolution.
"The ambition for the Peace Ambassadors is to encourage and empower young leaders to play an active role in building cohesive and peaceful societies – which the European Commission believes is key to achieving sustainable peace."
Kate Robertson, founder of One Young World, said: "Young people have a pivotal role to play in sparking the new movements that lead to positive change, and in seeing them through. The Peace Ambassadors selected over the last two years are living proof that this is the case.
"They are all doing outstanding work to build a safer and more peaceful world in the face of some of the biggest challenges humanity has ever faced – from the spread of violent extremism to the catastrophic effects of climate change or rising socio-economic inequalities.
Full report at:
https://www.khaama.com/afghanistan-recognized-as-leading-young-peace-builder-by-european-commission/
--------
President Trump administration taking up Bangladesh issue
February 15, 2019
Anita Mathur
Being approached by a group of six influential members of the United States Congress, President Donald Trump and his administration are now actively considering taking certain stern measures in addressing "threats to democracy" in Bangladesh.
The group of the six Congressmen is led by Eliot Engel. US House Representative Michael T McCaul, Ranking Member Brad Sherman, Chairman of the Asia and Pacific Subcommittee Ted Yoho, Ranking Member of the Asia and Pacific Subcommittee Andy Levin and Ann Wagner
In a letter to US Secretary of State Mike Pompeo on Monday, the members of the House Foreign Affairs Committee voiced concern over the status of democracy in Bangladesh and called upon the Trump administration to address "threats to democracy" in the country. They also highlighted reports of election fraud, rigging and voter suppression over the December 30 polls and urged the Department of State to "take action".
The allegations of widespread rigging and voter suppression must be taken seriously, says a US Congress press release having a copy of the letter.
"We are gravely concerned by the negative trajectory of democracy in Bangladesh and request an outline on how the Department intends to respond to this trend, particularly in light of the serious allegations that the outcome of the December 2018 elections lacked credibility," the US lawmakers said in the letter.
Asserting that supporting democracy, rule of law, and human rights in the Indo-Pacific region is critical to advancing US interests, the Congressmen said the reports of widespread irregularities in Bangladesh's recent elections seriously threaten those important interests.
In another development, a top Pentagon commander also expressed concern over the December 30 polls, saying that Prime Minister Sheikh Hasina "is trying to achieve a de-facto one-party rule".
US Navy Commander and Indo-Pacific Command chief Admiral Philip S Davidson expressed the concerns in his deposition to the Senate's Armed Services Committee during a Congressional hearing on Tuesday.
"Bangladesh's December 30 elections point to concerning trend of consolidation of power by the ruling Awami League and raise fears that PM Hasina is aiming to achieve a de facto one-party state," he told the Senate's Armed Services Committee in his prepared remarks.
"Bangladesh is an important security partner with strong potential to enhance regional stability and advance US interests in South Asia on counter-terrorism, Muslim outreach, countering violent extremism, supporting humanitarian assistance and disaster relief, and supporting United Nations Peacekeeping Operations," he said.
The top US commander also said the humanitarian crisis caused by the presence of more than 700,000 Rohingya refugees from Burma (Myanmar) in Bangladesh has strained the Government of Bangladesh.
"Military-to-military engagement with Bangladesh fits into a broader strategy and commitment to uphold an international, rules-based order in the vital Indo-Pacific region and contributes to building a regional security framework," he added.
Philip Davidson's deposition was followed hours later by the bipartisan group of the six Congressmen, led by Eliot Engel, who chairs the powerful Foreign Affairs Committee of the House, writing to Mike Pompeo seeking "a timely response" to protect democracy in Bangladesh.
Observing that Bangladesh has a strong and proud democratic tradition, the lawmakers said they are particularly dismayed that the campaign leading up to the election was marred by violence, mass arrests, and a crackdown on free speech.
"The Awami League claimed 96 percent of the seats contested — more than the party and its allies won in 2014, when a key opposition party boycotted the general election and the Awami League ran unopposed in more than half of the seats contested," the letter read.
According to press accounts, when polls across the country officially opened, reporters found that some ballot boxes looked suspiciously full. There are reports that AL activists barred some people from voting, claiming that the polling stations were closed for lunch or had run out of ballots, it said.
"Some voters were even told their votes had already been cast. To make matters worse, the Government of Bangladesh failed to grant credentials and issue visas to most international election monitors, including those funded by the United States."
There will be a series of elections taking place this year in Asia, including in Afghanistan, Indonesia, the Philippines, and Thailand. It is crucial that the US demonstrate its continued commitment to and respect for democratic institutions, beginning with Bangladesh, the Congressmen added in the letter.
Earlier, on December 31, 2018, Congressman Eliot Engel in a statement said, "I congratulate the many Bangladeshis who fulfilled one of the most important responsibilities of living in a democracy: Voting. However, the violence that marked the campaign was troubling and serious allegations of voter fraud have emerged in many parts of the country.
"Bangladesh has a strong democratic tradition that includes strong voter participation. This commitment to democracy is important, but it is just as important for every citizen's vote to count equally. It is critical that Bangladesh's elections be seen as free and fair and for the outcome to be credible to the Bangladeshi people."
Fresher intimidation of Ahmadiyas generate concern:
Following the recent threats on the Ahmadiya Muslim community in Bangladesh by pro-Caliphate Hefazat-e-Islam and a number of radical Islamic groups, members of the United States Congress already have expressed grave concern and are also going to ask the Trump administration to look take appropriate measures to ensure protection and safety of the members of this persecuted community in Bangladesh.
President Trump taking up Bangladesh issue:
According to credible sources, following receipt of the letter from the influential members of the United States Congress and a deposition made by US Commander Philip Davidson, President Donald Trump and his administration are now actively considering certain "urgent measures" in protecting "democracy in Bangladesh".
Full report at:
https://www.weeklyblitz.net/news/president-trump-administration-taking-up-bangladesh-issue/
--------
Sunni groups in Panchagarh attack Ahmadiyyas despite cancellation of 'Jalsha'
13 Feb 2019
At least 21 people were injured during the attack at Ahmadnagar on Tuesday night after resentment grew among Sunni groups about a 'Jalsha' or annual convention planned by the minority Ahmadiyyas.
Faced with the protests from conservative groups, the district authorities after a series of meetings had on Tuesday cancelled the three-day Jalsha that was scheduled to start in Ahmadnagar on Feb 22.
But followers of groups including the Khatm-e-Nubuwwat Shongrokkhon Parishad descended on the streets of Ahmadnagar, the part of the town where members of the minority Muslim sect have their homes and businesses.
Police fired teargas shells and rubber bullets to bring back order while the attackers demanded the cancellation of the Jalsha. Of those injured in the violence, one person has suffered critical injuries, said Panchagarh Central Hospital resident physician Pradip Kumar Banik.
Since early February, followers of conservative groups were protesting the Jalsha under the banners of Khatm-e-Nubuwwat Shongrokkhon Parishad, Iman Akida Raksha Committee, Islami Jubo Samaj and local Towhidi Janata. Their campaign was supported by Hefazat-e Islam chief Allama Shah Ahmad Shafi.
On Tuesday night, protesters began demonstrating at Chowrangi intersection, Dhaka-Panchagarh Highway and other points of the town, said Panchagarh Central Police OC Abu Akkas Ahmed.
Mohammed Golam Azam, additional deputy commissioner, was announcing the decision to cancel the Jalsha from the loudspeaker of the Panchagarh Bazar Jame Mosque around 11:00pm. He urged the protesters to go home and avoid "attempts of provocation".
The traffic in those areas came to a halt from 9:00 pm to around 11:00pm. Shops and business centres were shut amid fears of violence.
But despite the announcement and police efforts, a group of protesters went to Ahmadnagar and attacked the houses and the Ahmadiyya convention site, said OC Abu Akkas.
"We took along Municipality Mayor Towhidul Islam and leaders of the organisations in the movement and told the protesters about the decision to cancel the convention. But they were still confused and continued to protest by putting up blockades.
"Later, some of them crossed the Karotoa River and attacked the convention site in Ahmadnagar," said Anwar Sadat Samrat, general secretary of district wing of the Awami League.
At least 40 members of their group were injured in the two-hour long attack, said Taher Jugol, president of the Ahmadnagar Muslim Jamaat. The women of the community were dragged outside of their homes and physically harassed, he said.
Some houses were also torched, he added.
"They have tried to create unrest by staging protests even after the decision to cancel the convention. The perpetrators will be punished following investigation," said Panchagarh Deputy Commissioner Sabina Yasmin, while visiting the injured in the hospital.
The Ahmadiyya sect, a minority group in Bangladesh, has been subjected to many attacks by religious fanatics. One person was killed in a suicide bombing during a midday prayer session at an Ahmadiyya mosque in Rajshahi's Baghmara in 2016.
Hefazat-e Islam, a madrasa organisation based in Chattogram's Hathazari, has been pressing the government to declare the Ahmadiyyas 'non-Muslims'.
Full report at:
https://bdnews24.com/bangladesh/2019/02/13/sunni-groups-in-panchagarh-attack-ahmadiyyas-despite-cancellation-of-their-jalsha
--------
NATO: We continue to train, advise and assist Afghanistan security forces
15 Feb 2019
The two days NATO ministerial summit ended up with decisions including the revision of NATO mission for Afghanistan.
Jens Stoltenberg, Secretary General of NATO briefed the journalists on the conclusion of the second day meeting that focused on NATO's mission and operations in Afghanistan.
"The situation in Afghanistan remains difficult. But we also see ongoing peace process. Our Resolute Support Mission continues to train, advise and assist the Afghan security forces, as they fight terrorism and create the conditions for peace," said Stoltenberg.
He further expressed his satisfaction regarding the Afghan peace process coordinations between Zalmay Kjhalilzad, US special envoy for Afghan peace and the NATO allies.
"US envoy Ambassador Khalilzad has kept Allies closely updated of his efforts for a peace settlement. We fully support those efforts. We continue to consult on the implications of a possible peace deal," he added.
NATO's role in Afghanistan changed to advisory training and providing of technical assistance in the military operations since the start of 2015. In addition, the NATO provides funding of the Afghan security forces.
Full report at:
https://www.khaama.com/nato-we-continue-to-train-advise-and-assist-afghanistan-security-forces-03309/
--------
Arab World
Syrian Army Destroys Strongholds of Foreign Terrorists in Hama
Feb 14, 2019
The Syrian army units stationed near the town of al-Hakoureh in Northern Hama targeted Turkistani terrorists, most of them foreign members, with missile and artillery fire on Thursday in response to their attacks against the military points and moves in the region, destroying several of their bases and killing and wounding a large number of militants.
Other units of the Syrian army also attacked the moves of a group of terrorists who intended to infiltrate into the army positions from the town of Tal Hawash in Northern Hama, killing a number of them and forcing others to flee.
Meantime, the army troops in Sahl al-Qab region in Western Hama launched an offensive against Turkistani terrorists near the towns of al-Hawash, destroying a number of their positions and military vehicles and killing the militants inside.
Also, in Western Aleppo, the militants stationed in al-Rashedeen region targeted al-Shahba al-Jadid district with missiles, wounding a number of civilians.
In a relevant development on Wednesday, the Syrian Army heavily pounded the military positions of Tahrir al-Sham and their allied terrorists in Northern Ham and Southern Hama.
The Damascus Army's artillery and missile units pounded the terrorists' positions in Kafar Nabudeh town, Tal Havash, areas surrounding Qala al-Maziq and Kharbeh al-Naqous in Northwestern Hama, inflicting heavy losses and casualties on them.
The Syrian Army attacks came in response to Tahrir al-Sham terrorists' attacks on their positions.
In Southeastern Idlib, the Syrian Army's artillery and missile units hit the terrorists' positions in al-Katibeh al-Mahjoureh, al-Khovein, Khan Sheikhoun, Jarjnaz, Tal Khazneh, destroying several positions and gatherings of terrorists as well as killing a large number of the terrorists.
Meantime, the Syrian Army freed 10 civilians who had been abducted by the terrorists in Dir Qaq town in al-Bab region of Eastern Idlib.
http://en.farsnews.com/newstext.aspx?nn=13971125000292
--------
US-Led Coalition Evacuates Hundreds of Foreign ISIL Terrorists from Eastern Deir Ezzur
Feb 14, 2019
The London-based Syrian Observatory of Human Rights (SOHR) reported that the US-led coalition sent several convoys, consisting 17 trucks and several US military vehicles, to the contact lines with the ISIL-occupied region on the Eastern bank of Euphrates river in Eastern Deir Ezzur on Wednesday.
It added that the US forces have evacuated at least 240 ISIL members, most of them foreign nationals, from Eastern Euphrates.
Meantime, Stepnews website, affiliated to the terrorists, reported that the US-backed Syrian Democratic Forces (SDF) are attempting to transfer the foreign militants to Idlib province after a secret agreement with the ISIL.
It added that a number of ISIL militants have also demanded to be transferred to Iraq's Badiyeh (desert) region which has not been materialized yet.
Media reports said last week that the US army had agreed with the ISIL on the latter's exit from areas under Washington's control in Eastern Euphrates.
The US-led coalition troops and the SDF reached an agreement with the ISIL terrorists on the militants' retreat from areas under the control of the US and its allied forces, the Arabic-language al-Mayadeen TV news channel reported.
It pointed to the preparations by the ISIL to move its terrorists out of Eastern Euphrates, and said that the ISIL terrorists might be transferred to al-Anbar desert of Badiya al-Tanf in Western Iraq.
Full report at:
http://en.farsnews.com/newstext.aspx?nn=13971125000250
--------
Iran-linked terrorist group warns of more attacks in Bahrain
14 February 2019
An Iranian-linked terrorist group has released a statement threatening attacks on American and British targets in the Kingdom of Bahrain.
Saraya al-Ashtar, recognized by the United States and the United Kingdom as a terrorist organization, accused "American and British intelligence" of operating in Bahrain, and said: "so we say to the conspirators against our people that your support for the occupying Khalifa regime will carry a high price for you and will make you a legitimate target for our attacks."
The terrorist group also decried the Bahraini "regime's openness to the Zionists" saying that it "has strengthened the will and the soul of the Islamic Resistance in Bahrain." The statement also said that the "Zionist targets in Bahrain are a direct target of our attacks and revenge."
Saraya al-Ashtar, also known as the al-Ashtar Brigades, have claimed responsibility for more than 20 attacks in Bahrain, mainly against police officers and security forces. They were added to a designated terror list by Saudi Arabia, UAE, Bahrain and Egypt.
After adding two people affiliated with Saraya al-Ashtar to its terrorist list in 2017, the US State Department said in a statement that the "actions follow a recent increase in militant attacks in Bahrain, where Iran has provided weapons, funding, and training to militants," the State Department said in a statement.
The group changed its logo last year, with branding on its flags resembling those of Iran's Islamic Revolutionary Guard Corps (IRGC). In the past, large quantities of advanced Iranian weapons shipments and explosives, including armor-piercing explosively formed penetrators (EFPs), were intercepted by Bahraini authorities.
"Saraya al-Ashtar has not claimed any attacks since 2017, however, today's video is meant to show that the group, despite Bahraini security operations against it, is still alive," a report by the Foundation for Defense of Democracies released on the terror group's video statement read.
"And while Saraya al-Ashtar has yet to claim any attacks on American or British personnel or institutions in Bahrain since its inception in 2013, the video reaffirms that it, and Iran, see these countries as legitimate targets," the report added.
Full report at:
https://english.alarabiya.net/en/News/gulf/2019/02/14/Iran-linked-terrorist-group-warns-of-more-attacks-in-Bahrain.html
--------
Bomb attack kills 8 Hashd al-Sha'abi fighters in central Iraq
Feb 14, 2019
Nearly a dozen fighters from the Iraqi pro-government Popular Mobilization Units (PMU) have lost their lives and several others sustained injuries when a massive bomb explosion struck their convoy in Iraq's north-central province of Salahuddin.
Captain Hussam al-Jubouri from Samarra's Operations Command said the convoy of the volunteer forces – better known by the Arabic name Hashd al-Sha'abi – was heading to launch a search campaign in al-Jazira area near the city of Samarra, located 125 kilometers north of the capital Baghdad, when two roadside bombs struck it.
Jubouri added that eight Hashd al-Sha'abi fighters, including a commander identified as Hussein Attia, were killed while seven others were wounded in the bomb attack.
The development came only a day after Hashd al-Sha'abi forces released 30 civilians, who had been besieged by Daesh Takfiri terrorists in a mountainous area in the same Iraqi province.
In November 2016, the Iraqi parliament voted to integrate Hashd al-Sha'abi, which was formed shortly after the emergence of Daesh, into the military.
Iraqi Prime Minister Adel Abdul-Mahdi stressed on November 5 last year that efforts were underway to find financial sources to support Hashd al-Sha'abi forces.
"Maintaining Hashd al-Sha'abi is one of our most important duties, and I strongly support its presence. There are those who are trying to say that Hashd al-Sha'abi is temporary, but I emphasize that such a force is a necessity," Abdul-Mahdi said.
"Even though it is not long since the government has been formed, I will do my utmost to grant Hashd al-Sha'abi full rights," the Iraqi prime minister pointed out.
Daesh began a terror campaign in Iraq in 2014, overrunning vast swathes in lightning attacks.
Former Iraqi prime minister Haider al-Abadi declared the end of military operations against Daesh in the country on December 9, 2017.
On July 10 that year, he had formally declared victory over Daesh in Mosul, which served as the terrorists' main urban stronghold in Iraq.
In the run-up to Mosul's liberation, Iraqi army soldiers and Hashd al-Sha'abi fighters had made sweeping gains against Daesh.
Full report at:
https://www.presstv.com/Detail/2019/02/14/588569/Bomb-attack-kills-8-Hashd-alShaabi-fighters-in-central-Iraq
--------
Roadside bomb kills 8 fighters north of Baghdad
February 14, 2019
BAGHDAD: An Iraqi security official says a roadside bomb has exploded north of Baghdad, killing eight fighters from an armed group headed by an influential Shiite Muslim cleric.
Thursday's ambush was confirmed by a spokesman with the Peace Brigades, or Saraya Al-Salam militia, which is commanded by Muqtada Al-Sadr. They both spoke on condition of anonymity because they were not authorized to speak to the media. The group's spokesman said among those killed was a commander, Hussein Attiyeh.
The ambush occurred west of the holy city of Samarra, some 60 miles (96 kilometers) north of the capital Baghdad.
There was no immediate claim of responsibility for the attack. Al-Sadr's political coalition came first in last year's May elections.
http://www.arabnews.com/node/1452116/middle-east
--------
US-backed Syrian forces clearing Daesh remnants from villages
February 14, 2019
BEIRUT: US-backed Syrian forces were clearing two villages in eastern Syria on Thursday of remaining Daesh militants who are hiding among the local population, and detaining others attempting to flee with the civilians, the US-led coalition said.
The coalition said the clearance operations were taking place in the villages of SHajjalah and Baghouz, near the border with Iraq.
Scores of militants from Daesh — including many foreign fighters — surrendered to US-backed fighters known as the Syrian Democratic Forces on Wednesday night, bringing the Kurdish-led force closer to taking full control of the last remaining area controlled by the extremists, a Kurdish official and activists said.
Çiyager Amed, an official with the Syrian Democratic Forces, confirmed that a number of Daesh fighters who had been holed up in the village of Baghouz gave themselves up, without giving numbers.
He said most of those remaining were Iraqis and foreigners and that few civilians remained in the tiny sliver of land still in Daesh hands, although women and children are continuing to trickle out of the enclave.
The capture of Baghouz and nearby areas would mark the end of a devastating four-year global campaign to end the extremist group's hold on territory in Syria and Iraq. President Donald Trump has said the group is all but defeated, and announced in December that he would withdraw all American forces from Syria.
A coalition official, however, warned Wednesday that Daesh continues to pose a threat to the security of the region even if their hold on territory ends.
"While Daesh is on the verge of collapse, and the end of the physical caliphate is at hand it does not signal the end of this campaign," said UK Maj. Gen. Christopher Ghika. "We will pursue them until that threat is eliminated."
The coalition statement said SDF forces are detaining Daesh militants who are attempting to escape among the civilians fleeing the fighting in Baghouz. Those "arriving to be screened are the wives of Daesh fighters, some of whom sustained gunshot wounds while fleeing from Daesh," Ghika said.
Mustafa Bali, an SDF spokesman, said hundreds of women and children came out Wednesday. He said the fighters who remained appeared to be among the Daesh elite who have lots of experience and are fighting "fiercely.'
"They also don't have other options. Either to surrender or die," Bali said.
The final push to clear Daesh from remaining territory it holds in Syria comes as the leaders of Russia, Turkey and Iran are meeting in the Black Sea resort of Sochi on Thursday for talks about the latest developments in northern Syria.
Russia, a key backer of Syrian President Bashar Assad, is getting increasingly impatient about militants in Syria's Idlib province.
Russia and Turkey, which supports the Syrian opposition, had brokered a cease-fire for Idlib, the last remaining rebel stronghold that averted a major government offensive but that deal has been strained as Al-Qaeda-linked militants seized towns and villages in Idlib.
Full report at:
http://www.arabnews.com/node/1452061/middle-east
--------
Mideast
Iran, Russia, Turkey: "Stability, Security" in Syria Strenghtens with US Pullout
Feb 14, 2019
The three chief executives voiced their strong opposition to the start of any new war in Syria under anti-terrorism claims, and stressed that they would show resolve in preserving and protecting Syria's sovereignty and territorial integrity.
To this end, they added, the US military pullout, if it happens, would be a positive move in line with reinvigorating security and stability in Syria.
Meantime, the trio reiterated in their statement that they would also stand tough against "separatist" moves.
Hassan Rouhani, Vladimir Putin and Recep Tayyip Erdogan gathered in Sochi on February 14, 2019 for a Tripartite Summit on Syria.
Below you may find the full text of the joint statement by the three presidents:
The Presidents:
Discussed the current situation on the ground in Syria, took stock of the developments following their last meeting in Tehran on September 7, 2018 and underscored their determination to strengthen the trilateral coordination in light of their agreements.
Emphasized their strong and continued commitment to the sovereignty, independence, unity and territorial integrity of the Syrian Arab Republic as well as to the purposes and principles of the UN Charter.
Highlighted that these principles should be universally respected and that no actions, no matter by whom they were undertaken, should undermine them.
Rejected all attempts to create new realities on the ground under the pretext of combating terrorism and expressed their determination to stand against separatist agendas aimed at undermining the sovereignty and territorial integrity of Syria as well as the national security of neighboring countries.
Took note in this regard that the US decision on the withdrawal of its forces from Syria, if implemented, would be a step that would help strengthen stability and security in the country in compliance with the above-mentioned principles.
Examined in details the situation in the Idlib de-escalation area, denounced and expressed serious concern with the attempts of the terrorist organization "Hayat Tahrir al-Sham" to increase its control over the area, and agreed to effectively counter these attempts as well as to take concrete steps to reduce violations in the Idlib de-escalation area through full implementation of the agreements on Idlib, including the Memorandum on Stabilization of the Situation in the Idlib De-escalation Area of September 17, 2018. They also reaffirmed the determination to continue cooperation in order to ultimately eliminate DAESH/ISIL/ISIS, Al-Nusra Front and all other individuals, groups, undertakings and entities associated with Al-Qaeda or DAESH and other terrorist groups, as designated by the UN Security Council.
Discussed the situation in the Northeast of Syria and agreed to coordinate their activities to ensure security, safety and stability in this area including through existing agreements, while respecting sovereignty and territorial integrity of the country. Reaffirmed their conviction that there could be no military solution to the Syrian conflict and that it could only be resolved through the Syrian-led and Syrian-owned, UN-facilitated political process in line with the UN Security Council Resolution 2254.
Reaffirmed their determination to facilitate the launch of the Constitutional Committee as soon as possible, including by agreeing on its composition and elaborating recommendations for its rules of procedure based on the work undertaken by the three guarantors. They emphasized in this regard the importance of continuing interaction and coordination with the Syrian parties and the United Nations Secretary-General's Special Envoy for Syria Geir O. Pedersen.
Welcomed the successful development of the second mutual release of detainees within the framework of efforts of the respective Working Group. The releases that took place on November 24, 2018 and February 12, 2019 constituted important contribution of the Astana format to building confidence between the Syrian parties and creating necessary conditions for advancing the political process.
Emphasized the need to continue all efforts to help all Syrians restore normal and peaceful life as well as alleviate their sufferings. In this regard, they called upon the international community, particularly the United Nations and its humanitarian agencies, to increase their assistance to Syria by providing additional humanitarian aid, restoring humanitarian infrastructure assets, including water and power supply facilities, schools and hospitals.
Highlighted the importance of creating conditions for the safe and voluntary return of refugees and internally displaced persons (IDPs) to their original places of residence in Syria. They assessed positively the interaction with all interested parties, including the Office of the United Nations High Commissioner for Refugees (UNHCR), and reaffirmed their readiness to continue this coordination.
Agreed to assign their representatives with the task of holding the next International Meeting on Syria in Astana in April 2019.
In addition to the Syrian issue, discussed recent developments in the world as well as their collaboration in different fields and decided to boost joint economic and commercial cooperation.
Condemned the recent terrorist attack in Iran (Sistan and Balouchestan Province). President of the Russian Federation H.E. Vladimir Putin and President of the Republic of Turkey H.E. Recep Tayyip Erdogan expressed their condolences to the families of the victims of this attack and sympathy with the people and the government of the Islamic Republic of Iran.
Decided to hold the next Tripartite Summit in the Republic of Turkey upon the invitation of President of the Republic of Turkey H.E. Recep Tayyip Erdogan.
The Presidents of the Islamic Republic of Iran and the Republic of Turkey expressed their sincere gratitude to President of the Russian Federation H.E. Vladimir Putin for hosting the Tripartite Summit in Sochi.
http://en.farsnews.com/newstext.aspx?nn=13971125000800
--------
Iran's Rouhani blames US, Israel for attack on Revolutionary Guards
14 February 2019
Iranian President Hassan Rouhani blamed the United States and its regional allies on Thursday for a suicide bombing in southeastern Iran that killed 27 members of the country's elite Revolutionary Guards, Iranian state TV reported.
The force said on Wednesday a suicide bomber driving a vehicle laden with explosives had attacked a bus transporting members of the Guards in the province of Sistan-Baluchestan.
A militant Sunni Muslim group, Jaish al-Adl (Army of Justice), which says it seeks greater rights and better living conditions for the ethnic minority Baluchis, has claimed responsibility for the attack, Iranian media have reported.
"The crime will remain as a 'dirty stain' in the black record of the main supporters of terrorism in the White House, Tel Aviv and their regional agents," Rouhani said.
Apart from Israel, Rouhani did not name the regional states he believed were to blame. Mainly Shiite Muslim Iran does not recognize Israel, which is a key US ally in the region and sees Tehran as posing an existential threat to its existence.
In the past, Tehran has accused its main regional rival Saudi Arabia of backing Sunni militia groups who have carried out bloody attacks against Iranian security forces. Riyadh has denied the charges.
Repeating warnings made by senior commanders of the Guards, Rouhani said Iran was determined to bring justice to those responsible for one of the worst assaults ever against the Revolutionary Guards in years.
The assault, which wounded at least 13 people, took place in the province of Sistan-Baluchestan, which has a large, mainly Sunni Muslim, ethnic Baluchi community, which straddles the border with Pakistan.
Full report at:
https://english.alarabiya.net/en/News/middle-east/2019/02/14/Iran-s-Rouhani-blames-US-Israel-for-attack-on-Revolutionary-Guards.html
--------
US, foreign powers support terror groups, Rouhani says in meeting with Erdogan
Feb 14, 2019
Iranian President Hassan Rouhani has lashed out at Western states, especially the US, for throwing their support behind terror groups.
"Unfortunately, terror groups in the region have been supported by foreign powers, especially the United States, for years," Rouhani said in a meeting with his Turkish counterpart, Recep Tayyip Erdogan, in Russia's resort city of Sochi on Thursday.
"Fighting terrorism requires collective cooperation," added Rouhani, describing the scourge to be among the worst predicaments facing the region.
The Sochi summit, hosted by Russian President Vladimir Putin, is aimed at solidifying the three countries' cooperation towards returning peace and stability to Syria.
Over the past years, Iran and Russia have been respectively lending military advisory support and aerial backup for the Syrian military in its battle against militants and Takfiri terrorists. The foreign-backed groups started a campaign of bloodshed and destruction against the Arab country in 2011.
In late 2016, Syrian forces liberated the northwestern strategic city of Aleppo – militants' biggest stronghold back then. Syrian President Bashar al-Assad said the recapture of Aleppo from foreign-backed terrorists was a victory not just for his country, but also for its Russian and Iranian allies.
The three countries, known as the guarantor states of a ceasefire regime in the Arab state, have been mediating peace negotiations between representatives from the Damascus government and opposition groups in a series of rounds held in Astana and other places since January 2017.
Elsewhere in his remarks, Rouhani hailed the fact that Tehran and Ankara shared a common will to fight terrorism and were cooperating in this regard.
"While we, in cooperation with Russia in Sochi, are taking a new step towards reinforcing stability in the region and fighting terrorism in Syria, some, who themselves, support terrorists, are plotting against our region in Warsaw," Rouhani noted.
He was referring to a so-called Middle East security summit, which was going through its final day in the Polish capital.
Major European countries have staged poor attendance in the conference in a sign of opposition to the US's anti-Iran stance. Russia, Turkey, Qatar, Lebanon, and the Palestinian authority have totally shunned the event.
Erdogan, for his part, acknowledged that his country had likewise suffered at the hands of terrorists, asserting that Ankara would continue bilateral and regional cooperation with Tehran in battling terrorism.
He added that Turkey welcomed the creation of the INSTEX (Instrument for Supporting Trade Exchanges), which is a Special Purpose Vehicle (SPV) devised by Europe to facilitate trade with Iran. INSTEX is a non-dollar trade mechanism meant to protect trade ties with Tehran in the face of US sanctions.
Erdogan said Turkey was prepared for cooperation within the framework of INSTEX, which the UK, France, and Germany announced on January 31, and was ready to create a similar bilateral mechanism with Iran.
"Multilateral cooperation with Iran on different issues has had positive achievements and Turkey is ready to expand this cooperation to other countries in the region," Erdogan added.
Iran military chief: US must end Syria occupation
Sochi also hosted a meeting among Chief of Staff of the Iranian Armed Forces Major General Mohammad Baqeri as well as Turkish Defense Minister Hulusi Akar and Russian Defense Minister Sergei Shoigu.
"The United States must end [its] occupation of Syria," Baqeri asserted during the meeting with his Turkish and Russian counterparts.
The US and its allies launched a military campaign in Syria in 2014, without obtaining Damascus' approval or a UN mandate, under the pretext of confronting Daesh. Their forces still stay in the country, although Syria and its allies have announced the defeat of the terror group.
Earlier this year, US President Donald Trump said the American troops in Syria would be leaving the Arab country, but Baqeri said the announcement was "more [similar] to [just] a claim."
"The three countries of Iran, Russia and Turkey, as the guarantors [of the peace process], demand the most immediate withdrawal of the forces, which are present in some spots across Syria and have occupied some areas without any coordination with Syria's legal government," the Iranian commander noted.
Full report at:
https://www.presstv.com/Detail/2019/02/14/588553/Iran-Turkey-Russia-Syria-Rouhani-Erdogan-terrorism-Sochi-United-States
--------
Israel attempts to walk back Netanyahu's 'war with Iran' gaffe
Feb 14, 2019
Israel attempts to walk back Prime Minister Benjamin Netanyahu's shockingly overt comments about "war with Iran" on the sidelines of a US-organized Middle East "peace" conference.
Speaking in a short video recorded on the sidelines of the anti-Iran meeting in Warsaw on Wednesday, hawkish Netanyahu said the event "is an open meeting with representatives of leading Arab countries, that are sitting down together with Israel in order to advance the common interest of war with Iran."
Netanyahu's office posted the Hebrew-language video on Facebook and Twitter, in which he could be heard using the Hebrew word "milchama," which literally translates to "war."
It also tweeted Netanyahu's remarks on its English-language Twitter account.
The Israeli premier's open call for war with Iran led to an uproar on social media and even startled the White House, which had earlier claimed the Warsaw forum was not meant to "demonize or attack Iran."
The backlash prompted Netanyahu's office to quietly delete the tweet and replace it with another one that changed the phrase "war with Iran" to "combating Iran," without issuing a retraction or a correction of any kind.
Israeli media later attempted to portray Netanyahu's gaffe as a mere translation blunder.
The US government quickly reached out to Israeli officials to ask for an explanation, according to NBC News.
American delegates traveling with Vice President Mike Pence -- who is attending the summit in Warsaw, said that senior Israeli officials told the US that it was a matter of "bad translation," the report added.
Senator Angus King, (I-Maine), a member of the Senate Intelligence Committee, rejected the idea that Netanyahu had simply been mistranslated, and said "he knew what he meant."
An Associated Press correspondent based in Israel said that he had himself heard Netanyahu using the word "milchama."
Last month, US Secretary of State Mike Pompeo announced that the Warsaw forum would purportedly focus on the "important element of making sure that Iran is not a destabilizing influence."
Later, however, and as officials from various countries indicated their refusal to participate, US Deputy Ambassador to the United Nations Jonathan Cohen said the meeting was "not a venue to demonize or attack Iran," in an apparent about-face.
Many countries have refused to send representatives to the conference.
Full report at:
https://www.presstv.com/Detail/2019/02/14/588531/Israel-Iran-war
--------
Turkey police nab 52 Daesh suspects in NW province
Feb 14, 2019
Security forces in Turkey have arrested 52 suspected members of the Takfiri Daesh terrorist group in a counter-terrorism operation in the northwestern province of Bursa, police sources say.
The state-run Anadolu news agency cited unnamed police sources in a report on Thursday as saying that the operation had been conducted in five difference locations in the central Osmangazi district of the eponymous provincial capital.
According to the sources, who spoke on condition of anonymity, the arrested suspects were all Syrians.
In recent years, Daesh terrorists have carried out a series of gun and bomb attacks in Turkey.
Back in October 2015, twin bombings targeted a pro-Kurdish peace rally in the capital, Ankara, killing 103 people and injuring more than 500. The government blamed Daesh. In another attack, the terrorist group launched a bomb attack that killed a dozen people in the city's historic heart in 2016.
On January 1, 2017, Daesh terrorists attacked a nightclub in Istanbul and killed 39 people.
Turkey has stepped up anti-terror operations against Daesh's network inside the country in the last couple of years, arresting many suspected terrorists and busting several terror cells across the country.
The terror group, which once held large swaths of land in Syria and Iraq, has already lost all of the urban areas it had overrun in both Arab countries, thanks to counter-terror operations carried out by the Syrian and Iraqi armies.
Full report at:
https://www.presstv.com/Detail/2019/02/14/588542/Turkey-police-Daesh-Bursa-Syrians
--------
US slams Iran for prolonging Yemen war and blocking peace
February 15, 2019
WARSAW: The US on Thursday accused Iran of prolonging the war in Yemen with its support for the Houthis and called on Tehran to help make a ceasefire agreement a success.
Speaking to Arab News at the Middle East conference in Warsaw, Washington's special represenative for Iran Brian Hook said there had been extensive discussion at the meeting of the war, which is now in its fifth year.
While Hook accused Tehran of being the biggest obstacle to peace in the Middle East, he urged the regime to play a positive role in the process that seeks to bring an end to the conflict in Yemen.
"This conference was a very useful opportunity for us to educate the world about the very dangerous role Iran has played and continues to play in Yemen," Hook said.
"We have a very good agreement that came out of Sweden, Stockholm, but we now need the will of Iran and Houthis to implement the agreement. That is the diplomatic role that we need to take and we very much urge Iran and the Houthis to take that role."
he agreement reached in December installed a ceasefire in the key battleground city of Hodeidah - home to the country's main port.
But the UN-mediated deal is under increasing strain with Yemen and the Arab coalition supporting the legitimate government accusing the Houthis of repeated violations.
Hook said Iran had "organized, equipped and trained" the Houthi militia, which seized the capital Sanaa in 2014 to spark the conflict.
"Iran has intensified, prolonged and widened the conflict in Yemen," he said. "They have allowed this war to go well beyond the course it would otherwise take."
Hook accused the Western media of missing the story of Iran's involvement in Yemen. Weapons shipments from Iran have been intercepted heading to the Houthis on dhows and ballistic missiles fired at Saudi cities from Yemen have been supplied by Iran.
On Wednesday, the Saudi Minister of State for Foreign Affairs, Adel Al-Jubeir, met with the foreign ministers of the UK, US and the UAE to discuss the conflict.
They called on the warring parties to fully implement the Stockholm agreement, and in particular for the Houthis to allow safe access for the UN monitoring team to the areas they control.
The UAE and Saudi Arabia are both members of the military coalition fighting the Houthis in Yemen.
On Thursday morning, Yemen's Foreign Minister Abdul-Malek Al-Mekhlafi, gave a very "thoughtful and very forceful analysis of Iran's very destructive role in Yemen," Hook said.
Matthew Tueller, the US ambassador to Yemen, told Arab News that there needs to be a collective push back against Iran's agenda in both Yemen and the region.
"We really hope there's a process that would put pressure on Iran to not meddle, to not obstruct the process and allow Yemen to reach a peace comprehensive solution," he said.
Full report at:
http://www.arabnews.com/node/1452396/middle-east
--------
Russia tells Turkey to get Assad's 'green light' for safe zone in Syria
February 14, 2019
ANKARA: Russian President Vladimir Putin hosted on Thursday a key summit on Syria with Turkish President Recep Tayyip Erdogan and Iranian President Hassan Rouhani in Sochi.
Statements from the Kremlin emphasizing the need for a "green light" from Syrian President Bashar Assad for the creation of a safe zone inside the country have been a game-changer for the future of Syrian politics.
Nicholas Danforth, a visiting senior fellow at the German Marshall Fund of the US, thinks that the policies adopted by the Kremlin during the Sochi summit are in line with Russia's longstanding emphasis on maintaining Syria's territorial integrity.
"Turkey, Iran and Russia shared an interest in pressuring the US to leave, which helped facilitate Russia's tacit support for Turkey's Afrin operation. With Trump announcing the withdrawal of US forces, this shared interest is gone, and the parties' conflicting goals will come to the fore," Danforth told Arab News.
If Turkey and the US now appear to be cooperating in the creation of a safe zone, that would give Russia additional incentive to oppose it, he suggested.
The trilateral summit brought to light emerging tensions between Moscow and Ankara over what will follow the planned withdrawal of US forces from Syria.
While Turkey intends to establish a safe zone — clear of the Kurdish YPG militia — in the regions of northeastern Syria near the Turkish border, Russia insists that any plan involving action within Syrian territory must have Assad's consent.
Ahead of the summit, Russian Foreign Ministry spokeswoman Maria Zakharova made this clear, saying, "The question of the presence of a military contingent acting on the authority of a third country on the territory of … Syria, must be decided directly by Damascus."
However, experts doubt that Erdogan will consent to any moves that could be seen to legitimize Assad. From the onset of the Syrian conflict in March 2011, Russia and Iran have been on the side of Assad's government, while Turkey has backed opposition groups.
Emre Ersen, a Syria analyst at Marmara University in Istanbul, thinks that although Ankara and Moscow disagree on a number of significant issues regarding Syria, they are both aware that they need to maintain their political and military dialogue in order to protect their long-term interests in the region,
"Therefore, they are doing their best to find a middle way with regard to thorny issues like Idlib, the future of Assad, the YPG and the situation to the east of the Euphrates River," he told Arab News. "For Turkey, it is important to keep Russia and Iran by its side, considering that there are still significant uncertainties about the US plan to withdraw from Syria."
Ahead of the summit, the Kremlin made it clear that it is running out of patience with Ankara over its promises in the northwestern Idlib region, where a demilitarized zone was supposed to have been implemented in accordance with a joint deal between Russia and Turkey in September.
Idlib is still the last pocket of resistance to Assad. The dominant force there is the Al-Qaeda-linked Hay'at Tahrir Al-Sham (HTS) umbrella group. Turkey, already host to more than 3.5 million Syrian refugees, is concerned about a further influx from Idlib in the event of military action against hard-line fighters there.
HTS, whose takeover in Idlib is pushing international aid agencies to pull out of the region, is also trying to take control of the key M5 highway, a vital economic supply line between Damascus and Turkish markets.
Experts do not expect Turkey to act unilaterally to establish safe zones without Assad's consent, however, as that would risk the wrath of both Russia and the US.
"From the beginning of the crisis, Turkey has always gained ground in Syria by taking advantage of disagreements and policy clashes between Washington and Moscow, and getting the support at least one of them," Dr. Kerim Has, a Moscow-based Russia analyst, told Arab News.
"Acting unilaterally in north-eastern Syria could cause many military and political troubles in Turkey's relations with the US, and Russia may also raise its eyebrow, claiming violations of Syria's sovereignty and territorial integrity," he explained.
According to Has, Ankara will need to reach a consensus with the US — the main actor in Manbij and eastern parts of Euphrates — on America's withdrawal strategy, and, at the same time "coordinate its actions with Moscow on the parameters of the so-called safe zone or some border security measures."
Has believes that, given the current problematic nature of dialogue between Ankara and Damascus, the Turkish president would likely ask Moscow for approval of even a minor military incursion in Manbij or north-eastern Syria.
"Moscow may prefer first to see some concrete steps of US withdrawal on the ground. The Kremlin's consent for such a limited operation would certainly play into the hands of President Erdogan before the local elections in Turkey on March 31," he said.
However, support from the Kremlin will come with a price, Has underlined.
Full report at:
http://www.arabnews.com/node/1452316/middle-east
--------
Africa
Al Shabaab Jumps on the Anti-Israel, Anti-Trump Bandwagon
by A.J. Caschetta
February 13, 2019
The Somalian terrorist organization al Shabaab recently explained that its attack at the DusitD2 hotel in Kenya on Jan. 15 was retaliation for U.S. policy in Israel. The group's statement claimed, "The Mujahideen carried out this operation ... [as] a response to the witless remarks of U.S. President Donald Trump and his declaration of Al Quds [the Arabic name for Jerusalem] as the capital of Israel."
Don't believe it. Al Shabaab has been killing civilians since its inception. To believe that any of its attacks are carried out "in response to" or "in retaliation for" specific events or policies is to misunderstand the nature of jihad warfare.
Inside Somalia, which, according to the State Department, is a "terrorist safe haven," al Shabaab targets government officials, the Somali National Army (SNA), forces with the African Union Mission in Somalia (AMISOM) — in short, everyone who tries to stop al Shabaab from taking over the country.
Outside of Somalia, it often chooses targets in Kenya, whose porous border with Somalia puts al Shabaab in close proximity to a Westernized, comparatively prosperous society in which Muslims and non-Muslims coexist. Islamic supremacists cannot tolerate such coexistence.
The DusitD2 attack followed a pattern: a small group of fighters ambushing civilians at a busy location. The attacks begin with AK-47s and grenades and often end with suicide bombs.
Al Shabaab often chooses "soft targets." In its attack at the Westgate Mall in Kenya in 2013, jihadis asked shoppers to prove they were Muslims by reciting verses from the Koran, sparing those who could and executing those who could not. In 2015, another soft target in Kenya was chosen when Garissa College was attacked. There, too, Muslim students were spared and Christians were killed in what al Shabaab called an "operation against the infidels."
The reason for these attacks is no mystery. They are part of a cohesive, understandable ideology that has nothing to do with where the U.S. Embassy in Israel is located or with Donald Trump.
Don't take my word for it. Al Qaeda and ISIS have been very clear. Osama bin Laden's October 2002 letter to the American people ("Why We Are Fighting You") pledges enduring enmity as long as the United States remains "a nation who, rather than ruling through the sharia of Allah, chooses to invent your own laws as you will and desire."
Bin Laden's thinking illustrates the doctrine of loyalty and enmity, which decrees that one belongs either to Dar al Islam (house of Islam) or Dar al Harb (house of war). No middle ground exists between co-religionist and eternal enemy. No amount of grievance-placating will change that.
More recently, ISIS provided a similar explanation in the 15th issue of its online magazine Dabiq, where an article titled "Why We Hate You & Why We Fight You" confirms there is no tit-for-tat logic behind jihadi violence.
The article begins by noting that shortly after Omar Mateen killed 49 people in 2016 and wounded 53 at Pulse nightclub in Orlando, Fla., many politicians denounced the attack as "a hate crime, an act of terrorism and an act of senseless violence." To this, the author responds: "A hate crime? Yes. Muslims undoubtedly hate liberalist sodomites. ... An act of terrorism? Yes. Muslims have been commanded to terrorize the disbelieving enemies of Allah. But an act of senseless violence?" No, he explains, such acts "make complete sense." In an apparent Shakespearean allusion, he claims: "There is a rhyme to our terrorism, warfare, ruthlessness and brutality."
The honesty is bold: "The fact is, even if you were to stop bombing us, imprisoning us, torturing us, vilifying us and usurping our lands, we would continue to hate you because our primary reason for hating you will not cease to exist until you embrace Islam. Even if you were to pay jizyah [a tax levied on non-Muslim subjects] and live under the authority of Islam in humiliation, we would continue to hate you."
It continues, "We fight you not simply to punish and deter you, but to bring you true freedom in this life and salvation in the Hereafter." This is not the kind of ideology that can be placated, because no compromise position is acceptable.
Jihad groups may make claims about the reasons for their attacks, but without one excuse another would be found.
So why did al Shabaab blame Trump? And why the sudden anti-Israel rhetoric? Perhaps someone in the group studying American politics has decided that an anti-Trump stance might garner sympathy or increase media coverage, widening the audience of its "propaganda by deed." Or maybe it was just a ploy to gain allies and donations from Arab nations. Whatever the reason, the DusitD2 attack would have occurred no matter where the U.S. Embassy in Israel is located.
https://www.meforum.org/57789/al-shabaab-anti-israel-bandwagon
--------
Group with ISIS ties claims responsibility for attack on Nigerian governor's convoy
February 14, 2019
Lagos, Nigeria (CNN)A terror group with links to ISIS has claimed responsibility for a deadly attack on a motorcade carrying a Nigerian state governor.
Borno State Gov. Kashim Shettima's motorcade was traveling from the state capital of Maiduguri to a campaign rally in the village of Gamboru when it was ambushed Tuesday night. The Islamic State's West Africa Province terror group has claimed responsibility, according to the SITE Intelligence Group.
Isa Gusau, a media aide for Shettima, told CNN on Thursday that security agencies were investigating the attack that he said killed three people. The terror group claimed that 42 people died in the assault.
Militants ambushed the governor to attract media attention and spread its "propaganda strategy," Gusau said.
"They (Boko Haram) feed on publicity and they did that to generate attention. So far only three died," Gusau said.
The Islamic State's West Africa Province broke away from Boko Haram and forged stronger links with ISIS. The group has staged high-profile attacks in recent months on military bases, killing soldiers and burning villages in northern Nigeria despite claims by the Nigerian army that the group has been technically defeated.
Nigerian President Muhammadu Buhari has been criticized for failing to deliver on his campaign promises to end the years-long insurgency that has left thousands displaced in the northeastern part of the West African nation.
At least 30,000 Nigerians fled villages in Borno State to Cameroon in two days in January in fear of escalating violence by the jihadi group, according to the UN refugee agency.
Buhari told CNN on Wednesday his government was doing its best to fight Boko Haram.
Full report at:
https://edition.cnn.com/2019/02/14/africa/nigeria-gov-boko-haram-attack-intl/index.html
--------
Sudan accuses protest leaders of threatening national security
February 14, 2019
KHARTOUM: Sudan on Thursday accused campaigners spearheading protests against President Omar Al-Bashir's rule of threatening national security and advocating violence, as hundreds of demonstrators staged more rallies.
The country's acting Information Minister Mamun Hassan warned of taking legal action against protest leaders after campaigners vowed to push on with their "uprising" against Bashir's three-decade rule.
"It is confirmed what we always said that this... group is calling for violence," Hassan said in a statement.
Protest campaigners on Wednesday held their first news conference at the offices of the main opposition National Umma Party since demonstrations erupted in December.
The Sudanese Professionals Association (SPA), which is leading the protests, and its allies called on other political groups to join their movement by signing a "Document for Freedom and Change."
The text outlines a post-Bashir plan including rebuilding Sudan's justice system and halting the African country's dire economic decline, the key reason for nationwide demonstrations.
A senior representative of the National Umma Party, which has thrown its weight behind the protests, said at the event that it would continue the "uprising until this regime is overthrown."
Party leader Sadiq Al-Mahdi, a former prime minister whose government was toppled by Bashir in an Islamist-backed coup in 1989, last month called for the president to step down.
Protests first erupted in Sudan on December 19 in the farming town of Atbara after a government decision to triple the price of bread.
They quickly escalated into near-daily demonstrations across cities and towns that analysts say pose the greatest challenge to Bashir since he took power.
Officials say 30 people have died in protest-related violence so far, while Human Rights Watch says at least 51 people have been killed.
The authorities led by the feared National Intelligence and Security Service (NISS) has launched a sweeping crackdown to quell the protests.
Rights groups say hundreds of protesters, opposition leaders, and activists have been arrested, while media watchdog Reporters Without Borders said Thursday that at least 79 journalists have been arrested.
"These systematic arrests have targeted not only reporters covering protests ... but also journalists who themselves dared to protest against the regime's policy of censorship," the press freedom group said.
Protesters have pushed on with their near daily rallies despite the clampdown.
Hundreds demonstrated Thursday in central Khartoum after campaigners called to show support for millions affected by conflicts in the country's three war-wracked regions of Darfur, Blue Nile and South Kordofan.
Protesters chanting "freedom, peace, justice," the rallying cry of the anti-government movement, demonstrated were quickly confronted by riot police with tear gas, witnesses said.
Police later broke up the rally, but demonstrators took to the streets in the northern district of Bahari, witnesses said, adding that they too were confronted with tear gas.
Crowds of people living in a camp for the displaced in conflict-wracked Darfur in western Sudan also staged a rally, residents said.
"The residents of camp Zam Zam, mostly young men and women, are chanting anti-government slogans in the center of the camp," resident Mohamed Issa told AFP by telephone.
Over the years, tens of thousands of people have been killed in Sudan's internal conflicts and millions more displaced, with hundreds of thousands still living in sprawling camps, especially in Darfur.
The war in Darfur erupted in 2003 when ethnic minority rebels took up arms against the Arab-dominated government in Khartoum, accusing it of marginalizing the region.
"Those who are demonstrating across the country are saying that we are one nation," said Hassan Adam, a resident of Zam Zam camp.
"We want to build a new Sudan that does not differentiate between a Zurga (black African) and an Arab."
Full report at:
http://www.arabnews.com/node/1452431/middle-east
--------
US carries out air strike against al-Qaeda in Libya
14 February 2019
The US carried out an air strike against al-Qaeda terrorist group in southern Libya on Wednesday night, Tripoli's UN-backed Government of National Accord said.
The strike near the town of Ubari, some 900 kilometers south of the capital, was coordinated with the GNA, said President Fayez al-Sarraj's spokesman.
It targeted "a number of members of terrorist organization Al-Qaeda", Mohamad al-Sallak said in a statement, giving no further details.
Libya has been wracked by violence and torn between rival administrations since the NATO-backed overthrow and killing of former leader Moamer Gaddafi in 2011.
The GNA was formed following a UN-backed deal in December 2015, but it has struggled to impose its power across the country.
The US military regularly carries out air strikes in Libya against al-Qaeda and ISIS extremist groups.
Last year in August it said it had killed an ISIS member described by a source as a former local leader of the extremists.
Full report at:
https://english.alarabiya.net/en/News/north-africa/2019/02/14/US-carries-out-air-strike-against-al-Qaeda-in-Libya.html
--------
Sudan's opposition groups call on Bashir to step down
Feb 14, 2019
Sudan's main opposition groups have jointly demanded the resignation of President Omar al-Bashir over deteriorating living conditions in the African country, which has been the scene of numerous anti-government rallies over the past two months.
In their first joint press conference, 17 political parties, trade unions, youth movements and civil society groups threw their weight behind Sudan's opposition Freedom and Change Coalition, of which the Sudanese Professional Association (SPA) is a leading component.
SPA, an umbrella group of unions representing doctors, teachers, and engineers, has led calls for protests since December 17, when an anti-government campaign erupted over price hikes and shortages of food and fuel.
The demonstrations first erupted in the farming town of Atbara after cash-strapped Khartoum cut a vital subsidy on bread and tripled its prices.
The move infuriated people and triggered protests, which swiftly mushroomed into nationwide anti-government rallies, particularly in the capital and its twin city of Omdurman.
That initial public display of anger quickly spiraled into calls for Bashir, who took power in 1989 through a military coup, to step down.
At their joint press conference in Omdurman, the opposition groups signed an agreement to work together toward urging the government to resign and pave the way for a four-year transitional governance followed by elections.
"We have decided on the program that would take place after the regime falls and (will) hold a constitutional dialogue conference at the end of the transitional period to decide how Sudan will be ruled," said Mohamed Mokhtar al-Khatib, the general secretary of the Communist party.
Some 200 members of the opposition groups which had attended the joint presser chanted "Down, that's it!" – one of the main rallying cries of the protest rallies.
Mohamed al-Mustafa, a leading member of SPA, also addressed the demonstration held following the event and said that all signatories of the agreement would not by any means spare any effort to oust Bashir.
"Today we are stronger than ever before. Numerous Sudanese stakeholders have joined us," al-Mustafa stressed, adding, "We will work together to bring down this regime and create the democracy that our people deserve."
The country's National Intelligence and Security Service (NISS) has reportedly been carrying out a crackdown on protesters, opposition leaders, activists, and reporters in an attempt to prevent the spread of the rallies, which are viewed as the biggest threat to Bashir's 30-year rule.
Official figures say 30 people, including some security agents, have lost their lives since the onset of the rallies. Some rights groups say at least 51 people have died so far.
The president has remained defiant, addressing loyalists at a number of rallies across the country and seeking support from regional allies.
On Wednesday, Bashir held his own rally in Khartoum and called for peace.
"We reaffirm that this year 2019 will be the year of peace and the permanent silencing of the rifle in Sudan, and there is a will to continue peace in Sudan and convince the other side of the utility of peace," he said.
The country's security forces have so far used tear gas, stun grenades and live ammunition to break up demonstrations, and detained hundreds of protesters and opposition figures.
Bashir and other senior Sudanese officials have repeatedly said that the government can only be changed through elections. The 75-year-old veteran leader is considering running for a third presidential term in next year's elections.
Full report at:
https://www.presstv.com/Detail/2019/02/14/588564/Sudan-opposition-SPA-Omar-alBashir-protests-economy
--------
Life in the shadow of al-Shabaab: 'If I don't call, my mother thinks I'm dead'
14 Feb 2019
Once every other month, journalist Hassan Dahir, 28, leaves his hostel in central Mogadishu under the cover of darkness to visit his mother in Yaqshid district, north-east of the capital.
He will spend the night with her and return to his rented room before dawn.
For the past eight years, Dahir has had to sneak such night time visits to his family for fear of al-Shabaab, who he says have already killed at least five of his close friends.
The city has become so dangerous for Dahir that he could not even attend his younger brother's funeral last month.
"He was killed in the Bakara market end of last month by unknown gunmen. I really wanted to join my family during the burial but they advised me not go to the site. Al-Shabaab had in the past targeted journalists who went to this cemetery," says Dahir.
Such is the life of not only journalists but also aid workers, government employees and youth leaders working in Mogadishu. Faced with constant risk of violence and targeted killings, many are forced to leave their childhood neighbourhoods and settle in the city centre and around the "green zone" area near the airport, which is deemed safer.
"The number of journalists who were killed here is uncountable. I have lost five close friends and I think my time is yet to come," Dahir says. "There is nowhere to escape, the best you can do is to hide within the town and stay vigilant."
According to the Committee to Protect Journalists (CPJ), Somalia is one of the most dangerous places to be a journalist. In the past four years, the Horn of Africa country has topped CPJ's impunity index, which ranks states with the worst records for prosecuting those who murder journalists.
Al-Shabaab was driven out of Mogadishu in 2011 but still carry out deadly car-bomb attacks and assassinations. The group, which is fighting to overthrow the internationally backed government, sees anyone working with the government, the UN or NGOs as an enemy.
Last month, gunmen shot Sakariye Hadaafow, chairman of Hodan district youth group. Witnesses said he was leaving the mosque after Friday prayers when he was attacked. He died in hospital later that day.
Mogadishu is in the hands of Somali security forces supported by African Union peacekeepers. But al-Shabaab still has indirect control of the city, and has been able to limit people in various ways, from shutting down football pitches to extorting money from local businesses in the form of "tax".
Cabinet ministers and government officials use bulletproof vehicles and armed security. But civil servants and local staff who work with the UN and other aid agencies have no special protection and are targets.
Last May, local World Health Organization worker Maryan Abdullahi was shot dead by unknown gunmen after she went to Bakara market to do some shopping for her wedding.
"Al-Shabaab targets everyone regardless of their work or affiliation, they are a threat to the existence of the Somali people. That is why they kill innocent people every day," says Abdifatah Ali Hassan, director of security of Banadir regional administration.
"We are committed to protecting the public from the merciless terrorists and we are confident that we will eliminate their threat from the city and the country at large.
"However, we advise the public and particularly those working with the government and NGOs to take personal safety precautions to avoid being targeted."
In early February, a car bomb exploded at a busy shopping centre, killing 11 people and injuring 10 others. In such a violent city, Dahir calls his mother twice daily to update her on his safety and whereabouts.
"I have to call her every morning before I get to work and every night before I go to bed," he says. "During weekends I call her on video via WhatsApp; it feels like we are in two different countries, I never imagined this would happen in Mogadishu."
It is not always easy to connect with his mother on the phone, especially in the aftermath of big explosions around the area in which he lives. "Whenever there is a blast, everyone is on the phone; sometimes the network is down, so my mother would keep calling me and if my line fails to go through she would assume I am dead," he says.
Somalia "is particularly dangerous for locals who work for foreign organisations," says a senior Somali official working with the UN in Mogadishu, who has himself had to live apart from his wife and children for the past six years.
"Experts and international staff live in heavily fortified places such as the airport and other well-guarded guest houses, but for locals like me there are no such protection measures in place," he says.
He now lives near the airport, which is home to the AU forces, UN agencies and embassies including the British high commission – and as such one of the most protected zones in the capital.
"As a parent, I feel helpless. If my child falls sick in the middle of the night, there is no way I can go out to see and cuddle him," he says.
"It is painful to live in fear, I cannot explain to my children why I am not able to stay with them, even though I live in the same city. This sometimes leads to depression and psychological problems not only for me but also for my fellow Somali colleagues working with the UN and other international organisations in Mogadishu."
Mohamed Mukhtar, 31, left his family in Hamar Jajab neighbourhood, south-east of Mogadishu, as soon as he started working with the ministry of education in 2014. He now lives in the city centre. "Every time I visit my mother, I receive mixed reaction from her, she feels both happy and worried," he says. "Happy that she could touch and feel her son but also worried that I might be attacked in the area, so she advises me not to stay long with her."
It has been almost three months since he last saw his mother. "A government employee was shot in the area a few days after my last visit, about three months ago. So my mother would not allow me to go there anytime soon, but we always keep in touch on the phone and sometimes my sisters come to visit me in my area."
Mukhtar survived a deadly al-Shabaab attack at the ministry building in April 2015 in which three colleagues died. "Gunmen stormed the offices and made their way up to the top floor where we were hiding," he recalls. "I jumped from the third floor and fell on the ground and suffered a back injury. Three of my colleagues died in the attack."
Most Somalians are desperate to rebuild a country plagued by decades of war – and now by multiple terror groups – and are ready to make sacrifices to do so.
"We are trying our best to make sure Mogadishu is safe for everyone, the police are now spread over all the districts and we have a good relationship with the public. It is actually getting better; there were times when the city was divided and al-Shabaab used to control half of it, but they are now defeated and all they can do is to terrorise the people," says Hassan.
In the meantime, Dahir keeps a low profile and waits for the day when he can go home.
Full report at:
https://www.theguardian.com/global-development/2019/feb/14/life-in-the-shadow-of-al-shabaab-if-i-dont-call-mother-thinks-im-dead-mogadishu-somalia
--------
Europe
Putin: Russia, Turkey, Iran see US pullout from Syria as 'positive step'
14 February 2019
Moscow, Ankara and Tehran see the planned US withdrawal from Syria as a positive step, Russian President Vladimir Putin said after a summit with his Turkish and Iranian counterparts on Thursday.
Putin, Turkey's Recep Tayyip Erdogan and Iran's Hassan Rouhani agreed the US pullout from northeastern Syria "would be a positive step that would help stabilize the situation in this region, where ultimately the legitimate government should re-establish control," the Russian leader told a joint press conference.
The leaders of the three countries, who have positioned themselves as the key foreign players in Syria's long-running war, were meeting for talks on how to work more closely together in resolving the conflict.
Putin said the talks were "constructive and business-like" and that "close coordination" was crucial to ensuring long-term stability in Syria.
He said the three agreed to "strengthen cooperation" in the so-called Astana framework, a process initiated by Russia, Iran and Turkey that has eclipsed parallel peace talks led by the United Nations.
They also agreed to work to put together a constitutional committee that would work to resolve Syria's political future, Putin said, adding that another round of talks would take place in Astana in late March and early April.
Rouhani said Thursday's talks were "very helpful and frank" and insisted on Syria's territorial integrity, calling for a "purge of terrorists" from the rebel-held northwestern province of Idlib.
He also suggested he didn't believe the US was planning to withdraw from Syria.
"We have no optimism about what the Americans say... but if they do withdraw, it will be very good news."
https://english.alarabiya.net/en/News/middle-east/2019/02/14/Russia-Turkey-Iran-see-US-pullout-from-Syria-as-positive-step-Putin.html
--------
Putin: We must tackle terror hotbeds in Syria
14.02.2019
By Elena Teslova
MOSCOW
Turkey, Russia, and Iran should consider steps to tackle the "terrorist hotbed" in Syria, said Russian President Vladimir Putin on Thursday, meeting with his Turkish and Iranian counterparts.
"We need to agree how to ensure a permanent de-escalation in Idlib," Putin told the opening of a trilateral summit in Sochi, Russia
"The cease-fire regime is in force in the province, but that doesn't mean that we should accept the presence of terrorists in the area. Thus, I propose we consider concrete practical steps that Russia, Turkey, and Iran could take to completely and finally destroy the terrorist hotbed."
After a meeting in Sochi last September between Putin and Turkish President Recep Tayyip Erdogan, the two sides agreed to set up a demilitarized zone -- in which acts of aggression are expressly prohibited -- in Idlib.
The following month saw all heavy weapons withdrawn from the de-escalation zone by Syrian opposition and anti-regime groups.
But according to the Syrian White Helmets civil defense group, at least 30 people in Idlib were killed in January, including women and children, while another 180 were injured -- in Idlib, Hama and Latakia -- by regime drone attacks and artillery fire.
At Thursday's summit, Putin said in addition to Idlib, the situation near the Euphrates and the issues of Syria's reconstruction and refugees' repatriation are the most important right now.
He also urged that a planned committee to draw up a new Syrian constitution start its work as soon as possible.
Putin told how last month in Moscow he and Erdogan discussed the consequences of U.S. troops leaving Syria.
"We agreed that the problems in [Syria's] northeast should be solved with strict respect for the country's sovereignty and territorial integrity of," he said.
Putin said Russian, Turkish and Iranian efforts sharply changed the humanitarian situation in Syria, as over the last six months, more than 130,000 Syrian refugees returned home and humanitarian aid is being delivered.
"But about a million people still need help. We hope that the international community and the UN will play a more active role in this matter," he said.
- Iran's Rouhani
For his part, Rouhani said that the issues of external intervention in Syria as well as the importance of liberating Syria from terror were top issues for the summit.
Stressing the need to preserve the country's territorial integrity, he added that Washington "unfortunately" provided protection for terror groups within Syrian borders.
In addition, Rouhani underlined that it was critical that Syrian refugees are able to return to their home soil.
Erdogan, Putin, and Rouhani first gathered in Sochi to discuss the crisis in Syria in 2017.
Turkey, Russia and Iran are guarantor countries which brokered a cease-fire in Syria in December 2016, leading to the Astana talks, which are running parallel to the Geneva talks.
Full report at:
https://www.aa.com.tr/en/europe/putin-we-must-tackle-terror-hotbeds-in-syria/1392891
--------
Path to Supreme Court clear for family of ISIS suspect
Shafi Musaddique
February 14, 2019
Judges on Thursday cleared the way for the family of a reputed member of an ISIS assassination squad to appeal against his extradition to the US to stand trial over the murders of western hostages.
Britain wants El Shafee ElSheikh – allegedly a member of a squad of foreign fighters dubbed "the Beatles" because of their English accents – to be prosecuted for involvement in "acts of barbaric terrorism". He is currently detained by Kurdish forces in northern Syria.
Mr El Sheikh's British citizenship was revoked in 2014. He is implicated in the murders of three US and two British citizens, according to court papers.
His family were told on Thursday that they can appeal to the UK's Supreme Court after failing to block moves to send him to the US, where he could face the death penalty if found guilty.
The family claimed that putting him on trial in the US violated EU law since execution is banned by all of the 28 member states.
The High Court said that Britain's Home Secretary, Sajid Javid, must also provide no further intelligence to the US until the Supreme Court's decision.
Mr El Sheikh is among 900 foreign fighters held in northern Syria. Kurdish forces have warned that they could free some of them if they are not returned to their home countries to face trial.
Britain is unwilling to bring back UK nationals suspected of joining ISIS. Lawyers said their treatment in custody could make it impossible to receive a fair trial in the UK.
In May 2018, UK Home Secretary Sajid Javid wrote to then US Attorney General Jeff Sessions to confirm that Britain would help with a US prosecution of members of the ISIS hit squad and it would not seek assurances the death penalty would be avoided.
Full report at:
https://www.thenational.ae/world/europe/path-to-supreme-court-clear-for-family-of-isis-suspect-1.825834
--------
Pakistan
Saudi Arabia, Pakistan Urged To Pull Muslim World Out Of Mire Of Problems: Sirajul Haq
14th February 2019
ISLAMABAD (UrduPoint / Pakistan Point News / NNI - 14th February, 2019) Ameer, Jamaat e Islami, Pakistan, Senator Sirajul Haq, has welcomed Saudi Crown Prince Muhammad bin Salman's visit to the country and expressed the hope that Saudi Arabia and Pakistan would join hands to pull the Muslim world out of the mire of problems.
In a statement here, he said that Saudi Arabia and Pakistan were linked together in eternal bonds and the relations between them were time old and unshakable. The two countries were like two bodies with a single soul, he added.The JI chief said that late King Faisal Shaheed considered Pakistan as his second home and the grand Faisal Mosque and the International Islamic University in Islamabad were the manifestations of his love for this country.Sirajul Haq said that both the countries were the centre of the Muslim Ummah's hope.
He said the Saudi Crown Prince visit to this country was a happy news for the entire Muslim world. He said that around three million Pakistanis were working in the holy land.He said that Saudi Arabia being the custodian of the Haramain e Sharifain was the real leader of the Muslim world.
The Muslims all over the world offered prayers with their faces in the direction of the Holy Kaaba, and visited Holy Makkah and Madina for Hajj and to pay their respects at the Roza e Rasool( PBUH).The JI chief said that during the 1965 and 1971 wars with India, Saudi Arabia had extended all out support and help to this country due to which the Pakistani nation considered Saudi Arabia as their benefactor.
He further said that Pakistan as the only Muslim nuclear power, deemed the defense of the Muslim World and Saudi Arabia, as its major duty. NNI
https://www.urdupoint.com/en/pakistan/saudi-arabia-pakistan-urged-to-pull-muslim-w-552264.html
--------
Saudi crown prince urged to release prisoners belonging to KP
February 15, 2019
ISLAMABAD: Two provincial lawmakers from Khyber Pakhtunkhwa have requested Saudi Crown Prince Mohammad bin Salman to give relief to the people of their areas imprisoned in various jails of Saudi Arabia on trivial charges.
In a letter to the crown prince, Sahibzada Sanaullah of the Pakistan Peoples Party and Inayatullah Khan of the Muttahida Majlis-i-Amal said: "We, on behalf of people of Khyber Pakhtunkhwa, request Your Excellency to grant this one-time relief to the downtrodden people of our area and release these helpless people so that they join back their families and start a new living in Pakistan."
Read: The time to demand Saudi Arabia to treat Pakistani workers properly is now
The crown prince is expected to reach Islamabad on Feb 16 on his first visit to Pakistan.
"It is a matter of extreme honour and pleasure for the people of Pakistan to say a very warm and heartfelt welcome to Your Excellency on their soil. Please accept this feast on this soil of Pakistan.
In fact, loving people of this country have a special piece of love for Khadim al Harmain Al Sharifain," read the letter, in which the lawmakers also appreciated the crown prince for giving bailout package to Pakistan.
They said that after 9/11, the people of Pakistan suffered immensely due to ramifications of the US war on terror in Afghanistan and its spillover effects on Pakistan.
The people of KP suffered the most and those living in Malakand division were the actual victims of this war.
Full report at:
https://www.dawn.com/news/1463926/saudi-crown-prince-urged-to-release-prisoners-belonging-to-kp
--------
Social media forces Karachi hospital to end discrimination against non-Muslims, Ahmedis
Feb 15, 2019
Authorities at the Karachi Institute of Heart Diseases (KIHD) have revised their form for free treatment following a social media protest against the hospital's discrimination against non-Muslims, Syed (Hashemi) and Ahmedis.
According to the details, the KIHD, which is a major state-run hospital of the metropolitan, was only providing free treatment to those who verified that they were neither non-Muslims nor Ahmedis by signing a form.
Those who did not meet these terms were not provided free treatment facility at the hospital.
However, the form which was being used for the last five years was finally changed after a campaign on social media that forced the hospital's officials to update it.
The new form would only require people to declare that they cannot bare medical expenses because of limited income and is entitled to get free treatment from the hospital.
Full report at:
https://www.pakistantoday.com.pk/2019/02/14/social-media-forces-karachi-hospital-to-end-discrimination-against-non-muslims-ahmedis/
--------
Afghan Taliban announce talks with US in Pakistan
Feb 14, 2019
ISLAMABAD: The Taliban said Wednesday its negotiators would next week meet the top US and Pakistani officials including Prime Minister Imran Khan during a key round of talks in Islamabad as part of the ongoing Afghan peace talks.
Neither Washington nor Islamabad immediately confirmed the announcement by the Taliban.
On the "formal invitation of the government of Pakistan, another meeting is scheduled to take place between the negotiation teams of the Islamic Emirate and the US on 18th of February, 2019 in Islamabad," Taliban spokesman Zabiullah Mujahid said in a statement.
The Taliban's delegation would also meet Prime Minister Khan, the statement said.
Mujahid said the regular round of talks was already scheduled to be held on February 25 in Qatar.
He said that in the meeting with Khan, Taliban would have "comprehensive discussions about Pak-Afghan relations and issues pertaining to Afghan refugees and Afghan businessmen".
Though there was no official confirmation, diplomatic sources in Pakistan said that the Taliban delegation would visit Pakistan and hold talks with both American and Pakistani officials.
The Taliban and the US are in a discussion to end more than a 17-year long bloody war in Afghanistan.
The Taliban control nearly half of Afghanistan, and are more powerful than at any time since the 2001 US-led invasion after the 9/11 terror attacks in 2001.
Special US Representative for Afghanistan Reconciliation Zalmay Khalilzad recently said after six days of talks with the Taliban representatives in Doha last month that the US has made "significant progress" in its peace talks with the Taliban.
Since being appointed in September, Khalilzad has met with all sides in an attempt to end America's longest war in which the US has lost over 2,400 soldiers in more than 17 years.
Full report at:
https://timesofindia.indiatimes.com/world/pakistan/afghan-taliban-announce-talks-with-us-in-pakistan/articleshow/67988961.cms
--------
International Court of Justice to take up Indian spy Jadhav's case on 18th
Nasir Iqbal
February 15, 2019
ISLAMABAD: As the Inter­na­tional Court of Justice (ICJ) formally commences public hea­­ring on the conviction of Indian spy commander Kulbhushan Jadhav from Feb 18, Pakistan's delegation for oral arguments will depart for The Hague on Friday (today).
Attorney General Anwar Man­soor would lead the Pakistani delegation whereas Director General South Asia Dr Mohammad Faisal would lead the Foreign Office side, a senior official told Dawn.
The world court has set a timetable for public hearings from Feb 18 to 21 in The Hague and Harish Salve, who represents New Delhi, is expected to argue first on Feb 18. Then English Queen's Counsel Khawar Qureshi will make submissions on Feb 19 from Islamabad's side.
Then India will reply on Feb 20 while Islamabad will make its closing submissions on Feb 21. It is expected that the ICJ decision may be delivered by the summer of 2019.
"We are fully prepared with our strongest evidence being the valid Indian passport recovered from Commander Jadhav with a Muslim name," said the official, adding that Pak­istan was committed to implementing the decision, irrespective of what decision came from the ICJ.
Commander Jadhav was captured in Balochistan in March 2016 and later confessed to his association with Indian intelligence agency Research and Analysis Wing (RAW) and his involvement in espionage and fomenting terrorism in Pakistan.
On May 18 last year, the ICJ through an interim order stayed Jadhav's execution after which the Foreign Office communicated to the world court that the government of Pakistan had instructed relevant departments to give effect to the ICJ order.
Pakistan has already furnished two counter-memorials on the Indian claims, which brought the case before the world court under the Vienna Convention on Consular Relations 1963.
India filed its reply on April 17, 2018, to which Pakistan filed a detailed rejoinder on 17 July that year.
In reply to a question about Iran, the official said the government was convinced that Iran had no role in Jadhav's episode though he remained there for some time. "India wants to drag Iran into this dispute but we will not let it happen," he said.
New Delhi claimed that Jadhav was an innocent businessman who was kidnapped from Iran and tortured to confess to being a RAW agent, but the official believes that Indians had failed to prove the allegation despite repeated requests for evidence that Jadhav was kidnapped.
Likewise, Indians also failed to satisfy that Jadhav had retired from the Indian Navy and New Delhi also failed to explain when and why he was retired since he was only 47 years old when arrested.
Similarly India needs to explain how Jadhav was in possession of an authentic Indian passport issued under a false "cover" Muslim name — Hussain Mubarak Patel — which he had used at least 17 times to enter/exit India.
India had been asked this question many times, even by highly respected Indian senior journalists such as Praveen Swami and Karan Thapar, but Indians declared this as irrelevant or mischievous propaganda.
Eventually India argued that the passport was clearly a forgery, but refused to explain why a highly credible independent UK expert was wrong when he said it was an authentic Indian passport issued by the Indian authorities.
New Delhi demands that the ICJ order Pakistan to return Jadhav to India, but the international court had repeatedly explained that it was not a criminal court of appeal. The world court has also clarified in its earlier decisions that even if consular access was denied, the proper recourse would be an effective review to be reconsidered by the local courts.
Jadhav and his family, the official said, could invoke Article 199 of Pakistan's constitution by seeking the relief through the country's high court, but India launched proceedings in the ICJ, 14 months after Jadhav was arrested and a month after he was convicted, to seek a stay order without a hearing.
"Why is India asking for an order for the return of Jadhav in the face of the ICJ's decision and the independent expert evidence confirming Pakistan has effective review and reconsideration before the high court and the Supreme Court," the official asked. India has also failed to explain why May 21, 2008 Agreement on Consular Access between India and Pakistan, which was drafted by India and provides Article VI for either state to be entitled to consider a request for consular access about persons implicated in national security matters, does not apply in this case.
India has also failed to explain why highly respected UK-based military law experts are wrong when they say that Pakistan's high court and Supreme Court provide an effective review and reconsideration of the military court process.
In its detailed counter-memorial to the Indian claims, Pakistan has raised a number of questions like the existence of the customary international law about an "espionage exception" to consular access in view of obvious dangers of allowing a state-sponsored spy/terrorist untrammelled communication with the authorities of his sending state that despatched him to commit unlawful acts.
The counter-memorial by Pakistan has also drawn attention to a bilateral agreement on consular access between India and Pakistan that clearly qualifies consular access in matters of national security.
Significantly, Pakistan has asked the ICJ to consider whether India has acted illegally in facilitating Jadhav's espionage/terrorism by providing him with the passport.
Full report at:
https://www.dawn.com/news/1463945/international-court-of-justice-to-take-up-indian-spy-jadhavs-case-on-18th
--------
Saudi investment planned during my tenure: Nawaz
February 15, 2019
LAHORE: Former prime minister Nawaz Sharif claims that the Saudi investment Gulf kingdom's Crown Prince Muhammad bin Salman is set to announce in his two-day visit to Pakistan, had been planned during his tenure.
"The civil and military top hierarchy knows the fact that Saudi Arabia had promised to make investment worth multi-billions of dollars when I was the prime minister," Mr Sharif was quoted as having told PML-N leaders, who visited him at the Kot Lakhpat Jail on Thursday where he's serving a seven-year jail term in a corruption case.
Those, who called on him included his mother Shamim, daughter Maryam, son-in-law Muhammad Safdar, former federal and Punjab ministers Ahsan Iqbal, Pervaiz Rashid, Mushahidullah Khan and Rana Sanaullah, Muhammad Mehdi, MNA Javed Latif, traders' representative Naeem Mir and others.
One of the visitors told Dawn that Mian Sahib was in good humour during the meeting as he (Mr Sharif) stated that "the weather is fine but we're incarcerated [unable to enjoy the environ outside the prison]".
Mr Latif told the PML-N supreme leader that the masses were fully charged and needed leadership to guide them under the worst conditions created by the PTI government within six months and urged him to become [politically] active cautioning that "the situation may slip out of hands if remained inactive."
Mr Iqbal told Mr Sharif that as the government has accepted IMF conditions price hike and dollar exchange rate are set to rise further to the disadvantage of the poor people.
On a query by the ex-premier about the prevailing business conditions, Naeem Mir informed him that all kinds of businesses were witnessing a slowdown and they're planning a shutter down strike in Lahore as a protest against some policies of the government.
He said ex-speaker Sardar Ayaz Sadiq and former Punjab finance minister Ayesha Ghaus-Pasha had prepared a report on the losses the trading community suffered recently and urged Mr Sharif to direct the PML-N parliamentarians to raise the issue in the house.
The PML-N leader was quoted as having directed Rana Sana and Javed Latif to discuss the report in the National Assembly and Senators Mushahid and Pervaiz Rashid in the Senate.
Mr Mehdi presented a book on Punjab mein Inqilabi Tehreeken (Revolutionary movements in Punjab) by Prof Satia Rai, while PML-N information secretary Senator Mushahid read some poetic work related to weather and Valentine's Day.
Talking to the media outside the prison, Mr Mushahid said the party activists expressed their love for their leader on the Valentine's Day. He hoped that Mr Sharif would soon be released and would put the country on democratic trajectory.
Full report at:
https://www.dawn.com/news/1463913/saudi-investment-planned-during-my-tenure-nawaz
--------
Prince Salman's visit to herald new era of prosperity, says minister
February 15, 2019
ISLAMABAD: Federal Minister for Religious Affairs Maulana Noorul Haq Qadri said that the Saudi Crown Prince Amir Mohammad bin Salman visit to Pakistan would herald a new era of prosperity and economic stability in Pakistan.
The minister said that Pakistan had to play a role to strengthen relations among Muslim countries.
"A healthy economy will help establish welfare Islamic state and the role of brotherly countries was praiseworthy in this regard," the minister said while speaking at a conference.
The minister said the people of Pakistan and armed forces of the country have played very vital role in eliminating the menace of terrorism and extremism.
He said the government was committed to making Pakistan a state on the pattern of Medina and both Pakistan and Saudi Arabia had always assisted each other in all testing times.
"The economic crisis has been inherited by the PTI government from previous regime and the support from Saudi Arabia and the UAE had helped us overcome it," Pir Noor ul haq Qadri said.
He said a number of agreements were scheduled to be signed during the Saudi Crown Prince visit that will further improve economic ties between the two countries.
The participants of the seminar stated that Pakistan enjoyed a respectable place among Muslim countries and Pakistan had to play effective role for unity of Muslim Ummah.
The participants welcomed the visit of Saudi Crown Prince to Pakistan.
Chairman Pakistan Ulema Council Hafiz Muhammad Tahir Mehmood Ashrafi said Pakistan was committed to steering Muslim Ummah out of the prevailing crisis.
Prime Minister Imran khan has categorically stated that Pakistan aims at strengthening trust and understanding among all the Muslim countries.
The participants of the seminar also underlined that unity of Muslim Ummah is vulnerable to resolve confronting challenges of Muslim world.
The participants of the seminar also lauded efforts of the PTI government for strengthening ties with Muslim countries adding that recent visit of Saudi Crown would expand relations between Pakistan and Saudi Arabia.
Full report at:
https://www.dawn.com/news/1463884/prince-salmans-visit-to-herald-new-era-of-prosperity-says-minister
--------
Southeast Asia
Key rebel stronghold left out of Philippines' Muslim territory
14 Feb 2019
MANILA: Dozens of communities won approval to join a new Muslim-led territory in the Philippines' south, results showed on Thursday (Feb 14), yet the exclusion of a key rebel stronghold raised concerns about the peace process in the restive region.
The results are from the second and final round of a landmark referendum that was the culmination of a decades-long process seeking to halt Muslim separatist violence that has claimed some 150,000 lives since the 1970s.
Voters had already overwhelmingly approved last month the so-called Bangsamoro region, which is centred on the island of Mindanao in the majority Catholic nation's south.
Locals will have more control over their territory and see an influx of government cash for development projects aimed at breaking the cycle of poverty and violent extremism.
The second round of voting on Feb 6 focused on whether a string of smaller communities would get approval from the municipality or region that surrounds them to join the Bangsamoro.
Official results released on Thursday by the Philippines' electoral commission showed 63 of 67 villages in the North Cotabato region would join.
However, in an expected outcome, voters in the majority-Christian region of Lanao del Norte refused to allow six local towns to become part of the Bangsamoro.
The result is that at least one major rebel camp belonging to the Moro Islamic Liberation Front, whose peace deal with Manila prompted the vote, won't be inside the boundaries of the Bangsamoro.
That is important because the rebels are supposed to lay down their arms and transition into leading the newly formed territory.
Experts said it is unclear what impact the Lanao del Norte vote will have on long-term peace prospects as fighters under the MILF should still give up their weapons even outside the Bangsamoro.
A key commander of those forces is also in line for a high-level job in the Bangsamoro's new government, which was widely seen as an effort to keep him and his troops in the fold.
Still, Zachary Abuza, a security expert at the National War College in Washington, told AFP some fighters would surely be unhappy with the vote's result and could be a threat to peace.
"I think it's a very delicate situation," he said. "If it's mishandled it could be bad."
https://www.channelnewsasia.com/news/asia/key-rebel-stronghold-left-out-of-philippines--muslim-territory--11243316
--------
PPBM in Sabah could spell trouble for Warisan, says analyst
Tracy Patrick
February 15, 2019
KOTA KINABALU: Any move by PPBM to spread its wings to Sabah will leave local party Warisan in a dilemma as the Malay-Muslim Bumiputera communities may be more attracted to the Malay-based PPBM, an analyst says.
Arnold Puyok, who teaches at Universti Malaysia Sarawak, said Warisan was banking on its "multiracial" outlook to gain support in Sabah. However, the Malay-Muslim Bumiputera communities might be more attracted to PPBM which could be seen as serving their interests.
"This is just like what happened when Umno first came into Sabah," he told FMT.
"Malay supporters in multiracial Parti Bersatu Sabah left the party to support Umno, as the national-based party was seen as a strong alternative in representing their interest."
He noted that in the general election last year, Malay-Muslim Bumiputera constituencies were split almost evenly between Barisan Nasional (BN) and the Pakatan Harapan (PH)-Warisan alliance.
"Non-Muslim Bumiputera constituencies are still BN loyalists although some have favoured other local parties, while the Chinese constituencies overwhelmingly voted for PH-Warisan."
While Warisan had succeeded in ending Umno's dominance in Malay-Muslim communities, he said, there were still many Umno supporters who were undecided on what to do next.
"PPBM could play a role as a new platform for those who have left Umno and are looking to make a comeback.
"The national-based party is set to fill the void left by Umno in these constituencies," he said.
Warisan's challenge, Puyok added, was that an increasing number of Sabahans were becoming comfortable with national-based parties which they believed were more capable of championing state interests and bringing issues directly to the attention of federal lawmakers in Parliament.
"If the results of the last three general elections, including GE14, are anything to go by, national-based parties are more popular than local-based parties," he said.
In GE14, local-based parties like Parti Harapan Rakyat Sabah, Parti Perpaduan Rakyat Sabah, Parti Kebangsaan Sabah and Parti Cinta Sabah contested but lost.
"The so-called Gabungan Sabah only garnered 5% of the popular votes in Malay-Muslim Bumiputera areas, 17% in non-Malay Muslim Bumiputeras areas, 4% in Chinese areas and 6% in mixed areas.
"STAR Sabah performed slightly better, winning one parliamentary seat in Keningau and two state seats in Tambunan and Bingkor. Its marginal win was due to a multi-cornered contest, involving strong candidates from Warisan, BN and PH. But like the rest, it was defeated in other areas," he said.
PKR and DAP managed to improve their electoral performance this time, winning eight and six seats respectively at the state and parliamentary levels.
Full report at:
https://www.freemalaysiatoday.com/category/nation/2019/02/15/ppbm-in-sabah-could-spell-trouble-for-warisan-says-analyst/
--------
Penang PAS demands cancellation of 'Love in Georgetown City'
14 February 2019
By Opalyn Mok
GEORGE TOWN, Feb 14 — The Love in Georgetown City play that starts today must be cancelled as it could lead to immoral activities, Penang PAS Youth insisted today.
Penang PAS Youth Information Chief Ahmad Shafian Ujar claimed the play will lead to an increase in free sex, baby dumping, drugs and other social issues.
"We strongly condemn the producer of the play for insisting on continuing with the play starting today until February 17 despite protests by activists and political parties including police reports lodged against it," he said in a statement today.
He warned the production team against continuing with the play even though it changed the title from Sex in Georgetown City to Love in Georgetown City.
"Theatre performances that are openly based on sex including unnatural sex will only promote immoral activities and offend the sensitivities of Muslims in Malaysia," he said.
He demanded that the DAP-led state government take action to stop such performances.
He mentioned previous incidents such as the "Penang Nude Sports Game" and screening of gay movie Lost in Paradise that the state had chosen to remain silent on.
"The state government's silence on these issues will further encourage the growth of vice activities that are increasing in this state," he claimed.
Over the past few days, the play drew flak from various Muslim groups who misunderstood it as a screening of "sex and gay film."
The groups lodged a police report against the play and the Jaringan Muslimin Pulau Pinang has planned a protest at Straits Quay tonight.
The 80-minute play, at Penangpac in Straits Quay, is by playwright Fa Abdul of Big Nose Productions.
The playwright and director issued a statement to explain that the play consists of 10 skits that address social issues including inter-racial relationships, racism, paedophilia, and infidelity.
"They are not deviant nor exploitative, instead they reflect our challenges and cultural idiosyncrasies," she said.
Fa lodged a police report on Tuesday against the false allegations and lies levelled against her and the play.
She stressed that it was a stage performance and not a film screening.
"The play was aimed at educating the society on social issues through entertainment," she said in her report.
Full report at:
https://www.malaymail.com/news/malaysia/2019/02/14/penang-pas-demands-cancellation-of-love-in-george-town/1723051
--------
Feb. 14 second-most favourite day for weddings in Jakarta
February 15 2019
White wedding: M. Supriadi, 21, and Nur Aisyah, 20 got married on Valentine's Day at the Palmerah Religious Affairs Office in West Jakarta, on Thursday. Many couples choose Valentine's Day to tie the knot as it will be easier to remember.(JP/Ghina Ghaliya Quddus)After having dated for exactly one year, M. Supriadi, 21, planned to marry his girlfriend, Nur Aisyah, 20, on Valentine's Day.
Wearing traditional white West Javanese clothing, the couple tied the knot at the Palmerah Religious Affairs Office (KUA) in West Jakarta on Thursday, attended by several family members from West Java and Jakarta.
Full report at:
https://www.thejakartapost.com/news/2019/02/15/feb-14-second-most-favorite-day-weddings-jakarta.html
--------
URL: https://www.newageislam.com/islamic-world-news/pulwama-suicide-bomber-inspired-taliban/d/117757
New Age Islam, Islam Online, Islamic Website, African Muslim News, Arab World News, South Asia News, Indian Muslim News, World Muslim News, Women in Islam, Islamic Feminism, Arab Women, Women In Arab, Islamophobia in America, Muslim Women in West, Islam Women and Feminism