New Age Islam News Bureau
3 Jan 2015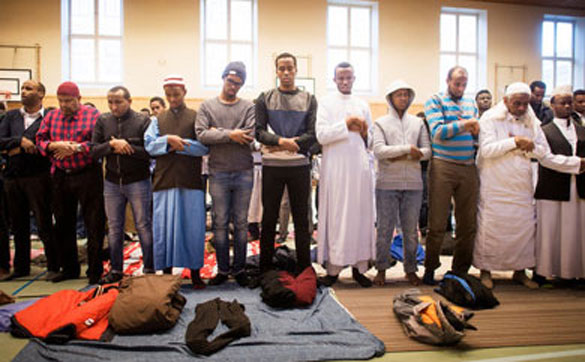 Worshipers in Eskilstuna, Sweden, held services in a high school gym after a fire gutted their mosque on Christmas Day. Credit Alexander Mahmoud for The New York Times
------------
Arab World
• Prophet's Birthday Celebration 'Sinful': Saudi Grand Mufti
• Several ISIL Terrorists Killed in Iraq's Anbar
• 19 Killed In Rebel Fire on Aleppo
• Iraqi general warns of military woes in fighting extremists
• Egyptian police arrest student for allegedly contacting IS
• Lebanon imposes visas on Syrians for first time
• Islamic State kidnaps 170 over flag burning
Pakistan
• Fed Up With Terrorists' Acquittals, Govt Headhunting for Criminal Lawyers
• Altaf Hails APC Consensus against Talibanisation
• Madrasas Assisting Govt in Elimination of Terrorism: Sindh Governor
• Four suspected militants killed in Khuzdar
• Terror financing: govt starts scrutiny of NGOs
• Fight fought well: 'In military coups I saw my opportunity'
• Terrorists will be defeated with the force of unity: Punjab CM
• Police officials, smugglers arrested in Balochistan arms scam
Africa
• Gunmen Kill 15 in Nigerian Village
• 17 Soldiers, 1 Civilian, Killed In Southern Libya
• 13 Egyptians kidnapped in Libya: FM source
• Algerians decry fatwa against acclaimed writer
• Suspected Islamists abduct 40 people in northeast Nigeria
Southeast Asia
• Shia, Sunni Meeting in Malaysia Discuss on 'World Muslim Unity'
• An Indonesian Lesson in Inter-Faith Trust
• Conquering fear, Muslim thanks pet-a-dog man for teaching animal kindness
• Search and Rescue Finds 'Big Parts' of Crashed AirAsia Plane
Mideast
• Turkish PM Calls on Non-Muslims to Confront Islamophobia
• Israel Mulls War Crimes Lawsuits against Top Palestinians – Source
• Education Ministry runs double-shift classes for Syrian refugee-students
• Radical Marxist group claims Istanbul palace attack bid
• Yemen arrests three foreigners over possible al Qaeda links
• Iran, US move closer to nukes deal
Europe
• ISIS Fighters 'Have Contracted Ebola': WHO
• In Sweden Anti-Muslim Sentiment Finds a Foothold
• The stigma of the Algerian Muslims who fought for France
• U.N. extends Lebanon tribunal's mandate for three years
• UK 'assessing implications' of Palestinian ICC move
India
• Conversion to Islam Raises Questions about Patriotism: VHP
• 'How to Tell a Terrorist? Jackets in Summer, Odd Behaviour'
• 1,000 evacuated from border areas, woman killed in heavy Pakistan shelling
• Mehdi Masroor Biswas was in touch with ISIS combatant in Iraq: Cops
North America
• Pentagon Denies Attempted Special Operations Raid In Syria
• U.S.: Palestinian ICC move to have aid 'implications'
• US seeks life in prison for London imam convicted on terror charges
South Asia
• Weapons discovered from vehicle going to Kabul
• BNP: Journey to democracy from January 5
• Afghan soldiers to blame for deadly wedding bombing: officials
'• We cannot draw meritorious people to education sector': Bangladesh Minister
Compiled by New Age Islam News Bureau
URL: https://www.newageislam.com/islamic-world-news/new-age-islam-news-bureau/prophet's-birthday-celebration-'sinful'--saudi-grand-mufti/d/100838
--------
Arab World
Prophet's Birthday Celebration 'Sinful': Saudi Grand Mufti
January 3, 2015
Grand Mufti Sheikh Abdul Aziz Al-Asheikh has warned against celebrating the birthday of the Prophet (peace be upon him), saying that it is a superstitious practice that was illegally added to the religion.
"It is a Bida'h (a sinful religious innovation) that crept into Islam after the first three centuries when the companions and successors of the companions lived."
Instead, it is obligatory for Muslims to follow the Prophet's teachings as contained in the Sunnah, the sheikh said in his Friday congregational sermon at the Imam Turki bin Abdullah mosque in Riyadh.
The sheikh said that those who urge others to celebrate the birthday of the Prophet are evil and corrupt. "The true love of the Messenger of Allah (pbuh) is manifested by following in his footsteps and supporting his Sunnah ... that is how the love for the Prophet (pbuh) is expressed."
He said Almighty Allah has said: "Say: 'If you do love Allah, follow me: Allah will love you and forgive your sins.'" Muslims have a duty to believe in the Prophet (pbuh) as the servant and messenger of Allah, who was sent as a guide to the entire universe, Al-Asheikh said.
It is the duty of Muslims to love and respect him. They should also defend him against those who misinterpret his teachings, the atheists who deny him, and those who abuse or mock him. These are the duties of Muslims who truly love the Prophet (pbuh), the sheikh said.
He said that Almighty Allah states in the Holy Qur'an: "Say: If it be that your fathers, your sons, your brothers, your mates, or your kindred; the wealth that you have gained; the commerce in which you fear a decline; or the dwellings in which you delight, are dearer to you than Allah, or His messenger, or the striving in His cause, then wait until Allah brings about His decision, and Allah guides not the rebellious."
http://www.arabnews.com/featured/news/683771
--------
Several ISIL Terrorists Killed in Iraq's Anbar
January 3, 2015
Iraqi troops staged a series of operations across Western Anbar province, and managed to kill several ISIL terrorists.
The army soldiers made fresh gains in their fight against the Takfiri terrorists across the province and succeeded in killing more than 17 ISIL elements.
The crisis in Iraq escalated after the ISIL militants took control of Mosul in a lightning advance on June 10, which was followed by the fall of Tikrit, located 140 kilometers (87 miles) Northwest of the capital, Baghdad.
Soldiers of the Iraqi army and Peshmarga have been engaged in heavy fighting with the militants on different fronts and have so far been able to push them back in several areas.
http://english.farsnews.com/newstext.aspx?nn=13931013000337
--------
19 killed in rebel fire on Aleppo
January 3, 2015
BEIRUT: At least 19 people were killed overnight by Syrian rebel fire on government-controlled parts of the northern city of Aleppo, a monitor said on Friday.
The Syrian Observatory for Human Rights said the dead included at least five children, three of whom were killed with their mother when a rocket hit the car they were in.
The Britain-based group said at 32 people were wounded in Thursday night's violence in the western part of the city.
Once Syria's economic hub, Aleppo has been ravaged by fighting that began there in mid-2012. The city is divided with government forces controlling the western part and rebels controlling the east.
However, government forces have advanced steadily around the eastern outskirts of the city, threatening to besiege opposition-held districts.
http://www.dawn.com/news/1154712/19-killed-in-rebel-fire-on-aleppo
--------
Iraqi general warns of military woes in fighting extremists
03 Dec, 2014
BAGHDAD: Lt. Gen. Abdul-Wahab al-Saadi had 225 fighters, a single Abrams tank, a pair of mortars, two artillery pieces and about 40 armored Humvees when he set out to retake a strategic city in northern Iraq captured by ISIS militants over the summer.
It took 30 days as his force made an agonizingly slow journey for 40 kilometers through roadside bombs and suicide car attacks, then successfully laid siege to the oil refinery city of Beiji. The campaign earned Saadi the biggest battlefield victory by Iraqi forces since ISIS fighters swept over most of northern and western Iraq in a summer blitz, prompting the collapse of the military.
Yet Saadi is deeply pessimistic. In a two-hour interview with the Associated Press, he said Iraq's military lacks weapons, equipment and battle-ready troops and complained that U.S. air support was erratic. Both the military and the government remain riddled with corruption, he said. Most of the senior generals serving when the military fell apart had skills "more suited to World War II," he said.
"If things don't get better," warned the general, "the country could end up divided" among its Shiite, Sunni and Kurdish populations.
The extremists are beatable when confronted with a proper force, he said. But he worries that the military's multiple woes prevent it from doing so. Already, there is a danger the jihadis could retake Beiji, he said.
A Baghdad-born Shiite with family roots in southern Iraq, Saadi complained of "excesses" by some of the Shiite volunteers who joined the fight against the Sunni militants and on whom the military has come to rely.
"I am a military man, and they don't respect the rules by which we operate," he said. Volunteers, for example, looted homes in government-controlled areas around the Sunni city of Tikrit and tried to intimidate army officers, he said. During his march toward Beiji, some of the volunteers whom he deployed as a rear guard left their posts.
The government and its media consistently praise the volunteers' role in the war against the militants.
The U.S.-trained Saadi, who is second-in-command of the army's elite counterterrorism forces, spoke at his office in one of Saddam Hussein's Baghdad palaces. The chain-smoking general wore a baseball cap and green sweater – the same outfit he wears on the front lines, without helmet or body armor or indications of his rank. In the Beiji campaign, he was wounded by shrapnel in his arm and dangerously close to his eye, on top of wounds he suffered last summer in the western province of Anbar.
On his office walls hung photos of himself with former Prime Minister Nouri al-Maliki. Saadi said he had a close relationship with Maliki during his eight years in office. But the Shiite leader, he said, bears the "moral responsibility" for the debacle against ISIS.
Maliki stepped down in August, replaced by Haider al-Abadi, who has sought to draw Sunni support against the militants. According to Saadi, al-Abadi has largely left the military to run the war against ISIS as it sees fit. Abadi has also shaken up the military, pushing aside dozens of corrupt or inefficient officers. He has also stopped payments of millions of dollars in salaries disbursed to thousands of nonexistent troops, or "ghost soldiers."
Saadi is the head of military operations in Salahuddin province, where Beiji is located, and his troops were stationed in a base outside Tikrit. ISIS holds Tikrit itself and most of the surrounding ground.
A veteran of Iraq's 1980-88 war against Shiite Iran, Saadi said he turned down offers of help from Iranian military advisers in retaking Beiji. Iran has been closely helping Iraq's government in the fight against the extremists. "If I had accepted help from non-Iraqis, the history books will say the victory was not ours, the Iraqis," he said.
He had troubles from the outset with top military leaders in Baghdad who wanted Beiji retaken quickly.
"I told them I can reach Beiji from Tikrit in three days, but I will lose many of my men," he said. "[I] told them I will do it my way and get Beiji back. They were unhappy, but they had no choice."
Setting out from Tikrit in mid-October, Saadi advanced slowly, abandoning the main road he knew to be infested with roadside bombs. Instead, he and his men went by foot through the desert parallel to the road.
Each day, they walked several kilometers, stopped and built a sand barrier on the main road to fend off suicide car bombers, while engineers would clear roadside bombs. Once the road was cleared, the Humvees and lone tank would proceed up to the barrier where they would wait until another stretch of the road was cleared, he said.
The top brass in Baghdad called him repeatedly on his mobile to complain he was moving too slowly. "I told them again and again that I need to move cautiously to protect my men," he said – though he added that Abadi called him to express support.
It took three weeks to reach Beiji, fighting the whole way, then another week to take the town. All in all, more than two dozen suicide car bombs were hurled at them. He said logistical bottlenecks in the military left him with only one earth-mover to construct sand barriers, which broke down often or had its tires shot out by snipers.
He blames one of its breakdowns for the death of police Lt. Gen. Faisal Malik al-Zamel during the fight in Beiji. With no sand barrier, a suicide attacker in an explosives-packed truck – its tires and windshield protected by plates of armor – struck while Zamel stood in the open speaking on his telephone on Nov. 7.
"His men shouted for him to get back inside his armored vehicle but he didn't act fast enough," said Saadi, who was at the scene.
Saadi was also left skeptical that the Americans are serious in helping Iraq defeat the extremists with the coalition air campaign.
"Sometimes, they would carry out airstrikes that I never asked for, and at other times I begged them for a single airstrike and they never did it," citing logistical issues or orders from higher up, he said. "I don't think they trust Iraq's government or military."
Also, Saadi's only means of communication with Baghdad was a mobile phone and whenever it had no signal he could not call in airstrikes.
In the end, his strategy paid off. Beiji was recaptured in mid-November, and the entire campaign cost 12 lives and about 30 injured among his troops. On the other side, he estimates his forces killed around 1,500 ISIS fighters.
Brig-Gen. Ayad al-Leheibi, of the police's Rapid Deployment Force, echoed that estimate and confirmed most of the details in Saadi's account. Leheibi and about 120 of his men fought alongside Saadi in the Beiji campaign.
Now Saadi worries the victory is in danger of being reversed. Already ISIS militants are back on the outskirts of Beiji, and he said the men left to hold the city are too few.
One unit of reinforcements was attacked on the way to Beiji and quickly retreated, he said. A second one, 50-man strong, made it to the city but came under night attack by militants. "There was so much confusion and panic, they started shooting at each other in the dark," he said. "We lost 10 men, nearly as many as we lost in the entire campaign."
http://www.dailystar.com.lb/News/Middle-East/2015/Jan-03/282933-iraqi-general-warns-of-military-woes-in-fighting-extremists.ashx#sthash.7XZbQE5N.dpuf
-----------
Egyptian police arrest student for allegedly contacting IS
Jan 3, 2015
Egyptian police arrested a student at Assiut University for allegedly seeking to contact a leading member of the militant group the Islamic State (IS), which currently controls territory in Syria and Iraq.
Egypt's state news agency MENA reported on Friday that the 22-year-old resident of Upper Egypt's Sohag governorate was apprehended and found possessing reading material on jihadist doctrine and guerilla warfare, as well notes on police patrol routes and stations.
MENA reported police as saying that the student, Abdallah Ahmed, confessed to taking part in protests in Assiut University and to communicating with an IS leader through Facebook.
Full report at:
http://english.ahram.org.eg/NewsContent/1/64/119347/Egypt/Politics-/Egyptian-police-arrest-student-for-allegedly-conta.aspx
--------
Lebanon imposes visas on Syrians for first time
3 January 2015
Lebanon is to impose visa restrictions on Syrians for the first time after being overwhelmed by an influx of more than 1.1 million refugees, according to documents published online.
The new regulations, posted on the website of the General Security agency, come into effect on January 5 and lay out eight new visa categories, including for tourism and medical treatment.
The requirement appeared to be the first time Lebanon has demanded that Syrians apply for visas.
Citizens of both countries have for decades been able to travel freely across their shared border.
The new rule is the latest in a series of measures taken by Lebanon to stem the influx of Syrians fleeing their country's brutal civil war.
In October, Social Affairs Minister Rashid Derbas said Lebanon was effectively no longer receiving Syrian refugees, with limited exceptions for "humanitarian reasons".
Full report at:
http://english.alarabiya.net/en/News/middle-east/2015/01/03/Lebanon-imposes-visas-on-Syrians-for-first-time-.html
--------
Islamic State kidnaps 170 over flag burning
03 Dec, 2014
KIRKUK, Iraq — The Islamic State jihadist group seized dozens of men from two villages in northern Iraq on Friday while searching for people who burned its flag, officials and residents said.
An intelligence officer said that a total of 170 men were taken from the villages of Al-Shajara and Gharib in Kirkuk province, after two IS flags were burned in the area, an account confirmed by other officials from the province.
"Members of the (IS) organization who were driving around 30 vehicles took the kidnapped (people) to the centre of Hawijah," a nearby town where they have a court and a prison, the officer said.
Full report at:
http://www.timesofisrael.com/islamic-state-kidnaps-170-over-flag-burning/
--------
Pakistan
Fed up with terrorists' acquittals, govt headhunting for criminal lawyers
Jan 03 2015
ISLAMABAD: Troubled by the low conviction rate of suspected terrorists before trial courts and the high number of government appeals dismissed by the superior courts, the attorney general's (AG) office is on the hunt for criminal law experts.
Sources in the AG's office told Dawn that none of the government's top legal advisers, including Attorney General Salman Aslam Butt, PM's Special Assistant Barrister Zafarullah Khan, Khawaja Zaheer and former federal minister Zahid Hamid – are experts in criminal law.
AG Salman Aslam Butt, the principal law officer, specialises in corporate cases or company-related matters. He was a partner in Hamid Khan's Lahore-based law firm Cornelius, Lane & Mufti. Before his appointment as the AG, he was representing the Sharif family in corruption cases against them.
Khawaja Zaheer, a former bureaucrat from the district management group (DMG), is an advocate of high court. After his retirement from public service in 2013, he was appointed special assistant to the prime minister and currently enjoys the status of a state minister.
Except for a handful of law officers, no one else has a background in dealing with criminal cases
Full report at:
http://www.dawn.com/news/1154792/fed-up-with-terrorists-acquittals-govt-headhunting-for-criminal-lawyers
--------
Altaf hails APC consensus against Talbanisation
Jan 03 2015
LONDON - Applauding the national political leadership for reaching consensus on military courts, Muttahida Qaumi Movement (MQM) chief Altaf Hussain said on Friday that his viewpoint on Talibanisation has been accepted.
The MQM Rabita Committee announced to observe day of gratitude on Saturday. It said that realisation of Talibanisation was an evidence of Altaf's viewpoint which he has been expressing for ten years. The Rabita Committee said that instead of taking him seriously rulers ridiculed the views of the MQM chief. "But those who have been laughing at him have now admitted sitting under one roof that Talibanisation was spreading in Pakistan.
http://www.dailytimes.com.pk/national/03-Jan-2015/altaf-hails-apc-consensus-against-talbanisation
--------
Madrasas Assisting Govt in Elimination of Terrorism: Sindh Governor
Jan 03 2015
KARACHI: Sindh Governor Dr Ishratul Ibad assured a delegation of the Wifaqul Madaris Al-Arabia that he would convey their concern to the federal government with regard to the National Action Plan against terrorism.
A delegation of Wifaqul Madaris Al-Arabia, led by its general secretary Qari Mohammad Hanif Jalandhari, met Dr Ibad at Governor House.
Other members of the delegation were Maulana Obaidullah Khalid, Mufti Muhammad Naeem, Mufti Zarwali Khan, Maulana Hakim Muhammad Mazhar, Mufti Muhammad, Maulana Farhan Naeem, Maulana Rahat Ali Hashmi, Maulana Razaullah and Maulana Imdadullah.
They informed the governor that the Wifaqul Madaris Al-Arabia and all madressahs affiliated with their organisation had not only condemned the Peshawar school carnage but also declared it a brutal and anti-Islamic act.
The governor said that madressahs were playing an important role in providing Islamic education on a massive scale. "Madressahs are making their students responsible citizens of society. It augurs well that a large number of students after acquiring education are associated with research and teaching profession in different universities."
He said that a few individuals were involved in terrorism in the name of Islam, but they were enemies of Muslims and entire humanity.
Full report at:
http://www.dawn.com/news/1154684/madressahs-assisting-govt-in-elimination-of-terrorism-ibad
--------
Four suspected militants killed in Khuzdar
Jan 03 2015
QUETTA: The Frontier Corps (FC) claimed to have killed four suspected militants in Balochistan's Khuzdar district. One FC personnel was also killed during an exchange of fire with suspected militants.
Spokesman FC Balochistan said several suspected militants were also apprehended by security forces during the operation conducted in Naal area of Khuzdar district.
The forces also seized weapons and arms from the possession of militants during the action.
"Forces also demolished the camp of miscreants," the spokesman said. The FC's claim could not be verified by independent sources.
He stated that the forces launched the operation in the aftermath of an attack on a levies check post in the area.
The militants had snatched weapons and motorcycles from levies personnel during the attack.
"They all belonged to a banned militant group", he added.
In another incident, FC spokesman stated that forces also arrested a militant commander and recovered arms and ammunition from his possession from Barkhan area.
http://www.dawn.com/news/1154663/four-suspected-militants-killed-in-khuzdar
--------
Terror financing: govt starts scrutiny of NGOs
Jan 03 2015
ISLAMABAD: The Securities and Exchange Commission of Pakistan (SECP) on Friday issued a circular, directing non-profit associations to get their licences renewed. In a recent meeting of the subcommittee constituted under the Prime Minister Implementation Committee for National Plan of Action on Counter-Terrorism, it was decided to re-validate/renew all the licences issued by the SECP under section 42 of the ordinance to satisfy that such entities are working within the parameters of law and are not engaged or linked with any terrorist financing activities. This process will also ensure compliance with all the mandatory requirements of the ordinance and ensure that the income and profits of the association are applied solely to the promotion of the objectives for which the association was formed and that no portion thereof is used directly or indirectly for other purposes.
http://www.dailytimes.com.pk/islamabad/03-Jan-2015/terror-financing-govt-starts-scrutiny-of-ngos
--------
Fight fought well: 'In military coups I saw my opportunity'
January 3, 2015
LAHORE: Politician Syeda Abida Hussain said on Friday that the military had been able to dominate the nation due to the failure of civilian politicians to formulate long-term policies.
She was speaking at the launch of her political biography Power Failure: The Political Odyssey of a Pakistani Woman. Hussain spoke neither in favour nor against the proposed establishment of military courts. She said the government must make a decision in this regard and stick to it. Hussain said the government appeared to be backtracking on its decision to set up the courts.
She said the military construed this as retreat.
Hussain said she had supported military coups during her political career as she had always viewed the dissolution of assemblies as an opportunity to approach and acquaint herself with public opinion.
Full report at:
http://tribune.com.pk/story/816335/fight-fought-well-in-military-coups-i-saw-my-opportunity/
--------
Terrorists will be defeated with the force of unity: Punjab CM
Jan 03 2015
LAHORE: Punjab Chief Minister Shahbaz Sharif has said that political, religious and military leadership is on the same page in the war against terrorism and victory will be achieved with the force of unity and mutual consultation while Pakistan will be rid of the menace of terrorism.
He said that Pakistanis have rendered innumerable sacrifices in the war against terrorism and the blood of the martyrs will not go waste and the country will be made a haven of peace through eradication of terrorism. He said that Pakistan is facing an extraordinary situation and needs extraordinary measures to cope with the problem of terrorism. He said that national action plan is a consensus formula for purging the country of terrorism and its implementation will eliminate this menace on permanent basis.
Full report at:
http://www.dailytimes.com.pk/punjab/03-Jan-2015/terrorists-will-be-defeated-with-the-force-of-unity-shahbaz
---------
Police officials, smugglers arrested in Balochistan arms scam
Jan 03 2015
QUETTA: Police officials involved in selling thousands of bullet rounds and other weapons to smugglers have been arrested in Quetta, the capital of Balochistan province.
Police officials deployed at Balochistan Constabulary's arsenal depot sold out 750,000 rounds of SMGs and other weapons in Quetta during last few years.
"We have detained six police officials and four smugglers in connection with weapons sale," Capital City Police Officer (CCPO) Quetta, Razzaq Cheema told a press conference on Friday.
He said that the accused set the arsenal depot of police on fire to conceal their robbery. They sold out Rs35's bullet from Rs100 to Rs150 in open market between 2011 and 2014, he added.
Cheema stated that an inquiry was ordered by the commandant Balochistan Constabulary after fire was reported from weapons depot.
Full report at:
http://www.dawn.com/news/1154665/police-officials-smugglers-arrested-in-balochistan-arms-scam
--------
Africa
Gunmen kill 15 in Nigerian village
Jan 3, 2015
At least 15 people were killed by gunmen in a village in Nigeria's central north Kaduna state, a local resident told Xinhua.
The victims were killed in Ambe-Madaki village by suspected local Fulani herdsmen, Yohana Adamu told Xinhua over telephone.
The suspected Fulani invaders, who were armed with sophisticated weapons, arrived at the village on Friday morning and started shooting sporadically and setting houses ablaze, said the resident.
Scores of residents sustained various degrees of injuries from gunshots while over 20 houses were set ablaze, Mr. Adamu said.
The resident said the incident has triggered a mass protest by people in local communities.
The attack came barely a week after 10 people were killed at Tattaura village in the same region by unidentified gunmen.
A security source in Sanga, who requested anonymity because he was not authorised to speak to the press, confirmed the latest attack.
Spokesman of the Kaduna state command, Aminu Lawan, could not be reached for comment.
http://www.thehindu.com/news/international/world/gunmen-kill-15-in-nigerian-village/article6751519.ece
--------
17 soldiers, 1 civilian, killed in southern Libya
Jan 3, 2015
A Libyan army spokesman says armed militants have shot and killed 17 soldiers and one civilian at a checkpoint.
Mohammed Hegazi told The Associated Press that the attack occurred early Friday in the central district of Jufra. He blamed the attacks on "terrorists roaming the desert areas freely."
Widespread militia violence has plunged Libya into chaos less than four years after a NATO-backed uprising toppled and killed longtime dictator Muammar Qadhafi.
Islamic extremist militias are battling troops in the second largest city of Benghazi in the west. Other militias have taken over the eastern city of Darna and the capital Tripoli.
http://www.thehindu.com/news/international/world/soldiers-killed-in-southern-libya/article6750074.ece
--------
13 Egyptians kidnapped in Libya: FM source
Jan 3, 2015
Thirteen Egyptians have been reportedly kidnapped in Libya, a foreign ministry source told Aswat Masryia on Saturday.
Militants kidnapped the 13 Egyptians in Libya's city of Sirte.
A Libyan military source had announced that extremist militants stormed a residential complex early Saturday in Sirte city taking 13 Coptic Christian Egyptians to an unknown location.
Another seven Egyptians were kidnapped in the same Libyan city last week.
Last week, Egypt's foreign ministry spokesperson Badr Abdel-Atti had said that the Libyan government has commissioned Libyan "independent figures" to communicate with the kidnappers of the seven Coptic Christian Egyptians.
A foreign ministry source confirmed to Aswat Masryia that Egypt's ambassador in Libya is currently in talks with Libyan tribal leaders and independent figures to mediate the release of the kidnapped Egyptians.
Several Coptic Christian Egyptians have been killed in Libya in recent years. In February, the bodies of seven Copts shot dead were found near the city of Benghazi.
Egypt renewed its warning last month to citizens living in Libya. Last August, the foreign ministry also cautioned Egyptians against travelling to Libya and advised expatriates there to avoid clashes.
Tens of thousands of Egyptians work in Libya, a key destination for Egyptian migrant workers, primarily in the construction industry.
http://english.ahram.org.eg/NewsContent/1/64/119377/Egypt/Politics-/-Egyptians-kidnapped-in-Libya-FM-source.aspx
--------
Algerians decry fatwa against acclaimed writer
03 Dec, 2014
A recent fatwa against award-winning writer Kamel Daoud is raising fears among Algerian artists and bloggers that their country will once again be plagued by fundamentalism.
"Algerians must be protected," dozens of singers, actors and authors said in an appeal to the government posted online on December 22nd. "Terror must be brought to a definitive end in Algeria," AFP quoted them as saying.
The action came 5 days after Abdelfettah Hamadache Zeraoui, of unrecognised party "Salafist Islamic Awakening Front", demanded on his Facebook page that writer and journalist Kamel Daoud to be sentenced to death under sharia law.
The extremist called for authorities to execute "Algerian infidel and apostate writer Kamel Daoud" for "insulting God".
Full report at:
http://magharebia.com/en_GB/articles/awi/features/2015/01/02/feature-04
--------
Suspected Islamists abduct 40 people in northeast Nigeria
03 Dec, 2014
MAIDUGURI (Reuters) - Gunmen abducted 40 boys and young men from a remote village in northeast Nigeria in a raid that residents and a security source blamed on Boko Haram, the Islamist group that has gained worldwide notoriety for mass kidnappings.
Witness Mohammed Zarami said the gunmen arrived at the village of Malari around 8 p.m. on Wednesday, heavily armed but did not fire shots or kill anyone.
"People ran out of their houses in fear but they warned no one should disobey them," Zarami told Reuters in the northeast city of Maiduguri, where he had fled to on foot.
"They took away over 40 (male) youths mostly between the ages of 15 to 23. As I am talking to you now, there is no youth in our village," he said.
Boko Haram fighters have abducted hundreds of people in the past year. Boys are recruited as fighters and the girls as sex slaves, security officials say.
Its five-year-old uprising for an Islamic state is the gravest security threat to Africa's top economy.
Parents of 200 Nigerian schoolgirls kidnapped by Islamist rebels in April have said they are appealing to the United Nations for help after losing hope that the Nigerian government would rescue them.
A man claiming to be Boko Haram leader Abubakar Shekau at the end of October said in a video that the girls had been "married off" to Boko Haram commanders.
http://ca.reuters.com/article/topNews/idCAKBN0KB1A020150102
----------
Southeast Asia
Shia, Sunni Meeting in Malaysia Discuss on 'World Muslim Unity'
Jan 03 2015
Participants of the Muslim World Priority Meeting discussed on the Unity of the World Muslim Ummah during the second meeting held at International Islamic University Malaysia (IIUM), Kuala Lumpur on Tuesday the 30th of December, 2014.
The previous meeting, held in Penang, was focused on building a cohesive society in Indonesia- a country of diverse culture, religion, ethnic groups and Schools of Thought. Discussants include the leader of the Shiite Islamic Movement in Nigeria Sheikh Ibraheem Zakzaky among fellow participants from Europe, America and Asia.
The meeting is jointly organized by Citizen International, Universal Justice Network (UJN) and Islamic Human Rights Commission (IHRC).
http://www.abna.ir/english/service/east-asia/archive/2015/01/03/662303/story.html
--------
An Indonesian lesson in inter-faith trust
Jan 03 2015
Not only Indonesia, but also South-east Asia, received a religious vote of confidence when the archipelagic nation's two most influential Islamic organisations decided to deploy volunteers to enhance security during Christmas. Muhammadiyah and Nahdlatul Ulama (NU) are household names which represent a wide spectrum of pious Muslims comfortable with Indonesia's religious diversity. The organisations have provided an important backdrop of historical continuity and assurance for the future during often volatile developments.
Indonesia's ideals of religious tolerance and co-existence, which are enshrined in the state ideology of Pancasila, have been challenged by extremist, fanatical, militant or outright terrorist groups masquerading as defenders of the Muslim public interest. Attacks on minorities, both outside and within the faith community, have threatened to cause a contraction of the overlapping spaces inhabited by diverse religious groups. What Muhammadiyah and NU have done, along with other well-intentioned organisations, is to push back the incursions that hate-driven groups and individuals have made into public life. Aiding the police to protect churches during Christmas celebrations was a pointed reminder that violent revisionists cannot alter the character and deflect the course of an entire nation.
Full report at:
http://www.straitstimes.com/news/opinion/more-opinion-stories/story/indonesian-lesson-inter-faith-trust-20150103#sthash.cqZ2JZB3.dpuf
--------
Conquering fear, Muslim thanks pet-a-dog man for teaching animal kindness
03 Dec, 2014
Amid the flood of hate messages aimed at last year's Touch-a-Dog campaign organiser, one Muslim went against the tide of vitriol today to thank Syed Azmi Alhabshi for holding the programme he said has taught him and his son compassion for animals.
In a Facebook posting that has since gone viral, Abdul Ghani Hasan Arief said he had realised how positive the controversial programme had been as it showed him he could overcome his fear for dogs and prompted him and his son to save a lone distressed puppy found in a drain near his house.
Abd Ghani, who sported a ketayap and long Arabic robes in his Facebook profile picture, said if not for the pet-a-dog programme, he would not have dared rescue the animal and would have felt miserable afterwards.
"Today my son is a hero. I heard a cry. It was from a puppy that fell into a drain. I went to get help from my son.
"By the time we got back to the drain, the puppy was gone. I looked along the drain and I saw a girl was squatting near. She was trying to help but the puppy ran away. So my son and I took over.
Full report at:
http://www.themalaymailonline.com/malaysia/article/conquering-fear-muslim-thanks-pet-a-dog-man-for-teaching-animal-kindness#sthash.L7Y1RBC9.dpuf
--------
Search and Rescue Finds 'Big Parts' of Crashed AirAsia Plane
Jan 03 2015
Jakarta. Recovery teams have found two big parts of AirAsia Flight 8501, which crashed into the sea last weekend with 162 people on board, Indonesia's top search official said Saturday.
News of the discovery came after Indonesia's transport ministry said the plane had been flying on an unauthorised schedule when it crashed, and the airliner has now been suspended from flying the route from the city of Surabaya to Singapore.
The parts of the plane were found in the Java Sea off the island of Borneo late Friday night, raising hopes that the remaining bodies and the black boxes, crucial to determining the cause of the crash, will soon be located.
"With the discovery of an oil spill and two big parts of the aircraft, I can assure you these are the parts of the AirAsia plane we have been looking for," search and rescue agency chief Bambang Soelistyo told reporters.
Full report at:
http://thejakartaglobe.beritasatu.com/news/search-rescue-finds-big-parts-crashed-airasia-plane/
--------
Mideast
Turkish PM calls on non-Muslims to confront Islamophobia
January 3, 2015
Prime Minister Ahmet Davutoğlu has called on Turkey's non-Muslim community leaders to "raise their voice" against Islamophobia and all forms of discrimination during a meeting in Istanbul on Jan. 2.
"When we raise our voice against Islamophobia altogether, then we do not only stand against discrimination against Muslims, but we raise our voice against discrimination against all religious identities," said Davutoğlu ahead of a lunch with religious leaders in Istanbul. He also condemned recent attacks on mosques in a number of European states.
Fener Greek Patriarch Bartholomew; Deputy Armenian Patriarch Archbishop Aram Ateşyan; Chief Rabbi İshak Haleva; Istanbul Syriac Orthodox Church Metropolitan Yusuf Çetin; Turkish Ambassador to the Vatican Mehmet Paçacı; Monsignor Yusuf Sağ, patriarchal vicar of Turkey for Syrians; and Levon Zekiyan of the Apostolic Administrator of the Armenian Archieparchy of Istanbul, all participated in the lunch at the prime ministerial office in Dolmabahçe Palace.
Religious Affairs Directorate head Mehmet Görmez, Istanbul Mufti Rahmi Yaran and Foundations General Manager Adnan Ertem were also present at the lunch.
Prime Minister Davutoğlu said he hesitated to use the term "minority" as he did not regard any "tradition that has lived in these lands" as foreign.
Full report at:
http://www.hurriyetdailynews.com/turkish-pm-calls-on-non-muslims-to-confront-islamophobia.aspx?pageID=238&nID=76444&NewsCatID=338
--------
Israel mulls war crimes lawsuits against top Palestinians - source
Jan 3, 2015
OCCUPIED JERUSALEM: Israel is looking at ways to prosecute senior Palestinians for war crimes in the United States and elsewhere in response to Palestinian steps to join the International Criminal Court, an Israeli official said Saturday.
The Palestinians delivered to U.N. headquarters in New York on Friday documents on joining the Rome Statute of the International Criminal Court and other global treaties, saying they hoped to achieve "justice for all the victims that have been killed by Israel, the occupying power."
The Hague-based court looks at cases of severe war crimes and crimes against humanity such as genocide.
The Israeli official said Palestinian leaders "ought to fear legal steps" after their decision to sign onto the Rome Statute.
"Israel is weighing the possibilities for large-scale prosecution in the United States and elsewhere" of Palestinian President Mahmoud Abbas and other senior Palestinians, the official said.
Full report at:
http://www.dailystar.com.lb/News/Middle-East/2015/Jan-03/282960-israel-mulls-war-crimes-lawsuits-against-top-palestinians-source.ashx#sthash.dbmtmSTw.dpuf
-----------
Education Ministry runs double-shift classes for Syrian refugee-students
January 3, 2015
In a bid to deal with the enormous number of school-aged Syrian refugees currently in Turkey, the Education Ministry has resorted to implementing double-shift classes at schools in Adana, Ankara, Diyarbakır, Gaziantep, Hatay and Kayseri.
As part of the new measures, Turkish students in these provinces attend classes before noon and refugee-students attend in the afternoon.
The number of school-aged children out of the almost two million Syrian refugees in Turkey is more than 350,000 - a figure indicating the weight of Turkey's refugee burden.
In September, the Education Ministry released a circular related to education and training services for foreigners in order to remove bureaucratic obstacles to the registration of child refugees at schools operating under the ministry's authority. Based on the circular, around 120 temporary education centers have since been opened.
Full report at:
http://www.hurriyetdailynews.com/education-ministry-runs-double-shift-classes-for-syrian-refugee-students-.aspx?pageID=238&nID=76434&NewsCatID=341
--------
Radical Marxist group claims Istanbul palace attack bid
January 3, 2015
An outlawed Turkish Marxist group on Friday said it was behind an attempted attack on an Ottoman-era Istanbul palace that formerly held the offices of President Recep Tayyip Erdogan.
The Revolutionary People's Liberation Party-Front (DHKP-C) said one of its members carried out the attempted attack on Thursday afternoon outside the historic Dolmabahce palace in Istanbul on the Bosphorus.
The man, named as Firat Ozcelik, hurled two grenades at the police honor guard on duty outside the palace but they failed to explode.
He was swiftly arrested and on Friday morning was being interrogated by police in Istanbul, Turkish television said.
The DHKP-C said in a statement on its website that the "armed action had been realized by one of our warriors."
The Dolmabahce Palace -- one of the last great palaces of the Ottoman Empire and also where the founder of modern Turkey Mustafa Kemal Ataturk, died in 1938 -- is one of Istanbul's major tourist attractions.
Full report at:
http://english.alarabiya.net/en/News/middle-east/2015/01/02/Radical-Marxist-group-claims-Istanbul-palace-attack-bid-.html
--------
Yemen arrests three foreigners over possible al Qaeda links
Jan 3, 2015
Yemeni police have arrested three foreigners in the capital Sanaa after one of them was found to have al Qaeda material in his possession, the Interior Ministry said.
The foreigners, a Bulgarian, Belgian and Somali, were aged between 22 and 48, the ministry said on its website late on Friday.
"The third person was found to have slogans for al Qaeda in his possession," the statement said without identifying which of the three men it was referring to.
Last year Yemeni security forces launched a campaign to drive out al Qaeda from their strongholds in the south. US drone attacks have also targeted suspected al Qaeda members.
Militants have still proved capable of launching attacks in the volatile Western-allied country, which shares a long border Saudi Arabia, the world's biggest oil exporter.
Their most lethal attacks have recently been directed against the Shi'ite Muslim Houthi movement that took over Sanaa in September. Al Qaeda regards Shi'ites as heretics.
http://english.ahram.org.eg/NewsContent/2/8/119381/World/Region/Yemen-arrests-three-foreigners-over-possible-al-Qa.aspx
--------
Iran, US move closer to nukes deal
Jan 3, 2015
Iran and the United States have tentatively agreed on a formula that Washington hopes will reduce Tehran's ability to make nuclear arms by committing it to ship to Russia much of the material needed for such weapons, diplomats say.
In another sign of progress, the two diplomats told The Associated Press that negotiators at the December round of nuclear talks drew up for the first time a catalogue outlining areas of potential accord and differing approaches to remaining disputes.
The diplomats said differences still dominate ahead of the next round of Iran-six power talks on January 15, 2015 in Geneva. But they suggested that even agreement to create a to-do list would have been difficult previously because of wide gaps between the sides.
Iran denies it wants nuclear arms, but it is negotiating with the U.S., Russia, China, Britain, France and Germany on cuts to its atomic programme in hope of ending sanctions. The talks have been extended twice due to stubborn disagreements.
Full report at:
http://www.thehindu.com/news/international/world/iran-us-move-closer-to-nukes-deal/article6751391.ece
----------
Europe
ISIS fighters 'have contracted Ebola': WHO
03 Dec, 2014
The World Health Organisation is investigating reports that ISIS militants have been showing up at an Iraqi hospital with Ebola, repots Mail Online.
According to three media outlets an undisclosed number of militants displaying signs of the disease attended a hospital in the ISIS-held city of Mosul, 250 miles north of Baghdad.
While the reports, from Kurdish and pro-Iraqi sources, remain unconfirmed, WHO spokesman Christy Feig said the group are trying to reach out to officials in ISIS-held areas to offer help.
UN workers are currently banned from entering ISIS-controlled areas in both Iraq and Syria so it is unlikely an operation in the region could be carried out.
Feig told Mashable: 'We have no official notification from [the Iraqi government] that it is Ebola.'
Mosul has been under control of ISIS since June 2014 and over the past few weeks militants have reportedly executed more than a dozen doctors for refusing to treat injured fighters.
According to a report in Iraq's pro-government newspaper, al Sabaah, the disease was brought to Mosul by 'terrorists' arriving 'from several countries' and Africa.
The symptoms of Ebola, which include nausea and vomiting, diarrhea, bleeding and bruising, are similar to those of other diseases including malaria and yellow fever meaning it could easily have been misdiagnosed.
Full report at:
http://www.thedailystar.net/isis-fighters-have-contracted-ebola-58316
-----------
In Sweden, the Land of the Open Door, Anti-Muslim Sentiment Finds a Foothold
03 Dec, 2014
ESKILSTUNA, Sweden — As Khalif Samantar knelt for afternoon prayers at the Eskilstuna Islamic Dawa Center on Christmas Day, he sensed a growing heat and a low, rushing sound coming from a nearby hallway. He focused his mind on the ritual, only to realize seconds later that someone was shouting, "The mosque is on fire!"
Mr. Samantar sprang through an open window and rushed through the snow in his stocking feet for help. Though about 70 people were inside the mosque at the time, no one was injured.
The fire, which gutted the Dawa center, was the worst of three suspected arson attacks on mosques in Sweden over the last 10 days. In the same period, two freighters bearing hundreds of asylum seekers were abandoned by their crews off the coast of Italy, adding to a surge of more than 200,000 migrants to Europe in 2014.
"We left our country as refugees. We were not looking for food or benefits, we were looking for somewhere to feel safe," said Abdirahman Farah Warsame, the imam at the mosque where the fire occurred on Christmas Day. He is originally from Somalia. "Now that is gone. We have a feeling that society is turning against us."
Indeed, the relentless stream of migrants to Europe — propelled by the war in Syria and turmoil across the Middle East and the Horn of Africa — has combined with economic troubles and rising fear of Islamic radicalism to fuel a backlash against immigrants, directed most viciously at Muslims.
Full report at:
http://www.nytimes.com/2015/01/03/world/in-sweden-the-land-of-the-open-door-anti-muslim-sentiment-finds-a-foothold.html?_r=0
--------
The stigma of the Algerian Muslims who fought for France
03 Dec, 2014
More than 50 years have passed since the end of the brutal Algerian War of Independence, a colonial struggle that saw thousands of Muslims who fought for their French colonial masters forced to flee the country.
Known as Harkis, these Algerians were considered traitors by their fellow countrymen. When France pulled out of the North African country in 1962, they were forced to flee to avoid retribution.
An estimated 100,000 Harkis and their families who stayed behind in Algeria were killed in the years after the French withdrawal.
The French government is trying to improve relations with Algeria. But the fate of thousands of surviving Harkis – and their children who continue to live under the stigma of their parents' disgrace – remains a contentious and divisive issue.
http://www.france24.com/en/focus/20150102-video-unresolved-issue-algerian-muslims-who-fought-france/
--------
U.N. extends Lebanon tribunal's mandate for three years
January 3, 2015
U.N. chief Ban Ki-moon is to grant the Special Tribunal for Lebanon another three years to try those responsible for the 2005 murder of former Lebanese prime minister Rafik Hariri.
The tribunal, which was inaugurated in 2009, will continue its work until March 2018, said a U.N. statement on Friday.
Four Hezbollah members went on trial in absentia before the tribunal a year ago for the 2005 car bombing that killed billionaire Hariri and 22 others, including a suicide bomber.
A fifth suspect, also an alleged Hezbollah member, has been indicted over the crime.
Ban expressed U.N. support for the work of the tribunal based in The Hague.
http://english.alarabiya.net/en/News/middle-east/2015/01/02/U-N-extends-Lebanon-tribunal-s-mandate-for-three-years.html
--------
UK 'assessing implications' of Palestinian ICC move
Jan 3, 2015
The British government is "assessing the implications" of the Palestinian decision to apply for membership of the International Criminal Court, the UK Foreign and Commonwealth Office told Ahram Online.
Mahmoud Abbas, chairman of the Palestinian Authority, on Wednesday signed about 20 international treaties, including the Rome Statute, the ICC's founding treaty.
"We are assessing the implications" of the move, an FCO spokesperson told Ahram Online.
The US has condemned Abbas's actions as "an escalatory step" on the part of the Palestinians, suggesting it "is entirely counter-productive and does nothing to further the aspirations of the Palestinian people for a sovereign and independent state."
Full report at:
http://english.ahram.org.eg/NewsContent/2/8/119343/World/Region/UK-assessing-implications-of-Palestinian-ICC-move-.aspx
--------
India
Conversion To Islam Raises Questions About Patriotism: VHP
Jan 3, 2015
The VHP on Friday claimed "ghar wapsi" was essential for the "improvement of the nation" and said that conversion to Islam raised questions about the individual's "nationalism" and "patriotism". The outfit, in a statement issued during a press conference in the Capital on Friday, also linked conversions to Christianity with terrorism in the Northeast.
The VHP also evoked Mahatma Gandhi and Swami Vivekananda to defend "ghar wapsi". The VHP claimed Swami Vivekananda had said that converting to another religion from Hinduism meant that the "Hindu society has another enemy". The outfit further claimed that Gandhi believed that the "goal of Christian missionaries is to uproot Hindutva completely and to establish a different ideology in its place".
The VHP statement further said, "As a result of conversion (to Islam), questions are raised on their nationality and patriotism." The statement was issued by VHP national secretary Dharma Narayan Sharma and Jugal Kishore, functionary in charge of "ghar wapsi".
With the VHP planning a "ghar wapsi" of over 3,000 Muslims in Ayodhya in February, secretary general Champat Rai claimed the "need of the hour" was to ensure that anyone "who has converted to Christianity or Islam and is willing to join Hindu society, is reintegrated into Hindu society and returns to their mool jaati (original caste)".
Reiterating VHP president Praveen Togadia's view that "ghar wapsi" didn't imply conversion, Rai said conversion to other religions from Hinduism leads to individuals becoming disconnected from their ancestors. "We are not asking people to forsake anything. We want them to reconnect with their ancestors, their culture and traditions," he said.
Full report at:
http://indianexpress.com/article/india/india-others/conversion-to-islam-raises-questions-about-patriotism-vhp/#sthash.9Uzv5VyG.dpuf
--------
'How To Tell A Terrorist? Jackets in Summer, Odd Behaviour'
Jan 3, 2015
Terrorists wear warm clothes even in hot weather, try to sneak past metal detectors, and may start running all of a sudden. So says an advisory displayed prominently at the RSS workers' camp that began here on Friday.
The poster is titled "How to recognise terrorists?" and has been put up at an exhibition alongside pictures of the burning Taj hotel in Mumbai and the twin towers of the World Trade Center. There is a picture of a crowded train — with the question: "Are our trains safe?"
Terrorists, according to the advisory, "wear jackets in summer, approach people with casual talk, and try to dodge policing and metal detectors. They suddenly meet certain people and disappear, and there are sudden changes in their behaviour — if they are standing, they might start running."
Gujarat Police drew criticism this week after dummies playing terrorists in a mock drill were made to wear Islamic skullcaps. Chief Minister Anandiben Patel conceded the police had made a "mistake".
Full report at:
http://indianexpress.com/article/india/india-others/how-to-tell-a-terrorist-jackets-in-summer-odd-behaviour/#sthash.TN4nyFfr.dpuf
--------
1,000 evacuated from border areas, woman killed in heavy Pakistan shelling
IANS | Jan 3, 2015
JAMMU: A woman was today killed and eight other civilians were injured as Pakistani troops targeted villages and 13 border outposts with heavy mortar shelling in Kathua and Samba districts in Jammu and Kashmir.
The fresh ceasefire violations have triggered migration from border villages and over 1000 people have been evacuated from hamlets in Samba and Kathua district, officials said.
The latest round of firing by Pakistan which started on New Year eve has left two persons dead, including a BSF jawan, and nine injured while five Pakistani Rangers have been killed in retaliatory firing by India. It comes barely two months after the last major escalation that left 13 people dead and displaced 32,000 border residents.
"Pakistani troops resorted to unprovoked and heavy firing and mortar shelling on posts and civilian areas along IB in Samba and Kathua districts since 2130 hours last night," Inspector General of BSF Rakesh Sharma said.
Full report at:
http://timesofindia.indiatimes.com/india/1000-evacuated-from-border-areas-woman-killed-in-heavy-Pakistanshelling/articleshow/45741095.cms
--------
Mehdi Masroor Biswas was in touch with ISIS combatant in Iraq: Cops
Jan 3, 2015
BENGALURU: Alleged pro-Islamic State (IS) Twitter account handler Mehdi Masroor Biswas was in touch with ISIS combatant stationed in Iraq, a top police official said.
"During our interrogation of Biswas, we have found that the IS account holder was in touch with the ISIS combatant and he was an aide," Bengaluru Police commissioner MN Reddi told reporters.
Biswas was produced before a city court today and sent to judicial custody till January 16.
Biswas was arrested on December 13 under IPC section 125 (waging war against the government of any Asiatic power in alliance with the government of India) section 18 and 39 of Unlawful Activities (Prevention) Act and Section 66 of the Information Technology Act.
Reddi said police have gathered sufficient evidence to prove that Biswas supported ISIS and also his direct messages on his Twitter handle revealed that he encouraged people to join IS.
"We have sufficient evidence to prove he (Biswas) supported ISIS. Direct messages on his Twitter handle also show he encouraged people to join the terrorist outfit. He had been pro-actively tweeting," he said.
Full report at:
http://timesofindia.indiatimes.com/india/IS-Twitter-account-handler-Mehdi-Masroor-Biswas-was-in-touch-with-ISIS-combatant-in-Iraq-Cops/articleshow/45733378.cms
--------
North America
Pentagon denies attempted Special Operations raid in Syria
03 Dec, 2014
U.S. military officials denied reports that the U.S.-led military coalition overseeing operations in Iraq and Syria launched a Special Operations raid in the Islamic State's stronghold, following a burst of claims from activists in the region.
Media reports raising the possibility of an attempted raid in Raqqa surfaced after a group known as "Raqqa is Being Slaughtered Silently" detailed what it described as two failed approaches by coalition aircraft. The organization said in an English-language report that the city "witnessed an unusually intense aerial campaign" by coalition fighter jets on Thursday, and that helicopters "attempted to make an airborne-landing operation to free and rescue western hostages captured by ISIS in the eastern Raqqa countryside," using one of the acronyms for the Islamic State militant group.
"The mission failed when the helicopters were met by ISIS fighters who directly opened fire at them forcing them to take off," the activist group said.
Full report at:
http://www.washingtonpost.com/news/checkpoint/wp/2015/01/02/pentagon-denies-attempted-special-operations-raid-in-syria/
--------
U.S.: Palestinian ICC move to have aid 'implications'
January 3, 2015
Further steps by the Palestiniansto deliver to the U.N. documents on joining the International Criminal Court will have implications for U.S. aid, a senior State Department official said.
"It should come as no surprise that there will be implications for this step, but we continue to review," the official told Reuters.
"U.S. assistance to the Palestinian Authority has played a valuable role in promoting stability and prosperity not just for the Palestinians, but also for Israel as well," the official added.
The Palestinian Authority has asked the International Criminal Court (ICC) to investigate crimes committed in the Palestinian territories since June 13, 2014, ICC sources have said.
The investigation if launched could focus on the atrocities committed during the 50-day war on Gaza which began on July 8, 2014. More than 2,000 Palestinians, including hundreds of civilians, and 66 Israeli soldiers and five civilians were killed during the war.
The Palestinians also seek an investigation into the continuous building of Israeli settlements, considered as illegal under international law.
Full report at:
http://english.alarabiya.net/en/News/middle-east/2015/01/02/Palestine-seeks-ICC-probe-into-Israeli-war-crimes-.html
--------
US seeks life in prison for London imam convicted on terror charges
January 3, 2015
NEW YORK - US prosecutors on Friday urged a federal judge to sentence London imam Abu Hamza al-Masri to life in prison following his conviction on terrorism charges.
In a court filing ahead of his Jan. 9 sentencing, prosecutors said Abu Hamza should be held accountable for his role as a "global terrorist leader who orchestrated plots around the world to further his deadly mission."
"The seriousness of this defendant's offenses and the need for just punishment and deterrence cannot be overstated," prosecutors under Manhattan US Attorney Preet Bharara wrote.
A jury convicted Abu Hamza, 56, in May on all counts he faced in one of two high-profile terrorism trials conducted in the Manhattan federal courthouse last year.
Prosecutors charged the one-eyed, handless Abu Hamza with providing a satellite phone and advice to Yemeni militants who kidnapped Western tourists in 1998, an operation that led to the deaths of four hostages.
Abu Hamza also was accused of dispatching two followers to Oregon to establish a militant training facility and sending an associate to Afghanistan to help al Qaeda and the Taliban.
http://www.jpost.com/Breaking-News/US-seeks-life-in-prison-for-London-imam-convicted-on-terror-charges-386538
---------
South Asia
Weapons discovered from vehicle going to Kabul
Jan 03 2015
Police in eastern city of Jalalabad have discovered different types of weapons from a vehicl on its way to Kabul.
Fazal Ahmad Shirzad, police chief of Nangarhar says police stopped a vehicle in the Daronta check point leading to Kabul for checking and discovered fifteen different types of weapons including twelve Kalashnikovs from it.
He said one person was arrested in the connection with these weapons.
He added that the weapons were brought in to Nangarhar from Pakistan and the person arrested was trying to take them to Kabul.
In another action Jalalabd police discovered two pistols in the 1st police district from the possession of a person and arrested him.
Further investigations into the cases were initiated.
http://www.khaama.com/weapons-discovered-from-truck-going-to-kabul-2654
--------
BNP: Journey to democracy from January 5
Jan 03 2015
BNP Chairperson Khaleda Zia's adviser Khandakar Mahbub Hossain said a new journey to restore the democracy in the country would start from January 5.
He said: "This January 5 will be different from the one in previous year as a new journey to restore democracy will commence on the day."
He made the statement while addressing a discussion programme at the National Press Club yesterday.
Khandkar, who is also the president of The Supreme Court Ainjibi Samity, said: "The government held a one-sided election on January 5 last year amid a boycott by the major political parties of the country."
"Begum Khaleda Zia placed a seven-point proposal to resolve the ongoing political crisis. In line of the proposal, the government should hold talks immediately."
Full report at:
http://www.dhakatribune.com/politics/2015/jan/03/bnp-journey-democracy-january-5#sthash.178KqPgd.dpuf
----------
Afghan soldiers to blame for deadly wedding bombing: officials
Jan 3, 2015
Afghan soldiers were responsible for firing mortars at a wedding party that killed 17 women and children, officials said yesterday, in a mistaken strike that overshadowed the transfer of nationwide security from Nato forces.
The deaths on Wednesday evening in the southern province of Helmand came on the eve of a ceremony in Kabul when President Ashraf Ghani congratulated the Afghan army and police for taking over from Nato forces who have ended their combat mission.
"The troops fired mortar rounds on a wedding ceremony after the militants in the same area attacked an army checkpoint," Mohammad Jan Rasoulyar, deputy governor of Helmand, told AFP.
"Those Afghan army troops accused of firing the mortar rounds have been referred to a military court."
Four soldiers, including one commander, were arrested and taken to the provincial capital Lashkar Gah.
Full report at:
http://www.thedailystar.net/afghan-soldiers-to-blame-for-deadly-wedding-bombing-officials-58278
----------
'We cannot draw meritorious people to education sector': Bangladesh Minister
03 Dec, 2014
Education Minister Nurul Islam Nahid has expressed disappointment about the government's inability to draw meritorious people to the education sector.
"We have trained about one million teachers up to secondary-level education in different manners, but still there is lacking that we can not attract meritorious people in this sector," the minister told the inauguration ceremony of the three-day seventh Bangladesh English Language Teachers Association (BELTA) International Conference at Dhanmondi's National Academy for Educational Management (NAEM).
"Teachers are the main force to build a qualified generation and scholars in the country. For this we should try more to support them," he told the conference, organized by BELTA with the British Council as its lead partner.
Full report at:
http://www.dhakatribune.com/bangladesh/2015/jan/03/we-cannot-draw-meritorious-people-education-sector#sthash.EoiAGzgO.dpuf
--------
URL: https://www.newageislam.com/islamic-world-news/new-age-islam-news-bureau/prophet's-birthday-celebration-'sinful'--saudi-grand-mufti/d/100838