New Age Islam News Bureau
26 September 2022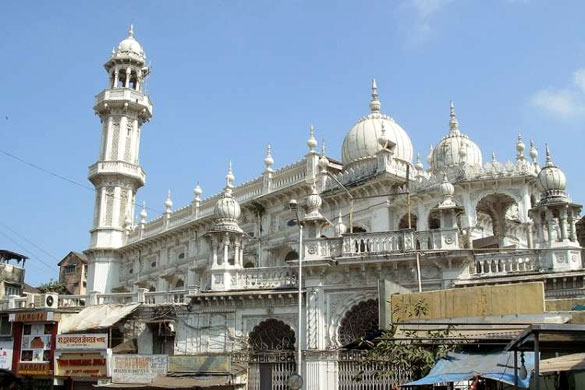 Initiative to remove misgivings about Islam among non-muslims underway in Mumbai masjids
-----
• Scaled Replica of Al-Qaeda Leader's Hideout on Display in CIA Museum
• Mufti of Al-Quds: Israeli Settlers' Incursions into Al-Aqsa Mosque Aimed At Altering Its Status Quo
• Taliban Denies Threat of Terrorism Still Exists In Afghanistan
• Türkiye, Saudi Arabia Discuss Bilateral Relations
India
• Odisha: Muslim Man, Kahinoor Islam, Heads Durga Puja for Over Three Decades
• Welcome RSS attempt at reconciliation with Muslim community
• PFI Used Abu Dhabi Restaurant as Hub for Hawala Deals: ED
• 55 Afghan Sikhs, Hindus reach Delhi by special flight
--------
North America
• US Revokes Taliban Ruled Afghanistan's Designation As Major Non-NATO Ally
• Donald Trump Alleges He Threatened Taliban Leader with Satellite Images Of His House: Report
--------
Mideast
• Hamas: Al-Aqsa Mosque Being Subjected To Most Dangerous Attacks in History
• Iran's Guards launch artillery attack on 'terrorist' bases in Iraq: Report
• At least 35 killed in Iran protests: State media toll
• Terror group PKK seeking to exploit Iranian protests for own self-interest, warns expert
• 30 Palestinian prisoners go on hunger strike against Israeli policy
• Israel forces Palestinian to tear down his house in al-Quds, displacing entire family
--------
South Asia
• UN Security Council to Discuss Situation of Afghanistan Tomorrow
• Taliban's Program for Beggars in Afghan Capital Rounds Up Thousands
• Sikh refugees evacuated from Afghanistan to India recall Taliban horror
• Bangladesh ferry accident kills 24, dozens missing
--------
Arab World
• Lebanon migrant shipwreck death toll rises to 94
• Germany's Scholz visits Saudi Arabia on hunt for energy partnerships
• Iran's Islamic Revolutionary Guard Corps shells bases of 'anti-Iran groups' in northern Iraq amid unrest
• Lebanon's Grand Mufti appeals for unity in meeting with Sunni MPs ahead of presidential election
--------
Pakistan
• Pakistan Government Leaders' Leaked Audio Clips Raise Security Concern In The Country
• Shehbaz Sharif-led govt wants to resume trade ties with India: Imran Khan
• Balochistan PA Adopts Motion for Repeal of Transgender Law
• 6 Pakistan Army officials martyred in Harnai helicopter crash: ISPR
• Alvi draws ire from senators for assuming role of 'broker'
• Ashrafi sues Punjab govt on sacking MUB chairman
--------
Africa
• UN Chief Calls for 'Civilian-Led Political Transition' In Sudan
• Zamfara Killings: Islamic Group Hails Nigerian Media
• 5 Western countries call for holding elections in Libya
• Militant attack kills four in Burkina Faso
--------
Europe
• EU Says Iran Protest Crackdown 'Unjustifiable, Unacceptable'
• Attackers hurl Molotov cocktail at Iranian Embassy in Athens: Greek media
• Police clash with anti-Iranian regime protesters in London and Paris
• Iran summons British ambassador over London-based channels' role in instigating riots
--------
Southeast Asia
• Don't Trust Malay-Muslim Parties That Ignore Corruption, Says Anwar
• Zahid warns BN of 'enemies under the blanket'
• RIP unity unicorn, killed by racially-inclined politics
• State units to control political donations proposed in new bill
Compiled by New Age Islam News Bureau
URL: https://newageislam.com/islamic-world-news/prophet-eid-milad-masjid-misgivings/d/128039
--------
'Prophet for All Campaign': Ahead of Eid-e-Milad Mumbai Masjids Initiative To Enlighten Non-Muslims On The Prophet's Teachings, And Removing Misgivings About Islam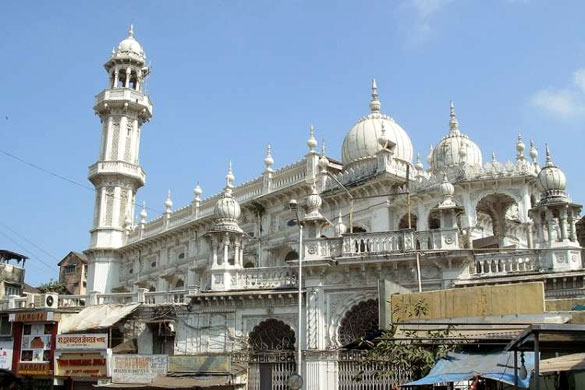 Initiative to remove misgivings about Islam among non-muslims underway in Mumbai masjids
-----
Quaid Najmi (IANS) | Mumbai
September 26, 2022
Barely a fortnight before Prophet Mohammad's birthday on October 9 celebrated worldwide as Eid-e-Milad, several Muslim groups in Mumbai have united for a unique initiative to enlighten non-Muslims on the Prophet's teaching and preaching and remove misgivings about Islam.
Titled 'Prophet For All Campaign', the initiative will see the participation of various masjids, madrassas, Muslim-run schools or colleges, NGOs, social and cultural organisations and other entities.
"This is not intended to be an evangelical exercise. We are only keen to carry the Prophet's message of love, peace and brotherhood to all our non-Muslim brethren – Hindus, Christians, Sikhs, Parsis, Jains, Buddhists, etc – for a better understanding of Islam and its followers," the Campaign torchbearer Adv. Yusuf Abrahani, who is also the Islam Gymkhana President, told IANS.
Besides the Prophet's message for humanity, it will also dwell on environment, conserving water, compassion for the poor, destitutes, orphans, workers or women along with certain activities conducted specially for non-Muslim audiences, he added.
President of the Association of Muslim Professionals (AMP), Aamir Edresy said that there are around 500 registered masjids in Mumbai, nearly 400 schools and 20 colleges run by various Muslim trusts who are also being roped into the Campaign.
"We are sending appeals through the students to their families to participate in the campaign, invite at least five locals or neighbours to their homes for a meal on Oct. 9, and try to convey the Prophet's message, with similar pleas even on social media," Edresy informed IANS.
The PFAC will put up banners of the Prophet's teaching which have universal appeal at major railway stations, bus stands, outside mosques or other public places, to make the maximum number of masses aware, on October 8.
On October 9, a special amushaira' shall be held at the Islam Gymkhana featuring non-Muslim poets who have written on the Prophet with the audience comprising invitees from different communities, added Abrahani.
Explaining the principle behind the PFAC, the duo said that in recent times, certain misconceptions about Islam and Muslims have been created which have caused immense distress to the law-abiding and peaceful minority community in the country.
The PFAC hopes to dispel such wrong notions among the masses, make them aware of the true beauty of Islam, its philosophy of universal peace, brotherhood, love and concern for all people irrespective of their faith, etc, they said.
Abrahani recalled how many Muslims had fought for India's Freedom, many had contributed in different ways to Mahatma Gandhi's struggle for Independence, and Muslims have always remained at the forefront of various wars to protect their Motherland.
"Even during the recent Coronavirus pandemic for two years, hundreds of mosques in Mumbai and other parts of the state, besides individuals took care of lakhs of ordinary folks, threw the doors open for the migrants, the poor and needy, with meals, and a safe place to rest and refresha," added Edresy.
The next goal is to have regular meal services for the deprived sections of society in all mosques, like the Sikh community, all mosques to remain open round-the-clock for people without any restrictions, offering other social-cultural services to the nearby communities, competitions, health initiatives, and more, as the budgets of the masjid trusts would permit.
Other members like Saeed Khan, Wamir Idrisi, Farooq Syed have urged Muslims to visit orphanages, destitute homes, old age institutions, blind persons or even hospitals on October 9 to distribute food, fruits or items of daily necessities to the needy, as propounded by the Prophet.
"On the Prophet's birthday, various organisations, NGOs, mosques, and others hope to offer celebratory meals to around 300,000 non-Muslims across Mumbai. We shall continue this campaign on a long-term basis," said Abrahani.
Meanwhile, starting the main PFAC activities, groups of mediapersons (non-Muslim), IAS-IPS officers, police personnel, lawyers, civic workers, politicians, film celebs, cricketers, industrialists, and leading social personalities shall be invited in batches at a series of events culminating with the Prophet's birthday.
The PFAC organisers are hopeful that this will help curb the venom spewed against Islam and its followers in India by a miniscule number of amisguided individuals' and help strengthen the existing bonds of Muslims with all other communities.
(Quaid Najmi can be contacted at: q.najmi@ians.in)
Source: The Statesman
Please click the following URL to read the text of the original story:
https://www.thestatesman.com/india/ahead-of-prophet-mohammads-birthday-mumbai-masjids-woo-non-muslims-1503115073.html
--------
Scaled Replica of Al-Qaeda Leader's Hideout on Display in CIA Museum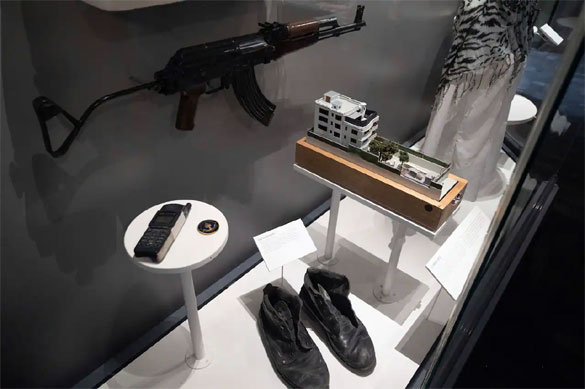 A model of the house where a precision counterterrorism operation killed al-Qaeda leader Ayman al-Zawahri is displayed at the refurbished museum at the Central Intelligence Agency headquarters building in Langley, Virginia, on Saturday, 24 September 2022. Source: AAP / AP
----
By Saqalain Eqbal
25 Sep 2022
The US Central Intelligence Agency (CIA) displayed the replica of Ayman al-Zawahiri's hideout in the CIA museum, which was used to plan the US drone operation that killed the Al-Qaeda supremo last month.
Inside the CIA's Virginia headquarters is the organization's museum, which has a scale replica of the five-story house with white walls and three partially covered balconies where the al-Qaeda chief was killed.
The museum is only open to guests and staff of the agency; it is not open to the public. As part of a larger initiative to highlight the agency's history and accomplishments, the CIA reportedly permitted journalists to tour the museum, which had recently been renovated in time for the CIA's 75th anniversary.
Nearly a year after the US withdrew from Afghanistan, concluding a two-decade conflict in which the CIA played a key part; Al-Zawahiri was killed using the unique scale model of his residence in Kabul.
Two Hellfire missiles launched from a CIA drone killed the al-Qaeda leader while causing very little damage elsewhere to prevent non-combatant fatalities.
The group has not yet been successful in finding Ayman al-Zawahiri's body according to a Taliban official, after stating that the group did not have the knowledge of the al-Qaeda chief's stay in Kabul.
Source: Khaama Press
Please click the following URL to read the text of the original story:
https://www.khaama.com/scaled-replica-of-al-qaeda-leaders-hideout-on-display-in-cia-museum-76586/
--------
Mufti of al-Quds: Israeli Settlers' Incursions into Al-Aqsa Mosque Aimed at Altering Its Status Quo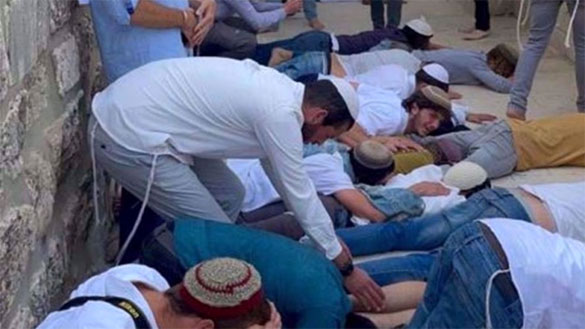 Photo: Fars Today
----
25 September 2022
The Grand Mufti of al-Quds Sheikh Muhammad Hussein has warned against the increasing break-ins by Israeli settlers into the al-Aqsa Mosque compound in the occupied Old City of al-Quds, saying they are an attempt to change the status quo of the holy Palestinian site.
Speaking to the Voice of Palestine radio on Sunday, the senior cleric said the mosque is a pure Islamic holy site that is the sole right of Muslims, and that Israeli settlers have no right to pray or perform rituals there, Palestine's Wafa official news agency reported.
He further called on the Muslim world to intervene to stop the ongoing incursions by Israeli soldiers and settlers on al-Aqsa Mosque, which he says have turned into systematic violations aimed at changing the status quo of the holy site.
The remarks came after Israeli settlers once again intruded into the compound earlier in the day in their latest act of provocation against the sacred site.
Scores of Israeli settlers, escorted by military forces, broke into the compound through the Moroccan Gate on Sunday and provocatively performed rituals and Talmudic prayers.
Hundreds of settlers were also reported to perform rituals in the Al-Buraq Wall plaza, which overlooks the mosque from the west.
The incident took place amid calls by Israeli settler organizations to hold mass break-ins into the al-Aqsa Mosque compound ahead of the Jewish holidays on September 29.
Such mass settler break-ins almost always take place at the behest of Tel Aviv-backed temple groups and under the auspices of the Israeli police in al-Quds.
'Settlers plan to implement Jewish rituals at al-Aqsa'
Meanwhile, the preacher of al-Aqsa Mosque and former Grand Mufti of al-Quds, Sheikh Ekrima Sa'id Sabri, has warned that the most dangerous threat that is facing the holy site nowadays is the intensive break-ins that are carried out by extremist settlers.
"The plan to use the shofar (trumpet) in al-Aqsa Mosque's courtyards means imposing the Jewish religion on al-Aqsa Mosque and performing rituals of non-Muslims, and this also means imposing a new fait accompli at the mosque and controlling it gradually," the cleric, who is currently heading the Higher Islamic Council in al-Quds, said on Saturday.
He said al-Quds turns into a military zone on every Jewish religious or national occasion.
Sabri also denounced the Israeli authority for insisting on banishing Muslim worshipers from al-Aqsa Mosque, saying it is an "illegal and uncivilized policy" that violates Muslims' freedom of religion.
The al-Aqsa Mosque compound, which sits just above the Western Wall plaza, houses both the Dome of the Rock and al-Aqsa Mosque.
The Israeli regime enables the Jewish visitation of al-Aqsa despite the fact that an agreement signed between Israel and the Jordanian government in the wake of Israel's occupation of East al-Quds in 1967 prohibits non-Muslim worship at the compound.
Source: Press TV
Please click the following URL to read the text of the original story:
https://www.presstv.ir/Detail/2022/09/25/689829/Mufti-al-Quds-Israeli-settlers-incursions-al-Aqsa-alter-status-quo
--------
Taliban Denies Threat of Terrorism Still Exists In Afghanistan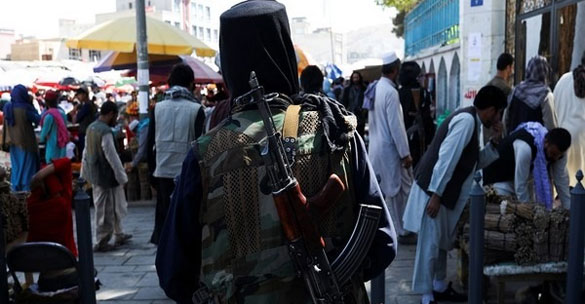 Representative Image
----
24 September, 2022
Kabul [Afghanistan], September 24 (ANI): Responding to concerns expressed by countries at the 77th UNGA session over the terrorism threat still emanating from Afghanistan, the Taliban said that the allegations were baseless.
"These concerns, based on incorrect information and sources, are being brought up as the relevant parties are yet to hand over the seat of Afghanistan at the United Nations to its rightful legal and political owners, the Afghan government," read a statement from Ministry of Foreign Affairs of the Islamic Emirate of Afghanistan.
Some countries, including the United States and Pakistan, expressed concerns at the 77th session of UNGA that the threat of terrorism still exists in Afghanistan.
The Taliban further stated that if the group will be considered the legal and political owners of the Afghan government, it will open an opportunity to share ground realities of Afghanistan with the region directly and world countries and address any concerns.
"The Islamic Emirate once again rejects such assertions and reiterates its position to the world: the territory of Afghanistan will not be used against any other country, nor does any armed group currently have a presence in Afghanistan. Rather than raising unsubstantiated concerns and allegations, the world should engage positively with the Islamic Emirate by sharing their views and concerns directly, and not through the media or public statements," added the statement.
The Taliban launched an offensive against the democratically elected Afghan government last year after the Biden administration announced the end of its military presence in Afghanistan.
On August 15, 2021, the Taliban swept into Kabul without encountering any resistance and gained complete control over the Afghan capital. Later in September, the Taliban declared a complete victory in Afghanistan and formed an interim government, which hasn't yet been officially recognized by any country.
Since its ascent to power in Kabul, the Islamic group imposed policies severely restricting basic rights–particularly those of women and girls.
According to Human Rights Watch (HRW), the Taliban dismissed all women from leadership posts in the civil service and prohibited girls in most provinces from attending secondary school.
Taliban decrees prohibit women from travelling unless accompanied by a male relative and require women's faces to be covered in public–including women TV newscasters.
The Taliban have also censored, limited critical reporting, and beaten journalists. Taliban forces have carried out revenge killings and enforced disappearances of former government officials and security force personnel. They have summarily executed people deemed affiliated with the Islamic State.
Armed groups linked to the Afghan branch of the Islamic State have carried out bombings targeting ethnic Hazaras, Afghan Shias, Sufis, and others, killing and injuring hundreds. (ANI)
Source: The Print
Please click the following URL to read the text of the original story:
https://theprint.in/world/taliban-denies-threat-of-terrorism-still-exists-in-afghanistan/1141711/
--------
Türkiye, Saudi Arabia Discuss Bilateral Relations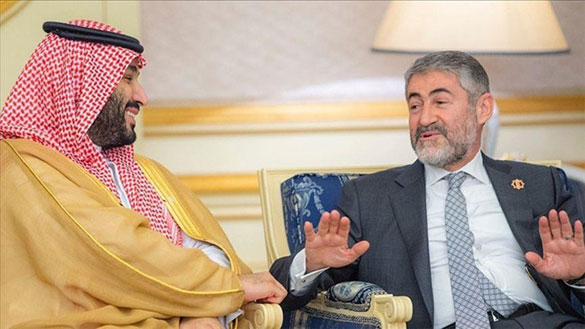 Photo: aa.com
-----
Ayşe Böcüoğlu Bodur
25.09.2022
Türkiye and Saudi Arabia discussed relations between the two countries, sources said Saturday.
Crown Prince Mohammed bin Salman held a meeting with Turkish Finance Minister Nureddin Nebati at the Al-Salam Palace in the Saudi Arabian province of Jeddah, according to the source who requested anonymity due to restrictions on speaking to the media.
Turkish presidential spokesman Ibrahim Kalin was also present at the meeting, which was confirmed by Türkiye's Finance Ministry sources.
Turkish President Recep Tayyip Erdogan visited Saudi Arabia in April, where relations were recently re-established as the crown prince had come to Türkiye in June.
Opportunities for the development and diversification of mutual trade between the two countries, facilitating trade and overcoming challenges, increase communication in the public sector along with the private sector to explore investment opportunities and transform them into concrete partnerships in various fields had constituted the main topics of the meeting between Erdogan and Salman.
Source: Anadolu Agency
Please click the following URL to read the text of the original story:
https://www.aa.com.tr/en/middle-east/turkiye-saudi-arabia-discuss-bilateral-relations/2694005
--------
India
Odisha: Muslim Man, Kahinoor Islam, Heads Durga Puja for Over Three Decades
26th September 2022
By Sukanta Sahu
BARIPADA: Love and compassion for people can transcend the boundaries of faith and establish communal harmony without even seeking to establish it. Kahinoor Islam proves it with his deeds.
This 74-year-old Muslim resident has been the sole reason Tentulidinga village under Gangraj gram Panchayat has its own Durga Puja celebration today.
Back in 1986, upon seeing women of the village travel to Baripada town just to take part in Durga Puja, he came up with the idea of starting the festival in their own village. Why can't we hold our own puja, he asked? When he shared his suggestions with villagers, they agreed to his proposal and with funds collected from locals, the Tentulidinga Durga Puja Committee was established. Since then Kahinoor is discharging the responsibility of committee head with around 500 members.
"It is only because of villagers' support and encouragement that I'm able to keep the committee running and have been successfully conducting the Durga Puja festival for the past 37 years," said Kahinoor adding that he was only 34 when he took charge of the committee. His two daughters Taha Parveen and Joha lend financial support in running the committee. Taha is an executive with a US-based company in Pune while younger sister Joha is an Economics postgraduate. Both are proud of what their father has been doing with such devotion for the last 37 years.
The best part of the celebration at Tentulidinga is people from different walks of life, despite belonging from other communities, provide financial support to the committee to facilitate its smooth running.
"The devotion in Kahinoor's heart for the puja towers over elaborate decoration, lights and pandal," said Paritosh Nanda, who as a priest, has been attending to the puja duties of the committee for the past 21 years.
Source: New Indian Express
Please click the following URL to read the full text of the original story:
https://www.newindianexpress.com/good-news/2022/sep/26/odisha-muslim-man-heads-durga-puja-for-over-three-decades-2502022.html
--------
Welcome RSS attempt at reconciliation with Muslim community
26th September 2022
The first-ever visit of RSS chief Mohan Bhagwat to a mosque and a madrasa last week suggests a sincere purpose beyond reproach. In the past, he had made conciliatory remarks saying Hindutva without Muslims has no meaning. In the context of the Gyanvapi controversy, he had said, 'you can't go looking for a Shivling under every mosque'. But his maiden visit to Islamic institutions took the outreach to the next level. It cemented a late realisation that the entire Muslim community cannot be vilified for radical acts of a few and that national integration would be incomplete without representation of all sections of the population. He said as much at a meeting he had with five prominent Muslim intellectuals last month—former Lt Governor Najeeb Jung, former CEC S Y Quraishi, former vice chancellor Zameer Uddin Shah, former MP Shahid Siddiqui and businessman Saeed Shervani.
While politicians like Owaisi dissed it, calling the intellectuals rootless elite, the fact that they set up a talks table ought to be applauded. How else can knotty problems be addressed in a democracy? At the meeting, Bhagwat accepted their anguish at labelling all Indian Muslims as Pakistanis or jihadis. Likewise, he said calling all Hindus kafirs (interpreted by radicals as enemies of Islam) was not fair either. Bhagwat also articulated the perceived insensitivity from the other side to the cow, considered holy by Hindus. He had no patience for hotheads spitting venom like those in the controversial Dharm Sansads. Bhagwat was also emphatic that the Sangh was committed to respecting the supremacy of the Constitution.
The Sangh began grappling with the Muslim question at least since the early 1990s, as it realised that Muslims could not be wished away because of the sheer size of their population. The Muslim Rashtriya Manch was floated to platform nationalists within the community. But instead of approaching integration the way Gandhiji did, the Sangh first worked on unlocking Hindu majoritarian power. A few months ago, at Prime Minister Narendra Modi's bidding, the BJP started reaching out to the poor Pasmanda Muslims to add to its vote bank.
Source: New Indian Express
Please click the following URL to read the full text of the original story:
https://www.newindianexpress.com/opinions/editorials/2022/sep/26/welcome-rss-attempt-at-reconciliation-with-muslim-community-2501939.html
--------
PFI used Abu Dhabi restaurant as hub for hawala deals: ED
Sep 26, 2022
NEW DELHI: The Popular Front of India (PFI) has thousands of active members in Gulf countries where it has raised substantial funds and is sending them to India through hawala transactions, the Enforcement Directorate has said. This is contrary to the claims made by PFI that most of the Rs 120 crore it had received came through petty cash donations in India.
The agency has said its probe has revealed that the Thejas newspaper acted as the front's mouthpiece both in India and the Gulf, where the outfit had raised funds and misled authorities back in India by creating fake donation receipts.
PFI officebearers, many of whom have been in detention, used Abu Dhabi's Darbar restaurant as the den for all hawala transactions and their illegal transfer to India, ED has said. Abdul Razak BP, arrested earlier in the money laundering case against PFI, was involved in carrying out the money laundering activities of PFI and related entities through Darbar restaurant. He received proceeds of crime from his brother who was managing Darbar restaurant in Abu Dhabi, the ED has said.
Another company owned by Razak — Tamar India Spices Pvt Ltd — was also used to launder proceeds of crime. "Shafeeque Payeth worked for two years in Gulf Thejas Daily as a business development manager till 2018. Gulf Thejas Daily is the arm of Thejas Newspaper which is published by Intermedia Publishing Ltd in which Abdul Razak BP was one of the directors at that time," the ED has said in its remand note against Payeth who was arrested on Thursday in Kerala.
Payeth, who is the founding member of the PFI since 2007, was given the responsibility of collecting funds from Qatar. Abdul Razak used his personal network in Abu Dhabi and allegedly converted Darbar restaurant as the money laundering centre, according to ED.
The kingpin of all the major fund collections and hawala dealings in the Gulf was, however, Ashraf MK, who was member of the PFI Kerala state executive council and also served as the PFI president of Ernakulam. Ashraf is also an accused in the Professor Joseph hand chopping case of 2010. The ED probe reveals that he was also involved in the funding of PFI as well as related entities and was the owner of Darbar restaurant in Abu Dhabi which served as a money laundering front of PFI, the agency has claimed.
Source: Times Of India
Please click the following URL to read the full text of the original story:
https://timesofindia.indiatimes.com/india/pfi-used-abu-dhabi-restaurant-as-hub-for-hawala-deals-ed/articleshow/94441172.cms
--------
55 Afghan Sikhs, Hindus reach Delhi by special flight
Sep 26, 2022
NEW DELHI: Sunday marked a poignant moment in the story of the exodus of Afghan Sikhs and Hindus from their country to India as a special flight brought the last big lot of the remaining members of the communities in Afghanistan to Delhi.As 55 men, women and children landed in Delhi, the number of those from the Sikh community remaining in Afghanistan number just a little over 40 with most of them staying back to protect and care for the "Guru Granth Sahib" amid the ongoing impasse with the Taliban regime which has refused to allow the religious scriptures to be taken out citing them to be the heritage of Afghanistan.
The evacuation of distressed Afghan Sikhs carried out by the Shiromani Gurudwara Prabandak Committee in coordination with social organisation Indian World Forum and the Indian government saw the special flight on Sunday bring to Delhi 38 adults, 14 children and three infants.
Kirpal Singh (28), who made a living from his small shop selling daily need items in Kabul, arrived with his wife and three children, the youngest Iknoor Singh just one and half years old. The fear of attacks cast a shadow over families like his own in Kabul, Kirpal said, as he recalled the attack on one of thr most prominent gurdwaras in June. "My father used to serve in the gurdwara. He came to India earlier but I shudder to think what would have happened if he would have been present in the gurdwara when the attack happened. I am happy that I have found safety for my family in India," he said. Kirpal said he could never think of sending his children to school in Kabul but now he hopes to give them an education for a better life.
Puneet Chandhok from IWF said while this is the last big lot of families to arrive, still 43 Sikhs remain in Afghanistan and nine e-visa applications are pending for issuance with the government of India. Most of them are people who have stayed back to care for the religious scriptures and are likely to leave only if the Taliban regime will allow them to take with them the Guru Granth Sahib to India
Chandhok shared that four copies of the religious scriptures are in Afghanistan. He sought urgent measures from the Indian government to help break the impasse so that the Taliban regime allows the scriptures to be brought to India.
TOI had reported earlier this month that a group of Afghan Sikhs who were to leave for India on September 11 were stopped from taking the Guru Granth Sahib along with them as the religious scriptures were cited to be the heritage of Afghanistan.
The move drew strong condemnation from Amritsar-based Sikh Gurudwara Prabandhak Committee president Harjinder Singh Dhami who called the Taliban government's decision a "direct interference in the religious affairs of Sikhs".
Source: Times Of India
Please click the following URL to read the full text of the original story:
https://timesofindia.indiatimes.com/india/55-afghan-sikhs-hindus-reach-delhi-by-special-flight/articleshow/94441433.cms
--------
North America
US revokes Taliban ruled Afghanistan's designation as major non-NATO ally
September 24, 2022
Over a year after the Taliban overthrew the democratically elected government in Kabul, the United States has rescinded the designation of Afghanistan as a major non-NATO ally.
The United States named Afghanistan a major non-NATO ally in July 2012, which paved the way for the two sides to maintain economic and defence ties. It also helped Kabul with defence and security-related aid and equipment.
"By the authority vested in me as President by the Constitution and the laws of the United States of America, including section 517 of the Foreign Assistance Act of 1961, as amended (22 U.S.C. 2321k) (the "Act"), I hereby terminate the designation of Afghanistan as a Major Non-NATO Ally of the United States for the purposes of the Act and the Arms Export Control Act," US President Joe Biden said in a presidential order.
In July, Biden notified the US Congress of his intent to rescind the designation of Afghanistan as a major non-NATO ally.
"In accordance with section 517 of the Foreign Assistance Act of 1961, as amended (22 U.S.C. 2321k), I am providing notice of my intent to rescind the designation of Afghanistan as a Major Non-NATO Ally," Biden said in an earlier letter.
The Taliban launched an offensive against the democratically elected Afghan government last year after the Biden administration announced the end of its military presence in Afghanistan.
On August 15, 2021, the Taliban swept into Kabul without encountering any resistance and gained full control over the Afghan capital. Later in September, the Taliban declared a complete victory in Afghanistan and formed an interim government, which hasn't yet been officially recognized by any country.
Since its ascent to power in Kabul, the Islamic group imposed policies severely restricting basic rights--particularly those of women and girls.
According to Human Rights Watch (HRW), the Taliban dismissed all women from leadership posts in the civil service and prohibited girls in most provinces from attending secondary school. Taliban decrees prohibit women from travelling unless accompanied by a male relative and require women's faces to be covered in public--including women TV newscasters.
The Taliban have also carried out censorship, limited critical reporting, and beaten journalists. Taliban forces have carried out revenge killings and enforced disappearances of former government officials and security force personnel. They have summarily executed people deemed affiliated with the Islamic State.
Source: Business Standard
Please click the following URL to read the full text of the original story:
https://www.business-standard.com/article/international/us-revokes-taliban-ruled-afghanistan-s-designation-as-major-non-nato-ally-122092400262_1.html
--------
Donald Trump Alleges He Threatened Taliban Leader With Satellite Images Of His House: Report
September 24, 2022
Donald Trump recently claimed that during his negotiations with the Taliban as the President of the United States he threatened to "obliterate" the co-founder of the Terrorist group if he stepped out of line. In an interview with Fox News earlier this week, Mr Trump stated that he gave Taliban co-founder Abdul Ghani Baradar a satellite image of his home as a veiled warning amid talks with the terrorist group.
"I sent him a picture of his house," the former US President insisted of Abdul Ghani Baradar, who is now the deputy prime minister after the Taliban seized power in Afghanistan.
"He said, 'But why do you send me a picture of my house?' I said, 'You'll have to figure that one out,'" Mr Trump claimed.
"I said, 'If you do anything - from that point on we didn't loose one soldier - we're going to hit you harder than any country has ever been hit.' He said, 'I understand, your Excellency,'" he continued.
Further, during the interview, Mr Trump also noted how he had wanted to get out of Afghanistan and had been the one to whittle the American presence "down to a very few soldiers". "We would have had a very similar schedule, but I would have taken the military out last," he insisted, adding he would also have not allowed $85 billion worth of "the best military equipment in the world" to be "left behind".
Mr Trump also went on to say that US President Joe Biden's "horrible withdrawal" led to 13 service members getting blown up in horrifying scenes of chaos at Kabul airport in August last year. "We lost 13 soldiers, and we also had a large number of soldiers horribly wounded - no legs, no arms, their face blown to smithereens," he said.
He even insisted that a "lot of bad people" were also able to flee Afghanistan in the mass of people cramming into jets unchecked in the rush to flee. "A lot of bad people got on those airplanes. Bad people - terrorists," Mr Trump claimed.
Source: ND TV
Please click the following URL to read the full text of the original story:
https://www.ndtv.com/world-news/donald-trump-alleges-he-threatened-taliban-leader-with-satellite-images-of-his-house-report-3373839
--------
Mideast
Hamas: Al-Aqsa Mosque being subjected to most dangerous attacks in history
26 SEPTEMBER 2022
Al-Aqsa Mosque is suffering the "most dangerous" attacks in its history since the Jewish occupation of Jerusalem began, Palestinian group Hamas said Sunday.
Hamas spokesman Abdullatif al-Kanu said in a statement that the resistance forces will never forsake their responsibilities towards al-Aqsa.
Emphasizing that the mosque has been subjected to the most dangerous and wide-ranging attacks since the Jewish occupation, he said that the raids of Jewish settlers are a new attempt to make the Muslim holy site Jewish.
He urged Palestinians to gather and stand guard at al-Aqsa to counter the Jewish raids.
He added that Israel will be responsible for what happens in the mosque.
Hazem Qasem, another Hamas spokesman, told Anadolu Agency that the raid on al-Aqsa during the Jewish holiday of Rosh Hashanah is against international norms and rules. It provoked the feelings of the Arab and Islamic world, he added.
"Israel is waging a systematic war against holy places by targeting the identity of Jerusalem and al-Aqsa Mosque. The attitude of the resistance forces on this issue will be shaped according to Israel's actions," he said.
Israeli authorities have allowed incursions by Jewish settlers at the mosque compound since 2003, despite repeated objections and warnings by Palestinian religious authorities as the visits provoke Muslim worshippers.
Al-Aqsa Mosque is the world's third-holiest site for Muslims. Jews call the area the Temple Mount, saying it was the site of two Jewish temples in ancient times.
Source: Yenisafak
Please click the following URL to read the full text of the original story:
https://www.yenisafak.com/en/news/hamas-al-aqsa-mosque-being-subjected-to-most-dangerous-attacks-in-history-3652687
--------
Iran's Guards launch artillery attack on 'terrorist' bases in Iraq: Report
24 September, 2022
Iran's Revolutionary Guards launched an artillery attack on anti-Iranian militant bases in the Kurdish region of northern Iraq on Saturday, Iranian state television reported.
"Headquarters of anti-Iranian terrorists" based in northern Iraq were targeted by the Guards, state TV said, in reference to Kurdish groups based there.
Iran has blamed the armed Iranian Kurdish dissidents of involvement in ongoing unrest in the country, particularly in the northwest where most of Iran's up to 10 million Kurds live.
"These operations... will continue in order to ensure viable border security, punish criminal terrorists and hold officials (of the Kurdish Regional Government) accountable toward international regulations and their legal duties," the Guards said in a televised statement.
Iranian officials have often called on the KRG to curb the activities of Iranian Kurdish groups in the area. They also say Israeli agents are based in the region, which is denied by KRG.
Source: Al Arabiya
Please click the following URL to read the full text of the original story:
https://english.alarabiya.net/News/middle-east/2022/09/24/Iran-s-Guards-launch-artillery-attack-on-terrorist-bases-in-Iraq-Report
--------
At least 35 killed in Iran protests: State media toll
24 September, 2022
At least 35 have been killed in more than a week of protests that erupted in Iran after the death of a young woman in police custody, state media reported.
"The number of people who died in recent riots in the country has risen to 35 people," the Borna news agency, which is affiliated to the sports ministry, said late Friday, citing state television.
The official toll had previously stood at 17 dead, including five security personnel.
Demonstrators have taken to the streets of major cities across Iran, including Tehran, for eight straight nights since the death of Mahsa Amini.
The 22-year-old Kurdish woman was pronounced dead three days after her arrest in the Iranian capital for wearing the hijab headscarf in an "improper" way.
Thousands of people marched through Tehran during a pro-hijab rally Friday, paying tribute to security forces who have moved to quell a week of protests by what media called "conspirators."
Demonstrations in support of the security forces also took place in several cities across the country including Ahvaz, Isfahan, Qom and Tabriz.
Amini died after spending three days in a coma after her arrest by Iran's morality police, a unit responsible for enforcing the Islamic Republic's strict dress code for women.
Activists said she suffered a blow to the head in custody but this has not been confirmed by the Iranian authorities, who have opened an investigation.
On Friday night, Interior Minister Ahmad Vahidi said Amini had not been beaten.
"Reports from oversight bodies were received, witnesses were interviewed, videos were reviewed, forensic opinions were obtained and it was found that there had been no beating," Vahidi was quoted as saying by Iranian media.
The minister indicated said the government was investigating the cause of Amini's death, adding "we must wait for the final opinion of the medical examiner, which takes time."
Source: Al Arabiya
Please click the following URL to read the full text of the original story:
https://english.alarabiya.net/News/middle-east/2022/09/24/At-least-35-killed-in-Iran-protests-State-media-toll
--------
Terror group PKK seeking to exploit Iranian protests for own self-interest, warns expert
Dilara Hamit
26.09.2022
The terrorist group PKK and its Iranian affiliates are trying to take advantage of nine days of protests following the Sept. 16 killing of a young woman in police custody, said a Turkish expert on the ongoing protests.
Cagatay Balci, a PhD from the Ankara-based National Defense University, told Anadolu Agency that although the protests started independently of the armed groups, these groups soon sought to steer this process, and the IKPD, PJAK – an Iranian terror group affiliated with the terrorist PKK – and Komele groups began to get involved in demonstrations concentrated in Kurdish-majority cities.
Referring to the death of 22-year-old Mahsa Amini, he said: "Of course, the most important reason for this advantage for Kurdish armed groups is that (Amini) was born in Saqqez, in Iran's Kurdish region, and her death was seen as an attack on Kurdish identity in Iran, or discrimination against Kurdish society, or subconscious discrimination. It triggered the experience of exclusion, and they began to use the very clear expression of this consciousness that evolved in Kurdish armed groups."
He also stated that this was presented and perceived as a women's liberation movement, particularly abroad, and said armed groups in Iran dominated by Kurds, like the IKPD, tried to mobilize it around Kurdish identity, whereas Komele and the PJAK see themselves as taking part in a women's liberation movement alongside Kurdish identity, adding that seeing the protests as a women's rights movement also generates a favorable environment.
Türkiye, the US, and Iran have all designated the Iranian-based PJAK as a terrorist group.
In its more than 35-year terror campaign against Türkiye, the PKK – listed as a terrorist organization by Türkiye, the US, and EU – has been responsible for the deaths of over 40,000 people, including women, children, and infants.
"Furthermore, given the ideology, it got from the (terrorist group) PKK, for many years the PJAK has been presenting its actions as campaigning for women's rights. In reality, many political fronts were founded for this goal, as were women's armed wing organizations. During these rallies, I believe the PJAK was successful in both safeguarding Kurdish identity and combining the themes and arguments of the women's liberation movement," he said.
No major upheaval expected
"I don't believe the protests will escalate into a major rebellion in Iran's Kurdish territories, as happened in 1979 (the year of the country's revolution overthrowing the shah). Of course, the ultimate goal of these groups is to incite a rebellion and insurgency, but this can't happen due to Iran's security measures," Balci explained.
He said the security measures will not allow these groups potentially escalate the protests into an uprising, but added that the groups will simply try to deepen the protests as much as possible, intensify them, and make them as massive as possible.
"But we will see how successful this can be within days because Iran has already begun to implement tough measures," he added.
Attack on Iran's Embassy in Athens
Early Sunday, attackers threw Molotov cocktails at the Iranian Embassy in Athens, reportedly causing no significant damage. Balci said that looking at Greece's relations with terror groups, the terrorist group PKK might have organized the attack.
"In recent days, the Lavrion camp, in particular, has become increasingly prominent," said Balci, referring to a camp in Greece that Türkiye has charged became a terrorist headquarters and training ground.
"This camp is home to many terrorist groups, particularly those operating against Türkiye. This brings up the fact that these groups are very active in Greece. This incident may have been carried out by the PKK; sure, this is a normal process; we're talking about a process that every state that protects terrorist groups would face at some point."
Turkish officials have long warned that any country that harbors or protects terrorist groups will eventually find itself targeted by those same groups.
Protests in Iran erupted on Sept. 17 following the funeral of Mahsa Amini, a 22-year-old who died after being detained by the morality police in the capital Tehran for allegedly wearing her hijab head covering improperly.
Authorities have sought to pin blame on her death on a heart attack, but her family and many others in Iran have rejected the claim, saying she was the victim of police brutality. Authorities have promised a thorough investigation of Amini's death.
Her death has triggered a wave of angry protests in Iran over the past week, with protesters calling for justice and accountability.
Source: Anadolu Agency
Please click the following URL to read the full text of the original story:
https://www.aa.com.tr/en/middle-east/terror-group-pkk-seeking-to-exploit-iranian-protests-for-own-self-interest-warns-expert/2694545
--------
30 Palestinian prisoners go on hunger strike against Israeli policy
25 September 2022
Thirty Palestinian political prisoners held in Israeli jails have gone on an open-ended hunger strike against their administrative detention.
The official Palestinian Wafa news agency reported on Sunday that the prisoners said in a statement that their collective detention amounted to 200 years, according to Samidoun, the Palestinian Prisoner Solidarity Network.
"Hundreds of years, during which the occupation prevented us from embracing our families or seeing our children as they were born or growing up. We never celebrated their birthdays, we did not accompany them on their first school day," the statement said.
Hundreds of Palestinian prisoners are currently being held under the administrative detention policy. Israel's administrative detention is a sort of imprisonment without trial or charge. The Israeli regime keeps the detainees without charge for up to six months; a period which can be extended indefinitely.
There are reportedly more than 7,000 Palestinians held in Israeli jails. Human rights organizations say Israel violates all the rights and freedoms granted to prisoners by the Geneva Convention.
The Palestinian prisoners are kept under deplorable conditions lacking proper hygienic standards. They have also been subjected to systematic torture, harassment, and repression.
The United Nations and the International Committee of the Red Cross (ICRC), as well as many human rights group have frequently expressed serious concern about health condition of the prisoners on hunger strike.
Source: Press TV
Please click the following URL to read the full text of the original story:
https://www.presstv.ir/Detail/2022/09/25/689841/Palestinian-prisoners-hunger-strike
--------
Israel forces Palestinian to tear down his house in al-Quds, displacing entire family
25 September 2022
Israeli authorities have forced a Palestinian man to demolish his house in occupied East al-Quds, displacing all eight members of his family.
The Palestinian Information Center, citing local sources, reported on Sunday that Fareed Jaber was left with no choice but to totally knock down his house in the vicinity of the Bab al-Asbat entrance of the al-Aqsa Mosque compound in the Old City to avoid paying for heavy demolition costs and fines to the municipality.
Jaber had received a demolition notice from the Israeli municipality under the pretext that his house was built without a permit.
He was given the choice of either tearing down the house at his own expense or having the demolition carried out by Israeli authorities, which would have required him to pay large fines for the operation.
A family of eight was rendered homeless as a result of the Israeli move.
Israel routinely demolishes Palestinian houses in the occupied West Bank and East al-Quds, claiming the structures have been built without the so-called permits, which are almost impossible to obtain. They also sometimes order Palestinian owners to demolish their own houses or pay the demolition costs.
Israel has already occupied thousands of dunums of Palestinian agricultural land to construct and expand new illegal settler units in various areas in the West Bank.
The Tel Aviv regime also plans to force out Palestinian families from neighborhoods in East al-Quds in an attempt to replace them with settlers.
More than 600,000 Israelis live in over 230 settlements built since the 1967 Israeli occupation of the Palestinian territories of the West Bank and al-Quds.
All Israeli settlements are illegal under international law. The United Nations Security Council has condemned Israel's settlement activities in the occupied territories in several resolutions.
Source: Press TV
Please click the following URL to read the full text of the original story:
https://www.presstv.ir/Detail/2022/09/25/689836/Israel-coerces-Palestinian-demolish-own-house-al-Quds
--------
South Asia
UN Security Council to Discuss Situation of Afghanistan Tomorrow
By Saqalain Eqbal
26 Sep 2022
The United Nations Security Council (UNSC) stated that it will convene to discuss the situation in Afghanistan.
The UNSC session on Afghanistan is scheduled to take place on Tuesday, September 27, according to an announcement from the United Nations Assistance Mission in Afghanistan (UNAMA).
The meeting will be briefed by Markus Potzel, the acting head of UNAMA and the Deputy Special Representative of the UN Secretary-General.
Naseer Ahmad Faiq, the Afghanistan Permanent Mission's Chargé d'Affaires, previously announced that he will not be speaking at the 77th meeting of the UN General Assembly (UNGA 77).
The Afghan representative at the UN did, however, confirm that he is scheduled to participate and make a statement regarding the situation in Afghanistan at the UN Security Council meeting on September 27.
Representative Faiq also wrote on his Twitter handle that the UNSC's session on Tuesday, 27th of September will be focused on the situation in Afghanistan, where he will be voicing the people's concerns and demands.
Source: Khaama Press
Please click the following URL to read the full text of the original story:
https://www.khaama.com/un-security-council-to-discuss-situation-of-afghanistan-tomorrow-67445/
--------
Taliban's Program for Beggars in Afghan Capital Rounds Up Thousands
By Saqalain Eqbal
25 Sep 2022
Following an order from the Taliban supreme leader, over 8,000 beggars have been rounded up from the streets of Kabul, the capital of Afghanistan, Taliban authorities said.
The Taliban government's Deputy Prime Minister for Economic Affairs, on Sunday, September 25, stated that 8,444 beggars, including 5,779 women, had been rounded up from various areas around Kabul.
Only 1,750 of these women have been identified as "deserving," according to the statement, and the remaining women are "professional" beggars.
The Taliban Deputy Prime Minister for Economic Affairs, Mullah Abdul Ghani Baradar, who also chairs the "Beggar Collection Committee", stated that out of the 718 men who were collected as beggars, 236 were found to be "deserving" and the remaining 482 were determined to be professional beggars.
There are more than 1947 children among the beggars collected, 1079 of whom are identified as deserving and 41 of them are orphans, according to information provided by the Taliban government.
According to the announcement, orphaned beggar children have been transferred to the educational facilities under the Ministry of Labor and Social Affairs after undergoing biometric registration.
The orphaned children are said to receive education in these facilities in addition to sustenance and shelter.
The Taliban government says that hundreds of individuals have already benefited from the cash assistance program that the Afghan Red Crescent Society has begun to provide to deserving beggars. However, the fate of the "professional" beggars remains uncertain.
Source: Khaama Press
Please click the following URL to read the full text of the original story:
https://www.khaama.com/talibans-program-for-beggars-in-afghan-capital-rounds-up-thousands-43738/
--------
Sikh refugees evacuated from Afghanistan to India recall Taliban horror
Sep 26, 2022
An evacuation flight carrying people from the Sikh minority in Afghanistan -- who are fleeing the Taliban rule -- arrived in India Sunday. Upon arrival, one of them expressed happiness for having fled the country, which plunged into a crisis after the Taliban returned to power last year, overthrowing the Ashraf Ghani-led government.
Talking to news agency ANI, Baljeet Singh spoke of the conditions in the country, and said he had been imprisoned by the Taliban for four months. "The condition is not very well in Afghanistan. I was imprisoned for four months. The Taliban have cheated us, they cut our hair in prison. I am thankful and happy to return to India," he said.
Fifty-five Afghan Sikhs arrived in a special flight which landed at Delhi airport Sunday, as a part of the government's efforts to evacuate the distressed minorities in the Taliban-led nation. The flight was organised by the Shiromani Gurudwara Prabandak Committee, Amritsar, in coordination with the Indian World Forum and the Centre to evacuate these Afghan minorities, said ANI.
Another refugee thanked the government for providing urgent e-visas and safely evacuating them.
"We would like to thank the Indian government to give us urgent visas and help us to reach India. Many of us still have families left behind as around 30-35 people are left stranded in Afghanistan," Sukhbeer Singh Khalsa said.
On July 14, a total of 21 Afghan Sikhs, including an infant, were evacuated from Kabul to New Delhi on Kam Air, the largest private Afghan airline.
About 700 Hindus and Sikhs were reported to be in Afghanistan in 2020, but a large number of them left the country following the Taliban's takeover on August 15, 2021.
There has been a reported rise in a series of attacks on the Sikhs since the Taliban took over Afghanistan.
Source: Hindustan Times
Please click the following URL to read the full text of the original story:
https://www.hindustantimes.com/india-news/sikh-refugees-evacuated-from-afghanistan-to-india-recall-taliban-horror-101664162941165.html
--------
Bangladesh ferry accident kills 24, dozens missing
Sep 25, 2022
DHAKA: At least 24 people were killed and around the same number were missing on Sunday after an overcrowded boat carrying Hindu pilgrims capsized on a river in Bangladesh, police said.
"Firefighters and divers are searching for more bodies," local police official Shafiqul Islam told AFP, confirming that 24 deaths had been confirmed so far, most of them women and children.
The boat was packed with up to 50 pilgrims, police said.
They were travelling to a centuries-old temple when the vessel suddenly tipped over and sank in the middle of the Karotoa river near the town of Boda in northern Bangladesh.
Another police officer said up to 25 people were still missing.
Local media said at least 10 people had been rescued and sent to hospital.
Mobile phone footage aired by TV station Channel 24 showed the overcrowded boat suddenly flip over, spilling the passengers into the muddy brown river.
Dozens of people watching from the shore around 20 metres (yards) away started shouting and screaming. The weather was calm at the time.
Thousands of Hindus in Muslim-majority Bangladesh visit the Bodeshwari Temple every year.
Sunday marked the start of Durga Puja, the biggest Hindu festival in Bangladesh -- and also eastern India -- drawing large crowds at the temple.
The incident was the latest in a string of similar tragedies in the low-lying delta country which is criss-crossed by rivers.
Experts in the South Asian nation of 170 million people blame poor maintenance, lax safety standards at shipyards and overcrowding.
Last December more than 40 people perished when a packed three-storey ferry caught fire in the south of the country.
The blaze broke out early in the morning when most of the passengers were sleeping near the rural town of Jhakakathi, 250 kilometres (160 miles) south of the capital Dhaka.
A ferry sank in Dhaka in June last year after a collision with another vessel, killing at least 32 people.
Source: Times Of India
Please click the following URL to read the full text of the original story:
https://timesofindia.indiatimes.com/world/south-asia/bangladesh-ferry-accident-kills-24-dozens-missing/articleshow/94435389.cms
--------
Arab World
Lebanon migrant shipwreck death toll rises to 94
24 September, 2022
The death toll from a migrant boat that sank off the Syrian coast after sailing from Lebanon earlier this week has risen to 94, after more bodies were recovered from Syria's Baniyas coast on the Mediterranean, Syrian state TV said on Saturday.
It is the deadliest such voyage yet from Lebanon, where mounting economic desperation has led many to board often rickety and overcrowded boats in the hope of reaching Europe.
Filippo Grandi, the United Nations High Commissioner for Refugees, called it a "heart-wrenching tragedy."
At least 20 people rescued were recovering in hospitals in Syria, some in a serious condition, according to the United Nations.
Lebanon, a country which hosts more than a million refugees from Syria's civil war, has since 2019 been mired in a financial crisis branded by the World Bank as one of the worst in modern times.
It has become a launchpad for illegal migration, with its own citizens joining Syrian and Palestinian refugees clamoring to leave.
More than 450,000 Palestinians are registered in Lebanon with the UN agency for Palestinian refugees, UNRWA.
As many as 150 people were on board the small boat that sank off the Syrian port of Tartus, some 50 kilometers (30 miles) north of Tripoli in Lebanon, from where the migrants set sail.
Those on board were mostly Lebanese and Syrians and Palestinians, and included both children and the elderly, the UN said.
"No one gets on these death boats lightly," UNRWA chief Philippe Lazzarini said in a statement. "People are taking this perilous decisions, risking their lives in search of dignity."
Lazzarini said more must be done "to offer a better future and address a sense of hopelessness in Lebanon and across the region, including among Palestine refugees."
Since 2020, Lebanon has seen a spike in the number of migrants using its shores to attempt the perilous crossing in jam-packed boats to reach Europe.
Source: Al Arabiya
Please click the following URL to read the full text of the original story:
https://english.alarabiya.net/News/middle-east/2022/09/24/Lebanon-migrant-shipwreck-death-toll-rises-to-86
--------
Germany's Scholz visits Saudi Arabia on hunt for energy partnerships
24 September, 2022
Germany's Chancellor Olaf Scholz arrived in Saudi Arabia's Jeddah on Saturday as part of a two-day visit to the Gulf region.
Scholz, accompanied by a sizeable industry delegation, was received at Jeddah airport on the Red Sea coast by Mecca region's governor Prince Khalid bin Faisal Al Saud.
Afterward, he went to Al Salam Royal Palace to meet with Saudi Arabia's Crown Prince Mohammed bin Salman.
The German chancellor hopes to agree new energy partnerships with the oil- and gas-rich Gulf states, following the loss of supplies from Russia in the wake of its invasion of Ukraine.
Saudi Arabia's importance as a fossil fuels exporter and regional power means a "solid working relationship" is needed with the Crown Prince, a government source told AFP.
Berlin wants to extend cooperation on new technologies such as green hydrogen produced using renewable energy, which Germany could import in vast quantities from the Gulf states, said government sources.
Source: Al Arabiya
Please click the following URL to read the full text of the original story:
https://english.alarabiya.net/News/gulf/2022/09/24/Germany-s-Scholz-arrives-in-Saudi-Arabia-s-Jeddah
--------
Iran's Islamic Revolutionary Guard Corps shells bases of 'anti-Iran groups' in northern Iraq amid unrest
Syed Zafar Mehdi
24.09.2022
Iran's Islamic Revolutionary Guard Corps (IRGC) said Saturday it had carried out an artillery attack on terrorist group headquarters in the Kurdish region of northern Iraq.
In a statement on Saturday, the IRGC said its ground forces targeted the positions of Komala, an armed rebel group, accusing it of smuggling weapons into Iran.
The guard said the attack was carried out after the "arrival of terrorist teams and a large cache of weapons" in northeast Iran to "sow unrest."
It comes amid nationwide protests in the wake of the death of a 22-year-old Iranian woman in police custody last week.
Mahsa Amini, an ethnic Kurd, belonged to a section of Iran with a large Kurdish population where protests have grown louder over the past week.
The IRGC statement said the attacks would continue, calling on locals to refrain from approaching the "headquarters and centers of anti-Iranian terrorist groups."
Media reports in Iraq's Kurdish Regional Government confirmed heavy artillery shelling on the outskirts of the capital province of Erbil, near the villages of Barbazin and Saqr.
There were no immediate reports of casualties or damage to property.
Iran has long accused rebel groups based in northern Iraq of carrying out destabilizing activities in the border region, where the majority of Iranian Kurds live.
Source: Anadolu Agency
Please click the following URL to read the full text of the original story:
https://www.aa.com.tr/en/middle-east/irans-islamic-revolutionary-guard-corps-shells-bases-of-anti-iran-groups-in-northern-iraq-amid-unrest/2693886
--------
Lebanon's Grand Mufti appeals for unity in meeting with Sunni MPs ahead of presidential election
September 25, 2022
BEIRUT: Lebanon's Grand Mufti Sheikh Abdel Latif Derian warned on Saturday that Lebanon has become a failed state.
"We are rapidly moving toward no state at all, and the Arabs and the world will soon start ignoring Lebanon's existence because of political mismanagement at all levels," he said.
"We need to elect a new president and the MPs are responsible for electing him or creating a presidential vacuum."
Derian had invited Sunni MPs for a meeting at Dar Al-Fatwa to discuss possible candidates.
All but three of 27 Sunni MPs from different political currents attended the meeting, including one MP affiliated with Hezbollah, in addition to reformist and independent MPs.
Two reformist MPs, Ibrahim Mneimneh and Halima Al-Qaaqour, and independent MP Osama Saad did not attend.
A source in Dar Al-Fatwa said that the meeting was aimed at uniting the Sunni bloc in parliament to allow it to have a meaningful say in the presidential elections.
The bloc also aims stop any attempts to tamper with the Taif Agreement and undermine its provisions regarding Lebanon's constitution, the source said.
The meeting focused on efforts to preserve national unity, and respect constitutional deadlines on the election of a new president and the formation of a government capable of implementing financial, monetary and legislative reforms, including an economic recovery plan.
During the meeting, Derian said that the survival of nations and states depends on the effectiveness of their constitutional institutions.
The president is the protector of the constitution, and the Christian president in Lebanon is a symbol of coexistence on which the Lebanese system is based, he said.
Arabs "recognize and appreciate the Lebanese experience" because the Lebanese president is the only Christian president in the Arab world, Derian added.
He urged MPs to encourage respect for the president's position, and help him assume his role at home and abroad.
Derian also said the new president must preserve the principles of the Taif Agreement, the constitution, coexistence, and Lebanon's national, Arab and international legitimacy.
If these matters are neglected, Lebanon will be unable to maintain order, stability and its national entity, he added.
Derian highlighted the need to put an end to made-up sectarian, divisive clashes over powers and return to the constitutional principle of separating powers but maintaining cooperation between them.
He called for the election of a president characterized by the personal and political qualities of a public businessman who would be ethically responsible for the mission with which he is tasked.
The new president must have wisdom, national responsibility and integrity, as well as the ability to be inclusive of all Lebanese, and to use his powers to help the country out of this crisis and prevent it from reaching total collapse, he said.
Derian reiterated: "Either we elect a president with these qualities, or we see the regime and the state fall before our eyes."
He also appealed for respect for the prime minister and help for the PM-designate with his mission.
"This is a joint responsibility that rests with everyone. We are looking forward to forming a government as soon as possible, perhaps in the next few days," said Derain, adding that Lebanon needed a government with full powers — and not a caretaker government — in these harsh and difficult circumstances.
Derian said Lebanon can survive only if consensus is reached. There is no salvation without unity, away from tension, sectarian strife and incitement, he added.
Lebanon needed a president "who is not part of the problem or the cause of it."
In a statement issued after the meeting, those present stressed the principles advocated by Dar Al-Fatwa, especially in terms of committing to the Taif Agreement, Lebanon's Arab identity and national unity.
They also condemned the abuses that had harmed and were still harming the foundations of national reconciliation and coexistence.
The Sunni MPs stressed the need to end Lebanon's suffering under mismanagement and rampant corruption.
"Saving Lebanon requires recognizing the mistakes that were made, holding the perpetrators accountable, whoever they are, and sincerely cooperating with the different Lebanese and Arab parties and the international community to restore Lebanon's identity and stature," they said.
The Sunni MPs said that they will work with fellow MPs to elect a new president on the specified constitutional date.
They said that the new president "needs to abide by the constitution and be loyal to the people of Lebanon and their interests."
The statement added that Lebanon's enemy was and still is the Israeli army, which continued to occupy parts of the Lebanese territories.
Source: Arab News
Please click the following URL to read the full text of the original story:
https://www.arabnews.com/node/2169136/middle-east
--------
Pakistan
Pakistan government leaders' leaked audio clips raise security concern in the country
SEPTEMBER 25, 2022
Pakistan PM Shahbaz Sharif, several ministers and PML-N leaders are heard talking about Finance Minister Miftah Ismail in some of the purported audio clips
More purported audio clips featuring leaders of Pakistan's government surfaced on Sunday, raising questions about the security of high-profile places and the meetings held there.
One of the clips involved a conversation among several senior leaders of the ruling Pakistan Muslim League-Nawaz (PML-N) in the high-security PM House.
Interior minister Rana Sanullah, defence minister Khawaja Asif, law minister Azam Tarar, and minister for economic affairs Ayaz Sadiq can be heard talking about the fate of Finance Minister Miftah Ismail and the resignations of Pakistan Tehreek-i-Insaf (PTI) lawmakers from the National Assembly.
Another audio clip is purportedly about a conversation between PML-N Vice President Maryam Nawaz and Prime Minister Shehbaz Sharif about Finance Minister Ismail.
Ms. Maryam who is the daughter of former three-time premier Nawaz Sharif wields a lot of influence in the government and is critical of Mr. Ismail.
"He (Ismail) doesn't take responsibility […] says strange things on TV which people make fun of him for […] he doesn't know what he is doing," she is heard saying in the clip.
"He clearly cut corners," the voice said to be PM Shehbaz is heard as saying.
"Uncle, he doesn't know what he is doing," Ms. Maryam says, as she wishes for the return of PML-N stalwart Ishaq Dar, who has been tipped to come back next week to take charge of the Finance Ministry.
Another clips involves conversation about imports from India
The two clips followed another a day earlier involving PM Shehbaz and the unidentified official who is talking about Ms. Maryam's wish that her son-in-law should be allowed to import some machinery from India.
The government has not said anything about the leaked clips but the opposition PTI has already taken the issue to the social media domain and lambasted the government. Fawad Chaudhry, former information minister of PTI, shared the over two-minute-long audio clip said to be a conversation between PM Shehbaz and the official, alleging the ruling party was more interested in safeguarding family affairs.
Talking about the leaking of conversation from the PM Office, he said that the data was offered up for sale on the dark web, showing the state of the country's cybersecurity.
"This is a failure of our intelligence agencies, especially the [Pakistan's] Intelligence Bureau (IB). Obviously, apart from political issues, important discussions on security and foreign issues are now in everyone's hands," he said.
Shireen Mazari, former human rights Minister in the PTI government, said one of the alleged audios showed the laying down of groundwork for Mr. Dar's return.
"The leaked audios certainly reveal the influence of convict Nawaz Sharif and his convict-on-bail daughter in the running of this imported government itself a cabal of crooks," she said.
She went on to say that the "real issue" was who bugged the PMO or the Prime Minister House in the first place.
Source: The Hindu
Please click the following URL to read the full text of the original story:
https://www.thehindu.com/news/international/pakistan-government-leaders-leaked-audio-clips-raise-security-concern-in-the-country/article65934255.ece
--------
Shehbaz Sharif-led govt wants to resume trade ties with India: Imran Khan
Sep 25, 2022
PESHAWAR: Pakistan's former prime minister Imran Khan said on Sunday that his government had snapped trade ties with India after New Delhi revoked the special status of Jammu and Kashmir in 2019 and claimed that the Shehbaz Sharif-led government wanted to resume it.
Addressing a rally in Karak, Khyber Pakhtunkhwa, 69-year-old Khan also said that Pakistan Muslim League-Nawaz Vice President Maryam Nawaz was "incapable of telling the truth" as he once again accused her of keeping nepotism above national interests.
"Maryam wants to import power plant machinery from India for her son-in-law," he said, while referring to a audio leak in which Prime Minister Sharif is allegedly being told that Maryam's son-in-law wants to import a power plant from India.
"Our government had stopped trade with India because it…ended the special status of Kashmir," Khan said, adding that the present "imported rulers" wanted to resume trade relations with India at the cost of Pakistan's integrity and solidarity.
In recent weeks, several business chambers have urged the government to import essential items like onion and tomato from India for the sake of consumers in the wake of soaring prices of the vegetables following the devastating floods in the country.
Relations between India and Pakistan have often been strained over the Kashmir issue and cross-border terrorism emanating from Pakistan.
However, the ties between the two countries nosedived after India abrogated Article 370 of the Constitution, revoking the special status of Jammu and Kashmir and bifurcating the State into two Union Territories on August 5, 2019.
India's decision evoked strong reactions from Pakistan, which downgraded diplomatic ties and expelled the Indian envoy. Trade ties between Pakistan and India have largely been frozen since then.
Famous for using cricket terminologies in his speeches in relevance to his politicking, the cricketer-turned-politician said this time he would take three wickets with one ball in his struggle for attaining real independence. He claimed the entire nation was standing behind his struggle for real independence.
"The government should not miscalculate the nation's resolve to get rid of these imported rulers," he said.
"We are ready for the final showdown and an announcement for the final call for agitation would be made in a couple of days," he added.
Source: Times Of India
Please click the following URL to read the full text of the original story:
https://timesofindia.indiatimes.com/world/pakistan/shehbaz-sharif-led-govt-wants-to-resume-trade-ties-with-india-imran-khan/articleshow/94439501.cms
--------
Balochistan PA adopts motion for repeal of transgender law
Saleem Shahid
September 26, 2022
QUETTA: The Balochistan Assembly has adopted a resolution unanimously calling upon the provincial government to plead with Islamabad to declare the Transgender Act of 2018 null and void in deference to the religious parties.
The resolution was moved by Asghar Ali Tareen, a JUI-F member. The session, held on Saturday night, was presided over by Deputy Speaker Sardar Babar Khan Musakhail.
The resolution termed the Transgender Person (Protection of Rights Act) against recommendations of the Council of Islamic Ideology (CII).
The council had termed the act against Islamic injunctions, a member said.
"Ulema belonging to all schools of thought have not only condemned the controversial law as against the Sharia but also termed it a move to promote homosexuality," the resolution said.
Article 277 of the Constitution stipulates that no anti-Sharia law can be made, the resolution added.
Malik Sikander Khan, the opposition leader in the provincial assembly, deplored the transgender act and termed it against traditions.
He said the Constitution was the best protector of the rights of transgender persons.
"They not only enjoy fundamental rights but are also entitled to a share in family property," Malik Sikander added.
No law can be made against Islamic values and before introducing any law, it is imperative for the legislature to send the draft to the CII for its opinion, the MPA observed.
"But unfortunately the government did not follow this procedure."
He described the transgender act as an attack on Sharia and expressed apprehensions the law would "open the floodgates to homosexuality".
"The nation will never accept such un-Islamic laws and all such attempts will be foiled with full force."
Asghar Tareen, the resolution's mover, termed the law a conspiracy against Islam. "This act was adopted in haste at a time when legislators were preparing for the (2018) general election," he recalled.
The Council of Islamic Ideology had not recommended passage of the bill, he said, calling upon the government to repeal "this heinous law forthwith".
Shakeela Naved Dehwar of the Balochistan National Party-Mengal, however, saw nothing objectionable in the transgender act, arguing there was no provision for change of gender in the law.
Source: Dawn
Please click the following URL to read the full text of the original story:
https://www.dawn.com/news/1712034
--------
6 Pakistan Army officials martyred in Harnai helicopter crash: ISPR
Naveed Siddiqui
September 26, 2022
The Inter-Services Public Relations (ISPR) said on Monday that six Pakistan Army officials, including two majors, were martyred after a helicopter crashed during a flying mission near Khost in Harnai, Balochistan.
"All six personnel on board, including two pilots, have embraced shahadat," the military's media affairs wing said, adding that the incident occurred late last night.
The martyred officials were identified as:
39-year-old Major Khurram Shahzad (pilot), a resident of Attock. He was married with one daughter.
30-year-old Major Muhammad Muneeb Afzal (pilot), a resident of Rawalpindi. He was married with two sons.
44-year-old Subedar Abdul Wahid, a resident of Sabirabad village in Karak. He was married with four children, including three sons and a daughter.
27-year-old Sepoy Muhamad Imran, a resident of Makhdoompur in Khanewal. He was married with two daughters and a son.
30-year-old Naik Jalil, a resident of village Bhutta, Lohara, Teh Kharian in Gujrat district. He was married with two sons.
35-year-old Sepoy Shoaib, a resident of village Khatarphatti PO Syeeda Teh Jhand in Attock district. He was married with one son.
The ISPR has yet to release details about the cause of the crash which comes more than a month after a similar incident occurred in Balochistan.
On August 1, a Pakistan Army helicopter with six people on board, including Commander 12 Corps Lieutenant General Sarfraz Ali, lost contact with the air traffic control in Balochistan's Lasbela district.
A day later, the wreckage of the helicopter was found near Musa Goth, with all personnel on board embracing martyrdom. According to the ISPR, the accident occurred due to bad weather.
'Too many crashes'
Reacting to the news of the latest crash, Prime Minister Shehbaz Sharif said that he was deeply grieved. He prayed for the deceased and their family members, adding that the entire nation shared the grief of the bereaved.
Interior Minister Rana Sanaullah said he was deeply saddened to hear of the incident, terming it to be "tragic".
PTI's Fawad Chaudhry said helicopter flying was getting dangerous, adding that this required "engineering evaluation".
"Too many crashes […] rest in peace bravehearts. All were too young to die," he said.
Climate Minister Sherry Rehman offered her condolences over the lives lost in the crash. She also prayed for the families of the martyred officials.
Balochistan Chief Minister Mir Abdul Qudoos Bizenjo expressed deep grief and sorrow over the helicopter crash. In a statement, he said the entire nation paid rich tribute to those who sacrificed their lives while performing their duties.
Source: Dawn
Please click the following URL to read the full text of the original story:
https://www.dawn.com/news/1712054/6-pakistan-army-officials-martyred-in-harnai-helicopter-crash-ispr
--------
Alvi draws ire from senators for assuming role of 'broker'
Syed Irfan Raza
September 26, 2022
ISLAMABAD: PML-N and PPP senators on Sunday criticised President Arif Alvi for his remarks about army chief's appointment, with the former blaming him for toeing his party chairman's line and the latter accusing him of assuming an unconstitutional role of a 'broker'.
PML-N Senator Irfan Siddiqui said: "President Alvi's suggestion to conditionalise appointment of the army chief with consensus among all political parties was absurd. Instead of toeing Imran Khan's line, the president should uphold the constitution as it is he who has taken oath to protect and implement it."
He made it clear that the executive has the authority to appoint the army chief in all democratic countries.
"Neither any controversy arose in the past, nor any opposition demanded its inclusion in the consultation process for the purpose."
PPP Senator Mian Raza Rabbani said the president should stop trying to create 'political space' for himself as this was in violation of the Constitution of 1973. "He is not an honest broker, therefore, not acceptable to the political stakeholders for a political dialogue. He (president) cannot be part of an institutional dialogue because of mala fide references sent by him against judges of the superior judiciary," the ex-chairman of senate added.
Under the constitutional framework, according to him, the president has no such role nor will the parliament allow him to toy with the Constitution.
Source: Dawn
Please click the following URL to read the full text of the original story:
https://www.dawn.com/news/1712036/alvi-draws-ire-from-senators-for-assuming-role-of-broker
--------
Ashrafi sues Punjab govt on sacking MUB chairman
September 25, 2022
ISLAMABAD: Prime Minister's Special Representative for Interfaith Harmony and Middle East Hafiz Muhammad Tahir Mehmood Ashrafi on Sunday informed that he had filed a petition in Lahore Haigh Court challenging his removal as Muttahida Ulema Board (MUB) chairman.
In an exclusive talk with APP, he said the termination of his services as the MUB chairman was against the law as he was appointed the board's chairman on February 19, 2019 and reassigned the portfolio on March 31, 2022.
Ashrafi who is also the chairman of Pakistan Ulema Council, said as per law, the board's chairman could not be removed till the completion of his constitutional term.
He said the Auqaf Department had illegally terminated his services as the MUB chairman on September 19, through a notification.
He further said the notification of new appointment also did not mention the logical reasons of this abrupt change in the religious organization.
He said the court had sought justification from a provincial law officer that under which law the new appointment of the MUB chairman was made.
The prime minister's special aide said the MUB was a religious body and it must not be used for political purposes.
He said throughout his tenure as chairman, the board was kept away from politics and the misuse of blasphemy laws were discouraged at all levels of the society.
He said during his tenure, not a single case of blasphemy law was registered on fictitious grounds against any individual or group.
Shedding light on the board's performance, he said it achieved many a milestone for the provision of intersect and interfaith harmony under his supervision during the last two and half years. It was not only acclaimed at the national level but also acknowledged internationally for handling the sensitive issues pertaining to blasphemy laws, he added.
Source: Pakistan Today
Please click the following URL to read the full text of the original story:
https://www.pakistantoday.com.pk/2022/09/25/ashrafi-sues-punjab-govt-on-sacking-mub-chairman/
--------
Africa
UN chief calls for 'civilian-led political transition' in Sudan
Mohammad Tareq
24.09.2022
United Nations Secretary-General Antonio Guterres said Sudan is in need of a "civilian-led political transition" in order to realize the aspirations of the Sudanese people.
Guterres made the remarks during his meeting with the head of Sudan's ruling Sovereign Council, Gen. Abdel-Fattah al-Burhan, late Friday in New York on the sidelines of the 77th session of the UN General Assembly, according to his spokesman Stephane Dujarric.
"The Secretary-General expressed serious concern about the continuing political crisis in Sudan, as well as the rapidly deteriorating security, economic and humanitarian situations," Dujarric said.
He said the UN chief "emphasized the urgent need for an inclusive political agreement that restores the civilian-led political transition," in order to realize stability, peace, and economic prosperity in Sudan.
Source: Anadolu Agency
Please click the following URL to read the full text of the original story:
https://www.aa.com.tr/en/middle-east/un-chief-calls-for-civilian-led-political-transition-in-sudan/2693691
--------
Zamfara killings: Islamic group hails Nigerian media
September 26, 2022
By Don Silas
Muslim Rights Concern (MURIC) has lauded the Nigerian media for properly reporting the killing of Muslims in Zamfara by bandits last Friday.
MURIC also hit out at the Christian Association of Nigeria (CAN) for reportedly claiming that it was only Christians that are being killed in Nigeria.
MURIC disclosed this in a statement on Sunday by its director, Professor Ishaq Akintola.
Recall that at least 15 persons were reportedly killed when terrorists opened fire at worshipers last Friday during Jummat prayers in the North West of Zamfara State, northwest Nigeria.
DAILY POST learnt that the incident occurred in Ruwan Jema town in Bukkuyum Local Government Area of Zamfara when the peaceful worshipers were observing their prayers.
"Terrorists invaded the Friday prayer mosque in Ruwan Jema town in Bukkuyum Local Government Area of Zamfara State Friday, 23rd September, 2022, killing fifteen and injuring forty-eight Muslim worshippers. The armed men hid their guns inside their clothes and pretended to be worshippers opened fire on innocent worshippers after entering the mosque.
"The Nigerian press really went to town with stories of the Zamfara killings and most media houses identified the victims as Muslims. This is quite laudable.
"The Media Monitoring Unit of MURIC reported the use of the following captions in different media houses to describe the Zamfara killings. Even some foreign media like Voice of America and Reuters were not left out of the fair reportage, We salute them all.
"Both Christians and Muslims deserve fair representation in media reports. This will promote peaceful coexistence among the different faiths.
"The manner of reporting the Zamfara killings thus revealed the fact that it was Muslims that were killed and injured last Friday. We, therefore, wonder how the Christian Association of Nigeria (CAN) arrived at its conclusion that only Christians were being killed in Nigeria and it tried to sell such a dangerous idea to the West, knowing it to be false," it said.
Source: Daily Post Nigeria
Please click the following URL to read the full text of the original story:
https://dailypost.ng/2022/09/26/zamfara-killings-islamic-group-hails-nigerian-media/
--------
5 Western countries call for holding elections in Libya
Mohammad Tareq
24.09.2022
The United States and four European countries have reiterated support to hold inclusive presidential and parliamentary elections in Libya "in the shortest time possible."
This came in a joint statement issued by the representatives of the US, UK, France, Italy and Germany in Libya following their closed meeting in New York on the sidelines of the 77th session of the UN General Assembly in New York.
The representatives of the five countries "expressed their support for Special Representative of the Secretary-General Abdoulaye Bathily as he takes up his mandate to advance political stability and reconciliation among Libyans."
They underlined the importance of having a "transparent management of oil revenues and agreeing on a unified executive with a mandate focused on preparing for elections."
The five countries also strongly rejected "any use of violence and reiterated their support for full implementation of the October 23, 2020 cease-fire agreement" between Libya's warring rivals.
Oil-rich Libya has remained in turmoil since 2011 when longtime ruler Muammar Gaddafi was ousted after four decades in power.
Source: Anadolu Agency
Please click the following URL to read the full text of the original story:
https://www.aa.com.tr/en/middle-east/5-western-countries-call-for-holding-elections-in-libya/2693693
--------
Militant attack kills four in Burkina Faso
September 25, 2022
OUAGADOUGOU: At least two soldiers and two civilian auxiliaries died in a "terrorist" attack on a patrol in eastern Burkina Faso, the army said Sunday.
A military unit and VDP volunteer auxiliaries were ambushed on Saturday between Sakoani and Sampieri in Tapoa province, bordering Niger and Benin, an army statement said.
"The fighting unfortunately cost the lives of two soldiers and two VDP," it added.
However, a security source said the death toll was four soldiers and two volunteers.
A VDP official confirmed two dead from the volunteer ranks with "some still missing."
Another security source said the militants also suffered losses, without giving a figure for the dead.
Lt. Col. Paul-Henri Sandaogo Damiba seized power in a January coup, ousting Burkina's elected leader and promising to rein in the militants.
But the violence has raged on in neighboring countries stoked by insurgents affiliated to Al-Qaeda and Daesh. Thousands have died and some two million been displaced by the fighting in landlocked Burkina since 2015.
Separately, Damiba defended his military takeover, though he acknowledged it was "perhaps reprehensible" and inconsistent with the UN's values.
Damiba said the overthrow of the democratically elected president was "necessary and indispensable."
"It was, above all, an issue of survival for our nation," he said. That's even if it was "perhaps reprehensible in terms of the principles held dear by the United Nations and the international community as a whole."
Source: Arab News
Please click the following URL to read the full text of the original story:
https://www.arabnews.com/node/2169391/world
--------
Europe
EU says Iran protest crackdown 'unjustifiable, unacceptable'
25 September, 2022
The EU's foreign policy chief Josep Borrell said Sunday that Iran's crackdown on protests is "unjustifiable" and "unacceptable", as Tehran vowed no leniency against the unrest gripping the country.
A wave of protests has rocked Iran since the death of 22-year-old Kurdish woman Mahsa Amini in the custody of Iran's morality police.
At least 41 people have died, mostly protesters but including members of the Islamic republic's security forces, according to an official toll, although human rights groups say the real figure is higher.
In a statement on behalf of the EU, Borrell said: "For the European Union and its member states, the widespread and disproportionate use of force against nonviolent protestors is unjustifiable and unacceptable".
Moves "to severely restrict internet access by the relevant Iranian authorities and to block instant messaging platforms is a further cause for concern, as it blatantly violates freedom of expression", he added.
Source: Al Arabiya
Please click the following URL to read the full text of the original story:
https://english.alarabiya.net/News/world/2022/09/25/EU-says-Iran-protest-crackdown-unjustifiable-unacceptable-
--------
Attackers hurl Molotov cocktail at Iranian Embassy in Athens: Greek media
Dilara Hamit
25.09.2022
Unidentified attackers threw a Molotov cocktail at the Iranian Embassy in Athens early Sunday, Greek media reported.
According to daily Kathimerini, the Greek police said two hooded people on a motorcycle hurled the Molotov cocktail at the embassy while passing by the building.
Source: Anadolu Agency
Please click the following URL to read the full text of the original story:
https://www.aa.com.tr/en/europe/attackers-hurl-molotov-cocktail-at-iranian-embassy-in-athens-greek-media/2694191
--------
Police clash with anti-Iranian regime protesters in London and Paris
September 26, 2022
PARIS: Police clashed with demonstrators trying to reach Iran's embassies in London and Paris on Sunday.
French police used tear gas and employed anti-riot tactics to prevent hundreds of people protesting in the capital from marching on Tehran's diplomatic mission, AFP reporters and eyewitnesses said.
In London, police said they made 12 arrests and five officers were "seriously injured" as demonstrators tried to break through barriers protecting Iran's UK embassy.
The protesters in Paris had gathered for the second day running to express outrage at the death of Mahsa Amini following her arrest by Iran's morality police — and to show solidarity with the protests that have erupted in Iran, at a cost of at least 41 lives.
Similar rallies in support of Iranian women have occurred around the world.
The demonstration had began peacefully at Trocadero Square in the center of the French capital. Some protesters chanted "Death to the Islamic Republic" and slogans against supreme leader Ayatollah Ali Khamenei.
But police in full anti-riot armor, backed by a line of vans, blocked the path of the protesters as they sought to approach the Iranian embassy a short distance away.
Police fired tear gas to disperse the protesters.
In a statement, Paris police said that "on several occasions groups tried to break through the roadblock set up near the Iranian embassy. The police used... tear gas to repel them."
They said about 4,000 people had gathered for the demonstration. One person was arrested for "outrage and rebellion" and one officer was slightly hurt, said police.
The use of tear gas angered activists already upset by President Emmanuel Macron's talks and public handshake with Iranian President Ebrahim Raisi on the sidelines of the UN General Assembly last week.
"Police used tear gas to disperse Iranian protesters in Paris in an effort to protect the Islamic Republic embassy," tweeted the US-based Iranian women's rights activist Masih Alinejad.
"Meanwhile, @EmmanuelMacron shook hands with the murderous president of Iran."
Protesters also repeated the viral Persian chants used by protesters inside Iran such as "zan, zendegi, azadi!" (woman, life, freedom!) and also its Kurdish equivalent "jin, jiyan, azadi!" Amini, also known as Jhina Amini, was Kurdish.
"In view of what is happening, we Iranians are fully mobilized," said Nina, a Paris-based French Iranian who asked that her last name was not given. "We must react given that we are far from our homeland, our country.
"It's really time we all come together so we can really speak up so the whole world can really hear our voice," she added.
Similarly tense scenes took place in London, where images posted on social media showed protesters seeking to break through police security barriers outside the Iranian embassy there.
London's Metropolitan Police said "masonry, bottles and other projectiles were thrown and a number of officers were injured. At least five are in hospital with injuries including broken bones."
Source: Arab News
Please click the following URL to read the full text of the original story:
https://www.arabnews.com/node/2169456/world
--------
Iran summons British ambassador over London-based channels' role in instigating riots
25 September 2022
The Iranian Foreign Ministry has summoned Britain's ambassador to Tehran to express Tehran's protest over hostile attempts by London-base Persian-language television channels to further instigate deadly riots that have erupted in several Iranian cities over the death of a young woman, who died at the hospital a few days after collapsing at a police station in the capital Tehran.
"In response to the hostile atmosphere being created by the London-based Farsi-language media outlets against the Islamic Republic of Iran, the UK ambassador [Simon Shercliff] was summoned by the foreign ministry's Director General for Western Europe," the ministry announced in a statement released on Sunday.
It added that a strongly-worded note of protest was lodged to the British diplomat over London's hosting the media, which have fiercely sought in recent days to provoke violent protests and incite riots against the Iranian government and the public.
The statement went on to stress that such bids amount to interference in Iran's internal affairs and violate the country's national sovereignty.
For his part, the British ambassador said that he will immediately convey the matter to the officials of his respective country.
Norwegian Ambassador to Tehran Sigvald Hauge was also summoned to explain the "interventionist stance" of the Scandinavian country's President of the Storting (the supreme legislature) Masud Gharahkhani on Iran's domestic affairs.
'Decisively and assertively'
Moreover, Iran's interior minister has called upon the country's judiciary officials to deal with those leading and spearheading desecration of Islamic sanctities and acts of vandalism swiftly, decisively and assertively.
Ahmad Vahidi made the remarks on Sunday as he visited the Iranian security personnel, who have been injured in stabbing assaults, car-ramming attacks or pelted with rocks, during the recent protests.
Protests have broken out in several Iranian cities over the September 16 death of Mahsa Amini,a young Iranian woman who died at hospital a few days after collapsing at a police station in the capital Tehran, where she and a group of others were receiving educational training on dress code rules.
Despite Iranian officials' clarification on circumstances surrounding Amini's death, violent street protests have led to attacks on security officers and acts of vandalism against public property and sanctities.
Speaking on Friday, Vahidi said the riots that have followed Amini's death, had nothing to do with the tragic event, stating that the issue was being exploited by rabble-rousers to instigate chaos and wreak havoc across the country.
Last week, Iranian police released CCTV footage, which shows Amini collapsing in the police station.
Source: Press TV
Please click the following URL to read the full text of the original story:
https://www.presstv.ir/Detail/2022/09/25/689813/Iran-summons-British-ambassador-over-London-based-channels%E2%80%99-role-in-instigating-riots
--------
Southeast Asia
Don't trust Malay-Muslim parties that ignore corruption, says Anwar
September 25, 2022
BATU KAWAN: Opposition leader Anwar Ibrahim has urged Malaysians not to place their trust in political parties that are Malay and Muslim in name, but not in practise when dealing with poverty, corruption, and environmental degradation.
In a thinly veiled dig at Umno and PAS, Anwar said that such parties tend to create a system that fosters income equality, which breeds corruption. He said this manifests in acts that destroy the environment, causing people to suffer.
"Hills are being levelled under the name of Malay and Islam, and we say Allahuakbar (Allah is great)," said Anwar, who is PKR president, when addressing 1,000 party members at the Wanita PKR assembly here today.
He condemned those who "only take care of the spiritual (side) and pray five times a day while donning a hijab" but who condone all sorts of greed, the levelling of hills, and the theft of timber.
He said PKR is different from the Malay-Muslim parties.
While defending the position of the Malay rulers, national language, and the status of Malays and Islam, the party also gives attention to all races when dealing with poverty, he said.
"That is the difference between us (PKR) and them. We make no apologies, and we will remain committed to championing the cause of all Malaysians, irrespective of their race or religion.
Source: Free Malaysia Today
Please click the following URL to read the full text of the original story:
https://www.freemalaysiatoday.com/category/nation/2022/09/25/dont-trust-malay-muslim-parties-that-ignore-corruption-says-anwar/
--------
Zahid warns BN of 'enemies under the blanket'
September 25, 2022
PETALING JAYA: Umno president Ahmad Zahid Hamidi has warned his party that it is surrounded by "enemies under a blanket", following an open declaration by Perikatan National that Barisan Nasional is their main enemy.
Zahid said Cabinet members from BN were exposed to the risk of sabotage as long as the Cabinet continued to include Bersatu, which is led by Muhyiddin Yassin, who is also PN chairman.
"With Muhyiddin's announcement that BN is PN's number one enemy, the Cabinet should realise an enemy surrounds them and as long as they defend this Cabinet together with Bersatu they are at risk of sabotage," he said.
The current Cabinet is headed by prime minister Ismail Sabri Yaakob, who is an Umno vice-president. His government is a coalition that includes BN, Perikatan Nasional comprising Bersatu and PAS, and other parties.
Zahid said Bersatu was founded to team up with Pakatan Harapan to eliminate BN, and especially Umno. But after failing to do so, the party had changed its tactics to attack BN in an effort to block the rise of some Umno leaders.
"Fortunately, most of the BN leadership are able to see Bersatu's scheme although there is no denying that there are also a few who are being deceived," Zahid said.
"Also, isn't it odd that Muhyiddin said Umno is the number one enemy and not PH, despite him saying that PH's fight was not the same as the Malay-Muslim and Malaysian struggle?" he said in a Facebook post.
Zahid also said it was likely that the only party who were confused by Muhyiddin's statement was the top leadership of PAS.
Source: Free Malaysia Today
Please click the following URL to read the full text of the original story:
https://www.freemalaysiatoday.com/category/nation/2022/09/25/zahid-warns-bn-of-enemies-under-the-blanket/
--------
RIP unity unicorn, killed by racially-inclined politics
September 26, 2022
A sense of unity among Malaysians has been elusive in recent years, with the experience of genuine unifying national moments increasingly rare.
Sports gave us many such moments in the past. Unity was especially apparent in team sports, seen both in the makeup of the teams doing battle and spectators urging them on from the stands.
Malaysia's football, hockey and badminton teams gave us many memorable moments between the 1960s and the early 1990s.
Who could ever forget the hockey World Cup squad of 1975, the football team qualifying for the Moscow Olympics in 1980, and badminton heroes bringing home the Thomas Cup 30 years ago in 1992? Sadly, I struggle to remember anything more recent than those.
National schools, universities and colleges of that era formed the backbone of that unity, as reflected both in their teaching and student populations.
These days, however, sports and educational institutions have themselves become breeding grounds for racial and religious tensions and intolerance, joining the political arena, the business community and workplaces as venues of divisive racial politicking.
Unity appears to be like the mythical unicorn, something so highly desirable, but which seems to have vanished completely from our national conscience.
Malaysians of different ethnicities and religions have retreated into their respective communes, with communities co-existing in tenuous relationships.
The blame for this unfortunate state of affairs must fall squarely on our leaders, most of whom secured their positions in government along racial and religious lines and have gone on to govern by perpetrating "divide-and-rule" policies.
The latest, no doubt, has been the reaction which followed the KL Mufti's edict telling Muslims that Islam prohibited them from extending their condolences to non-Muslims using that ubiquitous phrase, "rest in peace."
That advice was immediately defended by the religious affairs minister without consideration as to what impact it would have on national unity.
Many similar instances of intolerance have cropped up over the years. There is no need to list them here. Suffice to say that they arise because those in authority invariably respond only in a way that resonates with their base.
The reality is that modern Malaysia is shorn of statesmen. There is no one with any ability or desire to rise above partisan politics and offer himself as leader of all Malaysians, irrespective of race, colour or creed.
Instead, we have political parties and leaders more interested in preserving their positions of power.
Umno was once the bulwark that held Malaysia together; nowadays it cannot even find a leader to hold the party together, with the rift between president Ahmad Zahid Hamidi and prime minister Ismail Sabri Yaakob widening with each passing day.
The two have been at loggerheads as to when the 15th general election should be called, with Ismail doggedly resisting Zahid's push for early polls.
Ismail is likely to continue holding out, having told the party's supreme council that pollsters' forecasts point towards a hung parliament. The prime minister can now also claim that a majority in his cabinet opposes holding the elections before year end, repelling relentless pressure from Zahid's faction to hold one immediately.
Despite his "Keluarga Malaysia" slogan, Ismail will struggle to position himself as leader of all Malaysians. He cannot even claim to be leader of Umno.
On top of that, neither MCA nor MIC can guarantee him enough support from the Chinese and Indian communities to ensure that Barisan Nasional sweeps to power, as it used to do almost effortlessly prior to 2008.
Neither is Ismail assured of support from his present governing coalition partners post GE 15.
With multi-cornered fights expected for Malay votes, tensions are already brewing between Umno and Muhyiddin Yassin's Bersatu as well as Hadi Awang's PAS. Both Bersatu and PAS are expected to wage war with Umno in the lead up to the elections.
Whether scars from those battles will heal sufficiently, allowing them to govern jointly again, remains to be seen.
Another scenario may see Ismail cozying up to a more unlikely ally in Loke Siew Fook's DAP.
That alliance will undoubtedly face resistance from both sides. Umno has a long-standing "No Anwar, No DAP" policy hurdle which Ismail will need to overcome. It seems that a similar internal conflict is simmering within DAP at the prospect.
As it stands, Umno will have to massively over-achieve to improve on the 38 seats it currently holds in the 222-seat Dewan Rakyat. Even if it secures sizeable support from the 56 seats on offer in East Malaysia, Umno faces an almighty struggle to ensure that BN collects at least 112 seats for control of the lower house.
Although currently boasting 90 seats, enough to make PKR president Anwar Ibrahim a candidate for prime minister, the opposition Pakatan Harapan coalition is still caught in a tight spot.
Once thought capable of uniting Malaysia, Anwar's allure has waned considerably within the coalition and even in his party.
Recent events also mean former prime ministers Dr Mahathir Mohamed and Muhyiddin can no longer expect widespread support from Malay voters let alone the rest of the electorate.
With existing coalitions expected to fall short of the required majority and given multiple internal conflicts, leaders of the posses of elected members of parliament will once again resort to horse-trading to secure enough support to form the next government.
That means Malaysians can expect behind-the-scenes shenanigans among political parties, unlikely pacts and possibly even undesirable partnerships.
More memoranda of understanding are likely to follow. Some will be willingly disclosed to the public while others may be locked away only to see the light of day as and when disputes arise.
That is the cloak and dagger world of 21st century Malaysian politics.
Source: Free Malaysia Today
Please click the following URL to read the full text of the original story:
https://www.freemalaysiatoday.com/category/opinion/2022/09/26/rip-unity-unicorn-killed-by-racially-inclined-politics/
--------
State units to control political donations proposed in new bill
September 25, 2022
PETALING JAYA: An agency to control political donations in every state has been proposed as one of the planks in a new law on political financing being drafted by the government.
Law minister Wan Junaidi Tuanku Jaafar said today: "We no longer want this money to be kept or hidden in certain places because money donated to certain parties (must) go through a fund that is administered by a responsible party."
Speaking to reporters in Lundu, Sarawak, he said an agency to regulate political donations was among the measures proposed for inclusion in the bill drafted by the national centre for governance, integrity and anti-corruption.
The proposal was in a draft submitted to the Cabinet but it was decided that all states must also establish their own centres, he said, Bernama reported.
"I have asked my officers and those from the Attorney-General's Chambers to implement this according to the stipulated timeline," he said.
He said he was confident that the political financing bill would get the support of MPs from the government and opposition blocs when it is tabled in November.
Yesterday, Wan Junaidi said the views of all MP would be sought at a meeting in Parliament House on Sept 28 to obtain feedback on the draft bill.
Source: Free Malaysia Today
Please click the following URL to read the full text of the original story:
https://www.freemalaysiatoday.com/category/nation/2022/09/25/centre-to-control-political-donations-proposed-in-new-bill/
--------
URL: https://newageislam.com/islamic-world-news/prophet-eid-milad-masjid-misgivings/d/128039
New Age Islam, Islam Online, Islamic Website, African Muslim News, Arab World News, South Asia News, Indian Muslim News, World Muslim News, Women in Islam, Islamic Feminism, Arab Women, Women In Arab, Islamophobia in America, Muslim Women in West, Islam Women and Feminism