New Age Islam News Bureau
9 May 2019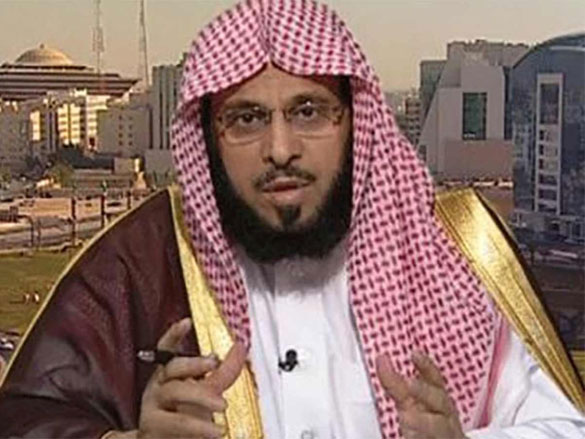 Al Qarni, 59, used to appear on religious shows at the Qatari television Al Jazeera
Image Credit: Supplied
-----------
• Prominent Saudi Preacher Apologises On TV for Years of 'Hardline' Islam
• Qatar Accuses UAE of 'Violence and Hatred' At World Court
• In Sri Lanka, Hijab-Clad Teachers Hounded From Christian School Are Assigned Elsewhere
• UK Police to 'Intervene' If Hezbollah Flags Flown On Quds Day in London
• Dr M: 'Protect Islam' Rally Only Served To Further Divide Muslims in Malaysia
• Fear of Polarisation Tempers Opposition's Muslim Outreach
• Muthahida Ulema Board Has Issued a Decree: 'Terrorists Enemy of Islam, Pakistan'
• Islamic Jihad Leader Expects War with Israel to Break Out Next Summer
• U.S. Sends B-52s To Deal With Threat Of Attack By Iran, Iran Says 'Despised' U.S. To Blame
• Tunisian Takfiri Jailed for Inciting Women to Join ISIS
Arab World
• Prominent Saudi Preacher Apologises On TV for Years of 'Hardline' Islam
• Qatar Accuses UAE of 'Violence and Hatred' At World Court
• Anti-Kurdish protests in east Syria could endanger US plans
• Trial begins for man feds say was Hezbollah 'sleeper' agent
• Militants interrupt aid deliveries as 150,000 displaced in Idlib
• Children of ISIS members handed over to Swedish delegation in Syria
• Iraq's Militias, Accused of Threatening U.S., Pose a Quandary for Iraq
• Egypt court upholds death penalty for 13 militants
• Iraq holds trial for over 500 Daesh terrorists
--------
South Asia
• In Sri Lanka, Hijab-Clad Teachers Hounded From Christian School Are Assigned Elsewhere
• Suspected Islamic State fighter Motaj is not saying anything: Police
• Taliban attack aid group office in Afghan capital kills 5
• Turkish Charity Serves Iftar to Orphans in Bangladesh
• Muslim worshipper killed at Bangladesh mosque; one detained
• Taliban militants suffer heavy casualties in self defense strikes of Afghan Special Forces in Faryab
• Taliban tunnel systems destroyed in Uruzgan operation
--------
Europe
• UK Police to 'Intervene' If Hezbollah Flags Flown On Quds Day in London
• UK says Iran will face consequences if it breaks nuclear deal
• China, France say Iran nuclear deal should be fully implemented
• Pompeo lectures UK on Daesh, says British militants should be taken home
• Gazan artists urge EU not to hold Eurovision in Israel
• France seeks Libya ceasefire after migrant centre strike
--------
Southeast Asia
• Dr M: 'Protect Islam' Rally Only Served To Further Divide Muslims in Malaysia
• For These Muslims, Learning the Quran Starts with YouTube
• With Fears of Low Turnout, Sandakan Muslim Votes Become Focus
• Indonesian authorities arrest suspected members of ISIS-affiliated group, thwart planned terrorist attack: report
• Mahathir questions if Islamic gathering was for religion or politics
• Neither plot nor slot given to Zakir Naik, says Putrajaya
--------
India
• Fear of Polarisation Tempers Opposition's Muslim Outreach
• UN Chief Praises India for Counter-Terrorism Support, Says Terrorists Fleeing IS Should Be Tackled
• NIA Questions NRI from Doha over Suspected ISIS Links
• Dubai firm linked to Zakir Naik sold in 2017 over 'negative publicity' in media
• Balakot air strike killed 130-170: Italian reporter
• Terrorists shot at two civilians in Shopian
--------
Pakistan
• Muthahida Ulema Board Has Issued a Decree: 'Terrorists Enemy of Islam, Pakistan'
• 2,396 Pakistanis Detained In Turkish Detention Centres, Senate Told
• Encouraged By Tuesday's Show PML-N to Gradually Build Anti-Govt Drive
• Tribal leader among 3 killed in Chaman blast
• Aafia willing to file petition against imprisonment: Qureshi
--------
Mideast
• Islamic Jihad Leader Expects War with Israel to Break Out Next Summer
• Israeli Newspaper Publishes Terms Of US 'Deal Of Century' On Palestine
• Drone strike 'kills 4 Qaeda suspects' in Yemen
• Griffiths Fails to Convince Houthis to Lift Restrictions on Lollesgaard's Movements
• Pompeo: Iran nuclear announcement 'intentionally ambiguous'
• Iran tells Russia its partial roll back of nuclear deal is legal
• Israel won't let Iran get nuclear weaponry, says Netanyahu
• Health funding gap means 1,700 in Gaza may face amputations
--------
North America
• U.S. Sends B-52s To Deal With Threat Of Attack By Iran, Iran Says 'Despised' U.S. To Blame
• Trump announces sanctions on Iran's steel and mining industries
• US will need forces in Afghanistan until no insurgency left, says top General
• Pompeo skips visit to Greenland amid new tensions with Iran
• Iraq will maintain relations with Iran, PM tells Pompeo
--------
Africa
• Tunisian Takfiri Jailed for Inciting Women to Join ISIS
• South Sudan President: Formation of Unity Government Should Be Delayed
• US urges Sudan military to seal deal with protesters
• Sudanese protest coalition calls for civil disobedience
• 6 killed in fresh herder violence in Nigeria's Taraba
Compiled by New Age Islam News Bureau
URL: https://www.newageislam.com/islamic-world-news/prominent-saudi-preacher-apologises-tv/d/118548
--------
Prominent Saudi preacher apologises on TV for years of 'hardline' Islam
May 08, 2019
Dubai: Aaidh Al Qarni has caused a lot of noise after he appeared on a talk show and apologized for his hardline interpretations of Islam and called for a more modernised Islam.
"I apologise in the name of the Sahwa to the Saudi society for the mistakes that were not related to Islam and for the extreme fatwas," Al Qarni told Saudi TV show Al Laiwan airing on Rotana Khaleej on Monday evening.
Al Sahwa movement was a faction of Muslim Brotherhood in Saudi Arabia. They demanded a bigger role for clergy in governing and a more conservative society as a defense against Western cultural influences. They also opposed the presence of US troops on "Muslim land."
"Our religion is a religion of peace, safety and mercy. Thanks to God, we discovered this in the texts and interpretations of our scholars," Al Qarni said. "You cannot compare my ideas that I had when I was only 24 or 26 years old to my current thoughts.
"Now, I visited 40 countries and read thousands of books. I also knew and met intellectuals, scholars and wise people."
Al Qarni said he now supported the moderate Islam advocated by Saudi Crown Prince Mohammed Bin Salman.
"I apologize to Saudi society for the mistakes that have contradicted the Qur'an and Sunnah, and contradicted the tolerance of Islam, a moderate religion."
Adding "I am today supportive of the moderate Islam, open to the world, which has been called for by Crown Prince Mohammed bin Salman,"
Al Qarni exposed Doha's anti-Saudi posture
Al Qarni apologised in the same interview about his ties with Qatar, accusing it of "conspiring" against Saudi Arabia.
A public apology by Saudi cleric Aidh Al Qarni over links with Qatar and militant views is "bold" and "very important", Emirati Minister of State for Foreign Affairs Anwar Gargash said on Wednesday.
"The Shaikh's talk reinforces what we know about the policies of [former Qatari emir] Shaikh Hamad Bin Khalifa and his role," Gargash said in a tweet.
"As we close the door over the stage of radicalism and manipulation of religion for political goals, we also close the door over the stage of Qatar's conspiracy against its neighbours," the official added.
Al Qarni, 59, used to appear on religious shows at the Qatari television Al Jazeera.
In an interview with the Saudi television Rotana Khaljeea this week, the cleric criticised Al Jazeera, sarcastically saying it pushes for freedom everywhere except in Qatar.
He disclosed a meeting with Hamad when the latter was in power before he abidcated the throne to his son Tamim in 2013.
Al Qarni also said he had stopped links with Qatar after he found about its conspiracy against Saudi Arabia, accusing Doha of espousing Saudi dissidents.
In June 2017, Saudi Arabia, the United Arab Emirates, Bahrain and Egypt broke off diplomatic and transportation ties with Qatar over its support for extremist groups.
https://gulfnews.com/world/gulf/saudi/prominent-saudi-preacher-apologises-on-tv-for-years-of-hardline-islam-1.63817748
--------
Qatar accuses UAE of 'violence and hatred' at world court
May 8, 2019
Qatar accused the United Arab Emirates Wednesday of a "campaign of violence and hatred" against its citizens, urging the International Court of Justice to quash a case brought by Abu Dhabi.
The Persian Gulf states are locked in a battle at the UN's top court, where the UAE on Tuesday asked judges to stop Qatar "severely aggravating" a two-year-old crisis between Doha and other countries in the oil-rich region.
Qatar's lawyers however hit back, saying in fact it was Abu Dhabi who continued with "discriminatory policies that severely impacted Qatari citizens."
"It is the Qatari people who are the true victims in the racial discrimination case, not the government of the UAE," Qatar's representative Mohammed Abdulaziz Al-Khulaifi said.
This included Abu Dhabi's move to gag the Doha-based and state-funded Al Jazeera global news network, which was accused of spreading "propaganda", the lawyer told the Hague-based tribunal.
"The silencing of... media voices is part-and-parcel of the UAE's campaign to incite violence and hatred against Qataris," Khulaifi said.
"Qatar has long been engaged in the fight against global terrorism and it continues to be."
Qatar has faced an economic and diplomatic boycott since June 2017 by Persian Gulf rivals who accused Doha of backing terrorism and being too close to regional rival Iran.
Doha has repeatedly denied the claims, accusing its rivals of seeking regime change and alleging the UAE broke the 1965 International Convention on the Elimination of All Forms of Racial Discrimination (CERD).
Last June, in a case brought by Qatar, the ICJ ruled that the UAE must allow families which include Qatari members to be reunited, and that Qatari students must be given the chance to complete their education in the Emirates.
But Abu Dhabi on Tuesday went back to court, accusing Doha of blocking its own citizens from accessing Emirati websites to ease travel issues, and therefore failing to honor last year's judgment.
Khulaifi parried those claims on Wednesday, saying that Qatar found a "high risk security breach" on the UAE's website including so-called "malware" designed to infiltrate Qatar's information systems.
He said Doha told Abu Dhabi about the breach but the UAE was "yet to take steps."
https://www.presstv.com/Detail/2019/05/08/595427/UAE-Qatar--Abu-Dhab-Mohammed-Abdulaziz-AlKhulaifi
--------
In Sri Lanka, hijab-clad teachers hounded from Christian school are assigned elsewhere
May 08, 2019
COLOMBO: Eleven Muslim teachers hounded from a Christian school in Sri Lanka for wearing hijabs have been redeployed.
The country's Western Province Gov. Azath Salley was forced to intervene in the row after the women were barred on Tuesday from entering the Puwakpitiya Tamil Maha Vidyalaya school, located about 30 km from the capital Colombo.
Parent members of the school's development society along with former students blocked the teachers' entry to the premises, telling them they would only be allowed back in if they were dressed in saris.
The group's action came in response to the devastating Easter Sunday bombings of hotels and churches in Sri Lanka, which left 268 people dead and hundreds injured. Daesh has since claimed responsibility for the attacks.
Following the blasts, Sri Lankan President Maithripala Sirisena imposed a ban on the wearing of niqabs to allow security officials to more easily identify people, but no restrictions were placed on the abaya (a robe-like dress) or hijab.
Speaking on behalf of the banned teachers, Fathima Shafeena told Arab News that she had worked at the school for more than six years and felt humiliated over her treatment. She said: "Hijab is my traditional Islamic attire and they cannot ask me to replace it with the sari," adding that the move was a violation of their human rights.
Fathima Afrah, another teacher, said she and her fellow Muslim tutors were chased off the premises in full view of schoolchildren and other teaching colleagues, and she could never return there out of sheer embarrassment. "Although it was a non-Muslim school, I did not show any discrimination while I was teaching in the classrooms," she added.
Salley summoned senior provincial education officials to an urgent meeting with the teachers on Tuesday afternoon, which resulted in them being transferred to other schools in the province.
Puwakpitiya Tamil Maha Vidyalaya principal, P. Manoharan, told Arab News that the school had 800 children and 41 teachers, and about 35 percent of the students were Christians. He said that he had no prior knowledge of the protest action.
Salley told Arab News that appropriate measures would be taken against those involved in what he described as an "unfortunate incident."
"The teachers' dresses were proper and in accordance with government regulations. The government has banned only the niqab face cover," the governor said. He pointed out that the abaya and hijab were well within the accepted norms.
In a landmark ruling in April last year, the Human Rights Commission of Sri Lanka (HRCSL) recommended that "preventing teachers from wearing the abaya while performing their duties" was a violation of the Sri Lankan constitution.
The HRCSL stated that national schools were bound by the constitution and could not violate the absolute right to religious freedom. It reiterated the need for respect for diversity and pluralism in the multi-ethnic and multi-religious country.
http://www.arabnews.com/node/1494471/world
--------
Uk Police To 'Intervene' If Hezbollah Flags Flown On Quds Day In London
By Jeremy Sharon
MAY 8, 2019
The Metropolitan Police Service for London appears ready to confiscate flags, banners and other items bearing the insignia of the Hezbollah terrorist paramilitary organization during the annual Quds Day demonstration, stating on Tuesday that it will 'intervene' if it sees such things publicly displayed.
Quds Day is an Iranian sponsored anti-Zionist event which takes place in several international cities, including London, at the end of Ramadan, the Muslim month of fasting. This year it falls on June 2.
The event typically sees many expressions of anti-Israel and anti-Zionist sentiment, as well as the flying of Hezbollah flags and the display of the organization's insignia.
In February, the House of Commons voted to ban all wings of Hezbollah, including its political branch which had previously not been proscribed, due to its destabilizing influence in the Middle East, classifying the movement as a terrorist organization.
The new law also tightened restrictions regarding the display of proscribed organization's flags, granting the police stronger powers to confiscate such items.
Superintendent Nick Collins of the Metropolitan Police wrote to the Campaign Against Antisemitism organization on Tuesday, noting the previously widespread display of Hezbollah flags and symbols at the Quds Day march and the fact that the terrorist group has now been banned in its entirety by the UK government.
"There are a number of offenses under this [Terrorism] Act. One of these is that it is illegal to be a member of, or show support for a terrorist organization proscribed under the Act," wrote Collins.
"Flags, banners and chanting can all lead to the suspicion that the individual involved is a member of, or supporter of the terrorist organization Hezbollah," he wrote.
Collins concluded by saying that the Metropolitan Police "fully intend to intervene to enforce the law, where possible, should any offenses be disclosed."
Stephen Silverman, Director of Investigations and Enforcement at the Campaign Against Antisemitism, said that it had been "outrageous that Hezbollah supporters were allowed to march through the streets of our capital" in previous years, given the organization's responsibility for international acts of terrorism. He said that the announcement was the result of hard work by the Jewish community to bring this to an end.
"We are pleased that the police have put in place robust plans to enforce the law, and our Demonstration and Event Monitoring Unit will be out in force as well, to capture evidence should any crimes relating to supporting banned terrorist organizations be committed."
https://www.jpost.com/Israel-News/UK-police-to-intervene-if-Hezbollah-flags-flown-on-Quds-day-in-London-589074
--------
Dr M: 'Protect Islam' rally only served to further divide Muslims in Malaysia
09 May 2019
KUALA LUMPUR, May 9 — Prime Minister Tun Dr Mahathir Mohamad today questioned whether a gathering by Muslims in the city on Saturday was to defend the sanctity of Islam and the Constitution or to draw support for certain political parties.
"I welcome gatherings by Muslims aimed at defending the sanctity of Islam and the Constitution, I fully support these noble aims.
"But I am wondering whether these were the real objectives or aimed at getting support for certain political parties," he said in his latest posting on his blog chedet.cc titled Mendaulatkan Islam last night.
Dr Mahathir said the gathering was reported by the media as one to remind the government on the status of Islam but the leaders who spoke at it were from Umno and PAS.
"If it was to defend Islam, by right it should not have been limited to certain political parties only. The alliance of these parties does not reflect Islamic solidarity. In fact, it divides Muslims in Malaysia," he said.
Dr Mahathir said PAS had earlier claimed Umno members were (kafir) infidels for cooperating with infidels and that 'this allegation is still not retracted'.
"Even the Amanat Hadi, which claimed that the Umno government (then) was a kafir and those who opposed the Umno government, if they die are martyrs," he said, adding that this claim by PAS split the Malays for the first time.
He said the Malays were all Muslims and were including the Sunni (Sunnah Wal Jamaah) sect led by Imam Shafie.
"There was no difference of opinion or understanding on Islam (by Malays) since ancient times. They profoundly split only when PAS was formed and claimed that Umno members were kafir for cooperating with the infidels," he said.
He said so obsessed was PAS with this some much so some deemed even if their parents join Umno they were kafir and claimed Umno people's marriages were not valid and they should remarry and that even cattle or poultry slaughtered by Umno members was not halal and cannot be eaten by PAS members and many other such allegations.
The prime minister said until today PAS had never retracted the Amanat Hadi that labelled Umno members as infidels.
''For PAS, a person who does not join PAS is an infidel. According to PAS, only PAS members are Muslims. Indeed, Muslims seeking asylum in non-Muslim countries have become infidels,'' he said.
Dr Mahathir also questioned how PAS with Umno had the right to claim that their gathering pictured the solidarity of Muslims for the sovereignty of Islam.
"There are people with posts, who are silent on the allegations by PAS and Amanat Hadi," he said.
He said there were Muslims who purportedly wanted to practice Islamic teachings but their focus was on small matters which had elements of politics and "on the other hand the strict prohibitions of Islam does not get reprimands from them."
"Now we find Malaysian Muslims joining wars among other Muslims. They are willing to kill other Muslims, something that is prohibited by Islam. There is no movement by Muslims who want to uphold Islam who have talked about the sins of killing, especially killing Muslims," he said.
'What's worse is shouting the name of Allah during the gathering to strengthen the party's divide and rule politics. Allah's name is used to justify the rejection of Islamic teachings that denounce other Muslims without any apparent reason. Committing sin by doing things prohibited by religion should not be done in the name of Allah," he said.
Dr Mahathir said Islam prohibits theft, but PAS negotiated and cooperated with the previous administration which is known to the world as a government of thieves.
"Now PAS continues to work with the people rejected by society for stealing," he said. — Bernama
https://www.malaymail.com/news/malaysia/2019/05/09/dr-m-protect-islam-rally-only-served-to-further-divide-muslims-in-malaysia/1751087
--------
Fear Of Polarisation Tempers Opposition's Muslim Outreach
May 09, 2019
Sunita Aron
Bhadarsa (Faizabad) Aggressive Hinduism has left the Muslims in a quandary in Uttar Pradesh, where until the 2014 Lok Sabha polls, socialist and centrist political groups used to make a beeline to the community's doorstep at election time.
The growing consolidation of Hindus under the banner of the Bharatiya Janata Party (BJP) and the so-called soft Hindutva it has engendered among its political rivals is contributing to a sense of insecurity among Muslims in India's most populous state, which elects 80 members to the 543-member Lok Sabha.
Mufti Zulfiqar Ali, a resident of Muzaffarnagar, said: "The BJP has unleashed a false propaganda against rival parties and created such an atmosphere that even they are compelled to toe the BJP's line to get support of the people. How much it would work to their advantage is hard to say."
Some Muslims have started describing themselves privately as the new political untouchables. No party is openly courting them except in constituencies where they make up a decisive majority in the electorate.
Issues such as the implementation of the Rjindar Sachar Committee's recommendations to improve the Muslims' social, economic and educational status have disappeared from the political discourse in Uttar Pradesh. Politically divisive slogans such as 'kabristan" vs. "shamshan" (graveyard vs. cremation ground) are the new reality.
The fear of communal polarisation has compelled the non-BJP parties to temper pro-Muslim overtures, and once firebrand clerics have by and large gone silent. To be sure, the national president of the Jamaat-e-Islami (JIH), Syed Sadatullah Husaini, has issued a circular to the organisation's members to work for the Samajwadi Party-Bahujan Samaj Party-Rashtriya Lok Dal (SP-BSP-RLD) alliance.
Muslims make up 19.5% of Uttar Pradesh's population and until the last general election, they used to play a dominant role in about 30-odd constituencies where they accounted for 15-50% votes, primarily in the west and central regions.
Political parties, barring the BJP, pampered the community by fielding more Muslim candidates every election. The consolidation of Hindus under the BJP and vertical division in their votes between the SP and the BSP reduced their influence in the last Lok Sabha elections . The BJP and its ally, Apna Dal, comfortably won 73 of the 80 Lok Sabha seats in UP, which including the ones where Muslims made up decisive numbers like Moradabad (41.12%), Rampur (50.57%) and Saharanpur (41.95%).
Mohammed Akeel, a student in Kaiserganj, said: "We have always been a vote bank. But today we feel our support is no more indispensable." Not only were the three non-BJP parties — SP, BSP and Congress — decimated, winning just seven out of the 80 seats, no Muslim could make it to the Lok Sabha as the BJP swept the state in 2014.
This time around, the three secular parties have fielded fewer Muslim candidates.
In all, 54 Muslim candidates contested the polls in 2014.The SP fielded 12, the BSP and the Congress 17 and 11. Another 14 Muslims contested as Independent candidates or were fielded by smaller parties. In a small consolation, they finished runners-up in 17 constituencies.
The first Muslim to enter the Lok Sabha after BJP's 2014 resurgence was in the 2018 by-poll held in Kairana where the Opposition joined hands to defeat the saffron party and the Rashtriya Lok Dal's Tabassum Hasan was elected .
In 2019, 20 Muslim candidates are in the fray —10 each fielded by the Congress and SP-BSP-RLD alliance. BJP has not fielded a Muslim candidate in 2019; it didn't in 2014 either.
Athar Hussain, director of Centre for Objective Research & Development says, " During the last 5 years the ideology that dominated the political discourse is perceived to be spreading hatred. The challenge before the Muslims is to stop that ideology rather than political empowerment."
The Ayodhya shadow
A Muslim resident of Bahraich, who didn't want to be identified, said, "It is understandable that the politics of the state has taken such a queer turn that even the non-BJP parties do not wish to be publicly identified with Muslims as they fear it might alienate the Hindus. Why? Aren't we getting isolated in the process?"
"It's the SP-BSP alliance representing different castes that gives us some hope, or else, the days of our social exclusion are not far away," he added.
As you travel through the Muslim belt of the state comprising Barabanki, Bahraich, Gonda, Kaiserganj, Shrawasti and Faizabad districts, in the vicinity of Ayodhya – the epicentre of the Ram Janmbhumi-Babri Mosque conflict – one can sense the disquiet. It is more pronounced in the political arena but is deepening at the social level, too.
Most of them have moved away from the contentious Ayodhya issue that had first polarised society on communal lines. The common refrain is that they would abide by a court verdict although hardline Hindus are adamant that they want a temple to Lord Ram built at the disputed site they believe marks the birthplace of the warrior-god .
What one gets to hear in Aligarh-Agra and Meerut-Moradabad — infamous for the politics of polarisation — is also heard in Varanasi or Azamgarh.
Mufti Zulfiqar Ali of Muzaffarnagar said, "In last five years, Muslims had no voice or say on any matter. Their complete marginalisation in every sphere is the only reason behind their determination to defeat BJP." He says it was unfortunate that the Congress did not join the SP-BSP-RLD alliance. It may not have won many seats but would have strengthened the alliance in the fight against the BJP.
Bhadarsa, on the Faizabad-Prayagraj road, is about 30 km from the disputed structure in Ayodhya. Every time the Vishwa Hindu Parishad (VHP) and its associates campaign for a Ram temple in Ayodhya, truckloads of policemen reach the town, which was witness to communal riots in June 2012 over a Durga puja procession. Two persons were killed, several were injured and shops razed. The provocation was the gulal (coloured powder) that had fallen on the Nawab Khan mosque in the town.
Election-time divide
For years, all mosques were covered with a tarpaulin. But soon the 30,000-odd population had learnt from their past mistakes. Now the de-facto chairman of the nagar panchayat, Rashid, leads the processions. "We don't cover the mosque as Muslims lead the procession. Hindus are also careful." Election time divides them.
"Polarisation is not so acute as it was in 2014 when some Yadavs also supported the BJP," he said.
"We are supporting the alliance in a direct contest with BJP. Congress nominee Nirmal Khatri is seasoned and sophisticated but lacks support of other castes," he added. Jarwal is a town in Kaiserganj with 80%Muslim population. Though the 20%Hindus by and large voted for Narendra Modi in 2014, this time, a section is in favour of the alliance along with Muslims. Both Qamrul Hasan and Arun Kumar Yadav say the divide is only political, otherwise they are together. Yadav says, "We all know who votes for whom. Muslims do tactical voting, we go to SP while Brahmins and Banias vote for the BJP."
https://www.hindustantimes.com/lok-sabha-elections/fear-of-polarisation-tempers-opposition-s-muslim-outreach/story-8azo5rmhfeqeled8XzffEM.html
--------
Muthahida Ulema Board Has Issued A Decree: 'Terrorists Enemy Of Islam, Pakistan'
May 9, 2019
LAHORE: The Muthahida Ulema Board has issued a decree against the terrorists targeting the officials of law enforcement agencies and innocent people.
Islamic Shariah forbids suicide blasts, terrorists attacks and killings of innocent people. The suicide blast outside Data Darbar, Lahore, is a heinous terrorist act of the enemies of humanity, the ulema said, adding, people of Pakistan were united and standing with the law enforcement agencies of the country to eliminate the menace of terrorism and extremism from Pakistan.
A statement released by Muthahida Ulema Board, Punjab, with the consent of leading scholars of different schools of thought in Pakistan, condemned suicide attack at police and innocent people during Ramazan. The PUC and Muthahida Ulema Board Punjab chairman has also convened an emergency meeting.
https://www.thenews.com.pk/print/468913-terrorists-enemy-of-islam-pakistan
--------
Islamic Jihad Leader Expects War With Israel To Break Out Next Summer
By Rossella Tercatin
MAY 8, 2019
A leader of the Islamic Jihad said in a televised interview that he expects war with Israel to break out by next summer.
Speaking to Al Mayadeen, a Lebanese news channel, on Tuesday night, Islamic Jihad Secretary-General Ziad al-Nahala described the most recent escalation against Israel as "just preparation for the greater battle."
"The resistance in Gaza is fully prepared for any war," Nahala said, adding that when the ceasefire was reached they were about to shoot rockets at Tel Aviv.
The Islamic Jihad leader further said that the weekly protests at the border with Israel will continue. He explained that a first test for the ceasefire will take place next Friday, which marks the commemoration of "Nakba Day," Day of the Catastrophe, as Palestinians refer to the foundation of the State of Israel. He vowed that if the demonstrators are hurt, there will be retaliation.
The Palestinian terrorist group has strong ties with Iran and with the Lebanese group Hezbollah, and they are sometimes seen as a rival faction to Hamas, which controls the Gaza Strip.
However, in the interview, Nahala said that the group's cooperation with Hamas is solid.
"We were with Hamas in Cairo and we made a joint decision to activate the Joint Operations Room to respond to the aggression of the occupation," he explained, describing how the decision to launch the escalation against Israel was taken.
Some 700 rockets were fired against Israel over the course of last weekend, before a ceasefire was reached on Monday.
https://www.jpost.com/Arab-Israeli-Conflict/Islamic-Jihad-leader-expects-war-with-Israel-to-break-next-summer-589104
--------
U.S. Sends B-52s To Deal With Threat Of Attack By Iran, Iran Says 'Despised' U.S. To Blame
Zak Doffman
May 09, 2019
"If the U.S. doesn't feel safe, it's because they're despised by the people of the region — blaming Iran won't reverse that," tweeted Javad Zarif, Iran's Foreign Minister, on Tuesday. "The B-Team is at it again. From announcements of naval movements (that actually occurred last month) to dire warnings about so-called 'Iranian threats'." The "B-Team" is Israel's Benjamin Netanyahu, U.S. National Security Adviser John Bolton, Saudi Arabia's Mohammed bin Salman and the UAE's Mohammed bin Zayed.
Tensions ramped up still further on Tuesday, with CBS News reporting that "four B-52 bombers are being deployed to the Middle East in response to what administration officials said earlier this week are threats of a possible attack by Iran or allied fighters on American troops in the region. Two of the bombers are expected to leave Tuesday from Barksdale Air Force Base in Louisiana, arriving at Al Udeid Air Base in Qatar on Wednesday... CENTCOM is expected to request additional forces, including Patriot anti-missile batteries."
On Sunday night, Bolton announced that "the United States is deploying the USS Abraham Lincoln Carrier Strike Group and a bomber task force to the U.S. Central Command region send a clear and unmistakable message to the Iranian regime that any attack on United States interests or on those of our allies will be met with unrelenting force."
On Monday, CNN reported that, according to U.S. officials, this move followed "specific and credible" intelligence that suggested "Iranian forces and proxies were targeting U.S. forces in Syria, Iraq and at sea, [which] led the Pentagon to recommend a carrier strike group be moved to the region." Media reports in Israel suggested that this intelligence originated there: "According to Israel's Channel 13, Israeli officials conveyed information gathered largely by the Mossad on an Iranian plan to attack either a U.S. or U.S.-allied target, details of which were not provided to the network."
Also on Monday, Keivan Khosravi, a spokesperson for Iran's Supreme National Security Council, described Bolton's statement as a "gauche recourse to an abortive development for psychological warfare. Bolton lacks understanding of military and security issues. His remarks are more intended to serve as braggadocio."
https://www.forbes.com/sites/zakdoffman/2019/05/07/u-s-deploys-b-52s-to-gulf-as-iran-says-despised-u-s-only-has-itself-to-blame-for-fear/#3f65d4af2a5d
--------
Tunisian Takfiri Jailed for Inciting Women to Join ISIS
8 May, 2019
The court of first instance has sentenced a Tunisian takfiri to 18 months in prison for inciting young people to join ISIS terrorist organization.
The counter-terrorism agency had placed the takfiri fighter called "Emir of Tajerouine" under surveillance. Tajerouine refers to the city where he lived.
Investigators said he contacted a group of four girls via social media, encouraging them to adopt extremist thinking.
They said he asked the girls for marriage and then invited them to head to Syria to join ISIS.
After his arrest, the man denied his intention to travel to Syria or wanting to send the girls there by urging them to join the terrorist organization. However, he admitted to his desire to marry the girls.
In other news, Tunisian security sources confirmed the arrest of Tunisian terrorist Raed Touati during a recent operation in the Sidi Ali Ben Aoun area of Sidi Bouzid, a city in central Tunisia.
The operation allowed security forces to have access to very important information on the terrorist elements in the mountainous areas, especially in al-Kasserine, Jendouba, and el-Kef.
Investigators were able to gather clear and accurate data on the number of terrorists killed in the mountains and their burial places.
Touati informed investigators that around 18 terrorists were buried in the mountains. Most of them were killed in clashes with the army and guards, while others died in the explosion of landmines that they had planted in the mountains.
The latest pre-emptive security operation succeeded in thwarting terrorist plots by al-Qaeda's Oqba Bin Nafie Brigade to target mainly security and military forces during the month of Ramadan.
https://aawsat.com/english/home/article/1713091/tunisian-takfiri-jailed-inciting-women-join-isis
--------
Arab World
Anti-Kurdish protests in east Syria could endanger US plans
May 09, 2019
BEIRUT: The US-backed Syrian Democratic Forces took credit for defeating the Daesh group in its last stronghold in eastern Syria, celebrating the victory in front of throngs of journalists at a ceremony in March following a bloody four-year war.
But the Kurdish-led force now faces protests by local Arab tribesmen demanding better services, jobs and a bigger role in decision-making in the predominantly Arab, oil-rich and fertile region.
Demonstrations in more than a dozen villages in the eastern province of Deir Ezzor are limited for now, but they present a growing challenge to the US and its local partners at a time when President Donald Trump plans to reduce America's military presence in Syria.
An SDF official, who spoke on condition of anonymity because he was not authorized to speak to the media, said the protesters are a small percentage of Deir Ezzor residents. But the demonstration benefit the Syrian government, its Iranian backers and Turkey, and undermine "our victory against Daesh," he said.
Several rounds of talks between the SDF and local officials have so far failed to make progress, leading to concerns the protests could transform into an all-out uprising against the predominantly Kurdish force.
The protests come as the force, founded in 2015 to fight Daesh and armed by the US, faces multiple challenges.
Daesh sleeper cells have intensified their attacks in areas controlled by the SDF in recent weeks. Syrian President Bashar Assad's troops, based along the west bank of the Euphrates River that cuts through Deir Ezzor, have vowed to reassert control over Kurdish-held areas in northern Syria. And Turkey, which considers the force to be a terrorist organization, has also set its sights on the region.
The SDF controls nearly a third of Syria, but unlike the provinces of Raqqa and Hassakeh in the north that have large Kurdish populations, Deir Ezzor in the east is almost purely Arab, leading to ethnic tensions between the local population and the Kurdish force.
Two years after entering the province in their push against Daesh, the SDF appears to have failed to win the hearts and minds of the residents in the region, which suffers from a lack of services, rising crime, fuel shortages and anger over what they see as growing Kurdish influence.
Although the SDF is a mixed force consisting of Kurds, Arabs and Christian fighters, its backbone is the Kurdish People's Protection Units, or YPG.
Some SDF officials say that what's happening in eastern Syria are not protests, but riots backed by Assad's government with the aim of hurting the SDF and its American backers. SDF officials warn that if the protests continue, it will affect the search for IS sleeper cells in the region.
For nearly two weeks, residents in more than a dozen towns and villages in Deir Ezzor have been rallying, closing major roads with burning tires to prevent SDF tanker trucks from taking crude to Kurdish-held areas in the country's north.
Areas liberated from the IS suffer fuel shortages and IS sleeper cells are launching a guerrilla campaign to avenge their defeat two months ago when the SDF captured the village of Baghouz, marking the end of the extremists' self-declared caliphate.
Some of the protesters believe that Kurdish fighters sell oil to Assad's loyalists amid severe fuel shortages in government-held parts of the country, aggravated by US sanctions on Syria and its main backer, Iran.
Since SDF began capturing parts of Deir Ezzor in 2017, residents have expressed anger at what they say has been forced recruitment of Arab residents into the SDF, as well as the detention of many on suspicion of links to Daesh.
"People are fed up with the SDF," said Omar Abu Laila, a Europe-based activist from Deir Ezzor who runs a group that monitors developments in the province. "They are robbing the wealth of the people in the region."
The protests took a turn for the worse on April 24, when according to Deir Ezzor activists, the US-led coalition and SDF fighters stormed a house in the village of Daman and killed six people, including two women and a child. They said the raid targeted a man called Farhan Al-Sarhan, whom the SDF says is linked to IS, a charge that activists deny.
A day later, protests spread quickly to nearby villages and towns including Tayyaneh, Haseen, Mheimda, Husan, Shannan and Shheil.
"No to Kurdish occupation," read one banner carried by protesters, according to images posted on social media.
"The pace of rehabilitation, economic development and provision of essential services has not been sufficient to meet the basic needs of the population," Bassam Barabandi, a former Syrian diplomat now based in Washington, said of the protests. "As a result, people are feeling very hopeless about their current situation and the future. They do not see the regime as an acceptable alternative, and they are looking for the US to act."
Several meetings have been held over the past weeks between SDF officials and Arab dignitaries from Deir Ezzor to try to ease the tension without success, according to Barabandi and the Britain-based Syrian Observatory for Human Rights, a war monitoring group.
An Arab man from Deir Ezzor who took part in the talks, said that "the Kurds have been refusing to make any concessions." He spoke on condition of anonymity out of concern for his safety.
He said the SDF is taking away most of the oil it pumps in Deir Ezzor — about 60,000 barrels a day — and leaves hardly anything behind.
Arab officials demanded, among other things, the release of SDF-held detainees, stopping the flow of oil from the province, giving Deir Ezzor fighters within the SDF a bigger role, ending compulsory conscription into the SDF and improving electricity and fuel services.
Rami Abdurrahman, who heads the Observatory, said chaos in eastern Syria is not a good omen for the SDF.
"The regime could be the biggest winner from what is happening," he said.
http://www.arabnews.com/node/1494626/middle-east
--------
Trial begins for man feds say was Hezbollah 'sleeper' agent
May 7, 2019
A Bronx man who is accused of working as a deep-cover "sleeper" agent for Hezbollah — appearing to lead an otherwise normal life while secretly conducting surveillance on New York City-area airports and military installations — went to trial this week.
Federal prosecutors say that from 2009 to 2015, the Lebanon-born Ali Kourani, 34, ran surveillance on military and intelligence facilities in anticipation of an attack from the Islamic Jihad Organization, an arm of Hezbollah.
The feds also allege that, in 2011, Kournai took a trip to Lebanon to receive weapons and combat training.
According to court papers, Kourani immigrated to the United States legally in 2003. He obtained a degree in biomedical engineering from the City University of New York in 2009 and later obtained an MBA.
Kourani had attempted to become an informant for the FBI, court papers state — he agreed to sit down with agents for five interviews with hopes that he could give up information in exchange for financial support and immigration benefits for his relatives. In one of his interviews, Kournai boasted that his family was akin to the "Bin Ladens of Lebanon."
But the feds say they made him no promises to Kournai for the information he provided and instead arrested him in 2017.
Kournai's interviews with the FBI will be presented to the jury at his trial, which is being conducted in Manhattan federal court.
Full report at:
https://nypost.com/2019/05/07/trial-begins-for-man-feds-say-was-hezbollah-sleeper-agent/
--------
Militants interrupt aid deliveries as 150,000 displaced in Idlib
May 7, 2019
Over 100,000 civilians have been displaced in northern Syria's Idlib in the last week, the United Nations said on Tuesday as hospitals, houses and first responders have been targeted in the ongoing week-long offensive.
"We are alarmed by ongoing reports of aerial attacks on population centres and civilian infrastructure, resulting in hundreds of civilians dead and injured," said David Swanson of the UN Office for the Coordination of Humanitarian Affairs, or OCHA.
"More than 152,000 women, children and men have been displaced in Aleppo and Idlib governorates over the past week alone," he said.
Fighting subsided early on Tuesday after pro-government forces thwarted several counter-attacks and consolidated new positions, head of the UK-based Syrian Observatory for Human Rights, Rami Abdul Rahman, said.
But then air strikes and artillery shelling on Tuesday killed at least 13 civilians. Nine were killed in similar strikes on Monday.
Opposition-linked first responders, known as the White Helmets, say warplanes bombed a market in the village of Ras El Ain on Tuesday, killing four people and wounding 20.
French President Emmanuel Macron expressed his "extreme concern" over the heightened violence.
Syrian troops captured a village and a strategic hill from hardline militant groups on Monday in the northwest region of Idlib, regime media reported, as United Nations head Antonio Guterres called for action to prevent civilian casualties and mass displacement.
The Syrian government's advance was the deepest push so far this year into Syria's last major rebel stronghold. The latest wave of violence, which began April 30, has raised fears the government may launch a wider offensive to retake the area, home to around 3 million people. It is also the most serious challenge to a Russia-Turkey sponsored cease-fire in place since September.
So far, 21 hardline fighters from the former Al-Qaeda affiliate Hayat Tahrir Al Sham and its ally in the Turkistan Islamic Party as well as 22 pro-government fighters have been killed in the violence. Thousands of civilians have been displaced and medical centres destroyed by regime and Russian airstrikes.
A senior Russian official said Russia's air base in the coastal province of Latakia came under fire from the insurgents, the latest assault on the military post since Friday.
With threats, interference and aid deliveries in jeopardy relief workers say hardline militants are adding to the huge challenges they face in violence-plagued northwest Syria.
Around 2.7 million of its roughly three million residents need humanitarian assistance according to the UN.
Most rely heavily on food, medicine and other aid brought across from Turkey by the UN and charity groups.
But efforts by the "de-facto authorities" in Idlib "to tamper with, impede or frustrate the delivery of humanitarian assistance including by undermining the safety of humanitarian workers, has been an unfortunate reality", said Rachel Sider of the Norwegian Refugee Council (NRC).
The Hayat Tahrir Al Sham's civil wing – the so-called "Salvation Government" – cemented control over Idlib at the beginning of the year.
"The interference has increased since January," said a humanitarian worker in Idlib, who wanted to remain anonymous for fear of retaliation.
"There is not a single aid organisation that has been spared threats, arrests, or closure for very silly reasons," he said, even as Idlib has come under increased bombardment by the regime and its ally Russia over the past month.
In April, jihadists threatened to detain him because he refused to provide them with food baskets his team was distributing at a camp for the displaced in southern Idlib, he added.
"They told me I should give them aid because they are mujahideen," said the 27-year-old.
He said Hayat Tahrir Al Sham also detained him for four days seven months ago in Idlib city for photographing aid deliveries without their authorisation.
Militants beat him, confiscated his laptop, and broke his camera, he said.
"They told me I should thank God I was being released alive."
Paul Donohoe of the International Rescue Committee said, "aid groups face interference from armed groups in Idlib, such as the restricting of access to vulnerable populations or attempting to influence beneficiary selection and the location of aid delivery."
He declined to provide more detail but a second humanitarian worker in Idlib, who also asked to remain anonymous, said several projects by international aid agencies have been dropped in recent months because of such meddling.
A plan to provide bakeries in Idlib with free flour was scrapped because the Salvation Government insisted on limiting beneficiaries to bakeries it is affiliated with, the 29-year-old said.
"Our activities as an organisation have become very modest since this happened to us," he added.
The governing body is also trying to ensure its affiliates are among those who secure tenders with aid agencies, which attempt to avoid this through screening, he said.
"They want a cut of any project implemented in the area," he said.
The encroachment has sparked concern that relief items and aid money may fall in the wrong hands.
Ms Sider, of the NRC, said: "In this environment, aid agencies cannot completely eliminate the risk of diversion and we'd like donors to recognise this."
The UN has said it is taking extra measures to combat diversion.
They include "additional screening from partners, suppliers, even workers, staff, and third-party monitoring, including the use of modern technology – barcoding, establishing hotlines to be able to be sure that aid reaches the right people," the UN regional coordinator for Syria, Panos Moumtzis, said.
There has yet to be any major decrease in humanitarian assistance but some donors have cut funding, said Ahmed Mahmoud, Syria director for the Islamic Relief charity.
"So far, five major hospitals have had to close entirely and seven other medical facilities – including hospitals focusing on paediatrics and obstetrics – severely cut back their operations due to funding cuts," he said.
Though there could also be other reasons, "some donors may have concerns regarding the shifts in control in northwestern Syria, which may have affected their funding decisions.
"As one facility after another shuts its doors, the pressure only grows on those that remain," he said.
For its part, the Salvation Government denies jeopardising relief efforts.
A Salvation Government official in charge of coordinating aid, who gave his name as Dr Jihad, said the administration was "striving to organise [humanitarian] work" by strengthening cooperation with relief agencies and facilitating aid deliveries.
Full report at:
https://www.thenational.ae/world/mena/militants-interrupt-aid-deliveries-as-150-000-displaced-in-idlib-1.858586
--------
Children of ISIS members handed over to Swedish delegation in Syria
May 07-2019
ERBIL (Kurdistan 24) – Local authorities in northeastern Syria on Tuesday handed over seven children belonging to members of the so-called Islamic State to a Swedish delegation.
The transfer was made at the Faysh Khabur border crossing, also known as the "Semalka" crossing, which connects Syria's northeast with the Kurdistan Region.
The Swedish delegation met with the foreign relations department in northern and eastern Syria to receive seven children of Swedish nationality whose parents were killed in Syria fighting for the Islamic State, local Kurdish media reported.
The delegation was received by the Deputy Head of the Department of Foreign Relations in North and East Syria, Sana Deham, and the Director of the Women's Body for North and East Syria, Rokan Mullah Ibrahim.
After the children were handed over, an extradition contract was signed. The Swedish delegation then returned to the Kurdistan Region with the children where they are expected to repatriate them to Sweden.
In April, Sweden's Foreign Minister Margot Wallström said the country wants to facilitate the return of children of Swedish nationals who traveled overseas to join the terror group.
Wallström wrote in a Facebook post that the Swedish government was "working intensively so that children with a connection to Sweden who are in Syria get the help they need."
"There should not be any doubt that the government is doing what we can for these children and, if possible, they will be brought to Sweden."
Local Kurdish-led authorities in northern Syria have urged foreign states to take back female nationals suspected of membership to the Islamic State and their children.
The US has also called on Western countries to take responsibility and take their citizens back. So far, a majority of them have not responded to the calls.
Nadim Houry, a terrorism and counterterrorism director at Human Rights Watch (HRW), said Syrian Kurdish authorities who played a significant role in defeating the Islamic State had shouldered a heavy burden by holding countless numbers of foreign detainees.
Houry noted that Sweden's decision to repatriate the children is an important step for the youth who are the real victims.
"They [the children] were brought [to Syria] by their parents who were born [in Sweden], and their future is in their home countries," he told Kurdistan 24.
The HRW director called on other nations to launch similar efforts.
"The future of children cannot be detention in the camp; they need to return to their home countries," Houry explained. "The sooner it happens, the better."
"We hope that these efforts will actually build up to a more sustained return to end the situation in the camps."
The Al Hol camp in Syria witnessed an increase in numbers of residents during an offensive by the Syrian Kurdish-led forces, backed by the US-led coalition to defeat the Islamic State in its last bastion of Baghouz which ended in March.
Full report at:
http://www.kurdistan24.net/en/news/dba9a72e-f08f-439d-bcfe-dc396c5815b8
--------
Iraq's Militias, Accused of Threatening U.S., Pose a Quandary for Iraq
By Alissa J. Rubin
May 7, 2019
When the United States said this week that American forces in Iraq faced threats from Iranian "proxies," it was referring to the armed groups that helped fight the Islamic State and have bedeviled Iraq ever since.
The Iraqi armed groups, some with ties to Iran, have a footprint in every Iraqi province. Whether they function as Iranian proxies, however, is far from settled.
"The word 'proxy' implies that these are tools of Iran, and they aren't," said Anthony H. Cordesman, a national security analyst at the Center for Strategic and International Studies.
"You have a range of groups in Iraq's Popular Mobilization: Some are Sunni, some are pro-Iraqi government, some have ties to the Quds force and the Islamic Guard," he said.
The question is further clouded by the fact that these groups are recognized and funded by the Iraqi government.
This week, the United States ordered an aircraft carrier and bombers to the Persian Gulf in response to what it termed as threats from the groups. On Tuesday, Secretary of State Mike Pompeo made an unannounced trip to Iraq to press its leaders about what he said were increased dangers to Americans there from Iran's forces and allies.
There are roughly 30 of the militias, known as the Popular Mobilization Forces, with at least 125,000 active-duty fighters.
Their relationships with Iran vary widely, according to experts and government officials in Iraq and Washington. Some Popular Mobilization groups keep their distance from Iran while others — including some of the most powerful — are deeply intertwined with it.
Now that the fight against the Islamic State has dwindled, the problem facing Iraq is what to do with these groups. While there has been talk of having them disband and disarm, only a couple of them seem willing to do so.
Although the militias have been absorbed into the Iraqi security forces, they are not under the command of either the Defense or Interior Ministries. Instead, they enjoy a special status, reporting to the prime minister.
Some of the groups seem relatively benign and carry out almost exclusively local responsibilities, providing policing services where the police are in short supply.
However, others are corrupt, behaving like mafias, and several have been accused of human rights abuses. And while they report to the prime minister, it is not clear that anyone really can restrain them.
"If they have armed wings and are corrupt, no one can control them," former Prime Minister Haider al-Abadi said in an interview this year.
A major concern among some officials is that, much like Iran's Islamic Revolutionary Guard Corps, they will go into business, but with the unfair advantage of having armed men behind them and the implicit protection of senior figures in the Iraqi government.
"In Iraq if you don't put controls on these groups, you will have these guys morph into networks that will range from semi-criminal entities to politically predatory forces that would act as a state within a state," said Alex Vatanka, a senior fellow at the Middle East Institute.
It is the four or five groups with the closest ties to Iran that are seen as exercising unauthorized power. Some run kickback schemes on a local level, using coercion to force business people to give them a piece of the action or compel citizens to use their services.
Many of these groups have large numbers of representatives in the Iraqi Parliament, where the power to designate ministers is divided among the political blocs. If a bloc or a party controls who becomes a minister, they have a chance to influence who gets valuable contracts or jobs.
These groups also can act as a lobby for Iranian interests within the Iraqi state.
Senior Iraqi government officials worry privately about the influence of the groups that have proved closest to Iran and are impervious to efforts to bring them under the government's control, but the officials are generally reluctant to speak publicly about it.
The Defense Ministry was angry when some of the Popular Mobilization's brigades moved to the Syrian border in November, taking up crucial positions, but the ministry worked out a way of avoiding a confrontation with them.
Similarly, soon after the United States Treasury Department announced in March it was listing one of the Popular Mobilization groups, Harakat Hezbollah al-Nujaba, as a foreign terrorist organization, the Iraqi government made clear it disagreed.
Prime Minister Adel Abdul Mahdi did not defend the group by name — al-Nujaba has proved difficult for the Iraqi military to work with at times — but he did support the Popular Mobilization groups.
"The Americans can make the decisions they want, but the Americans see things differently from the way we do, and our attitude toward the Popular Mobilization is well known and clear," he said in March. "We respect all of the groups of the Popular Mobilization that made sacrifices."
The sacrifices he was alluding to were largely made from 2014 through 2016, when the Islamic State swept across northern Iraq with little resistance and was moving fast toward the capital. Urged by a call in June 2014 from Grand Ayatollah Ali al-Sistani, Iraq's influential Shiite spiritual leader, for volunteers to defend their nation, young men and old formed a pickup army.
Iran sent some Iraqis who were fighting with them in Syria, on behalf of President Bashar al-Assad's Syrian Army, back to Iraq to confront the threat on their home turf.
In places where the Iraqi Army collapsed in the face of the Islamic State, the Popular Mobilization Forces went in: They secured roads, fought the Islamic State and cut off their escape routes. Iran helped the Popular Mobilization acquire weapons and supplies, but gradually that role was taken over by the Iraqi government.
At the time, the Popular Mobilization groups "did a lot of good and sacrificed with their blood" to help save the country from the Islamic State, said Wafiq al-Hashimi, a political scientist at the Iraq Strategic Studies Group.
However, in areas where they defeated the Islamic State, some militias took over the extremists' illegal activities, enriching themselves but doing little for local communities. These groups, most notably in northern Iraq, fought Iraqi government forces as recently as last year to hold on to their oil smuggling business. They ultimately lost, but still have bases near the now-capped oil wells.
At least a couple of the Popular Mobilization groups are led by figures who attacked American forces in the years after the United States invaded Iraq, making any threats against United States forces and civilians in the region particularly worrying to officials.
One of those groups is Asaib Ahl al-Haq, led by Qais al-Khazali, whom American officials accused of masterminding an audacious attack against Americans in Karbala, Iraq, in 2007. More recently, the group was accused by rights groups of the extrajudicial killings of Sunnis during the fight against the Islamic State. In recent months, it has been criticized for demanding that business owners in northern Iraq give it a cut of any business they are involved in. The group has denied the accusations against it.
Similarly inimical to American interests are the armed groups and political party linked to Moktada al-Sadr, a cleric whose supporters have the largest number of seats in the Iraqi Parliament. Although Mr. al-Sadr has recently kept Iran at arm's length, he has taken a strongly nationalist stance. He often ends up on the same side as Iran when it comes to the United States, since he, too, would like to see American soldiers leave Iraq.
Full report at:
https://www.nytimes.com/2019/05/07/world/middleeast/iraq-militias-iran-united-states.html
--------
Egypt court upholds death penalty for 13 militants
7 May 2019
An Egyptian court Tuesday upheld the death sentences of 13 militants for attacks against security forces, a judicial official said.
The defendants were charged with forming a militant group, Ajnad Misr (Soldiers of Egypt), which has claimed responsibility for lethal attacks on security forces in and around the capital Cairo.
Egypt's Cassation Court rejected an appeal against initial rulings passed by a Giza criminal tribunal in December 2017.
The accused were found guilty of "making and possessing explosive materials, bombs and firearms, and of receiving training outside the country".
They were also convicted of "terrorist acts against police forces and public facilities from late 2013 to May 2015".
Apart from the 13 death sentences, 17 defendants were handed life prison terms, and nine to between five and 15 years in jail, while five were acquitted.
Ajnad Misr claimed several deadly attacks against security forces and bombings outside key buildings such as the Supreme Court and the cabinet offices.
In 2015, the group's leader Hammam Mohamed Attiyah was shot dead in a Cairo gunfight with police.
Police said Attiyah belonged to Ansar Beit al-Maqdis, the Egyptian branch of ISIS before he broke away in 2013 to found Ajnad Misr.
Egypt has been battling an insurgency affiliated with ISIS in the restive North Sinai region since 2013.
The government in February 2018 launched a large-scale military operation against ISIS in the Sinai Peninsula of eastern Egypt.
Full report at:
https://english.alarabiya.net/en/News/north-africa/2019/05/07/Egypt-court-upholds-death-penalty-for-13-militants.html
--------
Iraq holds trial for over 500 Daesh terrorists
May 8, 2019
The Iraqi judiciary has tried and sentenced more than 500 foreigners since the start of 2018 for joining the Daesh group, the country's Supreme Court announced on Wednesday.
It said "514 verdicts were issued, for both men and women, while another 202 accused are still being interrogated and 44 are still being tried."
Another 11 were acquitted and released, it said.
The statement referred to "different nationalities" but did not list any specific countries.
It said interrogations were taking about six months for those simply accused of Daesh membership, but anyone accused of actively taking part in the terrorist group's operations could be questioned for up to a year.
Iraq declared victory over Daesh in late 2017 and began trying foreigners accused of joining the terrorist faction the following year.
It has condemned many to life in prison, including 58-year-old Frenchman Lahcen Ammar Gueboudj and two other French nationals.
It has also issued death sentences for other foreign Daesh members, although they have not yet been carried out.
Among those awaiting trial in Baghdad are 12 accused French Daesh members, who were caught in Syria and transferred to Iraqi custody in February.
Government sources have told AFP that Baghdad would be willing to try all foreigners currently held in Kurdish detention in northeast Syria for a price.
Around 1,000 suspected foreign Daesh terrorists are in detention in northeast Syria, in addition to around 9,000 foreign women and children in camps there.
Rights groups including Human Rights Watch have criticized the trials, which they say often rely on circumstantial evidence or confessions obtained under torture.
Wednesday's statement by the court "urged all trials of foreign terrorists to be moved to Baghdad, as most of the embassies are in the capital and so embassy representatives from the terrorists' countries can attend the sessions."
Iraq has also already tried thousands of its own nationals arrested on home soil for joining Daesh, including women.
It has begun trial proceedings for nearly 900 Iraqis repatriated from Syria and sentenced four to death last month under its counter-terrorism law.
The country remains in the top five "executioner" nations in the world, according to an Amnesty International report released last month.
The number of death sentences issued by Iraqi courts more than quadrupled from 65 in 2017 to at least 271 last year.
Full report at:
https://www.presstv.com/Detail/2019/05/08/595424/Iraq-Court-Daesh-Terrorists
--------
South Asia
Suspected Islamic State fighter Motaj is not saying anything: Police
09 May 2019
Police's Counterterrorism and Transnational Crime or CTTC unit arrested Motaj last Sunday and took him under a four-day custody for grilling on Tuesday.
"Two days have passed. But he is tightlipped about fighting in Syria. Let's see what information we can get from him in the remaining two days," CTTC Assistant Commissioner Ohiduzzaman Noor told bdnews24.com on Wednesday.
Born and raised in Saudi Arabia, Motaj came to Bangladesh for the first time in February this year.
Motaj holds a Bangladeshi passport as his father is a Bangladeshi citizen.
Noor said Motaj's work permit in Saudi Arabia was about to expire.
He had travelled to Syria via Turkey illegally twice, according to CTTC Deputy Commissioner Mohibul Islam Khan.
The CTTC officials were also trying to know who he had contacted in Bangladesh after arriving in the country, Mohibul said.
He was arrested on suspicion following a scrutiny of the list of the people who came to Bangladesh from Turkey recently.
This comes weeks after the Easter Sunday attacks on churches and hotels in Sri Lanka. Over 250 people died in the bombings claimed by the Islamic State.
The radical group reportedly claimed responsibilities for a bombing on police in Dhaka on Apr 29. In Bangladesh, it had made such claims for the last time more than two years ago.
https://bdnews24.com/bangladesh/2019/05/09/suspected-islamic-state-fighter-motaj-is-not-saying-anything-police
--------
Taliban attack aid group office in Afghan capital kills 5
By Rahim Faiez and Amir Shah
May 8, 2019
KABUL, Afghanistan — Taliban fighters attacked the offices of a U.S.-based aid organization in the Afghan capital on Wednesday, setting off a huge explosion and battling security forces in an assault that lasted more than six hours and killed at least five people, the Interior Ministry said.
Dozens of civilian vehicles and shops were either destroyed or damaged, and several buildings were also damaged. A large plume of smoke rose from the area and the sound of sporadic gunfire could be heard.
The ministry's statement said four civilians and a police officer were killed and 24 others were wounded in the assault. It was not immediately clear if any foreigners were killed or wounded.
The ministry's statement said the attack ended after all five insurgents were killed by Afghan forces. "Around 200 people were rescued from both buildings within the compound," it said.
The attack targeted U.S.-based aid organization Counterpart International, which has offices near those of the Afghan attorney general, said Interior Ministry spokesman Nasrat Rahimi. The group's offices are in a compound with two five-story buildings.
"We are incredibly saddened by this attack and are working as quickly as possible to account for our staff," the organization said in a statement on its website. "Their safety and security is our primary concern.
Johan Bass, U.S. ambassador in Afghanistan, strongly condemned the attack on the NGO. He said the targeted organization helps local communities, trains journalists and supports the Afghan people.
The United Nations Assistance Mission in Afghanistan in a statement also condemned the insurgents for deliberately targeting a civilian aid organization.
"Today's attack was particularly deplorable, hitting civilians helping Afghans," the statement said.
Taliban spokesman Zabihullah Mujahid said the group attacked the organization because it was involved in "harmful Western activities" inside Afghanistan, without elaborating.
Taliban insurgents stage near-daily attacks on Afghan forces, even as peace efforts have accelerated to find an end to the country's 17-year war.
Afghan President Ashraf Ghani called for peace with the Taliban last week and promised to free 175 Taliban prisoners ahead of the Muslim holy month of Ramadan, which began Monday.
The Taliban said they would continue their attacks during Ramadan, but would be "very careful of civilians during any operation."
Full report at:
https://www.washingtonpost.com/world/asia_pacific/afghan-officials-large-explosion-gunfire-in-capital/2019/05/08/2c079078-7167-11e9-9331-30bc5836f48e_story.html?noredirect=on&utm_term=.be1f888e1173
--------
Turkish charity serves iftar to orphans in Bangladesh
Mesut Ozcan
08.05.2019
BANGLADESH
A Turkish charity on Wednesday served fast-breaking meals, or iftar, to orphans in Bangladesh's Cox's Bazar .
The Istanbul-based Humanitarian Relief Foundation (IHH) organized the dinner at the Dar Al Iman Orphanage in Cox's Bazar.
Speaking at the event, Ahlul Islam, one of the teachers at the orphanage, said they are teaching holy Quran to 45 students.
The orphanage hosts Rohingya and Bangladeshi children.
The IHH has a total of nine orphanages in Bangladesh. Besides, it sponsors and aids 15 other orphanages in the country.
Full report at:
https://www.aa.com.tr/en/asia-pacific/turkish-charity-serves-iftar-to-orphans-in-bangladesh/1473231
--------
Muslim worshipper killed at Bangladesh mosque; one detained
08 May 2019
The killing took place at the mosque in the Mothbarhi neighbourhood under Amgram union during Tarabih prayers about 9pm on Tuesday, Rajoir Police Station OC Shajahan Mia said.
The dead, Mojibor Bepari, 50, had a dispute over ownership of a piece of land with his cousin Ali Ashraf, the OC said.
Mojibor's son Rubel Bepari and Ashraf's son 'Lincoln' had engaged in an altercation in the presence of Ashraf over keeping shoes at the mosque before the Isha prayers on Tuesday, Shajahan said.
When Mojibor was offering his Tarabih prayers at the mosque later in the night, Ashraf's men wounded Mojibor in an attack with sharp weapons, the OC said.
A doctor declared Mojibor dead when he was taken to the Rajoir Upazila Health Complex, according to the police officer.
One person has been detained for questioning over the incident while Ashraf, his sons. and others blamed for the murder are on the run, he said.
Full report at:
https://bdnews24.com/bangladesh/2019/05/08/muslim-worshipper-killed-at-bangladesh-mosque-one-detained
--------
Taliban militants suffer heavy casualties in self defense strikes of Afghan Special Forces in Faryab
09 May 2019
The Taliban militants suffered heavy casualties in self defense strikes of the Afghan Special Forces in northern Faryab province, the military sources said Thursday.
The sources further added that the Afghan Special Forces carried out the self defense in Andkhoy district of the province.
"Self-defense strikes by Afghan Special Forces in Andkhoy district killed 33 Taliban fighters and wounded two," the sources said.
The anti-government armed militants including Taliban have not commented regarding the strikes so far.
Full report at:
https://www.khaama.com/taliban-militants-suffer-heavy-casualties-in-self-defense-strikes-of-afghan-special-forces-in-faryab-03923/
--------
Taliban tunnel systems destroyed in Uruzgan operation
08 May 2019
At least 4 Taliban militants were killed and tunnel systems of the group were destroyed during the operation which was conducted in southern Uruzgan province.
"A strike in Tarin Kot district of Uruzgan targeting Taliban leadership resulted in 4 Taliban fighters killed and tunnel systems destroyed," the informed military sources said Wednesday.
The sources also added that 7 Taliban fighters killed and 3 others were wounded in a separate operation of the Afghan Special Forces in Musa Qala district of Helmand.
Additionally, a large number of weapons, military equipment and explosives were destroyed, the sources added.
Full report at:
https://www.khaama.com/taliban-tunnel-systems-destroyed-in-uruzgan-operation-03922/
--------
Europe
UK says Iran will face consequences if it breaks nuclear deal
8 May 2019
Britain said Iran would face consequences if it backed away from its nuclear deal, following Tehran's announcement on Wednesday that it was scaling back curbs to its nuclear program that had been agreed under a 2015 deal with world powers.
"Today's announcement from Tehran is ... an unwelcome step," junior foreign office minister Mark Field told Britain's parliament. "We are not at this stage talking about re-imposing sanctions, but one has to remember that they were, of course, lifted in exchange for the nuclear restrictions."
A year after Washington pulled out of the nuclear deal, Iran's President Hassan Rouhani unveiled measures that do not appear to violate its terms yet but could do so in the future if Iran were to persist on the course he set out.
"Should Iran cease meeting its nuclear commitments, there would, of course, be consequences," Field said.
Germany: Work on Iran SPV taking time
Work on setting up a special purpose vehicle (SPV) for business with Iran is taking longer than expected, a German government spokesman said on Wednesday.
"Currently, the last steps need to be taken for this corporation to be able to operate – that includes Iran making the necessary preparations on its side," spokesman Steffen Seibert told a regular government news conference.
https://english.alarabiya.net/en/News/middle-east/2019/05/08/UK-says-Iran-will-face-consequences-if-it-breaks-nuclear-deal.html
--------
China, France say Iran nuclear deal should be fully implemented
8 May 2019
In response to Iranian President Hassan Rouhani's statement that the Islamic Republic will resume high level enrichment of uranium if world powers did not keep their promises under the agreement, both China and France issued warnings against the move.
China's foreign ministry said on Wednesday the 2015 Iran nuclear agreement should be fully implemented and all sides have a responsibility to ensure it happens.
Foreign ministry spokesman Geng Shuang made the remarks during a daily briefing.
"We call on all relevant parties to exercise restraint, strengthen dialogue, and avoid escalating tensions," he said, adding that China "resolutely opposes" unilateral US sanctions against Iran.
Also France's defense minister reacted to Iranian President's statement by saying that France wanted to keep the Iran 2015 nuclear deal alive and warned that if Iran were to not keep to its commitments then the question of triggering a mechanism that could lead to sanctions would be on the table.
Speaking to BFM TV, Defense Minister Florence Parly said nothing would be worse than Iran withdrawing from the deal and that France ,Britain and Germany were doing all they could to keep the accord alive.
China and France are among the six parties that signed a 2015 deal to lift nuclear-related sanctions on Iran in return for Tehran's agreement to rein in nuclear activities and ease fears it was seeking the capability to produce an atomic bomb.
The US renewed sanctions on Iran have had a severe effect on the Iranian economy.
Tehran has warned that if the five other parties to the agreement - China, Britain, France, Germany and Russia - failed to deliver on their commitments within 60 days to help Iran benefit from the deal despite the US sanctions, it would suspend other key limits set by the deal.
Full report at:
https://english.alarabiya.net/en/News/world/2019/05/08/China-France-say-Iran-nuclear-deal-should-be-fully-implemented.html
--------
Pompeo lectures UK on Daesh, says British militants should be taken home
May 8, 2019
US Secretary of State Mike Pompeo has rejected Britain's policy to revoke citizenship of people who have fought along terrorists in the Middle East, saying London should take them back.
In a Wednesday press conference with his British counterpart Jeremy Hunt in London, Pompeo said Britain had a responsibility to take back its citizens who fought along the ranks of groups like Daesh in Syria.
"The United Kingdom has contributed mightily to the coalition to defeat ISIS (Daesh) ... we need to keep up that fight against radical Islamic terrorism," said Pompeo, adding, "A key part of that fight is that every coalition member must take back terrorist fighters captured on the battlefield."
US and allies like Britain has held a military presence in Iraq and Syria with an alleged mission to fight Daesh since 2014.
That comes as hundreds of Western nationals have joined militant groups in those countries over the past years, prompting concerns that they might pose security risks once they return home.
In a shock decision earlier this year, Britain's interior ministry said it had revoked citizenship of Shamima Begum, a schoolgirl from east London who wished to return to the UK and resume her normal life after breaking away from Daesh in Syria.
Pompeo's remarks come as Washington has itself blocked the return of several American nationals suspected of involvement in Middle East militancy.
Corbyn is 'disgusting'
Elsewhere in his press conference, Pompeo used insulting remarks to describe Labour Party leader Jeremy Corbyn, saying his expression of support for Venezuela's legitimate government was "disgusting".
"It is disgusting to see .... American leaders or leaders from this country continue to provide support and comfort to a regime that has created so much devastation, so much devastation," said Pompeo while asked about Corbyn's position on a political crisis in Venezuela.
Full report at:
https://www.presstv.com/Detail/2019/05/08/595447/US-Pompeo-criticism-Britan-Daesh-militants
--------
Gazan artists urge EU not to hold Eurovision in Israel
Mustafa Habbush
08.05.2019
The Association of Palestinian Artists in the Gaza Strip has called on the European Union not to hold this year's Eurovision Song Contest in the Israeli city of Tel Aviv.
The NGO issued the appeal at a Wednesday press conference, attended by dozens of Palestinian artists, outside the EU's office in Gaza City.
"Singing and music is the language of humanity; it's the best way to express love, peace and coexistence," Palestinian actor Nabil al-Khatib told reporters.
But the decision to hold this year's Eurovision contest in Israel, he added, "only serves to legitimize the persecution of the Palestinian people by beautifying Israel's racist face".
"As Palestinians, we were shocked to find out that the biggest international song competition would be held this year in Tel Aviv," al-Khatib said.
The decision, he added, "will provide support for an occupying power that oppresses another people".
The Eurovision contest, which will be held this year in Tel Aviv from May 14 to 18, is an international music competition organized by the European Broadcasting Union since 1956.
Full report at:
https://www.aa.com.tr/en/europe/gazan-artists-urge-eu-not-to-hold-eurovision-in-israel/1473497
--------
France seeks Libya ceasefire after migrant centre strike
May 8, 2019
French President Emmanuel Macron on Wednesday urged warring sides in Tripoli to stop fighting after an attack on a migrant detention centre the night before.
Mr Macron met the internationally recognised Libyan leader Fayez Al Sarraj in Paris as foreign powers called for an end to the battle.
The president's office said there was no military solution to the conflict and that Mr Macron proposed a ceasefire line under international supervision at the meeting.
While he has backed a UN peace plan and elections, France has also previously supported eastern Libyan forces commander Field Marshal Khalifa Haftar.
Field Marshal Haftar supports a rival administration to that of Mr Al Sarraj, in the east of the country.
Forces allied to Mr Al Sarraj's Government of National Accord have been locked in battle with Field Marshal Haftar's Libyan National Army since it launched an offensive to take Tripoli on April 4, although the conflict eased during the day with the start of Ramadan.
After initial advances by the LNA, its rivals have launched a counter-offensive, leading to a stalemate.
Shrapnel hit the migrant detention centre on Tuesday night, causing shock and fear among sub-Saharan migrants caught up in the fighting.
"We have almost lost hope in our life," a migrant told Reuters. "War here is too much. Please, we need help."
No casualties were reported at the centre.
Full report at:
https://www.thenational.ae/world/mena/france-seeks-libya-ceasefire-after-migrant-centre-strike-1.859155
--------
Southeast Asia
For These Muslims, Learning the Quran Starts With YouTube
By Joe Cochrane
May 8, 2019
JAKARTA, Indonesia — Every year, as the Islamic holy month of Ramadan approached, Surya Sahetapy and his close friends would start to feel depressed.
They were at their wits ends about how to help more Indonesians study the Quran, Islam's holiest book, which may seem surprising in the world's most populous Muslim-majority nation.
Traditionally, Muslims around the world recite the entire Quran during the month of Ramadan, which began in Indonesia on May 5. Learning all 114 chapters, known as surahs, can take years, and many here learn the melodic Arabic recitations — as well as Indonesian translations and interpretations — by listening to audio recordings.
But Mr. Surya, 25, and his friends had a unique challenge when it came to studying the sacred texts: They are deaf.
"My deaf friends and I felt depressed because we didn't have any way to help other deaf people to access Islam," he said in an interview, accompanied by a sign-language interpreter.
All that changed last year when Mr. Surya teamed up with a local Islamic organization on a project to produce sign-language videos, translating all 114 surahs.
They released the first video, on YouTube, before the start of Ramadan last year.
The work has been slow going. In time for Ramadan this year, the Quran Indonesia Project produced four more surah videos and one of the azan, the Muslim call to prayer.
The Quran Indonesia Project started with celebrities reading verses from the holy book, but has moved on to include videos of sign language translations.
While many deaf Muslims in Indonesia can read and memorize some scriptures, they have little access to Islamic scholars who can communicate with them.
To help deaf Muslims not just memorize verses but understand their meaning, the group also plans to release an educational board game about the basics of Islam as well as 10 sign-language DVDs explaining some prayers.
"It's changing everything," Mr. Surya said of the project. "The videos also have their own message: If you want deaf Indonesians to learn Islam, they must learn sign language. Islam is not limited to what you read, but much more what you understand."
The idea for a sign-language Quran began in 2017 when Mr. Surya met Archie Fitrah Wirija, founder and executive producer of the Quran Indonesia Project.
Mr. Wirija's nonprofit group was already trying to get young people interested in the Quran by producing audio recordings of the book in Arabic, Indonesian and English, voiced by popular Indonesian singers and actors.
"It was like the Quran was not cool enough," Mr. Wirija said, explaining his decision to use celebrities and create an Quran smartphone app.
The sign-language project took off with help from Galuh Sukmara Soejanto, a deaf Indonesian teacher and disability rights activist. She coached Mr. Surya on the finer points of translating the Quran into sign language, and his progress was monitored by an organization for deaf people based in Jeddah, Saudi Arabia.
The Quran project has become one of the few educational resources for deaf Indonesians. There were 2.9 million deaf citizens as of 2015, according to the Central Statistics Bureau, although activists believe the number is actually much higher.
Indonesia is the most populous Muslim-majority country on the planet, but deaf Muslims have few resources to learn the Quran.
There are few special education options for deaf children and limited access to public services for adults, especially in the country's many far-flung rural areas. Indonesian sign language was not even recognized by the Ministry of Culture and Education until 2016 and there are few government officials who can communicate in sign language.
Ms. Galuh opened a small school and home schooling program for deaf children in 2013 in West Java Province, just outside Jakarta, the Indonesian capital. Most of its teachers and support staff are also deaf.
Indonesia's public schools, she said, do not accommodate sign language users, placing deaf students instead into mainstream classrooms where they must teach themselves to lip-read in order to receive an education.
"Sign language is the main push factor used to develop communication skills, including expressing themselves," Ms. Galuh said in an email. "Starting from personal experiences about communication and supported by much scientific research, we are positive that sign language is one of the most important factors to develop communications skills as well as the foundation of education in general."
Deafness runs in Mr. Surya's family. A deaf older sister and an uncle exposed him to sign language at an early age.
"But when it came time during class to study Islam, I started crying because I didn't understand," Mr. Surya said, remembering that he was required to read his elementary schoolteacher's lips. "I was forced to live as a hearing person, and even today parents don't want their children to sign; they want them to speak."
Things are changing — albeit slowly. A small number of mosques around the country have begun providing sign-language interpreters for their deaf congregants.
And many national television stations now include sign-language translations for news and religious programs.
"It shows people we have the right to use sign language," he said. "We want to change the stigma of, 'If you can't talk, you are different.'"
https://www.nytimes.com/2019/05/08/world/asia/indonesia-quran-sign-language.html
--------
With fears of low turnout, Sandakan Muslim votes become focus
09 May 2019
By JULIA CHAN
SANDAKAN , May 9 — In a shoplot at the heart of old Sandakan town, 44-year-old Hassan Mohamad yawns loudly behind the counter of his sundry store while watching his phone.
It is a Wednesday morning and business is slow.
"Actually, it's not bad this week, more people around now. It's usually even quieter," he said, referring to the various politicians on the campaign trail that has descended on this town along Sabah's east coast.
Once, Sandakan had been known as "Little Hong Kong" for its many Chinese settlers, bustling trade during its heydays and cornucopia of Chinese cuisine, but a visitor now would not know this just from walking the streets of the town, even on its touristy waterfront esplanade.
Today, most shops and the market are run by Muslims who live in the township and in the vicinity. Nearby, Western tourists staying at the Four Points Sheraton hang out with the locals at the grilled fish restaurant, juice stall and local bistros, enjoying the sea breeze in an otherwise quiet town.
In this federal constituency, the second largest city in Sabah, just under half the population in the federal constituency are Muslim natives — Orang Sungai, Suluk and Bajau and others make up some 45 per cent of the voter base — but they tend to be overshadowed by the more affluent Chinese community that is now spread out in the suburbs or moved on to other cities.
Previous misconceptions may have portrayed Sandakan as a clear Chinese majority seat but, now, the competing politicians have realised otherwise and are quickly shifting their attention to the large Muslim community that may be the new kingmakers.
Areas like Kampung Sim Sim and Pulau Berhala have become major stopping points for the candidates in this five-corned by-election contest, and the Muslims here thankful their gripes are now being heard.
Hassan's grouses are no different from most: the cost of living has become unbearable and his family of six is struggling under his meagre earnings from his modest sundry shop.
"The town used to be bustling. Even when the timber boom died down we still did OK. But lately, it's just gotten so bad. There's no tourists, no activity, no movement. I think everybody has been struggling since prices went up in the last few years," he said.
The fishermen of Kampung Sim Sim, Kampung Pukat, and Pulau Berhala also complain about the lack of direct aid like the Bantuan Sara Hidup since the new government came in and said the low-cost homes promised to them still have not materialised.
This is where Umno, stumping for the Opposition Parti Bersatu Sabah's candidate, has stepped in to use the unfulfilled promises against the nascent state and federal governments.
After drawing a modest but rousing crowd last Monday in Kampung Sim Sim, the Malay nationalist party has begun sending in its big hitters.
Acting Umno president Datuk Mohamad Hasan headlined their ceramah last night while former prime minister Datuk Seri Najib Razak is expected to use his break from ongoing criminal trial to show support in the last stretch of the campaign to woo voters for PBS on Friday night.
For PBS, which claimed ignorance of Najib's visit here amidst his trial for money laundering and corruption, his presence is a dilemma; it may shore up support with Muslim Bumiputera voters but at the risk of alienating the Chinese vote.
A political observer said that with Umno on its side, the state Opposition could rake in a few more thousand votes, which would put it within striking distance of DAP that had been considered the favourite to win.
Despite his legal troubles, Najib may still have some vestige of popularity courtesy of projects announced when he had been PM. These include approval for a RM40 million flood mitigation project along Sungai Anip and RM80 million for the expansion of Sandakan airport, including the extension of the runway, during his administration.
Sabah Umno chief Datuk Bung Mokhtar Radin has also pledged that 9,700 Umno members, or half of the total Muslim Bumiputera voters in Sandakan, will back PBS and called on others in the community to also vote the same way.
The call to arms has unnerved DAP, which in turn is urging voters to turn up in numbers to vote on polling day, in the hopes that a high turnout will tip the scales in their favour again.
"We need the office workers and those away to come back and vote," said DAP secretary Chan Foong Hin.
Anticipating a lower voter turnout, DAP needs at least 80 per cent of the Chinese vote and 50 per cent of the Malay ballots to pull off a win. Chinese voter turnout was at 51 per cent during the general election but is expected to be just 35 per cent this time.
A party source has indicated PBS may be ahead in terms of Muslim votes but is trailing DAP among Chinese voters.
DAP's hopes for the Muslim Bumiputera votes are pinned on a local hero — Sabah Chief Minister Datuk Seri Shafie Apdal whose draw was evident in GE14 when the late Datuk Stephen Wong pulled off an unprecedented 10,098 majority victory that was at least double the previous margins.
Shafie, who will visit Kampung Sim Sim and Pulau Berhala today, is undoubtedly popular with the local crowd who greet him enthusiastically wherever he goes, but without the momentum for change they enjoyed in general election, it remains to be seen whether he will get the same support.
Political observers are divided as of now, noting that while the Muslim Bumiputera tend to be establishment voters, the slowing economy has hit them hard and may be enough for them to switch allegiances in a show of disgruntlement.
Full report at:
https://www.malaymail.com/news/malaysia/2019/05/09/with-fears-of-low-turnout-sandakan-muslim-votes-become-focus/1751116
--------
Indonesian authorities arrest suspected members of ISIS-affiliated group, thwart planned terrorist attack: report
May 09, 2019
Two suspected terrorists were killed and six others were detained during weekend raids in Indonesia aimed at thwarting a potential terror attack, according to a report.
Police said the ISIS-linked group was planning an attack on a crowd later this month. One of the suspected terrorists was shot and killed by Indonesia's anti-terrorism squad, Special Detachment 88, while the other died after blowing himself up to avoid capture near Jakarta in a separate incident, Reuters reported.
Authorities said the six arrested were linked to the radical Islamist group Jemaah Ansharut Daulah (JAD), which is the largest ISIS-affiliated group in Indonesia. The group was disbanded last year for terrorist activities and its affiliation with ISIS, Reuters reported.
A police spokesman said the group was planning an attack on a large crowd later this month that is tied to Indonesia's recent contested election.
Full report at:
https://www.foxnews.com/world/indonesian-authorities-arrest-suspected-members-of-isis-affiliated-group-thwart-planned-terrorist-attack-report
--------
Mahathir questions if Islamic gathering was for religion or politics
09 MAY 2019
KUALA LUMPUR: Prime Minister Tun Dr Mahathir Mohamad (pix) has questioned whether a gathering by Muslims in the city on Saturday was to defend the sanctity of Islam and the Constitution or to draw support for certain political parties.
"I welcome gatherings by Muslims aimed at defending the sanctity of Islam and the Constitution, I fully support these noble aims.
"But I am wondering whether these were the real objectives or aimed at getting support for certain political parties," he said in his latest posting on his blog chedet.cc titled Mendaulatkan Islam last night.
Mahathir said the gathering was reported by the media as one to remind the Government on the status of Islam but the leaders who spoke at it were from Umno and PAS.
"If it was to defend Islam, by right it should not have been limited to certain political parties only. The alliance of these parties do not reflect Islamic solidarity. In fact, it divides Muslims in Malaysia," he said.
Mahathir said PAS had earlier claimed Umno members were kafir (infidels) for cooperating with infidels and that 'this allegation is yet to be retracted'.
"Even the Amanat Hadi, which claimed that the Umno government (then) was a kafir and those who opposed the Umno government if they die are martyrs," he said, adding that this claim by PAS split the Malays for the first time.
He said the Malays were all Muslims and were including the Sunni (Sunnah Wal Jamaah) sect led by Imam Shafie.
"There was no difference of opinion or understanding on Islam (by Malays) since ancient times. They profoundly split only when PAS was formed and claimed that Umno members were kafir for cooperating with the infidels," he said.
He said so obsessed was PAS with this that some people deemed their parents kafir if they joined Umno, claiming Umno people's marriages were not valid and they should remarry and that even cattle or poultry slaughtered by Umno members was not halal and cannot be eaten by PAS members.
''For PAS, a person who does not join PAS is an infidel. According to PAS, only PAS members are Muslims. Indeed, Muslims seeking asylum in non-Muslim countries have become infidels,'' he said.
Mahathir also questioned how PAS with Umno had the right to claim that their gathering pictured the solidarity of Muslims for the sovereignty of Islam.
''There are people with posts, who are silent on the allegations by PAS and Amanat Hadi,'' he said.
He said there were Muslims who purportedly wanted to practise Islamic teachings but their focus was on small matters which had elements of politics.
"Now we find Malaysian Muslims joining wars among other Muslims. They are willing to kill other Muslims, something that is prohibited by Islam. There is no movement by Muslims who want to uphold Islam who have talked about the sins of killing, especially killing Muslims," he said.
'What's worse is shouting the name of Allah during the gathering to strengthen the party's divide and rule politics. Allah's name is used to justify the rejection of Islamic teachings that denounce other Muslims without any apparent reason. Committing sin by doing things prohibited by religion should not be done in the name of Allah, " he said.
Mahathir said Islam prohibits theft, but PAS negotiated and cooperated with the previous administration which is known to the world as a government of thieves.
"Now PAS continues to work with the people rejected by society for stealing," he said.
Mahathir said the Malays often accuse that this government does not have high regard for Islam but on the contrary Muslim delegations from other Muslim countries claim that Malaysia is role model of an Islamic state, and look up to Malaysia as an Islamic country.
"They have expressed their desire to see their countries become like Malaysia, even saying that though their population is 100% Muslim they could not govern and stabilise their countries, far from developing them," he said.
He said countries with 100% Muslim population were often hostile towards each other, killing and going to war, causing chaos forcing their citizens to migrate to non-Muslim countries.
"Ethnic differences, disparity in Islamic teachings, political differences, leadership differences have disrupted peace. Often they are forced to abide by the will of a non-Muslim major power. Some are also influenced by Jews, whether directly or indirectly," he said
He said Muslims in these countries were often impressed with Islam in Malaysia and they do not say that Islam is not revered in Malaysia and those accusing so are only Muslims in Malaysia.
"Indeed, the accusations against the government are not because Islam is not being revered but merely due to political reasons. In this way the holy religion of Islam gets a bad name because of non-religious interests.
Full report at:
https://www.thesundaily.my/local/mahathir-questions-if-islamic-gathering-was-for-religion-or-politics-DJ856731
--------
Neither plot nor slot given to Zakir Naik, says Putrajaya
May 7, 2019
PETALING JAYA: Putrajaya has denied a report from India which claimed that the Malaysian government had given controversial Muslim preacher Dr Zakir Naik a plot of land to restart his banned Peace TV satellite channel.
The Prime Minister's Office also rejected a claim that Naik, who was recently charged in India with acquiring criminal assets worth millions of ringgit, will be given a slot on the government's broadcast channels.
"We would like to clarify that these allegations are baseless," it said.
India's Republic TV has claimed that Malaysia decided to "reward" Naik to operate his Peace TV operations.
Last week, India's Enforcement Directorate (ED) charged Naik in absentia with money laundering.
The agency said Naik had made "inflammatory speeches and lectures" which incited a number of Muslim youths in India to commit terrorist acts.
Full report at:
https://www.freemalaysiatoday.com/category/nation/2019/05/07/neither-plot-nor-slot-given-to-zakir-naik-says-putrajaya/
--------
India
UN chief praises India for counter-terrorism support, says terrorists fleeing IS should be tackled
May 8, 2019
UNITED NATIONS: UN Secretary-General Antonio Guterres has appreciated India's support to the counter-terrorism work of the world body and underscored the need to "detect and disrupt" terrorists fleeing the Islamic State prior to them carrying out an attack as a high priority for the international community.
The UN chief made these remarks during the launch of the United Nations Countering Terrorist Travel Programme on Tuesday, over two weeks after the Easter Sunday terror attacks in Sri Lanka claimed by the ISIS.
The programme would help to strengthen international counter-terrorism cooperation, expand multilateral networks for sharing information to detect, identify, disrupt and prosecute terrorists and to ensure that member states most affected by terrorism have the capacity to tackle this evolving threat, he said.
"The United Nations Countering Terrorist Travel Programme we launch today is about helping to meet all these objectives. I would like to thank the Dutch Government for its generous contribution to this effort," he said.
"I appreciate the continued support of the Governments of India, Japan, the Kingdom of Saudi Arabia and the State of Qatar to the counter-terrorism work of the United Nations," Guterres said.
The UN chief noted that following the territorial defeat of ISIL (also known as ISIS and Islamic State), many terrorists are trying to return home or relocate to safe havens or other troubled parts of the world.
"Many are well trained and could carry out future terrorist attacks. Others hope to radicalize and recruit new followers to their cause. They, as well as those they inspire, represent a major transnational threat," he said.
"Detecting and disrupting these terrorists and other high-risk criminals prior to them carrying out an attack is a high priority for the international community," he said.
The programme will help member states collect, process and share travel data with other competent national and international authorities, with full respect for privacy and other fundamental freedoms, he said.
"We know that policies that fully respect human rights are essential in tackling violent extremism. This information sharing will enhance the abilities of member states to effectively detect, prevent, investigate and prosecute terrorist offences, including their related travel," Guterres added.
Highlighting that there has been a dramatic movement of terrorists to and from conflict zones around the world over the last seven years, he said that just two years ago, more than 40,000 people from more than 110 countries may have travelled to join terrorist groups in the Syrian Arab Republic and Iraq.
"The recent despicable attacks in Kenya, New Zealand and Sri Lanka, among others, are tragic reminders of the global reach of the scourge of terrorism," he said, adding such incidents underscore the need to work closely with partners across the United Nations system and beyond.
The General Assembly and Security Council resolution 2396 have reaffirmed the need to strengthen international cooperation and information sharing to improve national detection capacities and prevent the travel of terrorists, Guterres said.
"Importantly, this (the programme) will also enable the detection and disruption of human trafficking and other forms of serious organised crime and to faster identify their victims," he said.
Guterres said that the UN family is ready to assist in protecting and ensuring the rights of all victims whose interests are served by this project.
"It represents the kind of cooperative, inter-governmental and institutional approach that I aimed for when I established the Global Counter-Terrorism Coordination Compact last year to enhance counter-terrorism coordination and coherence across the system," he stressed.
In that context, the United Nations Counter-Terrorism Centre has also stepped up its efforts to meet the growing expectations and demands from countries most affected by terrorism, he said.
https://timesofindia.indiatimes.com/india/un-chief-praises-india-for-counter-terrorism-support-says-terrorists-fleeing-is-should-be-tackled/articleshow/69235497.cms
--------
NIA Questions NRI From Doha Over Suspected ISIS Links
May 8, 2019
New Delhi: The National Investigation Agency questioned Muhammed Faizal, an NRI from Doha, for suspected ISIS links, stated news agency ANI on Wednesday. The person was called back from Doha for questioning. He is suspected to have connections with Riyaz Aboobacker who was arrested on April 29.
Meanwhile, the NIA arrested a Palakkad resident last month for staying in touch with the members of an Islamic-State type module from Kasargod. Riyas Aboobacker was also allegedly planning a suicide attack in Kerala.
The ISIS Kasaragod Module case came to light last year when the NIA busted an ISIS module in the said district and arrested a 25-year-old man named Habeeb Rahman. Upon investigation, it was found that a group of 14 people had left India and their workplaces in Middle-East Asia, between mid-May and early July 2016, to join the terror organisation.
In April 23, the NIA had arrested an ISIS sympathiser from Delhi named as Mohammad Faiz was arrested for allegedly conspiring to carry out blasts in Delhi-NCR and Uttar Pradesh. Faiz was a key member of Harkat-Ul-Harb-E-Islam, which is a pro-Islamic State module.
Earlier in April, the NIA arrested an ISIS sympathizer from his home in Kings Colony while carrying out searches at three locations in Hyderabad of Telangana against the ISIS module. 13 cellphones, 11 SIM cards, 1 iPad, 2 laptops, 1 external hard disk, 6 pen drives, 6 SD cards and 3 walkie-talkie sets were seized during the raids. Sources added that raids were also conducted at a location in Wardha of Maharashtra.
Full report at:
https://www.india.com/news/india/nia-questions-nri-from-doha-over-suspected-isis-links-3652790/
--------
Dubai firm linked to Zakir Naik sold in 2017 over 'negative publicity' in media
by Sadaf Modak
May 9, 2019
IN ITS chargesheet filed last week against Zakir Naik's Islamic Research Foundation (IRF), the Enforcement Directorate has relied on a statement of a close aide of the controversial preacher, claiming that one of his media companies was sold in 2017 due to the "negative publicity" in the Indian media and an economic slow down in the Middle East.
The ED had recorded multiple statements of Najmuddin Sathak, an alleged Naik aide, who was arrested in March this year.
The ED has claimed that Sathak, a Tamil Nadu-based jeweller, was one of the directors of the Dubai-based Global Broadcasting Corporation (GBS), which telecasts Naik's speeches through Peace TV and other content provided by Naik's Harmony Media Private Limited.
According to the ED, a probe had shown that the GBS was established in 2006 and was linked to Naik.
In his statement recorded on March 28, 2018, Sathak told the ED that GBS maintained a strict, ethical standard for all its programmes as well as advertisements. It prohibited advertisements depicting women, or products, like tobacco and alcohol, after receiving negative feedback from viewers.
"The company was making profits from the beginning, but in 2015, it took a loss of about one million dirhams due to increase production cost as the programmes in Bangla and Chinese were recorded in UAE. In 2016, the revenues fell further due to the slowing of economy in the Middle East and a negative publicity in the Indian media about Naik," the ED chargesheet states, citing Sathak's statement.
Sathak told the ED that this was when the decision to sell the company was taken. The GBS was sold to a UK national in 2017.
The ED, however, has claimed that the sale was done to "obfuscate the routes undertaken for suspected money-laundering".
In its chargesheet, the ED said that the total proceeds of crime, in the case involving Naik, amounted to Rs 193.06 crore. It claimed that in response to the appeals made during his speeches, Naik received donations from "unknown sources" and layered them through his companies and close relatives.
It also states that Naik used some of the proceeds of the crime in the IRF Education Trust, claiming to use it to build a school in Chennai to launder it as "untainted money". It further said that the money was used to purchase properties in Mumbai and Pune.
A case was registered against Naik by the National Investigation Agency (NIA) in 2016 under the Unlawful Activities Prevention Act (UAPA), following allegations that his speeches were being used to incite "terror activities".
Full report at:
https://indianexpress.com/article/india/dubai-firm-linked-to-zakir-naik-sold-in-2017-over-negative-publicity-in-media-5718012/
--------
Balakot air strike killed 130-170: Italian reporter
May 9, 2019
Around 45 people are still undergoing medical treatment following the Indian Air Force strikes on the Jaish-e-Muhammed terror training camp in Pakistan's Balakot, while the bombings could have killed 130-170 JeM cadres, including 11 terror "trainers", according to Italian journalist Francesca Marino.
Marino says in her report that despite Pakistan's efforts to deceive the world, details of what happened at Balakot in the early hours of February 26 have trickled in. She said that according to a source, a Pakistan Army unit from Shinkiari reached the location at 6am, two-and-a-half hours after the strikes.
"Shinkiari is around 20km from Balakot, and the (Pakistan) army unit would have taken around 35-40 minutes to reach the location from where the climb to the camp begins. Incidentally, Shinkiari is also a base of the Pakistan army, with the Junior Leaders Academy (JLA) located there," Italian journalist Francesca Marino said, writing for online magazine Stringer Asia.
Marino claims that the injured were taken to a Harkat-ul-Mujahideen camp at Shinkiari and treated by Pakistan army doctors.
"Local sources say around 45 persons are still undergoing treatment in this camp, while around 20 have died during treatment due to serious injuries. Those who have recovered are still in custody of the army and have not been discharged."
She said that information from her contacts indicated the strike immediately killed a large number of Jaish-e-Muhammed (JeM) cadres. "The numbers estimated have ranged from 130-170, including those who have died during treatment. Those killed included 11 trainers, ranging from bomb makers to those imparting weapons training."
While the casualty figure at Balakot has been subject to heated speculation, Pakistan army has so far refused access to the Jaish complex to any one. Some journalists have been taken to vicinity of the strikes but no one has been able to interview those who were at the camp or continue to be there.
"Two of the trainers were from Afghanistan. To prevent news on fatalities leaking through statements of family members of cadres, a group of JeM members also visited the families of those killed and handed over cash compensation to them," she wrote.
Marino has written that adjacent to the Blue Pine Hotel, located at the foothill from where the trek to the JeM camp begins, is a painted signboard indicating presence of the Taleem-ul-Quran on the hilltop. "Unlike the earlier board, all links to JeM leader and now internationally proscribed terrorist Masood Azhar has been removed. The camp area is still under the control of the army, with a Captain rank officer of the Mujahid battalion in command."
Access to the dust track to the camp is restricted, even to local police. Apart from a few children and 3-4 teachers, the complex has been cleared of any traces of it being a JeM camp.
Full report at:
https://timesofindia.indiatimes.com/india/balakot-air-strike-killed-130-170-italian-reporter/articleshow/69242707.cms
--------
Terrorists shot at two civilians in Shopian
May 8, 2019
SRINAGAR: Suspected terrorists on Wednesday shot at and injured two civilians in Shopian district of Jammu and Kashmir, police said.
The ultras shot at two civilians at Zainapora in Shopian, resulting in injuries to them, a police official said.
He said both the injured persons have been shifted to a hospital.
Further details are awaited.
https://timesofindia.indiatimes.com/india/terrorists-shot-at-two-civilians-in-shopian/articleshow/69234375.cms
--------
Pakistan
2,396 Pakistanis Detained In Turkish Detention Centres, Senate Told
May 09, 2019
ISLAMABAD: The Senate on Wednesday informed that there were at least 2396 Pakistanis detained in Turkish detention centers across Turkey on an account of illegal immigration.
In a written replying to a question of Rana Mahmood Ul Hassan, the house was informed that this number kept on varying according to the number of illegal Pakistanis entering Turkey.
As on March 2019, 281 Pakistani prisoners were imprisoned in Turkish jails and some of them had been convicted and awarded a sentence, it was further told.
Responding to a question raised by Talha Mehmood, Minister for Parliamentary Affairs Azam Khan Swati told the house that the government had consistently raised Dr Aafia Siddiqui's case, including possibility of her repatriation to Pakistan, with the US authorities.
Pakistan's Consul General in Houston paid periodic Consular visits to Aafia, to inquire after her well-being and conveys her messages, if any, to her family, he said.
A request had been made by Pakistan to the US for exploring possibilities of accession to Inter-American Convention Serving Criminal Sentences Abroad, 1993 to serve as the platform for negotiating options of repatriation of Aafia, he said.
According to the requirements of US judicial system, the decision to file an appeal could only be taken by Dr Aafia Siddiqui herself. There were also normally time limits involved to file an appeal. During the consular visit of April 18, 2019, Dr Aafia Siddiqui indicated her willingness to file the appeal, he said.
Later, the chairman Senate referred the question to the concern standing committee for detailed deliberation.
https://www.pakistantoday.com.pk/2019/05/08/2396-pakistanis-detained-in-turkish-detention-centers-senate-told/
--------
Encouraged by Tuesday's show PML-N to gradually build anti-govt drive
Amjad Mahmood
May 09, 2019
LAHORE: Encouraged by the response people gave on Nawaz Sharif's return to prison on Tuesday, the Pakistan Muslim League-Nawaz has decided to gradually build its campaign against the government instead of going into dormancy like in the post-election days.
"What you witnessed yesterday (Tuesday) was a warm-up tie while the real game would start post-Eid and by the month of August a full-fledged drive would be launched," said a senior party official privy to the formation of the policy.
The official told Dawn that the party would focus on media during the month of Ramazan and build momentum for gradually initiating an anti-government campaign after Eid.
The official said that it was decided to schedule visits of newly-appointed vice-president Maryam Nawaz to press clubs, bar associations and other forums not accessed by her so far.
Re-organisation of the party down to district and town level would also be taken on war footing to mobilise the cadre, he added.
He said earlier it had been decided to bifurcate the party into South and Central Punjab chapters in line with likely administrative division of the province but the decision was reversed seeing that the PTI government itself was going slow on the issue.
For a balanced representation of the two regions, it was decided to pick provincial president from Central Punjab and general secretary from the southern belt, he added.
PML-N supremo Nawaz Sharif had chaired a meeting of the party bigwigs at his Raiwind residence hours before surrendering himself to Kot Lakhpat Jail administration in which former prime minister and senior vice-president Shahid Khaqan Abbasi was assigned the task of directly establishing links with the Pakistan People's Party even without taking along JUI-F chief Maulana Fazlur Rehman, a party leader said.
He said the purpose of the contacts was for taking the PPP leadership on board regarding the changes the PML-N recently introduced in the parliament as well as framing a joint future strategy against the PTI government.
Full report at:
https://www.dawn.com/news/1481119/encouraged-by-tuesdays-show-pml-n-to-gradually-build-anti-govt-drive
--------
Tribal leader among 3 killed in Chaman blast
Syed Ali Shah
May 08, 2019
At least three people, including a tribal leader named Wali Khan Achakzai, were killed in a blast in Killa Abdullah, Levies forces said on Wednesday.
Achakzai was returning home from work when the blast occurred, Levies officials said, adding that two of his guards were also killed in the explosion while his car was completely destroyed.
It was not immediately clear if it was a targeted attack.
The nature of the attack is being determined, Levies officials said.
https://www.dawn.com/news/1481047/tribal-leader-among-3-killed-in-chaman-blast
--------
Aafia willing to file petition against imprisonment: Qureshi
May 09, 2019
ISLAMABAD: Foreign Minister Shah Mehmood Qureshi Wednesday informed the Senate in a written reply that Dr Aafia Siddiqui is willing to file a petition against her imprisonment.
The foreign minister told that Aafia Siddiqui is completely aware of her case status, and only she can move the court against her punishment according to the United States judicial system.
"Islamabad is continuously discussing the matter of Aafia Siddiqui's return to Pakistan with the US authorities, and Pakistan's Consulate General in Houston is constantly in touch with Aafia Siddiqui."
Full report at:
https://www.pakistantoday.com.pk/2019/05/08/aafia-willing-to-file-petition-against-imprisonment-qureshi/
--------
Mideast
Israeli newspaper publishes terms of US 'deal of century' on Palestine
May 8, 2019
An Israeli Hebrew-language daily newspaper has published the main points of US President Donald Trump's controversial proposal for peace between the Israelis and Palestinians, dubbed "the deal of the century."
On Tuesday, Israel Hayom, which is close to Prime Minister Benjamin Netanyahu, published a leaked document circulated by the Israeli Foreign Ministry – the details of which are as follows:
A tripartite agreement will be signed between the Tel Aviv regime, the Ramallah-based Palestinian Authority (PA) as well as Hamas resistance movement, which controls the besieged and impoverished Gaza Strip, and subsequently a Palestinian state will be established that will be called "New Palestine."
The "New Palestine" will be established in the occupied West Bank and Gaza, with the exception of Israeli settlements built on Palestinian lands in the West Bank.
The settlement blocs in the occupied West Bank, which are illegal under the international law and UN Security Council Resolution 2334, will remain under the Israeli regime's control and will expand to reach out to other isolated settlements.
Moreover, the Israeli-occupied holy city of Jerusalem al-Quds will not be divided but is to be shared by Israel and the "New Palestine," with the Israeli regime maintaining general control.
The Arab population living in Jerusalem al-Quds will be citizens of New Palestine, but the Tel Aviv regime would remain in charge of the municipality and therefore the land.
The newly formed Palestinian state would pay taxes and water costs to the Jerusalem al-Quds municipality.
The present status of the holy sites will continue, and Jewish Israelis will not be allowed to buy Palestinian houses and vice versa.
Egypt will offer the new Palestinian state land to build an airport, factories and serve the commercial and agriculture sectors. Palestinians will not be permitted to live on this land. The borders of these lands and leasing price will be determined between the two parties through the mediation of supporting countries.
The United States, the European Union and the oil-rich Persian Gulf states will provide a budget of $30 billion over five years for national projects in the new Palestine. The US will pay 20% of the cost for such projects and the EU 10%, while Persian Gulf littoral states will fund 70%.
Additionally, the new Palestine will not be allowed to create an army. The only weapons it will be allowed to possess will be light weapons for the police.
A protection treaty would be signed between the Israeli regime and New Palestine under which it will pay Israel to defend it from foreign aggression. The cost of the payment must be determined in negotiations between the parties which would be mediated by the supporting states.
Hamas will deposit all its weapons, including personal arms, with the Egyptian authorities.
Hamas members, including leaders, will continue to receive salaries from the supporting countries until the government is formed.
The border of the Gaza Strip, including the maritime border, will be open to the movement of goods and workers to Israel and Egypt, as the current situation of Judea and Samaria.
Within one year, democratic elections will be held and a government of New Palestine will be elected and every Palestinian citizen will be able to run for election.
One year after the elections and establishment of the government, Palestinians held in Israeli prisons will be released gradually over the course of three years.
A highway connecting the West Bank and Gaza Strip will be established. China will pay 50% of its cost, while South Korea, Australia, Canada, the US and the EU will each pay 10%.
The Jordan Valley will remain under the Israeli control. The New Palestine will be given two new routes to Jordan with crossings under its control.
If Hamas and the Palestinian Authority refuse to sign the 'deal of the century', Washington will then cancel all financial support to the Palestinians and ensure that no country transfers funds to them.
If PA signed the deal but Hamas or Islamic Jihad refused, the leaders of these two movements will be considered responsible. In a new Israeli military aggression against the Gaza Strip, the US will back Israel in targeting these leaders.
If Israel refused to sign the deal, the US would cease all financial support to the Tel Aviv regime.
Trump's so-called "peace plan" has been dismissed by Palestinian authorities ahead of its unveiling at the end of the holy fasting month of Ramadan and the formation of the new Israeli cabinet, most likely in June.
Speaking in the occupied West Bank city of Ramallah on April 16, Palestinian Prime Minister Mohammad Shtayyeh lashed out at Trump's initiative, asserting that it was "born dead."
Shtayyeh noted that negotiations with the US were useless in the wake of the country's relocation of its embassy from Tel Aviv to Jerusalem al-Quds, which Palestinians consider the capital city of their future state.
https://www.presstv.com/Detail/2019/05/08/595451/Israel-deal-of-century-Palestine-Trump
--------
Drone strike 'kills 4 Qaeda suspects' in Yemen
May 07 2019
A suspected US drone strike killed four alleged Al-Qaeda militants in central Yemen on Tuesday, a security official in the area said.
The strike targeted the men's vehicle as they were heading to a farm in Marib province, according to the official, who did not want to be named.
The United States considers Yemen-based Al-Qaeda in the Arabian Peninsula (AQAP) to be the radical group's most dangerous branch.
A long-running US drone war against AQAP has intensified since President Donald Trump took office in January 2017.
AQAP and other jihadist groups have flourished in the chaos of the country's civil war, which pits the government -- backed by a Saudi-led military coalition -- against Shiite Huthi rebels.
On Sunday, four suspected Al-Qaeda members were killed in a suicide attack claimed by the Islamic State group in Bayda province, a local official told AFP.
The more than four-year conflict in Yemen has killed tens of thousands of people, many of them civilians, relief agencies say.
Full report at:
https://www.gulf-times.com/story/630902/Drone-strike-kills-4-Qaeda-suspects-in-Yemen
--------
Griffiths Fails to Convince Houthis to Lift Restrictions on Lollesgaard's Movements
8 May, 2019
UN envoy to Yemen Martin Griffiths has failed to pressure Houthi militias in Sanaa to allow the head of the UN Redeployment Coordination Committee (RCC), Lieutenant-General Michael Lollesgaard, in reaching government-controlled areas in Hodeidah, where he should sit down with representatives of the government.
"The UN envoy has failed to convince Houthis to withdraw from Hodeidah and its ports, as he failed to push the militias to lift restrictions on the movements of Lollesgaard," West coast liberation operations spokesman Waddah al-Dbish told Asharq Al-Awsat on Tuesday.
He revealed that the ongoing Houthi intransigence compelled Lollesgaard to send a letter to the legitimate government's representative in the RCC, Saghir bin Aziz, asking him to choose another location for the meeting, either in Aden or in Riyadh next Sunday or Monday.
Militia leaders had prevented Lollesgaard from crossing into government-controlled areas south of Hodeidah.
"Houthis don't want to remove bombs and explosive devices they planted in routes that the UN General and his team were planning to use to cross from Al Khamseen Street towards government-controlled positions in the south," al-Dbish said.
Al-Dbish accused Griffiths of writing misleading reports on Hodeidah without mentioning the militias' lack of seriousness in implementing the Stockholm deal that was struck between the Houthis and the legitimacy in December.
He said the legitimacy plans "to take a decision after May 15 on how to deal with the ongoing UN inaction vis-à-vis the militias."
Full report at:
https://aawsat.com/english/home/article/1712816/griffiths-fails-convince-houthis-lift-restrictions-lollesgaard%E2%80%99s-movements
--------
Pompeo: Iran nuclear announcement 'intentionally ambiguous'
8 May 2019
Iran's announcement that it had stopped respecting limits on its nuclear activities agreed under a 2015 deal was "intentionally ambiguous", US Secretary of State Mike Pompeo said during a visit to London on Wednesday.
"I think it was intentionally ambiguous... We'll have to wait and see what Iran's actions actually are" before deciding the US response, Pompeo said after a meeting with British foreign minister Jeremy Hunt.
https://english.alarabiya.net/en/News/middle-east/2019/05/08/Pompeo-Iran-nuclear-announcement-intentionally-ambiguous-.html
--------
Iran tells Russia its partial roll back of nuclear deal is legal
8 May 2019
Iranian Foreign Minister Mohammad Javad Zarif told his Russian counterpart on Wednesday that Tehran's decision to reduce some voluntary commitments within its nuclear deal with world powers was legal, the RIA news agency reported.
Zarif, in Moscow for talks, told Russian Foreign Minister Sergei Lavrov that Iran's actions did not violate the original terms of the nuclear agreement and that Tehran now had 60 days to take the necessary diplomatic steps.
Iran announced earlier on Wednesday it was scaling back curbs to its nuclear program under a 2015 deal with world powers, and threatened to do more - including enriching uranium to a higher level - if countries did not shield it from US sanctions.
Kremlin blames US
Earlier on Wednesday the Kremlin said that Iran had been provoked into rolling back some of the terms of a 2015 nuclear deal due to external pressure which it blamed on the United States.
"President Putin has repeatedly spoken of the consequences of un-thought-out steps regarding Iran and by that I mean the decision taken by Washington (to quit the deal). Now we are seeing those consequences are starting to happen," Kremlin spokesman Dmitry Peskov told reporters on a conference call.
Peskov was speaking as talks in Moscow between avad Zarif and Lavrov got underway.
Peskov said Russia wanted to keep the nuclear deal alive and that its diplomats were doing all they could behind the scenes in talks with European officials to try to save it.
Full report at:
https://english.alarabiya.net/en/News/middle-east/2019/05/08/Iran-tells-Russia-its-partial-roll-back-of-nuclear-deal-is-legal.html
--------
Israel won't let Iran get nuclear weaponry, says Netanyahu
8 May 2019
Israel will not allow Iran to obtain nuclear weaponry, Prime Minister Benjamin Netanyahu said on Wednesday, reiterating a long-held Israeli position after Tehran announced it was scaling back some of its commitments under a 2015 nuclear deal.
"This morning, on my way here, I heard that Iran intends to pursue its nuclear program," Netanyahu said in a speech marking Israel's Memorial Day.
He added: "We will not allow Iran to achieve nuclear weaponry. We will continue to fight those who would kill us."
On Wednesday, President Hassan Rouhani said that Iran will resume high level enrichment of uranium if world powers did not protect its interests against US sanctions.
Full report at:
https://english.alarabiya.net/en/News/middle-east/2019/05/08/Israel-won-t-let-Iran-get-nuclear-weaponry-says-Netanyahu.html
--------
Health funding gap means 1,700 in Gaza may face amputations
May 08, 2019
GENEVA: A lack of health funding in Gaza means 1,700 people shot by Israeli security forces may have to have amputations in the next two years, Jamie McGoldrick, the UN Humanitarian Coordinator for occupied Palestinian territory, said Wednesday.
McGoldrick said 29,000 Palestinians had been wounded in protests in the past year, and 7,000 of them had gunshot wounds, mostly in the lower legs.
"You've got 1,700 people who are in need of serious, complicated surgeries for them to be able to walk again," McGoldrick said.
"These are people who have been shot during the demonstrations and who are in need of rehabilitation, and very, very serious and complex bone reconstruction surgery over a two year period before they start to rehabilitate themselves."
Without those procedures, all these people are at risk of needing an amputation, he said.
The UN is seeking $20 million to fill the gap in health spending.
A lack of funding to the World Food Programme and UNRWA, the UN humanitarian agency that supports Palestinians displaced by the 1948 war of Israel's founding, also meant there could be an interruption of food supplies for 1 million people.
"If that stops, there is no alternative for people to bring food in from any other sources, because they don't have purchasing power," McGoldrick said.
WFP spokesman Herve Verhoosel said a severe lack of funds meant WFP had cut aid for 193,000 people this year in the West Bank and Gaza, with 27,000 getting nothing and the rest getting only $8 per month instead of the usual $10.
Some 2 million Palestinians live in Gaza, the economy of which has suffered years of Israeli and Egyptian blockades as well as recent foreign aid cuts and sanctions by the Palestinian Authority, Hamas' West Bank-based rival.
People's prospects were "precarious," McGoldrick said. Gaza families averaged $4,000 of debt, while salaries averaged $400 per month, but 54 percent of the population was unemployed.
The health system was impoverished, with unpaid salaries and dilapidated equipment, and many medical professionals had left if they could find opportunities elsewhere.
One teaching hospital was now only teaching trauma medicine, McGoldrick said, but the doctors on the ground did not have the technical ability to carry out the treatment required for the people at risk of amputation.
Full report at:
http://www.arabnews.com/node/1494416/middle-east
--------
North America
Trump announces sanctions on Iran's steel and mining industries
8 May 2019
US President Donald Trump on Wednesday announced sanctions against Iran's steel and mining sectors, hours after Tehran said it would suspend some curbs under a denuclearization deal rejected by Washington.
The White House said it was targeting the country's biggest revenue source after oil and warned in a statement: "Tehran can expect further actions unless it fundamentally alters its conduct."
The news sanctions came on the first anniversary of Washington's withdrawal from the 2015 landmark deal between Tehran and world powers, as US officials said they would keep squeezing Iran to force it to return to the negotiating table for a more comprehensive deal that would seek to curtail Iranian ambitions in the Middle East.
https://english.alarabiya.net/en/News/world/2019/05/08/Trump-announces-sanctions-on-Iran-steel-and-mining-industries.html
--------
US will need forces in Afghanistan until no insurgency left, says top General
8 May 2019
The United States will need to keep counterterrorism forces in Afghanistan until there is no insurgency left in the country, the top US general said on Wednesday, suggesting a far longer military presence even after more than 17 years of war.
"I think we will need to maintain a counterterrorism presence as long as an insurgency continues in Afghanistan," Chairman of the Joint Chiefs of Staff General Joseph Dunford said during a congressional hearing.
The United States is currently in talks with the Taliban to seek an end to the nearly 18-year-long conflict.
https://english.alarabiya.net/en/News/world/2019/05/08/US-will-need-forces-in-Afghanistan-until-no-insurgency-left-says-top-General-.html
--------
Pompeo skips visit to Greenland amid new tensions with Iran
May 09, 2019
LONDON: US Secretary of State Mike Pompeo has canceled a visit to Greenland to return to Washington amid an escalation of tensions with Iran.
Pompeo had been due to wrap up a trip to Europe on Thursday with a stop in Greenland aimed at promoting the Trump administration's Arctic policies. Those policies were criticized earlier this week for not containing the words "climate change" when Pompeo attended an Arctic Council meeting in Finland.
The State Department says that Pompeo will still order a restoration of a permanent US diplomatic presence in Greenland.
The Greenland stop was the second Pompeo canceled on what was supposed to be a four-nation tour of Europe. On Tuesday, he abruptly dropped a trip to Germany to fly to Baghdad for meetings with Iraqi leaders.
http://www.arabnews.com/node/1494621/world
--------
Iraq will maintain relations with Iran, PM tells Pompeo
Ibrahim Saleh
08.05.2019
Iraqi Prime Minister Adil Abdul-Mahdi has affirmed his country's commitment to pursuing "balanced" regional policies, including the maintenance of good relations with neighboring Iran.
Abdul-Mahdi made the remarks in a statement released by his office on Wednesday after a meeting with U.S. Secretary of State Mike Pompeo, who arrived in Baghdad on Tuesday evening for an hours-long visit.
Describing the U.S. as an "important strategic partner for Iraq", Abdul-Mahdi went on to assert that his country hoped to "maintain a policy of building bridges… with its friends and neighbors, including Iran".
Baghdad, he said, hopes to build relations with regional and international capitals "based entirely on Iraq's best interest".
He added: "Iraq has returned to its basic role in the region, providing a venue for dialogue -- not conflict."
Pompeo, for his part, commended Iraq's "efforts to promote regional security and attract foreign investment and expertise", according to the statement issued by Abdul-Mahdi's office.
Pompeo also hailed what he described as Baghdad's "special relationship" with Washington.
Full report at:
https://www.aa.com.tr/en/americas/iraq-will-maintain-relations-with-iran-pm-tells-pompeo/1473462
--------
Africa
South Sudan president: Formation of unity government should be delayed
9 May 2019
The president of oil-rich South Sudan said on Wednesday that the formation of a unity government should be delayed by at least a year, despite a May 12 deadline in a September peace agreement that ended the civil war.
President Salva Kiir said the government had been unable to disarm, house, train and integrate South Sudan's various forces since the deal had been signed, and rejected a suggestion by former rebel leader Riek Machar that the new government be formed in six months.
Kiir said that postponement came at Machar's request, but said the rainy season would make it hard to accomplish the integration of their forces within six months.
"Instead of six months let us call for one year, because from May up to November, there will be rain still and you cannot move with a car to any location," Kiir said in his speech. "We can form the government by April or May."
Machar called for a six-month delay during a meeting with the Pope last month.
Around 400,000 people died during South Sudan's five-year civil war, which broke out in 2013 between forces loyal to Machar - then vice president - and Kiir.
The September agreement followed a string of failed peace deals, but has largely held so far, despite both parties missing key deadlines. The cash strapped government has tried to use the breathing space to boost oil production, its only significant source of revenue.
Little progress has been made on state boundaries or the integration of government and rebel forces. On Wednesday, Kiir also accused Machar's group of seeking new recruits, breaking the peace agreement.
Kiir suggested he could do the same.
"He is now recruiting and this recruitment is prohibited in the agreement and if it is a matter of recruitment, it does not cost me much to also recruit."
Machar's military spokesman denied the recruiting accusation, saying they only were sending envoys to communities to discuss the peace deal.
"Our chief of general staff and his commanders are for peace not war," Lam Paul Gabriel, the acting spokesman for Machar's rebels, said by phone from Addis Ababa on Wednesday.
He added: "Peace dissemination is what is being misunderstood as recruitment."
https://english.alarabiya.net/en/News/middle-east/2019/05/09/South-Sudan-president-Formation-of-unity-government-should-be-delayed-.html
--------
US urges Sudan military to seal deal with protesters
8 May 2019
The United States pressed Sudan's military leader Wednesday to reach an agreement with protesters, who have threatened a disobedience campaign unless there is a transfer to civilian rule.
Deputy Secretary of State John Sullivan spoke by telephone with General Abdel Fattah al-Burhan, the chairman of the military council, and voiced support for "the Sudanese people's aspirations for a free, democratic and prosperous future," the State Department said.
Sullivan encouraged the military leader to "move expeditiously toward a civilian-led interim government" and to reach an agreement with the Alliance for Freedom and Change protest group.
He called on the military council to "respect the human rights of all persons" and to "allow peaceful protest and the freedom of expression consistent with Sudan's human rights obligations," State Department spokeswoman Morgan Ortagus said in a statement. Thousands of people remain camped outside the military's headquarters in Khartoum nearly a month after the army sacked veteran autocratic leader Omar al-Bashir, a key demand in the protests sparked by rising bread prices and fueled by young people.
Military leaders said late Tuesday that they had agreed overall to a proposal by protesters to set up a civilian structure but had "many reservations" -- leading demonstrators to accuse the council of delaying the transfer of power.
Tibor Nagy, the top US diplomat for Africa, said that Washington was in touch with all sides in Sudan.
"Our fundamental policy is that we want to support what the Sudanese people want," Nagy told reporters.
He was speaking in Washington at a first-of-its-kind strategic dialogue with Kenya, which Nagy called "one of our key and most important partners" anywhere in the world.
Monica Juma, Kenya's cabinet secretary for foreign affairs, hailed Sudan's protesters as "really responsible" for being both "peaceful" and "patient."
"We believe that the Sudanese themselves should forge the future of their country, and that is what our message to Sudan has been," she said.
Full report at:
https://english.alarabiya.net/en/News/middle-east/2019/05/08/US-urges-Sudan-military-to-seal-deal-with-protesters-.html
--------
Sudanese protest coalition calls for civil disobedience
8 May 2019
Sudanese protest and opposition leaders called on Wednesday for civil disobedience in response to the military's "disappointing" answer to their interim constitutional proposals.
The Transitional Military Council (TMC) said it broadly agreed with the draft but that it neglected some important issues such as a reference to Islamic shari'ah as a source for legislation.
But the opposition groups' umbrella body, the Declaration of Freedom and Change Forces (DFCF), said shari'ah was not a matter for the interim constitution, and that the TMC response would in effect give the military control of a proposed interim government.
"We call for and prepare for civil disobedience," Madani Abbas Madani, a DFCF leader, told a news conference in Khartoum.
Thousands of protesters have been camping outside the Defense Ministry in central Khartoum and, having secured a military overthrow of president Omar Hassan al-Bashir, are now demanding that the TMC hand over power to civilians.
The TMC has said it is willing to agree to a government of technocrats, but wants to retain overall control, pending elections, to prevent Sudan sliding into chaos.
Full report at:
https://english.alarabiya.net/en/News/middle-east/2019/05/08/Sudanese-protest-coalition-calls-for-civil-disobedience.html
--------
6 killed in fresh herder violence in Nigeria's Taraba
Rafiu Oriyomi Ajakaye
08.05.2019
Six people were killed in fresh hostilities between herders and farmers in northeast Taraba state this week, police said Wednesday.
Police spokesman David Misal told Anadolu Agency the attacks occurred in Murbai, Kisbap, Sembe and Yawai-Abbare villages of Ardo-Kola and Jalingo local government areas sometime between late Monday and Tuesday.
"Our men who have deployed in the area learnt one person died Monday night when the attack first occurred and another five died later on Tuesday evening," he said.
Other victims sustained gunshot injuries, he said.
Residents said casualties toll was up to 11, according to the Punch newspaper.
Hundreds have been displaced from the affected areas.
Full report at:
https://www.aa.com.tr/en/africa/6-killed-in-fresh-herder-violence-in-nigerias-taraba/1473689
--------
URL: https://www.newageislam.com/islamic-world-news/prominent-saudi-preacher-apologises-tv/d/118548
New Age Islam, Islam Online, Islamic Website, African Muslim News, Arab World News, South Asia News, Indian Muslim News, World Muslim News, Women in Islam, Islamic Feminism, Arab Women, Women In Arab, Islamophobia in America, Muslim Women in West, Islam Women and Feminism