New Age Islam News Bureau
11 Apr 2020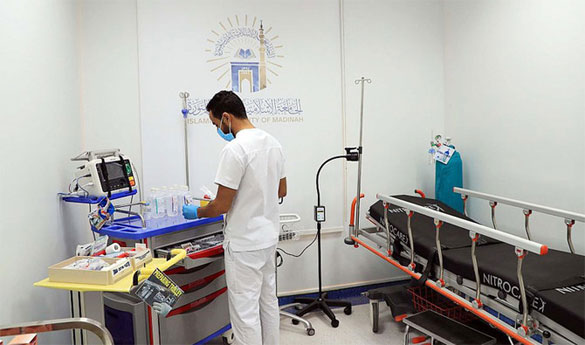 Photo/SPA
-----
• Program Launched to Support COVID-19 Research in Islamic University in Madinah
• Egypt Says Tarawih Prayers Won't Be Allowed in Mosques During Ramadan
• Woman Police Officer Attacked Outside Mosque in Karachi
• Iran: US Seeks 'Nothing Short of Surrender' Thru Virus Demand
• COVID-19: Indonesian Govt Urges Muslims Not to Hold ' Breaking-Of-The-Fast Gathering' During Ramadan
• Coronavirus: Islamic Relief Canada Making Hygiene Kits for Saskatoon's Homeless
• Mosque Arranges Pizza and Curry Treat for Huddersfield Royal Infirmary's Coronavirus Heroes
• Volunteers with Banbury Mosque Deliver More Than 700 Isolation Packs to Vulnerable In Community
• Sheikh Zakzaky Not Included in Nigerian Presidential Prisoner Pardon
• Case in Bhopal Against 64 Foreigners Linked to Delhi Islamic Sect Congregation
• Bangladesh Police Issues Warning Against Fake Social Media Pages Using Its Name, Logo
------
Arab world
• Program Launched to Support COVID-19 Research in Islamic University in Madinah
• Egypt Says Tarawih Prayers Won't Be Allowed in Mosques During Ramadan
• Barzani Urges Justice for Kurdish Woman Raped Allegedly by Shia Militias in Kirkuk
• Egyptian priest: Christians and Muslims united against the virus
• OIC Vows All-Out Assistance To Muslim World
• G20 energy ministers favour measures to rebalance global oil markets
• COVID-19 food safety task force polices home delivery services in Saudi city
------
Pakistan
• Woman Police Officer Attacked Outside Mosque in Karachi
• Tanzeem-e-Islami Ameer: 'Prolonged Closure Of Mosques Not Right'
• Huge gatherings avoided at majority mosques in capital
• Imran assures doctors of full protection
• PM extends deadline for registration of volunteers
• PHC chief justice told not to hear contract employees case
• Imran Khan Trolled Online for Lacking 'Knowledge of Islam' After Greeting Muslims on Wrong Day
-------
Mideast
• Iran: US Seeks 'Nothing Short of Surrender' Thru Virus Demand
• Iran says worried by virus threat to Palestinians in Israeli jails
• Israel threatens Hezbollah in Syria days after assassinating member in Lebanon
• Netanyahu's son says former MK Stav Shaffir should become a Muslim
• South Korea wins US approval for humanitarian trade with Iran: Report
------
Southeast Asia
• COVID-19: Indonesian Govt Urges Muslims Not to Hold ' Breaking-Of-The-Fast Gathering' During Ramadan
• Coronavirus: Malaysian Authorities Disinfect Mosque at Centre Of Super Spreader Event
• Clip urging Muslims to march to virus hotspots goes viral
------
North America
• Coronavirus: Islamic Relief Canada Making Hygiene Kits for Saskatoon's Homeless
• Muslim Detainee's Family Issues Plea for Help as ICE Detention Centres Report Coronavirus Cases
• US offers massive reward for info on Hezbollah cmdr.
• What Noam Chomsky won't tell you about COVID-19
• US becomes first country to record over 2,000 coronavirus deaths in one day
-------
Europe
• Mosque Arranges Pizza and Curry Treat for Huddersfield Royal Infirmary's Coronavirus Heroes
• Volunteers with Banbury Mosque Deliver More Than 700 Isolation Packs to Vulnerable In Community
• People Are Getting Creative as They Worship in Isolation
• Ramadan: Age UK Camden prepares emergency food parcels for vulnerable Muslim families
• Decision due on planning application for new mosque in Windsor
• Professor Neil Ferguson: UK lockdown restrictions will be targeted probably by age, by geography
• Man spent six nights at hotel offering complimentary lodgings for health workers
• Dublin imam returns home after week in ICU with coronavirus
• Germany Has Smallest Increase in Coronavirus Deaths in 10 Days
• Coronavirus: UK records highest daily death in the world
-------
Africa
• Sheikh Zakzaky Not Included in Nigerian Presidential Prisoner Pardon
• Chad Army Says 52 Troops, 1,000 Takfiri Militants Killed In Offensive
• Chad to Stop Taking Part in Regional Anti-Jihad Operations
• Obaseki, Muslim group hail Buhari's pardon for Alli, Enahoro
• Nigeria urged to release religious leader amid virus outbreak
• Boko Haram: Why Nigeria Does Not Need Deby's Approach
-------
India
• Case in Bhopal Against 64 Foreigners Linked to Delhi Islamic Sect Congregation
• Mosque where 3 Covid-19 positive people stayed; first death in Assam linked to Jamaat meet
• Case Against 10 Delhi Mosque Event Attendees, 3 Men for Sheltering Them In UP
• Covid-19: Guwahati Mosque Sealed Due to Link with Nizamuddin Markaz
• Gujarat lockdown: 16 held for offering Friday prayers in mosques
• Delhi man, who visited mosques, villages in Punjab, tests coronavirus positive
• COVID-19 lockdown: 40 people booked in MP's Chhindwara for gathering at mosque
------
South Asia
• Bangladesh Police Issues Warning Against Fake Social Media Pages Using Its Name, Logo
• Sarbaz Nazari On Iran's Leaders Plea for Muslims To Pray at Home
• Minister Hi-Tech Designs Ventilators, Goes for Testing
• Brac survey: 14 percent of low-income respondents have no food at home
Compiled by New Age Islam News Bureau
URL: https://www.newageislam.com/islamic-world-news/program-launched-support-covid-19/d/121552
------
Program launched to support COVID-19 research in Islamic University in Madinah
April 10, 2020
MADINAH: The Islamic University in Madinah has announced a new program to support coronavirus-related research and studies in different fields. It includes legal studies related to epidemics and pandemics; studies featuring Saudi Arabia's efforts to combat the spread of the virus; studies monitoring the economic impacts, among others.
The university urged all its teachers and professors to present research proposals that include a summary of the main idea, reasons for picking the topic, objectives and expected results. Proposals should be sent to researchfund@iu.sa between April 14 and May 13.
https://www.arabnews.com/node/1656761/saudi-arabia
----
Egypt Says Tarawih Prayers Won't Be Allowed in Mosques During Ramadan
10 Apr 2020
Mohamed Soliman
Egypt's religious endowments ministry said that "Tarawih", special evening prayers that are performed during the Muslim holy month of Ramadan, will be suspended this year in line with other congregational prayers as the country tries to stem the spread of coronavirus pandemic.
"What is applicable to the Tarawih Prayers applies to all other mass prayers … as gatherings, generally speaking, is a source of virus transmission," the endowments ministry said in a statement on Friday.
"Reopening the mosques is linked to registering zero coronavirus cases across the nation and until the health ministry certifies that gatherings would no longer pose a threat to public health," the statement read
The ministry said earlier this week that charity iftar tables, which offer free meals for breaking the fast during Ramadan, and all congregational religious activities will not be permitted this year to curb the spread of coronavirus.
On 11 March, Egypt suspended all mass prayers at mosques in an unprecedented move. The Coptic Orthodox Church suspended services on the same day.
http://english.ahram.org.eg/NewsContent/1/64/367016/-.aspx
------
Woman police officer attacked outside mosque in Karachi
APRIL 11, 2020
A woman police officer was injured after being pelted with stones when police tried to stop a large number of people from offering Friday prayers at a mosque in Karachi, a private TV channel reported.
The incident took place in Orangi Town when police came under attack after attempting to stop a large number of people from offering Friday prayers in a mosque over violation of Section 144. The police contingent came under attack and were pelted with stones. The situation was brought under control when an additional contingent of police and Rangers arrived at the scene. SSP South told the TV channel that action will be taken against those who attacked the police contingent.
As the number of coronavirus cases continue to rise throughout Pakistan, the Sindh government has banned more than five persons [Imam, Muazzin and other management] from offering prayers in the mosque. A complete ban on the movement of people and activities from 12:00pm to 3:30pm for Fridays only has also been imposed by the provincial government in order to ensure that people do not assemble in mosques and spread the infection. The Pakistan Ulema Council has also urged the public to offer prayers inside their homes and heed the warnings as well as safety precautions being issued by the government.
The court in its ruling said that the suspension in such treacherous times is the need of the hour. It also said that the decision taken by the government and the suspension of prayer congregations is all being done to practice maximum precaution against the deadly coronavirus and minimize its spread and consequential loss of life in some cases. Islam allows unprecedented measures to be undertaken when situations of life and death arise, said Sindh High Court's ruling on the matter.
https://dailytimes.com.pk/593575/woman-police-officer-attacked-outside-mosque-in-karachi/
-----
Iran: US seeks 'nothing short of surrender' thru virus demand
10 April 2020
Iran's Ambassador to Belgium Gholam Hossein Dehqani has cast doubt about the American officials' intention to relieve anti-Iran bans should the Islamic Republic make a direct plea for the removal of sanctions, saying that Washington wants Iran to surrender to US demands.
In an op-ed published by Euronews on Thursday, Dehqani censured Washington over ignoring the global calls for sanctions relief as Iran is battling the deadly new coronavirus, which has killed more than 4,200 people in the country.
"By this, they probably mean a direct plea to the US government to obtain the relief. They even went so far as to blame the entire international campaign as Iran's sanctions relief scam. Is the US government stalling such relief only pending a direct request from the Iranian side? Or, could it be a matter of the US administration's policy within the broader maximum pressure campaign?" he wrote.
Dehqani said that "first and foremost, as a matter of principle, Iran does not recognize the unilateral sanctions of the United States and deems these unilateral coercive measures illegal and a violation of international law".
President Donald Trump brazenly said last week that the US had no "moral responsibility" to halt Iran sanctions if Tehran did not ask for it to fight the pandemic.
President Hassan Rouhani has warned the IMF to consider Iran's request for $5 billion without "discrimination" after reports said the US was seeking to block the loan.
"No, no, no, they didn't even ask me about it," Trump said last week during a press briefing of the White House Coronavirus Task Force when asked if he had a "moral responsibility" to lift the sanctions.
Iranian President Hassan Rouhani said the International Monetary Fund must fulfill its duties toward all member countries, including Iran, without any bias.
In an interview with BBC Persian last November, US Secretary of State Mike Pompeo said that Iranian officials must listen to Washington "if they want their people to eat."
Dehqani said that the US is seeking "maximum expectations" from its "maximum pressure" campaigning, saying that Washington wants Iran to surrender.
"It appears the maximum pressure campaign set a maximum expectation for the Trump administration too. The secretary of state's remarks to the effect that Iran had to listen to the United States, 'if they want[ed] their people to eat' is a stark reminder of such expectation. Also, President Trump's adamant insistence that Iran call them is as telling an example of this mentality. In this light, they will accept nothing short of Iran's surrender," he said.
"Under such circumstances, even the slightest hint would be interpreted in a maximalist light as Iran's submission," said Dehqani, stressing that, "this maximum expectation will no doubt breed disappointment for the US administration."
He expressed deep disdain for the course of action the US has adopted since 8 May 2018" when Trump withdrew the US from the 2015 nuclear deal and reimposed its sanctions. Dehqani noted that "smart diplomacy is the sum of the many small steps towards confidence-building."
"Iran is not alone in rejecting the legitimacy of US sanctions. The European Union, for its part, does not recognize the extraterritorial effects of third-party legislation, and forbade the compliance by EU citizens with the extraterritorial effects of certain sanctions that serve the foreign policy objectives of a third country at the expense of the sovereignty of EU member states."
He pointed to the recent remarks made by EU foreign policy chief JosepBorrell who said sanctions should not block deliveries of medical equipment and supplies to countries working to curb the outbreak of the new coronavirus.
The Iranian ambassador pointed to various calls from international bodies, including the UN for the removal of sanctions against those countries affected by the corona virus and said, "COVID-19 is not a national issue; it is not confined to a certain geography, region, nation, culture and so on. It has created a unique moment of global solidarity".
Since the coronavirus outbreak, the Trump administration has imposed at least three rounds of new sanctions targeting trade with Iran.
Iran on Friday announced another 122 deaths from the novel coronavirus, taking the overall toll in the Middle East's worst-hit country to 4,232.
The health ministry said 1,972 people tested positive for the COVID-19 virus in the past 24 hours, putting the total at 68,192.
"Fortunately, the pace of the recovery of patients has accelerated and so far 35,465 patients have recovered and been discharged," spokesman Kianoush Jahanpour told a televised news conference.
The announcement comes a day before Iran is scheduled to reopen "low-risk" businesses in a move aimed at protecting its sanctions-hit economy.
The US is seeking to block Iran's requested $5 billion emergency loan from the International Monetary Fund (IMF) for funding which Tehran requires to fight the coronavirus pandemic.
In an interview with CNN, a State Department spokesperson claimed that Iran was "seeking cash to fund its adventurism abroad, not to buy medicine for Iranians".
A US Treasury official said, "We remain opposed to funding going to Iran", claiming that the cash be used to finance Iran's "destabilizing activities".
The Trump administration has said it would not suspend sanctions against Iran as the country is battling the deadly coronavirus outbreak.
The US has the largest number of shares within the IMF, giving it 16.5% of the body's total votes. Technically, other IMF member countries could amass a majority of votes to approve Iran's loan even with US opposition.
However, the US statements against aid for Iran send a powerful message that might be all that's required to stop any attempt to help Tehran, CNN said.
Secretary of Iran's Supreme National Security Council Rear Admiral Ali Shamkhani said over the weekend that the United States was using its clout within the IMF to stonewall the loan request.
The Trump administration is under growing pressure to relax its sanctions on Iran to ensure access to essential supplies and medical support during the pandemic.
UN Secretary General António Guterres has advocated for US sanctions relief to ensure access to essential supplies and medical support, saying that sanctions risk the health of millions.
More than 66,000 people have been tested positive for the COVID-19 since it was spotted in Iran on February 19. More than 32,000 people have recovered, while over 4,100 died, according to figures provided by the Iranian health ministry on Thursday.
https://www.presstv.com/Detail/2020/04/10/622724/Iran-US-sanctions-Belgium-envoy-Dehqani
-------
COVID-19: Indonesian Govt Urges Muslims Not to Hold ' Breaking-Of-The-Fast Gathering' During Ramadan
Apriza Pinandita
April 11, 2020
The Religious Affairs Ministry has urged Indonesian Muslims not to hold bukber, short for buka puasa bersama (breaking-of-the-fast gathering) activities during the upcoming Ramadan, as COVID-19 has spread to every province across the country.
"Tarawih should be performed at home, while Nuzulul Quran [the revelation day of the Quran] commemoration will be scrapped during this year's Ramadan, as well as tadarus activities at mosques," he said during a press briefing on Friday.
He added that practicing Ramadan traditions from home would not reduce the value of worship, as the country was in a state of emergency. "God will understand," Kamaruddin went on to say.
Aside from advising people not to participate in bukber, the ministry also called on people not to hold sahur (predawn meals) gatherings in the street. It also urged people not to perform itikaf (seclusion in a mosque).
Idul Fitri prayers, which are usually performed in a congregation, have also be prohibited, with a corresponding fatwa to be issued by the Indonesian Ulema Council (MUI).
The ministry also advised Muslims to hold halal bi halal (post-Ramadan gatherings) through video conference or social media platforms.
Indonesian health authorities had recorded at least 3,512 confirmed cases in all 34 provinces across the country as of Friday, with 306 deaths.
https://www.thejakartapost.com/news/2020/04/10/covid-19-govt-urges-muslims-not-to-hold-bukber-during-ramadan.html
-----
Coronavirus: Islamic Relief Canada making hygiene kits for Saskatoon's homeless
BY GABRIELA PANZA-BELTRANDI
April 10, 2020
A group of volunteers in Saskatoon is making hygiene kits for the city's most vulnerable during the COVID-19 pandemic.
"Unfortunately there's a lot of people in Saskatoon who live below the poverty line and are unable to keep themselves safe, so we're hoping by making these hygiene kits we can help keep other people safe and thereby keep ourselves safe and flatten the curve," said Arshviny Ollegasagrem.
They're even including winter mitts and gloves after the shelters asked. In total, volunteers expect to make 400 kits for those struggling.
"When we see the vulnerable populations and people in those poverty situations struggling, if the infection does get to them it can spread quite quickly," Ollegasagrem said.
Jason Mercredi is lead at Saskatoon's community hub at the White Buffalo Youth Lodge. It's to help people experiencing homelessness or who need help.
"Most people on income assistance, after they pay all their bills and their rent, they're only living on about $100 a month, and they still need to cover food with that," he said.
"If they're having to choose between eating and buying soap they're going to choose eating because they do need that to live."
"They are going to be our last line of defense for keeping the homeless population safe," he said. Right now the shelter gets funding based on its ability to fill up the shelter, something that isn't possible while following social distancing, according to Mercredi.
"If they can't have the staff to support clientele to stay indoors that means they're going to be running around the community, so they're not self-isolating."
On April 1, the City of Saskatoon made a public call to the Government of Saskatchewan to act faster to help the city's most vulnerable.
Some hotels have provided rooms, but only on a case-by-case basis according to Mercredi, something he said is time consuming and is still leaving many people vulnerable.
"[Wednesday] at the community hub we had 40 people that we served, 35 needed housing, so we're going need more units available," he said.
Health officials caution against all international travel. Returning travellers are legally obligated to self-isolate for 14 days, beginning March 26, in case they develop symptoms and to prevent spreading the virus to others. Some provinces and territories have also implemented additional recommendations or enforcement measures to ensure those returning to the area self-isolate.
Symptoms can include fever, cough and difficulty breathing — very similar to a cold or flu. Some people can develop a more severe illness. People most at risk of this include older adults and people with severe chronic medical conditions like heart, lung or kidney disease. If you develop symptoms, contact public health authorities.
To prevent the virus from spreading, experts recommend frequent handwashing and coughing into your sleeve. They also recommend minimizing contact with others staying home as much as possible and maintaining a distance of two metres from other people if you go out.
https://globalnews.ca/news/6803738/coronavirus-islamic-relief-canada-hygiene-homeless-saskatoon-covid-19/
-------
Mosque arranges pizza and curry treat for Huddersfield Royal Infirmary's coronavirus heroes
ByNick Lavigueur
10 APR 2020
Frontline staff at Huddersfield Royal Infirmary enjoyed an Easter pizza and curry treat thanks to a generous donation from a nearby mosque.
Worshipers from the Ghausia Mosque in Lockwood arranged for a huge delivery of food to thank our NHS heroes during the coronavirus crisis.
"The Chairman of Masjid Ghausia, Mohammed Rafiq, delivered the food to HRI along with Mohammed Riaz Abdul Aziz, Arfan Saddiq, Farooq Hussain, Nasar Mahmood and Abrar Ashraf.
"The help group would like to thank Claire Leyland from the Palliative Care Team who liaised with Javed Akhtar, making it possible to deliver the food and the much needed personal care items, which were also donated to the hospital.
"We would also like to thank Lanika Restaurant in Halifax who opened especially to cater for the occasion, and big thank you to Pizza Hut delivery on Wakefield road who provided food at generously discounted rate, as well as Arfan Saddiq from Muscle Van services who delivered the food for free. Thank you to all of you."
Members of the community associated with Ghausia mosque have also set up a WhatsApp group in order to support vulnerable people in the community from all faiths, backgrounds and ages.
They will deliver shopping to people's homes, collect prescriptions and even do other household chores for those who are unable to leave their homes.
The group has also secured funding through the Ghausia mosque, which is working in conjunction with the local authority to help assist those facing extreme financial difficulty.
https://www.examinerlive.co.uk/news/west-yorkshire-news/gallery/mosque-arranges-pizza-curry-treat-18074709
------
Volunteers with Banbury Mosque deliver more than 700 isolation packs to vulnerable in community
By Matt Elofson
10th April 2020
Organisers of the service from the Banbury Mosque have been arranging food and isolation pack deliveries for people in self-isolation who are over the age of 65.
Anyone in need of an isolation pack can contact the mosque through an email including name, number and address to the following email: at Banburymosque@yahoo.com.
More than 40 volunteers have been helping in the efforts to provide for the community, including Oxfordshire County Cllr Hannah Banfield.
Cllr Banfield has made a contribution to the isolation pack project coordinated by the Banbury Mosque from her Councillor Priority Fund (CPF).
A spokesperson for the Banbury Mosque said: "We would like to express our sincere gratitude towards her continued support and also helping with the delivery of food packs."
Volunteers with the Banbury Mosque getting ready to delivery isolation food packs to the vulnerable (photo was taken before the 2 metre rule was put in place) Copyright: other
The contribution will add to the already £3,000 spent by the Banbury Mosque on the isolation food pack project for the community.
Abu Hassan Hanif, chairman of the Banbury Mosque, said: "Hannah is a true example of active involvement of engaging and serving community at its time of need.
"Banbury Madni Mosque strives to follow in the teachings of our beloved Prophet Muhammad, may peace and blessings of God be upon him, whom emphasised love and kindness for all of God's creation. serving humanity as such service itself is an act of worship because God Almighty commands us to do so."
Cllr Banfield said: "I have always supported the Banbury Community Fridge, as I feel it's incredibly important to give practical help to my constituents when needed.
"I would like to personally thank Yasmin Kaduji, project manager, B Hassan Hanif, chairman of the Banbury Madni Masjid Mosque, and the team of community fridge workers for all their unstinting hard work, kindness, compassion and dedication which has been given voluntarily over the years to our community."
Thank you for reading this story on our website. While I have your attention, I also have an important request to make of you.
In order for us to continue to provide high quality and trusted local news on this free-to-read site, I am asking you to also please purchase a copy of our newspaper when you do your weekly shop.
Our journalists are highly trained and our content is independently regulated by IPSO to some of the most rigorous standards in the world. But being your eyes and ears comes at a price. So we need your support more than ever to buy our newspapers during this crisis.
With the coronavirus lockdown having a major impact on many of our local valued advertisers - and consequently the advertising that we receive - we are more reliant than ever on you helping us to provide you with news and information by buying a copy of our newspaper.
https://www.banburyguardian.co.uk/health/coronavirus/volunteers-banbury-mosque-deliver-more-700-isolation-packs-vulnerable-community-2535646
------
Sheikh Zakzaky not included in Nigerian presidential prisoner pardon
April 10, 2020
AhlulBayt News Agency (ABNA): IHRC notes today's pardon by Nigerian president Muhammadu Buhari of 2500 prisoners nationwide in a bid to reduce overcrowding in the country's prisons in the wake of the Covid-19 pandemic.
Although the pardon includes prisoners aged over 60 and those suffering from ill-health likely to lead to death, Sheikh Ibrahim Zakzaky and his wife Mallima Zeenah are not among those being freed.
The pair continue to be held despite a 2016 federal high court ruling that their detention is unlawful and unconstitutional. To this date the Nigerian authorities have failed to implement the court order to release them by January 16, 2017 and pay compensation.
Instead, perversely, the state authorities in Kaduna decided in 2018 to prosecute the couple and recently transferred them from effective house arrest by the Nigerian state security service, the DSS, to Kaduna State Prison despite the obvious risks that this poses for their physical and psychological wellbeing, especially in the current Coronavirus climate.
The failure of Buhari to release the pair is all the more perverse in view of the fact that the Zakzaky have spent over four years in custody without any court proving any of the charges levelled against them.
IHRC chair Massoud Shadjareh said: "While we welcome this humanitarian move by President Buhari, we cannot help but note the inconsistency in freeing convicted felons but continuing to detain the Zakzakys who are in custody for purely political reasons and not guilty of any crimes. We urge him to reconsider his decision as a matter of urgency given the emergency situation prevailing in the country".
https://en.abna24.com/news//sheikh-zakzaky-not-included-in-nigerian-presidential-prisoner-pardon_1024125.html
------
Case In Bhopal Against 64 Foreigners Linked To Delhi Islamic Sect Congregation
April 11, 2020
by Vaibhav Tiwari
Bhopal: Madhya Pradesh police have registered a case against 64 foreign nationals linked to the Delhi congregation of Islamic sect Tablighi Jamaat, which is the largest cluster of coronavirus cases in the country.
They have been charged with violating official order and visa rules. The coronavirus suspects - natives of Indonesia, Myanmar and Ivory Coast - have been quarantined.
A case has also been registered against 10 Indians for assisting the Jamaat members, and 13 locals who provided accommodation to them.
"All those against whom cases have been registered are either being treated at hospitals after being found coronavirus positive or have been quarantined," senior Bhopal police officer Upendra Jain said.
Over thousand people linked to the congregation have tested positive for the virus across the country. The state governments are tracing and taking legal action against them.
Maulana Saad Kandhalvi, the leader of the sect, is missing for days. His lawyer recently told news agency PTI that he was in self-quarantine.
Madhya Pradesh has so far reported 453 cases, with 14 fresh cases being reported in Bhopal on Friday. Indore, which has emerged as the epicentre of the deadly disease in the state, has 235 cases.
Nearly 900 new novel coronavirus cases and 37 deaths have been reported in the country ever since Thursday, the Health Ministry said on Friday. This is the largest ever single-day spike in the number of cases and deaths, the ministry added, and takes the total number of COVID-19 cases in India to 6,761 with at least 206 deaths linked to the virus.
https://www.ndtv.com/india-news/case-in-bhopal-against-64-foreigners-linked-to-delhi-islamic-sect-congregation-2209854
------
Bangladesh Police issues warning against fake social media pages using its name, logo
April 11, 2020
Bangladesh Police today issued a warning against those running fake social media pages using its name and logo and urged people to be cautious about any propaganda run through unverified pages and groups.
"Recently some unscrupulous persons and institutions are opening fake pages and groups using police logo, name or part of the name... Creation of such pages, groups and sites is an offence under the law. Concerned all are urged to delete those fake, unauthorised pages, groups and sites," says a press release sent by Police Headquarters.
The press release also added that police are going to take steps against the admins of those pages and groups.
The police headquarters urged people to go through the force's official page (https://www.facebook.com/BangladeshPoliceOfficialPage/) for information and report police about those fake pages and groups.
https://www.thedailystar.net/bangladesh-police-issues-warning-against-fake-social-media-pages-using-its-name-logo-1891849
------
Arab world
Barzani Urges Justice for Kurdish Woman Raped Allegedly by Shia Militias in Kirkuk
10/04/2020
ERBIL — The regional government of Kurdistan and the federal government of Iraq are needed to work together and investigate into the sexual assault against a Kurdish woman allegedly by a group of Hashd al-Shaabi militias and members of Iraqi federal police, Kurdish prominent leader and the president of the ruling Kurdistan Democratic Party (KDP), Masoud Barzani, said on Friday.
The appeal came after media reports revealed that a Kurdish woman, with disabilities, was raped in the disputed Kurdish town of Pirde, in Kirkuk province.
"I ask the federal and regional governments to conduct a joint investigation into this heinous crime, and bring the perpetrators to justice," Barzani wrote in an urgent statement.
The Kurdish leader criticized the "imposed military rule" by the Iraqi government in the areas disputed between Erbil and Baghdad for decades.
This military rule has worked to deny the Kurds in Kirkuk their rights since the beginning, Barzani added, noting that no one should believed that they would be able to get away with such a crime without punishment.
Pirde is a small town south of Erbil. It has been under the control of the Iraqi forces, mainly the Shia militias of Hashd al-Shaabi, since October 2017 when Iraq carried out a massive military campaign to push the Kurds out of Kirkuk in retaliation for an earlier independence referendum.
http://www.basnews.com/index.php/en/news/kurdistan/595283?__cf_chl_jschl_tk__=a6a01912045d8e24704f9103e068d94a55677617-1586586292-0-AVHQactrbFolfgjAFRlKPK9pjD2-rFJKOrK_8cO9knt3ssxwxWhvrNfpl7aXqsCeA4grep4hk91Mf9nAgpVV8FNUwtkelrK0mXpoJmBxAAs7FvBgn_FNYKTWMD70OZongVJb3nOpUaDaZq88I6yx3rf1FaAawnIxqCjDAwgILt_ort0LTZXAuWU7AvFlEO_8QgJV3jrbxBfOGKnJskgP8dvOZTaOjBLF4it8-h55gxNPekYbH0wwGvOZyuQxI6WI4QaRkoMjHued8X1I6iPcDgjy9Z8KhqMjA1GW4l22nP70YYYWC6zwazs6z3Tw3Syj3Q
--------
Egyptian priest: Christians and Muslims united against the virus
04/10/2020
For Fr Rafic, the emergency triggered by the pandemic "is bringing Christians and Muslims closer". Family members call each other; young people bring medicines and help to their elders. The government has taken steps to counter the pandemic. Churches (and mosques) have been closed. The Internet and social media are the venue for maintaining social ties and following religious services.
Cairo (AsiaNews) – The coronavirus outbreak in Egypt "is bringing Christians and Muslims closer together," more "united against this virus. Neighbours are looking out for each other; family members are getting in touch to see how others are doing," said Fr Rafic Greiche, head of the media committee of the Council of Churches of Egypt.
The pandemic is making people rediscover the value of closeness and solidarity. "Young Christians and Muslims are delivering medicine to the elderly, and visiting the homes of needy families to bring help," Fr Rafic noted.
As Holy Week is set to start in Egypt on 13 April, seven days after the Latin Church, people of various confessions "are boosting social ties and establishing new connections," he explained.
The renewed unity includes Muslims, with the violence of the past put aside. This is essential to counter a virus that has so far infected 1,699 people with 118 deaths and 305 healed.
"The Egyptian government is facing the crisis with great resolution. Two days after the announcement of the pandemic, the Health Minister went to China to study the methods used to fight it. We are in the fifth week of a curfew. The military has set up field hospitals and the number of infections is currently limited."
With Ramadan approaching, the Muslim holy month of fasting and prayer, public gatherings, even religious ones, are prohibited. Measures of social distancing and the ban on outdoor activities will remain in force.
By and large, people respect the ban. "There are three groups: educated people who are frightened by the coronavirus but respect the restrictions; the poorest who know nothing about it but tend to follow instructions starting with personal hygiene and frequent hand washing; and finally, workers and the middle class who try as far as possible to use the Internet and smart-working."
In Egypt, "we pray and celebrate Mass every day, even if the churches are closed," Fr Rafic said. We stream the celebrations online and have a considerable following since it is a long-established practice."
"For two years we have been broadcasting the Mass on social media for migrants in Canada, the United States, Japan and Australia. Young people and students in European and North American universities also follow us."
Churches may be empty, but at a spiritual level, "my eyes continue to see people sitting in their places, as usual. Some worshippers come, alone, and ask to pray."
Muslim places of worship are also closed, but five times a day the muezzins call the faithful to pray from minarets. TV channels broadcast the ritual to enable people to pray at home.
People can choose from six televisions close to the Coptic Orthodox Church to follow Easter services. There is also a multi-denominational channel, the Lebanese Christian broadcaster Nursat, and another channel that broadcasts papal functions. At present, it is unclear whether the Egyptian state TV will broadcast the Easter mass.
"Every day some faithful come to church, pray and light a candle; they ask to confess and receive communion," said Fr Rafic. "For many, not being able to come to church is a source of sadness, but to make them feel our closeness, every day, I call 10 to 15 families; I pray with them, and I invite them to follow celebrations on social media."
http://www.asianews.it/news-en/Egyptian-priest%3A-Christians-and-Muslims-united-against-the-virus-49797.html
-----
OIC vows all-out assistance to Muslim world
APRIL 11, 2020
The Organization of Islamic Cooperation (OIC) on Friday highlighted the need for the OIC member States to take immediate and decisive measures to combat the COVID-19 pandemic.
Speaking at the extraordinary meeting of OIC Steering Committee on Health on COVID-19, Secretary General Dr Yousef A Al-Othaimeen expressed OIC's readiness to utilize its available resources to help the peoples of the Muslim world in these difficult times, and expressed appreciation to the Islamic Development Bank and the Islamic Solidarity Fund for their initiatives.
An emergency virtual meeting of the OIC Steering Committee on Health (SCH) at the health ministers-level was held to discuss the COVID-19 pandemic, a Foreign Office press release issued here said. The meeting was attended by ministers of health and representatives from OIC-SCH member states, heads/representatives of OIC institutions/organs, including president of the Islamic Development Bank Group (IsDB Group), and a number of international organizations. Special Assistant to Prime Minister (SAPM) on Health Dr Zafar Mirza represented Pakistan in the conference.
Speaking on the occasion, Mirza stated that the COVID-19 pandemic poses an unprecedented challenge to humanity, which requires a collective international response. Highlighting Pakistan's efforts, he underscored that the country has been actively engaged in containing the pandemic from its outset by taking several preventive measures. He said that planning and coordination efforts are being led by Prime Minister Imran Khan himself. To ensure a unified national response, a robust institutional mechanism has been set up under the National Security Committee (NSC) and National Coordination Committee (NCC). The National Command and Operation Centre (NCOC) is the implementation arm of the NCC. Necessary lockdown measures including closing of schools, banning public gatherings are also put in place. The impact of these efforts is enormous as Pakistan is still in the containment phase.
Dr Mirza termed the pandemic both as a challenge and an opportunity for introspection, especially on healthcare spending and emergency preparedness. Emphasizing the importance of health security as a key component of national security, he underlined the need to develop health regulations at international level and a legal framework at national level to enhance investment in healthcare security infrastructure. He emphasized that OIC should strengthen its capacity to cope with this unprecedented challenge by exploiting comparative advantage of member states in the development of pharmaceutical products, vaccines and PPE. He also highlighted Pakistan's comparative advantage in the healthcare sector. He assured the General Secretariat and OIC member states of Pakistan's full cooperation in combating the pandemic.
A joint statement was also issued at the end of the virtual meeting which, inter alia, called on the OIC countries to exchange more information, experiences and capabilities to combat COVID-19 pandemic.
Pakistan is a member of the OIC-SCH. Other members include Saudi Arabia, UAE, Maldives, Mauritania, Chad, Turkey, Egypt, Malaysia, Indonesia and Sudan.
https://dailytimes.com.pk/593574/oic-vows-all-out-assistance-to-muslim-world/
-----
G20 energy ministers favor measures to rebalance global oil markets
FRANK KANE
April 11, 2020
DUBAI: Energy ministers from the G20 nations last night agreed to measures to rebalance global oil markets ravaged by the coronavirus pandemic.
Earlier, their discussions focused on a plan developed by the OPEC+ alliance, and led by Saudi Arabia and Russia, to cut oil output by an unprecedented 10 million barrels a day.
Non-OPEC+ countries such as Canada, the US and Brazil were expected to implement additional, substantial output reductions of their own.
The agreement — which includes the three biggest producers: Saudi Arabia, the US and Russia — represented the biggest-ever attempt to coordinate global oil production.
Saudi Arabia's Energy Minister Prince Abdulaziz bin Salman chairing a virtual extraordinary meeting of G20 Oil ministers in Riyadh on April 10, 2020. (SPA)
Progress was held up by Mexico, which was reluctant to reduce its output by 23 percent, as had been by other members of the Organization of Petroleum Exporting Countries. The nation's concerns were addressed through the intervention of US President Donald Trump.
He became personally involved in the negotiations after last week saying he expected cuts of about 15 million barrels a day to tackle the glut of oil on global markets.
Some experts estimate demand has slumped by 30 percent since nations began locking down to tackle the pandemic. If production had continued at previous rates, storage facilities would have been overwhelmed within weeks, leaving producers facing the risky option of "shutting in" wells, which means halting production.
"National health systems have been strained and economic-growth prospects have been impaired," Prince Abdul Aziz bin Salman, the Saudi energy minister, told the G20 meeting. "Global financial markets are in turmoil, as are global energy markets, with negative effects on both their stability and security.
"The uncertainty in energy markets has spilled over into many other sectors, including manufacturing and transport, and has slowed the pace of investment in future energy supplies, both hydrocarbons and renewables."
He underlined the seriousness of the challenge facing the industry: "In this time of crisis, reliable, affordable and accessible energy is critical to powering our essential services, including health care, to ensure we can quickly advance recovery efforts, on both national and global scales."
"Gulf producers will be hoping that the deal is at least enough to put a floor under oil prices but we'll have to wait until Monday when the markets start trading again," said Paul Young, head of energy products at Dubai Mercantile Exchange.
Crude prices have fallen by about 50 percent in the past month, partly due to the economic effects of the pandemic and partly as a result of aggressive production by producers, including Saudi Arabia.
https://www.arabnews.com/node/1656856/business-economy
-----
COVID-19 food safety task force polices home delivery services in Saudi city
MOHAMMED AL-KINANI
April 11, 2020
JEDDAH: A 278-strong task force of food safety inspectors is helping to police home delivery services in a Saudi city as part of the Kingdom's efforts to stop the spread of the killer coronavirus disease (COVID-19).
The Jeddah health enforcement team has been carrying out strict morning and evening checks on supermarkets and restaurants to ensure precautionary measures introduced by the Saudi government are being adhered to.
And Jeddah Municipality has stepped up its monitoring of food outlets offering home delivery services during the virus lockdown.
Saudi Acting Minister of Municipal and Rural Affairs Majid Al-Hogail recently approved a list of temporary health requirements for food couriers operating in the Kingdom during the COVID-19 crisis.
Jeddah municipality spokesman Mohammed Al-Bogami told Arab News that the municipality had tasked its employees and inspectors in all branches to intensify their inspection efforts to ensure the regulations were fully implemented.
"Our agents have started spreading health awareness among restaurant workers and have asked all restaurants to provide thermal inspection devices to daily inspect both their workers and delivery workers," he said. "We have also obliged all restaurants to take all precautionary measures and take the minister's circular into consideration."
The new rules include general requirements and conditions for the preparation, packing, transportation, and handover of food items along with safe handling instructions for delivery representatives.
The ministry has also urged couriers and customers to report any suspect food delivery operatives or breaches of health regulations, while reminding workers not to transport or deliver any prohibited or dangerous materials. Under the directives, deliveries can only be made to customers within a 45-minute drive of the food supplier's premises.
Administrators of licensed delivery apps have also been ordered to immediately terminate the service of any delivery agent violating the rules.
Delivery drivers should carry a valid driving license and use vehicles registered with an insurance company, and vehicles must be kept clean and be equipped with sealed containers to maintain safe food temperatures. Food containers should also be made of materials that can withstand frequent cleaning and disinfection after every delivery, with packages and foodstuffs securely positioned during transportation.
• Saudi Acting Minister of Municipal and Rural Affairs Majid Al-Hogail recently approved a list of temporary health requirements for food couriers operating in the Kingdom during the COVID-19 crisis.
• Jeddah municipality has tasked its employees and inspectors in all branches to intensify their inspection efforts to ensure the regulations were fully implemented.
According to the new rules, delivery app workers must be Saudi nationals aged over 18 with no criminal record and should carry ID along with a medical certificate proving they are free of infections and diseases.
Workers in food preparation premises are required to disinfect cooking equipment, delivery cases, and electronic card payment devices, separate food items with different chemical characteristics, serve only canned drinks, and securely seal orders.
Delivery workers are not allowed to enter restaurants or food outlet premises and must wait outside for orders to be prepared.
On delivery, no handshaking is permitted, and couriers and customers should keep at least two meters apart. Consumers are also required to reject any orders not displaying a "sealed" sticker on the package.
Transactions should only take place using electronic payment devices, and customers must immediately dispose of plastic bags after receipt of their order.
"We have notified them that they should clean their restaurants every three hours to ensure the best possible level of hygienic atmosphere. Moreover, we asked them to take precautionary measures inside the shop, such as reducing the number of workers to no more than five in the morning period and five other workers in the evening period until the closing time at 10 p.m.," he added.
He noted that the municipality had asked restaurant managers to instantly report to authorities any cases of COVID-19 among workers.
https://www.arabnews.com/node/1656831/saudi-arabia
-----
Pakistan
Tanzeem-e-Islami Ameer: 'Prolonged Closure Of Mosques Not Right'
April 11, 2020
LAHORE: Tanzeem-e-Islami (TI) Ameer Hafiz Aakif Saeed said the prolonged closure of mosques would be disastrous not from the religious view but also from the worldly perspective, by severing the ties of believers with The Creator and The Healer.
In a statement here Friday, Hafiz Akif said mosques in Pakistan had been closed for over 15 days now. He reminded that the mosque is 'The House of Allah and Muslims knock at His door to plead for His mercy.
Trials, tribulations and pandemics are signs of the wrath of Allah Almighty as well as a Divine way of testing our faith. He demanded the government ease the lockdown for various industrial and trading concerns, because the poor and middle classes have been crushed under unemployment, and they must be given the opportunity to fully prepare for Ramazan. He expressed deep anguish on Modi government's demographic changes in Indian-Held Kashmir in guise of coronavirus pandemic, to convert Muslims in minority, terming it not only unethical and immoral but also blatant violation of basic human rights and international laws. He warned that if the world did not stop India from state terrorism against Muslims, it would face devastation of such magnitude in future which it would not be able to endure them.
https://www.thenews.com.pk/print/642619-prolonged-closure-of-mosques-not-right
-----
Huge gatherings avoided at majority mosques in capital
MANSOOR ALI
April 11, 2020
ISLAMABAD-Majority of the mosques in the Islamabad city on Friday remained empty after they followed government's directives of avoiding a huge gathering.However, few big mosques including Lal Masjid were heavily crowded despite the government ban.
The Islamabad administration before the Friday prayer time had closed all the entry and exit points leading towards the Faisal Mosque and this was the reason that the number of worshipers at Faisal Mosque remained limited. However, the administration failed to stop gathering of people in Lal Masjid as hundreds of masses attended the Friday prayer there.
A number of clerics in the city ignored the decree issued by"Darul Afta" of the 'Pakistan Ulema Council' (PUC) and 'Wafaqul Madaris Pakistan,' as it was advised to avoid Urdu speeches during Friday prayers while a reasonable number of clerics followed the government directive and asked the people to remain at homes.
Meanwhile, the police also arrested Maulana Abdul Rauf from Chatta Bakhtawar after he tried to gather a large number of people in amosque for attending the Friday prayer.
A divide among the religious clerics was also witnessed as some of the clerics were asking the people to remain at homes while the rest were forcing them for attending the Friday prayer at mosques.
The common citizens in capital also ignored the decree and the preventive directives from the government and hundreds of citizens rushed to mosques.
The decree issued by PUC had said that Sunnah of all five prayers should be performed at homes in order to avoid the possible threat of outbreak of virus.
Moreover, in majority of mosques there was no proper system of any sanitizer nor the carpets were folded. However, some of the mosques came up with completely following the directive and SOPs were completely adopted.
Meanwhile, President Arif Alvi offered Salaat u Tauba along with Speaker National Assembly Asad Qaiser and Chairman Senate Sadiq Sanjrani at Aiwan-e-Sadr in Islamabad today and prayed to Allah Almighty to clear the world of the coronavirus pandemic.
A delegation of Council of Islamic Ideology (CII), led by its chairman, Dr. Qibla Ayaz, had held a meeting with President Dr. Arif Alvi on Thursday.
The Ulema gave various suggestions to deal with the situation. The meeting urged the people to resort to Allah to seek His blessing by offering two 'rakat Salat-e-Tauba' on Friday. The Ulema advised the people to seek forgiveness in individual prayers at their homes, which could help save the humanity from the current catastrophe.
https://nation.com.pk/11-Apr-2020/huge-gatherings-avoided-at-majority-mosques-in-capital
-----
Imran assures doctors of full protection
Manzoor Ali
April 11, 2020
PESHAWAR: Prime Minister Imran Khan on Friday assured doctors that his government was making all-out efforts to ensure their protection while they were battling the Covid-19 pandemic.
Talking to doctors during his visit to Hayatabad Medical Complex, Mr Khan said the nation stood by them while they were battling at the frontline of the outbreak.
He said the government was doing its best to provide all kinds of protection to the paramedics; however, there was a massive pressure on international supply chains due to a huge demand. He said a National Disaster Management Authority (NDMA) team was working on procuring medical supplies from China and other countries.
"We have to protect our doctors at all cost," Mr Khan told the doctors. He said that like the global trend, Covid-19 cases in Pakistan were likely to go up in the coming days. "Pressure will also mount on you [doctors]," he added.
He said the government's focus was on protecting the medical community and striking a balance between controlling the spread of Covid-19 and not letting people die of starvation.
Federal Minister for Pla¬nning and Development Asad Umar, Khyber Pakh¬tun¬khwa Chief Minister Mahmood Khan, Governor Shah Farman and KP Health Minister Taimur Saleem Jhagra were present on the occasion.
According to a statement, KP Chief Secretary Dr Kazim Niaz briefed the prime minister on the steps taken by the provincial government to control the outbreak.
The premier was informed that the spread of Covid-19 in six districts was more than the rest of the province. The provincial government has set up 275 quarantine centres across the province with a capacity of housing 18,000 patients.
PM Khan was informed that currently there were 583 ventilators across the province and the government was working to increase their number. The KP government has hired 689 regular and 1299 contractual doctors to fight the outbreak, while 9,000 retired doctors, nurses and paramedics have volunteered to fight the outbreak. They will be called for duty if need arises.
The prime minister appreciated the provincial government's efforts to control the spread of the pandemic and said that besides controlling the spread of the virus, federal the government was also focusing on extending aid to the economically vulnerable section of population. He said the Centre was helping the provinces control the outbreak.
PM Khan directed the KP chief minister and other relevant officials to visit the affected areas of the province and ensure provision of facilities to the general public.
The prime minister also visited an Ehsaas emergency cash disbursement point and reviewed the process of aid distribution. PM's special assistant Dr Sania Nishtar briefed the prime minister on the cash distribution mechanism.
https://www.dawn.com/news/1548226/imran-assures-doctors-of-full-protection
-----
PM extends deadline for registration of volunteers
Syed Irfan Raza
April 11, 2020
ISLAMABAD: Prime Minister Imran Khan on Friday extended the last date for registration of Coronavirus Relief Tiger Force (CRTF) till April 15, warning the nation that there would be more trouble in the future.
So far, 4,780 people, including 2,336 in Punjab, have tested positive for coronavirus across the country, with 72 deaths.
Covid-19 is showing a different trend in Pakistan where 70 per cent patients are below the age of 50 years, according to Special Assistant to the PM on Health Services Dr Zafar Mirza.
In a short video message, PM Khan said: "So far 850,000 young volunteers have got themselves registered with the Tiger Force, but I want more youth especially doctors, paramedics and others having experience in health and medicines sector to be part [of CRTF]. Therefore, we are extending the last date of registration from April 10 to 15."
He paid tribute to the 850,000 volunteers, but feared that the deadly Covid-19 would spread in the country and create hardships. "There will be more trouble in future and I want to tackle them jointly with this Force, armed forces, administration and bureaucracy," he said.
The prime minister also appointed Khursheed Alam as his Focal Person for Corona Philanthropy Drive to encourage people to respond to the government appeal for donations.
In a related development, National Assembly Speaker Asad Qaisar formed a committee comprising state minister Sheheryar Khan Afridi, uelma of different schools of thought, and officials of interior, foreign affairs and other ministries to monitor the efforts to bring back over 4,000 Zaireen and members of Tableeghi groups as well as hundreds of Pakistani students stranded in various countries.
PM's aide on national security Dr Moeed Yousuf, however, told the media that next week around 2,000 stranded Pakistanis would be brought back through PIA and other airlines to be operated from Islamabad, Karachi, Lahore, Faisalabad and Multan airports. He said the government would bring back a batch of 2,000 overseas Pakistanis from Saudi Arabia, the UAE, Oman, Algeria and Thailand. "The government has devised a strategy under which the labourers who have lost their jobs in other countries will be brought back as the first priority and then the Zaireen and Umrah pilgrims, released prisoners and in the last those whose visas have expired," he added.
Dr Mirza, who also addressed the press briefing along with the PM's aide on national security, warned the nation that the deadly coronavirus would increase in the country and said it was a wrong perception that the disease did not hit young people.
He announced that the government had dispatched personal protective equip¬ment (PPE) to as many as 152 hospitals in the country. The PM's aide said doctors and paramedical staff should use the equipment in a "proper way", otherwise, the supply given to the hospitals would be insufficient.
Sharing statistics with the media, Dr Mirza said that the number of confirmed coronavirus cases in the country had crossed the figure of 4,600 as 284 more people tested positive for Covid-19 during the past 24 hours.
The PM's aide said: "Since we have low intensity of the disease, it does not mean that everything is alright. It is a wrong perception that the virus does not affect young people because out of over 4,000 confirmed patients in the country, 70 per cent are young people below the age of 50 years."
Seventy per cent of all victims were male, he said. He was of the opinion that the reason for the higher ratio of men contracting the virus could be that they were more exposed to vulnerable places.
Earlier, it was officially announced that the National Disaster Management Autho¬rity (NDMA) procured medical relief equipment with the financial assistance from National Disaster Risk Management Fund (NDRMF).
In this regard, the first consignment procured from China, carrying medical equipment including PCR testing kits, mobile X-ray machines, Chinese KN-95 masks, disposable medical masks and water impermeable surgical gowns, arrived at the Islamabad International Airport on Friday.
The NDMA is procuring health pro¬ducts in phases. So far, the authority has procured, including but not limited to, 36,000 screening kits, 14 X-ray machines, 196 clinical ICU ventilators, 150,000 KN-95 masks, two million disposable medi¬cal masks, 40 biosafety cabinets (large), 30,000 water impermeable surgical gowns, besides the PPE, under the NDRMF grant.
https://www.dawn.com/news/1548213/pm-extends-deadline-for-registration-of-volunteers
------
PHC chief justice told not to hear contract employees case
Nasir Iqbal
April 11, 2020
ISLAMABAD: The Supreme Court on Friday restrained Chief Justice of Peshawar High Court (PHC) Waqar Ahmed Seth from hearing a case relating to terms and conditions of services of contract employees in the Khyber Pakhtunkhwa (KP) Workers' Welfare Board.
Headed by Chief Justice of Pakistan Gulzar Ahmed, the Supreme Court also summoned the registrar of the PHC to appear in person on the next date of hearing of the case. Notices were also issued to Attorney General Khalid Jawed Khan and KP Advocate General by the top court to appear before it next week.
The SC directives were issued on an appeal filed by Advocate Khawaja Azhar on behalf of the chairman of the KP Workers' Welfare Board against the Feb 17 rejection by the Peshawar High Court Chief Justice a request to constitute a larger bench to hear the case relating to the regularisation or reinstatement of an employee from Swabi who was working as a teacher at the Folks Grammar High Secondary School.
Advocate Khawaja Azhar argued that the PHC had rendered a number of judgments which sometimes followed the precedent of the Naimatullah case verdict rendered by the Supreme Court while on numerous occasions, the same precedent had not been followed.
At this the Supreme Court asked Mr Rasheed whether the high court was ignoring the judgement rendered by the Supreme Court. The top court was, however, informed by the counsel that only Bench 1 of the PHC was not following the SC judgment on the issue.
That was why, Mr Rasheed said, he had moved the appeal in the Supreme Court highlighting that the rejection of his request for constitution of a larger PHC bench had been done in haste without taking notice that a number of petitions had earlier been decided in contravention of the ratio laid down by the Supreme Court in the Jan 2018 Naimatullah versus Workers Welfare Board case.
He argued that the Supreme Court had decided in the Naimatullah case that the contract employees had no right to approach high courts directly for regularisation of their services or their reinstatement especially when no law was available in this regard. While deciding the Naimatullah case, the top court had held that such contract employees could approach the lower judiciary for redressal of their grievances.
The counsel contended that through his earlier application filed in the high court, he had only prayed for constitution of a larger bench to resolve this controversy permanently, but the chief justice of the Peshawar High Court dismissed his request with an observation that the high court had rendered identical views and as such there was no need for constitution of a larger bench.
The appeal contended that the high court order would result in multiplication of litigations on a settled point of law since conflicting judgments were being rendered every day on the question that contract employees could not be regularised in the constitutional jurisdiction of the high court.
The appeal contended that the petitioner, the KP Workers Welfare Board, had been left with no remedy but to approach the Supreme Court.
Mr Rasheed said that the rejection of his request for constitution of the larger bench was in conflict with the verdict of the Supreme Court on the matter.
After hearing arguments of Mr Rasheed, the Supreme Court adjourned the hearing of the case till next week at a date to be fixed later.
https://www.dawn.com/news/1548222/phc-chief-justice-told-not-to-hear-contract-employees-case
-----
Imran Khan Trolled Online for Lacking 'Knowledge of Islam' After Greeting Muslims on Wrong Day
10.04.2020
New Delhi (Sputnik): Muslims across the world observed Shab-e-Barat on the night between 8-9 April, marked as the night of forgiveness or the day of atonement. But with the coronavirus pandemic raging across the world, Muslims were advised to stay indoors and prohibited from praying at mosques.
Pakistan's Prime Minister Imran Khan landed in an embarrassing situation when he extended his wishes a day late for Shab-e-Barat, a day after it was observed in his country. Shab-e-Barat is observed by Muslims who seek forgiveness for their sins.
Khan took to twitter to "request Muslims all over the world to offer prayers" on 9 April, a day after Shab-e-Barat was observed in Pakistan. But in some parts of the world it was observed on 9 April.
"I would request Muslims all over the world to offer tonight, on the occasion of Shab-e-Barat, special nuafil prayers to Allah and seek his blessings and forgiveness," said Khan, in a now-deleted tweet.
Khan swiftly deleted the post after it triggered social media backlash and screenshots went viral. While some trolled him for being "late as usual" others slammed him for "having no knowledge of Islam".
Pakistan police had imposed complete restrictions on movement of people during the night as usually people in large numbers visit mosques and the graves of their loved ones. The restrictions came as the outbreak of Coronavirus in the country reached 4,688 positive cases and 68 deaths.
https://sputniknews.com/asia/202004101078907737-imran-khan-trolled-online-for-lacking-knowledge-of-islam-after-greeting-muslims-on-wrong-day/
------
Mideast
Iran says worried by virus threat to Palestinians in Israeli jails
10 April 2020
Judiciary Chief Ebrahim Raisi says Iran is worried about the lives of nearly 6,000 Palestinian prisoners kept in Israeli jails as well as the people of the Gaza Strip who are living in the "world's biggest prison" amid the coronavirus outbreak.
"Today, nearly 5,800 Palestinian men and women are imprisoned by the Zionists, and we are worried about their lives, especially given the fact that over 200 women and children are jailed under
Speaking in a phone conversation with Hamas chief Ismail Haniyeh, Raisi said the release of Palestinian inmates innocently jailed by the Zionist regime is more necessary than anything
The Iranian Judiciary chief also expressed concern over the shortage of medicine, hygiene supplies, and medical services in the Gaza Strip and the restrictions imposed by Tel Aviv in this regard.
"The Zionist regime's move is undoubtedly a crime against humanity, as it has blockaded defenseless Muslim people and stripped them of their basic rights," he said.
"The Zionists have created the world's biggest prison in Gaza, where the innocent Muslim people live under hard conditions," he said, expressing concern over the threat of coronavirus outbreak in the besieged enclave.
Raisi, who is also the head of the Iranian Judiciary's High Council for Human Rights, also criticized the silence of the United Nations and regional countries over the Israeli regime's cruelty against the people of Gaza.
"The silence of international bodies and organizations and the regional Arab countries encourages the Zionist regime to continue its crimes against the innocent people of Palestine, especially those in Gaza," he added.
His comments came a few days after Hamas warned of the dire consequences of keeping Palestinian prisoners in Israeli jails and detention facilities, slamming Tel Aviv's utter disregard for local and international calls to release them to protect their lives amid the new coronavirus pandemic.
Hamas warns Israel against the dire consequences of keeping Palestinian prisoners behind bars in the wake of a new coronavirus outbreak in the occupied territories.
Shaker Amara, a Hamas leader, said in a statement on Tuesday that the Israeli regime seeks to increase the sufferings of the Palestinian nation through more acts of aggression, arbitrary arrests and fear-mongering in the wake of the COVID-19 crisis.
He added, "Palestinian prisoners being held inside Israeli jails live in a tragic situation and are gripped by the fear of coronavirus spread inside prisons. The Israel Prison Service (IPS) ignores previous warnings and relevant instructions to prevent the new coronavirus spread, whilst the prisoners need exceptional measures to confront the virus."
Also on Thursday, the Palestinian health ministry announced that the central laboratory in the besieged Gaza Strip has run out of necessary supplies to process COVID-19 tests.
The ministry warned that the absence of such supplies would lead to a large backlog of pending tests amid a battle to curb further spread of the new coronavirus.
https://www.presstv.com/Detail/2020/04/10/622728/Iran-Palestinian-inmates-Israeli-jails-Hamas-
-------
Israel threatens Hezbollah in Syria days after assassinating member in Lebanon
10 April 2020
The Israeli military has threatened to strike the positions in Syria of the Lebanese Hezbollah resistance movement, days after assassinating a senior member of the group in southern Lebanon.
The Israeli military on Friday posted grainy footage on Twitter purporting to show the head of the Syrian Armed Forces 1st Corps, Luau Ali Ahmad Assad, "visiting Hezbollah positions in Syria."
The footage, which was filmed from a distance, showed individuals wearing military fatigues greeting a man with military salutes and shaking hands with him in an open area.
The text accompanying the footage on the Israeli post read, "See the man with white hair? That's the head of the Syrian Armed Forces 1st Corps, Luau Ali Ahmad Assad. He's visiting Hezbollah positions in #Syria."
"Our message: We see you. Consider this a warning," the caption further read. "We won't allow Hezbollah to entrench itself militarily in Syria."
Syria has been fighting foreign-backed militants since 2011. While that fight has been winding down, the country has also had to combat Daesh terrorists in Syrian territory, including near the Lebanese border. Hezbollah has dispatched fighters to help the Syrian military eradicate the terrorists and has prevented the spillover of terrorist activity into Lebanon.
The Israeli regime has, meanwhile, frequently conducted airstrikes against positions in Syria. While the Tel Aviv regime has often refused to confirm or deny specific strikes, it has claimed that it has been hitting Hezbollah forces in Syria.
The latest threat comes a few days after a Hezbollah commander in charge of tracking collaborators with Israel, Ali Mohammed Younes, was killed in southern Lebanon apparently by agents working for Israel's Mossad spy organization.
According to Sputnik, Younis was a "close associate" of Lieutenant General Qassem Soleimani, the former commander of the Quds Force of Iran's Islamic Revolutionary Guards Corps (IRGC) who was himself assassinated in a United States drone strike in Baghdad back in January.
The Syrian army has managed to drive the terrorists out of most parts of the country and end Daesh's territorial rule with help from Iran, Hezbollah, and Russia.
https://www.presstv.com/Detail/2020/04/10/622746/Syria-Israel-Hezbollah
------
Netanyahu's son says former MK Stav Shaffir should become a Muslim
By GIL HOFFMAN
APRIL 10, 2020
Prime Minister Benjamin Netanyahu's son, Yair Netanyahu, and former MK Stav Shaffir exchanged bitter insults in a fight on Twitter on Friday.
The fight began after Shaffir criticized the prime minister for hosting his other son, Avner, for the Passover Seder even though he had urged the public not to host their children due to fears of spreading the coronavirus. Unlike Yair, Avner does not live with his father, and the prime minister was still in quarantine at the time of the Seder.
"There are no words to describe how hard it was for me to not do the Seder with my family," wrote Shaffir, who is single. "Then our 'leader,' whose decisions have made us suffer not only from being quarantined but also from horrible economic uncertainty, celebrates on prime time with his son, despite the directives. This is the message that your children see: There is one law for the nation and another law for him, as he mocks all of us."
Yair Netanyahu responded by calling Shaffir obsessive and saying that she had no life.
"Your only accomplishment in your short political career was uniting the entire Right and Left in considering you intolerable," he wrote. "That is why they threw you out of the Knesset."
The 34-year-old Shaffir responded by contrasting herself with Yair Netanyahu, 28, noting that when she was his age she was already a member of parliament "fighting again the shit of his father in the Knesset," while he took a taxpayer-funded bodyguard with him to a strip club.
Yair Netanyahu then advised Shaffir not to discuss morality, because she ran for Knesset together with former prime minister Ehud Barak after his ties to the late pedophile Jeffrey Epstein were exposed.
The prime minister's son then called Shaffir "ugly outside and inside" He told her to "finally find an Arab husband who won't throw you out, go to an Arab village, become a Muslim and leave us all in quiet."
Shaffir then called Yair Netanyahu "a liar, wicked, racist, stalker" and added that "the mouth of the son is the legacy of his father."
https://www.jpost.com/Israel-News/Politics-And-Diplomacy/Netanyahus-son-says-former-MK-should-become-a-Muslim-624275
-------
South Korea wins US approval for humanitarian trade with Iran: Report
10 April 2020
South Korean officials say authorities have received a special permit from the United States to resume humanitarian trade with Iran amid claims of support for the Islamic Republic in its fight against the new coronavirus pandemic.
South Korea's official Yonhap news agency cited a Foreign Ministry official as saying on Friday that humanitarian trade with Iran was likely to begin next month after companies have submitted documents showing they would comply with the US regulations.
The official, speaking on condition of anonymity, said the US government's General License No. 8 would allow the trade of drugs and medical equipment and other humanitarian items with Iran even if it involves the country's central bank, an entity which Washington has blacklisted.
"On April 6, the humanitarian export process based on the General License No. 8 got under way," the official told reporters, adding that companies that will engage in trade with Iran should undertake "enhanced due diligence" by submitting special documents to the government.
The announcement comes as Iran has on several occasions censured South Korea's adherence to the US sanctions when it comes to the exports of humanitarian items.
Those criticisms intensified in October, long before Iran was hit by the COVID-19 pandemic and when South Korean banks refused to process transactions related to exports of medicines and medical equipment.
Iranian officials had warned that they would ban all imports from South Korea if the East Asian country does not find a way around the sanctions.
The South Korean foreign ministry official told Yonhap that Seoul is also exhausting other channels, including a mechanism set up by Switzerland, to resume humanitarian trade with Iran.
Iran announced on Friday that nearly 70,000 people had been tested positive for COVOD-19 since the disease was spotted in the country nearly two months ago. More than 35,000 people have recovered from the illness while nearly 4,250 patients have died.
https://www.presstv.com/Detail/2020/04/10/622753/Iran-South-Korea-coronavirus
-----
Southeast Asia
Coronavirus: Malaysian authorities disinfect mosque at centre of super spreader event
APR 10, 2020,
KUALA LUMPUR - Malaysian authorities on Friday (April 10) conducted disinfecting operations at a mosque at the edge of Kuala Lumpur that held a large gathering at the end of February, which led to the country's major super spreader event of the coronavirus.
The joint operation at Masjid Jamek Sri Petaling was carried out by the Health Ministry and the Fire department, The Star online news reported.
"Works to dispose of the carpets were also done, assisted by the police," the Fire department said in a statement, as quoted by the report.
According to the Health Ministry, more than 40 per cent of Covid-19 cases in Malaysia are linked to the mass gathering of the Tabligh group between Feb 27 and March 1.
The event was attended by some 16,000 people including 1,500 foreign nationals. Those infected here carried the virus into Singapore, Brunei, Thailand and Vietnam.
The Movement Control Order was imposed only from March 18. The government on Friday extended the 28-day MCO that was to end on April 14, by two more weeks to April 28.
https://www.straitstimes.com/asia/se-asia/coronavirus-malaysian-authorities-disinfect-mosque-at-centre-of-super-spreader-event
-----
Clip urging Muslims to march to virus hotspots goes viral
Apr 10. 2020
A video purporting to show Muslim pilgrims in Indonesia being urged to gather at Covid-19 hotspots has received lots of attention in the deep South of Thailand.
In the video, Muslim worshippers on a "Dawah" (missionary) pilgrimage are encouraged not to be afraid of the novel coronavirus and to march to locations where Covid-19 is spreading.Reports have suggested that some religious leaders in the Muslim-majority deep South may have shared similar messages. The rumours have fuelled criticism on Thai social media that this might be one reason why Covid-19 has spread so quickly in the far South.The Public Health Ministry reports that the number of Covid-19 cases in the deep-South provinces of Pattani, Narathiwat, Yala, Songkhla and Satun has reached 230, second only to infections in Bangkok.Dozens of these tested positive after returning from religious gatherings in Malaysia and Indonesia.
https://www.nationthailand.com/news/30385755?utm_source=category&utm_medium=internal_referral
-----
North America
Muslim detainee's family issues plea for help as ICE detention centres report coronavirus cases
10 April 2020
By Umar A Farooq
Umaima Jafri says there's no conceivable way for her husband to protect himself from the coronavirus.
Ibrahim Mohammad has been languishing at an Immigration and Customs Enforcement (ICE) processing centre in Aurora, Colarado, since February - awaiting deportation to India after serving two and a half years in prison.
The 39-year-old should have been deported after serving his term, but the coronavirus pandemic, along with India's decision to shutter its borders, meant Mohammad was transferred to an ICE processing centre where several inmates have reportedly fallen ill.
Ibrahim Mohammad was set to be released from prison, but because of the pandemic he was transferred to an ICE processing centre (MEE/Courtesy of Ibrahim Mohammad's family)
According to the family, Mohammad began exhibiting symptoms earlier this week, including a sore throat and body aches. He was reportedly put under a 23-hour lockdown with three other detainees.
"We don't know if this is just, you know, the flu going around," she said. "We don't know if this is just the common cold. Or whether it is worse."
Mohammad was arrested by the FBI in 2015, after being accused of conspiring to provide material support to terrorists, specifically Anwar al-Awlaki, a preacher who later came out in support of al-Qaeda and was subsequently killed by a US drone strike in Yemen in 2011.
After waiting two years for trial, the government offered the structural engineer a plea deal - despite his repeated protests and denials of any wrongdoing.
In exchange for a guilty plea, Mohammed was told he would serve a significantly reduced sentence of two and a half years and then be deported.
Entrapment and terrorism cases have been a sticky issue for Muslim communities in America, as many in the community tend to steer clear of Muslims accused of terrorism in fear that they might also be accused of crimes.
'Post 9/11, Muslims are too afraid to champion the causes of American Muslims that have been wrongfully accused of supporting terror'
"Post 9/11, Muslims are too afraid to champion the causes of American Muslims that have been wrongfully accused of supporting terror," Imam Omar Suleiman, the founder of the Yaqeen Institute in Texas, told MEE.
"The fear is that by calling into question the methods of extraction and judgment of those individuals, you risk associating yourself with the heinous acts of terror they've been accused of supporting," he said.
Jafri said that while the Muslim community in Ohio, where their family is based, has been supportive of her husband's cause and attended all of his hearings - his case needed greater attention.
Suleiman - who has been an advocate for prisoners' rights - agreed, saying it was crucial during the coronavirus pandemic that the Muslim community rallied to help those languishing in detention facilities.
"To demand basic rights for prisoners who have been framed in an Islamophobic climate as being 'Islamic extremists' is to demand dignity and fairness for us all," he said.
Across the US, local authorities have been releasing prisoners from jail in order to protect them from contracting the coronavirus.
The agency, which is detaining about 35,000 immigrants in more than 200 facilities, has resisted introducing a nationwide policy.
"Due to the unprecedented nature of novel coronavirus 2019 (Covid-19), US Immigration and Customs Enforcement (ICE) is reviewing cases of individuals in detention who may be vulnerable to the virus," an agency official told congressional staffers earlier this week.
Still, Jafri said it was horrifying to hear of indifference inside the facility while the world outside is quarantining and social distancing during the pandemic.
There have been protests and riots as well, with detainees demanding that they be released amid fears of contracting the virus.
"I told him [Mohammad]: 'Don't get involved in anything and stay away from anybody if you can so you don't get sick'," Jafri said.
Jafri is working with the family's immigration attorney to secure Mohammad's release and to grant him home arrest during this time, but in his specific case, being guilty of terrorism charges, it may be difficult.
She also made calls to organisations in Colorado, who are working to get immunocompromised detainees released amid the pandemic.
https://www.middleeasteye.net/news/coronavirus-us-muslim-detainee-outbreak-hits-ice-centres
----
US offers massive reward for info on Hezbollah cmdr.
11 April 2020
The US State Department offers a $10-million reward for information on a senior commander of the Lebanese resistance movement of Hezbollah in what is feared to be Washington's attempt at trying its hand at another assassination bid.
In a Friday statement, the State Department put out a call for "any information on the activities, networks, and associates" of the official, which it named as Muhammad Kawtharani.
The State Department claimed that the Hezbollah official participated in "training, funding, political and logistical support" of counter-terrorism fighters in Iraq.
It claimed that Kawtharani "has taken over some of the political coordination" of the fighters that were "formerly organized by Qassem Soleimani."
On January 3, a US drone strike assassinated Lieutenant General Qassem Soleimani, the commander of the Quds Force of Iran's Islamic Revolution Guards Corps (IRGC), Abu Mahdi al-Muhandis, the second-in-command of Iraq's Popular Mobilization Units (PMU) or Hashd al-Sha'abi, and a number of others, targeting their vehicle in Baghdad. At the time of the attack, General Soleimani was on an official trip in the Iraqi capital at Baghdad's request.
The director of public relations of pro-government Hashd al-Sha'abi forces has been killed after three Katyusha rockets fell on Baghdad International Airport.
The IRGC retaliated against the assassination by launching volleys of ballistic missiles against the US's Ain al-Assad military base in the western Iraqi province of al-Anbar, and another outpost housing American forces in the Arab country's north.
Prior to his martyrdom, General Soleimani would provide indispensable contribution to the regional fight against Takfiri terrorism, which has largely been suspected of being the brainchild of Washington and its allies. The assistance empowered Iraq and Syria to defeat the terrorist Daesh outfit in late 2017.
The overall role played by the commander has earned him hero status as the region's most decisive and revered counter-terrorism figure.
The assassinations were followed by thousands-strong funeral processions and protests across both Iran and Iraq in honor of the commanders and condemnation of the US's nearly two decades of deadly interference in the region.
Only days after the atrocities, the Iraqi parliament voted overwhelmingly in favor of a law mandating complete withdrawal of all US-led forces from the country's soil.
Agnes Callamard, the United Nations special rapporteur for extrajudicial summary or arbitrary executions, also said in February that the US assassination of General Soleimani was in breach of international norms and the UN charter.
Hours after the US drone strike, Hezbollah Secretary General Seyyed Hassan Nasrallah said that resistance forces across the world bore the responsibility of punishing those behind General Soleimani's assassination. "Meting out the just punishment to these criminal assassins, which are the worst criminals of the world, will be the responsibility and task of all resistance fighters worldwide," he said.
Sayyed Hassan Nasrallah has said that resistance forces across the world will act to avenge Major General Qassem Soleimani.
Nasrallah added that his group would continue the path of the martyred commander and that Washington would fail in achieving its goals with these "big crimes." "We who stayed by his side will follow in his footsteps and strive day and night to accomplish his goals," Nasrallah said.
https://www.presstv.com/Detail/2020/04/11/622765/Lebanon-United-States-reward-Hezbollah-commander-Iraq-Soleimani
------
What Noam Chomsky won't tell you about COVID-19
10 April 2020
By Kevin Barrett
Well, Noam Chomsky, at 91 years old is still doing his thing. He recently blasted Donald Trump and spoke out against the criminal sanctions against Iran.
And that's all to the good. Chomsky is a very interesting, well informed for the most part, and acerbic commentator, and I have to agree with much of what he said, including when he called Donald Trump a "sociopathic buffoon." I think that's quite accurate.
He pointed out that the US response to the Coronavirus pandemic has been the worst in the world, which is probably also true. He said that Trump and his minions are racing to the abyss and he pointed out that beyond the Coronavirus threat there are two even more immense threats, nuclear war and global warming.
So this kind of critique of US policy is, of course, useful as far as it goes. However, where I would differ from Chomsky and where I've differed with him in the past, is that I think he often doesn't go beneath the surface of the mainstream reporting of what's supposedly happening in the world. (See my Left Forum talk "Why Chomsky Is Wrong About 9/11" at https://youtu.be/M2dHdKEfGjQ.)
For instance, in this case, he mentioned that there is this threat of nuclear war, but he didn't mention the fact that it's quite likely that the Coronavirus pandemic is the result of biological warfare, possibly a deliberate attack designed to destroy the world economy, which is the engine of Chinese economic growth, which will lead to China's overtaking the US as the world's top power, unless the global economy is destroyed as Coronavirus is at least one step towards destroying it.
And he hasn't mentioned the threat of biological weapons, which are right up there with nuclear weapons, given the advances in genetic engineering.
One would have expected that Chomsky would use the Coronavirus crisis to say: "Look, maybe this just escaped from a lab, but we know that the statements in The Lancet and Nature Magazine that claim that this couldn't be a biological weapon are ridiculous lies that the authors of those pieces do not believe themselves."
They couldn't possibly believe because anyone with a high school science education or even elementary logic training can see that that argument is a straw man, and it's completely bogus. (Listen to biological weapons expert Dr. Meryl Nass explain it)
So why are they lying in this way? Chomsky should be pointing out that our whole global economy has been destroyed by what's likely a biological weapon and that this means that we need to put teeth in the Biological Weapons Convention because the threat from bioweapons is every bit as bad as the threat from nuclear weapons.
He didn't say that. Why not? Well, he has a pattern of not saying the thing that could mobilize useful action in the wake of the worst crimes of the US and Israeli national security states.
He has spent his life denying the obvious fact that John F Kennedy was murdered in a coup d'etat by right wing American military forces in alliance with Israel, and that one of the biggest purposes was to stop Kennedy from stopping the Israeli nuclear program.
He also spent the past two decades lying about the fact that 9/11 is obviously a false flag inside job by exactly the same forces that murdered President Kennedy.
Why is Chomsky allergic to speaking the truth about the most important subjects that would get the most powerful emotional resonance going among the American people and lead to actual policy changes that would radically reformed the sociopathic US empire that he criticizes?
Is he not as intelligent as he appears? Or is he as, Professor Anthony his article series puts it, "a disinfo agent for Israel" and/or the American deep state? See: https://ahtribune.com/in-depth/1063-noam-chomsky.html
Personally, I just don't know. I think maybe he's just trying to preserve his place at the table, where he is allowed to get major media coverage for saying these things that don't go to the heart of the matter.
https://www.presstv.com/Detail/2020/04/10/622759/Noam-Chomsky-COVID-19-coronavirus-global-economy-kevin-barrett
------
US becomes first country to record over 2,000 coronavirus deaths in one day
11 April 2020
The United States on Friday became the first country to record more than 2,000 coronavirus deaths in one day, with 2,108 fatalities in the past 24 hours, according to the Johns Hopkins University tally.
The US has now recorded over 18,680 deaths and is closing in on the toll of 18,850 dead in Italy, which has seen the most fatalities so far in the global pandemic.
America is also approaching half a million confirmed cases of Covid-19, with 501,000 as of Saturday morning an increase of 35,098 in the past 24 hours.
New York state, the epicenter of the COVID-19 pandemic in the US, along with the neighboring states of New Jersey and Connecticut, were recording some of the worst outbreaks in the country, even as public health authorities expressed optimism that the pace of infections appeared to be slowing.
As of Saturday, the New York City metropolitan area had 5,820 coronavirus deaths, accounting for more than half the nation's fatalities.
The US is on track to overtake Italy as the country with the highest number of dead, though the true figures on infections and lives lost around the world are believed be much higher because of limited testing, government cover-ups and different counting practices.
With many Americans celebrating the Easter holiday on Sunday, the top US infectious disease expert warned that it is too early to relax restrictions on Americans.
The social distancing guidelines have taken a toll on the U.S. economy. Some economists are forecasting job losses of up to 20 million in April, raising questions about how long business closures and travel restrictions can be sustained.
https://www.presstv.com/Detail/2020/04/11/622772/US-coronavirus-deaths-
-----
Europe
People are getting creative as they worship in isolation
10th April,2020
By Tommy Lumby
With several major religious festivals either under way or fast approaching, many people across the world are getting creative in order to celebrate while in isolation.
Office for National Statistics figures show that Denbighshire was home to 51,293 Christians in 2018, the most recent year with available data.
In the lead-up to this, some people fast for Lent, while others give up certain foods. This reflects the biblical account of Jesus fasting for forty days in the wilderness.
On its website, the Church of England says: "While worship in our churches is suspended, our joy in the resurrection is not to be silenced.
An Easter Day service led by the Archbishop of Canterbury will be broadcast on Facebook, while more than 1,000 church leaders across the country will also host live streams.
The holy month of Ramadan begins on April 23. Muslims fast from dawn until sunset during this time, and would usually then gather with family and friends in the evening for the Iftar meal, when the fast is broken.
It says: "Many community groups are exploring alternative ways of keeping connected, including live streaming services, community radio stations and hot iftar meal drop-offs to neighbours."
"Also, maybe it's a good time to rethink your diet – some staples are now hard to come by, but unsurprisingly, fresh foods (such as fruits and vegetables) seem widely available," it adds.
This was followed by 3.4 million Muslims, 953,000 Hindus and 311,000 Jews. Around 25 million people were recorded as having no religion.
https://www.northwaleschronicle.co.uk/news/18372525.people-getting-creative-worship-isolation/
----
Ramadan: Age UK Camden prepares emergency food parcels for vulnerable Muslim families
11 April 2020
The holy month of Islam begins on April 23 and the elderly charity's parcels will allow Muslims to eat during iftar, the meal after sunset, and sehri, the meal at dawn or in the morning.
Abul Choudhury, Age UK Camden Great Croft Resource Centre manager, said a "high" number of people in Camden's Bangladeshi community "do not have regular food support", with many on universal credit or receiving free schools meals.
"As Ramadan approaches, the need for bespoke food parcels has become apparent, particularly as the Cromer Street Mosque is closed."
The parcels will include ingredients such as dates, lentils, rice and chickpeas. Picture: Dominic Lipinski/PAThe parcels will include ingredients such as dates, lentils, rice and chickpeas. Picture: Dominic Lipinski/PA
Age UK Camden's food parcels, part-funded by local councillors, will include dates, lentils, rice, chickpeas, vegetable oil, onions, garlic, ginger, tomatoes, besan flour, spices and ghee.
https://www.hamhigh.co.uk/news/ramadan-age-uk-camden-emergency-food-parcels-muslim-families-1-6601283
----
Decision due on planning application for new mosque in Windsor
16 hours ago
The area's small Muslim community, which comprises around 100 families, currently has no dedicated place of worship and holds events like jumu'ah prayers in rented community halls.
However, the outcome of the planning application is far from certain as there has been opposition from local residents who say a mosque is out-of-keeping with the residential nature of the area and that it would lead to an increase in traffic.
The Royal Borough of Windsor and Maidenhead was due to make a decision imminently, but the coronavirus crisis has led to delays in council business and it now seems likely that a final decision will not be made until the end of this month earliest.
Fresh plans for the mosque were submitted in December for an Islamic Community Centre in Dedworth, West Windsor, months after initial plans were refused by the Royal Borough.
Windsor Muslim Association submitted proposals to transform a three bedroom, two-storey detached house near the River Thames into a place of worship and community centre.
WMA says it aims to "provide religious, social, economic, educational and welfare services to everyone," and to "provide a comprehensive programme for the community to create model Muslim citizens who understand their Islamic duties and obligations to create a constructive dialogue with the wider communities."
The previous application, submitted in April last year, was refused after concerns were raised about an increase in people and vehicle movements and the removal of trees to accommodate 26 new parking spaces.
The new application does not feature any additional parking spaces but rather includes bike racks aimed at encouraging visitors to cycle to the centre instead of travelling by car.
The plans state: "This proposal is not primarily about increasing the number of people who practise their religion but providing a more convenient location, closer to where existing members live and work."
However, despite these reassurances over 80 objections have been registered on the council website, most focussing on the potential damage to a greenbelt area and the increase in traffic. One complainant commented: "This is an area of natural beauty on the river front and a mosque will really not be in keeping with the Thames riverside."
Reacting to the objections, Mohammed Ariff of Windsor Muslim Association submitted a petition with 108 signatures of local residents supporting the proposed mosque.
He said: "I'm astonished at the response to the application for planning permission… It is sad and disappointing, almost to a satirical level of comedy to read the raw, ill-informed, gut-level reactions sent in by many respondents.
"They range from not having read the plans properly, to blind knee-jerk reactions, to exaggerated fears, to paranoia, to not having an understanding of the religion and its activities, to unnecessary hyperbole.
"Apart from the quality of the comments, it is also regretful that the quantity of objections also has been exaggerated by all sorts of devious means to give a biased and untrue picture of the overall reaction.
"Some are considerate but fall into the same traps as the rest – of Nimbyism, a common theme that runs through almost all of them, others are thinly veiled prejudiced views… this location would be the best location in Windsor, discreetly tucked away, impacting least on the general population but at the same time close to its support base."
5Pillars contacted Haydon Richardson, the planning officer responsible for approving or rejecting the decision, and is awaiting a reply. In recent public correspondence he said that the council was having to adjust the way it made decisions due to the current coronavirus crisis and therefore no decision was likely in the next few weeks because of this.
https://5pillarsuk.com/2020/04/10/decision-due-on-planning-application-for-new-mosque-in-windsor/
----
Professor Neil Ferguson: UK lockdown restrictions will be targeted probably by age, by geography
10 April 2020
Professor Neil Ferguson of Imperial College London, one of the top scientists advising the government, has said that the UK's coronavirus lockdown restrictions will, in all likelihood, be lifted for certain age groups and areas of the country first.
This is ensuant to a new report from behavioral scientists at Warwick University which asserts that about four million people between the ages of 20 and 30 should have restrictions lifted as the first stage of easing the lockdown.
"I think there are lots of ideas worth exploring. That's what is happening right now," Professor Ferguson told BBC Radio 4's Today program.
"We clearly don't want these measures to continue any longer than is absolutely necessary. The economic cost, social cost, personal and health costs are huge. But we do want to find a set of policies which maintains suppression of transmission of this virus."
One of Britain's top specialists has urged NHS staff not to waste personal protective equipment (PPE) by using it "inappropriately" in case that leaves colleagues short of kit.
"Without doubt, measures will be targeted probably by age, by geography and we will need to introduce in my view – this is not government policy – much larger levels of testing at the community level to really isolate cases more effectively and identify transmissions."
The scientist, who is a member of the Government's Sage advisory committee, added, "Both in the scientific community… and in government itself it's the number one topic and priority every waking minute as it were."
Professor Paul Cosford, emeritus medical director for Public Health England (PHE), suggested that schools could be one of the first places to re-open. There is academic debate about whether closing schools is necessary, as children's lower susceptibility to the virus may mean they are also less contagious.
"We do know that children are at very low risk of getting complications from this disease. The importance of children's education, children being in school, is paramount," Professor Cosford said.
The UK is hitting its peak of the Covid-19. Hundreds of deaths are being reported daily and in the coming days, the death toll could be four figures.
Andrew Oswald, professor of economics and behavioral science at the University of Warwick, was one of the authors of the report suggesting young people should have their restrictions lifted first.
"However, severe damage is being done to the economy, future incomes, unemployment rates, levels of national debt, and the freedoms we enjoy as a modern society. Before long, some balance will have to be struck."
Younger people are, like children, less susceptible to developing severe symptoms when they catch the virus – though the researchers estimated that their proposed strategy would result in between 600 and 700 extra deaths. There are currently around 900 officially reported deaths a day in hospitals throughout the UK.
Nick Powdthavee, professor of behavioral economics at Warwick Business School, said, "We support the existing lockdown strategy, but in the future it will be necessary to allow citizens to go back to some kind of normal life.
Catherine Calderwood, Chief Medical Officer of Scotland, steps down after visiting second home twice despite her own advice to the public to stay in and avoid unjustified travel.
"If this policy were enacted, there would still be tragic cases and some pressure on the NHS, but the effects would be far smaller than if the wider population were released."
Asked about the comments that the lockdown could be relaxed by age and geographical area, a Downing Street spokesperson said, "He [Professor Ferguson] is a member of Sage as you know. I don't have anything to share with you at this point in time. We will set out the details at what we consider to be the right moment."
https://www.presstv.com/Detail/2020/04/10/622749/UK-lockdown-could-be-relaxed-for-certain-age-groups-and-areas-first
-----
Man spent six nights at hotel offering complimentary lodgings for health workers
10 April 2020
A man has been charged with fraud after allegedly spending six free nights at a hotel by claiming to be an NHS worker.
Ben Quince checked into the Casa Hotel in Lockoford Lane, Chesterfield, at the end of March on a floor reserved for NHS staff, Derbyshire Police said.
He stayed there for six nights and allegedly told staff he worked in the A&E department at Chesterfield Royal Hospital.
The hotel is offering complimentary lodgings for health workers during the coronavirus pandemic, the force said.
Mr Quince, of no fixed address, has been charged with fraud by false representation.
He appeared at Southern Derbyshire Magistrates' Court on Monday and was bailed to appear again at a later date, police said.
https://www.presstv.com/Detail/2020/04/10/622737/Man-pretending-to-be-NHS-worker-at-hotel-charged-with-fraud
------
Dublin imam returns home after week in ICU with coronavirus
21 hours ago
One of Ireland's leading Muslim figures Dr Ali Al Saleh (63) has returned home from hospital after falling seriously ill with the coronavirus.
Imam at Ireland's main Shi'a mosque in Dublin's Milltown and a member of the Irish Council of Imams, Dr Al Saleh became ill on March 15th last. He was hospitalised in St James's Hospital where he spent six days in ICU, including three on a ventilator. He was moved to a recovery ward and discharged earlier this week.
Dr Al Saleh, who is himself a medical doctor having qualified at the Royal College of Surgeons in Ireland, said he was very grateful for all the care he received and the prayers offered on his behalf.
He was very anxious to impress on people that they take seriously current Government regulations to avoid contracting or spreading the coronavirus.
"I was very sick, very ill, over a two week period" he said. " Doctors and nurses are making sacrifices to save our lives, we need to support them."
He had led a pilgrimage to Mecca in Saudi Arabia, arriving back in Ireland on March 6th. "I was the only one to become ill," he said, of the pilgrimage party. He believes he must have contracted the coronavirus at one of the three airports they came through on the return from Saudi Arabia, through Amsterdam to Dublin.
On return to Ireland he self-isolated but began to develop symptoms. "I have underlying conditions, including diabetes," he noted.
Activities at the Ahul-Bait Islamic Centre in Milltown had been stopped. By March 15th he was very ill and was was admitted to St James's. Since when his wife, children and grandchildren have been tested but they are all fine.
Urging people to keep following the public health advice, Dr Al Saleh they "should not add to the workload of of the doctors and nurses, even if they don't care about themselves... They should not add to it. They must take it seriously."
An Irish citizen, Dr Al-Saleh was born at Najaf in Iraq. The Ahlul Bayt Islamic Centre in Milltown, which he founded and where he is Imam, was for a long period the only Shia Muslim Islamic centre and mosque in Ireland.
Still the main Shi'a centre on this island , it opened in 1996 and caters for the social, cultural and spiritual needs of the estimated 6,000 Shia Muslim population in Ireland, many of them students.
Dr Al Saleh, who has good relations with all other Muslim denominations in Ireland,studied medicine at the Royal College of Surgeons in Dublin during the1980s and later entered the Hazwa Muslim seminary in Iraq and his native Najaf.
This was followed by further study in Iran's holy city of Qum. Iran is a majority Shi'a country. The great majority of the world's Muslims are Sunni, with Shi'as making up approximately 15 per cent of that population.
irishtimes.com/news/social-affairs/religion-and-beliefs/dublin-imam-returns-home-after-week-in-icu-with-coronavirus-1.4225972
-----
Germany Has Smallest Increase in Coronavirus Deaths in 10 Days
1h ago
Germany saw the smallest increase in coronavirus deaths in 10 days and the total number of new infections slowed, offering a glimmer of hope for one of Europe's worst-hit nations.
More than two weeks after the government ordered citizens to adhere to strict limits on public life, the number of fatalities rose to 2,736 on Saturday, according to data from Johns Hopkins University. That's an increase of 129 and the smallest since April 1.
The number of new coronavirus infections rose by 3,936, bringing the total to 122,171. It was the smallest gain in four days.
Positive signals from Germany come as deaths worldwide from coronavirus have exceeded 100,000. New York's daily virus deaths fell slightly and U.S. cases passed 500,000. Italy extended its lockdown into May, ignoring pleas from business.
https://www.bnnbloomberg.ca/germany-has-smallest-increase-in-coronavirus-deaths-in-10-days-1.1420278
-----
Coronavirus: UK records highest daily death in the world
April 11, 2020
By Don Silas
The United Kingdom (UK) on Friday, recorded the highest daily Coronavirus death toll in the world.
The United Kingdom (UK) Department of Health and Social Care (DHSC) disclosed this in a tweet on its official Twitter account.
"As of 5pm on 9 April, of those hospitalised in the UK who tested positive for coronavirus, 8,958 have sadly died," DHSC tweeted.
https://dailypost.ng/2020/04/11/coronavirus-uk-records-highest-daily-death-in-the-world/
------
Africa
Chad army says 52 troops, 1,000 Takfiri militants killed in offensive
10 April 2020
The Chadian army said Thursday it had wound up an offensive against Boko Haram Takfiri militants in the Lake Chad border region in which 52 troops and 1,000 militants were killed.
Army spokesman Colonel Azem Bermendoa Agouna told AFP that the operation, launched after nearly 100 soldiers were killed last month, ended Wednesday after the Nigerian militants were forced out of the country.
"A thousand terrorists have been killed, 50 motorized canoes have been destroyed," he said, referring to a large boat also called a pirogue.
It is the first official snapshot of the outcome of Operation Bohoma Anger, launched after Chad's armed forces suffered their biggest one-day loss in their history.
The western shores of the lake have been hit by the Takfiri militants crossing from northeastern Nigeria, where Boko Haram launched a bloody campaign of violence in 2009.
On March 23, the Takfiri militants mounted a deadly seven-hour assault on a Chadian army base at Bohoma, killing at least 98 troops, according to an official toll.
The four countries bordering the lake on 2015 set up a formation called the Multinational Joint Task Force (MNJTF), also including Benin, to fight Boko Haram.
But Chad, whose forces have a relatively high standing in the Sahel, has shown frustration with the MNJTF following the Bohoma losses.
"Chad is alone in shouldering all the burden of the war against Boko Haram," President Idriss Deby Itno complained last weekend. "I met the commander of the MNJTF and asked him to take over."
Boko Haram's 11-year-old campaign has claimed tens of thousands of lives in northeast Nigeria and driven nearly two million people from their homes.
Separately, in Niger, the defense ministry in Niamey said its armed forces, in a joint operation with Chad, had inflicted "heavy losses" on Boko Haram in the lake region.
"Arms caches, logistical points and several boats were destroyed" and islands used as rear bases in the lake's marshland were "bombarded from the air," it said.
Landlocked and poor, Niger is facing Takfiri militant attacks in opposite ends of the country -- an insurgency that has spilled over from neighboring Mali, and raids in the Lake Chad region by Boko Haram fighters.
In Burkina Faso, meanwhile, five soldiers were killed and three were wounded on Thursday when their unit came under attack from Takfiri militants in Solle, in the northern province of Loroum, an army official said.
Around 4,000 people lost their lives last year in militant- or community-related violence in Mali, Niger and Burkina Faso, according to UN figures.
https://www.presstv.com/Detail/2020/04/10/622711/Chad-Army-Troops-Militants-Offensive
------
Chad to stop taking part in regional anti-jihad operations
11-Apr-2020
Chadian President Idriss Deby Itno has said his country's troops, who have been deployed to fight jihadists in the Lake Chad region and the Sahel, will no longer take part in military operations outside national borders.
"Our troops have died for Lake Chad and the Sahel. From today, no Chadian soldiers will take part in a military mission outside Chad," he told national TV in Arabic on Thursday. His remarks were broadast in French on Friday.
His remarks coincided with the end of a major offensive by Chad's armed forces against Boko Haram jihadists but also frustration at perceived failures by allies to do more in the fight.
On Thursday, the armed forces said they had wound up an operation against Boko Haram in the Lake Chad region, saying 52 troops had been lost and a thousand jihadists killed.
That operation was launched after 98 Chadian troops were killed in a Boko Haram raid on a base at Bohoma in the lake's marshlands on March 23 — the biggest one-day military loss in the country's history.
Its western shores have been hit by jihadists crossing from northeastern Nigeria, where Boko Haram launched a bloody campaign of violence in 2009.
The four countries bordering the lake on 2015 set up a formation called the Multinational Joint Task Force (MNJTF), also including Benin, to fight Boko Haram.
But Chad, whose armed forces are relatively prestigious in the Sahel, has shown frustration with the MNJTF following the Bohoma losses.
In announcing the end of the offensive on Thursday, the army said its troops had expelled jihadists from Chadian soil and had advanced deep into Niger and Nigeria.
Deby said that he had warned those countries that his forces would move out of bases seized there from the jihadists by April 22, regardless of whether their armed forces moved in or not.
Chadian troops are also part of the so-called G5 Sahel force — a French-backed scheme to pool 5,000 troops from Burkina Faso, Chad, Mali, Mauritania and Niger to roll back jihadism in the Sahel.
https://newsaf.cgtn.com/news/2020-04-11/Chad-to-stop-taking-part-in-regional-anti-jihad-operations-PAwaavWBxe/index.html
------
Obaseki, Muslim group hail Buhari's pardon for Alli, Enahoro
11 April 2020
By Michael Egbejule
Edo State Governor, Godwin Obaseki has expressed appreciation to President Muhammadu Buhari for the presidential pardon granted to former governor of old Bendel State, the late Prof. Ambrose Alli, and the late Chief Anthony Enahoro.
The Special Adviser to the Governor on Media and Communication Strategy, Crusoe Osagie, said the governor deeply appreciated the presidential pardon, which he had championed in the past few months.
Said he, "When the governor graced the memorial service in honour of Alli, he said that he had reached advanced stages of a move to secure presidential pardon for Alli. It is delightful that the pardon has now been granted.
"What is also very pleasing is that Enahoro was also granted presidential pardon. Enahoro would always be remembered for his instrumental role in the ideation of what is Nigeria today."
According to him, the state government will continue to sustain the legacies of the late Alli and Enahoro's noble ideals.
Meanwhile, the National Council of Muslim Youth Organisations (NACOMYO) has applauded Buhari for his pardon of 2,600 inmates of correctional services across the country, to promote social distancing towards curbing a coronavirus behind the walls.
The group said this against the background that over 70 per cent of inmates of the country's overcrowded correctional centres were not convicts but awaiting trial due to the slow judicial process in the country.
https://guardian.ng/news/obaseki-muslim-group-hail-buharis-pardon-for-alli-enahoro/
-----
Nigeria urged to release religious leader amid virus outbreak
11 April 2020
The Islamic Movement in Nigeria (IMN) has urged the country's authorities to release its already severely ailing leader Sheikh Ibrahim al-Zakzaky given the risks he faces from continued imprisonment amid the outbreak of the new coronavirus.
The IMN made the plea in a statement addressed to President Muhammadu Buhari and the local officials in the north-central Kaduna State, where the cleric was first arrested in 2015. Various Nigerian media outlets carried the statement, which the movement had sent them on Friday.
"Sheikh Zakzaky deserves immediate freedom for very many reasons particularly at this difficult period that the nation is facing the scourge of Coronavirus," it wrote.
The novel virus that can cause a potentially fatal respiratory infection called Covid-19 has killed close to 102,700 people worldwide since emerging in central China late last year. Nigeria has reported seven deaths and 240 active cases.
The IMN reminded that even before the outbreak, Zakzaky was already in need of "expert medical attention as a result of the injuries he sustained when the military attacked his residence in December 2015."
Nigeria's military carried out the attack as part of a deadly state-ordered escalation targeting the movement that Abuja has branded as illegal.
During the crackdown, the military also attacked the movement's members as they were holding religious processions, with the government alleging that the Muslims had blocked a convoy of the country's defense minister. The movement has categorically rejected the allegation, and said the convoy had intentionally crossed paths with the IMN's members to whip up an excuse to attack them.
The statement noted that Zakzaki had "additionally suffered multiple strokes while in detention and was found to have dangerously very high levels of toxic heavy metals circulating in his system."
Zakzaky was charged in April 2018 with murder, culpable homicide, unlawful assembly, the disruption of public peace, and other accusations. He has pleaded not guilty.
The IMN, meanwhile, noted that a 2016 Federal High Court ruling has ruled Zakzaki's arrest "unlawful, unconstitutional, and a breach of his fundamental rights."
Last August, the cleric and his wife were transferred to India to receive medical care.
Nigerian Muslim leader Zakzaky and his wife are in critical health condition, says their lawyer.
However, they were forced to leave the subcontinent after a few days in protest against the Nigerian government's "obstruction" of his medical treatment and after they had "lost all faith" in the prospect of receiving proper treatment there.
https://www.presstv.com/Detail/2020/04/11/622764/Nigeria-Zakzaky-coronavirus-outbreak
------
Boko Haram: Why Nigeria Does Not Need Deby's Approach
By Abu Duniya
Apr 10, 2020
By Ajibola Adeojo
If recent reports of the success recorded by Chadian troops against the Boko Haram terrorists are anything to go by, then it would be taken that the Chadian forces used a new approach that had never been seen before.
Codenamed "Operation Boma Wrath," Chadian troops were said to have launched an attack on the terrorists, following an attack on their military base on March 23 by Boko Haram in which 98 Chadian troops were killed.
The revenge attack was adjudged a success because the Chadian troops killed many of the insurgents, destroyed five of their bases and many of their bunkers where its top commanders were hiding and recovered thousands of weapons from them.
But if the Chadians had this offensive strategy against the Boko Haram terrorists who have been taking refuge in their territories for several years why are they unleashing it only now?
That it decided to come out against the insurgents now has more to do with the relationship between the Chadian president, Idriss Deby Itno and the insurgents.
Long before now, Chad had been engulfed in internal crisis for many years and many of its rebels frequently found themselves in Northern Nigeria.
Driven by hunger but with guns and other weapons at their disposal, they wreaked havoc on several Nigerian communities, seized their food supplies and extended their heinous criminal activities to highway robberies. They were known as Kwanta Kwanta due to the language they deployed in their operations.
With the advent of the Boko Haram, especially with the killing of Mohammed Yusuf, top commanders of the sect that were seeking revenge against the Nigerian State were mopped in by the Chadian rebels and in no time the latter surrendered to the command of the Boko Haram because it had more resources and an identifiable structure.
But the relationship between Boko Haram and Deby went sour in recent times mainly because the Boko Haram were no longer economically useful since nobody was paying to have them kept at bay as was the practice during its early days and secondly, they were becoming a nuisance to their host communities.
The recent killing of the Chadian troops by Boko Haram broke the proverbial back of the camel and the Chadian government had to turn its gun on the terrorists.
The swift manner the exercise was carried out however raised the questions about the approach used which saw the Chadian troops waking up one day to round up the terrorists in a singular attack.
Some say this is because the attack was led by the Chadian President himself and would want Nigeria to emulate that.
Those advancing this line of thought forget that about the same time that the Boko Haram attacked the Chadian troops killing 98 of them, the theater commander of the Operation Lafiya Dole, Major General Olusegun Adeniyi was also ambushed by the insurgents and would have been killed if not for the deployment of superior military strategy that gave the insurgents a bloody nose.
It is recorded that the Boko Haram suffered so much in that attack that they abandoned a large cache of their weapons and fled.
But days after the Nigerian soldiers outmanouvered the insurgents routing them out in their numbers, only a little media attention was given to it unlike the Chadian episode.
The truth is, apart from needless propaganda, Nigeria has fared far better in military operations than the tiny African country, hence has nothing to learn from Chad.
Even judging by the two incidents, it is clear which side gave a good account of itself as far as responding to attacks is concerned.
While Chad lost about 98 of its finest fighters, said to be the equivalent of its strike force, Nigeria lost only two soldiers in the ambush before reconnoitering to take on the insurgents and blowing them away.
It is obvious that the Chadian military strategy and approach to counter insurgency differs from that of Nigeria in many respects and it would be a great disservice to Nigeria for anybody to suggest that Nigeria should adopt the Chadian approach in its fight against the insurgents.
One, there is not even a clearly laid out strategy that has cast Chad as having an upper hand in the fight against insurgency.
In the history of warfare, before any strategy could be said to be superior, it must have produced the same results over and over again.
But the danger in playing the defensive or counter offensive like Chad has done in an asymmetric warfare like the one involving Boko Haram is that the insurgents are allowed to make their pick of targets before they are replied.
This could be counterintuitive as the insurgents while taking the time to plan and launch attacks would not always assemble in a place waiting to to be struck.
Another thing is that allowing the terrorists to converge at a particular place before taking on them.would be at a great cost to the civilian population along their camps who would be made to bear the brunt of their sustenance and the many humiliations that come with it.
The fact of the matter is that Nigeria is far ahead of Chad and other countries in the fight against insurgency.
Nigeria has been the leader on many counter insurgency operations across the continent including the multinational joint task force currently fighting the Boko Haram.
The Nigerian Chief of Army Staff, Lt. General Tukur Yusuf Buratai has been leading the fight from the front since he was so appointed in June 2015.
He has personally participated in drills and other military exercises with fighting troops, talked and interacted with them directly and led operations in the theatres of war.
Apart from that, the Chief of Army Staff has been able to win the war by adopting tactics and strategies that suits particular geographical locations which he is quite familiar with.
Troops confidence has further been boosted with the keen interest he has shown in the improved welfare of soldiers and instilling in them a high sense of patriotism.
Chad on the other hand has had a pact with the insurgents which went sour and were driven by rage of betrayal by an estranged accomplice.
Nigeria however is driven by patriotism and the need to save humanity from catastrophe and disorder.
https://newsghana.com.gh/boko-haram-why-nigeria-does-not-need-debys-approach/
-------
India
Mosque where 3 Covid-19 positive people stayed; first death in Assam linked to Jamaat meet
April 11, 2020
The Assam government has sealed a mosque in Guwahati where three persons who later tested positive for COVID-19 had stayed to attend a religious congregation last month, Health Minister Himanta Biswa Sarma said on Friday.
Two of them had returned to Assam after attending a Tablighi Jamaat congregation in Delhi's Nizamuddin area, which emerged as the biggest hotspot of coronavirus in the country. The third stayed with them at the Athgaon Kabarsthan Masjid and accompanied one of them to Dhubri, Sharma said at a press conference here.
Squarely blaming the Jaamat for the spread of coronavirus, Sarma said of the total 29 confirmed cases in Assam, 28are linked to the group.
He said even the first COVID-19 death in the state on Friday had attended the Jamaat gathering in Delhi after returning from Saudi Arabia.
The 65-year-old retired BSF personnel was buried as per the protocol near his home in Hailakandi in the presence of district officials. His family members are in home quarantine and watched the last rites from their terrace, Sarma said.
Sarma said at least 100 people attended the Guwahati mosque congregation on March 12 and the organisers have so far given the names of 58 people, who have been quarantined.
"The fact that a congregation was held here was brought to our notice much later and we have asked the organisers to give a list of all people who attended it," he said.
The masjid has been sealed and declared a containment zone with no entry or exit allowed. The administration will provide essential items to the caretaker and other functionaries staying inside the mosque, he added.
The government is considering to lodge an FIR against one of the three persons, the first COVID-19 case in Dhubri, as he hid the fact that he attended the Jamaat event.
"He was asked by doctors in three hospitals, where he had gone for treatment after he felt unwell, whether he had attended the event in Nizamuddin or not but he denied and as a result now all these doctors have been quarantined,"Sarma said.
"We are facing a shortage of doctors in these hospitals and we are considering to file an FIR against him," he added.
The remaining 28 patients are stable and five of them have tested negative after treatment but they will be tested again,the minister said. They will be released only after their mandatory quarantine period is over.
Sarma also slammed the state Congress chief Ripun Bora for alleging shortage of PPEs and N95 masks in the state, and said the stock of protective equipment was satisfactory and more was expected to come in the next few days.
"I request him to check the facts with us before tweeting such statements as it leads to confusion and demoralises the medical staff who are working so hard in such trying times," he said.
Sarma announced a financial assistance for people suffering from cancer or requiring kidney transplant or heart surgery stuck outside the state due to the lockdown.
He said the patients should contact the state helpline numbers and the assistance will be decided according to the number of patients stranded.
https://www.indiatoday.in/india/story/mosque-where-3-covid-19-positive-people-stayed-first-death-in-assam-linked-to-jamaat-meet-1665741-2020-04-11
------
Case Against 10 Delhi Mosque Event Attendees, 3 Men For Sheltering Them In UP
April 11, 2020
Noida: Three Greater Noida residents have been charged for giving shelter to 10 Tablighi Jamaat attendees from Maharashtra and for taking them to public places across Noida in violation of the restrictions imposed due to coronavirus outbreak, police said on Friday.
The 10 Tablighi Jamaat attendees, including five women, have also been named in the FIR registered on Thursday under the Indian Penal Code for disobedience to order duly promulgated by public servant and for violating restrictions imposed under section 144 of the Code of Criminal Procedure, the police said.
The Tablighi Jamaat, an Islamic sect thatorganised the congregation last month at its markaz (headquarters) in Delhi's Nizamuddin area, has been at the centre of a massive controversy after thousands of its attendees tested positive for the novel coronavirus.
The 10 people -- five married couples -- had come from Beed and Osmanabad districts of Maharashtra, officials said, adding they were given shelter at the Begumpur village in Greater Noida, by three men.
"The FIR has been registered but none has been arrested yet. Proceedings are underway," Deputy Commissioner of Police, Central Noida, Harish Chander told PTI.
The Begumpur residents are accused of providing shelter and taking the Jamaat attendees to public places in violation of the restrictions imposed with an objective to prevent the virus from spreading, according to a police statement.
The congregation attendees have been identified as Sarfaraz Sheikh and his wife Faradin, Saleem Vaamoli and his wife Noor Jahan, Rasheed Maqbool and his wife Shareefa, Gafoor Khan and his wife Ahmadabi, Sheikh Qayoom and his wife Ruqaiyya, the police added.
According to officials, hiding travel history, or any information regarding coronavirus, like symptoms or confirmed case, is an offence under the law.
Gautam Buddh Nagar in western Uttar Pradesh has so far recorded 63 positive cases of coronavirus, according to official figures.
https://www.ndtv.com/india-news/case-against-10-delhi-mosque-event-attendees-3-men-for-sheltering-them-in-uttar-pradesh-2209861
--------
Covid-19: Guwahati mosque sealed due to link with Nizamuddin Markaz
Apr 10, 2020
A mosque in Guwahati has been sealed and declared a containment zone after three of the 29 Covid-19 positive patients in Assam were found to have taken part in a gathering there last month.
Nearly 100 people, including at least 8 who attended the Tablighi Jamaat congregation in Delhi last month, were part of an event held on March 12 inside the mosque.
According to official figures, 617 people from the state who had been to the Nizamuddin Markaz last month had returned to Assam. Twenty-eight of the total 29 positive cases in the state had links to the Delhi congregation.
Assam recorded its first Covid-19 fatality on Friday when a 65-year-old with travel history to Saudi Arabia and the Tablighi Jamaat congregation in Delhi died at the Silchar Medical College Hospital (SCMH).
"We have come to know now that there was a congregation at Athgaon Kabarstan Masjid on March 12 where around 100 people including at least 8 people who had come from Nizamuddin Markaz were present," said Assam health minister Himanta Biswa Sarma.
"Out of these 8, two have already tested positive and on Thursday another one from Dhubri who had attended the Guwahati gathering has been found positive. Because we have got 3 positive cases from the same venue, we have decided to convert that mosque into a self-containment zone," he added.
Sarma said like the Nizamuddin Markaz gathering, the mosque in Guwahati has also turned into a "hotbed' for Covid-19 as three positive people in the state have links to it. The mosque will remain sealed for the next 14 days.
"We have not been able put all the 100 who attended the gathering in quarantine as the authorities of the mosque have not been able to give us the entire list of attendees," he said.
The Assam government has decided to help patients from the state suffering from cancer, kidney ailments and cardiac problems who had gone outside Assam for treatment and are now stranded due to the lockdown. They have been asked to call 0361-2558955 and give details about their problems.
Sarma informed that the state government will procure 1 lakh rapid test kits for the state. He added that a FIR would be filed against one patient from Dhubri district for hiding his travel history.
Authorities in Hailakandi district informed that the last rites of the first Covid-19 deceased was performed a few kilometers away from Hailakandi town in a secluded place following strict decontamination rules.
https://www.hindustantimes.com/india-news/covid-19-guwahati-mosque-sealed-due-to-link-with-nizamuddin-markaz/story-a1KCB8u0M05JBhkDHa7FSL.html
-------
Gujarat lockdown: 16 held for offering Friday prayers in mosques
10th April 2020
AHMEDABAD: Sixteen people were arrested in Gujarat's Vadodara and the Union Territory of Daman for offering Friday prayers in mosques despite lockdown and social distancing orders in place for the novel coronavirus outbreak, police said.
While nine were held from Vadodara's Panigate area, seven were nabbed from a chawl in Daman, an official said, adding that they have been charged under section 188 of the IPC for disobeying official orders.
Two days ago, seven persons were arrested in Vadodara for gathering inside a mosque in Raopura area to offer namaz.
https://www.newindianexpress.com/nation/2020/apr/10/gujarat-lockdown-16-held-for-offering-friday-prayers-in-mosques-2128423.html
-----
Delhi man, who visited mosques, villages in Punjab, tests coronavirus positive
10th April 2020
CHANDIGARH: A 55-year-old Delhi man, who tested coronavirus positive on Thursday night, visited several villages and mosques in Sangrur district of Punjab as part of pilgrimage.
During the preliminary investigation it came to light that the person travelled to Malerkotla (a Muslim-dominated town) by train on March 4 and then visited several mosques (Hanfiya, Ahemdgarh, Nurani, Dehlij Mohdi Mosque, Dehlij Nurani Mosque and Dehlij Alkarim Mosque) in that town. He also visited places such as Malerkotla, Pohid, Ghungrana, Kila Raipur and Sarian in the district. He was staying in a group in Dehlij Kalan mosque.
"When apprehended, he reportedly said that he was on a pilgrimage with others. Initially, all his tests came negative. However, he tested positive on Thursday night while he along with the other group members were quarantined at Mastuana Sahib. All the members of the group have now been shifted to an isolation ward," said an offial.
He said, "The Dehlij village has been sealed and a team of doctors and police has been deployed there. The samples of the villagers are being collected. We have also started supplying essential commodities to the village."
Meanwhile, the test report of a 78-year-old woman, who died in Mohali on Tuesday, came positive of coronavirus. With this, the death figure in the state has reached 11.
In another development, a 27-year-old woman migrant labourer from Kharar area of Mohlai died on Friday. She was a suspected coronavirus patients. The district administration has sealed off the locality she was living in.
https://www.newindianexpress.com/nation/2020/apr/10/delhi-man-who-visited-mosques-villages-in-punjab-tests-coronavirus-positive-2128321.html
------
COVID-19 lockdown: 40 people booked in MP's Chhindwara for gathering at mosque
10 April 2020
Acase has been registered against 40 people for gathering at a mosque in Chaurai, Chhindwara, thereby defying COVID-19 lockdown orders, the police said.
"After checking, 40 people were found offering prayers in the mosque on Thursday. They were not wearing masks and not maintaining social distancing, and were found violating Section 144 of CrPC. A case has been registered under Epidemic Diseases Act, 1897 and other relevant sections against them," Dwivedi said.
Prime Minister Narendra Modi had on March 24 announced a 21-day nationwide lockdown as a precautionary measure to contain the spread of COVID-19.
The total number of COVID-19 cases in Madhya Pradesh stands at 259, including 16 deaths, according to the Union Ministry of Health and Family Welfare.
http://www.catchnews.com/national-news/covid-19-lockdown-40-people-booked-in-mp-s-chhindwara-for-gathering-at-mosque-188042.html
-----
South Asia
Sarbaz Nazari on Iran's leaders plea for Muslims to pray at home
11-Apr-2020
he pandemic is already impacting the Muslim holy month of Ramada, which is to start in a few weeks.
CGTN's Asieh Namdar discusses Iran's Supreme leader Ayatollah Ali Khamenei's public appeal for Iranians to pray at home with journalist Sarbaz Nazari.
https://newsus.cgtn.com/news/2020-04-11/Sarbaz-Nazari-on-Iran-s-leaders-plea-for-Muslims-to-pray-at-home--PAGDKYubGo/index.html
------
Minister Hi-Tech designs ventilators, goes for testing
April 11, 2020
Local electronics manufacturer -- Minister Hi-Tech Park Ltd -- has designed a ventilator and necessary medical equipment for the treatment of Covid-19 patients, and will sent those to two private medical colleges in the capital for pre-testing.
The ventilators will be tested at the ICU of Universal Medical College Hospital Ltd and Shahabuddin Medical College Hospital, said MA Razzak Khan, founder of MyOne Electronics Ind Ltd and Minister Hi-Tech Park, told The Daily Star today.
"We will send the ventilators by today. After receiving the medical colleges' reports, we will make necessary changes based on their suggestions and submit those to the authorities concerned for approval," said Khan, also a director of Federation of Bangladesh Chambers of Commerce and Industries (FBCCI).
Ventilators blow oxygen into the lungs of patients suffering from severe pulmonary stress and are essential for saving the lives of Covid-19 patients.
With the support of Information Communication Technology (ICT) division of the government,Minister Hi-Tech Park Ltd has developed the prototype design, Khan said.
On March 31, State Minister for ICT Zunaid Ahmed Palakreceived the patent, design and source code of ventilators from Medtronic, an international medical device company, to go for local manufacturing of the medical equipment.
MA Razzak Khansaid they are hopeful that their design will be approved by the government within this week and from next week they can go for production.
They are yet to decide on the price of the ventilators but they are concerned about the necessary raw materials sourced from the global market, he said.
According to the Directorate General of Health Services, currently Bangladesh has just 1,250 ventilators -- 500 in public hospitals and 750 in the private ones -- while it might required thousands more to face the challenges of coronavirus.
https://www.thedailystar.net/coronavirus-deadly-new-threat/news/minister-hi-tech-designs-ventilators-goes-testing-1891873
----
Brac survey: 14 percent of low-income respondents have no food at home
April 11, 2020
A Brac study found that 14 percent of respondents do not have any food at home because of the countrywide shutdown in effect from March 26 to curb the spread of coronavirus.
A press release about the survey issued by Brac yesterday said low-income people are suffering great losses in their earnings since the enforcement of social distancing measures and the countrywide lockdowns that hiked the percentage of people living in extreme poverty to 60 percent.
The survey of 2,675 respondents from a low-income background in all 64 districts was carried out from March 31 to April 5.
Brac's Advocacy for Social Change programme conducted the survey with assistance from other programmes, namely Microfinance, Urban Development Programme and Partnership Strengthening Unit.
According to the survey, the average household income of the respondents was Tk 14,599 before the epidemic. "Of them, 93 percent of the respondents reported a decline in income due to the outbreak. During March 2020, their average income stood at Tk 3,742, which represents an average 75 percent decline from their family income of last month."
It also said due to the shutdown and lockdowns to enforce social distancing measures 72 percent reported job losses or reduced work opportunities.
A total of 51 percent of rickshaw pullers, 58 percent factory workers, 66 percent hotel/restaurant workers, and 62 percent day labourers in non-agricultural sectors reported their income had reduced to zero in the current month.
The survey also found that most people did not have any idea about the directive that one should not directly go to any health facility with symptoms of the infection.
"Food assistance must immediately reach the millions of households across the country suffering from acute food shortage. Otherwise they will be compelled to leave home to earn their living in violation of the social distancing measures, increasing the risk of spreading coronavirus," it said.
The survey finds that people who have returned to villages from urban centres are not enrolled in any social safety net programmes and so need proper delivery mechanisms to get food aid immediately.
https://www.thedailystar.net/coronavirus-deadly-new-threat/news/brac-survey-14-percent-low-income-respondents-have-no-food-home-1891807
-----
URL: https://www.newageislam.com/islamic-world-news/program-launched-support-covid-19/d/121552
New Age Islam, Islam Online, Islamic Website, African Muslim News, Arab World News, South Asia News, Indian Muslim News, World Muslim News, Women in Islam, Islamic Feminism, Arab Women, Women In Arab, Islamophobia in America, Muslim Women in West, Islam Women and Feminism