Age Islam News Bureau
22 Jul 2018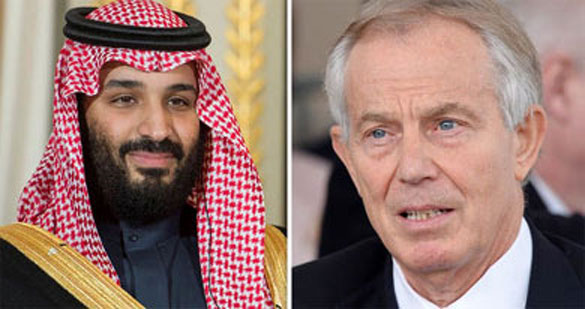 Tony Blair's institute has reached a deal to support Saudi Arabia's modernisation programme (Image: GETTY)
----
• Profiling Person On The Basis Of Religion Is Wrong: Delhi High Court
• Hardline Islamists Push Religion to Centre of Pakistan Election
• Saudi Arabia Paid Millions to Blair Institute for Advisory Role: Paper
• S Arabia, Egypt Slam 'Racial Discrimination' Of Israeli Law
• 11 ISIS-K Militants Surrender to Afghan Forces in Jawzjan Province
India
• Profiling Person On The Basis Of Religion Is Wrong: Delhi High Court
• Kerala School Denies Promotion to Two Muslim Students, Child Rights Panel Intervenes
• This Muslim Blogger, Saba Irfan's Story on How She Fought against All Odds Is Inspiring
• Islamic Council to Take On Terrorism
• Govt seeks to undo Zakir Naik's influence
• Three terrorists who killed J&K police constable shot dead in Kulgam district
--------
Pakistan
• Hardline Islamists Push Religion to Centre of Pakistan Election
• PTI Candidate Ikramullah Gandapur Injured In Suicide Blast In DI Khan
• JUI-F's Akram Durrani escapes unhurt in Bannu ambush: police
• Maryam's account tweets for first time since her imprisonment
• Imran pledges new local govt system if voted to power
• Bilawal warns against altering Constitution to deprive women of BISP stipends
--------
Arab World
• Saudi Arabia Paid Millions to Blair Institute for Advisory Role: Paper
• Hundreds of Syrian 'White Helmets' Evacuated By Israel to Jordan: Reports
• Designated Terrorist Hashem Safieddine Says Hezbollah 'Will Not Leave Syria'
• Turkey-Backed Militants Continue Infighting, Looting Civilians' Assets in Northern Syria
• Prince Khalid: Iran helped Qaeda kill thousands of Saudis, Americans
• Saudi authorities arrest assistant professor in crackdown on dissent
• Egypt says Israel's Jewish nation-state law undermines Middle East peace
• Syrian Army Imposes Control over More Regions in Quneitra
• Army Liberates over 20 Terrorist-Held Regions in Dara'a, Quneitra Provinces
• Tens of Casualties Reported in Fresh Infighting among Terrorists in Northwestern Syria
• US-led coalition commits 'new massacre' in Syria's Dayr al-Zawr
--------
Mideast
• S Arabia, Egypt Slam 'Racial Discrimination' Of Israeli Law
• Video Shows Houthi Militants Fleeing From Advancing Yemeni Army
• Leader guidelines helped thwart US-Zionist Iranophobia plot: FM Zarif
• Gaza truce largely holds after Israeli strikes
• Rouhani Warns US: War with Iran Will Be Mother of All Wars
• Palestinian Authority says foiled US 'conspiracy' but threat still exists
• UN chief calls on Israel to avoid further inflaming Gaza situation
• Israel targets Hamas position in Gaza Strip only hours after truce
• Yemeni army arrests local elements cooperating with Houthis in Hodeidah
--------
South Asia
• 11 ISIS-K Militants Surrender to Afghan Forces in Jawzjan Province
• Afghan Government Considering Yet another Eid Ceasefire with Taliban Militants: Kabul
• 127,000 Bangladeshi pilgrims are ready to perform Hajj this year
• Myanmar violated UN child rights pact in Rohingya crackdown, experts find
• Afghan government mulling ceasefire with Taliban during Eid Al-Adha
• Pakistani Taliban militants suffer casualties in Kunar operations
• 2 militants arrested in Kabul city for planning attacks with magnetic bombs
--------
Europe
• Trump Backers Support UK Prisoner Known For Islamophobia Campaign
• Germany drops sanctions on Turkey
• Kremlin says Russian, French leaders discuss humanitarian aid to Syria
• Top US officials: Iran has laid groundwork for major cyberattacks on Europe, US
--------
Southeast Asia
• Umno-Pas Merger Untenable, Says Pas Research Director
• Woman claims blocked from becoming lawyer because of lawsuit over Zakir Naik
• Teachers shortage in major cities a serious issue, says education minister
• Students protest against plans to recognise UEC
• Jokowi and Manpower Minister Hanif Dhakiri Attend IKA PMII National Conference
• Gov't Establishes Training Centers, Microbanks at Islamic Boarding Schools
--------
Africa
• Al-Shabaab Captures Strategic Town in Somalia's Puntland
• 18 killed in Boko Haram attack in Chad: Military source
• Yousuf Deedat speaks on terrorism charges in South African
--------
North America
• US Open To Direct Peace Dialogue with Taliban
Compiled by New Age Islam News Bureau
URL: https://www.newageislam.com/islamic-world-news/profiling-person-basis-religion-wrong/d/115902
--------
Profiling person on the basis of religion is wrong: Delhi High Court
July 22, 2018
The Delhi High Court has warned officials of the immigration and police department from profiling individuals on the basis of religious practices. The court said such profiling was contrary to the constitutional creed of India.
The observation came while hearing the case of a Muslim Canadian national of Indian origin who was immediately sent back to Canada upon his arrival at Hyderabad airport citing reason that he had visited mosques and attended religious gatherings during his last visit.
The man, Mohammad Abdul Moyeed, had challenged the decision of blacklisting him in Delhi High Court.
The central government, in response, had told the court that they had acted on report of a police officer in Haryana.
"He visited various important mosques in Indian cities for Tabligh activities to strengthen Islamic brotherhood. It was noticed that he believed in orthodox Islam with an intention to propagate that muslims should unite and should fight against western countries and the USA. He may be involved in arranging funds for anti-national groups," the court was told.
The court, however, rejected the contentions saying the authorities had no such material corroborating the allegations of the Centre and if he (Moyeed) had been involved in such activities, the Canadian authorities would have taken note of these aspects.
Observing that Moyeed was wronged at the hands of the authority the court said, "Every violation of visa norm cannot possibly lead to banning a person from entering into the country unless there is material to show that the person concerned acted in a manner which was inimical to our national interest."
It asked the officials to re-examine the case and also give an opportunity to the complainant to present his case.
https://www.indiatoday.in/mail-today/story/profiling-person-on-the-basis-of-religion-is-wrong-delhi-high-court-1292479-2018-07-22
--------
Hardline Islamists push religion to centre of Pakistan election
July 22, 2018
Pakistani cleric Hafiz Saeed is one of the United States' most-wanted terrorist suspects, accused over the 2008 Mumbai attacks that killed 166 people. At home, his charities are banned, as is a new Islamist political party launched by his followers.
None of that has stopped Saeed from hitting the campaign trail for Pakistan's July 25 general election, denouncing the outgoing government as "traitors" and whipping up support for the more than 200 candidates he backs.
"The politics of the American servants is coming to an end!" Saeed thundered at a rally this month in the eastern city of Lahore, where supporters showered him with rose petals.
The main race in Wednesday's vote is between the party of now-jailed former Prime Minister Nawaz Sharif, which is seeking a second consecutive term despite its leader's downfall on corruption charges, and the party of former cricket star Imran Khan, perceived as the favourite of the powerful military.
But a bumper crop of ultra-Islamist groups are also contesting the poll, with the potential to reshape the political landscape of the nuclear-armed Muslim country of 208 million people with anti-Western rhetoric and calls for ever-stricter interpretation of sharia, or Islamic law.
The proliferation of religious parties appears to be a fulfilment of a proposal made by Pakistan's military to "mainstream" armed Islamists and other extremists into politics, though the parties and the army deny any links.
Even if, as expected, they win few seats, liberal and secular-minded Pakistanis say the sheer number of religious party candidates, combined with their ultra-conservative rhetoric, has already shifted the agenda in their direction.
With the new parties routinely accusing opponents of blasphemy or treason, mainstream parties have echoed their language in attacking Sharif's Pakistan Muslim League-Nawaz (PML-N).
"The ostensible attempt to mainstream the religious right-wing is not making these parties take relatively moderate positions," said Saroop Ijaz, a lawyer for Human Rights Watch. "But rather, it's radicalising the mainstream."
VIOLENT RHETORIC
Religious parties – some new, others established – are fielding more than 1,500 candidates for national and provincial assemblies, compared with a few hundred in 2013. While Pakistan has always had Islamist parties, the new entries are notable for their alleged links to militants and their rhetorical attacks on mainstream politicians' piety or patriotism. Pakistan's three main parties all stress devotion to Islam, but the new religious parties portray them – especially the PML-N – as leading Pakistan down a Western-inspired path away from the country's Islamic values. One new party, Tehreek-e-Labaik Pakistan, campaigns under the rallying cry "death to blasphemers" and is fielding 566 candidates. Its candidates rail against the PML-N as blasphemers for a small abortive change last year to election law, which was quickly reversed after nationwide protests in which at least seven people were killed.
The change was to the swearing-in oath for candidates – from a religious vow to a simple declaration – stating the Prophet Mohammad was God's last messenger, a central tenet of Islam.
In May, a man police identified as a Labaik supporter shot and wounded then-Interior Minister Ahsan Iqbal as he left a meeting. He told interrogators Iqbal had to die because he was a blasphemer.
Tehreek-e-Labaik leader Khadim Hussain Rizvi condemned Iqbal's shooting. But this month, he said the party could not be held responsible. "We didn't instigate anyone. These are the emotions of the nation," Rizvi told Reuters, adding. "In a way, it rightly happened."
Leaders of the mainstream opposition parties all condemned the attack on Iqbal. Still, Imran Khan has also invoked the blasphemy controversy in campaign speeches, defending such language in a recent interview with Reuters.
"You cannot be a Muslim if you don't believe that the Prophet, our Prophet, is the last prophet," Khan said. "So to reiterate and support it is just standing with your faith."
BANNED GROUPS
While Tehreek-e-Labaik is a legally registered party, other movements fielding candidates are officially banned in Pakistan but have bypassed the legal restrictions.
Pakistan's Election Commission this year rejected Saeed's Islamic charity's application to register a political party, the Milli Muslim League, but the group later registered candidates under the name of an existing party, Allahu Akbar Tehreek, which now campaigns with Saeed's image on its posters.
Saeed is accused of masterminding the 2008 attacks on India's financial capital. The United States offers a $10 million reward for his conviction over the attacks, in which several Americans were killed. Saeed denies any involvement.
Another party, the Sunni extremist Ahl-e-Sunnat Wal Jamaat (ASWJ), is also fielding dozens of candidates under a different name, even though it is banned as the political wing of Lashkar-e-Jhangvi (LeJ), which has killed hundreds of minority Shi'ite Muslims. The party denies links with LeJ.
Last month, ASWJ leader Muhammad Ahmed Ludhianvi's name was removed by a caretaker government from Pakistan's terrorism watchlist, cementing his own candidacy.
A spokesman for the Election Commission of Pakistan, Altaf Khan, asked about the banned groups' candidates, said no illegal group had been registered.
"If some political party is registered with us, and it has come through the (legal) process, what's wrong in it?" Khan said. He added that the commission was investigating complaints of banned parties campaigning under different names.
A military spokesman declined to comment on religious parties. The army denies interfering in politics. However, the military did propose "mainstreaming" militant-linked groups into politics in a 2016 National Security meeting, military and government sources have told Reuters. The plan was pitched as a way to reduce violence and extremism under the model of the Northern Ireland peace process.
Critics say the real goal is for new ultra-religious parties to cut into the conservative base of Sharif's party and confer legitimacy to Islamist militants the army has long been accused of nurturing as proxies in its rivalry with India. "They have to be taken care of," political commentator Raza Rumi said of such groups. "So this election is a test case as to how far the goal of mainstreaming these groups can be achieved."
Analysts say even with the increase in candidates, Islamists are unlikely to win more than a dozen or so seats in parliament.
But that might not be the point. Pakistani author and analyst Ayesha Siddiqa, a longtime critic of the military, believes the army, tired of civilian governments challenging its grip on foreign policy and large chunks of the economy, is seeking to weaken mainstream parties.
"The military wants to alter, engineer the national discourse," Siddiqa said. "They want to build a new nationalism. They want a new identity, and that is Islamic identity."
https://indianexpress.com/article/pakistan/hardline-islamists-push-religion-to-centre-of-pakistan-election-5269663/
--------
Saudi Arabia paid millions to Blair institute for advisory role: Paper
Jul 22, 2018
Saudi Arabia has reportedly paid out more than $11 million to an institute run by former British prime minister Tony Blair in exchange for its advisory role.
The Sunday Telegraph reported on Sunday that the Tony Blair Institute for Global Change had received £9 million to offer the service.
The donations were made by Media Investment Ltd., a subsidiary of the Saudi Research and Marketing Group joint stock company, formerly chaired by the current Saudi Minister of Culture Prince Badr bin Abdullah bin Mohammed bin Farhan Al Saud.
A spokesman for Blair's institute claimed that he would not benefit from the donation as the money goes to the institute.
The institute "is a not for profit organization from which Tony Blair takes no personal remuneration," he said. "The institute is committed to working for modernization and reform in the region and working for a regional solution to the peace process," he added.
Blair worked as the Middle East envoy for the United Nations between 2007 and 2015 following his tenure as premier.
He has also offered advice to the governments of Kazakhstan, Mongolia, and Kuwait, but has rejected that the service used to present any conflict with his job as the envoy.
His institute has offices around the world, including in the United Arab Emirates, Saudi Arabia's closest regional ally. Blair is also reported to have accepted a business advisory role with Abdel Fattah el-Sisi, the president of Egypt, another close Saudi ally.
The report about Blair's involvement with Saudi Arabia comes amid mounting criticism over the UK's generous arms sales to Riyadh, despite the kingdom's ongoing invasion of Yemen.
The Independent reported last November that the UK had increased its weapons sales by around 500 percent since the onset of the Saudi invasion in 2015.
The weapons sold by Britain, which has also been providing logistical and arms support for the bombardment, include precision-guided bombs.
https://www.presstv.com/Detail/2018/07/22/568842/Saudi-Arabia-UK-Blair
--------
S Arabia, Egypt slam 'racial discrimination' of Israeli law
July 22, 2018
RIYADH : Saudi Arabia and Egypt have slammed a controversial Israeli law as "perpetuating racial discrimination" against Palestinians by defining the country as the nation state of the Jewish people, state media reported. The law adopted by Israel's parliament on Thursday also defines the establishment of Jewish communities as being in the national interest and downgrades Arabic from an official language to one with special status.
Citing a Saudi foreign ministry source, the official Saudi Press Agency said late Friday the kingdom "rejects and disapproves" of the new legislation which it argued contradicts international law. The source called on the international community to "confront such a law and or other Israeli attempts, aimed at perpetuating racial discrimination against the Palestinian people", SPA reported. Saudi Arabia said the adoption of the law would also be a barrier to ending the decades-long Israeli-Palestinian conflict.
Earlier this year King Salman reaffirmed Saudi Arabia's "steadfast" support for the Palestinian cause, after Crown Prince Mohammed bin Salman signalled a shift in the country's approach.
Prince Mohammed in April said in a magazine interview that Israelis as well as Palestinians "have the right to have their own land". Arab citizens account for some 17.5 percent of Israel's more than eight million population and have long complained of discrimination.
It "consolidates the notion of occupation and racial segregation, and undermines the chances of achieving peace and reaching a just and comprehensive resolution to the Palestinian issue", the Egyptian foreign ministry said in a statement.
The Israeli legislation was also condemned by the six-nation Gulf Cooperation Council, comprised of Saudi Arabia, Bahrain, Kuwait, Oman, Qatar and the United Arab Emirates.
Adoption of the law "reflected the regime of racism and discrimination against the Palestinian people," GCC secretary general Abdullatif al-Zayani was quoted by SPA as saying.
Zayani accused Israel of trying to obliterate the Palestinians' "national identity and depriving them of their legitimate civil and human rights on their occupied homeland".
https://nation.com.pk/22-Jul-2018/s-arabia-egypt-slam-racial-discrimination-of-israeli-law
--------
11 ISIS-K militants surrender to Afghan forces in Jawzjan province
Jul 22 2018
At least eleven militants affiliated with the Islamic State of Iraq and Syria Khurasan (ISIS-K) surrendered to the Afghan armed forces in northern Jawzjan province of Afghanistan.
The Ministry of Defense (MoD) said the militants surrendered to the Afghan armed forces in Qosh Tapa district.
The source further added that the militants also handed over five weapons and six motorcycles to the Afghan armed forces.
The anti-government armed militant groups including ISIS Khurasan militants have not commented regarding the report so far.
Jawzjan has been among the relatively calm provinces in North of Afghanistan but the security of the province has deteriorated during the recent years amid ongoing efforts by the anti-government armed militant groups to expand to expand their foothold in this province.
This comes as sporadic clashes are also underway between the Taliban and ISIS Khurasan militants in certain parts of Jawzjan province.
https://www.khaama.com/11-isis-k-militants-surrender-to-afghan-forces-in-jawzjan-province-05641/
--------
India
Kerala School Denies Promotion to Two Muslim Students, Child Rights Panel Intervenes
July 21, 2018
The national child rights panel has directed its Kerala counterpart here to take immediate action on a complaint that the management of a private school here had allegedly denied promotion to two Muslim students.
The direction was based on a complaint by Naushad Thekkayil who alleged that the girl students had not been promoted to the next class as they were wearing uniforms with long sleeves.
The complainant alleged the girls-Fathima Thasneem and Hafsa Parveen, studying in sixth and second standards of a private school at Thiruvallam near here-had not been promoted to the next class by its principal.
The National Commission for Protection of Child Rights (NCPCR) asked the state panel to take immediate action for violation of child rights and also ensure that the children should not be deprived of studies and promoted to higher classes.
The directive was given in a letter sent to Chairperson of Kerala State Commission for Protection of Child Rights, C J Antony, a copy of which was released to the media.
When contacted, school management sources, however, denied any kind of discrimination against students on the basis of uniform.
https://indianexpress.com/article/india/kerala-school-denies-promotion-to-two-muslim-students-child-rights-panel-intervenes-5269281/
--------
This Muslim Blogger, Saba Irfan's Story on How She Fought against All Odds Is Inspiring
July 22, 2018
Coming from a conservative Muslim family, there were many obstacles in the life of Saba Irfan, who dreamt of a life beyond the four walls of marriage. While her sister was only 15 when she was married off, Irfan imagined things differently for herself. Despite being a bright student and securing more percentage that her brother, the young Irfan had to fight tooth and nail to convince her father to let her join a college. However, her troubles did not end with the college admission.
Shared on the Facebook page of Humans of Bombay, Irfan's story of fighting against the norms that bound her is nothing less than inspiring. "My father got threats everyday because he had allowed me to study further. During family get togethers, even if I spilled a little bit of coffee while serving, they would say 'aur bhejo isko college,' excerpts from the post read.
"I grew up in a conservative Muslim family where women weren't allowed to study. My sister was 12 when she was engaged and by 15, she was married. There's even a saying in our community, 'if you look for a girl older than 17, you won't find a good one.'
Obviously, college wasn't an option for me — marriage is the only agenda for us girls.
But I was a good student; the first in my family to get a 'first class' with 62%, while my brother only got 50% — still, he was allowed to apply to college and I wasn't. But I was the 'rebel' who wanted to study. So everyday, I convinced my father to give me the chance and finally he agreed to send me to a girl's college… I ran to Sophia — I couldn't believe it!
But then the taunts began. My father got threats everyday because he had allowed me to study further. During family get together, if I even spilled a little bit of coffee while serving, they would say 'aur bhejo isko college.' These snide remarks happened everyday. My friends used to go out and meet boys– I didn't even think about it, all I wanted to do was learn.
Still, by the time I was 18 I was married.
Even though my husband and his amazing family encouraged me to complete my education, after the 12th, I refused to go — my parents had suffered enough. But I was still happy — going to college for that little time had opened up
my horizons — there was a whole world beyond my community and I decided to keep learning in my own way.
I first taught myself how to blog — there was a lot I'd gone through that I wanted to talk about. I started writing about my Hijab and the issues a woman faces. I began to write about books, poetry and travel. I took up French classes and I'm currently studying Russian!
I even faced judgement for wearing my pardha — people would stare, pass remarks and keep their distance but it never stopped me. It pushed me to do more — believe it or not, I just became an author!
Full report at:
https://indianexpress.com/article/trending/trending-in-india/muslim-woman-blogger-shares-story-5269145/
--------
Islamic council to take on terrorism
Jul 22, 2018
Since terrorism is a battle of minds, we cannot win this battle with weapons alone. Keeping this stark truth in mind, a group of clerics, antiterrorism crusaders, intellectuals and peace activists have launched an initiative called Islamic Counter Terrorism Council (ICTC).
Recently at a gathering of around 500 clerics at Saki Nakibased Madrassa Darul Uloom Ali Hassan Ahle Sunnat senior cleric Maulana Ashrafi Kanpuri spoke of such an alliance against terrorism. Maulana Kanpuri named antiterrorism crusader and head of Islamic Defense Cyber Cell Dr A R Anjaria as the ICTC's convenor. ICTC, informed Anjaria, will have two main offices —Mumbai (national) while Delhi (international) and an administrative body comprising 100 people—51 from India and 49 from abroad. But why do we need such a counter-terrorism, non-military alliance?
"After over three dozen Muslim countries formed the Islamic Military Counter Terrorism Coalition (IMCTC) on December 15, 2015 with former Pakistan Chief of army staff Gen (Retd) Raheel Shariff as its Commander-In-Chief and headquartered at Riyadh, we thought India too could take a lead in counter terrorism," explained Anjaria. "Since most participants of IMCTC are members of Organisation of Islamic Cooperation (OIC) and no India presence, we thought we could create an alliance of thinkers, activists and clerics against terrorism. We are civil society and we can fight the menace ideologically."
Anjaria who initiated the biggest fatwa against ISIS and other terrorist groups in August 2015 (over 1000 Indian imams and clerics signed and endorsed this fatwa declared ISIS un-Islamic as its recruits or other jihadists killed innocents) said that the time had come to engage not just clerics but all intellectuals and activists to join hands against terrorism.
"We will make at least 10 lakh members from across the world to join this fight," he said.
ISIS, Al-qaida and other jihadist outfits often target disaffected Muslim youths through online propaganda for recruitment.
Playing up the real and imaginary atrocities on Muslims, these organisations radicalise the youth and convince them to wage wars in the name of Islam. "Íslam never sanctions terrorism which involves killing of innocents. We have to prepare a mechanism to counter-terrorism and terrorist activities," said Mufti Manzar Hassan Misbahi at Madrassa Darul Uloom Ali Hassan Ahle Sunnat.
UK-based cleric and head of London Fatwa Council (LFC) Shaykh Mohammad Yazdani Raza Misbahi said that he supports any efforts which try to defeat terrorism. "Terrorism is a menace which must be defeated. We support every step which is taken to oppose the forces who defame Islam by harming innocent men, women and children in the name of Islam," said Misbahi.
Full report at:
https://timesofindia.indiatimes.com/city/mumbai/islamic-council-to-take-on-terrorism/articleshow/65087018.cms
--------
Govt seeks to undo Zakir Naik's influence
Jul 22, 2018
To repair damage done by controversial televangelist Zakir Naik, the Central government has asked to produce literature and programme to de-radicalise youths and to stop further such phenomena to happen, it has asked the law enforcement agencies to 'map' the areas from where sermons related to radicalisation are delivered and modes — television and radio — through which it is disseminated.
In a meeting held recently, the Prime Minister's Office (PMO) issued the directions to Ministry of Home Affairs (MHA), states and Intelligence Bureau (IB) to carry out the mapping.
It was further pointed out that Zakir Naik deliberately insulted the religious beliefs of Hindus, Christians and Islamic sects like Shia, Sufi and Barelvi, and his speeches influenced youths to the cause of the terror group Islamic State.
In view of the damage, the directions states: "Initiative should also be taken for training of people and production of inspirational films for the purpose of de-radicalisation."
The MHA, states and police forces across the country have been asked to form a specialised team and start the de-radicalisation process to check such incidents.
"The state police should also monitor funding of various non-government organisations and other organisations involved in anti-national activities," the directions issued by the PMO stated. The MHA and IB have also been asked to carry out the "initial action in a time-bond manner" and further report the progress to the PMO.
A senior police officer, who attended the meeting, explained the directions have been issued because the radicalised youths can be rehabilitated. The officer said, "The damage has been done. Now let us not repeat it."
The role of NGOs are under scanner as Naik's NGO Islamic Research Foundation (IRF), banned in 2016 under the Unlawful Activities (Prevention) Act (UAPA), as well as private firm Harmony Media Pvt Ltd, which conspired to promote enmity and hatred between different religious groups and insulting certain sects of Islam and other religions .
Naik has been chargesheeted under the UAPA for heading an unlawful association and inciting youth to take up terror acts and join global terror outfits like Islamic State. The National Investigation Agency is probing cases against Naik, who has relocated in Malaysia in 2017 from Saudi Arabia, where he had been staying since 2016. Naik has a huge fan following across the world, with adherents mesmerised by his rhetoric.
Full report at:
http://www.dnaindia.com/india/report-dna-special-govt-seeks-to-undo-zakir-naik-s-influence-2640156
--------
Three terrorists who killed J&K police constable shot dead in Kulgam district
Jul 22, 2018
SRINAGAR: Three terrorists behind the abduction and killing of a police constable were on Sunday killed in an encounter with security forces in Kulgam district of Jammu and Kashmir, Director General of Police (DGP) S P Vaid said.
Constable Saleem Shah was abducted by militants+ from his residence in Mutalhama area of Kulgam in south Kashmir on Friday and his body, bearing severe torture marks, was recovered yesterday.
"Three bodies of terrorists recovered with three weapons so far from encounter site," Vaid wrote on Twitter.
Terrorists group that tortured our colleague CT Mohd Saleem of Kulgam & killed him brutally are all trapped in an e…https://t.co/7gEWF7wUHc 3 bodies of terrorists recovered with three weapons so far from encounter site.
— Shesh Paul Vaid (@spvaid) 1532227350000
Earlier, the DGP said the group behind the abduction and killing of the constable were trapped in the encounter at Khudwani in Kulgam district of south Kashmir.
"Terrorists group that tortured our colleague CT Mohd Saleem of Kulgam & killed him brutally are all trapped in an encounter with J&K Police/Army/CRPF in Khudwani Kulgam," he said.
The encounter began this morning as security forces launched a cordon and search operation in Khudwani after receiving specific intelligence input about the presence of militants in the area.
The search operation turned into a gun battle as the terrorists fired upon the search party of the forces who retaliated and in the ensuing gun fight, three militants were killed.
Full report at:
https://timesofindia.indiatimes.com/india/3-terrorists-killed-in-encounter-in-jks-kulgam-district/articleshow/65087457.cms
--------
Pakistan
PTI candidate Ikramullah Gandapur injured in suicide blast in DI Khan
July 22, 2018
Ikramullah Gandapur, an election candidate of the Pakistan Tehreek-i-Insaf (PTI), was injured in a suicide blast in Dera Ismail Khan on Sunday, police said.
Confirming the nature of the blast, DI Khan DPO Manzoor Afridi told Dawn.com that the attack took place in Kulachi area. Gandapur is contesting elections on a provincial assembly seat from PK-99 constituency.
According to hospital sources, the PTI leader's guard and driver were killed in the attack while Gandapur is said to be in a critical condition at the Combined Military Hospital (CMH).
Police said that the candidate was targeted near his residence when he was going to a political convention.
Gandapur served as the provincial agricultural minister in the PTI-led Khyber Pakhtunkhwa cabinet. He was elected through a by-election on the Dera Ismail Khan PK-67 seat, after it was vacated following the death of his brother Law Minister Israrulah Gandapur in a suicide attack.
PTI Chief Imran Khan took to Twitter to condemn the "cowardly terrorist attack".
The attack comes only days after the house of a senior leader of Balochistan Awami Party (BAP) was attacked in Gwadar on Tuesday. According to sources, Abdul Ghafoor Hoat was inside the house when unidentified gunmen fired shots at his house. He, however, escaped unhurt.
The most fatal election-related attack took place in Mastung on July 13 during a corner meeting organised by Mir Siraj Raisani — a BAP candidate for PB-35 (Mastung). The deadly suicide blast claimed the lives of nearly 150 people while injuring more than 200.
https://www.dawn.com/news/1421753/pti-candidate-ikramullah-gandapur-injured-in-suicide-blast-in-di-khan
--------
JUI-F's Akram Durrani escapes unhurt in Bannu ambush: police
Ali Akbar
July 22, 2018
Former Khyber Pakhtunkhwa chief minister Akram Khan Durrani escaped unhurt in another assassination attempt on Sunday morning, police said on Sunday.
According to police officials, Jamiat Ulema-i-Islam - Fazl (JUI-F) leader Durrani came under attack in Basia area of Bannu, where he was going to address a political convention.
On July 13, Durrani had also survived when a bomb went off near his convoy in Bannu. Four people had lost their lives in that attack while 32 others were injured.
Durrani is contesting the election on NA-35 (Bannu) against Pakistan Tehreek-i-Insaf (PTI) Chairman Imran Khan on a Muttahida Majlis-i-Amal (MMA) ticket.
The JUI-F leader's convoy had also been targeted in an attack in 2015 when he was the federal minister for housing and works.
Earlier today, Pakistan Tehreek-i-Insaf's election candidate for PK-67, Ikramullah Gandapur was injured in a suicide blast in Dera Ismail Khan.
Full report at:
https://www.dawn.com/news/1421755/jui-fs-akram-durrani-escapes-unhurt-in-bannu-ambush-police
--------
Maryam's account tweets for first time since her imprisonment
July 22, 2018
ISLAMABAD: Authorities in Adiala jail have turned down the request of Maryam Nawaz, detained leader of the Pakistan Muslim League-Nawaz (PML-N), to allow her to impart education to jail inmates as she has been kept in solitary confinement, claims a lawyer of the Sharif family.
The jail administration after many deliberations on Saturday finally allowed the Sharif family's legal team to meet former prime minister Nawaz Sharif, his daughter Maryam Nawaz and son-in-law retired Captain Mohammad Safdar.
The legal team comprises Advocate Amjad Pervaiz, Barrister Saad Hashmi, Zaafir Khan and Mohammad Aurangzeb.
In addition, a member the Pakistan Bar Council (PBC) also met the detained PML-N leader in jail.
According to Advocate Pervaiz, Ms Maryam wanted to teach female inmates, but the jail authorities reminded her since she was in solitary confinement she could not meet other prisoners. The jail authorities did not even provide her a pen and paper despite her repeated requests, he added.
He said Ms Maryam had refused the jail administration's offer of shifting her to Sihala Police College's rest house which has been declared a sub-jail.
A member of the legal team claimed that though both Mr Sharif and Ms Maryam were entitled to receive four newspapers, the father received only Dawn newspaper and the daughter daily Jang.
He said that both father and daughter had been kept in 12x12 barracks and their adjacent barracks were empty and stinky. Mr Sharif and Ms Maryam were allowed to meet neither each other nor any other prisoner in the jail, he added.
He claimed that while Mr Safdar had informed the jail administration that he had been on specified meal advised by his doctors, he was initially provided unhygienic food due to which he had developed some health issues. However, he added, the administration had started giving him healthy diet from Friday.
According to him, Mr Safdar was not in solitary confinement and had been kept with former additional district and sessions judge Raja Khurram Ali Khan who along with his wife was convicted in the housemaid torture case.
Besides, Ms Maryam sent the public into a frenzy after a tweet was posted from her official Twitter account on Saturday while she is in the jail.
The message — issued from the leader's official handle @MaryamNSharif — read a couplet by revolutionary Urdu poet, Faiz Ahmed Faiz.
"Jis dhaj se koi maqtal mein gaya/ Woh shaan salamat rehti hai/ Yeh jaan to ani jani hai/Is jaan ki koi baat nahi/ Yeh baazi ishq ki baazi hai/ Jo chaho lagaa do dar kaisa/ Gar jeet gaye to kya kehna/Haare bhi to baazi maat nahi (The grandeur with which someone goes to the gallows is remembered for a long time after/This life is fleeting/ If it is a contest of devotion/ then don't fear and give it everything/ It'll be great if you win/ but the battle is not lost even if you lose)," read the tweet typed in Urdu.
The couplet was posted using the hashtag #VoteKoIzzatDo (respect the vote), a slogan former premier Sharif has based his election campaign on before he was arrested a week ago. The tweet received over five thousand retweets within a few hours.
The account had last posted on July 13, the day Mr Sharif and Ms Maryam departed from London to serve their sentence.
Speaking to Dawn, a member of PML-N's social media team clarified that the account was now being handled by their cell and the tweet was not posted by Ms Maryam. He added that the social media cell had received no official directive to use the account from the leadership, as they were not allowed to meet Ms Maryam in jail. "Since Maryam Nawaz has a huge following on Twitter, we independently decided to keep her account active to push the party narrative," said the member.
On July 6, Mr Sharif was sentenced to 10 years in prison for holding assets beyond his known sources of income. Ms Maryam was handed a seven-year sentence for aiding and abetting him while her husband, Mr Safdar, was sentenced to a year's imprisonment.
Full report at:
https://www.dawn.com/news/1421700/maryams-account-tweets-for-first-time-since-her-imprisonment
--------
Imran pledges new local govt system if voted to power
Nasir Iqbal Khattak | Abdus Salam
July 22, 2018
KARAK / BANNU: Pakistan Tehreek-i-Insaf (PTI) chairman Imran Khan has said that his party will introduce a new system of local government if voted to power.
Speaking at public gatherings in Karak and Bannu districts on Saturday, the PTI leader said that in the new system the district nazim would be elected directly. He said there would be no development funds for the members of the National Assembly and provincial assemblies so that the MNAs and MPAs could focus on legislation only.
Mr Khan said all political parties were raising a hue and cry that the elections would be rigged. "I say that the elections would not be rigged rather those who rigged the elections would be wiped out in the coming polls," he said.
He said that during the 2013 elections Nawaz Sharif and former chief justice Iftikhar Mohammad Chaudhry had fixed the match. "After those elections I demanded that four constituencies be opened to scrutiny to see how the polls were rigged, but no one was ready to listen to us, and when these constituencies were opened after the 126-day sit-in our concerns were justified," he said.
Explaining his proposed district government system, the PTI chief said the district nazim, to be elected directly, would take a team of technocrats in his cabinet to put the district on the path of development. He claimed that there was no concept in the United Kingdom and France to elect the district mayor indirectly.
Mr Khan said that Nawaz Sharif was claiming that he had competition with the aliens and "my competition is with the international establishment".
He said that India was on the back of Mr Sharif and the Indian media had created a perception that the army had done injustice to the former prime minister.
He resolved to strengthen the National Accountability Bureau if his party was voted to power and added that NAB's capacity would be strengthened to cope with the menace of corruption in a better way.
The PTI chairman said that Nawaz Sharif possessed assets beyond his known sources of income, but he and his daughter were pretending that they were being oppressed to get the sympathies of the masses.
He claimed that PML-N president Shahbaz Sharif was not sincere with his brother Nawaz Sharif and now the former Punjab chief minister was getting scared.
Mr Khan rejected the new social contract theory of Pakistan Peoples Party chairman Bilawal Bhutto-Zardari and claimed that the PPP and PML-N had inked the charter of democracy 10 years ago just to cooperate in stealing the national wealth as they were least bothered about democracy in the country.
He recalled that 10 years ago the dollar was at Rs60 and now it was at Rs130. He claimed that the electricity per unit had been increased from Rs2 to Rs9 and price of flour had gone up from Rs13 to Rs45 per kg.
Mr Khan also criticised chief of his own faction of the Jamiat Ulema-i-Islam Maulana Fazlur Rehman and claimed that had made himself the contractor of Islam.
He asked the people to vote for his party in Karak and Bannu, adding that independent candidates were spending huge money to win the election.
PTI candidate from NA-34, Karak, Shahid Khattak was present on the occasion.
Full report at:
https://www.dawn.com/news/1421685/imran-pledges-new-local-govt-system-if-voted-to-power
--------
Bilawal warns against altering Constitution to deprive women of BISP stipends
Hanif Samoon
July 22, 2018
MITHI: Speaking at a big public gathering in Nagarparkar on Saturday, Bilawal Bhutto-Zardari, chairman of the Pakistan Peoples Party (PPP) urged the people of the desert region to vote for the PPP candidates, including Qasim Siraj Soomro and Pir Noor Mohammad Shah Jilani, from Thar for their better and safe future. He promised that the PPP would change the fate of the Tharis after coming into power.
He said his slain mother loved the people of Thar so much that she named her daughter Bakhtawar after peasant leader Mai Bakhtawar and the Tharis in return nicknamed her the 'Marvi of Malir' after a part of the Thar region.
Bilawal said that despite the threats and obstructions he visited various parts of Khyber Pakhtunkhwa and Punjab and got a huge response from the lovers of his grandfather, Zulfikar Ali Bhutto. He said he was not in favour of getting power by hook or by crook, but was struggling for the rights of the people by taking part in active politics. He said Z.A. Bhutto had not only got freed over 90,000 army men held in India, but also retrieved the occupied parts of Thar from the Indians.
He said that it was his mother's dream that Thar would change and he hoped the huge reserves of coal would change whole Thar as well as Pakistan in the near future. He said both former chief ministers — Syed Qaim Ali Shah and Syed Murad Ali Shah — did their best for Sindh and Thar. The PPP chairman said the PPP had announced a new manifesto, which contained important points to bring about a revolution in the country.
Poverty reduction plan
He added that the PPP after coming into power would first try to reduce poverty by issuing 'food cards' to deserving people and would launch a poverty reduction programme to provide food at subsided rates. He said the PPP government would set up food centres in every union council so that the poor could overcome malnutrition and hunger during droughts.
He said the construction of an airport near Islamkot town was a great effort of the PPP government, which was boosting business and tourism in Thar.
He deplored the rivals' "hypocrisy" that on one hand they boasted of ending corruption while on the other they awarded party tickets to a former chief minister and others who were kicked out of power over corruption. He said that their opponents were opening the doors of their party to those involved in forced conversions in Sindh and making alliances with leaders of proscribed organisations.
'Conspiracy' over BISP
Bilawal said that nobody would be allowed to amend the Constitution to deprive the deserving women of stipends under the Benazir Bhutto Income Support Programme (BISP). "Those conspiring to deprive women of their stipends will have to face stiff resistance from the PPP members in the assemblies," he said. He warned that any move to tinker with constitutional clauses, including the 18th Amendment, to deprive poor women would be resisted. He asked the people to reject such people in the elections.
He alleged that those fighting elections against the PPP were the supporters of the controversial water reservoirs and dismantling of Sindh. He warned that the water issue of the country could only be resolved through consensus under the 1990 water accord among the federating units.
He vowed to foil all "conspiracies being hatched" against the Constitution and the country, adding that those "puppets" being given a leg-up against the PPP had no vision to lead the people of the country. He said he would continue his efforts even after the general election. "We have a long way to fight for the bright future of the country," he remarked.
He said the PPP leaders were not afraid of any threat and the alliances of "puppets", adding that only the PPP could steer the country out of the current morass.
The PPP chairman said he had stepped into politics to accomplish the unfulfilled dreams of his mother to make Pakistan a prosperous country when she was the prime minister.
He said the PPP government during the last 10 years worked sincerely and with great commitment for development in the desert region. He asked the people to vote for PPP candidates not only in the Thar region but in the whole province and the country for their better future. He said the people of the province would totally reject those who had formed "fake" alliances just to sneak into the power corridors from the backdoor as they had done in the past against the PPP.
The PPP chairman said that the PPP government besides carrying out the mega projects in Thar Coalfield made the dream of power generation from Thar's coal reserves true, adding that the Tharis were not only provided with free wheat but were also provided with clean drinking water through RO plants by the previous Sindh government.
He asked the people to reject the GDA and other alliances and "political orphans" and vote for the PPP candidates on July 25.
Murad Ali Shah
Former chief minister Syed Murad Ali Shah, who accompanied the party chairman, in his speech said that no power could prevent the people of Thar and the rest of the province from voting for the PPP, adding that the PPP government in Sindh spent huge amounts on various schemes to provide a relief operation in Thar and hoped that the Tharis would help the party win all candidates in the district.
He said the PPP government also constructed the roads in Thar to give access to the people of the remote villages. Murad Shah urged the people of Thar to vote for them if they wanted to be served selflessly by PPP leaders.
Murad Shah said the PPP also established a modern hospital for heart disease in Mithi so that people did not have to be moved to big cities for their medical check-ups. He said the PPP had already become very strong in Thar after Arbab Ameer Hassan and Arbab Lutuf had joined them last year. He said the people of Thar had a right on the coal reserves and those living in the various blocks would be given shares as per the policy of the previous PPP government.
The PPP candidate on PS-55, Qasim Siraj Soomro, said the GDA and PTI candidates would be given a humiliating defeat in the Thar region as they were humiliated by the Tharis in the 2013 elections. He alleged that the opponents of the PPP in Thar were using tactics to dupe the public. He said he believed in politics of decency. He said that more dams would be built to store rainwater flowing down from the Karoonjhar hilltops during rainfall.
Senator Krishna Kumari in her speech said the PPP after coming into power would put more focus on the issues of Thar and Parkar areas.
Full report at:
https://www.dawn.com/news/1421605/bilawal-warns-against-altering-constitution-to-deprive-women-of-bisp-stipends
--------
Arab World
Hundreds of Syrian 'White Helmets' evacuated by Israel to Jordan: reports
July 22, 2018
About 800 members of Syria's White Helmets civil defense group and their families were evacuated via Israel to Jordan on Sunday from southwest Syria, where a Russian-backed Syrian government offensive is under way, media said.
In a statement, the Israeli military said it had completed "a humanitarian effort to rescue members of a Syrian civil organization and their families ... due to an immediate threat to their lives".
It said they were transferred to a neighboring country, which it did not identify, and that the evacuation came at the request of the United States and several European countries.
Israeli media identified the Syrians as belonging to the White Helmets organization. Officially called the Syrian Civil Defense but known by their distinctive white helmets , the group has operated a rescue service in rebel-held parts of Syria.
Jordan's official Petra news agency said on its website the kingdom "authorized the United Nations to organize the passage of about 800 Syrian citizens through Jordan for resettlement in Western countries".
The agency identified the Syrians as civil defense workers who fled areas controlled by the Syrian opposition after attacks there by the Syrian army.
Petra said they would remain in a closed area in Jordan and that Britain, Germany and Canada had agreed to resettle them within three months.
The Syrian military, backed by a Russian air campaign, has been pushing into the edges of Quneitra province following an offensive last month that routed rebels in adjoining Deraa province who were once backed by Washington, Jordan and Gulf states.
The offensive has restored Syrian government control over a swathe of the southwest, strategic territory at the borders with Jordan and Israel.
https://nation.com.pk/22-Jul-2018/hundreds-of-syrian-white-helmets-evacuated-by-israel-to-jordan-reports
--------
Designated terrorist Hashem Safieddine says Hezbollah 'will not leave Syria'
22 July 2018
Hashem Safieddine, the head of Hezbollah's executive council who was designated as a blacklisted terrorist by Saudi Arabia in 2017, said that his militias "will not leave southern Syria or Syria" while speaking at an honorary ceremony on Sunday.
According to local media reports and Hezbollah's media outlet, the al-Manar channel, Safieddine confirmed that Hezbollah fighters were heavily involved in the battles of Southern Syria, despite the Assad regime saying that there were no foreign militias in the area.
Safieddine was placed on Saudi Arabia and the US's terrorist lists a few weeks ago for his involvement in several terrorist operations, and for his support of the Assad regime.
This is considered the first time that an official Hezbollah leader admits to being involved in the war in Syria, more specifically in Daraa, following false rumors that stated that Hezbollah had withdrawn from the southern area.
This development is also significant as the battle in the south extends to the area of separation of Israeli and Syrian forces under the Agreement of Disengagement concluded in 1974 between Syria and Israel.
Iran's ambassador to Jordan, Mojtaba Ferdowsi-pour, had confirmed in May that his country had no deployed troops in southern Syria, stressing that his country played no role in the battle.
The ambassador's remarks coincided with rumors of a withdrawal by Hezbollah from the southern region, especially following a statement by the Russian foreign ministry on the need to withdraw all non-Syrian factions from southern Syria.
Safieddine's statements coincide with several Iranian militias, like the Zulfiqar Brigade and the Abu al-Fadl al-Abbas militia, which operates under the Assad regime's Republican Guard, also confirming their involvement in the battles in Daraa.
Following a Russian-led brokered deal, Syrian rebels laid down their weapons and started evacuating their positions near the Golan Heights on Friday, paving the way for President Bashar Assad's forces to retake their positions along the Israeli frontier for the first time since 2011.
Full report at:
https://english.alarabiya.net/en/News/middle-east/2018/07/22/Blacklisted-Hezbollah-leader-says-Lebanese-militias-won-t-leave-Syria-.html
--------
Turkey-Backed Militants Continue Infighting, Looting Civilians' Assets in Northern Syria
Jul 21, 2018
The Kurdish-language Hawar news reported that Ahrar al-Sharqiyeh and Katibeh al-Farouq affiliated to the Turkish troops exchanged heavy fire in Jandaris region over their share of properties and assets looted from residential areas in the village of Kouran.
A number of gunmen from both sides were killed or wounded in the clashes, Hawar news reported.
In the meantime, tens of residents of al-Harah al-Tahtaniyeh in Jandaris were arrested and moved to an unknown destination by the Ankara-backed militants, Hawar news said, adding that the militants have called on the families of those captured to pay a hefty amount of money for their freedom.
Field sources in Northeastern Aleppo reported on Thursday that the militants fighting in Syria within the framework of Operation Euphrates Shield engaged in fierce clashes with the militants in the village of al-Tokhar al-Kabir in Jarabulus.
Full report at:
http://en.farsnews.com/newstext.aspx?nn=13970430000933
--------
Prince Khalid: Iran helped Qaeda kill thousands of Saudis, Americans
21 July 2018
In a series of tweets both in English and Arabic, Saudi Arabia's Ambassador to the United States Prince Khalid bin Salman lambasted Iran's provision of support to terrorist groups like al-Qaeda and said that Riyadh's top priority has and always will be focused on countering terrorism.
"KSA has been the primary target of Al Qaeda and with Iran's help, it has killed thousands of Saudis and Americans. We will remain committed to fighting this evil with our partners across the world. Meanwhile, the regime continues its brazen policy of support for global terrorism," the ambassador tweeted.
Prince Khalid gave several examples to make his argument, pointing to older events like the attack on the US Embassy in Tehran in 1979, the 1996 bombing of the Khobar Towers in Saudi Arabia which killed 19 Americans and as recent as in 2016 when Iranians attacked Riyadh's embassy and consulate in Tehran and Masshad. All events had direct links to the Iranian regime, the ambassador said.
"A US Federal Judge found that [al-Qaeda]'s attacks in 1998 against US embassies in Nairobi and Dar es Salaam would not have been possible without direct assistance from Iran. Prior to their meetings with Iranian agents [al-Qaeda] did not possess the technical expertise to carry out the attack," Prince Khalid wrote.
He went on to cite The Abottabad files, a cache of documents recovered by US forces during a 2011 raid on Osama bin Ladin's compound in Abbottabad, Pakistan. Al Arabiya English has reported extensively on the files which could be read here.
"The Abottabad files released by @CIA in November unequivocally prove Al Qaeda's collusion with Iran in training, recruiting and facilitating movement of hijackers to attack the US. Osama Bin Laden described Iran as his main artery for funds, personnel and communication," the ambassador tweeted.
The ambassador went on to say that up until the present day, the Iranian regime continues to harbor al-Qaeda terrorists, including Hamza bin Laden, Osama bin Laden's son and the alleged heir of the extremist group and who "continues to live safely in Iran, from which he releases fatwas ordering followers to attack Saudi Arabia and the US.
"Iran hasn't responded to Saudi Arabia's requests to hand him over for trial," he wrote.
Full report at:
https://english.alarabiya.net/en/News/gulf/2018/07/21/Prince-Khalid-With-Iran-s-help-Qaeda-has-killed-thousands-of-Saudis-Americans.html
--------
Saudi authorities arrest assistant professor in crackdown on dissent
Jul 21, 2018
Saudi authorities have arrested a university lecturer as part of an ongoing crackdown against Muslim preachers and intellectuals led by Crown Prince Mohammed bin Salman.
The rights group ALQST, which is an independent non-governmental organization advocating human rights in Saudi Arabia, announced in a post on its official Twitter page on Saturday that Dr. Musaed al-Tayyar had been detained.
The post added that the 53-year-old Tayyar is an associate professor at King Saud University in the Saudi capital Riyadh. He has written many books on Islamic teachings and participated in debates on the Holy Quran, the holy book of Muslims.
The academic is not known to have commented on political issues, which raises questions about the motives behind his arrest.
Saudi Arabia has recently stepped up politically-motivated arrests, prosecution, and conviction of peaceful dissident writers and human rights campaigners.
Saudi officials have also intensified security measures in the kingdom's Shia-populated Eastern Province.
Eastern Province has been the scene of peaceful demonstrations since February 2011. Protesters have been demanding reforms, freedom of expression, the release of political prisoners, and an end to economic and religious discrimination against the oil-rich region.
The protests have been met with a heavy-handed crackdown by the regime. Regime forces have increased security measures across the province.
Over the past years, Riyadh has also redefined its anti-terrorism laws to also target activism.
Full report at:
https://www.presstv.com/Detail/2018/07/21/568814/Saudi-authorities-arrest-assistant-professor-in-crackdown-on-dissent
--------
Egypt says Israel's Jewish nation-state law undermines Middle East peace
July 21, 2018
CAIRO: Egypt on Saturday said a new Israeli law giving Jews the exclusive right to self-determination in the country undermined the chances for peace in the Middle East and the right of Palestinian refugees to return to their homes.
The law, which was passed on Thursday, has drawn rebuke from the EU and was denounced by the Palestinian Authority and Arab citizens of Israel as racist legislation.
"The Arab Republic of Egypt announces...its rejection of the law passed by the Israeli Knesset on the "national state for the Jewish people" law ... for its ramifications that consecrate the concept of occupation and racial segregation," the Egyptian foreign ministry said in a statement.
"It undermines the chances for achieving peace and reaching a just and comprehensive solution for the Palestinian issue," it said.
It said the law would also have a potential impact on the right of Palestinians displaced from their homes in 1948 when Israel was founded, and their descendants, to return to their homes under United Nations resolutions.
Egypt in 1979 became the first Arab country to forge a peace treaty with Israel under the US-sponsored Camp David accord that provided for the Jewish state to withdraw from the Sinai Peninsula.
But relations between two countries remained lukewarm, with Egypt demanding that Israel quit other lands it occupied in the 1967 Middle East war, including the Syrian Golan Heights, the West Bank and Gaza Strip and Arab East Jerusalem.
Full report at:
http://www.arabnews.com/node/1342846/middle-east
--------
Syrian Army Imposes Control over More Regions in Quneitra
Jul 22, 2018
The army men entered the villages of Majdaliyah, Kom al-Pasha, Ein al-Pasha, Rasm al-Halabi and Alirzan under the agreement.
The militants detonated their positions and set fire at their arms depots in the Old al-Quneitra, Jabata al-Khashab, Ofaniyeh, al-Hamidiyeh, Taranja, al-Horriya and al-Qahtaniyah in Quneitra before withdrawal.
Field sources said that some of terrorist groups in al-Hamidiyeh and Jabat al-Khashab in Quneitra have asked for special vehicles for their relocation to Idlib and slowed down the evacuation operation.
On Saturday, the army soldiers entered the villages of al-Zobeida, al-Moshrefiyeh and Rasm al-Karam in Southern Quneitra and the village of Roweihineh in Western Quneitera after withdrawal of militants.
In the meantime, militants in the villages of al-Mazayrib and al-Yadoudeh in Western Dara'a handed over three military vehicles, seven tands and a large volume of heavy equipment to the army men.
Full report at:
http://en.farsnews.com/newstext.aspx?nn=13970431000253
--------
Army Liberates over 20 Terrorist-Held Regions in Dara'a, Quneitra Provinces
Jul 22, 2018
The Syrian Army took back over six villages and towns of Um Batineh, Naba'a al-Sakhar, Maraba'at, Rasm al-Khawaled, al-Motihat and Momtenah in Quneitra province under a peace agreement with the militants.
Meantime, other units of the army continued to attack terrorists' military positions in Western Dara'a and liberated the towns, villages and farms of al-Naseriyeh, Abu Kataf, al-Moqeiberah, Ein Farikheh, Abu Qarah, al-Qasibeh, Manqara al-Alam, al-Zaqzaqah, Ein al-Maqam, al-Maza'elah, Rasm al-Bajras, Rasm al-Qatah, Ein al-Tineh, al-Sweiqa, Mansihiyeh al-Sweiqa, Ein al-Zeitoun, Rasm al-Manbatah, al-Dawayeh al-Kabireh, al-Dawayeh al-Saqireh and al-Hejah.
Meantime, the Syrian army continued its military advances in other parts of Syria over past 24 hours.
Tens of terrorists were killed and dozens more were injured during the Syrian army's operations in provinces across Syria
Dara'a-Quneitra
The Syrian Army forces seized control of over twenty villages, towns and farms in the Southern provinces of Dara'a and Quneitra on Saturday as the terrorist front collapsed.
The army men earned control of over the six villages and towns of Um Batineh, Naba'a al-Sakhar, Maraba'at, Rasm al-Khawaled, al-Motihat and Momtenah in Quneitra province under a peace agreement with the militants.
In the meantime, other units of the army continued to attack terrorists' positions in Western Dara'a and liberated the towns, villages and farms of al-Naseriyeh, Abu Kataf, al-Moqeiberah, Ein Farikheh, Abu Qarah, al-Qasibeh, Manqara al-Alam, al-Zaqzaqah, Ein al-Maqam, al-Maza'elah, Rasm al-Bajras, Rasm al-Qatah, Ein al-Tineh, al-Sweiqa, Mansihiyeh al-Sweiqa, Ein al-Zeitoun, Rasm al-Manbatah, al-Dawayeh al-Kabireh, al-Dawayeh al-Saqireh and al-Hejah.
Also, field sources said that the army has freed a sum of 21 villages, farms and towns in Quneitra and Dara'a amid growing tensions and differences among terrorists.
Homs
Militant groups have increased combat activity in Syria's Idlib, Homs and Lattakia provinces, using aerial drones and suicide bombers to attack positions of Syrian government forces, the head of the Russian Reconciliation Center for Syria said.
"Of particular concern is the situation in Idlib province where illegal armed groups that joined the ranks of Al-Nusra Front terrorist organization have increased combat activity," Maj. Gen. Alexei Tsygankov said at a daily briefing, Sputnik reported.
"There have been attempts by extremists to break through the Syrian army defenses in the Northern part of Homs province with the use of suicide bombers, as well as attacks on the positions of government troops in Lattakia province," Tsygankov said.
"Launches of attack aerial drones are being carried out from the territory occupied by militants," the general added.
According to Tsygankov, units of the Syrian government forces "are forced to take appropriate measures to stabilize the situation in the region".
Idlib
Tens of casualties were reported in Northeastern Idlib after militants started a row followed by armed clashes over their share of the assets left by the people who left the besieged towns Fua'a and Kafraya two days ago.
The sources said that over twenty terrorists were killed by explosive traps after they tried to enter the towns of Fua'a and Kafraya whose resident have been moved to the Syrian army-controlled regions on Thursday and Friday.
In the meantime, a number of gunmen were killed or wounded after terrorists of Ma'arat Mesrin and rival al-Zabadani militant group engaged in fierce clashes over people's assets in the towns of Fua'a and Kafraya.
Full report at:
http://en.farsnews.com/newstext.aspx?nn=13970431000177
--------
Tens of Casualties Reported in Fresh Infighting among Terrorists in Northwestern Syria
Jul 21, 2018
The sources said that over twenty terrorists were killed by explosive traps after they tried to enter the towns of Fua'a and Kafraya whose resident have been moved to the Syrian army-controlled regions on Thursday and Friday.
In the meantime, a number of gunmen were killed or wounded after terrorists of Ma'arat Mesrin and rival al-Zabadani militant group engaged in fierce clashes over people's assets in the towns of Fua'a and Kafraya.
Also, several terrorists of Tahrir al-Sham and their rival militants were killed in the infighting.
The Arabic-language website of Sputnik news agency quoted Commander of Bani Izz tribal forces Sheikh Ahmed al-Mobarak as saying on Thursday that thousands of trained forces were waiting for the start of the Syrian army's operations against the terrorist groups in Idlib.
He added that thousands of residents of Idlib supported the Syrian army since the start of the war in the country, and said all tribal forces received military training for the battle, specially against the foreign terrorist groups, including the Chechnians, Uzbeks and Uygurs, stationed in Idlib province.
Al-Mobarak said that the tribal forces participated so far in several battles, including in Southeastern Idlib, and foiled the terrorists' attacks despite the fact that the militants used armored Turkish vehicles and resorted to suicide attacks and bomb-laden vehicles.
Full report at:
http://en.farsnews.com/newstext.aspx?nn=13970430000816
--------
US-led coalition commits 'new massacre' in Syria's Dayr al-Zawr
Jul 22, 2018
The US and its allies have conducted fresh air raids on Syria's eastern Dayr al-Zawr Province, killing and injuring a number of civilians.
The US-led coalition "committed a new massacre against civilians" on the outskirts of the city of al-Bukamal, Syria's official SANA news agency reported on Saturday.
SANA quoted local sources as saying that civilians targeted in the US airstrikes were fleeing the al-Susah town amid "the coalition's arbitrary bombardments and the crimes of Daesh terrorists" when they were hit.
Scores of families have been fleeing Susah over the past days amid coalition strikes on their homes.
The US and its allies have been bombarding what they call Daesh positions inside Syria since September 2014 without any authorization from the Damascus government or a UN mandate.
The aerial assaults, however, have on many occasions resulted in civilian casualties and failed to fulfill their declared aim of countering terrorism.
Russian military shoots down militant drone near Hmeimim
Additionally on Saturday, the head of the Russian Reconciliation Center for Syria said air defense units had managed to down a militant drone near Russia's Hmeimim Air Base in Latakia Province.
Russian jets have been conducting air raids against Daesh and other terror outfits inside Syria at the Damascus government's request since September 2015.
Full report at:
https://www.presstv.com/Detail/2018/07/22/568849/Syria-Dayr-alZawr-Latakia
--------
Mideast
Video shows Houthi militants fleeing from advancing Yemeni army
22 July 2018
Al Arabiya English has obtained a video showing Houthi militants attempting to escape from advancing Yemeni soldiers near a mountain in the Saada province.
The clip shows the moment Houthi militias tried to escape during a siege from the Fatah Brigade 84 infantry of the Yemeni army advancing one of the remain one of the elements and then withdrew to join with the rest of the elements after being unable to face the shots of the Yemeni army at the top of the summit, The mountain they took over with a number of mountainous highlands near Kataf.
This comes after the factions from the Yemeni army advanced and retook to positions formally held by the militias along with air support from the Arab coalition.
Houthi militias have suffered many casualties and the destruction of a number of their armed vehicles in recent weeks across Saada and Hajjah provinces.
https://english.alarabiya.net/en/News/gulf/2018/07/22/Video-shows-Houthi-militants-fleeing-from-advancing-Yemeni-army.html
--------
Leader guidelines helped thwart US-Zionist Iranophobia plot: FM Zarif
Jul 21, 2018
Iranian Foreign Minister Mohammad Javad Zarif says the Islamic Republic has managed to thwart the Iranophobia plot hatched by Israel and the US through relying on the guidelines of Leader of the Islamic Revolution Ayatollah Seyyed Ali Khamenei.
Zarif made the remarks in a meeting between Ayatollah Khamenei and Iranian ambassadors, charges d'affaires and officials from the Ministry of Foreign Affairs in Tehran on Saturday.
"[US President Donald] Trump and [Israeli Prime Minister Benjamin] Netanyahu are making efforts to revive the Iranophobia scheme through cheap shows, but they are currently alone and isolated even among their own allies," the top Iranian diplomat said.
He pointed to numerous attempts by the US to put pressure on the Iranian nation and bully them and said, "We have always told other countries, including US allies, that confronting US bullying should go beyond political commitments and should lead to practical measures with a timeframe."
Zarif expressed confidence that Iran would be able to overcome problems through unity and coherence and by relying on the Leader's guidelines and public support.
Trump announced on May 8 that Washington was walking away from a nuclear agreement, officially known as the Joint Comprehensive Plan of Action (JCPOA) signed between Iran and the P5+1 group of countries in 2015.
The US president also said that he planned to reinstate US nuclear sanctions on Iran and impose "the highest level" of economic bans on the Islamic Republic.
Addressing the Saturday meeting, Ayatollah Khamenei said talks with the US were "useless," adding that while negotiations with the Europeans should continue, Iran should not count much on their package of proposals.
"I have long pointed out that it is not possible to count on the words and even the signatures of the Americans, so negotiations with the United States are of no avail," the Leader said.
Also in a meeting with Iranian President Hassan Rouhani and his cabinet in Tehran on July 15, Ayatollah Khamenei said the European signatories to the nuclear deal must provide Tehran with necessary guarantees about the continued implementation of the deal.
Full report at:
https://www.presstv.com/Detail/2018/07/21/568798/Zarif-Khamenei-Israel-US-Iranophobia
--------
Gaza truce largely holds after Israeli strikes
July 22, 2018
GAZA CITY - A ceasefire announced by the Palestinian Islamist movement Hamas largely held Saturday after a wave of deadly air strikes across Gaza sparked by the death of an Israeli soldier shot near the border.
The soldier's death was the first linked to Gaza violence since a 2014 war and raised fears that Israel's response could spiral into full-out war.
But the decision of Hamas, which rules the enclave, to accept a ceasefire and not further retaliate reduced those fears for now.
UN Secretary-General Antonio Guterres called Saturday on Israelis and Palestinians to avoid "another devastating conflict" after resurgent violence claimed five lives on Friday.
"I am gravely concerned over the dangerous escalation of violence in Gaza and southern Israel," he said in a statement. "It is imperative that all sides urgently step back from the brink of another devastating conflict."
The recent violence in Gaza marks the most serious escalation between Israel and Hamas since the 2014 war. "I call on Hamas and other Palestinian militants to cease the launching of rockets and incendiary kites and provocations" along the fence separating Israel from Gaza, Guterres said. "And Israel must exercise restraint to avoid further inflaming the situation."
He encouraged all parties to work with the UN to find a peaceful solution to the crisis, saying that it endangered lives on both sides while aggravating the "humanitarian catastrophe" in Gaza.
As has been the case with previous such truces, Israel did not confirm the deal announced by Hamas that went into effect around midnight Friday. There was relative calm on Saturday except for one incident, with the Israeli army saying a tank struck a Hamas observation point east of Gaza City in retaliation for an attempted border infiltration in northern Gaza.
There were no reports of injuries in that strike and there was no major Israeli bombing campaign overnight or mortar fire from the Palestinian enclave towards Israel. "With Egyptian and UN efforts, we reached (an agreement) to return to the previous state of calm between the (Israeli) occupation and the Palestinian factions," Hamas spokesman Fawzi Barhoum said in a statement early Saturday.
A senior Hamas official, speaking on condition of anonymity, told AFP the deal involved "the cessation of all forms of military escalation" including Israeli air strikes and Hamas mortars and rockets.
The source said that balloons and kites attached with incendiary devices, which Palestinians have been floating over the border for months to spark fires inside Israel, were not included in the agreement.
There was however one reported fire in Israel near the Gaza border on Saturday, a fire department spokesman said, although its cause was not immediately clear. Israeli politicians have been calling for a fierce response to the kites and balloons, which have caused damage amounting to millions of shekels (hundreds of thousands of dollars).
Israel's army and Prime Minister Benjamin Netanyahu's office declined to confirm a truce was reached. On Friday, three Hamas militants were killed as air raids sent fireballs exploding into the sky over Gaza, while Israel said rockets had been fired back at its territory. A fourth Palestinian was shot dead in protests near the border.
The United Nations urged all sides to step "back from the brink" of war after months of increasing tensions.
The soldier, shot dead along the border in southern Gaza, was the first to be killed in and around the Palestinian enclave since a 2014 war between Israel and Hamas. Friday's flare-up is the latest as demonstrations and clashes on the frontier since March have seen at least 149 Palestinians killed.
In addition to the shooting attack, Israel's army said explosive devices and around seven hand grenades were used, while a number of rockets were launched.
The army said it struck 68 Hamas sites including weapon manufacturing sites, a drone warehouse and a military operations room. It came only a week after the most severe exchange of fire between Israel and Palestinian militants in Gaza since the 2014 war.
Jason Greenblatt, US President Donald Trump's Middle East peace envoy, laid the blame for weeks of increasing tensions solely on Hamas.
"Hamas works relentlessly to destroy Israeli lives (& Gazans suffer as a result of Hamas)," he tweeted, while offering condolences to the soldier's family.
- 'Temporary reprieve' -
Hamas and Israel have fought three wars since 2008.
Israel has tightened its already crippling blockade of Gaza in recent weeks as it seeks to pressure Hamas to end the incendiary kites and balloons.
Hugh Lovatt, Israel-Palestine fellow at the European Council on Foreign Relations think-tank, told AFP another round of conflict remained highly possible.
"The ceasefire is crucial and shows neither side wants war but it's only a temporary reprieve," he said.
"Unless it can be consolidated and translated into a more permanent agreement that includes an easing of Israeli restrictions then we will continue to witness ever more frequent flare ups."
Mustafa al-Sawaf, a political analyst close to Hamas, told AFP that the shooting was seen as a reaction to the killing of a number of Hamas fighters by Israeli strikes in recent days.
Full report at:
https://nation.com.pk/22-Jul-2018/gaza-truce-largely-holds-after-israeli-strikes
--------
Rouhani warns US: War with Iran will be mother of all wars
Jul 22, 2018
President Hassan Rouhani of Iran says the United States should know that peace with Iran will be the mother of all peace while war with the country will be the mother of all wars.
He made the remarks at a meeting with the heads of Iran's diplomatic missions in world countries in Tehran on Sunday.
"The Americans should learn very well that peace with Iran is the mother of all peace and war with Iran is the mother of all wars," President Rouhani said in a series of sharp remarks aimed at the US.
Under the administration of President Donald Trump, the US has taken an increasingly hostile approach toward Iran.
On May 8, Trump unilaterally withdrew the US from a 2015 multilateral nuclear deal with Iran over the objections of Europe as well as Russia and China — the other parties to the deal, which is officially known as the Joint Comprehensive Plan of Action (JCPOA).
The withdrawal entailed not only the re-imposition of sanctions on Iran but also the so-called secondary sanctions on third countries. Some of those sanctions will take effect after a 90-day wind-down period ending on August 6, and the rest after a 180-day wind-down period ending on November 4.
Most recently, the Trump White House has announced that it seeks to supposedly bring Iran's oil sales down to "zero."
The measures would collectively cause difficulties for Europe to maintain trade ties with Iran. Nevertheless, Europe and Russia and China have decided to explore ways to maintain the JCPOA and trade with Iran.
Iranian officials have said the US measures equal an "economic war" on Iran.
In his Sunday remarks, President Rouhani said threats against Iran would have the opposite effect.
"Threats will further unite us [Iranians]; we will certainly defeat America," he said. "That will carry some costs for us, but the benefits will be greater."
"The US's latest conspiracy [against Iran] has been to attempt to wear the Iranian nation down [and lead it into submission," President Rouhani said. "You must know [however]: the Iranian nation is honorable and will never be servile to anyone."
'Isolated America should not be given chance to recover'
The Iranian president referred to the stance of the remaining parties to the JCPOA versus that of America and said the US has become isolated as a result of its unilateral withdrawal.
Full report at:
https://www.presstv.com/Detail/2018/07/22/568854/Iran-Rouhani-US-peace-war-mother-of-all-peace-mother-of-all-wars
--------
Palestinian Authority says foiled US 'conspiracy' but threat still exists
Jul 22, 2018
The Palestinian Authority has described the so-called peace plan meant to resolve the Israeli-Palestinian conflict as a US "conspiracy," which has been thwarted but still threatens the whole region.
In a statement carried by the official Wafa news agency on Saturday, Palestinian Authority spokesman Nabil Abu Rudeineh said that US President Donald Trump's much touted "deal of the century" had been foiled thanks to the "steadfastness" of the Palestinian people.
He, however, warned that the "conspiracy" could have unpredictable repercussions for the region.
"The region is now at a crossroads to decide the fate of principle issues that affect the higher interests of its peoples, which some parties may jeopardize by creating a clear break-up of nationalist position," Abu Rudeineh said.
He also called on the Palestinians and Arab countries "to stick together for the national interest to prevent the transformation of the deal of the century, which has slowed down but did not end, into a regional deal whose consequences cannot be predicted."
Abu Rudeineh also touched on the issue of Jerusalem al-Quds, which the US recognized last year as the "capital" of Israel.
Israel lays claim to the whole Jerusalem al-Quds, but the international community views the city's eastern sector as an occupied territory and the Palestinians consider it as the capital of their future state.
"The tension in the region and the prevailing chaos are a natural result of not solving the Palestinian issue. As long as al-Quds is burning, the Arab world will continue to burn, which is contrary to the necessities of regional security," Abu Rudeineh pointed out.
The Palestinian official also blasted Washington for its "bias" towards the Tel Aviv regime, warning of the policy's regional consequences.
"It is necessary now to restore the national spirit in the face of the sudden repercussions that the region maybe exposed to, especially the US blatant bias towards Israel and the imbalance of power. All these have created heavy burdens that we must all bear and confront in order to reach safety and provide a better future for the region and its peoples," he said.
Last month, White House special adviser Jared Kushner and US Middle East envoy Jason Greenblatt discussed the US "peace" plan with officials in the occupied territories, Saudi Arabia, Egypt, Jordan and Qatar. They, however, did not meet with Palestinian authorities during their regional tour.
Palestinian officials accused the US envoys of working to topple the Palestinian Authority and permanently separate the West Bank from the blockaded Gaza Strip, stressing that Washington's purported efforts to resolve the decades-long dispute in the region are doomed to failure,.
The US-Palestine ties deteriorated last December, when Washington recognized Jerusalem al-Quds as the "capital" of Israel and announced plans to transfer the embassy from Tel Aviv to Jerusalem al-Quds.
The contentious move led President Mahmoud Abbas to formally declare that Palestinians would no longer accept the US as a mediator to resolve the conflict because Washington was "completely biased" towards Tel Aviv.
Full report at:
https://www.presstv.com/Detail/2018/07/22/568843/Palestine-Israel-Jerusalem
--------
UN chief calls on Israel to avoid further inflaming Gaza situation
Jul 21, 2018
UN Secretary General Antonio Guterres has called on Israel to avoid further inflaming the situation in the Gaza Strip.
"Israel must exercise restraint to avoid further inflaming the situation," said Guterres on Saturday.
"I am gravely concerned over the dangerous escalation of violence in Gaza and southern Israel," he added.
While voicing concerns over the escalation of violence, Guterres also urged Palestinian factions to avoid what he referred to as provocations.
"It is imperative that all sides urgently step back from the brink of another devastating conflict," he said.
He went on to call on all parties to cooperate with the UN to find a peaceful solution to the crisis, and avoid aggravating the "humanitarian catastrophe" in Gaza.
Guterres' call came shortly after Israeli artillery units targeted a position of the Palestinian Hamas resistance movement in the Gaza Strip only hours after it was announced that the Tel Aviv regime had reached a truce with Palestinian factions in the besieged coastal enclave.
Earlier, the Palestinian resistance movement Hamas and Israel agreed to a truce following a flare-up of violence in the Gaza Strip. Hamas said through the efforts of the United Nations and Egypt, the two sides agreed to restore peace to the coastal enclave.
Funerals held for Friday's casualties
Meanwhile, Funerals have held for four Palestinians who were killed in Israel's Friday attacks on the Gaza Strip.
Two Palestinians were killed on Friday evening after Israeli artillery units fired two shells reportedly at an observation post belonging to Ezzedine al-Qassam Brigades, the military wing of the Hamas resistance movement, east of the city of Khan Yunis, located about 25 kilometers south of Gaza City, Arabic-language Ma'an news agency reported.
A third Palestinian was killed after Israeli jets carried out airstrikes east of the border town of Rafah.
According to Palestinian medical sources, another Palestinian, identified as Mohammed Sharif Badwan, was killed in the Zeitoun district of Gaza.
Nearly 120 others sustained critical injuries when Israeli military aircraft and battle tanks hit targets throughout the Gaza Strip.
Some 150 Palestinians have been killed by Israeli forces since the "Great March of Return" began in the Gaza Strip on March 30.
A total of 14,811 Palestinians have also sustained injuries, of whom 366 are reportedly in critical condition.
Full report at:
https://www.presstv.com/Detail/2018/07/21/568827/un-guterres-gaza-israel
--------
Israel targets Hamas position in Gaza Strip only hours after truce
Jul 21, 2018
Israeli artillery units have targeted a position of the Palestinian Hamas resistance movement in the Gaza Strip only hours after it was announced that the Tel Aviv regime had reached a truce with Palestinian factions in the besieged coastal enclave.
Local sources, requesting anonymity, said that Israeli forces launched three artillery rounds at an observation post east of the Zeitoun district of Gaza City on Saturday. There were no reports of casualties or the extent of damage caused.
The Israeli military later asserted in a statement that the shelling came in response to an "infiltration attempt" by a group of young Palestinian men.
On Friday, at least four Palestinians lost their lives and nearly 120 others sustained critical injuries when Israeli military aircraft and battle tanks hit targets throughout the Gaza Strip.
Nearly 150 Palestinians have been killed by Israeli forces since the "Great March of Return" began in the Gaza Strip on March 30.
A total of 14,811 Palestinians have also sustained injuries, of whom 366 are reportedly in critical condition.
The Gaza clashes reached their peak on May 14, on the eve of the 70th anniversary of Nakba Day (Day of Catastrophe), which coincided this year with the US embassy relocation from Tel Aviv to occupied East Jerusalem al-Quds.
On June 13, the United Nations General Assembly adopted a resolution, sponsored by Turkey and Algeria, condemning Israel for Palestinian civilian deaths in the Gaza Strip.
The resolution, which had been put forward on behalf of Arab and Muslim countries, garnered a strong majority of 120 votes in the 193-member assembly, with 8 votes against and 45 abstentions.
The resolution called on UN Secretary General Antonio Guterres to make proposals within 60 days "on ways and means for ensuring the safety, protection, and well-being of the Palestinian civilian population under Israeli occupation," including "recommendations regarding an international protection mechanism."
Full report at:
https://www.presstv.com/Detail/2018/07/21/568802/Israel-targets-Hamas-position-in-Gaza-Strip-only-hours-after-truce
--------
Yemeni army arrests local elements cooperating with Houthis in Hodeidah
July 22, 2018
DUBAI: The Yemeni army foiled a Houthi offensive into positions south of Yemen's Hodeidah province on Sunday, Saudi state-news channel Al-Ekhbariya reported.
Military sources said "army forces supported by the Arab coalition foiled a militia infiltration attempt and attack in the hopes of recovering positions in the region that it had lost."
The army also arrested local elements working for the militia within the same province.
A military source told the Yemeni Defense Ministry's official website, September Net, that those arrested were relaying army position coordinates to the Houthi militia.
Elsewhere, a report published by local activists revealed that more than 40 civilians were killed by Houthi bombardments in Hays province south of Hodeidah.
According to the report, among those killed were 14 children, and among the more than 100 wounded, were 40 also children.
The report also stated that the Houthi attacks damaged more than 100 houses, eight farms, five mosques and four government facilities.
Elsewhere Yemen's army made further advances in the Hiran district of Hajjah province, north-west of Hodeidah on Sunday.
A statement released by Yemen's army stated that the forces regained several new positions while continuing its advancement.
Full report at:
http://www.arabnews.com/node/1343251/middle-east
--------
South Asia
Afghan government considering yet another Eid ceasefire with Taliban militants: Kabul
Jul 21, 2018
Afghan President Ashraf Ghani might offer the Taliban militant group another ceasefire during next month's Eid holiday, a government spokesman says, after the Afghan leader reached a truce with Taliban insurgents last month.
"There is the possibility that a ceasefire may be announced over Eid al-Qurban," said Ghani's main spokesman Haroon Chakansuri at a news conference in capital Kabul on Saturday, referring to Eid al-Adha (Feast of Sacrifice), an important festival on the Islamic calendar, which falls on August 22 this year.
He declined to comment further but said that more details would be announced later.
On June 9, Taliban announced in a statement that it had agreed to a week-long truce deal proposed by the Afghan government, saying that foreign forces would be excluded from the ceasefire and operations would resume against them.
Taliban militants themselves, however, announced a three-day truce of their own starting on June 15, saying on June 17 that they would not extend it, a day after Ghani announced the extension of the week-long period of truce with the militant group until an unspecified time. The three-day ceasefire was held on the occasion of Eid al-Fitr Muslim holidays.
The truce, which saw Taliban fighters on the streets of Kabul and other Afghan cities taking selfies with police and government troopers, raised visions of longer-lasting peace between the two sides.
However, after announcing their refusal to extend the truce on June 17, Taliban militants attacked security forces in numerous districts of eastern and southern Afghanistan.
The Taliban's five-year rule over at least three quarters of Afghanistan came to an end when the United States and its allies invaded the country on October 7, 2001, as part of Washington's so-called war on terror.
Back in February, Ghani called on the Taliban to join peace talks "without preconditions." In return, Ghani said the Taliban would need to recognize the Afghan government and respect the rule of law.
Despite the continued presence of foreign troops across the country, the Taliban have been involved in widespread militancy, killing thousands of civilians as well as Afghan security forces and displacing tens of thousands of people across the country ever since.
The militant group has time and again stressed that it would not enter talks with Kabul until US-led foreign troops left the country. However, the militants have repetitively said they are ready for talks with Washington.
On Tuesday, General John Nicholson, the top commander of US forces in Afghanistan, announced that the US was also ready to initiate direct talks with Taliban in an attempt to end a 17-year-old war in Afghanistan.
https://www.presstv.com/Detail/2018/07/21/568820/Afghanistan-Ghani-truce-Taliban-Eid-US
--------
127,000 Bangladeshi pilgrims are ready to perform Hajj this year
July 21, 2018
DHAKA: The intended Hajj pilgrims of Bangladesh are now busy with their final preparations to take their flights to Makkah. According to the Hajj agreement with Saudi Arabia, this year a total of 126,798 Bangladeshi pilgrims will be able to perform the Hajj.
Authorities in Dhaka have organized special flights to carry the pilgrims to Makkah.
Mohammad Saiful Islam, director of the Hajj office in Dhaka, told Arab News that the Bangladesh government will send 6,798 pilgrims through its own management and the other 120,000 will be managed by the 1,200 private Hajj agencies.
"We have completed all the preparations to send the pilgrims to holy Makkah and special Hajj flights started from Dhaka to Makkah on July 14," said Islam.
The religious affairs ministry of Bangladesh has provided orientation training to all the pilgrims in 64 districts of Bangladesh. Here they were taught all the basics of Hajj and other formalities while staying in Saudi Arabia, he said.
He added that a 40-member team comprising doctors and nurses are in Saudi Arabia now to look after the Bangladeshi pilgrims. Besides, a significant number of administrative officers who were sent from Dhaka are also working round the clock along with the Bangladesh Mission staff to meet the queries and problems of the Bangladeshi pilgrims.
In any emergency situation the pilgrims will be able "to reach the hotline numbers where the Bangladeshi Hajj associates will be attending them," Islam said.
Before taking the Hajj flights, Bangladeshi pilgrims gather in a permanent Hajj camp at Ashkona near the Hazrat Shahjalal International Airport in Dhaka to complete the final preparations.
"I am very happy and grateful to the Almighty Allah as I have got the chance to perform the holy Hajj. Here everything is going fine. Now I am counting the days till that auspicious moment " said Abdur Rahman, 72, a pilgrim waiting for his flight on Saturday at Ashkona Hajj Camp, Dhaka.
Hajjera Khatun, 59, another pilgrim, said: "From my early days I dreamt of performing the holy Hajj. Now, I am feeling lucky as Allah has given me the ability to perform it."
Every year, Hajj Agencies of Bangladesh (HAB), the private Hajj operators, send the majority of the pilgrims to Saudi Arabia.
"We have already sent 35,000 pilgrims. And our Hajj flights will continue till Aug. 16," said M. Shahdat Hossain Taslim, secretary-general of HAB.
Taslim conveyed his gratitude to the Saudi embassy officials in Dhaka for their relentless effort and support to HAB in managing thousands of Bangladeshi Hajj pilgrims.
Full report at:
http://www.arabnews.com/node/1342836/world
--------
Myanmar violated UN child rights pact in Rohingya crackdown, experts find
July 22, 2018
Myanmar violated its obligations to the United Nations child rights convention in its crackdown on the Rohingya that led to an exodus of hundreds of thousands of people from the minority community, legal experts have found.
Children make up around half of the more than 700,000 Rohingya Muslims who have fled Buddhist-majority Myanmar to neighbouring Bangladesh since the start of a military crackdown last August.
The UN has called the Myanmar military operations a "textbook example of ethnic cleansing". Myanmar denies the allegation and has said it waged a legitimate counter-insurgency operation after Muslim militants attacked security posts.
Legal experts commissioned by Save the Children Norway analysed research by UN bodies and international human rights groups who have alleged that mass killings, arson, and torture were conducted by Myanmar security forces on the Rohingya.
"The research finds that the response by the Myanmar Government to the August 2017 attacks on police posts, together with the ongoing discrimination against Rohingya, constitute violations of at least seven key articles of the (UN convention on the rights of the child)," their report said.
The analysis found both the government and the security forces at fault. The Myanmar government "took positive steps" to assist the military operations and there was no evidence to suggest it did anything to curtail or condemn the security forces' actions, the report said.
Myanmar acceded to the United Nations convention on the rights of the child in 1991 and is bound to it by law. Representatives of the Myanmar government and military did not immediately respond to requests for comment.
The violations highlighted in the report include failure to protect children from violence, abuse, neglect, sexual and other exploitation, inhumane treatment and detention.
It refers to "indiscriminate and extrajudicial killing of Rohingya children, and the torture, ill-treatment and gender-based violence" committed against them.
The government's failure to conduct an independent investigation into the events following the August 2017 attacks, and ongoing discrimination against Rohingya children by denying them citizenship also are in violation of Myanmar's obligations to the child rights convention, the report said.
The report was shared exclusively with Reuters ahead of its release next week.
"The list of violations we have found is not exhaustive," said Guy Goodwin-Gill, emeritus professor of international refugee law at Oxford University, who co-authored the report.
Full report at:
https://www.thedailystar.net/rohingya-crisis/myanmar-violates-united-nations-child-rights-pact-in-rohingya-crackdown-1609270
--------
Afghan government mulling ceasefire with Taliban during Eid Al-Adha
Jul 21 2018
The Afghan government is mulling to announce another ceasefire with the Taliban group during the Eid Al-Adha, the officials said Saturday.
A Presidential spokesperson, Haroon Chakhansuri, told reporters in Kabul that there are chances of another ceasefire announcement with the Taliban group during Eid Al-Adha.
Chakhansuri further added that signs of interests are seen on both sides, the government and Taliban, to declare another ceasefire during the upcoming.
He said the ceasefire will only be declared based on the decision of the government and demands of the people and religious scholars.
This comes as the officials in the Chief Executive Office of the Unity Government had earlier informed regarding the possible announcement of ceasefire with the Taliban group.
The officials in the Chief Executive's Office had said that the government officials are mulling ceasefire with the Taliban during Eid Al-Adha to show a sign of goodwill to end the ongoing violence in the country.
This comes as the government announced a ceasefire with the Taliban group during Eid Al-Fitr and extended it for another ten days after the original ceasefire period ended on the fifth day of Eid.
Full report at:
https://www.khaama.com/afghan-government-mulling-ceasefire-with-taliban-during-eid-al-adha-05638/
--------
Pakistani Taliban militants suffer casualties in Kunar operations
Jul 21 2018
At least seven militants affiliated with the Tehrik-e-Taliban Pakistan (TTP) group were killed or wounded during the operations of the Afghan armed forces in eastern Kunar province of Afghanistan.
The 201st Silab Corps of the Afghan Military in the East said the Afghan armed forces targeted a gathering of the TTP militants in Nari district during an operation on Friday.
A statement by Silab Corps said the militants had gathered in Baza Gul village and were planning to carry out attacks against the government and people.
The statement further added that the armed forces targeted the gathering of the militants based on an intelligence tip off, leaving at least three of them dead and four others wounded.
The anti-government armed militant groups have not commented regarding the report so far.
The security situation in eastern Kunar province has started to deteriorate sharply during the recent months amid growing insurgency activities by the Taliban and ISIS militants.
The anti-government armed militants continuously attempt to expand their foothold in this province amid ongoing military operations and airstrikes.
Full report at:
https://www.khaama.com/pakistani-taliban-militants-suffer-casualties-in-kunar-operations-05633/
--------
2 militants arrested in Kabul city for planning attacks with magnetic bombs
Jul 21 2018
The Afghan forces have arrested two militants in Kabul city on charges of planning attacks with the help of the magnetic bombs.
The Criminal Investigation Department said the two suspects were held from the vicinity of the 3rd police district of the city.
The source further added that the two individuals were arrested as they were planning to plant magnetic bombs in governmental vehicles.
The anti-government armed militant groups including Taliban militants have not commented regarding the report so far.
This comes as the anti-government armed militants have been attempting to increase their attacks in the key cities of the country, including Kabul during the recent months.
A senior army officer lost his life in an attack by unknown gunmen in Kabul city earlier on Wednesday morning, the defense officials confirmed.
The incident took place in the vicinity of the 5th police district of the city in Company area after unknown gunmen opened fire on the senior officer as he was travelling towards his work station.
Full report at:
https://www.khaama.com/2-militants-arrested-in-kabul-city-for-planning-attacks-with-magnetic-bombs-05635/
--------
Europe
Trump backers support UK prisoner known for Islamophobia campaign
Jul 21, 2018
Supporters of US President Donald Trump are taking up the cause of an imprisoned far-right, anti-Muslim figure in the UK, raising fears that extreme right-wing movements and Islamophobia will be revived in Britain.
Reports on Sunday indicated that more people from Trump's inner circle were joining a campaign to have Stephen Yaxley-Lennon, widely known by his pseudonym Tommy Robinson, released from jail.
Robinson is the founder of the English Defense League (EDL), a British fascist group that promotes Islamophobia, and he has a string of convictions on charges including assault, fraud and drugs possession.
In May, Robinson was arrested outside a court in Leeds in northern England and pleaded guilty to contempt of court charge.
He has appealed his 13-months jail term which came due to his breach of reporting restrictions around a trial and also for breaching a suspended sentence related to another contempt of court charge.
Conspiracy theories about his case have spread wildly on social media, drawing particular attention in the United States among supporters of the so-called "alt-right." Those activities have raised fears that Britain may experience an unwanted revival of the far-right.
In an interview to London's LBC radio last week, Steve Bannon, former White House chief strategist, defended Robinson while saying off-mic that he was "the backbone" of Britain.
Sam Brownback, Trump's envoy for international religious freedom, has also discussed Robinson's case at a June lunch with British ambassador Kim Darroch.
The pro- Robinson campaign by Trump supporters gained a momentum after Donald Trump Jr, the US president's son, commented about the prisoner in one of his tweets.
Robinson, known for staging rallies against the spread of Islam in London in 2013, has been described as a violent far-right racist. He has been convicted several times in the US on charges of using someone else's passport and drug possession.
Trump supporters have even paid for Robinson's defense and protests with US-based Middle East Forum, a right-wing think-tank which has famous British fellows on board, spending tens of thousands of dollars to foot his legal bills, among other activities.
The institute even paid for a trip by US Republican Congressman Paul Gosar to London last week which coincided with Trump's presence in the city for an official visit. Gosar's defense of Robinson during a speech last Saturday in London was met with criticism.
Imraan Siddiqi, executive director of the Arizona branch of the Council on American-Islamic Relations, said in a statement that Gosar's speech was an unprecedented move by a US politician to support hate and bigotry.
"It is inexplicable for a sitting US congressman to speak at, let alone attend a rally for someone responsible for spreading as much hate and bigotry as Tommy Robinson," said Siddiqi.
https://www.presstv.com/Detail/2018/07/21/568797/Trump-supporters-Tommy-Robinson-UK-far-right
--------
Germany drops sanctions on Turkey
July 22, 2018
BERLIN : Germany has lifted economic sanctions on Turkey and relaxed its travel advice to the country, Berlin said Saturday, after Ankara ended its two-year state of emergency.
A 1.5 billion-euro ($1.7 billion) limit on export guarantees to Turkey would not be renewed this year, Germany's economy ministry told AFP, confirming an earlier report by the newspaper Frankfurter Allgemeine Zeitung.
The measure was imposed in July 2017 as a way to pressure Ankara after the detention of a German human right campaigner and five other activists, including the head of Amnesty International in Turkey.
Opposition parties in Germany have accused the 1.5 billion-euro limit of being too timid, given that the value of export guarantees increased from 1.1 billion euros in 2016 to 1.46 billion euros the following year.
Germany's foreign ministry also removed a warning on its website about its nationals facing a high risk of arrest when visiting Turkey.
Turkey's state of emergency, which was imposed after a failed 2016 coup and saw the biggest purge of officials in the country's modern history, came to an end on Thursday.
However the country's opposition has accused the government of moving to permanently formalise some of the measure's harshest aspects.
Full report at:
https://nation.com.pk/22-Jul-2018/germany-drops-sanctions-on-turkey
--------
Kremlin says Russian, French leaders discuss humanitarian aid to Syria
21 July 2018
The Kremlin said Russian President Vladimir Putin discussed joint humanitarian efforts in Syria, particular in the eastern Ghouta province, during a phone call with his French counterpart Emmanuel Macron on Saturday.
On Friday, France sent 50 tons of medical aid to government-controlled eastern Ghouta in Syria after Russia agreed to facilitate its delivery, raising hopes for future aid efforts.
https://english.alarabiya.net/en/News/middle-east/2018/07/21/Kremlin-says-Russian-French-leaders-discuss-humanitarian-aid-to-Syria.html
--------
Top US officials: Iran has laid groundwork for major cyberattacks on Europe, US
22 July 2018
Top US officials speaking at the 2018 Aspen Security Forum warned that Iran has already laid the groundwork for extensive cyberattacks against US and European infrastructure and private companies.
According to a report by NBC News, the US is warning its allies to put up cyber defenses and weigh counterattack options.
Officials like FBI Director Chris Wray and Director of National Intelligence Dan Coats warned of cyberattacks and danger from Russia, China, Iran and North Korea.
The officials added that Iran is 'making preparations that would enable denial-of-service attacks against thousands of electric grids, water plants, and health care 'and technology companies in the US', the NBC report stated.
Since withdrawing from the 2015 nuclear deal with Iran, Trump and other top US officials have warned that this will mean a strong retaliation by Iran, especially in the cyber domain.
Secretary of State Mike Pompeo has been a leading figure in the Iran cyberattack case. During a visit to the UAE, Pompeo warned that Iran would pay a "high cost" for its aggression following Tehran's threat to close the Strait of Hormuz to disturb Middle East oil supplies.
Iran also has a history of carrying out cyberattacks on the US. In 2016, seven Iranian computer experts linked to the government were charged with a series of cyberattacks on US banks and a New York dam.
Full report at:
https://english.alarabiya.net/en/News/world/2018/07/22/Top-US-officials-say-Iran-preparing-for-major-cyberattacks-on-Europe-US.html
--------
Africa
Al-Shabaab captures strategic town in Somalia's Puntland
July 22, 2018
BOSASO: Somalia's militant group Al-Shabaab has captured a small but strategic town 100 km (60 miles) south of Bosaso city in the semi-autonomous Puntland region, a military officer, Al-Shabaab and residents said on Friday.
Residents in Af Urur told Reuters that the town is now controlled by Al-Shabaab.
"When we woke up this morning, we saw many Al- Shabaab fighters controlling the town. The (Puntland military) forces had left yesterday," Ahmed Nur told Reuters from Af Urur by phone on Friday.
Al-Shabaab wants to topple Somalia's Western-backed central government, expel the African Union-mandated peacekeeping force AMISOM and establish a government based on its own strict interpretation of the Shariah.
Af Urur's position is important because the main road that links the cities of Garowe, Bosaso and Mogadishu passes nearby.
Puntland forces and Al-Shabaab have fought in the town, which has ditch defenses, several times in the past.
Mohamed Abdi, a Puntland military officer, told Reuters Al-Shabaab had taken Af Urur town by Friday morning, adding without elaborating that only a few Puntland military forces had been in the town on Thursday evening. "We were supposed to be replaced by other forces," Abdi said. "We shall recapture the town from Al-Shabaab."
Al-Shabaab confirmed that they had control of the town.
"Puntland forces ran away as we advanced to the town because they know we had taught them tough lessons before," Abdiasis Abu Musab, Al-Shabaab's military operations spokesman, told Reuters on Friday. "We now peacefully control Af Urur town."
Somalia has been gripped by violence and lawlessness since the toppling of Mohamed Siad Barre in the early 1990s.
Puntland is bordered by Somaliland to its west, the Gulf of Aden in the north, the Guardafui Channel in the east, the central Galmudug region in the south and Ethiopia in the southwest.
It has a long coastline, which is abundant with fish and other natural marine resources. Puntland has the lowest rate of poverty in Somalia.
http://www.arabnews.com/node/1343146/world
--------
18 killed in Boko Haram attack in Chad: Military source
July 22, 2018
N'DJAMENA: Eighteen people have been killed in an attack by suspected Boko Haram extremists in the Lake Chad region, a Chadian military source said Sunday.
"Boko Haram elements attacked a village south of Daboua," not far from Chad's border with Niger, at around 9:00 pm (2000 GMT) on Thursday, the military source said.
The assailants "cut the throats of 18 people, wounded two others and kidnapped 10 women".
Boko Haram's Islamist insurgency has devastated the region since it took up arms in 2009 in Nigeria, leaving at least 20,000 people dead, displacing more than two million others and triggering a humanitarian crisis.
Chad, Cameroon and Niger have all joined the military effort by Nigeria to crush Boko Haram.
Chad has seen a recent increase in attacks by the group.
In May, six people were killed, including four government officials and a soldier, in a Boko Haram attack on a Chadian army checkpoint on an island in Lake Chad.
Full report at:
http://www.arabnews.com/node/1343261/world
--------
Yousuf Deedat speaks on terrorism charges in South African
Jul 22 2018
A Muslim scholar has recounted his experience after he was discharged of terrorism and domestic violence charges by a Regional Magistrate Court in South Africa.
Yousuf Deedat, 65, narrated in summarized court documents mailed to Daily Trust on Sunday how what he thought a harmless phone call from the police through one Mr Rajoo on April 14, 2016, turned into a one-year ordeal in the hands of the country's judicial system.
Yousuf Deedat is the son of Shaikh Ahmed Deedat of the South Africa-based Islamic Propagation Centre International (IPCI), who visited Kano in 1991. The Indian-born cleric died in 2005.
It was gathered that after Yousuf submitted himself to the Durban North Police Station, he was informed that the order for his arrest was from 'high authority' and that he would be taken to the Magistrate Court in Verulam, the following day, April 15, 2016, which was a Friday.
The former Secretary General of the Trust known as the Islamic Propagation Centre International, said the violation charges were soon increased to allegations of terrorism and belonging to ISIS, and that with the help of his lawyer, he was able to get bail in the sum of 1000 Rand.
Deedat said after his bail, he investigated the source of the complaint against him and learnt that it had to do with one Yemeni, Mr Faizel, whom he refused to sell property to, who was using his wife and his contacts in the Department of Justice to pressure him to sell to him.
He said while his ordeal with the justice system continued as he was banned from visiting his family in Verulam, during Eid celebrations, the charges were added up and in January 2017, eight new charges were included and read out to him in court to which he denied.
The charges border on: domestic violence contravention, pointing of firearm, assault, crimen injuria, assault, contravention of the harassment act and statutory intimidation.
If he were convicted of the charges he would have served a maximum of 15 years imprisonment.
In one year of trial, in which he defended himself without an attorney, Deedat proved his innocence, arguing that the claims by Samiya Raschid that he assaulted and pointed a gun at her were frivolous.
"The evidence of Samiya Raschid is a total fabrication and a lie. I made it clear to this court that all the allegations that she's mentioned are all trumped up," he said.
After months of trial, he was on March 31, 2017 discharged on each of the counts by Magistrate B. Rawheath, who cited lack of 'corroborating evidence' in the account of Samiya Raschid.
The court held that she was a single witness in the allegation, adding that the testimony of the police officer, who initially made the arrest of Deedat, bordered on the procedure for investigation and did not touch on the fact in issue.
Following his acquittal, Deedat on August 8, 2017 sued Ms Leanne Elison and the Minister of Justice.
He claimed the Verulam magistrate, who issued his arrest warrant, "failed to exercise her discretion to have requested a written sworn affidavit from the complainant, setting out the allegations of the breach of the terms and conditions of the domestic violence order."
He claimed he suffered losses amounting to one million Rand as a result of the ordeal.
He had earlier served a notice to the Minister of Justice and Constitutional Development and Magistrate Leanne Ellison for commencement of legal action under 'Section 83 of the Limitation of Legal Proceedings Act No 40 of 2002: Malicious Prosecution and Unlawful Arrest.'
Earlier, Deedat in 2016 also sued the South African State for 15 million Rands over "his arrest and detention on being branded an ISIS terrorist, without proof in court, for distributing ISIS-related Islamic pamphlets at a Durban school".
Full report at:
https://www.dailytrust.com.ng/yousuf-deedat-speaks-on-terrorism-charges-in-south-african-262098.html
--------
North America
US open to direct peace dialogue with Taliban
Muna Habib
JULY 22, 2018
In a tactical policy shift this week, the Trump administration said it will consider holding direct talks with the Taliban to encourage peace negotiations between the terrorist group and the Afghan government in an effort to bring an end to the 17-year-old war, US media reported.
Previously, the Trump administration appeared willing to participate in discussions with the Taliban only if those talks also involved the Afghan government.
In Washington, State Department's spokesperson Heather Nauert confirmed that the United States 'is exploring all avenues to advance a peace process in close consultation with the Afghan government.' The US position 'has not changed', she said. "Any peace and reconciliation talks have to be Afghan-led, Afghan-owned."
The Taliban have long refused peace negotiations with the Afghan government, insisting to speak with the US administration instead. The militant group adhered to their stance despite Afghan President Ashraf Ghani's offer for unconditional peace talks along with a unilateral extension to last month's Eid ceasefire.
In recent months, both Washington and Kabul have urged the Taliban to consider renewed peace negotiations to end America's longest war in the region. Despite New York Times reporting a change in policy, the NATO-led Resolute Mission rejected the statements attributed to Gen John Nicholson regarding direct talks between Trump administration and the Taliban. "The United States is not a substitute for the Afghan people or the Afghan government," said Gen Nicholson in a statement. "My reaffirmation of Secretary Pompeo's statement in which he said peace talks would include a discussion of international forces and that the United States is ready to work with the Taliban, the Afghan government and the Afghan people towards lasting peace, was mischaracterized."
US Secretary of State Mike Pompeo issued his statement on June 16, days after Afghan government's unilateral ceasefire with the Taliban was announced by President Ashraf Ghani. "As President Ghani emphasized in his statement to the Afghan people, peace talks by necessity would include a discussion of the role of international actors and forces," Pompeo had said in his statement. "The United States is prepared to support, facilitate and participate in these discussions."
The Taliban may respond positively to the new peace initiatives but are unlikely to make significant concessions when they feel they are winning the 17-year-old war, according to Michael Kugelman, a South Asia specialist at the Woodrow Wilson International Centre in Washington DC. It was hoped the US and NATO troops may have persuaded the Taliban to talk peace, but, Kugelman said, the Taliban are making major battlefield gains and control more territory now than they ever had. "The Taliban do not have much incentive to hold talks right now," he said.
Washington has made major concessions – such as ceding major ground to the 'enemy'. A tactical move that may have been considered 'flexible' by the US. However, Kugelman said, "Washington has effectively given in to the Taliban's sole precondition for talks." The Taliban will view this as 'a tactical, strategic, and PR victory', he said. Any major push for peace talks by the US is 'an acknowledgment of failure because it indicates an admission that the war can't be won militarily', he said. "The Taliban have never felt a need to negotiate in a serious way because they have always done so well on the battlefield," he added.
In August 2017, US President Donald Trump launched South Asia strategy that focused on increasing the capabilities of Afghan security forces and compel the Taliban to negotiate peace with the Afghan government, with help from Pakistan.
https://dailytimes.com.pk/271277/us-open-to-direct-peace-dialogue-with-taliban/
--------
URL: https://www.newageislam.com/islamic-world-news/profiling-person-basis-religion-wrong/d/115902
New Age Islam, Islam Online, Islamic Website, African Muslim News, Arab World News, South Asia News, Indian Muslim News, World Muslim News, Women in Islam, Islamic Feminism, Arab Women, Women In Arab, Islamophobia in America, Muslim Women in West, Islam Women and Feminism