New Age Islam News Bureau
27 Sept 2014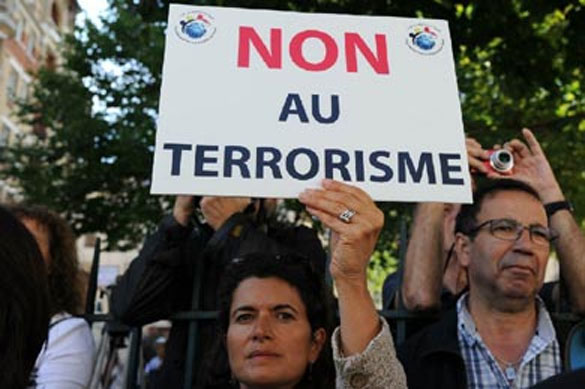 A woman holds a placard reading "No to terrorism" during a demonstration to denounce the "barbarism" of IS militants, outside Paris's main mosque (AFP Photo/Dominique Faget)
---------
Pakistan
• Prison Guard Who Shot Blasphemy Accused Claimed 'Divine Visitations'
• Imran, Qadri Misleading Nation through Lies: Minister
• Pakistanis don't differentiate between good, bad terrorists: Husain Haqqani
• Kashmir dispute is about people's right to self-determination: Sartaj
• Court orders FIR against PM Nawaz, 10 others
• Four including a woman killed in Karachi violence
• Altaf says will tell nation about double standard of establishment today
South Asia
• Bangladesh Militants Use Facebook to Recruit People In The Name Of IS
• Ajristan residents hang 4 Taliban militants to death
• Taliban publicly executes 3 people over kidnap charges
• Karzai signs death penalty for Kabul rape convicts
• PM Sheikh Hasina for effective measures to stop war
Arab World
• U.S.-Led Strikes Pressure Al Qaeda's Syria Group to Join With ISIS: Reuters
• Iraq's Army Kills Several ISIL Terrorists in Baghdad
• Iraqi Soldiers Kill Top ISIL Commander in Anbar
• IS militants' siege of Syria town draws widespread European support
• Saudi Arabia set to unveil newly sewn Kiswa for Kaaba
• For Arab immigrants, a Canadian passport and a GCC job may no longer mix
• Air strikes hit Islamic State in eastern Syria: Monitor
• Grand Mufti: Avoid politics at Haj
• Scholar: Haj Firms' Offers to Hajis Shouldn't Vary
Europe
• Muslims Gather In Paris to Denounce IS 'Barbarism'
• Germany Plans Tougher Controls on Would-Be Jihadists
• After IS beheading, France tells citizens to be on guard in Malaysia
• Video Imagines Pushing Rewind On Devastation in Syria, Will Stop You in Your Tracks
• British lawmakers vote to join US-led Iraq air strikes
• US should coordinate air strikes with Syria: Russia
India
• 'Like Never Before, I the Muslim Am Seen as the Root Cause of Nation's Problems'
• Posters Go Up At Garba Venues in MP: No Non-Hindus Allowed
• Pakistan praises India over MOM's success
• India rejects Sharif's 'untenable comments' on Kashmir, says the Pak PM made 'unwarranted references'
• BJP not to stop campaign against 'love jihad'
North America
• Senior Isil commander raised £1.25 million from Qatari nationals, says US Treasury
• US in 'near continuous' strikes against ISIL in Syria
• Syrian rebel force of 12,000-15,000 needed to roll back IS group: US
• US not trying to help Assad stay in power: Kerry
Mideast
• Islamists attack students protesting ISIL at Istanbul University
• Abbas' UN speech labelled 'diplomatic terrorism'
• Turkey offers troops to secure haven in Syria for refugees
• Two killed as Yemen rebels tighten grip on capital
• Deadlock in Iran's latest round of nuke talks
• Doubts linger over Turkey's stance on fighting ISIS
Southeast Asia
• Islamist appeal must go beyond 'Haram and Halal', says PAS leader
• Religious curbs used to keep Malays subservient, DAP MP claims
• Regional Elections Law Raises SBY Legacy Questions
• Malaysian producer held in UK over terrorism suspicions
Africa
• 'Killed' Boko Haram leader continues to threaten Nigeria
• Nigeria: Fulani Herdsmen Kill 4, Scores Missing
• Libya: Head of sexual violence compensation fund named
Compiled by New Age Islam News Bureau
URL: https://www.newageislam.com/islamic-world-news/new-age-islam-news-bureau/prison-guard-who-shot-blasphemy-accused-claimed-'divine-visitations'/d/99294
----------
Pakistan
Prison Guard Who Shot Blasphemy Accused Claimed 'Divine Visitations'
27 Sep, 2014
RAWALPINDI: Mohammad Yousaf – the prison guard who shot a man accused of blasphemy at the Adiala Jail on Thursday – had told friends he had dreams where he received 'divine guidance' and would often say that he was willing to put his life on the line for the sake of his religious beliefs.
Much like Mumtaz Qadri – the policeman who shot and killed former Punjab Governor Salmaan Taseer in cold blood - Yousaf also had marked religious leanings and belonged to the Barelvi school of thought.
The 25-year-old from Chiniot joined the force in 2009 in Lahore. He was transferred to the Kot Lakhpat Jail, and also worked in Gujranwala, where he received Elite Force training for six month. He came to Adiala Jail in Rawalpindi on April 28, 2013 and was last deployed at the prison's Gate No. 5.
The eldest of four brothers and a sister, he was the sole breadwinner for his family, who live in Chiniot.
One of his colleagues from Adiala told Dawn that he was convinced that a divine entity would appear in his dreams. He said that Yousaf had wanted to lead prayers at the prison mosque and did so for some time. "Yousaf was also inspired by (Mumtaz) Qadri, who had also been detained at Adiala Jail for some time," the policeman said.
Investigators looking into possible links with religious groups, Mumtaz Qadri
He spent some time in the barracks where Qadri was being held. "I don't remember the exact dates, but it was in the winter, maybe January or February. Duties are rotated on a monthly basis," he said.
Dawn tried to independently confirm this claim with other people who knew the shooter, but this was not immediately possible.
Talking about his motivation, the policeman said, "Yousaf believed that the blasphemy accused could possibly be freed by the courts and he believed that the man should be punished," he said, adding that Yousaf had learned that the accused – who is a British national – would regularly meet with embassy officials.
Investigation
Police obtained a three-day remand of the shooter in order to investigate further before they produced him before a court. The shooter also recorded his statement.
Saddar Bairooni SHO Raja Rasheed told Dawn the accused accepted that he shot the inmate accused of blasphemy, insisting that he had a dream which compelled him to do so. He said that he was sure the man would be set free and wanted to kill him to punish him properly.
However, the SHO said that police interrogate all the suspect's colleagues to establish whether he acted on his own, or he was compelled to do so by a religious group.
"I think he is mentally unstable. I might be wrong, but anyone who claims to have dreams of divine guidance cannot be a normal person," he said, giving his personal opinion about the suspect.
Mr Rasheed told Dawn police were looking into all possible aspects and would examine the shooter's phone records, as well as checking up on who he met with in the past few months. "We are also looking into his links with Mumtaz Qadri," he said.
Regional Police Officer Akhtar Umer Hayat Laleka told Dawn the police had started scrutinizing officers, especially those deployed in prisons or those appointed for security detail at key installations.
Police also recorded the statement of the wounded inmate on Friday, who is currently undergoing treatment at a local hospital and is said to be in a stable condition.
In the brief statement, the British-Pakistani man said he had never seen his attacker in his barracks and did not have any enmity with the man.
http://www.dawn.com/news/1134657/adiala-shooter-claimed-divine-visitations
----------
Imran, Qadri misleading nation through lies: Minister
27 Sep, 2014
LAHORE: Minister for Railways Khawaja Saad Rafique has said that sit-in organisers are misleading the people by telling lies.
Talking to media at Punjab Food Festival, organised by a local hotel on Friday, Saad Rafique said that Prime Minister Nawaz Sharif was visiting the United Nations with a limited delegation and PAT chairman Tahirul Qadri was giving false statements about the PM's visit.
He said the sit-in parties including PTI and PAT should inform the nation about the sources of funds of billion of rupees which were being spent on protests and sit-ins in the capital.
The minister alleged Imran spent few hours in the sit-in and then went to his home at Bani Gala, adding the people who had come to Islamabad for getting resignation of the prime minister presented their resigns from the national assembly.
He questioned how could a leader bring revolution who himself feels smell from his workers.
He asked Imran and Qadri to participate in relief work for the restoration of flood affectees and Internal Displaced Persons.
Saad said Imran should answer the questions raised by Hanif Abbasi, Hameed Gul and Javaid Hashmi. He said after all London plan was accepted by sit-in leaders which was being rejected earlier. (APP)
http://www.thenews.com.pk/article-160936-Imran,-Qadri-misleading-nation-through-lies:-Saad
----------
Pakistanis don't differentiate between good, bad terrorists: Husain Haqqani
27 Sep, 2014
Although the Pakistani establishment may have a different view, the people of Pakistan do not make a distinction between good and bad terrorists, Pakistan's former ambassador to the US Husain Haqqani said on Friday at the India Today Global Roundtable in New York.
Most Pakistanis believe, like the country's founder Mohammed Ali Jinnah, that both India and Pakistan can live side by side in peace, Haqqani said. The government must abandon the idea of good and bad Taliban for the sake of Pakistan, he added.
He warned that Pakistan's internal political battle will be more intense in the near future and the fight will also be between those who care about good relations with other nations and those who don't.
He added that there can't be good and bad terrorists, as "People like Hafiz Saeed belong in jail".
When asked about how to tackle global jihadi groups, he said that there should be concerted efforts to target their safe havens through "grand global coalitions".
"It will not be easy, as it will be an ideological war and it will be long-drawn-out," he said.
Referring to India's preparations in the fight against terrorism, former Intelligence Bureau Director Nehchal Sandhu said that the border fencing and other defence preparations have helped tackle terrorist movements to a great extent in India.
"Unfortunately, we have very few engagements with Pakistan on terror. Although the people of Pakistan dread terrorism, elements in Pakistan like Hafiz Saeed are spewing venom and allowing terrorists to set up camps in that country," Sandhu said. "The terrorism unleashed by LeT has even reached Afghanistan. This monster has to be dealt with firmly," he added.
He said that India is working hard to build a coalition against terrorism. India was able to convince the world about the threat posed by the Lashkar-e-Tayyeba, he said.
Although India has sought to fight this menace through several fronts like people-to-people contacts, most favoured nation status to Pakistan, food exchange programmes, the defence preparations will be vital, Sandhu added.
Congress MP Shashi Tharoor, who also spoke in the session, said the weak civilian government in Pakistan has compounded problems for India.
http://indiatoday.intoday.in/story/india-today-roundtable-husain-haqqani-nehchal-sandhu-shashi-tharoor/1/392991.html
----------
Kashmir dispute is about people's right to self-determination: Sartaj
27 Sep, 2014
UNITED NATIONS: Adviser to Prime Minister on National Security and Foreign Affairs Sartaj Aziz said Jammu and Kashmir is not a territorial dispute and the decades-old issue primarily centers around the Kashmiri people's right to self-determination, as members of the OIC Contact Group on Kashmir called for a fair resolution to the long-standing issue.
The OIC Contact Group on Jammu and Kashmir met at the UN Headquarters on the sidelines of the 69th Session of UN General Assembly, with Secretary General OIC Iyad Ameen Madani in the chair. Turkish Foreign Minister Mevlut Cavusoglu and Saudi Permanent Representative to OIC Mohammad Tayyab attended the meeting on behalf of their countries. Niger's Minister for Foreign Affairs was represented by Director General of the Ministry of Foreign Affairs.
Addressing the meeting, the Advisor emphasized that Jammu and Kashmir was not a territorial dispute between Pakistan and India but it was primarily about the exercise of the right to self-determination by the Kashmiri people, as promised to them in the UN Security Council resolutions and the assurances of Indian leadership. Yet this fundamental right was denied to Kashmiri people despite passing of more than six decades. During this period, the Indian security forces had unleashed the worst form of torture and oppression, but the valiant people of Indian Occupied Jammu and Kashmir had neither abandoned hope nor given up their legitimate struggle for self-determination.
He said Cathy Scott-Clark report had confirmed over 6,000 unmarked graves in Indian Occupied Kashmir. The recent discovery of mass graves at 38 sites in North Kashmir had added new dimension to this gory saga, he said. "The OIC, UN, EU and international human rights organizations had, time and again, voiced concern over these gross and systematic human rights violations but the Indian security forces had shown little regard for international opinion."
The Adviser urged the international community to take meaningful steps to put an end to the ordeal of the Kashmiri people and to call upon India to stop violations of their fundamental human rights. The Advisor reiterated that Pakistan wanted a peaceful resolution of the dispute in the best interest of peace and stability in the region. Pakistan had sincerely embarked on a composite dialogue process with India. "India's decision to call-off the 25 August Foreign Secretary level talks with Pakistan on a flimsy pretext was a setback to the negotiations process," the Advisor added.
Speaking of the recent devastating floods in Kashmir, the Advisor expressed concern over the reports of selectivity in distribution relief assistance by the Indian authorities. He appealed to OIC to provide relief assistance to the flood affected people on both sides of LoC, and conveyed Pakistan's readiness to facilitate its delivery among the affected without any discrimination. In his statement, the Foreign Minister of Turkey stressed that Kashmiri's aspirations for self-determination must be addressed in accordance with relevant UNSC resolutions. The international community had a moral and legal responsibility to resolve this longstanding issue.
Turkey wanted a peaceful settlement of Kashmir, which should be acceptable to Pakistan, India and the people of Kashmir. Turkey was ready to play its due role in this regard. Expressing concern over cancellation of talks by India and the rising tensions across LoC, the Turkish Foreign Minister called on the parties resume the negotiations process without delay and engage in a meaningful and result-oriented dialogue for a peaceful resolution of the Kashmir dispute. He conveyed his Government's heartfelt condolences to the families of flood victims and expressed Turkey's readiness to provide relief assistance to the affectees. The Saudi Permanent Representative to the OIC stated that Jammu and Kashmir was a long-standing conflict on the agenda of the UN Security Council, which needed resolution by the international community.
Saudi Arabia strongly supported the realization of the national rights of Kashmiri people through peaceful dialogue, which was the only way out for both India and Pakistan. Any settlement of the conflict must take into account the aspirations of Kashmiri people. Saudi Arabia wanted India and Pakistan to resume negotiation process and the United Nations to invest more efforts in a peaceful resolution of the conflict. It was high time that they Kashmiri people are given their fundamental human rights and a chance to live in peace and dignity.
AJK President Sardar Muhammad Yaqoob Khan and delegation of the True Representatives of Kashmiri people, represented by Ishtuyaq Hameed, also delivered statements in which they highlighted the ground situation arising from the continued Indian occupation, oppressions, and the recent devastating floods in Kashmir. The Kashmiri delegation also presented a Memorandum to the Secretary General containing proposals for peaceful resolution of the Kashmir issue.
http://www.dailytimes.com.pk/national/27-Sep-2014/kashmir-dispute-is-about-people-s-right-to-self-determination-sartaj
----------
Court orders FIR against PM Nawaz, 10 others
27 Sep, 2014
ISLAMABAD: An additional sessions judge has ordered the Secretariat police to register a case against Prime Minister Nawaz Sharif and 10 others while disposing of a petition filed by Pakistan Tehreek-i-Insaf (PTI) over the alleged killing of three political activists on August 30.
The party had approached the Secretariat police station to register a First Information Report (FIR) on the matter against Nawaz Sharif, Shahbaz Sharif, Chaudhry Nisar, Khawaja Asif, Saad Rafique, IG Islamabad, Deputy Commissioner Islamabad, IG Railways and three others over the incidents of August 30 that led to the deaths of three people during the protests by PTI and Pakistan Awami Tehreek (PAT) in the federal capital.
Full report at:
http://www.dawn.com/news/1134695/court-orders-fir-against-pm-nawaz-10-others
----------
Four including a woman killed in Karachi violence
27 Sep, 2014
KARACHI: Four persons including a woman were killed and three persons injured in separate firing and violent incidents across the metropolis, Geo News reported on Saturday.
According to rescue sources, a man was killed when unknown gunmen opened fire in Faqeer Colony area of Orangi Town while another was injured in North Nazimabad who was shifted to Abbasi Shaheed Hospital for treatment.
A body bearing torture marks was found from Keamari gate no.1 while a drowned body of a woman was also found from Keamari and was shifted to Civil Hospital for medico-legal formalities.
Another body was found from Yusuf Plaza in FB Area and was shifted to Abbasi Shaheed Hospital where he was identified as Syed Akhtar Manzoor.
A man was also injured in firing incident that occurred in Ancholi in FB area.
http://www.thenews.com.pk/article-160949-Four-including-a-woman-killed-in-Karachi-violence
----------
Altaf says will tell nation about double standard of establishment today
27 Sep, 2014
LONDON: Muttahida Qaumi Movement (MQM) Chief Altaf Hussain has said that he will address general workers meeting at party's headquarter 'Nine Zero' today and will apprise the nation over the double standard of the establishment, Geo News reported.
Altaf appealed that mothers, sisters, elderly people and party workers should actively participate in the meeting at 5:00PM today (Saturday).
MQM chief said establishment becomes active whenever he talks about 'cleansing' in the party.
He said life and death is in the hands of Allah Almighty, adding that he will disclose a secret in the address to the workers.
http://www.thenews.com.pk/article-160933-Altaf-says-will-apprise-nation-over-double-standard-of-establishment-today
--------
South Asia
Bangladesh Militants Use Facebook to Recruit People In The Name Of IS
27 Sep, 2014
Militants in Bangladesh are reportedly using social networking site Facebook to recruit members for the international militant outfit Islamic State (IS), as well as disseminating promotional posts about the organisation.
The Detective Branch of police came up with the information following the arrest of Md Hifzur Rahman, a 22-year-old student of Sylhet's Government Tibriya College, who claimed to be the chief of the Bangladesh unit of the Islamic State.
"Although the arrestee claimed to be the chief of the IS in Bangladesh, we are yet to find any proof that he had been able to establish any direct link or communication to the central committee of the IS," said Joint Commissioner of DB Monriul Islam, following the arrest of Hifzur early yesterday.
"Based on information, members of Counter Terrorism and Trans-national Crimes unit of the DB arrested him in front of Surma Tower at Comrade Moni Singh Road in Purana Paltan," Monirul told a press conference at the DMP's Media and Community Centre.
Detectives were able to make the arrest after tracing the Facebook activities of Hifzur for a long time, the joint commissioner said, adding that Hifzur administrated a fan page titled "ISIS Bangladesh."
Full report at:
http://www.dhakatribune.com/bangladesh/2014/sep/27/local-militants-use-facebook-recruit-people-name#sthash.dYxrbGev.dpuf
----------
Ajristan residents hang 4 Taliban militants to death
Sep 27 2014
At least four Taliban militants were hanged to death by local residents in Ajristan district as heavy clashes continue in different parts of the district between Afghan forces and Taliban insurgents.
According to local government officials, the Taliban militants were hanged to death in Azargi village while they were fleeing the area after Afghan Special Forces were deployed.
Deputy provincial governor, Mohammad Ali Ahmadi, said Afghan Special Forces were deployed in Ajristan on Friday evening to assist police forces in fight against the Taliban militants.
Around 800 Taliban militants including foreign fighters launched coordinated attacks in Ajristan district late Thursday night and killed around 100 people and beheaded 15 relatives of the police forces.
In the meantime, Ahmadi said the Taliban militants are fleeing the area after Afghan Special Force were deployed and the operations are still being conducted to clear the area from the militants.
The Taliban militants group has not commented regarding the report so far.
http://www.khaama.com/ajristan-residents-hang-4-taliban-militants-to-death-8727
----------
Taliban publicly executes 3 people over kidnap charges
Sep 27 2014
The Taliban militants group publicly executed three people over robbery and kidnapping charges in eastern Paktia province of Afghanistan.
Taliban group spokesman, Zabiullah Mujahid, said the three individuals were found guilty during a public court hearing.
Mujahid claimed that the convicts were public executed in Gurji area of Zurmat district on Friday.
He said the local residents had filed a complaint against the convicts, alleging that they were involved in kidnapping of people and robbery.
The local security officials have not commented regarding the report so far.
Paktia is among the volatile provinces in eastern Afghanistan where anti-government armed militant groups including the Taliban militants are active in its remote districts.
http://www.khaama.com/taliban-publicly-executes-3-people-over-kidnap-charges-8731
----------
Karzai signs death penalty for Kabul rape convicts
Sep 27 2014
Afghan President Hamid Karzai signed death penalty for Kabul rape convicts.
Aimal Faizi, spokesman for President Karzai said the death penalty for the perpetrators of Paghman gang rape was signed by the President on Saturday.
"President Karzai signed off today on the order for execution of five criminals convicted of rape & kidnapping in Paghman incident," Faizai said.
The Appeals Court of Kabul awarded death sentence to five of the seven convicts of a group involved in brutal beating, robbery and gang-rape of four women in capital Kabul on September 15th.
The convicts facing death penalty includes Azizullah, Nazar Mohammad, Qaisullah, Samiullah and Habibullah, who were involved in gang rape of 4 women.
The women were initially abducted while they were returning from a wedding ceremony and were repeatedly raped besides their belongings were robbed by the gang.
http://www.khaama.com/karzai-signs-death-penalty-for-kabul-rape-convicts-8728
----------
PM Sheikh Hasina for effective measures to stop war
27 Sep, 2014
Prime Minister Sheikh Hasina has appealed to the world leaders to take effective steps to stop wars and conflicts across the world.
"Let us reject war and work for peace. And the UN can play the central role in stopping wars," she said adding Bangladesh is committed to working with all to make that a reality."
Sheikh Hasina was addressing a function arranged at UN Headquarters marking the 40th anniversary of Bangladesh's membership of the United Nations on Saturday.
UN Secretary General Ban Ki-moon, UN Under Secretary General Ameerah Haq, US Assistant Secretary of State for South Asian Affairs Nisha Desai Biswal, Russian Deputy Foreign Minister Gennadiy Gatilov, UK Ambassador to the United States Peter Westmacott, Senior Official of the Ministry of External Affairs of India Binod Kumar, UNDP Administrator Helen Clark and UNESCO Director General Irina Bokova also spoke on the occasion.
The PM said Bangladesh and the UN have a common mission. "Bangladesh would continue its struggle to empower people and make the world safer for succeeding generations," she said.
Sheikh Hasina sought support of the UN and member states to the stride of Bangladesh in realizing Vision 2021 and building a knowledge-driven middle-income economy before the country's golden jubilee of independence.
Full report at:
http://www.dhakatribune.com/bangladesh/2014/sep/27/pm-effective-measures-stop-war#sthash.4Pk2sfHR.dpuf
----------
Arab World
U.S.-led strikes pressure al Qaeda's Syria group to join with ISIS: Reuters
27 Sep, 2014
Al Qaeda's affiliate in Syria, the Nusra Front, is facing mounting pressure from its own members to reconcile with its rival Islamic State and confront a common enemy after U.S.-led air strikes hit both groups this week.
But that move would require pledging loyalty to Islamic State, which has declared a caliphate in territory it controls in Iraq and Syria, which would effectively put an end to the Nusra Front, fighters in the group say.
Nusra, long one of the most effective forces fighting Syrian President Bashar al-Assad, was weakened this year by battles with Islamic State, an al Qaeda splinter group that routinely employs ruthless methods such as beheadings and mass executions.
The two share the same ideology and rigid Islamic beliefs, but fell out during a power struggle that pitted Islamic State head Abu Bakr al-Baghdadi against al Qaeda chief Ayman Zawahri and Nusra Front leader Abu Mohammad al-Golani.
But U.S.-led air and missile strikes, which have hit Nusra as well as Islamic State bases in Syria, have angered many Nusra members who say the West and its allies have joined forces in a "crusader" campaign against Islam.
Full report at:
http://english.ahram.org.eg/NewsContent/2/8/111767/World/Region/USled-strikes-pressure-al-Qaedas-Syria-group-to-jo.aspx
----------
Iraq's Army Kills Several ISIL Terrorists in Baghdad
27 Sep, 2014
Iraqi forces inflicted heavy casualties on the ISIL terrorists in Baghdad in fresh operations on Saturday, killing several members of the Takfiri group.
A military source told state news agency that eight members of the so-called Islamic State of Iraq and the Levant (ISIL) terrorist group were killed during a series of operations carried out by the Iraqi Army on Saturday in the Northern areas of the Capital.
The Takfiri terrorists currently control parts of Syria and Iraq. They have threatened all communities, including Shiites, Sunnis, Kurds, Christians, Ezadi Kurds and others, as they continue their atrocities in Iraq.
Senior Iraqi officials have blamed Saudi Arabia, Qatar, and some Persian Gulf Arab states for the growing terrorism in their country.
The ISIL has links with Saudi intelligence and is believed to be indirectly supported by the Israeli regime.
http://english.farsnews.com/newstext.aspx?nn=13930705000574
----------
Iraqi Soldiers Kill Top ISIL Commander in Anbar
27 Sep, 2014
Iraqi troops scored major advances in the province of Anbar against the ISIL terrorist group, killing a large number of them including a top commander.
A military source told National Iraqi news agency that the army soldiers carried out a series of operations in the western city of Haditha, al-Anbar province, and claimed the lives of too many terrorists, including a senior commander called Muhammad Bakr al-Dulaimi.
The Takfiri terrorists currently control parts of Syria and Iraq. They have threatened all communities, including Shiites, Sunnis, Kurds, Christians, Ezadi Kurds and others, as they continue their atrocities in Iraq.
Senior Iraqi officials have blamed Saudi Arabia, Qatar, and some Persian Gulf Arab states for the growing terrorism in their country.
The ISIL has links with Saudi intelligence and is believed to be indirectly supported by the Israeli regime.
http://english.farsnews.com/newstext.aspx?nn=13930705000451
----------
IS Militants' Siege of Syria Town Draws Widespread European Support
SEPTEMBER 27, 2014
KARACA (Turkey), Sept 27 ― Islamic State fighters tightened their siege of a town on Syria's border with Turkey yesterday despite US-led air strikes aimed at defeating the militants in both Syria and Iraq, in a coalition which has now drawn widespread European support.
Britain, Washington's closest ally in the wars of the last decade, joined an alliance after weeks of weighing its options. Britain's parliament voted 542 to 43 to back Prime Minister David Cameron's decision to take part in air strikes in Iraq.
Belgium's parliament also voted 114 to 2 to take part and Denmark said it would send planes. Six Belgian F-16s took off for a staging post in Greece even before the vote.
"This is not a threat on the far side of the world. Left unchecked, we will face a terrorist caliphate on the shores of the Mediterranean and bordering a NATO member, with a declared and proven intention to attack our country and our people," Cameron told British lawmakers.
Until this week France was the only Western country to answer President Barack Obama's call to join the campaign. Since Monday, Australia and the Netherlands have also joined. Yesterday Germany expressed support for the mission despite saying it would not send aircraft of its own.
Full report at:
http://www.themalaymailonline.com/world/article/is-militants-seige-of-syria-town-draws-widespread-european-support#sthash.pQQtqSqZ.dpuf
----------
Saudi Arabia set to unveil newly sewn Kiswa for Kaaba
27 Sep, 2014
Saudi Arabia is preparing to unveil the newly sewn Kiswa, or cover of the holy Kaaba structure, as per tradition.
Each year, a specialized factory in Makkah sews a new Kiswa which will be used to cover the Kaaba during the upcoming hajj pilgrimage.
Sheikh Abdul Rahman al-Sudais, the head of the presidency of the Two Holy Mosques, said: "The cover is… completely manufactured in Saudi Arabia after it had previously been manufactured and transferred from Egypt or other countries."
According to Sheikh Dr. Saleh al-Shebi, caretaker of the Grand Mosque, a full-time maintenance team is tasked with preserving the Kiswa as some pilgrims try to take pieces of the fabric home with them.
Misconceptions have led some pilgrims to swallow the threads of the Kiswa, thereby setting off a practice that leads to the disfiguring of the cover.
They remove the threads using rings and scissors in the hope that it will bring them good luck and blessings. This continued action has disfigured the Kiswa, Makkah daily said in a report published earlier this year.
http://english.alarabiya.net/en/News/middle-east/2014/09/26/Saudi-Arabia-set-to-unveil-newly-sewn-Kiswa-for-Kaaba.html
----------
For Arab immigrants, a Canadian passport and a GCC job may no longer mix
27 September 2014
Gone are the days when you could benefit from Canada and the Gulf at the same time.
Nima and her husband—a Jordanian couple with two children—arrived in Ontario last year with an unequivocal goal after staying nearly ten years in Qatar: To grab Canadian citizenship within three years and go back to the oil-rich Gulf region to stack up tax-free dollars. But now that Canada has stretched the time frame required to become a Canadian citizen to four years, in addition to obliging prospective citizens to commit to living in the country, Nima's longtime dream seems to be evaporating.
"We really don't know what to do; everything has been ruined," Nima says, referring to the new, partially implemented law.
Full report at:
http://english.alarabiya.net/en/perspective/features/2014/09/27/For-Arab-immigrants-a-Canadian-passport-and-a-GCC-job-may-no-longer-mix-.html
----------
Air strikes hit Islamic State in eastern Syria: Monitor
27 Sep, 2014
Air strikes, believed to have been carried out by U.S.-led forces, hit Islamic State and other Islamist groups in eastern Syria early on Saturday, a monitoring group said.
The Britain-based Syrian Observatory for Human Rights said at least 31 explosions were heard in the province of Raqqa, a stronghold of IS, and casualties were reported.
The monitoring group said warplanes also struck areas east of the desert town of Palmyra in Homs province.
The United States is leading a military coalition supported by some Gulf and European nations against Islamic State, a powerful force in Syria which swept across northern Iraq in June.
The campaign has brought Washington back to the battlefield in Iraq that it left in 2011 and into Syria for the first time after avoiding involvement in a war that began the same year.
Militant groups in the region, and websites commonly used by supporters, did not immediately mention any attacks on Saturday.
http://english.ahram.org.eg/NewsContent/2/8/111785/World/Region/Air-strikes-hit-Islamic-State-in-eastern-Syria-Mon.aspx
----------
Grand Mufti: Avoid politics at Haj
27 Sep, 2014
Grand Mufti Sheikh Abdul Aziz Al-Asheikh has advised pilgrims to avoid politicizing the Haj.
Speaking during his Friday sermon at Imam Turki bin Abdullah Mosque in Riyadh, he said the main aim of the Haj should be remembering Allah while performing the rituals.
He said pilgrims must be wary of their Haj being dominated by "evil and wrong thoughts, deviant ideologies or abhorrent sectarianism."
He said pilgrims must abide by the regulations that have been put in place by the Saudi government for the safety and comfort of all those on the holy journey.
The mufti said pilgrims should not undermine efforts to ensure the Haj is conducted safely and peacefully. "Strive to be close to Allah with the words and deeds that He loves, because you are in a great and blessed land ..."
He said Allah has warned in the Qur'an that there would be a "most grievous penalty" for those whose purpose is "profanity or wrongdoing," the Saudi Press Agency reported.
More than 2 million pilgrims are expected to perform Haj this year.
They will assemble in Mina, 12 km outside Makkah, on Thursday Oct. 2 at the start of the pilgrimage in preparation for their journey to Arafat the next day. About one million foreign pilgrims have already arrived for Haj.
http://www.arabnews.com/featured/news/636376
----------
Scholar: Haj Firms' Offers to Hajis Shouldn't Vary
27 Sep, 2014
RIYADH — A prominent scholar here has called upon domestic Haj operators not to divide Haj packages into expensive and cheap ones because he claimed it is impermissible in the Shariah. Sheikh Salih Fawzan, a member of the Senior Board of Scholars, condemned the questionable marketing practices of some domestic Haj providers. He said companies should provide full services to clients who pay them money in order to go for Haj. Some companies leave customers with two choices: Full Haj or incomplete Haj. If one wants the former, he will have to pay a certain amount of money to spend the first night in Mina. For the latter, one cannot spend the first night in Mina, rather, at Al-Aziziyah neighbourhood, which is close to Mina, thus the fees of the latter are less. Sheikh Al-Fawzan called upon these companies to fear Allah in what they do.
http://www.saudigazette.com.sa/index.cfm?method=home.regcon&contentid=20140927219481
----------
Europe
Muslims gather in Paris to denounce IS 'barbarism'
27 Sep, 2014
PARIS: Hundreds of people gathered in Paris on Friday answering a call by Muslim leaders to denounce the "barbarism" of IS militants, as flags across France flew at half mast after the beheading of a French national.
Imams and ordinary Muslims have rallied to condemn the execution of 55-year-old mountaineer Herve Gourdel this week by militants in Algeria with ties to the IS jihadists, as the country mourns the brutal murder.
"This gathering is the strong and vibrant expression of our desire for national unity and of our unwavering will to live together," Dalil Boubakeur, head of the French Council of the Muslim Faith, an official representative for the country's roughly five million Muslims, told the gathering outside Paris's main mosque.
"Islam is a religion of peace," he said, adding it "orders respect for life."
Leading Muslim figures also signed a message published in French newspapers Friday condemning "atrocities committed in the name of a murderous ideology hiding behind the Islamic religion."
Full report at:
A passionate photographer, Gourdel liked going off the beaten track, his friends have said.
http://www.arabnews.com/world/news/636186
----------
Germany plans tougher controls on would-be jihadists
27 Sep, 2014
The German government plans tougher controls on would-be jihadists such as marking personal identity cards to alert border guards that the traveller may be en route to join the Islamic State militant group.
An interior ministry spokeswoman said some kind of marking on identity cards could identify suspected jihadists so border guards in Germany or other Schengen countries such as Belgium or the Netherlands could prevent them from leaving.
Germans can also use their identity cards to enter Turkey, a main transit point for militants travelling to Syria to join Islamic State, so border guards there could also spot them.
"We have to prevent fanatics from leaving Germany and heading to Middle Eastern crisis points to join the terror," said Burkhard Lischka, an interior affairs spokesman for the Social Democrats, junior partners in Angela Merkel's coalition government.
Thousands of Western volunteers have travelled to the Middle East to join militant groups including Islamic State. The trend has raised fears in Europe and the United States of attacks by returning fighters.
Full report at:
http://english.ahram.org.eg/NewsContent/2/9/111759/World/International/Germany-plans-tougher-controls-on-wouldbe-jihadist.aspx
----------
After IS beheading, France tells citizens to be on guard in Malaysia
27 Sep, 2014
KUALA LUMPUR, Sept 27 — France has issued a travel advisory urging its citizens to be vigilant in several countries including Malaysia over fears of a threat from militants from Islamic State.
The advisory comes after French tourist Hervé Gourdel was beheaded in Algeria on Wednesday by terrorists claiming to belong to Islamic State, and as local police intelligence revealed that Malaysian nationals are among those who have travelled to Syria to join the terror group.
In a posting on the Ministry of Foreign Affairs website yon Thursday, French authorities advised its citizens residing in or passing through Malaysia to be extra-vigilant.
This was due to the risk of kidnappings and "hostile" acts against those from France and other member countries, which is a member of an international coalition against the "Daech", the ministry said on its travel advice page.
Full report at:
http://www.themalaymailonline.com/malaysia/article/after-is-beheading-france-tells-citizens-to-be-on-guard-in-malaysia#sthash.zHYVBUij.dpuf
----------
Video Imagines Pushing Rewind On Devastation in Syria, Will Stop You in Your Tracks
27 Sep, 2014
Children run backward in slow motion as a bomb retreats into the sky. Demolished houses rebuild. A burning teddy bear is resurrected.
This striking video from The Syria Campaign, a U.K.-based nonprofit, shows scenes of devastation playing in reverse, reminding us that we cannot turn back the clock on the chaos in Syria. The video is a call to action for people to sign the #WithSyria petition urging world leaders -- and through them, the United Nations Security Council -- to address the situation.
The conflict in Syria, which began as a popular uprising against President Bashar Assad, has turned the country into a battlefield between the regime, opposition groups and various extremist organizations that have found a fertile ground in the war-torn nation. The violence has left at least 191,000 people dead since March 2011 and forced nearly half of all Syrians to leave their homes.
Full report at:
http://www.huffingtonpost.com/2014/09/24/syria-in-reverse-campaign-video_n_5870794.html
----------
British lawmakers vote to join US-led Iraq air strikes
27 Sep, 2014
Lawmakers in Britain's House of Commons voted overwhelmingly on Friday in favour of joining US-led air strikes on Islamic State (IS) targets in Iraq.
The motion proposed by Prime Minister David Cameron's government was passed by 524 votes to 43, a majority of 481.
http://english.ahram.org.eg/NewsContent/2/9/111750/World/International/British-lawmakers-vote-to-join-USled-Iraq-air-stri.aspx
----------
US should coordinate air strikes with Syria: Russia
27 Sep, 2014
Russia believes US-led air strikes against jihadists in Syria should be carried out in coordination with Syrian authorities and in accordance with international law, Foreign Minister Sergei Lavrov said Friday.
Lavrov was speaking after the United States this week extended an air assault against the Islamic State (IS) group in Iraq to Syria with the support of five Arab countries.
"We believe that any action taken globally, including use of force, to overcome terrorist threats should be done in accordance with international law," he told reporters at the United Nations.
Russian President Vladimir Putin warned ahead of the strikes in Syria -- a Moscow ally -- that the offensive should not be carried out without the permission of Damascus, in a phone call with UN Secretary General Ban Ki-moon.
Full report at:
http://english.ahram.org.eg/NewsContent/2/8/111768/World/Region/US-should-coordinate-air-strikes-with-Syria-Russia.aspx
----------
India
'Like Never Before, I the Muslim Am Seen as the Root Cause of Nation's Problems'
September 27, 2014
With six MPs, the Lok Janshakti Party may not count for much in the 330-plus ruling NDA. But ABDUL KHALIQ, secretary general of LJP, is the first ally to speak out against 'the unfettered hate being spewed' against Muslims by 'a long list of hate mongers'
The by-election results in Bihar and UP are being viewed as a vindication of the deep-rooted and strong secular credentials of the nation. As heartening to the secular devotees is the Prime Minister's statement that Indian Muslims would live and die for the country. However, the fact that the PM has thought it necessary to underline the patriotism of Muslims is in itself deeply disturbing. Implicit in the statement is the frightening reality of how the Muslim is viewed in today's India.
I am an Indian but the fact that I am a Muslim has endangered my claim to equal citizenship. I say this not because of our laws which are unexceptionable but because of the mind-numbing environment of hostility and prejudice, the inexorable growth of sheer distrust and hatred for the Muslim and all that he represents.
Although the Muslims are near the bottom of the socio-economic ladder and at par with the Dalits in almost every human development index, the public discourse today is not about the economic and educational backwardness of this beleaguered community but about the huge affliction they are in the nation's social fabric.
Full report at:
http://indianexpress.com/article/india/india-others/like-never-before-i-the-muslim-am-seen-as-the-root-cause-of-nations-problems/99/#sthash.tSpDptpJ.dpuf
----------
Posters Go Up At Garba Venues in MP: No Non-Hindus Allowed
September 27, 2014
Several posters prohibiting 'non-Hindus' from entering Garba venues came up in Madhya Pradesh's Dhar town Thursday, the first night of Navratri festival.
Police removed the posters hours after they were put up at the entrance of several venues in the town. BJP MLA Usha Thakur had started the campaign to ban Muslim men from attending Garba events from Indore, 75 km from Dhar.
Dhar SP Bhagwant Singh Chouhan told The Indian Express that the posters — which stated, "Non-Hindus are not allowed inside Garba Pandals" — appeared to have been put up by the same group. He said the posters were issued in the name of "Garba organising committee, Dhar", but no individual had taken responsibility for putting them up. No case has been registered so far, he added.
Full report at:
http://indianexpress.com/article/india/india-others/posters-go-up-at-garba-venues-in-mp-no-non-hindus-allowed/#sthash.sOeOrBfV.dpuf
---------
Pakistan Praises India over MOM's Success
Srinivas Laxman,TNN | Sep 27, 2014
MUMBAI: Praise has come from an unlikely quarter for India's Mars mission success, although in the form of a backhanded compliment. Pakistani nuclear scientist Abdul Qadeer Khan - a known India baiter - on Wednesday tweeted that India had reached Mars at a price seven times less than that of a metro bus project while Pakistani PM Nawaz Sharif was enjoying his US visit spending $1 Lakh per day of taxpayers' money.
Khan, who was born in Bhopal in undivided India, was instrumental in Pakistan's missile development programme. He has time and again stated that his country's missiles were aimed against India.
In another tweet, three hours after Mangalyaan reached Mars, Khan said, "India was once a child to us in terms of technology, but corrupt politicians arrested our scientists, closed researches on US direction."
Full report at:
http://timesofindia.indiatimes.com/india/Pakistan-praises-India-over-MOMs-success/articleshow/43573147.cms
----------
India rejects Sharif's 'untenable comments' on Kashmir, says the Pakistan PM made 'unwarranted references'
September 27, 2014
India on Saturday strongly rejected the "untenable comments" made by Pakistan Prime Minister Nawaz Sharif on Jammu and Kashmir in the UNGA, asserting that the people of the state have peacefully chosen their destiny in accordance with universally accepted democratic principles.
Exercising its Right of Reply on the floor of the General Assembly to the comments made by Sharif, India said that the Pakistan Prime Minister made "unwarranted references" in his address to the UN session earlier yesterday.
"I would like to bring to the notice of this august House that the people of Jammu and Kashmir have peacefully chosen their destiny in accordance with the universally accepted democratic principles and practices and they continue to do so. We, therefore, reject in their entirety the untenable comments of the distinguished delegate of Pakistan," Abhishek Singh, First Secretary in the Indian mission to the UN said in the General Assembly.
Full report at:
http://indianexpress.com/article/india/india-others/india-rejects-sharifs-untenable-comments-on-kashmir-says-the-pakistan-pm-made-unwarranted-references/99/#sthash.UnQKCTm8.dpuf
----------
BJP Not To Stop Campaign against 'Love Jihad'
MOHAMMAD ALI
27 Sep, 2014
Party sources told The Hindu that their campaign would go on with the "same or even more vigour and focus".
Despite the Bharatiya Janata Party's loss to Samajwadi Party in the recent by-elections in Uttar Pradesh, it's campaign against the so-called 'love jihad' in Western UP will go on.
Party sources told The Hindu that their campaign would go on with the "same or even more vigour and focus".
Ajay Tyagi, an industrialist who formed 'Hindu Bahen Beti Bachao Sangharsh Samiti', refused to buy the argument that Mahant Adityanath's campaign focussing on "love jihad" was responsible for the electoral drubbing.
As part of his Samiti's work, Mr. Tyagi has started a Helpline to attend calls, according to him, by "distressed" Hindu parents about their daughters being lured in 'love' by Muslim men.
He told this correspondent that the BJP would have won more seats, had Adityanath visited more constituencies and raised the polarising issue. "Look at the facts. Mahant Adityanath Ji visited two constituencies -- Noida and Lucknow -- and spoke of 'love jihad'. The BJP won both of them," he said.
Full report at:
http://www.thehindu.com/news/national/other-states/bjp-not-to-stop-campaign-against-love-jihad/article6452122.ece
----------
North America
Senior Isil commander raised £1.25 million from Qatari nationals, says US Treasury
27 Sep, 2014
One of Isil's senior commanders, who serves as "Emir of suicide bombers", raised $2?million (£1.25?million) for "military operations" from a donor in Qatar, according to the US Treasury.
The latest allegations about the flow of funds from individuals based in Qatar to Syria-based terrorists led to more calls for the Gulf state to prevent its citizens from supporting Isil.
The US Treasury also named a Qatari national who allegedly serves as a middleman between al-Qaeda's core leadership in Pakistan and terrorist financiers in the Gulf.
A third individual, newly designated by America as a "global terrorist", was arrested in 2012 while trying to fly to Qatar with thousands of dollars "intended for al-Qaeda".
The US Treasury accusations follow disclosures by The Telegraph of how individuals in Qatar supplied money and weapons to groups fighting alongside al-Qaeda linked terrorists in Syria, including Islamic rebels who have secured the city of Raqqa as Isil's "capital".
Qatar, whose London property portfolio includes Harrods and the Shard, has joined the US-led offensive against the Islamic State of Iraq and the Levant (Isil). The Gulf monarchy has contributed two Mirage jet fighters to the air campaign.
Full report at:
http://www.telegraph.co.uk/news/worldnews/middleeast/qatar/11124714/Senior-Isil-commander-raised-1.25-million-from-Qatari-nationals-says-US-Treasury.html
----------
US in 'near continuous' strikes against ISIL in Syria
27 Sep, 2014
The U.S.-led coalition widened its air strikes against Islamic State of Iraq and the Levant (ISIL) targets in Syria on Sept. 27 as part of "near continuous" raids against the jihadists.
The expanded operations in Syria by Washington and its Arab allies came after three more European governments deployed fighter jets for strikes against ISIL in Iraq, freeing up U.S. air power.
Belgium, Britain and Denmark approved plans to join France and the Netherlands in carrying out air raids against the militants in Iraq, allowing Washington to focus on the more complex operation in neighboring Syria, where ISIL has set up its headquarters.
But Washington warned that the jihadists could not be defeated in Syria by air strikes alone, saying that up to 15,000 "moderate" rebels would need to be trained and armed to beat them back.
The U.S.-led coalition hit ISIL targets in Syria's central province of Homs for the first time on Sept. 27 as well as in the town of Minbej, near the western limit of ISIL control, the Syrian Observatory for Human Rights said.
Full report at:
http://www.hurriyetdailynews.com/us-in-near-continuous-strikes-against-isil-in-syria.aspx?pageID=238&nID=72247&NewsCatID=352
----------
Syrian rebel force of 12,000-15,000 needed to roll back IS group: US
27 Sep, 2014
A Syrian rebel force of 12,000 to 15,000 would be needed to take territory held by Islamic State militants in the country's east, three times the number of fighters due to be trained by the United States, the top US military officer said Friday.
"We've had estimates anywhere from 12,000 to 15,000 is what we believe they would need to recapture lost territory in eastern Syria," General Martin Dempsey told a news conference at the Pentagon.
But he said the 5,000 recruits scheduled to be trained and armed by American instructors was never intended to represent the total number of troops for the "moderate" rebel forces.
http://english.ahram.org.eg/NewsContent/2/8/111763/World/Region/Syrian-rebel-force-of-,,-needed-to-roll-back-IS-gr.aspx
----------
US not trying to help Assad stay in power: Kerry
27 Sep, 2014
America's war on Islamic militants is not aimed at helping Syrian President Bashar al-Assad stay in power, US Secretary of State John Kerry insisted Friday.
The top US diplomat sought to dispel wariness that the "laser focus" on fighting Islamic State (IS) militants has distracted from efforts to end the three-year civil war in Syria in which over 200,000 people have been killed.
Damascus has long insisted that defeating the "terrorists" must take precedence over everything else, including negotiations about political reform.
And the Syrian regime welcomed the US-led air strikes on its territory as part of that fight against "terrorists" which it insists includes the moderate rebels.
"This campaign is not about helping President Bashar Assad of Syria," Kerry shot back in an opinion piece Friday in the Boston Globe.
"We are not on the same side as Assad -- in fact, he is a magnet that has drawn foreign fighters from dozens of countries to Syria."
Full report at:
http://english.ahram.org.eg/NewsContent/2/8/111762/World/Region/US-not-trying-to-help-Assad-stay-in-power-Kerry.aspx
----------
Mideast
Islamists attack students protesting ISIL at Istanbul University
27 Sep, 2014
One person was injured on Sept. 26 after a group of jihadist sympathizers attacked students who had opened a stand at Istanbul University to denounce the brutality of the Islamic State of Iraq and the Levant (ISIL).
The masked attackers, who were filmed attacking with sticks studded with nails inside a foyer in one of the school's buildings, were allegedly affiliated to the Muslim Youth organization.
One student was apparently injured in the head by a soda bottle allegedly hurled by the attackers.
The assailants, three of whom were reportedly detained after the attack, also tore down a pancard that said "ISIL, get out of the Middle East."
In response, hundreds of students began staging a counterprotest against the pro-ISIL assault in front of the university's science faculty.
Full report at:
http://www.hurriyetdailynews.com/video-islamists-attack-students-protesting-isil-at-istanbul-university.aspx?pageID=238&nID=72219&NewsCatID=341
----------
Abbas' UN speech labeled 'diplomatic terrorism'
27 September 2014
The United States on Friday slammed Palestinian leader Mahmoud Abbas' speech at the United Nations, saying it was "offensive" and undermined peace efforts.
"President Abbas' speech today included offensive characterizations that were deeply disappointing and which we reject," said State Department spokeswoman Jen Psaki.
"Such provocative statements are counterproductive and undermine efforts to create a positive atmosphere and restore trust between the parties," she said.
In his address to the U.N. General Assembly, Abbas demanded an end to occupation, accused Israel of waging a "war of genocide" in Gaza and asserted that Palestinians faced a future in a "most abhorrent form of apartheid" under Israeli rule.
Israeli Foreign Minister Avigdor Lieberman also blasted Abbas, accusing him of "diplomatic terrorism" and saying his remarks "highlight once again how he does not want and cannot be a partner for a reasonable diplomatic agreement."
In the speech, Abbas stopped short of saying he would pursue war crimes charges against Israel.
Full report at:
http://english.alarabiya.net/en/News/middle-east/2014/09/27/Abbas-U-N-speech-slammed-as-diplomatic-terrorism-.html
----------
Turkey offers troops to secure haven in Syria for refugees
27 Sep, 2014
STANBUL: Turkish troops could be used to help set up a secure zone in Syria, if there was an international agreement to establish such a haven for refugees fleeing Islamic State fighters, President Tayyip Erdogan said in comments published on Saturday.
Turkey has so far declined to take a frontline role in the US-led coalition against Islamic State but officials said earlier this week Erdogan has been negotiating on what Turkey's role might now be.
"The logic that assumes Turkey would not take a position militarily is wrong," Erdogan said in an interview with the Hurriyet newspaper on his way back from New York, where he attended the United Nations General Assembly meetings.
Erdogan said negotiations are underway to determine how and by which countries the air strikes and a potential ground operation would be undertaken and that Turkey is ready to take part.
"In the distribution of responsibilities, every country will have a certain duty. Whatever is Turkey's role, Turkey will play it," he said, adding that an air operation alone was not sufficient.
Full report at:
http://www.arabnews.com/featured/news/636421
----------
Two killed as Yemen rebels tighten grip on capital
27 September 2014
Two Yemeni rebels were killed Saturday in clashes with troops loyal to President Abdrabuh Mansur Hadi in the capital which was largely overran last week by the Shiite insurgents.
Fierce battles erupted overnight Friday near the presidential complex in southern Sanaa after Huthi rebels attacked the nearby residence of the head of the national security apparatus, witnesses said.
The attack, the second of its kind since last week, took place a day after Hadi urged the northern rebels to pull out of the capital, accusing them of pillaging houses, military bases and government institutions.
The Huthi rebels, who had besieged Sanaa for a month, seized key state installations Sunday without any resistance, after clashes on the city's outskirts with Islamists from the Sunni Islah party and tribes killed more than 270 people.
Full report at:
http://english.alarabiya.net/en/News/middle-east/2014/09/27/Two-killed-as-Yemen-rebels-tighten-grip-on-capital-.html
----------
Deadlock in Iran's latest round of nuke talks
27 September 2014
Iran and six world powers made little progress in overcoming significant disagreements in the most recent round of nuclear talks, including on uranium enrichment, Iranian and Western diplomats close to the negotiations said on Friday.
Officials from Iran and the six countries had cautioned ahead of the talks in New York that a breakthrough was unlikely to end sanctions on Tehran, although they had hoped substantial progress could be made in narrowing disagreements.
A senior State Department official said gaps "are still serious" with just eight weeks to go before a Nov. 24 deadline.
"We do not have an understanding on all major issues, we have some understandings that are helpful to move this process forward and we have an enormous number of details still to work through," the official told reporters.
"We still have some very, very difficult understandings yet to reach, and everyone has to make difficult decisions and we continue to look to Iran to make some of the ones necessary for getting to a comprehensive agreement," said the official, speaking on condition of anonymity.
Full report at:
http://english.alarabiya.net/en/News/middle-east/2014/09/27/Iran-nuclear-talks-reach-deadlock-.html
----------
Doubts linger over Turkey's stance on fighting ISIS
27 September 2014
Turkish reluctance to take part in the U.S.-led coalition against the Islamic State in Iraq and Syria (ISIS) was largely explained by fears over the fate of 49 citizens abducted by the group.
Now that the hostages are free, President Recep Tayyip Erdogan on Friday said Turkey's position "has changed," and "what follows will be much different."
However, he stopped short of saying whether Ankara would join the coalition against ISIS, which has captured large swathes of neighboring Iraq and Syria.
Some experts say Turkey's lacklustre response to the U.S.-led campaign goes beyond the fate of the hostages.
Turkey is backing moderate rebel groups, and "doesn't want to see itself engaged heavily in threatening ISIS," said George Joffe, a research fellow at the Centre of International Studies at Cambridge University.
Sinan Ülgen, chairman of the Istanbul-based Center for Economics and Foreign Policy, said "the number one reason" is that "ISIS can retaliate against Turkey, given that Turkey has a very long border with Iraq and Syria."
Full report at:
http://english.alarabiya.net/en/perspective/features/2014/09/27/Uncertainty-lingers-over-Turkey-s-stance-on-fighting-ISIS.html
----------
Southeast Asia
Islamist appeal must go beyond 'haram and halal', says PAS leader
27 Sep, 2014
KUALA LUMPUR, Sept 27 — The Islamist movement must move beyond the punitive aspects of Shariah laws and focus instead on the underlying values behind the Islamic moral code, PAS Research Centre chief Dr Dzulkefly Ahmad said today.
Referring to his own party, Dzulkefly said Islamists can no longer rely on divine authority to appeal to voters, but must instead convince the public of the ability to deliver justice, good governance, and benefits to every citizen regardless of creed.
"We're moving away from just the literal interpretation, what is haram what is halal," Dr Dzul said in the Symposium on Islam, Democracy and Secularism here.
"[We're] transcending above the usual do's and don'ts, and moving ahead with what is the wisdom behind them. What are the precepts, principles, underlying, overarching intentions of Shariah or Islamic law."
According to the PAS central committee member, this challenge in communicating their goals become harder in coalition politics, as experienced by PAS in the federal opposition pact Pakatan Rakyat (PR).
"I daresay in the discourse of hudud ... I think this is always the Achilles' heel of the Islamists, it's how they communicate their messages, namely the issue of the punitive Islamic law," said Dzulkefly.
Full report at:
http://www.themalaymailonline.com/malaysia/article/islamist-appeal-must-go-beyond-haram-and-halal-says-pas-leader#sthash.IN5yNfLK.dpuf
----------
Regional Elections Law Raises SBY Legacy Questions
27 Sep, 2014
Jakarta. He claimed to be a firm supporter of the idea that regional leaders should be elected by the people and said he had done all he could to prevent direct local elections from being eliminated.
But many now believe President Susilo Bambang Yudhoyono's claims to have been only for show.
The regional elections bill was passed into law in the early hours of Friday after a heated 10-hour discussion which ended in a vote of 226-135 in favor of the bill that takes away people's right to vote for mayors, district heads and governors, and gives it instead to regional legislatures.
Yudhoyono's Democratic Party, which, with 148 out of 560 House seats, held the balance of power, dropped the ball by refusing to take part in the vote. It argued that its conditional 10-point list of measures for improving the administration of regional elections was not considered.
Full report at:
http://jakartaglobe.beritasatu.com/news/regional-elections-law-raises-sby-legacy-questions/
----------
Religious curbs used to keep Malays subservient, DAP MP claims
BY ZURAIRI AR
SEPTEMBER 27, 2014
KUALA LUMPUR, Sept 27 — Religious conservatism is being used to perpetuate the Malay-Muslim community's dependency on the patronage and "protection" of the ruling class, Bukit Bendera MP Zairil Khir Johari suggested today.
Consequently, Islamic authorities' clampdown on ideologies such as secularism and liberalism is a part of preserving the dominance that the ruling Barisan Nasional (BN) coalition has over the people, asserted the DAP MP.
"It's clear greater freedom doesn't pose any threat on Islam. Malaysian authority fears the freedom that secularism and liberalism entail," the Penang Institute chief executive said while officiating the Symposium on Islam, Democracy and Secularism here.
"They fear losing their ideological monopoly over the people, and hence their political legitimacy," he added, referring to the status quo.
Full report at:
http://www.themalaymailonline.com/malaysia/article/religious-curbs-used-to-keep-malays-subservient-dap-mp-claims#sthash.LO6dZNWh.dpuf
----------
Malaysian producer held in UK over terrorism suspicions
27 Sep, 2014
KUALA LUMPUR, Sept 27 — A self-employed Malaysian TV producer was arrested in the UK yesterday after being suspected as a terrorist, amid the growing spotlight on Malaysia over the participation of its citizens in the Islamist State (SI) jihadist movement.
According to the Astro Awani news portal, local film producer Farihin Abdul Fatah and his team of six were detained in Manchester shortly after arrival there from Wales, where the group were filming a documentary.
The group was immediately approached by a group of 20 British police officers at the immigration checkpoint and had their luggage inspected.
"After four hours of waiting, a police officer came, passed us uniforms to wear and said that we were arrested as suspect terrorists. It was dodgy and the arrest has left us puzzled," Farihin was quoted as saying by Astro Awani.
He added that they were told they were being arrested as UK authorities discovered a chemical in the group's belongings that was suspected to be a form of explosive.
Farihin and his six British crew members were later charged under Schedule 7 of UK's Anti- Full report at:
http://www.themalaymailonline.com/malaysia/article/malaysian-producer-held-in-uk-over-terrorism-suspicions#sthash.dvdINrWL.dpuf
----------
Africa
'Killed' Boko Haram leader continues to threaten Nigeria
September 27, 2014
ABUJA : Nigeria's Boko Haram leader Abubakar Shekau, or a man claiming to be him, has been killed at least three times so far, according to the military, yet each time he apparently returns in the group's numerous jihadist videos.
Dead or alive, he appears to be fuelling violence which rights groups say is killing more people than at any time during Boko Haram's five-year-old reign of terror in the north of the 175 million-strong state. Officials say Shekau may be a name adopted by leaders of various wings of Boko Haram, raising the possibility the death of one may make others more amenable to negotiating an end to the fighting and release of 200 schoolgirls whose kidnap in April caused an international outcry. The last time the military said he was dead a year ago, a man looking similar to Shekau but slightly fatter continued to appear in videos issuing threats and taunting authorities.
The insurgents have killed thousands of people, many of them civilians, since launching an uprising in 2009, and abducted hundreds of children in a tactic reminiscent of Ugandan rebel Joseph Kony's Lord's Resistance Army in central Africa.
Shekau's face has often appeared on video claiming attacks.
Now Nigeria's military says this video imposter - real name Bashir Mohammed - has died in fighting in the town of Kondugu, prompting the question whether there is another Shekau lookalike ready to continue the fight in Africa's top economy.
Full report at:
http://nation.com.pk/international/27-Sep-2014/killed-boko-haram-leader-continues-to-threaten-nigeria
-----------
Nigeria: Fulani Herdsmen Kill 4, Scores Missing
27 Sep, 2014
Gunmen suspected to be Fulani herdsmen yesterday attacked the Tse Shima, Mbatsoho community of Mballagh council ward in Makurdi local government area of Benue State, raping women and killing four persons.
The armed herdsmen also destroyed farmlands, just as scores were declared missing. The ugly incident occurred at about 3pm when the villagers had gone to their farms.
Survivors of the attack who narrowly escaped death, narrated that they had gone to their farms, situated behind the NASME Barracks to fetch firewood when the herders attacked them and raped girls in the process.
Yesterday, at the Police C Division in the Northbank area of Makurdi, LEADERSHIP Weekend witnessed the mutilated corpses of the deceased been conveyed to the place by an armed security search party that had combed the attacked village.
The corpses were later deposited at the General Hospital, Northbank mortuary. Family members and sympathisers thronged to the hospital to confirm the fates of their loved ones and fellow villagers.
A 13-year-old girl, Nyieshile, had a deep cut on her neck and could not speak while she was being attended to by medical personnel at the General hospital in Northbank.
http://allafrica.com/stories/201409270037.html
-----------
Libya: Head of sexual violence compensation fund named
27 Sep, 2014
The Ministry of Justice has moved a step closer to compensating victims of sexual violence during the revolution by appointing the head of the commission set up to oversee the compensation fund.
Sawsan Ali Salim Haneesh will serve the a sixth-month term as commissioner of the committee that will administrate the fund.
The fund itself, however, meagre – just LD 190,000 – although this is supposedly an initial amount. The committee has to establish rules for the formation and working of the commission.
The committee has also been told that its must take all measure to protect the identities of those who have been victims of sexual crimes. It has also been charged with providing adequate training for all members who will work with the victims or have access to their information.
A compensation decree was first issued in February this year and again in June declaring that rape committed during the revolution was a war crime and that reparations had to be paid to rape victims.
http://www.libyaherald.com/2014/09/26/head-of-sexual-violence-compensation-fund-named/#ixzz3EZIZBJMu
----------
URL: https://www.newageislam.com/islamic-world-news/new-age-islam-news-bureau/prison-guard-who-shot-blasphemy-accused-claimed-'divine-visitations'/d/99294