New Age Islam News Bureau
27 Feb 2014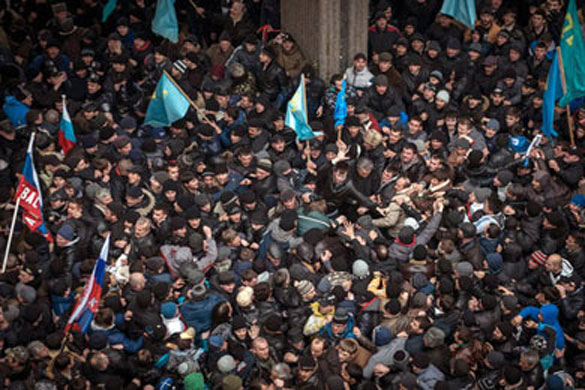 Rival protesters clashed in Simferopol, Crimea's regional capital. Credit Sergey Ponomarev for The New York Times
---------------
India
• Principal Booked For Asking Muslim Student to Cut Beard In Moradabad, UP
• Minority Affairs Ministry to Discuss Developing Islamic Endowments
• No bias against Muslims in govt jobs: UPSC chief
Arab World
• Video Shows How Syrian Army Ambushed, Killed 175 Militants in Eastern Gouta
• Assad Says Wahhabism Is Greatest Danger to World
• 13 Killed, 19 Injured in N. Iraq Attacks
• Mortar attack kills 5 in central Syria
• US Removes Syria's Al-Nusra Front Leader from Terror List
• ISIL to Christians in Syria's Raqqa: Pay Gold Levy in Return for Your Safety
• Bahrain warns citizens against joining jihad missions
• Shariah allows polio vaccination — Islamic scholars
South Asia
• Qaidatul Jihad Comes Knocking At Bangladesh
• Warlords with Dark Pasts Battle in Afghan Election
• China silences last voice of dissent on Xinjiang
• Nasheed warns Supreme Court against interference in Majlis elections
• PM Sheikh Hasina: BD, US to jointly resist militants
• Fugitive Jamaat-Shibir leaders campaign for party-backed candidates
Pakistan
• CII Finds 700 Laws In Conflict With Islam but Nothing Done As Yet
• Liquor, Girls Being Brought To Parliament Lodges, Alleges Independent Member N A
• Barelvi groups form alliance against Taliban
• Military pounds militant hideouts in northwest Pakistan
• Army will never find a bigger 'well' wisher than Altaf
• Pakistan campaigners say lift YouTube ban after US ruling
• Military operation in North Waziristan imminent: US paper
• Aye or nay: Dialogue should be first option, says Imran
• No confusion about dealing with terrorism: Prime Minister
Africa
• Car bomb kills at least 10 in Somali capital
• South Africa to launch its first Islamic bond
• Somalia PM sets out Government steps to address threat of terrorism
• Zidan seeks global help to collect arms
• Shock as S. Sudan patients 'shot dead' in hospital beds
Mideast
• Israel will not change status quo on the Temple Mount, angry reactions in the Arab world
• Hezbollah Salutes Palestinian People, Calls on It to Restore Resistance Position
• 'Honor killings' doubled in 2013, says Palestinian official
• Palestinians to take Israeli violations to UN
• Israeli security forces kill Palestinian suspected in series of West Bank terror attacks
• Iranian FM: World Powers Have No Way but Compromise with Iran
Europe
• As Putin Orders Drills in Crimea, Protesters' Clash Shows Region's Divide
• Russia deals with rise in terrorism linked to Syria, Mideast
• Danish Jews, Muslims fight for exemption to ritual slaughter ban
• Hard Talk Aside, Little Desire by the West to Leave Afghanistan
• No discussions on 'Zero Option' in Afghanistan: NATO Secretary General
• Amnesty: Israeli West Bank killings may be war crimes
North America
• Shrugging Off Past Setbacks, Obama Plans Personal Role in Middle East Peace Bid
• Social media campaign aims at ending Arabic slur against blacks
• Kerry: U.S. must pursue Iran talks before 'war'
• Google ordered to remove anti-Islam movie from YouTube
• Half of Saudi students abroad would return if rules were enforced
• Next Afghan leader will sign security pact: Kerry
Southeast Asia
• Brunei Sultan Hits Back At Criticism over Islamic Law
• Indonesian Ulema Council Denies Halal Certification Graft
• Indonesia, Jordan Agree to Boost Ties
• Poso Bomb Likely Work of 'Terror Group'
• Dr Mahathir denies being anti-Hadith, questions integrity of Ulema
Compiled by New Age Islam News Bureau
URL: https://www.newageislam.com/islamic-world-news/new-age-islam-news-bureau/principal-booked-for-asking-muslim-student-to-cut-beard-in-moradabad,-up/d/45940
-----------
India
Principal Booked For Asking Muslim Student to Cut Beard In Moradabad, UP
Written by Manish Sahu | Lucknow | February 27, 2014
An FIR has been filed against the principal of a private college in Moradabad for reportedly refusing to give a Muslim student his admit card for the Class 12 board exams because he had not shaved his beard.
The case has been lodged against Wilsonia College principal, A S Santram, under IPC Section 298 (uttering words etc with deliberate intent to hurt religious feelings) at the Civil Lines police station. While Moradabad District Magistrate Sanjay Kumar has ordered a magisterial inquiry, SSP Ashutosh Kumar said the matter is being investigated.
According to the complaint, the student, Abdul Basit Ali Khan, went to the college on Monday to collect his admit card for the exams which began on Tuesday. But the principal allegedly told him to first shave his beard, and warned him if he did not comply, he would not get his admit card. The student then called up his father, Wajahat Khan, who asked his brother, Nadeem Ali Khan, to look into the matter.
"My brother asked me to go and find out what was the problem. I went and met the principal. She was adamant that she would not give the admit card unless Abdul shaved his beard. I pointed out that the exam was beginning on Tuesday, and there is no law that says a bearded student beard cannot appear for the exam. She said the college prospectus mentions that a student should shave," said Nadeem Ali Khan.
"I called up some officials and told them that my nephew was being harassed for keeping a beard. Following intervention from several persons, including a district administration official, the principal finally gave the admit card," he claimed, adding that Abdul appeared for his first exam on Tuesday.
When contacted, Santram said she did not mean to hurt the feelings of any community. "I asked the boy to shave because he did not have a beard in the photograph on his admit card. It could create problems for him," she said, claiming that several persons reached her office and created a ruckus.
Stating that the college is around 48 years old and 60 per cent of students and 40 per cent of teachers are Muslims, Santram said according to the school norms, all boys are required to shave.
Meanwhile, a delegation of clerics met Additional District Magistrate Praveen Mishra on Wednesday and submitted a memorandum demanding action against the principal.
Santram and some principals of other schools are also reported to have met the DM and filed a complaint.
http://indianexpress.com/article/india/india-others/principal-booked-for-asking-muslim-student-to-cut-beard/
----------
Minority Affairs Ministry To Discuss Developing Islamic Endowments
February 27, 2014
Kuala Lumpur/Sydney: India's ministry of minority affairs has enlisted a Kuala Lumpur-based body to help develop Islamic endowments, or Awquaaf, aiming to mobilise a large pool of assets in a country that is home to one of the biggest Muslim populations in the world.
The World Islamic Economic Forum Foundation (WIEFF), which organises conferences and workshops on Muslim business around the world, will hold a roundtable later this year to discuss ways to improve management of India's estimated 490,000 Waqf properties.
Institutions such as the Jeddah-based Islamic Development Bank, Malaysia's Hajj Pilgrim Fund and its largest state-owned fund manager Permodalan Nasional Bhd will attend the event, the WIEFF says.
Awqaf exist around the world, receiving donations from Muslims to operate social projects such as mosques, schools and welfare schemes. They have amassed huge holdings of real estate, commercial enterprises, cash, equities and other assets.
But in many cases the management of these assets remains primitive; money is often tied up in property or bank deposits that earn miniscule or even zero returns, imposing economic costs on local economies.
India, with an estimated 177 million Muslims, has a large base of Auqaf but many of their assets are far from being employed efficiently; their estimated annual income is just Rs.163 crore ($26.3 million).
Last month, Indian Prime Minister Manmohan Singh inaugurated the National Waqf Development Corporation, which the ministry of minority affairs established to help management of the properties become more transparent.
"There is now increased government recognition, but also support for this. These things you cannot do effectively without the legislative support," WIEFF secretary-general Fuzi Abdul Razak told Reuters.
Efforts to strengthen India's Auqaf could conceivably be a precursor to developing an Islamic banking sector in the country; its secular laws still largely forbid the selling of Sharia-compliant banking.
"At the highest level of policy-making, they are getting more information and looking at countries which have done Islamic banking successfully. There is increased interest for it now," said Abdul Razak.
Last year, the Reserve Bank of India allowed a firm in Kerala to operate as a non-banking financial company following Sharia principles, a small step towards developing Islamic finance.
However, such efforts have in the past met strong opposition from bureaucrats in the finance ministry and banking circles. Some politicians, especially from the opposition Bharatiya Janata Party, have said they fear Islamic banking could be used by militants and strengthen the hold of clergy over India's Muslim community.
http://www.livemint.com/Politics/7e3BUIOuRYZwcPk0w3f3QO/Minority-affairs-ministry-to-discuss-developing-Islamic-endo.html
----------
No bias against Muslims in govt jobs: UPSC chief
ERAM AGHA,TNN | Feb 26, 2014
ALIGARH: The Union Public Service Commission (UPSC) provides equal opportunities to Muslims without any sort of discrimination, said its chairman, DP Agarwal, while addressing students as chief guest at the alumni meet of the Aligarh Muslim University here on Tuesday.
"Muslim youth will have to first shed their fear that discrimination prevails against them in government jobs. UPSC provides equal opportunities to all without any discrimination," added Agarwal, who is also an alumnus of the university. He urged the students to aim for a 20% share in government jobs.
Meanwhile, Bangladeshi American physicist, Sultana Nurun Nahar, who was one of the invitees to the event, said that educated Muslims from Aligarh are not equally distributed across the country. "There are so many educated Muslims here in Aligarh but not many move out. I have been to other Indian institutes and universities, interacted with people, and most of them are ignorant about the city," she said.
http://timesofindia.indiatimes.com/city/lucknow/No-bias-against-Muslims-in-govt-jobs-UPSC-chief/articleshow/31059120.cms
------------
Arab World
Video Shows How Syrian Army Ambushed, Killed 175 Militants in Eastern Gouta
February 27, 2014
The Syrian army ambushed and killed on Wednesday 175 terrorists in eastern Gouta as they were escaping the area into either Jordan or Qalamoun.
The video shows queues of militants moving in the area of Bahret Atayba before two big explosion rocked the group, killing most of its members.
The Syrian army, then, shot dead all the terrorists who tried to flee.
http://www.almanar.com.lb/english/adetails.php?fromval=1&cid=23&frid=23&eid=137674
----------
Assad Says Wahhabism Is Greatest Danger to World
February 27, 2014
Syrian President Bashar al-Assad stressed on Wednesday that Wahhabi ideology is the "greatest danger" that threatens the region and the world, stressing the need for cooperation between countries "to counter extremism and terrorism," SANA news agency reported.
"It is important to coordinate between the parliaments of the regional countries and friendly countries to unify positions in the fight against Wahhabi ideology, which is the greatest danger threatening the peoples of the region and the world," Assad said during his meeting with Chairman of the Foreign Policy and National Security Committee at the Iranian Shura Council, Alaeddin Boroujerdi, in Damascus.
For his part, the Iranian official said that the delegation's visit to Damascus comes within the framework of the activities of Parliamentary Friendship Committee at the Iranian Shura Council.
http://www.almanar.com.lb/english/adetails.php?fromval=1&cid=23&frid=23&eid=137597
-----------
13 Killed, 19 Injured in N. Iraq Attacks
February 27, 2014
At least 13 people were killed and 19 others injured in a string of attacks that rocked Northern Iraq on Wednesday, security sources said.
A militant blew himself up with an explosive-laden car, targeting a military checkpoint in Ninawa province, taking his own life along with two army troops, Haberler.com reported.
The attack also left four troops wounded, an army source said.
In provincial capital Mosul, security forces killed three militants who attacked a checkpoint in the Southern Bou Fashka district, the source added.
Full report at:
http://english.farsnews.com/newstext.aspx?nn=13921207001365
-----------
Mortar attack kills 5 in central Syria
February 27, 2014
Syrian state television says a mortar shell landed near a hospital in a government-controlled neighbourhood of the central city of Homs, killing at least five people.
State TV says the mortar round hit a car near the Al-Malek Hospital in the Akrama neighbourhood. It says 13 people were also wounded in Thursday's attack.
Akrama is predominantly home to members of President Bashar Assad's Alawite sect, an offshoot of Shiite Islam.
Syria's opposition is dominated by the country's Sunni Muslim majority.
Both the government and the rebels frequently shell civilian areas of the opposing side, although Mr. Assad's forces have far greater firepower at their disposal.
http://www.thehindu.com/news/international/mortar-attack-kills-5-in-central-syria/article5732971.ece
-----------
US Removes Syria's Al-Nusra Front Leader from Terror List
February 27, 2014
The United States in a shocking move removed the leader of the Al-Qaeda's main militant group in Syria, the Al-Nusra Front, from its blacklist of most wanted terrorist organizations.
The US Justice Department removed Abu Mohammad al-Julani, head of the al-Nusra Front, the branch of Al-Qaeda fighting against President Bashar al-Assad in Syria, from its most wanted terrorist list, the report said, press tv reported.
In December 2013, Washington blacklisted the Al-Nusra Front for taking responsibility for most of the terrorist bombings in Syria.
Foreign-sponsored militancy in Syria, which erupted in March 2011, has claimed the lives of many people, including large numbers of Syrian soldiers and security personnel.
The West has been widely criticized for its double standards when it comes to dealing with terrorist groups.
Full report at:
http://english.farsnews.com/newstext.aspx?nn=13921207001288
-----------
ISIL to Christians in Syria's Raqqa: Pay Gold Levy in Return for Your Safety
February 27, 2014
Al-Qaeda-linked terrorist group imposed gold levy on Christians in the Syrian city of Raqqa in return for their protection, as it obligated them to curb displays of their faith.
The so-called "Islamic State in Iraq and Levant" which is composed of Takfiri militants is engaged in violent and brutal struggle with the Syrian government as well as its rival extremist militants.
ISIL said it would ensure Christians' "safety" in exchange for the levy and their adherence to restrictions on their faith, citing the Islamic legal precept of 'Jizyah'.
an image shows a church in Raqqa before and after ISIL control of the city
It said Christians must not make renovations to churches or other religious buildings, display religious insignia outside of churches, ring church bells or pray in public.
Full report at:
http://www.almanar.com.lb/english/adetails.php?fromval=1&cid=23&frid=23&eid=137696
----------
Bahrain warns citizens against joining jihad missions
February 27, 2014
The Bahraini Interior Ministry warned the citizens against taking part in jihad missions abroad and called for tougher punishment to those involved in regional and international conflicts.
The ministry also warned the citizens against joining groups listed as terrorist organisations, adding that any financial or moral support to them would be considered a threat to the security and stability of Bahrain or the region, Xinhua reported.
The ministry said it is monitoring the development in Syria and charged some Bahraini citizens had joined the fighting there.
Full report at:
http://www.business-standard.com/article/news-ians/bahrain-warns-citizens-against-joining-jihad-missions-114022600038_1.html
----------
Shariah allows polio vaccination — Islamic scholars
February 27, 2014
The Islamic Advisory Group (IAG) held its first meeting Wednesday on polio eradication at the Organization of the Islamic Cooperation(OIC) headquarters in Jeddah to review the global polio situation, particularly in polio-endemic, predominantly Muslim countries where the disease continues to strike and cripple Muslim children.
The two-day meeting was organized by the International Islamic Fiqh Academy in cooperation with the World Health Organization, the OIC, the Islamic Development Bank (IDB), the IAG and UNICEF with the aim of providing high-level global leadership and guidance for building solidarity and support for polio eradication across the Muslim world.
The opening session was attended by Iyad Madani, secretary-general of the OIC; Ahmed Mohammed Ali, president of IDB; Abbas Shuman, deputy of Al-Azhar; Ala Alwan, regional representative of WHO; and Sheikh Saleh bin Abdullah, chairman of the International Islamic Fiqh Academy.
Full report at:
http://www.arabnews.com/news/532071
----------
South Asia
Qaidatul Jihad Comes Knocking At Bangladesh
February 27, 2014
AFTER a tumultuous year marked by massive protest rallies and violent confrontations between moderate secularists and Islamic radical forces, Bangladesh's tryst with religious and political turmoil seems enduring. The deteriorating situation has led to fear of the revival of Islamic militancy. While outlawed but dormant militant extremist groups like Harkat ul-Jihad Islami Bangladesh (HUJI-B), Jamaat-ul-Mujahideen Bangladesh (JMB) and Hizbut Tahrir are now attempting to resurge and consolidate, many newly-founded groups like Ansarullah Bangla Team, linked with al- Qaeda, have found the opportunity and resources to raise ugly heads.
Arguably, the religiously charged environment has drawn global Jihadists' attention towards the country. With ever-dwindling manpower and resources, transnational terror groups like al-Qaeda and the Taliban of Khursan (a historic reference to Greater Afghanistan) are looking for opportune moment to infiltrate into the country with the fourth largest Muslim population in the world. Al Qaeda leader Ayman Al-Zawahiri has already urged the Bangladeshis for a popular uprising against the present Awami League government and against anti-Islamic forces. Released by as- Sahab, the media arm of al- Qaeda, Zawahiri's latest audiovisual message titled "Bangladesh: Massacre Behind a Wall of Silence" talks about many issues, including the ongoing anti-Islamic atheist movement and atrocities committed by the security forces against pro-Islamic protesters. He has also called for a Sharia-based Caliphate in Bangladesh.
Full report at:
http://www.thedailystar.net/op-ed/qaidatul-jihad-comes-knocking-at-bangladesh-12983
----------
Warlords With Dark Pasts Battle in Afghan Election
February 27, 2014
KABUL, Afghanistan — Ashraf Ghani, the apparent front-runner in the Afghan presidential race this year, was once unstinting in his opinion of one of the country's most prominent warlords, Gen. Abdul Rashid Dostum, calling him a "known killer."
He said that in 2009, when General Dostum was supporting President Hamid Karzai for re-election. Now, Mr. Ghani simply calls General Dostum his running mate.
In fact, of the 11 campaigns in the April 5 presidential election, six include at least one candidate on the ticket who is widely viewed as a warlord, with pasts and policies directly at odds with Western attempts to improve human rights here.
That is the field that American military and diplomatic planners have to consider as they take up President Obama's call on Tuesday to look past Mr. Karzai and try to get the next Afghan administration to sign a long-term security deal.
For officials working to finalize the bilateral security agreement, there is still potential good news: All 11 of the Afghan presidential candidates say they support the deal, which would allow Western troops to stay here past 2014.
Full report at:
http://www.nytimes.com/2014/02/27/world/asia/warlords-with-dark-pasts-battle-in-afghan-election.html
----------
China silences last voice of dissent on Xinjiang
February 27, 2014
China charges university professor and seven of his students with 'separatism', extinguishing lone voice of dissent over the troubled region of Xinjiang
The only public figure inside China who dared to question Beijing's policy in the vast, oil-rich and troubled region of Xinjiang is now facing life imprisonment.
Ilham Tohti, a 44-year-old economics professor at China's Ethnic Minorities university in Beijing, has been charged with "separatism" along with seven of his students, according to his lawyer.
"They were all arrested in Beijing. Tohti faces ten years to life in prison for being the ringleader. His students face three to 10 years," said Li Fangping.
Full report at:
http://www.telegraph.co.uk/news/worldnews/asia/china/10661998/China-silences-last-voice-of-dissent-on-Xinjiang.html
-----------
Nasheed warns Supreme Court against interference in Majlis elections
By Ahmed Naish | February 26th, 2014
Former President Mohamed Nasheed warned Chief Justice Ahmed Faiz Hussain last night against Supreme Court interference in the upcoming parliamentary elections scheduled for March 22.
Speaking at a campaign launching ceremony for two Maldivian Democratic Party (MDP) candidates, Nasheed said last year's presidential election was "taken away from us by the Supreme Court."
"The island council, atoll council, and city council elections have slipped from their fingers by God's will while they were unaware. Now we are coming to the People's Majlis elections again. If the People's Majlis election is stopped, you could not place a bigger obstacle to the country's development," he said.
Full report at:
http://minivannews.com/politics/nasheed-warns-supreme-court-against-interference-in-majlis-elections-78482
----------
PM Sheikh Hasina: BD, US to jointly resist militants
February 27, 2014
Prime Minister Sheikh Hasina yesterday told the parliament that her government took an initiative to resist terrorism and militancy in partnership with the US.
"The government has taken a fresh initiative with the US to resist terrorists and suppress militants under the Global Fund for Community Resilience and Engagement where Bangladesh will play an active role," the premier said.
Sheikh Hasina, also president of ruling Awami League, said the ongoing security dialogue and partnership with the US would continue, and expressed hopes that the bilateral cooperation would be very strong. Meanwhile, replying to the supplementary question of independent candidate Rustam Ali Farazi, the premier hinted that the electricity tariff might be increased.
Full report at:
http://www.dhakatribune.com/bangladesh/2014/feb/27/pm-bd-us-jointly-resist-militants#sthash.aGPg4zgB.dpuf
----------
Fugitive Jamaat-Shibir leaders campaign for party-backed candidates
February 27, 2014
Many Jamaat-Shibir leaders and activists, who remain fugitives in different violence-related cases, have been publicly carrying out election campaigns for their party-backed candidates in around 28 of the total 115 upazilas that would see elections today.
Law enforcers have allegedly remained silent in many areas where Jamaat-e-Islami and its student front Islami Chhatra Shibir's leaders, who have been evading arrest, are campaigning out in the open.
Party sources said instructions from the centre prompted leaders like Jamaat's Syed Abdullah Mohammad Taher, Shalim Uddin, Rezaul Karim, former MP Hamidur Rahman Azad, Shibir Leaders Neamot Ullah Shaker, Jamal Uddin and others to engage in public campaigning for party-backed candidates. None of these leaders had secured bail from courts in many respective cases.
Full report at:
http://www.dhakatribune.com/politics/2014/feb/27/fugitive-jamaat-shibir-leaders-campaign-party-backed-candidates#sthash.ey2te7hs.dpuf
----------
Pakistan
CII Finds 700 Laws In Conflict With Islam but Nothing Done As Yet
February 27, 2014
ISLAMABAD: There are more than 700 federal and provincial laws which have been found in conflict with Quran and Sunnah by the Council of Islamic Ideology. Yet none of the Council's recommendations were ever considered by the parliament or any of the provincial assemblies to bring such statutes in line with Islamic teachings.
A study of the CII reports and the continued apathy of the parliament to bring such laws in line with the teachings of Islam, expose the mother of all constitutional violations as the constitutional provision envisaging that no law in Pakistan could be made against Quran and Sunnah is nothing but a farce to deceive the people.
Full report at:
http://www.thenews.com.pk/Todays-News-13-28789-CII-finds-700-laws-in-conflict-with-Islam-but-nothing-done-as-yet
-----------
Liquor, Girls Being Brought To Parliament Lodges, Alleges Independent Member N A
February 27, 2014
ISLAMABAD: Independent Member National Assembly (MNA) Jamshed Dasti has made shocking claims in the lower house of the parliament, saying that liquor worth Rs 40 to 50 million is annually supplied to the parliament lodges.
Addressing the National Assembly session here Thursday, Dasti put forward a demand to hold screening tests of the parliamentarians.
He claimed that girls have also been brought to the parliament lodges for 'immoral activities.' There is always a smell of hashish in the lodges, he added.
Full report at:
http://www.thenews.com.pk/article-139331-Liquor,-girls-being-brought-to-parliament-lodges,-alleges-Dasti
------------
Barelvi groups form alliance against Taliban
2014-02-27
LAHORE: Forming a sort of anti-Taliban alliance, at least 50 Barelvi school of thought groups have demanded the government declare extremists as well as their supporters, whether political or religious, as enemies of the state and traitors.
The demand came at a multi-party conference held under the banner of Tahaffuz Namoos-i-Risalat Mahaz here on Wednesday.
MQM leader Abdul Haseeb, Majlis Wahdatul Muslimeen leader Nasir Abbas Sherazi and a PML-Q delegation participated on special invitation.
"Patronizing and supporting the Taliban should be declared a serious crime against the state and those found guilty of the criminal act be dealt with an iron hand and given exemplary punishment to eliminate militancy from the country," read the joint communiqué issued at the end of the gathering.
Full report at:
https://www.dawn.com/news/1089726/barelvi-groups-form-alliance-against-taliban
------------
Military pounds militant hideouts in northwest Pakistan
PTI | Feb 27, 2014
PESHAWAR: Pakistan army helicopter gunships on Thursday struck militant hideouts in Dera Ismail Khan and mountains bordering South Waziristan as part of the targeted attacks on the Taliban as peace talks remain suspended.
It was not immediately known how many militants were killed or wounded in Thursday's strikes. The attack is the fifth in a series of air strikes that began last week.
While announcing the country's maiden National Security Policy, interior minister Chaudhry Nisar Ali Khan, on Wednesday, had said that every terror attack would be met with a military strike on the headquarters of the militants.
Full report at:
http://timesofindia.indiatimes.com/world/pakistan/Military-pounds-militant-hideouts-in-northwest-Pakistan/articleshow/31097666.cms
----------
Army will never find a bigger 'well' wisher than Altaf
February 27, 2014
LAHORE: In the present era of a vibrant social media, a well wisher is defined as the one who wishes you to 'the well'.
MQM Chief Altaf Hussain is, probably, a similar kind of well wisher for the army.
In an interview, he said the army should take over if the government doesn't extend support for elimination of terrorism.
"Pakistan", he said, "is more important for us than democracy; we can't imperil our country for the sake of democracy. If the country survives, democracy will also flourish".
A few days ago, his party held a rally in Karachi to express solidarity with the army. Addressing the rally participants, Mr Hussain said the nation would support if the government and the army come forward against the Taliban.
Full report at:
http://www.nation.com.pk/lahore/27-Feb-2014/army-will-never-find-a-bigger-well-wisher-than-altaf
------------
Pakistan campaigners say lift YouTube ban after US ruling
2014-02-27
ISLAMABAD: Pakistani Internet campaigners said Thursday there was no excuse for the government to maintain its ban on YouTube, after a US court ordered the removal of an anti-Islam film.
The video-sharing website has been blocked in Pakistan since September 2012 over its failure to take down the "Innocence of Muslims" movie that sparked furious protests around the world.
A US appeals court on Wednesday ordered Google, which owns YouTube, to remove the film after a lawsuit brought by an actress who says she was tricked into appearing in it.
Pakistani technology think-tank Bytes for All said that with the removal of the crude movie, regarded as highly blasphemous by many Muslims, the government had no reason to maintain the ban.
Full report at:
https://www.dawn.com/news/1089835/pakistan-campaigners-say-lift-youtube-ban-after-us-ruling
------------
Military operation in North Waziristan imminent: US paper
2014-02-27
WASHINGTON: The Pakistani government is on the verge of launching a major military offensive in North Waziristan, The Washington Post reported on Wednesday.
The Post noted that recent brutal Taliban attacks and the apparent failure of peace talks with the militants forced Pakistan to opt for the operation.
"It could be any day," a senior Pakistani official told the newspaper, adding that the plans had been shared with senior US officials.
"Planning for the security operation comes as a halt in US drone strikes enters its third month and high-level meetings between security officials in both countries," noted another US news site, Foreign Policy. Gen. Lloyd J. Austin III, the head of US Central Command, and CIA Director John Brennan were in Pakistan last week, meeting their counterparts, and Asif Yasin Malik, Pakistan's defence secretary, is in Washington for security talks.
Full report at:
https://www.dawn.com/news/1089739/military-operation-in-north-waziristan-imminent-us-paper
------------
Aye or nay: Dialogue should be first option, says Imran
February 27, 2014
ISLAMABAD: The Pakistan Tehreek-e-Insaf chief, who until recently favoured use of force against militants not amenable to talks, took a step back on Wednesday and said the idea 'frightens' him.
Speaking in an Express News programme Imran said the "idea of an operation in Waziristan frightens me with pictures of bombing and attacks on more than 0.7 million people. Therefore dialogue should be our first option."
"But I am afraid that those who want the talks to fail are achieving their targets. Such talks may take years and even decades but here the process stopped just after a few meetings. It seems that we are heading towards operation," he added.
The PTI chief blamed the pro-US lobbies for pushing the country back into war repeatedly. "This lobby also confuses issues with the matter of implementing Sharia even though Sharia is already the law in tribal areas."
Full report at:
http://tribune.com.pk/story/676670/aye-or-nay-dialogue-should-be-first-option-says-imran/
------------
No confusion about dealing with terrorism: Prime Minister
February 26, 201
Islamabad- Prime Minister Muhammad Nawaz Sharif said all the parliamentary leaders will be invited for a meeting to discuss the options to deal with the issue of terrorism.
Responding to a point of order raised by leader of the opposition Syed Khurshid Ahmed Shah in the National Assembly today, he said that there was no confusion in ranks of government about dealing with terrorism and that he would like to seek suggestions from the parliamentary leaders on the matter.
Full report at:
http://www.nation.com.pk/national/26-Feb-2014/no-confusion-about-dealing-with-terrorism-prime-minister
------------
Africa
Car bomb kills at least 10 in Somali capital
World Bulletin/News Desk
February 27, 2014
At least 10 people were killed in an explosion when a suicide bomber drove his car into a tea shop near the national security headquarters in Somalia's capital, a senior police officer said on Thursday.
No one immediately claimed responsibility for the blast, the second in almost a week in the city after al Shabaab said it was behind an attack on the president's palace on Friday.
"A bomber swerved his car bomb into a tea shop where national security men were sitting and blew up. So far we have confirmed 10 people dead including national security forces and civilians. The tea shop was completely destroyed," Colonel Abdikadir Hussein, a senior police officer, told Reuters.
Full report at:
http://www.worldbulletin.net/todays-news/129792/car-bomb-kills-at-least-10-in-somali-capital
------------
South Africa to launch its first Islamic bond
February 27, 2014
South Africa will launch its first sukuk Islamic bond this year, as it seeks to diversify its debt obligations, Finance Minister Pravin Gordhan said Wednesday.
"Our first sukuk (Islamic) bond will be launched this year," he told lawmakers while unveiling his annual budget.
Complying with Islamic Sharia law, in which interest is not charged, such a bond has been on the cards as South Africa tries to tap a broad range of lenders to limit risk.
"Options for introducing a sukuk retail savings bond are also being explored," he added.
Islam-friendly debt is a rapidly growing market, worth around $144 billion in 2012, according to the Global Islamic Finance Report.
Full report at:
http://www.globalpost.com/dispatch/news/afp/140226/south-africa-launch-its-first-islamic-bond
----------
SOMALIA PM sets out Government steps to address threat of terrorism
February 27, 2014
The Prime Minister of the Somali Federal Government H.E. Abdiweli Sheikh Ahmed today laid out during a press conference his administration's plan in the wake of the recent attack on the presidential compound by the terrorist group al-Shabaab on Friday, February 21, 2014.
In his press conference, Prime Minister Abdiweli Sheikh Ahmed sent a message of condolence to the families of the victims of the Friday attack. The innocent lives lost in the attack included the Permanent Secretary of the Office of the Prime Minister Mohamud Hirsi "Indha-ase" and General Nur Shirbow.
Full report at:
http://www.midnimo.com/2014/02/26/somalia-pm-sets-government-steps-address-threat-terrorism/
----------
Zidan seeks global help to collect arms
February 27, 2014
TRIPOLI — Prime Minister Ali Zidan repeated his belief that Libya would need international mediation or arbitration in its effort to collect arms from the public and militias.
Speaking at Tuesday's press conference, Zidan said that Libyans do not trust each other enough in order to hand-over arms to one another, and that the international community would need to participate in this process.
He added that the pretext of guarding the revolution is often used as an excuse not to hand-over arms and that if things continued at this rate Libya will not reach a solution on this matter.
Full report at:
http://www.saudigazette.com.sa/index.cfm?method=home.regcon&contentid=20140227197044
----------
Shock as S. Sudan patients 'shot dead' in hospital beds
February 27, 2014
The aid group Doctors Without Borders say the rising violence in South Sudan and the lack of respect for health care workers has made providing its services almost impossible.
In a statement issued Wednesday, the group said it had found at least 14 dead bodies in a Malakal hospital over the weekend, several of whom had murdered while lying in their beds.
Warning of an "alarming pattern of lootings and attacks on patients" and health facilities, Doctors without Borders (MSF, Medecins sans Frontieres) said its crucial work was being strangled by a "climate of utter disrespect and fear."
Full report at:
http://english.alarabiya.net/en/perspective/analysis/2014/02/26/S-Sudan-Patients-shot-dead-in-hospital-beds.html
---------
Mideast
Israel will not change status quo on the Temple Mount, angry reactions in the Arab world
February 27, 2014
The Arab-Israeli conflict took on an increasingly religious hue when the Jordanian parliament voted unanimously to expel Israel's ambassador in Amman after Israeli legislators held an unprecedented debate on Tuesday evening over a proposal to enforce Israeli sovereignty at one of Jerusalem's holiest sites, currently administered by Jordan, and to allow Jewish prayer there.
The vote in Jordan's 150-seat parliament is not binding on the cabinet, which is keen to maintain diplomatic ties with Israel. Still, the step was a measure of the degree to which the perception of an Israeli threat to Al-Aqsa Mosque, Islam's third holiest site, is ratcheting up tensions in the wider Arab and Muslim worlds, not just among Palestinians.
Full report at:
http://www.independent.co.uk/news/world/middle-east/mounting-tension-israels-knesset-debates-proposal-to-enforce-its-sovereignty-at-alaqsa-mosque--a-move-seen-as-an-extreme-provocation-to-muslims-worldwide-9155575.html
-------------
Hezbollah Salutes Palestinian People, Calls on It to Restore Resistance Position
February 27, 2014
Hezbollah considered, in a statement, that the Zionist entity utilizes the political conditions in the region to carry out its project of demolishing al-Aqsa Mosque and Judaizing Jerusalem.Hezbollah
The statement added that the Israeli enemy enjoys a continuous Arab and international cover for all its terrorist practices against the Palestinians, taking into consideration and benefiting from the fact that the regional countries are involved in local crises.
Full report at:
http://www.almanar.com.lb/english/adetails.php?fromval=1&cid=23&frid=23&eid=137432
----------
'Honor killings' doubled in 2013, says Palestinian official
February 27, 2014
A Gaza teen stabbed to death by her brother while she prayed in her room has become the latest addition to a grim statistic: Palestinian women killed by relatives, often for allegedly shaming the family.
Twenty-six women were slain by relatives in the West Bank and Gaza in 2013, twice as many as the year before, according to official figures. The rise stems from mounting economic difficulties in the Palestinian territories, compounded by ongoing leniency for those killing in the name of "family honor" and social acceptance of violence against women, women's rights activists said Wednesday.
Full report at:
http://english.alarabiya.net/en/perspective/features/2014/02/27/-Honor-killings-doubled-in-2013-says-Palestinian-official-.html
----------
Palestinians to take Israeli violations to UN
February 27, 2014
The Palestinian presidency on Wednesday welcomed a proposal by some Arab countries to lodge a complaint against Israel with the UN Security Council over repeated Israeli violations against Al-Aqsa Mosque.
In a statement, the warned of "grave consequences" of Israeli violations against Al-Aqsa Mosque, according to the official Palestinian Wafa news agency.
"[Israeli violations] have prompted the Arab League and the Organization of Islamic Cooperation to take a swift move against this fierce campaign against Al-Aqsa Mosque," it added.
Full report at:
http://www.worldbulletin.net/headlines/129771/palestinians-to-take-israeli-violations-to-un
-----------
Israeli security forces kill Palestinian suspected in series of West Bank terror attacks
February 27, 2014
Security forces shot dead a wanted Palestinian north of Ramallah on Thursday after he ignored calls to leave his hideout and surrender.
The suspect took part and planned a series of terror attacks across the West Bank. Military sources said that he was affiliated with the Popular Front for the Liberation of Palestine (PFLP). Two additional suspects were arrested in the raid.
Full report at:
http://www.jpost.com/Defense/Israeli-security-forces-kill-Palestinian-suspected-in-series-of-West-Bank-terror-attacks-343730
-----------
Iranian FM: World Powers Have No Way but Compromise with Iran
February 27, 2014
Iranian Foreign Minister Mohammad Javad Zarif said the six world powers have no other option for coming into terms with Tehran.
"We believe that the other side has been left with not so many options, but reaching an understanding with the great Iranian nation," Zarif said in a joint press conference with his Iraqi counterpart Hoshyar Zebari in Tehran on Wednesday.
Meantime, the top diplomat underlined Iran's seriousness and determination to remain committed to its undertakings based on the November deal in Geneva, and said, "We believe that if the other side shows good will and political determination to reach an understanding, understanding is fully within reach and we can attain it."
Full report at:
http://english.farsnews.com/newstext.aspx?nn=13921207001182
-------------
Europe
As Putin Orders Drills in Crimea, Protesters' Clash Shows Region's Divide
February 27, 2014
SIMFEROPOL, Ukraine — With cries of "Allahu Akbar," Arabic for "God is great," thousands of protesters in the capital of Ukraine's Crimea region, a tinderbox of ethnic, religious and political divisions, added an Islamic voice on Wednesday to the tumultuous struggle for Ukraine that last weekend drove the president from power and that has pushed Russia and the West into a face-off reminiscent of the Cold War.
Eight hundred miles away, President Vladimir V. Putin of Russia was ordering a surprise military exercise of ground and air forces on Ukraine's doorstep on Wednesday, adding to the tensions with Europe and the United States and underscoring his intention to keep the country in Moscow's orbit.
Taken together, the two events illustrated the continuing challenges that the new government in Kiev faces in calming separatism at home and placating a frustrated Russian leader who sees Ukraine as a vital part of his strategy of rebuilding Russian influence along the lines not of the former Soviet Union but of the czars. While few analysts expected a Russian military intervention in Ukraine, most said Mr. Putin was likely to respond in some fashion to such a stinging geopolitical defeat.
Full report at:
http://www.nytimes.com/2014/02/27/world/europe/russia.html
----------
Russia deals with rise in terrorism linked to Syria, Mideast
February 27, 2014
The growing number of terrorist acts committed in Russia by members of radical Islamist groups and transnational terrorist networks, heated conflicts between the bulk of followers of traditional Russian Islam and the few but active adherents of Salafism and the involvement of jihadists from Russia and the neighboring CIS republics in the Syrian civil war have all exacerbated the problem of Islamic extremism and terrorism for Moscow.
Within this Russian domestic problem, we can identify several dimensions that link it with the Near East:
First is the role of missionaries from Arab countries in disseminating radical ideas among Russian Muslims through the education system. Traditionally, Muslims in Russia who belong to Turkic ethnic groups (including the most populous group, the Tatars) practice Sunni Islam of the Hanafite school, and those living in the Caucasus Mountains practice Sunni Islam of the Shafiite school.
Full report at:
http://www.al-monitor.com/pulse/originals/2014/02/russia-terrorism-syria-islamist-jihad.html#ixzz2uY24riUi
----------
Danish Jews, Muslims fight for exemption to ritual slaughter ban
February 27, 2014
COPENHAGEN, Denmark — Jewish and Muslim groups in Denmark have vowed to fight a new ban on the ritual slaughter of animals necessary to ensure kosher and halal meat, saying the law threatens their religious freedom.
"It is a basic element of the Jewish religion and if they take this away, they take away a basic right," said Bent Lexner, chief rabbi of the Great Synagogue in Copenhagen.
The Danish government approved a measure earlier this month forbidding poultry and livestock to be killed without being "pre-stunned" — a method that ensures the animals are not awake when they are slaughtered. But according to Jewish and Muslim customs, animals must be conscious when killed to be considered kosher (Jewish) or halal (Muslim), though rules for Muslim slaughter are more lenient.
Full report at:
http://www.washingtonpost.com/national/religion/danish-jews-muslims-fight-for-exemption-to-ritual-slaughter-ban/2014/02/25/6672ecde-9e5a-11e3-878c-65222df220eb_story.html
----------
Hard Talk Aside, Little Desire by the West to Leave Afghanistan
By HELENE COOPER
February 27, 2014
BRUSSELS — Listening to the Western defense officials gathered at a NATO meeting here on Wednesday, it would be easy to think that the United States and the rest of the international military coalition in Afghanistan have shifted into a full-speed withdrawal from the country by year's end.
After all, the statements from NATO officials all picked up where President Obama left off on Tuesday. He abruptly announced that he had instructed the Pentagon to begin planning for a complete withdrawal because President Hamid Karzai of Afghanistan was continuing his refusal to sign a bilateral security agreement that would allow Western troops to remain past 2014.
Full report at:
http://www.nytimes.com/2014/02/27/world/asia/hard-talk-aside-little-desire-by-west-to-leave-afghanistan.html
----------
No discussions on 'Zero Option' in Afghanistan: NATO Secretary General
February 27, 2014
NATO Secretary General Anders Fogh Rasmussen said Wednesday that the alliance was not discussing options for zero troops in Afghanistan beyond 2014.
While speaking during a press conference, Rasmussen said NATO defense ministers together with ISAF and Afghan partners will discuss the progress of the ISAF mission and planning for a mission to train, advise and assist Afghan forces after 2014.
"First of all, actually we are not talking about a zero option. On the contrary, actually we are talking about our preferred option which is to deploy a NATO-led training mission after 2014," Rasmussen said.
Full report at:
http://www.khaama.com/no-discussions-on-zero-option-in-afghanistan-rasmussen-2838
----------
Amnesty: Israeli West Bank killings may be war crimes
World Bulletin/News Desk
February 27, 2014
Israeli forces are using excessive, reckless violence in the occupied West Bank, killing dozens of Palestinians over the past three years in what might constitute a war crime, Amnesty International said on Thursday.
In a report entitled "Trigger Happy", the human rights group accused Israel of allowing its soldiers to act with virtual impunity and urged an independent review of the deaths.
According to U.N. data, 45 Palestinians were killed in the West Bank between 2011-2013, including six children. Amnesty said it had documented the deaths of 25 civilians during this period, all but three of whom died last year.
Full report at:
http://www.worldbulletin.net/headlines/129777/amnesty-israeli-west-bank-killings-may-be-war-crimes
-----------
North America
Shrugging Off Past Setbacks, Obama Plans Personal Role in Middle East Peace Bid
By MARK LANDLER
February 27, 2014
WASHINGTON — President Obama, after avoiding a hands-on role in Middle East peacemaking since the setbacks of his first term, plans to plunge back into the effort, his advisers said this week, starting with an urgent appeal to Prime Minister Benjamin Netanyahu of Israel.
When he welcomes Mr. Netanyahu to the White House on Monday, these officials said, Mr. Obama will press him to agree to a framework for a conclusive round of Israeli-Palestinian peace negotiations that is being drafted by Secretary of State John Kerry.
Later in March, Mr. Obama is likely to meet with the Palestinian president, Mahmoud Abbas, to make the same pitch. The goal, officials said, is to announce the framework, a kind of road map for further talks, by the end of April, the nine-month deadline that Mr. Kerry set last summer for a final peace deal between Israel and the Palestinians.
For Mr. Obama, the decision to thrust himself into the talks is fraught with risk. He made Middle East diplomacy a centerpiece of his first term, bringing Israelis and Palestinians together at the White House in September 2010 for face-to-face talks, only to watch those negotiations collapse three months later in acrimony.
Full report at:
http://www.nytimes.com/2014/02/27/world/middleeast/shrugging-off-past-setbacks-obama-plans-personal-role-in-middle-east-peace-bid.html?_r=0
----------
Social media campaign aims at ending Arabic slur against blacks
February 27, 2014
A new Muslim-American group co-founded by metro Detroiters is launching a social media campaign Wednesday urging Arabs not to use Arabic racial slurs against African Americans.
Called "Drop the A-Word," the campaign asks Arab-Americans to stop using the words "abed" and "abeed," Arabic words that they sometimes use as slurs against black people in the way some might use the N-word. The group asks participants to use the hashtag — which allows Twitter users to read responses — #DropTheAWord.
"Abed" and its plural form "Abeed" mean a "slave" or "servant" in the Arabic language. In and of themselves, the words are not necessarily slurs; in fact, some Arabs have the name "Abed," which can mean a person who's a servant of God.
But the words are also often used as slurs to label black people, said Arab-American and civil rights advocates.
Full report at:
http://www.freep.com/article/20140226/NEWS05/302260026/Social-media-campaign-aims-ending-Arabic-slur-against-blacks
----------
Kerry: U.S. must pursue Iran talks before 'war'
February 27, 2014
The United States has an obligation to negotiate with Iran over its nuclear program before it considers going to war with Tehran to force it to give up its nuclear activities, U.S. Secretary of State John Kerry said on Wednesday.
"We took the initiative and led the effort to try to figure out if before we go to war there actually might be a peaceful solution," Kerry told a group of reporters, Reuters reported.
In November, Iran and six world powers, including the United States, reached a landmark temporary agreement to halt its nuclear program, gaining limited relief from economic sanctions in return.
Full report at:
http://english.alarabiya.net/en/News/middle-east/2014/02/27/Kerry-U-S-must-pursue-Iran-talks-before-war-.html
----------
Google ordered to remove anti-Islam movie from YouTube
February 27, 2014
A US appeals court rdered Google Inc. to remove from its YouTube video-sharing website an anti-Islamic film that had sparked protests across the Muslim world.
By a 2-1 vote, a panel of the 9th US Circuit Court of Appeals on Wednesday rejected Google's assertion that the removal of the film "Innocence of Muslims," amounted to a prior restraint of speech that violated the US Constitution.
The plaintiff, Cindy Lee Garcia, had objected to the film after learning that it incorporated a clip she had made for a different movie, which had been partially dubbed.
Representatives for Google could not immediately be reached for comment.
Cris Armenta, a lawyer for Garcia, said she is delighted with the decision.
"Ordering YouTube and Google to take down the film was the right thing to do," Armenta said in an email.
Full report at:
https://www.dawn.com/news/1089642/google-ordered-to-remove-anti-islam-movie-from-youtube
-----------
Half of Saudi students abroad would return if rules were enforced
February 27, 2014
BOSTON — The Saudi cultural attache in the USA said that if regulations are strictly implemented, half of the students abroad would be sent back home, Al-Watan daily reported.
Dr. Mohammad Al-Eisa stated that the attache is lenient with some students, and cautioned victims of family abuse to notify the police, without first contacting the attache.
During a meeting with students in Boston, Dr. Al-Eisa stressed that the Custodian of the Two Holy Mosques views all citizens as equal, regardless of their area, tribe, gender, or faith. "The attache doors are open for any student, and the attache is here to serve and facilitate any difficulties for students," he said.
Full report at:
http://www.saudigazette.com.sa/index.cfm?method=home.regcon&contentid=20140227197014
------------
Next Afghan leader will sign security pact: Kerry
2014-02-27
WASHINGTON: The next president of Afghanistan will sign a security pact with the United States despite the refusal of outgoing leader Hamid Karzai, Secretary of State John Kerry confidently predicted Wednesday.
"But for one person and his decision we would be on a different track today," Kerry told a small group of reporters, referring to Karzai who is holding out on signing a bilateral security agreement to govern the presence of any US troops remaining after 2014.
Karzai has refused to endorse the deal, which he hammered out with Kerry last year, saying it should be up to his successor who will be chosen in April presidential elections. "It will be signed by the way," Kerry insisted on Wednesday.
Full report at:
https://www.dawn.com/news/1089813/next-afghan-leader-will-sign-security-pact-kerry
-------------
Southeast Asia
Brunei sultan hits back at criticism over Islamic law
February 27, 2014
BANDAR SERI BEGAWAN, Brunei: Brunei's all-powerful sultan, stung by rare criticism, has ordered social media users to stop attacking his plans to introduce criminal punishments in the placid oil-rich kingdom.
Sultan Hassanal Bolkiah — one of the world's wealthiest men — announced last October that Brunei would phase in punishments such as flogging, severing limbs and death by stoning beginning April 1.
The move has sparked a growing outcry on social media, the only outlet for public criticism of authorities in the Muslim country where questioning the 67-year-old sultan is taboo.
In a weekend speech, the sultan issued a clear threat to the critics.
"They cannot be allowed to continue committing these insults, but if there are elements which allow them to be brought to court, then the first phase of implementing the Shariah Penal Code Order in April will be very relevant to them," he said, according to a copy of his speech published by state media.
Full report at:
http://www.arabnews.com/news/531931
----------
Indonesian Ulema Council Denies Halal Certification Graft
February 27, 2014
Jakarta. The Indonesian Ulema Council (MUI), the country's highest Islamic authority, denied on Wednesday accusations that foreign organizations hoping to sell food in Indonesia had been extorted for bribes during the halal-auditing process.
"For the [halal] certificate issuance, it's free of charge," MUI chairman Amidhan Shaberah said, as quoted by state-run Antara News Agency.
He said that companies were asked to pay travel expenses for MUI auditors and nothing more.
Indonesian news portal Tempo.co reported on Monday that the MUI had accepted large payments from Australian institutions hoping to receive certification.
Sydney Halal Certification Authority chairman Mohamed El-Mouelhy said that his organization and six other Australian institutions had together paid Aus$26,000 ($23,418) to MUI officials in 2006. He said his own organization had paid Aus$4,000 but had not received a license.
"I have to pay all, starting from the food, airplanes, hotel and pocket money," he said.
Full report at:
http://www.thejakartaglobe.com/news/ulema-council-denies-halal-certification-graft/
-----------
Indonesia, Jordan Agree to Boost Ties
February 27, 2014
Jakarta. Indonesia and Jordan are seeking to boost their cooperation and the transfer of technology in the defense industry, a minister said on Wednesday.
"Bilateral and defense cooperation have been discussed, especially how Indonesia, Jordan and other countries in the area can work together to develop their defense industries," Foreign Affairs Minister Marty Natalegawa said on Wednesday during a state visit by Jordan's King Abdullah bin Al-Hussein in which he met with President Susilo Bambang Yudhoyono in Jakarta.
Marty said as a follow-up to the two leader's consultations, Defense Minister Purnomo Yusgiantoro is scheduled to visit Jordan in March to discuss the possible cooperation and to create the necessary networks in the defense industry.
Full report at:
http://www.thejakartaglobe.com/news/indonesia-jordan-agree-to-boost-ties/
-----------
Poso Bomb Likely Work of 'Terror Group'
February 27, 2014
Jakarta. A homemade bomb exploded in the restive district of Poso in Central Sulawesi on Tuesday, a senior policeman said.
"We're still in the process of investigating who the perpetrators are but we believe the incident was committed by a terrorist group," Central Sulawesi Police chief Brig. Gen Ari Dono Sukmanto said on Wednesday.
No casualties have been reported in the explosion, which occurred in Pantango Lemba village.
The blast, which left a crater of 2 meters deep and 3 meters wide, was heard several kilometers away.
Full report at:
http://www.thejakartaglobe.com/news/poso-bomb-likely-work-of-terror-group/
-----------
Dr Mahathir denies being anti-Hadith, questions integrity of ulama
February 27, 2014
Tun Dr Mahathir Mohamad ) has defended himself against criticisms of being anti-Hadith by questioning if Muslims should accept anything delivered to them by those fluent in Arabic, even when it contradicts the teachings of Islam.
The former prime minister was responding to attacks directed at him after throwing his support behind Malay scholar Dr Kassim Ahmad.
"It is very dangerous and confusing when anyone, just because he is fluent in Arabic and has a degree in Islamic studies, is declared a religious scholar," Dr Mahathir wrote in his blog yesterday.
Full report at:
http://www.themalaysianinsider.com/malaysia/article/dr-mahathir-denies-being-anti-hadith-questions-integrity-of-ulama
-----------
URL: https://www.newageislam.com/islamic-world-news/new-age-islam-news-bureau/principal-booked-for-asking-muslim-student-to-cut-beard-in-moradabad,-up/d/45940