New Age Islam News Bureau
23 Dec 2016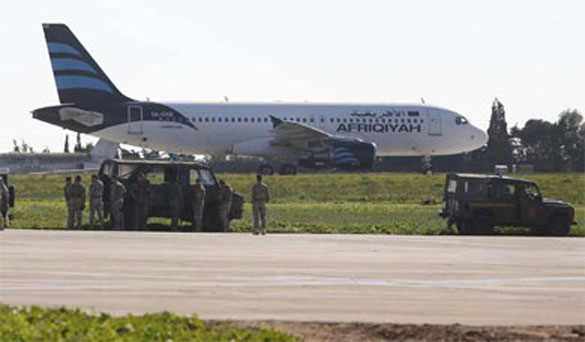 Women and children are being released from the hijacked Libyan plane in Malta
---------
• Prince Charles Urges Brits to Think of Muhammad This Christmas, Speaks Out against 'Aggressive Populism'
• The Year the Islamic State Caliphate Lost Half of Its Bastion, 50,000 Fighters
• Bahrain Regime Grills Prominent Activist over Criticizing Wahhabism
• Aleppo Liberation 'Great Loss' For Militants Fighting To Topple Assad
• Ahok Blasphemy Charge Is Politicization of Religious Issue: Islamic Scholar
• Hijacked Libyan Plane Lands in Malta; Women and Children Getting Off Plane
Europe
• Prince Charles Urges Brits to Think of Muhammad This Christmas, Speaks Out against 'Aggressive Populism'
• Muslim and Christian Groups Working Together To Help Homeless At Christmas
• Romanian president delays nomination of first Muslim PM
• Germany says Tunisian's fingerprints found in Christmas market crash truck
• Berlin Christmas terror suspect Anis Amri shot dead in Milan after pulling out gun during 3am police traffic stop
• Prince Charles warns of return to 'dark days of 1930s'
• French Mayor Will Go On Trial For Saying 91%-Muslim School Is A 'Problem' For His City
• Robert Menard, far-right French mayor, 'to be tried on hate charges'
--------
Arab World
• The Year the Islamic State Caliphate Lost Half of Its Bastion, 50,000 Fighters
• Bahrain Regime Grills Prominent Activist over Criticizing Wahhabism
• Aleppo Liberation 'Great Loss' For Militants Fighting To Topple Assad
• Syrian Troops Find Several Prisons, Torture Dungeons of Terrorists in Aleppo
• 4 million letters of 'empathy, support' dropped on Mosul
• Turkish air raids kill 47 civilians in Syria's al-Bab: Monitoring group
• 29 Civilians, Including 8 Children, Killed in New Turkish Strikes on ISIL-Controlled City
• Attacks near Islamic State-held Mosul in Iraq kill 34
• Russia airstrikes killed 35,000 Syria rebels since 2015
• UN envoy: Idlib could become the next Aleppo
• Kuwaiti politician sentenced 10 years in prison over insulting Saudi Arabia
• British Intelligence Agency behind White Helmets' Lies in Syria
• Russian Air Force Hits ISIL Targets as Syrian Army Repels Offensive West of Palmyra
• Syrian Army Advances in Eastern Ghouta, Kills Al-Nusra Commander
• Shoigu: 35,000 Terrorists Killed in Russian Anti-Terror Aerial Operation in Syria
--------
Southeast Asia
• Ahok Blasphemy Charge Is Politicization of Religious Issue: Islamic Scholar
• Santa Hat Fatwa in Indonesia Causes Hysteria, Sparks Debate
• Deputy home minister: Zakir Naik welcome as not on Malaysia's terror list
• Southeast Asia on Christmas alert after foiled bomb plots
• Christians keep low profile in Aceh
• Indonesian scholars stand up against growing intolerance
• Calls for Ahok to Be Nominated for Nobel Peace Prize
--------
Africa
• Buhari Approves Christmas Day Curfew in Kaduna
• Christmas Cheer Returns to Nigeria's Boko Haram Heartland
• Ethnic militia clashes kill 18 in eastern Congo: army
• Police killed 34 protesters during recent protests in DR Congo: HRW
• Newly formed 3R rebel group inflicts horrors in CAR: UN
• CAN wants Nigeria to withdraw from Islamic finance body
• Christmas Mood is a mood of God being with us, Cardinal Onaiyekan
--------
India
• Goa Muslim Children's Festival Axes Zakir Naik
• Madras HC Ban on Shariat Court Can be Recalled or Modified: Jilani
• More Quota for Muslims? Minority Panel Wants 12%
• NIA Files Chargesheet against 8 Members of Hyderabad ISIS Module
• 40,000 plus and counting: Responses to questionnaire on uniform civil code
--------
Pakistan
• Xmas Train on Mission Tolerance in Pakistan
• Zardari Assures Jammat-E-Islami Sindh Will Take Back Forced Conversion Bill
• Taliban not operating from Pakistan, says FO
• Musharraf's remarks on army's 'pressure' echo in SC
• School blown up in Mohmand
--------
Mideast
• 35 Turkish Soldiers Killed In Battle for ISIS-Held Town
• 28 Al Qaeda Militants in US Strikes in Yemen
• Huge losses for Houthi militias in Taiz and Al Bayda
• Turkey FM urges 'nationwide' truce in Syria after Aleppo liberation
• Turkey to pull out forces from Iraq: Envoy
• Monitoring group says IS video shows two Turkish soldiers burned alive
• Palestinian killed in east Jerusalem clashes
• In Turkey, things could get worse before they get better
• Israel asked Trump to avert UN vote on settlements
--------
South Asia
• Eight Killed after Taliban Storm Afghan MP's House
• Pakistan resumes shelling in Kandahar, Kunar provinces of Afghanistan
• Militants suffer casualties in Kunduz air and artillery srikes: MoD
• Fake followers create clashes between religions: PM
• Kabul's Dasht-e-Barchi upgrading plan discussed in meeting chaired by Ghani
--------
North America
• US Formally Ends Controversial Registry Programme for Muslims, Arabs
• Top Democratic Party Hopeful 'Regrets' Past Ties with Nation of Islam
• Obama cancels 9/11-era registry for Muslims
• Trump calls for expanded US nuclear capability until 'world comes to its senses'
• Teaneck mayor included in exhibit on Muslim cultures
• How Trump's Education Department Could Actually Help Some Muslim Schools
Compiled by New Age Islam News Bureau
URL: https://www.newageislam.com/islamic-world-news/new-age-islam-news-bureau/prince-charles-urges-brits-to-think-of-muhammad-this-christmas,-speaks-out-against-'aggressive-populism'/d/109471
--------
Prince Charles Urges Brits To Think Of Muhammad This Christmas, Speaks Out Against 'Aggressive Populism'
22 Dec 2016
Britain's Prince of Wales has spoken out on national radio in an appeal for persecuted Christians and minorities across the world, but the Royal also moved to criticise "populist groups".
Speaking on Thought for the Day, a SHORT early morning slot on BBC Radio 4 dedicated to faith issues, the son of Britain's reigning Monarch urged listeners to think of persecuted religious figures — singling out Jesus Christ and Muhammad — this Christmas. He said:
Normally at Christmas we think of the Birth of our Lord Jesus Christ. I wonder though if this year we might remember how the story of the nativity unfolds, with the fleeing of the holy family to escape violent persecution. And we might also remember that when the prophet Muhammad migrated from Mecca to Medina he was seeking the freedom for himself and his followers to worship.
Whichever religious path we follow, the destination is the same – to value and respect the other person, accepting their right to live out their peaceful response to the love of God.
The future King spent much of his short radio appearance discussing the persecution of Christians without going so far as to name the main source of this persecution — radical Islam. Referring to "insidious forms of extremism… which aim to eliminate all types of religious diversity", the Prince also mentioned the Yazidis who are coming under extreme persecution from Islamic State, Jews who have been leaving Europe in record numbers to escape Islamist persecution, and the Muslim Ahmadis who are treated as apostates by many mainstream Muslims.
Speaking of his recent interactions with persecuted Christians, Prince Charles said:
In London recently I met a Jesuit protest from Syria…. He told me of mass kidnappings in parts of Syria and Iraq and how he feared that Christians would be driven en masse from the lands described in the Bible. He thought it quite possible there would be no Christians in Iraq in five years.
While he was speaking to promote the receiving of asylum seekers into Europe, the Prince also criticised what he called "populist" movements. Britain's Guardian newspaper claimed of the comments: "His address will be seen by some as a veiled reference to the election of Donald Trump in the US, the rise of the far right in Europe, and increasingly hostile attitudes to refugees in the UK".
The Prince said, implying a relationship between Europe's growing pro-borders movement with European Fascism of the last century:
We are now seeing the rise of many populist groups across the world that are increasingly aggressive towards those who adhere to a minority faith. All of this has deeply disturbing echoes of the dark days of the 1930s.
I was born in 1948, just after the end of World War Two, in which my parents' GENERATION had fought and died in a battle against intolerance, monstrous extremism and an inhuman attempt to exterminate the Jewish population of Europe.
That nearly 70 years later we should still be seeing such evil persecution is, to me, beyond all belief. We owe it to those who suffered and died so horribly not to repeat the horrors of the past.
Breitbart London has reported at length on the worsening conditions in Europe for Jewish citizens, who have complained conditions for them in Europe are now as bad as the 1930s thanks to radical Islamic immigration. Speaking at a Jewish Congress in the United States, Danish Jewish leader Dan Asmussen said Danish society "itself is not and has never been anti-Semitic and many of the threats facing Danish Jewry – like in the rest of Europe – come from marginalized and radicalized Muslims, and these form a small minority of all Muslims in Denmark".
http://www.breitbart.com/london/2016/12/22/britains-heir-throne-speaks-aggressive-populism/
--------
The year the Islamic State caliphate lost half of its bastion, 50,000 fighters
Dec 23, 2016
Multiple ground assaults and a deluge of air strikes shrank the Islamic State group's "caliphate" to a rump and decimated its fighters in 2016 but the organisation remains a potent threat.
The jihadists have squandered close to half of the land they controlled in 2014 and many of their losses came this year, which saw major operations by myriad forces and countries.
The loss of symbolic bastions such as Fallujah in Iraq or Dabiq in Syria dented IS's aura, revealing it could not defend places it once vowed were impregnable and central to its own mythology.
The jihadists were driven out of Ramadi, the capital of Iraq's vast western province of Anbar, as well as Manbij in Syria -- strategic areas crucial to the caliphate's territorial continuity.
Earlier this month, they also lost Sirte, their last major bastion in Libya, a country the jihadists had hoped could drive the expansion of the caliphate.
In October, tens of thousands of Iraqi forces backed by air strikes from a US-led coalition launched a massive operation to retake Mosul, the city where IS supremo Abu Bakr al-Baghdadi proclaimed his "state" in June, 2014.
The going has been tough for the security forces in the booby-trapped and sniper-infested streets of Iraq's second city but there is little doubt the vastly outnumbered jihadists will eventually lose their stronghold.
Shaping operations for a similar assault on Raqa, the only other major urban centre in IS hands, were subsequently launched in Syria setting up a battle that could be the caliphate's last stand.
Syrian pro-government forces patrol the northern embattled city of Aleppo. (AFP file photo)
"The loss of Raqa will mean the end of IS's state-building project and would leave the group with no territorial symbol justifying its name of Islamic State," said Mathieu Guidere, a Paris-based professor of Middle East geopolitics.
Western powers, Turkey, Iran, Iraqi and Syrian Kurdish forces and militias and paramilitary outfits have played a part in the surge against IS in 2016.
Terror attacks
Despite the formidable arsenal IS seized from regular forces and the fear it instilled in the world with its campaign of well-publicised atrocities, the jihadist group stopped expanding and eventually buckled.
According to the Pentagon, at least 50,000 IS fighters have been killed since 2014, twice the number of fighters the coalition estimated the group had when the caliphate was proclaimed.
"Almost three million people and more than 44,000 square kilometres of territory have been liberated" from IS in 2016, coalition commander lieutenant general Steve Townsend said.
But coordination between the various, sometimes rival anti-IS forces is still lacking and the jihadists have shown in two months of Mosul fighting they would not be defeated easily.
Their urban tactics are well-honed and their seemingly endless supply of suicide bombers is a threat even the best-trained and EQUIPPED forces on the ground fear like no other.
IS has also launched a number of diversionary attacks in both Iraq and Syria in an effort to stretch their opponents' ranks and retain some level of initiative, at least in the media.
Omran, a four-year-old Syrian boy covered in dust and blood, in an ambulance after being rescued from the rubble of a building hit by an air strike in the rebel-held Qaterji neighbourhood of the northern Syrian city of Aleppo in August. (AFP file photo)
Those came in the shape of a spectacular commando raid on Iraq's oil-rich and Kurdish-controlled city of Kirkuk and earlier this month with the recapture of the Syrian oasis city of Palmyra from regime forces.
Observers have long warned that territorial reconquest would not spell the end of the Islamic State group, which will find in both Iraq's and Syria's instability a fertile ground for future attacks.
"2016 was the year of IS' decline but its influence is still great because there is no political solution in sight... especially for the Sunni population in both countries," Guidere said.
The remnants of IS could in some ways be harder to fight once they have fully reverted to a clandestine insurgent group focused on terror attacks.
The feared mass return of the caliphate's routed foreign fighters is also a huge source of concern at the end of a year that saw attacks claimed or inspired by IS in the United States, France and Belgium.
"The group has been laying the groundwork to outlast its territorial defeats, framing such losses as temporary setbacks in Iraq and Syria and arguing that the Islamic State is a state of mind as much as it is a governing state," the Soufan Group consultancy said earlier this month.
http://www.hindustantimes.com/world-news/the-year-the-islamic-state-caliphate-lost-half-of-its-bastion/story-4DHFtsJO1MLPEsMh2Z7a0J.html
--------
Bahrain regime grills prominent activist over criticizing Wahhabism
Dec 22, 2016
Bahraini regime authorities have put imprisoned prominent Bahraini human rights campaigner Nabeel Rajab through the mill over criticizing oil-rich Persian Gulf monarchies for spreading "extremism" in an article published in French daily Le Monde.
On Thursday, Bahraini officials interrogated the 52-year-old president of the Bahrain Center for Human Rights and accused him of making comments that "harm the interests" of the Manama regime and other Persian Gulf kingdoms. The case was later transferred to the prosecutor's office for further legal measures.
A piece attributed to Rajab and published by Le Monde on Tuesday condemned the Takfiri Daesh terrorist group, and censured Persian Gulf Arab countries for failure to stop the spread of the violent Wahhabi ideology.
Wahhabism is freely preached by Saudi clerics backed by the regime in Riyadh. The Daesh Takfiri terrorists and other militant groups use the ideology to declare people of other faiths "infidels," justifying the killing of their victims.
The Le Monde article stated that Persian Gulf Arab states claim to be allies in the fight against extremism while at the same time fuelling the crisis.
Bahrain's official BNA news agency has asserted that Rajab has denied writing the article in question.
On December 15, a Bahraini court postponed Rajab's trial until December 28. He faces 15 years in jail for his criticism of the Al Khalifah regime's involvement in the Saudi-led military operations in Yemen.
On November 24, the rights campaigner was taken to hospital from prison due to heart problems after being held in solitary confinement for three months.
In this file photo, Bahraini protesters wave national flags as they participate in an anti-regime protest in the village of Shakhoura. (Photo by AFP)
Rajab has been repeatedly detained for organizing pro-democracy demonstrations and publishing Twitter posts deemed "insulting" to the Bahraini authorities.
He was pardoned for health reasons last year but was arrested again on June 13, following an intensive search of his house in the northwest of the country. Reports suggest he has been subjected to harassment in jail.
Human Rights Watchdog has called for Rajab's immediate release, saying the charges against him "inherently violate the right to free expression."
Thousands of anti-regime protesters have held numerous demonstrations in Bahrain on an almost daily basis ever since a popular uprising began in the kingdom on February 14, 2011.
They are demanding that the Al Khalifah dynasty relinquish power and a just system representing all Bahrainis be established.
Manama has spared no effort to clamp down on dissent. On March 14, 2011, troops from Saudi Arabia and the United Arab Emirates were deployed to Bahrain to assist the Manama government in its crackdown on peaceful protesters.
Scores of people have lost their lives and hundreds of others sustained injuries or got arrested as a result of the regime crackdown on anti-regime activists.
http://www.presstv.ir/Detail/2016/12/22/502054/Bahrain-interrogation-Nabeel-Rajab-Persian-Gulf-kingdoms-extremism
--------
Aleppo liberation 'great loss' for militants fighting to topple Assad
Dec 23, 2016
Takfiri militant groups have expressed smoldering resentment over the liberation of Aleppo by Syrian government soldiers and allied fighters, describing the city's liberation as a "great loss" for foreign-sponsored terrorists fighting to overthrow the Damascus government.
"On the political level, this is a great loss," Yasser al-Youssef of the Nureddin al-Zenki militant group said, adding that the return of Aleppo to full government control marks "a period of retreat and a difficult turning point" for the foreign-sponsored militancy in Syria.
He added that the support offered by Iranian and Russian military advisors to Syrian army forces in the campaign to retake Aleppo cost Takfiri militants dearly.
Ahmed Qorra Ali, a senior militant with the so-called Ahrar al-Sham Takfiri group, also fumed over the army's recapture of the northwestern city, making hostile comments against Russia and Iran.
Earlier, the Syrian army said government forces had wrested full control over Aleppo after the last batch of civilians and militants were evacuated from the city, located some 355 kilometers north of the capital Damascus.
"Thanks to the blood of our martyrs and the sacrifices of our valiant armed forces as well as allied forces... the general command of the armed forces announces the return of security to Aleppo after its release from terrorism and terrorists, and the departure of those who stayed there," the army said in a statement.
The statement further praised the victory in Aleppo as a "strategic transformation" in the nation's battle against terrorism.
Syrians celebrate in Aleppo on December 22, 2016, after the army said it had fully recaptured the country's second city.
Syrians celebrate Aleppo liberation
Hundreds of pro-government supporters took to the streets of Aleppo late on Thursday to celebrate the complete control of the city by army soldiers.
Cars moved slowly through traffic and drivers honked their car horns as crowds waved national Syrian flags and rejoiced at the victory.
"We dedicate this victory to the Doctor, the esteemed President Bashar al-Assad. We dedicate this victory to the Syrian Arab Army and to all of Syria. God, Syria and Bashar," an unnamed Syrian man said in Arabic.
President Assad has hailed the battlefield gains as a "basic step on the road to ending terrorism in the whole of Syrian territory and creating the right circumstances for a solution to end the war."
http://www.presstv.ir/Detail/2016/12/23/502061/Takfiri-militants-Aleppo-liberation-great-loss-Syria
--------
Ahok Blasphemy Charge Is Politicization of Religious Issue: Islamic Scholar
Dec 23, 2016
Jakarta. The blasphemy allegation against Jakarta Governor Basuki "Ahok" Tjahaja Purnama constitutes politicization of a religious issue, which sets a bad precedent, a young Islamic scholar said.
Zuhairi Misrawi, a member of Indonesia's largest Muslim group, Nahdlatul Ulama, said certain parties are trying to use the case to undermine the integrity and electability of Ahok, who is currently standing trial on blasphemy charges.
The blasphemy case comes in the lead-up to next year's Jakarta gubernatorial race, in which the incumbent governor, who is a Christian of Chinese descent, is seeking re-election.
The allegation has damaged Ahok's approval rating, which has since rebounded with several surveys in the past two months showing that he is leading in the polls again.
"Ahok will not be defeated by using this religious issue. Jakartans are well aware of what Ahok has done," Zuhairi said in a statement on Thursday (22/12).
The blasphemy accusation against Ahok emerged three months ago, after he referred to a Koranic verse in public remarks during a working visit to Jakarta's Thousand Islands district.
The country's highest Islamic clerical body, the Indonesian Ulema Council (MUI), later issued a statement saying Ahok had insulted Islam with his remarks. However, Zuhairi has dismissed this notion.
"Ahok wanted to remind us to take part in democracy by putting forward arguments and work programs rather than using religious issues," he said.
Muslim hardliners have staged a wave of mass protests over the past two months against Ahok.
"If Ahok is found guilty, it will set a bad precedent for our democracy and law enforcement, because it will show that the outcome is not determined by legal facts but by mass public pressure," Zuhairi said.
http://jakartaglobe.id/news/ahok-blasphemy-charge-politicization-religious-issue-islamic-scholar/
--------
Hijacked Libyan Plane Lands in Malta; Women and Children Getting Off Plane
December 23, 2016
What we know so far
* Libyan plane hijacked during internal flight
* Plane diverted to Malta with 118 on board
* Two hijackers on board claiming to have hand grenade
* Demands not yet known
* Hijackers claiming to be pro-Gaddafi
* Plane at Malta Airport surrounded by soldiers
* Passengers start disembarking at 1.50pm
An Afriqiyah Airways A320 with around 120 people on board has landed in Malta after it was hijacked.
The plane was on an internal flight from Sebha to Tripoli and diverted by two hijackers who claimed to have a hand grenade.
Soon after reports of the hijack started coming out, Prime Minister Joseph Muscat tweeted he is informed of a potential hijack situation of an internal Libyan flight diverted to Malta. Security and emergency operations were standing by.
The reports indicated two hijackers on board, one of whom claimed to be in possession of a hand grenade.
The hijackers, claiming to be pro-Gaddafi group Al Fatah Al Gadida, said they were willing to let all passengers go apart from the crew, if their demands were met.
It is not known what their demands are at this stage. It is not clear whether this is an act of terrorism or the result of the bitter Libyan political feud.
The head of communications at the Prime Minister's office, Kurt Farrugia, tweeted at 1.15pm that Dr Muscat had just spoken to Libyan Prime Minister Faez al Serraj.
International media are reporting that the Libyan transport minister is negotiating with the hijacker.
Opposition leader Simon Busuttil tweeted that he is following the news with grave concern. He offered cooperation to the government to protect Malta's security and passenger safety.
Meanwhile MIA has informed passengers in the Departures Lounge that all flights have been cancelled or diverted until further notice. At 12.43pm, the airport informed passengers airport operations have resumed. Lufthansa and Ryanair flight left the airport SHORTLY after.
At 1.15pm passengers were informed that all flights were delayed and flights that had been diverted to Sicily started returning to Malta.
At 12.28pm, nine flights had already been diverted to Catania. Ten flights were due to leave in the next two hours.
Afriqiyah Airways operates from Sebha to Tripoli on Friday, leaving at 10.10am and arriving at 11.20am.
It operates another flight on Tuesdays.
First major hijack in Malta since 1985
The last major hijack incident in Malta took place in November 23, 1985 when an EgyptAir Boeing 737 plane was diverted to the island.
What followed was a 24-hour nightmare that ended in a bloody massacre with 62 people dead when Egyptian commandos stormed the plane. Only one of the three hijackers survived and was brought to justice.
Forty-three years ago then Prime Minster Dom Mintoff managed to negotiate the release of 247 passengers and eight air hostesses on board a Boeing 747 Jumbo Jet which was also hijacked over Iraq and flown to Malta.
The passengers and air hostesses were released in return for fuel. The plane had been hijacked by Palestinian terrorists. The plane later left Malta and the hijackers eventually surrendered.
http://www.timesofmalta.com/articles/view/20161223/local/hijacked-libyan-plane-lands-in-malta.634664
-----
Europe
Muslim and Christian groups working together to help homeless at Christmas
Dec 23, 2016
A multitude of different faith groups are teaming up across the UK to help the homeless in the run up to Christmas.
Muslim NGOs are working hand-in-hand with churches in London to distribute food and sleeping kits.
Anglicans, Catholics, Methodists, Quakers, Jews, Hindus, Muslims and Sikhs meanwhile opened up a night shelter in Leicester last week, in what is believed to be the first enterprise of its kind.
Muslims and Christians dished out hot turkey dinners and sleeping kits to around 90 homeless people at a west London church on Monday.
"It was a glimpse into how the world should be," said Shepherds Bush's Church of St Stephen and St Thomas vicar Dr Bob Mayo, speaking to The Independent.
"Homelessness is a desperate need in society and there is a desperate need for different faith groups to work together because secularism has pushed us apart."
Muslim Aid, NGO the Al-Khair Foundation and non-faith based charity Streetlytes also served up biryanis and kits containing sleeping bags, multipurpose utensils and emergency PHONEnumbers.
"You always get a better sleeping bag from the Muslims," joked Dr Mayo, who shared his birthday cake with his homeless friends on 5 December.
"There is so much negative publicity surrounding Islam going on at the moment so we really encourage them to come in and maximise what they've got."
Earlier this month, Muslim Aid and East London Mosque in Whitechapel handed 10 tonnes of food to homeless charity Crisis for its Christmas initiative.
An estimated 90 per cent will go to non-Muslims.
Muslim-owned kebab shops in Birmingham and in south-east London will feed the homeless free of charge on Christmas Day.
In Leicester, charity One Roof opened a shelter on 12 December, for 10 homeless men, which switches between seven different faith-based locations.
Housing Justice UK told One Roof that never before had so many different faiths collaborated on a homelessness project.
"When you think about it, I find it really mind boggling," the charity's manager Salma Ravat told The Independent.
"It's really IMPORTANT that all these different faiths work together. It builds community; people getting to know each other, sharing values and sharing morals.
"Working together, you find out more of what you have in common with one another than what your differences are."
One Roof, which will give its homeless donated presents on Christmas Day, estimates there are around 40 rough sleepers in Leicester, although the last city council count totalled 16.
Leonardo Di Caprio delights fans on visit to Edinburgh eatery which helps the homeless
There are 255,000 people without a permanent home, according to charity Shelter, and an estimated 124,000 homeless children will spend Christmas in temporary accommodation.
"It's fantastic what we've achieved," said Ms Ravat, a 44-year-old Muslim.
Also in November, Muslims and Christian volunteers gave an evening meal for the homeless as part of a Jewish Mitzvah Day initiative in St Albans, Hertfordshire.
http://www.independent.co.uk/news/uk/home-news/muslims-christians-homeless-people-christmas-london-streetlytes-dinner-al-khair-a7490016.html
--------
Romanian president delays nomination of first Muslim PM
December 23, 2016
BUCHAREST - Romania's president postponed on Thursday his expected nomination of a new prime minister of the EU's second-poorest country until after this weekend, saying further discussions were needed.
"In the coming days I will have talks and the designation will take place after Christmas," Klaus Iohannis said, adding that he had received "two proposals" on who should be premier.
Romania's Social Democrats (PSD) cruised to victory in parliamentary elections on December 11 with 45 percent of the vote. The party and its allies, the ALDE party, have a comfortable majority of 17 seats in parliament. PSD leader Liviu Dragnea on Wednesday withdrew his bid to become prime minister because he is serving two-year suspended sentence for electoral fraud, putting forward former development minister Sevil Shhaideh instead. Shhaideh, 52, would be Romania's first female and first Muslim premier. But her lack of experience and personal closeness to Dragnea have stoked opposition accusations that she would merely be his puppet.
http://nation.com.pk/international/23-Dec-2016/romanian-president-delays-nomination-of-first-muslim-pm
--------
Germany says Tunisian's fingerprints found in Christmas market crash truck
December 23, 2016
Fingerprints from a Tunisian suspect have been found inside the truck that smashed through a Berlin Christmas market on Monday in an attack that killed 12 people, and investigators assume the migrant was at the wheel, officials said.
A hunt is underway across Europe for Anis Amri, 24, as Germany reels from its worst attack in decades.
A video clip from a car-mounted dashcam obtained exclusively by Reuters appears to show the truck driving into the market at speed, immediately after which people run away from the scene.
"We can report today that we have new information that the suspect is with high probability really the perpetrator," Interior Minister Thomas de Maiziere told reporters on Thursday.
"In the cab, in the driving cabin, fingerprints were found and there is additional evidence that supports this," he said.
Frauke Koehler, a spokeswoman for the federal prosecutor's office, told reporters: "At this point in the investigation, we assume Anis Amri drove the truck."
Police had carried out searches across Germany on Thursday but made no arrests, she said.
Chancellor Angela Merkel, facing demands to take a much tougher line on immigration and security, said she hoped the perpetrator would be arrested soon.
Islamic State has claimed responsibility for the attack, in which the truck mowed through a crowd of people and bulldozed wooden huts selling Christmas gifts and snacks beside a famous church in west Berlin.
One of the 12 dead was the Polish driver from whom the truck had been hijacked. His body, stabbed and shot, was found in the cab.
Amri had been identified by security agencies as a potential threat and rejected for asylum, but authorities had not managed to deport him because of missing identity documents.
In Tunisia, two of Amri's brothers, Walid and Abdelkader, said they feared the failed asylum-seeker may have been radicalized by radical Islamists while he spent almost four years behind bars in Italy.
"He doesn't represent us or our family," Abdelkader told Sky News Arabia. "He went into prison with one mentality and when he came out he had a totally different mentality."
The suspected involvement of a migrant - one of more than a million allowed into Germany in the past two years - has intensified political pressure on Merkel, who plans to seek a fourth term in elections next year.
Armin Schuster of her Christian Democratic party told broadcaster NDR: "We need to send the signal: Only set off for Germany if you have a reason for asylum."
Germany had until now been spared the kind of mass-casualty militant attacks that have hit France, Spain and Britain in recent years. No attack on German soil has claimed so many lives since 1980, when 13 people including the suspected bomber, a member of a neo-Nazi group, were killed in an explosion at a Munich beer festival.
Ringed by concrete bollards, the Berlin market reopened on Thursday, with candles, flowers and flags laid amid the small festive huts in tribute to those killed.
Full report at:
http://nation.com.pk/international/23-Dec-2016/germany-says-tunisian-s-fingerprints-found-in-christmas-market-crash-truck
--------
Berlin Christmas terror suspect Anis Amri shot dead in Milan after pulling out gun during 3am police traffic stop
23 DEC 2016
The Berlin Christmas market massacre suspect has been shot dead in Milan by police after pulling out a gun during a 3am stop.
Anis Amri was killed in a shootout during a routine traffic stop when he pulled out a gun injuring one officer, who is not thought to be in a serious condition.
The 24-year-old reportedly shouted "Allahu Akbar", or god is great, while attempting to fire at the police.
He launched the attack after being asked to show his identity documents by police who then returned fire hitting the suspect in the chest.
Security officials have confirmed "without any shadow of a doubt" that the dead man is Amri after identifying him using his fingerprints.
The Tunisian is suspected of driving a truck into crowds at the market in Berlin on Monday, killing 12 people and injuring dozens more.
After hearing of the shooting Amri's brother told a German reporter: "We are shocked and the whole family is in a bad situation. No comment."
Italian interior minister Marco Minitti told a press conference in Rome: "During usual routine activity there was a police squad, they stopped someone who appeared to be a suspect. And at the moment when he was stopped
"He immediately took a pistol out of his rucksack and shot at the police who asked him for documents.
"The person killed after a number of inquiries without any shadow of a doubt is Anis Amri, the presumed suspect of the terrorist attack in Berlin.
"He was the most wanted man in Europe and we immediately identified him and neutralised him. This means our security is working really well."
The shooting will raise questions about how the suspect was able to travel from Germany to Italy despite a major international manhunt being launched.
Amri would have had to cross through either France, Switzerland, Austria or Slovenia to to get there – potentially meaning that police in multiple countries missed opportunities to apprehend the suspect.
Full report at:
http://www.mirror.co.uk/news/world-news/berlin-christmas-market-lorry-massacre-9505112?ptnr_rid=805049&icid
--------
Prince Charles warns of return to 'dark days of 1930s'
Dec 22, 2016
Britain's Prince Charles warned against intolerance towards refugees fleeing religious persecution today, saying the rising tide of populism was reminiscent of the "dark days" of the 1930s.
"The suffering doesn't end when they arrive seeking refuge in a foreign land," the heir to the throne told BBC radio.
"We are now seeing the rise of many populist groups across the world that are increasingly aggressive towards those who adhere to a minority faith."
The 68-year-old, in his third broadcast for the "Thought for the Day" SECTION of popular news programme Today, added: "All of this has deeply disturbing echoes of the dark days of the 1930s."
Charles said his comments applied not just to Christians fleeing parts of the Middle East but also to other persecuted faiths in the world including Yazidis, Jews, Ahmadi Muslims and Baha'i people.
Referring to the "monstrous extremism" seen in World War II, the Prince of Wales said the fact that "nearly 70 years later we should still be seeing such evil persecution is to me beyond all belief".
Full report at:
http://www.deccanherald.com/content/587825/prince-charles-warns-return-dark.html
--------
French Mayor Will Go On Trial For Saying 91%-Muslim School Is A 'Problem' For His City
12/22/2016
A far-right French mayor is being charged with incitement of hatred and discrimination because he said a school with a vast majority of Muslim children is a "problem."
"In a class in the city centre in my town, 91 percent of the children are Muslims. Obviously, this is a problem. There are limits to tolerance," Robert Menard said, according to France24, which sites French news channel LCI.
Full report at:
http://dailycaller.com/2016/12/22/french-mayor-will-go-on-trial-for-saying-91-muslim-school-is-a-problem-for-his-city/
--------
Robert Menard, far-right French mayor, 'to be tried on hate charges'
22 December 2016
A far-right French mayor is to be tried on hate charges over comments that include a claim the number of Muslim students in his city was a "problem", media and judicial sources say.
Robert Menard will face charges of incitement to hatred or discrimination. Media say the trial is set for 8 March.
He has denied that his remarks were discriminatory.
The Beziers mayor is an ally of the anti-immigrant National Front party led by Marine Le Pen.
The case is centred on two statements from the mayor, Le Monde newspaper (in French) reports.
On 1 September, France's first day back at school, he said on Twitter he was witnessing the "great replacement", a widely used term to describe the alleged eviction of the country's white and Christian population by Muslims in parts of France.
Robert Menard: France's strongest far-right mayor
Screengrab of tweet from Robert Menard reads, in French: #ReturnoftheClasses: the most striking proof of the ongoing 'great replacement'. Just look at old class photos.Image copyrightTWITTER - @ROBERTMENARDFR
Image caption
Tweet from the mayor says: "#ReturnoftheClasses: the most striking proof of the ongoing great replacement. Just look at old class photos."
Then, on 5 September, he said on French news channel LCI: "In a class in the city centre of my town, 91% of the children are Muslims. Obviously, this is a problem. There are limits to tolerance."
Full report at:
http://www.bbc.com/news/world-europe-38407045
--------
Arab World
Syrian Troops Find Several Prisons, Torture Dungeons of Terrorists in Aleppo
Dec 22, 2016
The Syrian soldiers also found over 20 places used for trials and over 500 identity cards of people who were seemingly detained and tortured by the terrorists.
Meantime, the local sources in Eastern Aleppo said that there are a number of mass graves in different districts containing the corpses of the Syrian soldiers killed and buried by the militants.
They also added that after Liwa al-Touhid terrorists retook control of most Eastern Aleppo districts, they killed tens of people in the streets and mutilated their bodies to show their power.
The sources said that the terrorists mostly murdered famous and high-ranking people of the society and gathered ordinary people to WATCH their death to intimidate people and take their control.
The Syrian army has given the terrorists who have remained in Eastern Aleppo a final ultimatum to fully surrender areas under their control and leave the region or face death.
The army called on the terrorists in Eastern Aleppo to remain committed to the contents of their agreement and leave the region immediately.
Local sources said that infighting among the terrorist groups on remaining or leaving Eastern Aleppo has delayed implementation of the final stage of the evacuation of terrorists from the region.
The implementation of the Aleppo agreement started last Thursday morning, but it was halted for two days due to the violation of the ceasefire agreement by the terrorists on Friday. On Sunday the implementation of Aleppo agreement resumed and again on Tuesday night it was suspended due to the terrorists' lack of commitment to the contents of the agreement.
The Syrian state television announced late Wednesday that the final phase of the evacuation of the terrorists from Aleppo city resumed.
Militants had accepted to release thousands of civilian hostages in the two besieged towns of Fua'a and Kafraya in Northern Idlib province in return for the government's permission to their besieged comrades in Eastern Aleppo to evacuate the city for Idlib. But the militants have blocked the exit of civilians from the two towns repeatedly.
Yet, after repeated violations by the terrorists, now the Syrian state TV reports that the final phase of the exit of the last group of about 2,500 terrorists started minutes ago, meaning that Aleppo city will be fully evacuated from the militants in the coming hours.
Several buses which are stationed in Kafraya and Fua'a (in Idlib province) are slated to evacuate a group of other patients and injured people from the two towns in return as per the agreement.
The Syrian state television also reported that a number of people who had been kidnapped by terrorists in recent years have been released.
Based on the latest reports, tens of buses have left the Eastern Aleppo districts by the last hours of Wednesday night and the first hours of Thursday but the operations to evacuate the terrorists have not yet completed.
Meantime, the operations to evacuate the wounded and patients from Fua'a and Kafraya still continue.
Based on the latest reports 15,500 militants and their families have thus far left Aleppo and the army, once again, called for faster evacuation of militant on Tuesday from the Eastern neighborhoods to dispatch engineering units to defuse terrorist-planed bombs and mines in the newly-freed districts.
A security source disclosed on Wednesday that terrorists groups' lack of commitment to an agreement on exit of injured civilians from the two towns in Idlib pushed evacuation of militants and their families from the Eastern neighborhoods of Aleppo into suspension.
The source said that the terrorist groups that have laid siege on Fua'a and Kafraya towns in Northern Idlib once again violated the evacuation agreement's terms, leaving negative impact on the trend of transferring militants and their families from Eastern Aleppo.
The source further added that it was agreed that the last group of militants and their families leave Aleppo in return for evacuation of the injured and patient civilians from Fua'a and Kafraya, but terrorists prevented exit of buses carrying the injured and patients from the two towns in Idlib, violating the terms of the evacuation agreement.
Another military source said Wednesday that terrorists trapped in the Eastern neighborhoods of Aleppo city have ironically demanded even more and set more conditions for evacuating the city, complicating the situation more.
The source added that terrorists' demand to leave Aleppo in their own cars without any inspection have halted evacuation agreement.
The Syrian army warned that it will enter the Eastern neighborhoods of Aleppo after the militants called for adding new terms to the already endorsed evacuation agreement.
The Syrian government has rejected terrorists' request, but has announced that a bus carrying injured or patient civilians must leave Fua'a and Kafraya
in return for exit of 10 militant cars that leave Aleppo.
Aleppo is to be declared a completely liberated city by Damascus any moment now as the Syrian authorities and terrorist groups stationed in the Eastern parts of Aleppo reached an agreement to evacuate militants from the region in return for relocating thousands of besieged civilians from Fua'a and Kafraya in Idlib to government-ruled territories.
The Syrian army units started special operations in Aleppo after several humanitarian pauses declared by Damascus and Moscow to give a chance to the civilian population as well as the militants to leave the Eastern parts of the city through 8 corridors.
District after district have fallen into the hands of the Syrian army soldiers and their allies in the city of Aleppo, as the pro-government troops have recaptured nearly all of the blocks and districts in the Northern and Southern parts of Eastern Aleppo.
Also, tens of thousands of civilians, including hundreds of children and newborn babies, have also left the Eastern part of the besieged Syrian city of Aleppo in recent days, while thousands of militants laid down their arms and left Eastern Aleppo through the special corridor.
Over the recent months, Aleppo has been a battlefield between government forces and numerous terrorist groups.
http://en.farsnews.com/newstext.aspx?nn=13951002000645
--------
4 million letters of 'empathy, support' dropped on Mosul
23 December 2016
The Iraqi air force dropped four million letters over Mosul on Thursday, the US-led coalition said, in a move aimed at providing "empathy and support" for residents of the ISIS-held city. The air drop comes after the international Institute for War and Peace Reporting started a campaign called "Letters to Mosul" on October 17, the day Iraqi forces began their operation to recapture Mosul from ISIS militants.
"The letters of empathy and support for Mosul residents were written by Iraqis from all over the country," the coalition said in a statement. "This initiative by the people of Iraq reassures the residents of Mosul, held hostage by ISIS for more than two years, that they have not been forgotten and that the rest of Iraq is standing with them, waiting to welcome them back in solidarity when ISIS is defeated."
Full report at:
https://english.alarabiya.net/en/News/middle-east/2016/12/23/4-million-letters-of-empathy-and-support-dropped-on-Mosul.html
--------
Turkish air raids kill 47 civilians in Syria's al-Bab: Monitoring group
Dec 22, 2016
Turkish jets have reportedly conducted fresh airstrikes on Syria's northwestern city of al-Bab, leaving at least 47 civilians dead in yet another act of aggression against the Arab country.
The so-called Syrian Observatory for Human Rights said 14 children and nine women were among the fatalities of Thursday's aerial assaults.
Turkish warplanes regularly carry out airstrikes in support of their ground incursion into Syria.
Similar Turkish air raids had killed seven civilians in al-Bab on Wednesday.
On the same day, 14 Turkish forces were also said to have been killed around the Syrian city, in the country's biggest loss so far in its military campaign in Syria.
Meanwhile, Turkey-backed Takfiri militants established full control over the highway linking al-Bab to Aleppo following intense clashes with Daesh terrorists.
Full report at:
http://www.presstv.ir/Detail/2016/12/22/502040/Turkey-Syria-Bab-Euphrates-Shield
--------
29 Civilians, Including 8 Children, Killed in New Turkish Strikes on ISIL-Controlled City
Dec 22, 2016
The activists told local media that the airstrikes were conducted on the flashpoint town of Al-Bab, which Turkish forces have been trying to grab from the ISIL militants.
Earlier reports said the fighter jets flying for the US-led coalition and the Turkish air force pounded the residential areas in the two provinces of Raqqa and Aleppo in Syria, killing at least 10 civilians.
The Turkish fighter jets targeted the residential areas in al-Bab city in Northeastern Aleppo also earlier today which killed at least 7 civilians, wounded several others and destroyed many houses..
The sources added that the number of civilian casualties may rise as a number of wounded people are in critical conditions.
Full report at:
http://en.farsnews.com/newstext.aspx?nn=13951002001088
--------
Attacks near Islamic State-held Mosul in Iraq kill 34
Dec 23, 2016
Mortar fire and car bombs killed more than 30 people including aid workers near Mosul Thursday as Iraqi forces battled to seize the city from the militant Islamic State (IS) group.
A triple car bombing on a market killed at least 23 people in Gogjali, a few kilometres east of Mosul, the army said.
Gogjali was retaken by pro-government forces on November 1, two weeks into a massive operation to oust IS militants from their last stronghold in Iraq.
Since launching the operation against IS on October 17, Iraq's elite counter-terrorism service has advanced into Mosul from the east, but progress has since slowed.
"A terrorist attack in the form of three car bombs at a market in Gogjali killed 15 civilians and eight police," a coordination centre for the forces battling IS said in a statement.
IS said three of its suicide bombers carried out the attack.
Mortar fire also killed 11 people including four aid workers as civilians gathered to receive assistance in Mosul city, the United Nations said.
"According to initial reports, four aid workers and at least seven civilians queuing for emergency assistance in eastern Mosul city have been killed by indiscriminate mortar fire," UN humanitarian coordinator in Iraq Lise Grand said in a statement.
"Within the last 48 hours, there have been two separate incidents" that also wounded up to 40 people, she said.
"People waiting for aid are already vulnerable and need help. They should be protected, not attacked," Grande said.
"The killing of civilians and aid workers violates every humanitarian principle."
Iraqi forces pushing towards Mosul on the southern front have yet to enter the city, and another advance from the north has stalled.
To the west, forces from pro-government paramilitary groups are close to the town of Tal Afar, between Mosul and the border with Syria.
However, areas taken from the jihadists are still exposed to deadly artillery attacks, bombs and gunfire.
Full report at:
http://www.dawn.com/news/1303861/attacks-near-islamic-state-held-mosul-in-iraq-kill-34
--------
Russia airstrikes killed 35,000 Syria rebels since 2015
22 December 2016
Russian airstrikes in Syria have killed 35,000 rebel fighters since September 2015, according to Russian Defence Minister Sergei Shoigu in a statement coinciding with Syrian president Bashar Al Assad's proclamation imputing Aleppo's "victory" to his Russian and Iranian allies.
Shoigu stated at a gathering of top military officials: "Since the start of operation Russian aircraft had flown 17,800 sorties destroying 725 training camps, 405 sites where weapons were being made and killing 35,000 fighters including 204 high profile leaders."
He stressed during the gathering that appeared designed to showcase Russia's military achievements, that Moscow's intervention prevented the collapse of Syria.
Meanwhile, Assad said that the regaining of full control of Aleppo was a victory for his Russian and Iranian allies, as much as his own country.
Full report at:
https://english.alarabiya.net/en/News/middle-east/2016/12/22/Russia-airstrikes-killed-35-000-Syrian-rebels-since-2015.html
--------
UN envoy: Idlib could become the next Aleppo
22 December 2016
A senior United Nations official warned on Thursday that thousands of people evacuated from rebel-held areas of Aleppo after a crushing government offensive could suffer the same fate in their new place of refuge outside the city.
UN Special Envoy Staffan de Mistura said a cessation of hostilities across Syria was vital if another battle like the bloody fight for Aleppo was to be avoided.
At least 34,000 people, both civilians and fighters, had been evacuated from east Aleppo in a week-long operation, the latest UN figures show.
"Many of them have gone to Idlib, which could be in theory the next Aleppo," de Mistura warned in Geneva.
Thousands of refugees from Aleppo were ferried to Idlib, arousing fears that the rebel-held city in northwestern Syria could be next. Syrian President Bashar al-Assad has declared that the war is far from over and that his armed forces would march on other rebel-held areas.
Evacuees from Aleppo had expressed concerns about being taken to Idlib and a senior European diplomat said earlier this month that this would suit Russia, Assad's main military backer, as it would put "all their rotten eggs in one basket".
Assad said that regaining full control of Aleppo was a victory shared by his Russian and Iranian allies.
The last group of civilians and rebels holed up in a small enclave was expected to leave in the next 24 hours, with the Syrian army and its allies seizing all of the city, delivering the biggest prize of the nearly six-year war to Assad.
In comments after meeting a senior Iranian delegation, Assad said his battlefield successes were a "basic step on the road to ending terrorism in the whole of Syria and creating the right circumstances for a solution to end the war".
Russia's air force conducted hundreds of raids that pulverized rebel-held parts of Aleppo while Iranian-backed militias, led by the Lebanese group Hezbollah, poured thousands of fighters to fight rebels into the city.
Defence Minister Sergei Shoigu said on Thursday that Russian air strikes in Syria had killed 35,000 rebel fighters and halted a chain of revolutions in the Middle East.
Speaking at a gathering of senior military officials that appeared designed to showcase Russia's military achievements, Shoigu said Moscow's intervention had prevented the collapse of the Syrian state.
UN votes to set up panel to prepare Syria war crimes cases
The United Nations endorsed the formation of a special team to gather evidence and prepare cases of war crimes and human rights violations committed during the conflict in Syria.
A resolution on establishing the investigative mechanism was adopted in the 193-nation assembly by a vote of 105 to 15, with 52 abstentions.
Full report at:
https://english.alarabiya.net/en/News/middle-east/2016/12/22/UN-votes-to-set-up-panel-to-prepare-Syria-war-crimes-cases-.html
--------
Kuwaiti politician sentenced 10 years in prison over insulting Saudi Arabia
22 December 2016
Kuwaiti court of appeals canceled an "innocence judgement" that was handed to parliament member Abdul-Hamid Dashti.
Instead the court sentenced to 10 years in the jail, according to al-Watan newspaper.
Earlier this year, Dashti was sentenced in separate sentence for insulting Bahrain, local media outlets reported.
In March, the National Assembly of Kuwait, approved the claim presented for lifting Dashti's parliamentary immunity. The request was based on the case on a homeland security lawsuit issued against Dashti for incitement against Saudi Arabia.
Under Kuwaiti law, any individual convicted of a hostile act against a foreign country, which may expose Kuwait to war or the severance of diplomatic relations shall be jailed.
Full report at:
https://english.alarabiya.net/en/News/gulf/2016/12/22/Kuwaiti-politician-sentenced-to-10-years-in-prison-over-insulting-Saudi-Arabia.html
--------
British Intelligence Agency behind White Helmets' Lies in Syria
Dec 22, 2016
Vzglyad daily said in a report that there is reason to believe that the organization is supervised by the British intelligence service and the Soros Fund.
"The Government of the United Kingdom had allocated around 32 million pounds for the needs of the White Helmets in 2013 while another 12.5 million pounds has been paid to the organization only in the year 2016," a source close to the organization told Tass news agency.
According to the source, the whole budget of the organization is about 50 million dollars a year.
The White Helmets should have also received an additional US $13 million from the United States and the United Kingdom, including the companies associated with George Soros, he added, saying that the organization has also received $23 from the US International Development agency.
The source also said that one of the leaders of the White Helmets, Mosab Obeidat, has already been identified to have contributed a major role in the financing of the terrorist groups.
According to some reports, Obeidat has played the role of a mediator in providing the Syrian militants with around 2.2 million dollars to pay for weapons and ammunition supplies.
Speaking about the founder of White Helmets James Le Mesurier, the source pointed out that, in all probability, "he is a graduate of the Royal Military Academy at Sandhurst, which to this day is at the service of Her Majesty (the British Queen), to be exact - in the British military intelligence."
Anton Mardasov, an expert at the Institute of Innovative Development, said that the problem is that the White Helmets are spreading false news, along with reliable.
Mardasov believes that the commanders of the White Helmets may be official workers of the western intelligence agencies and the western institutes' representatives prefer to work in such organizations to use them as their headquarters.
As witnessed before, the Syrian governmental forces detained the French intelligence officers in 2013 and then negotiations were held to free them.
Also, Sputnik news agency reported that the western media refer to the London-based Syrian Observatory for Human Rights and the White Helmets to report on what they call as the Syrian army's civilians' execution or detentions.
These sheer lies are told as many people in Aleppo remember the time that the so-called supporters of human rights occupied the people's houses and threw them into rubbles immediately after turning off the CAMERAS.
A journalist disclosed mid November that the White Helmets Organization is not an independent body despite their claims and receive financial supports from several Western states that back terrorist groups in Syria.
"The White Helmets cannot be an independent organization because it works for the interests of the western countries that back terrorist groups in Syria and receives financial support from the US, Britain and Germany instead," Vanessa Beeley said, adding that "It seems to be strange that the White Helmets are constantly in the regions controlled by the ISIL and Fatah al-Sham Front (the al-Qaeda-affiliated terrorist group previously known as the al-Nusra Front) and their affiliated groups. Videos and images taken in these regions prove that the White Helmets cooperate with the terrorists".
"The White Helmets not only offer medical services to terrorists and take part in their assassination and execution of civilians, but also work for overthrowing the Syrian government," the journalist stressed.
Early November, a Syrian journalist proved via release of several images of a Syrian child that the US-linked White Helmet Humanitarian Organization's claims of saving civilians in the war-hit country are mere lies.
Abbas Jom'eh released three images of a little girl that had been allegedly rescued by members of the White Helmet Organization in three different locations, disclosing the organization's lies about rescuing civilians in Syria.
In his twitter page, the Syrian journalist placed three images form the girl that was rescued by the White Helmet's agents in different places.
"Actors in the White Helmet rescue one girl in three different places! Can't they play their role any better on this stage," Abbas Jom'eh asked.
Moscow also said mid November that the so-called reports about "hospitals" and "schools" allegedly located in terrorist-held Syrian territory were created by the "White Helmets" group financed by London.
"After three days it is absolutely clear for everyone that the allegedly bombed "hospitals" and "mobile clinics" in Aleppo exist only in US State Department spokesman John Kirby's imagination. This "information blooper" will certainly remain a stain on Admiral Kirby's biography," Russian Defense Ministry Spokesman Maj. Gen. Igor Konashekov said, adding that if all the "bombed" "hospitals" and "mobile clinics" were counted, that would mean there is nothing else in Syria apart from them.
US State Department spokesman John Kirby has blamed the Russian Aerospace Forces for allegedly "bombing hospitals" in Syria.
Full report at:
http://en.farsnews.com/newstext.aspx?nn=13951002000946
--------
Russian Air Force Hits ISIL Targets as Syrian Army Repels Offensive West of Palmyra
Dec 22, 2016
The Russian warplanes attacked the ISIL targets in Western Palmyra as the Syrian Army forces and Hezbollah fighters were fighting off the terrorists attempting to infiltrate the areas near T-4 Military Airport secured by the pro-government forces.
The assult by the ISIL militants took place just 5 kilometers East of the T4 Military Airbase and more than 30 kilometers West of the ancient city of Palmyra
According to a source at the military installation, the Syrian Army managed to repel an ISIL offensive to infiltrate their defenses, killing and wounding over 25 terrorists in fierce clashes.
The pro-government forces also inflicted significant damage on ISIL's hardware, reportedly destroying 2 tanks and 3 technical vehicles mounted with machine guns.
Elsewhere in Homs Province, the Syrian army forces continued their large-scale operations against the terrorists in the Northern and Eastern parts of the province, smashing several bases and killing tens of militants.
The Syrian troops targeted the terrorists' gathering centers in the Northern parts of al-Za'feranah village towards Talbiseh in Northern Homs and destroyed a command center of al-Nusra Front (recently renamed to Fatah al-Sham Front) terrorists and inflicted heavy tolls and damage on the militants.
Full report at:
http://en.farsnews.com/newstext.aspx?nn=13951002001042
--------
Syrian Army Advances in Eastern Ghouta, Kills Al-Nusra Commander
Dec 22, 2016
The Syrian army units continued to advance from two directions towards Harazma region (near al-Nashabiya town) and Otaya in Eastern Damascus and could enter Housh al-Khanam, taking control of several houses.
Also, a commander of al-Nusra Front (recently renamed to Fatah al-Sham Front) terrorist group named Abu Mohammad al-Hout was killed near Meida'ani in clashes with the Syrian troops.
Meantime, the Syrian soldiers targeted the Jeish al-Islam terrorists' positions in Harasta city and the two towns of Hamouria and Sabaqa.
Field sources said clashes have resumed between the Syrian army and the terrorists on Damascus-Homs highway in Harasta region and the army forces targeted the militants' gathering centers in the region, killing tens of them.
Also, the terrorists' positions near Jobar district came under attack by the Syrian army units.
Syrian army troops engaged in fierce clashes with terrorists in Eastern Ghouta and managed to drive them out of a key region near the town of Meida'ani on Wednesday.
Full report at:
http://en.farsnews.com/newstext.aspx?nn=13951002000824
--------
Shoigu: 35,000 Terrorists Killed in Russian Anti-Terror Aerial Operation in Syria
Dec 22, 2016
"Since the start of the operation, Russian jets have conducted 17,800 sorties, launching 71,000 strikes on terrorists' infrastructure, eliminating 725 training camps, 405 plants producing ammunition, 1,500 pieces of terrorists' military EQUIPMENT, 35,000 militants, including 204 field commanders," Russian Defense Minister Sergei Shoigu said.
Russia has begun an aerial operation against the terrorists in Syria since September 2015 at Syrian President Bashar Assad's request.
Shoigu also told reporters that the Russian Aerospace Forces have destroyed over 700 terrorist training camps in Syria during its campaign,
Some 9,000 militants have surrendered themselves and laid down arms in Syria, the Russian defense minister said.
Russia's military campaign in Syria has helped stop the spread of terrorism in the region and keep the country united, Shoigu said.
"In general, the operation in Syria allowed to solve a number of geopolitical problems: international terrorist organizations have been dealt a serious blow in Syria, their spread in the region has been stopped, the financial support of militant groups… has been disrupted, and the collapse of the Syrian state has been prevented," he said.
According to the defense minister, "the process of political settlement and reconciliation of warring parties has been launched in Syria. A total of 1074 settlements populated by some 3 million people have joined the ceasefire regime, while 108,000 refugees returned home; 9,000 militants laid down arms."
On September 30, 2015 Russian bombers conducted their first strikes against terrorist targets in Syria, hitting ISIL positions near the cities of Homs and Hama.
Although Russia annihilated tens of thousands of terrorists in Syria, the country also suffered military losses.
Full report at:
http://en.farsnews.com/newstext.aspx?nn=13951002000685
--------
Southeast Asia
Santa hat fatwa in Indonesia causes hysteria, sparks debate
22 Dec, 2016
News of a Santa hat fatwa issued by a Muslim council in Indonesia has been met with outrage online. However, the fatwa was issued in response to Muslim employees being forced to wear Santa hats.
The Indonesian Ulema Council published the fatwa on December 14, which says businesses should "guarantee the right of Muslims to practice religion in accordance [with] beliefs, respecting their religious beliefs," and not impose non-Muslim religious attributes on Muslim employees.
The fatwa acknowledges that "some Muslims in the name of tolerance and friendship, use attributes and/or non-Muslim religious symbols" but that some business owners "require their employees, including the Muslims to use the attributes of non-Muslim religions."
The fatwa states that questions had been raised about rules surrounding the wearing of non-Muslim religious attributes, and so "it is considered necessary to issue a fatwa on the legal use of non-Muslim religious attributes to be used as guidelines."
It says the government is obliged to "prevent, monitor and take action" against those who "conduct solicitation, coercion, and pressure on employees or Muslim employees to engage in actions contrary to religious teachings."
The fatwa led to members of the hardline Islam Defenders Front to carry out a "raid on Santa hats" at shopping malls in the port city of Surabaya on Sunday. Police, who escorted the group, have been criticized for enforcing the fatwa.
Surabaya police chief Colonel Muhammad Iqbal said his officers were there to ensure no violence occurred. "Although it is a peaceful action, we keep guard to anticipate undesired things."
Some western media outlets caused outrage by framing the story as a ban on Christmas decorations and Santa hats.
Indonesia Ulema Council chairman Ma'ruf Amin defended the fatwa, explaining it was the result of years of complaints by Muslims who were forced to wear Christmas paraphernalia. "That's why eventually, the council came up with issuing [the fatwa] this year," he said.
He added that it was in line with Indonesia's rule of pluralism, which allows many religions to live together in peace.
The fatwa's recommendations state Muslims should "maintain harmony between religious communities and maintain a harmonious society, nation and state without desecrating religious teachings," and "not to confuse Islam with the faith and worship of other religious beliefs."
The Santa hat fatwa has sparked debate amongst Muslims in Indonesia. Some feel that they should be allowed to wear a Santa hat, arguing that it isn't really about Christianity but consumerism.
https://www.rt.com/viral/371324-santa-hat-fatwa-indonesia/
--------
Deputy home minister: Zakir Naik welcome as not on Malaysia's terror list
BY YISWAREE PALANSAMY
December 23, 2016
KUALA LUMPUR, Dec 23 ― A fugitive in India, controversial Islamic preacher Dr Zakir Naik is free to travel in Malaysia because he is not on the terror list here, Datuk Nur Jazlan Mohamed said.
The televangelist with his own Internet channel had last week visited a private Islamic-centric university in Shah Alam, Selangor, which is also under investigation for radical teachings after two students were arrested on suspicion of being Islamic State (IS) recruits planning a terror attack locally.
"He is free to travel. He is not on [the] terror list here," the deputy home minister told Malay Mail Online when asked how Dr Zakir was allowed passage into Malaysia, despite being on the terror alert list in his home country, India.
Full report at:
http://www.themalaymailonline.com/malaysia/article/deputy-home-minister-zakir-naik-welcome-as-not-on-malaysias-terror-list
--------
Southeast Asia on Christmas alert after foiled bomb plots
Dec 23, 2016
Southeast Asian security forces were on alert on Friday ahead of the Christmas and New Year holidays after two bomb plots were foiled in Australia and Indonesia and the arrest of suspected militants in Malaysia.
Australian police said on Friday they had prevented attacks on prominent sites in Melbourne on Christmas Day that authorities described as "an imminent terrorist event" inspired by Islamic State.
The announcement came after an attack in Berlin in which a Tunisian suspect smashed through a Christmas market in a truck on Monday, killing 12 people.
In Indonesia, where Islamic State's first attack in Southeast Asia killed four people in Jakarta in January, at least 14 people were being interrogated over suspected suicide bomb plots targeting the presidential palace in Jakarta and another undisclosed location, police said.
Anti-terrorism police killed three suspects in a gunfight on Wednesday on the outskirts of Jakarta.
Indonesia, the world's largest Muslim-majority country, would deploy 85,000 police and 15,000 military staff for the Christmas and New Year period, police said.
Moderate Indonesian Muslim groups were helping authorities secure Christmas celebrations amid heightened religious tension after the Christian governor of Jakarta, Basuki Tjahaja Purnama, went on trial suspected of blasphemy against Islam.
Hardline group Islamic Defenders Front swept into shopping centers in Surabaya, East Java, last week to make sure Muslim staff were not forced by employers to wear Santa hats or other Christmas gear.
In West Java, a group stopped a Christmas event as it was being held in a public building rather than a church.
In Jakarta, around 300 volunteers from Nahdlatul Ulama, Indonesia's biggest moderate Muslim group, will join police in overseeing security.
"The focus is (protecting) against terrorism, especially in Jakarta and Bali, because these are the traditional targets," Indonesia police chief Tito Karnavian told reporters.
Police in Muslim-majority Malaysia, where Islamic State claimed responsibility for a grenade attack on a bar on the outskirts of Kuala Lumpur in June, said this week they had arrested seven people for suspected links to the militant group.
Police will monitor transport hubs, entertainment centers and other tourist hotspots.
"We try not to have too much physical presence in public and focus more on prevention," deputy home minister Nur Jazlan Mohamed said. "People should feel free to enjoy their holidays."
Full report at:
http://www.reuters.com/article/us-asia-security-holidays-idUSKBN14C0G2?il=0
--------
Christians keep low profile in Aceh
December 23, 2016
"I yearn to celebrate Christmas in my hometown," said Nia Nainggolan, a native of Medan, North Sumatra, who resides in Aceh.
She said she could not make the trip to her hometown to celebrate Christmas with her family in North Sumatra this year, as her financial situation and job obligations forced her to stay in Aceh.
"The [Christmas] atmosphere here in Aceh is different from that in my hometown," she said.
North Sumatra and Aceh are neighboring provinces but of contrasting religious composition.
A warm Christmas celebration has become a rare occasion in Aceh, a predominantly Muslim province and the only region in Indonesia that upholds sharia law.
(Read also: 2,500 flee to North Sumatra after church burning in Aceh Singkil)
North Sumatra, which shares Aceh's southern border, is one of the provinces with the most Christians in the country, even though a majority of 65 percent of its population are Muslims.
"In my hometown, the Christmas atmosphere could be felt as early as the first days of December as people began to decorate shopping malls, government offices and even housing areas with Christmas decoration," Nia said.
In Aceh, on the other hand, there were no Christmas decorations in public places, let alone government offices, she added.
The Christian minority in Aceh, most of whom are not native Acehnese, may celebrate Christmas with a little bit of anxiety following a series of major events across Indonesia that some say reflect growing intolerance.
Christians in the country's westernmost province were trying not to attract too much attention, Nia said.
"Although the celebration here is definitely not as festive as in my hometown, we are grateful that we are still able to celebrate Christmas in peaceful conditions," Nia said.
Longtime Aceh resident Irfan Edison Sinaga said acts of intolerance in other parts of Indonesia, with hard-line Muslim groups carrying out vigilante raids on malls displaying Christmas paraphernalia, were starting to bother him.
(Read also: Jakarta Cathedral beefs up security for Christmas)
Those acts reminded him of the changing conditions in Aceh. In recent years, he said, religious tolerance toward non-Muslims was gradually diminishing in Aceh.
"I still remember that in pre-tsunami Aceh, we could experience the Christmas atmosphere with Christmas paraphernalia decorating shopping centers in Banda Aceh's Chinatown district," Irfan said.
He recalled that local Acehnese used to be very warm and receptive toward Christmas celebrations. At that time, nobody complained about Christmas paraphernalia being displayed in malls or residential areas.
"Things have been changing in the last three years and I believe that the change is very much the result of outside influence," he said.
A recent edict by the Indonesian Ulema Council (MUI) banning Muslims from wearing other religious paraphernalia had widened the gap between the province's Muslims and its minority groups, he complained.
Full report at:
http://www.thejakartapost.com/news/2016/12/23/christians-keep-low-profile-in-aceh.html
--------
Indonesian scholars stand up against growing intolerance
December 23, 2016
Indonesian scholars are standing up against religious intolerance, which has gained a stronger foothold in the country recently. The scholars say such intolerance goes against the values embedded in Bhinneka Tunggal Ika (Unity in Diversity).
Scholars, politicians and lecturers gathered at the headquarters of the Wahid Foundation on Thursday to discuss the country's identity crisis after the emergence of interfaith disharmony this year.
"Diversity is our collective awareness and identity. Therefore, we decry any kind of violent or intolerant actions against other beliefs and races," University of Indonesia law professor Sulistyowati Irianto said at the event.
Other figures present at the event included sociology researcher Geger Riyanto, Wahid Foundation executive director Yenny Wahid, University of Indonesia philosophy lecturer Rocky Gerung and politician Kartini Sjahrir.
Full report at:
http://www.thejakartapost.com/news/2016/12/23/indonesian-scholars-stand-up-against-growing-intolerance.html
--------
Calls for Ahok to Be Nominated for Nobel Peace Prize
Dec 23, 2016
Jakarta. A website has started a campaign to PROMOTE Jakarta Governor Basuki "Ahok" Tjahaja Purnama as next year's Nobel Peace Prize nominee, claiming the governor — at the moment embroiled in a blasphemy scandal which may have cost his re-election next year — is "an outstanding political phenomenon."
No Indonesian has ever been awarded the prestigious prize. Nobel nominees are kept a secret for 50 years, but anyone can submit a nomination.
The website ahokfornobel.com says the governor, known as a tough reformer since he started leading the capital of 10 million people in 2014, is "a clean politician who fights against corruption to make Jakarta a successful global city."
The Christian and ethnic-Chinese governor is also considered as "a symbol of tolerance, diversity, harmony and peace" in the world's largest Muslim-majority democracy.
Ahok, known for his no-nonsense style of leadership, assumed office in late 2014, but his rise to power has drawn widespread protests from Muslim hardliners.
He is currently seeking re-election in next year's Jakarta gubernatorial race, amid mounting protests from Muslim hardliners accusing him of blasphemy.
Full report at:
http://jakartaglobe.id/news/calls-ahok-nominated-nobel-peace-prize/
--------
Africa
Buhari approves Christmas Day curfew in Kaduna
Dec 23, 2016
President Muhammadu Buhari has supproted the move by Kaduna state governor Nasir El-Rufai to place a curfew on the northern state during Christmas Day celebrations.
New Telegraph reports that the president confirmed his support when El-Rufai visited the presidential villa in Abuja on Thursday, December 22.
El-Rufai confirmed the president's backing while speaking with state house correspondents after the meeting.
He said:
I came to BRIEF the President about the situation in Southern Kaduna; what happened in the last few days, and outlined to him the measures we have been taking as a state government with the support of the Nigerian Army, the Nigerian Police and the Department of State Security.
The President has given us unqualified support to stabilize the state and bring all those responsible for the violation of our laws to justice.
So, we have the full support of the President to move on and we are quite confident that things will return to normal very soon.
Recall that Kaduna state on Wednesday, December 21 imposed a 24-hour curfew on three local government areas namely Zangon-Kataf, Kaura and Jema'a as a measure to protect lives and properties in southern part of the state.
Also, the Kaduna State Security Council placed a ban on processions and unlawful assembly in any parts of the state.
El-Rufai confirmed the development to state house correspondents thus:
Well, we have curfew even on Christmas day but it is for 12 hours. People will be able to get out in the morning at 6am and be back at 6pm. It is because of the security situation.
I don't think the state government should be blamed. Those responsible for the violence that broke out in those parts of the state should be held responsible for that.
Meanwhile, the Nigerian Army has warned the public to be weary of some Boko Haram terrorist who could be fleeing from the northeast to other parts of the country to escape military operation in Sambisa forest.
https://www.naij.com/1079040-buhari-approves-christmas-day-curfew-kaduna.html?source=notification
--------
Christmas cheer returns to Nigeria's Boko Haram heartland
22 December 2016
Maiduguri, Nigeria - Night markets, carol singers and even Santa Claus hats have returned to north-east Nigeria's Maiduguri, in a sign that the threat from jihadist group Boko Haram has ebbed.
Stalls display vegetables, fruit and fish and people chat over cups of tea. It is a far cry from three years ago, when the traditional food markets were closed by curfews imposed after Boko Haram gunmen mounted attacks on them.
More than 15 000 people have been killed and over two million forced to flee their homes by the Islamist militant group's seven-year-old insurgency, aimed at creating a caliphate under sharia law.
Maiduguri, capital of Borno state, was the city hardest hit. But Boko Haram has been forced to retreat in recent months to its stronghold in the Sambisa forest by Nigeria's army and troops from neighbouring countries.
The curfew has been pushed back, enabling night markets to remain open until 9 pm.
"We have returned home now that peace and security has been restored to continue the business," said Ahmed Dangaskiye, whose motorcyle taxi firm has been boosted by the return of late trading at Gomari market in a southwestern district.
Abdul Jabar, a tea seller pouring hot drinks for clusters of men in Custom market, in the southeast of the city, said that until a few months ago, people did not leave home at night.
"Even by 5 p.m. nobody can come to this area, but now, thank God, peace has come," he said.
Christmas carol singers, some wearing Santa Claus hats, backed by congregations of at least 50 gather to sing hymns in the predominantly Muslim city.
Full report at:
http://www.iol.co.za/news/africa/christmas-cheer-returns-to-nigerias-boko-haram-heartland-7263171
--------
Ethnic militia clashes kill 18 in eastern Congo: army
December 22, 2016
Fighting between Hutu and Nande ethnic militias in eastern Democratic Republic of Congo today killed 17 civilians and one police officer, a local army spokesman said, in a sign of worsening insecurity across the vast country.
"Some were killed by gunshots and others by machetes," Captain Guillaume Djike told Reuters.
Full report at:
http://nation.com.pk/international/22-Dec-2016/ethnic-militia-clashes-kill-18-in-eastern-congo-army
--------
Police killed 34 protesters during recent protests in DR Congo: HRW
Dec 22, 2016
Security forces shot dead at least 34 people in the Democratic Republic of the Congo during protest rallies this week against President Joseph Kabila, Human Rights Watch (HRW) says.
All fatalities occurred during initial demonstrations on Tuesday, said Ida Sawyer, the Central Africa director for the New York-based HRW, in a twitter post on Thursday, raising the death toll from an earlier count of 26.
She added that 19 people were killed in the capital, Kinshasa, five in the southeastern city of Lubumbashi, and six and four others in the western port cities of Boma and Matadi, respectively.
Sawyer further said that the rights group was verifying additional reports of deaths.
The Congolese government has, however, said that only 22 people had lost their lives in the clashes, including a police officer.
People have been protesting Kabila's refusal to quit after the end of his second term in office.
Meanwhile, reports say that the army has sealed off a section of Lubumbashi, carrying out mass arrests of young men and adolescents there, in an apparent attempt to curb growing anti-government protest rallies.
Lubumbashi, the provincial capital of Haut-Katanga is the second-largest city in the country and the fiefdom of an opposition leader in exile, Moise Katumbi.
On Tuesday, the director of the UN mission in the DR Congo, Maman Sambo Sidikou, said his office had documented 113 arrests of opposition leaders, civil society activists, human rights campaigners, and journalists by police and intelligence authorities since December 16.
A man screams as people gather to protest against President Joseph Kabila in Kinshasa, the Democratic Republic of the Congo, on December 20, 2016. (Photo by AFP)
President Kabila assumed power in the mineral-rich country in 2001, shortly after the assassination of his father. In 2006, a new constitutional provision limited the presidency to a two-term limit, which expired for the incumbent on Tuesday.
He is thus barred from standing for a third term but has refused to step down.
The electoral commission, blamed by opposition parties as taking Kabila's side, announced in October that it had postponed scheduled elections from December 2016 to April 2018, paving the way for the 45-year-old president to further remain in power.
Full report at:
http://www.presstv.ir/Detail/2016/12/22/501979/DR-Congo-HRW-Kabila-protests
--------
Newly formed 3R rebel group inflicts horrors in CAR: UN
Dec 23, 2016
A recently formed rebel group in the Central African Republic (CAR) is wreaking havoc in the western half of the country, displacing thousands and emptying out towns and villages in a country already hit hard by instability.
The Return, Reclamation, Rehabilitation" group, or 3R, formed in late 2015 and has displaced at least 30,000 people in the Ouham Pende region in CAR, debilitating relief efforts in the region, the United Nations told Al Jazeera on Thursday.
"Approximately 15,000 fled [from Koui in Ouham Pende] to the neighbouring town of Bocaranga and another 15,000 have not been identified yet ... they sought refuge in the bush and along the axis leading to Bocaranga," Yaye Nabo Sene, spokesperson at the UN Office for the Coordination of Humanitarian Affairs (OCHA) in the capital Bangui, said.
Sene said that overall, some 70,000 people have been displaced across CAR since September, due to ongoing clashes between armed groups vying for regional control.
The UN's comments come two days after Human Rights WATCH (HRW) described the emergence of a new rebel group operating in the western parts of the country.
The watchdog accused the group of killing at least 50 people and displacing another 17,000 in a series of campaigns launched across the region between November 21 and 27. Two months earlier, the group allegedly raided the town of De Gaulle, killing 17 people and raping up to 43 women and girls.
There are currently around 400,000 internally displaced people in CAR [Reuters]
The emergence of 3R comes at a time of rising tensions and insecurity in the towns of Kaga-Bandoro, Bria, and Bambari.
The 3R group was initially formed to protect the minority Puehl population from attacks by Christian Anti-Balaka militias and is reportedly made up of mostly Muslim cattle herders.
According to Lewis Mudge, Africa researcher at HRW, the group now has hundreds of well-armed fighters who control territory near Cameroon's border.
While details about the new group remain vague, Mudge says that early research suggests "a sectarian dimension to the fighting in so much as 3R is a result of violence perpetrated against Muslim Peuhl by the Anti-Balaka.
"However, as with the rest of the crisis, things do not fit into neat categories. Based on our research, 3R's claim to be protecting Muslims is a pretext. They seem to be a Cameroonian or Central African group whose real goal is to profit from the crisis," Mudge said.
Likewise, Richard Moncrief, Central Africa Project Director of International Crisis Group (ICG) based in Nairobi, said that armed groups "tend to pick up on grievances of a community, many of which are quite legitimate. But this does not mean they in any way "represent" that community.'
Central African Republic descended into a political chaos in March 2013 when Muslim-led Seleka rebels seized power in the majority Christian nation.
Former President Francois Bozize was deposed in a move that prompted a series of reprisal attacks from Christian and animist militia. Both Anti-Balaka and Seleka groups have been accused of widespread human rights abuse against civilians, including murder, sexual violence, and mass displacement.
CAR has seen intermittent violence over the past three years. Despite the gains and installation of a new government in February, violence remains cyclical.
"It is now becoming apparent that the election of the start of the year did little to solve the underlying issues that have allowed armed groups to take hold – a criminalised economy, widespread exclusion and social grievance and a total incapacity of the state to impose its will," Moncrief told Al Jazeera.
Full report at:
http://www.aljazeera.com/news/2016/12/newly-formed-3r-rebel-group-inflicts-horrors-car-161223035217671.html
--------
CAN wants Nigeria to withdraw from Islamic finance body
Dec 23, 2016
The Christian Association of Nigeria (CAN) says Nigeria's membership of the International Islamic Liquidity Management Corporation (IILMC) should be withdrawn.
Godwin Emefiele, governor of the Central Bank of Nigeria (CBN), was made chairman of the IILMC during the 17th governing board meeting of the organisation in Jakarta, Indonesia.
But in a statement on Thursday, Bayo Oladeji, media assistant to Samson Ayokunle, president of CAN, said this was contrary to SECTION 10 of the Nigerian constitution, which states that "the government of the federation or a state shall not adopt any religion as state religion".
He said based on the constitution, Nigeria could not join any body that is religious.
"Against this background, Nigerians should focus on some pertinent questions with intent to make the government offer right answers," he said.
"The questions are as follow; What is Nigeria doing in Islamic and Shariah compliant organisation? Who authorised the governor of the Central Bank of Nigeria to join this organisation? What provision of our constitution supports our membership of a religious association as a secular state?
"We also recall how President Muhammadu Buhari not only smuggled Nigeria into the '34-state Islamic military alliance against terrorism' but he and his government poured invectives and venoms on those who spoke against his unconstitutional action."
Ayokunle expressed concerns over majority of security agencies being headed by people from a particular religion.
He said lopsidedness could be traced in different areas of the current administration.
"Do we need to repeat our concern that almost all the heads of security paramilitary agencies in Nigeria today are Muslims, as if Christians have become second class citizens or rather lack competent officers to in charge! Has Nigeria become an Islamic state?" he asked.
"We also recall the controversy surrounding the funding of Jaiz bank, an Islamic institution, with the public money by the immediate past CBN governor with impunity.
"Recently, when the minister of education, Mallam Adamu Adamu overhauled the heads of the 17 parastatals and agencies under his WATCH, 13 out of 17 of them were and are Muslims! Is this government saying it is only Muslims that can be trusted?
"A government that is interested in the unity and peace of the country should not be taking actions such as the lopsidedness of its appointments at the expense of one religion with impunity."
Full report at:
https://www.thecable.ng/can-wants-nigeria-withdraw-islamic-finance-body
--------
Christmas Mood is a mood of God being with us, Cardinal Onaiyekan
Dec 19, 2016
ABUJA, NIGERIA -
The mood of Christmas, an essential part of Christian faith, is a mood of God being with us. John Cardinal Onaiyekan, Archbishop of Abuja has declared recently in his 2016 Christmas Message to NTA, VON and Radio Nigeria Carol of Nine Readings, held recently at the National Christian Centre Abuja.
According to him, "God's love embraces every human being. That is perhaps why the Christmas mood spread all over the world.. as we see decorations and shopping sprees in all the great capitals of the world."
"Everyone must share in this mood of joy, peace and hope. It is a mood of God being with us. It is joy in the midst of challenges and economic recession, hope against every despair and faith to be able to see light at the end of the tunnel of a rather somber environment. It is a season for sharing, for expressing solidarity and for reaching out to others especially to the poor and needy."
Onaiyekan who noted that the celebration of Christmas and even Muslim feasts in Nigeria shows the importance the nation attaches to religion further advised Nigerians to use religion positively to foster peace, Justice, honesty, harmony among various religious faith in Nigeria.
"The nation not only celebrates the Christian festival of Christmas but also the Muslim religious feasts. It shows the importance of religion in our land. This is a spiritual asset which should make a positive impact in our land. True religion must be for peace, for justice, for honesty and harmony. Christmas is a time for us take up anew the challenges of fashioning good relations among our differing religious communities. And this is not only between Christians and Muslims but also within our various religious faiths. It is becoming more and more clear now that if we do not arrive at harmony within our faiths, it will be difficult to achieve peace between our faiths."
Cardinal Onaiyekan who noted that as Nigerians 'we must recognize certain realities in our country which are there, not without the permission and the plan of God himself' also advised that we must learn to respect our differences and be fair to everyone. "We must admit that we live in a country where there is a pluralism of religions. It is a fact that we cannot change. The wise attitude therefore, is to cultivate as much as we can respect for our differences and be fair to everyone. Here the golden rule is always valid – "Do to no one what you would not want done to you."
Our differences however are not the end of story because we do have a lot of things in common. We therefore must try to seek those common grounds in terms of those shared spiritual and religious values which then help us to be able to join hands to face the challenges that afflict all of us, without discrimination or distinction. Whether it is Ebola or Malaria, HIV/AIDS or even corruption, every religious community is challenged to take action with the spiritual resources at its disposal, for the common good of all."
Acknowledging the challenges the country is facing at the moment such as political and social difficulties, the prelate noted that 'Our overwhelming problems require our common action from the different agents and stakeholders in the society.'
"Our country is in serious political, economic and social difficulties. We seem to have remained largely in the mood of political polarization typical of election campaign period. After the election which took place almost two years ago, campaigns are now over and we should by now be fully in governance mode. All hands must be on deck to face the many great challenges that are weighing heavily on our nation. We must forever ban the attitude of "winner take all", which also tends to provoke in the losers the counter mood of "pulling them down". The winners cannot rule alone and the losers must be prepared to cooperate with those who now have the duty to lead the nation in the way forward. Our geographical, religious and ethnic identities, all crisscross. This in itself is the gift of God for us to be able to bring down walls of division. The scandalous social disparity between the rich and the poor in our country has led to an intolerable yawning gap crying to be filled. Poverty and unemployment has been growing, leading to despair and frustration in many quarters, especially among the youth. Dishonesty and corruption have hardly visibly reduced. Our overwhelming problems require our common action from the different agents and stakeholders in the society."
Concluding his message Cardinal Onaiyekan advised all to embrace Peace as well as seek the face of God through a genuine repentance.
"At this Christmas, we must accept the message of peace, peace by all means, including by the route of love, of humility and simplicity. It is of course the duty of government to make and enforce laws. But the endemic corruption in our land may be calling for some amount of negotiation towards repentance, refunds and possible amnesty. The limits of the route of tribunals are getting more and more obvious. The war against corruption must be waged with all possible weapons.
It is the duty of the government to secure the land against armed insurrection. We congratulate our government for major progress made in dealing with Boko Haram crisis in the North East. Mr. President has reason to boast that Boko Haram, from the Military point of view has been "technically defeated". But it is not yet all over. This is because there is a limit to how much arms and guns can do in this matter. We need to put more efforts in dialogue and political discussions leading to reconciliation. Here the role of religion for positive action must be more consciously exploited. Religious communities and leaders must come out to play their role, which is often very efficient and very cost effective, in comparison with budgets for military action.
Full report at:
http://en.radiovaticana.va/news/2016/12/22/share_the_joy_of_christmas_with_others,_cardinal_onaiyekan/1281068
--------
India
Goa Muslim children's festival axes Zakir Naik
December 23, 2016
The organisers of Goa's first Muslim children's festival have withdrawn controversial preacher Zakir Naik as a personality to be emulated at a fancy DRESS contest following protests from Muslims.
Asif Hussain, a spokesperson for the Board of Islamic Education Centres, told IANS that Naik's name from the list of 20 Muslim personalities to be emulated during the fancy DRESS contest had been withdrawn.
"The organisers have withdrawn Naik's name from the competition keeping in mind the reservations some people have regarding him," Hussain said.
"Naik has contributed a lot towards the enlightenment of Muslims and focussed a lot of commonalities of faiths... But in recent developments surrounding him and the reservations expressed from some quarters we have withdrawn his name from the list," he said.
Born in Mumbai, Naik is the founder of the Islamic Research Foundation and a television preacher who is now under the radar of Indian security and enforcement agencies allegedly over his extremist views and funding of his organisations.
Goa's first ever Muslim children's festival "Taare Zameen Par" from December 26-30 is being organised by the Board of Islamic Education along with the Hikmah Foundation's House of Wisdom.
The fancy DRESS competition is one of the several events in the festival where boys are expected to emulate "personalities who have contributed to Islam or Muslim community" and expected to dress and introduce them.
Others in the list of Muslim personalities to be emulated include Allama Iqbal, Sir Syed Ahmed Khan, Tippu Sultan, Adil Shah, Aurangzeb and Ibn Batuta.
BJP's minority cell chief Sheikh Jinnah told IANS that the inclusion of Naik was unfortunate in the first place.
"His views do not represent the views of Muslims in India. By asking children to emulate him, we might be sowing the wrong kind of ideas among young minds," he said.
http://www.business-standard.com/article/news-ians/goa-muslim-children-s-festival-axes-zakir-naik-116122300503_1.html
--------
Madras HC Ban on Shariat Court Can be Recalled or Modified: Jilani
December 22, 2016
New Delhi: Zafaryab Jilani, member and advocate of the All India Personal Law Board, said the December 19th Madras High Court judgment banning a Shariat Court functioning in Chennai will have no sweeping effect as it "goes against the 2014 Supreme Court verdict."
The Madras High Court on December 19th banned an "illegal Shariat Court" from functioning from the Makkah Masjid in Chennai.
"SC in Vishwa Lochan Madan's case in 2014 refused to grant relief to the petitioner where he prayed to disband and diffuse all Dar-ul-Qazas and the Shariat Courts," Jilani told News18.
"It declared them to have no legal validity, but still if a Muslim wishes to consult a scholar and solve his dispute then there was no legal prohibition. But this order to ban a particular Shariat Court violates the SC judgment," he said.
In 2014, a bench of Justices C.K. Prasad and Pinaki Chandra Ghose gave the ruling on a public interest writ petition filed in 2005.
Advocate Vishwa Lochan Madan, in his petition, said a woman from Kukda village in Muzaffarnagar district of Uttar Pradesh was raped by her father-in-law, following which the village panchayat passed a fatwa asking her to treat him as her husband. The Dar-ul-Uloom also declared that she had become ineligible to live with her husband. This was endorsed by the All-India Muslim Personal Law Board as well.
The bench disposing the petition said that the fatwa had no legal sanction. "It cannot be enforced by any legal process, either by the Dar-ul-Qaza issuing it or the person concerned, or for that matter anybody," it said. But it refused to ban them outright.
Jilani is even hopeful that this order "will be modified and recalled". "This order was an ex-parte order. Advocate Muniruddin Shaikh who was appearing for the fourth respondent did not have his Vakalatnama (license to practice law) registered that day," he said.
"Now he will submit it and present the SC judgments which clearly show that such courts cannot be banned in light of the earlier Apex Court judgments but certainly does not have any legal binding value. There is a strong hope that this order will be re-called," Jilani added.
The December 19 order primarily targeted towards the functioning of a Shariat Court within the premises of Makkah Masjid in Chennai not only declared it illegal but also ordered the State government to file a status report ensuring its closure. Advocate Sirajuddin who appeared for the petitioner in the case told News18 that although the order was only for a particular Shariat Court, there "exists a strong feeling of presence of other such courts as well."
But far from refuting the courts order, Mehmood Madani, general secretary of Jamiat Ulema-e-Hind told News18 that the court was wrong to see these as 'Shariat Courts' and these are mere 'grievance redressal centers."
"The entire issue has been misunderstood by the court. These centers work on the way of consent when people willingly come here to resolve disputes according to Islamic Shariat law and an alternative to the courts. But in no way does these centers compare to the judicial mechanism present in the country and thus banning a Shariat court makes no sense," said Madani.
Madani even said that the divorce which is granted in the courts of India is not according to the Shariat and hence people often resort to such centers and carry the divorce and other matrimonial proceedings.
Full report at:
http://www.news18.com/news/india/madras-hc-ban-on-shariat-court-can-be-recalled-or-modified-jilani-1326500.html
--------
More quota for Muslims? Minority panel wants 12%
Dec 23, 2016
CHARMINAR: The State Minorities Commission (SMC) on Thursday made a representation to the Telangana State Backward Classes Commission (TSBCC) pushing the case for a 12 percent quota for Muslims, an additional 8 percent over the existing 4 percent.
Explaining the rationale behind the demand, SMC chairman Abid Rasool Khan said, "If the government clears the 12 percent reservation, the existing 4 percent will be superseeded and a fresh GO will be issued. If its challenged in court, the existing 4 percent will be in danger. It is important to protect the existing quota. Therefore, we has asked reservations in the 4%+8% format, resulting in an aggregate of 12 percent."
In the petition the minorities panel reiterated that quotas have been challenged in courts of law and it has resulted in them being "set aside". The commission reiterated that while the existing 4 percent reservations for Muslims cover 14 communities -which include Attar Saibulu, Turaka Kasha, Dhobi, Labbi, Garadi Muslim and Hajam -it excludes backward sections from other Muslim communities. "There are many Khans and Syeds who are socio-economically weak. We have requested the commission to consider their case as well," Khan said.
Full report at:
http://timesofindia.indiatimes.com/city/hyderabad/more-quota-for-muslims-minority-panel-wants-12/articleshow/56132118.cms
--------
NIA files chargesheet against 8 members of Hyderabad ISIS module
Dec 22, 2016
NEW DELHI: Six months after the National Investigation Agency (NIA) busted an ISIS module in Hyderabad, the agency on Thursday filed a chargesheet against 8 members including their leader Mohammad Ibrahim Yazdani.
The module was planning major attacks on VVIPs, religious places, crowded markets, government buildings including police stations and had even collected several kilos of explosives for the purpose.
The outfit'S leader Ibrahim Yazdani, who was in continuous touch with ISIS's principal recruiter for India - Shafi Armar - was specifically inspired by controversial Islamic preacher Zakir Naik and had even gone to Mumbai to attend one of Islamic Research Foundation (IRF) camp as a volunteer, as first reported by TOI.
Yazdani went for the IRF camp in 2010 and listened to his speeches. He had been following Naik's speeches since 2004.
The other members of the outfit were also radicalized online by watching videos of the ISIS, bayans (discourses and lectures) of radical Islamic preachers such as Anwar Awlaki, Abdu Sami Qasmi, Meraj Rabbani, Tausif ur Rehman, Jerjees Ansari and Zakir Naik.
NIA chargesheet says that the module members downloaded and followed the ISIS propaganda videos, ISIS magazine - "Dabiq", which convinced them that the ISIS was fighting for the rights of the Sunnis.
"The group associated with the terrorist organization called the Islamic State of Iraq and Syria (the ISIS) and pledged their allegiance through the Bay'ah (oath of allegiance) to Abu Bakr al-Baghdadi, the self-proclaimed Caliph of the Islamic State and formed a group called Junood-ul Khilafa Fi Bilad Al Hind (Army of the Caliph from the South India)," says NIA chargesheet.
The members had even emailed their Bay'ah to Shafi Armar, who is said to be in Syria, via email.
Those named in the chargesheet include Ibrahim Yazdani, his brother Mohammad Ilyas Yazdani, Abdullah Bin Ahmed Al Amoodi alias Fahad, Habeeb Mohammed, Muzaffar Hussain Rizwan, Yasir Naimathullah, Mohammad Ataullah Rahman and Abdul Raoof.
The Hyderabad module, which officials' label as deadliest among ISIS arrests so far, had devious plans.
They had procured huge quantities, estimated 40kg to 50kg of acetone, hydrogen peroxide and sulphuric acid, which they were planning to use to make a lethal explosive - called triacetone triperoxide (TATP), which was used by Islamic State (IS) bombers in the Paris and Brussels attacks. The Hyderabad module members had stored the explosives in the basement of a house alongwith other items like electronic gadgets, mobile phones, hard discs, semi-automatic pistols, air rifle, pellets, target boards, urea nitrate explosive and equipments for manufacturing like pet jars with liquids, capacitor, gas stove with cylinder, weighing balance, nails, knives, Quartz alarm time pieces, bundle of wire etc.
Full report at:
http://timesofindia.indiatimes.com/india/nia-files-chargesheet-against-8-members-of-hyderabad-isis-module/articleshow/56127871.cms
--------
40,000 plus and counting: Responses to questionnaire on uniform civil code
December 22, 2016
The Law Commission questionnaire on uniform civil code has received a whopping 40,000 plus responses which continue to pour in even after the expiry of the deadline. While the deadline to send the responses ended last night, the law panel on Thursday said it would continue to entertain responses received after the deadline. Highly-placed sources in the panel said so far over 40,000 responses have been received.
"Uniform Civil Code is one of the important projects before the Law Commission. The responses/replies received by the Commission are being processed. The response/replies received, if any, after the date may also be considered," it said in a brief statement. On October 7, the panel had sought public view on uniform civil code and triple talaq.
The All Indian Muslim Personal Law Board (AIMPLB) had slammed the questionnaire, saying it was uncalled for. Should the practice of triple talaq be abolished and whether a uniform civil code should be optional, the Law Commission had asked the public seeking response on these sensitive issues. Amid a raging debate on uniform civil code, the law panel had sought public views on the subject to revise and reform family laws, saying the aim is to address social injustice and its not against plurality of laws.
Full report at:
http://indianexpress.com/article/india/40000-plus-and-counting-responses-to-questionnaire-on-uniform-civil-code/
--------
Pakistan
Xmas train on mission tolerance in Pakistan
Dec 23, 2016
Islamabad: A Christmas-themed train on Thursday set out on a journey to criss-cross Pakistan in an effort to promote tolerance in the overwhelmingly Muslim country. Adorned with Christmas lights and mock snowmen, and with carriages that have portraits and tributes to notable Christian Pakistanis, the government says it hopes to change mindsets in Pakistan, where attacks and persecution of religious minorities have become routine.
Christians make up an estimated 1.6 per cent of Pakistan's 200 million people and have long faced discrimination - sidelined into lowly paid jobs and often the target of trumped-up blasphemy charges. "This is a sign of tolerance, everybody will celebrate Christmas together," human rights minister Kamran Michael said, adding the public would be welcomed to visit the train and see its exhibits along its many stops.
It set off Thursday afternoon from Islamabad to Peshawar, capital of the northwestern Khyber Pakhtunkhwa province, and will travel to Lahore on Christmas day before leaving for Karachi on January 1.
Discrimination and violence against religious minorities is commonplace in Pakistan, where Muslims account for more than 90 per cent of the population.
http://www.asianage.com/world/asia/231216/xmas-train-on-mission-tolerance-in-pakistan.html
--------
Zardari assures Jammat-e-Islami Sindh will take back forced conversion bill
December 22, 2016
KARACHI: Co-chairman Pakistan People's Party Asif Ali Zardari has given his word to the Ameer Jammat-e-Islami Sirajul Haq to strike down the recently passed forced conversion bill in the Sindh Assembly, claimed a JI spokesperson.
Siraj thanked the PPP leader for taking into consideration the reservations against the bill and said "every citizen of Pakistan deserves equal rights irrespective of their religious affiliations."
The Sindh Assembly unanimously passed a bill against forced religious conversions in the province. The Sindh Criminal Law (Protection of Minorities) Bill, 2015 was tabled by PML-F's Nand Kumar and Khatu Mal Jeewan.
According to the bill, change of religion will not be recognized until the person reaches 18 years of age, moreover at least seven years for perpetrators and five-year jail was recommended for facilitators of forced conversions. Moreover, it said that adults considering to change their religion be provided with a safe house to live for 21 days, to ensure that they are making the said decision without any coercion.
Full report at:
http://nation.com.pk/national/22-Dec-2016/zardari-assures-jammat-e-islami-sindh-will-take-back-forced-conversion-bill
--------
Taliban not operating from Pakistan, says FO
Dec 23, 2016
ISLAMABAD: The Foreign Office dismissed on Thursday Pentagon's latest assessment that the Taliban and Haqqani network were freely operating from Pakistan and instead accused Afghanistan of being an epicentre of terrorism in the region.
"This is more of a rhetoric than anything else. Afghanistan is infested with most terrorist organisations due to the instability there, which has created space for these terrorist elements," Foreign Office Spokesman Nafees Zakaria said.
He was reacting to the recent biannual report of the US Department of Defence on security and stability situation in Afghanistan, which had said: "Afghan-oriented militant groups, including Taliban and Haqqani network's senior leadership, retain freedom of action from safe havens inside Pakistani territory. The United States continues to be clear with Pakistan about steps it should take to improve the security environment and deny safe havens to terrorist and extremist groups."
Mr Zakaria recalled the counterterrorism operations undertaken by Pakistani security forces in the tribal areas, which had restored peace there. But he also acknowledged that a large number of terrorists had moved to Afghanistan after the start of the operations.
Examine: Pakistan's Afghan predicament
The number of "senior commanders of Haqqani network, Taliban, Al Qaeda and other terrorist groups killed in Afghanistan this year," he stressed, by itself told where the leadership of these organisations was currently based.
A senior FO official, in a testimony at the Senate Foreign Affairs Committee earlier in the week, had said that the Haqqani network and Taliban had been told to end violence in Afghanistan.
The spokesman in his briefing avoided commenting on the reported statement and said "we remain committed and extend all cooperation to the efforts towards bringing peace and stability in Afghanistan".
Full report at:
http://www.dawn.com/news/1304003/taliban-not-operating-from-pakistan-says-fo
--------
Musharraf's remarks on army's 'pressure' echo in SC
NASIR IQBAL
Dec 23, 2016
ISLAMABAD: A controversial statement of former military ruler Gen Pervez Musharraf echoed in the Supreme Court during the hearing of a case moved by model Ayyan Ali on Thursday. However, Chief Justice-designate Mian Saqib Nisar made it clear that the judiciary did not decide cases due to pressures from various quarters but in accordance with its conscience and the law.
"Let it be known to everybody that the judiciary never decides cases under pressure, but in accordance with its conscience," observed Justice Nisar while heading a three-judge bench that has taken up the case of Ms Ali, who is seeking permission to go abroad to fulfil her contractual obligations.
Justice Nisar avoided commenting further and said the matter was not before the bench.
He made the observation when the model's counsel, Sardar Latif Khosa, alluded to Gen Musharraf's recent statement that the army had "persuaded" the present government to let the former president go abroad.
In an interview to a private television channel, Gen Musharraf had claimed that once former army chief Gen Raheel Sharif had got the government to relieve the pressure they were exerting, the courts gave a judgement and allowed him to go abroad for treatment. But Justice Nisar said the March 16 Supreme Court judgement was not delivered under any pressure.
Headed by Chief Justice Anwar Zaheer Jamali, a five-judge bench had lifted a travel ban imposed on Gen Musharraf by dismissing the federal government's appeal against the June 12, 2014, order of the Sindh High Court (SHC) about removing the general's name from the exit control list (ECL).
While lifting the travel ban, the apex court had shifted the entire blame for the decision on the federal government and said the government or the three-member special court seized with the treason trial of Gen Musharraf was free to make any decisions regarding his custody or restricting his movements.
"The former dictator facing treason charges was allowed to go abroad but my client is being dragged [in courts] for the last two years," Mr Khosa regretted and added that the law and order situation in the country would have been better had the interior ministry spent more energy in weeding out terrorism than in stopping an individual from going abroad.
The Supreme Court, however, ordered the SHC registrar to fix Ms Ali's pending petition on Jan 9 before a referee judge, who was not part of the division bench that had issued a conflicting decision, with one judge allowing the model to go abroad and the other opposing the same.
Ayyan Ali was arrested on March 14, 2014, at the Benazir Bhutto International Airport, Islamabad, while trying to go abroad — on valid visa, passport and air ticket — but carrying foreign currency worth $506,800 without prior permission of the State Bank of Pakistan and without any lawful excuse about why she was taking the money abroad.
Full report at:
http://www.dawn.com/news/1303997/musharrafs-remarks-on-armys-pressure-echo-in-sc
--------
School blown up in Mohmand
December 23, 2016
MOHMAND AGENCY - Unidentified miscreants blew up a community primary school for boys in Michnai Mosal Kore area of Ekkaghund tehsil of Mohmand Agency, officials said on Thursday.
Sources said that some unidentified miscreants had planted an explosive device in the building of the school at night.
It exploded with a big bang due to which ONE ROOM of the school was completely destroyed. No loss of life was reported. However, the school record was damaged.
Ekkaghund Political Naib Tehsildar Amir Nawaz Khan confirmed the incident. He told that the school was closed at night therefore no loss was reported in the blast. "They said that earlier the school was being run by an organisation but later it was converted into a private school, said a local resident.
Full report at:
http://nation.com.pk/national/23-Dec-2016/school-blown-up-in-mohmand
--------
Mideast
35 Turkish soldiers killed in battle for ISIS-held town
22 December 2016
Turkey's defense minister says a total of 35 Turkish soldiers killed in clashes with ISIS militants in Syria on Wednesday in the military's highest single day toll of its four-month campaign inside the country.
The fighting came as Turkey and allied pro-Ankara Syria rebels faced increasing resistance from the extremists in a battle to take a key town ISIS-held town of Al-Bab, 25 kilometers from the Turkish border.
The toll, the heaviest single day loss for the Turkish army in its Syria operation that started in August, came in fighting with militants that included three suicide car bomb attacks, the army said in a statement quoted by Turkish media.
Also read: Russia, Iran & Turkey reach Syria peace deal
Four soldiers were killed in attacks earlier in the day, the army had previously announced. The other 10 were killed later Wednesday. Six of the 33 wounded were said to be in a serious condition.
The fierce fighting erupted as Turkish officials said the army was entering into a key phase in the fight for Al-Bab. The town has become the main target of the army's campaign inside Syria, in support of the pro-Ankara Syrian rebels opposed both to the militants and President Bashar al-Assad, that started on August 24.
The army said the clashes erupted around a weapons depot that had been used by ISIS for the last two years. It said that 138 ISIS jihadists were killed in the fighting. The army's toll for the extremists could not be verified independently.
Also read: Turkey to set up camp for 80,000 Aleppo evacuees
President Recep Tayyip Erdogan acknowledged there had been "martyrs" in the fighting, at an earlier news conference before the toll was announced, but expressed confidence that Al-Bab would be taken from ISIS.
"Al Bab has been completely besieged by the Free Syrian Army (FSA) and our soldiers," he said. He expressed hope that the town "would fall entirely sooner or later". ISIS claimed to have killed or injured at least 70 Turkish soldiers in three suicide bombings carried out by its fighters and in fighting on the ground.
France, Britain push for helicopter ban, sanctions
France and Britain are pushing the UN Security Council to ban the sale of helicopters to Syria and to impose the first sanctions over the use of chemical weapons in the five-year war. A draft resolution obtained by AFP on Wednesday calls for asset freezes and travel bans against four Syrian officials and 10 entities including a Syrian research center tied to chemical weapons development.
Diplomats however said the measure is certain to be vetoed by Russia, Syria's ally, which has blocked council action on Syria with six vetoes so far. A vote at the council is expected as early as next week.
https://english.alarabiya.net/en/News/middle-east/2016/12/22/14-Turkish-soldiers-killed-in-fight-for-Syria-ISIS-held-town-.html
--------
28 al Qaeda militants in US strikes in Yemen
23 December 2016
The US military said on Thursday it killed 28 members of the militant group al Qaeda in the Arabian Peninsula in nine strikes in Yemen since September.
Full report at:
https://english.alarabiya.net/en/News/gulf/2016/12/23/US-28-al-Qaeda-militants-in-strikes-in-Yemen.html
--------
Huge losses for Houthi militias in Taiz and Al Bayda
22 December 2016
The losses of the Houthi and Saleh militias are still on the rise on various fronts in Yemen.
In Taiz, 7 militiamen were killed during violent clashes with the national army while the resistance forces repulsed a military campaign waged by the militias in the province of Al Bayda in central Yemen.
In Kahboub district in the northeast of Bab al-Mandab, violent clashes took place at night; various heavy weapons were used. The national army and the resistance forces bombarded the militia sites in Kahboub, Omari camp and the Dhubab region.
In the East of Taiz, national army units attacked militias' sites and gatherings in the surrounding of the Canadian hospital and the Plastic plant.
In the province of Al Bayda in central Yemen, the Popular Resistance repulsed a military campaign launched by the militias in Jasimah and Nofan in Qurayshia.
The resistance sources confirmed that the attack was repulsed and the militias were forced to retreat after confrontations that lasted for several hours and resulted in casualties and injuries in the ranks of the militia. Moreover, a military vehicle belonging to the militias in Qifa was targeted and all the passengers were killed.
Full report at:
https://english.alarabiya.net/en/News/gulf/2016/12/22/Huge-losses-for-Houthi-militias-in-Taiz-and-Baydaa.html
--------
Turkey FM urges 'nationwide' truce in Syria after Aleppo liberation
Dec 23, 2016
The Turkish foreign minister has called for a "nationwide" ceasefire in Syria after Damascus' forces succeeded in liberating Aleppo, the last major militant-held urban area in the country.
Mevlut Cavusoglu made the comments at a news conference on the sidelines of an emergency meeting of the Organization of Islamic Cooperation in Jeddah, Saudi Arabia, on Thursday.
On the same day, the Syrian army declared Aleppo fully liberated from militants after a week-long mission to evacuate the remaining civilians and militants out of the city came to an end. The evacuation process was stipulated in a ceasefire deal mediated by Turkey and Russia.
The Syrian army also vowed to continue the fight against terrorism until the liberation of "the last bit of the homeland's soil" from the foreign-backed militants.
Aleppo's liberation is seen as a crushing blow to the militants and their foreign supporters. The latest gain puts Damascus back in control of Syria's five main cities: Aleppo, Homs, Hama, Damascus and Latakia.
Cavusoglu's remarks come as the Turkish warplanes regularly carry out airstrikes in support of their ground incursion into Syria. Damascus has slammed Ankara's so-called anti-Daesh military operations as a violation of its sovereignty.
The campaign has so far failed to dislodge Daesh terrorists, with reports saying on Friday that Ankara's air raids have killed some 72 civilians in the Syrian city of al-Bab a day earlier.
This picture taken from near the Turkish town of Karkamis on August 25, 2016 shows Turkish army tanks driving to the Syrian border town of Jarablus. (Photo by AFP)
On Thursday, Ankara also suffered the biggest loss so far in its military campaign, when Daesh terrorists reportedly killed 14 Turkish soldiers.
The Takfiri terror group also claimed it had captured two Turkish Leopard-2A4 main battle tanks.
Cavusoglu, whose country has long served as the main transit route for Syria-bound Takfiri militants, further urged foreign armed men to withdraw from the Arab country.
"We should send out a strong message that the foreign militias should leave Syria right away," said Cavusoglu.
The Syrian government "must return to the negotiating table for direct talks with the opposition for a genuine political transition in Syria," he added.
Ankara is viewed as a key sponsor of foreign militants trying to topple Assad's government since the crisis started in the country in 2011.
On November 29, Turkish President Recep Tayyip Erdogan said Turkey's troops are in Syrian territory to oust President Assad.
Full report at:
http://www.presstv.ir/Detail/2016/12/23/503082/Syria-Turkey-opposition-Assad-Cavusoglu
--------
Turkey to pull out forces from Iraq: Envoy
Dec 22, 2016
The Turkish Ambassador to Baghdad says his country will withdraw troops from Iraq, claiming that Ankara does not interfere in the domestic affairs of the Arab country.
Faruk Kaymakci made the remarks in a meeting with Iraqi Vice President Nouri al-Maliki in Baghdad on Thursday, Iraq's al-Sumaria news network reported.
Ankara respects the Iraqi sovereignty and will soon pull out its troops from Iraq, Kaymakci said, highlighting Turkey's readiness to help Iraq battle terrorism.
Last December, Turkey deployed some 150 soldiers, equipped with heavy weapons and backed by about two dozen tanks, to the Bashiqa military camp on the outskirts of Mosul, where a major operation in underway by Iraqi forces to liberate the city from Daesh terrorists.
Ankara claimed the deployment was part of a mission to train and equip Iraqi Kurdish forces in the fight against Daesh.
However, Baghdad has repeatedly asked Ankara to withdraw its forces from the region, describing Turkey's military presence in Iraq as an infringement of its sovereignty.
Maliki, for his part, called for coordination between the two countries regarding mutual issues.
Full report at:
http://www.presstv.ir/Detail/2016/12/22/502031/Turkey-Iraq-Nouri-Maliki
--------
Monitoring group says IS video shows two Turkish soldiers burned alive
December 23, 2016
Islamic State in Syria released a video on Thursday purporting to show two captured Turkish soldiers being burned to death, according to the U.S.-based SITE Intelligence Group which monitors militant groups online.
Reuters was not able to verify the report and no comment was immediately available from Turkish officials.
Full report at:
http://nation.com.pk/international/23-Dec-2016/monitoring-group-says-is-video-shows-two-turkish-soldiers-burned-alive
--------
Palestinian killed in east Jerusalem clashes
December 23, 2016
JERUSALEM: A Palestinian man was killed during clashes with Israeli soldiers overnight as they arrived to demolish the home of the alleged perpetrator of a deadly attack on Israelis, the army said Thursday.
A spokeswoman said that during a confrontation "suspects threw improvised explosive devices at soldiers, who responded by opening fire, resulting in the death" of a Palestinian.
The Palestinian health ministry identified the man killed as Ahmad al-Kharoubi, 19.
The spokeswoman said Israeli soldiers were attempting to demolish the home of Misbah Abu Sbeih - who went on a deadly shooting rampage in October - in the east Jerusalem neighbourhood of Kufr Aqab. Sbeih was shot dead by security forces on October 9 after killing police officer Yosef Kirma, 29, while Israeli media identified the second victim as 60-year-old Israeli woman Levana Melihi.
Full report at:
http://nation.com.pk/international/23-Dec-2016/palestinian-killed-in-east-jerusalem-clashes
--------
In Turkey, things could get worse before they get better
December 22, 2016
The assassination of Russia's ambassador to Turkey fits into a long tradition of political violence in a country where the fallout from the Syrian war is deepening the chaos.
Turkey's toxic combination of problems includes a Kurdish insurgency at home and state purges following a failed coup attempt in July, meaning the security situation will remain extremely tenuous for a while.
While Russia and Turkey suspect the killer of Ambassador Andrei Karlov was part of a wider conspiracy, the Turkish government has come under scrutiny for its tolerance — or sponsorship — of Islamist rebel groups in Syria in recent years that may have indirectly radicalized some young Turks.
"You have a blowback effect," said Halil Karaveli, a Sweden-based senior fellow at the Central Asia-Caucasus Institute and the Silk Road Studies Program.
He said a mix of hardline Turkish nationalism and Sunni Muslim fundamentalism had been prospering in some quarters in Turkey, creating the potential for homegrown violence.
Whatever motivated gunman Mevlut Mert Altintas, an off-duty policeman killed by police after shooting Karlov at a photo exhibition in Ankara on Monday, has not been confirmed. He shouted religious phrases and appeared to condemn Russian bombardments of rebel-held neighborhoods of Syria's Aleppo city — the shooting followed protests by Turks who criticized Russia's support for Syrian President Bashar Assad.
Turkish President Recep Tayyip Erdogan has blamed the movement of U.S.-based Muslim cleric Fethullah Gulen for the assassination, while Russia has said conclusions should be left to the investigators.
Gulen is already blamed for the failed military uprising in July that led to the imposition of a state of emergency, an extension in pre-trial detention, the arrest of around 38,000 people and the purging of more than 100,000 from government jobs.
Turkey and Russia, which have endured difficult relations over the past year or so, described the killing as an attempt to disrupt an improving alliance that they hope will stabilize Syria and consolidate their influence there.
The political calculations on Syria come as Turkey has endured regular bombings and other attacks, shaking the government of Erdogan even as he seeks to increase the power of his post by pushing for constitutional changes.
Accused of authoritarian behavior, Erdogan triumphantly rallied supporters after the coup attempt, but the Russian ambassador's assassination embarrassed a nation gripped by some of its worst violence in decades.
The turbulence has prompted comparisons with 1970s political unrest in Turkey that led to a 1980 military coup. Then, the deadly upheaval pitted Turkish left- and right-wing groups against each other, and the military eventually intervened in the name of restoring order, a move tainted by human rights abuses by the state.
This time around, Turkey is grappling with Kurdish militant attacks, deploying troops in northern Syria to fight Kurds and the Islamic State group, and purging suspected followers of Gulen. Turkey has also been targeted by suspected IS extremists after it gave more robust support to the U.S.-led war against the group.
Turkey's tradition of political violence includes the last stages of the Ottoman Empire in the early 20th century, according to Howard Eissenstat, an associate professor of Middle East history at St. Lawrence University in Canton, New York.
"The breakdown of the (Kurdish) peace process, Erdogan's growing authoritarianism, and spillover from the Syrian civil war have all fed into this, as has the attempted coup and the government's attempt at popular mobilization," Eissenstat wrote in an email.
If Turkey's past assassinations or assassination attempts are anything to go by, questions will swirl around the fatal shooting of Karlov even if an investigation comes to a clear conclusion:
— Mehmet Ali Agca, the Turkish gunman who shot and wounded John Paul II in 1981, first said he acted alone. Later he suggested Bulgaria and the Soviet secret services masterminded the attack, and he also implicated Iran. Released in 2010, Agca once had links to a right-wing militant group in Turkey.
Full report at:
http://nation.com.pk/international/22-Dec-2016/in-turkey-things-could-get-worse-before-they-get-better
--------
Israel asked Trump to avert UN vote on settlements
23 December 2016
Israel asked President-elect Donald Trump to apply pressure to avert United Nations approval of a resolution demanding an end to settlement building after it learned the Obama administration intended to allow the measure to pass, a senior Israeli official told Reuters on Thursday.
Israeli officials contacted Trump's transition team at a "high level" after failing to persuade US officials to veto the Security Council draft resolution and asked him to intervene, the official said. Two Western officials said that President Barack Obama had intended to abstain from the vote.
Also read: Israel hits back with 3000 new settler homes after Palestine wins UN vote
Trump then sent a tweet urging a US veto and spoke by phone to Egypt's president, who abruptly ordered his country's delegation to postpone the vote scheduled for Thursday on the resolution they had sponsored.
The government of Israeli Prime Minister Benjamin Netanyahu, who has had an acrimonious relationship with Obama, believes the United States had long planned the council vote in coordination with the Palestinians and intended to use it to "ambush" Israel on the thorny settlements issue, the official said.
Full report at:
https://english.alarabiya.net/en/News/middle-east/2016/12/23/Israel-asked-Trump-to-intervene-on-UN-vote.html
--------
South Asia
Eight killed after Taliban storm Afghan MP's house
December 23, 2016
KABUL : Eight people were killed when Taliban suicide bombers stormed the residence of an Afghan lawmaker in the capital Kabul, officials said after the attackers were gunned down early Thursday following a nearly 10-hour siege.
Helmand MP Mir Wali survived the assault with injuries but two of his grandsons and bodyguards were among those killed in the attack, which began on Wednesday evening following a recent lull in violence in Kabul.
The Taliban in a statement said their suicide bombers raided the house to disrupt an "important gathering of officials" to address the deteriorating security situation in the lawmaker's southern opium-rich province.
"President Ashraf Ghani strongly condemns the attack on the residence of Helmand MP Mir Wali, which killed two members of his family, a number of his bodyguards and the son of another MP from Uruzgan, Obaidullah Barakzai," the presidential palace said in a statement.
"President Ghani termed the attack as an unforgivable crime. Attacking the residence of national personalities cannot be justified in any religion and is against Islamic values."
In all eight civilians and officials were killed, said Fraidoon Obaidi, chief of Kabul police's Criminal Investigation Department. Mir Wali was hospitalised after he jumped from his roof to escape the attack, he added.
Sporadic gunfire and explosions were heard from the house early Thursday as Afghan forces cordoned off the property to launch a clearance operation.
"The coordinated attack was carried out by three suicide bombers. They were gunned down by Afghan forces," Obaidi told reporters.
The brazen attack underscores the worsening security situation in Afghanistan and highlights how the Taliban are stepping up targeted attacks on high-level officials.
The militants are escalating their nationwide insurgency despite the onset of winter, when fighting usually ebbs, even as international efforts intensify to restart stalled peace talks.
Fifteen years and hundreds of billions of dollars since the US-led invasion of Afghanistan in 2001, the security situation in the country remains fraught and Afghan forces are struggling to contain the conflict.
http://nation.com.pk/international/23-Dec-2016/eight-killed-after-taliban-storm-afghan-mp-s-house
--------
Pakistan resumes shelling in Kandahar, Kunar provinces of Afghanistan
Dec 22 2016
The Pakistani military has resumed artillery shelling in southern Kandahar and eastern Kunar provinces of Afghanistan as Afghanistan summons the country's ambassador to lodge a protest over indiscriminate shelling.
The Ministry of Foreign Affairs of Afghanistan (MoFA) said the Pakistani Ambassador to Afghanistan Syed Abrar Hussain was summoned over the recent artillery shelling from the side of Durand Line by Pakistani military and militia forces over Maruf district of Kandahar and Sarkanu district of Kunar.
MoFA further added that a formal protest was lodged over the shelling with the head of the first political department Musfa Arifi warning that the shelling in such a sensitive time when the relations between the two countries has been witnessing an all time low, could prove provocative and further ignite tensions.
The indiscriminate shelling by Pakistani military stopped with the formation of the new Afghan government, National Unity Government, led by President Mohammad Ashraf Ghani and Chief Executive Abdullah Abdullah in late 2014.
The Pakistani military continued to fire artillery shells in eastern provinces that caused heavy casualties and losses to the local residents of the eastern provinces.
Although the Pakistani officials rejected shelling the Afghan soil however on some occasions they admitted that the shelling were done to respond to militants activities along the Durand Line.
Full report at:
http://www.khaama.com/pakistan-resumes-shelling-in-kandahar-kunar-provinces-of-afghanistan-02531
--------
Militants suffer casualties in Kunduz air and artillery srikes: MoD
Dec 22 2016
The anti-government armed militants suffered casualties in air and artillery strikes in northern Kunduz province.
The Ministry of Defense (MoD) said the operations were conducted in the villages of Defense Tapa Akhtar, Tasisat, Janat Bagh, and central parts of Kunduz city.
MoD further added that at least 22 militants were wounded in the air and artillery strikes.
The anti-government armed militant groups including the Taliban insurgents have not commented regarding the report so far.
Kunduz is among the relatively volatile provinces in northern Afghanistan where the Taliban group launched several attacks this year as part of their spring offensive to capture the strategic Kunduz city.
Full report at:
http://www.khaama.com/militants-suffer-casualties-in-kunduz-air-and-artillery-srikes-mod-02530
--------
Fake followers create clashes between religions: PM
December 22, 2016
Prime Minister Sheikh Hasina today urged the people of all faiths to maintain dignity of their respective religions, saying the fake followers of religion create conflicts between religions.
"Those who pretend to practise religion create clashes between religions, but those who believe in religion truly and have confidence and faith in themselves never take unjust measures," she said.
The premier said the religion is undermined if anybody wants to use it terribly. "So, it's the responsibility of everybody to maintain dignity of his or her religion and take it to more dignified position," she said.
The prime minister was addressing a function arranged on the occasion of celebration of Christmas Day and civic reception to Cardinal Patrick D'Rozario at Krishibid Institution Auditorium in Dhaka this afternoon.
Patrick D'Rozario, the highest ranking priest of the Roman Catholic Church in the country, has been appointed as a cardinal, the first Bangalee ever to reach such a high position.
Pope Francis on November 19 promoted D'Rozario and 16 other Roman Catholic prelates from around the world to the rank of cardinal.
Full report at:
http://www.thedailystar.net/country/fake-followers-create-clashes-between-religions-pm-1333972
--------
Kabul's Dasht-e-Barchi upgrading plan discussed in meeting chaired by Ghani
Dec 22 2016
The upgrading plan of key western zone in capital Kabul, Dasht-e-Barchi, was discussed during a meeting CHAIRED by President Mohammad Ashraf Ghani today.
The Office of the President, ARG Palace, said the meeting to discuss the upgrading plan of Dasht-e-Barchi, chaired by President Mohamad Ashraf Ghani, was organized in ARG Presidential Palace.
According to a statement released by ARG Palace, the meeting was attended by acting Kabul mayor Abdullah Habibzai, and key challenges along with the opportunities, and future plans were discussed in details during the meeting.
Kabul mayor pointed towards the traffic issues, congestion, and the need for inferior roads as the main challenges as he provided information regarding the challenges.
The statement further added that the meeting participants supported the plan for urban upgrading of Dasht-e-Barchi and emphasized on the need to prioritize the urgent needs of the area.
Full report at:
http://www.khaama.com/kabuls-dasht-e-barchi-upgrading-plan-discussed-in-meeting-chaired-by-ghani-02532
--------
North America
US formally ends controversial registry programme for Muslims, Arabs
Dec 23, 2016
The US Department of Homeland Security said on Thursday it is cancelling an inactive registry programme for visitors from countries where extremist groups are operating, a plan similar to a Muslim registry considered by President-elect Donald Trump.
The National Security Entry-Exit Registration Systems programme, known as NSEERS, was suspended in 2011, DHS spokesman Neema Hakim said in a statement.
He said the programme was determined to be redundant and inefficient and did not provide increased security.
"The intervening years have shown that NSEERS is not only obsolete but that its use would divert limited personnel and resources from more effective measures," Hakim said.
The department is formally ending the programme by removing outdated regulations in a rule change, he said.
The rule was scheduled to be published in the Federal Register on Friday and will be effective immediately, a DHS official said.
Trump was asked on Wednesday whether he would support a Muslim registry, similar to the dormant DHS programme, and he would not confirm or deny his plans to do so.
Several Trump transition aides have told Reuters the incoming Trump administration will not resurrect the programme, although a key Trump immigration adviser, Kansas Secretary of State Kris Kobach, has advocated the idea.
The announcement comes as a growing number of prominent tech companies including Facebook, Twitter, Apple have told various news organisations that they would not help the Trump administration build a Muslim registry.
Earlier this month, employees at various technology companies also signed an online pledge vowing not to help Trump build a data registry to track people based on their religion or assist in mass deportations. The petition has been signed by more than 2,500 employees.
The Obama administration's decision to formally end the programme drew praise from critics who said it was discriminatory.
"I applaud President Obama for his decision to dismantle NSEERS, the idle and ineffective federal registry that targeted Muslims and undermined our core values," New York Attorney General Eric T. Schneiderman said in a statement.
The American-Arab Anti-Discrimination Committee welcomed the decision to ends NSEERS, which it called a "failed programme rooted in discriminatory profiling."
At one point in his campaign, Trump called for a temporary ban on Muslims entering the country as a means of fighting terrorism. That drew widespread criticism at home and abroad and Trump revised his proposal to suspending immigration from regions deemed as exporting terrorism and where safe vetting could not be assured.
http://www.pakistantoday.com.pk/blog/2016/12/23/us-formally-ends-controversial-registry-programme-for-muslims-arabs/
--------
Top Democratic Party hopeful 'regrets' past ties with Nation of Islam
Dec 23, 2016
In a lengthy letter to the Conservative movement's rabbinical arm, US Rep. Keith Ellison said he regretted past positions that have unsettled Jews as he seeks the chairmanship of the Democratic Party.
Secretary of Labor Tom Perez, meanwhile, spoke Wednesday with about 50 Jewish Democrats about his own bid to head the Democratic National Committee and reassured them of his bona fides in the area where the Minnesota lawmaker has come under fire – support for Israel.
Be the first to know - Join our Facebook page.
Ellison, beginning his three-page letter to the Rabbinical Assembly with a quote from Pirkei Avot, Jewish ethical teachings – "The one who learns, learns from everyone" – expressed regrets, as he has several times since launching his bid to lead the DNC, for his association years ago with the antisemitic Nation of Islam.
"At the time, I did not grasp [Louis] Farrakhan's antisemitism," he wrote, referring to the movement's leader.
"It was difficult for me to see that the struggle for equality for African Americans could be subverted into hatred of others, specifically anti-Semitism," Ellison wrote. "I focused on Farrakhan speaking to concerns of Black men. When I became aware that he made hateful statements about other groups, including the Jewish community with whom I was so close, I knew that I must reject his teachings. And I rejected them completely."
Ellison's letter was in response to queries from the Rabbinical Assembly.
"We are interested in understanding how will you affirmatively work to ensure that the Democratic Party condemns any and all efforts to delegitimize Israel, including efforts to deny the historic Jewish connection to the Land of Israel including Jerusalem," said the R.A. letter.
Ellison, who has routinely voted for defense assistance to Israel, also for the first time regretted his exceptional vote against additional missile defense assistance for Israel during the 2014 war between Israel and Hamas.
"In my mind, confident that the Iron Dome funding that I have always strongly supported would pass, I cast a vote reflecting my commitment to restoring calm and quiet at a moment of violence," he said, referring to the anti-missile system Israel used to deflect Hamas rockets. "My voice was not being heard and I felt in the moment that casting my vote was a vital way to amplify my message. It was the wrong way to speak out and it was the wrong way to vote. I regret it deeply."
Ellison, who first publicly rejected the anti-Israel Boycott, Divest and Sanctions movement in a statement last month to JTA, says in the letter that he has "fought" BDS with Jewish allies.
"Together we have fought against BDS and continuous attempts to delegitimize Israel in Minnesota, in the United States, and around the world," he said. "I have said time and time again that BDS does not help anyone advance the goal of a two-state solution."
Ellison, the first Muslim elected to Congress, also recalls his years of combating Holocaust denial, including among Muslims.
Perez spoke for about 45 minutes with top Jewish lawmakers and fundraisers for the Democratic Party. Much of his emphasis was on his past work with the Anti-Defamation League tracking and combating hate crimes, but he also emphasized his understanding of Israel's security needs.
Full report at:
http://www.jpost.com/Us-Elections/Top-Democratic-Party-hopeful-regrets-past-ties-with-Nation-of-Islam-476311
--------
Obama cancels 9/11-era registry for Muslims
December 23, 2016
Washington, Dec 22: The Obama administration today said it would formally scrap a post-9/11 registry for immigrant men from predominantly Muslim countries.
The move comes a day after president-elect Donald Trump reiterated his plan to ban entry of Muslims to the US.
The registry, known as the National Security Entry-Exit Registration System (NSEERS), was shown to be ineffective and had not been used since 2011. NSEERS will be dismantled through a published regulation in the Federal Register called a final rule.
However scrapping NSEERS is unlikely to prevent Trump from implementing his campaign promises. But he would have to bring in a new notification in this regard.
NSEERS was used to register and track mostly Arab and Muslim non-citizens and Obama suspended the registry in 2011, said Muslim Public Affairs Council.
Senator Patrick Leahy, Ranking Member of the Senate Judiciary Committee said the NSEERS program was proven ineffective and ended years ago, and those dead-letter regulations served no purpose.
"Taking them off the books still sends a powerful message. These regulations symbolized an ineffective program based on religious and ethnic profiling, rather than individualised suspicion ? a program based on fear, rather than reason," he said.
"That has no place in this great country, under any administration," Leahy said.
Congresswoman Barbara Lee said Obama has taken a huge step to protect civil liberties and "block Trump's hateful" Muslim registry.
Last month, nearly 200 organisations and more than 50 members of the Congress had called on the outgoing president to rescind the existing NSEERS structure before he leaves the White House.
Full report at:
http://www.india.com/news/world/obama-cancels-911-era-registry-for-muslims-1719725/
--------
Trump calls for expanded US nuclear capability until 'world comes to its senses'
Dec 22, 2016
President-elect Donald Trump on Thursday abruptly called for the United States to "greatly strengthen and expand its nuclear capability" until the rest of the world "comes to its senses" regarding nuclear weapons.
Trump made the statement on Twitter and did not expand on the actions he wants the US to take or on the issues he sees around the world. His comments came one day after meeting with incoming White House national security adviser Michael Flynn.
Trump's transition website says he "recognizes the uniquely catastrophic threats posed by nuclear weapons and cyberattacks," adding that he will modernize the nuclear arsenal "to ensure it continues to be an effective deterrent." Beyond that, he has offered few specifics, either as a candidate or during the transition.
Trump's vanquished campaign rival Hillary Clinton repeatedly cast the Republican as too erratic and unpredictable to have control of the nation's nuclear arsenal. Ten former nuclear missile launch operators also wrote that Trump lacks the temperament, judgment and diplomatic skill to avoid nuclear war.
Trump was spending Thursday at his private estate in South Florida, where he has been meeting with advisers and interviewing potential Cabinet nominees. He is also building out his White House staff, announcing that campaign manager Kellyanne Conway will join him in the West Wing as a counselor.
Conway, a longtime Republican pollster, is widely credited with helping guide him to victory. She also is a frequent guest on television news programs.
Trump called Conway "a tireless and tenacious advocate of my agenda."
The president-elect has spent part of the week discussing national security issues, including the deadly attack on a Christmas market in Germany. He called the violence an "attack on humanity" and appeared to suggest a willingness to move ahead with his campaign pledge to temporarily ban Muslim immigrants from coming to the United States.
Trump proposed the Muslim ban during the Republican primary campaign, drawing sharp criticism from both parties. During the general election, he shifted his rhetoric to focus on temporarily halting immigration from an unspecified list of countries with ties to terrorism, though he did not disavow the Muslim ban, which is still prominently displayed on his campaign website.
The president-elect, when asked Wednesday if the attack in Berlin would cause him to evaluate the proposed ban or a possible registry of Muslims in the United States, said, "You know my plans. All along, I've been proven to be right, 100 percent correct." "What's happening is disgraceful," said Trump, who deemed the violence "an attack on humanity," and added, "it's got to be stopped."
Full report at:
http://www.hindustantimes.com/world-news/trump-calls-for-expanded-us-nuclear-capability-until-world-comes-to-its-senses/story-3W2i3R1bV2gAGYs0tubBEM.html
--------
Teaneck mayor included in exhibit on Muslim cultures
December 22, 2016
In a GLASS case, located near a replica Pakistani truck and mock global market at the Children's Museum of Manhattan are a Quran, a tunic, and a gavel owned by Mohammed Hameeduddin, Bergen County's first Muslim mayor.
The personal items are part of an exhibit entitled America to Zanzibar: Muslim Cultures Near and Far. And Hameeduddin, who first served as Teaneck's mayor from 2010 to 2014 and was elected again in July, is one of several Muslim-Americans showcased in the exhibit that teaches children about the customs and experiences of Islamic cultures in America and abroad.
"I want people to see we are a diverse nation, and from that we get to learn a lot from each other," Hameeduddin said.
The exhibit has been running since February, but Hammeeduddin's belongings were added earlier this month.
The museum was packed on a recent Tuesday morning with children and parents browsing portraits and artifacts donated by Muslim contemporaries and playing in interactive booths where they smelled Indonesian fruit, weighed Moroccan spices, and bought prawns and changuu at a Zanzibari fish market.
Hameeduddin, a Bronx native who grew up in Teaneck, is the sole public official featured alongside local contemporary Muslim figures and emerging artists, according to Director of Exhibit Development Lizzy Martin. Along with a gavel, Hameeduddin included campaign materials from the last election in the exhibit. He ran alongside Councilman Mark Schwartz, who is an Orthodox Jew and Deputy Mayor Henry Pruitt, an African-American who identifies as Christian.
"It's about showing that plurality in our society," Martin said. "The diversity of the stories in the exhibit for us is key."
Arlene Thomas of Orange took a seat near Hameeduddin's display as her two children played on tablets that taught them how to say "my name is" in 21 different languages. They enjoy experiencing the different cultures, she said, and interacting with other children at the museum.
"You meet people from all walks of life," she said.
Teaneck, the first town in America to voluntarily desegregate its schools, is widely regarded for its multiculturalism. The display is representative of the town, which prides itself on its diversity, Hameeduddin said.
The exhibit is running at a time when anti-Muslim sentiment is particularly high.
Hate crimes against Muslims rose in 2015 to the highest rates seen since terrorist attacks of 2001, according to Federal Bureau of Investigations data. In the days following the November election, a handful of mosques and Islamic centers around the country received hateful anti-Muslim letters, Southern Poverty Law Center reported.
Full report at:
http://www.northjersey.com/story/news/bergen/teaneck/2016/12/22/teaneck-mayor-included-exhibit-muslim-cultures/95713996/
--------
How Trump's Education Department Could Actually Help Some Muslim Schools
23/12/2016
When it comes to religious education, President-elect Donald Trump could be a boon not only for the groups that cheered on his campaign, like evangelical Christians, but also for those he antagonized, like Muslims.
One of Trump's signature plans for education involves expanding school voucher programs, which allow students to use public funding to attend private schools. These types of programs often help religious schools ― in states with widespread voucher programs, like Indiana and North Carolina, many Christian schools and a few Muslim schools benefit.
Representatives from Christian, Catholic and Orthodox Jewish groups that advocate for school choice and voucher programs told The Huffington Post that they are looking forward to seeing Trump's plans in action. However, a representative from a group that works with private Muslim schools said the issue is more complicated for her community.
Trump's presidency might be good for the health of private, religious education in general, said Karen Keyworth, executive director of the Islamic Schools League of America. But even if certain policies seem like they could help Muslim schools thrive, she said there's no guarantee they will ― and that the Trump administration could negatively affect Muslim children overall.
During his campaign, Trump proposed a ban on Muslim immigration to the United States and has floated the idea of making Muslims in America sign up for a registry. His rhetoric has stoked bigotry against Muslim Americans, according to Keyworth, whose organization provides resources to Muslim schools and educators.
"Trump and the people he is selecting are very openly anti-Islamic so we do not believe they are going to do anything for our schools," she said. "On the other hand, having somebody who is more private school-oriented is always a good thing for private schools and we are private schools."
"This is a mixed bag for us ― we would welcome more opportunity for private schools, but if anybody's going to tell us we're not involved in that pool of opportunity, we're going to have a problem with that," she added.
Private Muslim schools have been the targets of Islamophobia in the past. Some legislators have even soured on the idea of school voucher programs once they found out that these initiatives can benefit Muslim schools.
A Louisiana state representative walked back her support for a school voucher program in 2012 after she realized it would allow families to use public money to attend Muslim schools in the state.
"Unfortunately it will not be limited to the Founders' religion," Louisiana state Rep. Valarie Hodges told local outlet Livingston Parish News at the time, referring to her disappointment in discovering that vouchers did not exclusively support Christian schools. "I do not support using public funds for teaching Islam anywhere here in Louisiana."
Conservative lawmakers in Tennessee expressed similar concerns the following year.
Overall, Muslim schools represent a small portion of private, religious schools. There are only about 300 Muslim schools in the U.S., Keyworth said.
Anyone [Trump] promotes is going to be viewed with mistrust.
Karen Keyworth, executive director of the Islamic Schools League of America
Thirteen states and the District of Columbia have school voucher programs, and 17 states have scholarship tax credit programs that also funnel taxpayer money into private schools, according to the National Conference of State Legislatures. Typically, a family needs to have a child with special needs or an income below a certain benchmark to qualify for vouchers. The idea behind this system is that disadvantaged kids should be given the same choices about where to attend school as wealthy children.
Full report at:
http://www.huffingtonpost.in/entry/donald-trump-muslim-schools-vouchers_us_585acf84e4b0de3a08f3e36f
--------
URL: https://www.newageislam.com/islamic-world-news/new-age-islam-news-bureau/prince-charles-urges-brits-to-think-of-muhammad-this-christmas,-speaks-out-against-'aggressive-populism'/d/109471
New Age Islam, Islam Online, Islamic Website, African Muslim News, Arab World News, South Asia News, Indian Muslim News, World Muslim News, Womens in Islam, Islamic Feminism, Arab Women, Womens In Arab, Islamphobia in America, Muslim Women in West, Islam Women and Feminism, Moderate Islam, Moderate Muslims, Progressive Islam, Progressive Muslims, Liberal Islam