New Age Islam News Bureau
22 December 2021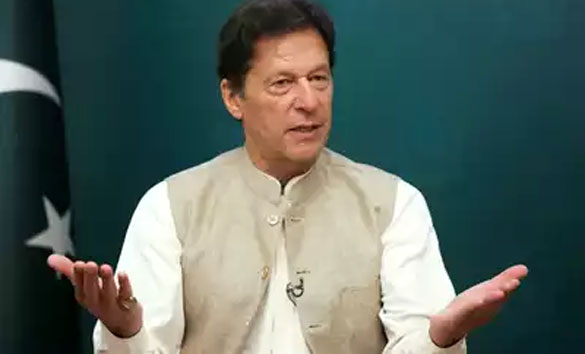 Prime Minister Imran Khan
----
• I'm Not Formally Trained In Comparative Religion, Zakir Naik Tells Court
• 'Refrain From Fixing Marriage Age; It's Interference In Personal Liberty': All India Muslim Personal Law Board To Centre
• Iraqi Museum Restores Treasures Destroyed By Islamic State Jihadists
• Sheikh Zakzaky: Islamic Movement in Nigeria Can Never Be Banned
Pakistan
• Pakistan's Punjab Assembly Adopts Resolution to Support Tablighi Jamaat; Expressing Dismay over Saudi Government's Decision Declaring It A Terrorist Organisation
• Fawad says 'religious extremist' parties like TLP, JUI-F will harm Pakistan
• Taking Law into Hands, Against Teachings of Quran: Pakistan Apex Religious Body
• Freight train launched to link Istanbul with Tehran, Islamabad
--------
Southeast Asia
• Jakarta: Ministry Invites Younger Generation to Brush Up On Sharia Economy
• China blocks UN resolution on exemptions to Afghanistan sanctions
• Ruling coalition holds Malaysia's Christian-majority state
• US religious freedom quartet barred entry by China
--------
India
• Holding Namaz As Show Of Strength Wrong, Says Haryana CM Khattar
• India An Example And Role Model For Religious Harmony, Says Dalai Lama
• In a First, Kanpur Youth Gets 10-Year Jail Term, Fined Rs 30,000 under 'Love Jihad' Law in UP
• Like UP law, Karnataka anti-conversion Bill addresses right wing concerns on 'love jihad'
--------
Arab World
• Qatar seizes children's toys bearing 'un-Islamic' slogans
• Lebanon Central Bank chief says country needs $12-15 bln to kickstart economy
• 'Celebrate safely' on Christmas, New Year amid omicron fears: UAE doctors
• Arab Coalition: Houthis use Sana'a airport as workshop for ballistic missiles
--------
Africa
• 'Nigeria will not let FETO terrorist group undermine ties with Turkey'
• Sudan's PM Hamdok intends to resign within hours: Reuters
• UN calls for probe into rape allegations in Sudan protests
• Libya's election committee dissolved ahead of polls
--------
North America
• New Analysis Further Links Israeli Spyware To Khashoggi's Murder
• US ready to infuse liquidity into Afghan economy
• Iran's trying to build leverage for better nuclear deal, but it won't work: US envoy
• Violence in occupied West Bank could undermine Gaza truce: UN
--------
Mideast
• Israelis Long To Reconnect with Arab, Islamic Homelands
• Bethlehem church aims to recreate chimes from crusader times
• 85 extremist Jewish settlers defile Aqsa Mosque under police guard
• Iran Calls for UNSC's Pressure on Israel to End Occupation of Golan Heights
• Iran holds extensive military exercises as US prepares 'alternatives' to diplomacy
• Palestinian hunger striker faces serious health condition in Israel
• Israeli forces detain 3 Palestinians in West Bank
--------
Europe
• French Army Says It Has Killed Leading Islamic State Member In Niger
• Turkish Cypriots hold ceremony in London for victims of 'Bloody Christmas'
• Spain's top diplomat calls Morocco's criticism of pandemic response 'unacceptable'
--------
South Asia
• Taliban Destroys Pakistan's Barbed-Wire Erected On Durand Line
• Visitors return to Afghan national museum Taliban once ransacked
• UN may pay $8.2 million to Taliban for security
• Taliban accidentally transfers money to Tajikistan-based opposition; embassy refuses to pay back: Report
Compiled by New Age Islam News Bureau
URL: https://www.newageislam.com/islamic-world-news/imran-khan-pakistan-america-war-terror-afghanistan/d/126011
--------
Prime Minister Imran Khan Regretted Pakistan's Decision To Join America's 20-Year-Long 'War On Terror' In Afghanistan, Calls It "Self-Inflicted Wound"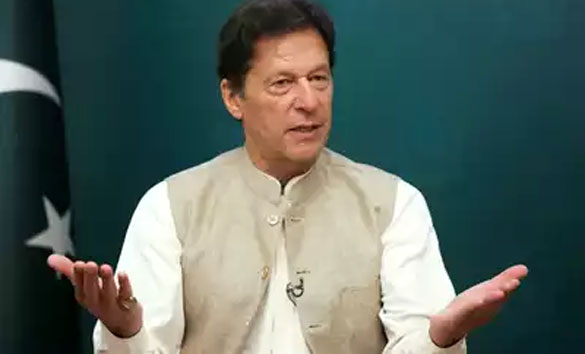 Prime Minister Imran Khan
----
Dec 21, 2021
ISLAMABAD: Prime Minister Imran Khan on Tuesday regretted Pakistan's decision to join America's 20-year-long 'war on terror' in Afghanistan by calling it "self-inflicted wound" and a decision made for the sake of money and not for public interest.
Khan, who had long been critical of Pakistan's participation in the about two-decades long war, claimed that he was close to the decision-makers in 2001 when the then military ruler, Gen Pervez Musharraf, decided to become part of the 'war on terror'.
"And so, I am well aware of what considerations there were behind the decision. Unfortunately, the people of Pakistan were not a consideration," Khan said while addressing the officers of the Ministry of Foreign Affairs here.
"The considerations, instead, were the same as in the 1980s, when we participated in the Afghan jihad," he said, referring to the Soviet-Afghan war, which was then dubbed as "holy war".
"We ourselves are responsible... as we let [others] use us, sacrificed the reputation of our country for aid and made a foreign policy that went against the public interest [and was devised] for money."
He termed the 'war on terror' for Pakistan a "self-inflicted wound" and added that "we cannot blame anyone else for this outcome (of the war)."
Khan in the past had often cited that Pakistan suffered more than 80,000 deaths and economic losses of over USD 100-billion as a result of the 20 years of war.
Talking about the latest situation in Afghanistan, Khan said that it was a "big atrocity" that a man-made crisis was being created "when it is known that unfreezing Afghanistan's accounts and liquidity will avert the crisis."
He said that addressing the situation in Afghanistan was important for Pakistan as being its neighbour, it could be hit badly due to the crisis.
He said that Pakistan would continue to provide assistance to Afghanistan in these difficult times.
He further added that irrespective of liking or disliking the rise of the Taliban in Afghanistan, the world should focus on the difficulties being faced by its 40 million people.
Khan also congratulated and appreciated the Foreign Office for hosting the Organisation of Islamic Cooperation session at a short notice and said that the response to the summit showed that Pakistan's image had improved globally.
"The attendance at the summit and the appreciation of Pakistan's stance reflect that the country's image had improved," the premier said, adding that credit for the "improvement in Pakistan's image" goes to his government.
The prime minister further urged the officers of the ministry to shift their focus from geo-politics to geo-economics and asserted that Pakistan can become a great country by focusing on self-belief.
Source: Times of India
Please click the following URL to read the text of the original story:
https://timesofindia.indiatimes.com/india/pakistans-decision-to-join-americas-war-on-terror-not-made-in-public-interest-but-for-dollars-imran-khan/articleshow/88418444.cms
--------
I'm Not Formally Trained In Comparative Religion, Zakir Naik Tells Court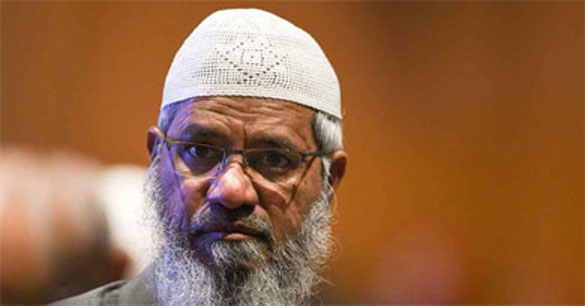 Zakir Naik
----
V Anbalagan
December 21, 2021
KUALA LUMPUR: Controversial Islamic preacher Zakir Naik is not formally trained to debate and lecture on comparative religion, the High Court heard today.
Naik said he only graduated as a medical doctor from the University of Mumbai, India.
"I'm trained as a medical doctor, but I no longer practice. I am not formally trained in comparative religion," he said on the second day of the hearing of his defamation suit against Penang deputy chief minister II P Ramasamy.
Naik, 56, a permanent resident who stays in Putrajaya, said he spoke about and debated religions based on his engagement with other religious scholars.
"Today I have been recognised as one of the renowned Islamic preachers and speakers in comparative religion," he said when cross-examined by Ramasamy's lawyer Ranjit Singh.
Naik said he stood by the pleadings in his statement of claim that he had the ability to argue and amaze his audience.
Ranjit: Are you also capable of memorising verses in the Quran and other religious scriptures?
Naik: Quite a lot.
Naik said "eminent Muslim thinker, author, orator and scholar" of comparative religion Sheikh Ahmad Deedat had recognised him as "DeedatPlus" in 1994.
Naik said he recognised the power of words and looked at religious issues objectively when speaking to his audience – both Muslims and non-Muslims.
"I have never intended to mock any religion but I am helpless if the audience feels insulted and misinterprets the words I use as some of them are not well versed in their scriptures," he said.
Ranjit: Would it be correct to say that you don't want to talk about negative aspects of non-Muslim religions as you don't want to create animosity?
Naik: 100% correct.
Ranjit: When you talk about comparative religion, you also don't like to put forward contradictory views?
Naik: Yes, I want to promote peace and harmony.
Naik also said he did not believe every news report about local politicians and religious leaders heaping praise on his public talks and on him as an Islamic preacher.
He added that he had in the past verified such reports with, among others, former prime minister Dr Mahathir Mohamad, former minister Mujahid Yusof Rawa, PAS president Abdul Hadi Awang, Terengganu menteri besar Ahmad Samsuri Mokhtar and Penang mufti Wan Salim Wan Mohd Noor.
Naik filed two separate suits – in October and December 2019 – alleging that Ramasamy had issued five defamatory statements against him.
He sued Ramasamy for allegedly issuing the statements which had been uploaded on social media sites and news portals between 2016 and 2019.
In his statement of claim, he alleged that Ramasamy had defamed him on April 10, 2016, by calling him Satan on his Facebook page.
He also claimed that he was defamed in a statement issued by Ramasamy that Malaysia was harbouring an alleged fugitive from India, which was published by Free Malaysia Today (FMT) on Oct 1, 2017.
Naik claimed that on Aug 11, 2019, Ramasamy had "manipulated" a speech he had made at an event organised by the Kelantan government, and which was also published by FMT the same day.
On Aug 20, 2019, he claimed, Ramasamy again defamed him in a statement laced with hatred and spite that was published by India Today.
Naik filed his second suit against Ramasamy in December 2019, alleging that the defendant had defamed him in making comments about the Liberation Tigers of Tamil Eelam (LTTE) and which were carried by The Malaysian Insight portal.
Hearing before Justice Hayatul Akmal Abdul Aziz continues.
Source: Free Malaysia Today
Please click the following URL to read the text of the original story:
https://www.freemalaysiatoday.com/category/nation/2021/12/21/im-not-formally-trained-in-comparative-religion-zakir-naik-tells-court/?__cf_chl_jschl_tk__=.LxNyG1N6KYwnfBRL1MuhULcHOUrkOt4SMhCasHm5LU-1640158304-0-gaNycGzNDJE
--------
'Refrain From Fixing Marriage Age; It's Interference In Personal Liberty': All India Muslim Personal Law Board To Centre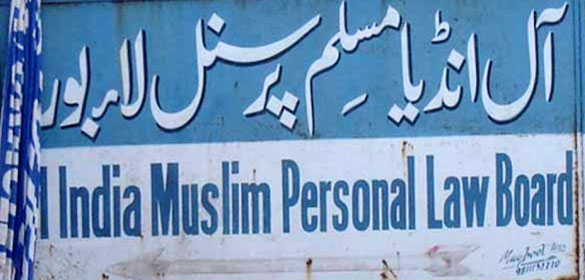 21 Dec 2021
The All India Muslim Personal Law Board (AIMPLB) has urged the central government to refrain from fixing the age of marriage and termed it as interference in personal liberty.
It said the government should do away with making such "useless and harmful laws".
The Union Cabinet last week approved a proposal to raise the minimum legal age of marriage for girls from 18 to 21 years.
"Marriage is a very important requirement for human life but no age of marriage can be fixed as it is also an issue related to the protection of the moral values," Maulana Khalid Saifullah Rahmani, general secretary of the board, said in a statement issued on Tuesday.
It is the reason why no age has been fixed for marriage in many religions, including Islam, he added.
"It completely depends on the discretion of the parents. If the guardians of a girl feel that their daughter is fit for marriage before the age of 21 and she can fulfill all her responsibilities after marriage, then preventing her from marriage is cruel and also interferes with the personal liberty of an adult. Due to this, there is also a possibility of an increase in crime in the society," Rahmani said.
He said, "Raising the minimum age of marriage of girls from 18 to 21 years and declaring marriage before the prescribed age as illegal is neither in the interest of the girls nor the society. Rather it can cause serious damage to moral values."
The practice of marrying girls at an early age is slowly disappearing but sometimes a situation arises when marrying off a girl before the prescribed age is in her interest, said Rahmai in the statement, shared by the official handle of the board on Twitter.
Source: Outlook India
Please click the following URL to read the text of the original story:
https://www.outlookindia.com/website/story/india-news-refrain-from-fixing-marriage-age-its-interference-in-personal-liberty-aimplb-to-centre/406097
--------
Iraqi Museum Restores Treasures Destroyed By Islamic State Jihadists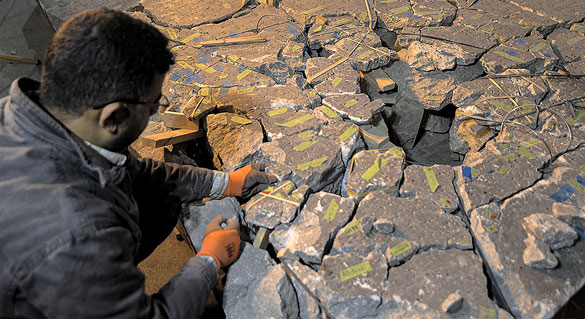 A worker at the Mosul Museum tries to reassemble from broken fragments a larger artefact bearing cuneiform inscriptions, at the museum in Iraq's northern city
Image: Zaid AL-Obeidi / AFP
-----
Dec 21, 2021
Left in ruins by jihadists, Iraq's once-celebrated Mosul museum and its 2,500-year-old treasures are being given a second life thanks to restoration efforts backed by French experts.
Ancient artefacts in the museum were smashed into little pieces when Islamic State group fighters seized the northern city of Mosul in 2014 and made it their seat of power for three years.
"We must separate all the fragments... It's like a puzzle, you try to retrieve the pieces that tell the same story," said restoration worker Daniel Ibled, commissioned by France's famous Louvre museum, which is supporting Iraqi museum employees.
"Little by little, you manage to recreate the full set."
When the IS jihadists were in control, they filmed themselves taking hammers to pre-Islamic treasures they deemed heretical, proudly advertising their rampage in a video published in February 2015.
The largest and heaviest artefacts were destroyed for the sake of their propaganda, but smaller pieces were sold on black markets the world over.
The scars of their destruction remain today.
On the ground floor of the museum, the twisted iron bars of the foundation poke through a gaping hole.
In other rooms, stones of various sizes are scattered, some bearing etchings of animal paws or wings. Others show inscriptions in cuneiform script.
The smallest of these fragments— no bigger than a fist—are lined up on a table, and experts are hard at work sorting through them.
For now, their efforts are focused on a winged lion from the city of Nimrud, jewel of the Assyrian empire, two "lamassu"—winged bulls with human heads -- and the base of the throne of King Ashurnasirpal II.
Giant jigsaw puzzle
These pieces, many dating back to the first millennium BC, are being revived with financing from the International Alliance for the Protection of Cultural Heritage in Conflict Areas (ALIPH).
Alongside the Louvre, efforts are also being made by Washington's Smithsonian Institution, which provides training for the museum's teams, as well as the New York-headquartered World Monuments Fund, which is tasked with restoring the building.
The base of the Assyrian king's throne, covered in cuneiform writing, appears almost fixed.
Some pieces are held together by elastic bands or small metallic rings.
"The base of the throne was pulverised into more than 850 pieces," said museum official Choueib Firas Ibrahim, an expert in Sumerian studies. "We have reassembled two-thirds of them."
For some pieces, writing fragments or straight lines help the teams put them together like a giant jigsaw.
"We read the inscriptions on this base, and we were able to restore the pieces to their place," said restorer Taha Yassin.
But other pieces without "a flat surface or inscriptions" make them virtually indistinguishable and are more complicated, Yassin added.
Empty spaces
One year after Iraqi troops recaptured Mosul in 2017, the museum received an urgent grant in a bid to restore it to its former glory.
After delays due to the coronavirus pandemic, museum director Zaid Ghazi Saadallah said he hopes the restoration works will be finished within five years.
But many gaps will remain, and posters on walls identify the lost artefacts.
"Most pieces are destroyed or looted," Saadallah said.
Iraq has suffered for decades from the pillaging of its antiquities, particularly after the US-led invasion in 2003, as well as during the later IS takeover.
But the current government says it has made the repatriation of artefacts a priority.
The Louvre has tasked 20 people to help the restoration efforts, said Ariane Thomas, director of the Louvre's Department of Near Eastern Antiquities.
After three missions this year, seven French experts will take turns visiting Iraq to help guide the restoration process, undertaken with about 10 museum employees.
Once the restoration work is complete, an online exhibition will be held to unveil the work.
"When we said that with time, money and know-how, we could revive even the most damaged of works, this proves it," Thomas said.
"Works that were completely destroyed have started to take form once again."
Source: Forbes India
Please click the following URL to read the text of the original story:
https://www.forbesindia.com/article/lifes/iraqi-museum-restores-treasures-destroyed-by-islamic-state-jihadists/72359/1
--------
Sheikh Zakzaky: Islamic Movement In Nigeria Can Never Be Banned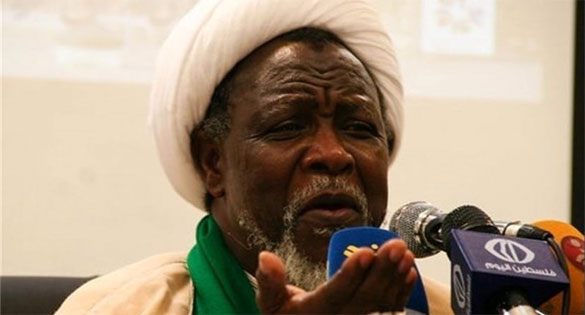 Leader of the Islamic Movement in Nigeria (IMN), Sheikh Ibrahim Zakzaky
-----
December 22, 2021
The Leader of the Islamic Movement in Nigeria (IMN), Sheikh Ibrahim Zakzaky, said that the Islamic Movement is an ideology and can never be banned by the government.
"The IMN is not a name, it is an ideology like Islamic awareness, Islamic ideology, Islamic education, or Islamic philosophy. It is a sort of concept. We never used it as a name, and the movement can never be banned or proscribed," Zakzaky said, Iran Press Reported.
Sheikh Zakzaky said proscribing the IMN is just like saying one is not permitted to practice his religion, contrary to the Nigerian constitution.
Elsewhere in his remarks, the cleric said he and his wife still have bullets in their bodies which doctors have not been able to remove.
In December 2015, the Nigerian army raided Huseiniyya Baqiyhatullah religious center and Sheikh Zakzaky's house in the town of Zaria in Kaduna State, killing hundreds of armless civilians, among them women and children.
It wounded the leader of the IMN and his wife with gunshots, a massacre that has been condemned by Amnesty International, Human Rights Watch, and other international activists.
During an aborted trip for medical treatment in India in August 2019, the Nigerian authority seized their international passports. It refused to hand them back even though Kaduna State High Court ordered their release on July 28, 2021.
Source: ABNA24
Please click the following URL to read the text of the original story:
https://en.abna24.com/news//sheikh-zakzaky-islamic-movement-can-never-be-banned_1211067.html
--------
Pakistan
Pakistan's Punjab Assembly Adopts Resolution to Support Tablighi Jamaat; Expressing Dismay Over Saudi Government's Decision Declaring It A Terrorist Organisation
December 22, 2021
LAHORE - The Punjab Assembly on Tuesday adopted a resolution expressing solidarity with Tablighi Jamaat and expressing dismay over Saudi government's decision declaring it a terrorist organisation.
Moved by Khadija Omer of the PML-Q, the resolution said that Tablighi Jamaat and other religious organisations were carrying out the duty of preaching Islam.
"Tablighi Jamaat is an organised global organisation. It has nothing to do with terrorism. History has shown that these people have never been involved in such activities. They are earning good will for Pakistan with preaching of Islam all over the world. This is an organisation which includes people of all classes," the resolution stated.
The resolution further said that Tablighi Jamaat had given practical proof of brotherhood by eliminating the distinction between the rich and the poor.
Earlier, Speaker Ch Parvez Elahi suspended all the relevant rules and allowed the mover to move the resolution out of turn. Since no member opposed the resolution, it was passed unanimously.
The Assembly members in their speeches termed Tablighi Jamaat as non-political and peaceful organisation working for propagation of Islam as a religion of peace and love.
The Assembly also passed two private members' bills including the National College of Business Administration and Economics Lahore (Amendment) Bill, 2021 and the Punjab Public Representatives Law (Amendment) Bill, 2021. The House adopted two more resolutions calling for legislation to regulate the gold business and setting up of a housing colony for employees of Punjab Assembly. Five private members' bills including the University of Central Punjab Bill, 2021; the University of Rawalpindi Bill, 2021; University of Arts and Science Lahore Bill, 2021; the Nur International University (Amendment) Bill, 2021 and the Salar International University Bill, 2021 were introduced in the House. All these bills were referred to the relevant committees for further consideration.
Source: The Nation Pakistan
Please click the following URL to read the full text of the original story:
https://nation.com.pk/22-Dec-2021/punjab-assembly-adopts-resolution-to-support-tablighi-jamaat
--------
Fawad says 'religious extremist' parties like TLP, JUI-F will harm Pakistan
December 21, 2021
Information Minister Fawad Chaudhry stated on Tuesday that "religious extremist" political parties such as the recently unbanned Tehreek-i-Labbaik Pakistan (TLP) and the Jamiat Ulema-i-Islam would ultimately harm the country.
He further added that PTI was the only "national party" in the country.
Chaudhry while speaking to the media after a meeting of the federal cabinet, said that the recently concluded local government elections in Khyber Pakhtunkhwa did not come under discussion.
"Today was a meeting of a the federal cabinet, not a meeting of the PTI's core committee. We will talk about this at a meeting for the core committee," he said when asked about his concerns over the results of the polls.
It is pertinent to note that Fawad was speaking to media a day after the PTI faced a major upset in the first phase of KP local body polls, while the JUI-F bagged the highest number of mayor/chairman seats.
The minister went on to state that the reason for the ruling party's failure in the polls was "clear".
"When three to four candidates from the same party contest the polls in the same constituency, then they will [inevitably] lose the election. This is what happened in most of the areas," he said, adding that the party's MNAs and MPAs were also not happy.
"Each constituency needs to be managed, and we lost most of the contests due to these management issues," he said.
However, this just proves that the PTI is a national party, he said, adding that the rest were merely "local parties". "If the PTI did not exist then there would be no national party in the country."
While talking about the JUI-F, he said that the party had ruined the education and finance sectors in KP in 2002. "It is unfortunate that, due to our mistakes, such a political party has been noticed [by the people]," he said.
He further said that the rise of "religious extremist parties" such as the TLP and JUI-F would ultimately harm the country.
Pakistan will be affected if the PTI faces setbacks and such "political dwarfs" get the chance to step into the limelight, he said, adding that PTI leaders needed to strengthen party chief Imran Khan. "Without Imran Khan, politics in Pakistan will scatter into pieces."
The minister said that the PML-N and the PPP no longer had any standing in the political arena, reiterating that the PTI was the only national party.
He expressed the hope that the party's leadership will learn from the current situation.
Responding to another question from a reporter, he said that he was "disappointed" at the fact that the JUI-F had bagged the highest number of seats in the first phase of local government elections in KP.
"Such parties are a sign of a retrogressive society and a sign that things in the country are not fine. It is not a reassuring thing for society when people who are against women's rights, against [basic] freedoms […] come into power," he said.
Earlier, Prime Minister Imran Khan stated that his party "made mistakes" but asserted the ruling party will emerge "stronger" in the second phase.
Provisional results of the first-ever local government elections in the border province following the 2018 merger of tribal districts showed the PTI losing ground to the opposition parties — especially rival Jamiat Ulema-i-Islam-Fazl (JUI-F) that managed to grab 15 seats, the highest, of mayors/chairmen in Sunday's elections for 63 tehsils.
The results of 39 tehsils declared by the Election Commission of Pakistan (ECP) Monday showed the hardline party also gave a stiff competition in many other tehsils where its candidates stood as runners-up.
In Peshawar alone, the JUI-F stunned the PTI by securing a definitive lead in the contest for the prized office of the city mayor. Its candidate Haji Zubair Ali secured 62,388 votes against 50,659 secured by Rizwan Bangash of PTI.
Of the remaining six tehsil chairman seats in Peshawar, the JUI-F managed to clinch four while the PTI could bag one seat of tehsil chairman.
"Wrong candidate selection was a major cause" of defeat, the prime minister said. He also announced to personally oversee the party's election strategy in the second phase of elections, and subsequent local government polls across Pakistan.
FIRST PHASE
In the first phase, 17 districts — Peshawar, Nowshera, Charsadda, Khyber, Mohmand, Mardan, Swabi, Kohat, Karak, Hangu, Bannu, Lakki Marwat, Dera Ismail Khan, Tank, Haripur, Buner and Bajaur — went into the elections which were held after a period of six years and marked by scattered incidents of violence.
Over 12.6 million registered voters — 7 million male and 5 million female voters — decided the fate of 37,752 candidates contesting for various seats.
The voting was postponed in three tehsils — located in Swabi, Bannu and Darra Adam Khel — due to disturbances, including an explosion in Bajaur, purported abduction of polling staff in Bannu, a clash in Karak and a mob attack on the car of Minister for Science and Technology Shibli Faraz in Kohat.
Over 2,000 contestants have been elected unopposed in the elections. 217 candidates on general seats, 876 on women and 285 on farmers seats were elected unopposed.
An additional 500 youth and 154 minority candidates were also declared successful.
Stringent security arrangements were adopted. 77,000 policemen and law-enforcement personnel were deployed outside polling stations and booths for the security of voters.
CCTV cameras were installed at sensitive locations and it was prohibited to carry weapons or electronic devices in all polling stations.
Source: Pakistan Today
Please click the following URL to read the full text of the original story:
https://www.pakistantoday.com.pk/2021/12/21/fawad-says-religious-extremist-parties-like-tlp-jui-f-will-harm-pakistan/
--------
Taking Law Into Hands, Against Teachings Of Quran: Pakistan Apex Religious Body
21 Dec 2021
Pakistan's top religious body has said that taking the law into one's hands was against the teachings of Quran, Sharia and the Constitution. It demanded that those responsible for the Sri Lankan national's lynching in the country's Punjab province be brought to justice, a media report said on Tuesday.
In a shocking incident earlier this month, supporters of the radical Islamist party Tehreek-e-Labbaik Pakistan (TLP) attacked a garment factory in Sialkot and lynched its 49-year-old general manager - Priyantha Kumara Diyawadana - before setting his body on fire over allegations of blasphemy.
A first information report was registered against 900 people in the case. Of the total over 160 suspects detained in this case, Punjab police have conducted the forensic tests of 54 main suspects so far.
The Council of Islamic Ideology (CII) on Monday observed that a serious issue facing the country was implementation of laws and that the judicial system needed improvements to stop a recurrence of the Sialkot-like incident.
It said that if a person took the law into his own hands, the state should take immediate action against him.
According to a report in the Dawn newspaper, the CII held a brainstorming session over the Sialkot lynching. It was briefed by District Police Officer Omar Saeed Malik on the action taken.
"Legislation is needed to prevent such incidents. Those responsible for the Sialkot tragedy should be punished," CII chairman Dr Qibla Ayaz said while talking to the media after the meeting.
He said the purpose of the session was to determine and understand the causes behind the tragedy.
"We all understand that despite all shortcomings in the system, it's the responsibility of the state, as well as the citizens, to end the rising incidence of violence," he said.
Allama Tahir Ashrafi, a member of the CII, said the state was very clear that another Sialkot-like incident would not be tolerated.
"At the same time, we all need to understand that it will take time to get rid of the disease that has taken 40 years to mature," he said.
A declaration issued by the CII called for punishing the guilty.
The declaration said the council had previously stated that the problem was non-enforcement of the law and that ensuring punishment for those involved in such incidents under the existing laws was more important than formulating new laws.
The council suggested to the government to take steps to table the Paigham-i-Pakistan declaration in parliament for approval. The 2017 unanimous declaration termed terrorism, suicide attacks and killing someone haram in Islam.
Source: Outlook India
Please click the following URL to read the full text of the original story:
https://www.outlookindia.com/website/story/world-news-taking-law-into-hands-against-teachings-of-quran-pakistan-apex-religious-body/406105
--------
Freight train launched to link Istanbul with Tehran, Islamabad
Aamir Yasin
December 22, 2021
ISLAMABAD: A freight train service was inaugurated here on Tuesday with an aim to boost trade between Pakistan, Iran and Turkey.
Minister for Railways Azam Khan Swati, along with Foreign Minister Shah Mahmood Qureshi and Adviser to the Prime Minister on Commerce Abdul Razak Dawood, inaugurated the Islamabad-Tehran-Istanbul (ITI) freight train at Margalla railway station. Ambassadors of Turkey, Iran, Kazakhstan and Uzbekistan were also present on the occasion.
The freight train service will play a vital role in improving the economies and lives of citizens of ECO member states by maximising economic efficiency and reducing the cost of doing business.
Railways Minister Swati highlighted the importance of ITI freight train and said this service would open doors for business and connectivity in the region. "The passenger train service will also start soon," he said, adding: "We have opened our trade routes and it is a great opportunity for importers and exporters."
Terming the ITI freight train an important milestone in Pakistan's history, the minister said that business-to-business contact among the business community would further enhance through this train. He said the service would further strengthen relations between the three countries.
Razak Dawood said regional connectivity was one of very important pillars of Pakistan's strategic trade policy framework and it was heartening to witness the resumption of operations of ITI freight train.
Foreign Minister Qureshi appreciated the resumption of ITI freight train and said the service would play an important role in regional connectivity and promoting economic activity in the region.
Turkish Ambassador Mustafa Yurdakul expressed the hope that the train service would not stop at Istanbul only but go all the way to Europe which would benefit all regional countries as the economies bounced back in the post-Covid era.
According to Pakistan Railways, the first train from Islamabad to Istanbul was inaugurated on August 14, 2009. Similarly, the first train from Istanbul reached the Islamabad dry port on August 13, 2010.
Source: Dawn
Please click the following URL to read the full text of the original story:
https://www.dawn.com/news/1665062/freight-train-launched-to-link-istanbul-with-tehran-islamabad
--------
Southeast Asia
Jakarta: Ministry Invites Younger Generation To Brush Up On Sharia Economy
December 22, 2021
Jakarta (ANTARA) - The Ministry of Finance has invited the younger generation to educate themselves about the sharia economy in order to encourage inclusive national sharia economic growth.
"We invite the creative, intelligent young generation in Indonesia to be educated about the sharia economy from an early age, starting from an interest in studying Islamic economy and finance to conducting various research and developments," expert staff for macroeconomics and international finance of the Minister of Finance, Wempi Saputra, said at the 'Development of Indonesia's Economic & Islamic Finance' webinar on Tuesday.
Quality human resources are essential to strengthen the foundation of the sharia economy so that Indonesia can become the leading producer in the global halal industry, he added.
Through the National Committee for Islamic Economy and Finance (KNEKS), the government has designated four sharia ecosystem clusters, namely commercial finance, social finance, halal industries, and public communities, he informed.
"These four clusters support various business fields among the community—from ultra-micro businesses to corporations. This demand ecosystem needs support from human resources, research and development regulations, and digital technology," he expounded.
Therefore, for the period from 2022 to 2024, the government has developed a structured program to develop talents from pre-school to higher education levels gradually, he said.
The program covers the quality of education and supporting aspects such as improving teaching materials in textbooks, increasing teaching competency, and the curriculum, he informed.
Source: Antara News
Please click the following URL to read the full text of the original story:
https://en.antaranews.com/news/205765/ministry-invites-younger-generation-to-brush-up-on-sharia-economy
--------
China blocks UN resolution on exemptions to Afghanistan sanctions
December 21, 2021
NEW YORK: China, backed by Russia, blocked a US draft resolution Monday in the UN Security Council that would have provided a system for humanitarian exceptions to economic sanctions imposed on Taliban-controlled Afghanistan.
"They want the deletion" of a paragraph of the resolution allowing the sanctions committee responsible for Afghanistan to provide "exemptions from the freezing of assets" if it considers that "such a waiver is necessary to facilitate further assistance to Afghanistan," a diplomat told AFP on condition of anonymity.
China, which is "opposed in principle to sanctions," is "against a case-by-case exemption mechanism," another diplomat confirmed.
"Humanitarian aid and life-saving assistance must be able to reach the Afghan people without any hindrance," China's UN Ambassador Zhang Jun said in a tweet Monday. "Artificially created conditions or restrictions are not acceptable."
Washington was hoping for approval on Monday of their draft by the other 14 members of the Security Council, so that they could put it to a vote on Tuesday, diplomatic sources said.
"There are currently no humanitarian exemptions from the sanctions regime" imposed on the Taliban in 2015 and for aid workers to "carry out financial transactions with ministries headed by people under sanctions would violate sanctions," said a diplomat.
Source: Pakistan Today
Please click the following URL to read the full text of the original story:
https://www.pakistantoday.com.pk/2021/12/21/china-blocks-un-resolution-on-exemptions-to-afghanistan-sanctions/
--------
Ruling coalition holds Malaysia's Christian-majority state
December 21, 2021
The ruling Gabungan Parti Sarawak (GPS) coalition registered a landslide win in the state election in Sarawak, the largest and only Christian-majority state in predominantly Muslim Malaysia.
The GPS won 76 out of 82 seats in the state legislature in the Dec. 18 election, while the opposition Parti Sarawak Bersatu (PSB) party won four seats and the Democratic Action Party (DAP) won two seats, according to the Election Commission.
It was the 12th state election in Sarawak since the territory joined the Malaysian federation in 1963.
GPS chairman and caretaker Chief Minister Abang Johari Tun Openg dedicated the election victory to all people in Sarawak and vowed to ensure the rights of all.
"The voters have given the signal that political stability was important for them to continue economic development and to implement social policies that prioritized the people," Abang, 71, said in his victory speech at Borneo Convention Center in state capital Kuching.
The GPS is composed of four local political parties — United Bhumiputera Heritage Party (PBB), Sarawak People's Party (PRS), Progressive Democratic Party (PDP) and Sarawak United Peoples' Party (SUPP). For the first time it contested an election with its own name and logo.
The component parties were part of Malaysia's long-ruling Barisan Nasional coalition of graft-tainted former prime minister Nazib Razak but left the coalition after its defeat in the last federal election in 2018.
This time Barisan Nasional backed the GPS coalition without getting involved directly. Meanwhile, the federal opposition alliance Pakatan Harapan of Anwar Ibrahim failed to hold any sway in Sarawak following another thrashing in a snap election in Malacca state in November, thanks to a successful campaign by Barisan Nasional.
A total of 349 candidates contested Sarawak's election. The previous state election was held in June 2016 and the state assembly was supposed to be dissolved on June 7 this year, only to be prevented by a state of emergency due to the Covid-19 pandemic.
Out of the state's estimated 3 million inhabitants, some 1.25 million were eligible for voting. Voter turnout was 60.67 percent, media reports say.
Sarawak is part of the northern territory of Borneo island and is the only one of the 13 states in Malaysia that holds state elections separately from federal elections. Under the Malaysian constitution, Sarawak enjoys a higher degree of autonomy than other states.
According to official estimates, about 42 percent of Sarawak inhabitants are Christians. Protestants, mostly Anglicans, make up the majority, followed by more than 441,300 Catholics spread in the Archdiocese of Kuching and the dioceses of Miri and Sibu. Malay Muslims comprise about 25 percent and Chinese Buddhists make up another 25 percent.
Ahead of the election, a retired Anglican bishop made headlines after he joined the opposition PSB party. Bishop Datuk Bolly Lapok, 69, joined the party on Nov. 11. He said he was approached by various political parties but decided to join PSB as he considered it an "ideal" platform to speak out against extremism and to advocate for centrism, regionalism and inter-racial harmony.
Source: UCA News
Please click the following URL to read the full text of the original story:
https://www.ucanews.com/news/ruling-coalition-holds-malaysias-christian-majority-state/95464#
--------
US religious freedom quartet barred entry by China
December 22, 2021
BEIJING: China has barred entry to four people from a US commission on religious freedom, the foreign ministry said yesterday, following US sanctions this month against Chinese people and entities over accusations of human rights abuses in Xinjiang.
The four people, from the US Commission on International Religious Freedom (USCIRF), would be banned from mainland China, Hong Kong and Macau, ministry spokesman Zhao Lijian said.
Their assets in China would also be frozen and Chinese institutions and citizens would be forbidden from dealing with them, Zhao said at a regular briefing in Beijing.
"We are not surprised to see the Chinese government impose additional baseless sanctions in response to growing concern over its egregious human rights and religious freedom violations," said USCIRF chair Nadine Maenza, one of the people China barred entry to, according to an online statement.
The US had said that its Dec 10 sanctions were in response to human rights abuses in China's Xinjiang region, where Uighurs and other Muslim minorities are alleged to have been unlawfully detained, mistreated and forced to work.
Source: Free Malaysia Today
Please click the following URL to read the full text of the original story:
https://www.freemalaysiatoday.com/category/world/2021/12/22/us-religious-freedom-quartet-barred-entry-by-china/
--------
India
Holding namaz as show of strength wrong, says Haryana CM Khattar
Dec 22, 2021
Haryana chief minister Manohar Lal Khattar on Tuesday said it was "inappropriate" to hold Friday prayers in open spaces as a "show of strength", advising all communities to avoid organising such routine religious programmes in public places.
"No member of any community should hold regular religious programmes in open public spaces," Khattar said in the Vidhan Sabha after Congress member from Nuh assembly Aftab Ahmed raised the issue of Hindu groups opposing Friday prayers in open places in Gurugram.
The chief minister said whenever people want to organise such routine religious activities, they should hold them in temples, mosques, churches and gurdwaras,
"Displaying a show of strength is not good as this provokes the sentiments of another community," Khattar said even as the Congress MLA reminded the chief minister that latter was the custodian of the state, and the protector of the people of all faiths.
This was the second time that the issue was raised in the House after the winter session of the Vidhan Sabha began last Friday. Earlier, Congress MLA Mamman Khan from Ferozepur Jhirka of Nuh district also raised the matter, objecting to Khattar's recent remarks over namaaz being held in public places. Both Ahmed and Khan demanded that chief minister should withdraw his statement.
However, the chief minister said it was the responsibility of all to ensure that there was no social confrontation and the peace was maintained. He said people of all faiths hold prayers at designated religious places such as temples, mosques, churches and gurdwaras, and that permissions are given to organise big festivals and programmes in open public places.
"Gurugram is a symbol of development. What message is being sent out from Gurugram when one cannot offer prayers as per one's choice?," the Congress MLA said, adding that "some elements" were repeatedly disrupting Friday prayers.
"The Constitution gives the right to practise one's religion. No one has the right to disrupt prayers," the Congress legislator said.
The chief minister said people have agreed to hold Friday prayers at certain places in Gurugram, till new arrangements are made. "The good thing is that some places have been identified as per a consensus till new arrangements are made. When consensus is breached and some people hold prayers outside the agreed upon spots, it leads to confrontation," Khattar said, advising the opposition MLAs not to flare up this issue as this can breach communal harmony.
In a press statement on Tuesday, the Gurgaon Muslim Council, that is leading the demand for namaz sites, said, "Muslims of Gurugram are extremely pained to hear that our CM in Haryana Assembly has said that Muslims offering their obligatory weekly prayers is a show of strength. Instead of stopping such horrifying attacks on Muslims by far-right wing groups, CM has put the blame squarely on us."
Source: Hindustan Times
Please click the following URL to read the full text of the original story:
https://www.hindustantimes.com/cities/delhi-news/holding-namaz-as-show-of-strength-wrong-says-haryana-cm-khattar-101640108855111.html
--------
India an example and role model for religious harmony, says Dalai Lama
Dec 19, 2021
India is a role model of religious harmony in the world, said Tibetan spiritual leader Dalai Lama during his address in a virtual event on 'Maha Satipatthana Sutta' for Theravada Sangha held in Colombo, Sri Lanka.
He said that when he came to exile in India as a refugee the practice of non-violence and religious harmony he found in Indian is "excellent".
During the event, he spoke to around 600 monks from Sri Lanka, Indonesia, Malaysia, Myanmar and Thailand. He addressed the event from his residence in Dharamsala, which is in the north Indian state, Himachal Pradesh.
The organiser of the event, the Sri Lankan Tibetan Buddhist Brotherhood Society aims to raise awareness of the common Buddhist heritage of the Sri Lankan and Tibetan people.
During his address, Dalai Lama hailed the religious tradition of India and also lauded the teachings and practice of non-violence in the country.
He said, "The Indian religious tradition teaches non-violence, not harming others. In India, the practice of non-violence - Ahimsa and Karuna have been practised for over 3,000 years."
"So, in India different religious traditions of the world such as Islam, Christianity, Jew and Judaism and so forth live together. India is an example, role model for religious harmony in the world. Since I came to exile in India as a refugee the practice of non-violence and religious harmony I found to be excellent in India," he said.
In his address, the Dalai Lama said, "Buddha himself has given us the freedom to analyse his own teaching and not take it on the face value, literally. So, in the Nalanda tradition therefore there is great emphasis on checking the teachings of the Buddha himself."
Source: WIO News
Please click the following URL to read the full text of the original story:
https://www.wionews.com/india-news/india-an-example-and-role-model-for-religious-harmony-says-dalai-lama-438177
--------
In a First, Kanpur Youth Gets 10-Year Jail Term, Fined Rs 30,000 Under 'Love Jihad' Law in UP
DECEMBER 22, 2021
In a First, Kanpur Youth Jailed for 10 Years, Fined Rs 30,000 Under 'Love Jihad' Law in UP
In the first sentencing under the 'Love Jihad' law in Uttar Pradesh, a youth in Kanpur was awarded jail term for 10 years and slapped with a fine of Rs 30,000.
The incident dates back to May 2017 when the youth named Javed allegedly introduced himself to the minor as Munna and promised to marry her, following which the couple eloped.
Taking cognizance of the incident, police registered a case and arrested the youth the next day. The girl reportedly told the police that when she reached her husband's house, he revealed his identity and asked her for a 'Nikah' to which she refused. She also accused the youth of raping her.
A case has been registered under relevant sections of the POCSO Act among others and the accused has been sent to jail, police said.
The Uttar Pradesh Prohibition of Unlawful Conversion of Religion Ordinance, 2020, envisages that no person shall convert, either directly or indirectly from one religion to another by use or practice of misrepresentation, force, undue influence, coercion, allurement or by any fraudulent means or by marriage nor shall any person abet, convince or conspire such conversion. The ordinance was replaced by an Act this year.
Depending on the severity of the "crime", those found guilty can land in jail for up to 10 years. Fines range from Rs 15,000 to 50,000. Interfaith couples who wish to get married must inform the district magistrate two months in advance.
The law provides for one to five years' imprisonment with a minimum fine of Rs 15,000 for forced conversions, and three to 10 years of jail time for the conversion of minors and women from the SC/ST community. For forceful mass conversions, the jail term is three to 10 years and a Rs 50,000 fine.
According to the law, a marriage shall be declared "null and void" if it is found that the sole intention of wedlock was to convert the woman.
The Uttar Pradesh Police have so far registered a total of 108 cases under the law that criminalises religious conversion by "force, undue influence, coercion, or allurement".
Source: News18
Please click the following URL to read the full text of the original story:
https://www.news18.com/news/india/in-a-first-kanpur-youth-gets-10-year-jail-term-fined-rs-30000-under-love-jihad-law-in-up-4580027.html
--------
Like UP law, Karnataka anti-conversion Bill addresses right wing concerns on 'love jihad'
By Johnson T A
December 22, 2021
The Karnataka Right to Freedom of Religion Bill 2021, introduced in the state Legislative Assembly on Tuesday, aims to fulfil two demands of the core support base of the right-wing BJP government in the state – prevention of forced religious conversions and the so-called 'love jihad'.
Ban on conversions for marriage
While the stated objective of the proposed law is to prevent forced religious conversions, the Bill also contains clauses that are intended to curb conversions for marriages – termed 'love jihad' by the BJP's right-wing support base. This is along the lines of clauses in the Uttar Pradesh Prohibition of Unlawful Conversion of Religion Ordinance, 2020, commonly referred to as the 'love jihad' law.
Clauses pertaining to the ban on conversions through marriages in both the UP legislation and the Karnataka Right to Freedom of Religion Bill, 2021 (clause six in both cases) are identical in nature.
"Any marriage which was done for sole purpose of unlawful conversion or vice-versa which was done by the man of one religion with the woman of another religion either by converting himself before or after the marriage or by converting the woman before or after marriage shall be declared as null and void by the family court or, where the family court is not established, the court with jurisdiction to try such a case on a petition filed by either party thereto against the other party to marriage," it states.
Dealing with 'love jihad'
According to Karnataka Home Minister Araga Jnanendra, who has piloted the Bill, the proposed law is intended to deal with 'love jihad' as well. "Love jihad involves marriage and there are provisions to curb marriages for the purpose of conversion (in the Bill)," Jnanendra stated while indicating that no separate 'love jihad' law is needed if the anti-conversion law is brought into force.
"Since there is no legal definition for the term 'love jihad', it has been decided that the issue can be addressed by preventing conversions for marriages," said sources in the state's Home Ministry.
Ahead of the Karnataka legislature session, there had been speculation that the BJP government may move two separate bills to tackle the pet-peeves of the right wing – religious conversion and 'love jihad'.
"We have been stating from the beginning that the BJP government will bring in an anti-cow slaughter law and an anti-conversion law. We are committed to it. I will go ahead and say that in the days to come, we will also bring a law against love jihad," Minister for Energy, V Sunil Kumar, had stated ahead of the winter session of the Assembly in Belagavi.
"We have seen many reports in newspapers and in the electronic media about conversions due to love jihad. I don't know about other states, but in Karnataka we are going to end this. The luring of young girls with the use of money or love is something we are taking seriously. We will take stern steps to end this," former Karnataka BJP chief minister B S Yediyurappa had stated when he was in power several months ago.
The issue of cow slaughter, religious conversions, 'love jihad' and protection of Hindu culture are core issues among the BJP's support base in regions where communal sensitivity is high and the right wing is dominant, like coastal Karnataka.
Modelled on similar laws in other states
The proposed Bill is also largely modelled on laws banning religious conversions in UP, Gujarat, Madhya Pradesh and Himachal Pradesh. "We have considered the existing laws on conversion in different states. We have also considered the judgments delivered when these laws were challenged. The Bill has been drafted after consideration of all these aspects," said an official in Karnataka's Law Ministry.
Like the UP anti-conversion law, the Karnataka Bill addresses the right wing's concerns over 'love jihad' by seeking to regulate inter-faith marriages. As per the law, marriages – in which religious conversions have taken place for the convenience of wedding – will have legal recognition only if the conversion was brought to the notice of a district magistrate 30 days before the conversion and 30 days post conversion.
"No person shall convert or attempt to convert either directly or otherwise any other person from one religion to another by use of misrepresentation, force, undue influence, coercion, allurement or by any fraudulent means or by marriage, nor shall any person abet or conspire for conversions," says the Bill.
Source: Indian Express
Please click the following URL to read the full text of the original story:
https://indianexpress.com/article/cities/bangalore/karnataka-anti-coversion-bill-right-wing-love-jihad-7684737/
--------
Arab World
Qatar seizes children's toys bearing 'un-Islamic' slogans
21 Dec 2021
Authorities in Qatar have confiscated a line of children's toys from stores deeming them 'contrary to Islamic values'.
The ministry of commerce and industry "carried out inspection campaigns on several retail outlets in different regions across Qatar", it said on Twitter.
"The campaigns resulted in the seizure and release of several violations, including the confiscation of children's toys bearing slogans that go against Islamic values."
The tweet was accompanied by pictures of rubber stress balls and other toys in rainbow colours.
Source: Khaleej Times
Please click the following URL to read the full text of the original story:
https://www.khaleejtimes.com/gulf/qatar-seizes-childrens-toys-bearing-un-islamic-slogans
--------
Lebanon Central Bank chief says country needs $12-15 bln to kickstart economy
21 December ,2021
Lebanon needs to receive 12 to 15 billion dollars from its partners to kickstart its economic recovery and shore up fast-diminishing foreign currency reserves, Central Bank Governor Riad Salameh said in an interview with AFPon Tuesday.
Lebanon is grappling with an unprecedented economic crisis branded by the World Bank as one of the planet's worst in modern times.
For the latest headlines, follow our Google News channel online or via the app.
More than 80 percent of the population lives in poverty and the currency has lost more than 90 percent of its black market value amid political squabbling that has delayed an agreement with the International Monetary Fund.
"Our quota in the International Monetary Fund is 4 billion," Salameh said in an AFP interview.
"If countries add to it, we could reach 12 to 15 billion, an amount that could help start Lebanon's recovery and restore confidence," he said.
Lebanon defaulted on its debt for the first time last year but political leaders have continued to resist key reforms demanded by donors to unlock necessary funds.
Meanwhile, the central bank's mandatory dollar reserves have been slashed by more than half.
"The mandatory reserves are down to 12.5 billion dollars," said Salameh who is widely viewed as a key culprit behind an economic crash they say is caused partially by central bank policies.
The mandatory reserves stood at $32 billion before the start of the economic crisis in 2019.
The fast-diminishing reserves are threatening a subsidy program that had initially covered fuel, medicine, flour, and other key imports before it petered out.
The central bank can afford to finance partial subsidies on a few remaining key imports for "around six to nine months," if no additional measures are taken to combat the depreciation of the Lebanese pound, Salameh said.
Officially pegged at 1,507 to the greenback since 1997, the Lebanese pound sold for nearly 30,000 to the dollar on the black market earlier this month in a record low.
Official fixed rate obsolete
The official fixed rate is "no longer realistic", Salameh said, while explaining that a unified exchange rate would be unlikely in the absence of an IMF agreement and political stability.
Source: Al Arabiya
Please click the following URL to read the full text of the original story:
https://english.alarabiya.net/News/middle-east/2021/12/21/Lebanon-Central-Bank-chief-says-country-needs-12-15-bln-to-kickstart-economy
--------
'Celebrate safely' on Christmas, New Year amid omicron fears: UAE doctors
22 December ,2021
Health experts in the United Arab Emirates have urged residents to celebrate the Christmas and New Year festive season with caution and adhere to safety protocols amid fears over the omicron variant and soaring cases of COVID-19 across the country.
Speaking to Al Arabiya English, Rajesh Kumar Gupta, a specialist in internal medicine, at Burjeel Speciality Hospital, Sharjah, said: "The COVID-19 pandemic has changed many aspects of our lives especially the way we celebrate religious and social observances like Christmas and New Year."
"Traditionally festivals and events allow us to reconnect with our friends and family, but today, we are not able to mark these occasions as we have done in the past," Gupta added.
"As the pandemic is far from over with the new omicron variant, which is far more contagious and spreading very fast all over the world, it is important to be responsible to protect ourselves and our family members by getting a COVID-19 vaccine and a booster dose as well."
The doctor also urged everyone to follow government guidelines to limit the spread of the coronavirus.
"We know that laxity in adhering to the protocol could result in an increase in the daily reported infections so we should always wear a face mask, use hand sanitizer and adhere to physical distancing (1.5 meter) and follow other precautions like avoiding greeting people with hand shaking or embracing them."
"Since large parties could lead to a spike in cases, it is a good idea to restrict numbers and celebrate with immediate family members who are already vaccinated."
Pregnant women, children, and those belonging to any high-risk group should stay away from the celebrations or be extra cautious, the doctor added.
"Online celebrations are also an interesting way to share our happiness with others and keep our traditions alive. So, this Christmas and New Year, let us retain the celebratory spirit and be proactive in ensuring the safety of our community."
"Also, it is very important vaccinated people get the booster jab to protect themselves from the infections."
Dr. Karthikeyan Dakshinamoorthy, a specialist in internal medicine at NMC Royal Hospital, DIP, Dubai, reiterated the note of caution during the festivities.
"The UAE is reporting the highest number of detected COVID 19 cases since the pandemic was under control."
"The numbers on the omicron variant are unavailable. We all knew that COVID-19 spreads through aerosol or droplets."
"As New Year and Christmas nears, we all tend to gather or go to events to celebrate."
"All these activities carry significant risks. If you are planning for a family gathering, keep the guests in minimum numbers while following safety protocols. If you are planning to go to events check for the safety protocols followed by the organizers. Those who are at high risk should stay home."
"It's better to stay home and enjoy safely with family for this Christmas and New Year."
Dr. Dakshinamoorthy said COVID-19 cases are increasing in number and said this is mostly due to increased interaction between people and "laxity to follow COVID-19 safety protocols."
Source: Al Arabiya
Please click the following URL to read the full text of the original story:
https://english.alarabiya.net/coronavirus/2021/12/22/-Celebrate-safely-on-Christmas-New-Year-amid-omicron-fears-UAE-doctors
--------
Arab Coalition: Houthis use Sana'a airport as workshop for ballistic missiles
21 December ,2021
Arab Coalition spokesman Brig. Gen. Turki al-Maliki said the coalition on Monday carried out "a limited military operation for legitimate military objectives" at Yemen's Sana'a Airport after it was used for military purposes by the Iran-backed Houthi militia, the official Saudi Press Agency (SPA) reported.
Al-Maliki said that the airport has workshops for drones and ballistic missiles used by the Houthis in attacks.
SPA quoted him as saying that the Houthi militia exploits the airport's special protection in "managing and launching hostile cross-border operations using ballistic missiles, drones and booby-trapped aircrafts to target civilians and civilian objects inside Yemen and the neighboring countries of Yemen."
The spokesman explained that the coalition took "all legal measures to drop protection from some sites inside the airport based on Paragraph (2) of Article (52) of Additional Protocol I, and rules (7 and 8) of customary international humanitarian law," the press agency reported.
Al-Maliki added that the military objectives included six sites used by the Houthis to manage the activity of drones and booby-trapped attacks, training drone personnel, and the residence of the trainers and trainees, in addition to two warehouses for booby-trapped drones.
Neutralizing and destroying these targets will not have any effect on the operational capacity of Sana'a Airport, and will not affect the management of the airspace, air traffic and ground handling operations, he stated.
Houthis use civilian objects as cover for operations
In an interview with Al Arabiya, al-Maliki said the Iran-backed Houthi militia used civilian objects as cover for their military operations, adding that the coalition took legal measures before launching military strikes at Sana'a Airport.
He also stressed that international law permits lifting the immunity of civilian sites, adding that the coalition gave civilians a warning to leave Sana'a Airport, although no civilians were present.
Source: Al Arabiya
Please click the following URL to read the full text of the original story:
https://english.alarabiya.net/News/gulf/2021/12/21/Arab-Coalition-Houthis-use-Sana-a-airport-as-workshop-for-ballistic-missiles
--------
Africa
'Nigeria will not let FETO terrorist group undermine ties with Turkey'
Adam Abu-bashal
22.12.2021
ABUJA
Nigeria will not allow the Fetullah Terrorist Organization (FETO) to undermine the country's relations with Turkey, a presidential spokesman said Tuesday.
Garba Shehu said on his social media account that Abuja and Ankara had the same stance on the terror group.
Shehu said the money terror affiliates collect in the country through investments such as schools and hospitals would not be taken anywhere to finance destructive activities thanks to the close monitoring of the Nigerian Central Bank and financial intelligence departments.
He said he was referring to Turkish investments, schools and hospitals associated with figures linked to the coup and the attempted assassination of Turkish President Recep Tayyip Erdogan.
Shehu also said Turkey had a technologically advanced and modern defense industry which would speed efforts to save Nigeria from the threat of terrorism and bandits.
Turkey recently held a third partnership summit with Africa in Istanbul.
FETO and its US-based leader Fetullah Gulen orchestrated the defeated coup of July 15, 2016, which left 251 people killed and 2,734 injured.
Source: Anadolu Agency
Please click the following URL to read the full text of the original story:
https://www.aa.com.tr/en/africa/nigeria-will-not-let-feto-terrorist-group-undermine-ties-with-turkey/2454051
--------
Sudan's PM Hamdok intends to resign within hours: Reuters
21 December ,2021
Sudan Prime Minister Abdalla Hamdok has told a group of national political and intellectual figures that he intends to resign in the coming hours, two sources close to Hamdok told Reuters on Tuesday.
Hamdok was reinstated on Nov. 21 following a coup a month earlier that saw the military take power and end a transitional partnership with political parties.
While several political forces took part in drafting the agreement, according to the sources, it has faced widespread criticism from parties and the general public.
On Saturday, hundreds of thousands of people marched on the presidential palace rejecting both military rule and Hamdok's decision to return, which he had said he took to preserve gains made during the transition and to end bloodshed.
Some 47 people have died in crackdowns on protests against military rule, including two as a result of Saturday's protest. The United Nations said on Tuesday that it had received reports of rape or gang rape of 13 women and girls.
Sources close to Hamdok had said previously he would only remain in office if he had political support and if the agreement was enforced. It called on the military to release political detainees, protect freedom of expression and allow Hamdok to independently appoint a new cabinet.
Source: Al Arabiya
Please click the following URL to read the full text of the original story:
https://english.alarabiya.net/News/middle-east/2021/12/21/Sudan-s-PM-Hamdok-intends-to-resign-within-hours-Reuters
--------
UN calls for probe into rape allegations in Sudan protests
21 December ,2021
The UN human rights office on Tuesday called for an independent investigation into allegations of sexual violence including rape and gang rape during mass anti-coup protests in Sudan earlier this week, a spokeswoman said.
Liz Throssell, a spokeswoman for the UN human rights office in Geneva, said they received "disturbing" reports alleging that 13 women and girls were raped or gang raped in the demonstrations on Sunday in the capital, Khartoum.
There was no immediate comment from Sudan's government.
Tens of thousands of Sudanese took to the streets in Khartoum and elsewhere in Sudan on Sunday, marking the third anniversary of the uprising that forced the removal of autocrat Omar al-Bashir in April 2019.
The rallies turned violent in many places as security forces moved against the protesters. At least two people were killed and over 300 others were wounded, according the Sudan Doctors Committee, a professional medical union.
Women were reportedly sexually harassed while fleeing the area around the presidential palace in Khartoum when Sudanese forces fired tear gas and live ammunition there to disperse the protests, Throssell.
"We urge a prompt, independent and thorough investigation into the allegations of rape and sexual harassment, as well as the allegations of death and injury of protesters as a result of the unnecessary or disproportionate use of force, in particular use of live ammunition," she said.
It was not the first time Sudanese security forces face accusations of sexual violence against female protesters.
On June 3, 2019, dozens of women were raped when forces tore apart a sit-in camp outside the military's headquarters in Khartoum, according to the doctors committee and the testimonies of several of the women.
Sunday's protests were one of the largest since the military took over on Oct. 25, removing Prime Minister Abdalla Hamdok's transitional government in a coup that rattled the country's fragile transition to democracy and led to relentless street demonstrations.
Source: Al Arabiya
Please click the following URL to read the full text of the original story:
https://english.alarabiya.net/News/middle-east/2021/12/21/UN-calls-for-probe-into-rape-allegations-in-Sudan-protests
--------
Libya's election committee dissolved ahead of polls
21 December 2021
Days before Libya's presidential and parliamentary elections, authorities have ordered the dissolution of the electoral committee, a move that is expected to postpone the vote.
The head of the High National Electoral Commission (HNEC), Imad al-Sayeh, ordered on Monday "the disbandment of electoral regional and local branch offices and committees," according to a leaked internal statement.
A member of the HNEC's board of directors confirmed the authenticity of the document on Tuesday.
Last week, the country's UN-recognized government declared its readiness to hold the elections on Friday, but days before the polls, no official list of candidates has been presented to the public and no formal campaigning is underway.
There has been no formal announcement on a postponement either. The HNEC, the technical body overseeing the polls, says it is the responsibility of the Libyan parliament to make the announcement of a postponement.
Some members of the house, however, have called for a new government to be installed, claiming the mandate of the interim government has expired.
The interim government was formed in February to take the country through to elections.
Libya has been beset by violence and chaos since the overthrow and killing of its long-serving ruler Muammar Gaddafi following a bombing campaign by the US-led NATO military alliance in 2011.
Source: Press TV
Please click the following URL to read the full text of the original story:
https://www.presstv.ir/Detail/2021/12/21/673132/Libya-election-committee-dissolved-ahead-of-polls
--------
North America
New analysis further links Israeli spyware to Khashoggi's murder
22 December 2021
New forensic analysis has revealed that operatives of the United Arab Emirates (UAE) installed the Israeli Pegasus spyware on the mobile phone of the wife of murdered Saudi journalist Jamal Khashoggi just months before his torture killing.
The analysis, conducted by the Canada-based Citizen Lab privacy and security research laboratory, further exposed that executives of Pegasus' maker – NSO group – lied when they claimed last summer that Khashoggi and his associates, including his Emirati wife, Hanan Elatr, were targeted by the spyware in a surveillance operation on behalf of the UAE government, The Washington Post reported on Tuesday.
According to the report, a forensic investigation of two Android cellphones owned by Elatr discovered that an unknown individual used one of the phones to visit a website that uploaded the Israeli spyware onto the phone. This occurred after UAE security agents at Dubai's airport confiscated the phone from Elatr just months prior to Khashoggi's murder in Saudi Arabia's consulate in Istanbul, Turkey. Further analysis by the Citizen Lab also suggested the website was controlled by NSO group on behalf of "a customer" in the UAE.
Phone numbers belonging to Elatr and to Khashoggi's Turkish fiancée, Hatice Cengiz, were also found in a list of 50,000 numbers in a data leak that revealed potential targets of the Pegasus spyware, the report adds.
The list also contained numbers belonging to hundreds of more government officials – including French and South African presidents, the Pakistani prime minister and several Africa-based US embassy officials – along with a total of 180 journalists that included major US and European news outlets.
The reported data leak was part of a larger investigation by a coalition of news outlets around the world. The investigation, branded The Pegasus Project, exposed a massive targeting of journalists, human rights activists and politicians.
According to the daily, the international probe found that authoritarian governments have used Pegasus against journalists, human rights defenders, diplomats, lawyers and pro-democracy opposition leaders, with new revelations continuing to roll out. France found traces of the spyware on the phones of five of its ministers. After initial denials, Hungary also admitted using the spyware.
The deep technical sophistication of surveillance exploits developed by the Israeli spyware company was recently revealed in a blog post from Project Zero, a Google security research group. The post offered details of a "zero-click" exploit for iMessage in which a target's cellphone would be compromised simply by sending them an SMS message containing a link, without the need for the target to open or read the message.
NSO's operations have long been shrouded in secrecy. In the face of growing evidence of the company's willingness to assist repressive and authoritarian regimes around the world, including the surveillance of some American officials, however, the US government has begun to take action against the Israeli company.
According to the report, the Israeli regime's military requires NSO to get its approval before selling Pegasus to a country to ensure that the sale is in line with interests of the occupying regime. NSO says it has sold Pegasus to 60 government agencies across 40 countries.
NSO was recently placed on a blacklist by the US Department of Commerce, forbidding US companies from providing NSO with goods or services. Even a group of US lawmakers has urged the imposition of stricter sanctions on NSO Group and other spyware firms, which would freeze bank accounts and bar their employees from traveling to the US.
The UAE, a federation of monarchies in the Persian Gulf, has been one of NSO's most notorious clients, the report underlines. The despotic regime has used Pegasus against anti-regime activists, journalists and even a royal princess attempting to escape her father, the international media investigation and others have found. In October, a British court revealed that NSO Group ended its contract with the UAE because Dubai's ruler had used it to hack the phones of his ex-wife and her lawyer, a member of Britain's House of Lords.
In the past, the UAE has also denied allegations that it used Pegasus against human rights activists and other civil society figures.
The UAE, meanwhile, remains a close ally of Saudi Arabia. In 2013, the two countries signed a mutual security agreement promising cooperation on intelligence and law enforcement matters. The UAE has spied on Saudi dissidents abroad and sent them to Riyadh, according to human rights groups and a recent lawsuit filed in a US federal court in Portland, Oregon, on behalf of an imprisoned Saudi human rights activist.
According to The Post, Elatr – Khashoggi's fourth wife after his three divorces – feels forgotten in the wake of her husband's murder. "She found out he had disappeared via Twitter after waking up from a long flight, alone in her apartment in Dubai. While she was dealing with the likelihood he had been murdered, she was also learning that he was planning to marry another woman."
Source: Press TV
Please click the following URL to read the full text of the original story:
https://www.presstv.ir/Detail/2021/12/22/673164/New-analysis-further-links-Israeli-spyware-to-Khashoggi-murder
--------
US ready to infuse liquidity into Afghan economy
Anwar Iqbal
December 22, 2021
WASHINGTON: The United States is working with various UN agencies to find ways for infusing liquidity into the Afghan economy, the US State Department said.
The announcement, made at a news briefing in Washington, followed another statement by a State Department official in Islamabad on Monday, saying that the United States would show greater flexibility on financial sanctions imposed on Afghanistan after the Taliban takeover.
Earlier this week, thirty-nine lawmakers sent a letter to US secretaries of state and treasury, asking them to help rebuild Afghanistan's failing economy and to unfreeze the country's assets. The United Nations has also backed this call.
"We are working with various UN bodies, including the UNDP, to find creative ways that we can infuse not only humanitarian aid but also liquidity into the Afghan economy," State Department Spokesperson Ned Price said at the briefing in Washington.
The United States, he said, also supported the release of $280 million to Afghanistan last week from a World Bank fund. Mr Price pointed out that since August, the United States has sent $208 million of humanitarian aid to Afghanistan, which adds up to $475 million this year.
The US official acknowledged that Afghanistan needed more than just humanitarian assistance and that's why the US Treasury had relaxed some of the sanctions imposed after Aug 15, when the Taliban seized Kabul.
These first signs of flexibility in the US stance on Afghanistan followed multiple calls for Washington to review its punishing sanctions on Afghanistan's Taliban regime. While the sanctions were already in place, the United States also froze about $9.5bn in assets and loans after the Taliban takeover.
The move dealt a devastating blow to Afghanistan's fragile economy that's heavily reliant on donor assistance. This also aggravated the country's humanitarian crisis caused by drought and more than four decades of civil war.
At the State Department briefing, Spokesman Price said that Afghanistan's economic crisis was not "entirely unique" to the present. "This is something that was pre-existing before the withdrawal of American military forces, but it's also something that has become more acute," he said.
Noting that factors like the ongoing drought and dependence on foreign aid were not new, he said: "We absolutely believe there is an urgent humanitarian situation in Afghanistan now. As we are now in the winter months, our concern for the wellbeing of the Afghan people is further pronounced."
Mr Price pointed out that US Special Representative for Afghanistan Tom West recently attended an OIC meeting in Islamabad, where a trust fund was set up for sending money to the people of Afghanistan.
Source: Dawn
Please click the following URL to read the full text of the original story:
https://www.dawn.com/news/1665103/us-ready-to-infuse-liquidity-into-afghan-economy
--------
Iran's trying to build leverage for better nuclear deal, but it won't work: US envoy
21 December ,2021
US Special Envoy for Iran Rob Malley said Tuesday that there are only "some weeks left" before there will no longer be a nuclear deal to revive.
Malley's comments during an interview on CNN came on the heels of the end of the seventh round of indirect talks between Washington and Tehran in Vienna.
US officials were optimistic after the first six rounds, which ended before the summer due to the election of a new government in Iran.
Since then, Iran has increased the enrichment of its uranium to unprecedented levels, and fears continue to grow over the breakout time needed for Tehran to develop a nuclear weapon.
They deny that their nuclear program is for military purposes.
"If they continue at their current pace, we have some weeks left but not much more than that, at which point, I think, the conclusion will be that there's no deal to be revived," Malley said on Tuesday.
He added that it was "very clear" what Iran was trying to do in stalling talks, which is to try to build leverage for a better deal.
"It won't work," Malley said.
Source: Al Arabiya
Please click the following URL to read the full text of the original story:
https://english.alarabiya.net/News/middle-east/2021/12/21/Iran-s-trying-to-build-leverage-for-better-nuclear-deal-but-it-won-t-work-US-envoy
--------
Violence in occupied West Bank could undermine Gaza truce: UN
Servet Gunerigok
21.12.2021
WASHINGTON
UN Special Coordinator for the Middle East Peace Process Tor Wennesland warned on Tuesday that violence in the occupied West Bank could lead to disruption of a truce in Gaza.
Wennesland voiced concern about recent developments in the occupied West Bank, including East Jerusalem, and the deteriorating security situation during his briefing at the UN Security Council,
He said clashes, attacks, military operations and high levels of settler-related violence have continued as Palestinian militant factions call for increased confrontations with Israel.
"Continued unilateral steps -- including Israeli settlement advancement, evictions, and demolitions – and the severe fiscal and economic crisis in the Occupied Palestinian Territory (OPT) further exacerbate the situation and undermine the PA's institutional stability," said Wennesland.
"If left unchecked, I am concerned that not only may the situation in the West Bank further deteriorate, but these dynamics could also impact the security situation in Gaza and undermine the cessation of hostilities that has held since May 2021," he added.
The UN coordinator urged all parties to take immediate steps to lower tensions and restore calm.
Twelve Palestinians, including one woman and four children, were killed by Israeli security forces across Palestine since Sept. 29, while 306 others were injured.
In Israel, two civilians were killed and 39 Israelis injured by Palestinians in clashes, shooting, stabbing and ramming attacks, said the official.
Source: Anadolu Agency
Please click the following URL to read the full text of the original story:
https://www.aa.com.tr/en/americas/violence-in-occupied-west-bank-could-undermine-gaza-truce-un-/2453890
--------
Mideast
Israelis long to reconnect with Arab, Islamic homelands
Rina Bassist
December 21, 2021
Deputy Jerusalem Mayor Fleur Hassan-Nahoum is working to advance the construction of a museum dedicated to the heritage of Sephardic Jews. She told Al-Monitor, "There are several museums and foundations in Israel dedicated to Jews from the region. For instance, we have the excellent Babylonian Jewry Heritage Center in the town of Or Yehuda, dedicated to the heritage of the Iraqi Jewish community. We have the International Center for North African Jewry in Jerusalem. What we lack is a national museum, one run by the State of Israel, which will honour, commemorate and preserve the history and the traditions of Sephardic Jews and Jews from all Arab countries. I have been pushing this idea for some time now, and we have started inspecting plots, either owned by the Jerusalem municipality or state-owned land, that could potentially house such a project."
Hassan-Nahoum is also the co-founder of the UAE-Israel Business Council and very active on advancing trade and other relations between Israel and Gulf countries. She said that Israelis of Mizrahi origins should spearhead efforts to create future partnerships with the Arab world as well as preserve the history of Jewish communities in the Middle East, North Africa and Iran.
For many years, Israel neglected its Sephardic heritage and history. In 2014, the Knesset designated Nov. 30 as a day to commemorate the departure of Jews from Arab countries and from Iran, from which 850,000 Jewish refugees were displaced in the 20th century.
This year, for the first time, Israel's president hosted the commemoration. Shimon Ohayon, who initiated the Memorial Day observance seven years ago, joined Social Equality Minister Meirav Cohen, chair of the World Sephardi Federation Haim Cohen, former Defense Minister Itzhak Mordechai and Hassan-Nahoum for what Hassan-Nahoum described as a moving ceremony. She noted that while President Isaac Herzog himself is not from a Sephardic family, his mother and his aunt were born in Egypt, a story he shared at the ceremony. They had to flee the country following the riots against Jews that erupted in many Arab countries after the establishment of the Jewish state.
A few days later, Deputy Foreign Minister Idan Roll hosted dozens of diplomats for a similar event. At the Babylonian Jewry Heritage Center, Roll noted, "The deportation of Jews from Arab countries and from Iran is an issue that is absent from the discourse over Israel and the region. Those refugees who have been deported deserve compensation or at least recognition."
Not all the memories are painful. Many Jews from Arab nations long to rekindle ties with homelands left behind and vice versa. For instance, there has been an enthusiastic response in Israel to Iraqi efforts to normalize relations between the two countries and foster new ties with descendants of the departed Jewish Iraqi community.
Another example is a first-of-its-kind meeting held Nov. 3 between Lebanon's ambassador in Paris Rami Adwan and Jews of Lebanese origin living in France. Adwan is apparently close to Lebanese President Michel Aoun, who has a complicated history with Israel and is considered close to Hezbollah. And while the Jews invited to the Lebanese Embassy were for the most part French citizens, several of them have relatives in Israel or are connected to Israel in other ways.
Source: Al Monitor
Please click the following URL to read the full text of the original story:
https://www.al-monitor.com/originals/2021/12/israelis-long-reconnect-arab-islamic-homelands?A3381545-4502-AF44-BA31-69C42C4721D1_kav_cup_C6FA3ED5_6D17_47D1_B6E2_F4B02CC905E0_
--------
Bethlehem church aims to recreate chimes from crusader times
December 22, 2021
JERUSALEM: Crusader-era bells and organ pipes from the Church of the Nativity in Bethlehem are inspiring researchers' efforts to recreate music as it may have sounded in the birthplace of Jesus during almost 800 years ago.
Worried they might otherwise be destroyed, mid-13th-century crusaders buried the 13 bronze bells near the church on the eve of a Muslim offensive, slathering them in animal fat to protect them from rust, said David Catalunya, who is leading a project to build facsimiles of them.
"It's a very long process, not only in terms of constructing the materiality of the instruments but also its cultural context and its intellectual context," said Catalunya, a researcher from the universities of Oxford and Wuerzburg, Germany.
With the exploratory research phase complete, he estimates it will take about five years to cast fully functioning copies.
Meanwhile, a knock of the knuckles is enough to bring a clear, high-pitched chime from the originals, whose clappers have long since rotted away – as demonstrated to Reuters at the Custody of the Holy Land for the Roman Catholic church, which holds the unique collection.
"It's half of the original sound, which was much richer and louder and a little bit lower," Catalunya said.
The bells were part of a carillon that accompanied chants inside the church, said Franciscan friar Fr Stephane, the Custody's liturgist.
They were discovered in the early 20th century, along with 222 medieval copper pipes from the Church of the Nativity's organ, during construction at the church's Franciscan compound, Stephane said.
Source: Free Malaysia Today
Please click the following URL to read the full text of the original story:
https://www.freemalaysiatoday.com/category/leisure/2021/12/22/bethlehem-church-aims-to-recreate-chimes-from-crusader-times/
--------
85 extremist Jewish settlers defile Aqsa Mosque under police guard
December 21, 2021
Dozens of Jewish settlers escorted by police forces on Monday morning desecrated the Aqsa Mosque in Occupied al-Quds (Jerusalem).
According to local sources, at least 85 settlers entered the Mosque in different groups through its Maghariba Gate and toured its courtyards under tight police protection.
During their tours at the Islamic holy site, the settlers received lectures from rabbis about the alleged temple mount and a number of them provocatively performed Talmudic prayers.
Meanwhile, the Israeli occupation police imposed movement restrictions on Muslim worshipers at the Aqsa Mosque's entrances and gates.
The Aqsa Mosque is exposed to daily desecration by Jewish settlers and police forces in the morning and the afternoon except on Fridays and Saturdays.
The Israeli police close al-Maghariba Gate, which is used by Jews to enter the Mosque, at 10:30 am after the settlers complete their morning tours at the holy site. Later in the afternoon, the same gate is reopened for evening tours by settlers.
Source: ABNA24
Please click the following URL to read the full text of the original story:
https://en.abna24.com/news//85-extremist-jewish-settlers-defile-aqsa-mosque-under-police-guard_1210709.html
--------
Iran Calls for UNSC's Pressure on Israel to End Occupation of Golan Heights
2021-December-21
"The United Nations Security Council must act to force Israel to end the occupation of Syria's Golan Heights and aggression against the country," Ershadi said, addressing a UNSC meeting on Syria on Monday.
She reaffirmed Syria's inherent right to self-defense and to respond to Israel's acts of aggression at a time and place of its choosing, and said, "The Security Council must compel the Israeli regime to end the occupation of the Syrian Golan and also stop immediately its aggressions against Syria."
Ershadi said that the continued occupation of parts of Syrian territory by foreign forces, which constitutes flagrant violation of international law and the UN Charter, must come to an end.
"All occupying and uninvited foreign forces must leave that country without any precondition or further delay," Iran's envoy added.
She then referred to a recent report by the New York Times, which said based on newly obtained Pentagon documents that the US military's aerial campaigns in the Middle East have been marked by "deeply flawed intelligence and claimed the lives of thousands of civilians, including many children, without accountability."
According to the report, published by the New York Times on Saturday, a trove of confidential documents covering more than 1,300 reports of civilian casualties undercuts Washington's claims of aerial raids with "all-seeing" drones, precision strikes and smart bombs.
The New York Times said US forces carried out more than 50,000 airstrikes in Afghanistan, Iraq and Syria over a five-year period.
"The recent reports by the US media about the killing of dozens of Syrian civilians such as farmers, children and villagers, by the United States forces, which, we strongly condemn, indicate the urgency of their withdrawal from Syria," she futher added.
Ershadi reiterated that the Islamic Republic of Iran continues to support the people and government of Syria to restore the unity and territorial integrity to their country.
Israel frequently launches missile attacks and targets military positions inside Syria, specially those of the Lebanese resistance movement Hezbollah, which has played a key role in helping the Syrian army in its fight against foreign-backed terrorists.
Israel has been a key supporter of terrorist groups that have been fighting the government of President Bashar al-Assad since the foreign-backed militancy erupted in Syria over 10 years ago.
Source: Fars News Agency
Please click the following URL to read the full text of the original story:
https://www.farsnews.ir/en/news/14000930000371/Iran-Calls-fr-UNSC's-Pressre-n-Israel-End-Occpain-f-Glan-Heighs
--------
Iran holds extensive military exercises as US prepares 'alternatives' to diplomacy
21 December ,2021
Iran fired missiles from land and sea Tuesday as part of five days of military exercises in three provinces, including near its only nuclear power plant, the Revolutionary Guards said.
The military maneuvers come after the US said it was preparing "alternatives" in case negotiations to revive a deal to curb Iran's nuclear program collapse in Vienna.
"We have carried out exercises to destroy the enemy before they approach the Hormuz islands," Guards navy commander Rear Admiral Alireza Tangsiri said, quoted by the Guards' Sepah News website.
Abu Musa island and the Greater and Lesser Tunb islands, located in the Gulf near the entrance to the Strait of Hormuz, are under Iranian control but are also claimed by the United Arab Emirates.
A fifth of world oil output passes through the Strait of Hormuz.
The military drills dubbed Payambar-e-Azadm, or "Great Prophet", began on Monday in Bushehr, Hormozgan and Khuzestan provinces, each of which touch the Gulf.
They included biological warfare exercises.
The maneuvers also saw the deployment of Iranian-made boats that are capable of launching high-precision missiles and reaching speeds up to 75-95 knots.
Source: Al Arabiya
Please click the following URL to read the full text of the original story:
https://english.alarabiya.net/News/middle-east/2021/12/21/Iran-holds-extensive-military-exercises-as-US-prepares-alternatives-to-diplomacy
--------
Palestinian hunger striker faces serious health condition in Israel
Qais Abu Samra
21.12.2021
RAMALLAH, Palestine
A Palestinian NGO has raised the alarm on the deteriorating health condition of a hunger-striking Palestinian detainee in Israel.
Hisham Abu Hawwash, 40, has been on hunger strike for 127 days in protest of his detention without trial.
"Abu Hawwash is facing a very serious health condition," the Palestinian Prisoner Society said in a statement on Tuesday.
It said prison authorities refuse to transfer the Palestinian detainee from his prison hospital to a civilian hospital for treatment.
On Sunday, Israel's Supreme Court rejected an appeal to suspend Abu Hawwash's administrative detention and transfer him to a civilian hospital.
Abu Hawwash, from the town of Dura in southern West Bank, was detained by Israeli forces on October 27, 2020 and placed under administrative detention.
Source: Anadolu Agency
Please click the following URL to read the full text of the original story:
https://www.aa.com.tr/en/middle-east/palestinian-hunger-striker-faces-serious-health-condition-in-israel/2453570
--------
Israeli forces detain 3 Palestinians in West Bank
Qais Abu Samra
21.12.2021
RAMALLAH, Palestine
Israeli army soldiers detained three Palestinians, including a nursing mother, in the occupied West Bank on Tuesday, according to a local NGO.
The Palestinian Prisoner Society said the arrests took place in the cities of Jericho, Al-Bireh and Bethlehem.
No reason was provided for the arrests.
The NGO said among the detainees was a nursing mother for a one-month baby.
The Israeli army frequently carries out sweeping arrest campaigns across the occupied West Bank on the pretext of searching for "wanted" Palestinians.
Source: Anadolu Agency
Please click the following URL to read the full text of the original story:
https://www.aa.com.tr/en/middle-east/israeli-forces-detain-3-palestinians-in-west-bank/2453333
--------
Europe
French army says it has killed leading Islamic State member in Niger
DECEMBER 21, 2021
PARIS (Reuters) - The French armed forces ministry said on Tuesday that its "Operation Barkhane" unit had killed Soumana Boura, a leading member of Islamic State in Niger.
Source: Reuters
Please click the following URL to read the full text of the original story:
https://www.reuters.com/article/us-france-security-niger/french-army-says-it-has-killed-leading-islamic-state-member-in-niger-idUSKBN2J00NF?rpc=401&
--------
Turkish Cypriots hold ceremony in London for victims of 'Bloody Christmas'
Zuhal Demirci
22.12.2021
LONDON
A commemoration ceremony was held Tuesday in London on the 58th anniversary of "Bloody Christmas," also called Black Christmas by Turkish Cypriots.
The horrors of the deadly, systematic attacks on Turkish Cypriots by members of the extremist Greek Cypriot nationalist terrorist group EOKA live on in people's memories 58 years after they led to the deaths of hundreds and displaced thousands from their ancestral homes.
The events leading up to Bloody Christmas started in 1955 with the foundation of EOKA, led by Georgios Grivas, a veteran officer of World War I and World War II as well as a staunch opponent of communists and Turks.
Active in Cyprus, then ruled by the UK, EOKA targeted not only British soldiers and civil servants but also Turkish and Greek Cypriots who opposed its extreme ideology and its goal of union with Greece.
Turkish Cypriots gathered in front of the office of the UK High Commissioner to Greek Cyprus in London on Tuesday evening, lit candles and exhibited the photographs of those who lost their lives during EOKA's attacks.
Source: Anadolu Agency
Please click the following URL to read the full text of the original story:
https://www.aa.com.tr/en/europe/turkish-cypriots-hold-ceremony-in-london-for-victims-of-bloody-christmas/2454048
--------
Spain's top diplomat calls Morocco's criticism of pandemic response 'unacceptable'
Alyssa McMurtry
21.12.2021
OVIEDO, Spain
Spain's foreign minister on Tuesday branded Morocco's criticisms of the Spanish pandemic response "unacceptable."
Speaking to the media after meeting with his counterpart from Luxembourg, Jose Manuel Albares slammed Morocco's denunciations of Spain, saying they "do not correspond with reality."
"Spain complies with all international requirements, and I will send that message to Morocco," he continued.
On Monday, Morocco's Health Ministry accused Spain of "endangering the health of Moroccan citizens" with lax airport controls.
"After observing the travel procedures, it was confirmed that competent Spanish authorities are not strictly controlling the health of the passengers upon arrival to the airports," said a statement.
The ministry said it detected various people infected with COVID-19 traveling from Spain to Morocco.
Moroccan authorities also announced that Portugal, not Spain, would be used as a base to repatriate Moroccan citizens who have been stranded abroad since the country abruptly canceled all flights to the country on Nov. 29 over fears of the omicron variant.
Morocco had not communicated the issue with Spain privately before releasing Monday's statement, said Albares.
Spanish daily El Confidencial reported that Spain has now summoned the head of business at the Moroccan Embassy to discuss the issue.
New coronavirus infections in Morocco are much lower than in neighboring Spain, where cases are soaring and restrictions remain relatively relaxed going into the holiday season.
Over the last 24 hours, Morocco reported just 186 new cases, according to the World Health Organization. Spain, on the other hand, has counted nearly 180,000 cases over the last week.
Source: Anadolu Agency
Please click the following URL to read the full text of the original story:
https://www.aa.com.tr/en/europe/spains-top-diplomat-calls-morocco-s-criticism-of-pandemic-response-unacceptable/2453855
--------
South Asia
Taliban destroys Pakistan's barbed-wire erected on Durand Line
Dec 21, 2021
KABUL: Taliban has destroyed the barbed wire erected by Pakistani forces on Durand Line in the Gushta district of Afghanistan's Nangarhar province, local media reported.
According to Khaama Press, the barbed wire was destroyed and brought to Afghanistan after Pakistani forces wanted to erect and widen it.
Doctor Bashir, the provincial head of General Directorate of Intelligence (GDI) was leading the operation in the bordering district of Gushta.
Khaama Press also said citing reports that Pakistani forces launched artilleries on Kunar province on Monday night after the incident.
Source: Times of India
Please click the following URL to read the full text of the original story:
https://timesofindia.indiatimes.com/world/south-asia/taliban-destroys-pakistans-barbed-wire-erected-on-durand-line/articleshow/88407569.cms
--------
Visitors return to Afghan national museum Taliban once ransacked
Dec 22, 2021
KABUL: Afghanistan's national museum is once again welcoming visitors and exhibiting pre-Islamic artefacts with the Taliban's blessing -- a stark contrast to when the hardliners ransacked and shuttered the facility during their last stint in power.
A trickle of citizens made their way around the sprawling exhibit rooms in Kabul when AFP recently visited, marvelling at treasures ranging from painted Stone Age pottery to ancient coins and religious items.
"It's inborn in humans that they attach value to their history," said Rahmatullah, 65, after intently examining a collection of 2,000-year-old swords.
"I wanted to know more about the history of my country. It has a special place in my heart".
The museum reopened in late November with permission from the Taliban's new ministry of information and culture, around three months after the Islamists retook power and ended their two-decade insurgency.
Some artefacts on open display are fundamentally at odds with the Taliban's radical ideology, including pottery collections featuring images of animals and humans.
During their first 1996-2001 rule, Taliban fighters destroyed items including statues at the museum, while tens of thousands of items were looted and never recovered.
In that period, the Islamists also blew up 1,500-year-old giant statues of the Buddha in the central Bamiyan valley.
But Taliban fighters now guard the museum and its treasures from potential attack by Islamic State insurgents.
According to chief curator Ainuddin Sadaqat, there has been no attempt to restrict what is on display.
Only "15 to 20 percent of exhibits are of Islamic heritage", the 35-year-old told AFP.
"We also have visitors from the Taliban," who sometimes come to tour the museum in large numbers, Sadaqat said.
The reopening comes as the hardline Islamists try to present a more moderate image while seeking to unlock billions of dollars in international aid suspended since the fall of the western-backed government and for sanctions to be lifted.
The museum also boasts a collection of 18th- and 19th-century jewellery.
"I came here to see the jewellery -- what it looked like in the past; the necklaces, earrings," said Zohal, 24, who only gave her first name.
"I wanted to see the difference between the jewellery of the past and what we have now," said this Afghan woman, who works for the Norwegian Refugee Council.
Visitor numbers are well below the hundreds who used to visit daily under the previous regime -- a time when numbers were swollen by coachloads of children.
"For the moment, the cultural policy of the Taliban towards artefacts does seem very positive and realistic," said Philippe Marquis, who formerly headed the French archaeological delegation in Afghanistan.
Source: Times of India
Please click the following URL to read the full text of the original story:
https://timesofindia.indiatimes.com/world/south-asia/visitors-return-to-afghan-national-museum-taliban-once-ransacked/articleshow/88422937.cms
--------
UN may pay $8.2 million to Taliban for security
22 Dec 2021
Reuters has cited a UN document and sources familiar to the matter that, United Nations has proposed up to $8.2 million to the interior ministry of the Islamic Emirate of Afghanistan for protection in the country.
The document reviews that the money will be paid next year to subsidize Taliban fighters' wages now protecting the UN facilities in Afghanistan.
The plan will also allow the Taliban fighters to access monthly food allowance and is indeed an expansion of the UN's agreement with the previous Afghan government.
The agreement between the previous Afghan government and the UN was named SOMA (Status of Mission Agreement).
Deputy UN spokesman Farhan Haq has told Reuters that United Nations has a duty as an employer to reinforce and where necessary supplement the capacity of host states in circumstances where UN personnel work in areas of insecurity.
As per the proposed money, $4 million would boost the wages of individual Taliban members by $275 to $319 per month in addition to $90 for food per person.
The wages are said to be paid directly to security personnel, not through the de facto authorities in Kabul.
Source: Khaama Press
Please click the following URL to read the full text of the original story:
https://www.khaama.com/un-may-pay-8-2-million-to-taliban-for-security-5685685/
--------
Taliban accidentally transfers money to Tajikistan-based opposition; embassy refuses to pay back: Report
Dec 21, 2021
What would you do if someone mistakenly transfers money in your account? Return it to them, we assume. A similar incident took place when Taliban accidentally transferred money into the bank account of the Afghan embassy in Tajikistan.
However, the authorities in Tajikistan, who are staunch critics of Taliban, have denied any possibility of returning the money.
A Dushanbe-based news website Avesta reported a few days ago that the Taliban transferred nearly $800,000 into the bank account of the Afghan Embassy in Tajikistan, even though it was not to be carried out anymore.
As per sources cited by the news group, the money was supposed to be transferred by Afghanistan's former president Ashraf Ghani's government. This money was supposed to be used for funding a school for refugee children in Tajikistan. However, the deal had fallen through when Taliban took over Afghanistan and Ghani fled the country.
A few weeks later, the transfer did place after all in September, but some sources claim the figure was closer to $400,000. However, there was no communication about the same from the Taliban-run Finance Ministry of Afghanistan for weeks.
Struggling to keep the economy afloat, in November, as per reports, Taliban contacted Tajikistan government about the money transfer and asked the officials to return every penny of that money transfer. The Tajikistan officials, however, refused to follow the order.
Source: WIO News
Please click the following URL to read the full text of the original story:
https://www.wionews.com/south-asia/taliban-accidentally-transfers-money-to-tajikistan-based-opposition-embassy-refuses-to-pay-back-report-438651
--------
URL: https://www.newageislam.com/islamic-world-news/imran-khan-pakistan-america-war-terror-afghanistan/d/126011
New Age Islam, Islam Online, Islamic Website, African Muslim News, Arab World News, South Asia News, Indian Muslim News, World Muslim News, Women in Islam, Islamic Feminism, Arab Women, Women In Arab, Islamophobia in America, Muslim Women in West, Islam Women and Feminism