New Age Islam News Bureau
25 March 2019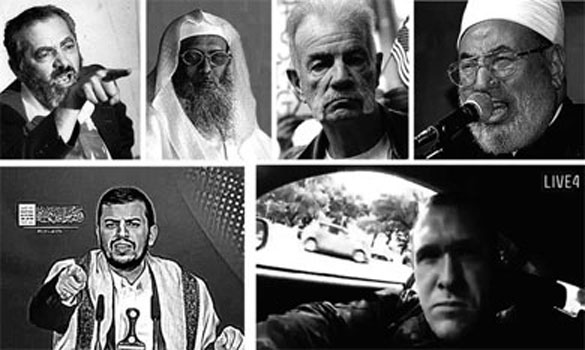 Clockwise, from top-left: American-Israeli rabbi Meir Kahane, Saudi cleric Safar Al-Hawali, US pastor Terry Jones, Egyptian preacher Yusuf Al-Qaradawi, Australian white supremacist terrorist Brenton Tarrant, and Yemeni militia leader Abdul Malik Al-Houthi.
------
• Preachers of Hate: Arab News Launches Series to Expose Hate-Mongers from All Religions
• Egypt's Awqaf Warns of 13 Books Promoting Extremism
• America Deserves a Leader as Good as Jacinda Ardern
• ISIS' Territory May Be Gone, but the US Fight against the Group Is Far From Over
• 'Jamaat-e-Islami Jammu and Kashmir, Pushed Youth to Militancy'
• Zakir Naik Diverted Funds Meant For Muslims' Welfare, Indian Investigators Allege
• Dr M Calls on Muslims to Look Within Themselves for Causes of Islamophobia
• Pakistan Professor's Murder Highlights Country's Outdated Blasphemy Laws
• Searching For Enemy: Dutch Author Awaits Evidence on Mullah Omar's Death
Arab World
• Preachers of Hate: Arab News Launches Series to Expose Hate-Mongers from All Religions
• Egypt's Awqaf Warns of 13 Books Promoting Extremism
• Extremists Emerge From Tunnels to Surrender After 'Caliphate' Falls
• Three ISIS extremists blow themselves up in north Iraq
• Suspected Daesh bomb attack hits northern Iraq, terrorists dead: Army
• Jeddah museum to showcase Arab, Islamic heritage
• Stopping Israeli violence, promoting regional security vital: Egypt, Jordan, Iraq
--------
North America
• America Deserves a Leader as Good as Jacinda Ardern
• ISIS' Territory May Be Gone, but the US Fight against the Group Is Far From Over
• New York City Muslims Begin Community Safety Patrol
• Wary of Iran's missiles, US strikes port deal with Oman
• Mike Pompeo denies US stance on Golan violates UN resolutions
--------
India
• 'Jamaat-e-Islami Jammu and Kashmir, Pushed Youth to Militancy'
• Zakir Naik Diverted Funds Meant For Muslims' Welfare, Indian Investigators Allege
• Terror intel puts Delhi, Mumbai and Goa on alert
• Jammu and Kashmir Police arrest three Jaish militants
• Three Jaish terrorists arrested in J&K
--------
Southeast Asia
• Dr M Calls on Muslims to Look Within Themselves for Causes of Islamophobia
• An ISIS Couple's Troubling Path to Terror Recruiting
• 'We Have Nothing': A Life In Limbo For Malaysia's Yemeni Refugees
• IGP says times have changed, crimes getting more complex
• Public Campaigning Kicks Off for 2019 Presidential Election
--------
Pakistan
• Pakistan Professor's Murder Highlights Country's Outdated Blasphemy Laws
• NAP, Fata merger to appease India and US, claims Fazl
• Let's give dialogue a chance: govt to opp
• Hindu girls approach court for protection; PM orders inquiry
--------
South Asia
• Searching For Enemy: Dutch Author Awaits Evidence on Mullah Omar's Death
• 21 Militants Killed, Wounded In Special Forces Operations and Airstrikes
• Rohingya dread relocation plan to 'Floating Island'
• Afghan Special Forces conduct fresh raids against Taliban in Khost and Zabul
• Deadly clashes continue between Taliban and ISIS-K militants in Kunar
• US airstrike kills 14 members of one family in Afghanistan
--------
Africa
• More Than 130 Killed In Mali Massacre as UN Visits
• Libya Protesters Demand Release of Qaddafi-Era Spy Chief
• Turkey condemns deadly terror attacks in Somalia
• Shabab attack in Somalia's capital leaves at least 10 dead
--------
Europe
• New Zealand: Banning Of Manifesto Raises Free Speech Debate
• New Zealand PM Announces Royal Commission Inquiry into Christchurch Attack
• Fact Check: Viral video of 'conversion' is not related to New Zealand mosque mass shooting
• London mayor asks PM May to use Islamophobia definition
• 15 Tory councillors suspended over anti-Muslim abuse quietly reinstated
--------
Mideast
• Yemeni human rights groups protest in Geneva against Houthi crimes in Hajour
• Trump to recognize Israel's sovereignty over Golan on Monday: Israeli FM
• Iran to cement ties with Lebanon, Hezbollah despite US pressure
• Turkish president vows to take issue of occupied Golan Heights to UN
• US is mad because Hezbollah resists against its plots for region, Iran says
• Yemeni economy loses $50 billion in war against Houthis
Compiled by New Age Islam News Bureau
URL: https://www.newageislam.com/islamic-world-news/preachers-hate-arab-news-launches/d/118121
--------
Preachers of Hate: Arab News launches series to expose hate-mongers from all religions
March 25, 2019
RIYADH: Dozens of Daesh militants emerged from tunnels to surrender to Kurdish-led forces in eastern Syria on Sunday, a day after their "caliphate" was declared defeated.
Men filed out of the battered Daesh encampment in the riverside village of Baghouz near the Iraqi border to board pickup trucks. "They are fighters who came out of tunnels and surrendered today," Syrian Democratic Forces (SDF) spokesman Jiaker Amed said. "Some others could still be hiding inside."
World leaders hail Saturday's capture of the last shred of land controlled by Daesh in Syria, but the top foreign affairs official for the semi-autonomous Kurdish region warned that Daesh captives still posed a threat.
"There are thousands of fighters, children and women and from 54 countries, not including Iraqis and Syrians, who are a serious burden and danger for us and for the international community," Abdel Karim Omar said. "Numbers increased massively during the last 20 days of the Baghouz operation."
While the terrorists have a suffered a defeat, the pernicious ideologies that drive them, and the hate speech that fuels those ideologies, live on. For that reason Arab News today launches Preachers of Hate — a weekly series, published in print and online, in which we profile, contextualize and analyze extremist preachers from all religions, backgrounds and nationalities.
In the coming weeks, our subjects will include the Saudi cleric Safar Al-Hawali, the Egyptian preacher Yusuf Al-Qaradawi, the American-Israeli rabbi Meir Kahane, the Yemeni militia leader Abdul Malik Al-Houthi, and the US pastor Terry Jones, among others. The series begins today with an investigation into the background of Brenton Tarrant, the Australian white supremacist who shot dead 50 people in a terrorist attack 10 days ago on two mosques in Christchurch, New Zealand.
Tarrant is not just a terrorist, but is himself a Preacher of Hate, author of a ranting manifesto that attempts to justify his behavior. How did a shy, quiet boy from rural New South Wales turn into a hate-filled gunman intent on killing Muslims? The answers may surprise you.
Our series could not be more timely — anti-Muslim hate crimes in the UK have soared by almost 600 percent since the Christchurch attack, it was revealed on Sunday.
The charity Tell MAMA (Measuring Anti-Muslim Attacks), which records and measures anti-Muslim incidents, said almost all of the increase comprised "language, symbols or actions linked to the Christchurch attacks."
"Cases included people making gestures of pointing a pistol at Muslim women and comments about British Muslims and an association with actions taken by the terrorist in New Zealand," the charity said.
"The spike shows a troubling rise after Muslims were murdered in New Zealand," said Iman Atta, director of Tell MAMA. "Figures have risen over 590 percent since New Zealand in comparison to the week just before the attack.
http://www.arabnews.com/node/1471996/world
--------
Egypt's Awqaf warns of 13 books promoting extremism
Mar. 24, 2019
CAIRO – 24 March 2019: Egypt's Ministry of Awqaf (Endowment) issued a list of 13 books used by extremists and terrorists to justify their terror acts in the name of Islam, calling people to avoid reading them.
The list includes:
1- "Questions in Jurisprudence of Jihad" by Abu Abdullah al-Muhajir
2- "Management of Savagery" by Abu Bakr Naji.
3- "Milestones" by Sayyid Outb
4- "Al-Farīḍah Al-ghā'ibah" by Muhammad Abd al-Salam Faraj, the founder of Al-Gamaa'a Al-Islamyyia
5- "Millat Ibrahim" by Abu Muhammad Al-Maqdisi, the first one to use the term "Salafi Jihadism."
6- "Al-Jihad wa'l-Ijtihad" (Jihad and Interpretation/JI) by Abu Qatada al-Filistini
7- "A Call to Global Islamic Resistance (GIR)" by Abu Mus'ab al-Suri
8- "Al-'Umda fi I'dad al-'Udda" (The Essentials of Making Ready [for Jihad]), by Sayyed Imam
9- "Terrorism is from Islam and who denies it is an apostate" by Sayyed Imam
10- "Al-Wala' wa-l-Bara" (Loyalty and Disavowal) by al-Qaeda chief Ayman al-Zawahiri
11- Articles written by Omar Abdel Rhaman.
12- "Ayat al-Rahman fi Jihad al-Afghan" by Abdullah Azam
13- "Elam al-Anam bi Milad Dawlet al-Islam" (Informing People about the Birth of the State of Islam) by Abdel Rahman al-Tamimi.
In April 2017, the ministry issued a new book titled "Terrorists' Delusions and their Rebuttal" to respond to all the misleading terrorist beliefs. The ministry announced that the 107-page book is available online and translated into several languages.
The book also responds to the outlawed Muslim Brotherhood's late leader Sayyed Qutb's writings.
Last month, an administrative court ruled that Al-Azhar - Egypt's supreme Sunni institution- reviews the Muslim Brotherhood founder Hassan al-Banna's book "Diary of the Call and the Preacher," and "The History of the Muslim Brotherhood."
http://www.egypttoday.com/Article/2/67416/Egypt%E2%80%99s-Awqaf-warns-of-13-books-promoting-extremism
--------
America Deserves a Leader as Good as Jacinda Ardern
By The Editorial Board
March 21, 2019
The murder of 50 Muslim worshipers in New Zealand, allegedly by a 28-year-old Australian white supremacist, will be long scrutinized for the way violent hatreds are spawned and staged on social media and the internet. But now the world should learn from the way Jacinda Ardern, New Zealand's prime minister, has responded to the horror.
Almost immediately after last Friday's killings, Ms. Ardern listened to her constituents' outrage and declared that within days her government would introduce new controls on the military-style weapons that the Christchurch shooter and many of the mass killers in the United States have used on their rampages. And she delivered.
On Thursday, Ms. Ardern announced a ban on all military-style semiautomatic and automatic weapons, parts that can be used to turn other rifles into such weapons and high-capacity ammunition magazines. "It's about all of us," she said, "it's in the national interest and it's about safety."
Earlier in the week, she told Parliament that social media sites must address the ease with which the internet can be used to spew hate and images of violence. "We cannot simply sit back and accept that these platforms just exist and that what is said on them is not the responsibility of the place where they are published," she said. "It cannot be a case of all profit, no responsibility."
Ms. Ardern didn't propose immediate measures to limit the reach of Facebook, Twitter and other internet publishers, and it's not obvious what could be done without trampling freedom of speech. But she made clear that she believed that those social media platforms, like gun manufacturers and dealers, bore some responsibility for the carnage visited on Christchurch and so many communities in recent years.
The new gun proposal will require considerable fine-tuning and defining before it becomes law. New Zealand's existing laws are relatively lenient, and a large percentage of the estimated 1.2 million to 1.5 million firearms owned by about 250,000 people are not registered. It is not known how many of these will become illegal under the new laws.
But the display of what one deranged man can do with weapons designed for combat seemed to persuade a majority of New Zealanders, and a strong majority in Parliament, of the need to ban rapid-firing weapons.
That attitude stood in stark contrast to the way the National Rifle Association and its political allies in the United States have resisted any restrictions on weapons like the AR-15, the semiautomatic rifle used in several mass killings.
In New Zealand, it took one mass shooting to awaken the government. In the United States, even a string of mass killings — 26 dead in a school in Newtown, Conn.; 49 in a nightclub in Orlando; 58 at a concert in Las Vegas; 17 in a school in Parkland, Fla. — has not been enough. Nor has the fact that 73 percent of Americans say that more needs to be done to curb gun violence, according to recent polling.
The ban on terrorists' weapon of choice was only one of the areas in which Ms. Ardern showed what leadership looks like in time of crisis. In lieu of trite messages, she donned a black head scarf and led a group of politicians to visit victims' families; speaking without a script to a school some of the victims attended, she urged the pupils to "let New Zealand be a place where there is no tolerance for racism. Ever." She told grieving families, "We cannot know your grief, but we can walk with you at every stage."
And in a striking gesture, she refused to utter the name of the suspected killer. "He may have sought notoriety, but we in New Zealand will give him nothing," she said. "Not even his name."
After this and any such atrocity, the world's leaders should unite in clearly condemning racism, sharing in the grief of the victims and stripping the haters of their weapons. Ms. Ardern has shown the way.
The Times is committed to publishing a diversity of letters to the editor. We'd like to hear what you think about this or any of our articles. Here are some tips. And here's our email: letters@nytimes.com.
https://www.nytimes.com/2019/03/21/opinion/new-zealand-ardern.html
--------
ISIS' territory may be gone, but the US fight against the group is far from over
March 25, 2019
(Written by Eric Schmitt, Thomas Gibbons-Neff, Helene Cooper and Alissa J. Rubin; Contributed by Edward Wong)
The fight to expel the Islamic State group from its last shard of territory in Syria may be over. But the United States and its partners still face significant battles against the terrorist group, its affiliates and other networks that are less formally aligned with it elsewhere, in Afghanistan, West Africa and the Philippines.
Even before a US-backed Kurdish and Arab militia ousted the last extremist fighters from the eastern Syrian village of Baghuz on Saturday, the Islamic State had shifted gears. The organization that once staked out a self-proclaimed caliphate across Iraq and Syria has now metastasized into a more traditional terrorist group — an atomized, clandestine network of cells engaged in guerrilla attacks, bombings and targeted assassinations.
Thousands of US troops are helping the Afghan army and security forces combat the Islamic State and other terrorist groups in Afghanistan. Armed US drones are hunting Islamic State cells in Libya. And US forces are advising and providing intelligence to local troops fighting the Islamic State in Burkina Faso and in the Philippines.
Thousands of Islamic State fighters are also still at large in Iraq and Syria, biding their time to rearm and regroup to strike the same regions again. Many of them slipped out or surrendered when the final wave of civilians fled Baghuz, US commanders and intelligence analysts said.
isis, islamic state, syria, iran, iraq, baghouz, syrian democratic forces, sdf, al qaida, militants, terrorism, islamic state fighters, united states, donald trump, us military, middle east, us drones, libya, burkina faso, afghanistan, philippines, africa, mike pompeo, world news, indian express news
"What we are seeing now is not the surrender of ISIS as an organization — but in fact a calculated decision to preserve the safety of their families and preservation of their capabilities," Gen. Joseph L. Votel, head of the military's Central Command, told lawmakers this month about the exodus from Baghuz, using an alternative name for the Islamic State group.
"The ISIS population being evacuated from the remaining vestiges of the caliphate largely remains unrepentant, unbroken and radicalized," he said.
Secretary of State Mike Pompeo, during a trip to the Middle East, told reporters that the battle against extremists would continue even after the territorial defeat of the Islamic State.
"Our mission there hasn't changed," he said in Lebanon on Saturday. "We still have work to do to make sure radical Islamic terrorism doesn't continue to grow."
The Islamic State can still tap a large war chest to finance its global operations. It has $50 million to $300 million in cash either hidden in Iraq and Syria, or smuggled into neighbouring countries for safekeeping, according to a February report by the United Nations. The terrorist group also is believed to have invested in businesses, including fish farming, car dealing and cannabis growing, according to Colin P. Clarke, a senior fellow at the Soufan Center, a research organization.
isis, islamic state, syria, iran, iraq, baghouz, syrian democratic forces, sdf, al qaida, militants, terrorism, islamic state fighters, united states, donald trump, us military, middle east, us drones, libya, burkina faso, afghanistan, philippines, africa, mike pompeo, world news, indian express news
Gen. Joseph Votel, head of US Central Command, testifies before the House Armed Services Committee on Capitol Hill in Washington. (The New York Times/File)
President Donald Trump and his top advisers have vowed to continue the fight against the Islamic State and its offshoots, but US commanders will likely have far fewer troops on the ground to wage that battle. Instead, military and spy agencies are tracking Islamic State fighters who have escaped and returned to North Africa, Europe and elsewhere in the Middle East. Analysts said roughly 1,200 of the extremists have returned to Europe alone.
A classified US military program in Jordan, called Operation Gallant Phoenix, is scooping up data collected in commando raids in Syria and Iraq and funneling it to law enforcement agencies in Europe and Southeast Asia to help stop future attacks. Still, officials believe the loss of the Islamic State's physical territory will not prevent it from striking again.
"The group's leadership and foot soldiers see this as a setback, not a defeat," Nathan Sales, the State Department's counterterrorism coordinator, said in a speech this month about the Islamic State's territorial defeat. "They're actively working to continue the fight from ISIS' worldwide branches and networks."
Here is a look at what the US military is doing to stop the Islamic State from resurging.
The Islamic State's offshoot in Afghanistan, known as Islamic State in Khorasan, is estimated to have more than 2,500 fighters spread between Nangarhar, Kunar, Nuristan and Laghman provinces in the country's east, according to a recent U.N. report.
Speaking to lawmakers this month, Votel provided a carefully worded answer when asked if the group is an international terrorist organization and not just a regional actor. "I think ISIS Khorasan does have ideations focused on external operations toward our homeland," he said.
But one US official said some US military units had shifted away from attacking the Islamic State as the terrorist group ramped up attacks against the Taliban.
US officials believe these increased strikes helped push the Taliban into negotiating a peace deal with the United States. A final agreement could require all 14,000 US forces currently in Afghanistan to leave within three years — and half of them in coming months.
The Taliban have violently rejected the Islamic State affiliate and, in some parts of Afghanistan, have worked in parallel with the government in Kabul to combat the group. Last July, Taliban fighters killed more than 200 Khorasan members; most of those who surrendered were turned over to the Afghan government.
Some Pentagon officials have voiced concerns about Taliban fighters joining the Islamic State if a peace settlement is reached. Another US official said some had already done so, albeit in small numbers.
"ISIS could scoop up any potential fighters alienated by the peace process," Jennifer Cafarella, research director at the Institute for the Study of War in Washington, said in an interview.
Until the final US withdrawal from Afghanistan, thousands of US forces are expected to continue strikes against the Islamic State and vestiges of al-Qaida that are still in the country, including on partnered raids with Afghan commandos.
The US military has a relatively light footprint across Africa. The Pentagon provides air power when needed, but generally relies on European and African partners to carry out most missions against the Islamic State, including in the areas between West Africa and Somalia.
About 6,000 US troops and 1,000 Defense Department civilians or contractors work on a variety of missions throughout Africa, mainly training and conducting exercises with local armies. US Green Berets from the 3rd Special Forces Group advise local troops in several West African countries such as Niger and Burkina Faso, but rarely join them on missions.
In West Africa, the US military is scaling back its commandos by about 25 per cent as part of a larger Pentagon strategy to confront threats by Russia, China and other state powers. The shift comes as insurgents are attacking northern Burkina Faso and pushing south along the border with Niger toward areas previously untouched by extremist violence, including the Ivory Coast, Benin, Togo and Ghana, where the Pentagon has a logistics hub.
With its large areas of ungoverned territory — and limited visibility by the United States — Libya also continues to be a haven for the Islamic State. Over the last two years, the United States has launched 13 drone strikes against Islamic State and al-Qaida militants in Libya, according to the military's Africa Command.
"Our efforts in strikes," Gen. Thomas D. Waldhauser, head of the Africa Command, told Congress this month, "will keep ISIS at bay."
The Philippines
About 300 Marines, Army troops and other Special Operations Forces are deployed to the Philippines as part of a mission known as Operation Pacific Eagle.
isis, islamic state, syria, iran, iraq, baghouz, syrian democratic forces, sdf, al qaida, militants, terrorism, islamic state fighters, united states, donald trump, us military, middle east, us drones, libya, burkina faso, afghanistan, philippines, africa, mike pompeo, world news, indian express news
Philippines naval special forces patrol a lake near the main battle area in the southern Philippine city of Marawi. (The New York Times/File)
While US forces have for years helped train and advise Filipino troops, they were part of an offensive against the Islamic State's affiliate in the southern city of Marawi in 2017. US reconnaissance aircraft also were involved in that five-month operation, which killed at least 900 extremists, including Isnilon Hapilon, who was considered the leader of the Islamic State in Southeast Asia.
Hapilon had been on the FBI's list of most-wanted terrorists, with a $5 million bounty offered for his capture.
Militants who have pledged loyalty to the Islamic State have since spread across the southern Philippines, an area that is monitored by US surveillance drones.
Syria and Iraq
The Islamic State no longer controls terrain in Syria or Iraq, has largely lost much of the command and wealth it once had and has suffered tens of thousands of casualties in both countries.
But it is far from a spent force.
Iraqi counterterrorism and intelligence officials have estimated that about 5,000 to 6,000 Islamic State fighters are spread between Iraq and Syria. That number, however, does not account for sleeper cells and their supporters, who are believed to be involved in reconnaissance and are otherwise helping the Islamic State carry out attacks.
Separate estimates, including one by the United Nations in February, put the group's strength even higher. James F. Jeffrey, US special envoy for Syria, said this month that there are 15,000 to 20,000 armed Islamic State fighters in Iraq and Syria, "although many are in sleeper cells."
US officials said that the Pentagon was concerned about Islamic State fighters returning from the front lines to stoke violence in their hometowns across Iraq and Syria. The United States will continue its bombing campaign against the extremist group and to assist local forces in both countries who are the first line of defense against Islamic State fighters.
"ISIS' post-caliphate insurgency in Iraq is accelerating faster than efforts to prevent it by the US," concluded an analysis this month by the Institute for the Study of War.
The United States now has 5,200 troops in Iraq, mostly spread between two main bases, including Al Asad in western Anbar province, which Trump visited in December. In Syria, Trump has ordered all but a residual US force of 400 troops to withdraw. Armed drones and warplanes will continue to provide air support.
Legislation pending in Iraq's Parliament could limit US military operations in the country by reducing the number of US troops there, restricting their movements or even demanding a full withdrawal by a certain, if yet unspecified, date.
Jeffrey made clear that the liberation of the declared caliphate — an area that nearly five years ago stretched to the size of Britain — did not eradicate the Islamic State's potency.
"There is a great concern," he said.
https://indianexpress.com/article/world/islamic-state-syria-syrian-democratic-forces-united-states-iran-iraq-5641022/
--------
'Jamaat-e-Islami Jammu and Kashmir, Pushed Youth to Militancy'
MARCH 25, 2019
The surge in local youth joining terrorist ranks spurred the ban on Jamaat-e-Islami (JeI-J&K), a socio-religious group that has been active in Jammu and Kashmir since 1942, a senior official said.
Most locals who joined terrorist groups were associated with the JeI, either through educational institutions run by it or religious activities, the official said.
In 2018, over 180 Kashmiri youths joined these groups, and around 56% were locals, the official said. The same year, 252 terrorists were killed in various operations and around 60% were locals.
"Earlier foreign terrorists killed were more in number but the trend has reversed in the past two years. More locals have joined the militant ranks and more are getting killed," said the official.
An internal note from the Centre before the February 28 ban said the "JeI has been using its network of schools to further promote anti-India feeling among children in the Valley."
"Its leaders have been encouraging cadres of the JeI youth wing- Jamiat-ul-Tulba to be recruited into terrorist outfits." It added that hardline leaders of the JeI continue to maintain regular contact with Pakistan High Commission for support.
The State is presently under President's rule and the ban comes ahead of the general elections.
Widespread arrests
In February, over 300 members of the JeI were rounded up by the J&K police. Some were picked even before the ban came into force. The detention and arrests came around the same time as the Indian Air Force (IAF) precision strikes at a Jaish-e-Mohammad terror camp in Pakistan's Balakot on February 26, post-Pulwama terror attack.
The Centre has claimed that the JeI has been collecting funds in the name of religious activities and using the same for 'anti-national separatist activities.'
"The JeI also has several trusts for running schools to disseminate orthodox Islamic ideology. Behind this façade, hardliners within the JeI have been involved with militant groups. The group was actively supporting militancy during 1988-99 under the influence of ISI. It patronised Hizbul Mujahideen and in the initial years was the backbone of HM," the note said.
JeI has been banned twice in the past. The first ban continued for two years and the next ban was effective for three years. JeI was banned first in 1975 by Sheikh Mohammad Abdullah, the former Prime Minister of J&K. It was banned again in 1990 when Mufti Mohammad Syed, the founder of Peoples Democratic Party (PDP) was Union Home Minister.
PDP, NC protests
The two major political parties in Valley have questioned the latest ban. Former chief minister and Peoples Democratic Party (PDP) president Mehbooba Mufti took out a protest march in Srinagar demanding a withdrawal of the ban. She said arresting the JeI's members and the preachers affiliated with Ahli-Hadith was a "direct interference in our religious affairs."
Ms. Mufti represented Anantnag in the 2014 Lok Sabha, a stronghold of the JeI.
The National Conference has also called for a reconsideration of the ban.
https://www.thehindu.com/news/national/jamaat-e-islami-pushed-youth-to-militancy/article26627599.ece?utm
--------
Zakir Naik diverted funds meant for Muslims' welfare, Indian investigators allege
25 Mar 2019
PETALING JAYA: Controversial Muslim preacher Dr Zakir Naik has allegedly amassed assets worth Rs193 crore (RM113mil) by diverting funds and donations received from Islamic countries that were meant for the "welfare of Muslims", says a news report.
The Times of India reported that these assets included at least 20 flats in the cities of Mumbai and Pune in India.
India's Enforcement Directorate's (ED) money laundering probe alleged that Dr Zakir used his Islamic Research Foundation, meant for the social welfare of the Muslim community, to organise dubious donations and diverted the proceeds to purchase properties. He was also accused of raising donations amounting to Rs65 crore (RM38.3mil) from the United Arab Emirates (UAE), Saudi Arabia, Bahrain, Kuwait and Oman, besides India, between 2014 and 2017.
The ED probe revealed that nine flats worth Rs13 crore (RM7.7mil) were booked in Mumbai in the name of his wife and son, and another 11 flats in Pune.
"The booking amounts were paid by routing of unexplained funds received by Dr Zakir through the bank accounts of his wife, son and niece," a source was quoted as saying in the report.
The transaction trail also revealed Dr Zakir's investment of Rs13 crore (Rm7.7mil) in three properties in Mazgaon, Mumbai, routed through the bank accounts of his mother, father and sister.
The source of funds remains unexplained, according to the ED, The Times of India reported.
The ED had last Friday (March 21) arrested jeweller Abdul Kadir Najmudin Sathak, an aide of Zakir, for allegedly assisting him to transfer funds of dubious origins from the UAE to him.
Dr Zakir, who is wanted in his home country of India for alleged money-laundering and terrorism, has been living in Malaysia where he has permanent residency.
Last July, Prime Minister Tun Dr Mahathir Mohamad said that Malaysia would not deport Dr Zakir "as long as he is not creating any problems" here.
Dr Zakir, 53, has been condemned by various groups in Malaysia over his sermons that have been described as being extremist and disrespectful of other religions.
https://www.thestar.com.my/news/nation/2019/03/25/zakir-naik-diverted-funds-meant-for-muslims-welfare-indian-investigators-allege/
--------
Dr M calls on Muslims to look within themselves for causes of Islamophobia
Minderjeet Kaur
March 24, 2019
PETALING JAYA: With Islamophobia still prevalent, Prime Minister Dr Mahathir Mohamad has called on Muslims to not only look at the attitudes of their critics but to ask themselves if they could be contributing to such perception.
"Have we done anything to deserve that kind of name?
"If we want to make Islam less hated, we need to find out what wrong we have done, although we would like to say we have done no wrong," he said in an interview with PTV World in Pakistan.
Mahathir, who was on a three-day official visit to Pakistan from Thursday, said Muslims should try to eliminate their wrongdoing and support their good behaviour with publicity.
"We need people who talk sense and who can tell (others) what Islam is all about," he said when asked by host Omar Khalid Butt on ways to counter Islamophobia, adding that Islam teaches Muslims not to fight nor to kill each other.
"Islam teaches its followers not to indulge in violence but "we are not following those teachings", he said.
Mahathir also said Muslims should explain the religion to their audience through the internet.
"Muslims should be able to tell their side of their story so that it is not dominated by only foreign countries that do not like us."
In the interview, which has been uploaded on YouTube, Mahathir was also asked about the importance of defence cooperation between Pakistan and Malaysia.
He said defence is crucial but Muslim countries do not have the capacity to produce their own weapons.
"They are always dependent on importing or buying their weapons from other countries. Because of that, they become dependent on these countries for the defence of their countries."
He said countries should have their own defence weapons but that requires a huge volume, noting that Malaysia only has a small population of 32 million compared to Pakistan's 200 million.
"If you add together, the market becomes bigger and therefore the need becomes bigger to go into industries that require huge investments," he said.
Asked how Pakistan could benefit from his vision, Mahathir said every prime minister would like to leave a legacy "to look back when he finishes his term".
"When you become a PM, it is a great opportunity to do a lot of good for your country.
"Remember, you were elected by the people and therefore your job is to serve the people, not yourself," he said.
For that, a leader can think of many ideas either by copying successful countries or finding ways and means to develop the country, he added.
https://www.freemalaysiatoday.com/category/nation/2019/03/24/dr-m-calls-on-muslims-to-look-within-themselves-for-causes-of-islamophobia/
--------
Pakistan professor's murder highlights country's outdated blasphemy laws
Mar 24, 2019
ISLAMABAD: The recent murder of a University professor by a student over "blasphemy" in Pakistan's Punjab province has once again highlighted the country's controversial blasphemy law, which stipulates death sentence for a person accused of insulting Islam or Prophet Muhammad.
While the state has not yet punished anyone with the death penalty in blasphemy-related cases, mere accusations have resulted in mob violence and lynching of alleged blasphemers in the past.
On Wednesday, a 21-year-old student Khateeb Hussain, attacked Khalid Hameed, the head of English department at Government Sadiq Egerton College with a knife, resulting in his death over a reception to be held on March 21 where both men and women were invited. Hussain had called the event "un-Islamic" and in a confession said he "took the law into his own hands as the government was not implementing blasphemy laws and was freeing blasphemers."
"He (the professor) used to bark a lot against Islam… I'm content and thanks to Allah that the professor is dead now," the attacker said in a recorded video.
The professor's son, Waleed Khan, has lashed at the government for its inaction. "My father was the employee of the government of Pakistan. The incident happened inside the premises of the college but the government has neither shown any concern nor expressed any reservation against the incident," he said while questioning the government's "promise of tackling extremism and radicalization."
"This has happened before, this will continue to happen but till when? Will it act on National Action Plan (NAP) due to pressure from India and US. Don't our lives have any value?" Khan asked.
Although the academic community has been condemning the misuse of blasphemy laws, the Pakistan government has not taken any step towards abolishing or amending it, fearing a backlash. Prominent leaders, including former Punjab governor Salman Taseer and ex-federal minister for minorities Shahbaz Bhatti, were gunned down during broad daylight in Islamabad for merely suggesting amendment in the blasphemy law.
Ismat Shahjehan, an Islamabad-based human rights activist told TOI, "It is very alarming when a student kills a teacher and says that he has fulfilled his holy mission. This is a dangerous mindset."
Last year, a student had gunned down his college principal on campus after accusing him of blasphemy in Charsadda city of Khyber Pakhtunkhwa province. The principal had scolded the student for missing classes to attend a protest organized by a right-wing Islamist group in Islamabad.
In April 2017, Mashal Khan, a student, was beaten to death by his fellow students at his university campus in the Mardan region of Khyber Pakhtunkhwa province over charges of blasphemy that were later proven false.
"The right to differ has not been given to people in Pakistan. Since there is no room for dissent, people feel threatened by opposing views and beliefs. This gives birth to extremist mindset," said Nazrul Islam, an Islamabad-based analyst.
https://timesofindia.indiatimes.com/world/pakistan/pakistan-professors-murder-highlights-countrys-outdated-blasphemy-laws/articleshow/68552647.cms
--------
Searching for enemy: Dutch author awaits evidence on Mullah Omar's death
Tahir Khan
MARCH 25, 2019
Dutch author Bette Dam, awaits evidence to dispute claims made in her new book that the Taliban founder Mullah Omar had lived near an American base in southern Afghanistan for years and never hid in Pakistan.
The author expects evidence from the US and Afghan officials to substantiate their claims that Mullah Omar had died at a Karachi hospital.
The Kabul administration had disclosed in 2015 that the Taliban supreme commander had died in 2013 in Karachi while citing"credible information."
The former Central Intelligence Agency (CIA) Director, David Petraeus, also insisted that Mullah Omar frequently travelled between Quetta and Karachi.
In her second book, titled, "Searching for an Enemy", published in Dutch in February 2019, Dam had challenged these Afghan and American claims. Her report titled, "The secret life of Mullah Omar" is a part of her book.
A spokesman for President Ashraf Ghani and former intelligence chief, Amrullah Saleh, and several other Afghan leaders disputed Dam's claim.
Yet, the author has told Daily Times from Amsterdam that Kabul, Washington and many others who claimed that Mullah Omar died in Pakistan, should come up with their own report to prove their claims. The author also pressed the Pakistani security establishment and Taliban to prove their claims now because Mullah Omar was dead and information about him was no longer classified.
"Kabul has always said that Mullah Omar is in Pakistan. The Taliban has always said Mullah Omar is in Afghanistan. The Americans always said Mullah Omar is in Pakistan. I searched for proof for these claims but I was not able to find them," she added.
Dam claimed that she had invited the US and Kabul to release proof of Mullah Omar being in Karachi or Quetta.
" I would also invite Islamabad to join the debate. I know the Pakistani security officials often said that Mullah Omar was in Afghanistan. Maybe they can also show what they know? The public deserves to know. Now Mullah Omar is dead, this information is not classified anymore," Dam insisted.
The author said, in her research, that in December 2018, she had gained "unprecedented access" to the man tasked with guarding Mullah Omar with his life.
"For twelve years, he lived with the Taliban leader and was one of his only conduits to the outside world. He is now in N.D.S. custody, and I became the first journalist to interview him," she maintained. After Omar's death was announced, she remarked that she had spoken to senior officials of National Directorate of Security (NDS), one of whom confirmed that he had lived with Jabbar Omari in Zabul, his bodyguard from the moment he had vanished in Kandahar until his death in 2013. Omar was said to have been in NDS "protective" custody since 2017.
"This official, who spoke on the condition of anonymity, expressed his frustration that the Taliban's supreme leader had been living for four years in the capital of the province, just walking distance from the governor's compound and the office of the local NDS. branch," Dam wrote in her book. When asked, if she defended the findings in her research about Omar's death and rejected Afghan and US claims, she responded,"yes." She went on, "I searched for proof for these claims but I was not able to find them."
"I think we as journalists need to work much harder to find out what these claims mean. If Kabul gov't says something it does not means that is true. If Washington says something it does not mean it is true and the same is for the Taliban," she added.
To a question on criticism on her book being written on others' behest, she advised the critics to read the report before jumping to conclusions as she was very transparent about her sources.
Dam pointed, "I did interviews with all of the parties. I found out that not many knew where Mullah Omar was? The Taliban was not able to show me anything credible, but also Kabul and the US lacked any evidence. The Americans didn't know Mullah Omar was dead for two years and were surprised to hear that."
She said that Omar had chosen to not rely on Pakistan because it supported the US after the 9/11 attacks.
"Mullah Omar found Pakistan an unreliable country. Mullah Omar didn't want to be living in a country like that. He chose to stay inside Afghanistan, and hide with the tribesmen. Mullah Omar didn't want to be living in a country like that. He chose to stay inside Afghanistan, and hide with tribesman," she continued.
Dam said she had interviewed Pakistani leaders for her book, who had "tried to influence him" but Omar was often not listening as he was apprehensive to the political intervention from outside, including Pakistan.
"He (Omar) told Jabbar Omari, "Whatever happens, I will not go there," she further asserted.
After 9/11, Pakistan was said to have quickly offered support for the US War on Terror, promising to arrest any Taliban.
https://dailytimes.com.pk/369227/searching-for-enemy-dutch-author-awaits-evidence-on-mullah-omars-death/
--------
Arab World
Extremists emerge from tunnels to surrender after 'caliphate' falls
March 25, 2019
BAGHOUZ: Daesh group extremists emerged from tunnels to surrender to US-backed forces in eastern Syria on Sunday, a Kurdish spokesman said, a day after their "caliphate" was declared defeated.
An AFP reporter saw dozens of people — mostly men — file out of the battered Daesh encampment in the remote village of Baghouz to board pickup trucks.
"They are Daesh militants who came out of tunnels and surrendered today," said Jiaker Amed, a spokesman for the Kurdish units spearheading the US-backed Syrian Democratic Forces.
Plodding out of their defeated bastion on the banks of the Euphrates near the Iraqi border, some sported thick beards.
Some wore long woollen kaftan tunics over their dark-colored robes, others a checkered scarf wrapped around their heads.
"Some others could still be hiding inside," added Amed.
A months-long offensive by the SDF was declared victorious Saturday, after multiple pauses to allow out civilians and surrendering terrorists from the crumbling Daesh pocket.
Surrendering or suspected extremists are detained, while their relatives are trucked up north to camps for the displaced.
Daesh declared a cross-border "caliphate" in Syria and Iraq in 2014, imposing its brutal rule on millions.
Also Sunday, US-supported Syrian fighters were clearing explosives in the last area retaken from the Daesh group a day after declaring military victory over the extremists.
A spokesman for the Kurdish-led SDF who goes by the nom de guerre Mervan the Brave said Baghouz, the village where the militants made their final stand, is "full of all kinds of explosives." He said SDF forces were clearing the area and have detonated land mines and suicide belts the militants left behind.
A Syrian driver working with NBC News reporters was killed Saturday by an explosive device that went off in a house used as an SDF command post and a media center for journalists covering the fighting in Baghouz.
Noah Oppenheim, the president of NBC News, said in a statement that network employees escaped unharmed. He expressed "deepest sympathies" to the driver's family and loved ones.
"We are still gathering information from today's events, and are in touch with the driver's family to support them however we can," he said. It was not immediately clear what caused the explosion.
The victory announced in Baghouz on Saturday marks the end of a devastating five-year campaign by an array of forces to retake territories held by Daesh in Syria and Iraq. At its height, Daesh controlled a sprawling self-declared caliphate the size of Britain that was home to some 8 million people. It is not known whether the group's leader, Abu Bakr Al-Baghdadi, is still alive or where he might be hiding.
"This is a historic moment, but we cannot be complacent," tweeted Maj. Gen. Christopher Ghika, the deputy commander of the US-led coalition against Daesh.
"Even without territory, Daesh will continue to pose a threat to the people of Iraq and Syria, as well as to the wider world. The coalition must remain firm in its determination to counter Daesh," he said.
Thousands of people, including Daesh fighters and their family members, left Baghouz in recent weeks and were taken to detention centers and camps for the displaced elsewhere in eastern Syria. The militants were holding hostages and had detained civilians, whose fate remains unknown.
http://www.arabnews.com/node/1471956/middle-east
--------
Three ISIS extremists blow themselves up in north Iraq
24 March 2019
Three suspected ISIS suicide bombers blew themselves up on Sunday in northern Iraq, the army said, a day after the extremists' "caliphate" was wiped out in neighboring Syria.
Army spokesperson Yahya Rassoul said the incident took place in a region near the Syrian border, where ISIS sleeper cells are believed to be present.
He said the suspects died as troops surrounded them, but there were no casualties among government forces.
Local officials said the suspects were killed as they were trying to attack troops in the village of Qayrawan, south of the mountainous region of Sinjar which borders Syria.
Fighters of the US-backed Syrian Democratic Forces on Saturday pronounced the death of the nearly five-year-old ISIS "caliphate" which once stretched across a vast swathe of Syria and Iraq.
Their victory was hailed as a significant landmark in the battle against the extremist group, but there have also been numerous calls for "vigilance" with many saying the fight is far from over.
Top SDF commander Mazloum Kobane on Saturday warned that a new phase had begun in anti-ISIS operations and appealed for continued assistance from the US-led coalition to help smash "sleeper cells."
Full report at:
https://english.alarabiya.net/en/News/middle-east/2019/03/24/Three-ISIS-extremists-blow-themselves-up-in-north-Iraq.html
--------
Suspected Daesh bomb attack hits northern Iraq, terrorists dead: Army
Mar 24, 2019
Iraq's army says three suspected Daesh Takfiri terrorists have died after blowing themselves up in northern Iraq but there were no casualties among government forces.
Army spokesman Yahya Rassoul said on Sunday that the incident occurred in a region near the Syrian border, where Daesh sleeper cells are believed to be present.
According to local officials, the suspects were killed as they were trying to attack troops in the village of Qayrawan, south of the mountainous region of Sinjar, which borders Syria.
The incident took place a day after Syrian Kurds pronounced the death of Daesh's nearly five-year-old "caliphate" after flushing out die-hard terrorists from their very last bastion in eastern Syria.
"Syrian Democratic Forces declare total elimination of so-called caliphate and 100 percent territorial defeat of ISIS," spokesman Mustefa Bali said in a statement on Saturday, using an alternate title for Daesh.
The Takfiri terrorist group unleashed a campaign of death and destruction in Iraq in 2014, overrunning vast areas of land in lightning attacks.
Iraqi army soldiers and allied fighters then launched operations to eliminate the terror outfit and retake lost territory.
Shortly after the beginning of the terror campaign in Iraq, senior cleric Grand Ayatollah Ali al-Sistani issued a fatwa calling on all Iraqi citizens to defend their country. Iraq finally declared the end of the anti-Daesh campaign in December 2017.
Full report at:
https://www.presstv.com/Detail/2019/03/24/591806/Daesh-SInjar-Iraq-Yahya-Rassoul-Qayrawan
--------
Jeddah museum to showcase Arab, Islamic heritage
March 24, 2019
JEDDAH: The amazing architecture of the Abdul Raouf Khalil Museum takes us on an astonishing journey back to the Jeddah of the old days where wooden carvings dominated most of the urban architecture, especially doors and windows.
The museum will open its doors to visitors of the Jeddah Global Village, Saudi Arabia's first multicultural festival, from March 25 until April 24.
The village, which will be organized at nearby Al-Tayebat International City, in Al-Faisaliah, is expected to attract over a million visitors.
The museum includes a Saudi Arabian heritage section, an Islamic heritage pavilion, an international heritage area and a public heritage exhibition as part of the festival, featuring a host of priceless historical artifacts.
"Some of the items here date back millions of years," a museum official told Arab News.
Suzan Eskander, the director general of the company organizing the event, International Image, said: "Participants from some 50 countries are adding finishing touches to their pavilions as I speak.
"There will be pavilions for representatives from five Gulf Cooperation Council states, 10 Arab countries, as well as 18 countries from Africa, 10 from Europe and four countries from Central and South America."
She added that national folk dances would be performed by troupes from each participating nation.
"Performers will be dressed in traditional costumes. Visitors can also enjoy dishes and traditional products from each of the different countries."
Full report at:
http://www.arabnews.com/node/1471896/saudi-arabia
--------
Stopping Israeli violence, promoting regional security vital: Egypt, Jordan, Iraq
March 24, 2019
LONDON: Stopping escalation of Israeli violence in Jerusalem and violations against the Al-Aqsa mosque is necessary, Egypt and Jordan said in a joint statement Sunday.
A further statement issued by Egypt, Jordan, and Iraq said that the countries support Palestine and its claim to East Jerusalem as its capital.
The three countries held an economic cooperation summit in Cairo on Sunday.
President Abdel Fattah El-Sisi hosted the summit that was attended by Jordan's King Abdullah II and Iraqi Prime Minister Adel Abdul Mahdi.
The statement issued by the trio also emphasized the need to fight against terrorism in all its forms and confronting all those who provide terrorism with funds, arms, and media platforms.
Egypt, Jordan and Iraq called for coordination with other Arab countries to restore stability in the region.
They also emphasized the independence of Arab countries and the importance of preventing external intervention in their internal affairs.
The statement stated the concept of the nation state must be strengthened in order to confront terrorism and sectarian strife.
Support for Iraq's efforts to complete reconstruction and help displaced people return to their homes after the defeat of Daesh was also expressed by the three countries.
On Saturday, Iraqi Prime Minister Adel Abdul Mahdi met with Egyptian President Abdel Fattah El-Sisi during his first trip abroad since taking office in October.
During the meeting, Abdul Mahdi sought Egypt's support for efforts to tackle extremist militants in the region, and highlighted "the importance of drying up the sources of terrorism."
Full report at:
http://www.arabnews.com/node/1471741/middle-east
--------
North America
New York City Muslims Begin Community Safety Patrol
March 24, 2019
NEW YORK —
On March 14, New York City Muslims were putting their families to bed when details emerged of a mass shooting at two mosques in Christchurch, New Zealand, about 15,000 kilometers away. A white supremacist had targeted Friday prayer. Fifty were dead, including refugees, women and children; one as young as three.
Brooklyn residents Mohammad Khan and Nazrul Islam were returning from a leadership dinner when they heard.
"We stopped our car, we parked, and we were just in tears," Khan said. "Me and the imam — we were just devastated."
For months, Khan and Islam, an imam and a Quranic school principal, had been working on the rollout of an all volunteer-led civilian patrol organization, Muslim Community Patrol & Services (MCPS). "MCPS is aimed at protecting members of the local community from escalating quality-of-life nuisance crimes," its website says.
Its mission took on added relevance after the attack in New Zealand.
Traumatized members of the community, who had seen video of the attack on social media, sought help from MCPS at local vigils and rallies. The organization responded with trained counselors and chaplains.
Here for everyone'
On a white-and-blue emblazoned Ford Taurus, a seal matching the style and color scheme of the New York Police Department (NYPD) identifies the MCP volunteer unit. Above it, the words "Assalamu alaikum" are inscribed in Arabic. "Peace be upon you."
Patrolling the streets is just one aspect of the group's mission. Its guiding principle is mentorship, said Khan, MCPS' director of community affairs. Mentorship can be provided in person or by phone, 24/7, with the aim of bridging the community across religious, ethnic and language divides. New York is one of the most diverse cities in the world.
"If an immigrant came to this country from an Arabic-speaking country — and they might be in trouble or they need help — and they see Assalamu alaikum," Islam, 28, explained, "they'll definitely know there are Muslim people in that car, so they can come and they can ask us if they need anything."
MCPS' 50-plus volunteers are never armed, and they are trained to deal with crises including drug abuse, financial woes, depression and suicide prevention. They are trained in first aid, mental health, chaplaincy and basic security. Every Friday they deliver meals to the homeless in midtown Manhattan. Serving both Muslims and non-Muslims, they speak English, Arabic, Bangla, Urdu, Hindi and "some Polish."
Vital to their success, they work in collaboration with NYPD, whose off-duty officers led a recent training in Sunset Park.
"Once people see our work, [they'll see that] we're here to help," said Mahwish Fathma, MCPS' director of operations. "We're here to give. That's all."
Fathma, a 22-year-old Muslim-American of mixed Pakistani and Cambodian heritage, remembers earlier patrols, the 1970s-established Shomrim, a volunteer Hasidic Jewish civilian patrol, and the more recently formed Brooklyn Asian Civilian Observation Patrol (BACOP) — both based in Brooklyn.
"I always thought, 'Why don't Muslims have that? Everyone should have this,'" Fathma said. "Dealing with your own families or your own communities, it's different. It's always different."
Lessons from their counterparts
Four avenues across from MCPS' makeshift office, a cohort of Mandarin-language volunteers don "Brooklyn Asian COP" jackets at the group's headquarters, a red-walled basement that contains a bar, gym, ping-pong table and wicker lawn chairs.
Hongmiao Yu, a local pharmacy owner, joined BACOP after a burglary at his business left employees shaken. On days he volunteers, he doesn't return home until after 2 a.m. To avoid waking his young children on the second floor, he sleeps downstairs.
"We're all Chinese immigrants, so I wanted to do something for this community," Yu said.
"The more civilian patrols we have, the more beneficial it is for the communities," said BACOP's chairman, Louie Liu. "As long as we are serious and sincere in our cooperation with local law enforcement, we're confident that crimes will go down, [and] our living conditions will improve."
Getting past the language barrier has been essential for the group. Members speak English, Mandarin, Cantonese, Fujianese and "Spanish-Chinese," according to Liu. Over the past five years, he says Brooklyn's Chinatown, home to more than 200,000 ethnic Chinese residents, has made strides in its relationship with law enforcement as a result of BACOP.
"We enable immigrants to express themselves without any fear or concern, and law enforcement has confidence in the role that we're playing," Liu said.
Evolving relationship
Heidi Beirich, director of the Southern Poverty Law Center's (SPLC) Intelligence Project, sees the potential for law enforcement to restore trust among immigrant and Muslim communities, which are increasingly the targets of U.S. hate crimes, the majority of which are not reported to the police.
"If the cops take hate crime seriously and work with the community, it can show those communities that they care about them, and that they really exist to protect them," Beirich told VOA.
According to FBI statistics, 59.6 percent of hate crime victims in 2017 were targeted because of race, ethnicity or ancestry bias, while an additional 20.6 percent were targeted based on their religion.
"Realistically, it's impossible to eliminate racism, so there has to be an organization speaking on our behalf," said Tony Jiang, a fish market owner in Sunset Park.
Down the street, MCPS members brush off the accusations and name-calling the group has received on social media: "Sharia Patrol," "an Islamic invasion on the West," "the worst-case scenario of multiculturalism," coupled with slurs and death threats.
Islam, who was born in Bangladesh but moved to East New York when he was 10, recalls the bullying of his Brooklyn childhood. Headed home from mosque as a young boy, he says children would throw eggs at him and others. Once they removed his brother's taqiyah (cap) and beat him up, sending him to the hospital.
"I've seen a lot of hate growing up, and it's ugly," Islam said.
The Sunset Park community in Brooklyn he adds, has thrown its weight behind them today: "they see us and they know who we are."
Adds Khan, "Our actions speak louder than our words."
https://www.voanews.com/a/new-york-city-muslims-begin-community-safety-patrol/4845660.html
--------
Wary of Iran's missiles, US strikes port deal with Oman
Mar 24, 2019
The United States has struck a strategic port deal with Oman in an attempt to get better access to the Persian Gulf region and avoid sending ships through the Strait of Hormuz, a maritime choke point that Iran could easily block using its advanced missile arsenal.
The US embassy in Oman said in a statement on Sunday that the agreement granted the US access to facilities and ports in the towns of Duqm as well as in Salalah, which sit on the coast of the Arabian Sea.
It noted that the port deal "reaffirms the commitment of both countries to promoting mutual security goals."
The deal serves Oman's plans to develop Duqm, which was once just a fishing village 550 km (345 miles) south of capital Muscat. Oman has long sought to transform the port city into an industrial hub.
For the US, however, the deal serves a whole different agenda and tries to address growing concerns among top Pentagon officials about Iran's advancements in overcoming sanctions and diplomatic pressure by Washington to develop sophisticated missiles that can block the Hormuz.
An unnamed US official told Reuters that the deal improved the US military's access to ports that connect to a network of roads to the broader region.
"We used to operate on the assumption that we could just steam into the [Persian] Gulf," one US official said, adding, however, that "the quality and quantity of Iranian weapons raises concerns."
Last year, when US President Donald Trump threatened to drive Iran's oil exports to zero, Tehran warned that it would close down the Strait of Hormuz and stop all oil exports from the Persian Gulf region.
While the threat seems to have worked its magic by prompting the White House to issue waivers for Iran's main oil buyers, US military officials are worried that the current levels American military presence in the region cannot stop Iran from shutting down the crucial waterway.
In November, The Washington Post said US commanders worried that Iran could easily fulfill the task by using it robust arsenal of ballistic missiles and its ability to plant naval mines.
Back then the Pentagon officials were specifically critical of Trump's shifting priorities.
The Republican head of state thinks China and Russia pose the greatest threats to the US. He has ordered the Pentagon to move some of the American forces out of the Persian Gulf region and station them in bases across the Pacific region instead.
One unnamed US official noted that the new agreement with Oman would expand US military options in case of a real standoff in Hormuz.
"The port itself is very attractive and the geostrategic location is very attractive, again being outside the Strait of Hormuz," another official said, adding that Duqm was large enough turn around an aircraft carrier.
In late November, the Islamic Revolution's Guards Corps (IRGC) warned that US bases in Afghanistan, the UAE, and Qatar as well as the US aircraft carriers in the Persian Gulf were all within reach of Iranian missiles.
"The US bases around us are within our reach and are easy meat for us," IRGC Aerospace Commander Brigadier General Amirali Hajizadeh said.
Competition with China
The deal also helps the US to push back against China's growing influence in the region.
Chinese firms once tried to invest up to $10.7 billion in Duqm in what was expected to be a commercial arrangement.
Full report at:
https://www.presstv.com/Detail/2019/03/24/591812/US-Oman-port-deal-Duqm-Iran-missiles-Hormuz
--------
Mike Pompeo denies US stance on Golan violates UN resolutions
March 23, 2019
President Donald Trump's decision to recognise Israeli sovereignty in the occupied Golan Heights is not a violation of UN resolutions but rather a recognition of "the reality on the ground", Secretary of State Mike Pompeo said.
Mr Trump billed his decision, announced in a tweet on Thursday, as being "of critical strategic and security importance" to Israel and for regional stability, a claim Mr Pompeo backed in an interview with Sky News Arabia on Saturday.
Donald J. Trump
✔
@realDonaldTrump
After 52 years it is time for the United States to fully recognize Israel's Sovereignty over the Golan Heights, which is of critical strategic and security importance to the State of Israel and Regional Stability!
178K
10:20 PM - Mar 21, 2019
Twitter Ads info and privacy
74K people are talking about this
Speaking after a tour of the region that included stops in Kuwait, Israel and Lebanon, Mr Pompeo said the US was acting out of noble intentions.
"America is a force for good in the region. Our intentions are noble," he said. "We want good outcomes for the people of Lebanon, for the people of Kuwait, for the people of Israel, for all nations in the Middle East, and the decision the president made will increase the opportunity for there to be stability throughout the region."
Recognition of Israeli sovereignty over the Golan Heights would be a dramatic shift in US policy on the status of a disputed area that Israel captured in the 1967 Middle East war and annexed in 1981, in a move not recognised by the international community.
Syria has asked the UN Security Council to uphold past resolutions demanding that Israel withdraw from the Golan. The issue is scheduled for discussion by the council on Wednesday, during a meeting on renewing the mandate of the UN peacekeeping force deployed between Israel and Syria in the Golan.
Mr Pompeo dismissed the suggestion that Mr Trump's decision amounted to double standards, given that the US is imposing sanctions on Russia for its annexation of the Ukraine's Crimea region in 2014.
"Not at all," he said. "What the president did with the Golan Heights is recognise the reality on the ground and the security situation necessary for the protection of the Israeli state. It's that simple."
Touching on the declaration of victory over ISIS by US-backed Syrian forces on Saturday after the recapture of its last patch of territory, Mr Pompeo said: "The threat's not gone. The work continues. And America's mission remains unchanged: we are determined to keep America safe from the threat from radical Islamic terrorism."
He said American troop deployments and tactics in the region would vary according to "conditions on the ground and the conditions in the region".
"We have lots of efforts ongoing all across the Middle East to ensure that those countries too have an opportunity to defeat terrorism in their own country as well. We have great partners in the region that we work well alongside and we've done good work together."
Mr Pompeo said his trip to Lebanon on Friday, his first as secretary of state, was to offer its leaders US support to counter Iran and its attempts to exert influence in the country, as well as the Tehran-backed Lebanese Shiite movement Hezbollah.
"They want to control this state; they want access to the Mediterranean; they want power and influence here. And the people of Lebanon deserve better than that," he said.
Asked whether countering Iran was part of the US mission in Syria, he said: "Everywhere we find malign activity by Iran, the United States is going to pursue it, whether that's in South America, whether that's in the Middle East."
Using Yemen's Houthi rebels as a proxy, "Iran is firing missiles into Saudi Arabia, endangering not only the lives of the Saudi people but all of those who transit", he said.
"This is unacceptable and we're going to use every tool that we can to achieve the outcome that, frankly, the people in Yemen want and the people of the region are going to continue to demand."
Mr Pompeo affirmed that a US plan for Israeli-Palestinian peace, which has not yet been made public, would have to be approved by both parties. "Our mission is to try to show them what that might look like," he said.
Full report at:
https://www.thenational.ae/world/mena/mike-pompeo-denies-us-stance-on-golan-violates-un-resolutions-1.840575
--------
India
Terror intel puts Delhi, Mumbai and Goa on alert
Mar 25, 2019
NEW DELHI: Intelligence agencies have alerted police in Delhi, Mumbai and Goa about twin threats from Islamic State and al-Qaida, sources said.
The two inputs, which warn of avenging the New Zealand incident and possible strike on Jewish establishments, have come in a span of four days.
The inputs suggest that terrorists might try to use a vehicle or a knife in the attacks. The agencies have suggested an increase in vigil around the Israeli Embassy, Consulate General in Mumbai as well as synagogues and Chabad houses, sources said.
The first alert, dated March 20, talks of IS and connected cells planning to avenge the attack in Christchurch, New Zealand in which 50 people died. A 29-year-old Australian citizen, Brenton Tarrant, had entered two mosques with automatic weapons and opened indiscriminate fire.
The input reads: "As per the information received from multiple sources, an audio speech of IS spokesperson Abu Hassan alMuhajir is being circulated on closed online groups and chat platforms wherein Muhajir is heard calling on his supporters to avenge the massacre at the mosques. This audio and other chatter indicates intent to avenge the incident. Appropriate action may be taken in this connection."
Sources in Delhi Police said that deployment outside places of worship has been increased. "We are keeping a close watch on developments," an officer said.
The second input, dated March 23, is about a possible strike by an al-Qaida cell at Jewish residential establishments or synagogues. The chatter intercepted by agencies indicates execution of an attack using "non-conventional" weapons. "The attack may be in the form of a lone wolf using a knife or a car or truck," it said. For Goa, the inputs specifically mention a few places.
Police have beefed up security at major installations, apart from those mentioned in the inputs. Security outside the embassy of Israel has also been reviewed, sources said. Patrolling has been enhanced and policemen at pickets have been asked to be on the lookout for suspicious vehicles.
In 2012, terror operatives had used a limpid car bomb to attack an Israeli embassy staffer. A motorcyclist had attached a stick bomb to the car of an Israeli diplomat's wife while she was on her way to pick up her children from school.
https://timesofindia.indiatimes.com/india/terror-intel-puts-delhi-mumbai-and-goa-on-alert/articleshow/68553320.cms
--------
Jammu and Kashmir Police arrest three Jaish militants
Mar 24, 2019
Jammu and Kashmir police on Sunday said they have arrested three Jaish-e-Mohammad (JeM) terrorists in Kashmir.
"Three terrorists affiliated with the proscribed terror outfit Jaish-e-Mohammed (JeM) were arrested today based on a credible input. Incriminating material including ammunition and live rounds recovered. A case has been registered," Jammu and Kashmir police said in a tweet late Sunday evening.
It was not immediately clear where and how the three were arrested but residents in city's outskirts near Parimpora witnessed security forces intercepting and detaining some youth from a vehicle during the day.
Security forces have been aggressively pursuing JeM terrorists after a suicide car bomber of the outfit rammed a truck in a CRPF convoy in south Kashmir's Pulwana on February 14 killing 40 troopers.
Since then many JeM members have been killed in various gunfights across the valley.
Full report at:
https://www.hindustantimes.com/india-news/jammu-and-kashmir-police-arrest-three-jaish-militants/story-zPrJQEgD4dKCb00KINTUGM.html
--------
Three Jaish terrorists arrested in J&K
Mar 25, 2019
SRINAGAR: Three Jaish-e-Mohammad (JeM) terrorists were arrested by security forces from the outskirts of the city, police said. They were nabbed on Sunday.
"Three car-borne terrorists affiliated with proscribed terror outfit JeM were arrested by police and security forces at Lawaypora (on Srinagar-Baramulla road) based on a credible input," a police spokesperson said.
Full report at:
https://timesofindia.indiatimes.com/india/three-jaish-terrorists-arrested-in-jk/articleshow/68556349.cms
--------
Southeast Asia
An ISIS Couple's Troubling Path to Terror Recruiting
By Hannah Beech and Jason Gutierrez
March 24, 2019
ZAMBOANGA, Philippines — She was a Catholic math whiz with an M.B.A. from one of the best universities in the Philippines. He was the Muslim descendant of a sultanate family, schooled in computer science.
The couple, Ellen Barriga and Mohammad Reza Kiram, could have served as the model of a modern interfaith marriage. Instead, they are poster children for how violent ideology transformed educated Filipinos into agents of death for the Islamic State.
In 2015, Ms. Barriga and Mr. Kiram traveled to Syria to join the terrorist group, becoming key recruiters of other Southeast Asians, according to Philippine and American intelligence officials.
In January, American-backed Syrian forces announced that the pair had surrendered, joining thousands of foreign militants caught between a crumbled caliphate, which lost its last territory in the region on Saturday, and home countries reluctant to take them back.
A year after arriving in Syria, Mr. Kiram, wavy-haired with jutting cheekbones, appeared in a video for the Islamic State. In it, he and a Malaysian and Indonesian urged foreigners to wage jihad in Muslim parts of the Philippines, where the Islamic State has been gaining strength.
"Worshipers of the cross," he warned, "we will use the language of swords and language of bullets. Our brothers in the path of Allah will soon rise in your own land."
Holding a dagger, Mr. Kiram then beheaded a hostage kneeling in front of him.
Last year, the United States Treasury Department placed sanctions on Mr. Kiram, 29, for "brutal acts as part of a propaganda campaign to attract radicals to join militant terrorist groups in Southeast Asia."
Ms. Barriga, who converted to Islam after earning an accounting degree, has been accused by the Philippine authorities of channeling Islamic State funds to local militants and aiding in a failed bombing attempt in the southern Philippine city of Davao.
Her Christian name helped Ms. Barriga, 38, set up bank accounts and avoid suspicion even as she was gravitating to the most radical fringes of Islam, the intelligence operatives said.
Sitting at home in Davao, Edgar Barriga, Ms. Barriga's father, said he was relieved to hear news of his daughter, even though he was devastated by her chosen path.
"I am happy if she is with ISIS in Syria," he said, "because at least that way I know my Ellen is alive."
A movement like the Islamic State needs two types of people: rank-and-file recruits, often poor and uneducated fodder for battle, and ideologues who can entice the masses to their cause. Mr. Kiram and Ms. Barriga were in the latter camp: smart, charming, well connected.
"We need to figure out how people like Reza Kiram, with no prior indication, become violent extremists," said Col. Leonel Nicolas, the commander of the joint task force in the southern city of Zamboanga, where Mr. Kiram grew up.
Even to their closest family and friends, the couple's path to radicalization is indistinct. There were no defining traumas or fractures with society, only small signs that, in retrospect, hinted at trouble: too much time spent online, perhaps, or a fearlessness that could ripen into fanaticism.
"I feel regret whenever I think of him because he was such a good student," said Sheikh Mahir Gustaham, who taught Mr. Kiram Islamic jurisprudence and considered him his favorite pupil. "For me it's a lesson learned: to watch closely and intently the good and quiet students because they may change."
Ms. Barriga grew up in a tidy neighborhood in Davao, attending the parish church of St. Michael, named after the archangel who defends the Christian faith against demonic forces. Her father worked for a cocoa company. Her mother volunteered at church.
At Francisco Bustamante National High School, Ms. Barriga excelled, leading student government and organizing dances. She won a scholarship to the prestigious Ateneo de Davao University and worked as an accounting manager after graduation.
She had a Muslim boyfriend and converted, wearing a head scarf in public. The Virgin Mary, Ms. Barriga explained to her parents, wore a veil, so why shouldn't she?
Ms. Barriga's mother, Fely Barriga, consulted with their parish priest. "He told me that I should let her go to Islam," she recalled. "She would come back to the church when she was ready."
After Ms. Barriga married Mr. Kiram, her parents saw their son-in-law only once, for 10 minutes in a hospital corridor after Ms. Barriga gave birth to a daughter.
Whenever her parents visited, there were excuses for his absence. Mr. Kiram was sourcing seafood, Ms. Barriga would explain.
"He was always busy with the dried fish and sea cucumbers," Fely Barriga said. "I didn't want to ask too many questions."
In 2015, the couple said they were moving to Zamboanga, a city on a southern tendril of the island of Mindanao. It was the last time Ms. Barriga's parents saw their daughter.
That same year, unknown to their families, Mr. Kiram and Ms. Barriga took a flight to Turkey, via Japan, and made their way overland to Syria with their daughter, according to the intelligence officials.
Ms. Barriga called home regularly, but she forbade her parents to call back. When they tried anyway, the number wouldn't connect.
In 2017, Ms. Barriga asked for her father's assistance with a bank account that had been flagged following what the bank called a suspicious large transaction. Mr. Barriga went to the bank to unfreeze the account, which he confirmed to the police.
"She is my daughter," he said. "It's natural to help your daughter."
The Kiram family is royalty in Zamboanga, descendants of a Muslim sultanate that ruled a chain of islands stretching toward Malaysia. When Spanish colonialists arrived in the 16th century, most of the Philippines converted to Catholicism, but the southern part retained its Muslim roots.
Mr. Kiram's father was a businessman. His mother, like so many educated women in the Philippines, worked overseas, as a nurse in Saudi Arabia. As a result of his mother's foreign income, Mr. Kiram's life was comfortable, but he lacked parental discipline, his family said.
Mr. Kiram attended the Filipino-Turkish Tolerance School, a private academy for Muslim and Christian students in Zamboanga, a frontier city with a long history of bombings and militant sieges.
For his younger cousins, Mr. Kiram, who went on to study computers at a technical institute, was a role model, always surrounded by a posse of friends. More than anything, Mr. Kiram distinguished himself through his staunch defense of his morals, said one cousin, who did not want to be named because he feared being stigmatized for his infamous relative.
The cousin found out about Mr. Kiram's radicalization when he saw news about the Islamic State video on television. "It was the biggest shock of my life," he said.
Sheikh Gustaham, Mr. Kiram's former Islamic teacher, was impressed with his linguistic talent: Malay, Turkish, Arabic, English and a number of Filipino languages.
"In my opinion, he was brilliant," Sheikh Gustaham said.
After about a year of study, Mr. Kiram questioned his teacher about things he was reading online: the persecution of Palestinians, Syrians and Muslim Filipinos. His family worried that he was attending a hard-line mosque associated with Tablighi Jamaat, a missionary movement from South Asia that has been accused of nurturing militants.
At the hard-line mosque last month, Ayub Julpawai, the head imam, said he was unconcerned the Islamic State had bombed a church in the southern Philippines in January, killing 23 people. He also shrugged at the Philippine military's bombardment of Muslim communities in an effort to catch the perpetrators.
"The military campaign is a punishment from Allah because some Muslims no longer follow the way of Islam," he said.
The Philippine police now say that Mr. Kiram, known by the alias Abdul Rahman, was involved in the 2012 bombing of a bus terminal in Zamboanga.
That year, Mr. Kiram helped produce a militant video that was the first in the Philippines to use the black flag later associated with the Islamic State as a backdrop, according to Rommel Banlaoi, author of the upcoming book "Terrorism in the Philippines: From Al Qaeda to ISIS."
The 2016 Islamic State video from Syria, with Mr. Kiram echoing the cadences of a preacher, was so slickly made that the Philippine military uses it in an internal course on effective propaganda.
Meanwhile, Ms. Barriga was making alliances with other Balik Islam, as people who convert from Christianity to Islam are known in the Philippines.
In 2012, Mr. Kiram and Ms. Barriga were arrested in connection with a foiled bombing plot in which an Indonesian man and his Balik Islam wife were accused of trying to target a night market in Davao. The Indonesian was shot and killed by the police. His wife, Mr. Kiram and Ms. Barriga were all released for lack of evidence.
It is not clear what will happen now to Mr. Kiram and Ms. Barriga, who are believed to be in a Syrian prison camp teeming with foreign militants. The Philippine Department of Foreign Affairs declined to comment on their case.
In Zamboanga, Sheikh Gustaham and other moderate Muslims who knew Mr. Kiram are nervous. Clerics promoting interfaith events have gotten death threats.
"He may call on all Islamic teachers and tell them I am not a real Muslim," Sheikh Gustaham said of his once favorite student. "It's frightening."
https://www.nytimes.com/2019/03/24/world/asia/isis-philippines-syria.html
--------
'We have nothing': A life in limbo for Malaysia's Yemeni refugees
by Teo Kermeliotis
18 hours ago
Kuala Lumpur, Malaysia - Mahmoud was well into his shift baking bread when a burst of urgent shouts warned him of an approaching cordon of men in uniform.
Time was of the essence and the 19-year-old, ever alert, wasted none of it.
By the time the immigration officers barged into the bakery, trawling for those without proper documents, Mahmoud was already dashing up a nearby flight of stairs. He stopped only after reaching the seventh floor of the building, located on the southern outskirts of Malaysia's capital, Kuala Lumpur.
"I watched out from the window and saw they had detained many young people," Mahmoud recalls. "They took all my friends," he says, his softly spoken voice slightly at odds with his towering stature.
"I hid until they left."
Mahmoud is Yemeni. Like thousands before him, he escaped his country's catastrophic war a year ago to seek refuge in Malaysia - one of a handful of countries worldwide to offer visa-free entry to Yemenis.
But today, Mahmoud is part of a struggling community pushed into a fragile existence in society's shadows.
Malaysia is not a signatory to the United Nations convention recognising refugees, while its dated immigration laws - enacted in 1959 and revised in 1963 - do not distinguish between those seeking asylum and those entering the country irregularly.
As a result, refugees are denied a host of rights and, crucially, are barred from legally working and sending their children to state-run schools.
Without key legal protections and given little aid, refugees end up scraping a precarious living in informal sectors - and in the case of most Yemenis, taking on low-paying jobs in restaurants and other food stores owned by their compatriots who had settled in Malaysia in the years and decades before the war.
"There is no money and life is insecure," says Mahmoud, who sees his dream of becoming a doctor slipping away. "I feel lost."
Yemen's latest conflict broke out in late 2014 when Houthi rebels, allied with forces loyal to former President Ali Abdullah Saleh, seized much of the country, including the capital, Sanaa.
The war escalated in March 2015 when a military coalition led by Saudi Arabia and the United Arab Emirates launched a fierce air campaign against the rebels in a bid to restore the internationally recognised government of President Abd-Rabbu Mansour Hadi. Since then, tens of thousands of civilians and combatants have been killed and as many as 85,000 children may have starved to death.
Millions of people have been forced from their homes as a result, with many fleeing for safer shores abroad. Some have sought refuge in Malaysia - a country which in the past has acted to protect persecuted Muslim populations from places such as Bosnia, Syria and Cambodia.
Malaysian authorities have long allowed the UN's refugee agency (UNHCR) to register refugees and provide some services on humanitarian grounds, even though the country has never ratified the 1951 Refugee Convention and its 1967 Protocol.
UNHCR cardholders, however, are denied the right to work and go to school in the country. The government provides a 50-percent discount to those officially recognised as refugees to access healthcare services at state-run facilities.
But registration itself can take months or years, leaving many who are waiting to receive their card at risk of being arrested and locked up at any time. Even if they are registered, as in the case of Mahmoud and his friends last month, refugees remain liable for detention under Malaysian law should they be caught working - although some officers are willing to turn a blind eye during immigration raids.
There are currently more than 3,100 Yemenis officially registered with the UNHCR in Malaysia, while thousands more are unregistered. Overall, about 165,000 refugees and asylum seekers are signed up with the agency in the Southeast Asian country, with the vast majority hailing from Myanmar, mainly members of its majority-Muslim Rohingya minority.
Alice Nah, a Malaysian academic and expert on refugee issues, says those seeking asylum in Malaysia - a popular destination because of its strong economy and peaceful multi-ethnic society - are often "surprised" by the way they are targeted in immigration operations.
"[That's] not necessarily because they are refugees fleeing war and persecution, but because they are perceived to be migrants with irregular status," she adds, urging authorities to "recognise current realities and take the protection of refugees and other non-citizens seriously".
Activists have also been calling on Malaysia's new government, which took office last year after defeating a ruling coalition that had governed the country for six decades, to fulfil campaign promises over human rights reforms and sign up to the Refugee Convention and its Protocol.
When asked last month by Al Jazeera about Yemeni refugees' access to work and education, Saifuddin Abdullah, Malaysia's foreign minister, replied: "I think we are open to proposals."
Still, Malaysia's long-standing refugee policies ensure Yemeni refugees remain in a state of near-constant fear and uncertainty, deterring them from being able to think of the country as home.
"How can we feel it's our home, without having any rights?" asks Badria Mohammed Albadani, who fled Yemen's war four years ago. "We want to feel like that but they have to help us … to have education and at the same time allow us to have a job without the fear that someone will come and attack us."
A former airline employee in Sanaa, 36-year-old Albadani is now a volunteer coordinator at a community-run centre that helps fleeing Yemenis.
Located on the first floor of a rundown southern Kuala Lumpur building and overlooking a street lined with Arab shops and restaurants, the modest space offers language lessons to Yemeni men, women and children, as well as workshops and community advocacy. "We try to give some things and skills to the people that they need fast," says Mohammed al-Radhy, a community leader and the head of the Tangible Association of Yemeni Refugees (TAYR).
"Before this centre, the people were [dispersed] everywhere. If they needed any kind of help, they didn't know where to ask. Now, if anyone needs help, if they have a health problem or are arrested or they need to ask about anything, they directly call and we give them the help we can," Radhy adds.
After a brief pause to check his continuously flashing phone, the 46-year-old admits that he is rarely at the centre he founded three years ago.
"I work in my car; I [am always going] to the hospitals, to the prisons, to meet NGOs, to the families.
"We need help," he says, with a sigh. "We have no permit to work, no education, no health(care). We have nothing."
Inside the TAYR centre, Mokhtar bin Dorob teaches an afternoon English class to a small group of young students. He is also a volunteer, making do with whatever meagre - if any - amounts the students can afford to chip in. The holder of a Master's degree in educational technology, the 34-year-old is passionate about using online tools to help improve the lives of his community.
"I'm trying to use WhatsApp to create videos for the students to interact," he says, standing between two battered, oscillating fans that cool the stiflingly humid air. "I'm interested in integrating technology to help Yemenis with the barriers [they face]."
But it's not just in informal classrooms that technology has had an effect. In the absence of institutionalised support, many Yemeni refugees are increasingly relying on messaging-app groups to share news about the community, discuss problems and coordinate action - as well as warn each other about immigration raids and even generate some much-needed income.
"I sell bread by [taking orders on] WhatsApp," says Amira, a 39-year-old mother of two daughters. "At times, there's work and at others, there isn't - for example, this month, I've only had two orders."
Amira says she and her husband "sold everything" four years ago to flee air raids in the southwestern Yemeni city of Taiz and bring their children to safety.
But since arriving in Malaysia, the family's ordeal has only continued.
"When we first got here, we felt humiliated; we'd only have one meal per day," says Amira.
"After we got the [UNHCR] card, they said they would help us but we didn't get anything," she adds.
"When my story spread on Facebook, university students offered me housing here," she continues.
But the situation remains dire.
Amira says she was previously exploited by local employers who turned out to be "crooks", while her husband, a chef, has been struggling with severe health problems that prevent him from working.
"We left from war and found ourselves in another war," Amira says, her two daughters - aged four and seven - sitting quietly at her feet. "War with hunger, war with housing."
Full report at:
https://www.aljazeera.com/news/2019/03/life-limbo-malaysia-yemeni-refugees-190324110354467.html
--------
IGP says times have changed, crimes getting more complex
24 March 2019
KUALA LUMPUR, March 24 — The advancement of new technology has made it difficult for the Royal Malaysia Police (PDRM) to combat crimes in the country, said Inspector-General of Police, Tan Sri Mohamad Fuzi Harun.
He said with rapid development of technology and widespread use of social media, it was vital for the security force to keep up with the times and strengthen their expertise in various aspects.
"Nowadays criminals have new means of engaging in fraudulent activities and the crimes are getting more complex as they are no longer domestic based but have gone beyond borders.
"For example, previously when gambling only playing cards were used but now betting are done online. And the same goes in recruiting terrorists, there are no physical dealings and love scams which were never thought of before, have resulted in billion ringgit losses," he said in a special interview in conjunction with the 212th Police Day celebration.
Hence, he said PDRM have formed partnership and increased collaboration with the security forces of other countries to stem criminal activities.
In line with this year's Police Memorial Day theme, 'Polis dan Masyarakat Berpisah Tiada' Mohamad Fuzi said the police made it a point to hold meetings with the community to share information and for action to be taken.
"To encourage community involvement in crime prevention we have organised the 1Mosque 1Police (1M1P) programme... non-Muslim police personnel too have been instructed to hold similar programmes with churches and temples all over the country to enable the public to be the eyes and ears of PDRM.
"In carrying out our duties to deal with various security issues we still need the support and assistance of the people at all levels to ensure our country is safe, stable and secure," he said.
Meanwhile, Mohamad Fuzi said though the crime rate in the country had been decreasing each year generally people still do not feel safe.
"With the approval of the the Home Ministry I have directed PDRM R&D (research and development) division to undertake a specific research on this matter (perception of feeling safe) to be conducted by an independent party" he said, adding that last year the crime rate dropped by 11.9 per cent.
Meanwhile, Mohamad Fuzi said members of the police force should have high standards of integrity and must be free from corruption.
He said from time to time the police personnel were reminded to stay clear of corruption as stern action would be taken if they were found guilty.
"I was very disappointed to learn some of our members were detained by the MACC (Malaysian Anti-Corruption Commission) recently for engaging in illicit activities.
Full report at:
https://www.malaymail.com/news/malaysia/2019/03/24/igp-says-times-have-changed-crimes-getting-more-complex/1736040
--------
Public Campaigning Kicks Off for 2019 Presidential Election
MARCH 25, 2019
Jakarta. The public campaign period for the 2019 presidential election kicked off on Sunday with visits to various locations by the two candidates, Joko "Jokowi" Widodo and Prabowo Subianto.
The campaign period, determined by the General Elections Commission (KPU), will end with the final presidential debate on April 13.
Jokowi kicked off his campaign in Serang, Banten, on Sunday, while his rival visited Manado, North Sulawesi, and Makassar, South Sulawesi. Jokowi's running mate, Ma'ruf Amin, was also in Banten but in a separate location, while Prabowo's running mate, Sandiaga Uno, visited Solo in Central Java.
Jokowi Campaign
Campaigning in his running mate's hometown, Jokowi called on his supporters to oppose fake news and political hoaxes targeting the candidate pair that have been spread door-to-door and on social media.
He said at least four false rumors have been doing the rounds, which falsely claim that religious subjects will be removed from the school curriculum, the azan, or Islamic call to prayer will be banned and same-sex marriage and extramarital sex will be legalized if he is re-elected.
"We must all be brave; do not allow our unity, our brotherhood to be broken because of slander and hoaxes," Jokowi told thousands of his supporters, as quoted by BeritaSatu.com.
"Don't keep silent. If we are silent, [fake] news like that will be accepted as fact. So we must respond, fight against and correct it," he added.
Jokowi told his supporters in Yogyakarta a day earlier that he would fight back against those who slander and insult him.
"Over the past four-and-half years, I was silent. But today in Yogya, I want to tell you that I will fight back," Jokowi told the crowd after university alumni in the city pledged support for his candidacy in the April 17 election.
During his campaign in Serang on Sunday, Jokowi also called on his supporters to be happy and not fear the democratic process.
This is reflected in the fact that the Jokowi-Ma'ruf campaign team appears to makes a concerted effort to create a carnival atmosphere at all the candidates' public appearances.
However, the incumbent president admitted that his camp still had to work hard in the province to attract more support, considering that his rival won most of the votes in the province in the 2014 presidential election. But he expressed optimism that his camp would gain more support than his opponent.
Prabowo Campaign
Prabowo chose his late mother's hometown to start his public campaign in this year's presidential election.
In his speech in Manado, the former Army general promised to provide jobs and ensure people's prosperity if he is elected. He criticized the high cost of basic needs, electricity and fuel, while also promising to address this.
"We want Indonesia to be victorious, just and prosperous, so our people can enjoy the prosperity ... eradicate and fight poverty. We won't let people starve, unable to get proper jobs … having to pay prices that are too high for all of us," Prabowo told the crowd.
From Manado, Prabowo traveled to Makassar, where he confidently called on the people to change the country's leadership.
"The people need the change; they understand that there is a lot of corruption in the country. By the grace of God, once our coalition receives a mandate from the people, we will form a government that is free of corruption," Prabowo said. He criticized the current government's policies, particularly on the imports of some commodities, such as salt.
Full report at:
https://jakartaglobe.id/context/public-campaigning-kicks-off-for-2019-presidential-election
--------
Pakistan
NAP, Fata merger to appease India and US, claims Fazl
March 25, 2019
MIRAMSHAH: Jamiat Ulema-i-Islam-Fazl chief Maulana Fazlur Rehman said on Sunday that the sole purpose of National Action Plan (NAP) and merger of defunct Fata with Khyber Pakhtunkhwa was to appease India and America.
Addressing a big rally in Mirali town of North Waziristan tribal district, he said that his party had opposed both the NAP and merger of tribal districts with Khyber Pakhtunkhwa. Tahaffuz Namoos-i-Risalat rally was organised in the main town which was also addressed by Maulana Abdul Ghafoor Haideri, opposition leader in KP Assembly Akram Khan Durrani and other party leaders.
This was JUI-F's first show of power in the militancy-hit district after its merger with the province in May 2018. The government will hold elections in the merged districts for the provincial assembly before July next. Preparations for the elections in seven merged districts and six sub-divisions are underway as several candidates have started their campaign.
Maulana Fazlur Rehman said that at present neither Frontier Crimes Regulation (FCR) nor police system existed in the merged districts, which had created a complete legal and administrative vacuum in the erstwhile Fata.
"The sole purpose of merger was to appease America," he said, adding that the neighbouring countries, including Afghanistan, had been annoyed over the decision. He said that people of tribal districts were already living miserable life and their agonies had increased after the merger.
He said that JUI-F was not in favour of NAP that was unveiled after the terrorist attack on Army Public School, Peshawar, on December 16, 2014. He claimed that the 20-point plan was introduced to pacify India. He said that nobody was taking notice of the rights violations in tribal districts. He added that the tribal people were not taken into confidence before the merger.
The JUI-F chief said that the sitting rulers would not be allowed to accomplish their hidden agenda that included recognition of Jewish state. He said that attacks on religious scholars were part of international agenda. He said that Mufti Taqi Usmani, who survived an assassination attempt in Karachi, was a neutral and non-controversial figure.
He said that seminaries and ulema were under attack across the country, adding that the government could not stop the caravan of Namoos-i-Risalat through such tactics. He claimed that the government was trying to promote indecency in society in the name of women's rights.
The Maulana said that a fake government had been installed in the centre which could not take pressure. He alleged that the Indian pilot was set free under the US pressure.
He said that JUI-F had started organising million marches against what he called anti-state and anti-Islam policies of the government. He said that a rally would be organised in Khyber tribal district on April 21. He said that his party would also give a call for a million march in Islamabad.
WOUNDED: A man and his six-year-old daughter were wounded in a landmine explosion in Boya tehsil of North Waziristan tribal district on Sunday.
Officials said that Gul Dada and his daughter, Salma Bibi, were walking near Norra Manza checkpost when a landmine went off. Military personnel shifted the wounded persons to the hospital.
https://www.dawn.com/news/1471694/nap-fata-merger-to-appease-india-and-us-claims-fazl
--------
Let's give dialogue a chance: govt to opp
MARCH 25, 2019
Foreign Minister Shah Mahmood Qureshi Sunday said the government wants to engage the opposition in comprehensive discussions on issues related to national security and the implementation of National Action Plan (NAP).
Talking to media at Qasim Fort at the concluding ceremony of a three-day spring festival, he said that in his capacity as foreign minister and in consultation with Prime Minister Imran Khan, he has sent a letter to Pakistan People's Party (PPP) Chairman Bilawal Bhutto Zardari. He said he has also contacted Opposition Leader in National Assembly Shehbaz Sharif and PPP Co-chairman Asif Ali Zardari to invite them to discussions on the national security related issues. He said the government is ready to discuss the matter in parliament also. He asked Bilawal Bhutto Zardari to send his point of view on the important issues in writing.
"You all [the opposition parties] are united in your stance regarding the plan. Are not all your parties signatories to the plan? Then let's take the matter forward together," he said, referring to his telephonic conversation and letters to Asif Ali Zardari and Shehbaz Sharif.
He said Bilawal was adamant and instead responded by demanding that the whole parliament be briefed on NAP. "I have no objections to that either. We are ready for that. I want to tell Bilawal through the media: Please allay your concerns in writing to me. What sort of implementation do you want? What steps should we take to combat the forces that give shelter to terrorists? Guide us, tell us. We will give importance to your input and will try to incorporate it in NAP. But mere statements do not solve problems,'" he said. The foreign minister said India is trying to defame Pakistan in the international community in order to push Pakistan from FATF grey list to the black list, adding that political parties should come forward to devise a comprehensive plan to deal with the national security related matters with consensus. "Today India is trying to move a resolution in the [UN] Security Council against Pakistan which a lot of countries have presented – I do not wish to name them – and many countries are acting as spokespersons for it. Pakistan's united stance is in its best security interests and is in accordance with its national security requirements," he said.
Qureshi once again called upon Bilawal Bhutto to give talks a chance. "I invite you to sit with us and give me your suggestions, verbally or in writing, and if you face trouble in coming, the National Assembly is a shared forum. Let us meet in the assembly, and if you feel like your party members are not all on the same page yet then I am ready to come. The chamber of the leader of the opposition is available. I will tell Sharif to make it available for us," he stressed.
To a question about Indian Prime Minister Narendra Modi's greetings on Pakistan Day, the foreign minister said India was bent on attacking Pakistan in February this year, and now it is sending greetings. However, he described it as a positive change. He also welcomed Indian PM's statement of initiating joint efforts for overcoming poverty, terrorism and betterment of the subcontinent. He said Pakistan has no hesitation in moving forward on these issues as Prime Minister Imran Khan has already stated that India and Pakistan should engage in joint efforts on these issues. Qureshi, however, said there might be some uncertainty in mutual relationship till the holding of elections in India, adding that Pakistan must be ready for dealing with any kind of situation.
To another question, Qureshi condemned the terrorist attacks in New Zealand in which 50 Muslims were martyred by a white supremacist terrorist. He said that the incident happened due to rising Islamophobia. He lauded the support and action of prime minister of New Zealand and the people of the country after the sad incident. He said the PPP and Pakistan Muslim League-Nawaz (PML-N) have right to pursue their political strategies. He said most of the workers of both parties are not happy with the current political situation. He also quoted the statement of PPP leader Aitzaz Ahsan in which he said that his party always faced trouble whenever it made alliance with the PML-N. The foreign minister said every kind of protection was being given to the minorities in the country.
Full report at:
https://dailytimes.com.pk/369245/lets-give-dialogue-a-chance-govt-to-opp/
--------
Hindu girls approach court for protection; PM orders inquiry
MARCH 25, 2019
Two Hindu minor girls, who were allegedly abducted and forcefully converted to Islam, have approached a court in Bahawalpur seeking protection.
According to the family of the teenage girls, the sisters were abducted from Daharki in Ghotki district of Sindh and forcefully converted to Islam before being subjected to underage marriages. The incident came to light after the girls' father and brother revealed the details in videos that went viral on social media. In a separate video, however, the girls can be seen saying that they accepted Islam out of their own free will. The teenagers in question have approached a court in Bahawalpur seeking protection, in a baffling twist of events that appears to contradict the family's claims that they were abducted and converted to Islam and wedded off under duress. Police have meanwhile arrested a man from Khanpur who is suspected to have assisted in the nikah (marital contract) of the girls. Information Minister Fawad Chaudhry Sunday said that Prime Minister Imran Khan has issued directives to Punjab chief minister for taking steps for recovery of two Hindu girls allegedly abducted from Sindh and shifted to Rahim Yar Khan. The minister tweeted that the prime minister has directed the governments of Sindh and Punjab to adopt a joint strategy to prevent such incidents in future. Minister of State for Interior Shehryar Khan Afridi has directed IG Police Sindh Kaleem Imam to probe and submit report on alleged abduction of the Hindu girls.
Full report at:
https://dailytimes.com.pk/369238/hindu-girls-approach-court-for-protection-pm-orders-inquiry/
--------
South Asia
21 militants killed, wounded in Special Forces operations and airstrikes
24 Mar 2019
At least 21 militants were killed during the latest operations of the Afghan Special Forces and airstrikes in three provinces of the country.
According to informed military sources, Afghan Special Forces conducted a raid in Zankhan district of Ghazni province in the past 24 hours killing 9 Taliban fighters.
The sources further added that during the clash, airstrikes targeted two barricaded shooters in two structures.
The Afghan Special Forces conducted an operation in Qaisar district of Faryab, supported by the Afghan Air Force, which killed 4 Taliban fighters and wounded 4 others.
An airstrike was also carried out in Kajaki district of Helmand province which left 2 Taliban leaders dead, the sources added.
The anti-government armed militants including Taliban have not commented regarding the operations so far.
https://www.khaama.com/21-militants-killed-wounded-in-special-forces-operations-and-airstrikes-03563/
--------
Rohingya dread relocation plan to 'Floating Island'
March 25, 2019
For several weeks, state officials in Bangladesh have been visiting refugee camps in Cox's Bazar to convince hundreds of Rohingya Muslims from Myanmar about the merits of a plan to relocate them to a remote and uninhabited island that could be a natural disaster risk.
The Rohingya have attended meetings that included talks from officials and video screenings on how their lives will improve once they settle on Bhasan Char, also known as "Floating Island."
The government wants to relocate 100,000 refugees from next month.
Despite promises of better accommodation, a safer living environment, improved job prospects and freedom of movement, most Rohingya remain unconvinced.
The island's location is the main headache for the beleaguered Muslim minority, which fled to Bangladesh in droves to escape military crackdowns in 2016 and 2017 in their home state of Rakhine in western Myanmar.
Abdur Rahim, 52, used to serve as a primary school teacher in Buthidaung town in Rakhine. He moved to Kutupalong refugee camp in Cox's Bazar in 2017 with his six-member family.
Currently, he is involved with an advocacy group called the Arakan Rohingya Society for Peace and Human Rights.
The activist has attended sessions on the relocation plan, but like many Rohingya he is dreading the move.
"We don't know how the government is going to select the refugees who will be sent there, but everyone I have talked to is fearful," Rahim told ucanews.com.
"We know this is an uninhabited, low-lying and flood-prone place, and it gets very hot during the summer. Our lives may be at risk if we move there as we are not used to such an environment."
However, he said he appreciated the government's promises of more opportunities to earn a living from agriculture, cattle and poultry farming, and fishing on the island.
Another nagging concern for the community, he said, is that the move may delay their repatriation to Myanmar, which some critics have blasted as being unsustainable as they are still believed to be unwelcome in the country.
"We don't want to stay here [in Bangladesh] for a long time. We want to go home. If anyone is willing to move to the island, that's their choice, but personally I don't agree with the plan," he said.
Mohammad Rezwan, 26, moved to Kutupalong camp with his parents and brothers in 2017. He is also loath to experience island life.
"My family and I are not interested in moving to Bhasan Char as our lives are comfortable in the camp," Rezwan told ucanews.com.
"It's true the camps are overcrowded, but life is far better here than back home where we faced persecution. I think that instead of this relocation plan the government should work more with the international community to pressure Myanmar to create a favorable situation in Rakhine.
"We just want to return home and live there in safety, peace and with dignity."
Uninhabited island
Bhasan Char is an uninhabited, muddy islet situated in Noakhali district in southeast Bangladesh. It emerged from the sea two decades ago and is cut off from the land, meaning the only way to reach it is by boat. The island is prone to flooding and storms during the monsoon season from June to September.
The government first came up with the plan in 2015 but later backed off amid criticism from aid agencies and human rights groups.
However, in recent years it has spent over US$280 million developing the island for human habitation, including the construction of embankments and houses to accommodate the refugees, local media have reported.
The relocation plan is primarily slated to start in April but a fixed date has not yet been confirmed, said Muhammad Abul Kalam, head of Bangladesh's Refugee Relief and Repatriation Commission.
"We are engaged in primary groundwork to complete all the preparations. We have a plan to relocate 100,000 refugees there, but the process of selecting them also has not been finalized yet," he said.
"However, we can assure the refugees that moving there will be voluntary. No one will be forced to go."
To pave the way and allay their fears, sessions aimed at convincing the refugees about the merits of the move are now underway in the camps, he noted.
"We have briefed them verbally and shown them videos so that they can see how better their lives will be in Bhasan Char," he told ucanews.com.
They can make a living from agriculture, raising livestock and fishing without any restrictions. We hope our efforts will help to change their negative mindset about the island."
Aid agencies concerned
U.N. and other aid agencies have also expressed concern and have yet to give the relocation plan their official stamp of approval.
They report "ongoing discussions" with Dhaka about the "critical protection and operational issues" that need to be addressed before any voluntary relocation can take place.
For example, "the refugees must be assured of safe and sustainable living conditions if they chose to relocate," Caroline Gluck, regional information officer for the U.N. Refugee Agency (UNHCR), told Arab News on March 18.
In a recent statement, Yanghee Lee, the U.N. special rapporteur on human rights, said the move to a not-yet-habitable island could trigger a new crisis.
Lee visited Bangladesh in January and made a trip to the island during her stay.
"There are a number of things that remain unknown to me, even following my visit, chief among them being whether the island is truly habitable," Lee told the U.N. Human Rights Council on March 11.
"Ill-planned relocation, and relocations without the consent of the refugees concerned, have the potential to create a new crisis," she said.
Pintu William Gomes, head of disaster management at the Catholic charity Caritas, echoed those sentiments.
"Bhasan Char is a high-risk area for natural disasters as it is located at the mouth of a river. The relocation plan should be meticulously reviewed before execution," he told ucanews.com.
He suggested the government take a group of Rohingya there on a de facto scouting mission so that they could report their findings and thoughts to other refugees back in the camps.
Full report at:
https://www.ucanews.com/news/rohingya-dread-relocation-plan-to-floating-island/84790
--------
Afghan Special Forces conduct fresh raids against Taliban in Khost and Zabul
25 Mar 2019
The Afghan Special Forces conducted fresh raids against Taliban militants in southeastern Khost and southern Zabul provinces of Afghanistan in the past 24 hours, leaving at least 2 militants dead.
According to informed military sources, the Afghan Special Forces conducted an operation in Khost province leaving at least 1 Taliban fighter dead.
The sources further added that seven Taliban militants were also arrested during the same operation.
The Afghan Special Forces conducted an operation in Jaldak district of Zabul province killing 1 Taliban fighter, the sources added.
Full report at:
https://www.khaama.com/afghan-special-forces-conduct-fresh-raids-against-taliban-in-khost-and-zabul-03566/
--------
Deadly clashes continue between Taliban and ISIS-K militants in Kunar
24 Mar 2019
Deadly clashes continue between Taliban and ISIS Khurasan militants in eastern Kunar province of Afghanistan as the Afghan military confirm that the ongoing clashes have inflicted casualties on both sides.
The 201st Silab Corps of the Afghan Military in the East said at least one Taliban militant and nine ISIS Khurasan militants have been killed so far.
According to a statement released by 201st Silab Corps, at least 9 ISIS Khurasan militants have also been killed and 14 others have sustained injuries during the clashes.
The statement further added that the clashes continue in Chapa Dara district and one Taliban fighter identified as Hezbullah has been killed and another Taliban militant identified as Faqir has sustained injuries.
The 201st Silab Corps in another statement said the Afghan armed forces carried out strikes against ISIS Khurasan militants using heavy and light weaponry to protect the lives and properties of local residents.
According to 201st Silab Corps, at least 9 ISIS Khurasan militants were killed and 14 others were wounded during the same strikes.
Full report at:
https://www.khaama.com/deadly-clashes-continue-between-taliban-and-isis-k-militants-in-kunar-03562/
--------
US airstrike kills 14 members of one family in Afghanistan
Mar 24, 2019
The United States has carried out airstrikes in Afghanistan's northern Kunduz province after a fatal insider attack, leaving at least 14 civilians dead, mostly women and children.
A spokeswoman for the American military confirmed the Saturday airstrikes, but blamed the Taliban militant group for the civilian deaths.
"The Taliban were hiding in civilian homes and maneuvered in and out of compounds without any concern for the families living inside," said Sgt. 1st Class Debra Richardson.
The attack came a day after two US soldiers and four Afghan troops were killed during a joint operation in Gul Tepa, a district on the outskirts of Kunduz city.
According to the New York Times on Sunday, the latest episode began after an armored vehicle used by US troops broke down as they were heading to a security checkpoint.
When the soldiers got out to fix the vehicle, an Afghan soldier described by officials as a Taliban insider opened fire on them.
The US forces reportedly fired back at the assailant, "and Afghan soldiers stationed in a nearby outpost returned fire at them, not realizing what had happened," the newspaper quoted a local commander as saying.
Richardson said the Americans called in air raids, which killed 12 civilians and six soldiers.
Nangayalay, a local police commander in the area, said 14 members of a large refugee family were killed in one of the aerial attacks that hit their house.
The American bombs also hit the Afghan outpost, leaving between four and eight soldiers dead, according to varying estimates.
Safiullah Amiri, deputy head of the Kunduz provincial council, said four Afghan troops and 14 civilians lost their lives in the raids.
Local officials said at least eight children and four women were among those who lost their lives in the airstrikes.
Civilian casualties from aerial attacks conducted by US forces have surged across Afghanistan over the past few months.
The United States has recently stepped up its air raids in an attempt to exert pressure on the Taliban to accept a negotiated end to its 18-year insurgency.
The UN Assistance Mission in Afghanistan recorded 649 civilians casualties as a result of aerial attacks in the first nine months of last year, the highest number in any year since systematic recording began in 2009.
The Taliban's five-year rule over at least three quarters of Afghanistan came to an end in the wake of a US-led invasion in 2001, but the militant group still continues to attack government and civilian targets as well as foreign forces.
Full report at:
https://www.presstv.com/Detail/2019/03/24/591781/US-airstrikes-civilians-Afghanistan
--------
Africa
More than 130 killed in Mali massacre as UN visits
March 24, 2019
More than 130 people were killed in an attack on a Fulani village in central Mali on Saturday, the United Nations said, as a delegation visited the country.
Survivors accused traditional Dogon hunters of carrying out the deadly raid in Ogossagou, according to Boubacar Kane, the governor of Bankass district which covers the village. A security source told AFP the victims were shot or hacked to death with machetes.
"The Secretary-General is shocked and outraged by reports that at least 134 civilians, including women and children, have been killed," Antonio Guterres's spokesman said in a statement, adding he called on Malian authorities "to swiftly investigate it and bring the perpetrators to justice".
The attack was launched at dawn on Saturday in the village near the border with Burkina Faso, said several sources. The district has been the scene of frequent inter-communal violence.
Two witnesses questioned separately by AFP said hunters had burned down nearly all the huts in the village.
Guterres's spokesman said the UN mission in Mali, MINUSMA, provided air support to deter further attacks and assisted with the evacuation of the injured.
The massacre took place as a delegation from the United Nations Security Council visited the Sahel region to assess the jihadist threat there.
Earlier the UN said the visiting ambassadors from the Security Council countries met on Saturday with Mali's Prime Minister Soumeylou Boubeye Maiga and discussed with him the volatile situation in the centre of the country.
Land disputes
While local attacks are fuelled by accusations of grazing cattle on Dogon land and disputes over access to land and water, the area is also troubled by jihadist influence.
In the past four years, jihadist fighters have emerged as a threat in central Mali. A group led by radical Islamist preacher Amadou Koufa has recruited mainly from the Muslim Fulani community.
Since then, there have been repeated clashes between the nomadic Fulani herders and the Dogon ethnic group.
Last year that violence cost the lives of 500 civilians, according to UN figures.
In January, Dogon hunters were blamed for the killing of 37 people in another Fulani village, Koulogon, in the same region.
The Fulani have repeatedly called for more protection from the authorities. The government in Bamako has denied their accusations it turns a blind eye to -- or even encourages -- Dogon attacks on the Fulani.
Once considered a beacon of democracy and stability in Africa, Mali in recent years has been dogged by a coup, civil war and Islamist terrorism.
Extremists linked to Al-Qaeda took control of the desert north in early 2012, but were largely driven out in a French-led military operation launched in January 2013.
In June 2015, Mali's government signed a peace agreement with some armed groups, but the jihadists remain active, and large tracts of the country remain lawless.
Despite the presence of UN peacekeepers, a strong French military contingent and the creation of a five-nation military force in the region, jihadist violence has not abated.
https://www.thejakartapost.com/news/2019/03/24/more-than-130-killed-in-mali-massacre-as-un-visits.html
--------
Libya protesters demand release of Qaddafi-era spy chief
March 24, 2019
TRIPOLI: Relatives and supporters of Libya's Qaddafi-era intelligence chief, jailed for his alleged role in a bloody crackdown during the country's 2011 uprising, protested in Tripoli on Saturday to demand his release.
Abdullah Al-Senussi, a brother-in-law of longtime dictator Muamar Qaddafi, was sentenced to death in 2015 over the part he allegedly played in the regime's response to a NATO-backed uprising in 2011 toppled and killed Qaddafi.
Eight others close to Qaddafi, including the Libyan leader's son, Seif Al-Islam, also received death sentences following a trial condemned by the UN as "seriously" flawed.
Several dozen relatives and members of Senussi's tribe, the Magerha, gathered in a central Tripoli square to demand he be freed over health concerns.
"The law and medical reports support our legitimate demand," said one protester, Mohamad Amer.
Officials have not released specific details on his alleged health problems.
In a statement, the Magerha said his liberation would "contribute to and consolidate national reconciliation" in a country torn apart by intercommunal conflicts since Qaddafi's fall.
The unusual protest comes just over a month after the release on health grounds of Abuzeid Dorda, Qaddafi's head of foreign intelligence who was sentenced at the same time as Senussi.
The protesters held up photos of Senussi behind bars and placards reading "Freedom to prisoners. Yes to national reconciliation."
Senussi was extradited in September 2012 by Mauritania, where he had fled after Qaddafi's fall.
Like the dictator's son, he had also been the subject of an International Criminal Court arrest warrant for suspected war crimes during the 2011 uprising.
But in an unusual move, in 2013 the court gave Libyan authorities the green light to put him on trial.
He has since been detained in the capital, along with some 40 other senior Qaddafi-era officials including the dictator's last prime minister Baghdadi Al-Mahmoudi.
Al-Islam was captured and imprisoned by an armed group in the northwestern city of Zintan and sentenced by a Tripoli court in absentia.
Full report at:
http://www.arabnews.com/node/1471971/middle-east
--------
Turkey condemns deadly terror attacks in Somalia
Ali Murat Alhas
24.03.2019
Turkey on Saturday condemned the terror attacks in the Somalian capital Mogadishu that killed at least 10 people.
Eleven others were wounded in the attacks targeting two ministry buildings earlier in the day.
The Turkish Foreign Ministry said in a statement: "We strongly condemn the terrorist attacks perpetrated against the Ministry of Labor and Social Affairs and the Ministry of Public Works in Mogadishu."
"We wish Allah's mercy upon those who lost their lives, a speedy recovery to the wounded and convey our condolences to the friendly and brotherly Government and people of Somalia," the statement read.
Full report at:
https://www.aa.com.tr/en/africa/turkey-condemns-deadly-terror-attacks-in-somalia/1427069
--------
Shabab attack in Somalia's capital leaves at least 10 dead
March 23, 2019
At least 10 people including an assistant minister were killed when Somalia's Al Shabab militants stormed a government building in the capital Mogadishu on Saturday.
The group detonated a car bomb outside the ministries of public works and labour, allowing other militants to enter the compound, triggering a gun battle that lasted several hours. Police said there were five attackers including the suicide bomber and all were killed.
"The building was secured by security forces. The four militants who attacked the building were shot dead. Another militant was a suicide car bomber and so he also died," Major Ali Abdullahi, a police officer, told Reuters.
He said 10 people, including assistant labour minister Saqar Ibrahim Abdala and police personnel, had died during the fighting.
Somalia's Radio Daslan station identified another of the dead as Mohamed Abdi Karie, an engineer who had just returned to the country from Yemen.
About 20 people were wounded in the attack, police said.
As the attack unfolded, gunfire could be heard from inside the building and white smoke billowed from the scene.
In a separate assault on Saturday, Al Shabab exploded a roadside bomb at a security checkpoint in Mogadishu that killed three government soldiers and also injured a local politician and three of his bodyguards, according to Abdiasis Abu Musab, a spokesman for the Al Qaeda-affiliated group.
Police confirmed the attack but said two civilians and one soldier had been killed by the blast while a politician from one of Somalia's federal states was injured.
The attacks come just weeks after a suicide car bombing targeted a Mogadishu hotel, killing 29 and injuring at least 80. Al Shabab claimed responsibility for the deadly bombing.
"We targeted and stormed Hotel Maka Al Mukaram. We are still inside it," Shabab spokesman Abdiasis said at the time.
The Somali government vowed to step up efforts to fight the group, following the nearly 24-hour standoff. "The Somali government will never stop its war on Al Shabab, our aim is to be done with them, whatever the cost," Prime Minister Hassan Ali Khaire said.
Al Shabab is fighting to topple Somalia's western-backed central government and establish its own rule.
The group was ejected from Mogadishu in 2011 and has since been driven from most of its other strongholds across the country. But it remains a formidable threat, with its fighters frequently carrying out bombings in Somalia and neighbouring Kenya.
Troops from Kenya form part of the African Union-mandated peacekeeping force Amisom that helps to defend Somalia's central government.
Full report at:
https://www.thenational.ae/world/africa/shabab-attack-in-somalia-s-capital-leaves-at-least-10-dead-1.840369
--------
Europe
New Zealand: Banning of manifesto raises free speech debate
March 25, 2019
New Zealanders are debating the limits of free speech after their chief censor banned the 74-page manifesto written and released by the man accused of slaughtering 50 people at two mosques in the city of Christchurch.
The ban, issued Saturday, means anybody caught with the document on their computer could face up to 10 years in prison, while anyone caught sending it could face 14 years. Some say the ban goes too far and risks lending both the document and the gunman mystique.
At the same time, many local media organizations are debating whether to even name the Australian man charged with murder in the March 15 attacks, 28-year-old Brenton Tarrant, after New Zealand Prime Minister Jacinda Ardern vowed she would never mention him by name.
In some ways, Tarrant's manifesto provides the greatest insight into his character and thinking, with neighbors and those he met in a gym in the sleepy seaside town of Dunedin recalling nothing particularly remarkable about him.
Chief Censor David Shanks said Tarrant's manifesto contains justifications for acts of tremendous cruelty like killing children and encourages acts of terrorism, even outlining specific places to target and methods to carry out attacks.
He said that in banning the document, he and his staff worried about drawing more attention to it. But in the end, he said, they decided they needed to treat it the same way as propaganda from groups like the Islamic State, which they have also banned.
Shanks had earlier placed a similar ban on the 17-minute livestream video the killer filmed from a camera mounted on his helmet during the shootings. He said researchers and journalists could apply for exemptions from both bans.
But while free speech advocates haven't questioned banning the graphic video, they said banning the manifesto is a step too far.
"People are more confident of each other and their leaders when there is no room left for conspiracy theories, when nothing is hidden," said Stephen Franks, a constitutional lawyer and spokesman for the Free Speech Coalition. "The damage and risks are greater from suppressing these things than they are from trusting people to form their own conclusions and to see evil or madness for what it is."
Franks said he had no interest in reading the manifesto until it was banned. He now is curious because it is "forbidden fruit", he said, and he worries others may feel the same way. He said the ban makes no sense when New Zealanders remain free to read Adolf Hitler's autobiography, "Mein Kampf".
Ardern told Parliament last week that she wouldn't give the gunman anything he wanted.
"He sought many things from his act of terror, but one was notoriety," she said. "And that is why you will never hear me mention his name."
She said people should instead remember the names of the victims.
Some media organisations appear to be taking up her call. News website Stuff on Saturday published an 1,800-word profile on Tarrant without once naming him.
"Our view at the moment is that we're dialing back on naming him, unless it's pertinent or important," said Mark Stevens, the editorial director at Stuff.
The New Zealand Herald also published a profile on Tarrant with an accompanying editorial that mentions Ardern's stance. The editorial says, "Our piece keeps the mention of his name to a minimum."
News organisations fear Tarrant will use his trial as a soapbox to promote his white nationalist views, especially after he fired his lawyer and said he'd represent himself.
But Danish journalist Claus Blok Thomsen, who works for the Politiken newspaper and covered the trial of Norwegian mass murderer Anders Breivik, said there are dangers in censoring Tarrant. He said that during the Breivik trial, many media outlets, including his own, were careful to report only what happened in court without discussing Breivik's far-right ideology.
He said it was an approach favored by intellectuals and so-called experts, but when he interviewed the families of the victims, he found many of them were angry.
"They said when we start to censor ourselves, we just make him into a martyr," Thomsen said. "We are not able to learn how mad this guy was, what his thinking was, until everything is out in the light."
In his manifesto, Tarrant describes himself as being born into a working-class family and not being interested in university. He says he made some money investing, although in other internet posts he talks about getting an inheritance when his father died.
In Dunedin, about a five-hour drive south of Christchurch, Tarrant lived in a modest pale-green wooden apartment. His neighbors said they'd see him out running sometimes, but that he mostly kept to himself. At the Anytime Fitness gym, those who knew him described him as polite and interested mainly in pumping weights that build upper-body strength.
Tarrant was also a member of the Bruce Rifle Club, which has a shooting range down a dusty forest road that's used mostly by hunters and loggers, about a 45-minute drive southwest of Dunedin near the rural town of Milton.
Dozens of boxes of bowling pins stacked in teetering towers and a few fluorescent vests are all there is inside a simple hut at the range. The club closed indefinitely last week after it emerged that Tarrant was a member.
But like much of his life in Dunedin, Tarrant was something of a ghost at the club. Polite, low-key, helpful, normal. Club vice president Scott Williams told the Otago Daily Times that Tarrant seemed "as normal as anyone else" and never mentioned anything about his white supremacist beliefs.
"I think we're feeling a bit stunned and shocked and a bit betrayed, perhaps, that we've had this person in our club who has ended up doing these horrible things," he told the newspaper.
Williams said Tarrant was always helping out around the club, including setting up and packing down the range. He said Tarrant used a hunting rifle and an AR-15, which wasn't unusual.
One of the few people who has publicly said he had concerns about Tarrant before the attacks is hunting guide Pete Breidahl. He said he complained in 2017 to a local police officer who monitors gun licenses about the disturbing behavior of some members of the rifle club.
In a Facebook video and comments posted online, Breidahl said some club members had Confederate flags, wore camouflage clothing with rank insignia, vilified Muslims and had homicidal fantasies. He claimed to have met Tarrant, calling him "not right." Police said they had no record of a complaint but were looking into Breidahl's claims.
In his manifesto, Tarrant claims he got approval for his attack from Breivik, who killed 77 people in Oslo and a nearby island in 2011. Breivik's lawyer has said that's very unlikely because his client has limited contact with the outside world from his prison cell.
Thomsen, the journalist, said the biggest fear he and other reporters had when they were covering Breivik was that he would inspire a copycat killer. Now he's traveled to Christchurch to learn more about what happened there.
https://indianexpress.com/article/world/new-zealand-terror-attack-banning-of-terror-manifesto-raises-free-speech-debate-5641140/
--------
New Zealand PM announces royal commission inquiry into Christchurch attack
March 25, 2019
New Zealand Prime Minister Jacinda Ardern announced on Monday a royal commission inquiry into the events leading up to a March 15 attack on two mosques in Christchurch that killed 50 people, including into the country's intelligence services.
"It is important that no stone is left unturned to get to the bottom of how this act of terrorism occurred and what, if any, opportunities we had to stop it," Ardern told reporters at Parliament House in the capital, Wellington.
She said a royal commission, which are independent inquiries and are usually reserved for matters of the greatest public importance, was an appropriate response to the attack.
https://indianexpress.com/article/world/new-zealand-pm-announces-royal-commission-inquiry-into-christchurch-attack-5641065/
--------
Fact Check: Viral video of 'conversion' is not related to New Zealand mosque mass shooting
Chayan Kundu
March 24, 2019
Several videos claiming surge in religious conversions in New Zealand are doing rounds online after Christchurch mosque shootings that took place on March 15. The videos claim that people are converting to Islam especially after the shooting. India Today Anti Fake News War Room (AFWA) found one such video to be misleading. The video is old and it was being circulated on Facebook months before the mass shootings in Christchurch.
A Facebook page 'Azamgarh Express' posted a video three days after Christchurch shootings. The video claims to be of a conversion ceremony which, the video says took place after Christchurch attacks.
The message written on the FB post in Hindi reads "Poeple keep on converting to Islam after the New Zealand mosque attack. Inshallah to 49...49,000 people will accept Islam... you are welcome"
The video had been viewed more than 11,000 times and had been shared 600 times till the time of writing this story.
Many other Facebook pages like "Muslim Express" and "Chanakya ke Guru" also posted the same claim with the same viral video. The posts have been shared by thousands of users on Facebook.
The video shows a man in blue shirt and having a pony tail reciting verses in Arabic. He is guided by an Imam who hugs him after the recitation is over.
To verify, we used INVid to reverse search the key images of the viral video. Using Yandex image search we found that a screen grab from the video featured in an another video on a YouTube channel named 'Ethio Muslim tube channel'
"Welcome back our brother from Denmark" were the words written on the screen grab.
We found a particular video when we searched YouTube with words "conversion to Islam in Denmark".
The video was found to have been posted 5 months ago by a YouTube channel "BSL FUN 69 TV"
It has the same viral video posted on Facebook pages.
A Facebook page "Converts to Islam" posted this same viral video five months ago.
The caption says "A Danish brother convert to Islam and pronounces the testimony of faith Shahadah"
This viral video with the same caption was also posted by many Facebook users last year in the month of November. All these posts claim that the video was from Denmark.
Full report at:
https://www.indiatoday.in/fact-check/story/fact-check-viral-video-of-conversion-is-not-related-to-new-zealand-mosque-mass-shooting-1485528-2019-03-24
--------
London mayor asks PM May to use Islamophobia definition
Ahmet Gürhan Kartal
24.03.2019
LONDON
Decrying the mixed messages of the ruling Tories, London Mayor Sadiq Khan is urging Prime Minister Theresa May to adopt a new definition of Islamophobia.
In a letter to May, Khan said that he has been repeatedly subjected to anti-Muslim abuse from Tory members and supporters, and called on her to order her Conservative Party to deal with the issue, according to reports by local media on Sunday, including The Guardian.
The new definition, already been adopted by the opposition Labour Party and Liberal Democrats, says: "Islamophobia is rooted in racism and is a type of racism that targets expressions of Muslimness or perceived Muslimness."
Khan wrote: "Reassuring British Muslims about their safety in the aftermath of Christchurch [attack] is not just about policing and security.
"It also requires us to relentlessly root out the Islamophobia and anti-Muslim abuse that has crept into the mainstream of our society and political debate.
"It is vital that our political parties lead from the front in this effort and set the strongest possible example to society."
He added: "The Conservative party in particular needs to do much more to send the clear message that Islamophobia is totally unacceptable, as unfortunately that has not always been the case over recent years."
'More important than party politics'
Khan's letter came after Islamophobic abuses rose almost sixfold in the U.K. following the terror attacks earlier this month on two mosques in Christchurch, New Zealand, which killed 50 Muslims and left about as many injured, several critically.
"I myself have repeatedly been subject to Islamophobic abuse from Conservative members and supporters," wrote Khan. "I have lost track of the number of Conservative councillors and members that have been suspended or faced legal action as a result of making Islamophobic comments towards or about me."
Khan told how in 2017 Shaun Bailey, the Conservatives' London mayoral candidate the following year, retweeted an article that referred to Khan as "the mad mullah of Londonistan."
"But this is not about me," Khan said.
"I am deeply concerned about the message these incidents send to our wider society. This is not about party politics – it is far more important than that.
"You will know that I have rigorously called out racism wherever I have seen it – including on antisemitism within the Labour party.
"Adopting the all-party parliamentary group definition of Islamophobia will send the strongest possible signal that there is no place for Islamophobia or anti-Muslim sentiment in the Conservative party or anywhere else in our politics or wider society."
Islamophobic incidents have risen significantly due to a number of factors, such as Brexit and the proliferation of far-right groups spreading misconceptions about immigration and faith.
The Muslim Council of Britain, the U.K.'s largest Muslim body, has many times urged the Conservative Party leadership to tackle the issue of Islamophobia within the party and investigate Tories accused of Islamophobia.
Islamophobic comments by Tory party members and councillors have been found online, with some calling for the bombing of mosques, and others making racist comments about Khan and Tory Home Secretary Sajid Javid.
Full report at:
https://www.aa.com.tr/en/europe/london-mayor-asks-pm-may-to-use-islamophobia-definition/1427483
--------
15 Tory councillors suspended over anti-Muslim abuse quietly reinstated
Jack Dutton
March 25, 2019
British ruling party the Conservatives has quietly reinstated the membership of 15 councilors who were suspended for posting racist and anti-Muslim content online, an investigation from a British newspaper found.
The Guardian found that some councillors described Saudis as "sand peasants" and shared material comparing Asian people to dogs. Even after dozens of Tory members were suspended over anti-Muslim comments, the newspaper found evidence of five more apparent members posting Islamophobic comments online, referring to Muslims as "cavemen" and claiming most are sex offenders.
The report shines a spotlight on a controversy surrounding the Conservative Party's attitude towards Muslims. On March 18, 25 party members were suspended over anti-Islamic comments. This is in addition to the 40 members already suspended from previous investigations into Islamophobia.
Senior Conservative politicians and supporters have criticised the party for failing to adequately stand up to racism, particularly towards Muslims. Mohammed Amin, chairman of the Conservative Muslim Forum, called on the party to publish a formal set of disciplinary processes after the 15 councillors were suspended. Former Tory party chair and first Muslim woman cabinet minister, Sayeeda Warsi, said that the move to reinstate the councillors was "revolving door racism". Hope Not Hate, an anti-racism campaign group, accused Brandon Lewis, chairman of the Tory party, of misleading the public about a number of Islamophobia complaints made by people within the party.
Anti-Muslim sentiment has been on the rise throughout the UK in increasingly febrile times. In the week after the mosque shootings on March 15 that killed 50 people Christchurch, New Zealand, anti-Muslim hate crime in the UK has increased by 593%, according to independent watchdog Tell Mama. The charity found that almost all of the increase in cases comprised language, symbols or actions linked to the Christchurch attacks. For example, cases included people making impressions of pointing a pistol to Muslim women and comments about British Muslims and an association with actions taken by the terrorist in New Zealand.
Full report at:
https://www.thenational.ae/world/europe/15-tory-councillors-suspended-over-anti-muslim-abuse-quietly-reinstated-1.841003
--------
Mideast
Yemeni human rights groups protest in Geneva against Houthi crimes in Hajour
24 March 2019
The Global Union of Yemeni Communities and other rights groups protested in front of the UN headquarters in Geneva against Houthi atrocities being committed against civilians in the district of Hajour.
Protesters on Saturday said they wanted to draw international attention to the situation across Yemen and called on the international community to apply further pressure on the Houthis by imposing sanctions to deter the Iranian-backed militant group.
Dr. Hayaf Khalid, president of the Global Union of Yemeni Communities, said that the people of Hajour "suffer from a very harsh Houthi siege that prevents them from water and food."
"Their homes have been bombed, their sheikhs have been killed and their children are being used as human shields on the battlefronts, he added.
Since last September, the Houthis had imposed a blockade on Hajour, according to local sources, in an attempt to subdue them.
The Hajour tribes with a population of around 200,000 are spread over more than 10 districts in Hajjah Governorate.
https://english.alarabiya.net/en/News/gulf/2019/03/24/Yemeni-human-rights-groups-protest-in-Geneva-against-Houthi-crimes-in-Hajour.html
--------
Trump to recognize Israel's sovereignty over Golan on Monday: Israeli FM
Mar 24, 2019
US President Donald Trump will sign an order recognizing the Israeli regime's sovereignty over the occupied Golan Heights, Israel's Foreign Minister Israel Katz says.
In a post on his Twitter account on Sunday, Katz added that Trump would issue the decree on Monday in a meeting with Israeli Prime Minister Benjamin Netanyahu in Washington.
"President Trump will sign tomorrow in the presence of PM Netanyahu an order recognizing Israeli sovereignty over the Golan Heights," the foreign minister said.
Trump said on Thursday that it was time to back what he described as the Israeli regime's "sovereignty" over the Golan Heights, a Syrian territory under Israeli occupation since the 1967 Six-Day War.
"After 52 years it is time for the United States to fully recognize Israel's Sovereignty over the Golan Heights, which is of critical strategic and security importance to the State of Israel and Regional Stability!" the US president wrote on Twitter.
Netanyahu has long pushed for such recognition and many analysts believe that Trump's Golan Heights announcement is a campaign gift ahead of Israel's legislative elections on April 9.
The prime minister faces an increasingly tough time ahead as his biggest political opponent overtakes him in popularity and as calls mount for him to resign over looming corruption charges that could effectively end his political career.
Ex-Israeli military chief of staff Benny Gantz, head of the newly-formed center-left Blue and White political alliance, has both gained in popularity — past that of Netanyahu's — and urged the Israeli prime minister to resign.
The Arab League, Russia, Iran, Turkey and Iraq on Friday strongly warned the US after President Trump declared that he will recognize Syria's Golan Heights as Israeli territory, saying it violates international law. France said the same.
The strategic highlands have been under the Israeli occupation since 1967, but Trump's abrupt declaration brings the dispute to a boiling point.
Trump's decision is the latest major move in favor of Israel. In December 2017, he formally recognized Jerusalem al-Quds as the so-called capital of Israel and later moved the American embassy from Tel Aviv to the holy city, which Palestinians view as the capital of their future state.
In a Sunday statement, a senior advisor to Leader of the Islamic Revolution Ayatollah Seyyed Ali Khamenei said the US president has only made the resistance front more resolute against the Israeli regime and its supporters.
Full report at:
https://www.presstv.com/Detail/2019/03/24/591813/Katz-Golan-Heights-Netanyahu-Trump-order
--------
Iran to cement ties with Lebanon, Hezbollah despite US pressure
25 March 2019
Iran said on Sunday it would expand its ties with Lebanon in spite of the "provocative and interventionist" call by US Secretary of State Mike Pompeo for Beirut to choose sides, Iranian state television reported.
On a regional tour, Pompeo said on Friday that Lebanon faced a choice - "Bravely move forward as an independent and proud nation, or allow the dark ambitions of Iran and Hezbollah to dictate your future."
Iranian Foreign Ministry spokesman Bahram Qasemi dismissed Pompeo's remarks.
"Because of the failure of its policies in the Middle East, America has turned to the outdated and disgraced weapon of threats and intimidation to impose its imperious policies on other countries," Qasemi said, state television reported.
"While respecting the independence of Lebanon and the free will of its government and nation, Iran will use all its capacities to strengthen unity inside Lebanon and also to expand its ties with Lebanon."
Hezbollah, whose influence has expanded at home and in the region, controls three of 30 ministries in the government led by Western-backed Prime Minister Saad al-Hariri, the largest number in its history.
Qasemi said that Lebanon's Hezbollah was a legal and popular party.
"How can Pompeo make such impudent and irrational remarks (about Hezbollah) while visiting Lebanon," he said.
Tensions between Tehran and Washington have increased since US President Donald Trump pulled out of a 2015 nuclear deal between Iran and six world powers last May, and then re-imposed sanctions on the Islamic Republic.
Full report at:
https://english.alarabiya.net/en/News/middle-east/2019/03/25/Iran-to-cement-ties-with-Lebanon-Hezbollah-despite-US-pressure.html
--------
Turkish president vows to take issue of occupied Golan Heights to UN
Mar 25, 2019
Turkish President Recep Tayyip Erdogan has vowed to take to the UN the issue of the Israeli regime's claim over the occupied Golan Heights, as the US president is to recognize Tel Aviv's sovereignty over the Syrian territory.
Erdogan made the remarks in an interview with broadcaster TGRT Haber on Sunday.
He also said US President Donald Trump's statement on Golan Heights was a "gift" to Israeli Prime Minister Benjamin Netanyahu ahead of elections there.
Netanyahu has long pushed for such recognition and many analysts share Erdogan's view that Trump's Golan Heights announcement was a campaign gift ahead of Israel's legislative elections on April 9.
The prime minister faces an increasingly tough time ahead as his biggest political opponent overtakes him in popularity and as calls mount for him to resign over looming corruption charges that could effectively end his political career.
Trump on Thursday declared his bid to recognize Israeli sovereignty over the Syrian territory, marking a dramatic shift in US policy.
In a speech at a meeting of the Organization of Islamic Cooperation (OIC) on Friday, Erdogan said the legitimization of the occupation of the Golan Heights cannot be allowed.
He also told an election rally in Turkey's central province of Konya on the same day, "Under UN resolutions, Israel cannot lay claim on even a small bit of the Golan Heights."
"Trump's remarks about the Golan Heights could lead the region to a new escalation […] This is not acceptable."
The remarks come as Trump is to sign an order recognizing the Israeli regime's sovereignty over the occupied Golan, according to Israel's Foreign Minister Israel Katz.
In a post on his Twitter account on Sunday, Katz added that Trump would issue the decree on Monday in a meeting with Israeli Prime Minister Benjamin Netanyahu in Washington.
"President Trump will sign tomorrow in the presence of PM Netanyahu an order recognizing Israeli sovereignty over the Golan Heights," the foreign minister said.
The strategic highlands have been under the Israeli occupation since 1967, but Trump's abrupt declaration brings the dispute to a boiling point.
Full report at:
https://www.presstv.com/Detail/2019/03/25/591826/Turkey-Erdogan-Israel-occupied-Golan-Heights
--------
US is mad because Hezbollah resists against its plots for region, Iran says
Mar 24, 2019
Iran has rejected as "provocative, meddlesome, and undiplomatic" the latest remarks made by US Secretary of State Mike Pompeo against the Lebanese resistance movement Hezbollah.
In a statement on Sunday, Iranian Foreign Ministry Spokesman Bahram Qassemi pointed to Pompeo's comments against Hezbollah, and lashed out at him for making such "rude and unwise" remarks and raising "baseless, false, hackneyed, and futile" claims and accusations against a major political and legal part of Lebanon while he was visiting the Arab country.
In his recent trip to Beirut, Pompeo expressed concern over the role of Hezbollah in the Arab country, saying that the Lebanese nation must pick a side.
"Lebanon and the Lebanese people face a choice: bravely move forward as an independent and proud nation or allow the dark ambitions of Iran and Hezbollah to dictate your future," he said during a joint news conference with his Lebanese counterpart Gebran Bassil on Friday.
Bassil, however, rejected Pompeo's comments, saying that "Hezbollah is a Lebanese party, not a terrorist group, and it enjoys a wide popular base."
In his Sunday comments, Qassemi said Hezbollah enjoys the popular backing of the majority of the Lebanese nation, and holds major seats in the country's government and parliament.
Qassemi said Tehran "totally understands the US' outrage over the praiseworthy performance and role of the resistance forces, the Hezbollah, and the wise people of the region, and all those who foiled the US' new colonialist and ominous plots in the region."
Such remarks and stances stem from the failure of Washington's destructive policies in the region, the Iranian spokesperson said.
They also "indicate the dissatisfaction and excessive outrage of the irrational rulers of the US over the popular solidarity and unity in Lebanon and the restoration of calm and stability in the Arab state, especially after the formation of its government," he added.
Qassemi pointed to Washington's long-lasting policy of intimidating regional governments, and said, "Now that it has failed to realize its ominous goals in the sensitive region of the Middle East, the US is resorting to the worn-out, hackneyed, and outdated trick of intimidating and threatening others in a bid to impose its hegemonic policies and behavior."
To do that, Washington not only tries to create a rift among other countries, but also levels groundless accusations against others, he added.
"While respecting the government and nation of Lebanon and the independent will of the country, Iran stresses that it will tap into all its capacities in order to promote solidarity and unity in Lebanon, and to reinforce bilateral ties with the country in issues that are in the interest of the Iranian and Lebanese people," Qassemi said.
Washington claims that the Lebanese resistance movement condones terrorism despite the fact that Hezbollah has been involved in a fierce fight against Takfiri terror groups, including Daesh and al-Nusra Front, thus preventing the spillover of the militancy gripping neighboring Syria into Lebanon.
Hezbollah has also supported the Syrian army in its fight against foreign-sponsored terrorists, who have been wreaking havoc in the Arab country since March 2011.
However, Washington has for long accused Hezbollah of being behind the 1983 bombing attack, in which 241 US Marines were killed.
In October, the administration of President Donald Trump imposed a new round of sanctions on the movement, targeting individuals and international organizations that do business with the group.
The sanctions legislation Trump signed is known as the Hezbollah International Financing Prevention Amendments Act 2018.
Hezbollah was founded in the 1980s following the Israeli invasion and occupation of southern Lebanon. The movement waged a long resistance campaign against Israeli forces and pushed them out of southern Lebanon in May 2000. Since then, the group has grown into a powerful military force. Israel also suffered a humiliating defeat from Hezbollah in the 2006 war.
Full report at:
https://www.presstv.com/Detail/2019/03/24/591819/Iran-Qassemi-US-pompeo-lebanon-hezbollah
--------
Yemeni economy loses $50 billion in war against Houthis
March 25, 2019
DUBAI: Yemen's economy lost nearly $50bn during the four-year war against the Iranian-backed Houthis, national news agency SPA reported on Sunday.
The losses do not include the costs of direct and indirect damages from the destruction of infrastructure, Yemen's Minister of Planning and International Cooperation Najib Al-Awaj said.
The volume of economic activity declined in the last five years and growth was negative in all sectors, Al-Awaj added.
Meanwhile, eight Houthi militants died in clashes with national resistance forces in Al-Bayda province.
Full report at:
http://www.arabnews.com/node/1472101/middle-east
--------
URL: https://www.newageislam.com/islamic-world-news/preachers-hate-arab-news-launches/d/118121
New Age Islam, Islam Online, Islamic Website, African Muslim News, Arab World News, South Asia News, Indian Muslim News, World Muslim News, Women in Islam, Islamic Feminism, Arab Women, Women In Arab, Islamophobia in America, Muslim Women in West, Islam Women and Feminism