New Age Islam News Bureau
25 Jul 2020
• Turkey's President Erdogan Joins Thousands to Pray for First Time at Hagia Sophia The Mosque
• Muslim Man Does Last Rites of a Brahmin in Karnataka, When Family Members Refused to Even See the Body of the 62-Year-Old
• Indonesian Muslim Party Warns Erdogan Could Spark Global 'Clash Of Civilizations'
• European Muslims Hail Opening of Hagia Sophia Mosque
• PTA Asks Operators to Ensure 'Immoral' Content Is Inaccessible To Users
• In Afghan Attacks, Facts Are Murky. But It's Clear Deaths Are Piling Up.
• ISIS Exploiting Coronavirus Security Gaps to Relaunch Insurgency, UN Report Warns
• Sudan Finds Mass Grave Believed to Have Bodies of Officers Executed by Omar Al-Bashir
• Our Children Were Killed By Islamic State Members. They Must Face Trial.
Mideast
• 'Power, Politics' Behind Move to Convert Hagia Sophia Into Mosque: Leading Muslim Cleric, Imam of Milan
• Turkey's President Erdogan Joins Thousands to Pray for First Time at Hagia Sophia The Mosque
• Hagia Sophia 'Day of Mourning' Unites Christians Against Erdogan Decision
• Opposition group presents a secular alternative to Iran's clerical regime
• Iranian news agencies welcome Hagia Sophia Mosque
• Minister: US' Threatening of Iran's Civil Plane Act of Terror
• Protesters attacked, arrested as thousands rally outside Netanyahu residence
• Israel frees Hamas leader in West Bank after 16 months in administrative detention
• Israel orders demolition of more Palestinian facilities in West Bank
--------
India
• Muslim Man Does Last Rites of a Brahmin in Karnataka, When Family Members Refused to Even See the Body of the 62-Year-Old
• Muslim BJP Leader Fasts for Quick Recovery Of J&K Party Chief Ravinder Raina
• Delhi HC Adjourns Hearing to Transfer Tablighi Jamaat Chief's Case to Probe Agency NIA
• SixMyanmarTablighi Jamaat Members, Two Others Sentenced To One Month Imprisonment
• 2 terrorists killed in ongoing encounter on outskirts of Srinagar
--------
Southeast Asia
• Indonesian Muslim Party Warns Erdogan Could Spark Global 'Clash Of Civilizations'
• Malaysia's Political Centre Has Shifted but National Leaders Are Still Searching for It
--------
Europe
• European Muslims Hail Opening of Hagia Sophia Mosque
• 'France Should Change Course and Stop Lecturing Turkey'
• Former Nazi Guard Is Convicted in One of Germany's Last Holocaust Trials
• Macron Seeks EU Sanctions Over Turkish 'Violations' in Greek, Cypriot Waters
• Greek extremists burn Turkish flags over Hagia Sophia
--------
Pakistan
• PTA Asks Operators to Ensure 'Immoral' Content Is Inaccessible To Users
• IHC Rejects Ministry's Report on Cynthia Case
• Posting of Maulana Fazl's brother as DC Karachi Central raises PTI, MQM's hackles
• Development projects to end Balochistan's sense of deprivation, PM Imran says
• Jadhav not given any concession: Pakistan govt
• Why Can't Pakistan's Opposition Parties Remove the Khan Government?
• PML-Q leaders laundered money, built assets: NAB
• 10 Chinese nationals hospitalised with Covid-19 in Bahawalpur
--------
South Asia
• In Afghan Attacks, Facts Are Murky. But It's Clear Deaths Are Piling Up.
• Taliban militants suffer heavy casualties in Khost; at least 29 killed, wounded
• 5 Taliban militants killed, wounded in Afghan forces' counter-attack
• 5 civilians suffer casualties in Taliban roadside bomb in Baghlan province
• Eight civilians killed in Afghan strike on freed Taliban fighter
--------
Arab World
• ISIS Exploiting Coronavirus Security Gaps to Relaunch Insurgency, UN Report Warns
• US-led forces withdraw from Iraqi military base near Baghdad
• Iraqi MP urges expulsion of all US forces, says 'slow drawdown' not acceptable
• Hezbollah capable of targeting Israeli offshore gas rigs in Mediterranean: Israeli commander
• Coronavirus: Lebanese official finds he has COVID-19 at lunch with France's Le Drian
• Iraq forces free German woman kidnapped in Baghdad: Officials
• White Helmets collude with terrorists in Syria under humanitarian guise: Russia
--------
Africa
• Sudan Finds Mass Grave Believed to Have Bodies of Officers Executed by Omar Al-Bashir
• Sudan armed group attacks Darfur village, killing at least 7
• US says Russia sent more equipment to Libyan front lines
• UN 'horrified' by killing of five aid workers in Nigeria
--------
North America
• Our Children Were Killed By Islamic State Members. They Must Face Trial.
• Trump and Putin talk about Iran's nuclear arms program: Kremlin
• US: Azerbaijanis blast death threats by Armenian groups
Compiled by New Age Islam News Bureau
URL: https://www.newageislam.com/islamic-world-news/power-politics-behind-move-convert/d/122469
--------
'Power, Politics' Behind Move to Convert Hagia Sophia Into Mosque: Leading Muslim Cleric, Imam of Milan
July 24, 2020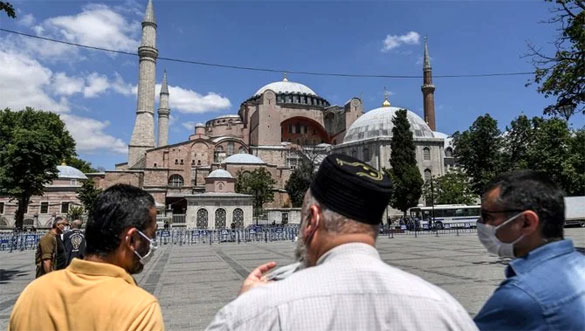 Imam of Milan Yahya Pallavicini said the 1,500-year-old UNESCO World Heritage Site should have been left as it was originally built, as a church. (File/AFP)
-----
ROME: The Turkish government's decision to convert Istanbul's historic Hagia Sophia museum into a mosque was based on "power and politics," a leading Italian Muslim cleric has claimed.
Imam of Milan Yahya Pallavicini said the 1,500-year-old UNESCO World Heritage Site should have been left as it was originally built, as a church.
The world-famous site became a museum in 1934 but a Turkish court annulled its status and President Recep Tayyip Erdogan announced it would be ready for Friday prayers from July 24.
"It should be neither museum nor mosque; Hagia Sophia was just to remain a church," said Pallavicini, who is also president of Coreis (the Islamic religious community of Italy).
"For centuries political and cultural choices that I have not agreed with have been made. I know my position may not sound diplomatic enough, but it is supported by historical facts and Qur'anic references," he told Italian news agency Adnkronos.
"In the history of Islam, when Muslim scholars visited a place of worship, such as a synagogue, a monastery, or a burial place of other confessions, they always respected those places and their identity.
"When he (Caliph Omar) entered Jerusalem, he was offered the opportunity to pray in a church. But he refused in a sign of respect for the Christian faithful. A similar approach should be maintained nowadays too.
"Places of worship should be left to the use they were originally built for. In Istanbul there are already so many beautiful mosques where Muslims can pray, so there was no need to have another one. In my opinion the decision on Hagia Sophia is just a result of logics of power and politics," Pallavicini added.
The imam said he agreed with the sentiments of Pope Francis who had spoken of being "very saddened" by the conversion of Hagia Sophia into a mosque.
"The pope is right to defend the opportunity to protect the spaces of worship of different religions. In different ways, we can all agree on that. On the other hand, whoever truly supports inter-religious dialogue, as clearly Pope Francis does, needs also to respect the specific identities of the different faiths."
Referring to demonstrations organized by the Northern League anti-immigrant party outside the Turkish Consulate in Milan, Pallavicini said: "Some Italian politicians should not take advantage of this particular episode for political reasons.
"Whoever speculates on triumphalism and sovereignty exploiting religious and cultural symbols, is never for inter-religious dialogue."
Several representatives of the Italian Catholic church have also criticized Erdogan's decision.
Monsignor Ettore Malnati, the episcopal vicar for the laypeople and culture of the Trieste diocese, described the move as "worrying."
He told Arab News: "We all must reflect on this, as well on all the incarcerations of journalists and free people who have exposed themselves in Turkey for a democratic, secular, and respectful society for the right of religious freedom.
"Hagia Sophia was a Christian church for over 1,000 years. It was built for Christian worship by the Christian emperor Justinian. President Erdogan's choice sounds like a message of ideological fundamentalism that certainly does not go in the direction of a tolerant society and of an international community respecting plural culture and spiritualities.
"Erdogan sends that message to the Christians and to the Islamic countries too," Malnati added.
However, Monsignor Paolo Bizzeti, the apostolic vicar of Anatolia, said: "Polls say that about 70 percent of the Turkish population approved Erdogan's decision, and this must be taken into account."
Speaking to the Italian news agency, ANSA, he added: "I hope that now the possibility of praying will be granted to Christian refugees in Turkey by Erdogan, who proclaims himself as a man of faith.
"I hope that he will allow the opening of more Christian chapels in Turkish territory so that people who are in transit in this country may be given the chance to find a place where they can pray together as a community while in this country."
https://www.arabnews.com/node/1709311/middle-east
--------
Turkey's President Erdogan joins thousands to pray for first time at Hagia Sophia the mosque
July 24, 2020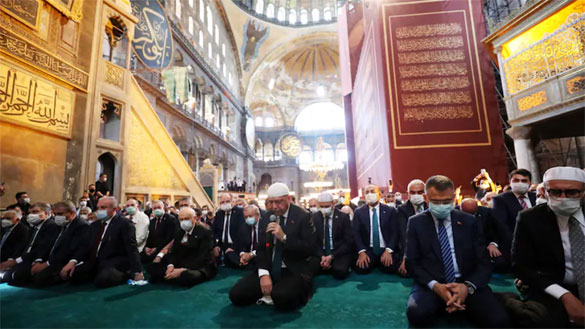 During his 17-year rule, Erdogan (holding microphone) has championed Islam and religious observance and backed efforts to restore Hagia Sophia's mosque status. (Photo: Reuters)
-----
Turkey's President Tayyip Erdogan joined huge crowds on Friday for the first prayers at Hagia Sophia in nine decades, sealing his ambition to restore Muslim worship at an ancient site long revered in both Christianity and Islam.
After the call to prayer rang out from four minarets surrounding the mosque, whose rose-pink walls and huge grey dome have dominated Istanbul since Christian Byzantine times, hundreds knelt in prayer inside the building.
Outside, tens of thousands more prayed in a public square and on sidewalks, squeezing into spaces between cars or in cafes, joining a ceremony which many saw as righting a historic mistake when the mosque was converted to a museum in 1934 by modern Turkey's secularist founder Mustafa Kemal Ataturk.
Hagia Sophia was the largest cathedral in the world for 900 years until its capture by Ottoman Sultan Mehmet the Conqueror in 1453, after which it was one of Islam's most exalted mosques for nearly another 500 years.
"This is the opening of a place of worship that was conquered by the right of the sword by the holy conqueror," said worshipper Latif Ozer, 42. "This is a source of great pride for us, great excitement."
That excitement has not been universally shared. Church leaders and some Western countries have sharply criticised Turkey's move, saying the shift to exclusive Muslim worship at Hagia Sophia risks deepening religious divisions.
Pope Francis said he was deeply pained by the decision, which came after a top Turkish court annulled Hagia Sophia's status as a museum two weeks ago. Erdogan immediately issued a decree converting it once again to a mosque.
In Greece, church bells tolled in mourning on Friday. A vast majority of Greeks consider the monument central to their Orthodox Christian religion. Greek criticism of the conversion has been scathing, underscoring the countries' tense relations.
Greek Prime Minister Kyriakos Mitsotakis called Turkey a "troublemaker", and the Hagia Sophia conversion an "affront to civilization of the 21st century".
"HEARTBREAK" IS ENDING
Several hundred invitees joined Erdogan for the ceremony inside the sixth-century building. Some, including his son-in-law and Finance Minister Berat Albayrak, could be seen recording images of the historic occasion on their mobiles phones.
The president, his head covered by a white prayer cap, read a Koranic recitation before the head of Turkey's religious directorate Ali Erbas addressed worshippers.
"The longing of our nation, which has turned into a heartbreak, is coming to an end today," Erbas said from the pulpit, holding a sword in his hand.
Newly installed white curtains covered an image of Mary and Jesus which would have faced the worshippers, but pictures of angels were still visible on arches supporting the mosque's cavernous dome.
Officials say that glittering mosaics and other art in the main hall will be concealed during prayer time but will remain uncovered in other parts of the building.
Earlier, crowds formed at checkpoints around the historic heart of Istanbul where massed police maintained security. Once through the checks, worshippers sat apart on prayer mats in secured areas outside the building in Sultanahmet Square.
A large screen and speakers set up in the square broadcast proceedings to a crowd which Erdogan said was 350,000-strong.
As crowds grew, leaving little space for social distancing, Istanbul Governor Ali Yerlikaya said authorities had stopped people entering the area due to concerns about the spread of the coronavirus. On Twitter, he called for patience and said the mosque would be open for prayer until Saturday morning.
CHRISTIAN ICONS CONCEALED
"God is greatest," chanted people in the square. Some held Turkish and Ottoman flags.
During his 17-year rule, Erdogan has championed Islam and religious observance and backed efforts to restore Hagia Sophia's mosque status. He said Muslims should be able to pray there again and raised the issue - popular with many pious AKP-voting Turks - during local elections last year.
Erdogan has reshaped Turkey's modern republic, established nearly a century ago by the staunchly secularist Mustafa Kemal Ataturk, lifting a ban on Muslim headscarves in state institutions, promoting religious education and taming Turkey's powerful military, once a bastion of Ataturk's secular values.
After leaving Hagia Sophia, Erdogan went straight to the nearby Fatih (Conqueror) mosque, named after Sultan Mehmet who seized Istanbul for the Ottomans.
"Hagia Sophia will continue to serve all believers as a mosque and will remain a place of cultural heritage for all humanity," Erdogan said at Mehmet's tomb. "We said 'let's visit the tomb of Sultan Mehmet the Conqueror, the real owner".
https://www.indiatoday.in/world/story/turkey-s-president-erdogan-joins-thousands-to-pray-for-first-time-at-hagia-sophia-the-mosque-1704130-2020-07-24
--------
Muslim Man Does Last Rites of a Brahmin in Karnataka, When Family Members Refused to Even See the Body of the 62-Year-Old
Jul 25, 2020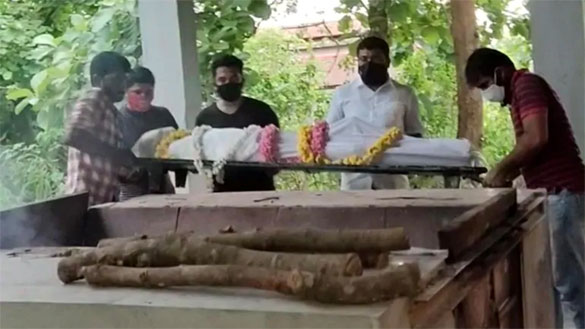 Muslim ambulance driver cremates Hindu senior citizen with no family (India Today Image)
------
MANGALURU: When family members refused to even see the body of a 62-year-old Brahmin who died due to age-related illness, a Muslim social worker came forward to perform the last rites here on Thursday, reports Vinobha KT. Mohammed Asif cremated the body according to Hindu rituals and immersed the ashes in the sea near Vadabhandeshwara Temple at Uddinahithlu, Malpe, as per the wishes of the kin, who stayed away over Covid fears.
'Siblings refused to perform 62-year-old man's last rites'
The deceased was not married and had four siblings. All of them refused to perform the last rites and didn't turn up at the crematorium. Fear of contracting coronavirus could be a reason for family members to not receive the body. When I spoke to his sister in Bengaluru, she asked me to perform the rites. I sought permission of the Mulky police permission before taking the body to Hindu Rudrabhumi in the town," he added.
Asif spotted the abandoned man in 2018 and brought him to his orphanage in Mulky. "He was unwell in the past few days. We shifted him to Mulky Government Hospital on Thursday morning. He died hours later. He was diabetic and a hypertension patient. Since he died due to age-related ailments, doctors ruled out a Covid-19 test on him," Asif, who also drives a private ambulance, told TOI.
"I did this as a human being respecting another. I have been running Maimoona Foundation, a charitable organisation for orphans to help people in the coastal region," Asif said.
https://timesofindia.indiatimes.com/city/mangaluru/karnataka-muslim-man-does-last-rites-of-brahmin/articleshow/77161690.cms
--------
Indonesian Muslim party warns Erdogan could spark global 'clash of civilizations'
Jul 25, 2020
Hagia Sophia, Istanbul, Turkey. Credit: K_Boonnitrod/Shutterstock
------
CNA Staff, Jul 24, 2020 / 01:00 pm MT (CNA).- An Islamic political party in Indonesia said Tuesday that Turkey's President Recep Tayyip Erdogan could spark a civilizational clash because of his calls for an Islamic "reawakening" amid the establishment of the Hagia Sophia as a mosque.
A recent tweet from Erdogan "summoned Muslims 'in every corner of the earth' to follow Turkey's lead in reawakening the Islamic nation, or ummah, which was largely united under the political and military leadership of a caliph from the 7th century CE until the dissolution of the Ottoman Caliphate in 1924," Indonesia's National Awakening Party said in a July 21 statement.
Recent statements from the Turkish president "are attacking the rules-based international order; inflaming emotions 'wherever Muslims dwell throughout the earth;' and threaten to
rekindle a clash of civilizations that afflicted humanity for nearly 1300 years, along a fault line stretching 'from Bukhara (in Central Asia) to al-Andalus (Spain),'" the statement added.
While "President Erdogan has defended the conversion of Hagia Sofia into a mosque by citing Turkey's right, as a sovereign nation state, to do as it pleases with the former Orthodox Christian cathedral," the effects of the president's call for an Islamic reawakening "extend far beyond Turkey's borders and threaten both Muslim- majority and non-Muslim nations worldwide," the National Awakening Party said.
Hagia Sophia, the church of "Holy Wisdom," was built in the year 537 and served as the cathedral of the Patriarch of Constantinople. It stood as the largest known building in the world and the largest Christian church, for a period of time.
In the year 1453, Turkish armies sacked Constantinople and the church was turned into a mosque. In 1934, the cabinet of then-Turkish leader Mustafa Kemal Ataturk—head of a secularist government—converted the mosque into a museum and opened it to visitors from around the world.
On July 2, a Turkish court ruled that the 1934 conversion of Hagia Sophia from a mosque to a museum was unlawful. The decision was announced July 10, and Erdogan subsequently announced that Hagia Sophia would be converted back into a mosque.
Erdogan made his announcement in a lengthy July speech that was littered with historical, geographical, and religious references to the old Islamic world, connecting Hagia Sophia's reconversion to a much-broader "Islamic renaissance."
In his speech, the Turkish leader predicted that Hagia Sophia's reconversion would herald the liberation of al-Aqsa mosque on the Temple Mount in the old city of Jerusalem, the third-holiest site in Islam.
Dr. Elizabeth Prodromou, a former vice chair on the U.S. Commission on International Religious Freedom, told CNA July 17 that the president's speech aimed to "justify what he [Erdogan] sees as a kind of religious destiny, and also a geopolitical model for Turkey's revisionism and expansionism."
Erdogan specifically chose these "historical figures" to promote the depth of Turkey's history and to "encompass Turkic tribes from Central Asia into the Ottoman Empire," she said.
It was a speech "heralding the liberation of the full Muslim world," Prodromou said.
Christian and political leaders around the world condemned the decision to reconvert Hagia Sophia. Orthodox and Catholic leaders have declared July 24 a day of mourning for the decision.
For its part, the National Awakening Party said that "Erdogan's statements were swiftly endorsed by the Muslim Brotherhood, Iran and a wide range of Islamic supremacists worldwide, including Indonesian Muslims who seek to transform the multi-religious and pluralistic Republic of Indonesia into an Islamic State or caliphate."
"The Islamic world is in the midst of a rapidly metastasizing crisis, with no apparent sign of remission. Among the most obvious manifestations of this crisis are the brutal conflicts now raging across a huge swath of territory inhabited by Muslims, from Africa and the Middle East to the borders of India; rampant social turbulence throughout the Islamic world; the unchecked spread of religious extremism and terror; and a rising tide of Islamophobia among non-Muslim populations, in direct response to these developments," the party said.
That crisis, the statement added, has led to humanitarian problems in many parts of the world, and increased Islamic militant radicalization.
"In the midst of these circumstances, it is the height of irresponsibility for Recep Erdogan to further inflame Muslim emotions in pursuit of his domestic political agenda and to serve as a cover for his violation of international norms—by drilling for natural gas within the territorial waters of Cyprus and Greece; supporting al-Nusra (an affiliate of al-Qaeda) in Syria; and intervening in the Libyan conflict on behalf of the Islamist-dominated interim government—in an effort to enhance Turkish regional power and assert maritime rights in the eastern Mediterranean," the party said.
The National Awakening Party was founded in Indonesia in 1999, and holds 47 of 560 seats in the country's lower legislative house. It is generally identified as a centrist party, and is aligned with centrist Christian Democrat parties in Europe.
Las week, Indonesian Sheikh Yahya CholilStaquf, leader of the largest independent Muslim organization in the world, said that "campaigns of mass killing, displacement, and terror that threaten to break the already badly frayed bonds of trust that make a shared communal life between Muslims and non-Muslims possible."
Staquf is the general secretary of Indonesia's Nahdlatul Ulama, the world's largest Muslim organization with more than 90 million followers. He has also co-founded a global movement promoting a "humanitarian Islam" that shuns the ideas of a caliphate, Sharia law, and "kafir," or infidels.
In a July 7 essay in Public Discourse, he called for "a global strategy to develop a new Islamic orthodoxy that reflects the actual circumstances of the modern world in which Muslims must live and practice their faith."
https://www.catholicnewsagency.com/news/indonesian-muslim-party-warns-erdogan-could-spark-global-clash-of-civilizations-15152
--------
European Muslims hail opening of Hagia Sophia Mosque
Büşra Nur BilgiçÇakmak
24.07.2020
Muslims around Europe hailed the opening of Turkey's Hagia Sophia Mosque to worship after 86 years with Friday prayer.
VehbijaSecerovic, muezzin of the historic Gazi Husrev-Beg Mosque in the Bosnian capital Sarajevo, thanked Turkish President Recep Tayyip Erdogan for the decision.
Speaking to Anadolu Agency in Brussels, Suleyman Murtaza said that opening Hagia Sophia for worship is a very important development for the Muslim world.
"I saw Erdogan praying there. I also watched it live. It was magnificent," he said.
Belgian Muslim Dema Habib also praised the move.
"I haven't seen the mosque, but I would love to see it," Habib added.
Speaking to Anadolu Agency in Stockholm, Iraqi-origin Karwan Mohammed Abubakir said: "I am very happy that Hagia Sophia opened as a mosque again. Praise to Allah, it has opened with the Friday prayer, we are very happy.''
"We are grateful to those who contributed to turning Hagia Sophia into a mosque," said Ahmed Eltantavi, another Swedish Muslim
Muslim heritage
On July 10, a Turkish court annulled a 1934 Cabinet decree that turned Hagia Sophia into a museum, paving the way for its use as a mosque.
Friday's historic prayers marked the first acts of worship there in 86 years.
Some 350,000 people took part in the traditional Friday prayers at the historic mosque in Istanbul.
Before the prayers, Turkish President Recep Tayyip Erdogan recited from the Quran inside the reopened mosque, choosing verses from both the Surah Al-Fatihah and the Surah Al-Baqarah.
Besides being a working mosque, Hagia Sophia is also among Turkey's top tourism destinations for domestic and foreign visitors alike.
In 1985, Hagia Sophia was added to the UNESCO World Heritage List.
It served as a church for 916 years until the conquest of Istanbul by the Ottoman Empire, and a mosque from 1453 to 1934 – nearly 500 years.
https://www.aa.com.tr/en/europe/european-muslims-hail-opening-of-hagia-sophia-mosque-/1921458
--------
PTA Asks Operators to Ensure 'Immoral' Content Is Inaccessible To Users
Ramsha Jahangir
25 Jul, 2020
KARACHI: While the Supreme Court has taken notice of "objectionable content" being shared on YouTube and other social media platforms, the Pakistan Telecommunication Authority (PTA) has directed internet operators to ensure that no "immoral or illegal" content is made accessible to users.
In a letter dated July 21, a copy of which is available with Dawn, the PTA said it had discovered that a high volume of immoral content was being served through Content Delivery Networks (CDNs). "You are requested to ensure that no pornographic/immoral/illegal content is being served to the users through CDNs. Compliance report in this regard is required to be submitted within 10 days of this letter," it stated.
Necessary regulatory action shall be taken in case of continued non-compliance, the authority warned.
A CDN improves a website's loading speed by serving the content from a location near the user. For instance, if a user is in Pakistan and tries to access a website hosted in the UK, normally the transfer must cross the geographic distance every time, which makes it very slow and costly. To bypass the slow process, a CDN stores a 'cached' (copied) version of the website content on a local server in Pakistan.
A majority of web traffic is served through CDNs, including traffic from major sites like Facebook, Netflix, YouTube and Amazon.
TikTok hints at removing videos, banning accounts
This also means that while the network must bring around one-third of its content from the original website, a major part of the connection is not between the user and the platform — but between the user and the CDN, which is serving two-thirds of the content.
The PTA, however, said filtering mechanisms applied by the authority to block access to illegal content were bypassed due to involvement of CDNs. "Since CDNs are either hosted in operators' network or CDN connectivity is established by the operators, therefore it is the responsibility of the operator to ensure that no objectionable content is being served to its users," the PTA said.
The authority pointed out it was empowered under Section 37 of the Pakistan Electronic Crimes Act (Peca) 2016 to block/remove unlawful online content. It said the content deemed unlawful included, but was not limited to, "defence of Pakistan, glory of Islam, indecent and immoral, impersonation/defamation, child pornography, modesty of natural person, dignity of natural person, contempt of court, public order, hate speech, (and) glorification of an offence".
Banning platforms
A day earlier, the Supreme Court took notice of "objectionable content" being shared on YouTube and other social media platforms, and issued notices to the Foreign Office and the attorney general in this regard.
During the hearing, a judge remarked that the judiciary had no objection to the right to freedom of speech but people were inciting others on social media against the Pakistan Army, judiciary and government.
Hinting at a ban on YouTube, the bench observed that many countries controlled social media through local laws.
Asked if a ban on YouTube was under consideration, the PTA did not confirm or deny such a possibility.
According to Google's latest transparency report for July-Dec 2019, 16 per cent of the total requests sent to the company for content removal pertained to defamation and 11pc items to national security. As many as 93 items were reported to Google platforms for "religious offences".
Besides concerns of a ban on YouTube, social media users felt disappointed when the PTA announced the blocking of Bigo and issued a final warning to TikTok.
"TikTok and Bigo are engaged with PTA on the matter. Concerns with regard to immoral material have been conveyed to the platforms and they are working on a suitable mechanism to address the concerns," the PTA told Dawn.
The authority did not specify whether the decision to block Bigo would be reversed and if TikTok would face similar action in the future, while PUBG is "still banned" in Pakistan despite the court orders.
In an email statement to Dawn, TikTok said maintaining a safe and positive in-app environment was its top priority.
"We deploy a combination of technologies, and moderation strategies to detect and review problematic content that violates our terms of use and comprehensive community guidelines, and implement appropriate penalties including removing videos and banning accounts," it said.
https://www.dawn.com/news/1570913/pta-asks-operators-to-ensure-immoral-content-is-inaccessible-to-users
--------
In Afghan Attacks, Facts Are Murky. But It's Clear Deaths Are Piling Up.
Asadullah Timory and Mujib Mashal
July 23, 2020
HERAT, Afghanistan — For a full day after airstrikes on a remote village in western Afghanistan on Wednesday, the only certainty was that people had perished.
The most basic facts — who had carried out the strikes, and how many Taliban and civilians were killed — were impossible to pin down amid the denials, conflicting statements and exaggerations.
With the start of peace talks between the Taliban and the government delayed by months, the Afghan war has spiraled into a deadlier phase, even as the United States continues to withdraw its forces. Car bombs, roadside bombs and airstrikes wreak carnage across the country, killing dozens of Afghans everyday.
But as the war has spread, the exact nature of the attacks and their toll, particularly on civilians, has increasingly grown opaque.
The Taliban often flatly deny incidents that kill civilians, even when the bodies are there to be buried. Protest and pressure turns the government's denials of civilian casualties in its operations into investigations that rarely result in follow-through or answers.
The U.S. military, after a deal with the Taliban in February that was supposed to produce something resembling a cease-fire between them, has quietly returned to striking Taliban units that it sees as preparing attacks on its Afghan allies, but it no longer officially acknowledges those strikes.
Making the battlefield still more murky has been the presence of other militant groups in addition to the Taliban, including factions with long ties to Al Qaeda as well as a branch of the Islamic State.
The airstrikes on Wednesday in the Guzara district of Herat Province struck a group of 100 to 150 people who had gathered to welcome a Taliban member who had been held by the government, according to survivors, local officials and community leaders. He was released as part of a prisoner swap that is supposed to open the way for direct negotiations between the insurgents and the government.
As part of the U.S. deal with the insurgents, the Afghan government was expected to release 5,000 Taliban prisoners in return for 1,000 Afghan troops. But the government opposed the trade at first, and then only agreed to a phased release of captives after pressure from the Trump administration.
Afghan officials say about 4,000 Taliban prisoners have been released so far — and some of them, they claim, have returned to the battlefield.
The Taliban have released about 800 of the Afghan troops.
As the prisoner swap dragged on for months, the Taliban cranked up its attacks across the country. Feeling pressure, the Afghan government announced it was going on the offensive, although its troops have been forced to largely defend against Taliban assaults.
American aircraft, mostly drones and A-10 jets, have carried out at least 40 strikes on Taliban targets since the Feb. 29 agreement, a U.S. military official familiar with the operations said. But the Pentagon has not openly acknowledged most of its attacks, in an attempt to keep the already shaky peace process on track.
In recent days, a bloody wave of violence has intensified. A Taliban roadside bomb killed seven members of the security forces, including senior local officials, in southern Uruzgan Province.
In northern Baghlan Province, the Afghan air force struck two houses, an attack based on intelligence that Taliban fighters were staying there. Officials later found out that the insurgents had left and the strikes had killed five civilians, according to the district governor.
In Kandahar Province, a Taliban infiltrator killed about a dozen police officers.
In Khogyani district in the east, the Afghan government said 31 Taliban were killed in one battle, which involved heavy air power.
Zalmay Khalilzad, the U.S. special envoy for Afghan peace, condemned the Guzara airstrikes, saying that civilians were among the casualties. He also condemned the spate of recent Taliban attacks.
"The last 24 hours have been very violent in Afghanistan with many losing their lives," Mr. Khalilzad wrote on Twitter. "The Afghan people want an immediate start of peace negotiations and a settlement that is in their best interest. More graves will not bring negotiations forward."
But exactly what happened in Guzara, and how many people were killed, remained uncertain. Increasingly, it appeared the casualties were a mix of Taliban and civilians, as is often the case.
ArbabSarbeland, a local leader from the neighboringAdraskan district who was there for the ceremony, said helicopter gunships started hitting the area around 9 a.m. After the helicopters left, survivors loaded three dead and four wounded people into cars, but that turned out to be just the first of several attacks that day.
It is not clear how many times the helicopters circled back to strike again, or if other aircraft were also involved.
Noor Ahmad Khan, who was at the district center during the attack, said a relative he had dispatched to the village for information had told him the civilian toll stood at 12 dead and 22 wounded, but he would not comment on the number of Taliban casualties.
Late on Wednesday, Abdul Salam Azimi, the police chief of Guzara district, said "about 50 Taliban are killed or wounded." The Taliban, in a statement that said nothing about casualties to its fighters, said 8 civilians were killed in the strikes and 12 wounded.
By the end of the day on Wednesday, it still wasn't clear who had carried out the attack. American officials said it wasn't the U.S. military.
A spokesman for Afghanistan's Defense Ministry said it had "not carried out any airstrike in Herat," and denied claims that one of the strikes had hit a vehicle carrying women and children. What damaged the vehicle, he said, was "actually a roadside bomb."
But around midnight, the Afghan defense ministry changed its position, admitting it had been behind the airstrikes and promising to investigate claims of civilian casualties.
On Thursday, Asadullah Khalid, Afghanistan's acting defense minister, said that he would show evidence that Afghan forces had struck Taliban fighters and that he was "hopeful there are no civilian casualties."
The Defense Ministry on Thursday afternoon released a 30-second video clip as evidence it had struck the Taliban. The clip, which lacked any time or date stamp, showed about a dozen armed men around vehicles and motorcycles. There was nothing in the video to show that they were, in fact, the same men who were killed and wounded on Wednesday.
AssadullahTimory reported from Herat, and Mujib Mashal from Kabul. Thomas Gibbons-Neff contributed reporting from Washington and Fahim Abed from Kabul.
https://www.nytimes.com/2020/07/23/world/asia/afghan-taliban-violence-airstrikes.html?utm_source=iterable&utm_medium=email&utm_campaign=1385975_
--------
ISIS exploiting coronavirus security gaps to relaunch insurgency, UN report warns
July 23, 2020
(CNN)There has been a significant rise in ISIS attacks in Iraq and Syria, with the group exploiting security gaps in Iraq caused by the coronavirus pandemic to relaunch and invigorate its rural insurgency in the country, according to a report submitted to the UN Security Council that was made public on Thursday.
The wide-ranging report, put together by the UN monitoring team that tracks the global jihadi terror threat, states that the group is consolidating in Iraq and Syria and "showing confidence in its ability to increasingly operate in a brazen manner in its former core area."
It states that the number of ISIS attacks in Iraq and Syria "increased significantly in early 2020 as compared with the same period in 2019."
Referring to the situation in Iraq, the UN monitoring team stated that ISIS has "exploited security gaps caused by the pandemic and by political turbulence in Iraq to relaunch a sustained rural insurgency, as well as sporadic operations in Baghdad and other large cities."
In recent weeks in particular, Iraq has seen a huge surge in Covid-19 cases, with the number of cumulative cases surpassing 100,000 on Thursday compared with fewer than 7,000 confirmed on June 1.
Syria has far fewer confirmed cases, but leaders of the US-backed Syrian Democratic Forces say ISIS has exploited the fact that the pandemic has limited the SDF's mobility in the region.
Gen. Mazloum Abdi, the top commander of the SDF, told CTC Sentinel, the monthly publication of the Combating Terrorism Center at West Point, in June that a major Covid-19 outbreak would limit his forces' ability to counter the Islamic State "because we will be busy managing the situation in detention facilities" where the group currently houses thousands of former ISIS members.
The newly released UN report, which is based on information from member states, estimates that there are currently more than 10,000 ISIS fighters in Iraq and Syria.
One reason for ISIS's resilience in those countries is money. According to the new UN report, member states assess ISIS still has approximately $100 million in reserves. It states the group's assets are "believed to take the form of cash, buried or stored in caches across the conflict zone or kept with financial facilitators in neighbouring countries. Some of the funds have been invested in legitimate businesses in Iraq, the Syrian Arab Republic and neighbouring countries."
Report challenges Trump's narrative
The new United Nations findings challenge the narrative of President Donald Trump, who earlier this year claimed to have destroyed "100% of ISIS and its territorial caliphate."
The UN monitors also presented a more pessimistic assessment than that recently presented by the Trump administration. In June, Ambassador James Jeffrey, the special envoy to the global coalition to defeat ISIS, stated that although ISIS remained "a resilient and significant threat" in Iraq and Syria, there had been a small reduction in the overall number of ISIS attacks and a lessening in their complexity, "so we think the situation is not getting worse, it's getting better."
The UN report does not paint a uniformly negative picture of the evolving ISIS threat in Iraq and Syria. It noted that several significant ISIS leaders had been removed since Abu Bakr al-Baghdadi was killed last October and that "as some financial facilitators are captured or killed in counter-terrorism operations, knowledge of the whereabouts of hidden funds may also be lost."
The new UN report also notes that ISIS's new leader Amir Muhammad Sa'idAbdal-Rahman al-Mawla "has not visibly asserted himself in communications, which may prove to be a limiting factor in his influence and appeal, and perhaps that of the group."
In June the US government doubled the reward for information about al-Mawla to $10 million.
When it came to the big picture the new UN report noted that although ISIS "maintains the ambition to control territory and populations ... for the moment, [it] represents an entrenched rural insurgency without the reach to threaten urban areas on a sustained basis."
Covid-19 and the global terror threat
The UN report finds that outside of Syria, Iraq and other conflict zones, the short-term terror threat has fallen as a result of the Covid-19 pandemic, noting that "restrictions on international travel significantly constrain terrorist mobility, networking and finance-related activity" and that targets have become more elusive because of the discouragement of public gatherings
However, it warns that ISIS has "had a captive audience during the lockdown and, if it has successfully used this for planning and recruitment purposes, it is possible that the easing of restrictions in non-conflict zones will see a spike in attacks once targets become available again. Another motivation is fear of irrelevance: COVID-19 largely eclipsed terrorism from the news."
The report warns that should the pandemic lead to a severe global recession that could create conditions where terrorist and extremist narratives gain increased currency.
The report also noted that there have been no indications that ISIS "is systematically attempting to weaponize the virus."
Concern over al Qaeda
The report warns that the security situation in West Africa and the Sahel is a particular cause for concern, stating that ISIS and al Qaeda franchises there "continued to enjoy operational success in early 2020," which led to heightened concerns about stability in the region.
It also states that al Qaeda remains active in Afghanistan nearly 19 years after 9/11 and notes that its leadership continues to maintain a close relationship with the Haqqani network, a powerful subgroup within the Afghan Taliban.
A Pentagon report published earlier this month reached a similar conclusion.
The persisting close relations between al Qaeda and the Taliban are widely seen as one of the main stumbling blocks to future progress in the peace process in Afghanistan in the wake of the agreement signed between the US and the Taliban earlier this year.
Though there has been speculation that al Qaeda leader Ayman al-Zawahiri may, like Osama bin Laden, have hidden in Pakistan, the UN report states that according to member states, al-Zawahiri is currently based in Afghanistan. The report finds that should al-Zawahiri's "poor health ... force a leadership succession, it will be challenging for Al-Qaida in the context of a peace process" in Afghanistan.
The report also found that al Qaeda has "ingrained itself in local communities and conflicts" around the world, with its recent "favored" affiliate in Syria, Hurras al-Din, "committed to preparing for external attacks despite its current focus on targeting Syrian forces" and its Yemeni affiliate, al Qaeda in the Arabian Peninsula, still "determined to mount external operations."
According to the US government, AQAP had "significant ties" to Saudi air force officer Mohammed Alshamrani, who carried out a terrorist attack that killed three at Naval Air Station Pensacola in Florida in December 2019.
The report states that "during his time at Pensacola and up to the day of the attack, Alshamrani was in direct contact with Abdullah al-Maliki, an AQAP media and Internet recruitment operative who was killed in Yemen on May 13. The Pensacola attack is believed to have been planned prior to Alshamrani's arrival in the United States." In a May news conference, Attorney General William Barr and FBI Director Christopher Wray revealed that al-Maliki had been targeted in a counterterrorism operation but did not spell out whether he had been killed.
https://edition.cnn.com/2020/07/23/politics/isis-coronavirus-un-terrorism-report/index.html?utm_source=iterable&utm_medium=email&utm_campaign=1385975_
--------
Sudan finds mass grave believed to have bodies of officers executed by Omar al-Bashir
24 July 2020
Sudan has found a mass grave that most likely contains remains of 28 army officers executed in 1990 for plotting an attempted coup against the former President Omar al-Bashir, the public prosecutor office said late on Thursday.
The officers were executed in mysterious circumstances after a quick military trial one year after Bashir himself took the power in a military coup in 1989. There burial site was not disclosed for decades.
For all the latest headlines follow our Google News channel online or via the app.
"The public prosecution managed to find a mass grave that data indicates that it is most likely the graveyard where the bodies of the officers who were killed and buried in a brutal manner," the public prosecutor said in a statement.
A team of 23 experts reached this result after an effort that lasted for three weeks, and more forensic and investigative measures will be taken in the site, the statement added.
The public prosecutor assured the families of the executed officers that "such crimes will not pass without a just trial".
Bashir appeared in court on Tuesday at the opening of his trial for leading the military coup that brought him to power in 1989. He could be sentenced to death if convicted.
Bashir's attorneys could not immediately be reached for comment.
Bashir was ousted by the army in April 2019, after months of mass protests.
Local media reports said earlier this month that prosecutors questioned Bashir over the 1990 executions. The prosecution has not publicly commented on the matter.
Last month, Sudan's public prosecutor announced the discovery of a mass grave east of Khartoum suspected to contain the remains of students killed in 1998 as they tried escaping military service at a training camp.
Bashir already was handed down a two-year sentence by a court in December on corruption charges. Bashir also faces trials and investigations over the killing of protesters.
He is also wanted by the International Criminal Court (ICC), which issued arrest warrants against him in 2009 and 2010 on charges of genocide, war crimes and crimes against humanity in Sudan's restive Darfur region.
A civilian transition government took over from Bashir under a three-year power-sharing deal with the military who helped remove Bashir, but the country's economy is still in crisis.
https://english.alarabiya.net/en/News/middle-east/2020/07/24/Sudan-finds-mass-grave-believed-to-have-bodies-of-officers-executed-by-Omar-al-Bashir.html
--------
Our Children Were Killed By Islamic State Members. They Must Face Trial.
July 23, 2020
Diane and John Foley, Paula and Ed Kassig, Marsha and Carl Mueller, and Shirley and Art Sotloff are parents whose children were abducted and killed by members of the Islamic State.
We are the parents of James Foley, Peter Kassig, Kayla Mueller and Steven Sotloff. As Syria's civil war unfolded, our children saw the Syrian people's suffering and wanted to help, whether by providing humanitarian aid or by telling the world about this disaster.
While carrying out this work, they were abducted by members of the Islamic State, also known as ISIS. They were starved, tortured and beaten. According to witnesses, Kayla was repeatedly raped by the then-leader of ISIS, Abu Bakr al-Baghdadi. Jim, Peter and Steven were publicly murdered in the most brutal way imaginable. Nearly six years later, their bodies haven't been found. No one has faced justice for their murders.
Some of the men who allegedly committed these atrocities are now in U.S. military custody in the Middle East. We implore President Trump, Attorney General William P. Barr and the Justice Department to have the detainees brought to the United States to face trial.
Like any grieving relatives, we want to know the full truth about what happened to our loved ones, and we want to see our children's murderers held accountable. These things can happen only if the suspects are put on trial before a jury in an American court of law.
Some of the ISIS members implicated in these crimes, including Mohammed Emwazi, also known as "Jihadi John," and al-Baghdadi, are dead and beyond the reach of earthly justice. But others are being held, right now, on U.S. bases in the Middle East. The detainees include AlexandaKotey and El Shafee Elsheikh, two of the surviving ISIS members referred to by their captives as "the Beatles." They are British citizens who reportedly participated in the detention, torture and execution of American hostages.
With the U.S. military reducing its presence in the Middle East, we worry that the detainees will never face trial, just as hundreds of terrorists who were detained on U.S. bases during the Iraq War were let go as the United States withdrew its forces. Having escaped justice, many — including al-Baghdadi before his death — went on to form the Islamic State leadership.
Risking a repeat of this regrettable history is alarming enough. But detaining suspects indefinitely without trial is also bad policy. Terrorists use it as a recruiting tool and as an excuse for hostage-taking, accusing the United States of doing the same. Islamic State propaganda makes heroes of its members in U.S. custody, portraying them as living martyrs — a message that is repellent to the loved ones of their victims.
The U.S. government should send a more powerful message: It doesn't matter who you are or where you are. If you harm American citizens, you will not escape. You will be hunted down. And when you are caught, you will face the full power of American law.
There is no nation on Earth better at bringing terrorists to justice than the United States. American laws are rigorous and comprehensive. Law enforcement and intelligence agencies are masters of their craft. And U.S. prosecutors have a long track record of success. More than 400 convicted terrorists are now securely behind bars in federal prisons, their crimes having been laid bare in open court.
We implore the Trump administration: Please, for the sake of truth, for the sake of justice, order these Islamic State suspects transferred to the United States to face trial.
In one of her final letters home, Kayla signed off, "With all my everything." That is what Kayla, Jim, Peter and Steven are to us: our everything. Obtaining justice for them would mean the world.
https://www.washingtonpost.com/opinions/2020/07/23/our-children-were-killed-by-islamic-state-members-they-must-face-trial/?utm
--------
Mideast
Hagia Sophia 'Day of Mourning' unites Christians against Erdogan decision
23 July 2020
Christians around the world will unite on Friday in observing a 'Day of Mourning' for the Hagia Sophia following Turkish President Recep Tayyip Erdogan's decision to convert the ancient building from a museum into a mosque.
Head of the Greek Orthodox Church in the US Archbishop Elpidophoros, who is spearheading the event, said it is "deeply gratifying" to see the response from Catholics and other Christian sects, as well as different religious groups.
"Many ecumenical and indeed interfaith partners will join us tomorrow, and in a grass roots way, because they see that [Erdogan's] decision is heading in the wrong direction for humanity. We will pray, not condemn. We will join together, not divide," said Archbishop Elpidophoros in an interview with Al Arabiya English on Thursday.
"We will bear witness to a better way to live as the human family, where memories of conquest and empire are relegated to where they belong: the past," he added.
Elpidophoros and Roman Catholic Cardinal Timothy Dolan of New York issued a joint statement on June 15 calling for the Hagia Sophia to remain a symbol that glorifies "the One God who has made us all be sisters and brothers of one human family."
Elpidophoros, a Turkish citizen who grew up in Istanbul, said there is a "longstanding trend by President Erdogan" to emphasize Turkey's Ottoman past and that the conversion of the Hagia Sophia is the latest example.
Hagia Sophia controversy
The Hagia Sophia, located in the Turkish city of Istanbul, was originally built as a Christian cathedral in the sixth century. It was converted into a mosque nearly 1,000 years later during the Ottoman conquest of the city in 1453.
The building had operated as a museum since 1935 following the founding of the secular Turkish Republic - until this month when Erdogan announced the iconic building would be converted back to a mosque.
Erdogan's move violates "all standards of religious harmony and mutual respect," according to a press release by the Greek Orthodox Archdiocese of America, who urged its churches to toll their bells "in lamentation" on Friday.
The US Conference of Catholic Bishops said it would join the 'Day of Mourning' and would offer prayers for "the restoration of Hagia Sophia as a place of prayer and reflection for all peoples."
Hagia Sophia significance
Hagia Sophia, a UNESCO World Heritage site, is "symbolically quite significant to all Orthodox Christians," according to Robert Nelson, a professor at Yale University.
The monument houses Christian mosaics and frescoes from its days as a cathedral - artwork that will now be covered during religious services.
According to Nelson, Christian Byzantine heritage is "systematically repressed" in Turkey.
Three other famous Christian churches in Turkey have also been converted into mosques in recent years: the Hagia Sophia cathedral in Iznik, the Hagia Sophia Church in Trabzon, and the Church of Chora in Istanbul.
Erdgon motivated by politics
According to experts, President Erdogan's decision to change the Hagia Sophia's museum status is solely for political purposes.
"The Turkish president hopes that Hagia Sophia's conversion will create a rally-round-the-flag effect and provide him with some legitimacy," said AykanErdemir, who is senior director of the Turkey Program at the US thinktank Foundation for the Defense of Democracies, in an interview with Al Arabiya English.
Erdemir said Erdogan's policies have led to the worst economic crisis in Turkish history, which is causing even die-hard supporters to question their loyalties to the president.
Although Erdogan is not up for re-election until 2023, his political opponents have recently threatened his hold on power. Last month former Turkish Prime Minister Ahmet Davutoglu said he was ready to cooperate with opposition parties to stand against Erdogan's ruling Justice and Development Party (AKP).
Since then, Erdogan ordered the shutdown of Sehir University in Istanbul, whose founders included Davutoglu.
Erdogan is now feeling threatened by increasing opposition to him, according to Henri Barkey, a fellow for Middle East studies at the Council on Foreign Relations.
Yale University Professor Robert Nelson told Al Arabiya English the conversion of the Hagia Sophia and other historical churches in the country into mosques is part of the Turkish president's playbook to win public support.
https://english.alarabiya.net/en/features/2020/07/23/Hagia-Sophia-Day-of-Mourning-unites-Christians-against-Erdogan-decision.html
--------
Opposition group presents a secular alternative to Iran's clerical regime
July 24, 2020
LONDON: "A force capable of overthrowing the regime is lurking in the heart of Iranian cities. From all indications, the ruling theocracy is at the point of being overthrown," the leader of the global Iranian resistance declared to an audience of thousands tuning in to the online Free Iran Global Summit on July 17.
Five years ago, this declaration might have sounded like empty rhetoric from a fringe group. Now, two years after Tehran's failed attempt at bombing the National Council of Resistance of Iran's (NCRI) annual rally in Paris, the words of Maryam Rajavi, a former militant commander and now the NCRI's president-elect, look much less like an empty threat and much more like a promise.
The NCRI is an umbrella group encompassing a broad spectrum of groups opposed to the Iranian regime, and is often described as the country's government in waiting.
With its charismatic leader at the helm and thousands of Iranian, Western and Arab supporters behind its cause, the NCRI is increasingly being recognized as the legitimate and progressive alternative to the supreme leader and the cohort currently in power.
The NCRI, also known as the Mojahedin-e Khalq (MEK) in Persian, has three aims for Iran: The demise of the clerical regime, universal suffrage and people's sovereignty, and social freedom and justice.
Its swelling legitimacy, and the credible alternative it presents for Iran's future, have not gone unnoticed among political and security establishments in the West.
One long-time supporter of the NCRI, and a speaker at the 2020 Free Iran Global Summit, is Tom Ridge, who was the first ever US secretary of homeland security after the 9/11 attacks.
He is a former governor of Pennsylvania and an outspoken advocate for an Iran "free from tyranny."
Ridge spoke with Arab News during the summit, and explained his long-running support for the NCRI — despite its designation by the US as a terrorist organization until 2012.
While secretary of homeland security, he had never seen any credible reports that justified the group's terrorist designation, Ridge said.
"I began every day, for several years, in the Oval Office alongside President George Bush being presented with a threat report. I never ever saw a reference to the MEK in any plot that threatened Americans or American interests," he added.
Having been removed from the US list of terrorist organizations in 2012, the NCRI is increasingly being recognized as the most important player in the landscape of resistance to Tehran's clerical regime — both at home and abroad.
"Within American political circles, these days there's growing bipartisan recognition of the NCRI's legitimacy," Ridge said.
He argues that this consensus and recognition of the NCRI's legitimacy are in the best interests of not just the Iranian people, but also of regional states and the US.
"Recognizing the existence of both an internal and external opposition group that rejects terrorism and embraces principles like gender equality and, most importantly, a non-nuclear Iran seems to be in everyone's best interest in the globe, not to mention regional states such as Saudi Arabia," he said.
Ridge spoke at the summit to highlight and denounce Iranian support for terrorism, and many other speakers did the same.
The issue of Iranian terrorism is central to the NCRI's campaigning, and it is an issue the group is tragically familiar with.
In 2013, Islamic Revolutionary Guard Corps (IRGC) forces and their Iraqi militia proxies attacked and killed over 50 NCRI members, and kidnapped more, from their base in Ashraf, Iraq.
This brazen attack was mortifying for the NCRI, but looking further back, the persecution that members of the Iranian opposition have experienced at the hands of the regime becomes even more egregious.
Up to 30,000 of the NCRI's supporters and members were murdered by the regime in 1988, following a religious edict by hardline revolutionary Ruhollah Khomeini.
Amnesty International has referred to these murders as "ongoing crimes against humanity." It continues to call for justice over the killings, and has implored the UN to set up an independent inquiry into the mass murders.
The most recent assault on the Iranian resistance — a bomb plot targeting its 2018 annual summit — was organized in part by an official Iranian diplomat, who just days ago began his trial in France for his role.
After 30 years of bombings, violence and targeted attacks, it is perhaps no surprise that the NCRI is so vehemently opposed to the regime's use of terrorism as a tool of foreign policy.
These attacks, Ridge argues, are more than illegal and unjust. He believes that Tehran's relentless assaults on the NCRI betray its fear of the movement's popular appeal.
"If an oppressive regime highlights an internal and external group as the enemy of the state, then there's a pretty good justification to conclude that they're fearful that their appeal is large," he said.
NCRI members believe that Tehran is taking increasingly drastic measures against them because it knows that their appeal is increasing every year, and the West is starting to take notice of the credible, progressive alternative they present for Iran's future.
Ali Safavi, a member of the NCRI's foreign affairs committee, told Arab News that from the 2020 Free Iran Global Summit onward, its activities are only going to expand and intensify.
He said the group "aims to pave the way for more uprisings, like those witnessed in November 2019," when huge anti-regime protests swept across virtually every Iranian city and town.
Safavi added that the NCRI will "step up its campaign to hold the regime leaders accountable for their atrocities, first and foremost the 1988 massacre of 30,000 political prisoners," and that it will continue to work on "breaking the climate of fear and repression" that Tehran has manufactured at home and pursues abroad through terrorism.
Rajavi, Safavi and their cohort in the NCRI were on the frontlines of the 1979 revolution, and it is looking increasingly likely that they will take leading roles in the next Iranian revolution.
This time, though, they say they will not allow their vision for Iran's future to be distorted, as it was by Khomeini and his extremist ilk in 1979.
The next Iranian revolution will truly be of the people, and if the NCRI's predictions are correct, it could be sooner than anyone expects.
https://www.arabnews.com/node/1709521/middle-east
--------
Iranian news agencies welcome Hagia Sophia Mosque
Ahmet Dursun
24.07.2020
Iranian media outlets on Friday widely covered the reopening of the Hagia Sophia Mosque to Muslim worship after more than eight decades.
Iranian state television reported the landmark's reconversion to a mosque from its 86-year status as a museum as "one of the most important events of the century."
The official IRNA news agency used the headline "Friday prayer in Hagia Sophia after 86 years" above its report on the Hagia Sophia's reopening.
In a separate report the semi-official Fars News Agency said: "The historical Hagia Sophia, which was converted from a museum to a mosque with a court decision and with the signature of Turkish President, is witnessing the first Friday prayers after 86 years with the participation of Recep Tayyip Erdogan."
House of worship and tourist destination
Besides being a working mosque, Hagia Sophia is also among Turkey's top tourism destinations for domestic and foreign visitors alike.
In 1985, during its time as a museum, Hagia Sophia was added to the UNESCO World Heritage List.
It served as a church for 916 years until the conquest of Istanbul, and a mosque from 1453 to 1934 -- nearly 500 years -- and most recently as a museum for 86 years.
Erdogan and other Turkish leaders had long advocated it returning to a working mosque, open for worship.
On July 19 a Turkish court annulled a 1934 Cabinet decree that turned Hagia Sophia into a museum, paving the way for its use as a mosque.
In the new era for Hagia Sophia, Turkey's Religious Affairs Directorate oversees religious services at the mosque, while the Culture and Tourism Ministry supervises restoration and conservation work.
The architectural treasure is also open to domestic and foreign tourists free of charge.
https://www.aa.com.tr/en/middle-east/iranian-news-agencies-welcome-hagia-sophia-mosque/1921609
--------
Minister: US' Threatening of Iran's Civil Plane Act of Terror
Jul 24, 2020
Speaking to FNA on Friday about the hostile move of the US fighter jets against the Iranian Mahan Airbus late on Thursday, Eslami said, "This is a terrorist act which has been carried out by the US lawless and oppressive government. This is considered an international aggression typical of the lawless American government."
"Our passenger plane has been flying in the international commercial trajectory and corridor and the threat of the US fighters was illegal and inhumane," he added.
Iran's Civil Aviation Organization has presented its protest against this conduct to the ICAO and we will pursue the issue legally till convicting the United States.
The minister stressed that the ICAO is expected to issue a statement on this inhumane behavior of the US government.
Two US fighter jets approached a Mahan Air Tehran-Beirut flight over the Syrian sky in a highly risky move and the captain of the Iranian passenger plane was forced to make a sudden change of direction and altitude, causing several injuries.
The captain of Mahan Air Flight No. 1152 later said the pilots of the two hostile planes have identified themselves as US army pilots during a radio contact.
A video posted by a reporter of Iran's state-run TV who was aboard the plane showed an F-15 fighter jet from the window of the plane and comments from a passenger who had blood on his face.
In a later interview from Beirut, the reporter said three passengers have been wounded during "the US planes' intentional move".
Iranian Foreign Ministry Spokesman Seyed Abbas Mousavi said Iran's Ambassador to the UN Majid Takht-Ravanchi has informed the UN Secretary-General Antonio Guterres of the incident, and warned that "in case of any incident for this plane on the way back home, the Islamic Republic of Iran will take the United States reponsible".
"A similar message has been sent to the Swiss ambassador to Tehran," the spokesman added. The Swiss embassy hosts the US interests section in Iran in absence of formal diplomatic ties between the two countries.
Mahan Air told FNA later that several passengers have been wounded during the incident and have been taken to a hospital in Beirut and others have evacuated the plane sound and safe.
It said the passenger jetliner refueled to fly back to Iran.
The jetliner flew back home early Friday morning.
https://en.farsnews.ir/newstext.aspx?nn=13990503000322
--------
Protesters attacked, arrested as thousands rally outside Netanyahu residence
24 July 2020
Israeli forces have used water cannons to disperse thousands of demonstrators rallying near the residence of prime minister Benjamin Netanyahu in Jerusalem al-Quds and made many arrests.
Scuffles broke out in the early hours of Friday when security forces pushed demonstrators back.
Wearing protective masks, protesters held up signs and chanted for the five-term premier to step down, angered over Netanyahu's handling of a worsening coronavirus crisis and corruption.
Public anger has been fueled by corruption charges against Netanyahu, who went on trial in May for bribery, fraud and breach of trust.
Protesters carried signs that read "Stopping the plague of dictatorship" in reference to Netanyahu during the Thursday night rally, while others described him as "a fatal plague".
Some of the protesters yelled "Justice for Iyad," in reference to the 32-year-old autistic Palestinian man Iyad Hallaq who was shot dead by two Israeli forces in the Old City of Jerusalem al-Quds in May.
Tamar Shneck, one of the protesters at the rally on Thursday night, accused Netanyahu of "taking advantage of the coronavirus for power," and said he was trying to increase his authority by leveraging the health crisis.
"You can see that he's continuing to do so. You can see that he's always stripped Israel of its democratic powers," she said.
The organizers said in a statement, "Thousands of young people that are coming out to protest are not victims of the coronavirus — they're victims of the corruption of Benjamin Netanyahu."
Amir Haskel, a former Israeli air force general who has turned into a prominent figure in the anti-Netanyahu protests, said, "Tonight's protest is a protest of young people. We expect very many of them and hope that the protest ends without violence."
By the end of the protests, 55 people were arrested by the police, media reports said.
Netanyahu dismissed as "absurd" reports that he intends to trigger new elections in November, but warned the polls would indeed be unavoidable if his coalition administration failed to pass a national budget next month.
"I'm not aiming for [early] elections. That's absurd," he said. "We are in the midst of the coronavirus crisis. We have to deal with it. We also have to pass a budget. It can pass in a minute… or a very short time."
Israeli daily newspaper Haaretz reported on Wednesday that Netanyahu has decided to seek another round of elections after the district court in Jerusalem al-Quds ruled last week that witnesses would begin testifying in his corruption trial in January, with hearings to take place three times a week.
The Israeli prime minister reportedly fears that petitions to the so-called high court of justice will force him into resignation, and that attorney general AvichaiMandelblit will back such a stance.
Netanyahu's remarks came soon after two new TV surveys were released, showing his right-wing Likud party would have to concede to defeat if elections were held today – to far-right Yamina opposition political alliance headed by Naftali Bennett.
Channel 12 and Channel 13 surveys showed that whilst the popularity of Netanyahu's Likud is slipping, Bennett's Yamina is rising fast amid widespread public dissatisfaction with the coalition's handling of the coronavirus crisis.
Unemployment in the occupied territories stands at some 21 percent — or 850,000 people — and is rising. Coronavirus restrictions have further battered the economy.
https://www.presstv.com/Detail/2020/07/24/630322/Thousands-gather-outside-Netanyahu%E2%80%99s-residence-in-al-Quds-to-protest-COVID-19-fallout-demand-his-resignation
--------
Israel frees Hamas leader in West Bank after 16 months in administrative detention
23 July 2020
Israel has released a senior leader of the Palestinian resistance movement Hamas in the occupied West Bank after holding him in prison without trial for 16 months, his son says.
Hassan Yousef, 65, was arrested on April 2 last year after Israeli security forces raided his home in Beitunia town, west of Ramallah. Shortly afterward, an Israeli military court ordered his detention for six months.
Administrative detention is a sort of imprisonment without trial or charge that allows Israel to incarcerate Palestinians for up to six months. The detention order can be renewed for indefinite periods of time. Critics of the Israeli regime and rights groups say the system is abused.
Yousef is a co-founder of the Gaza-based Hamas and once a legislator in the now-defunct Palestinian parliament. His detention was renewed for yet another six-month period before he was given a four-month detention order.
On Thursday, Yousef's son, Owais, announced that his father "is now at home and is in good health."
Israeli security forces, he said, freed his father at a military checkpoint in the vicinity of Ramallah instead of letting his relatives and friends receive him outside the Ofer prison as everyone expected.
The senior Hamas official had been imprisoned multiple times before. So far, he has spent some 23 years in different Israeli prisons, the Palestinian Information Center said.
Yousef was released from a previous 10-month prison term in October 2018.
More than 350 detainees are under administrative detention, including women and minors.
Such detentions take place on orders from a military commander and on the basis of what the Israeli regime describes as "secret" evidence.
Some prisoners have been held in administrative detention for up to 11 years without any charge.
https://www.presstv.com/Detail/2020/07/23/630281/Palestine-Israel-Hamas-Hassan-administrative-detention-West-Bank
--------
Israel orders demolition of more Palestinian facilities in West Bank
23 July 2020
Israel has ordered the demolition of several more Palestinian facilities, including a number of homes, in the occupied West Bank, the Palestinian media says.
The Palestinian Information Center reported on Thursday that Israeli forces delivered demolition notices and ultimatums in al-Walaja village, which is located west of Bethlehem city.
The threatened structures include three homes, a number of cattle shelters, one water well and a farmland.
Palestinian residents possessed documents proving their ownership of the lands located near an Israeli settlement in the area, the report said.
Israeli authorities usually demolish Palestinian homes in the occupied West Bank, claiming that the structures have been built without permits. They also sometimes order the Palestinian owners to demolish their own homes or pay the demolition costs to the municipality if they do not.
Israeli prime minister Benjamin Netanyahu has announced that he would start plans for annexing more areas in the occupied West Bank, in accordance with US President Donald Trump's "deal of the century" scheme, further infuriating Palestinians.
Trump officially unveiled his scheme in January at the White House with Netanyahu on his side, while Palestinian representatives were not invited.
The proposal gives in to Israel's demands while creating a Palestinian state with limited control over its own security and borders, enshrining the occupied Jerusalem al-Quds as "Israel's undivided capital" and allowing the Tel Aviv regime to annex settlements in the West Bank and the Jordan Valley.
Trump's highly provocative scheme, which further denies the right of return to Palestinian refugees, is also in complete disregard of UN Security Council resolutions and rejected by the vast majority of the international community.
Israel's unlawful annexation push has drawn widespread criticism from the entire international community, including the regime's closest allies.
Israeli settlers raid Palestinian quarry in West Bank
Hardline Israeli settlers on Thursday attacked a quarry in Jamma'in village, which is located southwest of the Palestinian city of Nablus in the occupied West Bank.
The settlers stormed the quarry, spray-painted remarks on its walls and tried to set fire to a bulldozer and an excavator on the site.
In December last year, the Palestinian Ministry of Foreign Affairs and Expatriates called on the international community to place Israeli settlers involved in attacks and acts of terror against the Palestinian civilian population in the occupied territories on their terror lists, and put travel bans on them.
For years, Israel has clearly allowed its settlers to assault Palestinians and inflict damage on their property as one of its policies. This has included provision of military protection for the attackers, and in some cases troops' active participation in the assault, B'Tselem concluded.
Palestinians want the West Bank as part of a future independent Palestinian state with East Jerusalem al-Quds as its capital.
More than 600,000 Israelis live in over 230 settlements built since the 1967 Israeli occupation of the Palestinian territories of the West Bank and East Jerusalem al-Quds.
According to human rights groups, incidents of sabotage and violence by extremist settlers against Palestinians and their property are a daily occurrence throughout the West Bank.
https://www.presstv.com/Detail/2020/07/23/630278/Israel-Palestine-West-Bank-Benjamin-Netanyahu
--------
India
Muslim BJP leader fasts for quick recovery of J&K party chief Ravinder Raina
Khalid Hussain
Jul 25, 2020
A Muslim BJP leader in Jammu and Kashmir is praying for quick recovery of the party's state unit chief Ravinder Raina by fasting.
Raina had tested positive of COVID-19 infection earlier this month and is undergoing treatment. His latest COVID-19 report has also come back positive.
Javaid Qureshi, a senior BJP leader from Kupwara in the Union Territory, is fasting for early recovery of Raina.
"Today I kept fast as our party president Ravinder Raina who visited Bandipora for the condolence meet of Wasim Bari. Today again I heard that he is still positive. I pray to God for his speedy recovery, as people need such leaders," Quraishi said.
Raina was tested positive when he came back from Srinagar to Jammu after attending the condolence meet at Bandipora where BJP leader Wasim Bari was killed by terrorists.
He was accompanied by Union Minister Jitendra Singh and BJP National General Secretary Ram Madhav.
https://www.dnaindia.com/india/report-muslim-bjp-leader-fasts-for-quick-recovery-of-jk-party-chief-ravinder-raina-2833913
--------
Delhi HC Adjourns Hearing to Transfer Tablighi Jamaat Chief's Case to Probe Agency NIA
July 24, 2020
New Delhi: The Delhi High Court on Friday adjourned to October 9 hearing on a petition seeking transfer of the case against Tablighi Jamaat chief Maulana Saad in connection with the Nizamuddin congregation to the National Investigation Agency (NIA).
A division bench of Justice Siddharth Mridul and Justice Talwant Singh adjourned the matter to October 9 in view of a similar matter pending before the Supreme Court.
The petitioner Ghanshyam Upadhyay sought the invocation of the Unlawful Activities (Prevention) Act and entrusting to the NIA, investigation in the case pertaining to allegedly organising a congregation at Tablighi Jamaat with delegates from foreign countries in violation of the orders against large gatherings to contain the spread of coronavirus.
Earlier, Delhi Police had opposed the petition stating that investigation is going on in a fine manner and added that there is no need to transfer the case to another agency.
The case is currently being probed by the Crime Branch of Delhi Police, which had recently filed several charge-sheets in connection with the Jamaat matter involving hundreds of foreign nationals in a trial court.
The charge sheets have been filed under relevant sections of the Foreigners Act, 1946, Epidemic Diseases Act, 1897, Disaster Management Act, 2005, and Indian Penal Code (IPC). The foreign nationals are being charge-sheeted for violation of visa norms.
Earlier, an FIR was registered against Tablighi Jamaat chief and others in connection with the congregation held at Markaz Tablighi Jamaat in the Nizamuddin area of the national capital, which had reportedly become an epicentre for the spread of coronavirus.
https://www.ndtv.com/india-news/tablighi-jamaat-hearing-to-transfer-case-against-islamic-sect-chief-maulana-saad-to-probe-agency-nia-adjourned-2268340
--------
Six Myanmar Tablighi Jamaat Members, Two Others Sentenced To One Month Imprisonment
Jul 25, 2020
As many as six foreign jamaat members and two from India who accompanied them were sentenced to a month-long imprisonment and are required to pay a fine by a trial court in Sehore, the neighbouring district of Bhopal, on Friday, as per the district prosecution unit in Sehore.
As per an official release from the district prosecution officer Nirmala Singh Chaudhary, the convicts KhinMaungZaw, ThninTharyiKhinMaung, Zawoo, Ye Lin Phyo, Thein Lni and Myoo OO are residents of Myeik, Myanmar. Mashur Rehman hails from Jharkhand and Ahmad Hussain is from Bihar.
The official release said, "The convicts having visited Nizamuddin Markaz in Delhi reached Bhopal and stayed in different mosques over there on February 21, 2020. The foreigners had a tourist visa. During the inquiry (by police) it came to be known that they reached Sehore on February 26 and stayed at Pukhta masjid for the propagation of their religion in violation of the tourist visa. They were advised by the Sehore district hospital's civil surgeon to quarantine for 14 days but they continued to meet people while ignoring the advice."
The official release stated, "These eight were sentenced to one month's imprisonment and a total fine of Rs 16,800 on all of them under section 51-B of National Disaster Act and section 14 of the Foreigners Act."
Additional district prosecution officer (ADPO) Kedar Singh Kaurav said, "The convicts were arrested by police on May 22 and produced before the court on May 23 and later sent to jail. They got bail as per an order of the high court on July 14. Since they have already been in jail for more than a month, they will not have to go to jail." Kaurav said all the proceedings on Friday were completed through video conferencing.
https://www.hindustantimes.com/india-news/6-foreign-jamaat-members-two-others-sentenced-to-one-month-imprisonment/story-JVLtRe0L7SOb6vhyVOIDMJ.html
--------
2 terrorists killed in ongoing encounter on outskirts of Srinagar
Jul 25, 2020
Two terrorists were killed and a soldier injured in an encounter that broke out on the outskirts of Srinagar on Saturday, police said.
Security forces launched a cordon-and-search operation in the Ranbirgarh area on the outskirts of the city this morning following information about the presence of terrorists there, a police official said.
As the forces were conducting the search, terrorists fired upon them, he said, adding that the forces retaliated, ensuing an encounter.
The area falls in Panzinara on the outskirts of Srinagar city bordering North Kashmir's Baramulla district.
Exchange of firing is going on and further details are awaited.
https://www.hindustantimes.com/india-news/encounter-breaks-out-between-security-forces-terrorists-on-outskirts-of-srinagar/story-tJUZfJ6B0mmhQMtmMA7I7J.html
--------
Southeast Asia
Malaysia's political centre has shifted but national leaders are still searching for it
24 Jul 2020
SEMENYIH, Selangor: The temperature of Malaysian politics is rising again as the COVID-19 threat subsides.
When Malaysia's parliament resumed sitting in mid-July, the Perikatan Nasional (PN) government confirmed a razor-thin majority of just 113 of 222 seats.
Prime Minister Muhyiddin Yassin narrowly survived his first crucial test in removing the speaker of the lower house with a marginal two-vote majority.
With the ruling coalition's legitimacy built on a house of cards, every Bill to be introduced in parliament can turn into a battle of wills between the government and the opposition.
Without a clear political consensus, it is unclear how the country will move forward. Even if a snap election is called, the possibility remains that it could result in a hung parliament.
THE END OF LONGSTANDING COALITIONS
After a long spell under the hegemonic rule of the previous Barisan Nasional (BN) regime, Malaysians have grown accustomed to the idea of political stability — but they may need to accept weak governments as the "new normal".
Before a two-coalition system emerged in 2008, BN was a durable regime built on the back of a highly-cohesive grand coalition of 13 political parties that maintained a supermajority for decades.
A factor that contributed to the BN regime's stability was its position between the two extremes in Malaysia's ethnic politics.
The opposition was divided with the Pan-Malaysian Islamic Party (PAS) on its right and the predominantly Chinese but multiracial Democratic Action Party (DAP) on its left. Located on opposing sides of the racial divide, they had limited appeal beyond their respective Malay-Muslim and Chinese constituencies.
But the sacking of Anwar Ibrahim as Deputy Prime Minister and the establishment of his Reformasi movement in 1998 changed the political equation. Together with Anwar's People's Justice Party (PKR), PAS and DAP gradually moved away from their ethnic flanks and became political allies twice — from 1999 to 2001 and again from 2008 to 2015.
When PAS ended its relationship with DAP in June 2015, the progressive faction in the former broke away and eventually spawned a new political entity called National Trust Party (PAN) to continue working with the latter under Pakatan Harapan (PH) coalition.
Having a strong opposition coalition was such an effective strategy that it eventually ushered in a peaceful democratic transition for Malaysia in the 2018 general election.
Both BN and PH are primarily electoral pacts that allow member parties to conduct pre-election seat negotiations with each other to prevent vote-splitting. Under Malaysia's first-past-the-post electoral system, there can only be one winner based on plurality in all of its 222 single-member parliamentary districts.
FORGING A NEW POLITICAL CENTRE
While electioneering issues are comparatively easy to settle, ideological differences are more complicated. Even though a regime change has occurred, the ethnic factors that divide Malaysians remain the same.
When Mahathir Mohamad was at the helm, PH was supposed to forge a new political middle ground — but the problem was no party was located further left. Until a more radical liberal party emerges in Malaysia, PH will always occupy this half of the equation in a two-coalition system.
The "centre" envisioned by some PH leaders is also being torn apart by controversies relating to the International Convention on the Elimination of All Forms of Racial Discrimination (ICERD), Islamic preacher Zakir Naik, and the introduction of Jawi (Arabic scripts) lessons in vernacular schools.
As United Malays National Organisation (UMNO) and PAS have moved further right, PH leaders are naturally perceived as liberals due to their multiracialism even if they may not qualify from a purely Western ideological perspective.
Still, coalitional politics is more complicated than party rhetoric. Despite PN being trumpeted as a Malay-Muslim government, UMNO also has its share of Western-educated liberals who may not see eye-to-eye with PAS.
While forming a new alliance with PAS, UMNO has not given up its previous political arrangement with the Malaysian Chinese Association and the Malaysian Indian Congress under BN.
THE ROLE OF EAST MALAYSIAN POLITICS
Besides a liberal-conservative dichotomy, the centre-periphery cleavage is becoming more prominent — and the Bornean states' regional parties may play a counterbalancing role in PN.
While the Sarawak Parties Coalition (GPS) and United Alliance Sabah (GBS) support PN now, their loyalty is contingent on many factors. Sabahan and Sarawakian politicians have always claimed that their states are marginalised. Now, they can push for more federal funds and political autonomy.
Under the current political configurations, PAS will also face a hard time getting its religious Bills passed in parliament if the Bornean lawmakers in PN — many of whom are Christians — decide to oppose them.
All three GBS lawmakers in the ruling coalition are Christians, and one is the son of a former cabinet minister who spoke out forcefully against the implementation of syariah laws in Malaysia.
Despite news reports that GPS is more comfortable working with PAS than DAP, nearly half of GPS's 18 MPs are non-Muslims who will likely check the Islamist agenda.
In a nutshell, there are two broad scenarios for Malaysia moving forward. The first is rebuilding a grand coalition buttressed by repression against opponents. But backsliding will betray the previous struggles for institutional reforms.
The second option is normalising weak governments that are unable to implement long-term policies and to properly mediate ethnic, religious and regional contentions.
The biggest challenge is finding a way to reconcile democracy with regime stability.
https://www.channelnewsasia.com/news/commentary/malaysia-political-centre-muhyiddin-yassin-perikatan-nasional-12955628
--------
Europe
'France should change course and stop lecturing Turkey'
BuketGuven
23.07.2020
France's president would do better to put his own country back on track before trying to give lessons to Turkey, said Turkey's ruling party spokesman on Thursday.
Emmanuel Macron "should correct France's route before lecturing Turkey," Justice and Development (AK) Party spokesman Omer Celik wrote on Twitter.
Underlining that Macron is again in the wrong by supporting the Greek Cypriot administration's unfair and unlawful activities in the Mediterranean – trying to halt Turkey's legal energy exploration – Celik said: "He is making the same mistake in the Eastern Mediterranean he made in Libya. He recently claimed that a Turkish warship harassed a French ship, and his claim was disproved."
A NATO probe of the June 10 alleged harassment episode did not back France's claims, according to Turkey's Ambassador to France Ismail Hakki Musa.
Turkish President Recep Tayyip Erdogan repeatedly told French President Macron the truth about Syria, Libya, Cyprus, and the Eastern Mediterranean, said Celik.
"Each time it was proven that what our president said was true and what Macron said was wrong. Macron, who calls for sanctions on Turkey, is the biggest supporter of the culprits responsible for the mass graves in Libya," said Celik, referring to mass human remains found in areas recently occupied by warlord Khalifa Haftar.
Libya has been torn by civil war since the ouster of late ruler Muammar Gaddafi in 2011. The country's new government was founded in 2015 under a UN-led agreement, but efforts for a long-term political settlement failed due to a military offensive by Haftar's forces.
The UN recognizes the Libyan government headed by Fayez al-Sarraj as the country's legitimate authority, as Tripoli has battled Haftar's militias since April 2019, a conflict that has taken over 1,000 lives.
After the discovery of mass graves in areas left behind by retreating Haftar militias, the UN and international jurists have expressed concern over possible war crimes.
While Turkey continues to support Libya's internationally recognized government, Haftar has been supported by Russia, France, Egypt, and the UAE.
https://www.aa.com.tr/en/europe/france-should-change-course-and-stop-lecturing-turkey/1920374
--------
Former Nazi Guard Is Convicted in One of Germany's Last Holocaust Trials
By Melissa Eddy
July 23, 2020
BERLIN — A German court convicted a 93-year-old man on Thursday for helping the Nazis murder thousands of people while he served as a concentration camp guard more than 75 years ago, in what might be one of the last verdicts to be handed down to a living participant in the Holocaust.
The Hamburg state court found Bruno Dey guilty of 5,230 counts of accessory to murder — one for each person believed to have been killed in the Stutthof concentration camp, east of Gdansk in Poland, during the time he served as a guard there, from August 1944 to April 1945.
Mr. Dey, who was tried in juvenile court because he was only 17 years old at the time, was given a two-year suspended sentence, reflecting the prosecutors' acknowledgment of his contrition and willingness to cooperate with authorities.
But survivors and those representing them criticized the sentence as too lenient.
"It is unsatisfactory and much too late," said Christoph Heubner of the International Auschwitz Committee, who followed the trial. "What is so upsetting for survivors is that this defendant failed to use the many postwar years of his life to reflect on what he saw and heard."
The trial against Mr. Dey was the latest in a push by prosecutors in the special office for handling Nazi-era crimes to bring aging suspects to justice before it is too late. And it came at a moment when the country is struggling to deal with a resurgence in right-wing extremism.
Mr. Dey appeared at the Hamburg state court, seated in a wheelchair and wearing a blue surgical mask because of the coronavirus outbreak. He cast his eyes downward as the judge read his sentence, according to German public media.
"You still see yourself as a mere observer, when in fact you were an accomplice to this man-made hell," presiding judge Anne Meier-Goering told the defendant while reading the verdict. "You did not follow an order to carry out a crime and should not have inferred this."
In a closing statement, Mr. Dey said he felt it was important to express his thoughts and feelings about what he had learned during the trial, but also argued that he had been forced to serve as a concentration camp SS guard and was ordered into the position.
"The witness testimony and the expert assessments made me realize the full scope of the horrors and suffering," he told the court. "Today I would like to apologize for those who went through the hell of this insanity. Something like this must never happen again."
The German authorities have intensified their efforts in recent years to hold to account men and women, most of them now over 90, who played smaller roles in helping the Nazis round up and murder Europe's Jews in their network of concentration and death camps.
Throughout the Cold War, these people were overlooked by a justice system that demanded evidence of direct involvement of a Nazi-era crime in order to bring charges against a perpetrator.
As the survivors grew older a reunited Germany began emphasizing the importance of remembrance and atonement, giving a prominent place to a Holocaust memorial in the heart of its new capital and establishing funds worth millions to compensate long overlooked victims of Nazi crimes.
Over the past decades, the courts, too, have shifted their perspective, following landmark rulings in 2011 and 2015 that established that individuals who played supporting roles in Nazi crimes could be convicted on the argument of association.
Last week, another former guard from Stutthof, age 95, was charged with similar crimes.
Because Mr. Dey was only 17 when he began his guard duties, he was tried as a juvenile. Prosecutors had sought a three-year prison sentence for his role at the camp, where he was tasked with making sure that none of the inmates, mostly Polish Jews and political prisoners, escaped.
More than 60,000 people — roughly half of whom were Jews — are believed to have died or been killed at the camp, which was the first to be established by the Nazi regime outside of Germany's borders. Located in the small Polish town of Sztutowo, it served as a prison camp after the invasion of Poland in 1939. Gas chambers were put into use in 1944, and the camp was one of the last to be liberated.
More than three dozen survivors testified in the trial, which began in October. They told the court of seeing relatives die in the electric fences that surrounded the Stutthof camp, collecting the bones of other victims and being chased from their barracks, naked in subzero temperatures.
Mr. Dey acknowledged hearing screams from the camp's gas chambers and watching as corpses were taken to be burned. But he said he never fired his weapon and that the "images of misery and horror have haunted me my entire life."
For Mr. Heubner, of the International Auschwitz Committee, who volunteered at Stutthof during the 1970s and attended several sessions of Mr. Dey's trial as an observer, the statement rang hollow.
"The image of him sitting above the camp in his tower is reflective of the view he had of himself as above those who were suffering," he said. "And although he had decades to confront the horrors of what he witnessed, he remained silent."
Stefan Waterkamp, Mr. Dey's attorney, argued for his client to be acquitted. He said Mr. Dey did not become a guard by choice and that trying to flee or resist duty would have put him in danger.
"How could an 18-year-old step out of line in a situation like this?" Mr. Waterkamp said as part of his closing argument.
Judge Meier-Goering said the lesson of the trial must be to "honor human dignity at all costs — even when the price is your own safety."
Germany continues to struggle with this maxim, as far-right activity has surged in the country in the past year. Earlier this week, a different German court opened a trial against a 28-year-old German suspected of plotting to blast his way into a synagogue filled with Jews observing Yom Kippur an attack that failed but left two people dead and injured several others.
The attack was the most severe of thousands of crimes committed against Jews in Germany in 2019 — the worst year since the country started tracking them in 2001.
Prosecutors said the defendant in that trial, Stephan Balliet, had been motivated by a belief that "the root of all these problems is the Jew."
https://www.nytimes.com/2020/07/23/world/europe/holocaust-trial-nazi-guard-germany.html?utm_source=iterable&utm_medium=email&utm_campaign=1385975_
--------
Macron seeks EU sanctions over Turkish 'violations' in Greek, Cypriot waters
23 July 2020
French President Emmanuel Macron on Thursday demanded EU sanctions against Turkey for "violations" of Greek and Cypriot waters and said the European Union should act over the crisis in Libya.
Turkey and Greece are at loggerheads over overlapping claims for natural gas reserves, brought into sharp focus by attempts of EU member Cyprus to explore for gas in the Eastern Mediterranean amid strong Turkish objections.
Macron's comments came after Turkey's navy on Tuesday issued an advisory for seismic surveys in an area of sea between Cyprus and Crete, a move Greece said was an attempt by Ankara to encroach on its continental shelf.
It also comes as relations between Paris and Ankara, two NATO allies, fray, with Paris repeatedly pointing the finger at Ankara over its role in Libya.
"I stand fully behind Cyprus and Greece in the face of theTurkish violations of their sovereignty. It is unacceptable thatthe maritime space of (EU) member states be violated and threatened," Macron told reporters alongside his Cypriot counterpart, NicosAnastasiades.
"Those who are doing that must be sanctioned."
He said it would be a "serious mistake" for the EU to not respond.
Ibrahim Kalın, chief adviser to Turkish President Tayyip Erdogan, told a think-tank event in Brussels on Thursday: "Using the language of threats of sanctions will never fly here and will have no impact on Turkey's sovereignty or determination in pursuing the national interest."
On July 13, EU foreign ministers agreed to prepare additional listings within the existing sanctions framework on Turkey's drilling in the Eastern Mediterranean, as requested by Cyprus.
For all the latest headlines follow our Google News channel online or via the app
Macron has also criticized Turkey for months over Ankara's role in Libya, and on Thursday said the EU should now push for sanctions. He did not identify nations or people that should be penalized for their involvement in the North African country's conflict.
"It (sanctions) is necessary to obtain a ceasefire and begin a real dynamic towards a political solution to the Libyan conflict," he said.
Russia and Turkey are the key players in Libya's conflict, where they support opposing sides. Russia back the eastern-based forces of Khalifa Haftar, while Turkey has helped the Tripoli-based Government of National Accord (GNA) repel Haftar's attempt to storm the capital.
Turkey accuses France of supporting Haftar politically, having previously given him military assistance to fight militants. Paris denies this.
https://english.alarabiya.net/en/News/world/2020/07/23/Macron-seeks-EU-sanctions-over-Turkish-violations-in-Greek-Cypriot-waters-.html
--------
Greek extremists burn Turkish flags over Hagia Sophia
Mehmet Hatipoglu
25.07.2020
A group of far-right Greek extremists burned Turkish flags late Friday in Thessaloniki to protest the reopening of the Hagia Sophia Mosque for worship in Istanbul.
The group burned a Turkish flag after gathering outside the Agia Sofia Church before marching toward the Turkish Consulate while holding signs that read: "For homeland, nation and orthodoxy."
Protesters were stopped outside the consulate by security forces but burned another Turkish flag and sang the Greek national anthem and shouted slogans.
Besides being a functioning mosque, Hagia Sophia is also among Turkey's top tourism destinations for domestic and foreign visitors alike.
In 1985, during its time as a museum, Hagia Sophia was added to the UNESCO World Heritage List.
It served as a church for 916 years until the conquest of Istanbul, and a mosque from 1453 to 1934 -- nearly 500 years -- and most recently as a museum for 86 years.
Turkish President Recep Tayyip Erdogan and other Turkish leaders had long advocated for it to return to a functioning mosque, open for worship.
A Turkish court annulled a 1934 Cabinet decree July 19 that turned Hagia Sophia into a museum, paving the way for its use as a mosque.
In the new era for Hagia Sophia, Turkey's Religious Affairs Directorate will oversee religious services at the mosque, while the Culture and Tourism Ministry will supervise restoration and conservation work.
The architectural treasure is also open to domestic and foreign tourists free of charge.
https://www.aa.com.tr/en/europe/greek-extremists-burn-turkish-flags-over-hagia-sophia/1921779
--------
Pakistan
IHC rejects ministry's report on Cynthia case
25 Jul, 2020
ISLAMABAD: The Islamabad High Court (IHC) on Friday termed the interior ministry's report on US blogger Cynthia D. Ritchie's case as unsatisfactory and directed the interior secretary to review it.
The court was hearing a petition filed by a worker of the Pakistan Peoples Party, Iftikhar Ahmed, in which he had requested it to instruct the interior ministry to expel Ms Ritchie over visa and passport-related issues and her alleged defamatory tweets against PPP leaders.
Last week the interior ministry had submitted a report to the IHC, which said Ms Ritchie was in Pakistan on an extended visa. The ministry, however, did not comment on the allegations that she had posted defamatory tweets against the PPP leadership, saying the matter was sub judice.
In its report, the ministry said that Ms Ritchie was visiting Pakistan on a business visa and was working on some projects of the Inter-Services Public Relations (ISPR) and the Khyber Pakhtunkhwa government.
The court had referred the matter to the interior ministry through a verbal order after hearing the stance of the US blogger.
Sardar Latif Khan Khosa, the counsel for the petitioner, pointed out that Ms Ritchie had not been registered as a voter in any constituency in the country and yet she had tweeted on local political matters.
IHC Chief Justice Athar Minallah observed that the allegations against the US citizen were of serious nature. He inquired about the projects on which she was working in collaboration with the ISPR and the provincial government and whether any taxpayer funds were disbursed for the projects.
Justice Minallah remar­ked that it was the responsibility of the state to conduct transparent investigations into the allegations levelled against the blogger and that the interior secretary should keep in mind the reputation of the country while considering the matter.
Additional Attorney General Tariq Mehmood Khokhar sought some time from the court to seek instructions from the government. Subsequently, the hearing was adjourned until August 4.
https://www.dawn.com/news/1570937/ihc-rejects-ministrys-report-on-cynthia-case
--------
Posting of Maulana Fazl's brother as DC Karachi Central raises PTI, MQM's hackles
Azfar-ul-Ashfaque
25 Jul, 2020
KARACHI: The appointment of an official of the Khyber Pakhtunkhwa government, who happens to be a younger brother of Jamiat Ulema-i-Islam-Fazl (JUI-F) chief Maulana Fazlur Rehman, as the deputy commissioner of a key Karachi district by the Sindh government has invited the wrath of main opposition parties in the province.
On July 23, the Sindh government through a notification posted Ziaur Rehman, an officer of KP's Provincial Management Service in grade-19, as the deputy commissioner of Karachi's Central district by transferring Farhan Ghani, an ex-PCS officer also in grade-19.
It is unclear as to how an official of the KP government managed to bring himself at the disposal of the Sindh government. However, the move is being seen as an outcome of a meeting between PPP co-chairman Asif Ali Zardari, PPP chairman Bilawal Bhutto-Zardari and Maulana Fazl in Karachi on July 10.
The news of Mr Rehman's appointment became public on Friday and both the Pakistan Tehreek-i-Insaf (PTI) and MuttahidaQaumi Movement-Pakistan (MQM-P) voiced concern over the Sindh government's move since the incumbent had no prior administrative experience in Sindh.
Federal Minister for Kashmir Affairs Ali Amin Gandapur of the PTI said in a statement that Mr Rehman did not pass the PMS examination and he was inducted without appearing in a test or having merit.
Sindh information minister says 'it is not a crime' to be the maulana's brother
Talking to reporters outside the Sindh Assembly, senior MQM-P leader KhwajaIzharul Hasan said that the Sindh government did not accept an inspector general of police from outside the province; then how could it post an officer of KP without the notification of the federal government?
However, the Sindh government defended the move as Information Minister Nasir Shah told media that it was "not a crime to be the brother of Maulana Fazlur Rehman".
"Ziaur Rehman had worked on administrative position in Khyber Pakhtunkhwa, he was the Afghan Refugees commissioner as well as DC Khushab. His posting [in Sindh as DC-Central] is an administrative issue," he said.
'Worst example of nepotism'
Terming it a "worst example of political nepotism", the coordination committee of the MQM-P condemned the appointment of "brother of Maulana Fazlur Rehman" on the post of DC-Central.
"The racist government of Sindh has crossed every limit. Previously, the PPP was usurping the rights of the urban areas of Sindh all alone, but now it has made other political parties accomplice in its political crimes," the MQM-P said in a hard-hitting statement.
The party warned that the "sense of deprivation" already existing in the urban parts of the province would turn into sense of alienation if such actions were not stopped.
It said that it was the deputy commissioners of urban areas of Sindh, especially of Karachi districts, who were involved in issuance of fake domiciles and permanent residence certificates to hundreds of thousands of non-residents who later got government jobs.
Meanwhile, the general secretary of PTI's Karachi chapter, Saeed Afridi, said that it seemed that the Sindh government got completely disappointed with the performance of the deputy commissioners belonging to Sindh so it posted a KP officer to appease Maulana Fazl.
He said that the people of Karachi knew that the Sindh government posted Maulana Fazl's brother as DC-Central only to "please and favour" him.
https://www.dawn.com/news/1570931/posting-of-maulana-fazls-brother-as-dc-karachi-central-raises-pti-mqms-hackles
--------
Development projects to end Balochistan's sense of deprivation, PM Imran says
Jul 25, 2020
ISLAMABAD: Prime Minister Imran Khan on Friday expressed his firm resolve to end the "sense of deprivation" long felt by the people of Balochistan by launching a series of development projects to undo the neglect of decades in the province.
"Ensuring complete peace, security and socio-economic development for the people of Balochistan are the key priorities of my government," he said while chairing the second meeting of the National Development Council (NDC).
The NDC's first meeting was held in August 2019 after its formation in June that year.
The prime minister said he was fully cognizant of the problems people in Balochistan face and expressed his commitment to turn the situation around by providing them relief and services in the best possible manner.
"Financial resources allocated for Balochistan in the past were never diverted towards the development of the province," he said.
The prime minister said such a state of affairs led to dismal development in the province and caused "a sense of deprivation"among its people.
Federal ministers Shah Mahmood Qureshi, Asad Umar, Mohammad Hammad Azhar, Ali Haider Zaidi, Omer Ayub Khan, Advisers Dr Abdul Hafeez Shaikh, and Abdul Razak Dawood, Chief Minister Balochistan Jam Kamal Khan, Chief of Army Staff General Qamar JavedBajwa, Special Assistant Lt Gen (r) Asim Saleem Bajwa, DG ISI Lt Gen Faiz Hameed and other senior officials attended the meeting.
The meeting reviewed in detail several projects related to the national development agenda.
These included the provision of means of communications in the remote areas of Balochistan, better facilities for irrigation, agriculture, energy, and setting up barter markets to attain optimal benefit from the Gwadar Port.
The premier said the development of Gwadar Port would be a game-changer, not only for the people Balochistan but also for the entire region.
"There must be a full focus on the development of infrastructure, provision of employment for the youth, and completion of road networks to gain benefit from the completion of the Gwadar Port and the CPEC," he said.
In this regard, the prime minister constituted a committee comprising Umar, Shaikh, and Chief Minister Kamal, that would submit a report to him on the priority areas for development — particularly in communications, agriculture, energy, and other important sectors.
The meeting also gave approval for the setting up of the Balochistan Mineral Exploration Company that would work for better utilisation of the mineral resources of Balochistan and boost exploration activities.
https://www.pakistantoday.com.pk/2020/07/24/series-of-projects-to-end-balochistans-sense-of-deprivation-pm-imran-says/
--------
Jadhav not given any concession: Pakistan govt
Jul 24, 2020
ISLAMABAD: Pakistan's law minister on Friday ruled out giving any concession to Khulbhushan Jadhav and said that the government had brought an ordinance to grant him consular access and allow him to file a review petition against his conviction and sentence by the military court as directed by the International Court of Justice (ICJ).
A day after rumpus erupted in the National Assembly with opposition blaming treasury over the Jadhav issue, law minister Farogh Naseem told lawmakers that the government has not given any concessions to Jadhav similar to the National Reconciliation Order (NRO). The NRO refers to a presidential order signed by former president Pervez Musharraf that paved the way for slain ex-PM Benazir Bhutto's return to Pakistan from exile after all corruption cases against her were dropped.
"In the past few days an ordinance was brought regarding the Jadhav case. It is my responsibility to inform everyone about the facts pertaining to the case," the minister said at the start of his speech in the lower house of parliament.
The ICJ (Review and Reconsideration) Ordinance 2020 promulgated on May 20 gives foreign citizens convicted in Pakistan to file a review appeal in courts here. The ordinance was promulgated after ICJ, in its verdict last year, directed Pakistan to grant consular access to Jadhav and allow him to file a review appeal.
Jadhav, according to Naseem, was arrested on March 3, 2016 and the Pakistan Muslim League-Nawaz (PML-N) government at that time had decided not to grant consular access to him. "The PML-N government had not given consular access as Jadhav was caught for spying in Pakistan. On May 8, 2017 India had filed a case in the ICJ, asking the court to direct Pakistan to release him. The ICJ rejected India's appeal but directed Pakistan to grant consular access to him," he told the legislators.
"The ordinance was issued in view of the ICJ verdict. This ordinance is not an NRO. The NRO was issued by Musharraf," Naseem said, adding that if Pakistan had not given consular access to India, then New Delhi would have raised the issue in front of the world.
"If the ordinance was not brought then India would have gone to the UN Security Council," Nassem said. The minister said New Delhi would have sought sanctions against Islamabad if it didn't issue the ordinance.
"Where is it written in the ordinance that Jadhav's conviction has ended?" he asked. "Not has the sentence been cut nor has Jadhav been given any concession."
The minister also told the lawmakers that nowhere was it written that the government needed to speak to the opposition before bringing in an ordinance. "The ordinance was not formulated by someone "under a pillow" and no one should be blamed for it," he remarked.
https://timesofindia.indiatimes.com/world/pakistan/jadhav-not-given-any-concession-pakistan-govt/articleshow/77156581.cms
--------
Why Can't Pakistan's Opposition Parties Remove the Khan Government?
By Umair Jamal
July 24, 2020
On Monday, Pakistan's main opposition parties announced an All Parties Conference (APC) after Eid al-Adha to formulate a joint strategy to remove the current political party from power.
The decision by the Pakistan Muslim League-Nawaz (PML-N) and the Pakistan People's Party (PPP) to lead anti-government agitation comes after years of preparation. However, the real question is whether the parties can dislodge the Pakistan Tehreek-e-Insaf (PTI) government, even if they launch a joint front.
This is not the first time that opposition parties have decided to launch anti-government protests. In May 2019, the heads of both parties made a similar declaration, citing growing inflation as a key reason for their agitation against the government. However, the PML-N and the PPP didn't make a move on their announcement and rather decided to bring a motion to remove the ruling party's chairman in the upper house of Parliament. The motion failed to remove the chairman of the Senate even after both parties had a clear majority. Following the failure of the motion, the PML-N accused the PPP of colluding with the security establishment to gain political favor.
In October 2019, the PPP and the PML-N, in coordination with the Jamiat Ulema-i-Islam-Fazl (JUI-F), once again announced they would mobilize the public against the government. That round of agitation was framed around a sit-in the capital, supposed to last until Prime Minister Imran Khan tendered his resignation. Once the agitation got underway, the PPP and the PML-N's reluctance to take further action became obvious; JUI-F's leadership and workers were left alone in the capital. Khan didn't resign.
In February 2020, the PPP and the PML-N yet again announced a phase of anti-government protests. Fast forward to July 2020 and another movement is being planned by the opposition parties to topple the government.
Clearly, the opposition's efforts to form a joint front against the government remain marred by trust issues and other conflicting personal and party interests. In Pakistan's politics, agitation against elected governments generally happens due to either the interference of undemocratic forces or an opposition party's inability to ward off institutional pressures and gain favors from institutions that matter in the country.
In the current case, the PML-N and PPP's leaders are facing serious allegations of corruption. For more than a year, both parties have sought relief from the government and its supporters in the security establishment regarding growing pressure from the National Accountability Bureau (NAB), the institution leading investigations against the two parties. This is one of the reasons that the PML-N and the PPP have not moved against the ruling party beyond threats of leading an agitation.
However, the PPP and the PML-N have not received any relief and if anything, the government has pushed for a stern approach to bring both parties to "justice." By now, it has become clear to the PML-N and the PPP that as long as the current government remains in office, their chances of gaining political relief are nil.
In the backdrop of this understanding comes another announcement to agitate after Eid al-Adha. However, the latest announcement is unlikely to produce anything significant when the parties do not share ideological interests and are divided internally over the issue. The alliance between the two parties is merely glued together by virtue of individual electoral interests and an intent to survive the current accountability campaign against them both.
The new alliance has already fractured, with PPP leaders accusing the PML-N leadership of undermining the pact. The current president of the PML-N and the opposition leader in the National Assembly, Shahbaz Sharif, has refused to join the all parties huddle after Eid. It is well known that Sharif has good ties with Pakistan's security establishment. Understandably, his political faction within the PML-N doesn't want to anger the military leadership by becoming a part of an anti-government agitation campaign.
This is not the first time that Sharif has refused to support PML-N factions that want an aggressive approach against the military-supported government of the PTI. Sharif's halfhearted support for his brother and the founder of the PML-N, Nawaz Sharif, was visible when he arrived back in Pakistan in 2018. Sharif is also known to have undermined the PPP and PML-N alliance with the JUI-F to unseat Khan in November 2019.
Sharif has again decided against lending support to any agitation movement to remove the current government.
After CoD [Charter of Democracy signed between Nawaz Sharif and late Benazir Bhutto in 2006] setback, it is clear that the PPP cannot and should not trust the PML-N," said a senior PPP leader after finding out Shahbaz Sharif's position on the issue.
However, the PPP is also not new to such maneuvers: Last year, the PPP's president, Asif Ali Zardari, undercut his commitment with the PML-N to remove the chairman of the Senate. Zardari used the deal's threat to make an agreement with actors that support the current civilian setup and brought some political respite in Sindh province. The approach, however, strengthened the view that opposition parties in Pakistan are not interested in the question of good governance as long as they continue to get political relief.
In the current milieu, this means that the ruling party still enjoys the support of the national security establishment. And leading an action against the government could mean leading a movement against the military's selection in the civilian domain. Adopting this approach could have serious implications for any party or leader's political life in Pakistan.
As of now, it remains unclear if any political party, including the PPP and the PML-N, are ready to take that route. Making statements for the removal of the government is one thing; it may not anger people in powerful places. Leading a nationwide agitation is an altogether different story.
Arguably, both political parties are making another effort at using the threat of a potential alliance to strike a deal with the national security establishment. But any such respite is unlikely to come: With the question of the 18th amendment fate's hanging in the balance, the costs of making a compromise with the government and its support base in the military have only gone up. The PPP and the PML-N will have to make some hard choices in the coming weeks and months.
The leaders of both political parties remain skeptical of each other in terms of who may end up making a deal first with the country's national security establishment. Thus, the perpetual game of hide and seek by self-seeking politicians will continue to go on in the months to come.
https://thediplomat.com/2020/07/why-cant-pakistans-opposition-parties-remove-the-khan-government/
--------
PML-Q leaders laundered money, built assets: NAB
25 Jul, 2020
LAHORE: The National Accountability Bureau (NAB) has accused the PML-Q leaders — Chaudhry Shujaat Hussain and Punjab Assembly Speaker Chaudhry Pervez Elahi — of committing money laundering and accumulating illegal assets.
NAB stated this in a reply submitted to the Lahore High Court in connection with a joint petition of the Chaudhry brothers challenging three 20-year-old inquiries against them by the anti-corruption body.
The bureau said an investigation conducted so far revealed that the wealth of Mr Hussain and his family increased to Rs2.556 billion between 1985 and 2018. Their shareholding also increased to over Rs500 million from around Rs2m in 1985.
Mr Hussain's family has also acquired properties worth more than Rs123m and his two sons namely Shafay Hussain and Salik Hussain have given loan amounting to Rs1.5bn to different companies owned by them.
It said that foreign remittances of over Rs581m had been received in bank accounts of Mr Hussain since 2004. NAB said that five people who remitted money had joined the investigation and denied having sent any remittance. It shows that the petitioner and his family used fake identities to route unexplained money from foreign countries to Pakistan, it said.
About Mr Elahi, the report said the wealth of the petitioner and his family members rose to Rs4.069bn from 1985 to 2018. And their shareholding increased to Rs3bn from 1985 to 2019 while the family acquired properties worth over Rs250m.
It alleged that foreign remittances of Rs978m had been received in the bank accounts operated by the family members of Mr Elahi since 2004. It said that so far three people
who had remitted the money had joined the investigation and denied having sent any remittance, which established that fake identities had been used to route unexplained money from foreign countries to Pakistan.
NAB said the petitioners had repeatedly been asked through call-up notices to submit their version about the assets in question but they failed to come up with satisfactory answers.
The reply said Mr Elahi, in another inquiry of misuse of authority, was accused of making illegal appointments in the local government board during his stint as chief minister of Punjab.
Rejecting an argument by the Chaudhrys in their petition, the bureau said the inquiries into illegal assets and misuse of authority were never approved for closure by the competent authority and the investigation was being held strictly in accordance with law.
It said another allegation of willful default could not be established against the two petitioners. Therefore, the inquiry in this regard was approved for closure by the authority on July 10, 2017.
NAB asked the court to dismiss the petition of the PML-Q leaders for being devoid of any merits.
In reaction to NAB's reply, a spokesman for Chaudhry brothers said that the institution of NAB was being used for political engineering and old cases against them were being repeatedly opened and closed.
"If rehearing a 20-year-old case is not political engineering then what it is?" the spokesman wondered. He said the complainants against the PML-Q leaders in the inquiries had been unknown and reasons for reopening of matter were also not known.
The spokesman claimed that NAB in its reply had not been able to disclose any asset owned by the Chaudhry brothers beyond their income. He said there was no mention in the bureau's reply about any corruption, kickbacks, misappropriation or misuse of powers.
The PML-Q leaders in their petition in May last had also stated that the establishment of the NAB, its credibility, partiality and use for political engineering had been a matter of heated debate not only by political parties but also by human rights organisations and intelligentsia both at national and international level.
They said the conduct of the bureau and the manner in which its officials used authority had also been taken notice of by superior courts in a number of cases.
They asked the court to set aside the authorisation of the inquiries and the order for their bifurcation passed by the NAB chairman for being unlawful.
https://www.dawn.com/news/1570935/pml-q-leaders-laundered-money-built-assets-nab
--------
10 Chinese nationals hospitalised with Covid-19 in Bahawalpur
25 Jul, 2020
BAHAWALPUR: Ten Chinese engineers and workers were admitted to hospital after they tested positive for coronavirus here on Friday.
Dawn learnt that the Chinese nationals were working on a power project near Khairpur Tamewali about 45 kilometres from here on Hasilpur Road where they contracted the virus and were taken to the city. They were shifted to hospital under strict security measures by personnel of law-enforcement agencies (LEAs).
Dr Hamid, focal person of the coronavirus treatment at BVH-2 on Jhangiwali Road, told Dawn that the Chinese nationals were brought here today and were tested positive. He said their condition was stable and they were being observed by the hospital staff. He said prior to the arrival of the Chinese patients, the hospital staff was at ease as the hospital for the first time since the outbreak of Covid-19 had no confirmed case of coronavirus after the recovery of all the patients admitted here for the previous three months.
He said he was sure that with the due supervision and treatment by the doctors and paramedical staff, the Chinese patients would recover in due course of time.
MURDER: A man allegedly murdered his wife and a man she was alleged to have an affair with at Faisal Colony on Friday.
According to police sources, Ahsan Zia, a school watchman, killed his wife and her lover. Neighbours handed him over to the police who registered a case.
HAILSTONES: Rain accompanied by hailstones hit the city and suburbs for the second consecutive day on Friday.
The agriculture experts have advised the farmers not to allow the accumulation of rainwater in the cotton fields.
https://www.dawn.com/news/1571043/10-chinese-nationals-hospitalised-with-covid-19-in-bahawalpur
--------
South Asia
Taliban militants suffer heavy casualties in Khost; at least 29 killed, wounded
25 Jul 2020
The Taliban militants suffered heavy casualties during a clash with the Afghan forces in South-eastern Khost province with the Afghan military saying the security forces killed or wounded at least 29 militants.
The 203rd Thunder Corps in a statement said the Taliban militants were planning to attack the army outposts in Do Mandi and Sur Kali areas of Musa Khel district.
The statement further added that the security forces launched operations with the support of the air power, killing at least 18 Taliban militants.
The security forces also wounded at least 11 other Taliban militants during the operation, the 203rd Thunder Corps said, adding that the militants were also planning to plant Improvised Explosive Devices to inflict casualties on security personnel and ordinary civilians.
Furthermore, the security forces discovered a Vehicle-borne Improvised Explosive Device or a motor bomb during the operation and successfully defused it.
The Taliban group has not commented regarding the report so far.
https://www.khaama.com/taliban-militants-suffer-heavy-casualties-in-khost-at-least-29-killed-wounded-08983/
--------
5 Taliban militants killed, wounded in Afghan forces' counter-attack
25 Jul 2020
The Afghan forces countered a Taliban attack in northern Faryab province, killing or wounding at least militants of the group, the Afghan military said.
The 209th Shaheen Corps in a statement said a group of Taliban militants were looking to launch an attack in the vicinity of Dawlatbad district of Faryab on Friday.
The statement further added that the security forces retaliated and launched counter-attack, killing at least 2 militants of the group.
The security forces also wounded 3 other Taliban militants during the same operation, the 209th Shaheen Corps added in its statement.
The Taliban group has not commented regarding the incident so far.
https://www.khaama.com/5-taliban-militants-killed-wounded-in-afghan-forces-counter-attack-08982/
--------
5 civilians suffer casualties in Taliban roadside bomb in Baghlan province
25 Jul 2020
An Improvised Explosive Device (IED) inflicted casualties on five civilians in norhtern Kunduz proivnce of Afghanistan, the Afghan security officials said.
Tariq Arian, a spokesperson for the Ministry of Interior (MoI), said a roadside bomb planted by Taliban militants went off in Pul-e Khumri city late on Friday.
The statement further added that the incident took place in Bagh-e Shamal area of Pul-e Khumri city, the provincial capital of Baghlan province.
The explosion killed four civilians after their vehicle struck the bomb and wounded another civilian, Arian added.
The Taliban group has not commented regarding the incident so far.
https://www.khaama.com/5-civilians-suffer-casualties-in-taliban-roadside-bomb-in-baghlan-province-08981/
--------
Eight civilians killed in Afghan strike on freed Taliban fighter
23 July 2020
Eight civilians were killed when an Afghan air strike hit a group of people gathered to celebrate a Taliban commander's release from prison, an official said Thursday.
The strike in the western province of Herat on Wednesday drew condemnation from a top US diplomat and underscores the worsening violence in Afghanistan's war even as the Taliban and Kabul are supposed to be preparing for peace talks.
According to Ali Ahmad Faqir Yar, the district governor in the area where the strike took place, a group had gathered to welcome the Taliban commander.
"An air strike was carried out during the ceremony and civilians who participated were among those killed," he told AFP, putting the toll at eight civilian dead and 16 wounded.
Zalmay Khalilzad, the US special envoy to Afghanistan, said photographs and witness accounts indicated that many civilians, including children, had been killed.
"We urge all sides to contain the violence, protect civilians, and show necessary restraint as the start of intra-Afghan negotiations is so close," he said on Twitter.
The defence ministry, however, disputed both accounts and said none of those killed were civilians.
Afghan forces had carried out the strike "based on intelligence photos and videos", the ministry said.
"The defence ministry's investigation is ongoing, but initial information shows that no civilians were killed," it said.
It was not immediately clear if the commander had survived the attack or how many insurgents were killed or wounded.
On their website, the Taliban said the insurgent had been released from Bagram prison outside Kabul on Tuesday.
He had been freed under a contentious prisoner swap that is seen as a crucial step toward eventual peace talks.
The exchange, outlined in a deal between the Taliban and the US in February, will see the Afghan government release 5,000 insurgents while the Taliban free 1,000 Afghan security force captives.
Kabul has protested that many among the Taliban inmates being released are dangerous fighters who will return to the battlefield.
In a separate incident in the eastern province of Nangarhar on Wednesday, at least 31 Taliban fighters were killed in clashes with security forces, the defence ministry said.
In a series of tweets, the United Nations Assistance Mission in Afghanistan warned of a "spiralling cycle of violence", and mission head Deborah Lyons called for a ceasefire over the upcoming Eid festival.
In recent months, violence levels have soared in Afghanistan, with the Taliban carrying out near-daily attacks against security forces.
strs-mam-jds/wat/fox
In recent months violence has soared in Afghanistan, with the Taliban carrying out near-daily attacks against security forces
https://au.news.yahoo.com/eight-civilians-killed-afghan-strike-freed-taliban-fighter-133332850--spt.html?utm_source=iterable&utm_medium=email&utm_campaign=1385975_
--------
Arab World
US-led forces withdraw from Iraqi military base near Baghdad
25 July 2020
The US-led military coalition, purportedly formed to fight the Daesh Takfiri terrorist group, has officially handed over a military base south of the Iraqi capital Baghdad to the country's security forces.
"Combined Joint Task Force – Operation Inherent Resolve (CJTF–OIR) turned over its facilities in Besmaya Range Complex to Iraqi security forces, thanks to the successes achieved by the troops in the campaign against ISIS (Daesh)," the official Iraqi News Agency quoted Major General Gerald Strickland, the Deputy Commander-Strategy of CJTF-OIR, as saying in a press release on Saturday.
Strickland said he is "working to re-position his forces inside Iraq," noting that "these military moves were planned long ago in coordination with the government of Iraq."
The statement added that "the international coalition is handing over the seventh site this year to Iraqi security forces, as part of an ongoing partnership between the Iraqi forces and the international coalition against ISIS (Daesh," praising "the crucial role of Iraqi soldiers in the liberation [of the strategic northern city of Mosul] three years ago."
On Friday afternoon, four Katyusha rockets struck Besmaya base, where Spain had led the training of Iraqi security forces since 2015.
Iraq's Security Media Cell announced said in a statement published on its official Twitter page that one of the projectiles landed on a warehouse, while another hit caravans belonging to the protection regiment of the base. The other two rockets fell in an open area. The rockets only caused some material damage, and there was no mention of casualties.
No group claimed immediate responsibility for the rocket attack.
On July 22, a convoy carrying logistical support for American troops was struck by two roadside bombs on the al-Bathaa road in Iraq's southern province of DhiQar.
Turkey's official Anadolu news agency, citing an unnamed Iraqi security source, reported at the time that the explosive devices had damaged some of the trucks and their consignments.
A week earlier, the Lebanese Arabic-language al-Mayadeen television news network, citing Iraqi tribal sources, reported that an explosion had targeted a US convoy carrying logistic supplies in Iraq's north-central province of Salahuddin. It was not immediately known if the attack had resulted in any casualties.
The resistance group Ashab al-Kahf later claimed responsibility in a statement, saying, "We confirm the destruction of a large logistical support convoy with its materials in Salahuddin."
Anti-US sentiment has been running high in Iraq following the assassination of top Iranian anti-terror commander Lieutenant General Qassem Soleimani, the commander of the Quds Force of Iran's Islamic Revolution Guards Corps and his Iraqi trenchmate Abu Mahdi al-Muhandis, the deputy head of the PMU, and their companions in a US assassination drone airstrike authorized by President Donald Trump near Baghdad International Airport on January 3.
Iraqi lawmakers approved a bill two days later, demanding the withdrawal of all foreign military forces led by the United States from the country.
The US responded to the move by threatening crippling sanctions against the Arab country.
https://www.presstv.com/Detail/2020/07/25/630373/US-led-coalition-hands-over-base-south-of-Baghdad-to-Iraqi-security-forces
--------
Iraqi MP urges expulsion of all US forces, says 'slow drawdown' not acceptable
24 July 2020
While the US claims it plans to gradually reduce the number of its forces in Iraq, a senior Iraqi lawmaker has called the partial pullout unacceptable and urged the expulsion of all foreign troops.
Major General Kenneth Ekman, deputy commander of coalition forces, told reporters on Thursday that the US will "slowly" decrease the number of its troops in Iraq over time.
He said the US is to reduce its "footprint" in Iraq as a feared resurgence of Daesh has not so far materialized in the Arab country. "I think over time, what you will see is a slow reduction of US forces," he added.
He noted that US forces will hand over the control of the Besmaya base south of Baghdad to Iraqi forces on Saturday, and Spain's training contingent will return home.
However, a senior Iraqi lawmaker said the partial withdrawal is not acceptable, urging the government of Prime Minister Mustafa al-Kadhimi to pursue the expulsion of all US-led foreign troops as per the Iraqi Parliament's decision.
Mukhtar al-Musawi, a member of Fatah Alliance in the Iraqi Parliament, said Iraqi armed forces are fully prepared to defend the country against any danger, adding there is no need for US soldiers.
He said the US plan to "slowly" withdraw its forces from Iraq is mainly aimed at "killing time", adding PM Kadhimi must discuss the issue with American officials in his coming trip to Washington.
"We will take a different position if a timetable is not announced for the drawdown of US troops," he warned.
Anti-US sentiment has been running high in Iraq following Washington's January 3 assassination of top Iranian anti-terror commander Lieutenant General Qassem Soleimani and senior Iraqi commander Abu Mahdi al-Muhandis, in addition to several other comrades, outside the Baghdad airport.
Two days after the assassinations, the Iraqi parliament voted for a resolution that called for an end to the presence of all foreign forces, including the Americans.
Washington, however, has threatened sanctions should US troops be expelled from Iraq instead of ending the occupation of the Arab country.
On Monday, the Iraqi TV station Etejah broadcast an animated video showing rows of coffins covered with American flags in a helicopter, as it takes off from the desert.
US military vehicles are then shown burning as a massive fist with flags for Iraq and the resistance forces rises from the ground beneath them.
https://www.presstv.com/Detail/2020/07/24/630319/Iraq-us-troops-withdrawal-military-base
--------
Hezbollah capable of targeting Israeli offshore gas rigs in Mediterranean: Israeli commander
25 July 2020
A senior Israeli military official says the Lebanese Hezbollah resistance movement now has the capability to attack Israeli offshore natural gas platforms in the Mediterranean Sea in case of a future confrontation.
Israeli Hebrew-language Israel Hayom daily newspaper quoted the commander of the Israeli navy's Haifa base, Brigadier General Gil Aginsky, as alleging on Friday that Israeli naval forces are ready to face off any potential threat, noting that the Tel Aviv regime currently "faces two challenges at two levels: One on the surface of the water and one beneath. We know how to deal with any complex and thorny scenario. In relation to what is under the surface of the water, we are getting prepared and acquiring weapons to confront this stiff challenge," the London-based and pan-Arab al-Araby al-Jadeed media outlet reported.
Aginsky noted that Hezbollah is working on an undersea attack tunnel that crosses into the occupied territories.
"They are active in sea water…. They intend to prevent us from being here, and if they can, they will do it. Our job is to prevent such a thing. We maintain and cover the northern border wall," he said.
Aginsky went on to say that the Israeli army has learned lessons from the Hezbollah anti-ship missile attack on INS Hanit corvette on July 14, 2006, during Israel's 33-day war on Lebanon.
The Israeli naval commander highlighted that the vessel was struck 16 kilometers (9 miles) off the coast of the Lebanese capital Beirut, and that four Israeli marines were killed in the incident.
"The threat remains and is serious, but we monitor and guard gas platforms. If Hezbollah wants to do strategic damage, it will try to harm these platforms…," Aginsky pointed out.
Back in February 2018, Hezbollah released a video that showed what appeared to be drilling platforms floating above Israeli gas fields with targeting sights superimposed on the images.
The video, aired by Israel's Hadashot TV news at the time, also included quotes from Hezbollah Secretary General Sayyed Hassan Nasrallah's speech, in which he warned that the group would retaliate against any Israeli strike on Lebanon by attacking Israel's offshore platforms.
"If you attack, we will attack. If you bomb, we will bomb you…. I promise you, within hours [the platform] will cease operating," Nasrallah said then.
Earlier that month, Hezbollah had released another video and issued pamphlets, warning the Israeli regime against operations in Lebanon's exclusive economic maritime zones.
"Whoever harms gas and oil sites in Lebanese economic waters, their own sites will be harmed," one pamphlet read.
https://www.presstv.com/Detail/2020/07/25/630365/Hezbollah-capable-to-target-Israel%E2%80%99s-offshore-gas-platforms-with-missiles-Israeli-military-official
--------
Coronavirus: Lebanese official finds he has COVID-19 at lunch with France's Le Drian
24 July 2020
A senior Lebanese official said on Friday he had taken bad news of testing positive for COVID-19 during a lunch with visiting French Foreign Minister Jean-Yves Le Drian.
"I received a telephone call from the hospital saying the test was positive, so naturally I left the lunch and informed all those present," Hadi Hashem, head of the Lebanese foreign minister's office, told the local OTV broadcaster.
A spokesman for Le Brian, whose lunch with Lebanese officials on Thursday came during a trip urging reforms to the crisis-hit economy, had no immediate comment on the matter.
Speaking by video, Hashem told OTV he had taken a polymerase chain reaction (PCR) test ahead of a planned trip to Denmark, but was now self-isolating at home until Monday before another test.
"The result was unexpected but the most important thing is that the virus level is low and not contagious," he said.
After Hashem's diagnosis, Lebanese Foreign Minister Nassif Hitti and his political affairs director also underwent PCR tests, but their results came back negative, a health ministry source told Reuters.
Lebanon has recorded 3,258 infections and 43 deaths from the novel coronavirus since February.
https://english.alarabiya.net/en/coronavirus/2020/07/24/Coronavirus-Lebanese-official-finds-he-has-COVID-19-at-lunch-with-France-s-Le-Drian.html
--------
Iraq forces free German woman kidnapped in Baghdad: Officials
24 July 2020
A German woman kidnapped in Baghdad earlier this week was freed overnight, Iraqi officials said on Friday, without providing additional details.
For all the latest headlines follow our Google News channel online or via the app.
"Security forces have freed activist Hella Mewis," Iraq's military spokesman Yahya Rasool said in a statement.
There were no details on the timing of the operation, the force that carried it out or who had kidnapped Mewis.
A spokesman for Iraq's Supreme Judicial Council, AbdelsattarBayraqdar, said the operation had been backed by a Baghdad investigative court.
"We are still investigating this crime," he said.
Mewis, who ran arts programs at Iraqi collective Tarkib, was kidnapped late on Monday as she was leaving her office.
"She was riding her bicycle when two cars, one of them a white pickup truck (of the type) used by some security forces, were seen kidnapping her," a security source told AFP.
Police officers at the local station witnessed the abduction but did not intervene, the source added.
Mewis's phone was still unreachable on Friday and her friends had not heard from her.
The German embassy in Baghdad had no immediate comment.
A friend of Mewis told AFP she had been worried following the killing of Hisham al-Hashemi, an Iraqi scholar who had been supportive of anti-government protests last year.
"I spoke to her (Mewis) last week and she was really involved in the protests too, so she was nervous after the assassination," said the friend, DhikraSarsam.
Large demonstrations erupted in Baghdad and Iraq's Shiite-majority south last year, railing against a government seen as corrupt, inept and beholden to Iran.
Around 550 people died in protest-related violence, including two dozen activists who were shot dead by unidentified men, usually on motorcycles.
Dozens more were kidnapped, some of whom were later released near their homes. The whereabouts of others remain unknown.
Amnesty International has slammed the incidents as "a growing lethal campaign of harassment, intimidation, abductions and deliberate killings of activists and protesters."
This year has seen a worrying spike in abductions of foreigners, who had not been targeted in several years.
On New Year's Eve, two French freelance journalists were taken hostage for 36 hours and three French NGO workers were held for two months.
In both cases, neither the kidnappers nor the conditions of their releases were revealed.
https://english.alarabiya.net/en/News/middle-east/2020/07/24/Iraq-forces-free-German-woman-kidnapped-in-Baghdad-Officials.html
--------
White Helmets collude with terrorists in Syria under humanitarian guise: Russia
24 July 2020
Russia's Foreign Ministry says members of the so-called civil defense group White Helmets continue to collude with foreign-sponsored Takfiri terrorists operating in Syria, and are involved in acts of looting and robbery under the guise of humanitarian activities.
"Western sponsors have not yet abandoned their support for the White Helmets and its affiliated outfits. We have repeatedly pointed to the fact that the humanitarian label of the group actually lies in plunder, extortion, robbery, intentional misinformation, false-flag chemical attacks, air and artillery strikes, and simply direct collusion with terrorism," the Arabic service of Russia's Sputnik news agency quoted spokeswoman for Russia's Foreign Ministry Maria Zakharova as saying during a press briefing in Moscow on Thursday.
Earlier this year, Director of the Russian Foreign Intelligence Service, Sergey Naryshkin, said Western intelligence services are sponsoring White Helmets and offering complete support to them to propagate fake news in a bid to incriminate Syrian government forces as a pretext for possible acts of aggression on army troops.
"The White Helmets is an organization financed by intelligence services overseas… It is fulfilling their objective within the framework of a propaganda campaign against the Syrian people, and the Syrian Arab Republic at large," the high-ranking Russian official said at the time.
He added that the Russian military has proven that the video footage of an alleged chemical attack in the city of Douma, located about 10 kilometers (6 miles) northeast of the capital Damascus, back in April 2018 was staged and a false-flag operation indeed.
The White Helmets group is known for its coordination with terror outfits in Syria to carry out staged chemical attacks aimed at falsely incriminating the Syrian government forces and inventing pretexts for possible acts of aggression on army troops by a United States-led military coalition present in Syria since roughly 2014.
The group has been involved in such attacks before.
https://www.presstv.com/Detail/2020/07/24/630308/White-Helmets-collude-with-terrorists-in-Syria-under-humanitarian-guise-Russia
--------
Africa
Sudan armed group attacks Darfur village, killing at least 7
July 25, 2020
CAIRO: A Sudanese paramilitary group attacked civilians in the war-scarred region of South Darfur, killing at least seven people and wounding 20 more, local activists and a rebel group said Friday.
The assault in the troubled province came a week after government-linked armed groups stormed a protest camp in North Darfur and killed 13 people.
The latest attack was staged Thursday by armed men who opened fire on people headed to their farms in the town of Gereida, some 107 kilometers (66 miles) south of South Darfur's provincial capital, said Mohamed Abdel-Rahman Al-Nayer, a spokesman for a rebel group known as the Sudan Liberation Movement.
Seven people were killed, said Adam Regal, a spokesman for a local organization that helps run displacement camps in Darfur.
Late Friday, Al-Nayer put the death toll at 15, saying several more people had succumbed to their wounds.
The flashes of violence in Darfur have threatened to destabilize the country's fragile political transition. In April of last year, a sweeping pro-democracy protest movement toppled longtime autocrat Omar Al-Bashir, ushering in a transitional government jointly composed of civilian and military leaders.
Al-Bashir is imprisoned in the capital, Khartoum, on corruption charges, although the International Criminal Court has sought for a decade to arrest him on charges of genocide and crimes against humanity over his role in the Darfur conflict.
Sudan's government has vowed to end the conflicts in the country's far-flung provinces in hopes of slashing military spending, which eats up 80% of the national budget.
Rebel groups from Darfur and southern Sudan have for months engaged in peace talks. As part of a wider effort to hold former officials to account, the public prosecutor has pledged to investigate alleged atrocities in Darfur.
Yet sporadic violence continues, with each new attack fuelingfears that ruling authorities may not deliver on their promises.
"The militia that committed this crime is supported by the old regime," Al-Nayer said, referring to the Rapid Support Forces, a paramilitary unit drawn from the Janjaweed militias accused of mass killings and rapes in Darfur in the 2000s.
The group continues to wield power in Khartoum. Gen. Mohammed Hamdan Dagalo, the unit's commander, is deputy head of Sudan's ruling council.
There was no immediate comment from the Rapid Support Forces about Thursday's attack.
"We are calling on the government to play its role in protecting civilians, arresting criminals and disarming the militias," Al-Nayer said.
Sit-ins have sprung up across Darfur in recent weeks as people, mostly those displaced by the waves of fighting in the region, press demands for unhindered access to their farmlands and the resignation of provincial security officials, who they say fail to protect them against frequent paramilitary attacks.
A government delegation earlier this week visited the protest camp of Fata Borno in North Darfur, the site of the recent deadly crackdown. There, Gen. Abdelrahim Hamdan Dagalo, deputy commander of the Rapid Support Forces, pledged to launch an investigation into the dispersal of the sit-in and deploy forces to better protect farmers during the agricultural season, according to Sudan's state-run news agency.
Yet soon after the delegation met, footage surfaced online from Gereida, showing a woman carried on a stretcher with a bullet lodged in her head, homes torched in an alleged arson attack — and later — shrouded bodies lowered into a mass grave.
Meanwhile, a several hours' drive north, around 32 activists were arrested in a dragnet targeting protesters and displaced people this week, said Regal, the camp spokesman.
In a statement Friday, the Khartoum-based Darfur Bar Association confirmed that several advocates had been swept up in North Darfur, including one of its own attorneys providing legal aid for detainees in Kutum, where security forces dispersed another protest camp last week.
The arrests of lawyers and advocates sends "a clear message" that transitional authorities are continuing the same repressive Bashir-era tactics, the association said.
https://www.arabnews.com/node/1709786/middle-east
--------
US says Russia sent more equipment to Libyan front lines
July 24, 2020
TUNIS: Russia appears to be sending more military equipment to its mercenaries in Libya, including the flashpoint city of Sirte, in breach of an arms embargo, the US military said on Friday.
Its Africa Command said there was mounting evidence from satellite pictures of Moscow's military cargo planes, including IL-6s, bringing supplies to fighters from the Russian Wagner Group.
Both sides have been mobilizing forces around Sirte where any major new escalation could risk drawing major regional powers further into Libya's messy conflict.
The Tripoli-based, internationally recognized Government of National Accord (GNA) is backed by Turkey. The eastern-based forces of Khalifa Haftar's Libyan National Army (LNA) are backed by Russia, the United Arab Emirates and Egypt.
"The type and volume of equipment demonstrate an intent toward sustained offensive combat action capabilities," the Africa Command said in a statement posted on its website.
Both Russia and its LNA ally have denied previous US military statements that Moscow has sent fighter jets to back Wagner forces there.
The GNA earlier this year pushed the LNA from most territory it held in northwest Libya, including in Tripoli, destroying several Russian air defense systems.
However, the LNA stopped retreating at the central coastal city of Sirte, which it took from the GNA in January, and the front line has solidified there.
https://www.arabnews.com/node/1709376/middle-east
--------
UN 'horrified' by killing of five aid workers in Nigeria
23 Jul 2020
The United Nations has said it is "utterly shocked and horrified" by the killing of five aid workers by unknown armed groups in northeastern Nigeria.
The statement late on Wednesday by Edward Kallon, UN humanitarian coordinator in Nigeria, followed the release of a video showing the murder of the humanitarian workers who were kidnapped last month in Borno state.
The Nigerian government identified the victims as employees of the country's State Emergency Management Agency as well as international aid organisations Action Against Hunger (ACF), International Rescue Committee and Rich International.
"They were committed humanitarians who devoted their lives to helping vulnerable people and communities in an area heavily affected by violence," Kallon said.
The aid workers were abducted while travelling on a main route connecting the town of Monguno with Borno state capital, Maiduguri.
Kallon said he was troubled by the number of illegal checkpoints set up by non-state armed groups along the region's main supply routes.
"These checkpoints disrupt the delivery of life-saving assistance and heighten the risks for civilians of being abducted, killed or injured, with aid workers increasingly being singled out."
Northeast Nigeria has been ravaged by a decade-long armed campaign led by the armed group Boko Haram that has killed tens of thousands of people and displaced about two million from their homes.
Last year, fighters from a Boko Haram splinter group, the Islamic State West Africa Province, abducted a group of six humanitarian workers - including a female ACF employee - in the region.
Five of the hostages were later executed and the ACF worker remains in captivity.
Aid groups provide a vital lifeline for some 7.9 million people in the region who the UN says are in need of urgent assistance.
https://www.aljazeera.com/news/2020/07/horrified-killing-aid-workers-nigeria-200723081635932.html?utm_source=iterable&utm_medium=email&utm_campaign=1385975_
--------
North America
Trump and Putin talk about Iran's nuclear arms program: Kremlin
23 July 2020
US President Donald Trump told Russian counterpart Vladimir Putin Thursday he wanted to avoid a costly arms race with Russia and China and hoped for progress in arms control negotiations, the White House said.
"President Trump reiterated his hope of avoiding an expensive three-way arms race between China, Russia and the United States and looked forward to progress on upcoming arms control negotiations in Vienna," White House spokesman Judd Deere said.
The two leaders also discussed Iran's nuclear arms program, the Kremlin said in its statement on the call.
"The need for collective efforts to maintain regional stability and the global nuclear non-proliferation regime has been emphasized on both sides," the Kremlin said.
The White House did not mention Iran but said Trump and Putin discussed ways to defeat the coronavirus pandemic while continuing to reopen global economies.
The United States says that, as a growing nuclear weapons power, China should join it and Russia in a new treaty. But China's estimated 300 warheads are dwarfed by the arsenals of Russia and the United States.
China has balked. A top Chinese diplomat said earlier this month that China would be happy to hold arms control talks with the United States and Russia, but only if Washington was willing to cut its nuclear arsenal to China's level, which is about 20 times smaller.
https://english.alarabiya.net/en/News/world/2020/07/23/Trump-and-Putin-talk-about-Iran-s-nuclear-arms-program-Kremlin.html
--------
US: Azerbaijanis blast death threats by Armenian groups
BeyzaBinnurDönmez
24.07.2020
Amid brazen online threats targeting Azerbaijanis in the US, police should investigate and locals should stay alert, said Azerbaijan's Consulate in Los Angeles, California.
On Facebook late Thursday, the consulate decried these threats, taking place just after an assault by Armenians on peaceful Azerbaijani and Turkish demonstrators, and urged the Los Angeles Police Department and the FBI to take action.
Some of the online threats cited by the consulate, such as the "armo_bountyhunters" Instagram account with an Armenian flag, offered Bitcoin payments for information on the whereabouts of local Azerbaijanis and Turks. One Armenian Facebook user praised Tuesday's assault on peaceful Azerbaijani protestors, saying: "Death toll of Aziks will rise soon in LA. Good job brothers!!!"
Posting a hotline number, the consulate said, "This might be part of an intimidation campaign by some radical and aggressive Armenian groups. We call on all of you to be careful and be alert for any provocation from such groups."
It called on the LA police to "seriously" investigate these threats and urged Mayor Eric Garcetti and all other city officials to "strongly" condemn the hate crimes committed by Armenian National Committee of America-backed Armenian extremists against Azerbaijani community members on July 21 in Los Angeles.
At least one LAPD officer was also injured during Armenian aggression, according to local TV channel KTLA 5 News.
"It is high time to send a strong and unambiguous message to all Armenian radical groups that violence targeting any community in Los Angeles will not be tolerated," the consulate urged.
Azerbaijan's consulate confirmed reports that a hate crime investigation has been launched by the police and said it will take necessary steps to bring the matter into FBI's attention.
On Tuesday a large group of Armenians attacked and injured a much smaller group of Azerbaijanis and Turks who gathered near the LA consulate to peacefully protest recent Armenian aggression against Azerbaijan.
On July 12, the Armenian army violated a cease-fire and attacked Azerbaijani border positions with artillery fire, and later withdrew after losses when Azerbaijan's army pushed back.
During its aggression, Armenia martyred 12 Azerbaijani soldiers, including high-ranking officers, besides wounding four troops.
https://www.aa.com.tr/en/americas/us-azerbaijanis-blast-death-threats-by-armenian-groups/1920940
--------
URL: https://www.newageislam.com/islamic-world-news/power-politics-behind-move-convert/d/122469
New Age Islam, Islam Online, Islamic Website, African Muslim News, Arab World News, South Asia News, Indian Muslim News, World Muslim News, Women in Islam, Islamic Feminism, Arab Women, Women In Arab, Islamophobia in America, Muslim Women in West, Islam Women and Feminism