New Age Islam News Bureau
25 March 2016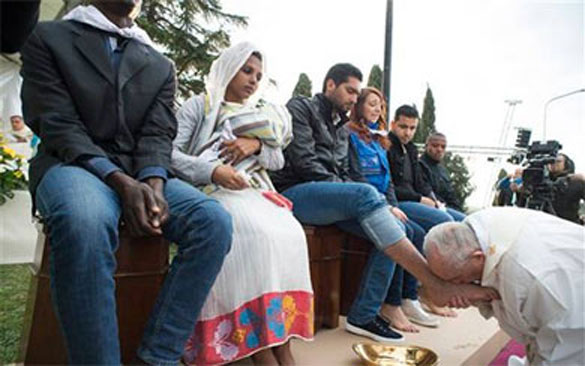 Pope Francis washed and kissed the feet of Muslim, Christian and Hindu refugees on Thursday and declared them all children of the same God
-------
• ISIS Second-In-Command Killed In US Raid in Syria: Reports
• Obama Rejects Singling Out Muslims in Fight against Islamic State
• Russian Bombers Turn Areas near Palmyra into Hell for ISIL
• Muslim Personal Law outside SC Jurisdiction, Asserts All India Muslim Personal Law Board
Europe
• Belgian Muslims Fear Growing Anti-Islam Backlash In Wake Of Terror Attacks
• First Islamic bank opens in Russia
-----
North America
• 'Islamophobia': U.S. Cities Face Anti-Muslim Backlash
• Tough talk on U.S. Muslims latest salvo in campaign war
• Hillary Clinton wasn't always against profiling Muslims
-------
Arab World
• Russian Bombers Turn Areas near Palmyra into Hell for ISIL
• Iraq Begins Military Operations to Liberate Nineveh
• Strategic Hill near Palmyra Castle Falls into Hands of Syrian Soldiers
• Iran, Russia Stress Intra-Syrian Dialogue
• Daesh under pressure as troops advance on Palmyra, Mosul
-------
India
• Muslim Personal Law outside SC Jurisdiction, Asserts All India Muslim Personal Law Board
• This Muslim Yogi Spread Out Goodness of Ayurveda and Yoga in Pakistan
• Fears Indian Priest 'Kidnapped By IS' May Be Crucified On Good Friday
-----
Pakistan
• Another 'IS-Inspired Militant' Held For Safoora Carnage, Sabeen Murder
• Elements in London, Geneva Hatching Conspiracies against Pakistan: GOC Southern Command
• MQM Tried To Woo Former ISI Chief Zaheerul Islam: Kamal
• Iranian President arrives in Islamabad on two-day visit to Pakistan
• Pakistan claims arrest of Indian intelligence officer
• Ex-PM Yousaf Raza Gilani visited my house in Pak: David Headley
----------
Mideast
• Ankara, Istanbul, and Brussels Attacks Have Similar Motives, Different Methods: Turkey
• Failure to Stop ISIL Attack Rocks Belgium
• Israeli PM 'hopes to normalize ties' with Turkey in upcoming meet
• UK citizen detained in Turkish capital for being ISIL member
• Seven ISIL suspects released by Istanbul court
• Israeli Forces Shoot Dead Two Palestinians in West Bank
• UN to Vote on Database of All Businesses in Israeli Settlements
------
South Asia
• Attempts Being Made To Create Ethnic Tensions among Afghan People: Former NDS Chief
• Bangladesh Hindus, Muslims Celebrate Holi
• 5 Killed In Latest Taliban Infighting in Herat Province
• Insider attack claims lives of 7 policemen in Kandahar province
• 1 killed, 5 wounded as Dostum and Noor supporters clash in Faryab
• Senior Afghan army general killed in militants attack in Kandahar
• NDS rescue child in Khost as kidnappers demanded $200,000 ransom
------
Southeast Asia
• Only Muslim Lawyers in Malaysian Sharia Courts
• Hadi's Leadership Un-Islamic, Says Zairil
• Malaysia Arrests 15 for Suspected Links To Islamic State
-----
Africa
• Ugandan Muslims Condemn Christian Hostility to Islamic Banking
• Famed African Satirist Raises Alarm over Kenyan Journalist Sackings
• Mobilizing Resources to Restore Hope in the Middle East and North Africa Region
• Ivory Coast to expand rapid response forces after attack
• Morocco arrests 9 suspected Islamist militants with Libya ties
• Morocco Ranks Most Travel-friendly Country in Africa for Muslims
--------
Compiled by New Age Islam News Bureau
URL: https://www.newageislam.com/islamic-world-news/new-age-islam-news-bureau/pope-washes-feet-of-muslim-migrants,-says--we-are-brothers-/d/106759
----
Pope Washes Feet of Muslim Migrants, Says 'We Are Brothers'
Castelnuovo Di Porto
Mar 24, 2016)
Pope Francis washed and kissed the feet of Muslim, Orthodox, Hindu and Catholic refugees today, declaring them children of the same God, in a gesture of welcome and brotherhood at a time when anti-Muslim and anti-immigrant sentiment has spiked following the Brussels attacks.
Francis denounced the carnage as a "gesture of war" carried out by blood-thirsty people beholden to the weapons industry during an Easter Week Mass with asylum-seekers at the shelter in Castelnuovo di Porto, outside Rome.
The Holy Thursday rite re-enacts the foot-washing ritual Jesus performed on his apostles before being crucified, and is meant as a gesture of service.
Francis contrasted that gesture with the "gesture of destruction" carried out by the Brussels attackers, saying they wanted to destroy the brotherhood of humanity represented by the migrants.
"We have different cultures and religions, but we are brothers and we want to live in peace," Francis said in his homily, delivered off-the-cuff in the windy courtyard of the centre.
Several of the migrants then wept as Francis knelt before them, poured holy water from a brass pitcher over their feet, wiped them clean and kissed them.
Francis was greeted with a banner reading "Welcome" in a variety of languages as he walked down a makeshift aisle to celebrate the outdoor Mass.
But only a fraction of the 892 asylum-seekers living at the shelter attended, and many of the seats were left empty. Those who came out, though, received a personal greeting: At the end of the Mass, Francis greeted each refugee, one by one, posing for selfies and accepting notes as he moved down the rows.
Vatican rules had long called for only men to participate in the ritual, and past popes and many priests traditionally performed it on 12 Catholic men, recalling Jesus' 12 apostles and further cementing the doctrine of an all-male priesthood.
Francis shocked many Catholics within weeks of his 2013 election by performing the ritual on women and Muslims at a juvenile detention centre. After years of violating the rules outright, Francis in January changed the regulations to explicitly allow women and girls to participate.
The Vatican said today that four women and eight men took part. The women included an Italian Catholic who works at the centre and three Eritrean Coptic Christian migrants. The men included four Catholics from Nigeria, three Muslims from Mali, Syria and Pakistan and a Hindu man from India.
http://www.deccanherald.com/content/536527/pope-wash-feet-muslim-orthodox.html
---
ISIS Second-In-Command Killed In US Raid in Syria: Reports
AP, Washington: Mar 25, 2016
The Islamic State group's second-in-command has been killed in a US raid in Syria, news reports said on Friday.
Abd ar-Rahman Mustafa al-Qaduli was killed this month, The Daily Beast and NBC News quoted unnamed defence officials as saying.
Pentagon chief Ashton Carter was expected to confirm the killing at an upcoming news conference, they said.
http://www.hindustantimes.com/world/is-second-in-command-killed-in-us-raid-in-syria-reports/story-S1DMkmUdlbNX98lVsAi8hJ.html?utm
-----
Russian Bombers Turn Areas near Palmyra into Hell for ISIL
Mar 25, 2016
TEHRAN (FNA)- The Russian fighter jets carried out tens of combat sorties over ISIL's defense lines in regions around the ancient city of Palmyra (Tadmur) in Homs province.
The Russian Defense Ministry announced that the country's warplanes hit 146 terrorist targets around Palmyra in Homs province from March 20 to March 23, stressing that more than 300 terrorists were also killed during the operations.
"From March 20 to March 23 Russian Air and Space Forces conducted 41 sorties around Palmyra, Homs province, hitting 146 military terrorist targets. Six command centers, 320 terrorists, five tanks, six artillery systems, two ammunition depots and 15 vehicles were destroyed," defence ministry said.
The Syrian soldiers, backed by the National Defence Forces (NDF), Hezbollah fighters and Syrian-Russian Air backup, are marching on ISIL concentration centers in Homs province to take back control over Palmyra, leaving hundreds of Takfiri terrorists dead or injured.
Since September 30, Moscow has been conducting pinpoint airstrikes on Takfiri terrorist targets in Syria at President Bashar al-Assad's request.
The Russian Aerospace Forces coordinate their actions with the Syrian army which is operating on the ground.
http://en.farsnews.com/newstext.aspx?nn=13950106000264
------
Obama Rejects Singling Out Muslims in Fight against Islamic State
Wed Mar 23, 2016
March 23, 2016. REUTERS/David
By Jeff Mason
BUENOS AIRES (Reuters) - U.S. President Barack Obama said on Wednesday the United States can and will defeat Islamic State and rejected the notion put forth by some Republican presidential candidates that Muslims in the United States should be singled out for surveillance.
In his most extensive remarks about Tuesday's attacks in Brussels in which Islamic State suicide bombers killed at least 31 people and wounded 260 others, Obama said the United States was offering Belgium all assistance to help bring the attackers to justice.
"We will also continue to go after ISIL aggressively until it is removed from Syria and removed from Iraq and is finally destroyed," added Obama, using an acronym for the group. He was speaking at a news conference with Argentina's president, Mauricio Macri, while on a visit to Buenos Aires.
Preventing attacks by the Islamist militants, however, is difficult because "it's challenging to find, identify very small groups of people who are willing to die themselves and can walk into a crowd and detonate a bomb," he said.
Reacting to the Brussels attacks, Republican presidential front-runner Donald Trump said he would bring back torture and "do a lot more than water boarding." Republican candidate Ted Cruz called for heightened police scrutiny of neighbourhoods with large Muslim populations, and Trump said it was a good idea.
Obama said one reason there have not been more attacks in the United States is the Muslim American community is successful, patriotic and integrated.
"They do not feel ghettoized," Obama said. "So any approach that would single them out or target them for discrimination is not only wrong and un-American, but it also would be counterproductive because it would reduce the strength, the antibodies that we have to resist the terrorism."
Obama, who visited Cuba before travelling to Argentina, noted that Cruz's father had immigrated to the United States from Cuba, "a country that engages in that kind of neighbourhood surveillance.
http://af.reuters.com/article/worldNews/idAFKCN0WP2H9
---
Muslim Personal Law outside SC Jurisdiction, Asserts All India Muslim Personal Law Board
Dhananjay Mahapatra
Mar 24, 2016
NEW DELHI: Resisting the Supreme Court's suo motu decision to test the legal validity of triple talaq in Muslim personal law, the All India Muslim Personal Law Board (AIMPLB) has said that the country's top court has no jurisdiction to undertake the exercise as the community's personal law was based on the Quran and not on a law enacted by Parliament.
The board also challenged the utility of a uniform civil code which, it said, was no guarantee of national integrity and solidarity, arguing that a shared faith did not prevent Christian nations engaging in two World Wars.
In a similar vein, the AIMPLB said the Hindu Code Bill had failed to eradicate caste discrimination.
Drawing a line between a law enacted by the legislature and social norms dictated by religion, the All India Muslim Personal Law Board through advocate Ejaz Maqbool told the Supreme Court, "Mohammedan law is founded on the Holy Quran and Ahadith of the Prophet of Islam and this cannot fall within the purview of the expression 'laws in force', as mentioned in Article 13 of the Constitution." "The personal law of Muslims has not been passed or made by a legislation," it said.
"Muslim personal law is a cultural issue, it is inextricably interwoven with the religion of Islam. Thus, it is the issue of freedom of conscience guaranteed under Articles 25 and 26 read with Article 29 of the Constitution," it said in an affidavit filed in court, quoting a series of SC judgments which apparently ruled that provisions of personal law could not be challenged for violation of fundamental rights.
The SC had decided on its own to examine the rights of Muslim women, finding that there was no safeguard against arbitrary divorce by Muslim men. The 43-year-old organisation said there were periodic noises by a section of society demanding an uniform civil code. "If the SC lays down special rules for Muslim women it will amount to judicial legislation," it said.
"Is uniform civil code imperative to national unity, integrity and solidarity?" it asked and said if that been so, there would not have been two world wars between armies belonging to the same Christian religion.
Countering the idea of uniform civil code, AIMPLB said the Hindu Code Bill, which was passed in 1956 to bring uniformity in personal law among different sects of Hindus, has failed to achieve integration among different sects of Hindus. "Are there not caste divisions which still exist and has caste become extinct? Is untouchability non-existent? Are there no grievances of Dalits about discriminatory treatment?," the board said.
http://timesofindia.indiatimes.com/india/Muslim-personal-law-outside-SC-jurisdiction-asserts-board/articleshow/51534701.cms
----
Europe
Belgian Muslims Fear Growing Anti-Islam Backlash in Wake of Terror Attacks
March 24, 2016
BRUSSELS — It's already been a rough few months for Belgian Muslims in the wake of November's terrorist attacks in Paris and the search for suspects in Belgium: Lockdowns, increased security and raids on homes.
Now, in the wake of the country's deadliest terrorist attacks Tuesday, Muslims who live in Belgium fret more fear, suspicion and harassment is on the way.
Recent anti-Muslim rallies in Flemish cities such as Antwerp and Ghent have been relatively small but they may grow in size and become violent, said Nabil Riffi, an attorney of Moroccan descent who lives in Antwerp. "My fear is that they will draw more people to them because the danger is now among us," he said.
"I think the possibility of the Pegida rallies in Flanders getting violent is real," he added, referring to an anti-migrant, anti-Muslim movement that started in Germany and has spread to other countries in Europe.
The Islamic State claimed responsibility for the bombings at Brussels Zaventem airport and a central metro station that killed 31 and injured 250. Two suicide bombers died in the attack and a massive manhunt is underway for a third suspect caught on video cameras fleeing the airport. An arrest was made Wednesday but apparently not the man on the video.
USA TODAY
Belgian state TV names Brussels attack suspects
The search is focusing on the Schaerbeek neighborhood of Brussels, which has a significant Muslim population.
In one raid Tuesday, investigators found an explosive device containing nails that was similar to the type of bomb used in at least one of the two blasts at the airport. They also found a black Islamic State flag, according to Belgian media, which cited prosecutors.
USA TODAY
'It could have been us': How countries see Brussels terror attacks
Some of those suspected of involvement in the Nov. 13 Paris attacks, which killed 130 people, reside in Belgium. Abdelhamid Abaaoud, 27, a Belgian national named by French authorities as the likely mastermind of the attacks, was captured last Friday in a raid in Brussels.
Belgium has one of the largest Muslim communities in Europe as a percentage of its population: about 6% of 11 million Belgians. It also is the largest contributor of fighters to Islamic State. More than 500 Belgian nationals have traveled to join the extremist group in Syria and Iraq, according to Belgian intelligence estimates.
Leaders of Belgium's Muslim community, which condemned Tuesday's attacks, say the perpetrators' intention is to create social divisions and a backlash against Muslims that can aid in the recruitment of newly radicalized fighters.
The hashtag #stopIslam was a top trending topic on Twitter on Tuesday.
"These dramatic events in the heart of Europe undermine the efforts of society … and the full Muslim community in Belgium to harmoniously live together," the Executive of Muslims in Belgium, the main Muslim community organization in the country, said in a statement. "That is why, in the name of all Muslim citizens, the EMB calls for unity and unanimity to together establish a coalition against violence and terrorism."
Belgian Muslims also say the perpetrators and supporters of terrorist attacks represent a tiny portion of the millions of Muslims across Europe who condemn such violence.
"I hope that people will realize this has nothing to do with the real Islam and that 99% of Muslims very much are distancing themselves from what happened (Tuesday) and they also really are reeling," attorney Riffi said.
"Muslims are also Belgians," he said. "They are also really shocked and incredibly sad. I hope that people will realize that and that there won't be a backlash against people who really have nothing to do with this, and don't all encourage this or stand behind it."
http://www.usatoday.com/story/news/world/2016/03/23/belgian-muslim-fear-growing-anti-islam-backlash-wake-terror-attacks/82154732/
---
First Islamic bank opens in Russia
Published time: 24 Mar, 2016
Russia's first Islamic banking centre, operating under the principles of Southeast Asia and Middle East partnership funding, opened in Kazan on Thursday. At a time when Western funding is closed to Russia, it could now get more investment from Muslim countries.
Herman Gref, Chief Executive Officer and Chairman of the Board of Sberbank (RIA Novosti/Iliya Pitalev)​Islamic banking in Russia may ease effect of sanctions – head of Sberbank
"We are living through difficult times. Difficult economic circumstances force us to look for new ways. Affiliate banking is new to us. We have to form customer service, which would, above all, be in accordance with Russian banking legislation and not contradict Islamic banking," said the president of Russia's Republic of Tatarstan Rustam Minnikhanov.
Located about 800 kilometers east of Moscow, Russia's Tatarstan has a significant Muslim Tartar population.
"I am sure this will also be a step that will attract new financial markets to our country," he added.
The center will focus on banking services for individuals, firms and foreign investors.
According to Tatarstan Finance Minister Artem Zdunov, the lack of foreign borrowing has made Russia look for other sources of financing, including Muslim countries. He added that the Islamic finance industry is one of the fastest growing in the world with 15-20 percent annual growth in assets.
The state religion in several countries of Southeast Asia and the Middle East has left its mark on their credit institutions. Islamic banks do not pay interest, and receive an income from investments in business projects.
At present, Russian legislation does not allow Islamic banks to use all their tools. However, amending the law is already being discussed.
https://www.rt.com/business/337049-islamic-banking-russia-kazan/
-----
North America
'Islamophobia': U.S. Cities Face Anti-Muslim Backlash
Mike James and Linda Dono
March 24, 2016
WASHINGTON — Cities across the USA are preparing for the next phase that inevitably follows a terror attack: anti-Muslim backlash.
Across social media, in public forums on college campuses, and even in mainstream political rhetoric from presidential candidates, anger over the deadly terror attacks in Brussels has spawned discontent and suspicion directed at Muslim groups. After the Islamic State claimed responsibility for the attacks, leaders in California, Kentucky, Massachusetts, Minnesota, New Jersey, New York, Ohio and spoke out quickly to dissuade anti-Muslim sentiment.
The aftermath of an attack "is always a difficult time for Muslims in the United States," said Nabil Shaikh, a leader of the Muslim Students Association at Princeton University.
"On Princeton's campus, students took to anonymous forums like Yik Yak to comment that there are Muslims at Princeton who are radical and would therefore condone yesterday's attacks," Shaikh said. "These comments not only are appalling and inaccurate but also threaten the well-being of Muslim students."
Unlike in Belgium and Paris following the November terror attacks, the backlash in the U.S. is not as confrontational.
Europe has seen occasional anti-Muslim rallies in Flemish cities such as Antwerp and Ghent. Some Muslim leaders have accused police in Europe of overtly targeting Muslim communities in lockdowns and raids of homes.
"The average Muslim still feels intimidated, still feels scared, still feels insecure."
Khusro Elley, Chappaqua, N.Y.
Muslim communities in the U.S. face opposition more in the form of rhetoric — but in an election year, such rhetoric can lead to sweeping change.
The day of the Brussels attack, Republican presidential hopeful Ted Cruz said that the U.S. needs to "empower law enforcement to patrol and secure Muslim neighborhoods before they become radicalized." His comments struck an already raw nerve in Muslim communities throughout the U.S. although Donald Trump praised Cruz's idea.
President Obama called the approach "wrong and un-American."
"I just left a country that engages in that kind of surveillance, which by the way the father of Senator Cruz escaped, to America, the land of the free," he said, referring to Cuba.
Politics plays a role in fostering anti-Islamic sentiment, said Khusro Elley of Chappaqua, N.Y., a trustee at Upper Westchester Muslim Society in Thornwood, N.Y.
"The average Muslim still feels intimidated, still feels scared, still feels insecure," especially in a political climate where it's become common to depict Muslims as terrorists, he said.
While brutal attacks on Muslims in the United States haven't been reported to the Council on American-Islamic Relations since the Brussels attack, bullying and hate speech are growing, said Ibrahim Hooper, spokesman for the Washington-based civil-liberties group.
"For girls, it's pulling on the hijab and calling them terrorists, and for boys it's saying that they have a bomb in their backpack and calling them terrorists," Hooper said. Some politicians make the problems worse. "They really have mainstreamed Islamophobia."
Children hear the hate speech on TV and hear their parents agreeing with it, he said. Increasingly, they're taking the language to school.
In Louisville,more than two dozen Islamic leaders gathered Wednesday to condemn the attacks and urge the public not to link all Muslims with terrorism, describing a growing level of Islamophobia.
"I do feel that with the attacks in Brussels and especially after Paris, people feel like they are entitled to speak hatefully. It's actually a lot worse than what happened after 9/11."
Maira Salim, Muslim Student Association at Wichita State University
Louisville Mayor Greg Fischer, a Democrat, called some Republican political candidates' responses in wake of the Brussels attack "naive and unrealistic."
"For them to play to people's basest fears" to gain political support is "contrary to American values," Fischer said at an interfaith prayer vigil, contending that such candidates are "masquerading as presidential timber."
Muslims in Louisville haven't felt fearful, especially since non-Muslim volunteers came out in force to paint over anti-Islam graffiti two days after the Louisville Islamic Center was vandalized Sept. 16, said Mohammed Wasif Iqbal, head of the center. But Iqbal said some have criticized Islamic leaders for not condemning attacks strongly enough.
"We will stand here every single time and condemn it," he said, arguing that extremists should not define the Islamic religion.
Muhammad Babar, a Louisville Islamic leader with Muslim Americans for Compassion, called the Brussels attack heartbreaking.
"Do not see us through the actions of ISIL," he said. "We are as American as you are."
The Council on American-Islamic Relations' Florida chapter has seen a fivefold increase in reports of hate incidents during 2015 compared with 2014, 26 vs. five, said Hassan Shibly, the chapter's chief executive director. A grand majority occurred in the final two months of the year, after the Paris terrorist attacks.
"Unlike what happens after the mass shootings committed by white supremacists that happen almost daily in America, whenever an act of terrorism involves those who identify themselves as Muslims, politicians respond by calling for the curtailment or the rights of American Muslims," he said. "Our enemies can never destroy us. We can only destroy ourselves if we allow fear and hate to turn us against each other."
The national Council on American-Islamic Relations, founded in 1994, called for Cruz to retract his demand for law enforcement to secure Muslim neighborhoods.
"Mr. Cruz's call for law enforcement to 'patrol and secure' neighborhoods in which American Muslim families live is not only unconstitutional, it is unbefitting anyone seeking our nation's highest office and indicates that he lacks the temperament necessary for any president," the national council's executive director, Nihad Awad, said in a statement.
USA TODAY
Islamic State trains 400 fighters to attack Europe in wave of bloodshed
Awad called Cruz's plan fascist-like.
"I do feel that with the attacks in Brussels and especially after Paris, people feel like they are entitled to speak hatefully," said Maira Salim, president of the Muslim Student Association at Wichita State University. "It's actually a lot worse than what happened after 9/11. … I'm all for free speech, but hate speech is not OK."
http://www.usatoday.com/story/news/2016/03/23/islamophobia-us-cities-face-anti-muslim-backlash/82180536/
-----
Tough talk on U.S. Muslims latest salvo in campaign war
Rick Jervis
March 25, 2016
Ted Cruz's proposal this week that police should "patrol and secure" Muslims neighborhoods in the U.S. in the wake of the Brussels bombings touched off a firestorm of backlash from prominent civil rights groups, as well as congressional colleagues.
Since the terror attacks in Paris and San Bernardino, Donald Trump and Cruz have been trying to outdo each other by proposing tougher scrutiny on U.S. Muslims and incoming refugees, Rice University political scientist Mark Jones said.
Trump ignited the rhetoric race by suggesting in December that the U.S. should temporarily bar all Muslims from entering the U.S. Shortly after, Cruz unveiled a bill that would allow governors to bar placement of Syrian refugees in their states. It's also the latest salvo in the battle between Cruz and Trump for capturing more primary voters through strong talk on terrorism.
The Brussels attacks on Tuesday in a metro station and airport, which killed at least 31 and injured more than 300, provides further fodder to this duel, Jones said. "We're now in a two-horse race for the Republican nomination," he said. "Cruz is very much not trying to let Trump outflank him to the right. The last thing Cruz wants is for there to be daylight between him and Donald Trump on this issue."
In a statement released Tuesday morning, Cruz restated his call to "immediately halt the flow of refugees from countries with a significant al Qaida or ISIS presence," such as Iraq or Syria. He also called for the "need to empower law enforcement to patrol and secure Muslim neighborhoods before they become radicalized."
The comments were immediately rebuked by groups such as the American Civil Liberties Union and the Council of American-Islamic Relations.
Cruz's proposal "is not only unconstitutional, it is unbefitting anyone seeking our nation's highest office and indicates that he lacks the temperament necessary for any president," CAIR National Executive Director Nihad Awad said in a statement.
Rep. Tammy Duckworth, an Illinois Democrat and former U.S. Army helicopter pilot who lost her legs in 2004 when her helicopter was shot down in Iraq, said Cruz's claims sends the wrong message to Muslims. "When we say this kind of thing we promote the divisive rhetoric, the propaganda that ISIS is selling, which will create the next insurgent that's going to shoot down an American helicopter like the guy that shot me down," Duckworth told Mashable.
The Cruz campaign later reiterated the candidate's stance, claiming President Obama's administration has failed to recognize a growing radical Islamic threat in America due to fear of being labeled "politically incorrect." Radical Islamic terrorism should be targeted by local law enforcement agencies the way they target drugs, gangs and human trafficking, it said.
"We know what is happening with these isolated Muslim neighborhoods in Europe," Cruz spokeswoman Catherine Frazier said in a statement. "If we want to prevent it from happening here, it is going to require an empowered, visible law enforcement presence that will both identify problem spots and partner with non-radical Americans who want to protect their homes."
But singling out neighborhoods by the religion of its residents for increased surveillance is unconstitutional and would lead to lawsuits, said Hina Shamsi, director of the ACLU's National Security Project. A similar initiative to allow police to monitor Muslim communities in New York under former New York City mayor Michael Bloomberg was attacked in federal court and was largely curtailed following a court settlement earlier this year, she said.
"Religious profiling is unconstitutional," Shamsi said. "Religious freedom and equal protection of the law are two of the fundamental rights the founders enshrined in our constitutional. Any kind of program that singled out Muslims or any faith or minority community for warrantless surveillance would violate those rights."
Despite constitutional questions, rhetoric like Cruz's and Trump's are striking a strong chord among many GOP primary voters. A February University of Texas/Texas Tribune poll found that 62% of Texas Republicans supported banning non-U.S. Muslims from entering the USA.
"There's an audience for what they're saying," said James Henson, the poll's co-author and director of the Texas Politics Project at the University of Texas at Austin. "And they know that."
In Cruz's hometown of Houston, home to one of the largest Muslim communities in the country, the candidates' calls to monitor Muslims have brought a mix of anger and trepidation. Since the San Bernardino shooting, the Syrians, Iraqis, Egyptians and other Muslim groups in Houston have sensed an increased hostility toward them, said Shireen Jasser, president of the Syrian American Council of Houston.
Cruz's latest remarks will only worsen those tensions and further alienate U.S. Muslims, she said.
"It's something so discriminatory, something so un-American," Jasser said. "It's quite frankly shocking."
http://www.usatoday.com/story/news/politics/elections/2016/03/25/ted-cruz-donald-trump-muslim-patrol/82216374/
-----
Hillary Clinton wasn't always against profiling Muslims
MARCH 23, 2016
There were two things which could be counted on following the horrible Islamic terror attacks in Belgium this week. One was that the world would come together in expressions of sympathy and grief for those who were lost and otherwise affected. The second was that it would be turned into a political football in the American elections before the smoke had cleared out of the Brussels metro stations. True to forum, the media dashed out to ask Ted Cruz and Donald Trump what we should do about the situation and both of them suggested keeping a closer eye on Muslim communities for signs of radicalization and impending attacks.
Anything that makes as much sense as that is obviously verboten in the mainstream media, so the hunt was on for anyone and everyone who would be willing to vilify the GOP contenders. They didn't have to wait long for Hillary Clinton's input, as she was quick to attack both of them following her victory rally in Arizona. (ABC News)
Hillary Clinton slammed Republican presidential candidate Ted Cruz for his proposal to patrol U.S. Muslim neighbourhoods as a plan to combat terrorism, in the wake of Tuesday's attacks in Brussels.
"Ted Cruz, who said we need to be policing everywhere Muslims live. I don't know about you; that is not only offensive that too is dangerous," Clinton told the crowd at a rally in Seattle Tuesday shortly after declaring victory in the Arizona Democratic primary. "Because we want everybody to feel together on our common defence against terrorism.
It's funny how people will respond to a tragedy such as this. You never know what a candidate or elected official will say in the heat of the moment. That includes Clinton herself. In fact, she was asked a very similar question after the 9/11 attacks by ABC news anchor Sam Donaldson and her response back then was a bit less… nuanced. Let's go to the video.
The weekly standard had the transcript.
"Let's talk about American life now, though," said ABC host Sam Donaldson. "What happens in the future from the standpoint of the question of security versus relaxation or giving up some of the freedoms that we've enjoyed in this country? How far do we go, for instance, on airline security?"
"Well, I think everyone recognizes we have to tighten security. We have to do whatever it takes to keep our people safe," Hillary Clinton replied.
Donaldson said, "Including profiling, senator?"
"I think we have to do whatever it takes, Sam. And I believe that, you know, Tuesday changed everything. Tuesday was a day that America has never, ever had to experience. And I hope to heaven that we never have to again. But we are in a war situation, and we're going to have to do things people do in times of war. I just heard your interview with the mayor, and I think he's right to look at examples in history like the Battle of Britain. Many of us have been studying what others did to carry on. And we know that we have to make tradeoffs in convenience, in our freedom of movement, without undercutting or losing our way of life and our values, which I really want to make America special and great. And we can't ever let anyone undermine that."
I understand that most of you who have been following this race might be rolling your eyes about now and treating this as a dog bites man story. Hillary Clinton has been on both sides of pretty much every issue under the sun between her time as First Lady and her first run for Senate until now. But that's a pretty dramatic shift, isn't it? At one time, a terror attack prompted a do what we have to do response from Clinton, but that's no longer in vogue. Admitting that we have a problem with a particular segment of the Muslim population is unpalatable to the Left, even on a day when they're still dragging scorched corpses out of the Brussels airport. So She Who Would Be Queen changes her tune again to suit the political winds of the day.
Hillary Clinton will do or say anything it takes to dredge up one more point in the polls as she has demonstrated over and over again. The sad part is, the way things are going today it looks as if it just might work.
http://hotair.com/archives/2016/03/23/hillary-clinton-wasnt-always-against-profiling-muslims/
----
Arab World
Iraq Begins Military Operations to Liberate Nineveh
Mar 24, 2016
TEHRAN (FNA)- Iraqi Army and popular forces have begun military operations to retake the Northern province of Nineveh from ISIL, Al-Mayadeen reported on Thursday.
The repost said the Iraqi forces have already liberated several villages in the district of al-Makhmour and Mosul, which has been under ISIL's contorl for two years.
The Northern and Western parts of Iraq have been plagued by violence ever since the ISIL terrorists began an offensive through the Iraqi territory in June 2014.
Iraqi army soldiers and popular forces are now seeking to win back these occupied regions in joint operations.
On Tuesday, Nineveh Province Operations Commander Brigadier General Najm al-Jabouri announced that the ISIL positions in Mosul were under the army's heavy fire, underlining that his forces were waiting for an order to launch the final battle.
"The Central and Southern parts of Mosul which host the ISIL commanders' strongholds are under artillery fire and airstrikes," Jabouri told FNA on Tuesday.
He said that the Iraqi army and popular forces were all prepared for their commanders' order to launch a decisive battle against the ISIL in Mosul.
A source in Iraq's Ministry of Interior announced last Friday that the Iraqi Air Force's planes dropped thousands of leaflets on the city of Mosul (405 km North of Baghdad), calling on the residents to be prepared for the liberation operation of the city by the Iraqi army.
The source said in a statement that "today the Iraqi Air Force planes dropped thousands of leaflets on Tahrir neighborhood, as well as different parts in the left side of Mosul".
The source, who asked anonymity, added, "The leaflets called the citizens to be prepared for the expulsion of ISIL terrorist members."
http://en.farsnews.com/newstext.aspx?nn=13950105000187
-----
Strategic Hill near Palmyra Castle Falls into Hands of Syrian Soldiers
Mar 25, 2016
TEHRAN (FNA)- The Syrian army and popular forces, in the course of their special operation to liberate Palmyra city, won control over a key hill in the Eastern countryside of Homs province.
"The Syrian army and the National Defense Forces (NDF) continued pounding the ISIL positions near the ancient city of Palmyra (Tadmur) in Homs province, and stablished full control over Syriatel hill near Palmyra Castle," an army source said.
Battlefield reports from Homs province said terrorists have sustained heavy casualties in the Syrian army and popular forces' continued and large-scale operations against the ISIL's concentration centers on Friday.
The Syrian army soldiers and their allies have kept on marching on militant-held regions in Eastern Homs province in recent days to capture the strategic city of Palmyra which has been under the control of the ISIL since May 2015.
The pro-government forces imposed full control over the Western slopes of Jabal (Mount) Al-Tar after a violent battle with the ISIL terrorists near Palmyra on Thursday.
According to a military source in Homs province, the Syrian Army forces and Hezbollah fighters broke ISIL's defense lines on the Western slopes of Jabal al-Tar, forcing them to retreat to the Eastern parts of the strategic mountain-top, West of Palmyra. In addition to the liberation of the Western slopes of Jabal Al-Tar, the Syrian Army and Hezbollah also captured a fuel station in the Southwestern suburbs of Palmyra.
Meanwhile, Syrian army troops launched a night raid on the Western outskirts of Palmyra, targeting an ISIL strategic position in the area, a battlefield source said.
"The Syrian Army and Hezbollah started operation to capture Semiramis Hotel in Palmyra Suburb which is now an ISIL base," a source said.
Similar to the well-known Qatari Royal Villa, the Semiramis Hotel has been turned into a fortified military installation by ISIL, it is also used as the Takfiri terrorist group's barracks.
If the Syrian Armed Forces and Hezbollah succeed in liberating the Semiramis Hotel from the ISIL terrorists, they will be in a position to enter Palmyra for the first time since their large-scale retreat from this ancient city on May last year.
While the Syrian Armed Forces focus on the Semiramis Hotel, the Russian Air Force is pounding ISIL's supply route between the city and the nearby town of Al-Sakhanah.
The Russian Air Force carried out more than two dozen airstrikes and the number is likely to skyrocket in the coming hours as the battle to liberate Palmyra intensifies.
The Takfiri terrorists of ISIL have blown up several ancient columns, temples and tower tombs in Palmyra in Syria.
The head of the UN cultural watchdog has branded the destruction by ISIL terrorists of ancient temple in Palmyra ruins as a "war crime".
"This destruction is a new war crime and an immense loss for the Syrian people and for humanity," UNESCO Chief Irina Bokova said in a statement, adding that the "perpetrators must be accountable for their actions".
"The art and architecture of Palmyra, standing at the crossroads of several civilizations, is a symbol of the complexity and wealth of the Syrian identity and history," she said.
"Daesh (ISIL) is killing people and destroying sites, but cannot silence history and will ultimately fail to erase this great culture from the memory of the world," she added.
http://en.farsnews.com/newstext.aspx?nn=13950106000172
----
Daesh under pressure as troops advance on Palmyra, Mosul
Future of Al-Assad remains a sticking point in talks between Russia and US
March 25, 2016
Damascus: Syrian troops on Thursday entered the ancient city of Palmyra and Iraqi forces launched an offensive against Mosul as pressure mounted on key strongholds of the Daesh, the so-called Islamic State for Iraq and the Levant (Isil), group.
US Secretary of State John Kerry, meanwhile, held talks with Russia's President Vladimir Putin and agreed to push for a political settlement in the war-torn country, but the future of its Moscow-allied leader Bashar al-Assad remains a sticking point.
Unless Assad agrees to step down, there are concerns that the Syrian opposition could drop out of peace talks in Geneva, which UN envoy Staffan de Mistura said he was aiming to restart on April 9.
Backed by Russian warplanes and allied militia on the ground, the Syrian army advanced into Palmyra after launching a desert offensive early this month, said the Syrian Observatory for Human Rights.
The defence ministry in Moscow said Russian aircraft carried out 146 strikes on "terrorist targets" in the Palmyra area between Sunday and Wednesday, killing 320 "terrorists" and destroying six command posts and two ammunition dumps.
Daesh overran Palmyra - known as the "Pearl of the Desert" - last May and it has since blown up UNESCO-listed temples and looted relics that dated back thousands of years.
"Regime forces have entered the Hayy al-Gharf neighbourhood in the southwest of Palmyra. They are advancing very slowly because of mines planted by Daesh," Observatory director Rami Abdel Rahman said, adding troops were also advancing from the north.
'Nightmare is nearly over'
Palmyra's recapture would be a major strategic and symbolic victory for Assad, since whoever holds it also controls the vast desert extending from central Syria to the Iraqi border.
A Syrian military source said the army had entered Palmyra from the northwest after seizing control of part of the historic Valley of the Tombs.
IS had earlier urged civilians to flee the city, where about 15,000 of its 70,000 original residents remained after the jihadist takeover.
Syria's antiquities chief Maamoun Abdelkarim hailed the "imminent" recapture of Palmyra, vowing to rebuild monuments the jihadists destroyed.
"I am so happy that the liberation is imminent... before the total destruction of the ancient city," he said.
UNESCO chief Irinia Bokova welcomed the push to recapture Palmyra.
"For one year, Palmyra has been a symbol of the cultural cleansing plaguing the Middle East," Bokova said.
Mosul offensive
Across the border, Iraqi forces announced the start of an offensive to retake the second city of Mosul, Daesh's main hub in Iraq.
The army and the Popular Mobilisation paramilitary force "have begun the first phase of conquest operations" in the northern province of Nineveh, of which Mosul is the capital, Iraq's joint operations command said.
It said four villages had been taken between the town of Qayyarah, which is held by IS, and Makhmur, where US-backed Iraqi forces have been massing.
Experts have warned any battle to retake Mosul would be difficult, given the significant number of jihadists and civilians in the city and the time IS has had to prepare defences.
Rare talks with Putin
At the US-Russia talks in Moscow, some consensus appeared to be achieved over a framework and timeline for a political transition.
"We agreed on a target schedule for establishing a framework for a political transition and also a draft constitution, and the target is August," Kerry said at a joint news conference with Foreign Minister Sergei Lavrov after the talks.
Lavrov told journalists that Moscow and Washington would now step up efforts to get the Syrian regime and opposition to hold "direct talks" in Geneva, where a round of negotiations that saw a United Nations mediator shuttle between the delegations concluded on Thursday.
But Kerry appeared to back away from comments made before the meeting that suggested he would sound out the Russian leader about pressuring his ally Assad to step aside.
"Russia will have to speak for itself as what it's going to choose to do in order to help Mr Assad make the right decisions," he said.
Syria's main opposition said the Geneva talks "laid the basis" for substantive negotiations next month, but warned any real progress depended on Russia pressuring the Assad government.
"This is a unique moment, a precious moment and we hope Russia will seize this moment and use its leverage," High Negotiations Committee spokeswoman Bassma Kodmani said.
Assad's future has been a key obstacle in the latest talks, with the government insisting any discussion of him leaving is "excluded" and the opposition saying any talk of allowing him to stay is "absolutely unacceptable".
http://gulfnews.com/news/mena/syria/daesh-under-pressure-as-troops-advance-on-palmyra-mosul-1.1697605
----
Iran, Russia Stress Intra-Syrian Dialogue
Fri Mar 25, 2016
TEHRAN (FNA)- Iran and Russia underlined the need for sustainable ceasefire in Syria as well as the significance of intra-Syrian dialogue to end the foreign-backed war on the Arab country.
In a telephone conversation on Thursday, Iran's Deputy Foreign Minister for Arab and African Affairs Hossein Amir Abdollahian and Russian President Vladimir Putin's Special Envoy for the Middle East and Africa Mikhail Bogdanov discussed the latest developments in the region, including the ongoing wars on Syria and Yemen.
The officials highlighted unity, sovereignty and territorial integrity of Syria and called for serious campaign against terrorism and extremism throughout the region and beyond.
The two diplomats also highlighted the role of the Syrian people in determining their own future and condemned any foreign interference in Syria's internal affairs.
They also praised efforts by United Nations Special Envoy for Syria Staffan de Mistura to help end the war in the country.
During their telephone conversation, the Iranian and Russian deputy foreign ministers also expressed hope for ceasefire in Yemen as well as delivery of humanitarian aid to the people in the besieged country.
They warned against the growing threat of terrorism in Yemen and underlined the significance of intra-Yemeni talks too.
The Saudi-led coalition has been striking Yemen for one year now, leaving thousands of innocent people dead, injured and displaced.
Amnesty International has urged Washington and London to halt arms deliveries to Saudi Arabia, which is leading a brutal war on Yemen.
"Saudi Arabia's international partners have added fuel to the fire, flooding the region with arms despite the mounting evidence that such weaponry has facilitated appalling crimes and the clear risk that new supplies could be used for serious violations," said James Lynch, Amnesty International's regional deputy director.
Amnesty said that Washington and London, the largest arms suppliers to Saudi Arabia, "have continued to allow transfers of the type of arms that have been used to commit and facilitate serious abuses, generating a humanitarian crisis on an unprecedented scale."
The group said it has documented since the beginning of the conflict at least 32 air strikes by the Saudi-led coalition "that appear to have violated international humanitarian law".
The strikes had killed "almost 361 civilians, including at least 127 children", it said.
Amnesty also accused the coalition of having "repeatedly used cluster munitions, inherently indiscriminate weapons whose use is prohibited, in attacks that have killed and maimed civilians."
UN Security Council Resolution 2216, adopted in April last year, imposed an arms embargo only on the Yemeni army and Popular Committees that are resisting the Saudi-US aggression.
On February 25, the European Parliament called for an EU-wide arms embargo against Saudi Arabia, Amnesty said.
"In the absence of a Security Council embargo, Amnesty International is calling on all states to ensure that no party to the conflict in Yemen is supplied - either directly or indirectly - with weapons, munitions, military equipment or technology that would be used in the conflict."
The World Health Organization says Saudi war on Yemen has killed almost 6,300 people since March 2015, and the United Nations has warned of an unfolding humanitarian catastrophe.
http://en.farsnews.com/newstext.aspx?nn=13950106000050
----
India
This Muslim Yogi spread out goodness of Ayurveda and Yoga in Pakistan
Yudhvir Rana Mar 25, 2016
AMRITSAR: Fifty five years old Muhammad Wajahat Ali Khan Afridi has broken the self raised barriers that discriminate people on the basis of their religion to spread healthy way of living in a society where preaching on Ayurveda and Yoga is predominantly considered a way of practicing Hinduism.
But overcoming all hurdles, he has been successful and eventually famed himself as Yogi Wajahat who treats ailments using Himalaya's jari booti's, teach Yoga and draws inspiration on visiting and paying obeisance at Hindu temples.
A Mechanical Engineer by profession Wajahat was so much inspired by Ayurveda and Yoga that he chose to become a certified Yoga teacher and Ayurvedic practitioner- usually considered an aberration and religiously sin in a fundamental Islamic society.
Wajahat whose father Basharat Ali Khan and mother Shakira Bashrat were born in Toondla, near Agra and Firozabad in India respectively told TOI that religion had nothing to do with practising Yoga and Ayurveda as both were incomplete without each other.
He said religious edicts or fundamental dogma's had no bearing on them since Yoga and Ayurveda were more of spirituality and health and having proven scientific roots.
Father of three, Wajahat often visits temples with his wife Samreen who, he says, is comfortable with his work and other similar activities.
"I have studied various religious books including Geeta, Ramayana, Veda, Bible and Quran" he said adding that Pakistan was his mother land where he lived but he belonged to Asian subcontinent. "I belong to Asian subcontinent by birth so I love my values costumes and history which is common in the subcontinent" he said.
He said he was attracted to Yoga in childhood and even while studying in seventh standard he used to read books on Yoga and also columns in newspapers. "I gathered knowledge on Yoga as well as on different herbs from here and there before undergoing a certified course and now I not only take Yoga classes but also owns a Yogi Wajahat Ayurvedic Company "he said.
"In a society which is not receptive about yoga it's not easy to present shows on TV or take classes but with the support of my family and friends I am able to do" said he adding that he had been receiving threats from some fundamental religious groups.
"Now, after nearly fourteen years of relentless work and braving odds, I have many Muslim leaders and religious preachers as my disciples including?
Pakistan's famous Islamic preacher and public speaker Maulana Tariq Jameel? And it is an honor for me to have Maulana Sahib as my student" he said.
He said his company manufactures and other Ayurvedic medicines which have substantial market in Karachi and other parts of Pakistan. "People are now opening up, they are more concerned about the health benefits of Ayurveda and have no inhibition to them" he said.
He said thousands of people were coming for and learn Yoga for their immense .
Yogi Wazahat aspires to visit India and share stage with prominent Yogi's, Swami's and Ayurvedic practitioners.
http://timesofindia.indiatimes.com/city/amritsar/This-Muslim-Yogi-spread-out-goodness-of-Ayurveda-and-Yoga-in-Pakistan/articleshow/51550409.cms
----
Fears Indian priest 'kidnapped by IS' may be crucified on Good Friday
Mar 25, 2016
Fears are growing for an Indian priest believed to have been kidnapped by Isis after rumours circulated online suggesting he may be crucified on Good Friday.
Tom Uzhunnalil is believed to have been taken from a retirement home in Yemen during an attack by Islamic extremists on 4 March.
The group shot 16 people - including four nuns - during the incident at the home in Aden, which is run by missionaries, the International Business Times India said.
Father Uzhannalil has not been heard from since, but the Franciscan Sisters of Siessen posted a message on their Facebook page on Sunday claiming they had been informed of his torture, and said they believed he will be crucified on Good Friday. "This calls for serious concerted prayers from all of us," the Sisters said.
ISIS video: 'New Jihadi John' suspect Siddhartha Dhar is a 'former bouncy castle salesman from east London'
However, a member of Bangalore's Salesian Sisters of Don Bosco, Bangalore, of which Father Uzhunnalil was previously a part, told the International Business Times India: "There is no information about the whereabouts of Father Tom. We are only praying for him."
No one has claimed responsibility for the attack, and officials in Yemen are said to have blamed Isis, although al-Qaeda are also present in the area.
ISIS launches smartphone app that broadcasts beheadings
A handwritten account of the incident from a nun who was at the home at the time, published on Christian website Aleteian, claims five young Ethiopian Christian men ran to the sisters to tell them Isis were coming to kill them.
It describes the brutal killing of many people at the home, and also appears to confirm Father Uzhannalil's kidnap.
"A neighbour saw them put Father Tom in their car. They did not find a trace of Father anywhere," it said.
------
Pakistan
Another 'IS-Inspired Militant' Held For Safoora Carnage, Sabeen Murder
IMTIAZ ALI,Mar 25, 2016
KARACHI: A suspected militant, who was educated enough to get a job in a multinational company, has been taken into custody for his alleged involvement in the Safoora Goth bus carnage and rights activist Sabeen Mahmud murder cases, sources said on Thursday.
They said that an intelligence agency arrested Ali Rehman alias Toona, an engineer by profession and an accomplice of Saad Aziz, the prime suspect in the two cases, in a raid in Punjab, where he had been hiding after the May 2015 Safoora bus carnage.
Police declared him an absconder in the charge-sheet in both the Safoora carnage and Sabeen Mahmud murder cases and an antiterrorism court had also issued his non-bailable arrest warrants.
Rehman's name first emerged after the Sindh police's Counter-Terrorism Department (CTD) detected the group responsible for the Safoora carnage and arrested several suspects in Karachi. CTD official Raja Umer Khattab had told a press conference that the group was 'inspired' by the ideology of the militant Islamic State group.
According to the sources, suspect Rehman came in contact with Saad Aziz, a business graduate from the prestigious Institute of Business Administration, when the latter started working in the same multinational firm, Unilever Pakistan, where he was working as an engineer. Soon they became close friends.
A Unilever Pakistan spokesperson could not be reached despite several attempts.
Rehman along with suspect Aziz did a recee to target rights activist Mahmud. They attended one of the programmes organised at Sabeen Mahmud's The Second Floor (T2F) cafe and could be seen in a photograph taken on the occasion.
"Ali Rehman was directly involved in the killing of Sabeen Mahmud," said a security official, who wished not to be named.
Ms Mahmud was shot dead near the Defence Library when she along with her mother was returning home in her car after organising a seminar about the Balochistan issue in April 2015.
Later, her driver, an eyewitness to the killing, was also gunned down in the metropolis.
Regarding his involvement in the Safoora carnage, the sources said that although he did not take part in the massacre he was among the group of militants that planned and carry out the attack.
He was among several suspects who reached the spot on their motorbikes. Rehman did not enter the bus to carry out the shooting, a source said, adding that after accomplishing their mission he along with the killers escaped on their motorbikes.
Around 45 Shia Ismaili community members, including 18 women, were killed and eight others sustained wounds in an armed attack on their bus near Safoora Goth on May 13, 2015.
Later, Sindh Chief Minister Syed Qaim Ali Shah announced the arrest of four suspected militants — Saad Aziz, Hafiz Nasir, Mohammad Azhar and Tahir Minhas — and claimed that Saad Aziz masterminded the Safoora attack as well as the killing of Sabeen Mahmud.
Both cases have been transferred from antiterrorism courts to a military court and the suspects are also in the custody of army authorities.
http://www.dawn.com/news/1247752/another-is-inspired-militant-held-for-safoora-carnage-sabeen-murder
----
Elements in London, Geneva hatching conspiracies against Pakistan: GOC Southern Command
SYED ALI SHAH
Mar 25, 2016
QUETTA: A day after security forces claimed the arrest of a suspected Research and Analysis Wing (RAW) agent in Balochistan, Commander Southern Command Lt Gen Aamer Riaz accused elements sitting in London and Geneva of 'hatching conspiracies against the stability of Pakistan'.
Speaking at a Youm-i-Shuhada event on Friday, Commander Southern Command said the RAW agent had contact with separatist elements in Balochistan and was involved in a number of terrorist and subversive activities in the province.
"Our enemies do not want development and prosperity in Balochistan," said Lt Gen Aamer Riaz.
He further said that the people of the country need to understand the dangers faced by Pakistan.
"The geographical and ideological borders of Pakistan are being threatened," added Riaz.
A man believed to be a serving officer in the Indian Navy and a member of the Indian intelligence agency RAW was arrested during a raid in Balochistan on Thursday.
The spy was linked to separatist elements in Balochistan, and was involved in acts of sectarian terrorism and terror attacks in Karachi, a security official had said, adding that the RAW officer had been shifted to Islamabad for interrogation.
Earlier today, Foreign Secretary Aizaz Chaudhry lodged a strong protest with Indian High Commissioner Gautam Bambawale over 'India's spying activities' in Balochistan and Karachi, making it clear that this was unacceptable, Foreign Office sources said.
Balochistan Home Minister Mir Sarfaraz Bugti on Thursday confirmed the arrest of the suspected Indian spy from the southern part of the province.
"The arrest has proved Indian involvement in Balochistan", he said, adding that the spy was sponsoring terrorist and subversive activities in Balochistan.
Bugti had last year claimed RAW and Afghanistan's National Directorate of Security (NDS) are funding and training Baloch Republican Army (BRA) militants.
Earlier this month, Indian newspaper reported that Assistant to the Prime Minister on Foreign Affairs Sartaj Aziz, after a meeting with India's Minister of External Affairs Sushma Swaraj, had said an investigation team from Pakistan would visit India to probe the Pathankot air base attack on March 27.
The arrest of the suspected RAW officer comes just days before a possible meeting between Prime Minister Nawaz Sharif and Indian counterpart Narendra Modi at the Nuclear Security Summit in Washington.
The Hindu quoted sources saying foreign secretaries of both countries, whose meeting to restart the Comprehensive Bilateral Dialogue (CBD) in January was derailed by the Pathankot attack, are also due to meet in Washington.
At the beginning of March, Aziz had said that foreign-secretary levels talks would resume after the probe team's visit.
Pakistan and India had agreed to resume peace talks under the newly-coined phrase of CBD during Swaraj's visit to Islamabad for the Heart of Asia Conference last year.
The dialogue was to take on matters related to peace and security, Jammu and Kashmir, Siachen, Sir Creek, Wullar Barrage, Tulbul Navigation Project, economic and commercial cooperation, counter-terrorism, narcotics control and humanitarian issues, people to people exchanges and religious tourism.
http://www.dawn.com/news/1247860/elements-in-london-geneva-hatching-conspiracies-against-pakistan-goc-southern-command
--
MQM Tried To Woo Former ISI Chief Zaheerul Islam: Kamal
March 25, 2016
HYDERABAD:
The Muttahida Qaumi Movement's leadership tried to hire services of a go-between to arrange negotiations with the former chief of Inter-Services Intelligence Gen (R) Zaheerul Islam in 2013. A huge sum of money was also allegedly paid to the intermediary for the task.
The MQM's dissident and leader of the fledgling Pak Sar Zameen party, Mustafa Kamal, came up with this disclosure at a rally in Hyderabad on Thursday.
Altaf Hussain plays politics on grievances of masses: Mustafa Kamal
"Should I speak the truth?" he asked the cheering few thousand supporters who turned up at the inaugural event of a PSP's office in Latifabad Unit 6. "But we don't have to give a full dose; instead, we will go for a slower one so that they may understand."
As he hung on, the crowd shouted the name of the religious scholar and former MQM leader Aamir Liaquat Hussain. Kamal, however, chose to avoid naming anyone.
"People are doing propaganda on TV talk shows that we are brought here [in Pakistan] by the establishment," he said, adding that he wanted to expose the accusers by exposing their own links.
The PSP leader also announced holding of a public meeting in Bagh-i-Jinnah in Karachi on April 25 and urged Hyderabad's supporters to flood the venue with their attendance.
Mustafa Kamal names new political movement 'Pak Sarzameen Party'
"We [Kamal and Anees Qaimkhani] came back to Pakistan with the intention of atonement. But God perhaps wants to put some more responsibilities on our shoulders and through you God wants to change the future for your generations," said Kamal. He asserted that the PSP will achieve the objectives in 25 weeks. "We don't have 25 years or even two and a half years to clear the mess."
He was accompanied by Anees Qaimkhani, Raza Haroon, Waseem Aftab and Anees advocate.
A few hours before his arrival, a small group of women, reportedly belonging to the MQM, shouted slogans against Kamal near the PSP's office. But they left the area soon as the PSP supporters shouted back with their 'Pakistan zindabad' chants.
Reaction to Kamal's visit
The MQM Hyderabad chapter organised rallies, which gathered outside the press club, to express solidarity with the party chief on Thursday.
Why did Mustafa Kamal turn his back on MQM?
"The people whom Quaid gave respect have forgotten their position," said Rabita Committee member Iqbal Muqadam. "The flood of MQM's supporters is with the Quaid."
Another MQM leader, Abdul Haseeb, alleged that Kamal and other dissidents have sold out their principles.
http://tribune.com.pk/story/1072463/disclosure-mqm-tried-to-woo-isi-chief-kamal-page-9/
---
Iranian President arrives in Islamabad on two-day visit to Pakistan
MATEEN HAIDER,
Mar 25, 2016
ISLAMABAD: Iranian President Dr Hassan Rouhani on Friday arrived in Islamabad on a two-day official visit to Pakistan.
Upon arrival he was accorded a warm welcome by Prime Minister Nawaz Sharif.
The Iranian President will hold talks with both President Mamnoon Hussain and Prime Minister Nawaz Sharif on Saturday.
President Mamnoon Hussain will host a luncheon in his honour at President House.
Iranian President is also scheduled to speak at a gathering of Pakistan's prominent scholars and intellectuals on Saturday.
Dr Hassan Rouhani will also address a press conference before conclusion of his visit.
The Iranian leader is visiting Pakistan at the invitation of Prime Minister Nawaz Sharif. The visit is particularly significant in the wake of the lifting of sanctions on Iran that has opened new avenues for enhancing trade and commerce cooperation between the two countries.
This will be Dr Rouhani's first visit to Pakistan as the president of Iran. He will be accompanied by a high-level delegation comprising ministers, senior officials and businessmen.
http://www.dawn.com/news/1247862/iranian-president-arrives-in-islamabad-on-two-day-visit-to-pakistan
----
Pakistan claims arrest of Indian intelligence officer
Mar 25, 2016
ISLAMABAD: Pakistan today summoned Indian High Commissioner Gautam Bambawale to lodge its protest over "subversive activities" of an alleged RAW officer, a day after Pakistani security forces claimed to have arrested him.
"The Indian High Commissioner was summoned by the Foreign Secretary today and through a demarche conveyed our protest and deep concern on the illegal entry into Pakistan by a RAW officer and his involvement in subversive activities in Balochistan and Karachi," the Pakistan Foreign Office said in a statement.
Balochistan Home Minister Mir Sarfaraz Bugti yesterday identified the "official" as Kul Yadav Bhushan who he alleged was a commander-ranking officer in the Indian Navy and was working for Research and Analysis Wing (RAW).
Bugti claimed that Bhushan was in contact with Baloch separatists and terrorists fuelling sectarian violence in Balochistan.
The Minister, however, did not disclose the exact location of where he was arrested.
However, sources said that Bhushan was arrested from Chaman area of Balochistan, which is close to the Afghanistan border.
Pakistan had accused India of stoking violence in Balochistan and Karachi in the past but it is for the first time that it has claimed arresting a RAW officer.
India has dismissed all such allegations.
http://timesofindia.indiatimes.com/india/Pakistan-claims-arrest-of-Indian-intelligence-officer/articleshow/51549586.cms
------
Ex-PM Yousaf Raza Gilani visited my house in Pak: David Headley
Mar 25, 2016
NEW DELHI: Pakistani-American terrorist-turned-approver David Headley said on Friday that a few weeks after his father died in Pakistan in December 2008, the then Pakistan Prime Minister Yousaf Raza Gilani visited his house.
The former member of the Lashkar-e-Taiba (LeT) terror outfit was deposing before a Mumbai court on Friday from an undisclosed location in the US. This is his second set of depositions.
Headley, who was involved in the 2008 Mumbai attacks, added that his father had retired as director general of Radio Pakistan and
objected to his association with LeT, the Pakistan-based terrorist outfit.
He also said that he's hated India since he was a child because Indian planes bombed his school in December 1971. He was referring to the war between India and Pakistan in 1971.
Earlier this week, Headley also said that LeT had planned to kill Shiv Sena chief Bal Thackeray in Mumbai, but the plan failed.
On Friday, Headley said he was trying to organise a fundraiser for the Shiv Sena in the US, although there wasn't a plan to attack Thackeray on American soil.
In addition, Headley said he didn't mention that Ishrat Jahan was a Lashkar member during associate Tahawwur Rena's US trial, because he was "not giving any speech that he should have mentioned Ishrat's name" then.
Headley had said last month in an earlier deposition that Ishrat was a suicide bomber for the LeT. In June 2004, Mumbai resident Ishrat and three other men were shot dead on the outskirts of Ahmedabad, allegedly in an encounter with the police.
"They didn't ask me about Ishrat so I didn't tell them about it," he said, adding that "he was just "replying to their questions in that trial."
As for there being a women's cell of the LeT, like he said last month, Headley said today that during Rana's trial he didn't know about such a cell.
http://timesofindia.indiatimes.com/india/Ex-PM-Yousaf-Raza-Gilani-visited-my-house-in-Pak-David-Headley/articleshow/51546703.cms
------
Mideast
Ankara, Istanbul, and Brussels Attacks Have Similar Motives, Different Methods: Turkey
ANKARA
March/25/2016
Turkey's top security board has concluded that the motives of recent terrorist attacks in Ankara, Istanbul and Brussels were all similar, though carried out with different methods. The National Security Council (MGK), made u the country's top civilian leaders and military brass, also urged the international community not to regard terrorism as a legitimate "fight for freedom and rights."
"It is of vital importance that the international community agrees that terrorism is not a struggle for freedom and rights in order to jointly cooperate against it. The attacks in Ankara, Istanbul and Brussels had different aims but similar methodologies and show that terrorism is a threat to all – regardless of religion, language and state," the MGK stated in its bi-monthly meeting late March 24.
After scores of people were killed and wounded in these terror attacks carried out by the Islamic State of Iraq and the Levant (ISIL) and the outlawed Kurdistan Workers' Party (PKK), the MGK said Turkey called on European countries to jointly address the terror problem "without distinguishing between terrorist groups."
The MGK vowed Turkey's commitment to continue its struggle against terrorism until all terror groups are defeated, adding that additional security measures to be taken were discussed at the meeting.
In an indirect reference to the Syria's Democratic Union Party (PYD), which is linked to the PKK in Turkey, the statement said Turkey will not accept any move that takes such terrorist organizations into consideration as part of ongoing Syria peace negotiations.
The MGK also discussed the recent deal between Ankara and Brussels aiming to stem the flow of refugees from Turkish territories to Greek islands, welcoming NATO's support for efforts to stop human smuggling in the Aegean Sea.
No-fly zone still needed
The council also discussed developments inside Syria, again stressing Turkey's demand for a safe zone across the border and saying "the U.N. and the international community should take more responsibility for the stabilization of the region."
"Turkey's insistent proposals for the implementation of safe zone and no-fly zone have been proven right and important, as a result of recent developments," it stated.
The MGK also reportedly evaluated the Iraqi army's planned operation to liberate Mosul from ISIL, as well as ISIL's use of chemical weapons against Turkmens inside Syria.
http://www.hurriyetdailynews.com/ankara-istanbul-brussels-attacks-have-similar-motives-different-methods-turkey--.aspx?pageID=238&nID=96899&NewsCatID=341
---
Failure to stop ISIL attack rocks Belgium
BRUSSELS
March/24/2016
Revelations from Turkey that it had informed Belgium that at least one of the bombers in the March 22 Brussels attack was a jihadist fighter have rocked the Western European country after authorities failed to prevent the deadly assault.
Belgian Interior Minister Jan Jambon and Justice Minister Koen Geens offered their resignations over the Brussels attacks, but they were rejected by Prime Minister Charles Michel, Belgian media reported March 24.
Belgian authorities are facing embarrassment after Turkey said on March 23 that last year Ankara deported back to Europe Ibrahim El Bakraoui, one of the suicide bombers who carried out the Islamic State of Iraq and the Levant (ISIL) attacks on March 22, and warned Belgium he was a militant.
"We informed the Brussels embassy of the deportation process of the attacker with a note on July 14, 2015. However, the Belgians released the attacker despite his deportation," Turkish President Recep Tayyip Erdoğan said March 23, adding that one of the perpetrators of the Brussels attack had been detained by Turkish authorities in June 2015 in the southeastern province of Gaziantep and deported.
Hours after Erdoğan's remarks, Geens said he was aware one of the Brussels attackers had been sent to the Netherlands from Turkey, but denied that he had been flagged as a possible terrorist.
The attacks at Brussels' Zaventem Airport and Maalbeek Metro Station in Brussels on March 22 killed at least 31 people and wounded 270 others.
Ibrahim El Bakraoui is one of two brothers, along with Khalid El Bakraoui, named by Belgium as responsible for the attacks in Brussels. Both brothers are believed to have died in the attacks.
Meanwhile, two Turkish officials speaking on condition of anonymity told Reuters that one of the attackers in the suicide bombings was deported from Turkey not only once but twice last year and that authorities warned their European counterparts that they suspected him of being a militant fighter.
The first official said Ibrahim El Bakraoui's initial deportation in July 2015 had been based on police suspicions that he was a militant fighter, but no crime was committed in Turkey, describing his expulsion as an "administrative deportation."
"The police were looking at him and came to the conclusion that he may be a foreign fighter. He was picked up in [the southeastern city of] Gaziantep," said the official, declining to be named because of the sensitivities of the case.
The second Turkish government official told Reuters that El Bakraoui had entered Turkey for a second time on Aug. 11, 2015, through the Antalya airport on the Mediterranean coast and was again deported two weeks later, on Aug. 25, 2015.
The official did not specify where he was deported to on the second occasion.
Belgian prosecutors have said at least four people were involved in the attacks, including the El Bakraoui brothers. European security officials identified another suicide bomber as Najim Laachraoui, a suspected bombmaker for the Paris attacks.
Prosecutors have said another suspected participant in the airport attack is at large, a man in a hat seen in surveillance images who has not been publicly identified.
Belgian state broadcaster RTBF and France's Le Monde and BFM television reported March 24 that a fifth attacker may also be at large: a man filmed by surveillance cameras in the Brussels metro on March 22 carrying a large bag alongside Khalid El Bakraoui. RTBF said it is not clear whether that man was killed in the attack.
The chief suspect in the Paris attacks, Salah Abdeslam, was summoned to court in Brussels in the morning of March 24 after his arrest last week in the Belgian capital. His lawyer, who had initially vowed to fight extradition, said Abdeslam now wants to be sent to France as soon as possible.
http://www.hurriyetdailynews.com/failure-to-stop-isil-attack-rocks-belgium.aspx?pageID=238&nID=96870&NewsCatID=351
----
Israeli PM 'hopes to normalize ties' with Turkey in upcoming meet
ISTANBUL
March/24/2016
Israeli Prime Minister Benjamin Netanyahu said on March 23 that he was hopeful that upcoming negotiations between Israel and Turkey "will produce positive results" and enable the renewal of relations between the two countries.
"We have always wanted correct relations with Turkey and it wasn't us who changed the direction of the relations," Israeli daily Haaretz quoted Netanyahu as telling a press conference. "If possible, we would like to normalize the ties."
Netanyahu spoke several hours after President Reuven Rivlin held a telephone conversation with Turkish President Recep Tayyip Erdoğan, during which the former thanked the latter for the repatriation of the three Israeli citizens who died in an attack on Istanbul's busy İstiklal Avenue.
The relationship between Turkey and Israel was severely strained after the Gaza-bound Mavi Marmara vessel was raided by Israeli commandos in 2010, killing nine Turkish and one Turkish-American citizen on board.
The two countries have stepped up efforts in recent months to restore the relationship between the two countries, for which efforts at the undersecretary-level have taken place.
Teams from the two countries are due to resume negotiations in early April.
Three Israeli citizens, identified as 60-year-old Simha Simon Demri, 40-year-old Yonathan Suher and 70-year-old Avaham Godman, along with an Iranian, 31-year-old Ali Rıza Khalman, were killed in a suicide bomb attack on March 19. Turkish police identified the perpetrator as 24-year-old Mehmet Öztürk, who had links with the Islamic State of Iraq and the Levant (ISIL).
The director-general of the Israeli Foreign Ministry, Dore Gold, came to Turkey on March 20 to hold talks with Foreign Ministry Undersecretary Feridun Sinirlioğlu and Istanbul Gov. Vasip Şahin about the terrorist attack.
During his visit, Gold thanked the Turkish government for its efforts in the aftermath of the Istanbul attack and underlined the need for an alliance in the fight against terror.
During the press conference, Netanyahu drew a comparison between the ISIL terror attacks in Istanbul and Brussels and Palestinian attacks in Israel.
He stated that he had told Belgian Prime Minister Charles Michel and European Union Foreign Minister Federica Mogherini that terror must be denounced and fought wherever it occurs, and that terrorists must be deprived of hope.
http://www.hurriyetdailynews.com/israeli-pm-hopes-to-normalize-ties-with-turkey-in-upcoming-meet.aspx?pageID=238&nID=96859&NewsCatID=510
---
UK citizen detained in Turkish capital for being ISIL member
ANKARA
Fri Mar 25, 2016
UK citizen detained in Turkish capital for being ISIL member
Ankara police has detained a U.K. citizen for being a member of the Islamic State of Iraq and the Levant (ISIL), which has recently attacked a major thoroughfare of Istanbul.
The suspect, identified as M.A. by police sources, was captured at a hotel in the Altındağ district of the Turkish capital on March 25.
The suspect was later taken to the migration directorate for deportation.
Four tourists were killed and more than 30 locals and tourists were injured in a suicide bomb attack on March 19 on the busy İstiklal Avenue in Istanbul's Taksim neighborhood.
On Feb. 17, 29 people died in another suicide bombing in central Ankara, carried out by a splinter group of the outlawed Kurdistan Workers' Party (PKK).
An ISIL suicide attack killed 11 people – all German tourists – in the Sultanahmet Square, the heart of touristic part of Istanbul, on Jan. 12.
In October 2015, ISIL killed more than 100 people in a suicide bombing during a peace rally in Ankara.
An ISIL militant killed 33 young civilian activists on July 20, 2015, at the cultural center in the southeastern district of Suruç
http://www.hurriyetdailynews.com/uk-citizen-detained-in-turkish-capital-for-being-isil-member-.aspx?pageID=238&nID=96901&NewsCatID=509
----
Seven ISIL suspects released by Istanbul court
ISTANBUL
24-March-2016
Seven suspects arrested in the case against the Turkish branch of the Islamic State of Iraq and the Levant (ISIL) were released on March 24, meaning that all 94 suspects in the case are now on trial without arrest.
The Istanbul 13th Court of Serious Crimes released Halis Bayancuk, Cemil Aslan, Enes Yelgün, Erdal Yaşar, Mehmet Karlı, and Syrian nationals Muhammed Mustafa Halli and Asaad Khelifalkhadr, who had been arrested for being ISIL members.
Halli and Khelifalkhadr gave their testimonies with the help of an interpreter and denied the charges that they escorted two French-national women from Istanbul to the southeastern province of Gaziantep and then over to Syria to join ISIL.
"As I am in the tourism business, we sometimes escort foreigners upon their demand. But I have not sent anyone to ISIL. I do not support ISIL, or its ideas," said Khelifalkhadr, who admitted entering Turkey illegally.
Halli said he entered Turkey illegally to flee the conflict in Syria, first arriving in Gaziantep before continuing on to Istanbul, where he runs a teahouse. He also denied charges that he sent anyone to Syria to join ISIL.
One of the previously released suspects of the case, Gökhan Bulut, took part in the trial through the voice and video informatics system (SEGBİS). He said in his testimony that he had found the bombs for which he was arrested in a car he had rented, and denied that they belonged to him.
http://www.hurriyetdailynews.com/seven-isil-suspects-released-by-istanbul-court.aspx?pageID=238&nID=96893&NewsCatID=509
---
Israeli Forces Shoot Dead Two Palestinians in West Bank
24-March-2016
TEHRAN (FNA)- Israeli forces shot and killed two Palestinians over an alleged stabbing attack in the occupied West Bank.
The military claimed that the youths stabbed an Israeli soldier in al-Khalil (Hebron) on Thursday, presstv reported.
The soldier was transferred to a hospital in al-Quds (Jerusalem) with stab wounds in the shoulder and hand.
Israeli soldiers, however, prevented medics and ambulances from taking care of the wounded Palestinian youths before they passed away, a Palestinian television said.
Israeli soldiers killed another Palestinian youth last week near the Abu al-Arish checkpoint in al-Khalil.
The victim was identified as 17-year-old Abdullah Muhammad al-Ajlouni. Witnesses said the young man was "showered" with bullets at the checkpoint near the illegal Israeli Kiryat Arba settlement.
Al-Khalil, the largest West Bank city, has witnessed escalated tensions between some 200,000 Palestinians and several hundred Israelis living in illegal settlements under heavy military guard.
Tensions have heightened in the occupied territories since August 2015, when Israel imposed restrictions on the entry of Palestinian worshipers into the al-Aqsa Mosque compound in East al-Quds.
Al-Aqsa Mosque is the third holiest site in Islam after Masjid al-Haram in Mecca and Masjid al-Nabawi in Medina.
At least 208 Palestinians, including children and women, have lost their lives at the hands of Israeli forces since the beginning of last October.
http://en.farsnews.com/newstext.aspx?nn=13950105000433
---
UN to Vote on Database of All Businesses in Israeli Settlements
Thu Mar 24, 2016
TEHRAN (FNA)- The United Nations Human Rights Council will vote Thursday on adopting a resolution that would establish a database for businesses and enterprises with financial dealings and involvement in illegal Israeli settlements in the Palestinian occupied West Bank and the Syrian occupied Golan territories.
According to the published agenda, UN body will vote on four resolutions concerning the Israeli settlements, Telesur reported.
The one concerning the businesses database has angered several European Union countries which, according to the outlet, will either vote against it or abstain.
The resolution notes that "the settlement enterprise and the impunity associated with its persistence, expansion and related violence continue to be a root cause of many violations of the Palestinians' human rights, and constitute the main factors perpetuating Israel's belligerent occupation of the Palestinian Territory, including East Jerusalem, since 1967," the Middle East Monitor said in a report.
The Israeli businesses are labelling products from the illegal settlements as made in Israel and therefore have "directly and indirectly, enabled, facilitated and profited from the construction and growth of the Israeli settlements in the Occupied Palestinian Territory," the resolution warned.
"Private individuals, associations and charities in third States" are "involved in providing funding to Israeli settlements and settlement-based entities, contributing to the maintenance and expansion of settlements," the resolution added.
The database would serve as a way for foreign states to "provide guidance to individuals and businesses on the financial, reputational and legal risks, including the possibility of liability for corporate involvement in gross human rights abuses as well as the abuses of the rights of individuals, of becoming involved in settlement-related activities."
The Middle East Monitor said the resolution comes as a follow up to an earlier fact-finding mission, which investigated "the implications of the Israeli settlements on the civil, political, economic, social and cultural rights of the Palestinian people throughout the Occupied Palestinian Territory, including East Jerusalem."
Alarmed by the database, the United Kingdom, the EU and other Western countries have been applying pressure on Palestinian officials to remove the paragraph establishing the database of businesses involved in settlement activities.
Some 500,000 Israelis have settled in the West Bank and East Jerusalem among 2.4 million Palestinians, according to recent estimates. The International community, including the EU and the United States, consider Israeli settlements illegal and in violation of international law.
http://en.farsnews.com/newstext.aspx?nn=13950105000426
-----
South Asia
Attempts Being Made To Create Ethnic Tensions among Afghan People: Former NDS Chief
By GHANIZADA
Fri Mar 25 2016
The former Afghan Intelligence – National Directorate of Security (NDS) Chief Rahmatullah Nabil has warned regarding ongoing attempts to create ethnic divisions among the Afghan people.Nabil issued an online statement amid intensifying tensions among the supporters of top political figures, General Abdul Rashid Dostum and Ata Mohammad Noor.
General Abdul Rashid Dostum is the First Vice President and head of Junbish-e-Milli party while Noor is the acting provincial governor and chief of Jamiat-e-Islami party.
The supporters of the two political figures staged protests which turned violent yesterday in northern Faryab province, leaving one dead and five others wounded.
The protests were staged following the removal of Gen. Dostum's pictures from Mazar-e-Sharif city, an act that sparked anger among his supporters.
Meanwhile, Nabil warned that attempts are being made to further destabilize the country by creating ethnic divisions among the Afghan people.
The former NDS chief said the Afghan intelligence operatives obtained a classified report which was prepared for Pakistan's military intelligence – Inter Services Intelligence (ISI) shortly after the presidential elections in 2014.
Nabil further added that the report was prepared in English which stated that the project to create ethnic divisions among the Afghan people is successfully being implemented and reports regarding the developments will be provided on monthly basis.
This is not the first time the Afghan officials have slammed Pakistan's ISI for interfering in the internal affairs of Afghanistan and supporting the anti-government armed militants.
The Afghan officials have long criticized Pakistan for harboring the anti-government armed militants who are staging attacks against the Afghan government and security forces.
http://www.khaama.com/attempts-being-made-to-create-ethnic-tensions-among-afghan-people-nabil-0440
----
Bangladesh Hindus, Muslims Celebrate Holi
24-March-2016
Dhaka, March 24 (IANS) As elsewhere in the world, Bangladesh Hindu community also celebrated Holi, the festival of colors, fun and frolic, on Wednesday with fervour.
The festival has brought more Hindus to the temples in old parts of the capital Dhaka than on any other normal day of the year, Xinhua reported.
Bengali Hindus observe Holi though Durga Puja, the ceremonial worship of the mother goddess, is one of their main important festivals.
Students at Dhaka University on Tuesday morning were seen getting drenched in colour, singing and dancing together.
Though it is mainly a Hindu festival, some Muslims were also seen joining their Hindu friends celebrating Holi. Hindus believe that Holi brings a message of unity and friendship and bridges the communal divide.
http://ianslive.in/index.php?param=news/Bangladesh_Hindus_Muslims_celebrate_Holi-504696/INTERNATIONAL/13
---
5 killed in latest Taliban infighting in Herat province
Thu Mar 24 2016
At least five militants were killed in the latest infighting among the Taliban militants in western Herat province of Afghanistan.
According to the local government officials, the clash between Mullah Mohammad Rasool and Mullah Akhtar Mansoor took place Ghorian district.
The officials further added that the militants killed during the infighting have been taken to Shindand district of Herat province.
The supporters of Mullah Rasool and Mullah Mansoor engaged in a week long infighting in Shindand district earlier this month.
According to the local officials, at least 200 militants were killed during the clashes and scores of others were wounded.
The officials also added that the Taliban militants belonging to the two sides also committed war crimes, including summary executions, beheadings and attacks on local residents.
Mullah Rasool is an arch rival to the self-declared Taliban supreme leader Mullah Mansoor who oppose with the leadership of Mansoor as successor of Mullah Omar.
Meanwhile, a prominent Taliban commander, Mullah Ghafoor Tufan, has declared jihad against the militants loyal to Mullah Mansoor in the northwestern Badghis province of Afghanistan.
The Taliban leader accused Mansoor of working for Pakistan's Inter Service Intelligence (ISI) and murdering several Taliban leaders.
http://www.khaama.com/5-killed-in-latest-taliban-infighting-in-ghor-province-0435
-------
Insider attack claims lives of 7 policemen in Kandahar province
Thu Mar 24 2016
Afghan local policeAt least 7 policemen serving with the Afghan Local Police (ALP) forces were shot dead by their comrades in southern Kandahar province of Afghanistan.
According to the local government officials, the incident took place in the early hours of Thursday morning, involving three ALP forces who were apparently having links with the militants.
Provincial governor spokesman Samim Khpolwak confirmed the incident and said a investigation team has been sent to the area to probe the killing the policemen.
He did not disclose further information regarding the incident which took place in Arghandab district but a security official said 7 ALP men were killed in the attack.
The official further added that an ex-commander of the ALP forces were also among the assailants who managed to flee the area following the attack.
The Taliban militants group claimed responsibility behind the incident which takes place nearly a month after 4 policemen were martyred in a similar attack.
The last attack involving members of the policemen took place earlier this month on a highway between southern Uruzgan and Kandahar provinces.
Kandahar province has been witnessing relative peace during the recent months, however the anti-government armed militants have recently stepped up insurgency activities in parts of this province.
http://www.khaama.com/insider-attack-claims-lives-of-7-policemen-in-kandahar-province-0434
---
1 killed, 5 wounded as Dostum and Noor supporters clash in Faryab
GHANIZADA
Thu Mar 24 2016
Noor and Dostum supporters clashThe supporters of General Abdul Rashid Dostum and Ata Mohammad Noor engaged in a clash today in northern Faryab province of Afghanistan.
According to the local officials, one person was killed and five others were wounded in the incident, involving exchange of fire among the supporters of the two prominent political figures.
Provincial police chief Syed Agha Andarabi confirmed that the victims of the incident were rally participants who were marching in Maimana city.
This comes as hundreds of supporters of Gen. Dostum staged protests in northern Sar-e-Pul, Samangan, Faryab and Jawzjan provinces against the removal of the Vice President's pictures.
Yesterday's mass demonstrations followed a day after hundreds of supporters of Gen. Dostum protested against the act in Mazar city where the pictures were removed and torn by unidentified individuals.
Meanwhile, the supporters of the acting provincial governor of Balkh province Ata Mohammad Noor also took to the streets on Tuesday to protests in his support.
Amid fears that the protests would trigger chaos and riots in the north, Noor issued a statement on Monday immediately after the removal of Gen. Dostum's pictures spark furor among is supporters.
Noor, who is leading Jamiat-e-Islami party, warned regarding any provocative acts in reaction to the removal of the picture and urged the people to refrain from chaos and moves that lead to disorders in the city.
http://www.khaama.com/1-killed-5-wounded-as-dostum-and-noor-supporters-clash-in-faryab-0438
---
Senior Afghan army general killed in militants attack in Kandahar
Fri Mar 25 2016
afghan army officersA senior Afghan army general was killed in militants attack in southern Kandahar province of Afghanistan late on Thursday evening, local officials said.
The officials further added that the deceased general, General Khan Agha, was serving as deputy commander of the 205th Atal Corps of the Afghan National Army.
Provincial governor spokesman Samim Khpolwal confirmed the report and said Gen. Agha was killed in an attack by two militants in Dand district.
However, another security official said the army general was killed after a group of three militants attacked him as he arrived in his guesthouse.
The official further added that Gen. Agha was initially injured in the attack and succumbed to his injuries on the way to hospital.
Gen. Agha is the second top army general killed in militants attack in southern Afghanistan within the past two months.
Another senior commander of the Afghan National Army (ANA) Gen. Atamir Agah was martyred in an explosion in southern Helmand province of Afghanistan earlier in the month of February.
Gen. Atamir Agah was serving with the 3rd Brigade of 215 Maiwand Corps of the Afghan National Army in the south.
http://www.khaama.com/senior-afghan-army-general-killed-in-militants-attack-in-kandahar-0443
-------
NDS rescue child in Khost as kidnappers demanded $200,000 ransom
GHANIZADA
Fri Mar 25 2016
Afghan intelligence operativesThe Afghan intelligence operatives rescued a child in eastern Khost province of Afghanistan as the kidnappers were demanding a ransom of $200,000 for his release.
The National Directorate of Security (NDS) said a group of five kidnappers were arrested in connection to the kidnapping of the child from the center of Khost province.
A statement by NDS said the group was led by an individual who has been identified as Sher Mohammad and were keeping the child in the captivity while demanding a ransom of $200,000 for his release.
NDS further added in its statement that the child was released during an operation conducted in Lakan village and was handed over to his family.
Kidnap for ransom cases still continue in parts of the country despite the Afghan intelligence nabbed two MAFIA bosses involved in major kidnappings who were later executed by the government.
The two top MAFIA leaders, Habib Istalif and Raees Khudaidad, were executed late in 2014 and early in 2015 after they were arrested by intelligence operatives.
The NDS operatives released a hostage during a similar operation conducted in central Wardak province of Afghanistan late in the month of February.
The operation was conducted as the kidnappers were demanding a huge ransom of $1 million from the family of the hostage, forcing the intelligence operatives to intervene and secure his release.
http://www.khaama.com/nds-rescue-child-in-khost-as-kidnappers-demanded-200000-ransom-0441
----
Southeast Asia
Only Muslim Lawyers in Malaysian Sharia Courts
By: PTI
Kuala Lumpur: Mar 24, 2016: In a landmark decision, a Malaysian court on Thursday ruled that only Muslims can practise as lawyers in Sharia courts in the multi-ethnic Muslim-majority country.
The apex court decided on two questions of law in an appeal by the Federal Territories Islamic Religious Council (MAIWP) and Attorney-General's Chamber against the Court of Appeal's decision to allow non-Muslim lawyers to practise Islamic Sharia law.
Court of Appeal held that the rules for Sharia lawyers mandating that only Muslims can be admitted as Sharia lawyers did not contravene the Federal Constitution governing equality, liberty and right to form associations.
On March 17, 2011, Victoria Jayaseele Martin, who has a Masters degree in Comparative Law from the International Islamic University, lost her bid in the High Court to challenge the assertion that a Sharia lawyer in Kuala Lumpur must be a Muslim.
indianexpress.com/article/world/world-news/only-muslim-lawyers-in-malaysian-sharia-courts/#sthash.heueG9NU.dpuf
------
Hadi's leadership un-Islamic, says Zairil
Blake Chen
March 25, 2016
PETALING JAYA: PAS President Abdul Hadi Awang is practising "narrow sectarianism" in calling for Muslims to unite against DAP, says Zairil Khir Johari of DAP.
Zairil, who is MP for Bukit Bendera said Hadi's increasingly narrow-minded world view was "disconcerting", and that the latter's call for others to unite against DAP showed his priorities as a Muslim leader were all wrong.
"Shouldn't Muslims first unite against injustice, oppression, corruption and sectarianism (assabiyah)? Is that not what is demanded by Islam?
"Hadi is practising narrow sectarianism in declaring DAP as enemies even though DAP has nothing against Islam. In fact DAP supports Islamic principles such as justice, freedom, equality and respect for human rights.
"We believe Islam is a force for good, and should not be abused by certain people for political purposes," he told FMT.
Earlier this week, Hadi urged Malaysian Muslims to unite against DAP and ensure the party did not get a chance to govern the nation.
The PAS leader said DAP had no right to form the government as the Chinese only made up 30 per cent of the population compared to Muslims, who made up 60 per cent.
"The DAP has bigger plans, more than just controlling companies, and a united Muslim community can ensure the country is governed by the Malays," Hadi had warned.
http://www.freemalaysiatoday.com/category/nation/2016/03/25/hadis-leadership-un-islamic-says-zairil/
-----
Africa
Ugandan Muslims Condemn Christian Hostility To Islamic Banking
Halima Athumani
25th Mar 2016
KAMPALA, (AA): Uganda's Muslim leaders have condemned the "ignorance" of church leaders trying to block Islamic banking legislation in the majority-Christian nation.
Earlier this year, parliament amended a finance bill to introduce Islamic insurance. However, church leaders led by Archbishop Stanley Ntagali, head of the country's Anglican church, has urged President Yoweri Museveni to reject the legislation.
The parliament passed the Financial Amendments Bill 2015 on January 6, which among other things provides the introduction of Islamic banking services in the country.
In their petition, written on January 16,made public late Thursday – they claimed the introduction of Islamic banking "opens the door to the ultimate operationalization of full-fledged sharia law" and raised the specter of Islamic finance being used to fund terrorism.
"It should be remembered that the ultimate goal of jihad is to bring the whole world under sharia law and one religion in a global government known as the caliphate, which is what ISIS is trying to accomplish," the church leaders' petition claims, using an alternative acronym for Daesh.
The petition was jointly signed by Archbishop of Church of Uganda, Stanley Ntagali, Joshua Lwere, the Overseer General of National Fellowship of Born Again Pentecostal Churches, Bishop Simon Peter Emiu, the chairman Evangelical Churches of Uganda and Pastor Martson Daniel Maate, the Archbishop of the Seventh-day Adventist Church in Uganda.
Islamic banking avoids paying interest, which is forbidden under Islam, and instead offers returns to the lender.
"What criteria shows it's a way for funding terrorism, this is a misconception of the Holy Quran," Huda Oleru, a Muslim lawmaker for the National Resistance Movement, told Anadolu Agency.
She added: "Muslims in Uganda have been using secular banks because they had no option and this bill is a welcome move for those who do not want to pay interest levied by secular banks."
Muslims make up 12 percent of Uganda's population, with Roman Catholic and Protestant Christians accounting for around 84 percent.
Referring to the church petition, Oleru said the Quran "urges Muslims to help orphans, widows and the marginalized members of the society, that is the role of a responsible Muslim, they need to be educated more."
Nsereko Mutumba, spokesman for the Uganda Muslim Supreme Council, said the church leaders were "just ignorant of the Quran, it has nothing to do with ISIS, Boko Haram or any other group claiming to kill non-Muslims. Even countries in the Western world are embracing Islamic banking."
The Bank of Uganda is currently establishing a sharia advisory board to regulate and supervise Islamic banking.
"This doesn't mean having an automatic Muslim president," Mutumba said. "We are the minority. Islam was the first religion to be introduced in Uganda [and] we have never forced anyone to convert to Islam."
Commenting on the church leaders' request for the president to send the bill back to parliament so passages relating to Islamic banking can be removed, Oleru said: "I will not support this amendment if it is returned to parliament."
http://muslimnews.co.uk/news/islamophobia/25147-2/
---
Famed African satirist raises alarm over Kenyan journalist sackings
NAIROBI | BY DRAZEN JORGIC
Thu Mar 24, 2016
One of Africa's best known satirists blames government pressure for journalist sackings at Kenya's biggest newspaper group which threaten to reverse decades of hard-won press freedoms.
In a continent where journalists are often jailed, the Daily Nation's decision to end the contract of cartoonist Godfrey Mwampembwa after 23 years has made Kenya's journalists wary that their prized media freedom is at risk.
Mwampembwa's black and white sketches, published under the pen name Gado, have won a following around Africa for depicting politicians as greedy and corrupt hyenas, vultures and pigs.
"Cartoons are a barometer of press freedom in any country," said Mwampembwa, a Tanzanian cartoonist who has lived in Kenya for years.
"When that is under attack, you know you are in trouble," Mwampembwa, who is 46, told Reuters in his office in downtown Nairobi this week.
Any sign of pressure on the press before the 2017 elections will cause unease in Kenya, where politicians have been blamed for stoking ethnic tensions in the past. Deadly ethnic violence erupted after the 2007 polls, prompting a new constitution that protects media freedoms and outlaws hate speech.
Mwampembwa said his removal, and the sacking of several other journalists, showed the Daily Nation and its parent company Nation Media Group had "crumbled" under pressure from President Uhuru Kenyatta's government after his relentless needling of officials.
"This is a situation where an organization is capitulating to political and corporate pressure," he said. "The gains that were made are being rolled back, especially now that we are going into elections."
Nation Media Editor-in-Chief Tom Mshindi denied this, saying Gado's contract had reached a "natural end" and the government had never asked for a journalist to be fired.
"We will never bow or succumb to pressure from government or any other quarter," Mshindi said in a statement.
Presidential spokesman Manoah Esipisu called the allegations "absolute rubbish". He said: "Even when we feel criticism is severely unjustified, we don't think it is in our place to gag anyone."
"ARM-TWISTING"
Before he became president in 2013, Kenyatta sued the Nation Media Group over one of Mwampembwa's sketches.
The group sacked senior editor Denis Galava in January after he wrote an editorial criticising Kenyatta for poor performance. Since then, it has also fired the Sunday Nation's investigations editor and the Sunday Nation news editor. Galava has launched a lawsuit challenging his sacking. Others say they plan to.
Mwampembwa said the government used its big advertising budget, spent via a centralized body that purchases space, to influence Kenyan papers battling falling circulation.
"This one body is used to arm-twist newspapers," said the cartoonist, who is suing NMG for wrongful contract termination.
Mwampembwa has faced criticism beyond Kenya's borders. Last year he took a sabbatical from work after Tanzania's government banned one of the group's titles that had published a cartoon by Mwampembwa that lampooned then President Jakaya Kikwete.
The weekly East African apologized for the drawing depicting Kikwete being fed grapes by one of seven scantily-clad women, each representing what Mwampembwa saw as weaknesses in the Tanzania's government, such as corruption and cronyism.
Although the group agreed to his sabbatical, Mwampembwa said he was told his contract was at an end when he tried to return.
On his travels to countries such as Zimbabwe and Ethiopia, where journalists face regular censure, Mwampembwa said he found that aspiring reporters and satirists look up to Kenya's media. He has been feted for co-founding XYZ, a popular satirical TV puppet show.
"They admire that in Kenya you have this kind of leeway to lampoon presidents," he said. Losing that would resonate across Africa. "That's the worry."
http://www.reuters.com/article/us-kenya-media-idUSKCN0WQ1H0
----
Mobilizing Resources to Restore Hope in the Middle East and North Africa Region
March 24, 2016
Syrian refugees, Danham Al Bilas plays with his six moth old son, Mohammed in their tent in Zouq Bhanin Village, Lebanon on March 22, 2016. Danham and his family have been refugees living in this tent for the last 4 years.
The World Bank Group is partnering with the United Nations and the Islamic Development Bank Group to develop the New Financing Initiative to Support the Middle East and North Africa (MENA) Region, which aims to provide urgent development support to MENA countries impacted by the Syrian refugee crisis, conflict, and economic instability.
The heads of the World Bank Group, the United Nations and the Islamic Development Bank Group are travelling together to the region to rally international support for the New Financing Initiative to Support the MENA Region, in advance of a high-level pledging conference that will be held in April 2016.
The World Bank Group has developed a bold new strategy to tackle both the devastating consequences of conflicts in the Middle East and North Africa (MENA) and their underlying causes. Rather than waiting for the fighting to stop, the aim of this approach is to complement the massive humanitarian effort by strengthening the resilience of people and communities to cope with the shocks of conflicts and unrest, and to lay the foundations for peace and stability. This will require building broad coalitions, as the goals of the new strategy and the resources needed to achieve them far outstrip the capacity of any single organization.
The World Bank Group has therefore partnered with the United Nations and the Islamic Development Bank Group to build the global coalition required to support the MENA region at this critical moment. Together they have developed the New Financing Initiative to Support the MENA Region, an innovative initiative that aims to convene the international community to provide the urgent development support needed for countries across the MENA region impacted by the Syrian refugee crisis, conflict, and economic instability.
Specifically, the New Financing Initiative to Support the MENA Region aims to:
Provide Jordan and Lebanon with concessional financing to support refugees and host communities by combining grants from donor countries with loans from Multilateral Development Banks (MDBs); and
Raise the large volumes of financing needed for post-conflict reconstruction and economic recovery for countries across the MENA region by leveraging guarantees from donor countries, thereby providing additional financing on top of the current lending portfolios of MDBs.
As a sign of their joint commitment to the region, World Bank Group President Jim Yong Kim, United Nations Secretary-General Ban Ki-Moon and President of the Islamic Development Bank Group Dr. Mohammed Ali Al-Madani are travelling together to Lebanon. World Bank Group President Kim and UN Secretary-General Ban will also travel together to Jordan and Tunisia. The visit will provide the three leaders an opportunity to meet with government officials, refugees and host communities, as well as youth, representatives of civil society and the private sector. It will be an opportunity to hear a diverse set of perspectives on the challenges the region faces, while communicating the resolve of the international community to take the bold steps needed to help meet those challenges and build a brighter future.
Importantly, the visit is intended to rally support for the New Financing Initiative to Support the MENA Region as a vehicle for convening the international community to raise the resources needed to support the region at this critical juncture. The initiative ultimately represents a unique platform that brings together donor countries, benefitting countries in the MENA region, MDBs, and the United Nations to strengthen coordination between humanitarian and development assistance, and to provide a holistic response to the extraordinary challenges faced by the region.
One of the most paramount manifestations of the challenges faced in the region is the Syrian refugee crisis, which has had an enormous impact across the Middle East and North Africa, as well as globally. Although millions of Syrian refugees have left for Europe, the Syrian refugee crisis is felt most acutely by the countries bordering Syria. Lebanon and Jordan alone host 2–3 million Syrian refugees: both middle-income countries, they do not have access to the concessional financing reserved for the poorest countries. Yet, the refugee crisis is estimated to be costing Jordan U$2.7 billion a year and Lebanon US$1.6 billion. Their debt levels have shot up too: Jordan's debt to GDP ratio is now 91%, and Lebanon's 138%.
At the recent Supporting Syria and the Region conference in London, President Kim noted the international community's collective responsibility to support Jordan and Lebanon: "These two nations have done the world a huge service in their generous help to Syrians, despite causing great sacrifice for their people and their economies."
At the conference, President Kim announced the goal of raising US$1 billion worth of grants over five years from donor countries, which would be leveraged to generate US$3 to 4 billion in concessional financing. This financing will support a variety of projects, but most notably it will be directed toward the communities on the frontline of the refugee crisis in Jordan and Lebanon. To this end, the New Financing Initiative to Support the MENA Region will seek to support the transformational and innovative projects that can expand public services to both refugees and hosting communities alike, crowd-in the private sector, create jobs, and ultimately provide the critical medium- and long-term support needed to boost the resilience of Jordan and Lebanon.
For countries such as Tunisia, impacted by slow growth, the initiative aims to provide additional financing to support critical economic recovery programs. Jumpstarting growth and creating opportunities for the large number of unemployed youth will be crucial for stability in Tunisia and other countries across the region. The initiative also intends to raise the necessary funds for post-conflict reconstruction in order to help countries across the region recover from the devastation of conflict, and foster long-term peace and stability.
Next month, the President of the World Bank Group, the United Nations Secretary-General and the President of the Islamic Development Bank will convene ministers from the G7, Gulf Cooperation Council and broader European countries, as well as the heads of various international and regional organizations, at the World Bank Group headquarters for the International Conference for the New Financing Initiative to Support the MENA Region. This will be an opportunity for countries to pledge the initial financial support to launch the initiative and take the concerted and decisive action needed to restore hope for millions of people across the MENA region.
http://www.worldbank.org/en/news/feature/2016/03/24/mobilizing-resources-to-restore-hope-in-the-middle-east-and-north-africa-region
----
Ivory Coast to expand rapid response forces after attack
ROBBIE COREY-BOULET
March 25, 2016
ABIDJAN, Ivory Coast (AP) — Ivory Coast plans to establish new centers for rapid response forces to protect soft targets throughout the country following an attack by Islamic extremists on a popular beach town earlier this month that killed 19, the country's prime minister said Thursday.
The March 13 attack on Grand-Bassam claimed by al-Qaida in the Islamic Maghreb was the first of its kind in Ivory Coast. The UNESCO World Heritage site attracts hundreds of holidaymakers each weekend and is linked by highway to Abidjan, Ivory Coast's commercial hub, allowing for a swift response from special forces that officials credit with mitigating the death toll.
In an interview with The Associated Press Thursday, Prime Minister Daniel Kablan Duncan said new centres for a special security unit would likely be set up in the northern city of Korhogo and in San Pedro, another beach destination in the southwest that is also home to Ivory Coast's second-largest port.
The highly-trained unit, the Coordination Center of Operational Decisions, was created in 2013 and is composed of police, gendarmes and soldiers. It is based in Abidjan but has some presence in Yamoussoukro, the capital, and Bouake, Ivory Coast's second-largest city.
Duncan said that without such a deployment locations far removed from Abidjan, the largest city, would remain vulnerable to extremist violence.
"If the attack had taken place in another region of Ivory Coast, in the west where there are beaches as well, how are you going to intervene rapidly?" he said. "Ivory Coast is a country that needs to be able to fight for itself."
Earlier this week, officials said 15 arrests had been made as part of an investigation of the Grand-Bassam attack. Prosecutor Richard Adou identified the suspected mastermind of the attack as Kounta Dallah, who remains at large. The government has distributed a photo of Dallah but has not publicized his nationality, saying it wants to avoid reprisal violence.
The assault in Grand-Bassam was the third high-profile strike by al-Qaida in the Islamic Maghreb in West Africa in recent months, following a November attack on a hotel in Mali and a January attack on a popular cafe and hotel in Burkina Faso. Top security officials from those three countries and Senegal met in Abidjan this week to discuss cooperation to defend the region against further extremist violence.
http://www.pantagraph.com/news/world/africa/ivory-coast-to-expand-rapid-response-forces-after-attack/article_00f4e357-753e-5efa-9217-8a21d8b82ec1.html
------
Morocco arrests 9 suspected Islamist militants with Libya ties
MAR 24,2016
RABAT (REUTERS) - Morocco said on Thursday (March 24) it had dismantled a suspected militant cell linked to Islamic State's affiliate in Libya and that some of the nine men arrested were planning attacks in the North African kingdom.
It was the latest in a series of radical Islamist groups Morocco says it has broken up. An interior ministry statement said the cell was operating in the city of Marrakesh, the coastal town of Sidi Bennour and in Smara, which is in the neighbouring territory of Western Sahara.
It said the nine group members were inspired by another militant from Sidi Bennour who was killed in the Libyan capital Tripoli when militants attacked a prison in September 2015 in a attempt to free inmates there.
Morocco's Central Bureau of Judicial Investigation (BCIJ), the judicial part of the Moroccan domestic intelligence service, has actively tracked alleged militants since Islamic State seized large parts of Syria and Iraq in 2014-15.
Hundreds of fighters from Morocco and other Maghreb states like Tunisia and Algeria have joined Islamist militant forces in Syria's civil war. Some are threatening to return and create new militant wings in their home countries, security experts say.
Nearby Libya has become a major draw for militants from North Africa and sub-Saharan Africa as Islamic State has taken advantage of the security chaos there to build a base, operate training camps and take over the city of Sirte.
The Moroccan government believes 1,500 Moroccan nationals are fighting with militant factions in Syria and Iraq. About 220 have returned home and been jailed, and 286 have been killed in battle.
Morocco, an ally of the West against Islamist militancy, has suffered militant attacks in the past, most recently in 2011 in Marrakesh when an explosion tore through a cafe and killed 15 people, mostly foreigners.
http://www.straitstimes.com/world/africa/morocco-says-arrests-9-suspected-islamist-militants-with-libya-ties
---
Morocco Ranks Most Travel-friendly Country in Africa for Muslims Join our daily free Newsletter
23/03/2016
(MENAFN - Morocco World News) A new report ranks Morocco as the 'most travel-friendly' country in Africa for Muslims based on the facilities the country provides to make Halal living possible for Muslim travelers.
The kingdom ranked ninth worldwide on the report released on Wednesday at a ceremony in Jakarta Indonesia.
This year's Global Muslim Travel Index – a joint effort by MasterCard and CrescentRating – ranked 130 destinations based on several criteria including the availability of Halal foods prayer facilities and Ramadan services.
According to the report there will be a projected 168 million Muslim travelers – spending more than USD 200 billion worldwide – by 2020 up from 117 million in 2015.
48 of 130 destinations analyzed were member states of the Organization of Islamic Cooperation (OIC). According to the OIC's official website the organization – founded in Rabat in 1969in response to the arson of the Al-Aqsa mosque in East Jerusalem – seeks to be the 'collective voice of the Muslim world.'
This year analysts added two new measurements – airport connectivity and visa restrictions – to the rankings' rubric.
Malaysia topped the rankings for the second year running. The United Arab Emirates Turkey Indonesia Qatar Saudi Arabia Oman Singapore Morocco and Jordan made up the rest of the top 10 countries.
Three Latin American countries – Bolivia Costa Rica and El Salvador – trailed at the bottom.
Destinations not covered by the OIC ranked lower on the rankings largely due to the reduced availability of Halal eating options and a lack of prayer services for Muslims.
Founded in 2008 CrescentRating provides information to Muslim-travelers and members of the global tourism industry on enjoying and creating an environment for Halal-friendly travel.
http://www.menafn.com/1094665180/Morocco-Ranks-Most-Travel-friendly-Country-in-Africa-for-Muslims
----
URL: https://www.newageislam.com/islamic-world-news/new-age-islam-news-bureau/pope-washes-feet-of-muslim-migrants,-says--we-are-brothers-/d/106759