New Age Islam News Bureau
6 Sept 2015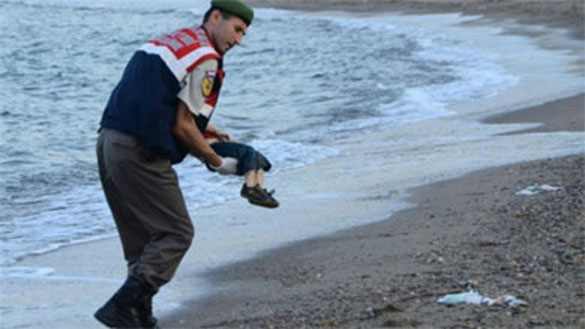 © Dogan News Agency/AFP/File | Turkish police officer Mehmet Ciplak carries Aylan Kurdi's body off the beach in Bodrum, on September 2, 2015
---------
Europe
• Pope Calls On Every European Parish to Host One Migrant Family Each
• Thousands of Refugees Receive Warm Welcome In Germany
• Britain poised to take in 15,000 Syrian refugees
-----
South Asia
• 200 Insurgents Killed, Wounded In Afghanistan Military Operations
• Unknown Gunmen Shot Dead 13 Civilians In Balkh
• Afghanistan asks Pakistan to act against militants after talks
• Hardline monks claim victory as Myanmar Muslims face poll exclusion
• Myanmar's Aung San Suu Kyi says rebel groups shouldn't rush peace deal
• One of every three Afghan children faces uneducated future in Iran
• Man arrested with 160 kg of explosives in Kunar
----
Mideast
• Turkish Policeman Who Found Aylan Says: 'I Thought Of My Own Son'
• Israel's Netanyahu Rejects Call to Take In Syrian Refugees
• Two Turkish policemen killed by PKK in Diyarbakir
• Missing Turkish soldier 'seen in ISIS hands'
• Netanyahu to scrap law banning journalists from airing views
• Israeli Christians protest state funding cuts
------
Arab World
• In Rich Gulf Arab States, Some Feel Shamed By Refugee Response
• Egypt Refers Islamist Cleric, Dozens of Others To Military Trial
• Air raids shake Yemeni capital after coalition losses
• Egypt seizes boats carrying more than 200 migrants
• KSA offers SR200m to UN agencies to carry out relief programs in Yemen
• Saudi king books entire Four Seasons hotel for US visit
• DIFC to host 100 Indian firms as part of long-term strategy
------
Pakistan
• 'Wake-Up' Call: Law Enforcers to Go After Sleeper Cells In The City
• Pakistan Observes 50th Defence Day
• Zardari hits out at Altaf for 'negative politics'
• Fresh move: Arrest warrants stack up against Altaf Hussain
• Public, private varsities told to adopt Urdu as official language
------
Africa
• Al-Shabaab Militants Seize Two Towns In Southern Somalia
• Morocco's ruling Islamists win regional polls
• Medivac plane with seven on board disappears west of Senegal
------
North America
• US questions Russia over moves in Syria
• All Saudi students in US included in scholarship program
Compiled by New Age Islam News Bureau
URL: https://www.newageislam.com/islamic-world-news/new-age-islam-news-bureau/pope-calls-on-every-european-parish-to-host-one-migrant-family-each/d/104498
-----
Europe
Pope Calls On Every European Parish to Host One Migrant Family Each
By Reuters: September 6, 2015
VATICAN CITY: Pope Francis called on Sunday on every European parish and religious community to take in one migrant family each in a gesture of solidarity he said would start in the tiny Vatican state where he lives.
"I appeal to the parishes, the religious communities, the monasteries and sanctuaries of all Europe to … take in one family of refugees," he said after his Sunday address in the Vatican.
The pope's call goes out to tens of thousands of Catholic parishes in Europe as the number of refugees arriving over land through the Balkans and across the Mediterranean to Italy and Greece hits record levels.
There are more than 25,000 parishes in Italy alone, and more than 12,000 in Germany, where many of the Syrians fleeing civil war and people trying to escape poverty and hardship in other countries say they want to end up.
The crowd in St Peter's Square applauded as the pontiff, himself the grandson of Italian emigrants to Argentina, said: "Every parish, every religious community, every monastery, every sanctuary of Europe, take in one family."
The Vatican's two parishes will take in a family of refugees each in the coming days, said Francis, whose first trip after his election was to the Italian island of Lampedusa, halfway between Sicily and Tunisia, where many migrants arrive by boat.
The Italian coast guard said on Saturday it had coordinated the rescue of 329 migrants who made distress calls from their rubber boats.
Francis said taking in migrant families was a "concrete gesture" to prepare for the extraordinary Holy Year on the theme of mercy which is due to begin on December 8.
http://tribune.com.pk/story/951699/pope-calls-on-every-european-parish-to-host-one-migrant-family-each/
-----
Thousands of refugees receive warm welcome in Germany
By AFP: September 6, 2015
MUNICH: Germany on Sunday readied for hundreds more refugees to arrive from Hungary via Austria, a day after thousands were greeted, often by volunteers holding signs that read "Welcome to Germany".
The most populous EU nation – which this year expects to take in a record 800,000 people fleeing war and poverty – has seen an unprecedented volunteer effort to help the newcomers.
On Saturday alone about 8,000 migrants crossed German borders, federal police told AFP.
In Munich, refugee families holding their children and few belongings smiled as they were greeted with cheers, food and water bottles by crowds.
At the Munich railway station about 6,800 arrived Saturday alone, said Bavarian state officials.
As refugees got off trains, police directed them to waiting buses to take them to temporary shelters, which have been set up in public buildings, hotels and army barracks across the country.
Dozens of people, standing behind barriers, whistled, clapped and filmed the newcomers with their mobile phones.
"The people here treat us so well, they treat us like real human beings, not like in Syria," said Mohammad, a 32-year-old from the devastated town of Qusayr, whose eyes welled up with tears as he spoke.
While Germany has seen a spate of ugly xenophobic rallies and attacks against foreigners, it has also seen an outpouring of support, donations and volunteer efforts by people who believe Germany, given its dark history and current wealth, has a special obligation to help refugees.
At Frankfurt railway station overnight, food, water and clothes were piled high for the newcomers, while hundreds of people thronged the platforms.
When the doors of the trains opened, people cheered and whistled and a chant went up in English: "Say it loud, say it clear, refugees are welcome here."
One man, an Egyptian, who gave his name as Mustafa and said he had been living in Frankfurt for 20 years, was carrying an Arabic-language cardboard sign which he said spelled "warm welcome".
Lara Sabbagh, a volunteer for an organisation called Kleeblatt based near Frankfurt, acted as a translator for some of the Syrian refugees.
She told bystanders to stop taking photographs, saying: "They?re afraid. They say they've just fled from their country and their ruler and don?t want to be photographed".
She added that many of the migrants "didn't understand all the commotion here.
"They asked me, 'What are all these people doing here? What do they want?'
"They didn't understand that people were here to welcome them."
http://tribune.com.pk/story/951711/thousands-of-refugees-receive-warm-welcome-in-germany/
------
Britain poised to take in 15,000 Syrian refugees
By AFP | London, 6 September 2015
The British government is poised to accept 15,000 Syrian refugees and hopes next month to get backing for air strikes against ISIS militants, the Sunday Times reported.
Prime Minister David Cameron has been under pressure internationally and domestically to address the refugee crisis.
On Thursday, he said he was "deeply moved" by images of three-year-old Syrian toddler Aylan Kurdi, found dead on a Turkish beach.
Will Britain take in 'thousands' of Syrians?
(Farwa Rizwan/ Al Arabiya News)
Cameron now intends to expand Britain's vulnerable persons relocation programme, take in around 15,000 refugees and launch military action against people traffickers, the report said.
He also hopes to persuade MPs in the opposition Labour Party to back air strikes in Syria in a vote early next month, it said.
The paper previously reported that there was an option to directly accept refugees from UN camps on the Syrian border.
A Syrian refugee screams for help as he carries a baby after crossing over the broken border fence into Turkey from Syria in Akcakale, Sanliurfa province, southeastern Turkey. (Reuters)
Britain has accepted 216 Syrian refugees under a special government scheme over the past year and around 5,000 Syrians have been granted asylum since the conflict there broke out in 2011, far fewer than countries like France, Germany and Sweden.
Britain has also opted out of a quota system for relocating asylum seekers within the European Union despite growing calls in the EU for fairer distribution.
More than four million Syrians have fled the war.
Cameron gained support for military action against Syria from an unusual source on Sunday, former Archbishop of Canterbury, the leader of the world's Anglicans, George Carey.
Syrian refugees on a dinghy approach, in rough seas, a beach on the island of Lesbos, Greece August 23, 2015. (Reuters)
Britain should help "crush" ISIS and "air strikes" may be needed, Carey said.
"I do not consider it enough to send aid to refugee camps in the Middle East. Rather, there must be renewed military and diplomatic efforts to crush the twin menaces of ISIS and al-Qaeda once and for all," he wrote in the Sunday Telegraph.
https://english.alarabiya.net/en/News/middle-east/2015/09/06/Britain-to-take-15-000-Syrian-refugees-.html
------
South Asia
200 Insurgents Killed, Wounded In Afghanistan Military Operations
By KHAAMA PRESS - Sun Sep 06 2015, 9:30 am
0 Comments197 viewsEmail Email Print Print
Afghan-Air-ForceMinistry of Defense say 200 insurgents have been killed and wounded in newest military operations across the country.
A statement issued by the ministry's spokesman General Zahir Azimi states that the operations were carried out in past 24 hours.
According to the statement, 103 militants were killed, 97 wounded and 10 others detained in these operations.
17 soldiers from the Afghan National Army (ANA) also embraced martyrdom in these operations, the statement adds.
Afghan security forces have been busy in several large-scale military operations against Taliban and other militant groups in parts of the country.
During these independent operations, Afghan forces have retaken areas that were under Taliban control for many years.
Afghan forces launched independent military operations against insurgents after taking full charge of security from NATO-led security forces at the beginning of this year.
http://www.khaama.com/ministry-of-defense-200-insurgents-killed-wounded-in-newest-military-operations-3871
-----
Unknown gunmen shot dead 13 civilians in Balkh
By ZABIHULLAH MOOSAKHAIL - Sat Sep 05 2015
Unknown gunman Unknown gunmen have shot dead 13 civilians in northern Balkh province.
Reports suggest that the victims were traveling in a passenger bus that came under the attack of unknown armed men in Zari District on Saturday.
Abdul Raziq Qaderi, Deputy Police Chief of Balkh province confirmed the report but he did not have a specific number of the casualties.
However, reports from the area suggest that at least 13 civilians were killed in the attack.
In the meantime, Shirjan Durani for Balkh police said that a delegation has been assigned to investigate the incident.
No group has immediately claimed responsibility for the attack.
http://www.khaama.com/unknown-gunmen-shot-dead-13-civilians-in-balkh-3869
------
Afghanistan asks Pakistan to act against militants after talks
By Reuters : September 6, 2015
Afghanistan asked Pakistan to act against Afghan Taliban militants operating on its territory during weekend talks in Kabul, while Pakistan said the South Asian neighbours needed to build trust, officials said after the meetings.
The Afghan Taliban, ousted from power by a US-led coalition in 2001, has been gaining territory in its insurgency against the government led by President Ashraf Ghani. Afghanistan and Pakistan have long accused each other of sheltering Taliban fighters and other militants who conduct attacks inside their territory, charges both deny.
"We reiterate our position and state facts, asking Pakistan to take action against terrorist groups inside its territory that declare war against our people," a spokesperson for the Afghan president's office said in statement on Sunday.
Pakistan said after the meetings that both countries should work together to restore trust, and that an agreement had been reached to end a blame game over a spate of attacks.
"We will work on establishing a memorandum of trust building to avoid such a situation in the future," Sartaj Aziz, foreign affairs adviser to Prime Minister Nawaz Sharif said on state television on Saturday about his meeting with Ghani.
Aziz visited the Afghan capital Kabul on Friday for a regional economic conference and also held meetings with the president, foreign minister and national security adviser.
Ghani made closer ties with Pakistan a priority when he took office last year, hoping Islamabad could push Afghan Taliban leaders to the negotiating table to end Afghanistan's long war.
Progress appeared to have been made in July after both governments said a peace process with the militants had restarted.
This was not confirmed by the insurgents however, and early meetings came to a halt after the Taliban's leader Mullah Omar was revealed to have died.
News of his death was followed by a wave of deadly attacks in Kabul that killed over 50 people and wounded hundreds more, prompting the Afghan president to lash out at Pakistan demanding it act against militants sheltering on its territory.
Aziz said the talks had produced an agreement to avoid any further breakdown in relations between the countries.
"The main thing that we both agreed upon was to restore trust, end the blame game against each other," he said.
http://tribune.com.pk/story/951759/afghanistan-asks-pakistan-to-act-against-militants-after-talks/
-----
Hardline monks claim victory as Myanmar Muslims face poll exclusion
AFP — PUBLISHED 06 09 15
MANDALAY: With a smile, Myanmar's most notorious Buddhist monk boasts of the sleepless nights he endures on his self-appointed quest against the country's Muslims ─ one that he claims has helped strip voting rights from hundreds of thousands of the religious minority.
Wirathu, whose anti-Muslim campaign has stoked religious tensions in the Buddhist-majority nation, said he spends most nights at his tranquil Mandalay monastery glued to his computer screen, streaming images from some of the world's most violent Islamic terrorist organisations.
He then posts messages to his 91,000 Facebook followers, helping foment the idea that Buddhism is under threat.
"Many days I don't sleep at all," the monk, who goes by one name, told AFP, adding his work is so arduous that he lacks the time enjoyed by President Thein Sein and opposition leader Aung San Suu Kyi to "have family meals and put on make-up".
Myanmar's Muslims, who make up at least five per cent of the 51-million population, have a long history of involvement in public life.
But they have faced increasing marginalisation under the current quasi-civilian government that replaced junta rule in 2011.
Recent years have also seen bouts of deadly anti-Muslim violence and there are fears the spread of hate speech could trigger further troubles in the run-up to the nation's landmark November 8 election.
Wirathu, whose soft voice belies the vitriol behind his words, is the best known member of an alliance of monks who have inserted their hardline stance into Myanmar's mainstream politics.
He was jailed in 2003 for inciting religious tension under the former military rulers. But their successors have appeared keen to allow his brand of nationalist Buddhism to flourish.
He claimed "victory" for pressuring government to push controversial laws through parliament ─ which rights groups say discriminate against women and religious minorities ─ and helping to snatch voting rights from hundreds of thousands of Muslim Rohingya in strife-torn Rakhine state.
In March Myanmar revoked temporary identification documents ─ a move affecting hundreds of thousands of Rohingya, who have since been stripped of voting rights after parliament banned people without full citizenship from voting.
Observers say both Suu Kyi's opposition National League for Democracy and Myanmar's ruling party have bowed to the hardliners, declining to field Muslim candidates for polls seen as a crucial test of democratic progress.
The move risks leaving non-Rohingya Muslims who are entitled to vote without Muslim candidates to back at the polls.
'A bad omen'
A senior Muslim NLD member told AFP that "not a single Muslim" was among more than 1,000 party candidates for the upcoming elections ─ the first it has fought for 25 years.
Suu Kyi "must be afraid" of the monks, the source said on condition of anonymity.
"People see this as religious discrimination. Many Muslims are saying they will not vote," the source added.
The disappointment was evident at Mandalay's historic and bustling Joon Mosque, where trustee Khin Maung Win said local people had long supported the NLD.
"It seems Muslims are not accepted at all. In a real democracy, we would have the right to choose," he said.
Buddhist hardliners have painted Myanmar's opposition leader as sympathetic to Muslims ─ a potential Achilles heel in the polls.
The "shift to the right is very worrying" for Myanmar, said analyst Khin Zaw Win of Yangon-based political think-tank the Tampadipa Institute.
"It is a very bad omen for the Muslims of this country," he told AFP.
Swathed in his monk's robe, Wirathu said Buddhist organisations are gearing up for a celebration to mark the passage into law of four bills that include curbs on inter-faith marriage, family size and conversion.
Branding the NLD's reluctance to back the laws as a "black mark", he warned against any attempt to change them.
"Any government that amends these laws will be brought down," he predicted.
The monk, who has earned international notoriety for calling the UN rights envoy Yanghee Lee a "whore", welcomed the lack of Muslim election participation.
"We do not want any foreigner in the parliament," he said.
'Unfree and unfair'
Sitting MP Shwe Maung has been at the sharp end of that campaign.
The Rohingya lawmaker for the ruling Union Solidarity and Development Party (USDP) was recently barred from running in the November polls.
Election officials disqualified him after deciding his parents were not citizens ─ despite the fact he currently holds the seat and his father was a senior policeman.
"How many times do we need approval? Now in the middle of the 21st century, 2015, we are in the transition of disciplined democracy in Myanmar. If this is the case the election will be unfree and unfair," he told AFP, referring to the junta's term for the country's managed political transition.
Rohingya, who are often labelled immigrants from Bangladesh despite many having long histories in Myanmar, were courted by the USDP in the run-up to flawed 2010 elections.
But they have been increasingly ostracised since deadly 2012 unrest between Buddhists and Muslims in Rakhine, which left some 140,000, mainly Rohingya, confined to desperate displacement camps.
The Muslim vote in Shwe Maung's Rakhine constituency area of Butthidaung has all but disappeared ─ from 150,000 in 2010 to an estimated 10 following the move to revoke temporary identification documents and restrict voting rights.
"If people cannot vote, what will be the use of the candidacy? If the candidacy is denied, for whom will people vote?" he said.
http://www.dawn.com/news/1205289/hardline-monks-claim-victory-as-myanmar-muslims-face-poll-exclusion
------
Myanmar's Aung San Suu Kyi says rebel groups shouldn't rush peace deal
Reuters | Sep 6, 2015
HOPONE, Myanmar: Myanmar opposition leader Aung San Suu Kyi over the weekend appealed to ethnic rebel groups in nationwide ceasefire talks with the government not to rush the deal, but work slowly on an agreement that would ensure long-lasting peace and stability.
The Nobel peace laureate's comments come ahead of a meeting between Myanmar President Thein Sein and ethnic rebel groups on Wednesday in the capital Naypyitaw to discuss a draft of the long-discussed ceasefire proposal.
Clinching the deal with most of Myanmar's rebel groups would be a political win for Thein Sein, who made it his top priority, boosting the chances of his ruling Union Solidarity and Development Party in the November 8 general election.
The draft of the agreement was hammered out during almost two years of gruelling negotiations, but ethnic armed groups have so far refused to sign it, saying the government should amend the constitution to grant more autonomy to ethnic minorities.
"If the ceasefire agreement is the real agreement to stop fighting, I want to accomplish it as soon as possible. But it has to be real and true," Suu Kyi said in a speech in the town of Hopone.
Touring Shan State ahead of the Tuesday kick off of the election campaign, Suu Kyi also told farmers, students and shopowners that all rebel groups should be included in an accord to end hostilities between the Myanmar army and the many factions that have taken up arms since independence in 1948.
Residents of Hsihseng and Hopone, two remote Shan towns, braved the scorching sun on Saturday and Sunday to greet Suu Kyi with flags and banners supporting her National League for Democracy, widely expected to win the historic election.
"The most important thing is that it's a long-lasting ceasefire deal. No fighting should break out again on the next day after signing of the agreement," said Suu Kyi.
But an agreement with all ethnic armies is unlikely, experts say, given that some of the groups are excluded from the talks as fighting in the restive Kokang region along the country's border with China has continued unabated since February.
Underscoring the severity of the situation in the area, Myanmar parliament last month backed the motion to continue martial law in Kokang, giving the military sweeping judicial and administrative powers.
http://timesofindia.indiatimes.com/world/south-asia/Myanmars-Aung-San-Suu-Kyi-says-rebel-groups-shouldnt-rush-peace-deal/articleshow/48846884.cms
------
One of every three Afghan children faces uneducated future in Iran
By ZABIHULLAH MOOSAKHAIL - Sun Sep 06 2015
100_12482-564x272Tens of thousands of Afghan children who have fled the country with their parents because of war and poverty face uneducated future in Iran.
Even though, Iran's Supreme Leader Ayatollah Ali Khamenei has ordered that all Afghan refugees in his country be permitted to schools but reports suggest that barricades still exist to prevent these children from schooling.
The order put aside the residency status of these children in Iran.
"No Afghan child, not even immigrants who came to Iran illegally and without documents, must be kept from an education and all of them must be registered in Iranian schools." In May, Iran's Tasnim News Agency quoted Khamenei as saying.
However, Ibtikar which is another Iranian media reports that one of every three Afghan children is still out of school because of various barricades lying in front of them.
Masoumeh Abad, member of Tehran Islamic City Council is quoted by the media as saying that about 1.5 million Afghans are residing in Iran, adding that children rights expect the country's government to provide opportunities for them to study.
Envoy of Afghanistan's Ministry of Education in Iran says that Iran has been sheltering Afghan refugees for several years and shoulder the burden but still one in every three Afghan children is out of school because of preventions.
Shams-ul-Rahman urged Iranian officials to assist these kids.
http://www.khaama.com/one-of-every-three-afghan-children-faces-uneducated-future-in-iran-3873
------
Man arrested with 160 kg of explosives in Kunar
By KHAAMA PRESS - Sun Sep 06 2015
NDSThe National Directorate of Security (NDS) – Afghanistan's intelligence agency has arrested with 160 kilograms of explosive materials in his vehicle in eastern Kunar province.
A statement issued by NDS on Sunday states that the explosive materials were concealed in a 'Suzuki' vehicle and were brought from across the border.
NDS statement adds that Jahanzib was arrested while driving the truck to deliver these materials to Manogai District for making roadside and magnetic bombs.
NDS has also released a video with the statement purportedly showing the arrested man 'Jahanzib'.
"My name is Jahanziib, my father's name is Shah Mahmood, I am a resident of Asmar District," he said. "These explosive materials were handed over to me in Shelton by Khan, who told me to deliver the materials to Nangalam, on the bridge a man will be waiting for you, you have to give them hand over to that man."
This comes as Kunar province is witnessing severe insecurity these days.
Hundreds of insurgents attacked several security posts in Manogai and Chapa Dara districts on yesterday.
During the clash, a rocket fired by Taliban landed on a house in Chapa Dara district leaving a woman and three of her children dead.
http://www.khaama.com/man-arrested-with-160-kg-of-explosives-in-kunar-23872
-------
Mideast
Turkish policeman who found Aylan says: 'I thought of my own son'
By AFP: September 6, 2015
ISTANBUL: A Turkish police officer who was pictured picking up the lifeless body of three-year-old Syrian refugee Aylan Kurdi — whose death pricked the world's conscience — said he thought of his own son when he saw the toddler on the beach.
Speaking to Turkey's Dogan news agency, Mehmet Ciplak recounted how he prayed the little boy was still alive as he walked towards him and scooped him up from the water's edge.
"When I approached the baby, I said to myself, 'Dear God I hope he's alive.' But he showed no signs of life. I was crushed," he said.
"I have a six-year-old son. The moment I saw the baby, I thought about my own son and put myself into his father's place. Words cannot describe what a sad and tragic sight it was."
Ciplak added he didn't know the photo, which reverberated across the world, was being taken and said: "I was just doing my job."
A young boy points at the picture of Aylan, a Syrian toddler whose body washed up on a Turkish beach, during a demonstration asking for a change in the refugee policy in Europe on the Republique square in Paris, France, September 5, 2015. PHOTO: REUTERS
Twelve refugees drowned on Wednesday when two boats sank on the short crossing to Greece, and images of Aylan's lifeless body washed ashore in Bodrum in southwest Turkey sparked international outrage over Europe's migrant crisis.
Aylan was buried on Friday in the Syrian town of Kobane, itself now a symbol of resistance by Syrian Kurds against Islamic State (IS) extremists.
Aylan's four-year-old brother, Ghaleb, and their mother Rihana also drowned when their boat sank. His father Abdullah was the only family member to survive and has returned to Kobane to be close to the graves of his wife and children.
http://tribune.com.pk/story/951738/turkish-policeman-found-aylan-says-thought-son/
------
Israel's Netanyahu rejects call to take in Syrian refugees
By Reuters: September 6, 2015
JERUSALEM: Prime Minister Benjamin Netanyahu on Sunday rejected a call by Israel's opposition leader to provide refuge to Syrian refugees, saying the country is too small to take them in.
Images in recent days of thousands of refugees herded on and off trains in Europe as they sought a safe haven from Middle East conflict struck a chord in Israel, a state created three years after the Nazi Holocaust which killed six million Jews.
Isaac Herzog, head of the main opposition Zionist Union party, appealed to Israeli leaders to "absorb refugees from the fighting in Syria", a northern neighbour that Israel considers an enemy state.
In public remarks at a cabinet meeting, Netanyahu said Israel was "not indifferent to the human tragedy" of refugees from Syria and noted that Israeli hospitals have been treating wounded from its civil war.
"However, Israel is a very small state. It has no geographic depth or demographic depth," the right-wing premier said, suggesting that taking in Arab refugees would upset the demographic balance in a predominantly Jewish state where about a fifth of the 8.3 million population are Arab citizens.
Though there have been no international calls on Israel to open its borders to Syrians, Herzog said Netanyahu had a moral duty to accept refugees.
"The prime minister of the Jewish people would not shut his heart and the gates when people are fleeing for their lives, with babies in their arms, from persecutors," Herzog said.
Citing dangers faced by Palestinian refugees who have long lived in camps in Syria, Palestinian President Mahmoud Abbas said they should be allowed into the Israeli-occupied West Bank, where he exercises limited self-rule.
Israel has said the overall issue of a right of return for Palestinian refugees would be settled only as part of a final peace accord. Israeli-Palestinian talks broke off in 2014.
At the cabinet session, Netanyahu coupled his remarks on Syrian refugees by saying that Israel must further secure its borders against African migrants and Islamist militants.
He announced the start of construction of a new 30-km (18-mile) stretch of fence along the frontier with Jordan, which signed a peace treaty with Israel in 1994.
Israel completed a 230-km (143-mile) barrier along the Egyptian border in 2013. Israel and Egypt made peace in 1979.
Israel has fences on the Lebanon border and along the line between the Israeli-occupied Golan Heights and Syria.
Much of the West Bank is also divided by an Israeli-built barrier, while the Islamist Hamas-controlled Gaza Strip is closed off behind high fences and walls.
http://tribune.com.pk/story/951733/israels-netanyahu-rejects-call-to-take-in-syrian-refugees/
------
Two Turkish policemen killed by PKK in Diyarbakir
Reuters, Diyarbakir, 6 September 2015
Two policemen were killed and three others injured in predominantly Kurdish eastern Turkey's largest city when Kurdish militants clashed with security forces early on Sunday, government sources said.
Gunfire and explosions echoed across the centre of Diyarbakir on Sunday morning after fighters from the outlawed Kurdistan Workers' Party (PKK) fired a rocket-propelled grenade at police trying to fill in ditches dug by the PKK in the Sur district of the city.
Security forces responded with an air-supported operation against the militants and the governor's office imposed a curfew in the area, ordering all residents to remain indoors.
The clashes are the latest in a deadly drumbeat of violence that has swept eastern Turkey since July, when a two-year ceasefire between the PKK and the government collapsed, with both sides blaming each other.
Since then officials say that more than 70 members of the security forces and hundreds of Kurdish militants have been killed in almost daily clashes.
Also on Sunday, Dutch journalist Frederike Geerdink, who is based in Diyarbakir and mainly covers Kurdish issues, was detained by authorities, the Netherlands' national news agency ANP reported.
Geerdink was detained in January for alleged dissemination of "terrorist propaganda" but the charges were dropped.
Last week two Vice News journalists were arrested for alleged links to terrorist groups. They, too, were released later, but the detentions have deepened concerns over press freedom under Turkish President Tayyip Erdogan.
https://english.alarabiya.net/en/News/middle-east/2015/09/06/Two-Turkish-policemen-killed-by-PKK-in-Diyarbakir.html
----
Missing Turkish soldier 'seen in ISIS hands'
By Reuters | Ankara, 6 September 2015
A Turkish soldier who went missing this week on the border with Syrian territory controlled by ISIS has been seen in a hospital run by the militants, Hurriyet newspaper reported on Saturday.
If confirmed, the soldier's capture would be a major problem for Turkey, after it stepped up military action against ISIS in July, opening its air bases to U.S.-led coalition war planes and launching air strikes.
The soldier vanished and another was killed in cross-border shooting with ISIS fighters on Tuesday near the Turkish town of Kilis, close to Syrian territory that has been under ISIS control for months.
According to security sources citing intelligence reports, Hurriyet Daily News reported that the soldier had been wounded in the foot and was taken by militants to a hospital under their control close to the Syrian city of Aleppo.
Turkish officials declined to comment.
Late last month, Islamic State released a video accusing Turkish President Tayyip Erdogan of "treachery", and urged Turks to rise up against him.
This would not be the first time Islamic State has held Turkish hostages. Last year 46 Turks, including senior diplomats, were kept captive for more than three months before being released.
They were freed at a time when Ankara was still being reluctant to engage in efforts to stop ISIS's spread, a policy it changed in July.
The timing of the capture is also politically problematic for Erdogan and his AK Party, which is preparing for a second election in November after losing its parliamentary majority in a June vote.
Polls have consistently showed little appetite among Turks for greater involvement in the Middle East conflagration, and this incident will likely be leapt upon by Erdogan's opponents, who are strongly critical of his foreign policy.
https://english.alarabiya.net/en/News/middle-east/2015/09/06/Missing-Turkish-soldier-seen-in-ISIS-hands-.html
-----
Netanyahu to scrap law banning journalists from airing views
PTI | Sep 6, 2015
JERUSALEM: Succumbing to public pressure, Prime Minister Benjamin Netanyahu today assured the country that he will scrap a newly-passed controversial law that banned journalists working for Israel's public broadcaster from expressing their personal opinions on air.
"The prime minister believes that the ethical rules for journalists do not need to be enshrined in the primary legislation, and decided to bring an amendment to the clause," a statement from Netanyahu's office said today.
A proposal to this effect is likely to be brought in the Knesset (Israeli parliament) as early as tomorrow, local media reported.
The controversial law, passed earlier this week, drew sharp criticism from journalists who accused the government of trying to suppress dissent.
The Israel Press Council has also urged the parliament to cancel the law, which stipulated that broadcasts should "avoid one-sidedness, prejudice, expressing personal opinions, giving grades and affixing labels, ignoring facts or selectively emphasising them not according to their newsworthiness."
Ofir Akunis, the minister responsible for the Israel Broadcasting Authority (IBA), has already submitted his resignation on Friday, citing "lack of backing" for the new law.
Akunis had initially defended the controversial clause, saying that the law was designed to increase journalistic objectivity.
"It's possible the clause was not formulated clearly and sharply enough," he wrote on Facebook adding, "No one is trying to silence (the media)."
He also emphasised that the law only applies to newscasts.
The clause applies to the current broadcaster IBA, which is set to be shut down in March 2016, and not to the new public broadcasting body that is due to replace it.
Meanwhile, the state comptroller has said he would investigate the government's conduct in abolishing the IBA and replacing it with a new state broadcasting corporation.
Critics of the controversial dismantlement of the IBA have charged that Netanyahu, who holds the communications portfolio, was seeking to turn the media conglomerate into a political mouthpiece.
The move has also come under fire for the anticipated layoffs of most of the broadcaster's employees.
The IBA was established in 1948 and held a monopoly on TV and radio broadcasting in Israel until the 1990s.
Since 1965, any Israeli household with a television set is obligated to pay an annual television tax, which helped fund the IBA. Today, the tax stands at NIS 345 (USD 90) per year.
The amendment approved early Thursday also abolished the TV tax from January 2015.
http://timesofindia.indiatimes.com/world/rest-of-world/Netanyahu-to-scrap-law-banning-journalists-from-airing-views/articleshow/48846587.cms
------
Israeli Christians protest state funding cuts
By AFP: September 6, 2015
JERUSALEM: Thousands of people rallied on Sunday in Jerusalem to demand more funds for Christian schools which they say receive a third of what the Israeli government allocates to Jewish ones.
Israel's 47 Christian schools have been on strike since the academic year started last week, with parents and school officials accusing the government of discrimination in funding their establishments.
Schools officials said the strike will end only when the authorities in the Jewish state meet their demands.
The strike affects 33,000 pupils — 60 per cent of them Christian and the others Muslim — as well as 3,000 staff.
"If you care, then be fair," said one of the signs held up at the protest outside Prime Minister Benjamin Netanyahu's office which was attended by students in uniforms, parents and school officials.
"We pay our taxes and therefore we must have the same rights as everyone," said Manal Issa, a mother who came with her two children.
Abdel Massih Fahim, a Franciscan priest and director of the Catholic church's Custody of the Holy Land which oversees the Christian schools, said state funds only cover 29 per cent of costs.
But Wadie Abunassar, another school official, said Jewish schools recognised by the state but not considered official public schools receive funds that cover 100 per cent of their needs.
"We demand equal treatment," said Abunassar.
Up until two years ago, Christian schools in Israel received 65 per cent of their budgets from the state, with parents paying the balance, but that figure was cut then to 34 per cent two years ago.
Now parents have to put up the difference, in what has become a financial burden for many who had been relying on private donations and state subsidies to provide their children with an education.
"We are demanding that the state give us 200 million shekels ($53 million) per year," to make up the difference and cover our costs, said Abunassar.
A dozen Arab Israeli members of parliament also joined Sunday's demonstration as armed police stood guard.
The rally came just days after Israeli President Reuven Rivlin was received on Thursday by Pope Francis at the Vatican, and following recent attacks by extremist Jews on Christian churches.
http://tribune.com.pk/story/951703/israeli-christians-protest-state-funding-cuts/
------
Arab World
In rich Gulf Arab states, some feel shamed by refugee response
By Reuters: September 6, 2015
DUBAI: When Iraq invaded Kuwait in 1990, fellow Gulf states raced to shelter thousands of displaced Kuwaitis. Fast forward 25 years, and the homeless from Syria's nearby war have found scant refuge in the Arab world's richest states.
For critics of the Gulf's affluent monarchies the contrast is profoundly unflattering, especially as several are backers of the combatants in Syria's conflict, so must, they argue, shoulder a special responsibility for its consequences.
The wrenching image of a Syrian Kurdish refugee boy drowned on a Turkish beach has stoked a policy debate in Europe. The official silence of the Gulf Arab dynasties makes many Gulf citizens uneasy.
Paintings and cartoons of the young boy's death crowded Arab social media, one depicting little Aylan Kurdi's corpse laid out before an open grave with inert figures in traditional Gulf Arab cloaks and robes holding shovels.
Another showed the three-year old's head slumped toward a tombstone marked "the Arab conscience".
Sara Hashash of rights group Amnesty International called the Gulf Arab states' behaviour "utterly shameful" and criticised Qatar, Kuwait, Bahrain, Saudi Arabia and the United Arab Emirates for officially taking in zero refugees.
Turkey hosts almost 2 million, tiny Lebanon over a million and other restive and poor neighbours hundreds of thousands.
The Gulf states' supporters say the numbers involved in Syria's crisis are vastly larger than in the case of the war in Kuwait. They point to the funding Gulf states have given to aid efforts in countries neighbouring Syria.
"Qatar is very small and already donating to refugees in Jordan, Turkey and northern Iraq. For logistical reasons Qatar cannot take in large numbers of refugees so instead Qatar chooses to support them financially," said Abdullah Al-Athbah, editor in chief of Arab Newspaper.
But sympathy for Syria's refugees is on the rise.
"It gives us a glimmer of hope after these recent drowning episodes to see broad campaigns of sympathy and solidarity with the issue of Syrian refugees by governments and peoples in some European countries," wrote Zeid al-Zeid in a column for Kuwait's Al-An newspaper on Sunday.
"But it makes us sorry and makes us wonder about the absence of any official response by Arab states with the kind of responsibility and ability to which they're bound by kinship and common destiny … we're seeing a silence that's scandalous."
Sultan Sooud al Qassemi, a commentator in the United Arab Emirates, said he suspected Gulf States were wary of allowing in large numbers of politically vocal Arabs who might somehow influence a traditionally passive society. But he said Gulf states should open their doors to the refugees.
"The Gulf states often complain that the Arabic language is underused and that our culture is under threat due to the large number of foreign immigrants," al Qassemi said.
"Here is an opportunity to host a group of people who can help alleviate such concerns and are in need of refuge, fleeing a brutal war."
One Kuwaiti analyst, a regular fixture on pan-Arab news shows, raised hackles by saying in a television interview last week that refugees were better suited to poorer countries, failing to acknowledge the pledges of rich European countries like Germany to take in many thousands.
"Kuwait and Gulf states are expensive and don't suit refugee life, it suits work. Transportation in Kuwait is expensive too, while living in Lebanon or Turkey is cheaper, so money paid to refugees will go farther," Fahd al-Shelaimi said.
"In the end you can't accept other people, from a different environment, from a different place, with psychological problems, nervous system problems or trauma and put them into (our) societies," he added.
Hospitality?
Gulf officials and those defending Gulf policies say the outrage overlooks the billions donated to Syrian refugee camps abroad and the delicate demographics of countries where expatriate workers already nearly outnumber locals.
"Qatar has provided over $2 billion in aid to the Syrian people in addition to the $106 million provided by Qatar's semi-governmental institutions," a Qatari diplomat said.
"Since the conflict began in Syria, Qatar has supported the aspirations and the rights of the Syrian people … whether through humanitarian assistance, education initiatives or development projects, we have been a strong supporter of Syrian refugees," the source told Reuters.
Others felt Gulf states should go further.
"(The Gulf) should accept Syrian refugees. Saudis and Syrians have always been brothers and sisters. Aside from the fact that our religion requires us to do so, helping refugees should be a natural reaction to what we have seen in the media," 22-year old Saudi student Noor Almulla said.
While none of the Gulf Arab states have signed onto key global agreements defining refugee status and imposing responsibilities on countries to grant asylum, the United Nations Refugee Agency praised the Gulf's "hospitality."
The six GCC governments continue to respect international standards with regards to protecting refugees," especially in not repatriating them back to their war-torn homes, Nabil Othman, the UNHCR's representative in the Gulf told Reuters.
While authorities generally apply "humanitarian considerations" to those overstaying their visas, Othman said work or local sponsorship still mostly defined residency status.
Foreign workers outnumber locals five to one in the UAE and Qatar, where well-heeled European families and South Asian workers are omnipresent while long-robed citizens are rare. Refugee camps are, and will likely remain, non-existent.
"The numbers of foreigners are overwhelming. Here we have 90 percent – do you want to turn local people into minorities in their own countries? They already are, but to do it really?" said UAE Abdulkhaleq Abdulla, a political scientist.
Over the decades, Saudi Arabia has become home to around half a million Syrians and the UAE to over 150,000, and the welcome extended to these and other expat professionals has helped fuel a boom in Gulf economies.
But since the unrest and wars unleashed by the Arab Spring pro-democracy uprisings in 2011, those governments have adopted a stricter line on accepting Palestinians, Syrians and Shia Muslims – a sign of just how much the rich and stable Gulf ruled by absolute monarchs is wary of importing political contagions.
Iyad al-Baghdadi, a Palestinian blogger and activist deported from the UAE last year, has criticized the response of the Gulf states and laments the closed borders and repression.
Recalling time spent in a Norwegian refugee camp with Syrian refugee friends, he said on Twitter: "Something about this felt absolutely alien – three grown Arab Muslim men who were made homeless and are seeking refuge in… Scandinavia."
"The Arab world is 5 million square miles. When my son was born, among the worst thoughts was how it has no space for him."
http://tribune.com.pk/story/951753/in-rich-gulf-arab-states-some-feel-shamed-by-refugee-response/
------
Egypt refers Islamist cleric, dozens of others to military trial
By AFP | Cairo, 5 September 2015
Egypt's prosecution referred at least 38 alleged Islamists, including an influential exiled cleric, to military trial Saturday, accusing them of setting up militant cells that killed a police officer.
The prosecution said 35 people have been arrested, and accused leaders of the ousted Muslim Brotherhood of inciting them to carry out violent attacks.
The statement said they include two detained Muslim Brotherhood figures.
Additionally, Youssef al-Qardawi, an influential Egyptian-born cleric who lives in Qatar and at least two other suspects who are abroad will be tried in absentia.
They are charged with ordering or carrying out several bombings in Cairo and involvement in the assassination of a police colonel in April.
Police have arrested thousands of Islamists since the military overthrew Islamist president Mohamed Mursi in 2013.
A crackdown on Mursi's followers has killed hundreds of protesters, while militant attacks have killed hundreds of policemen and soldiers, mainly in the Sinai Peninsula.
Courts, usually civilian ones, have sentenced hundreds of alleged Islamists to death, including Mursi himself.
Most have appealed and won retrials, while seven have been hanged, including six who had been sentenced to death by a military tribunal.
Rights campaigners say military trials deliver harsh verdicts with little due process for defendants.
https://english.alarabiya.net/en/News/middle-east/2015/09/05/Egypt-refers-Islamist-cleric-dozens-of-others-to-military-trial-.html
------
Air raids shake Yemeni capital after coalition losses
06 Sep 2015
Powerful explosions have shaken the Yemeni capital Sanaa, witnesses said, after the Saudi-led coalition vowed to press its air war following a rebel missile strike that killed 60 Gulf soldiers.
The witnesses said the coalition warplanes pounded Shia Houthi rebel targets and bases of splinter troops loyal to ousted president Ali Abdullah Saleh on Sunday morning.
The targets included bases on the Nahdain and Fajj Attan hills and the neighbouring presidential complex, south of Sanaa.
Saudi Arabia accused of cluster bomb attacks in Yemen
The raids came two days after a Houthi missile attack in Marib, an eastern oil province, killed 45 UAE soldiers, the heaviest loss for the UAE since the formation of the country in 1971.
Bodies of the slain soldiers arrived home on Saturday and three days of national mourning began.
Friday's Houthi strike, which hit an arms depot and set off huge explosions, also killed 10 Saudi troops and five Bahraini soldiers.
The British embassy said on Twitter that its flags in Dubai and Abu Dhabi had been lowered to half mast as a mark of respect.
'More steadfast'
Abu Dhabi's crown prince and UAE's acting armed forces chief, Mohammed bin Zayed Al Nahyan, said "these events will only make us more steadfast in our stand for justice".
The UAE said the incident would not sap its commitment to the Arab coalition's mission to restore exiled President Abd-Rabbu Mansour Hadi.
The White House said US President Barack Obama telephoned Mohammed bin Zayed on Saturday to offer his condolences.
For their part, the Iran-allied Shia Houthi fighters described the missile attack as "revenge" for six months of deadly Arab coalition air raids.
The Houthis said they had used a Tochka missile to attack the Safer camp in Marib.
Marib has seen fierce fighting as loyalist forces and their coalition allies have advanced in Yemen's north.
The coalition launched an air war when Hadi fled to Saudi Arabia in March and Houthis and their allies entered the exiled president's last refuge, Yemen's second city Aden.
After loyalists recaptured Aden in July, the Arab coalition launched a ground operation that has seen the rebels pushed back from five southern provinces, although they still control Sanaa and much of the north and centre.
More than 4,500 people have been killed in the conflict, including hundreds of children, according to the UN, which has warned that Yemen is on the brink of famine.
http://www.aljazeera.com/news/2015/09/air-raids-shake-yemeni-capital-coalition-losses-150906075847950.html
-----
Egypt seizes boats carrying more than 200 migrants
By AFP | Cairo: 6 September 2015
The Egyptian navy has seized three fishing boats in the Mediterranean carrying 228 migrants and arrested 17 crew members, the military said on Sunday.
"Naval forces, as part of their mission to secure the Mediterranean coast, spotted three suspicious fishing boats off the coast of Alexandria," the military said on its Facebook page.
"While inspecting them, they found, in addition to 17 crew, 228 people of different nationalities who were trying to emigrate illegally from Egypt," the statement said.
It did not disclose the identities of the migrants or of the crew, but said they were taken to a naval base in Alexandria. It also did not say when the operation took place.
Pictures posted online by the military showed men, who appeared to be African, sitting in a docked boat or on the ground of what seemed to be a harbour.
In one picture a soldier bandaged the foot of a man and in another a soldier handed out plastic water bottles.
The U.N. refugee agency UNHCR on Saturday said 366,402 migrants had crossed the Mediterranean to Europe this year, with 2,800 dying or going missing en route.
https://english.alarabiya.net/en/News/middle-east/2015/09/06/Egypt-seizes-boats-carrying-more-than-200-migrants.html
-----
KSA offers SR200m to UN agencies to carry out relief programs in Yemen
September 05, 2015
RIYADH — Upon instructions from the Saudi leadership, King Salman Centre for Humanitarian Aid has signed three agreements worth a total of about $54 million (SR200 million) with UN agencies to carry out relief programs in war-torn Yemen.
In a statement to the Saudi Press Agency (SPA) on Saturday, the center said the agreements were signed in response to a UN appeal.
The first agreement was with the United Nations Development Program (UNDP) to local support farmers and food manufacturers in Yemen. The agreement was worth a total of $1.74 million, of which $871,000 has already been disbursed as a first installment.
The centre agreed to provide $22.2 million to World Health Organization (WHO) to support its programs to reduce morbidity and mortality among the most vulnerable sections of the Yemeni population, including women and children.
The agreement covers all regions of Yemen and is expected to benefit more than 7.5 million people. The first disbursement of $5.55 million has already been released.
The centre also agreed to support the United Nations Children's Fund (UNICEF) to carry out nutritional and therapeutic programs for children below 5 years of age as well as pregnant and lactating women.
The total value of the program is $29.6 million, of which $8.9 million has been released. The centre said about 2.7 million people in Yemen are expected to benefit as a result of this agreement. — SG/SPA
http://www.saudigazette.com.sa/index.cfm?method=home.regcon&contentid=20150906255715
-------
Saudi king books entire Four Seasons hotel for US visit
By Web Desk: September 6, 2015
A reception laden with red carpets, a hotel covered in gold and a fleet of luxury cars — such was the scene in Georgetown, Washington DC, upon the arrival of Saudi Arabia's King Salman bin Abdulaziz.
For his three-night stay in the US capital, the 222-room hotel's guests were forced to move to nearby luxury hotels. The hotel even made extra arrangements to suit the 79-year-old king's tastes.
Gold furniture was rolled into the hotel; red carpets were laid down in the hallway as well as on the asphalt in the hotel's parking, according to eyewitnesses.
"Everything is gold," a hotel guest told the politico website. "Gold mirrors, gold end tables, gold lamps, even gold hat racks."
King Salman's delegation included Saudi diplomats as well as his own family and assistants. The king has a reputation for travelling with a huge entourage. Last month, King Salman and a 1,000-person entourage holidayed on the French Riviera; however, they were forced to cut short their trip after a petition from some 150,000 residents over the closure of a public beach outside his villa.
This is the King's first visit to the United States since taking the throne, following the death of his half-brother King Abdullah. While many inferred King Salman's absence from the Gulf summit at Camp David, as a diplomatic rebuke of Obama's Iran strategy both governments have denied such analyses.
Despite strains, the US and Saudi Arabia rely on each other over security, business and economic issues. However, the Obama administration is dedicated to providing assistance to the Gulf States in integrating ballistic missile defence systems and strengthening cyber and maritime security, which the president promised in the Gulf summit at Camp David.
http://tribune.com.pk/story/951655/saudi-king-books-entire-four-seasons-hotel-for-us-visit/
-----
DIFC to host 100 Indian firms as part of long-term strategy
September 05, 2015
DUBAI — As a part of its recently announced 2024 growth strategy, Dubai International Financial Centre (DIFC) aims to increase the number of Indian firms to over 100 in the next 10 years in addition to expanding its physical and legislative infrastructure for financial institutions looking to fully realize their growth potential.
DIFC has concluded last Wednesday its week-long engagement with leading business decision makers from India's banks, insurers, law firms, asset and wealth management companies in Mumbai.
DIFC has seen exponential growth from only one Indian institution in 2007 to over 20 Indian banks and financial institutions at present. Indian institutions now make up the third largest community of financial firms at the Centre. Furthermore, more than a quarter of the current workforce employed in DIFC is of Indian origin.
This strategic initiative came shortly after Indian Prime Minister Narendra Modi's recent visit to the UAE to strengthen the relationship with the Gulf countries and seek investment to boost Indian economy. The visit presented opportunities both to enhance cooperation between the Indian financial community and the DIFC, and to promote the Centre's world-class legal and regulatory framework to businesses looking to access the Middle East, Africa and South Asia (MEASA) region.
Senior DIFC delegation held over 40 meetings with high-level government authorities, private and public sector companies and current clients, in addition to partnering on three industry events hosted by professional services firm KPMG, the India Merchants' Chamber (IMC) trade association, and leading Indian law firm Khaitan & Co.
As part of their visit, the DIFC delegation conducted a series of presentations and discussions with leading industries and business professionals including KPMG staff, IMC members, delegates of GIFT (Gujrat International Finance Tech-City), banks, wealth management firms, insurance companies and law firms. In addition, the delegation met with the UAE Embassy in India to discuss key areas of mutual interest including trade and investments as well as collaboration on business and finance best practices.
The meetings were an opportunity to offer insights on DIFC's value proposition, 10-year growth strategy and reiterate its commitment to India's expanding private sector and emerging market.
Currently DIFC is home to 10 leading Indian banks and is in discussions with another 10 regarding future setup plans. In addition DIFC has received notable interest from Indian wealth and fund management organizations as well as key players in the insurance and reinsurance market.
Speaking about the implementation of the 10-year growth strategy, Arif Amiri, Deputy Chief Executive Officer, DIFC Authority, said: "On our second visit to Mumbai this year, DIFC has demonstrated its continued commitment to building and maintaining sustained, long-lasting partnerships with the emerging Indian market. With an ambitious 2024 growth strategy, we envisage a key role for Indian banks, insurers, law firms and wealth managers as we seek to expand our services and become a top global financial hub."
Amongst the current clients, the delegation conducted several productive meetings with leading financial institutions such as State Bank of India and ICICI bank to further strengthen existing relationships.
"After the US and UK, Indian financial firms and banks have the largest presence at DIFC with more full banking licenses than banks from any other country. Indian firms seeking to expand their services and investments in the thriving MEASA economies continue to benefit from DIFC's diverse and sophisticated infrastructure, enhanced legal and judicial framework and investment-friendly laws. Furthermore, Indian Institutions can take great confidence from the excellent relations between the Centre's regulator which has MOU's with more than 70 jurisdictions globally including the Reserve Bank of India and Securities and Exchange Board of India," Amiri said.
Amiri further added: "In the last 10 years, the accumulation of surplus wealth in the East and the Middle East has been phenomenal, with most accumulated as sovereign wealth funds flows that are driving the economic development of these regions. The Middle East and North Africa (MENA) region is home to nine of the top 20 sovereign wealth funds in the world, with assets totaling approximately $2 trillion.
"Moreover, post the financial crisis we've seen a significant shift in the dominance of the West in terms of the financial markets and financial flows. With regards to our new clients, almost 80% of our incremental business is from Asia and the Middle East. Our Centre's commitment is to allocate more resources to the needs of the emerging markets, such as India, as well as to integrate and connect their trade and investment networks to the South to South corridor and developed markets in the West."
In a recent announcement, the New India Assurance Company Ltd (NIA), a government of India-owned insurance company announced the opening of its regional hub in the DIFC, which will act as company's administrative control headquarters across the GCC. Earlier this year Bank of India, the third largest public sector bank from India opened its office in the DIFC.
Indian firms stand to benefit from the UAE's double tax treaty with India, which serves as an excellent incentive to invest in the DIFC. A recent illustration is that of is Gulf Petrochem, a multinational energy corporation, which in partnership with Gateway Investments, launched India's first real estate fund under DIFC's Exempt Fund.
Accounting for 30% of the UAE population, non-resident Indians have set up more than 40,000 Indian companies in the UAE and have contributed to an estimated $55 billion in Indian investments, with as much as $18 billion of this total being invested in real estate across the country. The UAE's investments in India currently stand at around $8 billion. Trade and investment ties between India and the UAE will continue to grow following a pledge made by Prime Minister Modi and UAE government officials to increase bilateral trade by 60% over the next five years.
As India becomes a critical financial market for Dubai, DIFC will continue to visit Indian partners throughout the year to strengthen existing relationships, while identifying and exploring new trade and investment opportunities. — SG
http://www.saudigazette.com.sa/index.cfm?method=home.regcon&contentid=20150906255682
------
Pakistan
'Wake-Up' Call: Law Enforcers to Go After Sleeper Cells In The City
By Our Correspondent: September 6, 2015
KARACHI: As the law enforcers evaluate the progress made two years into the Karachi operation, they realised the presence of 'sleeper cells' as the biggest threat to its success.
Sleeper cells is a term used to define those criminals who are fully assimilated in the society, hold regular jobs and attend university, but act only in specific terrorist attacks.
At a press conference at Karachi Police Office on Saturday, AIG Mushtaq Mahar recalled the success of the law enforcers in the past two years. He claimed that kidnappings, extortion, target killings and acts of terrorism have gone down by at least 70 per cent, adding that the operation will continue until the remaining 30 per cent are also nabbed.
"There is 70 per cent decrease in overall crime in Karachi now if we compare it to the Karachi of about two years ago, and its credit goes to the police, Rangers and other law enforcement agencies," said Mahar. "We are now also introducing e-technology in the police department to make the department more efficient while we are also computerising the records of all the criminals and linking it with the jail."
On investigations into high-profile cases, Mahar said the number of military courts in Karachi is likely to increase and they will oversee all such cases. "Accountability among the ranks and file of the police department has already begun and 1,000 policemen have been blacklisted," he pointed out. "These policemen will never be posted as SHO, SIO, SO or head muharirs."
Several policemen have laid down their lives protecting the city, said Mahar. "So far, 232 officials and personnel of the police have sacrificed their lives in the two years of Karachi operation," he said, admitting that incidents of street crimes are still a challenge for the police.
Mahar pointed out 34 spots in the city where streets crimes are rampant. He assured, however, that the police are trying to establish Rapid Response Centres in these areas with the help of the civil society. One such centre in Clifton will be functional by September 20, he added.
"A special cell has already been established to deal with mobile phone snatchings," said Mahar. He quoted a Gallup survey to share that 70 per cent of the people are in favour of the operation and that other surveys suggested a significant decline in crime rate. "Property value in Old City areas has increased by 80 to 90 per cent due to peace," he said, quoting traders.
Mahar promised to improve the community policing system after collaborating with all the industrial associations. The records of all private security guards will be verified through biometric systems while the records of arms shops will also be computerised within six months, he added.
A Rangers official also added that the Karachi operation was necessary due to the worsening law and order situation. "The good thing is that there are very positive results of the Karachi operation. Even everyone is happy and want it to continue," said Colonel Amjad of the paramilitary.
According to him, 27 Rangers jawans have lost their lives in the last two years of the operation. "We are determined [to fight] despite the martyrdom of our jawans," he added.
The traders' community also appreciated the ongoing operation. "The business community feels much secure due to the rapid response by law enforcers, particularly in cases related to extortion and kidnappings, as compared to the past," said industrialist Siraj Qasim Teli. "We are ready to bear the expense, particularly related to the education of martyred police and Rangers jawans," he announced.
Statistics: Gauging success in last two years:
Operations conducted by police 3,500
Operations conducted by Rangers 6,081
http://tribune.com.pk/story/951457/wake-up-call-law-enforcers-to-go-after-sleeper-cells-in-the-city/
-------
Pakistan observes 50th Defence Day
By Web Desk / AFP: September 6, 2015
The major fighting of the war took place between August and September 1965, with both sides claiming victory after it ended in stalemate following the intervention of the United States and the Soviet Union.
Every year Pakistan celebrates September 6 as "Defence Day". Sunday's commemoration began with a 31-gun salute at dawn in the capital Islamabad and similar displays in other cities.
A minute's silence was observed across the country to pay tribute to the almost 4,000 troops killed in the fighting, with Prime Minister Nawaz Sharif laying a wreath at the monument of war hero, Major Raja Aziz Bhatti, in Lahore.
Prime Minister Nawaz Sharif offers Fatiha at the monument of Major Aziz Bhatti in Lahore on September 6, 2015. PHOTO: PID
Air Force fighter jets carried out aerobatics displays across the country.
Sirens were sounded at 9:29am to herald a nation-wide one-minute silence to pay homage to soldiers who lost their lives in 1965-war. Following this the national anthem will be aired on all broadcasting networks in the country.
The central event was held at General Headquarters (GHQ) Rawalpindi while Pakistan Air Force (PAF) presented a special air-show over F-9 Park in Islamabad.
The show, which began at 11:00am, featured fighter jets of the PAF, including JF-17 Thunder, F-16, Mirage and renowned aerobatic team of PAF, the Sher Dils. Besides this, Pakistan Army's helicopters also participated in the event.
Pakistani jets perform during the celebrations to mark the country s Defence Day in Islamabad on September 6, 2015. PHOTO: AFP
In Karachi, the day started with the change of guard ceremony at Quaid-e-Azam's mausoleum where contingents of cadets of PAF assumed charge. Pillion riding has already been banned for Saturday and Sunday in the city due to security reasons.
The major event in Peshawar is an exhibition of aviation paintings and aircraft models arranged by the PAF at Nishtar Hall. The theme of the exhibition is "Pakistan Air Force – a saga of courage and sacrifice".
In Multan, a two-day exhibition of Pakistan Army war weapons has been arranged for the general public at Ayub Stadium Garrison, while a major event will be held at Yadgar-e-Shuhada in Multan Cantt on Sunday evening to pay tribute to the martyrs of Pakistan Army.
The main function of Defence Day in Gilgit-Baltistan will be held at Corps Headquarters Force Command Northern Areas while a ceremony will also be held at the tomb of Lalik Jan Shaheed (Nishan-e-Haider) at Hundur village in Ghizer district.
The day in Azad Jammu and Kashmir started with 21 gun salute. AJK President Sardar Muhammad Yaqoob Khan will be chief guest of the Defence Day function to be held at Neelum Stadium on Sunday.
Security is already on high alert in the country and mobile phone services will remain suspended in the twin cities of Rawalpindi-Islamabad.
http://tribune.com.pk/story/951591/nation-observes-50th-defence-day/?utm_source=Daily+Roundup+Newsletter&utm_campaign=42a5b6a435-Daily_Roundup_5pm&utm_medium=email&utm_term=0_19961368d8-42a5b6a435-65338937
-------
Zardari hits out at Altaf for 'negative politics'
By Our Correspondent: September 6, 2015
KARACHI / ISLAMABAD: Pakistan People's Party (PPP) Co-chairman Asif Ali Zardari said on Saturday that Muttahida Qaumi Movement (MQM) chief Altaf Hussain's 'negative politics' was detrimental to his own party's interests.
In a statement issued by Zardari's spokesman Senator Farhatullah Babar, the PPP co-chairman was quoted as advising the MQM to join the country's mainstream politics and work for the progress and prosperity of Sindh and Pakistan.
Zardari also advised Altaf to desist from 'unnecessary' speeches and statements. The PPP leader told the MQM chief that making incendiary remarks and 'accusations' almost every day was in appropriate for a man in his position.
Zardari lamented that the MQM had reneged on its promises made to the PPP. "But the PPP has always kept its promises to the MQM." He said his party had always put forward two conditions every time they had a dialogue with the MQM: "There will be no discussion on division of Sindh, and cooperation will be ensured to make Karachi a peaceful city."
The PPP co-chairman said his party's stance had always been clear that they would not let anyone divide Sindh.
He also said the PPP had always tried to work in harmony with all the federal and provincial governments.
Meanwhile, the MQM's Rabita Committee said in a statement that whether it was development in Karachi's urban areas or offering employment, Zardari had never fulfilled any of his promises. They lashed out at the PPP co-chairman in response to his earlier statement.
"The MQM was in power with the PPP in Sindh for five years, Zardari never fulfilled any written agreements," said the coordination committee statement. "Zardari has realised that Sindhis are leaving behind corrupt politicians of the PPP and are joining the MQM. Like the urban areas, people of rural Sindh have also rejected the PPP."
The MQM statement said that like Punjab, the PPP was seeing a dark future for the party in Sindh and was, therefore, playing the 'Sindh' card. "To garner sympathy from Sindhis, the PPP is falsely accusing the MQM of wanting to divide Sindh."
http://tribune.com.pk/story/951500/zardari-hits-out-at-altaf-for-negative-politics/
-----
Fresh move: Arrest warrants stack up against Altaf Hussain
By Our Correspondents: September 6, 2015
PESHAWAR / KARACHI: An anti-terrorism court in Karachi has again issued non-bailable warrants for Muttahida Qaumi Movement (MQM) chief Altaf Hussain's arrest in the criminal intimidation case instituted against him on the complaint of Sindh Rangers' Col Tahir Mehmood.
Moreover, an ATC in Timergara has also issued separate warrants for Altaf's arrest to the SHOs of the Samar Bagh and Och police stations via advertisements in Urdu dailies.
A Karachi ATC had issued warrants in the past two hearings as well, asking for a report to be submitted on the progress of the case.
Col Mehmood, who led the paramilitary force's raid on MQM headquarters Nine Zero on March 11, said in his FIR that Altaf had used threatening language against the raiding team during a TV show.
The charge sheet quoted the MQM chief as saying, "The officials who had raided my house were Rangers officials. They 'were'. They are now 'were' (of the past)."
A case against Altaf was registered at the Civil Lines police station under Section 506-B (criminal intimidation) of the Pakistan Penal Code, read with Section 7 of the Anti-Terrorism Act.
Meanwhile, a Timergara ATC asked the SHOs of Samar Bagh and Och police stations through advertisements in newspapers to arrest the MQM chief and bring him before the court within a week.
An Och police official said a local man had registered a case against Altaf for "spreading hatred through his speeches". Another complainant had filed a similar case at the Samar Bagh police station.
According to the published advertisements, the MQM chief is wanted by police in Lower Dir district in connection with anti-state cases.
http://tribune.com.pk/story/951535/fresh-move-arrest-warrants-stack-up-against-altaf-hussain/
------
Public, private varsities told to adopt Urdu as official language
By Ammar Sheikh: September 5, 2015
LAHORE: The federal government on Saturday instructed all public and private sector universities to use Urdu as the official language in all correspondence.
The instruction was passed through Ministry of Federal Education and Professional Training and the Higher Education Commission (HEC) which direct varsities to translate their respective acts, statutes, and websites into Urdu.
The HEC has directed all higher education institutions in the country to implement the order by September 15.
The HEC circular, which kept in spirit with the new directions was written in Urdu, read, "As per the Article 251 of the Constitution of Pakistan, the national language of Pakistan is Urdu, and arrangements shall be made for it being used for official and other purposes. For the purpose, the prime minister of Pakistan has approved a framework. The recipients are directed to take appropriate measure for the implementation of the framework."
The approved framework attached with the circular states that the public and semi-private departments under the federal government are directed to translate and publish their policies in Urdu within three months.
The framework has also directed government departments to publish their rules and regulations, and provide their forms in Urdu as well as in English language.
Furthermore, the framework stated that all international and local speeches made by the president and prime minister will also be in Urdu language.
http://tribune.com.pk/story/951270/public-private-varsities-told-to-adopt-urdu-as-official-language/
------
Africa
Al-Shabaab Militants Seize Two Towns In Southern Somalia
By Reuters, Mogadishu , 5 September 2015
Islamist militants al Shabaab seized control of two towns over two days in southern Somalia and attacked two African Union (AU) convoys in the same region, a spokesman for the group and a local official said on Saturday.
Both captured towns were on routes towards Indian Ocean ports south of the capital Mogadishu and came after al Shabaab fighters attacked an AU base in the same area on Sept. 1.
Last year, African Union peacekeepers known as AMISOM drove al Shabaab back in the south and seized the port of Barawe in October, a coastal town used by the Islamist militants to bring in arms and fighters from abroad for years.
Al Shabaab lost control of the main southern port of Kismayu and the port of Marka in 2012, so the loss of Barawe was a setback, leaving the group with no access to the sea in the south of Somalia.
On Saturday, al Shabaab said it had seized two small towns in the Lower Shabelle region: El Saliindi, 65 km (40 miles) south of Mogadishu en route to Marka, and Kuntuwarey, on the road between the capital and Barawe.
The al Qaeda-affiliated group, which is seeking to overthrow the Western-backed government and impose its harsh version of Islamic law, attacks the AU-led peacekeeping force and Somali officials regularly.
Convoys
Ali Nur, the acting governor of Lower Shabelle, confirmed the towns had been captured.
"It is sad to say al Shabaab has taken El Saliindi. AU forces withdrew and al Shabaab now controls it," said Nur, adding that Kuntuwarey was seized on Friday.
The AU peacekeeping force, known as AMISOM, could not immediately be reached for comment.
Also on Saturday, the militants said they attacked an AU convoy outside Marka, killing several soldiers. But Nur said the death toll had not been determined.
"A roadside bomb targeted an AU vehicle as the AU convoy passed in the outskirts of Marka today. We do not know details about casualties," said Nur.
Al Shabaab said it hit a second AU convoy with a suicide car bomb near Janale, the site of the attack on the AU base.
"Many soldiers died and several AU vehicles are burning," Sheikh Abdiasis Abu Musab, al Shabaab's military spokesman, told Reuters.
Nur said he was aware of the bombing. He said while AMISOM forces had not been hit, one civilian was killed.
Al Shabaab often exaggerates the success of its attacks and officials play down losses.
On Sept. 1, al Shabaab stormed an AU base in Janale, about 90 km (55 miles) south of Mogadishu, killing at least 12 Ugandan soldiers. Al Shabaab claimed it had killed 70 people in the assault, which came roughly a year after its leader Ahmed Abdi Godane was killed in a U.S. air strike.
https://english.alarabiya.net/en/News/africa/2015/09/05/Al-Shabaab-militants-seize-two-towns-in-southern-Somalia.html
------
Morocco's ruling Islamists win regional polls
By AFP | Rabat, 5 September 2015
Morocco's Islamists came first in regional elections seen as a test of their popularity after nearly four years in power, but trailed the liberal opposition in municipal polls, results showed Saturday.
Friday's double elections were viewed as a gauge of the political climate ahead of a general election next year.
They come four years after Arab Spring protests ushered in constitutional reforms by the monarchy in the North African nation.
Prime Minister Abdelilah Benkirane's Justice and Development Party (PJD) won 25.6 percent of 678 seats in regional councils.
The Party of Authenticity and Modernity (PAM), a liberal opposition party founded by a politician close to the king, came second with 19.4 percent.
It was the first opportunity for Moroccan voters to elect their regional councillors directly.
The PJD came first in five of Morocco's 12 regions, including in Casablanca, Rabat and Fez, cities with large populations.
In the municipal polls, however, the PAM came first with 21.1 percent of 31,503 seats, while the conservative opposition Istiqlal Party followed with 16.2 percent.
The PJD came third with 15.9 percent.
Earlier the interior ministry had said a tally of 80 percent of the overall votes indicated the PAM was leading.
The PJD hailed its stronger performance compared with the previous local elections in 2009, when it finished with 5.4 percent, far behind PAM which scored 21 percent.
"These results confirm the confidence of the Moroccan people in the work of the government," Abdelali Hamieddine, a senior official with the Islamist party, said of the earlier partial results.
The interior ministry said turnout was 53.6 percent, little changed compared with 2009. About 15 million people were eligible to vote.
Habiba Ramzi, a voter in her 80s, said she hoped that those elected "will think about the poor this time".
"To those candidates I say 'enough corruption and lies,'" she said, adding that she wanted to see more done to improve education.
In 2011, Benkirane's PJD became the country's first Islamist party to win a national election, and the first to lead a government.
That vote followed concessions from King Mohammed VI, the scion of a monarchy that has ruled Morocco for 350 years.
A new constitution curbed some, but not all, of the king's near-absolute powers as pro-democracy uprisings unseated autocratic regimes in Tunisia, Egypt and Libya.
The local polls were boycotted by Morocco's largest Islamist movement, Justice and Charity, and the smaller, far-leftist party Democratic Path.
https://english.alarabiya.net/en/News/africa/2015/09/05/Islamists-dominate-cities-in-Morocco-local-elections.html
-----
Medivac plane with seven on board disappears west of Senegal
By Reuters: September 6, 2015
DAKAR: A medical evacuation plane with seven people on board, including a French patient, disappeared west of Senegal during a flight from Burkina Faso to Dakar, the Senegalese civil aviation authority said.
The private Senegalair plane from Ouagadougou disappeared from radar screens at 7:08 p.m. (1908 GMT) on Saturday 118 km (74 miles) west of the Senegalese capital, it said in a statement.
Senegal's armed forces were conducting a search, the statement added. The plane was carrying three crew members and medical staff, including a doctor and two nurses.
Nationalities of those on board included two Algerians and a citizen of Congo, although the aviation authority did not specify whether it referred to the Democratic Republic of Congo or Republic of Congo.
The plane, chartered by SOS Medicin Senegal, left Ouagadougou at 4.30 p.m. (1630 GMT), Burkina Faso's Minister of Transport, Daouda Traore, told Reuters. Ouagadougou is around 1,700 km (1,080 miles) southeast of Dakar.
http://tribune.com.pk/story/951710/medivac-plane-with-seven-on-board-disappears-west-of-senegal/
-----
North America
US questions Russia over moves in Syria
06 Sep 2015
John Kerry, the US secretary of state, has expressed US concern over reports of Russia's enhanced military build-up in Syria in a telephone call with his Russian counterpart, according to the US state department.
The phone call came a day after media reports quoted US officials as describing an increase in Russian military activity in Syria, expanding the country's support for Syrian President Bashar al-Assad.
"The secretary made clear that if such reports were accurate, these actions could further escalate the conflict, lead to greater loss of innocent life, increase refugee flows and risk confrontation with the anti-ISIL coalition operating in Syria," the state department said on Saturday, referring to the Islamic State of Iraq and the Levant.
It said Kerry and Sergey Lavrov, the Russian foreign minister, agreed that discussions on the Syrian conflict would continue this month in New York, where the UN General Assembly meets.
Quoting unidentified Obama administration officials, the New York Times said Russia has dispatched a military advance team to Syria and has sent prefabricated housing units for hundreds of people to a Syrian airfield and delivered a portable air traffic control station there.
Assad's ancestral home
Some US officials said the temporary housing suggested Russia could deploy up to 1,000 advisers or other military personnel to the airfield that serves Latakia, Syria's principal port city that is near the Assad family's ancestral home, the New York Times reported.
It said officials see no indications Russia intends to deploy significant ground forces, but may be preparing the airfield as a base for transporting military supplies or a launching pad for air strikes supporting Assad.
The Los Angeles Times reported US intelligence has gathered evidence of possible military housing from satellite reconnaissance photos.
In recent weeks, there has been a flurry of diplomatic consultations to try to find a way out of the crisis, including a meeting in Doha, Qatar, on August 3 between the top US, Russian, and Saudi diplomats.
The Saudi and Iranian foreign ministers were later received separately in Moscow, as were representatives of various Syrian opposition groups.
Russia, which has been a bulwark of military and diplomatic support to the Assad government, is promoting an expanded coalition against ISIL that includes countries of the region as well as the regular Syrian army.
President Barack Obama for his part received Saudi King Salman on Friday for talks dominated by Syria. They advocate a political solution that would include Assad's departure from power.
Suweida violence
On the ground in Syria, anti-government violence erupted on Saturday in a southern province that had largely stayed on the sidelines of the country's civil war.
The violence in Suweida province, a stronghold of the Druze minority sect, followed the killing of a prominent religious leader in rare explosions on Friday that claimed the lives of at least 25 others, activists and pro-government media said.
Rioters holding the government responsible for the death of Sheikh Wahid al-Balous destroyed the statue of late Syrian President Hafez al-Assad and besieged security offices, the Britain-based Syrian Observatory for Human Rights and other activist groups said.
Balous was a prominent critic of Assad and had called on youth in Suweida to refuse to serve in the military.
He was also a critic of ISIL fighters who have taken over a third of the country and are fuelling the civil war that has killed more than 250,000 people and wounded more than one million.
Balous died in one of two consecutive car bomb explosions, including one near the National Hospital in Suweida.
The Syrian Observatory said the death toll rose on Saturday to 37, including six security personnel killed in clashes with rioters.
Conflicting toll figures
Suweida had witnessed large rallies in the days before the explosions against the failure of the government to provide basic services. Activists reported that there was no internet service for the past few days.
Syria's official news agency and other activist groups put the death toll from the blasts at 26. There was no immediate claim of responsibly for the bombings.
Some of Balous' supporters said in a statement they would expel security forces from Suweida, which until now has largely stayed out of the fighting.
Elsewhere in Syria, at least 47 fighters have been killed in battles between ISIL and rebel groups, reports say.
The fighting was centred around the rebel-held town of Marea near the Turkish border.
Marea is within a proposed safe zone put forward by Turkey last month. If rebels lose the town, it will make it harder to clear ISIL from the area.
http://www.aljazeera.com/news/2015/09/questions-russia-moves-syria-150906031701354.html
------
All Saudi students in US included in scholarship program
September 05, 2015
WASHINGTON — Custodian of the Two Holy Mosques King Salman issued orders to include in the Custodian of the Two Holy Mosques Program for Foreign Scholarship even those male and female Saudi students studying at present in the US at their own expense.
King Salman also issued orders that the State will bear the expenses for the treatment of male and female Saudi citizens who are undergoing treatment for terminal illness at their expense in the US. — SPA
http://www.saudigazette.com.sa/index.cfm?method=home.regcon&contentid=20150906255723
-----
URL: https://www.newageislam.com/islamic-world-news/new-age-islam-news-bureau/pope-calls-on-every-european-parish-to-host-one-migrant-family-each/d/104498