New Age Islam News Bureau
22 March 2012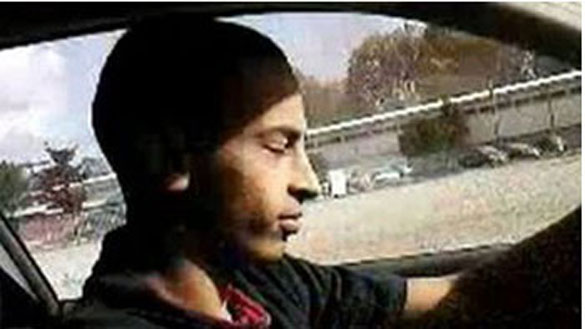 • Nearly 1,000 Pakistan women 'killed for honour': Human Rights Group
• Renegade Mali soldiers announce takeover
• Muslim lawyers block blasphemy alleged Christian victim's lawyer entering court in Egypt
• LeT reviving women cadre in J&K: Govt
• Women on Afghan Peace Council Say They Are Sidelined
• Bangladesh court blocks 'blasphemous' Facebook pages
• Egypt's Brotherhood eyes end to Gaza blockade
• In Zimbabwe, Sentenced for Watching News Videos of the Arab Spring uprisings
• Unprecedented national women's conference in Sana'a, Yemen
• More Afghan forces to be deployed against 'rogue' Haqqani network
• Thousands mobilise against planned anti-Islam Denmark demonstration
• Journey of a jihadi serial killer: From petty crime to jihad
• Libya says Mauritania agrees to hand over ex-spymaster Senussi
• Clashes across Syria despite U.N. Pressure
• Gaddafi spy chief to be tried on home soil: Libya
• Libya Resists International Court's Claim on War Crimes Case
• Root out terror growing from outside Afghan borders: India
• Israeli hit: Iranian suspect had Indian, Thai visa
• Hillary Clinton says door still open for Taliban talks
• US want constructive and mutually beneficial ties with Pak
• Five terrorists killed in Kurram Agency
• Three people shot dead in Balochistan
• Car bomb rocks Mogadishu, Shabaab claims responsibility
• Pakistan again violates LoC truce
• Contempt case: Lawyer fears Gilani will not get a fair trial
• Pakistanis in Afghan jails; LHC seeks reasons for detention
• Osama's brother-in-law allowed to meet sister
• Pak Interior Minister urges militants to surrender, hold talks
• Russia, China joins UN council in call for Syria peace
• UN chief warns of massive repercussions from Syria crisis
• PM Sheikh Hasina warns against conspiracy to foil war crimes trial
• Bali Attack Plot Shows Indonesia Terror Threat Evolving
• India: Israeli diplomat attack: Other agency not to Question Kazmi
Complied by New Age Islam News Bureau
Photo: Mohammed Merah French citizen of Algerian extraction
URL: https://www.newageislam.com/islamic-world-news/new-age-islam-news-bureau/police-killed-toulouse-gunman,-mohammed-merah/d/6900
-------------
Police Killed Toulouse Gunman, Mohammed Merah
22 March 2012
A police sniper shot and killed the man suspected of killing seven people in southern France, prosecutors say, after a 32-hour siege in Toulouse.
Police stormed the flat where Mohammed Merah was holed up at 09:30 GMT.
Interior Minister Claude Gueant said Merah fired at officers and was found dead after jumping from a window.
Merah, 23, who claimed to have al-Qaeda training, was suspected of killing four people at a Jewish school and three soldiers in three separate attacks.
He had said he was acting to "avenge Palestinian children" and protest against French military interventions overseas.
It had been unclear how the gunman died, but prosecutor Francois Molins confirmed in a news conference that he had been killed by a shot to the head by a police marksman as he tried to flee.
Mr Molins said Merah was wearing a bullet-proof jacket and had fired 30 bullets as the commandos broke in.
Earlier President Nicolas Sarkozy said in a televised address that everything had been done to try to bring Merah to justice but it was decided that no more lives could be put at risk.
He also vowed a new crackdown on those who visited "hate or terrorism" web sites or travelled abroad to be indoctrinated in terrorism.
Officers wounded
Mr Gueant said officers had thrown grenades and entered by the door and windows of the flat.
After surveying the scene and finding no sign of the suspect, they proceeded to the bathroom, moving slowly as they were wary of booby-traps.
When officers tried to find out if there was anyone in the bathroom, the suspect came out firing several weapons.
Mr Gueant said the suspect was "shooting very violently. The bursts of gunfire were frequent and hard".
Merah then jumped from a window, continuing to fire. He was found dead on the ground.
One police source told Agence France-Presse that Merah had been killed by police as he fled through the window.
Two officers were reported wounded in the final assault.
Mr Gueant said: "A RAID [special police] officer who is used to this kind of thing told me that he had never seen such a violent assault."
Earlier Mr Gueant had said it was unclear whether Merah was still alive, because there had been no contact overnight.
He had said the object had been to take Merah alive.
A number of explosions had been set off overnight to intimidate Merah, officials said.
They said he was armed with a Kalashnikov high-velocity rifle, a mini-Uzi 9mm machine pistol, several handguns and possibly grenades.
Street lights were switched off in the vicinity of the building on Wednesday evening and surrounding areas evacuated.
In his TV address, Mr Sarkozy announced an investigation into whether Merah had accomplices and into possible Islamist indoctrination practices in prisons.
He also said: "The French should not give rein to anger - our Muslim compatriots have nothing to do with the crazy actions of a terrorist. We should not embark on any stigmatisation."
Merah claimed to have received al-Qaeda training in Pakistan's Waziristan area, and also said he had been to Afghanistan.
Mr Gueant defended intelligence services for not preventing the attacks, describing Merah as a "lone wolf".
"The domestic intelligence agency tracks a lot of people who are involved in Islamist radicalism. Expressing ideas... are not enough to bring someone before justice," Mr Gueant said.
Christian Etelin, a lawyer who has previously acted for Merah, said his client had violent tendencies.
"There was his religious engagement, an increasing hatred against the values of a democratic society and a desire to impose what he believes is truth," Mr Etelin said.
He also denied earlier reports that Merah had been jailed for explosives offensives in Afghanistan, saying his client was in jail in France for robbery with violence at the time - from December 2007 to September 2009.
Memorials
The killings took place in and around Toulouse in three separate incidents earlier this month.
On 11 March, a soldier was shot and killed while waiting to see a man about selling his motorcycle.
Days later, two soldiers were shot and killed and a third was wounded while waiting at a cash machine.
Then earlier this week, three children and an adult were shot and killed outside a Jewish school.
The four Jewish victims were buried in an emotional funeral in Jerusalem on Wednesday.
Also on Wednesday, President Sarkozy attended a memorial for the three murdered soldiers at a military base in Montauban near Toulouse.
http://www.bbc.co.uk/news/world-europe-17473207
----------
Nearly 1,000 Pakistan women 'killed for honour': Human Rights Group
March 22, 2012
ISLAMABAD: At least 943 Pakistani women and girls were murdered last year for allegedly defaming their family's honour, the country's leading human rights group said Thursday.
The statistics highlight the growing scale of violence suffered by many women in conservative Pakistan, where they are frequently treated as second-class citizens and there is no law against domestic violence.
Despite progress on better protecting women's rights, activists say the government needs to do more to prosecute murderers in cases largely dismissed by police as private, family affairs.
"At least 943 women were killed in the name of honour, of which 93 were minors," wrote the Human Rights Commission of Pakistan in its annual report.
Seven Christian and two Hindu women were among the victims, it said.
The Commission reported 791 "honour killings" in 2010.
Around 595 of the women killed in 2011 were accused of having "illicit relations" and 219 of marrying without permission.
Some victims were raped or gang raped before being killed, the Commission said. Most of the women were killed by their brothers and husbands.
Only 20 of 943 killed were reported to have been provided medical aid before they died, the Commission wrote.
Despite the rising number of reported killings, activists have praised parliament for passing laws aimed at strengthening women's protection against abuses.
Rights groups say the government should do more to ensure that women subjected to violence, harassment and discrimination have effective access to justice.
Last year, a Belgian court sentenced four members of a Pakistani family to prison for the murder of their daughter, who defied them by living with a Belgian man and refused an arranged marriage.
http://www.dawn.com/2012/03/22/nearly-1000-pakistan-women-killed-for-honour.html
--------
Renegade Mali soldiers announce takeover
22 March 2012
Rebel troops have appeared on Malian state TV to announce they have seized control of the country, hours after attacking the presidential palace.
The soldiers said a nationwide curfew was in force and that the constitution had been suspended.
The troops, who staged a mutiny on Wednesday, say the government is not giving them enough arms to tackle a rebellion by ethnic Tuaregs.
West African regional body Ecowas has condemned the actions of the troops.
In a statement, it said it had followed the situation with "dismay and mounting concern", describing the behaviour of the mutinous soldiers as "reprehensible" and "misguided".
It comes after the renegade troops had staged a mutiny traded gunfire with soldiers loyal to the government.
A source told the BBC that the foreign minister and a number of other ministers have been arrested.
On Wednesday the mutineers had taken over the state radio and TV broadcaster in Bamako and took it off air.
After several hours of footage of traditional Malian music and dancing, a group of soldiers appeared on screen early on Thursday morning, with a caption identifying them as the "Committee for the Re-establishment of Democracy and the Restoration of the State".
The leader of the mutiny was revealed to be Capt Amadou Sanogo, who appeared briefly to announce the imposition of a national curfew, although he did not specifying the time.
A spokesman for the renegade soldiers, identified on screen as Lt Amadou Konare, said they had ended the "incompetent regime" of President Amadou Toumani Toure.
Lt Konare condemned the "inability" of the government to "fight terrorism", and said the soldiers would look to hand over to a democratically elected government.
There has not yet been any reaction from President Toure to the announcement.
The BBC's Martin Vogl, in Bamako, said the exact whereabouts of the President Toure were not known.
However, a loyalist military source close to the president told the AFP news agency on Thursday morning that he was well and in a safe location.
Our correspondent said it was not clear whether the mutinous soldiers, up to 15 of whom were seen on screen, have complete control of the presidential palace or have the support of all the Malian forces.
He said an elite force, known as the Red Berets, could still be loyal to President Toure.
He said Mali has had democratic rule for the last 20 years, during which it has come to be seen as a model which other emerging democracies can look to.
'Recruits riot in the north'
The Kenyan government said its foreign minister, Moses Wetangula, and three officials accompanying him are safe in their Bamako hotel after being stranded in Mali.
They were in the country to attend an African Union meeting.
The unrest began on Wednesday as the country's defence minister started a tour of military barracks north of the capital.
Soldiers fired in the air during the inspection, prompting an immediate strengthening of security around the presidential palace.
Troops are upset with the government's handling of a Tuareg rebellion in the north of the country, and are also reportedly opposed to any potential talks with the rebels.
There was heavy gunfire in Bamako throughout Wednesday, and armoured vehicles had moved in to protect the presidential palace. Gunshots reportedly continued to ring out overnight.
A member of the presidential guard described the fighting to AFP.
"We are in control of the presidential palace. People are shooting towards us and we are returning fire," he said.
In the northern town of Gao, young recruits were said to have begun rioting at a military base, according to the Associated Press news agency.
Both the US and France have urged the soldiers and government to resolve their dispute through peaceful means.
The Tuaregs have forced the army out of several northern towns in recent months.
A presidential election was due to take place in the country in just under a month.
The government had so far refused to postpone the poll, despite the unrest involving Tuareg-led rebels.
http://www.bbc.co.uk/news/world-africa-17462111
--------
Hundreds of Muslim lawyers block blasphemy alleged Christian victim's lawyer entering court in Egypt
March 22, 2012
Cairo: More than 300 Muslim lawyers inside and outside a courthouse in the southern Egyptian
province of Assuit today prevented defense lawyer Ahmad Sayed Gabali, who is representing the Christian Makarem Diab, from going into court. Mr. Diab was found guilty of 'Insulting the Muslim Prophet' and was scheduled today a hearing on his appeal.
Attorney Dr. Naguib Gabriell, head of the Egyptian Union of Human Rights Organization, said there was "terror in the Assiut Court today." He added that he was on his way to court when he was advised that Muslim lawyers have issued death threats to any Christian lawyers who attend the court session. "Makram Diab was assaulted by Muslim lawyers during his transfer from the courtroom and security failed to protect him."
Peter Sarwat, a Coptic lawyer, said that Muslim lawyers representing the plaintiffs prevented the defense team from entering court. "They said no Muslim will defend a Christian. It was agreed that Christian lawyers would take over and two Coptic lawyers volunteered, but the Muslims decided later that even Christians would not defend him." Sarwat said the Muslim lawyers wanted to assault the chief judge but he managed to leave the court via a rear door.
Adel Ramadam and Ahmad Mohamad Hossam, two Muslim lawyers and activists from the renowned NGO Egyptian Initiative for Personal Rights (EIPR) went to court to defend Diab's right to a fair trial but were assaulted by the other Muslim lawyers. "They were assaulting us in a beastly and strange way just because we went there to defend a citizen who happened to be a Christian," said Adel Ramadam. He also said that to get out of court was a complex operation and a huge task for the security personnel. "We left court in a security vehicle which took us to Security headquarters, otherwise, we don't know what the outcome would have been for us."
Makram Diab, a school secretary was sentenced by the Abanoub misdemeanor court two weeks ago to six years imprisonment on charges of insulting Islam's prophet. His defense lawyer, Ahmad Sayed Gabali, was also prevented during that session from entering the court by Muslim lawyers (AINA 3-5-2012).
"I went to court today because I believe this citizen was stripped of all his rights," said Adel Ramadam in an aired interview today. "He had a quarrel with a Salafi school colleague and then 11 days later, it was suddenly decided by Muslims that they will report the case. He was detained by the prosecution for 4 days and two days later in a 10-minute session and without any defense lawyer present, he was sentenced to 6 years, which is way above the maximum of a misdemeanor case."
Eyewitnesses reported that the Muslim lawyers were armed with clubs. A police captain, b two EIPR lawyer, and two reporters from Ros-el-Youssef and El-Bashayer Egyptian newspapers were injured in the milieu.
Human rights groups reported that they were also forced out of the courtroom by the Muslims. Adel Ramadam said the court session never started because the judge knew that the defense were prevented from entering the court, and knew of the assaults. "He just postponed the appeal session to April 5."
U.S. taxpayers give Egypt a billion dollars and our corrupt government is forgiving a billion dollar loan as well. All for sharia. Wake up. The Muslim Brotherhood permits this and their front groups are all over the U.S. Like CAIR: Former Hamas-CAIR official running for president in Egypt, pledges to "complete the implementation of Islamic law in Egypt".
http://www.pakistanchristianpost.com/viewnews.php?newsid=1794
--------
LeT reviving women cadre in J&K: Govt
March 22, 2012
NewDelhi:The government on Wednesday said that there have been some unconfirmed reports that the banned Lashkar-e-Taiba (LeT) is reviving its womens cadre and planning to use it in Jammu and Kashmir.
There have been some unconfirmed reports in this regard.However,there are no reports of successful infiltration or terrorist activity by LeT women cadre in Jammu and Kashmir, minister of state for home Jitendra Singh told the Rajya Sabha on Wednesday.
The minister said that security forces were keeping a strict vigil on the activities of the LeT.
In reply to another question,Singh said Hizbul Mujahideen accounts for nearly 35-40 per cent of all terrorists in Jammu and Kashmir and is the most active outfit in the Valley next to Lashkar-e-Taiba in terms of strength and capability to carry our terror strikes.
Times of India
--------
Women on Afghan Peace Council Say They Are Sidelined
03/22/2012
KABUL (Reuters) - Women members of an Afghan government council charged with seeking reconciliation with the Taliban have been sidelined from main consultations and are trying to forge a united voice within the council, one of the members said.
The 70-member High Peace Council, which has been struggling to carve out a role in the negotiations since the assassination of its chief, Burhanuddin Rabbani, last year, has nine women.
While the women attend peace workshops and meetings both in the country and abroad, Gulali Noor Safi said they were not involved in making major decisions.
"We are trying to be involved in the peace process but in my opinion, most of the time we're not included in major discussions," she said.
President Hamid Karzai set up the council two years ago consisting of members drawn from Afghanistan's different ethnic and political groups to try to negotiate with the Taliban to end the war now in its eleventh year.
For Full Report:
http://www.nytimes.com/reuters/2012/03/22/world/asia/22reuters-afghanistan-
----------
Bangladesh court blocks 'blasphemous' Facebook pages
21 March 2012
The High Court in Bangladesh has ruled five "blasphemous" Facebook pages and a website must be blocked.
The court heard the pages offended the Prophet Muhammad as well as other religions.
The lawyer who brought the petition, Muhammad Nawshad Zamir, told the AFP news agency some of the images were close to pornography.
He said the court has asked Bangladeshi authorities to find out who posted the cartoons and comments online.
The case was brought by two teachers from Dhaka University and Dhaka Centre for Law and Economics who said the pictures hurt the religious sentiment of Muslims.
Mr Zamir said the pages also contained disparaging remarks about "the holy book of the Koran, Jesus, Lord Buddha and Hindu gods".
He declined to name the Bengali-language website and advised that the government has been given three weeks to report developments to the court.
Some bloggers have raised concerns that the ruling is curbing free speech.
For Full Report:
http://www.bbc.co.uk/news/world-asia-17465550
--------
Egypt's Brotherhood eyes end to Gaza blockade
03/22/2012
CAIRO/GAZA: The Muslim Brotherhood aims to open the Egyptian border with Gaza to commerce, a shift that would transform life for Palestinians there but which is hitting resistance from Egyptian authorities reluctant to change a longstanding policy.
The biggest party in Egypt's new parliament, the Islamists are not yet in government but have been seeking ways to ease the impact of restrictions imposed by Israel and Egypt on what passes in and out of the territory run by the Hamas group, an idelogical offshoot of the Brotherhood.
Aiming to ease chronic power shortages in Gaza, the Brotherhood recently lobbied the Egyptian government to conclude a deal to supply fuel for the territory's sole power station.
For Full Report:
http://arabnews.com/middleeast/article591071.ece
--------
In Zimbabwe, Sentenced for Watching News Videos of the Arab Spring uprisings
By LYDIA POLGREEN
03/22/2012
JOHANNESBURG — A court in Zimbabwe decided not to imprison six activists who had been arrested while watching news videos of the Arab Spring uprisings, sentencing them instead on Wednesday to 420 hours of community service and fining them $500 each.
The activists became something of a cause célèbre in Zimbabwe, where repression is nothing new but the spectacle of a university teacher being arrested for watching news coverage and holding what was, he said, a seminar on political activism and democracy, shocked many Zimbabweans.
Munyaradzi Gwisai, a law lecturer at Zimbabwe's main university and a former Member of Parliament for the opposition Movement for Democratic Change, and five other activists were sentenced to two years in jail, but the sentence was suspended for five years. Nevertheless, the activists plan to appeal their conviction, Mr. Gwisai said.
For Full Report:
http://www.nytimes.com/2012/03/22/world/africa/zimbabwean-activists-
--------
Unprecedented national women's conference in Sana'a, Yemen
22 March 2012
SANA'A — The National Women's Conference was opened by Prime Minister Mohammed Salem Basindawa last Monday in Sana'a.
The two day conference was held by the Ministry of Human Rights in collaboration with the National Women's Committee.
It discussed political, social, economic and health problems that face Yemeni women. In addition, the conference discussed armed conflicts and gender issues.
Basindawa described the conference as an unprecedented assembly and as a new event in the history of Yemeni women, indicating that the conference is a sign of Yemeni women's seriousness to encourage real development in the country.
According to the Minister of Human Rights, Horiya Mashhoor, the conference paves the way for the upcoming National Dialogue Conference that Yemeni women would participate in as one of the social and national powers.
The conference also discussed the aspirations of women and their role in the Arab Spring in Yemen, Egypt, Tunisia and Libya.
For Full Report:
http://www.yementimes.com/en/1557/news/618/Unprecedented-national-women%E2%80%99s-conference.htm
--------
More Afghan forces to be deployed against 'rogue' Haqqani network
March 22, 2012
As the end game approaches in Afghanistan, top US Commander has said that more Afghan troops could be deployed close to border with Pakistan, if the issue of terror safe havens in that country is not resolved.
"....If the issues of safe havens in Pakistani do not resolve in our favour one way or the other, we'll probably have to have a larger presence of the forces than anticipated on the Af-Pak border," General John R Allen, Commander of US and NATO forces in Afghanistan told US lawmakers.
Responding to questions from US Congressmen, Gen Allen said the presence of safe havens in Pakistan continues to be a threat to the war against terrorism campaign.
His comments came as US is moving an entire infantry division into the eastern Afghanistan, where commanders feel that a renewed big push is needed this year as violence drops in the southern and other parts of the war ravaged nation.
The troops are to be moved in a mountainous sector that spans 14 provinces and includes almost 600 kilometres of the Af-Pak border. US military said that Taliban attacks in that region increased last year as they declined substantially in the Taliban heartland in the south.
For Full Report:
http://www.dailypioneer.com/world/51591-more-afghan-forces-to-be-deployed-against-rogue-haqqani-network.html
--------
Thousands mobilise against planned anti-Islam Denmark demonstration
Mar 22, 2012
COPENHAGEN: Several thousand people turned out for an open-air concert in Denmark's second city of Aarhus on Wednesday to protest against a far-right anti-Islam rally planned for March 31, officials said.
Aarhus city officials said they organised the concert as a way of showing the city's tolerance and because "Aarhus does not want to be associated with extremist groups" that represent "everything we want to distance ourselves from."
Around 5,000 people attended Wednesday's concert, a spokesman for the mayor's office said.
Far-right groups from across Europe are scheduled to meet in Aarhus on March 31 for an anti-Islam rally organised by the Danish Defence League, a sister organisation of the English Defence League.
For Full Report:
http://timesofindia.indiatimes.com/world/europe/Thousands-mobilise-against-planned-anti-Islam-Denmark-demonstration/articleshow/12361279.cms
--------
Journey of a jihadi serial killer: From petty crime to jihad
Mar 22, 2012
PARIS: Suspected jihadi serial killer Mohamed Merah is a 23-year-old French petty criminal of Algerian origin who has spent time in Pakistan and Afghanistan and claims to be an al-Qaida operative.
Born in the southwestern French city of Toulouse on October 10, 1988, Merah had been tracked for years by France's DCRI domestic intelligence service, but nothing suggested that he was preparing a major crime.
Interior minister Claude Gueant said he was part of a group of around 15 followers of Islamic fundamentalist Salafist ideology in Toulouse.
He then made two trips to Pakistan and Afghanistan, although Gueant said that he did not think Merah had visited any militant training camps while there. Merah failed to get into the army, a police source said.
Witnesses have described the attacker as "white" , around 5'5" tall and slender. He also reportedly wore an extreme sports camera on a chest harness during at least one of the attacks.
For Full Report:
http://timesofindia.indiatimes.com/world/europe/Journey-of-a-killer-From-petty-crime-to-jihad/articleshow/12362309.cms
--------
Libya says Mauritania agrees to hand over ex-spymaster Senussi
03/22/2012
NOUAKCHOTT: A Libyan delegation to Mauritania said the West African country had pledged to hand over Muammar Qaddafi's intelligence chief Abdullah Al-Senussi when legal procedures were complete.
But the delegation led by Deputy Prime Minister Mustafa Abu Shagour boarded a plane to leave Mauritania without Senussi after Mauritanian sources played down suggestions the deal was finalized and note that other countries had a say in the case.
"We have an assurance from Mauritania that it will extradite Abdullah Al-Senussi but there are legal procedures which must be respected and we will wait," Libyan government spokesman Nasser Al-Manee told reporters before boarding the plane.
Libya is vying with France and the Hague-based International Criminal Court (ICC) to try Qaddafi's former right-hand man, arrested in Mauritania on Friday as he arrived by plane in the capital Nouakchott with a false passport.
For Full Report:
http://arabnews.com/middleeast/article591260.ece
--------
Clashes Across Syria Despite U.N. Pressure
03/22/2012
BEIRUT (Reuters) - Clashes flared across Syria on Thursday, opposition activists said, the day after the U.N. Security Council had called on all sides to stop fighting and seek a negotiated settlement to the year-long uprising.
U.N. Secretary General Ban Ki-moon said the Council's unanimous statement had sent a clear message to Syria to end all violence, but the appeal had little impact on the ground, where rebels are seeking to oust President Bashar al-Assad.
Opposition sources said Syrian tanks had heavily shelled a large neighborhood in the city of Hama on Thursday after fighting between Free Syrian Army rebels and pro-Assad forces.
The shelling destroyed houses in the Arbaeen neighborhood of northeast Hama, which has been at the forefront of the revolt. Opposition sources said at least 20 people have died in army attacks in the area in the last two days.
It is impossible to verify reports from Syria because the authorities have denied access to independent journalists. Syrian troops also attempted to storm the northern town of Sermeen on Thursday, killing one man and wounding dozens, the British-based Syrian Observatory for Human Rights (SOHR) said, quoting its network of contacts within Syria.
For Full Report:
http://www.nytimes.com/reuters/2012/03/22/world/middleeast/22reuters-
--------
Gaddafi spy chief to be tried on home soil: Libya
March 22, 2012
NOUAKCHOTT: Libya said on Wednesday Mauritania had agreed to hand over Muammar Gaddafi's former spy chief for trial on home soil, turning down rival extradition requests from France and a war crimes court.
"We have obtained an agreement from Mauritania to deliver (Abdullah) Senussi to Libya where he will receive a fair trial. No date has been decided upon but it will be very soon," government spokesman Nasser al-Manaa said. "We respect the judicial procedures in Mauritania which will take time to finish, but it is simply a question of time."
Manaa was part of a Libyan delegation which arrived in Nouakchott Monday to lobby for the handover of Gaddafi's feared former right-hand man, arrested at the Mauritanian capital's airport on Friday. Mauritanian police said he had arrived on a flight from Casablanca in Morocco, travelling on a false passport.
For Full Report:
http://www.dailytimes.com.pk/default.asp?page=2012\03\22\story_22-3-2012_pg4_2
--------
Libya Resists International Court's Claim on War Crimes Case
By DAVID D. KIRKPATRICK and MARLISE SIMONS
03/22/2012
TRIPOLI, Libya — Libya's interim authorities escalated their face-off against the International Criminal Court on Wednesday over custody of the most significant confidants to Col. Muammar el-Qaddafi taken prisoner since his ouster and death: his son Seif al-Islam el-Qaddafi and his brother-in-law Abdullah Senussi. The battle over the men's fate is an early test of the former rebels' commitment to the rule of the law.
In both cases, the new Libyan authorities have made statements about the legal status of the captives in direct contradiction to the views of the court, which the rebels had lauded as an invaluable ally after it issued indictments charging Colonel Qaddafi, Mr. Qaddafi and Mr. Senussi with war crimes committed in their attempt to crush an uprising.
Human rights groups and some members of the Libyan government acknowledge that Libya still lacks effective police, prosecutors, courts and prisons, as well as the wherewithal to protect judges, lawyers or witnesses from potential retribution by armed militias. But the interim authorities say they are determined to try both defendants at home because of the secrets they might reveal about the actions and assets of the former government.
For Full Report:
http://www.nytimes.com/2012/03/22/world/africa/libya-resists-the-hague-in-war-
--------
Root out terror growing from outside Afghan borders: India
March 22, 2012
With international troops preparing to leave Afghanistan by 2014, India has appealed to the international community to continue its efforts to root out terrorism emanating from outside the war-torn nation's borders and help Kabul in its path to economic recovery.
Signs of a "transition recession" were already visible in Afghanistan and progress has been made in the last one decade since the international community came together to assist the war-ravaged nation, India's permanent representative to the UN, Hardeep Singh Puri said.
Terrorist violence in Afghanistan has shown no signs of receding and civilian casualties attributed to anti-government elements have risen over the last five years, hitting a peak in 2011.
"Terrorism continues to find sustenance and support from a dangerous osmosis of ideologies, ambitions, training and operations among the syndicate of terrorism in the region with suicide terrorism as its main technique, and targets not limited to Afghanistan.
For Full Report:
http://www.dailypioneer.com/world/51587-root-out-terror-growing-from-outside-afghan-borders-india.html
--------
Israeli hit: Iranian suspect had Indian, Thai visa
Mar 22 2012
New Delhi : Seyed Ali Sadr Mahdian, one of the three men against whom warrants have been issued for their alleged involvement in the February 13 attack on an Israeli diplomat in New Delhi, had been issued a visa for Thailand in April last year.
This was around the time that Houshang Afshar Irani, who is suspected to have attached the bomb to the Israel embassy vehicle, came to Delhi to buy a Scooty and conduct a recce, a police officer said on Wednesday.
This reinforces the belief that the attacks in India and Thailand were planned simultaneously for execution by the same Iranian module, the officer said.
Investigators in Delhi have obtained a copy of the visa granted to Mahdian by the Royal Thai Embassy in Tehran on April 12, 2011. Mahdian was issued a one-month visa for Delhi on July 6, 2011.
Irani bought a Scooty in April 2011 from a Karol Bagh dealer and handed over a copy of his passport as proof of identity. The officer said Irani returned to Delhi in January this year for a reconnaissance of the embassy area with Urdu journalist Mohammad Ahmad Kazmi who is currently in police custody.
"We have found some phone numbers in an Iranian SIM card recovered from Kazmi. He was in regular touch with these people. We are getting these numbers checked," the officer said.
For Full Report:
http://www.indianexpress.com/news/israeli-hit-iranian-suspect-had-indian-thai-visa/926798/
--------
Hillary Clinton says door still open for Taliban talks
Mar 22, 2012
WASHINGTON: US secretary of state Hillary Clinton said on Wednesday that the door was still open to talks with Afghanistan's Taliban so long as it renounces violence, after the militia broke off contacts.
Clinton said that the United States remained committed to seeking a political solution in Afghanistan as NATO troops prepare to end the more than decade-old war by the end of 2014.
"What the Taliban do is up to them. We have been clear, we are prepared to continue discussions and our goal is to open the door so that Afghans can be negotiating among and between themselves," Clinton told a joint news conference with Afghan Foreign Minister Zalmai Rassoul.
The Taliban announced last week that it was suspending contacts with the United States due to a row over a prisoner swap. The United States had hoped the contacts in the Gulf state of Qatar would ease the way to a political deal.
Clinton made clear that US troops would keep up force against Taliban who do not renounce violence and made a new appeal for the rights of women, which were severely curtailed during the Taliban regime toppled in 2001.
For Full Report:
http://timesofindia.indiatimes.com/world/south-asia/Hillary-Clinton-says-door-still-open-for-Taliban-talks/articleshow/12361912.cms
--------
US want constructive and mutually beneficial ties with Pak
Mar 22, 2012
WASHINGTON: US secretary of state Hillary Clinton on Wednesday said Washington wants an honest, constructive and mutually beneficial relationship with Islamabad as it remains committed to its ties with Pakistan despite recent ups and downs.
"We want an honest, constructive, mutually beneficial relationship with Pakistan. We remain committed through the recent ups and downs. We've been working through these difficulties and challenges," she told reporters at a joint news conference with Afghan foreign minister Zalmai Rassoul.
"We have made it clear we respect the territorial integrity and sovereignty of Pakistan. We also respect the democratic process that Pakistan is engaged in. We think it is actually quite significant that the democratically elected government, the democratically elected parliament is engaging in these matters," she said.
For Full Report:
http://timesofindia.indiatimes.com/world/pakistan/US-wants-constructive-and-mutually-beneficial-ties-with-Pak/articleshow/12360613.cms
--------
Five terrorists killed in Kurram Agency
March 22, 2012
PESHAWAR: At least five terrorists were killed and two security personnel reportedly injured during clashes in Kurram Agency on Wednesday. Official sources said clashes between security forces and terrorists took place in Central Kurram on Wednesday morning in which five terrorists were killed and several others injured. There were reports about injuries of two personnel of security forces. On the other hand, members of the Amn Lashkar also gunned down three bomb blast suspects in Tirah Valley of Khyber Agency.
http://www.dailytimes.com.pk/default.asp?page=2012\03\22\story_22-3-2012_pg7_5
--------
Three people shot dead in Balochistan
March 22, 2012
QUETTA: Three people were killed in different firing incidents in Quetta and the Usta Mohammad area of Jaffarabad on Tuesday. According to sources, unidentified armed men shot dead a person near the Jabal-Noorul Quran Western Bypass area of Quetta. The deceased was identified as Muhammad Allam Satakzai. Police have shifted the body to a hospital for post-mortem and an FIR against unidentified persons has been lodged. The motive behind the killing could not be ascertained. In another incident, two people were gunned down in the Usta Muhammad area of Jaffarabad district. Bebarg and Abdul Sattar were on their way home on a motorbike when armed men opened fire on them and then escaped from the scene. Both men died on the spot. Police have termed the incident a case of an old enmity and have started their investigation into the killings.
http://www.dailytimes.com.pk/default.asp?page=2012\03\22\story_22-3-2012_pg7_8
--------
Car bomb rocks Mogadishu, Shabaab claims responsibility
March 22, 2012
MOGADISHU: A car bomb exploded in the heart of the Somali capital on Wednesday, wounding two people in an attack Somalia's al Shabaab rebel group said was carried out by its militants.
The blast, which triggered bursts of gunfire in Mogadishu, was the latest in a wave of bomb attacks in the country where the embattled UN-backed government is struggling to secure the city against al Qaeda-linked rebels. "We were behind the car bomb explosion. We targeted security forces," Sheikh Abdiasis Abu Musab, a spokesman for al Shabaab's military operations, told Reuters. The blast happened in Mogadishu's busy administrative district, near the bustling Kilometre 4 road (K4) junction.
http://www.dailytimes.com.pk/default.asp?page=2012\03\22\story_22-3-2012_pg4_5
--------
Pakistan again violates LoC truce
Mar 22, 2012
JAMMU: Pakistani troops resorted to "unprovoked firing" on the Line of Control (LoC) in the Mendhar sector of Jammu and Kashmir's Poonch district late Wednesday night, which the Indian Army described as "yet another ceasefire violation".
"There was unprovoked firing from the Pakistani side on Indian positions in the Mendhar sector (240 km northwest of Jammu) late last night. We also retaliated and firing went on for over an hour," an army officer said.
There was no loss of life on the Indian side.
For Full Report:
http://timesofindia.indiatimes.com/india/Pakistan-again-violates-LoC-truce/articleshow/12365293.cms
--------
Contempt case: Lawyer fears Gilani will not get a fair trial
Mar 22 2012
Islamabad : Pakistan Prime Minister's lawyer said he feared that Yousuf Raza Gilani would not get a fair trial in the contempt case and that the government could not act on the Supreme Court's orders to revive graft cases against Asif Ali Zardari as long as he was the President.
Appearing before a seven-judge Bench led by Justice Nasir-ul-Mulk that is hearing the contempt case against the premier, Gilani's counsel Aitzaz Ahsan said he feared his client would not get a fair trial as the same judges who had issued a show cause notice to the premier were now hearing the case.
Explaining the stand adopted by the premier on the apex court's orders to revive cases of alleged money laundering against Zardari in Switzerland, Ahsan, one of Pakistan's leading lawyers, said the government cannot comply with the directives as long as Zardari was the President.
For Full Report:
http://www.indianexpress.com/story-print/926924/
--------
Pakistanis in Afghan jails; LHC seeks reasons for detention
22nd March, 2012
LAHORE: The Lahore High Court ordered the ministry of foreign affairs on Wednesday to write to the US government a letter seeking reasons for the arrest of Pakistani citizens and their detention in Afghanistan's Bagram airbase prison.
The court, which had taken up a petition challenging illegal detention of Pakistani citizens in Afghan jails, also told the ministry to ask about the charges framed against the detainees. If there were no charges, the court said, they should be released and brought back to Pakistan.
Justice Mohammad Khalid Mahmood Khan regretted that these people had been picked up in Pakistan and illegally kept in Afghan prisons.
The deputy attorney general informed the court that in compliance with its earlier order a committee had been formed and diplomatic contacts made for the purpose.
Justice Mahmood said a report filed by the ministry showed that diplomatic negotiations were cursory at best. He said he would consider that no action had been taken until the letter was sent to the United States.
Petitioner's counsel Barrister Sarah Belal informed the court that under a new memorandum of understanding signed by the US and Afghanistan, the former had pledged to hand over to the latter all detention facilities in the country within six months.
For Full Report:
http://www.dawn.com/2012/03/22/pakistanis-in-afghan-jails-lhc-seeks-reasons-for-detention.html
--------
Osama's brother-in-law allowed to meet sister
March 22, 2012
The Islamabad High Court (IHC) on Thursday allowed Zakarya Ahmad Abd Alftah, brother of Osama bin Laden's Yemni widow to meet his sister.
The court issued notices to Inter-Services Intelligence (ISI), Ministries of Defence and Interior to submit replies within two weeks over a petition filed by Osama's brother-in-law. Chief Justice Islamabad High Court, Justice Iqbal Hameed ur Rehman heard the case. Muhammad Aamir Khalil, counsel for the petitioner argued the case
The petitioner Zakarya Ahmad Abd Alftah filed a petition in the Islamabad High Court for the quashment of cases registered against Mrs. Amal Ahmad Abdul Fattah his bona fide sister Amal Ahmad Abdul Fattah, Osma's Yemni widow by the Federal Investigation Agency's Special Investigation Unit Islamabad under section 14 and 13 Foreigner Act, 1946 and under section 212, 419 and 109 PPC.
http://www.nation.com.pk/pakistan-news-newspaper-daily-english-online/islamabad/22-Mar-2012/osamas-brother-in-law-allowed-to-meet-sister
--------
Pak Interior Minister urges militants to surrender, hold talks
March 22, 2012
Interior Minister Rehman Malik has said parliament is a supreme body and its recommendations regarding restoration of NATO supply and relations with the United States will be implemented.
Talking to media here in Peshawar on Thursday' he said the fight against terrorism will continue till its elimination. He urged militants to surrender and hold talks.
The Interior Minister said boarder control management will be improved at Pak-Afghan border.
Rehman Malik appreciated sacrifices rendered by Frontier Constabulary' police and other security forces in war against terrorism.
http://www.nation.com.pk/pakistan-news-newspaper-daily-english-online/national/22-Mar-2012/rehman-urges-militants-to-surrender-hold-talks
--------
Russia, China joins UN council in call for Syria peace
March 22, 2012
UNITED NATIONS: In a major diplomatic blow for Syrian President Bashar al-Assad, Russia and China joined the Security Council on Wednesday in voicing support for U.N.-Arab League envoy Kofi Annan's bid to end violence that has brought Syria to the brink of civil war.
Western diplomats said the agreement on a statement voicing the "gravest concern at the deteriorating situation in Syria" should be a wake-up call for Assad, who has counted on support from Russia to fend off international criticism of his yearlong attempt to crush anti-government protests.
The statement threatens Syria with "further steps" if it fails to comply with Annan's six-point peace proposal, which calls for a cease-fire, political dialogue between government and opposition, and full access for aid agencies.
The US-European push for a council statement backing Annan's mission came after Russia and China twice vetoed resolutions condemning Assad's assault on demonstrators, which the United Nations says has killed well over 8,000 civilians.
Unlike resolutions, which are legally binding and need nine votes in favor and no vetoes from the five permanent council members to pass, statements are generally non-binding but require unanimous support from the council.
For Full Report:
http://timesofindia.indiatimes.com/world/us/Russia-China-join-UN-council-in-call-for-Syria-peace/articleshow/12358421.cms
--------
UN chief warns of massive repercussions from Syria crisis
March 22, 2012
Amman : UN chief Ban Ki-moon said on Wednesday that Syria's crisis was extremely dangerous and had massive repercussions for the world, as more fighting erupted, with two Damascus suburbs coming under heavy tank bombardment.
We do not know how events will unfold. But we do know that we all have a responsibility to work for a resolution of this profound and extremely dangerous crisis, Ban said in a speech in the Indonesian capital Jakarta.
The crisis has potentially massive repercussions for the region and the world, he said.
On Wednesday, two large Damascus suburbs came under tank bombardment following renewed Free Syrian Army attacks on forces loyal to President Bashar al-Assad, opposition activists said.
Artillery and anti-aircraft gun barrages hit the suburbs of Harasta and Irbin, retaken from rebels by Assad's forces two months ago, and army helicopters were heard flying over the area on the eastern edge of the capital, the activists said.
For Full Report:
http://www.indianexpress.com/story-print/926491/
--------
PM Sheikh Hasina warns against conspiracy to foil war crimes trial
March 22, 2012
Prime Minister Sheikh Hasina on Thursday urged all religious minded people to beware of any conspiracy designed to obstruct the trial of the war criminals.
"A certain quarter is hatching conspiracy to foil the trial of the war criminals. I urge all religious minded people to beware of any conspiracy designed to obstruct the trial of the war criminals," she said at a programme, marking the 37th founding anniversary of the Islamic Foundation, at Bangabandhu International Conference Centre in the city.
State Minister for Religious Affairs Advocate M Shahjahan Miah presided over the programme.
Hasina said during the Liberation War, Pakistani occupation forces and their allies in Bangladesh had trampled the ideals of Islam, as their deeds did not match with the teachings of Islam, the religion of peace.
For Full Report:
http://www.thedailystar.net/newDesign/latest_news.php?nid=36619
--------
Bali Attack Plot Shows Indonesia Terror Threat Evolving
03/22/2012
JAKARTA/KUALA LUMPUR (Reuters) - A foiled plot by suspected Islamic militants to attack and bomb targets in Bali, including a bar popular with tourists, marks an escalation of the violent threat in Indonesia as authorities race to stay ahead of rapidly evolving armed groups.
Five men were shot dead in police raids on Sunday on the island where nightclub bombings in 2002 killed 202 people - mostly foreign tourists - and forced the world's largest Muslim country to confront violent Islamist groups on its soil.
Pictures of a villa where some of the men were shot dead, showing pools of blood on the floor of a garden hut, starkly illustrated the return of violence to the mostly Hindu island where militants last launched deadly bomb attacks in 2005.
Ansyaad Mbai, head of Indonesia's National Counter Terrorism Agency, said the men had plans to bomb targets on the island, including the beach-front "La Vida Loca" bar. Police initially said the suspects were planning armed raids on money changers, jewelers and the bar, partly to raise money for future attacks.
"This group was planning not only armed attacks against those targets but also bombings," Mbai said.
For Full Report:
http://www.nytimes.com/reuters/2012/03/22/world/asia/22reuters-indonesia-
--------
India: Israeli diplomat attack: Other agency not to Question Kazmi
March 22, 2012
The Delhi Police was specifically told today by a court here not to permit any other probe agency to interrogate journalist Syed Mohammed Ahmad Kazmi, arrested for his alleged role in the February 13 bombing of an Israeli diplomat car.
The court directed the police in the wake of allegations that Israel's intelligence agency Mossad was interrogating him.
"This is expected that the Special Cell will not permit other investigating agencies to make the applicant (Kazmi) an experimental block," Chief Metropolitan Magistrate Vinod Yadav said.
The court, however, said the police was not barred from sharing information with other investigating agencies.
For Full Report:
http://www.dailypioneer.com/home/online-channel/top-story/51413-israeli-diplomat-attack-other-agency-not-to-q-kazmi-court.html
URL: https://www.newageislam.com/islamic-world-news/new-age-islam-news-bureau/police-killed-toulouse-gunman,-mohammed-merah/d/6900