New Age Islam News Bureau
8 Dec 2018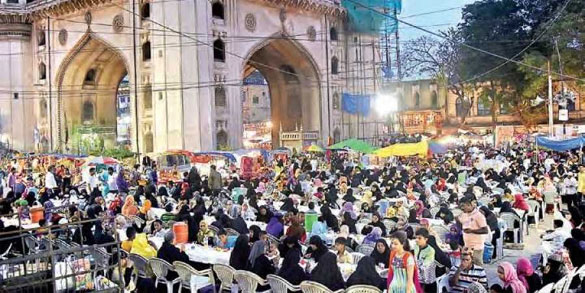 Hyderabad's old city area (File | EPS/Vinay Madapu)
----
• Police in India Sees Muslim-Dominated Localities as Dens of Terrorist Activities and Victimise Muslims On The Basis Of Their Identities, Says Study
• Islamic Clerics Using Exorcisms To Cure LGBTQ Community Of 'Sickness'
• Muslim World League Chief: Islam Protects Rights of Minorities
• Need To Reject 'Politics of Chaos' In The Name Of Islam
• Scholars in Nigeria Task Media on Balanced Coverage of Islam, Muslims
• Bangladesh's Ruling 'Secular' Awami League Strengthens Ties with Islamist Parties
India
• Police in India Sees Muslim-Dominated Localities as Dens of Terrorist Activities and Victimise Muslims On The Basis Of Their Identities, Says Study
• Ex-IB Chief: Just 108 of 180m Indian Muslims Joined IS
• Conference on Radicalisation: 'Strong Religious Education Bulwark against Radicalisation'
• 2008 Mumbai Terror Attack Perpetrated By Pak Terror Group Let, Admits Imran Khan
• Govt looks to push triple talaq bill in Parliament, braces for Opposition offensive
• Two accomplices of militants who killed J&K cop arrested
• NIA may get access to grill LeT bomb-maker Ghani in Paris
--------
Southeast Asia
• Islamic Clerics Using Exorcisms To Cure LGBTQ Community Of 'Sickness'
• Depok to Map Places, People For Islamic Preaching Target
• Malaysia Defers Human Rights Day Rally on Security Concerns
• Thousands gather in KL for rally against UN rights convention
• We Must Strengthen Ties With Arab Communities, Says Malaysia's Youngest Minister
• Identity politics rears its head again in Indonesia
--------
Arab World
• Muslim World League Chief: Islam Protects Rights of Minorities
• HRW Rejects Saudi Words, Urges Riyadh to Let Observers Ensure Safety of Female Activists
• Fresh US-led airstrikes kill nearly dozen Syrian civilians in Dayr al-Zawr
S• audi warplanes launch 28 airstrikes on Yemen, kill 3 amid Sweden peace talks
• US-Backed Militia Capture Several Points in Eastern Syria after ISIL's Withdrawal
• More Turkey-Backed Militant Commanders Killed in Clashes with Kurds in Northern Syria
• Saudi Arabia pledges over $113 mln in anti-terror aid for Africa's Sahel
• UN hopes for removal of Saudi blockade on Yemen as peace talks begin
--------
Pakistan
• Need To Reject 'Politics of Chaos' In The Name Of Islam
• Madrasa Students to Be Included In Naya Pakistan Youth Programme
• Facing Trump Attacks, Pakistan Military Seeks Peace with India
• State can't let individuals issue Fatwas: Fawad
• Imran wants peace in Kabul without fighting others' war
• US report highlights murky world of 'contractors' in Pakistan
• 'Trade potential between Pakistan, India can be engine for prosperity'
• Pakistani minister hits back at Trump's criticism of Islamabad
--------
Africa
• Scholars in Nigeria Task Media on Balanced Coverage of Islam, Muslims
• Jihadism Entrenches Itself In Burkina Faso With Bullets And Bribes
• Bloody Rivalry Erupts Between al-Shabab, ISIS Group in Somalia
• Boko Haram: Two soldiers wounded as troops, terrorists clash in Borno
• Boko Haram attacks UNICEF clinic, others
--------
South Asia
• Bangladesh's Ruling 'Secular' Awami League Strengthens Ties with Islamist Parties
• Myanmar Minister Draws Rebuke for 'Extremist Religion' Remark on Rohingya
• Islamic Parties in Alliance: Only Tarikat Gets AL's Blessing
• Kallyanpur raid: Charge sheet sent to Home Ministry for approval
• Tabligh faction holds demos across Bangladesh
• More than 700,000 Afghans leave sanction-hit Iran
--------
Mideast
• Iran Mass-Executes 12 Prisoners of Drug-Related Cases
• Houthi Leader Shuts Down Own Brother For Seeking To End Militias' Abuse, Torture
• Yemen's delegation: No peace without Houthis giving up arms
• Larijani: US took Daesh terrorists to Afghanistan
• Yemen military offensive 'still open if Houthis reject Hodeidah pullout'
• Saudi Arabia's UN ambassador speaks out against Hamas resolution
--------
North America
• Donald Trump Picks Anti-Muslim Official for U.S. Ambassador To UN
• MIT Report Recommends against Cutting Ties with Saudi Arabia
• US should stay in Afghanistan or face another 9/11: Gen. Dunford
• UN rejection of US resolution on Hamas shows major break from US policies: Analyst
• Hezbollah financier pleads guilty to violating US sanctions
--------
Europe
• Anti-Islam Activists Get Key Roles in 'Family-Friendly' Brexit March
• Francis to Become First Pope To Visit Arabian Peninsula
• Germany still selling arms to Riyadh despite halt triggered by Khashoggi case: Report
• Wan Azizah shows charisma in short UK visit
Compiled by New Age Islam News Bureau
URL: https://www.newageislam.com/islamic-world-news/police-india-sees-muslim-dominated/d/117106
--------
Police in India Sees Muslim-Dominated Localities as Dens of Terrorist Activities and Victimise Muslims On The Basis Of Their Identities, Says Study
08th December 2018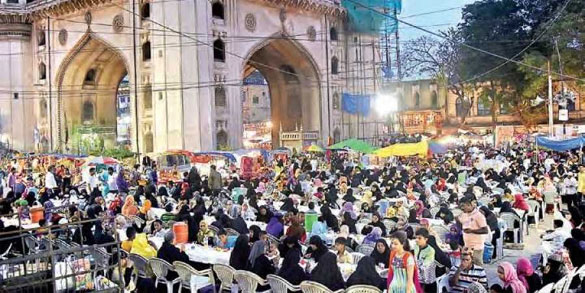 Hyderabad's old city area (File | EPS/Vinay Madapu)
--------
NEW DELHI: Police in India sees Muslim-dominated localities as dens of criminal or terrorist activities and victimise Muslims on the basis of their identities, say the findings of a study done by two human rights groups. Commonwealth Human Rights Initiative and Quill Foundation released a joint report 'Muslim Voices: Perception of Policing in India' on Friday, documenting the experiences of Muslims with police.
The study — perhaps the first of its kind — is based on interactions with 25 retired Muslim police personnel and 197 community members in eight cities — Ahmedabad, Ranchi, Delhi, Lucknow, Bengaluru, Guwahati, Kozhikode, and Mumbai. "There is a unanimous perception that the police targets and victimises Muslims, resulting in feelings that the community is often criminalised without basis.
A common perception emerged that the police sees Muslim localities as dens of criminal or terrorist activity, perpetuating a suspicion and distrust of the community. Muslim community members said that police attitudes and their dealings with Muslims are conditioned by this lens of prejudice," the report states.
It also points to over-policing of Muslim areas and display of Hindu symbols at police stations.
Muslim women have to bear the 'double burden' of being a Muslim and a woman. A woman social worker is quoted in the report to be using a non-Muslim name in order to do her work.
In a series of recommendations to end this mutual distrust, the report says the Centre should ask the states to increase the representation of Muslims in police force. It also called for implementation of the Sachar panel's suggestion to post one Muslim police officer at every police station in a Muslim concentrated area.
http://www.newindianexpress.com/nation/2018/dec/08/police-sees-muslim--localities-through--terror-lens-says-study-1908656.html
--------
Islamic Clerics Using Exorcisms To Cure LGBTQ Community Of 'Sickness'
December 7, 2018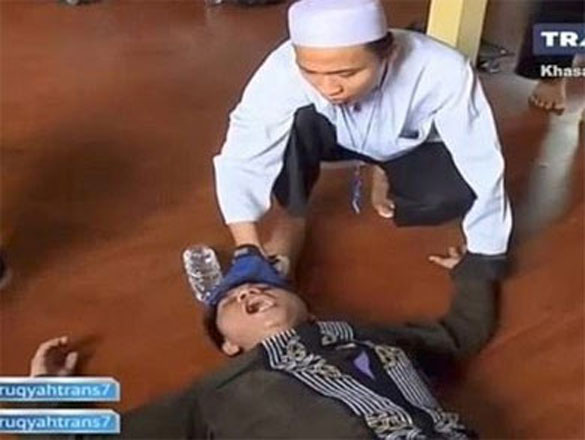 An Imam in Indonesia performs an exorcism on a man suspected of being gay.
----------
Indonesian religious fanatics are carrying out exorcisms in a twisted bid to erase homosexuality.
Islamic clerics are referring to LGBTQ people's orientation as "their sickness" in the Muslim majority nation.
In recent days, there has been a flurry of canings and rhetoric targeting the gay community.
Religious cops have also busted 18 couples — 10 lesbians and eight who identify as transgender — for "psychological support and rehabilitation", according to ABC News.
And now, religious leaders are performing exorcisms.
They blame homosexuality and transgenderism on demonic spirits they call dijinn and only an exorcism can "cure them."
ABC News footage shows a number of distressed men lying on a floor being ordered to "repent" and "God can forgive them."
And apparently, many Indonesians agree: Thousands marched in the streets of Jakarta in a rabidly anti-LGBTQ rally.
The nation's largest Muslim group with 80 million members wants a crackdown on same-sex relations.
A recent poll revealed that nearly 90% of Indonesians feel "threatened" by the LGBTQ community.
"This situation is alarming as the hateful abuses by law enforcement bodies… are seen as a normal practice by many people," said Usman Hamid, Amnesty International Indonesia's executive director.
Meanwhile, an Irish university lecturer was stabbed to death by one of his former students in Paris for allegedly "insulting the Prophet Mohammed".
Pakistani national, Ali R., 37, is accused of murdering academic John Dowling, 66. Cops say he was stabbed 13 times outside the university where he worked.
Flunking his finals last year apparently did not leave the suspect in a forgiving mood.
Ali reportedly told detectives that Dowling had made fun of Islam during English classes at the university.
"He produced a drawing, which he showed off in class, insulting the Prophet Mohammed," Ali said, according to police.
Ali was called "obsessive" and "pious" by police but the incident is not being treated as an act of terrorism.
https://torontosun.com/news/world/islamic-clerics-using-exorcisms-to-cure-lgbtq-community-of-sickness
--------
Muslim World League chief: Islam protects rights of minorities
MOHAMMED AL-SULAMI
December 08, 2018
JEDDAH: Islamic values preserve the legal rights and freedoms of everyone and these values do not accept any form of division or discrimination, the secretary-general of the Muslim World League said in Abu Dhabi.
Mohammed bin Abdul Karim Al-Issa was speaking at the opening ceremony of the Forum for Promoting Peace, which drew hundreds of delegates from diverse religions and international humanitarian organizations.
Al-Issa told the audience that the responsibility of absurd words and deeds along with acts of hatred, violence and terrorism fell solely on individuals and not their religion.
Another inaccuracy about Islam was failing to realize that it preserved the legal rights and freedoms of everyone without exception, he said.
The third mistake was thinking that Islam sought to end other religions, he added, as Islam had been always open to the existence of other religions.
Some historical events involving Islam and other religions were political disagreements that had nothing to do with co-existence, delegates heard.
Al-Issa said safeguarding minority rights was one of Islam's values.
http://www.arabnews.com/node/1417381/saudi-arabia
--------
Need To Reject 'Politics of Chaos' In The Name Of Islam
December 8, 2018
QUETTA: Speakers at two separate events on Friday rejected the politics of chaos in name of Islam and urged the people belonging to all segments of society to play their role for progress, prosperity and stability of the country by forging unity, harmony, tolerance and brotherhood.
An orientation ceremony of Paigham-e-Pakistan was held at the Governor House in Quetta wherein Balochistan Governor Justice (retd) Amanullah Khan Yasinzai and provincial Chief Minister Jam Kamal Khan participated as special guests. Leadership of all Wafaqul Madaris, religious scholars, political leaders, civil society members and students from different religious seminaries attended the event. Another event titled 'Paigham-e-Pakistan Ulema Convention on Intersect Harmony' was organized at the Quetta Club. Wafaqul Madaris Arabia Balochistan Nazim Maulana Salahuddin Ayubi, Tanzeemul Madaris Balochistan leader Maulana Shehzad Ahmed, Wafaqul Madaris al Salfia leader Abdullah Zamirani, Wafaqul Shia leader Allama Akbar Hussain Zahidi and Rabita al Madaris Nazim Maulana Abdul Haq Hashmi were prominent among those who spoke on the occasion.
Addressing the participants, the speakers maintained that some anti-state elements wanted to weaken the country by promoting extremism, sectarianism and hatred. They said the people should be educated according to the teachings of Islam, which preaches peace, religious tolerance and equality and has nothing to do with the menaces of terrorism and extremism.
The speakers said the Paigham-e-Pakistan initiative, which is based on a consensus decree by 5,000 clerics and aims at establishment of peace in the country and eradication of extremism and terrorism in the light of Quran, Sunnah and social principles of Islamic Shariah, is a beacon of hope for all segments of the society. They said by applying the golden principles of Islam, the country can be turned into a role model of peace and harmony by ridding the society of hatred, divisions and prejudices.
Underlining the need for transformation of communities for a peaceful coexistence, the speakers called for promoting social justice and forbearance in the society for achieving the objectives of intersect harmony. They said humanity was the greatest religion of the world, adding that all human beings were born free having equal rights. Islam advocates human rights the most, they said, and added that the 'Charter of Madina' was the first constitution wherein Holy Prophet (Peace Be Upon Him) assembled the believers and non-believers on one platform. The constitution of Pakistan also guarantees the rights of minorities, they said, adding that no legislation in Pakistan could be made against the Quran and Sunnah.
The speakers emphasized the need to follow a code of conduct to eradicate extremism from the society and promote peace, tolerance, unity and brotherhood, which, according to them, will help thwart the nefarious designs of the enemies who are hell bent on dividing the Muslim Ummah on religious, sectarian and ethnic lines in order to make it weaker.
They called upon the religious scholars to play their role in creating unity among Muslims by taking practical steps to nullify the propaganda against Islam, and stressed the need to work together to spread resemblances prevailing in different sects instead of the differences.
The speakers also appreciated the role of law enforcement agencies who had rendered unprecedented sacrifices for maintaining peace and stability in the country.The participants also threw light on the Paigham-e-Pakistan initiative of the government of Pakistan launched earlier this year with an aim to address the challenges posed by extremism and sectarianism through a national narrative which portrayed a soft and positive image of Pakistan and highlighted Islam as a religion of peace, brotherhood, tolerance and harmony.
https://www.thenews.com.pk/print/403131-need-to-reject-politics-of-chaos-in-the-name-of-islam
--------
Scholars In Nigeria Task Media On Balanced Coverage Of Islam, Muslims
December 7, 2018
By Adeola Yusuf
Islamic and media scholars have pushed for balance in the media coverage of issues on Islam and Muslims in Nigeria. The scholars including former National Commissioner, Independent National Electoral Commission (INEC) and Chairman, University of Lagos (UNILAG) Muslim Community, Prof Lai Olurode, said this at the launch of books on the Islam and Media series, written by Rasheed Abubakar, maintained that Islam, a faith professed by over 1.6 billion people worldwide, deserves a better treatment in the media than what currently obtains. The books entitled: "Media Narratives of Muslims in Nigeria: Facts and Fallacies" and "Islam and Modern Vices: Issues and Concerns in the News" were unveiled at the University of Lagos (UNILAG), Akoka, Lagos.
The first book reviewer, Prof AbdulRazaq Kilani, who was ably represented by Ustadh AbdulWarith Solanke, a veteran journalist with Voice of Nigeria, said Islam, a faith professed by over 1.6 billion people worldwide, deserves a better treatment in the media than what currently obtains. The professor of Islamic Studies at the University of Port-Harcourt, Rivers State noted that Islam, a civilization which has spanned many centuries, is one of the biggest stories in the media. "Islam is the fastest growing religion in the world. It is the last man standing in global spirituality as others have capitulated to the forces of greed and worldly materialism. Islam has offered the Nigerian public space quality education, social welfare and above all intelligent and peace-loving people."
He however stated that in most cases, such stories are misrepresentations of Islam and they are about scapegoating the Muslims. He added that many journalists in Nigeria appear to have taken Mark Twain's quote – "First get the facts. You can distort them later" – as their foundational principle when dealing with Islam and Muslims.
The second reviewer, Dr Qasim Akinreti, Chairman, Nigerian Union of Journalists (NUJ), Lagos Council disclosed that the content analysis of the book: "Media Narratives of Islam in Nigeria" focused on Islam and Muslims in the media. Akinreti noted that the book, of about 14 chapters, reopened two critical issues in the front burner of Nigerian media discourse.
https://www.newtelegraphng.com/2018/12/scholars-task-media-on-balanced-coverage-of-islam-muslims/
--------
Bangladesh's ruling 'secular' Awami League strengthens ties with Islamist parties
By FAISAL MAHMUD
DECEMBER 7, 2018
Islamist parties in Bangladesh that have in the past always sided with the country's center-right alliance led by the Bangladesh Nationalist Party (BNP) are now joining hands with the ruling Awami League. The incumbent party led by Prime Minister Sheikh Hasina is secular by its very manifesto. But the Islamists are turning the tables before the national election on December 30.
Of a total of 70 Islamist political parties, 63 are now with the Awami League-led Grand Alliance. Of the remaining seven parties, five are with the BNP-led 20-party Alliance and two are refraining from joining either of the alliances led by the two main political parties.
However, only 10 of these 70 parties are registered with the Election Commission and thus can contest the polls with an electoral symbol. There are a total of 39 political parties registered with the EC.
The largest Islamist political party of the country – Jamaat-e-Islami (JI) – has been banned from taking part in the upcoming general election. The EC has canceled its registration as a political party. JI is the same party that opposed Bangladesh's independence from Pakistan during the Liberation War of 1971.
Even though it's banned, JI still is a key member of the BNP-led alliance that seeks to oust the ruling Awami League at the polls this year. A leader of the JI told Asia Times on the condition of anonymity that a total of 85 candidates from the party would be contesting in the polls, including 25 competing under the "paddy sheaf" symbol of the BNP, while the rest will be competing as independent candidates.
AL's initiative to tap into Islamic vote banks
Awami League, the ruling party with a center-left manifesto, has been making a conscious effort to develop stronger ties with Islamist parties in the last couple of years. Not only has it formed strategic alliances but it also has worked to unite like-minded Islamic clerics under the same umbrella.
On September 15, a new Islamic Democratic Alliance (IDA) was formed, comprising 15 Islamic and like-minded political parties and organizations, to support the ruling AL-led alliance during the upcoming parliamentary election.
Interestingly, most of those 15 parties sided with AL's arch-rival BNP in the earlier parliamentary elections. IDA chairman Al-Hajj Misbahur Rahman Chowdhury said they has joined hands with the Awami League for "strategic reasons."
"Prime Minister Sheikh Hasina has done a lot for Islam, so ideologically we have no problem supporting her party politics. At this point, it seems, we will be benefited more if we endorse her alliance in the upcoming election," Chowdhury said.
Awami League religious affairs secretary Sheikh Mohammad Abdullah told Asia Times that several Islamist parties and clerics had vote banks, but they neither had registration nor the means to participate in the next general polls.
He said the Awami League was planning to utilize the above-mentioned vote banks by bringing those parties and clerics into the alliance.
He said "any party and person" could join the AL-led alliance "if they believe in the spirit of [the] 1971 Liberation War."
"We do not lose our secular identity if we make ties with the religious parties. Rather, we encouraged them to follow the spirit of the Liberation War and a secular Bangladesh."
The Hefazat-e-Islam equation
Meanwhile, in a striking turnaround, Hefazat-e-Islam, an unregistered self-styled "non-political" party, has seemingly joined hands with the ruling AL. This Islamist group had once claimed that the government carried out "genocide by killing thousands of its men."
Founded a little less than a decade ago, Hefazat-e-Islam was thrust on to the center stage of national politics in 2013 by an extraordinary set of circumstances.
Unlike other political outfits that operate in the capital, Dhaka, the group is headquartered in the port city of Chittagong, where hundreds of madrassas draw tens of thousands of young Muslims for schooling.
Many of these madrassas teach only Islam, using Arabic as the medium of instruction. The Hefazat's leaders and activists, who take strict views on religion, are almost wholly drawn from these schools.
On May 5, 2013, during the current Awami League-led government's first term, Hefazat-e-Islam occupied the capital's financial district for 12 hours to demand the death penalty for some blasphemous bloggers. The police finally cleared the area late at night amid violence in which at least 39 of Hefazat activists died.
After that event, the Hefazat did not have to take to the streets again as the Islamist group got much of whatever it wanted through negotiations with the ruling party. On May 25, 2017, the Supreme Court authorities in Bangladesh were forced to take down a statue of the Greek Goddess of Justice Themis on the court's premises after Hefajat demanded its removal.
Interestingly, on November 4 this year, Hefazat-e-Islam again held a massive rally but this time in cooperation with the government under the banner of Al-Hiyatul Ulya Lil-Zami'atil Qawmiya Bangladesh, a combine of Qawmi education boards led by Hefajat chief Shah Shafi Ahmed.
In that rally, Prime Minister Sheikh Hasina was honored with the title "Mother of Qawmi" for recognizing the Dawra-e-Hadith degree as an equivalent of a master's degree in Islamic studies and Arabic.
Political pundits have said that although Hefazat is not a registered political party, Islami Oikya Jote, Bangladesh Khelafat Majlish, Khelafat Andolan, Islami Andolan Bangladesh, Islami Oikya Andolan, Jamiatul Ulama Islam, and several other Islamist parties are politically active under the banner of Hefazat.
Political analyst Afsan Chowdhury told Asia Times that AL's siding with Hefazat was a "strategic compromise."
"I don't think AL will bring any ideological changes because of its apparent ties with Hefazat-e-Islam. AL is increasingly trying to bring Islamist parties under its umbrella to grab their vote banks.
"Besides, there is a common notion that the Islamist parties in Bangladesh usually make alliance with AL's arch-rival BNP. I believe, by forging these alliances, AL also wants to break those notions," Chowdhury said.
http://www.atimes.com/article/bangladeshs-ruling-secular-awami-league-strengthens-ties-with-islamist-parties/
--------
India
Ex-IB chief: Just 108 of 180m Indian Muslims joined IS
Dec 7, 2018
NEW DELHI: Former Intelligence Bureau director Syed Asif Ibrahim on Friday said only 108 Indian Muslims had joined Islamic State, which is a miniscule portion of the country's 180 million Muslims, and sought to attribute the low radicalisation rate to Sufi and non-Salafi nature of Islam here.
"As a result of the Sufistic and non-Salafi nature of Islam in India as well as the existence of a strong and vibrant democracy, only about 108 Indian Muslims joined ISIS which is 0.000058% of India's 180 million Muslims. Of these 108, 50% of joinees went from the diaspora in West Asia...the ones exposed to Salafi radicals. 40% went from the coastal region in India, which was the recipient of Shafaiyei Islam, which came via the sea," Ibrahim, who retired as IB chief in 2014, stated at a seminar on 'Cooperation against Radicalisation and Terrorism between UAE and India' organised by Policy Perspectives Foundation in collaboration Abu Dhabi-based thinktank Emirates Policy Group.
"The more religious you are the more fundamentalist you are is the current narrative, but this was proven wrong by UK's security agencies, which interviewed ISIL (ISIS) returnees. Almost 90% returnees had little knowledge of religion. Strong religious education acts as a bulwark against radicalisation. So much so that in many madrasas in India, CVE (countering violent extremism) is a key chapter in most religious texts," he pointed out.
Noting that Indian heritage of Islam as it evolved in early 12th century had come via land route, the former IB chief who has also been special envoy of the government of India for counter-terrorism said it confronted advanced civilisations like Persia and picked up culture and custom, "from which Indian Islam developed its syncretic and inclusive nature".
Former IB chief P C Haldar, who is associated with Policy Perspectives Foundation, said there was special interest in counterradicalisation approach of UAE as it was an Islamic country from where nobody had joined IS. Crediting UAE's quicker justice delivery system and effective legal mechanisms, he said India was trying to devise ideas with a UAE-based thinktank on the need for a counter-radicalisation policy for India. "We will have further sessions in other parts of the country before we reach any conclusion," he told TOI.
https://timesofindia.indiatimes.com/india/ex-ib-chief-just-108-of-180m-indian-muslims-joined-is/articleshow/66993956.cms
--------
Conference on radicalisation: 'Strong religious education bulwark against radicalisation'
December 8, 2018
Only about 108 Muslims out of 180 million Indian Muslims joined the Islamic State in the past few years, Asif Ibrahim, former special envoy to the Centre, said on countering terrorism and extremism. "Around 50 per cent of the recruits were Indians living in West Asian countries when they joined the IS and were exposed to the Salafi radicals. Forty per cent recruits were from the coastal regions of India," Ibrahim said while speaking at a conference organised by Policy Perspectives Foundation to discuss Indo-UAE cooperation against radicalisation and terrorism.
A former Intelligence Bureau Director, Ibrahim was appointed by Prime Minister Narendra Modi in 2015 as a special envoy. During his address at the conference, he said, "Strong religious education acts as a bulwark against radicalisation and most of the Islamic State (IS) members had little knowledge of Islam religion."
"The current narrative is that the more religious you are, the more fundamentalist you are. This was proven wrong by the UK's security agencies. They interviewed IS returnees and almost 90 per cent of them had little knowledge of religion. Strong religious education acts as a bulwark against radicalisation. So much so that in many madrasas in India, countering violent extremism is a key chapter in most religious texts," Ibrahim added.
Adil Rasheed, a research fellow at Institute of Defence Studies and Analyses, said all Salafis were not radicals. "Both India and UAE oppose religious ideology. Whenever there is radicalisation, it is not a single process. If we have to fight against the threat, we have to go back to the Constitution. Even Saudi prince says that UAE model is to be followed (in countering radicalisation). Radicalisation is the last process, first is fundamentalism and then comes extremism," Rasheed said.
Full report at:
https://indianexpress.com/article/india/radicalisation-islamic-state-indian-muslims-religion-knowledge-extremism-terrorism-5483991/
--------
2008 Mumbai terror attack perpetrated by Pak terror group LeT, admits Imran Khan
Dec 7, 2018
ISLAMABAD: In a first, Prime Minister Imran Khan has acknowledged that the 2008 Mumbai terror attack was perpetrated by Pakistani terror group Lashkar-e-Taiba.
"I have asked our government to find out the status of the case. Resolving that case is in our interest because it was an act of terrorism," Khan told Washington Post in his first interview to foreign media since his election as Pakistan's Prime Minister. His response came to the question on the nineyear-old case and the release of the mastermind of the carnage, Zaki-urRehman Lakhvi, a leader of the terror group Lashkar-e-Taiba.
Prime Minister Khan told the newspaper that he wants something to be done about the bombers of Mumbai.
However, in response to the question on his policy towards India, Khan said that India's ruling party has an anti-Muslim and antiPakistan approach. "They rebuffed all my overtures," he said adding that it was because of the upcoming elections. "Let's hope that after the election is over, we can again resume talks with India," he said.
Alluding to Pakistan's involvement in Afghanistan during the Cold War on behalf of the US, Khan said, he will not allow Pakistan to be used as Washington's hired gun anymore.
"I would never want to have a relationship where Pakistan is treated like a hired gun — given money to fight someone else's war. We should never put ourselves in this position again. It not only cost us human lives, devastation of our tribal areas, but it also cost us our dignity," Khan said.
The Prime Minister also denied the US claim about the presence of Taliban sanctuaries in Pakistan. "We have time and time again asked the Americans, to tell us where the sanctuaries are, and we will go after them," he said. When repeatedly pressed upon the presence of militants in Pakistan, Khan said, "First, there are no sanctuaries. If there are a few hundred, maybe 2,000 to 3,000 Taliban who move into Pakistan, they could easily move into these Afghan refugee camps. We have 2.7 million Afghan refugees. Our border between Pakistan and Afghanistan has the greatest amount of surveillance. The US has satellites and drones. These people crossing would be seen."
Full report at:
https://timesofindia.indiatimes.com/world/pakistan/imran-khan-admits-2008-mumbai-terror-attack-perpetrated-by-pakistanis/articleshow/66990038.cms
--------
Govt looks to push triple talaq bill in Parliament, braces for Opposition offensive
Dec 08, 2018
Passage of a bill to make instant triple talaq illegal and a punitive offence will be one of the priorities of the National Democratic Alliance (NDA) government in the winter session of Parliament, in which the Opposition is seeking to corner it on a range of issues, from the Rafale fighter jet deal to the internecine fight in the Central Bureau of Investigation (CBI).
The session starts Monday, but the opening day will only see obituary references to former prime minister Atal Bihari Vajpayee and parliamentary affairs minister Ananth Kumar. The beginning of the session will also coincide with the counting of votes in elections to the Madhya Pradesh, Telangana, Rajasthan, Chhattisgarh and Mizoram assemblies.
New parliamentary affairs minister Narendra Singh Tomar said on Friday that the state election results would have little impact on the winter session.
"Look, these election results after all are matters of state assemblies. I don't think there's any reason to think that developments in states are going to decide the agenda or the fate of a Parliament session. All political parties also understand these things and there are several issues—both from the government as well as the Opposition's side—that need to be raised and discussed on the floor of the House," Tomar told HT on Friday.
The government will prioritise replacing three ordinances, or executive orders—on triple talaq, Companies Act amendment and the Medical Council of India Act amendment—with full-fledged laws, officials said. The ordinance on triple talaq criminalised the practice of instance divorce in the Muslim community that has been declared arbitrary and against the tenets of Islam by the Supreme Court.
The Companies Act amendment ordinance altered several provisions in the Companies Act, 2013 relating to penalties, among others. The Medical Council of India Act amendment will allow the suppression of the body for a year and the constitution of a board of governors that will perform the council's functions.
The session comes amid a renewed confrontation between the Bharatiya Janata Party and the Opposition over a host of issues including alleged wrongdoing in the Rafale jet fighter deal that the government has strenuously denied, the feud between CBI director Alok Verma and his deputy Rakesh Asthana that forced the government to strip both men of their powers, charges of sexual misconduct against former Union minister MJ Akbar, and the autonomy of the Reserve Bank of India, among others.
Full report at:
https://www.hindustantimes.com/india-news/govt-looks-to-push-triple-talaq-bill-in-parliament-braces-for-opposition-offensive/story-TZUf73X82FEKp8x6zwByZJ.html
--------
Two accomplices of militants who killed J&K cop arrested
December 7, 2018
Srinagar, Dec 7 (PTI) Two alleged accomplices of militants who were involved in the killing of a police officer in Jammu and Kashmir's Pulwama were arrested here Friday, the police said.
"Police arrested two accomplices of terrorists involved in the killing of police officer sub inspector Imtiyaz Ahmad Mir on 28th of October 2018," a police spokesman said. The duo was identified as Ansar-ul-Haq and Syed Saika Amin, both residents of Pulwama.
"The vehicle used for the commission of crime has also been seized by Pulwama Police," the spokesman said.
Full report at:
https://www.india.com/news/agencies/two-accomplices-of-militants-who-killed-jk-cop-arrested-3466797/
--------
NIA may get access to grill LeT bomb-maker Ghani in Paris
Dec 07, 2018
After a team of French investigators questioned suspected Islamic State (IS) operative Subhani Haja Moideen in Kochi this week, the National Investigation Agency (NIA) may get an opportunity to grill alleged Lashkar-e-Taiba bomb-making expert Mohammad Usman Ghani, jailed in France in connection with the 2015 Paris terror attack.
A court in Kochi has issued a so-called letter rogatory for the NIA to interrogate Ghani, officials at the agency said on condition of anonymity. A letter rogatory is a request by a court to a counterpart in a foreign country for judicial assistance.
NIA believes that Ghani, who was arrested from Austria after the Paris attack, had been in touch with David Coleman Headley, a Pakistan-origin US terrorist who plotted the 2008 Mumbai terror strike.
"Besides his suspected Headley nexus, we fear he trained some of the Indians who slipped out to war-torn Iraq and Syria to fight for Islamic State," a senior NIA officer said.
Ghani and Algerian IS suspect Adel Hadaddi were arrested from Austria two months after the Paris attack, in which gunmen and suicide bombers hit a concert hall, a stadium, a restaurant and two others places, killing 130 people and maiming hundreds.
A multinational investigation team found that Ghani and Haddadi had travelled with a team of refugees to the Greek Island of Leors a month before the attack. Soon after the Paris attack, both resurfaced in Austria and applied for asylum. Both were arrested and handed over to France. Investigator found they had been in touch with two suicide bombers who blew themselves up at a stadium in Paris.
NIA officials said Ghani was an expert in making bombs and grenades, and interrogating him could help the agency glean information on LeT's links with other global terror outfits. LeT, based in Pakistan, is blamed for several attacks in India, including the 2008 Mumbai strike.
Full report at:
https://www.hindustantimes.com/india-news/nia-may-get-access-to-grill-let-bomb-maker-in-paris/story-XXatiQnZaldO0XtVB1GMeL.html
--------
Southeast Asia
Depok to map places, people for Islamic preaching target
December 7, 2018
Depok in West Java is recruiting volunteers to monitor places and people in its efforts to map potential targets for dakwah (Islamic preaching).
Include in the map are entertainment spots as well as a list of ustadz (Muslim preacher), hajj pilgrims, majelis taklim (Quran study congregations) and Islamic boarding schools.
Depok Mayor Mohammad Idris said the map was necessary to keep the city's preaching program right on target.
"The dakwah map shall be filled with many elements, including the types of dakwah, educational background [of the listeners], etc.," Idris said on Friday in Depok as quoted by Antara news agency.
He said other elements that should be included in the map were the trajectory of dakwah, for instance in facing ideological challenges, thus, there had to be alternative programs to tackle that.
The Depok branch of the Indonesian Ulema Council (MUI) secretary Khairullah Ahyari said that the dakwah map, of which the MUI branch would in charge, would be implemented in the form of any drawings inscribed on a map that include all subdistricts.
"For instance, in Sawangan subdistrict, we would know how many ustadz there are, as well as people who have gone on the hajj, majelis taklim, Islamic boarding schools and people within the productive age," he said.
Khairullah added that entertainment places such as karaoke would also be listed by the volunteers so that specific sermons could be adjusted by the local ustadz.
"If there are [people] who lack aqidah [creed], we would recommend that aqidah topic as the focus [in that particular area], or other material needed," he said. (sau)
http://www.thejakartapost.com/news/2018/12/07/depok-to-map-places-people-for-islamic-preaching-target.html
--------
Malaysia defers Human Rights Day rally on security concerns
Dec 08, 2018
A mass gathering in Malaysia to celebrate human rights today has been postponed at the eleventh hour amid security concerns, as another rally takes place in Kuala Lumpur on the same day.
Malaysia's Human Rights Commission (Suhakam) said yesterday that the celebration, at which Malaysian Prime Minister Mahathir Mohamad was to be guest of honour, will be postponed to Sunday.
Police had advised the commission to postpone its gathering in conjunction with Human Rights Day, citing risks that border on national security.
Expressing disappointment at having to push back its event that was planned months before, Suhakam chairman Razali Ismail said the explanation given by the authorities was not satisfactory.
"We were not satisfied that... 'security risks' was used as a reason," Tan Sri Razali told reporters yesterday. "This is new Malaysia. We must count on the ability of police... to ensure that we do not have to compromise on events".
Another gathering, a protest-turned-thanksgiving rally organised by Malaysia's largest Malay-Muslim parties Umno and Parti Islam SeMalaysia (PAS), will proceed today.
Umno and PAS leaders have claimed that about 500,000 of their members will turn up to celebrate the administration's decision to not ratify a UN convention against racial discrimination.
Rally-goers, comprising members of the country's dominant Malay community, will congregate at the capital's historic square Dataran Merdeka from 2pm.
Tun Dr Mahathir explained yesterday that this rally was allowed to proceed since "the government doesn't wish to stop or make it difficult for rally organisers because it's against the government's principle of upholding democracy".
Suhakam had estimated about 3,000 people would attend its event in Petaling Jaya, about 10km from the one in central Kuala Lumpur.
"This is where our disappointment lies. In a country where democracy works and human rights is the cornerstone, the right to assemble - and ours is an event to celebrate - must be guaranteed with security provided by the security forces," said Suhakam commissioner Jerald Joseph.
The postponement drew criticism from civil society leaders, who said the reformist Pakatan Harapan government had bowed down too easily to right-wing conservatives.
Activist and lawyer Ambiga Sreenevasan tweeted: "We have many excellent ministers. But they are getting too easily spooked by rallies!"
Malaysia's new government had promised, in its election manifesto ahead of polls in May, to ratify international conventions on human rights.
Dr Mahathir, in a speech to the UN General Assembly in September, had reiterated the coalition's promise, including ratifying the International Convention on the Elimination of All Forms of Racial Discrimination (Icerd).
Malay conservatives, however, object to Icerd, saying it would jeopardise rights and privileges granted to Malays under the country's decades-old affirmative action policy. Subsequent nationwide protests against Icerd caused the government to back down without explanation.
Mr Jerald said: "This new Cabinet must take on board what new Malaysia means in terms of freedom of expression. You can't pick and choose, the ones who are bigger, louder."
Umno and PAS leaders have said today's rally will be peaceful. Police said movements in and out of the city would be monitored from midnight yesterday, and that anti-riot personnel will be on standby.
Full report at:
https://www.straitstimes.com/asia/se-asia/malaysia-defers-human-rights-day-rally-on-security-concerns
--------
Thousands gather in KL for rally against UN rights convention
Dec 08, 2018
KUALA LUMPUR - Thousands have begun to gather around the capital's Dataran Merdeka (Independence Square) ahead of Saturday afternoon's (Dec 8) rally by pro-Malay and Islamic groups to celebrate Malaysia's decision not to ratify a United Nations anti-discrimination pact.
Although organised by Malay-Muslim civil society groups, it is de facto spearheaded by the two largest Malay Muslim opposition parties, Umno and Parti Islam SeMalaysia (PAS).
First proposed as a mass protest against the International Convention on the Elimination of All Forms of Racial Discrimination (ICERD), the event is now going ahead as a thanksgiving rally after the Pakatan Harapan (PH) government backtracked in November from plans to ratify the agreement.
Malaysia and Brunei are the only two countries out of the 57 members of the Organisation of Islamic Conference that have not ratified it.
Despite Malaysia getting a new government with reformist credentials, racial issues continue to loom large, with the Malay community voicing fears that the charter would erode privileges granted under a decades-old affirmative action policy and their special rights under the Constitution.
Roads heading to the iconic square have been closed ahead of the rally, where tens of thousands from across Malaysia are expected to come dressed in white.
National police chief Mohamad Fuzi Harun said a number of supporters were seen around Dataran Merdeka since Friday night.
"We expect the number to grow even further as the event draws nearer. We have made ample preparations and we are prepared for any eventuality," the Inspector General of Police said on Saturday morning.
The authorities have given organisers permission to gather at Dataran Merdeka from 2pm to 6pm. Umno leaders, including former premier Najib Razak, are expected to attend.
PAS has pledged 2,000 members of its voluntary corps Unit Amal to help manage the flow of people converging on the square from various meeting points, such as the National Mosque and Sogo shopping mall in the centre of Kuala Lumpur, as well as to see to medical and security needs.
About 3,000 are estimated to have already gathered at Sogo, with several non-governmental organisation (NGO) representatives delivering speeches.
T-shirts bearing slogans such as "Protest against ICERD" are worn by participants who chant "Malays rise!" and "long live Islam".
At about 10am, about 300 members of Pertahan, a Malay martial arts (silat) group, gathered at the Federal Territories Mosque to march to the nearby National Palace and hand over a memorandum to the King.
They recited praises to Prophet Muhammad as they made the 2km journey and the memo was received by palace officials.
Umno Youth chief Asyraf Wajdi Dusuki, in a speech at Sogo, told demonstrators the gathering was "historical as Umno and PAS come together to send a clear message to the Pakatan Harapan government to stop lying to the people".
Singapore's Ministry of Foreign Affairs on Friday advised Singaporeans to defer all non-essential travel to Kuala Lumpur, given the risk of skirmishes at large rallies in the Malaysian capital this weekend.
Malaysia's Human Rights Commission, or Suhakam, had also planned to hold a gathering attended by Prime Minister Mahathir Mohamad in Petaling Jaya on Saturday to mark Human Rights Day.
Full report at:
https://www.straitstimes.com/asia/se-asia/thousands-gather-for-kl-rally-against-un-rights-convention
--------
We must strengthen ties with Arab communities, says Malaysia's youngest minister
December 07, 2018
KUALA LUMPUR: As Malaysia's youngest minister, Syed Saddiq was recently listed as one of the most influential young people in the world for 2018 by the London-based global policy platform Apolitical.
He was among the Top 100 young leaders who were "making an impact early in their government careers," a list that included Pakistani politician Bilawal Bhutto Zardari and Tunisia's member of Parliament, Sayida Ounissi.
Like the Middle East, Southeast Asia is home to a relatively young population — more than half of the region's population is under 30 years old. However, young people rarely get to the front of politics.
Since the Pakatan Harapan (PH) government won its landslide victory in the general election in May, Malaysian Prime Minister Mahathir Mohamad has vowed to build a "new Malaysia." The 26-year-old Saddiq gained prominence when he was appointed by the 93-year-old leader to head the Sports and Youth Ministry.
Raised by working-class parents, the world-class debater turned down a scholarship offer to study in Oxford and opted to go into politics instead. He leads the youth wing of the Malaysia United Indigenous Party and is also the member of Parliament for Muar constituency.
Arab News caught up with him to discuss his thoughts on representing the voices of the younger generation.
"It is an interesting shift," said Saddiq. Despite his youth, he is a politician with a mission. He said he wants to ensure that the youth agenda in Malaysia and ASEAN is not merely an afterthought, but a main priority especially with the new government.
"I do not want to be a token or just appear on a list (of most influential young leaders) but in the end fall short in fighting youth agenda," he said. His vision is to have a whole generation of Malaysians who are very proactive, fully participating in the democratic process.
He and his ministry have been active on social media, where he aims to "break down the walls of bureaucracy of the government" to engage with young people. "It is more than just about postings, it is listening, engaging, and I appreciate that a lot," he said.
"It has allowed people who previously might not have the network or connections to meet (with the minister or the ministry) to air their grievances and concerns," he added.
One of his main campaigns since taking office has been to lower the voting age from 21 to 18, as well as introducing automatic voter registration. At the moment there are 3.4 million of unregistered voters, majority of them aged 21 and above.
"At 18 years old, you can already drive, you can already get into major contracts, you can already get married, there is already a perception of maturity," he said, adding that he wants to ensure that by the end of his term, young people will be fully empowered through the ballot box, and their political capital would be increased.
He has been speaking with youth wings of the opposition parties as well as the top leadership. He said they mostly supported the lowering of the voting age.
"Politics is tough. The position I am in is not just about opposing things, you need to identify solutions and to connect with different with different groups, and even work with your strongest opposition," he said.
He attributed his rise in politics to Mahathir. Despite the wide age gap, Mahathir has been guiding Saddiq since his early years working for him as a research officer. "He is a stellar figure. Without him, I would not be here right now," said Saddiq of Mahathir, whom he considered as a mentor and a grandfather.
"It is this 93-year-old who is fighting to youth-ify the Malaysian political scene," Saddiq said, adding that Mahathir has brought up many young leaders, including fighting for more young leaders in the corporate board, grassroots youth leadership and even village chiefs.
"I can't call him old, I always call him vintage. That guy works harder than a 21-year-old, and he's a lot wiser," said Saddiq cheekily about Mahathir.
With globalization and the rise of inequality in Malaysia, Saddiq's ministry is challenged by many issues faced by young people, such as the cost of living, health care and affordable housing. He told Arab News that bread and butter issues were close to the heart of his ministerial role but it required cross-ministerial participation to resolve this concern.
"What our ministry can do is to act as the strongest voice of concern among other ministries, so that the voice of young people is not sidelined," said Saddiq. His ministry has been lobbying hard on issues such as student loans, where many young graduates are unable to meet the loan repayments due to low wages and unemployment. Despite calls to abolish student loans from youth groups, his ministry had a long debate with the Ministry of Education and reached the compromise of a 2 percent repayment rate when graduates start to earn $500.
His ministry also worked on issues affecting at-risk youth, including young offenders, those that are trapped in sex networks, young people with HIV/AIDS and the "mat rempit community" ( illegal motorbike racers).
Mahathir promised in his UN speech that he vowed to ratify all the remaining UN conventions, which included the International Convention on the Elimination of All Forms of Racial Discrimination (ICERD).
Malaysia is a multicultural nation, but for the past 61 years the country has been ruled by the Barisan Nasional government, where race and religion rhetorics are institutionalized.
"They will try their best to ensure that issues of race and religion continue to polarize fellow Malaysians, to divide us. From there it would a vacuum that they can exploit to resume power," he said.
Last month, nationalists from the Malaysian Islamic Party (PAS) and the United Malays National Organization (UMNO) staged nationwide protests against ICERD, which led the government to scrap its plan to ratify ICERD.
"For our part, we must stand firm on the federal constitution, on the racial and religious unity that is the bedrock of Malaysian unity," added Saddiq. "The great optimism of Malaysians in overcoming this difficult time will be what moves us forward."
With more than 700,000 Rohingya forced to leave Rakhine State by the Myanmar military, Saddiq has supported the Malaysian prime minister on the Rohingya crisis. He told Arab News that this is not just a Muslim issue, it is a humanitarian issue. Currently, an estimated 100,000 Rohingya are living in Malaysia, many do not have a UNHCR card and live in dire conditions.
"We have to help the Rohingya in whatever ways we can," he said. "If we are not able to show our humanity and compassion, that means we don't deserve to call ourselves a democratic, humanitarian government."
The Middle East has a very young population, 28 percent of which is aged between 15 and 29 and it is also an important region to Malaysia. The young politician told Arab News that he has a few trips planned to build stronger bridges with the Arab community there.
"We must strengthen ties with Arab communities, not just because they are global superpowers. There are a lot of areas of common interest we can work together," he said.
He plans to meet young leaders in the Middle East, including Saudi Arabia, and sees greater collaboration with Muslim countries on areas such as combating extremism and addressing poverty.
Full report at:
http://www.arabnews.com/node/1417236/world
--------
Identity politics rears its head again in Indonesia
Dec 08, 2018
There was a sense of deja vu last Sunday when hundreds of thousands of Muslims took to the streets of Jakarta to mark the second anniversary of a mass protest in 2016 against then-governor Basuki Tjahaja Purnama for insulting Islam.
The inaugural Aksi 212 protest - the numbers refer to the date of the first rally held on Dec 2 two years ago - was an unprecedented event that shocked the world.
It was a chilling sight as the main thoroughfares of the capital were over-run by protesters calling for the head of the Chinese-Christian politician best known as Ahok.
What unfolded at last Sunday's reunion rally was reminiscent of the familiar spectre of identity politics, which many had feared will rear its ugly head again in Indonesia ahead of another big election year in 2019.
The protest in 2016 not only led to the fall of a popular minority figure in Indonesian politics but also resulted in fresh sectarian strife across a country with the world's largest Muslim population.
For proponents of a secular Indonesia, it was a day of reckoning, as a wave of religiosity hit its peak and threatened the country's founding principle of Bhinneka Tunggal Ika, or unity in diversity.
Still fresh in the minds of many today was how the first 212 protest gave momentum to the anti-Ahok movement, which culminated with his defeat in a racially charged gubernatorial election in 2017 and his subsequent conviction for blasphemy shortly after the polls.
Pressure from local hardline groups such as the Islamic Defenders Front (FPI), which spearheaded the movement against Basuki, also contributed to his downfall.
Since then, cases of religious intolerance in Indonesia recorded by local think-tank Setara Institute have been on the rise, reaching 270 last year, up from 177 cases in 2014.
Just last month, an opposition politician filed a police report against Ms Grace Natalie, the Chinese-Christian leader of the Indonesian Solidarity Party, after she announced a plan to oppose any syariah-based by-laws if elected next year. That the turnout for the second anniversary of Aksi 212 was reportedly larger than the original protest did little to assuage concerns that Islamist groups, such as the FPI, were mobilising again.
While the reunion was widely lauded as being relatively peaceful, the rhetoric from participants was no less raucous, particularly against President Joko Widodo, who is running for re-election against his rival from 2014, Mr Prabowo Subianto.
In a veiled attack on Mr Joko, protesters at the Sunday rally called for Muslims to refrain from voting for candidates aligned with Basuki. They also chanted "Ganti Presiden", a slogan that started out as part of a "black campaign" online calling for the removal of Mr Joko.
The 212 crowd was undoubtedly taking their cue from FPI leader Rizieq Shihab, who is currently in self-exile.
Addressing protesters at the reunion by phone from Saudi Arabia, the firebrand cleric said it is haram, or forbidden by Islamic law, to vote for candidates such as Mr Joko, who stood with Basuki, "a blasphemer".
Not surprisingly, Mr Joko, who goes by his popular moniker Jokowi, as well as his running mate Ma'ruf Amin, were not invited to Sunday's rally. This, even though Dr Ma'ruf is a venerable cleric, and once an influential figure among the 212 activists and other conservatives.
In their absence, Mr Prabowo and other opponents of the President inevitably became the headliners at the Aksi 212 reunion.
The partisan nature of the event was not lost on many people, including political observers such as Professor Syamsuddin Haris from the Indonesian Institute of Sciences.
"The intensification of identity politics is a global phenomenon, including here in Indonesia," said Dr Syamsuddin. "The problem is that the 212 movement supports the political interests of just one of the (presidential) candidates."
Although Basuki's name is not on the ballot in 2019, anti-Ahok sentiment still looms large among 212 activists intent on playing up the sectarian card against Mr Joko and those with ties to the President or his coalition.
But ISEAS-Yusof Ishak Institute fellow Norshahril Saat said that while there is little doubt over the ability of Islamist groups to rally the masses, the true impact of last Sunday's reunion remains to be seen.
"The reason why the protest was less vociferous was because of two factors: First, there is a lack of ideology underlying the protest - there is no longer a clear purpose, for example, to take down Ahok in 2016," Dr Norshahril told The Straits Times.
"Second, the original organisers behind the 212 movement are divided between Jokowi and Prabowo. Even Ma'ruf Amin has distanced himself from the 212 reunion."
Dr Syamsuddin agrees, adding that the 212 actors may be hoping for a repeat of what happened with the Jakarta election. "But I don't think it will work this time because the context is different - Ahok is Christian, Jokowi is Muslim."
To their credit, Mr Prabowo and his running mate Sandiaga Uno have chosen to focus on economic policy matters rather than race, religion or other more divisive issues on the campaign trail.
A key plank of their "Fair and Prosperous Indonesia" election platform is also to advocate harmony among citizens regardless of their race, religion, and social standing.
However, the rise of religious intolerance in Indonesia over the last decade has increased the appeal and effectiveness of using identity politics to win elections, as the fall of Basuki has shown.
Indeed, experts like Dr Norshahril believe that in an election year, various groups will still try to exploit populist sentiment, especially religious issues, for political gain in the months ahead.
The question is whether Indonesian voters will succumb to identity politics and let what is essentially an extreme, right-wing agenda hijack next year's national elections.
Full report at:
https://www.straitstimes.com/asia/se-asia/identity-politics-rears-its-head-again-in-indonesia
--------
Arab World
HRW rejects Saudi words, urges Riyadh to let observers ensure safety of female activists
Dec 7, 2018
The US-based Human Rights Watch (HRW) has urged Saudi Arabia to allow independent observers to gain access to and ensure the safety of a number of women activists jailed in the kingdom, saying Riyadh is no longer trustworthy after its lies about the murder of journalist Jamal Khashoggi.
"Saudi Arabia should immediately allow independent international monitors to access Saudi women's rights advocates detained since May 2018 to ensure their safety and well-being," the HRW said Friday in a statement.
On November 23, the Saudi government denied evidence published by Human Rights Watch and Amnesty International that the country's authorities had tortured and sexually harassed and assaulted at least three detained activists.
Later on November 28, the Human Rights Watch received a report from an informed source indicating that Saudi authorities had tortured a fourth woman activist. Sources said the torture of Saudi women activists may be ongoing.
It was also reported that Saud al-Qahtani, a former top aide to Saudi Crown Prince Mohammed bin Salman, had personally overseen the sexual harassment and torture of at least one of the women.
"Saudi Arabia's consistent lies about senior officials' role in Jamal Khashoggi's murder mean that the government's denials that it tortured these women activists are not nearly good enough," said Michael Page, deputy Middle East director at Human Rights Watch.
Riyadh for several times altered its narrative on the killing of Khashoggi, who was assassinated in Istanbul on Oct. 2. Initially, it denied the killing altogether. After 18 days of blatant denial, Riyadh finally acknowledged the killing but said Khashoggi had been killed in a "rogue" operation that had gone haywire.
Still later on November 15, the Saudi Public Prosecution offered yet another account, saying the 15 agents had acted on "an order to bring back the victim (Khashoggi) by means of persuasion, and if persuasion fails, to do so by force" but had then went on to kill him on their own.
"Saudi Arabia should immediately and credibly investigate the allegations of abuse in detention, hold accountable any individuals found complicit in torture and mistreatment of detainees, and provide redress for activists abused during this prolonged pretrial detention," the HRW said in its statement.
The HRW's page referred to such lies and said there is every reason to believe that the Saudi authorities have treated the women activists with unspeakable cruelty "unless independent monitors are able to confirm the women activists' well-being."
All the women activists are in Dhahban Mabahith (intelligence) Prison north of Jeddah, but sources described most of the torture as taking place at an unofficial detention facility they called a "hotel" prior to moving the women to Dhahban in August.
A new source has indicated that the women are taken to a room called an "officer's guesthouse" for torture, but the location of this room is unclear.
The new source also told Human Rights Watch that the men responsible for mistreating the women were from "cyber security," a probable reference to officers working under the authority of al-Qahtani, who was dismissed as the royal court adviser following the Khashoggi scandal.
According to media reports, al-Qahtani directed online campaigns against Saudi critics, and developed a "black list" of critics to target. He is known in diplomatic circles as the "prince of darkness," the HRW said.
The crackdown on women's rights activists began just weeks ahead of the much-anticipated lifting of the driving ban on women on June 24, a cause for which many of the detained activists had campaigned.
While some were quickly released, others remain detained without charge, and have been subject to torture and harassment.
Torture and various forms of ill-treatment have been routinely and widely reported over the past years in Saudi prisons and detention centers.
https://www.presstv.com/Detail/2018/12/07/582246/Human-rights-watch-Saudi-women-activists-torture-Khashoggi
--------
Fresh US-led airstrikes kill nearly dozen Syrian civilians in Dayr al-Zawr
Dec 7, 2018
Nearly a dozen civilians have lost their lives and sustained injuries when the so-called US-led coalition purportedly fighting the Daesh Takfiri terrorist group carried out a number of aerial attacks in Syria's troubled eastern province of Dayr al-Zawr.
Local sources, speaking on condition of anonymity, told Syria's official news agency SANA that the airstrikes targeted the town of Hajin, which lies south of the provincial capital city of Dayr al-Zawr, on Friday afternoon, leaving 8 people dead.
The sources added that the victims were all members of the same family.
The development came only two days after five civilians, mostly women and children, were killed in US-led coalition airstrikes against the same Syrian town.
The aerial assaults also caused substantial damage to residential buildings and private properties in the targeted area.
On November 13, the Syrian Ministry of Foreign Affairs and Expatriates condemned a recent airstrike by the so-called US-led coalition against the eastern town of al-Shaafah, which left more than 60 people dead and injured, arguing that the massacre clearly pointed to the fact that members of the military alliance had no respect for moral values, international rules and regulations besides the lives of innocent civilians.
The ministry, in two separate letters, addressed to United Nations Secretary General Antonio Guterres and the former rotating president of the UN Security Council Ma Zhaoxu, called on the Security Council to fulfill its responsibilities and stop US-led aerial assaults.
It also asked the world body to propose an international, independent and impartial mechanism to investigate the crimes being perpetrated by the so-called US-led coalition.
The letters noted that the coalition was deliberately targeting Syria civilians and making use of internationally banned weapons, including white phosphorus bombs, in Syria.
The ministry stressed that the so-called US-led coalition airstrikes were meant to kill as many Syrian people as possible, prolong the ongoing Syrian conflict, destroy the country's infrastructure and undermine its sovereignty and territorial integrity in flagrant violation of all UN Security Council resolutions on Syria.
Full report at:
https://www.presstv.com/Detail/2018/12/07/582248/Fresh-USled-airstrikes-kill-nearly-dozen-Syrian-civilians-in-Dayr-alZawr
--------
Saudi warplanes launch 28 airstrikes on Yemen, kill 3 amid Sweden peace talks
Dec 7, 2018
Saudi warplanes on Thursday launched over 28 airstrikes on various parts of Yemen despite earlier claims that it had ordered its forces halt their attacks on Yemen with the beginning of peace talks in Sweden.
"The fact that the coalition forces and their mercenaries have continued their aggression against Yemen on the first day of peace talks in Sweden indicates that the aggressors have no interest in the establishment of peace and preparing the grounds for a second round of talks," Yemen's al-Masirah television network quoted a Yemeni army general as saying.
Three women were killed, and many houses were destroyed in the airstrikes, General Yahya Saree, a spokesman of the Yemeni armed forces, said.
In retaliation, Yemeni army forces, backed by allied fighters from the Houthi Ansarullah movement, hit gatherings of Saudi soldiers and mercenaries in the kingdom's southwestern Jizan region on Thursday.
Saudi warplanes on Thursday launched over 28 airstrikes on various parts of Yemen despite earlier claims that it had ordered its forces halt their attacks on Yemen with the beginning of peace talks in Sweden.
"The fact that the coalition forces and their mercenaries have continued their aggression against Yemen on the first day of peace talks in Sweden indicates that the aggressors have no interest in the establishment of peace and preparing the grounds for a second round of talks," Yemen's al-Masirah television network quoted a Yemeni army general as saying.
Three women were killed, and many houses were destroyed in the airstrikes, General Yahya Saree, a spokesman of the Yemeni armed forces, said.
In retaliation, Yemeni army forces, backed by allied fighters from the Houthi Ansarullah movement, hit gatherings of Saudi soldiers and mercenaries in the kingdom's southwestern Jizan region on Thursday.
A spokesman for Guterres said later on that the secretary general was specifically appealing to both sides to continue the de-escalation in the port city of Hudaydah, which acts as a lifeline for the entire country.
Houthi spokesman Mohammed Abdelsalam told the Arabic-language Al-Mayadeen television channel on Thursday night that his side would decide by Friday whether there was any hope for progress.
"We will judge whether Stockholm talks are serious or not tomorrow (Friday)," he said.
Leading a coalition of its allies, including the United Arab Emirates and Sudan, Saudi Arabia invaded Yemen in March 2015 in an attempt to reinstall former president Abd Rabbuh Mansur Hadi, who had resigned amid popular discontent and fled to Riyadh.
The imposed war initially consisted of an airstrike campaign but was later coupled with a naval blockade and the deployment of ground mercenaries to Yemen.
Full report at:
https://www.presstv.com/Detail/2018/12/07/582214/Yemen-Saudi-planes-airstrike-Sweden
--------
US-Backed Militia Capture Several Points in Eastern Syria after ISIL's Withdrawal
Dec 07, 2018
The Arabic-language website of al-Manar news reported that the SDF captured al-Havamah neighborhood in Hajin after ISIL retreated.
It further said that the SFD has also captured Ferdown mosque and a part of Hajin's bazaar.
The SDF, backed by the US-led coalition, captured Raqqa city in Northeastern Syria after an agreement on safe expulsion of ISIL from the city, the website said, adding that thousands of civilians were killed in the US air raids in Raqqa city at the time.
The Russian Defense Ministry reported last month that the ISIL was planning an attack on the SDF in order to provoke an airstrike by the US-led coalition against the Syrian Arab Army in the region.
The Russian Defense Ministry stated that the ISIL had set up the production of the shells using toxic agents at a plant in Deir Ezzur province. According to the ministry, 11 terrorists, who had been trained in other countries, were filling the shells with toxic agents, Sputnik reported.
"The manufactured chemical munitions are intended for firing on positions of the Kurdish SDF, which are conducting, with the support of the United States, military operations against terrorists in the area of the settlement of Hajin in Deir Ezzur province", the statement read.
Moscow warned that the terrorists planned to "carry out a strike against the SDF from the area nearby Syrian pro-government units", in order to frame the Syrian Arab Army.
The Russian military previously pointed out that various militant groups and anti-government organizations, including the "White Helmets", have staged poison gas attacks or used toxic agents in order to blame Damascus for using chemical weapons and prompt military strikes against the Syrian forces.
Full report at:
http://en.farsnews.com/newstext.aspx?nn=13970916000563
--------
More Turkey-Backed Militant Commanders Killed in Clashes with Kurds in Northern Syria
Dec 07, 2018
The Arabic-language website of Hawar news reported that the Kurdish militias conducted an offensive on the positons of the Turkish troops and Ankara-backed militants in al-Mahmoudiyah neighborhood in Central Afrin, killing Hamzah Qarhah, a commander of Sultan Murad militants.
The militants' military hardware also sustained damage in the attack.
It further said that the Kurds targeted a vehicle of the Ankara forces in Rajou region, killing several militants, including Abdullah al-Zarabah, a commander of Liwa al-Shamal.
It went on to say that the Kurds staged an assault on a base of Faylaq al-Sham in Jandaris region, killing or wounding 5 militants.
Hawar news reported last week that the Kurdish militia blasted a military vehicle of Ankara-backed Firqa al-Hamzah militants in Afrin on a road between the center of the town and the village of Basoutah in Shirawa, killing 4 terrorists and severely wounding 2 others.
They also targeted a vehicle of al-Shamiyah Front terrorist group in the village of Koubleh near Afrin, destroying the car and killing one militant inside.
Meantime, the Kurds' operations against Faylaq al-Sham terrorists on the road linking Borj Heidar in Shirawa region killed two militants.
Full report at:
http://en.farsnews.com/newstext.aspx?nn=13970916000497
--------
Saudi Arabia pledges over $113 mln in anti-terror aid for Africa's Sahel
7 December 2018
Saudi Arabia Minister of State for African Affairs, Ahmed bin Abdulaziz Kattan, announced that the kingdom has pledged over $113 million in anti-terror aid for the five Sahel states - Mauritania, Burkina Faso, Chad, Mali and Niger.
In an interview with Al Arabiya news channel, and on the sidelines of a donors conference held in the Mauritanian capital Nouakchott, minister Kattan said that Saudi king Salman Bin Abdulaziz ordered to provide 100 million euros to support the five Sahel countries.
He added that half of the amount will fund development programs, stressing that the kingdom aims to support the stability of these nations in curbing extremism.
The five Sahel countries have been struggling against extremism and lawlessness since an extremist revolt that began with a Tuareg separatist uprising in northern Mali in 2012.
The total pledges in the conference topped $2.7 billion.
40 development projects
Niger President Mahamadou Issoufou told reporters earlier: "These pledges from our partners broadly cover the overall needs" of around 40 development projects to fight extremism in the region, according to AFP.
The five Sahel countries had sought 1.9 billion euros to help them fund projects in border regions vulnerable to extremists. They themselves provide 13 percent of that sum.
Governments hope that with an array of projects, including building schools and health centers and improving access to water, they can prevent communities from falling under the influence of extremists.
Extremism in the region has been fuelled by the chaos that engulfed Libya in 2011, the Islamist takeover of northern Mali in 2012 and the rise of Boko Haram in northern Nigeria.
The extremists were largely driven out of Mali in a French-led military operation launched in January 2013.
The France-backed fledgling African regional force fighting extremists is also suffering from lack of funding, and shortfalls in equipment and training have led to delays in its operations.
As well as fighting terrorism it tackles smuggling and illegal immigration networks that operate in these vast, remote areas on the Sahara's southern fringe.
Full report at:
https://english.alarabiya.net/en/News/gulf/2018/12/07/Saudi-Arabia-pledges-over-113-mln-in-anti-terror-aid-for-Africa-s-Sahel.html
--------
UN hopes for removal of Saudi blockade on Yemen as peace talks begin
Dec 7, 2018
The United Nations has called for the immediate removal of Saudi Arabia's blockade on Yemen as talks to end the ongoing war against the impoverished country begin in Sweden.
UN Secretary-General Antonio Guterres called on the Houthi Ansarullah movement and Yemen's former Saudi-backed government to show flexibility and make room for progress.
"I welcome the opening of peace talks on the conflict in Yemen in Stockholm. I urge all those present at the talks to do everything in their power to end the war and the suffering," he wrote in a tweet Thursday. "Yemenis can't wait."
A spokesman for Guterres said later on the secretary general was specifically appealing to both sides to continue the de-escalation in the port city of Hudaydah, which acts a lifeline for the entire country.
The US Senate warned in a rare statement earlier this week that Yemen imports as much as 90 percent of its food and relies on imported fuel.
Saudis and their regional allies – including the United Arab Emirates (UAE)—launched their military aggression against Yemen in March 2015 with the declared goal of removing Houthis from power and reinstating fugitive former President Abd Rabbuh Mansur Hadi, a staunch ally, to power.
As the prospects of defeating Houthis dimmed down the road and talks of a diplomatic solution gained traction, Saudi-backed groups launched an operation to seize control of Hudaydah in order to have the upper hand in the talks.
The ongoing offensive, however, has so far failed in the face of strong Houthi resistance.
Advising both sides against setting pre-conditions, Guterres said "intra-Yemeni dialogue" was necessary to resolve "the ongoing humanitarian crisis" caused by the war.
The war has so far killed thousands of civilians and destroyed the impoverished country's infrastructure, exposing millions of people to starvation, lack of medicines and cholera outbreaks.
The UN chief said he doubted the talks would yield any results before year-end.
Martin Griffiths, the UN special envoy to Yemen, told reporters on Thursday that the two sides were willing to work towards de-escalation.
Announcing a prisoner swap as a first step, Griffiths predicted other early steps to include ending the aerial blockade on the Yemeni capital Sana'a, halting the attacks on Hudaydah and implementing economic measures that could alleviate concerns about an impending famine.
The UN aid chief, Mark Lowcock, paid his first visit in more than a year to Yemen on Thursday. The UN has warned that over 14 million people are at risk of starvation in Yemen. That figure could go up to 20- million in the near future.
Houthis to decide by Friday
Houthi spokesman Mohammed Abdelsalam told the Arabic-language Al-Mayadeen television channel on Thursday night that his side would decide by Friday whether there was any hope for progress.
Full report at:
https://www.presstv.com/Detail/2018/12/07/582206/UN-Guterres-Yemen-Saudi-peace-talks-Sweden
--------
Pakistan
Madrasa Students to Be Included In Naya Pakistan Youth Programme
Dec 08, 2018
ISLAMABAD: Special Assistant to Prime Minister on Youth Affairs Usman Dar on Friday met with Federal Minister for Religious Affairs and Interfaith Harmony Noorul Haq Qadri to discuss with him ways to bring madrassa students in the national mainstream.
Dar said that Prime Minister Imran Khan wanted to include students of seminaries in the Naya Pakistan Youth Programme.
Provision of interest-free loans, vocational training, and medical facilities to madrassa students is among aims of the government, Dar explained.
The Pakistan Tehreek-e-Insaf (PTI) leader said that the students are precious assets of the country.
On the other hand, Noorul Haq Qadri termed the initiative a revolutionary step by the government.
https://www.pakistantoday.com.pk/2018/12/07/madrassah-students-to-be-included-in-naya-pakistan-youth-programme/
--------
Facing Trump attacks, Pakistan military seeks peace with India
Dec 7, 2018
ISLAMABAD: Pakistan's military is making an unusually strong effort to mend ties with arch-rival India, as top generals worry about a deteriorating economy amid fractious relations with US President Donald Trump.
Current and former Pakistani military officials have told Bloomberg that both a slowing economy and pressure from Beijing to improve ties with the West is prompting the shift on India. At the same time, they said, Pakistan is also wary of becoming too dependent on China after Trump cut some $2 billion in security aid.
Among the proponents of a detente with India is Pakistan's powerful army chief, General Qamar Javed Bajwa, who once served under an Indian general during a stint with a United Nations peacekeeping mission and is seen as more moderate than his predecessors.
Entering his final year in office, Bajwa last week called a move to ease border controls with India for visiting Sikh pilgrims "a step towards peace which our region needs."
The army chief has publicly supported China's Belt and Road Initiative, which has unleashed financing for more than $60 billion worth of projects -- adding to debt that has forced Pakistan to seek another International Monetary Fund bailout. But he is thought to be uneasy about Pakistan's over-reliance on Beijing, according to Western diplomats who asked not to be identified so they could speak freely about senior generals.
"From the outset of his term, General Bajwa was heavily inclined to end the state of 'No Peace, No War,' but recognized that shifting views inside the huge Pakistan army would take time," said Shuja Nawaz, author of a book on the armed forces and a former IMF official who is currently a distinguished fellow at the South Asia Center at the Atlantic Council in Washington. "This may be another incentive to launch a peace initiative."
The military's press department didn't respond to a request for comment.
Pakistani Prime Minister Imran Khan, who surprised many by calling for talks with India in his July election victory speech, said last week his political party and the military are "all on one page" in wanting to mend ties and resolve the conflict over the disputed region of Kashmir. His government is in the midst of negotiating Pakistan's 13th IMF bailout since the late 1980s.
Since taking office in August, Khan has sparred repeatedly with Trump. Just a few weeks ago they traded barbs after Trump said the US no longer gives Pakistan billions of dollars because "they don't do a damn thing for us" in fighting terrorism.
So far, there's no indication that Pakistan's outreach will prompt Trump to reconsider aid money, which was cut due to insufficient efforts to deny extremist groups safe haven and freedom of movement. A spokesman for the US Embassy in Islamabad declined to comment.
But there are small signs that relations are improving. This week Trump sent Khan a letter asking for Pakistan's help in facilitating talks with the Taliban to end the 17-year war in neighboring Afghanistan, a move welcomed in Pakistan. And Lieutenant General Kenneth McKenzie, nominee to become commander of US Central Command overseeing Pakistan, said the military relationship between the countries was "strong."
"It is important to remember that we are asking Pakistan to focus a significant fraction of their national power away from what they perceive to be an existential threat," he said.
Fear of Indian dominance continues to dictate strategy in a military that has directly ruled Pakistan for almost half its 71-year history. Since partition, Pakistan has fought three major wars with its larger neighbor and both nations accused the other of supporting cross-border insurgencies.
Pakistan's military is the most powerful organization in the country, and has long been seen as one of the main obstacles to peace with India. Leaders in New Delhi have accused Pakistan's generals of stoking tensions with India in part to justify military spending that -- along with debt servicing -- consumes nearly 60 percent of the annual budget.
Any detente with India would face deep skepticism that has endured since the British left the subcontinent in 1947. Both India and the US see Pakistan as providing safe haven for terrorist groups, and often bring up the fact that the leadership of Lashkare-Taiba, which carried out the gruesome Mumbai attack in 2008, still live freely in Pakistan.
"Saying that the military is on board suggests to the Indians that this time it will be different, since Pakistan's military and intelligence apparatus has been perceived as disruptors to formal rapprochement processes," said Shamila Chaudhary, a former White House and State Department official and now a fellow at Johns Hopkins University School of Advanced International Studies.
Though with elections due in the first half of next year "re-establishing dialogue with Pakistan absent any progress on justice for the Mumbai attacks or actions on terrorism is too much of a political football for India," she said.
India so far has dismissed Khan's efforts to mend ties, and blasted his latest statement for an "unwarranted reference" to Kashmir. One serving army officer in Pakistan said the military was well aware New Delhi was unlikely to reciprocate before elections, but the olive branch was a diplomatic maneuver to win global goodwill.
India views Pakistan's overtures as insincere, according to an Indian government official who asked not to be identified.
Pakistan is simply seeking to convince the international community that it's genuinely working toward peace even though there's no actual movement on India's demands for more action to arrests terrorists, particularly those involved in the Mumbai attacks, the official said.
While Khan appears sincere, he and Pakistan's generals must realize India won't reciprocate unless something is done about Lashkar-e-Taiba, according to Madiha Afzal, the author of 'Pakistan Under Siege' and a visiting fellow at The Brookings Institution in Washington.
Full report at:
https://timesofindia.indiatimes.com/world/pakistan/facing-trump-attacks-pakistan-military-seeks-peace-with-india/articleshow/66982951.cms
--------
State can't let individuals issue fatwas: Fawad
Murtaza Ali Shah
December 8, 2018
LONDON: Federal Minister for Information Fawad Chaudhry says the state of Pakistan can't function if individuals are allowed to issue fatwas and use religion to advance their agendas.
He was addressing the Pakistani media at the Pakistan High Commission here at the conclusion of his three-day visit. He said the leaders of Tehreek Labaik Pakistan (TLP) had challenged the state writ by issuing death calls for the serving officials of Pakistani government. He said no country could allow anarchy and incitement of violence no matter what the issue.
He said Britain was an example where citizens enjoyed freedom of expression and freedom to criticise but nobody was allowed to issue fatwas. Fawad said 18 international NGOs – mainly from Britain, Europe and America – had been banned from operating in Pakistan for violating rules.
The minister said he had met the representatives of these NGOs last week in Islamabad and told them that the action against their
presence was started by the previous government and criteria was laid down categorically for them to fulfil legal requirements which they failed. Fawad said Pakistan wanted to forget about issues of past and wanted to move forward with India by resolving all outstanding issues. Answering a question about the Senate chairman's demand that he should apologise for his 'rowdy' behaviour in Parliament, the minister called on him to issue a public apology to him and repeated that the Senate chairman was wrong in his words and actions. Fawad named the opposition leaders from the Pakistan Muslim Leage-Nawaz (PML-N), Pakistan People's Party (PPP) and other parties and said they should be held accountable and advocated their locking up summarily.
When told that some people sitting in the current PTI government were part of the previous governments and allies of the current opposition, the minister claimed that the current ruling elements didn't have "decision-making powers" in the past.
Fawad said economy was performing well under the PTI government and Imran Khan's team had done a great job in 100 days. He claimed that billions of dollars' worth of investment was coming to Pakistan and its economic worries were being dealt with. He said dual nationals should be allowed to contest elections and mentioned that overseas Pakistanis contributed greatly towards development of Pakistan. He said the PTI government planned to initiate a state of the art media university where students will be trained on modern media lines to equip them. Speaking about the media related issues, Fawad said Pakistan had Rs30,000 crore debt and the current government was not in a position to give advertisement to the media.
He called on the media houses to restructure their media models and reform or else face financial difficulties. He said half of the amount had been paid to the media houses and he stood by his statement.
Full report at:
https://www.thenews.com.pk/print/403240-state-can-t-let-individuals-issue-fatwas-fawad
--------
Imran wants peace in Kabul without fighting others' war
Syed Irfan Raza
December 08, 2018
ISLAMABAD: Prime Minister Imran Khan has categorically said Pakistan will no longer fight others' war and those who had been asking Pakistan to "do more" now want us to mediate between the Afghan warlords and the US-backed Afghan government.
"We need peace in Afghanistan but Pakistan will not fight others' war [in the neighbouring country]," the prime minister said while addressing a group of students, hailing from Balochistan, at PM Office on Friday.
He said a wrong impression had been created by the country's leadership in the past that Pakistan would be harmed if it did not fight someone else's war in Afghanistan.
Referring to the oft-repeated "do more" demand, he said Pakistan was asked to fight their [US] war in Afghanistan. "I have been saying for past many years that war is no solution to Afghanistan's problem and now it has also been realised by the US," he added. He held the US authorities and Afghan government responsible for failing to restore peace and stability across Afgha­nistan. "More than 40 per cent areas in Afghanistan are not under the control of the Afghan government," he added.
The prime minister earlier in a tweet had asked the US government to reassess causes of their failures in Afghanistan instead of passing the blame on to Pakistan. "Instead of making Pakistan a scapegoat for their failures, the US should do a serious assessment of why, despite 140,000 Nato troops plus 250,000 Afghan troops & reportedly $1 trillion spent on war in Afghanistan, the Taliban today are stronger than before," he had tweeted.
Pakistan joined the US-led war in Afghanistan in 2001 and paid a heavy price as mentioned by the prime minister on many occasions. However, the present government has taken a firm stance that the country will watch its own interests and not become a part of the US-led war in the neighbouring country.
Water situation
In a separate meeting, the prime minister was briefed by federal Minister for Water Resources Faisal Vawda and Water and Power Development Authority chairman retired lieutenant general Muzammil Hussain about water crisis and the measures being taken to overcome water shortage in the country. Mr Khan was also apprised of ongoing work on the construction of major dams and water-related projects.
Full report at:
https://www.dawn.com/news/1450159/imran-wants-peace-in-kabul-without-fighting-others-war
--------
US report highlights murky world of 'contractors' in Pakistan
Anwar Iqbal
December 08, 2018
WASHINGTON: "The contractor must maintain a constant capability to surge to any location within Afghanistan or Pakistan" within a 30-day period, says an official US announcement released in 2010.
The announcement — highlighted by The Nation, the oldest US weekly, in May 2010 — solicits bids from private war contractors to secure and ship US military equipment through sensitive areas of Pakistan into Afghanistan.
Among the duties the contractors were required to perform was "intelligence, to include threat assessments throughout Afghanistan and Pakistan".
The solicitation notice — almost completely ignored by the Pakistani media — also underlines the enormity of the task: "There will be an average of 5,000" import shipments "transiting the Afghanistan and Pakistan ground lines of communication (GLOC) per month, along with 500 export shipments".
The terms of the contract indicate that US personnel were directly involved in these operations, although a bulk of the force was hired locally, in Pakistan and Afghanistan.
A May 25, 2010 article in The Nation, by journalist Jeremy Scahill, points out that among the firms listed by the US Department of Defence as "interested vendors" were an Afghan firm tied to a veteran CIA officer and run by the son of a former Afghan defence minister, Gen Abdul Rahim Wardak, and a Pakistani firm with links to Blackwater, a private security company based in the US.
Although often highlighted in the US media, the mysterious world of private contractors drew little attention in Pakistan until recently, when a report by the Brown University's Costs of War Project mentioned that 90 American contractors were among the 65,000 people killed in Pakistan in the last 17 years.
The activities of private contractors in Pakistan did not receive much attention in the US media either, mainly because the death tolls in Afghanistan and Iraq were much higher.
According to the Brown University report, a total of 7,820 private American contractors have been killed since 2001. Of them 3,937 were killed in Afghanistan, 3,793 in Iraq and 90 in Pakistan.
For most Pakistanis, even 90 contractors are far too many as the number makes them realise that hundreds of private American contractors have been operating in their country without their knowledge.
But the 2010 solicitation expla­ins why the United States had to hire a large number of private contractors in Pakistan. It identifies "current limitations on having US military presence in Pakistan and threat levels precluding US Military active invol­vement" as the main reasons for hiring private contractors.
Defining a contractor's functions, the solicitation states: "The contractor must be proactive at identifying appropriate methods for obtaining the necessary in-transit visibility information."
Although no official statistics are available about the total number of American contractors deployed in Pakistan, in 2012 the US Central Command informed Congress approximately 137,000 contractors were working for the Pentagon in the greater Middle East region that includes Afghanistan, Iraq and Pakistan.
Of that total, 40,110 were US citizens, 50,560 were local hires, and 46,231 were from neither the US nor the country in which they were working.
"These numbers do not reflect the totality of contractors. For example, they do not include contractors working for the US State Department," journalist David Isenberg wrote in the Time magazine on October 9, 2012.
According to the US Department of Defence data, at the peak of their deployment (2008-2011) contractors in Iraq and Afghanistan represented 52 per cent of the total force, averaging 190,000 contractors to 175,000 uniformed personnel.
Focusing on the situation in Pakistan, journalist Antony Loewenstein, wrote in an Australian publication in April 2012 that in Pakistan "private security is a state within a state".
He wrote that a total of 62 retired military officials were running these private companies and at least half of them "had been arrested and then released for corruption and working for the Americans".
According to him, "the most revealing company name" on the 2012 list was G4S Wackenhut Pakistan. G4S is a British behemoth in the security industry with a troubling human rights record.
A January 2010 report of the Foreign Policy (news site) also covers the period when private security was its peak in Pakistan. It notes that in 2010, the top UN security official, Gregory Starr, the former head of US State Department Security, advocated an increase in the use of private security firms in Pakistan.
The report notes that the UN "accelerated its move toward hired guns" in Pakistan after the Taliban launched an attack against a UN residence in October 2009, killing five UN employees.
Full report at:
https://www.dawn.com/news/1450162/us-report-highlights-murky-world-of-contractors-in-pakistan
--------
'Trade potential between Pakistan, India can be engine for prosperity'
Asma Kundi
December 08, 2018
ISLAMABAD: Prime Minister's Adviser on Institutional Reforms and Austerity Dr Ishrat Hussain on Friday said India and Pakistan had a trade potential of $37 billion which could be proved a powerful engine for the shared prosperity and reducing inequalities in the region.
He was speaking at the concluding ceremony of the four-day 21st sustainable development conference hosted by the Sustainable Development Policy Institute (SDPI).
Talking about the bilateral relations, Dr Hussain suggested improving the barter system between the two countries to improve the status of producers and consumers.
"We are going to enter the 4th industrial revolution, therefore, we need to invest in science and technology to tap its potential, and otherwise, we will lag behind.
"The challenge for us today is to invest in labour productivity in services and agriculture sector and for that we have to invest in human development."
He said inequalities such as gender, income and social coupled with poverty were hindering development and growth of the regional countries. He emphasised the need to improve the quality of education in Pakistan.
PPP leader Senator Sherry Rehman said India and Pakistan had no option but to talk on all unresolved issues, including Kashmir. She said there was consensus among all political parties in Pakistan to have peace talks with India.
"We have history of starting and stopping the talks, and walk out from the peace talks would not help any country. Visa free corridors like Kartarpur can help bring peace to the region despite political differences. We must look at peace to harness the potential of regional cooperation.
Development can only be sustainable when it responds to the local and vulnerable of the society," she said. PML-N MNA Ahsan Iqbal said: "We are passing through the age of digital revolution where artificial intelligence is reshaping the future of this world. When inequality is growing at an alarming level, we have to ensure that every single person of society has access to information and communication technology to fight inequalities."
He added: "In this changing world, we should not be myopic but to adapt to the changes. China-Pakistan Economic Corridor (CPEC) will impact the lives of most vulnerable people."
He said under CPEC, through the Higher Education Commission (HEC), Pakistan had started the knowledge corridor by partnering with 50 Chinese universities on programmes which were relevant to Pakistan's economic needs.
SDPI Executive Director Dr Abid Qaiyum Suleri said economic corridors, trade or strategic corridors can only be successful when we have knowledge corridors in the region. He called upon the political parties to reduce the political tensions and evolve consensus on the issue of public interests.
Full report at:
https://www.dawn.com/news/1450052/trade-potential-between-pakistan-india-can-be-engine-for-prosperity
--------
Pakistani minister hits back at Trump's criticism of Islamabad
Dec 7, 2018
Donald Trump said in November that Washington had cut aids to Pakistan since the country, the US president claimed, had done "nothing" to fight terror. The blunt comment has not gone unnoticed and the latest Pakistani official to react was the federal minister for human rights, who censured the "nonsense."
Speaking in an interview with Ruptly on Thursday, Shireen Mazari also praised Pakistan's Prime Minister Imran Khan for responding to Trump's allegation.
"For the first time a Pakistani Prime Minister stood his ground and told him off for basically accusing Pakistan of all sorts of things and reminding him of the sacrifices that Pakistan had made in the US led war on terror," said Mazari.
In a series of tweets and media reports, Trump had claimed that despite receiving "billions" in US aid, Pakistan had been idle in the fight against terror.
Khan has since made numerous statements denouncing Trump's claims.
Earlier on Thursday, the Washington Post published an interview from Khan detailing the premier's reaction.
Further commenting on the US president's statements about Pakistan, Mazari noted that Trump's recent letter to Pakistan's premier, asking for his country's help to end the conflict in Afghanistan, shows the US is, nonetheless, aware of Pakistan's importance amid US policy flaws in Afghanistan.
"The problem with Americans is that the policy has been exposed to being wrong. Their policy has failed; their military approach has absolutely failed. There is more chaos, there is more terrorism, and there are more deaths now in Afghanistan than ever before." said Mazari.
"We would like to help US and Afghans come to the dialogue table with Taliban. We would like to see peace and stability, because if there's no peace in Afghanistan, there cannot be peace and security in Pakistan, especially along our western international border."
The Pakistan minister, however, pointed out that Moscow and Beijing had also understood the strategic significance of the region.
Full report at:
https://www.presstv.com/Detail/2018/12/07/582271/Trumps-criticism-of-Pakistan-is-nonsense
--------
Africa
Jihadism entrenches itself in Burkina Faso with bullets and bribes
07 December 2018
Once-bustling markets are hushed, popular bars are shut and tourists no longer venture to local sights in areas threatened by the encroachment of armed Islamist insurgents in eastern and northern Burkina Faso.
"Before, in the time of highway robbers, we managed better, but with the jihadists it's really serious," said Amadou Nassouri, who runs a struggling meat business in the eastern city of Fada N'Gourma.
The city lies close to territory constantly harassed by jihadists, if not under their control.
"Today there are areas where you don't go (to graze your cattle). With the jihadist problem, nothing is okay," he told AFP, saying the numbers shopping at local markets were down.
"I find it hard to feed my family."
Authorities in this West African state have largely abandoned regions in the north and east that are now classified as "no-go" zones due to the frequent attacks and risk of being kidnapped.
Since the jihadist violence began in March 2015, more than 200 people have been killed, official figures show.
Most attacks are attributed to Ansarul Islam, which emerged near the Mali border in December 2016, and to the JNIM (the Group to Support Islam and Muslims), which has sworn allegiance to Al-Qaeda in the Islamic Maghreb.
Ansural Islam was the first jihadist force created inside Burkina Faso with the violence spilling over from Mali, where radical Islamists seized key Sahara towns in 2012 before being ousted by French troops.
Smaller groups are also active, with the overall number of fighters estimated at "up to 500", a security source said.
The jihadists extend their hold gradually, forcing government workers and others who oppose them to flee. The violence has so far displaced some 40,000 people.
Poverty, abandonment
Some welcome the jihadists for their ideology while others appreciate their economic approach: hardline Islamic rule proscribes state-imposed taxes.
In the north and the east, witnesses describe a calculated strategy of jihadist encroachment.
The groundwork is laid by preachers who claim to teach "true Islam" as opposed to a "false" expression of the faith.
They speak out against the "Mossi state" - a term for the ethnic majority concentrated in the capital Ouagadougou. It dates back to the powerful Mossi kingdoms that ruled pre-colonial West Africa from the 11th century until 1896.
Jihadists play on disillusion with the "Mossi state", its weak infrastructure and its failure to provide essentials such as electricity or a reliable water supply.
"The aim of the 'terrorists' - which is 'to terrorise' - has been achieved," Ly Boukary of the Citizen's Broom movement for good governance told AFP in the northern town of Ouahigouya.
Senior officials have all left the north, which has no factories or other economic activity, leaving the population totally abandoned - and vulnerable to exploitation.
"Above all, it's a matter of poverty," he said. "Young people have no work. It's easy to bribe them by offering them 20,000 or 25,000 CFA francs (R585.44), otherwise they won't earn more than 100 francs."
Jihadists play this card to the full, arguing that poverty is created by the government and that industrialised Western nations are "looting (the nation's) wealth", a local source said.
Migration with a message
In the north, armed groups move freely through the country's porous borders. The seasonal migrations of Fulani cattle herders also help spread the jihadist message through young herdsmen.
The jihadists mainly target the security forces, but also attack government officials and local chiefs who oppose them.
Teachers are vulnerable due to the jihadists' fierce opposition to secular, French education, with their threats and attacks sparking the closure of hundreds of schools in the north and the east.
Fearing for their lives, many teachers have fled.
But the jihadists have also targeted civilians.
'No man's land'
"These places are no man's land, zones of total insecurity," said journalist Guy-Michel Boulouv, who works for Les Echos de l'Est, a local paper in Fada N'Gourma.
"They're inside Burkina, but they're no longer Burkinabe," he added.
Fada N'Gouma's local authorities have buckled under the pressure and closed five popular bars "for security reasons".
Standing at the entrance to the Calypso bar by stacks of chairs covered in dust, owner Pascal Anin said he missed the "great atmosphere".
The bar's closure has left 60 people out of work, he said.
And in Ouahigouya, Burkina's third city, the Hotel Amitie, which was built mainly for Western tourists, lies run-down and empty.
'Tourism is dead'
Former tour guide Issa Sankare used to take visitors to the spectacular Bandiagara escarpment in nearby Mali with its cave houses. But now he works as a mechanic.
"Everything's spoilt. Local tourism is dead. We've suffered a lot since 2015," Sankare said.
Travellers on the road to Mali are prey for jihadists, and those living along the border just busy themselves cultivating their crops.
Nobody wants to provoke the jihadists.
"They are not necessarily there the whole time but you can feel that they're around," says a former resident who fled.
"The more they get away with, the more they advance. The more they advance, the less you can do."
https://www.sowetanlive.co.za/news/africa/2018-12-07-jihadism-entrenches-itself-in-burkina-faso-with-bullets-and-bribes/
--------
Bloody Rivalry Erupts Between al-Shabab, ISIS Group in Somalia
7 Dec 2018
NAIROBI, Kenya — A bloody rivalry has emerged between extremist groups in Somalia as the al-Qaida-linked al-Shabab hunts upstart fighters allied to the Islamic State group, who have begun demanding protection payments from major businesses, officials tell The Associated Press.
The rivalry supports some observers' suspicions that al-Shabab, now scrambling to defend its monopoly on the mafia-style extortion racket that funds its high-profile attacks, is drifting from its long-declared goal of establishing a strict Islamic state.
The manhunt began in October with the killing of a top leader of the ISIS-linked group by a suspected al-Shabab death squad in the capital, Mogadishu, according to several Somali intelligence officials, who spoke on condition of anonymity because they were not authorized to speak to the media.
When the body of Mahad Maalin, deputy leader of the ISIS-affiliated group, was found near a beach in Mogadishu, it set off a hunt for suspected ISIS sympathizers within al-Shabab's ranks, officials said. Maalin had been suspected of trying to extend his group's reach into the capital.
Last month, the Islamic State group's Al Naba newsletter noted deadly attacks on its fighters in Somalia and warned that "when the time of response comes from the Islamic State, with God's will, we will be excused."
The ISIS-affiliated group in Somalia, largely made up of al-Shabab defectors, first announced its presence in 2016 with attacks in the far north, far from Mogadishu and most al-Shabab strongholds. Though estimated at a few hundred fighters at most, their emergence in one of the world's most unstable countries has been alarming enough that the U.S. military began targeting it with airstrikes a year ago.
While al-Shabab and its thousands of fighters have hunted down suspected ISIS sympathizers before, they had not taken the young group's expansion seriously until now, observers say.
"Al-Shabab miscalculated ISIS's organizational capability and ambitions to extend its reach beyond the north, having judged it by its handful of fighters there, and thus missed the bigger picture," said Mohamed Sheikh Abdi, a Mogadishu-based political analyst.
The revelation by businessmen that ISIS-linked operatives had begun making extortion demands took al-Shabab's leadership by surprise, prompting the manhunt that has led to assassinations and the detention of over 50 suspected ISIS-linked extremists, including foreign fighters, two Somali intelligence officials told AP. One suspected ISIS-linked fighter from Egypt was shot dead on Nov. 18 in Jilib.
As members of the Islamic State group flee shrinking strongholds in Iraq and Syria, fears have grown that the fighters will find a new and welcome home in parts of Africa.
Alarmed by al-Shabab's deadly attacks, the ISIS-linked group has expanded its own assassination campaign. ISIS's Amaq news agency, turning its attention to the young affiliate, has released videos showing what it called killings by the group's death squad.
ISIS-linked fighters already had claimed responsibility for 50 assassinations in southern Somalia between October 2017 and August, often against federal government officials, according to a report released last month by the United Nations panel of experts monitoring sanctions on the country.
While extortion is the fighters' latest tactic it is nothing new in Somalia, where al-Shabab has long used death threats and other intimidation to pressure businesses to pay what is called "zakah," or charity. The money is their main source of funding. "Indeed, al-Shabab is likely generating a significant budgetary surplus," the U.N. panel of experts said, noting that one of its checkpoints brought in about $10 million a year.
With no strong government to protect them, businessmen often say they have no choice but to pay in exchange for protection.
Among the companies targeted by suspected ISIS-linked extremists is Somalia's telecom giant, Hormuud, which intelligence officials say has lost up to 10 employees in attacks in recent weeks. Hormuud officials did not respond to requests for comment.
Businesses worry that the rise of another extremist group seeking cash, as well as a new effort by Somalia's central government to impose taxes, will bleed them dry.
"At this point, (businesses) are faced with two equally undesirable alternatives," said Abdisamad Barre, a professor of business management in Mogadishu. "Rejection to the demands for extortion will pave way for attacks by ISIS, and paying them to evade danger will anger al-Shabab."
Somali intelligence officials say al-Shabab's new manhunt is aimed at preventing the ISIS-linked extremists from expanding their extortion demands into southern Somalia, where al-Shabab levies millions of dollars in taxes per year on travelers and cargo meant for the lucrative port of Kismayo.
Another al-Shabab tactic against its young rival is pressuring religious leaders to issue a fatwa, or edict, declaring the IS group "un-Islamic," thus legitimizing a war against them, according to sources close to al-Shabab who requested anonymity for fear of reprisal.
Security experts, however, say al-Shabab will find it difficult to unearth ISIS supporters even within its own ranks.
Full report at:
https://www.military.com/daily-news/2018/12/07/bloody-rivalry-erupts-between-al-shabab-isis-group-somalia.html
--------
Boko Haram: Two soldiers wounded as troops, terrorists clash in Borno
December 6, 2018
By Maina Maina
Two soldiers have been wounded in a clash with suspected members of the Boko Haram sect in a hideout, along Yachida, Korongelen, Bombula and Forfor axis, Damboa Local Government Area of Borno State.
A statement by the Director Army Public Relations, Brigadier General Sani Kukasheka Usman, Thursday, said Troops of 117 Battalion, 28 Task Force Brigade, Operation LAFIYA DOLE in conjunction with some members of Civilian Joint Task Force, embarked on fighting patrol and came in contact with the terrorists and engaged them in gun duel at Forfor village.
He said, "During the encounter, one of the Boko Haram terrorists was neutralized, arrested two, while several other terrorists fled with gunshot wounds.
"The gallant patrol team recovered one AK-47 rifle, a magazine, 21 rounds of 7.62mm (Special) ammunition, a 36 Hand Grenade, magazine pouch and a Motorcycle.
Full report at:
http://dailypost.ng/2018/12/06/boko-haram-two-soldiers-wounded-troops-terrorists-clash-borno/
--------
Boko Haram attacks UNICEF clinic, others
December 8, 2018
No fewer three settlements, including a clinic funded by the United Nations Children's Fund in Borno State have been attacked by Boko Haram.
Two of the attacks were hatched by the insurgents on Thursday in the Bama and Rann areas, while the third attack happened in Jakana on the Maiduguri-Damaturu Expressway Friday evening.
The UNICEF funded clinic was razed.
According to security sources, gunmen suspected to be Boko Haram members made an attempt to infiltrate Bama town on Thursday evening.
A security source, who confided in our correspondent, said, "The insurgents wanted to invade the town to cause havoc, but unfortunately for them, they were met by battle ready soldiers who repelled them."
A resident of the town, Yusuf Abdullahi, told Saturday PUNCH that the people of the town were suddenly woken up by the sounds of gunfire and rockets.
He said throughout the night, no one could sleep in the town as the soldiers engaged the insurgents.
In Rann, the Boko Haram were said to have destroyed the UNICEF clinic, the only healthcare centre in the town which at different times had been attacked by the insurgents.
A military source told our correspondent that the Nigerian military was able to repel the insurgents after a fierce gun battle on Thursday.
A resident of the town, Yabawa Aji, in a telephone chat with our correspondent with all manner of equipment and shot indiscriminately.
He said the casualties could not be ascertained yet as many fled into the bush for safety, lamenting that some of the fleeing residents were caught in the crossfire.
Full report at:
https://punchng.com/boko-haram-attacks-unicef-clinic-others/
--------
South Asia
Myanmar Minister Draws Rebuke For 'Extremist Religion' Remark on Rohingya
2018-12-07
Myanmar's minister of religious affairs has been rebuked by "top leaders" for using the term "extremist religion" to refer to Islam in recent racially charged comments he made referring to the country's persecuted Rohingya Muslim ethnic minority, said a government spokesman on Friday.
Zaw Htay, director general of State Counselor Aung San Suu Kyi's office, did not specify which leaders warned the minister, or what was said, when he referred to the criticism of the minister during a news conference.
He also said that ministers should publicly speak only about government policies and keep their personal opinions to themselves.
Former general Aung Ko, who was appointed as religious affairs minister by Myanmar leader Aung San Suu Kyi, told reporters earlier this week that he was specifically speaking about "Bengalis" during previous comments about an "extremist religion" that would threaten Myanmar's Buddhist majority.
"While we Buddhists practice monogamy and have only one or two children, an extreme religion encourages having three or four wives and giving birth to 15 to 20 children," he said in a video published by RFA. "After three, four, five decades in this Buddhist country, the Buddhist community will certainly become the minority."
Myanmar views the Rohingya as illegal immigrants from Bangladesh, though many have lived in the country for decades, and refers to them as Bengalis. The Rohingya were stripped of citizenship 35 years ago and have been denied access to jobs and basic services such as health care and education.
Two brutal crackdowns by the Myanmar military in Rakhine state in 2016 and 2017 together drove more than 800,000 Rohingya from their communities and into neighboring Bangladesh where they have been living in massive displacement camps.
No bearing on repatriation
Zaw Htay said that Aung Ko's views will have no bearing on the planned repatriation of some of the hundreds of thousands of Rohingya refugees who will return to Myanmar under a much-delayed program that is now set to begin in December or January following general elections in Bangladesh.
The two countries signed an agreement in November 2017 to repatriate refugees who voluntarily want to return to Rakhine state.
"The refugee repatriation process will keep going as it was made by step-by-step agreements," he said.
Officials from both Myanmar and Bangladesh discussed the repatriation program again on Friday, Zaw Htay said, and Myanmar officials proposed that a group of Hindu refugees who fled across the border during the crackdown be among the first group of returnees.
"About 430 Hindus really want to return home, and they have informed both the Bangladeshi and Myanmar governments that they want to return," Zaw Htay said. "That's why we have proposed to Bangladesh that it would be good if we included these Hindus in the first group together with other Muslims who want to return. If we do, then the repatriation process will get off to a smooth start."
Myanmar had included the Hindus on a list of refugees to be repatriated as the first group of refugees, but officials said that Bangladesh didn't want to send Hindus back first and that it would try to put them on the list after the first group had been returned.
The program was postponed after none of the Rohingya refugees showed up at the border to be processed for repatriation on the appointed day in November.
For now, it appears the Hindus are the only refugees willing to return to Myanmar from Bangladesh.
Hindus residing in northern Rakhine suffered violence at the hands of Muslim militants who invaded their villages and drove out or killed them following deadly attacks on police outposts that sparked the crackdowns on Rohingya communities.
The militants detained nearly 100 people from several Hindu villages, killed most of them, and dumped their corpses in mass graves. They also forced the young Hindu women to convert to Islam and took them to a Rohingya refugee camp in Bangladesh.
https://www.rfa.org/english/news/myanmar/myanmar-minister-draws-rebuke-12072018172530.html
--------
Islamic Parties in Alliance: Only Tarikat gets AL's blessing
Rashidul Hasan
December 08, 2018
Two Tarikat Federation leaders are the only Islamic party representatives fortunate enough to get the Awami League's boat as their electoral symbol.
The Tarikat Federation is one of the 32 Islamic parties that are partners of the AL-led alliance while there are 34 Islamic parties in the Jatiya Party-led alliance of 57 partners.
Tarikat chief Syed Nazibul Bashar Maizvandari said the two leaders nominated by the AL have the prospect of winning.
The JP-led alliance which joined the AL-led grand alliance has been given about 40 seats. JP is not sharing any of the seats with its allies.
Islamic Democratic Alliance (IDA), a combine of 15 Islamic parties born in September, asked in vain for seven seats from the AL.
"It's frustrating. We will decide our next course of action in a couple of days," said IDA MA Awal, co-chairman of the alliance and a lawmaker from Laxmipur-1.
Awal got elected in 2014 when he was the secretary general of Tarikat Federation. He formed the IDA after being expelled from Tarikat.
Islami Oikya Jote, a combine of four parties, left the BNP-led alliance around a year ago and allied with the AL. It submitted nomination papers in 10 constituencies. But the AL did not allow its leaders to use the boat symbol.
"We will contest the polls using our own symbol," its Chairman Abdul Latif Nejami told The Daily Star.
Formed in November, Combined Islamic Jote, an alliance of 10 parties, had sought eight seats from the AL in vain.
"We went to the Awami League to contest the polls using their symbol. We are unhappy," Zafrullah, chairman of the alliance, told this newspaper.
"We have 26 candidates to contest the polls as independent," he added.
The five Islamic parties that are partners of the BNP-led 20 party alliance have received better shares.
The BNP has nominated 20 leaders of Jamaat-e-Islami to contest the election using the symbol of sheaf of paddy.
The BNP is likely to leave three other seats for the leaders of two other Islamic parties, Jamiat Ulema-e-Islam and Khelafat Majlish.
Full report at:
https://www.thedailystar.net/bangladesh-national-election-2018/news/islamic-parties-alliance-only-tarikat-gets-als-blessing-1670791
--------
Kallyanpur raid: Charge sheet sent to Home Ministry for approval
December 7th, 2018
Nine militants who died during the raid have been exempted from the charge sheet
The Counter Terrorism and Transnational Crime (CTTC) Unit has prepared a charge sheet against ten people over the raid conducted at a militant den in the Kallyanpur area of Dhaka.
The raid, titled "Operation Storm 26," was conducted on July 26, 2016, with the aim of finding the planners of the Holey Artisan attack. Among the ten accused, three are still on the run from the law. The other seven suspects are currently in jail.
Nine militants who died during the raid have been exempted from the charge sheet, along with Tamim Chowdhury and Sarwar Jahan, who were killed in drives at Narayanganj and Ashulia, respectively, CTTC sources said.
Responding to query, CTTC Deputy Commissioner Mohibul Islam Khan said: "The charge sheet for the case filed over Kallyanpur raid has been prepared and sent to the Home Ministry. After approval from the ministry, the charge sheet will be submitted to the court."
"Three of the accused are still on the run from the law."
Operation Storm 26
It has been more than two years since the Kallyanpur militant den raid, where 9 militants were killed and one escaped during "Operation Storm 26" on July 26.
According to CTTC unit sources, police initially filed a case with Mirpur police station the same year, accusing seven suspects under the counter-terrorism act.
Later, the charge sheet was prepared accusing ten suspects- Rakibul Hasan Rigan, 21, Salah Uddin Kamran, 30, Abdur Rauf Prodhan, 63, Aslam Hossain, 20, Shariful Islam, 25, Mamunur Rashid, 30, Azadul Kabiraz, 28, Mufti Maulana, 60, Abdus Sabur Khan, 33, and Hadisur Rahman, 40.
Among them, Shariful, Mamunur and Azadur are absconding, while the rest are in jail. Sources said Shariful and Mamunur might be hiding in India.
Of the seven people named in the original case document, law enforcers are yet to find details about three men- Iqbal, Junaed and Badal. Once their full identity is revealed, police will submit a supplementary charge sheet against them.
There are rumours that Junaed Khan and his brother Ibrahim Khan had left Bangladesh for Syria, to join international militant outfit Islamic State.
A training centre
The eleven people who were exempted from the charge sheet after being killed in action are- Tamim Ahmed Chowdhury, Sarwar Jahan, Abdullah alias Rony, Abu Hakim, Taj ul Huq, Akifuzzaman Khan, Raihanul Kabir, Motiur Rahman, Jubaer Hossain, Sejad Rauf, and a man who remains unidentified.
An investigation official, on condition of anonymity, said: "The militants, who lived and operated from the Kallyanpur den, are members of the banned terrorist organization Jamaat-ul-Mujahideen, commonly known as JMB.
"This outfit carried out militant attacks in various parts of the country with the aim of establishing Sharia law. The members also engaged in brutal assassinations and murders of eminent local and foreign citizens to tarnish the country's image and create unrest."
The official added that among those killed in the Kallyanpur raid, at least five militants were planning another terror attack similar to the Holey Artisan attack on July 1, 2016.
Full report at:
https://www.dhakatribune.com/bangladesh/militancy/2018/12/07/kallyanpur-raid-charge-sheet-sent-to-home-ministry-for-approval
--------
Tabligh faction holds demos across Bangladesh
Dec 08,2018
A faction of Tabligh Jamaat held demonstration across the country after jumma prayers on Friday in protest at the attack on their fellows at Tongi on December 1.
They blamed followers of Maulana Saad Kandalavi of Nizamuddin centre in Indian city of Delhi for the attack and demanded trial of the attackers.
Amid tight security cordon, the anti-Saad followers staged demonstration in different points in the capital mainly demanding punishment for those who were behind the attack.
Ahead of procession, a group of the demonstrators, led by Ahmed Ali Kasemi, held a rally at the premises of national mosque Baitul Mukarram.
Ahmed Ali Kasemi told New Age that they held the rally to protest against the attack on their fellows by the Saad-supporters.
'We demand that the government prosecute the attackers,' said Kasemi.
He accused pro-Saad leaders Wasiful Islam and Sahabuddin Nasim, both the shura members of the Tabligh Jamaat in Bangladesh, of playing direct and indirect role in the attack.
He said they wanted independent investigation into the attack.
Mufti Anamul Haque, another anti-Saad Tabligh leader in Muhammadpur, said they also held a rally in their area to make people aware of Tabligh activities.
Saad supporters also vented their concerns over the procession and rallies, and said 'tension' still persisted among their
fellows.
'We also want judicial inquiry as the clashes were because of ideological difference,' said Sahabuddin Nasim, who was branded as pro-Saad leader in Tabligh in Bangladesh.
A senior police official at Dhaka Metropolitan Police told New Age that he found not immediate solution to the crisis as it was a global crisis among the Tabligh community over ideological differences.
Full report at:
http://www.newagebd.net/article/58312/tabligh-faction-holds-demos-across-bangladesh
--------
More than 700,000 Afghans leave sanction-hit Iran
December 07, 2018
KABUL: Ali Reza first sold his cattle from the remaining livestock that survived the harsh drought in Badghis province in western Afghanistan earlier this year. That money soon ran out and he had to move with his family to the neighboring province of Herat as the water table was getting lower day by day there, and people were leaving in droves.
He remained jobless for weeks in Herat, like many of the thousands who had fled the drought. which prompted some to marry off or even sell their young daughters. Young and skilled in carpentry, Reza certainly did not want to see his two kids and wife perish in Herat so, before running totally out of cash, he had to find a means of survival.
Inspired by the good pay offered in neighboring Iran, he joined the hundreds of Afghans who crossed over into Iran illegally on a daily basis for settlement and work.
Luck was not on his side in Iran either, as only few months after his decision, US President Donald Trump withdrew Washington from the nuclear deal with Iran in May and re-imposed far-reaching US sanctions in phases, with the most damaging oil and banking penalties taking effect from Nov. 5.
The sanctions led to a drastic fall in Iran's currency, and the wages people such as Reza earned were simply not enough.
"It was becoming increasingly tough there as well because of the decline of Iran's economy. I could not cover the everyday expenses of my family with my earnings and decided to come back few weeks ago," Reza told Arab News from Herat by phone.
He plans to either go to northern Mazar-i-Sharif to set up a small carpentry shop or settle down in Herat, but has not made up his mind as yet.
He said that unlike the past, when Tehran forced out illegal migrants residing in Iran, Afghans themselves are returning voluntarily because of the impact of the sanctions.
"The sanctions have affected the lives of many people — skilled workers, traffickers and ordinary labors alike," he said.
According to residents of Herat, there are not any more long queues of Afghans outside Iran's diplomatic mission to get visas for traveling to Iran, where several of million Afghans have lived for decades because of the war.
Iran is also used as a transit point for some Afghans desperately trying to reach Europe via Turkey.
The International Organization for Migration (IOM) said that more than 700,000 undocumented Afghans had returned home since the start of the year.
"Undocumented returns from Iran in particular are seeing a massive increase over previous years, largely driven by recent political and economic issues in Iran including massive currency devaluation," the IOM said in a statement this week.
"As Afghans primarily work in the informal economy in Iran the demand for this type of work is drastically reduced. Further, as all Afghans typically send home their earnings in the form of monthly remittances, the Afghan economy itself, already evident in the drought-affected provinces of Herat, Badghis and Ghor, is suffering direct and immediate effects," the IOM report said.
Iranian media reports say many of the Afghans had returned or were seeking to enter Turkey to reach Europe after the fall of the Iranian currency, which has lost about 70 percent of its value this year, Reuters reported.
An official at Afghanistan's Ministry of Refugees Repatriation told Arab News that thousands of undocumented returnees hail from the central region where violence has flared up in recent months following the Taliban advances.
Full report at:
http://www.arabnews.com/node/1417326/world
--------
Mideast
Iran mass-executes 12 prisoners of drug-related cases
7 December 2018
News based on judicial Iranian sources spread on Friday about Iranian authorities committing mass prisoner executions in "Karman" prison.
A minimum of 12 prisoners were executed, most of whom remain anonymous.
The judicial sources said that most of the executed are charged with drug-related cases, according to the prison's authorities.
Meanwhile, Hrana News Agency said that human rights activists were able to identify six of the executed prisoners.
Hrana's report added that Iranian authorities delivered the dead bodies to the prisoners' families.
Iran has the highest record of executions worldwide, especially when calculating the ratio between the executed and the population.
Political monitors have often confirmed Iran's execution of political enemies as well.
Children rights organizations list Iran as one of the countries that execute children under the age of 18, with the last case being Zeinab Sekaanvand who was accused of killing her husband when she was 17 and was later executed by Iranian authorities.
Shirin Ebadi, the Iranian lawyer who won the nobel peace prize in 2003, said that the Iranian code of criminal procedure does not allow a fair trial.
Also, Shahindokht Molaverdi, Rouhani's special assistant to citizenship rights, was heavily criticized by the Iranian regime less than two years ago, when she leaked news on the Iranian authorities executing an entire village's men after accusing them of drug dealing.
https://english.alarabiya.net/en/News/middle-east/2018/12/07/Iran-mass-executes-12-prisoners-of-drug-related-cases.html
--------
Houthi leader shuts down own brother for seeking to end militias' abuse, torture
8 December 2018
Hardline security officials sent by order of Yemen's Abdel-Malek al-Houthi shut down an investigative committee headed by Yahia al-Houthi, the brother of the infamous Houthi militias' leader, which looked into the militias' torture and abuse cases at detention centers, an AP report revealed.
The moderate internal faction of Houthi leaders acknowledged abuses and sought to put an end to them. The leader's brother, Yahia al-Houthi, set up the committee in 2016 to investigate reports of torture and indefinite detentions, and helped free 13,500 prisoners in its first three months.
The committee sent a video report to the leader, Abdel-Malek, showing scenes of overcrowded prison wards and prisoners with bruises, along with testimony from senior Houthi figures.
Abdel-Malek never responded. Instead, hardline security officials shut down the committee and briefly detained two of its members.
The video was not made public, but the AP obtained a copy, and it contains startling admissions from prominent Houthi figures about abuses.
"What we saw would make you cry tears of blood," one committee member said.
Proof of abuse
One detainee, who was released in 2017 after his family paid 5.5 million rials, about $8,000 at the time, says they slapped and kicked him, beat him with batons on his face, teeth and body, and taunted him: "You will be killed because you are a traitor."
The militiamen took him to a location he couldn't identify, stood him on a wooden box, chained his wrists to the ceiling and then kicked the box out from under his feet.
He says they stripped him and whipped his naked body, then pulled out his nails and tore out his hair until he fainted.
The Houthis' Human Rights Ministry had said in a statement in late 2016 that "there is no policy or systematic use of torture on prisoners." It added that the ministry and prosecutors are working to "ensure the rights of prisoners and provide all legal guarantees to achieve justice and fair trials."
But abuses by the Houthis have been less visible to the outside world as the militias worked to eliminate dissent and silence journalists.
Full report at:
https://english.alarabiya.net/en/News/gulf/2018/12/08/Houthi-leader-shuts-down-own-brother-for-seeking-to-end-militias-abuse-torture.html
--------
Yemen's delegation: No peace without Houthis giving up arms
7 December 2018
The Yemeni government delegation to UN peace talks held in Sweden, said on Friday that peace can only be achieved if the pro-Iranian Houthi militias give up their arms, pointing out that the legitimate government is ready to reopen Sanaa international airport immediately, under certain conditions.
The delegation added that control must be put in place to prevent the exploitation of Sanaa airport in the war.
The legitimate government delegation said - regarding the strategic port city of Hodeidah - that the national army "have means to resolve the file of the port of Hodeidah, if peaceful efforts fail."
Meanwhile the United Nations said that there is no time limit for Yemen peace consultations, adding that the current phase of these consultations focuses on building confidence between the the legitimate government delegation and the Houthis' delegation.
On Thursday UN Special envoy Martin Griffiths announced that all parties agreed on a prisoner swap.
Houthis escalate violence in Yemen's Hodeidah
The UN peace negotiations got underway in the Swedish capital city of Stockholm on Thursday amid continuous obstruction attempts by the Houthi militias violating the declared truce in Yemen's Hodeidah port city. This happened despite the objective of confidence-building measures pushed by the United Nations.
The militias launched mortar and artillery attacks targeting the City Max commercial center in Hodeidah, destroying and burning it completely, according to local sources.
The cycle of violence widened to include shelling and looting of a number of civilian houses in the directorate of al-Tahita in an escalation seen as a push by the Houthis to put the legitimate government and the Arab coalition in a difficult position in front of the international community which is pressing to end the war in Yemen.
Meanwhile, Executive Director of the UN World Food Program, David Beasley, has accused the Houthi militias of blocking access to food aid to civilians devastated by war in different parts of the country. He said that the Houthis blocked the UN agency access to its equipment.
Full report at:
https://english.alarabiya.net/en/News/gulf/2018/12/07/Houthis-negotiate-in-Sweden-and-escalate-military-in-Yemen-s-Hodeidah.html
--------
Larijani: US took Daesh terrorists to Afghanistan
Dec 7, 2018
Iran's Parliament Speaker Ali Larijani says the United States has transferred a large number of Daesh terrorists to Afghanistan over the past years.
Speaking in Tehran on Thursday, Larijani said this could bring about a replay elsewhere in Asia of the crisis, which was suffered by Iraq and Syria during the Takfiri terror group's three-year reign in the Arab countries, Tasnim News Agency reported.
Cooperation among Iran, China, Pakistan, Turkey, Russia, and Afghanistan would be of "great significance," he told Chen Zu, the visiting vice-chairman of the Standing Committee of the Chinese National People's Congress.
The remarks echoed similar ones in January by Leader of the Islamic Revolution Ayatollah Seyyed Ali Khamenei.
The Chinese official is in Tehran for an upcoming two-day conference on terrorism to be attended by top parliamentarians from Iran, China, Pakistan, Turkey, Russia, and Afghanistan. The event is the second of its type, the previous one being hosted by Pakistan last year.
He said Tehran and Beijing had enjoyed "good counterterrorism cooperation" in recent years.
Daesh attacked Iraq and Syria in 2014, overrunning huge swathes of territory with the avowed intention of using the countries to expand its turf.
The US enlisted scores of its allies in a self-styled battle to push against the group, but the coalition was remarkably slow in progress despite its sheer size.
Baghdad and Damascus enlisted the assistance of their allies, including the Islamic Republic, as the outfit was threatening to realize its ambitions. They finally imposed defeat on the terrorists late last year.
Daesh established a comparably limited presence in Afghanistan, where it has mostly run rampant in the eastern province of Nangarhar.
On February 5, three months after the group's defeat in Iraq and Syria, the Associated Press reported that the US military was pulling its forces from a base in Iraq and shifting them to Afghanistan.
Full report at:
https://www.presstv.com/Detail/2018/12/07/582245/Iran-United-States-Daesh-transfer-Afghanistan-Larijani-China-conference-Pakistan-Turkey-Russia-terrorism
--------
Yemen military offensive 'still open if Houthis reject Hodeidah pullout'
December 07, 2018
STOCKHOLM: A government offensive on Yemen's Hodeidah remains an option if Houthi militias refuse to withdraw from the port city, a minister said on Friday, as the negotiators met for UN-brokered talks.
"We are now in negotiations in response to calls by the international community, the UN and the UN envoy. We are still looking into means toward peace," said Agriculture Minister Othman Al-Mujalli.
"But if they (the Houthis) are not responsive, we have many options, including that of military decisiveness," he told reporters in response to a question on the Houthi-occupied city. "And we are ready."
Talks between Yemen's government and Houthis, linked to Iran, opened on Thursday in Sweden.
While the days leading up to the gathering saw the government and Houthis agreeing on a prisoner swap deal and the evacuation of wounded insurgents for medical treatment in Oman, both parties traded threats as the talks began. The two sides have not yet met face-to-face.
Talks are expected to focus the fate of Hodeidah, a city on Yemen's western coastline that houses the country's most valuable port.
The government accuses the Houthis of arms smuggling through Hodeidah — also a conduit for 90 percent of food imports — and has demanded the militias withdraw from the port.
Al-Mujalli said the government was not open to negotiations on control of the port. The UN, he said, could play a "supervisory" role, but he rejected the idea of placing management of the port in the hands of a third party.
UN Yemen envoy Martin Griffiths urged both parties to spare Hodeidah.
"It's the humanitarian pipeline to the rest of the country," he said.
Negotiations also cover a prisoner swap between the two sides and the potential reopening of Sanaa airport, located in the Houthi-occupied capital and largely shut down for three years.
The government is demanding planes be searched in one of two government-controlled areas — Aden or Sayoun — en route to or from Sanaa.
"We are keen on the opening of Sanaa airport, and we demand the opening of Sanaa airport and we know that the Yemeni citizen should have the right to reach any country in the world through Sanaa airport," said Abdulaziz Jabari, a presidential adviser and member of a Yemeni government delegation at the talks.
Full report at:
http://www.arabnews.com/node/1417166/middle-east
--------
Saudi Arabia's UN ambassador speaks out against Hamas resolution
December 07, 2018
WASHINGTON: The Kingdom's ambassador to the United Nations spoke out against a US-sponsored draft resolution that would have condemned Hamas for the first time.
US Ambassador Nikki Haley told the General Assembly before the vote that it could make history and unconditionally speak out against Hamas, which she called "one of the most obvious and grotesque cases of terrorism in the world."
Abdallah Al-Mouallimi said the resolution would "undermine the two-state solution which we aspire to" and that it would also turn attention away from Israel's occupation, settlement activities and "blockade" — whether in Gaza, the West Bank or East Jerusalem, which the Palestinians want as their future capital.
The resolution failed.
Palestinian President Mahmoud Abbas, whose Fatah party is locked in a bitter decade-long split with Hamas, welcomed the defeat.
"The Palestinian presidency will not allow for the condemnation of the national Palestinian struggle."
But Israel's Prime Minister Benjamin Netanyahu praised the "large majority" — 87 countries — "that took a stance against Hamas" for the first time, calling it "an important achievement for the United States and Israel."
The US attempt to condemn Hamas and demand that the militant group stop firing rockets into Israel, using "airborne incendiary devices" and putting civilians at risk sparked a Palestinian-backed amendment sponsored by Bolivia.
It outlined the basis for comprehensive Israeli-Palestinian peace and referred to a December 2016 Security Council resolution that condemned Israeli settlements in the West Bank and east Jerusalem as a "flagrant violation" of international law. It also reaffirmed "unwavering support" for a two-state solution to the Israeli-Palestinian conflict — issues not included in the US draft.
But before the vote on the US draft resolution, Bolivian Ambassador Sasha Llorentty Soliz withdrew the amendment.
That was because the Palestinians and their supporters wanted a vote instead on a short rival resolution titled "Comprehensive, just and lasting peace in the Middle East" sponsored by Ireland that included the exact language of the amendment — but no mention of Hamas.
Irish resolution
After the US draft on Hamas failed to win adoption, the General Assembly overwhelmingly approved the Irish resolution by a vote of 156-6, with 12 abstentions.
It calls for "the achievement, without delay" of lasting Mideast peace on the basis of UN resolutions, singling out the December 2016 measure. And it reaffirms "unwavering support ... for the two-state solution of Israel and Palestine, living side by side in peace and security within recognized borders, based on the pre-1967 borders."
The rival resolutions reflect the deep divisions among the 193 UN member states over the decades-old Israeli-Palestinian conflict — and the failure to end it.
Haley sharply criticized the United Nations as having an anti-Israel bias, noting that "over the years, the UN has voted to condemn Israel over 500 times" — an average of 20 times a year.
Full report at:
http://www.arabnews.com/node/1417336/saudi-arabia
--------
North America
Donald Trump Picks Anti-Muslim Official For U.S. Ambassador To UN
Dec 08, 2018
President Donald Trump announced in a tweet Friday morning that State Department spokeswoman Heather Nauert will replace Nikki Haley as the newest United States ambassador to the United Nations.
Haley announced her resignation in October after serving less than a year in the role.
Nauert, a former Fox News host with no foreign policy experience, has something in common with many of her peers in the Trump administration: a history of spreading anti-Muslim and Islamophobic comments.
She mocked Muslims in a 2016 tweet that linked to a New York Times story about Muslims' concerns over then-presidential candidate Trump. "They should meet ISIS," she wrote. She also tweeted links to jihadwatch.org, an anti-Muslim hate site run by Robert Spencer, a prominent anti-Muslim activist who is banned from the United Kingdom for his Islamophobic and racist rhetoric.
Nauert's relationship with Spencer dates back to 2009, when she hosted him and fellow anti-Muslim activists Frank Gaffney, Tarek Fatah and Nonie Darwish to discuss an hour-long segment on "stealth jihad."
The Southern Poverty Law Center has labeled Gaffney "America's most notorious Islamophobe" and his organization as a hate group. Similarly, the SPLC called Darwish "a staple of the anti-Islam right." Fatah is a Canada-based columnist and self-proclaimed Muslim reformer who has been criticized for spreading anti-Muslim conspiracy theories and has called for a ban on the face veils.
In 2013, Nauert hysterically claimed that "sharia law is now changing everything" after a Minnesota YMCA announced it would host a private swim class for Muslim girls to accommodate their religious clothing requirement.
If confirmed, Nauret will be expected to work with countless Muslim dignitaries from countries around the world. Yet she isn't the only high-level U.S. government employee with a history of Islamophobia. Current Secretary of State Mike Pompeo has a documented history of spewing Islamophobic comments and has been associated with hate groups. John Bolton, Trump's national security adviser, is another high-ranking White House official with ties to anti-Muslim hate groups.
https://www.huffingtonpost.in/entry/heather-nauert-un-ambassador-islamophobia_us_5c0ad2a4e4b0a606a9a889b3
--------
MIT report recommends against cutting ties with Saudi Arabia
7 December 2018
The Massachusetts Institute of Technology has no "compelling case" to cut ties with Saudi Arabia following the killing of Saudi journalist Jamal Khashoggi, according to a report released by the school on Thursday.
Associate Provost Richard Lester, announced the recommendation in accordance with a request put forward for the review by MIT President Rafael Reif.
Lester's report was based on input from students, faculty and alumni, along with outside experts on Saudi Arabia.
It is expected that MIT President Reif to make a final decision later on.
According to an Associated Press report, MIT has received at least $4 million from Saudi Aramco the last decade in funding research.
Also Lester, who led the review, said none of the institutions MIT works with had any role in Khashoggi's death. Cutting ties would curb important research, he said.
"These organizations are supporting important research and activities at MIT on terms that honor our principles and comply with our policies," he said in the report. "They are also providing critical resources to support the education of outstanding Saudi students and women scientists and engineers, who will surely be in the vanguard of social change in that country."
Full report at:
https://english.alarabiya.net/en/News/world/2018/12/07/MIT-report-recommends-against-cutting-ties-with-Saudi-Arabia.html
--------
US should stay in Afghanistan or face another 9/11: Gen. Dunford
Dec 8, 2018
The United States should continue its military presence in Afghanistan if it wishes to prevent future attacks similar to what happened on September 11, 2001, the top US military officer has warned.
Speaking at an event organized by the Washington Post on Thursday, Chairman of the Joint Chiefs General Joseph Dunford said pulling American and NATO forces out of Afghanistan was not a good idea.
"Leaving Afghanistan in my judgment would give the terrorist groups the space with which to conduct operations against the American homeland and its allies," Dunford said.
"It is our assessment that in a period of time… [the terror groups] would have in the future the capability to do what they did on 9/11," he said.
Almost 3,000 people were killed on September 11, 2001 when 19 hijackers – 15 of them Saudis -- with alleged ties to al-Qaeda terrorist group flew two passenger aircraft into the Twin Towers of the World Trade Center in New York City and a third plane into the Pentagon building in northern Virginia.
Following the attacks, the United States – under then President George W. Bush's -- and its allies invaded Afghanistan on October 7, 2001 as part of a so-called war on terror.
After more than 17 years, however, the foreign troops are still in the country because the operation has failed to defeat Taliban militants.
The war paved the way for the Daesh terrorist group, which is mainly active in Syria and Libya, to develop a base in Afghanistan as well.
Dunford, however, said his top priority was not to ensure Afghanistan's security and stability, but to "make recommendations for the deployment of military force that protects the American people, the homeland and our allies."
"The presence that we have in Afghanistan has, in fact, disrupted the enemy's ability to reconstitute and pose a threat to us," Dunford said.
Last month, Dunford admitted that the Taliban "are not losing" in Afghanistan and much more needs to be done to bring peace to the war-torn country.
He said back then that there was no "military solution" to peace in Afghanistan.
This is while US President Donald Trump's strategy for the long-running war revolves around bringing more troops and use them to force a political resolution to militant groups.
Full report at:
https://www.presstv.com/Detail/2018/12/08/582301/US-military-Afghanistan-Dunford-911-attacks
--------
UN rejection of US resolution on Hamas shows major break from US policies: Analyst
Dec 8, 2018
The UN General Assembly's decision to reject a US resolution to condemn Palestinian resistance group Hamas is indicative of a "broad shift" away from Washington's policies, an American political analyst says.
Scott Bennett, a former US Army psychological warfare officer, made the remarks on Friday, a day after the US sponsored resolution failed to get the two-third majority vote at the 193-member UNGA.
The resolution attempted to condemn Hamas for carrying out rocket attacks against Israel and using "airborne incendiary devices" against Israelis living in occupied Palestinian lands.
The resolution came weeks after Hamas and other Palestinian resistance groups fired over 400 rockets into Israel during a two-day flare-up of violence following a botched Israeli attack against a Hamas commander.
US Ambassador Nikki Haley said before the vote that the assembly could make history condemning Hamas, which she referred to as "one of the most obvious and grotesque cases of terrorism in the world."
The UNGA defeat shows that "the world has basically broken away and it's not going to be following the path of continuing US aggression against Palestinians, It's not going to be supporting the Israeli expansion" Bennett told Press TV.
"So this is a broad shift in the United Nations towards the aggressive expansion and the aggressive policies of Israel," he added.
The vote also wrapped up Haley's political career in a "dismal fizzle and a smoking ruin." whose mission comes to an end this month.
"She has never had any of the political clout or the personality in order to persuade the logic of her argument to the world and instead she has relied on bluster, on threats, on intimidation, on bribes" and other such tactics, he added.
On Friday, US President Donald Trump named State Department spokeswoman Heather Nauert to replace Haley.
Bennett said Haley's approach played an important role in the General Assembly's decision to make a clear choice between staying a "puppet" for Washington or braking free from it.
"It is a good sign," he said. "Because it gives people hope in the region that Israel will not be given a card blanche license to wage incursion or invasions."
Full report at:
https://www.presstv.com/Detail/2018/12/08/582300/UN-policy-shift-US-Hamas-resolution
--------
Hezbollah financier pleads guilty to violating US sanctions
December 7, 2018
A Lebanese businessman sanctioned by the US Treasury for being an important financial supporter of Hezbollah has pleaded guilty to charges associated with evading US sanctions.
Kassim Tajideen, 63, pleaded guilty to conspiring with at least five other people to conduct more than $50 million (Dh183m) in transactions with US businesses in violation of the sanctions imposed on him, the US Justice Department said.
If his plea agreement is approved by the district court in Washington, Tajideen would serve five years in prison and pay a $50m criminal forfeiture in advance of his sentencing, the department said.
"The Department of Justice has put a target on Hezbollah," acting Attorney General Matt Whitaker said in announcing the plea agreement. "We are going to keep targeting Hezbollah and other terrorist groups and their supporters, and we are going to keep winning."
Tajideen was listed as a "specially designated global terrorist" by the US Treasury in May 2009 because of his financial assistance to Hezbollah, designated a foreign terrorist organisation by the State Department.
Under the Treasury designation, Tajideen was prohibited from being involved in or benefiting from transactions involving US citizens or companies without a special license from the Treasury.
Tajideen, who ran a multibillion global business empire that traded commodities in the Middle East and Africa, was arrested on March 12, 2017, in Morocco on an international arrest warrant and extradited to the United States.
In addition to circumventing the sanctions to conduct $50m in business with US companies, Tajideen and his co-conspirators engaged in transactions outside the United States that resulted in the transmission of as much as $1 billion through the US financial system, the department said.
"This guilty plea demonstrates our commitment to vigorously investigate and prosecute violations of US economic sanctions," US Attorney Jessie Liu said.
Full report at:
https://www.thenational.ae/world/mena/hezbollah-financier-pleads-guilty-to-violating-us-sanctions-1.800222
--------
Europe
Anti-Islam activists get key roles in 'family-friendly' Brexit march
7 Dec 2018
A "proudly anti-Islam" Australian activist and a YouTuber who sent a rape tweet to a Labour MP have been handed prominent roles at a "family-friendly" Brexit rally due to take place in London on Sunday, the Guardian has learned.
Avi Yemini, who described Islam as a "barbaric ideology" that had taken over England and described Muslim countries as "Islamic sh**holes", has flown from Australia to cover the event on social media at the invitation of Tommy Robinson, the activist who is organising the event alongside the Ukip leader, Gerard Batten.
Yemini's attendance is being funded through online donations in partnership with the Canadian far-right website the Rebel Media, which previously employed Robinson.
Ukip has insisted the rally will be a family-friendly demonstration against what it called "the great Brexit betrayal" being pursued by Theresa May's government. But the Guardian has learned that one of the key confirmed speakers is a man who has accused opponents of "acting like a bunch of [N-word]" and sent a rape tweet to the Labour MP Jess Phillips.
Carl Benjamin, 39, who uses the alias Sargon of Akkad, is a political commentator who has gained more than 860,000 subscribers on YouTube by making videos criticising feminism, Islam and political correctness. He joined Ukip in June as part of the party's attempt to attract internet-savvy supporters.
The prominent roles of both men at the rally will alarm those inside Ukip who have expressed growing unease about the party's relationship with Robinson and his associates.
Nigel Farage quit Ukip this week after 25 years, blaming its anti-Muslim "fixation", while the former deputy chair Suzanne Evans, the former leader Paul Nuttall, and MEPs Patrick O'Flynn, Bill Etheridge and William Dartmouth have also quit following Batten's decision to appoint Robinson as an adviser.
Robinson, whose real name is Stephen Yaxley-Lennon, has been raising funds for this Sunday's "Brexit Betrayal" rally by emailing supporters directly, asking for donations towards the £8,000 cost of stage and sound equipment.
Several members of Batten's inner circle are closely involved with organising the rally, which is due to begin outside the Dorchester hotel and end outside Downing Street. Robinson posted a picture on Instagram from a planning meeting last week which showed the Ukip leader alongside his personal assistant, Liz Phillips, his adviser Lawrence Webb, and the party's head of communications, Kris Hicks.
A senior executive of the Middle East Forum, an influential US thinktank which helped bankroll Robinson's legal fight and protests, was also at the meeting and has been closely involved in rally preparations, the Guardian has learned.
Lisa Barbounis, the executive liaison officer to the MEF president, Daniel Pipes, is expected to attend the rally. She previously addressed crowds outside the Old Bailey after Robinson's most recent court appearance.
A Ukip spokesman confirmed Barbounis' involvement in the meeting and said she was "just recording the meeting to report back to them [the Middle East Forum]". He said the MEF were "very interested in the topic Tommy Robinson discusses and Brexit and the future prospects of the country".
However, Pipes denied the forum was "in any way connected" to the Brexit rally. Barbounis was in London "on her own initiative and attended the planning meeting in a personal capacity", he said.
One senior Ukip insider described the rally as "crazy" and said 200 members had quit the party on Friday night in protest at its association with Robinson. "If it all goes wrong, and I think it will, then Gerard should walk or be pushed," the insider said.
Benjamin gained notoriety in 2016 when he was accused of instigating a misogynistic trolling campaign against Phillips, the Labour MP for Birmingham Yardley. "I wouldn't even rape you," he tweeted at Phillips, reportedly prompting hundreds of threatening tweets against her, including rape and death threats from his followers. He has since been banned from Twitter.
In a livestream recorded in February, Benjamin appeared to lose his temper at commenters. "You are acting like a bunch of [N-word], just so you know. You act like white [N-word]," he said. Benjamin insisted his comments had been taken out of context.
Yemini, who describes himself as "proudly anti-Islam", gained more than 100,000 followers on Facebook after posting inflammatory videos, before being banned from the social network earlier this week.
The Israeli-born activist says he was a sniper in the Israeli Defence Forces and that he served in the Gaza Strip. He is standing in upcoming elections for the far-right Australian Liberty Alliance party, which has acknowledged donating to Robinson in the past.
His arrival in Britain was welcomed by Daniel Thomas, who was jailed for two years in 2016 for attempted kidnap and is organising the rally with Robinson and Ukip. He posted a picture of Yemini on social media with the message: "My favourite Nazi Jew Avi has arrived #SundayFunDay #TheGreatBetrayal".
https://www.theguardian.com/politics/2018/dec/07/anti-islam-activists-get-key-roles-in-family-friendly-brexit-march
--------
Francis to Become First Pope To Visit Arabian Peninsula
07.12.2018
Pope Francis, who has made boosting ties between Christianity and Islam a cornerstone of his papacy, will visit Abu Dhabi in February, the Vatican said on Thursday, becoming the first ever pope to visit the Arabian peninsula.
The pontiff, who turns 82 on 17 December, has already visited several Muslim countries, including Turkey in 2014, Azerbaijan in 2016 and Egypt in 2017. He is scheduled to visit Morocco in March.
The pontiff was invited to the majority-Muslim country by both Abu Dhabi Crown Prince Sheikh Mohammed bin Zayed Al-Nahyan and the local Catholic church.
"The UAE is delighted to welcome His Holiness Pope Francis on the upcoming visit to the UAE," tweeted the prince, who met Francis at the Vatican in 2016. "He is a symbol of peace, tolerance and the promotion of brotherhood. We look forward to a historic visit, through which we will seek dialogue on the peaceful coexistence among peoples," he said.
Francis will take part in an international "interfaith" meeting during the trip, which will run from 3 - 5 February.
The Vatican said the theme for the Abu Dhabi trip was summed up in the phrase "make me a channel of your peace" – a quote from Saint Francis of Assisi, the pope's namesake. The hope was the visit would "spread in a special way the peace of God within the hearts of all people of good will," it said.
"This visit, like the one to Egypt, shows the fundamental importance the Holy Father gives to inter-religious dialogue," spokesman Greg Burke said. "Pope Francis visiting the Arab world is a perfect example of the culture of encounter," he added.
Bishop Paul Hinder of the Apostolic Vicariate of Southern Arabia, which encompasses UAE, Oman and Yemen, said: "The generosity of the UAE government has also been extended in making it possible to celebrate a Mass, which will be on February 5 at a public venue in Abu Dhabi. These are warm and kind gestures that we appreciate and acknowledge."
The UAE prides itself on its religious tolerance and cultural diversity and most Gulf Arab states have long allowed Christians to worship in churches. Nearly 80 percent of the population of the UAE is Muslim, while Christians constitute around nine percent, according to the Catholic News Agency. Many of the Catholics are workers from Africa, Bangladesh, India, Pakistan and the Philippines, though some are locals.
The pope's visit "will strengthen our ties and understanding of each other," UAE's Vice President Sheikh Mohammed bin Rashid al-Maktoum said on Twitter.
Francis will make the journey just a week after returning from Panama, where he will take part in the World Youth Day rally. The tireless pontiff will then head off to Morocco.
Pope Francis moved quickly after his election in 2013 to make overtures to Jews and Muslims, inviting two old friends from Buenos Aires – a rabbi and a Muslim professor – on a trip to the Middle East where he condemned religious hatred. But the Catholic church has found it harder to bridge differences with Islam than with Judaism.
Benedict XVI angered the Muslim world with a speech in 2006 in which he appeared to endorse the view that Islam is inherently violent, sparking deadly protests in several countries as well as attacks on Christians.
Full report at:
https://en.qantara.de/content/francis-to-become-first-pope-to-visit-arabian-peninsula
--------
Germany still selling arms to Riyadh despite halt triggered by Khashoggi case: Report
Dec 7, 2018
Despite a halt earlier announced by Chancellor Angela Merkel in condemnation of the murder of Saudi journalist Jamal Khashoggi, Germany is covertly exporting arms to Saudi Arabia and is even planning to resume overt sales soon, a report said.
The Merkel administration announced in October that it had suspended arms sales to Saudi Arabia until the Khashoggi case was "cleared up", and put the agreed deliveries on hold weeks later.
But an investigation by the Stern magazine together with the ARD broadcaster has revealed that the German arms company Rheinmetall has been selling weapons to Riyadh through its subsidiaries in Italy and South Africa despite the complete halt in exports ordered by the German chancellor after the murder of dissident Saudi journalist in Istanbul.
Rheinmetall, a corporation based in the western German city of Dusseldorf, has a subsidiary called RWM Italia, which builds bombs on the Italian island of Sardinia, a report by Deutsche Welle (DW) said.
Investigations have proved that in October 2016 a family of six, including a pregnant woman, was killed by a bomb produced by RWM Italia. There was, according to eyewitnesses, no military reason for the airstrike that was launched at three in the morning when the family was asleep in their house. DW has obtained a copy of the case report which calls the airstrike "a crime."
It is likely, activists told DW, that while prosecutors decide whether to investigate, RWM would continue exporting to Saudi Arabia. Indeed, DW has learnt, the bomb factory is planning to expand and has asked the local authorities for planning permission. The German company has also sought a broad partnership with the struggling South African arms maker Denel, which would include acquisition of the company's minority stake in a joint venture Denel holds with German Rheinmetall: Rheinmetall Denel Munition (RDM).
RDM specializes in medium and large-caliber ammunition including artillery shells, and is reportedly fanning the flames of the Yemen war by selling weapons to the Saudi regime.
Rheinmetall board member Helmut Merch reportedly admitted in a conference call with bankers in mid-November that these two export channels were "not affected" by the ban.
However, in a meeting with investors earlier this year, the CEO of Rheinmetall, Armin Papperger, reportedly stressed that his company was not responsible for any business conducted by its subsidiaries.
This comes as Merkel's government boasted about its decision to halt arms exports to Saudi Arabia in October, citing human rights concerns, and calling on all European countries to follow suit.
Berlin to resume overt arms exports to Saudi Arabia
In addition to the indirect German exports, Berlin reportedly plans to resume the lucrative business with the Arab kingdom within the coming weeks. The ban is reportedly limited to two months, and opposition politicians from the Left Party and the Greens told DW they are convinced it will soon be lifted.
"There is ample evidence that Saudi Arabia has long been exporting its ultra orthodox, intransigent interpretation of Islam across the globe and has stoked several regional conflicts," DW said.
However, the report added, "none of this seemed to duly bother Western officials until now."
Given its vast oil reserves, Saudi Arabia "can do whatever it wants. It has a free pass," Andrew Feinstein, a leading arms expert and executive director of Corruption Watch, told DW.
Germany, he said, had a restrictive arms exports policy "only when it suits Germany" — and in the case of Saudi Arabia, for many years, it clearly didn't.
"And, off the record, one official admitted that the German government is happy for other European countries to export weapons to Saudi Arabia, even if Germany's hands are bound by its decision to temporarily halt all exports," the report said, citing Berlin's concern about Riyadh's "stability" as the main reason for the continued arms exports.
Merkel's October announcement of the halt in arms exports to Riyadh came as her government had earlier ordered another ban on the weapons delivery to Saudi Arabia in January in an apparent reaction to the Saudi invasion of Yemen. However, it later went back on its decision by approving a 416 million euros worth of arms exports by September.
The approval turned Saudi Arabia into Germany's second-best arms customer after Algeria.
In October, the German government gave the green light for further exports to Saudi Arabia worth some €254 million.
DW has admitted that German-made and designed arms are still ending up in Yemen with or without the ban announced by Merkel.
Weapons continue to pour into the conflict that has pushed, as one Yemeni academic told DW, an already impoverished country firmly back "into the middle ages."
Saudi Arabia has become mired in the Yemen conflict after launching a war on the impoverished nation in 2015, which has put 14 million Yemenis on the brink of imminent famine.
Saudi Arabia also maintains a crippling blockade which has left entire cities in Yemen unable to find food and clean water.
Full report at:
https://www.presstv.com/Detail/2018/12/07/582228/Germany-arms-exports-Saudi-Khashoggi-Merkel-Yemen
--------
Wan Azizah shows charisma in short UK visit
08 DEC 2018
LONDON: Datuk Seri Dr Wan Azizah Wan Ismail (pix) described her maiden official visit to the United Kingdom as Deputy Prime Minister as successful and achieving its objectives which also closes her series of visits to build international relations for the new Malaysian government for 2018.
In making national political history, Wan Azizah, 65, is the first woman in Malaysia to hold the number two post of the country's top leadership since joining the cabinet under the Pakatan Harapan-led government on May 21.
Among the countries she visited were Mongolia, Indonesia, Cambodia, Belgium, Qatar and finally to the United Kingdom.
The three-day official visit to Britain had to be shortened as she has to attend an important meeting with the top leadership of Pakatan Harapan in Kuala Lumpur on Saturday which saw her went through a heavy and tight schedule.
The highlight of Wan Azizah's official visit was her keynote address at the World Muslim Leadership Forum (WMLF) 2018, which demonstrated her leadership as the first woman deputy prime minister of Malaysia as well as the role of Malaysia in empowering women and girls in economic, social, administration and political sectors.
"I want to categorise my involvement in WMLF this time as meeting the objective of putting forward the roles of women and girls and achieving Sustainable Development Goals (SDG) 2030," said Wan Azizah, who is also the Women, Family and Community Development Minister.
As the country's key leader, Wan Azizah, sees the opportunity to uphold the dignity of women in the eyes of the world especially on matters relating to women, children and community development in the progress of the country.
It was most unfortunate that her visit had to be cut short. Otherwise the mother reformation would further open the way to strengthen bilateral relations with UK including attracting more British investors and companies to Malaysia.
In her visit, Wan Azizah was accompanied by Domestic Trade and Consumer Affairs Minister Datuk Seri Saifuddin Nasution Ismail who was also involved in WMLF on the halal industry as well as the Malaysian Halal Industry Development Corporation.
Also in the deputy prime minister's entourage was Deputy Foreign Minister Senator Datuk Marzuki Yahya.
They were present in Wan Azizah's meeting with United Kingdom Secretary of State for Foreign and Commonwealth Affairs Jeremy Hunt and during the discussions with Oxford Centre for Islamic Studies (OCIS) in Oxford, about 90 kilometres from London.
Wan Azizah also took the opportunity to exchange views with top scholars on contemporary issues on Islam such as terrorism, Islamophobia and atrocities on Muslims.
"I am taking the opportunity to discuss matters to enrich our knowledge from sources obtain via findings and research at Ocis," she said in summary of her visit to the research centre on Islam.
Despite her busy schedule to boost bilateral ties between Kuala Lumpur and London in areas of mutual interest, she also found time to meet the Malaysian community especially professionals who have been living in UK permanently. Currently there are 79,000 Malaysians in Britain including 16,000 students studying in 130 institutions of higher learning.
Wan Azizah also took the opportunity to mingle with 200 Malaysian students and updated them on the latest development in Malaysia as well as challenges faced by the Malaysian government led by Pakatan Harapan, the economic situation as well as the future direction under the new Malaysia concept.
She also invited Malaysians in UK to contribute towards realising the meaning of democracy and translating reformation for the recovery of Malaysia.
Full report at:
https://www.thesundaily.my/local/wan-azizah-shows-charisma-in-short-uk-visit-YB232652
--------
URL: https://www.newageislam.com/islamic-world-news/police-india-sees-muslim-dominated/d/117106
New Age Islam, Islam Online, Islamic Website, African Muslim News, Arab World News, South Asia News, Indian Muslim News, World Muslim News, Women in Islam, Islamic Feminism, Arab Women, Women In Arab, Islamophobia in America, Muslim Women in West, Islam Women and Feminism