New Age Islam News Bureau
7 Apr 2015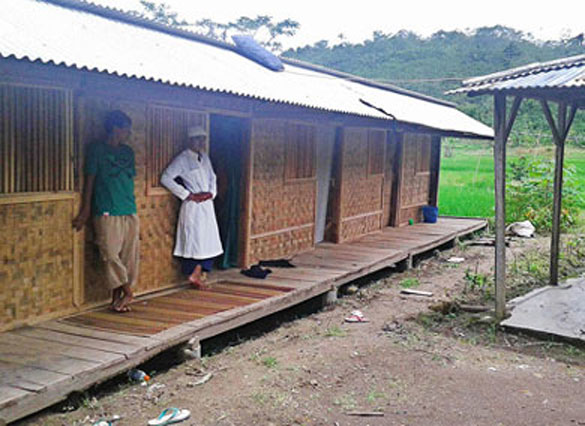 Men pose at the Al-Muwahidin Islamic boarding school (pesantren) on Nusakambangan Island on Sunday. The Law and Human Rights Ministry has declared the school complex illegal, as the whole island is reserved for maximum security prisons. JP
----------
Southeast Asia
• Police Discover Illegal 'Islamic Boarding School', Mosque on Indonesia's 'Death'
• ISIL-inspired Malaysia detainees plotted terror attacks: police
• To Halt Human Trafficking, Govt Pledges to Empower Women in NTT
Africa
• Boko Haram Disguised As Preachers Kill 24 in Nigeria
• Somalia President: Building wall along Somalia border will not prevent Al Shabaab attacks
Mideast
• 18 Dead In Yemen Fighting As Saudi-Led Warships Shell Rebels
• Turkey's Top Religious Body Allows Toilet Paper
• Palestinians attempting to fast track war crimes suits against Israel at ICC
• Military action against Iran still possible: Israel official
• Google search engine threatened with Turkish ban
• Islamic militants release 300 recently-kidnapped Kurds
Arab World
• Iraqi Forces Kill 4 ISIL Terrorists in Salahuddin
• Egyptian Politician: Arab States Join Saudi-Led Aggression for Fear of Washington, Riyadh
• Fleeing the Horror of Islamic State Atrocities in Syria
• Isis accused of beheading captives in Palestinian refugee camp advance towards Damascus
• Tikrit Isis mass graves: Iraqi forensic teams begin excavating sites believed to hold bodies of up to 1,700 soldiers killed by militants
'• Arab League to submit timetable for an end to Israel's occupation'
• Hezbollah says Iran nuclear agreement 'rules out spectre of regional war'
• Al-Assiri: Safety of Yemeni citizens our main priority
• Arab coalition makes gains against Houthis
• Egypt's media regulator issues warning to controversial show discussing Islam
India
• 5 SIMI Activists Shot Dead On Way To Court In Telangana
• Pak Army, ISI Ask J&K Militants To Target Forces, Avoid Civilians
• Twenty-three countries request India to evacuate their citizens from Yemen
Pakistan
• Rebels Kill Eight Iranian Soldiers on Pakistani Border
• Milli Yakjehty Council's Rejects Verdict on Taseer Murder
• Parliament to decide Pakistan's role in conflict: army chief
• Two prisoners hanged in Lahore, Sahiwal
• Military, political leaderships united against extremism: Shahbaz
South Asia
• Two Soldiers Martyred, 10 Militants Killed In Security Operations
• 2 Of the 31 Abducted Hazaras Found Dead In Zabul
• Kidnappers in a video warn of killing all abductees if their demands are not met
• HRW: Suspend Kamaruzzaman's death penalty
• Moncho to continue sit-in until Kamaruzzaman's execution
Europe
• UN Agency Says At Least 74 Children Killed In Yemen Fighting
• EU rights conference to give equal billing to anti-Semitism, anti-Muslim hatred
• Humza Arshad on fighting Islamist extremism with humour
• U.N. praises Saudi for humanitarian efforts in Yemen
North America
• Obama: US Will Stand By Gulf Allies against Iran's 'Destabilizing Activities'
• Yemen Operation Not to Affect Pakistan's Capabilities, Says US
• 4th man charged in NYC over Islamic State recruitment plot
• US judge rules alleged killer of three young Muslims eligible for death penalty
• CNN publishes "first ISIS video with flag" in Afghanistan
• 'Boston Marathon bomber wanted to terrorize US'
• US okays attack helicopters, hellfire missiles for Pakistan under $1 billion sale
Compiled by New Age Islam News Bureau
URL: https://www.newageislam.com/islamic-world-news/new-age-islam-news-bureau/police-discover-illegal-'islamic-boarding-school',-mosque-on-indonesia's-'death'/d/102331
--------
Southeast Asia
Police Discover Illegal 'Islamic Boarding School', Mosque on Indonesia's 'Death'
Apr 07 2015
Following reports of radicalization activities on Nusakambangan maximum-security prison island in Cilacap, Central Java, the police have combed the island and found an illegal settlement comprising an Islamic boarding school (pesantren) and a mosque deep in a forest.
The mosque and pesantren are being used for activities by people from outside Cilacap without a permit from the Law and Human Rights Ministry, which has authority over the island.
"We found the community in a location at the western end of the island, called Selok Jero. It is located quite far from the prison complex. They've built a mosque and accommodation over the past few years. The mosque is named the Masjid Jami Al-Muwahidin," Cilacap Police chief Adj. Sr. Comr. Ulung Sampurna Jaya said on Monday.
The location of the mosque and pesantren was relatively hidden and could only be reached by a difficult route. The police questioned members of the community, led by Ustad Abu Tohari, which had been suspected of being a hard-line group. However, police found no signs of weapons training or radicalization activities being carried out.
Ulung said he warned the mosque caretaker against spreading hard-line teachings, such as those of the Islamic State (IS) movement. Ulung also told Abu Tohari the police would not tolerate any of his group members being involved in IS.
"We are ready to disband the group if we are ordered to do so by the authorities on Nusakambangan," said Ulung.
The prison island houses terrorist leaders Abu Bakar Ba'asyir and Aman Abdurrahman as well as death row inmates Iwan Darmawan Mutho alias Rois and Abdul Hasan — the two masterminds of the 2004 bombing of the Australian Embassy in Jakarta.
The Institute for Policy Analysis of Conflict (IPAC) has reported that IS propaganda messages are being translated and disseminated in Indonesia by Aman Abdurrahman from inside the prison.
When asked for confirmation, Central Java Law and Human Rights Office head Mirza Zulkarnain, said his office had never issued any permit to the group to reside or conduct activities on the island.
"Apart from prison staff members and their families, we don't allow anyone else to stay on Nusakambangan," Mirza told The Jakarta Post.
According to him, anyone other than those sanctioned, including squatters who set up farms or those carrying out religious activities in Selok Jero, were on the island illegally, and his office would take appropriate measures in the near future.
Previously, the local chapter of Nahdlatul Ulama — the country's largest Muslim organization — and the Religious Community Communication Forum (FKUB) leaders in Cilacap regency had urged authorities to take action against groups carrying out hard-line activities.
According to the head of the Cilacap chapter of the FKUB, Muhammad Taufik Hidayatulloh, such groups not only exist in Selok Jero, but also in Kampung Laut, an area near Nusakambangan. The members of the groups reportedly paid visits to terror convicts incarcerated on Nusakambangan.
"All those from Kampung Laut and Selok Jero who visit the prison on Nusakambangan are from a certain network. We have noticed their presence in Cilacap for quite some time. They even own a transit home in Cilacap city to accommodate members who arrive from far regions," said Taufik.
Aside from terrorist convicts, drug traffickers, such as Australian Myuran Sukumaran and Andrew Chan, are also held on the island, awaiting their upcoming executions on Nusakambangan — widely dubbed the "death island".
http://www.thejakartapost.com/news/2015/04/07/police-discover-illegal-pesantren-mosque-indonesia-s-death-island.html#sthash.Wwu4Xi7Z.dpuf
---------
ISIL-inspired Malaysia detainees plotted terror attacks: police
Apr 07 2015
Malaysia was accused April 7 of waging an assault on civil rights as parliament passed a tough anti-terrorism law aimed at countering Islamic militancy.
The passage of the Prevention of Terrorism Act came as the government announced that 17 militants -- whom police say were arrested for plotting terror attacks in the country -- had drawn their inspiration from the extremist Islamic State group.
The new law allows authorities to detain terrorism suspects without charge. The political opposition as well as legal and rights groups had urged its withdrawal, warning of abuse by the long-ruling government.
"It introduces long-term detention without trial, is open to abuse and is a grievous blow to democracy," said opposition lawmaker N. Surendran.
The government has previously said the law would not be used against anyone over their "political" views.
ISIL-inspired militants arrested
Authorities have repeatedly warned of an imminent threat of terror attacks in the wake of the Islamic State of Iraq and the Levant's (ISIL) rise in Syria, saying dozens of volunteers from traditionally moderate Muslim-majority Malaysia had volunteered for the ISIL jihad.
Amid the heated debate over the legislation, police said that on Sunday they arrested 17 ISIL-inspired militants who were plotting to kidnap unspecified high-profile figures, rob banks and launch terror attacks.
Releasing some details Tuesday, national police chief Khalid Abu Bakar said the conspirators planned to rob banks to raise money and to raid armed forces and police facilities for weapons.
"Seventeen people between the ages of 14 to 49 were arrested while they were holding a secret meeting to plan terror attacks in the (Kuala Lumpur area)," Khalid said in a statement.
"The aim of this new terror group was to form an ISIL-like Islamic state in Malaysia."
The attacks were to take place in the capital Kuala Lumpur and in nearby Putrajaya, seat of Malaysia's federal government.
Khalid said the arrests brought to 92 the number of people detained over the past year in Malaysia for suspected involvement in the ISIL jihad in Syria.
The political opposition has complained that the government has shared no details of its dozens of claimed arrests or on the extent of the purported terror threat.
Opponents of the coalition which has ruled since independence in 1957 but suffered setbacks in recent elections fear the anti-terror legislation is a ruse to bring back detention without trial.
A previous repressive security law allowed such detentions, and was repeatedly used to lock up opposition politicians and other critics for long periods.
That law was scrapped in 2012 amid public pressure for reform.
"The passage of this (terrorism) law is a giant step backwards for human rights in Malaysia," Human Rights Watch's deputy Asia director Phil Robertson said in a statement.
"Passage of this legislation raises serious concerns that Malaysia will return to practices of the past when government agents frequently used fear of indefinite detention to intimidate and silence outspoken critics."
The United Malays National Organisation (UMNO), the dominant party in the ruling coalition, has faced a stern test in recent elections from an opposition accusing it of corruption and abuse of power.
Prime Minister Najib Razak promised in 2011 to create "the greatest democracy" and launched tentative political liberalisation moves.
But since a poor showing in 2013 elections, the government has done an about-face.
Dozens of its critics including opposition politicians, academics, activists, and journalists, have been hit with sedition or other charges in what political analysts see as a campaign to harass and cow opponents.
The anti-terrorism legislation was passed after midnight, following 15 hours of debate, according to media reports.
The government did not immediately respond to a request for comment.
Last August police said they foiled an ISIL-inspired plot to bomb pubs, nightclubs and a Malaysian brewery of Danish beer producer Carlsberg, arresting more than a dozen people.
Since then a string of other suspected ISIL-related arrests have been announced, though few details have been given.
http://www.hurriyetdailynews.com/isil-inspired-malaysia-detainees-plotted-terror-attacks-police-.aspx?pageID=238&nID=80681&NewsCatID=356
--------
To Halt Human Trafficking, Govt Pledges to Empower Women in NTT
7 April 2015
Jakarta. Women's Empowerment and Child Protection Minister Yohana Yembise on Monday pledged to build a workforce training center for female migrant workers in in East Nusa Tenggara (NTT) to reduce the number of human trafficking cases in the province.
"There are some government programs that will be done to help develop areas in eastern Indonesia; one of those programs is building a training center for women migrant workers," Minister Yohana told kompas.com on Monday.
"The number of human trafficking case in East Nusa Tenggara is still high."
The government would prioritize the program due to the small budget allocated for women and children.
"The budget is only Rp 200 billion ($15 million) a year and it won't be enough for every district and town," Yohana said, adding the program would work with the support of women in the province.
Treatment of migrant workers is a major political issue in Indonesia, where young women are frequently recruited from villages and sent to work abroad, typically in Malaysia or Saudi Arabia. Cases of abuse and extortion, as well as crimes involving those workers, are not uncommon.
Every year about 700,000 documented migrant workers leave Indonesia to work abroad, according to the International Labor Organization. The number of undocumented workers is estimated to be two to four times higher.
http://thejakartaglobe.beritasatu.com/news/halt-human-trafficking-govt-pledges-empower-women-ntt/
---------
Africa
Boko Haram Disguised As Preachers Kill 24 in Nigeria
Apr 07 2015
MAIDUGURI: Boko Haram militants disguised as preachers killed at least 24 people and wounded several others in an attack near a mosque in northeast Nigeria's Borno state, a military source and witness said on Monday.
The attackers arrived in cars late on Sunday and gathered people at a mosque in the remote village of Kwajafa, pretending to preach Islam. They then opened fire on them, witness Simeon Buba said.
The group's six-year insurgency, and President Goodluck Jonathan's failure to end it or protect civilians, were factors in the victory of opposition candidate Muhammadu Buhari in last week's election.
The group fighting for an Islamic state has killed thousands and kidnapped hundreds, although a military operation against them by Nigeria and neighbours Chad, Cameroon and Niger in the past two months has wrested back much of the territory it controlled.
"People didn't know the Boko Haram men came for attack because they lied to our people that they came for preaching," said Buba in a telephone conversation.
"They opened fire on them and killed many people," he said, adding that houses were set on fire.
Some people were being treated for gunshot wounds and burns at a hospital in the Borno state town of Biu on Monday, a source there said.
http://www.dawn.com/news/1174465/boko-haram-disguised-as-preachers-kill-24-in-nigeria
--------
Somalia President: Building wall along Somalia border will not prevent Al Shabaab attacks
7 April 2015
Somalia president Hassan Sheikh Mohamud has said Kenya decision to build wall along Somalia border will not help adding it will not prevent Al Shabaab attacks.
The president instead called security cooperation between the two countries as it will help the fight against Al Qaida affiliated group, Al Shabaab.
Early this year, Kenya government has announced it will build wall along Somalia border as security measures to help thwart off cross -border incursion by Al Shabaab.
It was two days ago when Somalia president called security cooperation between the two countries after Al Shabaab militants stormed Garissa University and killed 147 people, mainly students and injuring 79 others.
The president also said his government is willing to provide amnesty to any Al Shabaab members who are willing to surrender and denounce Al Shabaab ideology.
http://www.somalicurrent.com/2015/04/05/somalia-president-building-wall-along-somalia-border-will-not-prevent-al-shabaab-attacks/
-------
Mideast
18 dead in Yemen fighting as Saudi-led warships shell rebels
7 April 2015
Loyalist forces backed by Saudi-led naval shelling thwarted a new rebel assault in Yemen's main southern city early Tuesday as medics and officials reported 18 dead in fighting across the south.
Militia loyal to fugitive President Abedrabbo Mansour Hadi battled rebels attempting to advance on a port in the city's Mualla district, witnesses said.
Four loyalist militiamen were killed and 12 wounded, a medic at a military hospital told AFP.
Six Shia Houthi rebels were killed, an army source said.
Residents said that the loyalists had pushed the rebels further from the port, as warships of the Saudi-led coalition shelled rebel positions across Aden.
Full report at:
http://english.ahram.org.eg/NewsContent/2/8/127084/World/Region/-dead-in-Yemen-fighting-as-Saudiled-warships-shell.aspx
--------
Turkey's top religious body allows toilet paper
Apr 07 2015
Turkey's Directorate of Religious Affairs (Diyanet) has released a fatwa stating that usage of toilet paper is permissible within Islam, though it emphasized that water should be the primary source of cleansing.
Reminding that for a prayer to be religiously legitimate, one's body, clothes and the place where the prayer is to be performed should be free of items defined as "unclean" by Islam, the fatwa said the cleaning should be conducted with water.
"If water cannot be found for cleansing, other cleaning materials can be used. Even though some sources deem paper to be unsuitable as a cleaning material, as it is an apparatus for writing, there is no problem in using toilet paper," read a part of the statement.
Full report at:
http://www.hurriyetdailynews.com/turkeys-top-religious-body-allows-toilet-paper.aspx?pageID=238&nID=80671&NewsCatID=341
--------
Palestinians attempting to fast track war crimes suits against Israel at ICC
Apr 07 2015
Palestinian Authority Foreign Minister Riad al-Malki said on Monday that the PA leadership was working to speed up the process of filing charges against Israel with the International Criminal Court (ICC).
Al-Malki said in a TV interview that the PA leadership was in touch with the office of the prosecutor of the court to inquire about documents and information that would accelerate investigations into Israeli "war crimes."
He said that a preliminary investigation launched in mid-January by the ICC "could take some time."
Al-Malki said that the ICC prosecutor was looking into all events that took place in the Palestinian territories as of June 13, 2014.
"The court won't focus only on the last Israeli aggression on the Gaza Strip, but would look into all what it considers as a war crime or a crime against humanity," he added.
Full report at:
http://www.jpost.com/Arab-Israeli-Conflict/Palestinians-attempting-to-fast-track-war-crimes-suits-against-Israel-at-ICC-396362
---------
Military action against Iran still possible: Israel official
7 April 2015
A senior Israeli government minister says taking military action against Iran's nuclear program is still an option despite last week's framework deal between world powers and the Islamic Republic.
Yuval Steinitz, Israel's minister for strategic affairs, told reporters on Monday that the military option is still "on the table."
Israel's government has harshly criticized last week's framework deal, which offers Iran relief from economic sanctions in exchange for scaling back its suspect nuclear program. Israeli leaders believe the deal leaves too much of Iran's nuclear infrastructure intact and would allow the country to easily gain the capability to produce a nuclear weapon.
Steinitz said Israel favors a diplomatic solution and plans on lobbying the international community to improve the deal as its details are finalized in the coming months.
http://indianexpress.com/article/world/middle-east-africa/military-action-against-iran-still-possible-israel-official/
--------
Google search engine threatened with Turkish ban
Apr 07 2015
A court has threatened to block Google in Turkey, if the world's most popular search engine does not comply with its ruling against the publication of images showing a prosecutor who was killed during a hostage crisis in Istanbul.
A Turkish official told daily Hürriyet April 7 that Google had removed the images which the court deemed illegal, following similar action by YouTube.
Istanbul's 1st Criminal Court of Peace notified Turkey's Internet Service Providers Union (ESB) late April 6, ordering the body to block access to Google's search engine and its video platform, YouTube, if they continue to link to or directly host images of slain prosecutor Mehmet Selim Kiraz.
Full report at:
http://www.hurriyetdailynews.com/google-search-engine-threatened-with-turkish-ban.aspx?pageID=238&nID=80673&NewsCatID=339
--------
Islamic militants release 300 recently-kidnapped Kurds
Apr 07 2015
Islamic insurgents have released 300 Kurdish men in the country's north who were taken captive Sunday, a Kurdish official said on Monday.
Nawaf Khalil, a spokesman for the Kurdish PYD party in Europe, told Reuters by phone that the "men were released by the Islamist militant groups who were holding them".
The Syrian Observatory for Human Rights monitoring group, which tracks the conflict from Britain, also said the Kurds had been released. However, it said around 200 had been held, taken at several checkpoints over the past two days.
Khalil and another Kurdish official reported earlier on Monday that the men were taken on Sunday evening.
Full report at:
http://www.albawaba.com/news/islamic-militants-release-300-recently-kidnapped-kurds-678818
--------
Arab World
Iraqi Forces Kill 4 ISIL Terrorists in Salahuddin
7 April 2015
Four terrorists of the Islamic State of Iraq and the Levant (ISIL) group were killed in clashes with the Iraqi security forces in Northern Tikrit city in Salahuddin province.
A security source said that the Iraqi forces managed to kill 4 terrorists, who were hiding in a house in al-Qadisiya district in Northern Tikrit, on Sunday afternoon after heavy clashes with them.
The Iraqi army, backed by Shiite and Sunni volunteer forces, made a final push against the ISIL terrorists in Tikrit, and managed to fully liberate the Northern city from the control of the Takfiri group on March 31.
The hometown of former Iraqi dictator Saddam Hussein was expected to be fully liberated within hours after the army troops and popular fighters inflicted major losses on the ISIL terrorists in the Southern and Western parts of the city and broke the terrorist group's fortified line of defense.
Full report at:
http://english.farsnews.com/newstext.aspx?nn=13940117001268
--------
Egyptian Politician: Arab States Join Saudi-Led Aggression for Fear of Washington, Riyadh
7 April 2015
An Egyptian politician underlined that a majority of the Arab states have joined the Saudi-led aggression against Yemen for their fear of the US and Saudi Arabia.
"The ongoing war in Yemen is now in the interest of the US, and some Arab countries have joined the war because they are afraid of the US and Saudi Arabia, while Oman, Iraq and Algeria have very resolutely refrained from joining the war that has no specific goal and outcome," Former Egyptian Lawmaker Ahmed Abdel Al told FNA on Tuesday.
And the member-states of the Persian Gulf Cooperation Council have joined the Saudi-led aggression against Yemen for the sake of their economic interests, he added.
On Monday, a senior Yemeni politician called on the people of Yemen to prepare themselves for giving a crushing response to the Saudi aggressors and their allies.
Full report at:
http://english.farsnews.com/newstext.aspx?nn=13940118000831
--------
Fleeing the Horror of Islamic State Atrocities in Syria
Apr 07 2015
DAMASCUS: After enduring two years of famine and fighting, Ibrahim Abdel Fatah said he saw heads cut off by Islamic State group jihadists in the Palestinian camp of Yarmuk in Damascus.
That was it. He fled and hasn't looked back.
Unshaven, pale and gaunt, he has found refuge with his wife and seven children at the Zeinab al-Haliyeh school in Tadamun, a southeastern district of the Syrian capital held by the army.
"I saw severed heads. They killed children in front of their parents. We were terrorised," he said.
"We had heard of their cruelty from the television, but when we saw it ourselves... I can tell you, their reputation is well-deserved," the 55-year-old said.
The school is currently home to 98 displaced people, among them 40 children, who have been put up in three classrooms.
Full report at:
http://www.ndtv.com/world-news/fleeing-the-horror-of-islamic-state-atrocities-in-syria-752765
--------
Isis accused of beheading captives in Palestinian refugee camp advance towards Damascus
Apr 07 2015
Isis has reportedly begun beheading captives after taking over the majority of a large Palestinian refugee camp in Syria.
UN officials said scenes on the ground in the Yarmouk camp just south of Damascus were "beyond inhumane", as rebels from the so-called Islamic State and al-Qaeda affiliate Jabhat al-Nusra vied for control of the camp, which houses around 18,000 civlians.
The attack on Yarmouk began last Wednesday, and according to local activist Hatem al-Dimashqi clashes and the sounds of shelling continued on Easter Monday.
According to an update over the weekend from the UK-based Syrian Observatory for Human Rights, the attackers killed nine members of the Palestinian militant group which defends the camp, and captured and beheaded two of them.
Full report at:
http://www.independent.co.uk/news/world/middle-east/isis-accused-of-beheading-captives-in-palestinian-refugee-camp-yarmouk-as-advance-towards-syrian-capital-damascus-continues-10158061.html
--------
Tikrit Isis mass graves: Iraqi forensic teams begin excavating sites believed to hold bodies of up to 1,700 soldiers killed by militants
Apr 07 2015
Forensic teams have begun excavating suspected mass graves in Tirkit believed to contain up to 1,700 bodies, just days after Iraqi forces re-took the city from the clutches of Isis militants.
The 12 sites are believed to hold up to 1,700 Iraqi soldiers, who were brutally killed in a mass execution that was photographed and circulated online by Isis as propaganda.
The soldiers were reportedly from Camp Speicher, a former US base outside of Tirkit, the home town of Saddam Hussein.
The graves confirm findings by Human Rights Watch (HRW), who analysed photographs released by jihadists and satellite images showing mass graves shortly after the extremist group swept through northern Iraq in its bloody insurgency.
The victims are believed to be mostly Shia soldiers and the massacre was denounced as one of the worst since Isis began its rapid advance across the country.
Full report at:
http://www.independent.co.uk/news/world/middle-east/tikrit-isis-mass-graves-iraqi-forensic-teams-begin-excavating-sites-believed-to-hold-bodies-of-up-to-1700-soldiers-killed-by-militants-10159034.html
--------
'Arab League to submit timetable for an end to Israel's occupation'
Apr 07 2015
Egypt's foreign minister, Sameh Shoukry, said on Monday that a special committee of Arab League ministers will publish a detailed timetable "for an end to Israel's occupation."
The committee's formation is in line with a decision taken by the Arab League during its recent summit in the Red Sea resort town of Sharm el-Sheikh.
According to Shoukry, Arab governments will soon submit a draft resolution to the United Nations Security Council that contains detailed provisions for an Israeli withdrawal from the West Bank.
Full report at:
http://www.jpost.com/Israel-News/Politics-And-Diplomacy/Arab-League-to-submit-detailed-timetable-for-an-end-to-Israels-occupation-396391
--------
Hezbollah says Iran nuclear agreement 'rules out specter of regional war'
Apr 07 2015
The leader of Lebanon's Hezbollah said on Monday that a framework nuclear agreement that Iran reached with world powers last week rules out the specter of regional war.
"There is no doubt that the Iranian nuclear deal will be big and important to the region," Hassan Nasrallah said in an interview with Syria's al-Ikhbariya television.
"The agreement, God willing, rules out the specter of regional war and world war," he said.
The tentative accord, struck on Thursday after eight days of talks in Switzerland, clears the way for a settlement to allay Western fears that Iran could build an atomic bomb, with economic sanctions on Tehran being lifted in return.
Nasrallah said the accord would prevent conflict as "the Israeli enemy was always threatening to bomb Iranian facilities and that bombing would definitely lead to a regional war."
While the Hezbollah leader attempted to put fears of regional war to rest, he did not try to assuage any anxieties over continued conflict with Israel.
Full report at:
http://www.jpost.com/Middle-East/Hezbollah-says-Iran-nuclear-agreement-rules-out-specter-of-regional-war-396375
--------
Al-Assiri: Safety of Yemeni citizens our main priority
Apr 07 2015
Humanitarian aid was among the priorities of the coalition while providing protection to all nationals including India, China and Pakistan, the Saudi-coalition announced on Monday, reaffirming the evacuation of 11 Red Cross workers.
Brig. Gen. Ahmad Al-Assiri, a consultant at the Defense Minister's office, said that they are facilitating additional flights to evacuate other nationals, emphasizing the coalition's commitment to facilitate the evacuation according to agreed procedures.
"The safety of Yemeni citizens remains our top priority," said the official.
Al-Assiri said: "The Houthi militias are still showing hostile acts against the population and citizens — not military targets — stressing that work is continuing with the People's Committees and tribes, who have begun heading to Aden to help the resistance there in defense of the city."
Full report at:
http://www.arabnews.com/featured/news/728991
--------
Arab coalition makes gains against Houthis
7 April 2015
The Saudi-led coalition in Yemen shelled the Houthi's Air Defense Brigade 630 near the country's fourth-largest city of al-Hudaydah, sources told Al Arabiya News Channel channel on Tuesday.
The coalition has also destroyed a missiles depot belonging to the militias of the deposed President Ali Abdullah Saleh, west of the capital, Sanaa.
Saudi-led air forces also targeted Saleh's hometown of Sanhan, south east of Sanaa.
Meanwhile, military sources said that the Popular Resistance forces that are allied to legitimate President Abdrabbu Mansour Hadi seized control of the strategic Al-Anad air base in the country's southern province of Lahej.
Full report at:
http://english.alarabiya.net/en/News/middle-east/2015/04/07/Saudi-led-coalition-makes-gains-in-battle-against-Houthis-.html
--------
Egypt's media regulator issues warning to controversial show discussing Islam
7 April 2015
Egypt's state media regulator has warned the broadcaster of a controversial show discussing Islam that it should revise the show's content, its head told Ahram Online on Monday.
The debate over the programme, called With Islam and presented by Islam El-Beheiry on private satellite TV channel El-Qahera Wal-Nas, started last week when Al-Azhar, the country's leading Sunni Islam institute, filed an official complaint with the Free Media Zone, the state department in charge of managing cable TV channel contracts.
Effat Abdel-Azim, the head of the Free Media Zone, confirmed receiving the complaint, along with CDs allegedly proving that El-Beheiry had insulted the fundamentals of Islam.
The Free Media Zone's board of directors decided to warn TNTV, the broadcaster that owns the channel hosting El-Beheiry's show.
Full report at:
http://english.ahram.org.eg/NewsContent/1/64/127052/Egypt/Politics-/Egypts-media-regulator-issues-warning-to-controver.aspx
-------
India
5 SIMI Activists Shot Dead On Way to Court in Telangana
7 April 2015
A week after two SIMI activists shot dead three cops and left another battling for life, Telangana State Police on Tuesday killed five persons who were associated with SIMI and other radical organizations when they allegedly attacked their police escort while being brought to Hyderabad for a court hearing, near Jangaon in Warangal district, 100 kms away from Hyderabad. Among the dead is Vikaruddin Ahmed, who killed two cops and terrorised them in Hyderabad by targeting them whenever possible.
Warangal Range DIG B Malla Reddy said: "These five were to be produced before the VIIth Additional Metropolitan Sessions Judge at Nampally Court in Hyderabad in connection with a 2009 case. The bus carrying them with a heavily armed escort left the Warangal Central jail at 8:40 am. At 10:30 while they were near Jangaon, Vikaruddin requested for a halt as he wanted to answer nature's call.
Full report at:
http://indianexpress.com/article/india/india-others/five-alleged-simi-activists-shot-dead-in-warangal/
--------
Pak Army, ISI Ask J&K Militants to Target Forces, Avoid Civilians
7 April 2015
NEW DELHI: Pakistani intelligence agency ISI and that country's army have directed the militants operating in Jammu & Kashmir not to carry out attacks on civilians but to target security forces, leading to spurt in casualties among men in uniform, home ministry officials said.
Officials said the killing of three policemen by militants on Monday in Kashmir valley was a clear indication about the plans of the Pakistan-sponsored groups.
Quoting intelligence inputs, the officials said the directive of ISI and Pakistan army to terrorist groups like Jaish-e-Mohammad, Lashkar-e-Taiba and Hizb ul Mujahideen came following international pressure as global powers have joined hands against terrorists violence on innocent civilians.
Full report at:
http://timesofindia.indiatimes.com/india/Pak-army-ISI-ask-militants-to-target-forces-avoid-civilians/articleshow/46826013.cms
-------
Twenty-three countries request India to evacuate their citizens from Yemen
7 April 2015
NEW DELHI: India's massive operation using assets at its disposal to evacuate its nationals from strife-torn Yemen has made no less than 23 countries to seek help from it to evacuate their nationals as well.
Revealing this, foreign minister Sushma Swaraj on Monday tweeted: "Twenty three countries have requested India to evacuate their citizens from Yemen."
On Sunday, the minister had assured that all Indian nationals would be evacuated from the strategically-placed country in the Middle East.
The ministry of external affairs (MEA) had earlier confirmed that 488 Indians had been evacuated from Sanaa, while a further 182 were rescued from coastal town Ash Shihr.
This followed the rescue of 439 Indians by the Indian Navy's guided-missile destroyer INS Mumbai from Yemen's port city Aden on Saturday.
Full report at:
http://timesofindia.indiatimes.com/india/Twenty-three-countries-request-India-to-evacuate-their-citizens-from-Yemen/articleshow/46827135.cms
--------
Pakistan
Rebels kill eight Iranian soldiers on Pakistani border
Apr 07 2015
TEHRAN: Eight Iranian border guards have been killed in a clash with Sunni rebels who had infiltrated from neighbouring Pakistan, Iran's official IRNA news agency reported on Tuesday.
"Armed terrorists entered Iran from Pakistan and clashed with border guards, killing eight soldiers before fleeing back to Pakistan," Ali Asghar Mirshekari, deputy governor of Sistan-Balochistan province, told the news agency.
Balochistan has a large Sunni community and has seen repeated attacks by militants on the security forces of mainly Shia Iran.
But the clash in the Negur district was the deadliest since October 2013 when 14 border guards were killed in an attack claimed by Sunni militant group Jaish-ul Adl (Army of Justice).
The same group captured five Iranian troops in February last year out of which four were released last April. The fifth is still missing presumed dead.
Full report at:
http://www.dawn.com/news/1174478/rebels-kill-eight-iranian-soldiers-on-pakistani-border
--------
Milli Yakjehty Council's rejects verdict on Taseer murder
Apr 07 2015
LAHORE: A meeting of the Milli Yakjehty Council's executive committee held here on Monday rejected the High Court verdict in the Salmaan Taseer murder case and announced challenging the same in the Supreme Court.
Briefing the media after the meeting, MYC leaders Sahibzada Abul Khair Zubair and Liaquat Baloch said that they rejected the Islamabad High Court verdict against Mumtaz Qadri as it rendered ineffective the blasphemy law.
They announced forming a legal panel, comprising former justices Nazir Akhtar and Khwaja Muhammad Sharif, to file an appeal against the court order in the apex court.
About the Middle East situation, the committee urged the government to play the role of a mediator while taking the parliament and masses on board.
http://www.dawn.com/news/1174396/myc-rejects-verdict-on-taseer-murder
--------
Parliament to decide Pakistan's role in conflict: army chief
Apr 07 2015
ISLAMABAD: Chief of the Army Staff Gen Raheel Sharif said on Monday that parliament would decide the role of Pakistan in the conflict in Yemen.
Talking to a group of reporters at the presidency after a reception hosted by President Mamnoon Hussain in honour of Sri Lankan President Maithripapa Sirisena, the army chief said: "The debate is going on; let us see what will be decided."
Gen Sharif's remarks came at the time when a joint sitting of parliament is debating the conflict in Yemen and whether Pakistan should meet Saudi Arabia's request to join a coalition of Arab states trying to crush Houthi rebels.
Take a look: Much ado about PTI at joint session to debate Yemen dilemma
Answering a question about the Zarb-i-Azb military operation in tribal areas, the army chief said it was progressing smoothly. "You will hear good news about the operation," he said.
"It will be completed successfully soon," he added.
Full report at:
http://www.dawn.com/news/1174443/parliament-to-decide-pakistans-role-in-conflict-army-chief
--------
Two prisoners hanged in Lahore, Sahiwal
Apr 07 2015
LAHORE/SAHIWAL: Two convicted murderers were hanged to death in Lahore and Sahiwal jails on Tuesday morning.
Jafar alias Kali was convicted of a dual murder in 1997. He had killed two siblings Khalil and Sadia over a land dispute.
Jafar, who hailed from Okara, was declared guilty and was awarded death sentence by an additional session judge in 2000.
His review petitions were rejected by the higher and superior courts, while his mercy appeal had also been turned down by the then president in May 2012.
Jafar was scheduled to be hanged on March 25, 2015 but his execution was held due to an accord with the applicant party against him.
Later the victim Khalil's wife Amna Bibi and a couple of his sons Ahmed Yar and Ramzan appeared before the trial court and submitted that they were forced to sign the accord between the two parties.
Full report at:
http://www.dawn.com/news/1174472/two-prisoners-hanged-in-lahore-sahiwal
--------
Military, political leaderships united against extremism: Shahbaz
Apr 07 2015
LAHORE – Punjab Chief Minister Shahbaz Sharif on Tuesday said that the entire nation and political and military leaderships are united for the elimination of terrorism, extremism and sectarianism.
He expressed these views while addressing assembly members belonging to different districts. He said that the Pakistan Army is attaining excellent results in operations against militants. The Operation Zarb-e-Azb has broken the back of extremism, he said. The chief minister said that a decisive war on terror is being carried out to make this country a peaceful land. He said that the soldiers and officers of the armed forces have engraved countless sacrifices in the pages of history to bring stability in Pakistan. He said that the sacrifices by the police and citizens could also not be neglected. He expressed the resolve to continue countering terrorism until the country is beyond the bounds of insurgency.
http://www.dailytimes.com.pk/national/07-Apr-2015/military-political-leaderships-united-against-extremism-shahbaz
--------
South Asia
Two soldiers martyred, 10 militants killed in security operations
Apr 07 2015
Two soldiers have embraced martyred while ten insurgents killed in separate military operations across the country in past 24 hours, says General Zahir Azimi who is the spokesman for the Ministry of
Defense.
General Zahir Azimi issuing a statement on Tuesday says that two Afghan National Army soldiers embraced martyrdom due to an explosion and enemy fires in past 24 hours. But he has not specified the location of the incidents in his statement.
Azimi's statement adds that 10 insurgents were also killed and two others wounded in two provinces.
The statement adds that 15 different types of Improvised Explosive Devices (IEDs) were also discovered and defused by security forces during the operations in Ghazni and Paktika provinces.
http://www.khaama.com/two-soldiers-martyred-10-militants-killed-in-security-operations-3120
--------
2 of the 31 abducted Hazaras found dead in Zabul
Apr 07 2015
At least two of the 31 abducted Hazaras were found dead in southern Zabul province of Afghanistan, local officials said Monday.
The provincial council chief Ata Mohammad Haqbin said the dead bodies of the two men were found in Khak-e-Afghan district.
Haqbin further added that one of the hostages was murdered while the second one who was an old man had apparently died due to weakness.
The 31 members of the minority Shiite Hazara community were abducted on Feb. 24 in southern Zabul province of Afghanistan from two vehicles on a major road.
Mohammad Mohaqiq, senior Shiite community leader and deputy to Chief Executive officer Dr. Abdullah Abdullah, last week confirmed that the 31 Hazaras were kidnapped by militants belonging to Islamic State of Iraq and Syria (ISIS) militants.
He said the hostages are still alive and are being held in different areas by the militants who have slip them up into three or four groups.
http://www.khaama.com/2-of-the-31-abducted-hazaras-found-dead-in-zabul-9370
--------
Kidnappers in a video warn of killing all abductees if their demands are not met
Apr 07 2015
A video has been published on social media in which gunmen are threatening of killing all kidnappers they have if Afghan government fails to meet their demands.
In the video a man is beheaded who is identified to be a soldier.
The video shows two messages before the insurgent starts talking. One message is reading "Harakat-i-Islami Uzbekistan" the meaning of which is "Islamic Movement of Uzbekistan" and the meaning of the other message is "Warning to Afghan government".
One of the insurgents standing behind the person ask him questions in Dari language and the person who is letter beheaded answers the questions.
Full report at:
http://www.khaama.com/kidnappers-in-a-video-warn-of-killing-all-abductees-if-their-demands-are-not-met-3118
--------
HRW: Suspend Kamaruzzaman's death penalty
Apr 07 2015
Human Rights Watch has said the death sentence against war crimes convict Muhammad Kamaruzzaman should immediately be stayed.
The New York-based rights organisation also reiterated its longstanding call for Bangladesh to impose an immediate moratorium on the death penalty.
"The Bangladesh government should impose a moratorium on the death penalty and quickly join the growing number of countries that have abolished this barbaric practice," HRW Asia director Brad Adams said in a statement.
He said: "Bangladesh's war crimes trials have been plagued by persistent and credible allegations of fair trial violations that require impartial judicial review."
Mentioning that Human Rights Watch has long supported justice and accountability for the horrific crimes that occurred in 1971, Brad Adams said these trials need to meet international fair trial standards.
Full report at:
http://www.dhakatribune.com/bangladesh/2015/apr/07/hrw-suspend-kamaruzzamans-death-penalty#sthash.yLArzCrQ.dpuf
--------
Moncho to continue sit-in until Kamaruzzaman's execution
Apr 07 2015
Gonojagoron Moncho organised a sit-in program in the capital's Shahbagh yesterday, demanding the quick implementation of the death penalty that was handed over to war criminal Muhammad Kamaruzzaman in May, 2013.
Moncho spokesperson Imran H Sarker said: "We will stay at Shahbagh untill Kamaruzzaman's execution as there is no bar to execute him now." "We demand its implementation soon," he added.
Full report at:
http://www.dhakatribune.com/bangladesh/2015/apr/07/moncho-continue-sit-until-kamaruzzamans-execution#sthash.UopOnuo0.dpuf
---------
Europe
UN agency says at least 74 children killed in Yemen fighting
Apr 07 2015
More than 100,000 people in Yemen have left their homes in search of safety and at least 74 children have been killed since fighting in the country intensified almost two weeks ago, the U.N. children's agency said.
UNICEF said the violence has disrupted water supplies in areas of southern Yemen and that sewage is overflowing in some locations, raising the risk of disease outbreak.
Hospitals are struggling to treat large numbers of wounded with insufficient supplies and some medical facilities have come under attack, the agency. It said at least three health workers, including an ambulance driver, have been killed in attacks.
Children are especially vulnerable, said the agency's Yemen representative, Julien Harneis.
"They are being killed, maimed and forced to flee their homes, their health threatened and their education interrupted," Harneis said in a statement, released April 6 in Amman, Jordan.
The agency said at least 74 children have been killed and 44 wounded since March 26, when a Saudi-led air campaign against Yemen's Shiite rebels and their allies began.
The fighting pits allies of the country's embattled president, Abed Rabbo Mansour Hadi, against Shiite rebels known as Houthis and their allies, military units loyal to Hadi's predecessor, ousted autocrat Ali Abdullah Saleh.
Full report at:
http://www.hurriyetdailynews.com/un-agency-says-at-least-74-children-killed-in-yemen-fighting.aspx?pageID=238&nID=80677&NewsCatID=352
--------
EU rights conference to give equal billing to anti-Semitism, anti-Muslim hatred
Apr 07 2015
Jewish organizations worldwide expressed shock and dismay over the weekend following the announcement that the EU's Fundamental Rights Agency is planning on holding a conference that implies an equivalence between anti-Semitism and Islamophobia.
The first annual colloquium on fundamental rights in the EU, held by the racism watchdog organization and titled "Tolerance and respect: Preventing and combating anti-Semitic and anti-Muslim hatred in Europe," is scheduled to be held in Brussels in early October.
It will focus on the rise of anti-Jewish sentiment and violence across the continent and the "growing evidence in many European countries, especially in the past two years, of very high rates of anti-Muslim incidents, including acts of verbal and physical violence," according to the organizers.
Full report at:
http://www.jpost.com/International/EU-rights-conference-to-give-equal-billing-to-anti-Semitism-anti-Muslim-hatred-396235
--------
Humza Arshad on fighting Islamist extremism with humour
Apr 07 2015
The police officer had just finished an earnest presentation on counter-extremism before an audience of 200 restless teenagers at an East London secondary school when a young man of Pakistani origin in a black hoodie took the stage. "How many of you people are Muslim?" the man barked. He grinned as nearly every hand went up. "Guys, we can take over! Sharia law coming soon!" the man cried gleefully. "Allahu Akbar!"
The teens erupted in laughter even before the man had a chance to clarify: "I'm kidding. I'm kidding. I think I scared the white people."
It's the kind of humour that has made 29 year-old Humza Arshad an internet sensation – and a potent new weapon in Britain's arsenal as it wages an increasingly desperate campaign to counter violent Islamist extremism.
Full report at:
http://www.independent.co.uk/arts-entertainment/comedy/features/humza-arshad-on-fighting-islamist-extremism-with-humour-10158440.html
--------
U.N. praises Saudi for humanitarian efforts in Yemen
7 April 2015
Saudi Defense Minister Prince Mohammad bin Salman received Monday a letter from the U.N. praising his country's humanitarian efforts in Yemen, Al Arabiya news channel reported.
The letter of praise was given to Prince Mohammad during a meeting with U.N. Resident Coordinator at the Kingdom Ashok Nigam.
During the meeting, Nigam thanked Prince Mohammad for the quick response and help of the Kingdom to evacuate U.N. staff from Yemen.
Nigam said that the evacuation of the U.N. staff helped save more than 100 international employees.
Full report at:
http://english.alarabiya.net/en/News/middle-east/2015/04/07/U-N-praises-Saudi-for-humanitarian-efforts-in-Yemen-.html
---------
North America
Obama: US will stand by Gulf allies against Iran's 'destabilizing activities'
Apr 07 2015
US President Barack Obama pledged to continue to work with US allies against Iran's worrisome involvement in the region, AFP reported on Tuesday
According to the White House, the president spoke with the ruler of Oman, Sultan Qaboos, on Monday and stated that he would stand "with Oman and other regional partners to address Iran's destabilizing activities in the region," even as the details of the nascent nuclear deal between Washington and Tehran continue to emerge.
The phone call with the Omani Sultan, the leader of a small country who shares the Arabian peninsula with larger oil-rich power-houses like Saudi Arabia and Qatar, was meant to assuage fears that the White House has softened its approach to the Islamic Republic's aggressive activities in the region, notably in Iraq and Yemen where Shi'ite militias are gradually becoming more influential.
Full report at:
http://www.jpost.com/International/White-House-Adviser-US-will-standby-GCC-allies-against-any-threat-from-Iran-396382
--------
Yemen operation not to affect Pakistan's capabilities, says US
Apr 07 2015
WASHINGTON: The United States has said it does not believe joining the Saudi-led alliance in Yemen would adversely affect Pakistan's ability to fight extremists at home.
At a recent briefing in Washington, US State Department spokeswoman Marie Harf also said that Al Qaeda's decision to dissolve the central organisation would not complicate the fight against terrorism.
Asked if she believed that joining Saudi Arabia in the fight in Yemen would affect Pakistan's capabilities to deal with terrorists at home, she said: "I don't."
But she did not elaborate her response and said that she would prefer to keep her answer short.
Full report at:
http://www.dawn.com/news/1174441/yemen-operation-not-to-affect-pakistans-capabilities-says-us
--------
4th man charged in NYC over Islamic State recruitment plot
AP | Apr 7, 2015
NEW YORK: A fourth man was charged on Monday in a terrorism case accusing him of raising money for a plot to have US residents travel overseas to fight for the Islamic State group.
Dilkhayot Kasimov was named with three other previously charged defendants in a revised indictment unsealed in federal court in Brooklyn. He faces charges of conspiracy and attempting to provide material support to a terrorist organization.
Prosecutors accused Kasimov of working closely with another man, Abror Habibov, to raise $1,600 for a third, Akhror Saidakhmetov, to travel to Syria to join the Islamic State militant group, also known as ISIS or ISIL. Saidakhmetov was carrying the cash when he was intercepted at John F. Kennedy International Airport on Feb. 25 trying to board a flight to Turkey, court papers say.
Full report at:
http://timesofindia.indiatimes.com/world/us/4th-man-charged-in-NYC-over-Islamic-State-recruitment-plot/articleshow/46831648.cms
--------
US judge rules alleged killer of three young Muslims eligible for death penalty
Apr 07 2015
A North Carolina judge ruled on Monday that a man accused of killing three young Muslims in February could face the death penalty if convicted of murder.
Craig Hicks, 46, was indicted on three counts of first-degree murder in the shooting deaths of a newlywed couple who were his neighbors in Chapel Hill and the wife's sister, a college student.
During a brief court hearing, Hicks stared straight ahead, answering the judge's questions with "Yes, sir" before prosecutors presented evidence for pursuing the matter as a capital case.
The Feb. 10 deaths of Deah Shaddy Barakat, 23, a University of North Carolina dental student; his wife, Yusor Mohammad Abu-Salha, 21; and her sister, Razan Mohammad Abu-Salha, 19, a student at North Carolina State University, drew international attention and inspired the hashtag #MuslimLivesMatter on social media.
Full report at:
http://www.jpost.com/International/US-judge-rules-alleged-killer-of-three-young-Muslims-eligible-for-death-penalty-396386
--------
CNN publishes "first ISIS video with flag" in Afghanistan
Apr 07 2015
CNN, a U.S. reliable TV channel has published the "first ISIS video with the group's flag" in Afghanistan.
CNN writes that the group agreed to allow a CNN cameraman film them while they are filming in a valley not far to the south of Kabul.
According to CNN the masked gunmen who are covering their faces like the ones in Iraq and Syria with holding flag of ISIS in their hands says that they are recruiting fighters for ISIS and are in constant contact with ISIS commanders in Iraq and Syria.
One of the man in the video is quoted by CNN as saying "He called us, saying: 'the IS people have come to Afghanistan — let's join them.' Then we joined them and pledged allegiance to them."
Full report at:
http://www.khaama.com/cnn-publishes-first-isis-video-with-flag-in-afghanistan-3116
--------
'Boston Marathon bomber wanted to terrorize US'
Apr 07 2015
As he planted a backpack containing a bomb near a group of children, Boston Marathon bomber Dzhokhar Tsarnaev made a coldblooded decision aimed at punishing America for its wars in Muslim countries, a federal prosecutor told the jury during closing arguments Monday at Tsarnaev's death penalty trial.
"This was a cold, calculated terrorist act. This was intentional. It was bloodthirsty. It was to make a point," Aloke Chakravarty said. "It was to tell America that 'We will not be terrorized by you anymore. We will terrorize you.'"
Defense attorney Judy Clarke countered by arguing, as she did at the trial's outset, that Tsarnaev took part in the attack but did so under the malevolent influence of his now-dead older brother, Tamerlan. Clarke repeatedly referred to Dzhokhar Tsarnaev — then 19 — as a "kid" and a "teenager."
Full report at:
http://www.dhakatribune.com/world/2015/apr/07/boston-marathon-bomber-wanted-terrorize-us#sthash.myb2RUNu.dpuf
--------
US okays attack helicopters, hellfire missiles for Pakistan under $1 billion sale
Apr 07 2015
WASHINGTON - The US State Department has okayed Foreign Military Sale to Pakistan for AH-1Z Viper Attack Helicopters and AGM-114R Hellfire II Missiles as part of around one billion dollars deal.
This proposed sale will contribute to the foreign policy and national security of the United States by helping to improve the security of a country vital to US foreign policy and national security goals in South Asia, the Defence Security Cooperation Agency said on Monday. The helicopters and weapon systems will provide Pakistan with military capabilities in support of its counterterrorism and counter-insurgency operations in South Asia, the defence agency noted. This proposed sale will provide Pakistan with a precision strike, enhanced survivability aircraft that it can operate at high-altitudes. By acquiring this capability, Pakistan will enhance its ability to conduct operations in North Waziristan Agency (NWA), the Federally Administered Tribal Areas (FATA), and other remote and mountainous areas in all-weather, day-and-night environments. Pakistan will have no difficulty absorbing these helicopters into its armed forces.
Full report at:
http://www.dailytimes.com.pk/national/07-Apr-2015/us-okays-attack-helicopters-hellfire-missiles-for-pakistan-under-1-billion-sale
--------
URL: https://www.newageislam.com/islamic-world-news/new-age-islam-news-bureau/police-discover-illegal-'islamic-boarding-school',-mosque-on-indonesia's-'death'/d/102331