New Age Islam News Bureau
1 Jun 2019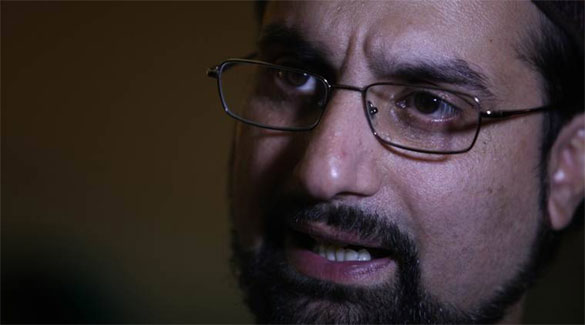 Mirwaiz Umar Farooq also mentioned the several offers made by Pakistan Prime Minister Imran Khan for a dialogue on the issue. (Express File Photo)
--------
• PM Modi's Mandate May Help Solve J&K Conflict: Mirwaiz Umar Farooq
• 'No Proof That Easter Bombers Visited India': Sri Lanka President
• Tackling Islamophobia Focal Point of PM Imran's Maiden Speech At OIC
• N-Deterrence Helped De-Escalate Tensions during Pulwama Crisis: Pak Official
• Saudi Aid Independent Of 'Political, Racial And Religious Differences': Ksrelief
• 'We Will Bury Trump Like We Buried the Shah,' Says Iran Guardians Council Chief
• Palestinians Fear 'Deal of the Century' Will Finish Off Their State
• Kushner Called Jamal Khashoggi 'A Terrorist,' Book Claims
• Merkel Refuses to Outlaw Hezbollah, Snubbing German Jews After Kippah Row
India
• PM Modi's Mandate May Help Solve J&K Conflict: Mirwaiz Umar Farooq
• 'No Proof That Easter Bombers Visited India': Sri Lanka President
• Airspace restrictions lifted, 11 points opened for Pakistan
• J&K: Five including four militants killed in two separate encounters in Valley
• J-K: Two militants, over-ground worker killed in Shopian encounter
• Five terrorists from Kulgam shun path of violence, surrender: Police
--------
Pakistan
• Tackling Islamophobia Focal Point of PM Imran's Maiden Speech At OIC
• N-Deterrence Helped De-Escalate Tensions during Pulwama Crisis: Pak Official
• Minister Says PTM Mnas Have No Right To Be In Parliament
• Security forces foil terror bid outside Imambargah in Quetta
• 'Resolve issues through diplomatic means', Pakistan urges Iran
• Bilwal Bhutto accuses Pakistan govt of targeting opposition, judiciary
• PM Imran performs Umrah with first lady Bushra Bibi
• Imran meets Ghani, reaffirms Pakistan's commitment to Afghan peace
• US envoy to seek Pakistan's help in ending stalemate in Afghan talks
• Pakistan sentences three militants to five years in jail over terror financing
--------
Arab World
• Saudi Aid Independent Of 'Political, Racial And Religious Differences': Ksrelief
• Huge Wave of Syrians Flee Intensified Bombing on Last Rebel-Held Province
• Saudi Arabia calls for decisive Arab stand against Iran
• Syria regime strikes kill seven in latest Idlib bloodshed
• Saudi king draws Muslim leaders to Mecca amid Iran tensions
• Syrian Army Declares Full Alert after Israeli Tanks Cross Alpha Line in Occupied Golan Heights
• Homs: US Supporting ISIL in Badiyeh
• ISIS widow helped CIA in hunt for al-Baghdadi, says a report
• Almost 950 killed in a month of northwest Syria violence: monitor
• King Salman: We will confront aggressive threats and acts of sabotage
• Damascus says Iran's presence in Syria 'legitimate, lawful'
• Iraq breaks with Saudi on Iran during Mecca summit
• 1,300 civilians killed in air war on Daesh: US-led coalition
--------
Mideast
• 'We Will Bury Trump Like We Buried the Shah,' Says Iran Guardians Council Chief
• Palestinians Fear 'Deal of The Century' Will Finish Off Their State
• Final Islamic Summit Communique Reiterates Palestinians' Right To Statehood
• Houthi Leader Chants 'Death To America' After Advocating For Peace
• Hezbollah leader says 'it's our duty' to confront Trump's Israel-Palestine deal
• Two Palestinians killed as 200,000 gather for Friday prayers at Al-Aqsa Mosque in Jerusalem
• Hamas leader thanks Iran for long-range rockets, threatens Tel Aviv
• Expo shows evidence of Iranian military backing for Houthis
• Israel, U.S., Russia To Discuss Syria In Trilateral Meeting In Jerusalem
• Saudi king blasts Iran for 'naked aggression' in the Gulf
• Quds Day Terrorist Plot Foiled in Western Iran
• Trump signs 'nice' on fake map of Israel gifted to Netanyahu
• Palestinian teen shot dead by Israeli forces
• Houthis an 'arm of Iran that threatens Yemen's existence'
--------
North America
• Kushner Called Jamal Khashoggi 'A Terrorist,' Book Claims
• US: Efforts Underway For Safe Zone In Northern Syria
• Bolton to present evidence Iran was behind Gulf tanker attacks
--------
Europe
• Merkel Refuses to Outlaw Hezbollah, Snubbing German Jews After Kippah Row
• Little Attempt Being Made To Assess Far-Right Extremist Funding, Report Warns
• Lyon Bomb Suspect Told Police He Pledged Allegiance to ISIS
• HRW condemns France 'outsourcing' of ISIS trials to Iraq
• Onus is on Turkey to rein in militants in Syria's Idlib, Russia says
• Two arrested over 'hit-and-run' in UK mosque car crash after Taraweeh prayers
--------
South Asia
• Suicide Bomber Kills Six at Afghan Defense University While Moscow Talks Fail To Deliver Cease-Fire
• Four Afghans killed, four US troops wounded in Kabul suicide blast
• Taliban militants suffer casualties in Helmand and Kandahar airstrikes
• Afghan Special Forces storm Taliban leadership's compound in Farah province
• Taliban and ISIS militants suffer casualties in an infighting in Nangarhar
• No ceasefire declared during Eid days: Taliban
• 21 Taliban fighters killed in Ghazni airstrike
--------
Africa
• Kenyan Leader Joins Muslims For Iftar And Prayers
• Turkish Charity Distributes Holy Qurans In Ethiopia
• NGOs providing logistics support to Boko Haram terrorists, Army claims
• Boko Haram defeated, Nigerian military fighting another terrorist group – Buratai reveals
• Islamic State puts the Sahel in West Africa – for now
• Islamic State claims attacks on DR Congo army, UN; FARDC says 26 ADF fighters killed
• UN chief calls on Sudan to resume talks on power transfer
• Nigerian police open fire on Quds Day rally, many feared injured, arrested
--------
Southeast Asia
• Wider Student Movement 'Could Curb' Campus Radicalism In Indonesia
• Penang Islamic Religious Council: Political party allegedly collecting compulsory alms in the state
• Jakarta riots another page in long history of hard-line Muslim ambition
Compiled by New Age Islam News Bureau
URL: https://www.newageislam.com/islamic-world-news/pm-modis-mandate-help-solve/d/118773
--------
PM Modi's mandate may help solve J&K conflict: Mirwaiz Umar Farooq
by Naveed Iqbal
June 1, 2019
Citing the decisive victory that Prime Minister Narendra Modi notched up in the recently-concluded Lok Sabha elections, All Parties Hurriyat Conference chairman Mirwaiz Umar Farooq said on Friday the win gives Modi the opportunity to resolve the Kashmir issue and iterated his support for every initiative that aims at a "peaceful resolution of the dispute keeping in view the sentiments and aspirations of the people of Kashmir".
Addressing a gathering at the Jama Masjid on the last Friday in the Ramzan month, Mirwaiz said, "The people of India overwhelmingly voted for Modi and his party. This mandate gives PM Modi the opportunity and the power to play a decisive role in the resolution of the long-pending Kashmir conflict."
He also mentioned the several offers made by Pakistan Prime Minister Imran Khan for a dialogue on the issue. "I believe that this issue cannot be resolved militarily or through confrontation but by dialogue and deliberations and Pakistan PM Imran Khan's oft repeated offer of dialogue on all issues between India and Pakistan including on the Kashmir issue should be seriously considered as the way forward," he said.
He added that all Kashmiris, irrespective of their organisational affiliation, were speaking in one voice about the "urgent need" for a resolution of the conflict.
"It is an opportune time to initiate political processes which enable and facilitates conflict resolution," he added.
Outlining past engagements that the outfit had with former Prime Ministers Atal Bihari Vajpayee, Manmohan Singh, Mirwaiz laid out measures for governments of both countries that would make the atmosphere for negotiations conducive.
"Hurriyat had put forward certain substantial measures to both India and Pakistan as a precursor to serious negotiations. At that time, both had agreed to implementing these steps to prepare the ground for serious negotiations," said the separatist leader.
https://indianexpress.com/article/india/pm-modis-mandate-may-help-solve-jk-conflict-mirwaiz-umar-farooq-5759581/
--------
'No proof that Easter bombers visited India': Sri Lanka president
Jun 01, 2019
Sri Lankan President Maithripala Sirisena said on Friday he had not received any report from the country's security agencies that the suicide bombers behind the Easter Sunday attacks had travelled to India.
"I have not received any reports which say that they have travelled to India. My officers have not reported any connection to India up to now," Sirisena told a news conference at which he spoke in Sinhala.
His remarks were in contrast to comments by the Sri Lanka Army chief, Lt Gen Mahesh Senanayake, during an interview with BBC earlier this month. Senanayake said some bombers responsible for the attacks that killed more than 250 people had travelled to Kashmir, Kerala and Bengaluru either for training or to establish links with other organisations.
Sirisena, who was in Delhi for Prime Minister Narendra Modi's swearing-in along with other leaders from member states of the Bay of Bengal Initiative for Multi-Sectoral Technical and Economic Cooperation (Bimstec), said he was not informed by Sri Lanka's defence chiefs about an alert sent by Indian intelligence agencies more than a fortnight before the April 21 bombings.
Noting that he was in Singapore at the time of the attacks, Sirisena said a "clear report" had been sent on April 4 by Indian intelligence agencies to their Sri Lankan counterparts about a possible attack. Letters and correspondence were exchanged between the defence secretary and inspector general of police on this issue, he said.
"I was in Sri Lanka from April 4 to April 16…However, none of the defence chiefs informed me about the receipt of such intelligence. Had I known of this possibility, I would never have left the country…That is why I have taken action to remove the defence secretary and inspector general of police," he added.
Sirisena said Sri Lanka was supported by India, Britain and the US in investigating the attacks.
"The investigation found that the perpetrators operated under an international organisation. The Sri Lankan terrorists had obtained training in countries where international terrorist groups are operating," he said. The terrorists were from wealthy families and no evidence had been found so far of them being financed by outside sources, he added.
https://www.hindustantimes.com/india-news/no-proof-that-easter-bombers-visited-india-sri-lanka-president/story-FGfSlrFey0MdApO2PlZbKJ.html
--------
Tackling Islamophobia focal point of PM Imran's maiden speech at OIC
June 01, 2019
Leaders from across the Organization of Islamic Cooperation (OIC) met in Saudi Arabia early Saturday for the 14th session of the Islamic Summit, which follows two emergency Arab meetings the night before in Makkah criticising Iran's behavior and influence in countries like Syria, Iraq and Lebanon.
The Muslim leaders discussed a breadth of critical issues, ranging from a spike in tensions in the Persian Gulf, to Palestinian statehood, the plight of Rohingya refugees and the growing threat of Islamophobia.
Prime Minister Imran Khan was among the leaders who spoke at the summit.
The premier started his maiden speech at the OIC by raising the issue of Islamophobia: "When someone from the West blasphemed our Holy Prophet (PBUH), I always felt the response from the Muslim Ummah and OIC was lacking."
"The OIC — us heads of states — owes a responsibility to the Muslim world [...] when somebody blasphemes our Prophet (PBUH), it is a failure of the OIC that we have not been able to explain to the other countries the love and affection we feel for our Holy Prophet," said Prime Minister Imran.
"Some western countries are suffering from Islamophobia. The West should differentiate between moderate Muslim and extremist Muslim."
"The international community has to respect the feelings of more than 1 billion Muslims," he added.
"I also want to bring up the point that the Muslim world must pay more attention to science and technology," the premier urged. "We must pay more attention to quality education and universities; an area in which the Muslim world lags. I fear the Muslim world may be left behind again and this is the best forum to raise this concern in."
He also touched upon the plight of the people of Kashmir as well as Palestine, saying Pakistan supports the two-states solution and recognising East Jerusalem as the capital of Palestine.
"The people of Kashmir must also have their right to self determination; us as a body must stand against the oppression happening with the Muslim world."
At the summit, the premier met Saudi Crown Prince Mohammed bin Salman.
Kingdom's tensions with Iran
Saudi Arabia's effort to bring regional leaders to Makkah reflects the Kingdom's desire to project a unified Muslim and Arab position on Iran to further isolate it internationally and counter Tehran's growing reach in the Middle East.
The Islamic summit, however, drew political figures and heads of state from countries spanning Africa, the Middle East and Asia with widely varying policies and priorities.
But for the summit's host, Saudi Arabia, confronting Iran was at the top of the agenda.
"The drone attacks on Saudi oil pumping stations carried by groups supported by Iran do not only threaten the security of the Kingdom and the Gulf but also threaten maritime safety and global oil supplies," said Saudi King Salman in his inaugural speech at the OIC summit.
He added that the "sabotage" operations against four vessels, which included two Saudi oil tankers near the territorial waters of the United Arab Emirates, represent a dangerous threat against maritime safety, as well as regional and international security.
Iran denies involvement in the attacks.
Summit slams US embassy move to Jerusalem
OIC also slammed the US decision to transfer its embassy to Jerusalem and recognise the disputed city as Israel's capital.
The summit condemned the "transfer of embassies of the United States and Guatemala to Jerusalem" and urged all members to "boycott" countries that have opened diplomatic missions in the city, a statement said.
The statement comes as US President Donald Trump's son-in-law Jared Kushner prepares to roll out economic aspects of his long-awaited Middle East peace plan at a conference in Bahrain later this month.
The plan, dubbed by Trump as the "deal of the century", has already been rejected by the Palestinians, who say Trump's policies have shown him to be blatantly biased in favour of Israel.
Palestinians have cut off all contacts with the Trump administration after the president broke with decades of bipartisan policy to recognise Jerusalem as the capital of Israel in December 2017.
Israel insists the whole of Jerusalem is its "eternal, indivisible capital". The Palestinians demand the city's eastern sector as the capital of their long-promised state.
https://www.dawn.com/news/1485809/tackling-islamophobia-focal-point-of-pm-imrans-maiden-speech-at-oic
--------
N-deterrence helped de-escalate tensions during Pulwama crisis: Pak official
May 31, 2019
ISLAMABAD: Nuclear deterrence led to the de-escalation of tensions during the post-Pulwama military stand-off between India and Pakistan, a senior official associated with Pakistan's nuclear programme said here Friday.
Brigadier Zahir Kazmi, director general Arms Control and Disarmament Affairs at Strategic Plans Division (SPD) told journalists that the stated purpose of deterrence was to close space for war and bring states to the negotiating table.
"Stability actually means peaceful resolution of territorial disputes in the subcontinent... nuclear deterrence should be a factor of stability between Pakistan and Hindustan," The Express Tribune quoted him as saying during a media interaction with senior Pakistani officials dealing with strategic affairs.
Tensions between India and Pakistan escalated after the February 14 Pulwama attack by Pakistan-based Jaish-e-Muhammed (JeM) terror group which killed 40 CRPF personnel.
Amid mounting outrage, the Indian Air Force carried out a counter-terror operation, hitting a JeM training camp in Balakot, deep inside Pakistan on February 26.
The next day, Pakistan air force retaliated and downed a MiG-21 in an aerial combat and captured an Indian pilot, who was handed over to India on March 1.
Brig Kazmi said deterrence worked during the post-Pulwama military stand-off despite India's attempt to escalate to a different level by talking about mobilisation of nuclear missile and nuclear submarines.
He clarified that deterrence was not an end in itself but a psychological state.
"It should inspire fear in which the perceived cost of deterrence breakdown is higher than the desired benefits of preferring war as an instrument for dispute resolution," the report quoted him as saying.
The director general Arms Control and Disarmament, ministry of foreign affairs, Muhammad Kamran Akhtar said that Pakistan demonstrated a more responsible and restrained behav iour during the standoff that led to de-escalation.
He claimed that Pakistan was a responsible and restrained nuclear power and the country's safety and security record was immaculate and an example for many countries.
At the media interaction organised by Islamabad Policy Institute, Akhtar dismissed the allegations that Pakistan possessed the fastest growing nuclear programme in the world.
Defense analyst Syed Muhammad Ali said Pakistan's nuclear programme had significantly contributed towards meeting both its traditional and non-traditional security needs. This, he said, also gave Pakistan's leadership and diplomats more confidence in international diplomacy
https://timesofindia.indiatimes.com/world/pakistan/n-deterrence-helped-de-escalate-tensions-during-pulwama-crisis-pak-official/articleshow/69602906.cms
--------
Saudi Aid Independent Of 'Political, Racial And Religious Differences': Ksrelief
June 01, 2019
MAKKAH: "Saudi Arabia has proven its objectivity as it does not link humanitarian aid to political stances of states, race, nor religion," Dr. Abdullah Al-Rabeeah, general supervisor of the King Salman Humanitarian Aid and Relief Center (KSRelief), said at a press conference in Makkah.
Al-Rabeeah added that hosting the Gulf and Islamic summits in Makkah is part of the Kingdom's mission toward the Islamic world, noting that Saudi Arabia in two decades has already spent $87 billion in humanitarian aid to 81 countries. He emphasized the compatibility of this aid with international law and the norms of international organizations. These humanitarian programs included health, education, rehabilitation of child soldiers and refugee aid.
He praised the sponsorship and guidance of King Salman and Crown Prince Mohammed bin Salman for the humanitarian aid programs of KSRelief. He said that there had been more than 1,011 humanitarian aid programs worth $3.5 billion to 44 countries since 2014, the primary beneficiaries being Yemen, Palestine, Syria, Somalia, Pakistan, Indonesia and Iraq.
Special care is given to empowering women and 225 projects worth $390 million were dedicated to this, benefitting 62 million women, Al-Rabeeah said, in addition to 234 projects that helped 114 million children who benefitted from educational, nutritional, health, protection and environment programs.
Al-Rabeeah stressed the good treatment of refugees in the Kingdom who are considered guests of honor by the Saudi authorities and people. These refugees include 561,000 Yemenis, 262,000 Syrians, 249,000 Rohingyas and hundreds of thousands more from other countries who benefit from the Kingdom's help to support the economies of their countries.
He said that Yemen is the primary beneficiary of Saudi humanitarian programs, without discrimination between government or Iran-backed Houthi-controlled territories. He added that 345 projects worth $12 billion were launched in that country over the past four years, especially in humanitarian programs and economic development aid, including support to the Yemen Central Bank.
Al-Rabeeah stressed the importance of the Kingdom's role, especially when the cholera epidemic broke out in Yemen last year. He added: "Crown Prince Mohammed bin Salman supervised the humanitarian initiative organized by KSRelief and other Saudi institutions in coordination with the Yemeni Ministry of Health, the World Health Organization and UNICEF to control the epidemic."
In addition, 150 programs worth $500 million were dedicated to rehabilitating 20,000 child soldiers who were recruited by militias — including psychological, educational, community and family rehabilitation programs — and that nearly 2,000 had been fully rehabilitated.
He declared the launch of a new humanitarian aid program called "Masam" to deactivate and remove 1.1 million mines planted by the militias in Yemen, considered the biggest project since World War II, and said that 71,000 mines had already been removed and deactivated.
Al-Rabeeah noted that 78 projects worth $352 million were launched in Palestine in coordination with UN agencies, in addition to 191 projects dedicated to displaced children in Syria, including educational, health care and hospitals, and 37 projects worth $175 million in Somalia.
http://www.arabnews.com/node/1504831/saudi-arabia
--------
'We Will Bury Trump Like We Buried the Shah,' Says Iran Guardians Council Chief
31 May 2019
"Our people's message is 'death to the United States', and as we buried the Shah, we will bury Trump, and we will also trample the United States," said the chairman of the powerful Guardians Council and the Assembly of Experts, Ayatollah Ahmad Jannati.
Tens of thousands of Iranians marched today as part of 'Quds Day', which is held annually on the last Friday of the month of Ramadan.
"Our steps in the marches of Quds Day are like hitting the head of global arrogance with a stick," Jannati said, to a group of journalists.
"The message of our people [in this year's Quds Day] is that even if the United States increases its sanctions one hundred times, our strength and self-respect will only increase and we will not give up," said Jannati.
"The message of our people is 'death to the United States', and as we buried the Shah, we will also bury Trump and trample the United States," he emphasised.
"The US should know that in the end it will lose, and we shall be victorious", he continued.
"I am not tired and I do not get tired," the 92-year-old stressed.
https://english.alarabiya.net/en/News/middle-east/2019/05/31/-We-will-bury-Trump-like-we-buried-the-Shah-says-Iran-Guardians-Council-chief-.html
--------
Palestinians fear 'deal of the century' will finish off their state
June 01, 2019
BEIRUT: The US blueprint to end the conflict between Israel and the Pales­tinians, still in draft form after almost two years, is seen by Palestinians, and by some Arab officials and politicians, as a plan to finish off the Palestinian cause.
The initiative, driven by Jared Kushner, Donald Trump's son-in-law and White House adviser, was billed by the US president as the "deal of the century".
While its precise outlines have yet to be revealed, Palestinian and Arab sources who have been briefed on the draft plan say Kushner has jettisoned the two-state solution — the long-standing US and international formula that envisages an independent Palestinian state alongside Israel in the West Bank, east Jerusalem and Gaza.
After several postponements, Washin­g­ton plans a first formal outing of the economic components of the plan at a "Peace for Prosperity" workshop in Bahrain in June.
The plan faces possible delays due to political upheaval in Israel, where Prime Minister Benjamin Netanyahu must fight another election after failing to form a government.
Kushner and Trump, with backgrounds in real estate rather than diplomacy, seem to be approaching this hitherto insoluble conflict as a transaction, three Arab officials briefed on the plan said.
If the politics keep failing, the reasoning seems to be, then try dangling tens of billions of dollars before the Palestinians and Israel's Arab neighbours and do a deal that could unlock prosperity for the Palestinians and security for Israel, these officials said.
Politically, the deal envisages an expansion of Gaza into part of northern Egypt, under Egyptian control, Palesti­nian officials briefed on the plan said.
Palestinians would be left with a smaller share of the West Bank and some areas on the outskirts of Jerusalem and no control over their borders.
Western and Arab sources confirmed the outline of the plan.
Jason Greenblatt, Trump's Middle East envoy, said "rumours" about an expansion into Egypt's Sinai desert were false. He declined to give details of the political plan before it is released.
On the decision not to use the the term "two-state solution", Grenblatt said: "We believe that using certain phrases and labels is not helpful because they lack detail and nuance they mean different things to different people. The detailed plan, once released, will show what we think may be best solution for the two parties." The Palestinians are not buying it.
"What we're seeing from the plan is that it will blow up the Palestinians," one Arab official said. "The plan doesn't give justice to the Palestinians."
One senior Palestinian leader said: "The Palestinian cause is being liquidated — no Jerusalem (as capital), no right of return for refugees, no sovereign state. That is why this American project is dangerous."
The deal, as outlined so far, has been dismissed by President Mahmoud Abbas's western-backed Palestinian Auth­ority in the Israeli-occupied West Bank.
Abbas has boycotted political dealings with the Trump administration for 18 months. This followed Trump's decisions in 2017 to recognise Jerusalem as Israel's capital and move the US embassy there from Tel Aviv.
Since then, the Trump administration has curtailed aid to the Palestinian Authority, shuttered the Palestine Liberation Organisation (PLO) delegation in Washington and cut off finance to UNRWA, the UN agency supporting Palestinian refugees.
https://www.dawn.com/news/1485851/palestinians-fear-deal-of-the-century-will-finish-off-their-state
--------
Kushner called Jamal Khashoggi 'a terrorist,' book claims
May 31, 2019
US President Donald Trump's son-in-law and adviser Jared Kushner has reportedly called Saudi dissident journalist Jamal Khashoggi — who was murdered by the agents of the Saudi royal court last year — a "terrorist."
According to Newsweek, US journalist Michael Wolff says in an upcoming book that Kushner said of the slain Khashoggi, "This guy was the link between certain factions in the royal family and Osama [bin Laden]. We know that. A journalist? Come on. This was a terrorist masquerading as a journalist."
Kushner reportedly made the comment in an off-the-record conversation with a reporter. It was not clear who the reporter was.
Khashoggi, a former advocate of the Saudi royal court who later became a critic of Crown Prince Mohammed bin Salman, was killed and his body was dismembered by a Saudi hit squad after being lured into the Saudi consulate in Istanbul on October 2, 2018.
Kushner, a real estate developer-turned-White House adviser, is known to have close ties with Mohammed.
The Washington Post, for which Khashoggi was a columnist, reported in November last year that the CIA had concluded that Mohammed personally ordered his killing.
Wolff's new book, titled "Siege," covers the second year of the Trump administration and is to be released on June 4. His first book, "Fire and Fury," revealed incendiary insider information about the Trump White House and has sold more than four million copies.
A spokesman for Kushner denied the reporting.
"Michael Wolff never reached out to me (or the White House) for comment. The passages from the book I've seen attributed to Jared in the media are completely false," Kushner's White House spokesman Avi Berkowitz said in a statement posted on Twitter.
Khashoggi, a critic of the Saudi regime's human rights abuses and war on Yemen, had known former al-Qaeda leader Osama bin Laden from the early 1980s, when the latter fought against the Soviet Union in Afghanistan, and had interviewed him several times.
When bin Laden was killed by US forces in Pakistan in 2011, Khashoggi reportedly said that he was once "beautiful and brave" but had "surrendered to hatred and passion."
https://www.presstv.com/Detail/2019/05/31/597414/Kushner-Jamal-Khashoggi-terrorist-Michael-Wolff
--------
Merkel Refuses To Outlaw Hezbollah, Snubbing German Jews After Kippah Row
By Benjamin Weinthal
MAY 31, 2019
German Chancellor Angela Merkel and her interior minister, Horst Seehofer, ignored an urgent plea from the country's tiny Jewish community to outlaw the terrorist organization Hezbollah amid a shocking climate of antisemitism.
When asked on Wednesday by The Jerusalem Post numerous times if the German government – in response to a demand by the nearly 100,000-member Central Council of Jews – plans to ban the Lebanese Shi'ite terrorist organization, Merkel and Seehofer refused to answer.
The president of the Council, Dr. Josef Schuster, said on Monday that "a full ban of Hezbollah's organization has already happened in the Netherlands and the United Kingdom," adding that "Hezbollah is heavily financed by Iran, and poses, in its entirety, a threat to the entire world."
The US Embassy in Germany wrote on its Twitter feed on Monday: "Germany's federal courts decided years ago that Hezbollah is a unified organization dedicated to the destruction of Israel. Symbols of Hezbollah are banned, why not the entire organization?"
The undersecretary in Germany's Foreign Affairs Ministry, Niels Annen, said shortly after the UK banned Hezbollah in March that Germany won't designate all of Hezbollah a terrorist organization. Annen celebrated Iran's Islamic revolution at the Tehran Embassy in February. Iran's regime is the chief financial sponsor of Hezbollah.
Seehofer and Berlin's mayor, Michael Müller, initiated no legal action to ban Hezbollah and stop the pro-Hezbollah and pro-Iranian regime al-Qud Day rally on Saturday in downtown Berlin.
Sources told the Post that US Ambassador to Germany Richard Grenell brings up the pressing need for Germany to outlaw all of Hezbollah in the federal republic at every meeting he attends with German officials.
Berlin authorities claim they won't prevail in court with respect to a ban of the al-Quds Day rally. The anti-Western and anti-Israel rally calls for the destruction of the Jewish state. The authorities have declined to test the law.
On Saturday, Germany's federal commissioner to combat antisemitism announced: "I can't tell Jews to wear the kippah everywhere all the time in Germany."
Merkel told CNN on Tuesday that "There is to this day not a single synagogue, not a single daycare center for Jewish children, not a single school for Jewish children that does not need to be guarded by German policemen."
The CNN interview did not ask Merkel about her consistent refusal to prescribe all of Hezbollah as a terrorist entity.
https://www.jpost.com/Diaspora/Antisemitism/Merkel-refuses-to-outlaw-Hezbollah-snubbing-German-Jews-after-kippah-row-591169
--------
India
Airspace restrictions lifted, 11 points opened for Pakistan
May 31, 2019
Faizan Haidar
India has removed restrictions on its airspace along the Pakistan border. According to a senior official of the state-owned Airports Authority of India (AAI), the 11 entry and exit points for Pakistan were opened on Friday afternoon and the International Civil Aviation Organisation (ICAO) was informed about it.
"However, flights will be able to use the airspace only when Pakistan also opens the airspace from its side. We have informed ICAO and now they will hold consultations with Pakistan. The day Pakistan decides to remove restrictions, flight operations will resume," the official added. According to a senior official of the Indian Air Force (IAF), the temporary restrictions were in place on the direction of the IAF.
The closure of Pakistan's airspace for nearly three months has hit travellers and airlines from Afghanistan and Central Asia the hardest. Pakistan shut its airspace to commercial flights originating in India or transiting through Indian airspace soon after Indian jets targeted a Jaish-e-Mohammed facility at Balakot on February 26. The air strike was carried out in retaliation to the suicide bombing of a CRPF bus by JeM at Pulwama in Kashmir that killed 40 troopers.
Pakistan on Thursday extended the ban till June 15. In the case of Central Asian airlines, the duration of flights from the region to New Delhi has increased by up to four hours as airlines have to fly via destinations such as Abu Dhabi and Dubai. Kazakhstan's Air Astana, which had four flights a week to New Delhi, has suspended its operations to India till May 31. People familiar with developments said Air Astana stopped the flights as the higher costs made them financially unsustainable.
Uzbekistan Airways has maintained its flights to Amritsar, Delhi and Mumbai while Turkmenistan Airways has suspended flights to Amritsar, the people cited above said.
The closure of Pakistani airspace has led to a sharp increase in fares for passenger flights, and made imports and exports costlier as cargo planes too have to make lengthy detours.
https://www.hindustantimes.com/india-news/airspace-restrictions-lifted-11-points-opened-for-pakistan/story-zN3CNBtVLLqu3A5nxgiW9M.html
--------
J&K: Five including four militants killed in two separate encounters in Valley
by Adil Akhzer
June 1, 2019
Four militants were killed on Friday by security forces in two separate encounters across the Valley, the Jammu and Kashmir police said.
While two Hizbul Mujahideen (HM) operatives were gunned down in an encounter in Shopian district, two others – whose identity and affiliation is yet to be ascertained – were killed in Pulwama. A third body was found after the Shopian encounter however, while locals claimed he was a civilian, security forces said he belonged to the same HM group.
Confirming the Shopian encounter, A J&K Police spokesperson said security forces had launched a cordon and search operation in the Sugan area of Shopian on Friday morning, following inputs about the presence of militants. Officials said the encounter broke out around 4.10 am.
"In the ensuing encounter, 02 listed terrorists along with the other one who was part of this group were killed," the police spokesperson, said. In the evening, the police spokesperson said Jasim "is also identified as a local militant, who had joined the terror group recently."
Full report at:
https://indianexpress.com/article/india/jk-five-including-four-militants-killed-in-two-separate-encounters-in-valley-5759589/
--------
J-K: Two militants, over-ground worker killed in Shopian encounter
May 31, 2019
Two militants and an over-ground worker (OGW) were killed in an encounter with security forces in Jammu and Kashmir's Shopian district on Friday, news agency PTI reported.
According to a police official, following specific information about the presence of militants in Dragad Sugan area of south Kashmir, the security forces launched a cordon and search operation.
As the forces were conducting searches, the militants fired at them, triggering an encounter in which two militants and their "active associate" were killed, he said.
One of the militants is believed to be Saju Magrey of the Hizbul Mujahideen, the police official told PTI, adding that Magrey was involved in a series of terror crimes, including IED incidents.
Full report at:
https://indianexpress.com/article/india/shopian-encounter-underway-between-security-forces-and-militants-5757630/
--------
Five terrorists from Kulgam shun path of violence, surrender: Police
Jun 1, 2019
SRINAGAR: Five youths from Kulgam district of Jammu and Kashmir, who had joined terrorist ranks, shunned the path of violence and surrendered, police said Saturday.
"Five youths, who had joined different terror outfits, shunned the path of violence and returned to the mainstream following efforts by their families and police," a police official said.
He did not reveal their names, saying their identities "stand protected for security reasons".
Dozens of terrorists have laid down arms in Kashmir since 2017 when police announced that they would accept offer of local terrorists to surrender even during ongoing encounters.
Full report at:
https://timesofindia.indiatimes.com/india/five-terrorists-from-kulgam-shun-path-of-violence-surrender-police/articleshow/69607474.cms
--------
Pakistan
Minister says PTM MNAs have no right to be in parliament
Syed Irfan Raza
June 01, 2019
ISLAMABAD: Ruckus dominated the proceedings of the National Assembly on Friday over the ongoing controversy surrounding the violent incident at a military check post in North Waziristan tribal district and shortage of water in Sindh as outraged members from the treasury and opposition benches gathered in front of the speaker's dais and hurled accusations at each other, but stopped short of coming to blows.
Minister of State for Parliamentary Affairs Ali Mohammad Khan delivered a fiery speech and asked Deputy Speaker Qasim Suri, who was presiding over the session, to cancel the membership of Mohsin Dawar and Ali Wazir for their alleged involvement in 'anti-state' activities.
He said both MNAs were responsible for the recent attack on security check post at Kharqamar in North Waziristan. "It is because of your wrongdoings my people lost their lives," he said, adding that both Ali Wazir and Mohsin Dawar had no right to sit in parliament and the country had no place for them.
"We have given refuge to over 3.5 million Afghans after Russia-Afghanistan war in 1979, but in return for our sacrifice the body of SP Dawar is found in Afghanistan. Can we ask the Afghan government why his body was found in Afghanistan," he added.
Mr Khan wondered why the Afghan authorities had insisted that they would hand over the body of the police officer to what he called a 'sold out individual, a stooge and their loyalist' who was cutting the roots of Pakistan.
Without directly naming the Pashtun Tahaffuz Movement (PTM), the minister asked why Pakistan's flag, its army and other institutions were maligned in its public meetings. He said Prime Minister Imran Khan had been fighting for the rights of the people of tribal areas for the last 25 years.
The ruling Pakistan Tehreek-i-Insaf (PTI) lawmakers took to the speaker's rostrum when the opposition Pakistan Peoples Party (PPP) members protested over non-production of Ali Wazir and Mohsin Dawar who are currently under custody in connection with the North Waziristan incident.
This was followed by an open clash between the members of the two parties as Muttahida Qaumi Movement (MQM) also joined the ruling party by displaying placards against the performance of the PPP-led Sindh government. As the pandemonium geared up, Deputy Speaker Suri adjourned the session for an indefinite period.
PPP leader Farhatullah Babar termed the ruling party's agitation "preplanned" and an attempt to block the speech of PPP chairman Bilawal Bhutto-Zardari who planned to take on the government over the arrest of the two parliamentarians from the tribal region and derogatory remarks of Ali Mohammad Khan.
Meanwhile, the PPP submitted a privilege motion over the arrest of two PPP women MNAs during a clash with police on Wednesday.
The pandemonium broke out when Pakistan Muslim League-Nawaz (PML-N) leader Khurram Dastagir raised the issue of SP Tahir Dawar who was abducted from Islamabad in October last year and his body was found Afghanistan.
"The government is totally silent on the issue. We want to know who had abducted Tahir Dawar and what happened when officials went to Afghanistan to take his body," he added.
At this, Minister for States and Frontier Regions Sheryar Afridi said Dawar was son of the soil and a brave man who had earlier survived two attempts on his life and lost his brother in Banigala, Islamabad. He said that being then interior minister when he went to Afghanistan to take the body of SP Dawar, but authorities in the neighbouring country were not ready to hand over the body to him but to PTM leader Manzoor Pashteen. The minister said MNA Mohsin Dawar was sent and the SP's body was given to him.
About blocking of Computerised National Identity Cards (CNICs) of hundreds of Pashtuns, Mr Afridi said a law had been made in the past under which suspect Pashtuns had to provide proofs of their nationality before the 1979 Afghan war as the authorities believed that many Afghans had mingled with the Pashtun community taking advantage of their resemblance with Pashtuns.
Jamaluddin, an MNA from tribal areas, said when the body of SP Dawar was to be taken from Afghanistan then MNA Mohsin Dawar was sent to receive it, but now the same lawmaker had been taken into custody with another MNA of tribal areas Ali Wazir. He feared that if the two MNAs were no released and if the situation in erstwhile Fata was not controlled, the government would not be able to handle the worst situation there.
When Ali Mohammad Khan was speaking on the floor of the house, members of the PTI went to the speaker's dais and all opposition members stood up on their seats. Mr Bhutto-Zardari also spoke vehemently and the PPP members proceeded to the speaker's dais.
The PTI's protest against the PPP government in Sindh seemed to be a planned one as they had brought placards with them inscribed with slogans like "Sindh ko Pani Do" (give water to Sindh). The members of both PPP and PTI pushed each other and the former torn placards carried by the latter. During the rumpus, the deputy speaker adjourned the session for an indefinite period.
Later, leaders of the opposition parties held a press conference outside the Parliament House and criticised the deputy speaker for not allowing them to speak on the floor of the house.
PPP chairman Bhutto-Zardari reiterated his demand for issuance of production order for Ali Wazir and Mohsin Dawar and said he had written a letter to Speaker Asad Qaiser for the purpose. Parliament should follow its own rules and laws, he added.
The PPP chairman said the deputy speaker had violated the rules by not allowing any opposition member to speak on the floor of the house, while members from the treasury benches were free to talk.
PML-N leader Shahid Khaqan Abbasi strongly condemned the arrest of PPP's women MNAs during the appearance of Bhutto-Zardari in NAB headquarters.
Balochistan National Party (BNP-M) chief Akhtar Mangal said he was surprised by dictatorship in democracy.
https://www.dawn.com/news/1485829/minister-says-ptm-mnas-have-no-right-to-be-in-parliament
--------
Security forces foil terror bid outside Imambargah in Quetta
June 1, 2019
The security forces on Thursday foiled a terror bid outside an Imambargah on Mecangi Road in Quetta and killed the terrorist.
The police said that the suicide bomber tried to enter the Imambargah in a burqa threw a hand grenade at the police but the police personnel opened fire at him, foiling his malicious plan. A guard was also injured in the firing of the terrorist.
DIG Abdul Razzaq Cheema said that the injured guard had been shifted to the civil hospital. He also said that the police officials must be praised for their bravery.
Full report at:
https://www.pakistantoday.com.pk/2019/05/30/security-forces-foil-terror-bid-outside-imambargah-in-quetta/
--------
'Resolve issues through diplomatic means', Pakistan urges Iran
May 31, 2019
Pakistan has urged Iran to exercise restraint and resolve issues through diplomatic means.
"My message to him [Iran's foreign minister] was: restraint, calm and resolution of issues through diplomatic channels," Foreign Minister Shah Mehmood Qureshi said while speaking with the Saudi newspaper, Arab News, on the sidelines of the 14th Summit of the Orgnisation Islamic Conference (OIC) in Makkah on Wednesday.
"Conflict will not pay. It will only aggravate the situation,"he added.
Iranian Foreign Minister Mohammad Javad Zarif had met FM Qureshi in Islamabad on May 24 to discuss rising tensions between Iran and the United States.
PM Imran discusses Afghan peace process with Ghani
When he was asked to comment on Iran's role in the escalating tension in the Gulf region, Qureshi said that any country isolating itself from the rest of the Muslim world "because of pursuing a particular policy" was going to suffer negative consequences. However, he added: "Iran is part of the region. It is a country that you have to live with. We share a border with them, so we recognise the challenges. But we have to see how those tensions can be defused and resolved."
Pakistan, the foreign minister said, is willing to play a role to help resolve some of the region's "long-standing issues" between Muslim countries. "Our message is that we have to join hands; we have to understand each other's concerns and have a collective objective of peace and stability so that our region can develop like other parts of the world."
It is important, he further said, for the Muslim world to improve its international image.
"We have to eliminate terrorist elements, and we have to reverse extremism," he said.
At the same time he raised some questions:"Why is the world looking at us in a particular way? And how can we get rid of that image to make the world look at us positively?"
Full report at:
https://tribune.com.pk/story/1984372/9-resolve-issues-diplomatic-means-pakistan-urges-iran/
--------
Bilwal Bhutto accuses Pakistan govt of targeting opposition, judiciary
May 31, 2019
ISLAMABAD: Pakistan's opposition leader Bilawal Bhutto Zardari on Friday accused the government of targeting everyone from judges to parliamentarians through "underhand tactics" after Parliament witnessed a raucous as two lawmakers were arrested for allegedly inciting an attack on a military check post.
Parliament witnessed unruly scenes lawmakers clashed with each other over the foul language used against Ali Wazir and Mohsin Dawar.
The trouble during the National Assembly session began after minister of state for parliamentary affairs, Ali Muhammad Khan, labelled Wazir and Dawar as "agents of Afghan intelligence" and said they should be expelled from Parliament.
Wazir and Dawar are are accused of inciting local people to attack the Kharqamar military check post in North Waziristan district on Sunday which resulted in the killing of at least three civilians.
Bilawal, the chairman of the Pakistan Peoples Party (PPP), stood up to record protest against Khan's remarks. But several lawmakers of the ruling Pakistan Tehreeki-i-Insaf (PTI) went near his seat and raised slogans.
It brought rival members of the House face to face, creating a tense situation. The opposition also surrounded Deputy Speaker Qasim Suri who chaired the session and continued protest until the proceedings were adjourned.
The enraged opposition later demanded a probe by Parliament into the Kharqamar incident. It also demanded that both Wazir and Dawar should be allowed to attend the session.
"All Opposition parties are standing together today. What we saw in the Assembly a little while ago was anything but a display of democracy; the deputy speaker violated House rules by not letting Opposition members speak on these sensitive issues," said Bilawal.
"A few days ago, you all saw innocent Pakistanis and parliamentarians being targeted on the streets of Islamabad. Our unarmed supporters were tortured and arrested," he said.
Pakistani police on Wednesday arrested dozens of activists from Bilawal's party to prevent them from reaching the main office of an anti-graft body that was questioning him about alleged corruption.
"It is not democracy as from judges to parliamentarians, this government is targeting everyone through underhand tactics and we will not let this continue," Bilawal said, referring to media reports that that the government has ordered formal probe of misconduct against some judges of the Supreme Court and the Sindh high court.
Full report at:
https://timesofindia.indiatimes.com/world/pakistan/bilwal-bhutto-accuses-pakistan-govt-of-targeting-opposition-judiciary/articleshow/69602288.cms
--------
PM Imran performs Umrah with first lady Bushra Bibi
June 1, 2019
Prime Minister Imran Khan performed Umrah with his wife Bushra Bibi while on a visit to Saudi Arabia for the 14th Summit of Organisation of Islamic Cooperation (OIC).
Punjab Chief Minister Usman Buzdar, Khyber Pakhtunkhwa (KP) Chief Minister Mahmood Khan, Naeemul Haque and Murad Saeed also accompanied him.
During the pilgrimage, the premier prayed for the peace and prosperity of Pakistan and the unity of the Muslim community all over the world.
The PM is in Saudi Arabia to participate in the 14th Organisation of Islamic Cooperation (OIC) summit to be held in Makkah.
The conference titled 'Makkah Summit: Together for the Future' hosted by Saudi King Salman aims to develop a unified stance on current issues and events in the Islamic world.
Full report at:
https://www.pakistantoday.com.pk/2019/05/31/pm-imran-performs-umrah-with-first-lady-bushra-bibi/
--------
Imran meets Ghani, reaffirms Pakistan's commitment to Afghan peace
June 1, 2019
Prime Minister Imran Khan on Friday reaffirmed Pakistan's commitment to a peaceful and stable Afghanistan during his meeting with Afghan President Ashraf Ghani on the sidelines of the two-day summit of the Organisation of Islamic Cooperation (OIC) in Makkah.
Imran and Ghani exchanged views on bilateral relations, regional issues and the Afghan peace and reconciliation process, a statement issued by the Prime Minister's Office said.
Prime Minister Imran underlined Pakistan's support for an Afghan-led and Afghan-owned peace process that could lead to a political solution in the neighbouring country.
Full report at:
https://www.pakistantoday.com.pk/2019/05/31/imran-meets-ghani-reaffirms-pakistans-commitment-to-afghan-peace/
--------
US envoy to seek Pakistan's help in ending stalemate in Afghan talks
Tahir Khan
JUNE 1, 2019
American special peace envoy for Afghanistan Zalmay Khalilzad will be arriving in Islamabad on Sunday for talks on ways how to end stalemate in peace talks with the Taliban, well-informed sources disclosed to Daily Times.
Taliban and Khalilzad have held six rounds of talks in Qatar since October and both claimed progress. However, they have failed to reach any agreement. The last round was held on May 1-9.
Sources said that the US envoy would hold talks with senior officials at the Foreign Office on Pakistan's cooperation in the peace process.
As there has been no deal over the past eight months, Khalilzad has sought Pakistan's help in his previous visits to Islamabad to use its influence on the Taliban and to convince them to accept the US demands. But Pakistani officials have made it clear to Khalilzad that Pakistan cannot interfere in the talks and that the US and Taliban should first resolve their differences, sources said.
On one hand, there is a stalemate in the Qatar process as the US does not accept the Taliban demand to publicly unveil a time-frame for the withdrawal of the troops and Taliban have ruled out possibility of ceasefire and direct talks with the Kabul administration. On the other, Taliban have stepped up activities in Afghanistan and on Friday targeted a convoy of foreign forces, injuring four American security personnel in Kabul.
Frustration among the war-weary Afghans is growing over the lack of progress in the peace talks that could also be annoying for the Trump's administration.
Taliban political spokesman Suhail Shaheeen said in an earlier interview that agreement on complete withdrawal of the troops will pave the way for discussions on other issues.
Taliban political negotiators believe the US side "usually ignores our calls for signing agreement first on the complete withdrawal of the US and NATO troops. But the US brings other issues like ceasefire and direct talks with the Kabul administration that is unacceptable to our side."
"We have told them (Americans) that we will not declare ceasefire until the US makes a public announcement on the withdrawal of the troops and a time-frame for the withdrawal. We have made it clear that no ceasefire will be announced while foreign invasion continues," a Taliban official said, who does not want to be identified by name.
It is also hard for the Taliban to convince their military commanders and foot soldiers on the ceasefire until there is a deal on the troops withdrawal.
"We have also categorically told the American negotiators that we want to decide first the 'external aspect' of the conflict with them and that is complete withdrawal of foreign troops and in return we will ensure that no one used the Taliban controlled areas against the US and other countries," he said.
"When we insist to solve the external aspect of the conflict first, the Americans call for ceasefire and ignore the real issue. We told them if the US solves the withdrawal issue, then other issues will be solved," he further said.
The Taliban leader said Taliban told the US side during the 6th round that another agenda for the 'internal aspect' of the problem will be prepared after agreement on the troops issue.
Full report at:
https://dailytimes.com.pk/404487/us-envoy-to-seek-pakistans-help-in-ending-stalemate-in-afghan-talks/
--------
Pakistan sentences three militants to five years in jail over terror financing
31 May 2019
A Pakistani court has sentenced three militants to five years in prison after finding them guilty of collecting funds for an outlawed group that claimed responsibility for the suicide bombing that killed 40 Indian troops in Kashmir earlier this year.
According to a statement released by a counter-terrorism department Friday, the three men have begun serving their sentences.
It says the three unidentified men were local leaders of outlawed Jaish-e-Mohammed, which claimed responsibility for the Feb. 14 suicide attack in the Indian-held portion of the disputed Kashmir region.
The bombing at the time raised tensions between India and Pakistan and brought the two nuclear rivals to the brink of war.
Full report at:
https://english.alarabiya.net/en/News/world/2019/05/31/Pakistan-sentences-three-militants-to-five-years-in-jail-over-terror-financing.html
--------
Arab World
Huge Wave of Syrians Flee Intensified Bombing on Last Rebel-Held Province
By Carlotta Gall and Hwaida Saad
May 30, 2019
ANKARA, Turkey — Syrian doctors and humanitarian workers voiced growing alarm at the plight of civilians in northwestern Syria this week, as fighting intensified in the nation's last rebel-held province and hundreds of thousands of people fled north toward the Turkish border.
Turkey has closed that border, after eight years of civil war in Syria spurred more than three million people to seek safety in its boundaries. Now, refugees are camping in open fields and in desperate conditions, moving repeatedly as Syrian and Russian forces have escalated artillery and aerial bombardments in a concerted attempt to advance into the province, Idlib.
Over a quarter-million people have been displaced in the past month and 160 people have been confirmed killed, the United Nations said on Thursday, warning of an impending disaster if the violence is not stopped. Officials say the actual number of dead is much higher than 160.
Video footage of the bombardments, and of dead and injured children being pulled from the wreckage of homes, has flooded social media. In one, a small girl screams as she tugs at the arm of her brother, trapped under rubble. In another, a teenager pulled from a crushed building is told that his brother, lifeless beside him, is sleeping.
"I saw some villages completely emptied or half-emptied of their residents," said Dr. Zaher Sahloul, the president of MedGlobal, an organization that sends medical teams to disaster regions, who risked the bombardments and threats from extremist groups to visit some of the most devastated areas this week.
He described seeing at least five attacks that caused multiple deaths, including one in the town of Ariha, which he said "was hit a few minutes after we drove away." At the end of the day, on his way back to Turkey, he and his driver heard the distinctive sound of cluster bombs exploding, he said.
Dr. Zaher said the scale of the bombing was equal to what he had seen in Aleppo, one of Syria's largest cities, which was largely destroyed in the years of fighting through 2016. "It's huge," he said. "I saw buildings completely knocked down."
Refugees were living in the open, moving from place to place, and often without facilities like toilets or kitchens. In Ma'ret Misrine, he came across 32 families who had already moved four times. "They carry their tents from one camp to another," he said. "The landowners are afraid if they build toilets their presence will be permanent."
The refugees are being corralled into a smaller and smaller area toward the Turkish border, many without shelter and the means of survival, he said.
"If the battles continue, we're expecting 600,000 displaced people, it will be a catastrophe," he said. "Crossing into Turkey is almost impossible, the borders are completely sealed."
Millions are threatened by the battle for the province, according to United Nations officials. "An estimated three million people in Idlib are caught up in the crossfire, with some living under trees or plastic sheeting on bare patches of land," Ursula Mueller, the United Nations assistant secretary general for humanitarian affairs, told the Security Council on Tuesday.
"There are no safe schools or clinics, no way to earn a living. Eight years of airstrikes and shelling, of deadly terrorist attacks and the constant fear of sending your child to a school that may be bombed later that day," she added.
The Syrian government is intent on seizing two main intersections in order to open the highway between Damascus, the capital, and Aleppo. Its forces have already gained control of 20 towns and villages toward that aim, according to political and military analysts — and laid waste to an area of some 30 square miles in the process.
Even if the fighting ceases, many people no longer have homes to return to, Dr. Zaher said.
Activists in Idlib said they were preparing to march to the Turkish border to protest for an opening, to ease the situation for the displaced people.
A grouping of Syrian humanitarian organizations based in Turkey also warned of the disastrous consequences of the intensified assault, and the lack of humanitarian support for the Syrian civilians in its path.
"In northwest Syria vulnerable civilians are living a nightmare," the group said in a statement. The group included the Syrian Civil Defense, or White Helmets; the S.N.A., a group of 21 NGOs; and the Idlib Health Directorate, which coordinates health services.
President Recep Tayyip Erdogan of Turkey and President Vladimir V. Putin of Russia agreed in September on a plan to de-escalate the violence and separate the warring parties, but while both leaders have continued to voice support for the accord, they have also continued to support opposing sides in the war.
Russia insists that the Syrian government must eventually take control of Idlib and remove extremist Islamist militants in the region. Turkey has called for a cessation of hostilities for Idlib to remain under rebel control, to prevent further waves of refugees into Turkey and to give the rebels more leverage in a peace settlement.
The two leaders spoke by telephone this month, and while Mr. Erdogan remonstrated with Mr. Putin about the bombing of hospitals and schools — more than 20 health care facilities have been bombed in Idlib in 30 days — both men reiterated their loyalty to the agreement, according to a Turkish readout of the call.
A Turkish official insisted the agreement was by no means dead. Russian officials, including Mr. Putin, have stressed that they are committed to the agreement, he said, speaking on condition of anonymity because of his office's rules.
[For more stories about the experiences and costs of war, sign up for the weekly At War newsletter.]
But analysts following the situation said that the six-month agreement was in tatters.
Kerim Has, an analyst in Turkish-Russian relations based in Moscow, predicted that Russia was going to ensure the Syrian government gains control of Idlib bit by bit over the course of 2019.
"The Russian side is giving a more powerful signal by recent bombardments," he said, that it would do nothing to prevent President Bashar al-Assad of Syria from seizing Idlib.
During the United Nations Security Council session Tuesday, Syria's permanent representative to the body, Dr. Bashar al-Jaafari, repeated his government's determination to retake Idlib.
Mr. Erdogan, who is juggling multiple pressures at home and abroad, does not want more Syrian refugees arriving in Turkey and has been reluctant to give up on his support for forces opposing Mr. al-Assad, Turkish officials and analysts said.
Turkey has not pulled out of any of its 12 observation posts in Idlib, the Turkish official said. Its defense minister, Hulusi Akar, has meanwhile been prominent in the news, visiting troops in southern Turkey and making public statements.
On the ground, the rebels seem to have received a recent boost. Syrian reporters say rebel forces have begun using more sophisticated weapons in the last two weeks, including antitank missiles, and have so far thwarted an advance on the ground by Syrian troops.
"By the middle of this month, the picture began to get clearer," said Abdullah Almousa, a researcher in Syrian affairs in Istanbul. "It is clear that Turkey has decided to keep the Idlib card and not to allow Russia to make further progress."
Correction: May 31, 2019
An earlier version of this article misstated Dr. Zaher Sahloul's affiliation. He is the president of MedGlobal, not the Syrian American Medical Society. (Dr. Zaher formerly headed that organization)
Carlotta Gall reported from Ankara, and Hwaida Saad from Beirut, Lebanon.
https://www.nytimes.com/2019/05/30/world/middleeast/syrian-bombing.html
--------
Saudi Arabia calls for decisive Arab stand against Iran
June 1, 2019
Saudi Arabia has called for the Arab world to take a decisive stance against Iran as King Salman convened an emergency meeting that condemned the Islamic republic's alleged interference in the region.
The king, addressing the summit in Mecca on Friday, said Riyadh wanted to avoid war and sought a peaceful solution, even as he attacked what he described as Iran's perpetuation of terrorism in the region directly and via proxies.
"Iran has been supporting terrorism for decades and threatening security and stability with the objective of expanding influence and domination, a matter rejected by international norms and conventions," he said in comments carried by Kuwait's state news agency.
He urged Gulf Co-operation Council states to work together to maintain security in the wake of what he called "criminal" attacks against four oil tankers off the United Arab Emirates coast and oil pumping stations in Saudi Arabia this month.
Mike Pompeo, US secretary of state, on Thursday blamed Iran for the attacks, saying Tehran was trying to raise the price of crude oil. John Bolton, US national security adviser, said on Thursday that evidence of Iran's responsibility would be presented to the UN Security Council.
Iran rejected what it called "baseless accusations" of some Arab leaders at the summit. "We see the Saudi effort to mobilise opinion as part of the hopeless process followed by America and the Zionist regime against Iran," a foreign ministry spokesman said in comments carried by the state news agency.
Speaking in Tehran, foreign minister, Mohammad Javad Zarif, called on participating countries to support the Palestinians "instead of repeating the nonsense told against Iran".
Brian Hook, US special representative for Iran, on Thursday told reporters that the US's heightened military deployment in the Gulf was in response to Iranian threats. "We are postured in a way where if we are attacked we will respond with military force," he said. But Mr Hook said he would wait for Saudi Arabia, the UAE and Norway to publish the results of their investigation into the sabotage of the vessels before consulting with them on "the proper response".
In a communiqué at the end of the Mecca meeting, the six Arab members of the GCC pledged their support for Saudi Arabia and the UAE to take required action in response to attacks on their oil infrastructure and tankers. A statement on the Saudi news agency called on Iran to stop funding militias and "terrorist organisations".
However, Barham Salih, Iraq's president, warned that if the Gulf tensions were mismanaged it could threaten a war with Iran, which has influence in Baghdad.
Sheikh Abdullah bin Nasser al-Thani, Qatar's prime minister, attended the summit, marking the highest-level contact since a Saudi-led embargo was launched against the gas-rich state in 2017.
Television coverage showed the emir of Kuwait, who has acted as a neutral mediator during the dispute, engineering a handshake between the Qatari prime minister and the Saudi king.
Saudi Arabia, the UAE, Bahrain and Egypt imposed the trade and travel embargo on Qatar, accusing it of fostering extremism. Doha, which denies the allegations, has since had to redirect air and trade routes, and forged closer ties with Turkey, Oman and Iran.
Any thaw in the Gulf spat would be welcomed by Washington, which is frustrated by its regional allies turning on each other rather than uniting against Iran.
Full report at:
https://www.ft.com/content/a5ee64d2-8370-11e9-b592-5fe435b57a3b
--------
Syria regime strikes kill seven in latest Idlib bloodshed
31 May 2019
Regime air strikes on an extremist enclave in northwest Syria killed seven civilians on Thursday, a monitor said, the latest deaths in a bloody wave of government attacks.
Damascus and its ally Russia have pummelled Idlib province and surroundings over the past month despite a truce deal aimed at staving off a humanitarian catastrophe.
The Britain-based Syrian Observatory for Human Rights monitoring organization says over 285 civilians have been killed since late April in the enclave, home to almost three million people.
"The pace of air strikes decreased relatively on Thursday compared to previous days," said Observatory head Rami Abdel Rahman.
But bombings still killed seven civilians, including five in the town of Maaret al-Numan on the western edge of the extremist-held territory, he said.
An AFP photographer reported the strikes hit a residential area, collapsing a building and killing some of those inside.
The body of a victim could be seen still in bed as rescue workers struggled to reach survivors trapped under the rubble.
Idlib province and some surrounding areas are mostly controlled by Hayat Tahrir al-Sham, a group dominated by former members of Al-Qaeda's Syria affiliate.
The United Nations says roughly 270,000 people have been displaced by the fighting since late April and that aid agencies have been forced to halt work in some areas.
Some 30 health facilities and schools have been hit, the UN says.
Despite the surge in attacks, the government has not announced an all-out offensive to retake the entire extremist enclave.
Russia and rebel supporter Turkey brokered a ceasefire deal in September to avert a government assault it was feared could spark the worst humanitarian disaster of the eight-year war.
Turkey President Recep Tayyip Erdogan on Thursday spoke by telephone to his Russian counterpart Vladimir Putin, calling for the ceasefire to be respected, the Turkish presidency said.
Erdogan told Putin it was important to "apply the ceasefire without delay in order to focus once again on finding a political solution" to the Syrian conflict, a statement said.
He also "stressed the need to prevent more lives being lost in regime attacks mainly targeting civilians" and to eliminate the "growing risk" of a wave of migrants heading for Turkey's border.
Full report at:
https://english.alarabiya.net/en/News/middle-east/2019/05/31/Syria-regime-strikes-kill-seven-in-latest-Idlib-bloodshed-.html
--------
Saudi king draws Muslim leaders to Mecca amid Iran tensions
By Aya Batrawy 
May 31, 2019
MECCA, Saudi Arabia — Muslim leaders from some 57 nations gathered in Islam's holiest city of Mecca late Friday to discuss a breadth of critical issues ranging from a spike in tensions in the Persian Gulf, to Palestinian statehood, the plight of Rohingya refugees and the growing threat of Islamophobia.
Leaders from across the Organization of Islamic Cooperation, or OIC, are meeting in Saudi Arabia as the Sunni-led kingdom seeks to isolate Shiite-led Iran over its policies in the region.
The summit follows two emergency Arab meetings the night before in Mecca criticizing Iran's behavior and influence in countries like Syria, Iraq and Lebanon.
Tensions have also spiked in recent weeks between Washington and Tehran, with the U.S. sending an aircraft carrier and B-52 bombers to the Persian Gulf. The Trump administration's hard-line approach with Iran began with U.S. withdrawal from Tehran's nuclear deal with world powers last year and later with punishing economic sanctions on the country.
Saudi Arabia's effort to bring regional leaders to Mecca reflects the kingdom's desire to project a unified Muslim and Arab position on Iran to further isolate it internationally and counter Tehran's growing reach in the Middle East.
The Islamic summit, however, draws political figures and heads of state from countries spanning Africa, the Middle East and Asia with widely varying policies and priorities.
But for the summit's host, Saudi Arabia, confronting Iran is at the top of the agenda.
"We meet in Mecca to build the future of our peoples, to achieve security and stability for our Arab and Islamic countries, and to resolutely confront aggressive threats and subversive activities," King Salman said in a tweet shortly before the start of the meeting.
Presenting a unified stance on Iran faces obstacles within OIC member-states, which includes Iran. Pakistan's Prime Minister Imran Khan, who is attending the summit, has sought good ties with both Saudi Arabia and Iran, for example.
Some Arab and U.S. officials suspect Iran of being behind the alleged sabotage of four oil tankers off the coast of the United Arab Emirates in past weeks. Iran was also accused of arming Yemeni rebels who launched a drone attack on a key Saudi oil pipeline.
Iran denies being involved in the incidents.
Iran's President Hassan Rouhani had a message for OIC leaders ahead of the summit, urging them to stay focused on the rights of Palestinians. In a letter published on the presidential website Friday, Rouhani said Muslim leaders should not let the importance of Palestinian statehood be "marginalized" in the face of the Trump administration's forthcoming peace plan. Glimpses of the still undisclosed plan suggest it sidelines or ignores the longstanding goal of Palestinian independence.
Rouhani also complained in the letter about not being invited to the Islamic summit, but expressed his country's readiness to work with all Muslim leaders to confront the White House's so-called "Deal of the Century."
Foreign ministry spokesman Abbas Mousavi added further that Iran regrets "Saudi Arabia's abuse of its privilege as the host" of the OIC "to sow division between Islamic and regional countries."
The leader of the Iranian-backed Hezbollah group told supporters in Lebanon on Friday that the Mecca summits are a Saudi call for help from Arab countries after Saudi Arabia failed to win in Yemen, where the kingdom and its allies have been at war since 2015 against Iranian-allied Yemeni rebels.
"It is a sign of failure," Hassan Nasrallah said. "These summits are calls for help ...that express the failure and the inabilities in confronting the Yemeni army, popular resistance and people."
Meanwhile, Syria said it rejects the final statement of Thursday night's emergency summit, which criticized what it calls Iranian intervention into Syrian affairs.
Syria, whose membership in the Arab League remains suspended, said the statement is an unacceptable interference in the internal affairs of Syria.
Iraq, which lies on the fault line between Shiite Iran and the mostly Sunni Arab world, also rejected the Arab League's final statement after the summit and was not a signatory to it.
Full report at:
https://www.washingtonpost.com/world/middle_east/saudi-king-salman-urges-international-effort-to-thwart-iran/2019/05/30/19ab6764-8347-11e9-b585-e36b16a531aa_story.html?utm_term=.bb78d94666e3
--------
Syrian Army Declares Full Alert After Israeli Tanks Cross Alpha Line in Occupied Golan Heights
May 31, 2019
The Arabic-language website of Russian Sputnik news agency reported that the Israeli Army violated the disengagement agreement signed and designated by the UN in 1974.
The buffer zone is an area where the United Nations Disengagement Observer Force (UNDOF) is stationed between two Golans to the West of the village of Jbata al-Khashb in Northern Quneitra.
Sputnik pointed to the UNDOF's movements from Quneitra and Golan towards the buffer zone concurrent with Israeli tanks' movements to prevent any clashes between the Syrian Army and the Israeli forces, and said that the Syrian Army has sent new military convoys to Golan and placed its troops on full alert.
Golan region was under the occupation of Tahrir al-Sham al-Hay'at (the Levant Liberation Board or the Al-Nusra Front) for several years.
On Tuesday, the Israeli fighter jets attacked a military position of the Syrian Army with missiles in Quneitra Province as government forces continued the operation to clean up Northwestern Syria from terrorists.
A military position of the Syrian Army came under Israel's missile attack in Tal al-Sha'ar region East of Khan Arnabeh in Quneitra Province, SANA news agency quoted a military source as saying on Friday night.
A military vehicle of the Syrian Army was damaged in the Israeli attack and a Syrian soldier was killed and another one was wounded in Israel's attack.
The Arabic-language website of the Russian Sputnik News Agency also quoted a battlefield source as saying three Israeli missiles also hit al-Kasveh region near Damascus.
Meantime, the Israeli Army claimed that its fighter jets had targeted Syrian Army's air defense system in Quneitra in response to firing rockets at Israeli warplanes.
Full report at:
http://en.farsnews.com/newstext.aspx?nn=13980310000851
--------
Homs: US Supporting ISIL in Badiyeh
May 31, 2019
The Syrian Army backed by Russian air force has reinforced its military points on the hills overlooking al-Aqirbat and al-Balas regions as well as their surrounding areas in Eastern Homs, the Arabic-language website of the Russian Sputnik News Agency quoted a Syrian Army battlefield commander in Eastern Homs as saying.
The source pointed to the Syrian Army's military operations to clean up the remaining ISIL terrorists in the Northeastern part of al-Aqirbat in Eastern Homs, and said the Syrian Army troops are preparing for new battle against the ISIL on the road leading to Deir Ezzur.
Meantime, another military source pointed to the ISIL's continued attacks on army positions in Eastern al-Sukhna, and said that the US is supporting the ISIL terrorists with logistical aid and attacks on Army positions in T3 Station and roads along which army units move.
The source went on to say that the US is trying to help the ISIL block roads leading to Badiyeh due to Badiyeh's strategically important oil and gas reserves.
In a relevant development last Friday, the Syrian Army and Air Force heavily pounded the military positions and movements of the ISIL terrorists in Eastern Badiyeh in Homs province, inflicting heavy losses on the remaining elements of the terrorist groups.
The Syrian Army engaged in fierce clashes with the ISIL terrorists in the surrounding areas of al-Bashri Mount and also outskirts of Humeimem region in Eastern Badiyeh, killing several terrorists.
Meantime, the Syrian Army's artillery units pounded the ISIL's military positions in the battlefronts, destroying several of their military vehicles and killing all the terrorists inside.
The Syrian warplanes launched consecutive attacks against the ISIL near Jabal al-Bashri and along the desert region of Badiyeh al-Sukhneh to the provincial border with Deir Ezzur province, inflicting heavy losses and casualties on them.
In a relevant development earlier in May, the Syrian Army dispatched a massive military convoy to Palmyra in Eastern Homs from Damascus to clean up the ISIL remnant from Homs' Badiyeh region.
The Syrian Army has sent about 300 troops together with massive military equipment to Badiyeh al-Sham in Palmyra region in Eastern Homs from the surrounding areas of Damascus, a military source said.
The source pointed to the Syrian Army's military reinforcements near Palmyra, and said that the dispatch of the Syrian Army troops takes place in line with the army's military operations to fully get rid of the remaining ISIL terrorists in Badiyeh region of Homs.
Full report at:
http://en.farsnews.com/newstext.aspx?nn=13980310000506
--------
ISIS widow helped CIA in hunt for al-Baghdadi, says a report
31 May 2019
The captured widow of an ISIS extremist group leader helped the CIA in its hunt for the group's elusive leader Abu Bakr al-Baghdadi, a British daily said on Friday.
In an interview with The Guardian, Nisrine Assad Ibrahim also claimed not to have played a willing part in the detention of US hostage Kayla Mueller at her home.
She has been accused of helping to forcibly hold Mueller and other captives at the home, where the American woman was sexually assaulted by al-Baghdadi.
But when she herself was detained by the US military, the 29-year-old helped the CIA and Kurdish intelligence gain a detailed overview of the extremist supremo's hideouts and networks, investigators told the daily.
In February 2016, Ibrahim identified a house in the Iraqi city of Mosul in which al-Baghdadi was believed to have been staying, but the United States did not call in an air strike.
"I told them where the house was," she told The Guardian at a jail in the Iraqi Kurdish city of Erbil.
"I knew he'd been there because it was one of the houses that was provided for him, and one of the places he liked the most."
Al-Baghdadi declared a self-styled "caliphate" across large parts of Syria and Iraq in 2014.
But he kept a low profile as the group steadily lost territory to multiple offences. Last month he made his first appearance in five years, surfacing to acknowledge the group's territorial defeat a month earlier.
Ibrahim was captured in May 2015 from the al-Omar oil field in eastern Syria, The Guardian said, in a US military raid that also killed her husband, a senior ISIS leader known as Abu Sayyaf.
She has been sentenced to death by a court in Erbil, the paper added.
Ibrahim said US aid worker Mueller was brought to her home in the eastern Syrian town of Shadadi in September 2014, around the same time girls from the Yazidi minority abducted to be used as sex slaves arrived.
"She was treated differently from the Yazidis," Ibrahim said of Mueller.
"There was a budget for her, pocket money to buy things from the shop."
"She was a lovely girl and I liked her. She was very respectful and I respected her," she claimed.
"One thing I would say is she was very good at hiding her sadness and pain."
Ibrahim said she last saw Mueller in late 2014, when al-Baghdadi arrived from Iraq.
"He took her with him in a simple car, a Kia. He was driving, and they went to Raqqa."
Three months later, she saw a news report about Mueller's death.
ISIS fighters claimed that Mueller, who was kidnapped in the Syrian city of Aleppo in August 2013, was killed in a February 2015 coalition air strike that buried her in rubble.
Full report at:
https://english.alarabiya.net/en/News/middle-east/2019/05/31/ISIS-widow-helped-CIA-in-hunt-for-Baghdadi-says-a-report.html
--------
Almost 950 killed in a month of northwest Syria violence: monitor
31 May 2019
A spike in violence in and around an extremist bastion in northwest Syria has killed 948 people in a month, almost a third of them civilians, a war monitor said on Friday.
A September deal was supposed to avert a full-out regime offensive on Idlib province and adjacent areas held by Syria's former Al-Qaeda affiliate Hayat Tahrir al-Sham.
But the regime and its Russian ally have since late April ramped up deadly air strikes and rocket fire on the extremist stronghold, and fighters have clashed on its edges.
Since April 30, regime and Russian fire has killed 288 civilians including 67 children, the Syrian Observatory for Human Rights said.
Extremist rocket fire has killed a further 22 civilians including 10 children in regime-held territory, the Britain-based monitoring group said.
Bombardment and clashes on the region's periphery have taken the lives of 369 extremists and allied fighters, as well as 269 fighters on the regime's side.
The United Nations says roughly 270,000 people have been displaced by the fighting since late April, and aid agencies have been forced to halt work in some areas.
Russia and rebel supporter Turkey brokered the September ceasefire deal to avert an assault it was feared could spark the worst humanitarian disaster of Syria's eight-year war.
A Russian spokesperson on Friday told reporters that extremists and allied rebels must halt attacks on regime-held areas for any ceasefire to hold.
"A ceasefire in Idlib is necessary and it's also necessary to have terrorists stop shooting at civilian targets as well as some facilities where our troops are located -- including in Hmeimim," a key Russian airbase to the west of Idlib, Dmitry Peskov said.
Full report at:
https://english.alarabiya.net/en/News/middle-east/2019/05/31/Almost-950-killed-in-a-month-of-northwest-Syria-violence-monitor-.html
--------
King Salman: We will confront aggressive threats and acts of sabotage
1 June 2019
Saudi Arabia's King Salman bin Abdulaziz tweeted on Friday saying that Riyadh will confront aggressive threats and acts of sabotage.
"We're gathering in Mecca to work on building a future for our people and achieve security and stability for our Arab and Muslim countries. We will confront aggressive threats and acts of sabotage, so that they don't stop us from developing our countries and societies," the King said.
Full report at:
https://english.alarabiya.net/en/News/gulf/2019/06/01/King-Salman-We-will-confront-aggressive-threats-and-acts-of-sabotage-.html
--------
Damascus says Iran's presence in Syria 'legitimate, lawful'
May 31, 2019
The Syrian government has rejected a final communiqué issued following the 14th summit of the Organization of Islamic Cooperation (OIC) in the Saudi city of Mecca, describing the presence of Iranian military advisors in the conflict-plagued Arab country as "legitimate and lawful."
"Syria dismisses what was declared in the final statement of the emergency Arab summit in Saudi Arabia regarding the Iranian intervention in Syria's affairs, and considers what is mentioned in this communiqué as an unacceptable interference in the Syrian domestic issues," an unnamed source at the Syrian Ministry of Foreign Affairs and Expatriates said on Friday.
The source added, "Syria reiterates that the Iranian presence is legitimate because it came at the request of the Syrian government and contributed to Syria's efforts in the fight against terrorism sponsored by some participants in the summit."
"The summit was to condemn the interference of other countries in the Syrian crisis, which lacks legitimacy and is aimed at providing unlimited support to various terrorist groups and prolonging the Syrian conflict," the source pointed out.
Iran has been in Syria on an advisory military capacity since the conflict erupted in the country in 2011. Russia joined the battle late in 2015. The two countries intervened in Syria at the official request of the Syrian government.
Washington, which deployed troops in Syria in 2014 despite repeated criticisms by Damascus, has been critical of Iranian and Russian role in the country.
Full report at:
https://www.presstv.com/Detail/2019/05/31/597400/iran-Syria-
--------
Iraq breaks with Saudi on Iran during Mecca summit
May 31, 2019
Iraq has opposed the final statement of an emergency meeting in Saudi Arabia, which condemned what it called Iran's "interference" in countries of the Middle East region.
A statement by the (Persian) Gulf Cooperation Council and the communiqué issued after a wider summit both underlined the rights of Saudi Arabia and the United Arab Emirates (UAE) to defend themselves against Tehran.
The statements mainly cited concerns about the recent sabotage attacks against several ships off the UAE.
Both Saudi and Emirati officials have blamed the mysterious "sabotage" attacks on Iran while Iran denies any involvement.
"The absence of a firm deterrent stance against Iranian behavior is what led to the escalation we see today," King Salman told the two consecutive meetings late on Thursday night.
He also pointed to Iran's ballistic missile and nuclear programs as sources of concern, and expressed concern about what he described as Iran's threats to cripple global oil supplies by closing down the Strait of Hormuz in case the US seeks to zero out the Islamic Republic's oil exports.
Iraq, however, which maintains close ties with neighboring Iran and has strong ties with Washington as well, objected to the communiqué, which required "non-interference in other countries" as a pre-condition for cooperation with Tehran.
Iraqi President Barham Salih asked the gathering to support his country's stability, arguing that rising tensions with Iran could cause war. He voiced hope that Iran's security would not be targeted.
"We are watching before our eyes the escalation of a regional and international crisis which can turn into war that will engulf all. If the crisis is not managed well, then we will be faced with the danger of a regional and international confrontation which will bring tragedy to our countries," Salih said.
"The Islamic Republic of Iran is a Muslim country that is a neighbor to Iraq and Arabs. It is certain that we do not wish the security of Iran to be targeted. We share a common border that is 1,400 km long and a long history and relations, and it is also certain that the security of a fellow Islamic country is in the interest of Arab and Islamic countries. The region needs stability based on a mechanism of joint security that guarantees non-interference in internal affairs and the rejection of violence and extremism," he added.
The Mecca communiqué also said the Riyadh regime had all the rights to defend itself against retaliatory drone strikes by Yemen's Houthi Ansarullah fighters, after a number of drones flew hundreds of kilometers into Saudi Arabia and targeted two of the kingdom's oil pumping stations earlier this month.
Full report at:
https://www.presstv.com/Detail/2019/05/31/597352/Iraq-Iran-Mecca-Meeting-PGCC-Saudi-king-salman-Salih
--------
1,300 civilians killed in air war on Daesh: US-led coalition
May 31, 2019
BEIRUT: The US-led coalition said Friday it had unintentionally killed more than 1,300 civilians in air strikes during its fight against the Daesh group in Iraq and Syria since 2014.
The figure is far lower than the death tolls given by groups which have monitored the conflicts in the two countries.
"The coalition conducted 34,502 strikes between August 2014 and the end of April 2019," it said in a statement.
During this period, it "assesses at least 1,302 civilians have been unintentionally killed by coalition strikes."
The coalition said it was still assessing 111 additional claims of civilian deaths, and was ready to receive new allegations or fresh evidence to review.
The coalition has repeatedly said it does all it can to avoid civilian deaths.
Airwars, an NGO which monitors civilian casualties from air strikes worldwide, estimates more than 7,900 civilians have been killed in coalition raids — well in excess of the total acknowledged by the coalition.
The Syrian Observatory for Human Rights, a Britain-based monitor, says coalition strikes have taken the lives of 3,800 civilians in Syria alone.
Daesh militants seized large swathes of Iraq and Syria in 2014, declaring a "caliphate" in areas they controlled.
But several offensives with coalition backing chipped away at the "caliphate" until it was declared eliminated on March 23.
Ambushes and hit-and-run attacks have continued in both countries.
Full report at:
http://www.arabnews.com/node/1504676/middle-east
--------
Mideast
Final Islamic Summit communique reiterates Palestinians' right to statehood
1 June 2019
Mecca - The "Mecca Declaration" final communique of the 14th Islamic Summit has largely focused on the question of Palestine and reiterated the Organization of Islamic Cooperation's call for the Palestinians' right to statehood.
"The Summit reaffirmed the centrality of the question of Palestine and the issue of Jerusalem to the Islamic Ummah and reiterated its principled and continuous support at all levels for the Palestinian people to attain their inalienable national rights, including their right to self-determination and the establishment of an independent and sovereign Palestinian State on the 1967 borders with Jerusalem as its capital, and stressed the need to protect the right of return for refugees under resolution 194 and to face any denial of these rights with full force," a point on the final communique read.
The Summit's communique also condemned and rejected any positions issued by international bodies or countries which supports the "prolongation of the occupation and expansionist settlement project at the expense of the legitimate national rights of the Palestinian people, including the recognition by the US administration of Jerusalem as the capital of Israel."
The summit this year was titled "Mecca Summit: Together for the Future," and aimed at developing a unified stance on events in the Islamic world. Leaders of Saudi Arabia, Bahrain, Kuwait, Jordan, Turkey, Tunisia, Senegal, Nigeria, Bangladesh, and Pakistan spoke during the summit.
World leaders mainly focused on the issue of Palestine, countering extremism and terrorism, and the issue of growing Islamophobia around the world.
The communique also rejected and condemned in the "strongest terms of any illegal and irresponsible decision recognizing Jerusalem as the alleged capital of Israel," adding that any countries decision to recognize Jerusalem as the capital of Israel would be considered "null and void and constitutes an attack on the historical, legal and national rights of the Palestinian people and the Islamic world."
The Islamic Summit also called for the complete withdrawal of Israel from the occupied Syrian Golan Heights and return "to the borders of 4 June 1967, in accordance with Security Council resolutions 242 (1967) and 338 (1973), the Land for Peace legislation, the Madrid Peace Conference and the Arab Peace Initiative adopted by the Arab Summit in Beirut in 2002."
The issue of Islamophobia was also noted with concern on the final communique.
"In this regard, the Summit encouraged the United Nations and other international and regional organizations to adopt March 15 as the International Day against Islamophobia," the communique read.
https://english.alarabiya.net/en/News/middle-east/2019/06/01/Final-Islamic-Summit-communique-reiterates-Palestinians-right-to-statehood.html
--------
Houthi leader chants 'death to America' after advocating for peace
1 June 2019
Mohammed Ali al-Houthi, the head of the Iranian-backed Supreme Revolutionary Committee and Washington Post contributor, chanted "death to America" and "curse on the Jews" during a speech in the Yemeni capital of Sanaa.
The speech, which was given to mark al-Quds day on Friday, comes a few months after al-Houthi called for peace in an article published in the Washington Post.
Al-Quds day, or Jerusalem day, is a celebration of the support for the Palestinians on the last Friday of the holy month of Ramadan, a day called for by Iranian Ayatollah Khomeini after the revolution in 1979.
Earlier Friday, anti-America and anti-Israel protests broke out in support for al-Quds day in both Iran and Iraq, where American and Israeli flags were being stepped on and both US President Trump and Israeli Prime Minister Benjamin Netanyahu figures were being burned. Hate chants by Mohammed Ali al-Houthi said: "Death to Israel, curse on the Jews."
Full report at:
https://english.alarabiya.net/en/News/middle-east/2019/06/01/Houthi-leader-chants-death-to-America-after-advocating-for-peace.html
--------
Hezbollah leader says 'it's our duty' to confront Trump's Israel-Palestine deal
May 31, 2019
BEIRUT: - Lebanon's Iran-backed Hezbollah movement said on Friday it was a duty to confront the US Middle East plan that President Donald Trump has touted as "the deal of the century".
"This is a religious, moral, humanitarian, jihadi duty...The deal is a historic crime," Hezbollah leader Hassan Nasrallah said in a televised speech.
http://www.arabnews.com/node/1504801/middle-east
--------
Two Palestinians killed as 200,000 gather for Friday prayers at Al-Aqsa Mosque in Jerusalem
May 31, 2019
JERUSALEM: Two Palestinians were killed as more than 200,000 Muslims took part in the final Friday prayers of Ramadan at Al-Aqsa mosque compound in the Old City of annexed east Jerusalem, as Israel heightened security.
The religious authority in charge of the compound, the third holiest site in Islam, said in total 260,000 worshippers took part in the lunchtime prayers.
The prayers came only hours after a Palestinian teenager stabbed two Israelis inside the Old City before being shot dead by Israeli security.
In a separate incident, another Palestinian teenager was shot dead by Israeli forces in the occupied West Bank as he sought to sneak into Jerusalem, reportedly to pray at Al-Aqsa.
In Jerusalem itself, a 19-year-old Palestinian stabbed one Israeli near the Damascus Gate and another near Jaffa Gate on the other side of the walled Old City, police spokesman Mickey Rosenfeld said.
One of the Israelis was in a critical condition and the other suffered serious wounds, he said.
"Police units that responded at the scene saw the attacker with a knife. The attacker was shot and killed," Rosenfeld said.
The Palestinian health ministry later named him as Yusef Wajih from Abwein village in the central West Bank.
A video released by police showed a man running through the streets and stabbing two Orthodox Jews.
The Old City has been the scene of numerous stabbings of Israelis by Palestinian assailants in recent years, though a relative calm has existed for several months.
After the latest attack, gates to the Old City were briefly sealed before being reopened as thousands thronged toward the mosque.
Inside the mostly uncovered mosque compound, water was sprayed on worshippers to keep them cool in the baking Jerusalem sun, with temperatures approaching 40 degrees.
Despite a heavy police presence, there were no reports of further incidents.
Rosenfeld said increased security presence would "continue throughout the afternoon and evening."
The Al-Aqsa mosque compound is a key religious and political symbol for Palestinians. It is also sacred for Jews, who refer to it at the Temple Mount.
The attack came just two days before Israelis hold a major march to mark Jerusalem Day, the annual commemoration of the capture of east Jerusalem in the Six-Day War of 1967.
It was later annexed in a move not recognized by the international community.
In December 2017, US President Donald Trump broke with decades of bipartisan policy to recognize Jerusalem as Israel's capital in a move that prompted the Palestinians to cut all contacts with his administration.
Israel insists the whole of Jerusalem is its "eternal, indivisible capital." The Palestinians demand the city's eastern sector as the capital of their long promised state.
On Thursday evening, Trump's son-in-law and adviser Jared Kushner met Israeli Prime Minister Benjamin Netanyahu in Jerusalem as part of a Middle East tour before Washington unveils its long-awaited plan for Israel-Palestinian peace.
Kushner, accompanied by Trump envoy Jason Greenblatt, arrived in Jerusalem after earlier stops in Morocco and Jordan.
He is a key architect of the peace plan that the White House says it intends to present in the coming weeks.
But the plan, previously delayed for an Israeli general election on April 9, could face further postponements due to Israeli politics.
Israel is set to hold another general election in September after Netanyahu failed to form a coalition government, and the plan is widely seen as too sensitive an issue to introduce during a political campaign.
The Palestinian leadership has rejected the peace plan without seeing it, saying Trump has shown himself to be blatantly biased in favor of Israel.
They cite moves including declaring the disputed city of Jerusalem Israel's capital and cutting hundreds of millions of dollars in Palestinian aid.
Trump has also handed Netanyahu other diplomatic coups, notably US recognition of Israel's 1981 annexation of the strategic Golan Heights captured from Syria in the Six-Day War.
Full report at:
http://www.arabnews.com/node/1504561/middle-east
--------
Hamas leader thanks Iran for long-range rockets, threatens Tel Aviv
30 May 2019
Hamas leader Yahya Sinwar on Thursday thanked Iran for providing his terror group the rockets it used to strike deep into Israel and warned the Jewish state that Tel Aviv would be struck again in response to any offensive against the Gaza Strip.
"Iran provided us with rockets, and we surprised the world when our resistance targeted Beersheba," Sinwar said in a live TV address, referring to the weekend of violence at the beginning of the month, during which Hamas and Palestinian Islamic Jihad fired nearly 700 rockets at Israel.
"Had it not been for Iran, the resistance in Palestine would not have possessed its current capabilities," Sinwar said.
The Hamas leader then went on to warn that if Israel "resumes its aggression," his group would strike Tel Aviv and other cities with twice as many rockets.
Israel has long charged Iran with trying to arm Palestinian terror groups in Gaza and maintains a blockade of the Strip to try and stop the import of sophisticated weapons systems.
Iran has also supplied tens of thousands of rockets to the Hezbollah terror group in Lebanon.
Sinwar also blasted the Trump administration's not-yet released Mideast peace plan, saying Washington's proposal is bound to fail. "The conflict will not be over until the occupation is removed from all of our land."
He criticized Bahrain for hosting the rollout of the economic stage of Washington's plan in June and called on citizens of the kingdom to protest against their government.
Incendiary balloons from Gaza continue
Separately, the Israel Fire and Rescue Services reported that an incendiary balloon launched from Gaza sparked a fire in an open field near the border with the coastal enclave.
This was the 45th such fire in May, which has seen ceasefire of rockets since May 6, but a near daily onslaught of incendiary objects flown from the Strip toward Israel, burning dozens of acres of land.
Israel announced Saturday night that, as of Sunday, the fishing zone off the coast of the Gaza Strip will be expanded to 15 nautical miles (27.8 kilometers), four days after it was reduced to 10 nautical miles (18.5 kilometers) amid a rash of incendiary balloon attacks from the coastal Palestinian territory.
Since last March, incendiary balloons have caused fires that destroyed thousands of acres of farmland and nature reserves in southern Israel, in particular in the areas bordering Gaza.
Recent weeks have seen tensions in the Strip soar, following a massive two-day escalation of violence earlier this month between Israel and terror groups in the Palestinian enclave.
According to Israel's Channel 12 news, the agreement that ended that flare-up included a Hamas obligation to halt violent incidents along the border fence, maintaining a buffer zone 300 meters from the border, an end to the launching of incendiary balloons at Israeli communities and nighttime clashes between Gazans and Israeli security forces, and a stop to flotillas trying to break through the maritime border between Gaza and Israel.
In return, Israel reportedly agreed to expand the fishing zone, enable the United Nations cash-for-work programs, allow medicine and other civil aid to enter the Strip, and open negotiations on matters relating to electricity, crossings, healthcare and funds.
Full report at:
https://www.timesofisrael.com/hamas-leader-thanks-iran-for-long-range-rockets-threatens-tel-aviv/
--------
Expo shows evidence of Iranian military backing for Houthis
May 31, 2019
JEDDAH: An exhibition held on Thursday on the premises of Jeddah's King Abdul Aziz International Airport showcased missiles, unarmed aerial vehicles (UAVs), boats and other equipment used by the Iran-backed Houthi militia in Yemen to target Saudi Arabia, the Saudi Press Agency reported.
The Facts in Minutes exhibition showcased the remains of Iranian missiles and drones that targeted Saudi Arabia, including a Qiam ballistic missile fired at Riyadh on March 25, 2018, and a Qiam ballistic missile fired at Makkah in 2016.
The exhibition was organized by the Saudi defense and foreign ministries, as well as the Yemen Development and Reconstruction Center. It was attended by leaders of 56 countries and about 390 media personnel.
http://www.arabnews.com/node/1504501/saudi-arabia
--------
Israel, U.S., Russia To Discuss Syria In Trilateral Meeting In Jerusalem
By Herb Keinon
MAY 30, 2019
A trilateral Israeli, US and Russian meeting of national security advisers is scheduled to take place in Israel in June to deal with regional security issues, and is expected to focus on Iran's involvement in Syria.
On Wednesday night, just before the Knesset decided to dissolve itself, the White House issued a statement saying that US National Security Adviser John Bolton, Israeli National Security Adviser Meir Ben-Shabbat and Russian Secretary of the Security Council Nikolay Patrushev will meet in Jerusalem in June "to discuss regional security issues."
Prime Minister Benjamin Netanyahu mentioned the planned meeting in the agitated statement he gave after the Knesset vote, saying that these are the issues the country should be dealing with, not another round of elections.
"I proposed to [US President Donald] Trump and [Russian President Vladimir] Putin to form a US-Russia-Israel trilateral committee that would meet in Jerusalem to discuss the security situation in the Middle East and both of them agreed," Netanyahu said. "This is unprecedented. A meeting like has never taken place before in Israel. Never."
The Russian media reported that Yevgeny Anoshin, a spokesman for Patrushev, confirmed the meeting to journalists.
Netanyahu first proposed the idea at the Kremlin in February during a meeting with Putin that dealt primarily with Iran's presence in Syria.
"The greatest threat to stability and security in the region comes from Iran and its proxies," Netanyahu said before that meeting. "We are determined to continue with our aggressive action against the efforts of Iran – which calls for our destruction – and against its attempt to entrench militarily in Syria."
Netanyahu said at the time that the objective of removing Iranian troops from Syria is not Israel's alone. He proposed setting up a team with others to promote the goal of removing all foreign forces on from Syrian soil and returning the situation regarding foreign troops to what it was before the start of the Syrian civil war. He said that a team has been established to deal with this matter in Israel's National Security Council.
During a meeting in the White House in March, Netanyahu presented Trump with a plan to remove the Iranians from Syria, and a senior Israeli diplomatic official at the time said that he is also trying to enlist Putin's support for that plan.
Full report at:
https://www.jpost.com/Israel-News/Israel-US-Russia-will-hold-trilateral-meeting-591151
--------
Saudi king blasts Iran for 'naked aggression' in the Gulf
31 May 2019
Saudi Arabia's king has accused the kingdom's key rival, Iran, of developing nuclear and ballistic missiles which threaten regional and global stability, telling regional leaders that action is needed to stop Iranian "escalations" following a series of attacks on oil assets in the Gulf.
The comments by King Salman Abdul Aziz came as Saudi Arabia on Thursday hosted in Mecca emergency meetings of the Gulf Cooperation Council, the Organization of the Islamic Conference and the Arab League to counter what it said was Iran's growing influence.
A Gulf-Arab statement and a separate communique issued after the wider summit both supported the right of Saudi Arabia and the United Arab Emirates to defend their interests after the attacks on oil pumping stations in the kingdom and tankers off the UAE. But in a sign of regional tensions, Iraq, which has good ties with neighbouring Iran and the United States, said it objected to the Arab communique, which stated that any cooperation with Tehran should be based on "non-interference in other countries".
'Naked aggression'
Addressing Arab and Muslim leaders earlier, King Salman pressed the international community to "use all means to stop Iran from interfering in other countries' affairs".
He said Tehran's actions threatened international maritime trade and global oil supplies in a "glaring violation of UN treaties".
"This is naked aggression against our stability and international security," the Saudi ruler told the gathered officials.
Iran's "recent criminal acts ... require that all of us work seriously to preserve the security... of GCC [Gulf Cooperation Council] countries," the king added.
In his opening remarks, Saudi Foreign Minister Ibrahim al-Assaf said the alleged sabotage of oil tankers off the coast of the United Arab Emirates and drone attacks on a Saudi oil pipeline by Yemen's Houthi rebels in recent weeks threaten the global economy and endanger regional and international security.
"We should confront it with all means of force and firmness," he said.
An Iranian official was at the meeting where Assaf spoke.Tehran has denied any involvement in the attacks.
John Bolton, a top US security official, alleged on Wednesday Iranian mines were "almost certainly" used in the tanker operation. He provided no proof, however.
An Iranian official dismissed Bolton's remarks as "a ludicrous claim".
Qatar's blockade
King Salman invited Qatar's Emir Sheikh Tamim bin Hamad Al Thani, whose country is home to the largest US military base in the region, to the Mecca summit.
Qatar's Prime Minister Sheikh Abdullah bin Nasser Al Thani attended the meeting instead, the highest Qatari official to visit the kingdom since Saudi Arabia, United Arab Emirates, Bahrain and Egypt imposed a land, sea, and air blockade on the gas-rich nation in June 2017.
Video images of Thursday's gathering showed Sheikh Abdullah shaking King Salman's hand.
Thomas Pickering, a former US ambassador the UN, told Al Jazeera the Qatari prime minister's presence at the summit was an important step.
"The invitation has opened the door more than just a little bit. His [Sheikh Abdullah's] presence there and the handshake is a sign that Saudi Arabia wants unity in the Gulf Cooperation Council and that unity is spreading," said Pickering.
Analysts said the emergency summit will be watched closely for whether or not the Saudis will endorse Qatar as a mediator in the dispute with Iran the same way the US has.
Earlier this month, Al Jazeera reported that Qatar's foreign minister had held talks with his Iranian counterpart in Tehran, aiming to defuse the escalating tensions in the Gulf.
"Washington seems to have bet on Doha to de-escalate by opening back channels with Tehran. The question is whether Saudi and especially UAE can agree on Doha as a mediator," Andreas Krieg from King's College London told Al Jazeera.
"The fact that the Saudis contacted the emir of Qatar directly suggests that the tension with Iran is taken very seriously in Riyadh. So, the kingdom is ready to build a broader-than-usual consensus on how to deal with Iran," Krieg said.
Gulf states have a joint defence force under the Gulf Cooperation Council (GCC), but the 39-year-old alliance has been fractured by the Qatar blockade.
Tensions with Iran
Animosity has risen between the US and Iran after Washington pulled out of a multinational nuclear deal with Tehran, reimposed sanctions and boosted its military presence in the Gulf.
Iranian Foreign Minister Mohammad Javad Zarif said on a trip to Iraq this month that Tehran wanted balanced ties with their Gulf neighbours and had proposed signing a non-aggression pact with them.
One of the UAE's main newspapers said in an editorial, which is usually state-approved, the offer was "bizarre".
Full report at:
https://www.aljazeera.com/news/2019/05/saudi-king-blasts-iran-naked-aggression-gulf-190530200800718.html
--------
Quds Day Terrorist Plot Foiled in Western Iran
May 31, 2019
Commander of Kordestan Law Enforcement Forces Brigadier General Ali Azadi said three members of the terrorist cell were captured after police received intelligence tips about their whereabouts.
He noted that different weapons and ammunition have been also seized from the terrorists.
According to the police chief, the terrorists planned to conduct an attack on the International Quds Day rallies in the provincial capital city of Sanandaj.
The International Quds Day is an annual event opposing Israel's occupation of Beitul-Muqaddas. Anti-Zionist rallies and demonstrations are held on the last Friday of Ramadan in Muslim and Arab countries around the world, specially in Iran, as well as a large number of non-Muslim states.
Full report at:
http://en.farsnews.com/newstext.aspx?nn=13980310000872
--------
Trump signs 'nice' on fake map of Israel gifted to Netanyahu
May 31, 2019
US President Donald Trump has autographed a map of the occupied territories which falsely recognizes Syria's Golan Heights as part of Israel, and gifted it to Israeli Prime Minister Benjamin Netanyahu.
Netanyahu, who had received the State Department map from Trump's son-in-law Jared Kushner as a gift, showed it off in a televised interview on Thursday night.
During the show-off, he told the viewers that the new map marked the occupied Golan Heights as part of Israel, and that Trump had written the word "nice" on it.
"Jared Kushner brought me the updated map that includes the Golan Heights within Israeli sovereignty -- here is the signature of President Trump and he writes here 'Nice,'" Netanyahu said.
On the map, a hand-drawn arrow in black ink points from the word "Nice" to the Golan. Running along the side of the map in the same black ink is the US president's spiky signature.
Back in April, Netanyahu announced he planned to name "a new community on the Golan Heights" after Trump in gratitude for his recognition of Israel's claim of "sovereignty" over the strategic plateau.
In a highly provocative move on March 25, the US president signed a proclamation recognizing Israel's "sovereignty" over the Syrian territory on the direction of a number of his advisers, most notably his adviser Kushner.
Damascus strongly condemned the move and called it a "blatant attack on the sovereignty and territorial integrity" of Syria.
The Arab League also denounced the decision, saying, "Trump's recognition does not change the area's status."
Many countries, including Iran, Russia and Turkey, along with the United Nations Security Council, have lambasted Trump's provocative move.
In 1967, Israel waged a full-scale war on Arab territories, during which it occupied a large swathe of Golan and annexed it in 1981, a move never recognized by the international community.
Syria has repeatedly reaffirmed its sovereignty over the Golan Heights, saying the territory must be completely restored to its control.
Full report at:
https://www.presstv.com/Detail/2019/05/31/597379/Trump-Netanyahu-Map-Golan-heights-autograph-kushner
--------
Palestinian teen shot dead by Israeli forces
May 31, 2019
RAMALLAH, Palestinian Territories: A Palestinian teenager was shot dead by Israeli forces in the occupied West Bank on Friday, the Palestinian health ministry said.
In a statement the ministry said Abdullah Ghaith, 16, "died after he was shot by Israeli occupation soldiers close to Bethlehem and his heart and lungs were penetrated."
Palestinian media suggested he was seeking to breach an Israeli fence to get into Jerusalem to pray at the revered Al-Aqsa mosque on the last Friday of the Muslim holy month of Ramadan.
Full report at:
http://www.arabnews.com/node/1504586/middle-east
--------
Houthis an 'arm of Iran that threatens Yemen's existence'
May 31, 2019
MAKKAH: The Houthis are an arm of Iran and aim to threaten the existence of Yemen and neighboring countries, the Arab coalition said on Friday.
Speaking at a joint press conference organized on the sidelines of the Gulf, Arab and Islamic summits in Makkah, coalition spokesman Col. Turki Al-Maliki said that Iran was seeking to find a foothold in the Bab Al-Mandab Strait through Yemen.
He added that Iranian intervention was a clear violation of UN Security Council resolutions, and that the "stability of the region" depended on the stability of Yemen.
Al-Maliki added that Houthi missiles were supplied by the Iranian Revolutionary Guard, and Iranian experts were training the militias.
"Houthi militias planned a coup against Yemen and planned to threaten the Kingdom and the Gulf nations' security, and our military operations are recognized by the international community," he said.
"The current situation and the international and regional political events prove the interrelationship between regimes practicing terrorism and the terrorist groups and militias, especially in the Middle East."
About the military objectives, Al-Maliki said they were to protect Yemeni citizens in cities and villages, as well as to destroy the militia's capabilities and return legitimacy to the Yemeni state.
He added that a comprehensive plan for humanitarian operations in Yemen was being prepared, in addition to financial support worth $1.5 billion.
The Facts in Minutes
An exhibition held on the premises of Jeddah's King Abdul Aziz International Airport showcased missiles, unarmed aerial vehicles (UAVs), boats and other equipment used by the Iran-backed Houthi militia in Yemen to target Saudi Arabia. Leaders of delegations from 56 different states participating in the Gulf, Arab and Islamic summits have had a look at models of the Iranian ballistic missiles, equipment and weapons used by the Iranian-backed Houthis militias to target Saudi Arabia, where the number of missiles that targeted the Kingdom has reached more than 225 ballistic missiles, including one that targeted Makkah.
The two ballistic missiles featured at the exhibition were intercepted in an attempt targeting Makkah in 2017 and another one targeting Riyadh in 2018.
The "Facts in Minutes" exhibition also features models of ballistic Qiyam missiles, remote-controlled boats, Iranian-made optical binoculars and Iranian Dahlawi anti-armor weaponry used by Houthi militiamen.
The exhibition included a TV screen showing physical evidence of the Iranian regime's involvement in providing these arms to the Houthis.
The exhibition was organized by the Saudi defense and foreign ministries, as well as the Yemen Development and Reconstruction Center.
Full report at:
http://www.arabnews.com/node/1504726/middle-east
--------
North America
US: Efforts underway for safe zone in northern Syria
Ayhan Şimşek
31.05.2019
BERLIN
The U.S. is planning to set up a safe zone in northern Syria to reduce the risk of terror attacks on Turkey and avoid further tension in the region, Secretary of State Mike Pompeo said on Friday.
Speaking at a joint news conference with German Foreign Minister Heiko Maas following their meeting in Berlin, Pompeo underlined that the U.S. will continue to support UN efforts for a political solution in Syria and continue its efforts to reduce risk of violence.
"You've seen the work that we have done with the Turks in Manbij the west of the Euphrates River," Pompeo said referring to the joint patrols by the U.S. and Turkish troops in the area.
"And we are attempting to set up a system something that can add to that. Call it a buffer zone, call it what you will … That will reduce the risk of terrorists attacking from Syria into Turkey," he said.
Asked about local media reports that claimed U.S. administration was seeking military support from Germany and other allies for setting up such a safe zone, Pompeo confirmed that the talks were underway between the partners.
"We've committed our forces there … and we've asked our European partners to assist us. As we develop the plans, we'll see what the force requirements would actually look like," he said.
Pompeo underlined that the planned safe zone also intends to prevent further tensions between Turkey and the U.S.-backed groups in the area.
The activities of the terrorist PYD/PKK group in northern Syria has been a major security concern for Ankara, while the U.S. administration viewed the group as a "reliable partner" in the fight against Daesh.
Turkish leaders have long warned their U.S. counterparts that one cannot rely on a terrorist organization in the fight against another terrorist group.
The PKK, which is listed as a terrorist organization by Turkey, the U.S. and the EU, waged a terror campaign against Turkey for more than 30 years and has been responsible for the deaths of nearly 40,000 people, including women and children.
https://www.aa.com.tr/en/americas/us-efforts-underway-for-safe-zone-in-northern-syria-/1494083
--------
Bolton to present evidence Iran was behind Gulf tanker attacks
31 May 2019
The United States could present evidence linking Iran to attacks on oil tankers off the coast of the United Arab Emirates earlier this month to the United Nations Security Council as early as next week, US National Security Adviser John Bolton said on Thursday.
Speaking during a visit to the UK, Bolton reiterated earlier claims suggesting that Iran was behind the May 12 attack on four commercial ships in the Gulf.
"I don't think anybody who is familiar with the situation in the region, whether they have examined the evidence or not, has come to any conclusion other than that these attacks were carried out by Iran or their surrogates," Bolton told reporters in London.
On Wednesday, Bolton, without offering evidence, alleged the tankers were targeted by "naval mines almost certainly from Iran". Tehran rejected the accusation as "ridiculous" and has repeatedly denied any involvement in the incident.
Tensions between the United States and Iran mounted this month, a year after President Donald Trump withdrew the US from a landmark 2015 nuclear deal between Iran and several other world powers. The deal saw Iran agree to curb its nuclear programme in exchange for sanctions relief.
Washington has since steadily ratcheted up pressure on Tehran: reimposing sanctions, moving to cut the country's oil exports to zero, blacklisting Iran's Revolutionary Guard Corps as a "terrorist group" and deploying US military units to the Gulf in response to an unspecified threat.
Bolton, who has previously called for "the overthrow of the mullahs' regime in Tehran", denied on Thursday that the White House was pursuing a "policy of regime change" and instead said the US move to send an aircraft carrier and B-52 bombers to the region was a move to stymie any show of aggression by Iran.
"I don't think this threat is over, but I do think you can make at least a conditional claim that the quick response and the deployment and other steps that we took did serve as a deterrent," he said, adding that any attacks on US troops, military units or facilities in the Gulf would draw a "very strong response" from Trump's administration.
Despite repeated threats of readiness to retaliate to any attack from the other, both Washington and Tehran have also repeatedly stated they do not want war.
On Thursday, Trump said he was available for talks with Iran's leadership. Iran's Supreme Leader Ayatollah Ali Khamenei has ruled out talks with the White House for the time being, however.
Arab summits
Separately on Thursday, Saudi Arabia and the UAE, which have lobbied Washington to contain Iran, said they wanted to avoid conflict with their regional rival as the former hosted emergency Arab summits over the ongoing tensions.
Two days after the attack on the oil tankers off the UAE's coastline, Saudi Arabia said armed drones struck two oil pumping stations in the kingdom. Riyadh accused Tehran of ordering the May 14 attacks, for which Yemen's Iran-aligned Houthi group claimed responsibility.
Saudi King Salman told a Gulf Arab meeting, in advance of a separate Arab summit, that Iran's development of nuclear and missile capabilities and its threatening of global oil supplies posed a risk to regional and international security.
"It must be said that the absence of a severe and firm stance towards the subversive actions of the Iranian regime in the region caused it to go too far, as we see today," he said.
Saudi Foreign Minister Ibrahim al-Assaf had told a gathering of his counterparts in Jeddah before the Mecca summits that the attacks on oil assets must be addressed with "strength and firmness".
Gulf states have a joint defence force under the Gulf Cooperation Council (GCC), but the alliance has been fractured by a dispute that has seen Saudi Arabia, the UAE, Bahrain and non-GCC Egypt impose a boycott on fellow member Qatar since mid-2017.
Saudi King Salman invited Qatar's Emir Sheikh Tamim bin Hamad Al Thani, whose country is home to the largest US military base in the region, to the Mecca summits.
Qatar, meanwhile, confirmed Prime Minister Sheikh Abdullah bin Nasser Al Thani would attend, the highest Qatari official to visit the kingdom since the rift.
Qatar, which shares a giant gas field with Iran, has offered to help ease tensions in the region, while Iraq and Oman, which have good ties with Tehran and Washington, said they were working at lessening the friction.
Full report at:
https://www.aljazeera.com/news/2019/05/bolton-present-evidence-iran-gulf-tanker-attacks-190530172244844.html
--------
Europe
Little attempt being made to assess far-right extremist funding, report warns
May 30, 2019
Attempts to disrupt and investigate the funding of far-right extremism lags well behind similar work into ISIS-like groups, a report has warned.
Little effort has been made to understand the evolving ways and "overlooked phenomenon" that far-right groups and people are supported financially.
This is despite the UK's interior minister reporting a 36 per cent increase in 2018 in the number of suspected right-wing extremists being referred to the government's deradicalisation programme.
The report by the Royal United Services Institute also urged the private sector, such as banks and social media companies, to boost their coordination in order to stem the spread of hate.
The cooperation between Facebook and PayPal to limit the influence of anti-Muslim campaigner Tommy Robinson - real name Stephen Yaxley Lennon - was cited as a good example.
"A coordinated and harmonised approach is needed if extremist actors are not easily to find other channels for promoting and financing their activity," said the paper.
"Despite the significant threats posed by extreme right-wing groups and, specifically, extreme right-wing terrorism… it would appear that very limited focus is applied to the funding of these groups and individuals," the research found.
Identifying and stopping the financing of terror groups was "exclusively confined" to groups like ISIS and Al Qaeda, it said.
It was found that right-wing extremists were becoming ever more resourceful in circumventing attempts to stop their cash flow
For instance, the 'de-platforming' of far-right figures from mainstream fundraising sites such as GoFundMe or Patreon meant extremists had moved onto alternatives such as the similarly named GoyFundMe or Hatreon.
They are also turning to cryptocurrency as bank or cash transfers become more difficult.
The report cited research that argued cryptocurrencies were especially appealing to right-wing extremists because they represented a "historical mistrust of global financial systems".
Ultimately the paper warned that while right-wing extremism may not always be violent and indeed is not considered a criminal offence in some countries, it is still "inextricably linked" to terrorism.
"What begins as right-wing extremism may progress rapidly into right-wing terrorism, as vividly illustrated by the transition of the Christchurch killer from online postings to murderous action," the research said.
While fringe out-and-out violent actors struggled to attract significant funding, entrenched "mainstream" extreme groups or individuals are backed by "deep-pocketed donors".
International financial links between different groups remains a topic of contention amongst experts but it is generally accepted that given the prevalence of seemingly linked far-right groups, there must be some level of global connectivity.
One example is Generation Identity, which started in France in 2012 and has spread to the UK, Germany, Austria, Italy and further afield. Reports say it is linked to Identity Evropa, one of the groups being a white supremacist rally in Charlottesville, Virginia, in 2017.
There is also an increased understanding into the significance of specific numbers that could be indicate a transaction by far-right groups – a phenomenon distinct from other extremist groups.
For example, the first letter of the alphabet is A and the eighth is H – this would generally be accepted to be referring to AH or Adolph Hitler.
Another, which was scrawled across the weapons and magazines used by the Christchurch shooter, is 1683. This was the date of the Battle of Vienna, viewed by the extremist as the moment the Ottoman Empire's fortunes began to fall.
"Today's low-priority risk could become tomorrow's high priority threat, and developing a financial analysis and understanding of these groups, their activities and facilitators is imperative as part of an enhanced response," the report concluded.
https://www.thenational.ae/world/europe/little-attempt-being-made-to-assess-far-right-extremist-funding-report-warns-1.868305
--------
Lyon Bomb Suspect Told Police He Pledged Allegiance to ISIS
By Aurelien Breeden
May 30, 2019
PARIS — The main suspect in the bombing last week in the central French city of Lyon has told investigators that he had pledged allegiance to the Islamic State, a French judicial official said on Thursday.
The official, who was not authorized to speak publicly about the case, identified the suspect as Mohamed M., but did not provide any additional details.
The suspect was arrested on Monday at a bus stop in Lyon and is still in custody, where he admitted to investigators that he had carried out the bombing. But his exact motivations — and whether he had direct ties to the Islamic State or to a wider network — remain unclear, the French authorities said.
There has been no claim of responsibility from the Islamic State for the bombing, in which 13 people were lightly wounded by a device packed with screws, metal balls and batteries that exploded outside a bakery in the center of Lyon, France's third-most populated city.
Over 300 police officers used witness accounts and footage from video surveillance cameras to retrace the suspect's steps and identify him.
The French police had taken in the suspect's parents and brother for questioning, but the Paris prosecutor's office, which handles terrorism investigations nationwide, said on Thursday that all three had been released for lack of incriminating evidence.
Christophe Castaner, France's interior minister, told the CNews television channel on Tuesday that the suspect was not previously known by French security or intelligence services.
Mr. Castaner declined to confirm or deny French news reports that the suspect was a 24-year-old Algerian, but he said the man had previously stayed in France on short-term visas and was then refused a student visa.
The bomb showed "very efficient" technical know-how but had a "very small volume of explosives," Mr. Castaner said.
Gérard Collomb, the mayor of Lyon, told Franceinfo on Wednesday that the suspect did not show any "exterior" signs of recent radicalization but that he had ordered materials online that could be used for homemade bombs.
Full report at:
https://www.nytimes.com/2019/05/30/world/europe/lyon-france-bombing.html
--------
HRW condemns France 'outsourcing' of ISIS trials to Iraq
31 May 2019
Human Rights Watch on Friday condemned France's "outsourcing" of trials of ISIS group suspects held in Iraq where seven of its nationals have this week been sentenced to death.
Two of them have "alleged that they were tortured or coerced to confess," the New York-based watchdog said in a statement.
"France and other countries should not be outsourcing the management of their terrorism suspects to abusive justice systems," said HRW's acting Middle East director, Lama Fakih.
"These countries should not be sitting idly by while their citizens are transferred to a country where their right to a fair trial and protection from torture are undermined."
A Baghdad court sentenced a Frenchman to death on Wednesday for joining ISIS, bringing to seven the number of French extremists on death row in Iraq.
Yassin Sakkam was among 12 French citizens handed over to Iraqi authorities in January by a US-backed force which expelled the extremist group from its last bastion in Syria.
Sakkam's sentence came despite France reiterating its opposition to capital punishment this week. Iraq has taken custody of thousands of extremists in recent months after they were captured in neighboring Syria.
They include hundreds of foreigners suspected of ISIS membership, raising the question of whether they should be tried in the region or repatriated.
France has long insisted it's adult citizens captured in Iraq or Syria must face trial before local courts, while stressing its opposition to capital punishment. Iraqi law provides for the death penalty for anyone joining a "terrorist group" -- even those who did not take up arms.
HRW said it had documented cases of Iraqi interrogators "using a range of torture techniques, including beating suspects on the soles of their feet, internationally known as 'falaka,' and waterboarding, which would not leave lasting marks on the person's body."
It also condemned "the routine failure of the Iraqi justice system to credibly investigate torture allegations."
In all but one case observed by HRW since 2016, trials had consisted of "a judge briefly interviewing the defendant, usually relying solely on a confession, often coerced, with no effective legal representation."
A group representing the families of French extremists has asked the government in Paris to "do everything possible to stop this fatal chain of death sentences" and to try them "on our soil."
On Tuesday, Foreign Minister Jean-Yves Le Drian said France was stepping up efforts to stop Iraq executing those convicted.
Full report at:
https://english.alarabiya.net/en/News/middle-east/2019/05/31/HRW-condemns-France-outsourcing-of-ISIS-trials-to-Iraq.html
--------
Onus is on Turkey to rein in militants in Syria's Idlib, Russia says
May 31, 2019
A high-ranking Russian official says Turkey carries the responsibility to stop Takfiri militants stationed in Syria's northwestern province of Idlib from launching attacks and firing projectiles on civilian facilities and Russian targets.
Kremlin spokesman Dmitry Peskov made clear on Friday that Moscow was unmoved for the time being by Turkish President Recep Tayyip Erdogan's call for a cease-fire in Idlib, emphasizing that militants were the ones, who had to implement a cessation of hostilities in the first instance to prevent more civilian deaths and a refugee influx to Turkey.
"We really do need a ceasefire in Idlib and what needs to be achieved is for the terrorists to stop firing on civilian targets and on certain facilities where our troops are located," Peskov told reporters when asked about Erdogan's request for a ceasefire.
"This is the responsibility of the Turkish side," the Kremlin spokesperson added.
On May 23, the Russian Defense Ministry said its surface-to-air missile systems had managed to foil an attack by foreign-sponsored Takfiri militants on its main airbase in Syria's western coastal province of Latakia.
The ministry announced in a statement that militants positioned in the de-escalation zone of Idlib province had launched four missiles at the strategic Hmeimim airbase.
The statement added that Russian air defense systems destroyed all the projectiles before they could strike the site.
The Russian Defense Ministry further noted that the missile launcher, which the Takfiri terrorists had used to fire the missiles at the Hmeimim base, was later detected and destroyed.
The development came only a day after foreign-backed militants fired a barrage of missiles at the same Russian military site.
The Russian Defense Ministry stated that eight rockets launched by the extremists did not reach the Hmeimim airbase, while another nine were shot down by Russian air defense systems.
Russia has been helping Syrian forces in ongoing battles across the conflict-plagued Arab country.
The Russian military assistance, which began in September 2015 at the official request of the Syrian government, has proved effective as Syrians continue to recapture key areas from Daesh and other foreign-backed terrorist groups across the country with the backing of Russian air cover.
Under a deal reached following a meeting between Turkish President Recep Tayyip Erdogan and his Russian counterpart Vladimir Putin in the Black Sea resort city of Sochi on September 17, 2018, all militants in a demilitarized zone, which surrounds Idlib and also parts of the adjacent provinces of Aleppo and Hama, were supposed to pull out heavy arms by October 17, and Takfiri groups had to withdraw by October 15 last year.
The National Front for the Liberation of Syria is the main Turkish-backed militant alliance in the Idlib region, but the Takfiri Hayat Tahrir al-Sham (HTS) terrorist group, which is a coalition of different factions of terror outfits, largely composed of the Jabhat Fateh al-Sham, holds a large part of the province and the zone.
The HTS, which is said to be in control of some 60 percent of Idlib province, has yet to announce its stance on the buffer zone deal.
It is estimated that between 10,000 and 15,000 members of different factions of armed groups, which Syria, Russia and Turkey consider terrorists, are active in the volatile province, which is home to around three million inhabitants.
Full report at:
https://www.presstv.com/Detail/2019/05/31/597395/Turkey-Syria-Idlib-Russia
--------
Two arrested over 'hit-and-run' in UK mosque car crash after Taraweeh prayers
Jack Dutton
May 31, 2019
Two people have been arrested in a suspected hit-and-run near a UK mosque, which left a man and a teenager hurt after Taraweeh prayers.
A worshipper in his forties was struck in Humberstone Road, after leaving the Masjid At-Taqwa mosque, in England's East Midlands, in the early hours of Thursday morning.
The man remains in stable condition in hospital.
A teenage boy was also hit, sustaining minor injuries.
The mosque said in a Facebook post: "Our dear brother has suffered multiple injuries and remains in intensive care. We have however received reassuring news that he is in a stable condition Alhumdulillah. Our heartfelt and sincere request to everyone to continue praying for his swift recovery and wellbeing. Our thoughts and prayers are also with the brother's family. We will continue to liaise with, and support them in any capacity during this difficult time."
The mosque then thanked the police and ambulance service for their "rapid response and professionalism" when addressing the crash.
"We will continue to work closely with the police and provide any assistance to aid their investigation. We reach out to the community also, to contact the Police if you may have any information that could help in this matter and to remain vigilant," a spokesperson for the Masjid At-Taqwa mosque added.
Following the incident, a 21-year-old woman and a 23-year-old man have been held on suspicion of causing serious injury by dangerous driving.
Police do not believe the crash was intentional, but said the drivers failed to stop after the collision. An investigation into the exact circumstances surrounding the incident is continuing.
Police inspector Paul Allen said: "While we have made an arrest the investigation is very much ongoing and we have a team of officers working to establish the exact circumstances of what has happened and to locate the vehicle.
Full report at:
https://www.thenational.ae/world/europe/two-arrested-over-hit-and-run-in-uk-mosque-car-crash-after-taraweeh-prayers-1.868617
--------
South Asia
Suicide bomber kills six at Afghan defense university while Moscow talks fail to deliver cease-fire
By Pamela Constable and
Amie Ferris-Rotman
May 30, 2019
KABUL — A suicide bomber detonated a vehicle filled with explosives Thursday afternoon outside the national military academy here, killing at least six people and wounding 16, officials said.
The vehicle exploded as cadets at the Marshal Fahim National Defense University were leaving the hillside campus overlooking the Afghan capital for their weekly two-day break. The extremist Islamic State group asserted responsibility for the bombing.
The attack occurred after three days of Afghan peace talks in Moscow concluded without any significant progress in ending the war, or even the hoped-for announcement of a cease-fire at the end of the holy month of Ramadan next week. Last June, a three-day truce raised nationwide hopes for a war settlement.
In the talks, a 14-member Taliban delegation headed by Abdul Ghani Baradar held several lengthy closed-door meetings with Afghan power brokers. They did not include representatives of the elected Kabul government, which the insurgents view as a U.S. puppet, although members of a government-appointed peace council attended the conference.
The participants included former president Hamid Karzai, former national security adviser Hanif Atmar — a key contender challenging President Ashraf Ghani in elections slated for September — and Atta Mohammad Noor, a former provincial governor and influential figure.
Noor publicly appealed to the Taliban on Tuesday, when the conference opened, to propose a cease-fire before the talks ended. But a Taliban spokesman said Thursday no truce would be offered, although progress had been made.
The Taliban's chief negotiator, Mohammad Abbas Stanikzai, right, and head of its political office, Abdul Ghani Baradar, left, attend peace talks with senior Afghan politicians in Moscow on Thursday. (Evgenia Novozhenina/Reuters)
"We discussed the cease-fire, and we will continue this discussion," the spokesman, Muhammad Sohail Shaheen, told journalists. "We are satisfied with how negotiations went." The conference marked the second such event hosted by Moscow, which brought together Taliban and influential Afghan figures in February.
A brief closing joint statement in Pashto said both sides had discussed a range of issues, including the pullout of foreign troops, the "consolidation of the Islamic system" and women's rights. It said that agreement was reached on some issues but that others "needed further debate."
Baradar, a co-founder of the Taliban and head of its political office, spoke publicly for the first time Tuesday about the importance of reaching a peace deal. He indicated that months of efforts to end the 18-year war may be advancing despite continued attacks by the insurgents and the lack of progress in months of parallel U.S.-Taliban talks.
"The Islamic Emirate is firmly committed to peace, but the first step is to remove obstacles and end the occupation of Afghanistan," he said, using the Taliban's formal name.
The busiest figure at the conference, though, was Karzai, who was widely seen as the chief broker between the two sides. There were numerous group photo-ops, with Karzai in the center, flanked by Taliban representatives and Afghan politicians.
"It was very, very positive. We had good discussions," Karzai said as the meeting ended. "We are leaving very, very happy."
Both the Islamic State and the Taliban have attacked the military academy since it opened in 2014 soon after the death of Muhammad Marshal Fahim, a former vice president and anti-Taliban militia leader.
In August of that year, an apparent insider attack claimed by the Taliban killed U.S. Army Maj. Gen. Harold J. Greene, the highest-ranking U.S. officer to die in the Afghanistan and Iraq wars. He was shot by a man in military uniform during a visit by U.S. and NATO generals to the facility.
In January 2018, Islamic State militants attacked Afghan soldiers guarding the academy in an early morning assault, killing 11 troops and wounding 16. Officials said a suicide bomber struck the security unit, then other militants opened fire.
In October, a suicide bomber on foot approached the walled campus as Afghan officers were leaving and detonated his vest, killing 15. The Taliban asserted responsibility for that attack.
Ferris-Rotman reported from Moscow. Sayed Salahuddin in Kabul contributed to this report.
https://www.washingtonpost.com/world/asia_pacific/suicide-bomber-attacks-afghanistans-defense-university-killing-six/2019/05/30/bc3c80e0-82bf-11e9-95a9-e2c830afe24f_story.html?noredirect=on&utm_term=.b66def445c2d
--------
Four Afghans killed, four US troops wounded in Kabul suicide blast
JUNE 1, 2019
At least four Afghans were killed and four US troops lightly wounded when a car bomber attacked a US military convoy in Kabul on Friday, officials said.
The blast, which was claimed by the Taliban, occurred around 8:40 am (0410 GMT) when an explosives-laden vehicle drove into the convoy that was travelling in eastern Kabul, according to interior ministry spokesman Nasrat Rahimi.
"Unfortunately in the attack, four of our countrymen were martyred and three others wounded – they were passers-by," Rahimi said.
A spokesman for Resolute Support, the US-led NATO mission in Afghanistan, said four US service members had suffered minor injuries.
When US forces move about in Kabul, they typically travel in tall, heavily reinforced tactical vehicles that can provide good protection against bombs.
Known as MRAPs, for Mine-Resistant Ambush Protected, the vehicles are sturdy but present a very visible target. Taliban spokesman Zabihullah Mujahid said the insurgent group was behind the attack, which he claimed to have killed "10 officers and soldiers of invading forces". The Taliban frequently exaggerate claims after attacks.
The blast came one day after an Islamic State suicide bomber blew himself up outside an Afghan army military academy, killing at least six people. It also followed a meeting between the Taliban and Afghan opposition figures in Moscow this week that yielded no tangible results.
Full report at:
https://dailytimes.com.pk/404480/four-afghans-killed-four-us-troops-wounded-in-kabul-suicide-blast/
--------
Taliban militants suffer casualties in Helmand and Kandahar airstrikes
31 May 2019
The security forces carried out separate airstrikes in Helmand and Kandahar provinces killing at least 7 Taliban militants.
"An airstrike in Kajaki district of Helmand province killed 2 Taliban fighters and destroyed 1 vehicle," the informed military sources said Thursday.
The sources further added that the security forces carried out a similar airstrike in Now Zad district of Helmand killing 2 Taliban fighters. "In Now Zad district, a strike killed 2 Taliban fighters," the sources said.
The security forces carried out similar airstrikes in southern Kandahar province. "Airstrikes in Ma'ruf district of Kandahar province killed 3 Taliban fighters and wounded 1," the military sources added.
The anti-government armed militants including Taliban have not commented regarding the airstrikes so far.
The security situation in some districts of Both Helmand and Kandahar provinces remain tense. Taliban militants are active in several restive districts of the two provinces and often attempt to carry out terrorist related activities against the government.
Full report at:
https://www.khaama.com/taliban-militants-suffer-casualties-in-helmand-and-kandahar-airstrikes-03515/
--------
Afghan Special Forces storm Taliban leadership's compound in Farah province
31 May 2019
The Special Forces of the Afghan military targeted a compound of Taliban leadership in western Farah province killing at least three militants.
"In an Afghan special forces raid targeting Taliban leadership killed 3 Taliban fighters and destroyed a Taliban medical facility and a large number of weapons and explosives," the military sources said Thursday.
The sources further added that the 1st Brigade of the 203rd Corps operations in Ahmadabad, Sayyid Karam, Jani Khel and Musa Khel of Paktiya and Khost has killed 3 Taliban fighers and wounded two others.
The Afghan special forces also killed 2 Taliban fighters in Kunduz district of northern Kunduz province.
Full report at:
https://www.khaama.com/afghan-special-forces-storm-taliban-leaderships-compound-in-farah-province-03512/
--------
Taliban and ISIS militants suffer casualties in an infighting in Nangarhar
31 May 2019
The Taliban and ISIS militants clashed with each other in eastern Nangarhar province of Afghanistan on Thursday, the Afghan military said Friday.
The 201st Silab Corps in a statement said the Taliban and ISIS militants clashed with each other in Khogyani district on Thursday.
The statement further added that the clash left one ISIS fighter and 5 Taliban militants dead including a Taliban commander Abdul Rahman.
According to 201st Silab Corps, the clash also left two Taliban militants wounded.
The anti-government armed militants including Taliban and ISIS sympathizers have not commented regarding the infighting so far.
This comes as the security situation in some remote districts of Nangarhar province has deteriorated during the recent years. Both Taliban and ISIS militants are active in remote areas of the province.
Full report at:
https://www.khaama.com/taliban-and-isis-militants-suffer-casualties-in-an-infighting-in-nangarhar-03513/
--------
No ceasefire declared during Eid days: Taliban
31 May 2019
The Taliban group has rejected rumors regarding a ceasefire declaration during the three days of Eid-ul-Fitr.
Taliban spokesman Zabiullah Mujahid in a statement said audio clips circulating on social media regarding ceasefire declaration is not new and belongs to last year.
This comes as the former Afghan President Hamid Karzai had earlier welcomed a ceasefire declaration by Taliban group during the three days of Eid-ul-Fitr.
The Office of the Former President in a statement said the former President Hamid Karzai welcomes declaration of ceasefire by Taliban group during Eid-ul-Fitr days.
The statement further added that the former President urges the government to declare a ceasefire as a gesture of goodwill and refrain from any military operations.
Karzai also hailed the declaration of a three-day ceasefire as a good start for bringing peace in the country.
Full report at:
https://www.khaama.com/no-ceasefire-declared-during-eid-days-taliban-03514/
--------
21 Taliban fighters killed in Ghazni airstrike
01 Jun 2019
The security forces have carried out an airstrike in south-eastern Ghazni province killing at least 21 Taliban fighters.
The informed military sources said Saturday that the security forces carried out an airstrike in Qarabagh district of Ghazni killing 21 Taliban militants.
The anti-government armed militants including Taliban have not commented regarding the airstrike so far.
This comes as the security situation in some districts of Ghazni province has deteriorated during the recent months. Taliban militants often carry out terrorist related activities in some restive districts of the province.
In the meantime, the Afghan forces are busy conducting counter-terrorism operations against both groups in this province.
Full report at:
https://www.khaama.com/21-taliban-fighters-killed-in-ghazni-airstrike-03517/
--------
Africa
Kenyan leader joins Muslims for iftar and prayers
Andrew Wasike
31.05.2019
President Uhuru Kenyatta on Thursday evening joined Muslims at Kenya's biggest mosque for iftar (fast-breaking meal) and prayers.
While addressing the worshippers inside the Jamia Mosque in capital Nairobi, Kenyatta preached inter-faith harmony and urged citizens to foster peace.
"We are proud of our diversity as a nation of many ethnic groups, colors and religions, tolerance is the bedrock of harmonious coexistence," Kenyatta said, according to a statement from his office on Friday.
"When we see violence occasioned, this violence is not occasioned by Muslims or Christians but by criminals. It is this criminal that we fight because they are enemies of Muslims and Christians and all other religious groups."
Muslim leaders from across Kenya who had gathered at the mosque commented that Kenyatta had opened "a new window of unity" by making this visit.
"This is the first time in the history of Kenya a sitting president has visited a mosque. He is opening new doors for the unity of the country," said professor Abdilatif Essajje, a Muslim leader and Jamia Mosque's chief treasurer.
The president also flagged off food aid for various mosques.
https://www.aa.com.tr/en/africa/kenyan-leader-joins-muslims-for-iftar-and-prayers/1494034
--------
Turkish charity distributes Holy Qurans in Ethiopia
31.05.2019
The Turkiye Diyanet Foundation (TDV) has begun distributing an Amharic version of the Holy Quran at mosques in Ethiopia's capital.
Some 1,200 copies were given out to worshippers at the Grand Anwar Mosque in Addis Ababa who had just completed their last Friday prayers before the Eid al-Fitr holiday, which marks the end of the fasting month of Ramadan.
The foundation financed the printing of 15,000 copies in collaboration with Addis Ababa University.
Haji Taha Muhamed Harun, the imam of the Grand Anwar Mosque, told Anadolu Agency that they had begun discussing cooperation with the foundation six months ago.
He thanked the TDV for what he described as a job well done.
"We are happy that they came to us to distribute the Quran copies and to pray the Friday Salat [prayer] with us," he said of the TDV officials.
"And Diyanet promised us blankets. And also we would be happy if they help us dig a water well inside the mosque."
Cemil Alici, the religious services advisor at the Turkish Embassy in Addis Ababa, told Anadolu Agency that TDV in collaboration with a Turkish businessman and the Turkish Cooperation and Coordination Agency (TIKA) will undertake the refurbishment of the mosque.
"Turkey will also set up a soup kitchen inside the Grand Anwar Mosque so that food can be distributed on special days," Alici said.
He said demand for the Amharic Qurans remains high.
Haji Hassan Tolahi spoke to Anadolu Agency after taking his share of the Qurans.
"We need as many copies of the Amharic version of the Quran [as possible] because while we and our children recite the Quran, we may not understand it."
"So we need it for the reference; to understand the meaning better," he said.
Full report at:
https://www.aa.com.tr/en/africa/turkish-charity-distributes-holy-qurans-in-ethiopia/1494417
--------
NGOs providing logistics support to Boko Haram terrorists, Army claims
May 30, 2019
The Nigerian Army has again accused some Non-Governmental Organisations operating in the North East of breaching security and sabotaging ongoing counter-terrorism operations in the zone.
Army Spokesman, Col. Sagir Musa, on Thursday said the military established this after the arrest of a Boko Haram commander, Mohammed Modu on Sunday.
The army had in 2018 levelled similar accusations against NGOs operating in the region.
Musa alleged that the high profile commander belonged to the Abubakar Shekau's faction of the terrorist group.
The army spokesman said that preliminary investigations revealed that the Shekau's faction of Boko Haram had been receiving "humanitarian support of food and drugs supplies from some NGOs operating in the North East.''
Musa described the NGOs' actions – providing logistics support to terrorists, as "serious security breaches.''
He, therefore, warned the affected NGOs to "desist from compromising Nigeria's national security and war efforts against terrorism.''
Musa advised them to operate in accordance with the extant rules and regulations guiding the operations of humanitarian aid workers.
He said they must also operate in line with the guidelines and procedures of International Humanitarian Laws, as well as the Laws of Armed Conflict.
He further warned, "The Nigerian army will no longer tolerate such acts of sabotage inimical to the fight against terrorism by any organisation or agency, and will not hesitate to sanction any such recalcitrant organisation as appropriate.''
NAN reports that in December 2018, the army suspended the operations of the United Nations International Children's Emergency Fund in the North-East theatre until further notice.
Full report at:
https://punchng.com/ngos-providing-logistics-support-to-boko-haram-terrorists-army-claims/
--------
Boko Haram defeated, Nigerian military fighting another terrorist group – Buratai reveals
May 30, 2019
By Wale Odunsi
Chief of Army Staff, Lt. General Tukur Yusuf Buratai has said that Boko Haram has been defeated.
According to him, Nigerian military was now fighting an international criminal gang known as Islamic State of West Africa Province (ISWAP).
The Army Chief spoke in Abuja when pupils of several schools in Abuja interacted with him.
On how he copes with the pressure of office, the COAS said, "When I was appointed the Chief of Army Staff, I had the feeling that I will be the least controversial COAS. I had the feeling I will have an excellent relationship with the media.
"This first thing I did was to call the then Director of Army Public Relations and I told him that henceforth, all our actions and activities must be reported and made known to the media.
"They had a right to know. It is the Nigerian Army. There should be no gaps about information in our operations in the North East or elsewhere.
"Before then, we used to have so many reporters in the north east including informants for the terrorists who plant stories and breaking news some of which went contrary to happenings, with a ploy to make troops unstable or demoralized.
"So we started reporting events and occurrence about the battle, attacks in the northeast. We were breaking the news ourselves but this time, the real actions on the ground, not fabrications.
"We also commenced interaction with stakeholders for them to see and know the true happenings, which later opened their eyes to appreciate what we were going through and the heroic efforts of troops.
"We interacted with the NBA, Human Rights Groups, the Media, & others and they now understood our job better. "I also took personal steps to ensure troops fitness and agility particularly on the battlefield by issuing orders for officers and soldiers to trim down".
"We also had pressures from International Organizations including Amnesty International who also found fault in anything we do.
"I believe they have a hidden agenda which is best known to them by reporting falsehood against Nigerian military But by and large we set up investigation teams and found out the allegations they made were fabricated.
"We ensured rules of engagement were adhered to in all our operations and those who flouted them were dealt with according to the rules.".
Full report at:
https://dailypost.ng/2019/05/30/boko-haram-defeated-nigerian-military-fighting-another-terrorist-group-buratai-reveals/
--------
Islamic State puts the Sahel in West Africa – for now
MAY 30, 2019
Starting in May, Islamic State began to attribute insurgent activities in the Mali-Burkina Faso-Niger tri-border area to its West Africa Province affiliate. This region is far to the west of ISWAP's normal operational area around Lake Chad, but rather than a westward expansion by that Nigerian-led group, these claims appear to represent the promotion of the actions of the Islamic State in the Greater Sahara under the West Africa Province brand. ISIS finally recognized ISGS as a local affiliate years after its leadership first pledged bayat to Abu Bakr al-Baghdadi.
Experts told The Defense Post that ISIS has grouped ISGS with the Wilayah of West Africa, but that doesn't mean there is a definitive link between ISGS and ISWAP, and there remains the potential for ISIS central to give ISGS control of its own province.
From MUJAO to ISGS, or a potted history of ISIS in the Sahel
ISGS was founded in mid 2015 by Adnan Abu Walid al-Sahrawi. Believed to be from Western Sahara, Sahrawi (also spelled Sahraoui) had been involved in Islamic militancy for years, and was spokesperson for MUJAO, the Movement for Oneness and Jihad in West Africa. When MUJAO merged with Mokhtar Belmokhtar's al-Mulathameen (the Masked Ones) in 2013, Sahrawi remained a senior commander in the new al-Mourabitoun (The Sentinels).
Al-Mourabitoun is an al-Qaeda-linked group based in northern Mali, but it has carried out attacks in other countries in the region, often working with other jihadist groups including al-Qaeda in the Islamic Maghreb, which was born in Algeria but operates across the Sahara and Sahel.
Al-Mourabitoun was responsible for several deadly attacks on hotels including the November 2015 attack at the Radisson Blu hotel in Mali's capital Bamako that left 22 people dead.
In May 2015 Sahrawi pledged allegiance to ISIS leader Baghdadi in a message sent to the Mauritanian news agency Al Akhbar, saying the bayah was on behalf of the entirety of al-Mourabitoun, a claim that Belmokhtar disputed. Sahrawi split from al-Mourabitoun along with some fighters to form Islamic State in the Greater Sahara and there were reports of clashes between the two groups around that time.
Separately Al-Mourabitoun in 2017 merged with several groups, including Ansar Dine and the Sahara branch of AQIM to form the Support Group for Islam and Muslims (JNIM), which is al-Qaeda's Mali branch.
Apparent difficulties in forming effective lines of communication between ISGS meant there was little or no functional relationship between the two. Sahrawi's group operated unilaterally while maintaining that it was acting in the name of Islamic State, yet there were no official ISIS statements about ISGS activity from 2016 until earlier this year.
ISGS has independently released statements and videos claiming responsibility for around a dozen attacks, often through news agencies such as Al Akhbar. Many more unclaimed attacks have been attributed to the group, and all have taken place in Mali, Burkina Faso and Niger.
Sharawi commands an estimated 425 ISGS fighters, according to an August 2018 report by West Point's Combating Terrorism Center, although estimates vary.
Fighting foreign forces and ethnic adversaries
ISGS is strongly opposed to foreign involvement in the Sahel and has carried out several attacks on foreign forces. France, the former main colonial power in Western Africa until the 1960s, is a major focus for ISGS, with the country singled out in propaganda and its forces targeted. In April 2018, ISGS abducted a teacher in the Soum region of Burkina Faso for instructing in French, and in a statement to AFP shortly after the attack an ISGS spokesperson threatened those who taught in French.
Through Operation Barkhane, France maintains an active counter-terrorism force of around 4,500 troops in the Sahel that fight various jihadist groups. The deployment's origins are in the Operation Serval mission that battled a jihadist insurgency which itself exploited a Tuareg separatist uprising that began in Mali in 2012.
There is also a significant ethnic dynamic to the Sahel conflict. ISGS has heavily recruited from the Fulani community and has been blamed for multiple massacres of Tuareg civilians, while two mainly Tuareg militia groups – GATIA and MSA – have been accused of carrying out massacres of Fulani civilians.
GATIA and MSA, who both signed up to the 2015 peace deal with the government, have been major opponents of ISGS and have been backed by French forces and airstrikes.
ISGS reawakens
ISGS quickly went dormant following Sahrawi's 2015 pledge, and it was over a year later in September 2016 that the group first claimed responsibility for an attack. In a message sent to Al Akhbar, ISGS said its fighters attacked a post on Burkina Faso's frontier with Niger, killing a civilian and a border guard.
ISGS soon claimed responsibility for a second attack in the same way, an October 2 assault on a Burkina Faso military outpost in the town of Intangom near the border with Mali that killed three soldiers. A failed jailbreak at Koutoukale high-security prison in Niger on October 17 was also claimed by ISGS.
Shortly afterwards, Islamic State central issued its first statements about ISGS, recognizing Sharawi's pledge of allegiance via the Amaq propaganda agency and in the weekly Al-Naba newsletter in late October 2016, some 17 months after he originally made it. Amaq also released a short video showing Sahrawi and a group of fighters pledging allegiance to Baghdadi.
It appears ISGS then lost communication with ISIS central for an extended period. Al-Naba occasionally summarized news articles about ISGS activities, and ISGS released content independently, but there were no further releases by ISIS central.
ISIS adds Greater Sahara to West Africa
That changed on March 22 this year, when ISIS released a picture showing a group of seven militants in Burkina Faso, although the photo appears to have been taken in December 2018. It made no mention of ISGS, with the picture attributed instead to Wilayah West Africa.
A few days later on March 28, two pages were dedicated to ISGS in edition 175 of Al-Naba, including claims of responsibility for a number of older and more recent attacks. These included the infamous Tongo Tongo ambush in Niger in October 2017 that killed four U.S. and several Nigerien soldiers, an SVBIED attack on French forces in Mali in March 2019, and the abduction in Burkina Faso and later killing of Canadian geologist Kirk Woodman in January.
Al-Naba included background on the conflict in the Sahel, including mentioning GATIA/MSA and Tuaregs. It also stressed ISGS's opposition to foreign forces, particularly those from France, suggesting ISIS is aware of the nature and specifics of the conflict.
Amaq released a video on April 3, the first to feature combat in Mali, apparently showing an ambush of French forces in the Mali-Niger border area. Subsequently some ISGS attacks have been claimed by ISIS either in statements or through Al-Naba.
Finally, in his April video, ISIS leader Baghdadi specifically mentions Adnan Abu Walid Sahrawi and notes pledges of allegiance from Mali and Burkina Faso, calling for them to "intensify their strikes on Crusader France and its allies."
Renewed communication between ISIS central and ISGS
The reconnection of ISGS with ISIS, the latter reporting on insurgent activities in the Sahel, and the recognition of Sahrawi by Baghdadi appears to have had an effect.
Armed Conflict Location and Event Data Project researcher Héni Nsaibia told The Defense Post that he thinks "the re-established connection has translated into action on the ground."
A recent series of attacks apparently carried out by ISGS supports this idea.
In a statement issued on May 16, ISIS claimed responsibility for two attacks in Niger.
The first was a May 13 attack that ISIS said was "in the vicinity" of Koutoukale prison, a high-security facility that holds members of various militant groups, including ISGS and ISWAP. The apparent prison break was foiled, and although one Nigerien national guard junior officer later died from his injuries, but it could have been much more deadly: an unexploded SVBIED was found nearby.
The second was an ambush near Tongo Tongo a day later on May 14 that left 28 Niger soldiers dead.
Since the photo of fighters in Burkina Faso was published, subsequent statements and images issued by ISIS about ISGS activities have all been attributed to West Africa Province.
While 'West Africa' suggests a broad geographic reach, the capabilities and nature of the ISWAP group means attacks have mainly been limited to the Lake Chad area of eastern Niger, western Chad, northern Cameroon and northeastern Nigeria, with the overwhelming majority of attacks in Nigeria.
Previously, ISIS activity in the geographic Wilayah of West Africa was carried out by a single group – Jama'at ahl al-sunna li-Da'wah wa-l-qital wal-Jihad, better known as Boko Haram. The group's leader Abubakar Shekau pledged allegiance to ISIS in March 2015 and it became Islamic State West Africa Province.
In late 2016 the group split into two after ISIS replaced Shekau as leader. One faction remained loyal to Shekau while the other ISIS-recognized faction was led Abu Musab al-Barnawi. Another ISIS-decreed leadership change occurred in March when Abu Abdullah Ibn Umar al-Barnawi was reportedly appointed the new governor of the Wilayah of West Africa.
A future Islamic State Sahel Province?
Although ISGS attacks are attributed now to the Wilayah of West Africa, ISGS likely remains operationally independent of ISWAP, and not under the command of the ISIS appointed governor for the province.
Jacob Zenn, assistant professor Violent Non-State Actors in World Politics at Georgetown University told The Defense Post that he thinks this "is more of a branding issue then an actual merger."
"That ISIS has grouped ISGS under the West Africa Province has been explicitly articulate," Nsaibia said, while also stressing that he doesn't believe this "should be conflated with subordinating ISGS as a group under the command of ISWAP."
But while seemingly remaining separate, there are potential connections between the two groups.
"I do think that links have been developed between ISGS and ISWAP," Nsaibia said.
"There's been circulating reports that point to ISGS members being dispatched toward the Nigerian border," he said, but stressed there is "still there is no solid evidence that corroborates these reports" and that "there is a lack of more concrete reporting to confirm such a hypothesis."
Dr. Jason Warner, Assistant Professor of Social Sciences at West Point, said he believed "there has been at least some minimal interaction between the groups" though he added that ISGS attacks attributed to the Wilayah of West Africa were "more of a branding exercise by IS Central than it is evidence of any deep or meaningful links between the two groups."
Despite the differences between ISGS and ISWAP, operating in different areas with different local dynamics, and the limits of current links between them, ISIS decided to group them together, attributing ISGS attacks to the Wilayah of West Africa. It is possible that, because ISGS activities are still within West Africa, it makes sense for ISIS to incorporate them into the pre-existing Wilayah.
In addition, Zenn suggested the potential unreliability of ISGS may also have been a factor in ISIS incorporating them in Wilayah of West Africa, as opposed to creating a new region for the group.
"There have always been troubles with the IS-ISGS relationship, including skepticism about whether al-Sahrawi was in the IS relationship for money and therefore not trustworthy or whether he would return to the AQ fold, and there were issues maintaining communications with him," Zenn said.
Other ISIS affiliates have taken a hardline stance against al-Qaeda through propaganda or in open fighting, but ISGS has been different with suggestions it is in communication with Al-Qaeda-linked groups in the Sahel and potentially even co-operating.
This could be a concern for ISIS, though Nsaibia said that "ISIS are aware (to a certain extent) of the local specificities and dynamics, and probably more pragmatic with regard to this context."
For the time being, ISIS appears to have opted to place ISGS, at least for publicity purposes, in the Wilayah of West Africa, but recent restructuring of ISIS provinces leaves the possibility of more changes in Africa.
In July 2018, ISIS upgraded its affiliate in East Asia to a full Wilayah. Later that year ISIS merged multiple Wilayah in countries that contained more than one – such as Syria, Iraq, Yemen, and Libya – into a single entity covering the entire country.
Islamic State Central Africa Province was confirmed in April 2019 after ISIS attributed an attack on Congolese soldiers at Kamango in the Democratic Republic of Congo to it. In the video released in April, Baghdadi is seen looking over documents covering various ISIS provinces, including the never-before-mentioned Wilayah Turkey, although ISIS has not yet claimed any attacks in this apparent new province.
Most relevant, ISIS this month split its long existing Wilayah Khorasan. A statement released on May 10 attributed an attack in Indian-controlled Kashmir to Wilayah al-Hind, while two May 15 releases attributed attacks in Quetta to Wilayah Pakistan. Previously attacks in these locations would have been placed in Wilayat Khorasan, which now appears to have been reduced to just Afghanistan.
Years after Sahrawi first pledged allegiance, ISGS activities are finally and reliably being recognized by ISIS. The central leadership appears to have decided – for the time being at least – to place ISGS activities in the Wilayah of West Africa for propaganda purposes, but with no clear evidence to support a merger or subordination, ISGS likely remains operationally independent from the ISWAP group.
Full report at:
https://thedefensepost.com/2019/05/30/islamic-state-greater-sahara-west-africa/
--------
Islamic State claims attacks on DR Congo army, UN; FARDC says 26 ADF fighters killed
MAY 30, 2019
Islamic State claimed fighters from its Central Africa Province affiliate attacked military bases in Mavivi in the Democratic Republic of Congo, while the Congolese army said more than 20 Allied Democratic Forces fighters had been killed in nearby Ngite.
ISIS in a Thursday, May 30 statement claimed ISCAP fighters attacked three "barracks of the Congolese army and the United Nations crusader forces" near Mavivi. It said the forces were preparing to attack ISCAP positions, and that clashes led to "dozens" killed and injured, while the "Mujahideen returned to their positions safely."
A later release from ISIS propaganda agency Amaq said that "Islamic State fighters today attacked 3 military bases located on Road No. 4" near Beni, clashing with Congolese army and U.N. MONUSCO peacekeeping forces for three hours. It said "dozens" were killed and wounded before the ISCAP fighters withdrew from "the attack area near the city's airport."
Mavivi town is in Beni territory of North Kivu province, and Ngite is just to the north. Mavivi airport, also known as Beni airport, is on the south side of the town, just off the N4 road to Beni city which is around 10 km south. MONUSCO, which has a base at the airport, rehabilitated the runway in 2016.
Amaq said the attack was to counter a mobilization of Congolese army and U.N. forces in three bases "in preparation for an attack on the positions of fighters of the Islamic state in the northeast of the country."
MONUSCO spokesperson Florence Marchal told The Defense Post that peacekeepers were not targeted in the initial attack, but did respond to the incident.
Marchal said that suspected ADF insurgents attacked an FARDC camp near Beni (North Kivu) earlier today and the mission "deployed two contingents in response to protect civilians."
"U.N. Peacekeepers subsequently engaged the attackers, resulting in one South African peacekeeper injured," Marchal said, adding that there were "an unconfirmed number of fatalities on the side of ADF."
Around 3,000 troops are deployed to the MONUSCO Force Intervention Brigade based in Beni. Its primary goal is countering armed groups including ADF.
A spokesperson for the armed Forces of the Democratic Republic of Congo (FARDC) said that 26 Allied Democratic Forces militants were killed in "victorious operations" in Ngite, which is just outside Mavivi.
"This morning at 5 a.m. in the Ngite locality, the Armed Forces of the DRC conducted victorious operations against the ADF terrorists and found 26 ADF neutralized. Our army is determined to conduct operations to restore peace," Major General Leon-Richard Kasonga told reporters, Actualite.cd reported.
"Early this morning, the ADF attacked our position in the town of Ngite-Mavivi, our men reacted and inflicted a heavy loss in their ranks," Kasonga later told AFP.
U.N.-funded Radio Okapi reported that MONUSCO peacekeepers alongside FARDC personnel had repelled an ADF attack on the Ngite headquarters of the first battalion of the 32nd brigade of FARDC rapid reaction units.
It said that a second group of ADF militants positioned on Road No. 4 to intercept reinforcements were engaged by FARDC and MONUSCO personnel in heavy clashes that lasted around an hour.
According to Radio Okapi, a military spokesperson said the bodies of 23 militants had been recovered, along with 20 weapons, but did not mention MONUSCO or FARDC casualties.
The bodies of 23 militants were later displayed outside Beni town hall and thousands of people came to view them, Acutalite.cd reported.
Amaq also released an image of ISCAP fighters captioned "Islamic State fighters camped in northeastern Congo," dated May 30, but the militants pictured appear to be in the same location and wearing the same clothing as an image published in issue 179 of the weekly ISIS newsletter Al-Naba that was released on April 25.
In April, ISIS formally recognized its Central Africa Province in Democratic Republic of Congo, when its centrally controlled media outlets began to attribute attacks to ISCAP, and during his first video appearance in five years, ISIS leader Abu Bakr al-Baghdadi was seen viewing a document entitled "Wilayat Central Africa."
There was earlier evidence that ISIS had ties to the Allied Democratic Forces, a Ugandan-led but DR Congo-based militant group that mainly operates in the border area of North Kivu province, but it is unclear if the new ISIS affiliate is the ADF, a splinter group, or a different organization.
Formed in 1995, the ADF is thought to have killed at least 700 civilians and more than 20 U.N. peacekeepers, but although it is often blamed for killings, robberies and kidnappings, numerous armed groups operate in the region and it is often difficult to be certain who the true assailants are.
Full report at:
https://thedefensepost.com/2019/05/30/islamic-state-attacks-dr-congo-army-un-mavivi-adf-killed/
--------
UN chief calls on Sudan to resume talks on power transfer
1 June 2019
UN Secretary-General Antonio Guterres on Friday called on Sudan's military rulers and protest groups to go back to the negotiating table and quickly reach a deal on handing over power to a civilian-led government.
Guterres said in a statement that the sides must "conclude the negotiations over the transfer of power to a civilian-led transitional authority as soon as possible."
Negotiations between protesters and the military council have broken down over whether a planned transitional body would be headed by a civilian or a military figure.
The deadlock has raised fears that the military will seek to tighten its grip on power, crushing hopes of a democratic process in Sudan.
On Friday, hundreds of people rallied in support of Sudan's military rulers in Khartoum.
The military council has ruled the country since the ouster of president Omar al-Bashir on April 11, after months of protests against his authoritarian rule.
Guterres called for the "utmost restraint" and stressed the importance of upholding human rights, including the right to freedom of assembly and of expression.
Sudanese authorities on Thursday shut down the Khartoum office of Qatari-owned Al Jazeera television and banned its journalists from reporting in the country.
Sudan's generals, backed by key Arab powers, have resisted calls from African and Western governments to hand over the reins of power.
The head of the ruling military council, General Abdel Fattah al-Burhan, paid a visit to Saudi Arabia this week following talks in Egypt last week.
On May 14, the protest leaders and the military reached a breakthrough by agreeing on a three-year transition period for transferring power to a civilian administration.
They also agreed that parliament be composed of 300 members for the transition, with around two-thirds from the protest alliance and the rest drawn from other political groups.
But negotiations were suspended the following day by the military, which demanded that demonstrators remove roadblocks following clashes in which five people were killed.
Talks resumed on May 19 but broke down the following day over disagreement on whether the military or a civilian should lead the transitional authority.
Full report at:
https://english.alarabiya.net/en/News/middle-east/2019/06/01/UN-chief-calls-on-Sudan-to-resume-talks-on-power-transfer.html
--------
Nigerian police open fire on Quds Day rally, many feared injured, arrested
May 31, 2019
Many people are feared injured or arrested in Nigeria after police attacked peaceful demonstrators who had rallied in support of Palestine and to mark the International Quds Day, condemning decades-long Israeli occupation of the Palestinian territories.
Hundreds of people took to the streets of Kaduna metropolis in central Nigeria on Friday, chanting slogans in support of the Palestinian cause and condemnation of the Israeli regime. They also carried signs and banners reading "Free Palestine" and "Free Zakzaky."
Nigeria's top Muslim cleric Sheikh Ibrahim al-Zakzaky, the leader of the Islamic Movement in Nigeria (IMN), has been in detention since late 2015.
Hours before the commencement of the rally in Kaduna, a large contingent of the riot police, in full gear, had been stationed along the main streets, Ibrahim Mousa, the head of media forum of the IMN, said in a statement on Friday.
He added that police started to open fire at demonstrators without prior warning soon after the rally began, targeting the march with tear gas canisters and live ammunition. They also mounted road blocks and emergency checkpoints in the streets, diverting traffic away from the central area.
"As at the time of filing this, it is not clear how many people were injured or arrested as the police action has led to severe traffic gridlock inconveniencing road users," Mousa said.
The IMN official, however, added that other rallies marking the International Quds Day were held across the African country without police intervention, holding responsible the governor of Kaduna for "the unnecessary violence" inflicted upon peaceful marchers in the city.
The International Quds Day is a legacy of the late founder of the Islamic Republic of Iran, Imam Khomeini, who designated the day in solidarity with the Palestinians.
Since the 1979 Islamic Revolution in Iran, the International Quds Day has been marked worldwide on the last Friday of the Muslim fasting month of Ramadan.
Full report at:
https://www.presstv.com/Detail/2019/05/31/597424/Nigeria-Police-rally-Palestine-Quds-Day-Israel-tear-gas-Kaduna
--------
Southeast Asia
Wider student movement 'could curb' campus radicalism in Indonesia
May 31, 2019
JAKARTA - The lack of varied and critically minded student movements in Indonesia might have contributed to the growing radicalism on campuses after the fall of Suharto, experts say.
Campuses have long been recruitment grounds for radical Islamic groups, with the State Intelligence Agency (BIN) noting in 2017 that 39 per cent of state university students across 15 provinces in Indonesia had shown an interest in radical teachings.
"Radical (Islamic) teachings started entering universities when the Suharto regime implemented the NKK/BKK policy in the 1980s, by which students were banned from political activities. The vacant political space then made room for radical groups to enter," the Habibie Centre research director Mohammad Hasan Ansori said during a discussion on campus radicalism on Thursday (May 30).
Mr Ansori was referring to Suharto's New Order policy that barred external organisations affiliated with political parties from setting up inside campus.
Among these organisations were the Indonesian Nationalist Student Movement (GMNI) and the Association of Islamic Students (HMI), both of which had produced well-known politicians, such as Vice-President Jusuf Kalla.
As a result, the organisations are not funded nor directly facilitated by state universities.
Mr Saiful Umam, former executive director at the Centre for the Study of Islam and Society (PPIM) at Syarif Hidayatullah State Islamic University (UIN Jakarta), said the policy resulted in the proliferation of Islam-related campus activities organised by Muslim student groups in each university, usually known as the Campus Dakwah Institution (LDK).
The problem was that the LDK, funded by state universities, had a conservative bent, Mr Saiful noted.
"Universities should provide more room for student activists so that they can contribute to the discourse surrounding religion. Even if they're not institutionalised, at least the discourse won't be dominated by the relatively conservative LDK," he told The Jakarta Post on the sidelines of the discussion.
Observers have raised concerns over the LDK's teachings as the organisation trains rohis or students who become Islamic study assistants in extra-curricular activities in high schools. Such rohis frequently join the LDK once they enter universities.
"The LDK is massive and conservative, and being conservative is only one step away from being extremist. Once the members are exposed to the networks and narratives, they turn extreme," Mr Ansori said.
In a 2016 survey conducted by the Wahid Foundation and the Religious Affairs Ministry of more than 1,600 rohis participants as respondents, it was found that 33 per cent of them defined jihad as a holy war against non-Muslims, 41 per cent would support any cause to turn Indonesia into an Islamic state under a caliphate, while 60 per cent would go on jihad to countries like Syria if they had the chance.
A psychologist from the University of Indonesia and an expert member of the National Counterterrorism Agency (BNPT), Mr Hamdi Muluk, said that students must be exposed to a variety discourses to prevent them from adopting extremist teachings.
"Students should refrain from having singular identities, such as only being rohis. They should be in contact with various groups, so that they will naturally grow to become open-minded," he said during the discussion.
Mr Saiful shared this sentiment, adding that the solution might also help address another issue that is heavily linked to campus radicalism, which is intolerant teachers.
A 2018 study by the PPIM found that more than 50 per cent of Muslim teachers promoted intolerant views. Teachers who joined the LDK in university had a higher tendency to have intolerant views than those who joined the GMNI, Mr Saiful cited.
"Banning the LDK would only be counter-productive. Universities should understand the map of student movements better and supervise them," Mr Saiful said.
Mr Ansori echoed the statement, adding that universities should go as far as to heighten monitoring of campus mosques, where more radical groups such as the Hizbut Tahrir Indonesia (HTI) and the Indonesian Islamic State (NII) could also spread their teachings and recruit members.
https://www.asiaone.com/asia/wider-student-movement-could-curb-campus-radicalism-indonesia
--------
Penang Islamic Religious Council: Political party allegedly collecting compulsory alms in the state
31 May 2019
GEORGE TOWN, May 31 — The Penang Islamic Religious Council (MAINPP) wants a certain political party which is allegedly collecting RM7 compulsory Infaq Ramadan (alms) from Muslims to immediately stop the practice.
MAINPP president Datuk Abdul Malik Abul Kassim said he had received complaints from most of the state's 'zakat fitrah' amil (persons authorised to collect the Muslim tithe) about the matter.
According to him, this action by the political party could confuse the public regarding their payment of 'zakat fitrah' during the month of Ramadan.
"If it is proven that there is an attempt by the party to collect 'zakat fitrah' from among the Muslim community in Penang, as the governing body who appointed the zakat fitrah amil, we will not hesitate to take the necessary action," he said in a statement, here today.
He noted that according to Section 33 of the Syariah Criminal Offences Enactment (Penang) 1996, any person who collects zakat or fitrah without being appointed as an amil or authorised by MAINPP are guilty of an offence and liable to be fined, upon conviction.
Full report at:
https://www.malaymail.com/news/malaysia/2019/05/31/penang-islamic-religious-council-political-party-allegedly-collecting-compu/1758237
--------
Jakarta riots another page in long history of hard-line Muslim ambition
May 24, 2019
It had been clear for weeks that some form of insurrection was looming as Indonesian presidential challenger Prabowo Subianto refused to accept that he'd been defeated in the April 17 presidential election.
As the official announcement approached, his insistence and that of his close supporters that he'd been robbed of victory by massive cheating stoked anger among the hard-line Muslims who had piggy-backed on the attempt of the former special forces general to take control of the country.
When the General Election Commission (KPU) tried to forestall the planned protests by announcing the victory of incumbent President Joko Widodo and his running mate Ma'ruf Amin the day before initially scheduled, and in the middle of the night, there were hopes that an angry reaction could be avoided.
Images of a few hundred forlorn protesters making their point through prayer surrounded by a sea of riot police told the story of the first hours after the decision early on May 21. But then, said police, the nature of the crowd changed. The quiet protesters went home, to be replaced by angry young men who immediately started to cause trouble, throwing rocks and Molotov cocktails.
Trouble continued for some 36 hours across a wide swathe of central Jakarta. A police barracks was burned down and the mob raged across the city, trashing cars and other property in a mad riot of protest. Slowly but steadily the police, backed by the army and with a total of some 60,000 personnel at their disposal, restored order, arresting more than 250.
Whoever planned the fiery protest — and there was evidence to demonstrate that the rioters had been paid to do their work — failed to allow for the fact that the authorities had also been aware well ahead of time that trouble was brewing.
Reinforcements had been brought into the capital from across the country and police in the regions stopped busloads of would-be demonstrators from traveling to Jakarta. A protective cordon was thrown up to the east of the capital to stop protesters. When demonstrators arrived at the KPU and the Election Supervisory Board (Bawaslu), they were faced with walls of razor wire and lines of police in full riot gear.
It appears that the plan had been to recreate the events of 1998, when protests over the collapse of the economy and the failure of the 32-year rule of President Suharto morphed into three days of rioting.
Then, the rioting was sparked by the killing of four students by police from a flyover across from their campus in West Jakarta. This time, an attempt to smuggle an unlicensed sniper rifle and silencer into the country was foiled, and a retired general arrested.
In the weeks before the KPU announcement, the police also rounded up dozens of terrorist suspects, some of whom they accused of planning to explode devices in the midst of the crowd of protesters. Outrage over the killings, it was planned, would spark nationwide protests and chaos that could justify the ousting of the president.
Hoaxes spread rapidly alleging that Chinese police had joined the ranks opposing the demonstrators, feeding on the widespread belief that Widodo is too close to Beijing. Other messages claimed protesters had been shot and killed while taking refuge in mosques. The authorities closed down social media for three days.
One version of what happened has it that the money that was supposed to pay the thugs enlisted for the task failed to turn up, meaning the numbers confronting the police were too few. The coming weeks are likely to see what role was played in this, if any, by Subianto and his allies amongst the community of retired police and military officers.
In the meantime, he is challenging the election result in the Constitutional Court, but his claims of massive and structural cheating are seen as unlikely to receive much of a hearing, given that Widodo won 16 million more votes than he did.
That will allow Widodo and running mate, senior Muslim cleric Ma'ruf Amin, to finally be declared the winners and prepare to take over the running of the country next October.
The outcome of the election, and the failure of the protest movement, left a small proportion angry and frustrated. Having been convinced by the rhetoric of Subianto and his allies that right was on their side and victory within their grasp, they now have to live with the bile created when they were pushed aside.
Thirteen provinces sided strongly with Subianto and his running mate, businessman and former Jakarta deputy governor Sandiaga Uno. In West Sumatra, the pair gained 2,268,693 votes, against only 362,460 for Widodo and Amin. The provinces that backed Subianto and Uno are known for their strong association with conservative Islam, often strongly influenced by the austere Wahhabi creed.
Widodo and Amin were successful in populous Central and East Java, both known for their preference for the more tolerant brand of Islam promoted by the Nahdlatul Ulama (NU) organization, the country's largest Muslim grouping. They also won strong backing in non-Muslim regions.
Both the NU and Muhammadiyah, the second largest religious organization, told their followers not to join the protests against the election result, lining up once again on the side of those who support secular Indonesia's Pancasila ideology.
The failure of the push to propel Subianto to the presidency is the latest in a long line of moves in which secular forces have triumphed. Since independence, pressure to acknowledge Islam as the majority religion of the state has been brushed aside. A series of elections dating back to the country's first experiment in democracy, in 1955, have seen Islamic parties trounced at the polls.
Full report at:
https://www.ucanews.com/news/jakarta-riots-another-page-in-long-history-of-hard-line-muslim-ambition/85263
--------
URL: https://www.newageislam.com/islamic-world-news/pm-modis-mandate-help-solve/d/118773
New Age Islam, Islam Online, Islamic Website, African Muslim News, Arab World News, South Asia News, Indian Muslim News, World Muslim News, Women in Islam, Islamic Feminism, Arab Women, Women In Arab, Islamophobia in America, Muslim Women in West, Islam Women and Feminism