New Age Islam News Bureau
30 Apr 2018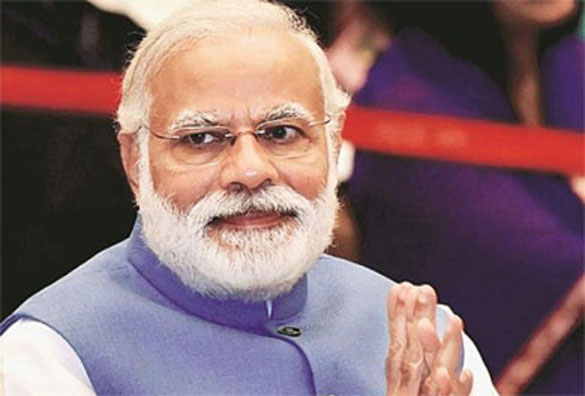 'Learn from Prophet's path of brotherhood': PM Modi
----
• PM Modi Invokes the Prophet Ahead of Ramzan, Asks People to follow the His Teachings
• India, Pakistan Should Learn From Korean Reconciliation, Solve Differences: Pak Media
• MBS: Palestinians Should 'Accept Trump Proposals or Shut Up'
• Islamabad's Attempt to Issue Arrest Warrants for Haqqani Blocked by Interpol
• After Destroying Libya, France in Syria
India
• PM Modi Invokes the Prophet Ahead of Ramzan, Asks People to follow the His Teachings
• India, Pakistan Should Learn From Korean Reconciliation, Solve Differences: Pak Media
• In A First, India and Pakistan Agree To Russia Date for Military Drills
• Delhi Minorities Panel Seeks Clarification on Friday Namaz from MHA
• 'ISIS drug' Tramadol comes under narcotics law regulation
• Kashmir: 3 Indian paramilitaries suspended over rape
--------
Arab World
• MBS: Palestinians Should 'Accept Trump Proposals or Shut Up'
• Unidentified Missiles against Syrian Regime Fighters Kill Mostly Iranians
• Syrian govt, rebels reach deal to evacuate fighters form Damascus area
• Syrian Army Continues Rolling in Deir Ezzur Countryside
• Russia Wants Ankara to Deliver Control of Afrin to Syrian Gov't
• Syrian Army to Launch Cleansing Operations in Idlib's Strategic Region
• Syrian Army Destroys Terrorists' Strongholds in Homs, Hama
• Military bases in Syria's Aleppo, Hama targeted by missiles
--------
Pakistan
• Islamabad's Attempt to Issue Arrest Warrants for Haqqani Blocked by Interpol
• Some Neighboring Countries Involved In Terror Activities In Balochistan: Bugti
• MMA vows to foil West's agenda in Pakistan
• Country's politics, parliament under foreign pressure: Fazl
• Hazara community's hunger strike in Quetta continues for second day
• 10,000 Sikh Pilgrims to Visit Pakistan for Religious Rituals
• 3 dead in suspected target killing in Quetta: police
• Nine Afghan cops killed in gunfight with Taliban
• Former TTP commander among five held
--------
Africa
• After Destroying Libya, France in Syria
• Suspected Jihadists Kill 40 Tuareg Men in Mali Attacks
• Libya's Haftar visits Derna ahead of plans to liberate town
• Religious zealotry, radicalism among northern Nigerian Muslims
• At least 15 migrants die after boat sinks off Algerian coast
• Islamic State Ally Stakes Out Territory around Lake Chad
• In first for Tunisia, police and soldiers head to polls
• Scores of Boko Haram killed in air raid – NAF
--------
South Asia
• 21 Killed, Dozens Wounded In Kabul Coordinated Suicide Attacks
• Rohingya Refugees Plead For UNSC Help but China and Russia Expected To Veto Tough Action
• Afghanistan Airdropping Leaflets for Voter Registration
• Rohingyas campaign for 'protected return and protected homeland'
• Taliban suffer heavy casualties in joint Afghan-US operations in Balkh
--------
Southeast Asia
• Nik Omar Could Trigger 'Islamic Tsunami' Against PAS
• Malaysia election: PAS says confident of defeating Nik Aziz's son in Chempaka
• Duterte derided for asking Filipino workers in Kuwait to return home
--------
Mideast
• Deal Struck To Evacuate Palestinian Refugee Camp in Damascus
• Ankara-Backed Militants Hold Civilians Hostage in Afrin
• Houthis vow to step up missile attacks on Saudi oil facilities
• Israel soldiers kill 3 Palestinians in fresh Gaza clash
• Yemeni Security Forces Kill Senior Islamic State Commander: Statement
• Over 30 Palestinian athletes injured by Israeli forces during Gaza border clashes: Official
--------
North America
• How Muslim Student Groups Plan To Create Inclusive Campuses in the US
• Donald Trump must hold Nigeria accountable for slaughter of Christians
• U.S. concerned by 'destabilizing and malign activities' of Iran: Pompeo
• U.S. Supreme Court hears Muslim travel ban arguments
--------
Europe
• UK High Court Orders London Coroner to Prioritize Jewish, Muslim Burials
• Will Russia provide the 'new Kissinger' for Iran-Israel diplomacy?
• Can Turkey, Russia free themselves from third parties?
• After Losing Son to Daesh, British Mother Vows To Help Others Avoid the Same Tragedy
• President Erdogan gets warm welcome in Uzbekistan
Compiled by New Age Islam News Bureau
URL: https://www.newageislam.com/islamic-world-news/pm-modi-invokes-prophet-ahead/d/115097
--------
PM Modi Invokes the Prophet Ahead Of Ramzan, Asks People to follow the His Teachings
Apr 30, 2018
NEW DELHI: Invoking the teachings of Prophet Muhammad before the beginning of Ramzan, PM Narendra Modi on Sunday asked people to help the poor and feed the needy. He also spoke about Buddha Purnima and said Lord Buddha was the fountainhead of egalitarianism, peace, harmony and brotherhood.
During his monthly radio address Mann ki Baat, Modi said the Prophet was an inspiration for all and his teaching of equality and brotherhood should be followed by all. He said Prophet Muhammad believed in the concept of charity, which was important during Ramzan. The holy month of fasting starts from May 15.
Modi said people had the responsibility to follow the path of equality and brotherhood as morals from the Prophet's life, who believed in the twin principles of knowledge and compassion. He added that the Prophet believed that if you possessed anything more than your requirement, then you should donate it to the needy, and thus giving alms was important during Ramzan.
"The sociological and collective aspect of fasting is that when a person experiences hunger himself, he comes to realise the hunger of others. When he is thirsty, he realises the thirst of others. This is an opportunity to remember the teachings of Prophet Muhammad and his message... Once a person asked the Prophet, 'which is the best thing in Islam?' The Prophet saab said, 'feeding a poor and needy and meeting everyone cordially, whether you know him or not'," the PM said.
Quoting Bhimrao Ambedkar that Lord Buddha was a great inspiration in his social philosophy, Modi said, "My social philosophy may be said to be enshrined in three words; liberty, equality and fraternity. My philosophy has roots in religion and not in political science. I have derived them from the teachings of my master, the Buddha."
https://timesofindia.indiatimes.com/india/pm-modi-invokes-the-prophet-ahead-of-ramzan-asks-people-to-help-poor/articleshow/63966031.cms
--------
India, Pakistan should learn from Korean reconciliation, solve differences: Pak media
April 29, 2018
India and Pakistan should take a cue from the recent thaw in the relations between North and South Korea and must "make the quest for normalisation and peace" in the region, an editorial of a leading Pakistan newspaper said on Sunday.
While referring to the recent patch-up and improvement in bilateral ties between North Korean leader Kim Jong Un and South Korean President Moon Jae-in, the editorial in Dawn said that it was now time for the "leaderships of India and Pakistan to once again tread the path of peace and friendship".
"Inevitably, a comparison between the renewed engagement between the two Koreas and the freeze in ties in the South Asian subcontinent will be made. The tensions and disputes between Pakistan and India are fundamentally different to the issues between the Koreas," the editorial said.
"Pakistan and India have forged very different and irreversible histories, whereas the Koreas seek unification. Yet, a shared history and the common dreams and aspirations of a people with enduring cultural and other similarities across India and Pakistan make the quest for normalisation and peace in this region the noblest of goals," it added.
The editorial piece also said that the meeting between the two Korean leaders reminded one of then Indian Prime Minister Atal Bihari Vajpayee's historic visit to Lahore in 1999 for the inaugural run of the Delhi-Lahore bus service. "It is time for the leaderships of India and Pakistan to once again tread the path of peace and friendship," the piece said.
Bilateral relations between the two countries hit a low point following continuous terror attacks by Pakistan-based groups in 2016 and India's surgical strikes inside Pakistan-occupied Kashmir. The ties further deteriorated after Pakistan awarded death sentence for Indian national Kulbhushan Jadhav in April last year.
http://indianexpress.com/article/india/india-pakistan-relations-north-south-korea-pakistani-media-editorial-5156300/
--------
MBS: Palestinians Should 'Accept Trump Proposals or Shut Up'
30 April 2018
Saudi Crown Prince Mohammed bin Salman, often known as MBS, has told heads of US-based Jewish groups that the Palestinian leadership must accept conditions for peace put forward by the administration of US President Donald Trump, according to a report on Israeli media.
During a closed-door meeting last month in New York with the organisations' leaders, bin Salman harshly criticised Palestinian President Mahmoud Abbas, Channel 10 news reported on Sunday, citing an Israeli diplomatic wire and sources.
"In the last several decades the Palestinian leadership has missed one opportunity after the other and rejected all the peace proposals it was given," bin Salman reportedly said in a report published on Axios website by Barak Ravid, Channel 10's senior diplomatic correspondent.
"It is about time the Palestinians take the proposals and agree to come to the negotiations table or shut up and stop complaining."
Barak Ravid
✔@BarakRavid
SCOOP: Saudi Crown Prince told Jewish leaders: Palestinians should take what the Trump administration offers or stop complaining - my story on @axios and @news10 https://www.axios.com/saudi-crown-prince-tells-jewish-leaders-palestinians-should-take-what-they-are-offered-or-stop-complaining-1525025098-e7f0faf8-4f3f-442c-8478-6737ddb5a553.html …
Saudi Crown Prince: Palestinians should take what they are offered
Or stop complaining
Trump recognised Jerusalem as the capital of Israel in December, a move that drew international criticism.
Palestinian leaders see East Jerusalem, which was militarily seized by Israel in 1967 and has been occupied since, as the capital of their future state.
Bin Salman reportedly pressured Abbas to accept the US framework for peace after Trump's recognition of Jerusalem.
However, the Palestinian leadership has boycotted the White House since Trump's announcement in December. Abbas said the US was no longer an "honest broker" in peace talks.
Mohammed bin Salman and Trump's son-in-law, Jared Kushner, reportedly enjoy close relations. Kushner reached out to bin Salman for guidance on the region after Trump appointed him to the administration's team that would oversee negotiations between Palestinians and Israelis.
While bin Salman criticised Palestinian leadership, he further stated that peace negotiations between Israel and Palestine would need to move forward before Saudi Arabia and other Gulf Arab states would normalise relations with Israel.
Saudi officials have not commented on the reports.
Source: https://www.aljazeera.com/news/2018/04/mbs-palestinians-accept-trump-proposals-shut-180430065228281.html
--------
Islamabad's attempt to issue arrest warrants for Haqqani blocked by Interpol
April 30, 2018
The International Criminal Police Organisation, commonly referred to as Interpol, on Sunday blocked all attempts launched by Islamabad to issue arrest warrants against Pakistan's former ambassador to the United States (US) Husain Haqqani.
Earlier Interpol had refused to honour warrants against Haqqani issued by the Supreme Court of Pakistan (SCP) on the grounds that charges against him were political.
"The General Secretariat of the International Crimi­nal Police Organisation, Interpol, hereby certifies that as of today (April 18, 2018), Husain Haqqani is not subject to an Interpol Blue Notice or diffusion and is not known in Interpol's data basis," a letter released by Interpol's office of legal affairs read.
The certificate was issued on the request of Haqqani's lawyer amid newspaper reports in Pakistan that Federal Bureau of Investigation (FIA) director general went to Interpol headquarters in Lyon to seek warrants for his arrest.
Interpol had also rejected attempts by FIA for circulation of warrants against Haqqani.
On SCP's insistence that Haqqani be brought back to Pakistan within a specified timeframe, the FIA registered a first information report (FIR) against him for embezzlement and other crimes, hoping it would get Interpol's acceptance.
Talking to Pakistan Today, Haqqani said, "I feel vindicated in my belief that the proceedings against me in the so-called Memogate case are irrelevant in the eyes of the world."
"A media frenzy has been cooked up in Pakistan with the backing of some elements that have specifically targeted me for my strong views and efforts towards bringing a change in the country," he added.
Haqqani also said that he had not received any legal notice, court summons or arrest warrants from any authority in Pakistan through any legal channel.
https://www.pakistantoday.com.pk/2018/04/29/islamabads-attempt-to-issue-arrest-warrants-for-haqqani-blocked-by-interpol/
--------
After destroying Libya, France in Syria
April 30, 2018
The Delphi Initiative network "Defend Democracy Press" issued a very brief commentary based on a report by Anadolu Agency that French troops entered Syria's Al-Hasakah Governorate last week from their former positions in Iraq's Nineveh Governorate. Its website says that the French are there to do the legwork of the Americans: To destroy the political unity of the country. France currently has troops at five U.S. bases in northern Syria.
According to its own declaration, the Delphi Initiative is composed of mainly, but not exclusively, European intellectuals who oppose the attempt of international finance and big international corporations to impose a dictatorship all around Europe. They believe that this is what the present-day European ruling elites are trying to do. This is the real "agenda" behind the debt wars against specific European nations and behind the radical transformation of the EU into a structure dominated by big banks.
It really takes courage - a lot of it - to stand up against banks and transatlantic trade partnerships. To see an international policy of war launched by the EU and the U.S. against Russia today (and China tomorrow), against the Arab and Muslim world takes more than courage: An insight on the project of the "Clash of Civilizations" is also a must to analyze the world today.
Take Greece, for instance. The Greek Syriza movement that had been organized into a political party in 2009 had been a vocal supporter of such ideas that the senior members of the EU have been manipulating the junior members into a huge burden of debt and breeding lap dogs out of them. What happened since 2015 when Alexis Tsipras took power as prime minister? He was forced to sell many public assets, including some Aegean islands, yet was unable to pay off his country's debt to the EU. The daring Tsipras has gone and a European puppet who cannot even honor the Treaty of Extradition of Criminals his country has with Turkey has come. He succumbed to the conspiracy of war the Delphi Initiative claims the EU and the U.S. have. The country of the honorable Hellenic Civilization is laying wreaths on the Aegean rocks which are not larger than a grave.
Take Saudi Arabia and its new and ambitious young prince. Instead of leading the Muslim world when it is faced with the danger of the completion of the Israeli occupation of Jerusalem, the richest country in the world is succumbing into Jewish conspiracies presented as a peace plan by the U.S. Donning blue jeans and playing cards, even allowing women to drive cars would not make Saudi Arabia a modern country; but educating all the young people on the Arabian Peninsula would. Asking yourself why that protracted war is still continuing in Yemen would make you a leader of a modern Islamic world.
The Delphi Initiative is right in its call that elites and leaders should not transform their countries into a dominion of finance. The defend democracy website could not be more on target in its commentary that France is now in Syria to complete the job the U.S. started to dismember Syria. France is the number one culprit in what happened in Libya. The U.S. started the (internal and external) war in Libya; France had completed it by creating at least nine sections in it. The state of Libya is not much of a state any more.
Now that President Donald Trump cannot afford to complete the U.S. Central Command's (CENTCOM) plan to create three Syrias, the fresh military and monetary resources of France are called to the rescue. The praises and gestures of The Donald (and the enormously funny hat Melania wore) were for a reason: Pass the baton in the Syrian relays to France.
Apparently the French want to complete their job as fast as they can while Turkey, the main impediment in realizing this atrocious plan, is busy with elections.
It will not work. Syria will remain in one piece. As the French say, it is "finger on the nose."
https://www.dailysabah.com/columns/hakki-ocal/2018/04/30/after-destroying-libya-france-in-syria
--------
India
In a first, India and Pakistan agree to Russia date for military drills
Apr 29, 2018
In a first, India and Pakistan will be part of a multi-nation counter-terror exercise in Russia in September, which will also be joined by China and several other countries.
The military exercise will take place under the framework of Shanghai Cooperation Organisation (SCO), a China-dominated security grouping which is increasingly seen as a counterweight to NATO, officials said.
They said the military drill will be held in the Ural mountains of Russia and almost all SCO member countries will be part of it.
Officials said the main aim of the exercise, Peace Mission, will be to enhance counter-terror cooperation among the eight SCO member countries.
India's participation at the exercise was confirmed by defence minister Nirmala Sitharaman during a meeting of SCO defence ministers' meeting in Beijing last week, officials added.
It will be for the first time since Independence that India and Pakistan will both be part of a military exercise, though the armies of the two nations have worked together in UN peace keeping missions, they said.
The SCO was founded at a summit in Shanghai in 2001 by the Presidents of Russia, China, Kyrgyz Republic, Kazakhstan, Tajikistan and Uzbekistan.
India and Pakistan were admitted as observers of the grouping in 2005. Both the countries were admitted as full members of the bloc last year.
India's membership was strongly pushed by Russia while Pakistan's entry into the grouping was backed by China. With expansion of the grouping, SCO now represents over 40% of humanity and nearly 20% of the global GDP.
India feels that as an SCO member, it will be able to play a major role in addressing the threat of terrorism in the region. It is also keen on deepening its security-related cooperation with the SCO and its Regional Anti-Terrorism Structure (RATS) which specifically deals with issues relating to security and defence.
India has been holding military exercise with China. The two countries are likely to resume their bilateral military exercise in September. Last year, the drill was suspended following a tense standoff between their troops in Dokalam.
https://www.hindustantimes.com/india-news/in-a-first-india-and-pakistan-to-carry-out-military-drills-in-russia-in-september/story-CG6bZ7OcHLwaXVmx89u1TO.html
--------
Delhi Minorities panel seeks clarification on Friday Namaz from MHA
April 29, 2018
The Delhi Minorities Commission has sent a query to the Union Ministry of Home Affairs seeking clarification over a provision that allows the Muslim employees of the government attend the Friday Namaz during work hours. The move came after a delegation of Muslim teachers in Delhi met the Commission Chairman Zafarul Islam Khan and sought his help in this issue.
The delegation of teachers from schools run by the Delhi government and civic bodies said on Fridays, they faced difficulty in attending the Namaz as they needed to reach their respective schools 15 minutes before 1 am which clashes with their prayer time, Khan said.
"The teachers cited an MHA order of 1954 that said Muslim government employees have the right to offer Friday prayer but a deduction from their salary could be made for the working time used in it.
"Last week a query was sent to the Union home secretary seeking to know if the 1954 order still exists and the current status on the issue. A reply is awaited," Khan said.
The Commission also sought clarification over the issue from the Delhi government's Directorate of Education (DoE) and the municipal corporation. "The Directorate of Education said that no such relaxation is possible as it will hurt the interests of the students. The commission is yet to receive a reply to its notice from MCD," he said.
Full report at:
http://indianexpress.com/article/india/delhi-minorities-panel-seeks-clarification-on-friday-namaz-from-mha-5156138/
--------
'ISIS drug' Tramadol comes under narcotics law regulation
Apr 29, 2018
NEW DELHI: Tramadol, a painkiller pharma drug, has been declared a "psychotropic substance" by the Union government and its sale in the country will now be strictly monitored after the NCB said it was being internationally smuggled, and had possible supply links to the global terror group ISIS.
The Union Finance Ministry, as per data accessed by PTI, has brought the drug under the control of the Narcotic Drugs and Psychotropic Substances (NDPS) Act and a gazette notification to this effect was issued on April 26.
The Finance Ministry regulates certain sections of the NDPS Act like categorisation of pharma drugs as narcotic substances.
The synthetic opiate is known to be abused on a wide scale by terrorists of the so-called ISIS to suppress pain and boost strength during injury and hence, is also known as the 'fighter drug' among international anti-narcotics authorities.
The Narcotics Control Bureau (NCB), a national agency to coordinate drug law enforcement action by involving various state agencies, police and central departments, had asked the government in July last year to bring this drug under its "regulation and control" so that it could only be used for medicinal purposes and its abuse be checked.
"Tramadol, after the notification issued by the Department of Revenue under the Union Finance Ministry, will no longer be available freely over the counter in India.
"It will be regulated under the NDPS Act, which will empower the NCB and other law enforcement agencies to raid and prosecute those who prepare it without permission," a senior official in the anti-narcotics establishment said.
The latest notification will ensure that the availability of Tramadol is substantially reduced and regulated, and agencies like the NCB and police are able to keep a tab on its movement.
PTI had first reported on March 26 that the NCB has sought bringing Tramadol under the NDPS Act after it detected that it was being "diverted" illegally.
"Tramadol is used like codeine (another pharma drug). It is not covered under the NDPS Act, 1985. It is a schedule 'H' drug under the Drugs and Cosmetics Act, 1940 and can only be dispensed under the prescription of a registered medical practitioner.
"lt is also not included in any of the schedules of the 1971 UN convention on psychotropic substances. Internationally, it is banned in many countries and hence is often smuggled through India," the NCB had said in its latest report released in March.
The drug, the NCB had said, "is trafficked via courier and manual means to countries like the US and Canada among others."
The NCB gave out these details on Tramadol while reporting on the ongoing and emerging trends of drug abuse in the country in the last year by "diversion" of pharma drugs and hence sought its regulation.
Official records state that huge quantities of Tramadol were seized in the country last year, including in July when over 30,000 tablets of Tramadol Hydrochloride were seized from the cargo terminal of the Indira Gandhi lnternational Airport (IGI) along with other pharma drugs.
In another instance, in October last year, the NCB seized 710 tablets of Tramadol from the house of a Lucknow-based medicine supplier. These were supposed to be illegally dispatched to the United States of America (USA).
Large volumes of this drug have been seized by the NCB and other anti-narcotics agencies in Punjab in the last few years, and it is suspected that these consignments were finding their way to the ISIS terror group-held locations after being diverted from the original overseas destination, the official said.
The Italian police last year had seized a huge consignment of this drug at the port of Gioia Tauro and it was suspected to be on its way to ISIS terrorists after reportedly being smuggled from the Indian shores, he said.
"The manufacture, transport and sale of Tramadol were required to be regulated to not only affirm India's international commitment to fight drug crimes but also to wean away the youth who were abusing it within the country," he said.
Full report at:
https://timesofindia.indiatimes.com/india/isis-drug-tramadol-comes-under-narcotics-law-regulation/articleshow/63961491.cms
--------
Kashmir: 3 Indian paramilitaries suspended over rape
By Zahid Rafiq
April 30, 2018
Three Indian paramilitary personnel were suspended after a 24-year-old woman alleged that she was raped by one of them at their camp near Jammu city in Jammu and Kashmir, an official said on Sunday.
According to Indian news agency Press Trust of India, the woman filed a complaint on Saturday in which she claimed that she lost her way while going to a relative's house and she was intercepted by three Central Reserve Police Force's (CRPF) personnel who took her inside their camp on the pretext of helping her.
She said one of them raped her inside the camp while another filmed it on his mobile phone, the news agency reported citing the complaint.
"Three CRPF men have been suspended in connection with the incident and we have launched a departmental enquiry," CRPF spokesman Ashish Kumar Jha told media on Sunday.
Jha said the woman filed the complaint after one of the paramilitary men uploaded the video of her rape on social networking sites.
Earlier this month, widespread protests were held across India against the rape and murder of an eight-year-old Muslim girl in Kathua district of Jammu and Kashmir.
The girl from a nomadic Muslim herder family was grazing the cattle when she was kidnapped in January. A week later, her raped and mutilated body was found in Kathua.
Kashmir, a Muslim-majority Himalayan region, is held by India and Pakistan in parts and claimed by both in full. A small sliver of Kashmir is also held by China.
The two countries have fought three wars -- in 1948, 1965 and 1971 -- since they were partitioned in 1947, two of which were fought over Kashmir.
Also, in Siachen glacier in northern Kashmir, Indian and Pakistani troops have fought intermittently since 1984. A cease-fire came into effect in 2003.
Some Kashmiri groups in Jammu and Kashmir have been fighting against Indian rule for independence, or for unification with neighboring Pakistan.
Full report at:
https://aa.com.tr/en/asia-pacific/kashmir-3-indian-paramilitaries-suspended-over-rape/1131253
--------
Arab World
Unidentified missiles against Syrian regime fighters kill mostly Iranians
30 April 2018
Missile strikes against Syrian regime forces in the central province of Hama overnight killed 26 pro-regime fighters, mostly Iranians, a monitor said Monday.
The Syrian Observatory of Human Rights said the fighters had been killed in a raid, "probably" carried out by Israel, on the 47th Brigade base in Hama.
State media reported overnight that "enemy missiles" had struck government targets in Hama and Aleppo provinces, without mentioning any casualties or who may have been responsible.
https://english.alarabiya.net/en/News/middle-east/2018/04/30/Syria-missiles-kill-26-pro-regime-fighters-including-Iranians.html
--------
Syrian govt, rebels reach deal to evacuate fighters form Damascus area
April 30, 2018
DAMASCUS: The Syrian government and rebels have reached a deal to evacuate opposition fighters from an area of southern Damascus near the site of a regime offensive against jihadists, state media said on Sunday.
The announcement comes more than a week into a regime assault to oust the so-called Islamic State group fighters from the capital's southern suburbs, including the Palestinian refugee camp of Yarmuk.
On Sunday, state news agency SANA said a deal had been reached to evacuate opposition fighters and members of their families from rebel-held areas east of Yarmuk.
SANA reported "an agreement reached between the Syrian government and terrorist groups in southern Damascus, in the areas of Yalda, Babila and Beit Sahem", using its usual term for all rebels.
The deal gives fighters the choice between leaving the area with their families or handing over their weapons and staying, SANA said.
The reported deal is the latest in a string of such agreements that have seen the regime retake areas near the capital after rebel withdrawals.
Such a deal around Yalda could allow the regime to deploy forces on the eastern edges of Yarmuk after other units advanced towards the camp from the west, a Britain-based war monitor said.
Over the past two days, regime forces have retaken large parts of the district of Qadam on Yarmuk's western flank, the Syrian Observatory for Human Rights added.
On Sunday, regime warplanes pounded Yarmuk and the neighbouring district of Hajar al-Aswad, the Observatory said.
SANA said regime forces continued advancing in Hajar al-Aswad.
Yarmuk and its surroundings are now the jihadist group's largest urban redoubt in Syria and neighbouring Iraq, after IS lost most of the swathes of territory it once held in both countries.
The jihadists have held parts of Yarmuk and Hajar al-Aswad since 2015, and overran Qadam in a surprise assault last month.
On Saturday, IS seized a hospital and surrounding buildings on the eastern edges of Yarmuk as it tried to push towards Yalda, the Observatory said.
The announcement of a deal for Yalda and nearby areas comes after the regime reconquered what was once a key rebel bastion east of Damascus earlier this month.
Eastern Ghouta fell after a brutal military operation and a series of similar evacuation deals brokered by regime ally Russia that saw tens of thousands of residents bussed to northern Syria.
At least 85 regime fighters and 74 IS jihadists have been killed in 10 days of fighting in southern Dama­scus, the Observatory says.
Full report at:
https://www.dawn.com/news/1404756/syrian-govt-rebels-reach-deal-to-evacuate-fighters-form-damascus-area
--------
Syrian Army Continues Rolling in Deir Ezzur Countryside
Apr 29, 2018
The Syrian army imposed control on Al-Jieh Water Pump as well as the villages of Shaqareh and al-Alian West of Deir Ezzur city and on the Eastern coast of the Euphrates which was under the control of the Kurdish forces after the government troops imposed full control over al-Janineh and al-Jieh villages, field sources said.
The Syrian army's advances in the region took place several days after construction of a bridge by the Russian forces between the two coasts of the Euphrates river for the passage of the military equipment and delivering them to the army positions in Eastern Euphrates, the sources added.
The army troops regained control over the two villages of al-Ji'ah and al-Janineh in Western Deir Ezzur after heavy clashes with the Syrian Democratic Forces (SDF) forces.
Meantime, the SDF forces started dispatch of military equipment from al-Kasreh city to Western Deir Ezzur after Syrian army's victory in the two regions.
This is while neither the Syrian army nor the Kurdish forces have confirmed or dismissed the news.
The Syrian army's advances come as the SDF earlier on Sunday also dispatched forces and military equipment to Eastern Deir Ezzur from Raqqa province.
The SDF sent a military convoy comprising 350 fighters together with heavy military equipment from Kandal Square in Western Raqqa city to the SDF-controlled regions in Deri Ezzur.
Full report at:
http://en.farsnews.com/newstext.aspx?nn=13970209001286
--------
Russia Wants Ankara to Deliver Control of Afrin to Syrian Gov't
Apr 29, 2018
The Russian airbase announced on Sunday that the Turkish army's operations in Afrin have attained their goals and therefore, the Turkish side should return the region to the legal government in Syria.
Meantime, analysts said that the Turkish and US military commanders have held a meeting recently, discussing increasing cooperation between the two countries about their common security concerns which includes the situation of Manbij.
They added that the meeting between Turkish Chief of Staff General Hulusi Akar and his US counterpart Joseph Dunford was held following political talks between Turkish Foreign Minister Mevlut Cavusoglu and his American counterpart Mike Pompeo in Brussels after which the former said that the Turkish forces will be deployed in Manbij along with the US military men.
Meantime, earlier reports from Afrin said that the Turkish army and Ankara-backed militants had detained a large number of civilians and asked for a large amount of money to free them.
The Kurdish-language Hawar news reported on Sunday that the Turkish forces have detained 20 civilians, most of them Izadis, in the village of Qatmeh in Shara region in Afrin.
It added that they also tortured the detainees and loot their properties.
Full report at:
http://en.farsnews.com/newstext.aspx?nn=13970209001101
--------
Syrian Army to Launch Cleansing Operations in Idlib's Strategic Region
Apr 29, 2018
Field sources reported on Sunday that the army forces are preparing and reinforcing their bases in Lattakia mountains.
They referred to the Syrian army units' military exercises in the region and its artillery and missile attacks against the terrorist positions in Jisr al-Shaqour, and said that the operations will soon start to liberate this region.
The sources added that the army operation in Idlib will kick start and spread as other units and divisions engaged in Southern Damascus are about to end their assault in the region to join the units already deployed in Idlib.
"It seems that the troops at war in Southern Damascus will be dispatched to Idlib once they wrap up the operation around the capital," they added.
In a relevant development last Tuesday, the Russian Air Force carried out several combat fights over terrorists' strongholds in Southern Idlib, inflicting major losses on the militants.
The fighter jets stuck the terrorist groups' tactical positions, storage sites, camps and movements in and around the town of al-Habit (near the militant stronghold of Kafr Nabudah) in Southern Idlib.
The Russian airstrikes in Southern Idlib were, at the same time, supplemented by heavy fire of artillery units of the Syrian Army in al-Latamina, Kafr Zita and Zakat regions.
Full report at:
http://en.farsnews.com/newstext.aspx?nn=13970209000998
--------
Syrian Army Destroys Terrorists' Strongholds in Homs, Hama
Apr 29, 2018
The Syrian army engaged in fierce clashes with the terrorists in the surrounding areas of al-Hamrat and Salim villages in Northeastern Homs.
Meantime, the Syrian army's artillery and missile units heavily pounded the military positions of the terrorists in Ezzedin, Deir Foul, al-Zafaraneh, al-Ameriyeh, Ain Hossein Jonoubi North and Northeast of Homs and Jabal al-Zarqa South of Hama, destroying several terrorists' headquarters.
The Syrian air force also heavily pounded the military positions of the Al-Nusra Front (also known as Fatah al-Sham Front or the Levant Liberation Board) in Harbnafsa town, al-Zareh village and al-Sathiat, destroying several strongholds and military equipment of the terrorists as well as killing and injuring several of them.
In a relevant development on Saturday, the Syrian army smashed the strongholds of Tahrir al-Sham Hay'at (the Levant Liberation Board or the Al-Nusra Front) in Homs province, killing one of its top commanders, military sources said on Saturday, adding that the army is preparing to cleanse the Northern parts of the province of militants.
The sources said that a large number of special army forces have been sent to Northeastern Homs along with a large number of military equipment, adding that they are missioned with purging all terrorists of al-Rastan region in Northern Homs.
Meantime, the air force, artillery and missile units of the Syrian army attacked the terrorists' positions and moves in Northern Homs and Southern Hama, inflicting damage on the militants.
Also, field sources reported that the Syrian army has destroyed one of Tahrir al-Sham's bases in the village of Ezzeddin in Northeastern Homs by missile strikes.
Full report at:
http://en.farsnews.com/newstext.aspx?nn=13970209000597
--------
Military bases in Syria's Aleppo, Hama targeted by missiles
Apr 29, 2018
Syria has announced that several of its military bases located in the provinces of Hama and Aleppo have come under missile fire.
According to Syria's state news agency on Sunday, "a new aggression with hostile missiles" happened at 10:30 pm local time, in which military positions in the Hama and Aleppo villages were targeted.
The origins of the attacks are still unclear, but come several weeks after Russia and Syria said Israeli warplanes struck an air base in the Syrian province of Homs.
It also comes a few weeks after, the US, Britain and France carried out a string of airstrikes against Syria over a suspected chemical attack against Douma. Washington and its allies blamed Damascus for the suspected assault.
The Syrian government has strongly denied the allegation, calling on Organization for the Prohibition of Chemical Weapons (OPCW) to send a fact-finding mission for investigations.
Over the past few years, the Israeli military has launched sporadic attacks against various targets on Syrian soil, in assaults slammed by Syria as attempts to boost terrorist groups who have been suffering heavy defeats on the battlefield with Syrian government forces.
Full report at:
http://www.presstv.com/Detail/2018/04/29/560119/syria-airstrike-hama-aleppo
--------
Pakistan
Some neighboring countries involved in terror activities in Balochistan: Bugti
April 30, 2018
Balochistan Home Minister Mir Sarfaraz Ahmed Bugti says some neighboring countries are involved in terrorist activities in the province to destabilise the area, reported Radio Pakistan.
He said this while talking to media persons after meeting Hazara Community who had set up a camp near Quetta Press Club against killing of two persons by unknown gunmen at Afghani Road the other day.
Bugti strongly condemned the incident and assured that law enforcement agencies are making efforts to arrest the culprits soon.
He said the terrorist networks in the province have been busted but there are some anti-state elements who would also be eliminated soon.
https://nation.com.pk/30-Apr-2018/some-neighboring-countries-involved-in-terror-activities-in-balochistan-bugti
--------
MMA vows to foil West's agenda in Pakistan
Muhammad Jamal Hoti
April 30, 2018
MARDAN: Leaders of the Muttahida Majlis-i-Amal (MMA) said on Sunday they would foil efforts of those political forces and elements who were trying to implement agenda of American and western countries in the country.
They were speaking at a public meeting at the Railway Station Ground here.
Jamiat Ulema-i-Islam (Fazl) chief Maulana Fazlur Rah­man, Jamaat-i-Islami chief Senator Siraj-ul-Haq, Jamiat-i-Ulema-i-Pakistan chief Awais Ahmad Shah Noorani and some other MMA leaders addressed the public meeting.
JUI-F chief Maulana Fazl alleged that secular forces were trying to replace the Islamic identification of Pakistan with secularism.
He said such elements could not succeed in their efforts in the presence of religious political parties in the country.
He said that Pakistan was passing through a critical juncture at national and international levels and only religious parties could steer the country out of this critical situation.
JI chief Siraj-ul-Haq said his party was not doing politics of the US; rather it was doing politics of Madina Munawara.
He claimed that according to a survey conducted by an American firm, 85 per cent of young people of Pakistan wanted implementation of Islamic Sharia in the country.
"The implementation of obscenity and un-Islamic culture in Pakistan is not acceptable to us," he declared.
He said there was no name of any religious party leader in the Panama leaks scandal or no case of corruption was being probed by the National Accountability Bureau or FIA against them, asserting that only religious parties' leaders could make Pakistan free of corruption.
Full report at:
https://www.dawn.com/news/1404738
--------
Country's politics, parliament under foreign pressure: Fazl
Mohammad Riaz Mayar
April 30, 2018
MARDAN: Jamiat Ulema-e-Islam-Fazl (JUI-F) chief Maulana Fazlur Rehman said on Sunday the country's politics and parliament were under international pressure.
He said the United Nations had failed to stop the killing of innocent people in the Indian Held Kashmir (IHK), Syria, Libya, Palestine, Iraq and other Muslim countries. He was addressing the Mohib Baba Jee Conference at the Railway Ground in Mardan.
Jamaat-e-Islami Ameer Senator Sirajul Haq and Federal Minister Akram Khan Durrani also addressed the conference while Shah Owais Noorani and Muttahida Majlis-e-Amal (MMA) leaders and madrassa students were present in a large number.
The Maulana came down hard on the Pakistan Tehreek-e-Insaf (PTI) chief Imran Khan and accused him of furthering the agenda of the Jewish lobby. Addressing the conference, Sirajul Haq criticised the National Accountability Bureau (NAB) and said that NAB did not take action against the big guns. "We don't need such type of accountability," he added.
The JUI-F chief said that an Islamic revolution was imminent in the country. He added that according to a survey conducted by an organisation in the West, 85 percent youth in Pakistan wanted the Islamic rule in the country.
The Maulana said that the MMA would win the upcoming election by a huge margin and will change the governance system. The event was termed a show of power by the MMA in the district after its restoration. The religious party's activists chanted slogans throughout the day and marched on the main road to welcome the arrival of party leaders.
Full report at:
https://www.thenews.com.pk/print/310736-country-s-politics-parliament-under-foreign-pressure-fazl
--------
Hazara community's hunger strike in Quetta continues for second day
April 30, 2018
Members of the minority Hazara community are protesting in Quetta against the targeted killing of members of the community by terrorist outfits. Angry members of the community launched the hunger strike after the killing of two Hazara men on Saturday.
The protest which took the shape of a hunger strike was being staged outside Quetta Press Club. Led by social activist Jalila Haider, the protest entered its second day on Sunday.
The protestors were irked by the ineffectiveness of the law enforcement and security agencies in preventing the unabated killings of Hazaras in the provincial capital. They demanded that Chief of Army Staff (COAS) General Qamar Javed Bajwa should visit the city and meet the widows of the deceased men.
Talking to reporters, Jalila Haider said that the hunger strike would not end until and unless the state provided security to the persecuted Hazara community.
In another part of the city, Balochistan Shia Conference held a protest rally at Shuhada Chowk, Alamdar Road. The neighbourhood mostly houses members of the Hazara community.
Pakistan People's Party (PPP) lawmaker Nasir Shah, while addressing the gathering, said, "The people of Balochistan do not want roti (bread), kapra (clothes) and makaan (house) if they do not have the right to life." The gathering was also attended by members of Hazara Democratic Party, Balochistan National Party, Jamhuri Watan Party and other political outfits.
He added, "When the state starts showing signs of weakness, social peace is the first to suffer. He said the "wrong policies" of the state had exposed the people of the province to the dangers they faced today.
According to another speaker, namely Zair Agha, all neighbourhoods that are dominated by Hazaras have transformed into orphanages. "It seems that our blood has become cheaper than water," he added.
In the past few years, more than 2,000 Hazaras have been killed while another 3,000 have been injured in different incidents of targeted violence.
The recent killing of two Hazara men in Quetta, which provided the impetus for the protest, was the fourth targeted attack on the community this month in the provincial capital.
Earlier, two members of the community were killed while one was injured in an attack in the Western Bypass area of the city last Sunday. On April 18, a Hazara shopkeeper was killed when unknown assailants opened fire on him while another was killed in the beginning of the same month.
Full report at:
https://www.pakistantoday.com.pk/2018/04/29/hazara-communitys-hunger-strike-in-quetta-continues-for-second-day/
--------
10,000 Sikh pilgrims to visit Pakistan for religious rituals
April 30, 2018
LAHORE: Over 10,000 Sikh pilgrims are expected to visit Pakistan on the occasion of 550th birthday celebrations of their spiritual leader Guru Nanak.
According to media reports, the Evacuee Trust Property Board (ETPB) and the Pakistan Sikh Gurdwara Parbandhak Committee (PSGPC) decided that the number of pilgrims would be increased from 3,000 to 10,000, in accordance with the 1974 Pakistan-India Protocol on Visits to Religious Shrines.
However, the final decision on the matter would be taken by the federal government and interior ministry.
Although Guru Nanak's birthday is in November later this year according to the Roman calendar, the Sikh community will celebrate the occasion according to the Nanak Shahi calendar in November 2019.
Full report at:
https://www.pakistantoday.com.pk/2018/04/29/10000-sikh-pilgrims-to-visit-pakistan-for-religious-rituals/
--------
3 dead in suspected target killing in Quetta: police
Syed Ali Shah
April 30, 2018
At least three people were killed and two others injured in a firing incident in Quetta on Sunday evening, DawnNewsTV reported.
According to police, unidentified attackers opened fire at people sitting inside a shop on Quetta's Jan Muhammad Road. The assailants managed to escape unhurt after the attack, police said.
The injured were rushed to nearby Civil Hospital, Quetta, for medical treatment.
Police are suspecting it to be an act of target killing, however, the actual motive behind the attack remains unknown so far as police are carrying out investigations into the matter.
The identities of those killed and injured in the attack are yet to be ascertained.
A state of emergency has been imposed at the hospital where the injured have been shifted. Moreover, shops in the area were closed following the incident.
Full report at:
https://www.dawn.com/news/1404647/3-dead-in-suspected-target-killing-in-quetta-police
--------
Nine Afghan cops killed in gunfight with Taliban
April 30, 2018
FAIZABAD - At least nine Afghan police personnel were killed and 10 others injured in a gunfight after the Taliban attacked a remote district in the country's northern province of Badakhshan, local police said Sunday.
"Militants stormed security checkpoints in the outer neighbourhood of Tashkan district Saturday night, triggering a gunfight. Sporadic clashes were ongoing Sunday around the district center and its local bazaar as security forces are fighting back the assailants," spokesman Sanaullah Rouhani told Xinhua.
Several militants were also killed and wounded during the fighting in the district, south of provincial capital Faizabad city, but their number could not be exactly specified yet, he added.
The Taliban-led insurgency has been on the rampage since the beginning of 2015 when the Afghan security forces assumed full responsibilities of security from the US and NATO troops.
The Taliban militants also intensified attacks against security forces across the country after they launched a yearly rebel offensive on Wednesday.
The mountainous province has been the scene of heavy clashes over the past months.
Earlier, the country's defence ministry said that six Taliban militants were killed and four others wounded during a cleanup operation in Tashkan district on Saturday.
In another incident, an Afghan woman and two children were killed in a blast caused by explosive remnants of war in eastern province of Nangarhar, a provincial government spokesman said Sunday. "The incident occurred at around 06:30 Sunday in Surkh Rod district, east of provincial capital Jalalabad city," spokesman Attaullah Khogyani told Xinhua.
Full report at:
https://nation.com.pk/30-Apr-2018/nine-afghan-cops-killed-in-gunfight-with-taliban
--------
Former TTP commander among five held
April 30, 2018
KARACHI - Police Sunday claimed to have arrested at least five outlaws including a former commander of defunct Tehreek-e-Taliban Pakistan while recovered weapons and hand grenades from his possession.
Police said that the Pak Colony police on a tip off raided and arrested Sohrab Goth former Commander of TTP Munir Khan aka Khusbo Wala aka Mama while recovered weapons and hand grenades from his possession. During the course of investigation accused terrorist confessed to have run Sohrab Goth area as TTP Commander during 2010 to 2011 while providing hiding places to TTP Quetta Commander Qari Usman and also dumped explosive and weapons in Karachi.
Separately, Brigade police claimed to have arrested a street criminal Daniyal aka Bablu while recovered weapons and looted valuables from his possession. Supermarket police claimed to have arrested three bandits while recovered weapons from their possession. Police said that the accused persons identified as Nehal Ahmed, Asghar Ali and Tabasum while recovered weapons and looted valuables from their possession.
Sindh Rangers on Sunday claimed to have apprehended at least eleven suspects during ongoing targeted raids conducted in parts of the metropolis. Members of different political parties were also among the suspects arrested.
According to Rangers spokesperson, the Rangers troops arrested at least seven suspects during ongoing targeted raids conducted in parts of the city including Manghopir, Iqbal Market, Ittehad Town, Madina Colony, Baldia Town and Korangi. The suspects arrested identified as Faisal Sharif alias Kalu, Asif Khursheed alias Kala Bandar, Sohail Ahmed, Abdur Rehman alias Baba Tanki, Adnan alias Addu and Abdul Majeed Ansari alias Mamu were affiliated with Muttahida Qaumi Movement-London while Asif Qureshi alias Rangar is affiliated with Muhajir Qaumi Movement-Haqiqi.
Rangers spokesperson said that the Rangers troops also conducted raid in Gulberg area and arrested a suspect, namely Noman who was involved in various cases of street crimes. Three more suspects identified as Shafiq, Shaukat and Hidayatullah allegely involved in drug peddling were also arrested during raids in parts of city including Gulberg, Brigade and Saddar.
The spokesperson further said that the troops also recovered arms, ammunitions and drugs from their possession while the suspects were handed over to the police for further legal actions.
Two people gunned down
At least two people were gunned down in separate violent incidents while law enforcers claimed to have arrested 16 accused persons including a TTP Commander on Sunday.
Gunmen shot dead a teenage boy over robbery resistance here in the remits of Sir Syed police station. Police said that the armed bandits reached a general store located at North Karachi where a shopkeeper Sohial Jamali, 17, offered resistance. Following the resistance armed man opened fire on the shopkeeper and left him wounded. Culprits managed to flee while victim rushed to the Abbasi Shaheed Hospital where young boy succumbed to his injures. Police handed over the body to the family after autopsy while registered the case against the accused persons.
Full report at:
https://nation.com.pk/30-Apr-2018/former-ttp-commander-among-five-held
--------
Africa
Suspected jihadists kill 40 Tuareg men in Mali attacks
April 30, 2018
Suspected jihadists killed 40 Tuaregs, mostly young men, in two attacks in northern Mali's Menaka region, which the local governor said seemed calculated to spark an ethnic conflict between Tuareg and Fulani herders.
Menaka governor Daouda Maiga said the attacks happened in the remote desert villages of Awakassa on Friday and in Anderanboucane a day earlier.
Jihadist groups are seen as the greatest threat to security across Africa's Sahel region. They have proved adept at exploiting local tensions between ethnic groups to sow discord – such as those between mostly lighter-skinned Tuareg and black Fulani herdsmen over scarce watering points in the Sahara. Bajan Ag Hamatou, a local legislator, confirmed the attack, as did Menaka town's mayor, Nanout Kotia.
Rising violence across Mali has cast doubt over the feasibility of elections scheduled for the end of July, in which President Ibrahim Boubacar Keita will seek a second term.
Islamic State's Saharan affiliate is active in the Menaka region bordering Niger. It is led by an Arabic-speaking north African called Adnan Abu Walid al-Sahrawi, but the majority of its fighters are Fulani.
"The dead were mostly youths, no women or children, mostly of the age where they can carry arms," Maiga said. The victims included many members of the Tuareg militia National Movement for the Salvation of Azawad (MSA).
"The MSA is fighting the Islamist groups, which are composed mostly of Fulani," Maiga said. "So these two attacks were reprisals against them. They want to transform the conflict into something inter-communal."
Mali has been in chaos since Tuareg rebels and Islamists swept across its deserts in 2012, despite a French intervention to push them back the following year, and a large French military and United Nations peacekeeping presence. – Reuters
https://www.irishtimes.com/news/world/africa/suspected-jihadists-kill-40-tuareg-men-in-mali-attacks-1.3478320
--------
Libya's Haftar visits Derna ahead of plans to liberate town
30 April 2018
Libyan military strongman Khalifa Haftar, who returned last week to the eastern city of Benghazi after a long absence, visited the main operation room in al-Abraq air base, west of Derna, to monitor final preparations to liberate the town.
Militias known as the Shura Council of Mujahideen have controlled Derna since they forced out ISIS in 2015. It is the last eastern town out of the Libyan National Army's control.
Haftar met with top commanders and reiterated his instructions to protect civilians and guarantee their safety if Derna is raided to purge it from terror groups.
Haftar has been away from Libya for some time raising many questions about his health condition. His return however put an end to the rumors, while his visit to Derna confirmed the Libyan army's intention to resume its battle against extremist groups.
Haftar's forces have encircled Derna, a coastal city, for more than a year but intermittent battles have not led to a full-scale assault.
https://english.alarabiya.net/en/News/middle-east/2018/04/30/Libya-s-Haftar-visits-Derna-ahead-of-plans-to-liberate-town-.html
--------
Religious zealotry, radicalism among northern Nigerian Muslims
April 30, 2018
The same applies to the rest of the West African sub-region, the northeast quadrant of Africa and the rest of Africa, south of the Great Sahara. I have already noted the example of Senegal. In Mali, Muslims constitute 90% of the population, and like the majority of Muslims in Northern Nigeria, Muslims in Mali are mostly of the Sunni sect; yet, there has not been communal violence directed against non-Muslims or inter-sectarian violence amongst Muslims in Mali. The Tuareg insurgency in Mali (as well as in northern Niger Republic), is about regional autonomy than about religious intolerance or bigotry. Niger Republic – which shares its southern border with Northern Nigeria – and, in fact, boasts a significant Hausa-Fulani ethnic population, along with being 94% Muslim, has not had a history of ethno-religious violence. Gambia is made up of 95% Muslims; Guinea – 85% Muslim; Sierra Leone – 71% Muslim; and Burkina Faso – 60.5% Muslim. In Ghana, Muslims constitute approximately 45%, yet there has never been any communal violence directed against fellow Muslims or non-Muslims; and Cote d'Ivoire, with 38.6% Muslim population, which approximates the comparative percentages between Christians and Muslims in Nigeria; has equally no history of ethno-religious violence. And one can hardly use the argument of poverty and unemployment to explain the Northern Nigerian outlier. For while such socioeconomic factors are well-documented variables in the dynamics of crime rate, recidivism, demoralization, social dysfunction, etc., they are not dramatically worse in Northern Nigeria than in other parts of West Africa. So, what other factor(s), besides the historical legacy of revolutionary jihad and the socioeconomic variables of poverty and unemployment, help explain the Northern Nigerian anomaly?
One other ethnographic observation is in order with respect to the Hausa-Fulani in comparison to the rest of the West African sub-region, before I get into the explanation I offer for the peculiarity of the Hausa-Fulani of Northern Nigeria. It is most interesting that in the Wet African sub-region, countries with significant numbers of Muslims or Muslim majority countries, but have neither Hausa nor Fulani populations, or have Hausa but no Fulani populations or vice versa, have always had peace and tranquility amongst their Muslim populations as well as between their Muslim and Christian populations.
For example, although there is a significant number of Muslims in Ghana, there are neither Hausas nor Fulanis in Ghana, and Ghana has been in a state of religious tranquility since its independence in 1957.
In Senegal, like in Guinea, they have Fulanis but no Hausas. In Gambia, although the majority of its population is Muslim, they have neither Fulanis nor Hausas; they are primarily made up of two ethnic groups: Wolof and Mandinka. Sierra Leone has a few Fulanis, but no aboriginal Hausa population, except, perhaps, itinerant traders. Mali has some Fulanis but no Hausas. Ivory Coast, like Ghana, has no Hausas or Fulanis. The only exception to the foregoing pattern is: Niger Republic, which shares its southern border with Northern Nigeria. With its majority Muslim population, Niger has a good number of Hausas and Fulanis; yet, it has remained in a state of religious tranquility. The hypothesis I proffer towards the end of this piece, will help explain the seeming anomaly of Niger Republic.
In answer to the foregoing posers, I hazard a fine point as explanation: the psychosocial conundrum of identity crisis for Northern Nigerian Hausa-Fulanis. And I do not make a pathological case of that phenomenon. I merely proffer a perspective, which to me, goes a long way in explaining the irrational destructiveness of ethno-religious violence that periodically occurs and reoccurs in Northern Nigeria. But how can this be so, you ask? Do the Hausa-Fulani of Northern Nigeria not have their own language, history, culture and ancestral land? Let me suggest that in the history of the African's encounter with non-Africans: Arabs and Western Europeans have had the greatest impact on the contemporary identity of Africans. Of the two—Arabs and Western Europeans—Arabs have had a much longer and more profound impact on the identity of the Africans they encountered, than Western Europeans.
There are two principal mechanisms through which Arabs finagled that greater impact on the identity of the Africans they encountered. The first was through the exchange of genes—inter-breeding. Although that inter-breeding tended to be one-sided: conquering or superordinate Arab males taking African women as wives or concubines; they produced, what, for want of a better term, can be called: "Afro-Arabs." Such "mulatto" Africans, of which a good number of Fulanis and a few others can be categorized as; were then, used by the colonizing or superordinate Arabs as a buffer class between their ruling aristocracy and the full-blooded majority of their colonized or subordinated African populations. That hybridization, depending on the nature of the socialization of its offspring, can create an internal social and political alienation between such hybridized elements and their full-blooded counterparts; especially if and when the scaffold of a different religious belief system, differential access to formal education—especially the ability to read and write in the Arabic script—and thus, higher social status are thrown into the mix.
Modern examples of the foregoing phenomena include, but are not limited to the preoccupations of English, Spanish and Portuguese slave plantation owners in the Americas; the Anglo-Dutch slave plantations in the Caribbean; the French in colonial Haiti; and, of course, the Anglo-Dutch enterprise in Apartheid South Africa, which consciously and deliberately, artificially constituted a so-called "mix-race" population, which they proceeded to geospatially sequester as a separate "race" which they called: "Coloreds."
A second mechanism Arabs used in that historical trajectory was: religion. Arabs made effective use of Islam in the colonization, socialization and homogenization of the African peoples they encountered either in the course of commerce, conquest or both. For until a person loses that which constitutes their separate identity from their conqueror or their captor; such a person is still free, through such self-knowledge, despite being physically manacled. The moment they lose their unique cultural identity—language, traditions, customs, music, cuisine, and especially, their belief systems—the eschatological construct that gives their existential being its unique sense of selfhood, meaning and purpose—such a person becomes truly the "slave" of their conqueror or their captor. At that point, there is no longer any need for physical shackles; their mental conditioning is complete and thorough. Pavlovian conditioning has firmly set in. As Ayaan Hirsi Ali (2007) put it in the course of her mental emancipation:
We Muslims have been taught to define life on earth as a passage, a test that precedes real life in the Hereafter. In that test, everyone should ideally live in a manner resembling, as closely as possible, the followers of the Prophet. Didn't this inhibit investment in improving daily life? Was innovation therefore forbidden to Muslims? Were human rights, progress, women's rights all foreign to Islam? By declaring our Prophet infallible and not permitting ourselves to question him, we Muslims had set up a static tyranny. By adhering to his rules of what is permitted and what is forbidden, we Muslims suppressed the freedom to think for ourselves and to act as we chose. We froze the moral outlook of billions of people into the mind-set of the Arab desert in the seventh century. We were not just servants of Allah, we were slaves. (pp. 271-272)
Consider, for example, the requirement in Islam that a Muslim only pray and worship Allah in Arabic. That means that in the name of Islam, Arabs managed to get non-Arab Muslims all over the world, to read and write, or, at any rate, to memorize and recite prayers and Koranic verses only in the Arabic tongue. And this is in spite of the fact that there are far many more non-Arab Muslims than there are Arab Muslims; in addition to the fact that not all Arabs are Muslims. The ostensible reason given for that dubious requirement being that translating the word of God as articulated by the Prophet Mohammed, might distort the purity of its original meaning. Therefore, the Koran cannot be translated into the mother tongues of the multilingual multitude of Muslims around the world.
Clearly, Prophet Mohammed was an Arab by nationality and culture. Also, his received wisdom and spiritual insights from Allah were penned by his scribes in the Arabic language. It necessarily had to be so: both Prophet Mohammed, his scribes and his Bedouin audience were Arabs, and therefore, Arabic speakers, except for one: Bilal, who was of Ethiopian origin, though clearly well-versed in spoken and written Arabic. That much is clear and understandable. But surely, one cannot then make the argument that Allah Himself only comprehends the Arabic language; and therefore, would be incapable of understanding what non-Arab Muslims offer up to Him in praise or supplication in their various mother tongues? Consequently, even if it were necessary for non-Arabic Muslims to understand what Prophet Mohammed set down in the Koran in Arabic, they would not need Arabic to communicate directly with Allah in praise or supplication. And no matter what nuances or details may be lost in translation—from the original Arabic into the languages of the multilingual multitude of Muslims—the vast majority of Islamic prayers, supplications, Koranic verses, injunctions and proscriptions, can be effectively translated into and communicated in those international languages with no difficulty whatsoever.
After all, the effective translation of the Christian Bible into the hundreds of languages spoken worldwide by Western Europeans as well as non-Western Christians is proof positive that such a project is infinitely doable. Also, among contemporary African Christians, the liturgy is celebrated—from beginning to end—in the mother tongues of the various African peoples. However, historically, like Arabs in relation to Islam, Western Europeans in relation to Christianity, tried to avoid or to delay—for as long as possible—the linguistic translation of the Bible and the liturgy into the multinational languages of the non-Western peoples of the world.
The political citadel of Catholicism—Vatican—insisted on retaining imperial control of the Christian faith by means of the Latin Bible—the Vulgate. Eventually, especially following the Protestant Reformation, Roman Catholicism conceded that other European languages, such as: French, Spanish, Italian, German and English; could be legitimate vehicles for conveying the sacred messages of and supplications to the Christian God. It is an interesting coincidence that the European languages that were eventually accepted as legitimate vehicles for communication with the Christian God, ended up also being the same European countries that became colonial powers in Africa and elsewhere; and who, in turn, tried to proscribe the translation of the Bible and other sacred Christian texts, into the various languages of their colonial subjects! I, therefore, assert that the Arab Muslim requirement that their language constitute the only legitimate vehicle for Islamic liturgy, Koranic theology as well as supplication to Allah, was and is an act of political and cultural imperialism. It had and has nothing to do with translational exactitude or religious piety.
What does all this have to do with Islam and Hausa-Fulani history and culture; and even more so, with the recidivism of ethno-religious violence in Northern Nigeria? Well, here is the rub. In societies in which Islam took root in Africa, the tendency was wholesale destruction of everything that preceded the coming of Islam. Traditional shrines, practices, faiths, given names in the people's mother tongues, etc., were swept aside or marginalized in the name of Islamic conversion, faithfulness and piety. Today, most Hausa or Fulani Muslims in Northern Nigeria have become so estranged from their pre-Islamic cultures and traditions, that the only prism through which they see themselves, others and the world, is Islam.
In other words, the cultural identity of the Hausa-Fulani of Northern Nigeria, has become so conflated with the Islamic faith, that neither they nor others can tell where one ends and the other begins or vice versa. I have found the same phenomena among Somalis. Most Somalis do not have Somali first or last names any longer. And many no longer even know what "Somali names" are apart from so-called "Islamic names." Yet, technically, there is no such thing as an "Islamic name." What passes for "Islamic names" are, in actuality, Bedouin Arab names passed off as "Islamic names." For Islam as a religious belief system is deeply, if not completely embedded in Arabic culture: language, history, theocratic tradition and imperial political system.
It is equally true that with the coming of Western European Christianizing mission in Africa, they tried to make it appear as though Christianity was part and parcel of acculturation into so-called "Judeo-Christian" culture or civilization. Many Africans, upon their conversion to Christianity, took so-called "Biblical names" such as: Peter, Paul, Joseph, Mary, Magdalene, Isaiah, Jacob, etc. But like so-called "Islamic names," so-called "Christian names" are embedded in the history and culture of the Hebrew/Jewish people of the Middle East, which later mixed in elements of Western European culture: Greco-Roman culture and civilization. Still, the question lurked beneath the surface of the subterfuge: if Latin, English, French, Spanish, Italian and German are good enough to teach about and supplicate to the Christian God, why not Yoruba, Igbo, Zulu, Swahili, Lingala, etc.?
After all, Jesus the Christ and his mother Mary were not Europeans. They were Middle-Eastern Jews. Western Europeans were using the cultural imperialism implicit in Judeo-Greco-Roman-Christianity, into which they were converting Africans, to subvert the traditional cultures of the African peoples they were encountering and colonizing, and hence, their identities. The reason? Just like the Arabs before them, Western European also had an imperial agenda lurking behind or beneath the façade of a purely religious mission. After a generation or two, Christianized Africans began to wake up to the ruse and began to demand the Africanization of the Western Christianity Europeans brought as part and parcel of their colonial mission in Africa. By the time of the anti-colonial movement in the mid-to-late 1900s, that demand had gathered enough momentum that today, it has become a fait accompli.
In contrast, it is a challenging exercise for the average Somali to disentangle what being Somali is—culturally—from what being a Muslim is. Consequently, anything perceived as threatening the efficacy of Islam, is perceived as threatening their cultural identity; and anything perceived as threatening their cultural identity, is perceived as threatening Islam. They no longer have a separate cultural identity from their Islamic faith. And the main reason is that Islam destroyed their pre-Islamic culture and replaced it with the cultural and theocratic absolutism of Arabized imperial Islam. Virtually the only things left of Hausa-Fulani and Somali cultures, to stick with those three examples, are their languages: Hausa, Fulbe and Somali.
And even their languages have not been spared the cultural imperialism of the Arabs. For example, about one-fourth of the Hausa language is made up of loanwords from Arabic. Likewise, a lot of loanwords in Fulbe are Arabic loanwords or words with Arabic roots. In the case of Somali, there are over 300 hundred Arabic loanwords. It might surprise some people to learn that to the extent the Yoruba became partly Islamized, as a result of the efforts of Usman Dan Fodio's jihadists pressing south; the Yoruba language has about 30 to 40 loanwords from Arabic. A book titled: On Arabic Loans in Yoruba, written by an Italian academic by the name: Sergio Baldi, documented that information in 1995.
This, in and of itself, is not necessarily a unique or bad thing. After all, Greek borrowed a lot of loanwords from Egyptian, and English borrowed a great deal of loanwords from Latin, a bit from French, some from German, and even some from Arabic! The words: zero, algebra, algorithm, zenith, sheriff, Sahel, Sahara and savannah, to name a few, are all Arabic in origin. The point I am trying to make, however, is to indicate the direction of cultural influence, in the cases of the Hausa, the Fulani, the Somalis, and partly, the Yoruba; as a result of their contact with and conversion to Arabized imperial Islam. For example, according to Hausa origin myth, Bayajidda, "the mythical ancestor of the Hausa, migrated from Baghdad in the ninth or tenth century AD. After stopping at the kingdom of Bornu, he fled west and helped the king of Daura slay a dangerous snake. As a reward, he was given the Queen of Daura in marriage. Bayajidda's son, Bawo, founded the city of Biram. He had six sons who became the rulers of other Hausa city-states. Collectively, these are known as the Hausa bakwai (Hausa seven)." In fact, a great deal of Hausa civil law, literature, science and warfare, have been drawn from Arabic/Islamic sources. And the Hausa language has been written with an adopted version of the Arabic script, called ájámi, since the early part of the 17th century.
It is hardly surprising that under British colonial rule in Nigeria, when a system of modern jurisprudence was instituted by British colonial authorities; basing it as they did, on English Common Law; a distinction was made between civil and criminal laws—that fell under the British Common Law system and "Customary Law," which fell under the purview of traditional African jurisprudence. Invariably, while the "Customary Laws" of Southern Nigerian peoples were based on their traditional African customs and traditions, those of the Hausa-Fulani of Northern Nigeria, were based on Islamic law and jurisprudence—Sharia. Although Fulani origin myth, unlike those of the Hausa and the Somali, does not allude to the Arab world, but instead is a short form morality-play; the Fulani wrongly trace their genealogy to the Middle East/Arabia as well. The said Fulani creation or origin myth reads thus:
At the beginning there was a huge drop of milk.
Then Doondari (God) came and he created the stone.
Then the stone created iron;
And iron created fire;
And fire created water;
And water created air.
Then Doondari descended a second time. And he took the
five elements
And he shaped them into man.
But man was proud.
Then Doondari created blindness and blindness defeated
man.
But when blindness became too proud,
Doondari created sleep, and sleep defeated blindness;
But when sleep became too proud,
Doondari created worry, and worry defeated sleep;
But when worry became too proud,
Doondari created death, and death defeated worry.
But when death became too proud,
Doondari descended for the third time,
And he came as Gueno, the eternal one
And Gueno defeated death.
However, although, it is factually not the case, the Fulani traditionally believe they are originally from North Africa and the Middle East; and that when they migrated into the West African sub-region, they intermingled with the local West African ethnic groups. This is not the place to get into the empirical history disproving that genealogical mythology among the Fulani. Suffice to say that the reverse was historically what actually occurred. The Fulani are indigenous to West Africa, however, a number of waves of migrations of Semitic peoples—first Jews and later Arabs—came into the Senegambia area of the Futa Toro and Futa Jalon mountains—the original homeland of the Fulani; interbred with many Fulani, hence the features we find today among a good number of them. Clearly, for the run-of-the-mill Fulani, a combination of pseudo-Caucasoid facial features and Arabized Islam, must seem like prima facie "evidence" of their origins outside West Africa.
Similarly, the Somali have a traditional origin myth that "their ancestors emigrated from the Arabian province of Hadramaut to Med, on the African coast; from which place their descendants gradually spread over the country they now occupy, having driven out the original Galla inhabitants." It is as though the three African peoples—the Hausa, the Fulani and the Somali—created origins myths and genealogies that denied their Africanness in the course of the complex dynamics of their genetic and religious encounter as well as interaction with Arabized imperial Islam. There was status, legitimation and validation attached to their association with the Arabs and Islam. Unlike the Hausa, however, when Somalia finally decided on a script with which to write their language, many centuries after the Hausa had been writing their language in ájámi, they chose a modified version of the so-called Roman alphabet.
Now, contrast the foregoing origin myths of the Hausa, the wrong belief of the Fulani in their genealogical origins from Arabia and the Middle East as well as that of the Somali; with the origin myths of the Yoruba and the Igbo, to continue with those two emblematic examples of Southern Nigerian ethnic groups. Yoruba origin myth, for example, begins, like the Judeo-Christian origin myth of humanity; from a creational tabula rasa: "In the beginning, there was only the sky above, water and marshland below. The chief god Olorun ruled the sky, and the goddess Olokun ruled what was below. Obatala, another god, reflected upon this situation, then went to Olorun for permission to create dry land for all kinds of living creatures to inhabit. He was given permission, so he sought advice from Orunmila, oldest son of Olorun and the god of prophecy. He was told he would need a gold chain long enough to reach below, a snail's shell filled with sand, a white hen, a black cat, and a palm nut, all of which he was to carry in a bag . . ." It is a self-affirming origin-myth, beginning from its own human essence as its departure point.
Similarly, Igbo origin myth from the socio-historical crucible of Igbo roots—Nri—begins thus: "Chukwu was recognized as the creator of the world and everything in it, and at the beginning of time, Chukwu sent a man down on a rope and his name was Eri. Eri was said to have come down on an anthill because the ground was messed up and water logged. Eri did not like this and so he complained to Chukwu. Chukwu provided solution by summoning a blacksmith who helped in drying the land, so that Eri could walk on it. Eri ended up having kids and had to sacrifice his kids so that there will be food . . ." Like that of the Yoruba, it begins with a direct, self-affirming encounter with the Supreme Creator and the universe. It takes for granted the unqualified humanity of the Igbo people and does not associate them with any other people—near or far—as legitimization of their existence or self-worth.
Music is another measure of cultural integrity and fidelity among a people. Granted, music, like language, is a living, breathing phenomenon; encompassing within itself different styles and movements—sometimes internally invented or innovated, and at other times, externally stimulated—but always a dynamic phenomenon. Still, it is possible to discern established patterns of a people's musical style, instrumentation, vocalization and dance movements, as defining of cultural conurbations in various parts of the world. Music and dance, may therefore, be said to be a reflection of the soul of a nation. When the overarching architecture of a people's musical and dance forms radically changes, something fundamental happens to the psyche and spirit of such a people or nation. The percussive rhythm and power of traditional African music—south of the Great Sahara—unencumbered in its polyrhythmic syncopation, seems to be the soul of unsullied traditional African music. And everywhere Africans from sub-Sahara Africa set foot in the Diaspora of the Americas, they left a permanent mark of their music; of their soul.
Arabized imperial Islam, attempted to stamp out the traditional musical and dance architecture of African societies it encountered; the Hausa-Fulani and the Somali being important cases in point. But for reasons still unclear to this author, Guineans, Malians and Senegalese, to name a few prominent examples in West Africa; appear to have escaped that onslaught of Arabized imperial Islam on their traditional African music and dance forms, which is dominated by percussion—the African drum. To this very day, the Senegalese love their African drum—the jembe—especially when they abandon themselves—men and women alike—to the intoxicating rhythm and spirit of the Saba; Islam notwithstanding! The same can be said of Doundounba in Guinea. Still, the Senegalese Saba is originally a Wolof music and dance form, not Fulani; just as surely as the Guinean Doundounba, is originally Mandinka or Malinke, not Fulani.
I have also, often wondered why there has not been a great flourish of modern novelists and playwrights in English from among the Islamized Hausa-Fulani of Northern Nigeria, as has been the case with Southern Nigerians—especially among the Igbo and the Yoruba? The remarkable font of postcolonial African written literature in English, has poured forth from the fountain pens of many African writers—great and small—yet, there has not been a comparable efflorescence among the Hausa-Fulani of Northern Nigeria. Why? It could be argued by some that the Hausa-Fulani elite, literate since the late 17th century, using the adapted Arabic script, ájámi, to write the Hausa language; have a great store of scholarly and literary works in the Hausa language. And that may well be the case. But pray tell, what is stopping such great works from being translated into English for the reading pleasure and marvel of our contemporary world? And what has stopped that literary tradition, if it had such an illustrious pedigree, from expressing itself in the global lingua franca of English in our times?
Once again, the literary exceptions to the above query have been found primarily among Islamized Africans of Senegal, Guinea, and to a lesser extent, Mali; in the language of their colonial presage: French. And such contemporary authorship—whether scholarly or literary in nature—is found mostly among the Senegalese of Wolof stock. In Senegal, apart from the celebrated scientist and anthropologist, Cheikh anta Diop, who is Wolof; another example of a Senegalese writer of Wolof ethnic extraction, can be cited in the person of Mariama Ba, who wrote her "semi-autobiographical epistolary," So Long a Letter (1979). In Guinea, the most celebrated contemporary writer in French was Camara Laye (1928 – 1980), who authored two award-winning novels: The African Child (L' enfant noir), published in 1953 and The Radiance of the Kings, published in 1954. Still, it is noteworthy that Camara Laye was Mandinka not Fulani, who are sizeable in Guinea. And although both the Fulani and the Mandinka are Islamized, it is arguable that the cultural damage inflicted by Islam on the traditional African cultures of both groups, was far greater among the Fulani than among the Mandinka. It appears Arabized imperial Islam has eaten up the traditional African culture of the Fulani.
I am yet to read a novel, African in its inspiration, ethos and cultural élan, written by a Hausa or a Fulani of Northern Nigerian extraction, comparable to the likes of Chinua Achebe, Wole Soyinka and others. In fact, growing up as a young boy in Eastern Nigeria and attending secondary school in the same region; it was a great Igbo novelist, Cyprian Ekwensi, who happened to have been born in Northern Nigeria that provided the first coherent literary rendition of the life and culture of the Hausa-Fulani for the mind of a young Nigerian/Igbo boy, namely, my humble self. His two wonderful novels: The Passport of Mallam Ilia (1960) and Burning Grass (1962), spoke eloquently for the Hausa-Fulani. I am yet to see a son or daughter of the soil of Northern Nigeria, produce such exquisite literature in the global lingua franca of the English language. From where, after all, does a writer draw in the process of their literary creations? Two primary sources I venture: their cultural milieu and their creative imagination. The creative writer becomes the imaginative reflector as well as refractor of the society of which they are part; of course, mixed in with his or her own creative imagination.
Something else I have often wondered about is: why the Fulani who conquered the Hausa of Northern Nigeria and foisted themselves on them as the ruling aristocracy of the Caliphate they created; adopted the Hausa language and culture instead of the conquered Hausa adopting Fulani language and culture? One reason might have been political pragmatism: an intelligent compromise made by a minority ruling aristocracy, in order to placate its subjugated majority; for winning the war is one thing, but winning the peace another matter altogether. Or, it might have been that the Fulani, who had been Islamized earlier still than the Hausa—certainly before the majority of the Hausa masses—had already suffered the fatal blow Arabized imperial Islam dealt their culture? For one cannot give what one does not have!
In point of fact, the Fulani in Nigeria are a minority ethnic group. Their main claim to national relevance, never mind provisional national power, is by virtue of three associations: (1) their association with Islam; (2) their association with the Hausa; and (3) their association with the governance of the Nigerian state. Apart from these three associations, the Fulani in Nigeria are culturally irrelevant. Neither their language not their musical and/or material culture, features in any way in the Nigerian milieu, like those of the Igbo, the Yoruba and the Hausa. They do not feature prominently, if at all, in the popular culture of contemporary Nigeria: in the professions (law, medicine, engineering, teaching, etc.), in the literary arts, in the culinary arts, in the fashion industry, in science and technology or in the film industry—Nollywood.
In fact, I hazard the guess that most Nigerians cannot point to a single prominent Fulani they know outside a political position in the Nigerian government. Examples such as: Sir Ahmadu Bello—the Sarduana of Sokoto, Murtala Mohammed, Muhammadu Buhari, Sani Abacha, Shehu Shagari, and now, Muhammadu Buhari again, are the only one they can point to. The only two nationally prominent Fulani technocrats most Nigerians can readily recognize is the current Emir of Kano, Sanusi, formerly Governor of the Central Bank of Nigeria; and Governor El Rufia, former Minister of the FCT. Yet, the Fulani occupy and animate far greater space in the imagination of most Nigerians, than anything warranted in the real world. The reason being that they have been quite adept at manipulating and leveraging the three associations I mentioned earlier on.
However, the actual major ethnic groups in Nigeria—the Igbo, the Yoruba and the Hausa—are slowly but surely emerging from the fog the Fulani cleverly used to becloud their vision since the fortuitous advent of Usman Dan Fodio's Sokoto Caliphate. As Constitutional democracy slowly but surely delegitimizes and displaces traditional monarchism, Islamic theocracy, unquestioned and unquestionable religious conformity; as modern feminism cuts down to size traditional patriarchy; as individualism holds greater sway over "group think," and as the Hausa become more aware that they have been hoodwinked by the Fulani; the ability of the Fulani in Nigeria to operate behind the three associations I mentioned earlier on, will greatly diminish, and eventually, disappear.
Many Nigerians, for example, mistake the fact that large numbers of the Hausa and the Fulani (as well as the Yoruba) in Nigeria wear agbada or baba riga as though that attire is an original creation of "Hausa-Fulani" and Yoruba culture and tradition. Nothing, of course, is further from the truth. The Hausa, the Fulani and the so-called "Hausa-Fulani" as well as the Yoruba did not invent the agbada or the baba riga. The so-called agbada or baba riga is worn throughout the West African sub-region (among such diverse peoples as in Niger Republic, Mali, Guinea, Senegal, Gambia, etc., by Muslims and Christians alike. The Hausa, the Fulani, the "Hausa-Fulani" and the Yoruba simply adopted the attire and give it a regional spin in their respective designs of it.
For example, the Yoruba not only gave it their own name—agbada—but wear it with colorful, soft-cloth, chef-looking hats that imbues it with a unique ethno-regional patent. The "Hausa-Fulani" likewise gave it their own name—baba riga—and wear it with a standardized hand-woven hat, that similarly imbues it with a unique ethno-regional patent. Notwithstanding, both groups—the "Hausa-Fulani" and ther Yoruba—adopted and adapted that attire from the West African ecumenical civilization. Nothing stops the Igbo—another major Nigerian and West African ethnic group—from adopting that attire, which they already call konkosa in Igbo; and giving it their own ethno-regional patent by wearing it with their traditional red-cap. It will make them no less Igbo than the adoption of that attire has made the Yoruba, the Hausa and the Fulani. One may as well argue that by wearing the Western suit people as varied as the Chinese, the Japanese, Koreans, Africans, Indians, etc., have lost their ethnic and national identities on account of the fact that they don that originally Western European attire!
To return to the issue of the sociocultural and political dynamics of the Fulani in Nigeria, their historical experience with the Hausa is analogous to what happened between Genghis Khan's Mongols and the Hun Chinese. Although the Mongols militarily conquered the Hun Chinese, like the Fulani militarily conquered the Hausa, the Mongols adopted the culture or civilization of the Hun Chinese, instead of the other way round. So, while the Mongols were great warriors and conquerors, the Hun Chinese had a superior culture or civilization than that of the Mongols.
Unlike the Mongols in relation to the Hun Chinese, however, the Fulani in relation to the Hausa, were armed with the cultural "nuclear bomb" of Arabized imperial Islam. Consequently, although the conquering Fulani adopted the Hausa language and a number of other aspects of Hausa culture, over time, the Arabized imperial Islam they came armed with and used as the legitimizing standard of their jihad; did to Hausa culture what it had already done to their own Fulani culture, except for the residue of language: destroyed and homogenized much of it into the superstructure of Arabized imperial Islam.
Many people mistakenly assume that because the Hausa language is spoken among a variety of peoples in West Africa, even as far away as parts of Sudan; it constitutes prima facie evidence of the cultural integrity, power and influence of Hausa culture. In fact, that assumption is more fanciful than real. For example, the fact that the Swahili language is spoken across a wide swart of East, Central and parts of Southern Africa; does not mean the Swahili people hold sway culturally or politically over the various African peoples that use their language as lingua franca.
In fact, the Swahili people, from which Swahili as a sub-regional lingua franca comes, are a small, politically, economically and culturally inconsequential ethnic group on the east coast of Kenya. In a sense, a lingua franca is, essentially, a language that has been adopted, or even, expropriated by non-native speakers for practical or pragmatic reasons; that does not necessarily have anything to do with buying into or being homogenized by the culture of the original native speakers of that lingua franca. In the case of the Hausa (like the coastal Swahili), Islam, as I argue in this piece, has done an almost irreparable wrecking job on their culture; and language was one, if not the only survivor of that cultural demolition job.
In converse relation to the foregoing, the absence of the same phenomena among the Yoruba, the Igbo and other Southern Nigerian ethnic groups that were not hammered by Islam, before the arrival of Western European Christianity and later colonization; accounts for a great deal of why they were and are able to retain their separate identities as Yorubas, Igbos, Urhobos, Edos, etc., apart from their Christian faith. It is true that Western Christianity did its share of damage to both the culture and psyche of the African peoples it encountered, coming as it did as part of an imperial colonizing mission. Still, due to the more superficial impact Western Christianity had on the African cultures it encountered and its much shorter duration in time in Africa south of the Sahara; the pre-Christian traditional cultures of such African groups remained largely intact. The pantheon of traditional Yoruba gods and goddesses, Igbo gods and goddesses, Edo gods and goddesses, Urhobo gods and goddesses, etc., are still readily accessible, even if the majority of those African peoples no longer practice their traditional belief systems.
Many traditional customs and practices of the Igbo and the Yoruba, remain alive and well. For example, iwa ji ofu—New Yam Festival, iwa orji (the ceremonial supplication over, breaking and sharing of the kola nut); the revered Ozo-title among the Igbo and many masquerade festivals, musical and dance traditions, are alive and well. And, in addition to their language, define Igbo identity quite apart from Western Christianity and/or colonization. The same applies to the Yoruba. For example, every Yoruba, regardless of their religious affiliation, cherishes and revels in the Egungun and the Eyo festivals.
It is true that there is the spectacular annual four-day Argungu Fishing Festival in Kebbi State, in the northwestern part of Northern Nigeria; however, that example does not compare favorably with the originality and antiquity of Yoruba and Igbo traditional customs and traditions, as it only began in 1934, to mark the end of centuries-old hostility between the Sokoto Caliphate and the Kebbi Kingdom. One could also site the example of the Grand Durbar, which has far longer antiquity than the Argungu Fishing Festival; in fact as far back as probably the 14th century. Still, there are attendant historical facts about that festival which remain problematic: it was a local import of a tradition from Persia and the Middle East. The very name—Durbar—is a Persian word. The equestrian tradition of the use of the horse as a draught animal and in cavalry, is an import from the Middle East into West Africa, from across the Sahara, as was the Islamic faith itself.
At any rate, the Grand Durbar has been tied directly to Islam since its inception in Hausa-Fulani society. It is "celebrated at the culmination of the two great Muslim festivals Eid al Fitr and Eid al Kabir (Eid al Adha)." Following the imperial conquest of Hausaland by the Fulani jihadists of Usman Dan Fodio, the Fulani ruling elite used the Durbar as a mechanism for rallying marshal support for their Caliphate, especially for purposes of mustering for war. Following Lord Lugard's "pacification" of Northern Nigeria, he too, like the Fulani overlords of the Hausa, used the Durbar to demonstrate fealty of the Hausa-Fulani to the British Crown. Therefore, its Persian origin, its historical use to mark important Muslim festivals, its appropriation by the Sokoto Caliphate, and later still, by Lord Lugard's colonial administration; disqualifies it as representative of an authentic, pre-existing traditional African culture that was not produced by or subsumed in Islamic culture and tradition.
Ask any Yoruba—Muslim, Christian or otherwise—about traditional Yoruba pantheon of gods or orishas and he or she will list, at least, the most prominent ones (for the Yoruba have over 400 gods), at the drop of a hat: Olorun or Olodumare – the Supreme Creator; Olokun – goddess of the Deep Dark Sea; Obatala – king of the white cloth – creator of man; Ogun – the god of iron, war or hunt, Shango – the god of Thunder and Lightning, etc. If you do the same with the Igbo you will get a list of: Chukwu – the Supreme Creator; Ani or Ala – the Earth goddess; Amadioha – the god of Thunder and Lightning; Ifejioku – the yam god; Agbala – the unisex spirit-possessing god; Osimili or Orimili – the Sea goddess, etc. All over Southern Nigeria, among midsize and small ethnic groups, the same thing can be found, despite their encounter with Western Christianity and colonialism.
What about the pre-Islamic traditional pantheon of gods and goddesses of the Hausa and the Fulani? What are they? Can the average Hausa or Fulani provide such information about their culture, without being a professional historian, anthropologist or a serious student of one and/or the other? And sure enough, if you peruse Internet search engines, you will only come up with scanty references to the pre-Islamic Hausa Bori religion and a Hausa-speaking sub-group known as the Maguzawa, who supposedly still adhere to their pre-Islamic traditional religious tenets and practices around the Kano and Katsina areas. There is also reference made that the pre-Islamic Hausa had a Supreme deity by the name: Ubangiji – "the Originator." However, it is hard to be definitive about the accuracy of that attribution. The Hausa were also said to have worshipped the sun before the arrival of Islam.
What about the Fulani, the ones who carried out the 19th century jihad that corralled the Hausa into the Arab-Islamic imperial structure of their Sokoto Caliphate? Can one readily access their pre-Islamic traditional pantheon of gods and goddesses? The best I was able to find is that the pre-Islamic Fulani had a Supreme god by the name: Geno Dundari, but beyond that, I was unable to make any headway. It is possible that the Woodabe Fulani, found in modern-day Niger Republic, though Islamized themselves, still retain remnants of their pre-Islamic religion. But among the Fulani of Northern Nigeria, that part of their pre-Islamic traditional culture has paled beyond recognition.
Might it have been in recognition of the imperial danger Islam posed politically and culturally to his traditional African culture and identity, if not to the very sovereignty of his empire-state, that caused the King of Ancient Ghana Empire (300 – 1240 C.E.), Tunka Menin, to create two separate sections in his capital, Kumbi Saleh, ". . . one for the King or Tunka and Ghanaian people and the other for the Muslim traders?" In the end, perhaps as Tunka Menin might have feared, in 1076 A.D., Islamic religious reformers by the name Almoravids, led a Berber army that captured Ancient Ghana's capital, Kumbi Saleh. Might the same matters of state have been what prompted Sultan Nafata, the Sultan of Gobir, between 1797 and 1798, to issue a historic proclamation forbidding anyone except Sheikh Usman Dan Fodio to preach; forbidding the conversion of sons from "the religion of their fathers as well as proscribing the use of turbans and veils?" In the end, as in the case of Ancient Ghana, it was Usman Dan Fodio's jihadist forces that made war on and defeated the Hausa city-states, including, of course, Gobir.
Ironically, some African Christian zealots, while not violent in the expression of their zealotry, are sadly, slowly but surely, voluntarily destroying their traditional customs, artifacts and theosophical patrimony, in the name of being "good Christians." In some parts of Igboland, for instance, the great performing arts of the masquerade tradition, are being shunned or discarded altogether in the name of Christian faithfulness and piety. Can anyone imagine contemporary Greeks reducing the Acropolis to a pile of rubble, because Ancient Greek senators and philosophers, such as Socrates, Aristotle, Plato, Anaximander, etc.; who may have held forth polemically, philosophically or poetically within the portals of that iconic citadel, happen to have been pre-Christian pagans? Imagine the consequences of such action for present-day and future Greek history, culture and identity, not to speak of the Greek tourist industry!
Still, Western Christianity, prior to and in conjunction with Western colonialism, is of much more recent vintage compared to the length of time Islam has been in Africa, south of the Great Sahara. For example, the Yoruba of Nigeria, one of the earliest Nigerian ethnic groups to encounter Western Christianity, did so around the mid-19th century (around the 1840s – 1850s)—that is; a little over a century before Nigeria's independence from Britain in 1960. Similarly, the Igbo first encountered Western Christianity perhaps a decade or so following the Yoruba – around the 1850s – 1860s. Hence, like the Yoruba, they made contact with Western Christianity, about a century before Nigeria's independence in 1960. Now, compare the foregoing with when Islam took root in Hausaland: in the 14th century! In other words, whether Islam was practiced rigorously to the liking of Usman Dan Fodio or not, Islam was already in Hausaland four centuries before Dan Fodio's jihad in the 19th century, and long before Christianity came to either Yorubaland or Igboland.
One last point buttresses my argument regarding the psychosocial nature of Islam among the Hausa-Fulani of Northern Nigeria, compared to other parts of West Africa. The vast majority of West African countries were colonized by the French rather than by the English. In fact, except for Nigeria, Ghana, the Gambia and Sierra Leone; all other West African countries were colonized by the French, with the exception of Liberia. And here is the fine point of it. The French practiced a different kind of colonial administration, which they called: assimilation; whereas, the British practiced the administrative system they called: indirect rule. In Northern Nigeria, the British, under Lord Lugard, went above and beyond the call of duty, to insulate the Muslim North from the evangelizing efforts of Western European missionaries, as well as from so-called "Western Education;" so as to keep the ruling Hausa-Fulani aristocracy in client-state status for purposes of their colonial system of indirect rule. By so doing, it was as though Northern Nigerian Muslims were frozen in time, even as the modern world came rushing into the southern half of colonial Nigeria at a dizzying pace.
With the advent of British colonial rule in Hausaland—what became Northern Nigeria under British colonial rule—the Hausa-Fulani, formerly under the weight of Arabized imperial Islam, were now caught between the hammer of Arabized imperial Islam and the anvil of British colonial rule. The Fulani ruling aristocracy tried to parry one with the other. The Fulani ruling aristocracy entered into a Faustian bargain with the British, to maintain their aristocratic rule over the Hausa masses and others still, by means of the maintenance of their preexisting culture and tradition of Arabized imperial Islam. However, that bargain, while it might have saved the Fulani ruling elite of Hausaland well, by means of the ballast of their dated Arabized imperial Islam, virtually sealed-off Northern Nigeria from both Christianity and the positive effects of modernization, especially, modern education—in science and technology—as well as in the liberal arts and the humanities. Also, it largely insulated Northern Nigeria from the cosmopolitan ethos and élan of the modern world.
By trying to save their aristocratic rule by means of a monolithic and largely calcified Arabized imperial Islam, through warding-off Christianity and "Western education" (which, in actuality, was/is modern education); the Fulani ruling aristocracy in Northern Nigeria succeeded only in one respect: maintaining their largely ceremonial, but nevertheless, socioeconomically beneficial position as the ruling elite of Northern Nigeria. However, they achieved that objective at the expense of a subject population that was lacking in modern education and mindset. It was a self-serving decision that may have also been informed by an unconscious and thoroughly brainwashed devotion to the already acquired identity of Arabized imperial Islam.
French colonial policy of assimilation, on the other hand, forced a degree of occidental cosmopolitanism on their African subjects—Muslim or not; whereas British colonial policy of indirect rule created an artificial cultural cocoon for Northern Nigerian Muslims that preserved their dated Arabized Islamic identity, which, as explained earlier on, had already done irreparable damage to pre-Islamic traditional Hausa-Fulani culture; such that Hausa-Fulani identity had become inextricably bound up with Arabized imperial Islam. Here then, is the historical and sociocultural context as well as trajectory of Northern Nigerian Islamic zealotry and radicalism, especially its episodic violent manifestations; otherwise, how else to explain that social pattern of recurrent violence which is unique to Northern Nigerian and Somali Muslims?
Finally, it must be understood that what I have offered here is a diagnosis not a prognosis; a historiographical interpolation not a curative prescription. There are things that can and must be done, if the unfortunate pattern I have identified and tried to explain, is to be positively reversed or, at least, attenuated. But no progress can be made towards the resolution of a problem, without first understanding the nature of the problem. Hence, this diagnosis. I have argued elsewhere, that ultimately, Islam, whether in Northern Nigeria or elsewhere in the world, for that matter, has ultimately no quarrel with Judaism, Christianity or any other religious faith for that matter. Its ultimate point of confliction is with modernity itself: its technological, political, sociological and economic imperatives. Modernity's impact on human, political, civil, civic, individual, group and women's rights; its implications for global humanism; its impact on the efficacy of religious belief systems—Islam as well as others—and its unavoidable liberalization of human society. How Islam comes to terms with those imperatives and how the duly constituted governments of multiethnic and multicultural nation-states, manage the inescapable reconciliation between Islam, other religious faiths and modernity; will be the crux of the matter—for better or for worse.
It is hardly surprising that the moniker "Boko Haram" is said to mean: "Western education is evil or sinful." If "Western education" is a metaphor for modernity, then, it is apropos that such a standoff would constitute the crux of the matter between Islamic orthodoxy, zealotry, absolutism and modernity. My guess is that in the long run, unfortunately, perhaps after a high casualty rate, modernity will triumph over religious orthodoxy, zealotry and absolutism—Islamic, Christian, Judaic or otherwise. The phenomenon of universal human rights has already taken root in the rich soil of human scientific and technological progress, the brute lessons of human history and value system. Modern science and technology is not about to go away, if anything, it is daily growing in power and influence.
It could be argued that the causal variable for the Northern Nigerian phenomena I describe and analyze in this piece, is not their alleged Arabized Islamic identity—which I assert has distorted if not destroyed their traditional Hausa-Fulani identity—but rather the absence of modern education; from colonial times to the present. A modern education capable of providing the masses of their people with critical skill sets in a variety of professions, of socially and culturally liberalizing their society as well as psyche; and of providing economic progress and prosperity. My repost to the foregoing would be, as I have tried to make clear in this article, that it is a combination of the two variables: distorted or destroyed identity and the absence of modern education for the masses. Still, I maintain that it is their distorted or destroyed traditional identity, as a consequence of Arabized imperial Islam, that produced the antipathy, antagonistic attitude as well as posture against modern education. For is one feels that the phenomena of modern education, threatens their conditioned as well as entrenched sense of self, epistemological construct, meaning and purpose, not to speak of their "eternal salvation;" the person is likely to resist, if not militate against such phenomena, hence, 'Boko Haram;' and hence, also, the episodic extremist zealotry and communal violence expressed in Northern Nigeria.
Full report at:
http://thenationonlineng.net/religious-zealotry-radicalism-among-northern-nigerian-muslims/
--------
At least 15 migrants die after boat sinks off Algerian coast
April 29, 2018
At least 15 African migrants died on Sunday when their boat trying to reach Europe capsized off the Algerian coast, a coast guard official said.
Coast guard and civil protection authorities rescued 19 of 34 people on board, state news agency APS said.
The boat sank off the coast of Oran, a city some 450 km west of the capital Algiers, the official told Ennahar TV station, adding that the boat had departed from Morocco.
No details on nationalities were provided.
Last week, Algeria's interior ministry said the North African country was suffering from an influx of illegal migrants from sub-Saharan countries as Europe had made boat departures more difficult from Libya and other countries.
https://nation.com.pk/29-Apr-2018/at-least-15-migrants-die-after-boat-sinks-off-algerian-coast
--------
Islamic State Ally Stakes Out Territory Around Lake Chad
April 29, 2018
ABUJA/MAIDUGURI (Reuters) - From the shores of Lake Chad, Islamic State's West African ally is on a mission: winning over the local people.
Digging wells, giving out seeds and fertilizer and providing safe pasture for herders are among the inducements offered by Islamic State in West Africa (ISWA), which split from Nigeria's Boko Haram in 2016.
"If you are a herder, driver or trader, they won't touch you - just follow their rules and regulations governing the territory," said a herder, who moves cattle in and out of ISWA territory and whose identity Reuters is withholding for his safety. "They don't touch civilians, just security personnel."
The campaign, which has created an economy for ISWA to tax, is part of the armed insurgent group's push to control territory in northeastern Nigeria and in Niger.
ISWA stretches farther and is more entrenched than officials have acknowledged, according to witnesses, people familiar with the insurgency, researchers and Western diplomats who have for the first time provided details of the group's growing efforts to establish a form of administration in the Lake Chad area.
A map produced by the U.S. development agency in February and seen by Reuters shows how ISWA territory extends more than 100 miles into the northeastern Nigerian states of Borno and Yobe, where government has in many areas all but vanished after a decade of conflict.
The Islamists have not been defeated, as Nigeria says, and researchers say ISWA, less extreme than Boko Haram, has evolved into the dominant group. The U.S. map paints a similar picture, with ISWA operating in much of Borno.
"Islamic State has a terrible reputation for being so brutal around the world, and people can't imagine an Islamic State faction could be more moderate (than Boko Haram)," said Jacob Zenn, of The Jamestown Foundation in Washington D.C.
The Lake Chad countries - Nigeria, Niger, Chad and Cameroon - have long neglected the region, allowing ISWA to create a stronghold from which to launch attacks. Its gains contrast with setbacks for Islamic State in Syria and Iraq.
It makes sense for ISWA to organize the local economy and raise taxes, said Vincent Foucher, who studies Boko Haram at the French National Centre for Science Research.
"It opens the longer game of trying to create a connection to people," he said, adding that if ISWA succeeds it may become a greater threat than Boko Haram.
In 2015, Nigeria's President Muhammadu Buhari pledged to finish off Boko Haram. Officials maintain this has been achieved, although the conflict continues into its tenth year. A presidency spokesman declined to comment for this story.
"THEY ARE NOT A GOVERNMENT"
Analysts estimate that ISWA has 3,000-5,000 fighters, about double Boko Haram's strength. But ISWA's territory is not completely secure. The Nigerian air force often bombs, and troops from Lake Chad countries attack the insurgents' domain around its shores and islands.
Nigeria's armed forces "just see them as Boko Haram," said Brigadier General John Agim, spokesman for the Nigerian military, at a briefing. "We are not interested in the faction, what has that got to do with it?"
"They are not a government, they kidnap girls from schools," Agim told Reuters in a separate interview.
The military has announced an operation "to totally destroy Boko Haram locations in the Lake Chad Basin" - ISWA's domain - and end the insurgency within four months.
But ISWA has so far proven intractable in its Lake Chad bases, where troops have been unable to make effective inroads, according to a Western diplomat who follows the group. The Nigerian military had "completely lost the initiative against the insurgency," they said.
The diplomat said ISWA was ready to cede less important areas because the military cannot hold them. "However, they maintain absolute control over the islands and immediate areas near them where they train, live, etc."
The U.S., British and French militaries are helping regional governments with intelligence and training. Western officials declined, or did not respond to, requests for comment.
ISWA protects locals from Boko Haram, something Nigeria's army cannot always do. That, according to one of the people with knowledge of the insurgency, has won the group local backing and eroded support for the military.
ISWA is led by Abu Musab al-Barnawi, the son of Boko Haram's founder, Muhammed Yusuf, whose killing by police in 2009 sparked an Islamist insurgency in Nigeria that, according to the Armed Conflict Location & Event Data Project, has so far cost more than 34,000 lives.
ISWA's leaders are low-profile, not appearing in videos or claiming responsibility for attacks, possibly to avoid the international media, and the ire of regional governments. Reuters was unable to contact the group for comment.
This contrasts with the wholesale violence of Boko Haram under the publicity-hungry Abubakar Shekau, who has executed even close lieutenants. His group has strapped suicide bombs to women and children to attack civilians in mosques, markets and refugee camps.
SPIES EVERYWHERE
Boko Haram and ISWA are bloody rivals, but some travelers in ISWA territory feel safer than elsewhere in Nigeria's northeast.
"They have checkpoints for stop and search, and if you are a regular visitor they know you," said a second herder, adding that ISWA has spies everywhere, including informers who alert them to military attacks.
He described seeing Islamic State's black flags and said preachers were used to win people over.
Under ISWA, men must wear long beards, night-time movements are restricted, and prayers are compulsory, the herder said. Offenders can get 40 lashes.
The herders said ISWA provides safe grazing for about 2,500 naira ($8) a cow and 1,500 naira ($5) for smaller animals. ISWA also runs slaughterhouses for the cattle, taking a cut for each animal, as well as from other activities like gathering firewood.
SUPPLY AND DEMAND
Maiduguri is the biggest city in Nigeria's northeast, the center of the military's fight against Boko Haram.
But rural areas largely remain no-go zones for the authorities. It is there that ISWA is making its mark, offering people protection, particularly from Boko Haram.
"Al-Barnawi is sending people into IDP (displaced persons) camps to encourage people to return and farm, and the people are," said a person with knowledge of ISWA's activities.
The person said Nigeria's military plays into the insurgents' hands by shutting down markets to deny supplies to the group, while ISWA encourages business.
"They are friendly and nice to those who come to the area, while they indoctrinate other people and sometimes they bring motorcycles for those who want to join them," a charcoal maker said.
DISTANT RELATIONS
Despite its name, experts believe ISWA's ties to Islamic State in the Middle East are limited.
"What's clear from ISWA primary source documents is that ISWA has asked IS for theological guidance on who it is lawful to attack," said Zenn. Daily activities, including military operations, are left to its own leaders, he said.
Others say the insurgency lacks the broader appeal of Islamic State in Iraq and Syria.
"ISWA is the largest IS affiliate, but it's very much a Nigerian organization. It doesn't have foreign fighters coming, it's hard to get to this place," said the Western diplomat.
What fighters it does have can carry out targeted attacks, including the February kidnapping of 100 schoolgirls from the town of Dapchi, most later released without explanation, and a deadly raid on a Nigerian military base in March.
Full report at:
"It's important not to paint too rosy a picture," said Foucher, the researcher.
https://www.usnews.com/news/world/articles/2018-04-29/islamic-state-ally-stakes-out-territory-around-lake-chad
--------
Scores of Boko Haram killed in air raid – NAF
April 29, 2018
The Nigerian Air Force (NAF) said its aircraft killed scores of Boko Haram Terrorists (BHTs) at Yuwe in Borno, through successful air strikes.
Olatokunbo Adesanya, NAF's Director of Public Relations and Information, who confirmed this in a statement on Sunday in Abuja, said the operation was conducted on Saturday.
"The mission was conducted following intelligence report that Boko Haram terrorist fighters were hibernating in the settlement.
"Consequently, the Air Task Force detailed Nigerian Air Force (NAF) Alpha Jet Aircraft and one Mi-35 Helicopter Gunship to conduct Air Interdiction on the terrorists' location in two waves.
"Overhead the location, the NAF fighter aircraft acquired and attacked the terrorists in the settlement with bombs, rockets and canons, while a NAF Intelligence, Surveillance and Reconnaissance (ISR) conducted Battle Damage Assessment (BDA) of the mission.
"The BDA revealed that at the end of the attack, some buildings in the location were successfully destroyed and engulfed in fire while the occupying terrorists were neutralized,'' Adesanya said.
He said also that some of the terrorists, who survived the attacks, were seen scampering for safety, with various degrees of wounds.
Full report at:
https://www.premiumtimesng.com/news/top-news/266594-scores-of-boko-haram-killed-in-air-raid-naf.html
--------
South Asia
21 killed, dozens wounded in Kabul coordinated suicide attacks
Apr 30 2018
The Ministry of Public Health of Afghanistan (MoPH) confirms that the dead bodies of at least 21 people have been shifted to the hospitals after the coordinated suicide attacks in Kabul.
According to MoPH officials, at least 40 people wounded during the explosions have been shifted to the hospitals.
The officials further added that a number of journalists and reporters are also among those killed or wounded during the explosions.
In the meantime, another security source says at least 26 people were killed and nearly 40 others have sustained injuries in the explosions.
The incident took place in Shash Darak area of the city earlier today with the initial blast taking place close to a security compound after a suicide bomber riding a motorcycle detonated his explosives.
The second blast took place several minutes after the first blast with the Kabul police spokesman Hashmat Stanikzi confirming that the incident took place after a suicide bomber detonated explosives packed in a camera among the reporters and other people who had gathered in the area.
Eyewitnesses in the area said the second blast took place among the reporters and dozens of other people who had gathered in the area to help the victims of the first blast.
No individual or group has so far claimed responsibility behind the twin attacks.
https://www.khaama.com/21-killed-dozens-wounded-in-kabul-coordinated-suicide-attacks-05025/
--------
Rohingya refugees plead for UNSC help but China and Russia expected to veto tough action
APR 30, 2018
KUTUPALONG REFUGEE CAMP, BANGLADESH – Rohingya refugees in Bangladesh made emotional pleas to the U.N. Security Council on Sunday for help to return safely to their homes in neighboring Myanmar and for justice over the reason they fled — accusations of killings, rapes and arson.
During a visit to an unclaimed strip of territory between the two states dubbed no-man's land, several tearful women and girls threw themselves at British U.N. Ambassador Karen Pierce as they recounted what had happened to them.
"It shows the scale of the challenge as we try as a Security Council to find some way through that enables these poor people to go home," Pierce said. "The sad thing is there's nothing we can do right today that will make their distress any less."
The Security Council envoys — who will travel to Myanmar on Monday and meet with its de facto leader, Aung San Suu Kyi — also visited a dry and dusty Kutupalong refugee camp that housed many of the nearly 700,000 Rohingya who fled Myanmar's Rakhine state. "It's quite overwhelming. Obviously the scale of this camp is unlike anything I've ever seen," said deputy U.S. Ambassador to the United Nations Kelley Currie. "It is going to be a disaster when the rains come."
United Nations officials and aid groups have voiced concern that the coming monsoon season will worsen the humanitarian situation. Hundreds of thousands of refugees are living in temporary shelters made of bamboo and tarpaulins at Kutupalong, many on steep hills and in low-lying areas likely to be flooded.
Myanmar Social Welfare Minister Win Myat Aye, who visited the camps in Bangladesh earlier this month, expressed concern about "very poor conditions."
The refugee crisis exploded about eight months ago when the Myanmar military launched a crackdown over Rohingya insurgent attacks on security posts. The United States, Britain, United Nations and others described the operation as ethnic cleansing of the minority mainly Muslim Rohingya, a charge Myanmar denies.
Hundreds of refugees lined a road in Kutupalong camp on Sunday with signs that read "we demand justice" and "protected return to protected homeland."
"We are standing here to demand justice as they (Myanmar military) have killed our men and tortured our women so much, so we are compelled to seek justice for those abuses," Rohingya refugee Sajida Begum told Reuters.
Several female refugees who met with council envoys accused Myanmar troops of gang-raping them, attacking their young children and killing their husbands. Myanmar has said that its operations in Rakhine were a legitimate response to attacks on security forces by Rohingya insurgents.
"This is very complicated issue, and it's related with history, with ethnicity, with religions," Chinese Deputy U.N. Ambassador Wu Haitao told reporters, in response to a question about whether China and Russia were preventing the council from considering a resolution on Myanmar.
"There is no easy answer but if we all work together I think we can find a way," he said.
However, while the Security Council is united on traveling to the region, diplomats said they expect Myanmar allies China and Russia — both veto-wielding powers on the council — to resist any push for stronger council action, such as sanctions or a referral of the situation to the International Criminal Court.
"We don't have any magic solution in the Security Council," Deputy Russian U.N. Ambassador Dmitry Polyanskiy told reporters in response to a question about whether the council would consider itself responsible for failing to address the crisis.
"The issue is still for us to promote bilateral ways to resolve this issue. We will try to convince both governments … to engage in constructive negotiations, discussion," he said.
The council adopted a formal statement in November — a move that requires consensus by the 15-member body — that asked Myanmar to ensure no "further excessive use of military force" and to allow "freedom of movement, equal access to basic services, and equal access to full citizenship for all."
Full report at:
https://www.japantimes.co.jp/news/2018/04/30/asia-pacific/social-issues-asia-pacific/rohingya-refugees-plead-unsc-help-china-russia-expected-veto-tough-action/#.WubFQdSFOzc
--------
Afghanistan airdropping leaflets for voter registration
April 30, 2018
KABUL : Afghanistan is airdropping leaflets as it steps up efforts to boost the low number of voter registrations for upcoming legislative elections, amid concerns that a poor turnout will undermine the credibility of the poll.
A series of attacks on voter registration centres across the war-torn country, including a suicide bomb in Kabul a week ago, has deterred many Afghans from signing up to participate in the October 20 ballot.
Just over 650,000 adults had registered by Saturday, a fortnight after the two-month long process began, data compiled by the Independent Election Commission (IEC) showed.
The IEC, which is overseeing preparations for the long-delayed parliamentary and district council vote, hopes to register up to 14 million adults at more than 7,000 polling centres.
But if the current trend were to continue, fewer than three million people would be registered by the mid-June deadline.
"We are concerned about the low turnout," IEC spokesman Shafi Jalali told AFP on Sunday, adding the process may be extended to lift numbers.
Authorities have deployed planes to drop leaflets in a number of provinces raising awareness about the elections, which are seen as a test run for next year's presidential poll.
A radio and television campaign is also under way and civil servants have been granted a day off to sign up.
The IEC has placed many of the voter registration centres inside schools and mosques, triggering concerns that students and worshippers could be at risk.
Last Sunday's suicide attack outside a voter registration centre in a heavily Shiite-populated neighbourhood of Kabul killed 60 people and wounded 129. It was very close to several schools.
Since then, thousands of parents in mainly Shiite areas of the city have pulled their children out of schools with registration centres, several principals told AFP on the condition of anonymity.
"Hundreds" had dropped out of classes at one high school of 7,000 students after the attack, the principal said.
"The parents are coming every day to demand that we remove the registration site. We have submitted their request to the education department and are waiting for a reply," she said.
An education ministry spokesman told AFP they were concerned about security of voter registration centres in schools, but had not received any complaints from parents or reports of falling attendance.
"If there is any real threat facing our students or the continuation of lessons... we will no doubt take action," spokesman Kabir Haqmal said.
In the eastern city of Jalalabad on Sunday an explosion about 100 metres (330 feet) from a mosque being used to register voters wounded five civilians, provincial governor spokesman Ataullah Khogyani told AFP.
Another hurdle to voter registration is a sticker placed on national identification certificates showing the holder has signed up for the poll.
Full report at:
https://nation.com.pk/30-Apr-2018/afghanistan-airdropping-leaflets-for-voter-registration
--------
Rohingyas campaign for 'protected return and protected homeland'
April 30, 2018
'Burma is my homeland and we want to return there with conditions'
Hundreds of thousands of Rohingya refugees in Kutupalong Refugee Camp staged a demonstration yesterday seeking a 'protected return and protected homeland,' as a United Nations Security Council delegation visited the camp for the very first time yesterday. The UNSC delegates arrived in Cox's Bazar on Saturday afternoon to assess first-hand the plights of refugees in Bangladesh. They will follow this with a visit to Rakhine state in Myanmar.
Hundreds of thousands of refugees in the Kutupalong camp took the opportunity to directly convey their message to the UN about their repatriation and protected homeland in Rakhine state.
"Burma is my homeland and we want to return there with conditions. The situation in Rakhine is yet to improve as military atrocities have become a regular incident there," said Mohammad Nur, a 33-year-old Rohingya Muslim at Kutupalong in Cox's Bazar.
He said: "We have come here to present our demands to the international community. We want peace, protected return and protected homeland so that we can live with dignity."
The refugees said that without guaranteed citizenship and rights to move freely, they would not return to Rakhine. They also urged the UN to deploy security forces to ensure security of Rohingya people.
Nur Abser, a volunteer school teacher in the refugee camp, said they want the UN's support in attracting the powerful Asian nations to the solution of the crisis.
"We urge the UN to ensure our human rights, making the world a safe place for all Rohingya refugees – including trial against the genocidal attacks of the Burmese government on innocent people," Abser said.
The protesting refugees held up placards, demanding compensation for their losses and return of their confiscated lands. They also demanded freedom of religion, education, health and work.
Amena Begum, a young widow, said: "The Burmese attackers have killed our men, torched our houses and occupied properties; they have violated our women and buried our children alive. How can we return to that hell?"
"We cannot think of going back there until the attackers are punished. We demand rehabilitation to our own land, village and homes," she said.
Full report at:
https://www.dhakatribune.com/bangladesh/2018/04/30/rohingyas-campaign-protected-return-protected-homeland/
--------
Taliban suffer heavy casualties in joint Afghan-US operations in Balkh
Apr 29 2018
The Taliban militants suffered heavy casualties during the joint operations conducted by the Afghan and US forces in northern Balkh province of Afghanistan.
The 209th Shaheen Corps of the Afghan Military in the North said the US forces carried out airstrikes on Taliban positions during the Walid-5 operations in support of the Afghan armed forces.
The source further added that the operations were conducted in Chahar Bolak ditrict of Balkh province.
At least 35 militants were killed and 40 others sustained injuries during the air and ground operations, the Shaheen Corps said, adding that the militants were targeted in Arzankar village.
The Shaheen Corps also added that the village has been fully cleared from the presence of the Taliban insurgents.
The anti-government armed militant groups including Taliban militants have not commented regarding the report so far.
This comes as the Taliban militants and militants belonging to the other insurgent and terrorist groups are attempting to their insurgency and terrorist activities in key the provinces as part of their spring offensive.
Full report at:
https://www.khaama.com/taliban-suffer-heavy-casualties-in-joint-afghan-us-operations-in-balkh-05022/
--------
Southeast Asia
Nik Omar could trigger 'Islamic tsunami' against PAS
April 30, 2018
GE14 | Kelantan's Cempaka candidate Nik Omar Nik Abdul Aziz's entry into Pakatan Harapan could break PAS' iron grip on Islamic politics, said an analyst.
Political analyst Mazlan Ali said Malays who are pro-Islam or have Islamic aspirations are now faced with the question if PAS is the only party that can advance such goals.
Nik Omar, the second son of the revered late PAS spiritual leader Nik Aziz Nik Mat was immediately sacked from the Islamist party on Saturday after submitting his nomination as a Harapan candidate under Amanah.
Mazlan said presently, Amanah, a PAS splinter, has positioned itself as such a platform but they still have not gained the community's confidence if they can match PAS.
"There are many who are still fixated on the doctrine that only PAS can advance Islam, no one else, not even Amanah.
"When Nik Omar, a son who is very close with the late tok guru (Nik Aziz) chooses Harapan, that means the doctrine of PAS' has been broken," he told Malaysiakini when sharing his views on Nik Omar's surprising switch of allegiance.
The Universiti Teknologi Malaysia (UTM) Perdana School's senior lecturer said Nik Omar taking on his father's traditional Chempaka seat could set forth a second wave of support for Harapan in the 14th general election.
The first wave took place when PAS' progressives, who were obliterated by the ulama faction in the heated muktamar of 2015, quit en masse to form Amanah, bringing with them a significant number of supporters and party members.
"Nik Omar has vanquished all doubts previously harboured, that had frightened them from supporting any party apart from PAS.
"If someone as devout as Nik Omar can join Amanah, then who are we?
"The Nik Omar wave will combine with (Harapan chairperson) Dr Mahathir Mohamad's wave, and smash the Malay great wall in the rural areas that have thus far been the opposition bloc's main obstacle," he said.
He said this trend is evident now with joint gatherings with Mahathir and Nik Omar.
"I believe Nik Omar will have a large impact on the entire country, in terms of people who are pro-Islam who had been undecided whether they could, or should vote for Amanah instead of PAS," he said.
PAS, irked by Nik Omar's move on Saturday, immediately condemned his act as being an "insult" to the "political stand" of the Nik Aziz family.
Nik Aziz was the key to PAS' participation in the former Pakatan Rakyat coalition that triggered the political tsunami of 2008 that saw BN losing five states.
His death saw the pact falling apart due to animosity between PAS' ulama faction and the component parties DAP and PKR.
https://www.malaysiakini.com/news/422272
--------
Malaysia election: PAS says confident of defeating Nik Aziz's son in Chempaka
APR 29, 2018
KOTA BARU (THE STAR/ASIA NEWS NETWORK) - The Parti Islam SeMalaysia (PAS) said on Sunday (April 29) it is confident the Chempaka state seat in Kelantan will remain the party's stronghold despite the challenge by the son of the party's late spiritual leader Nik Aziz Nik Mat to contest there.
The late leader's eldest son Nik Omar Nik Aziz sprang a surprise at a nomination centre in Kelantan on Saturday, when he turned up to submit his nomination form to contest the seat as a candidate for the PAS splinter party, Parti Amanah Negara. He had earlier indicated that he would not be contesting.
Amanah is one of the four parties that make up the opposition Pakatan Harapan (PH) pact.
Chempaka was held by Datuk Nik Aziz until his death in February 2015 at the age of 84. The revered Nik Aziz was the spiritual leader of PAS and also former Kelantan menteri besar.
Nik Omar, who is the second son of Nik Aziz, is in a three-cornered fight against Mohamed Fareez Noor Amran of Barisan Nasional and incumbent Ahmad Fathan Mahmood @ Mahamad of PAS.
Kelantan PAS secretary Che Abdullah Mat Nawi reminded Nik Omar of his own late father's advice to those who wish to go against the state government.
"This is because his late father, or fondly known as Tok Guru, has given us a clear reminder not to betray the state government," he told a press conference on Sunday (April 29).
"It came out from Tok Guru's own mouth when he was still alive. So whoever that takes a stand against that will go nowhere," he said.
Nik Omar's younger brother, Nik Mohamad Abduh, the fifth sibling and the incumbent Pasir Mas MP, is also contesting as a PAS candidate for the Bachok parliamentary seat.
Nik Omar has said that his decision to contest on the PH ticket was to continue his father's legacy in the constituency.
Ahmad Fathan won the seat in a by-election held following the death of Nik Aziz in 2015.
Che Abdullah however acknowledged that Nik Omar had a right to contest the Chempaka seat.
Full report at:
https://www.straitstimes.com/asia/se-asia/malaysia-election-pas-says-confident-of-defeating-nik-azizs-son-in-chempaka
--------
Duterte derided for asking Filipino workers in Kuwait to return home
30 April 2018
A Philippine labor group and a senator accused President Rodrigo Duterte on Monday of gambling with the livelihoods of tens of thousands of Filipinos in Kuwait, after he asked them to come home amid a diplomatic dispute over reported labor abuse.
The Philippines and the Gulf Arab state are embroiled in a row over what Duterte says is a pattern of mistreatment of domestic workers by Kuwaiti employers.
The Philippine ambassador has been asked to leave following attempts by embassy workers to "rescue" distressed workers there, which Kuwait says is a breach of its sovereignty.
Duterte at the weekend appealed to the "sense of patriotism" of overseas Filipino workers, known as OFW, and asked them to return home, where he said they would get financial aid and job opportunities in other countries.
Critics said Duterte had no way of guaranteeing that and should not ask those whose income was vital to their families back home to quit their jobs.
Senator Risa Hontiveros called Duterte's request "extremely reckless, shortsighted and uncaring".
"President Duterte should stop gambling with the lives and employment of thousands of OFWs, and the welfare of their families, in a desperate attempt to break the diplomatic impasse," she said in a statement.
The Philippines imposed a ban in February on facilitating Filipino employment in Kuwait and helped several thousand workers return home after reports of suspicious deaths of domestic helpers.
The flashpoint was the discovery of a Filipino maid's body in a freezer in an abandoned home, and signs she was tortured.
Duterte said on Saturday the ban was permanent, although his spokesman, Harry Roque, suggested on Monday that a labour protection agreement between the two countries may still happen.
Roque also clarified that Duterte "is not compelling anyone to come home".
Domestic helpers account for more than 65 percent of the more than 260,000 Filipinos in Kuwait, according to Philippine government data.
The earnings overseas workers send home is vital to sustaining low-income families and a crucial economic driver.
As many as 60,000 workers might return from Kuwait, said Jacinto Paras, undersecretary at the Labour Ministry.
"Those who have been running away, complaining of abuses and maltreatment, they can be free to return," he told the ANC news channel on Monday.
Migrante International, an alliance of Filipino migrant organizations, doubted the government could provide for those who return.
Full report at:
https://english.alarabiya.net/en/News/world/2018/04/30/Duterte-derided-for-asking-Filipino-workers-in-Kuwait-to-come-home.html
--------
Mideast
Deal struck to evacuate Palestinian refugee camp in Damascus
APRIL 30, 2018
A deal has been reached for the evacuation of the Palestinian refugee camp of Yarmuk where Islamic State group fighters have been holed up in southern Damascus, state media reported Sunday.
The transfer of "terrorist groups" to rebel-held areas of northwestern Syria would begin on Monday, said the official SANA news agency, which did not name IS jihadists.
It came hours after the Syrian government and rebels agreed to evacuate opposition fighters from the areas of Yalda, Babila and Beit Sahem, also in southern Damascus, according to SANA.
The announcements followed a more than one week-old regime assault to oust IS fighters from the capital's southern suburbs.
Earlier on Sunday, SANA said opposition fighters and members of their families would be evacuated from the three rebel-held areas of Yalda, Babila and Beit Sahem, east of Yarmuk.
The deal gave fighters the choice between leaving the area with their families or handing over their weapons and staying, SANA said.
The reported deal is the latest in a string of such agreements that have seen the regime retake areas near the capital after rebel withdrawals.
Over the past two days, regime forces have retaken large parts of the district of Qadam on Yarmuk's western flank, the Syrian Observatory for Human Rights said.
Earlier, behind the frontlines, an AFP correspondent on an army tour of the area west of Yarmuk heard sniper fire, as well as heavy regime air strikes and shelling.
At the devastated Qadam train station, soldiers took a break inside one of the train's carriages, one peering out from a broken window.
Another lit some firewood to boil some water for tea, as a thick column of black smoke billowed up into the sky not far off.
On Sunday, regime warplanes pounded Yarmuk and the neighbouring district of Hajar al-Aswad, the Observatory said.
SANA said regime forces continued advancing in Hajar al-Aswad.
Yarmuk and its surroundings have been the jihadist group's largest urban redoubt in Syria and neighbouring Iraq, after IS lost most of the swathes of territory it once held in both countries.
The jihadists have held parts of Yarmuk and Hajar al-Aswad since 2015, and overran Qadam in a surprise assault last month.
On Saturday, IS seized a hospital and surrounding buildings on the eastern edges of Yarmuk as it tried to push towards Yalda, the Observatory said.
The announcement of a deal for Yalda and nearby areas comes after the regime reconquered what was once a key rebel bastion east of Damascus this month.
Eastern Ghouta fell after a brutal military operation and a series of similar evacuation deals brokered by regime ally Russia that saw tens of thousands of residents bussed to northern Syria.
A military source told AFP the battle against IS in southern Damascus was very different to the operation to retake the former rebel enclave.
In southern Damascus, "the buildings are close together and alleys narrow" so tanks and heavy weaponry cannot operate, he said.
At least 85 regime fighters and 74 IS jihadists have been killed in 10 days of fighting in southern Damascus, the Observatory says.
More than 350,000 people have been killed and millions displaced since the start of Syria's civil war in 2011 with a deadly crackdown on anti-government protests.
https://dailytimes.com.pk/234260/deal-struck-to-evacuate-palestinian-refugee-camp-in-damascus/
--------
Ankara-Backed Militants Hold Civilians Hostage in Afrin
Apr 29, 2018
The Kurdish-language Hawar news reported on Sunday that the Turkish forces have detained 20 civilians, most of them Izadis, in the village of Qatmeh in Shara region in Afrin.
It added that they also tortured the detainees and loot their properties.
Hawar news reported that the Turkish army and militants have asked $2,500 to $5,000 to free any of their hostages.
In a relevant development, the London-based pro-opposition Syrian Observatory for Human Rights (SOHR) reported on Monday that the Ankara-backed Free Syrian Army (FSA) had started blackmailing civilians and looting their assets in Afrin region in Northwestern Aleppo amid reports on the Turkish Army's move in replacing locals in Afrin with Eastern Ghouta terrorists.
The SOHR said that the FSA militants have started stealing and looting properties and assets of local people that are still in Afrin region, adding that the FSA also is seizing assets of people that have left the region after the start of Operation Olive Branch.
The SOHR further said that the FSA has also embarked on accusing young people and men of fake crimes to detain and torture them.
It went on to say that the FSA later called for a hefty amount of money as ransom to free the detainees.
Full report at:
http://en.farsnews.com/newstext.aspx?nn=13970209000519
--------
Houthis vow to step up missile attacks on Saudi oil facilities
Apr 30, 2018
Yemen's popular Houthi Ansarullah movement has said it would step up its strikes on Saudi Arabia's oil facilities in retaliation for the kingdom's three-year invasion of the impoverished country.
The kingdom launched a massive military aggression against its southern neighbor in March 2015 to restore the country's Riyadh-allied government. The offensive has killed and injured over 600,000 civilians, according to the Yemeni Ministry of Human Rights.
The Houthis have been defending the country in the face of the onslaught by staging missile and sniper counterattacks against Saudi-based targets, as well as fighting Saudi-backed militants inside Yemen.
Mohammad al-Bukhaiti, a top figure in the movement's Supreme Political Council, told The Financial Times that the fighters were manufacturing their own missiles, dismissing Riyadh's accusation that Iran was delivering the projectiles to the fighters.
"The Yemenis have added new systems for manufacturing missiles, so more missiles are targeting Saudi Arabia as a part of an escalation," the British daily quoted him as saying in an interview.
On Saturday, the Houthis fired eight missiles at a number of "economic and vital targets" in the southwestern Saudi region of Jizan. Yemen's Arabic-language al-Masirah television network cited a military source as saying that the projectiles hit their targets with great precision.
Al-Bukhaiti said the counterattack "was only the beginning of the response" to the killing of Saleh al-Samad. The head of the Supreme Political Council was assassinated by Saudi forces last week.
"Yemenis will not pass on the death of Samad easily and they will do their best to take revenge for him," Bukhaiti said.
Graham Griffiths, a senior analyst at the Control Risks consultancy, told FT that the attacks had raised concerns for the safety of Aramco staff and assets.
"This perception of the risk is likely to greatly increase if even a single strike hits a sensitive target," he said. "The sustained pace of the attacks allows the Houthis to demonstrate that despite three years of war, they can still retaliate against a much more powerful foe."
So far, the Houthis have successfully hit facilities belonging to the Saudi state oil giant on many occasions.
Full report at:
http://www.presstv.com/Detail/2018/04/30/560130/Yemen-Saudi-oil-Aramco-Houthi-Ansarullah-Iran
--------
Israel soldiers kill 3 Palestinians in fresh Gaza clash
April 29, 2018
JERUSALEM: Israeli troops shot and killed three Palestinians along the border with the Gaza Strip in two separate incidents on Sunday, the Israeli military said.
The shootings follow a month of violence along the Israel-Gaza border, where Palestinians have been holding protests every Friday pressing for the right of return for refugees and their descendants to what is now Israel.
In the first incident on Sunday, two men "attempted to infiltrate" into Israel from the southern Gaza Strip, the military said in a statement. Soldiers shot and killed one of the men, and the other was wounded and held for questioning.
In the second incident, the army said, two militants who managed to cross the fence "hurled explosive devices" at Israeli soldiers, who shot them dead. There was no claim of responsibility from any militant group in Gaza.
Israel has refused any right of return for Palestinians who were expelled or fled and became refugees after the country declared independence in 1948, fearing that it would lose its Jewish majority.
Israeli forces have killed 42 Palestinians since protests began on March 30 and some 2,000 have been wounded by gunfire. No serious casualties have been reported on the Israeli side.
The Palestinians say Israel has used excessive force, and its use of live fire has drawn international criticism.
Israel says it is protecting its borders and takes such action only when protesters, some hurling stones and rolling burning tires, or trying to lay explosives, come too close to the border fence.
The Gaza Health Ministry said that three Palestinians were killed on Friday and 200 were wounded by Israeli gunfire, while a fourth died of his wounds on Saturday.
Full report at:
http://www.arabnews.com/node/1293701/middle-east
--------
Yemeni Security Forces Kill Senior Islamic State Commander: Statement
April 28, 2018
YEMENI security forces said they killed a senior Islamic State commander in a gunbattle in the southern city of Aden on Saturday, dealing a blow to the group's powerful Yemen branch.
Saleh Nasser Fadhl al-Bakshi held the title of "Prince" for the Aden area in the militant group's Yemen affiliate, which has killed hundreds of people, mostly security forces in the country's south, in years of bombing and shooting attacks.
Counterterrorism forces surrounded al-Bakhshi in a building, according to a statement on the Aden police Facebook page, when he and fellow militants refused to surrender.
In the ensuing shootout, one of the counter-terrorism force members was killed along with al-Bakshi, whose bloodied corpse was displayed in a picture accompanying the police statement.
Three of his comrades were arrested, it added.
Full report at:
https://www.usnews.com/news/world/articles/2018-04-28/yemeni-security-forces-kill-senior-islamic-state-commander-statement
--------
Over 30 Palestinian athletes injured by Israeli forces during Gaza border clashes: Official
Apr 29, 2018
A Palestinian sports official says more than 30 sportsmen have sustained injuries and gunshot wounds during clashes between Palestinian demonstrators and Israeli military forces near the border between the besieged Gaza Strip and occupied territories.
"Many of the athletes have suffered serious head injuries," Ahmed Muheisen, the Deputy Minister of the Gaza Ministry of Youth and Sports, said at a press conference in Gaza City on Sunday.
He added that some athletes had their limbs amputated as a result of their grave injuries, citing the case of Alaa al-Dali, who was preparing to represent Palestine in the Asia Road Racing Championship.
"We appeal to the international community and human rights organizations to assume their responsibilities and protect Palestinian youth, children and women," Muheisen noted
The senior Palestinian official also demanded an international investigation "into crimes of the Israeli occupying regime against peaceful protesters."
Protests along the Gaza border since March 30 have led to clashes with Israeli forces in which at least 38 Palestinians have lost their lives and hundreds of others sustained injuries.
The Palestinian rally, known as the "Great March of Return", will last until May 15, which coincides with the 70th anniversary of Nakba Day (Day of Catastrophe) on which Israel was created.
Every year on May 15, Palestinians all over the world hold demonstrations to commemorate Nakba Day, which marks the anniversary of the forcible eviction of hundreds of thousands of Palestinians from their homeland by Israelis in 1948.
More than 760,000 Palestinians - now estimated to number nearly five million with their descendants - were driven out of their homes on May 14, 1948.
Since 1948, the Israeli regime has denied Palestinian refugees the right to return, despite UN resolutions and international law that uphold people's right to return to their homelands.
This year's Land Day demonstrations appear especially combustible as Palestinian anger is already high over Trump's decision in December 2017 to recognize Jerusalem al-Quds as Israel's "capital."
Israel occupied the West Bank, East Jerusalem al-Quds and parts of Syria's Golan Heights during the Six-Day War in 1967. It later annexed East Jerusalem al-Quds in a move not recognized by the international community.
Full report at:
http://www.presstv.com/Detail/2018/04/29/560078/Over-30-Palestinian-athletes-injured-by-Israeli-forces-during-Gaza-border-clashes-Official
--------
North America
How Muslim student groups plan to create inclusive campuses in the US
April 30, 2018
It's no secret that Islamophobia is well and alive in America. With Donald Trump in the White House, studies have shown how hate crime numbers in 2015 and 2016 have skyrocketed and how assaults on Muslims have surpassed post-9/11 levels.
Muslim students on US campuses have reason to worry how their faith will affect their academic studies and life on campus. Negative attitudes, ranging from blatant Islamophobia to microagressions – such as stares in public, alienation and assumptions of religious homogeneity – have been reported to be perpetrated by a significant portion of society.
This is the environment in which Muslim student groups in US campuses now operate. The Muslim Student Association (MSA) "strives to facilitate networking, educating, and empowering the students of today to be citizens of tomorrow's community" according to its website.
Shafeen Pittal, the vice president of the MSA at University of California, San Diego describes it as a "community that holistically caters to as many Muslim students as possible".
"We are trying to institutionalize the Muslim student experience on campus, whether that's by reaching out to the administration and asking for resources we may need, or having events that may provide spiritual, academic, or social help, or just making sure that the Muslim students have a support system and community on campus," the political science major said.
Events include the annual Justice in Palestine Week and Islam Awareness Week – both of which aim to educate other students about the many misconceptions about Islam. They also organise protest and demonstrations to fight for social justice, as UCSD Guardian noted.
Many mistakenly associate with Islam with terrorism, Shafeen said, thanks to how Muslims are regularly portrayed in Western media. The word "jihad" are also misinterpreted to mean "holy war" or a sanction for violence, when its actual meaning is "struggle," defined by the Quran as a struggle to be a better person and a better Muslim.
To counter this rising tide of racist speech and action, Muslim student groups throughout the country have been holding informative events regularly. For example, during the recent Islamic Awareness Week, the Muslim Student Association at the University of Maryland held events from letting students of other faith try on hijabs to sharing falafels to show a taste of Ramadan.
"If you are unaware of our beliefs and why we practice the way we practice, it's very easy to form this negative idea about is and we want to clear that up to decrease discrimination, to decrease any judgment for Muslims not just on this campus, but for Muslims anywhere around the world," said UMD student Ayah Avuserrieh.
It the University of Nebraska-Lincoln, fundraising and forums were held so students could learn more about Islamic and Arabic culture, such as Arabic desserts to how Islam views marriage and relationships, Daily Nebraskan reported.
The Islamic Awareness Week is in reposnse to the negative attitude observed at UNL and in the United States, according to Mohamed Aly, secretary for MSA.
"We're not going to stand still against this hate," he said.
"We're going to reply with awareness and peace. We will spread love and apply Islam to prevent the hate."
https://www.studyinternational.com/news/muslim-student-islam-awareness/
--------
Donald Trump must hold Nigeria accountable for slaughter of Christians
April 29, 2018
When he meets with Nigerian President Muhammadu Buhari Monday, President Trump needs to seize this opportunity to call Buhari to account for allowing unchecked atrocities against Christians in his country.
While Boko Haram has made headlines for murdering and terrorizing people in Nigeria, in this case President Buhari is allowing members of his own ancestral group — the Fulani — to attack innocent communities.
The unimpeded actions of this group of extremists, loosely known as "militant Fulani herdsmen," are creating a humanitarian crisis of shocking proportions in Nigeria.
Indeed, most people have never even heard about this brutal group, which earlier this month executed an attack that killed 19 Christians.
President Trump must not pass up a prime opportunity to fight this injustice by facing down its chief enabler. Buhari intends to speak with Trump about the promotion of economic growth, fighting terrorism, and building on Nigeria's role as a democratic leader in the region.
But the conversation must not stop there.
Buhari's Fulani kin are responsible for hundreds of deaths already in 2018, attacking villages and forcing thousands of people to flee their homes and land. The scale of the Fulani aggression threatens to surpass Boko Haram's reign of terror, based on the sheer number of deaths.
Since 2001, the Africa Center for Strategic Studies estimates as many as 60,000 Nigerian lives have been lost to violence between Fulani herdsmen and farmers.
In the past year alone, Open Doors received reports from its in-country sources of at least 611 deaths in the latest spike of militant Fulani unrest. These attacks played out in more than 50 incidents, where churches and homes were burned and residents were violently murdered, raped and kidnapped.
The situation is now growing even worse, with 497 more deaths already reported to Open Doors in the first four months of 2018.
Yet, unlike Boko Haram, the ongoing and wide-sweeping violence of the militant Fulani herdsmen has gone relatively unnoticed.
There are several reasons why.
There are complex economic factors, difficulty in gleaning exhaustive data due to the rural locations, and it can be challenging to understand whether Fulani extremists are working in a coordinated fashion typical of other terrorist organizations.
Religious dynamics also make reporting on the violence complicated. There is solid reason to believe the Fulani are targeting the Christian minority. In studying previous attack sites, Open Doors found that:
88% of Fulani attack victims in Nigeria's Benue State were Christians.
70% of victims in Taraba State were Christians.
75% of victims in Nasarawa State were Christians.
This systematic targeting of Christians likely stems from waves of Islamic radicalization in this region in recent decades, with the aim of creating a fully Islamic Nigeria.
Open Doors conducted local interviews, which revealed that, in addition to winning the land war, the militant Fulani's ultimate goal is to undermine Christianity and the homeland rights of indigenous Christians.
"[Fulani militants] believe it is right for them to take those resources by force from infidels and apostates," explains one former Open Doors' West Africa researcher, Arne Mulders.
The Catholic bishops of Kaduna also believe militant Fulani herdsmen are trying to subjugate Christians, weaken Christian practices, and destroy the social and economic life of Christians they see as traitors to Islam. "There is a hidden agenda targeted at the Christian majority of southern Kaduna," they said. "This jihad is well-funded, well-planned, and executed by agents of destabilization."
Victims have told Open Doors they believe the Fulani are being helped by other forces — and that the Nigerian government is turning a blind eye to the violence. Some victims of the attacks contend weaponry used in the violence suggests external assistance, and the growing consensus is that Buhari's government is doing little to nothing to stop the violence.
The clergy from Kafanchan in Southern Kaduna also cited instances where militants have been seemingly protected by the government.
"In most of these attacks, the military stands aloof and watches while our people are being massacred. … In the Godogodo and Pasakori attacks, for example, the military merely watched and supervised the burning of our homes," they said. "When the youth mobilized to repel the attackers, the soldiers deliberately blocked them from entering the town."
These claims were confirmed by eyewitness reports Open Doors gathered following the attacks.
While it might be difficult to parse all the religious and political factors in play, we cannot ignore the unmistakable maliciousness of the militant Fulani herdsmen, just as we have come to recognize Boko Haram's signature cruelty. Governments around the world must ask why these attacks are happening, and what the Nigerian government is doing to stop it.
This is why, as an organization that has been actively supporting Christians facing persecution for more than 60 years, Open Doors calls upon President Trump to insist that President Buhari:
Ensure all Nigerians are protected equally, regardless of ethno-religious affiliation, with timely security assistance against impending attacks, and sensible land-dispute solutions that take into account everyone's needs.
Take tangible steps to ensure the rule of law is applied uniformly, including through credible, transparent and impartial investigations to bring perpetrators of violence to justice.
Expand U.S.-Nigeria coordinated efforts for law enforcement and legal training, monitoring and prevention of violence, and distribution of humanitarian assistance to forestall mass migration and help rebuild victims' lives.
Full report at:
https://www.usatoday.com/story/opinion/2018/04/29/donald-trump-must-hold-nigeria-accountable-slaughter-christians/558436002/
--------
U.S. concerned by 'destabilizing and malign activities' of Iran: Pompeo
APRIL 29, 2018
TEL AVIV (Reuters) - The United States is deeply concerned by Iran's "destabilizing and malign activities", new Secretary of State Mike Pompeo said after meeting Israeli Prime Minister Benjamin Netanyahu on Sunday.
The former CIA director was speaking on a flying visit to the region, where he had earlier in the day met with Saudi King Salman in Riyadh and stressed the need for unity among Gulf allies as Washington aims to muster support for new sanctions against Iran to curb its missile program.
The whirlwind trip to NATO in Brussels and to Middle East allies came only hours after Pompeo was confirmed as Trump's top diplomat. He has not even visited his own office yet, he told Netanyahu.
Speaking alongside the Israeli leader, Pompeo said in Tel Aviv: "We remain deeply concerned about Iran's dangerous escalation of threats towards Israel and the region."
He added: "Strong cooperation with close allies like (Israel) is critical to our efforts to counter Iran's destabilizing and malign activities through the Middle East, and indeed, throughout the world."
Pompeo also said that the relocation of the American embassy to Jerusalem, a move set to take place on May 14, was "recognizing (the) reality" of "Jerusalem as the capital of Israel and the seat of its government."
Netanyahu, who called Pompeo a "true friend of Israel, echoed the Secretary's focus on Iran, stressing the closeness of U.S. and Israeli cooperation on the issue.
"I think the greatest threat to the world and to our two countries, and to all countries, is the marriage of militant Islam with nuclear weapons, and specifically the attempt of Iran to acquire nuclear weapons. We have had a very productive talk today on this subject," he said.
In contrast to his fierce opposition to the Obama administration's negotiations with Iran to reach a nuclear deal in 2015, which he called a "historic mistake", Netanyahu said Israel was willing to support U.S. President Donald Trump's efforts to strengthen the 2015 agreement.
"Iran must be stopped. Its quest for nuclear bombs must be stopped. Its aggression must be stopped, and we're committed to stopping it together," he said.
In Saudi Arabia earlier, Pompeo said that the U.S. would abandon the 2015 nuclear deal with Iran, reached under President Donald Trump's predecessor, unless talks with European partners yield improvements to ensure the Islamic Republic never possesses nuclear weapons.
"Iran destabilizes this entire region. It supports proxy militias and terrorist groups. It is an arms dealer to the Houthi rebels in Yemen. It supports the murderous Assad regime (in Syria) as well," he said in joint remarks with Saudi Foreign Minister Adel al-Jubeir.
"Gulf unity is necessary and we need to achieve it."
Pompeo also addressed the rift between Qatar and its neighbors, telling reporters after leaving Riyadh: "We are hopeful that they will, in their own way, figure out how to remove the dispute between them."
Saudi Arabia, along with the United Arab Emirates, Bahrain and Egypt, cut off travel and trade ties with Qatar last June, accusing it of supporting terrorism and Iran.
Doha has denied the accusations and has said its three fellow Gulf countries aim to curtail its sovereignty. Iran denies supporting terrorism or having sought to develop nuclear weapons.
The United States, which has military bases in both Qatar and some of the countries lined up against it, is trying to mediate the Qatar feud. Trump publicly sided with the Saudis and Emiratis early in the crisis, but is now pushing for a resolution to maintain a united front against Iran.
Yemen's armed Iranian-aligned Houthi movement has fired over 100 missiles into Saudi Arabia, the latest salvo killing a man on Saturday in the southern Saudi province of Jizan.
The United States and the Saudi-led coalition that intervened in Yemen's civil war in 2015 accuse Iran of providing the missiles to its Houthi allies, which Tehran denies.
NUCLEAR DEAL
Pompeo's trip comes as Trump considers whether or not to abandon a self-imposed May 12 deadline for the Iran nuclear deal he sees as deeply flawed.
He has called on Gulf allies to contribute funding and troops to stabilize areas in Iraq and Syria where a U.S.-led coalition has largely defeated Islamic State jihadists.
Earlier this month, Jubeir said Saudi Arabia would be prepared to send troops into Syria under the U.S.-led coalition if a decision is taken to widen it.
Asked about Saudi troops on the ground in Syria, Pompeo said: "We will sit down and talk about... how to best make sure that this is not America alone working on this, it's the Gulf states working alongside us."
On Wednesday, Iranian President Hassan Rouhani waved aside U.S. and European talks over changes to the nuclear accord and dismissed Trump as a "tradesman" who lacked the qualifications to deal with a complex international pact.
"We've certainly made some (progress with the Europeans)," Pompeo said on Sunday. "There is still work to do," he said, adding that Saudi leaders told him they would support any fixes to the agreement.
Britain said on Sunday that it, France and Germany - the other signatories to the 2015 Iran deal along with Russia, China and the European Union - agreed that the accord was the best way to prevent Tehran from gaining nuclear weapons.
Macron and Rouhani spoke by telephone on Sunday and agreed to work together in the coming weeks to preserve the 2015 agreement, the Elysee said in a statement.
"(We) committed to continue working closely together and with the U.S. on how to tackle the range of challenges that Iran poses – including those issues that a new deal might cover," a statement from British Prime Minister Theresa May's office said.
The 2015 agreement limited Iran's enrichment of uranium for nuclear fuel to help ensure it could not be turned to developing bomb material, and Tehran secured a removal of most international sanctions in return.
Full report at:
https://www.reuters.com/article/us-mideast-usa-pompeo-saudi/us-secretary-of-state-pompeo-stresses-need-for-gulf-unity-against-iran-idUSKBN1I0096
--------
U.S. Supreme Court hears Muslim travel ban arguments
4/29/2018
The U.S. Supreme Court has so far had little to say about Donald Trump's time as president, even as the nation has moved from one Trump controversy to another. That's about to change.
The justices' first deep dive into a Trump administration policy comes in a dispute over the third and latest version of the administration's ban on travel from some countries with majority Muslim populations. Opponents of the policy and some lower courts have labeled it a "Muslim ban," harking back to President Trump's campaign call to keep Muslims from entering the country.
The high-stakes arguments at the high court were heard Wednesday, April 25, and could offer some indication about how a court that runs on respect for traditions and precedent will deal with a president who regularly breaks with convention.
Apart from the campaign statements, President Trump's tweets about the travel ban and last fall's retweets of inflammatory videos that stoked anti-Islam sentiment all could factor in the court's discussion of the travel ban's legality.
"The court could get to the right outcome without getting into the question of his tweets. But I think the president set it up so that it's virtually impossible to ignore him when he's shouting from the rooftops about what his purpose was in the three versions of the ban," said Cecillia Wang, the American Civil Liberties Union's deputy legal director.
Solicitor General Noel Francisco, who will argue the administration's case, said in a court filing that the ban is well within the president's authority and is not based on prejudice against Islam.
In a sign of heightened public interest, the court is taking the rare step of making an audio recording of the proceedings available just hours after the arguments end.
One key issue will be how the court evaluates administration actions.
Neil Eggleston, former President Barack Obama's last White House counsel, suggested in an online forum last week that President Trump does not merit the same measure of latitude that courts usually give presidents, especially in the areas of national security and immigration.
"The court will have to wrestle with how much to defer to a President who has created this record of chaos and animus," Mr. Eggleston and co-author Amanda Elbogen wrote on justsecurity.org.
Josh Blackman, a professor at the South Texas College of Law in Houston, cautioned that the court would be breaking new ground if it were to treat Trump differently from other presidents.
The policy under review at the court applies to travelers from five countries with overwhelmingly Muslim populations — Iran, Libya, Somalia, Syria and Yemen. It also affects two non-Muslim countries: blocking travelers from North Korea and some Venezuelan government officials and their families. A sixth majority Muslim country, Chad, was removed from the list earlier this month after improving "its identity-management and information sharing practices," President Trump said in a proclamation.
Full report at:
http://richmondfreepress.com/news/2018/apr/29/us-supreme-court-hears-muslim-travel-ban-arguments/
--------
Europe
UK High Court orders London coroner to prioritize Jewish, Muslim burials
29 April 2018
Britain's High Court has ordered a London coroner to respect the religious beliefs of a deceased person's family when determining the order in which bodies can be buried.
Senior coroner Mary Hassell had announced that she would not prioritize Jewish and Muslim burials over others, despite the fact that both Jewish and Islamic law require bodies of the deceased to be buried as soon as possible after death, ideally on the same day.
The High Court on Friday called Hassell's "cab-rank rule" policy "unlawful, irrational," and "discriminatory," according to the London-based Jewish Chronicle.
Hassell is the senior coroner at the St. Pancras Coroner's Office in central London. Her jurisdiction covers the largest concentration of Haredi Orthodox Jews in Europe and the United Kingdom's biggest Muslim community.
The London-based Adath Yisrael Burial Society took Hassell to court, alleging "widespread distress" among the two faith communities.
"The fundamental flaw in the present policy adopted by the defendant is that it fails to strike any balance at all, let alone a fair balance," Lord Justice Singh wrote in his majority opinion.
"What on its face looks like a general policy which applies to everyone equally may in fact have an unequal impact on a minority. In other words, to treat everyone in the same way is not necessarily to treat them equally. Uniformity is not the same thing as equality," the decision said.
The Jewish Chronicle reported in December that one woman made 210 phone calls to the St. Pancras Coroner's Office before being assured that her father would be buried four days after his death. Another family was told it would have to wait two weeks for an autopsy to be performed before a funeral could be held.
Following a meeting with Hassell in January, Jewish leaders called for her removal.
Following the court's decision, Marie van der Zyl, vice president of the Board of Deputies of British Jewry, in an interview with the BBC called on Hassell to resign if she could not adhere to a policy that allowed for preferential treatment of Jews and Muslims.
"She has previously said that she does not believe that using her discretion to order cases, which she needs to do to uphold the religious freedom of the diverse communities she is meant to serve, is 'fair.' If she cannot carry out this basic function of her role, she must vacate her position," Zyl said, according to the BBC.
https://www.timesofisrael.com/uk-high-court-orders-london-coroner-to-prioritize-jewish-muslim-burials/
--------
Will Russia provide the 'new Kissinger' for Iran-Israel diplomacy?
April 29, 2018
Moscow offers buffer between adversaries
On April 25-26, Russia's National Security Council hosted intelligence and security officials from 118 countries for the ninth International Meeting of High Representatives for Security Issues in Sochi.
Russian Security Council Secretary Nikolai Patrushev held 40 bilateral meetings, including separate one-on-ones with the secretary of Iran's Supreme National Security Council, Rear Adm. Ali Shamkhani, and the deputy chairman of Israel's National Security Council, Eitan Ben-David.
Maxim Suchkov reports that the meetings have led to speculation that Moscow may be facilitating direct, or at a minimum, indirect contacts between Iran and Israel in order to defuse tensions in the region.
The meetings come as the potential for an Israel-Iran confrontation over Syria may be increasing. An Al-Monitor correspondent in Beirut writes, "Iranian officials vowed during the past week to take revenge for the killing of the seven Iranian soldiers, yet the strongest voice during this period was the one of Hezbollah's leader, Hassan Nasrallah, who warned that Israel has placed itself in direct confrontation with Iran. Nasrallah said the 'killing' of Iranians was an act of 'grave foolishness.' It was clear that Nasrallah's warning was aimed at sending a clear message to Israel that revenge for this attack isn't going to be by Hezbollah, but rather by the Iranians themselves, which — if it takes place — could mean a different type of confrontation between the two regional enemies and might end with both of them breaking red lines that were in place for years."
In reflecting on whether there may be lessons learned from Syrian-Israel understandings reached in 1976 to be applied to present tensions between Iran and Israel, Yossi Beilin suggests that what is missing is the "new Kissinger" to broker such a deal. "Someone from the White House would be a natural fit for the role, but the relationship between the Trump administration and Iran would preclude the United States from serving as a mediator," he writes. "It could, in theory, be a special emissary of the United Nations' secretary-general or some European party acting on behalf of the European Union's high representative for foreign affairs and security policy. It should be someone with the backing of a structure that is capable of investigating any complaints of violations of these understandings, like the understandings on a partial cease-fire reached between Israel and Lebanon — more accurately, between Israel and Hezbollah — back in 1996."
Or perhaps that role will fall to Russia. That Russia might be a potential mediator between Iran and Israel is no surprise to readers of Al-Monitor, which has provided unmatched coverage and analysis of Russia's role in the region. Back in February 2014, we wrote that Moscow could play a "bridging role, perhaps through very quiet back channels, to calm Israel-Iran ties."
Russian President Vladimir Putin's motivation to increase his diplomatic efforts at this time may not just be because of the heightened regional tensions. Locked out of the groundbreaking diplomacy in Korea, Putin may be seeking to play his hand as power broker in the Middle East, where his diplomatic cards may prove decisive, if played well.
"The Russians are staying, a situation that Israel seems to prefer over a Russian withdrawal," Beilin reports. "Israel believes it can talk to the Russians, and the overall assumption is that their global interests obligate them to adopt a more measured approach to the region. Nevertheless, the Russians will go home one day, too. All that remains to be seen is whether that happens sooner or later."
"In recent months," Suchkov writes, "there have been many claims that Russia is seriously challenged to continue its balancing act between Iran and Israel. The very nature of the growing confrontation on Syrian turf between the two archenemies is complicated. It's hard to verify whether in its discussions with Tehran, Moscow is bringing up the issue of Hezbollah and other Shiite militias' presence near the Israeli border. Yet the logic of Russia's behavior in the region ultimately stems from attempts to understand and recognize the legitimacy of motivations of certain players — even when it doesn't share them politically or finds them counter to its own interests. Judging by this approach, Moscow may find Hezbollah's presence understandable from Iran's perspective. At the same time, Russia certainly realizes that this presence serves as a constant irritant for Israel and is thus an escalation factor that can't be ignored, if the Kremlin ultimately seeks to fix Syria for the long term."
Suchkov adds, "Russia is indeed having a hard time in its role as a go-between for such die-hard negotiators as the Israelis and Iranians. For now, however, both Iran and Israel need Russia as an 'airbag' between one another. Such a status may not — and probably won't — last too long, but so far it has been providing Moscow with the time necessary to elaborate on a status quo of moderation: Iran has to restrain Hezbollah's provocative actions, and Israel needs to restrain its assertive responses and pre-emptive air raids."
"Hitting a happy medium between the two regional heavyweights may be an honorary role, and if Moscow can cope with all the associated difficulties, it will make its presence in Syria indispensable," Suchkov concludes. Russian decision-makers are accurately pointing out that the Israelis and Iranians are overestimating the influence Moscow has over the respective parties. Yet Russia itself has done a lot to solidify its image as a new power broker in the region and now has to deliver on these expectations. In fact, it's hard to think of any other power uniquely positioned to cut this Gordian knot. Russia is preoccupied with finding a comprehensive formula to keep the parties from feeling endangered. The diplomatic drive is fueled by the belief that the alternatives to dealing with Iran are force-based scenarios discussed in Washington and Jerusalem that may essentially entail opening a whole new dimension to the Syria war and possibly unleashing a large-scale regional war."
Iran 'unlikely to help' defuse Yemen conflict
Saudi Crown Prince Mohammed bin Salman has made his mark, in good part, as a risk-taker and a champion of modernity, including a bold vision for economic reform and loosening long-standing cultural restrictions, including opening film theaters in the kingdom and even allowing women to attend professional wrestling matches.
But with regard to Iran, the Saudi approach is the most sectarian and reactionary in recent memory, rooted in the anti-Shiite teachings of Muhammad ibn Abd al-Wahhab, the 18th century founder of Saudi Arabia's conservative brand of Islam, as Bruce Riedel writes. Abd al-Wahhab, Riedel recalls, "became an extreme critic of Shiism, branding them polytheists and infidels. Saudi armies sacked Shiite cities in Iraq, destroyed Shiite shrines in Mecca and invaded Yemen to try to defeat its Zaydi Shiite tribes."
In a May 2017 interview, the crown prince ruled out reaching any type of accommodation with Iran because of its "extremist ideology," which he linked to Shiism. "Their stance is that the awaited Mahdi will come, and they need to create a fertile environment for the arrival of the awaited Mahdi, and they need to take over the Islamic world. … Where are the common points that we might be able to reach an understanding on with this regime?"
Riedel said the Saudi war in Yemen "is a sectarian conflict overplayed by a regional struggle for power by the Saudis and Iranians. The war costs the kingdom a fortune and the ayatollahs a pittance, but it's very popular with the Wahhabi establishment."
"At home, King Salman and Prince Mohammed have led a ruthless crackdown on Saudi Shiite dissidents in the Eastern Province of the kingdom," Riedel continues. "The city of Awamiyah has been pounded into rubble by the Saudi authorities. Satellite imagery shows whole neighborhoods destroyed. The execution of prominent Shiite cleric Sheikh Nimr al-Nimr led to the Saudis breaking of diplomatic relations with Iran. This, too, is popular with the Wahhabi clerical establishment."
The Saudi campaign to weaken Syrian President Bashar al-Assad, mostly by the backing of radical Islamist groups that propagate similarly violent sectarian ideologies, such as Jaish al-Islam, has been a failure. The bizarre kidnapping of Lebanese Prime Minister Saad Hariri to pressure Hezbollah in Lebanon also backfired. The notion of Saudi armed forces replacing American troops in Syria, Riedel writes, "is an old proposal repackaged … [and] hollow given the performance of Saudi ground forces in Yemen."
Riedel points out that "Iraq is the exception that proves the rule." Saudi Arabia's outreach to Iraq, however, has its limits. "Iraq is not a member of the Saudi-led Islamic Military Alliance, which is intended to confront Iran by the Saudis," Riedel points out. "The Iranians have many more assets in Iraq than the Saudis, and they are determined to maintain their hegemony. The Saudis have no counter to Iran's Islamic Revolutionary Guard Corps."
Riedel concludes that ending the war in Yemen is the best step for de-escalating the conflict. But "Iran is unlikely to help," he writes. "The war in Yemen is a major strategic advantage for Tehran. It bogs the Saudis down at little cost to Iran. But it is also dangerous, especially now that the Iranians have helped the Houthis' missile capabilities. Riyadh is literally under fire. This is playing arsonist during a wildfire. The Iranians are particularly eager to humiliate Prince Mohammed, who has called [Iranian Supreme Leader] Ayatollah Ali Khamenei a 21st-century Hitler. Iran calls the crown prince infantile."
Full report at:
https://www.al-monitor.com/pulse/originals/2018/04/russia-provide-new-kissinger-iran-israel-diplomacy-syria.html
--------
Can Turkey, Russia free themselves from third parties?
April 30, 2018
It was slightly more than a century ago when the U.K. and France fully supported Turkey's territorial integrity and independence. When Turkey was on its way to make an alliance with Germany through establishing commercial relations and strengthening weapon procurement, the eminent threat was Russia. The whole of Europe was afraid that Russia would erase the Turkish presence in the east and access Syrian shores so that the Straits would become open to the Russian warships. Although the alliances and results of the First World War were different, many historians agree on the existence of that fear.
For Europe and the U.S., things were not really different during the Cold War era. There was the Soviet Union, which ideologically dominated several countries in the Muslim world, including Syria, Egypt and Yemen. Again, Turkey was fulfilling the mission of resisting and pushing Russian influence back to its lands in the north. In return Turkey was awarded vast foreign aid and considered an important fortress for the 'free world.' With the ideological differences and geo-strategic conflicts, Turkish-Russian relations were, yet again, largely shaped by the West.
It was not before Turkish President Recep Tayyip Erdoğan and Russian President Vladimir Putin that Turkey and Russia have attempted to create their own agenda. Since the Justice and Development Party (AK Party) came to power in 2002, the priority in f
oreign policy was to separate trade from politics. In doing so, Turkey, despite several crises with several countries, has never abandoned trade and essayed to increase financial flows day by day. In this regard, Russia posed a great opportunity with its vast lands and huge population. In 2002 the trade budget between Turkey and Russia was around 4.5 billion dollars. Yet, last year it reached to 25 billion dollars. When considered the recent political crises and Russia's harsh stance after Turkey downed one of its jets in 2015 after constant violations of Turkish airspace, the budget seems like a success. Neither Turkey nor Russia are satisfied with this number and Erdoğan says the goal is to increase the budget to 100 billion dollars by 2023.
Putin, who was the first Russian president, stepping in Turkey, has repeatedly stated Turkey's importance in the regional politics. The cooperation among Turkey, Iran and Russia to create a political solution for the civil war in Syria has demonstrated that Russia considers Turkey a strategic actor whereas Turkey believes the Western countries, primarily the U.S., have been only making trouble due to their explicit support for the PKK-linked PYD group in Syria's north. It is uncertain whether Turkey believes in a long-term alliance with Russia since there are many problematic areas besides Syria where Russia is the main backer of the Bashar Assad regime. For instance the occupation of Crimea has been seen as a non-favorable action by Ankara.
In spite of the ongoing tensions and troubles, there is a hope that Turkey and Russia can get along with each other through excluding the third parties. A conference, largely based on commercial relations has shown the willingness of the two sides to improve trade and, more importantly, separate trade and politics. The Future of Turkish-Russian Relations in the Rising Eurasia conference, organized by International Cooperation Platform (ICP) was held in Antalya, the southern city that is home to millions of Russian residents apart from Russian tourists. Sabah daily and A Haber TV channel were the main media sponsors. The one-day-long conference hosted many important visitors from the two countries.
Businessmen long for Turkish-Russian cooperation
Professor Ilham Rahimov, an Azeri businessman and a friend of Putin since their university days, said it was almost impossible that commercial relations be poisoned by any political crises anymore. Rahimov, who was involved in the jet crisis and spoke to the leaders of the two countries to overcome the affair, believes Turkish-Russian relations' future is bright.
'The situations of Turkey and Russia before the West are the same. The West puts pressure on the two countries,' he said, underlining that Turkey and Russia should take the initiative for the relations' future. It was common among the participators that many believe the West is the main conspirator against the two countries and afraid of a strong Turkish-Russian friendship.
Similarly, Russian politician Sergey Nikolayevich Baburin, one of Putin's former foes but now a very strong supporter, said Europe had an impact on the relations and, therefore, the two countries did not trust each other truly. 'There are some countries, who are against improving Turkish-Russian relations, increasing the trade budget and are attempting to bar natural gas transportation. These problems can be overcome through a true friendship,' he said, adding that Turkey would play an important role between Russia and the EU. Alleging that several crises across the world were ignited by 'dark hands,' the same hands, he said, are still active and wish to create troubles between Turkey and Russia.
Eurasia is an identity for both, says Dugin
The political-analyst Alexander Dugin, who is well-known in Turkey due to the claim that he informed the Turkish government immediately before the putsch of July 15, 2016, and visited the Turkish parliament after it was bombed, offered another perspective for the two countries' relations. Mentioning a 'common identity', which he describes as Eurasian, he said both Turkey and Russia, culturally and historically, have the same origin. 'The Turkish-Russian friendship is over ethnicity and religion. They share the same destiny. Russia addresses not only the Slavic world but also the Turkic world. Eurasia does not cover only the Slavic and Orthodox people but also the Turks,' he said. Stating that both Turks and Russians can find their identities in the place where they live, and not in either the West or East, he said the Eurasian identity has to be recognized and adopted.
On the recent developments in the region, he believes there is a re-arrangement in the Middle East and Mediterranean. Additionally, the West is also at the brink of a change along with international relations. Therefore, these profound changes affect the two countries and their relations.He claims that Putin, Erdoğan and the U.S. President Donald Trump were in favor of a multipolar world whereas the 'deep state' in the U.S. still supports a unipolar world system. This was the main reason behind the challenges and disputes. Touching on the wars in the history between the Turks and Russians, he said 'We need to learn lessons from history. As a result of the wars between us, the West has gained the most advantageous position. We should leave the inner fight among the Eurasian countries and create an alliance, based on the Eurasian identity.'
Underlining the importance of traditional Islam in Turkey, which, according to him, was highly decorated with Sufi elements, he said 'We need a reliable, powerful Islamic society. In the case of Sunni Islam, Turkey can fit this role in order to overcome many troubles, including security problems.' On Syria, he said Kurdish people were used by the West and as long as the Kurdish groups remain puppets of the U.S., Russia would remain silent on Turkey's military operations. Finding a solution in Syria, could only occur on the condition that the U.S. leave the country.
Full report at:
https://www.dailysabah.com/world/2018/04/30/can-turkey-russia-free-themselves-from-third-parties
--------
After losing son to Daesh, British mother vows to help others avoid the same tragedy
April 29, 2018
When her son died fighting for Daesh, British mother Nicola Benyahia channelled her grief into helping other families halt the radicalisation of loved ones. She vividly remembers how, telephoning from the battlefields of Syria, Rasheed sounded increasingly troubled.
The conviction that had driven the 19-year-old to leave his family in Birmingham, England, and take up arms for Daesh, seemed to be wavering.
"You could tell he was beginning to see some grey areas," his mother, Nicola, told Arab News.
The family wondered if he might be considering returning home, but weeks later received the call they had been dreading. This time an anonymous voice at the end of the telephone line said that Rasheed had died after being hit by shrapnel during a coalition drone strike across the border in Iraq.
The call came on Nov. 20, 2015, one week after Daesh militants killed 130 people during a series of horrific attacks across Paris. Shame mingled with grief as Nicola reeled from the shock.
"The grieving process is very different," she recalled. "There is no body, no funeral, no closure."
Rasheed's transformation from a gregarious, athletic schoolboy brought up in one of England's most diverse and vibrant cities to a volunteer for an extremist group known for carrying out public beheadings and crucifixions is a salutary lesson for parents across Europe and the Middle East.
Even with Daesh seemingly defeated in Iraq and Syria, the deceptively idealistic beliefs the extremist group espouses remain a potent threat to vulnerable young Muslim men and women. Nicola is determined that other mothers learn from her experience.
She told Arab News that looking back she can see clear warning signs that her son was being radicalized as he grew increasingly serious and withdrawn. "I was worried about him," she said.
Like many parents of teenagers, however, Nicola brushed his unusual behavior aside — a decision she now regrets.
Rasheed was among thousands of foreign fighters who joined Daesh in the aftermath of the 2011 Arab Spring. He arrived at the height of the group's bloody campaign to preserve its self-proclaimed caliphate, which at its peak in 2014 spanned more than 66,000 square kilometers across Syria and Iraq.
Many of these militants are now expected to try to make their way home and European governments are divided over how best to deal with the potential threat they pose.
Months before his departure from the UK, Rasheed spent money he had saved from his electrical engineering apprenticeship on a diamond necklace for his mother. The accompanying note read: "Mama — no matter how much gold and how many precious stones are used, it's never enough to show how precious you are to me."
Nicola believes that was the point Rasheed decided to go. He left Birmingham on a Friday at the end of May 2015, heading out of the family home in the early morning, apparently with routine plans to see friends later. Instead, he boarded a flight to Turkey before traveling to Syria.
On June 1, 2015, three days after he went missing, Rasheed sent his mother a text message. He was "safe" he said, and "in good hands."
But Nicola's initial relief gave way to panic as she realized where he was. Rasheed told her he would be out of touch for 30 days and then his phone went dead. It was two excruciating months before they heard from him again.
Based on information she later received from a journalist in contact with Daesh fighters, Nicola found out that he spent those first two months — double the usual amount of time — in the extremist group's training camps.
"(The militants) said he looked ever so young and ever so lost, but he was very hard work, incredibly difficult to break," she said.
In WhatsApp calls, Rasheed gave his mother sobering details of life as a Daesh recruit. He told Nicola that fighters were expected to buy their own own military clothing and ammunition, and had to make do with a wage equivalent to $57 a week, barely enough to live on.
He also told her he had been introduced to a woman he was expected to marry, something that he was both nervous and excited about.
According to the Soufan Center, a US-based think tank, 850 Britons have gone to fight in Syria or Iraq. Of those, 425 are estimated to have returned to the UK. This compares with a total of 5,000 recruits who have gone to fight from the EU, 1,200 of whom are estimated to have returned to their home countries.
In the Middle East, Rasheed was given the nom de guerre Huraira Albritani, but his precise role in Daesh remains unclear. He was killed on Nov. 10, 2015 — 10 days before his family were notified — in Sinjar, northern Iraq, just before Kurdish forces backed by US air power wrested control of the area from the militants.
Exactly who carried out the drone strike is not known. However, Rasheed was not the first or the last British Daesh recruit to be killed in this way.
On Aug. 21, 2015, Reyyad Khan, a 21-year-old from Cardiff, Wales, and Ruhul Amin, a 26-year-old raised in Aberdeen, Scotland, died in a RAF drone strike on the Syrian city of Raqqa. Mohammed Emwazi, better known as the Daesh executioner "Jihadi John," was killed in a drone strike in Raqqa two days after Rasheed.
In the months following her son's death, Nicola, Rasheed's father and their four daughters nursed their grief in private. "Your life has been shattered into 50 million pieces, so you try to make some sense of it," she told Arab News.
A year later, however, Nicola decided to break her silence to help others avoid the same tragedy. Already a professional therapist, she trained under Daniel Koehler, director of the German Institute on Radicalization and De-radicalization Studies, and, in 2016, set up Families for Life, a Birmingham-based outreach group.
She has since supported families from Europe, the UAE and the US who are dealing with the radicalization of a loved one. Most, she told Arab News, have "no idea" what is going on until the damage is done.
In one case, a mother was worried her son had begun to fast regularly — rationing his meals to one a day. Nicola warned her that it could be a sign he was preparing for the austere conditions he might face fighting for Daesh in the Middle East. She had witnessed similar changes in Rasheed, who went from loving free running — urban acrobatics where walls, bus shelters and park benches become gym apparatus — and doing handstands in the school corridor to becoming sullen and solitary.
Nicola converted to Islam in her late teens and later married an Algerian, but has always been relatively moderate in her beliefs. When Rasheed grew "more rigid" in his faith, Nicola attributed it to recent marital difficulties with her husband that had upset the family home.
"I thought he was holding on to religion because it helped him find a way through, as it had me in the past," she said.
Rasheed stopped attending their mosque and changed the way he dressed, once asking her to shorten his trouser legs in line with strict Salafi practice that seeks to mimic the clothing style of the Prophet Muhammad and his earliest followers. Rasheed also wanted to attend late-night Islamic study circles, but his mother refused to let him.
Nicola believes the safest solution to dealing with British foreign fighters is to encourage them to return home, where they can be rehabilitated and help to provide the government with further insight into how Daesh operates.
"Counter-terrorism learnt huge amounts from the information I was able to share with them from my son … if we don't allow them back, we're not going to access that data, which could be crucial," she told Arab News.
Nicola never discovered who was responsible for recruiting her son, but the name of a likely suspect surfaces time and again during her work with other families. That person is still at large. The recruiters are clever, she said, because "they know how to fly just below the radar."
It took weeks for Nicola to piece together the picture of Rasheed's final months and much remains unknown, but she no longer dwells on these details. Instead, she hopes to use the lessons she has drawn from her son's death to save the lives of other young men and women who may be tempted to follow in his footsteps.
Full report at:
http://www.arabnews.com/node/1293746/world
--------
President Erdogan gets warm welcome in Uzbekistan
30 April 2018
President Recep Tayyip Erdogan was welcomed in capital Tashkent on Monday by his Uzbek counterpart Shavkat Mirziyoyev.
Erdogan is in Uzbekistan on a three-day official visit.
An official ceremony was held in the capital, where the national anthems of both countries were played before the official talks began.
During his stay, the Turkish president is expected to discuss bilateral, economic and political relations with Mirziyoyev.
He is also due to address the Uzbek parliament and attend the Turkey-Uzbekistan Business Forum along with Mirziyoyev.
On Tuesday, the Turkish president will visit the historic city of Bukhara where he plans to establish two Islamic institutes.
Full report at:
http://www.worldbulletin.net/europe/201583/president-erdogan-gets-warm-welcome-in-uzbekistan
--------
URL: https://www.newageislam.com/islamic-world-news/pm-modi-invokes-prophet-ahead/d/115097
New Age Islam, Islam Online, Islamic Website, African Muslim News, Arab World News, South Asia News, Indian Muslim News, World Muslim News, Women in Islam, Islamic Feminism, Arab Women, Women In Arab, Islamophobia in America, Muslim Women in West, Islam Women and Feminism