New Age Islam News Bureau
14 Nov 2013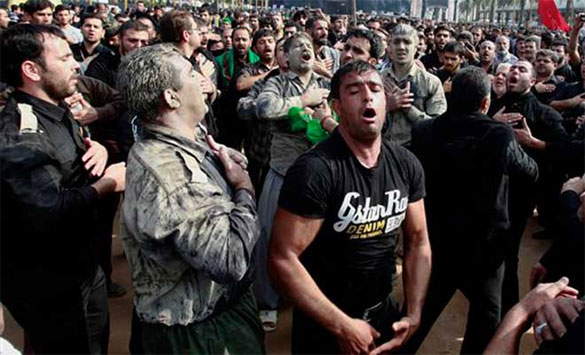 Pilgrims Flood Iraq Shrine As Bombs Kill At Least 41 — File photo
----------
Arab World
• Pilgrims Flood Iraq Shrine As Bombs Kill At Least 41
• Syrian Kurdish leader claims military gains against Islamists
• Saudi riots: Sudanese national killed as attacks leave trail of destruction
• Officer, militants killed in fresh Sinai attack Thursday
• Syria rebels urge Aleppo mobilisation to halt assault
• Urdu Academy Jeddah promotes Urdu on India's National Education Day
• Egypt sentences 12 pro-Morsi protesters to 17 years
• Nasrallah Says Hezbollah Will Keep Fighting in Syria War
• Syrian activists flee abuse in al-Qaeda-run Raqqa
Pakistan
• Hakimullah's death plunges TTP into dangerous disarray
• LeJ militants, police clash in Karachi's Mauripur; six killed
• Security forces foil suicide attack on Islamabad Imambargah
• JI should announce 'Jihad' in Afghanistan against US: ANP
• Khalid Haqqani to be TTP's functional chief: report
• Terror plot foiled as 20 kg bomb defused in Peshawar
• 2004 religious ruling: Lal Masjid had declared soldiers as 'not martyrs'
Europe
• WUC Deeply Concerned by China's Election to UN Human Rights Council
• Ashura meal brings four religions together in Sarajevo
• EU warns against autocratic drift in Maldives
• At least 220 German jihadists fighting in Syria, says intel chief
• Russia fears return of fighters waging jihad in Syria
• France says Qaeda members 'neutralised' in Mali
India
• Muslim prison statistics depict bias, analysts say
• NCM to work with real estate website on Muslim property issue
• Hurriyat wants a more hawkish Pak
• Google's India-Pak reunion ad strikes emotional chord
• CBI wants Pak to identify 2 killed along with Ishrat
• 200,000 Dawoodi Bohras attend Mumbai's Moharram discourses
• Cameron concerned with terrorism in India
South Asia
• Militants kill two Afghan policemen in Chaman
• Maldives President takes MVR 525,000 for presidential trip, days before election
• Maldives re-elected unopposed to UN Human Rights Council
• Buddhist monks rally against visit by Muslim body
• Hindu houses in Bangladesh looted in planned way: Probe body
• China pressures Muslim Uighur lawyer families on Burqas, beards
• Uyghurs Commemorate East Turkestan Anniversary
North America
• U.S. blocks report telling how UK went to war with Iraq
• Pakistani National Faces Trial in US over Unmet Quest for Jihad
• Jewish-Muslim Alliance at Pierrefonds High School
Southeast Asia
• Selangor Sultan reminds non-Muslims in state not to use Allah
• Malays will lose identity if Maths and Science are taught in English, say Islamic students
Mideast
• Turkey: Student-Cohabitation Fight about Rights, Not Religion
• Israel troops enter Gaza drawing mortar fire: Witnesses
• Israel agrees to return stolen organs of dead Palestinians
Africa
• 23,000 Ethiopians surrender in Saudi Arabia
• Libya 'seeks to make its laws more Islamic'
• Nigeria offensive drives 40,000 refugees into Niger: UN
• French priest kidnapped in Cameroon
Compiled by New Age Islam News Bureau
URL: https://newageislam.com/islamic-world-news/pilgrims-flood-iraq-shrine-bombs/d/24426
------------
Arab World
Pilgrims Flood Iraq Shrine As Bombs Kill At Least 41
November 14, 2013
A suicide attacker and twin bomb blast on Thursday targeted Shiites marking a sombre religious ritual in Iraq, killing at least 41 people and wounding more than 100, officials said.
The ritual, known as Ashoura, is observed every year over a 10-day period and has in the past been marred by massive attacks by al-Qaeda and other Sunni extremists who see Shias as heretics. This year, the attacks come amid an escalating campaign of violence by insurgents seeking to thwart the Shia-led government's efforts to maintain security.
The deadliest of Thursday's attacks was in the town of al-Saadiyah, 140 kilometres (90 miles) northeast of Baghdad, where a suicide bomber struck a group of Shias gathered for an Ashoura event. The explosion killed at least 32 people and wounded 75, two police officers said.
The Shias at the Saadiyah gathering were recreating the 7th century battle of Karbala, a city in present-day Iraq. Ashoura commemorates the death of Prophet Mohammed grandson, Imam Hussein, in that battle.
Earlier on Thursday, two bombs exploded simultaneously near tents set up to offer food and drinks to Shias pilgrims passing through Hafriyah, a town about 50 kilometres (32 miles) south of the Iraqi capital, another police officer said.
The Shias were making their way on foot to Hussein's gold-domed shrine in Karbala, some 90 kilometers (55 miles) south of Baghdad, where authorities said more than two million pilgrims were expected to converge on Thursday.
Ashoura attracts hundreds of thousands of Shias to holy sites across Iraq. Security forces have imposed tight security measures in and around Karbala, as well as other Shiite cities and also Baghdad, sealing off areas where the Shias, most of them dressed in black, were passing through or stopping to rest.
Some Shias in the processions were ritually whipping their bodies with chains and knives in grief, drenching themselves in blood, which is part of the Ashoura.
On Tuesday, triple bombings struck a group of Shias marking the Ashoura in the eastern city of Baqouba, a former al-Qaeda stronghold, 60 kilometres (35 miles) northeast of Baghdad, killing eight people, including two children, and wounding 35.
Iraq has been hit by a surge in violence and insurgent attacks since April, when security forces cracked down on a Sunni protest camp in the north. The pace of the killings has soared to levels not seen since 2008.
More than 5,500 people died since April, according to United Nations figures. Thursday's attacks bring the death toll across the country this month to 176, according to an Associated Press count.
There was no immediate claim of responsibility for the latest attacks, but suicide attacks and other bombings especially against Shias and Iraqi forces are a favourite tactic of al-Qaeda's local branch.
http://www.thehindu.com/news/international/world/attacks-against-shias-in-iraq-kill-at-least-41/article5351331.ece
-------------
Syrian Kurdish leader claims military gains against Islamists
14 November 2013
Islamist groups in northern Syria are weakening after months of fighting and Kurdish militias are gaining ground, a top Kurdish leader said on Wednesday, vowing to continue their advances.
Saleh Muslim, head of the Kurdish Democratic Union Party (PYD), told Reuters in Paris that Tuesday's announcement of an interim administration that aims to carve out an autonomous Syrian Kurdish region was only "provisional" until there was a viable solution to Syria's civil war.
Long oppressed under Syrian President Bashar al-Assad and his father before him, Kurds view the war as an opportunity to gain more autonomy - much as their ethnic kin in neighboring Iraq have regarded turmoil there.
Control over Syria's northeast, where Kurds predominate, had in recent months swung back and forth between them and mainly Arab Islamist rebels, who strongly oppose what they suspect are Kurdish plans to secede.
But with a string of military gains across northeastern Syria, Kurdish militias linked to the PYD are consolidating their presence.
"About 3,000 of those Salafists have been killed. At the beginning they were strong, but now they aren't so strong," said Muslim, whose son was recently killed fighting Islamists.
"We have found no allies and paid for our own bullets."
Muslim said the PYD had received aid, money and weapons from the Iraq-based Kurdistan Democratic Party and Patriotic Union of Kurdistan as well as the Kurdistan Workers Party (PKK), which fought for greater Kurdish autonomy in Turkey for three decades.
When asked if the recent successes could embolden Syrian Kurdish forces to go beyond majority-controlled Kurdish areas, Muslim said they had no desire to head to Damascus to help topple Assad, but would aid all those in areas where Kurds and Arabs lived together.
"We are willing to go to places where we are living together. It is not our job to go to areas where there are no Kurds," he said.
Peace talks
Muslim said about 30 percent of Syria's oil wells were under Kurdish control, but none were currently producing any oil, and there were no immediate plans to bring them into operation.
The Kurdish gains indirectly benefit Assad and his Shiite Muslim allies, as they mean more territory slipping out of Sunni Muslim rebel hands two and a half years into the revolt against Assad's rule.
Despite allegations that his party had cooperated at some level with Assad, Muslim said there had been "no contact."
"I don't think Assad would accept autonomy for us because even until the last minute he refused."
Syrian Kurds number over two million of the total of more than 25 million Kurds in Syria, Turkey, Iran and Iraq - a people often described as the world's largest ethnic group without a state.
Rising Kurdish assertiveness in Syria puts Turkey in a tough position as it tries to make peace with the PKK.
Muslim said Turkey had not warned his group to stop its advances in Syria, but was trying to interfere.
"They are trying to divide the Kurds by bringing certain (Kurdish) parties into the (opposition) Syrian National Coalition (SNC)," he said. "They are just trying to keep the Kurds from representing themselves."
Syria's Western-backed SNC opposition agreed on Monday to attend planned peace talks in Geneva on condition Assad played no part in a transitional government. Assad has rejected any precondition that he step down.
Muslim said he would only be ready to join the Geneva talks if there was a separate Kurdish delegation.
http://english.alarabiya.net/en/News/middle-east/2013/11/14/Syrian-Kurdish-leader-claims-military-gains-against-Islamists.html
--------
Saudi riots: Sudanese national killed as attacks leave trail of destruction
14 November 2013
Manama: A Sudanese national was killed and 17 people were injured as riots broke out again in the Manfouha neighbourhood in the Saudi capital Riyadh. Several shops and around 30 cars were damaged as Ethiopians hurled stones and attacked Saudis and foreigners on Wednesday afternoon, local reports said.
The new riots followed those that occurred on Saturday and trigged by an identity check by the local police looking for foreigners who were staying illegally in the country.
Two people, one Saudi and another unidentified national, were killed in the clashes. "At around 3:30 pm, a group of Saudis had an argument with illegal foreigners that deteriorated into a violent fight," Nasser Al Qahtani, the spokesperson for the Riyadh police, said. "Several of those staying illegally in the country attacked people and cars, resulting in the death of a Sudanese expatriate and in injuries to 17 people from various nationalities who were treated at a hospital.
The competent authorities moved in to investigate the incident," he said, quoted by local Arabic daily Al Riyadh on Thursday. Reporters for newspaper said they had seen a group of Ethiopians hurling stones at passing cars and assaulting a foreigner riding a bicycle and taking money from him. The police moved to the neighbourhood and started chasing the rioters who sought to hide in flats vacated by other Ethiopians who had moved to a shelter ahead of their repatriation.
Thousands of Ethiopians have been trying to go back home following the end of a seven-month amnesty for foreigners staying illegally in Saudi Arabia to formalize their situation.
The authorities warned that it would adopt a zero-tolerance policy towards those who did not take advantage of the grace period. Raids by the police to check identities, especially in areas where illegal foreigners are known to congregate, have led to the arrest of thousands of people across the vast kingdom. However, the situation turned dramatic in Riyadh on Saturday when two people, a Saudi and an unidentified foreigner, were killed and 68 were injured during clashes in the Manfouha neighbourhood between the police and Ethiopian rioters.
The police agreed to set up a special shelter to accommodate the Ethiopians willing to go home ahead of their repatriation. However, a police officer told local daily Al Sharq that no travel documents had been provided by the Ethiopian embassy to start the repatriation process. "We have intensified contacts with the embassy following the riots, but we are still waiting for the embassy to respond," the officer, who was not identified, said, quoted by the daily on Thursday.
http://gulfnews.com/news/gulf/saudi-arabia/saudi-riots-man-killed-as-attacks-leave-trail-of-destruction-1.1254938
------------
Officer, militants killed in fresh Sinai attack Thursday
14 November 2013
Militants in Egypt's Sinai Peninsula, which borders Israel, killed a police officer in the early hours of Thursday, Egypt's military spokesman said hours after state-owned news agency MENA reported another officer shot dead near his home.
Unidentified gunmen killed the junior police officer while on guard in the northern city of Al-Arish and stole his weapon, army spokesman Colonel Ahmed Ali said Thursday afternoon.
Fleeing assailants later attacked an army checkpoint near the provincial governor's office, injuring one solider.
An exchange of fire ensued between troops and the assailants, leaving three of the assailants dead, Ali added.
Security forces have siezed arms from the assailnts' vehicle, including rocket-propelled grenades (RPGs) and machineguns.
The restive peninsula has seen a spike in militant insurgency since the military ouster of Islamist president Mohamed Morsi 3 July following massive protests against his rule.
Elsewhere in the Al-Arish, a low-ranking police officer was shot and killed in front of his home, and militants and security forces separately exchanged fire in the southern El-Masaeed area.
Dozens of militants have been killed since in the army launched its largest campaign yet in the region to flush out "terrorists" and seize or destroy arms caches.
Attacks on security and army targets in the region have killed upwards of 100 security personnel since July.
http://english.ahram.org.eg/NewsContent/1/64/86448/Egypt/Politics-/Officer,-militants-killed-in-fresh-Sinai-attack-Th.aspx
------------
Syria rebels urge Aleppo mobilisation to halt assault
14 November 2013
A jihadist rebel group affiliated to al-Qaeda has joined calls for a mass mobilisation in the Syrian city of Aleppo to halt a government advance.
A statement by the Islamic State of Iraq and the Levant (ISIS) urged "all brigades and Muslims to face off against the enemy", activists said.
On Monday, six other Islamist rebel groups issued a call to arms in Aleppo.
It came after the army secured the area around the city's airport and retook a strategically important base nearby.
Full report at:
http://www.bbc.co.uk/news/world-middle-east-24927097
----------
Urdu Academy Jeddah promotes Urdu on India's National Education Day
14 November 2013
JEDDAH — The Urdu Academy Jeddah organized a literary program to promote Urdu language and to mark India's National Education Day celebrated every year in the memory of the India's first Education Minister Maulana Abul Kalam Azad at the Indian Consulate here Friday. Other eminent personalities of the Indian community along with students from various schools were in attendance.
Indian Consul General Faiz Ahmed Kidwai presided as the chief guest at the function. He appreciated the efforts of the academy, and praised the Indian consulate staff and community for their help during the amnesty period.
Full report at:
http://www.saudigazette.com.sa/index.cfm?method=home.regcon&contentid=20131114186617
----------
Egypt sentences 12 pro-Morsi protesters to 17 years
2013-11-14
CAIRO: An Egyptian court sentenced 12 supporters of deposed Islamist president Mohamed Morsi to 17 years in prison on Wednesday for taking part in a violent protest, state media reported.
The official MENA news agency reported the protesters were convicted of attacking the headquarters of the Islamic Al-Azhar institution during the protest.
Full report at:
http://www.dawn.com/news/1056301/egypt-sentences-12-pro-morsi-protesters-to-17-years
------------
Nasrallah Says Hezbollah Will Keep Fighting in Syria War
Agence France-Presse
14 November 2013
Hezbollah chief Hassan Nasrallah vowed on Thursday to keep his forces in Syria where they are fighting alongside President Bashar al-Assad's regime, in a rare public speech delivered in Beirut.
Nasrallah, who normally appears via video link for fear of assassination by arch enemy Israel, spoke in Hezbollah's southern Beirut stronghold to mark the Ashura rituals.
"We have said on several occasions that the presence of our soldiers on Syrian soil is to defend… Syria, which supports the resistance" against Israel, said the Lebanese Shiite leader.
"Our presence there is justified," he told hundreds of thousands marking a Shiite commemoration.
Full report at:
http://www.thejakartaglobe.com/international/nasrallah-says-hezbollah-will-keep-fighting-in-syria-war/
------------
Syrian activists flee abuse in al-Qaeda-run Raqqa
14 November 2013
Political activists in northern Syria have been forced to flee after attempting to defy the growing power of al-Qaeda in the region.
A citizens' protest movement has been challenging the jihadist group, the Islamic State in Iraq and the Levant (ISIS), an affiliate of al-Qaeda, after its fighters attacked churches in the city of Raqqa.
But activists who have fled to Turkey told BBC Newsnight that many had been arrested, beaten or kidnapped by ISIS in retaliation.
Raqqa, a city currently sheltering nearly a million people, is now under the full control of the group.
Full report at:
http://www.bbc.co.uk/news/world-24926584
------------
Pakistan
Hakimullah's death plunges TTP into dangerous disarray
By Reuters
November 14, 2013
ISLAMABAD: The killing of one of the most wanted militants in a US drone strike has exposed centuries-old rivalries within the group he led, Tehreek-e-Taliban (TTP), making the insurgency ever more unpredictable and probably more violent.
Hakimullah Mehsud's death this month has set off a power struggle within the outfit's ranks, which could further unnerve a region already on tenterhooks with most US-led troops pulling out of neighbouring Afghanistan in 2014.
When a tribal council declared Mullah Fazlullah as the new leader of TTP last week, several furious commanders from a rival clan stood up and left.
"When Fazlullah's name was announced, they … walked out saying, 'The Taliban's command is doomed'," said one commander who attended the November 7 'Shura' meeting in South Waziristan, a lawless tribal region on the Afghan border.
Full report at:
http://tribune.com.pk/story/631949/leaders-death-plunges-ttp-into-dangerous-disarray/
---------
LeJ militants, police clash in Karachi's Mauripur; six killed
2013-11-14
KARACHI: A major bid of terrorism was foiled in Sindh's provincial metropolis Thursday when six alleged militants reportedly from Lashkar-e-Jhangvi (LeJ) were killed during an exchange of fire with personnel from the Crime Investigation Department (CID) of police in Karachi's Mauripur area, DawnNews reported.
According to Senior Superintendent of Police (SSP) Chaudhry Aslam, police launched a search operation near Lucky Pahari in Mauripur upon receiving a tip-off on the suspects' whereabouts, following which the alleged militants opened fire.
Police resorted to counter-firing. During the exchange of fire between the two sides, three policemen sustained injuries where six alleged militants, including two suicide bombers were killed, CID police claimed.
Full report at:
http://www.dawn.com/news/1056321/lej-militants-police-clash-in-karachis-mauripur-six-killed
------------
Security forces foil suicide attack on Islamabad Imambargah
November 14, 2013
ISLAMABAD: A suicide bombing attempt was foiled in Islamabad and the alleged suicide bomber and mastermind were arrested, Express News reported on Thursday.
According to initial reports, they were planning to attack the Imambargah in Sector G-6, Islamabad on Muharram 9, but security forces foiled the attack by arresting them the night before.
Full report at:
http://tribune.com.pk/story/631945/security-forces-foil-suicide-attack-on-islamabad-imambargah/
------------
JI should announce 'Jihad' in Afghanistan against US: ANP
14 November 2013
Senator Awami National Party (ANP), Zahid Khan has said that the recent statement of Syed Munawar Hassan regarding martyrdom has created a war like situation in the country.
On Tuesday, while talking to the media, he said, "Jammat Islami (JI) has committed treason with Pakistan, and the Election Commission (EC) should take legal action against this party."
Zahid Khan said, JI Chief Munnawar Hassan must have avoided such statements and he has committed treason with the blood of martyrs, while JI should announce 'Jihad' in Afghanistan against America.
Full report at:
http://www.pakistantoday.com.pk/2013/11/12/news/national/ji-should-announce-jihad-in-afghanistan-against-us-anp/#sthash.HnYYnggo.dpuf
------------
Khalid Haqqani to be TTP's functional chief: report
2013-11-14
ISLAMABAD: Notwithstanding the appointment of Mullah Fazlullah as the new chief of the banned organisation Tehrik-i-Taliban Pakistan, Deputy Ameer of TTP Sheikh Khalid Haqqani is expected to lead operations in Pakistan as its functional head, said a report published in The News International on Thursday.
In the wake of former TTP supremo Hakeemullah Mehsud's death and the absence of new chief Fazlullah, who is currently in Afghanistan, Khalid Sheikh Haqqani would be calling the shots, the report stated.
Full report at:
http://www.dawn.com/news/1056327/khalid-haqqani-to-be-ttps-functional-chief-report
------------
Terror plot foiled as 20 kg bomb defused in Peshawar
2013-11-14
PESHAWAR: Police defused a 20 kilogram remote-controlled bomb in the Achini Bala area on the outskirts of Peshawar on Thursday, foiling a major terrorist attack in the capital of Khyber Pakhtunkhwa, DawnNews reported.
Police sources said the bomb was planted in the middle of the patch of Ring Road that comes in the Achini Bala area.
Upon receiving information, police called the Bomb Disposal Squad (BDS) to defuse the bomb.
The BDS through water charges defused the 20 kilogram remote controlled-bomb.
Full report at:
http://www.dawn.com/news/1056328/terror-plot-foiled-as-20-kg-bomb-defused-in-peshawar
------------
2004 religious ruling: Lal Masjid had declared soldiers as 'not martyrs'
November 14, 2013
ISLAMABAD: The 'martyr or no martyr' debate is not new and Jamaat-e-Islami (JI) chief Munawar Hassan is not the first one to trigger it. The story goes back to Ghazi Abdur Rashid-led Lal Masjid squad that first issued a fatwa (religious decree) declaring military's Wana Operation in 2004 a 'rebellion against God and His Prophet' and army soldiers losing life in it as 'not martyred'.
The religious ruling had also invalidated funeral prayers for the soldiers killed in the operation. The fatwa was signed by over 500 'religious scholars' and it basically initiated from Darul Uloom Haqqania Akora Khattak.
Full report at:
http://tribune.com.pk/story/631811/2004-religious-ruling-lal-masjid-had-declared-soldiers-as-not-martyrs/
------------
Europe
WUC Deeply Concerned by China's Election to UN Human Rights Council
14 November 2013
The World Uyghur Congress (WUC) is deeply concerned by the election of the People's Republic of China (PRC) to the Human Rights Council (HRC), the UN's top human rights body, following a vote by the UN General Assembly on 12 November 2013. In doing so, the General Assembly vote has elected to the HRC one of the most notorious human rights violators in the world, which has regretfully jeopardised the stated goal of the HRC membership to "uphold the highest standards in the promotion and protection of human rights" in accordance with its mandate. The WUC calls on the international community to show its integrity by maintaining a strong stance on human rights violations by HRC members and non-members alike during the PRC's regrettable 3-year tenure.
According to the GA resolution (A/RES/60/251) which established the HRC, "Member States shall take into account the contribution of candidates to the promotion and protection of human rights and their voluntary pledges and commitments made thereto." The Resolution furthered that, "[the] General Assembly, […] may suspend the rights of membership in the Council of a member of the Council that commits gross and systematic violations of human rights."
Following its UN Universal Periodic Review (UPR) in October 2013, the PRC's widespread human rights violations were laid bare for all to see, including to the attention of the UN Member States who voted on the PRC's candidature. This is notwithstanding at the HRC itself during each of its triannual meetings since the HRC came into existence, where gross human rights violations in the PRC are repeatedly raised.
The international community has been awash with information pertaining to gross and egregious human rights violations committed in and by the PRC, including against Uyghurs, in addition to information obtained and opined by the UN Special Procedures themselves, which present regular reports to the HRC. "This therefore begs the question as to how the PRC can be considered a suitable candidate for a position on the 47- States HRC Membership?", said WUC President and prominent Uyghur human rights activist Ms Rebiya Kadeer.
The past year has been one of the most repressive for Uyghurs, as reported by the WUC. The WUC reported that 735 Uyghurs were detained, and 138 extra-judicially killed, though these figures are now considerably higher since the publication of this report as the repression continues to intensify. "Allowing the PRC to be a member of the HRC is equal to allowing a wolf to take care of sheep," Ms Kadeer added.
The WUC questions the necessity that the voting procedure of HRC membership should be cast in secret, which is permitting UN Member States with gross human rights violations to be repeatedly elected to this prestigious position. The WUC recommends that the intentional community revises such a position so that those UN Member States who are supporting candidatures of such human rights violators can be held accountable not only to their own citizens, but to the international community as a whole.
This would help to counter the emerging contradiction that gross and systematic human rights violators are able to be elected to such a position of international human rights importance contrary to the very explicit assertion of the UN GA Resolution to which the HRC owes its existence. "By removing the secret balloting of votes, states with human rights issues like the PRC would be encouraged to do more to conform to international law and the international standards to which they are obliged by strengthening the accountability of the international community," Ms Kadeer furthered.
Whilst the WUC respects the rights of all states to be elected to the HRC, election to the HRC carries special responsibilities, not least of which is to be a leader in the promotion and protection of human rights. The WUC therefore firmly believes that the initial intention of the GA Resolution must be upheld, and that urgent action be undertaken where necessary to correct such situations.
The WUC is also extremely concerned how the PRC's election will impact the ability of human rights activists to raise legitimate concerns about the PRC during the HRC. The WUC hopes, however, that the international community will remain resolute in upholding international human rights at the HRC by continuing to raise awareness of the Uyghur human rights situation in the PRC in spite of this setback.
------------
Ashura meal brings four religions together in Sarajevo
World Bulletin / News Desk
14 November 2013
On the occasion of Ashura day, or Noah's meal day, Inter-religious Council in Bosnia and Herzegovina and Hikmet Publishing in Sarajevo on Tuesday organized the event in which they shared 3,000 portions of Noah's meal.
Under the slogan "We are all on the same boat", members of these two associations shared this traditional meal to passers in front of the Cathedral in Sarajevo.
They offered 3,000 portions. In next few days they will continue sharing 6,000 portions in other cities in the country.
Full report at:
http://www.worldbulletin.net/?aType=haber&ArticleID=122739
------------
EU warns against autocratic drift in Maldives
Nov 14, 2013
The European Union has warned that the Maldives may drift back to autocratic rule, saying it will consider "appropriate measures" if the country can't elect a resident in a rescheduled runoff vote Saturday.
In a declaration dated Wednesday, High Representative Catherine Ashton say any further delays or attempts to influence the outcome will be considered by the E.U. as actions made to prevent Maldivians from exercising their democratic rights.
The statement comes after President Mohamed Waheed Hassan decided to extend his legal term by six days, purportedly to avoid a constitutional void after the country failed three times to elect a president.
Maldives' first democratically elected president and the brother of a former longtime autocratic ruler qualified for the runoff after the first vote on Nov. 9.
http://www.thehindu.com/news/international/south-asia/eu-warns-against-autocratic-drift-in-maldives/article5350315.ece
---------
At least 220 German jihadists fighting in Syria, says intel chief
Nov 14 2013
Berlin : German jihadists are heading for Syria in increasing numbers, unencumbered by travel formalities and able to integrate quickly into foreign militant groups where Arabic is not needed, the head of Germany's domestic intelligence said.
Hans-Georg Maassen, head of the Bundesamt fuer Verfassungsschutz since 2012 (BfV), said intelligence officers knew of 220 German citizens fighting in Syria, but the actual number could be much higher, and had risen sharply this year.
"For young people wanting to wage jihad, Syria is very interesting," he said in an interview.
"It is easy to get to, you only need an identity card, a flight to Turkey then a domestic flight to the border."
Full report at:
http://www.indianexpress.com/news/at-least-220-german-jihadists-fighting-in-syria-says-intel-chief/1194682/
------------
Russia fears return of fighters waging jihad in Syria
Nov 14 2013
Novosasitli, Russia : A scrawny 15-year-old this summer became the first from his deeply religious Muslim village in Russia's southern Dagestan province to die fighting alongside rebels in Syria.
Some regard him as a martyr for joining the rebels in the fight against Syrian President Bashar al-Assad who is supported by Russia.
Moscow now fears that hundreds of Russian-born militants it says are fighting in Syria will return experienced in warfare to join an insurgency in Dagestan and its other North Caucasus provinces by militants fighting for an Islamic state.
Full report at:
http://www.indianexpress.com/news/russia-fears-return-of-fighters-waging-jihad-in-syria/1194847/
------------
France says Qaeda members 'neutralized' in Mali
14 November 2013
French forces have "neutralized" several al-Qaeda members in Mali's troubled north, where the group claimed responsibility for the execution of two French journalists, the chief of defense staff in Paris said Thursday.
The special operation overnight in the desert also led to the seizure of weapons, Admiral Edouard Guillaud said on Europe 1 radio. He did not specify if the Al-Qaeda members had been killed or captured.
Full report at:
http://english.alarabiya.net/en/News/africa/2013/11/14/France-says-Qaeda-members-neutralized-in-Mali-.html
---------
India
Muslim Prison Statistics Depict Bias, Analysts Say
14 November 2013
Rights activists and Muslim community leaders say the latest prison statistics support a long-held complaint: that Muslims in India are victims of bias in the judicial system.
According to the National Crime Records Bureau (NCRB)'s Prison Statistics India 2012, released in mid-September, 21% of under trials in Indian jails were Muslim, while Muslims comprised just 17.8% of all convicts. Under trials are detainees whose cases have not been resolved.
Hindus, by contrast, formed 69.9% of under trials and 71.4% of convicts. For Sikhs, the figures were 4% and 4.9% respectively, while for Christians, they were 3.5% and 4%.
The data appears to suggest more Muslims are wrongfully arrested than is true for other religious groups.
Full report at:
http://khabarsouthasia.com/en_GB/articles/apwi/articles/features/2013/11/14/feature-01
------------
NCM to work with real estate website on Muslim property issue
14 November 2013
New Delhi : National Commission for Minorities will work with a real estate website and Shehzad Poonawala, AIMA founder, to deal with cases of prejudice against Muslims in property matters.
Poonawala and Sanjeev Bikhchandani of real estate website '99acres.com' met NCM Chairperson Wajahat Habibullah yesterday to discuss the issue.
The Commission has accepted their offer to develop policy recommendations against discrimination of minorities, particularly Muslims, on religious/ethnic grounds in real estate sector.
Full report at:
http://www.indiatvnews.com/news/india/ncm-to-work-with-real-estate-website-on-muslim-property-issue-30369.html
------------
Hurriyat wants a more hawkish Pak
November 13, 2013
A day after Hurriyat separatists met Sartaj Aziz, advisor to Pakistan Prime Minister Nawaz Sharif, it now transpires that both sides indulged in some plain speak, with the former virtually accusing Islamabad of side-stepping the Kashmir issue in favour of a bilateral dialogue with New Delhi. Aziz, on his part, told the Hurriyat leaders in separate meetings last Sunday that the Kashmir issue will be resolved through peaceful bilateral negotiations with India.
Full report at:
http://www.hindustantimes.com/india-news/hurriyat-wants-a-more-hawkish-pak/article1-1150511.aspx
------------
Google's India-Pak reunion ad strikes emotional chord
TOI Tech | Nov 14, 2013
NEW DELHI: Google has long been the default search engine for Indians, and with the company's Android operating system, its reach has only grown. The Indian arm of the internet giant has released a new commercial on YouTube highlighting how it brings people closer.
The advertisement, which has gone viral within hours of hitting the web, shows an Indian man called Mr. Mehra reminiscing about his time with his friend Yusuf before the partition in 1947 separated them. He describes to his granddaughter Suman the locales of Lahore where the two spent their childhood and how they used to steal 'jhajariyas' from Yusuf's sweet shop.
Full report at:
http://timesofindia.indiatimes.com/tech/tech-news/internet/Googles-India-Pak-reunion-ad-strikes-emotional-chord/articleshow/25753015.cms
------------
CBI wants Pak to identify 2 killed along with Ishrat
November 14, 2013
The Central Bureau of Investigation, which is probing the Ishrat Jahan fake encounter case, has sent a judicial request — Letters Rogatory (LR) — to Pakistan, seeking information on two of the four victims. Pakistan is yet to respond.
Jishan Johar and Amjad Ali were said to be Pakistan nationals and Lashkar-e-Taiba operatives, sent to Ahmedabad on a terror mission. The FIR in the case, lodged by the Gujarat police, said they had come to India via Jammu and Kashmir.
Full report at:
http://www.hindustantimes.com/india-news/cbi-wants-pak-to-identify-2-killed-along-with-ishrat/article1-1150956.aspx
----------
200,000 Dawoodi Bohras attend Mumbai's Moharram discourses
14 November 2013
Nearly 200,000 Dawoodi Bohras from all over the world attended the 10-day Moharram observance which culminated here Wednesday as Ashura, under the guidance of their 102-year-old spiritual head Syedna Mohammed Burhanuddin.
The solemn occasion of Ashura symbolises the tragic martyrdom of Imam Husain, the grandson of Prophet Mohammed. The events leading to the martyrdom were the subject of the discourses during the past nine days.
The Syedna, and his heir apparent, Syedia Mufaddal Bhaisaheb Saifuddin, recounted with fervour Imam Husain's sacrifices for the cause of Islam and remembered his contributions to humanity.
Full report at:
http://newindianexpress.com/nation/200000-Dawoodi-Bohras-attend-Mumbais-Moharram-discourses/2013/11/13/article1888815.ece
---------
Cameron concerned with terrorism in India
Debasis Konar, TNN | Nov 14, 2013
KOLKATA: British Prime Minister David Cameron, who is on a day-long visit to India, stressed on combating terrorism during his stay in Kolkata.
During an interview with All India Radio (AIR), Cameron said that UK was ready to fight terrorism jointly with India. He added that he was ready to provide necessary support to India to handle the terror issue more effectively.
Cameron mentioned during his interview with AIR that increasing bi-lateral co-operation with India was needed.
Full report at:
http://timesofindia.indiatimes.com/city/kolkata/Cameron-concerned-with-terrorism-in-India/articleshow/25772800.cms
------------
South Asia
Militants kill two Afghan policemen in Chaman
SYED ALI SHAH
2013-11-14
CHAMAN: Armed militants killed two Afghan police personnel near the Pak-Afghan border in Chaman on Thursday morning, a senior administration official said.
Ismail Ibrahim, Assistant Commissioner of Chaman, told Dawn.com that armed militants killed two personnel of Afghan police hailing from the Kandahar province.
He said police discovered the dead bodies in the Boghra area of Chaman, Pakistan's neighboring town with volatile southern Afghanistan. A chit was also found with the bodies stating that "those working with Afghan forces would meet the same fate", he said.
The dead bodies were rushed to the Civil Hospital in Chaman for postmortem.
There was no immediate claim of responsibility for the killings.
However, a police official, who did not want to be named, said Afghan Taliban were behind the killings.
Full report at:
http://www.dawn.com/news/1056329/militants-kill-two-afghan-policemen-in-chaman
------------
Maldives President takes MVR 525,000 for presidential trip, days before election
By Mariyath Mohamed | November 14th, 2013
The Ministry of Finance has approved a budget of MVR 525,000 (USD 34,047) for President Mohamed Waheed Hassan's trip abroad two days before the run-off election.
Waheed has previously described a personal trip to Singapore to attend to First Lady Ilham Hussain's medical matters.
Waheed, who on Sunday an hour before his presidency expired declared that he would remain in office until run off polls take place on November 16, is scheduled to leave on Thursday night just over a day before the polls.
Waheed's decision – based on a Supreme Court verdict signed by the four judges who had annulled the initial September 7 presidential election – contradicts a parliamentary motion to appoint the Speaker of Parliament as an interim president, citing Article 124 of the constitution.
Full report at:
http://minivannews.com/politics/waheed-takes-mvr-525000-for-presidential-trip-days-before-election-71650
------------
Maldives re-elected unopposed to UN Human Rights Council
By JJ Robinson | November 13th, 2013
The Maldives has been elected unopposed to the UN Human Rights Council for a second term, despite controversy over the legitimacy of the government.
"The Maldives believes that increasing the human rights resilience of the new and emerging democracies should be a priority for the Council and the entire UN system. The Maldives, being an emerging democracy itself, is ideally placed to contribute to the Council's efforts in helping human rights promotion in such countries," read a statement from the Maldivian Foreign Ministry.
Full report at:
http://minivannews.com/politics/maldives-re-elected-unopposed-to-un-human-rights-council-71607
------------
Buddhist monks rally against visit by Muslim body
14 November 2013
YANGON: Around 300 Buddhist monks marched through Yangon Tuesday in protest at a looming visit by delegates from the world's top Islamic body to Myanmar, which has been rattled by several bouts of anti-Muslim violence.
A delegation from the Organisation of Islamic Cooperation (OIC) will meet with Muslims and Buddhists during their stay later this week, according to a senior official.
Attacks against Muslims in Buddhist-majority Myanmar have overshadowed widely praised political reforms overseen by the former general since military rule ended in 2011.
Full report at:
http://www.thenews.com.pk/article-126173-Buddhist-monks-rally-against-visit-by-Muslim-body
------------
Hindu houses in Bangladesh looted in planned way: Probe body
14 November 2013
Police on Tuesday night and Wednesday morning arrested four more accused in the three cases filed for November 2 attack on Hindu houses at Sahapara and Ghoshpara of Bonogram village in Santhia Upazila under the district.
A group of youths attacked and looted houses of Hindus in the area after creating sensation by saying that one Rajib Saha maligned Prophet Mohammad (pbuh) in a Facebook page.
"A total of 16 accused have so far been arrested in connection with the incident. Of them one has already made confessional statement," said Abu Bakar Siddik, assistant superintendent of police in Pabna.
Full report at:
http://www.thedailystar.net/beta2/news/hindu-houses-looted-in-planned-way-probe-body/
------------
China pressures Muslim Uighur lawyer families on burqas, beards
14 November 2013
(Reuters) - China's far-flung western region of Xinjiang is demanding that lawyers guarantee family members don't wear burqas or grow long beards, the latest government move critics say unfairly targets the region's Muslim Uighur ethnic community.
Lawyers in Turpan, an oasis city southeast of the regional capital, Urumqi, have to sign a pledge denouncing extremism and participation in "illegal religious activities", the Xinjiang judicial affairs department website said on Tuesday.
"Lawyers must commit to guaranteeing that family members and relatives do not wear burqas, veils or participate in illegal religious activities, and that young men do not grow long beards," the statement said.
Full report at:
http://in.reuters.com/article/2013/11/13/china-xinjiang-idINDEE9AC0CU20131113
------------
Uyghurs Commemorate East Turkestan Anniversary
14 November 2013
Ethnic Uyghurs from around the world gathered in Washington this week to commemorate the anniversary of two short-lived independent republics set up by their forefathers within what is today called the Xinjiang Uyghur Autonomous Region in China.
Around 100 Uyghurs attended a ceremony on Tuesday at Capitol Hill in Washington to remember the establishment of East Turkestan republics on Nov. 12 in 1933 and 1944.
Ughyur activist and president of the Munich-based World Uyghur Congress Rebiya Kadeer praised the efforts of those who had founded the republics and called on the Uyghur people to remain strong in spirit despite what she called a policy of "repression" under the current Chinese government.
Full report at:
http://www.uyghurcongress.org/en/?p=21362%20Uyghurs%20Commemorate%20East%20Turkestan%20Anniversary
------------
North America
U.S. blocks report telling how UK went to war with Iraq
14 November 2013
The United States is behind the delaying a key report's release showing how the UK went to war with Iraq, London-based daily The Independent reported on Wednesday.
White House and State Department officials are behind the blocking of the four-year Chilcot inquiry, which the UK's Cabinet Office has been criticized for halting.
The newspaper saw drafts of the report earlier this year which challenged the official story of the UK's entry into the Iraq war, mainly related to exchanges with then-PM Tony Blair and former president George W. Bush.
A diplomatic source quoted by the independent said that the U.S. is "highly possessive when documents relate to the presence of the President or anyone close to him," according to the daily.
Full report at:
http://english.alarabiya.net/en/News/world/2013/11/14/U-S-blocks-report-telling-how-UK-went-to-war-with-Iraq.html
------------
Pakistani National Faces Trial in US over Unmet Quest for Jihad
14 November 2013
WASHINGTON: FBI has charged a Pakistani national living in North Carolina over desiring to join Jihad in Syria and become a martyr. According to details available through media, Basit Sheikh, 29, a legal resident in United States came in contact with an undercover FBI agent believing him to be a member of Syrian Al-Nusrah Front and shared his plans to join Jihad in Syria. Al-Nusrah Front was declared a terrorist entity last year. Undercover FBI agent Jason Maslow revealed in a 25-page affidavit that he became in contact with Basit Sheikh in April 2013 after he posted several times on Facebook in support of Al-Nusrah Front pretending to be a member of the group. Court documents further reveal that Basit reportedly made numerous attempts to visit Syria with an aim to join Jihad over past one year.
Full report at:
http://www.pakistantribune.com.pk/6330/pakistani-national-faces-trial-us-unmet-quest-jihad.html
------------
Jewish-Muslim Alliance at Pierrefonds High School
14 November 2013
MONTREAL – An alliance was formed between Jewish and Muslim students at Riverdale High School on Tuesday.
While the gathering focused on the Muslim festival of sacrifice, it also allowed students from diverse backgrounds to share their stories and find common ground.
Imam Muhammad Nasir Qadri started the celebration by explaining the story behind Eid, and the importance of sacrifice.
The Muslim leader encouraged students to make sacrifices in their own lives to achieve peace in their own circle of friends.
Full report at:
http://globalnews.ca/news/963325/jewish-muslim-alliance-at-pierrefonds-high-school/
----------
Southeast Asia
Selangor Sultan reminds non-Muslims in state not to use Allah
14 November 2013
The Sultan of Selangor, Sultan Sharafuddin Idris Shah (pic), for a second time this year has called on non-Muslims in the state to not refer to God as Allah.
Selangor Royal Council secretary Hanafisah Jais issued a statement today on behalf of the Sultan, calling on his people to adhere to Section 9 of the Non Islamic Religions (Control of Propagation against Muslims) Enactment 1988, which classifies use of certain words and expressions of Islamic origin without the state's authority as a religious offence in the state.
This was done after he consulted with the Selangor Royal Council on Monday, the statement added.
Full report at:
http://www.themalaysianinsider.com/malaysia/article/selangor-sultan-tells-non-muslims-in-state-to-not-use-allah-again
------------
Malays will lose identity if Maths and Science are taught in English, say Islamic students
14 November 2013
To revert to teaching Science and Mathematics in English will cause the Malays to lose their identity and it is contrary to the spirit of the Federal Constitution which spells out Bahasa Malaysia as the official language, an Islamic students group said.
In an obvious retort to a call by former Prime Minister Tun Dr Mahathir Mohamad for Putrajaya to revert to teaching Science and Mathematics in English (PPSMI), National Association of Islamic Students president Muhamad Aliemran Norasid questioned if the country's leaders have attained the same level of maturity as the nation, which achieved Independence more than 50 years ago.
Full report at:
http://www.themalaysianinsider.com/malaysia/article/malays-will-lose-identity-if-maths-and-science-are-taught-in-english-say-is
------------
Mideast
Turkey: Student-Cohabitation Fight about Rights, Not Religion
14 November 2013
Whether or not students of the opposite sex should live together is the latest controversy to envelop Turkish Prime Recep Tayyip Erdogan. But this time there's a twist to the story: the prime minister is facing criticism from various corners, including from elements among his own conservative, pro-Islamic base.
Erdogan touched off the controversy during a November 6 news conference when he condemned the concept of unmarried males and females living together. "How is it possible that a girl and a boy can live together in a private property?" Erdogan asked. "Can you tolerate such a thing for your daughter or your son?"
Interior Minister Muammer Güler at one point tried to frame the cohabitation issue within the context of "the fight against terrorism." Students later held a peaceful demonstration on November 11 against an Erdogan proposal to ban mixed private housing for male and female students.
Full report at:
http://www.eurasianet.org/node/67759
------------
Israel troops enter Gaza drawing mortar fire: Witnesses
14 November 2013
Israeli troops backed by armour entered the Gaza Strip on Thursday, drawing mortar fire from Palestinian militants, witnesses said, without immediately reporting any casualties.
The incursion, east of the southern Gaza city of Khan Yunis, came as Middle East peace talks faltered with the resignation of the entire Palestinian negotiating team in protest against continued Israeli settlement building.
"Six military bulldozers accompanied by several tanks entered about 200 metres (yards) from the border into farmland, as helicopters and spy planes circled above near the village of Khuzaa," one witness told AFP.
Full report at:
http://english.ahram.org.eg/NewsContent/2/8/86456/World/Region/Israel-troops-enter-Gaza-drawing-mortar-fire-Witne.aspx
------------
Israel agrees to return stolen organs of dead Palestinians
14 November 2013
Israel has agreed to return organs of dead Palestinians harvested by its forensic pathologists during autopsies, Palestinian Civil Affairs Minister Hussein al-Sheikh told Ma'an news agency on Wednesday.
Head of Israel's Abu Kabir forensic institute, Jehuda Hiss, had admitted harvesting organs from dead bodies without the permission of their families.
"We started to harvest corneas ... Whatever was done was highly informal. No permission was asked from the family," Hiss said in an interview with an American academic in 2000. The interview was released in 2010 and part of it was aired by Israel's Channel 2 TV.
Full report at:
http://english.alarabiya.net/en/News/middle-east/2013/11/14/Israel-agrees-to-return-stolen-organs-of-dead-Palestinians.html
----------
Africa
23,000 Ethiopians surrender in Saudi Arabia
14 November 2013
Riyadh: Some 23,000 Ethiopians have handed themselves in since Saudi authorities clamped down on illegal foreign workers 10 days ago, Ethiopia's ambassador in Riyadh said in remarks published on Wednesday.
The crackdown was marred by clashes between police and Ethiopian migrants on Saturday that led to the deaths of three people in the poor Manfuhah neighbourhood of Riyadh.
Ambassador Mohammad Hassan Kabiera told the English-language Arab News daily that the clashes "occurred because the illegal workers were frustrated they did not have a way to surrender to the police".
The workers took to the streets to voice their concerns, prompting "clashes with some youths in the neighbourhood", he said.
Full report at:
http://gulfnews.com/news/gulf/saudi-arabia/23-000-ethiopians-surrender-in-saudi-arabia-1.1254774
------------
Libya 'seeks to make its laws more Islamic'
14 November 2013
Libya is seeking to revise existing legislation to make it conform more to Islamic sharia law, a justice ministry document obtained by AFP shows.
The text announces the establishment of a "committee charged with revising current legislation and to propose amendments that would not contradict the fundamental rules and regulations of Islamic law".
It said the 16-strong committee would be nominated by the supreme court and the Mufti, a religious expert on sharia.
The committee, which would be chaired by a judge, would also include professors from Islamic universities, according to the document.
Full report at:
http://english.ahram.org.eg/NewsContent/2/8/86459/World/Region/Libya-seeks-to-make-its-laws-more-Islamic.aspx
------------
Nigeria offensive drives 40,000 refugees into Niger: UN
14 November 2013
Nigeria's army offensive against Islamist militants has pushed nearly 40,000 refugees over its northern border into Niger, a UN agency said, in a drive that is straining food supplies in the drought-prone country.
The United Nations estimated in June there were 6,000 refugees from Nigeria but the figure has soared as President Goodluck Jonathan has stepped up attacks on Boko Haram militants.
The UN Office for the Coordination of Humanitarian Affairs (OCHA) said in its latest monthly report that of a total 37,332 refugees, nearly 29,000 are officially Niger nationals and the rest are Nigerian.
Full report at:
http://english.ahram.org.eg/NewsContent/2/9/86421/World/International/Nigeria-offensive-drives-,-refugees-into-Niger-UN.aspx
------------
French priest kidnapped in Cameroon
14 November 2013
A French priest has been kidnapped in northern Cameroon close to the border with Nigeria, the French foreign ministry says.
Georges Vandenbeusch was seized in the early hours of Thursday in Koza, about 30km (19 miles) from the border.
"We are working with Cameroonian authorities to secure his release," French officials said in a statement.
Full report at:
http://www.bbc.co.uk/news/world-africa-24936965
----------
URL: https://newageislam.com/islamic-world-news/pilgrims-flood-iraq-shrine-bombs/d/24426