New Age Islam News Bureau
31 May 2018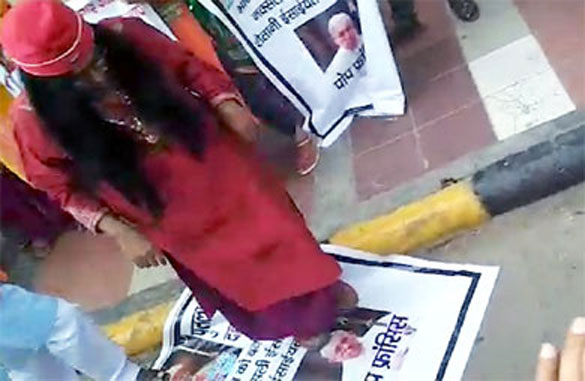 A still image of a man believed to be controversial Hindu leader Om Swami Maharaj stomping on a picture of Pope Francis. (YouTube screengrab)
-----
• Philippine Congress Passes Autonomy Bill for Volatile Muslim Region
• Eminent International Qaris Begin Journey from Hyderabad to Preach Peace, Islam Message
• Iraqi Christian Hits Pope's 'Submissive' Policy on Tolerance for Islam, Other Religions
• Palestine UN Envoy Calls On Global Community to 'Right a Historic Wrong'
Southeast Asia
• Philippine Congress Passes Autonomy Bill for Volatile Muslim Region
• Shut Jakim Right Away, Says Tawfik Ismail
• Jailed Indonesian Cleric's Terrorism Trial to Wrap up in Late June, Judge Says
• Muslim preacher accused of calling PDI-P members communists acquitted
• Pilgrims in limbo as Israel shuts borders to Indonesia
• Singapore, Malaysia authorities meet as 1MDB probe intensifies
--------
India
• Eminent International Qaris Begin Journey from Hyderabad to Preach Peace, Islam Message
• Pope's Image Trampled Amid Call To Make India Christian-Free
• Modi In Jakarta: How Muslim-Majority Indonesia Keeps Its Hinduism Alive
• Indonesia, India plan to develop strategic Indian Ocean port
• NIA was forced to drop idea of joint trial in Samjhauta Express, Mecca Masjid and Ajmer Dargah blast cases
--------
Arab World
• Iraqi Christian Hits Pope's 'Submissive' Policy on Tolerance for Islam, Other Religions
• Saudi-Backed Militants Plan Siege of Hudaydah despite Intl. Warnings
• Syria's Assad says Trump's 'animal' slur represents himself
• Muslim World League chief, Chechnya's grand mufti sign deal to combat extremism, Islamophobia
• Report: US Plotting for New Chemical Attack in Syria in Cooperation with Terrorists, Kurds
• Syrian Army Dispatches New Military Convoy to Quneitra Province
• Syrian Army Set to Boost Security Measures in Western Aleppo
• Hundreds of Militants Receive Gov't Amnesty in Southern Damascus
• Popular Uprising Reported against US Forces' Occupation in Northeastern Syria
• Terrorists' Strongholds Destroyed in Syrian Armed Forces' Attacks in Hama
• Syrian Army Repels ISIL's Heavy Offensives in Deir Ezzur
• Syria in Last 24 Hours: Army Sends More Troops to Dara'a
--------
Mideast
• Palestine UN Envoy Calls On Global Community to 'Right a Historic Wrong'
• Israel Approves 2,000 West Bank Settlement Units despite Outcry
• Netanyahu threatens Israel will 'act' against Iran 'anywhere in Syria
• Do 'we die slowly or quickly?' Gazans ask as war with Israel looms
• Yemeni armed forces say they are 15 km from Hodeidah city
• Saudi crown prince meets with Yemeni President Hadi
• Iranian Celebrities Openly Reject Rouhani's Invitation for a Ramadan Iftar
• US sought total confrontation with Iran by leaving JCPOA: Russia
--------
Africa
• 3 Al Shabaab Militants to Face Firing Squad for Hotel Attack
• Al-Shabaab Militants on Kenyan Border Are Planning Attacks, Police Say
• Nigerian University Stays Open, Ignoring Boko Haram Threats
• IMN renews call for release of leader Zakzaky
• Nigeria: One Year After Nigerian Officials Diverted Dates Donated By Saudi Arabia, No Culprit Identified, Punished
--------
Pakistan
• US Refuses to Place Religious Sanctions on Pakistan: Report
• PTI Plea against Scrutinisation Of Funding Sources By ECP Rejected
• Must carry forward gains of war to attain peace: COAS
• Committee formed to probe murder of prominent Sikh leader in Peshawar
One killed in Bajaur mosque attack
• IED blast kills two soldiers in North Waziristan: ISPR
• Sikh peace activist shot dead in Pakistan
--------
South Asia
• Taliban Leaders Involved In Farah City Attack Killed In Helmand HIMARS Strike
• Haqqani Network Likely Behind the Attack In Kabul: Gen. Nicholson
• Afghan officials and Taliban in ceasefire talks, Pentagon says
• Hasina says Bangladesh does not expect India to 'reciprocate the favour'
• Militants kill one in attack on interior ministry in Kabul
• Taliban attack kills six police in southern Afghanistan
• Taliban and police suffer casualties in Uruzgan airstrike
--------
Europe
• Muslim Group Tells Tories to 'Remove Islamophobia from Party'
• Europe's Biggest Prison Unfit to Cope with Jihadist Inmates
• UN chief vows to pursue push for Sahel anti-terror force
• ISIS claims deadly attack on Belgium police in Liege
• Terrorist PKK/PYD recruited scores in Germany
--------
North America
• New NSC Chief Of Staff Is From Group That Believes Muslims Are Plotting To Take Over U.S.
• US military says 50 Afghan Taliban leaders killed in rocket strike
• US general says some Taliban interested in peace
• US commander claims Taliban secretly talking to Kabul
• US imposes new sanctions against Iran
Compiled by New Age Islam News Bureau
URL: https://www.newageislam.com/islamic-world-news/philippine-congress-passes-autonomy-bill/d/115408
--------
Philippine Congress Passes Autonomy Bill for Volatile Muslim Region
May 31, 2018
Manila. The Philippines moved a step closer on Wednesday (30/05) to ending decades of conflict on its resource-rich island of Mindanao, after lawmakers approved a bill that will eventually allow self-rule for the country's Muslim minority.
Lower house lawmakers voted 227 to 11, with 2 abstentions, to pass the Bangsamoro Basic Law (BBL), seen as key to forging lasting peace with separatist rebels and thwarting the rise of Islamist extremism in the nation's poorest and most dangerous region.
The bill is the result of a 2014 peace deal between the Moro Islamic Liberation Front (MILF) and the government to end nearly 50 years of conflict that has killed more than 120,000 people and displaced 2 million.
It outlines the process to set up a self-administered territory in an area sometimes referred to as Bangsamoro (nation of Moros), encompassing mountains, islands and jungles that is home to at least 4 million people, mostly Muslim.
President Rodrigo Duterte, who was the mayor of a city on the southern island for 22 years, has stressed the importance of getting the legislation passed and certified it as an urgent bill on Tuesday to get it approved before a house recess on June 2.
The 22-member Senate has committed to Duterte to pass its counterpart version soon, before a panel of both houses combines both drafts in a version for the president's final approval.
The previous administration met numerous hurdles and failed to pass the bill, fueling resentment and mistrust among many minority Muslims.
Duterte has warned that another failure could be disastrous and play into the hands of extremist groups like Islamic State, which inspired a militant alliance to seize Marawi City last year for five months.
The battle for Marawi was the biggest the Philippines has seen since World War Two and stoked wider concerns that Islamic State had ambitions to turn Mindanao into a base for its operations in Southeast Asia.
Hundreds of people were killed in Marawi, more than 350,000 were displaced and half the city was left in ruins. Martial law is still in force across Mindanao.
Though some militants who fought in Marawi were former MILF members, the group has denounced radical Islam and has a good relationship with Duterte.
Mindanao, an island the size of South Korea, is the Philippines' most underdeveloped region, but is home to most of its nickel mines and biggest fruit farms, besides vast tracts of land the government wants to convert into palm oil plantations.
But its notorious clan wars, lawlessness and conflicts with Muslim and communist rebel groups have kept investors at bay.
Once signed into law, Bangsamoro will have its own executive, legislature and fiscal powers, but the central government will continue to oversee defense, security, foreign affairs, and monetary policy.
http://jakartaglobe.id/international/philippine-congress-passes-autonomy-bill-volatile-muslim-region/
--------
Eminent International Qaris Begin Journey from Hyderabad to Preach Peace, Islam Message
May 30, 2018
CHARMINAR: Eminent international reciters of Quran (Qaris) have commenced their countrywide spiritual movement from the city on Tuesday. Islamic scholars participating in the movement will spread the messages of peace during their journey across the country.
The campaign commenced with Egyptian reciters demonstrating the art of recitation of Holy Quran in seven different intonations. World-renowned Qari Al Shaikh Samey Ahmed Zain from internationally famous seminary Jamia Azhar, Egypt, and Qari Samiullah Khan from Karnataka demonstrated their Qirat skills.
The Qaris will be in Kashmir on 31st May at Dargah Mahbub Maula on the invitation of Chief Minister of Jammu and Kashmir Mehbooba Mufti.
Addressing a press conference, convener of the movement Maulana Peer Shabbir Naqshbandi said, "The Prime Minister's office has offered to cooperate in spreading the message of universal brotherhood, love, peace and fraternity."
The Qaris said the Prime Minister of India Narendra Modi offered to spread Quranic teachings in India to eliminate misunderstandings about Islam and teachings of Quran, adding that the movement is being organised to spread the Quranic values of peace and love.
https://timesofindia.indiatimes.com/city/hyderabad/qaris-begin-journey-from-hyderabad-to-preach-peace-islam-message/articleshow/64382094.cms
--------
Iraqi Christian Hits Pope's 'Submissive' Policy on Tolerance for Islam, Other Religions
May 31, 2018
ERBIL, Iraq – Iraq's Christian community, still struggling to pick up the pieces of a genocidal ISIS campaign to wipe them from their ancestral homeland, are speaking up against Pope Francis and the Vatican for not doing enough to support their struggle for survival.
"We have actually been weakened by the stance taken by the Vatican," Aziz Emmanuel al-Zebari, 68, a Chaldean political candidate, community leader and professor at the Catholic University of Erbil (CUE), told Fox News in a recent interview. "The Vatican is teaching the community to be submissive. That won't help us get our rights."
In the view of Zebari and other Christians, the Pope's repeated emphasis on a greater tolerance for and understanding of Islam has left the deeply persecuted Chaldean minority feeling insecure and vulnerable. It has also sparked internal divide between those who follow the Pope's guidance and others – like Zebari – who insist their survival rests on being much more on outspoken.
Zebari referred to the Pope's approach as "naïve and short-sighted." For those like the Chaldean community leader – who are far from the comforts of Rome and remain in the line of fire – their lives are marked by a continual sense of the unknown.
"There can't dialogue when one party is down and the other party has the upper hand," Zebari lamented. "There is no equal ground here."
Zebari said Chaldeans "have paid a high price for being Christian, and we cannot prevail without protection. When I am displaced, when my family is threatened with sexual violence and I'm then told just to pray and be tolerant..."
The Chaldeans belong to the Eastern Catholic Church that, while technically independent of Rome, recognizes and looks to the Pope as the authority. The Chaldeans, along with the Assyrians, make up the two major Christian groups in Iraq.
Since the sudden rise of ISIS in 2014, in which it quickly gained control of huge swaths of traditionally Christian lands across Iraq's Nineveh Plains, the Pope routinely took the posture of speaking staunchly in defense of Islam and religious tolerance all around.
In May 2016, when the ISIS invasion was at its bloody pinnacle, the Pope asked that everyone pray God would "convert the hearts" of the deadly perpetrators, and stressed that it was wrong to identify Islam with violence. Pope Francis has instead blamed social injustice and worship of money as being among the leading causes of terrorism.
He has condemned those who support anti-immigration policies, urged Christians to take in Muslim refugees, and housed Muslim refugees in the Vatican to send a message of inclusiveness. He also campaigned repeatedly for religious tolerance and "inter-faith" dialogue.
But earlier this year, Iraqi Chaldean Archbishop Bashar Warda of Erbil spoke more directly to problems within Islam. He spoke in a speech at Georgetown University about the "fundamental crisis within Islam itself," and warned that if the crisis were not acknowledged, addressed and fixed, "there can be no future for Christians in the Middle East." He encouraged "courageous voices from Islamic leaders" to continue highlighting the need for change.
The Archbishop did not respond to a request for further comment.
There are believed to be less than 200,000 Christians left in Iraq – down from 1.4 million 30 years ago, according to Iraqi census data. Most now live in the semi-autonomous Kurdish region in the north, and in the ISIS-battered areas of the Nineveh Plains on the outskirts of Mosul.
Zebari also lamented that in their fragile post-ISIS world, Christians have become more weak politically. On May 12 he ran – without success – for one of the just five seats reserved for Christians in Iraqi Parliament, out of 329 total seats. The winner was 32-year-old Rayan al-Kildani, leader of the controversial Christian militia known as the Babylon Brigade, which took two seats and is closely aligned to the Badr Organization, a Tehran-founded political party and militia largely supported by the Shia Muslim community.
Zebari cautioned the Christian community is being further "dissolved" by demographic changes in the post-ISIS era, with Shia-aligned groups moving into areas traditionally Christian pockets.
"Our Christian ruins have been destroyed, we have lost hundreds of our villages and we are on the brink of extinction," Zebari, who is an advocate for establishing an emergency autonomous Christian canton within Iraq.
"Based on everything we have been through – the violence, the kidnappings and the political pressure from all sides – we cannot exist without political and legal power. The important thing is to have our own political entity."
Zebari also acknowledged that the Christian plight has been hindered because of a regional split – with half the Christians in the Kurdish region answering to Erbil, and other half in the central government terrain answering to Baghdad – a concern that could possibly be solved if afforded their own independent state.
Zebari said despite their pleas, Christian efforts and greater unification have been "undermined" by the Vatican. He said the Pope has been "more a politician than a Patriarch" when it comes to taking a side on a wide array of global affairs.
"We don't expect any support from the Vatican," Zebari said. "We are in a hopeless situation."
Zebari said without more Vatican support, Christians have had to rely on "negligible" aid support from churches in Europe, and donors across the United States.
The Vatican did not respond to a request for comment. But statements released by their press office have noted various funding efforts to assist Christians in Iraq. The Pope recently auctioned off a "blessed" Lamborghini – which fetched almost $1 million – to support the rebuilding of homes and places of prayer in northern Iraq.
And Chaldean priest and leader in the southern California diaspora community, Father Noel Gorgis, acknowledged that while "the Vatican can always to more to water the tree of faith in Iraq," he called Pope Francis's words "inspirational to Chaldeans all around the globe."
Other Chaldean activists, such as Mark Arabo of the Minority Humanitarian Foundation, acceded that the "Pope has served as a vessel for hope to many of these Iraqi Christians," and that they are working with the Church leadership to ensure that the "Vatican assists in the rebuilding of historical Christian sites that had been ravaged by ISIS."
This coming July, Pope Francis will also convene heads of churches and Christian communities from the Middle East in Bari, Italy for another day of prayer and reflection.
For Zebari, such convictions without action are coming tried and true.
"The future is bleak for Christians here," he predicted. "And I don't see much light at the end of the tunnel."
But there is one small silver lining for the ailing religious minority. Defying the terrorist threat and rampant displacement, in late 2015 the Chaldean Catholic Archdiocese of Erbil formally opened the CUE in the Christian enclave of Ankawa. Today, Zebari and his student body – many still rendered homeless and deeply scarred by the ISIS onslaught – continues on with the goal of enabling Iraqi Christians, and some Muslim students too, the opportunity to make a powerful dent in the world.
CUE currently features seven departments – including IT, international relations, economics, accounting, English, oriental studies and computer sciences – with the hopes to add dentistry and architecture to the list this year.
"We want more students to join us," Zebari added. "We want more in the community to have this opportunity."
http://www.foxnews.com/world/2018/05/30/iraqi-christian-hits-pope-s-submissive-policy-on-tolerance-for-islam-other-religions.html
--------
Palestine UN envoy calls on global community to 'right a historic wrong'
May 31, 2018
Palestine's permanent envoy to the United Nations Security Council has called on the global community to "right a historic wrong."
Riyad Mansour made the remarks on Wednesday while addressing an emergency session of the Security Council called by the US over the recent flare-up of conflict in the besieged Gaza Strip.
Israeli tank fire and airstrikes hit Gaza on Tuesday. The Tel Aviv regime said its assault came in response to a barrage of rocket and mortar rounds fired at the occupied territories.
The military wings of Hamas and the Palestinian Islamic Jihad claimed "responsibility for the striking of military positions and Zionist settlements," saying their strikes were in response to Israeli attacks targeting their positions in recent days.
'Gaza on the brink of war'
UN envoy for the Middle East Nickolay Mladenov warned the council that the flare-up of the conflict between Palestinians and Israelis in the Gaza Strip may result in war.
"This latest round of attacks is a warning to all of how close to the brink of war we are every day," he said.
"No one in Gaza can afford another war," he added.
France warned the council that the failure to agree on a response to the Gaza crisis was damaging to the United Nations.
"This increasingly heavy silence, which is becoming deafening, is not acceptable," said French Ambassador Francois Delattre.
"It is not acceptable for the Palestinian and Israeli populations who are affected by this conflict. It is not acceptable for the world that is watching us," he added.
The United States called on the UN body to condemn Palestinian rocket attacks but the move was blocked by Kuwait, which argued that it had presented its own draft resolution that addressed the situation.
Kuwait called for the council to vote on its resolution by the end of the week and called for the consideration of measures "for the protection of Palestinian civilians."
Tensions have been running high along the Gaza fence since March 30, which marked the start of a series of protests, dubbed "The Great March of Return," demanding the right to return for those driven out of their homeland.
The Gaza clashes reached their peak on May 14, the eve of the 70th anniversary of the Nakba Day (the Day of Catastrophe), which coincided this year with the US embassy relocation from Tel Aviv to occupied Jerusalem al-Quds.
At least 65 Palestinians were killed and more than 2,700 others wounded as the Israeli forces used snipers, airstrikes, tank fire and tear gas to target the Gaza demonstrators on May 14.
Israel conducts regular air raids on Palestinians in Gaza under the pretext of hitting Hamas targets. The Gaza Strip has also been under an inhumane Israeli siege since 2007.
Tel Aviv has waged three wars on the coastal enclave since 2008, including the 2014 offensive, which left more than 2,200 Palestinians dead.
http://www.presstv.com/Detail/2018/05/31/563419/unsc-gaza-us-mansour
--------
Southeast Asia
Shut Jakim right away, says Tawfik Ismail
Sheith Khidhir Bin Abu Bakar
May 31, 2018
PETALING JAYA: A frequent critic of the Malaysian Islamic Development Department (Jakim) has voiced his opposition to a plan to evaluate the agency's role, saying it should be dissolved straight away.
"Jakim is redundant as a religious body," said Tawfik Ismail, who served as MP for Sungai Benut from 1986 to 1990.
He spoke to FMT in reaction to Putrajaya's announcement that a committee would be appointed to decide whether Jakim should continue with its current role or "revert to its original purpose".
Explaining his assertion that the department is redundant, he said: "In the case of halal certificates, the state religious departments are empowered to issue them. If ingredients need to be checked, we have the health and agriculture ministries, which have all the necessary equipment and expertise.
"Moreover, if an item is halal in, say, Egypt or Saudi Arabia or Jordan, why would it need the Malaysian halal certification? This adds to the cost, putting consumers at a disadvantage.
"And there are complaints that the manufacturer has to pay all charges for a Jakim team to verify the halal quality of a product, even if the product is manufactured in Malaysia."
Tawfik questioned whether the attempt to save Jakim was really an attempt to save Prime Minister Dr Mahathir Mohamad's face.
"Mahathir doesn't want to admit that setting up Jakim was wrong and that it was done only in an attempt to paint himself as more Islamic than PAS."
He also said he suspected that Jakim had gone beyond what Mahathir initially had in mind for it, adding that this might be the reason for the controversial actions taken in recent years by itself and other religious bodies that likely followed its example.
"There were the ridiculous issues over hot dogs and root beer, the court action against Borders Bookstore, and the shaming of Mustafa Akyol."
In May 2012, Borders manager Nik Raina Abdul Aziz was charged by the Federal Territories Religious Department (Jawi) for allegedly selling a book that defiled Islam. The civil Court of Appeal eventually found that the book, Irshad Manji's "Allah, Liberty and Love", had not been prohibited by any religious authority or the home ministry at the time the charge was made in a shariah court.
The appellate court concluded that Nik Raina was charged simply because she was a Muslim and because Jawi could not exercise its jurisdiction over her employer or her non-Muslim supervisor. It ruled that the proceedings against her were "unreasonable" and "irrational" and offended "the principle of fairness and justice".
Last September, Akyol, a Turkish journalist, ran into trouble with the religious authorities during a visit to Malaysia for allegedly teaching Islam without credentials.
FMT's attempts to reach Jakim for its comment on Putrajaya's plan have failed.
http://www.freemalaysiatoday.com/category/nation/2018/05/31/shut-jakim-right-away-says-tawfik-ismail/
--------
Jailed Indonesian Cleric's Terrorism Trial to Wrap up in Late June, Judge Says
2018-05-30
Judges will decide the fate of Aman Abdurrahman, a terrorism defendant accused of mentoring Islamic State followers in Indonesia, on June 22, a judge said Wednesday.
Prosecutors are seeking the death penalty for the radical cleric they accuse of masterminding terror attacks that killed nine people, including a 2-year-old girl, in 2016 and 2017.
"The hearing will be after Lebaran," head judge Akhmad Jaini said in announcing the sentencing date in South Jakarta District Court, using the Indonesian term for the holiday that ends Ramadan and falls this year in mid-June.
Aman is the de facto leader of Islamic State (IS) supporters in Indonesia, according to the U.S. Department of the Treasury. In January 2017 the U.S. government designated him a "global terrorist," alleging that he founded the militant group Jamaah Ansharut Daulah (JAD), composed of two dozen pro-IS groups.
If Aman is found guilty, it will be his third terrorism conviction. He had previously been sentenced in 2005, after an explosive device detonated in his residence, and again in 2010, for involvement in a terrorism training camp in the mountains of Aceh.
Jihad call on social media
Prosecutors say Aman is a key IS ideologue who was responsible for a series of terrorist acts in Indonesia, the world's largest Muslim-majority nation, in 2016 and 2017, although he was in prison at the time.
They include a terror attack on a busy Jakarta boulevard in January 2016; a Molotov cocktail blast at a church in Samarinda, East Kalimantan province in November 2016; a suicide attack at a Jakarta bus station in May 2017; and attacks on police in West Nusa Tenggara and North Sumatra. Nine people, including a 2-year old girl, were killed in the attacks.
Aman insisted again in court Wednesday he knew nothing of the incidents and heard about them only after they occurred.
"If it's linked to the principle of declaring this a non-believer government, please, punish me with any punishment. If you want it to be a death sentence, please go ahead," the 46-year-old told the court on Wednesday. "If it's linked to [terrorism] cases, in this trial there has not been even one witness who stated I was involved."
Prosecutor Anita Dewayani said Aman was linked to the attacks because they were carried out by members of the Jamaah Ansharut Daulah (JAD) network he created.
"It's not a coincidence," she said. "What's more, the defendant also released a written appeal that circulated on social media in 2015."
The appeal called for followers to carry out jihad wherever they were, and if they were unable to migrate to Syria, to do jihad in the form of supporting others through words or donations.
"That appeal incited and provoked his followers to carry out jihad, resulting in bombings and murders," the prosecutor said.
Aman's lawyer, Asludin Hatjani, asserted that no fact laid out in court had demonstrated that his client was involved in acts of terrorism.
"He only encouraged his followers to migrate, not to spread terror in their own country," Asludin said.
He said his client had stated in court that recent suicide bombings at churches in Surabaya did not align with his teachings.
"The people who carried out or endorsed the events in Surabaya, are mentally ill," Aman said in court at a previous session.
Aman's trial spotlighted the loopholes in Indonesia's overcrowded prison system, where terrorism plots are hatched and banned materials, including cellphones, are smuggled in with ease, security analysts say.
Deportees Being Questioned
Separately, counterterrorism police were questioning five women and three children deported from Turkey for attempting to cross into Syria, officials said.
The eight returned to Indonesian on May 24 and were taken into custody of Densus 88, the elite counterterrorism force.
The five adults were identified as Irma Novianingsih, 24; Fitri Luthfiana, 43; Ainun Jariyah, 21; Wasiatun Nisa Damad, 33; and Qurrota Ayun Muhdi, 23. The children were aged 3, 9 and 12, authorities said.
Lalu Muhammad Iqbal, an Indonesian foreign ministry official, said the Turkish government intercepted the eight before they entered Syria.
"They have been handed over to Densus 88 for questioning," he said.
Turkish authorities have deported 492 Indonesians since 2015, according to Foreign Ministry data.
Setyo Wasisto, a police spokesman, told BenarNews that Densus 88 had one week to question the group.
"We don't yet have info on whether they were involved in ISIS or not. They are being examined," he said.
'In Shock'
Irma's parents said she had told them she was going to Kalimantan, the Indonesian portion of Borneo, to become a teacher.
"We are still in shock, from hearing this news," Riyadi, 47, tearfully told BenarNews at the family home in East Java's Tulungagung regency.
Since then, police and soldiers have searched the house and questioned them, she said.
Riyadi said Irma had not come home since bidding her parents farewell in June 2017, allegedly to teach in another province. "We did not know Irma left the country," said her father, Mujiatin, 50.
On campus, at the State Islamic Institute, at a state-run Islamic college in Tulungagung regency, Irma was known for being a private person who wore a long veil and interacted only with close friends,
Agus Ali Mashuri, a student acquaintance, said that sometime in early 2017 word got around that she was inviting friends to learn archery, an unusual activity for Indonesian women.
An assistant rector at the school, Abad Badruzzaman said she had dropped out at the beginning of her seventh semester at the school, after missing classes frequently during the previous semester.
East Java arrests
Meanwhile, East Java police spokesman Frans Barung Mangera said Densus 88 on Tuesday evening arrested four suspects linked to suicide bombings in Surabaya on May 13 and 14.
The individuals aged 42 to 54 were arrested in separate locations in nearby Probolinggo Regency, and one of them was a civil servant, he said.
Full report at:
https://www.benarnews.org/english/news/indonesian/indonesia-militants-05302018180059.html
--------
Muslim preacher accused of calling PDI-P members communists acquitted
May 30, 2018
Alfian Tanjung, a Muslim preacher and former lecturer charged with spreading hate speech for calling the Indonesian Democratic Party of Struggle (PDI-P) members "communists" on Twitter, was acquitted of all charges, as he had only "copied and pasted" information from dubious sources.
The Central Jakarta District Court ruled on Wednesday that what Alfian had done was not a crime.
Alfian had tweeted on his account last year that "85 percent of the Indonesian Democratic Party of Struggle members are [members] of the Indonesian Communist Party (PKI)."
The PKI was disbanded after being accused of being responsible for the putsch against president Sukarno and the killing of six Army generals in 1965.
Presiding judge Mahfudin argued that Alfian had just copied an unverified statement from a news portal that apparently was not registered with the Press Council.
"The defendant just copied and pasted the information on his social media account," he said, as quoted by tribunnews.com.
Full report at:
http://www.thejakartapost.com/news/2018/05/30/muslim-preacher-accused-of-calling-pdi-p-members-communists-acquitted.html
--------
Pilgrims in limbo as Israel shuts borders to Indonesia
May 31, 2018
Jakarta-based travel agency operator Asmi Sesawi is at his wits' end as he struggles to find a way to appease a group of clients relying on his services to get them on a tour of holy sites in Palestinian and Israeli territories, where a decades-long simmering conflict recently escalated.
"This is outrageous, the tickets have all been issued," he told The Jakarta Poston Wednesday, after local media outlets broke news of a ban by Israel on Indonesian nationals seeking entry into the country.
"Everyone is working hard to ensure the pilgrims from Indonesia can still make the trip."
Asmi owns Travel Stella Kwarta, one of many travel agencies that offer Indonesian Christians the opportunity to embark on a spiritual journey to holy sites such as the Church of Nativity in Bethlehem, which holds prominent religious significance as the birthplace of Jesus Christ.
He is currently in charge of a group of 30 Christians seeking access to the Promised Land.
His agency usually takes around 20 groups of 30 people to Israel every year. "I don't know how many people go there every year, but if we're talking all travel agents in Jakarta, there must be thousands of them," he said.
The current group, as well as others from the Muslim community with plans to enter Jerusalem, are now in limbo after Israel reportedly barred Indonesian passport holders from entering the country.
The report about Israel's move was widely circulated among travel agents offering trips to the Middle East on Wednesday.
"On May 29 we received a circular from the Israeli Ministry of Interior that was sent from our partners in Israel, saying that after June 9 Indonesian passport holders will not be able to enter Israel," a message issued by a travel agent in Surabaya, East Java, said.
The report quoted a notification issued by the Israeli Border Control Department based on an order from the country's Foreign Ministry.
The statement, which the Post obtained, said further that Indonesian tourists scheduled to enter Israel by June 9 would still be able to enter.
The website of the think tank Middle East Monitor quoted an Israeli Foreign Ministry spokesman on May 23 as saying that Indonesia had banned Israelis from entering the country in response to "the massacre in Gaza".
The Indonesian Foreign Ministry's director of Middle Eastern affairs, Sunarko, said his office was unable to verify the information.
During a separate event, Religious Affairs Minister Lukman Hakim Saefuddin underscored the importance of access to Jerusalem as a holy city for several religions.
"Israel should understand this so the prohibition should not include the holy city because it belongs to citizens of the world with equal rights to visit a holy city," he said, also insisting the information could not be verified.
Azhar Gazali from Aliyah Perdana Wisata, a Makassar-based travel agent for haj and umrah (minor haj), said the Israeli government would experience losses from their decision, as pilgrims contributed "significant income to the Israeli government".
He said at least 150 Muslims visited Jerusalem every day to go to Al-Aqsa Mosque.
Full report at:
http://www.thejakartapost.com/news/2018/05/31/pilgrims-in-limbo-as-israel-shuts-borders-to-indonesia.html
--------
Singapore, Malaysia authorities meet as 1MDB probe intensifies
May 31, 2018
SINGAPORE: Singapore investigators are in the Malaysian capital of Kuala Lumpur to help authorities with an investigation into scandal-plagued state fund 1MDB, Singapore police said on Thursday, as the country's new government steps up efforts to tackle graft.
At least six countries, including the United States and Switzerland, are investigating claims that $4.5 billion was siphoned out of the fund, 1Malaysia Development Berhad, founded by former Prime Minister Najib Razak.
"Our Malaysian counterparts have requested for our assistance in relation to their 1MDB-related investigations, and we agreed to a meeting in Kuala Lumpur," a Singapore police spokeswoman told Reuters in an email.
She gave no details of the assistance sought.
The news comes a week after Malaysian officials met officers of the Federal Bureau of Investigation (FBI) and the US Department of Justice (DOJ), which refers to Najib as "Malaysian Official Number 1" in an anti-kleptocracy investigation of 1MDB.
Najib has denied any wrongdoing and said in 2016 that the Malaysian government would cooperate with US investigations.
Singapore has taken action against several banks and bank officials for failures of money-laundering controls over transactions related to 1MDB, including the closure of units of BSI Bank and Falcon Bank.
Malaysia's newly-elected Prime Minister Mahathir Mohamad has vowed to investigate the 1MDB scandal and act against those who may have abetted, or benefited from, corruption at the fund.
Mahathir, who defeated Najib, a former protégé turned political opponent, in the historic May 9 elections, immediately reopened 1MDB investigations and barred the former leader from leaving the country.
The former prime minister went to Malaysia's anti-graft agency to give a statement explaining what he knew about $10.6 million transferred into his bank account from the fund.
Last week, Malaysia's finance minister said funds from deals with the central bank and sovereign wealth fund Khazanah were used by the previous government to meet some liabilities of the troubled state fund.
Full report at:
http://www.arabnews.com/node/1312916/world
--------
India
Pope's image trampled amid call to make India Christian-free
May 30, 2018
A hard-line Hindu group has called on Christians to be thrown out of India and stamped on images of Pope Francis while accusing him of promoting terrorism in a video being circulated on social media since May 25.
The video shows controversial Hindu leader Om Swami Maharaj with a group of about 20 people carrying placards and banners with pictures of Pope Francis not far from Sacred Heart Cathedral in New Delhi.
Maharaj made a speech before members of the group began stamping on the pope's image. During his speech, he accused Indian Christians of promoting terrorism and Maoism in the country and demanded they should leave India.
If Christians don't leave India, Maharaj said, they will use force to expel them.
Maharaj spread a banner featuring a picture of the pope on the road and then, with several others, stamped on it. Slogans of "Pope Francis murdabad" (Down with Pope Francis) were shouted.
The video has caught the attention of Christian groups in central India, prompting them to approach the police to stop the video's circulation.
Richard James, spokesman for the Rashtriya Isai Mahasangh, the ecumenical national Christian forum based in Madhya Pradesh, said the police have been alerted to the video.
"This kind of public display of hate toward any religious group or leader would not be allowed in a civilized society," James told ucanews.com.
Jaideep Prasad, inspector general of Police in state capital Bhopal, told ucanews.com that his officers "will not allow anyone to spread discord among people with such videos."
Madhya Pradesh is among states governed by the pro-Hindu Bharatiya Janata Party (BJP).
"I have already instructed officials to do what is necessary to ensure peace," said Prasad on May 29.
Bishop Theodore Mascarenhas, secretary-general of the Indian Bishops' Conference, believes the timing of the video is connected to a pastoral letter issued by Archbishop Anil Couto of Delhi which BJP leaders have condemned as anti-national.
The letter sought for Catholics to pray ahead of the 2019 general elections because India was facing "a turbulent political future that threatens the country's democracy." BJP leaders said the letter was part of a Vatican game to tarnish India and the BJP government led by Prime Minister Narendra Modi.
"The video is an aberration and not expected," said Bishop Mascarenhas, who asserted that it in no way does it represent the opinion of the majority of India's Hindus.
Politics and religion
Christian and Muslim leaders say the BJP, which officially adopted Hindutva or Hindu cultural nationalism as its ideology 25 years ago, supports hard-line Hindu groups who seek to make India a Hindu-only nation.
Although the BJP says its idea of nation is based on Indian culture and not on religion, its leaders favor policies that support Hindu religious practices and concepts which challenge India's cultural and religious diversity.
In one example, Subramanian Swami, a BJP parliamentarian, moved a bill last year seeking capital punishment for cow slaughter since the animal is revered by a section of Hindus. He has continued to argue that cow slaughter should be tried as murder.
In a May 23 Twitter message, he urged Modi to cease all diplomatic relations with the Vatican. He also said the Vatican embassy in New Delhi should be sealed as the Delhi archbishop is "a formal nominee of the Vatican."
Christian leaders like Bishop Cajetan Francis Osta of Muzaffarpur in Bihar said such controversies are "political gimmicks to divert the attention of the people from burning issues" such as inflation and unemployment.
https://www.ucanews.com/news/popes-image-trampled-amid-call-to-make-india-christian-free/82448
--------
Modi in Jakarta: How Muslim-majority Indonesia keeps its Hinduism alive
May 30, 2018
PM Modi is all set to visit The Arjuna Wijaya Chariot situated at Central Jakarta as he spends a day at Indonesia.
Indonesia is the PM's first stop as he commenced on his three nation visit. The two other countries PM Modi will be visiting are Malaysia and Sinagore.
The Arjuna Vijaya Chariot statue stands testimony to the cultural reach and influence of the great ancient Indian epic Mahabharata in Indonesia where the other famous ancient Indian epic, the Ramayana, is also equally popular.
Hindus comprise two per cent of Indonesias population and form close to a 90 per cent majority on the island of Bali. The country is also home to 100,000-plus strong Indian diaspora, largely comprising Tamils and Sindhis, the majority of whom live in the capital, Jakarta, and the city of Medan in Sumatra.
Versions of Hinduism
Along with the traditional Hindu gods such as Brahma, Vishnu and Siva, Balinese Hindus worship a range of deities unique to their branch of the religion. Sang Hyang Widhi is the designation for one God in Balinese Hinduism.
The Temples
Bali teems with temples devoted to various Hindu gods. Even in other parts of the country, for instance, the Muslim-majority neighbouring island of Lombok, Hinduism exists in a syncretic embrace with Islam.
Lombok is home to the Pura Lingsar temple complex, where both Hindus, and those Muslims who adhere to the islands unique waktu telu tradition of Islam, worship.
Indonesia is also the worlds most populous Muslim country and its third largest democracy. Pm Modi will also make a stop at the majestic Istiqlal Mosque, accompanied by Indonesian President Joko Widodo.
Food
Hinduism is one of the six official religions of Indonesia, and the country is home to a lot of influences from the religion, including food.
Indonesia, that is known mostly for its wide array of non-vegetarian food ranging from various kinds of fish to seafood, has various vegetarian delicacies too to offer, including gado-gado and Sambal goreng kentang.
Coconut features predominantly in the food, as does tofu and potato, and makes the Indonesian pleasantly familiar, with a twist.
Full report at:
https://www.indiatoday.in/lifestyle/travel/story/modi-in-jakarta-how-muslim-majority-indonesia-keeps-its-hinduism-alive-1246013-2018-05-30
--------
Indonesia, India plan to develop strategic Indian Ocean port
May 30, 2018
JAKARTA: Indonesia and India pledged on Wednesday to step up defence and maritime cooperation, with plans to develop a strategic Indonesian naval port in the Indian Ocean, the leaders of the two countries said after meeting in Jakarta.
Indonesian President Joko Widodo met Prime Minister Narendra Modi + to discuss, among other issues, developing infrastructure and an economic zone at Sabang, on the tip of Sumatra island and at the mouth of the Malacca Strait, one of the busiest shipping channels for global trade.
"India is a strategic defence partner...and we will continue to advance our cooperation in developing infrastructure, including at Sabang Island and the Andaman Islands," Widodo told a news conference after the meeting at the presidential palace. Analysts say the move comes amid concerns over China's rising maritime influence in the region, and is part of Modi's "Act East" policy of developing stronger ties with the Association of Southeast Asian Nations (ASEAN).
"The India-ASEAN partnership can be a force to guarantee peace and progress in the Indo-Pacific region and beyond," PM Modi said in a statement read in Hindi.
Modi this year invited the leaders of all ten ASEAN nations to attend New Delhi's Republic Day parade, the biggest such gathering of foreign leaders at the annual event.
There has been tension in Southeast Asia over the disputed South China Sea, a busy waterway claimed in most part by China.
Live Updates on PM Narendra Modi's Indonesia visit
Brunei, Malaysia, the Philippines, Taiwan and Vietnam also have conflicting claims in the area, through which about $3 trillion worth of sea-borne goods passes every year.
While not a claimant, Indonesia has clashed with Beijing over fishing rights around the Natuna Islands and expanded its military presence there. It has also renamed the northern reaches of its exclusive economic zone, to reassert its sovereignty.
PM Modi, who is making his first trip to Indonesia, also visited the Istiqlal mosque in the capital of the world's biggest Muslim-majority country.
The Indian PM flies to Malaysia on Thursday to meet recently elected Prime Minister Mahathir Mohamad before heading to neighbouring Singapore to address a regional security forum, the Shangri-La Dialogue.
Last week, Indonesia's chief maritime affairs minister, Luhut Pandjaitan, said the existing port at Sabang, which is 40 metres (131 ft) deep, could be developed to accommodate both commercial vessels and submarines, according to media.
Indonesia's transport minister told reporters on Wednesday that Sabang would get a transshipment port that could be developed over two years.
Asked about Indian investment in Sabang, Indian foreign ministry official Preeti Saran said New Delhi was interested in helping build infrastructure across Southeast Asia.
"There have been discussions about building infrastructure, it's not just seaports, but airports," she said. "There would be a lot of interest among Indian companies."
Full report at:
https://timesofindia.indiatimes.com/india/indonesia-india-plan-to-develop-strategic-indian-ocean-port/articleshow/64382906.cms
--------
NIA was forced to drop idea of joint trial in Samjhauta Express, Mecca Masjid and Ajmer Dargah blast cases
May 30, 2018
The National Investigation Agency (NIA) considered holding a joint trial of three bomb blast cases dating back to 2007 on the premise that it could have better prosecuted the suspects, but the idea was dropped in January 2014 because of an adverse legal opinion and other factors, current and former officials familiar with the matter said.
The three cases relate to the explosions that took place in February 2007 on the Samjhauta Express near Panipat in Haryana while on its way from Delhi to Lahore, in May 2007 at the Mecca Masjid in Hyderabad and October 2007 at the Dargah Ajmer Sharif in Ajmer, Rajasthan.
"An opinion was sought from the law ministry through Union home ministry in June, 2013 in this regard as the agency wanted to move the Supreme Court for clubbing the trial" in the three cases, a home ministry official familiar with the matter said on condition of anonymity.
Legal opinion was against a joint trial.
Separate trials have led to a situation where an accused, Devendra Gupta, was convicted in one case (the Ajmer blast) but acquitted in another (Mecca Masjid blast). In another curious twist, the NIA ended up trying a person as a suspect in two cases and presented him as a witness in one He has been acquitted in both cases in which he was a suspect. A common trial may have averted such contradictions, NIA officials said.
Last month, a special court of the NIA in Hyderabad acquitted all the five charge-sheeted in the Mecca Masjid bomb blast case for want of concrete evidence after some of the witnesses turned hostile. On Tuesday, amidst news reports that the NIA would not appeal the acquittal, an NIA official said on condition of anonymity that no decision had been taken and that the agency was still in the process of seeking and considering legal opinion.
The five acquitted were Nabakumar Sarkar alias Swamy Aseemananda of Gujarat, Rashtriya Swayamsevak Sangh (RSS) functionary Devendra Gupta of Rajasthan; property dealer-cum-RSS activist Lokesh Sharma of Madhya Pradesh, Bharat Mohanlal Rateshwar alias Bharat Bhai of Gujarat; and Rajender Chowdary of Madhya Pradesh, a farmer.
A Jaipur court in March last year found RSS members Sunil Joshi and Devendra Gupta guilty of planning the blasts in Ajmer — one of the two bombs didn't go off — and Bhavesh Bhai Patel of planting the explosive. The court acquitted Aseemanand and six others, giving them the benefit of doubt. Aseemanand is still facing trial and is currently out on bail in the Samjhauta Experss blast case. "All the three cases were tied with the confessional statement of Swami Aseemanand and he was listed as prime accused in them and the incidents took place within a span of one year," added the home ministry official cited above.
Section 219 of the Criminal Procedure Code (CrPC) states that when a person is accused of multiple offences of the same kind committed within 12 months, he or she may be charged and tried in a single trial. But the section makes it clear that only three offences can be clubbed in a joint trial.
"As per our understanding, the agency was required to seek sanction of the Supreme Court to hold trial in these three cases as the offences had taken place in different states. Here the trial was not only to be clubbed, but required shifting from one state to another, therefore an opinion was sought from the law ministry in this regard," said a former NIA official with the direct knowledge of the matter. "These three offences were committed under same conspiracy by almost same set of accused within a span of one year. They were fit for a joint trial," added the former official.
Records show that at least six suspects, Ramchandra Kalsangra, Sandeep Dange, Ramesh Venkat Mahalkar alias Amit Hakla (all three absconding), Lokesh Sharma, Sunil Joshi (dead) and Swami Aseemanand, were common to all three cases. Three suspects, Rajendar Chaoudhary, Deevender Gupta and Bharat Mohanlal Rateswar, were being tried in two of these three cases. In January, 2014, when the United Progressive Alliance (UPA) was still in power,the NIA received legal opinion against a joint trial, which prompted he agency drop the move.
"NIA was told that it was not feasible to hold a joint trial in these cases," said the home ministry official cited above.
Another former NIA official and a second NIA official associated with the investigation of these cases said on condition of anonymity that besides the adverse legal opinion, there were other reasons as well that made the then government wary of a joint trial, noting that the blasts had taken place in three different locations. A joint trial would also have made it difficult for the suspects to get bail, they said.
Separate trials led to many peculiar situations. For instance, one of the witnesses in the Samjhauta Express blast case (Bharat Mohanlal Rateswar) was later named a suspect in the other two cases. "What can you expect from such a witness? Was he going to support the prosecution? That could doom your trial from day one," said the second former NIA official.
Rateswar's lawyer JP Sharma confirmed that his client was an NIA witness in the Samjhauta Express blast case and had turned hostile.
Full report at:
https://www.hindustantimes.com/india-news/nia-was-forced-to-drop-idea-of-joint-trial-in-samjhauta-express-mecca-masjid-and-ajmer-dargah-blast-cases/story-D5oHE19Jq8jzhYCQtO58WJ.html
--------
Arab World
Saudi-backed militants plan siege of Hudaydah despite intl. warnings
May 31, 2018
Saudi-backed militants in Yemen are reportedly preparing to lay a siege to Hudaydah despite UN warnings against any attempt to seize the key Red Sea port, which serves as the main conduit for humanitarian aid flow into the war-torn country.
Military sources said Wednesday that forces loyal to Yemen's former Saud-backed president, Abd Rabbuh Mansur Hadi, were sending reinforcements ahead of a "new operation" to enter Hudaydah city and seize its port, a vital lifeline where millions of Yemenis get their food and medicine amid Saudi Arabia's all-out blockade of the country.
The city is controlled by Yemen's popular Houthi Ansarullah movement, which has been both running state affairs and defending the country in the face of the deadly Saudi-led military campaign.
Colonel Sadiq Duwaid, from the Saudi-led forces, who will be taking part in the operation, said it was "being bolstered by new forces... that will take part in retaking Hudaydah."
"First, we will cut off supply lines, especially between [the capital] Sana'a and Hudaydah, then we will place the Houthis under siege," he said.
Meanwhile, Ansarullah fighters and their allied forces have stepped up their counter-attacks against the Saudi-backed militants.
On Wednesday, they destroyed the military vehicles belonging to the Saudi mercenaries.
Yemeni media also say people from other provinces are rushing to Hudaydeh to help the locals and Houthi forces foil militant attempts to enter the city.
Clashes were reported between the militants and Ansarullah fighters east of the port city, while the Saudi-led coalition carried out numerous airstrikes on Houthi positions.
Fatalities were reported on both sides of the conflict.
Riyadh claims that Yemen's Ansarullah movement uses the port for weapons delivery.
UN Secretary-General's spokesperson Stephane Dujarric on Tuesday voiced grave concern over militant attempts to attack the strategic city, saying "increased fighting would unleash even more internally displaced people."
Amnesty International also said intense fighting near the port of Hudaydah had displaced tens of thousands of people, warning against the spread of clashes to urban areas.
The US-backed coalition once sought to overrun the port last year, but backed off apparently amid international pressure, with the UN warning that the port's seizure would have a "catastrophic" impact.
Abdul Malik Badreddin al-Houthi, Ansarullah's leader, has warned Saudi Arabia and its allies against further escalation in the city.
"The decision of invading the Yemeni western coast has been taken and adopted by the United States of America," he added. "Those who bet on the support of foreign forces will never reach satisfied results."
Saudi Arabia and its allies launched the war on Yemen in March 2015 in support of the country's former Riyadh-friendly government. The Yemeni Ministry of Human Rights announced in a statement on March 25 that the Saudi-led war had left 600,000 civilians dead and injured until then.
According to United Nations figures, a record 22.2 million people in Yemen are in need of food aid, including 8.4 million threatened by severe hunger.
Saudi spy drone shot down
Elsewhere, Yemeni army forces shot down a Saudi-led reconnaissance drone in flight over a border area in the kingdom's southern region of Asir on Wednesday.
Additionally, a unit of Yemeni army targeted a gathering of Saudi soldiers in the kingdom's border regions of Jizan and Najran, inflicting damage on them.
http://www.presstv.com/Detail/2018/05/31/563445/Yemen-Hudaydah-siege-Saudibacked-militants
--------
Syria's Assad says Trump's 'animal' slur represents himself
May 30, 2018
The Syrian president has said that Donald Trump's "animal Assad" slur is representation of the US president himself.
"It represents him, and I think there is a well-known principle, that what you say is what you are," says Syrian President Bashar al-Assad during an interview with RT to be aired on Thursday.
Assad was referring to an April tweet by US President Donald in which he blamed Russian President Vladimir Putin and Iran for the alleged chemical attack near the capital Damascus.
"President Putin, Russia and Iran are responsible for backing Animal Assad. Big price to pay," Trump tweeted.
During the interview Assad was asked if he had a nickname for the US president, to which he responded:
"This is not my language, so, I cannot use similar language. This is his language. It represents him, and I think there is a very known principle, that what you say is what you are. So, he wanted to represent what he is, and that's normal. Anyway, it didn't move anything, and this kind of language shouldn't move anything for anyone," he said.
"The only thing that moves you is what people that you trust, people who are level-headed, people who are thoughtful, people who are moral, ethical, that's what should move anything inside you, whether positive or negative. Somebody like Trump will move nothing for me," he added.
The alleged chemical attack on April 7 in the militant-held town of Douma in the Eastern Ghouta region left dozens dead and drew international condemnation from various countries and and international bodies.
In a statement, Damascus strongly rejected the allegation of using chemical munitions and said that the so-called Jaish al-Islam Takfiri terrorist group was repeating the accusations "in order to accuse the Syrian Arab army, in a blatant attempt to hinder the army's advance."
The governments of Iran and Russia have also rejected the accusations against the Syrian government.
Syria surrendered its stockpiles of chemical weapons in 2014 to a joint mission led by the US and the Organization for the Prohibition of Chemical Weapons (OPCW), which oversaw the destruction of the weaponry.
It has also consistently denied using chemical weapons over the course of the foreign-backed militancy, which gripped the country in 2011.
Western governments and their allies, however, have never stopped pointing the finger at Damascus whenever an apparent chemical attack takes place.
In April, a suspected sarin gas attack hit the town of Khan Shaykhun in the northwestern Syrian province of Idlib, taking at least 80 lives. Accusing Damascus, the US then launched several dozen Tomahawk cruise missiles at a Syrian air base, taking the lives of about 20 people including both Syrian soldiers and civilians.
The US and its allies have been bombarding what they call Daesh positions inside Syria since September 2014 without any authorization from the Damascus government or a UN mandate.
Full report at:
http://www.presstv.com/Detail/2018/05/30/563409/syria-assad-trump-us
--------
Muslim World League chief, Chechnya's grand mufti sign deal to combat extremism, Islamophobia
30 May 2018
MOHAMMED AL-SULAMI
JEDDAH: The Secretary-General of the Muslim World League (MWL), Mohammed bin Abdul Karim Al-Issa, and the Grand Mufti of Chechnya Sheikh Salah Majayev signed a memorandum of cooperation at MWL headquarters in Makkah.
The agreement included mutual cooperation in spreading moderation, combating extremism and Islamophobia, and expressing the position of Islam on extremist movements and deviant trends.
Both sides agreed to organize meetings between Muslim academics, thinkers and researchers and followers of other cultures and civilizations for dialogue and cooperation to improve the image of Islam and to highlight its universal human values, to support moderation, tolerance, justice, understanding and peace among peoples.
The agreement also dealt with cooperation between the two sides in the exchange of information, expertise and publications and the preparation of studies, research seminars and dialogue programs on the areas of joint action.
Full report at:
http://www.arabnews.com/node/1312681/saudi-arabia
--------
Report: US Plotting for New Chemical Attack in Syria in Cooperation with Terrorists, Kurds
May 30, 2018
The US intelligence is planning a provocative move by using prohibited substances in the Syria to falsely blame the Syrian government for a chemical attack, the Arabic-language SANA news agency quoted an informed source in Syria's National Committee as saying.
"According to intel received by the committee, the former ISIL members who are operating under the name of Syrian Democratic Force (SDF) with the US forces, have relocated some families from their controlled areas to the US military base in Jafreh Oil rich region in Deir Ezzur province to set the stage for another new chemical show-off to accuse the Syrian army," the source said.
The Syrian source reiterated that some other western countries, including France and Britain, are accomplice to such crimes against Syria.
Earlier, the so-called White Helmets and other non-government organizations alleged that Syrian government troops had dropped a chlorine bomb on civilians in the city of Douma in Eastern Ghouta. The allegations were used by the United States, France and the United Kingdom as a pretext to deliver a massive airstrike on Syria on April 14.
The Pentagon has admitted that it does not have any solid proof of the attack but had still teamed up with the French and the British and launched over 100 missiles on Syria on the very day a team of OPCW experts was slated to enter Douma.
Damascus, Moscow and Tehran branded the move as aggression against Syria's sovereignty.
Footage presented by the White Helmets has been proven fake by a boy who was filmed and his father, as well as another boy who got food for participating and a doctor at Douma's hospital where the shooting took place.
Russian servicemen have found no trace of any attack at the site, but discovered a militant laboratory equipped for manufacturing chemical weapons. The Russian General Staff had correctly predicted a false flag attack with ensuing aggression against Syria a month before it actually occurred.
In a relevant development in late April, a military diplomatic source said that further provocations with improvised chemical weapons are not excluded in Syria to justify a possible Jabhat al-Nusra-led offensive on government troops in Southern Syria.
Jabhat al-Nusra (Al-Nusra Front) alone and affiliated units of the Free Syrian Army (FSA) have pulled more than 12,000 militants and hundreds of hardware pieces to stage an offensive on government troops' positions. The offensive will follow allegations that government troops violate the ceasefire, According to the source, TASS reported.
"To stage an offensive on government troops' positions, Jabhat al-Nusra alone and affiliated units of the Free Syrian Army (FSA) have pulled more than 12,000 militants and hundreds of hardware pieces, dozens of multiple missile launcher systems they received via corridors controlled by illegal armed groups along the border with Israel and Jordan," the source stated, adding that the offensive would be grounded by militants' statements about alleged ceasefire violations of the Syrian army.
"To magnify the effect, it is not ruled out than more provocations with the alleged use of improvised chemical weapons against civilians will follow," the source stressed.
The ultimate goal of the operation is to establish an autonomous territorial entity with a capital city in Dara'a as is in the case of territories controlled by the Syrian Democratic Forces in the Northeast of Syria, according to the source.
The source noted that the situation in Southern Syria had dramatically deteriorated in the recent weeks and, despite the United States' statements, "key roles" in the Yarmouk valley are played not only by the Free Syrian Army but also by Jabhat al-Nusra and ISIL groups.
"Truck convoys with alleged humanitarian cargoes regularly reach this area across the Jordanian border. But no one knows what kind of cargoes are actually delivered. All deliveries of the so-called humanitarian assistance are controlled only by the Americans," he said.
Full report at:
http://en.farsnews.com/newstext.aspx?nn=13970309000946
--------
Syrian Army Dispatches New Military Convoy to Quneitra Province
May 30, 2018
The army dispatched a large number of forces of the Fourth Division and President Guard Force along with a large volume of military equipment to Hadhar region in Quneitra.
The army is preparing to launch a large-scale operation in Southern Syria if reconciliation talks with militants fail.
The army's operation is expected to be launched in Northern Quneitra and later continues in Dara'a province.
Terrorist groups in the Southern provinces of Dara'a and Quneitra formed a new coalition on Sunday amid the Syrian Army's preparedness to launch an imminent large-scale operation to end militancy in the Southern part of the country.
The army dispatched a large number of fresh forces and a large volume of military hardware to Dara'a city and its countryside and Quneitra province in recent days as a prelude for kicking off an imminent operation against the terrorist groups in Southern Syria.
In the meantime, the army issued last warnings to the terrorists, calling on them to lay down arms and join reconciliation plan.
Full report at:
http://en.farsnews.com/newstext.aspx?nn=13970309000825
--------
Syrian Army Set to Boost Security Measures in Western Aleppo
May 30, 2018
The army sent a new convoy of fresh soldiers and military hardware to Western Aleppo to face the small pockets of the terrorist groups that are still in the region.
The new military convoy will head towards the Northwestern countryside of Aleppo to launch an imminent operation in the Western direction of Jam'iyat al-Zahra region.
Residents of the Western countryside of Aleppo city have in distress calls asked the army to restore sustainable security to al-Nile Street, al-Khalediye and al-Shahba al-Jadideh.
Field sources reported last week that the army send a large number of soldiers and a large volume of military hardware from Lattakia to Kafr Hamra and al-Lairamoun regions in the Northwestern countryside of Aleppo city to take part in a possible operation against terrorists.
Full report at:
http://en.farsnews.com/newstext.aspx?nn=13970309001038
--------
Hundreds of Militants Receive Gov't Amnesty in Southern Damascus
May 30, 2018
A sum of 800 militants that had laid down their arms and endorsed the peace agreement with the army in Bebeila received government's amnesty.
The government has recently started granting amnesty to the militants in Northern Homs and Southern Hama.
Al-Watan daily quoted a field sources as reporting on Tuesday that a sum of 32,000 militants that had laid down weapons went to peace committees in the towns and villages of al-Rastan, Talbiseh, Dar al-Kabireh, al-Zaferaniyeh, Taldou and Ezzeddeen in HOms province and received their amnesty issued by the Damascus government.
Full report at:
http://en.farsnews.com/newstext.aspx?nn=13970309000606
--------
Popular Uprising Reported against US Forces' Occupation in Northeastern Syria
May 30, 2018
A large number of people in al-Mashlab, Seif al-Dowleh and al-Saqiyeh streets protested against the US-backed Syrian Democratic Forces (SDF).
The demonstrators called for exit of American and French occupiers from Raqqa city, but, SDF opened fire at them in Jameh al-Hassan neighborhood.
The SDF further declared curfew in the city and dispatched a large volume of military equipment to Raqqa city.
The Kurdish militias then increased their patrols and checkpoints in Raqqa city.
Local sources reported that the Kurdish militias prevented rescue and aid workers from entering Romeileh neighborhood whose residents demonstrated against the SDF.
Local sources in Western Raqqa reported on Thursday that people hoisted the Syrian flag in several villages and towns in the region on Wednesday, provoking the Kurdish SDF forces to attack the villages of Kadiran, al-Salhabiat, A'ayouj, al-Jayef, al-Adnaniyeh and al-Mansoureh in Western Raqqa and the two first and second districts in the town of al-Tabaqa.
The SDF fighters also detained a large number of civilians during the raids and seized the cell phones of most of the young people in the villages of Fatih, A'ayouj and al-Mansoureh.
Full report at:
http://en.farsnews.com/newstext.aspx?nn=13970309000574
--------
Terrorists' Strongholds Destroyed in Syrian Armed Forces' Attacks in Hama
May 30, 2018
The fighter jets pounded terrorists' positions and movements in the towns of Kafr Naboudeh and al-Latamina in Northern Hama.
The air raids were launched to retaliate terrorists' attack on Mahradah thermal Power Plan and the town of Sahlab and its outskirts in Hama province.
Terrorists' arms and ammunition depots were targeted and destroyed in the airstrikes.
Also, the artillery and missile units launched a heavy shelling on the positions of Tahrir al-Sham Hay'at (the Levant Liberation Board or the Al-Nusra Front) near the towns of Morek, Kafr Zita and al-Latamina, killing and wounding a large number of terrorists and destroying their military hardware.
In the meantime, the army soldiers cut off the road connecting al-Zalaqiyat to al-Latamina following repeated attacks of the terrorists on Mahrada thermal Power Plant, the town of Mahradah and army positions in the region.
On Monday the artillery and missile units pounded terrorist-held regions in Northern Hama, and destroyed several bases.
The artillery and missile units opened heavy fire at the positions and movements of terrorists the town of al-Latamina and the village of al-Zakat in Northern Hama, and destroyed several bases, strongholds and military vehicles of militants.
Full report at:
http://en.farsnews.com/newstext.aspx?nn=13970309000226
--------
Syrian Army Repels ISIL's Heavy Offensives in Deir Ezzur
May 30, 2018
The army men engaged in fierce clashes with ISIL and warded off their attack in a desert near Sabikhan settlement.
In the meantime, other units of the army repelled ISIL's attack in the town of al-Sahlehiyeh, East of Sabikhan, inflicting a number of casualties on the terrorists and destroying their military equipment.
In a similar development on Monday, the army forwarded more forces and military equipment, including several cannons, to its positions in Eastern Damascus, to launch a fresh round of large-scale attacks on ISIL that stormed the government forces' position in al-Mayadeen desert recently.
In the meantime, the army forces engaged in a tough battle with ISIL in Eastern Badiyeh (desert) between Western Deir Ezzur and Eastern Homs, killing or wounding a number of terrorists.
Full report at:
http://en.farsnews.com/newstext.aspx?nn=13970309000326
--------
Syria in Last 24 Hours: Army Sends More Troops to Dara'a
May 30, 2018
A large number of fresh forces and a large volume of military hardware were dispatched to the Southern part of the country to kick off a massive operation against terrorists in Dara'a province.
A large part of the fresh troops have deployed in Quneitra province.
Meantime, the Syrian army continued its military advances in other parts of Syria over the past 24 hours.
Tens of terrorists were killed and dozens more were injured during the Syrian army's operations in provinces across Syria.
Dara'a
The Syrian Army dispatched more soldiers and equipment to the Southern part of the country on Tuesday to launch an imminent operation against terrorists amid reports on intensified tensions among terrorist groups in Dara'a province.
The army forwarded a large number of fresh forces and a large volume of military hardware to the Southern part of the country to kick off a massive operation against terrorists in Dara'a province.
A large part of the fresh troops have deployed in Quneitra province.
In the meantime, local sources reported that a fresh round of infighting and differences have covered Southern Syria, adding that the militants are not capable of controlling the security situation in their region.
The sources further said that six people have been killed in infighting among terrorists in the town of Seida.
The source went on to say that a group of the Free Syrian Army stormed al-Basha'er University in the town of Nawa in Northwestern Dara'a, injuring a student.
Hasaka
A number of Jordanian officers have participated in training the US-backed Kurdish Border Guard forces in a camp in Northern Syria, a militant-affiliated website reported on Tuesday.
Smart news affiliated to the US-backed Arab militias in Northeastern Syria, disclosed that six Jordanian officers along with four US-led coalition forces have joined training of Border Guards of the Syrian Democratic Forces in Hasaka.
The training camp is located in Sabah al-Kheir base South of Hasaka city, it said, adding that light weapons were used while training.
Smart news went on to say that the border guards have deployed along Syria's border with Iraq and Turkey, adding that the guards will serve two years and are paid a monthly salary of 115,000 Syria's lira.
The report claimed that there is no Saudi officer in the region at present, but, they are expected to arrive in the region soon.
Other news sources reported that three Saudi military advisor held a meeting with the Democratic Union Party (PYD) in the US-run Kharab Ashak base South of Ein al-Arab (Kobani) in Northern Syrian last Friday.
The Arabic-language al-Baladi news website reported on Saturday that PYD along with al-Sanadid Forces were recruiting to form the Border Guard Force in the town of al-Ya'arabiyeh near Syria's border with Iraq, adding that the Saudis were backing the PYD's plan to do so.
The website further said that the men, who joined the Border Guard Forces would serve two years and would receive a monthly $200 payments.
It went on to say that the PYD militias embarked on digging trenches in Ra'as al-Ein border region at Syria's border with Turkey, adding that the PYD planed to equip the trenches along Syria's border with Turkey and Iraq with pre-fabricated cement-made cabins supplied by the US forces.
The US-led coalition had announced at the beginning 2018 that it had a plan to form a 30,000-member Kurdish Security Border Force in Northern Syria.
Hama
Almost 32,000 militants that had laid down arms have received government amnesty in Northern Homs during the last two weeks and after the Syrian Army managed to impose full control over Northern Homs and Southern Hama, an Arab media outlet reported on Tuesday.
Al-Watan daily quoted a field sources as reporting that a sum of 32,000 militants that had laid down weapons went to peace committees in the towns and villages of al-Rastan, Talbiseh, Dar al-Kabireh, al-Zaferaniyeh, Taldou and Ezzeddeen and received their amnesty issued by the Damascus government.
Full report at:
http://en.farsnews.com/newstext.aspx?nn=13970309000571
--------
Mideast
Israel approves 2,000 West Bank settlement units despite outcry
May 30, 2018
The Israeli regime has approved plans for the construction of about 2,000 settlement units in the occupied West Bank.
Israeli media said Wednesday that the defense ministry of the regime in Tel Aviv which is responsible for the authorization of the internationally-banned settlements gave the go-ahead for the contractions of 1,957 new units in the West Bank.
Of those settlement, some 696 gained full approval for construction, the reports said, adding that plans for a total of 1,262 units were advanced through an earlier planning stage.
The decision comes despite increasing international outcry over Israel's expansion of the settlements which many see as a major impediment to peace in the Middle East. Israel builds the settlements in territories that it captured in a 1967 war. The international community insists those territories belong to the Palestinians and will be part of their future state.
Many governments have condemned the expansion of settlements, saying the policy shows Israel lacks a genuine inclination towards peace. Even the United States, Israel's closest ally, abstained from a vote condemning the settlements in the United Nations General Assembly in late 2016.
The Human Rights Watch (HRW) said in a report on Tuesday that Israeli banks are financing the regime's unlawful settlement construction activities, saying the move contributed to serious human rights violations and war crimes against Palestinians.
In the 41-page report, the New York-based rights group said Israel's seven largest banks provide services to settlements and facilitate their expansion, thus abetting unlawful population transfers.
The report also warned that the Israeli settlements contribute to "a discriminatory regime in which Israeli authorities restrict and stunt Palestinian economic development."
"Settlements inherently contribute to serious human rights abuses. Companies that conduct business in or with settlements cannot mitigate or avoid contributing to these abuses, because the activities they conduct take place on unlawfully seized land, under conditions of discrimination, and through a serious violation of Israel's obligations as an occupying power," it added.
Israel's approval for the new settlements also comes against the backdrop of heightened tensions inside the occupied Palestinian territories, where anti-Israeli sentiments have deepened following Israel's crackdown on people protesting a crippling blockade in the Gaza Strip. More than 115 people have been killed since protests began on Gaza's border in March.
http://www.presstv.com/Detail/2018/05/30/563388/Israel-settlements-expansion-West-Bank
--------
Netanyahu threatens Israel will 'act' against Iran 'anywhere in Syria
May 31, 2018
Israeli Prime Minister Benjamin Netanyahu has threatened that the regime will hit Iranian targets "anywhere in Syria," where Iranian military advisors have been giving effective assistance to the national army in its battles against Tel Aviv-backed terror groups.
"We will continue to act against [Tehran's] intention to establish a military presence in Syria across from us, not just across from the Golan Heights but anywhere in Syria," he said on Wednesday.
Iran has been offering military advisory support to Syria at the request of the Damascus government, enabling its army to speed up its gains on various fronts against the terror groups.
Israel has frequently attacked military targets inside Syria in what is widely viewed as an attempt to prop up the terrorist groups that have been suffering heavy defeats at the hands of Syrian soldiers.
There has been a hike in Israeli strikes since the collapse late last year of the Daesh terror group, something that significantly demoralized the other Takfiri militant groups operating against Damascus.
On April 9, an Israeli airstrike against the T-4 airbase in Syria's Homs Province killed more than a dozen people, including seven Iranian military advisors.
Iran has pledged that it would punish Israel for the deadly air raid.
Israel has also been providing weapons to anti-Damascus militants as well as medical treatment to Takfiri elements wounded in Syria.
In the course of their recent advances in terrorist-held areas, Syrian government forces have discovered considerable amounts of Israeli-made munitions, including chemical warfare, digital equipment and drugs.
Damascus has repeatedly written to the UN in condemnation of Israeli acts of aggression, calling on the world body and its Security Council to take firm measures against the regime.
Netanyahu due in Europe over Iran
Elsewhere in his remarks, Netanyahu announced that he will travel to Germany, France and Britain next week to meet with European leaders on Iran's presence in Syria and the 2015 nuclear deal.
"I will present them (the European leaders) with the latest strategic developments in our region, which are connected to the efforts to halt Iranian aggression in Syria and elsewhere," he said. "We will not allow Iran to arm itself with nuclear weapons."
Earlier this month, US President Donald Trump announced Washington's pullout from the Joint Comprehensive Plan of Action (JCPOA) and vowed to reinstate nuclear sanctions on Iran. Netanyahu hailed Trump's decision, calling the accord a "recipe for disaster."
Additionally on Wednesday, Israel's minister of military affairs Avigdor Lieberman flew to Moscow to hold talks with his Russian Defense Minister Sergei Shoigu on Iran's presence in Syria.
Full report at:
http://www.presstv.com/Detail/2018/05/31/563435/Israel-Syria-Iran
--------
Do 'we die slowly or quickly?' Gazans ask as war with Israel looms
May 31, 2018
GAZA CITY: Residents of the Gaza Strip fear another war with Israel is looming after the most intense airstrikes on the enclave for four years.
Israeli fighter jets, helicopters, drones and tanks hit dozens of military targets in the area on Tuesday and the early hours of Wednesday, terrifying Palestinian civilians in nearby residential neighborhoods. There were no reports of casualties.
The attacks came after Hamas and Islamic Jihad fired rockets and mortars at southern Israel. Both groups have since declared that a cease-fire has been agreed following Egyptian mediation, but Israel denied the existence of any such deal.
Iman Abu Zaher, a 25-year-old student, was among the residents who thought Tuesday's bombing "was war again."
Currently waiting for the travel documents she needs to complete her master's degree abroad, she told Arab News that she is torn between wanting to stay in the strip with her family and wanting to flee before the next round of bloodshed begins.
"I was thinking could I leave my family here to face their fate alone if there is a war or should I stay with them and share their suffering?" she said. In the end, she decided that "I have to run away from here."
Her friend Sahar Al-Khatib told Arab News that she stayed awake all night as the sounds of the Israeli airstrikes and the Hamas rockets echoed across Gaza.
"My husband and I were talking about our scenario in the event of war. What would we do? Would we stay at home or run away somewhere else?" she said. "We agreed to put our valuables in one place so that we could escape quickly if something difficult happened."
Hamas and Islamic Jihad said that their rocket attacks were in retaliation for recent Israeli strikes on their positions. Israel claimed about 100 rockets and mortars were fired from the strip, with many of them intercepted by its Iron Dome air defense system.
There is now widespread trepidation among residents of Gaza that another escalation is inevitable.
Israel last went to war in Gaza in 2014, when the UN found that 2,251 Palestinians were killed, including 1,462 civilians, in a conflict that lasted just 50 days. Up to 500,000 residents were displaced. Earlier conflicts took place in 2012 and 2008-2009.
Ibrahim Khalil, a 47-year-old father of six, said that wars with Israel were "like the World Cup" and happened every four years.
"I want to see my children living in peace and security. I have spent a few years in Israel jails and I do not want my children to suffer what I have suffered in the past," he said.
He told Arab News that Hamas and the other Palestinian factions did not want another conflict with Israel and defended their use of rockets and mortars.
"They had to stop the repeated attacks of the occupation — the bombing and killing — without a response. We also have dignity," he said.
Home to around 2 million people, Gaza is one of the most densely populated areas in the world and has been under an Israeli air, land and sea blockade since 2007, when Hamas took control of the strip from its main political rival,
Fatah.
The blockade has plunged the economy into recession and devastated local infrastructure. Recent reconciliation talks between Hamas and Fatah have stalled, adding to the sense of anger and frustration among people here.
Israeli forces have killed dozens of Palestinians since mass protests against the occupation began in Gaza on March 30, with the worst of the violence coming on May 14, when 60 Palestinians died.
Ahmed Shawa told Arab News that he hoped there would be another war with Israel because the "Gaza Strip cannot tolerate the cruelty of life anymore."
He said, "Israel must suffer as we suffer. It must think carefully about everything it does against us."
Full report at:
http://www.arabnews.com/node/1312771/middle-east
--------
Yemeni armed forces say they are 15 km from Hodeidah city
30 May 2018
Yemen's National Army seized Wednesday heavy weapons and rockets from Houthi militias, while intense fighting is taking place on the outskirts of Hodeidah airport.
Al Arabiya correspondent reported that the Yemeni armed forces were 15 km away from Hodeidah.
Earlier, Houthi militias looted institutions in Hodeidah, such as the branch of the Central Bank there, in what appears to be a move ahead of their withdrawal from the city.
In other developments according to Asharq al-Awsat newspaper, Houthi militias in Hodeidah have removed tens of Iranian military experts to other palces for their safety,, after the Yemeni armed forces backed by the Arab coalition advanced to the city center on the western coast of the country.
The newspaper quoted Walid al-Qadimi, deputy governor of Hodeidah, as saying that 50 Iranian experts have been transferred to the capital Sanaa and Hajjah governorate which is a stronghold of the Houthis.
Full report at:
https://english.alarabiya.net/en/News/gulf/2018/05/30/Yemeni-armed-forces-15km-from-Hodeidah.html
--------
Saudi crown prince meets with Yemeni President Hadi
31 May 2018
Saudi Crown Prince Mohamed bin Salman met with Yemen's President Abdrabbo Mansour Hadi in Jeddah on Wednesday to discuss the current developments in Yemen.
During the meeting, the crown prince and Yemeni president discussed efforts in Yemen, including developmental, humanitarian and relief efforts that are being carried out for the Yemeni people.
The meeting was attended by the Saudi Minister of State Musaid al-Aiban, and the director of Saudi Arabia's General Intelligence Presidency, Khalid al-Humaidan.
Yemen's director of the president's office Abdullah al-Olaimi, the head of the president's protection unit Commander Nasser Abdrabbo Hadi and the president's undersecretary Mubarak al-Bahar were also in attendance along with other officials.
Saudi Arabia's King Salman bin Abdulaziz had also met with President Hadi in Jeddah on Tuesday.
Full report at:
https://english.alarabiya.net/en/News/gulf/2018/05/31/Saudi-crown-prince-meets-with-Yemeni-President-Hadi.html
--------
Iranian celebrities openly reject Rouhani's invitation for a Ramadan Iftar
30 May 2018
A number of Iranian celebrities and artists declined President Hassan Rouhani's invitation for Iftar in solidarity with popular protests against rising prices and deteriorating living conditions.
Anahita Hamati, Mehnaz Afshar, Parviz Parastui, Chila Khodadad, Barzoo Arjmand, Ehsan Karami and Flor Nazari were among the famous celebrities who publicly declined the Iftar invitation.
Anahita Hamati was one of the first celebrities to decline Hassan Rouhani's invitation by posting a picture of the official invite that she received on her Instagram page where she wrote about the poor economic situation of the people and people's Iftar tables that are "becoming emptier, day after day."
Hamati stated that her recent absence from Iranian television was caused by the fact that "television no longer displays the real life of people."
In her open letter to Rouhani, the actress criticized the growing percentage of poverty and the government's lack of interest in solving the country's problems while suppressing any protest movement. "The iron fist has been grabbing our necks for years and we have been suffocating," she said.
Mehnaz Afshar, another artist who refused Hassan Rouhani's invitation, said that Athena Daimi should be the one to receive such an invitation to attend the president's Iftar table. Daimi is currently serving a seven years prison sentence for "propagating against the regime, collusion against national security, insulting the leadership and insulting the founder of the Islamic Republic."
For his part, the famous actor Perviz Parastui refused to accept the invitation of the president's Iftar table saying in a statement he posted on his Instagram account that "given the poor economic situation of the people, there is no need to spend a lot of money on celebrations."
Iranian social media users launched the hashtag 'we will not attend your Iftar' condemning Rouhani for failing to live up to his promises after five years of rule. Social media users cited deteriorating living conditions, suppression of freedoms and increased human rights abuses during Rouhani's presidency.
Full report at:
https://english.alarabiya.net/en/News/world/2018/05/30/Iranian-celebrities-openly-reject-Rouhani-s-invitation-for-a-Ramadan-Iftar.html
--------
US sought total confrontation with Iran by leaving JCPOA: Russia
May 30, 2018
The Russian foreign minister says the United States chose to pull out of the 2015 nuclear agreement with an eye to "a total confrontation with Iran."
Addressing the annual Primakov Readings conference in Moscow on Wednesday, Sergei Lavrov enumerated some of the reasons behind the aggravating problem of weapons of mass destruction in today's world, criticizing US actions as a contributing factor.
"I remember the apocalyptic predictions of the 1980s about a 'nuclear winter.' Fortunately, it did not come to pass, although the 'Arab Spring' came, which, through a series of tragic events, also exacerbated the problem of weapons of mass destruction," he said.
"I am referring to the withdrawal of the United States from the Joint Comprehensive Plan of Action (JCPOA) on the Iranian nuclear program with the view of organizing a total confrontation with Iran, and many staged situations involving the alleged use of chemical weapons by the Syrian government aimed at changing the regime in Damascus," he added.
On May 8, US President Donald Trump announced Washington's pullout from the nuclear deal, vowing to reinstate nuclear sanctions on Iran and impose "the highest level" of economic bans on the Islamic Republic.
US Secretary of State Mike Pompeo later threatened Tehran with the "strongest sanctions in history" if it did not comply with a list of steep demands.
Iran is holding negotiations with other signatories to the JCPOA, seeking assurances that the country's interests would still be protected under the accord without the US.
Foreign forces should leave southern Syria
Elsewhere in his remarks, the top Russian diplomat said that the withdrawal of all foreign forces from Syria's southern parts should happen "as soon as possible."
He also noted that agreements have been reached between Russia, the US and Jordan on a safe zone in southern Syria, bordering Jordan and the occupied Palestinian territories.
"They (the agreements) stipulate that this de-escalation zone should consolidate stability, while all non-Syrian forces must be withdrawn from this area. And I think that this should happen as soon as possible," Lavrov said.
Russia's Deputy Foreign Minister Mikhail Bogdanov announced on Tuesday that Moscow, Washington and Amman had agreed to meet on a de-escalation zone in southern Syria.
On Wednesday, he said the tripartite meeting will be held in the Jordanian capital.
Full report at:
http://www.presstv.com/Detail/2018/05/30/563354/Russia-Iran-JCPOA-Syria
--------
Africa
3 Al Shabaab Militants to Face Firing Squad for Hotel Attack
May 30, 2018
Three Al-Shabaab militants will face the firing squad after a Somali Military court found them guilty of taking part in the Mogadishu Hotel Nasa Hablod attack of October 29 2017
Farhan Mohamed Mohamed Samatar, Abdinasir Dhaqane Hassan and Abshir Mohamed Haji Bulu had last week pleaded guilty of the killing of at least 20 people in the attack.
The three had been identified by witnesses as part of the militants who raided the hotel in a complex attack that led to the firing of the then Somalia Intel Chief.
https://www.radiodalsan.com/en/2018/05/30/3-alshabaab-militants-to-face-firing-squad-for-hotel-attack/
--------
Al-Shabaab Militants on Kenyan Border Are Planning Attacks, Police Say
May 30, 2018
Kenyan police said there are rising numbers of Islamist fighters gathering on the country's border with war-torn Somalia and some are planning attacks during the Muslim holy month of Ramadan.
Some of the militants belonging to the al-Shabaab group have tried to cross into the northeastern Kenyan counties of Wajir, Mandera and Garissa, the National Police Service said Wednesday on Twitter. One group has been hiding in Somalia's mountainous Gedo region and may be planning attacks on the Kenyan side, it said.
Al-Shabaab, an affiliate of al-Qaeda, has staged attacks that have killed more than 200 people in Kenya since the East African nation sent troops into Somalia in 2011 to prop up the government. Al-Shabaab has waged a more than decade-long insurgency in a bid to impose its version of Islamic law in Somalia.
https://www.bloomberg.com/news/articles/2018-05-30/ethiopia-to-amend-anti-terror-laws-as-charges-on-critics-dropped
--------
Nigerian University Stays Open, Ignoring Boko Haram Threats
May 30, 2018
Since the start of 2017, Boko Haram militants have launched at least 12 attacks on the University of Maiduguri.
The university sits in Maiduguri, the same Nigerian city where Boko Haram was formed. The group has launched attacks against Nigeria's central government since 2009.
Boko Haram has also attacked the University of Maiduguri. Yet the university remains open, and thousands of students continue to attend its classes.
More than 20,000 students officially attend the school, and those numbers continue to grow.
Growing in the face of threats
Muktar Muhammed produces a music show for the university's radio station. He begins each broadcast with a cheerful "Good Morning" message to keep students calm.
"We have to make it a point…to keep them positive. Of course, to try and stay relaxed and focused on their studies," he told VOA.
Muhammed said students were still frightened a few weeks ago after suspected Boko Haram militants invaded the city. But the militants left after they were driven away by government troops.
Third-year student Tasiu Hassan was at the school in January 2017 when a suicide attacker exploded a bomb, killing a professor. Later, Boko Haram released a video claiming responsibility for the attack.
"I found myself in a very terrible situation in such a way that I had even thought of going back home," Hassan told VOA. But he still stayed at school, like many other students.
Since then, the university has been attacked at least 12 times by suicide bombers, university officials told VOA.
In July 2017, suspected Boko Haram supporters kidnapped 10 members of the university's geology and surveying department. The Nigerian military later rescued them.
Resisting terrorists
The University of Maiduguri is the largest and most famous public education center in northeastern Nigeria. Its students are resisting Boko Haram's message that condemns Western education as sinful.
Throughout Boko Haram's rebellion against the government, the university never closed.
"To show how resilient we are, to show how much sacrifice we are making and that is the true reflection of the Maiduguri spirit -- we are here because we have a responsibility to keep the system going." Those are the words of Danjuma Gambo, a mass communications professor and a spokesman for the university.
"Someone has to be around no matter how bad the situation is," he added.
Gambo said that the university was too important to close, even for a day. He said it provides a lot "to the local economy, to the business, to the finance, to even social activities in Maiduguri."
That is why city and state officials said they would do anything in their power to keep the university open.
The commissioner for the Borno State Ministry for Education, Musa Inuwa Kubo, told VOA the university has helped create a sense of self-respect in the community.
"Most of us are products of that institution," he said. He added that the resiliency of the university during the Boko Haram attacks should be respected by everybody.
Last year, workers dug a 27-kilometer-long trench around the university, mainly on its eastern side. This side faces the border with Cameroon, where many Boko Haram fighters operate. The hole is designed to slow down attacks from the militant group. Its fighters often invade cities on motorcycles.
Every day, dogs trained to smell bomb chemicals and weapons perform inspections at two entrances to the university.
No other public university in the area has this level of security.
That is one reason why Esther Clement continues to attend the university.
Full report at:
https://learningenglish.voanews.com/a/nigerian-university-stays-open-ignoring-bok-haram-threats/4415126.html
--------
IMN renews call for release of leader Zakzaky
May 30, 2018
Members of the Islamic Movement in Nigeria have staged another peaceful protest to demand the release of their leader Sheikh Ibrahim Zakzaky.
Press TV Correspondent Danjuma Abdullahi has the details from Abuja.
http://www.presstv.com/Detail/2018/05/30/563416/IMN-renews-call-for-release-of-leader-Zakzaky
--------
Nigeria: One Year After Nigerian Officials Diverted Dates Donated By Saudi Arabia, No Culprit Identified, Punished
31 MAY 2018
By Kunle Sanni
A year after about 200 tonnes of date donated by Saudi Arabia to poor Nigerians were diverted to the open market, the Nigerian government is yet to identify the culprits.
The dates were donated by Saudi Arabia for last year's Ramadan fast for free distribution to persons displaced by Boko Haram as well as mosques where they could have been assessed freely by fasting Muslims.
Dates are Islamically the first things Muslims are expected to eat when they break the Ramadan fast daily.
After the donation and arrival of the dates, it was discovered that they were not distributed as instructed, but were instead sold on the streets for profit in some parts of Abuja and Borno State.
The Nigerian government admitted the situation, published an apology to Saudi Arabia and pledged to investigate the perpetrators of the scandal.
The Ministry of Foreign Affairs, which apologised on behalf of the government, pledged to investigate the incident.
The Minister of State Foreign Affairs, Khadijat Abba-Ibrahim, in the statement apologised for the "unfortunate turn of events".
"This is not the spirit in which the 200 tonnes of dates was given," she said.
The 200 tonnes is equivalent to about 200,000 kilogrammes of dates or about 4,000 units of 50kg bags filled with dates. The market value, based on PREMIUM TIMES findings is about N20 million.
When PREMIUM TIMES reached out to the foreign affairs ministry on the status of its investigations, it avoided enquiries on it.
The ministry's spokesperson, Tope Elias-Fatile, did not respond to several phone calls and text messages sent.
The Saudi Arabian government, though its embassy in Nigeria, declined to comment on whether or not it was concerned that nobody has been punished for the crime.
When the Nigerian foreign ministry confirmed the diversion of the dates, it announced that they were to be distributed by the Nigerian Commission for Refugees, Migrants and Internally Displaced Persons.
However, when PREMIUM TIMES reached out to the refugees' commission on the status of the dates and the investigation, its spokesperson, Alimat Musa, said, "The supervising ministry is in the best position to give an update."
"If the Foreign Affairs (ministry) issued a statement to that effect, that they are going to conduct an investigation, they should be the one to give the information."
Also, the National Emergency Management Agency, NEMA, which could have also aided in getting the dates to the internally displaced persons, said it was not involved in the distribution.
"As far as NEMA is concerned, we don't know anything like that," the agency's spokesperson, Sani Datti, told PREMIUM TIMES.
With a year gone, and new Ramadan almost mid-way, anti-corruption advocates and Muslim groups frown at the government's inaction.
"It is a major smear to the integrity of Nigeria as a country," Lanre Suraj of the Civil Society Network Against Corruption said.
"It deprives other people that would need support of other international organisation and countries in future. Actually, the fight against corruption and corrupt practices are not actually limited between the Naira and Kobo, it is the abuse of office."
Mr Suraj insisted that "the federal government must not only prosecute but investigate the outcome of the distribution and make the investigation, prosecution and sanction public of those who are connected."
He questioned the commitment of the government to identify and punish the culprits.
"I don't think it is a very difficult task to embark and achieve," he said. "if some of those dates were sold on the street of Abuja and Borno, then it is not only easy to arrest those who are selling it, but extract information from them."
Full report at:
http://allafrica.com/stories/201805310069.html
--------
Pakistan
US refuses to place religious sanctions on Pakistan: report
Anwar Iqbal
May 31, 2018
WASHINGTON: The US Commission on Internatio­nal Religious Freedom (USCIRF) has again recommended that Pakistan should be declared a ''country of particular concern'' but the Trump administration, like its predecessors, has refrained.
The USCIRF has been making this recommendation since 2002 but successive US administrations have continued to ignore their advice on the grounds that the proposed designation will fail to promote religious freedom in the country.
On Dec 22, 2017, the US Secretary of State placed Pakistan on a Special Watch List for "having engaged in or tolerated severe violations of religious freedom". The move caused speculations in the media that this year the administration may declare Pakistan a country of particular interest, triggering a set of new sanctions. But Pakistan escaped the designation this year as well.
The report, however, notes that last year at least 50 individuals were imprisoned on blasphemy charges in Pakistan, with 17 of them receiving death sentences. The annual US report on religious freedom also notes that authorities in Pakistan continue to enforce blasphemy laws, "whose punishment ranges from life in prison to the death sentence for a range of charges".
The report warns that religious persecution remains a global issue, and in countries like Pakistan, Afghanistan, India, Iran and Russia minorities still face widespread violations of religious freedom.
The report singles out an incident in April 2017, when a mob shot and beat to death student Mashal Khan at Abdul Wali Khan University in Mardan, "following an accusation of blasphemy later deemed by investigators to be false".
It notes that throughout 2017, unidentified attackers in Pakistan targeted and killed Shias, Hazaras and Ahmadis in attacks believed to be religiously motivated.
Attacks against the Hazara ethnic group increased during the year and in five separate incidents, unidentified assailants shot and killed 15 members of the Hazara Shia community.
Assailants also killed at least seven members of the Ahmadi community in multiple incidents that appeared to be targeted attacks.
The report notes that the Urdu-language media in Pakistan, continued to show bias in reporting on minority religious groups, including multiple instances in which media used inflammatory language or made inappropriate references to minorities.
Afghanistan, India
In Afghanistan, "conversion from Islam to another religion is considered apostasy and is punishable by death, imprisonment, or confiscation of property", the report adds.
The document notes that the Afghan Supreme Court has declared the Baha'i faith "a form of blasphemy" and conversion to this faith "is punishable by death".
The Afghan branch of the so-called Islamic State group and the Taliban "continued to target and kill members of minority religious communities", the report adds.
In India, eight of the 29 states have legislation restricting religious conversion, with laws in force in five of those states.
"Authorities often did not prosecute violence by vigilantes against persons, mostly Muslims, suspected of slaughtering or illegally transporting cows or trading in or consuming beef," the report notes.
Although, in several cases, it was later proved that the accused persons or their families had never slaughtered a cow.
Under the current Indian government, "religious minority communities felt more vulnerable to Hindu nationalist groups engaging in violence against non-Hindu individuals and places of worship".
Iran, Russia
In Iran, the penal code provides for the death sentence for "proselytizing and attempts by non-Muslims to convert Muslims, as well as for insulting figures".
The report notes that in Russia, the constitution provides for religious freedom but "the government prosecuted individuals of many denominations for unauthorized missionary activity under the amendments to anti-terrorism laws passed in 2016, known as the Yarovaya Package".
https://www.dawn.com/news/1411091
--------
PTI plea against scrutinisation of funding sources by ECP rejected
Iftikhar A. Khan
May 31, 2018
ISLAMABAD: The Election Commission of Pakistan (ECP) on Wednesday rejected the Pakistan Tehreek-i-Insaf's (PTI) pleas against the terms of reference (TORs) of its scrutiny committee and seeking in camera proceedings of the committee without the petitioner, PTI founding member Akbar S. Babar.
ECP directed the scrutiny committee it formed on March 12 to complete its mandate of scrutinising PTI foreign funding under the original TORs without any of the changes demanded by PTI.
The ECP scrutiny committee was mandated to complete the scrutiny of PTI's foreign funding in one month, commencing April 3. However, the committee's work was stalled as PTI refused to submit requisitioned financial statements, arguing that it has objections to the TORs of the committee and wanted the scrutiny to be held in secrecy and without the presence of the petitioner.
On Monday, a full bench of the ECP headed by Chief Election Commissioner retired Justice Sardar Mohammad Raza and four other members of the Election Commission heard detailed arguments from the two counsels and reserved judgement for Wednesday.
Babar Awan represented PTI while the petitioner was represented by Syed Ahmed Hassan Shah.
Talking to Dawn, petitioner Akbar S. Babar said he was considering filing an application before the ECP, requesting the suspension of the allotment of an election symbol for the PTI till it comes clean with its accounts.
He said that through an order dated April 1, 2015, the ECP has already determined, after a detailed scrutiny of PTI's audit reports, that "the declarations so submitted do not contain source of funds with details".
Mr Babar said that PTI must not be allowed to contest the elections using money from prohibited sources as the law clearly forbids the allotment of an election symbol to a party which violates the funding laws, which he said is clearly the case with PTI.
He requested that the final judgement of the foreign funding case pending since November 2014 should be announced before the next elections, scheduled for July 25, to allow people to make an informed choice about their leadership.
Following the ECP judgement dismissing PTI's complaints, the ECP scrutiny committee met in the afternoon.
In its last meeting on May 28, PTI had requested the committee for more time to submit its financial statements requisitioned in April this year, citing its pending complaints before the ECP. After the rejection of the party's complaints, the committee once again sought the long overdue financial statements. However, once again PTI representatives sought more time for submitting these documents.
Full report at:
https://www.dawn.com/news/1411030/pti-plea-against-scrutinisation-of-funding-sources-by-ecp-rejected
--------
Must carry forward gains of war to attain peace: COAS
May 31, 2018
QUETTA: Chief of the Army Staff (COAS) Gen Qamar Bajwa has said that the country is on a positive trajectory of peace and stability due to sacrifices of the security forces and people.
According to the Inter-Services Public Relations (ISPR), Gen Qamar visited Quetta on Wednesday and addressed officers and faculty of Command and Staff College.
"The job is not completed yet and we have to carry forward the gains [of war against terrorism] towards enduring peace," said the army chief.
During his visit, Gen Bajwa acknowledged and hailed the contributions and performance of young officers in the operations and advised them to continue excelling in their profession.
Later, the ISPR added, the army chief visited Southern Command headquarters where he was briefed about the progress of border fencing along the Balochistan portion of the Pak-Afghan border, Quetta Safe City Project, and the 'Khushal Balochistan' initiative.
Full report at:
https://www.dawn.com/news/1411071/must-carry-forward-gains-of-war-to-attain-peace-coas
--------
Committee formed to probe murder of prominent Sikh leader in Peshawar
Hassan Farhan
May 30, 2018
A day after the murder of prominent Sikh leader Charnjeet Singh in Peshawar, Capital City Police Officer Qazi Jameel constituted an investigation committee, headed by SSP Investigation Nisar Khan, to probe the matter.
Singh, a religious leader, member of several religious organisations and a social activist known for his patriotism and activism for inter-faith harmony, was killed on May 29 in what appeared to be a targeted attack, police said.
He was killed in the Scheme Chowk area on Kohat Road. According to police, he was on his way home from his shop when unidentified men opened fire, killing him on the spot. The attackers immediately fled after committing the crime.
Khalsa Peace and Justice Foundation President Radesh Singh Tony told DawnNewsTV that the slain Sikh leader "always raised his voice for Pakistan".
He recalled that Charnjeet Singh had arranged several demonstrations after an Indian minister had alleged that Sikhs were being converted to Islam under duress in Peshawar.
Singh had also been running a campaign for the merger of Fata with Khyber Pakhtunkhwa, he added.
Singh had hailed from Sadda in the lower Kurram Agency, but migrated to Peshawar in the early '80s. He is survived by two sons and a daughter.
Sikh community demands justice
Charnjeet's funeral was held at Peshawar's Gurdwara Bhai Joga Singh earlier today.
The Sikh community demanded justice for the slain activist and lamented that the state had failed to provide protection to the community.
"Since 2012, 10 members from the Sikh community have been killed in targeted attacks," said Radesh Tony Singh, a Sikh community representative. "The state has not fulfilled its promises of providing protection to our community."
Full report at:
https://www.dawn.com/news/1410953/committee-formed-to-probe-murder-of-prominent-sikh-leader-in-peshawar
--------
One killed in Bajaur mosque attack
May 31, 2018
BAJAUR AGENCY - A man was killed and three others were wounded on Wednesday after unidentified persons attacked them inside the mosque in Bajaur Agency.
Officials of local administration said that the incident took place in Malanagi area of Mamond tehsil in the early hours of Wednesday.
People killed and injured were members of 'Tablighi Jamaat.' They were staying in the mosque for the last two days and were asleep when unidentified armed persons attacked them with automatic weapons.
They said that Mansab Khan died on the spot while three others were seriously injured in the attack.
Soon after the incident, residents of the area and tribal elders rushed to the mosque and shifted the injured to Agency Headquarters Hospital, Khar.
A senior official told that personal enmity could be the reason behind the incident.
Full report at:
https://nation.com.pk/31-May-2018/one-killed-in-bajaur-mosque-attack
--------
IED blast kills two soldiers in North Waziristan: ISPR
May 30, 2018
As many as two soldiers were killed and three others were injured in an improvised explosive device (IED) explosion near Datakhel area of North Waziristan, the Inter-Services Public Relations (ISPR) said on Wednesday.
According to military's media wing, the blast took place when an IED planted on track by militants went off near a security forces vehicle.
The deceased were identified as Lance Naik Momin Ali and Sepoy Saleem. The injured have been shifted to Combined Medical Hospital (CMH) Peshawar.
Militancy appears to have reared its head in North Waziristan again after two girls' schools were blown up in its Miramshah Tehsil.
Full report at:
https://nation.com.pk/30-May-2018/ied-blast-kills-two-soldiers-in-north-waziristan-ispr
--------
Sikh peace activist shot dead in Pakistan
May 30, 2018
Unknown attackers shot dead a veteran Sikh peace activist known for his active contribution to interfaith harmony in Pakistan's militancy-hit northwest.
Charanjeet Singh, 44, was in his grocery shop on May 29 when gunmen on motorcyclists opened fire at him and sped away in Peshawar, capital of Khyber Pakhtunkhwa province. He died on his way to Lady Reading Hospital.
The slain activist regularly conducted interfaith programs and had hosted iftar (evening) meals for Muslims since the start of fasting month Ramadan at two locations in Peshawar.
Nobody has yet claimed responsibility for the killing, but provincial police chief Salahuddin has ordered the immediate arrest of those involved.
Around 60,000 Sikhs live in Khyber Pakhtunkhwa, including 15,000 who live in Peshawar alone. According to Professor Kalyan Singh, general secretary of Guru Nanak Ji Mission, none of them are safe.
"Six prominent leaders of our community have been killed in the past two years in this region. The voice of interfaith has been silenced, but security is one of the many problems they are facing," he told ucanews.com
"Hindu and Sikh families are forced to bury dead ones in Peshawar because the nearest crematory is 45 kilometers away in Attock city. Many families have fled to Punjab province and now their identity cards have been blocked."
In a press statement released a few hours after Singh's death, the Cecil and Iris Chaudhry Foundation, a Catholic group, condemned "this extremely tragic incident in the strongest possible manner."
"The peace activist was known for promoting religious harmony and discouraging violence. Such blatant acts of violence against religious minorities in Pakistan, which more often than not are carried out with impunity, have left us saddened and angry," it stated.
"It is imperative to make every possible effort to root out this scourge of faith-based violence from our society. It is about time the authorities took concrete measures to ensure protection of all citizens regardless of their faith. This bloodshed has to stop."
AGHS Legal Aid Cell of the late iconic lawyer and rights activist Asma Jahangir paid tribute to Singh.
"We are deeply saddened by Charanjeet Singh's death. His input and work with AGHS on reforming discriminatory laws against religious minorities were emblematic of his contribution towards the minority community. His killers must be held accountable and dealt with in accordance with law," it tweeted.
The left-wing Awami Workers Party also condemned the murder.
"It is our collective shame that he was killed while organizing iftars for the Muslim community. We are allowing the best among us to be consumed in the fire of religious hatred," it said.
Full report at:
https://www.ucanews.com/news/sikh-peace-activist-shot-dead-in-pakistan/82447
--------
South Asia
Taliban leaders involved in Farah city attack killed in Helmand HIMARS strike
May 31 2018
The commander of the US Forces and the NATO Resolute Support Mission in Afghanistan General John Nicholson says the HIMARS strike in southern Helmand province has left at least fifty Taliban leaders who had recently taken part in Farah city attack.
Gen. Nicholson informed regarding the development as he was briefing reporters via video teleconference in Pentagon.
"The — the senior Taliban leader who was there was the deputy shadow governor of Helmand, and a number of other leaders underneath him," Gen. Nicholson said in response a question.
He said "Now, we're still assessing the specific names and positions. But what it looks like it was, was a group of commanders, meeting in part to discuss the operation in Farah that many of them had just participated in."
"And they obviously thought they were meeting in relative safely in — safety in Musa Qal'ah, but our intelligence was able to identify the group and effectively conduct the strike," he added.
The US forces struck the Taliban compound last week using the HIMARS GPS guided artillery rocket.
https://www.khaama.com/taliban-leaders-involved-in-farah-city-attack-killed-in-helmand-himars-strike-05282/
--------
Haqqani network likely behind the attack in Kabul: Gen. Nicholson
May 31 2018
The commander of the NATO-led Resolute Support Mission and US forces in Afghanistan Gen. John Nicholson says that the attack on the Ministry of Interior (MoI) compound was likely carried out by the Taliban, Haqqani Network.
Gen. Nicholson made the remarks during a video teleconference briefing the reporters in Pentagon from Kabul.
"We believe it was a Taliban, Haqqani attack, but we're still developing that information. This tactic tracks with their tactics in the past, but more to follow on that as we learn more about the identity of the attackers," Gen. Nicholson said in a response to a question.
According to a statement released by the Ministry of Interior (MoI), a group of at least ten militants launched a coordinated attack at around 12:10 pm local time today with an attempt to storm into the main compound of the ministry.
However, the ministry said the Afghan forces reacted on time and quickly to suppress the attack and managed to eliminate all the militants involved in they manage to enter the compound of the ministry.
The statement further added that the militants managed to reach to the entrance gate of the ministry compound by disguising themselves in military uniforms and using armored vehicles.
According to MoI, the Afghan forces seized various types of arms, suicide bombing vest, hand grenades, communication devices, and ammunition.
Full report at:
https://www.khaama.com/haqqani-network-likely-behind-the-attack-in-kabul-gen-nicholson-05280/
--------
Afghan officials and Taliban in ceasefire talks, Pentagon says
May 31, 2018
WASHINGTON: Senior Taliban officials have been secretly negotiating with Afghan officials on a possible ceasefire, the Pentagon said Wednesday, even as US forces killed over 50 Taliban leaders in a series of strikes.
"A lot of the diplomatic activity and dialogue is occurring off the stage, and it's occurring at multiple levels," General John Nicholson said in a teleconference with reporters at the Pentagon.
He would not identify the figures involved in the negotiations, except to say that they included mid- and senior-level Taliban officials.
"I should point out they met in secret. This is how they were able to advance the talks," he said, adding that the success of the effort depends in part on the "confidentiality of the process."
Afghan President Ashraf Ghani in late February proposed peace talks with the Taliban, saying they could be recognized as a political party if they accepted a cease-fire and recognized the country's 2004 constitution.
The Taliban have not officially responded, but deadly attacks have proliferated since then, particularly in Kabul, which has become the most dangerous place in the country for civilians.
On Wednesday, militants launched a gun and bomb attack on the Interior Ministry in Kabul, killing a policeman in another demonstration of their ability to strike at the heart of the Afghan capital.
The Taliban also claimed responsibility for a predawn attack on a police station in the capital of Logar province, about 70 kilometers southeast of Kabul.
Six police officers were killed and eight civilians were wounded, provincial police spokesman Shapoor Ahmadzai said.
But Nicholson, who has sought to drive the Taliban to the negotiating table by bringing to bear increased US military pressure, maintained that violence and progress can coexist.
He likened the situation in Afghanistan to that of Colombia where the fighting continued up until the FARC guerrilla group and the government signed a peace accord in 2016.
In a statement Wednesday, the US command in Afghanistan said the strikes against those behind a recent attack in the Helmand provincial capital of Farah resulted in "more than 50 casualties."
After pushing out fighters in Farah, Afghan and US forces continued to pursue them, Nicholson told reporters at the Pentagon via video link.
Under surveillance by the Marines, the Taliban fighters returned to their Helmand stronghold, a center for poppy cultivation.
On May 24, they were spotted in a known Taliban command center in Musa Qala.
Full report at:
http://www.arabnews.com/node/1312846/world
--------
Hasina says Bangladesh does not expect India to 'reciprocate the favour'
2018-05-31
Prime Minister Sheikh Hasina has said Bangladesh does not expect India to return the favour for helping ease its security headache.
She cleared her government's stance when reporters drew her attention to a report by an Indian daily at a news conference at the Ganabhaban on Wednesday on her recent two-day visit to India.
"Dhaka stands by Delhi, Hasina wants Modi to 'reciprocate the favour'," reads the headline of Kolkata-based Anandabazar newspaper.
"I don't want anything in return. What is there to be done in return? I ask for less, give more," Hasina said.
"India will always remember what we've done for them. They had to deal with bombings, shootings every day. We gave them their peace back.
"They must keep it in mind. But we don't want anything in return," she added.
When the Awami League returned to power in 2009, security forces cracked down on Indian insurgents operating from Bangladesh.
The Indian media had reported at the time that the Bangladeshi law enforcers handed some of the top separatists to India.
Speaking about the ties between the two countries at the media call, Hasina recalled the assistance India provided during Bangladesh's war of independence from Pakistan.
"They (India) supported us during the Liberation War by training hundreds of thousands of our freedom fighters and sheltering our refugees. We remember with gratitude that they gave their lives on the battlefield with us," she said.
Hasina said she believes her visit will boost the robust ties with India.
"Let's not comment further," she said when the reporters asked for her reaction to Indian Prime Minister Narendra Modi's recent comments that he hoped the Teesta water-sharing deal would be signed during the current tenure of the two governments.
"There can be bitterness among neighbours. But I don't want to say anything that can create bitterness," she added.
The prime minister emphasised discussion by the joint commission formed on sharing water of the common rivers of the two countries.
She criticised the construction of the Teesta Barrage in Bangladesh during deposed military dictator HM Ershad's regime.
"We are at downstream.. How can we cry for water after constructing the barrage?" she asked.
Hasina also said the Awami League would reconstruct the box culverts at Panthapath and Motijheel so that both vehicles and boats can travel if the party retained power.
She went to India to attend the inauguration of the Bangladesh Building at the Visva-Bharati university and join a special convocation of the Kazi Nazrul University.
After arriving in Kolkata on Friday morning, she travelled to Santiniketan where she and her Indian counterpart Narendra Modi attended convocation of the Visva-Bharati and inaugurated the Bangladesh Bhavana.
The two premiers also held a bilateral meeting.
"We discussed in detail various issues like strengthening bilateral ties and sharing water of common rivers," Hasina said.
On Friday afternoon, she visited Thakur Bari, the ancestral home of Rabindranath Tagore.
The prime minister met business leaders of Kolkata and joined a dinner hosted by West Bengal Governor Keshari Nath Tripathi later in the night.
She travelled to Asansol next morning to attend the special convocation of the Kazi Nazrul University.
She also received an honorary D Lit degree at the university.
On her return to Kolkata from Asansol, she visited the Netaji Museum in the afternoon.
Full report at:
https://bdnews24.com/bangladesh/2018/05/30/hasina-says-bangladesh-does-not-expect-india-to-reciprocate-the-favour
--------
Militants kill one in attack on interior ministry in Kabul
May 30, 2018
KABUL - Militants launched a gun and bomb attack on the interior ministry in Kabul Wednesday, killing a policeman in the latest chilling demonstration of their ability to strike at the heart of the Afghan capital.
Five people were injured in the attack, which took place during the holy month of Ramadan and was claimed by the Islamic State (IS) group.
The Taliban are also stepping up their assaults on the capital, making the heavily fortified city the deadliest place in the country for civilians.
Special forces rushed to the scene after the attackers detonated what police said was a car bomb at the first checkpoint leading to the ministry, then tried to battle their way inside.
"The fighting is over, the attackers have all been killed by security forces between the first and second security perimeter," said Kabul police chief Daud Amin.
A security source told AFP a clearing operation was continuing.
"The attackers used two vehicles to reach near interior ministry compound. There were eight attackers involved, one detonated his explosives, seven others were killed," interior ministry spokesman Najib Danish told reporters.
Danish said one police officer had been killed and five civilians wounded.
Policeman Mujibullah Nabizada was injured in the first blast.
"I dragged myself to the road and a car picked up and brought me to the hospital," he told AFP from his hospital bed, where he was being treated for broken bones.
Seweeta Saberi, 17, was also wounded in the blast and taken to hospital.
"Everyone is sitting in their loved ones' blood these days," her brother Sameer told AFP. "We request you [government leaders], for God's sake, if you can't manage this country please resign."
A security source told AFP there had been multiple blasts but could not confirm how many.
"I was in my office when I heard a blast followed by gunfire. We were told to stay inside our offices as the compound was attacked," said one ministry employee.
IS, which is trying to make inroads in Afghanistan, claimed responsibility for the attack via its Amaq propaganda service.
Police also said they had found a car stuffed with explosives and guns at Kabul's international airport near the interior ministry on Wednesday.
- Kabul targeted -
Both IS and the Taliban have stepped up their attacks on Kabul. The city accounted for 16 percent of all civilian casualties last year, when 1,831 civilians were killed or wounded nationwide, according to the United Nations.
The myriad attacks in the last 12 months included two of the deadliest in the city since the US invasion: a truck bomb on May 31, 2017 that killed more than 150 people, and an ambulance bomb in January 27 this year which killed more than 100.
The UN has warned that 2018 could be even deadlier.
Many fearful residents have restricted their movements as a result, afraid to linger in bazaars or to become trapped in traffic during rush hour, a prime time for attacks.
Last week the Taliban called on Kabul residents to stay away from military and intelligence centres in the capital, saying they planned more assaults as part of their annual spring offensive.
"To avoid civilian casualties and only cause damage to enemy military, we are asking Kabul residents to keep away," said a statement published online.
The Taliban did not define what was meant by "military and intelligence centres".
Full report at:
https://nation.com.pk/30-May-2018/militants-kill-one-in-attack-on-interior-ministry-in-kabul
--------
Taliban attack kills six police in southern Afghanistan
May 30, 2018
PULI ALAM: Taliban attackers including a suicide bomber stormed a police station in southern Afghanistan on Wednesday and killed six police officers, officials said.
The bomber detonated an explosive-laden vehicle at the entrance of the police station in Puli Alam, the capital of Logar province, said provincial police spokesman Shapoor Ahmadzai.
Three other attackers then rushed into the police station compound, triggering a half-hour gunbattle with security forces, he said.
"In half an hour security forces killed all the attackers. Unfortunately, three national police and three traffic police were also killed. Eight civilians have also been wounded," he told AFP.
Shamshad Larwai, the provincial governor's spokesman, confirmed the details and said the situation was under control, but the blast had damaged the police station.
The Taliban, who are stepping up their spring offensive against Afghan security forces and government officials, claimed responsibility for the attack.
Also on Wednesday, a vehicle bomb in the southern city of Kandahar went off inside a garage, killing three mechanics and wounding 10 people, governor's spokesman Daud Ahmadi said. No group immediately claimed responsibility.
Full report at:
https://nation.com.pk/30-May-2018/taliban-attack-kills-six-police-in-southern-afghanistan
--------
Taliban and police suffer casualties in Uruzgan airstrike
May 30 2018
At least ten people including three policemen and seven Taliban militants were killed in the airstrike conducted in southern Uruzgan province of Afghanistan.
According to the provincial council members, the airstrike was carried out in the vicinity of Chora district late on Monday night.
A provincial council member Hayatullah Fazli confirmed that three policemen lost their lives in an airstrike in Chora district late on Monday.
Fazli further added that the airstrike also left at least seven Taliban militants dead.
According to the provincial council member, an unmanned aerial vehicle fired two missiles with targeting a police check post as well as another check post where the Taliban insurgents had taken position.
The local government and security officials have not commented regarding the report so far.
On the other hand, the Taliban group claims that seventeen check posts collapsed into the hands of the Taliban fighters during a clash in Chora district.
Full report at:
https://www.khaama.com/taliban-and-police-suffer-casualties-in-uruzgan-airstrike-05277/
--------
Europe
Muslim group tells Tories to 'remove Islamophobia from party'
May 31, 2018
The Muslim Council of Britain has reiterated a call for the Conservatives to launch an independent inquiry into alleged Islamophobia within the party.
The MCB has repeatedly demanded an investigation, and says there are now "more than weekly incidents" involving Tory candidates and representatives.
In an open letter, it tells chairman Brandon Lewis he must "ensure racists and bigots have no place" in the party.
A Tory spokesman said it took all incidents of Islamophobia seriously.
The latest letter from the MCB lists a series of incidents it says took place during April and at the beginning of May.
It names Harrow East MP Bob Blackman, who has been criticised for hosting events in Parliament with a controversial Hindu nationalist..
At the time of the events, Labour and the MCB said Tapan Ghosh held "abhorrent" views about Muslims.
Mr Blackman said he did not regret sharing a platform with him, but did not agree with Tweets sent by Mr Ghosh about Muslims. Mr Ghosh has also insisted he is not Islamophobic.
The letter, sent by the MCB's secretary-general Harun Khan, calls for the Tories to "publish a list of incidents of Islamophobia within the party where action has already been taken", and "adopt a programme of education and training on Islamophobia".
Lastly, Mr Khan asks that the party "reaffirm from the highest level a commitment against bigotry wherever it is found".
Responding to the letter, a Conservative spokesman said: "We take all such incidents seriously, which is why we have suspended all those who have behaved inappropriately and launched immediate investigations."
https://www.bbc.com/news/uk-44311092
--------
Europe's Biggest Prison Unfit to Cope with Jihadist Inmates
30 May, 2018
French prison Fleury-Merogis, which holds 20 female jihadist inmates and is notorious for Islamic radicalization, is "simply cracking." The staff struggles with violence and exhaustion, a prison union representative told RT.
The facility for imprisoned women within the Fleury-Mérogis Prison, located just 24km from Paris, has 290 female inmates, 20 of whom the administration tagged as Islamic terrorists, or TIS.
"Due to their specific profiles [of these 20 women], all their movements must be accompanied by prison staff, but we do not have enough personnel to carry out this task properly," the regional secretary of the Ile-de-France branch of the CGT Penitentiaries union, Ambroise Koubi, told RT France.
One significant problem is that the French intelligence services hesitate to share information with the prison administration. "We know that some were detained following terrorist acts, but we do not know under what conditions," the official explained, noting that the staff are often not aware of what to expect from the radicalized women.
The facility is also poorly designed to hold ultra-violent captives, so the terrorist detainees at times engage in aggressive acts against personnel. "A prison officer was attacked last week by a radical inmate," she said. Another problem, Koubi explained, is that the facility doesn't have an isolation cell, and if incidents occur, violent inmates should be transferred to another prison.
The overworked prison staff are exhausted, and suicide attempts among those who can't bear the workload are not rare in the facility, according to Koubi.
"Our prisons simply crack. We had two suicides of prison officers this month, a man and a woman," she said, adding that one more staff member tried to end her own life. The administration is allegedly aware of the problems but doesn't provide the staff with the necessary help.
Fleury-Mérogis Prison, which holds a total of around 4,300 inmates, is notorious as a center of Islamist radicalization. Among the inmates is Salah Abdeslam, who was behind the deadly Paris attacks of November 2015. Amedy Coulibaly, one of the terrorists who attacked a kosher store in Paris in January 2015, and Chérif Kouachi, who was behind the Charlie Hebdo assaults, were once prisoners of the facility.
Full report at:
https://www.rt.com/news/428181-french-prison-jihadi-inmates/
--------
UN chief vows to pursue push for Sahel anti-terror force
May 31, 2018
BAMAKO: United Nations Secretary General Antonio Guterres has vowed to pursue support for an anti-terror force gathering five Sahel nations, despite a US rebuff for UN funding.
Guterres visited the headquarters of the so-called G5 Sahel Wednesday in the central town of Sevare on the second and final day of a trip to Mali, which is battling a militant insurgency in the Sahel.
Guterres said the trip had left him with "a warm heart" and the UN would try to help the country stage a free presidential election on July 29.
"Mali must have free elections and we will do our best to help the Malian authorities to run the elections, even if I know that the difficulties are enormous," he added during a press conference in Bamako.
Planned elections have been repeatedly postponed, in part because of security concerns over extremism.
France intervened militarily in Mali in 2013 to help government forces drive Al-Qaeda-linked militants out of the north.
The initial mission was followed in 2014 by Operational Barkhane, which deployed 4,000 French troops alongside the UN's 12,000-strong MINUSMA peacekeeping operation in Mali.
The insurgency however has spread to central and southern Mali and spilled into Burkina Faso and Niger.
Burkina Faso, Chad, Mali, Mauritania and Niger last year agreed to set up the joint force, which would comprise 5,000 troops with a mandate to confront militants in the vulnerable Sahel belt.
It was projected to be fully up and running in March, but its deployment has faced delays and the joint force is poorly-equipped.
Guterres, as well as France, has been lobbying for the force to speed up its work and pushing for UN funding, which would be in addition to technical support from MINUSMA.
But on May 23, the United States said it opposed a Security Council mandate for the force and direct UN funding.
Despite the setback, MINUSMA will provide the G5 with all possible support, Guterres said, adding that he was "in favor of a stronger mandate" by the Security Council for the force.
"We will put forward a very strong argument for the G5 to have the necessary financial resources and equipment to be effective," he said.
"We are also requesting (help for) development in the Sahel, because there is no peace without development," he said.
The vast Sahel region has turned into a hotbed of lawlessness since chaos engulfed Libya in 2011, the Islamist takeover of northern Mali in 2012 and the rise of Boko Haram in northern Nigeria.
About €418 million have been promised for the G5 Sahel, mostly by European countries, Saudi Arabia and the United Arab Emirates. US support has been bilateral and relatively low — $60 million was promised by then secretary of state, Rex Tillerson, in October.
Guterres on Tuesday visited MINUSMA, heaping praise on the force which has suffered the most fatalities of any UN peacekeeping mission.
MINUSMA has 12,500 military and police personnel but has lost more than 160 people since it deployed in 2013 — a figure that accounts for more than half of UN peacekeeping fatalities over this period.
The unrest in Mali, a former French colony, stems from a 2012 Tuareg separatist uprising against the state.
Extremists linked to Al-Qaeda took control of the desert north but were largely driven out in a French-led military operation launched in January 2013.
Full report at:
http://www.arabnews.com/node/1312831/world
--------
ISIS claims deadly attack on Belgium police in Liege
31 May 2018
ISIS on Wednesday claimed one of its "soldiers" killed two policewomen and a student in the Belgian city of Liege this week, the group's Amaq propaganda agency said.
"The author of the attack on the city of Liege in Belgium is a soldier of the Islamic State," ISIS said in a statement published on Amaq's Telegram account a day after the attack.
The terror group said "he led the attack in response to calls to target the countries of the US-led international coalition," which is fighting the group mainly in Syria.
The attacker identified as Benjamin Herman repeatedly stabbed two policewomen in Liege on Tuesday before using their own firearms to kill them, according to investigators in Belgium.
The 31-year-old also shot dead a student sitting in a parked car in the centre of the industrial city.
Belgian police have identified Herman as a drifter who spent a decade in and out of prison for acts of violence and petty crimes.
Full report at:
https://english.alarabiya.net/en/News/world/2018/05/31/ISIS-claims-deadly-attack-on-Belgium-police-in-Liege.html
--------
Terrorist PKK/PYD recruited scores in Germany
31 May 2018
Nearly 250 foreign fighters from Germany traveled to Syria and Iraq to take up arms with the terrorist group PKK/PYD, the German government has confirmed.
Since 2013, intelligence services identified 243 individuals who traveled from Germany to the region in order to join the PKK and the PYD units, the German Interior Ministry said in a reply to a parliamentary question.
At least 20 of them were killed in clashes.
Of the 243 foreign fighters who joined the PKK and its Syrian affiliate PYD, 65 percent had German passports, according to the ministry.
While the PKK has been banned in Germany since 1993, it managed to set up several covert organizations in the country and used them for its recruitment, propaganda and fundraising activities.
The terrorist group had nearly 14,000 followers among the Kurdish immigrant population in Germany, according to the latest annual report of the country's domestic intelligence agency.
Ankara has long criticized German authorities for not taking serious measures against the terrorist group, and continued activities of PKK and PYD in Germany has been a major source of friction between the two NATO allies.
Full report at:
http://www.worldbulletin.net/europe/202616/terrorist-pkk-pyd-recruited-scores-in-germany
--------
North America
New NSC chief of staff is from group that believes Muslims are plotting to take over U.S.
By Abigail Hauslohner
May 30, 2018
A Friday prayer service at Dar Al-Hijrah Mosque in Falls Church, Va., in 2015. (Michael Reynolds/European Pressphoto Agency)
The White House has named a new National Security Council chief of staff from a group that propagates the conspiracy theory that Islamists have infiltrated the U.S. government in a plot to take over the country.
The appointment of Fred Fleitz drew condemnation from civil rights groups this week. The Anti-Defamation League criticized what it described as "his senior leadership role with the Center for Security Policy, an Islamophobic, conspiracy-promoting organization."
Another organization, Muslim Advocates, wrote in statement responding to Fleitz's appointment Tuesday, "The White House continues to be the nation's central organizing body for white supremacists."
Spokesmen for the White House and the NSC did not respond to a request for comment on Fleitz's national security views. NSC spokesman Robert J. Palladino confirmed Fleitz's appointment as NSC chief of staff, deputy assistant to the president and executive secretary.
He is one among a flurry of new NSC hires from the ranks of longtime supporters and associates of John Bolton, President Trump's recently appointed national security adviser, and one of an assembly of aides and advisers that civil rights groups have accused of bigotry and religious bias since Trump took office.
Fleitz is a former chief of staff to Bolton during the George W. Bush administration and the author of "Obamabomb: A Dangerous and Growing National Security Fraud" and "The Coming North Korea Nuclear Nightmare: What Trump Must Do to Reverse Obama's 'Strategic Patience.' " He most recently served as the Center for Security Policy's senior vice president for policy.
While he has focused much of his recent energy in articles, social media posts and appearances on conservative media praising Trump and Bolton and urging Trump to kill what he has called "the FAKE Iran deal," Fleitz has also promoted the myth of European "no-go zones" — places the CSP casts as being governed by Islamic law — as well as a widely debunked CSP survey that suggested a quarter of Muslims support violence against Americans. (During his campaign, Trump cited the same survey in calling for a ban on Muslims entering the United States.)
Fleitz has promoted the idea of a "clash of civilizations" between Islam and the Uited States and co-authored a 2015 CSP report titled "A Plan for Victory Over the Global Jihad Movement" that claimed that "the majority of Muslims and Islamic authorities . . . promote or at least support jihad and shariah supremacism."
"Unfortunately, no significant elements from within Islam thus far have presented themselves as likely allies in the death struggle we confront with our mutual enemies," the report said.
Fleitz and CSP have claimed that major American Muslim organizations and mosques are secretly working to advance a jihadist agenda, that such groups should not be trusted when they claim to "eschew violence" and that they should be "neutralized as political forces."
Fleitz has also contrasted the acute danger that he claims is posed by Muslims compared with other religious groups.
In an appearance on Breitbart News Daily radio show last year, Fleitz attributed a deadly terrorist attack in London to British Muslims' "failure to assimilate."
"There are communities where British Muslims are deliberately not assimilating, are being taught to hate British society, and this is incubating radicalism. There's actually a parallel system of sharia law courts in the U.K. that operate," he said, making claims that British officials say are falsehoods.
Fleitz warned of a similar danger from American Muslim communities, adding that only certain groups pose a danger by not assimilating.
"I'm not concerned about Amish or Jewish communities, but I will tell you that there are enclaves of Muslim communities in Michigan and Minnesota that concern me. We know that in Minnesota there's a rising rate of measles because the community has not assimilated into the rest of the community and is not vaccinating their children," he said, referring to an outbreak in Minneapolis after anti-vaccine activists convinced members of the Somali immigrant community that vaccines cause autism. "This is wrong. This is a big problem."
"The problem with these Muslim communities is that it is making them susceptible to this radical worldview that wants to destroy modern society, create a global caliphate and impose sharia law on everyone on Earth," Fleitz said, according to Breitbart. "These other communities aren't trying to do that. They're peaceful religious communities."
He also warned of "radical clerics and radical mosques" that he said promote hate. And he said he believes that "political correctness" and use of the label "Islamophobic" has hindered the United States' ability "to go after radical Islam."
Karen DeYoung contributed to this report.
https://www.washingtonpost.com/news/post-nation/wp/2018/05/30/new-national-security-council-chief-of-staff-comes-from-a-group-that-believes-muslims-are-plotting-to-take-over-america/
--------
US military says 50 Afghan Taliban leaders killed in rocket strike
30 May 2018
More than 50 senior Taliban commanders were killed in an artillery strike on a meeting in Afghanistan's southern province of Helmand, a US military spokesman said on Wednesday, as fighting continued across the country.
Details of last week's operation emerged as fighting continued in other parts of Afghanistan, where the Taliban launched their annual spring offensive last month.
Gunmen in Kabul, the capital, attacked the heavily fortified interior ministry, battling security forces for more than two hours before the assault was suppressed. There were also serious incidents in Takhar province in the north, in Loghar, east of the capital, and Kandahar in the south, keeping up a pattern of attacks across the country.
The US military said the May 24 meeting in Helmand's district of Musa Qala involved commanders from a number of Afghan provinces, including neighboring Farah, where Taliban fighters this month briefly threatened to overrun the provincial capital.
"We think the meeting was to plan next steps," said Lt. Col. Martin O'Donnell, spokesman for US forces in Afghanistan. While the strike by an artillery rocket system would disrupt Taliban operations, it would not necessarily mean any interruption to the fighting, he said.
Taliban insurgency
However, the attack in one of the heartlands of the Taliban insurgency was a significant blow to the insurgents, he said. "It's certainly a notable strike," he said, adding that several other senior and lower level commanders had been killed during operations over a 10-day period this month.
The Taliban dismissed the report as "propaganda" and said the attack had hit two civilian houses in Musa Qala, killing five civilians and wounding three. "This was a civilian residential area, which had no connection with the Taliban," spokesman Qari Yousaf Ahmadi said in a statement.
In the northern province of Takhar, Taliban fighters in the Dasht-e Qala district centre captured the governor's compound and police headquarters on Wednesday but heavy fighting was continuing, police spokesman Khalil Aseer said.
In Loghar, the Taliban claimed an attack on a police station in the provincial capital, Pul-e Alam, which killed three police and wounded 12, among them four police and eight civilians.
Shahpoor Ahmadzai, a spokesman for the provincial governor, said three attackers who sought to enter the police station in the early morning hours triggered a three-hour gunbattle that ended when all three were killed.
Full report at:
https://english.alarabiya.net/en/News/world/2018/05/30/US-military-says-50-Afghan-Taliban-leaders-killed-in-rocket-strike.html
--------
US general says some Taliban interested in peace
May 30, 2018
WASHINGTON: Some elements of the Taliban in Afghanistan are showing interest in peace talks, the top US commander in Kabul said Wednesday, citing "off stage" contacts involving what he described as mid- and high-level leaders of the insurgency.
"A number of channels of dialogue have opened up between the various stakeholders in the peace process," Nicholson told reporters at the Pentagon. Speaking from his office in Kabul, Nicholson said he could not name names because the contacts are being pursued confidentially to improve the chances of advancing toward actual peace talks.
"What you're seeing right now is a lot of the diplomatic activity and dialogue is occurring off the stage, and it's occurring at multiple levels," he said. "So you see mid-level, senior-level Taliban leaders engaging with Afghans." He added that unspecified international organizations, foreign governments and other interested parties also are involved.
US officials have talked up the prospects for peace many times over the course of the 17-year war in Afghanistan, only to be disappointed. When President Donald Trump announced last August that he was committing to winning the war with a revamped strategy, he said the goal was to compel the Taliban _ with help from Pakistan and other interested nations _ to seek peace. However, a US government watchdog agency recently reported that it saw few signs that this strategy was working, while acknowledging that the Afghan security forces are getting better training.
Inside the Taliban, Nicholson said, there is a "robust dialogue" underway with regard to whether and how to end the war. He asserted there are "many points of intersection" between Taliban and Afghan proposals for pursuing peace.
"This is what, you know, leads me to the conclusion that there's tremendous potential to advance the reconciliation dialogue," he said. "And, again, I don't want to go any further. My diplomatic colleagues are the ones that are involved in this, and their ability to be successful depends in part upon the confidentiality of the process."
Nicholson, who has commanded US and coalition forces in Afghanistan since March 2016, is due to leave his post this summer. The Pentagon on Tuesday announced that Trump nominated Army Lt. Gen. Scott Miller to succeed Nicholson.
While speaking hopefully of peace prospects, Nicholson also told reporters that US rocket artillery struck a gathering of Taliban commanders on May 24 in the Musa Qala district of Helmand province, killing "dozens." His spokesman, Lt. Col. Martin O'Donnell, said earlier that more than 50 were killed but that an exact count has not yet been established.
Nicholson said the Taliban commanders had assembled upon returning from the western province of Farah, where their fighters had attacked multiple security checkpoints and briefly taken control of the provincial city of the same name. Nicholson said 50 of these commanders had been tracked to Musa Qala and targeted by US rocket artillery.
While saying the US attack had disrupted the Taliban network in Helmand province, including its drug trafficking, Nicholson stopped short of saying the killing of dozens of insurgent commanders would have a decisive impact on the war.
Full report at:
https://timesofindia.indiatimes.com/world/us/us-general-says-some-taliban-interested-in-peace/articleshow/64390765.cms
--------
US commander claims Taliban secretly talking to Kabul
May 31, 2018
A United States military official has claimed that some "leaders" of the Taliban group are involved in negotiations with the Afghan government largely "off the stage," even as the group keeps launching deadly attacks in Afghanistan.
"A number of channels of dialog have opened up between the various stakeholders in the peace process," said US Army General John Nicholson, the top American military commander in Afghanistan, on Wednesday.
He was speaking from his office in the Afghan capital, Kabul, via video conference to officials at the Pentagon.
He said he could not provide the names of the specific Taliban members since the contacts were being pursued confidentially in a bid to improve the likelihood of advancing to actual peace negotiations. He merely said "mid-level, senior-level Taliban leaders" were engaged in the alleged talks with Kabul.
There was no confirmation from the Afghan government.
Nicholson also said that unspecified international organizations, foreign governments, and other interested parties were also involved in the negotiations.
He also questioned both the Taliban and the Afghan government's capability to subdue the other one.
Taliban's five-year rule over at least three quarters of Afghanistan came to an end when the US and its allies invaded the Asian country on October 7, 2001 as part of Washington's so-called war on terror. The offensive removed the Taliban regime from power, and ever since, the group has been involved in widespread militancy, killing thousands of civilians and Afghan and American forces and displacing tens of thousands of people across the country.
Back in February, Afghan President Ashraf Ghani called on the Taliban to join peace talks "without preconditions," even as he called on the outfit to recognize the Afghan government. He also said that his government would provide passports and issue visas to Taliban members and their families and open an office for them in Kabul and promised to work to remove international sanctions against Taliban leaders.
But the Taliban left that offer without a reply, making an offer of their own to talk to the US, instead.
Still later, they threatened that they would be looking out for US forces to "kill" or "capture."
The militant group said the presence of American bases in Afghanistan "sabotages all chances of peace" and was "prolonging the ongoing war," which is also the longest in the US history.
The group has engaged in increased fighting in recent weeks.
Last week, the Taliban issued a warning to Kabul residents to stay away from "military bases" since they were planning to carry out more attacks on "the enemy's military and intelligence centers."
On Wednesday, Taliban militants attacked a police station in southern Afghanistan.
Full report at:
http://www.presstv.com/Detail/2018/05/31/563433/Afghanistan-Taliban-secret-talks-US-Nicholson
--------
US imposes new sanctions against Iran
May 30, 2018
The United States has imposed sanctions on several Iranian individuals and organizations, including Evin Prison and the Islamic Republic of Iran Broadcasting (IRIB), over "human rights abuses" and "censorship."
The US Treasury Department announced the sanctions Wednesday on its website, saying the listed persons and entities will be blocked from the US financial system.
Individuals and companies who do business with the targeted Iranians could face sanctions from Treasury as well.
"Iran not only exports terrorism and instability across the world, it routinely violates the rights of its own people. The Iranian regime diverts national resources that should belong to the people to fund a massive and expensive censorship apparatus and suppress free speech," Treasury Secretary Steven Mnuchin said in a statement.
Iran has rejected US and Western accusations of human rights abuses in the Islamic Republic as "untrue" and "politically-motivated."
On Thursday, the US Treasury imposed new sanctions against nine Iranian and Turkish individuals and companies as well as a number of aircraft providing goods and services to four Iranian airlines.
The move by Washington was part of President Donald Trump's plans to impose harsh sanctions against Tehran after pulling out of the 2015 Iran nuclear deal.
Many countries, including America's European allies, have said that they would not back Trump's new plan.
The UK, France and Germany-- all signatories to the deal-- are already in talks with Iran to protect their businesses from possible punishment by the US.
Full report at:
http://www.presstv.com/Detail/2018/05/30/563397/US-imposes-new-sanctions-Iran
--------
URL: https://www.newageislam.com/islamic-world-news/philippine-congress-passes-autonomy-bill/d/115408
New Age Islam, Islam Online, Islamic Website, African Muslim News, Arab World News, South Asia News, Indian Muslim News, World Muslim News, Women in Islam, Islamic Feminism, Arab Women, Women In Arab, Islamophobia in America, Muslim Women in West, Islam Women and Feminism