New Age Islam News Bureau
30 Jan 2017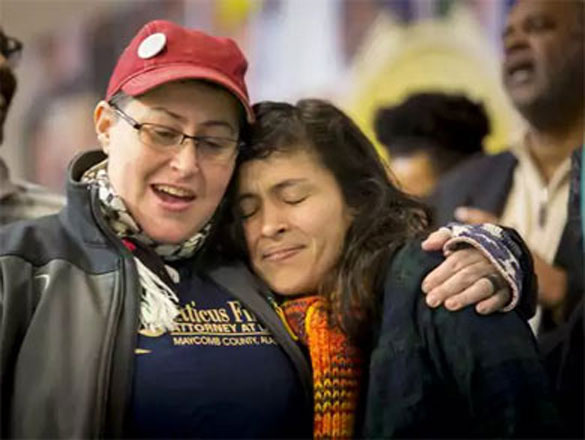 Sunday, Jan. 29, 2017: Dannyn Qualls-Gibea of Independence, left, sings "We Shall Overcome" as she hugs Fernanda Torres-Browne of Pleasant Ridge at a demonstration against President Donald Trump at CVG Airport in Hebron, Ky. The two had just met. (Photo: The Enquirer/Carrie Cochran)
-----
• Pastor at Greater Cincinnati Airport Rally: 'Jesus Was a Refugee'
• Top Iraqi Cleric Wants Americans Out Over Trump's Ban on Muslims
• Iran's Oscar-Winning Director Boycotts Academy Awards over US Muslim Ban
• Saudi-Led Coalition's Attacks in Yemen 'May Amount to War Crimes': UN
North America
• Pastor at Greater Cincinnati Airport Rally: 'Jesus Was a Refugee'
• Trudeau: Mosque Shooting A "Terrorist Attack On Muslims"
• 5 dead in mosque shooting in Canada's Quebec
• When Muslims got blocked at American airports, U.S. veterans rushed to help
--------
Arab World
• Top Iraqi Cleric Wants Americans Out Over Trump's Ban On Muslims
• Over 50 Saudi-Backed Militias Killed In Yemeni Forces' Offensives in Ta'iz
• Top Mufti of Jeish Al-Fatah Joins Newly-Formed Coalition of Terrorist Groups in Syria
• Syrian Army Scores More Victories against ISIL East of Aleppo
• Saudi king agrees in call with Trump to support Syria, Yemen safe zones: White House
• Two Iraqis lead legal fight against Trump order blocking entry
• Syrian regime 'retakes control' of Wadi Barada
• Syria: Russia to Use Alligators, Black Crows in Liberation Operation of Palmyra
• Syria: ISIL Withdraws from More Heights in Northern Damascus
--------
Mideast
• Iran's Oscar-Winning Director Boycotts Academy Awards over US Muslim Ban
• '57 Dead' In First US Raid On Qaeda in Yemen under Trump
• Iran Says Will Respond In Kind to Trump's 'Insulting' Ban
• At least 18 Daesh terrorists killed in Turkey's operations in northern Syria
• Netanyahu backs US embassy move to Jerusalem, but signals no urgency
• Trump's refugee ban no solution to problems, Turkey PM says
• Trump's ban on Muslims entry will harm US: Leader's aide
• US ban on Muslim arrivals greatest gift to terrorists: Zarif
• Israeli PM seeks parliamentary vote on law legalizing settlements
• US commando killed, 3 hurt in surprise assault on central Yemen
--------
Europe
• Saudi-Led Coalition's Attacks in Yemen 'May Amount to War Crimes': UN
• French Socialist Candidate Benoit Hamon Is 'Proud Of Muslim Nickname'
• British diplomats, Muslim figures condemn Trump's travel ban
• Chechen soldiers among Russian military police in Aleppo to 'ease interaction with locals'
--------
Southeast Asia
• Muslims Take Part in Organizing Catholic Mass In East Nusa Tenggara
• Concern in Malaysia Rohingya Could Fall Prey To IS Extremists
• Philippine Troops Kill 15 Islamic State Supporters; Rebel Leader Wounded
• Japanese Airline to Screen Majority-Muslim Country Passengers before Departure for US
• On-The-Run Zakir Naik to Give Friday Sermon in Perlis
• Indonesia says Trump curbs may hamper fight against terrorism
• Indonesia 'deeply regrets' US anti-Muslim ban
• Saudi Arabia Uses University Scholarships to Influence Indonesians
--------
South Asia
• Dhaka Keeping Tabs On Radicalised Bangladeshis with Dual Citizenships
• Taliban Attack on Afghan Forces Coordination Center Repulsed In Nangarhar
• Top Muslim lawyer gunned down in Myanmar
• Taliban collecting bills for Afghan utilities: NYT
• Afghan forces destroy 8 heroin labs in Helmand province
--------
Africa
• Jordan King to Press Trump to Step up War on Islamist Militants
• Boko Haram Terrorists Kill Seven in Northeastern Nigeria
• Local Muslims come to Victoria's aid after mosque burns
• Nigeria: Suleman insists on death for Fulani Muslim militia
• Seven dead in suspected Boko Haram attack on Nigerian highway
--------
India
• JKNPP Protests Settlement of Immigrant Muslims in Jammu
• India invites Pakistan for Speakers' summit but Pakistan unlikely to attend
• In 1984, Indian Air Force could have 'inflicted major damage' on Pakistan's nuclear facilities, CIA believed
--------
Pakistan
• Imran Khan Wants Trump to Extend US Travel Ban to Pakistan
• 115 Muslims Acquitted By Court Who Torched Homes of Christian Joseph Colony
• London's Pakistan-origin Mayor Criticises Trump's Immigration Ban
• South Asia destabilised by breaking Pakistan: Malik
• MPs stress early steps to ensure peace, progress
Compiled by New Age Islam News Bureau
URL: https://www.newageislam.com/islamic-world-news/new-age-islam-news-bureau/pastor-at-greater-cincinnati-airport-rally---jesus-was-a-refugee-/d/109891
--------
Pastor at Greater Cincinnati Airport Rally: 'Jesus Was a Refugee'
Jan 30, 2017
Two rallies today in Greater Cincinnati showed support for the local Muslim community and against President Donald Trump's executive order targeting Muslim immigration.
The first was a 1 p.m. unity rally at the Mason Community Center, 6050 S. Mason-Montgomery Road, Mason. It came on the heels of the distribution of a pamphlet that falsely accused a Mason mother of having ties to terrorists. Hundreds gathered and lined both sides of the street and the median.
"I hate no one," said Rawd Saleh, 41, the Mason woman. "I am forgiving and for unity. If we are divided, we are no longer the United States of America."
The crowd was predominantly white but heavily Muslim. Residents waved U.S. flags, chanted and displayed signs supporting Muslims and immigration. Over the one-hour, 15-minute demonstration, hundreds of cars and pickups rolled by, honking their horns in support. Many drivers and their passengers flashed the two-finger peace sign.
"I've never been targeted. I've been here for 35 years," said Saleh, a mother of three. "I am the person that is supportive of everybody. I don't go for this kind of thing."
The flier had cited police statements concerning a criminal case 14 years ago against Rawd Saleh's father, Omran Saleh. He was falsely accused of supporting terrorism by sending money to the Mideast. Authorities later said that was not true; Omran Saleh was convicted of tax fraud charges, however.
Sunday night at Cincinnati's international airport, a racially and ethnically diverse crowd of more than 100 people rallied inside the terminal on behalf of refugees and Muslims. The Rev. Damon Lynch III, pastor of predominantly black New Prospect Baptist Church in Roselawn, accompanied a group of 30 parishioners.
"How do you allow history to repeat itself?" Lynch said among as he stood among the crowd, which chanted and sang verses of "We Shall Overcome" and "America."
"The main reason I'm here," Lynch added, "is because Jesus was a refugee."
This rally at Cincinnati/Northern Kentucky International Airport was in protest of President Trump's executive order barring refugees for 120 days and travel into the United States from seven Muslim-majority countries including Iran and Iraq.
Organizers said in a social media alert that protesters should gather at the welcome gates of the Delta Air Lines terminal. This rally comes a day after demonstrators gathered at several large U.S. airports Saturday to protest the executive order. Trump's order led to the detention Saturday of dozens of people who were traveling lawfully, including those with green cards. Federal court rulings have delayed implementation of some aspects of the executive order.
Several immigrants — Colombians, Iranians, Mauritanians — mixed at the airport with a group that was about evenly mixed African-American and white.
Earlier Sunday in Mason, Rawd Saleh said distribution of the flier, though bogus in its claims, was disturbing.
"I was put on the front line – my children and I, my neighbors, the children that play on our street were all put on the front line for anybody radical that sees my information – where I live, my name – that can possibly hurt anybody," she said. "My concern is not for just me and my children but for everyone in that neighborhood. And that wasn't fair at all, for one person to be scared and instead of going to the police to do that to a whole entire neighborhood."
Born in Jerusalem to her Palestinian father and Turkish mother, Saleh has lived in the United States since she was 6. She said anti-Muslim harassment has been going on since well before Trump's election. She is sad to see other Muslim women remove their hijabs in an attempt to be anonymous.
"No one will make me take this off," she said of her religious head garb.
Greater Cincinnati has been her home for the past 19 years. Toward the end of the rally, she thanked Mason Police, event organizers and those who participated.
Two non-Muslim women, a Christian and Unitarian Universalist, organized the event. Cyndi Ritter, 31, of Clifton, and Sarah Martin, 29, of Mason, are friends who met with Saleh last week and asked how she wanted to proceed. Ritter and Martin then created a social media flier promoting the rally and circulated it through their networks and to area mosques and the Cincinnati chapter of the Council on American-Islamic Relations, better known as CAIR.
"This has nothing to do with Trump," Ritter said, "except by proxy. We wanted to take something negative and turn it into a positive."
Mike Thomas, 56, of Dayton, Ohio, carried a sign reading, "My parents were immigrants." They came from the former Yugoslavia and Austria and escaped the Iron Curtain. Thomas' father worked as a civilian scientist for the U.S. Air Force at Wright Patterson Air Force Base.
"When you harass and detain immigrants, it's personal," he said.
A Lakota East Student, Bryn Morgan, 17, carried a basket of candy through the crowd, offering it to participants.
She drove down with two friends to show her support for Saleh and the larger Muslim community. The harassment, she said, "is not what America should be."
http://www.cincinnati.com/story/news/2017/01/29/two-rallies-sunday-support-muslim-community/97214660/
--------
Top Iraqi cleric wants Americans out over Trump's ban on Muslims
Jan 29, 2017
Prominent Iraqi cleric, Muqtada al-Sadr, has censured US President Donald Trump over his executive order to ban entry into the US of citizens from seven Muslim-majority countries, calling for the expulsion of American nationals from the Arab country in retaliation.
"It would be arrogance for you to enter freely Iraq and other countries while barring them the entrance to your country ... and therefore you should get your nationals out," Sadr said in a statement published on his website on Sunday.
Iraqi parl. says govt. must reciprocate US travel ban
Meanwhile, Iraqi parliament's foreign affairs committee has decried the measure as "unfair," and asked the Iraqi government to "reciprocate" the travel curbs imposed on Iraqis.
"We ask the Iraqi government to reciprocate ... the decision taken by the US administration," the committee said in a statement, adding, "Iraq is in the frontline of the war of terrorism ... and it is unfair that the Iraqis are treated in this way."
"We clearly demanded that the Iraqi government deal reciprocally in all issues... with the United States of America," Hassan Shwairid, the deputy head of the committee, told AFP.
On January 27, Trump signed a sweeping executive order to make good on his promised Muslim Ban.
The new Republican president's order imposes a 90-day ban on the entry of citizens of Iran, Iraq, Syria, Yemen, Sudan, Libya and Somalia, blocks refugees from Syria indefinitely, and suspends all refugee admissions for 120 days.
Iraq's popular forces want Americans out
In a related development, the pro-government Popular Mobilization Forces, commonly known by the Arabic word Hashd al-Sha'abi, also urged Iraqi authorities to bar the entrance of Americans into the country.
"After the decision of the American president to prohibit the entry of Iraqi citizens to the United States of America, we demand Americans be prevented from entering Iraq, and the removal of those of them who are present," Hashd al-Sha'abi said in a statement.
The statement did not clarify whether the demand applies to the US military personnel already deployed to Iraq or not.
Thousands of American troops are currently in Iraq as part of the so-called US-led coalition against Daesh Takfiri terrorist group.
Hashd al-Sha'abi fighters joined forces with Iraqi army soldiers and Kurdish Peshmerga forces in a major operation on October 17, 2016 to retake the strategic northern city of Mosul from Daesh extremists.
The pro-government fighters also played a major role in the liberation of Tikrit, located 140 kilometers northwest of the capital, Baghdad, as well as Fallujah city in the western province of al-Anbar among many areas in Iraq.
The reactions to Trump's Muslim ban come amid reports that the Iraqi government plans to lobby the US administration to mitigate the impact of restrictions on Iraqi travelers and preserve cooperation in the anti-Daesh campaign.
On Saturday, protests broke out at major US airports, including Dallas, Chicago, Boston, Los Angeles and New York, after border agents began detaining refugees and immigrants arriving in the country.
Families anxiously waited to learn the fate of their loved ones at terminals, while protesters chanted "Let them in" and "This is What America Looks Like."
The American Civil Liberties Union (ACLU) also filed a lawsuit, challenging Trump's executive order on behalf of two Iraqis who were detained at New York's John F. Kennedy airport on Friday.
ACLU lawyers successfully argued for a temporary stay, allowing the detained travelers to stay in the country.
http://www.presstv.ir/Detail/2017/01/29/508270/Iraq-Shia-cleric-Muqtada-cleric-expulsion-American-nationals-Trump-Muslim-ban
--------
Iran's Oscar-winning director boycotts Academy Awards over US Muslim ban
Jan 29, 2017
Oscar-winning Iranian filmmaker, Asghar Farhadi says he has decided not to participate in the Oscars ceremony next month in protest at the US President Donald Trump's executive order to restrict entry into the country from the Islamic Republic and six other Muslim states.
Farhadi, whose film The Salesman is nominated for an Academy Award for best foreign-language movie, said in a statement published by The New York Times on Sunday that he would boycott the ceremony even if he were granted an exception to US President Donald Trump's controversial decision.
He added that he had planned to attend the ceremony in Los Angeles on February 26 and while there bring attention to a decision he called "unjust."
"Over the course of the past few days and despite the unjust circumstances which have risen for the immigrants and travelers of several countries to the United States, my decision had remained the same: to attend this ceremony and to express my opinions about these circumstances in the press surrounding the event," he said.
The prominent director added, "I neither had the intention to not attend nor did I want to boycott the event as a show of objection, for I know that many in the American film industry and the Academy of Motion Picture Arts and Sciences are opposed to the fanaticism and extremism which are today taking place more than ever."
He noted that the US president's executive order had given rise to "ifs and buts," which were in no way acceptable to him even if exceptions were to be made for his trip.
"It now seems that the possibility of this presence is being accompanied by ifs and buts which are in no way acceptable to me even if exceptions were to be made for my trip," Farhadi said.
Iranian Director Asghar Farhadi Won't Attend Oscar Ceremony
Trump's executive order, issued on January 27, blocked entry into the United States for 90 days for citizens from Iran, Iraq, Libya, Somalia, Sudan, Syria and Yemen. It also suspended entry of all refugees for 120 days and barred Syrian refugees indefinitely.
Farhadi's decision came after Iranian actress, Taraneh Alidoosti, who stars in The Salesman, said on Thursday that she had made up her mind to boycott this year's Academy Awards ceremony in a show of protest against the US president's decision to impose visa bans on Iranians.
Alidoosti took to Twitter and Instagram to slam Trump's planned visa bans, which she described as "racist" and "unacceptable."
"Trump's visa ban for Iranians and others is a racist move and unacceptable," Alidoosti tweeted, adding, "Whether this will include a cultural event or not, I won't attend the #AcademyAwards 2017 in protest."
Farhadi's The Salesman took home two awards at the 2016 Cannes Film Festival last May.
The Salesman was also nominated for a Golden Globe and a Critics' Choice Award among several other nationwide and universal recognitions.
Back in 2012, Farhadi won Iran its first-ever Academy Award with domestic drama A Separation.
http://www.presstv.ir/Detail/2017/01/29/508303/Iran-US-Asghar-Farhadi-Salesman-Donald-Trump-visa-ban-Oscars
--------
Saudi-led coalition's attacks in Yemen 'may amount to war crimes': UN
January 30, 2017
UNITED NATIONS: A Saudi Arabia-led military coalition has carried out attacks in Yemen that "may amount to war crimes," UN sanctions monitors reported to the world body's Security Council, warning coalition allies including the United States, Britain and France that they are obligated to respect international humanitarian law.
The annual report by the experts who monitor sanctions and the conflict in Yemen, seen by this news agency on Saturday, investigated 10 coalition air strikes between March and October that killed at least 292 civilians, including some 100 women and children.
"In eight of the 10 investigations, the panel found no evidence that the air strikes had targeted legitimate military objectives," the experts wrote in a 63-page report presented to the Security Council on Friday.
"For all 10 investigations, the panel considers it almost certain that the coalition did not meet international humanitarian law requirements of proportionality and precautions in attack," the report said.
"The panel considers that some of the attacks may amount to war crimes." The experts said Saudi Arabia is leading a military coalition made up of Bahrain, Kuwait, Qatar, the United Arab Emirates, Egypt, Jordan, Morocco and Sudan.
Saudi UN Ambassador Abdallah Al-Mouallimi said the accusations in the report were unfounded, that the coalition has been "exercising maximum restraint and rigorous rules of engagement," and that there had been transparent investigations into any incidents.
"In some cases errors were acknowledged and responsibility accepted. Corrective measures including compensation to victims were taken," he said.
The UN experts said US officers were supporting coalition logistical and intelligence activities, while the coalition's chief of joint operations told the experts that officers from France, Malaysia and Britain were also present at the Riyadh headquarters.
"All coalition member states and their allies also have an obligation to take appropriate measures to ensure respect for international humanitarian law by the coalition," the UN experts wrote.
"The panel finds that violations associated with the conduct of the air campaign are sufficiently widespread to reflect either an ineffective targeting process or a broader policy of attrition against civilian infrastructure," the report said.
The UN experts said that altho­ugh they were unable to travel to Yemen, they have "maintained the highest achievable standard of proof."
A spokesman for the British UN mission declined to comment on a leaked document, but added: "We take reports of alleged violations of international humanitarian law by actors in the conflict very seriously."
A senior US State Department official said: "We urge all sides to take steps to prevent harm to civilians. Ending the conflict in Yemen requires a durable cessation of hostilities and a comprehensive political solution."
Published in Dawn January 30th, 2017
http://www.dawn.com/news/1311627/saudi-led-coalitions-attacks-in-yemen-may-amount-to-war-crimes-un
--------
North America
Trudeau: Mosque shooting a "terrorist attack on Muslims"
January 30, 2017
QUEBEC CITY: The shooting at a Quebec mosque during Sunday night prays which reportedly killed five people was a "terrorist attack on Muslims", said Canadian Prime Minister Justin Trudeau.
"We condemn this terrorist attack on Muslims in a centre of worship and refuge," Trudeau said in a statement.
Five people were killed after gunmen opened fire in a Quebec City mosque, the mosque's president told reporters on Sunday. A witness told Reuters that up to three gunmen fired on about 40 people inside the Quebec City Islamic Cultural Centre.
"Why is this happening here? This is barbaric," said the mosque's president, Mohamed Yangui.
Quebec police said there were many victims and deaths, but did not confirm the death toll. They said two people had been arrested, but there were no immediate details on the suspects.
A witness said a heavily armed police tactical squad was seen entering the three-storey mosque. Police declined to say whether there was a gunman inside the mosque at the time.
Police tweeted later that the situation was under control and that the mosque had been secured and occupants evacuated.
Yangui, who was not inside the mosque when the shooting occurred, said he got frantic calls from people at evening prayers. He did not know how many were injured, saying they had been taken to different hospitals across Quebec City.
"Tonight, Canadians grieve for those killed in a cowardly attack on a mosque in Quebec City. My thoughts are with victims & their families," Trudeau tweeted earlier in the night.
The shooting came on the weekend that Trudeau said Canada would welcome refugees, after US President Donald Trump suspended the US refugee program and temporarily barred citizens from seven Muslim-majority nations from entering the United States on national security grounds.
New York Mayor Bill de Blasio said police were providing additional protection for mosques in that city following the Quebec shooting. "All New Yorkers should be vigilant. If you see something, say something," he tweeted.
Canada's federal Liberal legislator Greg Fergus tweeted: "This is an act of terrorism — the result of years of demonizing Muslims. Words matter and hateful speeches have consequences!"
'Not safe here'
Like France, Quebec has struggled at times to reconcile its secular identity with a rising Muslim population, many of them North African emigrants.
In June 2016, a pig's head was left on the doorstep of the cultural centre.
"We are not safe here," said Mohammed Oudghiri, who normally attends prayers at the mosque in the middle-class, residential area, but not on Sunday.
Oudghiri said he had lived in Quebec for 42 years but was now "very worried" and thinking of moving back to Morocco.
Mass shootings are rare in Canada, which has stricter gun laws than the United States, and news of the shooting sent a shockwave through mosques and community centers throughout the mostly French-language province.
"It's a sad day for all Quebecers and Canadians to see a terrorist attack happen in peaceful Quebec City," said Mohamed Yacoub, co-chairman of an Islamic community center in a Montreal suburb. "I hope it's an isolated incident."
Incidents of Islamophobia have increased in Quebec in recent years. The face-covering, or niqab, became a big issue in the 2015 Canadian federal election, especially in Quebec, where the vast majority of the population supported a ban on it at citizenship ceremonies.
In 2013, police investigated after a mosque in the Saguenay region of the province was splattered with what was believed to be pig blood. In the neighboring province of Ontario, a mosque was set on fire in 2015, a day after an attack by gunmen and suicide bombers in Paris.
Zebida Bendjeddou, who left the mosque earlier on Sunday evening, said the centre had received threats.
"In June, they'd put a pig's head in front of the mosque. But we thought: 'Oh, they're isolated events.' We didn't take it seriously. But tonight, those isolated events, they take on a different scope," she said.
Bendjeddou said she had not yet confirmed the names of those killed, but added: "They're people we know, for sure. People we knew since they were little kids."
http://www.freemalaysiatoday.com/category/world/2017/01/30/trudeau-mosque-shooting-a-terrorist-attack-on-muslims/
--------
5 dead in mosque shooting in Canada's Quebec
January 30, 2017
Five people were killed after gunmen opened fire in a Quebec City mosque during evening prayers, the mosque's president told reporters on Sunday.
Earlier, a witness told Reuters that up to three gunmen fired on about 40 people inside the Quebec City Islamic Cultural Center in Canada's Quebec province. Police put up a security perimeter around the mosque.
What we know so far
At least 5 killed, many injured in shooting incident
Around 40 people were inside the mosque
Quebec police have arrested 2 suspects
Two people have been arrested after the shooting incident, said a police spokesman who confirmed there were deaths and injuries but declined to give a number.
"There are many victims ... there are deaths," a Quebec police spokesman told reporters.
A Reuters eyewitness saw heavily armed tactical police entering the mosque. Police spokesman Etienne Doyon declined to say whether there was a gunman inside the mosque.
Police later tweeted: "The situation is under control."
"Why is this happening here? This is barbaric," said the mosque's president, Mohamed Yangui.
Yangui, who was not inside the mosque when the shooting occurred, said he got frantic calls from people at evening prayers. He did not know how many were injured, saying they had been taken to different hospitals across Quebec City.
Canadian Prime Minister Justin Trudeau said on Twitter: "Tonight, Canadians grieve for those killed in a cowardly attack on a mosque in Quebec City. My thoughts are with victims & their families."
Quebec's prime minister, Philippe Couillard, said in a series of Twitter posts that the government was "mobilized to ensure the security of the people of Quebec".
"Quebec categorically rejects this barbaric violence," he wrote. "Solidarity with Quebec people of Muslim faith."
Rising Islamophobia
The Islamic Cultural Center of Quebec, which is also known as the grand mosque of Quebec, had already been the target of hate: a pig's head was left on the doorstep last June during the Muslim holy month of Ramazan.
Zebida Bendjeddou, who left the mosque earlier on Sunday evening, said the centre had received threats.
"In June, they'd put a pig's head in front of the mosque. But we thought: 'Oh, they're isolated events.' We didn't take it seriously. But tonight, those isolated events, they take on a different scope," she said.
Bendjeddou said she had not yet confirmed the names of those killed, but added: "They're people we know, for sure. People we knew since they were little kids."
Like France, mostly French-speaking Quebec has struggled at times to reconcile its secular identity with a rising Muslim population, many of them North African emigrants.
The face-covering, or niqab, became a big issue in the 2015 national Canadian election, especially in Quebec, where the vast majority of the population supported a ban on it at citizenship ceremonies.
Incidents of Islamophobia have increased in Quebec in recent years. In 2013, police investigated after a mosque in the Saguenay region of Quebec was splattered with what was believed to be pig blood.
Full report at:
http://www.dawn.com/news/1311639/5-dead-in-mosque-shooting-in-canadas-quebec
--------
When Muslims got blocked at American airports, U.S. veterans rushed to help
Jan 30 2017
Jeffrey Buchalter was reflooring his foyer in Chesapeake Beach, Md., and listening to MSNBC over the weekend when he heard the news: An Iraqi who had worked with American forces as an interpreter had been stopped from entering the U.S. under a new executive order on immigration from President Trump.
The story stopped him cold. Buchalter, an Army veteran who works as a law-enforcement instructor at the Department of Homeland Security, had served multiple tours of duty as a military policeman in Iraq, service that cost him dearly.
He was decorated for injuries sustained from gunfire and improvised explosive devices. Exams revealed he'd suffered herniated discs, traumatic brain injury and post-traumatic stress disorder, and he spent 2 ½ years at Walter Reed Army Medical Center trying to get right.
But he was still alive, and now the married father of two children. And he believes that's thanks in part to the work of Iraqi interpreters who acted as guides during his work in their country. So he told his younger daughter and son they were going to take a trip: a two-hour drive to Dulles International Airport outside Washington, D.C., where, for the first time in his life, Buchalter would join a protest.
"This is not what we fought for, having been in Iraq and working with these interpreters," Buchalter said in a phone interview Sunday. When he saw an Iraqi family emerge from detention, he presented them with something he hoped would convey America's goodwill — a Purple Heart.
"Knowing their culture and how they view America, for me, it was a way to send a message to them: What they believe America was, it is," Buchalter said. "It's the greatest place in the world."
Trump's executive order Friday to block travelers from seven Muslim-majority nations triggered confusion, fear and anger around the nation as protesters and attorneys gathered at airports to try to force the release of at least dozens of travelers who had unexpectedly become detainees. Many of America's veterans were among those frustrated by the order, inspired largely by the story of Iraqi interpreter Hameed Khalid Darweesh.
Darweesh, 53, was detained after arriving at John F. Kennedy International Airport in New York, despite holding a special immigrant visa granted to American military translators following a decade of what one U.S. official had deemed "faithful and valuable service to the United States" in Iraq, according to the American Civil Liberties Union.
Darweesh had worked for the U.S. as an interpreter, engineer and contractor from 2003 to 2013, continuing even as Iraqi colleagues were assassinated for their work supporting the American invasion. Now he wanted to immigrate to the U.S. It had taken Darweesh two years of interviews and security screenings to obtain the visa, but, for the moment, all that appeared to be suddenly worthless.
Veterans were infuriated by his story. "The idea that we would be detaining Iraqi interpreters who put their lives on the line to help troops like myself in Iraq is disgraceful," wrote veteran Jon Soltz, chairman of an Iraq veterans' political action committee, VoteVets. The group launched a petition calling on Trump to rescind the visa restrictions and to provide aid for U.S. military interpreters.
Those frustrated by Darweesh's treatment included one of his former American colleagues in the 101st Airborne division, Brandon Friedman, who had met Darweesh as an infantry lieutenant when the division swept into Baghdad to drive out the forces of Iraqi autocrat Saddam Hussein.
"He was anti-Saddam and wanted to help us," said Friedman, who would go on to work in the Obama administration, recalling how Darweesh accompanied platoons on dangerous missions. "The guy was absolutely fearless. Guys in our company would go out in all the body armor and everything, and he would go out in khakis and a baseball cap, at least in the beginning."
Not only was Darweesh's work essential for soldiers to navigate Iraqi communities, but when a car bomb detonated near the unit's base, "He was wounded himself, and he pulled wounded soldiers to safety," Friedman said. And now veterans who knew Darweesh were upset.
"If you could see all the Facebook posts from guys in the unit this week, everybody loved him. He was just such an integral part of the unit," Friedman said. Many veterans were "absolutely" opposed to Trump's blanket exclusion of military interpreters, "because if you've been over there, you know their importance," said Friedman. He called the ban "deplorable" and said it gives interpreters less incentive to help U.S. troops in the future.
As public scrutiny grew Saturday, protesters and immigration attorneys massed at airports around the nation, and the American Civil Liberties Union filed a federal lawsuit against the Trump administration on Darweesh's behalf.
Darweesh was freed earlier in the day, and his ACLU lawsuit later led to a late-night ruling from a federal judge in New York, who temporarily barred American officials from deporting arriving travelers who otherwise had legal travel documents.
But the executive order still makes life uncertain for other Muslims abroad who had assisted the American military and whose hopes for entry to the U.S. have dimmed.
Chase Millsap, a former Marine infantry officer who served multiple tours in Iraq, has been trying to help a former Iraqi soldier he served with to gain asylum in the U.S.
The Iraqi man, whose name Millsap asked be withheld for his safety, fled with his family to southern Turkey in 2014, after Islamic State militants reached the outskirts of Baghdad and began hunting for the soldier's Shiite family, Millsap said.
The soldier, whom Millsap nicknamed "the Captain," applied for refugee status through U.S. Citizenship and Immigration Services but has been waiting for a decision for nearly three years.
Full report at:
http://www.latimes.com/nation/la-na-veterans-muslims-20170129-story.html
--------
Arab World
Over 50 Saudi-Backed Militias Killed in Yemeni Forces' Offensives in Ta'iz
Jan 29, 2017
"Over 50 Saudi-hired mercenaries, including some from Sudan, were killed in clashes with the Yemeni forces in the coastal city of al-Mukha in Ta'iz province," a Yemeni security source said.
"Most of the Riyadh-backed militias were from Abyan and Dhale provinces," the source added.
He went on to say that two military planes carrying a large number of Sudanese mercenaries had landed in Aden airport on Friday night.
"Most of the Sudanese mercenaries have been killed in clashes with the Yemeni forces in Dhubab and al-Mukha warfronts over the past two days," the security source added.
In a relevant development on Saturday, the Yemeni army and popular forces foiled an attempt by the Saudi army troops to penetrate into several regions in Ta'iz province.
The Saudi troops were trying to pave their way into al-Jadid, Al-Kadaheh and al-al-Khazra regions in Ta'iz, but they were pushed back from their positions before they could take any meaningful action.
Several Saudi troops were killed and many more were wounded in their failed attempt to capture the new regions in Ta'iz province.
http://en.farsnews.com/newstext.aspx?nn=13951110000688
--------
Top Mufti of Jeish Al-Fatah Joins Newly-Formed Coalition of Terrorist Groups in Syria
Jan 29, 2017
Al-Muhaysini along with five other religious leaders, including Abdulrazaq al-Hoda, Abu al-Hareth al-Mesri, Abu Yusuf al-Homawi, Abu Taher al-Homawi and Mosleh al-Alyani declared in a statement their affiliation to Tahrir al-Sham Hay'at (The Levant Liberation Board), and called on other rebel groups to follow suit.
Meantime, Tahrir al-Sham Hay'at in its first decision announced ceasefire between al-Nusra and other rival militant groups.
Al-Nusra had intensified attacks on other terrorist groups in Idlib and Aleppo before forming Tahrir al-Sham Hay'at earlier today.
Reports said earlier today that the al-Nusra Front and several militant groups declared that they have decided to form a new coalition named Tahrir Al-Sham Hay'at to narrow down widening rifts amongst their commanders and members.
The Al-Nusra Front, Nouralddeen al-Zinki Movement, Jeish al-Sonah, Jabhat Ansaraldeen and Liwa al-Haq announced that they will act under a united coalition named the Tahrir al-Sham Hay'at.
The five merged terrorist groups will act under the command of Abu Jaber Hashem al-Sheikh.
Hashem al-Sheikh was one of the commanders of Ahrar al-Sham. The new coalition led by al-Sheikh is now against Ahrar al-Sham.
Al-Sheikh resigned from his post in Ahrar al-Sham after he was appointed as the commander of Tahrir al-Sham Hay'at.
Full report at:
http://en.farsnews.com/newstext.aspx?nn=13951110001383
--------
Syrian Army Scores More Victories against ISIL East of Aleppo
Jan 29, 2017
The army men stormed ISIL's positions in the towns of al-Mashayrefeh and al-Sheikh and managed to take back the towns after hours of fierce clashes.
Early battlefield reports said the ISIL suffered a heavy death toll in the attacks.
The army has purged over 80 sq/km of land in Eastern Aleppo of ISIL terrorists during the last week.
Also the army troops seized full control over another strategic town East of Aleppo province on Saturday.
The army units engaged in fierce clashes with the ISIL in the morning and finally freed the town of al-Brij at around midday, inflicting a number of casualties on the militants.
A field source said that the army plans to continue advance towards the town of Aran after the liberation of al-Brij.
He further added that liberation of the towns of Touman, al-Sheikh Den and Deir Qaq is atop the agenda of the army soldiers.
Full report at:
http://en.farsnews.com/newstext.aspx?nn=13951110000332
--------
Saudi king agrees in call with Trump to support Syria, Yemen safe zones: White House
January 30, 2017
Saudi Arabia's King Salman, in a phone call on Sunday with U.S. President Donald Trump, agreed to support safe zones in Syria and Yemen, a White House statement said.
Trump, during his presidential campaign last year, had called for Gulf states to pay for establishing safe zones to protect Syrian refugees.
A statement after the phone call said the two leaders agreed on the importance of strengthening joint efforts to fight the spread of Islamic State militants.
"The president requested and the King agreed to support safe zones in Syria and Yemen, as well as supporting other ideas to help the many refugees who are displaced by the ongoing conflicts," the statement said.
The Saudi Press Agency, in its readout of the call, made no specific mention of safe zones. It said the two leaders had affirmed the "depth and durability of the strategic relationship" between the two countries.
A senior Saudi source told Reuters the two leaders spoke for over an hour by telephone and agreed to step up counter-terrorism and military cooperation and enhance economic cooperation. But the source had no word on whether the two leaders discussed Trump's order to put a four-month hold on allowing refugees into the United States and temporarily ban travelers from Syria and six other Muslim-majority countries.
The source said Saudi Arabia would enhance its participation in the U.S.-led coalition fighting to oust Islamic State from its strongholds in Iraq and Syria.
The White House statement said the two leaders also agreed on the need to address "Iran's destabilizing regional activities." SPA also mentioned Trump and the King had similar visions on "confronting whomever seeks to destabilise security and stability in the region and interfere in the affairs of other countries," an apparent reference to Riyadh's arch-foe Iran.
Both countries share views about Iranian policies in the region, the Saudi source said, suggesting Trump agreed with Riyadh's suspicion of what it sees as Tehran's growing influence in the Arab world. Iran denies it meddles in Arab countries.
The White House statement said the two also discussed what it called an invitation from the king for Trump "to lead a Middle East effort to defeat terrorism and to help build a new future, economically and socially," for Saudi Arabia and the region.
The two also discussed the Muslim Brotherhood, the senior Saudi source said, adding in a reference to the late al Qaeda leader, "it was mentioned that Osama bin Laden was recruited at an early stage" by the organization.
Full report at:
http://nation.com.pk/international/30-Jan-2017/saudi-king-agrees-in-call-with-trump-to-support-syria-yemen-safe-zones-white-house
--------
Two Iraqis lead legal fight against Trump order blocking entry
January 30, 2017
NEW YORK: A federal judge blocked the deportation on Saturday of dozens of travelers and refugees from seven Muslim-majority nations, stranded at US airports under an order from President Donald Trump, after a lawsuit filed on behalf of two Iraqis with ties to US security forces.
In the lawsuit filed in federal court in Brooklyn, New York, the two men challenged Trump's directive on constitutional grounds. The suit said their connections to US forces made them targets in their home country and that the pair had valid visas to enter the United States.
The lawsuit highlights some of the legal obstacles facing Trump's new administration as it tries to carry out the directive, which the president signed late on Friday to impose a four-month ban on refugees entering the United States and a 90-day hold on travelers from Syria, Iran and five other Muslim-majority countries.
In an emergency ruling on Saturday, US District Judge Ann Donnelly ordered U.S. authorities to refrain from deporting previously approved refugees as well as "approved holders of valid immigrant and non-immigrant visas and other individuals ... legally authorized to enter the United States" from the countries targeted in Trump's order.
The American Civil Liberties Union, which sought the temporary stay, said it would help about 100 to 200 people who found themselves detained in transit or at US airports after Trump signed the order.
"I am directing the government to stop removal if there is someone right now in danger of being removed," Donnelly said in the court hearing. "No one is to be removed in this class."
US Department of Justice attorney Susan Riley during the hearing said, "This has unfolded with such speed that we haven't had an opportunity to address all the legal issues."
Many of the people in a huge crowd that had gathered outside the Brooklyn courthouse broke out into cheers after word of the judge's ruling filtered out.
The US Department of Homeland Security in a statement hours later said only a small fraction of airline passengers arriving in the United States on Saturday were "inconvenienced while enhanced security measures were implemented."
"These individuals went through enhanced security screenings and are being processed for entry to the United States, consistent with our immigration laws and judicial orders," the statement said.
The department said Trump's executive order remained in place and that its officers would enforce it.
Separately, a group of state attorneys general were discussing whether to file their own court challenge against Trump's order, officials in three states told Reuters.
"TARGETED BY TERRORISTS"
The plight of one of the men who brought the lawsuit, a former US Army interpreter who was detained at John F. Kennedy International Airport, is especially compelling, said David Leopold, a former president of the American Immigration Lawyers Association, who is not involved in the suit.
"Here is a guy who was a translator who worked for the US military for years, who himself was targeted by terrorists," he said. "It is clear that if he is sent back, he is facing a direct threat to his life."
That man, Hameed Khalid Darweesh, was released later on Saturday and told a crowd of reporters at JFK Airport that he did not have ill feelings about his detention.
"America is the greatest nation, the greatest people in the world," he said.
Darweesh, 53, worked for the US Army and for a US contractor in Iraq from 2003 to 2013 as an interpreter and engineer, the lawsuit said.
The second plaintiff, Haider Sameer Abdulkhaleq Alshawi, 33, was also detained at JFK Airport but has since been released. He is the husband of an Iraqi woman who worked for a US contractor in Iraq. She already lives in Houston, the suit said.
Trump, a Republican, has said his order would help protect Americans from terrorist attacks.
Full report at:
http://nation.com.pk/international/29-Jan-2017/two-iraqis-lead-legal-fight-against-trump-order-blocking-entry
--------
Syrian regime 'retakes control' of Wadi Barada
29 January 2017
The Syrian army said on Sunday that it had recaptured a flashpoint area from rebels near Damascus that supplies water to the capital.
Wadi Barada had been the scene of fierce fighting in recent weeks between regime and rebel forces that tested a fragile nationwide truce and left millions in Damascus facing water shortages.
"Our armed forces... have accomplished their mission by restoring security and stability in the region of Wadi Barada", the army said in a statement carried by state television.
The announcement came a day after the army entered the water pumping station in Wadi Barada for the first time in four years.
Syrian government soldiers drink from a water pumping station in the village of Ain al-Fija in the Wadi Barada valley near Damascus. (Reuters)
Under a deal with the authorities, rebels can choose to stay in the area but hand over their weapons, or leave to the northern province of Idlib, last major bastion of the armed opposition.
Hundreds of rebels began to leave Wadi Barada on Sunday for Idlib, according to the Syrian Observatory for Human Rights monitoring group.
Full report at:
https://english.alarabiya.net/en/News/middle-east/2017/01/29/Assad-s-forces-in-control-of-three-villages-closer-to-Al-Bab-.html
--------
Syria: Russia to Use Alligators, Black Crows in Liberation Operation of Palmyra
Jan 29, 2017
The Russian language Izvestia daily reported that the Russian air force will use a large number of K-52 military helicopters known as Alligators and Sokhoi-25 fighter jets famous as black crows to assist the Syrian soldiers in the operation to free Palmyra in Eastern Homs.
The Russian daily added that K-52 choppers are equipped with hi-tech surveillance and reconnaissance capabilities to search enemies and mark their positions in order to pave the ground for the Sokhoi-25 fighter jets to target them.
Experts believe that joint cooperation between the Alligators and black crows will practically enable the Syrian armed forces and Russian air force to attack ISIL without any pause.
They added that the same cooperation has been experienced in Eastern Homs. The Alligators not only were carrying out attacks on terrorists' positions but were transferring battlefield's details to the Syrian Air Force, "so this successful strategy will be used in Palmyra operation too".
Media sources disclosed on Saturday that the Russian Armed Forces would likely send back a number of soldiers and military hardware to Humeimim base in Lattakia province to reinvigorate their forces' combat capabilities again.
The Russian language Nezavisimaya Gazeta daily said Russia seemed to redeploy its forces and equipment to the Humeimim base after the Astana peace talks.
Full report at:
http://en.farsnews.com/newstext.aspx?nn=13951110001072
--------
Syria: ISIL Withdraws from More Heights in Northern Damascus
Jan 29, 2017
The army men hit ISIL's positions hard in al-Qalamoun mountain and managed to take control over several hills in the Eastern part of the mountain after hours of non-stop clashes.
A field source said that the ISIL left behind over 25 dead or wounded members and pulled the remaining pockets of its forces back from the battlefield towards al-Barada region in Homs province.
The source further added that the army soldiers will attack ISIL's bases in al-Barada region from two directions after the army's recent advances in Northern Damascus.
Also the army troops targeted heavily the gatherings and movements of terrorist groups in different parts of Damascus province on Saturday, killing or wounding tens of militants and destroying their equipment.
The army men hit terrorists' concentration centers in al-Kasarat al-Manqoureh region, destroying a number of militants' vehicles and killing a number of their crew.
The army troops also targeted a vehicle of a group of terrorists in the region of al-Maramel al-Hamra in al-Qalamoun al-Shaqi mountain, killing the entire militants in the vehicle.
Full report at:
http://en.farsnews.com/newstext.aspx?nn=13951110000853
--------
Mideast
'57 dead' in first US raid on Qaeda in Yemen under Trump
January 30, 2017
YAKLA: A US raid in Yemen killed 41 suspected Al-Qaeda militants and 16 civilians on Sunday, an official said, in what would be America's first military action in the country under President Donald Trump.
Eight women and eight children were among those killed in the dawn raid in Yakla district, in the central province of Baida, said the provincial official, who did not want to be named, and tribal sources.
Sources in the region said the raid targeted the houses of three tribal chiefs linked to Al-Qaeda.
The provincial official said Apache helicopters also struck a school, a mosque and a medical facility which were all used by Al-Qaeda militants.
Other sources spoke of US commandos taking part in the operation, but it was not possible to verify the information.
The three prominent tribal figures killed in the attack were identified as brothers Abdulraouf and Sultan al-Zahab and Saif Alawai al-Jawfi, the official and other sources said.
They were known for their strong links to Al-Qaeda, the sources said.
The Zahab brothers have two other Al-Qaeda brothers who were also killed in the past by drone strikes.
An Al-Qaeda chief in the region, who was identified as foreigner Abu Barazan, was also killed in the attack, the official said.
The military operation is the first to be attributed to the United States against jihadists in Yemen since Trump took office on January 20.
'Most dangerous' franchise
Under Trump's predecessor Barack Obama, the United States stepped up its use of drone strikes against suspected jihadists in Yemen, as well as other countries including Afghanistan.
The United States considers the extremist group's Yemen-based franchise, Al-Qaeda in the Arabian Peninsula, to be its most dangerous.
Although it only sporadically reports on a long-running bombing campaign against AQAP, it is the only force known to be operating drones over Yemen.
On January 14, the Pentagon announced the killing of a senior Al-Qaeda operative in Baida the week before in an air strike.
Al-Qaeda and the Islamic State jihadist group have exploited a power vacuum created by the two-year-old conflict in Yemen between the government and Shiite Huthi rebels, especially in the country's south and southeast.
Baida province is mostly controlled by the Huthis, but Yakla is ruled by the tribes, and has at least two training bases for Al-Qaeda, local sources said.
Forces loyal to President Abedrabbo Mansour Hadi have mounted offensives against jihadists in the south, but the militants remain active in several areas.
The conflict in Yemen has killed more than 7,400 people since a Saudi-led Arab coalition intervened to support Hadi in March 2015, according to the World Health Organization.
But UN humanitarian coordinator Jamie McGoldrick said last week that as many as 10,000 civilians may have died.
http://nation.com.pk/international/29-Jan-2017/57-dead-in-first-us-raid-on-qaeda-in-yemen-under-trump
--------
Iran says will respond in kind to Trump's 'insulting' ban
29 January 2017
Iran will ban Americans from entering the country in response to President Donald Trump's "insulting" order restricting arrivals from Iran and six other Muslim states, the foreign ministry said Saturday.
"The Islamic Republic of Iran... has decided to respond in kind after the insulting decision of the United States concerning Iranian nationals", the ministry said in a statement carried by state television.
Trump on Friday signed a sweeping executive order to suspend refugee arrivals and impose tough controls on travelers from Iran, Iraq, Libya, Somalia, Sudan, Syria and Yemen.
Iran's foreign ministry called the decision "illegal, illogical and contrary to international rules".
It said its own ban on US nationals would continue until the American measure was lifted.
It said it had ordered Iranian diplomatic missions to help Iranians who had been "prevented from returning to their homes and places of work and study" in the United States.
Travel agents in Tehran said that foreign airlines had begun barring Iranians from US-bound flights.
Meanwhile the Iraqi parliament's foreign affairs committee called Sunday for a reciprocal travel ban on Americans after Washington barred the entry of citizens from countries including Iraq, a lawmaker said.
Full report at:
https://english.alarabiya.net/en/News/world/2017/01/29/Iran-says-will-respond-in-kind-to-Trump-s-insulting-ban-.html
--------
At least 18 Daesh terrorists killed in Turkey's operations in northern Syria
Jan 30, 2017
Turkish forces have killed 18 Daesh terrorists during operations in northern Syria over the past 24 hours.
According to a statement released by the Turkish army on Sunday, some 130 terrorist targets, including hideouts, defense positions, headquarters, weapons and vehicles were also shelled in the operations.
Turkish fighter planes also carried out raids against various terrorist-held positions in al-Bab, destroying ammunition depots, checkpoints, tunnels and nine buildings.
Earlier in the month, Russia announced that Turkish jets had joined the anti-Daesh operations in Syria's al-Bab.
The statement noted that the US-led coalition also engaged in airstrikes in the region, destroying terrorist infrastructure.
It noted that some 87 improvised explosive devices (IEDs) were also found and neutralized during the operations as well as 55 mines.
On Friday, at least 10 civilians, including a child, were killed during Turkish airstrikes in and around al-Bab.
Full report at:
http://www.presstv.ir/Detail/2017/01/30/508328/turkey-daesh-syria-albab
--------
Netanyahu backs US embassy move to Jerusalem, but signals no urgency
January 30, 2017
JERUSALEM: Prime Minister Benjamin Netanyahu voiced support on Sunday for moving the US Embassy to Jerusalem but mentioned no time frame, after a Republican activist accused Israel of pressing the Trump administration to delay the pledged step.
In an interview with Israel's Haaretz newspaper, Marc Zell, head of the Republicans Overseas Israel branch, said new US President Donald Trump was "proceeding cautiously because of concerns raised by Israeli officials".
Trump's team spoke often during the presidential campaign about shifting the embassy from Tel Aviv to Jerusalem, Israel's self-proclaimed capital and a holy city at the heart of the Israeli-Palestinian conflict.
But a week ago, Trump's press secretary, Sean Spicer, lowered expectations of an imminent announcement about an embassy move that would anger the Arab world and possibly touch off violence.
Palestinian officials said the embassy's relocation would kill off any prospects for peace. The Palestinians want East Jerusalem — which Israel captured in a 1967 war and annexed in a move not recognised internationally — for the capital of a state they seek in the occupied West Bank and the Gaza Strip.
Israeli officials said last Sunday the embassy issue was barely discussed in a 30-minute telephone call between Trump and Netanyahu, who are to meet in Washington early next month.
Netanyahu addressed the matter in general terms in public remarks to his cabinet on Sunday that were desc­ribed by Israeli media as a response to Zell's accusation of foot-dragging.
"I want to take the opportunity to make it unequivocally clear that our position has always been, and remains so now and at all times, that the US embassy should be here, in Jeru­salem," Netanyahu said, without directly mentioning Zell.
Currently, no country has its embassy in Jerusalem, the Israeli foreign ministry said.
Costa Rica and El Salvador did until a few years ago, but they are now in Tel Aviv.
"Jerusalem is Israel's capital and it is right and proper that all of the foreign embassies, and not only the American embassy, move here. I believe that in time, most of them will indeed come to Jerusalem," Neta­nyahu told the cabinet.
The international community says Jerusalem's final status should be determined via direct negotiations between Israel and the Palestinians — talks that collapsed in 2014.
Israeli officials have said they do not want a US embassy move rushed and political commentators have noted that its relocation would damage the stronger relations Israel has been quietly building with the Sunni Muslim world.
Arab League on Jerusalem
An Arab League official said on Sunday the organisation hopes US President Donald Trump will retract his campaign pledge to move the American embassy in Israel from Tel Aviv to Jerusalem.
"The position expressed by President Trump while campaigning needs to be more cautious," Assistant Secretary General for Palestinian Affairs Said Abu Ali told reporters in Cairo.
Full report at:
http://www.dawn.com/news/1311620/netanyahu-backs-us-embassy-move-to-jerusalem-but-signals-no-urgency
--------
Trump's refugee ban no solution to problems, Turkey PM says
January 30, 2017
President Donald Trump's sweeping ban on people seeking refuge in the United States is no solution to problems, Turkish Prime Minister Binali Yildirim said on Saturday, adding that Western countries should do more to help ease Turkey's refugee burden.
The new Republican president on Friday put a four-month hold on allowing refugees into the United States and temporarily barred travelers from Syria and six other Muslim-majority countries, although NATO ally Turkey was not among them.
When asked by a reporter about Trump's ban during a joint news conference with British Prime Minister Theresa May in Ankara, Yildirim said: "Regional issues cannot be solved by closing the doors on people. We expect the Western world to lighten Turkey's burden."
"You can build a wall but it's not a solution. That wall will come down like the Berlin wall," he said, adding Turkey has spent some $26 billion on sheltering refugees.
May, who met with Trump in Washington a day earlier, told the news conference that the United States was responsible for its position on refugees. She has previously said a "special relationship" between the United States and Britain meant the two countries could speak frankly to each other when they disagreed on issues.
Yildirim said little directly about Trump. "We are not very informed about Trump's decisions. But problems are solved through dealing with the causes," he said.
Turkey, a member of the U.S.-led coalition against Islamic State, has been hoping for a reset in its relationship with the Washington under the Trump administration. Ankara was long frustrated by former President Barack Obama's decision to back a Syrian Kurdish militia. Turkey considers the group a terrorist organization.
Full report at:
http://nation.com.pk/international/29-Jan-2017/trump-s-refugee-ban-no-solution-to-problems-turkey-pm-says
--------
Trump's ban on Muslims entry will harm US: Leader's aide
Jan 29, 2017
A senior Iranian official has criticized a controversial decision by the new US government to block entry into the country from Iran and six other Muslim states, saying such moves would be detrimental to Washington.
"If Iranians travel to a country, their dignity must be respected and such moves will undoubtedly be harmful to the future of the US," Ali Akbar Velayati, the senior adviser to Leader of the Islamic Revolution Ayatollah Seyyed Ali Khamenei on international affairs, told reporters on Sunday following a meeting with the special representative of the United Nations secretary general for Afghanistan, Tadamichi Yamamoto, in Tehran.
"Iranians have always lived with dignity and do not need [US President Donald] Trump or any other person from the government of the United States of America to give them permission to enter or not," the senior Iranian official said.
Velayati added that Iranians are proud of the fact that they do not need to be endorsed by "unbalanced" individuals such as Trump.
Trump's executive order, issued on January 27, blocked entry into the United States for 90 days for citizens from Iran, Iraq, Libya, Somalia, Sudan, Syria and Yemen. It also suspended entry of all refugees for 120 days and barred Syrian refugees indefinitely.
Military approaches will fail to solve Afghan issue: Velayati
Elsewhere, the top Iranian official said he had held "direct and constructive" talks with the UN envoy earlier in the day.
Velayati added that both sides believe that a military approach would fail to solve the Afghan issue and that peaceful means and political dialogue among different groups in the country are the only solutions.
He expressed the Islamic Republic's opposition to the intervention by any country in Afghanistan's internal affairs.
Iran supporting Afghan national unity government: UN envoy
The UN envoy, for his part, said that he had profound and open negotiations with Velayati on the ongoing developments in Afghanistan.
Full report at:
http://www.presstv.ir/Detail/2017/01/29/508311/Iran-UN-US-Afghanistan-Ali-Akbar-Velayati-Tadamichi-Yamamoto-visa-Donald-Trump
--------
US ban on Muslim arrivals greatest gift to terrorists: Zarif
Jan 29, 2017
Iran says the US's decision to restrict arrivals from the Islamic Republic shows the baselessness of the Washington's claims of only having issues with the government in Tehran, adding that the move is the greatest gift to terrorists and their supporters.
Iranian Foreign Minister Mohammad Javad Zarif made the remarks early on Sunday via a series of posts on his official Twitter account.
"MuslimBan shows baselessness of US claims of friendship with the Iranian people while only having issues with the government," he said.
In a move which sparked widespread censure, US President Donald Trump signed a sweeping executive order on Friday to suspend refugee arrivals and impose tough controls on travelers from Iran, Iraq, Libya, Somalia, Sudan, Syria and Yemen.
"Collective discrimination aids terrorist recruitment by deepening fault-lines exploited by extremist demagogues to swell their ranks," added Zarif.
He noted that Iran will be taking suitable reciprocal actions to protect its citizens, while respecting US citizens and differentiating between them and Washington's hostile policies.
"Unlike the US, our decision is not retroactive. All with valid Iranian visa will be gladly welcomed," he added.
He also stressed that the international community requires more dialogue and cooperation in order to cut the roots of violence and extremism in a comprehensive manner.
Earlier in the day, Iran's Foreign Ministry slammed the recent decision as "insulting" vowing that Tehran would respond to the move in kind.
Meanwhile, Iraqi MPs have called on the parliament to open a discussion over the travel bans imposed by Trump on their country.
"We want officials from the Iraqi foreign affairs ministry to come to parliament to explain the US decision and discuss the matter,'' said a member of the parliament's foreign affairs committee, Rinas Jano.
Yemen has also censured the travel ban, stressing that the country itself was victim of terror attacks.
Full report at:
http://www.presstv.ir/Detail/2017/01/29/508189/iran-us-zarif-trump-muslim-ban
--------
Israeli PM seeks parliamentary vote on law legalizing settlements
Jan 30, 2017
Israeli Prime Benjamin Netanyahu is seeking a vote at the Knesset (parliament) aimed at legalizing all wildcat settlements built on occupied Palestinian lands.
A statement by Netanyahu's office said a bill would be sent to the parliament later on Monday "to allow us to regularize once and for all settlements in (the occupied West Bank) and prevent repeated attempts to damage them."
Wildcat settlements are those built by Israeli settlers without Tel Aviv's permission.
The prime minister further said the proposed law is "designed to normalize the status of" the Judea and Samaria settlements in the West Bank.
According to the Peace Now rights group, some 797 of the wildcat structures are located in 55 outposts. It warned that the bill's passage would help pave the way for the eventual authorization of those outposts.
Netanyahu has thrown his weight behind such a law amid threats by the hardline so-called Jewish Home Party that it would ditch the premier's coalition if the bill did not become law.
Also emboldening Tel Aviv in its settlement activities has been the recent inauguration of US President Donald Trump, who has variously indicated he would be more lenient towards Tel Aviv than his predecessor Barack Obama.
Last year, the Obama administration stopped short of vetoing a United Nations Security Council resolution that threw the legality of Israeli settlements into question and urged the regime to stop land grab.
More than half a million Israelis live in over 120 settlements built since Israel's occupation of the Palestinian territories of the West Bank in 1967.
Israel's land grab has skyrocketed since Netanyahu took office in 2009, with an additional 15,000 additional settlers moving into the settlement units build in the occupied West Bank last year alone.
Full report at:
http://www.presstv.ir/Detail/2017/01/30/508345/Israel-Knesset-Netanyahu-US-Trump-Obama
--------
US commando killed, 3 hurt in surprise assault on central Yemen
Jan 29, 2017
The US military says one service member has lost his life and three others sustained injuries after special forces carried out an attack against a purported position of al-Qaeda militants in the central Yemeni province of Bayda.
The Central Command said in a statement on Sunday that 14 al-Qaeda in the Arabian Peninsula (AQAP) militants were killed in the dawn assault near Yakla village in the Rada'a district of the province, located about 210 kilometers southeast of the capital, Sana'a.
The statement added that the US forces had gained access to "information that will likely provide insight into the planning of future terror plots."
The Central Command further noted that a fourth service member was injured in a "hard landing" in a nearby location. The aircraft was "intentionally destroyed" after it was unable to fly afterward.
This is while medics at the scene said 30 people, including 10 women and three children, were killed as Apache combat helicopters struck the area from the air before commandos were dropped in for the raid.
"The operation began at dawn when a drone bombed the home of Abdulraoof al-Dhahab and then helicopters flew up and discharged paratroopers at his house and killed everyone inside," one local resident said on condition of anonymity.
He added, "Next, the gunmen opened fire at the US soldiers who left the area, and the helicopters bombed the gunmen and a number of homes and led to a large number of casualties."
According to some reports, a total of 57 people, including civilians, were killed in the assault.
Meanwhile, an unnamed US military official said the surprise dawn raid in Yemen had been authorized by President Donald Trump.
AQAP has taken advantage of the chaos and breakdown of security in Yemen to tighten its grip on the southern and southeastern parts of the Arab country.
The US carries out drone attacks in Yemen and several other countries, claiming to be targeting al-Qaeda elements; but, local sources say civilians have been the main victims of the attacks.
American intelligence officials recently said as many as 117 civilians had been killed in at least 526 drone strikes conducted during former US President Barack Obama's term in office. The attacks had been carried out in Pakistan, Yemen, Somalia, Libya and elsewhere.
The drone strikes in Yemen continue alongside the Saudi military aggression against the impoverished conflict-ridden country.
According to the United Nations humanitarian coordinator for Yemen, Jamie McGoldrick, the Yemeni conflict has claimed the lives of 10,000 people and left 40,000 others wounded.
McGoldrick told reporters in Sana'a on January 16 that the figure is based on lists of victims gathered by health facilities and the actual number might be higher.
Full report at:
http://www.presstv.ir/Detail/2017/01/29/508302/US-commando-killed-injured-dawn-assault-Yemen-Bayda-alQaeda
--------
Europe
French socialist candidate Benoit Hamon is 'proud of Muslim nickname'
29 January 2017
One of France's prospective Socialist Party candidates in the lead up to the upcoming presidential election says he is proud of the Muslim nickname given to him by rival far-right parties.
Socialist Benoit Hamon told local media "he is gratified for being called Bilal" by far-right political rivals for his stance on immigration.
"I am honored to hold the name Bilal as well as Elijahand David… as the far-right resent Islamic and Jewish names," Hamon said to a crowd of supporters in east Paris.
The Socialist candidate hopeful is tipped to win his party nomination in the primaries against former Prime Minister Manuel Valls.
Hamon has been dubbed the "French Bernie Sanders" for his socialist proposals that would see unemployed and low-income workers receive a monthly payment of between 600 and 750 euros ($795) a month.
https://english.alarabiya.net/en/features/2017/01/29/French-socialist-candidate-Benoit-Hamon-is-proud-of-Muslim-nickname-.html
--------
British diplomats, Muslim figures condemn Trump's travel ban
January 30, 2017
London (CNN)Diplomats and prominent Muslims in Britain have condemned US President Donald Trump's decision to temporarily ban all refugees and citizens of seven Muslim-majority countries from entering the United States.
Their criticisms come awkwardly just two days after UK Prime Minister Theresa May officially met with Trump, the first foreign leader to do so, touting the two countries' "special relationship."
Trump on Friday signed an executive order banning citizens from Syria, Iraq, Iran, Yemen, Libya, Somalia and Sudan from entering the United States for the next 90 days and suspending the admission of all refugees for 120 days.
On Friday, Trump and May celebrated their countries' "special relationship" as they walked through the White House colonnade outside the Oval Office, trading grins and sideways glances, and buttoning up agreements on NATO and trade in front of reporters. Then, barely 24 hours later, May was disagreeing with decisions her new ally has taken in her absence.
While she flew on to meet Turkey's President, then home to Downing Street, Trump was preparing the executive order banning travel from seven Muslim majority nations.
British Foreign Secretary Boris Johnson described Trump's ban as "divisive and wrong," while London Mayor Sadiq Khan said the move was "shameful and cruel."
But Prime Minister May refused to condemn the ban. Under pressure from British MPs, she later said the government does "not agree" with the executive order.
"Immigration policy in the United States is a matter for the government of the United States, just the same as immigration policy for this country should be set by our government," a spokesman for May said. "But we do not agree with this kind of approach and it is not one we will be taking."
May also ordered Johnson and Home Secretary Amber Rudd to contact their US counterparts "to protect the rights of British nationals," the Prime Minister's office said.
When she had hoped to reap the benefits of rushing to America to shore up support ahead of a bruising Brexit battle, she's being slammed to the ropes by the United Kingdom's main opposition party.
Labour leader Jeremy Corbyn is already trying to undo her White House gains and slap a travel ban on Trump, preventing his much vaunted reciprocal visit to meet the Queen.
In two tweets, Corbyn said Trump "should not be welcomed to Britain while he abuses our shared values with shameful #MuslimBan & attacks on refugees & women." He told his supporters to sign a petition, and they did, in rapidly climbing numbers.
Khan criticized Trump, saying he could not turn his back on the current global crisis.
"While every country has the right to set its own immigration policies, this new policy flies in the face of the values of freedom and tolerance that the USA was built upon," said Khan, who is a Muslim and has spoken against Trump's immigration policies before.
"As a nation that, like the USA, values tolerance, diversity and freedom, we cannot just shrug our shoulders and say: 'It's not our problem,'" he said.
Mo Farah says ban 'deeply troubling'
British Olympian runner Mo Farah, who is originally from Somalia, wrote on Facebook that Trump's ban came from "a place of ignorance and prejudice."
"On 1st January this year, Her Majesty The Queen made me a Knight of the Realm. On 27th January, President Donald Trump seems to have made me an alien," he wrote.
Mo Farah celebrates winning gold in the Men's 5,000 meter final at the Rio 2016 Olympic Games.
Farah is a British citizen who has lived in the United States for the past six years.
"Now, me and many others like me are being told that we may not be welcome. It's deeply troubling that I will have to tell my children ... that Daddy might not be able to come home -- to explain why the President has introduced a policy that comes from a place of ignorance and prejudice," he wrote.
Farah said he was welcomed to Britain at age 8 and was given the chance to succeed and realize his dreams.
"I have been proud to represent my country, win medals for the British people and receive the greatest honor of a knighthood. My story is an example of what can happen when you follow polices of compassion and understanding, not hate and isolation."
Europe's far-right cheers
But Britain's far-right leader, Nigel Farage, welcomed Trump's executive order.
"(Trump) was elected to get tough. He was elected to say he would do everything in his power to protect America from infiltration by ISIS terrorists. There are seven countries on that list. He is entitled to do this. He was voted in on this," Farage told the BBC.
Other far-right leaders in Europe also say they agree with the ban.
"No more immigration from any Islamic country is exactly what we need," said Geert Wilders, founder and leader of the far-right Party for Freedom, on Twitter.
"Also in The Netherlands Islam and freedom are incompatible."
Full report at:
http://edition.cnn.com/2017/01/29/politics/trump-travel-ban-britain-world-reaction/
--------
Chechen soldiers among Russian military police in Aleppo to 'ease interaction with locals'
30 Jan, 2017
Russia has sent Chechen soldiers to Aleppo as part of its military police battalion tasked with restoring law and order in the Syrian city. The Chechens, who are mostly Muslims, could ease relations with the locals, a Middle East expert told RT.
The battalion was sent to Aleppo late December after the city was liberated from the militants, providing security to humanitarian aid workers and Russian sappers who are helping Syrians rebuild their lives. It has now been tasked with maintaining law and order on the streets of the city devastated by the drawn-out conflict.
The head of Russia's Chechen Republic, Ramzan Kadyrov, revealed that around 400 soldiers from Chechnya are participating in the policing and law enforcement operation as well as helping with the reconstruction efforts in Aleppo.
Kadyrov wrote on his Instagram page on January 23, that a Russian MP from Chechnya and the Chechen mufti visited Syria and met with the Chechens serving in the military police battalion.
"The soldiers were proud to have an honor of serving in Aleppo as part of a peacekeeping and law enforcement force that protects civilians from the terrorists," Kadyrov said in his post.
RT's Maria Finoshina, who recently returned from Aleppo, said locals appreciated patrols in the streets, as people are afraid of looters who took to plundering devastated houses at the same time as residents started returning to their homes. Those trying to reclaim their belongings in the abandoned neighborhoods or wishing to stay view the Russians as their protectors.
With many of the Chechens being Sunni Muslim, their part in the mission would be "solid logic," Finoshina believes.
"You do not want to see a total stranger patrolling the streets of your home town, so sending Chechens there was a logical decision because they are not only Muslims, they are Sunnis," she said, adding that Aleppo "is known as a conservative city … and the Chechens are supposed to be familiar with religion and cultural traditions of the people on the ground."
Aki Rizk, a Middle East expert, told RT the participation of Chechens could really make the Russian military police mission more successful. "It is a very good step, it would lessen the tensions," Rizk said. The people of Chechnya and Aleppo have much in common both in a cultural and religious sense, he explained.
Rizk added that "the anti-terrorist mood amongst the [Aleppo] population" can also contribute to the success of the mission.
Full report at:
https://www.rt.com/news/375551-chechen-soldiers-patrolling-aleppo/
--------
Southeast Asia
Muslims Take Part in Organizing Catholic Mass In East Nusa Tenggara
January 30, 2017
Some Muslim residents are taking part in organizing the first mass service for newly ordained Catholic priest Gregorius Primus Ama Maia CS at St. Yoseph Pekerja Penfui parish, which is scheduled for Thursday.
"This program involves all community members in the area of Air Baru in Penfui subdistrict," organizing Chairman Yuven Beribe said as quoted by Antara on Monday.
Yuven said some Muslims would be playing key roles in the program, including filling roles such as the organizer's advisor, deputy chairman and section members.
"We want to show the public that religion is not a barrier for us," he said, adding that some Muslims would also take part in the mass offering procession.
He added that there have been similar programs involving Muslims in the past five years.
The organizer's deputy chairman, Ramli Muda, who is Muslim, said he had taken part in all five previous programs.
"I once chaired the organizing committee. The program was quite festive. This is evidence of our togetherness and spirit of tolerance among all community members," Ramli said. (dmr)
http://www.thejakartapost.com/news/2017/01/30/muslims-take-part-in-organizing-catholic-mass-in-east-nusa-tenggara.html
--------
Concern in Malaysia Rohingya could fall prey to IS extremists
30 Jan 2017
KUALA LUMPUR: Amid worries that the Islamic State (IS) group is building a network in Southeast Asia, Malaysia is particularly concerned that IS militants will exploit the Rohingya community in the country, where tens of thousands have tens of thousands have sought refuge.
There are rising fears that they will fall prey to extremists if they continue to be marginalised. At a Rohingya refugee centre on the outskirts of Kuala Lumpur, more than 100 children aged between five and 13 are being schooled by teachers and volunteers from mosques, churches and temples.
Apart from being taught how to read and write, these children, who are Muslims, also learn about other ethnic cultures and religious tolerance. The founder of the school, Ustaz Rafik, said education is the best way to help these children to ward off undesirable elements such as extremist groups from infiltrating the community.
The Rohingya in Malaysia are in the spotlight after the country's counter-terrorism chief warned he had intelligence that some may join the IS's cells in southern Philippines. The concerns were heightened following the Myanmar government's recent crackdown of the Rohingyas in Rakhine state that forced tens of thousands to flee to neighbouring countries.
But Ustaz Rafik stressed IS has no place among the Rohingyas.
"This Rohingya issue is not new, it's been there for many years; even during the time of Al-Qaeda, the Rohingya didn't go and join them, so why would they now?"
He added: "We are very strong in our heart we are looking for our right back to Myanmar, the right way, which is through diplomatic channels with Myanmar government."
But migrant rights experts share the same concerns as authorities. They say the Rohingya, who have been described as the most persecuted minority on earth, can be exploited and radicalised by IS if they continue to be left in the fringes of society.
"If IS is willing to give them a sense of belonging an identity and probably remuneration, which is far more being paid by employer or having their own business won't they be tempted to join this group," said Glorene Fernandez, Executive Director of women's rights group Tenaganita.
"Because they know they will have sense of belonging and sense of security if they join."
There are around 100,000 ethnic Rohingya in Malaysia and about half of them are registered with the UN refugee agency. The Rohingya account for 80 per cent of the total number of refugees in the country and are stateless with no legal right to work or proper access to healthcare and formal education.
The Malaysian government have said the Rohingya are not entitled to these rights because Malaysia is not party to the UN refugee convention. Malaysia has also said it is doing what it can and has recently called on members of the Organisation of Islamic Cooperation to help solve the crisis.
Full report at:
http://www.channelnewsasia.com/news/asiapacific/concern-in-malaysia-rohingya-could-fall-prey-to-is-extremists/3477110.html
--------
Philippine Troops Kill 15 Islamic State Supporters; Rebel Leader Wounded
January 30, 2017
Manila. Philippine soldiers killed 15 militants and seriously wounded their leader, believed to be the Islamic State's representative in the country, following air and artillery strikes in a southern province, a senior military official said on Sunday (29/01).
Isnilon Hapilon, also known as Abu Abdullah and a leader of the Philippine militant group Abu Sayyaf, might die as he needed immediate medical treatment, military chief General Eduardo Ano told reporters, citing intelligence and communications intercepts. "He needs blood transfusion. Without proper medical treatment, he may die," Ano said.
Philippine forces on Thursday dropped bombs and fired shells at rebel positions in the mountains of Lanao del Sur in a bid to flush out Hapilon. The province is a stronghold of the Maute rebel group, which has also pledged allegiance to Islamic State.
Hapilon is on the Federal Bureau of Investigation's most wanted list for his role in the kidnapping of 17 Filipinos and three Americans in 2001 and carries a bounty of $5 million.
One of those killed is an Indonesian but Ano said they were still "digging and doing more investigation" about the foreigner's background. Hapilon was with two other foreigners whose nationality was uncertain, he said.
President Rodrigo Duterte appealed on Friday to the country's Muslim separatist groups to deny sanctuary to militants with links to Islamic State, warning a war would ensue that would put civilians in danger.
Full report at:
http://jakartaglobe.id/international/philippine-troops-kill-15-islamic-state-supporters-rebel-leader-wounded/
--------
Japanese airline to screen majority-muslim country passengers before departure for US
January 30, 2017
Japan Airlines Co said on Monday it has begun screening passengers from the seven Muslim-majority countries affected by the President Donald Trump's travel ban before their departure for the United States.
Full report at:
http://indianexpress.com/article/world/japanese-airline-to-screen-majority-muslim-country-passengers-before-departure-for-us/
--------
On-the-run Zakir Naik to give Friday sermon in Perlis
January 29, 2017
KUALA LUMPUR, Jan 29 — Fugitive televangelist Dr Zakir Naik will be delivering a Friday sermon in Perlis on February 10, according to a poster shared by the state's mufti Datuk Dr Mohd Asri Zainul Abidin yesterday.
The poster indicated that the sermon is jointly organised by the Perlis Islamic Religious Affairs Department, the Islamic and Perlis Islamic Affairs and Malay Customs Council, and the office of the Perlis mufti.
The sermon will be delivered at the state mosque in Arau.
In the poster, Dr Zakir is described as a "researcher and caller to Islam".
Last month, Dr Zakir visited a private Islamic-centric university in Shah Alam, Selangor, which is also under investigation for radical teachings after two students were arrested on suspicion of being Islamic State recruits planning a terror attack locally.
Although a fugitive in India, Deputy Home Minister Datuk Nur Jazlan Mohamed said the controversial Islamic preacher is free to travel in Malaysia because he is not on the terror list here.
He has been reported by several Indian newspapers to be on the run to avoid prosecution in India.
The Salafist preacher has also been banned from several countries like Bangladesh, Canada and the UK.
In November last year, Times of India reported the Indian government has imposed a five-year ban on Dr Zakir's NGO, the Islamic Research Foundation.
Full report at:
http://www.themalaymailonline.com/malaysia/article/on-the-run-zakir-naik-to-give-friday-sermon-in-perlis
--------
Indonesia says Trump curbs may hamper fight against terrorism
January 29, 2017
JAKARTA: US President Donald Trump's crackdown on Muslim immigration will damage the global fight against terrorism, Indonesia — the world's most populous Muslim-majority country — said Sunday.
The foreign ministry said it "deeply regrets" Trump's order to suspend refugee arrivals and impose tough new controls on travellers from seven Muslim countries.
Indonesia is not one of the countries.
"Even though this policy is the United States' authority, Indonesia deeply regrets it because we believe it would affect the global fight against terrorism and the refugees management negatively," ministry spokesman Arrmanatha Nasir told AFP.
"It is wrong to link radicalism and terrorism with one particular religion," Nasir said.
Jakarta's embassy in Washington has advised its nationals living in the United States to stay alert and learn about their rights from the American Civil Liberties Union.
Indonesians were also advised to be alert to their surroundings and contact the nearest consulate should anything happen to them after the ban was announced.
Some 85 percent of Indonesia's 255 million people are Muslims.
Trump signed an executive order on Friday to suspend refugee arrivals for at least 120 days, and to bar visas for three months for travellers from Iraq, Iran, Libya, Somalia, Syria, Yemen and Sudan.
Full report at:
http://www.freemalaysiatoday.com/category/world/2017/01/29/muslim-majority-indonesia-deeply-regrets-us-immigrant-vetting-plans/
--------
Indonesia 'deeply regrets' US anti-Muslim ban
30 Jan 2017
JAKARTA - While Indonesians are not affected, Foreign Minister Retno Marsudi said Sunday the Muslim-majority nation deeply regrets President Donald Trump's plans for "extreme vetting" of people from some Muslim countries entering the United States under new immigration orders.
In a far-reaching order that caused chaos and confusion after it was signed late on Friday, Trump put a four-month hold on allowing refugees into the United States and temporarily barred travellers from Syria and six other Muslim-majority countries.
Indonesia, which has the world's largest Muslim population, is not among the seven nations whose citizens face restrictions. Nor are any of the countries in Southeast Asia.
However, when asked about Trump's plans for "extreme vetting", Marsudi said in social media message sent to Reuters: "We have deep regrets about the policy."
In December 2015, Trump called for a ban on all Muslims entering the United States. The idea drew fire for suggesting a religious test for immigrants that critics said would violate the US Constitution and later evolved into a proposal for "extreme vetting".
Most of Indonesia's 220 million Muslims practise a moderate form of Islam, although the country has some vocal Islamist groups and has suffered in the past from attacks by militants.
Indonesia has close relations with the United States and many of its citizens think highly of former US President Barack Obama, who spent part of his childhood in Jakarta.
Indonesian President Joko Widodo said after Trump's inauguration he was optimistic that relations between the countries would strengthen, to the benefit of both.
Foreign Minister Marsudi said Indonesians seeking visas to go the United States had not faced any problems so far. She said there were "hundreds of thousands" of Indonesians in the United States.
A statement on the website of the Indonesian embassy in Washington (http://bit.ly/2kdBJs1) urged its citizens in the United States to stay calm, but keep vigilant.
Full report at:
http://www.bangkokpost.com/news/asean/1189129/indonesia-deeply-regrets-us-anti-muslim-ban
--------
Saudi Arabia Uses University Scholarships to Influence Indonesians
January 29, 2017
Ulil Abshar-Abdalla was the top student in his Arabic language class at a madrasa in Indonesia when he was a teenager. A madrasa is a place where people learn about Islam, the religion of Muslims. Abshar-Abdalla's madrasa was in his hometown of Pati, Central Java.
The teenager received a prize for his success in the class. He got six months of free education at the Institute for the Study of Islam and Arabic, or LIPIA. It is a university in Jakarta that Saudi Arabia built and supports. When the six-month period ended, Abshar-Abdalla was given six more months of free education.
When he completed the year of study, he was offered -- and accepted -- four years of free education at the university. He earned a bachelor's degree in Islamic law, or shariah. In 1993, after five years at LIPIA, Abshar-Abdalla was offered a scholarship to study in Saudi Arabia.
This time, he said no.
"Once you accept that, you're on their payroll for life," he told VOA.
It was not easy to reject the free study. Abshar-Abdalla said Saudi Arabia made a very appealing offer.
"I am from a poor family, and it was quite tempting. I think they managed to pull a few good minds from my generation that way."
Saudi Arabia has been using education to quietly spread Salafism in Indonesia, the world's most populous Muslim country, since 1980. The two ways Saudi Arabia does this is through the LIPIA and scholarships for higher education in Saudi Arabia.
Salafism is a severe form of Islam. Its believers want Islamic laws -- as defined by the Koran -- to govern the world. The Koran is the Islamic holy book.
LIPIA teaches Wahhabi Madhab. A religious expert from the 1200s, Ibn Taimiyah, led this version of Salafism.
People who have studied at LIPIA and in Saudi Arabia hold powerful positions throughout Indonesia, including in a conservative political party and the top levels of government. Some have also become preachers and religious teachers. They work to spread Salafism throughout the country.
An agency linked to the Saudi Arabian embassy in Jakarta gives scholarships to students to study in Saudi Arabia. But Saudi diplomat Saad Namase would not tell VOA how many students are given free education.
He said "we don't really work with the Indonesian government. We just try to strengthen cultural ties between our two countries by, for example, holding Koranic recitation competitions."
He said many countries, including the Netherlands and the United States, give scholarships to Indonesian students. He said the Saudi program is just one of many that help students pay for their studies.
Din Wahid is an expert on Indonesian Salafism at the Syarif Hidayatullah State Islamic University in Jakarta. He says the Saudi agency pays the wages of well-known Salafi preachers, and sends Arabic teachers to schools throughout Indonesia.
Several Saudi Arabian universities also give scholarships directly to Indonesian students.
Dadi Darmadi is a researcher who studies the yearly pilgrimage to Mecca, called the Hajj. Darmadi says the Indonesian government is not likely to try to stop the Saudi efforts. He says it is concerned that Saudi officials might react by limiting the number of Indonesians who can travel to Mecca.
Darmadi says Saudi Arabia just gave permission for 10,000 extra Indonesian visitors for the Hajj this year.
Divergent Paths
Hidayat Nur Wahid is a member of Indonesia's House of Representatives and a leader of the Prosperous Justice Party. He is one of the best-known national politicians to have studied in Saudi Arabia. He received scholarships for undergraduate, master's and doctorate degrees in theology and the history of Islamic thought at the Islamic University of Medina.
In his words, "The majority of Islamic texts are in Arabic, which is why I wanted to study in Saudi Arabia. Plus, the spirit of the Prophet Muhammad animates Medina. I enjoyed my years there."
Nur Wahid praised his studies in Medina.
"We just learned how to be good Muslims," he said. "And it's a misconception that everyone who studies in Saudi Arabia becomes a preacher or religious teacher. Many graduates become officials or politicians like me."
Researcher Din Wahid said many Muslims think Saudi Arabia represents true Islam because it is the birthplace of Islam.
Abshar-Abdalla became a critic of the Salafi movement during his studies. He began to read other Islamic books, including ones written by Sufi and Shia Muslims. In 2001, he created the Liberal Islam Network.
Some Indonesian officials worry that Saudi-educated preachers are leading Indonesian Muslims to become more conservative in their beliefs. They are even more worried that Salafi teachings could incite terrorism or extremism.
Hidayat Nur Wahid says Saudi Arabia is helping many Indonesian students but that it is not clear what changes Salafism will bring to his country. He says all that is clear is that Salafism is "here and it's growing."
Full report at:
http://learningenglish.voanews.com/a/saudi-arabia-uses-scholarships-to-universities-to-influence-indonesian-students/3683418.html
--------
South Asia
Dhaka keeping tabs on radicalised Bangladeshis with dual citizenships
Jan, 30 2017
DHAKA • Radicalised Bangladeshis with dual citizenships have become a major challenge for counter-terrorism teams, according to a major local daily.
Officials dealing with militancy told The Daily Star that law enforcers have little information about Bangladesh-origin foreign nationals who secretly travelled to Iraq or Syria from abroad and joined the Islamic State in Iraq and Syria (ISIS).
With ISIS gradually losing battles in Iraq and Syria, its members are being driven out of their territories and forced to look for shelter in other countries.
Bangladesh-origin ISIS recruits, who have dual citizenships, might now want to come to Bangladesh for shelter as they would face arrest if they returned to the countries they fled to join the terror group.
"We have already started communicating with different countries to collect information about Bangladeshis with dual citizenships who left the countries to fight for IS," Deputy Inspector General Monirul Islam, chief of the Counter-Terrorism and Transnational Crime (CTTC) unit of the Dhaka Metropolitan Police, said recently, using an alternative acronym for ISIS.
He admitted that the authorities do not have details about such ISIS militants.
Investigators added that they suspect the number of Bangladesh-origin ISIS militants with dual citizenships would not be very small. They could not provide a figure.
"Such IS operatives have every chance of getting arrested if they return to the countries where they lived before leaving for IS territories, as the authorities have detailed information about them," said a top official of the CTTC unit.
"So, having dual citizenship, they will try to enter Bangladesh. With no information about their conduct, the authorities here will not question their entry," he added.
Another official said any such ISIS operative would not sit idle after entering Bangladesh.
He would definitely try to recruit people and carry out attacks using experience gained from battlegrounds.
In the case of Bangladeshis who do not have dual citizenships and left the country to join ISIS, Mr Monirul Islam said they would not be able to enter Bangladesh undetected as the authorities have information about them.
http://www.straitstimes.com/asia/south-asia/dhaka-keeping-tabs-on-radicalised-bangladeshis-with-dual-citizenships
--------
Taliban attack on Afghan forces coordination center repulsed in Nangarhar
Jan 30 2017
A coordinated attack by the Taliban insurgents was repulsed by the Afghan security forces in eastern Nangarhar province.
The provincial police commandment in a statement said the attack was launched late on Sunday night targeting the coordination center of the Afghan security forces in Bati Kot district.
The statement further added that the attack was successfully repulsed and a Taliban insurgent was killed during the clash.
According to the statement, the Taliban insurgent killed during the clash has been identified as Qari Naseeb who is hailing from the ssame area.
The Taliban militants group has not commented regarding the report so far.
Nangarhar is among the relatively calm provinces in eastern Afghanistan but the anti-government armed militant groups are active in some of its remote districts.
Both the Taliban insurgents and militants affiliated with the Islamic State of Iraq and Syria (ISIS) terrorist group are operating in this province.
Full report at:
http://www.khaama.com/taliban-attack-on-afghan-forces-coordination-center-repulsed-in-nangarhar-02763
--------
Top Muslim lawyer gunned down in Myanmar
Jan, 30 2017
YANGON: A prominent Muslim lawyer and member of Myanmar's ruling party was shot dead along with a taxi driver outside Yangon's international airport on Sunday, officials said.
Ko Ni, a legal adviser to Aung San Suu Kyi's National League for Democracy (NLD) party, was gunned down as he got into a taxi outside the arrivals lounge at about 5pm by an assassin who also killed the driver.
"According to our initial information, Ko Ni and the taxi driver were killed," a security source at the airport said.
"An unknown man shot him in the head while he was hiring a taxi. He was later arrested," the source added.
Zaw Htay, a spokesman for the president's office, said Ko Ni had just returned from an official trip to Indonesia.
"He (Ko Ni) was shot while he was waiting for a car outside the airport. Ko Ni died on the spot," he said.
There were no reports on possible motives behind the murder but the daylight slaying would do little to calm already heightened nerves within Myanmar's Muslim community.
Myanmar's border regions have simmered for decades with ethnic minority insurgencies. But it is rare for prominent political figures to be murdered in Yangon, the country's booming and largely safe commercial hub.
However, in recent years Myanmar has witnessed a surge of anti-Muslim sentiment, fanned by radical Buddhist nationalists.
Ko Ni, a legal adviser to the NLD, was a rare voice advocating religious tolerance and pluralism.
In late 2015 Suu Kyi's NLD party won a landslide election victory, ending decades of military-led rule. But in what analysts widely saw as a sop to Buddhist hardliners, the party fielded no Muslim candidates, despite boasting many senior Muslim figures in its ranks.
Suu Kyi has also faced international censure for her failure to criticise an ongoing army crackdown against the Muslim Rohingya minority in western Rakhine state.
Since the launch of the crackdown in October at least 66,000 Rohingya have fled to neighbouring Bangladesh alleging that security forces are carrying out a campaign of rape, torture and mass killings.
The treatment of the Rohingya, a stateless group denied citizenship in Myanmar, has galvanised anger across the Muslim world.
Full report at:
http://www.dawn.com/news/1311610/top-muslim-lawyer-gunned-down-in-myanmar
--------
Taliban collecting bills for Afghan utilities: NYT
Jan, 30 2017
KABUL: The Afghan government faces an unexpected problem in at least two major provinces: It provides electricity, some of it is imported at exorbitant rates from neighboring countries, but Taliban militants collect most of the bills.
If the government cuts off power, it will further annoy the population that is already disenchanted. If it does not, the revenue from the power sector will continue to provide more income to an already emboldened Taliban.
The Taliban, fighting the Afghan government and a large international military coalition, have long tapped into Afghanistan's lucrative drug trade and illegal mining, in addition to the streams of donations they receive from supporters abroad, mainly in the Persian Gulf states.
But as they have taken over increasingly large areas in the past two years, they have found new ways of diversifying and collecting revenue, according to interviews with officials, Taliban commanders and local residents
The diversification of the revenue collection system, in the face of a central government largely dependent on Western donations and hobbled by corruption, has raised fears that the balance of the war could tilt even further in the year ahead, and that the insurgency is becoming more entrenched and acting as a shadow government in parts of the countryside.
In addition to collecting electricity bills from thousands of homes in provinces such as Kunduz and Helmand, the insurgents levy taxes on potato harvests, flour mills, teachers' salaries, marriage ceremonies, fuel and vegetable trucks crossing their checkpoints.
At the same time, the Taliban continue to pursue their original sources of funding. The United Nations, in a recent report, said narcotics, illegal mining and external donations remained major income streams, with the drug economy bringing in up to $400 million in 2016.
Full report at:
http://nation.com.pk/international/29-Jan-2017/taliban-collecting-bills-for-afghan-utilities-nyt
--------
Afghan forces destroy 8 heroin labs in Helmand province
Jan 30 2017
The Afghan National Defense and Security Forces (ANDSF) destroyed six heroin labs in the restive Helmand province in South of Afghanistan.
The Ministry of Interior (MoI) said late on Sunday that the labs were destroyed during a special military operation conducted late on Saturday night.
"Last night, Afghan Counter-Narcotics Special Operation Police carried out a successful operation in Bando village, Nowzad district of southern Helmand province, destroying six heroin factories," MoI said.
According to MoI, among the drugs and materials, 1090 kg of morphine, 15175 kg of ammonium chloride, 2,000 liters of liquid opium and some amount of chemical substance which has been used in making heroin, were also destroyed.
"During this operation, six armed militants were killed as well," MoI said, adding that "The Ministry of Interior is committed to the fight against narcotics and Afghan National Counter-narcotics Police are having major success in fighting against smugglers and narcotics, which will continue."
The anti-government armed militant groups including the Taliban insurgents have not commented regarding the report so far.
Full report at:
http://www.khaama.com/afghan-forces-destroy-8-heroin-labs-in-helmand-province-02764
--------
Africa
Jordan king to press Trump to step up war on Islamist militants
30 January 2017
Jordan's King Abdullah will hold talks with US President Donald Trump's administration in Washington on Monday on how to bolster the kingdom's domestic security amid the growing risk of ISIS attacks, officials and diplomats said.
They said the monarch, who will be the first Arab leader to hold talks with the new administration, is scheduled to meet congressional leaders, senators and senior officials including Defense Secretary James Mattis in coming days.
A meeting was expected to be arranged with Trump, one official said, but there was no official confirmation.
The king will address top administration officials about his country's fears of Islamic State fighters descending southward to its borders at the end of a US-led campaign whose goal is to drive them out of their de facto capital of Raqqa in northern Syria.
"The king will seek a stepped-up campaign against the extremists and secure extra resources to help ensure the militants would not be allowed to move towards our borders," one official told Reuters on condition of anonymity.
Abdullah, a former special operations commander, shares Trump's views about the priority of fighting the hardline group, warning repeatedly of its threat to a kingdom that borders Israel to the west, Syria to the north and Iraq to its east.
The kingdom is among the few Arab states that have taken part in a US-led air campaign against ISIS militants holding territory in Iraq and Syria. The country has pockets of support for the militants and has been eager not to trumpet its military role in a neighboring Arab country.
Jordanian militants embracing Islamic State ideology killed at least 10 people in an attack in the southern city of Karak last December.
A Jordanian guard killed three US servicemen last November in an attack that Washington did not rule out was politically motivated and signaled risks of radicalization from within the US-equipped Jordanian armed forces.
Two officials said Abdullah was heartened by a new Republican administration whose emphasis on traditional security would be a refreshing change from the former Obama administration's concern over the pace of political reforms, which was seen in Jordan as interference.
The monarch hopes Mattis will be more responsive to the extra military funding and equipment the Obama administration had turned down for one of its key regional allies.
US officials say the kingdom is one of the largest recipients of its foreign military financing.
US Patriot missiles are stationed in Jordan and the US Army has hundreds of trainers. Since the start of the Syrian conflict in 2011, Washington has spent millions of dollars to set up an elaborate border defense system.
Full report at:
https://english.alarabiya.net/en/News/middle-east/2017/01/30/Jordan-king-to-press-Trump-to-step-up-war-on-Islamist-militants.html
--------
Boko Haram Terrorists Kill Seven in Northeastern Nigeria
Jan 29, 2017
Militants believed to be from the Boko Haram Takfiri terrorist group have attacked a convoy of motorists along a highway in northeastern Nigeria, killing at least seven people and injuring several others.
Witnesses said on Sunday that the militants ambushed the military-escorted motorists along recently-secured Maiduguri-Biu highway in Borno state the previous day. Nigerian soldiers are said to be among the injured.
Dauda Pambe, a local resident who was among the travelers guarded by soldiers, said many passengers ducked in their vehicles to avoid being hit by bullets.
"We were somewhere between Bulabulin and Dogonwaya villages when the Boko Haram gunmen opened fire on the vehicles ahead of us in the convoy," said Pambe.
"The first vehicle was hit on the tire and the driver could not proceed so the passengers alighted and fled into the bush. The second vehicle was a pickup van carrying many passengers, and many of them could not escape."
The militant-infested highway, which was recaptured last year by the military, has been one of the most dangerous routes in northeastern Nigeria for several years because of militant attacks. The military now escorts motorists moving in convoy along the road.
The latest incident came three days after Boko Haram gunmen stormed a military base in Borno.
Full report at:
http://www.presstv.ir/Detail/2017/01/29/508288/Boko-Haram-Nigeria
--------
Local Muslims come to Victoria's aid after mosque burns
Jan 30 2017
For members of the Islamic Society of Southern Texas, a mosque fire in Victoria "hit too close to home."
"A mosque in a Muslim community ... it's literally the heart of our community," said Fiona Tagari, a member of the Corpus Christi mosque. "A lot of us are immigrants. We don't have families here, so it's where we make our families. Congregants become extended families."
Local members, including Dr. Samer Jifi Bahlool, traveled back and forth to the site of the Victoria Islamic Center on Saturday and again Sunday after news broke an early morning fire destroyed the mosque.
Jifi Bahlool said the Victoria's center is a sister mosque to Corpus Christi.
"Yesterday was very shocking. A lot of members were crying, including the imam (prayer leader)," he said said. "It was somber feeling. Seeing their mosque, and then all of a sudden, there's nothing left of it."
The cause of the mosque fire is unknown and being investigated by the Victoria Fire Marshal's Office, the state fire marshal's office and the Bureau of Alcohol, Tobacco, Firearms and Explosives, according to the Victoria Advocate.
In the past month, there have been two other mosque fires nationwide, including one in Bellevue, Washington, and another in Lake Travis. The Bellevue mosque was determined to be arson. Lake Travis fire officials are investigating the cause of the fire at the Islamic Center of Lake Travis, which was nearing completion and scheduled to open in the spring, according to the Austin American Statesman.
Abe Ajrami, a Victoria mosque spokesman, asked the public to "not politicize the situation" and "give a chance to law enforcement" to determine the fire's cause.
Rep. Blake Farenthold, R-Corpus Christi, emailed a statement to the Caller-Times about the fire. Farenthold also represents Victoria and surrounding areas.
"While we wait for law enforcement to complete a thorough investigation, I would remind residents that Victoria is a caring community and a wonderful place to live," Farenthold wrote. "I truly hope this was an accident and not something done out of misguided anger."
The Victoria mosque alsowas burglarized earlier this month, and the Corpus Christi mosque has been targeted by vandals on several occasions.
The fire occurred hours after President Donald Trump signed an executive order barring citizens of seven Muslim-majority countries from entering the U.S. Since then, a number of immigrants have been detained at airports across the country, including Austin and Dallas.
Hundreds of people assembled outside the terminals at Austin-Bergstrom International Airport to denounced the president's order.
Meanwhile, the president of the University of Texas issued a statement Sunday saying the the state's largest institution of higher learning has 110 students, faculty members and scholars who are citizens of the countries named in Trump's order.
"Many of the UT community members from the affected countries are currently in the United States and we strongly encourage them to refrain from international travel at this time," University President Gregory Fenves said in his letter. "To those who are abroad, please exercise caution and know that we are doing everything we can regarding your return to UT. My leadership team is monitoring the impact of the order. As its meaning is clarified, we will continue communicating with those affected."
Tagari emigrated from South Africa during 1990s-era apartheid, so she could provide a better life for her children.
"What's happened in the last few days feels a lot like apartheid," she said. "(People are being) targeted for religion ... it doesn't sit too well."
Jifi Bahlool immigrated to the United States from Syria in the early 1990s. He said he does not have family directly affected by the travel ban.
"Basically, I think the ban is un-American, inhumane and is cutting families off from each other," he said. "It's biased and bigoted."
More than $700,000 has been donated by about 16,000 people to help rebuild the Victoria Islamic Center. Donations have come from as far away as European countries.
Dr. Haroon Patel, who was most recently in the news for being part of the medical team that separated conjoined twins last year, said mosques across the country are targets.
"Since before the election of Trump and certainly since then, people have become emboldened," Patel said. "This is no accident that it has come to the forefront."
Corpus Christi members offered emotional support this weekend to their brothers and sisters in Victoria, and have plans for fundraisers, Patel said.
While in Victoria, Jifi Bahlool was encouraged and amazed by the outpouring of love and support from the local community and elsewhere.
Full report at:
http://www.caller.com/story/news/local/2017/01/29/local-muslims-come-victorias-aid-after-mosque-burns/97220772/
--------
Nigeria: Suleman insists on death for Fulani Muslim militia
January 30, 2017
— Firebrand cleric, Apostle Johnson Suleman, has repeated his call for death for those he referred to as Fulani militia, even as he declared his readiness to honour the invitation extended to him on Saturday by the Department of State Security Service (DSS) to report at its headquarters in Abuja on Monday "for an interview by 10am over an inciting statement."
The formal invitation came four days after DSS' botched attempt to arrest Apostle Suleman, who is the General Overseer of Omega Fire Ministries, Auchi, Edo State, during his visit to Ado Ekiti, capital of Ekiti State. The radical preacher had been rescued by Ekiti State Governor Ayodele Fayose, who rushed to the hotel in the dead of the night and took the pastor, who was in the state for a crusade, to the Government House.
A story this morning in The Nation quoted Apostle Suleman's Communications Adviser, Mr. Phrank Shaibu, as saying: "The General Overseer has received an invitation from DSS.
"Even though the invitation is ridiculous, as a law-abiding citizen, Apostle Johnson Suleiman will honour it.
"We also consider the invitation as an afterthought after the botched attempt to arrest Apostle Suleman."
Shaibu was further quoted as saying that Suleman does not hate Muslims or Fulanis as being speculated in some quarters but has no regrets for asking members of his church to kill herdsmen who move close to the church's headquarters in Auchi.
Suleman said in the statement: "I have friends as Fulanis. I have members as Fulanis in our northern churches.
"I have a driver who drives me whenever I am in Lagos, he is a Muslim. He has been driving me for years till date.
"I have bought him two cars as well. If I am not tolerant, a Muslim should not be driving me.
"I discovered that the Chief Security Officer (of our church) was also a Muslim. Yes, he was a Muslim supervising the security unit our church.
"Funny enough, majority of my callers on this issue have been Muslims; they have re-echoed what I said on the tape and do not hold contrary views about it."
The controversial cleric declared that killings by herdsmen must be tackled collectively to save the nation. He said: "I do not have issues with the Fulani people; I have seen and read of some good people from there. I have also seen extremely nice Muslims.
"For example, the Emir of Kano, Sanusi Lamido Sanusi is a Fulani man and also a Muslim.
There was a church that was destroyed in his province, he personally rebuilt it.
"The Fulani people who are very enlightened understand the intricacies in this matter and most of them have been speaking with me.
"Whereas the herdsmen who are the perpetrators of this evil are happy with these developments because it has become a religious problem and this is part of my anger.
"There are still real Fulani herdsmen who are nomads and still taking care of their cattle everywhere.
"They carry sticks around. But these particular (killer) herdsmen carry guns, sophisticated weapons and the likes.
"I have made it clear that my anger is with the Fulani herdsmen and my point is; that no one should lay down to be killed by these people. Only cowards do that.
"And I stand my ground that the herdsmen who are killing should be dealt with."
Earlier in a separate statement in Abuja on Wednesday, Shaibu said the church "wondered why its General Overseer could be so harassed for merely expressing his opinion on the menace of Fulani herdsmen, when freedom of expression is one of the rights guaranteed by the nation's Constitution.
"The Fulani militia, masquerading as herdsmen, have stated that they are going to kill him.
"Everyone knows that they are armed with AK47 and have already killed over 7000 persons in Nigeria. Women have been raped and houses destroyed.
"Yet, not one of them has been caught or is being prosecuted by the DSS or Federal Government."
Shaibu stressed that his principal's message was directed at the Fulani militia, in the guise of herdsmen, that have openly declared intention to kill him.
He said that even if the comments made by Apostle Suleman were found to be inciting , as alleged by the SSS, "a government that believes in robust debate as a means of strengthening democracy would simply have invited him for explanation , rather than attempting to kidnap him.
"We expected a more civilised conduct from a government that promised Change."
"What most people do not know is that Apostle Suleiman's father was a Muslim. He was born into a Muslim family.
"He has brothers and sisters that are Muslims and enjoy very cordial relationship with them."
Full report at:
http://africanheraldexpress.com/blog8/2017/01/30/nigeria-suleman-insists-on-death-for-fulani-muslim-militia/
--------
Seven dead in suspected Boko Haram attack on Nigerian highway
January 29, 2017
MAIDUGURI, Nigeria -- Gunmen believed to be Nigeria's Boko Haram Islamic extremists attacked a convoy of motorists along a recently secured highway, killing at least seven people and injuring many others, including soldiers in a military escort, witnesses said.
The Maiduguri-Biu highway has been one of the most dangerous routes in northeastern Nigeria for three years because of Boko Haram attacks. The Nigeria military recaptured it last year and declared it safe, but the military escorts motorists moving in convoy along the road.
Eyewitness, Dauda Pambe, said he was among the travellers guarded by soldiers when gunmen launched the ambush attack on Saturday.
"We were somewhere between Bulabulin and Dogonwaya villages when the Boko Haram gunmen opened fire on the vehicles ahead of us in the convoy," said Pambe. "The first vehicle was hit on the tire and the driver could not proceed so the passengers alighted and fled into the bush. The second vehicle was a pickup van carrying many passengers, and many of them could not escape."
The gun fight continued for some time with many passengers ducking in their vehicles to avoid being hit by bullets, said Pambe.
The incident came three days after Boko Haram gunmen suffered a heavy loss of members after a foiled attempt to attack a military base in Borno state. In that incident, a large number of the insurgents stormed a military base in Kamaya but failed to dislodge the soldiers.
Full report at:
http://www.ctvnews.ca/world/seven-dead-in-suspected-boko-haram-attack-on-nigerian-highway-1.3261924
--------
India
JKNPP protests settlement of immigrant Muslims in Jammu
January 29, 2017
Jammu and Kashmir National Panthers Party Sunday held a protest against the settlement of Rohingya and Bangladeshi Muslims here, alleging that it is a conspiracy to reduce Dogras to minority by engineering demographic changes. Led by the party chairman Harsh Dev Singh, the activists wore black gowns printed with slogans like "Quit Jammu Rohingyas-Bangladeshis" as they staged a demonstration against the state government for the settlement in Jammu, the home of Dogra population.
"It is conspiracy to to reduce Dogra population to minority in their bastion Jammu by engineering demographic changes," Singh told reporters. He claimed that the ingression and unlawful settlement of Rohingyas and Bangladeshis in Jammu is a grave threat to the cultural, historical and religious identity of Dogras.
The party staged a vigorous protest demonstration seeking the Muslims' immediate repatriation to their native countries. He said that the Jammu and Kashmir government had admitted on the floor of the House that there were several thousands of Burmese and Bangladeshi immigrants who had been unlawfully settled in the outskirts of Jammu city and Samba by several NGOs and Madrasas.
Earlier, thousands of Tibetan Muslim refugees who were forced to flee China had also been inhabited by the state government in the colonies located at Idgah, Badamwari and Gulshan Mohalla in Kashmir and Ladakh, Singh said.
He said the events like mass exodus of Kashmiri Pandits from the Valley, communal and fascist ideology of the separatists, and the state government's silence over the unlawful settlement of foreign nationals was undoubtedly manipulative and dangerous.
Singh called upon intellectual forums, social organisations, nationalist forces, youth and student organisations to get united to launch a mass agitation against the settlement of foreign nationals in Jammu.
Hitting out at the Centre for its despicable apathy in addressing the grave issue, he said that the BJP leadership was merely issuing press statements for public and media consumption with all their jingoistic claims falling flat.
http://indianexpress.com/article/india/jknpp-protests-settlement-of-immigrant-muslims-in-jammu-4497596/
--------
India invites Pakistan for Speakers' summit but Pakistan unlikely to attend
Sachin Parashar
Jan 30, 2017
NEW DELHI: In a potential ice-breaker, India has invited Pakistan for the South Asian Speakers' Summit which it will host next month in Indore. Pakistan though, top government sources told TOI, has declined the invitation.
Other South Asian nations, all members of Saarc, have confirmed their participation for the Summit on achieving Sustainable Development Goals. The conference will be held by Indian Parliament and Inter-Parliamentary Union (IPU) in Indore, February 18-19.
This would be the first high level engagement among South Asian nations since the cancellation of the Saarc summit which was to be held in Islamabad in November last year. Enraged by the terror attack in J&K's Uri, which was carried out by terrorists from across LoC, India had then isolated Pakistan diplomatically by forcing several other countries to withdraw from the summit.
According to Indian officials, while the Speakers' Summit comprises Saarc members, it is not per se a Saarc activity and is driven more by IPU.
In a first, India had also invited Myanmar for the Speakers' conference. Myanmar too is learnt to have declined the invitation. The last edition of the event was held in Bangladesh and the next one will be hosted by Sri Lanka. PM Narendra Modi had earlier himself directed the government to host the summit in Indore in line with his initiative to move international conferences out of Delhi.
It is not yet clear what reason Pakistan has cited to withdraw from the conference. In fact, Pakistan sources suggested that the final decision from Islamabad may still be awaited.
It may be worth recalling here that India had in 2015 threatened to boycott a conference of Speakers organized under the Commonwealth Parliamentary Union after Pakistan refused to invite the Speaker of J&K assembly. Pakistan later called off the event saying that since Kashmir was a disputed territory, it had become impossible to host the Commonwealth conference in Pakistan.
Pakistan's Sartaj Aziz, who is the de facto foreign minister of the country, had in December 2016 attended the Heart of Asia conference in Amritsar. Islamabad is currently awaiting a response from India over its demand that India release 33 of its prisoners who have served their sentences here.
Pakistan wants India to respond positively to its decision to release Indian Army soldier Babulal Chavan and also to the release of over 200 Indian fishermen last year on the birthday of its PM Nawaz Sharif.
Full report at:
http://timesofindia.indiatimes.com/india/india-invites-pakistan-for-speakers-summit-but-pak-unlikely-to-attend/articleshow/56861339.cms
--------
In 1984, Indian Air Force could have 'inflicted major damage' on Pakistan's nuclear facilities, CIA believed
Shailaja Neelakantan
Jan 30, 2017
NEW DELHI: The Indian Air Force (IAF) could have "inflicted major damage on Pakistan's most critical nuclear facilities", in 1984, says a secret CIA document from November of that year.
The secret "intelligence assessment", made soon after then Prime Minister Indira Gandhi's assassination, also said that an attack by the IAF could "destroy or sufficiently damage the facilities to prevent Islamabad from producing nuclear weapons for several years."
Surprisingly, the CIA document also says that MIG 29s - which India at the time was awaiting delivery of - had "medium-range capability superior to" that of the F-16s, which were and still are made by the US. Notably, Pakistan possessed F-16s.
Because of "poor command, control, and communications, we judge that Islamabad could not blunt a massed Indian airstrike", the document says. It adds, though, that "surprise and speed" by the IAF were critical for a successful strike on Pakistan's 'most critical' nuclear facilities. According to the CIA, those facilities were the Kahuta Enrichment Plant and PINSTECH-New Laboratories facility, both of which were just 30 minutes away by plane from India.
India's air force was "larger and better" than Pakistan's, the 1984 CIA document say
"We believe that the Pakistanis can neither provide effective air defense for their military and industrial targets against a concerted Indian air attack nor seriously threaten most strategic targets in India," it adds.
In the event of an IAF strike on Pakistan, the IAF would have most likely used its MIg-23s and its Jaguar aircraft, the CIA believed at the time.
"The best window for a preemptive strike, in our opinion, would be during November through February. Low precipitation and lack of clods make visual target identification the easiest in this period," the CIA document explains.
Full report at:
http://timesofindia.indiatimes.com/india/in-1984-indian-air-force-could-have-inflicted-major-damage-on-pakistans-nuclear-facilities-cia-believed/articleshow/56865788.cms
--------
Pakistan
Imran Khan Wants Trump to Extend US Travel Ban to Pakistan
January 29, 2017
Pakistan's leading opposition politician, Imran Khan, is urging President Donald Trump to ban Pakistanis from entering the United States, after he suspended immigration from seven Muslim majority countries.
The controversial U.S. ban currently applies to Iran, Iraq, Libya, Somalia, Sudan, Syria and Yemen.
Addressing a rally in the central Pakistani town of Sahiwal on Sunday, Khan denounced the ban as anti-Muslim and praised Iran for its retaliatory action of banning Americans from entering the Islamic Republic.
"I want to tell all my fellow Pakistanis today, I pray that Donald Trump really bans visas for us." Khan said, suggesting that such a move could help prevent brain drain from Pakistan.
He went on to urge educated and skilled Pakistani youth to abandon U.S. travel plans in search of a better economic future, and to focus instead on building Pakistan.
"And then if America tells us they are stopping visas for us we will also, like Iran, tell them we are going to stop visas for Americans," Khan vowed.
Khan's Pakistan Tehrik-e-Insaf party is the third major political force in the national parliament, and rules the country's northwestern Khyber-Pakhtunkhaw province.
Pakistani Prime Minister Nawaz Sharif's government has not yet commented about Trump's ban on Muslim countries.
Officials in Islamabad are hoping for improvement in their usually uneasy relations with Washington under the Trump presidency.
Pakistan's alleged support for anti-Afghanistan and anti-India Islamist militant groups sheltering on its soil has been a major irritant in tensions with Washington.
On Sunday, White House Chief of Staff Reince Priebus hinted that Pakistan could be included in the list of countries from which immigration has been banned.
"You can point to other countries that have similar problems like Pakistan and others -- perhaps we need to take it further." Priebus told CBS News.
http://www.voanews.com/a/khan-wants-trump-to-extend-us-travel-ban-to-pakistan/3697571.html
--------
115 Muslims acquitted by court who torched homes of Christian Joseph Colony
Jan, 30 2017
Lahore: January 29, 2017. (PCP) A Muslim Judge of Anti-Terrorist Court acquits 115 Muslims culprits who attacked Christian residential area named Joseph Colony in Lahore and burnt down more than hundred homes in March 2013 on grounds of no witnesses and no proof presented by prosecutors.
Muslim mob of thousands have attacked Joseph Colony after rumors that one Christian named Sawan Masih have defile name of Muslims Holy Prophet Mohammad and started setting home of Christians and damaging households.
The Christian residents of Joseph Colony fled from their homes on orders of area police station instead of protecting life and property of Christians from Muslim attackers.
It was reported in section of press after incident that one Muslim Member of National Assembly from ruling Pakistan Muslim League Nawaz Group PML (N) conspired to grab valuable land of Joseph Colony and area Police Station managed Muslim mob attack.
The photos of Muslim attackers were captured and appeared in national print media and broadcasted by electronic media burning homes and damaging households but police not presented that evidence during court proceedings to safe Muslim culprits.
On rumors when police arrested Sawan Masih under blasphemy charges is facing death sentence since 2014 and behind bars but Muslims who openly burnt down Christian homes are set free by ATS Court.
Full report at:
http://www.pakistanchristianpost.com/detail.php?hnewsid=6289
--------
London's Pakistan-origin Mayor Criticises Trump's Immigration Ban
January 29, 2017
London: London's Pakistan-origin mayor Sadiq Khan slammed US President Donald Trump's ban on immigration from seven Muslim-majority nations as "shameful and cruel" and said the policy "flies in the face of the values of freedom and tolerance".
Trump in an executive order on Friday suspended refugees from entering the US and barred visas for travellers from Iran, Iraq, Libya, Somalia, Sudan, Syria and Yemen for the next three months to "keep radical Islamic terrorists out."
His controversial decision has led to chaos at home and around the world, with hundreds of thousands of people gathered at airports across the US in protest against the ban.
Khan released a statement responding to Trump's executive order, describing the ban on immigrants as "shameful and cruel". He said the policy "flies in the face of the values of freedom and tolerance", the Independent reported today. The 46-year-old first Muslim mayor of London pointed out that many British citizens will be affected by the new rules and was pleased that UK Prime Minister Theresa May had also raised concerns.
"The USA has a proud history of welcoming and resettling refugees. The President can't just turn his back on this global crisis - all countries need to play their part," he said.
"While every country has the right to set its own immigration policies, this new policy flies in the face of the values of freedom and tolerance that the USA was built upon. "I'm pleased that the Prime Minister has now said she and the government do not agree with President Trump's policy, which will affect many British citizens who have dual nationality, including Londoners born in countries affected by the ban," he added.
Khan, the son of a Pakistani bus driver, and the US President have a history of clashing and in the past the Mayor criticised many of Trump's campaign tactics.
Full report at:
http://www.news18.com/news/world/londons-pakistan-origin-mayor-criticises-trumps-immigration-ban-1342307.html
--------
South Asia destabilised by breaking Pakistan: Malik
January 30, 2017
ISLAMABAD - Senator Rehman Malik on Sunday said that Pakistan was facing the continuing challenge of terrorism.
Malik, while delivering a speech on "Current Affairs and Global Threat of Terrorism" at the concluding session of the United Nations Conference in University College London, UK, urged the global community to focus their attention on the problems facing terrorism-stricken countries particularly Pakistan.
He said that it was time to realise and "admit if we as a state, organisation or individual had made any mistake in the past for which today the whole world is facing terrorism and extremism."
Malik said that terrorist groups were still growing because of ineffective checks.
He said that the invasions by those who believed in "might is right" and their undue attacks against sovereign states for geo-political gains had not only created terrorism but also strengthened their nefarious ideology. Malik said that those interferences included invasion of East Pakistan when India illegally interfered in Pakistan's internal affairs and got Pakistan divided into two parts; invasions of Afghanistan, Kuwait, Iraq, Libya and Syria.
He said that South Asian region was destabilised by breaking Pakistan and thereafter invasion of Afghanistan pushed the whole region towards instability.
Adding the proxy war of two world powers fought in Afghanistan, which gave rise to semi-permanent structure of terrorists, which evolved in the shape of Taliban and follies by Al-Qaeda were both by-products of Afghanistan invasion, said Senator Rehman Malik.
He said that the international community did not learn any lesson from the creation of jihadis in Afghanistan, which became the source of terrorism from Manila to New York.
Malik said that the same Yousaf Ramzi planned to kill the Pope and then attempted to blow World Trade Centre and later on his uncle completed his mission in 9/11 whereas both were trained with jihadis brought in Afghanistan and "both were employees of Red Crescent Kuwait".
"I would like to state, the details what Ramzi had stated during his interrogation and whatever he stated before authorities are on record of American FBI," he said. "Abu Baker Baghdadi was deliberately allowed to gain strength so he could fight against Shias. The attempt to dislodge the Syrian regime by creation of Daesh has now seen it having grown into a monster," Malik said.
Full report at:
http://nation.com.pk/national/30-Jan-2017/south-asia-destabilised-by-breaking-pakistan-malik
--------
MPs stress early steps to ensure peace, progress
January 30, 2017
FAISALABAD - At a meeting of District Coordination Committee, the Faisalabad-based parliamentarians were briefed about the pace of development work and law & order situation in the district.
The parliamentarians stressed upon the increasing patrolling of the police to check the street crimes, and said that vigorous crackdown be carried out against the drug peddlers. He stressed upon making the driving licenses issuance process more transparent and improving the traffic management in the city.
Parliamentarians Haji Muhammad Akram Ansari, Rana Afzal Khan, Talal Badar Ch, Mian Farooq, Ch Asim Nazir, Rajab Ali Bloch, Dr Nisar Jutt, Shehbaz Babar Gujjar, Afzal Sahi, Sh Ejaz, Mian Tahir Jamil, Faqir Hussain Dogar, Ilyas Ansari, Arif Mehmud Gill, Azad Ali Tabassum, Madeha Rana, Zafar Iqbal Nagra, Rao Kashif Rahim, Raza Nasrullah Ghumman, Rai Haider Ali, Rai Usman Kharal, Jafar Ali Hocha, Naeemullah Gill, Dr Najma Afzal, WASA Vice Chairman Arif Mannan and others were also present.
Deputy Commissioner Salman Ghani and CPO Afzaal Kausar gave briefing to the parliamentarian about the pace of development work and law & order situation in the district. The DC said that different development schemes were being proposed with the consultation of local parliamentarians.
He said the latest progress of ongoing projects for the improvement and widening of the rural roads under Khadim-e-Punjab Rural Roads Programmes. He said that coordinated strategy had been adopt for uninterrupted service delivery by the district departments after introduction of new local govt system.
CPO Afzaal Kausar informed the comparative review of the crimes in the district, and said that Punjab CM Shehbaz Sharif had given the approval for the establishment of Dolphin Force for Faisalabad and the training for the staff would start from coming month of March.
He also informed the meeting about the progress of safe city project in Faisalabad, and said that more than 8,000 most sophisticated and advanced CCTV cameras would be installed which could read the numberplates of the vehicles besides identifying the proclaimed offenders through this system. He said that the administrative affairs of the police stations have been made in line with the information technology through police stations record management system under which FIRs were being registered through computerisation. He also talked about the importance of front desk system and informed about the overall law & order situation in the district. FDA Additional Director General Amir Aziz briefed the meeting about the performance of authority and informed that digital one-window operation counter, FDA website and facebook page had been introduced for the facility of the citizens.
He said that state of the art computer cell was working for the transparent transfer of properties and other departmental affairs. He said that regular actions were being taken against the illegal and unapproved housing schemes. He also informed about the Faisalabad Master Plan, PERI Urban Plan, development programmes, financial matters, achievements and performance of the TEPA.
The parliamentarians stressed upon the drastic actions against the illegal housing schemes. They said that the management of the each housing schemes be directed to write the approval numbers on the boards of the housing schemes. They expressed their concerns over the discrepancies between the Faisalabad Master Plan and PERI Urban Plan.
Full report at:
http://nation.com.pk/national/30-Jan-2017/mps-stress-early-steps-to-ensure-peace-progress
--------
URL: https://www.newageislam.com/islamic-world-news/new-age-islam-news-bureau/pastor-at-greater-cincinnati-airport-rally---jesus-was-a-refugee-/d/109891
New Age Islam, Islam Online, Islamic Website, African Muslim News, Arab World News, South Asia News, Indian Muslim News, World Muslim News, Womens in Islam, Islamic Feminism, Arab Women, Womens In Arab, Islamphobia in America, Muslim Women in West, Islam Women and Feminism, Moderate Islam, Moderate Muslims, Progressive Islam, Progressive Muslims, Liberal Islam