New Age Islam News Bureau
3 Aug 2019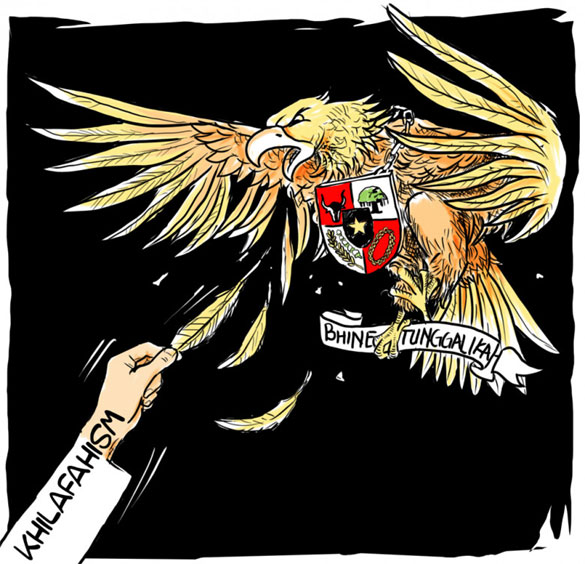 khilafah (JP/Budhi Button)
------
• Pancasila, Democracy Vs 'Khilafah': Challenge for Indonesia
• Umno-PAS Aim to Turn M'sia into Theocratic, Islamic State
• No Fatwa on Triple Talaq to Be Issued: Dargah-e-Ala Hazrat, Bareilly
• TN Coffee Shop Says 'Food Has No Religion', Shuts Door on Bigots
• Homs: US Starving Civilians in Al-Rukban Camp to Make Them Obedient
• Hezbollah is the Real Government in Lebanon
• Jamiat Ulema-e-Islam Bangladesh Slams India's Seeking Bangladeshi Land
• Al-Qaeda Is as Strong as Ever After Rebuilding Itself, U.S. Says
• Two Nephews of Former Pak PM Sharif Offloaded From Haj-Bound Flight
• Federal Appeals Court Rules In Favor Of Facebook in Case on Hamas Terror Victims
• Tensions Rise after Nigerian Court Labels Muslim Sect 'Terrorists'
Southeast Asia
• Pancasila, Democracy Vs 'Khilafah': Challenge for Indonesia
• Umno-PAS Aim to Turn M'sia into Theocratic, Islamic State
• The government must come clean on Zakir Naik
--------
India
• No Fatwa on Triple Talaq to Be Issued: Dargah-e-Ala Hazrat, Bareilly
• TN Coffee Shop Says 'Food Has No Religion', Shuts Door on Bigots
• India: Police Warn Hindu Man for Rejecting Muslim Zomato Driver
• Twitter Users Slam Hum Hindu Founder Ajay Gautam for Closing Eyes on Seeing Muslim Anchor On TV
• Muslim Man Joins 'Kanwar' Yatra, Thrashed By Peers in Baghpat, UP
• 2,000 Universities Instead Of Taj Mahal Would Have Made Muslims the World's Most Educated Community: Azam Khan
• Terrorists Moved by Pak Ahead of Imran Khan's US Visit Are Back At Loc
• Ayodhya Mediation Failure Unfortunate, Say Muslims
• Cow Vigilantism Impact: Muslim Mlas Seek Protection for Cattle Transporters Ahead Of Bakrid
• Former Maldives Vice-President Ahmed Adeeb Abdul Ghafoor Deported From India
• This Eid, Destroy Skin, Beat Leather Mafia, Muslims Told
• Save Your Sons, Stone-Pelters Die As Terrorists, Army Tells J&K Moms
• Government Advisory on Amarnath Yatra Has Created Chaos, Never Seen Such Panic, Says Mehbooba Mufti
• Militant who killed 4 cops eliminated in Kashmir encounter. Another begins
• Rajya Sabha passes UAPA Bill; govt can now declare an individual a terrorist
• Pakistani terrorists tried to attack Amarnath Yatra, sniper rifle found on route: Army
--------
Arab World
• Homs: US Starving Civilians in Al-Rukban Camp to Make Them Obedient
• Hezbollah is the Real Government in Lebanon
• Syria Says it Agrees to Cease-Fire in Rebel Stronghold
• ISIS fighters have reverted to 'shadow warriors' fighting an endless war
• Hezbollah Turning Syria Villages on Israel Border Into Fortresses
• U.N. to investigate accusations that Russia, Syria are deliberately targeting hospitals
• 19 IS militants killed, 16 arrested in anti-IS operation in eastern Iraq
• Hundreds of Children Die in US-Backed Refugee Camp in Hasaka
• Syria Army Preparing to Advance towards Death Triangle in Hama
--------
South Asia
• Jamiat Ulema-e-Islam Bangladesh Slams India's Seeking Bangladeshi Land
• U.S. Preparing To Withdraw Thousands of Troops From Afghanistan In Initial Deal With Taliban
• Special Forces storm key Taliban compound in Baghlan province
• Withdrawal from Afghanistan will be condition-based: Khalilzad
• A-29s pound Taliban hideouts in Bulcheragh of Faryab leaving 13 dead
• Khalilzad, Gen. Bajwa agree to continue working towards agreed goals: Pakistan military
• AAF airstrike kills Taliban's shadow governor, finance and logistics chief in Farah
--------
North America
• Al-Qaeda Is as Strong as Ever After Rebuilding Itself, U.S. Says
• FBI: Conspiracy Theory 'Extremists' Are a Terror Threat
• Iran sanctions effective, "we will enforce them" everywhere: Pompeo
• Eighth round of US-Taliban peace talks to start in Doha
• Leading US-based Israeli group forced to close as public support for Israel declines
• Trump again warns he could kill millions of Afghans
• US extends temporary protection status for Syrians
--------
Pakistan
• Two Nephews Of Former Pak PM Sharif Offloaded From Haj-Bound Flight
• US Envoy Appreciates Pakistan For Support To Afghan Peace Process
• NAB request to probe Nawaz in sugar mills case declined
• 'Game played with constitution' bad for democracy: Bizenjo
• Lawyer held in blasphemy case in Sahiwal
• PTI Govt believes in supremacy of law and the constitution: Dr. Firdous
• Pakistan to support all efforts for Afghan peace, Gen Bajwa tells Khalilzad
--------
Mideast
• Federal Appeals Court Rules In Favor Of Facebook in Case on Hamas Terror Victims
• How Can Israel Counter Iran's Seaborne Shipments of Weapons to Hezbollah?
• Yemen: Dozens killed in attack on military parade blamed on Iran
• Rebels, Militants Kill Dozens In Yemen's Aden; Saudi Arabia Blames Iran
• Al Qaeda attack kills 19 soldiers in Yemen
• Zarif: Iran will take 'third step' to reduce commitments to nuclear deal
• Yemen's Daesh affiliate claims Aden police station attack
--------
Africa
• Tensions Rise after Nigerian Court Labels Muslim Sect 'Terrorists'
• Sudan Generals, Protest Leaders Agree Constitutional Declaration: African Union
• Nigerian military denies secretly burying 1,000 soldiers killed by Boko Haram
• Boko Haram kills 27,000 in Nigeria in decade-long militancy: UN
• Mogadishu Mayor Dies of Injuries from Suicide Bombing
• US signals shift to Africa in counter-ISIS Coalition campaign
• Sudan detains nine soldiers following El-Obiad killings
• Tunisia presidential hopefuls line up for September polls
• Sudanese forces kill 4 protesters in renewed violence
--------
Europe
• British Army to Mobilise Cyber Spies To Combat ISIS And Russia Threats
• French police arrest men who pledged allegiance to ISIS and were planning attacks
• U.S. Congressmen Urge Germany To Designate Hezbollah A Terrorist Group
• Two Suspected IS Supporters Arrested In Russia's Tatarstan
• Turkey granted citizenship to over 92,000 Syrians
Compiled by New Age Islam News Bureau
URL: https://www.newageislam.com/islamic-world-news/pancasila-democracy-vs-khilafah-challenge/d/119381
--------
Pancasila, democracy vs 'khilafah': Challenge for Indonesia
Aris Arif Mundayat
August 2, 2019
On the morning of July 18, a Yogyakarta radio station broadcast a long lecture on the urgency of an Islamic caliphate. The speaker said democracy was not in line with Allah's way, but rather the product of Western politics that marginalized Islam and restricted Muslims' role in politics. Political parties, as a product of democracy, have split Muslims and pitted them against each other, so they are dubbed assobiyah zalim (cruel primordial groups). At the end of the lecture, the speaker said: "Seize the power, go into politics in the name of Islam and establish khilafah [Islamic State]!" More or less around that day, the 212 Alumni Association leaders stated that khilafah Islamiyah must be upright in 2024. Then, they denounced their losing presidential candidate Prabowo Subianto as a traitor for agreeing to reconcile with Joko "Jokowi" W...
https://www.thejakartapost.com/academia/2019/08/02/pancasila-democracy-vs-khilafah-challenge-for-indonesia.html
--------
Umno-PAS aim to turn M'sia into theocratic, Islamic state
2 Aug 2019
Reference is made to Umno secretary-general Annuar Musa's recent statement that the Umno-Pas cooperation charter will be based on the constitution of Medina which was drawn up in the year 662 AD, that is in the seventh century.
The charter of Medina is a historical document and a source of reference. It cannot be a constitution for Malaysia as Malaysia has already a written Constitution which was formulated after thorough discussions by the people of Malaysia.
The historical documents preceding the drafting of the constitution are amongst others, the Reid Commission report, the Alliance memorandum, the British White Paper 1957, the Cobbold Commission Report etc.
It appears that the use of the words "Constitution of Medina" is an innocent external packaging to hide the real intent to move Malaysia towards a theocratic state.
Our country Malaysia has a written constitution. Article 4(1) declares it to be "the supreme law of the Federation and any law passed after Merdeka Day which is inconsistent with this constitution shall to the extent of the inconsistency be void."
When a country has a written constitution then all laws including Islamic law will be subject to it: "Implicit in the concept of a constitution is that of a higher law that has superiority over the institutions it creates. The constitution takes precedence over all other laws.
"Supreme law" - the implication of these words is that the norms of the constitution have higher legal validity than any other rule in society whether federal or state, enacted by Parliament or the states, of primary or secondary status, of peace-time or emergency status and of secular or theocratic nature." Per Prof Dr Shad Saleem Faruqi at page 63 of his book Document of Destiny.
Thus, all laws must be tested against the constitution for their validity.
Theocratic Islamic state - (i) "Islam is the religion of the federation and syariah law is applied to all Muslims in areas designated by the constitution in schedule 9, List I and II" - page 110, Document of Destiny.
"'Theocracy' literally means rule by god. In political science, the term has come to mean either one of two things. First, the temporal rule is subjected to the final direction of the theological head because the spiritual power is deemed to be higher than the temporal and the temporal is to be judged by the spiritual. Iran has such a constitutional rule. Second, the law of god is the supreme law of the land. The divine law is expounded and administered by pious men as god's agents on earth [...]" - page 127, Document of Destiny.
PAS is in unrelenting pursuit of a theocratic Islamic state. It appears that the use of the "Constitution of Medina" is meant to pacify Malaysians into believing that it is an innocent charter of cooperation. But the exterior labelling appears to be a deception to hide the agenda of turning Malaysia into a theocratic Islamic state. If we examine the PAS statements and actions in the past their such intent is laid bare for all to see, as follows:
(a) PAS consistent claim is that syariah law is divine law.
(b) The Kelantan Syariah Criminal Code (II) Bill 1993 (as amended in 2015) has not been repealed until today. It provides for hudud offences including amputation of limbs and stoning to death.
(c) Haji Hadi Awang when opening 62nd PAS muktamar announced an Islamic government for Malaysia.
(d) Abdul Hadi Bin Awang had introduced a bill in Parliament in 2016 seeking to amend Act 355 which at present imposes a limit on punishments.
(e) Abdul Hadi Awang in his message published in Harakah Daily on Dec 9, 2017, stated that PAS's struggle is to uphold rule by Islam, not for Islam to be ruled over.
(f) Hadi Awang as the menteri besar of Terengganu stated on July 7, 2002, that "when the time comes, hudud will be extended to non-Muslims.
In conclusion, Malaysians are reminded that our beloved king the Yang Di- Pertuan Agong has called for a peaceful and united Malaysia. The Yang Di- Pertuan Agong also reminded Muslims to respect other religions and races and that there was no such thing as suppressing other religions or races.
Therefore, it is a clarion call to all Malaysians to heed our beloved Yang Di-Pertuan Agong's call for unity and harmony. Let us all unite as one for the greater good and solidarity of the country guided by the federal constitution and the rule of law.
https://www.malaysiakini.com/letters/486332
--------
No Fatwa on Triple Talaq to Be Issued: Dargah-e-Ala Hazrat, Bareilly
August 03, 2019
Bareilly: The Dargah-e-Ala Hazrat here has announced that it will not issue a 'fatwa' on the matter of triple talaq after Parliament recently passed a law making it a cognizable and non-bailable offence.
"After Parliament passed a law on triple talaq criminalizing it, we have decided that we will not issue any fatwa in such matters. Nothing in writing will be given by us as if someone approaches the police or law court we might land into complex intricacies of the law," said Maulana Shahabuddin, official spokesperson of the Dargah-e-Ala Hazrat.
"However, we will give advice to those who seek it. The advice would be given in the light of the Holy Quran and Hadith," he said.
The spokesperson also lauded the new law and said it is favour of Muslim women.
"This will definitely help in controlling the cases of triple talaq and would be helpful for Muslim women," he said.
The Central government on Tuesday scored a major victory in the Rajya Sabha when the House passed the Triple Talaq Bill after rejecting the opposition's demand to refer the Bill to the Select Committee and to remove the criminality clause which provides for jailing the husband for three years for pronouncing triple talaq to his wife.
The Muslim Women (Protection of Rights on Marriage), Bill, 2019 criminalises instant triple talaq among Muslims and attracts a jail term of three years for the husband.
https://www.siasat.com/no-fatwa-triple-talaq-dargah-e-ala-hazrat-bareilly-1569994/
--------
TN Coffee Shop Says 'Food Has No Religion', Shuts Door On Bigots
Aug 3, 2019
TRICHY: Zomato's stand against religious bigotry had an echo in the Tamil Nadu town of Pudukottai with the owner of a coffee shop putting up a board saying food has no religion and his establishment was closed to bigots.
M Arunmozhi, 47, owner of Ayngaran restaurant and coffee shop in Pudukottai, told TOI he was deeply moved by the strong stand food delivery app Zomato took when a customer asked it to change the Muslim deliveryman.
As a gesture of solidarity he put up a signboard in front of his restaurant saying "food has no religion and Ayngaran is shut for bigots". Arunmozhi says many of his customers were all praise for his gesture.
Arunmozhi said he was also very disturbed by clashes among people of different religious group in Pudukottai in the last week. Thus he had decided to openly condemn the spread of hate by those who differentiated among people on the basis of religion.
https://timesofindia.indiatimes.com/india/tn-coffee-shop-says-food-has-no-religion-shuts-door-on-bigots/articleshow/70506315.cms
--------
Homs: US Starving Civilians in Al-Rukban Camp to Make Them Obedient
Aug 02, 2019
About 300 civilians stationed in al-Rukban Refugee Camp in al-Tanf region of Homs province fled incarceration to safe areas under the control of the Syrian Army in Eastern Homs via Jaliqam crossing, the Arabic-language al-Watan newspaper quoted special sources as saying.
The civilians leaving the camp pointed to the very difficult conditions at al-Rukban Camp and acute shortage of foodstuff, potable water and hygienic products, and said that the US humiliates civilians, starves them and deprives them of humanitarian aids dispatched to the camp in a move to make them obedient.
Meantime, the Syrian Army troops engaged in fierce clashes with a group of the ISIL terrorists who had attacked the government forces' military convoy in Badiyeh al-Sukhneh region in Eastern Homs, killing and injuring all terrorists after warding off their attack.
Meantime, the Syrian Air Force in consecutive attacks pounded the ISIL's movements near T3 Station, around Baiyeh al-Sukhneh and in desert regions stretching to the administrative border with Deir Ezzur, inflicting heavy losses on the militants.
In a relevant development late April, Al-Watan newspaper reported that "there are around 40,000 to 60,000 people residing in al-Rukban Camp and about 2,500 of them have managed to leave the camp".
Based on media reports, the US troops that occupy a 55-km zone in Southern Syria block Russian and Syrian diplomatic and military officials from entering al-Rukban Camp to provide people with humanitarian aid.
The US command in Al-Tanf had previously delayed the delivery of aid to al-Rukban from Damascus, after refusing to guarantee its safety. It has also prevented buses sent by Damascus and guarded by the Russian military police from taking Syrians from the camp to other parts of Syria.
Since opening in 2014, Rukban is home to more than 40,000 Syrians, the majority of which have expressed a desire to return home. A survey released by the UN in February found that nine out of 10 living at the camp wanted to return. However, many expressed worry over gaining access to their property, possible retribution, as well as general safety and security concerns.
https://en.farsnews.com/newstext.aspx?nn=13980511000545
--------
Hezbollah is the Real Government in Lebanon
1 August, 2019
Eyad Abu Shakra
The Lebanese government has been disabled for a while due to a concocted crisis, the intentions behind which go much further exploiting the deaths of two young men in the village of Qabr Shmoun, in Mount Lebanon's Aley District.
The true intentions are to undermine, and bring down, a redundant 'compromise cabinet' through making the position of Prime Minister Saad Al-Hariri untenable; leading to either impose presidential rule through pro-Hezbollah President Michel Aoun, or to a political 'vacuum' that only Hezbollah can fill.
Either way, then, Hezbollah is the party most interested in undermining the current fragile compromise, bringing down the cabinet, and fomenting internal strife within Lebanon's sectarian communities. Contrary to Hezbollah media denial a few days ago, this party is indeed the 'orchestrator', coordinator, and commander-in-chief behind the crisis. As for its henchmen, whether Christians, Druze or others, they are nothing but pawns in a dangerous game that is pushing Lebanon to a political and sectarian 'inferno' created by Iran as part of its raising the tempo of concluding the deal of its regional influence.
The incident in which the two men were killed, occurred around a month ago as the Lebanese Foreign minister Gibran Bassil – who is also the president of the Free Patriotic Movement (FPM), President Aoun's son-in-law, as well his 'heir apparent', was conducting his political tours in the country.
Throughout his tour, Bassil's speeches have included unrelenting strong attacks on his 'adversaries', who also happen to be the FPM's partners in the cabinet. Politically, those attacks were intended not only to outbid all others about defending the Christians' right but also insisting on the Christians regaining the upper hand. This message is conveyed through insinuating that his adversaries within the Christian community have either sold cheap those 'rights' or are 'weak' enough to lose out to Muslim competitors; thus, making them unworthy of claiming the honor of defending the Christians!
Bassil has not only been repeating this negative and destructive message in the Christian heartland, but also carried it to mixed districts, such as Aley and Al-Shouf, in a direct and audacious provocation to the Druze, and their principal political umbrella, the Progressive Socialist Party. In one of his provocative speeches, Bassil recalled the battles that Aoun – a former army chief - fought against the PSP during the Lebanese 'Mountain War', just hours before his scheduled visit to Kfar Matta, which was witnessed a massacre committed against its Druze community in the late 1980s.
Given the expected popular reaction against the said speech, Bassil decided to cancel his scheduled visit. However, his 'host', a Kfar Matta-Druze minister, who was recently brought into the cabinet by Hezbollah, Aoun and the Syrian regime, insisted on what he viewed as his right to invite the FPM leader. But as the latter's convoy reached the village of Qabr Shmoun it was surprised by the blocked road ahead, so some hot-headed young men from the convoy began shooting at the crowd to disperse then and open the road. This led to the exchange of fire and the death of two young men who were with the minister's convoy, as well as among the locals.
The political exploitation of the incident began immediately. Pro Hezbollah – Aoun Druze called on referring it to the 'Judiciary Council', which is a special and final resort tribunal set for major national security crimes. The Hezbollah – Aoun camp's attempt has been to divide the Druze and legally blackmail the PSP and its leader Walid Jumblatt, as they have kept calling for the 'Judiciary Council' before any proper initial investigation, or even handing over their people accused of taking part in the shooting.
The situation is looking very much like turning what should be a purely legal process into a war of political exclusion and sectarian intrigue. In this war Hezbollah and its ally, the Syrian regime, want to settle old scores with Walid Jumblatt, one of the leaders of the March 14th uprising in 2005.
Lebanon today, in fact, since the assassination of Rafic Al-Hariri and others, is living an uneasy political and security period, whereby it is impossible to ensure any fair trial. Just as a reminder, because it was impossible to ensure a proper investigation, and later a trial, the Lebanese government had to resort to international justice through a special tribunal that would handle Al-Hariri's assassination as well as other crimes deemed connected to it. Hezbollah, however, refused to cooperate with the tribunal, and later refused to hand over party member accused of links with the assassination.
It is fair to say that Lebanon has inherited two problems from the 1975 – 1990 Lebanese War: weapons, and a sectarian exclusionist 'war culture'; and although it was possible to formally 'rebuild' the disagreements on the country's national identity, fate, coexistence and legitimacy persisted. In addition to these disagreements, the country's legitimacy means little when one sectarian faction enjoys the exclusive right to keep a private army that is more powerful than the state's army, and uses it inside Lebanon and abroad without its government's permission. Moreover, this faction confesses that its political and religious allegiance lies with another independent UN-member state that provides it with all kinds of funding and support.
The 'Taif Accords' of 1989, which ended the Lebanese War, instituted constitutional reforms based on a no victor-no vanquished equation. It was endorsed by almost all major political and sectarian leaderships; however, the hard-line Christian faction, led by the then army chief General Michel Aoun, openly refused to endorse it, claiming that it deprived the Christians of their 'rights' and marginalized them.
On the other hand, Aoun's 'open' opposition later found a tacit ally that was as opposed to the 'Taif Accords', and willing to undermine, although for reasons not connected with the Christians' 'rights'. That ally was the Damascus – Tehran axis represented by the Assad regime in Syria and the regime of Vali e Faqih and Revolutionary Guards (IRGC) in Iran.
The security apparatus of the Assad regime, that controlled Lebanon between 1976 and 2005, was the de facto 'nanny' for the sectarian Shi'ite IRGC-linked militia that became … Hezbollah. As that security apparatus invented artificial Christian leaderships which were nothing but 'fronts' that covered the on-going work to effect a profound change in Lebanon's political chemistry, it weakened the traditional Christian leaderships through imprisonment, exile, marginalization, assassination, as well penetrating their parties. It, later on, struck a deal with Aoun, before his return from exile in Paris, to sabotage the March 14th camp and join hands with Hezbollah.
The speech of Hezbollah's Secretary-General last week, in which he touched on the government crisis and the Qabr Shmoun incident was exceptionally interesting. He fully endorsed the positions of Jumblatt's enemy, while claiming that he was not interfering in Druze affairs. He then continued covering Aoun and Bassil's stances within the cabinet, including Bassil's stopping the hiring of 900 state employees despite fulfilling the requirements of the Civil Service Council, simply because the foreign minister noticed that there were more Muslims than Christians among the 900 candidates!
Well, Hezbollah is Lebanon's de facto government.
https://aawsat.com/english/home/article/1839416/eyad-abu-shakra/hezbollah-real-government-lebanon
--------
Jamiat Ulema-e-Islam Bangladesh Slams India's Seeking Bangladeshi Land
Aug 03, 2019
Jamiat Ulema-e-Islam Bangladesh secretary general Nur Hossain Kasemi in a statement on Friday expressed deep concern over an Indian proposal to Bangladesh seeking land for the expansion of their airport in Agartala.
Referring to a New Age report published on August 1, Nur Hossain Kasemi, also the vice-president of Hefajat-e-Islam and its Dhaka unit president, also said they found no strong statement of Bangladeshi officials against the Indian proposal rather they tried to substantiate arguments of the Indian proposal.
The Jamiat leader said everyone should remember that people would not compromise rather would embrace supreme sacrifice to protect independence, sovereignty and territory.
New Age on August 1 reported that India has proposed to expand its Agartala airport into the Bangladesh territory in Brahmanbaria for an upgrade to international standards.
The foreign ministry held a meeting with other relevant ministries and intelligence agencies to examine whether or how Bangladesh could share its land with India for the expansion of Agartala Airport in Tripura which was renamed as Maharaja Bir Bikram Airport on August 7, 2018.
http://www.newagebd.net/article/80526/jamiat-ulema-e-islam-slams-indias-seeking-bangladeshi-land
--------
Al-Qaeda Is as Strong as Ever After Rebuilding Itself, U.S. Says
By Glen Carey
August 2, 2019
Al-Qaeda and its affiliates remain as much of a threat to the U.S. as "it has ever been" after the terrorist group rebuilt itself while the U.S. and other nations focused on destroying Islamic State in Iraq and Syria, a State Department official said.
"Al-Qaeda has been strategic and patient over the past several years," Nathan Sales, the State Department's coordinator for counterterrorism, said on Thursday at a briefing in Washington. "It's let ISIS absorb the brunt of the world's counterterrorism efforts while patiently reconstituting itself. What we see today is an al-Qaeda that is as strong as it has ever been."
https://www.bloomberg.com/news/articles/2019-08-01/al-qaeda-is-as-strong-as-ever-after-rebuilding-itself-u-s-says
--------
Two nephews of former Pak PM Sharif offloaded from Haj-bound flight
Aug 2, 2019
LAHORE: Two nephews of jailed former Pakistan Prime Minister Nawaz Sharif, who are under investigation in the alleged money laundering and income beyond means case, were offloaded from a Haj-bound flight by the immigration officials here, a media report said Friday.
Yousuf Abbas and Abdul Aziz Abbas were going to Saudi Arabia to perform Haj when they were offloaded on Thursday from the Madina-bound flight at Allama Iqbal International Airport on the request of the National Accountability Bureau (NAB).
The Federal Investigation Agency (FIA) immigration officials said the two were stopped from travelling as their names were on the Provisional National Identity List (PNIL), a new Exit Control List-like category introduced recently in immigration laws under which a passenger can be stopped from leaving the country on the request of a government department.
"NAB had recently written to the interior ministry to place the names of Yousuf Abbas and Abdul Aziz Abbas on the PNIL so that they could not leave the country," an official told the Dawn.
He said the two brothers were shareholders in the Chaudhry Sugar Mills (CSM) and had failed to reply to the NAB's queries regarding investments and remittances they received when they appeared recently before a combined investigation team of NAB Lahore.
"Both are facing money laundering and 'income beyond means' investigations in this case along with Nawaz Sharif, Shahbaz Sharif, Maryam Nawaz, Hamza Shahbaz and others," the official said.
Pakistan Muslim League-Nawaz vice president Maryam Nawaz was questioned by the NAB officials in in the same case.
Former Prime Minister Sharif, 69, has been serving a seven-year prison term at the Kot Lakhpat Jail in Lahore since December 24, 2018 when an accountability court convicted him in one of the three corruption cases filed in the wake of the apex court's July 28, 2017 order in the Panama Papers case.
Sharif and his family have denied any wrongdoing and allege that the corruption cases against them were politically motivated.
https://timesofindia.indiatimes.com/pakistan/two-nephews-of-former-pak-pm-sharif-offloaded-from-haj-bound-flight/articleshow/70495171.cms
--------
Federal appeals court rules in favor of Facebook in case on Hamas terror victims
BY JACKSON RICHMAN
August 03, 2019
(August 1, 2019 / JNS) A federal appeals court on Wednesday sided against victims of attacks by Hamas who looked to hold Facebook accountable for allegedly enabling a social-media platform for the U.S.-designated terrorist group to promote its objectives. The 2nd U.S. Circuit Court of Appeals ruled that the 1996 Communications Decency Act, which monitors Internet material, protected Facebook from liability.
"Merely arranging and displaying others' content to users of Facebook through such algorithms—even if the content is not actively sought by those users—is not enough to hold Facebook responsible as the 'developer' or 'creator' of that content," wrote Judge Christopher Droney of the three-judge appeals court panel.
However, Chief Judge Robert Katzmann dissented and wrote, "Over the past two decades the Internet has outgrown its swaddling clothes. It is fair to ask whether the rules that governed its infancy should still oversee its adulthood."
The plaintiffs, which included Stuart and Robbi Force, whose son 28-year-old Taylor Force was stabbed to death in Israel by a Palestinian in 2016, asked for $3 billion in damages from Facebook for allowing a platform for Hamas to promote, encourage and celebrate terrorist attacks in Israel.
The complaint mentions Hamas attacks against five Americans, four of whom were killed, in Israel between 2014 and 2016.
"More must be done to hold Facebook accountable for providing a platform for Hamas," David Ibsen, executive director of the Counter Extremism Project, told JNS. "Unfortunately, the existing U.S. regulatory framework created in 1996 is no longer adequate to provide solutions and relief to individuals that endure the consequences of terrorist misuse of Facebook and other platforms."
"Terrorist groups have clearly used Facebook to host meetings, distribute propaganda and organize activities, despite the tech giant's promise to aggressively target this content," he continued. "Moreover, Facebook's recommended friends feature connect known terrorists with other supporters across the globe. The victims and their families should be empowered to hold these multi-billion-dollar companies accountable for turning a blind eye to terrorist activities on their sites."
https://www.jns.org/federal-appeals-court-rules-in-favor-of-facebook-in-case-on-hamas-terror-victims/
--------
Tensions Rise After Nigerian Court Labels Muslim Sect 'Terrorists'
By Timothy Obiezu
August 1, 2019
ABUJA - Tension between a Nigerian Shi'ite Muslim group and authorities is growing after a court last week granted permission to label the Islamic Movement of Nigeria (IMN) a terrorist organization. Security forces clashed violently with the group as they took to the streets of Abuja this month to call for the release of their leader, Ibrahim el-Zakzaky, who authorities have held since deadly clashes in 2015, despite a court order for his release.
Maimuna Dauda's three children, two daughters and a son, are among more than 350 Shi'ite Muslims killed in the city of Zaria in December 2015.
They were members of the Islamic Movement of Nigeria, or IMN, and had just returned from school when violence broke out between members of the group and the military as they tried to block a military convoy.
Dauda remembers the military cracked down hard on the IMN, accusing it of trying to kill the Nigerian army chief.
"I got a call from my daughter that the military had shot her in the stomach and her sister in the head and set the leader's house, where they were hiding, on fire. When I called back, I could no longer reach them. They had burned with the building," said Dauda.
Days later, authorities arrested IMN leader Ibraheem el-Zakzaky and his wife and have detained them ever since, despite court rulings for their release.
Their supporters' sporadic protests and security crackdowns have left many people dead.
Abdullahi Musa, a media head with the movement, accuses the government of deliberately trying to eliminate their leader.
"This government doesn't want to free Sheik Ibraheem Zakzaky. They want him dead. As they tried killing him in his house, God did not allow them. Now, they keep him in their custody," said Musa.
Zakzaky is facing murder charges for the death of a soldier killed in the 2015 clashes.
He founded the IMN in the late 1970s, taking after a revolution in Iran. The group now claims to have over 2 million members.
Director General of Nigeria's National Orientation Agency, Garba Abari, says their confrontation with authorities is a breach of the law.
"They have become like a law unto themselves," he said. "In Zaria, where their political-spiritual leader used to live, they constituted themselves into serious public nuisances. No responsible government can watch when public order is being breached."
Nigeria's police blame the IMN for the recent escalation in violence.
"We've seen protesters carry out unprovoked attacks on law enforcement officers who are on legitimate national assignment," he said.
A Nigerian court recently granted permission to label the IMN a terrorist organization, further raising tensions with the Shi'ite sect.
The IMN rejected the label, and observers expect further protests, clashes and victims.
https://www.voanews.com/africa/tensions-rise-after-nigerian-court-labels-muslim-sect-terrorists
--------
Southeast Asia
The government must come clean on Zakir Naik
Dennis Ignatius
August 3, 2019
The case of Dr Zakir Naik, the Indian-born Muslim preacher wanted in India on money laundering charges, is an issue that simply refuses to go away. It doesn't help, of course, that Putrajaya keeps issuing contradictory statements on the matter. It makes one wonder whether our ministers really bother to think through their statements or just make them up on the fly.
First, the government insisted that there hadn't been an extradition request from India, so the question of extraditing him didn't arise. Then the foreign minister revealed that there was, in fact, an extradition request but he couldn't remember when it was submitted.
Our esteemed minister of Islamic affairs, meanwhile, embraced Naik and hailed him as an inspirational figure despite noting, months earlier, that Naik's combative style of preaching including putting others down was not suitable for Malaysia.
Prime Minister Dr Mahathir Mohamad, for his part, insisted that Naik wouldn't be extradited because there were doubts about the fairness of the Indian justice system, implying, whether intended or otherwise, that a Muslim preacher would not be fairly treated in a Hindu-dominated country. He also said that for so long as Naik didn't create any problems here, there was no reason to send him away.
During his recent visit to Turkey, however, Mahathir offered a different take on the issue.
Speaking to Turkish media, Mahathir said, "We have a multiracial and multi-religious population in Malaysia. We don't want anybody who comes up and expresses extreme views about race relations and about other religions. So, to that extent, we cannot have him, but on the other hand, it is difficult to send him anywhere else because many countries do not want to have him."
In other words, Naik is not really welcome here – given his penchant for exacerbating racial and religious tension – but we are stuck with him because few countries are willing to accept him. What a disingenuous argument; how many countries have to agree to accept him before he can be asked to leave? Isn't one enough?
What is it about Naik that leaves all these Pakatan Harapan (PH) leaders with their knickers in a knot? They can't even seem to agree whether he's a villain or a hero, an inspiration or a threat, and yet they seem determined to treat him as if he is already a Malaysian citizen. Is he?
Interestingly, while our ministers bob and weave over the issue, Naik himself is irritatingly consistent, insisting that he has nothing to apologise for and does not regret anything he has said – presumably that includes urging Muslims to vote for the corrupt Barisan Nasional government in the last elections because it was Muslim-led instead of PH which he deemed insufficiently Muslim. Of course, when BN lost, he quickly rushed over to greet Mahathir and proclaim him a great Muslim statesman. Who says flattery will get you nowhere?
Naik has now become so cocksure of himself that instead of just keeping quiet when Mahathir and others are bending over backwards to protect him from Indian law enforcement, he makes their position yet more untenable with his inane comments. The least PH leaders can do is to tell him to just shut up until they decide what to do with him.
In the meantime, the government should explain why it is so concerned that Naik will not receive a fair trial in his homeland. The Indian judicial system is, mind you, respected enough that Indian case law is often cited in other Commonwealth jurisdictions including our own. In the interests of transparency, and in order to avoid the impression that this is all about local politics instead of the rule of law, the government must make public its concerns about the Indian justice system if that is the worry. Whatever it is, it is high time for Putrajaya to be more transparent on the issue. If it intends to allow him to stay, it should let the public know why it is in the national interest to permit a wanted foreign fugitive to stay in the country especially now that the prime minister himself has admitted that Naik's "extreme views about race relations and other religions" render him unfit to stay.
https://www.freemalaysiatoday.com/category/opinion/2019/08/03/the-government-must-come-clean-on-zakir-naik/
--------
India
India: Police warn Hindu man for rejecting Muslim Zomato driver
by Bilal Kuchay
August 3, 2019
New Delhi, India - Police in India have warned a Hindu businessman, who refused to accept his food delivery from a Muslim driver, of punishment if he repeats his offence within six months.
"We have sent a notice to Amit Shukla for his tweets. In the next six months, if he again posts such tweets or commits an act which is against the basic tenets of the constitution, then it will be considered a breach of trust and he will be sent to jail," Amit Singh, a senior police officer in central India's Madhya Pradesh state, told Al Jazeera on Friday.
The controversy began earlier this week when Shukla, 40, posted on his Twitter account that he cancelled his order from food delivery app, Zomato, since they had assigned a "non-Hindu" driver.
"Just cancelled an order on Zomato," he tweeted. "They allocated a non-Hindu rider for my food. They said they can't change rider and can't refund on cancellation."
The businessman from Jabalpur city in Madhya Pradesh has deleted his Twitter account following the controversy.
Zomato's response to Shukla's post has been retweeted nearly 30,000 times and liked by more than 90,000 Twitter users. "Food doesn't have a religion. It is a religion," the company said.
Zomato India
✔
@ZomatoIN
Food doesn't have a religion. It is a religion. https://twitter.com/NaMo_SARKAAR/status/1156217070247268352 …
93.4K
10:30 AM - Jul 31, 2019
Twitter Ads info and privacy
43.9K people are talking about this
Zomato's founder Deepinder Goyal echoed his company's stand with a firm message. "We are proud of the idea of India - and the diversity of our esteemed customers and partners. We aren't sorry to lose any business that comes in the way of our values."
Rival food delivery app, Uber Eats, also spoke out in support. "We stand by you," the US-based company said.
As the controversy intensified with many on Twitter calling on the authorities to act, police in Madhya Pradesh slapped Shukla with a Rs 10,000 ($144) "good behaviour" bond.
'Respect. I love your app'
India is a secular state, whose constitution allows officials to act against individuals if they threaten public peace or communal amity.
However, since the Bharatiya Janata Party (BJP) came to power in 2014, the right-wing party has been accused of pushing a hardline Hindu agenda and patronising far-right groups that target Muslims and other minorities.
The Zomato driver, identified only as Faiyaz, told an Indian news agency the incident had "hurt" him.
Politicians opposed to the BJP backed Zomato. "I have not ordered food so far, but I think I will do so now from Zomato," India's former finance minister and senior Congress leader P Chidambaram tweeted.
"Respect. I love your app. Thank you for giving me a reason to admire the company behind it," former Jammu and Kashmir state's Chief Minister Omar Abdullah wrote.
Police in Madhya Pradesh said Shukla's tweet could have disturbed peace in Jabalpur, which they said is a "communally sensitive city".
"It [Jabalpur] has a history of communal riots and that is why we didn't take anything lightly. We will investigate all the aspects of the case, most importantly, the motive behind this person's tweets," said Singh.
However, the action against Shukla angered some Twitter users, who said they had uninstalled both Zomato and Uber Eats apps over what they called unfair discrimination against Hindus. Hashtags #BoycottZomato and #BoycottUberEats trended in India on Thursday.
Shukla told Al Jazeera he remains unfazed by the controversy, which he said had been "blown out of proportion". He also denied receiving any notice from the police.
"The issue has been blown out of proportion by Zomato itself. It was a dispute between a consumer and the company," he said.
"This is our holy month in which we fast and do other religious activities. That is why I declined the order," he said. "In the past, I have accepted Zomato orders from both Hindus and Muslims."
Activists said intolerance towards minorities has been "emboldened" in recent years.
"This is the result of hatred that has been spread against the minorities, particularly the Muslims. Hate crimes and religious discrimination are on the rise and government is not doing anything to stop them," said Nadeem Khan, an activist with civil society group, "United Against Hate".
Delhi-based activist Shabnam Hashmi praised Zomato for "not cowing down to a man's bullying".
https://www.aljazeera.com/news/2019/08/india-police-warn-hindu-man-rejecting-muslim-delivery-driver-190802092906954.html
--------
Twitter users slam Hum Hindu Founder Ajay Gautam for closing eyes on seeing Muslim anchor on TV
August 3, 2019
After Ajay Gautam, founder of right-wing organisation 'Hum Hindu', closed his eyes on Live TV to avoid seeing a Muslim anchor, Twitter was abuzz with indignation over his actions.
Ajay Gautam, who started Hum Hindu in 2015, has his own website, which describes the objective of the group to be "against politics of Muslim appeasement" and have "the sole objective of complete Swaraj, absolute Hindu Rashtra."
The incident took place after Ajay Gautam was invited on television news channel News24, to discuss the Zomato incident, when he saw the anchor, Khalid, and straight up refused to see him.
He literally put his hands over his eyes on TV to avoid seeing him.
The editor-in-chief of News24, Anurradha Prasad, expressed horror over his actions and put out a statement saying that the news channel had refused to invite him further to their studio.
Anurradha Prasad
✔
@anurradhaprasad
we at the newsroom of @news24tvchannel are in shock at the inappropriate & condemnable behaviour of Mr Ajay Gautam . Ethics of journalism do not allow to give platform to such devisive voices & gestures . @news24tvchannel has decided not to invite Mr Ajay Gautam to its studio .
5,313
10:52 PM - Aug 1, 2019
Twitter Ads info and privacy
1,884 people are talking about this
The clip of this incident soon went viral on Twitter, where users slammed the behavior Gautaum displayed on live television.
A user tweeted, "Hindu leader Ajay Gautam was on a debate show and covered his eyes so he didn't have to see Khalid, a Muslim news presenter. This is NOT SATIRE! This is the state of national TV in India in 2019."
Another user tweeted, "Such bigots and communal minds should not only be banned by entire electronic media but strong criminal action must be taken against them."
Anurradha Prasad
✔
@anurradhaprasad
• Aug 1, 2019
we at the newsroom of @news24tvchannel are in shock at the inappropriate & condemnable behaviour of Mr Ajay Gautam . Ethics of journalism do not allow to give platform to such devisive voices & gestures . @news24tvchannel has decided not to invite Mr Ajay Gautam to its studio .
Akhilesh Sharma अखिलेश शर्मा
✔
@akhileshsharma1
Such bigots and communal minds should not only be banned by entire electronic media but strong criminal action must be taken against them.
362
7:17 AM - Aug 2, 2019
Twitter Ads info and privacy
60 people are talking about this
A user also wrote, "Why was it even allowed to be aired...it was a criminal act..."
Anurradha Prasad
✔
@anurradhaprasad
• Aug 1, 2019
we at the newsroom of @news24tvchannel are in shock at the inappropriate & condemnable behaviour of Mr Ajay Gautam . Ethics of journalism do not allow to give platform to such devisive voices & gestures . @news24tvchannel has decided not to invite Mr Ajay Gautam to its studio .
प्रियंका
@pandey_priyanka
Why was it even allowed to be aired ...it was a criminal act ....
35
11:48 PM - Aug 1, 2019
Twitter Ads info and privacy
See प्रियंका's other Tweets
In a tweet, a user said, "This needs to make headlines world over! This level of islamophobia needs to be exposed."
omer
@intellectroll
• Aug 1, 2019
Hindu leader Ajay Gautam was on a debate show & covered his eyes so he didn't have to see Khalid, a Muslim news presenter.
This is NOT SATIRE!
This is the state of national TV in #India in 2019.
Embedded video
Amena
@Fashionopolis
This needs to make headlines world over! This level of islamophobia needs to be exposed.
54
11:49 AM - Aug 2, 2019
Twitter Ads info and privacy
See Amena's other Tweets
A user also said, "OMG !! This is sheer nonsense. I cant believe that sensible people could do this."
omer
@intellectroll
• Aug 1, 2019
Hindu leader Ajay Gautam was on a debate show & covered his eyes so he didn't have to see Khalid, a Muslim news presenter.
This is NOT SATIRE!
This is the state of national TV in #India in 2019.
Embedded video
Arti
@artimisquitta
OMG !! This is sheer nonsense. I cant believe that sensible people could do this. #heartbroken
25
11:34 PM - Aug 1, 2019
Twitter Ads info and privacy
https://www.indiatoday.in/india/story/twitter-slam-hum-hindu-founder-ajay-gautam-closing-eyes-muslim-anchor-tv-1576762-2019-08-03
--------
Muslim Man Joins 'Kanwar' Yatra, Thrashed By Peers in Baghpat, UP
Aug 3, 2019
MEERUT: A Muslim youth from Baghpat has claimed that he was assaulted by some members of his own community after he came back from his kanwar yatra from Haridwar along with his Hindu friends. The family has lodged a named FIR against a person from Badka village of Baraut tehsil.
The situation turned tense in the village on Friday morning when Irshad's video in which he was wearing saffron vest and chanting slogans in reverence to Lord Shiva went viral. "I had gone with a few Hindu friends on a bike and even fetched Ganga water in a small bottle which is still with me at my home. But this did not go down well with a few of my neighbours and they thrashed me after I returned. Before that, they threatened my family," Irshad revealed.
Police on the other hand downplayed the religious angle. According to circle officer Baraut, Ramanand Kushwaha, "Preliminary investigation has revealed that it's a more a case of village rivalry than religious one. Irshad's family has a rivalry with one of the neighbourhood's family and the slight skirmish was a result of that rivalry. It's just that it coincided with Irshad bringing the 'kanwar'. But we are investigating the matter to ascertain if it has something to do with Kanwar."
An FIR has been filed against Zakir Ahmad under IPC sections 323 (voluntarily causing hurt), 504 (Intentional insult with intent to provoke breach of the peace) 452 (House-trespass after preparation for hurt, assault or wrongful restraint). No arrests have been made.
Full report at:
https://timesofindia.indiatimes.com/city/meerut/muslim-man-joins-kanwar-yatra-thrashed-by-peers/articleshow/70506706.cms
--------
2,000 universities instead of Taj Mahal would have made Muslims the world's most educated community: Azam Khan
Aug 2, 2019
Can you tell us what exactly happened in Parliament that led to the furore?
The Urdu language has only love, kindness and humanity. I said in Parliament as well that if I have even uttered one word which is remotely unparliamentary, I am willing to resign on the floor of the House. The main problem is that I got elected as a Lok Sabha MP despite all efforts of the local administration to ensure I don't win.
The police resorted to strong arm tactics in Muslim areas of Rampur that no one was willing to come out and vote during the 2019 elections. There was no voter or polling agent at the polling booths till 11am, you can check the records. It was then that I put out an appeal to come out and vote on social media. It was after this that the DM slapped several cases of code of conduct violation against me. Despite that I won by over a lakh votes.
You will be surprised to know that I didn't lose even a single booth and led in all polling stations in Rampur Lok Sabha constituency.
You have made such controversial comments in the past as well. How do you defend this?
I run educational institutions for girls and if I am such a serial offender, one would have heard complaints from other places as well. This allegation has been made a particular film actor (Jaya Prada), a political rival who just lost an election against me and enjoys the patronage of Amar Singh. I had simply used a phrase and I don't mention anybody's name at rallies, meetings, press conferences or any public gathering. Why do they think I am talking about them?
Your son Abdullah was detained and has been booked for forging documents?
When we were having our first child, it was a baby girl and we had admitted my wife as the district hospital, Rampur. My wife's report mentioned sluggish for three consecutive days. Later I got to know that even if sluggish is written once, doctors normally conduct the operation quickly. By the time the doctors took my wife to the labour room, the child had died. I didn't create a hue and cry over this as I thought people would say you are only criticising now because your own child had to suffer.
Abdullah was born in KGMC, Lucknow. When the doctor Asha Harish (she became my sister) handed me the new-born baby, someone shouted 'Tazeen (my wife) has expired. Rush' I saw my wife's body wrapped in a sheet on a stretcher and the doctors desperately trying to revive her before taking her to the operation theatre. My wife was given two injections in the heart. Doctor Asha left the child in my arms and rushed as well. I fainted and was admitted in the hospital while the child suffered injuries. I am grateful to the doctors and KGMC staff for being able to revive my wife later.
I gained consciousness the next day and was told that chances of survival for my wife are limited. It was in these conditions that Abdullah was born. We only got to know later that it was KGMC's duty to inform the civic authorities about the birth of new born babies. The date registered with Rampur civic authorities is different from the one at Lucknow. The KGMC register has all the details. The matter is being heard in the Allahabad High Court.
There is no forgery or cheating in the passport. One mistake in the passport won't make us Dawood or Laden. The passport officer in Bareilly corrected the mistake later. If the Court accepts the earlier date as Abdullah's actual date of birth, then there will be a re-election. Let's wait for the court's decision. This is not a crime.
Why are you seen as a divisive figure in UP politics?
BJP has lots to gain from me because they cannot break me or make cow down. I have no allegations of being anti-national. They say I am a Pakistani agent, but they wouldn't know that my elder sister was married in Pakistan. I have not met her family since then. She passed away ten days ago, and I didn't even pay her a visit. I only read in newspapers that I am a hate monger.
What about irregularities in the Mohammad Ali Jauhar University in Rampur run by you?
A University that buys 400 bighas of land will fudge documents for four bighas? These allegations are being made by people who have already sold their land. Some of them have a criminal past as well. I have been called a land shark for these four bighas of land. Now I am being called a book thief because I have books of madrasas that shut down 60 years ago.
The University anyways doesn't have any course related to Islam, it's a modern educational institution. Why will I steal books that are not a part of any syllabus? We want to give education to our children, but it appears that BJP wants to give them a broom in their hands.
Did you approve of the SP-BSP alliance?
Our party president did an experiment thinking it will yield better results. It didn't turn out as we expected it to be. "Wo khatm kar do giley aaj mil kar galey, khair yoon hee sahi hum burey tum bhaley". There was unanimity in the party that we should put up a strong alliance against the ruling BJP. It is a known fact that Dalits have historically been at the receiving end of every dispensation.
Only if the Mughal kings had made universities and education institutions instead of Taj Mahal. There would have been 2,000 universities instead of one Taj Mahal. India would have been the global hub of education and Muslims would have been the most educated community in the world.
You have seen Mulayam Singh Yadav and Akhilesh from close quarters. How different are they?
Netaji and I had to go through a lot of struggle to establish the Samajwadi Party and state governments. He used to say, "desh bachega to dharm bachega, jab desh hee nahi bachega to dharm kaise bachega". This helped us get votes from both Hindus and Muslims. Now we are ready for a new struggle under Akhilesh.
Where do you see the opposition headed considering they are disjointed?
I spent almost two years in jail after the Emergency in 1975 under the MISA. That time people thought I was a criminal like they think today. Today those arrested under MISA are given the same status as freedom fighters. I even get a Loktantra Senani pension. People had almost given up home during Indira Gandhi's regime but an old man like Jayprakash (JP) gave a clarion call and united the nation.
What about the criminalisation of Triple Talaq Bill?
Full report at:
https://timesofindia.indiatimes.com/india/2000-universities-instead-of-taj-mahal-would-have-made-muslims-the-worlds-most-educated-community-azam-khan/articleshow/70493262.cms
--------
Terrorists moved by Pak ahead of Imran Khan's US visit are back at LoC
Aug 03, 2019
Harinder Baweja
Intelligence reports and satellite imagery of the line of control bordering Pakistan reveal that the country cleared all launch pads of terrorists in the run-up to Pakistan Prime Minister Imran Khan's visit to Washington last week – and then brought them back after his return.
"For several days, we got reports saying there are no terrorists at the launch pads waiting to infiltrate into India. It was very surprising because the period between May and October is when infiltration bids are made," a senior army officer who has seen the intelligence reports said on condition of anonymity.
Khan met US President Donald Trump last week on July 22. For the first time, a Pakistani prime minister was accompanied by the country's army chief, General Qamar Bajwa and spy agency Inter services Intelligence's chief, Faiz Hameed. The assessment in Delhi is that Pakistan did not want any skirmish on LoC to spoil the high-level meeting, a first since 2015.
Fresh intelligence reports now indicate that 200 to 250 terrorists are back at the launch pads waiting to infiltrate into India, the army official added. The ceasefire violation in the Valley's Gurez sector on Tuesday was an infiltration attempt, the army officer confirmed. "We could see two bodies (of terrorists) lying (there) ," he said.
An intelligence official confirmed that the launch pads were vacated and the terrorists shifted to villages close to the line of control for the duration of about two weeks. "The border has become active again and we are expecting more ceasefire violations," this person added on condition of anonymity.
Heavy artillery fire duels between India and Pakistan too escalated this week in the Tangdhar and Keran sector. In another ceasefire violation in the Sunderbani sector, one Indian soldier was killed.
At a press conference in Srinagar on Friday, Chinar Corps Commander, Lt Gen KJS Sandhu said Pakistan was continuing with its infiltration bids and was trying to "disrupt peace in the Valley."
There was a spike in ceasefire violations after the Balakot air strike at a Jaish-e-Mohammed facility in February, soon after the attack in Pulwama, in which a vehicle laden with explosives rammed into a CRPF convoy, killing 40 troopers.
Full report at:
https://www.hindustantimes.com/india-news/terrorists-moved-by-pak-ahead-of-imran-khan-s-us-visit-are-back-at-loc/story-9sKdIUhpRkJa8IyHv0uk7K.html
--------
Ayodhya mediation failure unfortunate, say Muslims
Aug 02, 2019
Muslim litigants and stakeholders have termed the failure of talks to find an amicable solution to the Ayodhya land dispute unfortunate.
"We welcome the Supreme Court's decision to start day-to-day hearing but we really feel sad over failure of the mediation process. It was an opportunity to seek a permanent solution to the problem but then we seem to have lost it," said Maulana Khalid Rashid, Imam of Lucknow Eidgah and also a member of the All India Muslim Personal Law Board (AIMPLB).
Iqbal Ansari, the Muslim litigant of Ayodhya, said it was impossible to reach a consensus given the number of stakeholders in the case now. "We have a total of 25 litigants, eight of which are Muslims and remaining from the Hindu community. Do you think it is possible to bring them all on one platform and make them agree," he said.
Retired professor Iqtedar Farooqui, who had led a delegation of Muslim civil society group and urged the Ayodhya mediation panel for an amicable settlement, too feels sad that the opportunity has been wasted. "I still feel that Muslims should have agreed to whatever terms and conditions were being offered to them for a peaceful resolution of the dispute," he said.
Athar Hussein, director of Centre for Objective Research and Development, an NGO, who also participated in the talks, however, was more candid. "I have definite information that majority of the Muslim litigants were willing to settle the issue once and for all as the mediation for the first time had the backing of the country's top court," he said. "But a section of the Muslim clergy and so-called leaders, whose very existence depends on prolonging this issue and fighting the court case, scuttled the mediation panel's effort, which had come very close to a negotiated settlement," he added.
Full report at:
https://www.hindustantimes.com/cities/ayodhya-mediation-failure-unfortunate-say-muslims/story-FHMrQsTBekcc9rgvQwzODL.html
--------
Cow vigilantism impact: Muslim MLAs seek protection for cattle transporters ahead of Bakrid
Aug 2, 2019
BENGALURU: With cow vigilantism on the rise and Bakrid just around the corner, Muslim legislators on Friday petitioned the BJP government, urging it to ensure adequate protection for cattle traders and transporters of sheep, goat, oxen, buffaloes and other animals. Acting on the petition, chief minister BS Yediyurappa directed DG&IG Neelamani Raju to initiate necessary steps.
In a letter to the chief minister, six Muslim legislators — Tanveer Sait, Raheem Khan, NA Haris, CM Ibrahim, Nasir Ahmed and Abdul Zabbar — urged Yediyurappa to direct police and district administrations to ensure vehicles carrying animals for sacrifice and slaughter were not obstructed.
The legislators stated Bakrid, which will be observed on August 12 this year, is a sacred festival of Muslims and the tradition is to sacrifice animals to God on festival day. The request came in the wake of increasing incidents of attacks on vehicles transporting cows, besides cattle transporters being lynched across the country.
Full report at:
https://timesofindia.indiatimes.com/city/bengaluru/muslim-mlas-seek-protection-for-cattle-transporters-ahead-of-bakrid/articleshow/70502183.cms
--------
Former Maldives vice-president Ahmed Adeeb Abdul Ghafoor deported from India
Aug 3, 2019
MADURAI: Former Maldivian vice-president Ahmed Adeeb Abdul Ghafoor, who came to India on board a tugboat on Thursday morning+ , was deported to his country in the early hours of Saturday.
According to police sources, the nine crew members of the tugboat — Virgo 9 — were also handed over to the Maldives security personnel along with Abdul Adeeb at the International Maritime Boundary Line (IMBL).
The tugboat was denied permission to dock at the Tuticorin Old Port in Tamil Nadu when it reached there on Thursday morning after officials came to know about Adeeb's presence in the boat. The tugboat was anchored a few nautical miles off the port. Officials questioned Adeeb and the tugboat crew members on Thursday and Friday.
In the early hours of Saturday, Indian Coast Guard personnel took Adeeb, the tugboat and its crew to the International Maritime Boundary Line and handed them over to the Maldivian security personnel. The crew members included an Indian and eight Indonesians.
The Maldivian officials will conduct inquiries with them to find out how Adeeb, who faces serious charges, had escaped from his country on the tugboat and who all had helped him.
Full report at:
https://timesofindia.indiatimes.com/india/former-maldives-vice-president-abdul-adeeb-deported-from-india/articleshow/70507412.cms
--------
This Eid, destroy skin, beat leather mafia, Muslims told
Aug 3, 2019
HYDERABAD: This Eid-ul-Zuha, the Muslim festival of sacrifice is going to be different. Prominent Muslim religious scholars have appealed to the community across the country to destroy the skin of the sacrificed animals in protest against what they see as a deliberate move by leather traders to bring down prices of hides. The scholars claim the traders have formed a cartel and artificially suppress prices of the hide ahead of only Eid-ul-Zuha.
The objective of the protest is to create a shortage of hides in the leather industry, forcing traders to restore the original price. The call came after a group of Muslim scholars cutting across schools of thought held a meeting in Bhiwandi, Maharashtra, on July 20 and decided to destroy the skins. Leaders of the Jamiat-ul-Hind, Jamaat-e-Islami Hindi, Ahle Hadees and Tableegh Jamaat were among those present. A majority of the scholars agreed to destroy the animal hides while some objected.
According to the scholars, sheep or goat skins, which commanded aprice up to Rs 400 a piece, has come down to just Rs 30 a fortnight before Eid-ul-Zuha, which falls on August 12 this year. Every Eid-ul-Zuha an estimated three crore sheep or goats are sacrificed across the country. The skin is normally donated to madrassas which sell these and use the money to run their activities. Leather exporter Mohammad Saleem told TOI an estimated income of Rs 1,200 crore is generated through the sale of skins during Eid-ul-Zuha.
The income of madrassas has come down since 2014 as the cost of skin is brought down every year prior to the festival. Madrassas now together get not more than Rs 150 crore, he said. The protest message is being spread on social media and in mosques. Mufti Syed Mohammad Huzaifa Qasmi of Jamiat-ul-Ulema Hindi, Bhiwandi said, "Scholars on Friday told Muslims in Bhiwandi not to destroy the skin as it will affect the income of madrassas."
Full report at:
https://timesofindia.indiatimes.com/india/this-eid-destroy-skin-beat-leather-mafia-muslims-told/articleshow/70506294.cms
--------
Save your sons, stone-pelters die as terrorists, Army tells J&K moms
Aug 3, 2019
SRINAGAR: The Army said on Friday that "83%" of terrorists have a history of pelting stones at security forces. The general officer commanding 15 Corps, Lt Gen K J S Dhillon, also told reporters in Srinagar that the unearthing of a weapons cache along the Amarnath yatra route, including a US-made sniper rifle and an antipersonnel landmine with Pakistani ordnance markings, were additional evidence of a threat to the yatra.
"We have done an in-depth analysis of data on insurgency in Kashmir. My request to Kashmiri mothers is, listen to this carefully: 83% of local terrorists were once stone-pelters. So, if your son is throwing stones at the forces today for Rs 500, then he is tomorrow's terrorist," Gen Dhillon said. He then reeled off data on the short life expectancy of terrorists, saying 64% of those who became militants were killed within a year of choosing to live by the gun.
"Seven per cent terrorists die within 10 days, 9% in a month, 17% in three months, 36% in six months, and 64% in a year. If parents do not stop their sons from pelting stones, chances are he will be eliminated within a year of picking up the gun," Gen Dhillon added.
Pakistan is desperate to vitiate the atmosphere in Kashmir, which is evident from specific intelligence inputs, he said. IGP (Kashmir) S P Pani, who was also present at the press briefing, said there had been more than 10 serious attempts to trigger IED blasts in the Valley, mostly in the Pulwama and Shopian areas, but security forces had tackled them.
Full report at:
https://timesofindia.indiatimes.com/india/save-your-sons-stone-pelters-die-as-terrorists-army-tells-jk-moms/articleshow/70506035.cms
--------
Government advisory on Amarnath Yatra has created chaos, never seen such panic, says Mehbooba Mufti
Aug 2, 2019
SRINAGAR: Former Jammu and Kashmir chief minister and PDP leader Mehbooba Mufti on Friday said that the state government's advisory to Amarnath pilgrims and other tourists to curtail their visit "immediately" in view of the security situation in the state, has created chaos and confusion among people.
Mufti said she has never seen such panic in the Valley.
"The Government advisory that was issued today has created chaos and confusion among people... Due to recent developments here, there is an atmosphere of fear. I have never seen such panic. One one side, Governor Sahib says that the situation is normal. On the other side, deployment of additional forces is being done," Mufti told media here.
She added, "The Prime Minister talks of winning the hearts of people of Jammu and Kashmir. Then, why are such rumours doing the rounds? The Amarnath Yatris and tourists are being sent back. But, you are not thinking where the Kashmiris, people of Jammu and Ladakh will go?"
The Jammu and Kashmir government on Friday advised tourists and Amarnath pilgrims to curtail their stay in the Valley "immediately" in view of a possible terrorist attack.
"Keeping in view the latest intelligence inputs of terror threats, with specific targeting of the Amarnath Yatra, and given the prevailing security situation in the Kashmir Valley, in the interest of safety and security of the tourists and Amarnath Yatris, it is advised that they may curtail their stay in the valley immediately and take necessary measures to return as soon as possible," the state government said in a security advisory.
Earlier in the day, Srinagar-based Chinar Corps commander Lt Gen KJS Dhillon said, "In the last three to four days, we got confirmed intel reports that terrorists are trying to disrupt the Amarnath Yatra. A thorough search was carried out on the routes by a combined team of the Army, CRPF and Jammu and Kashmir Police."
Full report at:
https://timesofindia.indiatimes.com/india/government-advisory-on-amarnath-yatra-has-created-chaos-never-seen-such-panic-says-mehbooba-mufti/articleshow/70504585.cms
--------
Militant who killed 4 cops eliminated in Kashmir encounter. Another begins
Aug 03, 2019
A Jaish-e-Mohammed militant has been eliminated in an encounter in south Kashmir, kilometres away from the spot where four policemen were shot dead in an attack anchored by him. The encounter in Shopian's Pandushan has been on for more than 24 hours.
A security official said Zeenat ul Islam Naikoo had been neutralised. The successful operation, however, came at a heavy cost. A soldier, Sepoy Rambir Singh of 34 Rashtriya Rifles, made the supreme sacrifice.
Zeenat Naikoo is being described as the most important local militant of Jaish-e -Mohammad in Shopian, the terror group that has been prepping to scale up activities in Kashmir valley over the last few weeks. Zeenat Naikoo played the role of local anchor to the Jaish foreign terrorists who crossed over from Pakistan.
Intelligence reports indicate that Jaish chief Masood Azhar's brother, Ibrahim Azhar intends to come to the Kashmir valley to lead attacks on targets in the valley to avenge the death of his son. Ibrahim Azhar is reported to have attempted to fire up the cadre, telling them that he wanted to die fighting Indian security forces in Kashmir, the same way his son had.
He played the role of local anchor to the Jaish FTs. He was involved in various incidents of violence including cop killing and firing and grenade lobbing on PS SHOPIAN and Gagren Camp.
A senior official said Zeenat Naikoo played a key role in the deadly attack on policemen escorting a deputy superintendent of police in Shopian last August. The attack was carried out hours after security forces killed a top commander of Hizbul Mujahedeen Altaf Ahmad Dar
"He was part of groups involved in planning and executing series of terror attacks in the area and many other civilian atrocities. Zeenat has a long history of terror crime records and several terror crime cases were registered against him," a Jammu and Kashmir police spokesman said.
Full report at:
https://www.hindustantimes.com/india-news/militant-who-killed-4-cops-eliminated-in-kashmir-encounter-another-begins/story-tA8LwzCAZ7PVIHlFXZnGnO.html
--------
Rajya Sabha passes UAPA Bill; govt can now declare an individual a terrorist
August 2, 2019
Amid the call from the opposition to send the Unlawful Activities (Prevention) Amendment Bill, 2019 to a select committee, the Rajya Sabha Friday passed it with 147 votes in favour and 42 against it.
Home Minister Amit Shah, during a discussion on the Bill, said that terrorism had no religion and every member of the House should show their support to the Bill to bring stringent laws against it. Assuring that no human rights will be violated, Shah added that a four-level-scrutiny has been provided in the amendment. Follow Parliament LIVE updates
Meanwhile, senior Congress leader P Chidambaram alleged that the government is making amendments to the already amended Act to empower the National Investigation Agency (NIA). He added that individuals involved in unlawful activities, as well as terror activities, are already covered under the Act.
Chidambaram further alleged that any individual could be named under this Act merely on the government's belief that they are involved in terrorism. "If the central government believes an individual is involved in terrorism, he will be named. There is no FIR, no chargesheet, no charges framed, no trial in a court, no conviction. What is the basis of naming individuals? Only your belief," Chidambaram said in the Upper House.
The former finance minister also suggested sending the Bill to a select committee, stating that there can be dire consequences upon an individual if it is passed.
Replying to concerns raised by Chidambaram, Shah said that the Opposition mixed up two different statistics to argue on the Bill and that it could be used by both the state and the NIA. Shah said "Out of 278 terror cases registered by NIA, charge sheet filed in 204 cases. 48 out of 54 cases have been convicted so far." He added that the track record of the NIA in conviction in terror cases has been outstanding.
"Individuals can be declared terrorists if they commit or participate in acts of terrorism, prepare or promote terror," Shah said in the House.
Full report at:
https://indianexpress.com/article/india/uapa-bill-unlawful-activities-prevention-amendment-bill-rajya-sabha-amit-shah-5872436/
--------
Pakistani terrorists tried to attack Amarnath Yatra, sniper rifle found on route: Army
August 2, 2019
General Officer Commanding(GoC) of Army's 15 Corps Lt General K J S Dhillon on Friday said that in the last three to four days, Army has received specific reports of Pakistan terrorists plotting to carry out an attack on the ongoing Amarnath Yatra. He added that the Army has reasons to believe that Pakistan and its Army are involved in terrorism in Kashmir, and were trying to disrupt peace in the Valley. The Srinagar-based Chinar Corps Commander was addressing a joint press conference along with JK DGP Dilbag Singh and IG CRPF Zulfiqar Hasan.
Displaying pictures of a land mine bearing a Pakistan stamp, Dhillon said combined teams of the Army, CRPF and Jammu and Kashmir Police have been carrying out searches for the last few days.
During searches, identities of terrorists were recovered, along with caches of arms, ammunition and explosives. "We have eliminated most of the top leadership, but the job is still in progress," he added.
"Pakistan and the Pakistan Army is desperate to disrupt peace in Kashmir Valley. I can assure you that this will not be allowed to happen," he said. "No one can disrupt peace in Kashmir, this is our promise."
Speaking about infiltration bids and ceasefire violations on the Line of Control, the Lt General said the situation is under control and "very much peaceful".
In an appeal to mothers, Dhillon stated 83 per cent of terrorists have a record of stone-pelting. "Stone pelters are tomorrow's terrorists," he said, adding it is likely that terrorists will be eliminated within one year of picking up weapons.
Meanwhile, J&K government has advised tourists and Amarnath pilgrims to curtail their stay in the Valley, reports PTI. The state government issued an order in this regard.
DGP Dilbag Singh, on being asked about the increase in troop numbers in J&K, said: "We had been into a number of activities since last few months. Our troops that have been deployed did not get a chance to relax for a while."
He said that the state police is getting inputs that violence levels are likely to be increased by militants. "So, we've tried to strengthen grid on the ground. Also, we've been told that troops must get time to relax. This is time for turnover. But grid will be in as much active form as required," he told ANI.
The Centre had deployed 10,000 personnel to the Valley last week to "strengthen CI grid as well as for maintaining law and order". The deployment comprised of 50 companies of the CRPF, 30 companies from the SSB and 10 companies each from the BSF and the ITBP.
Earlier today, when reports of the additional movement of troops emerged, sources in the Ministry of Home Affairs told The Indian Express that deployment was based on internal security in the state, and would be on the basis of factors such as rest and recuperation, and training.
Full report at:
https://indianexpress.com/article/india/jammu-and-kashmir-army-pakistan-amarnath-yatra-terrorists-5872303/
--------
Arab World
Syria Says it Agrees to Cease-Fire in Rebel Stronghold
Aug. 1, 2019
Syria's government said it has agreed to a conditional cease-fire starting late Thursday in northwestern Syria, according to state media. Government troops and allied Russia warplanes have been carrying out a three-month offensive against the rebel's last stronghold, which has displaced hundreds of thousands and has targeted health facilities and other infrastructure.
The decision came hours after U.N. Secretary-General Antonio Guterres authorized an investigation into attacks on health facilities and schools in the rebel-held enclave, following a petition from 10 members of the U.N. Security Council.
The offensive in Idlib and surrounding areas has unfolded since April 30, displacing more than 400,000 people and killing hundreds. Images of attacks on health facilities and residential homes were reminiscent of the peak of the violence in the eight-year conflict. International rights groups, western countries and the U.N. had appealed for a cease-fire. Around 3 million people are living inside the rebel-held area.
A war monitoring group, the Syrian Observatory for Human Rights, said there was no sign of a cease-fire. It said intense clashes continued on the southern edge of the rebel stronghold.
The Syrian decision, announced in state media through an unnamed military official, said the cease-fire is conditional on the rebel's retreat 20 kilometers (12.5 miles) deep and away from demilitarized areas that ring the stronghold, which were agreed to in a cease-fire deal reached last September.
Idlib was supposed to be a de-escalation zone under the agreement signed between Russia, a key Syrian government ally, and Turkey, which backs the opposition. The rebel stronghold is dominated by Al Qaeda-linked militants and other jihadi groups.
The Syrian military official didn't offer a timeline for applying the condition. Failure to implement the retreat and disarmament of militants was one of the reasons the September cease-fire collapsed. At the time, the retreat was for up to 25 kilometers (15 miles) in some areas.
The government declaration comes as a new round of talks sponsored by Russia began Thursday in the Kazakh capital, attended by Iran and Turkey. The Syrian government and the opposition are also in attendance. The two-day talks were expected to focus on Idlib and plans to form a new constitutional committee.
On Thursday, U.N. spokesman Stephane Dujarric said Guterres was using his authority under the U.N. Charter to establish an internal board of inquiry to ascertain facts on the destruction and damage to civilian facilities in Idlib province on the so-called "de-confliction" list given to the warring parties to prevent attacks.
He said the probe will also include U.N.-supported facilities in the area.
U.N. humanitarian chief Mark Lowcock urged an end to the bombing and shelling in Idlib by Syrian and Russian warplanes, warning the Security Council Tuesday that continued violence could create the worst humanitarian disaster of the 21st century.
The petition from 10 Security Council members was delivered to Guterres on Tuesday asking for an investigation into attacks on medical facilities and other sites on the "de-confliction" list.
Russia's deputy U.N. ambassador Dmitry Polyansky, whose country backs the Syrian government, told reporters Thursday that Moscow was "amazed" at Guterres' decision to establish an investigation, calling it "a mistake" and questioning whether the U.N. chief had the authority to take such action.
Guterres stood by his decision, speaking to reporters shortly afterward.
"I fully respect the rights of the Russian Federation to disagree with me, as I also respect the position of 10 other members of the Security Council that have the opposite opinion," he said.
Susannah Sirkin, policy director at Physicians for Human Rights, told the council during a meeting Tuesday on the humanitarian situation in Syria that, since President Bashar Assad launched the recent offensive, the organization had received reports of 46 attacks on health care facilities. So far, she said, it has verified 16 of them.
Humanitarian chief Lowcock said it was an "extremely important question" whether information provided through the de-confliction system was being used to protect civilian facilities — or to target them.
He told the council Tuesday that parties to the conflict have been notified of six different attacks in northwest Syria this year, and that "in the current environment de-confliction is not proving effective in helping to protect those who utilize the system."
Lowcock said his team will meet with humanitarian organizations "to update them on the current situation and determine again whether we should continue to provide information to the parties on new sites or humanitarian movements."
Opposition-based Syrian emergency medical workers known as White Helmets said Thursday that during the three-month offensive on Idlib, government forces and their allies had targeted 15 of the group's rescue centers and killed seven volunteers.
Raed Al-Saleh, the head of the White Helmets, said nowhere is safe inside the rebel-held area and that residents are experiencing "all types of death." Al-Saleh spoke via a social media broadcast from Idlib.
The White Helmets are the main group providing rescue services in the enclave. The Syrian government labels them terrorists.
https://www.nytimes.com/2019/08/01/world/middleeast/syria-says-it-agrees-to-cease-fire-in-rebel-stronghold.html
--------
ISIS fighters have reverted to 'shadow warriors' fighting an endless war
08/01/19
For all of its territorial losses, and despite President Trump's boasts that we have "wiped out" ISIS, the terror group has demonstrated a phoenix-like ability to reconstitute itself from a mere 700 surviving fighters at the time of President Obama's withdrawal of U.S. troops from Iraq in 2011. It is far from being completely defeated or obliterated.
The Pentagon has estimated the terrorist group has as many as 30,000 followers and has reverted to its roots as a deadly guerrilla insurgency. The United Nations agreed with the Pentagon's estimate of ISIS fighters remaining in Iraq and Syria, and found that ISIS's affiliates in Afghanistan, Libya and the Sinai also had 4,000, 3,000 and 1,000 hardcore fighters, respectively. Most worryingly, ISIS reportedly has set up fallback bases in the remote highlands to the southeast of Mosul, Iraq, in the Qara Chokh, Hamrin, and Makhmour Mountains.
ISIS members are carrying out sleeper cell terror attacks in Iraq and Syria, including the systematic killing of pro-government Iraqi elders, setting off massive car bombs, ambushing Shiite militias, dressing up as government troops at fake checkpoints and executing government employees, wiping out Iranian convoys in Syria, massacring pro-government villagers in Syria, killing Syrian Army troops in ambushes, reconquering lands in central Syria, suicide bombing allied Kurdish Syrian Democratic Force fighters and Kurdish intelligence operatives.
Now, ISIS fighters have taken to burning the crops of their enemies in northern Iraq and gloating in their online website, stating, "It seems that it will be a hot summer that will burn the pockets of the apostates as well as their hearts as they burned the Muslims and their homes in the past years."
ISIS's dark tendrils still extend abroad as well. In December 2018, the terrorist group inspired the killings of tourists in lands as far flung as the Atlas Mountains of Morocco and the Pamir Mountains of Tajikistan. In Morocco, two Scandinavian women campers were filmed having their throats slit and being decapitated by gloating ISIS supporters. This followed an attack four months earlier in which ISIS supporters in Tajikistan plowed their car into a group of American and European globetrotting cyclists on a mountain road, killing three before doing a U-Turn and driving back to stab and shoot injured survivors.
But post-caliphate ISIS's bloodiest attack occurred in Sri Lanka on Easter 2019. ISIS affiliate terrorists attacked Christians in their churches and hotels, killing 253. It was ISIS's deadliest terror attack to date, and the fact that it took place after the fall of the caliphate in March 2019 sparked fears that ISIS would be enacting its declared global "Campaign of Vengeance for the Blessed Province of Syria."
As ISIS's dream of a caliphate collapsed in 2016, its chief spokesman lashed out defiantly, stating: "Do you think, O America, that victory is achieved by the killing of one commander or more? It is then a false victory. … Victory is when the enemy is defeated. Do you think, O America, that defeat is the loss of a city or a land? Were we defeated when we lost cities in Iraq and were left in the desert without a city or a territory? No; defeat is the loss of willpower and desire to fight."
This spring, ISIS leader Caliph al Baghdadi told his followers: "Our battle today is one of attrition and stretching the enemy. They should know that jihad is ongoing until the day of judgment." His dedicated "forever warriors" do not define their movement strictly by the towns or provinces they control. They have reverted to being "shadow warriors" who believe they are fighting an endless war of terroristic attrition.
Unlike the "fickle" Americans, who al Baghdadi's followers believe are not committed to staying in the region to fight (as best demonstrated by President Trump's decision to unilaterally withdraw all U.S. troops from Syria in a December 2018 tweet), ISIS fighters fanatically believe in a saying attributed to the Prophet Muhammad: "A victorious band of warriors from my followers shall continue to fight for the truth. Despite being deserted and abandoned, they will be at the gates of Jerusalem and its surroundings, they will be at the gates of Damascus and its surroundings."
Full report at:
https://thehill.com/opinion/international/454654-isis-fighters-have-reverted-to-shadow-warriors-fighting-an-endless-war
--------
Hezbollah Turning Syria Villages on Israel Border Into Fortresses
Amos Harel
Aug 02, 2019
Compared to Gaza, the Iranian front – which to Israeli eyes stretches from the Persian Gulf through Iraq and into Syria and Lebanon – is bustling with action. Throughout July, reports attributed two attacks in Iraq to Israel and at least three other attacks in southern Syria, which were directed against the military apparatus Hezbollah is building on the Syrian side of the border on the Golan Heights – and in one case included the killing of a local activist.
The "campaign between the wars" is continuing with relative momentum, even if most of it is being conducted under the radar and has not received almost any detailed coverage in real time. What is going on in Iraq reached the headlines in Israel with a delay of almost two weeks, and only after Arab media outlets reported on two attacks by the Israel Air Force in western Iraq. One of the reports even claimed that the attack was carried out by Israel's new F-35s.
Even if the information is correct in general, as usual it is recommended to take the details with a grain of salt. Not every attack needs to be carried out using the most advanced technological means. The IDF's military intelligence directorate highlighted Iraq as the next arena for the military campaign back in 2018.
The Iranians are trying to translate their regional arc of influence into a real land corridor – along with the arms smuggling network they are operating, alongside their air and sea efforts, on the Tehran-Baghdad-Damascus-Beirut line on the ground.
In addition, it seems Tehran is making an effort to deploy some of its longer-range missiles in western Iraq with the help of the Shi'ite militias there, with the goal of distancing them from Israeli capabilities to attack them, which have been demonstrated in the past in northern and eastern Syria.
At the same time, Israel has continued to fight its holding action near the border on the Golan Heights. A series of attacks attributed to the IDF there illustrates again how ridiculous it was to rely on Russia's promise, about a year ago, to keep an Iranian presence away from the border in return for Israel not interfering in the operation by the Assad regime to retake control of southern Syria.
At the time, the Russians spoke about demilitarization of 70 or 80 kilometers between Iranian forces and the border with Israel – and Netanyahu supporters boasted about his "unprecedented diplomatic achievement." In reality, it was revealed very quickly that Hezbollah was actually more active in the region and the organization was reestablishing its terror networks in southern Syria.
The head of the IDF's Operations Directorate, Maj. Gen. Aharon Haliwa, was in Moscow in the middle of last month for a work meeting that the IDF described as excellent. Nonetheless, when Israel came to complain to the Russians about the Hezbollah presence on the Syrian side of the Golan Heights, they were told that the promises concerned only the Iranians themselves, and not their agents. Given these circumstances, it seems Moscow has made peace with Israel's limited military actions against the Iranians and Hezbollah in Syria, as long as it does not endanger the stability of the regime in Damascus.
Full report at:
https://www.haaretz.com/israel-news/.premium-hezbollah-turning-syria-villages-on-israel-border-into-fortresses-1.7614571
--------
U.N. to investigate accusations that Russia, Syria are deliberately targeting hospitals
By Liz Sly
August 1, 2019
The United Nations has ordered an investigation into a surge of Russian and Syrian airstrikes against hospitals and clinics in northwestern Syria amid growing concerns that Russia is using U.N.-supplied data to deliberately target medical facilities.
U.N. Secretary General António Guterres authorized the inquiry Thursday after pressure from U.N. Security Council members and human rights groups to do more to establish why health facilities and other civilian infrastructure such as schools and rescue services are being hit so frequently in the recent fighting.
The investigation comes after a grim assessment of the civilian toll was delivered to the Security Council on Tuesday by U.N. humanitarian chief Mark Lowcock.
Since the Syrian government launched an offensive in April to reclaim control of the northwestern Idlib province and a portion of Hama province, more than 450 civilians have been killed, hundreds more have been wounded and 440,000 have been forced to flee their homes, Lowcock said.
Most of the casualties have been caused by Russian and Syrian airstrikes, which have pummeled towns and villages far from the front lines. Lowcock cited satellite imagery that suggests 17 villages have been destroyed in airstrikes as part of what he called a "scorched earth" policy by the ­Syrian government.
He also noted the high frequency of attacks on civilian infrastructure, despite a process known as "deconfliction" under which the United Nations supplies the coordinates of hospitals, schools, bakeries and other civilian infrastructure to Russia, Turkey and the United States, with the goal of preventing hits on them. Russian and Syrian warplanes are the only ones active in the skies over Idlib.
At a minimum, Lowcock said, the deconfliction process "is not proving effective" to avert attacks on civilian infrastructure. It is also possible, he said, that the coordinates are being used to deliberately target facilities.
According to Physicians for Human Rights, there have been 46 reported attacks on medical facilities since the Syrian government launched an offensive in April, backed by Russian warplanes, to regain control of the last areas still controlled by the opposition.
Of those, 16 have been verified by the group and 14 were against facilities that the United Nations had identified to Russia as hospitals, according to testimony delivered to the Security Council on Tuesday by Susannah Sirkin, director of policy with Physicians for Human Rights. She reminded the council that targeting medical facilities is considered a war crime under international law.
Russia has denied that it is using any of the information it receives to target hospitals, but some international aid agencies such as Doctors Without Borders have already stopped sharing the coordinates of their operations with the United Nations.
In an appeal last week to the international community to do more to prevent the bloodshed in Syria, the U.N. high commissioner for human rights, Michelle Bachelet, said she did not believe the amount of damage being inflicted on hospitals, as well as schools, bakeries and other civilian infrastructure, was a coincidence.
Full report at:
https://www.washingtonpost.com/world/middle_east/un-to-investigate-accusations-that-russia-syria-are-deliberately-targeting-hospitals/2019/08/01/efa6461a-b478-11e9-acc8-1d847bacca73_story.html?utm_term=.82c1ce813032
--------
19 IS militants killed, 16 arrested in anti-IS operation in eastern Iraq
2019-08-01
BAGHDAD, Aug. 1 (Xinhua) -- Up to 19 Islamic State (IS) militants were killed and 16 other captured after continuing operation by Iraqi security forces to hunt down IS militants in Iraq's eastern province of Diyala, a security official said on Thursday.
The Iraqi army, intelligence service and paramilitary Hashd Shaabi units participated in the operation which was launched about three weeks ago to hunt down remnants of IS militants in seven areas in Diyala, Sadiq al-Husseini, head of the security committee of the provincial council, told Xinhua.
So far, the troops killed 19 IS militants and captured 16 others, al-Husseini said, adding that six of the extremist group leaders were among the killed and five other leaders were among the captured.
During the operation, the joint forces have also destroyed 13 hideouts and confiscated caches of weapons and ammunition, according to al-Husseini.
Also in Diyala, a security force captured three members of an IS supply cell as they were moving in motorcycles in rugged area carrying foodstuff, weapons and ammunition near Himreen Mountain, some 55 km northeast the provincial capital Baquba, al-Husseini said.
Despite repeated military operations in Diyala, IS remnants were still hiding in rugged areas near the border with Iran, as well as the sprawling areas extending from the western part of Diyala to Himreen mountainous area in the northern part of the province.
The security situation in Iraq was dramatically improved after Iraqi security forces fully defeated the extremist IS militants across the country late in 2017.
Full report at:
http://www.xinhuanet.com/english/2019-08/01/c_138275920.htm
--------
Hundreds of Children Die in US-Backed Refugee Camp in Hasaka
Aug 02, 2019
The number of Syrian children killed in al-Hawl refugee camp in Hasaka province has exceeded 386 in the past seven months, the Syrian Observatory for Human Rights (SOHR) reported on Thursday.
It noted that another 12 kids died in al-Hawl Camp as a result of harsh living conditions as well as shortage of foodstuff, medicine and favorable hygienic conditions.
The SOHR said that the number of kids killed since the start of January has considerably increased.
In a relevant development in early July, the SDF continued brutal suppression of popular protests against the Kurdish militia in Hasaka province as clashes between civilians and the Kurdish fighters had intensified.
A large number of residents of the towns of al-Salehiyeh, Tal Balal and Mokhtaleh in Western Ra'as al-Ain in Hasaka held protest rallies in front of SDF's al-Mosmakeh, the pro-militant Arabic-language Baladi news website reported.
It noted that the rallies were held in protest at SDF's torching their agricultural lands West of Ra'as al-Ain, and said the Kurdish fighters started to disperse the protesters by opening live fire on them.
Full report at:
https://en.farsnews.com/newstext.aspx?nn=13980511000581
--------
Syria Army Preparing to Advance towards Death Triangle in Hama
Aug 02, 2019
The Arabic-language website of the Russian Sputnik new agency quoted a war correspondent Basil Shartouh as saying that the Syrian Army will move towards the 'death triangle' comprising the three towns of al-Latamineh, Kafar Zita and al-Zuka after the army's recent advances in Tal Malh and al-Jobin massively backed by the country's air force.
Shartouh noted that the Syrian Army is now very close to al-Zuka which is the main base of Jeish al-Izzeh terrorists, and said that al-Zuka is the main place from where the terrorists launch rocket attacks on the towns and cities in Northern Hama.
He pointed to the Syrian Army's recent military advances deep inside the terrorist-controlled areas in Hama after securing al-Saqilbieh-Mahradeh road, and said that the Syrian Air Force has cut terrorists' movements and supply routes in Idlib in massive air raids.
The Syrian Army troops killed at least over 40 terrorists, most of them foreign militants, in military operations on the road to the town of al-Zuka.
In a relevant development on Thursday, the Syrian army hit a heavy blow at Tahrir al-Sham terrorist group's defense lines in the town of al-Latamineh in Northern Hama, forcing the militants to flee their most important headquarters in the region.
The Syrian army forces continued clashes with Tahrir al-Sham terrorists in the Eastern parts of the town of Tal Malah in Northern Hama on Thursday, retaking control of Wadi Hasmin region and the farms near the town of al-Zuka.
Meantime, a military source said that the Syrian army troops have regained control of Wadi Hasmin region, broken the first defense line of Tahrir al-Sham from al-Zuka and opened a new front towards the town of al-Latamineh as the militants' key base in Northern Hama.
He added that a large number of terrorists were forced to flee al-Latamineh as the army is advancing in the region.
The source also said that a group of 17 militants were killed in clashes in al-Zakah, adding that the army forces targeted the terrorists' supply lines in Hasraya and al-Arbaeen with artillery fire.
Full report at:
https://en.farsnews.com/newstext.aspx?nn=13980511000468
--------
South Asia
U.S. preparing to withdraw thousands of troops from Afghanistan in initial deal with Taliban
By Dan Lamothe , John Hudson and Pamela Constable
August 1, 2019
The Trump administration is preparing to withdraw thousands of troops from Afghanistan in exchange for concessions from the Taliban, including a cease-fire and a renunciation of al-Qaeda, as part of an initial deal to end the nearly 18-year-old war, U.S. officials say.
The agreement, which would require the Taliban to begin negotiating a larger peace deal directly with the Afghan government, could cut the number of American troops in the country from roughly 14,000 to between 8,000 and 9,000, the officials said. That number would be nearly the same as when President Trump took office.
The plan has taken shape after months of negotiations between the Taliban and Zalmay Khalilzad, an Afghan-born American diplomat who was appointed by the Trump administration last year to jump-start talks. Officials said an agreement could be finalized ahead of the Afghan presidential election in September, though they cautioned that Taliban leaders could delay and that significant challenges remain.
The proposal is likely to be viewed skeptically by some U.S. and Afghan officials who question the Taliban's honesty and wonder how the United States can verify whether Taliban leaders are following through. But if approved, it would be one of the most significant steps toward ending the war, a goal that increasingly has bipartisan support.
"I would say that they are 80 or 90 percent of the way there," said one official, who like others spoke on the condition of anonymity to discuss details of the emerging deal. "But there is still a long way to go on that last 10 or 20 percent."
A Taliban spokesman, Zabiullah Mujahid, declined to comment about the likelihood of an initial agreement. In a brief telephone interview Thursday, he said he did not know when talks would resume.
"We are hopeful," he said. "Things look promising that there will be a breakthrough. We hope there won't be any obstacle, but it also depends on the seriousness of the Americans."
Khalilzad said in a tweet Wednesday that he plans to resume his next round of talks with the Taliban in Qatar soon and that if the group does its part, an agreement will be finalized.
Additional cuts to U.S. forces would be negotiated as part of discussions involving the Taliban and the Afghan government, U.S. officials said.
Army Gen. Austin "Scott" Miller, the top U.S. commander in Afghanistan, is open to the proposal, two defense officials said, because he believes it would protect U.S. interests by maintaining a counterterrorism force that can strike the Islamic State and al-Qaeda. Miller, who took command in Kabul last September, previously has said that political negotiations are "absolutely" a key to ending the war.
"Neither side will win it militarily, and if neither side will win it militarily you have to move . . . towards a political settlement here," he said in an interview with ABC News in February.
A spokesman for Miller, Army Col. Sonny Leggett, declined to comment.
U.S. officials acknowledged there are legitimate concerns that the Taliban might not break with al-Qaeda, as Washington has demanded, or stand up to the Islamic State. Still, officials may be content with a partial troop withdrawal that opens the door to additional negotiations and keeps the counterterrorism mission alive as the status quo becomes politically untenable.
The Taliban has refused to talk with the Afghan government, which it calls a puppet regime, until it reaches a deal with the United States on its troops.
A Pentagon spokesman, Cmdr. Sean Robertson, said the Defense Department has not been ordered to withdraw forces from Afghanistan — a point that other officials describing the potential deal also stressed. Robertson declined to discuss what a partial troop withdrawal could include, saying the department does not comment on military planning.
"Our strategy in Afghanistan is conditions-based," Robertson said. "Our troops will remain in Afghanistan at appropriate levels so long as their presence is required to safeguard U.S. interests."
Afghan government officials, speaking on the condition of anonymity because of the sensitivity of the discussions, said they expected that an initial U.S. deal with the Taliban would include some U.S. troop reductions but did not know what numbers or timetable might be proposed.
The officials said they were pleased to hear that a U.S. proposal would require the Taliban to meet with them. But some expressed concerns that a partial pullout would embolden the Taliban.
"The Americans call this a peace negotiation, but the Taliban definitely perceive it as a withdrawal negotiation," one Afghan official said.
A State Department official rejected that view, saying the United States is pursuing "peace" not "withdrawal."
In recent weeks, U.S. visitors to Afghanistan have included Marine Gen. Joseph F. Dunford Jr., the chairman of the Joint Chiefs of Staff; Marine Gen. Kenneth F. ­McKenzie, the chief of U.S. Central Command; and Secretary of State Mike Pompeo.
The task of explaining the negotiations in Afghanistan to the American public has fallen to Pompeo. On Monday, when asked whether he expected a reduction in U.S. forces before the 2020 election, he said, "That's my directive." The following day, he clarified his remarks, saying that "there is no deadline" for the mission there and accusing the news media of misinterpreting his words.
The president wants to draw down forces "just as quickly as we can get there, consistent with his other mission set, which is to ensure that we have an adequate risk reduction plan for making sure that there is not terror that's ­conducted from Afghanistan," Pompeo told reporters aboard his plane en route to Thailand.
Trump said this week that he did not know whether all troops will come home from the war before the U.S. election. "We hope in the coming days that we will be able to urge the Taliban to talk," he said.
Cutting the troop level to 9,000 would require commanders in the field to make some tough decisions on which bases to close and which missions to curtail, and on whether to scale back advising Afghan troops.
One person with familiarity with Miller's thinking said the general is sure to want to keep open Bagram air base, from which the United States launches counterterrorism strikes in Afghanistan's eastern mountains. The military also is likely to maintain a significant presence in Kabul, where there are numerous bases, and some troops at Kandahar Airfield, the largest U.S. base in the south.
Meanwhile, U.S. officials say that German troops are likely to keep a presence in northern Afghanistan and that Italian troops will remain in the west.
But some Afghan officials fear that a preliminary deal outlining a U.S. withdrawal could weaken their negotiating position during intra-Afghan talks and eventually leave them alone to fight the ­battle-hardened Taliban.
One of the concerns is that gains made since the fall of the Taliban could be erased if the group, which seeks to reestablish an Islamic emirate, becomes part of a power-sharing government. Women's rights groups are especially concerned, given the Taliban's restrictions on women and opposition to educating girls. But the State Department says it has secured agreement with the Afghan government on "next steps on the Afghan peace process."
In the absence of formal talks between the Afghan government and the Taliban, the militant Islamist group has been willing to meet with a delegation of Afghan leaders in Qatar in recent weeks, with the understanding that the Afghans are not acting in an official government capacity. Though the Taliban officials were reportedly welcoming, progress was not made on preserving fundamental freedoms, according to media reports citing people who attended the meetings.
The State Department declined to comment on the details of the drawdown agreement, but an official said that "any future reductions or withdrawal of forces will be conditions-based."
State Department officials say a breakthrough hinges on an agreement on four issues: counterterrorism assurances, troop withdrawal, intra-Afghan dialogue and a comprehensive cease-fire. In March, Khalilzad said that he reached agreement on a draft containing the first two points but that a final deal would not conclude "until everything is agreed."
Khalilzad spent the past 10 days in Kabul for consultations with Afghans in what he described to one reporter as his "most productive visit" there since becoming special envoy. Next he will travel to Pakistan and then Qatar to continue talks with the Taliban, a State Department official said.
In another indication that a force-reduction deal may soon be reached, the Afghan government named a 15-member team Wednesday to negotiate directly with the Taliban. Meetings with the Taliban and the Afghan government would proceed after the U.S. and Taliban officials reach their preliminary deal.
The discussions continue even as violence across the country remains pervasive, with the Taliban controlling more territory than at any point since 2001.
On Sunday, Afghan vice-presidential candidate Amrullah Saleh was targeted in an attack in Kabul that left at least 20 people dead. He has long been an adversary of the Taliban.
On Monday, two U.S. soldiers — Spec. Michael Nance, 24, and Pfc. Brandon Kreischer, 20 — were killed in Uruzgan province in what officials have described as an "insider" attack by an Afghan soldier. Fourteen U.S. troops have died this year from injuries sustained in the conflict.
Last year was the deadliest year for civilians during the entirety of the Afghan conflict, with 3,804 civilian deaths and 7,000 wounded, according to the United Nations.
Nearly 2,400 American troops have died in the country since the war began in 2001 and more than 20,000 have been wounded, according to the Pentagon.
Constable reported from Kabul. Sayed Salahuddin in Kabul and Missy Ryan in Washington contributed to this report.
https://www.washingtonpost.com/world/national-security/us-preparing-to-withdraw-thousands-of-troops-from-afghanistan-in-initial-deal-with-taliban/2019/08/01/01e97126-b3ac-11e9-8f6c-7828e68cb15f_story.html?noredirect=on&utm_term=.3297b0b54787
--------
Special Forces storm key Taliban compound in Baghlan province
03 Aug 2019
The Afghan Special Forces stormed a key Taliban compound in Baghlan province killing at least 4 militants.
The Special Operations Corps in a statement said the Special Forces stormed the Taliban compound in Qaisari Village in Baghlan-e-Markazi district.
The statement further added that the Special Forces destroyed the Taliban compound and confiscated some weapons, military kits, various types of munitions and propaganda leaflets.
Full report at:
https://www.khaama.com/special-forces-storm-key-taliban-compound-in-baghlan-province-03534/
--------
Withdrawal from Afghanistan will be condition-based: Khalilzad
03 Aug 2019
The U.S. envoy for Afghan peace Ambassador Zalmay Khalilzad has said withdrawal from Afghanistan will be condition-based.
Ambassador Khalilzad said in a Twitter post that the presence of the United States in Afghanistan is condition-based.
Furthermore, Ambassador Khalilzad said the United States is pursuing a peace agreement not a withdrawal agreement.
He also added that he has arrived in Doha and that U.S. is ready for a good agreement with Taliban.
According to Khalilzad, the Taliban are signaling they would like to conclude an agreement.
Full report at:
https://www.khaama.com/withdrawal-from-afghanistan-will-be-condition-based-khalilzad-03533/
--------
A-29s pound Taliban hideouts in Bulcheragh of Faryab leaving 13 dead
03 Aug 2019
The A-29 light attack planes of the Afghan Air Force pounded Taliban hideouts in northern Faryab province killing at least 13 militants.
The 209th Shaheen Corps in a statement said the Afghan Air Force carried out the airstrikes in Bulcheragh district on Thursday night.
The statement further added that the airstrikes killed 13 Taliban militants and destroyed a Taliban compound and some weapons together with munitions.
Full report at:
https://www.khaama.com/a-29s-pound-taliban-hideouts-in-bulcheragh-of-faryab-leaving-13-dead-03536/
--------
Khalilzad, Gen. Bajwa agree to continue working towards agreed goals: Pakistan military
03 Aug 2019
The U.S. envoy for Afghan peace and Gen. Qamar Javed Bajwa agreed to continue working towards the mutually agreed goals regarding the Afghan peace process.
The Inter-Services Public Relations, the media wing of the military of Pakistan in a statement said Ambassador Khalilzad and Gen. Bajwa shared steps taken regarding the peace process in Afghanistan.
The statement further added that the two sides agreed to continue working towards mutually agreed goals.
"Mr Zalmay Khalilzad appreciated Pakistan's whole hearted support to the process and expressed hope that others would follow in same vein," the statement added.
Furthermore, Gen. Bajwa said Pakistan will play its role to enhance all efforts for peace towards fullest potential, the statement said.
Full report at:
https://www.khaama.com/khalilzad-gen-bajwa-agree-to-continue-working-towards-agreed-goals-pakistan-military-03535/
--------
AAF airstrike kills Taliban's shadow governor, finance and logistics chief in Farah
02 Aug 2019
An airstrike by the Afghan Air Force killed the shadow governor of Taliban for Farah and two other senior leaders of the group.
The Ministry of Defense in a statement said the Afghan Air Force conducted an airstrike in Khak-e-Safid district.
The Afghan Air Force conducted the raid at around 8:10 pm local time tonight.
The statement further added that the airstrike killed Mullah Abdul Bari alias Mullah Mashar, the shadow governor of the group for Farah.
Furthermore, the defense ministry said the airstrike also killed Mawlavi Syed, the Ring Leader of Taliban.
The airstrike also killed Mullah Sadiq, the Finance and Logistics Chief of the group.
Full report at:
https://www.khaama.com/aaf-airstrike-kills-talibans-shadow-governor-finance-and-logistics-chief-in-farah-03532/
--------
North America
FBI: Conspiracy theory 'extremists' are a terror threat
By Yaron Steinbuch
August 1, 2019
The FBI has for the first time identified "conspiracy theory-driven domestic extremists" as a terror threat — including the believers in the shadowy QAnon network, according to a report.
An FBI bulletin dated May 30, 2019, from the bureau's Phoenix field office and obtained by Yahoo News describes the growing threat and lists multiple arrests tied to violent incidents sparked by fringe beliefs.
"The FBI assesses these conspiracy theories very likely will emerge, spread, and evolve in the modern information marketplace, occasionally driving both groups and individual extremists to carry out criminal or violent acts," the document states.
The feds believe the conspiracy theory extremists will likely increase their activities during the 2020 presidential election cycle, according to the document cited by Yahoo.
The bureau said another factor driving the mounting threat is "the uncovering of real conspiracies or cover-ups involving illegal, harmful, or unconstitutional activities by government officials or leading political figures."
The FBI does not specify which people or cover-ups it was referring to.
The document specifically mentions the infamous QAnon conspiracy, whose believers say a deep state of Hollywood celebs and Democrats is working to undermine President Trump and is running an international pedophile ring including Clinton associates from a DC pizzeria.
News about the intelligence bulletin comes as the FBI faces pressure to explain whom it deems to be an extremist — and how the government prosecutes domestic terrorists.
During a hearing before the Senate Judiciary Committee last week, FBI Director Christopher Wray faced criticism from Democrats who said the bureau was not focusing enough on violence by white supremacists.
"The term 'white supremacist,' 'white nationalist' is not included in your statement to the committee when you talk about threats to America," said Sen. Richard Durbin (D-Ill.).
"There is a reference to racism, which I think probably was meant to include that, but nothing more specific."
Wray told the lawmakers the FBI had dispensed with separate categories for black identity extremists and white supremacists, saying the bureau was focusing on "racially motivated" violence.
"I will say that a majority of the domestic terrorism cases that we've investigated are motivated by some version of what you might call white supremacist violence," he added.
In May, Michael McGarrity, the FBI's assistant director of the counterterrorism division, told Congress the bureau "classifies domestic terrorism threats into four main categories: racially motivated violent extremism, anti-government/anti-authority extremism, animal rights/environmental extremism, and abortion extremism."
The new category focuses on violence based specifically on beliefs that "attempt to explain events or circumstances as the result of a group of actors working in secret to benefit themselves at the expense of others" and are "usually at odds with official or prevailing explanations of events," according to the document.
"The advent of the Internet and social media has enabled promoters of conspiracy theories to produce and share greater volumes of material via online platforms that larger audiences of consumers can quickly and easily access," the document says.
The FBI's national press office provided a written statement to Yahoo News.
"While our standard practice is to not comment on specific intelligence products, the FBI routinely shares information with our law enforcement partners in order to assist in protecting the communities they serve," the bureau said.
The FBI added that it can "never initiate an investigation based solely on First Amendment-protected activity. As with all of our investigations, the FBI can never monitor a website or a social media platform without probable cause."
The 15-page report cited several incidents, including the Pizzagate conspiracy, which led a 28-year-old man to invade the DC eatery to rescue the children he believed were being kept there, and fire an assault-style weapon inside.
The document also cites a California man who was arrested on Dec. 19, 2018, after being found with what appeared to be bomb-making materials in his vehicle.
The unnamed man was planning "blow up a satanic temple monument" in the Capitol rotunda in Springfield, Ill., to "make Americans aware of Pizzagate and the New World Order, who were dismantling society," according to the document.
In May, Facebook designated several extremist figures as "dangerous" — including Nation of Islam leader Louis Farrakhan, Infowars host Alex Jones, political commentator Milo Yiannopoulos and conspiracy theorist Laura Loomer — and permanently banned them.
While the FBI document does not mention Jones or InfoWars by name, it does cite some of the conspiracy theories frequently associated with the far-right radio host, including the concept of the New World Order.
Joe Uscinski, an associate professor of political science at the University of Miami, whose work on conspiracy theories is mentioned in the FBI document, said there's no data suggesting conspiracy theories are becoming more widespread.
"There is absolutely no evidence that people are more conspiratorial now. They may be, but there is not strong evidence showing this," Uscinski told Yahoo News, adding that it's not that people are becoming more conspiratorial, but that conspiracies are simply getting more media attention.
https://nypost.com/2019/08/01/fbi-conspiracy-theory-extremists-are-a-terror-threat/
--------
Iran sanctions effective, "we will enforce them" everywhere: Pompeo
2 August 2019
US Secretary of State Mike Pompeo on Friday said Washington would continue to enforce sanctions against Iran.
The sanctions on Iran have been effective and "we will enforce them" everywhere, he said.
Pompeo was speaking at a regional youth leadership program in the Thai capital of Bangkok during a wider meeting of Southeast Asian nations with world powers.
Pompeo also said "decades of bad behavior"" from China have hampered free trade and prompted tariffs and other action from Washington.
Full report at:
https://english.alarabiya.net/en/News/middle-east/2019/08/02/Iran-sanctions-effective-we-will-enforce-them-everywhere-Pompeo.html
--------
Eighth round of US-Taliban peace talks to start in Doha
3 August 2019
A fresh round of US-Taliban peace talks will start in Qatar's capital Doha on Saturday, officials said, describing it as the "most crucial" phase of negotiations to end the 18-year war in Afghanistan.
Senior officials privy to the talks said a peace agreement could be expected at the end of the eighth round of talks between the warring sides and would enable foreign forces to be withdrawn from the war-torn country.
https://english.alarabiya.net/en/News/world/2019/08/03/Eighth-round-of-US-Taliban-peace-talks-to-start-in-Doha-.html
--------
Leading US-based Israeli group forced to close as public support for Israel declines
Aug 3, 2019
US-based pro-Israel advocacy organization, the Israel Project (TIP), has reportedly been forced to close its Israel office in anticipation of a complete shutdown due to a sharp decline in support.
According to the TIP's managers, the group "simply ran out of money" after losing a large proportion of its annual funds and donations due to the increased "polarized political climate in the United States", Haaretz reported on Thursday.
The pro-Israel group was a proponent of "hasbara", an Israeli concept seeking to legitimize Israel in the eyes of world public opinion through disseminating propaganda.
The TIP formed in 2002, at the height of the second Palestinian Intifada, and sought to influence journalists and their coverage of Israel.
TIP activities gradually grew to cover multiple languages and countries, as well as conducting influence operations on social media.
The group has been known for its hard-hitting stance against Iran and even Islam, going as far as promoting Islamophobia and conducting marketing research on how to "sell military action against Iran to the American public".
'We attacked the Iran deal'
The group prides itself in having lobbied extensively against the 2015 Iran nuclear deal, a key polarizing factor which also led to the group's sharp decline.
TIP's vice president and head of its Israel office Lior Weintraub, a former Israeli diplomat in Washington, described why the group gradually lost support among its donors.
"We attacked the Iran deal; because Israel became part of the internal American political debate;...because support for Israel became too complicated for some of them in these times," he said.
Critics believe that the pro-Israel advocacy group became too closely aligned with the regime of Israeli prime minister Netanyahu, specifically in its bid to torpedo the Iran nuclear deal, alienating many American supporters across the political spectrum. Consequently starting from 2015, TIP lost a large number of its donations, and is currently on the verge of shutting down all together.
Last month, TIP CEO Josh Block, a former spokesman for the American Israel Public Affairs Committee resigned from the organization, issuing a statement citing "the polarized political climate in the US, both in the wider body politic and inside the Jewish community," as the reason for TIP's downfall.
Despite US President Donald Trump's strongly pro-Israel foreign policy, the fall of the leading pro-Israel propaganda firm marks one of the latest signals of increasing negative public opinion regarding Israel in the US.
Trump's strong stance regarding Israel has pushed t Tel Aviv into the center of American political discussion, resulting in increased debate about Washington's support.
A recent Gallup poll found that American support for Israel has fallen to its lowest level in the past decade.
Full report at:
https://www.presstv.com/Detail/2019/08/03/602534/Israel-Hasbara-failing
--------
Trump again warns he could kill millions of Afghans
Aug 3, 2019
US President Donald Trump has once again warned that American troops could win the Afghan war within days by killing millions across the conflict-ridden country.
Trump made the warning on Friday as he hailed the "progress" made in peace talks between his administration and the Taliban militant group.
"We've made a lot of progress. We're talking," the US president told reporters at the White House.
Trump said that US forces, bogged down in the country for nearly two decades, "could win Afghanistan in two days or three days or four days, but I'm not looking to kill 10 million people."
In a similar comment in July, Trump spoke about 10 million casualties but this time he specified that no nuclear weapons would be involved, saying, "I'm talking conventional."
The United States and its allies invaded Afghanistan in October 2001, shortly after the September 11 attacks on New York and Washington. While the invasion ended the Taliban's rule in the country, it has failed to eliminate the militant group. The Daesh terrorist group has also emerged in the Asian country more recently.
The US has been attempting to negotiate an alleged peace deal with the Taliban militant group, which now controls or influences about half of Afghanistan's territory.
The Afghan government is left out of the talks between the Taliban and the US. The Taliban say they don't recognize the Kabul government and that they will not hold talks with it unless all foreign forces exit the country.
About 20,000 foreign troops, mostly Americans, are based in Afghanistan.
Washington representatives and those of the Taliban are soon expected to begin their eighth round of talks in the Qatari capital of Doha to reach an agreement on ending the Afghan war, with the US saying it wants to see a deal inked by September 1.
Full report at:
https://www.presstv.com/Detail/2019/08/03/602533/US-Donald-Trump-American-troops-Afghan-war-peace-talks-Taliban
--------
US extends temporary protection status for Syrians
Beyza Binnur Donmez
02.08.2019
Washington has announced an extension of the Temporary Protected Status (TPS) for 7,000 Syrian refugees living in the U.S., which protects them from deportation.
The decision to extend the Syrians' status for an additional 18 months "was made after a review of the conditions upon which the country's designation is based, which was ongoing armed conflict and extraordinary and temporary conditions," Kevin McAleenan, the U.S. Department of Homeland Security's acting secretary, said on Thursday.
He added that the conditions supporting Syria's designation for TPS continue to exist.
The statement underlined that the department head will review conditions in Syria to determine whether its designation should be extended again or terminated over the next 18 months.
"The secretary will make the next decision to extend or terminate the designation for Syria on or before January 30, 2021," it added.
Syria has only just begun to emerge from a devastating conflict that began in early 2011 when the Bashar al-Assad regime cracked down on protesters with unexpected ferocity.
Hundreds of thousands of people have lost their lives, and more than 5.5 million civilians took refuge in other countries.
Full report at:
https://www.aa.com.tr/en/americas/us-extends-temporary-protection-status-for-syrians-/1547875
--------
Pakistan
US envoy appreciates Pakistan for support to Afghan peace process
AUGUST 3, 2019
United States special envoy for Afghan peace Zalmay Khalilzad on Friday "appreciated Pakistan's wholehearted support to the process" as he wrapped up a two-day visit to the country.
In a meeting with Chief of Army Staff General Qamar Javed Bajwa, the US envoy also "expressed hope that others would follow in [the] same vein", according to a statement released by Inter-Services Public Relations (ISPR).
The handout by the military's media wing said that the meeting was held in the backdrop of ongoing discussions and efforts underway to secure peace in Afghanistan.
"Both shared the steps taken in this regards and agreed to continue working towards mutually agreed goals," said the statement.
Gen Bajwa assured Khalilzad that Pakistan would play its role to its "fullest potential" for peace in Afghanistan and the region.
During his visit to Islamabad to discuss "developments in the Afghan peace process", Khalilzad also met with Prime Minister Imran Khan and Foreign Minister Shah Mahmood Qureshi, a statement by the US Embassy said.
During the discussions "Khalilzad outlined the positive momentum in the Afghan peace process and next steps."
The role Pakistan has played thus far, as well as additional positive steps it can take also came under deliberation.
"Consolidating peace will require reliable assurances from Afghanistan and Pakistan that neither side's territory is used to threaten the others'," read the US Embassy statement.
"Such assurances on top of an intra-Afghan comprehensive peace agreement will allow for increased regional economic integration, connectivity, and development," it concluded.
Khalilzad had made a stopover in Islamabad while on his way to Doha to resume peace talks with the Taliban.
"I'm off to Doha, with a stop in Islamabad. In Doha, if the Taliban do their part, we will do ours, and conclude the agreement we have been working on," Khalilzad had said on Twitter.
He had termed his latest visit to Afghanistan as the "most productive" since he took up the office of the special representative.
Foreign Minister Qureshi, after meeting Khalilzad a day earlier, had "welcomed the progress achieved in the talks and the Intra-Afghan Peace Conference in Doha in which all participants agreed upon a basic roadmap", according to a Foreign Office press release.
It was noted during the meeting between the two that ultimately, the intra-Afghan dialogue would be vital to reach an agreement that brings peace and stability to Afghanistan.
https://dailytimes.com.pk/441928/us-envoy-appreciates-pakistan-for-support-to-afghan-peace-process/
--------
NAB request to probe Nawaz in sugar mills case declined
Malik Asad
August 03, 2019
ISLAMABAD: The accountability court of Islamabad on Friday turned down an application filed by the National Accountability Bureau (NAB) seeking permission to probe former prime minister Nawaz Sharif in connection with the Chaudhry Sugar Mills (CSM) case.
Accountability Judge Mohammad Bashir asked the NAB to file an application before a court of competent jurisdiction in Lahore where the watchdog's regional directorate is investigating the matter.
Subsequently, the accountability judge returned the application to the prosecution, saying the accountability court of Islamabad lacked jurisdiction to entertain it.
NAB recently started an investigation into the CSM case and also recorded statement of Maryam Nawaz on July 31.
When NAB summoned her, Maryam Nawaz responded that she would join the investigation not to show respect for NAB but to expose them.
She recorded her statement before an investigation team of NAB for 45 minutes regarding 'dubious' business transactions of the CSM of which she was one of the major shareholders.
After appearing before NAB on Wednesday, Maryam Nawaz tweeted: "Back from NAB. Told them the questions about family business have been asked & answered a zillion times & nothing found even by agenda-driven JIT. But since the aim is to use NAB as a tool to harass & victimise, the theatre of the absurd continues."
NAB had also summoned Hassan Nawaz and Hussain Nawaz; however, they did not join the investigation.
The members of the Sharif family are being investigated over a suspicion of being stakeholders in the CSM and on charges of money laundering.
The evidence against the owners of the CSM reportedly surfaced during the investigation against Shahbaz Sharif and his sons Hamza and Salman in money laundering and an income beyond means case.
NAB has allegedly traced numerous telegraphic transfers (TTs) worth millions of rupees by the Sharif family and the end beneficiaries allegedly included Maryam Nawaz and other owners of the CSM.
Full report at:
https://www.dawn.com/news/1497816/nab-request-to-probe-nawaz-in-sugar-mills-case-declined
--------
'Game played with constitution' bad for democracy: Bizenjo
Habib Khan Ghori
August 03, 2019
KARACHI: National Party chief Senator Mir Hasil Khan Bizenjo has said that although it does not matter if he or Sadiq Sanjrani is chairman of the Senate, the "game played with the constitution and the federation" does not augur well for democracy in the country.
Mir Bizenjo, who was the joint candidate of the opposition for the office of Senate chairman when a no-vote of confidence was taken up against Senate Chairman Sanjrani on Thursday, was talking to the media here on Friday before flying back to Islamabad after a nightlong stay in Karachi.
In reply to a question, Mr Bizenjo said over what had happened in the Senate on Thursday "the spirit of the founders of the constitution might have trembled as they would have been pondering if the constitution was framed by them for its use in this way". Mr Sanjrani survived the crucial no-trust motion as 14 opposition senators ditched the party leadership by either voting against their own resolution or deliberately wasting their vote.
Responding to another question, Mir Bizenjo said they were aware that money and pressure would be used to get the no-trust motion defeated. "Horse-trading is a tradition of the Pakistan Tehreek-i-Insaf," he said, adding that last year during the formation of the Punjab and federal governments Jahangir Tareen's aircraft was flying in a similar way as it did during the process of the no-trust motion against Mr Sanjrani.
The NP leader said that the opposition could move another no-confidence motion against the Senate chairman, but any decision in this regard would be made in a multi-party conference to be convened in a few days.
Replying to another question, he said: "We have no interest in [removing] Sadiq Sanjrani but we are concerned about those elements who want to discredit the upper house."
In reply to a question, Mir Bizenjo said he was sure that all senators belonging to his party had cast their votes against Mr Sanjrani. However, he said, the opposition parties should conduct inquiries to find out the defecting senators and seek resignations from those whose loyalty was doubtful.
Mr Bizenjo said that if the opposition wanted to topple the government, it would take less than a month, but "we think that the government needs one more warning and now the opposition has no option but to stage protests".
Meanwhile, a court in Gujranwala has summoned Senator Bizenjo on Aug 8 to explain his allegation that Inter-Services Intelligence (ISI) chief Lt Gen Faiz Hameed's "people" were behind the opposition's embarrassing failure in the no-confidence vote against the Senate chairman.
Additional Sessions Judge Tariq Saleem Chohan accepted for hearing a petition submitted by a lawyer, Manzoor Qadir Bhinder, and summoned a report on the matter from the Gujranwala city police officer (CPO), reports Dawn.com.
As per the petitioner, after losing the Senate vote, Mr Bizenjo had made a "baseless and false" statement against the head of a state institution. Mr Bhinder claimed that it was an attempt to defame a key leader of the Pakistan Army.
He asked the court to direct the Gujranwala CPO to instruct the Civil Lines police station to register a case against Bizenjo.
The Senate secretary has also been sent a notice to ensure Mr Bizenjo's appearance in court.
The joint opposition had last month submitted a no-confidence resolution against Mr Sanjrani and named Mr Bizenjo as its candidate for the position. On Thursday, the opposition suffered a shock defeat when it fell three votes short to dismiss the Senate chairman despite having a comfortable majority in the upper house of parliament.
After the vote, as Mr Bizenjo was walking out of the Senate building, a journalist asked if he knew the 14 turncoats who had voted against stated stance of their parties.
Mr Bizenjo responded: "These were Gen Faiz's people. You know Gen Faiz, the ISI chief? [They] were his people."
Hours later, ISPR Director General Maj Gen Asif Ghafoor denounced the statement.
In a tweet posted on Maj Gen Ghafoor's official Twitter account in the early hours of Friday morning, he said that Mr Bizenjo's remarks were "unfounded" and did not "serve democracy".
In a post shared on Twitter, Federal Minister for Science and Technology Fawad Chaudhry has also slammed Mr Bizenjo's remarks.
He said: "Hasil Bazenjo is among the lot who have been made hero by [the] anti-Pak and anti-Army segment of media [and] politicians, he is used [and] abused by shrewd fellows like [Maulana Fazlur Rehman]."
Full report at:
https://www.dawn.com/news/1497818/game-played-with-constitution-bad-for-democracy-bizenjo
--------
Lawyer held in blasphemy case in Sahiwal
August 03, 2019
SAHIWAL: Arifwala police have arrested a lawyer on charges of sharing through social media `blasphemous and hate content.'
Usman Farid Chishti faces proceedings under the PPC 295/C and other relevant laws for sharing a post having blasphemous content and hate material against security establishment and superior judiciary.
The FIR was registered on the complaint of Ijaz Ahmed, also a lawyer.
Arifwala Circle DSP Ghulam Muhammad confirmed the arrest of Chishti on the recommendations of a committee headed by Pakpattan DPO Ibadat Nisar.
https://www.dawn.com/news/1497804/lawyer-held-in-blasphemy-case-in-sahiwal
--------
PTI Govt believes in supremacy of law and the constitution: Dr. Firdous
August 3, 2019
ISLAMABAD: Special Assistant to Prime Minister on Information and Broadcasting, Dr Firdous Ashiq Awan says Pakistan Tehrik-e-Insaf government believes in the supremacy of law and the constitution.
Talking to a channel, she said Prime Minister Imran Khan has never supported horsetrading in the elections and no such incident was reported during the no-confidence move against the Senate chairman.
She said the opposition parties have no solid reason to bring no-trust motion against Sadiq Sanjrani.
Full report at:
https://www.pakistantoday.com.pk/2019/08/03/pti-govt-believes-in-supremacy-of-law-and-the-constitution-dr-firdous/
--------
Pakistan to support all efforts for Afghan peace, Gen Bajwa tells Khalilzad
August 3, 2019
RAWALPINDI: Pakistan will support all efforts for peace in war-torn Afghanistan, Chief of Army Staff (COAS) General Qamar Javed Bajwa said on Friday.
"Pakistan will play its role to enhance all efforts for peace towards fullest potential," the military's media wing, Inter-Services Public Relations (ISPR) quoted the army chief as saying during his meeting with US special envoy Zalmay Khalilzad.
The two met as part of ongoing discussions and efforts for success of the peace process in Afghanistan.
According to the ISPR, the steps taken with regards to end the 18-year-old war in Afghanistan were discussed. "[They] agreed to continue working towards mutually agreed goals," the communiqué read.
Khalilzad, the statement added, appreciated Pakistan's "wholehearted support to the process and expressed hope that others would follow in same vein".
During his visit to Islamabad to discuss "developments in the Afghan peace process", Khalilzad also met with Prime Minister Imran Khan and Foreign Minister Shah Mahmood Qureshi, a statement by the US Embassy said.
During the discussions "Khalilzad outlined the positive momentum in the Afghan peace process and next steps."
The role Pakistan has played thus far, as well as additional positive steps it can take also came under deliberation.
"Consolidating peace will require reliable assurances from Afghanistan and Pakistan that neither side's territory is used to threaten the other's," read the US Embassy statement.
"Such assurances on top of an intra-Afghan comprehensive peace agreement will allow for increased regional economic integration, connectivity, and development," it concluded.
Khalilzad had made a stop over in Islamabad, while on his way to Doha to resume peace talks with the Taliban.
"I'm off to Doha, with a stop in Islamabad. In Doha, if the Taliban do their part, we will do ours, and conclude the agreement we have been working on," Khalilzad had said on Twitter.
He had termed his latest visit to Afghanistan as the "most productive" since he took up the office of the special representative.
Foreign Minister Qureshi, after meeting Khalilzad a day earlier, had "welcomed the progress achieved in the talks and the Intra-Afghan Peace Conference in Doha in which all participants agreed upon a basic roadmap", according to a Foreign Office press release.
It was noted during the meeting between the two that ultimately, the intra-Afghan dialogue would be vital to reach an agreement that brings peace and stability to Afghanistan.
Qureshi told Khalilzadad that Pakistan will continue to play its supportive role for "smooth progress and successful outcome" of the peace efforts.
Full report at:
https://www.pakistantoday.com.pk/2019/08/02/pakistan-to-support-all-efforts-for-afghan-peace-gen-bajwa-tells-khalilzad/
--------
Mideast
How Can Israel Counter Iran's Seaborne Shipments Of Weapons To Hezbollah?
By Liron A. Libman
August 1, 2019
According to recent reports, Israel estimates that Iran is working to move weapons to Hezbollah in Lebanon by sea in response to attacks on similar weapons shipments overland via Syria. What can Israel do to counter these shipments, and is international law – just by chance – in its favor?
This question immediately calls to mind the recent capture of the Iranian oil tanker Grace 1 by Gibraltar authorities and the British Royal Navy on the suspicion that it was headed for Syria, in defiance of European Union sanctions, which in turn resulted in the capture of a British tanker by Iran. This incident demands a discussion of very complex questions, including the applicability in Gibraltar of the sanctions imposed on Syria by the European Union, the right to freedom of navigation in international waterways, and the question of the country to which the tanker was registered.
In the case of marine weapons shipments from Iran to Hezbollah, the legal situation is simpler and clearer: United Nations Security Council Resolution 1701, which was passed at the end of the Second Lebanon War (2006) and is binding on all countries, requires that states take all necessary measures to prevent the supply or sale of military equipment to any individual or entity in Lebanon by their nationals or from their territories or using their flag vessels or aircraft. The only exceptions to this ban are the Lebanese army and UNIFIL.
In fact, Israel can halt these shipments even without using military force, with such use of force running the risk of incurring retaliatory actions, as occurred in the British case. If Israeli intelligence services have concrete information that military equipment destined for Hezbollah is aboard a certain ship, Israel can inform the country to which the ship is registered, the countries in which the ship is due to dock, and the countries whose citizens (including corporations registered in those countries) are involved in transferring the shipment. These countries are entitled and obligated to check these claims, and if the suspicions are confirmed, to prevent the transfer of this materiel to Lebanon and Hezbollah, which would be a contravention of the UN Security Council resolution.
Clearly, states do not always fulfill their obligations, and of course, in cases where an Israeli military operation is being considered, there is a risk that informing another country might endanger such an operation. However, military action is not always practical or politically desirable. In these cases, why should Israel not try this option?
Iran can attempt to limit the risk of its arms shipments to Hezbollah being captured by using ships under its flag and sailing in open seas directly from Iran to Lebanon without any other country gaining the power accrued from using its ships or passing through its waters. However, this course imposes significant practical constraints on carrying out these shipments, and also makes it easy to track and uncover Iranian actions contravening the UN resolution. Thus, even forcing Iran to take such a course of action gives Israel an advantage.
Another way of circumventing the ban imposed by Resolution 1701, which would involve cooperation with the Lebanese government, would be to designate the Lebanese military as the official end-receiver of military shipments and then to transfer these to Hezbollah. Given Hezbollah's influence and involvement in the Lebanese regime, this would certainly seem possible. However, this course of action would also be advantageous from Israel's perspective: Uncovering evidence of military cooperation between the Lebanese government and Hezbollah would give credence to Israeli claims in any future conflict with Hezbollah that the Lebanese state should be held responsible for Hezbollah's actions. Concern about the consequences of being attributed such responsibility may well deter the Lebanese government from becoming involved in smuggling weapons to Hezbollah.
While public sentiment in Israel toward international law is mostly negative and marked by considerable suspicion, this case demonstrates that international law sometimes works in Israel's favor, and that there is nothing to lose by harnessing the avenues it offers.
https://www.jpost.com/Opinion/How-can-Israel-counter-Irans-seaborne-shipments-of-weapons-to-Hezbollah-597437
--------
Yemen: Dozens killed in attack on military parade blamed on Iran
August 03, 2019
At least 51 people died in twin attacks in the Yemeni city of Aden on Thursday, according to security and medical sources.
The city is the seat of power for Yemen's internationally recognized government, which is in the midst of conflict with the Iran-backed rebel Houthis who control the capital, Sanaa, and most of the country's north.
How the attacks unfolded
There were two attacks in the city: a strike on a military parade and coordinated bombings near a police station.
The early morning suicide bombing targeted policemen in Aden's Sheikh Othman area, killing at least 11 people and injuring 29 others.
No one has claimed responsibility for the police station attack.
In the parade attack, Houthi rebels claimed they hit the Al-Jala Camp with an armed drone and a medium-range ballistic missile.
The attack killed at least 40 people, and injured many more.
Iran blamed: Saudi Arabia's Yemen envoy, Mohammed bin Saeed Al Jabir, accused Iran coordinating both attacks, in a series of posts on Twitter. Yemen's Prime Minister Maeen Abdulmalik Saeed also accused Theran of being behind the attacks.
Insecurity: It is unclear if the attacks are related but they highlight the precarious security situation for the internationally-recognized Sunni government. After being forced out of Sanaa in 2014, the Saudi-and-UAE-backed government faces danger from increasingly ambitious rebels.
UAE reduction: The UAE, one of the major coalition partners backing the deposed government, recently announced it would reduce troop numbers in the country, including Aden. The UAE claimed this would not leave a power vacuum in Yemen as it had trained 90,000 Yemeni forces. One of those killed in Thursday's attacks was Brigadier General Muneer al-Yafee, the commander of the
Civilian toll: The four-year war has devastated the civilian population of the Arab world's poorest country, leaving them in a situation of insecurity, at risk of starvation and widespread disease. About 85,000 children under the age of 5 are estimated to have died from starvation or disease since the start of the war, while hundreds of thousands of people are suspected to have contracted cholera.
Full report at:
https://www.dw.com/en/yemen-dozens-killed-in-attack-on-military-parade-blamed-on-iran/a-49839961
--------
Rebels, Militants Kill Dozens In Yemen's Aden; Saudi Arabia Blames Iran
August 01, 2019
Iran-backed Huthi rebels say they launched missile and drone attacks on a military parade in Yemen's southern port of Aden, the headquarters of the Saudi-backed government, that killed more than 30 people.
In separate tweets, Yemeni Prime Minister, Maeen Abdulmalik Saeed and Saudi Arabia's envoy to Yemen accused Tehran of being behind the August 1 attack claimed by the Huthis, and an explosion at a police station in Aden, the headquarters of the Saudi-backed government, that security sources said involved a car bomb.
The attack on the parade killed at least 32 people, including a commander, according to medical and security sources.
Al Masirah TV, the Huthis' official channel, said the rebels launched a medium-range ballistic missile and used an armed drone at the parade.
No one has claimed responsibility for the car-bomb attack, which Doctors Without Borders said killed 10 people. Car-bombings in Yemen have been carried out in the past by the militant Islamist group Al-Qaeda.
Shi'ite Muslim Iran denies having any involvement in Yemen, where the Saudi-led Sunni Muslim coalition intervened in 2015 to try to restore the internationally recognized government ousted from power in the capital Sanaa by Shi'ite Huthis in late 2014.
The Huthis, who deny being a puppet of Iran and say they launched a revolution against corruption, hold Sanaa and most of the biggest urban centers of Yemen.
Full report at:
https://www.rferl.org/a/rebels-militants-kill-dozens-in-yemen-s-aden-saudi-arabia-blames-iran/30087594.html
--------
Al Qaeda attack kills 19 soldiers in Yemen
August 03, 2019
ADEN: Al Qaeda gunmen killed 19 soldiers in an attack on an army base in southern Yemen on Friday, security officials said, a day after deadly assaults by rebels and a jihadist bomber.
The gunmen stormed Al-Mahfad base in Abyan province and remained inside for several hours before military reinforcements came, three security officials said, adding that the soldiers were killed in clashes with the jihadists.
"The Qaeda gunmen took advantage of what happened (Thursday) in Aden and launched an assault on Al-Mahfad base and clashed with soldiers," a government security official said.
"Military reinforcements were sent... and the gunmen were killed while others were driven out with air support from the (Saudi-led) coalition, in an operation that lasted hours," the official said.
"At least 19 soldiers were killed and others wounded." The other two officials confirmed both the details and the death toll.
Security analyst Aleksandar Mitreski said the attacks "seem opportunistic".
"Al Qaeda has neither the capability nor the strategic appetite to open a new front in south Yemen," Matreski who is also a researcher at the University of Sydney said.
"We may see other sporadic attacks in the future motivated by Al Qaeda's desire to remain a relevant actor in the Yemeni conflict." The Yemen-based Al Qaeda in the Arabian Peninsula (AQAP), the militant Islamic State group and other jihadists have flourished in the chaos of the civil war between the government and the Houthi rebels.
The United States considers AQAP the global jihadist network's most dangerous branch and has waged a long-running drone war against its leaders.
On Thursday, separate attacks by the Huthis and jihadists hit security forces in Yemen's second city Aden, killing at least 49 people, many of them newly trained police cadets, officials said.
The first attack was a suicide car bombing carried out by jihadists on a police station that killed 13 police officers and wounded several others, a security source said.
Full report at:
https://www.dawn.com/news/1497853/al-qaeda-attack-kills-19-soldiers-in-yemen
--------
Zarif: Iran will take 'third step' to reduce commitments to nuclear deal
3 August 2019
Iran will take another step to reduce its compliance with a landmark 2015 nuclear deal, Iranian Foreign Minister Mohammad Javad Zarif said on Saturday without elaborating, according to parliamentary news agency ICANA.
Iran has repeatedly said it will reduce its commitment to the nuclear accord in stages and may even withdrew from the pact altogether unless the remaining signatories find ways to shield its economy from US sanctions. Washington pulled out of the deal last year.
"The third step in reducing commitments to (the nuclear deal) will be implemented in the current situation," he said.
"We have said that if (the deal) is not completely implemented by others then we will also implement it in the same incomplete manner. And of course all of our actions have been within the framework of (the deal)."
Last month, Iran threatened to restart deactivated centrifuges and ramp up enrichment of uranium to 20 percent purity in a move away from the nuclear deal.
Iranian officials have said that all of Tehran's moves in reducing its commitments to the nuclear deal are reversible as long as the remaining signatories uphold their commitments.
Full report at:
https://english.alarabiya.net/en/News/middle-east/2019/08/03/Zarif-Iran-will-take-third-step-to-reduce-commitments-to-nuclear-deal-.html
--------
Yemen's Daesh affiliate claims Aden police station attack
August 02, 2019
SANAA: Daesh's affiliate in Yemen has claimed responsibility for a deadly attack on a police station in the southern city of Aden the previous day.
That attack killed 11 people and involved suicide bombers using a car, a bus and motorcycles laden with explosives that targeted a police station in the city's Omar al-Mokhtar neighborhood during a morning police roll-call.
It was one of two major attacks in Aden on Thursday that killed a total of 51 people. The other attack involved a ballistic missile fired by Yemen's Houthi militants at a military parade and killed at least 40 troops.
http://www.arabnews.com/node/1534461/middle-east
--------
Africa
Sudan generals, protest leaders agree constitutional declaration: African Union
3 August 2019
Sudan's ruling generals and protest leaders reached a "full agreement" on the constitutional declaration, the African Union said, paving the way for transitioning to civilian rule.
The agreement came after prolonged negotiations between Sudan's ruling military council and the Alliance for Freedom and Change which has been leading the protest movement across Sudan for months.
"I am announcing to the Sudanese, African and international public opinion that the two delegations have fully agreed on the constitutional declaration," AU mediator Mohamed El Hacen Lebatt told reporters.
Lebatt said meetings will be held to discuss a formal signing ceremony.
The main points of contention concerned the powers of the proposed joint civilian-military ruling body, the deployment of security forces and immunity for generals over protest-related violence.
Saturday's announcement came after the military council announced nine paramilitaries had been arrested for killing four teenage demonstrators earlier this week as talks with protest leaders over the country's future navigated a second day.
The move against the paramilitary men of the feared Rapid Support Forces stemmed from the fatal shooting of four schoolchildren and two other demonstrators during a rally against fuel and bread shortages in the city of Al-Obeid in North Kordofan on Monday.
The killings have sparked anger across Sudan.
On Thursday, four more protesters were shot dead in the capital's twin city of Omdurman, just across the Nile from Khartoum, said doctors linked to the country's protest movement.
"An investigation has been launched into the incident of Al-Obeid and seven members of the RSF were immediately dismissed and handed over to civilian judges for trial," General Shamseddine Kabbashi, spokesman for the ruling military council, told reporters earlier on Friday.
He also said that measures will be taken against those responsible for Thursday's violence.
https://english.alarabiya.net/en/News/middle-east/2019/08/03/Sudan-generals-protest-leaders-agree-constitutional-declaration-African-Union.html
--------
Nigerian military denies secretly burying 1,000 soldiers killed by Boko Haram
August 1, 2019
By Seun Opejobi
Nigeria's Defence Headquarters, DHQ, on Thursday, rubbished a report by the Wall Street Journal which claimed that 1, 000 soldiers in the North-East were secretly buried under the cover of darkness after being killed by Boko Haram and ISWAP insurgents.
The Director of Defence Information, Onyema Nwachukwu, insisted that the Nigerian Armed Forces does not engage in the secret burial of soldiers but accords fallen soldiers a befitting military funeral of international standard.
The Wall Street Journal report had alleged that about 1,000 soldiers killed by Boko Haram were secretly buried in the North-East.
However, Nwachukwu maintained that the report was a figment of the writer's imagination.
A statement signed by Nwachukwu and forwarded to DAILY POST reads: "The Defence Headquarters has noted with dismay an Online Article by "Wall Street Journal" purporting that the Nigerian Military maintains secret graveyards in the North East theatre of operation. This insinuation can only emanate from an uninformed position of the author of the said publication.
"It, therefore, becomes necessary to inform the public that the Armed Forces of Nigeria has a rich and solemn tradition for the interment of our fallen heroes.
"Therefore, it must be unambiguously clarified that the Armed Forces of Nigeria does not indulge in secret burials, as it is sacrilegious and profanity to extant ethos and traditions of the Nigerian military.
"In tandem with the traditions of the Armed Forces, Fallen heroes are duly honoured and paid the last respect in befitting military funeral of international standard, featuring funeral parade, gravesite oration, solemn prayers for the repose of departed souls by Islamic and Christian clerics, as well as gun salutes, aside other military funeral rites.
"The cemetery described in the publication, which is situated in Maimalari military Cantonment is an officially designated military cemetery for the Armed Forces of Nigeria in the North East theatre, with a Cenotaph erected in honour of our fallen heroes. The official cemetery has played host to several national and international dignitaries, where wreaths were laid in honour of the fallen heroes. It is, therefore, a far cry from the sacrilegious impression being painted by "Wall Street Journal".
The Defence Headquarters, therefore, urged members of the Armed Forces and the general public to disregard the misinformed publication and see it as "a figment of the imagination of the writer, whose knowledge of military valued ethos and traditions is grossly misplaced".
Full report at:
https://dailypost.ng/2019/08/01/nigerian-military-denies-secretly-burying-1000-soldiers-killed-boko-haram/
--------
Boko Haram kills 27,000 in Nigeria in decade-long militancy: UN
2019-08-01
ABUJA, Aug. 1 (Xinhua) -- Over 27,000 people were killed in Boko Haram's militancy in Nigeria since the group launched operation in the northeast region of the country in 2009, according to data by the United Nations (UN).
A statement made available to Xinhua in Abuja on Thursday quoted Edward Kallon, the UN humanitarian coordinator in Nigeria, as saying 130,000 people have also been newly displaced from their homes.
"Rising insecurity in recent months has pushed over 130,000 newly displaced people on a long trudge. Arriving en masse to displaced camps, they are looking upon us for aid and protection," the statement said.
Boko Haram, whose agenda is to maintain a virtual caliphate in the most populous African country, had also spread its tentacles to neighboring countries including Chad, Niger, and northern Cameroon.
The UN office in Abuja expressed the humanitarian community's willingness to assist in abating the crisis while organizing on Wednesday a remembrance of 10 years of the security crisis in Borno, Adamawa, and Yobe -- the three most-affected northeastern states in Nigeria.
Humanitarian aid workers, school boys and girls, women, and security operatives, among others, have either been killed or abducted by Boko Haram during the decade of violence.
The Nigerian government has consistently declared winning the war against the Boko Haram militants, despite growing concerns by citizens.
On Tuesday, a presidential spokesman, Garba Shehu, had maintained that the group's agenda had been largely defeated by government forces.
Full report at:
http://www.xinhuanet.com/english/2019-08/01/c_138276082.htm
--------
Mogadishu Mayor Dies of Injuries From Suicide Bombing
Aug. 1, 2019
MOGADISHU, Somalia — The mayor of Mogadishu has died after being badly wounded in a suicide bombing by Al Shabab in his offices last week, Somalia's government said on Thursday. Six of his colleagues were also killed in the attack, and nine members of his staff wounded.
Mayor Abdirahman Omar Osman had been airlifted to Qatar, along with nine other injured people, for treatment after the attack, which struck on July 24, the lawmaker Dahir Amin Jesow said.
Al Shabaab, the Qaeda-linked Islamist militant group that aims to topple Somalia's United Nations-backed government, claimed responsibility for the bombing. The militants have lost territory but have kept up a relentless campaign of bombings and assassinations.
The extremist group and government officials said that the suicide bomber, a woman, had been aiming for James Swan, the new United Nations envoy to Somalia, but that he had left the office minutes before the bombing.
It was not clear how the bomber managed to enter the mayor's office, as visitors are required to pass through at least four metal detectors.
Mr. Osman had been a councilor in London before returning to Somalia to enter local politics and help rebuild his war-torn country.
From his passage to Britain after civil war broke out in Somalia in 1991 to his wounding back at home, his life story appeared to illuminate the hopes and dangers of some of the world's most divisive political topics: migration and radicalization.
Richard Bailey, a British communications consultant, first met Mr. Osman after Mr. Osman was appointed Somalia's information minister, in 2010, not long after his return.
"He was living and working in a ministry building that lay beneath a 50-foot radio transmitter mast which acted as an aiming post for repeated Shabaab mortar practice," Mr. Bailey said.
In London, Mr. Osman had been a councilor for the opposition Labour Party, and Mr. Bailey, a former Conservative counselor, said he used to tease him about politics over goat stew and coffee.
Mr. Osman was struggling to keep a generator going so that Radio Mogadishu could broadcast to a city largely held at that time by insurgents who frequently targeted the city's journalists.
He later served as the prime minister's chief of staff as African Union peacekeepers helped the federal government claw back territory outside the capital from the insurgency.
He worked as minister of information for a second time and was then appointed mayor of Mogadishu in 2018, putting to work both his engineering degree and his years of experience working for the housing department in the London borough of Ealing.
Mr. Osman, nicknamed Engineer Yarisow (or "the young engineer"), had tried to clean up the city and construct roads from the rubble, Mr. Jesow said.
"He was in the middle of constructing Mogadishu streets and roads," he said, adding that Mr. Osman had always spoken out against militancy. "He always struggled to tighten Mogadishu's security."
The mayor had introduced more measures to intercept potential car bombs and had tried to find land, shelter and jobs for those fleeing the conflict, said the British ambassador to Somalia, Ben Fender.
Before the news of his death, the ambassador called Mr. Osman "a kind and gentle man."
Full report at:
https://www.nytimes.com/2019/08/01/world/africa/mogadishu-mayor-dead.html
--------
US signals shift to Africa in counter-ISIS Coalition campaign
AUGUST 1, 2019
The United States will seek additional international cooperation to fight Islamic State on a global scale, with a particular focus on Africa, following the defeat of the group in Iraq and Syria, a State Department official said on Thursday, August 1.
Speaking at a press conference in Washington, State Department Counterterrorism Coordinator Ambassador Nathan Sales said the next stage of the counter-ISIS campaign will require international coordination to combat the group's expansion in Africa, Southeast Asia, and Afghanistan.
"The so-called ISIS Caliphate has been destroyed, but the ISIS brand lives on around the world," Sales said, speaking alongside U.S. Envoy to the anti-ISIS Coalition James Jeffrey.
"We are now working closely with our partners to identify focus regions for the Coalition, and expect to have more clarity soon on where we intend to be active." Sales said a Coalition meeting on the situation in West Africa and the Sahel is set for autumn.
"In Africa, ISIS-linked groups are on the rise. ISIS-linked groups now span the African continent from east to west, from north to south," Sales said.
"They've increased the lethality of their attacks, they've expanded into new areas, and they repeatedly target U.S. interests," he said, referencing the killing of four U.S. Special Forces members in Niger in October 2017, which he said was carried out by "ISIS affiliates."
Sales also referenced the killing of "hundreds of Nigerian forces in the past year" by Islamic State West Africa Province, and a May attack in Tongo Tongo in northern Niger in May, in which ISIS claimed its West Africa Province fighters killed 40 Nigerien soldiers.
Local armed groups in the Democratic Republic of Congo and Mozambique are now "publicly aligning themselves with ISIS," Sales said.
Sales said the U.S. government believes a number of Africans who traveled to fight for ISIS in Syria and Iraq, have "returned home to either found or enrich existing ISIS affiliates."
Sales also said the U.S. was working to "revitalize" its counterterror cooperation with Sri Lanka following the Easter bombing that killed 258 people. He also referenced the growth of ISIS in Afghanistan, calling the group's Khorasan Province affiliate "one of the most dangerous ISIS affiliates in the world."
The Islamic State threat across Africa
ISIS affiliates from Libya and the Sinai in north Africa, to Mozambique in the southeast pose a growing threat to often fragile nations on the continent.
Perhaps the most significant threat comes from Islamic State West Africa Province in Nigeria, Niger, Chad and Cameroon. Since May, Islamic State has attributed insurgent activities in the Mali-Burkina Faso-Niger tri-border area to its West Africa Province affiliate, rather than to what was previously known as Islamic State in the Greater Sahara.
The recently announced Islamic State Central Africa Province is a smaller but ongoing threat in Democratic Republic of Congo and Mozambique.
ISIS also has acknowledged affiliates that have not been given the higher status of provinces in Tunisia, Somalia and Yemen.
In May, Burkina Faso called for an international coalition to tackle terrorism in the G5 Sahel states – Chad, Burkina Faso, Mali, Mauritania and Niger – and across the entire Sahel. That was followed earlier this month, when Niger's president echoed the call for an international coalition to fight insurgency in the Sahel, "just as there was a coalition against Daesh in the Middle East."
Full report at:
https://thedefensepost.com/2019/08/01/us-coalition-isis-africa/
--------
Sudan detains nine soldiers following El-Obiad killings
2 August 2019
Sudan's military council spokesman said on Friday that nine soldiers from the Rapid Support Forces (RSF) were dismissed and detained in connection with recent violence in the cities of Omdurman and El-Obeid.
Spokesman Lieutenant General Shams El Din Kabbashi added that the governor of North Kordofan state and its security council will be held accountable for the killings that took place in the state's capital city of El-Obeid on Monday.
Hundreds of thousands took to the streets on Thursday in response to the killings, and opposition medics said four protesters were killed and many injured by gunfire in Omdurman.
Kabbashi spoke at a press conference following a night of negotiations with opposition groups over a constitutional declaration, a document that would pave the way for a transitional government.
The two sides had signed a political deal in July setting a three-year transition period and a joint sovereign council, but talks over the constitutional declaration were called into question earlier this week.
Full report at:
https://english.alarabiya.net/en/News/middle-east/2019/08/02/Sudan-s-military-council-Suspects-in-El-Obaid-killing-will-be-held-accountable.html
--------
Tunisia presidential hopefuls line up for September polls
2 August 2019
Presidential hopefuls in Tunisia began registering their candidacies on Friday for snap September polls called after the death of 92-year-old leader Beji Caid Essebsi.
Eight would-be candidates, including media magnate Nabil Karoui, submitted their papers to the North African country's electoral commission.
Prime Minister Youssef Chahed has not yet officially registered, although his party said on Wednesday he would stand in the polls.
Originally scheduled for November, the vote was brought forward to September 15 following Essebsi's death in late July.
Karoui was charged with money laundering this month after stating his intention to stand in the polls.
He was nearly removed from the race in June when the parliament passed an amended electoral code that would bar any electoral candidate who handed out "favours in cash or in kind" in the year before the vote.
But Essebsi neither rejected nor enacted the bill, leaving the door open for Karoui to run.
The media mogul was an active supporter of Essebsi's election in 2014 and has become the prime minister's fiercest rival.
Chahed, who studied agricultural engineering, entered politics after the 2011 uprising which ousted autocratic president Zine El Abidine Ben Ali.
Launched at the start of the year, his Tahia Tounes has become the second largest party in parliament, behind Islamist-inspired Ennahdha.
Longtime Ben Ali opponent and head of Tunisia's Democratic Current party Mohamed Abbou also submitted his candidacy on Friday.
He was joined by Abir Moussi, the only women so far running in the polls.
She heads a party formed from the remnants of Ben Ali's ruling party and has called for the exclusion of Islamists, including Ennahdha.
Presidential hopefuls have until August 9 to register, with the commission set to provide a final list of candidates on August 31.
The campaigns are scheduled to run from September 2 to September 13, with the preliminary results announced two days after the polls.
Full report at:
https://english.alarabiya.net/en/News/north-africa/2019/08/02/Tunisia-presidential-hopefuls-line-up-for-September-polls-.html
--------
Sudanese forces kill 4 protesters in renewed violence
Aug 2, 2019
At least four protesters were killed and many injured by gunfire in the Sudanese city of Omdurman on Thursday, opposition medics said, as hundreds of thousands took to the streets to pile pressure on the country's military rulers.
Organizers had called for a million-person march in cities across Sudan in response to the killing of young protesters in El-Obeid, southwest of the capital Khartoum, earlier this week.
Sudan has been gripped by months of political turmoil that climaxed in the army overthrowing long-time leader Omar al-Bashir in April. Protesters have kept up their rallies since then, pressing the army to hand over to civilians, accusing the security services of violence and decrying the shortages and economic hardships that triggered the unrest in the first place.
Thursday's killings, reported by the Central Committee of Sudan Doctors, one of the main protest groups, came as opposition leaders said there had been some progress in talks with the military on a deal to form a new government after Bashir's ousting.
Despite signing a deal in July which secured a three-year transition period and a joint sovereign council with a rotating leadership, talks over the wording of a constitutional declaration on the changes have stumbled.
"The agreement is really now just around the corner," Satea al-Hajj, a leader in the Forces of Freedom and Change (FFC) coalition of opposition groups, said in a press conference in Khartoum on Thursday.
Negotiations over the declaration began again late on Thursday night.
The opposition had demanded that members of the sovereign council, which is intended to lead the country until elections are held, should not be granted blanket immunity from prosecution for past crimes.
But FFC leaders said on Thursday they had agreed that they could be granted only 'procedural immunity' - meaning top officials could be tried with the permission of two-thirds of the legislative council.
The opposition leaders said both sides also agreed another key point, reaffirming that the parties included in the FFC would have 67% of the legislative council while the rest will be granted to other opposition and political groups.
Sudan's ruling military council did not immediately confirm the details of the agreements.
In Omdurman, across the Nile from Khartoum, protesters chanted "it's too bad, it's too bad, we don't have an army," expressing anger at the army for not protecting protesters.
Footage posted on social media also showed protests breaking out in El-Obeid, the state capital of North Kordofan state, and Wad Medani, the state capital of Jazeera state, southeast of the capital on the Blue Nile.
The FFC has accused military and paramilitary forces of firing on the high school pupils as they protested over bread and fuel shortages in El-Obeid on Monday.
The Sudanese Professionals Association (SPA), the main protest group and a leading voice in the FFC, accused the military of failing to protect civilians and of either being complicit in or neglecting to protect against roadblocks preventing "the masses from achieving the goals of the revolution."
A senior army commander said a security force assigned to guard a bank was responsible for killing children protesting near there, the official SUNA news agency reported on Thursday.
The bank guards were a government security force.
Opposition groups have also accused the main paramilitary group, the Rapid Support Forces, of killing scores of protesters since Bashir was ousted and the RSF's role remains a point of contention.
Full report at:
https://www.presstv.com/Detail/2019/08/02/602455/Sudan-military-protesters-killed
--------
Europe
British Army to mobilise cyber spies to combat ISIS and Russia threats
Claire Corkery
Aug 1, 2019
The British Army is launching a new division specialising in hybrid warfare to combat cyber threats from hostile states and extremist groups.
Troops in the Sixth Division, as the new unit has been titled, will be trained in intelligence gathering, counter-propaganda and electronic warfare to be used against groups such as ISIS, who have traditionally used the digital sphere - and in particular social media - to share its propaganda and attract new recruits.
Britain's Ministry of Defence (MOD) said the new division was part of plans to "rebalance the Field Army" and to "defeat adversaries both above and below the threshold of conventional conflict".
"This change will be integrated within broader defence, national and alliance efforts and enable the Field Army to operate and fight more effectively above and below the threshold of conflict," the MOD said in a statement.
The troops moved into the Sixth Division, the British Army's first dedicated information warfare formation, will come from existing units within the military as well as a small number from the country's Royal Navy and the Royal Air Force.
No additional resources are involved in the move and the overall military personnel numbers would remain the same after the restructure, the MOD said.
The move comes amid an increasing rush to use cyber platforms as an offensive tool to target hostile activity. The US agencies and Britain's GCHQ intelligence operation used an information warfare campaign to undermine ISIS's message in northern Iraq and Syria. The combined forces used a redirection technique to debunk ISIS's ideology by sending a user to sites countering the extremist group's propaganda. GCHQ said the effort had contributed to the coalition forces efforts to defeat ISIS in the region.
"The character of warfare continues to change as the boundaries between conventional and unconventional warfare become increasingly blurred," Lieutenant General Ivan Jones, Commander of the Field Army, said.
"The army must remain adaptable and evolve as a fighting force.
"The three complementary British army divisions harness the wide range of British army capabilities, providing choice to the government in defence of the UK's interests ... The speed of change is moving at a remarkable rate and it will only get faster and more complex."
Britain and the West have come under criticism for being slow to react to cyber threats from hostile states such as Russia.
More recently bad actors linked to Russia were able to spread fake news stories about the poor conduct of British Army soldiers during a military exercise in Croatia.
Lt Gen Jones revealed the Sixth Division's formal inauguration at a flag-raising ceremony would take place in Wiltshire, southern England on Wednesday.
He described the ceremony as "a low key affair that rather befits a formation that will operate discreetly to shape perception and behaviour".
https://www.thenational.ae/world/europe/british-army-to-mobilise-cyber-spies-to-combat-isis-and-russia-threats-1.893594
--------
French police arrest men who pledged allegiance to ISIS and were planning attacks
Aug 1, 2019
French investigators have discovered weapons and a pledge of allegiance to ISIS after charging three men with planning a terror attack, sources close to the inquiry said on Thursday.
The men had not yet decided on a specific target, but had considered attacking a prison guard, another source had said on Wednesday.
Two of the men are already serving prison sentences and the letter claiming ISIS allegiance was found on the third man, one source said Thursday.
All have denied the claims after they were charged last Friday.
One of the men was Zakaria Chedili, 31, who was behind bars for spending six months in Syria in 2014 with a group affiliated to Al Qaeda, a source said.
The sources added that the seized weapons were "old", without further details.
"It was a project, we were not on a particularly high level of risk," Interior Minister Christophe Castaner said on Thursday, after the arrests were reported by French daily Le Parisien.
The mastermind of the group was a 27-year-old convert to Islam who had been jailed for being an "apologist for terrorism", it said.
He had been transferred to at least three different prisons and it was during those transfers that he met the other two suspects.
The third man, aged 42, had been released from prison earlier this year, the paper said.
In recent months, two guards have been assaulted in prisons in the northwest of France, one by a prisoner convicted of terrorism and the other by a radicalised detainee.
Of some 71,000 prisoners in France, about 500 are either awaiting trial or already convicted for acts of terrorism.
Full report at:
https://www.thenational.ae/world/europe/french-police-arrest-men-who-pledged-allegiance-to-isis-and-were-planning-attacks-1.893613
--------
U.S. Congressmen Urge Germany To Designate Hezbollah A Terrorist Group
By Alex Winston
August 1, 2019
Twelve US Republican Congressmen have sent a letter to German Foreign Minister Heiko Maas expressing disappointment over a recent parliamentary vote that failed to outlaw the political branch of Lebanese terrorist organization Hezbollah, and urging the German government to outlaw Hezbollah completely.
The vote in June was brought to parliament by the right-wing Alternative for Germany [AfD] Party.
The Congressmen wrote to Maas: "We urge your government to take a profound step in the war against terrorism... And eliminate the artificial distinction between Hezbollah's military and political branches."
Currently, only Hezbollah's military wing is outlawed in Germany. Hezbollah as a political entity is not.
As well as referencing the growing number of Hezbollah members and supporters throughout Germany, the Congressmen wrote that, "Hezbollah legally raises funds and support through German community and Islamic centers and meets with German politicians."
According to an intelligence report from the state of North Rhine-Westphalia, Hezbollah has centers in Hamburg, Berlin and Münster, according to the report.
After giving evidence that Hezbollah's military and political factions operate in close quarters, the US statesmen conclude the letter by declaring: "There can be no dialogue with a terrorist organization... We urge the Federal Republic [of Germany] to designate Hezbollah a terrorist organization in its entirety."
Full report at:
https://www.jpost.com/Middle-East/US-Congressmen-urge-Germany-to-designate-Hezbollah-a-terrorist-group-597396
--------
Two Suspected IS Supporters Arrested In Russia's Tatarstan
August 01, 2019
KAZAN, Russia -- A court in Russia's Republic of Tatarstan has arrested two men suspected of supporting the extremist group Islamic State and planning a terrorist attack.
The Vakhitov district court in the regional capital, Kazan, on August 1 sent Ruslan Shamsutdinov and Ilshat Zainabutdinov to pretrial detention for two months.
They were detained a day earlier and charged with propagating terrorism and recruiting for a terrorist group.
The Federal Security Service said its agents had confiscated explosives and components of explosive devices from the two men.
Full report at:
https://www.rferl.org/a/two-suspected-is-supporters-arrested-in-russia-s-tatarstan/30087206.html
--------
Turkey granted citizenship to over 92,000 Syrians
Muhammed Boztepe
02.08.2019
Turkey has granted citizenship to more than 92,000 Syrians including children, the country's interior minister said Friday.
"Nearly 92,280 Syrians, including children, have been granted citizenship. Among them, 47,000 Syrians are adults and 45,280 are children. Most of them are teachers, engineers and qualified people who can make their own living," Suleyman Soylu told reporters at a news briefing.
He added that 547,000 Syrians were currently living in Istanbul.
"They have already been given the permission to live in Istanbul. We are not registering new ones. We only register university students or when they want to run a business or there is a health issue in question," he said.
He added that only 7,000 Syrians have registered in Istanbul for humanitarian reasons since January.
Soylu said out of 72,000 Afghan irregular migrants, 29,000 were returned to their country.
He added that Turkish security forces rounded up 177,654 irregular migrants as of July, adding that the number was 268,000 in 2018 and 175,752 in 2017.
"As many as, 12,474 irregular migrants were detained in Istanbul between July 12-31," Soylu said.
When asked if Daesh terrorists were posing as migrants to infiltrate Turkey, Soylu accepted this was a routine practice also by PKK and Fetullah Terrorist Organization (FETO).
"Over the last two to two-and-a-half years, about 8,000 FETO members crossed the Turkish border from Edirne to Greece," Soylu said.
FETO and its U.S.-based leader Fetullah Gulen orchestrated the defeated coup of July 15, 2016, which left 251 people martyred and nearly 2,200 injured.
Full report at:
https://www.aa.com.tr/en/europe/turkey-granted-citizenship-to-over-92-000-syrians/1548106
--------
URL: https://www.newageislam.com/islamic-world-news/pancasila-democracy-vs-khilafah-challenge/d/119381
New Age Islam, Islam Online, Islamic Website, African Muslim News, Arab World News, South Asia News, Indian Muslim News, World Muslim News, Women in Islam, Islamic Feminism, Arab Women, Women In Arab, Islamophobia in America, Muslim Women in West, Islam Women and Feminism