New Age Islam News Bureau
25 Nov 2013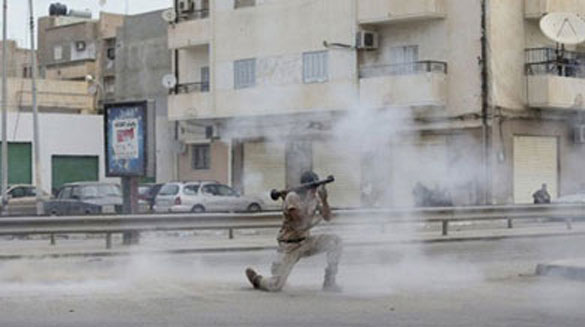 A member of the Libyan army with a weapon is seen amidst smoke during clashes between members of Islamist militant in Benghazi November 25, 2013. (Photo: Reuters)
------------
Mideast
• Palestine Proposes 'New Geneva' In Moscow to Resolve Middle East Problem
• Al-Qaeda banner turns protest violent in Istanbul
• Turkey mending ties with Shia powers as regional clout wanes
• Iran deal could affect talks on Syria, Palestine
• Israel okays 829 new settler homes in West Bank: NGO
Arab World
• Iraq attacks kill nine amid surge in bloodshed
• Islamists, Coptic Church exchange threats over Egypt's new constitution
• Arab states cautious, quiet on Iran deal
• Islamic economy is new paradigm of development in Dubai
• Islamic banking assets in GCC likely to exceed $515b
• Egyptian Minister: Muslim Brotherhood 'mobilized a number of terrorist extremist elements'
• Saudi Arabia sentences US consulate attacker to death
• Syria: Two Days Fighting near Damascus kills 160
• Syria rebels press advance around Damascus, Aleppo: Activists
Europe
• Rising German football star joins list of 'players-turned-jihadists'
• Russian police arrest shadow bankers funding Hizb ut-Tahrir
• UN official says Malaysia should reverse Allah ban
• Most Israelis believe Iran will keep up nuclear drive: Poll
• Syria peace conference on 22 January: UN
Africa
• 7 dead as troops, jihadists clash in Libya's Benghazi
• Gunmen storm Nigeria town, kill 5: police
• Sudanese rebels seek to transform SRF alliance into one party
North America
• Jamaat-e-Islami role in Bangladesh politics needs close scrutiny: Canadian lawmakers
• US hints at more sanctions on North after Iranian deal
• US police to get military fighting vehicles left over from Iraq war
• Kerry for quick security deal with Afghanistan
Pakistan
• Rulers spineless to stand up for sovereignty: Jamaat-e-Islami
• Ulema prepare code for sectarian harmony
• Alarm over Pakistan's 'conciliatory' Taliban approach
• Asiya Andrabi detained hours after claiming al Qaeda approached her for jihad in Pak
• 26/11 trial being speeded up, Pakistani envoy says
• Three killed in Khurram Agency blasts
• Three killed in Karachi violence; 44 suspects arrested in raids
• Lyari clashes: Three killed in encounters with police, Rangers
• US and CIA to be nominated in Hangu drone strike FIR: PTI
South Asia
• Tiananmen attack a 'Jihadi operation': Islamist group
• Maldivian terror alert spurs coastal security review
• All-party government to ensure fair poll: Bangladesh PM
• Hefazat-e-Islam plans Dhaka 'grand' rally on Dec 24
Southeast Asia
• Umno willing to talk to PAS on Islamic administration, says Najib
• Dutch PM Visit to Indonesia Yields 'Concrete Results'
India
• Pakistan should give maximum punishment to 26/11 attackers: Antony
• 'India-Iran talks create new atmosphere for Peace Pipeline via Pakistan'
• Deal will boost New Delhi's energy ties with Tehran
• J&K govt committed to give minority status to Sikhs
Compiled by New Age Islam News Bureau
URL: https://newageislam.com/islamic-world-news/palestine-proposes-new-geneva-moscow/d/34585
------------
Mideast
Palestine Proposes 'New Geneva' In Moscow to Resolve Middle East Problem
25 November 2013
The Palestinian authorities are expecting Russia to put forward new Middle East settlement initiatives, Palestinian Ambassador in Moscow Fayed Mustafa said.
"We would like to note that Russian diplomats have had a prominent part in the successful promotion of the resolution of the Iranian problem and we pin large hopes on Russian diplomats and [expect] them to put forward new initiatives for the settlement of the Palestinian problem, as well," he told a press conference in Moscow on Monday.
Referring to the planned Geneva II international peace conference for Syria, the ambassador suggested holding a similar event with the purpose of resolving the Palestinian-Israeli problem.
"Probably, another Geneva conference should be held, it could the third or the fourth, for resolving the Palestinian problem," Mustafa said.
"When I spoke about Geneva I did not mean precisely that geographic location. For instance, it has been suggested that a Middle East peace conference be held in Moscow. Why not make this conference a new "Geneva" to solve the Palestinian problem?" he proposed.
http://voiceofrussia.com/news/2013_11_25/Palestine-proposes-new-Geneva-in-Moscow-to-resolve-Middle-East-problem-9793/
------------
Al-Qaeda banner turns protest violent in Istanbul
25 November 2013
The Peace and Democracy Party's (BDP) meeting in Istanbul's Asian side district of Kadıköy in support of Syria's Kurdish region Rojava turned violent on Nov. 24 because of the police's move against a banner on a building.
Police and protesters became involved in reciprocal attacks when police officers removed a banner reading "[Turkish Prime Minister] Erdoğan withdraw your Al-Qaeda from Rojava" from a building on the way of rally.
Protesters, opposing the removal of the banner, tried to enter the building but met with police intervention, after which some protesters threw stones at the building and policemen, Doğan News Agency footage showed. The protesters hung the banner again after police left the building's entrance.
The People's Democratic Party (HDP) co-chairs Ertuğrul Kürkçü and Sebahat Tuncel, BDP co-chair Gültan Kışanak attended the meeting.
Kurdish groups in Syria accused Ankara of handing weapons over to the al-Qaeda-linked al-Nusra Front as well as the jihadist Ahrar al-Sham groups in the northern parts of Syria, called Rojava by the Kurds. Ankara officially denied the claims on Sept. 18.
http://www.hurriyetdailynews.com/al-qaeda-banner-turns-protest-violent-in-istanbul.aspx?pageID=238&nID=58460&NewsCatID=341
------------
Turkey mending ties with Shia powers as regional clout wanes
25 November 2013
ANKARA: Turkey's ambitions to become a regional leader with a "zero problems" foreign policy have been left in tatters by the Syrian civil war, rising sectarian tensions and a fresh diplomatic fallout with Egypt.
The predominantly Sunni Muslim NATO member state is now seeking to mend fences with Shia powers Iraq and Iran to restore its waning clout in the Middle East in the wake of the Arab spring uprisings.
The Syrian conflict has upset the balance of power in Turkey's backyard and dealt a blow to Prime Minister Recep Tayyip Erdogan's lofty regional goals, his stature on the international stage also tarnished by the wave of anti-government protests that gripped the country in June. Disputes with Israel, Cyprus and Armenia also linger on, while the spat with Cairo came to a head Saturday when Egypt's military rulers expelled Turkey's ambassador over Erdogan's support for ousted Islamist president Mohamed Morsi.
"Today Turkey is a country which is drifting alone in a vacuum," said Faruk Logoglu, deputy head of the secular Republican People's Party (CHP) and a former ambassador to Washington. Turkey now has no ambassadors in three key regional states: Egypt, Israel and Syria. "In fact there is 'no zero problem' policy left to talk about," said Sinan Ulgen, chairman of the Istanbul Centre for Economics and Foreign Policy Studies. "Turkey failed to respond through realistic diplomatic moves to the changes in the region in the aftermath of the Arab spring," he told AFP.
http://www.dailytimes.com.pk/default.asp?page=2013\11\25\story_25-11-2013_pg4_17
------------
Iran deal could affect talks on Syria, Palestine
25 November 2013
The nuclear deal between Iran and six world powers could pave the way for normalization of ties between Tehran and the West.
That prospect alarms Iran's rivals, including Israel and Saudi Arabia, which argue that Tehran is only being emboldened in its quest for regional dominance.
How this plays out depends on whether — for the sake of closer ties with the US and Europe — Iran eventually ends some of the policies that have disturbed the West, such as backing proxy militias in Middle East hotspots. So far, there are no signals from Tehran.
Here's a look at Iran's regional involvement and the potential impact of the nuclear deal.
SAUDI ARABIA
The Saudi monarchy and other Sunni Muslim rulers in the Arab Gulf are eager to counter Shia Muslim-led Iran.
The Gulf countries view any normalizing of ties between Tehran and the West as a direct threat to their own stability. Saudi Arabia has accused Iran of funding Shia rebellions in the Gulf countries of Yemen and Bahrain and whipping up fervor among the kingdom's Shia minority.
SYRIA
In Syria's civil war, Iran is siding with President Bashar Assad, while Saudi Arabia is backing rebels trying to topple him. Iran has given significant financial support to Assad and is also believed to have sent military advisers to Syria, trained pro-government militiamen and directed one of its proxies, Lebanon's Shia Muslim Hezbollah group, to fight alongside Assad's troops. Saudi Arabia has sent weapons and money to the rebels, most of them Sunnis.
It's unclear what effect the precedent of successful nuclear negotiations will have on Syria's civil war and on efforts to broker a political resolution to the conflict.
The West acknowledges that Iran is a major player in Syria, but the US and the Syrian rebels remain opposed to Tehran taking part in a proposed peace conference that Washington and Russia are trying to convene.
Assad ally Russia, meanwhile, wants Iran at the negotiating table. It may all be a moot point, since it's unclear whether the peace talks will even take place. Assad's government and the rebels disagree on the ground rules.
IRAQ
Iran and the United States have considerable influence over Shia and Sunni political groups, respectively, in Iraq. If they were to reach an agreement on Iraq, as they did on the nuclear issue, they could play a major role in defusing sectarian tensions.
Such tensions have been running high, with sectarian attacks, including assaults on Shia and Sunni mosques, taking place almost daily.
ISRAEL-PALESTINIANS
The issue of Iran has loomed in the background of US-mediated negotiations on the terms of a Palestinian state alongside Israel. The talks resumed in late July after a five-year break.
Israel has argued that it cannot take security risks in a deal with the Palestinians because it faces a potential existential threat from Iran. It could now make that point more forcefully, with Prime Minister Benjamin Netanyahu maintaining that the nuclear deal endangers Israel's security.
The nuclear deal has also strained Israel-US ties and might make it more difficult for Washington to exert pressure on Israel on the Palestinian issue, should it decide to do so.
Palestinian negotiators on Sunday praised the nuclear deal as a precedent in which the international community came together to solve a difficult issue. They said the major powers should do the same to try to solve the Israeli-Palestinian conflict that has festered for decades.
However, the US has been unwilling to share its role of mediator with others, and Israel has been staunchly opposed to broader international involvement in the negotiations.
http://english.ahram.org.eg/NewsContent/2/8/87417/World/Region/Iran-deal-could-affect-talks-on-Syria,-Palestine.aspx
----------
Israel okays 829 new settler homes in West Bank: NGO
AFP | Nov 25, 2013
JERUSALEM: Israeli authorities have given the go-ahead for the construction of 829 new settler homes in the occupied West Bank, settlement watchdog Peace Now said on Monday.
"The construction of 829 homes has been approved by a committee of the Israeli military in charge of the West Bank," said Lior Amihai, a Peace Now official.
"This is yet another move that threatens to derail the peace process," Amihai told AFP.
Palestinian president Mahmud Abbas has warned that ongoing settlement building by Israel in the Palestinian territories threatens the future of Middle East peace talks, which stand at an impasse little more than three months after they began.
Full report at:
http://timesofindia.indiatimes.com/world/middle-east/Israel-okays-829-new-settler-homes-in-West-Bank-NGO/articleshow/26353894.cms
-----------
Arab World
Iraq attacks kill nine amid surge in bloodshed
November 25, 2013
BAGHDAD: Attacks in Baghdad and northern Iraq killed nine people on Monday, officials said, part of a months-long surge in violence that authorities have been unable to stem.
The bloodshed, which has left more than 150 people dead in the past week alone, has forced Baghdad to appeal for international help to combat militancy just months ahead of its first general election in four years.
Officials have also voiced concern over a resurgent Al-Qaeda emboldened by the civil war in neighbouring Syria, which has provided the jihadist network's fighters in Iraq with rear bases to plan operations.
In Monday's deadliest attack, a car bomb targeting a police station in Baghdad's northeastern outskirts killed four police and wounded 10 people, among them three security personnel, security and medical sources said.
And a roadside bomb targeting Sahwa anti-Qaeda militiamen killed one fighter and wounded four others.
Full report at:
http://www.dailystar.com.lb/News/Middle-East/2013/Nov-25/238838-bomb-attacks-in-iraq-kill-5-troops-near-baghdad.ashx#ixzz2liRpgCU5
----------
Islamists, Coptic Church exchange threats over Egypt's new constitution
25 November 2013
The 50-member committee entrusted with amending Egypt's suspended 2012 constitution is struggling to reach consensus over the charter's preamble and 17 other controversial articles.
Bishop Paula, the committee's Coptic Church representative, threatened to withdraw from the committee for a second time in protest of the constitution's preamble, which currently reflects a large input from the ultraconservative Salafist Nour party. The committee's representatives from the Catholic and Anglican churches have also threatened to withdraw over the preamble.
Full report at:
http://english.ahram.org.eg/NewsContent/1/64/87363/Egypt/Politics-/Islamists,-Coptic-Church-exchange-threats-over-Egy.aspx
------------
Arab states cautious, quiet on Iran deal
Reuters | Nov 25, 2013
RIYADH: Iran's Arab neighbours, deeply uneasy about Tehran's diplomatic rehabilitation, kept their reservations quiet on Sunday after Iran reached a nuclear deal with global powers.
Iran's only two Arab friends —Iraq and Syria — were quick to praise the deal, as was the Palestinian Authority which welcomed it for putting pressure on Israel. Other Arab states have done little to hide their deep scepticism in recent weeks, but mostly managed to keep their wariness to themselves on Sunday, and some eventually spoke out in support.
The king of Iran's main regional rival, Saudi Arabia, and the rulers of Kuwait and Qatar, who warily view Tehran, held talks overnight but none had issued an official response by midday. Their fellow Gulf Arab states, the United Arab Emirates and Bahrain, did however welcome the deal. "The cabinet hopes this would represent a step towards a permanent agreement that preserves the stability of the region and shield it from tension and the danger of nuclear proliferation," the UAE said.
Full report at:
http://timesofindia.indiatimes.com/world/middle-east/Arab-states-cautious-quiet-on-Iran-deal/articleshow/26334372.cms
----------
Islamic economy is new paradigm of development in Dubai
25 November 2013
Dubai: Dubai's initiative to be the capital of Islamic economy is a new paradigm of the economic and financial sector development that will address quantitative and qualitative aspects of economic development, Sami Al Qamzi,Vice Chairman of the Supreme Committee of Dubai Islamic Strategy and Director General of the Department of Economic Development in Dubai, said.
Achieving the goals of this initiative will expand the size of Dubai and UAE market for Islamic economy; however, addressing qualitative agenda will ensure long-term viability and sustainability of the Islamic economic vision, he added.
Full report at:
http://gulfnews.com/business/general/islamic-economy-is-new-paradigm-of-development-in-dubai-1.1259264
------------
Islamic banking assets in GCC likely to exceed $515b
Times News Service
25 November 2013
Muscat: Global Islamic banking assets with commercial banks reached $1.54 trillion in 2012, according to Ernst and Young's Global Islamic Banking Centre. This includes both Islamic banks and Islamic windows of conventional banks.
The annual growth of the industry remains at 16 per cent, which is faster than the growth of conventional banking system assets in each of the core Islamic finance markets.
"There are six markets that are systemically important to the future internationalisation of the Islamic banking industry. They are Saudi Arabia, Malaysia, the UAE, Qatar, Indonesia and Turkey.
Full report at:
http://www.timesofoman.com/News/Article-26159.aspx
------------
Egyptian Minister: Muslim Brotherhood 'mobilized a number of terrorist extremist elements'
By DAVID BARNETT
25 November 2013
In a press conference on Nov. 23, Egypt's Interior Minister Mohammed Ibrahim accused the Muslim Brotherhood of supporting actors who are attempting to bring chaos and instability to Egypt. "The Muslim Brotherhood, in cooperation and with finances from the international branch of the group, has mobilized a number of terrorist extremist elements ... and spurred them to carry out villainous terrorist act[s]" against Egyptians, Ibrahim charged.
While Ibrahim's remarks "were the first detailed examples offered by a senior Egyptian official to back claims that the Brotherhood ... is responsible for attacks against security, government institutions and the country's Coptic minority," he failed to "provide proof to back up his claims," the Associated Press reported.
Full report at:
http://www.longwarjournal.org/threat-matrix/archives/2013/11/egyptian_minister_muslim_broth.php#ixzz2lgvqy7nM
------------
Saudi Arabia sentences US consulate attacker to death
25 November 2013
A Saudi court has sentenced one man to death and 19 others to up to 25 years in prison in connection with an attack on the US consulate in Jeddah in 2004.
The Saudi Press Agency said the man facing execution was one of the five militants who stormed the building.
One Saudi security guard stationed outside the consulate and four locally hired staff working inside were killed, along with four of the assailants.
Another 35 defendants in the case are due to be sentenced later this week.
Two groups linked to al-Qaeda said they were behind the attack, one of a series that left dozens of foreigners and Saudi citizens dead in 2004.
Full report at:
http://www.bbc.co.uk/news/world-middle-east-25085451
------------
Syria: Two Days Fighting near Damascus kills 160
Nov 24 2013
Beirut (Lebanon): At least 160 rebel fighters and Syrian troops have been killed in two days of clashes in the Eastern Ghouta region just outside Damascus, a monitoring group said on Sunday.
The latest fighting comes against the backdrop of regime advances in Damascus province that have cut rebel supply lines to the capital and its southern districts.
The Syrian Observatory for Human Rights said the fighting began Friday when rebel forces, including jihadist fighters, launched attacks against checkpoints and military stations in five areas in the Ghouta region.
Full report at:
http://www.indianexpress.com/news/syria-fighting-near-damascus-kills-160/1199007/
------------
Syria rebels press advance around Damascus, Aleppo: Activists
November 25, 2013
BEIRUT: Rebels pressed an offensive east of Damascus and in southeastern Aleppo, in an escalation that in the past three days has killed scores of fighters on both sides, activists said on Monday.
Rebels in Eastern Ghouta east of Damascus are trying to break the army siege on opposition areas there, taking over several small villages and checkpoints, said the Syrian Observatory for Human Rights.
"In the past three days, the rebels have taken over small villages and checkpoints east of Damascus and southeast of Aleppo, after launching counter-offensives on those fronts," said Observatory director Rami Abdel Rahman.
Full report at:
http://www.dailystar.com.lb/News/Middle-East/2013/Nov-25/238839-syria-rebels-press-advance-around-damascus-aleppo-activists.ashx#ixzz2liRUk4fz
----------
Europe
Rising German football star joins list of 'players-turned-jihadists'
25 November 2013
A former German youth international was killed in the Syrian civil war last month becoming the last football player victim of the humanitarian disaster. Karan was driven to give up his promising career
When Burak Karan, an up-and-coming German-Turkish soccer star, was killed last month during a Syrian military raid on anti-Bashar al-Assad rebels near the Turkish border, he joined a list of football players turned militants who were in the Middle East and North Africa or had roots in the region or in Islam.
In contrast to Palestinian suicide bombers in Israel a decade ago who were rooted in a West Bank soccer team, the 2004 Madrid train bombers who played the beautiful game together or several Saudi players who joined the anti-American jihad in Iraq following a fatwa or religious ruling by conservative Muslim preachers denouncing football as a game of the infidels, it was not immediately clear whether Mr. Karan was driven to give up his promising soccer career by a radical interpretation of Islam or a deep-seated humanitarian concern for the victims of brutal wars like that in Syria.
Full report at:
http://www.hurriyetdailynews.com/rising-german-football-star-joins-list-of-players-turned-jihadists.aspx?pageID=238&nID=58450&NewsCatID=364
------------
Russian police arrest shadow bankers funding Hizb ut-Tahrir
25 November 2013
Russian police have arrested, in a large-scale operation, six chiefs of a criminal ethnic community that were engaged in illegal banking transactions, with a capital turnover making up 1.5 billion roubles a month, the Russian Interior Ministry said in a statement on Monday.
The statement adds that as a result of the police operation, police have found and seized criminal evidence that the six have been engaged in illegal financial activities.
Police say the criminal ring consisted of several branches, each with their own agenda. Some of them collected the money, supervised the encashment of funds, their transportation to temporary deposits and distribution, while others transferred the funds to accounts in shell companies.
Full report at:
http://voiceofrussia.com/news/2013_11_25/Shadow-bankers-funding-Hizb-ut-Tahrir-arrested-Russian-Interior-Ministry-0533/
------------
UN official says Malaysia should reverse Allah ban
25 November 2013
Malaysia should reverse a ban on a Christian newspaper using the word Allah to refer to God, a UN official said today about a decision that fanned religious tension in the mainly Muslim country.
Malaysia's second highest court ruled in October that the Catholic weekly, Herald, could not use the word Allah to refer to God, in a landmark decision on an issue that has fanned religious tension in the majority Muslim country.
"Freedom of religion or belief is a right of human beings, not a right of the state," the UN special rapporteur on freedom of religion or belief, Heiner Bielefeldt, said in a statement.
"It cannot be the business of the state to shape or reshape religious traditions, nor can the state claim any binding authority in the interpretation of religious sources or in the definition of the tenets of faith," he said.
Full report at:
http://www.themalaysianinsider.com/malaysia/article/un-official-says-malaysia-should-reverse-allah-ban
----------
Most Israelis believe Iran will keep up nuclear drive: Poll
25 November 2013
More than three-quarters of Israeli Jews believe Iran will keep up its nuclear drive despite a Geneva deal with world powers to curb atomic activities, a poll published Monday said.
Some 76.4 percent of respondents answered "no" to the question "do you think Iran will now stop its nuclear programme?" with the remainder unsure or replying "yes".
The survey, conducted by daily Israel Hayom, polled 500 people, but excluded Arab Israelis, who make up around 20 percent of the population.
Nearly 58 percent said that by signing the agreement, the United States had "harmed Israeli interests."
Iran agreed to curb its nuclear programme for the next six months in exchange for limited sanctions relief following marathon talks with the five permanent members of the UN Security Council plus Germany in Geneva that ended Sunday.
Full report at:
http://english.ahram.org.eg/NewsContent/2/8/87420/World/Region/Most-Israelis-believe-Iran-will-keep-up-nuclear-dr.aspx
------------
Syria peace conference on 22 January: UN
25 November 2013
Syrian government and opposition negotiators will meet for the first time since start of the country's 32 month-old war in Geneva on 22 January, the UN announced Monday.
UN leader Ban Ki-moon said in announcing the landmark conference that it would be "a mission of hope."
http://english.ahram.org.eg/NewsContent/2/8/87429/World/Region/BREAKING-Syria-peace-conference-on--January-UN.aspx
------------
Africa
7 dead as troops, jihadists clash in Libya's Benghazi
25 November 2013
Fierce clashes broke out Monday between army special forces and fighters from Libya's top jihadist group in the eastern city of Benghazi, killing at nine people and wounding 49, the interior minister said, updating an earlier toll.
The army declared a "state of alert" and ordered all soldiers to report for duty at barracks.
"A violent clash has been taking place for several hours between our forces and an Ansar al-Sharia cell," Colonel Milud al-Zwei, spokesman for Libya's special forces, told AFP.
Medics at the city's Al-Jala hospital had earlier said five soldiers were killed and 23 people wounded, including 10 civilians.
Full report at:
http://english.ahram.org.eg/NewsContent/2/8/87412/World/Region/UPDATE--dead-as-troops,-jihadists-clash-in-Libyas-.aspx
------------
Gunmen storm Nigeria town, kill 5: police
November 25, 2013
Some 300 gunmen stormed a mostly Christian village in central Nigeria on Sunday, killing five people and burning scores of homes, police said.
The early moring attack targeted the village of Kuka in Plateau state, which roughly falls on the dividing line between Nigeria's mainly Christian south and predominately Muslim north.
"Five people were killed and many houses were burnt," said Plateau's police spokeswoman Felicia Anslem. "About 300 attackers invaded the community early on Sunday," she added.
The decade-long mostly sectarian conflict in Plateau has left thousands dead.
http://www.hindustantimes.com/world-news/gunmen-storm-nigeria-town-kill-5-police/article1-1155356.aspx
------------
Sudanese rebels seek to transform SRF alliance into one party
25 November 2013
(PARIS) - The forces of the Sudanese Revolutionary Front (SRF) are working to unify themselves to and to transform their alliance into a political party, the alliance's deputy leader said on Sunday.
Speaking in a meeting with the Sudanese community in Paris, the SRF deputy chairman for external relations Gibril Ibrahim said their European tour achieved its diplomatic objective as they were seeking to show their unity and the SRF's credibility to rule the country .
Ibrahim said they confirmed that the unity of the Revolutionary Front "is not formal or symbolic but real", stressing they do not only want to overthrow the regime but also look towards the future with a common project that none of the SRF components can implement it alone.
Full report at:
http://www.sudantribune.com/spip.php?article48931
------------
North America
Jamaat-e-Islami role in Bangladesh politics needs close scrutiny: Canadian lawmakers
25 November 2013
The role and participation of Jamaat-e-Islami in national politics require close scrutiny by authorities as the organisation has created deep concerns about protecting the rights of women, minorities and others, according to a pre-election observation report.
The BNP, in particular, must also reflect on the possible role that Jamaat may be playing in its party and work to distance itself from this extremist organisation, said the report prepared by two Canadian lawmakers.
"Concern was expressed that women's and minority rights may be impaired, and other Islamist ideals such as Sharia law may gain traction should a Jamaat-influenced BNP take power after the election," it said.
This Islamist party has recently been de-listed by Bangladesh's Election Commission and is unable to run candidates in the next polls.
"Even so, there was widespread agreement that Jamaat is still a major factor in Bangladeshi politics, as the organisation is well-financed and may be gaining influence within the main opposition party, BNP," the report said.
Full report at:
http://www.thedailystar.net/beta2/news/jamaat-role-in-politics-needs-close-scrutiny/
------------
US hints at more sanctions on North after Iranian deal
November 25, 2013
TOKYO: Washington's point man on North Korea on Monday hinted at more sanctions against Pyongyang over its atomic weapons programme in the wake of Iran's nuclear deal with world powers.
Glyn Davies, the US special representative for North Korea policy, said he hoped quickening diplomacy examining when to resume stalled six-party talks would bear fruit.
The talks are designed to push the state to abandon its nuclear ambitions, but have been in limbo since December 2008.
"Pyongyang's attempts to engage in dialogue while keeping its programme running are completely unacceptable," Davies told reporters after a meeting with his counterparts in Tokyo.
Full report at:
http://tribune.com.pk/story/636794/us-hints-at-more-sanctions-on-north-after-iranian-deal/
------------
US police to get military fighting vehicles left over from Iraq war
25 November 2013
The 165 of the mine-resistant ambush-protected vehicles, or MRAP, left over from the Iraq war to be allocated between five county sheriff's departments and three other police agencies in New York, the Washington Post reports.
Pentagon is militarizing America's municipal police forces with the 18-ton, armor-protected military fighting vehicles with gun turrets and bulletproof glass, making policemen to look like soldiers equipped for battle.
Full report at:
http://voiceofrussia.com/news/2013_11_25/US-police-to-get-military-fighting-vehicles-left-over-from-Iraq-war-4357/
------------
Kerry for quick security deal with Afghanistan
Nov 25 2013
U.S. Secretary of State John Kerry called for quick signing of a bilateral security agreement with Afghanistan after the country's tribal elders agreed to the pact that governs future ties between Washington and Kabul.
Loya Jirga, or grand assembly of Afghan tribal elders, approved and urged Sunday that the Bilateral Security Agreement (BSA) with the United States be signed by the end of this year, Xinhua reported.
Mr. Kerry said "I can't imagine a more compelling affirmation from the Afghan people themselves of their commitment to a long term partnership with the United States and our international partners."
Full report at:
http://www.thehindu.com/news/international/kerry-for-quick-security-deal-with-afghanistan/article5389304.ece
------------
Pakistan
Rulers spineless to stand up for sovereignty: Jamaat-e-Islami
November 25, 2013
KARACHI - Jamaat-e-Islami chief Munawar Hasan on Sunday charged the ruling party and all the politicians with cowardice, stating they were powerless to stand up for sovereignty of the country, incompetent to stop brazen US drone strikes.
"Our rulers, politicians are scared of America," Hasan seethed with annoyance in his nearly unprecedented criticism of the government's helplessness, before a huge protest rally against drone attacks here.
Jamaat chief demanded Interior Minister Chaudhry Nisar tendered apology over his wrong figures about civilian casualties from drone strikes and PML-N leader Sartaj Aziz for holding out a void assurance that the US would not spoil peace talks with the Taliban, saying the people, from Karachi to Khyber, had united against the government's policy on drone attacks.
Hasan alleged the United States had deceived Pakistan a number of times, arguing that it had a history of turning on its allies. "They are using drones only against Muslim countries, notably Somalia and Pakistan," he went on to say.
Full report at:
http://www.nation.com.pk/pakistan-news-newspaper-daily-english-online/editors-picks/25-Nov-2013/rulers-spineless-to-stand-up-for-sovereignty-ji
------------
Ulema prepare code for sectarian harmony
KALBE ALI
2013-11-25
ISLAMABAD: Maulana Hafiz Mohammad Tahir Ashrafi, chairman of the Pakistan Ulema Council and a member of the Council of Islamic Ideology (CII), has come up with a 14-point code of conduct to be observed by religious organisations to end sectarian violence in the country.
The Maulana forwarded the code to the CII secretariat on Sunday with a request that a special meeting of the council be called to discuss it.
The code of conduct calls upon all religious parties to distance themselves from violence in the name of religion. It says that no Muslim sect can be termed infidel. It also denounces any attempts to amend blasphemy laws.
Full report at:
http://www.dawn.com/news/1058366/ulema-prepare-code-for-sectarian-harmony
------------
Alarm over Pakistan's 'conciliatory' Taliban approach
25 November 2013
The chairman of the governing party in Pakistan has told the BBC that the government will continue to use whatever means it can to persuade the Pakistan Taliban to take part in peace talks, even though the militants have already rejected the offer.
Senator Raja Zafar ul Haq went so far as to say they would refrain from making any critical comments about the militants as they try to convince them to come to the negotiating table.
"We don't want to spoil the atmosphere, that would be counter-productive," he said.
"I don't want to say anything against them which hurts their feelings."
Bombings and shootings
The senator would not be drawn on what common ground could be found with the Pakistan Taliban to make a deal possible, saying that would only become clear once they sit down and listen to the Taliban's demands.
Full report at:
http://www.bbc.co.uk/news/world-asia-25056606
------------
Asiya Andrabi detained hours after claiming al Qaeda approached her for jihad in Pak
Peerzada Ashiq, Hindustan Times
25 November 2013
Woman separatist leader and Dukhtaran-e-Millat (DeM) chief Asiya Andrabi on Sunday was detained by police in south Kashmir's Banihal area. Earlier in the day, Andrabi had claimed that members of al Qaeda had approached her for jihad in Pakistan, but she had turned them
down.
A DeM source said Andrabi was on her way to attend a religious programme when she was detained and moved to an unknown location.
The police declined to say why Andrabi was detained.
In an interview to a Srinagar-based website, Andrabi had said, "Some people from Tehreek-e-Taliban Pakistan (TTP) came to me from Saudi Arabia. They told me they belonged to al Qaeda and wanted to start Ghazwa-e-Hind from Pakistan."
Full report at:
http://www.hindustantimes.com/world-news/asiya-andrabi-detained-hours-after-claiming-al-qaeda-approached-her-for-jihad-in-pak/article1-1155320.aspx
------------
26/11 trial being speeded up, Pakistani envoy says
TNN | Nov 25, 2013
NEW DELHI: Outgoing Pakistan high commissioner Salman Bashir on Sunday said the 26/11 trial was being speeded up by Pakistan as he lamented that there was a lack of objective understanding in India about the ongoing trial in his country.
"The fact is that the executive is doing, the prosecution is doing all that it can. Now this trial is being speeded up. Let me tell you that," Bashir said in a TV interview. He was asked if Pakistan was carrying out a sham trial of the accused including LeT commander Zaki-ur-Rehman Lakhvi.
Full report at:
http://timesofindia.indiatimes.com/india/26/11-trial-being-speeded-up-Pakistani-envoy-says/articleshow/26332626.cms
----------
Three killed in Kurram Agency blasts
25 November 2013
PARACHINAR: Three people were killed while another injured in two blasts in Shablan and Dal areas of Kurram Agency on Sunday, sources said. In the first incident, a car collided with a mine planted in Zangi village of Shablan, some 12 kilometres from agency headquarters Parachinar. The resulting blast left three people injured – two of them later died in hospital. The dead were identified as 16-year-old Yasin and 18-year-old Syed Taqi. The injured was identified as Wasi Shah. In Dal area, meanwhile, a person was killed in an IED blast.
http://www.dailytimes.com.pk/default.asp?page=2013\11\25\story_25-11-2013_pg7_2
------------
Three killed in Karachi violence; 44 suspects arrested in raids
DAWN.COM
2013-11-25
KARACHI: At least 44 suspects were arrested Monday during a targeted operation in Karachi whereas three people were killed in different incidents of violence in the city, DawnNews reported.
A couple was killed when unknown gunmen opened fire on them near Saleem Centre in Karachi's North Nazimabad area. The victims, hailing from Surjani Town's Khuda ki Basti, were identified as Munir Hussain and Razia respectively. The motive of the killings has not been ascertained as yet.
Full report at:
http://www.dawn.com/news/1058465/three-killed-in-karachi-violence-44-suspects-arrested-in-raids
------------
Lyari clashes: Three killed in encounters with police, Rangers
November 25, 2013
KARACHI: Two gang members of the Peoples Amn Committee (PAC), which is led by Uzair Baloch, were gunned down in the city on Monday.
The police and Rangers carried out a joint operation in the Chakiwara area of Lyari on a tip-off, according to police. The gang members opened fire at the law enforcing personnel as they approached their hideout.
After a brief encounter, two members of PAC were killed. They were identified as 30-year-old Ejaz and 35-year-old Dilshad.
Their bodies were shifted to Civil Hospital Karachi for medico-legal formalities. Both men were wanted by police in several criminal cases.
Full report at:
http://tribune.com.pk/story/636779/lyari-clashes-three-killed-in-encounters-with-police-rangers/
------------
US and CIA to be nominated in Hangu drone strike FIR: PTI
November 25, 2013
PESHAWAR: Pakistan Tehreek-e-Insaf (PTI) has requested the Khyber-Pakhtunkhwa (K-P) police to nominate US and the Central Intelligence Agency (CIA) in the First Information Report (FIR) filed on November 22, Express News reported on Monday.
The request was given to K-P Inspector General (IG) Nasir Khan Durrani by PTI Central Secretary Legal Affair's Barrister Suleman Afridi.
An FIR of the Hangu drone strike, which killed six persons including a Taliban commander, was filed against unidentified persons in Hangu on November 22. This is the first FIR of its kind in Pakistan.
Full report at:
http://tribune.com.pk/story/636798/us-and-cia-to-be-nominated-in-hangu-drone-strike-fir-pti/
------------
South Asia
Tiananmen attack a 'jihadi operation': Islamist group
25 November 2013
The Turkestan Islamic Party (TIP), a terrorist group known to have links to Pakistan-based outfits and blamed for recent violence in China's far-western Xinjiang region, has released a video describing last month's attack in Tiananmen Square as a "jihadi operation" and threatened to carry out further attacks on high-profile targets in the Chinese capital.
The TIP released a video in the Uighur language — spoken by the ethnic Uighur Muslim minority group native to Xinjiang — featuring a speech by leader Abdullah Mansour, who has appeared in a number of similar videos in recent years.
According to the SITE intelligence and monitoring service, Mansour, in the video, termed the October 28, 2013 incident in Tiananmen Square — where a jeep carrying three Uighurs crashed into a crowd and burst into flames killing two tourists and injuring 40 people — "a jihadi operation by holy warriors".
Full report at:
http://www.thehindu.com/news/international/world/tiananmen-attack-a-jihadi-operation-islamist-group/article5386937.ece
------------
Maldivian terror alert spurs coastal security review
Harinder Baweja
25 November 2013
Five years after Ajmal Kasab and nine other Lashkar-e-Taiba terrorists sneaked into Mumbai via sea from Karachi and wreaked the havoc of 26/11, a Maldivian alert has prompted an intense coastal security review.
A few months ago, the Maldivian government shared precise information that they had arrested eight of their citizens lined up by the Lashkar to mount a terror attack in
India. What's more, the Lashkar had trained three of these eight recruits in Pakistan.
"The Maldivians passed on information that eight of their nationals had been tasked to go to India via the sea route and land in a South Indian city for a spectacular attack," a senior home ministry official told HT. "There are other inputs indicating that the Lashkar is planning a big strike."
Full report at:
http://www.hindustantimes.com/india-news/maldivian-terror-alert-spurs-coastal-security-review/article1-1155302.aspx
-----------
All-party government to ensure fair poll: PM
25 November 2013
Prime Minister Sheikh Hasina today reiterated her call to the main opposition party to join the all-party poll-time government so that no confusion arises about the fairness of the next election. Saying that her invitation in this regard is still open, the Prime Minister said: "I have invited all to join the poll-time government as we have no intention to rig the vote, which we have been proven over the last five years in all local and national elections." She said this while inaugurating the newly constructed building of the Dhaka Bar Association and laying the foundation stone for the Chief Judicial Magistrate Building on Dhaka Court premises. "The country's democratic process was disrupted most of the time during transfer of power after 1975.
Full report at:
http://www.dhakatribune.com/politics/2013/nov/25/all-party-government-ensure-fair-poll-pm#sthash.lMu116El.dpuf
------------
Hefazat-e-Islam plans Dhaka 'grand' rally on Dec 24
25 November 2013
Hefazat-e-Islam on Sunday announced a plan to hold a grand rally on December 24 at the Shapla Chattar in Dhaka to press for implementation of its controversial 13-point demand and protest the publication of a caricature of its chief, Shah Ahmed Shafi. "Posters are being pasted at different parts of the country containing a defamatory caricature of Hefazat's ameer with the 18-party alliance leader," Junaid Babunagari, secretary general of the Chittagong-based Islamist group, told a press conference at Hathazari on Sunday. Reading from a written statement, Babunagari said Hefazat would hold a "grand rally" in the capital on December 24 to demand exemplary punishment for the persons responsible for the caricature, as well as the implementation of its demands that include scraping the National Women Development Policy and banning mixing of men and women in public. "We are not the opponent of the government.
Full report at:
http://www.dhakatribune.com/bangladesh/2013/nov/25/hefazat-plans-dhaka-%E2%80%98grand%E2%80%99-rally-dec-24#sthash.ufzag1aR.dpuf
------------
Southeast Asia
Umno willing to talk to PAS on Islamic administration, says Najib
BY LEE SHI-IAN
NOVEMBER 25, 2013
Umno is willing to sit down with PAS on the issue of implementing an administration that is based on Islam in the country, says Prime Minister Datuk Seri Najib Razak.
"We are willing to hold discussions with PAS but we need to know what is the scope of discussions," Najib said today, adding that Umno needed to know what PAS was seeking.
He said at a press conference in the Seri Pacific Hotel in Kuala Lumpur that he had received a letter from Kelantan Menteri Besar Datuk Ahmad Yaakob requesting a meeting.
"I will be meeting with Ahmad soon because he requested it," Najib said, declining to elaborate further.
Full report at:
http://www.themalaysianinsider.com/malaysia/article/umno-willing-to-talk-to-pas-on-islamic-administration-says-najib
-----------
Dutch PM Visit to Indonesia Yields 'Concrete Results'
25 November 2013
As many as 21 agreements worth millions of dollars have been signed between Indonesian and Dutch companies in various sectors during the visit of the Dutch Prime Minister Mark Rutte to Jakarta last week.
Retno LP Marsudi, the Indonesian ambassador to the Netherlands, described the visit as "a big success" in term of the acceptance of the visit by the Indonesian public and results that were achieved.
"We have achieved so many concrete results during the visit," she said.
The two governments signed several agreements to bring the relations to a new era, with President Susilo Bambang Yudhoyono praising Indonesia-Dutch relations as providing concrete solutions to Indonesian problems while Rutte describing the bilateral cooperation being very beneficial to both nations after their meeting on Nov. 20.
Full report at:
http://www.thejakartaglobe.com/news/dutch-pm-visit-to-jakarta-successful/
-----------
India
Pakistan should give maximum punishment to 26/11 attackers: Antony
Nov 25, 2013
India will not be satisfied till Pakistan gives maximum punishment to the perpetrators of 26/11 Mumbai attack, Defence Minister A.K. Antony said on Monday.
Coastal security was "very weak" before the terror attack in Mumbai in 2008 but now it was "vibrant" and "strong", Mr. Antony told reporters on the sidelines of an awards function in New Delhi.
"Before 26/11, coastal security apparatus was very weak but now we have been able to establish a vibrant and strong coastal security," Mr. Antony said.
He said coordination with other stakeholders involved in coastal security has also improved.
Asked about lack of firm action on part of Pakistan against those responsible for the attack that left 166 people dead, Mr. Antony said the perpetrators should be brought to book.
"They (Pakistan) should book the culprits and unless they are given maximum punishment, I don't think our nation will be satisfied," Mr. Antony said.
Full report at:
http://www.thehindu.com/news/national/pakistan-should-give-maximum-punishment-to-2611-attackers-antony/article5390024.ece
---------
'India-Iran talks create new atmosphere for Peace Pipeline via Pakistan'
SANDEEP DIKSHIT
Geneva Round will bring Iran into the Afghanistan game, say officials
When they hold their next Foreign Office consultations on Monday, India and Iran will review the same list of issues in new circumstances brought about by the promise of easing U.S. sanctions.
"Relations with Iran have been held up due to the U.S. sanctions. The talks have created a new atmosphere for the Peace Pipeline via Pakistan," says Chintamani Mahapatra of the School of International Studies, Jawaharlal Nehru University.
Despite India having walked away from talks on the Iran-Pakistan-India (IPI) Peace Pipeline citing security concerns, Iranian Deputy Minister for International and Commercial affairs Ali Majedi on Saturday expected New Delhi to overcome its doubts and join the project.
Full report at:
http://www.thehindu.com/news/national/indiairan-talks-create-new-atmosphere-for-peace-pipeline-via-pakistan/article5387963.ece
------------
Deal will boost New Delhi's energy ties with Tehran
SANDEEP DIKSHIT
Nov 25, 2013
India's first major engagement with Iran after it struck a deal with six world powers on its nuclear programme will take place here on Monday.
Foreign Secretary Sujatha Singh will review with Iran's Deputy Foreign Minister Ibrahim Rahimpur the extensive list of India-Iran cooperative projects that have been put on hold because of the U.S. sanctions. Iran will look to get a windfall of more than $6 billion from its oil sales to India because the sanctions had cut off bank transfers. In the longer term, government officials, analysts and academics are anticipating gains in geopolitics, energy and trade transport.
Full report at:
http://www.thehindu.com/news/national/deal-will-boost-new-delhis-energy-ties-with-tehran/article5387040.ece
------------
J&K govt committed to give minority status to Sikhs
TNN | Nov 24, 2013
SRINAGAR: Jammu & Kashmir government on Sunday said it was committed to provide minority status to the Sikh community living in the state.
"The government is committed to provide minority status to Sikh community and all effort will be made to fulfil their aspirations," said Raman Bhalla, state minister for horticulture.
He was addressing a gathering at Baramulla, 55km from here.
The meeting was called to look into the problems being faced by the community, an official spokesman said.
http://timesofindia.indiatimes.com/india/JK-govt-committed-to-give-minority-status-to-Sikhs/articleshow/26322670.cms
----------
URL: https://newageislam.com/islamic-world-news/palestine-proposes-new-geneva-moscow/d/34585