New Age Islam News Bureau
30 Oct 2016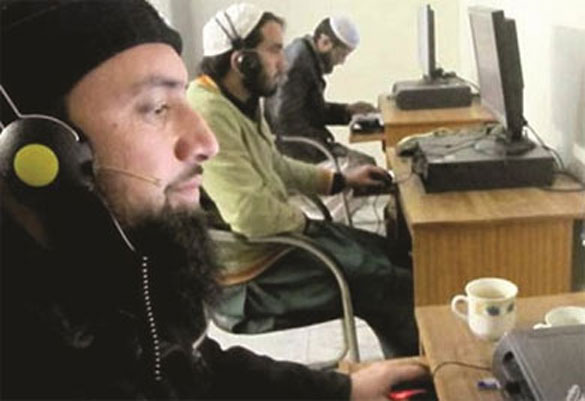 A teacher at an online Islamic teaching centre in Islamabad helps a student from United States read the Qur'an over Skype last month. Photo courtesy: Washington Post
---------
• Pakistan's Online Seminaries Teach Qur'an to a Global Classroom
• Jeish Al-Fatah Leader Admits Receiving Financial, Military Aid from S. Arabia
Pakistan
• Pakistan's Online Seminaries Teach Qur'an to a Global Classroom
• Five Killed In Firing on Shia Muslim Gathering In Karachi
• Nawaz Sharif sacks minister over 'leaked' news report on govt-army rift
• Islamic banking in Pakistan gets new concessions
• Five Kalashnikovs recovered from PTI leader's car outside Bani Gala
-----
Arab World
• Jeish Al-Fatah Leader Admits Receiving Financial, Military Aid from S. Arabia
• Shiite Militias Join the Battle to Take Mosul
• Syria: Over 1,500 Terrorists Killed, Wounded in Failed Attacks on Gov't Positions in Aleppo
• Saudi-Led Raid Kills 60 at Yemen Security Site, Prison: Official
• US-Backed Militants Kill over 16,000 Syrian people since Feb. 2016
• Yemen's Hadi Rejects UN Peace Plan amid Deadly Raids
• Air strike kills 17 in Yemen, exiled president rejects peace plan
• FO concerned over Houthi missile attack
• Drone halts traffic at Dubai international airport
• SDF Spokesman: No Military Aid Received from US-Led Coalition to Free Raqqa
• Syrian Army Preparing for Large-Scale Operation to Liberate ISIL-Held Raqqa
• Fatah Al-Sham Collaborating with Ankara-Affiliated Militants to Attack Eastern Tal Rafat
• Syrian Analyst: US Not Able to Enter Raqqa Battle
• Senior Analyst Stresses Need for Unity of Iraqi, Syrian Armies in Anti-ISIL Fight
• Syrian Army Ready to Dispatch More Fresh Soldiers to Aleppo Battlefields
• Damascus: Militants in More Towns Seeking to Join Peace Plan with Syrian Gov't
• Terrorists Sustain Heavy Losses in Army Offensive in Homs Province
• Security Source: US Sending Arms Cargo to ISIL in Iraq's Diyala
• Top Islamic body condemns alleged Houthi Mecca-bound missile attack
• Liberals' blind faith: The silence on the misogyny in the Muslim world is deafening
-----
India
• Pakistan Espionage Racket: With 'Pizza' & 'Burger', Spies Baked Sinister Plot
• Muslim Women Feel Secure Under Sharia Law, Claims All-India Muslim Personal Law Board
• NIA may question Pakistani IS man held in Europe on 26/11 links
• Army destroys 4 Pakistani posts in massive assault, inflicts heavy casualties
-----
Mideast
• Tal Afar a 'Sensitive Target' Amid Reports of Shiite Offensive: Erdoğan
• Capital Punishment Soon If Parliament Approves It, Erdoğan Tells Crowd in Ankara
• Iran urges EU for banking coop. regardless of US
• Çavuşoğlu, Kerry discuss US decision to remove families of diplomats from Istanbul
• Turkish main opposition deputy CHP leader shot wounded
• Turkey sacks 10,000 more civil servants, shuts more media in coup attempt aftermath
• Turkey aims to triple market share of Islamic finance
• Three soldiers killed in PKK attack in eastern Turkey
• Turkish military destroys ISIL, PKK/PYD targets in northern Syria
-----
South Asia
• 25 Taliban Insurgents Killed an Airstrike in East of Afghanistan
• Huge Weapons Cache Including 54 BM-21 Rockets Discovered In Helmand
• Taliban mortar kills 7 a family in Baghlan province of Afghanistan
• Suicide attack foiled on a police station in Kandahar city
• Kabul Explosion: 2 insurgents blown by own explosives
----
North America
• In The Era Of Trump, Islamic Relief Volunteers Are Ambassadors For Muslim America
• Islamic State claims responsibility for attack outside U.S. embassy in Nairobi
• Will an India-Pakistan offspring torpedo Hillary Clinton's hope?
------
Africa
• Two Suicide Bombers Kill At Least 8 in Northeast Nigeria's Maiduguri
• Egyptians enraged over Islamic bloc leader's Sisi joke
• Ten bodies bearing signs of torture found in Libya's Benghazi: Official
-----
Europe
• Islamic State Claims Responsibility for Fatal Stabbing In Hamburg
• People think that everyone in Molenbeek is in Islamic State. But I let football do my talking'
-----
Southeast Asia
• Halal has nothing to do with names and posters, says Perak Mufti
-----
Compiled by New Age Islam News Bureau
URL: https://www.newageislam.com/islamic-world-news/new-age-islam-news-bureau/pakistan's-online-seminaries-teach-qur'an-to-a-global-classroom/d/108955
------
Pakistan's Online Seminaries Teach Qur'an to a Global Classroom
October 29 2016
A teacher at an online Islamic teaching centre in Islamabad helps a student from United States read the Qur'an over Skype last month. Photo courtesy: Washington Post
A pin-drop silence engulfs Chandni Chowk square in the Pakistani garrison city of Rawalpindi around midnight.
Only the sounds of passing cars and howling stray dogs still punctuate the air as shopkeepers and vendors wrap up business following a long day.
A few dozen motorbikes roar past as young, bearded men ride to their overnight jobs.
The men are teachers at online seminaries established in recent years which teach Islam to people in the US and Europe through web-based platforms like Skype.
"This is a source of income for me as well as a holy duty of spreading Islam," says Yasir Haroon, walking up a dark stairway of a multi-storey building to reach his office.
Haroon has been running a Skype seminary, also known as a madrasa, for three years from a small apartment.
Students from the US, Britain, France and the Netherlands study with him.
He has hired seven teachers, all graduates of Pakistani madrasas, to teach students how to read the Qur'an in Arabic and to explain its meaning along with basic Islamic principles.
"People in the West are interested in Islam," Haroon explains, as the other teachers begin their daily lessons on Skype. "We have experienced an increase in demand."
"This is how you should read this," a teacher instructs his student, reciting a Qur'an verse after asking the young man on the other end to follow him.
Islamic centres in Western countries help madrasas enroll students, or simple online searches can also be used to make the connection, Haroon adds.
Students, mostly children from expat families from Pakistan, India and Bangladesh, take lessons individually or in small groups for up to half an hour a day.
Neither the government nor the federations which control conventional madrasas know exactly how many online seminaries there are in Pakistan.
"You can't keep a tab on them," says Amir Tuaseen, the head of the Pakistan Madrasa Education Board (PMEB). "All that you need is a computer and a Skype ID."
"The number is very high...in the thousands," guesses Imran Jamshed, who runs a seminary in the same city.
Online seminaries are operating not only in Pakistan but also in India and Bangladesh, Jamshed says.
Apart from markets like the US, Canada and Europe, the madrasas are also venturing into places like China and South Africa, says Maulana Rehmat Niaz, the owner of another seminary.
Niaz runs a seminary in the north-western town of Mansehra, and a number of Chinese Uighur Muslims have enrolled.
The Chinese government suspects that the East Turkistan Islamic Movement (ETIM), a group of Uighur Muslims from the north-western province of Xinjiang, is involved in terrorism and that its members have trained with Al Qaeda in the tribal regions of Pakistan.
However, there is no evidence of links between ETIM and students enrolled at Pakistan's online madrasas.
Western citizens who convert to Islam also study the Qur'an and Islam at these madrasas, Jamshed adds, but those scenarios were rare.
A German mother and two of her teenage daughters recently enrolled with a seminary in Rawalpindi after they converted to Islam, Jamshed recalls.
"There aren't enough mosques or Islamic centres in the US and Europe," he says. "Muslims want their kids to learn the Qur'an and understand Islam and we provide what they need."
There are around 20,000 conventional Islamic seminaries in Pakistan, teaching nearly two-and-a-half million students, according to PMEB.
Some of the madrasas have been linked to insurgent Taliban militants, according to the government.
Officials launched a push to streamline the seminaries under a programme called the National Action Plan, after Taliban militants killed nearly 150 school children in December 2014.
But these efforts met with failure, Tuaseen said.
"We haven't been able to control regular madrassas so far," Tuaseen says. "Forget about the ones that operate online."
gulf-times.com/story/519215/Pakistan-s-online-seminaries-teach-Qur-an-to-a-glo
-----
Jeish Al-Fatah Leader Admits Receiving Financial, Military Aid from S. Arabia
October 30th, 2016
TEHRAN (FNA)- Abdullah Muhammad al-Muhaysini, a senior al Qaeda-linked cleric and the religious leader of Jeish al-Fatah terrorist group, admitted that the militants in Syria have received financial and military aid from Saudi Arabia and certain other Persian Gulf Arab states.
According to the Syrian dissidents' news website, Enab, Muhaysini has released a video recently in which he appreciated Riyadh and other Arab states for equipping his comrades with missiles.
The Saudi preacher said that the missiles that they have sent would be used to break the Syrian army and its allies' siege of Aleppo.
He also thanked Turkey for supporting the terrorists and treating the wounded militants in its hospitals.
Jeish al-Fatah is a conglomerate of terrorist groups with Al-Nusra (Fatah Al-Sham) Front comprising its main body.
In relevant remarks in June, a source said that Saudi Arabia has sent new cargoes of weapons and financial aid to the terrorists in Aleppo in Northern Syria to strengthen them against the Syrian army and its allies' fresh attacks.
"The Saudi regime has recently sent small arms and new equipment, including 5 drones, to the terrorists in Syria," the source said.
To this end, Riyadh has sent one of its ranking officers to the regions controlled by terrorists in Northern Aleppo to supply them with money and arms to intensify attacks and open new fronts against the Syrian army and popular forces, the source added.
Also, a prominent Syrian military analyst said earlier this month that the terrorists in Aleppo take orders from outside and don't dare to leave the city in anticipation of punishment by Saudi Arabia and Turkey.
"Violation of the ceasefire by the terrorists and their opposition to the evacuation of Aleppo is of no surprise as they are not the ones in charge of the decision-making for remaining or leaving the city, rather they take orders from the regional and international sides for whom they are working," Turki Hassan told FNA last Saturday.
Noting that the main cause of the terrorists' stubborn stay in Aleppo is that leaders of Fatah al-Sham (formerly known as al-Nusra) Front and Ahrar al-Sham are afraid of punishment by their Qatari, Saudi and Turkish masters, he said, "If they move in defiance of their Qatari, Saudi and Turkish lords, they might be killed and their properties be seized."
http://en.farsnews.com/newstext.aspx?nn=13950808000533
------
Pakistan
Five Killed In Firing on Shia Muslim Gathering In Karachi
TNN & Agencies | Updated: Oct 29, 2016
NEW DELHI: Five people including a woman were killed, and several others wounded, after gunmen fired at a religious gathering of Shia Muslims on Saturday in Karachi's Nazimabad area, reports said.
Sunni militant group Lashkar-e-Jhangvi's Al Alami faction, which targets Shia Muslims and Pakistani security forces, has claimed responsibility for the attack, Reuters reported.
The shooting occurred despite security agencies and law enforcement agencies being on high alert during the month of Muharram.
"Four men wearing helmets and riding on motorcycles came to the house where the religious gathering was taking place in the month of Muharram and they opened indiscriminate firing on the people standing at the gate," a senior police official said.
SSP West, Nasir Aftab told the media that the residents of the house had not sought security for having the private Majlis.
"The police was not informed about this religious gathering and there was no security," he said.
Ironically, the house outside which the firing took place is located in a lane just behind the Nazimabad police station. It is also close to a Rangers checkpoint.
The victims of the attack, as well as those injured, have been taken to the Abbasi Shaheed Hospital, and Murad Shah Ali, the Chief Minister of Sindh province, has ordered police to arrest the shooters, Pakistani media reports said.
This attack comes just days after the Lashkar-e-Jhangvi's Al Alami faction - in conjunction with the Islamic State - killed more than 60 police cadets on Monday in Quetta, the capital of Balochistan province.
Inputs from agencies
http://timesofindia.indiatimes.com/world/pakistan/Five-killed-in-firing-on-Shia-Muslim-gathering-in-Karachi/articleshow/55132428.cms
------
Nawaz Sharif sacks minister over 'leaked' news report on govt-army rift
PTI | Updated: Oct 29, 2016
LAHORE: Pakistan Prime Minister Nawaz Sharif on Saturday sacked his information minister Pervaiz Rashid over the recent "leaked" media report+ about a rift between the civilian and military leaderships on support to militancy.
The Prime Minister's spokesman Musadiq Malik confirmed that "initial evidence" was against Rashid in the leak of sensitive information of a high profile national security meeting.
"Investigation into controversial story is in the final stage and it will be shared with media in a couple of days. Who was responsible for the leakage of sensitive information to the Dawn reporter will be known soon," Malik said adding "investigation is still underway".
Rashid is a close aide of Prime Minister Nawaz Sharif and reports suggest that the anti-army information could not have been leaked to the media without his consent.
PTI leader Imran Khan+ welcomed the ouster of Rashid saying a "darbari" (courtier) of Sharif had gone and others would go soon as well.
In another development, defence minister Khawaja Asif left for Dubai along with his family at a time when Khan's Pakistan Tehreek-i-Insaf has said it will lock down Islamabad on November 2 to protest against Sharif over corruption allegations.
A rift between the civilian and military leaderships on the powerful ISI's covert support to terror groups in the country was the subject of a news report in The Dawn newspaper.
The widely read daily stood by the story issued on October 6, saying it was "verified, cross-checked and fact-checked".
A travel ban on Cyril Almeida+ , the journalist who wrote the story, had sparked massive criticism of the government and the military from media houses, journalist associations and civil society.
Almeida's name was put on the Exit Control List but the ban was later lifted after the backlash against the government+ .
Later the government constituted a committee to investigate the matter.
timesofindia.indiatimes.com/world/pakistan/Pakistan-government-sacks-minister-over-news-report-on-rift-with-army/articleshow/55132095.cms
-----
Islamic Banking in Pakistan Gets New Concessions
M Aftab/Islamabad
Filed on October 29, 2016
Central bank exempts them from using benchmarks deployed by conventional banks to work out pricing of products and instruments
Islamic banking in Pakistan will sustain fast track growth with new concessions announced last week.
The State Bank of Pakistan (SBP), the central bank, has exempted Islamic banks from using the benchmarks deployed by conventional banks to work out the pricing of their products and instruments. The announcement said it has been decided that the financing provided on the basis of participatory 'Musharakah' and 'Mudaraba' and 'Wakalah' (agency) modes by the Islamic banking institutions shall be exempted from the requirement of using Karachi interbank offer rate (Kibor), as the benchmark rate.
The SBP had in 2004 advised all commercial banks in Pakistan to deploy Kibor as the bench mark rate - like London inter bank offer rate (Libor).
"The Islamic banks desirous to avail of this exemption need to take measures to mitigate equity investment risk in participatory mode-based products," the SBP notification said, adding that "for 'Mudarabah' and 'Musharakah' products, Islamic banking institutions should ensure compliance with minimum Shariah requirement."
For 'Wakalah'-based products, IBIs should use Arabic version of Accounting and Auditing Organisation for Islamic Financial Institutions Shariah Standard No. 23 on agency as a guideline in consultation with their Shariah board.
The Islamic banks will also have to submit details of Mudarbah, Musharkah and Wakalah-based products for de-linking with Kibor benchmark to SBP's Islamic banking department. The IBIs shall comply with all other regulatory and Shariah-related instruction issued by the SBP from time to time.
"The above instructions shall be applicable with immediate effect. All other instructions on the subject shall remain the same," the SBP said.
Such decisions and concessions offered by the SBP are helping the Islamic banking sector to move ahead on a fast track. This is proved by the latest growth statistics of this sector. Islamic banking has by now moved to carve its market share in a big way. The announcement said the SBP and the government are keen to promote the Islamic banking industry which is in its evolutionary stage.
For instances, its share of banking assets is now as high as 11.4 per cent of the overall banking industry. At the same time, its share of the deposits has risen to 13.2 per cent, as of June 30, 2016, the SBP reported last week. Islamic banking growth was recorded at 7.4 per cent in the April-June quarter of the calendar year 2016. The sector's assets rose to a whopping Rs1.745 trillion in this period. Meanwhile, its deposits have risen to Rs1.461 trillion.
The number of IBIs has risen to 22. It includes six full-fledged Islamic banks, while conventional banks now have standalone bank branches. The branch network is growing fast and has gone up to 2,146 branches located in 98 districts across Pakistan, as of June 30 this year.
In order to realise the size and volume of Islamic banking, one should go back to 2003. Its total deposits then were as little as 0.4 per cent of the deposits of the entire banking sector. But the growth has also raised more demands on the sector, such as lending to the farm sector and small and medium enterprises, which need huge amounts of cash for new investment, upgradation of units and working capital.
What will ensure the fast growth of the Islamic financial system in a big way is the fact that the powerful business community, which is habitually used to conventional banking, is hugely supporting it.
Shaikh Khalid Tawab, senior vice-president of the Federation of Pakistan Chambers of Commerce & Industry, said Islamic banking is the need of the hour because it is risk-sharing and asset-backed. It remains unaffected by periodic global financial crises.
Tawab applauded the role of the SBP in promoting Islamic banking and launching the Islamic Share Index, and laying down the policy framework for establishment of Islamic banking subsidiaries in Pakistan. He proposed that steps should be taken to improve the returns provided by Islamic banks to depositors. He also mentioned that foreign banks in Pakistan have started operating Islamic windows.
The writer is based in Islamabad. Views expressed are his own and do not reflect the newspaper's policy.
khaleejtimes.com/international/pakistan/islamic-banking-in-pakistan-gets-new-concessions
----------
Five Kalashnikovs recovered from PTI leader's car outside Bani Gala
October 30th, 2016
Islamabad police on Sunday said they recovered five Kalashnikov rifles, a pistol, six magazines, a bulletproof vest, alcohol and three tear gas shells from PTI leader Amin Gandapur's car outside Bani Gala.
Khyber Pakhtunkhwa Revenue Minister Amin Gandapur's car was stopped at a checkpost and searched. The car was impounded and Gandapur's driver was detained by police, DawnNews reported. Police, however, let Gandapur go.
Gandapur rejected police claims, saying he was travelling with two licensed Kalashnikovs, and that there was a license present in the car. Police recovered the license, he claimed, adding that the police let him go.
Police recover weapons, alcohol from Amin Gandapur's car.
Emotions run high as PTI supporters head towards Bani Gala despite police preventing people from making their way to the area.
Police arrested over 100 PTI protesters trying to reach party chief Imran Khan's Bani Gala residence in Islamabad's Rukhsana Bangash Road area, DawnNews reported. Police also baton-charged protesters in the Pakistan Chowk area.
PTI Chairman Imran Khan speaking to the press on Sunday urged party workers to reach Bani Gala even if they had to climb mountains to do so. Protesters will then move onto Islamabad on Nov 2 for the party's planned 'lockdown' of the capital, he said.
Police attempted to prevent protesters from trying to reach Bani Gala via lesser-known unpaved routes running through the wilderness by surrounding them on all sides. Protesters began stoning police and setting fires in the wilderness, after which police resorted to tear gas shelling.
A contingent of police led by Senior Superintendent Police Operations Sajid Kiyani used tear gas against protesters who were stoning them. Tear gas shelling has now subsided and workers armed with sticks are waiting for a signal on how to proceed.
As police plan a comprehensive operation in Bani Gala, reports claim that only officials and MNAs are being let into the area. Residents are also being let in after showing ID cards, but workers are not being allowed to get in.
Television footage showed a female worker face-to-face with police. "Check my bag, there is no security issue ─ I am a Pakistani," she said. "I will go inside at any cost."
Two police check posts have been set up to monitor the situation ─ one at Bani Gala and the second at Insaf House, DawnNews reported.
Protesters set fire in wilderness near Bani Gala.
Shireen Mazari stopped by police
PTI leader Shireen Mazari speaking to journalists said police tried to stop her from reaching Bani Gala.
"It is our democratic right," she said, to go to Bani Gala. "We will come to Bani Gala every day, leave at night and then return the next morning."
Addressing the prime minister, Mazari said she did not expect that Nawaz Sharif, Shahbaz Sharif or Interior Minister Chaudhry Nisar would allow their fellow MNAs to be "tortured by police".
"The more you harass us, the more we will be committed to our cause," she said.
'PTI has a plan'
PTI's Ali Zaidi speaking to Dawn.com claimed police had surrounded the area around Bani Gala and were "not letting food, water or people come here."
"We have invited all PTI workers from across the country to Bani Gala and then we will reach Islamabad on Nov 2. We have a plan and a strategy," Zaidi said.
Although the government has closed roads near Attock, no other roads in the province have been blocked 'completely', according to Punjab Law Minister Rana Sanaullah. Snap-checking of those heading towards Islamabad is being carried out.
The provincial government has also imposed Section 144, banning public gatherings across Punjab until Nov 8.
Uncertainty grips PTI workers
Three days before Imran Khan's plan to siege Islamabad, confusion prevails in the party about the venue where workers will assemble.
A senior PTI leader earlier told Dawn there is no coordination between the leadership and the workers and the latter have to go to the Banigala mansion of Imran Khan to get information. Workers have also been asked to watch private TV channels to get updates on the situation.
PTI Spokesman Naeemul Haq told Dawn earlier, "The problem is the government is taking action against the workers and it will be difficult for the workers to gather at one point on November 2. The workers will be asked to gather at the point where the police would stop them from entering Islamabad."
PTI 'lockdown'
The party has announced a 'lockdown' of the capital on Nov 2 if Prime Minister Nawaz Sharif doesn't agree to an investigation into the Panama Papers leaks under the terms of reference proposed by the opposition or resigns from his position.
However, the PTI has apparently offered the government a way out of the prevailing crisis, suggesting that it enact legislation to constitute a judicial commission to probe the Panamagate scandal before Nov 2.
PTI Vice-Chairman Shah Mehmood Qureshi on Saturday told Dawn the government still has time to prevent the situation from worsening by convening sessions of the National Assembly and the Senate in order to pass the opposition-sponsored bill on the Panama Papers leak.
"If the government is serious, it can even promulgate an ordinance for the constitution of an inquiry commission under the terms of reference (ToR) unanimously presented by all opposition parties," Qureshi said.
dawn.com/news/1293221/five-kalashnikovs-recovered-from-pti-leaders-car-outside-bani-gala
------
Arab World
Shiite Militias Join the Battle to Take Mosul
AP | Oct 30, 2016
SHURA: State-sanctioned Shiite militias joined Iraq's Mosul offensive on Saturday with a pre-dawn assault to the west, where they hope to complete the encirclement of the Islamic State-held city and sever supply lines from neighbouring Syria.
Other Iraqi forces aided by US-led airstrikes and heavy artillery meanwhile drove IS from the town of Shura, south of Mosul, where the militants had rounded up civilians to be used as human shields.
The twin thrusts come nearly two weeks into the offensive to retake Iraq's second largest city, but most of the fighting is still taking place in towns and villages far from its outskirts, and the entire operation is expected to take weeks, if not months.
The involvement of the Iranian-backed Shiite militias has raised concerns that the battle for Mosul, a Sunni-majority city, could aggravate sectarian tensions. Rights groups have accused the militias of abuses against civilians in other Sunni areas retaken from IS, accusations the militia leaders deny.
The umbrella group for the militias, known as the Popular Mobilization Units, says they will not enter Mosul itself and will instead focus on retaking Tal Afar, a town to the west that had a Shiite majority before it fell to IS in 2014.
Ahmed al-Assadi, a spokesman for the group, told reporters in Baghdad that the militias had retaken 10 villages since the start of the pre-dawn operation. But there was likely still some fighting underway, and he said forces were removing explosive booby-traps left by IS to slow their advance.
Jaafar al-Husseini, a spokesman for the Hezbollah Brigades, said his group and the other militias had advanced 4 miles (7 kilometers) toward Tal Afar and used anti-tank missiles to destroy three suicide car bombs that were heading toward them.
He said the US-led coalition, which is providing airstrikes and ground support to the Iraqi military and Kurdish forces known as the peshmerga, is not playing any role in the Shiite militias' advance. He said Iranian advisers and Iraqi aircraft were helping them.
Many of the militias were originally formed after the 2003 US-led invasion to battle American forces and Sunni insurgents. They were mobilized again and endorsed by the state when IS swept through northern and central Iraq in 2014.
Iraqi troops approaching Mosul from the south advanced into Shura after a wave of U.S.-led airstrikes and artillery shelling against militant positions inside the town. Commanders said most of the IS fighters withdrew earlier this week with civilians, but that U.S. airstrikes had disrupted the forced march, allowing some civilians to escape.
"After all this shelling, I don't think we will face much resistance," Iraqi army Maj. Gen. Najim al-Jabouri said as the advance got underway. "This is easy, because there are no civilians left," he added.
But hours later, a few families who had hunkered down during the fighting emerged. The government has urged people to remain in their homes, fearing a mass exodus from Mosul, which is still home to more than 1 million people.
By the afternoon, Brig. Gen. Firas Bashar said his forces were clearing explosives and searching for IS fighters in Shura. The sound of artillery still echoed in the distance.
In Baghdad, meanwhile, an IS suicide bomber targeting an aid station for Shiite pilgrims killed at least seven people and wounded more than 20, police and hospital officials said, speaking on condition of anonymity as they were not authorized to brief reporters.
The Sunni extremist group often target Iraq's Shiite majority, which it views as apostates deserving of death.
The Mosul offensive involves more than 25,000 soldiers, Federal Police, Kurdish fighters, Sunni tribesmen and the Shiite militias.
Iraqi forces moving toward the city from several directions have made uneven progress since the offensive began Oct. 17. They are 4 miles (6 kilometers) from the edge of Mosul on the eastern front, where Iraq's Special Forces are leading the charge. But progress has been slower in the south, with Iraqi forces still 20 miles (35 kilometers) from the city.
The UN human rights office said Friday that IS has rounded up tens of thousands of civilians in and around Mosul to use as human shields, and has massacred more than 200 Iraqis in recent days, mainly former members of the security forces.
The militants have carried out mass killings of perceived opponents in the past and boasted about them in grisly photos and videos circulated online. The group is now believed to be cracking down on anyone who could rise up against it, focusing on men with military training or past links to the security forces.
http://timesofindia.indiatimes.com/world/middle-east/Shiite-militias-join-the-battle-to-take-Mosul/articleshow/55136889.cms
------
Syria: Over 1,500 Terrorists Killed, Wounded in Failed Attacks on Gov't Positions in Aleppo
October 30th, 2016
TEHRAN (FNA)- Local media outlets revealed on Sunday that at least 500 militants of Jeish al-Fatah have been killed and 1,000 more wounded in the first phase of their large-scale offensives on government positions in Aleppo codenamed the Great Epic Operation.
The Arabic language al-Mayadeen reported that the Syrian Arm troops and popular forces repelled Jeish al-Fatah's first wave of attacks, killing at least 500 militants and wounding 1,000 more.
"Several commanders from Jeish al-Fatah, Nouralddeen al-Zinki and Fatah al-Sham Front (the al-Qaeda-affiliated terrorist group previously known as the al-Nusra Front) were among the slain militants in Aleppo," the source said.
"At least 5,000 fighters, including scores of suicide attackers, participated in the first day of the terrorists' attacks on government positions in the Western districts of Aleppo," the source added.
"Terrorists also shelled residential areas in the Western districts of Aleppo with hundreds of Grad Missiles," the source went on to say.
Reports also said on Saturday, the military fronts in Western Aleppo witnessed severe clashes between the Syrian army and the terrorist groups for the second consecutive day.
"After heavy clashes with Jeish al-Fatah terrorists who sought to advance in Jam'iyat al-Zahra district, the Syrian army killed and wounded dozens of terrorists and repelled their offensive," the sources said.
Also, military sources reported that the army troops and their allies used artillery and missile fire to repulse the terrorists' attack which had started by blowing up a military vehicle in Jam'iyat al-Zahra district in Western Aleppo.
Also, the Syrian army clashed heavily with Jeish al-Fatah terrorists in Dahiyat al-Assad district in Western Aleppo, the sources added.
Another military source also reported that the army forces targeted the militants' gathering centers in the region with missile and artillery fire.
"The army troops also attacked the terrorists' positions at the Scientific Research Center in Western Aleppo and inflicted tens of casualties on militants," the source said, adding that the Syrian warplanes also heavily pounded the militants' bases in Dahiyat al-Assad and Jam'iyat al-Zahra.
http://en.farsnews.com/newstext.aspx?nn=13950809000525
----------
Saudi-Led Raid Kills 60 at Yemen Security Site, Prison: Official
October 30, 2016
Arab coalition warplanes bombed a security complex near the Yemeni port city of Hodeidah, killing 60 people including inmates of a prison on the site, a regional official, relatives and medical sources said on Sunday.
The prison in the city's al-Zaydiyah district was holding 84 inmates when it was struck three times late on Saturday, Hashem al-Azizi, deputy governor of the Houthi rebel-controlled Hodeidah province of the same name, told Reuters.
Local officials said the site lies within a security complex for the area guarded by Houthi militiamen but that only prison security guards were present during the night-time air strike.
The Saudi-led coalition has been fighting Yemen's armed Houthi movement since March 2015 to try to restore the internationally recognized President Abd-Rabbu Mansour Hadi, who was driven into exile by the Iran-allied group in late 2014.
A Reuters witness at the security complex said the entire building was destroyed and medics pulled about 17 bodies away - many of them missing limbs - while others remained stuck under the rubble.
One of the strikes directly targeted the building, the witness added, bringing it down over the heads of the prisoners, while two others hit the gate of the complex and nearby administration buildings.
A spokesman for the Saudi-led coalition did not immediately respond to a Reuters request for comment.
The air attack was one of the deadliest among thousands of bombings which have largely failed to dislodge the Houthis from the capital Sanaa but have repeatedly hit schools, markets, hospitals and homes, killing many civilians.
HADI REJECTS PEACE PLAN
Rights groups have said the raids may amount to war crimes, but an investigative body set up by the coalition largely defended its methods in an August report which concluded that Houthi rebels regularly deploy to civilian sites.
The Houthis deny this, and a top official in the movement criticized the United Nations and the Saudis' key ally and arms supplier, the United States, for not doing enough to hold the kingdom accountable for its air strikes.
"We condemn the position of the international community and the U.N. for providing cover for the crimes of Saudi Arabia against Yemenis, and they are subject to the wishes of America," Saleh al-Samad said in a statement late on Saturday.
ALSO IN WORLD NEWS
Turkey sacks 10,000 more civil servants, shuts more media in post-coup crackdown
New strong earthquake hits central Italy, buildings collapse
The bombing may signal a renewed uptick in violence a day after Hadi rejected a new U.N. peace proposal to end the turmoil in the impoverished Arabian Peninsula country, saying the deal would only be a path to more war and destruction.
Speaking after meeting U.N. envoy Ismail Ould Cheikh Ahmed in Riyadh, Hadi said the agreement would "reward the rebels and penalize the Yemeni people and legitimacy", according to the government-controlled Saba news agency.
According to a copy of the proposal seen by Reuters, the plan would sideline Hadi and set up a government of less divisive figures.
Hadi's opponents accuse him of commanding only a small support base in Yemen and of being unable to bring its warring factions together given that he invited the Saudi-led coalition to intervene in the civil war.
(Reporting by Mohammed Ghobari; writing by Reem Shamseddine and Noah Browning; editing by William Maclean/Mark Heinrich)
reuters.com/article/us-yemen-security-strike-idUSKCN12U03R
-------
US-Backed Militants Kill Over 16,000 Syrian People since Feb. 2016
October 30th, 2016
TEHRAN (FNA)- More than 16,000 people were killed by Syrian militants from February to September 2016, the Russian Permanent Mission to the United Nations Office and other International Organizations in Geneva said in a statement.
"Russia guaranteed the implementation of the cessation of hostilities by the Syrian government. The US on the other hand was not capable to insure the implementation of the truce by the armed groups," said the statement, Sputnik reported.
"From February to September the militant groups that are supposed to be under the US control committed 2,031 violations of the ceasefire, which claimed the lives of 3,532 military personnel and 12,800 civilians."
Syria has been in a state of war against militants and terror groups since 2011, with government forces fighting the militant groups striving to overthrow President Bashar Assad, as in parallel, Damascus has to counter numerous terror groups, in particular, ISIL and Fatah al-Sham Front (formerly known as al-Nusra Front) terror groups.
http://en.farsnews.com/newstext.aspx?nn=13950809000840
----------
Yemen's Hadi Rejects UN Peace Plan Amid Deadly Raids
October 30th, 2016
ADEN: Yemen's president on Saturday rejected a UN peace proposal for his war-battered country, as rebels said air strikes by his Saudi-led coalition allies killed 17 civilians.
Forces loyal to President Abedrabbo Mansour Hadi's government have been locked since 2014 in deadly battles with Iran-backed Shia Huthi rebels who overran Sanaa late that year. The conflict escalated in March 2015 when Saudi Arabia launched a military campaign to push back the rebels.
The war has left nearly 7,000 people dead, mostly civilians, according to the UN which had been struggling to convince the warring parties to implement a ceasefire and revive a stalled political process.
The latest peace proposal submitted by UN envoy Ismail Ould Cheikh Ahmed was rejected by Hadi who even refused to receive it as he met the mediator in Riyadh.
The contents of the roadmap which the envoy already presented to the rebels on Tuesday have not been made public.
But informed sources say it calls for agreement on naming a new vice president after the rebels withdraw from Sanaa and other cities and hand over heavy weapons to a third party.
Hadi would then transfer power to the vice president who would appoint a new prime minister to form a government in which the north and south of Yemen would have equal representation.
A statement on the government's sabanew.net quoted Hadi as saying the roadmap "only opens a door towards more suffering and war and is not a map for peace".
It cited Hadi as saying the plan "rewards the putschists while punishing the Yemeni people and legitimacy".
It was unclear how Hadi's Arab backers would react to his refusal, especially after a key coalition member, the United Arab Emirates, hailed the proposal on Thursday as a "political solution for the Yemeni crisis".
In August, US Secretary of State John Kerry outlined a similar plan which offered the Huthi rebels participation in government in exchange for an end to violence and a surrender of weapons to a third party.
Gulf states, most of which are members of the coalition, had "agreed unanimously" with that initiative, Kerry said at the time from the Saudi city of Jeddah.
But Saudi Arabia has not commented on the UN envoy's latest proposal and the rebels have yet to respond.
On Saturday, four air strikes hit three residential buildings killing 17 people and wounding seven others in the battleground town of Salo, south-east of third-city Taez, according to rebel-controlled media. There was no immediate comment from the coalition.
Hadi himself resides in Riyadh along with most senior officials while security in second city Aden, where the government had set up temporary headquarters, remains fragile.
Guards in Aden on Saturday thwarted a suicide attack on the central bank, opening fire on the bomber's vehicle and blowing it up before it reached the building, a security official said. The bank has been based in Aden since Hadi last month ordered its relocation from Sanaa, accusing the rebels of running down Yemen's foreign reserves.
The bank's relocation has been a major blow to the rebels, forcing them to halt salary payments to state employees in the large areas of the country they control.
A UN report released in August found that the rebels and their allies were diverting about $100 million a month from the central bank, and that its foreign reserves had dwindled to $1.3 billion from about $4 billion in November 2014.
http://www.dawn.com/news/1293141/yemens-hadi-rejects-un-peace-plan-amid-deadly-raids
----------
Air strike kills 17 in Yemen, exiled president rejects peace plan
Reuters | Oct 29, 2016
SANAA: At least 17 civilians were killed in Yemen's southwestern province of Taiz on Saturday by a Saudi-led coalition air strike that struck a house, local officials and residents said.
The raid targeted a house in the al-Salw district, the sources said, an area of Taiz where Houthi rebels and government forces backed by the coalition are fighting for control. Taiz is Yemen's third largest city with an estimated pre-war population of 300,000.
The Saudi-led coalition has been fighting Houthi rebels and forces loyal to former president Ali Abdullah Saleh, who hold much of the north of Yemen including the capital Sanaa, since March 2015 to try to restore the internationally recognised President Abd-Rabbu Mansour Hadi to power.
The exiled Hadi on Saturday rejected a UN peace proposal to end the turmoil saying the deal would only be a path to more war and destruction.
Speaking after meeting UN envoy Ismail Ould Cheickh Ahmed in Riyadh, Hadi said the agreement would "reward the rebels and penalise the Yemeni people and legitimacy," according to the government-controlled Saba news agency.
According to a copy of the proposal seen by Reuters, the plan would sideline Hadi and set up a government of less divisive figures.
The deal would involve removing Hadi's powerful vice president, Ali Mushin al-Ahmar Ahmar from power and Hadi agreeing to become little more than a figurehead after a Houthi withdrawal from the capital Sanaa.
Hadi fled the armed advance of the Iranian-allied Houthi movement in March 2015 and has been a guest of neighbouring Saudi Arabia ever since.
A UN Security Council resolution a month later recognised him as the legitimate head of state and called on the Houthis to disarm and quit Yemen's main cities. But the Houthis and their allies in Yemen's army have said he will never return.
The conflict in Yemen has killed at least 10,000 people and unleashed one of the world's worst humanitarian crises.
http://timesofindia.indiatimes.com/world/middle-east/Air-strike-kills-17-in-Yemen-exiled-president-rejects-peace-plan/articleshow/55132962.cms
----------
FO concerned over Houthi missile attack
October 30th, 2016
ISLAMABAD: Hours after Saudi Arabia accused Yemen's Houthi rebels of firing a long-range missile towards Makkah, the Foreign Office expressed deep concern over the incident.
"It is a matter of deep concern and anguish for the government and the people of Pakistan that such an attempt had been made to target the holiest place," the FO said in a statement on Saturday.
It expressed the confidence that Saudi Arabia was capable of defending its territory.
"The people of Pakistan stand with the people of Saudi Arabia in the defence of Harmain-al-Sharifain and the territorial integrity of the Kingdom of Saudi Arabia," it added.
http://www.dawn.com/news/1293169/fo-concerned-over-houthi-missile-attack
----------
Drone halts traffic at Dubai international airport
AFP | Updated: Oct 30, 2016
DUBAI: A drone forced Dubai international airport, one of the world's busiest, to halt air traffic for an hour and a half Saturday evening, the third such incident in less than five months.
Air space around the airport was closed from 7:25pm to 8:49pm (1525-1649 GMT) "due to unauthorised drone activity resulting in flight diversions" said operator Dubai Airports.
Dubai Airports stressed in a tweet that safety was its top priority and reminded drone operators that that it is forbidden to fly them within five kilometres (three miles) of any airport.
On September 28 the airport was closed for about half an hour because of an unauthorised drone while on June 12 it was forced to close for more than an hour for the same reason.
UAE authorities have announced their intention to tighten the rules on the purchase and use of drones and the penalties for violating them.
Around 100 airlines fly to more than 260 destinations from Dubai, which is also home to major carrier Emirates.
More than 78 million passengers travelled through the airport last year.
http://timesofindia.indiatimes.com/world/middle-east/Drone-halts-traffic-at-Dubai-international-airport/articleshow/55138452.cms
----------
SDF Spokesman: No Military Aid Received from US-Led Coalition to Free Raqqa
October 30th, 2016
TEHRAN (FNA)- Spokesman of the Syrian Democratic Forces (SDF) Talal Salou blasted the US-led coalition for shrugging off supply of necessary arms and equipment to the Kurdish forces to help them take back the Syrian province of Raqqa from the ISIL.
"The SDF's main goal is liberating Raqqa from the ISIL, which needs arms, logistic support and military supply from the international coalition to suppress the ISIL and free Raqqa," Salou told FNA on Saturday.
"The SDF forces have asked the international coalition for help but received no response yet and the SDF cannot step onto major battle like Raqqa with its meager military possibilities," he added.
Elsewhere, Salou said that the SDF doesn't coordinate its operations in any region with Turkey.
His remarks came after a senior Syrian military expert had warned a few months ago that Washington is trying to save the Takfiri terrorists in Raqqa province by delaying the Kurdish forces' military operations against the terrorist groups there.
"The main reason for the US' insistence on finding a political solution to the Syrian crisis is to shun coordination with Russia to combat the terrorist groups," Syrian Army's Retired Colonel Elias Ebrahim told FNA.
He reiterated that the US has deceived Syrian Kurdish fighters by rendering ineffective assistance to them. "This has taken place with the aim of delaying the Kurdish fighters' attacks on Raqqa while the Kurdish fighters are behind the Raqqa gates."
Meantime, Abdullah Muhammad al-Muhaysini, a senior al Qaeda-linked cleric and the religious leader of Jeish al-Fatah terrorist group, admitted that the militants in Syria have received financial and military aid from Saudi Arabia and certain other Persian Gulf Arab states.
According to the Syrian dissidents' news website, Enab, Muhaysini has released a video recently in which he appreciated Riyadh and other Arab states for equipping his comrades with missiles.
The Saudi preacher said that the missiles that they have sent would be used to break the Syrian army and its allies' siege of Aleppo.
He also thanked Turkey for supporting the terrorists and treating the wounded militants in its hospitals.
Jeish al-Fatah is a conglomerate of terrorist groups with Al-Nusra (Fatah Al-Sham) Front comprising its main body.
http://en.farsnews.com/newstext.aspx?nn=13950808000817
----------
Syrian Army Preparing for Large-Scale Operation to Liberate ISIL-Held Raqqa
October 30th, 2016
TEHRAN (FNA)- Syrian Army's Special Forces are getting ready to capture the ISIL-held town of Deir Hafer in Eastern Aleppo to pave the ground for the start of a large-scale offensive to free Raqqa city, the capital of ISIL's self-proclaimed capital in Syria, informed sources disclosed on Saturday.
"Syrian army's Desert Hawks Brigade, who arrived in Aleppo a couple of days ago will soon take part in an operation to liberate Deir Hafer in Eastern Aleppo near the border with Raqqa province," the sources said.
"The Kurdish-led Syrian Democratic Forces (SDF) are also to storm the ISIL-held al-Bab in Northeastern Aleppo," they added.
"After the recapture of al-Bab and Deir Hafer, the Syrian government forces will hit ISIL's defense lines in Raqqa," the sources pointed out.
"Simultaneous anti-ISIL operations in Syria's Raqqa and in Iraq's Mosul will decrease the defense abilities of ISIL and will ease the capture of the terrorist group's capitals in Syria and Iraq," they added.
Military sources disclosed on Wednesday that experienced commandoes of Desert Hawks Brigade arrived in Aleppo city to join a large-scale battle against the terrorist groups in the region,
"The Syrian Special Forces, also known as Liwa Suqour al-Sahra, are also experienced in street battle," the sources said, adding, "The Brigade will lead the operation of government forces to drive Jeish al-Fatah out of Aleppo city and its outskirts in the next few days."
http://en.farsnews.com/newstext.aspx?nn=13950808000439
----------
Fatah Al-Sham Collaborating with Ankara-Affiliated Militants to Attack Eastern Tal Rafat
October 30th, 2016
TEHRAN (FNA)- The Turkish-affiliated militants are preventing the Syrian Democratic Forces (SDF) from approaching the outskirts of Aleppo under the pretext of fight against terrorism, sources said, adding that the Fatah al-Sham (formerly known as al-Nusra) Front terrorists are also participating in Ankara's attack against the strategic town of Tal Rafat in the Northern part of Aleppo.
According to the sources, Fatah al-Sham terrorists are collaborating with Ankara-affiliated militants in attacking Tal Rafat while their leaders had earlier issued Fatwas (religious decrees) which banned fighting alongside the Turkish army.
Meantime, observers believe that the media propaganda of the Turkish-affiliated militants about saving those besieged in Eastern Aleppo is only lip service as they have done nothing in practice.
The sources said that Turkey is benefiting from rivalry among the terrorist groups supported by Saudi Arabia and Qatar in Aleppo, adding that the militants who are readying to carry out Operation Euphrates Shield in Syria are merging with smaller groups, while Ahrar al-Sham, supported by Turkey and Saudi Arabia, and Fatah al-Sham, supported by Qatar, are competing with each other to attract more groups.
"The Turkish government is benefiting from this rivalry since the militants are seeking its support in any form by joining the Operation Euphrates Shield," they said.
Turkish jets have reportedly not taken part in the Euphrates Shield operation in neighboring Syria for a week now over the fears of being shot down by local air defenses after Damascus promised to prevent any aerial incursions.
Ankara halted air support for its ground incursion into Syria on October 22, after Damascus vowed to shoot down Turkish Air Force planes over Syrian skies, a Turkish official told the Hürriyet Daily News on condition of anonymity. The official added that the coalition forces have also decreased the number of flights in Northern Syria.
Syria's air defence capabilities have been widely boosted after Russia deployed its mobile S-400 and S-300 missile batteries earlier this year to protect its personnel on the ground. Russian hardware has the ability to shoot down planes and cruise missiles over at least 250 miles (402km) in all directions from western Syria.
Two days before Turkey halted its military flights over Syria, Damascus, which called the Turkish invasion a violation of national sovereignty, warned that it would shoot down any Turkish warplanes.
"Any attempt to once again breach Syrian airspace by Turkish warplanes will be dealt with and they will be brought down by all means available," Damascus warned on October 20. The presence of Turkish troops in Syria is a "dangerous escalation and flagrant breach of Syria's sovereignty".
The response from Damascus came after Turkish planes targeted Syrian Kurdish People's Protection Units (YPG), the fighting wing of the Democratic Union Party (PYD), near al-Bab in Northern Aleppo the day before.
Turkish forces crossed into Syria on August 24, under the pretext of targeting ISIL positions along the border. Turkey has been supporting the so-called Free Syrian Army (FSA) on the ground.
In addition to jihadist fighters, the Turkish troops involved in Operation Euphrates Shield also engaged the YPG militia, part of the US-backed SDF. One of Turkey's primary objectives in the operation is to block the path of Kurdish forces trying to form a link between their Afrin and Kobani cantons. Syrian rebels, with the help of the Turkish military, are slowly making their way across Northern Aleppo province.
The source told the Turkish daily that the pace of the offensive has been largely impacted by the lack of air support. The FSA's advance toward Al-Bab has faltered due to the lack of Turkish airstrikes, he said, pointing out that Turkish offensive only secured 5km in the last three days.
http://en.farsnews.com/newstext.aspx?nn=13950809000331
----------
Syrian Analyst: US Not Able to Enter Raqqa Battle
October 30th, 2016
TEHRAN (FNA)- A prominent Syrian analyst underlined the country's army and popular forces' victories against the terrorists in Aleppo, and said the US can no more implement its plots in Raqqa with the help of terrorists.
"All assessments show the US inability to enter the Raqqa battle directly or indirectly with the help of its mercenaries," Akhil Aid told FNA on Sunday.
"The forces who enter Raqqa with the US support cannot establish their presence there since the Syrian army and its allies will be sent to Raqqa once they finish the job in Aleppo against the terrorists," he added.
Noting that the Syrian forces' imminent victory in Aleppo will break the backbone of terrorists and their supporters, Aid said, "Termination of the Aleppo battle means the end of the terrorists' concentrated deployment in major cities."
His remarks came after informed sources disclosed on Saturday that the Syrian army's Special Forces are getting ready to capture the ISIL-held town of Deir Hafer in Eastern Aleppo to pave the ground for the start of a large-scale offensive to free Raqqa city, the capital of ISIL's self-proclaimed capital in Syria.
"Syrian army's Desert Hawks Brigade, who arrived in Aleppo a couple of days ago will soon take part in an operation to liberate Deir Hafer in Eastern Aleppo near the border with Raqqa province," the sources said.
"The Kurdish-led Syrian Democratic Forces (SDF) are also to storm the ISIL-held al-Bab in North-eastern Aleppo," they added.
"After the recapture of al-Bab and Deir Hafer, the Syrian government forces will hit ISIL's defence lines in Raqqa," the sources pointed out.
"Simultaneous anti-ISIL operations in Syria's Raqqa and in Iraq's Mosul will decrease the defence abilities of ISIL and will ease the capture of the terrorist group's capitals in Syria and Iraq," they added.
http://en.farsnews.com/newstext.aspx?nn=13950809000419
----------
Senior Analyst Stresses Need for Unity of Iraqi, Syrian Armies in Anti-ISIL Fight
October 30th, 2016
TEHRAN (FNA) - A senior Syrian analyst underlined the need for the alliance of Syrian and Iraqi armies in the ongoing fight against the ISIL terrorist group.
"The armies of Syria and Iraq should fight alongside each other against the ISIL terrorists," Prominent Syrian Analyst Akhil Aid told FNA on Sunday.
Akhil said that the Iraqi army should not restrict itself to Iraq's borders while fighting the ISIL as the Syrian army should also adopt a similar strategy.
"Both Iraqi and Syrian armies need to help each other in fighting the terrorist groups," he added.
Meantime, a senior commander of the Iraqi volunteer forces (Hashd al-Shaabi) voiced his forces' readiness to go for a fight against the terrorist groups in Syria after the end of the Mosul liberation operation.
"The Hashd al-Shaabi will most probably be sent to Syria after the liberation of Mosul city," Faleh al-Fayyaz said on Saturday, addressing a conference titled 'National Security Problems after Mosul Liberation'.
He reiterated that the developments of Iraq and Syria are intertwined, and said, "We are forced to enter the areas controlled by the terrorists after seizing back Mosul."
On Wednesday, Iraqi Prime Minister Haider al-Abadi announced that the Iraqi forces reached an advanced stage in the battle to liberate Mosul, and said the performance of the Iraqi army in the war on ISIL has surprised the international coalition.
"We reached an advanced stage in the battle to liberate the city of Mosul, and our plan is not to evacuate the families from the cities during the liberation operations," Abadi said during a news conference in Baghdad.
The Iraqi joint security forces, backed by the international coalition forces, continue advancing in the battle to liberate Mosul from the ISIL grip.
en.farsnews.com/newstext.aspx?nn=13950809000501
-------
India
Pakistan Espionage Racket: With 'Pizza' & 'Burger', Spies Baked Sinister Plot
Raj Shekhar | TNN | Updated: Oct 30, 2016
NEW DELHI: 'Eating pizza', or alternatively, 'having a burger' meant much more than fast food to the four men arrested for spying for Pakistan on Wednesday. Technical information, corroborated by the interrogation of the men, has revealed these to mean rendezvous at the Ansal Plaza amphitheatre and a Pitampura mall, respectively. 'Coffee peena hai aaj' translated into a meeting at a Preet Vihar mall.
But there was more to their ploys than just camouflaged meetings. They exchanged documents and received payments in the open in crowded places, often passed as they brushed past each other. The drop points include metro stations, where the stolen paper would be left on the staircase from where the receiver retrieved them.
Both ISI agent Mehmood Akhtar and his Indian associate Shoaib have disclosed that the spies used a special USB device that extracted data from government computers in a jiffy. According to police, the device had a program that automatically extricated information from the computer. DCP Bhisham Singh and ACP Sanjay Sehrawat have been deputed to unravel all the facets of the espionage operation.
Ravindra Yadav, joint commissioner (Crime), said that Shoaib and his associates arranged group tours to Pakistan and arranged the logistics for them for around Rs 1 lakh. He gave the list of aspirants to Akhtar, who shortlisted some names. Shoaib would then visit the home of the potential travellers and enquire about their kin and find out if there was a government servant in the family. If there was, the name would be marked in a separate register for ISI operatives to later try to cultivate.
The spies were also taught how to sustain their cover. Farhat Khan, aide of MP Munavvar Saleem, who was arrested on Saturday, dodged the cops for a good two decades. He has confessed to leaking documents from the time he was assisting MP Munawwar Hasan, who was killed in a car accident in 2008.
htp://timesofindia.indiatimes.com/city/delhi/With-pizza-burger-spies-baked-sinister-plot/articleshow/55135231.cms
------
Muslim Women Feel Secure Under Sharia Law, Claims All-India Muslim Personal Law Board
PTI | Oct 29, 2016, 05.40 PM IST
NEW DELHI: Muslim women from across the country feel secure under the Sharia law and do not want a Uniform Civil Code, All-India Muslim Personal Law Board (AIMPLB) claimed on Saturday amid a raging debate on the practice of 'triple talaq'.
"It is not the personal law board or the women in it, who are against the proposed Uniform Civil Code, but Muslim women in general in the country do not want it. They feel safe and secure under the Sharia law," Kamal Faruqui, a member of AIMPLB said.
The practice of triple talaq (immediate divorce) is at present the subject of a Supreme Court case, with the Centre and some Muslim women organisations seeking a ban on it on the grounds of being discriminatory to women.
The All-India Muslim Personal Law Board (AIMPLB) has, in its opposition to the move, submitted an affidavit to the apex court stating that though triple talaq is "undesirable", it is "permissible" in Islam.
The Board has already started a signature campaign in support of the practice.
"The campaign has already got support from Muslim women in Rajasthan, Gujarat, UP, Bihar, Delhi, Maharashtra and Madhya Pradesh. And, in many cases, where our members are not there, we are getting good support from them, mostly spontaneous," Faruqui claimed.
Executive member of the AIMPLB, Asma Zehra, said Muslim women from across the country were coming together to demand that the personal law be protected.
"The incidences of divorce in Muslim community is much lower compared to other ones. Also, women have maintenance rights even after the divorce. They can also go for remarriage to begin a new life. The women feel much secure under the Sharia law and do not wish to be governed under a Uniform Civil Code," she asserted.
"We are also getting a good response from women in small villages and cities," she said.
Zehra also hit out at right wing groups for fueling the debate.
"The PM was right when he said this is not a 'Hindu-Muslim' issue. This is an issue created by the RSS. As citizens, Indians need to decide whether we want to follow the Constitution, which gives us religious rights, or some vested saffron agenda," she said.
Meanwhile, many women activists have slammed the board for its counter-affidavit, saying the Muslim body has "turned a blind eye" to the plight of women suffering due to this practice.
Noorjehan Safia Niaz, co-founder of Bharatiya Muslim Mahila Andolan (BMMA), which is one of the petitioners in the Supreme Court against triple talaq, said, "No one can stop the citizen of this country from approaching the court. That is a right Muslim women also have."
Zehra, however, alleged that the groups opposing the practice were "tools of BJP".
BMMA rejecting the charge said, "AIMPLB has been completely obstinate and there is no point talking to bodies like these."
http://timesofindia.indiatimes.com/india/Muslim-women-feel-secure-under-Sharia-law-claims-All-India-Muslim-Personal-Law-Board/articleshow/55131276.cms
-------
NIA May Question Pakistani IS Man Held in Europe On 26/11 Links
Neeraj Chauhan | TNN | Updated: Oct 30, 2016
NEW DELHI: Pakistani national Mohammad Ghani Usman, a veteran bombmaker of Lashkar-e-Taiba, who was arrested in Austria earlier this year and charged by France for November 2015 Paris attacks, may soon face Indian investigators.
Top officials said NIA wants to interrogate 35-year-old Usman, who later joined Islamic State, to find out if the "expert bomb-maker" of the LeT played any part in the 26/11 Mumbai attacks. In his disclosures to agencies, Tamil Nadu-based Indian fighter of ISIS, Subahani Haja Moideen, has said that Usman was his best pal in Iraq and often told him that he was an "important person" in the LeT heirarchy while in Pakistan.
The agency will write to ministries of home and external affairs seeking permission to travel to France soon. It is already in touch with France on Moideen's fresh claims about Paris attacks and his training period with Paris attackers/conspirators including their group commander, a man they knew as Abu Suleiman Al-Francisi, who they suspect could be the mastermind of Paris carnage, Abdelhamid Abaaoud.
NIA, sources say, wants to extract from Usman information about his links with senior leadership of LeT including Hafiz Saeed and Zaki-Ur-Rehman Lakhvi, who perpetrated the November 2008 Mumbai serial attacks carried out by 10 fidayeens including Ajmal Kasab, who was caught alive and later given death sentence.
Apart from 26/11, NIA wants to understand LeT's link with ISIS and why a seasoned bomb-maker of the Pakistan outfit joined the latter. Usman, as first reported by TOI, used to talk for hours with Moideen about India and Pakistan during their training period and stay in Afghanistan and Iraq between April and September 2015.
While Usman left for Europe posing as a migrant along with other jihadis including the Paris bombers, Moideen returned to India around the same time in September last year. Both were part of a 150 member group named, Umar Ibnu Khatab Khatiba, of trained foreign terrorist fighters (FTF) from Algeria, Pakistan, Afghanistan, Tajikistan, south-east Asian countries including Indonesia, Philippines, Tunisia and European countries.
Meanwhile, Moideen's questioning has also revealed for the first time that the "online handlers/motivators" of Islamic State, who never met the recruits and are supposed to be based in a third country, actually met them on the ground. Moideen's online contact since his indoctrination in 2014 and early 2015, identified as one Abu Hafa Al Swedi, having an online alibi as 'Abu Computer', met him several times in Iraq, said sources.
http://timesofindia.indiatimes.com/india/NIA-may-question-Pakistani-IS-man-held-in-Europe-for-26/11-links/articleshow/55136414.cms
-----
Army destroys 4 Pakistani posts in massive assault, inflicts heavy casualties
Rajat Pandit | TNN | Updated: Oct 30, 2016
NEW DELHI: A day after an Indian soldier's body was mutilated by Pakistan-based terrorists along the Line of Control (LoC), the Army on Saturday launched retaliatory fire assaults at Pakistan Army positions, inflicting massive damage across the border.
The Army said at least four Pakistan Army posts were destroyed "in a massive fire assault" in the Keran sector alone on Saturday. "Heavy casualties (among Pakistani soldiers) were inflicted in this assault," said a statement issued by the Northern Command based in Udhampur.
Follow
NorthernComd.IA @NorthernComd_IA
#JKOps. Four Pak posts destroyed in massive fire assault in Keran Sector. Heavy casualties inflicted @adgpi
9:50 PM - 29 Oct 2016
1,327 1,327 Retweets 1,263 1,263 likes
The Army had earlier promised that the beheading of its soldier (Manjeet Singh of the Sikh Regiment) by terrorists, who were helped by covering fire from Pakistani Army at the Macchil sector on Friday, would not go unpunished.
Sources said the battalion commanders all along the LoC have been given directions to "effectively retaliate with full force" to any provocation or ceasefire violation by the Pakistan Army.
Indian Army soldiers conducted "sustained fire assaults" through mortars, light and heavy machine guns and rockets at several Pakistan Army posts all throughout Saturday. "The firing was carried out with the aim to destroy targets like Pakistani posts and bunkers with pinpoint accuracy. But no estimates of casualties on the side can be given," said a senior officer.
Though the operational situation on the western front has been tense ever since the Army conducted surgical strikes+ against terror launch pads in Pakistan-occupied-Kashmir on September 29, it has become worse over the last few days. While Pakistani soldiers and rangers have suffered much more casualties, four Indian Army jawans, three BSF personnel and a few civilians have been killed in the fresh bout of hostilities.
As reported by TOI earlier, the assessment is that Pakistan Army chief General Raheel Sharif has given the green signal for BAT (border action team) operations against Indian posts on the LoC in the run-up to his slated retirement+ next month.
But artillery guns have not come into play from either side, which would indicate a marked escalation in the ongoing hostilities, till now. "Both sides are using 82mm mortars and machine guns as of now," said an officer.
http://timesofindia.indiatimes.com/india/Army-destroys-4-Pakistani-posts-inflict-heavy-casualties/articleshow/55133930.cms
-----
Mideast
Tal Afar a 'Sensitive Target' Amid Reports of Shiite Offensive: Erdoğan
October/30/2016
Turkey will reinforce its troop deployments in the border town of Silopi amid a possible Shiite offensive to liberate Tal Afar, which has a sizeable ethnic Turkmen population and is considered a sensitive target for Ankara, President Recep Tayyip Erdoğan has said.
"If al-Hashd al-Shaabi [Shiite militia] causes terror there in [Tal Afar], our response to it will be different," Erdoğan said Oct. 29.
The al-Hashd al-Shaabi, a paramilitary umbrella organization by Iran-backed Shiite militias, announced on Oct. 29 that they had launched an attack against Islamic State of Iraq and the Levant (ISIL) militants west of Mosul, a week after an offensive to retake the city began.
"The operation aims to cut supplies between Mosul and Raqqa and tighten the siege [of ISIL] in Mosul and liberate Tal Afar," militia spokesman Ahmed al-Assadi told AFP, referring to ISIL's main strongholds in Iraq and Syria. Al-Assadi said the operation aimed to retake the towns of Hatra and Tal Abta as well as Tal Afar.
Erdoğan did not confirm the claims, indicating that the information they received had not yet verified such movement.
However, he stated that Ankara was reinforcing its troops in the southeastern district of Silopi in response to any al-Hashd al-Shaabi move on Tal Afar.
"As a precaution, we have deployed troops in Silopi. I would like to state that we will increase our efforts to augment that [reinforcement of the troops]. Tel Afar and Sinjar are very sensitive targets for us right now. Of course the joint activity with Nineveh fighters as well as Peshmerga forces continues," he stated.
The involvement of Shiite militias in the Mosul operation has been a source of contention, although some of the al-Hashd al-Shaabi's top commanders insist they do not plan to enter the largely Sunni city.
Ankara has repeatedly warned that it would take measures if there is an attack on the city, which has a sizeable ethnic Turkmen population, as part of a wider U.S.-led offensive to retake Iraqi city of Mosul from Islamic State.
Iraqi Kurds and Sunni Arab politicians have also opposed their involvement which has a military presence east of Mosul despite repeated demands by Baghdad for the forces to be withdrawn.
Relations between the al-Hashd al-Shaabi and the U.S.-led coalition fighting ISIL are also tense, but the paramilitaries enjoy widespread support among members of Iraq's Shiite majority.
Tal Afar was a Shiite-majority town before the Sunni extremists of ISIL overran it in 2014, and its recapture is a main goal of Shiite militia forces.
ISIL overran large areas north and west of Baghdad in 2014, but Iraqi forces have since regained significant ground and Mosul is the last big city held by the jihadists in the country.
hurriyetdailynews.com/tal-afar-a-sensitive-target-amid-reports-of-shiite-offensive-erdogan.aspx?pageID=238&nID=105525&NewsCatID=352
------
Capital Punishment Soon If Parliament Approves It, Erdoğan Tells Crowd in Ankara
October/29/2016
Turkish President Recep Tayyip Erdoğan repeated his decision to approve the instalment of capital punishment if the parliament approves a related code while responding to chanting from the crowd at the opening of a main train station for high-speed trains in the capital city of Ankara on Oct. 29.
"Soon, soon, don't worry," Erdoğan said, in response to a group in the crowd chanting "We want death penalty."
"It is soon Insha Allah," he said.
"Our government will bring this [issue] to the parliament and I believe that it will pass the parliament. I will approve it when it comes to me."
"If sovereignty rests with the nation, the issue is over," he said.
"It doesn't count what the West says but my nation," the president said.
Capital punishment has not been implemented in Turkey since 1984 and it was abolished officially in 2004.
The new station was inaugurated on the country's national day, the 93rd anniversary of the founding of the Turkish Republic.
Prime Minister Binali Yıldırım and other state officials were present at the ceremony.
According to Turkish State Railways (TCDD), which is responsible for the country's railway operations, the new station is capable of providing services to 50,000 passengers daily.
The facility also boasts 134 hotel rooms and over 200 rentable areas for restaurants, coffee shops, entertainment venues, stores, and offices.
The new station, which is located close to the city center, can be accessed through underground and ground lines and also has car park with a capacity of more than 900 vehicles.
The $235 million train station, which was built in two years, is among a set of leading infrastructure projects planned as part of a series of objectives for the country's centennial in 2023.
hurriyetdailynews.com/capital-punishment-soon-if-parliament-approves-it-erdogan-tells-crowd-in-ankara.aspx?pageID=238&nID=105515&NewsCatID=338
-----
Iran urges EU for banking coop. regardless of US
Sun 30 October 2016
TEHRAN, Oct. 30 (MNA) – Iranian Foreign Ministry Spokesman Bahram Ghasemi said Europeans should be independent from other world powers and provide necessary space for further cooperation with Iranian banks and institutions..
Ghasemi, speaking to IRIB on Saturday night, said Foreign Minister Javad Zarif and EU Foreign Policy Chief Federica Mogherini during their meeting in Tehran stressed the need for the acceleration of forming an appropriate environment in order to provide aid to the people of Syria.
Touching upon the objectives of Mogherini's visit to Tehran, Ghasemi said "it was not a long trip, but the talks due to the importance of bilateral issues, in particular the recent developments in Syria, were relatively long and the two sides exchanged views in this regard."
He said the two sides talked on ways of establishing peace and stability in the region and finding solutions to a sustainable ceasefire in order to promote political dialogue between the Syrian groups.
On Mogherini's meeting with President Rouhani, Ghasemi said the two sides discussed the issues related to bilateral ties with European Union, as well as regional issues and mainly developments in Syria.
Iran, Ghasemi noted, is highly regarded as a powerful country and a significant actor in the region and almost all major players, regional countries and the Europeans are aware of Iran's role and abilities.
FM spokesman also pointed to the decision of the Islamic Republic and the European Union for the new round of talks and said "Iran enjoys old relationship with Europe and has maintained continuous contacts with Europe in different levels and periods.
Ghasemi announced that deputy-level talks would be held in Brussels in November and both sides, Iranian Deputy Foreign Minister for European and American Affairs Majid Takht-Ravanchi and Deputy Secretary General for the External Action Service (EAS) Helga Schmid, would discuss the economic, political, cultural and environmental issues as well as drugs and various other topics to see in what areas they can have more consensus and cooperation.
Ghasemi emphasized the need for EU cooperation with Iran, independent of the other world powers, and said European financial, monetary and industrial institutions are willing to cooperate with Iran as their old partner.
Touching upon Zarif's one-day visit to Moscow to partake in trilateral meeting on adopting an anti-terror strategy with his Russian and Syrian counterparts, he said although very short, but it was a very important visit; "FM Zarif spent seven hours negotiating with his counterparts in Moscow."
Ghasemi highly regarded Zarif and Mogherini's one-day visits to Moscow and Iran, respectively, adding it indicates the importance and high standing of the Islamic Republic of Iran in the region.
en.mehrnews.com/news/120877/Iran-urges-EU-for-banking-coop-regardless-of-US
------
Çavuşoğlu, Kerry discuss US decision to remove families of diplomats from Istanbul
October/30/2016
Turkish Foreign Minister Mevlüt Çavuşoğlu spoke on the phone with U.S. Secretary of State John Kerry over the latter's decision to remove the families of U.S. consulate personnel in Istanbul due to security reasons.
Çavuşoğlu called his U.S. counterpart early on Oct. 30 to discuss the State Department's new travel warning, diplomatic sources said. They added that the two foreign ministers also talked about ongoing joint anti-terror efforts.
The U.S. Department of State issued a new travel warning for the families of U.S. consulate personnel in Istanbul late on Oct. 30, ordering them to leave the country after it gathered "security information indicating extremist groups are continuing aggressive efforts to attack U.S. citizens in areas of Istanbul where they reside or frequent."
The decision does not affect the consulate's personnel in Istanbul and is only applicable for family members based in Istanbul.
In an earlier security warning, Washington urged its citizens to refrain from participating in Oct. 29 Republic Day celebrations throughout Turkey, citing the government's ban on public marches and warning that such involvement in the celebrations could lead to citizens' detention.
http://www.hurriyetdailynews.com/cavusoglu-kerry-discuss-us-decision-to-remove-families-of-diplomats-from-istanbul-.aspx?pageID=238&nID=105518&NewsCatID=341
----------
Turkish main opposition deputy CHP leader shot wounded
October/29/2016
Bülent Tezcan, the deputy chairman of Turkey's main opposition Republican People's Party (CHP), has been wounded, daily Hürriyet reported on its website on Oct. 29.
Tezcan was shot on his foot while he was in a restaurant in the Aaegean province of Aydın, the report said.
He was taken to Adnan Menderes Hospital in the province and his condition is not said to be life-threatening.
CHP Deputy Parliamentary Group Chair Özgür Özel has said that "CHP will bring the ones responsible of the attack to account via staying in the boundaries of law."
The assailant, identified as Alparslan Sargın, left the restaurant after shouting a slogan, CNN Türk reported. He was caught a short while after.
hurriyetdailynews.com/turkish-main-opposition-deputy-chp-leader-shot-wounded.aspx?pageID=238&nID=105516&NewsCatID=341
-------
Turkey sacks 10,000 more civil servants, shuts more media in coup attempt aftermath
October/30/2016
Turkey sacks 10,000 more civil servants, shuts more media in coup attempt aftermath
Turkish authorities have dismissed more than 10,000 civil servants over suspected links to U.S.-based Islamic preacher Fethullah Gülen, accused of orchestrating the failed coup attempt of July 15.
Thousands of academics, teachers and health workers were among those removed through a new emergency rule decree published on the Official Gazette late on Oct.29 while 15 media outlets, almost all of which reported from the southeast, were shut down.
Turkey has formally arrested more than 37,000 people and has already sacked or suspended over 100,000 civil servants, judges, prosecutors, police and others.
A state of emergency imposed shortly after the deadly coup attempt in July was earlier this month extended for another three months until January, with Erdoğan saying the authorities needed more time to eradicate the threat posed by Gülen's network as well as outlawed Kurdistan Workers' Party (PKK) militants.
http://www.hurriyetdailynews.com/turkey-sacks-10000-more-civil-servants-shuts-more-media-in-coup-attempt-aftermath.aspx?pageID=238&nID=105519&NewsCatID=338
------
Turkey aims to triple market share of Islamic finance
October/30/2016
Turkey is committed to tripling the market share of Islamic finance, bringing it up to 15 percent by 2023, Deputy Prime Minister Mehmet Şimşek has said.
Speaking at a conference at the Gaziantep-based Hasan Kalyoncu University, Şimşek said the Islamic finance market had been growing swiftly in Turkey and that the government aimed to further boost the sector.
Islamic finance currently enjoys a 5 percent share in the market. Our target is to increase this up to 15 percent by 2023. We would like to turn Turkey into a hub of Islamic finance," he said, adding both state and private banks needed to develop their services in this area.
Şimşek also pointed out the slowdown in global trade, saying there was a discontent against globalism after the recent global crisis.
"Migration is another important issue for the global economy beside globalization. Millions of people are now immigrants," Şimşek said.
"When other problems such as terror are added to this picture, many countries try to overcome the problems through protectionism rather than introducing reforms. But this affects the global economy negatively," he said.
Şimşek urged countries to make immediate reforms, recalling the three main themes of the 2015 G-20 summit in Turkey, which were comprehensiveness, implementation and investment.
The minister noted the income inequality in the world, saying 62 people's wealth was equal to 3.62 billion people. He said Islamic finance could play a positive role in addressing this problem.
"What the world needs is Islamic finance and tolerance. It needs the culture of people living together. Islamic finance curbs greediness to an extent due to profit-loss partnership. For example, debt issue becomes more manageable with this system," he added.
Islamic or participation banks, which require interest-free lending, have been operating for over 30 years in Turkey. Five banks, two of which are state-owned, have a license to provide Islamic finance services.
According to the Participation Banks Association of Turkey, these five banks have over 950 branches operating across the country.
The total number of employees in the participation banking sector was around 16,000 as of June of this year.
http://www.hurriyetdailynews.com/turkey-aims-to-triple-market-share-of-islamic-finance--.aspx?pageID=238&nID=105522&NewsCatID=346
----------
Three soldiers killed in PKK attack in eastern Turkey
October/29/2016
At least three soldiers were killed and five others injured in an outlawed Kurdistan Workers' Party (PKK) attack in eastern Turkey, said a military source on Oct. 29.
The source, who spoke on condition of anonymity due to restrictions on talking to media, said the PKK militants attacked security forces with mortar shells in the Çukurca district in the Hakkari province.
One soldier is in critical condition, said the source.
An operation was launched in the region to apprehend the perpetrators of the attack.
Separately, twelve suspected members of the youth wing of the PKK were arrested on Oct. 29 in the western province of İzmir, security forces said.
Police received information that the suspected terrorists were preparing to target security forces with improvised explosive devices on Oct. 29, during celebrations for Turkey's Republic Day, security sources, who spoke on condition of anonymity, said.
Materials used for making bombs were also found during the operation in İzmir, the security sources added.
In a separate operation, six PKK and six Islamic State of Iraq and the Levant (ISIL) members were arrested in the capital Ankara according to the Ankara Police Department.
http://www.hurriyetdailynews.com/three-soldiers-killed-in-pkk-attack-in-eastern-turkey-.aspx?pageID=238&nID=105513&NewsCatID=341
----------
Turkish military destroys ISIL, PKK/PYD targets in northern Syria
October/29/2016
Turkey hit 50 Islamic State of Iraq and the Levant ISIL and 15 Kurdistan Workers' Party (PKK) and e Democratic Union Party (PYD) targets as part of Operation Euphrates Shield in northern Syria, the military said on Oct. 29.
The Turkish General Staff said in a statement that three Syrian opposition fighters were killed and four others were wounded during the clashes on Oct 28.
Turkey's
Operation Euphrates Shield was launched in late August to clear Syria's northern border area of terrorists. It is now in its 67th day.
The operation has seen both ISIL and PKK/PYD targeted by the opposition Free Syrian Army plus Turkish tanks, artillery and aircraft.
The army said since the beginning of the operation in late August, 33 mines and 1,367 handmade explosives had been "neutralized."
http://www.hurriyetdailynews.com/turkish-military-destroys-isil-pkkpyd-targets-in-northern-syria-.aspx?pageID=238&nID=105512&NewsCatID=352
------
North America
In The Era of Trump, Islamic Relief Volunteers Are Ambassadors for Muslim America
October 29, 2016
PEMBROKE, N.C. - At the end of the day, they moved as a group through the halls of a rural high school, which had been transformed into a shelter. They passed a crowd of locals - including volunteers and people displaced by the record-setting floods - and the words on their blue vests seemed to catch everyone's eye: "Islamic Relief."
"Are they Islamic?" one woman whispered to the person next to her. Others simply stared.
And it was true. They were Muslim, and they had come from across the country to the traditionally red state of North Carolina. Islamic Relief USA has been around for more than two decades, but in a year when Republican presidential nominee Donald Trump has frequently cast Muslims as violent radicals, the charity's volunteers say they have been thrust into the role of unofficial ambassadors for the real Muslim America.
Plodding in their blue disaster-relief vests through neighborhoods devastated by floods, tornadoes and fires, they frequently encounter people who are "pretty surprised to see Muslims," said Hani Hamwi, 29, the charity's disaster response team manager.
HOUSTON BELIEF
Above, Team manager Hani Hamwi, left, and Islamic Relief USA staff members talk to an American Red Cross volunteer in a shelter for flood victims in North Carolina. Left, Islamic Relief members and kids dance to hip-hop at a shelter in Robeson County, N.C. In the era of Trump, Islamic Relief volunteers are ambassadors
I think there's an image that gets painted in your head of who Muslims are," Hamwi said. "An American practicing Islam, it's good for people to see that, hey, she's a teacher or she's a medical student and that they took a break to come down here."
Hamwi is leading a team of 13 in North Carolina, helping to run the largest shelter in Robeson County, which was hit hard by Hurricane Matthew. Here, in one of the state's poorest stretches of countryside, the Lumber River and a web of streams snake through forests and fields of cotton, tobacco and sweet potatoes. After the hurricane struck, the floodwaters rose swiftly.
"Two levees in Lumberton burst. It happened real fast. So people didn't have a chance to gather up their stuff," said Corbin Eddings, a local State Farm insurance salesman who was volunteering at the shelter.
In the first days of the flood, the local high school in neighboring Pembroke held more than 800 people, most of whom arrived by bus after being plucked from rooftops or wading through chest-deep water from wooden homes and trailers.
A sizable portion of the county's population is Lumbee, part of a Native-American tribe that is not federally recognized, and another sizable portion is black. Many people get by on public assistance and small home gardens dug behind rusting trailers set along dirt roads that wind through patches of forest. Even before the storm brought the Lumber River to more than 24 feet above flood stage, some families were living without running water or electricity.
Taking charge
The Islamic Relief volunteers arrived on a Friday. Most were in their 20s, and they were embarking on their first "disaster deployment." There was a teacher and an occupational therapist, an IT consultant and a handful of recent college graduates. They had gotten the call Thursday and boarded flights from California, Texas, Florida, Oregon and Washington, D.C.
On Saturday, they went out to survey the damage. They saw a collapsed bridge, washed out train tracks and waterlogged cars that would never run again. They saw piles of dead fish in yards where the river had invaded, and they saw people wading waist-deep in a murky brown sea. One man dragged a floating mattress with another person on top.
"It was something you don't expect to see in America," said Hanna Jalanbo, 22, who traveled here from Orlando, Fla., where she is studying for a master's degree in social work.
On Sunday, the group sorted cans of food, clothes and other donated supplies and scrubbed the school's wrestling room so that it could be converted into a day-care center for babies and toddlers.
On Monday, the American Red Cross, which was running the shelter, asked them to care for older children so that overwhelmed parents could seek help from the Federal Emergency Management Agency and venture out to assess the damage.
Nasima Chowdhury, 50, of Dallas, who had worked for decades as a special-education teacher, quickly took charge. And within a few hours, a room full of children ages 6 to 10 were stacking Legos with Lina Asfoor, a 23-year-old occupational therapist from Santa Clara, Calif.; reading with Hasana Abdul-Quadir, a 23-year-old AmeriCorps volunteer who spent the past year working in a District school; and playing with Abdussamad Peera, a 55-year-old Pakistani-American IT consultant and father of five from Dallas.
Occasional hostility
Founded in 1993, Islamic Relief is the largest Muslim charity in America, with about $100 million a year in donations. Most of the money is used for aid operations in and around overseas conflict zones, but the group also responds to domestic disasters with a formal team created five years ago.
So far this year, the charity has responded to eight disasters, including tornadoes in Oklahoma, wildfires in Washington state, floods in Louisiana and Texas, and water contamination in Flint, Mich. Often, they are dispatched to rural parts of the country, where Trump's anti-Muslim rhetoric has received enthusiastic support.
"The coolest thing about it, in the age of Trump, is when we go out, everyone sees our branding," Hamwi said. "So whether someone hates it or loves it, wants us there or doesn't want us there, they get to see that we're Muslim. Which is kind of awesome because we get to represent Muslims in America in a way that a lot of people wouldn't expect."
Among the North Carolina team members, three, including Hamwi, are Syrian Americans, as well as Muslims.
"Right now, those are probably the worst things you can be: A Muslim, a male in your 20s and Syrian," Hamwi said. "Anyone watching the news, until they get to know me and understand what I stand for, I can imagine some might have uncomfortable thoughts."
Occasionally, the organization encounters hostility. Earlier this year, a sheriff in rural Louisiana ordered the group out of his parish when they showed up to do damage assessments on flood-ravaged homes. Last year, the mayor of a small town in Illinois told Islamic Relief workers to leave a flood zone after people complained that they did not want Muslims there.
In North Carolina, the volunteers have encountered mostly gratitude - but also some wariness. Looking at Asfoor's headscarf, one little boy said, "I heard if you take that off, they're going to cut your head off."
Among the other shelter workers - a collection of volunteers from the Red Cross, Southern Baptist Disaster Relief and the local community - any initial wariness appeared to dissipate rapidly. One local volunteer sorting donated clothes with Jalanbo asked about her beliefs.
"I'll get back to you," Jalanbo said, following strict Islamic Relief policy of not proselytizing.
A group of Army National Guard members stationed at the shelter also made an awkward stab at conversation.
"How long have you been in the country?" a staff sergeant asked Peera.
"Uh, since 1980," Peera said.
Earlier, the staff sergeant had asked Peera whether he got "a lot of flak from white people," and Peera acknowledged that he sometimes did. But the sergeant, who had served in Iraq, made clear that he welcomed the Muslim volunteers.
"It's great y'all are out here. There's a huge stereotype [about Muslims] in North Carolina."
Hamwi said he likes being noticed, likes that his bright-blue vest says "Islamic Relief" in big, bold letters.
"I genuinely think that people don't want to live in fear," Hamwi said. "Which is why I think so many people are excited to see us."
Hamwi said he often thinks about a man he met last winter after a bout of tornadoes hit a small Oklahoma town.
"He had a big belt buckle and cowboy boots, and he came up to us all teary-eyed like he was about to break down.
"He said, 'I'm sorry.' And I said, 'For what?' And he said, 'I had the wrong idea about you guys.'  "
http://www.houstonchronicle.com/life/houston-belief/article/In-the-era-of-Trump-Islamic-Relief-volunteers-10422326.php
----------
Islamic State claims responsibility for attack outside U.S. embassy in Nairobi
30 October 2016
A follower of Islamic State was responsible for an attack last week on a Kenyan police officer outside a U.S. embassy in Nairobi, the group's Amaq news agency said on Saturday.
A knife-wielding man whom police described as a criminal was shot dead outside the U.S. Embassy in Nairobi last Thursday after he attacked and injured a Kenyan police officer.
"The person who carried out the stabbing of a guard outside the American embassy in Nairobi last Thursday was a soldier of Islamic State responding to calls to target coalition countries," Amaq said.
Kenya's police spokesman said at the time the motive was unclear and an investigation was launched. The spokesman could not immediately be reached on Saturday.
Islamic State previously claimed an attack in Kenya in September by three women who were shot dead after they tricked their way into a police station in Mombasa and tried to torch the building, according to police. The police in Kenya have also previously said they had detained sympathizers with the group.
But experts say it is not clear how close the connection is between groups and individuals proclaiming allegiance to the Islamist group and the Islamic State organization in its Middle East heartland of Syria and Iraq, where it is increasingly pressure from regional and international forces.
(Reporting by Omar Fahmy; Additional reporting by Edmund Blair in Nairobi; Writing by Eric Knecht; Editing by Alison Williams)
http://www.reuters.com/article/us-kenya-usa-islamicstate-idUSKCN12T0QS
----------
Will an India-Pakistan offspring torpedo Hillary Clinton's hope?
Chidanand Rajghatta | TNN | Updated: Oct 30, 2016
WASHINGTON: Tension between India and Pakistan was expected to engage the attention of the next White House occupant first up, but for Hillary Clinton, an India-Pakistan offspring is causing much stress even before she gets there.
In a nasty, so-called "October Surprise," just 11 days before Election Day, Clinton's Presidential campaign is being buffeted by stormy political winds generated by more email troubles, in part because her aide Huma Abedin is said to have shared a laptop containing their correspondence with her estranged husband Anthony Weiner, a former Congressman with a dodgy reputation.
No one knows if the emails are of any significance or consequence, including the FBI, whose Director wrote to Congress informing them that the Bureau is reviewing new emails related to Clinton's personal server. The FBI was reportedly investigating Weiner's lewd texts with an underage girl, when it came across the emails on the laptop he and Abedin shared.
Clinton's use of a private server for official communications has caused a furor, with critics painting Clinton as a irresponsible and unmindful of security. But the fact that the FBI appears to have reopened its probe into the matter after having absolved Clinton earlier has surcharged the Republican and Trump campaign, itself buffeted by scandals pertaining to its principal over his treatment of women.
Abedin, a White House intern from the 1990s who has been Hillary Clinton's aide for nearly 2 decades, is the daughter of a New Delhi-born scholar Syed Zainul Abedin and Pakistani academic Saleha Mahmood Abedin. Born in Michigan, she is married to but estranged from Weiner, a former Congressman from New York whose political career is in free-fall because of serial sexting scandals and other indiscretions that has cast a shadow on the Clinton campaign.
Abedin herself has been under attack from Trump supporters for her association with a journal edited by her mother that features fundamentalist Islamist views, with the thinly-veiled suggestion that she is a Trojan House or fifth columnist who is danger to national security. Now, with the FBI disclosure that she shared a laptop with her husband, and they contain emails (whose importance or relevance remain unknown) relating to Clinton while he was engaged in dodgy online behavior, has put both her and the Clinton campaign under a cloud.
The Clinton campaign and its associates are shouting from the rooftops calling on the FBI to release all emails and it may not amount to much, but the cloud of suspicion and innuendo could be sufficient to muddy the electoral waters.
Trump and his cohorts are rejoicing at the FBI disclosure, in part because it takes the heat and attention away from the Republican candidates own campaign train wreck, even as Clinton and her surrogates are reacting with cold fury at the FBI going public with an issue that may not necessarily have a bearing on national security. Some of her supporters feel that there is an attempt to undermine her "imminent" victory with this "October Surprise," a term used for any political event orchestrated in the month before an election, in the hopes of affecting the outcome.
In a press conference convened on the campaign trail in Iowa, Hillary Clinton forcefully called on the FBI to release the "full and complete facts" about its review of the material. "Voting is underway, so the American people deserve to get the full and complete facts immediately," she said, adding it was "imperative that the bureau explain this issue in question, whatever it is, without any delay."
Clinton also said she was confident the development will not change the conclusion reached in July, when FBI Director James Comey, who was a registered Republican before he gave up party affiliation and is a Barack Obama appointee to the post, said he wouldn't recommend criminal charges in the matter.
But Trump, who has been critical of the FBI letting Clinton "off the hook" earlier, seized on the latest development. "Hillary Clinton's corruption is on a scale we have never seen before. We must not let her take her criminal scheme into the Oval Office," Trump told raucous supporters at a rally in New Hampshire amid the now familiar chants of "Lock her up! Lock her up!"
Trump said he has "great respect" for the fact that the FBI and the Department of Justice are now "willing to have the courage to right the horrible mistake that they made" in absolving Clinton.
Trump and Republicans have looked for vulnerabilities in the Clinton campaign to exploit, and Abedin has long been a target. But whether it will make a difference at this late stage, when early voting has already accounted for 12.4 million votes (from an electorate of 146 million), is hard to say.
RealClearPolitics' poll of polls average still shows Clinton leading Trump by 4.6 points.
timesofindia.indiatimes.com/united-states-elections-2016-us-elections-news-results-polls/Will-an-India-Pakistan-offspring-torpedo-Hillarys-hope/articleshow/55133797.cms
------
Africa
Two Suicide Bombers Kill At Least 8 in Northeast Nigeria's Maiduguri
Reuters | Oct 29, 2016
MAIDUGURI, Nigeria: Two suicide bombers killed at least eight people on Saturday in the north-eastern Nigerian city of Maiduguri, the heart of a seven-year-old insurgency by Islamist Boko Haram militants, the military said.
There was no immediate claim of responsibility but the attacks bore the hallmarks of Boko Haram, which has been trying to set up an Islamic state in the northeast, killing thousands and displacing more than 2 million people.
In one attack a woman blew herself up at 0600 GMT in front of the Bakasi camp for displaced persons on Maiduguri's outskirts, killing five men and wounding 11 women, the army said in a statement.
At about the same time another female suicide bomber blew herself up while trying to enter a fuel depot of state oil firm NNPC, killing three persons, the army said.
Residents saw bodies being carried into an ambulance by government emergency services.
Boko Haram controlled a swathe of land around the size of Belgium at the start of 2015, but Nigeria's army, aided by troops from neighboring countries, has recaptured most of the territory.
The group still stages suicide bombings in the northeast, as well as in neighbouring Niger and Cameroon.
timesofindia.indiatimes.com/world/rest-of-world/Two-suicide-bombers-kill-at-least-8-in-northeast-Nigerias-Maiduguri/articleshow/55129861.cms
----------
Egyptians enraged over Islamic bloc leader's Sisi joke
30 October 2016
CAIRO – Egypt on Saturday condemned the Saudi head of the Organisation of Islamic Cooperation for mocking its President Abdel Fattah al-Sisi in comments that provoked outrage among Egyptians.
OIC Secretary General Iyad Madani, a former Saudi minister, had mixed up Sisi's name with that of Tunisian President Beji Caid Essebsi.
"Mr President Beji Caid al-Sisi. Essebsi sorry. This is a big mistake. I'm sure your fridge has more than water, your Excellency," he told the Tunisian leader at a conference.
He was referring to widely derided comments made by Sisi this week in which he claimed that his fridge only had water in it for a decade.
Madani's remark was "a serious encroachment against a founding member state of the organisation and its political leadership," Egypt's Foreign Minister Sameh Shoukry said in a statement.
"Such remarks do not conform to the responsibilities and the duties of the organisation's secretary general position, and fundamentally affect his ability to carry out his duties," he added in the statement in English.
Madani, who has headed the 57-member bloc since 2014, has apologised, saying in a statement he meant no "insult to the Egyptian leadership".
enca.com/africa/egyptians-enraged-over-islamic-bloc-leader%E2%80%99s-sisi-joke
------
Ten bodies bearing signs of torture found in Libya's Benghazi: Official
BENGHAZI, Libya –
The bodies of 10 men who appear to have been tortured and shot dead have been found in a suburb of Libya's eastern city of Benghazi, a security official said.
The bodies were found overnight between Thursday and Friday in Benghazi's Shabna district, said Milad al-Zwai, a spokesman for Benghazi's special forces.
For the past two years Benghazi has been the site of a military campaign led by eastern commander Khalifa Haftar against Islamists and other opponents.
After long struggling to make progress, Haftar's forces seized several key neighbourhoods earlier this year, though they still have not brought the city under full control.
It was not clear who was responsible for the killings. Only five of the bodies found in Shabna had been identified, but Zwai did not give details.
The area is under the control of Haftar's forces.
In July, 14 bodies with gunshot wounds to the head were found in another Benghazi neighbourhood, Laithi, which had been the scene of fierce fighting before Haftar's forces took control of it several months earlier.
news.asiaone.com/news/world/ten-bodies-bearing-signs-torture-found-libyas-benghazi-official
----
Europe
Islamic State Claims Responsibility for Fatal Stabbing In Hamburg
October 30, 2016, 3:07
A follower of Islamic State was responsible for a stabbing attack on two youths in the German city of Hamburg two weeks ago, the militant group's Amaq news agency said on Sunday.
In the incident, the unknown perpetrator attacked a young couple sitting under a bridge at the Alster river in downtown Hamburg. He stabbed the 16-year-old man repeatedly from behind and kicked his 15-year-old female companion into the river.
The stabbing victim died of his injuries shortly afterwards in hospital while the young woman managed to escape.
"A soldier of the Islamic State stabbed two individuals in Hamburg city on the 16th of this month," Amaq said. "He carried out the operation in response to calls to target the citizens of coalition countries."
A police spokeswoman in Hamburg declined to comment on Islamic State's claim and only referred to an earlier statement the police issued shortly after the attack.
According to that statement, the attacker was of "southern appearance", aged between 23 and 25 years and had a designer stubble.
The background of the act is unknown and the subject of investigation, police said back then.
Experts say it is not clear how close the connection is between groups and individuals proclaiming allegiance to the Islamic State militant group.
The Islamist organization is increasingly under pressure from regional and international forces in its Middle East heartland of Syria and Iraq.
http://nation.com.pk/international/30-Oct-2016/islamic-state-claims-responsibility-for-fatal-stabbing-in-hamburg
----------
People think that everyone in Molenbeek is in Islamic State. But I let football do my talking'
Sunday 30 October 2016
A red baseball cap provides Azmani Ridoin with only minor relief against the dazzling autumn sun as he squints across an artificial football pitch to scrutinise every move being made by his players.
Like any self-respecting coach, he has little time for slackers as he furiously blows his whistle at the guilty while throaty barks of "voilà" are hurled at those whose efforts deserve recognition. Once the routine drills of sprinting, skipping and ball control are over, the 24 youngsters break into two groups for an intense practice match that is intermittently stopped as Ridoin remonstrates with his charges, who are struggling to adapt to a new tactical formation.
It is a tough, no-nonsense approach that some may consider harsh given the tender years of those on the pitch, but it is paying dividends. The under-12s of Académie Jeunesse Molenbeek are reigning champions and currently top of their league – and last season they lifted the trophy in a 24-team tournament in Spain in which children from Real Madrid, Barcelona and other leading European sides also competed.
Ridoin calls an end to proceedings and his players trudge off the pitch in sweat-drenched shirts to be met by more straight talking and what have become his trademark words: "Discipline on the pitch means discipline off it," he warns. "Focus on your studies and keep good company. And remember: you play for the whole of Molenbeek."
As he reminds them of the kick-off time for their next match, Ridoin, 46 and an engineer by profession, justifies his tough-love methods.
"They are still young and do not understand the problems they will face as they get older because in Belgium it's hard to be accepted if you are Muslim," he says. "We want them to be well-educated, strong individuals who will overcome any hurdles in a positive way."
The weary youngsters make their way home, chatting and passing a ball, along streets that first hit the headlines last year when 130 people were killed in the terror attacks in Paris. The ringleader, Abdelhamid Abaaoud, and three of the other suspected attackers grew up in Molenbeek, including Salah Abdeslam, who, after a four-month manhunt, was arrested in his home neighbourhood just five minutes from the Sipelberg stadium where the Académie train and play.
Molenbeek's notoriety did not end there, however. Some of the bombers who took part in the attacks on Brussels airport and a metro station in March, killing 32 people, were found to have links to the area. Ayoub el-Khazzani, a Moroccan national suspected of opening fire on a train between Brussels and Paris last August, was also from Molenbeek, while Mehdi Nemmouche, who is accused of killing four people at a Jewish museum in Brussels in 2014, once lived in the area.
Figures later published showed that of the 543 Belgians who had gone to fight in Syria – the highest per head in Europe – 47 came from Molenbeek's 100,000-strong population.
Within days of the Paris attacks, the compact Brussels district was flooded by police, soldiers and an army of journalists from around the world. The various undesirable sobriquets they gave the area have stuck: "The Islamic state of Molenbeek"; "Europe's jihadi capital" and "Europe's jihadi heaven," to name but a few.
In the 12 months since the Paris attacks, on 13 November 2015, the people of Molenbeek have been trying to rebuild its battered reputation and also get to grips with the underlying problems they say pushed some of its young men towards violent Islamic fundamentalism. And football has become key to this.
Despite its reputation, Molenbeek is beginning to show signs of gentrification. Photograph: Antonio Olmos for the Observer
Académie Jeunesse Molenbeek was founded in 2004 by Omar Tizguine – who is also the club secretary – and a group of friends who felt they were being discriminated against by other Brussels teams on account of their Moroccan backgrounds.
Over the past year its numbers have more than doubled to above 500 as players flood to join its ranks, driven by parents, imams and the wider community who maintain that delinquency, poor education and social alienation allowed the likes of Salah Abdeslam and his brother Ibrahim, who blew himself up in Paris last November, to be exploited by Islamic State recruiters.
Around 41% of the residents of Molenbeek – which is a short walk from Brussels city centre – are Muslim (compared with 6% for Belgium as a whole), the bulk of Moroccan descent. The area suffers from 30% unemployment, compared with the national average of 8.5%, while youth unemployment is even higher, at 40%.
Despite high levels of deprivation and petty crime, those entering a district dubbed by many as a "hostile Muslim enclave" will be in for disappointment if they are expecting an aggressive reception from fundamentalist hotheads.
Molenbeek's sedate, well-swept streets are lined with cafes serving visitors mint tea, Moroccan delicacies and a warm smile. Any heated conversation, if they want one, is mostly likely to centre on football. Chic eateries and even a boutique hotel have sprung up among its apartment blocks, halal butchers and greengrocers, suggesting a modicum of gentrification.
Over a traditional Moroccan breakfast of sweet milky coffee and pitta filled with cheese and honey, Tizguine's face contorts with anger as he recounts what he and other locals refer to as the "collective punishment" meted out to them. "All of us have been portrayed as terrorist monsters and stigmatised by politicians and the media," he railed. "I fully accept that we have problems but there is good and bad in every community.
"For one whole month after the Paris attack I was asked every day by journalists if I had gone to Syria, ever thought about going there or knew anybody who had gone there. People think we are all members of the Islamic State. But I let football do my talking and we are using it to make our community a better place to live."
Utilising the beautiful game to overcome the Molenbeek "monster" stereotype has become central to the club's ethos. All players are instructed to shake hands with opponents before and after games, arguing with match officials is prohibited and visiting teams are often treated to food and drinks. The result is that all 10 teams of the Académie Jeunesse Molenbeek, from the seven-year-olds to the over-18s, have the best disciplinary record in their respective leagues, while last season it was voted the friendliest club.
Virtually all its players are Muslim and live locally. As part of the club's drive to tackle the more endemic problems they face, each has to show his school report and attendance record at least once every three months to prove he is keeping up with his studies, while coaches regularly meet with parents to discuss their social development and address any behavioural concerns.
Tizguine said: "Our priority is not football but discipline and keeping children off the street. Many boys in Molenbeek are poorly educated and unemployed: they get into bad company and this makes them vulnerable. We make it clear that if you do not focus on school and don't behave in all areas of your life, you cannot be part of this club."
Mohamed Tabakkalt, the club's sporting director, added: "Since the Paris attacks, parents are scared for their sons and they want to get them involved in something positive. We are struggling to keep up with the demand because so many boys want to join us."
Molenbeek's "terrorist" tag, however, has weighed heavily at times over the past year. Attempts to recruit white footballers from outside the area in order to create more integrated teams have failed, while existing white players have left because of fears that it's a dangerous place to visit. Earlier this year, all 26 teams scheduled to take part in an annual girls' tournament cancelled for the same reason, while the boys' teams did not organise one at all. Players from Académie Jeunesse Molenbeek have also been verbally abused on the pitch, called "terrorists" and "gangsters".
The club has also had to have some difficult conversations with its players over the past year, most of them nothing to do with football. Meetings have been held to address concerns raised by inquisitive youngsters seeking explanations about Molenbeek's links with Paris, Brussels and other attacks and the impact it has had on their lives. The likes of Salah Abdesalam, who is awaiting trial in Paris, are held up as anti-role models.
The club's work is supported by Françoise Schepmans, the mayor of Molenbeek, who has launched a wide-ranging plan centred on education and sport to try to combat some of the problems young people in the area face.
Like many of her constituents, she also believes that delinquency and poor education within Molenbeek, rather than an ingrained, widespread sympathy for violent Islamic extremism, explain the radicalisation of Abdesalem and his cohorts.
This was borne out recently by the findings of a comprehensive two-month survey of Molenbeek residents from all religious backgrounds by the European Institute of Peace. The majority felt a lack of opportunities, social isolation and poor education were the main reasons for violent Islamic extremism. The top three issues they listed as affecting them were unemployment, poor education and antisocial behaviour, with the majority calling for a stronger police presence to make their community safer. Around 90% said they did not trust politicians and journalists because of the way they had portrayed their home district.
Radicalisation in Molenbeek: 'People call me the mother of a terrorist'
Schepmans said: "If you look at somebody like Abdesalam, he was part of a group of petty criminals and we had no way of knowing that these delinquents would become such violent radicals.
"We have a lot of young people in Molenbeek who are poorly educated, which affects their job prospects and pushes them into delinquent behaviour. They are on the streets, commit petty crimes and can be easily led. Education is the priority for us, but sport has an important role to play because it can motivate them in other areas of their lives, helps tackle delinquency and brings prestige to an individual and an area."
An extra 50 police officers have been drafted into Molenbeek to deal with petty crime, leading to a threefold increase for the first half of this year in arrests for minor offences. New facilities and programmes for football and other sports are also being rolled out over the coming months, with funding from the Cruyff Foundation, which was founded by former Netherlands captain Johan Cruyff to help youngsters in deprived areas.
For the Académie Jeunesse Molenbeek, the prospect of financial assistance could not be better timed. It costs £130,000 a year to run the club but it only receives £30,000 in grants from the local authority. The remainder is supposed to be made up of annual player subscriptions of £300, but only half its players can afford to pay the full amount.
Officials often have to dig into their own pockets to keep the club afloat and ensure that it continues to grow. As they battle to get Molenbeek back on its feet and restore its reputation in the eyes of the world, they have vowed not to turn any boy away.
https://www.theguardian.com/world/2016/oct/29/molenbeek-brussels-fighting-isis-football
------
Southeast Asia
Halal Has Nothing to Do With Names and Posters, Says Perak Mufti
BY KAMLES KUMAR
Sunday October 30, 2016
KUALA LUMPUR, Oct 30 — Perak Mufti Tan Sri Harussani Zakaria criticised two religious bodies for taking issue with posters and the name of a food item in the recent halal kerfuffle involving two food outlets.
He said the Malaysian Islamic Development Department (Jakim) and the Selangor Islamic Affairs Department (Jais) should focus on the food content when it comes to determining the halal state instead of scrutinising food name and posters.
"Yes, they are being extreme with their issue with posters and name of food. They should look at the content... that's what determines the halalness.
"That is the duty of Jais and all. They should analyse and come up with advice or a list so Muslims can know what is halal or not," he told Malay Mail Online yesterday.
Harussani explained that a particular poster or name of a specific food like "hot dog" would not cause Muslims to go against their religion.The Perak Mufti explained that a particular poster or name of a specific food like 'hot dog' would not cause Muslims to go against their religion. — Picture courtesy of hot-dog.org
The Perak Mufti explained that a particular poster or name of a specific food like 'hot dog' would not cause Muslims to go against their religion. — Picture courtesy of hot-dog.org
"Like hot dogs, the word has been used for a long time. There has been some issue with it for some time but the name is permitted as long as the content is halal," he said.
The senior religious figure also warned the public and religious authorities to first investigate an issue before sharing it on social media.
"Please check and verify first before sharing it. Any party that wants to comment needs to study and analyse the issue before saying anything. If not, it will be blown out of proportion," Harussani said.
Jakim's halal division was criticised in the last few weeks after an executive with US pretzel chain Auntie Anne's revealed that their application for halal certification failed due to, among others, concerns over the "pretzel dogs" in their menu.
Jakim's halal division director Dr Sirajuddin Suhaimee previously told the media that, "In Islam, dogs are considered unclean and the name cannot be related to halal certification" but has since claimed he was misquoted by the media.
Media outlets carried Sirajuddin's remarks about the unsuitability of the term "dogs" this week, along with the department's guidelines against halal food items being similar in name to haram products such as beer, bacon and ham, among others.
Muslim lawmakers from both sides of the political divide have come down hard on Jakim's decision.
Earlier this week, pork burger chain Ninja Joe was reportedly raided by Selangor and Negri Sembilan Islamic authorities over claims that its "P. Ramly" homage to local Ramly burgers was confusing Muslims over the status of its halalness. (The P. in the name stands for pork.)
These incidents point to a growing trend of religious conservatism in Malaysia, probably the only country in the world that prohibits non-Muslims from using the word "Allah."
themalaymailonline.com/malaysia/article/halal-has-nothing-to-do-with-names-and-posters-says-perak-mufti
URL: https://www.newageislam.com/islamic-world-news/new-age-islam-news-bureau/pakistan's-online-seminaries-teach-qur'an-to-a-global-classroom/d/108955
New Age Islam, Islam Online, Islamic Website, African Muslim News, Arab World News, South Asia News, Indian Muslim News, World Muslim News, Women in Islam, Islamic Feminism, Arab Women, Women In Arab, Islamophobia in America, Muslim Women in West, Islam Women and Feminism