New Age Islam News Bureau
29 August 2022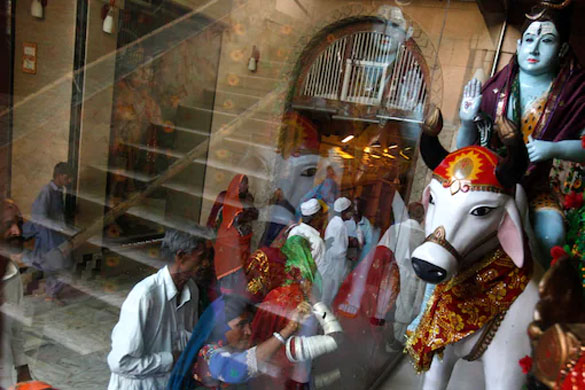 Thousands of Hindus from all over Pakistan visit the Ratneshwar Mahadev Mandir in Karachi in the month of Sawan and Mahashivaratri (Image: Reuters)
----
• New York Court 'Terminates' President Joe Biden's Executive Order to Split Afghans Frozen Asset
• Afghan Cinemas to Reopen After 1-Yr Hiatus, Roles of Women Actors Suppressed Under Taliban
• US-Backed Syrian Kurdish Forces Move To Halt 'Brutal Torture' At ISIS Camp
• Hindutva Groups, VHP and Bajrang Dal Call For Protest against State Govt, Police For They • Failed In Stopping Anti-Hindu Forces in Telangana
Pakistan
• Pakistan rejects Taliban claim that US used its airspace to kill Al Qaeda leader: Report
• Pak Court Issues Notice to Police for Booking PML-N Leader Maryam Nawaz over 'Contemptuous Remarks' Against SC Judges
• Pak Journalist Booked For Misquoting Imran Khan Over 'Disrespectful' Religious Remarks
• 'Seminaries Fortresses of Islam, Legacy of Suffa (RA): Amir Muttahida Jamiat Ahl-e-Hadith
• Pakistan monsoon flooding death toll rises to 1,061
• Relief goods for flood-hit pour in from several countries
• More planes with relief goods from UAE, Turkiye to reach soon: Marriyum
--------
North America
• Israeli spy chief to meet US officials on Iran deal
• US calls for talks between Libyan rivals amid Tripoli clashes
• US military commander praises Saudi Arabia for security cooperation
• Saudi royal family should compensate 9/11 families, not Afghanistan: Analyst
• US spy agency threaten Turkish businessmen over Russia trade
--------
South Asia
• Taliban Blames Pakistan for Allowing Its Airspace to Be Used by US Drones
• Taliban demands return of helicopters that flew to Central Asia before Kabul fell
• Ex-Afghan president admits blame for trusting 'key partner' US
--------
Arab World
• Iraq: How life under Islamic State impacted Mosul's deaf community
• Saudi pilgrimage complex developer Jabal Omar converts $1.4 bln debt to equity
• Iraq's Sadr proposes 'all parties' leave government posts
• Turkey says it 'neutralised' nine PKK members in northern Iraq
• Kuwait to hold parliamentary election on September 29: Report
• UAE president orders relief aid to flood-hit Pakistan
--------
India
• Hijab Ban Case: Supreme Court Issues Notice To Karnataka Govt; Next Hearing On September 5
• Pakistan May Import Tomato And Onion From India Amid Huge Surge In Vegetable Prices Due To Floods
• Hyderabad: Muslim man booked for allegedly threatening to kill Raja Singh
--------
Southeast Asia
• In Hadi's Presence, Gerakan Chief Urges Respect For All Races, Religions
• PAS' regressive policy a threat to Malaysia, says Kuching MP
• Malaysia's key political parties hold meetings amid signs of imminent general election
• Indonesia's Cardinal Suharyo gets titular church in Rome
• Bukit Aman probing Hadi over non-Muslims comment
--------
Mideast
• Hezbollah Chief Meets Hamas Officials Days after Sit-Down With Islamic Jihad Leader
• Palestinians condemn Israeli settlers' unprecedented storming of al-Aqsa mosque through Lions' Gate
• Houthis slammed for torturing abducted journalists
• Palestinian toll mounts as Israel steps up West Bank raids
• Palestine serves as key to regional stability, security: Iranian deputy FM
• Jordan calls for halting Israeli violations at Jerusalem's Al-Aqsa complex
• Iran Showcases New Precision-Striking Drone
• Iran Calls for Cessation of Hostilities in Libya
--------
Africa
• Libyan Defence Ministry Issues Arrest Warrant for Parliament-Appointed Prime Minister
• Chief Imam of Lekki Central Mosque Seeks Synergy among Muslim Leaders, Scholars to Enhance Quality Leadership
• Inuwa, Shehu Of Borno, Pantami Urge Muslims To "Use Mosque To Preach Peace, Unity"
• Clashes in Libya leave 32 dead before tentative calm
• Sudanese journalists form independent union to defend freedoms
• Military convoy linked to Libya's Bashagha heads toward Tripoli amid clashes
• Sudan journalists vote for new syndicate after boycotting union for more than 3 decades
--------
Europe
• Sweden's NATO Talks with Türkiye Strained by Party Members Posing with PKK/YPG Flags: Foreign Minister
• Pope calls for international cooperation to help flood-hit Pakistan
• Netherlands temporarily suspends reception of asylum seekers from Türkiye: Justice and Security Ministry
• Türkiye calls Macron's remarks in Algeria 'unacceptable'
Compiled by New Age Islam News Bureau
URL: https://newageislam.com/islamic-world-news/pakistan-hindus-sawan-prayers-flood/d/127829
--------
Pakistan's Hindus End Holy Sawan Month with Prayers for Their Flood-Affected 'Brothers, Sisters'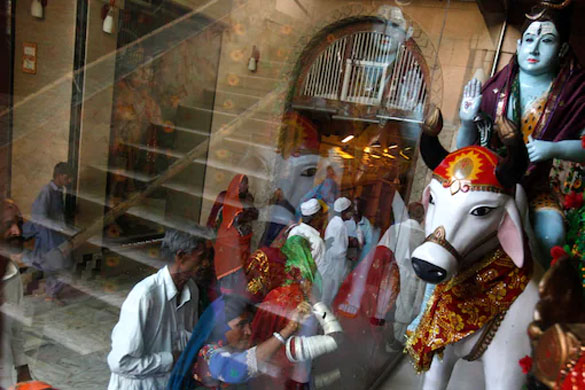 Thousands of Hindus from all over Pakistan visit the Ratneshwar Mahadev Mandir in Karachi in the month of Sawan and Mahashivaratri (Image: Reuters)
----
Naeem Sahoutara
August 29, 2022
KARACHI: Monishka Sharma wakes up at 4am in the morning, performs ablutions, covers her head with scarf and reads her holy book, the Bhagavad Gita. Lastly, she sings prayers and goes back to sleep. When she wakes up later in the day, she doesn't eat anything till dusk.
"I have been observing a 24-hour fast for the last one month. I have observed 30 fasts during our holy fasting month of Shravan," the teenage girl tells Dawn.
"I break my fast at sunset with simple food. There is no special one to break the fast. That's it. With this meal, the fast starts again till the evening the next day," she explains.
"My mother and father have also observed all the 30 fasts of Shravan," she adds smilingly.
Like Muslims, Christians and Jews, the Hindus also have a fasting month in their religious calendar.
Shravan or Sawan Maas is the fifth month in the solar calendar followed by the Hindus during which they observe fasts for 30 days every year.
The religious events during the month mark the special event of the birthday of their Supreme Lord Shiva, who, according to the Hindu mythology, creates, protects and transforms the universe.
The religious minority community celebrated the birthday of the Lord Shiva on 19th of this month – the core of the whole month of fasting, praying and seclusion. And this is the month of seeking one's wishes fulfilled too.
"There had been some problems in my family, so I observed the fasts with a wish to our Lord Shiva to resolve them," says Sharma.
"I also prayed for Sukh and Shanti (peace and prosperity) as there had been the incidents of killings of our community members over petty issues and kidnappings of the Hindu girls," she added.
Indirectly, the girl referred to the incidents of forced conversion of the Hindu girls, many of her age, and torture or lynching of the members of her community over the allegations of blasphemy.
Ms Sharma, along with her family, heads to the historic Shri Ratneshwar Mahadev Mandir in Clifton, where special puja was being held to mark the end of the fasting month.
Her third wish is for her future. "I also prayed for my studies," says the Grade-VIII student," adding: "I also want to do my own business of computers, so I also prayed for this as well."
Lord Shiva's eye on sea disasters
The Hindu community believes that the third eye of the Lord Shiva watches the sea and prevents sea disasters like floods from happening.
It is believed that Lord Shiva used to live in this cave, and also that Guru Nanak used to meditate there, where the Shri Ratneshwar Mahadev temple is made.
Special puja at the end of the month was being held at the temple, which is said to have been built around 300 years ago in a cave, which still exists.
The staircase leads down to the cave and opens up to the Arabian Ocean, which is why this temple has also significance since the prayers at the sea are considered more important.
On the first floor, the special puja was held with a big Hawan (bonfire) in the middle.
Hundreds of worshippers, mostly fasting, attend the puja, where they break their fast as well.
Parsad is considered a sacred edible made from wheat loaf mashed with sugar or gur and asli ghee is distributed at the end.
"This is the first or probably the second largest temple in the metropolis," young worshipper Ravi Waghela told Dawn, who supervises a live streaming of the puja on Facebook.
During the puja, the temple's priest Maharaj Ram Nath delivered a sermon highlighting the significance of the month.
"I pray for our people, especially our youngsters, to spend their lives according to the teachings of our religion," the priest told Dawn, sitting at the corner of the big bonfire.
Also, he pleads the Lord Shiva to control the gushing water, which is causing floods and disasters across the country.
"We offered special prayers to our Lord Shiva, who controls the sea disasters, to help our brothers and sisters affected by the floods in our country," the priest told Dawn.
In the cave, the worshippers pour milk on the Shivling.
Hours-long puja comes to an end with the distribution of Bhandara (free food) among the worshippers so that they can break their day-long fast.
Sharma and hundreds of other worshippers leave for their homes, content that their Lord Shiva has taken up all their worries and threats of any disasters in the future.
Source: Dawn
Please click the following URL to read the text of the original story:
https://www.dawn.com/news/1707224/hindus-fasting-month-shravan-concludes-with-prayers-for-flood-victims
--------
New York Court 'Terminates' President Joe Biden's Executive Order to Split Afghans Frozen Asset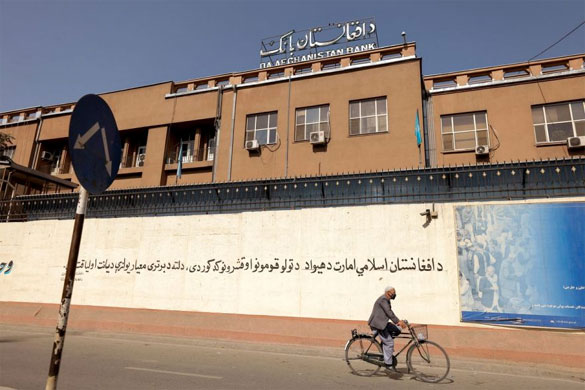 A man rides a bike in front of the Da Afghanistan Bank in Kabul, Afghanistan October 8, 2021. REUTERS/Jorge Silva/File Photo
-----
By Arif Ahmadi
29 Aug 2022
KABUL, Afghanistan – A New York court has denied the request to compensate 9/11 victim families from Afghanistan's frozen foreign reserves, terminating President Joe Biden's executive order to split the $7 billion in Afghan asset between poverty-stricken Afghanistan and families of 9/11 victim.
The decision came a week after at least 77 family members of victims of 9/11 in a letter to United States President Joe Biden wrote "the Afghanistan central bank funds currently being kept in New York belong to the Afghan people," urging the court to reconsider the case.
United States Magistrate Judge Sarah Netburn made the recommendation that still is under review for a final decision. The court letter was tweeted by the Chargé d'Affaires of Afghanistan's Permanent Mission to the United Nation Naseer Ahmad Faiq.
"The Taliban's victims have fought for years for justice, accountability and compensation. They are entitled to no less," the posted letter said. "But the law limits what compensation the court may authorize, and those limits put the DAB's assets beyond its authority."
"The court lacks subject matter jurisdiction over the turnover motion because the Judgment Creditors have not overcome DAB's immunity from jurisdiction," the letter elaborated. "And even if they had, the Court cannot find that DAB is an agency or instrumentality of the Taliban under TRIA § 201 without infringing on the President's constitutional recognition prerogative."
Fair said they coordinated with some government and non-government organizations to maintain the Afghan assets, as the court has given a 14-day period for the opposition to register their complaints should they have any.
"The decision denied the mentioned claim and appeal of the 9/11 victims based on legal rights," he said, as TOLOnews quoted. "The other side had been given a 14-day period of time to register their complaints in case they oppose this decision."
Meanwhile, Islamic Emirate leadership welcomed the court's decision, saying Afghans were not involved in 9/11 attack and that they will be benefiting the asset as it should be.
"We welcome this. It is a good step. It is obvious that the Afghans were not involved in the 9/11 attack. The assets which are frozen now will hopefully be released," said Bilal Karimi, deputy spokesman for the Islamic Emirate.
Netburn's recommendation will be reviewed by US District Judge George Daniels in Manhattan, who also oversees the litigation and can decide whether to accept her recommendation, said Reuters.
In February, President Biden signed an executive order to free $7 billion in Afghan assets now frozen in the US, splitting the money between humanitarian aid for poverty-stricken Afghanistan and a fund for families of 9/11 victims still seeking relief for the attacks that killed thousands.
The US State Department spokesman Ned Price at a recent press conference said that $3.5 billion in Afghan central bank reserves were preserved for the benefit of the Afghan people, seeking a mechanism that will ensure transparency throughout the process.
"What we are focused on right now are the ongoing efforts to enable those funds, the $3.5 billion in licensed Afghan central bank reserves, to be used for the benefit of the Afghan people," Price told the press conference.
"And we're seeking to find the best mechanism to ensure that those funds can go to the Afghan people in a way that doesn't risk their diversion from the Taliban or other forces, including to potentially terrorist groups or terrorist actors."
Da Afghanistan Bank (also known as the Afghan central bank) funds have been frozen in thirteen banks and eight countries since the collapse of former government, paralyzing its operations that regulate all banking and money handling in Afghanistan.
Source: Khaama Press
Please click the following URL to read the text of the original story:
https://www.khaama.com/court-terminates-executive-order-to-split-afghans-frozen-asset/
--------
Afghan Cinemas To Reopen After 1-Yr Hiatus, Roles Of Women Actors Suppressed Under Taliban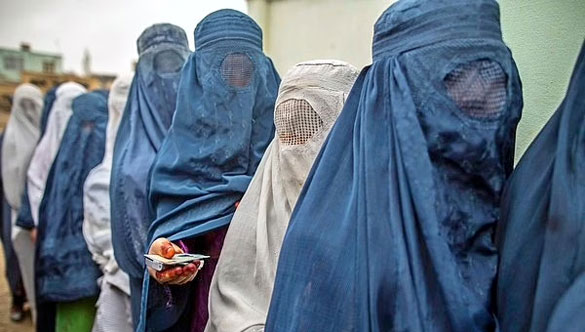 Representative Image
-----
28 August, 2022
Kabul [Afghanistan], August 28 (ANI): After a hiatus of one year since the Taliban's takeover of Kabul last August, Cinemas in the country are all set to screen movies however the roles for women artists were severely limited, media reports said.
While many are rejoicing the reopening of Afghan cinemas after a year of being closed others are voicing grave concerns about the violation of women's rights in the process.
37 movies and documentaries are lined up to be screened but it must be noted that Atifa Mohammadi is the only women actor who played a role in one of these recently-made movies, reported Khaama Press.
The actors in the movies are happy about the reopening of cinemas and they said they had to provide funds for the films to be made. "After one year, the doors of the cinema have been reopened. We are happy," said Abdul Sabor Khinji, an artist.
'We have spent from our own pocket money on the movies. We were happy just to do our work," said another artist Fayaz Iftikhar, as per the media portal.
Zahra Murtazawi, a resident of Kabul while giving out an important message said, "Women should not be prohibited in this field because this is the right of women. I don't think a movie would sound good without the presence of women."
When the Taliban announced last month that women and girls should not leave their homes unless necessary and should do so only with their whole bodies including their faces covered, only a few were surprised. Others, who lived through the last period of Taliban rule from 1996 to 2001, were not.
They abolished the Ministry of Women's Affairs and replaced it with the Ministry of Vice and Virtue, which issued the most recent order. The outlawed Taliban also banned secondary education for girls and banned women from almost all jobs.
The group also dismantled the system to protect women and girls from violence and made it difficult for them to get health care. They issued new rules for how women must dress and behave while enforcing these rules through violence.
The list of Taliban violations of the rights of women and girls is long and growing, said Heather Barr, Women's Rights Division at Human Rights Watch (HRW), as she raised growing concerns about the violation of the rights in the country.
She said Afghan women's rights activists warned all along that the Taliban's promises to respect women's rights were false. Afghan rights activists warned in the days after the Taliban took the capital, Kabul, on August 15, 2021, that the group would intensify its crackdown on women. (ANI)
Source: The Print
Please click the following URL to read the text of the original story:
https://theprint.in/world/afghan-cinemas-to-reopen-after-1-yr-hiatus-roles-of-women-actors-suppressed-under-taliban-2/1104757/
--------
US-Backed Syrian Kurdish Forces Move To Halt 'Brutal Torture' At ISIS Camp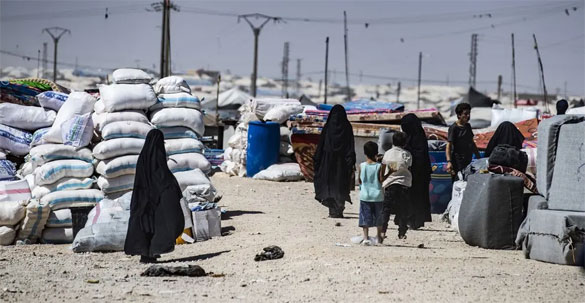 DELIL SOULEIMAN / AFPKurdish-run al-Hol camp, which holds relatives of suspected Islamic State fighters, in the northern Raqqa region of Syria, September 14, 2021.
----
28 August, 2022
US-backed Syrian Kurdish security forces have launched a new operation targeting ISIS sleeper cells in a large northeastern detention camp where violence has reached record levels.
At least 44 people including 14 women have been killed this year in the al-Hol camp, which holds internal refugees and families of suspected ISIS fighters.
"We launched the campaign at this time because of the urgent need brought on by the escalation and increase in violent cases by IS cells in al-Hol camp," said Ali Hassan, a spokesperson for the internal security forces operating in Syria's semi-autonomous northeast.
He told Reuters the victims showed signs of "brutal torture," were often killed with silenced pistols or rifles and their bodies hidden in sewage pipes.
"Compared to last year, there is an increase in the pace of operations within the camp, especially during and after the attempted prison break," Hassan said.
He was referring to a January riot in a northeast Syrian prison, where ISIS suspects attempting a jailbreak took over part of the detention facility and dozens escaped.
Hassan said perpetrators of the violence in al-Hol likely had contact with ISIS units still roaming free.
Al-Hol houses around 55,000 people, including Syrians, Iraqis and other nationals who fled ISIS-held areas as the extremists faced an onslaught by the US-backed Syrian Democratic Forces.
The UN refugee agency in June described the situation at the camp as "catastrophic" saying that an additional "safe space" should be created to protect women and girls from attacks.
The agency said humanitarian organizations had had their facilities vandalized and equipment looted and that repeated lockdowns due to security incidents in the camp meant aid workers had reduced access to people in need.
Source: Al Arabiya
Please click the following URL to read the text of the original story:
https://english.alarabiya.net/News/middle-east/2022/08/28/US-backed-Syrian-Kurdish-forces-move-to-halt-brutal-torture-at-ISIS-camp
--------
Hindutva Groups, VHP and Bajrang Dal Call For Protest against State Govt, Police For They Failed In Stopping Anti-Hindu Forces in Telangana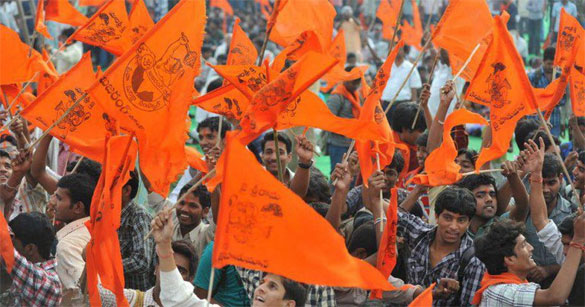 Representative Image
-----
28th August 2022
Hyderabad: Hindutva groups – Bajrang Dal and the Vishwa Hindu Parishad (VHP) – have called for a statewide protest on Monday, in Koti at 10 am. They alleged that the state government, as well as the state police, failed completely in stopping anti-Hindu forces.
The Hindutva groups referred to the recent protests by the Muslim community demanding the arrest of suspended BJP MLA T Raja Singh for making a controversial video where insensitive comments on Prophet Muhammed were made.
T Raja was arrested by the Telangana police under the PD Act (Preventive Detention Act) on August 26 after days of protests by Muslims in the city.
In a statement released on Sunday, they blamed the police for remaining "unresponsive" and alleged that Muslims were provoked to harass the Hindus.
"A conspiracy is afoot to engulf the peaceful Bhagyanagara with riots. This is completely denied by Bajrang Dal and Vishwa Hindu Parishad (VHP)," the statement said.
They demanded action against MP Assauddin Owaisi, who according to the right-wing groups, 'took away about 100 criminals from the police stations in the Old City.' They also demanded the arrest of Congress leaders Rashid Khan and Feroze Khan for their statements made during the unrest.
"IT minister K T Rama Rao should be stripped off from his ministerial position as he allowed the 'Hindu traitor' Munawar Faruqui to perform in Bhagyanagar before Vinayak Navratri," the statement said.
"Let's not forget that we are all Hindus. Tomorrow the whole state should know what is our capacity. These governments should know that if we are Hindus we can do anything. If you are a Hindu, participate in tomorrow's program and protect your dharma," the statement concluded.
Source: Siasat Daily
Please click the following URL to read the text of the original story:
https://www.siasat.com/telangana-bajrang-dal-vhp-call-for-statewide-protest-on-monday-2400260/
--------
Pakistan
Pakistan rejects Taliban claim that US used its airspace to kill Al Qaeda leader: Report
Aug 29, 2022
Pakistan has rejected the Taliban's claims about Islamabad's airspace being used for the US strike that killed Al Qaeda leader Ayman al-Zawahiri in July.
The reaction comes after the Taliban blamed the Pakistani government for allowing its airspace to be used by US drones.
Acting Defence Minister of Afghanistan, Mullah Yaqoub, on Sunday said that illegitimate use of drones to patrol Afghanistan's airspace is a transgression of the country's borders.
The statement was made during a press conference held on Sunday noon by Mullah Yaqoub and the Chief of Staff of the Taliban's military forces, Khaama Press reported.
"Our information shows that they (US drones) are entering into Afghanistan from Pakistan, using the airspace of Pakistan," Mujahid told reporters when asked where the drones were coming from, as per Dawn newspaper.
During the Press Conference, the Taliban's acting Defence Minister strongly claimed that US used Pakistan's airspace as a medium to enter and attack Afghanistan.
Previously, Al-Qaeda leader Ayman al-Zawahiri was killed in a CIA drone attack in Kabul, Afghanistan's capital, according to US President Joe Biden, who broke the news in a live broadcast.
According to the US, two Hellfire missiles fired from a drone killed the al-Qaeda chief while causing little damage elsewhere, preventing non-combatant fatalities.
The Taliban's acting Defense Minister's remarks come at a point of time when the terror group has mediated peace talks between the Tehreek-e-Taliban Pakistan (TTP), aka Pakistani Taliban, and the government of Pakistan.
TTP, popularly known as Pakistan Taliban, recently set alarm bells ringing in Islamabad after the outlawed group reappeared in Khyber Pakhtunkhwa's Swat valley.
Taliban militants reportedly had occupied hilltops of Swat district's Matta subdivision a few months ago, creating panic in several neighbouring districts.
The Taliban's unexpected appearance led to anger among the people and caused damage to tourism as the day Taliban were reported to have arrived in the valley.
Talks between the two sides began in October 2021 to seek a political solution to the issue. The talks that were held at the request of the Afghan Taliban led to a one-month ceasefire in November. However, the truce could not last long as differences emerged soon.
The ongoing peace talks between the TTP and Pakistan government reached a stalemate as the outlawed group refused to give in on its demand for the reversal of the merger of the erstwhile Federally Administered Tribal Areas (FATA) with the Khyber-Pakhtunkhwa province.
Source: Hindustan Time
Please click the following URL to read the full text of the original story:
https://www.hindustantimes.com/world-news/pakistan-rejects-taliban-claim-that-us-used-its-airspace-to-kill-al-qaeda-leader-report-101661729175373.html
--------
Pak court issues notice to police for booking PML-N leader Maryam Nawaz over 'contemptuous remarks' against SC judges
28 August, 2022
Lahore [Pakistan], August 28 (ANI): A Pakistan Court on Saturday issued notice to the police on a petition seeking registration of a case against Pakistan Muslim League-Nawaz (PML-N) vice president Maryam Nawaz for allegedly using contemptuous language against the Supreme Court judges.
Lahore Session court sought a reply from the police after Mohammad Nawaz, a citizen, filed a petition asking the court to order the police to register a case against the PML-N leader for scandalising the institution of the judiciary, Dawn reported.
In the petition, filed through Advocate Umair Saeed Butt the petitioner claimed that the PML-N leader had held press conferences against SC judges on July 25 and 28.
He alleged that the respondent used contemptuous language against the judges, which amounted to ridiculing the judiciary.
Additional District and Sessions Judge Liaqat Ali Ranjha sought a reply from the police on the petition by September 3.
Meanwhile, an anti-terrorism court denied the police physical remand of two PML-N workers in a 2020 case of attacking a police team outside the office of the National Accountability Bureau (NAB) when Nawaz appeared in an inquiry into a matter pertaining to the land allotment, Dawn reported.
A clash broke out between law-enforcement agencies and the PML-N party workers outside the National Accountability Bureau (NAB) office in August 2020 after Maryam Nawaz reached the NAB office in a case pertaining to the illegal transfer of 180 acres of land in Raiwind.
Activists in the PML-N caravan pelted stones at police, who responded by using batons, water cannons, and tear gas on the rioters.
After the clash, Maryam Nawaz and nearly 60 PML-N workers were booked for attacking the NAB office in Lahore and torturing NAB officials.
Source: The Print
Please click the following URL to read the full text of the original story:
https://theprint.in/world/pak-court-issues-notice-to-police-for-booking-pml-n-leader-maryam-nawaz-over-contemptuous-remarks-against-sc-judges/1104646/
--------
Pak journalist booked for misquoting Imran Khan over 'disrespectful' religious remarks
Aug 29, 2022
A Pakistani journalist was booked for allegedly attributing "disrespectful" statements about Islam to former Prime Minister Imran Khan, according to local media.
Rawalpindi police have registered a case against journalist Waqar Satti at RA Bazar police station on Saturday, Dawn newspaper reported on Sunday.
The case was registered on the complaint of a cable operator, Chaudhry Nasir Qayyum, under Sections 295-A and 500 of the Pakistan Penal Code.
According to the first information report (FIR) cited by Dawn, the complainant told the police that while he was at his office on August 24, he came across a tweet in which a man, identified as Waqar Satti, explained why he "hates" Imran and reasons of him going against the former prime minister.
FIR mentioned statements that, according to the complainant, "disrespected" Islam.
"Imran Khan has not mentioned any such words mentioned in Waqar Satti's tweet -- in any of his speeches," the FIR quoted the complainant as saying.
He added that Satti's actions had hurt his religious sentiments, "as well as that of thousands of other Muslims".
In Pakistan, freedom of the press continues to deteriorate, a senior journalist was shot dead by unidentified assailants on Saturday.
The incident took place in the Toba Tek Singh province of Pakistan's Punjab when the deceased journalist, Muhammad Younis was on his way to his farmland at Mouza Manganwala on his motorcycle when two men hiding in a field opened gunfire, according to Dawn.
The shooting incident left the journalist dead on the spot and the attackers then fled the scene.
Taking notice of the brutal murder, the Punjab Inspector General of Police (IGP) Faisal Shahkar has sought a report from Faisalabad Regional Police Officer (RPO) Babar Sarfraz Alpa.
Moreover, Jhang District Police Officer (DPO) Rashid Hidayat ordered the immediate arrest of the journalist's killers, constituting a team consisting of Shorkot deputy superintendent of police (DSP) and other expert officers to probe the incident, Dawn reported.
The curb on media freedom in Pakistan has highlighted that media freedom has been under serious question in the South-Asian country.
The everyday hardships faced by journalists who risk their lives in mostly low-paid jobs to fulfil a critical role in Pakistan continue to be subjected to incessant violence and abductions.
Media workers, both field reporters and desk staff are increasingly experiencing either harassment or financial hardship or both. They are being threatened, silenced and squeezed. Be it a prime-time TV anchor or a beat reporter, the threats exist for everyone.
Even media group owners are not immune to such harassment.
Notably, Pakistan has been ranked the fifth most dangerous place for the practice of journalism, according to the International Federation of Journalists (IFJ).
Source: Hindustan Times
Please click the following URL to read the full text of the original story:
https://www.hindustantimes.com/world-news/pak-journalist-booked-for-misquoting-imran-khan-over-disrespectful-religious-remarks-101661728397423.html
--------
'Seminaries Fortresses of Islam, Legacy of Suffa (RA): Amir Muttahida Jamiat Ahl-e-Hadith
August 29, 2022
LAHORE: President of Minhajul Quran International (MQI) and Minhaj University Lahore BoG deputy chairman, Dr Hussain Mohi-ud-Din Qadri said that religious seminaries are the fortress of Islam and the protectors and inheritors of the scholarly legacy of Suffa (RA), a sheltered raised platform set up by the Holy Prophet (PBUH).
Speaking on the occasion, Syed Ziaullah Shah Bokhari, Amir Mutthidda Jamiat Ahl-e-Hadith, said if we make Seerat-un-Nabi (PBUH) our practical role model, we will be rid of all the social and moral scourges that have bedeviled our lives. Syed Tahir Raza Bokhari, Director Aukaf Punjab, thanked Shaykh-ul-Islam Dr Muhammad Tahir-ul-Qadri for including Seerat-ur-Rasool (PBUH) as a proper subject in the syllabi of Nizam-ul-Madaris Pakistan.
Jamaat-i-Islami senior leader Dr Farid Paracha said that there is great desire and thirst for modern religious education. He said that we are thankful to Dr Tahir-ul-Qadri who quenched this scholarly thirst by including Seerat-un-Nabi (PBUH) in the curriculum of Nizam-ul-Madris Pakistan as a proper subject. Allama Toquir Abbas said that the combination of modern and religious education in the syllabi of Nizam-ul-Madaris Pakistan is its unique feature. General Secretary Nizam-ul-Madaris Pakistan Allama Mir Asif Akbar said that such a feat was achieved after 300 years.
Source: The News
Please click the following URL to read the full text of the original story:
https://www.thenews.com.pk/print/986381-seminaries-fortresses-of-islam-legacy-of-suffa
--------
Pakistan monsoon flooding death toll rises to 1,061
Aug 29, 2022
ISLAMABAD: The death toll from monsoon flooding in Pakistan since June has reached 1,061, according to figures released Monday by the country's National Disaster Management Authority.
It said 28 people had died in the previous 24 hours, but authorities were still trying to reach cut-off villages in the mountainous north.
The annual monsoon is essential for irrigating crops and replenishing lakes and dams across the Indian subcontinent, but each year it also brings a wave of destruction.
Officials say this year's monsoon flooding has affected more than 33 million people - one in seven Pakistanis - destroying or badly damaging nearly a million homes.
Source: Times Of India
Please click the following URL to read the full text of the original story:
https://timesofindia.indiatimes.com/world/pakistan/pakistan-monsoon-flooding-death-toll-rises-to-1061/articleshow/93846754.cms
--------
Relief goods for flood-hit pour in from several countries
Amin Ahmed | Syed Irfan Raza
August 29, 2022
ISLAMABAD: Humanitarian assistance and solidarity messages from different parts of the world continued to pour in, with Canada, France, Qatar, the UAE, Turkiye and Azerbaijan among the leading countries to pledge support in response to Pakistan's call for help in the wake of devastation caused by flood.
Also, Pope Francis during his visit to the city of L'Aquila in central Italy on Sunday called on the international community to help Pakistan and said he was praying for the victims, AFP reported.
The Canadian government allocated $20,000 to the International Federation of Red Cross and Red Crescent Societies for flood relief operations in Pakistan, Canada's International Development Minister Harjit Sajjan said in a statement on Saturday.
Canada is also a donor to the United Nations Central Emergency Response Fund (CERF), which has allocated $3 million for flood response.
Canada allocates $20,000; Turkish Red Crescent, Qatar Charity begin operation; first flight from UAE carrying over 3,000 tonnes of relief goods arrives
Canadian Prime Minister Justin Trudeau said in a statement the country was providing support through UNCERF to provide food, clean water and other essential services as quickly as possible. Mr Trudeau said he was thinking of "everyone affected by the devastating flooding in Pakistan".
Pakistan High Commissioner to Canada Ambassador Zaheer Janjua thanked the Canadian prime minister and its citizens for the live-saving efforts in Pakistan.
Canadian Foreign Minister Melanie Joly described the images of floods in Pakistan as "absolutely heart-breaking" and said her country remained "deeply concerned about the situation and will continue to support the people of Pakistan".
Pakistani-Canadian Member of Parliament Salma Zahid said in a statement the situation in Pakistan was dire. "I am reaching out to our ministers to urge them to send Canadian relief to help the people of Pakistan in this state of emergency," she said.
Qatar Charity
Meanwhile, Qatar Charity, a humanitarian and development non-governmental organisation, has delivered urgent relief aid to flood-affected Afghan refugees and the underprivileged members of the host community in Balochistan, in collaboration with the Provincial Disaster Management Authority (PDMA). The aid benefited more than 9,000 Afghan refugees and individuals from the host community.
Assistance from Turkiye
On Sunday, the first Turkish plane with relief goods for flood victims landed at around 8pm on Sunday. Another plane from Turkiye also landed in Karachi some two hours later with 14 tonnes of relief goods.
Similarly, the Turkish Red Crescent Society (TRCS), in collaboration with the PRCS, is providing cash assistance of Rs16,000 and 300 hygiene kits, 600 jerry cans, and 1,500 mosquito nets to 300 families in Jafferabad.
Moreover, 100 tents and 1,000 blankets will be sent by air cargo along with humanitarian aid by the Ministry of Interior, Disaster and Emergency Management Presidency of Turkiye.
French President
France Foreign Minister Catherine Colonna on Sunday offered condolences on the devastation caused by floods in Pakistan and also offered assistance during a telephone call with her counterpart Bilawal Bhutto-Zardari.
According to a statement issued by the Foreign Office, FM Bhutto-Zardari thanked Ms Colonna for "France's expression of solidarity and offer of assistance to Pakistani people in this hour of need". The FO said that the foreign minister briefed his French counterpart on the widespread destruction caused by unprecedented floods across the country.
He also informed that the floods have caused extensive loss of human lives, livelihoods, livestock, crops, and infrastructure and that the situation was likely to deteriorate further as heavy rains continued to batter areas already inundated by more than two months of rainfall.
The minister apprised the French foreign minister of the government's humanitarian response, including establishing a relief fund. Mr Bhutto-Zardari shared that a "UN Flash Appeal" would be launched on August 30, 2022 and expressed the hope that the international community would contribute towards meeting the funding requirements of the appeal.
On his Twitter handle, French President Emmanuel Macron expressed solidarity with flood victims of Pakistan and said his country was ready to help Pakistan.
"Our thoughts go out to the Pakistani people facing terrible floods, to the families of the countless people missing and to the populations affected. France stands ready to provide help," he posted.
UAE relief goods arrive
The first flight from the United Arab Emirates (UAE), carrying over 3,000 tonnes of relief goods arrived at the PAF Base Nur Khan on Sunday. At least 15 planeloads of relief goods from the UAE would land in the country in the coming days.
Source: Dawn
Please click the following URL to read the full text of the original story:
https://www.dawn.com/news/1707317/relief-goods-for-flood-hit-pour-in-from-several-countries
--------
More planes with relief goods from UAE, Turkiye to reach soon: Marriyum
August 28, 2022
ISLAMABAD: Minister for Information and Broadcasting Marriyum Aurangzeb on Sunday said fifteen more planeloads of relief goods from the United Arab Emirates (UAE) would arrive in Pakistan in the coming days.
She, in a series of tweets, said the first consignment of relief goods from the UAE would arrive at Nur Khan Airbase on Sunday. Marriyum said the first consignment from UAE for flood affectees is being sent on Prime Minister Shehbaz Sharif's appeal to the UAE authorities in the wake of sever flood in the country.
The relief goods included tents, food, medicine and other items, she added.
Two aircrafts with relief goods from Turkiye arrive today
Minister for Information and Broadcasting Marriyum Aurangzeb said that two aircrafts from Turkiye carrying relief goods would arrive in Karachi on Monday (today). "The Consul General of Turkiye in Karachi will hand over the relief goods to the Pakistani authorities at the airport," she said in a series of tweets on Sunday.
Source: Pakistan Today
Please click the following URL to read the full text of the original story:
https://www.pakistantoday.com.pk/2022/08/28/15-more-planes-with-relief-goods-from-uae-to-reach-soon-marriyum/
--------
North America
Israeli spy chief to meet US officials on Iran deal
28 August, 2022
The head of Israel's Mossad spy agency will visit the US in early September for talks on the possible revival of the Iran nuclear deal, an official said Sunday.
The announced visit is the latest in the Jewish state's push to sway Western powers from a deal to return to the landmark 2015 deal with Tehran.
Israel says a deal would facilitate the funding of Iran-supported militants, while not preventing Tehran from developing a nuclear weapon -- a goal Iran has always denied.
Mossad chief David Barnea will "be visiting Washington in a week to participate in closed door meetings in Congress on the Iran deal," a senior Israeli official told AFP on condition of anonymity, without providing further details.
Earlier Sunday, Prime Minister Yair Lapid said that Israel's "diplomatic fight" against the deal included its national security advisor and defence minister holding recent meetings in the US.
"We are making a concerted effort to ensure the Americans and Europeans understand the dangers involved in this agreement," Lapid said, stressing what was signed in 2015 was "not a good deal," and that the one currently being formulated entails "greater dangers."
In 2018, then-US president Donald Trump unilaterally withdrew from the agreement designed to prevent Iran from developing a nuclear weapon.
His successor Joe Biden has sought to return to the deal, and after almost a year-and-a-half of talks, recent progress has put the Jewish state on edge.
According to Lapid, a new agreement would have to include an expiration date, and tighter supervision that would also "address Iran's ballistic missile program and its involvement in terrorism throughout the Middle East."
"We can reach such an agreement if a credible military threat is put on the table, if the Iranians realise that their defiance and deceit will exact a heavy price," Lapid said, adding that the army and Mossad had "received instructions from us to prepare for any scenario".
Source: Al Arabiya
Please click the following URL to read the full text of the original story:
https://english.alarabiya.net/News/middle-east/2022/08/28/Israeli-spy-chief-to-meet-US-officials-on-Iran-deal-
--------
US calls for talks between Libyan rivals amid Tripoli clashes
28.08.2022
The United States has called for an immediate cease-fire between conflicting parties in the Libyan capital, Tripoli, and to engage in talks facilitated by the UN.
In a statement, US Ambassador to Libya Richard Norland condemned the "surge in violence in Tripoli."
Norland called for allowing "humanitarian corridors to evacuate casualties and civilians caught in crossfire," and to put an end to the violence in Tripoli "before things get even worse."
"All Libyan leadership figures have an urgent role to play in this process and we call on them at this time to put the interests of the Libyan people first," he said.
At least 32 people were killed and dozens injured in clashes between rival militias in several districts in Tripoli.
The situation calmed in the capital on Sunday, one day after heavy clashes between forces backing Prime Minister Abdul Hamid Dbeibeh and forces loyal to his rival Fathi Bashagha, who was appointed by the Tobruk-based parliament as a prime minister.
The violence, the worst since reaching a cease-fire in 2020, came amid military buildups by forces affiliated with Dbeibeh and Bashagha, as both figures claim power and authority in the capital.
Source: Anadolu Agency
Please click the following URL to read the full text of the original story:
https://www.aa.com.tr/en/americas/us-calls-for-talks-between-libyan-rivals-amid-tripoli-clashes/2671198
--------
US military commander praises Saudi Arabia for security cooperation
RAY HANANIA
August 28, 2022
CHICAGO: The newly appointed commander of US military forces in southwest Asia on Sunday praised Saudi Arabia and Qatar for the support they provided in the fight against Daesh, Iran, and international terrorism.
Lt. Gen. Alexus G. Grynkewich, commander of the Combined Forces Air Component and US Central Command, Southwest Asia, also said the US continued to maintain its military readiness and strength in the wake of providing more than $5.3 billion in military support to defend Ukraine.
The southwest Asia region includes most of the Middle East, Iran, Afghanistan, and North Africa, and Grynkewich emphasized that the US worked in close cooperation with all of its southwest Asia partners in deterring Iran, maintaining regional security, and countering violent extremists.
"I just returned from Saudi Arabia where I met with Lt. General Turki (bin Bandar Al Saud), the air chief. I spent some time at our base just outside of Riyadh. We looked at ways we could enhance our cooperation across the board with shared exercises, shared intelligence, shared information," he told a media briefing.
"The Kingdom remains one of our most important regional partners. So, General Turki and I agreed we will continue to push the bounds of the cooperation that we have in the defense of the Kingdom and the defense of US forces that operate here in the region."
Grynkewich also said the US relationship with Saudi Arabia was "a really solid relationship" with very clear guidance and support from President Joe Biden.
"We are committed to this partnership. We are committed to regional stability, whether that means deterring Iran, countering violent extremist organizations, or ensuring that we can compete with our competitors on a global scale.
"This area is critical to global security, and I could not be more proud to be serving here alongside the other men and women from so many different nations in doing what small bit we can to contribute to that."
Grynkewich responded to a question from Arab News about the impact of US military support of Ukraine on all of the military regions, including southwest Asia, saying it had not reduced US resources in the region or security efforts.
"We have adequate forces in the region to defend ourselves as required. There has been an intentional decision to maintain those sufficient forces here.
"That's because we know again that threats from violent extremists, and the destabilizing activity we see from Iran, and the need to continue to work with our partners in the region doesn't go away just because there is something else going on or something very important going on in another area. We have sufficient forces here for all the tasks we have been given. The overall posture has not been affected by things going on elsewhere, just because the entire United States government recognizes the importance of the region."
Grynkewich said recent US airstrikes in Syria, following rocket attacks that injured several US soldiers, were "disconnected" from other events, including Israel's recent strike against Islamic Revolutionary Guard Corps forces in Syria or the continuing negotiations with Iran over the Joint Comprehensive Plan of Action in Vienna.
"We of course maintain a tight relationship with all of our partners in the region. The actions that CENTCOM and AFCENT took for self-defense are entirely disconnected from any other actors, whether it be the Israelis or anyone else, and purely based on self-defense. We are certainly aware of the reports that you are referring to but no connection between those and the actions we took."
Source: Arab News
Please click the following URL to read the full text of the original story:
https://www.arabnews.com/node/2152081/world
--------
Saudi royal family should compensate 9/11 families, not Afghanistan: Analyst
28 August 2022
Real accomplices, such as the Saudi royal family, ought to compensate the victims' families of the September 11, 2001 attacks, not Afghanistan, according to an American political analyst and activist.
A US judge on Friday ruled that the victims' families should not be allowed to seize billions of dollars of Afghanistan's central bank assets to satisfy court judgments against the Taliban.
US Magistrate Judge Sarah Netburn in Manhattan stated that Da Afghanistan Bank (DAB) was immune from jurisdiction and that allowing the seizures would effectively endorse the militant group as the Afghan government, a call that can only be made by the US president, local news outlets reported.
"The Taliban's victims have fought for years for justice, accountability and compensation. They are entitled to no less," Netburn wrote. "But the law limits what compensation the court may authorize, and those limits put the DAB's assets beyond its authority."
Netburn's recommendation is to be reviewed by US District Judge George Daniels in Manhattan, who also oversees the litigation and can overturn her recommendation.
The ruling marks a defeat for four groups of creditors that waged legal action against a variety of defendants, including the al-Qaeda terrorist group that they hold responsible for the September 11 attacks, and obtained default judgments after the alleged defendants failed to show up in court.
In an interview with Press TV on Sunday, Myles Hoenig, a former Green Party candidate for Congress, asked, "So did the courts argue that holding the banks accountable for 911 legitimizes the Taliban government or that the Taliban government was responsible in part for 911?"
"No country recognizes the Afghan government, yet the Taliban government before 9/11 was wined and dined in halls of DC's elite. The only thing that has changed in 20 years is, like all other empires, the US got its butt kicked while trying to occupy it. I would never argue that we should have normal relations with the Taliban. They are a misogynistic, conservative, intolerant government. But so many other countries are as well, and countries that the US has strong, cordial relationships, such as Saudi Arabia. Recognizing a government should not be the equivalent of approving of it," he said.
"The other question is how much should we hold the Taliban accountable for 911? Should relations with the US be suspended by other countries because the US does not recognize the KKK as a terrorist group? Or that so many in law enforcement are its members? Other countries should take a hard look at who does what in the US and perhaps even have an effect on its relationships, but the US has enormous military and economic powers to prevent a real re-evaluation. Enough has been documented that the Taliban was willing to give up Osama bin Laden, but the US government under George W. Bush rejected all approaches. War with Afghanistan was inevitable, and encouraged," he added.
"The US has placed sanctions on Russia for its war in Ukraine. And for the US and those who support the military-industrial complex (MIC), Putin is the 21st century Hitler. Yet relations with Russia remain intact. It all depends on whose ox is being gored. So far more than 14000 Russian Ukrainians have been killed by the Ukrainian government in Eastern Ukraine but instead of condemning this, the US and its NATO allies continue to arm the murderers," he noted.
"The victims' families of 9/11 should be compensated, but by the perpetrators and their willing accomplices, such as the Saudi royal family," he concluded.
Families of victims of the attacks have for years pushed the US government to declassify and make public more information about 9/11, which was a series of strikes that killed nearly 3,000 people and caused about $10 billion worth of property and infrastructure damage in the United States.
US officials assert that the attacks were carried out by 19 al-Qaeda terrorists but many experts and independent researchers have raised questions about the official account.
They believe that rogue elements within the US government, such as former Vice President Dick Cheney, orchestrated or at least encouraged the 9/11 attacks in order to accelerate the US war machine and advance the Zionist agenda.
Certain documents related to the FBI's investigation of 9/11 reportedly contain evidence of Saudi involvement in the strikes.
Successive US administrations have refused to release the classified documents because they reportedly could expose a potential link between Saudi Arabia and the 9/11 attacks. Fifteen out of 19 alleged 9/11 attackers were Saudi nationals.
Source: Press TV
Please click the following URL to read the full text of the original story:
https://www.presstv.ir/Detail/2022/08/28/688214/Saudi-royal-family-should-compensate-9-11-families--Analyst
--------
US spy agency threaten Turkish businessmen over Russia trade
28 August 2022
Local offices of the US Central Intelligence Agency (CIA) in Turkey have "openly" threatened Turkish businessmen for trading with Russia while snooping into their real estate deals over concerns about possible evasion of US-led sanctions against Moscow, local news outlets reported.
CIA's Turkey station chief has allegedly contacted high-ranking construction-company employees in the country, inquiring about transactions and other confidential details of recent real-estate purchases involving Russian entities or individuals, local daily Yeni Safak reported Friday, citing business sources.
According to the report, the senior CIA officer questioned local businessmen under the guise of monitoring the US-imposed anti-Russia sanctions, expressing particular interest in learning about the exact number of "houses sold to Russians," the channels and currency, as well as the form of payment used in the transactions.
Another instance of what the Turkish media outlets have slammed as "interference" in [internal] affairs outside the authority of US government agents, was a letter reportedly sent on August 22 to the Turkish Industry and Business Association (TUSIAD) by US Deputy Treasury Secretary Wally Adeyemo, threatening to impose sanctions on members involved in conducting business with Russia.
TUSIAD confirmed receiving Adeyemo's letter in a press release published on Tuesday without revealing its content, noting that it had shared it with Ankara's foreign and finance ministries.
"Any individuals or entities providing material support to US-designated persons are themselves at risk of US sanctions," Adeyemo wrote in his letter, as its contents were first reported by The Wall Street Journal last week.
"Turkish banks cannot expect to establish corresponding relationships with sanctioned Russian banks and retain their corresponding relationships with major global banks as well as access to the US dollar and other major currencies," he added.
Since Russia began an ongoing military operation in neighboring Ukraine on February 24, the US and its European allies imposed rafts of sanctions against Moscow, warning other countries against doing business with Russia's sanctioned companies and individuals.
Turkey, despite being a member to the US-led NATO, maintains good relations with Russia even after the onset of the operation, enraging Washington, which remains increasingly alarmed that Moscow and Russian businesses are allegedly using Turkey to evade Western financial and trading restrictions against the Kremlin.
Earlier this month, Turkish President Recep Tayyip Erdogan and his Russian counterpart Vladimir Putin reached an agreement to boost economic cooperation at a summit in the Black Sea resort of Sochi.
According to official figures, the value of Turkish exports to Russia between May and July climbed by nearly 50 percent from last year's figure.
Turkey has doubled its imports of Russian oil this year as Russia pivots away from Europe. Ankara and Moscow have also agreed to transition to ruble payments for the natural gas exported by the Kremlin-tied giant Gazprom.
Source: Press TV
Please click the following URL to read the full text of the original story:
https://www.presstv.ir/Detail/2022/08/28/688159/US-spy-agency-threaten-Turkish-businessmen-over-Russia-trade
--------
South Asia
Taliban Blames Pakistan for Allowing Its Airspace to Be Used by US Drones
By Saqalain Eqbal
28 Aug 2022
The Taliban's acting Defense Minister said on Sunday that Pakistan had allowed its airspace to be used by US drones to enter and attack Afghanistan, a claim Pakistan has since refuted in the wake of an airstrike by the US in Kabul, the Afghan capital.
Before noon on Sunday, August 28, Mullah Yaqoub and the Chief of Staff of the Taliban's military forces held a press conference during which the Defense official claimed that US drones were using Pakistan's territory and airspace to attack Afghanistan.
He emphasized that the use of drones to patrol Afghanistan's airspace is a clear transgression of the country's borders.
"We [the Taliban] ask Pakistan, don't use your airspace against us," Mullah Yaqoub said.
Pakistani officials, on the other hand, have denied any involvement in or knowledge of a July drone operation in Kabul that the US claimed killed al-Qaeda chief Ayman al-Zawahiri.
Previously, Al-Qaeda leader Ayman al-Zawahiri was purportedly killed in a CIA drone attack in Kabul, Afghanistan's capital, according to US President Joe Biden, who broke the news in a live broadcast.
The US stated that two Hellfire missiles fired from a drone killed the al-Qaeda chief while causing little damage elsewhere, preventing non-combatant fatalities.
Source: Khaama Press
Please click the following URL to read the full text of the original story:
https://www.khaama.com/taliban-blames-pakistan-for-allowing-its-airspace-to-be-used-by-us-drones-26474/
--------
Taliban demands return of helicopters that flew to Central Asia before Kabul fell
28 August, 2022
Kabul [Afghanistan], August 28 (ANI): Claiming that the helicopters, which had been transferred to Central Asian nations following the fall of Kabul last year, belong to Afghanistan, in a renewed call, Taliban on Sunday asked for their return.
Afghan air force personnel flew almost 50 helicopters and fixed-wing aircraft to Uzbekistan in mid-August as former Afghan President Ashraf Ghani fled the country and Taliban forces overran the capital, Kabul. Several more aircraft and Black Hawk helicopters were taken to neighbouring Tajikistan to prevent them from falling into Taliban hands.
At a press conference in Kabul, Taliban appointed Defense Minister Mawlawi Mohammad Yaqoob Mujahid once again asked for these helicopters. Mohammad Yaqoob Mujahid emphasized that these helicopters are the property of the Afghans, and that efforts are being made to bring them back to the country, reported Tolo News.
"They say that the issue is that the Americans don't let us transfer these helicopters back to Afghanistan. We have spoken with Americans about it and informed them that they belong to the nation, and it is Afghanistan's right, not someone else's personal property. As a result, it ought to be returned to Afghanistan," the Talibani leader said.
Meanwhile, the US announced that it would not provide the Islamic Emirate with any military aircraft from the previous administration. Additionally, a Russian official has raised concern that the helicopters may have been transported to Ukraine.
"Under no circumstances can these countries, whether Tajikistan or Uzbekistan, hand over the helicopters to the Taliban. An international guarantee has not been granted," said Fahim Kohdamani, former diplomat.
Sadiq Shinwari, a political analyst said, "The mentioned helicopters should be unconditionally returned to Afghanistan in accordance with international rules."
As per another statistic quoted by the media outlet, during the collapse of the country, more than 60 military helicopters of the prior government were transported to Tajikistan and Uzbekistan.
Source: The Print
Please click the following URL to read the full text of the original story:
https://theprint.in/world/taliban-demands-return-of-helicopters-that-flew-to-central-asia-before-kabul-fell/1105259/
--------
Ex-Afghan president admits blame for trusting 'key partner' US
27 August 2022
Former Afghan president Ashraf Ghani has accepted "shared" responsibility for the fall of the country into Taliban hands, blaming himself for trusting the US which negotiated a deal with the militant group that brought about his ouster.
"One has to take responsibility for trusting a partner that then trampled our sovereignty and imposed the release of 5,000 [Taliban] prisoners, among them, the largest drug dealers in history in the region," Ghani said in an interview with state-financed US broadcaster, Public Broadcasting Service (PBS).
"Responsibility is shared, and where I take responsibility for is to have trusted our key partner that signed our withdrawal agreement -- and for one full year -- its (US) forces were not attacked by the Taliban, but our forces paid the highest price," he further emphasized, referring to Washington's deal with the militant group not to attack US and allied occupation forces across Afghanistan while leaving them free to wage terror attacks against Afghan government forces and civilians.
The deal – known as the Doha agreement signed between the administration of former US president Donald Trump and the Taliban – did not involve the official Afghan government, provided a date for total withdrawal of American forces from Afghanistan and forced the Washington-sponsored Ghani administration to release 5,000 Taliban prisoners.
Ghani further slammed the US-Taliban deal, insisting that Washington's "assumptions regarding the Taliban were highly flawed" and "based on wishful thinking." He also promised that the preparation and implementation of the pact "will go down in the history as one of the worst agreements ever concluded."
"The US propped up the Taliban… The Trump administration — without the Trump administration's role, the Taliban would not be here today," the ex-president of Afghanistan then underlined.
Ghani went on to blast Washington for establishing what he described as "false assurance systems," saying, "We were assured that a cease-fire would take place and political negotiations regarding the future government will be an indispensable part of the agreement, which they were not."
He also blamed successive US administrations and their agents and contractors in Afghanistan for the widespread and growing corruption across his impoverished Asian nation.
"Where did corruption start from?," he asked. "It started with a — with buying of the warlords by the Bush administration. The scale of corruption in Afghanistan is a confluence between your new barons, which represent Beltway contractors, and military industrial contractors, and Afghan new and old warlords."
"My agenda was to deal with this corruption and to contain it," he also claimed, describing it as "a cancer."
"But, simultaneously, you need to see our sacrifices. We were losing between 200 and 400 soldiers and officers a day," Ghani noted. "A time comes when even steel has a snapping point, and that's the point it came, because the cities and the provinces where a lot of fighting took place could not receive sustained support."
The former Afghan leader further accused Washington and the US-led NATO military alliance of not sticking to their pledged withdrawal date of 2024, suggesting that their hasty pullout contributed to his government's inability to better plan for security measures.
"We need to understand, 20 years of engagement had been building systems based on the premises of 2024 departure," he pointed out. "There was an agreed date with NATO and with the international community. It was 2024."
"Key was predictability," Ghani insisted. "Had the US decided to tell us in the — on January 2019 that it will withdraw by 2021, we would have been able to plan."
The US invaded Afghanistan in October 2001 following the September 11, 2001 terrorist attacks in the United States, despite the fact that no Afghan national was involved in the attacks. Hundreds of thousands of Afghans have been killed as a result of the US war of aggression on the country.
American forces had occupied the country for about two decades under the pretext of the so-called "War on terror." But as the US forces left Afghanistan, the Taliban stormed into the capital Kabul in August last year, weakened by continued foreign occupation.
Source: Press TV
Please click the following URL to read the full text of the original story:
https://www.presstv.ir/Detail/2022/08/27/688118/Ex-Afghan-pres--admits-blame-for-trusting-%E2%80%98key-partner%E2%80%99-US
--------
Arab World
Iraq: How life under Islamic State impacted Mosul's deaf community
By Azhar Al-Rubaie
28 August 2022
Between 2014 and 2017, people living in Mosul, Iraq's second-largest city, endured their toughest ever living conditions under the reign of the Islamic State.
Thousands were killed by the extremist group, some still live in refugee camps, while others fled home to seek a better life abroad.
For people with disabilities, living under IS rule doubled their hardship.
Using sign language, deaf Iraqis in Mosul told Middle East Eye how their lives were impacted at the time.
"Frankly, we were living in a giant prison or even worse," said Mosul-based resident Mohammed Taha.
Their lives after IS, however, have not significantly improved, and they still feel neglected by the Iraqi government.
Taha, 28, who is deaf, established a local civil society group called Mosul al-Hadbaa Association, which seeks to empower the deaf community to obtain their rights.
The group was founded after the city was freed from IS in 2017, but was officially registered in March 2020.
The NGO seeks to support deaf Iraqis in Mosul by establishing connections between them and other local and international organisations to facilitate support or job search.
Its volunteer interpreter provides them with free sign language interpretation in government agencies or courts.
Their Mosul-based headquarters, located in the Al-Hammam area, consists of a small flat that costs about $100 per month to rent. According to Taha, the flat is not just a headquarters but also a social place where deaf people meet up.
Ahmed Khudr Noah, a sign language expert, volunteered for the NGO to provide free-of-charge interpretation services.
"After liberation of the city from IS, there was a huge need for sign language interpretation, especially when they [the deaf or hard of hearing] wanted to visit a government institution or court," Noah told MEE.
Like many Iraqis who suffered under the rule of IS, Taha recounted many incidents when the ousted ruling militants sought to enforce their rules using violence and intimidation.
"IS fighters treated us like other people, without paying any attention to our disability," he said.
"For instance, they lashed me many times for not going to the mosque on time, although I could not hear the call for prayer," he added, using his fingertips, with an interpretation by Noah.
In another incident, he was stopped by an IS militant on his way home with a friend while he was carrying a shisha, or waterpipe, banned under IS regulations.
The only thing that saved him from punishment was that his friend explained to the militant that they intended to use the shisha as a vase for roses.
"We were so lucky at that moment," said Taha.
In August 2014, IS enforced a set of rules, including that women must be fully covered; gatherings were not allowed; drugs, alcohol and smoking shisha or tobacco were banned; and performing the five prayers on time in mosques was obligatory.
Recruited by IS
Taha, who was working as a porter in a shop, said that IS tried many times to convince him to join them, but he turned down their requests, explaining that he was deaf.
A video that went viral on social media in September 2015 showed two deaf IS fighters wearing black jumpsuits and carrying weapons while standing at a traffic light in Mosul. Using sign language, one of them asked fellow Muslims to join the group, saying that disability was not an excuse.
In the video, the IS fighter said: "I work in the traffic sector with my brother Abdulrahman. Muslims in the city live in comfort under the caliphate."
Marwan Yassin Ahmed, a 60-year-old Mosul native who is deaf, said that IS rule was lenient at the beginning but then started to get more stringent a few months after their takeover of Mosul.
"At the beginning, IS treated us very well. We were allowed to smoke and wear whatever we liked. But much changed after a couple of months of their rule," he told MEE.
"We did not realise that IS was cheating us in this way."
IS banned use of the internet at home, as well as using smartphones and electronic devices, for fear of information being leaked to the Iraqi government or others outside the city.
Many people told MEE that IS beheaded some residents after suspecting that they used smartphones or chatted with their friends or relatives in other cities via the internet.
Ahmed said that IS members stormed his house in 2015, damaged his TV and satellite, and threatened to kill him if they found any digital device in the house.
Punished for violating dress codes
Weeks after that incident, Ahmed was jailed in an IS prison for a "silly" reason but a "big mistake" according to IS, he said.
"As an IS soldier noticed my 10-year-old daughter watering flowers in the house garden without wearing niqab [face covering], they accused me of violating Islamic rules and then sent me to jail," he said.
"I stayed a couple of days there without food, in a poor health environment.
"How can I force my daughter to wear a niqab when she was only 10? It is incomprehensible to force our kids to do things they do not like or even understand," Ahmed said.
Women rarely went outside the home to avoid being reprimanded by IS police, he said.
IS did not allow women to go out without being accompanied by a guardian.
Uday Hammoudi, a 41-year-old deaf Iraqi, upheld that rule, but he was still punished.
"My wife and I were walking in Bab al-Toub, [a] local old market," Hammoudi told MEE, using sign language interpreted by Noah. "She was fully covered with niqab and gloves; the market was crowded so I lost her.
"While looking for her, by mistake I spoke with a woman who was not my wife. She screamed and called IS to arrest me, then I found my wife. All women looked the same due to the clothes that IS forced them to wear.
"People who knew me well in the market told IS that I was deaf, but they were not convinced. They only left us when they saw my wife come to me. IS treated us as harshly as they treated all other people," he said.
"My wife was telling me all the time that she had difficulty breathing, but I did not have the liberty to let her take off the niqab, in winters or in hot summers."
Men were also expected to abide by IS dress codes.
"Once, an IS militant stopped me while I was heading back home and beat me on my neck because I was wearing normal clothes different from their uniform," said Hammoudi.
"I told him that I could not speak nor hear, but he thought I was a liar. He lashed me 45 times and then left me."
The end of IS rule
For Hammoudi, the end of IS rule was his biggest relief. "It was a historic moment seeing our city empty of IS fighters," he said.
Likewise, Taha said: "There is no comparison between life under IS and today. At least we feel more freedom, we can wear what we like, travel wherever we want, do lots of things that IS forbids. There is food, and Mosul is safer than before."
However, both Hammoudi and Taha believe that the Iraqi government can do more to support them.
"In most countries, there is special care for deaf people, but in Iraq there is zero care by the government," he said.
"The government should offer a monthly salary for us, help us find jobs, and more."
Hammoudi said that, unlike under IS, he can have access to politicians. But he regrets that the politicians only "make promises" with no real action.
Source: Middle East Eye
Please click the following URL to read the full text of the original story:
https://www.middleeasteye.net/news/iraq-deaf-islamic-state-mosul-government-support
--------
Saudi pilgrimage complex developer Jabal Omar converts $1.4 bln debt to equity
28 August, 2022
Jabal Omar Development Company , one of Saudi Arabia's largest listed property developers, said on Sunday it has reached an agreement with one of its debt holders to convert 5.3 billion riyals ($1.41 billion) of debt into new shares.
Jabal Omar Development (JODC) said it will issue more than 225 million new shares "and in exchange will extinguish all debts" it owes to the Alinma Makkah Real Estate Fund and "settle all rights and obligations related to the Fund."
The company operates the Jabal Omar complex of hotels and residential and commercial property within walking distance of the Grand Mosque in the Muslim holy city of Mecca. It was hard-hit when the pandemic curtailed pilgrimages.
"This is the largest and most significant transaction within our comprehensive capital structure optimization plan," JODC'S CEO Khaled al-Amoudi said in a statement.
"It will free up SAR 540 million in cash and allocate it to more productive, value-enhancing use. We have turned a critical corner and are on an accelerated journey towards our next phase of growth."
JODC in October agreed to restructure a 4.7 billion-riyal loan from Saudi British Bank and Samba Financial Group, which is now Saudi National Bank (SNB) after its merger with National Commercial Bank. The facility was increased to 5.9 billion riyals and its maturity extended to 2030.
Source: Al Arabiya
Please click the following URL to read the full text of the original story:
https://english.alarabiya.net/business/economy/2022/08/28/Saudi-pilgrimage-complex-developer-Jabal-Omar-converts-1-4-bln-debt-to-equity
--------
Iraq's Sadr proposes 'all parties' leave government posts
27 August, 2022
Iraq's Shia leader Muqtada al-Sadr on Saturday said "all parties" including his own should give up government positions in order to help resolve a months-long political crisis.
Since the aftermath of the US-led invasion of 2003 that toppled Saddam Hussein, Iraq has been governed under a power-sharing system.
But since elections in October last year, political deadlock has left the country without a new government, prime minister or president, due to disagreement between groups over forming a coalition.
Sadr and his supporters have been calling for parliament to be dissolved and for new elections, but on Saturday he said doing so was not "so important."
Instead, it is "more important" that "all parties and figures who have been part of the political process from the American occupation in 2003 until now no longer participate," Sadr said on Twitter.
"That includes the Sadrist movement," he added.
"I am ready to sign an agreement to this effect within 72 hours," he said, warning that without such a move, "there would no longer be anymore room for reforms."
He did not indicate who he expected would lead a future government.
Sadr's supporters have for weeks been staging a sit-in outside Iraq's parliament, after initially storming the legislature's interior, to press for their demands.
On Tuesday, they also pitched tents outside the judicial body's headquarters in Baghdad for several hours.
Sadr's rivals in the Coordination Framework want a new head of government to be appointed before any new polls are held.
Source: Al Arabiya
Please click the following URL to read the full text of the original story:
https://english.alarabiya.net/News/middle-east/2022/08/27/Iraq-s-Sadr-proposes-all-parties-leave-government-posts-
--------
Turkey says it 'neutralised' nine PKK members in northern Iraq
27 August, 2022
Turkey's military and intelligence unit "neutralized" nine members of the Kurdistan Workers Party (PKK) in operations in northern Iraq, the Defense Ministry and state-run media said on Saturday.
Turkey regularly carries out air strikes in neighboring Iraq as part of its offensive against PKK militants based there.
"Our operations will continue until the last terrorist is neutralized," the ministry said on Twitter, adding that the military targeted seven PKK members. It typically uses the word "neutralized" to mean killed.
Source: Al Arabiya
Please click the following URL to read the full text of the original story:
https://english.alarabiya.net/News/middle-east/2022/08/27/Turkey-says-it-neutralised-nine-PKK-members-in-northern-Iraq
--------
Kuwait to hold parliamentary election on September 29: Report
28 August, 2022
Kuwait will hold a parliamentary election on Sept. 29, state news agency KUNA reported, after the Gulf state's crown prince moved to dissolve parliament in a bid to resolve a political standoff between the government and the elected legislature.
Source: Al Arabiya
Please click the following URL to read the full text of the original story:
https://english.alarabiya.net/News/gulf/2022/08/28/Kuwait-to-hold-parliamentary-election-on-September-29-Report
--------
UAE president orders relief aid to flood-hit Pakistan
28 August, 2022
Urgent relief and humanitarian assistance will be provided to Pakistan on the orders of UAE President Sheikh Mohamed bin Zayed after the south Asian country was hit with deadly monsoon flooding, the Emirates News Agency (WAM) reported Saturday.
WAM said that the relied aid "includes some 3,000 tons of food supplies, as well as tons of medical and pharmaceutical supplies, in addition to tents and shelter materials."
The UAE president also ordered that humanitarian relief services are secured to help those displaced by the floods in order to face the challenges before them, WAM reported.
"The UAE relief teams will also provide all kinds of humanitarian support to Pakistani cadres and institutions concerned with efforts to secure the safety of the affected and their food, medical and logistical needs," the agency added.
The UAE assistance to Pakistan comes as the country was hit by devastating floods that killed over 1,000 people and affected more than 33 million people.
The UAE aid also came as Sheikh Mohamed offered his condolences to the victims of floods and torrential rains during a phone call with Pakistani Prime Minister Shehbaz Sharif, WAM said in a separate report.
"His Highness Sheikh Mohamed bin Zayed wished a speedy recovery for the injured and quick return of the displaced to their areas, praying to Allah Almighty to protect Pakistan," WAM said, adding the president underscored UAE's solidarity with Pakistan and its people.
Source: Al Arabiya
Please click the following URL to read the full text of the original story:
https://english.alarabiya.net/News/gulf/2022/08/28/UAE-president-orders-relief-aid-to-flood-hit-Pakistan-
--------
India
Hijab ban case: Supreme Court issues notice to Karnataka govt; next hearing on September 5
Aug 29, 2022
NEW DELHI: The Supreme Court on Monday sought response from the Karnataka government on pleas challenging the high court verdict refusing to lift the ban on hijab in educational institutions of the state.
A bench of Justices Hemant Gupta and Sudhanshu Dhulia issued notice to the state on the pleas and posted them for hearing on September 5.
The bench also pulled up the petitioners, who sought adjournment in the matter, and said it would not permit "this kind of forum shopping".
Solicitor General Tushar Mehta said he would accept notice in the bunch of petitions and added, there is no need for a response affidavit.
Mehta said since the case involved a pure question of law, no reply affidavit from Karnataka govt is needed. He told SC petitioners had mentioned 6 times seeking urgent hearing.
Petitioners through Mohd Nizamuddin Pasha said urgent hearing was sought when exams were round the corner.
Pasha and other advocates said they need to prepare with the case. The SC said "you were mentioning for urgent hearing without being prepared with the case?"
One of the appeals in the top court has alleged "step-motherly behaviour of government authorities which has prevented students from practising their faith and resulted in an unwanted law and order situation".
The appeal said the high court in its impugned order "had vehemently failed to apply its mind and was unable to understand the gravity of the situation as well as the core aspect of the Essential Religious Practices enshrined under Article 25 of the Constitution of India".
"Wearing of hijab or headscarf is a practice that is essential to the practice of Islam," it has added. Karnataka high court in March had held that the prescription of uniforms is a reasonable restriction that students could not object to and dismissed various petitions challenging a ban on hijab in education institutions saying they are without merit.
The hijab row had erupted in January this year when the Government PU College in Udupi allegedly barred six girls wearing the hijab from entering. Following this, the girls sat in protest outside college over being denied entry. After this, boys of several colleges in Udupi started attending classes wearing saffron scarves.
This protest spread to other parts of the state as well leading to protests and agitations in several places in Karnataka. As a result, the Karnataka government said that all students must adhere to the uniform and banned both hijab and saffron scarves till an expert committee decides on the issue.
On February 5, the pre-University education board released a circular stating that the students can only wear the uniform approved by the school administration and that no other religious attire will be allowed in colleges.
The order stated that in case a uniform is not prescribed by management committees, then students should wear dresses that go well with the idea of equality and unity, and do not disturb the social order.
A batch of appeals was filed against the government's rule in the Karnataka High Court by some girls seeking permission to wear the hijab in educational institutions.
On February 10, the high court had issued an interim order stating that students should not wear any religious attire to classes till the court issues the final order.
Source: Times Of India
Please click the following URL to read the full text of the original story:
https://timesofindia.indiatimes.com/india/hijab-ban-case-supreme-court-refuses-plea-seeking-adjournment-next-hearing-on-september-5/articleshow/93847555.cms
--------
Pakistan may import tomato and onion from India amid huge surge in vegetable prices due to floods
Aug 28, 2022
LAHORE: Amid massive surge in the prices of various vegetables and fruits in Lahore and other parts of Punjab province due to devastating floods, the Pakistan government may import tomato and onion from India, according to the market dealers here.
"On Sunday, per kilogram of tomato and onion were available in Lahore's markets at around Rs500 and Rs400 respectively. However, in Sunday markets both commodities were available at Rs 100 per kg less than that of those available in regular markets," Jawaad Rizvi, a wholesale dealer of Lahore market, told PTI.
He said that in the coming days the prices of commodities will increase further as the supply of vegetables from Balochistan, Sindh and south Punjab has badly been affected because of floods.
"In the coming days, onion and tomato per kg prices may cross Rs700. Similarly, potato price has increased from Rs40 per kg to Rs120kg," Rizvi said.
In the markets, the short supply of vegetables is because of destruction of the crops on thousands of acres by the floods in Balochistan and Sindh.
It is learnt the federal government is considering the option to import onion and tomato from India through Wagah border.
Currently, Lahore and other cities of Punjab are getting the supply of tomato and onion from Afghanistan via the Torkham border.
"One hundred containers of tomato and around 30 of onion are being received at Torkham border daily, out of which two containers of tomato and one of onion is being brought to Lahore city on a daily basis and the number of containers is absolutely too short to meet the demand in the provincial capital of Punjab," according to Lahore Market Committee Secretary Shehzad Cheema.
He said vegetables like capsicum or bell pepper are also short in the market due to the floods.
Cheema said the government would eventually import onion and tomato from India.
He said import of vegetables from Iran via Taftan border (Balochistan) was not viable as the Iranian government had increased taxes on its imports and exports.
He said the prices of date palm and banana would also go up in the coming days as most of the orchards in Sindh had been destroyed by the floods. Apple supply from Balochistan or other areas had also been stopped due to flooding.
Source: Times Of India
Please click the following URL to read the full text of the original story:
https://timesofindia.indiatimes.com/india/pakistan-may-import-tomato-and-onion-from-india-amid-huge-surge-in-vegetable-prices-due-to-floods/articleshow/93840274.cms
--------
Hyderabad: Muslim man booked for allegedly threatening to kill Raja Singh
28th August 2022
Hyderabad: A case is booked at Cyber crime police station against Mohammed Imran alias Caller Imran for allegedly threatening to kill Goshamahal legislator T Raja Singh and three others.
After the MLA made derogatory remarks against Prophet Mohammed on Monday night, Imran made a video and uploaded it on social media. In the video, he threatened to teach a lesson to MLA Raja Singh, BJYM leader Laddu Yadav, Kalu Singh, and one more person. A suo motu case is booked on him at Hyderabad cyber crime police station under 153A and 505 Sections of IPC.
On Saturday night, he was taken into custody and the police released him after issuing a notice to him.
Imran had gone to a rally near the Laddu Yadav house on Tuesday night during the protest against Raja Singh, the rally was attacked and Imran was attacked allegedly by associates of Laddu Yadav leading to bleeding injuries.
Imran a resident of Kalapather in the old city of Hyderabad gained to sobriquet for making phone calls to public representatives, government officials, and religious leaders over public issues and making the audio of a conversation viral on social media.
Source: Siasat Daily
Please click the following URL to read the full text of the original story:
https://www.siasat.com/hyderabad-muslim-man-booked-for-allegedly-threatening-to-kill-raja-singh-2400244/
--------
Southeast Asia
In Hadi's presence, Gerakan chief urges respect for all races, religions
Jason Thomas
August 27, 2022
SERDANG: Gerakan president Dominic Lau has urged Perikatan Nasional (PN) members to show respect for all races and religions.
In a speech delivered in front of PAS president Abdul Hadi Awang, who has come under criticism for blaming non-Muslims for running Malaysia's politics and economy, Lau said that the country comprised people of various races, religions and cultures.
He made no reference to Hadi's remarks in his speech, in which he said defending the rights of one race should not come at the expense of other communities.
"This is an understanding we must have," he said at the PN Convention here.
"Can we respect all races and religions?" he asked the delegates, receiving a convincing "Yes!" in reply.
Gerakan and PAS are part of PN, alongside Bersatu and Sabah-based parties STAR and SAPP.
Last week, Hadi said that it was a fact that the majority of those involved in ruining the country's politics and economy were non-Muslims and non-Bumiputeras.
Several parties, including the heads of Bersatu's non-Muslim wing and STAR's Youth wing, have criticised Hadi for his comments.
Source: Free Malaysia Today
Please click the following URL to read the full text of the original story:
https://www.freemalaysiatoday.com/category/nation/2022/08/27/in-hadis-presence-gerakan-chief-urges-respect-for-all-races-religions/
--------
PAS' regressive policy a threat to Malaysia, says Kuching MP
28 Aug 2022
KUCHING, Aug 28 — Parti Islam Se-Malaysia's (PAS) fixation with concerts in the midst of a possible economic slowdown and rampant corruption in Malaysia shows how they have their priorities confused and have nothing constructive to offer to problems faced by Malaysians, said Bandar Kuching MP Dr Kelvin Yii.
In response to the recent statement made by PAS Youth Chief Ahmad Fadhli Shaari on saying that PAS will hold a nationwide protest if the government do not cancel international concerts, Dr Yii said PAS is not only lacking of ideas to move the country forward, but he viewed it as a threat to a multicultural, plural society like Malaysia.
"As part of the government, all they can offer to address everyday Malaysians' problems seems to be to protest against concerts in our country.
"Are all these concerts by so-called overseas artists even the cause of the moral collapse of the leaders in power, which have led to billions stolen and to criminal breach of trust (CBT) involving millions of ringgit?
"Why no nationwide protest for all these more serious matters especially against blatant corruption, bad governance, inequality, discrimination, and oppressive laws that are inflicting real damage to our country and its people?" he posed these questions in a statement yesterday.
Dr Yii opined that all these divisive rhetorics are merely smokescreen for their leader's incompetence in dealing with real issues that affect all Malaysians as well as their deafening silence against their own partners in government who are involved in grand corruption and kleptocracy.
"Such 'Taliban-mindset' to regress Malaysia into a somewhat medieval past has no place in Malaysia and surely not conducive for development, thus leaving us further trailing behind our other neighbouring countries.
Source: Malay Mail
Please click the following URL to read the full text of the original story:
https://www.malaymail.com/news/malaysia/2022/08/28/pas-regressive-policy-a-threat-to-malaysia-says-kuching-mp/25150
--------
Malaysia's key political parties hold meetings amid signs of imminent general election
Amir Yusof
28 Aug 2022
KUALA LUMPUR: Some of Malaysia's key political parties held meetings on Saturday (Aug 27) amid growing signs that a general election may be called imminently.
On Friday, Minister in the Prime Minister's Department Wan Junaidi Tuanku Jaafar confirmed that Malaysia's 2023 budget will be tabled on Oct 7, three weeks earlier than the original date of Oct 28.
This has fuelled speculation within local media that national polls may be called soon despite Prime Minister Ismail Sabri Yaakob insisting that the decision to bring forward the tabling was not unusual.
The 15th general election is not due until September next year, but United Malays National Organisation (UMNO), a main component party in the ruling coalition, has intensified its calls for the dissolution of parliament, a move that would pave the way for the next general election.
HOLD GE TO RETURN MANDATE TO THE PEOPLE: UMNO'S AHMAD ZAHID
During a special briefing held at the UMNO headquarters at World Trade Centre Kuala Lumpur on Saturday, party president Ahmad Zahid Hamidi piled on the pressure for Mr Ismail Sabri, an UMNO vice president, to dissolve parliament.
"The call to hold a GE is not a new issue. It's not a question of us being power-crazy or desperate … We have been consistent in calling for the elections to be held because we want a government built on the people's mandate, rather than by political machinations," said Ahmad Zahid.
"We are firm on our stance that the general election must be held immediately. The UMNO supreme council has issued an advisory to the PM for the GE to be held after herd immunity (from COVID-19) is achieved. Now that all this has been achieved, the COVID-19 pandemic is over, so now when (will the GE be called)?" he added, to roars of "bubar" (dissolve) from hundreds of UMNO members in the audience.
Mr Ismail Sabri and some UMNO cabinet ministers such as Health Minister Khairy Jamaluddin, Communications and Multimedia Minister Annuar Musa, and Federal Territories Minister Shahidan Kassim were not at the briefing.
Three Malaysian prime ministers have been appointed since the last general election in 2018. Multiple instances of party switching have added to the political upheaval, resulting in changes in the federal administration from Pakatan Harapan to Perikatan Nasional (PN), and now a coalition made up of PN and Barisan Nasional.
In his speech, Ahmad Zahid also called for UMNO members to support a royal pardon for former premier Najib Razak, who began his 12-year prison sentence on Tuesday after the Federal Court dismissed his final appeal bid in the SRC International case.
"We must be ready to support a petition campaign to pardon (Najib) when the time comes. We leave it to the wisdom of the king to assess and do it in future," said Ahmad Zahid, who choked up as he thanked Najib's wife Rosmah Mansor and children for attending the briefing.
Later on Saturday evening, an UMNO supreme council meeting was convened, with Prime Minister Ismail Sabri Yaakob among those who attended.
After it ended, Sabah UMNO chief Bung Moktar Radin said that the focus of the meeting was to strengthen the party, restore harmony and stand in solidarity with Najib.
He told reporters that that no date to hold the general election was discussed and that it was the prerogative of the prime minister on when to dissolve parliament.
WE ARE READY FOR POLLS ANYTIME: PN'S MUHYIDDIN
Meanwhile at Serdang, Selangor, the Perikatan Nasional coalition held a convention attended by members of its component parties - Parti Pribumi Bersatu Malaysia (Bersatu), Parti Islam Se-Malaysia (PAS), Parti Gerakan Rakyat Malaysia (Gerakan) as well as Sabah-based entities Parti Progresif Sabah and Parti Solidariti Tanah Airku.
During his speech at the convention, PN chairman Muhyiddin Yassin said that it was possible that the election would be announced immediately after this year's budget is tabled on Oct 7.
"While we are gathered here today, the other side (UMNO) is also meeting, to pressure the prime minister to hold a general election earlier. Based on an agreement between PN and the prime minister, and when the PM is deciding on the date for the national polls to be held, he has to discuss with us, because we are an important part of the government. But I don't know if the prime minister remembers this agreement," said Mr Muhyiddin.
"Regardless, we are ready to face the general election at any time. If tomorrow the PM meets the king to recommend that parliament be dissolved, we are ready to enter the ring and win the polls," added the former prime minister.
Mr Muhyiddin resigned as prime minister on Aug 16, 2021 after he failed to command the majority support of MPs, with Mr Ismail Sabri then taking over.
Mr Muhyiddin added in his speech on Saturday that based on reports he had received, support for UMNO and the Barisan Nasional coalition was waning.
"(Ahmad Zahid says) if BN waits until next year (to hold the GE), they may lose. But if it's this year, god willing BN will lose as well," said Mr Muhyiddin.
In his speech at the same convention, PAS president Abdul Hadi Awang urged PN component parties to shake off the coalition's reputation as a "backdoor" government by winning big in the upcoming polls.
He also backed calls by other member parties to name Mr Muhyiddin as the coalition's prime minister candidate if PN wins.
"We take over to strengthen the government, establish PN and make Muhyiddin become PM," he said in his speech.
WE WILL BE READY BY OCTOBER: PKR'S ANWAR
Over at Shah Alam, opposition party Parti Keadilan Rakyat held an election convention attended by its members from across the country.
After the event, PKR president Anwar Ibrahim told reporters that the party will be ready for elections, whenever they are called.
"The focus today is on the (general) elections. PKR's election director has already set several strategies in place, and we will be ready for elections to be called either next month, or next year. We can see here that our comrades are stoked and excited, and they are ready to (be) mobilised at any time," said Mr Anwar.
"We will be fully ready by October (to face GE15) because Budget 2023 will be tabled in October. As we know, that means elections will be called soon. Ismail Sabri is too weak right now because he is under pressure from UMNO leadership.
"He is not a prime minister who can make decisions on his own," said Mr Anwar, who is chairman of Malaysia's main opposition bloc, the Pakatan Harapan (PH) coalition.
PH consists of the Democratic Action Party (DAP), Parti Amanah Negara (Amanah) and the United Progressive Kinabalu Organisation (UPKO).
When asked if PH would be pursuing a "big tent" strategy - to work alongside partners in the opposition to prevent the Barisan Nasional coalition from winning the next general election - he said that the coalition will move away from that and instead focus on building its own strengths.
Source: Channel News Asia
Please click the following URL to read the full text of the original story:
https://www.channelnewsasia.com/asia/malaysia-umno-pn-bersatu-pkr-meetings-ge15-2905271
--------
Indonesia's Cardinal Suharyo gets titular church in Rome
By Katharina Reny Lestari
August 29, 2022
Indonesian Cardinal Ignatius Suharyo Hardjoatmodjo of Jakarta has formally taken possession of his titular church in Rome more than two years after Pope Francis made him a cardinal.
Cardinal Suharyo, 72, president of the Catholic Bishops' Conference of Indonesia, took possession of the Spirito Santo Alla Ferratella Church during a ceremony on Aug. 28.
The event came a day after Pope Francis created 20 new cardinals including six from Asia in a consistory on Aug. 27.
The prelate told UCA News that the Covid-19 pandemic caused the delay in getting his titular church.
According to the Code of Canon Law, every cardinal is assigned a titular church upon his elevation. A titular church serves as an honorary designation signifying the relationship between the cardinal and the pope — the bishop of Rome.
The cardinal, however, does not have any power to govern or interfere with matters concerning the administration of his parish.
During the ceremony on the day, Cardinal Suharyo led a Eucharistic celebration in Latin in the Rome-based parish. Among those attending the Mass were Archbishop Piero Pioppo, apostolic nuncio to Indonesia, Divine Word Father Markus Solo Kewuta, director of the Vatican Interfaith Dialogue for Asia and Pacific of the Pontifical Council for Interreligious Dialogue and dozens of members of the Association of Indonesian Religious Men and Women in the Eternal City (IRRIKA) and lay Catholics.
IRRIKA head, Father Paulus Halek Bere of the Congregation of the Sacred Hearts of Jesus and Mary, told UCA News that the ceremony consisted of three main parts.
"First, the welcoming of Cardinal Suharyo in front of the parish church and the blessing of Mass-goers by Cardinal Suharyo. Second, the reading of Pope Francis' bulla and the welcoming speech," he said, adding that Cardinal Suharyo highlighted religious tolerance in Indonesia in his homily.
"Third, the sharing session with members of IRRIKA, which was held in the Embassy of the Republic of Indonesia to the Holy See."
During the sharing session, he said, Cardinal Suharyo called on all members of IRRIKA to continue to enliven the spirit of the popular slogan "100 percent Catholic and 100 percent Indonesian," which was first coined by Jesuit Father Albertus Soegijapranata — the first native Indonesian bishop — to Catholics.
"The sharing session was very inspiring. Indeed, members of IRRIKA must always show the characteristic of the Indonesian people in our missions here in Italy: individuals who are friendly and who care for others," said Father Paulus, who studies Scripture at the Pontifical Biblical Institute in Rome.
Indonesia has an estimated 8 million Catholics in the Muslim-majority nation of more than 267 million.
Source: UCA News
Please click the following URL to read the full text of the original story:
https://www.ucanews.com/news/indonesias-cardinal-suharyo-gets-titular-church-in-rome/98568
--------
Bukit Aman probing Hadi over non-Muslims comment
08- 28- 2022
PETALING JAYA: The Federal Police has confirmed that an investigation paper has been opened against PAS president Tan Sri Abdul Hadi Awang(pix) over his recent claim that non-Muslims were at the root of corruption in the country.
In a statement, federal police headquarters said 28 reports had been received against Hadi, who is Marang MP.
Investigations are being conducted by D5, the classified criminal investigation unit.
"Police also urge the public to be cautious and concerned about issues that touch on religious and racial sensitivities that could threaten social harmony," police corporate communications head ACP Skandaguru Anandan said in a statement today.
The matter is being investigated under Section 505 (c) of the Penal Code for intent to incite or acts likely to incite any class or community of persons to commit any offence against any other class or community of persons.
Source: The Sun Daily
Please click the following URL to read the full text of the original story:
https://www.thesundaily.my/home/bukit-aman-probing-hadi-over-non-muslims-comment-LB9740973
--------
Mideast
Hezbollah chief meets Hamas officials days after sit-down with Islamic Jihad leader
By TOBIAS SIEGAL
28 August 2022
Hezbollah leader Hassan Nasrallah met with a delegation of senior Hamas officials in Beirut Sunday, according to the Lebanese-based Akhbar Al Yawm news agency.
Nasrallah met with notable decision-makers from the Gaza-based terror organization, including Sheikh Saleh al-Arouri, deputy head of the group's political bureau, and senior officials Khalil al-Hayya and Osama Hamdan, the report said.
Hamdan is based in Lebanon and serves as the senior Hamas representative in the country. He served as the group's official representative in Iran between 1994 and 1998.
During their meeting, Nasrallah and the Hamas officials reviewed "the latest political and field developments in Palestine, Lebanon and the region, especially the recent confrontations in the Gaza Strip, the West Bank and Jerusalem," according to a Hezbollah statement issued after the meeting.
The meeting also focused on "the possible outcome of the situation in the region, in light of [recent] developments."
The meeting comes days after Nasrallah discussed regional developments with Palestinian Islamic Jihad chief Ziyad Nakhaleh.
A report by the Hezbollah-affiliated Lebanese news outlet Al Mayadeen suggested that potential future cooperation between Hezbollah and Islamic Jihad was brought up during that meeting, saying the pair discussed "the expected roles of the various parties in the axis of resistance in the next stage." The report did not elaborate on what that "next stage" could entail.
Both meetings come amid heightened tensions between Israel and Hezbollah — a Lebanese proxy of Iran — over offshore fields thought to hold natural gas deposits and repeated threats by Nasrallah that have raised concerns in Israel over a potential flare-up on its northern border.
Israel and Lebanon are said to be nearing an agreement over the maritime border dispute. But Israeli officials have raised concerns that Hezbollah may seek to carry out more provocations to create the impression that it is responsible for any concessions Israel may agree to as part of the deal.
In early July, Hezbollah sent several drones to Israel's Karish gas field, which were downed by the Israeli military. And earlier this month Nasrallah warned that "any arm" reaching to steal Lebanon's wealth "will be cut off."
The last known meeting between Hezbollah and Hamas leadership took place in June last year, when Nasrallah met with Hamas political bureau chief Ismail Haniyeh in Beirut as part of a series of high-level meetings he held around the Arab world.
Six months earlier, the two discussed what they considered to be emerging threats resulting in the normalization agreements signed between Israel, the United Arab Emirates and Bahrain in September 2020, stressing the need to stabilize the "axis of resistance" against Israel.
But the two groups have not always been coordinated and have even found themselves on opposing sides at times.
The relationship between Hamas and Iran began shortly after the former was established in 1987, mainly through financial support offered by Tehran, according to a report by the Alma Research and Education Center.
However, during the early days of the Syrian civil war in 2011, Hamas aligned itself with the rebel camp fighting the radical Shiite axis led by Iran. This eventually led Hamas to shift its alliance to the Muslim Brotherhood and consequently abandon the radical Shiite axis, leading to ongoing friction with Hezbollah, according to Alma.
This continued for years, with Hamas regularly advancing its operational plans in southern Lebanon independently, without considering Hezbollah's objectives or notifying it of its plans.
But in 2017, Iran and Hezbollah agreed to put their differences with Hamas aside and once again focus on their common goals — a united front against Israel.
Source: Times Of Israel
Please click the following URL to read the full text of the original story:
https://www.timesofisrael.com/hezbollah-chief-meets-hamas-officials-days-after-sit-down-with-islamic-jihad-leader/
--------
Palestinians condemn Israeli settlers' unprecedented storming of al-Aqsa mosque through Lions' Gate
28 August 2022
The Palestinian Authority's foreign ministry has condemned Israeli settlers' storming of al-Aqsa mosque through the Lions' Gate, one of the gates leading to the al-Aqsa Mosque compound in the Old City of occupied East al-Quds.
In a statement on Sunday, the ministry denounced as "unprecedented" the storming of the mosque through the Lions' Gate on the eastern side of the complex, which is solely used by Muslims, the official Palestinian news agency Wafa reported.
The ministry described the storming as a blatant violation of the mosque's status quo aimed at perpetuating the temporal division of al-Aqsa Mosque pending its spatial partition.
Over the past years, Israel has only allowed settler groups to storm the holy site through the Moroccan Gate, on the western side of the compound, but what happened on Sunday was unprecedented as it was the first time that Israeli police allowed settlers to use the Lions Gate since 1967.
According to Sheikh Omar Kiswani, the director of the mosque, the storming on Sunday was a serious violation of the status quo at the holy site and the agreements signed between Israel and Jordan, the custodian of Islamic and Christian sites in al-Quds.
Extremist Israeli settlers regularly storm the al-Aqsa Mosque compound in the occupied city, a provocative move that infuriates Palestinians. Such mass settler break-ins almost always take place at the behest of Tel Aviv-backed temple groups and under the auspices of the Israeli police in al-Quds.
The al-Aqsa Mosque compound, which purportedly sits just above the Western Wall plaza, houses the Dome of the Rock and al-Aqsa Mosque.
The Jewish visitation of al-Aqsa is permitted while non-Muslim worship at the compound is prohibited under an agreement signed between Israel and the Jordanian government in the wake of Israel's occupation of East al-Quds in 1967.
Source: Press TV
Please click the following URL to read the full text of the original story:
https://www.presstv.ir/Detail/2022/08/28/688201/Palestine-Israel-settlers-al-Aqsa-Lions%E2%80%99-Gate
--------
Houthis slammed for torturing abducted journalists
SAEED AL-BATATI
August 28, 2022
AL-MUKALLA: Yemen government officials and rights groups have urged the Iran-backed Houthis to stop torturing four abducted journalists held inside their prisons and to urgently send them to hospital as they are suffering from life-threatening diseases.
Yemenis say that the Houthis have subjected the journalists to physical and psychological torture in detention, throwing them into solitary confinement and depriving them of vital medicine.
Tawfiq Al-Mansouri, Akram Al-Walidy, Abdul Khaleq Omaran and Harith Hamid are among nine journalists who were abducted by the Houthis from a Sanaa hotel in 2015.
Five journalists were freed from Houthi detention during the largest successful prisoner swap between the Yemeni militia and their opponents in 2020.
The Houthis abused the incarcerated journalists, later put them on trial and sentenced them to death on charges of being "cloak-and-dagger" activists for the Arab coalition.
Yemen's officials and journalists' families said that they developed severe health problems due to the Houthi torture and are facing death if the Houthis do not take to them to hospital or provide their medication inside cells.
Yemen's information minister, Muammar Al-Eryani, slammed the Houthis for exacerbating the health conditions of the journalists and called for international action to pressure the Houthis to set them free.
"We hold terrorist Houthi militia of Iran fully responsible for the safety of journalist Tawfiq Al-Mansori, &his fellow journalists who are under forcible disappearance for 7 yrs, after his health deteriorated & contracted chronic diseases due to torture & lack of basic necessities," the Yemeni minister said on Twitter, accusing the Houthis of using the abducted journalists as a bargaining chip to extract concessions from the Yemeni government during talks.
"We call on intl community and UN & US envoys to observe their legal mandate &pressure Houthi militia to provide urgent health care to journalist Al-Mansouri, release him & his fellow journalists immediately & unconditionally, & stop using them as political bargaining chips."
International rights groups echoed concerns about the worsening health conditions of the four journalists and Houthi indifference to calls for the militia to treat them well and release them.
The Geneva-based SAM Organization for Rights and Liberties urged the UN and international charity and right groups to put pressure on the Houthis to immediately admit the journalists, mainly the critically ill Tawfiq Al-Mansouri, to hospital.
SAM calls on the United Nations and the Red Cross to pressure the Houthi group to urgently transfer journalist Tawfiq Al-Mansouri to the hospital and unconditionally release him and all his fellow journalists," SAM said in a statement.
Due to an intensifying crackdown by the Houthis, who militarily took over power in Yemen in late 2014, hundreds of journalists, activists, politicians and military and security figures have been forced into fleeing Sanaa and other areas, and settled in government-controlled areas or into exile.
Source: Arab News
Please click the following URL to read the full text of the original story:
https://www.arabnews.com/node/2152101/middle-east
--------
Palestinian toll mounts as Israel steps up West Bank raids
August 29, 2022
TUBAS, West Bank: At least 85 Palestinians have been killed in the West Bank this year as Israeli forces have carried out nightly raids in cities, towns and villages, making it the deadliest in the occupied territory since 2016.
The military says the vast majority were militants or stone-throwers who endangered the soldiers. The tally, from the Palestinian Health Ministry, includes Palestinians who carried out deadly attacks inside Israel.
But it also includes several civilians, including a veteran journalist and a lawyer who apparently drove unwittingly into a battle zone, as well as local youths who took to the streets in response to the invasion of their neighborhoods.
The length and frequency of the raids has pulled into focus Israel's tactics in the West Bank, where nearly 3 million Palestinians live under a decades-long occupation and Palestinians view the military's presence as a humiliation and a threat.
Israeli troops have regularly operated across the West Bank since Israel captured the territory in 1967.
Israel says it is dismantling militant networks that threaten its citizens, and that it makes every effort to avoid harming civilians. Palestinians say the raids are aimed at maintaining Israel's 55-year military rule over territories they want for a future state — a dream that appears as remote as ever, with no serious peace negotiations held in over a decade..
Israel stepped up the operations this past spring after a string of deadly attacks by Palestinians against Israelis killed 17 people, some carried out by militants from the West Bank. There have been no deadly attacks since May, but the relentless military operations have continued.
The Palestinian Health Ministry has reported 85 Palestinians killed by Israeli security forces in the occupied West Bank and annexed east Jerusalem since the start of the year.
With four months to go this year, that already is the highest number since 2016, the tail-end of a previous wave of violence, when 91 Palestinians were killed, according to yearly data compiled by the Israeli human rights group B'Tselem.
The ministry's tally includes attackers and known militants, but also the veteran Al Jazeera journalist Shireen Abu Akleh, and a 58-year-old man who was shot in the head outside a bakery earlier this month. The Israeli military says both might have been hit by Palestinian gunfire but has not provided evidence to substantiate its claims.
The dead include 17 teens under the age of 18, as well as six women, according to the ministry. Israel says that teenagers and women are often involved in violence, while critics accuse the army of using excessive force in many cases.
Israel is also holding more than 600 Palestinians without charge or trial in what's known as administrative detention — the highest in six years.
Amir Avivi, a retired Israeli general who now heads the Israel Defense and Security Forum, said the heightened pace of operations is the result of the recent wave of attacks and the Palestinian Authority's refusal to crack down on militants in the areas it administers.
The Palestinian Authority is mired in a crisis of legitimacy largely stemming from its cooperation with Israel on security matters. Palestinian officials say they will not help police the occupation, especially if there is no hope that doing so will lead to independence.
Rights groups say that while some Israeli missions are aimed at combatting specific threats, others are intended as a show of force, or to protect the growing population of Jewish settlers.
Ori Givati is the head of Breaking the Silence, an Israeli group opposed to the occupation that gathers testimonies of former Israeli soldiers. Some soldiers recall carrying out mock arrests, in which fully armed soldiers raid a home in the middle of the night — for training purposes.
Even more common, Givati says, are so-called "stimulus and response" operations, which he said he took part in himself when he served in the West Bank. In those, Israeli troops roll through Palestinian areas, sometimes with lights and speakers on, hoping to lure stone-throwers or gunmen into the streets so they can arrest or confront them.
"The way we occupy the Palestinians is by creating more and more friction, making our presence felt," Givati said. "We invade their towns, their cities, their homes."
In a statement, the army denied the allegations, saying it acts "solely against threats and terrorist operatives who pose a security threat" in Israel and the West Bank.
Israel says it investigates all cases in which Israeli troops are suspected of killing civilians, but rights groups say most of those investigations are quietly closed with soldiers rarely facing serious repercussions.
There were two notable exceptions this year.
The killing of Abu Akleh, a veteran on-air correspondent, prompted numerous independent investigations that concluded she was likely killed by Israeli fire. Israel denies targeting her and says it is still investigating.
There was also the death in January of Omar Assad, a 78-year-old who died shortly after Israeli soldiers bound and blindfolded him and left him in the cold. In that case, senior officers were reprimanded and stripped of leadership roles.
Both were American citizens, and the US raised both cases with Israel. Last week, Israel discharged four soldiers after they were caught on camera beating and kicking two detained Palestinians.
There was no such uproar over Salah Sawafta, who was shot outside the bakery as he returned from dawn prayers in the West Bank town of Tubas earlier this month. Israeli troops, who had gone to arrest suspected militants, were engaged in a firefight with Palestinian gunmen.
His family believes he was killed by an Israeli sniper in a building across the street. Zakreya Abu Dollah, the bakery owner who witnessed the shooting, said he saw Israeli soldiers fanned out on the street but no Palestinian gunmen or stone-throwers in the immediate area.
The military says it is investigating and that Sawafta might have been hit by a stray bullet fired by Palestinian militants.
Jehad Sawafta said his late brother, who made a living trading animal feed, had no connection to any political faction or militant group.
Salah had a son and four daughters, one of whom was engaged to be married this past Friday. The father of the bride was killed a week before the wedding.
Source: Arab News
Please click the following URL to read the full text of the original story:
https://www.arabnews.com/node/2152361/middle-east
--------
Palestine serves as key to regional stability, security: Iranian deputy FM
28 August 2022
Iran's Deputy Foreign Minister Ali Bagheri Kani has described the Palestinian issue as the key to establishment of stability and security in the Middle East, stating that any initiative that overlooks the rights of the Palestinian nation causes instability and disrupts the security of the region.
Bagheri Kani made the remarks during a meeting with Qatar's Deputy Foreign Minister for Regional Affairs Mohammed bin Abdulaziz al-Khulaifi and the accompanying delegation in Tehran on Saturday night.
The Iranian diplomat termed attention to the Palestinian issue a humanitarian and Islamic duty for all regional countries, emphasizing that the stability of the region depends on full restoration of Palestinians' rights.
Bagheri Kani went on to point to efforts being made by the United States and the Tel Aviv regime to wipe Palestine from the political geography of the region and the world.
"Palestine is the key to regional stability and security. Therefore, any initiative that ignores the rights of the Palestinian nation is a source of instability and disturbs the regional security," he highlighted.
The Iranian deputy foreign minister also praised the successful neighborhood policy of Iran's incumbent administration, stating that Tehran seeks to further promote multilateral and regional cooperation in the next phase.
Bagheri Kani lauded the enhancement of Tehran-Doha bilateral relations, saying, "We welcome Qatar's effective role in advancing the second phase of Iran's neighborhood policy and promoting multilateral regional cooperation."
For his part, Khulaifi pointed to the historical commonalities between Qatar and Iran and hailed the growing bilateral relations between the two Muslim countries in all spheres.
The Qatari diplomat underlined that meetings and consultations between diplomats from the two countries will provide the basis for further expansion of such ties.
Palestinians want the West Bank as part of a future independent Palestinian state, with East al-Quds as its capital.
The last round of Israeli-Palestinian talks collapsed in 2014, with Israel's continued settlement expansion emerging as a key sticking point.
All Israeli settlements are deemed illegal under international law as they are built on the occupied land.
The UN Security Council has time and again condemned the occupying regime's diabolic settler-colonialism project in its umpteen resolutions.
Between 600,000 and 750,000 Israelis occupy over 250 illegal settlements built since the 1967 occupation of the Palestinian territories of the West Bank and East al-Quds.
Khulaifi also stressed the importance of reviving the 2015 Iran nuclear deal, stating that its restoration is in the interest of the security and stability of the region.
The United States, under former president Donald Trump, abandoned the accord, officially known as the Joint Comprehensive Plan of Action (JCPOA), in May 2018 and reinstated crippling sanctions that the agreement had lifted.
The talks to salvage the agreement kicked off in the Austrian capital in April last year, months after Joe Biden succeeded Trump, to examine the potential of the US return to the deal and removal of sanctions.
Source: Press TV
Please click the following URL to read the full text of the original story:
https://www.presstv.ir/Detail/2022/08/28/688182/Palestine-serves-as-key-to-regional-stability,-security--Iranian-deputy-FM
--------
Jordan calls for halting Israeli violations at Jerusalem's Al-Aqsa complex
Laith Al-Jnaidi
28.08.2022
Jordan on Sunday called for an immediate end to Israeli violations at the flashpoint Al-Aqsa Mosque complex in occupied East Jerusalem.
Foreign Ministry spokesman Haitham Abu Alfoul said settler intrusions into the holy site "represent a flagrant and unacceptable violation of international law and the historic and legal status quo in Jerusalem and its sanctities."
The spokesman said the Jordan-run Jerusalem Endowment Department is the legal entity responsible for administering Al-Aqsa affairs.
In March 2003, Palestinian President Mahmoud Abbas and Jordanian King Abdullah II signed an agreement that gives Jordan the mandate to "defend Jerusalem and its holy sites," and confirms Jordan's role as protector of the city's holy sites.
Al-Aqsa Mosque is the world's third-holiest site for Muslims. Jews call the area the "Temple Mount," claiming it was the site of two Jewish temples in ancient times.
Since 2003, Israel has allowed settlers into the compound almost daily.
Source: Anadolu Agency
Please click the following URL to read the full text of the original story:
https://www.aa.com.tr/en/middle-east/jordan-calls-for-halting-israeli-violations-at-jerusalem-s-al-aqsa-complex/2671263
--------
Iran Showcases New Precision-Striking Drone
2022-August-28
The new drone was unveiled during a visit by Parliament Speaker Mohammad Baqer Qalibaf to an exhibition held by the defense ministry on Saturday.
The Iranian Armed Forces' latest achievement in the field of the unmanned aircraft is a cruise missile carrying drone with hight destructive power.
The aircraft has been outfitted with an optical seeker and a warhead capable of detecting targets. It is also able to capture and relaying live images of the targets, lock on terrestrial targets and destroying them with precision.
The Iranian Army has recently staged large-scale drone wargames across the country with the participation of different units and the involvement of more than 150 new advanced drones. The military exercises were participated by forces of four units of the Army, namely the Ground Force, Navy, Air Force and Air Defense Force.
Commander of the Iranian Army Major General Abdolrahim Mousavi lauded the country's achievements in developing different types of unmanned aerial vehicles (UAVs), and said that the recent drone drills that covered all of the country's territory has a clear message.
Major General Mousavi stated that the Iranian people are pleased that they have their armed forces on their side.
He added that the drills are the most massive war games conducted by all four branches of the Army across mainland Iran and in the Persian Gulf and the Sea of Oman.
"Iran has deployed all its drone and electronic warfare capabilities in the exercises," the senior commander noted.
Maj. Gen. Mousavi stressed that Iran's friends are encouraged when they see the Islamic Republic is pressing ahead forcefully on its path toward progress despite enmities and heinous acts by the adversaries.
Iran has in recent years gained significant progress in developing surveillance and combat drones. Military officials say Tehran is self-sufficient in building drones from their fuselage to various subsystems and engines, adding the country's Armed Forces are equipped and ready to carry out any type of drone operations and missions. Tehran stresses its drone capability is non-negotiable.
Back in late May, Iran showed off an underground drone base where a range of advanced drones were housed and operated for potential combat and other missions.
During his visit, Chief of Staff of the Iranian Armed Forces Major General Mohammad Baqeri underscored that the pilotless aircraft have enhanced Iran's deterrence power.
He underlined the significance of drones in defending the country's interests, and added that they have found a special place in different defensive, offensive, land, sea, air and air defense areas.
Noting that deterrence is not possible with old methods and equipment and requires new methods, Maj. Gen. Baqeri said that "the drones that we saw today can play such a role".
Source: Fars News Agency
Please click the following URL to read the full text of the original story:
https://www.farsnews.ir/en/news/14010606000138/Iran-Shwcases-New-Precisin-Sriking-Drne
--------
Iran Calls for Cessation of Hostilities in Libya
2022-August-28
Voicing deep concern about the recent deadly clashes in the Libyan capital, Kana'ani underlined the need for an immediate end to the fighting in Tripoli.
He urged that the warring sides should resolve their differences through negotiations in order to protect the interests and security of Libyan people.
"The Islamic Republic of Iran invites all warring sides to exercise self-restraint and prevent an escalation of tensions, and calls on them to prioritize the interests of the Libyan people," the spokesperson underscored.
"The Islamic Republic of Iran supports the process of political dialog and peaceful solutions that secure the national unity, stability and territorial integrity of Libya and ensure the rightful demands of the people of the country for Libya's development and prosperity," the official added.
Intense fighting broke out in Tripoli on Saturday night. The city has since been engulfed by violence, according to witnesses.
Source: Fars News Agency
Please click the following URL to read the full text of the original story:
https://www.farsnews.ir/en/news/14010606000639/Iran-Calls-fr-Cessain-f-Hsiliies-in-Libya
--------
Africa
Libyan Defence Ministry Issues Arrest Warrant for Parliament-Appointed Prime Minister
Ali Semerci, Ebu Bekir Askin
29.08.2022
TRIPOLI, Libya
The Military Prosecutor's Office of Libya's Defense Ministry issued an arrest warrant Sunday for Tobruk parliament-appointed Prime Minister Fathi Bashagha following clashes in the capital Tripoli.
The prosecutor's office made a written request to the police, intelligence services and all security services in the country for the arrest.
It also demanded the arrest of Bashagha's major ally, Maj. Gen. Osama al-Juwaili, the former head of the Tripoli-based military intelligence service; Bashagha's Minister of Health and his government spokesman Othman Abdel-Jalil; and Mohamed Sowan, the chairman of Libya's Democratic Party.
Bashagha blamed Libyan Prime Minister Abdul Hamid Dbeibeh and government officials for the clashes in Tripoli.
Meanwhile, Dbeibeh on Sunday made an address to the nation via the official Facebook account of the Libyan government regarding the recent developments in the capital.
"We will bring those responsible for the attacks in Tripoli to justice," he said.
At least 32 people were killed and 159 others injured in clashes between rival militias in several districts of Tripoli.
The situation calmed in the capital on Sunday, one day after the heavy clashes between forces backing Dbeibeh and forces loyal to his rival Bashagha, who was appointed by the Tobruk-based parliament as prime minister.
The violence, the worst since reaching a cease-fire in 2020, came amid military buildups by forces affiliated with Dbeibeh and Bashagha, as both figures claim power and authority in the capital.
Source: Anadolu Agency
Please click the following URL to read the full text of the original story:
https://www.aa.com.tr/en/middle-east/libyan-defense-ministry-issues-arrest-warrant-for-parliament-appointed-prime-minister/2671387
--------
Chief Imam of Lekki Central Mosque Seeks Synergy among Muslim Leaders, Scholars to Enhance Quality Leadership
By Apata Oyeniran
Aug 28, 2022
The Chief Imam of Lekki Central Mosque, Imam Ridwanullahi Jamiu has advocated the need for increased synergy among Muslim scholars and religious leaders for increased cooperation and understanding.
Imam Ridwanullahi gave the charge during a one-day workshop organised by Mamlakah Multi-Services Limited in conjunction with Maktab for Da'wah and Charity for scholars and sheikhs.
He emphasised that collaboration and synergy among Muslim scholars would strengthen coordinated leadership in the interest of the Muslim Ummah.
"Synergistic relationships will lead to better but increased relationships among Sheiks and scholars and this will lead to a coordinated Muslim Umah for the benefit of all and sundry.
"Collaboration will lead to quality leadership that will address issues that border on the general wellbeing of the Muslim communities, manage matters like Fatwa, Zakat and provide quality leadership that will adequately represent the concerns and interests of the Muslim Ummah across the states," he added.
Dr. Muhammad Lawal Musa, the Proprietor of The Arabian College Ibadan, Oyo State encouraged Muslims across the country to be at the forefront of philanthropic projects like the building of social and civil amenities like hospitals for the benefit of mankind and society at large.
In his contributions, a lecturer in the Islamic Law Department of the Fountain University, Osogbo, Mr. Idris Ibrahim Alao urged Muslims to know their rights and remain committed to achieving the highest goals in society
"The first thing is that Muslims must realise the need for them to be committed and devoted towards achieving higher goals for the betterment of the Muslim community"
"If female Muslims are denied their rights at work, school and other establishments or in the public sphere they are free to contact the Rights Advocacy Initiative or MURIC, which are the leading voices in advocacy for the rights of Muslims in Nigeria," he added.
In his remarks, one of the convener, Mr. Abeebulahi Jamiu Agbabiaka explained that the programme was organised to bring Muslim scholars together on how to move the Umah forward, deliberate, rally around paranoid religious issues that affects Islam, discuss and sample their opinions on some matters of general concerns.
Source: Independent Nigeria
Please click the following URL to read the full text of the original story:
https://independent.ng/cleric-seeks-synergy-among-muslim-leaders-scholars-to-enhance-quality-leadership-understanding/
--------
Inuwa, Shehu Of Borno, Pantami Urge Muslims To "Use Mosque To Preach Peace, Unity"
By William Attah
Aug 28, 2022
The Shehu of Borno State, Alhaji Abubakar Ibn Umar Garbai and Minister of Communication and Digital Economy, Professor Isah Ali Ibrahim Pantami, were among other dignitaries that called on Muslims in Kaltungo, Gombe State, to use the reconstructed Central Mosque to preach peace and unity of the people.
They made the call at the commissioning of the reconstructed Kaltungo Central Mosque built by the community at the cost of N269m.
Professor Ibrahim Pantami, who was the guest speaker at the occasion said Mosque is an important institution in Islam which serves several social functions adding that history records the first Mosque built in the World served as a school and other purposes such as counselling, teaching morals, and skills among others.
He also stated that history has it that the Mosque gave birth to some of the earliest universities in the world beginning in Morocco and Egypt.
He, therefore, called on Muslims to ensure that the Mosque is not just used for their five daily prayers alone but it should serve as a fountain of knowledge where people acquire skills, and morals, get enlightened, justice and general knowledge.
He, therefore, called on the custodians of the mosque and the community to explore other functions for maximum benefit.
Commissioning the edifice, the Shehu of Borno who was the Special Guest of Honour, called on the people to use the Mosque to preach peace and unity among people as well as respect for constituted authorities.
He commended Governor Inuwa Yahaya for creating an enabling environment for the Mosque to be built and prayed for blessings, peace, love and unity among the people.
In his address, the Chairman of the occasion and Gombe State Governor, Alhaji Muhammad Inuwa Yahaya, congratulated the Kaltungo community for getting a new central mosque with all the needed facilities, describing the event as historic.
He called on the community to make good use of the newly built place of worship adding, "the Masjid is not only a place of worship; it is an educational centre, a place to dispense justice, a reconciliation centre and a place to bring social justice and ethical orientation to the people".
He used the occasion to call on the people of Kaltungo and Gombe State, in general, to continue to live in peace and harmony for the overall development of the state, maintaining that peace and unity are requisite for the development of any society.
Earlier, Secretary to Gombe State Government, Professor Ibrahim Abubakar Njodi, who is also chairman, the building committee of the mosque, said the reconstruction of the mosque became necessary due to the fact that the former structure could not accommodate the people conveniently.
He said, "the old mosque was built in 1968 with a capacity for 250 worshippers which has now become grossly inadequate.
"The construction project gulped the sum of two hundred and sixty-nine million Naira (N269,000,000) and was completed within the period of three years.
"The newly constructed mosque has the capacity for 2,500 worshippers, a women section, a Library and toilets for both males and females; it has two minarets on which are mounted public address systems with a capacity to transmit up to 5-7 kilometres of sound", he stated.
Source: Independent Nigeria
Please click the following URL to read the full text of the original story:
https://independent.ng/inuwa-shehu-of-borno-pantami-urge-muslims-to-use-mosque-to-preach-peace-unity/
--------
Clashes in Libya leave 32 dead before tentative calm
August 29, 2022
TRIPOLI: Flights resumed and shops re-opened in Libya's capital Tripoli on Sunday after clashes between backers of rival governments killed at least 32 people and sparked fears of major new conflict.
Armed groups had exchanged fire that damaged several hospitals and set buildings on fire starting on Friday evening, the worst fighting in the Libyan capital since a landmark 2020 ceasefire.
A cautious calm had set in by Saturday evening and the health ministry said on Sunday morning that 32 people had been killed and 159 wounded during the clashes.
The fighting came after months of mounting tensions between backers of Abdulhamid Dbeibah and Fathi Bashagha, whose rival administrations are vying for control of the North African country which has seen more than a decade of violence since a 2011 uprising.
Rival administrations of Abdulhamid Dbeibah and Fathi Bashagha are vying for control of Tripoli
Dbeibah's administration, installed in the capital as part of a United Nations-led peace process last year, has so far prevented Bashagha from taking office there, arguing that the next administration should be the product of elections.
Bashagha was appointed by Libya's eastern-based parliament earlier this year and is backed by powerful eastern military chief Khalifa Haftar, whose 2019 attempt to seize the capital by force turned into a year-long civil war.
Bashagha, a former interior minister, had initially ruled out the use of violence to take power in Tripoli but subsequently hinted that he could resort to force.
Libya plunged into chaos following the 2011 overthrow and killing of its leader Moammar Qadhafi in a Nato-backed uprising, with myriad armed groups and foreign powers moving to fill the power vacuum.
Certain armed groups seen as neutral in the latest crisis moved to back Dbeibah this weekend to push back Bashagha's second attempt to enter the capital.
Both sides exchanged blame on Saturday while world powers appealed for calm.
Shifting sands
The UN's Libya mission called for "an immediate cessation of hostilities", deploring "indiscriminate medium and heavy shelling in civilian-populated neighbourhoods".
On Saturday evening, Dbeibah posted a video of himself surrounded by bodyguards and greeting fighters supporting his administration.
Wearing a blue shirt and accompanied by his personal guard, he shook hands and took selfies with supporters.
"We won't leave this country to the scoundrels," he said in the video posted on his Twitter account under the title "end of the aggression".
He said on Sunday he would create two committees to survey the damage from the fighting.
Dbeibah's Government of National Unity said fighting had broken out after talks to avoid bloodshed in the western city collapsed.
Bashagha denied such talks had taken place, and accused Dbeibah's "illegitimate" administration of "clinging to power".
Local media reported late Satur­day that a group of pro-Bashagha militias that had been making their way to the capital from Misrata later turned back.
The fighting prompted several airlines to cancel flights in and out of the only working airport in the capital, and high school examinations set for the end of August were postponed.
But flights resumed and shops reopened on Sunday morning, while the University of Tripoli announced that exams set for Monday would go ahead as originally planned, annulling an earlier postponement.
On Saturday evening, Dbeibah ordered the arrest of anyone involved in the "attack on Tripoli", both civilian and military.
A pro-GNU force from Misrata — the hometown of both Dbeibah and Bashagha — said on Sunday it had arrested several people involved in the attack.
But analysts said the crisis was far from resolved, with the capital controlled by a multitude of armed groups with shifting alliances described by analyst Wolfram Lacher as "a never-ending story".
Source: Dawn
Please click the following URL to read the full text of the original story:
https://www.dawn.com/news/1707296/clashes-in-libya-leave-32-dead-before-tentative-calm
--------
Sudanese journalists form independent union to defend freedoms
28 August, 2022
Sudanese journalists have formed the country's first independent professional union for decades, in what campaigners said was an important step towards re-establishing freedoms after a military coup.
"The victory is to regain our syndicate after more than 30 years in order to defend the freedom and professionalism of the press," said one journalist Waleed Alnour, who waited hours in the sun to cast his vote in an election for the union's leadership on Sunday.
The union has 1,164 members, 659 of whom took part in Sunday's vote.
Shadow unions that sprang up in opposition to autocrat Omar al-Bashir, who packed unions with regime-friendly members, were instrumental in an uprising that toppled him in 2019.
A military coup last October ended a power-sharing arrangement with civilians that followed the uprising.
The coup also led to the suspension of a radio station, and some TV journalists were subject to attacks, raids or arrests that they blamed on security forces and loyalists of the former regime.
Journalists aligned with Bashir had attempted to prevent Sunday's vote going ahead by raising an ongoing legal complaint, saying the syndicate could not replace the pre-existing Bashir-era union.
However, election committee head Faisal Mohamed Salih, who served as information minister in a civilian-led government between the uprising and the coup, said the vote "was executed in a completely democratic way... smoothly and with a high turnout and excitement among the journalists."
Civil society observers, including some from opposition lawyers' groups, attended the election.
Abdelmoniem Abu Idrees, a journalist working for international news agency Agence France-Presse (AFP), was voted head of the syndicate. Votes were being counted for the rest of the union's 40-person leadership.
The Bahri resistance committees, one of the groups leading ongoing protests against military rule, said in a statement the election was an important step.
Source: Al Arabiya
Please click the following URL to read the full text of the original story:
https://english.alarabiya.net/News/middle-east/2022/08/28/Sudanese-journalists-form-independent-union-to-defend-freedoms
--------
Military convoy linked to Libya's Bashagha heads toward Tripoli amid clashes
27 August, 2022
A military convoy affiliated with the parliament-backed administration of Fathi Bashagha was heading toward Tripoli on Saturday from Zlitan near Misrata, an eyewitness said.
Fighting erupted early on Saturday inside the capital, the seat of the Government of National Unity which Bashagha and the parliament seek to replace.
Intense fighting erupted in the Libyan capital overnight and lasted into Saturday morning, with rival factions exchanging heavy gunfire and the sounds of several loud blasts ricocheting around the city.
The clashes took place in Tripoli's city center after one of the capital's strongest groups assaulted the base of a rival force, witnesses said, leading to hours of shooting that terrified locals and raised fears of a wider escalation.
Source: Al Arabiya
Please click the following URL to read the full text of the original story:
https://english.alarabiya.net/News/north-africa/2022/08/27/Military-convoy-linked-to-Libya-s-Bashagha-heads-toward-Tripoli
--------
Sudan journalists vote for new syndicate after boycotting union for more than 3 decades
Mohammed Amin
28.08.2022
KHARTOUM, Sudan
Hundreds of Sudanese journalists voted Saturday for a new Journalists Syndicate after boycotting the Sudanese Journalists Union for 33 years.
They accused the union of belonging to the regime of former President Omer Al-Bashir.
The election committee that supervised the election said voting has ended and counting has begun.
"The process will end by the announcement of the initial results on Saturday and the final results on the 1st of September," it said in a statement.
The Sudanese Council for Press and Publication rejected the vote, describing it as illegal, while journalists groups said they will continue the process to form the syndicate.
Source: Anadolu Agency
Please click the following URL to read the full text of the original story:
https://www.aa.com.tr/en/africa/sudan-journalists-vote-for-new-syndicate-after-boycotting-union-for-more-than-3-decades/2670955
--------
Europe
Sweden's NATO talks with Türkiye strained by party members posing with PKK/YPG flags: Foreign Minister
Atila Altuntas
29.08.2022
STOCKHOLM
Sweden's negotiations with Türkiye on its bid to join NATO were made more difficult when members of a local political party took a photo with flags of the PKK/YPG terrorist organization, Foreign Minister Ann Linde said Sunday.
Linde told the Swedish Aftonbladet daily that Turkish media constantly brings up this incident and similar events.
She said that although this was freedom of expression under Swedish law, it was a "very inappropriate" situation for the government.
On July 7, Left Party deputies Daniel Riazat, Momodou Malcolm Jallow and Lorena Delgado Varas posed for a photo in the city of Visby with flags of the YPG/PKK and shared it on social media.
Swedish Prime Minister Magdalena Andersson condemned the three deputies over the incident.
Justice and Interior Minister Morgan Johansson had declared that the PKK has the blood of many innocent people on its hands.
Türkiye, a NATO member for more than 70 years, made it clear that it will oppose Sweden and Finland's NATO membership bids if its security concerns have not been met.
Source: Anadolu Agency
Please click the following URL to read the full text of the original story:
https://www.aa.com.tr/en/europe/sweden-s-nato-talks-with-turkiye-strained-by-party-members-posing-with-pkk-ypg-flags-foreign-minister/2671379
--------
Pope calls for international cooperation to help flood-hit Pakistan
Faruk Zorlu
28.08.2022
Pope Francis Sunday called for international cooperation to help Pakistan which is battered by heavy monsoon rains and massive floods.
"I pray for the numerous victims, for the wounded and those forced from their homes, and that international solidarity might be prompt and generous," the pontiff said in a statement issued by the Vatican press office.
He added: "In this place that suffered a harsh calamity, I want to assure the people of Pakistan, hit by floods of disastrous proportions, of my nearness."
Pakistan reached over 1,000 deaths in rain-related incidents, which have been triggered by torrential rains and swirling floods across the country since mid-June.
Source: Anadolu Agency
Please click the following URL to read the full text of the original story:
https://www.aa.com.tr/en/europe/pope-calls-for-international-cooperation-to-help-flood-hit-pakistan/2671261
--------
Netherlands temporarily suspends reception of asylum seekers from Türkiye: Justice and Security Ministry
Faruk Zorlu
28.08.2022
The Netherlands has decided to suspend the reception of asylum seekers from Türkiye despite a EU-Türkiye deal.
The Netherlands will "no longer admit people under the EU-Turkey Statement until the end of 2023," the Justice and Security Ministry said Friday.
The Netherlands has admitted "a relatively large number of Syrians" since 2016 under the EU-Türkiye Readmission Agreement, it said.
The agreement that was signed in March 2016, said Ankara is supposed to readmit all irregular asylum-seekers who reach the Greek islands from Türkiye. In exchange, the European Union agreed to resettle Syrian refugees from Türkiye.
The Dutch government continues to consider "these agreements important and will also start implementing them again from 2024. But in the current situation that is irresponsible," it added.
"A solid package of measures should improve our asylum reception and the situation in Ter Apel as quickly as possible. With support from the region, we are taking the necessary steps to handle asylum procedures in a humane and dignified manner," State Secretary for Justice and Security Eric van der Burg wrote on Twitter.
- Accommodation crisis
The Cabinet decided to take measures to alleviate the reception of asylum seekers amid the situation at the asylum application center in Ter Apel, which lasted for months and turned into a national crisis.
While the Dutch government was attempting to address the problem, the Dutch Red Cross set up tents in the garden of the center because of the lack of beds but removed them following backlash.
Despite the removal of the tents, many refugees, including women, children and the elderly, continued to sleep in the garden.
The government has been struggling to find places for asylum seekers due to the lack of space at asylum centers and the inability of municipalities to provide shelter for refugees.
While the government was attempting to facilitate the transfer of a hotel purchased in the village of Albergen to the Central Agency for the Reception of Asylum Seekers to accommodate 300 refugees, it faced protests from residents.
Source: Anadolu Agency
Please click the following URL to read the full text of the original story:
https://www.aa.com.tr/en/europe/netherlands-temporarily-suspends-reception-of-asylum-seekers-from-turkiye-justice-and-security-ministry/2670954
--------
Türkiye calls Macron's remarks in Algeria 'unacceptable'
Rabia İclal Turan
27.08.2022
French President Macron's remarks on Türkiye during his current visit to Algeria were "unacceptable," said Türkiye's Foreign Ministry on Saturday.
"It is extremely unfortunate that French President Emmanuel Macron made statements targeting our country, along with some other countries, during his visit to Algeria," ministry spokesman Tanju Bilgic said in a written response to questions by reporters.
"It is unacceptable that French President Macron, who has trouble confronting his colonial past in Africa, especially in Algeria, tries to get rid of his colonial past by accusing other countries, including ours," he added.
Bilgic said Ankara hopes France will reach the "level of maturity" to face its colonial past "without blaming other countries."
He said that if France wants to understand why Paris faces a backlash from the African continent, "it should look for the source of this in its colonial past and its efforts to continue (colonialism) with different methods and try to correct this."
"Claiming that this backlash is caused by the activities of third countries, instead of confronting and solving the problems related to their own past, is not only denial of a sociological phenomenon and history, but also a reflection of the distorted mentality of some politicians," he said.
Stressing that Türkiye is developing its relations with both Algeria and other countries in the African continent, he said that these relations are based on a "mutual trust and win-win relationship."
Source: Anadolu Agency
Please click the following URL to read the full text of the original story:
https://www.aa.com.tr/en/europe/turkiye-calls-macrons-remarks-in-algeria-unacceptable/2670652
--------
URL: https://newageislam.com/islamic-world-news/pakistan-hindus-sawan-prayers-flood/d/127829
New Age Islam, Islam Online, Islamic Website, African Muslim News, Arab World News, South Asia News, Indian Muslim News, World Muslim News, Women in Islam, Islamic Feminism, Arab Women, Women In Arab, Islamophobia in America, Muslim Women in West, Islam Women and Feminism