New Age Islam News Bureau
18Dec 2013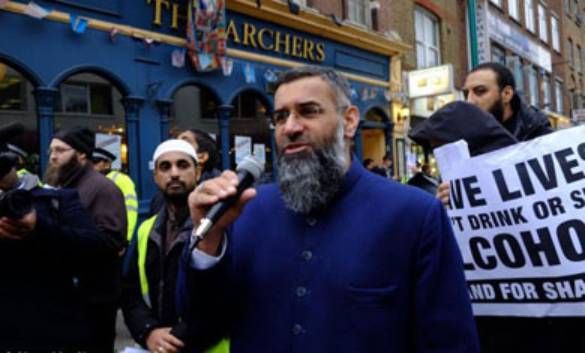 The Muslim protest, calling for the ban of alcohol in the Brick Lane area, was led by Anjem Choudary (pictured)
------
Pakistan
• Pakistanis Term Parliament Resolution on Quader Molla's Execution 'Act of Shame'
• TTP dismisses talks, vows retaliation against 'planned operation'
• Sufi culture is answer to rising extremism: Bilawal
• Three dead in suicide blast near Rawalpindi Imambargah
• Targeting polio workers is injustice to Pakistan, Islam: Imran Khan
• Blast near Karachi imambargah kills bomber, injures two others
• Govt says no to military operation against Taliban
• JF-17 planes 'open new doors' for Pakistan China friendship
• Caught in Spain: Pakistanis jailed on terror charges seek security on arrival
• Pakistan to get tough with Taliban only as a last resort
Europe
• Muslim Extremists in London Threaten to Lash Shop Owners for Selling Alcohol
• Christians persecuted by Islamists, says Prince Charles
• The Chechen Jihadists fighting in Syria
• West signals to Syrian opposition Assad may stay
• Germany, Britain mull troops for Central Africa: French minister
Arab World
• Xmas: Respect Non-Muslims' Holy Days, says Kuwait MP
• Syria latest magnet for jihadist suicide bombers
• Saudi ready to act 'with or without' West: Saudi diplomat
• Attacks across Iraq kill at least 11
• Syrian rebel leader was bin Laden's courier, now Zawahiri's representative
• Rebel group retracts support for possible El-Sisi presidential bid
• Iraq sees surge in violence two years after US pullout
• Syrian rebels impose Islamic law on town's Christians
South Asia
• Dhaka summons Pakistan high commissioner over Molla resolution
• India should act like a big neighbour: Bangladesh Jamaat leader
• 'Pakistan's reaction over war criminal Molla's execution utterly objectionable'
• War child to testify against Qaisar
• Jamaat-Shibir men defy joint patrol, chase Hindus
• Taliban hit NATO fuel trucks, kill one Afghan policeman
• Maldives Defence minister returns from India with gifts and reassurances
India
• After 14 years, India and Pakistan DGMOs to meet on December 24
• 250 ex-J&K militants waiting to come back
• ATS blocks 'Free Kashmir' webpage
Africa
• 'Syrian and Somali doctors' shot dead near Mogadishu
• South Sudan's Juba Death Toll At Least 123, Hundreds Wounded
• Mali president's party wins parliamentary election
• Gaddafi opponent says tortured dissident gave secret police his name
• South Sudan opposition leader Riek Machar denies coup
Mideast
• Iran's Supreme Leader tweets: Zionists are just like the Nazis
• Turkey says 'no war weapons' sent to Syria
• Israeli army declares Palestinian village closed military zone
• Zionists from country's minority communities speak out for Israel
• Support mounts for Jewish prayer at key holy site
• Turkey issues travel warning to South Sudan
• Turkish journalist kidnapped by al-Qaeda-linked groups in Syria
North America
• Why One Muslim Group Gave the NYPD's Ray Kelly an Award
• Major US academic body backs boycott of Israeli educational institutions
Southeast Asia
• Indonesian Secular parties to benefit from Muslim vote
• Police Arrest More Alleged Terrorists in Indonesia Prior to New Year
• Malaysia should move from cash handout to rights-based programmes, says rights council
• See you in court, Mat Sabu tells Ahmad Zahid over Shia accusations
Compiled by New Age Islam News Bureau
URL: https://www.newageislam.com/islamic-world-news/new-age-islam-news-bureau/pakistanis-term-parliament-resolution-on-quader-molla's-execution-'act-of-shame'/d/34897
------------
Pakistan
Pakistanis Term Parliament Resolution on Quader Molla's Execution 'Act of Shame'
Emran Hossain
Dec 18 2013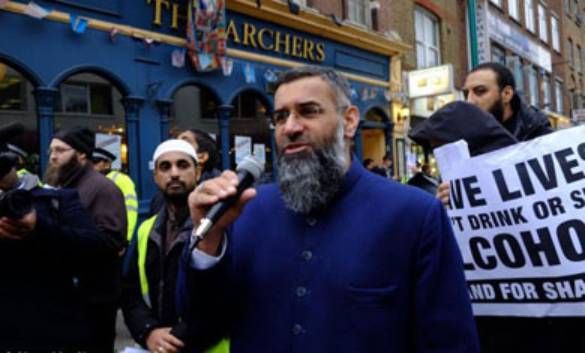 The Muslim protest, calling for the ban of alcohol in the Brick Lane area, was led by Anjem Choudary (pictured)
------
The readers even called Imran Khan an 'opportunist' for siding with the historic lie only to remain in good terms with Pakistan's Jamaat-e-Islami
The statement, in which Pakistan Tehreek-e-Insaf (PTI) Chairman Imran Khan labelled executed war criminal Abdul Quader Molla as "innocent," has been widely censured by the Pakistani citizens in the online edition of The Express Tribune, a Pakistani newspaper.
The readers even called Imran Khan an "opportunist" for siding with the historic lie only to remain in good terms with Pakistan's Jamaat-e-Islami. Some regretted how they had viewed this world-famous cricketer, who enjoys huge popularity in Bangladesh too, as a harbinger of change in Pakistani politics.
"hahahahahaha just want to see the faces of all those who voted for Imran Khan for a change. lol yes he wants to change Pakistan…" wrote a reader using the name TJ.
"Once again bowing down to Maulvis. Story of Pakistan's politicians," wrote another reader named Shah in his comment drawing as many as 229 likes by yesterday evening.
According to Radio Pakistan, Imran made the assertion while speaking at the National Assembly of Pakistan on Monday. He quoted a lawyer of the international human rights organisation Reprieve who was defending Quader Molla.
The lawyer had told Imran that Quader Molla had nothing to do with the charges brought against him.
Pakistani newspaper The Express Tribune ran a report titled "Resolution passed: Abdul Quader Molla was innocent, Imran Khan claims" quoting the Radio Pakistan.
"Wow, defendant's lawyer says he is innocent! Who would have believed it?" said a reader named Parrot in his comment that got 202 likes.
Many readers considered passing of the resolution expressing concern over Quader Molla's execution in the National Assembly as an "act of shame." There were comments supporting Imran too, but only a few.
"Looks like Pakistan worries about everyone in the world except for the ones who live in Pakistan!" wrote Rafi Ka Deewana who gained 307 likes.
A reader under the name of Unbelievable wrote: "Defending someone convicted of murder and rape just because he was 'pro Pakistan' is outright dumb…"
"This guy Imran Khan is Pakistan's biggest clown. He rants, cajoles and begs on issues that are totally irrelevant to the world, including Pakistan," reads another comment.
One of the remarks made by one Umar summed it up all in a single line: "PTI is another JI so no surprise that they are as usual on the wrong side of history too."
http://www.dhakatribune.com/foreign-affairs/2013/dec/18/pakistanis-term-parliament-resolution-%E2%80%98act-shame%E2%80%99#sthash.DVzk9ZrX.dpuf
------------
TTP dismisses talks, vows retaliation against 'planned operation'
2013-12-17
ISLAMABAD: Dismissing the concept of peace talks immediately after Pakistan government's announcement of using force as a last resort, the Taliban Tuesday said they have information that plans are already under way for a military operation, adding the insurgents were ready for battle.
"Like previous governments this one is a puppet of the United States. It's powerless and dollar-hungry," said Shahidullah Shahid, a Tehrik-i-Taliban Pakistan (TTP) spokesman.
"They should happily launch a military operation against us. We have seen their military operations in the past and would like them to start this long-awaited operation," he said defiantly.
'Military action to be used as last resort against Taliban'
The Pakistan government, earlier in the day, ruled out military action against the Taliban as its first preference and promised to persuade insurgents to lay down their weapons through peace negotiations.
Prime Minister Nawaz Sharif chaired a meeting of the Cabinet Committee on National Security (CCNS) on Tuesday where officials confirmed their commitment to talks rather than military action.
"The committee reaffirmed (the) government's commitment to the strategy of negotiations with Tehrik-i-Taliban Pakistan (TTP) and considers the use of other options only as a last resort," the PM's office said in a statement.
"The committee deliberated upon the government's strategy to engage various groups of Pakistani Taliban to address issues of extremism and militancy."
The meeting focused on three key issues, including formulation of national security strategy to safeguard national interests, strategy on internal security and relations with Afghanistan.
The prime minister apprised the committee of his recent visit to Kabul. He said a number of steps were agreed with Afghanistan on political security, economic and commercial cooperation.
The committee agreed that the economic development and prosperity of the people was linked to ensuring security and stability in the country.
The committee members expressed complete unanimity on national security issues.
Measures concerning enhancement of security on western border and development of Federally Administered Tribal Areas (FATA) including other bordering areas also came into discussion, to bring them at par with national standards.
The meeting was attended by Minister for Defence Khawaja Mohammad Asif, Minister for Finance Ishaq Dar, Minister for Information, Broadcasting and National Heritage Pervaiz Rashid, Minister for Interior Chaudhry Nisar Ali Khan, Advisor to the PM on National Security Sartaj Aziz, Special Assistance to the PM on Foreign Affairs Tariq Fatmi, Chairman Joint Chiefs of Staff Committee (CJCSC) General Rashad Mahmood, Chief of the Army Staff (COAS) General Raheel Sharif, Chief of Naval Staff Admiral Asif Sandilla, Air Chief Marshal Tahir Rafique Butt, the Director General ISI and secretaries of ministries of Foreign Affairs and Interior.
Mullah Fazlullah, the Pakistani Taliban's new hard line leader, has rejected outright the idea of peace talks and vowed to step up attacks as part of his campaign to topple the central government and establish Islamist rule in Pakistan.
The emergence of Fazlullah has prompted speculation that Pakistan might have to ditch hopes for a negotiated ceasefire and resort to military action against militants holed up in lawless ethnic Pashtun areas on the Afghan border.
However, the government today said the Taliban's tough rhetoric did not mean negotiations had failed.
"Their public posturing is different from what's going on in the background," said Tariq Azeem, a senior official in PM Sharif's team.
"They want to appear tough but back channels show that they are also interested in talks."
The Taliban could not be immediately reached for comment.
Under Fazlullah, Taliban fighters took over Pakistan's Swat valley in 2009, imposing austere Islamic rule and eventually prompting the army to launch a major offensive to flush them out of the strategic region just 160 km (100 miles) northwest of Islamabad.
Fazlullah, who fled to Afghanistan after the 2009 operation, has now returned to his homeland to lead the insurgency. He was named the leader last month after his predecessor, Hakimullah Mehsud, was killed in a US drone strike on Nov 1.
Nicknamed "Mullah Radio" for his fiery broadcasts in Swat, Fazlullah is best known for ordering the assassination of teenage female education activist Malala Yousafzai. She survived the attack and now lives in Britain.
Fazlullah has now promised a new campaign of shootings and bombings against the government, particularly in densely populated Punjab province – Sharif's political powerbase.
But, a month after he took over as the Taliban chief, there have been no major attacks in Pakistan.
The Pakistani Taliban are allied with the Afghan Taliban but Afghan Taliban militants are intent on expelling foreign forces from Afghanistan and do not fight the Pakistani government – Reuters/APP
http://www.dawn.com/news/1074670/ttp-dismisses-talks-vows-retaliation-against-planned-operation
------------
Sufi culture is answer to rising extremism: Bilawal
Dec 18 2013
KARACHI: Patron-in-Chief, Pakistan Peoples Party, Bilawal Bhutto Zardari has emphasised on spreading message of love, peace and human fraternity to the nook and corner of the world besides truly following it in our country.
"Let the world know about the saints and philosophers, we so fondly revere," Bilawal stated this, in his message on 270th annual Urs of great saint Shah Abdul Latif Bhittai scheduled to start at Bhit Shah on Wednesday.
Bilawal said the best way to pay tribute to our sufi saints and their legacy is to make their teachings of love, peace, brotherhood and humanity as practicing traditions. Shah Abdul Latif Bhittai's poetic wisdom and philosophy forms one of the best parts of our heritage. Indeed, he added, it is continuity of our beautiful Indus valley civilisation marked by 5,000 old civilisation of Mohenjodaro. PPP Patron-in-Chief said that Sindh's sufi culture is the answer to rising evil of extremism which is raising its monstrous head in the country and many parts of the world. Bilawal Bhutto Zardari said that his idea of Sindh Festival scheduled for two weeks in February 2014 is meant to preserve, protect and promote our heritage and tell the world that whenever we pray for our own-self and land, we do send prayers for well-being of entire world as well.
http://www.dailytimes.com.pk/default.asp?page=2013\12\18\story_18-12-2013_pg7_3
------------
Three dead in suicide blast near Rawalpindi Imambargah
2013-12-18
RAWALPINDI: A powerful blast outside an Imambargah situated in the heavily guarded Gracey Lines area killed three people, including two policemen and left 14 injured.
According to DawnNews, policemen spotted a suspicious looking individual on a motorcycle in the parking lot of the Imambargah near the Nur Khan Air Base. The attacker blew himself up when the policemen tried to tackle him.
About 700 people were attending a majlis at the time of the attack. As a result three people, including a SHO lost their lives.
The dead and the injured were taken to the Benazir Bhutto Hospital and District Headquarters Hospital.
"We have three bodies and 14 wounded people at our hospital," Asif Qadir Mir, chief of the local government hospital, told AFP.
The blast was heard far away. Police and military personnel cordoned off the area and all roads leading to Gracy Lane were closed to traffic.
Khalid Mehmood, the driver of a police van who was on duty at the Imambagah, said a man parked his motorcycle by the roadside and started walking towards the Imambargah. When Sub-Inspector Amanat Ali and other policemen asked him to stop for search, he detonated the bomb.
City Police Officer Akhtar Umar Lalika told Dawn that it was a suicide attack. The bomber blew himself up when he was intercepted by policemen outside the Imambargah.
Several bikes and cars parked outside the Imambargah were damaged.
According to bomb disposal experts, four to five pounds of high explosives, laced with ball-bearings, were used in the attack.
The head and legs were believed to be of the bomber. Black clothes and a green jacket were retrieved from the scene.
A damaged pistol, wooden butt of a rifle and four spent bullet casings were also found. However, it could not be ascertained whether the pistol belonged to the suicide bomber or police.
Majlis-i-Wahadat-Muslameen (MWM), Tehrik-i-Nifaz-i-Fiqh-i-Jafaria condemned the attack and said that the government has failed to curb sectarian violence in the country.
There has been a rise in sectarian violence in Pakistan after several deadly clashes between Sunni and Shia Muslim groups near Islamabad in November.
Allama Nasir Abbas, a Shia cleric, was killed late Sunday in Lahore, the capital of Punjab province, after addressing a religious gathering.
On November 19, gunmen killed a senior Shia university director along with his driver in Lahore, while another Shia leader and his guard were killed in Karachi in early December.
Three days later, Shamsur Rehman Muawiya, chief of the Sunni organisation Ahl-e-Sunnat Wal Jammat for Punjab province, was killed in Lahore.
Pakistan is rife with sectarian clashes, with Sunni militant groups linked to Al Qaeda and the Taliban often attacking gatherings by Shias, who constitute some 20 per cent of the country's population.
http://www.dawn.com/news/1074674/three-dead-in-suicide-blast-near-rawalpindi-imambargah
------------
Targeting polio workers is injustice to Pakistan, Islam: Imran Khan
December 18, 2013
AKORA KHATTAK: Pakistan Tehreek-e-Insaf (PTI) Chairman Imran Khan kick started his polio campaign on Wednesday, in Akora Khattak, Khyber-Pakhtunkhwa (K-P).
K-P Chief Minister Pervaiz Khattak and Secretary General of PTI Jahangir Tareen were also in attendance.
The PTI Chairman had decided last week to kick off this polio campaign himself, as terrorists continued their attacks on polio teams in the tribal areas.
Imran said it would be an attempt to boost the morale of polio workers who are constantly facing threats to their lives. He spoke about the dangers polio workers and police face while administrating polio vaccinations. He said "whoever is targeting polio workers and policemen, is committing an injustice towards Islam, K-P and Pakistan."
The PTI Chairman spoke to local residents about polio and how important it is to tackle the disease.
"If polio is not dealt with in time and if it spreads, no local resident will be able to leave K-P and go abroad to work," he said.
He lamented that "Polio is a disease that has been terminated worldwide and now only exists in Pakistan…our children's future depends on polio vaccines."
While declaring that he will personally head this campaign, Imran stated "If the right measures are taken, polio will be eradicated from Pakistan in the next three months."
http://tribune.com.pk/story/647276/targeting-polio-workers-is-injustice-to-pakistan-islam-imran-khan/
-----------
Blast near Karachi imambargah kills bomber, injures two others
December 18, 2013
KARACHI: An explosion outside an Imambargah on Khalid bin Waleed Road left a woman dead and two others injured on Wednesday.
The explosion occurred after a guard fired at two women as they attempted to enter the Imambargah carrying locally made explosives.
A gatekeeper, identified as Muhammad Khan, and one of the women were injured. The other woman died on the spot.
The injured have been taken to Jinnah hospital for treatment.
Police have taken the alleged bomber's husband and the injured woman – whose condition is stable – into custody and security officials are gathering information from witnesses at the scene.
Full report at:
http://tribune.com.pk/story/647246/blast-in-karachi-kills-alleged-bomber-injures-two-others/
------------
Govt says no to military operation against Taliban
Dec 18 2013
ISLAMABAD: The government ruled out military action against the Taliban on Tuesday and promised to pursue peace only through talks, but the insurgents immediately rejected its call for negotiations.
The Cabinet's Committee on National Security Tuesday reaffirmed the government's commitment to the strategy of carrying out negotiations with Tehreek-e-Taliban Pakistan (TTP) and considering use of other options only as the last resort. A meeting of the committee, chaired by Prime Minister Nawaz Sharif, focused on three key issues –formulation of national security strategy to safeguard national interests, strategy on internal security, and relations with Afghanistan. The committee deliberated upon the government's strategy to engage various groups of Pakistani Taliban to address the issues of extremism and militancy.
It directed the ministries concerned to take measures to facilitate regional peace and stability. The prime minister apprised the committee of his recent visit to Kabul. He said a number of steps were agreed with Afghanistan on political security, and economic and commercial cooperation. The committee agreed that economic development and prosperity of the people was linked to security and stability in the country. The committee members expressed complete unanimity on national security issues.
Full report at:
http://www.dailytimes.com.pk/default.asp?page=2013\12\18\story_18-12-2013_pg1_1
------------
JF-17 planes 'open new doors' for Pakistan China friendship
December 18, 2013
ISLAMABAD: Prime Minister Nawaz Sharif paid a visit to Pakistan Aeronautical Complex (PAC) Kamra for briefings on the exports of the Pakistan Air Force's aircraft, the JF-17 Thunder, Express News reported on Wednesday.
Nawaz was the guest of honour at the inauguration event for the roll out ceremony of the 50th JF-17 aircraft. The event was attended by delegates from China as well as the PAF.
Speaking at the end of the inauguration, the premier appreciated China's efforts to help Pakistan manufacture 50 JF-17s and also commended the bravery of the Pakistan Air Force.
"Pakistan's skies are safe due to the efforts of the Pakistan Air Force", Nawaz said.
Furthermore, he said the last time this project was supposed to be launched, the PAF met with political hurdles which the PML-N government had cleared.
Full report at:
http://tribune.com.pk/story/647267/jf-17-planes-to-open-new-doors-for-pakistan-china-friendship/
------------
Caught in Spain: Pakistanis jailed on terror charges seek security on arrival
December 18, 2013
ISLAMABAD: Families of 11 Pakistanis convicted in Spain, allegedly involved in terrorism charges, urged the Pakistan government to provide them security during their deportation next month.
A Spanish court had convicted 11 Pakistanis in 2008 for their alleged involvement in terrorist activities. They will be deported in January 2014 after completing terms of 6-8 years. However, their families fear that once back in Pakistan they would be picked up by law-enforcement agencies.
Full report at:
http://tribune.com.pk/story/647106/caught-in-spain-pakistanis-jailed-on-terror-charges-seek-security-on-arrival/
------------
Pakistan to get tough with Taliban only as a last resort
MEENA MENON
Dec 18, 2013
The Cabinet Committee on National Security on Tuesday reaffirmed the government's commitment to the strategy of dialogue and negotiation with the Tehreek-e-Taliban Pakistan (TTP) and consider the use of other options only as a last resort.
It also discussed the issue of cross border terrorism and strengthening the Western border.
The committee dwelt upon the government's strategy to engage various groups of Pakistani Taliban to address issues of extremism and militancy, an official statement said. Prime Minister Nawaz Sharif chaired the meeting which focused on three key issues — the formulation of a National Security Strategy, a strategy on Internal Security and relations with Afghanistan.
Full report at:
http://www.thehindu.com/news/international/south-asia/pakistan-to-get-tough-with-taliban-only-as-a-last-resort/article5471226.ece
--------
Europe
Muslim Extremists in London Threaten to Lash Shop Owners for Selling Alcohol
Dec 18, 2013
CANTERBURY, England — Some 60 Muslim protesters marched through London's East End Monday (Dec. 16), demanding Muslim-owned businesses stop selling alcohol and warning that "this is just the beginning."
Protesters handed leaflets to shop owners warning them they will face corporal punishment of 40 lashes for violating Shariah law.
The firebrand Muslim preacher Anjem Choudary, the former leader of the Al-Muhajiroun group, which is banned here under anti-terrorist laws, defended their actions.
"We posted notices to the shop owners saying that under Shariah and under the Quran the sale of alcohol is prohibited and if one were to drink alcohol that would be 40 lashes," Choudary said.
There are around 1.8 million Muslims in England. Most live lives well away from extremist groups and their supporters.
Calls for such dire reprisals against Muslims who sell alcohol brought instant reaction from other Muslims.
"In Islamic teaching, you shouldn't drink alcohol but you can't impose Islamic law on other people," said Usama Hasan, senior researcher at the London-based Quilliam Foundation, whose goal is to challenge extremism and promote pluralism.
Full report at:
http://www.washingtonpost.com/national/religion/british-shop-owners-threatened-with-40-lashes-for-selling-alcohol/2013/12/16/32bd9d20-6684-11e3-997b-9213b17dac97_story.html
-----------
Christians persecuted by Islamists, says Prince Charles
Dec 18 2013
Christians in parts of the Middle East are being deliberately targeted by Islamist militants in a campaign of persecution, Prince Charles has said.
The Prince of Wales made his comments after visiting the British branches of churches based in the region.
The prince heard accounts of Christians being murdered and families forced from their homes.
The upheavals of the Arab Spring have left many religious minorities vulnerable to accusation and attack.
Deeply troubled
Charles, accompanied by Prince Ghazi of Jordan, visited the Egyptian Coptic Church centre in Stevenage and the Syriac Orthodox cathedral in west London.
The two royals met church members who had either suffered intimidation or family members whose safety they feared for.
Full report at:
http://www.bbc.co.uk/news/uk-25426155
-----------
The Chechen Jihadists fighting in Syria
Dec 18, 2013
As the fighting in Syria continues, battles are increasingly being fought by foreign militants.
Evidence has emerged that a number of these fighters come from a small, remote valley in Georgia - home to just 15,000 ethnic Chechens.
Chechen rebels have fought two wars with Russia, and the Chechen fighters in Syria say they are training for battles at home.
Murad Batal al-Shishani has visited the Pankisi Valley to find out about the men fighting jihad hundreds of kilometres away in Syria.
http://www.bbc.co.uk/news/world-middle-east-25405471
-----------
West signals to Syrian opposition Assad may stay
Dec 18 2013
Western nations have indicated to the Syrian opposition that peace next month talks may not lead to the removal of President Bashar al-Assad and that his Alawite minority will remain key in any transitional administration, opposition sources said.
The message, delivered to senior members of the Syrian National Coalition at a meeting of the anti-Assad Friends of Syria alliance in London last week, was prompted by rise of al Qaeda and other militant groups, and their takeover of a border crossing and arms depots near Turkey belonging to the moderate Free Syrian Army, the sources told Reuters.
"Our Western friends made it clear in London that Assad cannot be allowed to go now because they think chaos and an Islamist militant takeover would ensue," said one senior member of the Coalition who is close to officials from Saudi Arabia.
Full report at:
http://www.hurriyetdailynews.com/west-signals-to-syrian-opposition-assad-may-stay.aspx?pageID=238&nID=59762&NewsCatID=359
-----------
Germany, Britain mull troops for Central Africa: French minister
AFP | Dec 18, 2013
PARIS: Germany and Britain are considering sending troops to the crisis-hit Central African Republic, a French minister said on Wednesday, as Paris pushes hard for help from its European allies.
The comments by European affairs minister Thierry Repentin came a day after foreign minister Laurent Fabius announced other European nations would "soon" deploy troops to Central Africa, where France already has a 1,600-strong force attempting to quell deadly sectarian violence.
A military source in Brussels said Tuesday that Belgium was considering the dispatch of some 150 troops for a "protection mission", but Britain's defence ministry ruled out any similar move.
Full report at:
http://timesofindia.indiatimes.com/world/europe/Germany-Britain-mull-troops-for-Central-Africa-French-minister/articleshow/27588315.cms
----------
Arab World
Xmas: Respect Non-Muslims' Holy Days, says Kuwait MP
Dec 18, 2013
Recently, an MP in Kuwait's parliament "warned Deputy Premier and Interior Minister Sheikh Mohammad Al-Khalid Al- Sabah and Minister of Commerce and Industry Anas Al-Saleh on the consequences of failure to take any action against the celebration of Christmas in the country, particularly since many commercial establishments have been found to be selling items related to the occasion" (see Arab Times 14-12-2013).
Such anti-Christmas calls contradict with Kuwait's history of tolerance: when an MP in a democratic Kuwaiti parliament attempts to invoke religious or sectarian hatred against others, he does not reflect the nature of Kuwaiti open society.
Celebrating Christmas does not weaken or undermine Islamic values and doctrines. In fact, allowing our Christian brothers and sisters to freely celebrate Christmas will improve Kuwait's positive image around the world. The MP who warned against allowing celebrations of Christmas does not seem to understand that there are Christian Kuwaiti citizens!
Therefore, demanding a suppression of Christmas celebrations in addition to ignoring the rights of hundreds of thousands of our expatriate friends and partners, such unviable action violates the rights of citizens. I do believe that the problem of extremism and religious radical is miles in some persons and not in the religion of Islam. Zealots, bigots and hard line religious conservatives do not believe in democracy or pluralism.
Full report at:
http://www.arabtimesonline.com/NewsDetails/tabid/96/smid/414/ArticleID/202134/reftab/96/t/Call-for-ban-on-marking-Xmas-extremist-thought/Default.aspx
------------
Syria latest magnet for jihadist suicide bombers
Dec 18, 2013
RUSSAIFA, Jordan — On his last day as an ordinary teenager, Abdullah Siddeh kept to his daily routine: He filled in for his father at the small family grocery in the afternoon, asked his mother at home about dinner and then played soccer with friends at the nearby high school.
After the game, the 17-year-old slipped out of his hometown in central Jordan.
Six months later, his father Mohammed got a phone call from Syria. His son had blown himself up in a rebel attack on a police station in Syrian capital of Damascus, the unknown man on the line told him.
Mohammed said he asked the man how he could bring his son's remains home for burial.
The reply: "There is no body."
With Syria now the latest conflict zone where suicide attacks have become a key tactic, AP reporters interviewed the families of Abdullah and another foreign suicide bomber in Syria, 22-year-old Mohammed Zaaneen from the Gaza Strip who died in September, to learn more about their motives.
Full report at:
http://www.washingtonpost.com/world/middle_east/syria-latest-magnet-for-jihadist-suicide-bombers/2013/12/12/5c460576-6353-11e3-af0d-4bb80d704888_story.html
------------
Saudi ready to act 'with or without' West: Saudi diplomat
2013-12-18
WASHINGTON: The West's policies on Iran and Syria are a "dangerous gamble" and Saudi Arabia is prepared to act on its own to safeguard security in the region, a top Saudi diplomat said Tuesday.
"We believe that many of the West's policies on both Iran and Syria risk the stability and security of the Middle East," the Saudi ambassador to Britain, Prince Mohammed bin Nawaf bin Abdulaziz, wrote in a commentary in the New York Times.
"This is a dangerous gamble, about which we cannot remain silent, and will not stand idly by," he wrote. The bluntly-worded warning was the latest in a series of public statements by senior Saudi figures expressing displeasure with US and Western diplomatic initiatives towards Syria and Iran.
Full report at:
http://www.dawn.com/news/1074839/saudi-ready-to-act-with-or-without-west-ambassador
------------
Attacks across Iraq kill at least 11
Dec 18, 2013
BAGHDAD (AP) — Iraqi officials say attacks across the country have killed 11 people, including three Pakistani Shiite pilgrims.
Police officials say the deadliest among Wednesday's attacks was in the town of Khalis, where a suicide bomber struck a group of Iraqi Shiite pilgrims, killing six and wounding 16. Khalis is about 80 kilometers (50 miles) north of Baghdad.
Outside the city of Samarra, 95 kilometers (60 miles) north of Baghdad, gunmen opened fire on a bus carrying Pakistani Shiite pilgrims, killing three Pakistanis and wounding 12, along with two Iraqis — the group's driver and the translator.
Full report at:
http://news.yahoo.com/officials-attacks-across-iraq-kill-least-11-121500187.html
---------
Syrian rebel leader was bin Laden's courier, now Zawahiri's representative
Dec 18, 2013
A senior al Qaeda operative known as Abu Khalid al Suri is a leading figure in Ahrar al Sham, a Syrian extremist group that is part of the recently formed Islamic Front. Al Suri's real name is Mohamed Bahaiah.
Bahaiah is a longtime al Qaeda operative who worked as a courier for the terror network. Spanish authorities think he may have delivered surveillance tapes of the World Trade Center and other American landmarks to al Qaeda's senior leadership in Afghanistan in early 1998.
In addition to being a senior member of Ahrar al Sham, Bahaiah today serves as Ayman al Zawahiri's representative in the Levant.
Ahrar al Sham is not one of al Qaeda's two official branches inside Syria, which are the Al Nusrah Front and the Islamic State of Iraq and the Sham, or Levant (ISIS) . But Ahrar al Sham has closely cooperated with the al Qaeda affiliates on the battlefield even while engaging in a very public dispute with ISIS.
Full report at:
http://www.longwarjournal.org/archives/2013/12/aq_courier_rebel_leader_zawahiri.php#ixzz2ooGLzVQ9
-----------
Rebel group retracts support for possible El-Sisi presidential bid
Dec 18 2013
Egypt's Rebel campaign (Tamarod) has urged Egyptian Army Chief General Abdel-Fattah El-Sisi not to run for presidency, a shift in policy as the group had initially voiced its backing to his potential presidential bid.
Despite earlier backing, Hassan Shahine, spokesman of the youth group -- which had spearheaded mass nationwide protests that culminated in president Mohamed Morsi's removal by the army early July -- had recently distanced the movement from such a clear stance with repeatedly equivocal answers.
In a Tuesday statement, however, the group counselled El-Sisi, Egypt's defence minister, against running for the post and called for a presidential vote to precede parliamentary polls.
The movement's chief demand, launched in a petition which circulated the nation's streets, was to force Morsi to hold early presidential elections, "and thus presidential polls must come first," the statement said.
Full report at:
http://english.ahram.org.eg/NewsContent/1/64/89412/Egypt/Politics-/Rebel-group-retracts-support-for-possible-ElSisi-p.aspx
------------
Iraq sees surge in violence two years after US pullout
Dec 18 2013
BAGHDAD – Two years after US troops departed, Iraqi security forces are struggling to curb violence that has reached a level not seen since 2008, near the height of America's military presence.
Iraqi forces are now alone in facing militant groups revitalized by widespread discontent among the minority Sunni Arab community, which complains of being marginalized and targeted by Shiite-led authorities, and by the brutal war in neighboring Syria. They have shortcomings that experts say range from a decline in training and intelligence capabilities to politicization.
Full report at:
http://www.saudigazette.com.sa/index.cfm?method=home.regcon&contentid=20131218189880
------------
Syrian rebels impose Islamic law on town's Christians
Dec 18, 2013
Syrian rebels have taken over a small village in northwestern Syrian and imposed Islamic law on its Christian residents, a Latin-rite bishop has told the Fides news agency.
"In Kanayé, Salafi militants and the jihadists of Jabhat al-Nusra have imposed [that] the pastor not ring bells," said Bishop Giuseppe Nazzaro, the retired vicar apostolic of Aleppo. "Women must not go out on the street bare-headed, but must be veiled. And if they do not obey these orders, the threat is massacre."
"This could be the first step: tomorrow they will force them to convert to Islam," he added.
http://www.catholicculture.org/news/headlines/index.cfm?storyid=19986
------------
South Asia
Dhaka summons Pakistan high commissioner over Molla resolution
Sheikh Shahariar Zaman
Dec 18 2013
Bangladesh has strongly protested the resolution adopted by Pakistan National Assembly on Monday over the execution of war criminal Abdul Quader Molla and his trial at the International Crimes Tribunal. It also protested the resolution adopted by Punjab Provincial Assembly last Wednesday and the remarks made by Pakistan home minister on Friday over the same issue. Jamaat-e-Islami Assistant Secretary General Quader Molla, well-known as "Mirpurer Koshai" (Butcher of Mirpur), was hanged on Thursday night for committing crimes against humanity against the pro-liberation people in 1971. Pakistan High Commissioner Afrasiab Mehdi Hashmi went to the foreign ministry just before 5pm yesterday, and at 5:25pm he entered the room of foreign ministry Secretary (bilateral) Mustafa Kamal. During the 30-minute meeting, Kamal handed him over an Aide Memoire.
Full report at:
http://www.dhakatribune.com/foreign-affairs/2013/dec/18/dhaka-summons-pakistan-high-commissioner-over-molla-resolution#sthash.vFDE1D8T.dpuf
------------
India should act like a big neighbour: Bangladesh Jamaat leader
Dec 18 2013
Dhaka: From the fourth floor of a house in Dhaka's Dhanmondi locality, the Jamaat-e-Islami Tuesday opened doors for communication with India, even as its activists lead violent protests across the country over their leader Abdul Quader Mollah's execution last week.
Abdur Razzak, the only public face of Jamaat — which has been banned as a political party — says, "India has to take the lead. we are open (to talk), and ready to engage with them. India should not keep a closed mind." He added that Jamaat is already engaging with the international community, including the US and UK.
A 64-year-old lawyer, Razzak is the chief defence counsel of the Jamaat leaders being tried for the 1971 war crimes. He rarely meets Indian journalists, and now for the first time, he is speaking to an Indian delegation of journalists in his house.
Full report at:
http://www.indianexpress.com/news/india-should-act-like-a-big-neighbour-jamaat-leader/1208878/
------------
'Pakistan's reaction over war criminal Molla's execution utterly objectionable'
Mushfique Wadud
Dec 18 2013
Eminent citizens yesterday said Pakistan's reaction over war criminal Quader Molla's execution was objectionable and Bangladesh government should strongly protest such reactions. They said the reaction was nothing but interfering in Bangladesh's internal matters and the judicial system. Before adopting the resolution Pakistan parliament should have considered that Molla execution had come through a judicial process. On December 16, the Pakistan National Assembly adopted a resolution, expressing concerns over the execution and the following political situation in Bangladesh. Former DU VC Prof Emajuddin Ahmed said Pakistan's reaction was interference in Bangladesh's internal matters. "If anyone commits a crime, Bangladesh's judicial system can give them punishment.
Full report at:
http://www.dhakatribune.com/foreign-affairs/2013/dec/18/%E2%80%98pakistan%E2%80%99s-reaction-utterly-objectionable%E2%80%99#sthash.id9MAqA5.dpuf
------------
War child to testify against Qaisar
Dec 18 2013
The Pakistani occupation army, with the help of war crimes accused Syed Mohammad Qaisar, had inhumanly tortured and raped one Majeda in Habiganj during the 1971 Liberation War, said the prosecution yesterday adding that they would place the war child as witness in the case. The International Crimes Tribunal heard prosecution arguments on the charge framing matter against Qaisar, a former minister during HM Ershad's regime, and set December 19 for the defence hearing. The prosecution claimed that they had enough verbal and documentary evidence to prove the case. They said Qaisar had fled the country just after the independence to London. After his return in 1977, the accused joined politics and become an MP from Habiganj 4 constituency. Prosecutor Rana Das Gupta placed 18 charges including genocide, killing, rape, abduction and confinement committed in Habiganj.
Full report at:
http://www.dhakatribune.com/law-amp-rights/2013/dec/18/war-child-testify-against-qaisar#sthash.aUqNpC07.dpuf
------------
Jamaat-Shibir men defy joint patrol, chase Hindus
Dec 18 2013
Panic haunts around 600 families belonging to the Hindu community at eight villages of Bawra and Jongra unions in Patgram upazila under the district as Jamaat-e-Islami and its student wing Islami Chhatra Shibir launched several attacks on the minority community during the last two months.
Lastly on Sunday midnight, Parapukur Mandir, a heritage temple at Shafinagar village of Bawra union was attacked and six idols of gods and goddesses were vandalised there, during the countrywide hartal called by Jamaat.
Full report at:
http://www.thedailystar.net/beta2/news/jamaat-shibir-men-defy-joint-patrol-chase-hindus/
------------
Taliban hit NATO fuel trucks, kill one Afghan policeman
2013-12-18
KABUL: An Afghan official says Taliban suicide bombers have attacked NATO fuel trucks near the Pakistani border. A gunbattle that followed killed one Afghan policeman and wounded three.
A spokesman in Nangarhar province, Ahmad Zia Abdulzai, says the attack took place early Wednesday at the NATO outpost near the Torkham border crossing, a key supply route for the alliance.
Full report at:
http://www.dawn.com/news/1074842/taliban-hit-NATO -fuel-trucks-kill-one-afghan-policeman
----------
Maldives Defence minister returns from India with gifts and reassurances
By Ahmed Rilwan | December 17th, 2013
Minister of Defence and National Security Mohamed Nazim has returned from his five day official visit to India bearing gifts and reassurances of better defence cooperation and hope for improved bilateral relations.
A major highlight of the trip was India's gift to Maldives military, a locally manufactured 'Dhruv' Advanced Lightweight Helicopter (ALH). The Helicopter the second India has gifted – will reach Maldives in two months.
India also assured the delivery of a landing craft within this period – promised during Nazim's previous visit to India as President Dr Mohamed Waheed's Defence minister. During that visit, nine months ago, India promised seven new radar systems, in addition to three radar systems India had already gifted to the Maldives.
Full report at:
http://minivannews.com/politics/defense-minister-returns-from-india-with-gifts-and-reassurances-73542
------------
India
After 14 years, India and Pakistan DGMOs to meet on December 24
Dec 18 2013
New Delhi: After a gap of 14 years, the Director General of Military Operations (DGMOs) of India and Pakistan will finally meet next week as part of measures discussed between the Prime Ministers of both nations to scale down tension along the Line of Control (LoC) in Jammu and Kashmir.
The DGMOs of both nations — who talk almost every week over a hotline but last met face to face after the Kargil war in 1999 — will meet on the Pakistani side of the Wagah border on December 24 and discuss ways in which the ceasefire agreement can be upheld on the contentious border.
While India will be represented by Lt Gen Vinod Bhatia, the Pakistani side will be led by Maj Gen Aamer Riaz. Sources said India will be raising the issue of repeated ceasefire violations this year that have threatened the very concept of the 2003 agreement that was aimed at stopping cross-border skirmishes.
Full report at:
http://www.indianexpress.com/news/after-14-years-india-and-pakistan-dgmos-to-meet-on-december-24/1208740/
--------
250 ex-J&K militants waiting to come back
Deeptiman Tiwary,TNN | Dec 18, 2013,
NEW DELHI: Around 250 former militants from Jammu & Kashmir, who are holed up in Pakistan, are still waiting to return to India. Most of these are expected to return via Nepal, a route not authorized in the Jammu & Kashmir government's 2010 rehabilitation policy for former militants.
The government has, however, prepared a list of such militants and their return is being facilitated through the Indo-Nepal border with help from Jammu & Kashmir Police and Sashastra Seema Bal, the paramilitary force that guards the India-Nepal border.
To ensure that the embarrassing incident of Delhi Police special cell wrongly arresting former militant Liyaqat Shah is not repeated, the force has deputed its men from J&K at border outposts to ensure identification of such militants and their smooth handover to J&K Police.
Ever since the policy came into force, 241 former militants who had crossed over to PoK in the 1990s have returned and not a single one has taken the designated route. All of them have come through the Nepal border.
Full report at:
http://timesofindia.indiatimes.com/india/250-ex-JK-militants-waiting-to-come-back/articleshow/27552973.cms
------------
ATS blocks 'Free Kashmir' webpage
Mateen Hafeez,TNN | Dec 18, 2013
MUMBAI: The Maharashtra anti-terrorism squad (ATS) on Tuesday blocked the Tehreek-e-Taliban Hindustan page on a social networking site as it was "dangerous and sensitive and against national interests".
The page, created in September, spoke about the killing of Muslims in India, a fight for free Kashmir and formation of a separate state, Khalistan.
The Union home ministry is being briefed about the developments. The Facebook page could be a hoax, officials said. Its title was designed on the pattern of the Tehreek-e-Taliban Pakistan (TTP), a banned outfit.
ATS chief Rakesh Maria said, "We are making all efforts to find out the truth." The page spoke about atrocities against Muslims.
"We have blocked the page and are conducting investigations," said Amitesh Kumar, additional commissioner of police, ATS.
Full report at:
http://timesofindia.indiatimes.com/india/ATS-blocks-Free-Kashmir-webpage/articleshow/27550388.cms
------------
Africa
'Syrian and Somali doctors' shot dead near Mogadishu
Dec 18 2013
Three Syrian doctors and their Somali colleague have been shot dead in an ambush near Somalia's capital, Mogadishu, witnesses have told the BBC.
Gunmen opened fire on their car as they travelled towards a health clinic, the eyewitnesses said.
Two of their bodyguards were also killed in the attack, while another Syrian and Somali doctor were seriously wounded, they said.
Many militias and criminal gangs operate in Somalia.
In recent years, the country has also been hit by an insurgency waged by the al-Qaeda-linked al-Shabab group.
However, it did not carry out the attack; an unnamed senior official of the group told the AFP news agency.
Full report at:
http://www.bbc.co.uk/news/world-africa-25428515
------------
South Sudan's Juba Death Toll At Least 123, Hundreds Wounded
18 DECEMBER 2013
Juba — At least 123 have been killed in violence in Juba in the last two days with hundreds more wounded and thousands on the run, Radio Tamazuj reports. Casualty figures cited by authorities on Tuesday are conflicting but a tabulation of independent reports suggests the toll is far higher than official numbers.
Minister of Information Michael Makuei Lueth today put the number of killed soldiers in Juba at 73. Reports of casualties in fighting elsewhere in the country have not yet been confirmed. The figure may be between three and seven, but those casualties are not included in the toll.
Civilian casualties include a group of 36 civilians killed in the neighborhood of Suq Sitta when the army used mortars and artillery to assault hostile elements of the Presidential Guard.
Full report at:
http://allafrica.com/stories/201312180202.html?viewall=1
------------
Mali president's party wins parliamentary election
Dec 18 2013
An alliance of parties supporting Mali's President Ibrahim Boubacar Keita has won parliamentary elections, according to provisional results announced by the government.
The Rally for Mali (RPM) and its allies won 115 of 147 seats in the national assembly following a run-off on Sunday, officials announced on state TV.
Turnout for both rounds of voting was said to be low.
The vote marks Mali's return to democracy after a coup in 2012.
France still has up to 3,000 soldiers in the country after intervening in January to oust Islamist and secessionist rebels who had occupied the north of the country.
The West African nation held a peaceful presidential election in August, but since then has seen a surge in violence.
Full report at:
http://www.bbc.co.uk/news/world-africa-25426141
-----------
Gaddafi opponent says tortured dissident gave secret police his name
18 December 2013
A prominent opponent of Muammar Gaddafi, the Libyan dictator, has said that he was jailed, and later subjected to a strict control order, on the basis of information extracted from a leading dissident who was tortured after being seized in an MI6 operation.
Ziad Hashem, a Libyan granted asylum in 2004, was arrested and jailed for 18 months without trial after Libyan secret police were given his name and those of other Gaddafi opponents living in Britain.
Hashem and other Libyan dissidents were named by Abdel Hakim Belhaj, who was secretly rendered in 2004 to the Libyan capital, Tripoli, in a joint MI6/CIA operation, Belhaj tells al-Jazeera TV's People & Power programme to be broadcast on Wednesday.
Full report at:
http://www.theguardian.com/world/2013/dec/18/gaddafi-opponent-torture-mi6-cia
------------
South Sudan opposition leader Riek Machar denies coup
Dec 18 2013
Fugitive former South Sudanese vice president Riek Machar has denied government allegations that he tried to stage a coup at the weekend.
In a BBC interview, he denied any link with fighting that began on Sunday.
Mr Machar, who fell out with President Salva Kiir in July, accused him of "inciting tribal and ethnic violence" to cover his own failings.
The UN has said the fighting has claimed hundreds of lives, and warned that it could descend into a civil war.
Mr Machar told the BBC on Wednesday: "There was no attempted coup."
He blamed Sunday's fighting on a conflict between members of the presidential guard, and said it spread across parts of the capital, Juba.
Full report at:
http://www.bbc.co.uk/news/world-africa-25427619
------------
Mideast
Iran's Supreme Leader tweets: Zionists are just like the Nazis
Dec 18 2013
Iran's Supreme Leader Ayatollah Ali Khamenei compared Zionists to the Nazis in a Tweet on Monday; a comment that was ignored by most of the Western media.
Khamenei posted a picture to mark the anniversary of the trial of French Holocaust denier Roger Garaudy, who had converted to Islam.
Quotes from a speech Khamenei gave in a meeting with Garaudy in 1998 are placed above Garaudy's picture stating: "The Zionists are just like the Nazis."
Garaudy wrote a book in French, Les mythes fondateurs de la politique israélienne, with the English version, The Founding Myths of Modern Israel. The book contained Holocaust denial.
His book was banned in France after a trial in 1998. Iran and much of the Muslim world threw its support behind him.
Full report at:
http://www.jpost.com/Iranian-Threat/News/Khameini-tweets-Zionists-are-just-like-the-Nazis-335299
-----------
Turkey says 'no war weapons' sent to Syria
Dec 18 2013
Turkey's defence minister on Tuesday denied reports that his country was delivering weapons of war to Syrian rebels, but acknowledged that "hunting rifles" had been exported to Syria.
"No war weapons have been exported to Syria in 2013," Ismet Yilmaz said in parliament, according to media reports.
Hurriyet Daily News reported on Monday that Turkey had shipped 47 tonnes of weapons to Syrian rebels since June, citing UN and Turkish Statistics Institute documents.
Turkey is a fierce opponent of Syrian President Bashar al-Assad and has openly supported the rebels, but has always denied arming them.
Yilmaz said his ministry had not issued any permits for the export of military equipment to Syria in 2013.
Full report at:
http://english.ahram.org.eg/NewsContent/2/8/89384/World/Region/Turkey-says-no-war-weapons-sent-to-Syria.aspx
-----------
Israeli army declares Palestinian village closed military zone
Dec 18 2013
RAMALLAH – Israeli occupation forces on Tuesday closed a Palestinian village in southern West Bank and declared the area a closed military zone.
Fawwaz al-Rashaydeh, the head of Arab Al-Rashaydeh village's council, said that hundreds of Israeli soldiers raided his village and declared it a closed military zone under the pretext of holding military exercise in the area. He added that military jeeps, armored personnel carriers and tanks were participating in the exercise.
Al-Rashaydeh said that the Israeli forces barred the residents from leaving village and Palestinians from entering it. He Israeli forces closed the roads that connect the village with the nearby city of Bethlehem and other villages.
Full report at:
http://www.saudigazette.com.sa/index.cfm?method=home.regcon&contentid=20131218189873
----------
Zionists from country's minority communities speak out for Israel
Dec 18 2013
Zionist Conference for Human Rights was held in front of a packed room at the Zionist Organization of America House in Tel Aviv.
Representatives from minority communities in Israel staunchly came out in support of the country as a Jewish and democratic state Monday, at a human rights event held by the Zionist organization Im Tirtzu.
The conference titled Zionist Conference for Human Rights, was held in front of a packed room at the Zionist Organization of America House in Tel Aviv.
Individuals from the Muslim, Druse, Beduin, and Christian Arab communities spoke about Israel's role in defending human rights, in a mixed crowd that also included a rabbi, a Kibbutznik and a homosexual.
Full report at:
http://www.jpost.com/National-News/Zionists-from-countrys-minority-communities-speak-out-for-Israel-335325
-----------
Support mounts for Jewish prayer at key holy site
Dec 18 2013
JERUSALEM — For decades, the religious Jews who bucked a rabbinic ban and visited a Muslim holy site in Jerusalem where the ancient Jewish temple once stood were seen by many as a fanatic fringe.
But their cause is gaining support among both mainstream religious Jews and Israel's government. Jewish visits to the politically-sensitive compound are on the rise, and key Israeli lawmakers are lobbying to end a ban on Jewish prayer there.
The matter reached the highest of official levels this month when Israel asked Jordan, which administers Muslim religious affairs at the site, to consider allowing limited Jewish worship there, according to a Jordanian official.
The visits have unnerved Muslim authorities, who fear that Israel is quietly trying to upset a fragile status quo and encroach upon the site. Similar tensions in the past have boiled over into deadly violence.
Full report at:
http://www.washingtonpost.com/world/middle_east/new-calls-for-jewish-prayer-at-
-------------
Turkey issues travel warning to South Sudan
Dec 18 2013
Turkey has issued a travel warning to southern Sudan for Turkish nationals due to clashes in the country following a reported coup attempt against President Salva Kiir.
In a written statement on Dec. 18, Foreign Ministry cited clashes in Juba and warned that the situation posed a security concern for foreign citizens.
The ministry underlined that Turkish nationals should avoid travel to this country unless it was strictly necessary.
Up to 500 dead in South Sudan clashes: UN
Clashes between rival army factions in South Sudan have left up to 500 dead and 800 wounded, a top UN official told the UN Security Council on Tuesday, Agence France-Presse has reported.
Full report at:
http://www.hurriyetdailynews.com/turkey-issues-travel-warning-to-south-sudan.aspx?pageID=238&nID=59758&NewsCatID=357
-----------
Turkish journalist kidnapped by al-Qaeda-linked groups in Syria
Dec 18 2013
A Turkish journalist has been kidnapped by al-Qaeda-linked groups in Syria, according to a journalists' association.
A statement from the Turkish Photo Journalists Association said daily Milliyet's photo journalist Bünyamin Aygün was kidnapped some time ago and efforts to secure his release had yet to yield results. The statement also asked for help from the Turkish Foreign Ministry.
"Bünyamin Aygün is not an enemy, please release him," the statement said.
Twenty-five journalists have been killed since the start of the conflict in March 2011, according to Reporters Without Borders (RSF), while more than 30 journalists are estimated to have been abducted or detained.
Full report at:
http://www.hurriyetdailynews.com/turkish-journalist-kidnapped-by-al-qaeda-linked-groups-in-syria.aspx?pageID=238&nID=59731&NewsCatID=352
-----------
North America
Why One Muslim Group Gave The NYPD's Ray Kelly An Award
Dec 18, 2013
NYPD Commissioner Ray Kelly received an award this month from a source that may seem unlikely: a group of Muslim community leaders.
"The Muslim community appears to be softening its stance toward Ray Kelly as he walks out the door," one tabloid crowed, suggesting that a Muslim council of 10 members hand-picked by the NYPD represented Muslim New Yorkers in all their diversity. But the meaning of the award granted Dec. 9 by the Muslim Advisory Council, set up by the NYPD in 2012, is very much up for debate.
New York's hundreds of thousands of Muslims come from backgrounds rich and poor, from lands far away to uptown Harlem. The Muslim Advisory Council award -- derided by the New York chapter of the Council on American-Islam Relations as a "cheap public relations stunt" -- highlights the diverse reactions to revelations of police surveillance of Muslims. Some Muslims have retreated into silent distrust. Others have expressed outrage. A third group sees a different path -- trying to engage.
Full report at:
http://www.huffingtonpost.com/2013/12/17/ray-kelly-muslim-award_n_4455537.html
-----------
Major US academic body backs boycott of Israeli educational institutions
Dec 18, 2013
A prestigious US academic body has joined a growing movement to boycott Israel in protest at its treatment of Palestinians, in a move both welcomed and condemned in a bitterly divisive international arena.
The American Studies Association (ASA), which has more than 5,000 members, is the most significant US academic organisation to back a boycott of Israeli educational institutions following a two-thirds majority vote. Around a quarter of members took part in the ballot.
The ASA resolution was "in solidarity with scholars and students deprived of their academic freedom", the organisation said in a statement. It cited "Israel's violation of international law and UN resolutions; the documented impact of the Israeli occupation on Palestinian scholars and students; [and] the extent to which Israeli institutions of higher education are a party to state policies that violate human rights."
Full report at:
http://www.theguardian.com/world/2013/dec/17/us-american-studies-association-boycott-israel
------------
Southeast Asia
Indonesian Secular parties to benefit from Muslim vote
Dec 18 2013
Analysts have said secular political parties are now vying to woo Muslim voters who were unlikely to vote for Islamic parties given corrupt practices tarnishing the parties' reputations.
Data shows that after the reform era, Islamic political parties gained a 36.3 percent share of the vote in the 1999 general election and this rose to 41 percent in 2004. The figures, however, plunged to only 29.2 percent in 2009 with only four Islamic parties passing the threshold. Recent pollsters predicted that a further slump in the popularity of Islamic parties in the 2014 general election would be unavoidable.
Ahmad Fuad Fanani of the Maarif Institute for Culture and Humanity said that as Muslims made up the majority of the population, the declining electability of Islamic-based political parties would be a boon for secular parties.
He said that secular political parties were now scrambling to accommodate the aspirations of Muslim voters.
Full report at:
http://www.thejakartapost.com/news/2013/12/18/secular-parties-benefit-muslim-vote.html
------------
Police Arrest More Alleged Terrorists in Indonesia Prior to New Year
Dec 18 2013
The National Police's anti-terror unit on Monday arrested a suspected terrorist allegedly involved in a string of armed robberies in West Jakarta.
National Police spokesman Brig. Gen. Boy Rafli Amar said Densus 88 arrested the suspect, identified as Ruli Alexander, 31 — also known as Iskandar — in Bima, West Nusa Tenggara.
He is suspected of having received Rp 47 billion ($3.8 million) from the Abu Roban terror group to recruit people for military training in Poso, Central Sulawesi.
Abu Roban, the former leader of the Mujahidin Indonesia Barat terrorist network, was killed by Densus 88 in Kendal, Central Java, in May. His network was allegedly responsible for a series of robberies and several terror attacks.
Full report at:
http://www.thejakartaglobe.com/news/police-arrest-more-alleged-terrorists-in-medan-and-bima-prior-to-new-year/
------------
Malaysia should move from cash handout to rights-based programmes, says rights council
Dec 18 2013
The United Nations Human Rights Council today urged Putrajaya to move away from charity-based schemes to rights-based programmes to avoid exclusion of groups, graft and leakages.
Olivier De Schutter, who is the UN Human Rights Council special rapporteur to Malaysia on the right to food, said while cash aid programmes such as Bantuan Rakyat 1Malaysia (BR1M) and Kebajikan Rakyat 1Malaysia (Karisma) can offer assistance to the needy, it is unsustainable for Malaysia to continue with such schemes.
"The government has put in place some social programmes that are one off programmes that provide cash transfers to poor families but these programmes are not permanent.
"These are not standing social protection schemes and are not based on protecting people by giving them rights that they can claim before independent bodies. As a result people do not know what they have a right to, they cannot complain if they are excluded," said De Schutter, who is on a 10-day mission to the country.
Full report at:
http://www.themalaysianinsider.com/malaysia/article/malaysia-should-move-from-cash-handout-to-rights-based-programmes-says-unhc
------------
See you in court, Mat Sabu tells Ahmad Zahid over Shia accusations
Dec 18 2013
Pas deputy president Mohamad Sabu is taking Umno vice-president and Home Minister Datuk Seri Ahmad Zahid Hamidi to court after the latter had accused him of being a Shia Muslim.
Mohamad's lawyer Hanipa Maidin said they will be sending a notice of demand to Ahmad Zahid to apolgise and retract the latter's accusation which was made at the Umno general assembly in Kuala Lumpur last week.
If Ahmad Zahid does not respond, a defamation suit will be filed demanding that he prove his allegations in court, said Hanipa.
Hanipa also said that the Home Ministry's recent statement that it had 10 pieces of evidence that Mohamad, better known as Mat Sabu, was a Shia Muslim was not relevant.
Ahmad Zahid's speech had characterised Mohamad as a deviant and a national security threat by virtue of him being a Shia Muslim, said Hanipa.
Full report at:
http://www.themalaysianinsider.com/malaysia/article/see-you-in-court-mat-sabu-tells-ahmad-zahid-over-shia-accusations
-----------
URL: https://www.newageislam.com/islamic-world-news/new-age-islam-news-bureau/pakistanis-term-parliament-resolution-on-quader-molla's-execution-'act-of-shame'/d/34897