New Age Islam News Bureau
23 Feb 2014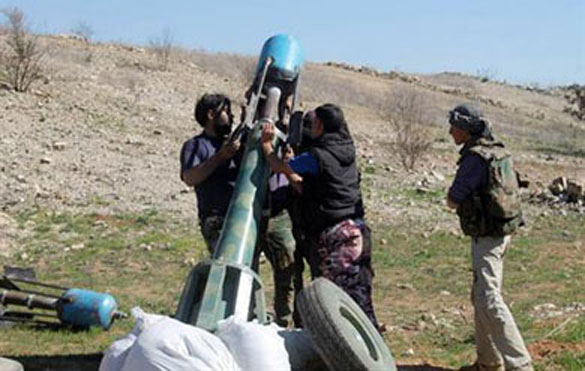 Rebel fighters assemble a homemade rocket made of a domestic gaz canister on February 21, 2014, as they hold a position outside Idlib near the Syrian city of Hama. AFP PHOTO/OBAIDA AL-SHAMI
--------------
Pakistan
• Pakistani Taliban Say Government Must Embrace Islamic Law
• Pakistani jets kill 18 suspected militants in Tirah air raids
• Detention of terrorists' women and children: Army brushes aside Taliban allegations
• At least seven killed in Kohat blast, several wounded
• Despite dangers, 'moderate' Taliban talk peace
• Sami ul Haq appeals for immediate ceasefire
• 1 dead, 3 injured in mosque firing incident in Karachi
• Mass exodus in N Waziristan as tribesmen flee for fear of air strikes on militants
South Asia
• Taliban kills 20 Afghan soldiers, kidnaps seven: Official
• Afghan Taliban turning into well-trained force
• 'Chinese security depends on Afghan stability'
• MDP will not obstruct government through parliament, says Nasheed
• 3 condemned militants snatched, cop killed
• Afghanistan to keep its China policy unchanged: Karzai
• Prosecution mulling over national committee for witness protection
Europe
• Bangladeshis in London clash over war crimes
• Danish slaughter ban unites Jews and Muslims
• UN considering targeted sanctions on Yemen
• UN Security Council unanimously approves Syria aid access resolution
Arab World
• Car bomb in Syrian town kills nine
• Suicide car bomb kills three at Lebanon army post
• Saudi 'seeking Pakistan arms for Syrian rebels'
• Islamic Front Threatens to Destroy Rivals Trying to Reach Deal with Syrian Army
• Syria: Wide Military Operations Continues in Several Areas
• Egypt to see first military trial of civilians under new constitution
• Saudi executes 10th convict this year
• Militant-held area 'back in Iraq govt hands'
• Iraq Announces 72-Hour Ceasefire in Fallujah
• OIC: World must act fast to help restore order in CAR
• Mursi accused of leaking Egypt security secrets to Iran
North America
• US Officials: Al-Qaeda Tries to Recruit Americans in Syria
• US: Iran might be allowed 'limited' nuclear program
• CAIR-WA to Seek FBI Probe of Bias Incidents Targeting Mosque
India
• Indian doctor braves war-torn Afghanistan to serve the needy
• Bangladesh-India conduct survey to settle border dispute
• Crown prince of Saudi Arabia to visit India next week
Africa
• South Sudan army says repels rebel attacks on positions near Bor
• Somalia: Presidential Palace Attack Exposes Weak Counter-Terrorism Policy
• Boko Haram: Nigeria Closes Border with Cameroon
Southeast Asia
• Peace walk gathers momentum, now being led by ordinary Malaysians
• Sabahans slam Christian leaders in Cabinet for keeping silent on religious issues
• Indonesia Backs G20 Growth Target, Says Developing Nations Need to Do More
Mideast
• If you are a Jihadi, the place to be is Syria, says Vali Nasr
• Iran to Build 200,000 Houses in Iraq
• Yemen's federal plan a bold idea, but many hurdles remain
• Netanyahu: Iran still getting everything, giving nothing
Compiled by New Age Islam News Bureau
URL: https://www.newageislam.com/islamic-world-news/new-age-islam-news-bureau/pakistani-taliban-say-government-must-embrace-islamic-law/d/35896
-----------
Pakistan
Pakistani Taliban Say Government Must Embrace Islamic Law
23 February 2014
(Reuters) - The Pakistani Taliban told the government there was no chance of peace in the country unless Pakistan changed its political and legal system and officially embraced Islamic law.
The government of Prime Minister Nawaz Sharif wants to find a negotiated settlement to years of fighting with the militants but talks broke down this month after a string of attacks.
In a rare face-to-face meeting with journalists on Friday in an undisclosed location in Waziristan, a lawless region on the Afghan border, main Taliban spokesman Shahidullah Shahid said there was still hope negotiations might resume.
"Despite recent bombings in North Waziristan and killing of our 74 men by the security forces during the peace talks, we are still serious about the talks," he said, wearing an AK-47 bandolier across his chest.
"If talks are to be held it would be only under Sharia (Islamic law). We have made this clear to the government committee. We are fighting for the enforcement of Sharia and we are holding talks for the same purpose."
Pakistan is a conservative Muslim country and although its constitution is rooted in Islamic traditions, the legal system is based on English common law and the people are guaranteed their fundamental freedoms of speech and religion.
Sharif came to power last year on promises to persuade the Taliban to stop fighting, effectively proposing to legalise the banned group as a political entity. He previously tried to introduce Sharia in the late 1990s just before he was toppled in a military coup.
GRIPPED BY FEAR
This year started with a surge of violence in Pakistan, with Taliban insurgents staging almost daily attacks and the army responding with force in the volatile tribal areas on the Afghan border where most militants are based.
On Saturday, nine militants were killed in helicopter gunship attacks targeting insurgent hideouts in the Hangu region, local military official said.
The Taliban organisers asked reporters not to identify the location of the meeting. The area appeared tense and gripped by fear, with many shops and houses damaged by recent shelling.
People at a local open air bazaar appeared too frightened to speak frankly to visiting journalists.
Many in Pakistan are weary of holding peace talks with a group which has killed more than 40,000 people since the start of its campaign against the Islamabad government in 2007.
With violence surging, many are puzzled by the continued insistence by both sides that peace can still be negotiated.
Pakistan's military, a powerful institution which has ruled the country for half of its entire history since 1947, publicly supports talks but in private senior officers express frustration, raising speculation that the armed forces are girding for tough action.
The last major military operation was in 2007 when the army flushed out Taliban insurgents from the deeply conservative valley of Swat, establishing a strong presence on the ground.
The Pakistani Taliban operates separately from Afghan insurgents but is similar in tactics and ideology.
The Taliban have a set of austere religious beliefs seen as mediaeval by liberal Pakistanis, including a ban on women education and vaccinations against polio.
Health workers are attacked regularly because the Taliban see vaccines as a Western plot to sterilise Muslims.
"Polio drops are not a vaccine against the disease," Azam Tariq, another Taliban official, told reporters alongside Shahid as he clutched prayer beads in his hands. "It is a campaign to damage Islam."
http://in.reuters.com/article/2014/02/22/pakistan-taliban-talks-idINDEEA1L04C20140222
-----------
Pakistani jets kill 18 suspected militants in Tirah air raids
2014-02-23
PESHAWAR: Pakistani fighter jets carried out air strikes early Sunday on suspected insurgent hideouts killing 18 suspected militants and injured many others in Tirah valley area of Pakistan's restive Khyber tribal region, DawnNews reported.
According to security officials, during the air raid fighter jets targeted various hideouts in the Tirah valley of the Khyber Agency reportedly destroying an improvised explosives device (IEDs) making factory and a huge cache of arms, ammunition and explosive materials.
The raids came a days after at least nine suspected militants were killed when gunship helicopters pounded insurgent hideouts in Thall village in Hangu district,
On Feb 20, after consultations with the top military leadership of Pakistan Prime Minister Nawaz Sharif gave a go ahead for the airstrikes in North Waziristan and Khyber agencies.
Khyber is part of Pakistan's semi-autonomous tribal belt on the Afghan border. The Taliban and other al Qaeda-linked groups, who stage attacks in both countries, are known to have strongholds in the zone.
https://www.dawn.com/news/1088950/pakistani-jets-kill-18-suspected-militants-in-tirah-air-raids
-----------
Detention of terrorists' women and children: Army brushes aside Taliban allegations
2014-02-23
ISLAMABAD: The Pakistan Army on Saturday categorically rejected Tehreek-e-Taliban Pakistan's (TTP) allegations that their women and children were in custody of security forces.
Commenting on the factual position on the issue, an ISPR spokesman clarified that not a single women or child is in the custody of security forces.
He also made it clear that no women and children had ever been detained.
"These is a baseless allegation levelled by the TTP and hence a mere propaganda to divert the attention from the real issue of their blatant and dastardly acts of terror across the country," the spokesman said.
The Taliban had alleged that their women and children were in custody of the armed forces and had demanded their release as a pre-condition for talks.
The ISPR's statement came days after government-sponsored peace talks with terrorists broke down over the killing of 23 FC soldiers by Mohmand faction of the Tehreek-e-Taliban Pakistan (TTP).
Pakistani fighter jets also bombed suspected terrorist hideouts in the troubled areas on the Afghan border on Thursday, killing at least 40 people – in a possible indication that government was finally giving in to pressure from military as well as general public for a full-fledged action against Taliban.
The TTP, an umbrella group of numerous militant factions, has been waging a bloody campaign against the Pakistani state since 2007, carrying out a number of bomb and gun attacks.
Government mediators have set ceasefire as a precondition for another round of talks but Shahidullah Shahid, a spokesman for the TTP, on Friday blamed Islamabad for the deadlock and asked the state to declare a ceasefire first.
Shahidullah Shahid said the government has started the war when it should have initiated a ceasefire.
"We have been fighting a defensive war for 10 years," Shahidullah Shahid told a press conference, adding that the government should stop the operation immediately.
Shahid said that the Taliban still wish to engage in peace dialogue to solve the country's problems. "We were ready to talks before and are ready now," he stated.
http://www.dailytimes.com.pk/islamabad/23-Feb-2014/detention-of-terrorists-women-and-children-by-security-forces-army-brushes-aside-taliban
-------------
At least seven killed in Kohat blast, several wounded
2014-02-23
KOHAT: An explosion on Hangu road near Police Lines area in Khyber Pakhtunkhwa's Kohat district on Sunday killed at least seven people and injured several others, DawnNews reported.
Police official Iqbal Khan told AP that seven people had died and another 10 were wounded in the Sunday blast in Kohat, which borders lawless tribal areas near the Afghan border.
Meanwhile, district police chief Salim Khan Marwat talking to AFP said "After getting the latest reports from the hospitals where the dead bodies and injured were taken, we can now confirm that 10 people have been killed and 14 others are injured."
Security and rescue teams rushed to the site of explosion which was heard across a long distance.
Inspector General of Khyber Pakhtunkhwa police, Nasir Khan Durrani, said that the blast took place near a passenger vehicle at Peshawar chowk on Hangu road.
Rejecting the notion that the blast was carried out by a suicide bomber, he said that it appeared to have been carried out using a planted device.
Durrani further said that according to initial reports, five kilograms of explosives were used in the blast which were planted in a wooden crate placed on the roadside.
The explosives were detonated as a passenger wagon reached Peshawar chowk injuring the occupants of the vehicle and the driver of a rickshaw parked nearby.
The victims were shifted to Liaquat Memorial Hospital whereas security personnel cordoned off the area. The Bomb Disposal Squad had also reached the blast site.
Further details of the attack and nature of the blast were not known till the filing of this report.
https://www.dawn.com/news/1088953/at-least-seven-killed-in-kohat-blast-several-wounded
-----------
Despite dangers, 'moderate' Taliban talk peace
2014-02-23
ISLAMABAD: Faced with the prospect of unending war in Afghanistan, a moderate faction of the Taliban is pushing hard for a new peace dialogue in a move fraught with danger but openly welcomed by Kabul.
The risk these rebels face was made starkly clear last week when one of their senior figures, Abdul Raqeeb, was gunned down outside a religious seminary in the Pakistani city of Peshawar on his way home.
While sitting on the back of a motorbike driven by one of his students on Monday afternoon, he was shot and killed by two assassins in an attack that, like others in the past, has gone unclaimed.
A few days earlier, he had travelled to Dubai for a gathering of other senior Taliban members led by former minister Aga Jan Motasim, who are in favour of beginning a peace process.
Mullah Raqeeb planned to return to Dubai soon and members of the Afghan government's High Peace Council were also set to visit, in a sign that the moribund dialogue process might be relaunched.
Instead, he joined a list of dozens of other "moderate" exiled members of the hardline Islamist movement to have lost their lives in mysterious circumstances in Pakistan over the last few years.
Shadowy killings
Publicly, senior Taliban figures accuse the Afghan secret services or the Americans of being behind the killings.
But in private many suspect elements within Pakistan's shadowy military establishment of playing a part.
"As soon as they want to make progress, Pakistan puts itself in the way," complained one Taliban source exiled in Pakistan, who spoke to AFP on condition of anonymity.
Another member added: "Several of our leaders want to make progress towards peace, but they don't say it out of fear of reprisals", from Pakistan or other members close to its security services.
Pakistan has strong historic links with the Taliban leadership and was seen as their main ally when they seized power in Kabul in 1996.
After the Islamists' overthrow in the US-led invasion of 2001, many crossed the border to seek shelter, and Islamabad was long suspected of favouring their eventual return to power.
That position has now changed, according to many Pakistani officials, with Prime Minister Nawaz Sharif and the military worried about the spread of radical Taliban ideas in their own country.
Islamabad is now officially in favour of an "inclusive" peace process comprising all Afghan factions including the Kabul government, with whom once-frosty relations have improved, and the "moderate" rebels.
But parts of the powerful Pakistani security services are regularly accused of trying to keep control over their hardline allies.
Motasim's initiative in Dubai could therefore have been seen as a threat.
"Any Taliban who wants to negotiate without the consent of Pakistan might become a target.
Pakistan is not necessarily against talks, but wants control of the process," said Thomas Ruttig from the Afghan Analysts Network, a think-tank.
In Dubai Motasim succeeded in bringing together about 30 members from Afghanistan and Pakistan, including seven former ministers and eight military commanders, according to a Taliban source.
All were keen on a dialogue comprising all factions to achieve the insurgents' core demands: pacifying the country and ensuring all foreign troops leave Afghan soil.
Warm words
Separate statements by the High Peace Council (HPC) and Motasim on Saturday confirmed the meeting had taken place.
The council said it had met four members of the Taliban and the two parties had decided to "continue the negotiations process in, as well as outside, the country".
"The HPC welcomed this decision," their statement said.
Motasim's faction meanwhile praised the release of "Taliban and other Afghan prisoners" by Afghan President Hamid Karzai, a move that outraged the United States.
Karzai had in addition denounced the execution of Raqeeb as the killing of "a supporter of peace and reconciliation".
He even sent military helicopters to transport the body of the former Taliban minister for refugees to its burial place in an isolated village in northern Afghanistan.
But for the moderate Taliban, persuading Kabul of their goodwill is the easy part. Bringing along the rest of the fragmented insurgent group and convincing overall leader Mullah Omar is more difficult, and dangerous.
Omar has so far refused to entertain any peace process until foreign troops have left Afghanistan.
Motasim has also made enemies in the central Taliban leadership, which decried his meeting as "detrimental" to the movement and "beneficial to US and their stooges".
"Motasim has been active in promoting this for several years, but he didn't manage to shift the positions so far," said Ruttig from Afghan Analysts Network.
And any final solution would need to be palatable to all sides, the Kabul government, the Taliban, Pakistan and the Americans.
https://www.dawn.com/news/1088959/despite-dangers-moderate-taliban-talk-peace
-----------
Samiul Haq appeals for immediate ceasefire
2014-02-23
NOWSHERA/PESHAWAR: Chief of Taliban negotiation committee Maulana Samiul Haq has appealed to both the government and Taliban to announce ceasefire immediately.
"It is the duty of the government not to allow bombardment on innocent citizens, as this would further deteriorate the situation," Maulana Sami said while addressing a prize distribution ceremony at Darul Uloom Haqqania here on Friday.
He said that announcing ceasefire and holding to it was the duty of both the parties. He called upon the ulema to present a proper agenda in front of the nation for liberation of the country from foreign clutches. The gathering was also addressed by Maulana Dr Sher Ali Shah and Maulana Anwarul Haq.
Full report at:
https://www.dawn.com/news/1088905/samiul-haq-appeals-for-immediate-ceasefire
-----------
1 dead, 3 injured in mosque firing incident in Karachi
February 23, 2014
KARACHI: One person was killed and three critically injured when assailants opened fire inside a mosque in Aligarh Colony area of Orangi Town on Sunday afternoon, Express News reported.
The incident occurred within the Pirabad police station jurisdiction.
Residents of the area chased the attackers after the incident, capturing one. Police arrived at the scene and took him in custody.
Later, a crowd gathered in front of the police station demanding that the assailant be handed over to the public for punishment.
Deputy Inspector General (DIG) of Police for District West, Javed Alam Odho informed the media that a 9mm pistol was recovered from the culprit and he was under interrogation.
http://tribune.com.pk/story/675195/1-dead-3-injured-in-mosque-firing-incident-in-karachi/
-----------
Mass exodus in N Waziristan as tribesmen flee for fear of air strikes on militants
Press Trust of India | Islamabad | February 23, 2014
Nearly 50,000 Pakistani tribesmen have fled the lawless North Waziristan Agency since last month as fears of a military operation in the area grew after air strikes on suspected militant hideouts, a media report said on Sunday. A large number of tribesmen have started migrating from Saidgi, Bangi Dar in North Waziristan and other areas besides villages in the agency headquarters of Miramshah.
However, Political Agent Siraj Ahmad Khan told journalists that he had directed administration officials to tell the tribesmen not to leave the agency as there was no fear of an operation. "A military operation is not imminent and there is no need for the tribesmen to flee," Siraj claimed. The exact number of people evacuating could not be ascertained. Administration officials also declined to comment, as some remain in denial that there is a mass exodus taking place.
Full report at:
http://indianexpress.com/article/world/neighbours/mass-exodus-in-n-waziristan-as-tribesmen-flee-for-fear-of-air-strikes-on-militants/
-------------
South Asia
Taliban kills 20 Afghan soldiers, kidnaps seven: Official
2014-02-23
ASADABAD: The Taliban stormed an Afghan army outpost in the eastern Kunar province bordering Pakistan early Sunday, killing 20 soldiers and kidnapping seven, an official said.
The volatile border area is dominated by militants who often use improvised explosive devices to target soldiers, but Sunday's attack saw the highest casualty count in a single incident in recent months.
The attack occurred in the Ghaziabad district of Kunar province, provincial governor Shuja-Ul Mulk Jalala told AFP.
The Taliban later issued a statement claiming responsibility.
The governor said "some" of the soldiers in the post were thought to have aided the attackers, though this could not be verified by an independent source and the Taliban did not mention insider help in their statement.
Full report at:
https://www.dawn.com/news/1088947/taliban-kills-20-afghan-soldiers-kidnaps-seven-official
-----------
Afghan Taliban turning into well-trained force
2014-02-23
PESHAWAR: Afghan Taliban, who were once regarded as a ragtag militia, are turning into a well-trained fighting force that uses combat uniform, sophisticated weapons and high-tech gadgets.
The Taliban's fighting machine, a combination of clerics and students of madressahs, was an untrained force when it was launched in 1993-94. The untrained fighters wearing shalwar kameez were armed with rusty tanks, rocket launchers and machineguns which they had snatched from warlords and forces loyal to the-then Afghan regime.
Back then, the black turban came to be regarded as a trademark of the Taliban movement. But now the militants wear bullet-proof helmets and camouflage caps as part of their combat uniform. They use high-tech tools in combat operations against the Afghan National Army (ANA) and Nato forces, often using Google Earth to pinpoint their targets.
Full report at:
https://www.dawn.com/news/1088857/afghan-taliban-turning-into-well-trained-force
-----------
'Chinese security depends on Afghan stability'
2014-02-22
KABUL: China urged its neighbor Afghanistan on Saturday to embrace an inclusive political solution to its long-running conflict during a rare visit by a top Chinese official, who said the very security of his own country's western regions depended on peace.
Foreign Minister Wang Yi was due to meet President Hamid Karzai during his visit, which coincides with preparations by US and allied troops to draw down their forces after more than 12 years of fighting Taliban extremists.
China, which shares a short border with Afghanistan in the country's mountainous northeastern corridor, has become increasingly concerned about security in its western region of Xinjiang, where it says Muslim extremists receive help from militants in neighbouring countries.
Full report at:
https://www.dawn.com/news/1088753/chinese-security-depends-on-afghan-stability
----------
MDP will not obstruct government through parliament, says Nasheed
By Ahmed Naish | February 22nd, 2014
The opposition Maldivian Democratic Party (MDP) will not obstruct or hinder the government should the party win a parliamentary majority in the upcoming general elections, former President Mohamed Nasheed said last night.
Speaking at the campaign launching ceremony for the MDP's candidate for Manchangoalhi North, MP Mariya Ahmed Didi, Nasheed said obstruction of development projects or government programmes was not the opposition party's intention.
"Our philosophy is not obstruction. We do not wish to stop undertakings of President [Abdulla] Yameen's government. We wish for it go ahead on the right path," he said.
The role of an opposition party in a country with a presidential system was ensuring that campaign pledges are fulfilled, Nasheed added.
Full report at:
http://minivannews.com/politics/mdp-will-not-obstruct-government-through-parliament-says-nasheed-78235
-----------
3 condemned militants snatched, cop killed
23 February 2014
Three militants, two on death row, have been snatched away after assailants attacked a prison van in Trisal upazila, Mymensingh. A policeman has been killed in the attack.
The convicts are members of banned militant organisation Jamaat-ul-Mujahideen Bangladesh (JMB), Mizan, a bomb specialist, Rakib Hasan Sohel and Salauddin Salehin.
Gazipur Detective Branch Officer-in-Charge Abul Khayer confirmed about the death of the policeman and the escape of the three militants.
Full report at:
http://www.dhakatribune.com/bangladesh/2014/feb/23/policeman-dead-3-accused-snatched-away#sthash.FxSbTsV2.dpuf
-----------
Afghanistan to keep its China policy unchanged: Karzai
IANS | Feb 23, 2014
KABUL: Afghan President Hamid Karzai has said his country's policy of keeping good relations and deepening mutually beneficial cooperation with China will not change.
Karzai told visiting Chinese Foreign Minister Wang Yi that the government and the people of Afghanistan are satisfied with the growth and deepening of their relations with China over the past few years, and treasure the bilateral ties, reported Xinhua.
Wang, who arrived here for an official visit Saturday, said he made the visit in the crucial year of Afghanistan's transition to convey that China attaches great importance to relations with Afghanistan.
Full report at:
http://timesofindia.indiatimes.com/world/south-asia/Afghanistan-to-keep-its-China-policy-unchanged-Karzai/articleshow/30889737.cms
-----------
Prosecution mulling over national committee for witness protection
Udisa Islam
23 February 2014
The idea of 'national committee' was to ensure comprehensive protection for the witnesses which would continue even after the verdicts were delivered
With the government still not "ready" to formulate a witness protection act, the prosecution of the International Crimes Tribunal is looking to form a "national committee" in this regard which law professionals have said will not be able to solve the problem.
According to sources in the prosecution, the proposed committee would comprise at least nine intellectuals, journalists, law professionals and activists. This committee would form sub-committees at all the districts in the country to ensure protection for the witnesses of the war crimes cases.
Full report at:
http://www.dhakatribune.com/law-amp-rights/2014/feb/23/prosecution-mulling-over-national-committee-witness-protection#sthash.5XGUFHiw.dpuf
-----------
Europe
Bangladeshis in London clash over war crimes
23 February 2014
Two rival Bangladeshi groups have reportedly locked into a clash over the war crimes issues while placing flowers at the Shaheed Minar in Altab Ali Park of East London early Friday.
Metal barricades have been used as makeshift weapons during the pitched battle in the park, with women and children caught in the middle, reported eastlondonadvertiser.co.uk.
Later, police broke up the fighting and cleared everyone out of the park, but it is believed that no arrests were made.
According to the report, hundreds had gathered in the park at midnight to place flowers at the Shaheed Minar. But flowers gave way to fists as the night turned violent after a war of words between rival groups over war crimes trials in Bangladesh.
Full report at:
http://www.dhakatribune.com/bangladesh/2014/feb/22/bangladeshis-london-clash-over-war-crimes#sthash.dBfd4H6L.dpuf
-----------
Danish slaughter ban unites Jews and Muslims
23 February 2014
Representatives from Denmark's Muslim and Jewish communities spoke to the country's food minister on Saturday about new slaughter laws that are contrary to their religious practices.
Earlier this week, Denmark passed a new law forbidding the animal slaughter of live or non-anesthetized animals, angering Muslims and Jews in Denmark because of their religious dietary practices.
The representatives voiced their concerns to Danish Food, Agriculture and Fisheries Minister Dan Jorgensen, saying the government never consulted the two religious communities about the bill. They also emphasized that they will have to import meat if halal and kosher meat production is banned in Denmark.
Full report at:
http://www.worldbulletin.net/headlines/129439/danish-slaughter-ban-unites-jews-and-muslims
-----------
UN considering targeted sanctions on Yemen
23 February 2014
UNITED NATIONS – The UN Security Council is considering a draft resolution to impose travel bans and asset freezes on people in Yemen who obstruct or undermine the country's political transition and those who commit human rights violations.
Yemen, a US ally, with a population of 25 million, is trying to end nearly three years of political unrest, which began with mass protests against Ali Abdullah Saleh, the president for 33 years who stepped down in 2012.
Britain circulated a draft resolution among the 15 council members on Friday that would establish a sanctions committee for one year to blacklist individuals and entities in Yemen. The draft does not initially name anyone to be subjected to sanctions.
Full report at:
http://www.saudigazette.com.sa/index.cfm?method=home.regcon&contentid=20140223196636
-----------
UN Security Council unanimously approves Syria aid access resolution
23 February 2014
The U.N. Security Council unanimously adopted a resolution Feb. 22 calling for humanitarian aid convoys to be allowed access across war-torn Syria, but diplomats immediately voiced doubt about its effectiveness.
Syria's staunch ally Russia, with support from China, had blocked three previous resolutions aimed at pressuring the Damascus regime since the crisis began in March 2011, with an estimated half of all Syrians urgently awaiting immediate help.
But Moscow and Beijing, two of the five permanent Security Council members, did not do so this time, sending a strong message to Syrian President Bashar al-Assad, whose administration is accused of serious rights violations in attempting to cling on to power from rebels.
It will not, however, trigger automatic sanctions against Syria if it fails to comply.
Full report at:
http://www.hurriyetdailynews.com/un-security-council-unanimously-approves-syria-aid-access-resolution.aspx?pageID=238&nID=62807&NewsCatID=359
-----------
Arab World
Car bomb in Syrian town kills nine
014-02-23
BEIRUT: At least nine people were killed in a car bomb attack on Sunday near a field hospital in the Syrian town of Atmeh near the border with Turkey, activists said.
The hospital is owned by Ghassan Aboud, a Gulf-based businessman who runs Orient Television, which said at least 10 people were killed.
It was not immediately clear who carried out the attack but Atmeh is in territory held by rebels fighting to overthrow Syria President Bashar al Assad.
https://www.dawn.com/news/1088958/car-bomb-in-syrian-town-kills-nine
-----------
Suicide car bomb kills three at Lebanon army post
AFP | Feb 23, 2014
HERMEL: A massive suicide car bomb targeting an army checkpoint in the eastern Lebanese town of Hermel near war-torn Syria killed two soldiers and a civilian on Saturday.
The bomb is the third this month to hit areas of Lebanon where the powerful Shiite Muslim movement Hezbollah, which is helping the Syrian regime battle insurgents, is a dominant force.
The Al-Nusra Front in Lebanon, a group named after al-Qaida's Syrian affiliate, claimed the bombing on Twitter, indicating it was a revenge attack for Hezbollah's involvement in the Syrian conflict.
The bombing drew condemnation from the United Nations, Lebanese Sunni Muslim leader Saad Hariri and new Prime Minister Tammam Salam, who unveiled a cabinet last month, ending months of political vacuum.
Full report at:
http://timesofindia.indiatimes.com/world/middle-east/Suicide-car-bomb-kills-three-at-Lebanon-army-post/articleshow/30877969.cms
-----------
Saudi 'seeking Pakistan arms for Syrian rebels'
February 23, 2014
DUBAI: Saudi Arabia is in talks with Pakistan to provide anti-aircraft and anti-tank rockets to Syrian rebels to try to tip the balance in the war to overthrow President Bashar al-Assad, a Saudi source said Sunday.
The United States has long opposed arming the rebels with such weapons, fearing they might end up in the hands of extremists, but Syrian opposition figures say the failure of Geneva peace talks seems to have led Washington to soften its opposition.
Pakistan makes its own version of Chinese shoulder-launched anti-aircraft missiles, known as Anza, and anti-tank rockets -- both of which Riyadh is trying to get for the rebels, said the source, who is close to Saudi decision-makers, requesting anonymity.
Full report at:
http://www.dailystar.com.lb/News/Middle-East/2014/Feb-23/248203-saudi-seeking-pakistan-arms-for-syrian-rebels.ashx#ixzz2uCqDuVAL
------------
Islamic Front Threatens to Destroy Rivals Trying to Reach Deal with Syrian Army
23 February 2014
The Islamic Front threatened that it will target and destroy the militant groups that would try to reach an agreement with the Syrian army.
The militant groups affiliated to Ajnad Al-Sham and Heyat Sharyee have been warned by the Front against clinching any deal with the Syrian army.
Also in the Past 24 hours, reports said hundreds of Christian Syrians have taken up arms against the Takfiri groups to defend their country beside Muslims and other Syrian citizens.
Maloula and Seydana are the Christian-dominated towns that have been attacked by the Takfiri militants since the outbreak of unrest in Syria in March 2011.
The Popular Committees of the Syrian Kurds managed to take back a strategic town in Hasaka countryside.
Meantime, the media reports disclosed on Saturday that the new commander of the anti-Damascus militancy group, the Free Syrian Army (FSA), Abdul-Ilah al-Bashir has been trained in Israel.
Full report at:
http://english.farsnews.com/newstext.aspx?nn=13921204000429
-----------
Syria: Wide Military Operations Continues in Several Areas
23 February 2014
Army units on Sunday carried out military operations against militants' dens and gatherings, and destroyed several armed groups in different regions across Syria.
Militant groups eliminated in Homs
A military source said that big numbers of terrorists were killed in al-Husn town including the leaders of the so-called 'Sharia court', in addition to destroying a number of their dens, gatherings and a cache containing huge amounts of weapons and ammunition, Syrian Arab News Agency reported.
Full report at:
http://english.farsnews.com/newstext.aspx?nn=13921204000913
-----------
Egypt to see first military trial of civilians under new constitution
Feb 23, 2014
Two Egyptians will on Monday stand a military trial for leaking videos of army chief Abdel-Fattah al-Sisi with the alleged intent of defaming the army, in the first military trial of civilians since the January's passage of a new constitution.
Cairo's military prosecution on Saturday referred a co-founder and a senior manager of Rassd, an online news network linked to ousted president Mohamed Morsi's Muslim Brotherhood, to a military court.
Amr al-Qazzaz and Islam al-Homsi face charges of attempting to defame the armed forces through publishing leaked videos of al-Sisi, who is perceived as the chief architect of Morsi's overthrow on July 3.
Full report at:
http://www.worldbulletin.net/todays-news/129461/egypt-to-see-first-military-trial-of-civilians-under-new-constitution
-----------
Saudi executes 10th convict this year
February 23, 2014
RIYADH: A Saudi citizen convicted of murder was beheaded on Sunday, the interior ministry announced, bringing the number of executions in the kingdom this year to 10.
Salem al-Jahdali beat fellow tribesman Abdullah al-Jahdali to death following a dispute, the ministry said in a statement published by the official SPA news agency.
The execution took place in the holy western city of Mecca.
The kingdom beheaded 78 people in 2013, according to an AFP count.
Last year, the UN High Commission for Human Rights denounced a "sharp increase in the use of capital punishment" since 2011 in Saudi Arabia.
Full report at:
http://tribune.com.pk/story/675198/saudi-executes-10th-convict-this-year/
-----------
Militant-held area 'back in Iraq govt hands'
23 February 2014
TIKRIT, Iraq – Iraqi security forces have retaken a northern area from militants after more than a week of heavy fighting during which parts of it repeatedly changed hands, an official said Saturday.
Militants initially seized parts of Sulaiman Bek on February 13, setting off a cycle of clashes in the area which includes a town and several villages.
Dozens of people — militants, security personnel and civilians — were killed in the fighting.
Sulaiman Bek "has now been completely liberated, and there are no longer any gunmen, just police and soldiers," local official Talib Al-Bayati told AFP.
The army was reinforcing the area with watchtowers and sand barriers, Bayati said, adding that security forces were also preventing residents who had fled the fighting from returning to their homes.
Full report at:
http://www.saudigazette.com.sa/index.cfm?method=home.regcon&contentid=20140223196599
-----------
Iraq Announces 72-Hour Ceasefire in Fallujah
23 February 2014
The Iraqi government declared a 72-hour ceasefire in the city of Fallujah to give a chance for the peaceful efforts to clear the city from Al-Qaeda militants, according to a government statement.
"The military operations against selected targets of terrorist groups in Fallujah have been halted for 72 hours starting from Friday night until 6:00 pm local time (1500 GMT) on Feb 24," the defense ministry said in a statement, Xinhua reported.
The statement warned Al-Qaeda militants of using mortar rounds to bomb troops, civilians, government institutions and hospitals.
Full report at:
http://english.farsnews.com/newstext.aspx?nn=13921204000593
-----------
OIC: World must act fast to help restore order in CAR
February 23, 2014
The Organization of Islamic Cooperation (OIC) has called on the international community to help restore order in the Central African Republic (CAR) amid raging sectarian violence.
OIC Secretary-General Iyad Ameen Madani said the world must act fast and support the new authorities in stabilizing the country because of the implications of the crisis on the peace, security and stability of the wider region and beyond.
During a meeting of the OIC Executive Committee, Madani expressed concern over the genocidal and ethnic cleansing campaign against Muslims in the republic.
At least 2,000 people have been killed and some 700,000 have been displaced since December since Christian militias calling themselves anti-Balaka waged a campaign against Muslims.
Fighting started when the mostly Muslim Seleka rebels seized power a year ago in the majority Christian state.
Full report at:
http://www.arabnews.com/news/529591
-----------
Mursi accused of leaking Egypt security secrets to Iran
February 23, 2014
CAIRO: Prosecutors on Sunday accused deposed president Muhammad Mursi of leaking state secrets to Iran's Revolutionary Guards as part of a plot to destabilize Egypt, at the second hearing of his trial for espionage.
The trial, one of three that are under way against Mursi, is part of a relentless government crackdown targeting him and his Muslim Brotherhood movement since his ouster by the army in July.
Prosecutors accuse Mursi and 35 others, including leaders of the Muslim Brotherhood, of conspiring with foreign powers, Palestinian militant movement Hamas and Shiite Iran to destabilize Egypt.
Full report at:
http://www.arabnews.com/news/529996
-----------
North America
US Officials: Al-Qaeda Tries to Recruit Americans in Syria
23 February 2014
Intelligence increasingly shows Al-Qaeda is encouraging American and other western fighters in Syria to undertake special training to prepare them for possibly returning to their home countries to carry out attacks, US officials said.
National security officials are concerned that amid the mayhem of Syria's civil war, the global terror group has found a safe haven and a place where it again can recruit, plot and train operatives to carry out attacks on the US homeland, CNN reported.
"There is an effort to exploit them to get them to return to the West," one official said.
The official, who did not speak for full attribution, described scenarios in which foreign fighters arrive in Syria and are recruited by Al-Qaeda to train for external attacks.
CNN has spoken to a number of officials who sketched out similar scenarios.
It is not certain how many Americans may have been singled out or if any have been successfully recruited. But another worry is that any Europeans in the mix may be a potential threat as well because they don't need visas to enter the United States.
Training facilities can change locations and related materials can be found online, minimizing chances that a specific target could be identified and attacked.
Full report at:
http://english.farsnews.com/newstext.aspx?nn=13921204000560
-----------
US: Iran might be allowed 'limited' nuclear program
23 February 2014
Iran could possibly have a small nuclear program for "practical needs" as part of a final deal, says US undersecretary of state Wendy Sherman.
Iran could be allowed a small peaceful nuclear program, should an agreement be reached in diplomatic talks, US Under Secretary of State for Political Affairs Wendy Sherman said on Saturday night in Jerusalem.
"At the end of the day, if they [Iran] do want to have a small, discreet, limited program that addresses practical needs, it is envisioned as a possibility in the joint plan of action," Sherman said.
"It would have to be highly constrained, monitored, and verified on a regular basis," Sherman said.
She spoke both publicly and privately with Israeli journalists as part of a drive to solicit support for the diplomatic process, which she said is the best way to prevent Iran from acquiring nuclear weapons.
Full report at:
http://www.jpost.com/Iranian-Threat/News/US-Iran-may-have-limited-peaceful-nuclear-program-342236
-----------
CAIR-WA to Seek FBI Probe of Bias Incidents Targeting Mosque
23 February 2014
SEATTLE, WA, 2/22/2014) – On Monday, February 24, the Washington state chapter of the Council on American-Islamic Relations (CAIR-WA) will hold a news conference to ask the FBI to investigate apparently bias-motivated incidents targeting a mosque in that state.
Early this morning, worshipers found anti-Muslim hate rhetoric scrawled on books left in the parking lot of the Islamic Center of Bothell, in Bothell, Wash. This was the third recent incident targeting the mosque. On two previous occasions, signs for the house of worship were burned and vandalized.
"The apparent hate motive behind these incidents targeting a house of worship must be investigated by the FBI and state authorities," said CAIR-WA Executive Director Arsalan Bukhari.
Bukhari noted that CAIR's Sacramento Valley chapter recently called on state and federal law enforcement authorities to investigate vandalism of a California mosque as a possible hate crime.
n December, CAIR urged a hate crime probe of graffiti sprayed on the Islamic Society of Appalachian Region near Princeton, W.Va. The graffiti spray-painted on the mosque and its sign made obscene references to "Allah," the Arabic word for God. Mosque members say the house of worship was similarly targeted following the 9/11 terror attacks.
In response to previous attacks on American mosques, CAIR published a booklet called "Best Practices for Mosque and Community Safety" designed to be used by mosque officials, Muslim school administrators and other community leaders and activists who seek to identify and eliminate vulnerabilities to bias-motivated attacks.
To request a free e-copy of CAIR's "Best Practices for Mosque and Community Safety," click HERE.
CAIR recently published a major report, "Legislating Fear: Islamophobia and its Impact in the United States," which identifies 37 organizations dedicated to promoting the type of anti-Islam prejudice that can lead to bias-motivated incidents targeting American Muslims.
CAIR is America's largest Muslim civil liberties and advocacy organization. Its mission is to enhance the understanding of Islam, encourage dialogue, protect civil liberties, empower American Muslims, and build coalitions that promote justice and mutual understanding.
-----------
India
Indian doctor braves war-torn Afghanistan to serve the needy
Press Trust of India | Khandahar | February 23, 2014
Set to complete a decade in this run-down former power hub of the Taliban, Dr Shah Nawaz, the 'lone Indian' here, is happy to serve the war-weary Afghan people in their medical needs.
Nawaz, 45, working at a private hospital, says he is happy to serve the people in Kandahar, the southern province of Afghanistan, also the birthplace of the Taliban movement.
Recalling his journey to Afghanistan, Nawaz said an Afghan businessman who was into dry fruit business had contacts with his family in India, and he often told him about the plight of people in Kandahar and their medical needs.
"I then gave him a proposal to build a hospital. He (the businessman) was ready to invest and I expressed readiness to come to Afghanistan and serve the people," Nawaz told PTI.
"People here are very simple, their needs are very limited. Actually, even basic treatment is not available," said Nawaz, who hails from Maharashtra.
"I am here since August 2005. My family is not here. They are in Malaysia. I visit them twice or thrice in a year, and they come once in a year to India," he said.
Full report at:
http://indianexpress.com/article/world/indians-abroad/indian-doctor-braves-war-torn-afghanistan-to-serve-the-needy/
------------
Bangladesh-India conduct survey to settle border dispute
Tribune Report
23 February 2014
Abdul Mannan led the Bangladesh survey team while Survey of India Director NR Biswal headed the Indian side
Officials of Bangladesh and India have jointly conducted a survey to settle various disputes along the international border shared by the two neighbours, journalists were told yesterday.
Officials from both sides told reporters that the long-pending border disputes would be settled soon, as authorities have jointly identified the missing pillars and were taking steps to repair them.
Full report at:
http://www.dhakatribune.com/foreign-affairs/2014/feb/23/bangladesh-india-conduct-survey-settle-border-dispute#sthash.vRN9nFUA.dpuf
------------
Crown prince of Saudi Arabia to visit India next week
IANS | Feb 22, 2014
NEW DELHI: Salman bin Abdulaziz Al Saud, crown prince of Saudi Arabia, will pay an official visit to India Feburary 26-28, the highest level political visit from the kingdom after the 2006 landmark trip by Abdullah bin Abdulaziz Al Saud, the hereditary ruler of Saudi Arabia, as chief guest at the Republic Day celebrations.
Salman, who is also Saudi Arabia's deputy prime minister and defence minister, is arriving here at the invitation of vice-president Hamid Ansari.
He would be accompanied by a delegation comprising cabinet ministers, senior officials and captains of industry.
Salman will call on President Pranab Mukherjee and Prime Minister Manmohan Singh and also hold bilateral talks with vice-president Hamid Ansari, said an external affairs ministry statement.
Full report at:
http://timesofindia.indiatimes.com/india/Crown-prince-of-Saudi-Arabia-to-visit-India-next-week/articleshow/30866792.cms
------------
Africa
South Sudan army says repels rebel attacks on positions near Bor
23 February 2014
The South Sudanese army said on Sunday it had repulsed three rebel attacks on its positions near the market town of Bor, which is regarded as a gateway to the capital Juba.
Thousands have been killed and more than 800,000 have fled their homes since fighting began in South Sudan two months ago, triggered by a power struggle between President Salva Kiir and Riek Machar, his former deputy whom he sacked in July.
The warring sides in South Sudan, the world's youngest country after seceding from Sudan in 2011, signed a ceasefire on Jan. 23 but sporadic clashes have continued.
Bor, situated 190 km (120 miles) to the north of Juba by road, has changed hands at least three times since December when fighting broke out between SPLA troops loyal to the government and rebel forces.
Full report at:
http://english.ahram.org.eg/NewsContent/2/8/95005/World/Region/South-Sudan-army-says-repels-rebel-attacks-on-posi.aspx
-----------
Somalia: Presidential Palace Attack Exposes Weak Counter-Terrorism Policy
23 February 2014
Mogadishu — Somalia's Al Qaeda linked Al Shabaab group launched a deadly assault on the heavily fortified presidential compound of Villa Somalia, killing senior government officials in the pre-planned attack, Garowe Online reports.
11 people including 9 attackers died in the deadly incident that captured the attention of the international community and the members of the public whose ambition of witnessing greater progress in various key areas including the security dashed.
Mohamed Hirsi Abdulle (Idha'ase) and Gen. Nur Shirbow, a secretary at Prime Minister Abdiweli Sheikh Ahmed Mohamed's office and the former Deputy Chief of National Intelligence and Security Agency respectively were among the victims of the coordinated terror attack in the presidential palace.
Full report at:
http://allafrica.com/stories/201402220135.html?viewall=1
-----------
Boko Haram: Nigeria Closes Border With Cameroon
AFP
February 23, 2014
Nigeria's military says it has closed hundreds of miles (kilometres) of its northeastern border with Cameroon to stop Islamic extremists using the country as a haven and launch pad for attacks.
Brig. Gen. Rogers Nicholas of the 23rd Armored Brigade told reporters yesterday he was exercising emergency powers because it is "imperative" to seal the border between Cameroon and Nigeria's Adamawa state against illegal crossings.
He said customs and immigration officials are working with soldiers and police "to ensure that nothing crosses into Nigeria." Large stretches of that porous border are generally left unpatrolled.
Full report at:
http://leadership.ng/news/348015/boko-haram-nigeria-closes-border-cameroon
-----------
Southeast Asia
Peace walk gathers momentum, now being led by ordinary Malaysians
23 February 2014
What started out as a peace walk in Kuala Lumpur last month has taken on a life of its own, with ordinary Malaysians taking the lead and pushing for national healing.
Housewives, students, professionals and activists have come forward to volunteer to organise these peace walks since the first one held on January 5 outside the Our Lady of Lourdes Church in Klang and the one held in Penang last Sunday.
Already, two more are slated for next month.
The Malaysians for Malaysia group is credited with starting the momentum. Led by social activist Azrul Mohd Khalib, the group organised the January 5 gathering outside the Klang church where they were joined by Datin Paduka Marina Mahathir and handed out flowers to Christians to express solidarity with them over the Allah row.
"The group is made up of ordinary Malaysians who care about the country. It is important to show that you don't need to be a part of any non-governmental organisation (NGO) or political party to show you care," he told The Malaysian Insider.
Full report at:
http://www.themalaysianinsider.com/malaysia/article/peace-walk-gathers-momentum-now-being-led-by-ordinary-malaysians
-----------
Sabahans slam Christian leaders in Cabinet for keeping silent on religious issues
23 February 2014
Sabah Christians launched a scathing attack on their elected leaders who are of the same faith for remaining silent in the face of "extremist elements of political Islam who are targeting the hardcore poor districts of Sabah and carrying out dubious conversions".
Catholic Bishop Datuk Cornelius Piong in his address at the latest mamangkis gathering in Nabawan in the southern part of the state today, said the silence of the leaders who are Christians was similar to that when the then chief minister Tun Mustapha Harun had announced his unity policy of "one language, one culture, one religion" on August 1, 1972.
"Our elected political leaders, even though 'anak negeri' and Christians themselves, have so far been silent as if nothing is amiss," Piong said in this largely ethnic Murut town of slightly over 24,000.
Full report at:
http://www.themalaysianinsider.com/malaysia/article/sabahans-slam-their-christian-leaders-in-cabinet-for-remaining-silent-on-re
-----------
Indonesia Backs G20 Growth Target, Says Developing Nations Need to Do More
Reuters
23 February 2014
Sydney. Developing countries need to do more themselves to offset the impacts of the US Federal Reserve's tapering, Indonesia's finance minister said on Saturday, endorsing Australian-led plans for the Group of 20 to agree an ambitious target for global growth.
The comments from Chatib Basri appeared to be an effort to build bridges between advanced nations and emerging economies over the issues during the meeting of Group of 20 finance ministers and central bankers in Sydney.
"I have to admit that emerging markets should do their own homework," Basri said in an interview with Reuters. "For example, in the case of Indonesia, we can't put the blame only on tapering itself. We have also got a problem with the current account deficit."
Basri said host country Australia's push to agree a specific target for global growth would help counter the impact of the windback of Fed stimulus, blamed by some countries and investors for an exodus of capital from emerging markets in January.
Full report at:
http://www.thejakartaglobe.com/business/indonesia-backs-g20-growth-target-says-developing-nations-need-to-do-more/
----------
Mideast
If you are a Jihadi, the place to be is Syria, says Vali Nasr
February 23, 2014
Rebel fighters sit on top of a tank as they head to the front line of battles against Syrian pro-government forces, near the city of Hama, on February 18, 2014. PHOTO: AFP
"Iran is the only country in the Middle East to have survived the overhaul of the Arab Spring… the rest of the power centres have collapsed. Iran [now] stands the most stable of them all," author Vali Nasr said on Saturday. He was speaking at a session titled Fault Lines across the Middle East.
Nasr said despite the many sanctions, Iran was still capable of fighting a war. "Even the US government had decided to end its policy of isolating Iran. The country is much more powerful in the region today than was expected," he said. The Shia-Sunni divide is the real game changer in the region, said Nasr. Shias are suppressed in Saudi Arabia and cannot publicly observe mourning or open up religious schools, he said.
"If you are a Jihadi, the place to be is Syria…that is where all the money is at the moment," he said.
Full report at:
http://tribune.com.pk/story/675064/if-you-are-a-jihadi-the-place-to-be-is-syria-says-vali-nasr/
-----------
Iran to Build 200,000 Houses in Iraq
23 February 2014
Iran plans to build 200,000 houses in Iraq, a senior adviser to the Iranian vice-president announced on Sunday.
"Iraq is planning to build 2mln houses for the poor people," Rostam Qassemi, a former oil minister under President Mahmoud Ahmadinejad who is now an advisor to the first vice-president, said.
"And Iran has taken up construction of 200,000 of these residential units," he added.
Qassemi said that he will travel to Iraq today to work out a final planning for the two countries' cooperation in building these houses.
Iran and Iraq have enjoyed growing ties ever since the overthrow of the former Iraqi dictator, Saddam Hussein, during the 2003 US invasion of the Muslim country.
Early December, Senior Iranian and Iraqi officials, in a joint news conference in Tehran, stressed the need for the further expansion of mutual cooperation in economic fields.
During the news conference, Iranian First Vice-President Eshaq Jahangiri and Iraqi Prime Minister Nuri Al-Maliki reiterated the necessity for increasing exchange of visits between the two countries' businessmen and trade officials in a bid to further consolidate Iran-Iraq economic ties.
Full report at:
http://english.farsnews.com/newstext.aspx?nn=13921204000735
-----------
Yemen's federal plan a bold idea, but many hurdles remain
23 February 2014
The ink was barely dry on President Abd Rabbu Mansour Hadi's plan to stabilise chaotic Yemen before the objections started pouring in.
Leader of a nation seemingly on the brink of breakdown for years, Hadi had hoped he could appease rival political groups by creating a federal state of six regions that would give each more say over political, social, economic and security affairs.
To date, few factions appear placated, a reality that bodes ill for a country already battling endemic poverty, poor governance, regional insurgencies and Al-Qaeda militancy.
Restive southerners seeking autonomy, if not secession, fear the plan would weaken the south, partly by separating it from the sprawling Hadramout province, where some oil reserves lie.
Full report at:
http://english.ahram.org.eg/NewsContent/2/8/94986/World/Region/Yemens-federal-plan-a-bold-idea,-but-many-hurdles-.aspx
-----------
Netanyahu: Iran still getting everything, giving nothing
23 February 2014
Even as the US top Iran negotiator is in the country saying Iran could be allowed a small peaceful nuclear program, Prime Minster Binyamin Netanyahu continued to warn Sunday against granting Iran any uranium enrichment capabilities
"Iran will practically realize its plan to become a nuclear threshold state, with enrichment [capability] and the ability to develop intercontinental missiles. This combination of enrichment, weapons, and the ability to launch missiles creates a situation where Iran gets everything and gives nothing," he said at the opening of the weekly cabinet meeting.
On Saturday night, US Under Secretary of State Wendy Sherman, who participated in the talks between Iran and the world powers in Vienna last week, said in Jerusalem that "I would like there to be zero enrichment. I would like there to be no facilities, I would like there not to be an indigenous program. I would like many things in life. But that does not mean I will get them."
Full report at:
http://www.jpost.com/Iranian-Threat/News/Netanyahu-Iran-still-getting-everything-giving-nothing-342275
------------
URL: https://www.newageislam.com/islamic-world-news/new-age-islam-news-bureau/pakistani-taliban-say-government-must-embrace-islamic-law/d/35896