New Age Islam News Bureau
20 Feb 2013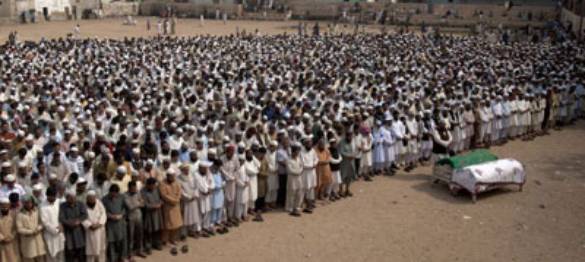 India
• Pakistani Mullahs behind Lucknow Firing: Sunni Majlis-E-Amal
• Manch demands separate education board for BPL Muslims in Maharashtra
• ATS gets 40 calls in week to inform about Indian Mujahideen operatives
• Ex Setalvad aide seeks recusal of SC judge from riots case
Pakistan
• Shiites bury their kin but funeral marred by gunfire, tensions
• High-level huddle: Quetta won't be handed over to the army
• Hand over Quetta to the army: Tahir ul Qadri
• Anger against Pakistan growing in PoK
• Senior Pakistani Taliban commander captured in Afghanistan
• LeJ mastermind behind Alamdar blast killed with three others
• 112 terror incidents in Balochistan in 10 years
• 'Intelligence agencies had a role in Lal Masjid operation'
• Blast during religious rally in Jacobabad kills one
• Lashkar-e-Jhangvi warns more attacks on Shias in Balochistan
• Four killed in crack down on anti-Hazara groups
• PM urges leaders of all faiths to unite for peace
• Suspected militant hideouts blitzed in Khyber tribal region
• Little audience for 'Zero Dark Thirty' in Pakistan
Southeast Asia
• Malaysian govt says Indian community should not feel 'sidelined in any way'
• Indonesian court sentences Afghan man to 6 years in prison for smuggling asylum seekers
South Asia
• NATO and Afghan Forces Kill 25 Insurgents
• Action if anti-Islam materials run: Bangladesh Govt
• Ministry of External Affairs team in Male, Nasheed unlikely to appear in court
• Afghan street kid heads for the Oscars red carpet
• Gay Afghan defies tradition to expose identity
• Hasina for Razakar-free, secular country
• A martyr's son: Mojaheed involved in killing a dozen
Arab World
• Man arrested for burning mosques
• Iraq wants Iran's rehabilitated 'terror group' out
• Lebanon seeks death penalty for ex-minister in Syria plot
• 2 Sunni factions suspend role in Bahrain talks to protest ongoing violence
• OIC channel to confront Islamophobia, boost unity
• Dubai-based Indian saviour of Youths suggests information network for UAE goers
• Govt warns Saudis against hiring overstayers as maids
• Saudi Arabia recalls envoy from Sri Lanka
• 49% of unemployed Saudis never applied for jobs
• 4 m Syrians desperate for aid; refugee numbers top 850,000
• Al-Gharawi calls for bringing back remaining Saudi prisoners from Iraq
• Mortars Hit Damascus Stadium, Kill Soccer Player
• Umm Al-Qura to help with Haram crowd management
Mideast Asia
• Israel's Prisoner X 'hanged self in shower'
• Russia, Turkey open Black Sea rail-ferry link
• Iran Supreme Court upholds 4 death sentences in $2.6 billion fraud case
• Pressure mounts on Israel over hunger strike of prisoners
North America
• CAIR Deplores Violent Depiction of Jesus in NBC "Saturday Night Live" (SNL) skit
• Miami Imam Accused of aiding Taliban declares innocence at federal trial
• The shooter, 20-year-old Ali Syed goes on shooting rampage in California, three killed
• US Still Acquiescing In Bahraini Crackdown
• Nutty professor: Columbia lecture includes stripping, 9/11 scenes and ninjas
• US supports India's constructive role in Afghanistan
Europe
• France blames Islamists as family kidnapped in Cameroon
• Russia warns Syria rivals risk 'mutual destruction'
• Lanza inspired by Norway mass killer
Africa
• Sudanese army says clashes near southern border have killed at least 60 rebels
• French soldier killed in Mali clash with militants
• Tunisian PM Hamadi Jebali quits after failing to form new cabinet
• Nigerian Pirates Demand $1.3 Million for Kidnapped Sailors
Compiled by New Age Islam News Bureau
Photo: Shiites bury their kin killed in Pakistan bombing
URL: https://newageislam.com/islamic-world-news/pakistani-mullahs-behind-lucknow-firing/d/10498
--------------
India
Pakistani Mullahs behind Lucknow Firing: Sunni Majlis-E-Amal
New Age Islam News Bureau
February 20, 2013
Lucknow: The details of the firing on the Shia mourners in Lucknow on January 16 are surfacing after a month. It was suspected that some terrorist organisations of Lucknow having links with the sectarian and militant organisations of Pakistan were behind the attack. The General Secretary of the Sunni Majlis-e-Amal Maulana Abdul Wali Farooqui yesterday gave further hints of an unholy nexus between the sectarian groups of Lucknow and some radical mullahs of Pakistan. Maulana Abdul Wali Farooqui said in a press conference that the Ulema and organisations of Pakistan and Iran were behind the attack in Wazir Ganj congregation last month. He further said that some Ulema and organisations of the old city (Lucknow) were in constant touch with their patrons in Iran and Pakistan and demanded that the government should conduct an inquiry into their contacts and sources of funding. Maulana Farouquee said that the situation aggravated soon after the visits of some Pakistani mullahs. He said that these Ulema got illegal funds from abroad which should be inquired into.
The Sunni Majlis-e- Amal is going to hold a public meeting today to discuss the issue. Many speakers will express their views in the meeting.
--------------
Manch demands separate education board for BPL Muslims in Maharashtra
Feb 20 2013
Nagpur: Zakir Hussain Vichar Manch has demanded the state government set up a board to promote primary and high school education among BPL Muslims. "Even Sachar Commission has said Muslims are the most backward community in terms of education," national convener of the Manch Haider Dosani has written to CM Prithiviraj Chavan.
Trust to bring out unpublished poems of Savlaram
Thane: The unpublished songs of noted Marathi poet and lyricist P Savlaram will be brought out to mark his birth centenary year, his family has said. Savlaram, who was originally from Kolhapur district in south-west Maharashtra, had made Thane his home. His original name was Nivrutti Ramji Patil and he was given the title of 'Janakavi'.
http://www.indianexpress.com/news/manch-demands-separate-edu-board-for-bpl-muslims/1076831/
--------------
ATS gets 40 calls in week to inform about Indian Mujahideen operatives
Feb 20 2013
Mumbai : Maharashtra ATS, which had announced Rs 10 lakh reward each on Indian Mujahideen chief Yasin Bhatkal and his three aides allegedly involved in terror cases, received as many as 40 phone calls in a week's time to provide them clues, but yielded no results so far.
According to police, the callers claimed that they had spotted persons resembling the wanted accused either in a public transport bus or at places like bus stops and railway stations.
However, as of now nothing concrete has emerged during the verification by the ATS men. Besides these 40 telephone calls, about 60 missed calls were received at the numbers provided by the ATS as the callers wanted to verify if they were correct, police said."When we called them back after the missed calls, the callers said they wanted to verify whether the numbers were correct so that they could make calls if they spot the terrorists," said a police officer.
One of the callers asked the ATS to mail him the photographs of the wanted accused as the pictures on the posters were not clear, police added.
Another person who had called from Pune said he had] spotted a person resembling one of the wanted accused Asadullah Akhtar Javed Akhtar a few days ago following which an ATS team rushed to him and took down the details.
A phone call was received from Nagpur but in vain, police said, adding that whenever they got a phone call, they did not take them lightly and verified the details.
On February 12, the ATS had announced a cash reward of Rs 10 lakh each to any person providing information leading to the arrest of Yasin Bhatkal (30), Tahaseen Akhtar Wasim Aktar Shaikh (23), Asadulla Akhtar Javed Akhtar (26) and Waqas alias Ahmed (26).
The ATS had requested the public to inform the police if they spot the four wanted accused, on the two dedicated mobile numbers 09619122222, 08652012345 and landline number 022-23791619. Citizens were also asked to email them at atswantedaccused@gmail.com oratswantedaccused@yahoo.co.in. All the four wanted accused were allegedly involved in three coordinated bomb explosions at different locations in the peak evening hours in Mumbai on July 13, 2011.
The blasts had occurred at Opera House, Zaveri Bazaar, and Dadar West, leaving 27 dead and 130 injured, the ATS said. Five accused had been arrested in connection with the blasts and a 4000-page charge sheet was filed in May last year in a
special MCOCA court.Except Tahaseen, who planted a bomb in the Dadar blast, the rest three were also involved in the four co-ordinated low-intensity explosions, which struck the busy arterial road in the heart of Pune city on August 1, 2012. Eight accused had been arrested in this connection. Yasin and Asadulla were also involved in bomb blasts which took place in the past one decade in Ahmedabad, Surat, Bangalore, Delhi and Hyderabad, the ATS said.
http://www.indianexpress.com/news/ats-gets-40-calls-in-week-to-inform-about-indian-mujahideen-operatives/1076945/
--------------
Ex Setalvad aide seeks recusal of SC judge from riots case
February 20 2013
An estranged former aide of social activist Teesta Setalvad on Tuesday moved the Supreme Court seeking recusal of Justice Aftab Alam from the bench hearing a matter relating to alleged "fabricating" of evidence in a post-Godhra riots case in which both of them are accused.
Rais Khan Pathan, who was accused of fabricating evidence along with the activist in the Naroda Gam case in which 11 people were killed in 2002, has contended that there is "a reasonable likelihood of bias" in hearing the matter by Justice Alam.
He said the reason why the judge should recuse is that he had delivered a lecture in London on 'Promoting Pluralism Knowledge Program' (PPKP) with which his daughter is associated.
Pathan referred to an article titled, "The Idea of Secularism and the Supreme Court of India" authored by Justice Alam and presented by the judge at the annual lecture on October 14, 2009 in London.
"The tone and tenor of the article depicts the strong belief of His Lordships, as regards the victimization of the minority community," he said, while also making reference of his daughter who is associated with PPKP's India initiative and was part of some NGO's working for the riot victims in Gujarat.
http://www.hindustantimes.com/India-news/newdelhi/Ex-Setalvad-aide-seeks-recusal-of-SC-judge-from-riots-case/Article1-1014045.aspx
----------
Pakistan
Shiites bury their kin but funeral marred by gunfire, tensions
By Associated Press
February 20, 2013
QUETTA, Pakistan — Pakistani Shiites buried their kin killed in a massive bombing last weekend in the south-western city of Quetta but the funeral on Wednesday was marred by gunfire as both protesters and police fired into the air.
Shiite Muslims have increasingly come under attack in this Sunni Muslim-dominated country where many extremists do not consider them to be true Muslims.
After Saturday's bombing killed 89 people — the second mass-casualty assault on Shiites in Quetta in as many months — Pakistani Shiites refused to bury their dead for three days and demanded government action. The tension evident at the funeral suggested that recent government attempts to address the problem may not be enough to appease them.
Full report at:
http://www.washingtonpost.com/world/asia_pacific/shiites-bury-their-kin-killed-in-pakistan-
--------------
High-level huddle: Quetta won't be handed over to the army
February 20, 2013
ISLAMABAD: The government has decided not to call in the army in Quetta in spite of demands made by the targeted Hazaras and is also likely to lift Governor Rule from the province next week.
The decision was taken at a high-level huddle, attended by President Asif Ali Zardari, Prime Minister Raja Pervaiz Ashraf and Army Chief General Ashfaq Parvez Kayani, on Tuesday, official sources said.
The troika met amid countrywide protests by Shias seeking decisive action against the groups involved in the target killings and bomb blasts.
Full report at:
http://tribune.com.pk/story/509879/high-level-huddle-quetta-wont-be-handed-over-to-the-army/
--------------
Hand over Quetta to the army: Qadri
B February 20, 2013
LAHORE: Minhajul Quran International chief Dr Tahirul Qadri has demanded Quetta be handed over to the Pakistan Army, arguing that the law permits it.
Addressing a press conference in Lahore, he said that the Constitution provides room for the Pakistan Army to take over control of Quetta. He said the government had completely failed to protect its citizens and he announced that his organisation's political wing, the Pakistan Awami Tehreek, would participate in all sit-ins against Saturday's attack across the county.
Full report at:
http://tribune.com.pk/story/509875/hand-over-quetta-to-the-army-qadri/
--------------
Anger against Pakistan growing in PoK
February 19, 2013
Anger against Pakistan is visible on the streets of Pakistan Occupied Kashmir. The unemployed and angry youth are venting their frustration through protests and agitations. The common feeling among people of the region who have lived under Pakistani occupation for more than six decades is - enough is enough.
http://www.indianexpress.com/videos/international/21/anger-against-pakistan-growing-in-pok--/15559
--------------
Senior Pakistani Taliban commander captured in Afghanistan
Feb 20, 2013
Islamabad: Senior Pakistani Taliban commander Maulvi Faqir Mohammad has been captured by Afghan intelligence agencies in an area along the border with Pakistan, according to media reports today.
Pakistani security officials were quoted by the Dawn newspaper as saying that reports about Mohammad's arrest in Afghanistan appeared to be correct.
Full report at:
http://www.firstpost.com/world/senior-pakistani-taliban-commander-captured-in-afghanistan-632604.html
--------
LeJ mastermind behind Alamdar blast killed with three others
February 20, 2013
QUETTA: Frontier Corps (FC) and police killed four terrorists, including a Lashkar-e-Jhangvi (LeJ) mastermind responsible for the recent spate of sectarian attacks, while arresting another seven during a targeted operation, launched on the directives of Prime Minister Raja Pervaiz Ashraf.
Full report at:
http://tribune.com.pk/story/509877/quetta-operation-lej-mastermind-behind-alamdar-blast-killed-with-three-others/
--------------
112 terror incidents in Balochistan in 10 years
By Sabir Shah
February 20, 2013
LAHORE: A glance at the chronology and timeline of anti-state violence, sectarian killings, tribal shootings, ethnicity and terrorism etc in Balochistan during the last 10 years reveals at least 112 major incidents have rocked this province since June 8, 2003, the day when some 11 police trainees hailing from the Hazara Shia branch of Islam were shot dead at Quetta's Sariab Road.
While many residents of Balochistan have lost lives after their vehicles had unfortunately hit land mines since 2003, even schools, hospitals, mosques and courts have not been spared by merciless terrorists.
Full report at:
http://www.thenews.com.pk/Todays-News-2-161078-112-terror-incidents-in-Balochistan-in-10-years
--------------
'Intelligence agencies had a role in Lal Masjid operation'
February 20 2013
ISLAMABAD, Feb 19: Testifying before the Lal Masjid Commission on Tuesday, a witness presented new information about the perceived role of intelligence agencies in the events leading up to the 2007 operation.
He suggested that the government had not given due support to those working to avoid a military confrontation.
Full report at:
http://dawn.com/2013/02/20/intelligence-agencies-had-a-role-in-lal-masjid-operation/
--------------
Blast during religious rally in Jacobabad kills one
February 20, 2013
JACOBABAD: One person was killed and four others were injured in a blast in Ahmed Deen Brohi village near Jacobabad, Express News reported.
The blast took place near an ongoing rally of a religious party.
The deceased was identified as Shafiq Hussain Shah, grandson of Pir of Qambar Sharif.
Another grandson, Zaki Shah, is among the four injured.
Full report at:
http://tribune.com.pk/story/509999/blast-during-religious-rally-in-jacobabad-kills-one/
--------------
Lashkar-e-Jhangvi warns more attacks on Shias in Balochistan
Feb 20 2013
Islamabad : The banned Lashkar-e-Jhangvi, responsible for two terror attacks in Quetta that killed nearly 200 people, has warned that it will continue targeting the minority Shia sect despite the imposition of Governor's Rule in Pakistan's Balochistan province.
"The government should be under no illusion now that the imposition of Governor's Rule in Balochistan has failed to dissuade us from targeting our enemy the Shia Hazaras. We want to make it clear to the Shia Hazaras that they should not consider themselves safe and secure till the establishment of the Islamic Caliphate in Pakistan," LeJ spokesman Abu Bakar Siddiq said.
Full report at:
http://www.indianexpress.com/news/lashkarejhangvi-warns-more-attacks-on-shias-in-balochistan/1076987/
--------------
Four killed in crack down on anti-Hazara groups
ANITA JOSHUA
February 20 2013
Four terrorists were killed and 170 arrested in Balochistan on Tuesday in targeted operations against groups indulging in sectarian violence, which has killed nearly 200 Hazara Shias over the past month-and-a-half alone.
In view of the federal government's targeted operation and meeting a parliamentary delegation, the leaders of the Hazara Shia community of Quetta initially agreed to end their three-day-old protest and bury those killed in Saturday's blast near Hazara Town. With more people succumbing to injuries over the past couple of days, the death toll has risen to over a 100.
Full report at:
http://www.thehindu.com/news/international/south-asia/four-killed-in-crack-down-on-antihazara-groups/article4432588.ece
--------------
PM urges leaders of all faiths to unite for peace
February 20 2013
ISLAMABAD: Prime Minister Raja Pervez Ashraf on Wednesday urged leaders of all faiths and religions to stand united and strive for peace and security.
Addressing a conference organised here by the Ministry of National Harmony, the prime minister referred to the recent incidents of terrorism and said "let's come out of this perpetual sense of fear that haunts us all, and where no place is safe anymore".
He referred to the Hazaras as brothers and patriotic Pakistanis and said the nation was deeply saddened over the plight they underwent in the recent attacks.
Full report at:
http://dawn.com/2013/02/20/pm-urges-leaders-of-all-faiths-to-unite-for-peace/
--------------
Suspected militant hideouts blitzed in Khyber tribal region
February 20 2013
PESHAWAR: Pakistan's military jets bombarded three suspected militant hideouts in Khyber tribal region's Tirah valley area.
At least six suspected militants were killed in the airstrikes, tribal sources told Dawn.com.
The targeted hideouts were completely destroyed in the military onslaught.
The military has stepped up airstrikes in the tribal regions since the beginning of 2013, with at least 45 suspected militants reported as killed and at least a dozen hideouts destroyed.
The death-toll and identities of victims cannot be independently verified the access of media persons and journalists is barred in the area.
http://dawn.com/2013/02/20/suspected-militant-hideouts-blitzed-in-khyber-tribal-region/
--------------
Little audience for 'Zero Dark Thirty' in Pakistan
February 20 2013
ISLAMABAD: Pakistan stars in "Zero Dark Thirty," from early scenes at a detention site to the dramatic closing minutes as Navy Seals assault the hideout of Osama bin Laden.
But the Academy Award-nominated film about the hunt for the Al Qaeda leader has sparked a controversy here about its portrayal of the country, and it will likely not be shown on the local big screen anytime soon Partly, the film taps into national discomfort that bin Laden was found to be living for years near Pakistan's equivalent of West Point, and anger over the US decision to enter its airspace and raid the compound without giving advance notice. Doubts about whether bin Laden was really hiding out for years in the city of Abbottabad are also common across Pakistan, a country where conspiracy theories often have more weight than fact.
Full report at:
http://dawn.com/2013/02/20/little-audience-for-zero-dark-thirty-in-pakistan/
--------------
Southeast Asia
Malaysian govt says Indian community should not feel 'sidelined in any way'
Feb 20 2013
Kuala Lumpur : The Indian community in Malaysia has been assured that they will not be sidelined by the government in any way. Malaysia's Deputy Prime Minister Muhyiddin Yassin said the government did not discriminate and the Indian community should stop thinking that way. He, however, stressed that government can only help, but the onus is up to the Indian community to strive harder to ensure success, especially if they are running a business.
Full report at:
http://www.indianexpress.com/news/malaysian-govt-says-indian-community-should-not-feel-sidelined-in-any.../1076924/
--------------
Indonesian court sentences Afghan man to 6 years in prison for smuggling asylum seekers
Published February 20, 2013
Associated Press
JAKARTA, Indonesia – An Indonesian court sentenced an Afghan man to six years in prison Wednesday for smuggling asylum seekers to Australia.
The East Jakarta District Court found Dawood Amiri guilty of violating Indonesia's immigration law and conspiring with an international syndicate that smuggled asylum seekers from Indonesia to Australia.
Full report at:
http://www.foxnews.com/world/2013/02/20/indonesian-court-sentences-afghan-man-to-6-years-in-prison-for-smuggling-asylum/#ixzz2LQyY40bD
--------------
South Asia
NATO and Afghan Forces Kill 25 Insurgents
February 20, 2013
KABUL, Afghanistan (AP) — NATO and Afghan forces have killed at least 25 insurgents and three of their commanders in separate operations around the country, Afghan and coalition officials said Wednesday.
The size and scope of the latest operations were an indication that the Afghan war is far from over after 11 years of conflict, even as U.S. and foreign forces begin rapidly withdrawing and handing the lead role for security to the Afghans.
Full report at:
http://www.nytimes.com/aponline/2013/02/20/world/asia/ap-as-
------------
Action if anti-Islam materials run: Bangladesh Govt
February 20 2013
The government has warned that legal action would be taken against media outlets for rerunning write-ups which demean Islam and Prophet Muhammad (pbuh).
Urging newspapers and television channels to refrain from such practices, Information Minister Hasanul Haque Inu said on Wednesday that rerunning such materials is more demeaning than running those for the first time,
The minister held a press conference at Press Information Department (PID) to send the government message in the wake of some newspaper and TV channels' rerunning of anti-Islam write-ups published on blogs and some websites.
Full report at:
http://www.thedailystar.net/newDesign/latest_news.php?nid=44908
--------------
MEA team lands in Male, ex-President Nasheed unlikely to appear in court
Feb 20, 2013
MALE: A high-level team of officials from Ministry of External Affairs arrived in Male on Wednesday to "assist" Indian High Commission to resolve the situation arising out of former Maldives president Mohamed Nasheed taking refuge in the Indian Mission for the eighth day in a row.
Full report at:
http://timesofindia.indiatimes.com/world/rest-of-world/MEA-team-lands-in-Male-ex-
--------------
Afghan street kid heads for the Oscars red carpet
February 20, 2013
KABUL — An Afghan street kid is off to Hollywood and the red-carpet treatment at the Oscars — a fairytale ending to a chance encounter that led to a starring role in a movie.
Fawad Mohammadi, 14, was selling maps to passing foreigners on Kabul's famed Chicken Street to help feed his family when he met American director Sam French.
Now he is preparing for his first flight in an aircraft and his first trip outside war-torn Afghanistan to a glamorous world almost beyond imagination on the grimy streets of Kabul.
Full report at:
http://www.saudigazette.com.sa/index.cfm?method=home.regcon&contentid=20130220153890
--------------
Gay Afghan defies tradition to expose identity
By Tahir Qadiry
February 20 2013
Hamid Zaher is a young Afghan pharmacist, now living in Toronto in Canada. He has defied Afghan tradition by writing a searingly honest memoir about what it was like to be a gay man in Afghanistan.
The book has never been published in his home country, where homosexuality is a criminal offence punishable by death.
Full report at:
http://www.bbc.co.uk/news/world-asia-21426632
--------------
Hasina for razakar-free, secular country
February 20 2013
Prime Minister Sheikh Hasina on Wednesday urged the people to build a knowledge-based, prosperous, peaceful and secular country, free from war criminals and razakar.
She made the appeal while distributing the 'Ekushey Padak 2013' among 13 recipients at the Osmani Memorial Auditorium in the capital.
Full report at:
http://www.thedailystar.net/newDesign/latest_news.php?nid=44911
--------------
A martyr's son: Mojaheed involved in killing a dozen
February 20 2013
A martyr's son yesterday testified that 10-12 people including his father were shot following a signal by Ali Ahsan Mohammad Mojaheed near his sister's house at Bakchar in Faridpur during the Liberation War.
Sakti Saha, son of martyr Upendra Narayan Saha of Goalchamat of Faridpur, said when Mojaheed and his accomplices tied his father and were taking him away, his mother and sister begged for his life offering their ornaments, but they did not pay heed to their appeal.
"I want justice," Sakti, 13th prosecution witness in the case against the Jamaat-e-Islami secretary general, appealed to the International Crimes Tribunal-2 with tears rolling down his face.
Full report at:
http://www.thedailystar.net/newDesign/news-details.php?nid=269810
--------------
Arab World
Man arrested for burning mosques
February 20, 2013
HAFR AL-BATIN — A man in his 30s has been arrested by Hafr Al-Batin police in connection with recent arson attacks on four mosques in the governorate on the same day.
The man turned out to be suffering from a mental illness. An Eastern Province police spokesman said the man used his motorbike to move from one mosque to another and that the vehicle was found in his house. Civil Defense firefighters in the governorate contained the blazes, which caused slight damage to the furniture and equipment of the four mosques.
http://www.saudigazette.com.sa/index.cfm?method=home.regcon&contentid=20130220153887
----------
Iraq wants Iran's rehabilitated 'terror group' out
February 20, 2013
BAGHDAD — An Iranian exile group attacked in Iraq this month has moved from terrorism lists to international good graces, but Baghdad wants it out over its opposition to Iran's rulers and ties to Saddam Hussein.
On Feb. 9, mortar rounds and rockets slammed into Camp Liberty, a former US military base near Baghdad that now houses some 3,000 members of the People's Mujahideen Organization of Iran (PMOI), killing five people, according to Iraqi security officials.
The attack triggered condemnation from the US and the UN, but in Iraq officials are eager to see the group depart.
Full report at:
http://www.saudigazette.com.sa/index.cfm?method=home.regcon&contentid=20130220153908
--------
Lebanon seeks death penalty for ex-minister in Syria plot
February 20, 2013
BEIRUT — A Lebanese judge Wednesday demanded the death penalty for ex-minister Michel Samaha and Syrian security chief Ali Mamlouk, who face charges of plotting attacks on political and religious figures in Lebanon.
Military magistrate Riad Abu Ghida said Samaha and Mamlouk should be given the ultimate punishment "for transporting explosives from Syria to Lebanon in an attempt to assassinate Lebanese political and religious leaders," according to a copy of the indictment received by AFP.
http://www.saudigazette.com.sa/index.cfm?method=home.regcon&contentid=20130220153972
--------
2 Sunni factions suspend role in Bahrain talks to protest ongoing violence
Published February 19, 2013
Associated Press
MANAMA, Bahrain – Two Sunni factions in Bahrain say they are suspending participation in talks with Shiite opposition groups because of a spike in violence in the Gulf nation's two-year-old uprising.
The moves are unlikely to disrupt the overall negotiations between Bahrain's Sunni rulers and the Shiite opposition bloc, but it reflects the high level of tension confronting attempts at dialogue.
Full report at:
http://www.foxnews.com/world/2013/02/19/2-sunni-factions-suspend-role-in-bahrain-talks-to-protest-ongoing-violence/#ixzz2LQxhhBSp
--------------
OIC channel to confront Islamophobia, boost unity
20 February 2013
The Organization of Islamic Cooperation yesterday emphasized its plan to establish an effective satellite television channel to confront Islamophobia and strengthen economic ties between member countries.
"We'll hold a four-day meeting of experts at OIC headquarters here from Saturday to discuss various aspects of the project in order to present it at the next meeting of OIC information ministers," said Essam Salim Al-Shanti, director of the media department.
Full report at:
http://www.arabnews.com/oic-channel-confront-islamophobia-boost-unity
--------------
Dubai-based Indian saviour of Youths suggests information network for UAE goers
Feb 19, 2013
JALANDHAR: Dubai-based hotelier S P Singh Oberoi, who has returned with 17 Punjabi youths after saving them from gallows of Sharjah, has suggested to the NRI Sabha Punjab to have an "information and feedback offices" in every district of Punjab to guide youths who wanted to go to UAE for doing odd labour jobs.
Full report at:
http://timesofindia.indiatimes.com/india/Dubai-based-saviour-of-Youths-suggstes-information-network-for-UAE-goers/articleshow/18577876.cms
--------------
Govt warns Saudis against hiring overstayers as maids
20 February 2013
Saudis are being made aware that hiring overstayers as household maids is against the law and authorities are preparing for new plans to seize and deport them, said Mohammed Al-Hussein, spokesman of the Passport Department.
"The Passport Department is always on the hunt for overstayers by searching homes and arresting brokers who are responsible for lodging, employing or moving overstayers between cities," he said. "We target only those who break the law by working in the Kingdom without legal status and without a Saudi guardian. We search for them and then deport them back to their country," he added.
Full report at:
http://www.arabnews.com/govt-warns-against-hiring-overstayers-maids
--------------
Saudi Arabia recalls envoy from Sri Lanka
February 20 2013
RIYADH: Saudi Arabia has recalled its ambassador from Colombo in a tit-for-tat move amid tensions after a Sri Lankan nanny convicted of murder was beheaded in the kingdom, the official SPA news agency reported.
"Based on the decision by the Sri Lankan government to withdraw its ambassador from the kingdom, the (Saudi) foreign ministry has recalled its ambassador in Sri Lanka for consultations," SPA reported late Tuesday quoting a ministry spokesman.
Full report at:
http://dawn.com/2013/02/20/saudi-arabia-recalls-envoy-from-sri-lanka/
--------------
49% of unemployed Saudis never applied for jobs
20 February 2013
A study carried out by the Ministry of Labour shows that 49 percent of unemployed persons have never attempted to apply for jobs. The study was conducted on random samples of 16,000 Saudis, 82 percent of them females.
The majority of job seekers are high school degree holders (37 percent) while only 1 percent of them are diploma degree holders. Many of those participating in the study justified their unemployment by saying they had not found right persons to help them search for jobs. Some of them said they did not bother searching because they don't know English or are not qualified enough.
http://www.arabnews.com/49-unemployed-never-applied-jobs
--------------
4 m Syrians desperate for aid; refugee numbers top 850,000
20 February 2013
GENEVA: More than four million people inside Syria are in desperate need of aid, up from 2.5 million in September, the UN's humanitarian agency said yesterday.
"We are watching a humanitarian tragedy unfold before our eyes," Valerie Amos, the UN undersecretary-general for Humanitarian Affairs and Emergency Relief Coordinator, told reporters in Geneva.
Full report at:
http://www.arabnews.com/4-m-syrians-desperate-aid-refugee-numbers-top-850000
--------------
Al-Gharawi calls for bringing back remaining Saudi prisoners from Iraq
20 February 2013
Jamal Yahya Al-Gharawi, the last of the Saudi detainees in Iraq, is returning home after enduring seven years and seven months in Iraqi prisons.
In a telephone conversation with a local newspaper, Al-Gharawi, who was at Abu Dhabi airport en route back to the Kingdom, said that despite the authenticity of abuse reports published in the media, they unfortunately had an adverse and harmful affect on the detainees.
Full report at:
http://www.arabnews.com/al-gharawi-calls-bringing-back-remaining-saudi-prisoners-iraq
--------------
Mortars Hit Damascus Stadium, Kill Soccer Player
February 20, 2013
DAMASCUS, Syria (AP) — Two mortars exploded next to a soccer stadium in central Damascus Wednesday, killing one player and injuring several, Syria's state-run news agency said.
The mortar attack was the second in as many days in the capital. On Tuesday, two mortars exploded near one of President Bashar Assad's palaces, causing material damage only.
But it was the first confirmed strike close to a presidential palace and another sign that the civil war is moving closer to the heart of Assad's seat of power and into areas of the capital once considered safe.
Full report at:
http://www.nytimes.com/aponline/2013/02/20/world/middleeast/ap-ml-syria
----------------
Umm Al-Qura to help with Haram crowd management
20 February 2013
The Presidency of the Two Holy Mosques Affairs yesterday signed an agreement with Umm Al-Qura University for conducting research on crowd management and translating the presidency's Arabic documents into other languages.
The signing ceremony took place at the university's headquarters in Abidiya. Sheikh Abdul Rahman Al-Sudais, head of the presidency, and Umm Al-Qura President Dr. Bakri Assas, signed the deal.
Full report at:
http://www.arabnews.com/umm-al-qura-help-haram-crowd-management
--------------
Mideast Asia
Israel's Prisoner X 'hanged self in shower'
February 19, 2013
An anonymous prisoner who died in an Israeli prison in 2010, identified by the press as Australian-Israeli Mossad agent Ben Zygier, hanged himself in the bathroom of his cell, court documents said Tuesday.
"The deceased was found hanging in the shower of his detention cell, with a
sheet around his neck tied to the window of the bathroom," read the protocol, issued after a hearing at Rishon LeTzion Magistrates Court near Tel Aviv.
Full report at:
http://www.hindustantimes.com/world-news/restofasia/Israel-s-Prisoner-X-hanged-self-in-shower/Article1-1013972.aspx
--------------
Russia, Turkey open Black Sea rail-ferry link
Feb 20, 2013
SAMSUN (Turkey): Russia and Turkey officially opened the first railroad ferry link across the Black Sea on Tuesday.
The ferry allows "delivery of cargo from Turkey to Russia and the countries of Central Asia and back in the shortest time possible and with the least cost," Russian Railways said in a statement.
Full report at:
http://timesofindia.indiatimes.com/world/europe/Russia-Turkey-open-Black-Sea-rail-ferry-link/articleshow/18587513.cms
--------------
Iran supreme court upholds 4 death sentences in $2.6 billion fraud case
Published February 18, 2013
Iran's state prosecutor says the country's Supreme Court has upheld death sentences against four people linked to a $2.6 billion bank fraud described as the biggest financial swindle in Iran's history.
Full report at:
http://www.foxnews.com/world/2013/02/18/iran-supreme-court-upholds-4-death-sentences-in-26-billion-fraud-case/#ixzz2LQwxZumc
-----------
Pressure mounts on Israel over hunger strike of prisoners
20 February 2013
RAMALLAH: Hundreds of Palestinian prisoners in Israeli jails declared a one-day fast yesterday in solidarity with four inmates whose hunger strike has fueled anti-Israel protests in the occupied West Bank.
Samer Al-Issawi, one of the four Palestinians who have been on hunger strike, has been refusing food, intermittently, for more than 200 days. His family says his health has deteriorated sharply.
Full report at:
http://www.arabnews.com/pressure-mounts-israel-over-hunger-strike-prisoners
--------------
North America
CAIR Deplores Violent Depiction of Jesus in NBC "Saturday Night Live" (SNL) skit
2/19/13
(WASHINGTON, D.C., 2/19/13) – The Council on American-Islamic Relations (CAIR), the nation's largest Muslim civil liberties and advocacy organization, today deplored the violent depiction of Jesus in a recent NBC "Saturday Night Live" (SNL) skit.
According to NBC's description of the skit: "In Quentin Tarantino's new historical revenge thriller, 'DJesus Uncrossed,' Jesus emerges from his tomb and has the Romans on his radar."
In a statement, CAIR National Executive Director Nihad Awad said:
"Such misrepresentation of what Jesus, peace be upon him, stands for is extremely offensive to Muslims and to all those who believe in his message. While we understand the use of shocking imagery and bizarre juxtapositions to provoke a humorous response, we believe such a distasteful portrayal of a religious figure revered by billions of Muslims and Christians worldwide crosses the comedic line.
"We strongly support free speech rights for all, but one would hope that common decency and respect for the beliefs of others would help avoid such unfortunate depictions."
Awad noted that many people are unaware that Muslims revere and love Jesus as one of God's greatest messengers. Every time Muslims mention Jesus' name, they add "peace be upon him."
The Quran, Islam's revealed text, states: "Behold! The angels said: 'O Mary! God gives thee glad tidings of a Word from Him. His name will be Jesus Christ, the son of Mary, held in honor in this world and the Hereafter and in (the company of) those nearest to God.'" (3:45)
The Quran depicts Jesus speaking from the cradle and, with God's permission, curing lepers and the blind. (5:110) God also states in the Quran: "We gave (Jesus) the Gospel and put compassion and mercy into the hearts of his followers." (57:27)
Islam's Prophet Muhammad called Jesus God's "spirit and word" and once said: "Both in this world and in the Hereafter, I am the nearest of all people to Jesus, the son of Mary. The prophets are paternal brothers; their mothers are different, but their religion is one." (Sahih Al-Bukhari)
CAIR is America's largest Muslim civil liberties and advocacy organization. Its mission is to enhance the understanding of Islam, encourage dialogue, protect civil liberties, empower American Muslims, and build coalitions that promote justice and mutual understanding.
--------------
Miami Imam Accused of aiding Taliban declares innocence at federal trial
BY JAY WEAVER
Associated Press
February 20, 2013
An elderly Miami imam accused of contributing money to the Pakistani Taliban declared his innocence from the witness stand in federal court Tuesday, saying he despises the U.S.-designated terrorist organization.
Hafiz Khan, testifying during his trial in his native Pashto language through an interpreter, said the money he sent from Miami to Pakistan was meant for his family and a religious school known as a madrasa that he founded in the Swat Valley region decades ago.
Full report at:
http://www.miamiherald.com/2013/02/19/3242836/miami-imam-accused-of-aiding-taliban.html
--------------
The shooter, 20-year-old Ali Syed goes on shooting rampage in California, three killed
February 20, 2013
TUSTIN, California — The early morning commute was just getting under way on suburban Orange County's network of freeways when Melvin Lee Edwards pulled up to a stop sign near a busy off-ramp.
It was just after 5 a.m. and Edwards, 69, was on his way to work when, police say, a fleeing murder suspect forced him out of his BMW at gunpoint, marched him across the street and shot him three times from behind as horrified commuters watched.
Full report at:
http://www.saudigazette.com.sa/index.cfm?method=home.regcon&contentid=20130220153967
------------
US Still Acquiescing In Bahraini Crackdown
By Amitabh Pal
17 February, 2013
Two years ago this week, the Bahraini monarchy started cracking down on its people. It's still at it, with the complicity of the Obama Administration.
On February 14, 2011, Bahrainis embarked on their version of the Arab Spring, running up against official repression immediately. The protests so unnerved the regime that it called upon the Saudis to invade the country. The Saudis did so a month later with the acquiescence, at least, of the Obama Administration, and a long night descended upon the island nation.
Full report at:
http://www.countercurrents.org/pal170213.htm
--------------
Nutty professor: Columbia lecture includes stripping, 9/11 scenes and ninjas
By Joshua Rhett Miller
February 19, 2013
A Columbia physics professor shockingly stripped down to his underwear before a bizarre performance featuring footage from Sept. 11, Usama bin Laden and a mutilated stuffed animal.
Professor Emlyn Hughes skipped his regularly scheduled lecture on quantum physics on Monday and instead greeted students to the tune of Lil Wayne's "Drop It Like It's Hot" as he removed his clothes before changing into a black T-shirt and pants, the Columbia Spectator reports.
Full report at:
http://www.foxnews.com/us/2013/02/19/columbia-professor-reportedly-strips-plays-11-bin-laden-footage-in-bizarre/?test=latestnews#ixzz2LQvsYIK3
--------------
US supports India's constructive role in Afghanistan
Feb 20 2013
Washington : Asserting that the United States and India share a vision of a secure, peaceful, democratic and prosperous Afghanistan, the Obama Administration has said it strongly supports the constructive role being played by New Delhi in the war-torn country's ongoing development.
During the just concluded tri-lateral dialogue involving India and Afghanistan in New Delhi yesterday, the US expressed particular appreciation for the former's leading role in developing regional trade and investment.
Full report at:
http://www.indianexpress.com/news/us-supports-indias-constructive-role-in-afghanistan/1076909/
-----------
Europe
France blames Islamists as family kidnapped in Cameroon
19 February 2013
The French government has blamed Islamist militants from neighbouring Nigeria for the kidnapping of a family of seven French tourists, including four children, in Cameroon on Tuesday.
The family, who lived in Yaoundé, were captured at about 7am in a village six miles (10km) from the Nigerian border, near the Waza national park and Lake Chad, which are popular holiday destinations for westerners. They were believed to have been taken by gunmen on motorbikes as they travelled to the park.
Full report at:
http://www.guardian.co.uk/world/2013/feb/19/france-blames-islamists-cameroon-kidnapping
--------------
Russia warns Syria rivals risk 'mutual destruction'
Feb 20, 2013
MOSCOW: Russia on Wednesday urged the warring sides in Syria to halt their almost two-year conflict and start talks, warning that seeking a military settlement risked mutual destruction.
"It's time to end this two-year conflict," foreign minister Sergei Lavrov said after a meeting with Arab League chief Nabil al-Arabi and other top Arab diplomats.
"Neither side can allow itself to bet on a military settlement as this is a path to nowhere, a path to mutual destruction," he said.
Full report at:
http://timesofindia.indiatimes.com/world/europe/Russia-warns-Syria-rivals-risk-mutual-destruction/articleshow/18591348.cms
--------------
Lanza inspired by Norway mass killer
February 20, 2013
Newtown killer Adam Lanza was obsessed with mass murderers and may have wanted to emulate them, investigators have said, according to US media. Investigators found evidence suggesting Lanza may have wanted to emulate and outdo Anders Behring Breivik who killed 77 people in Norway in one day in 2011.
Full report at:
http://www.hindustantimes.com/world-news/americas/Lanza-inspired-by-Norway-mass-killer/Article1-1014086.aspx
----------
Africa
Sudanese army says clashes near southern border have killed at least 60 rebels
Published February 19, 2013
Associated Press
KHARTOUM, Sudan – The Sudanese army says clashes in the country's south near the border with South Sudan have killed at least 60 rebels.
The army's spokesman, Col. Sawarme Khalid, says Sudanese troops took control of the strategic Mafo area in the Blue Nile state and were now conducting mop-up operations.
Full report at:
http://www.foxnews.com/world/2013/02/19/sudanese-army-says-clashes-near-southern-border-have-killed-at-least-60-rebels/#ixzz2LQxoMpJ0
--------------
French soldier killed in Mali clash with militants
February 20 2013
PARIS: A French soldier was killed on Tuesday in a clash with militants in northern Mali where the French are in the midst of a critical operation, President Francois Hollande announced.
A Defense Ministry statement said that nearly 20 extremists have been killed in the ongoing fighting.
The death of the French Foreign Legionnaire brings to two the number of French killed since France, Mali's one-time colonial ruler, launched a military intervention on Jan. 11 to push out militants who had taken over the African country's vast north.
Full report at:
http://dawn.com/2013/02/19/french-soldier-killed-in-mali-clash-with-militants/
--------------
Tunisian PM Hamadi Jebali quits after failing to form new cabinet
Feb 20, 2013
TUNIS: Tunisian Prime Minister Hamadi Jebali resigned on Tuesday after his attempt to end a political stand-off by forming a government of technocrats failed.
"I vowed that if my initiative did not succeed, I would resign and ... I have already done so," Jebali told a news conference after meeting with President Moncef Marzouki.
Jebali had proposed the cabinet of apolitical technocrats to quell turmoil caused by the assassination of secular opposition politician Chokri Belaid on February 6.
Full report at:
http://timesofindia.indiatimes.com/world/middle-east/Tunisian-PM-Hamadi-Jebali-quits-after-failing-to-form-new-cabinet/articleshow/18582717.cms
------------
Nigerian Pirates Demand $1.3 Million for Kidnapped Sailors
February 20, 2013
YENAGOA, Nigeria (Reuters) - Pirates who kidnapped six foreign sailors from an oil servicing vessel off the Nigerian coast on Sunday are demanding 200 million naira (850.1 thousand pounds) for their release, police said on Tuesday.
One Russian, three Ukrainian and two Indian sailors were taken when gunmen stormed the Armada Tuah 40 miles (65 km) off the coast of oil-producing Bayelsa state.
Full report at:
http://www.nytimes.com/reuters/2013/02/20/world/europe/20reuters-nigeria-piracy.html?ref=world
-------------
URL: https://newageislam.com/islamic-world-news/pakistani-mullahs-behind-lucknow-firing/d/10498