New Age Islam News Bureau
05 November 2020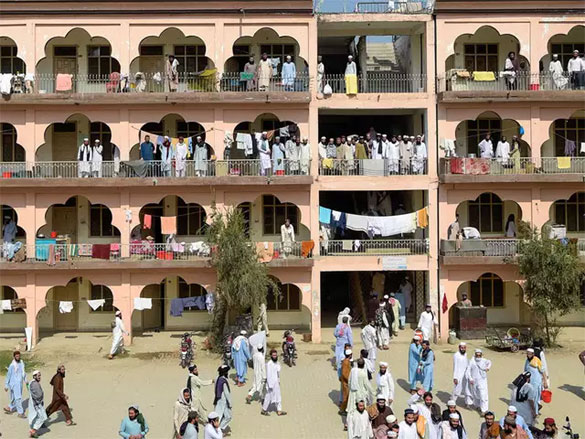 Bank Guard, Ahmad Nawaz
------
• France Is Not Fostering Racism Against Muslims, It Is Fighting Islamist Extremism, Not Islam, Says Macron
• Record Muslim Vote In US Election: About 69% American-Muslims Vote For Biden, Exit Poll Shows
• Ulema Indonesians Back The Boycott Of French Products
• No Power Can Oust Muslims From The Country: Bihar CM
• Hifazat's Protests Against France Over The Prophet Muhammad's Caricatures Won't Strain Bangladesh-EU Ties: FM
• Saudi Cabinet Denounces Terror Attacks In Afghanistan, France And Austria
• Presidents Of Cyprus, Turkey-Backed De Facto North Cyprus To Resolve Decades-Old Rift
Pakistan
• Islamists Hugged the Bank Guard, Ahmad Nawaz who Kills Manager In Pakistan Over Insulting Prophet Mohammed
• Pakistan, Bosnia Seek Interfaith Dialogue to Stem Islamophobia in West
• Govt may go for cancellation of Maryam's bail: Firdous
• SHC irked by 'continuous' detention of four men freed in Pearl murder case
--------
Europe
• France Is Not Fostering Racism Against Muslims, It Is Fighting Islamist Extremism, Not Islam, Says Macron
• French Politician ,'Infamous' For Her Anti-Immigration Stance Calls For Ban On Immigrants From Bangladesh and Pakistan
• Pope: Terrorists aim to undermine interfaith dialogue
• France's police detain 17-year-old for being in contact with Nice church attacker
• Austria authorities: Mistakes were made in dealing with Vienna attacker
• Muslim countries, organizations condemn Vienna attack
• Italian minister urges tough EU action to tackle illegal immigration, fight terrorism
--------
North America
• Record Muslim Vote In US Election: About 69% American-Muslims Vote For Biden, Exit Poll Shows
• US Election: Trump fans chant 'Stop the count!' at vote centres in Michigan, Arizona
• Three Muslim Americans explain why they're voting for Donald Trump
--------
Southeast Asia
• Ulema Indonesians Back The Boycott Of French Products
• Muslim lawyers group wants a say in suit over King's refusal to declare emergency
--------
India
• No Power Can Oust Muslims From The Country: Bihar CM
• We're Studying Steps Against Love Jihad: Karnataka Home Minister
• BSF unearths tunnel along India-Pakistan border in Jammu
--------
South Asia
• Hifazat's Protests Against France Over The Prophet Muhammad's Caricatures Won't Strain Bangladesh-EU Ties: FM
• Bangladesh and Israel should no more remain strangers
• Bangladesh Islamist group demands country cuts ties with France
• Saleh Orders Release of 13 Policemen with 'Dignity'
--------
Arab world
• Saudi Cabinet Denounces Terror Attacks In Afghanistan, France And Austria
• Seven civilians killed in Syria's northwest, says a war monitor
• Oil-dependent Iraq must 'diversify rapidly' as challenges stifle young population
• Billions locked in troubled Lebanese banks behind economic crisis: Syria's Assad
--------
Mideast
• Presidents Of Cyprus, Turkey-Backed De Facto North Cyprus To Resolve Decades-Old Rift
• Leaders of settlers in Israel pray for a Trump victory in the US Election
• Turkey vows 'firm' response to France ban on 'Grey Wolves'
• Israeli forces kill Palestinian over alleged shooting attack in West Bank
--------
Africa
• Sudan Says Latest Controversial Nile Dam Talks Failed
• In just one week, nearly 600 migrants intercepted off Libya: UN
• Minibus attacked in Mali, 8 killed, 3 kids wounded
• Ethiopia deploys military to volatile northern region, declares emergency
Compiled by New Age Islam News Bureau
URL: https://www.newageislam.com/islamic-world-news/pakistani-islamists-hugged-bank-guard/d/123381
--------
Pakistani Islamists Hugged the Bank Guard, Ahmad Nawaz, who Killed Manager Over Insulting Prophet Mohammed
05 November 2020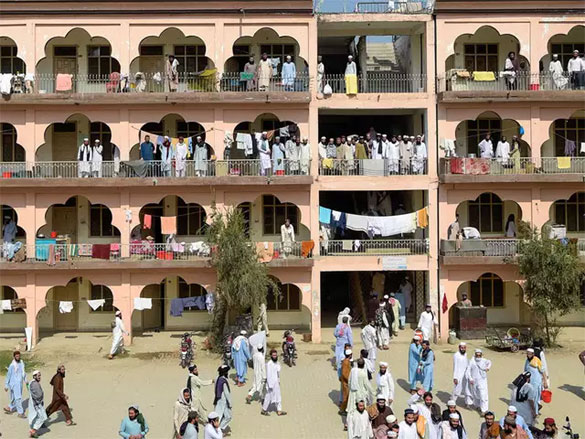 Bank Guard, Ahmad Nawaz
------
A Pakistani guard shot and killed the manager of a local bank in eastern Punjab province on Wednesday after accusing him of insulting Islam's Prophet Mohammad, police said.
As the guard, Ahmad Nawaz, was being arrested, he started chanting slogans of love for the prophet. It drew the attention of local "Islamists" who rushed to the scene and started hugging the guard in support.
For all the latest headlines follow our Google News channel online or via the app.
Later, "Islamists" surrounded the police station where Nawaz was being held in the town of Khusab, to express their support for the guard.
The family of the slain bank manager Imran Hanif denied he had committed blasphemy, insisting he loved the prophet.
Blasphemy is a controversial issue in Pakistan, where people convicted of the crime can be sentenced to life in prison or the death penalty. Crowds and individuals often take the law into their own hands to target those they perceive as perpetrators of the offense.
A Punjab governor was killed by his own guard in 2011 after he defended a Christian woman, Asia Bibi, who was accused of blasphemy. She was acquitted after spending eight years on death row in a case that drew international attention. Faced with threats from extremists, she later flew to Canada to join her daughters.
https://english.alarabiya.net/en/News/world/2020/11/05/Bank-guard-kills-manager-in-Pakistan-over-insulting-Prophet-Mohammed
--------
France Is Not Fostering Racism Against Muslims, It Is Fighting Islamist Extremism, Not Islam, Says Macron
November 5, 2020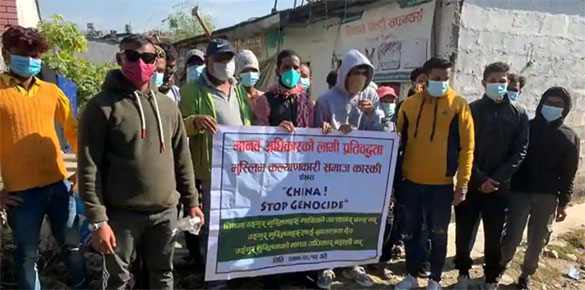 Clarifying his position: French President Emmanuel Macron. Photo by Ludovic Marin, Pool via AP
-----
PARIS: French President Emmanuel Macron has said his country is fighting "Islamist separatism, never Islam", responding to a Financial Times article that he claimed misquoted him and has since been removed from the newspaper's website.
In a letter to the editor published Wednesday, Macron said the British paper had accused him of "stigmatising French Muslims for electoral purposes and of fostering a climate of fear and suspicion towards them".
"I will not allow anybody to claim that France, or its government, is fostering racism against Muslims," he said.
An opinion article written by a Financial Times correspondent published Tuesday alleged that Macron's condemnation of "Islamic separatism" risked fostering a "hostile environment" for French Muslims.
The article was later removed from the paper's website, replaced with a notice saying it had "contained factual errors".
The French president sparked protests across the Muslim world after last month's murder of teacher Samuel Paty — who had shown his class a cartoon of the Prophet Muhammad — by saying France would never renounce its laws permitting blasphemous caricatures.
Islam forbids depictions of Muhammad.
Following the protests and boycotts of French goods across the world, Macron told the Al Jazeera network over the weekend that he understood the caricatures could be shocking for some.
But recounting a wave of Islamist attacks in France since 2015, Macron warned in his letter this week that there were still "breeding grounds" for extremism in France.
"In certain districts and on the internet, groups linked to radical Islam are teaching hatred of the republic to our children, calling on them to disregard its laws," he wrote.
"This is what France is fighting against… hatred and death that threaten its children — never against Islam. We oppose deception, fanaticism, violent extremism. Not a religion."
https://www.freemalaysiatoday.com/category/world/2020/11/05/france-is-fighting-islamist-extremism-not-islam-says-macron/
--------
Record Muslim Vote In US Election: About 69% American-Muslims Vote For Biden, Exit Poll Shows
November 04, 2020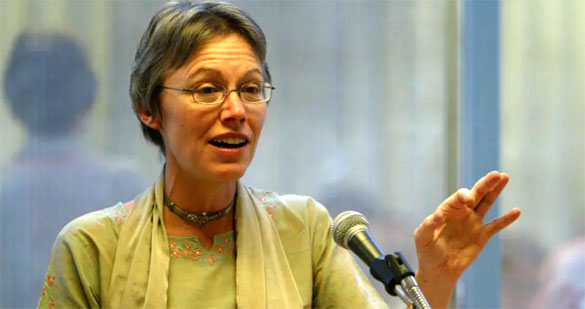 Democratic presidential candidate and former Vice President Joe Biden speaks to supporters
-----
LONDON: More than one million American Muslims participated in the 2020 US election, with nearly 70 percent voting for Democratic presidential candidate Joe Biden, an exit poll has showed.
The poll by the Council on American-Islamic Relations (CAIR) said US Muslim voters turned out in "record-breaking numbers" in Tuesday's election.
It said of 844 registered Muslim voter households, 84 percent reported that they voted in the election. "CAIR would like to thank the more than one million American Muslim voters who turned out in record-breaking numbers this election cycle," said CAIR National Executive Director Nihad Awad.
The poll said 69 percent of their registered Muslim voters voted for Biden and 17 percent for President Donald Trump.
It noted that Trump received 4 percent more support of the Muslim vote, compared to the 2016 election, in which then he received a 13 percent.
CAIR said the poll was conducted using an independent automated call survey provider and asked two questions to the registered voters: Did you vote in the Presidential election? and Which presidential candidate did you vote for?
Muslim voters were expected to play an important role in the election, particularly with the large Arab Muslim population in Michigan, a key battleground state.
Arab News reported this week this week how Arab Americans in particular have consistently had some of the highest turnouts at polls among ethnic communities.
An Arab American Institute (AAI) survey before the election revealed that 59 percent of Arab Americans supported Biden while 35 percent backed Trump.
Arab Americans and Muslims have previously supported both parties, Republicans because of their support of family values and religious freedom, and the Democrats because of more liberal policies towards immigration.
Trump has been accused of holding a hostile approach towards Muslims. He initially banned people from six Muslim-majority countries from entering the US.
https://www.arabnews.com/node/1758536/world
--------
Ulema Indonesians back the boycott of French products
by Mathias Hariyadi
11/04/2020
Jakarta (AsiaNews) – Radical groups in Indonesia have expressed support for an international campaign in some parts of the Islamic world to boycott products and imported goods from France.
The initiative reflects tensions between France and Turkey in a politically exploited clash between "champions" of freedom of thought and satire against the "defenders" of the Muslim faith.
In Indonesia, the Council of Indonesian ulema (MUI) is leading the anti-French boycott. In the past, the organisation was involved in controversial initiatives such as the attack on Catholic schools or the street-side sale of food and drink during Ramadan.
"We must send a strong message to arrogant President Macron, the French leader," said a MUI leader.
For Islamic leaders, to stop their initiative, French president must apologise and end the publication of the Mohammed cartoons.
On 2 November, a thousand Islamic extremists demonstrated, albeit peacefully, in front of the French embassy in Jakarta.
Other street protests against Paris took place in Yogyakarta where people shouted slogans and called for a boycott.
In reality, the campaign against French products vigorously re-booted by some radical Muslim groups in the world's most populous Muslim nation does not seem destined to have a great impact.
In fact, French-Indonesian trade is far lower than that of other Western nations, like Germany, the United States, or Italy.
In total, Indonesia imports 25 French goods and products, ranging from some luxury goods and electrical appliances to cosmetics, and spare parts for cars and airplanes. However, these are largely expensive and luxury items, which do not interest mass distribution.
A recent CNBC report suggests the total trade between the two countries was US$ 1.68 billion in 2018 and US$ 1.8 billion in 2019. This is far lower than Germany or Italy, which are important trading partners for Indonesia.
The main French import is spare parts for Indonesian airliners that operate French-made Airbuses, accounting for 45 per cent of total French exports to Indonesia.
Indeed, retailers – especially small local merchants – are the most exposed to an initiative that is wrong in both means and character.
This explains why more moderate Muslim groups are not focusing on a boycott campaign whose effect remains very limited, but prefer instead to boost the image of Indonesia as a "tolerant and hospitable" nation focusing on the principles that underpin Islam.
Yahya Cholil Staquf, a leader of Nahdlatul Ulama, the country's largest moderate Muslim movement, wants to see new vigour put into dialogue and exchange against the extremes, namely religious fundamentalism and relativism.
http://www.asianews.it/news-en/Ulema-Indonesians-back-the-boycott-of-French-products-51493.html
--------
No Power Can Oust Muslims From The Country: Bihar CM
05th November 2020
By Rajesh Kumar Thakur
PATNA: Bihar Chief Minister Nitish Kumar reached out to voters in Muslim dominated Kishanganj district on Wednesday, assuring them that there was no need to fear about deportation in the event of implementation of the new citizenship laws.
"No power can oust or shift the people of minority from the country. There is no strength in us to take our people out of the country," he said at an election rally in Kochadhaman Assembly constituency while seeking votes for JDU's sitting MLA Mujahid Alam. Muslims comprise 68% of the total population of 16,96,400 in Kishanganj which goes to voting in the third phase of election on November 7.
Without naming All India Majlis-e-Ittehadul Muslimeen (AIMIM) leader Asaduddin Owaisi on the issue of the Citizenship Amendment Act and the National Register of Citizens, Nitish accused vested interests of misleading the people of minority. "Some people are making such false statement that people will be shifted out of the country. There is no power in anyone to get our people (Muslim) out of the country."
In February, Nitish had got the Bihar assembly to unanimously pass a resolution rejecting the NRC and contentious questions introduced by the Centre in the NRC update. Bihar was the first NDA-ruled state to unanimously pass a resolution against the NRC.
With the latest assertion, Nitish made another round of assurance to the Muslims who are being wooed by Owaisi. The AIMIM leader is raising the issue of CAA-NRC loudly in elections in Kishanganj. What remains to be seen is the BJP's reaction as well given that the ruling ally in Bihar has been banking heavily on nationalism and allied issues. In Bihar, Nitish had completely kept the BJP in dark when he got the Assembly to unanimously pass the resolution rejecting the NRC and the CAA. The BJP had no option then but to grudgingly accept the resolution passed by the Assembly.
'Cong questions our jawans'
Calling upon the people of Bihar's Seemanchal region in Purnia to vote for NDA, Defence Minister Rajnath Singh on Wednesday accused the Congress party of questioning the bravery of soldiers. "The Congress leaders did not show even a bit of reluctance in question the valour of our army. ... At a time when the country and all political parties should get united and support the army on the issue of Pakistan and China, the Congress questions our soldiers and their military might for their political benefits," Singh claimed. He urged the people to "chase" away those people who doubt the soldiers.
Only NDA CAN GIVE JOBS: MODI
Prime Minister Narendra Modi tweeted that it was only the NDA can provide security, employment and new opportunities of self-employment to the youth of Bihar. "In self-reliant Bihar, our goal is to maintain the rule of law. Our aim is welfare of the poor. Our mission is opportunities to youths and protection to women. Our mantra is Sabka Saath, Sabka Vikas, Sabka Vishwas. Jai Bihar, Jai Bharat." The PM asserted that he was touched by the love he received in his rallies. "From political consciousness to social brainstorming, from festivals to food, Bihar is amazing," Modi said.
https://www.newindianexpress.com/nation/2020/nov/05/no-muslim-will-be-deported-nitish-2219605.html
--------
Hifazat's Protests Against France Over The Prophet Muhammad's Caricatures Won't Strain Bangladesh-EU Ties: FM
05 Nov 2020
The Hifazat-e Islam's march towards the French embassy in Dhaka over the Prophet Muhammad's caricatures will not sour Bangladesh's ties with the European Union, AK Abdul Momen says.
The foreign minister also says Hifazat has the right to express its opinion peacefully and that France should have acted with restraint.
"Of course they will express their opinion. We have given this freedom to the entire nation. We just want that no one resorts to violence during demonstrations," he told reporters on Wednesday.
"People must have the right to freedom of expression, but they should do it without hurting anyone else," he said.
French President Emanuel Macron's comments about the killings in terrorist attacks over the prophet's caricatures have triggered protests in scores of Muslim-majority countries.
In Bangladesh, Muslims have called for boycott of French products. Some organisations have also demanded that the government cut diplomatic ties with France.
On Monday, the police stopped the Islamists' march to lay a siege to the French embassy in Dhaka.
The protests in Dhaka made international headlines. French politicians have also reacted to the protests.
"What's the problem if Europe watches these (protests)? People have the right to express their sentiments," said Momen.
"The government is not provoking anyone. What the government want is no death.
"And we've also said that we should act with restraint over sensitive matters," he added.
Momen also said he has recently sent these messages and condolences over the killings in a letter to his French counterpart Jean-Yves Le Drian.
https://bdnews24.com/bangladesh/2020/11/05/hifazats-protests-against-france-wont-strain-bangladesh-eu-ties-momen
--------
Saudi Cabinet denounces terror attacks in Afghanistan, France and Austria
November 05, 2020
Saudi Arabia's Cabinet reiterated on Tuesday the Kingdom's strong denunciation of terrorist attacks that took place at the University of Kabul in Afghanistan, in the French city of Nice, and in the Austrian capital of Vienna.
The Cabinet expressed Saudi Arabia's strong rejection of such acts, targeting the lives of innocents and destabilizing security as they contravene all faith, beliefs, and common sense. It underlined the importance of rejecting practices that create hatred, violence, and extremism in all forms.
In a virtual session chaired by King Salman, the Cabinet once again condemned and denounced the Houthi militias in Yemen, and its backers, for their continued missile and drone attacks targeting Saudi Arabia, reaffirming that such terrorist attempts violate international humanitarian law.
At the outset of the session, King Salman briefed the Cabinet on the message he received from Kuwait's Emir Sheikh Nawaf Al-Ahmad Al-Jaber Al-Sabah.
The Cabinet praised the king's speech at the Think 20 (T20) Engagement Group in which he stressed that saving lives and finding a vaccine for the coronavirus disease (COVID-19) are the most important priorities currently.
In his speech, King Salman said that he is looking forward to seeing the Riyadh G20 Summit contributing to reaching an agreement on solutions and initiatives that promote the G20 role in a unified international response to tackle the economic, social, and health impacts of COVID-19.
The Cabinet highlighted the Business 20 (B20) Summit's recommendations that dealt with ways to revive the global economy and lay the foundations for more robust economies in facing future challenges. The Cabinet also highlighted the summit's proposals for G20 leaders in the fields of trade, finance, digitization, labor, and climate change in order to develop an inclusive and sustainable agenda that represents a legacy for 2020 and beyond.
In a statement to the Saudi Press Agency (SPA), Acting Minister of Media Majid Al-Qasabi said that the Cabinet reviewed the efforts exerted by the authorities in preparing and implementing plans for the gradual resumption of Umrah in accordance with health procedures and protocols. The Cabinet also welcomed Umrah pilgrims coming from abroad, stressing the government's keenness to harness all its capabilities to enable them to perform their Umrah rituals in a spiritual atmosphere amid safety and security.
The Cabinet followed up on the latest developments of the COVID-19 pandemic at local and international levels and recognized the praise the Kingdom had earned from the World Health Organization and other relevant international bodies for effectively and efficiently dealing with the pandemic.
The Cabinet also underlined the importance of combating corruption in all its forms for the greater progress and development of the country.
https://www.arabnews.com/node/1758701/saudi-arabia
--------
Presidents of Cyprus, Turkey-backed de facto North Cyprus to resolve decades-old rift
04 November 2020
The leaders of Cyprus's estranged Greek and Turkish Cypriot communities on Tuesday agreed to support the possibility of a five-party meeting under the auspices of the United Nations to resolve the island's decades-old division.
Cypriot President Nicos Anastasiades, who is the Greek Cypriot leader, met with newly-elected Turkish Cypriot leader Ersin Tatar late Tuesday at a United Nations compound in the capital Nicosia.
For all the latest headlines, follow our Google News channel online or via the app.
Tatar, ex-prime minister of the breakaway state of North Cyprus, won a presidential election runoff on Sunday with almost 52% of votes. In his victory speech, Tatar thanked Turkish President Tayyip Erdogan, with whom he has strong relations. "They will never tear the ties between us and Turkey," he said. Ex-president Mustafa Akinci, 72, whose relations with Ankara had been strained, had been a supporter of reunification.
Speaking at a news conference with Turkish Cypriot leader Ersin Tatar in Ankara as part of his first visit since being elected on October 18, Turkish President Erdogan said peace efforts seeking a federal solution to divided Cyprus had been tried before and would be a "waste of time." It was their first encounter since Tatar was elected head of breakaway northern Cyprus in October.
Tatar and Anastasiades "expressed their determination to positively respond to the UN Secretary-General's commitment to explore the possibility to convene an informal five-plus-United Nations meeting, in a conducive climate, at an appropriate stage," a spokesperson of the United Nations mission on the island said in a statement.
A 'five-plus' format would include representatives of Cyprus's two communities, along with Greece, Turkey and Britain as the island's guarantor powers, and also the United Nations.
The United Nations has been grappling inconclusively for years to reunite Cyprus, split in a Turkish invasion in 1974 after a brief Greek-inspired coup. The last attempt collapsed in disarray after several days of negotiations attended by all parties in mid-2017.
Cyprus's division is a key source of friction between NATO allies Greece and Turkey, which are themselves now embroiled in a separate row over maritime rights in the eastern Mediterranean.
Cyprus was split after a Turkish invasion in 1974 triggered by a brief Greek-inspired coup. The European Union admitted the island into the bloc in 2004, represented by the internationally recognized Greek Cypriot government in the south.
Its north is a breakaway Turkish Cypriot state only recognized by Ankara.
Earlier this month, Northern Cyprus partially reopened the beach town of Varosha, a fenced-off resort area abandoned in no-man's land since 1974, a move criticised by the United States, Greece and Greek Cypriots.
Erdogan, who said he would visit Northern Cyprus on Nov. 15, said he wanted to have a picnic in Varosha.
https://english.alarabiya.net/en/News/middle-east/2020/11/04/Presidents-of-Cyprus-Turkey-backed-de-facto-North-Cyprus-to-resolve-decades-old-rift
--------
Pakistan
Pakistan, Bosnia Seek Interfaith Dialogue to Stem Islamophobia in West
By Ayaz Gul
November 04, 2020
ISLAMABAD - Pakistan Prime Minister Imran Khan urged Western nations Wednesday to desist from using freedom of speech as an "instrument" to hurt the feelings of Muslims, warning it will lead to more radicalization and violence.
Khan told a joint news conference with visiting Chairman of the Presidency of Bosnia and Herzegovina Sefik Dzaferovic the two leaders condemned recent terrorist acts by Muslims in France and Austria. The two sides, he said, also underline the importance of respect for every religion, specifically Muslims living in Europe.
Khan stressed that mocking of Prophet Muhammad and publication of blasphemous caricatures cause "the greatest pain" to the Muslim community.
"European powers, Western countries must understand that you cannot use freedom of speech as a weapon to cause Muslims pain by insulting our Prophet. Unless this is understood, the cycle of violence will keep happening," Khan cautioned.
Dzaferovic also denounced what he described as "the rampant Islamophobia," saying while human freedom is and should be "unlimited," it is unacceptable that religious feelings of Muslims are insulted.
"We need to build bridges, we need to meet, we need to build unity around diversity," Dzaferovic said.
Last month, a history teacher was decapitated outside a school near Paris after he had shown his students caricatures of the Prophet Muhammad when the class discussed free speech. While French authorities were investigating the slaying of Samuel Paty and cracking down on suspected Islamist militants, a Tunisian man fatally stabbed three people in a cathedral in Nice.
French President Emmanuel Macron has defended the right of publishers in his country to depict cartoons of the Prophet Muhammad, which Muslims deem as blasphemous. His comments have drawn condemnation and triggered anti-France street protests in Muslim countries.
Last week, Macron told al-Jazeera that he "understands the feelings of Muslims about the caricatures," but he insisted it was not his role as president to restrict freedom of expression for causing offense. The French leader asserted the "radical Islam" his government is combating threatens all, especially Muslims.
A shooting spree Monday in central Vienna, Austria, killed at least four people and wounded 14 others. Police fatally shot the gunman and later identified him as 20-year-old Kujtim Fejzulai. Islamic State claimed credit for being behind the deadly shooting.
https://www.voanews.com/south-central-asia/pakistan-bosnia-seek-interfaith-dialogue-stem-islamophobia-west
--------
Govt may go for cancellation of Maryam's bail: Firdous
05 Nov 2020
LAHORE: Special Assistant to Chief Minister on Information Dr Firdous Ashiq Awan in her maiden press conference on Wednesday lashed out at opposition leaders for becoming tools in the hands of 'foreign masters' and working to destabilise Pakistan and break its national security and defence lines.
"The government knows the facilitators of these 'tools' and investigating the level of `facilitation' and finances coming to them from India and use of those funds," Dr Awan asserted and added such elements would be dealt with an iron hand.
She said the opposition would be fully allowed to hold mass public meetings but any effort to destabilise the country and make state institutions controversial would be foiled.
Refuting the PTI government's upcoming public meetings aimed at countering the Pakistan Democratic Movement's (PDM) narrative, the CM's aide said the PTI's events would focus on the welfare of the public with the launch of projects in respective tehsils and districts.
CM special assistant in her maiden presser lashes out at opposition
Dr Awan began with a conciliatory tone stating that masses were now fed up with the ongoing war of words between the government and opposition and suggested that the opposition should begin working for 'real relief' for the masses. However, Dr Awan immediately changed her tone telling that the Jati Umra (home of PML-N leadership) narrative was weakening Pakistan.
She said Maryam Nawaz's 'restlessness' was understandable as she had enjoyed power. "Maryam Nawaz is dying for power like a fish without water," she said and added that the government was looking to proceed for the cancellation of her bail that was granted to her to look after her ailing father in a Lahore hospital.
Answering a question with regard to her comment that the civil officers were 'downplaying' the government's performance, Dr Awan said the "nurseries of bureaucrats" planted by the PML-N have now become big trees. "We are here to look at which tree is offering fruit and which became a source of mistreatment. The fruit trees in bureaucracy will be watered and others would be chopped off."
To a question about corruption charges against her, Dr Awan said her re-appointment by the PTI government speaks volumes about the veracity of the allegations.
About the contempt notice issued to her, Dr Awan said she did not receive any notice and her review petition was admitted for hearing.
She said the PTI government would strengthen its ties with media organisations. "The Punjab government will soon announce its new advertisement policy," she said.
Dr Awan said the Punjab government had strong empathy for the jobless media workers and would work to give them some relief.
Meanwhile, PML-N Punjab spokesperson Azma Bokhari bounced back saying that Dr Awan had been able to get a new job after a lot of effort and hoped that she would not go for taking commissions in media advertisements.
https://www.dawn.com/news/1588721/govt-may-go-for-cancellation-of-maryams-bail-firdous
--------
SHC irked by 'continuous' detention of four men freed in Pearl murder case
Ishaq Tanoli
05 Nov 2020
KARACHI: The Sindh High Court on Wednesday expressed serious resentment over the provincial authorities for the continuous detention of four men set free around seven months back by the order of the SHC in the abduction and murder case of US journalist Daniel Pearl.
A two-judge bench headed by Justice K.K. Agha directed the home department and police to file a comprehensive report by Nov 26 regarding allegations and detention of Ahmed Omar Saeed Sheikh, commonly known as Shaikh Omar, Fahad Naseem, Salman Saqib and Sheikh Adil.
The petitioners had moved the SHC through their counsel against their detention.
The lawyer for petitioners submitted that initially, they had been placed under 90-day detention by the provincial authorities under the Maintenance of Public Order (MPO) Ordinance shortly after their release orders on April 2. On July 1, a fresh notification under the Anti-Terrorism Act, 1997 was issued for their further detention of three months and later their confinement was extended for yet another 90 days.
Home dept told to file report by Nov 26 regarding allegations against Shaikh Omar and three others
At the outset of the hearing, the bench came down hard on the provincial home department and police for continuously keeping the petitioners under detention without providing any cogent reason and issued directions for the home secretary, inspector general of police and others to immediately appear before it for explanation.
Later in the day, the home secretary along with Sindh advocate general and a deputy inspector general appeared in court and submitted that the petitioners were affiliated with terrorist outfits in the past and also involved in terrorism.
Justice Agha remarked that the bench was talking about the present and if there was any evidence against the petitioners the same should be brought before the court.
The home secretary submitted that the provincial authorities had powers to issue detention orders under the relevant laws and the Supreme Court had also issued a ruling in this case.
Justice Agha asked the secretary to produce the copy of the apex court's order if any and also expressed displeasure over the advocate general for seeking more time.
The bench also took exception to the absence of the prosecutor general and remarked that they were being told that prosecutor general was on one-month leave while he was appearing in courts in other cases.
The bench directed the lawyer for the petitioners to file an amended application in the light of the latest detention order before the next hearing.
On April 2, a two-judge bench of the SHC acquitted all the appellants from the charges of murder and kidnapping for ransom and only found main accused Ahmed Omar Sheikh guilty of abducting the slain journalist and sentenced him to seven-year imprisonment. However, the sentence had been completed since the convict had already spent around 18 years in detention.
The provincial government and the parents of the slain journalist had challenged the SHC's order before the Supreme Court.
An antiterrorism court in Hyderabad had sentenced Sheikh to death in 2002 for murder and kidnapping of the 38-year-old South Asia bureau chief of The Wall Street Journal and co-accused were awarded life term for helping the main convict.
Biometric system at prisons
Another division bench of the SHC has directed the home secretary and IG Prisons to appear before it on Nov 26 in connection with the installation of a biometric system in all the detention facilities in the province.
The bench headed by Justice Mohammad Ali Mazhar observed that the provincial authorities in a progress report said some efforts had been made to improvise the verification of prisoners.
The bench asked the home secretary and IG Prisons to turn up on the next hearing so that the matter may be finalised in their presence to keep vigilance and follow up in future.
The bench was hearing a 2013 petition in which it was said that certain convicted prisoners in connivance with jail authorities had replaced themselves with their namesakes in prisons by paying them hefty amounts of cash.
At the outset of the hearing, an assistant advocate general submitted a progress report in which it was submitted that the process had been started for upgrading the software regarding establishment of the biometric system in all jails in Sindh.
The report further said that the software regarding establishment of biometric facilities through a NADRA link had been upgraded in the Karachi central prison, Malir jail, women prison Karachi, youthful offender industrial school (juvenile prison) Karachi, central prison and juvenile and women prisons in Sukkur and central prison Khairpur.
The report said that the cells of the criminal record office had been reportedly ready at different detention facilities for men, women and juveniles in Hyderabad and district prison Naushahro Feroze, but not yet functional since SSP concerned had not provided computers as well as other relevant devices to the IT director of the Central Police Office.
It said the upgrade of software at 10 other prisons of the province was under process and would be completed soon.
The authorities gave assurance in the progress report that different types of equipment would be made available within short time.
It may be recalled that the SHC had ordered the jail authorities in 2015 to put the biometric system in place for the verification of prisoners.
https://www.dawn.com/news/1588633/shc-irked-by-continuous-detention-of-four-men-freed-in-pearl-murder-case
--------
Europe
French Politician ,'Infamous' For Her Anti-Immigration Stance Calls For Ban On Immigrants From Bangladesh and Pakistan
Md. Kamruzzaman
04.11.2020
DHAKA, Bangladesh
A French politician, widely "infamous" for her anti-immigration stance, in a tweet called for imposing a ban on immigrants from Bangladesh and Pakistan, creating discontent among Bangladeshi authorities which have slammed the politician.
Marine Le Pen's comments came on Saturday in the wake of massive protests across the world, particularly in the Muslim countries, including Bangladesh and Pakistan, following French President Emmanuel Macron's comments supporting the republication of blasphemous caricatures of Prophet Muhammad.
Le Pen, the chair of the National Rally political party, on Twitter called for an immediate suspension on immigration from Bangladesh and Pakistan "for the sake of [French] national security" and "in view of the new ultra-violent demonstrations" in these countries.
On Oct. 28, Macron vowed that he would not prevent the publishing of the cartoons of Prophet Muhammad under the pretext of freedom of speech, sparking outrage among the Muslim world.
A French teacher, Samuel Paty, who displayed the cartoons in his class on free speech, was killed on Oct. 22 by a Chechen-origin teenager.
French Muslims have accused Macron of trying to repress their religion and legitimizing Islamophobia.
Several Arab countries as well as Turkey and Pakistan have also condemned Macron's attitude toward Muslims and Islam, with Turkish President Recep Tayyip Erdogan saying the French leader needs a "mental health check."
Meanwhile, for the last couple of days, tens of thousands of Muslims in Bangladesh have been demonstrating in the capital Dhaka as well as other megacities protesting Macron's comments and calling for boycotting French products.
Last Monday, tens of thousands of people under the banner of Hifazat-e-Islam, one of the largest Islamic non-political groups in Bangladesh, gathered outside the country's national mosque in Dhaka to protest against anti-Islamic acts in France, including the display of blasphemous caricatures of Prophet Muhammad.
Marched on the city streets and headed towards the French Embassy in Dhaka, the protest rally, however, was barred by law enforcers at the city's Mohakhali area.
The country's biggest Islamic political party Bangladesh Jamaat-e Islami and some other organizations also held demonstrations and human chains in a previous couple of days and urged all to boycott French products.
Earlier on Oct. 2, Macron argued that "Islamic separatism" was problematic, and added: "The problem is an ideology which claims its own laws should be superior to those of the republic."
- Hate and intolerance
Meanwhile, a Bangladeshi migrant in the French capital Paris, Md. Wahiduzzaman, told Anadolu Agency that Le Pen's comment is full of "hate speech" and "intolerance".
Like her father Jean-Marie Le Pen, she is mainly known here for her rigid stance in favor of Islamophobia and against immigration, he added.
"We, more than 50,000 Bangladeshi people, mostly Muslims, have been living in France with peace for decades," Wahiduzzaman said.
Referring to Macron's recent comments, he added that "it is merely political".
"With a view to regaining the downfallen popularity, Macron is desperately trying to use the cheap nationalism to gain in the upcoming election.
"Political environment in France sometimes turns hot rounding the upcoming 2022 presidential election," he also said.
- Unjust and inhuman
Speaking to Anadolu Agency, Monnujan Sufian, Bangladesh's state minister for labor and employment, however, termed Pen's call for a ban on Bangladeshi immigrants as very "unjust" and "inhuman".
"They have ridiculed our prophet and it has shocked the Muslim community worldwide. Bangladeshi mass people are also protesting against France's stance and it's very normal," Sufian said.
Marking the call of the ban as Pen's personal view, Sufian said Bangladesh is not tensed at all for it.
"I hope that the French government will not accept any such illogical and unjust demand. We will also keep our normal ties with France".
Referring to the ongoing upsurges of Muslims in different parts of the world as "usual", she added: "As a normal Muslim, it's our moral duty to oppose any ridiculous practice against our prophet".
According to the latest media reports, Macron, however, claimed that he had understood the feelings of Muslims who were shocked by the displaying of cartoons of Prophet Muhammad.
https://www.aa.com.tr/en/asia-pacific/bangladesh-slams-french-politician-who-calls-for-ban/2032318
--------
Pope: Terrorists aim to undermine interfaith dialogue
Ahmet Gürhan Kartal
04.11.2020
LONDON
The latest deadly terrorist acts in the French city of Nice and the Austrian capital Vienna aimed to undermine a dialogue between religions, Pope Francis said on Wednesday.
In his weekly audience, he said the attacks have "caused dismay and outrage among the population and among those who care about peace and dialogue," according to the Vatican News.
The Pope underlined that the terrorist attacks aimed to "compromise fraternal collaboration between religions through violence and hatred".
"In these days in which we pray for the deceased, let us remember the helpless victims of terrorism that has led to an escalation of cruelty that is spreading in Europe," he said.
Pope's weekly audience, which was not attended by the public due to the coronavirus pandemic, came after violent terror attacks in France and Austria.
At least four people died and 15 more were wounded in the terror attack in Vienna on Monday evening, according to authorities.
A knifeman killed three people in a separate terrorist attack in Nice last week.
https://www.aa.com.tr/en/europe/pope-terrorists-aim-to-undermine-interfaith-dialogue/2032177
--------
France's police detain 17-year-old for being in contact with Nice church attacker
04 November 2020
Police on Wednesday took a 17-year-old man into custody for being in contact with the assailant who killed three people in a knife attack on a church in the French city of Nice, a judicial source said.
The young man is believed to have been in online contact with the Tunisian assailant, Brahim Issaoui.
For all the latest headlines follow our Google News channel online or via the app.
Four other people, arrested Tuesday, were still in custody late Wednesday.
But a 29-year-old Tunisian, arrested on Saturday, was released on Wednesday without charges.
Issaoui, 21, remains hospitalised after being shot several times by police following the knife rampage at Nice's Notre-Dame basilica on Thursday.
He has since tested positive for COVID-19, which could further delay his questioning, a source close to the case said.
In the attack, one woman had her throat cut and a church employee was also fatally stabbed inside the church, while another woman managed to flee but later died of her wounds.
Police say Issaoui yelled "Allahu Akbar" (God is Greatest) as they apprehended him, leading officials to say it was the latest in a string of attacks labelled as "jihadist attacks" on French soil in recent years.
https://english.alarabiya.net/en/News/world/2020/11/04/France-s-police-detain-17-year-old-for-being-in-contact-with-Nice-church-attacker
--------
Austria authorities: Mistakes were made in dealing with Vienna attacker
04 November 2020
Slovakian intelligence told their Austrian counterparts in July that the man who fatally shot four people in a terror attack in Vienna this week had tried to buy ammunition there and mistakes were apparently made in dealing with that information, Austrian authorities conceded Wednesday.
The suspect, identified as 20-year-old Kujtim Fejzulai, had a previous conviction for trying to join ISIS group in Syria and had been given early release in December.
For all the latest headlines follow our Google News channel online or via the app.
In addition to killing the two men and two women, he also wounded more than 20 people in a nine-minute attack before being killed by police on Monday night. Bars and cafes were crowded with people enjoying warm weather and a last evening out before the establishments were due to close under new coronavirus restrictions.
The attacker was armed with an automatic rifle, a handgun and a machete, and wore a fake explosives vest.
A full assessment of copious video evidence has confirmed that he was a lone assailant, Interior Minister Karl Nehammer said.
Austrian officials say that Fejzulai, a dual citizen of Austria and North Macedonia, hoodwinked the justice system's deradicalization program after his release. And Nehammer said Wednesday that other things appeared to have gone wrong.
Slovak intelligence informed Austria that Fejzulai was trying to buy ammunition, and "something apparently went wrong with the communication in the next steps," Nehammer said. He added that he would propose that an independent panel to be set up to examine "where things happened that shouldn't have happened."
In neighboring Slovakia, police said they received information during the summer about "suspected persons from Austria" trying to buy ammunition.
"They failed to make the purchase," they said. "We immediately sent the information to our Austrian colleagues."
Austrian public security director Franz Ruf said Austrian intelligence officials received the information and asked questions of their Slovak counterparts but it's unclear "whether the process went optimally."
Fourteen people associated with the attacker were detained Tuesday for questioning. Nehammer said their ages range from 18 to 28 and all have immigrant roots.
Some don't have Austrian citizenship.
Police in the Swiss city of Winterthur said Tuesday two men were arrested there. Swiss daily St. Galler Tagblatt reported that Swiss Justice Minister Karin Keller-Sutter described them as "colleagues" of the attacker.
Ruf said Austrian authorities are in close contact with their Swiss counterparts.
The assailant attended school in Vienna for years and until recently lived with his parents in the city, Ruf said.
In August 2018, he tried to travel to Afghanistan to attempt to join ISIS, but was turned back because he had no visa. In September of the same year, he traveled to Turkey in hopes of getting to Syria to join the extremist group, but was detained and held for months by Turkey before being returned to Austria in January 2019, where he was arrested at the airport.
Neighbors of the suspect described him as friendly and polite.
"On Monday – the same day he committed the crime – he helped carry a lady carry her bags up the stairs, the grocery bags," said Herrmann Scheerer, 58.
ISIS claimed credit for the Vienna attack. The claim of responsibility was published through the militant group's media arm, Aamaq. It didn't elaborate on the attacker's ties to ISIS and had similar wording to past, opportunistic claims by the group.
https://english.alarabiya.net/en/News/world/2020/11/04/Austria-authorities-Mistakes-were-made-in-dealing-with-Vienna-attacker
--------
Muslim countries, organizations condemn Vienna attack
04.11.2020
Several Muslim countries along with Tunisia's Ennahda movement and the head of Egypt's Al-Azhar institution on Tuesday condemned yesterday's terrorist attack near a synagogue in the Austrian capital Vienna.
Ahmed al-Tayeb, the Grand Imam of Al-Azhar -- the highest seat of Sunni Muslim learning -- said in a statement that "killing one soul is as if killing all of humanity and the human right to life is one of the highest purposes in all laws."
In Tunisia, the Ennahda movement, the largest parliamentary bloc, condemned the attack and called for "uniting international efforts to combat the scourge of terrorism, which does not exclude a country."
In a statement, the movement stressed that it "appreciates the positions of governments and officials and all voices stressing that these terrorist attacks are performed by extremist criminal groups that have nothing to do with Islam and Muslims."
Austria's Interior Ministry announced that investigations revealed that the perpetrator of the attack was "a supporter of the terrorist organization ISIS" but no party has claimed responsibility.
Meanwhile, Iraqi Foreign Ministry spokesman Ahmed al-Sahaf said: "We offer our condolences to the government and people of Austria and we stress Iraq's position that rejects terrorism in all its forms and manifestations."
Sudan said that "while offering sincere condolences and sympathy to the families of the victims, we express our full solidarity with the Austrian government and people."
Lebanon's Foreign Ministry condemned "all terrorist acts" and expressed "its sadness and pain for the deaths of innocent victims as a result of terrorist acts."
Egypt's Foreign Ministry also strongly condemned the terrorist attack and expressed its solidarity with the government and people of Austria.
Its statement stressed Egypt's "categorical rejection of all forms of violence and extremism and its demand for the necessity of intensifying international efforts to confront terrorism."
Saudi Arabia's Foreign Ministry also condemned the attack and expressed its "solidarity with Austria in taking all measures to maintain security and protect against extremist tendencies and acts of terrorism and violence in all their forms."
Jordan's Foreign Ministry meanwhile expressed its strong condemnation and denunciation of the terrorist crime and its solidarity with Austria in the face of blind violence and terrorism targeting the country's stability.
The Foreign Ministry of United Arab Emirates also condemned and rejected all forms of violence and terrorism which aim to destabilize security and stability and contradict religious and humanitarian values.
At least four people died and 17 others were wounded in the terrorist attack, authorities confirmed.
The wounded include a police officer, according to the Vienna Police Department.
https://www.aa.com.tr/en/europe/muslim-countries-organizations-condemn-vienna-attack/2031014
--------
Italian minister urges tough EU action to tackle illegal immigration, fight terrorism
November 04, 2020
ROME: Italy's foreign minister has called for tough new measures to tackle illegal immigration and fight terrorism in the wake of deadly attacks in Vienna and Nice.
In a statement, Luigi Di Maio said the time had come to get a grip on the illegal influx of migrants following Monday's terrorist attack in the Austrian capital, and he asked the EU to consider a US-style Patriot Act to boost anti-terrorism efforts.
Urging tighter controls on mosques in Italy and for action on irregular migration, the minister added that the EU and Italy must raise their security levels.
"We must increase attention on illegal migrant flows, as the Italian interior ministry is rightly doing. They represent a risk. Realism is needed. This problem must be solved.
"If a country does not have the resources to give assistance, it cannot receive (migrants), otherwise the outcome is an exacerbation of social marginalization. It's bad for us and it's bad for them. It's the duty of every state to defend its borders," he said.
Di Maio pointed out that now was the time "to start to think about something bigger and that concerns the whole of the EU: A Patriot Act on the American model, for example, because today we are all children of the same European people."
Introduced in the wake of the Sept. 11, 2001, attacks in the US, the Patriot Act gave law enforcement agencies sweeping counter-terrorism powers, including relating to surveillance.
"The security of one state equals the security of all the others. I will also discuss this with my counterparts in the coming days. It is clear that in the face of all of the insurgency of more violence and terrorism, Europe, and Italy itself cannot continue with just words.
"We need a European front against terrorism. We need to make the common European databases work. We have them and we still do not use them enough. We need a European system to prevent attacks," Di Maio told the Corriere della Sera daily newspaper.
Italian Interior Minister Luciana Lamorgese pointed to an upgrade in measures aimed at tackling potential attacks, including intensifying border checks and monitoring potential targets.
She also announced further talks on a plan to combat human trafficking and irregular migration with Tunisia.
The decision came after the alleged Nice attacker, Brahim Aoussaoui, a 21-year-old Tunisian who killed a man and two women at a church in Nice, landed at the Sicilian island of Lampedusa at the end of September and travelled from there to France at the beginning of October.
Another Tunisian, Anis Amri, had arrived at Lampedusa as a minor in 2011 and went on to kill 12 people in a truck attack on a Berlin Christmas market in 2016.
https://www.arabnews.com/node/1758516/world
--------
North America
US Election: Trump fans chant 'Stop the count!' at vote centres in Michigan, Arizona
05 November 2020
Dozens of angry supporters of President Donald Trump converged on vote-counting centers in Detroit and Phoenix as the returns went against him Wednesday in the two key states, while thousands of anti-Trump protesters demanding a complete tally of the ballots in the still-undecided election took to the streets in cities across the US
"Stop the count!" the Trump supporters chanted in Detroit. ""Stop the steal!" they said in Phoenix.
The protests came as the president insisted without evidence that there were major problems with the voting and the ballot counting, especially with mail-in votes, and as Republicans filed suit in various states over the election.
Wearing Trump gear, the Phoenix protesters filled much of the parking lot at the Maricopa County election center, and members of the crowd chanted, "Fox News sucks!" in anger over the network declaring Joe Biden the winner in Arizona.
For all the latest headlines follow our Google News channel online or via the app.
Rep. Paul Gosar, an Arizona Republican and staunch Trump supporter, joined the crowd, declaring: "We're not going to let this election be stolen. Period."
However, observers from both major political parties were inside the election center as ballots were processed and counted, and the procedure was live-streamed online at all times.
Several sheriff's deputies blocked the entrance to the building. And the vote-counting went on into the night, Maricopa County Elections Department spokeswoman Megan Gilbertson said.
Two top county officials - one a Democrat, the other a Republican - issued a statement expressing concern about how misinformation had spread about the integrity of the election process.
"Everyone should want all the votes to be counted, whether they were mailed or cast in person," said the statement signed by Clint Hickman, the GOP chair of the Maricopa County Board of Supervisors, and Democratic Supervisor Steve Gallardo. "An accurate vote takes time. ... This is evidence of democracy, not fraud."
Every vote counts
Meanwhile, from New York City to Seattle, thousands of demonstrators turned out to demand that every vote be tallied.
In Portland, Oregon, which has been a scene of regular protests for months, Gov. Kate Brown called out the National Guard as demonstrators engaged in what authorities said was widespread violence downtown, including smashing windows. Protesters in Portland were demonstrating about a range of issues, including police brutality and the counting of the vote.
"It's important to trust the process, and the system that has ensured free and fair elections in this country through the decades, even in times of great crisis," Brown said in a statement. "We are all in this together."
Richard March came to an anti-Trump demonstration in Portland despite a heart condition that makes him vulnerable to COVID-19.
"To cast doubt on this election has terrible consequences for our democracy," he said. "I think we are a very polarized society now - and I'm worried about what's going to come in the next days and weeks and months."
In New York, hundreds of people paraded past boarded-up luxury stores on Manhattan's Fifth Avenue, and in Chicago, demonstrators marched through downtown and along a street across the river from Trump Tower.
Similar protests - sometimes about the election, sometimes about racial inequality - took place in at least a half-dozen cities, including Los Angeles, Houston, Pittsburgh, Minneapolis and San Diego.
The confrontation in Detroit started shortly before The Associated Press declared that Biden had won Michigan.
Video shot by local media showed angry people gathered outside the TCF Center and inside the lobby, with police officers lined up to keep them from entering the vote-counting area. They chanted, "Stop the count!" and "Stop the vote!"
Michigan vote fears
Earlier, the Republican campaign filed suit in a bid to halt the count, demanding Michigan's Democratic secretary of state allow in more inspectors.
Michigan Attorney General Dana Nessel, a Democrat, insisted both parties and the public had been given access to the tallying, "using a robust system of checks and balances to ensure that all ballots are counted fairly and accurately."
Michigan has been on edge for months over fears of political violence. Anti-government protesters openly carried guns into the state Capitol during protests over coronavirus restrictions in the spring, and six men were arrested last month on charges of plotting to kidnap Democratic Gov. Gretchen Whitmer
On Election Night, scattered protests broke after voting ended, stretching from Washington, D.C., to Seattle, but there was no widespread unrest or significant violence.
The prolonged task of counting this year's deluge of mail-in votes raised fears that the lack of clarity in the presidential race could spark unrest.
https://english.alarabiya.net/en/News/world/2020/11/05/US-elections-US-elections-Trump-fans-chant-Stop-the-count-at-vote-centers-in-Michigan-Arizona
--------
Three Muslim Americans explain why they're voting for Donald Trump
30 October 2020
By Azad Essa
Yes, they exist.
Despite everything he's said and done to Muslims, there are a large number of Muslim Americans who support President Donald Trump.
Some say it is the economy and lower taxes, others say it the social and conservative values of the Republican Party. Others simply like Trump's charisma.
Either way, as 3 November nears, support for Trump among Muslim Americans continues to emerge through cracks and crevices across the country, sometimes in the most unlikely places.
There are Pakistanis for Trump, Bangladeshis for Trump, and even if their online presence is in no way meaningful, their impact on the elections may be.
Muslims make up about one percent of the US population. And though they are a minute proportion of overall voters, their concentration in a series of battleground states means they could actually swing the vote.
"We know that several key swing states are home to higher-than-average Muslim populations and our data shows that American Muslims are registering to vote at the highest level in five years, so the potential exists," Erum Ikramullah, research project manager at the Institute for Social Policy and Understanding (ISPU), told Middle East Eye.
"American Muslims, like other religious groups in America, are not a monolith. What our data support is that Muslims, like the general public, are not guided by their religiosity, but by their political views and opinions."
In early October, an ISPU poll found that while Muslims have repeatedly shown the least enthusiam for Trump, approval of the president's job performance among Muslims increased from 13 percent in 2018 to 16 percent in 2019 and 30 percent in 2020.
Ikramullah says their research shows that 14 percent of Muslims polled said Trump would be their candidate of choice for the 2020 election. Meanwhile, according to a survey released in late October by the Arab American Institute (AAI), 59 percent of those who identified as Arab said they were planning to cast their ballot for Joe Biden. Voters surveyed said they viewed Trump as "ineffective in addressing most issues of priority concern to their community".
But 35 percent said they would be voting for Trump.
Middle East Eye spoke to three Muslim Americans about their vehement support for Trump. We also fact checked their claims.
Sajid Tarrar, Maryland
"Trump has accomplished a lot in office for America. What he has achieved, his opponent [Joe Biden] could not achieve in 50 years. Trump's biggest achievement was a 3.4 percent unemployment rate, building a wall on the southern border where drugs and gangs are coming from, going after China for intellectual property theft, leaving the Paris Climate Change Accord and withdrawing from NAFTA.
"He is reforming American politics and democracy. He has also appointed conservative judges.
"The list is huge, versus 50 years of the establishment.
"For Muslims, he has also done a lot. His first trip was to Saudi Arabia, he has done so much for the Middle East peace plan, he is an anti-war president. He was against the Iraq War and he is trying to bring the troops back from Afghanistan.
"He has advanced freedom of religion in the country, too. America is prosperous and safe. Muslims are safe and happy here.
"On the Muslim ban, it is important to know that most of media coverage in America since 2016 is anti-Trump. This is how they twist [facts]. The Muslim ban was not his ideology. The list was created by Obama. Also the countries on the list had poorly run governments and documentation was hard to verify from those countries, too.
"The cages at the [Mexico-US] border were also created by Obama, too. When it comes to asylum seekers, of course those who align with American values and respect American values, are very welcome to come. But Donald Trump's job was to keep America safe. But a lot of people were coming here as asylum seekers but they came with different intentions. They had some terrorist intentions. This has been proven by intelligence.
"Trump has also condemned white supremacy many times. In a recent town hall he condemned white supremacy and he asked why the left-wing media, like CNN, would not condemn Antifa and Black Lives Matter (BLM).
"On Covid-19, the left wing has tried to politicise it because they have no leadership or agenda. They think if they talk more about Covid-19, he would disappear. But it's the other way around. Look how he came out of hospital and told America not to be afraid of Covid-19 and let us learn how to live with it. The whole world was not ready for Covid-19. And China should be held accountable."
This interview was edited for clarity and brevity.
Middle East Eye fact check:
Presidential nominee Joe Biden has been in public service for 47 years, including eight years as vice-president, but he has never been president, therefore it is unclear what Tarrar means when he accuses Biden of not having achieved anything during his time in government.
Tarrar claims that Trump has done a lot for Muslims.
However, Trump's history of vilifying Muslims pre-dates his run for the White House.
In 2011, he said America had "a Muslim problem". As president he signed the first iteration of the Muslim ban in early 2017, that included a travel ban on persons from seven Muslim-majority countries. He said the goal was to block out "radical Islamic terrorists" and that priority would be granted to Christians.
Tarrar insinuated that the Muslim ban was a distortion created by the anti-Trump media. However it was Rudy Giuliani, Trump's lawyer, who was among the first to describe it as a "Muslim ban".
Though Giuliani tried to explain the ban was "based on places where there are substantial evidence that people are sending terrorists into our country", he also admitted that Trump had also called it a "Muslim ban".
Tarrar also asserted that tougher laws on immigration were an attempt to prevent "terror attacks". However, several reports show that most convicted terrorists were born in the US. Earlier this week, the Center for Strategic and International Studies, concluded that white supremacist groups were responsible for 67 percent of "terrorist plots and attacks" in the first eight months of 2020.
Tarrar's point about Trump-engineered "peace deals in the Middle East" is also false, given that the widely touted "deal of the century" between Israel and the Palestinians and the brokered deals between Israel, the UAE and Bahrain fundamentally erase Palestinians from the equation.
Tarrar is correct that Obama built the cages at the southern border, but children were not systematically separated from their parents as they were for some time under the Trump administration.
Erum Ikramullah, ISPU research project manager, told MEE that research shows Trump supporters in the Muslim community are similar to Trump supporters in the wider general public.
"Those who select Trump - whether Muslim or from the general public - are more likely to be white, Republican, to hold the economy as their most important policy priority. Additionally, they are more likely to be opposed to building coalitions with BLM and more likely to favour coalition-building on religious liberty issues and to endorse anti-Muslim tropes."
According to ISPU, nearly two-thirds of Muslims (65 percent) express support for activists in their faith community to build coalitions with Black Lives Matter (BLM), compared with 54 percent of Jews, 42 percent of Catholics, 37 percent of Protestants, 30 percent of white Evangelicals, and 44 percent of the general public.
Under Trump, more than 220,000 Americans have died from the Covid-19 pandemic, a majority of whom were people of colour and minorities, making Covid-19 a fundamentally legitimate election issue.
According to a Pew poll, just 24 percent of Trump supporters think Covid-19 is an important election issue, mirroring the president's approach to the virus.
Saba Ahmed, Washington DC
"Donald Trump has been a great president for Muslims worldwide. He has ended wars and brought troops home from fighting endless wars in Muslim countries. Drone strikes in Pakistan have been eliminated. His foreign policies have strengthened America and regained our respect in the world.
"I support the Republican Party which is represented by President Trump because they value life, traditional family values, business, trade, etc.
"Democrats don't have good policies either domestic or foreign, they are actually in direct conflict with Islamic conservative principles and values.
"Donald Trump has helped the US economy since taking office. I would like to see him continue to be the president of the United States and make the American economy stronger.
"President Trump may not be perfect, but he is not a career politician and I expect him to continue working for the American people and give his best.
"It was never a 'Muslim' ban. It actually bans Venezuela and few other non-Muslim countries. It was a national security policy started under the Obama administration to restrict immigration from certain high risk countries.
"Every country has the right to know who enters and leaves our country. Law and order must be maintained if we are to have a good checks-and-balances system. Some of his policies which resulted in children being separated from their parents at the border were abhorrent and I strongly oppose them. As for his support for Israel, it is no less than Obama and Biden's approach to Israel.
"Trump has emboldened many law-abiding citizens, who have been a silent majority. While there may be a sector of white supremacists, we must actively get involved with the Trump campaign and administration to change such views.
"Yes, America has become great again and we hope that the next four years will bring continued prosperity to our great nation.
"President Trump is a businessman who understands the tax laws and uses them to his benefit. It is no different than Jeff Bezos [owner of Amazon] or other billionaires paying zero taxes. There will be a smooth transition to the next administration, but we expect him to retain the White House easily this November.
"President Trump has been great for Pakistan. His foreign policies are commendable and the fact that he has almost eliminated the US troop presence in South Asia and ended drone strikes is awesome. Many Pakistani Americans support Trump and his efforts for Pakistan. Under Obama, drone strikes killed hundreds of thousands of innocent people every day from 2008–2016. For that reason alone, we are grateful to President Trump for not killing innocent Pakistanis as collateral damage."
This interview was edited for clarity and brevity.
Middle East Eye fact check:
Contrary to Ahmed's claims, Trump did not end American wars in the Middle East nor did he bring home all the troops as he'd promised. There hasn't been a new intervention under his watch, a novelty for American presidents, but as the NYT notes: "Mr Trump has deployed thousands of additional soldiers to the Persian Gulf in response to growing tensions with Iran, which some analysts warn could spill into a hot war if he is re-elected. He has also done little to scale down major American military bases in places like Qatar and Bahrain."
Trump has also not ended drone attacks as claimed by Ahmed.
The number of US drone strikes in Pakistan has reduced significantly, but elsewhere, in Somalia and Yemen, they have been shrouded in further secrecy.
Though Obama was known as the drone president, drone strikes between 2008-2016 did not kill "hundreds of thousands of people" as claimed by Ahmed. According to the Bureau of Investigative Journalism, there were 563 drone strikes in Somalia, Pakistan and Yemen during Obama's two terms in office. The Centre for Foreign Relations said Obama had authorised 542 drones strikes that "killed an estimated 3,797 people, including 324 civilians".
The Bureau of Investigative Journalism concluded that between 384 and 807 civilians were killed in those countries.
In 2019, Trump ended a rule that required US intelligence officials to publish the number of civilians killed in drone strikes outside of war zones. His government also eased restrictions and oversight on the export of drones and gave the military and CIA more authority to conduct strikes.
According to Foreign Policy: "Under US President Donald Trump, however, an already opaque and murderous set of rules has become even more widely applied, and ever less accountable."
Ahmed says there are many thousands of Muslim Trump supporters around the country, but neither Tarrar, Ahmed, nor the Trump campaign were able to provide MEE with a specific number.
Farhana Shifa, Arizona
"President Trump is the most pro-life of all presidents. He also signed an executive order [guaranteeing] freedom of religion; he is also responsible for the current peace deal with the Muslim countries with Israel.
"He is bringing harmony between Muslims, Christians and Jews and all kinds of religions. So as a Muslim, it is a glorified position being an American, to see my president take care of this. Not only this, there aren't any wars and nor are there any terror attacks. So this means he is capable of taking care of such things. I feel more secure as a Muslim.
"There was a lot of misunderstandings about Muslims in the last few decades and a lot of stereotypes about Muslims. The Democrats tried to show that they care by talking about these issues; even in this election Biden has quoted the Prophet Muhammad, without understanding Islam.
"They support abortion and infanticide, after all.
"Biden was in politics for 47 years and he never supported immigrants. Now, just to be president, he is saying he cares. To think that everything will be dreamy and flowery when he is president for immigrants is a mistake. I would rather go someone who can do things rather than someone just offers 'hope'.
"President Trump, instead, has focused on harmony and security.
"People need to understand who is benefiting their faith and their livelihood and not because of what they are hearing in the media.
"Trump did make some hurtful comments, but these happened way back, and we got through past that. So his comments as a candidate are redundant.
"After he became president, we have seen his actions speak louder than words.
"He has enhanced the situation for women, for all women. I think many Muslims prefer the Democrats, because they prefer the handouts that they promise."
This interview was edited for clarity and brevity.
Middle East Eye fact check:
Abortion is a major issue in the US, and for some Muslims, especially Republican supporters, it is no different.
Former vice-president Biden has expressed support for a women's choice to have an abortion. While President Trump has espoused opposition to abortion, several observers, including conservatives and pro-life advocates, note he is not particularly committed to the issue, pointing to a mixed record as president.
One conservative observer noted that Trump's response to Covid-19, including repeatedly lying to the American public about the Covid-19 pandemic, demonstrated that while "it's entirely fair to call him nominally anti-abortion. It's not credible to call him pro-life. And the distinction matters".
Shifa says most of Trump's derogatory comments about Muslims were before his presidency, but Trump has repeatedly vilified Muslims doing his presidency, too. And he continues to do so.
Though much attention has been given to Trump's comments about Muslims and the different iterations of his administration's Muslim ban, it is also true that both the Republican and Democratic parties have demonstrated an intolerance and fear of Muslims.
On Biden's record on immigration, Shifa is correct that, under the Obama and Biden administration, three million undocumented people were deported from the US. Biden has since described it as a "big mistake".
On Shifa's assertion that Trump has been good for women, most agree that Trump's policies have harmed women in several ways. The Centre for American Progress described his administration as utilising "every tool in its arsenal to chip away at women's health, employment, economic security, and rights overall".
For instance, Trump and the White House repeatedly claim they are committed to women's rights, but his administration's decision to defund the United Nations Population Fund (UNFPA), undermined projects involving family planning and reproductive services in more than 150 countries around the globe.
Though it is true that the administration signed an executive order promoting religious freedom, it is also true that, under Trump, hate crimes and vitriol towards undocumented migrants and Muslims, as well as Jews, have seen record highs.
https://www.middleeasteye.net/news/trump-muslim-americans-elections
--------
Southeast Asia
Muslim lawyers group wants a say in suit over King's refusal to declare emergency
November 4, 2020
KUALA LUMPUR: The Muslim Lawyers Association has filed an application to be made a party in an action by a lawyer who is seeking legal redress on whether the Yang di-Pertuan Agong's decision not to declare an emergency, as advised by Prime Minister Muhyiddin Yassin, can be challenged in court.
Ridha Abdah Subri, who is the association's secretary, said the intervener application was filed to uphold the rule of law and supremacy of the Federal Constitution.
He said the legal remedy sought by Syed Iskandar Syed Jaafar al-Mahdzar touched on the positions of the King and Parliament as enshrined in the constitution.
Abdah, who filed the application today, said the redress sought by Syed Iskandar also touched on the doctrine of separation of powers between the legislature, executive and judiciary.
"We have a legal interest in this action since some of our members also provide advice to religious councils in several states," he said.
Abdah said the government, which is named as the defendant, was likely to support the originating summons filed by Syed Iskandar.
He said Attorney-General (AG) Idrus Harun had accompanied Muhyiddin to the royal palace in Pekan on May 23 to get the King to declare a state of emergency.
"The AG is in a position of conflict whether to support or object to the King's decision," he said.
He said the association had an expectation to be made a party to ensure the natural justice process thrives and to support the King's decision.
Last week, Syed Iskandar posed two legal questions:
Whether on a true construction of Articles 40 and 150 of the Federal Constitution, the King has an unfettered discretion not to declare an emergency despite the advice of the prime minister or the Cabinet, and;
Whether an amendment to Article 150, by adding clauses (8) and (9), is violative of the basic structure of the constitution, in regard to Article 4(1).
The lawyer said he too believed the legal questions posed were important to uphold the rule of law and to protect the constitution.
In an affidavit in support of the action, Syed Iskandar said the King, in not accepting the advice of the prime minister or his Cabinet, did not perform his function in accordance with Articles 40 and 150.
"I also humbly state that the King's decision has raised constitutional questions of public importance," he added.
On Oct 23, Muhyiddin advised the King to issue an emergency proclamation under Article 150 after the Cabinet agreed on the matter at a special meeting.
Two days later, after a special meeting among the Malay Rulers, the King decreed that an emergency proclamation in the entire, or part of, the country was not necessary.
Meanwhile, lawyer R Kengadharan who is the solicitor for Syed Iskandar, said the High Court had fixed case management for Nov 13.
https://www.freemalaysiatoday.com/category/nation/2020/11/04/muslim-lawyers-group-wants-a-say-in-suit-over-kings-refusal-to-declare-emergency/
--------
India
We're Studying Steps Against Love Jihad: Karnataka Home Minister
Nov 5, 2020
BENGALURU: Home minister Basavaraj Bommai reiterated on Wednesday that the state government was studying ways within the constitutional framework to introduce a law against what has been described as "love jihad". Discussions on the issue have already begun, he added.
Bommai made the comments as more senior BJP members, including MPs Pratap Sinha and Shobha Karandlaje, backed calls to prevent what they claim are attempts to draw Hindu women into relationships with Muslim men and convert them. State revenue minister R Ashoka also said he would initiate discussions to convince chief minister BS Yediyurappa of the need for a strong law.
Bommai said the Karnataka government would study measures taken by Uttar Pradesh, Haryana and Madhya Pradesh. "Love jihad is a social menace that must be curbed at any cost. Discussions about the need for a law to prevent this have begun after the Allahabad high court court's observations. We will also consult legal experts before taking a decision," he said.
Speaking to reporters in Chikkamagaluru, Karandlaje said "love jihad" was a conspiracy. "The only solution is a stringent law," she added.
Simha, who represents Kodagu, also supported the proposal to ban religious conversions for marriages. Union minister for parliamentary affairs Pralhad Joshi said in Mangaluru that if the Karnataka government introduced a law, he would welcome it.
https://timesofindia.indiatimes.com/city/bengaluru/were-studying-steps-against-love-jihad-minister/articleshow/79052657.cms
--------
BSF unearths tunnel along India-Pakistan border in Jammu
Nov 4, 2020
JAMMU: The Border Security Force (BSF) detected a tunnel along the India-Pakistan international border in Jammu on Wednesday, official sources said.
They said the tunnel has been found in the Samba sector and a team of senior officers of the border guarding force has reached the spot for analysis.
The force had detected a similar structure, that originated from the Pakistan side, in the same area in August.
It then said that 8-10 plastic sandbags stuffed in the tunnel's mouth were found that had "Pakistani markings" on them.
Tunnels have been detected by the BSF along the Jammu border front in the past too and security agencies have reported their misuse for crossing over of terrorists, and smuggling of arms and narcotics.
https://timesofindia.indiatimes.com/india/bsf-unearths-tunnel-along-india-pakistan-border-in-jammu/articleshow/79046869.cms
--------
South Asia
Bangladesh and Israel should no more remain strangers
November 5, 2020
Salah Uddin Shoaib Choudhury
Bangladesh's foreign policy is – "friendship to all, malice to none". This is the only nation with a Muslim majority that upholds the spirit of secularism. This is why political and diplomatic analysts from around the world are asking – why should Bangladesh and Israel remain strangers to each other.
As we know, silent changes are already taking place in the Middle East with a number of Arab nations already normalizing their relationship with the Jewish State. Amongst the Muslim nations, Israel has established diplomatic relations with Egypt in 1969 and with Jordan in 1994. In recent times, due to the pragmatic efforts of President Donald Trump and his team, Muslim nations in the Middle East already are coming to terms with Israel, which according to diplomatic analysts will continue.
Bangladesh is one of the countries in the world that is most vocal about Palestinian rights and one of the countries in the world that has refrained from having any relations with Israel. The perception of the younger Bangladeshi population is no more intended in maintaining distance from Israel. Instead, they are willing to visit Israel and benefit from its world-class educational system, medical science as well as witness the historic sites in Jerusalem and other Israeli cities. It may be mentioned here that, although many Muslim nations in the world are yet to have diplomatic relations with Israel – none of those countries are having travel restrictions.
For decades, Bangladesh has been maintaining its distance from Israel not only by not recognizing the Jewish State but also barring its citizens from visiting Israel.
It may be mentioned here that, Israel was one of the earliest countries in the world to recognize Bangladesh in 1972. It was reported on 7 February 1972 that the Israeli government offered diplomatic recognition to the newly independent nation. It came on the heels of Bangladesh's quest for recognition since April 1971. However, Bangladesh did not accept the Israeli offer.
In my personal opinion, there should be an immediate initiative from Bangladesh and Israel's side for shaping the path of relations based on mutual trust and respect. For both countries, such relations can bring immense benefits. As Bangladesh has already emerged as one of the fastest-growing economies in Asia, Israeli companies can become an effective partner in Bangladesh's economic activities and can definitely contribute in further boosting the pace of economic growth.
In the technology and medical sectors, Bangladesh can form a collaboration with the Jewish State, which will possibly play a vital role in helping Bangladesh in setting up its own 'Silicon Valley', similarly as that of Israel.
Israel's collaboration with Bangladesh in the medical sector would dramatically improve our health sector while we also can join hands in Israel's research activities of improving medicine and medical remedy for diabetes, cancer and other critical diseases.
In the defense sector, Bangladesh also can enjoy the opportunity of buying highly sophisticated defense and security apparatus from Israel at a competitive price.
Bangladesh, as the world's second-largest textile exporter, can find a new market in Israel. Bangladeshi and Israeli businesses can also cooperate in sectors such as pharmaceuticals, agriculture, diamonds, jute, leather, retail, food, banking, healthcare and tourism. Cooperation can be spurred in education, science, cultural relations, and inter-faith dialogue.
Bangladesh is a sovereign nation and we have our own right to decide and shape our foreign policy. Under no circumstances, Palestinians should dictate Bangladesh's foreign policy. We, being Bangladeshis will do, whatever is beneficial for our own country!
Salah Uddin Shoaib Choudhury is an internationally acclaimed multi-award-winning anti-jihadist journalist, counter-terrorism specialist and editor of Blitz
https://www.weeklyblitz.net/oped/bangladesh-and-israel-should-no-more-remain-strangers/
--------
Bangladesh Islamist group demands country cuts ties with France
NOVEMBER 2, 2020
DHAKA (Reuters) - Bangladesh's biggest Islamist group on Monday told the government to cut diplomatic ties with France within 24 hours, as police stopped thousands of its supporters from marching towards the French embassy.
Tens of thousands of Muslims across Bangladesh, the world's third-biggest Muslim country with more than 160 million people, have been protesting against remarks by French President Emmanuel Macron in a row about cartoons of the Prophet Mohammad.
There have been similar protests in other mainly Muslim countries such as Indonesia over the dispute, which follows a knife attack outside a French school last month when a man of Chechen origin beheaded a teacher who had shown pupils the cartoons in a lesson on freedom of speech.
France has allowed displays of the cartoons, which are considered blasphemous by Muslims.
In its first comments on the matter, the Bangladesh government called for a "more nuanced global conversation on peaceful religious practise and urges all sides to exercise the freedom of expression responsibly".
Its statement noted the protests but did not refer to the demand by the Hefazat-e-Islam group regarding France, the fourth biggest export destination for Bangladesh's massive ready-made garment industry.
Earlier, thousands of protesters in the capital Dhaka had demanded a boycott of French products and an end to the country's ties with Paris.
"We are giving an ultimatum to the government to end diplomatic ties with France within 24 hours," said Junayed Babunagari, head of Hefazat-e-Islam.
"If our demands are not met, we will announce our next course of action," he shouted as mostly unmasked protesters wearing white prayers caps cheered him on.
Some protesters carried portraits of Macron with his face marked with an "X", while others held up his cutouts garlanded with shoes.
https://www.reuters.com/article/france-security-protests-bangladesh/bangladesh-islamist-group-demands-country-cuts-ties-with-france-idUSKBN27I134
--------
Saleh Orders Release of 13 Policemen with 'Dignity'
By Mohammad Haroon Alim
05 Nov 2020
FILE: Amrullah Saleh at home in Kabul on Monday, a day after he narrowly escaped an attack.Credit: Jim Huylebroek for The New York Times
Amrullah Saleh, First Vice president, says the investigation into Kabul University attack has not yet been completed, and therefore "the arrest of 13 unidentified Policemen in the name of negligence is meaningless and I ordered them to be released with dignity."
Saleh wrote on his Facebook page, "I will not allow only the unknown to be confiscated as sacrificial goats with every failure,".
On October 4th, the Ministry of Interior announced that 13 police officers, including the PD13 police chief, has been arrested and were referred to the prosecutor's office in connection to bungling in response to the Kabul University attack on Monday.
Saleh also expressed dissatisfaction with the process of demolishing and stopping arbitrary high-building constructions by the police, saying "the city will turn into chaos, that the next generation will pay the price in the upcoming 10 years."
Saleh has said that two measures will be taken regarding the high-rises starting next week: "Second, those high-rises built on sensitive areas will be destroyed professionally with explosives starting next week with a precise engineering plan like other countries."
At least three constructions, which had been arbitrarily constructed in important and historic areas, have been "selected and consolidated " for destruction, VP Saleh added to his words.
https://www.khaama.com/saleh-orders-release-of-13-policemen-with-dignity/
--------
Arab world
Seven civilians killed in Syria's northwest, says a war monitor
04 November 2020
Four children were among seven civilians killed in Syrian army bombardments of the country's last major opposition bastion on Wednesday, a war monitor reported.
The deadliest salvoes hit the town of Ariha, the Britain-based Syrian Observatory for Human Rights said, adding that 20 civilians were also wounded across the opposition-held northwestern region of Idlib.
"The regime launched sustained artillery and rocket fire in the morning on several parts of Idlib, killing seven civilians, including four children," the monitoring group said.
For all the latest headlines follow our Google News channel online or via the app.
Militants groups dominated by the extremist Hayat Tahrir al-Sham alliance have been steadily losing ground to Russian-backed government forces since they launched an offensive to retake Idlib almost a year ago.
A truce reached in March has largely halted the bloodshed in the opposition enclave, which is home to some three million people, although there have been sporadic flare-ups.
An airstrike attributed to Russia killed around 80 pro-Turkish fighters in a training camp in the region last week, a sign of growing tension between the two main foreign players Moscow and Ankara.
According to the Observatory, more than 380,000 people have been killed in the conflict that erupted in 2011 after the brutal repression of anti-government protests.
https://english.alarabiya.net/en/News/middle-east/2020/11/04/Seven-civilians-killed-in-Syria-s-northwest-says-a-war-monitor
--------
Oil-dependent Iraq must 'diversify rapidly' as challenges stifle young population
04 November 2020
Earlier in the 20th century, Iraq was an agriculture-dependent new country with only a fledgling oil sector.
Zooming forward to 2020, Iraq is now highly dependent on oil as its principal income, with the government the largest employer and the agriculture sector in crisis.
But the country's oil and gas sector itself isn't even highly developed. In a July article by the New York Times, the US paper dubbed Iraq as a "rare country," since it imports gas despite burning natural gas from oil wells into the air rather than using it.
This wasted and uncultivated gas could power up to 3 million homes and help revive manufacturing once again in a country that still has an ailing public electricity infrastructure.
For all the latest headlines follow our Google News channel online or via the app.
Iraq's agriculture is also suffering, not only has it been impacted by climate change but it has been undermined by cheaper foreign products, especially from sanction-hit Iran, making much produce unprofitable.
The country is not providing enough jobs for its growing population, where female labor force participation is "very low," explained Frank R. Gunter, author of "The Political Economy of Iraq: Restoring Balance in a Post-Conflict Society."
"Every year, about 900,000 or up to million Iraqis become old enough to work," said Gunter, who is also a professor of economics at Lehigh University.
Gunter said that in Baghdad "on most street corners at about 10 a.m. there are groups of young men just standing there talking, smoking cigarettes." He said the country needs to create about 325,000 jobs a year.
Gunter also pointed out that Iraq faces the further problem of paying back debts that date back to 2006.
Without addressing these issues, unrest is likely to continue. A boom in population combined with a lack of proper employment opportunities, especially for recent graduates, has been one of the root causes of protests that began in October last year. The incessant call by the protesters for a more reliable, sovereign Iraq and the need to revive local manufacturing in a corruption-free country, had led to hundreds of young lives lost and at least 15,000 wounded.
Iraq is revamping business regulations
Despite Iraq's obvious problems, politicians have not proposed a clear economic roadmap for the country.
The country's finance minister Ali Allawi told The Associated Press in early October that there is a growing political will for drastic reforms that are especially needed as the global oil industry has been rocked by coronavirus.
However, the government has made some minor steps to reforming its business environment.
So far, Iraq is in the process of revamping its business regulations to march away from its inherited bureaucratic socialism, tracing back to the Ba'ath party from 1968 to 2003.
"Iraq is in process of rewriting its business regulations. But that's a 10-year process. They don't have 10 years, you have one year," explained Gunter.
The professor said Iraq could easily copy the UAE's blueprint to move ahead instead of this prolonged process amid the dire need to bring more diversification.
"What they [Iraqis] need is to diversify, and diversify rapidly away from oil," added Gunter, who was the senior civilian economics adviser for Multi-National Corps – Iraq at Camp Victory, Iraq (July 2008 – July 2009).
With the days of $100 per oil barrel long gone, the black crude sector itself "doesn't employ a lot of people, maybe about 3 percent of the labor force," Gunter explained.
Old socialism suppressing entrepreneurship
The legacy of the Napoleonic code legal system in Iraq is stifling young Iraqis from unleash their entrepreneurial powers.
In countries like the United States, where they exercise common law, regulations allow "everything" except for what the "law forbids." For instance, the proposal of a new computer app would require the entrepreneurs to find out if there are any laws that would deem it forbidden.
However, with the socialist Napoleonic code, "Everything is forbidden except what the law allows."
What does that mean for Iraq?
"In Iraq, you are illegal until you can get a law passed saying that your app can now be sold," Gunter said. "Well, you probably pay bribes to get the approval from an official," he added, exacerbating the corruption problem.
In his book, Gunter describes how 40 percent of small businesses' revenues and "not profits'' go wasted to bribes. In contrast, anyone can open a new business online in about an hour, with a meagre amount of money.
"To do the equivalent in Iraq, it's going to take over a month, it's going to cost you thousands of dollars. They may not give you permission. For example, [if] you want to establish a business, you have to have a lawyer on retainer, you have to have an accountant on retainer," the professor said.
Failure to diversify
Salim Hamra, an Iraqi immigrant based in Toronto and a graduate from the UAE-based Iraqi Public Policy Leadership Program (IPPLP), an initiative led by Iraqis in the diaspora in hopes of creating leaders, believes there are many reasons why Iraq has "failed to diversify."
"I can't pinpoint one specific issue," Hamra said. "Iraq's private sector hasn't changed in decades. It's still mainly family-run and private businesses for the most part, the government tried to encourage and support new businesses through its investment law."
Iraq's "investment law is written well, not great, but well," Hamra added.
"The issue with the law is how it's implemented in practice, and that seems to be the issue with many things in Iraq, how things are in practice," Hamra said. "The investment law is supposed to encourage private investors to invest in Iraq by giving land for lease, for example. However, the people who run this program act like it's a bid for government contracts.
"They sit there and meet investors with [a] 'What do you have to offer me' mentality, instead of 'Here is what Iraq has to offer.'"
Even when trying to create more accountability through a succinct tax system, there is an issue.
"We have tax laws but most people don't meet the minimum income bracket, so no one pays taxes. We need an efficient tax system to properly diversify our economy," Hamra added.
Militia groups challenging economy
There are also militia groups, many backed and funded by Tehran, who are challenging the government's effectiveness in implementing any needed reforms.
"It is fair to point out that the current government has started with some initiatives to liberate the Iraqi economy from corruption and the dominance of the faction's weapon, but so far the scene does not call for optimism at all," said Ali Riyadh, an author of two poetry books and a protester who helped with media outreach to get the demonstrators' voice heard abroad last year.
Anger and pessimism prevail in Iraq.
On Sunday, Nov. 1, protesters marched in the capital Baghdad and several southern cities to renew demands for an end to corruption by Iraq's political establishment.
For Gunter, there is hope, especially when he recalled meeting a young man at a Baghdad tech startup incubator who ditched his government job to be an entrepreneur, one of many potential Iraqi youths eager to change a struggling country.
https://english.alarabiya.net/en/features/2020/11/04/Oil-dependent-Iraq-must-diversify-rapidly-as-challenges-stifle-young-population
--------
Billions locked in troubled Lebanese banks behind economic crisis: Syria's Assad
05 November 2020
Syrian President Bashar al-Assad has blamed the financial downfall in neighboring Lebanon and not the sweeping US sanctions as the root cause of the ongoing economic crisis in the war-torn country.
Speaking during a tour of a trade fair broadcast on state media on Wednesday, Assad said billions of dollars of deposits held by his countrymen in Lebanese banks were blocked after a major financial crisis in Lebanon last year.
The Syrian President said anywhere from $20 billion to $42 billion of Syrian deposits could have been lost in the once vibrant banking sector that held over $170 billion in foreign currency deposits.
"This figure for an economy like Syria is terrifying," he said
"It's the money they put in Lebanese banks and we paid the price this is the core of the problem that no one talks about," Assad said.
Lebanon's bank vaults have long been stashed with Syrian money, with Syrian investors seeking a haven for their cash during years of foreign-sponsored crisis.
With its economy devastated by a financial crisis, Lebanon has seen its pound continue to plummet against the US dollar. The currency has lost more than 80 percent of its value over the last weeks while sources of foreign currency have dried up.
Fearing capital flight and grappling with an acute hard currency crunch, Lebanese banks have since last year imposed tight controls on withdrawals and transfers abroad, drawing outrage from local and foreign depositors unable to access their savings.
President Assad also said that the current economic woes were not caused by the so-called Caesar Syria Civilian Protection Act, the sweeping US sanctions against Damascus that came into force in June.
"The crisis began before the Caesar Act and years after long-imposed Western sanctions ... It's the money (in Lebanese banks) that has been lost," Assad said.
The sanctions act, which came into effect on June 17 six months after being signed into law by US President Donald Trump, targets individuals and businesses anywhere in the world that operate either directly or indirectly in Syria's economy.
The US and European Union had already imposed sanctions on Syria, freezing the assets of the state and hundreds of firms and individuals.
But the Caesar sanctions can freeze the assets of anyone dealing with Damascus, regardless of nationality, and target many more sectors.
Some say the sanctions would deny the Syrian people access to key medicine and other vital goods and services.
Syria has been gripped by foreign-backed militancy since March 2011. The Syrian government says the Israeli regime and its Western and regional allies are aiding the Takfiri terrorist groups that are wreaking havoc in the country.
The government forces have already managed to undo militant gains across the country and bring back almost all of Syrian soil under government control.
The government gains in Syria have enraged the US, which has long been collaborating with anti-Damascus militants and stealing Syria's crude resources.
https://www.presstv.com/Detail/2020/11/05/637948/Syria-President-Assad-economic-crisis-Lebanon
--------
Mideast
Leaders of settlers in Israel pray for a Trump victory in the US Election
04 November 2020
On the eve of the US presidential election, leaders of Israeli settlers in the West Bank gathered in the biblical city of Hebron to pray for victory for President Donald Trump.
It was a highly symbolic move by the settlers, who have been among the biggest beneficiaries of the president's Mideast policies.
For all the latest headlines follow our Google News channel online or via the app.
Monday's gathering took place in front of a holy site revered by Jews and Muslims as the burial place of the biblical patriarch Abraham, a gesture to the Trump-brokered deals between Israel and Arab countries known as the "Abraham Accords."
"We are grateful for his first term, and we pray that he may be elected for another four years of blessed endeavors," said Rabbi Hillel Horowitz, mayor of Hebron's ultranationalist Jewish community.
It was almost certainly the first time settler leaders, long ostracized by the US, have publicly prayed for victory for a sitting American president.
But Trump is unlike any of his predecessors. He has embraced Israel's religious and nationalist right wing and showered Prime Minister Benjamin Netanyahu with a string of diplomatic gifts: withdrawing from the Iran nuclear deal, recognizing Jerusalem as Israel's capital, offering a Mideast plan that would allow Israel to annex large swaths of the West Bank, including all of its settlements.
Netanyahu, while careful not to openly take sides, made little secret of his preference when he said this week he hopes Trump's policies "will continue in the coming years." The Palestinians, sidelined and humiliated by Trump, have been even clearer that they are pulling for Joe Biden.
The Democratic challenger has already signaled he will scrap Trump's approach toward Iran and the Palestinians. That has raised concerns in Israel, especially on the right.
Elie Pieprz, an American-Israeli consultant who lives in the Karnei Shomron settlement, said Trump has been a "tremendous success" by rejecting policies of the past. He said, if Biden wins, he hopes he will "learn the proper lessons."
https://english.alarabiya.net/en/News/world/2020/11/04/Leaders-of-settlers-in-Israel-pray-for-a-Trump-victory-in-the-US-Election
--------
Turkey vows 'firm' response to France ban on 'Grey Wolves'
04 November 2020
Turkey has vowed to 'respond in the firmest way' to France's decision to dissolve the Turkish Grey Wolves group.
Turkey's Foreign Ministry said Paris had to "protect the freedom of assembly and expression of Turks in France."
"We will respond in the firmest way possible to this decision."
Earlier on Wednesday, the French government said it has disbanded the Grey Wolves, a wing of Turkey's Nationalist Movement Party, which is allied with the Justice and Development Party (AKP) led by President Recep Tayyip Erdogan.
The French government accused the group of involvement in "extremely violent actions" and "incitement to hatred against authorities and Armenians," citing the defacement of an Armenian memorial near the city of Lyon last weekend.
The memorial, which honors victims of the 1915 mass killing of Armenians by the Ottoman forces, had 'Grey wolf' written on it.
Armenians claim that up to 1.5 million Armenian Christians were systematically slaughtered in eastern Turkey through mass killings, forced relocations and starvation, a process that began in 1915 and took place over several years during World War I and the breakup of the Ottoman Empire.
The ban came against the backdrop of sharp tension between the Armenian and Turkish communities in France over the ongoing conflict in Nagorno-Karabakh, which is internationally recognized as part of Azerbaijan but has an Armenian population.
Turkey is a main ally of Baku in the latest fighting over the region which began on September 27.
In its statement, the Turkish ministry denied the very existence of the group, saying France was "dealing with an imaginary formation."
It added that wolves were a common symbol used in many states and had no legal status as such.
France and Turkey have been at loggerheads over a number of issues, including the eastern Mediterranean and Libya.
The tensions between the two countries reached a peak in recent days after President Erdogan said French President Emmanuel Macron needed "mental health treatment" for defending blasphemous cartoons of Prophet Muhammad (peace be upon him).
https://www.presstv.com/Detail/2020/11/04/637928/Turkey-response-France-ban-Grey-Wolves
--------
Israeli forces kill Palestinian over alleged shooting attack in West Bank
04 November 2020
Israeli forces have shot and killed a young Palestinian man, whom they alleged to have carried out a shooting attack in the northern part of the occupied West Bank.
The Israeli military, in a statement released on Wednesday, alleged that the Palestinian was armed with a pistol, arrived from the direction of Nablus, situated north of Jerusalem al-Quds, and shot at soldiers who were at a military post near the southern exit of the city.
The statement added that the man was "neutralized" in the purported assault, and there were no casualties on the Israeli side.
Palestinian news outlets identified the man as 29-year-old Bilal Adnan Rawajbeh.
They said the young Palestinian was killed when Israeli forces fired shots at his white Hyundai vehicle near the Hawara checkpoint.
Israeli soldiers closed the checkpoint in both directions immediately afterwards, preventing Palestinian medics from approaching the scene.
Rawajbeh was a legal advisor with the rank of captain in the Palestinian Preventative Security Forces, one of the PA's most powerful intelligence organizations, according to the official Palestinian WAFA news agency.
Many Palestinians have sustained injuries or lost their lives in similar incidents due to allegations that they attempted stabbing or car-ramming attacks.
The Israeli regime has been criticized for its extensive use of lethal force and extrajudicial killings against Palestinians that do not pose an immediate threat.
https://www.presstv.com/Detail/2020/11/04/637895/Israeli-forces-kill-Palestinian-man-over-alleged-shooting-attack-in-West-Bank
--------
Africa
Sudan says latest controversial Nile dam talks failed
05 November 2020
Sudan said Wednesday the latest round of talks with Egypt and Ethiopia over Addis Ababa's controversial dam on the Blue Nile ended after they failed to make headway.
The negotiations, held over videoconference, kicked off Sunday and were meant to last a week in a renewed bid to end the long-running stalemate over the Grand Ethiopian Renaissance Dam (GERD), which broke ground in 2011.
Multiple rounds of talks have over the years failed to produce an agreement on the filling and operation of the vast reservoir behind the 145-meter (475-foot) tall hydropower barrage.
For all the latest headlines follow our Google News channel online or via the app.
"Water ministers of Sudan, Egypt and Ethiopia agreed to end this round of negotiations over Ethiopia's Nile dam," Sudan's water ministry said in a statement.
"This round... failed to make any tangible progress."
During the talks, Sudan proposed granting a bigger role to African Union observers to help mediate, according to the ministry.
"Ethiopia accepted to expand the AU observers' role... but Egypt rejected the proposal," it said.
On Wednesday, Sudan said it "cannot keep negotiating without an end and must guarantee the safety of its water installations."
Ethiopia views the project as essential for its electrification and development, and insists that the flow of water downstream will not be affected.
In July, Addis Ababa declared that it reached its first-year target for filling the reservoir of the mega-dam, which can hold 74 billion cubic meters (2,600 billion cubic feet) of water.
Egypt and Sudan have long called for a political solution to the dispute, rejecting any unilateral action by Ethiopia.
The Nile, the world's longest river, is a lifeline supplying both water and electricity to the 10 countries it traverses.
Its main tributaries, the White and Blue Niles, converge in the Sudanese capital Khartoum before flowing north through Egypt to drain into the Mediterranean Sea.
https://english.alarabiya.net/en/News/middle-east/2020/11/05/Sudan-says-latest-controversial-Nile-dam-talks-failed
--------
In just one week, nearly 600 migrants intercepted off Libya: UN
03 November 2020
A total of 575 migrants have been intercepted off Libya's western coast in just a week, the UN's migration agency said Tuesday.
"In the period of 27 October to 2 November, 443 migrants were rescued/intercepted at sea and returned to Libya," the International Organization for Migration (IOM) said in a tweet.
On Tuesday morning, a further 132 migrants were intercepted at sea and taken to Tripoli's naval base, it added, without giving details on their nationalities.
Human traffickers have taken advantage of persistent violence in Libya since the 2011 fall of dictator Moammar Gaddafi, turning the country into a key corridor for migrants fleeing war and poverty in desperate bids to reach Europe.
While many have drowned at sea, thousands have been intercepted by the Libyan coast guard, which has been backed by Italy and the EU, and returned to Libya.
They mostly end up in detention, often in horrific conditions.
Rights group Amnesty International has denounced the policy and called on the EU to review its cooperation with Libya.
The IOM has also campaigned to end returns to the North African country, 300 kilometers (185 miles) from the Italian coast.
Since January, Libya's coast guard has intercepted around 10,000 people at sea, while 500 others have died in the central Mediterranean, according to IOM figures.
The agency warns the real number of fatalities may be much higher.
https://english.alarabiya.net/en/News/north-africa/2020/11/03/In-just-one-week-nearly-600-migrants-intercepted-off-Libya-UN
--------
Minibus attacked in Mali, 8 killed, 3 kids wounded
04 November 2020
Gunmen have killed eight people in central Mali, a local official and security ministry staffer said, in the latest violence to hit the war-torn Sahel state.
Militants attacked a minibus Tuesday, the officials said, which was travelling between the towns of Bandiagara and Bankass in central Mali's volatile Mopti region, which is prone to frequent Takfiri attacks and ethnic killings.
"Armed men opened fire on the minibus," a local government official told AFP on Wednesday, adding that eight people died, four escaped and eight were seriously wounded, three of them children.
An official from Mali's security ministry, who also requested anonymity, confirmed the details of the attack and the death toll.
The local government official, and a survivor interviewed by AFP, both blamed the attack on Takfiri militants.
Mali has been struggling to contain a Takfiri insurgency that emerged in the north in 2012 and prompted a military intervention by France.
The extremists were routed in the French operation but regrouped. Today large stretches of the landlocked African state remain outside of government control.
Fighting, which has sometimes taken on an ethnic dimension, has since spread to the center of the country and neighboring Burkina Faso and Niger.
Thousands of soldiers and civilians have been killed, and hundreds of thousands have had to flee their homes.
Tuesday's attack occurred near the border with Burkina Faso, a region where militants also killed 12 Malian soldiers in a raid in mid-October.
Anger at the conflict fuelled protests against president Ibrahim Boubacar Keita, culminating in his ouster in a military coup on August 18.
https://www.presstv.com/Detail/2020/11/04/637900/Gunmen-Mali-attack
--------
Ethiopia deploys military to volatile northern region, declares emergency
04 November 2020
Ethiopia has deployed the military to the northernmost region of Tigray, in response to a deadly attack on an army base over the weekend that escalated a long-running dispute between ethnic groups in the African country.
Ethiopian Prime Minister Abiy Ahmed said on Wednesday that he had ordered a military response to an offensive that killed at least 54 people from the ethnic Amhara group in the Oromia region on Sunday.
Ahmed accused the Tigray People's Liberation Front (TPLF) — the region's ruling party — of being responsible for the attack.
Ahmed's office said in a statement that early on Wednesday, the TPLF had also attempted to steal artillery and other equipment from federal forces stationed in the region.
"The last red line has been crossed with this morning's attacks and the federal government is therefore forced into a military confrontation," his office said.
The Ethiopian National Defense Forces have been ordered to carry out "their mission to save the country and the region from spiraling into instability," it added.
Later in the day, the government declared a state of emergency in the region, saying that "illegal and violent activities within the National Regional State of Tigray are endangering the constitution and constitutional order."
Ahmed, a Nobel Peace Prize laureate, had said earlier on Monday that "Ethiopia's enemies" were determined to either "rule or ruin the country."
In September, Tigray held regional elections in defiance of the federal government, which said the voting was illegal.
The national electoral board has said general elections should go ahead in May or June of next year.
Meanwhile, Tigray's regional president, Debrestion Gebremichael, accused the federal government on Monday of planning an attack.
The Tigrayans held most of Ethiopia's political power from 1991 to 2018, when Ahmed was elected.
Since then, his government has introduced a number of reforms, including legalizing previously banned opposition groups and making peace with neighboring Eritrea, a longtime foe.
Many senior Tigrayan officials have also been detained, fired, or sidelined, in what the federal government describes as a clampdown on corruption.
The once-powerful party, however, complains of being unfairly singled out in corruption prosecutions.
Tigray's population makes up five percent of Ethiopia's 109 million people, but it is wealthier and more influential than many other, larger regions.
Simmering ethnic tensions have now concerned rights groups, which have warned against destabilization in Africa's second-most populous country.
"This conflict could destabilize the wider region if the Ethiopian army can't get the violence across the country under control," said Asnake Kefale, an associate professor of political science at the University of Addis Ababa.
Rights groups have also urged the government to investigate the attack on the Amhara people, with Amnesty International saying that there are "questions that must be answered."
https://www.presstv.com/Detail/2020/11/04/637886/Ethiopia-deploys-military-to-volatile-northern-region-declares-emergency
--------
URL: https://www.newageislam.com/islamic-world-news/pakistani-islamists-hugged-bank-guard/d/123381
New Age Islam, Islam Online, Islamic Website, African Muslim News, Arab World News, South Asia News, Indian Muslim News, World Muslim News, Women in Islam, Islamic Feminism, Arab Women, Women In Arab, Islamophobia in America, Muslim Women in West, Islam Women and Feminism