New Age Islam News Bureau
19 Aug 2014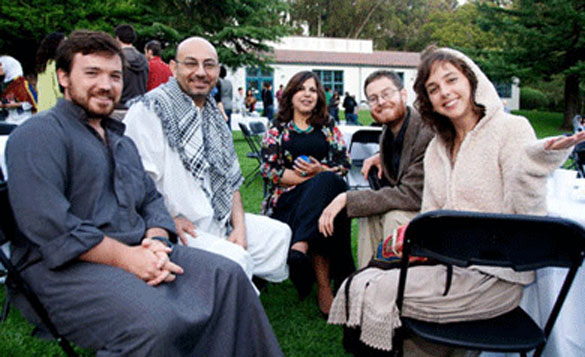 People Of All Faiths Come Together Muslim Journeys is a part of the National Endowment for the Humanities' Bridging Cultures initiative
---------
Pakistan
• Pakistani cleric Tahir-ul Qadri to convene 'Awami Parliament'
• 48 suspected militants killed in fresh NWA, Khyber airstrikes
• Bajaur: Blast kills six including school teachers and children
• Woman among 8 shot dead in Karachi Sectarian Killings
• Dangerous game: PTI to march into Red Zone with women, children
• Martial law can't be ruled out in case of violence: Yousuf Raza Gilani
Arab World
• Islamic State Establishes Jihadist Hub in the Heart of Middle East
• 'Men Can Peep At Future Wives While She Is Showering,' Egypt Fatwa Claims
• 17 ISIL terrorists killed in Mosul by US airstrike
• ISIS message to America: 'we will drown all of you in blood'
• Egypt army kills 2 militants in North Sinai
• Iraqi forces mount operation against ISIS in Tikrit
• Iraqi Kurds press anti-militant drive as US, UK turn up heat
• Lebanon's Hezbollah kills top militants in Syria
• Saudi Arabia renews call for efforts to tackle terrorism
Africa
• Maghreb al-Qaeda torn apart by ISIS
• Boko Haram gunmen kill 10 in Nigeria
• Efforts to Improve Human Rights in Somalia
• More than 100 children released from armed groups in CAR over past week
• Libya's Haftar claims air strikes on Tripoli
South Asia
• Some 700 Taliban fighters begin offensive near Kabul: officials
• Maldivians not allowed expressing or assembling freely: Democracy Network
• 'At Least 2,000 Uyghurs Killed' in Yarkand Violence: Exile Leader
• Tribal elders in Kunar, Afghanistan, warns to uprise against Pakistani shelling
• Name of Muslim group in Myanmar goes unspoken
• Karzai asks Pakistan to stop its destructive role in Afghanistan
• NATO airstrike leaves 2 militants dead in Kunar province
Mideast
• Jerusalem warns West on Iran: Don't partner with one devil to fight another
• Unmasking ISIL supporters is a must for Islamic World Media
• Israel, Palestinians renew truce but see risk of more Gaza violence
• Israeli ambassador invited to UK's 'Israel-free zone'
• Israeli offensive cost Gaza billions: Palestinian official
North America
• US Muslim Convention Welcomes All Faiths
• American airlines barred from flying over Syria
• Obama promises to 'turn the tide' against ISIS
• US adds Islamic State, Al Nusrah Front leaders to list of global terrorists
• El-Sisi leading democratic transition in Egypt: US
• US missile shipment delay should teach Israel a lesson
Australia
• Young Australian Muslims 'Sick To the Stomach' Over Home-Grown Jihadists
India
• Day after India cancelled talks, Hurriyat leader Geelani meets Pak envoy
• MHA data shows 241% rise in cases of overstaying Pakistanis in 2013
• Militant killed in Kashmir encounter
Southeast Asia
• Restoring public's faith in Pakatan a priority, says Kit Siang
• Dr M's right to slam Najib, says Muslim right-wing group
Europe
• UN announces emergency aid for 500,000 northern Iraqis
• Uzbeks in Russia are tracked kidnapped and extradited back to Uzbekistan
• Gaza protests have impact on supermarkets in UK
• HRW says Iran is imprisoning dozens unlawfully
• Poll finds almost no support for accepting Hamas's demands
Compiled by New Age Islam News Bureau
URL: https://www.newageislam.com/islamic-world-news/new-age-islam-news-bureau/pakistani-cleric-tahir-ul-qadri-to-vonvene-'awami-parliament'/d/98622
----------
Pakistan
Pakistani cleric Tahir-ul Qadri to convene 'Awami Parliament'
August 19, 2014
Pakistani cleric Tahir-ul Qadri has announced to set up 'Awami Parliament' (People's Parliament) on Tuesday, as he refused to meet the PML-N government- appointed committee of lawmakers to hold talks with him.
"We will set up a new Awami Parliament here at 5 pm," Qadri told his thousands of supporters at Aabpara square here past midnight at the end of a 48-hour deadline given by him to Prime Minister Nawaz Sharif to quit.
Qadri did not spell out the criteria for constituting the Awami Parliament but said its decisions will be respected.
"The Awami Parliament will decide the future course of action and the destiny of the nation is going to change," he said.
The cleric also refused to meet an independent committee of lawmakers set up by the PML-N government to hold talks with him.
Qadri has already declared the existing parliament a sham as it consisted of "tainted" lawmakers who came to power through "rigged elections".
The cleric also refused to meet an independent committee of lawmakers set up by the PML-N government to hold talks with him to end the protests.
The negotiation committee comprised of Aftab Ahmed Sherpao, Haider Abbas Rizvi and Ijazul Haq.
Qadri urged countrywide strike and asked his supporters to block highways and motorways to force the government to quit.
Resorting to his populist antics, he ordered his followers to sweep and clean the entire venue of the sit-in.
He praised men, women and children who have been steadfast in attendance since Thursday when he launched the protest march from Lahore to Islamabad.
Separately, Pakistan Tehreek-e-Insaf chief Imran Khan is protesting at nearby Kashmir Highway with his hundreds of supporters who joined his Azadi March from Lahore on Thursday.
Khan has upped the ante by threatening to force his way into the Red Zone by the evening on Tuesday where the Parliament, the President and the Prime Minister's residences and embassies are located.
He also announced to resign from national and three provincial assemblies.
Khan's party in official tweet said that all party lawmakers have handed over the resignations.
Imran Pakistan Tehreek-e-Insaf chief Imran Khan is protesting at nearby Kashmir Highway with his hundreds of supporters. (Source: AP)
"Received the resignation of all MNAs from PTI, announced to massive crowd at Azadi March by Shah Mehmood Qureshi," it tweeted.
The efforts for talks with Khan have not succeeded, though government appointed a panel of opposition lawmakers to find a solution.
http://indianexpress.com/article/world/asia/pakistani-cleric-tahir-ul-qadri-to-convene-awami-parliament/
----------
48 suspected militants killed in fresh NWA, Khyber airstrikes
August 19, 2014
PESHAWAR: At least 48 suspected militants were killed, seven hideouts, nine vehicles and several motorcycles were destroyed in fresh air strikes carried out by fighter jets and Cobra gunship helicopters in the Khyber and North Waziristan tribal regions, sources in the Inter-Services Public Relations (ISPR) said.
Airstrikes were carried out in the Kokikhel area of Tirah Valley in Khyber and in the North Waziristan tribal area earlier during the day during which 18 suspected militants and seven suspected hideouts were destroyed.
Later, 30 more suspected militants were killed, nine vehicles and several motorcycles belonging to suspected militants were destroyed in fresh strikes carried out by Pakistan Army's Cobra gunship helicopters in North Waziristan tribal region
However, these claims could not be independently verified as journalists have limited access to the restive tribal agency.
Read more here: 20 suspected militants killed in fresh N Waziristan airstrikes
The strikes come as military operation Zarb-i-Azb is under way in the North Waziristan tribal region. The operation was launched on June 15 following a brazen militant attack on Karachi's international airport and failure of peace talks between the government and Tehreek-i-Taliban Pakistan negotiators.
Nearly a million people have fled the offensive in North Waziristan, which is aimed at wiping out longstanding militant strongholds in the area, which borders Afghanistan.
http://www.dawn.com/news/1126325/48-suspected-militants-killed-in-fresh-nwa-khyber-airstrikes
----------
Bajaur: Blast kills six including school teachers and children
August 19, 2014
Peshawar- At least six people were killed on Tuesday when a remote-controlled explosive device went off in Salarzai tehsil of Bajaur tribal region, official sources said.
The deceased include three female teachers, two children and a driver. The explosive material was planted along a roadside in the Tangi area of Salarzai tehsil which exploded when a school van was passing through it. Rescue teams rushed to the site of the incident and shifted the injured to
Agency Headquarters Hospital in Khar. There was no immediate claim of responsibility for the attack. The incident comes days after a child was killed and six others sustained serious wounds in a remote-controlled blast in Bajaur's Nawagai tehsil. Also, on August 13, a pro-government tribal elder and leader of the Salarzai Peace Committee was attacked in a roadside blast in Golo Shah area. He remained unhurt in the incident. After the explosion, security and Levies forces cordoning off the area and started search operation.
http://www.nation.com.pk/national/19-Aug-2014/bajaur-blast-kills-six-including-school-teachers-and-children
----------
Woman among 8 shot dead in Karachi Sectarian Killings
August 19, 2014
KARACHI - At least eight people including a woman were killed in various violent incidents here on Monday.
Unabated sectarian killing continues in the City that claimed three lives in two separate targeted attacks.
Gunmen on motorbikes shot dead Kashif Hussain Rizvi, 34, and Bakshish Hussain Ansari, 55, near Kati Pahari, Qalandria Chowk. Police officials said the incident took place in the wee hours of Monday when both of them were going to their workplaces on their motorcycles.
SHO Haq Nawaz said some armed motorcyclists chased and targeted them. The incident occurred over sectarian grounds.
In another incident, four men were wounded when armed motorcyclists opened indiscriminate fire at a bakery situated at city's prominent food street – Hussainabad - that falls within the jurisdiction of Azizabad police station. The injured were immediately shifted to Abbasi Shaheed Hospital where two Fida Hussain, 35, and Zeeshan Ali, 30, succumbed to injuries. Injured Akhtar Hussain and Mumtaz were admitted to the hospital.
Victim Fida and the injured belonged to Shia community and hailed from Gilgit-Baltistan. Another victim Zeeshan belonged to Sunni community and hailed from Multan. DSP Saleem Akhtar said the bakery was attacked on sectarian grounds. Though, the employees there belonged to different sects because the same bakery had earlier been attacked in 2012 in which one shopkeeper was killed.
Majlis Wahdat-e-Muslimeen (MWM) strongly condemned the killings and demanded arrest of the culprits. MWM spokesperson said 30 people were killed in a month alone.
Separately, Taj Din, 48, was shot dead in Korangi industrial area. SHO Saadat Butt said the victim was travelling on a passenger van when armed motorcyclists shot him dead apparently over personal enmity.
Similarly, Abdul Hakeem, 24, was killed and another Asghar, 25, was wounded in Marvi Goth within the jurisdictions of Shah Latif police station. Police officials said the incident took place over offering resistance in a robbing bid.
Meanwhile, a woman namely Saima, 22, was slaughtered inside his apartment in Bin Qasim. Police officials said the victim's brother-in-law namely Amanullah was behind the incident. He killed his sister-in-law over unexplained reasons.
Another body of woman was found dead from Samanabad locality. The body was shifted to Edhi morgue for identification after autopsy at Abbasi Shaheed Hospital.
http://www.nation.com.pk/karachi/19-Aug-2014/woman-among-8-shot-dead-in-karachi
----------
Dangerous game: PTI to march into Red Zone with women, children
August 19, 2014
PESHAWAR: The Pakistan Tehreek-I-Insaf (PTI) has devised a dangerous strategy to march into the Red Zone and Constitutional Avenue.
PTI sources have said that women and children will be included in the march towards areas guarded by riot police, paramilitary forces, containers and barbed wire.
K-P Minister Shaukat Yousafzai confirmed that women and children would march in the second row, right behind key PTI legislators and Imran Khan. The PTI Youth Wing would follow behind the women. When questioned about the inclusion of women and children, Yousafzai said the march would be peaceful, and the women and children were being placed in the centre for their safety.
Full report at:
http://www.dawn.com/news/1126335/dangerous-game-pti-to-march-into-red-zone-with-women-children
----------
Martial law can't be ruled out in case of violence: Yousuf Raza Gilani
August 19, 2014
LAHORE: Former prime minister Yousuf Raza Gilani has said martial law cannot be ruled out if violence erupts in the wake of the Pakistan Tehreek-i-Insaf and Pakistan Awami Tehreek protest marches in Islamabad.
"Martial law cannot be ruled out if there is violence in Islamabad," Gilani said.
He was presiding over a meeting of the PPP leaders held at the residence of Mian Manzoor Wattoo here on Monday.
Sardar Latif Khosa, Makhdoom Shahabuddin, Imtaiz Safdar Warrich, Rana Shaukat Mahnood, Raja Riaz, Mian Misbahur Rehman, Azizur Rehman Chann, Dewan Mohyyiuddin, Aurangzeb Burki, Aslam Gill, Raja Amir, Abdul Waheed and Shaukat Basra were present in the meeting which was called to discuss the ongoing political crisis in the country.
Talking to Dawn after the meeting, Mr Gilani said the Sharif brothers should have shown flexibility to defuse the crisis. "Nawaz has ego problem. Shahbaz Sharif should have ordered registration of FIR in Model Town killing incident on the application of PAT."
Mr Gilani said the PPP was not in favour of civil disobedience as it might aggravate the problems.
Full report at:
http://www.dawn.com/news/1126294/martial-law-cant-be-ruled-out-in-case-of-violence-gilani
----------
Arab World
Islamic State Establishes Jihadist Hub in the Heart of Middle East
By Reuters
August 19, 2014
The Islamic State is well-resourced, with young volunteers, cash to buy weapons and pay wages, plus an arsenal of weapons it captured from the Iraqi army in June.
Ridiculed at first, the new power which has seized a third of Iraq and triggered the first American air strikes since the U.S. troop withdrawal in 2011 – has carved itself a powerful and possibly lasting presence in the Middle East.
The bombing of fighters of the Sunni Islamic State is unlikely to turn around Iraq and its fragmented condition has given the self-proclaimed caliphate the opportunity to establish a hub of jihadism in the heart of the Arab world.
To confront the Islamic State storming through the villages of eastern Syria and western Iraq, an international coalition sanctioned by the United Nations would need to be set up, analysts in and outside the Gulf region said.
The jihadist army, whose ambition for a cross-border caliphate between the Euphrates and the Tigris rivers was not initially taken seriously by their opponents, is now brimming with confidence, emboldened by blood and treasure.
Full report at:
http://gulfbusiness.com/2014/08/islamic-state-establishes-jihadist-hub-heart-middle-east/#.U_L-UMVdU4U
----------
'Men Can Peep At Future Wives While She Is Showering,' Egypt Fatwa Claims
August 19, 2014
An Egyptian preacher's controversial remarks have hit the headlines this week after he issued a fatwa (religious edict) allowing a man to see his wife-to-be "while she is showering" before they marry.
In a video, Salafist preacher Usama al-Qawsi said that the man can "hide" while watching the woman he "intends to marry" bathe.
"If you were really honest and wanted to marry that woman, and you were able to hide and watch her in secret, see the things that she wouldn't usually let you see before marrying her, then it is acceptable as long as your intentions are pure," Qawsi said in a video.
"One of the Prophet's companions did that. Some disapproved and told him: 'How do you do that when you're one of the Prophet's companions?' The Prophet answered: 'If you can see something that would make you want to marry her then go ahead and do it.'"
In Islam, it is prohibited a woman to show parts of her body other than her hands and face to males, other than her husband, or direct members of her family known as "Mahram."
But his fatwa was swiftly rejected by the Egyptian Minister of Religious Endowments Mohammad Mukhtar.
Full report at:
http://english.alarabiya.net/en/variety/2014/08/18/Egypt-preacher-s-fatwa-Men-can-peep-at-future-wives-.html
----------
17 ISIL terrorists killed in Mosul by US airstrike
August 19, 2014
Nineveh (IraqiNews.com) The US warplanes conducted airstrikes against the ISIL terrorists in Mosul to kill 17 of them.
Security source stated to IraqiNews.com "The US warplanes conducted airstrikes against the ISIL terrorists in Zamar village of northern Mosul to kill 17 ISIL terrorists." /End/
http://www.iraqinews.com/iraq-war/1-isil-terrorists-killed-in-mosul-by-us-airstrike/
----------
ISIS message to America: 'we will drown all of you in blood'
19 August 2014
The Islamic State of Iraq and Syria (ISIS) militant group that has seized large parts of Iraq and drawn the first American air strikes since the end of the occupation in 2011 has warned the United States it will attack Americans "in any place" if the raids hit its militants.
The video, which shows a photograph of an American who was beheaded during the U.S. occupation of Iraq and victims of snipers, featured a statement which said in English "we will drown all of you in blood."
U.S. airstrikes on Kurdish forces in northern Iraq have helped the fighters take back some territory captured by ISIS militants, who have threatened to march on Baghdad.
The latest advance by ISIS, an al-Qaeda offshoot, sent tens of thousands of members of the Yazidi ethnic minority and Christians fleeing for their lives and alarmed the Baghdad government and its Western allies.
Full report at:
http://english.alarabiya.net/en/News/middle-east/2014/08/19/ISIS-message-to-America-we-will-drown-all-of-you-in-blood-.html
----------
Egypt army kills 2 militants in North Sinai
August 19, 2014
The Egyptian army killed two militants in an operation in North Sinai's Rafah and Sheikh Zuweid, and arrested seven others, state news agency MENA reported.
MENA added that several "terrorist hideouts" used to launch attacks against army and police forces in Sinai were destroyed, as well as two tunnels connecting Sinai to Gaza it claimed were used for smuggling.
Egypt's army is countering an insurgency based in the North Sinai governorate by Islamist militants that has so far led to the deaths of hundreds of police and army personnel.
A surge in violence occurred after the bloody dispersal of a sit-in in support of ousted Islamist president Mohamed Morsi in August 2013, moving militant activity to the Cairo and the Nile Delta, as well as Upper Egypt.
http://english.ahram.org.eg/NewsContent/1/64/108745/Egypt/Politics-/Egypt-army-kills--militants-in-North-Sinai.aspx
----------
Iraqi forces mount operation against ISIS in Tikrit
19 August 2014
Iraqi forces launched an operation on Tuesday to drive fighters from the Islamic State of Iraq and Syria (ISIS) out of Tikrit, hometown of executed former dictator Saddam Hussein, officers in the operations room said, according to Reuters news agency.
They were advancing rapidly from the south but were slowed by landmines, roadside bombs and snipers in the west, an army major and a police captain said.
Iraqi and Kurdish forces have been encouraged by the first U.S. air strikes in the country - launched against the hardline Sunni insurgents - since American troops withdrew in 2011.
Humanitarian aid
Meanwhile, the U.N. refugee agency UNHCR said it is launching a major humanitarian aid push into northern Iraq to help 500,000 displaced, according to Reuters news agency.
http://english.alarabiya.net/en/News/2014/08/19/Iraqi-forces-mount-operation-against-ISIS-in-Tikrit.html
----------
Iraqi Kurds press anti-militant drive as US, UK turn up heat
(AFP) / 19 August 2014
Kurdish peshmerga fighters backed by federal forces and US warplanes pressed a counter-offensive on Monday against Islamic State militants after retaking Iraq's largest dam, as the United States and Britain stepped up their military involvement.
The recapture of Mosul dam marks the biggest prize yet clawed back from Islamic State (IS) since they launched a major offensive in northern Iraq in June, sweeping Iraqi security forces aside.
US aircraft are carrying out strikes in support of the forces battling IS militants, who have declared a "caliphate" straddling vast areas of Iraq and Syria.
The militants also came under attack in their Syrian stronghold of Raqa by Syria's air force for a second straight day on Monday.
Full report at:
1.asp?xfile=data/middleeast/2014/August/middleeast_August174.xml&section=middleeast
----------
Lebanon's Hezbollah kills top militants in Syria
19 August 2014
Fighters from Lebanon's Hezbollah have killed a top militant from the Islamic State group in Syria who allegedly planned bloody attacks in Lebanon, a monitoring group said on Tuesday.
The Syrian Observatory for Human Rights said Hezbollah fighters had killed Abu Abdullah al-Iraqi in the Qalamun region in Syria, near the border with Lebanon.
He "was one of the officials in the Islamic State in charge of preparing suicide attacks", the group said.
"He was killed by a roadside bomb planted by Hezbollah that detonated as his vehicle passed by," the NGO added, saying three other militants were also killed in the blast.
Hezbollah's Al-Manar television station meanwhile reported Iraqi's death, but said he had been killed by the Syrian army.
"The Islamic State official Abu Abdullah al-Iraqi has been killed in a Syrian army operation in Qalamun," al-Manar said.
Full report at:
http://english.alarabiya.net/en/News/2014/08/19/Lebanon-s-Hezbollah-kills-top-militants-in-Syria-NGO.html
----------
Saudi Arabia renews call for efforts to tackle terrorism
19 August 2014
Prince Muqrin, deputy crown prince and second deputy premier, chaired a Cabinet session at Al-Salam Palace in Jeddah on Monday afternoon that discussed talks between Custodian of the Two Holy Mosques King Abdullah and King Abdullah II of Jordan on international issues such as the Israeli aggression in Gaza.
Minister of Culture and Information Abdulaziz Khoja said in a statement to Saudi Press Agency (SPA) following the session that the Cabinet renewed the Kingdom's calls to unify efforts to confront the threat of terrorism and the importance of coordination between countries to eliminate it.
It expressed thanks to King Abdullah for his donation of $100 million to the International Center for Counter-Terrorism because of his belief that terrorism is "an evil causing concern to the international community and threatening all humanity," said Khoja.
Full report at:
http://english.alarabiya.net/en/News/2014/08/19/Saudi-Arabia-renews-call-for-efforts-to-tackle-terrorism.html
----------
Africa
Maghreb al-Qaeda torn apart by ISIS
August 19, 2014
Abu Bakr al-Baghdadi's call for all jihadists to swear allegiance to his so-called caliphate is dividing al-Qaeda's Maghreb branch.
Sahel security may now hinge on whether regional terror groups shift their loyalty from al-Qaeda to the self-declared "Islamic State" (ISIS).
Al-Qaeda in the Islamic Maghreb (AQIM) is split between those who see al-Baghdadi as their new leader and those who remain under the banner of the parent al-Qaeda organisation led by Ayman al-Zawahiri.
The infighting started in mid-July, when AQIM chief Abdelmalek Droukdel (alias Abou Moussaab Abdelouadoud) decided not to ally his group with al-Baghdadi's terror organisation in the Levant.
He refused to recognise the Islamic State and instead renewed his allegiance to al-Zawahiri.
AQIM's rejection of the Islamic caliphate was reported by the SITE Intelligence Group, which monitors radical Islamists' internet activities.
Full report at:
ttp://magharebia.com/en_GB/articles/awi/reportage/2014/08/15/reportage-01
----------
Boko Haram gunmen kill 10 in Nigeria
August 19, 2014
KANO: Suspected Boko Haram gunmen killed 10 people who had fled their homes to escape repeated attacks by the insurgents, after hunting them down in a nearby village, witnesses said.
Residents of Krenuwa village fled to nearby communities after a Boko Haram raid last month that left seven dead and saw the extremists raze a military camp, police station and several homes.
About a dozen militants stormed the villages of Durwa and Maforo in the Marte district on Sunday, where some of them were seeking refuge.
"They came on motorcycles and gathered people before singling out their victims who moved in from Krenuwa after it was attacked", said Usman Ari, a Durwa resident.
Full report at:
http://www.dawn.com/news/1126207/boko-haram-gunmen-kill-10-in-nigeria
----------
Efforts to Improve Human Rights in Somalia
August 19, 2014
Mogadishu (DIPLOMAT)-The Federal Government of Somalia is working with the African Union Mission in Somalia (AMISOM) to shore up its human rights record tainted by many years of internal conflict.
Somalia's Women and Human Rights Minister, Ms Khadija Mohamed Dirie, said her ministry had developed a national action plan to address human rights issues in the country and efforts were underway to align regional and international human rights conventions and instruments with the country's laws.
Plans were underway to ratify the African Charter on the Rights and Welfare of Children, she said, adding that her ministry would soon launch a National Child Protection Policy, which will be developed with the help of AMISOM.
Full report at:
http://diplomat.so/2014/08/19/efforts-to-improve-human-rights-in-somalia/
----------
More than 100 children released from armed groups in CAR over past week
August 19, 2014
One hundred and three children age 8 to 17 were released over the past week from armed groups in Bangui following negotiations with armed group leaders.
The 103 children, 13 of whom are girls, were associated with the anti-Balaka armed groups operating mainly in Bangui and in the western part of CAR, who took up arms in retaliation for attacks from ex-Seleka forces in the last year and a half of violence.
"As the conflict continues, the number of children being used in armed groups has increased dramatically," said Souleymane Diabaté, UNICEF Representative in Central African Republic. "Recruitment of children into conflict is a grave violation of child rights, and these children have witnessed a level of violence that no child should ever have to experience."
Eleven of the 103 children are unaccompanied and remain separated from their families. Full report at:
http://www.unicef.org/media/media_74816.html
----------
Libya's Haftar claims air strikes on Tripoli
19 August 2014
Renegade General Khalifa Haftar's air force was responsible for strikes on Islamist-leaning militia in Tripoli on Monday, one of his commanders said, after weeks of fighting for the capital in Libya's worst violence since Muammar Qaddafi was toppled in 2011.
Fighters from Misrata - east of Tripoli - have been battling militia from the western Zintan region for weeks and have thrown the North African state into anarchy. Zintanis and Misratis worked together to topple Qaddafi but have fallen out since.
The fighting hitherto has been limited to ground action with artillery and rockets. None of the militias had been thought to own warplanes, while the central government has only an outdated air force, badly in need of repair.
Libyan television news channels speculated that the country's neighbors might be behind the overnight air strikes, which Tripoli official Mohammed al-Kriwi said had killed about five people and wounded as many as 30.
Full report at:
http://english.alarabiya.net/en/News/middle-east/2014/08/19/Libya-s-Haftar-claims-air-strikes-on-Tripoli.html
---------
South Asia
Some 700 Taliban fighters begin offensive near Kabul: officials
August 19, 2014
LOGAR: Some 700 Taliban fighters armed with heavy machine guns are battling Afghan security forces in Logar province, just outside the capital Kabul, Afghan officials said on Tuesday.
"There are some 700 of them and they are fighting Afghan forces for territorial control and they have also brought with them makeshift mobile (health) clinics," Niaz Mohammad Amiri, the provincial governor of Logar, told Reuters by telephone.
No longer pinned down by U.S. air cover, Taliban fighters are attacking Afghan military posts in large numbers with aim of taking and holding ground, a shift from the hit-and-run strikes to posses of gunmen, explosives and suicide attacks.
http://www.thenews.com.pk/article-157257-Some-700-Taliban-fighters-begin-offensive-near-Kabul:-officials
----------
Maldivians not allowed to express or assemble freely: Democracy Network
By Lucy Lovell | August 18th, 2014
The Asian Forum for Human Rights and Development (FORUM-ASIA) and the Maldivian Democracy Network (MDN) jointly reiterated their call on the government of Maldives to make substantial changes to the laws on assembly and association at a press conference held yesterday (August 17).
"The people of Maldives are not allowed to express or assemble freely, which is a fundamental right they are taking away from them," argued Shahinda Ismail, Executive Director of MDN.
Changes need to be made in order to meet the country's constitutional guarantees of fundamental rights and legal obligations under international human rights law, including the International Covenant on Civil and Political Rights (ICCPR), to which Maldives is party, read a press release from FORUM-ASIA.
Full report at:
http://minivannews.com/politics/maldivians-not-allowed-to-express-or-assemble-freely-maldivian-democracy-network-89695
----------
'At Least 2,000 Uyghurs Killed' in Yarkand Violence: Exile Leader
August 19, 2014
An exile Uyghur leader has claimed that at least 2,000 ethnic minority Uyghurs may have been killed by Chinese security forces following riots last week in a restive county in China's western Xinjiang region, far more than reported by the state media.
Citing "evidence" from the ground, Rebiya Kadeer, president of the Germany-based World Uyghur Congress (WUC), accused the Chinese authorities of a cover up of what she called a "massacre" of Uyghurs in Yarkand (in Chinese, Shache) county in Xinjiang's Kashgar prefecture on July 28.
Chinese state media had at first said "dozens" of people were killed but revised upwards the death toll to 96 this week, saying the riots erupted after a "gang" of Uyghurs attacked a police station and government offices in Yarkand's Elishku township and that the authorities reacted with "a resolute crackdown to eradicate terrorists."
Full report at:
http://www.rfa.org/english/news/uyghur/yarkand-08052014150547.html
---------
Tribal elders in Kunar, Afghanistan, warns to uprise against Pakistani shelling
August 19, 2014
The tribal elders in eastern Kunar province of Afghanistan have warned to uprise if the Pakistani artillery shelling did not stop in this province.
Elders from 14 different provinces of Kunar province gathered in Asadabad along with a number of religious clerics to discuss the issue of Pakistani shelling and interference in Afghanistan.
They called for an immediate halt to cross-border shelling and Pakistan's interference in Afghanistan and warned that local residents of Kunar province will uprise against Pakistan if the shelling persists.
Full report at:
http://www.khaama.com/tribal-elders-in-kunar-warns-to-uprise-against-pakistani-shelling-6573
----------
Name of Muslim group in Myanmar goes unspoken
August 19, 2014
WASHINGTON: Myanmar's downtrodden Rohingya Muslims have been denied citizenship, targeted in deadly sectarian violence and corralled into dirty camps without aid. To heap on the indignity, Myanmar's government is pressuring foreign officials not to speak the group's name, and the tactic appears to be working.
UN officials say they avoid the term in public to avoid stirring tensions between the country's Buddhists and Muslims. And after Secretary of State John Kerry recently met Myanmar leaders, a senior State Department official told reporters the US thinks the name issue should be "set aside".
That disappoints Tun Khin, president of the activist group Burmese Rohingya Organisation UK. He said by not using it, governments are co-operating with a policy of repression. "How will the rights of the Rohingya be protected by people who won't even use the word 'Rohingya'?" he said.
Full report at:
http://www.dawn.com/news/1126232/name-of-muslim-group-in-myanmar-goes-unspoken
----------
Karzai asks Pakistan to stop its destructive role in Afghanistan
August 19, 2014
Afghan President Hamid Karzai has asked Pakistan to its stop destructive role in Afghanistan.
Pakistan has been accused by Afghan government for backing the anti-government armed militant groups to fight the Afghan forces and destabilize the country.
President Karzai made the remarks during the 95th Independence Day commemoration where he referred towards the continued cross-border shelling in eastern Afghanistan.
The remarks by President Karzai also comes as the National Security Council (NSC) accused Pakistani intelligence for arming and funding the militiamen in an attempt to destabilize Afghanistan.
The Ministry of Defense of Afghanistan presented its reports regarding the latest attempts of Pakistan to NSC meeting on Sunday, and said the Pakistani intelligence is attempting to destabilize Afghanistan by funding the militiamen and provoke them against the residents on this side of Durand Line.
The report also added that the militiamen are paid 30,000 Pakistani rupees on monthly basis besides arming them in a bid to use them to destabilize the regions located across the Durand Line in Afghan soil.
http://www.khaama.com/karzai-asks-pakistan-to-stop-its-destructive-role-in-afghanistan-6572
----------
NATO airstrike leaves 2 militants dead in Kunar province
August 19, 2014
At least two militants were killed following an airstrike by NATO-led coalition forces in eastern Kunar province of Afghanistan.
Local government officials said the airstrike was carried out by unmanned aerial vehicle (UAV) in Sarkano district late Monday night.
Provincial police chief, Gen. Abdul Habib Syed Khel, said the airstrike targeted a compound of the anti-government armed militants in Sarkano district.
Gen. Syed Khel confirmed that two militansts were killed following the airstrike and a civilian was also injured.
The anti-government armed militant groups have not commented regarding the report so far.
Kunar is among the volatile provinces in eastern Afghanistan where anti-government armed militant groups including the Taliban militants are actively operating.
http://www.khaama.com/nato-airstrike-leaves-2-militants-dead-in-kunar-province-6570
----------
Mideast
Jerusalem warns West on Iran: Don't partner with one devil to fight another
August 19, 2014
Amid signs that Western leaders may try to work with Iran to halt the march of Sunni Islamic extremists like the Islamic State, Jerusalem's message to the world is to be wary of strengthening one bad actor in order to combat another, government officials said Monday.
British Prime Minister David Cameron, in a piece that appeared in The Sunday Telegraph, wrote: "The creation of an extremist caliphate in the heart of Iraq and extending into Syria is not a problem miles away from home. Nor is it a problem that should be defined by a war 10 years ago. It is our concern here and now. Because if we do not act to stem the onslaught of this exceptionally dangerous terrorist movement, it will only grow stronger until it can target us on the streets of Britain."
Cameron added that, "We must work with countries like Saudi Arabia and Qatar, the UAE, Egypt and Turkey against these extremist forces, and perhaps even with Iran, which could choose this moment to engage with the international community against this shared threat."
On June 26, soon after the Islamic State, then known as ISIS, made extraordinary gains in Iraq, Prime Minister Binyamin Netanyahu said on NBC's Meet the Press that Washington's approach should be to try simultaneously to weaken both Iran and the extremist Sunni organization.
Full report at:
http://www.jpost.com/Middle-East/Jerusalem-warns-West-on-Iran-Dont-partner-with-one-devil-to-fight-another-371460
---------
Spreading extremism is the main danger of ISIL: Sabbah Zanganeh
August 19, 2014
Sabbah Zanganeh in an exclusive interview with Taqrib News Agency (TNA) voiced hope that appointing the new Iraqi Prime Minister can put an end to the political showdown.
"DAESH is derived from Al-Qaida, and introduce itself as a wing of this extremist group," said the political analyst stating that this group thereafter forwarding some operations in Iraq, move toward Syria and after a while, due to political turmoil in Iraq, attack the country again and gained new weapons and momentum in the area.
According to the political analyst, this terroristic group of DAESH although project themselves as Muslims, all the same they are not Islamic one as to the scale of massacre they perpetrated among people from all religions and Islamic denominations and sects.
"The main threat and danger carried by this group is spreading extremism in the region," said Zanganeh.
Full report at:
http://www.taghribnews.com/vdcfyvdyvw6dvva.r7iw.html
----------
Israeli offensive cost Gaza billions: Palestinian official
August 19, 2014
Israel's nearly two-month military campaign against the Gaza Strip has cost the coastal enclave an estimated six to eight billion dollars, a senior Palestinian official said on Monday.
After over 40 days of an Israeli war and blockade, "the territory is now a devastated area that needs unified efforts in order to reconstruct it", Xinhua quoted Mufeed al-Hasayna, Minister of Housing and Public works in the Palestinian unity government, as saying at a workshop held in Gaza City.
"Within the last six years, Israel waged three wars on the Gaza Strip and kept its tight blockade imposed on it," Mr. Hasayna said. " This war is the toughest and longest and has caused negative consequences on the people and their living conditions."
At the workshop, representatives of international organizations and donor countries discussed how to organise the process of reconstructing the strip, mainly resolving the problem of around 2,50,000 displaced Palestinians whose homes were destroyed during the war.
"Some 20,000 housing units were either completely destroyed or very badly damaged and are not fit for living in, while there are 40,000 housing units that need renovations," Mr. Hasayna said, adding "there is an urgent need also to collect all the rubble from the destroyed houses."
Full report at:
http://www.thehindu.com/news/international/world/israeli-offensive-cost-gaza-billions-palestinian-official/article6330903.ece
------------
Israel, Palestinians renew truce but see risk of more Gaza violence
August 19, 2014
The chief Palestinian delegate to truce talks with Israel warned on Aug. 19 that violence could erupt anew in Gaza unless progress is made toward a lasting deal ahead of a midnight deadline in Egyptian-brokered talks.
After a last-minute agreement was stuck with Israel to extend an expiring truce by 24 hours, Azzam al-Ahmad, senior leader of President Mahmoud Abbas's mainstream Fatah movement, said in Cairo that there had been "no progress on any point" in talks aimed at resolving the Gaza conflict.
"We hope that every minute of the coming 24 hours will be used to reach an agreement, and if not (successful), the circle of violence will continue," Ahmad said.
He accused Israel of "maneuvering and stalling" as gaps on key issues continued to dog efforts to achieve a long-term deal between Israel and militant groups in the Gaza Strip, dominated by Hamas Islamists, which would allow reconstruction aid to flow in after five weeks of fighting.
Full report at:
http://www.hurriyetdailynews.com/israel-palestinians-renew-truce-but-see-risk-of-more-gaza-violence.aspx?pageID=238&nID=70604&NewsCatID=352
----------
Israeli ambassador invited to UK's 'Israel-free zone'
August 19, 2014
Israel's ambassador to the United Kingdom visited a city whose representative to Parliament declared an "Israel-free zone."
Daniel Taub came to Bradford, in northern England, on Monday at the invitation of community members, the local Telegraph and Argus newspaper reported. Taub met with local lawmakers, faith leaders and representatives of other community organizations.
George Galloway of the Respect party announced at a party meeting on Aug. 2, "We have declared Bradford an Israel-free zone."
"I am here because I was invited to come by the people of Bradford, who sent a clear message that George Galloway does not represent them," Taub said during his visit, according to the newspaper. "I don't believe George Galloway is the real voice of Bradford. There is a long history of cooperation between Bradford and Israel."
Full report at:
http://www.jpost.com/Diaspora/Israeli-ambassador-invited-to-UKs-Israel-free-zone-371461
----------
North America
US Muslim Convention Welcomes All Faiths
August 19, 2014
"We want to give an opportunity to give a lesson of Islam from the scholars. If people have any questions, difficult questions, they can ask them," Dr. Sabeel Ahmed of the Islamic Circle of North America was quoted by Journal Star on Sunday, August 17.
"We are here to erase some misconceptions."
Dr. Ahmed was speaking at a "Window of Peace" open house on Sunday, August 17.
The event, part of 2014 Islamic Circle of North America Midwest Convention, which launched on August 16, started late on Sunday morning to allow Christians to attend after finishing their church prayer.
Entering the Peoria Civic Center, visitors, either Muslims or non-Muslims, were greeted with a cordial "as-salamu alaykum" which could be roughly translated as "peace of God be upon you".
Along with Dr. Ahmed, Dr. Mohammed Yunus of the Islamic Circle stood in front of roughly 50 people to outline the shared tenets of Islam and Christianity.
Both faiths, according to Yunus, shared the belief in heaven and hell, the belief in a merciful God, a love for peace and a need to do good in the world.
Full report at:
http://www.taghribnews.com/vdccoeqse2bqep8.-ya2.html
----------
American airlines barred from flying over Syria
19 August 2014
The U.S. Federal Aviation Administration (FAA) has issued an order barring all American airlines from flying through Syrian airspace, saying the ongoing conflict poses a "serious potential threat," Reuters news agency reported.
The FAA had previously warned American carriers against flying over Syria, the new rule however requires operators to contact the aviation authority before operating in the airspace.
The agency said the move was taken following an "updated assessment of risk" and a lack of airlines wishing to fly in the airspace.
"The ongoing armed conflict and volatile security environment in Syria poses a serious potential threat to civil aviation," the FAA said in a statement.
Syria is in the middle of a civil war in which 170,000 people have died since 2011.
The FAA also said "opposition elements" had warned civilian airlines not to provide service to Syria.
Full report at:
http://english.alarabiya.net/en/News/middle-east/2014/08/19/FAA-warns-against-syrian-airspace-.html
----------
Obama promises to 'turn the tide' against ISIS
19 August 2014
U.S. President Barack Obama said that the United States has embarked on a long-term mission to defeat the insurgents of the so-called Islamic State of Iraq and Syria (ISIS) militants fighting in Iraq.
"We will continue to pursue a long-term strategy to turn the tide against ISIL by supporting the new Iraqi government and working with key partners in the region," Obama said during a news conference at the White House on Monday, using another acronym by which the group is known.
Full report at:
http://english.alarabiya.net/en/News/middle-east/2014/08/19/Obama-promises-long-term-strategy-against-ISIS.html
----------
US adds Islamic State, Al Nusrah Front leaders to list of global terrorists
August 19, 2014
The US State Department today added two jihadists to its list of Specially Designated Global Terrorists; one is the spokesman for the Islamic State, and the other supports the Al Nusrah Front for the People of the Levant, al Qaeda's official branch in Syria.
State added Said Arif, an Algerian national who fled France in 2013 while under house arrest to join the Al Nusrah Front, and Abu Mohammed al Adnani, a Syrian who is the Islamic State's top propagandist.
Said Arif
Arif, whose real name is Omar Gharib, has been involved with al Qaeda and other jihadist movements since the early 1990s. He is wanted by both the French and Algerian governments.
"Arif is an Algerian army officer deserter, who travelled to Afghanistan in the 1990s, where he trained in al Qaeda camps with weapons and explosives," the State Department said in a press release announcing the designations. "Arif is a long-time terrorist who was a suspect in the al Qaeda December 2000 plot to bomb the Strasbourg Christmas market."
He is said to have traveled to Pakistan, the Panski Gorge in Georgia, and then Syria, where he worked with al Qaeda in Iraq emir Abu Musab al Zarqawi. Syrian security forces detained Arif and deported him to France in 2004.
Full report at:
http://www.longwarjournal.org/archives/2014/08/us_adds_2_islamic_st.php#ixzz3ApLgAHIY
----------
El-Sisi leading democratic transition in Egypt: US
August 19, 2014
Deputy spokesperson of the United States State Department Marie Harf said in a press briefing on Monday that Egypt's President Abdel-Fattah El-Sisi is leading the country's democratic transition, despite recent criticism by the US of Egypt's human rights record and the US holding some of its aid to Egypt pending democratic reform.
"He is, he is," Harf said in response to a question whether the US views El-Sisi as leading a democratic transition in Egypt, but followed it by saying the country has a long way to go.
On 31 July, Harf had stated the aid was halted due to Egypt using weapons against its people, a statement which drew an angry response from Egypt, describing the allegation as a "figment of her imagination."
Full report at:
http://english.ahram.org.eg/NewsContent/1/64/108757/Egypt/Politics-/ElSisi-leading-democratic-transition-in-Egypt-US.aspx
----------
US missile shipment delay should teach Israel a lesson
August 19, 2014
The United States has decided to delay the shipment of Hellfire missiles intended for use by Israel on Apache helicopters. The timing of this news hitting the headlines on Aug. 14 was reminiscent of the first days of the Yom Kippur War, in early October 1973. Then as now, a crisis with the United States erupted while the Israeli public and American Jewry stood in support of the government of Israel, the soldiers on the front lines, and Israeli citizens behind the lines. Then, as now, Washington used a weapons shipment delay to express its discontent with Israeli government policies.
As The Wall Street Journal reported, the transfer of anti-tank missiles intended to penetrate heavy armor was postponed on the grounds that the deal was struck behind the White House's back. On the other hand, however, the citizens of Israel have come to expect that a true friend in the United States would not be so petty when people living in the south are under rocket fire. Even in times of peace, any harm done to the security of the state, even indirectly, including criticism of Israel, is considered a stab in the back of the entire nation. All the more so, when Hamas is firing rockets at the center of the country and bloodthirsty terrorists are digging tunnels beneath their children's bedrooms.
Full report at:
http://www.al-monitor.com/pulse/originals/2014/08/israel-us-obama-administration-pressure-livni-lapid-missile.html#ixzz3AohCglgT
----------
Australia
Young Australian Muslims 'Sick To the Stomach' Over Home-Grown Jihadists
August 19, 2014
A GROUP of young Muslims who attend the Imam Hasan Centre at Annangrove have condemned anyone who is reportedly fighting overseas with jihadist groups.
About 30 Muslim boys and girls aged between 13 and 16 gathered at the Annangrove centre three days after a Bella Vista man faced court charged with using his brother's Australian passport to leave the country.
Federal Police believe the man, 19, left the country to join jihadist fighters in the Middle East.
He was arrested when the flight he was on landed in the United Arab Emirates. He is not affiliated with the Annangrove centre.
Abbas Aly, 47 a Shia Muslim who built the centre 10 years ago, said the teens met on Saturday and said they were "sick to the stomach" about the reports.
"It was good they could talk about it. Their response was 'This is not who we are, we are all Australian'."
Mr Aly, a father of four from Dural, said it was vital that teenage Muslims had access to educated priests who preached in English.
Full report at:
http://www.dailytelegraph.com.au/newslocal/the-hills/young-muslims-sick-to-the-stomach-over-homegrown-jihadists/story-fngr8i1f-1227028540050
----------
India
Day after India cancelled talks, Hurriyat leader Geelani meets Pak envoy
August 19, 2014
A day after India cancelled the Foreign Secretary-level talks with Pakistan to protest against a meeting between Kashmiri separatist leaders and Islamabad's envoy to New Delhi, Hardline Hurriyat Conference leader Syed Ali Shah Geelani on Tuesday met Pakistan's High Commissioner Abdul Basit.
The separatist leader reportedly said that Kashmir is not an internal issue as he slammed government's decision to call off the talks with Pakistan.
Following the development, protests broke out against Geelani outside Pakistan High Commission.
Earlier in the day, Geelani said it was "not a genuine reason" to cancel talks as "we had been talking (to Pakistan) during Congress regime as well as during the tenure of (NDA's Prime Minister) Atal Bihari Vajpayee as well. This is not a new thing."
Geelani said it is "very unfortunate" that the government of India has cancelled the scheduled Foreign Secretary level talks. "India should not have done it. The ground that has been made to cancel the talks is not a genuine cause," he insisted.
Full report at:
http://indianexpress.com/article/india/india-others/day-after-india-cancelled-talks-hurriyat-leader-geelani-meets-pak-envoy/
---------------
MHA data shows 241% rise in cases of overstaying Pakistanis in 2013
DEVESH K. PANDEY
August 19, 2014
A jump of 241 per cent was recorded in the number of Pakistani nationals found overstaying in different parts of the country last year, compared to 1,411 cases in 2012. However, Indian agencies were able to track down and deport barely 58 Pakistani nationals.
The Union Home Ministry data, intriguingly, also reveals a steady increase in the cases of U.S. nationals staying after expiry of their visas. While 2,168 of them were detected in 2011, the figure went up to 3,191 last year, whereas only 49 could be deported to the U.S. in 2013.
Another noticeable trend has been a gradual increase in overstay of foreigners from Sri Lanka, Iraq, Tanzania, Oman and Kenya. A 16 per cent rise in the number of overstaying Afghani nationals was also noticed, with a total of 16,194 such cases being reported last year.
There was a 20 per cent decline, compared to 2012, in the overall figure that stood at 56,785 in 2013 Upward trend in T.N.
Full report at:
http://www.thehindu.com/news/national/mha-data-shows-241-rise-in-cases-of-overstaying-pakistanis-in-2013/article6329903.ece
---------
Militant killed in Kashmir encounter
August 19, 2014
A militant was killed on Tuesday in an encounter with Army near the Line of Control in Tangdhar sector of Kashmir's Kupwara district. "The troops along LoC in Tangdhar sector observed some suspicious movement past midnight. On being challenged, the militant opened fire at Army positions which was retaliated," an Army spokesman said in Srinagar.
He said a militant was killed in the brief exchange of gunfire and an AK rifle was recovered from the spot.
The spokesman said it was not clear yet whether the slain militant was infiltrating from or exhilarating to Pakistan occupied Kashmir. The operation to look for any more militants in the area is still in progress, he added.
http://www.thehindu.com/news/national/other-states/militant-killed-in-kashmir-encounter/article6331153.ece
----------
Southeast Asia
Restoring public's faith in Pakatan a priority, says Kit Siang
August 19, 2014
The Selangor menteri besar issue was the "worst crisis" ever faced by Pakatan Rakyat in its six-year history, said a veteran DAP leader, who urged opposition leaders to restore public confidence quickly.
Lim Kit Siang (pic) said the issue which had been followed closely was also the despair of many Malaysians.
"Last Saturday, the thing at the top of the minds of many would have been whether there would continue to be a Pakatan Rakyat in the next 24 hours, a question nobody could answer with any confidence," Lim said in a statement today.
He said that members of the public in Gelang Patah – his constituency – had shown great interest and concern about the future of PR as a result of the prolonged Selangor MB crisis.
Although the constituents have expressed relief that the coalition had not broken up after PAS made its decision to stand with PR in its decision to remove Tan Sri Abdul Khaid Ibrahim as MB, the crisis had undermined the trust and confidence which the people have in PR.
"PR leaders all over the country, and at all levels, should not delude ourselves into thinking that it had not emerged unscathed from the crisis," he said.
Full report at:
http://www.themalaysianinsider.com/malaysia/article/restoring-publics-faith-in-pakatan-a-priority-says-kit-siang#sthash.1EHXGP44.dpuf
----------
Dr M's right to slam Najib, says Muslim right-wing group
August 19, 2014
Muslim right-wing group Ikatan Muslimin Malaysia (Isma) today agreed with Tun Dr Mahathir Mohamad's outburst against the prime minister, saying that Datuk Seri Najib Razak had been slow in solving the nation's woes.
Isma president Abdullah Zaik Abdul Rahman said numerous problems currently experienced plaguing Malaysia were because of Najib's lack of action which, in turn, nurtured discontentment among the people.
"Dr Mahathir is signalling to Najib to be on his toes, to be sharper. Maybe Dr Mahathir is voicing out the views of the grassroots," he said.
"Many people are unhappy with Najib's performance. And I have to agree because the PM is not listening to the people. The people want him to be more firm and take swifter action.
"But he seems not to be able to do this. He is not fast. That causes all the problems to pile up," Zaik told The Malaysian Insider.
Full report at:
http://www.themalaysianinsider.com/malaysia/article/dr-ms-right-to-slam-najib-says-isma#sthash.QPiTsaR7.dpuf
----------
Europe
UN announces emergency aid for 500,000 northern Iraqis
August 19, 2014
GENEVA: The UN refugee agency said Tuesday it was poised to mount a massive aid operation for 500,000 Iraqis driven from their homes by rebels.
"In response to the deteriorating situation in northern Iraq, UNHCR is this week launching one of its largest aid pushes aimed at helping close to half a million people who have been forced to leave their homes," spokesman Adrian Edwards told reporters.
The militants, who have declared a "caliphate" in a region straddling the Iraq-Syria border, have after two months of violence brought Iraq to the brink of breakup.
To date, the United Nations estimates that 1.2 million Iraqis have been displaced by fighting this year, Edwards said ahead of the extraordinary aid push set to begin Wednesday.
"Barring last-minute delays, an air, road and sea operation will begin tomorrow, starting with a four-day airlift using Boeing 747s from Aqaba in Jordan to Arbil, followed by road convoys from Turkey and Jordan, and sea and land shipments from Dubai via Iran over the next 10 days," he said.
Full report at:
http://www.thenews.com.pk/article-157262-UN-announces-emergency-aid-for-500,000-northern-Iraqis
----------
Uzbeks in Russia are tracked kidnapped, and extradited back to Uzbekistan
August 19, 2014
A group of Russian lawyers is preparing an appeal to the Council of Europe to seek a ban on Russia's illegal extraditions of Uzbek refugees back to their homeland.
Uzbek activists and refugees living in Russia live in danger. At any point an Uzbek national can be captured by their country's National Security Services (SNB) and driven back home in the trunk of a car or under a false name.
Illarion Vasiliev, one of the lawyers preparing the Council of Europe appeal, had a client kidnapped. Mirsobir Hamidkariev, a former producer living in exile in Moscow, who was trying to escape false allegations of associating with banned religious organizations in his native Uzbekistan, was kidnapped from a taxi on June 9 while his wife was buying medicine for their newborn son. Before the kidnapping Hamidkariev had noticed that he was being followed by a car with Asian-looking "sporty" men inside.
Full report at:
http://www.uznews.net/en/human-rights/27237-uzbeks-living-in-exile-in-russia-are-tracked-through-their-cellphones-kidnapped-and-extradited-back-to-uzbekistan
----------
Gaza protests have impact on supermarkets in UK
August 19, 2014
LONDON – Anger has been expressed by Jewish communal leaders at the way Britain's third largest supermarket chain, Sainsbury's, cleared its fridge shelves displaying kosher products at the central London store in Holborn when facing a protest against Israel's actions in Gaza.
The supermarket later apologized for the move, which it blamed on a store manager attempting to limit the potential losses in the face of a possibility that the protesters would invade the shop and try to damage or destroy the contents of the fridge.
The incident on Saturday afternoon followed an attack earlier in the day at a branch of Britain's largest supermarket, Tesco, at the Hodge Hill suburb of Birmingham where demonstrators damaged a range of kosher products as part of their protests over Gaza.
News of the London incident emerged when British actor Colin Appleby showed photographs he had taken of the empty fridge on social media outlets, which led to widespread comment – many of which noted that most of the kosher products removed from the display were not even Israeli products.
Full report at:
http://www.jpost.com/Diaspora/Gaza-protests-have-impact-on-supermarkets-in-UK-371450
----------
HRW says Iran is imprisoning dozens unlawfully
19 August 2014
Human Rights Watch on Tuesday urged authorities in Iran to release immediately and unconditionally dozens of prisoners jailed in a northern city "for exercising their basic rights".
In a lengthy report, the New York-based body studied the cases of 189 people locked up in Karaj, 50 kilometers (30 miles) west of the capital Tehran.
HRW said that in 63 cases prisoners had been arrested, convicted and sentenced "solely because they exercised fundamental rights such as free speech and rights to peaceful assembly or association".
In 35 other cases, in which prisoners had been sentenced to death for terrorism-related offences, the group said it suspected "egregious" due process violations that may have tainted the judicial process.
Full report at:
http://english.alarabiya.net/en/News/middle-east/2014/08/19/HRW-says-Iran-imprisoning-dozens-unlawfully-.html
----------
Poll finds almost no support for accepting Hamas's demands
August 19, 2014
Peace Index poll finds that 58% of Israeli Jews think Israel should continue to fight until Hamas surrenders; overwhelming majority pessimistic that Operation Protective Edge will restore quiet.
Only four tenths of a percent of Israeli Jews think Israel should accept Hamas's demands in order to stop rocket fire from the Gaza Strip, the monthly Peace Index poll sponsored by the Israel Democracy Institute and Tel Aviv University revealed Tuesday.
The poll of 600 respondents who constitute a representative sample of the adult population of Israel was taken last Monday and Tuesday and has a margin of error of 4.1 percent. It found that 58% of Israeli Jews think Israel does not have to meet any Hamas demands and should continue to fight until Hamas surrenders, and 41% think Israel should respond positively to Hamas's demands that are reasonable in terms of Israel's national security.
Full report at:
http://www.jpost.com/Arab-Israeli-Conflict/Poll-finds-almost-no-support-for-accepting-Hamass-demands-371486
----------
URL: https://www.newageislam.com/islamic-world-news/new-age-islam-news-bureau/pakistani-cleric-tahir-ul-qadri-to-convene-'awami-parliament'/d/98622