New Age Islam News Bureau
09 September 2020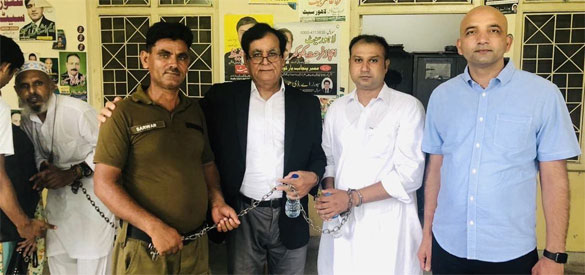 Asif Pervaiz in Lahore court along with Sajid Christopher (right), lawyer Saif Ul Malook (black jacket) and a police officer.
-----
• Taliban Name Mawlavi Abdul Hakim, A Hardline Insurgent Cleric as Chief Negotiator for Afghan Peace Talks
• Alongside Mosque in Ayodhya, A 200-Bed Multi-Specialty Hospital With World Class Facilities
• Stop Buckling to Vernacular Schools and Islamisation, Putrajaya Urged
• Iranian People Hold Rallies against Sacrilege of Holy Quran, Islam Prophet
• At Least 37 Million Displaced by US's So-Called War on Terror: Study
• UK Launches Review into Terrorism Reinsurance Fund
• Fears of ISIS Resurgence as Syria Attacks Escalate
Pakistan
• Pakistani Christian, Asif Pervaiz, Sentenced to Death for Insulting Prophet Muhammad
• Pakistan to hold National Assembly, Senate sessions next week to get FATF bills passed
• Country heading towards anarchy, says Ahsan Iqbal
• Pakistan lawmaker warns of nuclear war over Kashmir
--------
South Asia
• Taliban Name Mawlavi Abdul Hakim, A Hardline Insurgent Cleric as Chief Negotiator for Afghan Peace Talks
• Two Myanmar soldiers at ICC after confessing to Rohingya killings: Reports
• 'Spoilers' could thwart Afghan peace efforts: experts
• US envoy meets Baradar, Haqqani ahead of peace talks
• Afghan Assassination Bid: Vice President Survives Attack Which Kills, Wounds 2 Dozen
--------
India
• Alongside Mosque in Ayodhya, A 200-Bed Multi-Specialty Hospital With World Class Facilities
• Jaishankar expresses condolence for victims of Baitus Saldam mosque gas explosion
• Terrorists hurl grenade at security forces' camp in J&K's Pulwama, no damage caused
--------
Southeast Asia
• Stop Buckling to Vernacular Schools and Islamisation, Putrajaya Urged
• Lack of Local Media Coverage on China Defence Minister's Visit to Malaysia Puzzling, Says Chin Tong
• Muhyiddin in, Mazlan Bujang out as Johor Bersatu chief
• Dr M publishes proposed no-confidence motion against Muhyiddin
• Najib not remorseful after court found him guilty of corruption, says judge
• Indonesia to launch certified program for preachers
• UN welcomes Indonesia's acceptance of Rohingya refugees
--------
Mideast
• Iranian People Hold Rallies against Sacrilege of Holy Quran, Islam Prophet
• Palestinian President bans offensive statements towards Arab leaders including UAE
• Emirati official: Even war on Gaza won't affect deal with Israel
• Hamas, PLO criticize GCC demand for apology over denouncing UAE-Israel
• EU expresses concern about Israeli demolitions in West Bank, al-Quds
--------
North America
• At Least 37 Million Displaced by US's So-Called War on Terror: Study
• US President Trump to Host Israel-UAE Deal Signing Ceremony on Sept 15
• Alleged Boogaloo members face terrorism charges in Minnesota
--------
Europe
• UK Launches Review into Terrorism Reinsurance Fund
• Manchester bomber was seen 'praying' at venue before attack
• Charlie Hebdo, market attacks turned widow into fugitive
• Russia offers to mediate between Cyprus, Turkey in maritime dispute
• UK Supreme Court to hear jihadist bride's citizenship case in November
• Portuguese alleged ISIS supporters have 'link' to kidnapped British photographer
--------
Arab World
• Fears of ISIS Resurgence as Syria Attacks Escalate
• Charity Founded by Syrian Tycoon Rami Makhlouf Has Facebook Page Removed
• First official Israeli trade delegation visits UAE with CEO of Israel's biggest bank
• Lebanon, Israel getting closer to negotiating disputed borders: US official
• Saudi crown prince's Misk Foundation under review amid espionage scandals: Report
--------
Africa
• ISIL Claims Responsibility for Deadly Tunisia Knife Attack
• Truck Bomb in Somalia Kills 3 and Wounds 3, Including a U.S. Soldier
• About 10 Malian soldiers killed in militant attack, army says
Compiled by New Age Islam News Bureau
URL: https://www.newageislam.com/islamic-world-news/pakistani-christian-asif-pervaiz-sentenced/d/122821
--------
Pakistani Christian, Asif Pervaiz, Sentenced to Death for Insulting Prophet Muhammad
Sep 8, 2020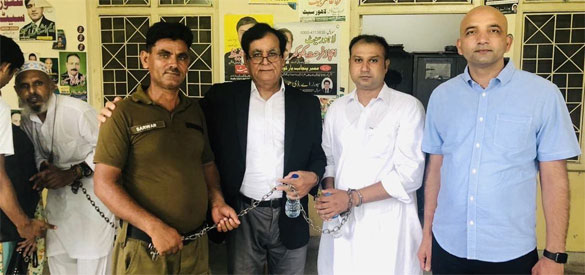 Asif Pervaiz in Lahore court along with Sajid Christopher (right), lawyer Saif Ul Malook (black jacket) and a police officer.
-----
ISLAMABAD: A Lahore-based court on Tuesday sentenced a Christian man to death for having committed "blasphemy", under the strict Pakistani anti-minorities religious laws.
Asif Pervaiz, 37, has been in custody since 2013, when he was charged with sending blasphemous text messages to his former supervisor at work, his lawyer Saif-ul-Malook said.
The trial court rejected his testimony in which Pervaiz rebuffed the charges against him and sentenced him to death.
Malook said the complainant, one Muhammad Saeed Khokhar, is a supervisor in a hosiery factory where Pervaiz worked under him.
"The court convicted Pervaiz even though there was no evidence to implicate him in the case," Malook said.
"He denied the allegations and said that this man (the complainant) was trying to get him to convert to Islam," the counsel added.
Speaking in his own defence in court earlier in the trial, Pervaiz claimed the supervisor confronted him after he left work at the factory, and when he refused to convert to Islam, he was accused of having sent blasphemous text messages to the man.
Ghulam Mustafa Chaudhry, Khokhar's lawyer, refuted the statement made by Pervaiz.
"He (Pervaiz) is making this claim of conversion because he has nothing in his defence," Chaudhry said.
Last month, an Ahmadiyya man was shot dead inside a courtroom in Peshawar in the northwest by a youth over blasphemy allegations that the accused had been facing for two years.
It was followed by the killing of a colleague by a private security guard over an argument about religion. In December last year, a court in Multan sentenced blasphemy accused Junaid Hafeez, a Fulbright scholar, who has been in prison for more than six years, to death.
At least 42 blasphemy-related cases were registered across Pakistan in the last month.
Most of those accused of blasphemy belong to the Shia Muslim sect, who have been booked under Sections 295-A and 298 of the Pakistan Penal Code for allegedly insulting the companions of Prophet Muhammad.
Similarly, members of the Ahmadiyya and Christian communities are also among the people accused of blasphemy.
Amid a rise in such cases, the Human Rights Commission of Pakistan said it was gravely concerned at the recent surge in blasphemy cases against the minorities.
According to the US Commission on International Religious Freedom, up to 80 people are known to be imprisoned in Pakistan on blasphemy charges, with half of them facing life in prison or the death penalty.
https://timesofindia.indiatimes.com/world/pakistan/pakistan-court-sentences-christian-man-to-death-for-blasphemous-texts/articleshow/78003437.cms
--------
Taliban Name Mawlavi Abdul Hakim, A Hardline Insurgent Cleric as Chief Negotiator for Afghan Peace Talks
By Ayaz Gul
September 05, 2020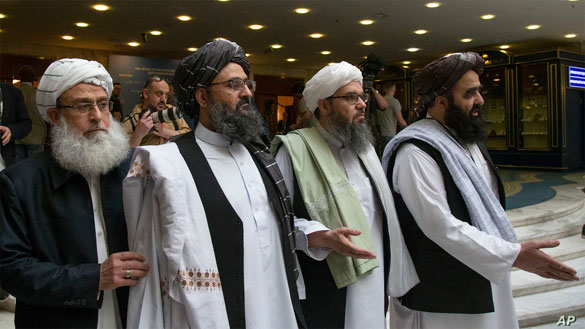 FILE - Mullah Abdul Ghani Baradar, the Taliban group's top political leader, arrives with other members of a delegation for talks in Moscow, May 28, 2019. The top Taliban negotiator says a negotiating team has been finalized for intra-Afghan negociations.
----
ISLAMABAD - Afghanistan's warring factions are set to begin their first direct peace talks early next week in Qatar amid U.S.-led international calls for them to seize the "historic opportunity" to end the country's long war.
The U.S.-brokered dialogue, known as intra-Afghan negotiations, will bring to the table in Doha representatives of the Afghan state and the Taliban insurgency, which runs its political office in the capital of the Gulf nation.
The Taliban announced on Saturday the names of their 21-member negotiating team, led by Mawlavi Abdul Hakim, a hardline insurgent cleric and a close confidant of the Taliban's reclusive chief, Hibatullah Akhundzada. Hakim has been heading the Islamist group's own judicial system enforced in Taliban-held Afghan areas.
"We have formed a strong and inclusive team for intra-Afghan negotiations. It mostly comprises members of the Rehbari Shoura [Taliban leadership council], and the Islamic Emirate's [Taliban] chief justice has been appointed as the team leader," Taliban spokesman Zabihullah Mujahid told VOA.
Officials said the negotiating teams would try to agree on a permanent cease-fire and a political power-sharing arrangement to govern Afghanistan.
The peace process stems from a February agreement Washington sealed with the Taliban to extricate American troops from the country and close the longest U.S. war. The landmark accord was negotiated and signed in Doha on February 29.
Afghan Minister of Economy Mustafa Mastoor told an online forum Saturday evening that Kabul's negotiating team was "fully ready" to depart to Doha "most probably tomorrow [Sunday]."
Cease-fire
An insurgent cease-fire is a priority for Kabul, but it may not come up in the inaugural interaction with the Taliban, the minister told the forum organized by the Pakistan-based Jinnah Institute think tank.
"The first meeting definitely is to break the ice and just to meet each other and then start with the easier issues and going towards the difficult ones," Mastoor said.
Stefano Pontecorvo, NATO's civilian representative to Afghanistan, in his address to the forum cautioned that the dialogue would not be easy and that both sides would need to show "flexibility, good faith and determination" to end the deadly conflict.
"First and foremost, a significant reduction in violence must top the negotiation agenda to give people confidence in the process and its outcome. Popular support is essential for a durable outcome," Pontecorvo said.
"This moment for peace is unique, and the stakes are high. The Afghan people and the world are watching. They will not forget or forgive whoever loses this occasion," the NATO envoy warned.
'Political disunity'
Pontecorvo noted with concern that political differences among leaders in Kabul could undermine the work of the state negotiating team.
"There is no doubt whatsoever that the perceived political disunity of Afghan leadership is a concern for all of us, for NATO and for the international community, as it also impacts on the cohesiveness of the team," he said.
Meanwhile, U.S. peace envoy to Afghanistan Zalmay Khalilzad, who signed the deal with the Taliban, was traveling to Doha to advance ongoing efforts to promote the immediate start of the negotiations.
"The Afghan people are ready for a sustainable reduction in violence and a political settlement that will end the war. Afghan leaders must seize this historic opportunity for peace. … Now is the time to start," said a pre-visit State Department announcement.
Began after 9/11
The war in Afghanistan began with the U.S.-led military invasion of the country to punish and remove the Taliban from power days after the September 11, 2001, terrorist attacks on America that al-Qaida leaders plotted from sanctuaries in Afghanistan.
Since then, more than 150,000 people, including Afghan civilians and local as well as foreign military troops, are estimated to have been killed and millions left homeless in the poverty-stricken country.
The U.S.-Taliban deal requires Washington to withdraw all American and allied troops from Afghanistan by July 2021 in return for insurgent counterterrorism assurances. The Taliban have also pledged to seek political reconciliation with other Afghan factions to end decades of hostilities in the country.
The U.S. has reduced the number of its troops in the country from around 13,000 to 8,600 since signing the deal with the Taliban. President Donald Trump said last month that the number of troops would be reduced to between "4,000 and 5,000" by the November U.S. Election Day.
The intra-Afghan talks were originally scheduled for March 10, but months of delays over a prisoner swap between the Taliban and the Kabul government, as stipulated in the deal, hampered U.S. diplomatic efforts to kick-start the dialogue.
https://www.voanews.com/south-central-asia/taliban-name-cleric-chief-negotiator-afghan-peace-talks?utm_source=iterable&utm_medium=email&utm_campaign=1504744_
--------
Alongside Mosque In Ayodhya, A 200-Bed Multi-Specialty Hospital With World Class Facilities
Sep 09, 2020
The hospital that would come up on the 5-acre land in Dhannipur village in Ayodhya along with the mosque would be a multi-specialty 200-bed hospital with world class facilities, the Indo-Islamic Cultural Foundation (IICF) said.
IICF is the trust set up by the Uttar Pradesh Sunni Central Waqf Board (UPSCWB) for the construction of the mosque at Ayodhya on the land allotted by the UP government in compliance with the Supreme Court order.
The hospital will be part of Indo-Islamic Centre Complex in Ayodhya village that will also include a community kitchen and an Indo-Islamic Research Centre. The research centre will have a museum and a library too.
IICF spokesman Athar Hussain said the maximum area of land would be allocated to the hospital, which will also be the largest public utility establishment at the Indo-Islamic complex. The name of the hospital, whose construction is expected to start in next couple of months, is yet to be finalised.
"We plan to develop a multi-specialty hospital that would be equipped with the state of the art facilities. The entire hospital would be established in two phases. In the first phase, the arrangement for 100 beds would be made at the hospital while in the second phase 100 more beds would be added to it," Hussain said.
IICF office bearers said the hospital would offer best treatment in cancer care, transplants, spine, heart, robotics, orthopaedics, emergency and others. Officials said that hospital would help in serving the society and play a major role in bridging gap between the communities.
On September 1, the trust had appointed a Lucknow- based architect-cum-town planner and a founder of dean faculty of Architecture Jamia Milia University, Delhi to design the mosque that would come up in Dhannipur village, Ayodhya in place of the Babri Masjid. The trust has also appointed noted Indian academician and food critic Pushpesh Pant as consultant curator for the food archive a - section of the museum that would be a part of the Indo Islamic Centre Complex
https://www.hindustantimes.com/india-news/alongside-dhannipur-mosque-in-ayodhya-a-200-bed-multi-specialty-hospital/story-9ghYXb0Ew9DlBT23My2B5I.html
--------
Stop buckling to vernacular schools and Islamisation, Putrajaya urged
Minderjeet Kaur
September 8, 2020
PETALING JAYA: Federal officials in Putrajaya have been urged to tackle head-on the "arrogance" of vernacular schools and also stop the "Islamisation" of national schools as a measure to instill unity within young people.
Universiti Kebangsaan Malaysia (UKM) professor Teo Kok Seong, an expert in ethnolinguistics, said vernacular schools were an obstacle to national unity as the majority of children enrolled there were only proficient in their mother tongue.
"The trend is that only the smart ones know Malay and English. The others can only speak their mother tongue," he told FMT.
Teo, who was formerly on the National Education Blueprint committee, recalled that the government in the past had tried to standardise the Malay syllabus by lowering the standard of the Malay language in national schools.
This was done so that it could meet "halfway" with the quality of the Malay syllabus in vernacular schools but Chinese education groups had refused to budge, he said.
"The Chinese group leaders said that this will erode the identity of Chinese schools," he said.
The government had also tried to encourage vernacular schools to have more Malay language lessons, to ensure that the Chinese school students had more exposure to the national language. But again the Chinese educationists wanted Malay to be taught through translation, he said.
"They wanted Mandarin teachers to teach Malay by translating Malay into Mandarin. It is almost like teaching Japanese to foreign students through translation," he said.
Some Form 1 and Form 2 students (who had come from vernacular schools) dropped out as they were unable to cope with the Malay subjects in secondary schools.
Recently, Deputy Youth and Sports Minister Wan Ahmad Fayhsal Wan Ahmad Kamal had said that the PPBM Youth wing continues to support the abolition of vernacular schools in the country. He said vernacular schools have not produced students who possess a "strong national identity".
Government 'giving in to Islam-based NGOs'
Teo said the government had also been giving in to Islam-based NGOs, causing national schools to look more like religious schools, prompting more parents to send their children to vernacular and private schools.
He said the issue has reached a point where the government is unable to carry out any reforms for fear of backlash from society.
However, the government must stop giving in to such NGOs. "The politicians need to directly tackle the vernacular and national school issues. They need to seriously think of the next generation and not just the next elections," he added.
Teo suggested that government officials must first admit that there are problems within both vernacular and national schools and "talk about the unpleasant things."
"They need to tackle the problem head on. Whether the issue is sensitive or not, they need to do something because our education system is hurting society," he said.
Teo also said the government needs to review the quality of teachers and education so that national schools will become the place for all parents to have their children educated.
Deep reforms needed in national schools
Lim Teck Ghee, a former World Bank senior social scientist, said national schools have been slowly becoming more Islamic in character.
"That has been the trend for more than a few years now. It partly accounts for why not only non-Malay but also many Malay parents are sending their children to vernacular schools," he told FMT, adding that this trend is likely to continue.
Due to that, he said it will be difficult for national schools to attract non-Malay school kids without deep reform.
The deep reforms should include higher standards of education, less emphasis on religion and language, a multiracial staff, and nurturing a genuinely multiracial environment.
"Unfortunately this is not likely to happen so the exodus of non-Malay and more affluent Malay kids from national schools will continue," Lim said.
He added it is a few politicians who are creating disunity by using the vernacular schools as the scapegoat for the nation's racial and religious problem.
Six years ago, Lim said in the Dewan Rakyat, Muhyiddin Yassin, who was then the education minister, stated that "the status of vernacular education in the country is written in "black and white" in the National Education Blueprint and is a fact that has to be accepted.
He also stated that "the government is firm on its stand that vernacular schools are part of the nation's legacy and forms part of the nation's education landscape".
"Let's leave vernacular schools alone and concentrate on improving the learning and teaching standard of all schools in the national system," he said.
https://www.freemalaysiatoday.com/category/nation/2020/09/08/stop-buckling-to-vernacular-schools-and-islamisation-putrajaya-urged/
--------
Iranian People Hold Rallies against Sacrilege of Holy Quran, Islam Prophet
Sep 08, 2020
The protestors deplored the French government for supporting the blasphemous acts against the sanctities of Muslims, chanted slogans against Macron who supported them under the pretext of advocacy for freedom of expression.
The slogans chanted by the protestors underlined that sacrilege of the holy Quran and Prophet Mohammad (PBUH) indicates the arrogant governments' weakness and such acts will backfire on them.
In relevant remarks on Monday, Iran's Judiciary Chief Seyed Ebrahim Rayeesi deplored the recent insulting moves against the Holy Quran and Prophet Mohammad (PBUH), and warned of the West and Israel's plots to undermine Islam's power and might in the world.
Rayeesi made the remarks, addressing the Judiciary officials in Tehran.
He expressed regret and condemned sacrilege of Islamic sanctities in certain European states concurrent with the UAE's normalization of ties with Israel, and said, "They are part of a precise scenario compiled in a thinking chamber."
Rayeesi warned that the West and Israel want to damage Islam's power and might in the world, saying that such devilish acts will instead increase public hate for their plotters.
He said that sacrilege of the holy Quran is insult to all divine books and blasphemy against Islam's Prophet (PBUH) is insult to all prophets (PBUH) and mankind.
During an illegal gathering on August 28, supporters of right-wing Danish politician Rasmus Paludan, who leads the anti-Islamic group, Tight Direction (Stram Kurs), burned a copy of Holy Qur'an in the Southern Swedish city of Malmo.
Also, on September 1, the ill-reputed French Magazine Charlie Hebdo also republished blasphemous cartoons of the Prophet of Islam on the eve of the trial of suspects in a deadly attack on the paper's office five years ago.
Iranian Foreign Ministry Spokesman Saeed Khatibzadeh strongly condemned the insult to Prophet Mohammad (PBUH) by the ill-reputed French Magazine Charlie Hebdo, stressing that the move has injured the feelings of all Muslims in the world.
https://en.farsnews.ir/newstext.aspx?nn=13990618000269
--------
At least 37 million displaced by US's so-called war on terror: Study
08 September 2020
A new report has revealed that at least 37 million people have been displaced as a result of the wars waged by the United States across the world on the pretext of countering terrorism since the September 11, 2001 attacks.
The report, titled Costs of War, was published by the United States' Brown University on Tuesday, weeks before the country enters its 20th year of waging wars around the world that began with the invasion of Afghanistan on October 7, 2001.
"Using the best available international data, this report conservatively estimates that at least 37 million people have fled their homes in the eight most violent wars the US military has launched or participated in since 2001," Brown University said of the report's findings.
The university said that the number was of people, mostly civilians, displaced in and from Afghanistan, Iraq, Pakistan, Yemen, Somalia, the Philippines, Libya, and Syria, where fighting has been the most significant.
It stressed that the figure was a "conservative estimate" and the real number might range between 48 million and 59 million.
The authors of the report said the figure did not include the millions of other people who have been displaced in countries witnessing smaller US operations, including those in Burkina Faso, Cameroon, the Central African Republic, Chad, the Democratic Republic of the Congo, Mali, and Niger.
"This has been one of the major forms of damage, of course along with the deaths and injuries, that have been caused by these wars," said David Vine, a professor of anthropology at American University and the lead author of the report.
"It tells us that US involvement in these countries has been horrifically catastrophic, horrifically damaging in ways that I don't think that most people in the United States, in many ways myself included, have grappled with or reckoned with in even the slightest terms."
The Brown University said the figures were obtained from the United Nations High Commissioner for Refugees (UNHCR), which has compiled data on forced displacement worldwide since 1951.
The September 11, 2001 attacks, or the 9/11 attacks, were a series of strikes in the US that killed nearly 3,000 people and caused about $10 billion worth of property and infrastructure damage.
US officials said the attacks were carried out by 19 al-Qaeda terrorists, 15 of them being Saudi Arabian officials.
The official account of the attacks, however, have been questioned by some.
https://www.presstv.com/Detail/2020/09/08/633633/US-war-on-terror-displaced-Brown-University-
--------
UK launches review into terrorism reinsurance fund
SEPTEMBER 3, 2020
LONDON (Reuters) - Britain's finance ministry has launched a review of terrorism reinsurer Pool Re, which helps insurers pay out claims on property damage caused by terror or militant attacks.
The Treasury said its latest five-yearly review was designed to ensure the UK's terrorism reinsurance market worked effectively and in the public interest.
It will consider whether the level of risk sharing between the state and private firms is appropriate and whether its rules should be updated, given ongoing growth of the terrorism reinsurrance market, the ministry said.
The reinsurance fund, set up in 1993, acts as a backstop to insurers paying out claims on property damage and business interruption.
It is financed by the insurance industry with government backing, and pay outs depend on the British government deeming an attack to be terror-related.
https://www.reuters.com/article/us-britain-reinsurance-terrorism/uk-launches-review-into-terrorism-reinsurance-fund-idUSKBN25U0X6?utm_source=iterable&utm_medium=email&utm_campaign=1504744_
--------
Fears of ISIS resurgence as Syria attacks escalate
Nicky Harley
September 3, 2020
ISIS attacks escalated significantly in August when more than 35 assaults left at least 76 pro-Assad fighters dead in Syria, marking the largest number of killings since 2017.
According to a new report by the Counter Extremism Project, Homs saw the greatest number of documented attacks with 12, while 10 assaults were reported in Deir EZ Zor, followed by Raqqa with nine.
Experts monitoring the situation have warned the increase in attacks shows the group has now redeveloped a "robust logistical and strategic capability".
"In August, ISIS militants carried out at least 35 attacks, killing at least 76 pro-Assad regime fighters in the Homs, Deir EZ Zor, Raqqa, Hama, and Aleppo governorates," research analyst Gregory Waters, of the Counter Extremism Project, said.
"These attacks constitute a major escalation in ISIS's insurgency. The overall number of attacks, high-quality attacks and reported pro-government deaths exceeded those from any month since ISIS lost control of this region in 2017.
"The more than two-fold increase in attacks compared with previous months in Raqqa is overshadowed only by the more than three-fold increase in attacks in Deir EZ Zor."
The Counter Extremism Project has been conducting monthly chronicles online in its ISIS Redux: The Central Syria Insurgency on the number of attacks by the terror group in central Syria.
Mr Waters said for eight days straight in August the militant group carried out at least two attacks daily.
"The rate of documented attacks in August is unmatched since 2018," he said.
"ISIS's ability to carry out such frequent same-day attacks implies that the group has developed a robust logistical and strategic capability."
In July the militants had been responsible for 23 attacks, killing at least 29 pro-regime fighters in Homs, Deir EZ Zor, Raqqa, Hama and Aleppo.
"July marked the third month in a row that ISIS carried out at least one high-quality attack in all four provinces in which it is active," Mr Waters said.
"More significantly, July marked the first month of sustained ISIS activity in regime-held Aleppo province since the terrorist group was expelled in 2017."
The figures for June saw 14 attacks carried out, killing 26 fighters and represented a "continued geographic expansion of ISIS attacks", Mr Waters added.
Mr Waters said August's targeting of Deir EZ Zor, focused primarily in the western urban belt stretching from Deir EZ Zor city along the Euphrates to Ma'adan, marks a new expansion of ISIS activity.
Where the ISIS attacks are coming from
The attacks, which are believed to be from cells originating in Jebal Bishri to the west and Raqqa to the north, culminated in an ambush on August 27 that killed 30 pro-regime National Defence Fighters (NDF), along with the NDF sector commander for western Deir EZ Zor.
"Most of the men killed, including the commander, hailed from the local Busaraya tribe," Mr Waters said.
"The massacre triggered a massive mobilisation of members from the pro-regime Liwa al-Quds, Qaterji Forces and NDF deploying to the region to conduct their own anti-ISIS operations in lieu of what one tribal fighter told this author was an abandonment by the Syrian army.
"The tribal response triggered by the massacre will most likely push ISIS cells back on to Jebal Bishri where they will hunker down and wait out the operation," he said.
Their operation, which is currently ongoing, has led to the deaths of two ISIS fighters to date.
Mr Waters has also warned that ISIS's raid on the T4 pumping station in Homs shows ISIS fighters still have "considerable freedom of movement close to major regime strategic points".
He believes this month Raqqa, west Deir EZ Zor, and west Mayadeen will continue to be the main targets for attacks.
"While it is unlikely that September will see the same growth or severity of attacks as in August, this month's trends will likely continue – that is, Raqqa, west Deir EZ Zor and west Mayadeen will continue to be the hotspots for the near future," he added.
"In Homs, ISIS will continue its strategy of exerting pressure around the city of Sukhnah, no doubt seeking some opportunity to raid the city's warehouses, while sending out groups to attack regime positions further west, similar to the T4 attack.
"East Hama and south-east Aleppo both experienced a decrease in ISIS attacks in August, partially owing to the formation of local defence militias. ISIS will want to renew its activity in these areas and may take the opportunity to do so while pro-regime forces are so heavily focused on western Deir EZ Zor."
https://www.thenational.ae/world/fears-of-isis-resurgence-as-syria-attacks-escalate-1.1072528?utm_source=iterable&utm_medium=email&utm_campaign=1504744_
--------
Pakistan
Pakistan to hold National Assembly, Senate sessions next week to get FATF bills passed
Sep 8, 2020
ISLAMABAD: Pakistan government has decided to hold a new session of the National Assembly and the Senate on September 14 and 15 respectively to pass important bills, including one related money laundering and terrorist financing, which was earlier rejected by the upper house of Parliament.
The decision to call the fresh sessions was taken during a meeting between Prime Minister Imran Khan and his adviser on parliamentary affairs Babar Awan on Monday, according to a media report.
Awan called on the prime minister following the postponement of the Senate and National Assembly (NA) sessions scheduled for Monday.
According to a press release, various matters of importance came for discussion during the meeting.
It has been decided that the fresh session of the National Assembly will be held on September 14 and that of the Senate on September 15, Awan told Dawn newspaper.
He said the FATF-related money laundering and terrorist financial bill and other bills would be tabled before the two houses for fresh legislation.
The Paris based Financial Action Task Force (FATF) put Pakistan on the grey list in June 2018 and asked Islamabad to implement a plan of action by the end of 2019 but the deadline was extended later due to COVID-19 pandemic.
Asked why already convened sessions of the Senate and the NA were shelved, the adviser said they were postponed due to the devastation caused by the recent rains across the country.
Regarding the FATF-related bills, he said the government would not allow any delay in the passage of "bills of national interest".
In reply to a question about the convening of a joint sitting of parliament to get the FATF-related bills passed if the Opposition objected to them again, he said no date for the sitting had been decided so far.
Two days ago, Awan had said the government was considering referring the Anti-Money Laundering (Second Amendment) Bill and the Islamabad Capital Territory Waqf Properties Bill — both rejected by the Senate — to the joint sitting of Parliament.
The 104-member Opposition-dominated Senate had rejected the two bills on August 25 through a voice vote.
In its third and final plenary held virtually due to the COVID-19 pandemic in June, the FATF decided to keep Pakistan in the "grey list" as Islamabad failed to check the flow of money to terror groups like Lashkar-e-Taiba (LeT) and Jaish-e-Mohammed (JeM).
With Pakistan's continuation in the 'grey list', it will be difficult for the country to get financial aid from the IMF, World Bank, ADB and the European Union, thus further enhancing problems for the nation which is in a precarious financial situation.
If Pakistan fails to comply with the FATF directive by October, there is every possibility that the global body may put the country in the 'Black List' along with North Korea and Iran.
The FATF is an inter-governmental body established in 1989 to combat money laundering, terrorist financing and other related threats to the integrity of the international financial system.
https://timesofindia.indiatimes.com/world/pakistan/pakistan-to-hold-national-assembly-senate-sessions-next-week-to-get-fatf-bills-passed/articleshow/77994374.cms
--------
Country heading towards anarchy, says Ahsan Iqbal
Amir Wasim
09 Sep 2020
ISLAMABAD: Poverty and unemployment are rising due to "bad governance" of the Pakistan Tehreek-i-Insaf-led government, leading the country towards "social anarchy", Pakistan Muslim League-Nawaz's secretary general Ahsan Iqbal said on Tuesday.
Allowing the present rulers to stay in power will be detrimental for the people as well as the country's security, the PML-N leader said at a news conference.
Ahsan Iqbal termed the present government "the worst fascist regime" in the country's history, saying that "if we do not block Prime Minister Imran Khan's way now, time will never forgive us".
Lashing out at the government's policies in almost all sectors, the PML-N leader alleged that Prime Minister Imran Khan had destroyed the administrative structure through bad governance and by ignoring merit.
Mr Iqbal regretted that Pakistan had gone down in the Global Innovative Index because of the government's decision to stop funds for universities and research programmes.
Claims the opposition is united and will come out with a joint strategy on Sept 20
Instead of focusing on research and development, he alleged, the government was spending all its energy on "pursuing regressive policies".
In an apparent reference to the disappearance of an official of the Securities and Exchange Commission of Pakistan (SECP) from Islamabad, Ahsan Iqbal wondered what image the country would have in the outside world when people were being kidnapped right from the centre of the capital.
"This country does not need any enemy. Imran Khan's government is the worst fascist regime. Like (Indian PM Narendra Modi), Imran Khan wants to become Pakistan's Hitler," he said.
"We want to give a message to Imran Khan that we will not bow before his fascist agenda. Register fake cases and put us in jail, but we will not surrender to your oppression."
Mr Iqbal said the PML-N would protect fundamental rights and would not hesitate in offering any sacrifice for this purpose.
"We will not let this country go under dictatorship," he added.
The PML-N leader accused the federal government of deliberately going into confrontation with Sindh over Karachi.
In a reference to the recent statement of Army Chief Gen Qamar Javed Bajwa, Mr Iqbal alleged that the present government was making the enemy's job easy by pushing the nation into a "hybrid war".
In reply to a question, the PML-N leader claimed that the opposition was united and expressed the hope that it would come up with a joint strategy against the government at the multi-party conference to be held on Sept 20.
https://www.dawn.com/news/1578635/country-heading-towards-anarchy-says-ahsan-iqbal
--------
Pakistan lawmaker warns of nuclear war over Kashmir
Aamir Latif
08.09.2020
KARACHI, Pakistan
A Pakistani lawmaker on Monday urged the international community, including the UN, to swiftly act to sop "genocide" of Kashmiris by Indian security forces, warning the world against a "brewing" nuclear conflict on the long-smoldering Kashmir dispute.
Addressing a seminar in the capital Islamabad, Shehryar Khan Afridi, chairman of the parliament's Kashmir committee, claimed New Delhi was using backdoor channels to resume talks to Pakistan. However, he said his country would not talk to India unless Kashmir issue was on the agenda.
Kashmir, he further said, became a key issue in the global digital space and that Pakistan would not allow India to mislead the world on the ongoing "genocide" there.
"We are reaching out to all the global platforms to raise Kashmir [issue]," he said adding that the parliament's committee was engaging with 22 global forums to sensitize the world on the lingering dispute.
Sardar Masood Khan, president of Pakistani-administered Kashmir, also known as Azad Kashmir, charged that extrajudicial killings have become a norm in disputed Jammu and Kashmir.
Indian forces, Khan went on to argue, arrest youth and later gun them down in fake police "encounters."
"The world knows well about the Indian atrocities being committed by the occupational forces in occupied Kashmir but commercial interests are major hurdle in taking action against India," he added.
Apart from issuing half a million domiciles to non-Kashmiris, he said, India was planning to award citizenship rights to 1.7 million migrant workers as well.
Disputed region
Kashmir, a Muslim-majority Himalayan region, is held by India and Pakistan in parts and claimed by both in full. A small sliver of Kashmir is also held by China.
Since they were partitioned in 1947, the two countries have fought three wars -- in 1948, 1965 and 1971 -- two of them over Kashmir.
Also, in Siachen glacier in northern Kashmir, Indian and Pakistani troops have fought intermittently since 1984. A cease-fire came into effect in 2003.
Some Kashmiri groups in Jammu and Kashmir have been fighting against Indian rule for independence, or for unification with neighboring Pakistan.
According to several human rights organizations, thousands of people have reportedly been killed in the conflict in the region since 1989.
https://www.aa.com.tr/en/asia-pacific/pakistan-lawmaker-warns-of-nuclear-war-over-kashmir/1966285
--------
South Asia
Two Myanmar soldiers at ICC after confessing to Rohingya killings: Reports
08 September 2020
Two Myanmarese soldiers have been taken to the International Criminal Court (ICC) after confessing to their participation in the 2017 massacre of countless Rohingya Muslims, two news organizations and a rights group say.
The two men admitted to killing dozens of villagers in northern Rakhine State and burying them in mass graves, according to The New York Times, the Canadian Broadcasting Corporation, and the non-profit Fortify Rights, citing statements the men made on videos filmed in Myanmar earlier this year.
In the videos, the two men also provide the names of the Myanmarese army battalions that were involved in the brutal campaign, the villages they destroyed, as well as the locations of mass graves.
The pair describes very similar orders from different superiors to kill or shoot "all" the Rohingya Muslims they encountered, and says that women, children, and elderly people were among their victims.
The reports said the men had been in the custody of the Arakan Army (AA), a Buddhist rebel group calling for greater autonomy for Rakhine, when they made the admissions.
The reports said the men appeared together on the Bangladesh border in mid-August, retelling their stories, and requesting protection.
With their transfer to ICC custody, the soldiers are now potential witnesses to genocide.
The ICC last year approved a long-awaited full investigation into the crimes against the Rohingya minority.
Myanmar has not signed up to the ICC but the court ruled last year that it had jurisdiction over crimes against the Rohingya minority because Bangladesh, where many Rohingya survivors are now refugees, is a member.
The Gambia, acting on behalf of the 57-nation Organization of Islamic Cooperation (OIC), has also launched a separate case at the International Court of Justice (ICJ), the United Nations (UN)'s top court, also based in The Hague. Both Gambia and Myanmar are signatories to the 1948 Genocide Convention, which compels all signatory states to prevent and punish the crime of genocide.
A United Nations fact-finding mission had previously found that "the gravest crimes under international law" had been committed in Myanmar and called for genocide trials.
In August 2017, the Myanmarese military and Buddhist mobs started a campaign of murder, rape, and torture against the Rohingya in Myanmar that UN investigators later said was conducted with "genocidal intent."
Some 740,000 Rohingya survivors fled to Bangladesh. Countless others didn't make it.
https://www.presstv.com/Detail/2020/09/08/633624/Myanmar-Rohingya-soldiers-ICC-confess
--------
'Spoilers' could thwart Afghan peace efforts: experts
Islamuddin Sajid
09.09.2020
ISLAMABAD, Pakistan
"Spoilers" could derail ongoing peace efforts in Afghanistan, Pakistani defense experts and former diplomats warned Tuesday.
Speakers at a webinar organized by the MUSLIM Institute, a think tank based in Pakistan's capital Islamabad, stressed the need for immediate action against actors seeking to thwart the prospects for peace in the war-torn country, even as all of the stakeholders seemed concerned as well as in agreement regarding the success of the intra-Afghan dialogue.
"An uncomfortable India, the release of prisoners on both sides, the diversity of opinion among pressure groups within Afghanistan, the financial dependency of the Afghan government along with the financial future of the country, the share of the Taliban in the future political and administrative government, the return of refugees and the type of future constitution of Afghanistan are some prime issues which need to be addressed for the successful transition of intra-Afghan dialogue," said former Pakistani army general Lt. Gen. Amjab Shuaib.
Earlier, Pakistan's Foreign Minister Shah Mahmood Qureshi repeatedly warned US and Afghan leaders of "spoilers," referring to his country's arch-rival India, and said they could derail the landmark peace deal between Washington and the Taliban signed in Doha in February this year.
Speakers highlighted that the Taliban are not ready to accept a Western type of democracy and suggested the international community to present possible alternatives to the Afghan Jirga by accommodating their cultural ethos.
Former Pakistan Foreign Secretary Tehmina Janjua said there are many variables that need to be looked at in great detail for the peace process to succeed.
MUSLIM Institute Chairman Sahibzada Sultan Ahmed Ali said "Afghanistan is often known as the heart of Asia. An economically and politically stable Afghanistan is in the interest of Pakistan.
"Pakistan's security will also improve if Afghanistan's security is improved. However, it is not just Pakistan; other regional countries will benefit as well. Pakistan has always maintained that the Afghan peace process should be Afghan-owned and Afghan-led," he added.
The defense experts and former diplomats believed that the Afghan peace process is at a critical juncture, and that critical juncture can go in any direction.
"We cannot forget that there will also be a contest within Afghanistan as well. There are key differences that need to be resolved," said Maria Sultan, an Islamabad-based defense analyst.
She suggested that all ethnic groups in Afghanistan need to be integrated into society.
"No one will invest in Afghanistan if there is no peace or security. Looking at the long-term Afghan policy, from Pakistan's perspective, Pakistan is fully investing in the peace process," she said.
In the changing regional apparatus, Afghanistan's peace and stability have become indispensable for regional development.
"Whether it is China's Belt and Road Initiative, Pakistan's China-Pakistan Economic Corridor, or the TAPI Pipeline, peace in Afghanistan is the first and foremost prerequisite. In the century of emerging Asia, the heart of Asia holds the ultimate position for its prosperous future," said Zafar Nawaz Jaspal, an Islamabad-based analyst and professor at Quaid-i-Azam University.
Former Maj. General of Pakistan army Khalid Amir Jaffery, former Pakistani Ambassador Abdul Basit and other experts also addressed the webinar.
https://www.aa.com.tr/en/asia-pacific/-spoilers-could-thwart-afghan-peace-efforts-experts/1967245
--------
US envoy meets Baradar, Haqqani ahead of peace talks
09 Sep 2020
KABUL: The US Special Representative for Afghanistan Reconciliation, Zalmay Khalilzad, has held a meeting in Doha with the head of a new team of Taliban negotiators due to open peace talks with a team representing the Afghan government, the group said on Tuesday.
The negotiations, the result of an agreement between America and the Taliban, are to begin in Doha after the release of the last half-dozen or so of the 5,000 Taliban prisoners. The Afghan negotiators had been expected to fly from Kabul to Doha this week, but are awaiting a signal from the Afghan government that the release — to which Western governments have objected — is going ahead.
In Doha, the head of the Taliban's political office, Mullah Abdul Ghani Baradar, and the new head of the Taliban's negotiating team, Abdul Hakim Haqqani, met Mr Khalilzad as well as Qatar's deputy prime minister on Monday, Taliban spokesman Dr Mohammad Naeem said in a statement shared on Twitter.
Negotiations are to begin in Doha after release of last half a dozen or so of 5,000 Taliban prisoners
"Issues related to the prisoners' release and immediate start of the intra-Afghan talks were discussed," Mr Naeem said.
Talks with American officials had for the last two years been led by Mr Baradar, who finally signed a peace deal with Washington earlier this year, paving the way for an international troop withdrawal and intra-Afghan negotiations.
Last week, however, Taliban supreme leader Haibatullah Akhunzada announced that a new, 21-member team would be headed by Mr Haqqani and not Mr Baradar, a co-founder of the Taliban, who has been left out entirely.
Three Taliban commanders based in Afghanistan told Reuters that senior fighters on the ground had in recent weeks expressed reservations about Baradar's dominance in the talks.
However, Taliban officials told Reuters the team had been changed to give it power to take decisions on the spot.
Mr Haqqani, the Taliban's former shadow chief justice, also heads its powerful council of religious scholars, according to two senior Taliban officials who did not want to be named.
One official said Mr Akhunzada trusted Mr Haqqani more than anyone else in the group. "(His) presence basically means our supreme leader himself will attend the peace talks," the official said. A diplomat following the peace process from Kabul told Reuters on condition of anonymity that Baradar "might be effective, but Haqqani is senior. What we know is this was done to have a more authoritative team that can take the decision over there."
https://www.dawn.com/news/1578613/us-envoy-meets-baradar-haqqani-ahead-of-peace-talks
--------
Afghan assassination bid: Vice president survives attack which kills, wounds 2 dozen
09 September 2020
Afghanistan's First Vice-President Amrullah Saleh has been lightly injured in a bomb attack targeting his convoy in the capital, Kabul, but two dozen other people have been killed and wounded.
The bomb attack targeted Saleh's convoy as he left his home and was heading to work in Kabul on Wednesday.
A video was released on Facebook soon after the attack, showing Saleh, with bandages on his left hand.
"I am fine but some of my guards have been wounded. My son, who was in the car with me, and I are both fine," Saleh said.
"I have some burns on my face and hand. The blast was strong," he added.
Initial reports had said that Saleh had escaped the attack unharmed.
The Afghan Interior Ministry put the number of casualties at 10 fatalities and over a dozen injured.
Saleh, a former intelligence chief and President Ashraf Ghani's first deputy, has so far survived several assassination attempts, including one on his office last year that killed 20 people.
Taliban say not behind attack
No group has yet claimed responsibility for the attack. But Taliban spokesman Zabihullah Mujahed said the group "has nothing to do" with it.
The blast came as the Afghan government is expected to begin peace talks with the Taliban militant group in the Qatari capital of Doha.
Officials warned that rising violence was endangering the negotiations, which are aimed at ending nearly two decades of war in the country.
https://www.presstv.com/Detail/2020/09/09/633670/Afghanistan-vice-president-assassination-Amrullah-Saleh-
--------
India
Jaishankar expresses condolence for victims of Baitus Saldam mosque gas explosion
Sep 08, 2020
Dhaka [Bangladesh], September 8 (ANI): External Affairs Minister S Jaishankar has expressed condolence to victims of the gas explosion in the Baitus Saldam mosque in Bangladesh, which claimed at least 24 lives.
"External Affairs Minister of India Dr S Jaishankar wrote to Hon'ble Foreign Minister of Bangladesh Dr AKA Momen conveying his heartfelt sympathy and deepest condolences to victims of the unfortunate accident at the Baitus Saldam Mosque in Narayanganj on Friday, 4 Sep 2020," India in Bangladesh tweeted.
According to Al Jazeera, the fire service officials suspect that the explosion on September 4 was caused by leakage from the pipeline in the mosque.
While at least 24 people were killed, dozens of injured worshipers are still receiving medical treatment.
The explosion occurred on Friday evening when people had gathered in the mosque for the evening prayer. (ANI)
https://www.aninews.in/news/world/asia/jaishankar-expresses-condolence-for-victims-of-baitus-saldam-mosque-gas-explosion20200908165440/
--------
Terrorists hurl grenade at security forces' camp in J&K's Pulwama, no damage caused
Sep 8, 2020
SRINAGAR: Terrorists on Tuesday fired an underbarrel grenade launcher (UBGL) towards a security forces' camp in the Tral area of Jammu and Kashmir but there was damage caused by the explosion, officials said.
The ultras fired the UBGL grenade towards a CRPF camp at Nowdal in the Tral area of Pulwama district, they said.
The officials said the grenade exploded without causing any damage.
Some gunshots were also heard after the blast, they said.
https://timesofindia.indiatimes.com/india/terrorists-hurl-grenade-at-security-forces-camp-in-jks-pulwama-no-damage-caused/articleshow/78003296.cms
--------
Southeast Asia
Lack Of Local Media Coverage On China Defence Minister's Visit To Malaysia Puzzling, Says Chin Tong
09 Sep 2020
BY R. LOHESWAR
KUALA LUMPUR, Sept 9 — Former defence deputy minister Liew Chin Tong has highlighted today the lack of local media coverage of China's State Councillor and Defense Minister Wei Fenghe's visit to Malaysia on Monday.
The senator said the issue was puzzling, and urged Putrajaya not to take sides in the dispute between the United States and China amid rising tensions on the South China Sea.
"I too have no idea why there was no media coverage on the visit. It's a big and important event.
"China and the US are two great powers who have importance in the region so I really can't tell you why local media were not given coverage and you guys had to find out from your sources in China," Liew said during a press conference today in Parliament.
Chinese state media Xinhua reported on Monday that Wei called on Prime Minister Tan Sri Muhyiddin Yassin to strengthen defense cooperation between the two countries.
Muhyiddin was also quoted saying that Malaysia is willing to work with China to strengthen bilateral cooperation in all fields including defence, economy and trade, and education.
The event was not covered by Malaysian state news agency Bernama and state broadcaster RTM.
After visiting Malaysia, on Tuesday Wei met his Indonesian counterpart Prabowo Subianto in Jakarta and is expected to do the same in Brunei and the Philippines.
Liew said during this "strategic competition" between the two superpowers, Malaysia should stay neutral but make its voice and opinions heard.
"Our country is in a crisis region where anything can happen anytime especially in the South China Sea where the US and China are in strategic competition," he said.
"A crisis in South-east Asia needs Malaysia to be a leading voice and not to take sides. The main thing we must tell these two countries is that Asean nations do not want to choose between the two.
"We need them both but we will not pick a side," added Liew.
https://www.malaymail.com/news/malaysia/2020/09/09/lack-of-local-media-coverage-on-china-defence-ministers-visit-here-puzzling/1901593
--------
Muhyiddin in, Mazlan Bujang out as Johor Bersatu chief
08 Sep 2020
BY BEN TAN
JOHOR BARU, Sept 8 — Outgoing Johor Parti Pribumi Bersatu Malaysia (Bersatu) chief Mazlan Bujang has vacated his post to make way for party president Tan Sri Muhyiddin Yassin.
He confirmed that Muhyiddin has been appointed as the new state chief.
"Despite being replaced, my loyalty is still with Bersatu and I will continue with my state government role as an exco.
"I have no problem with the appointment, and it is part and parcel of politics," Mazlan told Malay Mail briefly when contacted today.
Mazlan was appointed as the Bersatu chief in April last year and has helmed the Johor wing for the last 17 months that also saw Bersatu exit the Pakatan Harapan (PH) coalition to establish the ruling Perikatan Nasional (PN) pact in February this year.
An earlier statement had confirmed Muhyiddin's appointment as the new Johor Bersatu chapter chief. The appointment is effective today.
Muhyiddin, who is also the prime minister, is no stranger to Johor politics as he is from the state and was once its mentri besar when he was with Umno under the Barisan Nasional (BN) coalition.
He understands the southern state's unique politics and also has good ties with the Johor palace.
The 73-year-old seasoned politician and experienced government administrator is also the long-serving Pagoh MP and also Gambir assemblyman.
Johor has been described as an important frontline state for Bersatu. The two most recent former mentri besar — Datuk Osman Sapian and Datuk Dr Sahruddin Jamal — were from the Malay-based party.
Even during PH rule, Johor was a model state for Bersatu as it went on to contest against Umno. At present, Bersatu has allied with Umno, PAS and BN to form the ruling PN pact.
Earlier today, Bersatu announced the appointment of the party's supreme council members, state and bureau chiefs.
The appointments were made by Muhyiddin at a Bersatu meeting in Petaling Jaya, Selangor last night.
https://www.malaymail.com/news/malaysia/2020/09/08/muhyiddin-in-mazlan-bujang-out-as-johor-bersatu-chief/1901339
--------
Dr M publishes proposed no-confidence motion against Muhyiddin
September 9, 2020
PETALING JAYA: Dr Mahathir Mohamad has published his proposed motion of no confidence against Prime Minister Muhyiddin Yassin, saying he has to do so as it will never see the light of day in the Dewan Rakyat.
In a blog post, the former prime minister said the present administration had twice put the motion on the back-burner, prioritising government matters.
"This way, the motion will never be debated in the Dewan Rakyat," he said.
In his 35-point motion, Mahathir explained the reason for the motion, including Muhyiddin's decision to work with Umno and PAS to form a Malay-Muslim government to prevent DAP from "destroying the Malays".
"The claim that DAP can destroy the Malays does not make sense.
"Malays are not so easily destroyed. The attempts by the British to wrest (control of) the Malay states through the Malayan Union was stopped by the Malays," he said, adding even the Malayan Communist Party failed to do it by force.
If DAP tried to destroy the Malays, he said, Muhyiddin, as the then home minister, could have declared the party and its activities illegal.
He said he could not accept Muhyiddin's reasoning to join forces with Umno as it would be a betrayal of the voters who rejected the Najib Razak-led administration.
This ultimately lead to the "Sheraton Move", which triggered a political crisis leading to Mahathir's resignation as prime minister and Perikatan Nasional forming the federal government.
"How YB Pagoh (Muhyiddin) became prime minister is shameful.
"This has never happened in Malaysia until now. He himself has admitted that the Perikatan Nasional government is not one chosen by the people," he said.
Mahathir said that while he had accepted former Umno leaders to join PPBM when he was the chairman, this was subject to conditions.
He said he could not agree to accepting Umno en bloc as per the wishes of its president Ahmad Zahid Hamidi.
"I am sad that my comrade would rather choose Najib, the enemy, and reject me. And accept his comrades into the party we founded."
Mahathir also accused Muhyiddin of rewarding his supporters with positions and sacking PPBM leaders who opposed him, a move he said went against the party's rules.
He also cited the removal of professionals from government-linked companies and the appointment of politicians to replace them.
The Langkawi MP also claimed that Muhyiddin's appointment as prime minister without going through a general election went against the Constitution and would lead to people losing faith in the electoral system.
"It is clear the people's voices no longer have value in Malaysia because the party rejected by the people can form the government through the backdoor.
"I propose the Perikatan Nasional government hand power back to the rightful (party)," he added.
https://www.freemalaysiatoday.com/category/nation/2020/09/09/dr-m-publishes-proposed-no-confidence-motion-against-muhyiddin/
--------
Najib not remorseful after court found him guilty of corruption, says judge
V Anbalagan
September 9, 2020
KUALA LUMPUR: Najib Razak did not express any remorse after he was found guilty of seven counts of corruption in relation to RM42 million belonging to SRC International.
Trial judge Mohd Nazlan Mohd Ghazali said the former prime minister even maintained his defence of no knowledge of the RM42 million in his mitigation.
On July 28, Nazlan allowed Najib to personally address the court after his defence lawyer, Muhammad Shafee Abdullah, had also undertaken an extensive exercise.
Najib, who ended his mitigation by taking the "Islamic oath", said he had never
demanded the RM42 million, never planned for it and that it was also never offered to him.
"He additionally stated that he had no knowledge of the RM42 million," Nazlan said in his written judgment made available yesterday.
Nazlan said he could not deny Najib had made contributions to the well-being and betterment of the people of the nation, probably in many different ways, for he was, after all, the prime minister for nine years.
"Political history will continue to debate whether he has done on balance more good than harm. But this very process would arguably be inimical to the ideals of a clean administration that does not tolerate corruption and abuse of power," he said.
He said whether the moral compass of the nation required some recalibration was deserving of a separate discourse.
"What this court seeks to affirm is the sanctity of the rule of law and the supremacy of the Constitution.
"No one – not even one who was the most powerful political figure and the leader of the country – enjoys a cloak of invincibility from the force of the law," he said.
Nazlan said Najib's conviction on all seven charges of abuse of position, criminal breach of trust and money laundering constituted nothing less than an absolute betrayal of trust.
For this reason, he said he considered the conviction for abuse of position under Section 23 of the Malaysian Anti-Corruption Commission Act as the most serious transgression among the three given his position of trust as the prime minister and finance minister when the offences were committed.
He said all the offences for which the accused was convicted manifestly involved deliberate planning and premeditation over a period of time.
Najib was sentenced to 12 years' jail and fined RM210 million for abuse of power and 10 years on each of the three counts of criminal breach of trust and money laundering.
The judge, however, ordered the jail terms to run concurrently, which means Najib will serve 12 years in jail.
Nazlan allowed the application by the defence to stay the jail sentence in view of the hefty fine imposed.
Najib has filed an appeal in the Court of Appeal while the prosecution has cross-appealed on inadequacy of sentence.
https://www.freemalaysiatoday.com/category/nation/2020/09/09/najib-not-remorseful-after-court-found-him-guilty-of-corruption-says-judge/
--------
Indonesia to launch certified program for preachers
Katharina Reny Lestari
September 08, 2020
Indonesia's Religious Affairs Ministry will soon launch a certified program for thousands of preachers in the predominantly Muslim country to improve their national insights, according to an official.
Kamaruddin Amin, the ministry's director general of Islamic education, said in a statement on Sept. 7 that the program will be launched by the end of this month and will target 8,200 preachers from all six recognized religions — Islam, Buddhism, Confucianism, Catholicism, Protestantism and Hinduism — for the first batch this year.
The program will involve religious organizations including the Indonesian Ulema Council (MUI) and government institutions including the Agency for Pancasila Ideology Education (BPIP) and the National Counterterrorism Agency.
Pancasila, or five principles, refers to the national ideology that stipulates belief in one God, a just and civilized society, a united Indonesia, democracy guided by consensus, and social justice for all citizens.
Amin, however, said the program will not be binding.
"A certified program for preachers aims to improve preachers' capacities. They will be given certificates after joining the program. Meanwhile, professional certification is given to lecturers and teachers, who are paid in accordance with the existing standard after being certified," he said.
"It does mean that those who do not have certificates cannot preach or those who have certificates can preach," he added, calling the program "an affirmation."
Father Antonius Benny Susetyo, an expert at the BPIP, acknowledged that Indonesia — a country with diverse religions — must provide preachers with insights on plurality and diversity.
"Religious leaders in Indonesia must deliver sermons containing the values of Pancasila and interreligious harmony," the priest, former executive secretary of the Commission for Ecumenical and Interreligious Affairs at the Indonesian Bishops' Conference, told UCA News.
"Certification is not an issue. The most important thing is that religious leaders have the responsibility to maintain national insights: their commitment to maintaining unity. This must become 'a habitus' among religious leaders in Indonesia," he said.
Father Susetyo claimed the planned certified program for preachers has no connection to the government's fight against radicalism.
"We must see it in the context of maintaining nationality. There must be universal religious values that we can agree with," he said.
Meanwhile, Abidin Wakano, a Muslim preacher and an adviser to the MUI Maluku chapter, suggested that the program should be carried out continually.
"Never focus merely on certification. An ongoing program is what matters," he told UCA News.
He believes that the program will be more effective "if it also involves the state Islamic universities and colleges as well as Islamic boarding schools because they have good comprehensive study methods."
"Real certification is not about a piece of paper but a transformation of knowledge. And it can be done through education and training programs," Wakano said.
https://www.ucanews.com/news/indonesia-to-launch-certified-program-for-preachers/89437
--------
UN welcomes Indonesia's acceptance of Rohingya refugees
8th Sep 2020
By Peter Kenny
GENEVA (AA): The UN Refugee Agency (UNHCR) on Monday welcomed the landing of approximately 300 Rohingya refugees on the northern coast of Aceh, Indonesia, after seven months at sea.
An unknown number of the refugees need medical attention after their ordeal, said the UNHCR.
Among the group, two of three are women and children, and more than 30 of them are estimated to have died during the voyage.
The UNHCR said around 330 Rohingya refugees were understood to have embarked on the journey from Cox's Bazar, Bangladesh, in February.
"Their hazardous ordeal has been prolonged by the collective unwillingness of states to act for more than six months," said the refugee agency.
It cited the Bali Process as the only existing regional coordination mechanism able to convene states on such maritime movements.
However, the process has failed to deliver comprehensive, regional action to predictably save lives through rescue and disembarkation, the organization added.
"The group had repeatedly tried to disembark over more than 200 days at sea, to no avail,
"Refugees have reported that dozens passed away throughout the journey."
The UN agency said it and others have repeatedly warned of dire consequences if refugees at sea are not permitted to land safely and expediently.
"Ultimately, inaction over the past six months has been fatal," said UNHCR.
The agency said its staff in Aceh are supporting local authorities to assess the needs of the refugees.
"The immediate priority is providing first aid and medical care as required. All will be tested for COVID-19 under standard health measures in Indonesia for all arrivals," said the agency.
It added that at the time of the Andaman Sea and Bay of Bengal crisis five years ago, the Bali Process states acknowledged the need for a reliable and collective response to this genuinely regional challenge.
The Bali Process was launched in 2002 as a mechanism co-chaired by Australia and Indonesia to take life-saving action for refugees stranded at sea. Still, hundreds of Rohingya people died at sea in 2015 in the Andaman Sea and Bay of Bengal crisis despite the initiative.
"Having created a mechanism to convene governments from across the region for precisely this purpose, the promise of that commitment remains unfulfilled," said UNHCR.
The Rohingya, described by the UN as the world's most persecuted people, have faced heightened fears of attack since dozens were killed in communal violence in 2012.
According to Amnesty International, more than 750,000 Rohingya refugees, mostly women, and children fled Myanmar and crossed into Bangladesh after Myanmar forces launched a crackdown on the minority Muslim community in August 2017, pushing the number of persecuted people in Bangladesh above 1.2 million.
http://muslimnews.co.uk/news/south-east-asia/un-welcomes-indonesias-acceptance-rohingya-refugees/
--------
Mideast
Palestinian President bans offensive statements towards Arab leaders including UAE
Tuqa Khalid
08 September 2020
Palestinian President Mahmoud Abbas banned any offensive statements or actions towards Arab leaders, including UAE leaders, the presidency's spokesman Nabil Abu Rudeineh said on Tuesday.
The spokesman also stressed Palestine's keenness on protecting the brotherly relations with all Arab countries on the basis of mutual respect, Palestinian news agency WAFA reported.
For all the latest headlines follow our Google News channel online or via the app.
Abu Rudeineh added that Arab countries must adhere to the 2002 Arab Peace Initiative.
The UAE and Israel announced on August 13 that they would normalize diplomatic relations in a US-brokered historic deal.
Palestinians seek a state on land occupied by Israel since the 1967 Middle East war, with East Jerusalem, also captured then by Israel, as their capital. Israel deems Jerusalem to be its eternal, indivisible capital.
Israel agreed as part of the accord with the UAE to suspend plans to annex parts of the occupied territories, but Palestinians said they were blindsided by the announcement and rejected it, calling it a "betrayal."
The Secretary General of the Gulf Cooperation Council (GCC) Nayef al-Hajraf called on the Palestinian leadership, including Palestinian President Mahmoud Abbas, to apologize for the "irresponsible language of incitement and threats" towards the Gulf countries that was used by some Palestinian factions' leaders during a meeting on September 3.
https://english.alarabiya.net/en/News/middle-east/2020/09/08/Palestinian-President-bans-offensive-statements-towards-Arab-leaders-including-UAE
--------
Emirati official: Even war on Gaza won't affect deal with Israel
08 September 2020
A senior Emirati official says the normalization deal between the United Arab Emirates (UAE) and the Israeli regime will not be affected even by another Israeli war on the Palestinian territory of the Gaza Strip.
Ali Al-Nuaimi, the chairman of the defense, interior, and foreign affairs committee of the Emirati parliament, told Israeli daily Yedioth Ahronoth on Tuesday that "warm peace with Israel" would endure such crises as a "war on Gaza."
The United States announced on August 13 that the UAE and Israel had reached a deal to normalize their relations. The Emirates sought to portray that deal as an attempt to forestall Israeli plans to annex occupied Palestinian territories. All Palestinian factions condemned the deal, nevertheless.
Palestinian leaders called the deal by the Emirates — an Arab country — a stab in the back of the fellow-Arab Palestinians and a betrayal of their cause.
Israeli Prime Minister Benjamin Netanyahu also said soon after the announcement of the deal that the annexation plans in question remained on the table.
Israel has waged three wars on Gaza, in 2008-09, 2012, and 2014, each time killing and wounding thousands of men, women, and children. The regime has also fully blockaded Gaza since 2007.
Al-Nuaimi, the Emirati official, however accused the Palestinian leadership of being "stuck in the past" for opposing the normalization deal with Israel.
He said he expected the agreement to be finalized this month and Emirati Crown Prince Mohammad bin Zayed to visit occupied territories soon.
He also confirmed that direct flights would start between the Emirates and Israel after a signing ceremony of the deal.
The Emirati official also said he expected Israel to drop its objection to the United States' sales of advanced stealth F-35 warplanes to the Emirates.
https://www.presstv.com/Detail/2020/09/08/633626/UAE-Israel-deal-normalization-another-war-Gaza
--------
Hamas, PLO criticize GCC demand for apology over denouncing UAE-Israel
08 September 2020
The Hamas resistance movement and the Palestine Liberation Organization (PLO) have condemned the Persian Gulf Cooperation Council (GCC) for demanding an apology from the Palestinians over their stance against the contentious peace deal between the United Arab Emirates (UAE) and Israel.
"The Hamas movement and other Palestinian factions have adopted genuine patriotic and nationalist positions in rejection of the normalization agreement between the Occupation (Israel) and the UAE," Hamas spokesman Hazem Qassem said.
He added, "Hamas did not attack anyone, but rather emphatically rejected the UAE's decision to sign a normalization deal with the Zionist regime."
Qassem then thanked Arab nations as well as peoples of Persian Gulf littoral states over their rejection of the normalization agreement.
On Monday, GCC Secretary-General Nayef al-Hajraf condemned what he described as "the irresponsible language of incitement and threat" issued by some participants in a meeting of Palestinian factions held in Beirut last Thursday.
Hajraf called upon Palestinian leaders, including President Mahmoud Abbas, to apologize for their "provocative statements."
Similarly, a member of the PLO's executive committee dismissed the GCC chief's demand for an apology from Palestinian leaders as "improper and reprehensible."
The meeting of the chiefs of Palestinian factions "sought to confront [US President Donald Trump's so-called] deal of the century and combat the threat of normalization [with Israel]," Wasel Abu Yousef noted.
"The position declared by representatives of Palestinian factions is not a secret. We have always clearly and publicly announced our positions vis-à-vis various Palestinian, Arab and international issues," he pointed out.
Israel and the UAE agreed to a US-brokered deal to normalize relations on August 13.
Emirati officials have described the normalization deal with the Tel Aviv regime as a successful means to stave off annexation and save the so-called two-state solution to the Israeli-Palestinian conflict, but Israeli leaders lined up to reject the bluff.
The Palestinians have vehemently censured the UAE-Israel peace deal, which runs counter to a long-standing Arab consensus that any normalization of ties with the Tel Aviv regime has to come in the context of the settlement of the Israeli-Palestinian conflict and the establishment of a sovereign Palestinian state.
They say the UAE, as an important Arab player in the region, has stabbed fellow Palestinians in the back.
They also say the agreement does not serve the cause of the Palestinians.
https://www.presstv.com/Detail/2020/09/08/633594/Hamas-PLO-criticize-GCC-apology-demand-for-denouncing-UAE-Israel-
--------
EU expresses concern about Israeli demolitions in West Bank, al-Quds
08 September 2020
The European Union (EU) has voiced concern about the demolition of Palestinian houses and structures by Israel in the occupied West Bank.
On Tuesday, EU missions in Jerusalem al-Quds and Ramallah said in a statement that the demolitions, which include structures that had been built by funds from the EU or EU member states, had led to the displacement of Palestinians and negatively affected Palestinian communities.
The EU missions said that from January to August 31, a total of 107 residential units and 46 other units, including shops and storerooms, had been razed in East Jerusalem al-Quds alone.
They also expressed concern that the demolitions had continued in the occupied territories after the outbreak of the COVID-19 pandemic in early March and despite "the various obligations of the occupying power under international humanitarian law," calling on the Tel Aviv regime to halt the demolitions.
"In line with the EU's long-standing position on Israel's settlement policy, illegal under international law, and actions taken in that context, such as forced transfers, evictions, demolitions and confiscations of homes, the EU once again urges the Israeli authorities to halt demolitions of Palestinian structures," said the missions.
They concluded the statement by saying that the current demolition policy was in violation of international law and "undermines the viability of the two-state solution and the prospect for a lasting peace in the region."
Israeli officials have issued nearly 650 demolition orders against Palestinian-owned structures in Jerusalem al-Quds since the beginning of the current year.
Israel's demolition of Palestinian homes and structures in occupied Jerusalem al-Quds and elsewhere in the West Bank are part of a plan by the regime to expand settlements and force Palestinians from their homes and land.
Israeli authorities claim that demolition orders are carried out because the Palestinian-owned structures have been built without the required construction permits. Palestinians, on the other hand, argue that such authorization is routinely denied.
More than 600,000 Israelis live in over 230 settlements built since the 1967 Israeli occupation of the Palestinian territories of the occupied West Bank and East Jerusalem al-Quds.
All Israeli settlements are illegal under international law.
Israeli forces arrest 50 Palestinians in West Bank
Late on Monday and in the early hours of Tuesday, Israeli forces stormed different areas of the occupied West Bank and arrested at least 50 Palestinians, Ma'an news agency reported.
The report said that Israeli forces arrested 43 Palestinians in al-Khalil (Hebron) and detained seven others in Bethlehem and Ramallah cities.
The arrest campaign has been the largest since the beginning of this year, said a statement by the Palestinian Prisoners Club on Tuesday, adding that Israeli forces had arrested more than 3,000 Palestinians in the West Bank between January and August.
In a separate report, the Palestinian Information Center said that the arrest campaign was aimed at detaining members and some leaders of the Palestinian resistance movement of Hamas.
https://www.presstv.com/Detail/2020/09/08/633640/EU-Israel-demolitions-
--------
North America
US President Trump to host Israel-UAE deal signing ceremony on Sept 15
08 September 2020
US President Donald Trump will hold a September 15 signing ceremony for a groundbreaking Middle East agreement normalizing relations between Israel and the United Arab Emirates, a senior White House official said on Tuesday.
As part of the deal, announced at the White House on August 13 following what officials said were 18 months of talks, the Gulf state agreed to normalize relations with Israel, while Israel agreed to continue with plans to suspend its annexation of the West Bank.
For all the latest headlines follow our Google News channel online or via the app.
The senior White House official, speaking on condition of anonymity, said Israeli Prime Minister Benjamin Netanyahu and UAE Foreign Minister Sheikh Abdullah bin Zayed al-Nahyan, would lead the two delegations to the ceremony.
Trump and other administration officials have said they expect Saudi Arabia and other countries to follow suit in recognizing Israel.
Iran has dismissed the agreement, which also served to firm up opposition to Tehran, a regional power seen by the UAE, Israel and the United States as the main threat in the Middle East.
The deal falls short of any grand Middle East peace plan to resolve decades of conflict between Israel and the Palestinians despite Trump's pledge to do so with efforts led by White House adviser and son-in-law Jared Kushner.
Trump proposed a peace plan in January that heavily favored the Israelis, but it has not advanced in any significant way.
https://english.alarabiya.net/en/News/middle-east/2020/09/08/US-President-Trump-to-host-Israel-UAE-deal-signing-ceremony-on-Sept-15
--------
Alleged Boogaloo members face terrorism charges in Minnesota
September 5, 2020
MINNEAPOLIS (AP) — Two men who prosecutors say are members of an anti-government extremist group, who toted guns on Minneapolis streets during unrest following the death of George Floyd and spoke about shooting police, blowing up a courthouse and killing politicians, have been charged with federal terrorism counts.
Michael Robert Solomon, 30, of New Brighton, Minnesota, and Benjamin Ryan Teeter, 22, of Hampstead, North Carolina, are members of the "Boogaloo Bois," authorities say.
They are charged with conspiring to provide and attempting to provide material support to a foreign terrorist organization, for allegedly building firearms suppressors that they believed they sold to Hamas, and for allegedly offering to fight as "mercenaries" for the group.
Assistant Attorney General John Demers said in a statement that people who seek to engage in terrorist activity will be held accountable, "no matter what witch's brew of ideological motivations inspire" them.
Solomon and Teeter made their first court appearances via videoconference Friday in U.S. District Court. They were both appointed federal defenders, but attorneys were not immediately assigned to comment on their behalf.
Floyd, a Black man, died May 25 after a white Minneapolis police officer pressed his knee against Floyd's neck for nearly eight minutes, as Floyd repeatedly said he couldn't breathe. His death, captured on bystander video, sparked protests in Minneapolis and beyond.
Authorities began investigating the Boogaloo Bois after learning that some members were discussing violence and were armed during the unrest in Minneapolis. Boogaloo supporters, who use the movement's name as a slang term for a second civil war or collapse of civilization, frequently show up at protests armed with rifles and wearing Hawaiian shirts.
According to an FBI affidavit, Solomon posted a message on Facebook on May 26 asking people to contact him on an encrypted platform. That same day, Teeter publicly posted: "Lock and load boys. Boog flags are in the air, and the national network is going off." His public posts show he then traveled from North Carolina to Minnesota.
A witness told the FBI that Solomon was seen openly carrying a firearm and said he was part of a Boogaloo Bois subgroup called the "Boojahideen," and was willing to protect the witness from police, white supremacists and looters. Solomon allegedly said his mission was to get police out of the city. Later, the witness invited Solomon, Teeter and another person to stay at the witness's house, where they spoke about committing acts of violence against police and other targets, the affidavit says.
The witness said Solomon and Teeter talked about attacking a National Guard Armory to steal weapons and bombs. A paid informant, whom Teeter and Solomon believed to belong to Hamas, later recorded a conversation in which Solomon, Teeter and another person talked about shooting police.
During many conversations, Solomon and Teeter told the informant that the views of Hamas — a Palestinian Islamic political party — aligned with their own anti-government views and that they wanted to work as "mercenaries" on behalf of Hamas' armed wing so they could earn cash for the Boogaloo movement. They said they needed money to recruit members and buy land for a Boogaloo training compound.
According to the affidavit, they came up with a plot to blow up a historical county courthouse in northern Minnesota so they could "make a statement," but then delayed that plan. Solomon later said: "I want to murder a bunch of U.S. politicians. That's the statement I want to make."
Solomon and Teeter met an undercover FBI employee, whom they believed to be a more senior member of Hamas, and offered to build firearms suppressors and other weapons for the group. They believed the suppressors they sold went to Hamas to be used overseas to attack Israeli and U.S. forces, the affidavit said.
When the undercover FBI employee asked to explain killing politicians, Solomon said he would "build a gallows ... in front of the Congress building in D.C. and just start hanging politicians left and right." When discussing possible security, Teeter said he can shoot from a distance and, "you can't stop threats that you can't see,″ the affidavit said.
https://apnews.com/1c6bd2d39c9b44cb5aa5c77d887e4686?utm_source=iterable&utm_medium=email&utm_campaign=1504744_
--------
Europe
Manchester bomber was seen 'praying' at venue before attack
7 Sep 2020
The Manchester Arena bomber was spotted "praying" at the venue 50 minutes before he carried out the attack and asked what he had in his rucksack, the inquiry into the bombing has heard.
It was one of two possible "missed opportunities" to stop Salman Abedi in the hour before the bombing on 22 May 2017, the public inquiry into the attacks heard.
Opening the inquiry on Monday, its chairman stressed he was "not looking for scapegoats" but searching for the truth about how Salman Abedi planned and executed the suicide attack, which killed 22 people and injured a further 260.
The inquiry, which is being heard in a modified court room at Manchester magistrates court, could not begin until Abedi's younger brother, Hashem, was tried and convicted of helping to plan the attacks, after being extradited from Libya last year. He was sentenced to at least 55 years in prison in August.
The inquiry opened with a minute's silence to commemorate the 22 people killed in the May 2017 attacks, after their names were read out by Paul Greaney QC, counsel to the inquest.
Families of the bereaved attended the hearing, with others watching from an annex and many others via YouTube, with spaces restricted due to Covid-19. Greaney reassured them that the inquiry will "leave no stone unturned".
The inquiry, set up by the home secretary last year, will establish "how that attack came to occur, whether it could have been prevented, whether the emergency response to the attack was adequate, and what steps may be taken in future to prevent a recurrence", said Greaney.
The inquiry will hear evidence which shows "that at least once, and possibly on two occasions, someone drew attention to Salman Abedi acting suspiciously" said Greaney.
Two people working at the Arena as part of an "anti-bootlegging operation" both described seeing a man matching the appearance of Abedi at 21.41, 50 minutes before before he detonated his bomb in the City Room foyer, said Greaney. One, William Drysdale, remembers seeing someone with a large backpack sitting down in the mezzanine overlooking the City Room and "believed that he was praying", Greaney said. CCTV footage shows Drysdale approaching an officer from British Transport Police shortly afterwards.
Two further witnesses, a couple who had taken their daughter and her friend to the concert and returned to pick them up, remember seeing a man thought to be Abedi who they thought "looked suspicious", said Greaney. CCTV shows them approaching a member of security staff, who then went to talk to a colleague at 22.23, eight minutes before the detonation.
The father said he approached a man matching Abedi's description and asked: "What have you got in your rucksack?" The man didn't reply, so the witness told him: "It doesn't look very good, you know, what you see with bombs and such, you with a rucksack like this in a place like this. What are you doing?" The man responded: "I'm waiting for somebody, mate, have you got the time?"
The witness said he raised his concerns with Mohammed Agha, an Arena security guard, but felt "fobbed off".
"Whether these represent missed opportunities to prevent what happened that night or reduce its scale is, as will be perfectly obvious, an issue of very considerable importance," said Greaney.
The inquiry was shown CCTV footage of Abedi carrying out "hostile reconnaissance" at the Arena on three occasions in the days leading up to the attack. He had landed at Manchester airport on 18 May from Libya and travelled into Manchester, first checking on a vehicle in which he had stored explosives and then arranging to rent a flat at Granby House, near the Gay Village, from where he would later assemble the bomb.
That evening, Abedi was caught on CCTV going to the Arena and to the City Room foyer, where he eventually detonated the bomb. Dressed all in black, he waited there for several minutes, hands behind his back, staring at queues building up outside the box office in what Greaney called a "chilling" image. "He was getting a feel, no doubt, for the general area," said Greaney, describing hostile reconnaissance as "purposeful observation by terrorists or other criminals with the intention of collecting information to inform the planning of a hostile act against a specific target".
"None of this behaviour that we've seen would necessarily have been identified as suspicious on this occasion. But the security experts are of the opinion are of the opinion that this was, without doubt, an initial general reconnaissance by Salman Abedi, which he used to identify CCTV locations and the ingress and egress routes from the arena and he may have spotted on this occasion that the raised level of the City Room was at that stage a CCTV blind spot," said Greaney.
The inquiry, which will last into spring 2021, is being chaired by Sir John Saunders, a retired high court judge.
He has been criticised by families of the bereaved, as well as survivors, for agreeing to hear evidence behind closed doors relating to whether the attack could have been prevented – particularly as Abedi was known to the security services and counter-terrorism police.
Justifying the decision, Saunders said: "To do otherwise would damage efforts to prevent further attacks and further tragedies such as this one and put more innocent lives at risk."
Much of the inquiry will examine "what led Salman Abedi to do what he did" said Saunders: "We will try and get a picture of the sort of person he was, how he may have become radicalised, if he was, and if we can, who radicalised him. Whatever we find out about Salman Abedi we will never be able to understand why he set out to kill so many innocent people, including children, and cause the devastation he did."
Saunders added: "This is an exercise in establishing the truth … if I conclude on the evidence that things went wrong, then I shall say so. But we are not looking for scapegoats, we are searching for the truth.
"Let us always remember as we consider the evidence that the person who is directly responsible for this tragedy is Salman Abedi. He, together with his brother Hashem, killed 22 people and intended and hoped to kill many more."
https://www.theguardian.com/uk-news/2020/sep/07/manchester-bombing-inquiry-launches-promising-to-leave-no-stone-unturned?utm_source=iterable&utm_medium=email&utm_campaign=1504744_
--------
Charlie Hebdo, market attacks turned widow into fugitive
September 5, 2020
PARIS (AP) — The fugitive widow of the Islamic State killer who plotted attacks against the Charlie Hebdo satirical newspaper and a kosher market calls home to France once a year to catch up, her sisters testified, offering new details about one of the world's most wanted women.
Hayat Boumeddiene is the only woman among 14 people being tried in French terrorism court for the January 7-9, 2015, attacks that left 17 people dead along with all three attackers, including her husband.
Boumeddiene left for Syria a few days before the attacks. She and the two men who arranged her escape are being tried in absentia as accomplices in the attacks.
The other 11 defendants whose two-month trial began Sept. 2 are accused of helping with logistics, including buying the weapons and tactical gear for brothers Saïd and Chérif Kouachi and Amédy Coulibaly. Most say they had no idea the plan was for a mass killing, saying they believed it was for an ordinary crime.
Saadia Benali, whose family took in Boumeddiene for five years, late Friday described her fugitive sister's religious marriage to Coulibaly and the couple's deepening belief in ever more radical forms of Islam. Benali herself was dressed head to toe in the black robe and veil worn by many devout Muslims as she testified.
She said Coulibaly, a career criminal with multiple convictions for theft and violence even before he stormed the Hyper Cacher supermarket, "was very sweet, gentle, respectful."
"He went to the extreme to avenge his brothers. I think he was someone who was just too sensitive," she said. "And Hayat lived for Amédy."
Benali said Boumeddiene calls her at least once a year, the last time at the end of 2019. She said she didn't bother telling police about it "because I know I'm being tapped."
Soon after the attacks, Boumeddiene called to apologize, said her older sister, Keltoum.
"She apologized for any trouble she could have caused us, but not for the rest," Keltoum Boumeddiene said. She didn't talk much about her husband, Benali said.
"She just said ISIS was so proud of what he'd done. She was very protected, she was doing her thing, euphoric. She tried to get us to come to Syria. She was just in her own world. I thought she'd been brainwashed," Benali said.
More recently, she's been "less happy, less vibrant than she was at the beginning," Keltoum Boumeddiene said. But never has she said she wants to return to France. Her sisters say she has no children.
Boumeddiene's own childhood was troubled. Her mother died when she was 8, and her first foster family sent her away after she was accused of trying to beat up a policewoman at age 14. She landed in the Benali family at age 14, and stayed there until she met Coulibaly at age 19.
She kept her relationship with Coulibaly hidden at first because her foster father didn't want her to marry an African.
"She went back to her biological father to be able to marry him," Benali said.
She hasn't mentioned any new relationships since, said her older sister, describing their most recent call as "just catching up. From what she told me, she hasn't made a new life for herself. She's single and surrounded by families and children."
It was during one of Coulibaly's many stints in prison that he met one of the Kouachi brothers — and most of the 11 other defendants. What most have in common are past convictions for drug trafficking, violence or organized crime. Most have used the word "shame" to describe their current predicament.
The only one of the 11 accused as a direct accomplice in the attacks is Ali Riza Polat, a friend of Coulibaly's who described himself as "a man of money, not religion."
"If I had just stuck with drugs, I wouldn't be here," Polat said. Asked by the judge what he would do if he leaves prison, Polat was unequivocal.
"I'll go back to crime, I tell you that openly. I'm not into religious conflict. I'm not against anyone."
As for Charlie Hebdo and the attack on the supermarket? "You can't do that. You can't kill people, innocent people."
https://apnews.com/64538987afe114ac194e83320fbe1ab5?utm_source=iterable&utm_medium=email&utm_campaign=1504744_
--------
Russia offers to mediate between Cyprus, Turkey in maritime dispute
08 September 2020
Russia has offered to mediate between Cyprus and Turkey in a dispute over energy exploration rights in the Mediterranean Sea.
"As far as your relations with Turkey are concerned, we are ready to promote dialog, pragmatically based on mutual interests and in search of decisions, which will be fair and based on international law," Russia's Foreign Minister Sergei Lavrov told Cypriot President Nicos Anastasiades during a formal visit to the island country's capital of Nicosia on Tuesday.
Tensions have escalated between Turkey on the one side and Greece and Cyprus on the other in recent months over commercial rights in the eastern Mediterranean, which is believed to be rich in natural gas.
Cyprus has been divided into two parts since 1974. The northern third is run by a Turkish Cypriot administration recognized only by Turkey, and the southern two-thirds is governed by the internationally-recognized Greek Cypriot government.
Last Tuesday, US Secretary of State Mike Pompeo also contacted the Cypriot president to announce that Washington was partially lifting its 33-year arms embargo on Cyprus.
The announcement drew strong reaction from Turkey, which promised to take unspecified countermeasures.
Turkey started sailing a seismic research vessel and escorting naval ships in waters disputed by fellow NATO member Greece in the eastern Mediterranean Sea, heightening tensions with Athens over the limits of their continental shelves.
Greece has deployed its own naval ships to shadow the Turkish vessels. Last month, one of the Turkish vessels was involved in a minor collision with one of the Greek ships.
Meanwhile, France has stepped up its military presence in the area and cooperation with both Greece and Cyprus in gestures of support.
Greece and Turkey almost went to war in 1974 over Cyprus.
https://www.presstv.com/Detail/2020/09/08/633605/Russia-mediate-Cyprus-Turkey
--------
UK Supreme Court to hear jihadist bride's citizenship case in November
SEPTEMBER 7, 2020
LONDON (Reuters) - The UK Supreme Court will hear arguments in November for and against the government's decision to remove the UK citizenship of a British-born woman who went to Syria as a schoolgirl to join Islamic State.
The case of Shamima Begum has been the subject of a heated debate in Britain, pitting those who say she forsook her right to citizenship and is a security threat, against those who argue she should not be left stateless but rather face trial in Britain.
Begum, who was born to Bangladeshi parents, left London in 2015 when she was 15 and traveled to Syria via Turkey with two schoolfriends. In Syria, she married an Islamic State fighter and lived in the capital of the violent jihadist group's self-declared caliphate.
Britain stripped her of her citizenship after she was discovered in 2019 in a detention camp in Syria, where three of her children died. The government argued Begum was a threat to national security and should not be allowed to return.
But the Court of Appeal ruled in July that Begum should be let back into Britain to give her a chance to appeal against the removal of her citizenship, a ruling the government called "very disappointing".
Five Supreme Court justices will hear the government's appeal against the July ruling as well as Begum's appeal against the original decision to strip her of her citizenship during two days of hearings on Nov. 23 and 24.
Begum angered many Britons by appearing unrepentant about seeing severed heads and saying a suicide attack that killed 22 people in the English city of Manchester in 2017 was justified.
https://www.reuters.com/article/us-britain-security-begum/uk-supreme-court-to-hear-jihadist-brides-citizenship-case-in-november-idUSKBN25Y17H?utm_source=iterable&utm_medium=email&utm_campaign=1504744_
--------
Portuguese alleged ISIS supporters have 'link' to kidnapped British photographer
Simon Rushton
September 5, 2020
A terror cell linked to a convicted ISIS-supporting British cleric went on to kidnap journalist John Cantlie in Syria, a court will hear next week.
The court will be told that two Portuguese defendants, Romulo Rodrigues da Costa and Cassimo Ture, were part of the London-based Leyton cell that included a number of other Portuguese nationals.
They allegedly met in London before some of them travelled to Syria and became prominent ISIS members, The Telegraph reported on Saturday.
They are due to appear in court in Lisbon on Monday.
It has been previously reported by the Sunday Times that members of the cell had links to Anjem Choudary, who has been convicted of inviting support for a proscribed organisation.
Rodrigues da Costa is a hip-hop music producer whose brothers have been identified as known associates of high-profile Western ISIS members and Ture is an alleged Isis financier and recruiter.
The pair, and six other defendants, are accused of supporting or funding the cell. The other six are all missing, believed to be dead or detained in Syria.
Among the missing defendants are Celso Rodrigues da Costa and Sadjo Ture. They are both suspected of a role in the kidnap of Mr Cantlie, a British war photographer, in July 2012.
Mr Cantlie is still missing and has appeared in a number of ISIS videos.
Mr Choudary, who was once known for vocally supporting ISIS, now lives in Iford, east London, with strict licence conditions.
Ahead of next week's trial at Lisbon's Court of Justice, the full indictment was released, in which alleged codewords were also made public.
According to prosecutors, 'Bongofia' was the British police, 'Clisman' or 'Klinsmann' was Germany after the former football star, and Syria was 'Discoteca' or disco.
https://www.thenational.ae/world/europe/portuguese-alleged-isis-supporters-have-link-to-kidnapped-british-photographer-1.1073255?utm_source=iterable&utm_medium=email&utm_campaign=1504744_
--------
Arab World
Charity founded by Syrian tycoon Rami Makhlouf has Facebook page removed
Lemma Shehadi
09 September 2020
The Facebook page of the Al Bustan Association, a Syrian charity founded by sanctioned tycoon Rami Makhlouf, was removed this week, amid rumors that the influential organization is being co-opted by President al-Assad.
The Al Bustan Association supported Assad's war efforts through hand-outs to the families of fallen soldiers, and funding a loyalist militia of the same name. This, alongside Makhlouf's family pedigree, allowed him to command influence in the Alawite community, that is also loyal to Assad.
For all the latest headlines, follow our Google News channel online or via the app.
It not yet known who deleted the page and when. Yet the move followed a report in Syrian media that Al Bustan offices in Daraa now operate a new charity, al-Areen, which is fronted by Assad and his wife Asma.
"It is clear that they want to replace Makhlouf and his influence," said Ayman Abdelnour, a US-based activist and president of Syrian Christians for Peace. "They are operating and ready to take over all of [Al Bustan's] buildings."
Makhlouf is Assad's first cousin and one of the regime's chief financiers. Estimates of his hidden wealth start at $5bn, and documents in the Panama Papers reveal how he helped the sanctioned Syrian regime access funds.
His influential aunt Aniseh, who came from a notable Alawite family, was Hafez al-Assad's wife and the mother of Bashar.
Yet since April this year, Makhlouf has been embroiled in a public feud with Assad over who should pay to save Syria's collapsing economy. Makhlouf aired his grievances through a series of videos on his Facebook page, and became the first regime insider to publicly criticise the president from within the country.
Government measures against Makhlouf included freezing his assets and those of his family, arresting his employees and imposing a temporary travel ban. Yet his family's inextricable ties to the Assads have made him a difficult opponent to remove.
Charities at the heart of Makhlouf-Assad feud
Charities - both Makhlouf's and Assad's - are at the heart of this ongoing dispute.
When Makhlouf spoke out for the first time against government measures to seize his assets, he mentioned his charitable work. Weeks later, after Al Bustan iterated its loyalty to Assad on Facebook, Makhlouf publicly donated $2.9million.
Just weeks after Makhlouf's first video, President's wife Asma al-Assad, who runs her own network of charities, launched a nationwide campaign to support the families of fallen soldiers.
Then, in June, she and Assad launched Al-Areen. "As long as Al Bustan exists, the people will connect it to Rami Makhlouf, " said Abdelnour, who likened the creation of Al-Areen as a "rebrand."
So far, little is known about Al Areen's administrative structure and operations. The charity was registered in the city of Hama and its board members have yet to be announced. A promotional video published on Al Areen's Facebook page last week is narrated by both Assad and his wife Asma. "It's the first time they appear together and as equals," said Abdelnour.
Yet despite attempts to curb Makhlouf's financial might and erode his influence, the tycoon's fate in Syria remains uncertain.
https://english.alarabiya.net/en/News/middle-east/2020/09/09/Charity-founded-by-Syrian-tycoon-Rami-Makhlouf-has-Facebook-page-removed
--------
First official Israeli trade delegation visits UAE with CEO of Israel's biggest bank
Emily Judd
08 September 2020
The first official Israeli trade delegation arrived in the UAE on Tuesday, including the CEO of the biggest bank in Israel.
Dov Kotler, the head of Bank Hapoalim, landed in Dubai and is set to meet with government officials and the heads of the largest banks in the UAE, according to Reuters.
It is the first ever official Israeli trade delegation in the UAE.
Kotler said the visit is "a unique opportunity to establish economic relations and cooperation between our countries and their financial systems, which will yield economic growth for both parties," according to Reuters.
First Abu Dhabi Bank, the UAE's largest bank, said last week that it will open discussions with "leading financial institutions in Israel, namely Bank Hapoalim and Bank Leumi," following last month's historic agreement between the UAE and Israel.
"The discussions will look to establish banking relationships that will strengthen financial and economic cooperation between UAE and Israel, focusing on correspondent banking, bilateral trade, and technology and innovation," First Abu Dhabi Bank said in a statement on Twitter.
The visit follows the signing of a Memorandum of Understanding on September 1 between the two countries on banking and finance.
Next Monday, a second delegation from another leading bank in Israel, Bank Leumi, will travel to the UAE. The group will be led by Chairman Samer Haj Yehia.
Bank Hapoalim and Bank Leumi are Israel's number one and two banks, respectively.
An Israeli minister said Monday that annual trade between Israel and the UAE is expected to reach $4 billion.
"Within three to five years trade between Israel and the United Arab Emirates will reach $4 billion," Israeli Intelligence Minister Eli Cohen told Israel's Reshet Bet radio station.
The UAE issued a decree abolishing a previous law that mandated an economic boycott of Israel on August 29.
https://english.alarabiya.net/en/business/economy/2020/09/08/First-official-Israeli-trade-delegation-visits-UAE-with-CEO-of-Israel-s-biggest-bank
--------
Lebanon, Israel getting closer to negotiating disputed borders: US official
Joseph Haboush
09 Sep 2020
Beirut and Tel Aviv are getting closer to agreeing on a framework on their disputed borders, a senior US official said Tuesday days after returning from a trip to the region.
Lebanon and Israel are technically in a state of war, but recent studies showing potential offshore natural gas reserves have drawn the attention of Washington to mediate an agreement to both countries' borders.
For all the latest headlines, follow our Google News channel online or via the app.
Several US envoys have attempted to find common ground between the two countries; however, US Assistant Secretary of Near Eastern Affairs David Schenker said Tuesday progress was being made.
"I think we're getting closer, and this will open the opportunity for both Lebanon and Israel to make some real progress," Schenker told reporters in a phone briefing.
The US diplomat was referring to an agreement that would provide the framework for "actually starting to negotiate on the borders."
Schenker said the framework was important and should have been completed "a long time ago."
He would not elaborate on the points which are holding up a final agreement.
Senior political sources familiar with the ongoing discussions between Lebanon and the US said that Schenker was expected to announce the agreement during his trip to Beirut last week.
This appears to have been pushed. "I hope to be able to come over to Lebanon and sign this agreement in the coming weeks," Schenker said.
The UN peacekeeping force in Lebanon (UNIFIL) continues to work to reach an agreement on the land border, which is currently separated by a UN-demarcated Blue Line. Lebanon disputes 13 of the 200 points along its southern border.
At least three different US envoys have exerted significant diplomatic efforts to help resolve the maritime border dispute. In 2012, Frederic Hof, most notably, proposed dividing the disputed waters along what became the "Hof Line." This would see Lebanon take 500 sq. km. out of the 842.
During his trip to Beirut last week, Schenker shunned Lebanese officials in a sign of Washington's frustration with the ruling elite. Hundreds of thousands of Lebanese protesters took to the streets last October, demanding an end to endemic corruption.
Nevertheless, Schenker said he did speak with a top adviser to Lebanon's parliament speaker.
"I hope and I believe that we are making some incremental progress and looking forward to finishing up with this framework agreement so you and the Israelis can … negotiate about your borders," Schenker told Al Arabiya English.
"This has gone on way too long. It's been an unfortunate waste of time," he added.
https://english.alarabiya.net/en/2020/09/08/Lebanon-Israel-getting-closer-to-negotiating-disputed-borders-US-official
--------
Saudi crown prince's Misk Foundation under review amid espionage scandals: Report
09 September 2020
Saudi Crown Prince Mohammed bin Salman's flagship "charity" foundation is said to be under review in the kingdom after it was mired in a series of scandals, including involvement in espionage activities on US soil.
Citing a Saudi official, the Financial Times newspaper reported on Tuesday that the review was ordered by the Riyadh government after the US Justice Department appeared to refer to the Misk Foundation and one of its senior officials in a lawsuit in November against two former Twitter employees and a third man.
The trio was accused of spying on users of the social media platform on behalf of the Riyadh regime.
The organization and its former secretary general Bader al-Askar were also named as defendants alongside bin Salman in another suit filed in the US in August by Saad la-Jabri, an ex-Saudi intelligence official living in exile.
"It [the allegations in the lawsuits] has brought scrutiny to something that has done phenomenal things," said the Saudi official, who requested anonymity. "I'm pretty sure the crown prince was furious that this jewel was linked to this."
Bin Salman founded the Misk Foundation in 2011, years before he was appointed heir to the Saudi throne.
The foundation has been a crucial tool in the crown prince's efforts to promote his brand overseas and sign partnerships with international entities, including the UN, the Gates Foundation, Bloomberg, Harvard University and General Electric.
However, Misk's affiliation to bin Salman caused both the Gates Foundation and Harvard to cut their ties with the organization in the wake of the state-sponsored killing of dissident Saudi journalist Jamal Khashoggi at the kingdom's consulate in Istanbul in October 2018.
The US Justice Department's lawsuit referred to "Foreign Official-1" who was secretary general of "Organization No 1" founded by a Saudi royal. The description matches Askar and Misk, respectively.
The filing said the defendants accused of spying for Riyadh in 2014 and 2015 had interactions with Foreign Official-1, and that he provided them with "gifts, cash payments and promises of future employment in exchange for non-public information about Twitter users."
Meanwhile, Jabri's lawsuit also said bin Salman had sent a hit squad to Canada to assassinate him less than two weeks after Khashoggi's murder.
The Misk Foundation conspired with Askar and the crown prince to "covertly recruit individuals to serve as agents and who participated in the hunt" for Jabri in the US, the suit read, adding that the "campaign" offered employment at the organization as a "reward" for those who aided bin Salman and Askar.
It also quoted a person close to the Jabri family as saying that in September 2017, Misk employees repeatedly asked one of his sons and his friends for contact details for the ex-Saudi intelligence official and his wife, as well as about his residency status in the US.
Around that time, the lawsuit asserted, bin Salman and his aides sent threatening messages to Jabri, who had left the kingdom in May 2017, trying to force him to return.
Back in June, Saudi activists had raised questions about Askar's whereabouts as his social media accounts had fallen quiet.
Soon afterwards, activity on his Twitter account resumed, but sources told the Middle East Eye (MEE) news portal that the former Misk secretary general had been detained.
https://www.presstv.com/Detail/2020/09/09/633664/Saudi-Arabia-bin-Salman-Misk-Foundation-scandals
--------
Africa
ISIL claims responsibility for deadly Tunisia knife attack
7 Sept 2020
The ISIL (ISIS) armed group claimed responsibility on Monday for a knife attack in Tunisia that killed one National Guard officer and wounded another as security forces rounded up more suspects.
The attack on Sunday in a tourist district of the coastal city of Sousse saw a group of assailants ram a patrol of the National Guard with a vehicle before stabbing the officers.
They were chased by security forces before three attackers were shot dead in an ensuing gun battle, the Guard said, describing it as a "terrorist" act.
The armed group said its "fighters" carried out the attack in a brief statement by its propaganda arm Amaq on the Telegram messenger service.
"Photos show that one of the attackers was wearing a T-shirt with a specific inscription to Daesh [ISIL]," said Mokhtar Ben Nasr, former head of the National Counter-Terrorism Commission, stressing it was difficult to establish precise links between the group and its supporters.
Tunisia, since its 2011 revolution, has been hit by a string of attacks that have killed dozens of security personnel, civilians, and foreign tourists.
Sunday's incident took place close to the site of the deadliest attack when 38 people - most of them British tourists - were killed in a 2015 beachside shooting rampage.
Family arrested
Tunisian authorities on Monday said they had arrested seven people over the attack.
The wounded officer was "in a stable condition", the interior ministry spokesman said.
National Guard officer Sami Mrabet, a 38-year-old father of two, was buried on Monday in his hometown of Moknine south of Sousse, in the presence of more than 1,000 people, including several government officials.
Since Sunday, 43 people have been questioned and seven arrested, Guard spokesman Houcem Eddine Jebabli told private station Radio Shems.
They included "the wife of one of the assailants, who described her husband as a 'martyr' during the interrogation", he said.
Two brothers of one of the attackers and a person suspected of recruiting them were also arrested, he added.
He said the attackers were twin brothers and a third man from the marginalised northwestern region of Siliana. He did not confirm or deny reports of a fourth assailant.
Jebabli said the twins had visited Facebook pages dealing with "explosive and armed attacks", but had stayed under the radar of the authorities.
Tunisia's President Kais Saied - on a visit on Sunday to the scene of the knife attack - said police were investigating whether it was planned "by individuals or an organisation".
Prime Minister Hichem Mechichi promised to "eradicate terrorists as soon as possible".
Mechichi, in a statement from his office, urged Tunisians "not to be afraid" of assailants, whom he described as "microbes".
Sunday's attack was the first since March when a suicide operation against security forces protecting the US embassy in Tunis killed a Tunisian police officer and left several others wounded.
https://www.aljazeera.com/news/2020/09/isil-claims-responsibility-deadly-tunisia-knife-attack-200907155806696.html?utm_source=iterable&utm_medium=email&utm_campaign=1504744_
--------
Truck Bomb in Somalia Kills 3 and Wounds 3, Including a U.S. Soldier
By Abdi Latif Dahir
Sept. 7, 2020
NAIROBI, Kenya — Three Somali military officers were killed and two others injured along with an American service member in a bombing in southern Somalia on Monday, the authorities said, the latest example of a deadly insurgency that has continued to wreak havoc in the Horn of Africa nation.
Officials in Jubaland State said an explosives-laden pickup truck exploded around 8 a.m. at a military outpost in the Jana Abdalle area in the Lower Juba region of southern Somalia. The attack came just days after Somali forces, with the support of American military personnel, reclaimed the area from the Somali terrorist group Al Shabab.
The authorities said the area, about 37 miles from the port city of Kismayo, had been used by the group as a hub to raise funds by taxing and extorting civilians moving across the region.
In recent years, the Shabab, who are a branch of Al Qaeda's terrorist network and seek to overthrow Somalia's Western-backed government, have lost many of the cities and villages they once controlled. Despite facing a record number of drone strikes, the group has morphed into a more nimble and lethal outfit, carrying out massive attacks against civilian and military targets across Somalia and neighboring countries.
No group has so far claimed responsibility for the attack on Monday, but pro-Shabab media outlets reported that the extremist group had carried it out.
"After their defeat, we were expecting attacks like this," Mohamed Ahmed Sabrie, the director of communications at the office of the regional president of Jubaland, said in a phone interview. "But nothing will stop us from freeing more areas from the Shabab and ensuring the safety of our people. We will do all we can."
Mr. Sabrie said the wounded were airlifted to Kismayo for treatment.
Col. Chris Karns, the director of public affairs for the United States Africa Command, said in a statement that the U.S. forces were assisting Somali troops as part of efforts to curb the reach and movement of Shabab militants.
The wounded service member, he said, was "in stable condition and receiving treatment for injuries that are not assessed to be life-threatening." At least one Shabab fighter was killed during the attack, the U.S. Africa Command said.
Recent attacks by the Shabab include an assault last month at a popular hotel in the Somali capital, Mogadishu, that left 11 people dead and 18 others injured. That attack happened just days after 19 guards and inmates were killed after members of the insurgency attempted to escape Mogadishu's central prison.
In June, the Shabab attacked a Turkish military base in Mogadishu, and in January, the group killed three Americans after they targeted a Kenyan military base used as an outstation by American troops. In late December, the group was blamed for detonating an explosives-laden truck that killed 82 people, including 16 university students.
The incessant attacks have cost the lives of hundreds of people, including prominent journalists, rights advocates, politicians, religious leaders and entrepreneurs.
To weaken the Shabab's presence, Somali forces work alongside troops from the African Union peacekeeping operations, which include forces from Kenya, Djibouti, Burundi, Uganda and Ethiopia. There are also about 650 to 700 U.S. troops in Somalia, most of them Special Operations forces, who are fighting the Shabab from small outposts alongside local troops.
Hussein Mohamed contributed reporting from Mogadishu, Somalia.
https://www.nytimes.com/2020/09/07/world/africa/somalia-attack-us-soldier.html?utm_source=iterable&utm_medium=email&utm_campaign=1504744_
--------
About 10 Malian soldiers killed in militant attack, army says
SEPTEMBER 4, 2020
BAMAKO (Reuters) - Militants killed around 10 Malian soldiers on Thursday near the west-central town of Guire, the army said, the deadliest such attack against the armed forces since an Aug. 18 military coup.
International powers fear the ousting of President Ibrahim Boubacar Keita could further destabilise the West African nation and undermine the fight against insurgents linked to al Qaeda and Islamic State in the wider Sahel region.
The latest attack, which targeted a resupplying mission, took place at 6 p.m. and also caused injuries and material damage, the army said in a statement on Friday.
Reinforcements have been dispatched to the area, it said.
Islamist groups operate in arid central and northern Mali, using the area as a base to attack soldiers and civilians in neighbouring Burkina Faso, Niger and beyond.
https://www.reuters.com/article/us-mali-security/about-10-malian-soldiers-killed-in-militant-attack-army-says-idUSKBN25V28T?utm_source=iterable&utm_medium=email&utm_campaign=1504744_
--------
URL: https://www.newageislam.com/islamic-world-news/pakistani-christian-asif-pervaiz-sentenced/d/122821
New Age Islam, Islam Online, Islamic Website, African Muslim News, Arab World News, South Asia News, Indian Muslim News, World Muslim News, Women in Islam, Islamic Feminism, Arab Women, Women In Arab, Islamophobia in America, Muslim Women in West, Islam Women and Feminism