New Age Islam News Bureau
13 Jul 2020
• Pakistan Restores Bank Accounts of Hafiz Saeed, His Four Top Aides: Report
• Hagia Sophia The Latest Muslim-Christian Tussle Over Holy Sites
• Bangladesh Restricts Public Eid Prayers Amid Pandemic
• Sudan Allows Alcohol for Non-Muslims, Decriminalizes Apostasy
• Saudi Arabia Highlights Support for Bosnia Massacre Victims
• Pope Francis 'Deeply Pained' By Turkey's Decision on Status of Hagia Sophia
• US Created Daesh, Other Terrorist Groups, To Advance Own Imperial Agenda: Analyst
-------
Pakistan
• Pakistan Ulema Council Supports Construction of First Hindu Temple In Islamabad
• Pakistan Restores Bank Accounts of Hafiz Saeed, His Four Top Aides: Report
• Riyadh offers assistance for building Quran complex in Islamabad
• NCOC meeting in Lahore today to discuss virus strategy for Eid
• 4 Pakistan Army soldiers martyred in intelligence-based operation in North Waziristan: ISPR
• PML-N leader demands midterm polls, claims PTI govt's policies have failed
--------
Mideast
• Hagia Sophia The Latest Muslim-Christian Tussle Over Holy Sites
• Official: Yemen in Possession of Extensive Intel on Targets in S. Arabia, UAE, Tel Aviv
• Police: Tehran Medical Center's Blast No Act of Sabotage or Terrorism
• Deputy Minister: US Losing Strategic Advantages of Iran Due to Hostility
• Turkey signed secret agreements with countries to abduct dissidents from abroad: UN
• Turkish FM says Libya's GNA will only agree to ceasefire after taking Sirte, Jufra
• Iran says misaligned radar led to Ukrainian plane downing
• Houthis back down over access to 'ticking timebomb' Red Sea tanker
--------
South Asia
• Bangladesh Restricts Public Eid Prayers Amid Pandemic
• 10 Taliban militants killed, wounded in Ghazni province: Thunder Corps
• Taliban attacks 'damaging' peace process, says Afghan government
• Dhaka looks the other way as rights groups push for Rohingya relocation
• Terror attacks in Afghanistan kill 26 security forces
--------
Africa
• Sudan Allows Alcohol for Non-Muslims, Decriminalizes Apostasy
• Four civilians killed as unrest to unseat President Keita rages in Mali capital
• Mali opposition rejects president's concessions aimed at ending political impasse
• Libya oil company says UAE ordered Haftar's forces to re-impose blockade on crude exports
• Tunisian families battle to repatriate children of militants
--------
Arab world
• Saudi Arabia Highlights Support for Bosnia Massacre Victims
• Lebanon's Top Christian Cleric Takes To Criticizing Hezbollah During Sermons
• Cutting access to aid in Syria will intensify suffering for 1.3 mln people: Agencies
• UN restarts cross-border aid to Syria via only 1 access point due to Russian pressure
• Saudi air defenses foil Houthi missile, drone strikes on civilian targets
--------
Europe
• Pope Francis 'Deeply Pained' By Turkey's Decision on Status of Hagia Sophia
• UK Should Target Iranian Judiciary With Sanctions, MPs Told
• UK selling spyware to 17 repressive regimes, including Saudi Arabia, Bahrain
• Libyan, Italian top diplomats hold talk on migration
• Four arrested in UK over suspected Islamist terrorism plot
--------
North America
• US Created Daesh, Other Terrorist Groups, To Advance Own Imperial Agenda: Analyst
• UN Security Council renews Syria aid via Turkey
• Jordan king meets US CENTCOM commander in Amman
--------
New Zealand
• New Zealand Mosque Shooter To Represent Himself At Sentencing
--------
India
• NIA Arrests Two People from Pune In Case Related to Islamic State: Report
• Pak again breaches truce along LoC in J&K's Nowshera sector
• Revocation of Article 370 aimed at ending terrorism, anti-national activities in J&K: Ram Madhav
• Terrorist killed in ongoing encounter in J-K's Anantnag
• J&K: Three militants killed in encounter with security forces in Sopore
--------
SoutheastAsia
• Continue Engaging with Transgenders Like You Used to As Mufti, Women's Group Urges Minister
• Hurdling The Adverse State-Civil Society Relation Against Terrorism In Southeast Asia?
• Indonesia is failing to control coronavirus outbreak, say experts
Compiled by New Age Islam News Bureau
URL: https://www.newageislam.com/islamic-world-news/pakistan-ulema-council-supports-construction/d/122359
--------
Pakistan Ulema Council Supports Construction Of First Hindu Temple In Islamabad
July 11, 2020

Ashrafi said those opposing the construction of the temple have an incorrect interpretation of Sharia. (Photo: REUTERS/Representational)
-----
An umbrella group of Muslim organisations in Pakistan has extended its support to the construction of the first Hindu temple in Islamabad and denounced the controversy over the issue, according to a media report on Saturday.
The Pakistan Ulema Council (PUC), whose members include Islamic clerics and legal scholars of different Islamic traditions, also said the Constitution of Pakistan categorically defines the rights of Muslims and non-Muslims living in the country, Dawn newspaper reported.
"We denounce the controversy over construction of the temple. This [making it controversial] by extremist clerics is not correct. The PUC will call a meeting and will also present its point of view to the Council of Islamic Ideology (CII)," PUC chairman Hafiz Mohammad Tahir Mehmood Ashrafi said on Friday.
The CII is a constitutional body responsible for giving legal advice on Islamic issues to the Pakistan government.
Pakistan's religious affairs ministry has written to the CII to seek its opinion on the government's funding for the construction of the temple in the capital city amid opposition from some Muslim groups.
Minister of Religious Affairs NoorulHaqQadri on Wednesday said there was no problem related to the construction of the temple, but the real issue was whether it could be built with the public money.
The government has approved Rs 10 crore for the Krishna temple, which will come up in a 20,000 sq ft plot in the capital's H-9 administrative division.
Ashrafi said those opposing the construction of the temple have an incorrect interpretation of Sharia (Islamic law).
"To have their own place of worship and offer a life as per their faith and tradition are the right given to all non-Muslims in the Constitution and as well as in Sharia," he was quoted as saying by the paper.
Ashrafi, who is also the chairman of Muthahida Ulema Board, Punjab, said that the Hindus living in Pakistan were not residents of any conquered land; therefore, the interpretation presented by certain clerics about the rights of non-Muslims in Sharia is not applicable to Hindus and members of other religious minorities living in the country, the paper reported.
"Dozens of worship places have been established in the country for religious minorities and recently the government constructed the Kartarpur Corridor for Sikh pilgrims," he said. "Did anybody observed any threat to Islam – No."
"We are very clear; no extremist group or individual should be allowed to usurp the rights of minorities in the country," he added.
A Pakistani court on Tuesday dismissed three identical petitions challenging the construction of the first Hindu temple in Islamabad.
A single bench of the Islamabad High Court delivered the judgement, making it clear that there was no bar on the Institute of Hindu Panchayat from building the temple on the land allotted to it, using its own funds.
Hindus form the biggest minority community in Pakistan.
According to official estimates, 75 lakh Hindus live in Pakistan. However, according to the community, over 90 lakh Hindus are living in the country.
Majority of Pakistan's Hindu population is settled in Sindh province where they share culture, traditions and language with their Muslim fellows.
https://indianexpress.com/article/pakistan/pakistan-ulema-council-supports-construction-of-first-hindu-temple-in-islamabad-6501199/
--------
Pakistan restores bank accounts of Hafiz Saeed, his four top aides: Report
Jul 12, 2020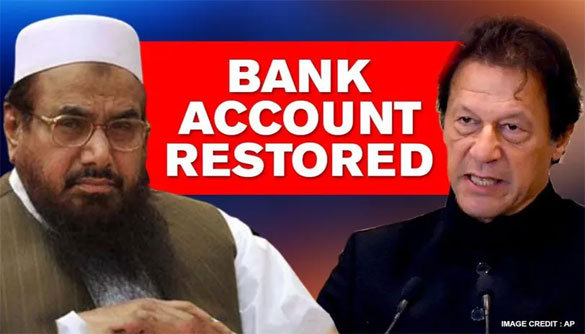 ISLAMABAD: Pakistan has restored the bank accounts of the outlawed Jamaat-ud-Dawa (JuD) chief and the 2008 Mumbai terror attack mastermind Hafiz Saeed and his four top aides, a media report said on Sunday.
Saeed, a UN designated terrorist whom the US has placed a $10 million bounty on, was arrested on July 17 last year in the terror financing cases. He was sentenced to 11 years in jail by an anti-terrorism court in February this year in two terror financing cases. He is lodged at the Lahore's high-security Kot Lakhpat jail.
Abdul Salam Bhuttavi, Haji M Ashraf, Yahya Mujahid and Zafar Iqbal - all on the UN Security Council's terrorists list – were the other members of the JuD and Lashkar-e-Taiba who got their bank accounts restored, The News reported.
They are currently facing sentences ranging 1 to 5 years in Lahore jail for terror financing cases filed against them by the Punjab Counter Terrorism Department (CTD), the paper said.
"The restoration of bank accounts has taken place following formal approval of the Sanctions Committee of the United Nations Security Council," the paper said.
Citing sources, the paper said that the JuD leaders had appealed United Nations for restoring their bank accounts that they could run their family affairs.
"Initially we did not want to file an appeal but we were advised to file it as it was difficult for our leaders to run their affairs," a senior JuD leader was quoted as saying by the paper.
These leaders in their request to the government of Pakistan had also mentioned about their financial income and sources of earning. The same was forwarded to the UNSC along their bank account numbers and other related details, it added.
Saeed-led JuD is the front organisation for the Lashkar-e-Taiba (LeT) which is responsible for carrying out the 2008 Mumbai attack that killed 166 people, including six Americans.
The US Department of the Treasury has designated Saeed as a Specially Designated Global Terrorist. He was listed under the UN Security Council Resolution 1267 in December 2008.
His bank accounts were frozen by the Pakistani government complying with the UNSC resolution.
https://timesofindia.indiatimes.com/world/pakistan/pakistan-restores-bank-accounts-of-hafiz-saeed-his-four-top-aides-report/articleshow/76927211.cms
--------
Hagia Sophia the latest Muslim-Christian tussle over holy sites
July 13, 2020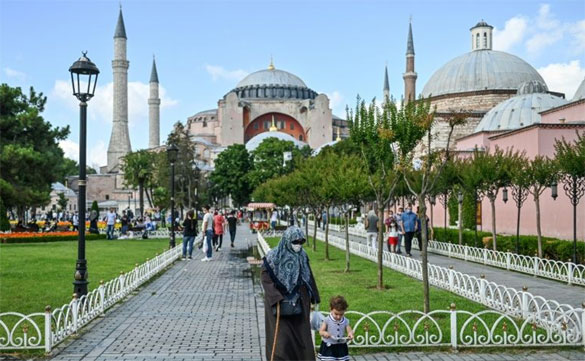 A top Turkish court has revoked the sixth-century Hagia Sophia's status as a museum, clearing the way for it to be turned back into a mosque (AFP Photo/Ozan KOSE)
-----
AFP — Istanbul's iconic Hagia Sophia is to reopen for Muslim worship as a mosque after an almost nine-decade hiatus, in the latest historic tussle with Christianity over religious sites.
The UNESCO World Heritage site was constructed as a cathedral during the Byzantine empire but converted into a mosque after the Ottoman conquest of Constantinople in 1453.
A Turkish court on Friday overturned a 1934 cabinet decision to turn Hagia Sophia into a museum, clearing the way for a July 24 reversion to its status as a mosque.
The move adds to a long list of such conversions of holy sites over the centuries. The following are examples:
Algeria
Algiers' Ketchaoua Mosque was built in about 1612 and enlarged in 1794, making it one of the country's main mosques.
The French, a year into their 1830-1962 colonial reign, turned it into the Catholic church of Saint Philippe.
The first mass was celebrated there on December 24, 1832.
In 1838, it was consecrated the Algiers Cathedral and enlarged, destroying most of the old mosque.
But with Algeria's independence in 1962, Ketchaoua again became a mosque, hosting its first Friday prayer in 130 years. Since then, it has been renovated with Turkish funding.
Cyprus
Selimiye mosque in northern Nicosia, originally the Roman Catholic cathedral of Saint Sophia, was the work of French masons who accompanied the Crusades.
It was built in the 13th century during the reign of the Frankish Lusignan dynasty on the eastern Mediterranean island.
The cathedral was converted into a mosque after the Ottoman seizure of Nicosia in 1570.
Tradition has it that imams preparing to deliver the Friday sermon climbed into the minbar, or pulpit, leaning on a sword used during the conquest of the city.
The finest example of Gothic architecture on the island, the Catholic cathedral of Saint Nicholas in the northeastern city of Famagusta was consecrated in the 14th century during the Lusignan period.
It was transformed into Lala Mustafa Pasha Mosque after the Ottoman empire captured the coastal city in 1571.
Egypt
Attarine Mosque in the Mediterranean city of Alexandria was originally an octagonal church dating back to 370 and dedicated to St Athanasius, a pivotal figure in the Coptic Orthodox church.
The place of worship was converted into a mosque during the Islamic invasion of the seventh century, and it is named after its location in the old spice market of Alexandria.
During the Napoleonic invasion, explorers believed the tomb of Alexander The Great was buried inside the mosque in a green sarcophagus.
It was renovated several times during Ottoman rule, and has been open to the public since its latest rebuilding in 1976.
Lebanon
The site of today's Al-Omari Grand Mosque in downtown Beirut was a Roman temple or bath site before the Byzantines built a church there.
After the Islamic conquests it was converted into a mosque named after Islam's second caliph, Omar ibn al-Khattab.
But when Frankish crusaders conquered Beirut in the early 12th century they turned it back into a church, before its capture in 1187 by Muslim conquerer Saladin — who turned it back into a mosque.
The crusaders then recaptured it and transformed it into a cathedral in 1197. Finally in 1291 the Mamluks captured Beirut and converted it back into a mosque, which it has remained ever since.
West Bank
Mosques in the Palestinian West Bank town of Nablus also reflect its history throughout the Byzantine era, the Islamic conquests, the Crusades and the Mamluk period.
A number are linked to Judaism and early Christianity, such as Al-Khadra, which has been a mosque since 1187 after having served as a church during the Crusades.
The city's Great Mosque was originally a church built by Roman Emperor Justinian I in the 6th century.
In 1186, it was converted into a mosque by the Ayyubids after Saladin's conquest.
Spain
Cordoba mosque, known as the Mezquita, in Spain's southern region of Andalusia was the holiest site of Muslim worship in the West during the Umayyad caliphate of the 10th and 11th centuries.
It has been a Catholic site since the Christian reconquest of the city in 1236, after which a cathedral was built inside the building.
Regarded as one of the finest monuments of Moorish architecture, the mosque-cathedral was added to UNESCO's World Heritage List in 1984.
Syria
The Umayyad mosque in the Old City of Damascus is one of the holiest places of worship in Islam.
It is located on the site of a temple of Jupiter which Roman Emperor Theodosius I transformed into a church in the fourth century.
https://www.timesofisrael.com/hagia-sophia-the-latest-muslim-christian-tussle-over-holy-sites/
--------
Bangladesh restricts public Eid prayers amid pandemic
SM NajmusSakib
12.07.2020
DHAKA, Bangladesh
Bangladesh on Sunday barred congregational prayers on the Muslim festival of Eid al-Adha on traditionally-designated open grounds
-----
Bangladesh on Sunday barred congregational prayers on the Muslim festival of Eid al-Adha on traditionally-designated open grounds to prevent the spread of the novel coronavirus, according to senior officials.
Authorities announced the decision after an inter-ministerial meeting that, precluding the use of Eidgah -- open areas where prayers were usually held en masse -- instead urging people to perform prayers in mosques, which are smaller.
Ministry of Religious Affairs secretary Md. Nurul Islam chaired the meeting, senior information official Mohammad Anwar Hossain confirmed to Anadolu Agency. The meeting maintained a similar ruling on prayers for the previous Muslim ceremony of Eid al-Fitr in May.
The latest decision required carpets to be removed from mosques during the annual prayer, the disinfection of mosque premises before prayers and greater sanitation and social distance measures.
Instead of the National Eidgah, the main congregational Eid prayer will be held at the National Mosque Baitul Mukarram.
The decision also ordered the elderly, children and those suffering from disease not to attend the prayer.
Another senior official of the ministry, Moazzem Hossain, told Anadolu Agency that authorities would issue a formal order Monday on the decision.
He said the ruling was arrived at via "consultation with experts, officials and religious scholars at the meeting."
Eid-ul-Adha is expected to be celebrated on July 31 or Aug. 1 in Bangladesh, subject to the sighting of the moon.
The South Asian country on Sunday registered 47 more coronavirus-related deaths, raising the total to 2,352, as well as 2,666 daily infections for a total 183,795.
Besides, some 5,580 people have recovered in the past 24 hours, bringing the overall tally to 93,614 since the first case was detected on March 8.
https://www.aa.com.tr/en/asia-pacific/bangladesh-restricts-public-eid-prayers-amid-pandemic/1908129
--------
Sudan allows alcohol for non-Muslims, decriminalizes apostasy
12.07.2020
Sudan will allow non-Muslims to consume alcohol and has scrapped laws that had made apostasy potentially punishable by death, the country's Justice Minister NasredeenAbdulbari said.
The changes come a year after Islamist autocrat Omar al-Bashir was toppled following mass protests against his three-decade rule.
Sudan now "allows non-Muslims to consume alcohol on the condition it doesn't disturb the peace and they don't do so in public," Abdulbari said in an interview Saturday evening on state television.
Alcoholic drinks have been banned in the country since former President Jaafar Nimeiri introduced Islamic law in 1983, throwing bottles of whisky into the Nile in the capital Khartoum. While Islamic tradition forbids the faithful from drinking, Muslim-majority Sudan has a significant Christian minority.
A string of reforms
The minister also said that Sudan will decriminalize apostasy and ban female genital mutilation, a practice which typically involves the partial or total removal of the external genitalia of girls and women. According to a 2014 report by the UNICEF, Sudan's FGM prevalence rate is 86.6%.
Furthermore, women will no longer need a permit from male members of their families to travel with their children.
"No one has the right to accuse any person or group of being an infidel... this threatens the safety and security of society and leads to revenge killings," said Abdulbari, who is part of a transitional government that took power after Bashir's ouster. The transitional administration, installed under a deal between protest leaders and military generals, has so far pursued a string of reforms.
A constitution adopted for the three-year transition period omits mention of Islam as a defining characteristic of the state.
Earlier this month, the transitional government had promised major reforms, after thousands of protesters took to the streets demanding greater civilian rule.
https://www.dw.com/en/sudan-allows-alcohol-for-non-muslims-decriminalizes-apostasy/a-54149786
--------
Saudi Arabia Highlights Support For Bosnia Massacre Victims
July 13, 2020
GENEVA: Saudi Arabia participated in the 25th anniversary memorial of the Srebrenica genocide that took place in July 1995.
Foreign Minister Prince Faisal bin Farhan bin Abdullah delivered the Kingdom's speech via video conference.
He conveyed the greetings of King Salman and Crown Prince Mohammed bin Salman to the chairman of the Council of Ministers of Bosnia and Herzegovina, SefikDzaferovic, and UN Secretary-General Antonio Guterres, and dignitaries who were participating in the event.
The minister affirmed that Saudi Arabia stood side by side with its brothers, the families of the victims of the massacre.
He said: "Our participation on behalf of Saudi Arabia, its leaders, government, and people, is a humanitarian and moral obligation that the Saudi leadership stands by every year."
The minister added that King Salman continued to support and stand by Bosnia and Herzegovina, further confirming the unique and friendly relations between the two countries.
https://www.arabnews.com/node/1703886/saudi-arabia
--------
Pope Francis 'deeply pained' by Turkey's decision on status of Hagia Sophia
12 July 2020
Pope Francis said on Sunday that he is "deeply pained" over the decision by Turkey to change the status of Hagia Sophia — which was originally built in Istanbul as a Christian cathedral — from a museum to a mosque.
In a very brief, improvised remark, Francis, speaking from his studio window overlooking St. Peter's Square, noted that the Catholic Church marked Sunday as International Day of the Sea. "And the sea brings me a little far away with my thought: to Istanbul," the pontiff said. "I am thinking of St. Sophia and I am deeply pained."
Francis said no more but was clearly referring to the move by Turkish President Recep Tayyip Erdogan to formally convert the monumental building back into a mosque. The colossal Santa Sophia cathedral was turned into a mosque after the Ottomans conquered the city in 1453. The Turkish secular government in 1934 decided to make it a museum.
The pope, who heads the Roman Catholic church, is adding his voice to strong objections a day earlier by the head of the Geneva-based World Council of Churches. That organization described its "grief and dismay" in noting that Hagia Sophia has been "a place of openness, encounter and inspiration for people from all nations."
The council's membership comprises Protestant, Orthodox and Anglican churches.
Erdogan declared the monument open for Muslim worship after a high court annulled the 1934 government decision.
https://english.alarabiya.net/en/News/world/2020/07/12/Pope-Francis-deeply-pained-by-Turkey-s-decision-on-status-of-Hagia-Sophia.html
--------
US created Daesh, other terrorist groups, to advance own imperial agenda: Analyst
12 July 2020
The United States has created the Daesh terrorist group, along with other terrorist outfits, to advance its own imperial agenda, says an American political analyst.
Stephen Lendman, author and political commentator in Chicago, made the remarks in a phone interview with Press TV on Saturday.
On Friday, Iran's ambassador to the United Nations censured the US assassination of top Iranian commander Lieutenant General Qassem Soleimani as a big gift to Daesh and other terrorist groups in the region.
Takht-Ravanchi said the targeted killing of General Soleimani was a "brutal and cowardly" act and an "obvious example of state terrorism" perpetrated in breach of international law.
In a drone attack on January 3, the US assassinated General Soleimani, commander of the Quds Force of Iran's Islamic Revolution Guards Corps, and Abu Mahdi al-Muhandis, the second-in-command of Iraq's Popular Mobilization Units (PMU), and a group of their companions near Baghdad International Airport.
Both commanders enjoyed deep reverence among Muslim nations over their endeavors in eliminating the US-sponsored Daesh terrorist group in the region, particularly in Iraq and Syria.
The operation was conducted with the authorization of US President Donald Trump.
"Unlike what the Pentagon and the Trump regime and others in Washington said, the killing had absolutely nothing to do with self-defense. The US is threatened by no other nations. The US has had no enemies since World War II ended except the ones it invents, and it invents them because it doesn't have any real ones," Lendman told Press TV on Saturday.
"General Soleimani was very instrumental in eliminating Daesh in Iraq. I agree with Iran's UN envoy saying killing him was a gift to Daesh. Well, it was really a gift to the US because the US created Daesh, uses it along with al-Qaeda and like-minded terrorist groups as proxy fighters to advance its imperial agenda wherever the US decides to employ the fighters," Lendman added.
The analyst went on to say that, "The name really doesn't mean anything; It's who these people are, what they do, and who they are serving. They are serving US interests. They're US fighters, they do US killing and die for the US imperial agenda."
"They are armed, trained, funded, and housed at the US military bases... US helicopters and other transport planes, I guess, transport these people to various areas where they want them used as proxy fighters."
In a recent report, Agnes Callamard, UN special rapporteur on extrajudicial, summary or arbitrary executions, said the assassination of General Soleimani was "unlawful," and said the US had failed to provide sufficient evidence of an ongoing or imminent attack against its interests to justify the strike.
On Thursday, the rapporteur said the US has put the world at unprecedented peril with the assassination, warning that it was high time the international community broke its silence on Washington's unlawful killings.
In response to the assassination, the IRGC fired volleys of ballistic missiles at a US airbase in Iraq on January 8.
Subsequently, Iraqi lawmakers approved a bill demanding the withdrawal of all foreign military forces from their country.
https://www.presstv.com/Detail/2020/07/12/629470/US-Daesh-terrorist-group-imperial-agenda-Stephen-Lendman
--------
Pakistan
Riyadh offers assistance for building Quran complex in Islamabad
July 13, 2020
LAHORE - Saudi Arabia has offered financial assistance for building Pakistan's first state-owned Quran Complex here in the federal capital, officials confirmed on Sunday.
Earlier, Religious Affairs Minister PirNoorulHaqQadri announced that the government wanted to build the complex in the federal capital to preserve historical manuscripts of the Muslim scripture.
"This would be the first government-owned Quran complex. We have got offers of financial assistance for the building of the complex from Saudi Arabia, the Saudi-based World Muslim League and some other Gulf countries," spokesman of the Ministry of Religious Affairs and Interfaith Harmony, Imran Siddiqui said in an interview with Arab News.
He added that the ministry has already initiated the process of land acquisition near the Golra area of in the Islamabad Capital Territory.
The center will also oversee and set standards for the publication of the Quran in the country and would recycle worn pages of the holy book.
"This would be a huge complex on approximately 10-Kanal land in Islamabad. The complex will have different sections like error-free publication of new Quran and a plant for the recycling of worn pages of the book gathered from all over the country," Siddiqui said.
Dr MasoomYasinzai, rector of the International Islamic University Islamabad (IIUI), hailed the plan as one that can be unifying for Muslims.
"In this Quran complex they should also work on research to unite all the Muslim from different schools of thought in Pakistan. The government should take guidance from the Quran complex in Medina. It should have a proper board, editing, evaluation and monitoring system for the error-free printing of the Quran," he said. According to Dr. Muhammad Khalid Masud, former chairman of Pakistan's Council of Islamic Ideology, it is a constitutional obligation of the government to oversee the publication of the Quran.
"Under the Constitution of Pakistan, it is the responsibility of the government to ensure error-free publication of the Quran. It would be a good step if the government can implement standards like Saudi Arabia for the publication of the holy book in Pakistan," he said.
https://nation.com.pk/13-Jul-2020/riyadh-offers-assistance-for-building-quran-complex-in-islamabad
--------
NCOC meeting in Lahore today to discuss virus strategy for Eid
Jul 13 2020
ISLAMABAD: The federal government has decided to hold meetings of the National Command and Operation Centre (NCOC) in the provincial capitals to devise a strategy to curb the possible spread of Covid-19 during EidulAzha, and the first meeting in this regard would take place in Lahore on Monday (today).
The meeting would be chaired by Federal Minister for Planning, Development and Special Initiatives Asad Umar, an official statement said on Sunday.
In the last 24 hours, 2,842 new virus cases and 87 fatalities were reported across the country. The total caseload of the country, therefore, reached 250,977 while the total deaths stood at 5,257.
The data released by the NCOC showed that about 400 patients, 393 to be exact, were on ventilators across the country on Sunday while 1,427 ventilators were available for new patients. Moreover, a total of 24,211 tests had been carried out during the day.
Talking to Dawn about the meeting to be held in Lahore, Mr Umar said: "Though there is representation of the provinces in NCOC, but the idea behind the decision is to hold separate meetings with the leadership of every province and discuss different issues and difficulties faced by them."
During the meeting, he said, issues like the number of Covid-19 tests carried out each day and contact tracing of patients would be discussed in detail.
The strategy to deal with the ongoing health crisis has been formulated but the main issue is how to implement the same in letter and spirit, according to the minister.
"So it has been decided that issues related to implementation will be discussed with all the provinces and solutions will be suggested to them," he said.
In response to a question, the minister said that meetings with leaderships of all the provinces would be held before Eid to ensure that the deadly virus did not spread as much as it was feared during the upcoming religious festival.
"Though it is not confirmed yet, but most likely we will hold the next meeting in Sindh," MrAsad said.
According to the official statement, during the meeting in Lahore enforcement of the standard operating procedures would also be discussed.
The meeting would be attended, among others, by Chief Minister Sardar Usman Buzdar, feberal Interior Minister retired Brig Ejaz Shah, the provincial health and law ministers, chief secretary and inspector general of the province, and national coordinator for NCOC.
Meanwhile, Federal Minister for Housing and Works Tariq Bashir Cheema, who tested positive for Covid-19 three days ago, was admitted to the Pakistan Institute of Medical Sciences, Islamabad, on Sunday.
According to sources in the hospital, the 62-year-old minister, who is also a central leader of the Pakistan Muslim League-Q, is suffering from other ailments in addition to Covid-19.
He had initially quarantined himself at his home but had to be shifted to hospital due to low oxygen level and other complications.
https://www.dawn.com/news/1568688/ncoc-meeting-in-lahore-today-to-discuss-virus-strategy-for-eid
--------
4 Pakistan Army soldiers martyred in intelligence-based operation in North Waziristan: ISPR
Jul 12 2020
Four soldiers of the Pakistan Army were martyred during an intelligence-based operation (IBO) in North Waziristan, the military's media affairs wing said on Sunday.
In a statement, the Inter-Services Public Relations (ISPR) said: "Four terrorists were killed during an IBO in Vezhda Sar, eight kilometres southwest of Boya, Miranshah, North Waziristan district.
"Sanitisation force conducted [an] operation against terrorists' hideout in Vezhda Sar this morning. As soon as the troops cordoned off the area, terrorists opened fire. All dug out terrorists were shot down by security forces," the statement added.
Four soldiers were killed in the exchange of fire, the ISPR said. The martyred soldiers were identified as Sepoy Muhammad Ismail Khan, Sepoy Muhammad Shahbaz Yasin, Sepoy Raja Waheed Ahmed and Sepoy Muhammad Rizwan Khan.
Meanwhile, Leader of the Opposition in the National Assembly Shehbaz Sharif paid tribute to the martyred sepoys, calling them "heroes".
"No sacrifice is greater than the supreme sacrifice of life for the motherland. Valiant soldiers of our armed forces who laid down their lives in operation in North Waziristan are our heroes," he said in a tweet.
"The nation will remain grateful to them for their sacrifices."
In May, seven soldiers were martyred in two separate terror attacks in Balochistan.
According to the ISPR statement, terrorists targeted a vehicle of the Frontier Corps (FC) in Mach using improvised explosive devices (IEDs), claiming the lives of six Pakistan Army soldiers.
The martyred soldiers were identified as Naib Subedar Ihsan Ullah Khan, Naik Zubair Khan, Naik Ijaz Ahmed, Naik Maula Bux, Naik Noor Muhammad and Abdul Jabbar.
In a separate incident at Kech, another soldier, SipahiImdad Ali was martyred in an exchange of fire with militants.
https://www.dawn.com/news/1568576/4-pakistan-army-soldiers-martyred-in-intelligence-based-operation-in-north-waziristan-ispr
--------
PML-N leader demands midterm polls, claims PTI govt's policies have failed
Jul 13 2020
HYDERABAD: A Pakistan Muslim League-N (PML-N) leader and former education minister Rana Mashhood has said that mid-term elections are necessary for the survival of democracy.
He was speaking to the media at the residence of a local party leader, Anwar Soomro, in Qasimabad on Sunday.
He claimed that all policies of the ruling Pakistan Tehreek-i-Insaf (PTI) government had failed, and remarked that "there must be an end to experiments.
Rana Mashhood alleged that the present ruling team was corrupt and involved in flour and sugar scam. He said the rulers allowed prices of medicines and urea to go up. The government also failed to control coronavirus and save the national economy from collapse.
He claimed that it was due to the government's flawed policy on Covid-19 control that such cases had increased and several thousand people died of the virus. He said that had government sealed the country's borders timely, the situation would have been different. Even before the outbreak of the pandemic, the economy had been in the doldrums, he added.
He pointed out that new scams involving federal ministers were emerging.
He observed that although the opposition had not disturbed it, the PTI government's performance appeared 'zero'. He said it [the government] should get full time. However, he said, the rulers must be held accountable.
Rana Mashhood claimed that today, people were missing [convicted and ousted prime minister] Nawaz Sharif as "his government had brought about prosperity in the country".
He said that the PML-N had strengthened the country. The opposition parties had agreed to raise the slogan of vote ko izzat do' but then some parties fell prey to expediencies, he said.
Commenting on the PTI government's position, he said that it could get only 160 votes for the passage of the budget 2020-21 as against the simple majority of 172 votes. "It has lost support of majority in the parliament," he said.
He also noted that there were only a few persons who were released funds from the national exchequer. "They are the same people who had given money to Imran Khan [in his election campaign] and now Mr Khan was obliging them.
The PML-N leader said that whenever people's mandate was insulted, everything would reverse so far as development and prosperity was concerned. He said that the man who used to collect donations, was now begging for Pakistan. He said that soon a multi-party conference would be held and it would discuss everything before taking decisions.
He said that present rulers had destroyed economy. He said it was PML-N's government which had eliminated terrorism and launched the project like the China-Pakistan Economic Corridor (CPEC). He said that Nawaz Sharif had endeavoured to strengthen Pakistan and Shahbaz Sharif developed the country.
He said PML-N had promoted harmony and this was making people to recall Nawaz Sharif's era. He said that today provinces' share in resource distribution was being slashed and attempts were also being made to do away with the 18th Constitutional Amendment.
Rana Mashhood said that when government policies failed, it summoned mid-term elections to seek people's mandate.
https://www.dawn.com/news/1568633/pml-n-leader-demands-midterm-polls-claims-pti-govts-policies-have-failed
--------
Mideast
Official: Yemen in Possession of Extensive Intel on Targets in S. Arabia, UAE, Tel Aviv
Jul 12, 2020
"The Saudi-led coalition should not bomb the oil installations and economic infrastructures in Ma'arib province. We are capable of targeting and annihilating all their oil and economic facilities and we can give them a more crushing response," General Abdullah Yahya al-Hakim was quoted by Arabic-language September 26 news website as saying on Sunday.
"The Yemeni Armed Forces are in possession of extensive intelligence on a large number of vital and key points in Saudi Arabia, the UAE, Tel Aviv and farther areas," he added.
Al-Hakim said that the Army and popular committees of Yemen will soon deploy in Ma'arib city in the Central parts of the country.
In relevant remarks earlier this month, the spokesman for Yemen's Armed Forces censured Saudi Arabia for waging a war against the impoverished Arab country over destruction of two civilian vessels in the strategic Red Sea, vowing that Yemeni troops and allied fighters will respond to the act of aggression.
Brigadier General Yahya Saree denounced the attack as a flagrant violation of an agreement reached between the warring Yemeni sides during a round of UN-sponsored peace negotiations in Sweden back in December 2018.
Saree noted that the attack on the Yemeni boats, which took place 6 kilometers (3.7 miles) South of the Yemeni port of Salif on Thursday, was as an attempt by Saudi Arabia to cover up its crimes.
He emphasized that the Yemeni army troops and allied fighters from Popular Committees will not sit idly by and watch such criminal acts and violations.
Saree also criticized the United Nations for its support of the Saudi war and siege on Yemen, urging the world body to assume its responsibilities and immediately stop the attacks and ongoing naval blockade.
https://en.farsnews.ir/newstext.aspx?nn=13990422000949
--------
Police: Tehran Medical Center's Blast No Act of Sabotage or Terrorism
Jul 12, 2020
"The criminal investigation department of the police in Tehran have come to the conclusion in their investigations that the fire at Sina clinical center was not related to security issues at all and was the result of flaws," General Hodavand told FNA on Sunday.
He added that 12 people were arrested in relation to the case, adding that 10 of them have been released after investigations two days ago, one was freed on bail yesterday and another person is still in custody due to inability to provide bail.
Hodavand said that most of the detainees were the clinic's officials.
The heavy explosion due to gas leak in 'Sina Athar' medical center in Northern Tehran on Tuesday resulted in death of 19 people and injury of 14 others.
In a message on Wednesday, Supreme Leader of the Islamic Revolution Ayatollah Seyed Ali Khamenei expressed condolences on the deadly explosion and ensuing fire to the families of the victims, and called on the relevant bodies to launch an immediate probe to ascertain the causes of the incident accurately and expertly.
He also emphasized the need for special care for the injured and the bereaved families of victims of the incident.
https://en.farsnews.ir/newstext.aspx?nn=13990422000996
--------
Deputy Minister: US Losing Strategic Advantages of Iran Due to Hostility
Jul 12, 2020
"It is true that a part of the US hostility towards Iran is due to the Middle-East issues, the Zionist regime of Israel's security and Iran's defense for the Palestinian people's rights, but the major part of this hostility more than any anything else derives from Iran's geopolitical and strategic importance," Baharvand wrote in a memo in the Persian-language Iran newspaper on Sunday.
"The US has lost Iran's strategic advantages. They have chosen the wrong path and embarked on enmity towards Iran instead of concessions to Iran, in a bid to prevent the presence of their rivals in the region and compensate for their failures," he added.
The Iranian officials have many times stressed that they cannot trust Washington and its allies due to their enmities.
Last September, Supreme Leader of the Islamic Revolution Ayatollah Seyed Ali Khamenei underlined the necessity for the country's interaction with different world states, except Israel and the US, and said Washington and the European states which have shown clear animosity towards the Iranian nation should not be trusted.
"The way for interaction and negotiation with any country, except the US and the Zionist regime, is not closed but the countries which have hoisted a flag of hostility against the Islamic Republic, headed by the US and some European countries, should not be trusted at all because they clearly show animosity towards the Iranian nation," Ayatollah Khamenei said, addressing members of the Assembly of Experts in Tehran.
"The Europeans step onto the scene seeming as a mediator and negotiate. They make contacts, speak for a long time, and make promises, but all in vain," he said, and added, "They are neither able enough nor dominant enough nor have sufficient possibilities, yet their thoughts are the very same thoughts of the Americans."
Ayatollah Khamenei blasted the European states for disloyalty to the nuclear deal and their practical commitment to the US sanctions, and said they are unlikely to act any differently in future as well; "therefore, we should be fully disappointed at the Europeans".
He stressed that there is no ban or problem with meeting or signing contracts with the European states, but no hope should be pinned on them and no trust should be laid in them.
Ayatollah Khamenei referred to the social, political and economic situation of the US and Europe, and said, "The US which is our main enemy is today the most hated government in the world and the Europeans are themselves admitting their weaknesses and decline of their power."
https://en.farsnews.ir/newstext.aspx?nn=13990422000904
--------
Turkey signed secret agreements with countries to abduct dissidents from abroad: UN
12 July 2020
Turkey signed secret agreements with multiple countries in order to conduct extraterritorial abductions of suspected state dissidents, according to a joint letter penned by four UN rapporteurs.
The letter, dated early May, notes allegations of secret agreements signed with Azerbaijan, Albania, Cambodia, and Gabon – all countries that the UN has received reports of human rights violations regarding abductions of Turkish nationals.
Turkey also targeted nationals in Afghanistan, Kosovo, Kazakhstan, Lebanon and Pakistan, according to the letter.
"The Government of Turkey, in coordination with other States, is reported to have forcibly transferred over 100 Turkish nationals to Turkey, of which 40 individuals have been subjected to enforced disappearance, mostly abducted off the streets or from their homes all over the world, and in multiple instances along with their children," the letter reads.
For all the latest headlines follow our Google News channel online or via the app
Turkey's President Recep Tayyip Erdogan has intensified a crackdown against his critics in recent months, particularly against those with an alleged affiliation with a religious movement led by Fethullah Gulen, a Turkish Muslim preacher who lives in the United States.
Last week news surfaced that arrest warrants had been issued for over 400 people, including soldiers, doctors, and teachers.
Erdogan has targeted the Gulen movement since 2016, when the organization, known in Turkey as Hizmet, was designated a terrorist organization and Gulen along with his supporters charged with leading a failed coup attempt in mid-2016.
The agreements signed were written in a way that has deliberately allowed Turkey to pursue its crackdown abroad, the UN letter said.
"The [Turkish] Government has signed bilateral security co-operation agreements with multiple States allegedly containing broad and vague references to combatting terrorism and transnational crime. Sources claim that the agreements have been phrased ambiguously to allow for expulsion or abduction of anyone deemed to be a "security risk" from third countries party to the agreements," it said.
Abduction, torture, deportation
The abductions generally tend to follow a similar pattern, the letter said.
After Turkey has failed to secure a legal extradition, authorities resort to illegal covert operations. Targeted individuals are placed under "around-the-clock surveillance, followed by house raids and arbitrary arrests in undercover operations by law enforcement or intelligence officers in plainclothes," the letter explained.
Once arrested, the target is taken to an unmarked vehicle by force, after which they can remain forcible disappeared for up to several weeks before deportation.
"During that period they are often subjected to coercion, torture and degrading treatment aimed at obtaining their consent on voluntary return and at extracting confessions that would inform criminal prosecution upon arrival in Turkey," the letter said.
Turkish operatives tended used a variety of torture methods to obtain these forced confessions, including food and sleep deprivation, waterboarding, electric shocks and beatings, the rapporteurs wrote in the letter based on personal testimonies.
"This is coupled with threats against lives, security and personal integrity of family members and relatives," the letter said.
Turkey denies this claims. In a response to the UN letter dated mid-June, Turkey calls the claims of torture "unfounded," despite the testimonies listed by the UN.
Turkish President Erdogan had previously vowed to "chop the heads off the traitors" behind the 2016 coup. But Gulen leadership believe it was actually Erdogan that planned the "staged" coup as "an excuse…to expand the persecution," Alp Aslandogan, a board member of the Gulen Institute and president of New York-based nonprofit Alliance for Shared Values, which is associated with the movement, told Al Arabiya English last week.
Turkey has a history of using broad measures with a vague aim of state security to crack down on dissenting voices.
In one example, Amnesty International calls Turkey's anti-terrorism laws "vague and widely abused" in order to trump up charges against troublesome journalists. Over 319 journalists have been arrested in Turkey since 2016, with 189 media outlets shut down, according to Turkey Purge, a website run by Turkish journalists that documents arrests in the country.
https://english.alarabiya.net/en/News/middle-east/2020/07/12/Turkey-signed-secret-agreements-with-countries-to-abduct-dissidents-from-abroad-UN.html
--------
Turkish FM says Libya's GNA will only agree to ceasefire after taking Sirte, Jufra
12 July 2020
The Turkish-backed Government of National Accord (GNA) in Libya will only agree to a ceasefire if the Libyan National Army (LNA) withdraws from the strategic positions of Sirte and Jufra, Turkey's Minister of Foreign Affairs Mevlut Cavusoglu told the Financial Times (FT) on Sunday.
Cavusoglo told the FT that there is a "determination" among GNA officials to resume its offensive against the LNA if it does not retreat from the strategic positions in central Libya.
He also hinted that Turkey could support a GNA offensive, saying that Ankara considers the GNA's "preconditions" for the ceasefire "legitimate and reasonable," according to the FT.
Turkey's intervention in Libya in May changed the course of the war in favor of the GNA, which had been under siege in the capital Tripoli by the LNA, led by military Gen. Khalifa Haftar.
The GNA, supported by thousands of Syrian mercenaries sent to Libya by Turkey as well as Turkish air defense systems, weapons, and troops, broke the LNA's siege and captured the strategic al-Watiya air base to the south of the capital.
Since then, the GNA has been poised to attack Sirte and Jufra in central Libya, but has not began a forward offensive. Both sides have vowed to control the strategic center of the country, with Egypt and its allied LNA describing it as a "red line" that would prompt escalation.
Sirte is the western gateway to the country's "oil crescent," the central region that contains over 60 percent of Libya's oil, while Jufra is home to the al-Jufra airbase.
The GNA and Turkey rejected the Cairo Initiative, put forward by Gen. Haftar and Egyptian President Abdel Fattah al-Sisi, which called for an immediate ceasefire.
https://english.alarabiya.net/en/News/north-africa/2020/07/12/Turkish-FM-says-Libya-s-GNA-will-only-agree-to-ceasefire-after-taking-Sirte-Jufra.html
--------
Iran says misaligned radar led to Ukrainian plane downing
12 July 2020
Iran said that the misalignment of an air defence unit's radar system was the key "human error" that led to the accidental downing of a Ukrainian passenger plane in January.
"A failure occurred due to a human error in following the procedure" for aligning the radar, causing a "107-degree error" in the system, the Iranian Civil Aviation Organisation (CAO) said in a report late Saturday.
For all the latest headlines follow our Google News channel online or via the app.
This error "initiated a hazard chain" that saw further errors committed in the minutes before the plane was shot down, said the CAO document, presented as a "factual report" and not as the final report on the accident investigation.
Flight 752, a Ukraine International Airlines jetliner, was struck by two missiles and crashed shortly after taking off from Tehran's main airport on January 8, at a time of heightened US-Iranian tensions.
The Islamic republic admitted several days later that its forces accidentally shot down the Kiev-bound plane, killing all 176 people on board.
The CAO said that, despite the erroneous information available to the radar system operator on the aircraft's trajectory, he could have identified his target as an airliner, but instead there was a "wrong identification."
The report also noted that the first of the two missiles launched at the aircraft was fired by a defence unit operator who had acted "without receiving any response from the Coordination Center" on which he depended.
The second missile was fired 30 seconds later, "by observing the continuity of trajectory of the detected target," the report added.
Tehran's air defenses had been on high alert at the time the jet was shot down in case the US retaliated against Iranian strikes hours earlier on American troops stationed in Iraq.
Those strikes were carried out in response to the killing of a top Iranian general, Qassem Soleimani, in a US drone strike near Baghdad airport.
https://english.alarabiya.net/en/News/middle-east/2020/07/12/Iran-says-misaligned-radar-led-to-Ukrainian-plane-downing.html
--------
Houthis back down over access to 'ticking timebomb' Red Sea tanker
July 13, 2020
JEDDAH: Houthi militias in Yemen finally backed down on Sunday over access to a stricken oil storage vessel to prevent it from leaking more than a million barrels of crude into the Red Sea.
Engineers from a UN inspection team are now expected to board the FSO Safer in the next few days to assess the vessel's condition and carry out emergency repairs.
The 45-year-old Safer has been moored 7 km off the coast of Yemen since 1988. It is stationary, with no engine or means of propulsion. The vessel fell into the hands of the Iran-backed Houthis in March 2015, when they took control of the coast around the port city of Hodeidah.
The militants have refused for more than 5 years to allow international engineers to board the Safer to carry out essential repairs, and as the vessel's condition deteriorates there are fears that the 1.4 million barrels of oil it contains will start to seep out. A breach would have disastrous results for Red Sea marine life and tens of thousands of people who depend on fishing for their livelihood.
Apart from corrosion, essential work on reducing explosive gases in the storage tanks has been neglected for years. The Yemen government has warned the Safer could explode and cause "the largest environmental disaster, regionally and globally."
The latest problem came in May with a leak in a cooling pipe. "The pipe burst, sending water into the engine room and creating a really dangerous situation," said Ian Ralby, chief executive of the maritime consultancy IR Consilium.
If the vessel ruptures, "you're going to have two catastrophes," said Lise Grande, the UN's humanitarian coordinator for Yemen.
"There's going to be an environmental catastrophe that's bigger than almost any other similar kind ... and it's going to be a humanitarian catastrophe because that oil will make the port of Hodeidah unusable."
Critics say the Houthis have been using the Safer to blackmail Yemen's legitimate government into offering concessions in peace talks brokered by the UN and to enable them to sell the vessel's oil. Yemeni Prime Minister MaeenAbdulmalik Saeed wants the proceeds from selling the oil to be spent on health care and humanitarian aid.
Crude stored in the Safer's tanks is worth about $40 million, half what it was before prices crashed, and experts say it may be of poor quality and worthless.
https://www.arabnews.com/node/1703881/middle-east
--------
South Asia
10 Taliban militants killed, wounded in Ghazni province: Thunder Corps
12 Jul 2020
The Afghan National Defense and Security Forces killed at least 8 Taliban militants and wounded two others during separate incidents in South-eastern Ghazni province.
The 203rd Thunder Corps in a statement said a group of Taliban militants attacked the security posts in Mangoor Bazar area located in the outskirts of Ghazni city.
The statement further added that the security forces killed 5 Taliban militants and wounded 2 others during the clash.
The security forces also destroyed a vehicle and 5 motorcycles during the clash, the 203rd Thunder Corps added in its statement.
Meanwhile, the 203rd Thunder Corps added that the Taliban militants attacked the security forces in Khalo Khel area of Qarabagh district which resulted into a clash between the two sides.
The security forces killed 3 Taliban militants during the clash and destroyed 15 sacks of explosives, 25 rounds of 82mm rockets, 24 boxes of PKM machine gun munitions and some other military kits, the 203rd Thunder Corps said.
https://www.khaama.com/10-taliban-militants-killed-wounded-in-ghazni-province-thunder-corps-08955/
--------
Taliban attacks 'damaging' peace process, says Afghan government
SAYED SALAHUDDIN
July 13, 2020
KABUL: Afghanistan's government on Sunday accused the Taliban of increasing its attacks, casting doubt on future negotiations with the insurgent group.
A promise of future peace talks was part of a historic peace deal signed in February between the Taliban and the US in Doha, Qatar. But negotiations have already been delayed twice because of disagreements between President Ashraf Ghani's government and the Taliban. The talks were expected to pave the way for a total withdrawal of foreign troops from Afghanistan by next year.
In a series of tweets on Sunday, SediqSediqqi, Ghani's chief spokesman, said the "intensification of violence by the Taliban lately," which also claimed civilian lives, "damages hopes for the start of the talks and stable peace in the country."
It follows a statement by HamdullahMohib, Ghani's national security adviser, who said in a statement last night that the escalation of Taliban attacks was the "main cause for the postponement of the talks."
He said: "The Taliban have intensified their violence in many parts of Afghanistan, disrupting the process of direct talks and making it harder."
Mohib's spokesman, Javid Faisal, said on Saturday that in the past week alone, the Taliban had staged attacks in 16 of the country's 34 provinces, resulting in the deaths of at least 23 civilians.
He did not give an estimate of casualties sustained by government forces. However, official data released last month showed that hundreds of army and police personnel died during Taliban attacks in June.
The Taliban has rejected the claims of the government. Spokesman Zabihullah Mujahid blamed Kabul for several strikes which "led to the fatalities among non-combatants."
These include a rocket attack at a cattle market in southern Helmand in June, where human rights groups say dozens of civilians, including children, were killed.
"A political solution is the only alternative that we have for ending the war and changing the situation in Afghanistan. No hindrance should be created against this," Mujahid told Arab News on Sunday.
He accused Kabul of blocking the start of peace talks by not releasing 5,000 Taliban prisoners, a condition demanded by the insurgent group ahead of negotiations.
While Kabul has freed over 4,000 Taliban prisoners, it said last week that it would not release 600 of them, "as they had committed various types of crimes."
Mujahid described the government move as "one excuse after the other."
He said: "The release of the rest of the prisoners is a must. If the process of release of prisoners is not completed, the talks cannot begin, and there is a possibility that fighting will intensify and then we will have to settle the conflict through military means."
Experts warn that Ghani's government is under increasing pressure.
Former diplomat and analyst Ahmad Saeedi said Ghani is under pressure from Washington, which "wants to show that it is keen to conduct talks, but from the other side wants this process to continue for five years," until Ghani's term ends.
"Ghani wants the Taliban to join his government, while the Taliban consider his government fragile, arguing that if he does not engage in talks, then they will take power by force after the US pulls out troops," Saeedi said.
Another analyst, Taj Mohammad, said the lack of progress in setting a fixed time for the talks was a blow for the peace process and "showed that the actual negotiations would be highly complicated and difficult."
https://www.arabnews.com/node/1703776/world
--------
Dhaka looks the other way as rights groups push for Rohingya relocation
July 12, 2020
DHAKA: Bangladesh has yet to decide on the relocation of more than 300 Rohingya refugees, including children, from Bhasan Char Island to the camps in Cox's Bazar district, more than two months after they were quarantined there amid the nationwide coronavirus disease (COVID-19) lockdown, officials told Arab News on Sunday.
"As of today, there is no decision to relocate the Rohingya to the mainland refugee camps in Cox's Bazar. The Rohingya are (being) taken care of by the Bangladesh Navy, and everything is going well over there," Shah Rejoan Hayat, joint secretary of the Ministry of Disaster Management and Relief (MDMR), said.
The Rohingya were rescued by the Bangladesh Navy on May 2 and sent to Bhasan Char after being stranded at sea for weeks following Malaysia's decision to deny them entry due to the COVID-19 outbreak.
However, the US-based Human Rights Watch (HRW) has urged Bangladesh to move the Rohingya from the "flood-prone island" in the Bay of Bengal, accusing officials of using the pandemic to "detain refugees" on Bhasan Char, which it says is extremely vulnerable to monsoon storms.
"Bangladesh authorities are using the pandemic as an excuse to detain refugees on a spit of land in the middle of a churning monsoon sea while their families anxiously pray for their return," HRW said in a statement released on Thursday.
It added that the Bangladeshi government was "inexplicably delaying aid workers' access to support the refugees with immediate care, and refusing to reunite them with their families in the Cox's Bazar camps."
According to HRW, the quarantined refugees "do not have access to food, clean drinking water or medical care," while others have allegedly been "beaten up and mistreated by the authorities," the statement said.
However, Bangladeshi authorities have rejected HRW's claims, reasoning that the 308 refugees were sent to the island because authorities were afraid they might have contracted COVID-19.
"These Rohingya were denied access by Malaysia, Thailand and driven out from Myanmar. Bangladesh was kind enough to accept them on humanitarian grounds. So Bangladesh doesn't deserve any criticism in this regard, it might be applicable for some other countries," Mohammad Shamsuddoza, additional refugee relief and repatriation commissioner, told Arab News.
Hayat said HRW's concerns were unfounded because Bhasan Char, an artificial island completed in 2006, had been constructed to be protective.
"The Bangladesh Navy has a forward base over there and enough protective measures to ensure the safety of inhabitants on the island," Hayat, who is also the chief of the MDMR's refugee wing, said.
He added that to safeguard Bhasan Char from tidal floods and natural disasters, the navy had built a 13 kilometer long and 3 x 37 meter dam on the island, which also has 120 cluster villages for nearly 100,000 refugees.
Each Bhasan Char house has concrete rooms measuring 2 x 2.5 meters, with small windows and a toilet, for 11 people. The current ratio in Cox's Bazar camps stands at 1 house to 22 people, with around 1.5 million refugees living there.
Additional measures include 120 cyclone shelters that are constructed 4 feet above land, with a "full-fledged medical unit and enough food supplies" available for the refugees on the island, a source from the Bangladesh Navy's headquarters told Arab News, requesting anonymity.
"The lives of the inhabitants on the island are completely safe during any tidal floods and cyclone. Around 200 of our members are stationed on the island including ten officers," he added.
Meanwhile, the UN Refugee Agency (UNHCR) said it was waiting for the government's approval for a visit to Bhasan Char to "assess the immediate humanitarian situation and specific needs" on the island.
"Terms of reference have been shared with the government, and we are continuing to await feedback. Several months have passed since the refugees were transferred to Bhasan Char, and it is now urgent for the UN to have access to them," Louise Donovan, UNHCR spokesperson at Cox's Bazar, told Arab News on Sunday.
Donovan added that the impending monsoon season could pose a higher risk.
"With the onset of monsoon and cyclone seasons, the UNHCR is concerned for the safety of all people living in low lying coastal areas of India and Bangladesh, including on islands such as Bhasan Char, as well as those Rohingya refugees who may remain on boats at sea," Donovan added.
Bangladesh has spent around $300 million to make the island habitable for 100,000 Rohingya in a bid to decongest overcrowded camps in Cox's Bazar, to accommodate refugees fleeing persecution. Most fled from Myanmar's northern Rakhine State following a brutal military crackdown.
A plan to relocate the first batch of Rohingya was postponed last November after the UN raised questions about the safety measures and living conditions on the island.
Buddhist-majority Myanmar considers the Rohingya to be "Bengalis" from Bangladesh even though their families have lived in the country for generations. Nearly all of them have been denied citizenship for decades, and they are also denied freedom of movement and other basic rights.
https://www.arabnews.com/node/1703756/world
--------
Terror attacks in Afghanistan kill 26 security forces
Shadi Khan Saif
13.07.2020
KABUL, Afghanistan
At least 26 security forces were killed in northern Afghanistan amid a surge in Taliban claimed attacks, officials confirmed on Monday.
Spokesman for the governor of Kunduz province, EsmatullahMuradi told Anadolu Agency the insurgents staged coordinated attacks in Chahar Dara and Imam Sahib districts late Sunday evening. He confirmed that 14 security forces and three Taliban insurgents were killed in exchange of fire.
The Taliban took responsibility for the attacks in Kunduz. The group's spokesman Zabiullah Mujahid claimed in a statement that 19 government forces have been killed in attacks on check points in both districts.
In nearby Badakhshan and Ghor province, the Taliban orchestrated similar deadly assaults killing at least 12 security forces, officials told Anadolu Agency.
In another statement, the group's spokesman also claimed this attack, asserting that eight policemen were killed.
The local Salam Afghanistan radio reported that a suicide car bombing rocked northern Samangan province early on Monday. It added casualties were feared in this attack targeting the local office of the intelligence agency NDS.
The Taliban in Afghanistan on Sunday out-rightly rejected growing calls for cease-fire by the Afghan government and international community saying they are yet to find "an alternative" to the ongoing insurgency.
Mujahid earlier said in a series of tweets that implementation of the Doha agreement with the US and start of intra-Afghan negotiations are necessary toward deescalation and end of war. "If anyone seeks ceasefire before talks then such is illogical. War is raging precisely b/c we have yet to find an alternative," he said.
Last week, Afghan President Mohammed Ashraf Ghani warned the peace process might face "serious challenges" if Taliban continued with the war.
https://www.aa.com.tr/en/asia-pacific/terror-attacks-in-afghanistan-kill-26-security-forces/1908479
--------
Africa
Four civilians killed as unrest to unseat President Keita rages in Mali capital
13 July 2020
Four people, including two teenagers, were killed in violence that raged in the Malian capital Bamako on Saturday and through the night, a hospital official said.
Clashes have erupted in Bamako as demonstrators push for the resignation of President Ibrahm Boubacar Keita in the worst such civil unrest in years.
The embattled Keita had on Saturday announced the dissolution of the West African country's constitutional court in a bid to calm the unrest.
"Among the four dead civilians we have two minors aged 15 and 17," a senior emergency room official said on condition of anonymity.
Another three civilians were found dead on Friday.
For all the latest headlines follow our Google News channel online or via the app
Witnesses said on Saturday that security forces fired live rounds during violent confrontations with the protesters.
Clashes were particularly violent near the mosque where sermons are given by Imam Mahmoud Dicko, who has emerged as the leading figure of the protest movement.
https://english.alarabiya.net/en/News/world/2020/07/13/Four-civilians-killed-as-unrest-to-unseat-President-Keita-rages-in-Mali-capital.html
--------
Mali opposition rejects president's concessions aimed at ending political impasse
12 July 2020
Mali's opposition has rejected concessions by President Ibrahim Boubacar Keita aimed at resolving an escalating political crisis that has sparked deadly protests, saying it would be satisfied only if he resigns.
Keita announced in a speech late on Saturday he was dissolving the Constitutional Court and would move to implement recommendations made last month by regional bloc ECOWAS, which included re-running some of March's contested legislative elections.
A spokesman for M5-RFP, a coalition of political, religious and civil society leaders that launched protests over a month ago calling for Keita to resign, rejected his proposal on Sunday.
"We are not going to accept this nonsense," the spokesman, Nouhoum Togo, told Reuters, adding, "We demand his resignation plain and simple."
Keita, who won a second term in 2018, has faced mounting public discontent over a perceived failure to address the country's security and economic problems. The wave of protests was sparked by a dispute over the elections. The court that Keita proposed dissolving reversed several provisional results, handing additional seats in parliament to the president's party.
Four people died in the capital Bamako on Friday during a demonstration where protesters occupied the parliament and national broadcaster, the government said. It was the third major protest organized by the M5-RFP since June 5.
Togo said the police shot and killed eight opposition supporters on Saturday, though it was not immediately possible to corroborate that.
Police officials could not be reached for comment.
Asked about the claim, a security ministry spokesperson said he did not have any information about that yet.
In his speech, Keita said he remained open to dialogue with his opponents but condemned acts of vandalism.
"The state will take responsibility and fundamental liberties will be protected as long as I have the great privilege to serve you," he said.
The turmoil is a worry for Mali's neighbors and outside powers like France who are waging a joint military campaign against extremist insurgents linked to al-Qaeda and Daesh in West Africa's Sahel region.
https://www.presstv.com/Detail/2020/07/12/629448/Mali-opposition-Keita-concession-protest
--------
Libya oil company says UAE ordered Haftar's forces to re-impose blockade on crude exports
13 July 2020
Libya's national oil company says the United Arab Emirates (UAE) has been behind a decision by eastern-based rebel forces to hinder its latest efforts to resume crude exports for the first time in six months and re-impose a blockade on the country's oil industry.
Libya's Tripoli-based National Oil Corporation (NOC) said in a statement on Sunday that oil exports had resumed on July 10 following negotiations with the rebel forces led by renegade general Khalifa Haftar.
The blockade, however, returned in place only a day later as Haftar's forces stepped back from the negotiations, added the NOC.
"NOC has been informed that the instructions to shut down production were given to (Haftar-led rebes) by the United Arab Emirates," it said in a statement on Sunday, resuming "force majeure on all oil exports."
"This is gravely disappointing, especially following repeated statements by very senior representatives of the UAE last week in support of international efforts to restart oil production in Libya," it added.
The NOC is the only Libyan firm that can produce and sell oil under UN-endorsed agreements, which stipulate that revenues from the sales must flow into the Central Bank of Libya in Tripoli.
Following an agreement between Haftar's forces and the internationally-recognized government in Tripoli, the oil company announced on Friday it had lifted the force majeure and resumed crude exports from all its key terminals.
Later in the day, the Vitol tanker Kriti Bastion docked and loaded at Es Sider port before sailing on Saturday, the first legal export of Libyan oil since the blockade was imposed.
But the rebel forces said Saturday that the blockade would remain in place until the rebels' demands were met on the distribution of the country's oil income.
Haftar's forces say proceeds from oil sales should be fairly distributed among all Libyan regions and not fund the sectors of the Tripoli government.
Ahmad al-Mismari, a spokesman for Haftar's militia, also called for the opening of a bank account in a "foreign country" for the distribution of oil revenue.
Libya — which sits atop the largest oil reserves in Africa — has been forced to stop oil production since the rebel forces took control of the export terminals and fields in the east in January and launched a push to squeeze resources of the Tripoli government.
The blockade has cost Libya 6.5 billion dollars in lost revenue, according to NOC.
The NOC further said the states responsible for this blockade should be held to account by the United Nations Security Council.
Haftar's forces began an offensive in April 2019 in an attempt to seize Tripoli and unseat the government.
The Libyan government, however, launched a counter-offensive backed by Turkey and has so far managed to retake most of the areas seized by Haftar's forces.
The rebels have the support by Saudi Arabia, the UAE, Egypt, and Russia, among others.
The North African country first plunged into chaos in 2011 when a popular uprising backed by a NATO intervention led to the ouster of long-time dictator Muammar Gaddafi.
https://www.presstv.com/Detail/2020/07/13/629485/Libya-oil-blockade-UAE-Haftar
--------
Tunisian families battle to repatriate children of militants
July 13, 2020
KAIROUAN, TUNISIA: Over WhatsApp from Tunisia, Taheyya has watched her grandchildren grow up in Syria, where her son joined a militant group.
She hopes one day to be able to hold the three surviving siblings in her arms, but for now they are stuck in a displacement camp in the war-torn country.
"These are our grandchildren. All we are asking is to be able to take care of them, for them to live somewhere other than in war, poverty and ignorance," Taheyya said.
Like others AFP spoke to, she preferred not to provide her surname for fear of reprisals against the children.
For three years, Taheyya has done the rounds of ministries and NGOs to try to repatriate her three-year-old granddaughter and two grandsons, aged five and six.
Their father left for Syria in 2012, where he joined Daesh group and was killed.
She said the eldest grandchild needed treatment for a head injury, and two other siblings have already died because of a lack of medical care.
In a folder, Taheyya carefully keeps a bundle of documents that sums up their torturous lives: Pixelated photos, identity papers issued by the fleeting IS caliphate.
The children now live in a camp on the Turkish-Syrian border with their mother, a young Syrian who was married when she was not yet 14.
Tunisians have constituted one of the largest groups of foreign militants in Syria, Iraq and Libya since 2011, with almost 3,000 departures, according to the Tunisian authorities.
Like Taheyya, dozens of other families are trying to repatriate at least 140 Tunisian children stuck in conflict zones, where their parents are suspected of joining jihadist groups.
The Observatory of Rights and Freedoms of Tunis, which is in contact with the families, counts 104 children in Syria, almost all of them in camps. Three quarters were born there and are under the age of six.
Another 36 are in Libya, either detained by militias or being looked after by the Red Crescent.
While public opinion at home is hostile toward the return of militants, President Kais Saied raised families' hopes in January by bringing back six orphans from Libya and promising to "speed up the repatriation" of the others. But since then, there have been no further returns.
From a middle-class family in central Kairouan, Taheyya's son was one of the first in his neighbourhood to leave for Syria.
A cook in the merchant navy, he survived a hostage-taking by Somali pirates and later joined groups fighting the regime in Syria.
He opened a restaurant in the city of Raqqa, once the de-facto capital of Daesh in Syria, and was killed in late 2018 while trying to flee, according to his family.
"He had asked me to take care of his children," his younger brother said, adding that he himself had travelled to Turkey twice but had failed to obtain their return.
"We talk to them every two or three days, when the network allows, but we have gone for several months without news," Taheyya said.
"I have never been able to hug them."
Officials at the Tunisian Foreign Ministry said that "the will exists" for repatriations, pointing the finger at foreign authorities and the novel coronavirus pandemic that has slowed down discussions.
The Foreign Affairs Bureau of the Kurdish administration in northeastern Syria denied the Tunisian government had contacted them about repatriations.
AFP correspondents in Syria said they saw many Tunisians leaving the former Daesh bastion of Baghouz during the final battle of 2019.
People there were taken to the Kurdish-run Al-Hol camp, now home to thousands of Daesh wives and their children.
No specific figures were available for the number of Tunisians currently at Al-Hol.
https://www.arabnews.com/node/1703911/middle-east
--------
Arab world
Lebanon's top Christian cleric takes to criticizing Hezbollah during sermons
12 July 2020
Lebanon's top Christian cleric stepped up criticism of the Iran-backed Shia group Hezbollah and its allies without naming them on Sunday, saying Lebanese rejected being isolated from their allies and driven into decline.
Lebanon is suffering a financial meltdown which marks the biggest threat to its stability since the 1975-90 civil war.
For the second sermon in a row, Maronite Patriarch Bechara Boutros Al-Rai stressed the importance of Lebanon's neutrality, implicit criticism of the heavily armed Hezbollah over its support for Iran in conflicts with Sunni-led Gulf Arab states.
Rai carries weight as the head of the Maronite church, the Christian community from which the president must be drawn in a sectarian system of government.
His last two sermons have been seen to mark a shift to a more openly critical stance against the policies of both Hezbollah and its ally President Michel Aoun.
Both back the government of Prime Minister Hassan Diab.
"The intervention was seen as a shift in his politics away from supporting the president and more into criticizing the political position of the country, regionally and internationally," MohanadHage Ali of the Carnegie Middle East Center said.
Rai, in a copy of the sermon sent by email, said Lebanese "rejected any ... parliamentary majority messing with the constitution ... and Lebanon's model of civilization, and that it isolate it from its brothers and friends ... and that it move it from abundance to want and from prosperity to decline."
Lebanon's crisis is rooted in decades of state corruption and bad governance by the sectarian ruling elite.
Hezbollah's opponents say it shoulders blame as its alliance with Iran has led Gulf Arab states that once supported Lebanon to keep their distance, closing off an important source of aid.
Hezbollah leader Sayyed Hassan Nasrallah has called on Lebanon to look east as it seeks help fix the economy, though he said last week this does not mean the country should cut itself from the rest of the world.
https://english.alarabiya.net/en/News/middle-east/2020/07/12/Lebanon-s-top-Christian-cleric-takes-to-criticizing-Hezbollah-during-sermons.html
--------
Cutting access to aid in Syria will intensify suffering for 1.3 mln people: Agencies
12 July 2020
A UN Security Council resolution that leaves only one of two border crossings open for aid deliveries from Turkey into opposition-held northwestern Syria will cost lives and intensify the suffering of 1.3 million people living there, aid agencies said.
Western states had pressed for aid access to continue through two crossings at the Turkish border, but Russia, President Bashar al-Assad's main ally in his war against, and China vetoed a last-ditch effort on Friday to keep both open.
For all the latest headlines follow our Google News channel online or via the app.
"In northwest Syria, where a vital cross-border lifeline has been closed ... it will be harder to reach an estimated 1.3 million people dependent on food and medicine delivered by the UN cross-border," aid agencies operating in Syria said in a joint statement.
"Many will now not receive the help they need. Lives will be lost. Suffering will intensify."
"With the first case of COVID-19 confirmed in Idlib, an area with a severely weakened health infrastructure, this is a devastating blow," the statement added.
For more coronavirus news, visit our dedicated page.
In a separate statement, Physicians for Human Rights said the resolution had shut down "direct routes to hundreds of thousands of displaced Syrians in dire need of food and medicine."
Russia and China have argued that the northwest can be reached from within Syria, meaning via government-held territory, and that aid deliveries from Turkey violate Syria's sovereignty.
"This issue should not be politicized," deputy Russian UN envoy Dmitry Polyanskiy said after the vote.
Louis Charbonneau, UN director at Human Rights Watch, said: "Council members buckled and gave Moscow what it wanted – a further drastic reduction of cross-border aid to desperate Syrians who rely on it for survival."
https://english.alarabiya.net/en/News/middle-east/2020/07/12/Cutting-access-to-aid-in-Syria-will-intensify-suffering-for-1-3-mln-people-Agencies-.html
--------
UN restarts cross-border aid to Syria via only 1 access point due to Russian pressure
12 July 2020
The UN Security Council on Saturday passed a resolution to restart cross-border humanitarian aid to Syria, but only after caving to Russian pressure to close one of two access points into the war-torn country.
Following a week of division and seven ballots, the Council passed a proposal submitted by Germany and Belgium allowing the use of the Bab al-Hawa crossing point for one year.
For all the latest headlines follow our Google News channel online or via the app.
The measure passed with 12 of 15 votes, with Russia, China and the Dominican Republic abstaining, diplomats said.
Authorization for the continued transport of aid to Syria, a system in place since 2014, expired Friday night after Moscow and Beijing used their veto power and the Council then rejected a counterproposal from Russia.
With the approval of the German-Belgian proposal on Saturday, the Bab al-Hawa crossing point on Syria's northwestern border with Turkey will be maintained for a year, until July 10, 2021.
This will allow badly needed humanitarian aid to continue flowing to several million Syrians living in the insurgent region of Idlib, which the Syrian regime does not control.
For weeks, Russia, Syria's most important ally, has been demanding an end to the use of the Bab al-Salam border crossing, which leads to the Aleppo region in northern Syria.
European countries and the United States had wanted to maintain both crossing points.
https://english.alarabiya.net/en/News/middle-east/2020/07/12/UN-restarts-cross-border-aid-to-Syria-via-only-1-access-point-due-to-Russian-pressure.html
--------
Saudi air defenses foil Houthi missile, drone strikes on civilian targets
July 13, 2020
RIYADH: Saudi Arabia's Air Defense Forces intercepted and destroyed two ballistic missiles and six drones fired by the "terrorist Houthi militia" toward Saudi Arabia on Sunday night, the alliance said early Monday.
Colonel Turki al-Maliki, spokesman of the Arab Coalition supporting Yemen's legitime government, said the Iran-backed militia fired the missiles and booby-trapped unmanned aerial vehicles (UAV) from the Yemeni capital Sanaa toward civilian targets in Saudi Arabia.
It was fortunate that the weapons of war were destroyed before they could hit their targets, Al-Maliki said, without mentioning which places were targetted.
The Houthis have for the past five years targetted various civilian areas and industrial sites in the Kingdom. Among these were the airport in Riyadh, an oil refinery in the Eastern Province, various targets in western regions of Najran, Jazan and Asir, as well as the holy city of Makkah.
Al-Maliki accused the Houthi militia of escalating the hostilities to target civilians inside Yemen and neighboring countries and that such atrocities would not go unpunished.
He said the Coalition and takes will "take the necessary operational measures to stop these terrorist acts ... in accordance with international humanitarian law and its customary rules."
https://www.arabnews.com/node/1703851/saudi-arabia
--------
Europe
UK should target Iranian judiciary with sanctions, MPs told
Paul Peachey
July 12, 2020
A new UK law targeting human rights abusers should sanction Iranian security forces, judges and diplomats involved in illegal "hostage-taking", British MPs have been told.
Anti-torture charity Redress said the UK should use new powers to restrict the travel and freeze the assets of officials involved in detaining dual-nationals and using them as bargaining chips in broader diplomatic battles.
"The clear purpose of Iran's unlawful detention of British and dual nationals has been to exert diplomatic leverage over the UK," said Charlie Loudon, the group's international legal adviser. "It is essentially a practice of hostage taking."
He told the parliamentary Foreign Affairs committee, which is examining the UK's relations with Iran, that sanctions could be used to target security forces, prison officers, judges and diplomats "who effectively market the detainees in return for diplomatic advantage".
He claimed that the tactic had been effective in the case of US pastor Andrew Brunson who spent two years in a Turkish jail. He was released two months after the US froze the assets of two Turkish ministers.
UK Foreign Secretary Dominic Raab announced last week that 49 people would be targeted under Britain's first independent regime after leaving the European Union. The 49 were from Russia, Saudi Arabia, Myanmar and North Korea.
Families of detainees in Iran had backed the use of the measure in December, claiming that the failure of the UN and governments to punish Iran for illegal detentions had emboldened the regime to continue with the tactic.
"There should be a real clear cost for hostage taking," Richard Ratcliffe, the husband of jailed charity administrator Nazanin Zaghari-Ratcliffe, said last year. "It should be anathema in the modern world."
But another expert told the MPs on Tuesday that attempts to sanction Iranian officials would be ineffective using the new law named after Sergei Magnitsky, a corruption whistleblower who died after torture in a Russian prison.
"They [the sanctions] will be resented in a country that is constantly criticised and that has a history of sanctions," said Anicée Van Engeland, a senior lecturer in international security at Cranfield University. "The population jokes about sanctions and wonder when the US will sanction the air and the water."
https://www.thenational.ae/world/europe/uk-should-target-iranian-judiciary-with-sanctions-mps-told-1.1048158
--------
UK selling spyware to 17 repressive regimes, including Saudi Arabia, Bahrain
13 July 2020
Britain is providing more than a dozen repressive regimes around the world with wiretaps, spyware and other telecommunications interception equipment likely to be used to spy on dissidents, according to public records.
The rules are quite clear on this. The UK should not export security goods to countries that might use them for internal repression. However, ministers have quietly signed off more than £75 million in such exports over the past five years to states rated "not free" by the NGO Freedom House.
Recipient countries, 17 in all, including Saudi Arabia and Bahrain, as well as the United Arab Emirates, which was the biggest recipient of licenses totaling £11.5 million alone since 2015.
The UK has been accused of systematically failing to conduct proper checks on who it sold arms to, while Labour called on the government to show it is working to prove that it is complying with its own rules against arming dictators.
The UK has also exported such goods to other states that are not officially rated "not free" but where supplying spyware could cause concern.
Hong Kong, while repressing protests, had a £2 million shipment approved last year, and the Philippines, where police extrajudicial killings are rampant, has also provided steady business for British firms peddling surveillance systems.
Labour's shadow international trade secretary Emily Thornberry told The Independent, "The government has a legal and moral duty to ensure exports from Britain are not used by other countries for the purposes of internal repression, and that risk should clearly be at the forefront of their mind when those countries have a track record of harassing political opponents and undermining democratic freedoms, and when the equipment concerned is ripe to be abused in that way.
"The government needs to show urgently how those risks were assessed in these cases, and how this equipment was ultimately used."
A government spokesperson said, "The government takes its export responsibilities seriously and assesses all export licenses in accordance with strict licensing criteria. We will not issue any export licenses where to do so would be inconsistent with these criteria."
But Oliver Feeley-Sprague, Amnesty International UK's program director for military, security and police affairs, was alarmed that the UK did not seem to be undertaking proper risk assessments when selling such equipment and said the government's controls were becoming "notorious" for their "faulty decision-making".
"These figures are cause for real concern, unless and until UK ministers can demonstrate that proper safeguards against repressive misuse were in place when this equipment was dispatched," he said.
"With numerous human rights defenders arrested and jailed in countries like Saudi Arabia, the UAE and Turkey in the past five years, there's a greater need than ever for the UK to be absolutely scrupulous in assessing the risk of UK telecoms technology being used unlawfully against human rights activists, journalists, and peaceful opposition figures.
"It's just not clear that the UK is undertaking proper risk assessments when selling this equipment, and it's not clear whether UK officials are making any effort to track how the equipment is used in one, two or three years' time.
"With the UK's licensing of arms exports already notorious for its faulty decision-making, these figures are yet another reminder of why we need a complete root-and-branch overhaul of the UK's failing arms and security equipment export control system. This overhaul should include the introduction of a far more coherent and comprehensive system of reporting that clearly shows exactly what we are selling, to whom and why."
Earlier in the week, international trade secretary Liz Truss announced the UK would be resuming arms exports to Saudi Arabia, despite a court having previously ordered that they be suspended.
The government said it had reexamined claims that Saudi forces in Yemen had breached international humanitarian law, and that any possible breaches were "isolated incidents" because they had happened in different places and different ways.
Andrew Smith of Campaign Against Arms Trade, a UK-based campaigning organization working towards the abolition of the international arms trade, said the sale of the spying equipment raised "serious questions and concerns".
"These sales are symptomatic of a dangerous and hypocritical foreign policy that has consistently prioritized arms exports over human rights," he said.
"Spyware and surveillance equipment is often used against human rights defenders. Many of the regimes buying the technology have a long history of inflicting brutal and repressive laws and targeting campaigners and activists.
"Policing in the UK and around the world is becoming even more militarized, and surveillance is becoming even more intrusive. For companies and arms-dealing governments like the UK to be promoting and selling this kind of equipment is extremely irresponsible and reckless. It could fuel abuses for years to come."
https://www.presstv.com/Detail/2020/07/13/629488/UK-selling-spyware-and-wiretaps-to-repressive-regimes-including-Saudi-Arabia-China
--------
Libyan, Italian top diplomats hold talk on migration
12.07.2020
TRIPOLI, Libya
The foreign ministers of Libya and Italy on Sunday discussed how to deal with irregular migration, according to diplomatic sources.
The spokesman of Libya's Foreign Ministry, Mohammed Al-Qablawi, said the counterparts held a phone call on recent developments concerning migration in Libya, as well as the measures taken by Tripoli on the issue.
Libya lies on a major migration route to Europe as it grapples with civil war.
The country's premier, Fayez Al-Sarraj, had attended the opening ceremony of an immigration coordination center in Malta's capital Valletta on July 9.
https://www.aa.com.tr/en/africa/libyan-italian-top-diplomats-hold-talk-on-migration/1908127
--------
Four arrested in UK over suspected Islamist terrorism plot
Paul Peachey
July 10, 2020
Armed police arrested four people during raids at a series of homes in the UK to foil a planned Islamist terrorism plot.
Two men, aged 27 and 31, and a 17-year-old boy were arrested in London while another man, 32, was held in Leicestershire, central England, according to police.
Raids at the two homes in north-east London on Thursday were captured on camera by onlookers.
The footage showed a group of about eight officers at the doorway of the semi-detached home ordering a man to put his hands on his head before he was pulled out of the house and led away. Another video showed officers near a block of flats.
Police said that the 27-year-old suspect was bitten on the foot by a police dog during the operation and was taken to hospital. His injuries were not serious.
The four have been detained on suspicion of preparing terrorist attacks and were held in custody while officers searched four properties.
Police said the raids were part of an investigation into a possible Islamist terrorist plot.
The UK's security services currently rate the threat of terrorism as 'substantial', suggesting that an attack is likely.
Three people died in a park in Reading, west of London, on June 20 in what was described by police as a terrorist attack. A man, KhairiSaadallah, has been charged with three counts of murder.
British police have issued warnings that the Covid-19 lockdown has hampered deradicalisation efforts and extremists could be using the opportunity to exploit vulnerable youngsters spending more time online.
https://www.thenational.ae/world/europe/four-arrested-in-uk-over-suspected-islamist-terrorism-plot-1.1047206
--------
North America
UN Security Council renews Syria aid via Turkey
Betul Yuruk
12.07.2020
NEW YORK
The UN Security Council on Saturday approved delivering humanitarian aid to Syria for a year through one border gate.
The 15-member council reduced the number of gates for aid deliveries from Turkey to Syria to one. Now only the Bab al-Hawa on the opposite of Cilvegozu border crossing will remain open for aid delivery for another year.
After strenuous backroom negotiations, the arrangement was reached to prevent Russia's veto and to renew the authorization -- which was in effect since 2014 and expired on Friday.
The council had been deadlocked, with most members pitted against Syrian allies Russia and China, in the council's fifth vote this week on the issue.
The resolution drafted by Germany and Belgium was supported by 13 countries, while Russia, China, and the Dominican Republic abstained.
Under the resolution, Bab al-Salam border crossing on the opposite of Oncupinar will remain closed for UN aid deliveries.
Earlier, Turkey had asked for an extension of the UN Security Council Resolution 2504 for another year to keep the Cilvegozu and Oncupinar border gates open for delivering aid to Syria.
As many as 300,000 vulnerable Syrians in northern Aleppo used to get the UN aid through the Bab al-Salam, which now stands closed.
Around 2.8 million people in northwestern Idlib will, however, continue receiving aid through the Bab al-Hawa, which will remain open.
While the humanitarian aid was delivered to Syria previously through four border crossings, Russia closed ar-Ramtha border crossing between Syria and Jordan, and al-Yarubiyah with Iraq last year.
Syria has been locked in a vicious civil war since early 2011 when the Bashar al-Assad regime cracked down on pro-democracy protests.
Since then, hundreds of thousands of people have been killed and more than 10 million displaced, according to UN figures.
https://www.aa.com.tr/en/americas/un-security-council-renews-syria-aid-via-turkey-/1907497
--------
Jordan king meets US CENTCOM commander in Amman
Laith al-Junaidi
11.07.2020
Jordanian King Abdullah II held talks on Saturday in Amman with Gen. Kenneth McKenzi, the head of the US Central Command (CENTCOM).
The talks dwelt on the strategic partnership between the two sides and regional developments, including the Palestinian issue, according to the official Petra news agency.
The discussions also touched on regional and international counter-terrorism efforts, Petra said.
It was not clear when the US military commander had arrived in Amman.
The visit, however, came shortly after a US soldier died recently in Jordan, but the circumstances of his death were not yet clear.
Jordan is part of a US-led coalition against the Daesh\ISIS terrorist group in Syria and Iraq.
https://www.aa.com.tr/en/americas/jordan-king-meets-us-centcom-commander-in-amman/1907240
--------
New Zealand
New Zealand mosque shooter to represent himself at sentencing
July 13, 2020
The gunman behind New Zealand's Christchurch mosque shootings sacked his lawyers Monday and opted to represent himself, raising fears he would use a sentencing hearing next month to promote his white-supremacist views.
Australian national Brenton Tarrant will be sentenced on August 24 on 51 murder convictions, 40 of attempted murder and one of terrorism arising from last year's massacre, the worst mass shooting in New Zealand's modern history.
He has pleaded guilty to the charges.
At a pre-sentencing hearing on Monday, High Court judge Cameron Mander allowed Tarrant's lawyers, Shane Tait and Jonathan Hudson, to withdraw from proceedings at the request of their client.
However, the judge ordered "standby counsel" to be available next month in case Tarrant -- who appeared in the Christchurch court via video link from an Auckland prison -- changes his mind.
New Zealand Muslim Association president Ikhlaq Kashkari questioned Tarrant's motives, saying victims could be re-traumatized if the gunman were allowed to spout far-right rhetoric from the dock.
"My first concern when I read this was 'Oh my God, what's this guy up to, is he going to use this as a platform to promote his views and thoughts?'," he told AFP.
"A lot of people are still going through trauma and this was seen as one of those events that would give them closure. I hope it's not going to be something that will trigger more pain instead."
'He wants attention'
In March 2019, Tarrant gunned down Muslim worshippers during Friday prayers at two Christchurch mosques, live-streaming the killings as he went.
His victims included children, women and the elderly.
The former gym instructor unexpectedly reversed his not-guilty plea in March this year, removing the need for a lengthy trial.
The terror and murder charges all carry life sentences, setting a minimum non-parole period of 17 years while also giving the judge power to imprison without the possibility of release. New Zealand does not have the death penalty.
Survivors and the families of victims will be present during the three-day sentencing hearing and Islamic Women's Council of New Zealand spokeswoman Anjum Rahman said many would not want to hear from Tarrant.
While she did not want to speculate on Tarrant's motive for representing himself, she said: "He has shown in the past that he likes to get attention and he wants attention.
"I feel this is all part of that mindset."
https://www.thejakartapost.com/news/2020/07/13/new-zealand-mosque-shooter-to-represent-himself-at-sentencing.html
--------
India
NIA arrests two people from Pune in case related to Islamic State: Report
Jul 13, 2020
The National Investigation Agency (NIA) has arrested two persons from Pune in connection with a case related to activities of the Islamic State-Khoradan Province (ISKP), sources said on Sunday.
The accused were identified as Nabeel Siddique Khatri a resident of Pune's Kondhwa and Sadiya Anwar Sheikh resident of Yerwada from Pune.
They were arrested by the NIA team in an earlier case registered with them with the help of local ATS and Pune city Police.
Sheikh (20) was earlier arrested by the ATS team in connection with ISIS links in 2015 and was later released after counselling.
In 2015 she was arrested from Airport while allegedly attempting to fly Syria to join ISIS.
Both accused are being sent to jail and further investigation is underway, according to sources.
https://www.hindustantimes.com/pune-news/nia-arrests-two-people-from-pune-in-case-related-to-islamic-state-report/story-NlJTKdt7FUjqKhwu7cHiEP.html
--------
Pak again breaches truce along LoC in J&K's Nowshera sector
Jul 12, 2020
JAMMU: Pakistan on Sunday evening again resorted to unprovoked ceasefire violation along the Line of (LoC) Control in Nowshera sector of Jammu and Kashmir's Rajouri district.
"Today at about 7.30 pm, Pakistan initiated unprovoked ceasefire violation by firing with small arms & shelling with mortars along the LoC in Rajouri district's Nowshera sector," Jammu-based defence spokesman Lt Col Devender Anand said. "Indian Army is befittingly retailing to the firing," he said and added that more details are awaited.
There has been a spurt in ceasefire violations by Pakistan in the two frontier districts of Rajouri and Poonch and five soldiers have been killed since June 4. Pakistan violated ceasefire in the Nowshera sector twice on July 10 and a soldier, Havildar Sambur Gurung, was killed in the firing early on Friday morning.
An elderly woman was killed on July 8 and another was injured when Pakistan initiated heavy firing and shelling along the LoC in Poonch district.
Havildar Mathiazhagan P from Tamil Nadu was killed on June 4 in Sunderbani sector of Rajouri district and Naik Gurcharan Singh (28) of Punjab was killed on June 10 in Manjakote sector of the same district. Sepoy LungambuiAbonmei (29) was severely injured in Kirni sector of Poonch and succumbed to his injuries on June 13 and Havildar Dipak Karki was critically injured in the firing and later succumbed to his injuries in Nowshera sector of Rajouri district on June 22.
https://timesofindia.indiatimes.com/india/pak-again-breaches-truce-along-loc-in-jks-nowshera-sector/articleshow/76929415.cms
--------
Revocation of Article 370 aimed at ending terrorism, anti-national activities in J&K: Ram Madhav
Jul 12, 2020
SRINAGAR: Ram Madhav, BJP national general secretary, on Sunday said the revocation of Article 370 was aimed at ending terrorism and anti-national activities in Jammu & Kashmir.
Madhav, who arrived here to pay condolences to the surviving family members of slain BJP politician, Waseem Bari, in Bandipora, later addressed party workers at a meeting in memory of their late party member: "Some people are promoting anti-national activities and guiding the youth down a wrong path. These terrorists are targeting party workers and innocent civilians. The solution lies in teaching a lesson to those (Pakistan) who make them militants and export them here. Every person is ready to sacrifice for this country. We won't spare those who killed Waseem Bari and promote terrorism."
Soon after his arrival here, Madhav, along with MoS in PMO's office, Jitendra Singh, J&K BJP president Ravindar Raina, and a few other party members visited Bari's home in Bandipora, in north Kashmir.
"We have come here to offer condolences to the bereaved family and provide them all help. BJP leaders and workers stand with the party workers of Kashmir. Those who committed this act (killed Bari, his father, and brother) will be tracked soon and neutralized," Madhav told reporters.
Waseem Bari, his father, and brother were killed on Wednesday evening at their shop.
Following the incident, 10 PSOs on the security detail of the Bari family were arrested and dismissed from the services.
https://timesofindia.indiatimes.com/india/revocation-of-article-370-aimed-at-ending-terrorism-anti-national-activities-in-jk-ram-madhav/articleshow/76929411.cms
--------
Terrorist killed in ongoing encounter in J-K's Anantnag
Jul 13, 2020
An identified terrorist was gunned down by security forces in Jammu and Kashmir's Anantnag during a gunfight, officials said on Monday.
They said two to three terrorists are holed up in Srigufwara area of Anantnag, where the encounter erupted early in the morning. A woman has also been arrested, according to officials.
On Sunday, three terrorists were killed in a day-long encounter with security forces in Sopore in the northern district of Baramulla.
Lashkar-e-Taiba's (LeT's) Usman was among those killed in the encounter in Reban.
"He was involved in a recent terror attack at Sopore in which one CRPF jawan was martyred and a civilian was also killed. Big success for police and security forces," Vijay Kumar, Kashmir's inspector general of police, said.
"Incriminating materials including arms and ammunition recovered. Searches were going," Kashmir Police Zone also tweeted.
Suspected terrorists also attempted to attack a deployment of central armed forces with grenades at Awantipora in south Kashmir's Pulwama.
"Terrorist attempted an attack on CAPF at 1645 hours today at Chersoo, Awantipora. Suspects moving on a bike threw two grenades on CAPF (who were) deploying without taking out pins. Grenades did not explode. Efforts are on to nab the terrorists," a spokesperson of the Indian Army said.
Officials have said around 134 terrorists have been killed in Kashmir so far this year with 48 of them in June, the highest monthly toll in recent years. Majority of these militants have been killed in south Kashmir.
https://www.hindustantimes.com/india-news/terrorist-killed-in-ongoing-encounter-in-j-k-s-anantnag/story-UDmIS4nVPQ44QBdhXj1AVK.html
--------
J&K: Three militants killed in encounter with security forces in Sopore
July 12, 2020
Hours after an encounter broke out between militants and security forces in Sopore area of Jammu and Kashmir's Baramulla district, three militants were eliminated Sunday, news agency PTI reported.
According to the Police, the encounter started at the Rebbaan area of Sopore.
A police official told PTI that the forces had launched a cordon and search operation around midnight in Reban area of Sopore town in the wake of information about militant presence in the area.
The search operation turned into an encounter in the wee hours of Sunday when the hiding militants opened fire at the security forces which was retaliated. The official added that arms and ammunition have been recovered from the site of the encounter.
Last week, three members of a family, all linked to the BJP, were killed in a militant attack on Wednesday evening in North Kashmir's Bandipore, leading to the arrest of their entire security detail. The attack happened right outside the Bandipore Police Station, when the three were at the family shop, run out of their home. The dead included a member of the BJP state executive committee, Sheikh Waseem Bari, 27, and his father Sheikh Bashir Ahmad and brother Sheikh Umar, who were also office-bearers of the party.
The police later said that the Lashkar-e-Taiba was behind the attack. Speaking to reporters in Bandipore, Inspector General of Police (IGP), Kashmir, Vijay Kumar said they had identified the two militants involved in the attack. "One of them is Abid (a local militant) and another is a foreigner," he said.
In another encounter, a militant and an Army soldier were killed while two security forces personnel were injured in a gunbattle in South Kashmir's Pulwama last week.
https://indianexpress.com/article/india/jammu-kashmir-baramulla-sopore-encounter-live-updates-6501606/
--------
SoutheastAsia
Continue engaging with transgenders like you used to as mufti, women's group urges minister
12 Jul 2020
BY ZURAIRI AR
KUALA LUMPUR, July 12 — Sisters in Islam (SIS) has urged Datuk Seri Zulkifli Mohamad to continue his engagement with the transgender community like he previously did as a mufti, rather than calling for enforcement to "rehabilitate" them.
The Muslim women's rights group said the religious affairs minister should instead remember how Islam teaches its adherents kindness, compassion and not to discriminate, shame or act violently, regardless of their backgrounds, gender or identities.
"Enforcement to educate the transgender community back to the right path would only heighten the stigmatisation against them and aggravate the aggression towards them by the public, making them more vulnerable to violence and threats to their lives.
"In the past, Zulkifli had positively engaged with the transgender communities in his capacity as the mufti of the Federal Territories," the group said in a statement.
"We urge that such engagements continue, in order to understand the situation and challenges faced by the community and to show more compassion and empathy towards them and treat them with full recognition of their humanity and dignity," it added.
In 2018, when he was then Federal Territories mufti, Zulkifli had called on religious authorities to revisit a fatwa, or Islamic edict declaring transgenderism as un-Islamic, adding that the phenomenon is not inherently wrong.
He had also in 2017 reached out to the transgender community via a discussion which he streamed "live" on his Facebook in a session organised by charity group Pertu­buhan Kebajikan dan Kesihatan Umum Malaysia together with social activist Syed Azmi Alhabshi.
Zulkifli explained he was there not to judge or punish but instead to build bridges between communities.
SIS also questioned the so-called standard operating procedures (SOPs) for the Federal Territories Islamic Religious Department's (Jawi) enforcement.
"How effective are these SOPs in ensuring that the individual is protected from any kinds of harm? Will their dignity be preserved during raids? What kinds of mechanisms are in place to ensure that these SOPs are properly adhered to?" it asked.
On Friday, the Minister in the Prime Minister's Department said Jawi would not merely be conducting arrests but also provide religious education so that the transgender community can "return to the correct path".
Zulkifli's remark appeared to be in response to risqué photos on social media by cosmetics entrepreneur Nur Sajat, which prompted the ire of some Muslim hardliners.
https://www.malaymail.com/news/malaysia/2020/07/12/continue-engaging-with-transgenders-like-you-used-to-as-mufti-wom/1883711
--------
Hurdling The Adverse State-Civil Society Relation Against Terrorism In Southeast Asia?
By Rizal G. Buendia
July 13, 2020
In the United Nations (UN) Security Council's meeting in April 2020, UN Secretary-General, Antonio Guterres acknowledged that in spite of the current COVID-19 pandemic, "the threat of terrorism remains alive." Terrorist groups see a "window of opportunity" to violently attack governments while their attention is turned towards addressing the pandemic. Likewise, in the opening of the 2020 virtual Counter Terrorism Week in July 2020, Guterres states that the pandemic has highlighted the use of "new and emerging forms of terrorism, such as misuse of digital technology, cyberattacks and bioterrorism," hence calls for vigilance.
Evidence from the ground had shown that terrorism in all its forms and manifestations is real and serious. The European Union's (EU) Counter-terrorism Coordinator, Giles de Kerchove, says in a confidential briefing to EU member states that terrorists and Islamic militants seek to exploit the crises to "change societies and governmental systems through violence." Meanwhile, Norway's top military official in Iraq confirms that attacks by Islamic State in the Middle East are on the rise as the region grapples with the pandemic.
The situation in Southeast Asia is not much different. Between February and March 2020, the International Police (INTERPOL) led an operation of law enforcers coming from Brunei, Indonesia, Malaysia, and the Philippines (BIMP) that resulted in the arrest of 180 individuals suspected to be members of terrorist groups including the Abu Sayyaf Group. Captured with the suspects were high-powered firearms, illegally assembled explosives, and illicit goods. The operation also rescued 130 human trafficking victims. The operation confirmed that COVID-19 pandemic has not stopped terrorist and organized crime groups from carrying out their activities.
Terrorism continue to be a global challenge in spite of the global health crisis. It is real and serious. Islamic militants and far right-wing extremists have been emboldened to pursue their activities as governments have concentrated their efforts in addressing the pandemic in their own national domain.
Given this predicament, UN Secretary-General Guterres suggested in his address on the Counter-Terrorism Week that one of the key counter-measures in resolving terrorism is the vital participation of "civil society representatives, the private sector, women and young people" not only in preventing terrorism but also in "building (an) inclusive and resilient societies."
Civil society organizations (CSOs) and terrorism
Generally, civil society is associated primarily with non-governmental organizations (NGOs) or groups, and charities. It is oftentimes referred to as the civic or "third," community, and non-profit sector, in contradistinction to public (government) and private sectors. It consists usually of a range of voluntary associations including political parties, trade unions and professional bodies, private foundations, educational and research institutions and think tanks, religious, faith‐based, and community‐based organizations, and women's, human rights, social and environmental groups working on a definite and defined interest and aspiration of a particular sector of society but operating outside of governmental and private (commercial and for-profit) sectors or spheres.
As early as 2006, the UN has already recognized the role of CSOs in mitigating terrorism through the General Assembly's adoption of the Global Counter-Terrorism Strategy (Resolution 60/288) (UNGA 2006a). The Strategy affirms the determination of UN member states to "further encourage non-governmental organizations and civil society to engage, as appropriate, on how to enhance efforts to implement the Strategy" (UNGA 2006 par 3[e]). The vital role of non-governmental and civil society organizations (NGOs/CSOs) in the global strategy against terrorism has likewise been highlighted by then UN Secretary General Kofi Annan in his April 2006 report entitled "Uniting against Terrorism: Recommendations for a Global Counter-Terrorism Strategy". (UNGA 2006b A60/825).
In Southeast Asia, its regional organization, the Association of Southeast Asian Nations (ASEAN), had recognized the role of CSOs in abating terrorism only in 2017 on the occasion of the 31st ASEAN Summit. It endorsed the Manila Declaration to Counter the Rise of Radicalization and Violent Extremism . The Declaration was further adopted at the 11th ASEAN Ministerial Meeting on Transnational Crime (hereinafter referred to as the AMMTC) as ASEAN Comprehensive Plan of Action on Counter Terrorism . The Plan of Action (POA) was elaborated at the 12th AMMTC in 2018 and updated at the 13th AMMTC in 2019 to cover up to 2025.
The late recognition of the CSOs in addressing terrorism lies on the peculiar characteristics of CSOs in the region as well as the lukewarm appreciation of the state on CSOs' potential, capability, and key role in resolving terrorism.
Peculiarities of civil society in Southeast Asia (SEA)
Southeast Asia's diversity in terms of state system, type of regime, societal structure, stage of economic development, cultural framework, and breadth and depth of peoples' activism, makes the region an excellent case in which to interrogate the scope and limits as well as ascertain the quality of civil society. Understanding civil society in Southeast Asia would give us a better appreciation how it would be able to contribute in mitigating if not eradicating the roots of terrorism in the region.
Unlike in Europe or in North America where civil society is highly distinguishable from the state, civil society in Southeast Asia is less distinct. Schak and Hudson (2003) argue that the dividing line between the spheres of civil society on one hand and public and private sectors on the other hand in Asia is blurred; the state plays a central, if not domineering role, in the formation and establishment of CSOs. They are not just autonomous non-state voluntary organizations but intricately intertwined with the power and function of the state. The independence of CSOs from the state is therefore dubious.
Johan Saravanamuttu (1997), using his survey of civil societies across the region, declares that CSOs are weak compared to the power of the state because they "have had their incipient features shaped primarily by the economic milieu engendered by a dominant state structure," rather than having grown organically out of politics (p. 2). Ben Kerkvliet (2003) says that while there are several budding and emerging CSOs in Vietnam, they continue to be highly constrained by the state. In spite of their peaceful advocacies for reforms in government institutions, laws, and communication and media, they are not allowed to criticize Communist Party leaders or officials, the military, and national policies, and thus cannot be unreservedly "political" lest they lose what space they have (pp. 15-16).
David Brown and David Martin Jones (1995) avow that the dominant party regime in Singapore has effectively restrained the political participation and free exchange of ideas among the middle class. This renders the process of democratization in illiberal democratic Singapore "the expansion of political participation and consultation within the limits defined by the state" rather than the project of an adversarial civil society. (p. 84; also in Jones and Brown 1994). In a later study of Jones (1998), he finds out that a "modular civil society" – one premised on the differentiation of political and socioeconomic spheres – is not emerging in the region but a "political change reflects a conservative, managerial strategy to amplify political control by forging a new relationship with an arriviste middle class (p. 163).
The proliferation of NGOs since the 1980s until late 1990s in Malaysia allowed them to perform a central role in both electoral and informal politics. The active participation of NGOs in politics outside the state pressured the latter to open a wider democratic space notwithstanding the presence of institutional constraints that inhibit the promotion of human rights and advancement of the rule of law – less independent judiciary, controlled media, and employment of the Internal Security Act (ISA), among others.
Francis Loh (2003) argues that Malaysians disillusioned with political parties and electoral politics precipitated CSOs to engage in informal politics. The political mobilization of CSOs did not only offer the venues for participation outside the channels of electoral politics, but also permit them to work with opposition political parties that eventually helped "to enrich those parties as well as hasten the process of political reform" (see also Weiss 2006). However, Saliha Hassan (2002) warns that NGOs need to beware of both exclusionary tendencies and state co-optation to enjoy the expanding space for democratic participation,
Gerard Clarke's (1998) in-depth study of the Philippines notes that NGOs both strengthen and weaken civil society. He illustrates how state-civil society collaboration fortifies the state and expands civil society political participation. His study shows that civil society is less concerned with its autonomy from the state when they can achieve their objectives through a strategic alliance with the state.
Indonesia, according to Robert Hefner (2000), is as an Islamic state that supports "democracy, voluntarism, and a balance of countervailing powers in a state and society" (pp. 12-13). He notes the emergence of a Habermasian public sphere in Muslim Indonesia by highlighting "civil pluralist Islam."
Overall, civil society in the region may not be so consistently a force for democratization or so staunchly independent of the state as most Western literature presumes, yet may still be an important space, among others, for political engagement and transformation. This recalibration of the concept "civil society" offers a clearer lens on the notion of civil society-state nexus in the region more generally.
Furthermore, Alagappa (2004) concludes, among others, in his volume Civil Society and Political Change in Asia that Asian civil societies bear features of both neo-Tocquevillian/liberal democratic (associational) and neo-Gramscian/New Left (cultural and ideological frames with the former gaining ascendancy as state institutions gain legitimacy.
Although there has been a proliferation of CSO, it has not resulted in the institutionalization of non-state public sphere. CSOs generally have yet to establish themselves as independent and autonomous entity from the state. While CSOs have checked the power of the state on the one hand, and influenced the political dynamics of communities on the other hand, interactions between these two spheres vary significantly in contemporary Southeast Asia.
The opportunities for civil society to engage or enter into partnership with government may be limited in countries where civil society structures are weak or non-existent and conversely, may be boundless in countries where civil society is robust and vigorous.
CSOs and state relations
Given the colonial history of Southeast Asian countries, except Thailand which served as a buffer state between the British and French empires, and difficulties encountered by leaders to building their nation-state after their respective independence owing to numerous rebel groups seeking power, relationship between state and civil society is tainted with mistrust. Many governments are deeply suspicious of civil society, and would actively resist any national or international effort to boost its power relative to the state.
Sumpter (2018) opines that security forces engaged with counterterrorism are not accustomed to working with community stakeholders and civil society organisations. This predicament results in a poor engagement between civil society and state. Cooperation, co-ordination, and exchange of information related to terrorism between civil society and government cannot materialize in a hostile environment. It was even accounted that a number of CSOs in Indonesia having CVE programmes are not being coordinated nor harmonized with the efforts of the state, hence lead to wastage of resources.
The dilemma in establishing a working relationship between civil society and state is compounded when one operates in a less democratic and less politically open society, in an authoritarian or anocratic states. In such situation, radicalization is not atomized but open and widespread — deepening the conflict between contending forces and widening the fissures of society amid parties, ethnicities, social groups, and ideologies.
The inability of autocratic and anocratic regimes in SEA to accommodate civil society or provide CSOs reasonable democratic space to engage in socio-economic activities and political reform endeavours on the notion that they threaten the stability of the state does not rest on any material basis. Gnanasagaran (2018) says that there is a disconnect between the state and CSOs. He cites that in 2016, under Lao PDR's chairmanship of ASEAN, Vientiane refused to host the ASEAN People's Forum (APF).
Tadem argues that from 2005 to 2015, individual ASEAN states have consistently resisted CSO participation and engagement in ASEAN critical issues, including terrorism. Despite the rhetorical emphasis on participatory regionalism, Allison and Taylor (2016) contend that regional CSOs and non-state actors have limited capacity to influence ASEAN.
Generally, Southeast Asian political elites have restrictive attitude towards CSOs as the latter speak out against human rights abuses, demand resolution of local grievances, and clamour for social justice. However, it has been an established fact that restricting CSOs from undertaking their legitimate functions simply exacerbate the risk of future terror. Jeong-Woo and Murdie (2018) study yielded no evidence proving that legal restrictions on civil society diminish the number of terrorist attacks within the country.
Greer and Watson (2016) claim that traditional "retributive" anti-terror approaches — which include military/police action and legal imprisonment – though urgently needed, "aggrieve or isolate populations vulnerable to radicalization." They claim that "retributive approaches do little to reduce recidivism rates or disrupt the underlying cycles of anger and grievance central to radicalization."
Singapore's multi-stakeholder collaboration and grassroots approach, despite a less democratic society, is worth mentioning. Its Religious Rehabilitation Group is a voluntary group of ulama and asatizah (Islamic scholars and teachers) in Singapore, has been deemed successful in countering extremism through "restorative" approach. Its mission is to restore and rectify the "misinterpretation" of Islamic concepts and disrupt or counter the narratives assumed central to radicalization. It works within the "hearts-and-minds strategies which aims at understanding one's personal motivations and refocussing them to a more constructive venture.
Similarly, Nahdlatul Ulama (NU) and Muhammadiya, two of Indonesia's largest Muslim civil societies, launched programs to counteract Islamic State of Iraq and the Levant (ISIS) narratives. Following the January 2015 Indonesian terror attacks, NU denounced ISIS through the social media under the hashtag #KamiTidakTakut (#WeAreNotAfraid).
Conclusion
It is important to understand that civil society engagement is about participation and partnership with the state. Contracting an institutional relationship, either formal or informal, with the state is complementary, not a rival, to parliamentary democracy or representative democracy. Citizen participation carries its own legitimacy; it does not need to borrow its legitimacy from representation, not even to any institutions or instrumentalities of government. Its legitimacy emanates from what it does.
The legitimacy of CSOs and their networks are bolstered by the validity and integrity of their ideas, by the values and interests they promote, and by the issues and programmes they care about. CSOs provide the platform and channel to variegated voices of social groups and causes of marginalized sectors which the state needs to hear and act upon. Rosand (2009) moreover imparts that CSOs can promote a culture of tolerance and pluralism and play a strategic role in protecting local communities, countering extremist ideologies, and dealing with political violence.
CSOs are important to every society, regardless of regime and state system not only because they reflect peoples' concern but also due to their potential of filling in the imperatives of socio-economic and political development. And through them society can get things done better either by offering an alternative system of delivering public goods and services or providing unorthodox strategies in achieving development goals and objectives.
CSOs are not only effective agents and facilitators of change agents but also effective institutions in mitigating politico-cultural exclusion and socio-economic marginalization of the poor. Although CSOs are neither elected, thus not accountable to the electorate, nor have any contractual relationship with the governed and cannot claim any form of representation, their limitations constitute a comparative advantage since their sense of virtual independence, in whatever manner or form give them relative freedom, flexibility, and space imperative in national and good governance.
*About the author: Rizal G. Buendia, PhD (Political Science)Independent Political Analyst in Southeast Asian PoliticsWales, UK
References
Alagappa, M. (2004). Civil Society and Political Change: An Analytical Framework. In: M. Alagappa, M. (Ed.), Civil Society and Political Change in Asia: Expanding and Contracting Democratic Space (pp. 25-60)California: Stanford University Press.
Brown, D. and Jones, D.M. (1995), Democratization and the Myth of the Liberalizing Middle Classes. In: D. Bell, D. Brown, K. Jayasuriya, and D.M. Jones Towards Illiberal Democracy in Pacific Asia (pp 78-106). London: Macmillan Press Ltd.
Clarke, G. (1998). The Politics of NGOs in South-East Asia: Participation and Protest in the Philippines. New York: Routledge.
Hassan, S. (2002). Political Non-governmental Organizations: Ideals and Realities. In F. Loh and K.B. Teik (Eds), Democracy in Malaysia: Discourses and Practices. (pp.198- 215). USA: Routledge.
Hefner, R. (2000). Civil Islam: Muslims and Democratization in Indonesia. Princeton: Princeton University Press.
Jones, D.M. and D. Brown. (1994). Singapore and the Myth of the Liberalizing Middle Class. Pacific Review 7 (1), 79-87.
Jones, D.M. (1998). Democratization, Civil Society and Illiberal Middle-Class Culture in Pacific Asia. Comparative Politics 30 (2), 147-169.
Kerkvliet, B. (2003). Introduction: Grappling with Organizations and the State. In: Kerkvilet, B., Heng-Khng. R., and Koh, D. (Eds). Getting Organized in Vietnam: Moving in and Around the Socialist State. Singapore: ISEAS
Loh, F. (2003). NGO and Non-Electoral Politics. Aliran Monthly 22 (11), 2-9.
Rosand, Eric (2009). The Role of Civil Society in Counterterrorism. Presentation to the EU's Counter-Terrorism Committee. 14 October.
Saravanamuttu, J. (1997) Transforming Civil Societies in ASEAN Countries (with special focus on Malaysia and Singapore). CIS Working Paper 1997-8, Centre for International Studies, University of Toronto.
Schak, D., and Hudson, W. (2003). Civil Society in Asia in D. Schak and W. Hudson (Eds). Civil Society in Asia. Hampshire, England and Burlington, USA: Ashgate.
United Nations General Assembly (UNGA) (2006a). The United Nations Global Counter-Terrorism Strategy, Doc. A/RES/60/288, 8 September.
UNGA (2006b). Uniting against Terrorism: Recommendations for a Global Counter-Terrorism Strategy – Report of the Secretary-General, Doc. A/RES/60/825, 27April.
Home » Hurdling The Adverse State-Civil Society Relation Against Terrorism In Southeast Asia? – Analysis
https://www.eurasiareview.com/13072020-hurdling-the-adverse-state-civil-society-relation-against-terrorism-in-southeast-asia-analysis/
--------
Indonesia is failing to control coronavirus outbreak, say experts
12 Jul 2020
Attempts to control a growing coronavirus outbreak in Indonesia, the worst-hit country in south-east Asia, are being hampered by a lack of testing, poor communication from the government and the promotion of bogus cures, health experts have warned.
The country has so far recorded more than 74,000 cases and 3,535 deaths from the virus, though it is feared that this could be a vast underestimate. While testing rates have improved, they remain among the lowest in the world.
Jakarta and East Java are Indonesia's worst-affected regions, but outbreaks have spread across the country, the fourth most populous in the world, prompting calls for stronger public health messaging and surveillance.
Transmission will continue to rise unless the public is urged to follow recommendations on physical distancing, said Prof Pandu Riono, an infectious disease expert at the University of Indonesia. "There's no serious behaviour change communication being done by the government," he said.
His comments follow criticism of Syahrul Yasin Limpo, the agriculture minister, who provoked controversy by stating his ministry had developed a eucalyptus necklace that helped prevent Covid-19 – a claim rejected by disease experts.
Researchers fear there is a lack of awareness among the public in some areas. "One study in Jakarta [suggests some people] think they have a low risk of getting infected. There is a misconception," said Pandu.
Joko Widodo, the president of Indonesia, warned of a "red light" after an increase in cases last week, and said that transmission would rise further if the public did not cooperate with prevention measures.
Restrictions have continued to ease in the country. Bali is now allowing domestic tourists and plans to open to international tourists in September. Dr I Gusti Agung NgurahAnom, chairman of Indonesia Doctors Association (IDI) in Denpasar, Bali's capital, said he was worried about a big increase in transmission. The city's 472 isolation beds are fully occupied. "The number of cases has jumped but we have no idea yet when it will peak," he said. So far, more than 2,000 cases have been recorded.
Medical staff work flat out, without removing their protective clothing at all during eight-hour shifts because they fear they could contract the virus, said Ngurah: "We almost don't have time to drink or to pee, some wear Pampers [nappies]."
In some cases, he said, patients lie about having had contact with an infected person, making it even harder for staff to determine the risk of transmission.
"We hope that the government does more testing, testing, and testing, so that we can trace the cases," Ngurah added.
Pandu has called for the use of polymerase chain reaction tests to be tripled, and said the use of antibody tests – which detect whether a person had, rather than has, the virus – should be abandoned. He has estimated that without stronger interventions the outbreak will continue to grow until at least September, and that Indonesia could record up to 4,000 new cases a day.
Efforts to control the virus have been complicated by the stigma associated with a positive diagnosis, which some fear will result in loss of work. In June, hundreds of traders in traditional markets in Bali, Sumatra and Jakarta refused to be tested.
The importance of holding Muslim burials, during which family members wash the body of the deceased, has also posed a challenge to disease control measures. In one incident at a hospital in Sulawesi island, more than 100 people broke into a ward, threatening staff, and carried away the body of an Islamic preacher so he could be given a full burial.
Counselling families who struggle to accept a diagnosis is among the hardest aspects of the job, said AriefBakhtiar, a doctor specialising in pulmonology in Surabaya. "There was one case I experienced when a woman died from coronavirus, but all the children couldn't accept it," he said Arief. They went ahead with a religious burial, he added. "After two weeks, I heard two of their family members died, allegedly from Covid-19."
Delays in receiving test results can make it even harder to persuade families that the deceased had Covid-19, though Prof Amin Soebandrio, director of the Eijkman Institute for Molecular Biology in Jakarta, said improvements in laboratory processes had sped up the delivery of results. He said testing capacity has also increased, which may be why daily case numbers had risen, but added: "We understand in some area the cases are still quite difficult to control."
According to the real-time statistics website Worldometer, Indonesia conducts 3,797 tests per 1 million people.
In its latest report on Indonesia, the World Health Organization urged the government to prioritise tests for patients suspected of having the virus – not people who were recovering – and citied a "substantially high" number of deaths among this group.
In Surabaya, Dr Brahmana Askandar, who is chairman of the Indonesia Medical Association in the city, said local government had raised awareness of the need to avoid crowds and wear face masks. "We can see some things improved in the past two weeks," he said.
"It is like you are running but don't know when the race will finish," he said, but he added that it is public behaviour will ultimately determine the future of the outbreak.
https://www.theguardian.com/world/2020/jul/12/indonesia-is-failing-to-control-coronavirus-outbreak-warn-experts-testing-government-messages-bogus-cures
--------
URL: https://www.newageislam.com/islamic-world-news/pakistan-ulema-council-supports-construction/d/122359
New Age Islam, Islam Online, Islamic Website, African Muslim News, Arab World News, South Asia News, Indian Muslim News, World Muslim News, Women in Islam, Islamic Feminism, Arab Women, Women In Arab, Islamophobia in America, Muslim Women in West, Islam Women and Feminism