New Age Islam News Bureau
30 Dec 2016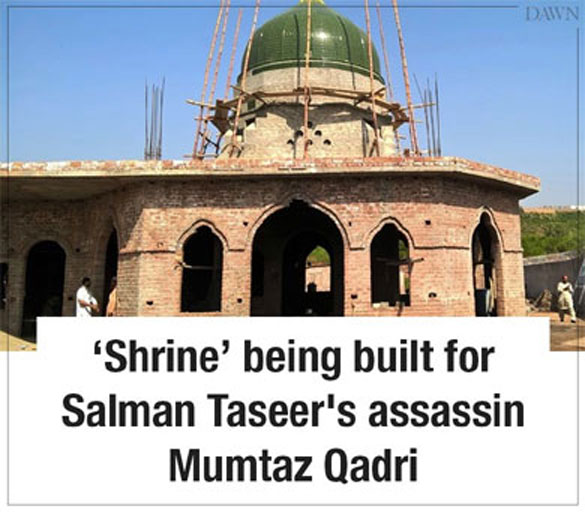 • Pakistan's 'Murderer Saint' - Supporters Build Shrine To 'Honor' Governor's Assassin
• NYPD Allows Sikh And Muslim Officers To Grow Beards
• Tunisian Forces Bust Al-Qaeda-Linked Terrorist Cell Near Sousse
• If China Shields Masood Azhar, India Will Paint It As Terror Abettor
Pakistan
• Pakistan's 'Murderer Saint' - Supporters Build Shrine To 'Honor' Governor's Assassin
• Religious Freedom in Pakistan Takes 1 Step Forward, 2 Steps Back
• Pakistan to hang 'butcher of Swat' Muslim Khan
• Fazl unhappy over possible extension of military courts
• Pakistan rejects new formula for NSG membership
--------
North America
• NYPD Allows Sikh And Muslim Officers To Grow Beards
• Why Trump's Bid To Amplify Muslim Reformers Will Keep Americans Safer
• Islamic Centre set on fire in Netherlands
--------
Africa
• Tunisian Forces Bust Al-Qaeda-Linked Terrorist Cell Near Sousse
• Nigeria: Sultan Urges National Assembly to Shun Anti-Islam Bills
• Somalia: 4 Al-Shabaab killed in clash with gov't forces
• France hints at plan for 'long' military stay in Chad
• Is the Sultan of Sokoto right to reject the gender equality bill?
• Kemi Olunloyo asks Muslims to tear their Quran
• Christian Deputy Governor donates mosque to Muslims
--------
India
• If China Shields Masood Azhar, India Will Paint It As Terror Abettor
• Want To 'Amicably' Resolve All Issues With India, Says Pakistan
• Hindu Fighting For Muslim Rights Alleges Religious Discrimination By Orthodox Muslims
• Festival Helps Muslim Kids Explore, Enjoy Their Heritage
• Student Body Writes To Medical Council, Wants NEET In Urdu
• Burmese refugees in eye of storm over their settlement in J&K
• Enemy Property Ordinance Undemocratic, Says Muslim Body
• Pakistan PM Nawaz Sharif writes to Swaraj wishing her speedy recovery
--------
South Asia
• End Violence In Myanmar, Nobel Laureates Urge Un Security Council
• 50,000 Rohingya Muslims flee Myanmar to Bangladesh
• Russia, Iran ties with Taliban stoke Afghan anxiety
• Myanmar may send special envoy to discuss Rohingya issue
• Pakistani ISIS militant arrested in Kunar province of Afghanistan
--------
Arab World
• 50 ISIL Terrorists Killed in Eastern Homs
• Syria War Drags On Due To Foreign Aid For Takfiri Terrorists: Assad
• ISIL Executes Nursing Mother at Yarmouk Camp
• Saudi Arabia welcomes Kerry proposal on Palestinian-Israel settlement
• Intense Infighting Reported between Al-Nusra Front, Ahrar Al-Sham Commanders in Syria
• Turkey Forcefully Recruits Syrian Refugees for Euphrates Shield Operation
• Terrorists to Withdraw from More Regions in Western Ghouta of Damascus
• Syrian Army Further Advances in Wadi Al-Bardi of Damascus
• 'US-led coalition may have killed civilians in Mosul'
• Total Syria ceasefire begins Thursday night
--------
Southeast Asia
• Terrorism on the Rise in Indonesia as Islamic State Comes Under Pressure in Syria: Police
• While The Rest Of The World Retreats, China Expands Investment In The Arab World
• Muslim Man Named 'Merry Christmas' In Indonesia, Says 'We Practice Religious Tolerance Here'
• Mercy Malaysia enters Syria for humanitarian mission
• Police will process FPI leader's blasphemy case
--------
Mideast
• Israel's Attorney-General Orders Criminal Probe Against PM Netanyahu: TV
• Jewish Protesters At White House Celebrate UN Rebuke Of Israel
• Turkish novelist to be freed, but top journalist held over tweets
• Palestinian president believes peace with Israel is achievable: spokesman
• Drone strike kills local Qaeda chief in Yemen
• Houthis commit 18,000 violations in Yemen's Hajjah governorate
• Israeli demolitions of Palestinian homes at record high, UN says
• Yemeni forces shoot down Saudi Apache helicopter in Najran
--------
Europe
• Bosnia's Main University Suspends Classes During Muslim Prayers
• Germany Releases Tunisian Suspect In Berlin Truck Attack
• German anti-terror services 'ranked Amri a low threat'
• ISIS supporters call for more holiday attacks in Europe
• Spain arrests two men suspected of Islamist militant propaganda
Compiled by New Age Islam News Bureau
URL:
https://www.newageislam.com/islamic-world-news/new-age-islam-news-bureau/pakistan-s--murderer-saint----supporters-build-shrine-to--honor--governor-s-assassin/d/109546
--------
Pakistan's 'Murderer Saint' - Supporters Build Shrine To 'Honor' Governor's Assassin
29.12.2016
Sattar Khan, DW's Islamabad correspondent, confirmed that a "shrine" was under construction near the capital to "honor" Mumtaz Qadri, who was hanged in February for murdering Salman Taseer, a governor of Pakistan's eastern Punjab province.
Qadri's supporters and commoners have already started visiting the under-construction shrine, which is being supervised by the "Mumtaz Qadri Shaheed Foundation," according to Pakistan's "Dawn" newspaper.
"The shrine is attracting the attention of people from all over the country. Qadri's supporters have pumped millions of rupees into the construction of this shrine. Some Muslim clerics are openly glorifying Taseer's murderer," Sattar Khan said.
In South Asia, shrines are generally associated with saints with "miraculous" spiritual qualities, and thousands of devotees visit these places throughout the year. A Dawn report said that "already, the stories circulating around the shrine are acquiring an air of myth."
"To pray at his grave is a guaranteed way to have it answered, for Qadri has earned a place at the side of the Prophet through his sacrifice," a bystander told Dawn.
Qadri shot Taseer 28 times in broad daylight in Islamabad on January 4, 2011, and was sentenced to death in October the same year. Qadri, who was Taseer's bodyguard, showed no remorse over the killing. He said he murdered the former governor for his efforts to amend the country's blasphemy laws. He was showered with rose petals by right-wing groups as he was taken to jail by the authorities. Subsequently, some mosques were named after him, and huge portraits of him were erected across the country.
Following Qadri's death, some 10,000 protesters marched against his hanging on February 29. They gathered in the city of Rawalpindi, about 14 kilometers (nine miles) from Islamabad, and then marched into the capital.
For a majority of Pakistanis, blasphemy is a punishable crime and many believe that Qadri didn't do anything wrong by killing Taseer. That is why the news of Qadri's hanging was received with grief and anger by his supporters, with Islamic groups taking to the streets across the country. The protesters were chanting, "Qadri, your devotees are countless and your sacrifice will not go in waste."
Experts say that right-wing groups fear Qadri's hanging would set an example and could lead to amendments in the blasphemy laws and the secularization of the country.
Government inaction
It is obvious that extremist groups in Pakistan consider Qadri their hero, but the South Asian country's secular people are alarmed that the authorities have not taken any action against those who are building the Qadri shrine.
"The authorities do not want to act against extremist organizations because they want to use them as proxies against India and Afghanistan," Dr. Tauseef Ahmed Khan, a former professor at the Islamabad-based Federal Urdu University, told DW.
"There are many sympathizers of extremist groups in the ruling Pakistan Muslim League party of Prime Minister Nawaz Sharif. If the government is serious about eliminating these groups, I believe they can be rooted out within no time," Khan added.
Collective intolerance
Pakistan has witnessed an unprecedented surge in Islamic extremism and religious fanaticism in the past decades. Islamist groups, including the Taliban, have repeatedly targeted religious minorities in the country to impose strict shariah, or Islamic law. Rights activists say that intolerance is growing in Pakistani society.
"The days are gone when we said it was a small group of religious extremists, xenophobes, hate-mongers and bigots who commit such crimes," Karachi-based journalist Mohsin Sayeed told DW. "Now the venom has spread to the whole of Pakistani society."
Pakistan APMA Solidaritätsmarsch (APMA)
Activists say the blasphemy laws are often used to settle petty disputes and personal vendettas
Rights activists have demanded reforms to the controversial blasphemy laws, which were introduced by the dictator Zia-ul-Haq in the mid-1980s. They say the laws have little to do with blasphemy and are often used to settle petty disputes and personal vendettas.
But if you ask people on the streets whether they are in favor of the repeal of the controversial blasphemy laws, their answer would likely be no.
"It is not about amending or repealing the law (blasphemy law), or making new laws; those who insult our religion should not go unpunished," a student in Lahore told DW.
A test case for Pakistan
While Qadri's supporters build a shrine to remember him, Asia Bibi, a Christian woman accused of blasphemy, has been has been languishing in prison for more than six years.
A few months after Bibi's conviction in the blasphemy case, Salman Taseer was murdered by Qadri. Qadri said he had killed Taseer for speaking out against the blasphemy laws and in support of Bibi.
The judges of the Pakistani Supreme Court were to hear Bibi's appeal against a death sentence in October, but they adjourned the hearing for an indefinite period. A similar hope that the Pakistani judiciary might pardon Bibi and eventually release her was dashed in 2014 when the Lahore High Court ruled to uphold her 2010 death sentence.
If the Supreme Court eventually reverses the death sentence, right-wing parties and groups are likely to take to the streets.
Bibi's family has been living under constant fear since 2010. The Christian woman's husband, Ashiq Masih, has been fighting a desperate battle for the life and freedom of his wife ever since. Masih has asked for presidential clemency for Bibi and has written to President Mamnoon Hussain, seeking permission to move her to France, where the Council of Paris unanimously adopted a proposal to award honorary citizenship to Bibi in March.
"We are living a life on the run" Masih told DW. "Our lives are being threatened. We receive death threats constantly and are moving from one place to another - and we try to support each other."
His family's life has been destroyed, he said: "I spent almost 45 years of my life in my native village. I had many friends there. But now I do not want to go back."
Masih is also scared. He is afraid of being recognized as Asia Bibi's husband in public. "This is why I almost never speak with Muslims. I am frightened that they know who I am."
Religious discrimination in Pakistan is not a new occurrence but it has increased manifold in recent years. Pakistan's liberal sections are alarmed by the growing influence of religious extremists in their country. Rights activists complain that the Islamists enjoy state patronage, while on the other hand liberal and progressive voices have to face the wrath of the country's security agencies.
Additional reporting by Sattar Khan, DW's Islamabad correspondent.
http://www.dw.com/en/pakistans-murderer-saint-supporters-build-shrine-to-honor-governors-assassin/a-36942993
--------
NYPD allows Sikh and Muslim officers to grow beards
December 30, 2016
New York police officers will be allowed to wear beards and turbans while in uniform in accordance with their religion, a measure long demanded by Sikh and Muslim officers.
Sikh policemen in New York who request to do so will now be able to wear standard-length turbans, provided they are blue. They had previously been limited to wearing small turbans that fit under regular police caps.
Sikh and Muslim policemen will also be allowed to grow beards up to half an inch (1.3 centimeters) long, instead of the one millimeter currently allowed.
"We're making this change to make sure that we allow everybody in New York City that wants to apply and have the opportunity to work in the greatest police department in the nation, to make sure we give them that opportunity," US media quoted Commissioner James O'Neill as saying in a speech to graduating recruits of the Police Academy late Wednesday.
"We want to make the NYPD as diverse as possible, and I think this is going to go a long way to help us with that."
Only a few US municipal police forces currently allow officers to have facial hair and wear turbans, including Washington and Riverside, California, according to The New York Times.
The revised policy, expected to be finalized next month, comes after a Muslim policeman filed a complaint against New York police last summer when he was suspended for wearing a beard that did not comply with regulations.
But the policeman, Masood Syed, says the new policy falls short. He wants officers to be allowed to grow beards up to two inches long, CNN reported.
http://www.siasat.com/news/nypd-allows-sikh-muslim-officers-grow-beards-1097854/
--------
Tunisian forces bust al-Qaeda-linked terrorist cell near Sousse
Dec 29, 2016
Tunisian security forces have dismantled a "terrorist cell" affiliated to the Takfiri al-Qaeda militant group that poised to carry out attacks in the North African country.
According to a statement by Tunisia's Interior Ministry, the group was busted during a raid near the coastal city of Sousse, which is located 140 kilometers south of the capital, Tunis.
The cell had 10 members aged between 25 and 45, including two women.
The ministry said in a statement on Thursday that the group had used the Telegram encrypted messaging system to communicate with associates inside and outside Tunisia, adding that the militants were plotting to carry out "terrorist operations" across the country.
Sources say the cell had links to Okba Ibn Nafaa, an al Qaeda-linked group based in the Mount Chaambi range near the Algerian border. The group has claimed a series of terror attacks against Tunisian security forces in recent years.
Tunisian security forces said recently that they had dismantled 160 militant cells in the first 10 months of this year across the country.
Tunisia has witnessed an upsurge in militant attacks over the past few months.
In June 2015, an assailant armed with a rifle killed 38 people, mostly foreign tourists, on a beach in Sousse.
The attack came more than a month after two militants stormed the Bardo Museum in the capital, and shot dead 21 people, mainly foreign tourists.
Tunisian forensic police inspect the wreckage of a bus in the capital, Tunis, on November 25, 2015 in the aftermath of a bomb attack on the vehicle the previous day. (Photo by AFP)
On November 24, 2015, a bomb attack by Daesh Takfiri terrorists on a bus carrying presidential guards killed 12 people in Tunis.
Following the attack, Tunisian President Beji Caid Essebsi said his country was at "war against terrorism."
Tunisia has experienced violence since the 2011 uprising that ousted the country's dictator Zine El Abidine Ben Ali, who was in power for over two decades.
The country has also been affected by the growing instability in neighboring Libya, which has been in chaos since former dictator Muammar Gaddafi was toppled and later killed in 2011.
Tunisian security authorities have recently warned of the return of thousands of Takfiri militants fighting for terrorist groups in Iraq and neighboring Syria to the small Mediterranean country, demanding "exceptional measures" to combat the phenomenon.
http://www.presstv.ir/Detail/2016/12/29/504017/Tunisia-alQaeda-Sousse-Okba-Ibn-Nafaa-Algeria-Libya
--------
If China shields Masood Azhar, India will paint it as terror abettor
Indrani Bagchi
Dec 30, 2016
NEW DELHI: By this weekend, China will have to make up its mind on the fate of terror leader Maulana Masood Azhar when its "technical hold" on a ban against the Jaish-e-Mohammed chief expires in the UN Security Council. In anticipation, India too has readied its own subsequent actions.
China put a technical "hold" on sanctions against Azhar+ on March 31 this year, blocking India's move to put a ban on the Jaish-e-Mohammed (JeM) leader and Pathankot terror attack mastermind under the 1267 sanctions committee. China was the only member in the 15-nation UN body to put a hold. Azhar's name on the list would subject him to an assets freeze and travel ban.
China has two options. It could let the "hold" lapse, in other words, do nothing. The ban would then automatically apply to Masood Azhar as the sanctions under UNSC resolution 1267 would kick in. Of course, China's official reason for the technical hold is that it "will allow more time for the committee to deliberate on the matter and for relevant parties (read India and Pakistan) to have further consultations".
India has rejected the idea. On the other hand, China could convert the "hold" into a "block". That is a more formal status to stop Masood Azhar from coming under sanctions. It would indicate China's intention to support Pakistan at all costs, including its terrorist leaders and therefore China's diplomatic support to global terrorism. It would be a tough step for India-China ties.
After the meeting of NSA Ajit Doval and China's state councillor, Yang Jiechi on November 5, China indicated clearly there would be no change in its approach to Masood Azhar. But MEA said, both sides agreed "forthcoming high level engagement in counter-terrorism field is yet another manifestation of growing convergence of views of two countries on this pressing challenge facing international community".
India, said sources, has lined up other actions post China's decision. If China blocks sanctions, as many believe it will, India will put several other terror leaders up for sanctions. These would include Masood Azhar's brother, Abdul Rauf Asghar, as well as some other leaders from LeT and JeM. India recently bolstered its case against Azhar after NIA named Azhar as the prime accused in the Pathankot attack+ . This means, China would have to keep blocking terrorists from sanctions and all of them would have a Pakistan imprint.
It would be terrible for China's image. Only recently, China had said, "There should be no double standards on counter-terrorism. Nor should one pursue own political gains in the name of counter-terrorism." But China will be doing just that, particularly if India adds more names for consideration to the committee. India, said high level sources, will then mount a PR campaign connecting China with supporting global terrorism.
http://timesofindia.indiatimes.com/india/if-china-shields-masood-azhar-india-will-paint-it-as-terror-abettor/articleshow/56246480.cms
--------
Pakistan
Religious Freedom in Pakistan Takes 1 Step Forward, 2 Steps Back
December 29, 2016
The Pakistani government took a positive step forward earlier this month in renaming the National Center for Physics after the Nobel Prize-winning physicist Abdus Salam—a member of the Ahmadi community, a minority sect of Islam.
Even though Salam received the Nobel Peace Prize in 1979, his achievement was largely ignored in Pakistan because of the stigma attached to the Ahmadi faith in Pakistan. Ahmadis believe that the last prophet was not Mohammed but rather Mirza Ghulam Ahmad, the founder of the Ahmadiyya religion who claims he is the Muslim messiah.
In what is likely a reaction to the government's move to acknowledge Salam's achievement, there have been at least two major incidents of religious persecution against the Ahmadis.
On Dec. 9, it was reported that an armed police contingent of the Counter Terrorism Department raided an Ahmadiyya central office in Rabwah. The armed police beat up staffers, made arrests without a warrant, and looted the office, stealing computers and printers. The Ahmadiyya Foreign Missions Office reported that this was the first time that a raid like this occurred in 42 years.
Then, in a second incident, a mob comprised of more than 1,000 individuals descended on an Ahmadi place of worship in Chakwal, Punjab. At least one Ahmadi was shot dead in the attack.
According to the Department of State's 2015 International Religious Freedom report, 95 percent of Pakistan's population is Muslim. Ahmadi Muslims, who according to a constitutional amendment are not allowed to call themselves Muslims, are estimated to number between 2 and 4 million.
Ahmadis have long faced severe persecution in Pakistan. In addition to making it criminal for Ahmadis to call themselves Muslim, Pakistani law forbids Ahmadis from calling their places of worship mosques and from proselytizing.
Pakistan's blasphemy laws have been used to target members of the Ahmadi faith, including earlier this year when Shakoor Shakoor was sentenced to five years in prison, according to the U.S. Commission for International Religious Freedom's 2016 report.
This same report called on the Office of International Religious Freedom to designate Pakistan a "country of particular concern," in part because of its persecution of Ahmadis. The U.S. Commission for International Religious Freedom also recommends that special police forces be introduced in Pakistan specifically to protect religious minorities.
Lisa Curtis, senior research fellow for South Asia at The Heritage Foundation, noted in a recent journal article that, "Prioritizing protection of religious freedom is not only important as a human rights issue, but also as a strategic and security issue, since it must be part of a broader narrative that seeks to counter the message of Islamist extremism, which is threatening the stability of the Pakistani state."
The U.S. government should acknowledge the positive step taken by the government of Prime Minister Nawaz Sharif in recognizing the achievement of Salam.
Washington must also prioritize the issue of religious freedom in its bilateral engagement with Pakistan and work with Pakistan to improve rule of law responses to religious tensions in the country. Specialized police forces tailored to serve religious minority communities could provide the rule of law infrastructure necessary to prevent future raids and mob activity from being carried out against Ahmadis.
http://dailysignal.com/2016/12/29/religious-freedom-in-pakistan-takes-one-step-forward-two-steps-back/
--------
Pakistan to hang 'butcher of Swat' Muslim Khan
By M Ilyas Khan
29 December 2016
A military court in Pakistan has sentenced a top Pakistani Taliban leader from the Swat region to death.
Muslim Khan, a former spokesman for the militants, was convicted of killing 31 people, including civilians and security personnel, the military said.
He is among eight "terrorists" whose death penalty was confirmed by army chief Gen Qamar Javed Bajwa.
The military courts were set up in the aftermath of the 2014 Peshawar school massacre. Their term expires next week.
Others whose convictions were confirmed by the army chief on Wednesday include four gunmen sentenced for involvement in a 2015 bus massacre of Ismaili Shias in Karachi, and the assassination of social activist Sabeen Mahmud, also in Karachi the same year. Why 'butcher of Swat'?
Muslim Khan, 62, started out as a student activist of a left-wing secular party in the 1960s, but underwent an ideological transformation in the early 1990s when a pre-Taliban Islamist movement briefly emerged in his native Swat region.
In 2007, he became the chief spokesman of the Swat Taliban, and was the movement's public face during its stranglehold over the region which continued until the winter of 2009.
His forceful defence of the Taliban's policy of killings, beheadings and the destruction of schools in Swat earned him and Swat Taliban chief Mullah Fazlullah the title of "butchers of Swat".
The military's statement described him as "a spokesman of a proscribed organisation [who] was involved in killing innocent civilians, attacking armed forces and law enforcement agencies of Pakistan".
Muslim Khan, file photo 2009 after his arrest
Image caption
Muslim Khan, pictured in 2009 after his arrest
These attacks resulted in the death of 31 people and injuries to 69 others, the statement said, adding that he was involved in "slaughtering" four soldiers.
"He was also involved in kidnapping two Chinese engineers and a local civilian for ransom. The convict admitted his offences before the Magistrate and the trial court. He was awarded the death sentence."
A former BBC Urdu correspondent, Abdul Hai Kakar, who met him in September 2009, reported that he spoke several languages, including Urdu, English, Arabic and Persian, in addition to his mother tongue Pashto.
He had lived in or travelled across more than a dozen countries in the Middle East, Europe, the US and the Far East.
He has been in custody since his arrest in 2009 during the military operation that drove the Taliban out of Swat.
Was the trial fair?
The military court trials are held in secret, and prisoners on trial are held in internment centres run by the military, away from the mainstream jail population.
Scores of suspects have been convicted by the military courts since they were set up in January 2015 - obtaining accurate information is difficult because secrecy makes it almost impossible to scrutinise the process.
Dawn newspaper said more than 270 cases had been sent to the military courts in the past two years. They gave death sentences to 161 people, while 116 were given jail terms, mostly life sentences.
A report by the Geneva-based International Commission of Jurists (ICJ) in June had a lower figure, saying the military courts had convicted 81 people during the 18 months of their existence.
Full report at:
http://www.bbc.com/news/world-asia-38462706
--------
Fazl unhappy over possible extension of military courts
December 30, 2016
Tariq Saeed
Peshawar
Jamiat Ulema-e-Islam-Fazl (JUI-F) Chief and a close ally of the ruling Pakistan Muslim League (PML-N) Chief Maulana Fazlur Rehman has castigated the proposed extension in the military courts and giving them permanent status saying his party would take it as failure of the Federal Government.
"A draft of a new law is being mulled to give permanent status to military courts and integrate the Protection of Pakistan Act and Anti-Terrorism Act. The extension in the period of military courts, which were set up for two years after December 2014 attacks on schoolchildren in Peshawar, would be considered as failure of the government," the JUI Supremo declared while talking to newsmen in Peshawar on Thursday.
He said the impression was being created as if the judges of the civil courts were coward and helpless. "Forming military courts is an insult to civil judges," Fazl remarked and added that instead of forming military courts, the government should address the issues confronting the judges in civil courts. "Why can't we give security to civil judges?" he asked and suggested that instead the judges should be provided security by the Army.
"What is the point of such courts where the accused are produced in a state of fear? This is against basic justice," the JUI chief apprehended claiming that a number of innocent people have been hanged on the orders of military courts.
The military courts are to expire on January 7 and all under-trial cases will be transferred to the anti-terrorism courts. At present120 cases are being heard in military courts, which had received 300 cases in all.
Full report at:
http://pakobserver.net/fazl-unhappy-over-possible-extension-of-military-courts/
--------
Pakistan rejects new formula for NSG membership
BAQIR SAJJAD SYED
Dec 30, 2016
ISLAMABAD: The Foreign Office on Thursday rejected the Grossi formula for evaluation of the candidature of non-NPT states for the Nuclear Suppliers Group's membership as 'discriminatory' and unhelpful for advancing global non-proliferation objectives.
At the weekly media briefing, FO spokesman Nafees Zakaria said: "This would be clearly discriminatory and would contribute nothing in terms of furthering the non-proliferation objectives of the NSG."
Ambassador Rafael Mariano Grossi of Argentina had been appointed as a facilitator for discussions among the NSG members after Seoul plenary meeting of the 48-nation nuclear trade cartel ended in a stalemate over membership applications from India and Pakistan. The deadlock persisted at the extraordinary plenary held in Vienna last month.
Amb Grossi this month submitted a two-page revised document to the NSG member countries containing a nine-point proposal on considering the applications of India and Pakistan, both of whom are non-NPT countries. The NSG members last week again met in Vienna for discussing the document called "revised version of a draft 'Exchange of Notes' for Non-NPT applicants".
Examine: NSG — an elite club of suicide bombers
Pakistan, Mr Zakaria said, continues to emphasise the imperative for a non-discriminatory criteria-based approach for the NSG membership of non-NPT states in a non-discriminatory manner. "Such a criteria-based approach will further the non-proliferation objective of the NSG as well as the objective of strategic stability in South Asia," he said.
The spokesman reminded the NSG members of "the heavy responsibility" they bore with respect to admission of non-NPT states.
"It is important for the credibility of the NSG and the future of the non-proliferation regime that the NSG be seen as a rule-based organisation rather than a grouping which is driven by commercial and political considerations that trump its non-proliferation objectives," he maintained.
Full report at:
http://www.dawn.com/news/1305297/pakistan-rejects-new-formula-for-nsg-membership
--------
North America
NYPD allows Sikh and Muslim officers to grow beards
Dec 30, 2016
The New York Police Department has relaxed its policies to allow Sikh and Muslim officers to grow beards of 1.27cm long for religious reasons, in a move aimed recruiting more minorities.
Police Commissioner James O'Neill announced the new rule on Wednesday following a graduation ceremony for new police recruits.
Under the revised rules, Sikh officers will also be allowed to wear turbans in place of the traditional police cap, O'Neill said.
Officers would need approval to wear the turban that would have to be navy blue and have the NYPD insignia attached.
"We're making this change to make sure that we allow everybody in New York City that wants to apply and have the opportunity to work in the greatest police department in the nation, to make sure we give them that opportunity," O'Neill was quoted by the New York Times as saying.
Of the 557 recruits who graduated, 33 are Muslims and two are Sikhs, the Times reported.
The Sikh Coalition, an advocacy group which aims to protect the right to practise the religion, said it was "optimistic about what this announcement represents in the way of progress".
Meanwhile, the Sikh Officers Association welcomed the move calling it "a proud moment for [the] Sikh community".
According to the NYPD patrol guide, officers were previously prohibited from having beards, though an unwritten policy permitted them up to one millimetre in length.
The reason given for the ban was that beards interfere with certain gas masks.
The policy change follows a legal case by a Muslim officer who said restrictions on beard length were unconstitutional.
Officer Masood Syed, a legal clerk in the NYPD, had worn a beard for years for religious reasons but was later ordered by supervisors to shorten it. When he did not, he was suspended.
The NYPD reinstated Syed in June and the department agreed to review its ban on the beard.
In 2013, a Hasidic Jewish probationary officer won a case against the department over the same policy.
Muslim women in the NYPD have for years been allowed to wear headscarves.
http://www.aljazeera.com/news/2016/12/nypd-sikh-muslim-officers-beards-161229080729119.html
--------
Islamic Centre set on fire in Netherlands
Dec 30, 2016
AMSTERDAM: A building linked to the Association of Islamic Communities (AIC) in Culemborg, Netherlands was allegedly set on fire here on Wednesday.
The building, which was formerly a swimming pool, was bought by Association of Islamic Communities to turn into a religious and prayers center and authorities believe that the blaze was set intentionally by an arsonist.
Although, it is not yet clear if the building served entirely as an Islamic center, however it did have a prayer room at the back of the building. It is yet to be ascertained whether someone was inside the building at the time it caught fire.
Fire crews and police are desperately trying to extinguish the blaze, which had engulfed the entire building.
Police reported that the fire appeared to have been started deliberately by arsonists.
Full report at:
http://nation.com.pk/international/30-Dec-2016/islamic-centre-set-on-fire-in-netherlands
--------
Africa
Nigeria: Sultan Urges National Assembly to Shun Anti-Islam Bills
29 DECEMBER 2016
By Isah Ibrahim
Gusau — The Sultan of Sokoto, Alhaji Sa'adu Abubakar has urged the National Assembly and state assemblies to shun bills capable of causing religious crisis in the country.
The foremost monarch, the head of Muslims in Nigeria, made the appeal yesterday in Gusau, Zamfara State at the closing ceremony of this year's state Qur'anic recitation competition organized by the state Quranic Memorisation and Tajweed board.
Abubakar called for consistent vigilance on all bills brought by any group or individuals that could lead to religious controversy.According to the Sultan, Muslims would not accept any law or amendment of some sections of the constitution that contradicts the teachings of the Holy Qur'an.
Abubakar, who was specifically reacting to the recent bill on gender equity that was brought before the National Assembly but was subsequently rejected by the Senate, said the issue of inheritance as contained in the bill was totally opposed to various verses in the Holy Qur'an, and such issues should not be considered and supported by the Muslims lawmakers.
He said Muslims in Nigeria were in large numbers in the country, hence the relevant authorities and stakeholders should be mindful of any issue that could contravene the teaching of the holy book: the Qu'ran and Islamic religion, to ensure a sustainable peace and harmony of all Nigerians.
The Sultan saluted the Nigerian Army and the Federal Government and urged them to be proactive in the anti-terror campaign, commending them for their recent success over Boko Haram by capturing their base in Sambisa Forest.
In his address, the Governor Abdul'aziz Yari Abubakar, commended the Sultan over his sterling leadership role among Nigerian Muslims.The governor said the state was committed to working hand in hand with the sultanate towards promoting peace and unity among Muslims and other religions in Nigeria.
http://allafrica.com/stories/201612290486.html
--------
Somalia: 4 Al-Shabaab killed in clash with gov't forces
29.12.2016
At least seven people including three Somali National Intelligence and Security Agency (NISA) forces and four al-Shabaab militants were killed after heavy fighting between the Somali army and al-Shabaab in Afgoye town, officials said Thursday.
Abdirahman Ahmed Hassan, a NISA officer told Anadolu Agency over the phone that the fighting begun after al-Shabaab militants attacked an army base in Afgoye, lower Shabelle region of Somalia.
"Three of our forces were killed and three others wounded during the clash. We killed four al-Shabaab militants. We captured three alive," Hassan said.
Idris Hassan, an eyewitness in Afgoye, told Anadolu Agency that the gunfight was still going on.
Full report at:
http://aa.com.tr/en/africa/somalia-4-al-shabaab-killed-in-clash-with-govt-forces/716692
--------
France hints at plan for 'long' military stay in Chad
Dec 30, 2016
French Prime Minister Bernard Cazeneuve says French troopers stationed in Chad should "prepare for a long war" against regional militants, in a remark that reveals France's plans for prolonged military presence in its former African colony.
"We must prepare for a long war in an environment that has undergone dramatic shifts," Cazeneuve told French soldiers in Chad, where he arrived for an official visit on Thursday.
In the African country's capital city, N'Djamena, Cazeneuve met with Chadian Prime Minister Albert Pahimi Padacke and President Idriss Deby to discuss security.
"France will always help Chad surmount its difficulties," Cazeneuve said after the meeting with Deby.
French Prime Minister Bernard Cazeneuve (C) inspects French troops stationed in N'Djamena, Chad, December 29, 2016. (Photo by AFP)
This is Cazeneuve's first foreign visit since being appointed prime minister earlier this month.
France has a 4,000-strong contingent in Chad in a declared mission to fight militancy in coordination with the United States.
The so-called Operation Barkane, which commenced in 2014, aims to combat militant groups across huge swathes of desert land in the Sahel region south of the Sahara Desert. French troops use drones, equipped with cameras and night vision equipment, for reconnaissance flights across the deserts in Mauritania, Mali, Niger, Burkina Faso, and Chad.
Chad is a key Western ally in the region. It became a French colony in 1900 and, despite gaining independence in 1960, remains a close partner of Paris. In the 1970s and 80s, French troops led a crackdown against the Chadian National Liberation Front, or Frolinat, seeking autonomy in the Muslim-dominated north of the country.
Full report at:
http://www.presstv.ir/Detail/2016/12/30/504056/France-Chad-Cazeneuve-long-military-stay
--------
Is the Sultan of Sokoto right to reject the gender equality bill?
December 30, 2016
As far as I am concerned, there is no disparity between a man and a woman; I am talking from civil rights position. When you look at Africa where we come from, women have always been the factor used in the uplifting of the family. A woman grows, gets married and brings some of the wealth from her husband's place. But none of the men will reject such wealth because it is coming from their sister.
But, when it comes to inheritance, she will be rejected; that is hypocrisy of the highest order. When we were younger, our sisters would be in the kitchen with our mother to cook. When the food was done, our sisters would come to where we were playing football to invite us to come and take our lunch. So, why should such sisters not have a share in her father's inheritance?
The Sultan of Sokoto should not relate the issue of inheritance to religion. Religion calls for moderation and love and we should be able to do doing things from a civilised point of view; we should stop this archaic thinking. Why would you say the inheritance from the father should be for the men alone? The woman is also a child given to the man by God. So, she deserves absolute right to her father's property too.
To deny a woman the right of inheritance to part of her father's property is immoral. In the critical moment of a man's life, it is the daughter that will be around to take care of him. The Sultan of Sokoto should moderate his thinking to modern times and he should know that there should be no discrimination in the area of inheritance. •Dr. Jackson Omenazu (Human rights activist and Chancellor, International Society for Social Justice and Human Rights)
The Sultan of Sokoto is talking from a concept of theocracy; a government in which the clergy are fully in control. Nigeria is run by a President as a liberal democracy. It has, as part of its entire carriage, the principles of liberalism. Democracy itself accommodates several principles, one of which is the right to freedom from being discriminated against.
Section 42 of the 1999 Constitution has it in clear terms to the effect that no one should be made to suffer discrimination on grounds of sex, religion or circumstances of birth. And I know that the constitution of this country, which is the grand norm of the geographical entity called Nigeria, supersedes or overrides any other instrument coming from any point down the ladder. Talking about the hierarchy of laws, where falls the geographical principle the Sultan was trying to allude to? This argument by the Sultan is not particular to the North where the Sultanate ought to terminate. Talking about Nigeria as a geographical entity, it is not the Sultan's argument that ought to guide our jurisprudential thinking; it is the constitution, the grand, fundamental norm.
So, when a theocratic principality is talking of an issue in governance where there are multiplicity of religious extractions, individual views should be treated and confined to that limitation. This is because it is coming from his views as an individual's presumed theocratic overlord as opposed to the multiplicity of secular views of other religions.
So, the Sultan's views are no more than the views of each of the several religions that we have in this country and should be disregarded. Despite their painstaking effort to turn Nigeria into an Islamic state, they know in fact that the Christians in this country over-populate their Muslim thinking, though they are, by way of propaganda; trying to make the scenario look as though they are predominant.
What the Sultan is saying violates Section 42 of the 1999 Constitution of the Federal Republic of Nigeria as amended, which allows all shades of opinions with regard to tribe, race and religion to be allowed to float. •Mr. Osom Makbere (Human rights lawyer and activist)
The gender parity bill is sponsored by Senator Abiodun Olujimi from Ekiti State. The bill seeks to make a man and a woman the same. The bill also seeks to do a lot of terrible things, including banning the Quran and the Holy Bible, and even desecrating traditional institutions across the country. The bill seeks abolition of male only schools and female only schools and legalising of abortions and other evils.
It is quite unfortunate that in some parts of this country, women are oppressed and dehumanised. The rights of widows are denied. And I want to state categorically as an Islamic scholar that Islam rejects this as something that is wicked and inhuman. Conversely, in some other places, women have their rights of inheritance upheld. They can inherit from their fathers, husbands and even children, if it happens that way.
However, the bill that is seeking gender parity on inheritance is an assault to the Islamic law, which is part of the laws in this country. You know we operate a tripartite system of law in Nigeria. We have the common law, the regular courts, the customary court and the Sharia court, which are all recognised.
I am sure the Sultan was deliberately quoted out of context to sound as if he is against women or against their rights to inheritance, which is far from the truth. •Sheikh Abdur-Rahman Ahmad (Chief Missioner of Ansar-ud-Deen Society of Nigeria)
I have read the Sultan's statement against the bill in the National Assembly, seeking equal rights of inheritance in favour of women. For me, there is nothing strange in the bill, as most of our laws provide for equal rights for all citizens.
The position of his Eminence, Sa'ad Abubakar, the Sultan of Sokoto, is not strange too, but a confirmation of the challenges that Nigeria faces as a nation: different laws for different citizens and obedience to same at the pleasure of the faith in question or powers that be.
I wish Nigerians would all appreciate the challenges we have to manage our peaceful coexistence. The National Assembly needs to answer the question on obedience to our laws, stating clearly which law should take precedence; whether we should obey the laws of the land or that of our faith and how to also manage the question of inconsistencies of the laws. God created human beings equally and the question of inheritance should not be viewed differently. •Kwamkur Samuel (Director, Legal and Public Affairs, Christian Association of Nigeria)
The highest law of the land already provides that there shall be no discrimination against anybody on account of sex. It is already there in Section 42 of the (1999) Constitution.
But, the National Assembly should be very careful not to create more problems than the one they are trying to solve.
A woman, as wife in a home, will lay claim to her husband's property; she is going to lay claim to her family's property too.
Who is being discriminated against? Is it the man who has only one father's property to inherit or the woman who has two chairs to inherit from both her husband's and her father's houses?
You have to be very careful with this, particularly when it comes to real estate.
I am not against the bill when it comes to husband's property because of issues of chasing widows away from their late husbands' homes.
While I am not against their efforts, they should do a proper public hearing on this matter. •Mike Ahamba (A Senior Advocate of Nigeria)
It is surprising to know that some people still don't believe that men and women are equal under the law. This is due to cultural and religious beliefs in some areas; but it should not be so.
Full report at:
http://punchng.com/sultan-sokoto-right-reject-gender-equality-bill/
--------
Kemi Olunloyo asks Muslims to tear their Quran
29 December 2016
Lagos- Barely one week after slamming Christians and calling the Bible 'fake', controversial journalist Kemi Omololu-Olunloyo, has asked Muslims to tear up the Quran.
The very outspoken Kemi, shared the controversial post on her Facebook page, where she gave her reasons for saying the things she said.
According to her, the Quran is a tool of destruction, and shouldn't even be touched by 'any reasonable Muslim'.
Sharing her opinion on her Facebook page, she wrote:
#HNNReligion THE KORAN PAGES NEEDS TO BE RECYCLED CLEARLY. NOBODY SHOULD FEAR MUSLIMS! MUSLIMS SHOULD DESTROY THEIR QURANS OR ALLAH WILL DISOWN YOU.
Just like the bible, the Koran is a tool of destruction. No reasonable muslim should ever touch it. Because of the Koran, Yahya Jammeh of #Gambia who always holds one visibly everywhere he goes and islamized his country has refused to step down. Because of the Koran #ISIS is cutting prisoner's heads off like slaughtered goats. Jihad all over the world, because of the Koran, muslim men are marrying up to 4 women and we have 94,000 pregnant women...WITH HIV in #Zamfara state #Nigeria with polygamous homes spreading the disease.
Why is there pedophilia in the Koran? Pedophilia is highly unacceptable. Defiling kids is insanity, something many of you joke and laugh about. Remember earlier this year that disgusting filthy elephant #TokunboAboderin made a video saying my father defiled me at 13yo when he came home drunk fathering my own son. I didn't even have kids till 22yo and the brainwashed illiterates believed her.
Full report at:
http://www.news24.com.ng/National/News/kemi-olunloyo-asks-muslims-to-tear-their-quran-20161229
--------
Christian Deputy Governor donates mosque to Muslims
30 December 2016,
Yola - The deputy governor of Adamawa, Martins Babale has donated a Juma'at Mosque to Dalasum community in Toungo local government area of the state.
Babale who is also a Christian, said he built the mosque to promote peaceful co-existence among the local communities in the area.
He, however, emphasised that the era of unnecessary conflicts and misunderstanding between followers of different religions was over and stressed the need to live together harmoniously with tolerance.
"Today I am fulfilling one of my wishes to our people. I prayed that the Mosque will also serve as a centre which will unite our community," Babale said.
Responding, Musa Gindau, the District Head of Dalasum, commended the courageous and generous effort of the deputy governor, describing him as a "peace promoter".
Gindau said that the people of Dalasum were well known in living in peace with one another irrespective of religion, tribe and clan, even as he urged all Nigerians to emulate the gesture.
Full report at:
http://www.news24.com.ng/National/News/christian-deputy-governor-donates-mosque-to-muslims-20161230
--------
India
Want to 'amicably' resolve all issues with India, says Pakistan
Dec 29, 2016
ISLAMABAD: Pakistan on Thursday said it wants to "amicably" resolve all outstanding issues, including Kashmir, with India even as it underlined that no country can unilaterally revoke the Indus Waters Treaty.
Kashmir dispute is the "bone of contention" between Pakistan and India, foreign office spokesperson Nafees Zakaria said at the weekly news briefing here as he appealed to the international community to "play its due role" in resolving the longstanding issue.
"We want to amicably resolve all outstanding issues including Kashmir with India," he added.
In his opening remarks during the briefing, which was this year's last, Zakaria said: "We condemn unabated violation of UNSC Resolutions on Kashmir by India."
Amid reports India reviewed the Indus Waters Treaty following the Uri terror attack, he said the accord cannot be altered or suspended unilaterally.
No country can abrogate the treaty, he said, adding Pakistan is keeping an eye on the evolving situation and it would follow its strategy in case of any violation of the historic accord.
"We will assess India's activities within the framework of the Indus Waters Treaty," he was quoted as saying by Radio Pakistan.
Pointing out that there is an arbitration mechanism to resolve the dispute regarding implementation of the treaty, he said many disputes related to it were resolved amicably in the past.
http://timesofindia.indiatimes.com/india/want-to-amicably-resolve-all-issues-with-india-says-pakistan/articleshow/56236670.cms
--------
Hindu fighting for Muslim rights alleges religious discrimination by orthodox Muslims
2016-12-30
Sreeja Neyyattinkara, one of the state secretaries of Welfare Party in Kerala, has set off a storm among Dalit and Minority activist circles in Kerala by heavily criticizing some orthodox practices among the Muslims of the state.
The criticism has come as a surprise as the Welfare Party is largely comprised of Muslim supporters and activists, and was floated five years ago to build a national coalition of minorities and Dalits.
Sreeja's outburst came after she was stopped from visiting her Muslim friend — who had lost her husband — by the family of the deceased. "I went to visit her, but was blocked at the door. (According to them) non-Muslims like me and my friends were prohibited from visiting her," he wrote on Facebook.
"Does Islam require believers to keep their distance from non-believers even in a place of death?.. Can you blame ordinary people for mistaking and fearing Islam (when such things take place)," she asked on Facebook.
She added that the family of the deceased seemed to belong to the Sunni faction led by Kanthapuram A.P Aboobacker Musliyar — arguably the largest of the various factions that Muslims in Kerala identify with.
The Musliyar had recently hit the headlines for stating that according to Islam, gender equality was a wrong concept and that women were fit only to give birth in a world ruled by men.
The Welfare Party — which has had some success in attracting Dalits in Kerala — is backed by Jamaat-e-Islami, which was formed in 1941 to bring about an Islamic state in India. The organization was formed as an alternative to the Muslim League, which it considered not Islamic enough, and wanted to bring about Sharia law in India. Over time, it has moderated its aims and demands and operates several media outlets in Kerala. It also has substantial presence in Assam and West Bengal.
BLOWBACK
As expected, Sreeja's outburst drew sharp reactions from orthodox Muslims in Kerala, particularly from the followers of the Musliyar. Many left nasty messages for the activist under her post.
Full report at:
https://rtn.asia/g-c/25936/hindu-fighting-muslim-rights-alleges-religious-discrimination-orthodox-muslims
--------
Festival Helps Muslim Kids Explore, Enjoy Their Heritage
Dec 30, 2016
VASCO: The Gulmohar Baug Complex in Verna is bustling with life as children from the Muslim community have dived into the fun and frolic atmosphere created for the first-ever Muslim children's festival, Taare Zameen Par. The week-long festival, which began on December 26, is being attended by people from across the state.
The festival is organized by the Board of Islamic Education, in association with Hikmah Foundation's House of Wisdom.
National convener of the Medical Service Society of India, Dr Taha Mateen, said, "Victory doesn't come with guns and muscle power, but with faith and reliance on the power of God".
The overwhelming response to the festival has led the organizers to extend the festival for a day.
The festival has interactive models depicting Islamic concepts, beliefs and culture, all made by children. There are also competitions such as an Islamic quiz, 'azaan, dua', elocution and fancy dress.
Full report at:
http://timesofindia.indiatimes.com/city/goa/Festival-helps-Muslim-kids-explore-enjoy-their-heritage/articleshow/56245362.cms
--------
Student body writes to medical council, wants NEET in Urdu
December 30, 2016
A student organisation has written to the Medical Council of India to include Urdu in the list of regional languages in which the medical entrance examination can be conducted. On December 21, the council allowed the National Eligibility-cum-Entrance Test (NEET) in eight languages — English, Hindi, Marathi, Assamese, Gujarati, Bengali, Telugu and Tamil.
The Maharashtra wing of Student Islamic Organisation (SIO), however, has demanded that the exam be held in Urdu as well. The organisation's secretary Mohammed Ali claimed that the fate of several students, who have been formally trained in Urdu, was at stake.
"In Maharashtra alone, there are around 168 Urdu-medium science junior colleges and many Urdu-medium students appear for HSC examinations in the science stream every year," said Ali. The organisation has initiated an online petition for conducting NEET in Urdu, which has garnered over 1,300 signatures.
Abdul Shaban, Deputy Director of the Tuljapur centre of Tata Institute of Social Sciences, said the Urdu language, though part of the Hindustani culture, had been marginalised 'owing to communal politics post independence', something that the Sachar Committee, which looked into the social, economic and educational status of Muslims, too had found.
"Urdu is neither the language of the state nor the market. As a result, those formally trained in the language have been at a disadvantage," said Shaban. In his paper titled Urdu and Urdu-medium Schools in Maharashtra, Shaban talked about this disadvantage: "Most of the state-conducted competitive examinations are in Marathi and English. This shuts the door for Urdu students for larger job opportunities. In such a scenario, the most an Urdu-educated student can expect is the job of a teacher in Urdu schools and/or in madrasas."
Shaban argued that since most Urdu-speaking individuals came from the Muslim community, the representation of the community in technical education institutes and even in government services was poor.
Full report at:
http://indianexpress.com/article/education/student-body-writes-to-medical-council-wants-neet-in-urdu-4451027/
--------
Burmese refugees in eye of storm over their settlement in J&K
DECEMBER 29, 2016
Having fled persecution and sectarian violence in Myanmar, Rohingya Muslims, who have been living in the only Muslim majority state in India for many years, are in the eye of a political storm over their settlement in Jammu and Kashmir.
Political parties in Jammu consider them a security threat and bat for their deportation, suspecting them to be part of a design to change the demography of Hindu majority Jammu. Kashmir—based mainstream parties, particularly NC, also want Rohingya Muslims to be thrown out of the state.
A refugee from Myanmar, Mohammed Rafiqi, 44, referring to the statements of various leaders and political parties in the state, said, "We came here in 2009. Jammu is a second home to us now. But people should not make this an issue. We want to live in peace."
"We have suffered a lot. Do not involve us in a controversy," said Rafiqi, who has five children and works as a labourer to earn a livelihood.
"No assistance is given to us. We are not citizens but Jammu is much better than our country. Here, no one has troubled us so far. We are alive, getting two square meals and have a shanty to live in," he said.
The refugees are now feeling threatened in the current situation.
Another Rohingya refugee, 46-year-old Shah Alam said, "We have come here to earn a livelihood and live in peace. We feel threatened when it is made an issue. I work at a shop and my wife, eldest daughter work as servants. We live in the shanty on payment. Some NGOs help us."
For Rohingya Muslims, the choice of settling in Jammu and Kashmir was natural due to the Muslim character of the state.
Zahid Hussain and his family were the first Rohingya Muslims who made Jammu their second home.
Full report at:
http://www.thehindu.com/news/national/other-states/Burmese-refugees-in-eye-of-storm-over-their-settlement-in-JK/article16959215.ece
--------
Enemy property ordinance undemocratic, says Muslim body
December 30, 2016
New Delhi: Prominent Muslim organisation Jamaat-e-Islami Hind (JIH) on Wednesday termed the governments latest move to bring an ordinance to amend the 50-year-old Enemy Property Act as "undemocratic and infringing the fundamental rights of citizens".
JIH General Secretary Muhammad Salim Engineer said: "Legislation via ordinance should be adopted only under special circumstances and the government's anxiety to push for amendment to the enemy property law in such a hurried manner raises serious doubts over its real intentions. Moreover, the President of India has expressed his reservations over its repeated re-promulgation."
The Enemy Property (Amendment and Validation) Bill, 2016, was referred to a Select Committee after encountering opposition in the Rajya Sabha.
"The bill violates basic principles of natural justice, human rights and settled principles of law, and many MPs too have said as much. It adversely affects and results in punishing Indian citizens and will have no effect on any enemy nation," Salim said. He said the ordinance is meant to harass minorities and should be condemned.
"The law of succession and inheritance will also be impacted, and hence the fundamental rights of citizens will be infringed. It will also affect their personal laws, and is therefore unacceptable," he said.
Salim said the proposed law can be "subverted in a subtle way to create enmity against the Muslim community by terming their legally inherited property as enemy property".
Full report at:
http://www.siasat.com/news/enemy-property-ordinance-undemocratic-says-muslim-body-1097808/
--------
Pakistan PM Nawaz Sharif writes to Swaraj wishing her speedy recovery
Dec 29, 2016
NEW DELHI: Pakistan Prime Minister Nawaz Sharif has wished speedy recovery to External Affairs Minister Sushma Swaraj who underwent a kidney transplant recently.
According to official sources, Sharif wrote a letter to Swaraj wishing her quick recovery.
Full report at:
http://timesofindia.indiatimes.com/india/pakistan-pm-nawaz-sharif-writes-to-swaraj-wishing-her-speedy-recovery/articleshow/56235099.cms
--------
South Asia
End violence in Myanmar, Nobel laureates urge UN Security Council
December 30, 2016
More than a dozen Nobel laureates including Archbishop Desmond Tutu and Malala Yousafzai urged the U.N. Security Council on Thursday to end "ethnic cleansing and crimes against humanity" in Myanmar's troubled Rakhine State. At least 86 people have been killed in a military crackdown in Rakhine State, launched after attacks on police posts near the border with Bangladesh on Oct. 9. The government of predominantly Buddhist Myanmar has blamed Muslim Rohingyas supported by foreign militants for the coordinated attacks which killed nine police officers.
More than 30,000 people have fled to Bangladesh, escaping the violence which has renewed international criticism that Aung San Suu Kyi's government has done too little to help the Rohingya, who are denied citizenship in Myanmar. In an open letter to the Security Council, Tutu and 22 others including fellow Nobel Peace laureates José Ramos-Horta and Muhammad Yunus said a "human tragedy amounting to ethnic cleansing and crimes against humanity is unfolding in Myanmar".
"If we fail to take action, people may starve to death if they are not killed with bullets," the letter said. The violence had the hallmarks of Rwanda's 1994 genocide as well as ethnic cleansing in Sudan's western Darfur region, Bosnia and Kosovo, it said. The signatories to the letter said even if a group of Rohingyas was behind the Oct. 9 attacks, the army's response had been "grossly disproportionate". "It would be one thing to round up suspects, interrogate them and put them on trial," the letter said. "It is quite another to unleash helicopter gunships on thousands of ordinary civilians and to rape women and throw babies into a fire."
Myanmar's government has denied accusations that excessive military force was used following the October attacks. The letter was initiated by Ramos-Horta, according to a spokeswoman for the former East Timor president, and Yunus, who helped revolutionize finance for the poorest in Bangladesh. A spokeswoman for the presidency of the 15-member Security Council, currently held by Spain, confirmed it had received the letter, which also expresses frustration that Suu Kyi, the 1991 Nobel Peace Prize winner, had not ensured citizenship rights to Rohingyas.
The letter also called for the Myanmar government to lift all restrictions on humanitarian aid to Rakhine State. Officials from Myanmar's mission to the United Nations in New York were not immediately available for comment.
http://indianexpress.com/article/world/end-violence-in-myanmar-nobel-laureates-urge-un-security-council-rohingya-muslims-4451063/
--------
50,000 Rohingya Muslims flee Myanmar to Bangladesh
30 Dec 2016
Some 50,000 Rohingya Muslims have fled to Bangladesh from Myanmar, the foreign ministry in Dhaka said today, seeking shelter from a bloody crackdown by the army.
Bangladesh has stepped up patrols to try to stem the tide of refugees crossing the border since an eruption of unrest in Myanmar's western state of Rakhine in early October.
The foreign ministry summoned Myanmar's ambassador to express "deep concern at the continued influx" of tens of thousands of members of the stateless ethnic minority into its territory.
"(We) mentioned that around 50,000 Myanmar citizens took shelter into Bangladesh since 09 October 2016," the ministry said in a statement.
Rakhine borders Bangladesh and is home to the Rohingya -- a Muslim minority group loathed by many of Myanmar's Buddhist majority.
Dhaka also demanded early repatriation of all Burmese citizens who have been living in the Muslim-majority nation for years, including some 300,000 Rohingya -- most of them illegally.
A spokesman for the United Nations High Commissioner for Refugees (UNHCR) told AFP that at least 43,000 Rohingya have taken shelter in Bangladesh since October.
The vast majority of those who arrived took refuge in makeshift settlements, official refugee camps and villages in Bangladesh's resort district of Cox's Bazar.
Many of those interviewed by AFP told horrific stories of gang-rape, torture and murder at the hands of Myanmar security forces.
Myanmar has denied allegations of abuse but has banned foreign journalists and independent investigators from accessing the area.
Full report at:
http://www.dnaindia.com/world/report-50000-rohingya-muslims-flee-myanmar-to-bangladesh-2287615
--------
Russia, Iran ties with Taliban stoke Afghan anxiety
Usman SHARIFI, Sajjad TARAKZAI
Dec 30, 2016
Allegations over Russia and Iran's deepening ties with the Taliban have ignited concerns of a renewed "Great Game" of proxy warfare in Afghanistan that could undermine US-backed troops and push the country deeper into turmoil.
Moscow and Tehran insist their contact with insurgents is aimed at promoting regional security. Washington's long-time nemesis Iran is accused of covertly aiding the Taliban, and Russia is back to what observers call Cold War shenanigans to derail US gains at a time when uncertainty reigns over President-elect Donald Trump's Afghanistan policy.
"(Russia's) narrative goes something like this: that the Taliban are the ones fighting Islamic State," top US commander in Afghanistan John Nicholson said recently, denouncing the "malign influence" of external powers.
"This public legitimacy that Russia lends to the Taliban is not based on fact, but it is used as a way to essentially undermine the Afghan government and the NATO effort and bolster the belligerents. "Shifting to Iran, you have a similar situation. There have been linkages between the Iranians and the Taliban."
Russia has officially provided military helicopters for Afghan forces, but simultaneously propped up the Taliban with arms, official and insurgent sources say.
"We are particularly concerned about loads of Russian-made weapons recently seized from areas on the border with Tajikistan," a senior Afghan security official told AFP. "Cross-border support for the Taliban will further complicate the security situation in Afghanistan's north."
A Taliban commander told AFP the Russian support had helped the insurgents overrun the northern city of Kunduz in October for the second time in a year.
Taliban representatives in recent months have also held several meetings with Russian officials in Tajikistan and Moscow, sources say.
"No country should be in touch with destructive groups who are the enemies of Afghanistan. This shows disrespect towards the victims of war," interior ministry spokesman Sediq Siddiqi told AFP. "We ask Russia and Iran to work with Afghans to defeat terrorism."
'Great fear'
Western diplomats in Kabul have privately voiced alarm that Russia is quietly filling its embassy ranks with Soviet era "old-timers" well versed in Cold War tactics, as relations with Washington turn sour over the conflicts in Syria and Ukraine.
And this week Kabul vented fury over a summit between Russia, China and Pakistan in Moscow which agreed on a "flexible approach" to remove certain Taliban figures from sanctions lists.
Alexander Mantytskiy, Russia's ambassador to Kabul, insists engagement with the insurgents is benign.
"We have ties with the Taliban to ensure the security of our political offices, consulates and the security of central Asia," he told reporters this month.
Lashing out at NATO, he added the allegations against Russia were an effort to distract attention from the worsening conflict and "put the blame for their failures on our shoulders".
Some observers agree that Russian and Iranian concerns over Islamic State militants cannot be dismissed lightly.
"Islamic State may not have a deep presence in Afghanistan, but it has developed a profile there and its overall brand inspires great fear," Michael Kugelman, an analyst at the Woodrow Wilson Center in Washington, told AFP.
Full report at:
http://nation.com.pk/international/30-Dec-2016/russia-iran-ties-with-taliban-stoke-afghan-anxiety
--------
Myanmar may send special envoy to discuss Rohingya issue
December 30, 2016
Myanmar government might send a special envoy to Bangladesh to discuss the Rohingya issue.
Myanmar Ambassador to Bangladesh Myo Myint Than conveyed the message during a meeting with Kamrul Ahsan, secretary for bilateral and consular affairs at the Foreign Affairs Ministry, yesterday afternoon.
The Myanmar ambassador was summoned by the ministry to discuss his government's ongoing crackdown on Rohingya minorities.
Quoting Myo Myint, a high official of the ministry said Myanmar government was considering to send an envoy to discuss the issue that has raised security concern inside Bangladesh's border.
"But it is not clear yet when the envoy will be sent," the official said.
At the meeting, Kamrul Ahsan demanded early repatriation of all Myanmar citizens from Bangladesh, said a Foreign Ministry press release.
Expressing deep concerns over the influx of Rohingya Muslims, Kamrul said around 50,000 Myanmar citizens had taken shelter in Bangladesh since October 9 this year. Moreover, around 300,000 Myanmar nationals had been staying in Bangladesh for years.
According to the release, the secretary demanded early repatriation of the entire Myanmar population staying in Bangladesh and expressed Bangladesh's readiness to engage with Myanmar to discuss the process and modalities of repatriation.
Requesting the Myanmar government to urgently address the "root cause" of the problem in the Rakhine state so that Rakhine Muslims are not regularly forced to desperately seek shelter across the border.
Full report at:
http://www.dhakatribune.com/bangladesh/2016/12/30/myanmar-may-send-special-envoy-discuss-rohingya-issue/
--------
Pakistani ISIS militant arrested in Kunar province of Afghanistan
Dec 29 2016
A loyalist of the Islamic State of Iraq and Syria (ISIS) terrorist group hailing from Pakistan was arrested from the eastern Kunar province of Afghanistan.
The Counter-terrorism Directorate of the Ministry of Interior said the detained militant has been identified as Muslim who is originally a resident of Pakistan.
The official in the Counter-terrorism Directorate said Muslim has confessed that he is a member of ISIS terrorist group and was involved in several terrorist related activities in Afghanistan.
The officials further added that the security forces confiscated 2 hand grenades, 1 pistol, and some other explosives from Muslim.
The anti-government armed militant groups including the ISIS loyalists have not commented regarding the report so far.
This comes as reports emerged recently suggesting that the ISIS loyalists are attempting to expand presence and activities in eastern Kunar province.
Full report at:
http://www.khaama.com/pakistani-isis-militant-arrested-in-kunar-province-of-afghanistan-02581
--------
Arab World
50 ISIL Terrorists Killed in Eastern Homs
Dec 29, 2016
The Syrian army units, supported by the artillery and missile fire, pounded the ISIL's moves and gathering centers near Tadmur, al-Bayarat, Jazal, Western Qasr al-Hayyar and Abu Kala dam in Eastern Homs on Thursday.
During the operations, over 50 terrorists were killed and 9 of their military vehicles and 2 artillery systems were smashed.
The Syrian army troops and air force targeted ISIL's concentration centers and gatherings in the ancient city of Palmyra and its outskirts also on Wednesday, inflicting more than a dozen casualties on the terrorists.
The army men targeted the positions and movements of ISIL East of the Fourth Station and in Ba'ar al-Fawa'erah region West of Tadmur, killing over 13 militants and wounding several more.
The army aircraft also pounded ISIL's positions and movements in the city of Palmyra and nearby areas, in Badiyeh al-Qarbi (the Western Desert), the Fourth Station and the villages of al-Tiyas and Sharifeh in Eastern Homs, leaving a number of militants dead and their military vehicles, canons and rocket launchers destroyed.
Also, the army men stormed ISIL's gatherings in the villages of Habreh al-Sharqi, Habreh al-Qarbi, Rasm Hamideh, Jubb Habal, Abu Qatour, Unq al-Hawa, Abu Hawadid, Jubb Hamad and Sharifeh on Tuesday, killing or wounding a large number of militants.
In the meantime, the army troops targeted a gathering of Fatah al-Sham's commanders near al-Rastan town, killing and wounding several commanders.
http://en.farsnews.com/newstext.aspx?nn=13951009000237
--------
Syria war drags on due to foreign aid for Takfiri terrorists: Assad
Dec 30, 2016
President Bashar al-Assad says the crisis in Syria is mainly rooted in foreign support for extremist groups inspired by Wahhabism, a Takfiri ideology dominating the Saudi kingdom.
"You cannot talk about the war being over until you get rid of the terrorists in Syria," Assad said in a Thursday interview with Italian TG5 channel.
"And those terrorists unfortunately still have formal support from many countries including Turkey, Qatar, Saudi Arabia, and many Western countries," he added.
Assad described the recent liberation of Aleppo as "an important step toward ending the war."
"If you do not have that external support to those terrorists, it will not be difficult at all to get rid [of] the terrorists everywhere in Syria."
The Syrian president denounced the Wahhabism ideology as "the core problem" which creates extremist terrorists across the world and said, "If you want to deal with the issue of terrorism permanently, you have to deal with the pillar of that terrorism, which is the Wahhabi ideology."
Assad lashed out at the European countries for supporting different terrorist groups under the name of "moderates". "Their priority is not fighting terrorism; their priority is using those cards in order to change governments and to get rid of presidents, and so on."
He made the comments after hours after a meeting with a joint delegation, comprising members of the European Parliament as well as members of the Federation Council, the upper house of the Russian parliament, in Damascus.
During the meeting, Assad called on European states to stop their support for Takfiri terrorists and recognize the Syrian nation's right to decide its own fate.
On the same day, the Syrian army announced a nationwide halt to fighting under a deal with the foreign-backed opposition.
Full report at:
http://www.presstv.ir/Detail/2016/12/30/504053/Syria-Assad-war-terrorism
--------
ISIL Executes Nursing Mother at Yarmouk Camp
Dec 29, 2016
A source in Damascus countryside reported that the ISIL security forces on Wednesday executed a Palestinian women named Hadil Yassin Abu Madi who was accused of carrying out espionage operations for the Syrian army.
The source added that the Palestinian woman was the mother of a breast-fed child, who was arrested by the ISIL security forces few days ago.
The ISIL controls nearly 80 percent of Yarmouk camp and al-Nusra Front is in charge of the remaining 20 percent.
The Syrian government gave a last ultimatum to the ISIL and Fatah al-Sham Front (formerly known as the al-Nusra Front) terrorists late last month to leave the Palestinian Yarmouk refugee camp or wait for the army's crushing attack.
The Syrian government had in early November given a month to the two terrorist groups to leave the camp, but after their refusal launched mortar and missile attacks against them as a warning.
Full report at:
http://en.farsnews.com/newstext.aspx?nn=13951009000486
--------
Saudi Arabia welcomes Kerry proposal on Palestinian-Israel settlement
29 December 2016
Saudi Arabia has welcomed the proposals put forth by US Secretary of State John Kerry on a final settlement of the Palestinian-Israeli conflict, an official source at the Foreign Ministry has said.
According to a Saudi Press Agency statement, the official added that the Kingdom of Saudi Arabia views the proposals as being in accord with the majority of the resolutions of international legality.
Also read: Kerry: Two-state solution in jeopardy
Full report at:
https://english.alarabiya.net/en/News/middle-east/2016/12/29/Saudi-welcomes-Kerry-proposal-on-final-settlement-of-Palestinian-Israel-conflict.html
--------
Intense Infighting Reported between Al-Nusra Front, Ahrar Al-Sham Commanders in Syria
Dec 29, 2016
The Saudi Mufti, Mosleh al-Aliani, affiliated to the al-Nusra Front, accused Ahrar al-Sham's council of disrupting plans for merging with al-Nusra Front.
He said despite the fact that Abu Ammar al-Umar, the commander of Ahrar al-Sham, had agreed with plans to merge with Fatah al-Sham and Nur al-Din Zanki groups, Ahrar al-Sham's council has prevented its implementation and voted against it fearing that it might be included in the globally declared terrorist organizations.
Abu al-Bara Ma'arshamarin, a senior commander of Ahrar al-Sham, also dismissed Mosleh al-Aliani's claims, adding that no voting has happened at Ahrar al-Sham's council on joining other militant groups.
Hessam Salamah, another senior commander, also said that the Al-Nusra Front has rejected the meeting which was due to be held without any prerequisite and delayed the merger plan, stressing that it should be entrusted with the post of deputy Emir and military commander. This is while commanders of all other terrorist groups had admitted to enter the talks without preconditions.
Field sources in Syria reported on Tuesday that a group affiliated to al-Nusra Front in the Southern parts of Idlib has killed two ringleaders of the 'Idlib Free Army' in Ma'rat Harama village.
Full report at:
http://en.farsnews.com/newstext.aspx?nn=13951009000669
--------
Turkey Forcefully Recruits Syrian Refugees for Euphrates Shield Operation
Dec 29, 2016
The Arabic-language al-Hadath news website said in a Thursday report that while sources close to the terrorist groups deny such reports, media activists close to the dissidents have confirmed the revelations and released images showing white buses in Gaziantep are used for transferring the refugees back the battlefields in Northern Syria.
"The Turkish authorities force any Syrian refugee of eligible age to get on the white buses to be taken back to Northern Syria to fight in Ankara's Euphrates Shield Operations," the report added.
Meantime, media sources revealed on Saturday that the Turkish Army has suffered heavy death toll in its so-called anti-ISIL operation in Northern Syria and is growingly entangled in waves of problems with no way out.
The Russian language Kommersant daily reported that based on recent information, the Turkish forces have suffered heavy casualties in their operation in Northern Syria codenamed the Euphrates Shield that they started over four months ago.
The paper added that 16 Turkish soldiers have been killed and 33 more have been wounded in only one day, proving that the Turkish operation that once seemed to be successful is now no more than a big problem for the Turkish Command.
Full report at:
http://en.farsnews.com/newstext.aspx?nn=13951009000780
--------
Terrorists to Withdraw from More Regions in Western Ghouta of Damascus
Dec 29, 2016
The governor-general of Damascus said if the terrorists remain committed to their undertakings, an agreement will be signed with them within the next two days and "the operations to repair the water facilities will start right away".
Field sources said that the terrorists in other regions of Wadi al-Bardi have not yet asked for government amnesty as they are entangled in intense differences on joining or refusing the reconciliation plan.
Field reports said on Tuesday that the Syrian army troops are about to start a fresh round of large-scale operation in Wadi al-Bardi in Western Damascus in coming hours after terrorists refused to join peace talks with the government.
According to reports, terrorists' movements in Wadi al-Bardi have been increased and in return the army is preparing to carry out a vast operation to purge the militants from the region.
The army's artillery units have started shelling terrorists' centers in Wadi al-Bardi in Northwestern Damascus.
In the meantime, missile units and army aircraft have been pounding terrorists' positions.
Clashes in the regions of Souq Wadi al-Bardi, Ein al-Fijeh and al-Hosseiniyeh are underway simultaneous with artillery and missile shelling.
Full report at:
http://en.farsnews.com/newstext.aspx?nn=13951009000835
--------
Syrian Army Further Advances in Wadi Al-Bardi of Damascus
Dec 29, 2016
The Syrian army units launched heavy mortar attacks on terrorists' positions in Harat al-Noqra and regions near the Great Mosque and clinic of Basimeh and Deir Moqran villages in Wadi al-Bardi, destroying their military equipment and bases and advancing in new areas in Basimeh.
Meantime, the Syrian fighter jets and helicopters heavily pounded the terrorists' positions and gathering centers in Basimeh, Ain al-Fijeh and al-Husseiniyeh villages.
Military sources disclosed on Wednesday that the Syrian army has given the terrorists who have remained in Wadi al-Bardi town a final ultimatum to leave the region for Idlib in the next 48 hours.
The sources said that the army troops have called on terrorists in Wadi al-Bardi to surrender and receive amnesty or "take this last chance" and move towards militant-held regions in Idlib province.
The undesirable weather conditions have left an impact on the army operation in Wadi al-Bardi region as thick fog prevented the army aircraft from carrying out their mission in the region.
Full report at:
http://en.farsnews.com/newstext.aspx?nn=13951009000380
--------
'US-led coalition may have killed civilians in Mosul'
30 December 2016
The US-led coalition against ISIS militants may have killed civilians in an air strike on a hospital car park in northern Iraq on Thursday, officials said. The Iraqi army, supported by the coalition, began the second phase of its offensive to retake Mosul, which has been under ISIS control for more than two years.
Coalition aircraft had targeted a "van carrying ISIS fighters" in the area, according to CENTCOM, the US military command for the Middle East. The strike took place "in what was later determined to be a hospital compound parking lot resulting in possible civilian casualties," a statement read.
Also read: Iraqis celebrate first Christmas near Mosul after ISIS pushed out
ISIS militants had been observed firing an anti-tank gun "before loading the weapon in the van and driving off," CENTCOM added, promising the incident would be "fully investigated and the findings released in a timely and transparent manner." The coalition says it is taking extensive precautions to avoid killing civilians during its bombing of ISIS targets.
Full report at:
https://english.alarabiya.net/en/News/middle-east/2016/12/30/Mosul-US-led-coalition-may-have-killed-civilians-in-air-strike.html
--------
Total Syria ceasefire begins Thursday night
29 December 2016
Mamoun al-Haj-Mousa, a member of the rebel Free Syrian Army's political council and spokesman for the Suqur al-Sham rebel group said that rebels had asked that no group be excluded.
"We saw recently how Aleppo was annihilated because of 200 fighters from Jabhat Fatah al-Sham. This is a fundamental condition for us that no group is excluded be it Fatah al-Sham or not," he said.
The ceasefire deal was first announced by Russia, an ally of Syrian President Bashar al-Assad, after Moscow, Iran and Turkey said they were ready to broker a peace deal in the nearly six-year-old Syrian war.
Russia's defense ministry said the insurgent groups which signed the agreement were: Failaq al-Sham, Ahrar al-Sham, Jaish al-Islam, Thuwwar al-Sham, Jaish al-Muhajidin, Jaish Idlib and al-Jabha al-Shamia.
Russian President Vladimir Putin said an agreement has been reached on a Syria ceasefire, with Russia and Turkey to act as guarantors.
Putin reportedly discussed topics including the situation in Syria during phone calls with Greek Prime Minister Alexis Tsipras and Egyptian President Abdel Fattah al-Sisi, the Kremlin confirmed.
Turkey had earlier said that Lebanon's militant Hezbollah group, which has sent thousands of fighters to support President Bashar Assad, should withdraw from Syria as a condition.
Turkey will serve as guarantor of rebel compliance, while Russia would guarantee adherence by the government.
UN envoy welcomes Syria ceasefire deal as prelude to peace talks
UN Syria envoy Staffan de Mistura welcomed the announcement of a Syria ceasefire deal on Thursday and said he hoped it would save civilian lives, enable the delivery of aid and lead to productive peace talks in Astana.
"These developments should (also) contribute to inclusive and productive intra-Syrian negotiations to be convened under UN auspices on 8 February 2017," de Mistura's spokeswoman said in a statement.
Syrian foreign minister sees 'real chance' for political settlement
Syria's foreign minister said on Thursday there was a "real chance" to reach a political settlement of the Syrian conflict, after Damascus's ally Russia announced a ceasefire deal that was to take effect at midnight.
Walid al-Moualem also said Syria would attend planned peace talks in Kazakhstan "with an open mind".
Full report at:
https://english.alarabiya.net/en/News/middle-east/2016/12/29/Putin-says-Syrian-regime-rebels-have-signed-truce-deal-.html
--------
Southeast Asia
Terrorism on the Rise in Indonesia as Islamic State Comes Under Pressure in Syria: Police
Dec 30, 2016
Jakarta. Indonesia has seen more incidents of terrorism this year compared to last year as the embattled Islamic State has called for attacks outside its Middle Eastern stronghold to be stepped up, police said.
The number of terrorism-related incidents increased to 170 from 82, which included attacks as well as arrests of terror suspects. Police said the number of suspected terrorists killed during the year also increased to 33 from seven.
The rise in terrorism cases in Indonesia came as the Islamic State has been driven out of parts of Iraq and Syria it previously occupied, National Police chief Gen. Tito Karnavian said.
"ISIS have been suppressed in Syria throughout this year and they could barely move. Thus, they have called on their networks outside the country to move," Tito told reporters in Jakarta on Wednesday (28/12).
The first Islamic State-linked attack in Indonesia occurred in downtown Jakarta in January, when four people were killed in an explosion and a subsequent shootout with police.
http://jakartaglobe.id/news/terrorism-rise-indonesia-islamic-state-comes-pressure-syria-police/
--------
While The Rest Of The World Retreats, China Expands Investment In The Arab World
12/29/2016
Eric Olander and Cobus van Staden are the duo behind the China Africa Project and hosts of the popular China in Africa Podcast. We're here to answer your most pressing, puzzling, even politically incorrect questions, about all things related to the Chinese in Africa and Africans in China.
While wars and insurgencies grip large portions of the Mideast, from Yemen to Iraq and Syria, most countries are understandably reluctant to deepen their economic engagement in the region. China, though, appears to be the exception, as Beijing spends billions of dollars throughout the Mideast, North Africa and the Persian Gulf as part of its ambitious global trading strategy known as "One Belt, One Road."
In North Africa, the Chinese are investing heavily in Algerian oil infrastructure and spending billions in Egypt, including a $45 billion dollar proposal to build a new capital outside of Cairo. Similarly, in the Mideast, China seeks to build on its "no strings attached" model that served it so well in Africa to make inroads in Middle Eastern countries such as Jordan. And in the Persian Gulf, China is now Iran's largest trading partner ― while also planning massive oil investments with Qatar and the United Arab Emirates, among others.
China no doubt senses an opportunity to fill a void left by the retreat of U.S. and European influence in the Arab world, and it likely feels a new sense of confidence from its successful economic engagement over the past decade in Africa, Latin America and Southeast Asia. However, Arab politics are different.
The Arab world is consumed by sectarian conflict, with Iran and Saudi Arabia fighting each other across multiple battlefields through proxy entities. While the self-proclaimed Islamic State appears to be on the defensive, it nonetheless remains a potent force, killing a Chinese hostage in 2015 and specifically naming China as an enemy over the poor treatment of Muslim Uighurs in western China.
KEVIN FRAYER VIA GETTY IMAGES
Uyghur Muslims have been persecuted in China, with some forced to find refuge outside of the country.
Full report at:
http://www.huffingtonpost.com/entry/china-arab-world-investment_us_5862fcf9e4b0eb5864878cf2
--------
Muslim Man Named 'Merry Christmas' In Indonesia, Says 'We Practice Religious Tolerance Here'
12/29/16
In a holiday tale to unite the world's two most popular religions, a Muslim man in Indonesia has revealed he was given the name Slamet Hari Natal, meaning Merry Christmas, when he was born on Dec. 25, 1962.
"Yes, that's my name," he told Indonesian newspaper Kompas from his home in the province of East Kava Tuesday. He also held aloft a copy of his identification card.
The name, he said, was chosen on the advice of the midwife who helped deliver him. A Christian, she suggested naming him after the traditional Indonesian greeting of Merry Christmas, Selamat Hari Natal. His parents, despite being Muslims, jumped on board, although with a minor alteration.
"It was supposed to be Selamat Hari Natal, but because we are Javanese, it became Slamet," he said. "They said they didn't want to think hard for the name, and they had that name ready, so they accepted the suggestion."
Slamet translates as "safe."
Now aged 54, the festively named Indonesian said that his name has never caused a problem for him, despite East Java being overwhelmingly made up of Muslims.
"No, never. We practice tolerance here," he said.
In East Java, over 95 percent of the population practices Islam. As a whole, Indonesia is home to the largest population of Muslims in the world, with close to 90 percent of the Southeast Asian country's near 250 million population adhering to the religion. Christianity is the next most popular religion.
'Despite the overwhelming majority of Muslims, since its foundation, the country has been secular. A separation between church and state was enshrined in the constitution with the founders having opted against the inclusion of Sharia law to protect the rights of those belonging to minority religious groups.
However, the prevailing attitude of religious tolerance has been tested in recent months. The Christian governor of Jakarta is currently awaiting trial, accused of insulting the Koran. The move follows protests by hundreds of thousands of Muslim hardliners calling for his arrest.
The decision to prosecute the ethnically Chinese politician has been criticized by Amnesty International, which said that the country's blasphemy laws "target people who belong to minority faiths and opinions."
Full report at:
http://www.ibtimes.com/muslim-man-named-merry-christmas-indonesia-says-we-practice-religious-tolerance-here-2466938
--------
Mercy Malaysia enters Syria for humanitarian mission
December 30, 2016
PETALING JAYA, Dec 30 — Malaysia's acts of caring and humanitarian values once again extended beyond its borders when an all Malaysia medical volunteer group served in Syria in recent weeks.
Mercy Malaysia, a Malaysian medical relief society, led by its strategic planning and operations director Norazam Ab Samah and a medical personnel Prof Dr Mohammad Iqbal Omar, arrived at the Kamuna Internally Displaced Person's (IDP) camp in Sarmada village, Idlib province, Syria on Wednesday.
Prior to turning up in Syria, they offered their expertise and assistance in Turkey where they spent eight days.
The two, operating under Mercy Malaysia's Rapid Assessment Team banner, entered Syria with assistance of its local partners after days of negotiations with the authorities there.
"We plan to be here for a few days to ensure we will be able to address the most pressing needs of the IDPs here, evacuated from their war-ravaged homes in Aleppo following the Syrian government's takeover of eastern Aleppo earlier this month.
"With current temperatures, ranging between six to negative six degrees Celsius, the need for humanitarian assistance is now greater than ever before," Norazam said.
The team also distributed 1,000 packets of "ready-to-eat" food packs since last week to IDPs currently seeking refuge at the camps in Idlib, rural Aleppo and Azaz, located at the border of Syria-Turkey.
Each food packet contains bread, dates, tuna, olive oil, cheese, mineral water, juice, sardine, canned beans and halawa (sweets).
"We have been in Turkey since December 20 to assess and determine every safe access for humanitarian aid into Syria.
"Our main goal is to be given safe passage to deliver the much needed medical and humanitarian aid to thousands of IDPs still in Aleppo and Idlib. Ultimately we will also plan our short, medium and long term assistance," he said.
Mercy Malaysia conducted several missions within Syria consisting of two medical missions and distribution of winter kits through partnerships, between 2013 and 2014.
Between March to June of 2014, an outreach clinic was also set up via a local partner in North Syria.
Full report at:
http://www.themalaymailonline.com/malaysia/article/mercy-malaysia-enters-syria-for-humanitarian-mission
--------
Police will process FPI leader's blasphemy case
December 30, 2016
Jakarta Police chief Insp. Gen Mochamad Iriawan has given his assurances that the police will process the lawsuit filed by a group of university students against Islam Defenders Front (FPI) leader Rizieq Shihab for allegedly defaming Christianity in one of his speeches.
Iriawan said the police would treat the case just like any other case.
"Why wouldn't we have the guts [to investigate Rizieq]?" Iriawan asked when a journalist questioned whether the police would dare to process the case against the leader of the mass organization whose members had been involved in many raids against places they considered "un-Islamic".
(Read also: Police start investigating FPI leader blasphemy case)
"We are still investigating the case. If we feel it is necessary to carry out a case reconstruction, we will do so," Iriawan said.
Rizieq has been reported by the Indonesian Catholic Students Association (PMKRI) for allegedly committing blasphemy in a speech circulated on the Internet. Rizieq was reported along with two other people who allegedly uploaded Rizieq's video on Instagram and Twitter.
In the 22-second long video, Rizieq is recorded as saying: "If God gave birth, then who would be the midwife?"
Full report at:
http://www.thejakartapost.com/news/2016/12/30/police-will-process-fpi-leaders-blasphemy-case.html
--------
Mideast
Israel's attorney-general orders criminal probe against PM Netanyahu: TV
Dec 30, 2016
Israel's attorney-general has ordered police to open a criminal investigation in two unspecified matters involving Prime Minister Benjamin Netanyahu, Israel's Channel 10 television said on Wednesday.
A Justice Ministry spokeswoman said in a statement that checks in the matter "are still ongoing and this is neither confirmation or denial of what has been alleged".
"The attorney-general, the police and prosecutors are working in close cooperation and a public announcement will be made in due course about the investigation," she said.
There was no immediate response from Netanyahu's office to a Reuters query on the report.
Netanyahu has in the past denied wrongdoing in the purchase of submarines from Germany, where media have reported a potential conflict of interest involving his lawyer.
The Channel 10 report said Attorney-General Avihai Mandelblit had authorized police to question Netanyahu under caution, and that a date for the interrogation would be set in the coming days.
It said the more serious of the two cases that Mandelblit had been examining had not yet leaked out to the public.
http://nation.com.pk/international/29-Dec-2016/israel-s-attorney-general-orders-criminal-probe-against-pm-netanyahu-tv
--------
Jewish protesters at White House celebrate UN rebuke of Israel
Dec 30, 2016
A number of Orthodox Jewish activists have staged a demonstration in front of the White House to celebrate the recent UN Security Council rebuke of Israel's illegal settlement construction on the occupied Palestinian lands.
The demonstrators on Thursday called for the immediate termination of the Israeli entity and the return of the occupied territories to Palestinians.
They expressed their strong support for President Barack Obama and Secretary of State John Kerry, who on Wednesday harshly criticized the Israeli regime over its illegal settlements in the occupied Palestinian territories.
The Security Council last week passed Resolution 2334, which demands an immediate end to illegal settlement activities in the occupied Palestinian territories like East Jerusalem al-Quds.
The resolution was adopted after the US refused to veto it, reversing its longstanding policy of shielding Israel from condemnatory measures at the world body.
Israeli Prime Minister Benjamin Netanyahu tried to force the Obama administration to veto the resolution, but Washington abstained from the vote, allowing the measure to pass.
On Sunday, a furious Netanyahu summoned US Ambassador to Israel Daniel Shapiro and a group of other foreign envoys over the Security Council's rebuke of Israel's settlement policy.
In addition, Netanyahu also accused Obama of "colluding" with the Palestinians, and carrying out a "shameful ambush" by not vetoing the resolution against Israel.
A leader of the protesters at the White House said on Thursday that "as Jewish people we are terribly embarrassed and pained since all these crimes are supposedly being done in our names."
"And it's desecration of our religion when sadly our religion is being misused to justify all these crimes," he added.
"We hope that the [UN Security Council] resolution that was just passed that will lead us to an end of this misuse of my name, of the name of my people, the Jewish people," he added. "This will be a step towards ending this crime of using my religion, God's religion Judaism, to perpetrate crimes against other people."
"And we are all here to condemn Netanyahu's accusations against our president, Barack Obama," he stated.
Full report at:
http://www.presstv.ir/Detail/2016/12/30/504043/Jewish-protesters-hail-UN-rebuke-of-Israel--
--------
Turkish novelist to be freed, but top journalist held over tweets
Dec 30, 2016
ISTANBUL: An Istanbul court on Thursday ordered the release of one of Turkey's most celebrated novelists after over four months in jail on charges of terror propaganda, as the authorities detained a leading investigative journalist over his tweets.
Novelist Asli Erdogan has been held in jail for 132 days since her detention over her links to a pro-Kurdish newspaper, in a case that has caused an international outcry over freedom of expression in the country.
Also ordered released in the same case was Necmiye Alpay, an internationally prominent linguist and author of widely praised translations of Western novels into Turkish. She has been held behind bars for 120 days.
They were taken into custody in August as part of a probe into the now shut-down pro-Kurdish newspaper Ozgur Gundem, which the authorities regard as a mouthpiece for the outlawed Kurdistan Workers' Party (PKK).
As is customary in Turkey, they were not released at the courthouse but taken back to their prison in Bakirkoy in Istanbul to complete formalities.
One of Erdogan's supporters, Aysegul Tozeren, who followed the trial confirmed the release order and said she was expected to walk free later in the evening. They remain on trial with the next hearing scheduled for January.
The court also ordered the release of the paper's editorial director Zana Kaya.
But the authorities on Thursday detained prize-winning journalist Ahmet Sik in a separate case over a succession of tweets and articles for an opposition daily.
Sik was detained on accusations of making "terror propaganda" and denigrating the Turkish Republic, the judicial authorities and police, according to the state-run Anadolu news agency.
It said he had been detained over tweets about the PKK, as well as articles for the Cumhuriyet opposition daily that criticised the Turkish secret services.
- 'I am a writer' -
In her defence statement to a packed court in Istanbul, Asli Erdogan ridiculed the charges against her and asked for her release. "I will defend myself as if the laws existed," she said, quoted by the Hurriyet daily.
"I am a writer and the purpose of my existence is to tell a story," she said.
Including Erdogan, 49, and Alpay, 70, a total of nine suspects linked to Ozgur Gundem have been charged in the case but not all have been under arrest.
Erdogan is no relation to Turkish President Recep Tayyip Erdogan -- the name is common in Turkey.
She has published several well-received novels including "The City in Crimson Cloak", which has also been translated into English.
"They are being prosecuted for writings and thoughts that are in no way reprehensible according to Turkish law," said Baris Yarkadas, Istanbul MP for the opposition Republican People's Party (CHP).
- 'Imam's Army' -
Activists worry about a drastically worsening climate for journalists in Turkey, in particular since the state of emergency imposed in the wake of the July 15 coup.
According to the P24 Platform for Independent Journalism, 118 journalists have been arrested during the state of emergency, 80 of them within the coup probe.
The author of several books, Sik is one of the best-known journalists in the country and had already endured a lengthy spell in jail from 2011-2012.
He was imprisoned for 375 days during the investigation into the so-called Ergenekon alleged coup plot against the government.
That case was strongly supported by Fethullah Gulen, the US-based cleric whom Ankara blames for the failed putsch against President Erdogan.
But the convictions were quashed and suspects released amid accusations Gulen had perverted the process.
He has won numerous awards, including the UNESCO/Guillermo Cano World Press Freedom Prize in 2014.
Full report at:
http://nation.com.pk/international/29-Dec-2016/turkish-novelist-to-be-freed-but-top-journalist-held-over-tweets
--------
Palestinian president believes peace with Israel is achievable: spokesman
Dec 30, 2016
Palestinian President Mahmoud Abbas responded to U.S. Secretary of State John Kerry's Middle East speech in Washington on Wednesday by saying he was convinced peace with Israel was achievable, but continuing to demand that Israel halt settlement building before talks restarted.
Palestinian chief negotiator Saeb Erekat read out a statement saying Abbas had "reiterated his full commitment to a just peace as a strategic option". U.S.-backed peace talks between Israel and the Palestinians broke down in 2014.
Full report at:
http://nation.com.pk/international/29-Dec-2016/palestinian-president-believes-peace-with-israel-is-achievable-spokesman
--------
Drone strike kills local Qaeda chief in Yemen
29 December 2016
A drone strike in Yemen likely carried out by US forces on Thursday killed a local Al-Qaeda chief and his guard, a security official said.
The strike hit a vehicle at Sawmaa in Al-Bayda province, killing Jalal al-Seydi, who was the "emir" of Al-Qaeda in the town of Loder, in the neighboring southern province of Abyan, the official said.
The United States is the only country operating drones over Yemen, but it only sporadically reports on the long-running bombing campaign against the country's powerful Al-Qaeda branch.
The US authorities consider Al-Qaeda's Yemen-based franchise, Al-Qaeda in the Arabian Peninsula, to be its most dangerous.
Full report at:
https://english.alarabiya.net/en/News/gulf/2016/12/29/Drone-strike-kills-local-Qaeda-chief-in-Yemen.html
--------
Houthis commit 18,000 violations in Yemen's Hajjah governorate
29 December 2016
Militias belonging to the Houthi group and ousted former president Ali Abdullah Saleh have committed nearly 18,000 human rights violations in the governorate of Hajjah alone, a rights group report reveals.
The report from the Yemeni Coalition to Monitor Human Rights Violations (Rasd) group said the types of violations ranged from major crimes like murders and forced disappearances to minor ones like abusing mosques to spread hate speech and propaganda.
The violations did not only target men but also affected women whose husbands were forced into Houthi prisons, leaving many of them to be the sole breadwinners of their families.
According to the group, Houthi militias have been burying many of the dead civilians into mass graves – some of them buried in the desert unmarked. All this while Houthi militias hold mass rallies for their fighters and allocating public funds as stipends for their families.
Yemeni men wearing their traditional curved daggers in their belts walk in the grounds of the Mazraq camp set-up for internally displaced Yemenis in the northwestern province of Hajjah. (AFP)
Rasd says most of Yemenis' human rights are being violated on a daily basis by the Houthi militias, who stormed the capital Sanaa in September 2014.
Full report at:
https://english.alarabiya.net/en/News/gulf/2016/12/29/Houthi-commit-18-000-violations-in-Yemen-s-Hajjah-governorate.html
--------
Israeli demolitions of Palestinian homes at record high, UN says
Dec 29, 2016
The United Nations says Israel's demolition campaign against Palestinian homes and structures across the West Bank and East Jerusalem al-Quds reached the most unprecedented level in the past seven years, noting that the Israeli regime has also stepped up restrictions on the movement of Palestinians in the occupied territories.
Israeli authorities demolished or seized 1,089 Palestinian-owned structures since the start of the current year up until December 28. The demolitions left some 1,593 Palestinians homeless and affected the lives of another 7,101, according to a Thursday report by the United Nations Office for the Coordination of Humanitarian Affairs (OCHA).
The UN body further announced that the "vast majority" of the Palestinian structures were destroyed or seized because the Israeli policies made it virtually impossible for Palestinians to obtain building permits.
Israeli demolitions of Palestinian homes and structures have raised alarm among diplomats and human rights groups over what they regard as the Tel Aviv regime's continued violation of international law.
Restrictions on Palestinian movement
The OCHA report also pointed to Israel's restrictions on Palestinian movement between the besieged Gaza Strip and the occupied West Bank, noting that the Israeli military obstacles across the West Bank rose by five percent this year compared to the preceding year.
A Palestinian man walks toward the Hawara checkpoint near the occupied West Bank city of Nablus in this file photo. (Photo by The Times of Israel)
There were 472 barriers in the West Bank, including 44 permanently staffed checkpoints, 52 partially staffed checkpoints, 180 earth mounds, 72 roadblocks and 124 road gates between January and October 2016, the UN body said.
Tensions have heightened in the occupied territories since August 2015, when Israel imposed restrictions on the entry of Palestinian worshipers into the al-Aqsa Mosque compound in East Jerusalem al-Quds.
Full report at:
http://www.presstv.ir/Detail/2016/12/29/504037/Israeli-demolitions-Palestinian-homes-West-Bank-East-Jerusalem-alQuds-Israel-restrictions-movement-Gaza-siege
--------
Yemeni forces shoot down Saudi Apache helicopter in Najran
Dec 29, 2016
Yemeni forces have shot down a Saudi Apache helicopter in the kingdom's southern Najran Province in fresh attacks in response to Riyadh's deadly military aggression.
Yemen's al-Masirah television reported that the chopper was brought down on Thursday as it was attacking positions held by the Yemeni fighters.
The report further noted that the Yemeni forces destroyed an Abrams tank and killed five Saudi soldiers at Najran's Qiyadah military base.
Three other Saudi soldiers lost their lives in Talah military base in Najran.
Two more Saudi tanks were destroyed in Najran's Rajla military base and southwestern Jizan Region.
Moreover, Yemeni snipers killed Saudi soldiers in neighboring Asir Region.
Yemenis gather amidst the rubble at a detention center hit by Saudi airstrikes in al-Zaidia district of the Red Sea port city of Hudaydah on October 30, 2016. (Photo by AFP)
Meanwhile, the Houthis and the Yemeni army took control of several positions held by Saudi mercenaries in the Sabrin neighborhood of Yemen's northern Jawf Province.
They also thwarted an attack by Saudi mercenaries in Shabwah Province, leaving a number of the militants dead and injured.
Full report at:
http://www.presstv.ir/Detail/2016/12/29/503975/Yemen-Saudi-Arabia-Najran
--------
Europe
Bosnia's main university suspends classes during Muslim prayers
December 30, 2016
Sarajevo: Bosnia's main university will not hold classes during Muslim Friday prayers, prompting criticism from some that it represents a step towards Islamisation.
The University of Sarajevo this week adopted a plan to halt activities for about an-hour-and-a-half each Friday during Muslim prayers.
Although the university has also decided not to hold classes during the hours of Catholic and Orthodox worship on Saturdays and Sundays, Milorad Dodic, president of the Bosnian Serb entity Republika Srpska condemned the move, saying "this is increasingly like an Islamic state".
Dodic said Sarajevo authorities had also banned alcohol on New Year's Eve.
The sale of alcohol is also prohibited by the internal regulatons of two newly built shopping centres in the city owned by Gulf investors.
Three left-wing and liberal political parties including the Social Democratic Party (SDP) also denounced the move amid concerns over radicalisation among a minority of Bosnian Muslims.
The university however said the decision was taken with the aim of respecting "human rights and denominational freedoms".
Around half the population of 3.5 million is Muslim, according to 2013 Census figures published in 2016.
http://www.siasat.com/news/bosnias-main-university-suspends-classes-muslim-prayers-1097872/
--------
Germany releases Tunisian suspect in Berlin truck attack
Dec 30, 2016
BERLIN: Germany on Thursday released a Tunisian man detained on suspicion of involvement in the truck attack at a Berlin Christmas market last week, and Italian police searched houses in and around Rome where the main suspect may have spent time.
Investigators across Europe are trying to determine whether Anis Amri, a failed asylum seeker from Tunisia who was shot dead by police in Milan on Friday after killing 12 people in Berlin in the name of Islamic State, had any accomplices.
A spokeswoman for Germany's Federal Prosecutor's Office said the Tunisian man had been detained on Wednesday on suspicion Amri may have sent him a voice message and picture shortly before the attack.
"Further investigation has shown that the arrested person was not the possible contact person of Anis Amri and therefore he was released," Frauke Koehler told reporters in Karlsruhe.
Investigators had found the mobile phone number of the released 40-year-old Tunisian stored in Amri's phone. His home and business premises were raided. He was not named.
Koehler said a video circulated on the Internet after the attack showing Amri at a bridge in Berlin swearing allegiance to Islamic State and urging Muslims to carry out more attacks was authentic.
Amri arrived in Europe by boat to the Italian island of Lampedusa in 2011 and travelled to Germany last year where he was facing deportation after his asylum application was rejected.
In Italy, police focused searches on a small town south of Rome where Amri was thought to have stayed with a Tunisian he met in Lampedusa, a judicial source said.
PISTOL
Italian Prime Minister Paolo Gentiloni said Amri was probably radicalised after arriving in Europe in 2011 but the government had no evidence he had "particular networks" in Italy.
"Five years ago he was not a jihadist ... In desperation, in isolation, in alienation, he found the conviction to follow the path of radicalisation," Italy's anti-terrorism chief Franco Roberti told la Repubblica newspaper.
Amri's passage to Italy, via France, from Germany after the attack has prompted eurosceptic parties to call for the reintroduction of border controls, removed under Europe's open-border Schengen pact.
In Germany, conservative politicians have demanded tighter immigration rules and tougher security measures and the far-right Alternative for Germany (AfD) party blamed Chancellor Angela Merkel's asylum policies for the attack.
Koehler said officials assume Amri had also been in the Netherlands after the attack. She said SIM cards found on him were obtained "for free" in the Netherlands in the days before Christmas.
Full report at:
http://nation.com.pk/international/29-Dec-2016/germany-releases-tunisian-suspect-in-berlin-truck-attack
--------
German anti-terror services 'ranked Amri a low threat'
Dec 30, 2016
German anti-terrorism experts believed Berlin truck attack suspect Anis Amri was unlikely to commit an assault, even though he was a known Islamist who had volunteered for a suicide attack, a report said Thursday.
Minutes before Amri allegedly rammed the hijacked truck into a Christmas market in Berlin, he sent an SMS, saying: "My brother, all is well, according to God's will. I am now in a car, pray for me my brother, pray for me."
The message, as well as a selfie taken in the truck's cab, was likely sent to a 40-year-old Tunisian arrested in Berlin on Wednesday, said the Sueddeutsche Zeitung daily.
Investigators seeking to discover if Amri had accomplices said the detained Tunisian suspect "could have been involved in the attack".
Counter-terrorism officials have a detailed file on Amri, they knew he was tightly linked to Germany's radical Islamist network and had looked up instructions online on how to build pipe bombs, the newspaper reported.
The latest version of their file on Amri, which included information on his eight different identities, was updated on December 14 -- just five days before he allegedly killed 12 people in the Berlin attack.
Duesseldorf police deemed Amri a Salafist and radical fundamentalist, while Dortmund police had rated him a sympathiser of the Islamic State group.
Amri had been a regular guest at a religious school in a Dortmund apartment run by a notorious radical known as Boban S. that was believed to be a recruitment ground for jihadists.
Nevertheless, on an eight-point scale assessing an individual's potential danger, with "one" the highest threat, counter-terrorism experts rated him a "five" -- meaning they considered an attack possible but unlikely.
Amri's phone was recovered from the site of the truck attack.
Citing Berlin government sources, the newspaper said the lorry's automatic braking system activated on impact, possibly saving lives.
Full report at:
http://nation.com.pk/international/29-Dec-2016/german-anti-terror-services-ranked-amri-a-low-threat
--------
ISIS supporters call for more holiday attacks in Europe
Dec 30, 2016
A pro-Islamic State group on Wednesday urged supporters of the jihadists to carry out attacks on targets such as markets and hospitals in Europe over the Christmas holiday period and urged Muslims to stay away from Christian celebrations.
The threat came as European authorities have stepped up security following an attack claimed by Islamic State in which a truck ploughed into crowds in a Berlin Christmas market and killed 12 people this month.
The Nashir Media Foundation, which backs Islamic State, posted its message online, accompanied by images of fighters with guns and knives, Santa Claus, reindeer and a Christmas tree, according to the according to the U.S.-based SITE Intelligence Group, which monitors militant groups online.
"Their celebrations, gatherings, clubs, markets, theatres, cinemas, malls and even their hospitals are all perfect targets for you," the online message to Islamist "lone wolves" in Europe said.
Full report at:
http://nation.com.pk/international/29-Dec-2016/isis-supporters-call-for-more-holiday-attacks-in-europe
--------
Spain arrests two men suspected of Islamist militant propaganda
Dec 30, 2016
MADRID : Two men were arrested in Madrid on Wednesday on suspicion of spreading Islamist militant propaganda, the Interior Ministry said.
Police released video footage that showed officers uncovering gun magazines and bullets from under rocks in a disused building covered in graffiti in the outskirts of Madrid.
They uncovered four Kalashnikov AK-47 magazines and over 30 bullets but no weapons, the ministry said, adding that the arrested men were Spaniards of Moroccan and Gambian origin.
Separately, two women who traveled to Syria in 2014 from the Spanish north African enclave of Ceuta were arrested in Turkey as they attempted to return to Europe, the ministry said.
The women had gone to Syria with their Islamist militant partners in order to join Islamic State, the statement said.
Full report at:
http://nation.com.pk/international/29-Dec-2016/spain-arrests-two-men-suspected-of-islamist-militant-propaganda
--------
URL:
https://www.newageislam.com/islamic-world-news/new-age-islam-news-bureau/pakistan-s--murderer-saint----supporters-build-shrine-to--honor--governor-s-assassin/d/109546
New Age Islam, Islam Online, Islamic Website, African Muslim News, Arab World News, South Asia News, Indian Muslim News, World Muslim News, Womens in Islam, Islamic Feminism, Arab Women, Womens In Arab, Islamphobia in America, Muslim Women in West, Islam Women and Feminism, Moderate Islam, Moderate Muslims, Progressive Islam, Progressive Muslims, Liberal Islam