New Age Islam News Bureau
18 Oct 2011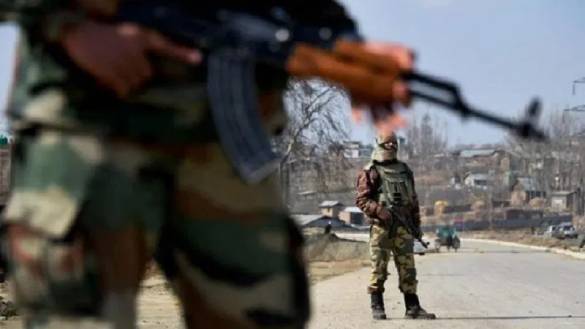 jammu kashmir dgp said hizbul mujahideen almost wiped out
-----------
• Hizbul Mujahideen Almost Wiped out in Kashmir
• Hillary Clinton in Libya on unannounced trip
• Hunting for Haqqanis, US deploys troops along N Waziristan border
• Democracy in Pakistan should work side by side with military: US
• Fourth anniversary of Karsaz tragedy observed in Karachi
• Saddam,s Daughter Wants to Publish his Memoirs
• Shalit arrives in Israel as Palestinian prisoners freed
• Two women robbers arrested
• Af Pak Channel Daily Brief
• Taliban should disarm first for talks, says Pak
• Take action against 'FM Mullah', Pak tells Af
No objection to dialogue with Taliban: Kayani
• Targeted against terrorists, say Kabul, Islamabad
• Al-Shabab warns Kenya
• Assets frozen over alleged Iran plot to assassinate Saudi envoy
• US puzzled as Pak seeks peace with militants
• Yemeni government forces kill 12 in new protests in Sanaa
• Three terrorists among 10 arrested in Karachi raids
• Pakistan and Albania pledge to strengthen relations
• Afghan security to cost $5 bn a year after pullout: Kabul
• Nine soldiers, 14 terrorists killed in Bara clash
• Six killed in Yemen unrest
• 11 troops killed as UN chief urges end to Syria violence
• Three, including MQM, PPP activists, die in target killing
• U.S. Debated Cyber warfare in Attack Plan on Libya
• Clinton in Libya to offer new aid package
• Turkish foreign min meets Syrian opposition-official
• British PM hopes Shalit release will bring peace closer
• BA members resent NATO airspace violations
• No effort to be spared for Kashmir cause: Gilani
• Indo-Bangla land deal in favour of Assam
• West must keep Pakistan ties, says NATO chief
• Police still clueless about Karsaz blast
• TTP must give up arms before talks: Malik
• Pakistan Police vows to implement anti-sexual harassment law
• Pakistani women playing vital role in all departments
• Nawaz demands end to "Dacoit-Raj"
• Troops increased at check posts with Afghan border: DG ISPR
• Maspero violence was a 'catastrophe': Egypt's tourism minister
• Pakistani art legends mesmerise Turkish delegation
• 'Masses will resist attempts against democratic set-up'
• Terrorism threat stimulates strict security measures
Compiled By New Age Islam News Bureau
URL:https://www.newageislam.com/islamic-world-news/pakistan--rockets-fired-at-mausoleum,-mosque-in-bara/d/5716
-------
Pakistan: Rockets Fired at Mausoleum, Mosque in Bara
October 19, 2011
LANDIKOTAL: Two rockets were fired on the mosque and mausoleum of Haji Gul Sahib in Perro Khel tribe of Shinwari in the wee hours on Tuesday but no loss of life or property was reported in the incident. According to Tanzeem-e-Ahl-e-Sunnath Wal Jamaat and Khasadar Force officials, the rockets were from a distant mountaintop, but they missed the target. The rockets were, later, disposed of, Khasadar sources said. The outgoing Landikotal Assistant Political Agent (APA) Iqbal Khattak, along with Khasadar Force, rushed to the site and got first hand information about the attack and gave instructions to his forces to take extra security measures to protect the mausoleum and the mosque. Separately, a local doctor has reportedly been killed in mortar shelling in Mandi Kas and Surkus areas of Bara sub-division of the Khyber Agency, but it could not be ascertained where from the mortar shells had been fired. Some children were also reported injured in other areas of Bara in the shelling, local media said. Khidmat-e-Khalq Committee chief Ikhtiar Badshah Afridi has requested the government to take notice of the indiscriminate firing and shelling in the Bara area, which target the innocent people, particularly children and women. Meanwhile, APA Landikotal Iqbal Khattak has been replaced with APA Jamrud Khalid Kundi while Jamil Khan has been transferred from Bajaur to Jamrud tehsil of Khyber Agency. Khalid Kundi has taken charge as new Landikotal APA whereas the outgoing APA Iqbal Khattak has taken one month leave to perform Hajj. staff report
http://www.dailytimes.com.pk/default.asp?page=2011\10\19\story_19-10-2011_pg7_10
-------
Hizbul Mujahideen Almost Wiped out in Kashmir
TNN,Oct 19, 2011,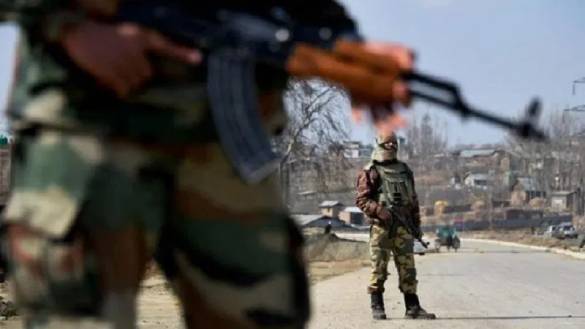 jammu kashmir dgp said hizbul mujahideen almost wiped out
--------------
NEW DELHI: Once the most formidable face of Kashmir militancy, Hizbul Mujahideen is slowly fading away as its remaining commanders and cadres are being taken out on a regular interval by security forces.
According to estimates available here, there is hardly over two dozen active militants left in HM, the biggest indigenous militant group ever in Kashmir. Even the remaining militants have not resorted to any major action in months now. "They are basically reduced to throwing occasional grenades or random firing, even those are very rare," a senior official said on the plight of HM.
Over the last few weeks, security forces eliminated or arrested many of the remaining HM operatives in the Valley. On October 13, Kashmir Valley's longest serving militant and one of the senior-most HM members, Mushtaq Killer alias Mustaq Janghi, was killed. In the same operation, another militant was killed while a third one was arrested.
A few days prior to the operation, security forces had arrested Mohammad Shafi, also known as Dr Dawood, believed to be the head of operations of HM in the troubled state. He, along with former operational chief Abdul Majid Dar who was killed in 2003, and HM's Pakistan-based chief Syed Salahuddin, were among the early members of HM who played a critical role in shaping the militancy that has raged for the past quarter century.
Started by Jamaat-e-Islami members who revolted against the 1987 rigged elections and other oppressive policies, HM grew into the dominant militancy group by the early 1990s, with almost full membership comprising of local Kashmiris. Though they had foreign hands, HM's dominant presence as a militant group of locals gave the Kashmir insurgency a completely local flavour and some amount of global justification.
In 2000, the group took the bold initiative of entering into a ceasefire with the security forces, but within weeks it was scuttled by powers that be in Pakistan. The ceasefire and subsequent talks with New Delhi's representatives catapulted Abdul Majid Dar, the then chief commander of HM in the state, into the limelight. Dar had by then resigned to the need for a peaceful settlement but his immediate superior Salahuddin, who has been based in Pakistan-occupied Kashmir for the past two decades, withdrew his endorsement of the ceasefire within days. Dar was later suspended from HM, and was shot dead in 2003.
Around the same period, ideological differences between other groups such as Lashkar-e-Taiba, which now dominates Kashmir insurgency, also emerged. LeT had started launching suicide bombers (fidayeen) in 1999 but HM disagreed with the tactics. The Kashmiri group believed it was un-Islamic to give up life.
Long-time observers of Kashmir within the establishment point out that the slow death of HM is a sign of the disenchantment of the local population towards violence. But if New Delhi fails to seize the political space available to make lasting peace, a new kind of violence, more deadly and foreign cannot be ruled out, they warn.
http://timesofindia.indiatimes.com/india/Hizbul-Mujahideen-almost-wiped-out-in-Kashmir/articleshow/10408682.cms
-----
Hillary Clinton in Libya on unannounced trip
AFP, Oct 18, 2011,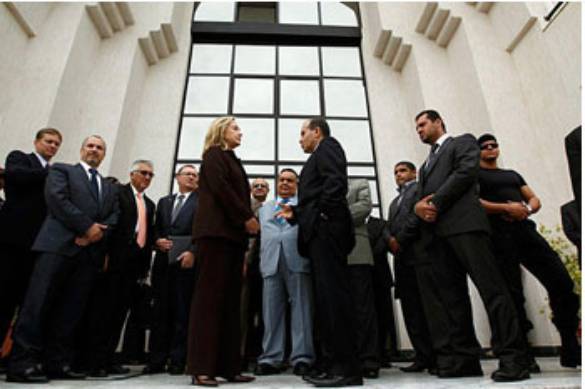 Clinton in unannounced Libya trip
-------------
Clinton, asked if Washington would cooperate with Libyan Islamists, said: "We will support a process of democratisation that respects the rule of law, that respects the rights of minority and women" and allows for a free media."
TRIPOLI: US Secretary of State Hillary Clinton hailed Libyan forces who ousted Muammer Gaddafi and vowed support for a democratic transition, on a surprise visit to Tripoli on Tuesday.
She flew in via Malta as Libya's new rulers try to crush the last pockets of resistance by fighters loyal to Gaddafi in his hometown of Sirte.
"This is Libya's moment. This is Libya's victory. The future belongs to you," she said, eight months after Libyans rose up against the four-decade rule of Gaddafi, sparking a conflict that has killed thousands.
Addressing National Transition Council chairman Mustafa Abdel Jalil and interim premier Mahmud Jibril, she said: "In crowded squares and mountain passes, you stood up against a dictator's aggression and claimed the rights and dignity of a free people ...
"The United States was proud to stand beside you in your fight for freedom and we will continue to stand with you as you continue this journey, respecting your sovereignty and honouring our friendship."
But she also warned against the perils of civil war.
"One factor we know must be confronted is unifying the various militias into a single military that represents the Libyan people," she told a press conference.
"Putting a national army and a police force under civilian command is essential."
Clinton, asked if Washington would cooperate with Libyan Islamists, said: "We will support a process of democratisation that respects the rule of law, that respects the rights of minority and women" and allows for a free media."
She became the first US cabinet official to visit Libya since September 2008, when her predecessor Condoleezza Rice met Gaddafi in what was a new stage in Washington's reconciliation with a former enemy state.
Rice's visit came five years after Gaddafi 's dramatic announcement he was renouncing efforts to develop weapons of mass destruction.
"We recognise the bloody fighting continues ... NATO and the international coalition ... will continue to protect Libyan civilians until the threat from Gaddafi and those who hang to the past is ended," Clinton said.
She said that securing the large stocks of weaponry that had ended up in private hands during the uprising remained a primary concern.
"Even as the NATO mission continues to protect civilians, we are also responding to Libyan concerns about terrorism and loose weapons."
She said Washington already has more than a dozen expert advisers on the ground, helping Libya secure and destroy dangerous stockpiles of weapons and that the administration is working with Congress to provide $40 million to support that effort.
The United States is also looking into helping the Libyan government to secure and destroy chemical weapons stocks, said Clinton.
She urged a new Libya, where the rule of law prevails.
"You deserve a government that represents all Libyans, from all parts of the country, and all backgrounds -- including women and young people.
"You deserve a transparent and fair judicial system. Revenge attacks and vigilantism have no place in the new Libya," she said.
Clinton's visit follows trips by French President Nicolas Sarkozy, British Prime Minister David Cameron, Turkish Prime Minister Recep Tayyip Erdogan and foreign ministers from Britain, Italy, and Canada.
Speaking on the flight from Washington, a senior US State Department official said the United States aimed to forge new civilian ties with the Libyan people.
In the short term, he said the United States wants to provide assistance in caring for the thousands of war wounded.
It also wants to expand educational programmes for Libyans and offer grants for developing archaeological sites that could help spur the development of the tourism sector.
More broadly, he said, the US wants to talk about "how to integrate Libya fully into the 21st century world economy in transparent ways where Libya's oil wealth is used for the benefit of all of Libya's citizens."
The official expressed hope the NTC leadership would follow through on its efforts to establish a centralised security system but admitted that not all militia leaders were yet participating and called it a "challenging process."
The official acknowledged concerns about civil war but said the tide was turning against Kadhafi.
"None of us know where Gaddafi is ... But he has people -- henchmen, loyalists, sons -- here and there, who still have circles around them," he said.
"I don't think there's any coordination going on between them. I think you are having pockets of people who are trying to stop the flow of history ahead," he said.
"He still is providing a lethal nuisance factor that is a distraction for many Libyans. But the people of Libya by large measure are already plotting ... the future of Libya without Gaddafi ."
Speaking to students at the University of Tripoli, Clinton said: "The most important thing to do right now is to make sure that Gaddafi and his regime are finally prevented from disrupting the new Libya.
"But we hope he can be captured or killed soon, so you don't have to fear him any longer.
"Then you have to move forward," she said, urging the students not to waste time "trying to settle scores of the past".
Clinton also visited the Tripoli Medical Centre, where she chatted with four war wounded and praised their courage and skills.
http://timesofindia.indiatimes.com/world/middle-east/Hillary-Clinton-in-Libya-on-unannounced-trip/articleshow/10405035.cms
--------
Hunting for Haqqanis, US deploys troops along N Waziristan border
PTI, Oct 18, 2011,
ISLAMABAD: The US has moved hundreds of new troops to the Afghan area bordering Pakistan's insurgentinfested North Waziristan tribal region along with heavy artillery, helicopter gunships and sealed movement on the border.
US forces deployed to new positions in the border areas facing Ghulam Khan in Pakistan between Saturday and Sunday night. The troops occupied nearby vantage heights on hilltops, setting up observation posts, The News International said quoting Pakistani security officials and tribal elders.
Geo television reported that tribesmen living in the border areas said Afghan and US authorities had clamped a curfew in parts of Afghanistan's eastern Khost province and started house-to-house search.
The News reported that the abrupt deployment of US forces near the border area with Pakistan has escalated tension in the militancyplagued North Waziristan tribal region as US forces immediately sealed the main road connecting Pakistan border town of Ghulam Khan and Khost for traffic.
Pakistani security officials in North Waziristan confirmed the latest development and said they were monitoring the situation on the border with Afghanistan, The News reported.
There is no word from the US and NATO forces on the Pakistani media reports.
The American troop movement has been reported as US unmanned spy planes have stepped up strikes in the Waziristan tribal belt over the past few days. Washington Post quoting US officials has said that US has opened a new more aggressive approach towards the dreaded Haqqani network.
"The Obama administration has launched the opening salvos of a new, more aggressive approach towards an Afghan insurgent group it asserts is supported by Pakistan's government," the report said. The post quoted officials as saying that the new operation may include intensified drone strikes on Miranshah, centre of North Waziristan and was made "at a National Security Council meeting chaired by President Obama two weeks ago" .
http://timesofindia.indiatimes.com/world/pakistan/Hunting-for-Haqqanis-US-deploys-troops-along-N-Waziristan-border/articleshow/10396413.cms
--------
Democracy in Pakistan should work side by side with military: US
Wednesday, October 19, 2011
WASHINGTON: The United States believes the Pakistani government is capable of working with it on shared challenges, with the State Department expressing support for a strong democracy in the key South Asian country.
"Much of our work in Pakistan is geared towards building the kind of institutions that will strengthen Pakistani democracy," State Department Spokesman Mark Toner said in answer to a question at the daily briefing.
"Clearly, we want to see a strong democracy emerge in Pakistan that works side by side with the military and that is to the benefit of Pakistani people moving forward," he added.
Asked if the US had confidence in the current Pakistani government's ability and intent to work with the United States on shared challenges, the spokesman replied: "We do believe they're capable of it, and certainly for our part, we're willing to work with them to address those shared challenges." Questioned about the outcome of US Special Representative Marc Grossman's recent visit to Islamabad, the spokesman said he has not received readout from Grossman's trip but reaffirmed Washington's desire to work constructively with Pakistan on dealing with shared challenges.
"I would just say that, as he (Grossman) has said multiple times, that we're working together with Pakistan. We want to find ways that we can act jointly on our shared challenges. We continue to pursue those interests. We're obviously as we've said many times, Pakistan is under enormous threat from extremist groups. We want to find ways to work constructively with them to address these challenges." Experts say despite differences, a cooperative US-Pakistan relationship remains critical to a successful outcome of the decade-old Afghan conflict.
http://www.dailytimes.com.pk/default.asp?page=2011\10\19\story_19-10-2011_pg1_6
------
Fourth anniversary of Karsaz tragedy observed in Karachi
October 19, 2011
Staff Report
KARACHI: Pakistan People's Party (PPP) on Tuesday observed the fourth anniversary of Karsaz bomb blasts with a grief-stricken vigil in the memory of those who lost their lives in the tragic incident.
Scores of PPP workers besides leaders gathered at Yadgar-e-Shuhda Karsaz, a memento built for the martyrs of Karsaz blasts and lighted candles.
On this juncture, traffic police had announced alternatives routes for the movement of transport and Shahrah-e-Faisal remained closed for all vehicular traffic. The ruling PPP Karachi Division set up a reception camp at the Yadgar-e-Shuhda Karsaz, where a documentary film about the homecoming rally of Shaheed Benazir Bhutto was played on a multi-media screen.
It may be recalled that the Karsaz blasts rocked the metropolis on Oct 18, 2007, when two bombs hit the welcoming rally of Shaheed Benazir Bhutto near Karsaz. Over two hundreds party workers lost their lives while some 600 others were injured.
On his visit, Sindh Chief Minister Syed Qaim Ali Shah, paid rich tributes to the martyrs of Karsaz blasts and called it a black day in the country's political history.
Shah, who is also the president of ruling PPP in Sindh province, was visiting Karsaz along with provincial home minister Manzoor Hussain Wassan and other leaders and cabinet members of the party.
Talking to the media, CM said that the anti-democratic forces had attempted on the life of PPP chairperson Shaheed Benazir Bhutto who had just returned from a self-exile and was leading a historical rally of millions of her followers.
Shah said that PPP does not forget its martyrs, adding that PPP had always stood by its martyrs and will remain with them. He vowed that the party would implement the programme of martyred leader and party manifesto at any cost.
Sindh CM recalled that the then government led by Arbab Ghulam Rahim had not allowed them to lodge an FIR of Karsaz bomb blast as all evidences were hurriedly washed away from the scene. He reminded that during the passage of Bhutto's caravan, streetlights at Sharah-e-Faisal also remained switched-off.
He added that the probe of Karsaz incident will continue with available proofs.
Sindh Home Minister Manzoor Hussain Wassan paid homage to the martyrs. He said that that his forerunner (Dr Zulfiqar Mirza) should be asked for the results of investigation as it was carried out during his three-and-a-half years of tenure as home minister.
Provincial minister for local government Agha Siraj Durrani, rendering tribute to the martyrs said that the PPP would unveil the culprits involved in twin bombings.
http://www.dailytimes.com.pk/default.asp?page=2011\10\19\story_19-10-2011_pg7_23
-------
Saddam, daughter wants to publish his memoirs
AFP i1. 10 2011
AMMAN: Raghad, a daughter of executed Iraqi president Saddam Hussein, plans to publish her father's memoirs, her Jordanian lawyer said on Sunday.
"Raghad is looking for an international publishing company to publish her father's memoirs, which he himself wrote," Haitham Herish told Al-Ghad newspaper.
"These are the real and authentic memoirs, and Raghad is open to any offer that would preserve the rights of her family." Raghad, the eldest of Saddam's three daughters, fled with her sister Rana and children to Jordan in 2003.
In 2009, Saddam's former attorney Khalil al-Dulaimi published what he said was the memories of the Iraqi leader who was toppled in the US-led invasion of 2003, based on their conversations.
In the 480-page book, "Saddam Hussein Out of US Prison: What Happened?" Dulaimi wrote that Saddam had planned to escape from his US-run prison with the help of loyalists, including former bodyguards.
Saddam was captured by US troops in December 2003, eight months after the fall of Baghdad, in a pit on a farm near his hometown of Tikrit in northern Iraq.
He was hanged in December 2006 after being convicted of crimes against humanity.
http://www.dawn.com/2011/10/17/saddam-daughter-wants-to-publish-his-memoirs.html
-------
Shalit arrives in Israel as Palestinian prisoners freed
Oct. 18, 2011
KEREM SHALOM, Israel: Israeli soldier Gilad Shalit, looking pale but cheerful, on Tuesday returned to Israel after five years of Hamas captivity, sparking the release of 477 Palestinian prisoners under a landmark swap deal.
"Gilad has returned home," the Israeli army's chief spokesman Brigadier General Yoav Mordechai told reporters at Kerem Shalom on Tuesday, describing his state of health as "good and satisfactory".
Shortly after the announcement, AFP correspondents in the West Bank and Gaza reported seeing the first of 477 Palestinian prisoners being released to scenes of joy and celebration, with thousands of family members welcoming them with tears and embraces.
In Israel, Shalit's arrival was kept far from the media eye, with the only glimpse of him being several seconds of footage from Egyptian state TV, which showed him wearing black baseball cap and a loose grey shirt.
The 25-year-old has been held by militants in Gaza for more than five years and the deal, which involves the release of a total of 1,027 Palestinians, marks the highest price-ever paid for the release of one person.
His return to Israel marks the first time in 26 years that a captured soldier has been brought back alive to the Jewish state.
Full Reportat:
http://www.dawn.com/2011/10/18/hamas-releases-israeli-soldier-in-prisoner-swap.html
-------
Two women robbers arrested
October 18, 2011
ISLAMABAD: Police arrested seven outlaws from various areas of the city for their alleged involvement in bootlegging, dacoities and recovered 22 liquor bottles and pistols from their possession, a spokesman for police said on Monday.
Sub-Inspector Tahir Khan of Aabpara police station nabbed Fatima and Ramazania who snatched cash from a person Muhammad Arshad along with their other accomplices near Shakarparian. Secretariat police apprehended Aitezaz Hussain and Mohisn Khan for having eight liquor bottles while Assistant Sub-Inspector (ASI) Muhammad Haneef of Shehzad Town police arrested Arif Khokhar for having 14 liquor bottles.
Meanwhile, ASI Aurangzeb of Sihala police nabbed Haroon for having 32-bore pistol and ASI Abrar Hussain of Tarnol police nabbed Asif in possession of 30-bore pistols. Cases have been registered against the nabbed persons under relevant sections and further investigation is underway.
http://www.dailytimes.com.pk/default.asp?page=2011\10\18\story_18-10-2011_pg11_3
-------
AfPak Channel Daily Brief
October 18, 2011
Sneak attack
Nine Pakistani troops and 14 militants were killed on Monday after the militants' ambush of a Frontier Corps convoy on the outskirts of Peshawar triggered a gunfight that lasted "two to three hours" according to military spokesman Maj. Gen. Athar Abbas (AFP, ET, BBC, AP). The troops were conducting a search operation in the Bara District of Khyber when they came under attack. Pakistani Interior Minister Rehman Malik told reporters today that the government has received indications from the Taliban that they want to hold talks, but it would not negotiate with Taliban militants if they "held a Kalshinkov [rifle] in one hand" (AP, Reuters).
NATO Secretary General Anders Fogh Rasmussen said yesterday that he sees "no alternative" for Western governments to working with Pakistan against militant groups, particularly the Haqqani Network, while U.S. State Department spokesman Mark Toner told reporters separately that the United States believes Pakistan is "capable" of working with the U.S. on shared challenges (ET, Dawn).
Pakistani President Asif Ali Zardari today paid tribute to the nearly 200 people killed in a failed assassination attempt on former Prime Minister Benazir Bhutto in Karachi four years ago today, saying "their sacrifices will not be allowed to go in vain" (ET). The Express Tribune reports that the man thought to be the mastermind of the attacks, Adbul Wahab Mehsud, has been back to Karachi twice since the deadly attacks, but security forces have failed to hunt him down (ET). And Punjab governor Latif Khosa on Monday alleged that on the day she was assassinated, Bhutto was planning to expose former president Pervez Musharraf's intention to rig the 2008 elections (ET).
Pakistan Railways workers protested across the country against the company's failure to pay their salaries -- some for over five months -- blocking the tracks and forcing massive train delays and cancellations (ET, ET, Dawn, ET). President Zardari called an emergency meeting to find a solution to the crisis, during which he directed the government to fund the payment of workers' salaries and pensions within seven days and grant a loan to Pakistan Railways to be used on train repairs and purchases (ET, ET). Pakistani Prime Minister Yusuf Raza Gilani today laid the foundation stone of the hydroelectric Diamer Bhasha Dam in Gilgit-Baltistan (ET). On Monday, the commission investigating the May 2 U.S. raid that killed Osama bin Laden interviewed the widow of the al-Qaeda courier Abu Ahmed al-Kuwaiti who lived in bin Laden's Abbottabad compound with her husband and family (ET).
Rangers in Karachi today arrested a suspected killer who reportedly confessed to the murders of 26 people, while nine police officers in Peshawar were suspended after an investigation found they might have killed an innocent man they had claimed was a militant (ET, Dawn, ET). The death toll from dengue fever reached 242 in Punjab Province today as an uptick in diagnosed cases brings the number of dengue patients to almost 17,400 across the province (ET). And the Pakistan Muslim League-Nawaz (PML-N) vowed yesterday to challenge President Zardari's appointment of retired naval chief Adm. Fasih Bokhari as chairman of the National Accountability Bureau, saying the appointment was made in violation of the Constitution (ET).
------
Taliban should disarm first for talks, says Pak
Reuters, Oct 19, 2011,
ISLAMABAD: Pakistan will only hold peace talks with Taliban insurgents if they lay down their arms first, interior minister Rehman Malik said on Tuesday, after both sides expressed willingness for negotiations.
"The minimum agenda is that they give up arms and come forward and then there will be talks. But if they think they will keep Kalashnikovs in their hands and also hold talks, that will not happen," he told reporters.
Both sides have indicated recently they were open to talks, but analysts are sceptical the Taliban will ultimately agree.
"The government is saying accept the constitution and lay down arms. But the militants have other aims. They want to take over, gain power. They think negotiations are a joke," said security analyst Mahmood Shah. "How can you talk to groups that don't even respect the concept of Pakistan, never mind laying down arms?"
A series of army offensives against Pakistani Taliban has failed to contain the group, which is the biggest security threat to Pakistan.
Any deals with the Taliban could anger Washington , which has been pushing Pakistan to crack down harder on militant groups since American special forces killed Osama bin Laden. Past peace deals with the group failed to improve security , and instead enabled it to build up strength and impose its harsh version of Islam in areas ceded to it. Beheadings, public executions and lashings were common.
http://timesofindia.indiatimes.com/world/pakistan/Taliban-should-disarm-first-for-talks-says-Pak/articleshow/10409839.cms
-------
Take action against 'FM Mullah', Pak tells Af
Reuters, Oct 18, 2011,
ISLAMABAD: Pakistan said on Monday that Afghan and US-led forces had failed to hunt down a Taliban cleric responsible for a spate of cross-border raids despite repeated requests, a complaint likely to deepen tension between the neighbours.
The attacks in which militants loyal to Maulvi Fazlullah took part killed about 100 members of Pakistan's security forces, angering the army which faces threats from multiple militant groups.
"We have given locations and information about these groups to the Afghanistan government and ISAF ( International Security Assistance Force), but apparently there has been no action," Pakistani army spokesman, Major-General Athar Abbas, said.
Fazlullah was the Pakistani Taliban leader in Swat Valley , about160 km northwest of Islamabad, before a 2009 offensive forced him to flee.
Also known as FM Mullah for his fiery radio broadcasts, he regrouped in Afghanistan and established strongholds, and poses a threat to Pakistan once again, said Abbas.
Fazlullah, a leading figure in the Pakistani Taliban insurgency , is based in Kunar and Nuristan provinces in Afghanistan, said Abbas. He is a prime example of the classic problem faced by Pakistan's military. Militants can simply melt away in the rugged mountainous frontier area.
"When they fled from Swat, Fazlullah's group was in tatters," said Abbas. "They got time and support in Afghanistan."
http://timesofindia.indiatimes.com/world/pakistan/Take-action-against-FM-Mullah-Pak-tells-Af/articleshow/10396499.cms
-------
No objection to dialogue with Taliban: Kayani
LAHORE: Chief of Army Staff (COAS) General Ashfaq Parvez Kayani on Tuesday said that Pakistan Army had no objection over the government having dialogues with Taliban, a private TV channel reported. Briefing the parliamentary defence committees at General Headquarters in Rawalpindi, Kayani said that he had no intention to send troops to North Waziristan prior to the government orders. Kayani further said that he had informed the US that Pakistan did not require any military aid of any kind and that there would be no compromise on national sovereignty in bilateral ties of the two countries. He mentioned that the defence budget was decreasing every year due to inflation and the army had received only $ 0.2 billion of agreed $ 6 billion from the US. Earlier, a security briefing was given to Senate and National Assembly Standing Committees on Defence and Defence Production at General Headquarters on Tuesday. daily times monitor
http://www.dailytimes.com.pk/default.asp?page=2011\10\19\story_19-10-2011_pg1_2
--------
Targeted against terrorists, say Kabul, Islamabad
ANITA JOSHUA
ISLAMABAD, October 18, 2011
Amid intensified rhetoric and increasing number of cross-border incursions, Pakistan and Afghanistan on Tuesday announced greater troop mobilisation along parts of the 2,640-km long border they share but insisted the security presence was targeted against terrorists.
Director General Inter Services Public Relations Athar Abbas was quoted by the local media as telling Radio Pakistan that the Army and Frontier Corps had been sent to areas bordering Afghanistan to stop 'militant' attacks.
Though he did not go into specifics on where the additional troops had been deployed, the mobilisation is likely to be in the Dir and Chitral areas which have seen several terrorist attacks from across the border this summer. Dir and Chitral border Kunar, Nuristan and Nangarhar provinces of Afghanistan where Pakistan believes Swat Taliban leader Maulana Fazlullah is stationed.
In Afghanistan, Defence Ministry officials were quoted as saying Afghan security forces and the International Security Assistance Force had moved in more troops along the border with Pakistan to launch operations against the Haqqani network which is believed to be hiding in North Waziristan. Though no details were offered, Afghan Defence Minister Abdul Rahim Wardak said 'Operation Knife Edge' was launched two days ago and would deliver a "crashing blow to the enemy's capabilities to conduct operations, especially terrorist operations during the winter''.
While a NATO spokesman billed the mobilisation as "enhanced official operations'' in the eastern region of Afghanistan bordering Pakistan, AFP quoted Afghan Chief of Army Sher Mohammad Karimi as saying "this operation is launched along the border because the enemy lately operates along the border on both sides''.
A section of the Pakistani media had reported on Monday that the U.S. had moved in troops along the Pak-Afghan border in North Waziristan and blocked off all access points, but these reports were described as "incorrect'' by the Pakistani Army.
Relations between Pakistan and Afghanistan have nose-dived since the assassination of Afghan High Peace Council chairman Burhanuddin Rabbani on September 20 in Kabul. Afghanistan has alleged that the killers were linked to Pakistan and both countries have been verbally sparring since then. Pakistan's contention is that Afghanistan and the international troops present there are not doing enough to stop terrorist attacks on Pakistani border areas from Afghan soil despite Islamabad repeatedly raising the issue with Kabul and Washington. According to Maj. Gen. Abbas, there was no security presence in Kunar, Nooristan and Nangarhar where 'militants' have safe havens.
http://www.thehindu.com/news/international/article2549437.ece
--------
Al-Shabab warns Kenya
AFP, MOGADISHU, October 18, 2011
Kenyan troops using aerial cover advanced on Tuesday on a strategic rebel-held Somali town, as Kenya's Defence Minister arrived in Mogadishu for talks with Somalia's transitional government.
As Kenyan troops moved forward, police back home stepped up security for fear of reprisal attacks after warnings by Islamist al-Shabab militants that Kenyan territory would face attack on "all fronts possible".
"Our forces will be concentrating on operations in Afmadow region today, they started moving there late on Monday," said Kenyan Army spokesman Major Emmanuel Chirchir.
Kenyan troops have pushed at least 120 km into Somalia to reach Afmadow region since Nairobi declared war on the Shabab militia and confirmed it had sent its army across the border on Sunday.
Defence Minister Yusuf Haji, an ethnic Somali, led a Kenyan delegation for talks with Somalia's Western-backed leadership, said Garad Mohammed, an official in the Somali Prime Minister's Office.
Guided by pro-government Somali forces, backed by heavy aerial bombardments but bogged down on mud tracks in heavy rain, Kenya has been hitting back against recent kidnappings inside Kenya blamed on the Islamists.
The assault has prompted dire warnings of revenge from the Shabab, who deny being behind recent kidnappings of foreigners from beach resorts and an overcrowded refugee camp.
Senior Shabab leader Sheikh Hassan Dahir Aweys warned that Kenya would face the consequences of moving troops into Somalia.
The last time Somalia was invaded by one of its neighbours was in late 2006 when Ethiopia started an occupation that lasted two years and spurred the formation of the Al Qaeda-inspired Shabab insurgency. But Kenya said it was not frightened by the Shabab's grim warning.
http://www.thehindu.com/news/international/article2549434.ece
-------
Assets frozen over alleged Iran plot to assassinate Saudi envoy
18 October 2011
UK ministers have pledged action in response to an alleged plot to kill Saudi Arabia's ambassador to the US, Adel-Al-Jubeir. Photograph: KeystoneUSA-Zuma
The UK Treasury has ordered the assets of five men frozen in connection with the alleged Iranian plot to assassinate Saudi Arabia's ambassador to the US.
The finance ministry confirmed it had acted under the Terrorist Asset Freezing Act, after ministers pledged action over the purported plan to kill the Saudi envoy, Adel al-Jubeir, in a bomb attack. The decision does not necessarily mean that the five men hold assets in Britain.
For Full Report:
http://www.guardian.co.uk/world/2011/oct/18/uk-asset-freeze-iran-plot-saudi
--------
US puzzled as Pak seeks peace with militants
Oct. 18, 2011
Recent indications by Pakistan that it would much rather opt for peace talks with terror outfits than launch hard military action against them have befuddled the United States as it keeps a tense watch over the developing situation.
In a dispatch from Islamabad on Monday, the Washington Post reported that "the Government here appears less willing than ever to challenge insurgent groups and more inclined to make peace with them". "If by giving a chance to peace, any terror is eliminated, it's the best option," the paper quoted Pakistan's Interior Minister Rehman Malik as saying and claiming that he has received truce offers from militants.
Amid strong suspicions that the new approach to dealing with militancy is the brainchild of the powerful Pakistani military establishment, Washington is tensely watching the situation even while ensuring that there is no let-up in its drone offensive against the Haqqani network operating from Pakistan.
For Full Report:
http://www.dailypioneer.com/WORLD/us-puzzled-as-pak-seeks-peace-with-militants.html
-------
Yemeni government forces kill 12 in new protests in Sanaa
AP, Oct 19, 2011,
SANAA: Yemeni government forces opened fire on Tuesday on protesters in Sanaa, killing 12 and injuring more than 70, a medical official said, a day after the capital witnessed its worst fighting in weeks.
Mohammed al-Qubati, the director of a field hospital at the main protest site in Sanaa dubbed "Change Square," said more than 70 protesters were injured in the protests demanding the resignation of President Ali Abdullah Saleh.
Tens of thousands of protesters marched through Sanaa, led by shirtless young men with the words "Leave ... you butcher" scrawled across their chests, referring to Saleh.
Soldiers from the Republican Guard, a loyalist unit led by Saleh's son Ahmed, arrested four female protesters who were ahead of the main demonstration, said activist Habib al-Uraiqi.
Abdel-Rahman Berman of Yemen's National Organization for Defending Rights and Freedoms (HOOD) said Saleh's forces used live ammunition and harsh tear gas.
Berman said HOOD team monitoring the situation charged that government forces and thugs abducted female protesters and some wounded demonstrators in a "shameful and criminal way."
Full Report at:
http://timesofindia.indiatimes.com/world/middle-east/Yemeni-government-forces-kill-12-in-new-protests-in-Sanaa/articleshow/10408287.cms
-------
Three terrorists among 10 arrested in Karachi raids
Wednesday, October 19, 2011
By Atif Raza
KARACHI: The law enforcement agencies (LEAs) on Tuesday claimed to have arrested 10 suspects, including three militants of banned outfit, during separate raids in different parts of the city and also recovered weapons.
Clifton police claimed to have arrested an alleged target killer after a brief encounter in Khayaban-e-Tauheed. The accused was identified as Asif Iqbal. Police recovered two hand grenades, two 7mm rifles and four TT pistols form his possession.
The sources said that the accused was arrested by Rangers in ongoing operation and was later handed over to Clifton police after initial course of interrogation. However, according to SHO Shafiq Tanoli, the accused is affiliated with a political party and was involved in target killings of nearly 42 people, including the murder of SHO Shafiq Tanoli's brother Naveed who was killed in Gulshan-e-Iqbal few months ago. The officer said that accused with his accomplices had attacked Mobina Town police station in 1994 in which two police officials and two associates of the accused, including Noor Mohammad and Saqib, had been killed.
SHO said that accused Asif was arrested after 16 years. The officer said that the accused also revealed to have killed five passengers in Gulshan-e-Iqbal.
Separately, Special Investigation Unit (SIU) of the Criminal Investigation Agency (CIA) claimed to have arrested three alleged members of the banned outfit Tehreek-e-Taliban
Full Report at:
http://www.dailytimes.com.pk/default.asp?page=2011\10\19\story_19-10-2011_pg7_20
------
Pakistan and Albania pledge to strengthen relations
Staff Report
October 19, 2011
ISLAMABAD: Albania and Pakistan have pledged to further strengthen the exiting relations between two countries through regular parliamentary and executive level interactions.
This was agreed in a meeting between National Assembly Speaker Dr. Fehmida Mirza and Albanian Prime Minister Sali Berisha in Tirana, according to a message received from Albania.
Talking to the Speaker, the Prime Minister termed Pakistan "a true friend of Albania" and paid rich tributes to the stature of Dr Mirza as the first woman Speaker of the Muslim World and recalled his earlier meeting with former Prime Minister Benazir Bhutto in 1995. "Bhutto was the most powerful woman I've ever met and you remind me so much of her," Berisha said.
War on terror: He also mentioned Pakistan's significant role during the Balkan crisis, terming it unforgettable for the Albanian people, spread across the Balkan region. Berisha also praised Pakistan for its continued role in the global war against terrorism and said that as victim of similar situations, Albania fully understands the problems of the people and Government of Pakistan. "The world must acknowledge Pakistan's contributions and should not look into the realities with a narrow-minded approach," the prime minister added.
Dr Mirza expressed her gratitude for the prime minister's support to Pakistan in its difficult times and traced the historic and cultural similarities between the two nations. She stressed for building a strong and meaningful relationship between the two countries through further parliamentary exchanges, business opportunities and people-to-people contacts. She informed the Prime Minister of her suggestion to form a joint parliamentary commission of the two parliaments, in order to give a purposeful direction to the bilateral relations. "All matters eventually come to the Parliament. It is therefore important to create understanding and identify vistas of possible cooperation at this level," the Speaker observed.
Full Report at:
http://www.dailytimes.com.pk/default.asp?page=2011\10\19\story_19-10-2011_pg7_15
--------
Afghan security to cost $5 bn a year after pullout: Kabul
October 19, 2011
KABUL: A fully fledged Afghan national security force, including army and police, will cost about $5 billion a year after international combat forces pull out in 2014, the Afghanistan defence minister told reporters on Tuesday.
The price tag estimated by Abdul Rahim Wardak was more than three times the Afghan government's domestic revenue in 2010, and about a third of the country's gross domestic product.
"At the present level of security environment we are facing, it will be about $5 billion a year," Wardak told journalists at the heavily guarded ministry, where a display of the Afghan army's foreign supplied weaponry and equipment, from socks to helicopters, was shown to journalists.
Afghanistan's government has pinned its hopes of rebuilding the country's economy, and of earning the money it needs for the army and police, on attracting investment in copper and iron ore resources, which it reckons could be worth up to $3 trillion.
Wardak said the government's goal was to build a force that did not rely on foreign help, but he made it clear that a transition period was needed. During this period, he said, Afghanistan would require foreign money, mainly from the United States, to maintain the force.
He did not elaborate on the length of the transition period, but Britain's ambassador in Kabul William Patey has said Afghanistan may need financial support until 2025, and military support for many years after the 2014 deadline for foreign combat troops to leave.
President Hamid Karzai and his Western backers have agreed that all foreign combat troops will return home by the end of 2014. Some Afghans fear that Afghan forces will not be able to stop the country slipping into full-blown civil war. reuters
http://www.dailytimes.com.pk/default.asp?page=2011\10\19\story_19-10-2011_pg7_6
-------
Nine soldiers, 14 terrorists killed in Bara clash
October 18, 2011
PESHAWAR: At least nine soldiers of the paramilitary forces were killed and three others were injured in a terrorists attack in Bara Tehsil near Peshawar on Monday, official sources said.
Fourteen terrorists were also killed in the incident, which the sources put as one of the deadliest attack on the forces in recent times.
Security situation in Khyber region has deteriorated in the wake of continued presence of private militias and Taliban groups using the region to mount pressure on Peshawar to win concession from the government, the sources said.
"It was an ambush in the afternoon. It continued for two to three hours, and there have been casualties in the ambush. There have been killings of the terrorists as well," military spokesman Major General Athar Abbas said.
For Full Report:
http://www.dailytimes.com.pk/default.asp?page=2011\10\18\story_18-10-2011_pg7_1
--------
Six killed in Yemen unrest
October 18, 2011
SANAA: Six people, including a family of five, were killed in Yemen despite a relative calm after deadly clashes between supporters and foes of President Ali Abdullah Saleh, medics and witnesses said on Tuesday.
The family of five were killed overnight when a rocket that hit their house in Tunis Street, east of Sanaa's Change Square, where protesters demanding Saleh's ouster have camped out for several months, the sources told AFP.
But northern Sanaa, mainly Al-Hassaba district, remained relatively calm overnight after it had seen deadly clashes over past days between tribesmen led by Saleh's opponent Sheikh Sadeq Al-Ahmar and dissident troops on one side, and loyalist tribesmen and security forces on the other.
For Full Report:
http://www.dawn.com/2011/10/18/six-killed-in-yemen-unrest.html
-------
11 troops killed as UN chief urges end to Syria violence
October 18, 2011
DAMASCUS/AMMAN: Army defectors reportedly killed 11 Syrian soldiers on Monday, four in a bombing, as the unrest sweeping Syria edged closer to all-out armed conflict and the UN chief urged an immediate end to the bloodletting.
The Syrian Observatory for Human Rights reported the soldiers' deaths and said four civilians were also killed in the country as President Bashar al Assad's regime pressed its brutal crackdown on dissent.
"Gunmen suspected of being army defectors blew up a bomb by remote control as an army vehicle passed by Ehssem in the countryside of the northwestern province of Idlib, killing an officer and three soldiers, and wounding others," the Observatory's Rami Abdel Rahman told AFP in Nicosia.
For Full Report:
http://www.dailytimes.com.pk/default.asp?page=2011\10\18\story_18-10-2011_pg7_22
-------
Three, including MQM, PPP activists, die in target killing
October 18, 2011
KARACHI: Three people, including activists of Muttahida Qaumi Movement (MQM) and Pakistan People's Party (PPP), were killed in separate incidents of target killing in the metropolis on Monday.
An activist of PPP was shot dead in front of his house at Siraj Colony, Lyari, within the limits of Baghdadi police station. Akhtar Raza, 45, son of Mehram Ali Shirazi was starting his motorcycle to go to the office when unidentified armed men riding on a motorcycle approached and sprayed bullets before fleeing from the scene.
The victim received seven bullets and died on the spot. Body was shifted to Civil Hospital Karachi for medico-legal formalities.
For Full Report:
http://www.dailytimes.com.pk/default.asp?page=2011\10\18\story_18-10-2011_pg12_11
-------
U.S. Debated Cyber warfare in Attack Plan on Libya
By ERIC SCHMITT and THOM SHANKER
October 17, 2011
WASHINGTON — Just before the American-led strikes against Libya in March, the Obama administration intensely debated whether to open the mission with a new kind of warfare: a cyberoffensive to disrupt and even disable the Qaddafi government's air-defense system, which threatened allied warplanes.
While the exact techniques under consideration remain classified, the goal would have been to break through the firewalls of the Libyan government's computer networks to sever military communications links and prevent the early-warning radars from gathering information and relaying it to missile batteries aiming at NATO warplanes.
But administration officials and even some military officers balked, fearing that it might set a precedent for other nations, in particular Russia or China, to carry out such offensives of their own, and questioning whether the attack could be mounted on such short notice. They were also unable to resolve whether the president had the power to proceed with such an attack without informing Congress.
For Full Report:
http://www.nytimes.com/2011/10/18/world/africa/cyber-warfare-against-libya-was-debated-by-us.html?ref=world
-------
Clinton in Libya to offer new aid package
October 18 2011
MATTHEW LEE
Associated Press= TRIPOLI, Libya (AP) — The Obama administration on Tuesday increased U.S. support for Libya's new leaders as Secretary of State Hillary Rodham Clinton made an unannounced visit to Tripoli and pledged millions of dollars in new aid, including medical care for wounded fighters and additional assistance to secure weaponry that many fear could fall into the hands of terrorists.
U.S. officials said the fresh aid Clinton is bringing totals about $11 million and will boost Washington's contribution to Libya since the uprising against Moammar Gadhafi began in February to roughly $135 million. The officials told reporters traveling with Clinton that it is evidence of the administration's commitment to working with the National Transitional Council as it consolidates control over the entire country and moves to hold free and fair elections.
For Full Report:
http://www.guardian.co.uk/world/feedarticle/9900842
-------
Turkish foreign min meets Syrian opposition-official
18 10 2011
ANKARA: Turkey's foreign minister met members of Syria's newly-formed opposition National Council in the Turkish capital on Monday, a foreign ministry official said, the first time Turkey has acknowledged such a meeting with the council.
The official, who spoke on condition of anonymity, said Foreign Minister Ahmet Davutoglu told the members to work in a peaceful manner for democratic transformation in Syria.
Earlier this month, Syria warned it would retaliate against any country that formally recognises the National Council set up by opponents of President Bashar al-Assad.
The formation of the council has been welcomed by Western countries including the United States and France. However, unlike the transitional council set up by Libyan rebels who overthrew Muammar Gaddafi, Western governments have not offered the SNC any formal recognition.
Turkey has allowed opponents of Assad to meet in Turkish cities since anti-government protests started in March and is also providing sanctuary to the most senior Syrian military officer to defect.
http://www.dawn.com/2011/10/18/turkish-foreign-min-meets-syrian-opposition-official.html
-------
British PM hopes Shalit release will bring peace closer
Oct. 18, 2011
LONDON: British Prime Minister David Cameron expressed hope Tuesday that the release of Israeli soldier Gilad Shalit after more than five years in Hamas captivity would bring peace in the region a step closer.
Cameron said people across Britain would share in the joy and relief felt by Shalit and his family after his "long, cruel and unjustified captivity".
"I can only imagine the heartache of the last five years, and I am full of admiration for the courage and fortitude which Sergeant Shalit and his family have shown through his long cruel and unjustified captivity," Cameron said.
"I congratulate Prime Minister (Benjamin) Netanyahu and everyone involved for bringing him home safely, and hope this prisoner exchange will bring peace a step closer.
"Britain will continue to stand by Israel in defeating terrorism. We remain strongly committed to the cause of peace in the Middle East – with Israel and a Palestinian state living side by side in security.
"We will continue to work for direct negotiations to achieve that end."
Shalit, 25, was released under the terms of a long-awaited deal signed last week between Israel and its sworn enemy Hamas, and mediated by Egypt, in return for Israel freeing a total of 1,027 prisoners.
http://www.dawn.com/2011/10/18/british-pm-hopes-shalit-release-will-bring-peace-closer.html
-------
BA members resent NATO airspace violations
By Mohammad Zafar
October 18, 2011
QUETTA: Resentment over the violation of Pakistani airspace by the North Atlantic Treaty Organisation (NATO) echoed in the Balochistan Assembly on Monday.
During the session, the parliamentary leader of ANP demanded that the federal government raise the issue with NATO and the United States.
Deputy Speaker Matiullah Agha chaired the session in absence of Speaker Aslam Bhootani, who was in his hometown in Lasbela over the death of his mother.
Provincial Minister for Revenue and ANP Parliamentary Leader Zamruk Khan Achakzai took the floor on a point of order and informed the House that NATO had again violated Pakistani airspace by making a low flight in the area for 20 minutes. "The NATO and International Alliance Forces have a mandate to stay in Afghanistan. These violations are creating fear and panic amongst the local people. We assume these violations are an indication that NATO forces will soon launch drone attacks in Balochistan," he said.
The prevailing law and order situation also dominated the session, during which lawmakers and senior ministers criticised law enforcement agencies for their failure to prevent attacks, particularly the ones on governors and ministers.
For Full Report:
http://www.dailytimes.com.pk/default.asp?page=2011\10\18\story_18-10-2011_pg7_4
-------
No effort to be spared for Kashmir cause: Gilani
Oct. 18, 2011
ISLAMABAD: The Pakistan government would spare no effort to extend support the Kashmiri people in their struggle to determine their future according to their aspirations, Prime Minister Yousuf Raza Gilani has said.
Gilani said the Kashmir cause was the basis of Pakistan Peoples Party (PPP) manifesto and the democratic government would spare no effort to extend moral, political and diplomatic support to the Kashmiri people, reported Associated Press of Pakistan.
The prime minister was talking to Pakistan-administered Kashmir President Sardar Muhammad Yaqoob Khan who called on him here Monday.
For Full Report:
http://expressbuzz.com/world/no-effort-to-be-spared-for-kashmir-cause-gilani/324606.html
-------
Indo-Bangla land deal in favour of Assam
Oct-18-2011
Assam Chief Minister Tarun Gogoi yesterday assured the state assembly that the recently-signed land boundary agreement with Bangladesh was beneficial for the people residing in border areas.
Seeking to ally fears raised in the House during the one-day special session convened in Guwahati to discuss the land deal signed between the two countries in Dhaka last month, Gogoi said Assam had gained more than 1200 acres of disputed land on the border with Bangladesh.
For Full Report:
http://www.thedailystar.net/newDesign/news-details.php?nid=206992
-------
West must keep Pakistan ties, says NATO chief
October 18, 2011
NEW YORK: NATO's Secretary General Anders Fogh Ramussen has underscored the need for the West to continue to co-operate closely with Pakistan despite American claims that the Pakistani intelligence agency was assisting terrorists fighting US-led forces in Afghanistan.
In an interview with The Financial Times, he declined to say whether he agreed with claims by Admiral Mike Mullen, the US military's recently retired top officer, that ISI supported attacks on US and NATO facilities by the Haqqani network.
But he said that regardless of 'possible' links, "I don't think there are many alternatives to working with the Pakistani military and government leadership to convince them to clamp down on the Haqqani operation. Whatever might be the links between the Haqqani network and authorities in Pakistan, the bottom line remains the same," Rasmussen said. app
http://www.dailytimes.com.pk/default.asp?page=2011\10\18\story_18-10-2011_pg7_23
-------
Police still clueless about Karsaz blast
Oct. 18, 2011
KARACHI: Investigations are still underway into the Oct, 18, 2007 Karsaz suicide blast but there is no headway, said Additional IGP Karachi, Saud Mirza here on Tuesday.
"Our senior police officers are investigating the case but so far we are clueless," he said while talking to media persons after funeral prayers of a Shaheed police constable Muhammad Hanif killed in encounter with robbers in DHA area on Monday afternoon.
At least 140 PPP supporters and activists were killed and another 140 injured in two bomb explosions at the rally of Shaheed Mohatarma Benazir Bhutto when the rally was passing from Karsaz Road on October 18, 2007.
For Full Report:
http://www.dawn.com/2011/10/18/police-yet-clueless-about-karsaz-blast.html
-------
TTP must give up arms before talks: Malik
Oct. 18, 2011
ISLAMABAD: Pakistan will only hold peace talks with Taliban insurgents if they lay down their arms first, Interior Minister Rehman Malik said on Tuesday, after both sides signalled willingness to consider negotiations.
"The minimum agenda is that they give up arms and come forward and then there will be talks. But if they think they will keep Kalashnikovs in their hands and also hold talks, that will not happen," he told reporters.
Both sides have indicated recently they were open to talks, but analysts are sceptical the Taliban will ultimately agree.
For Full Report:
http://www.dawn.com/2011/10/18/ttp-must-give-up-arms-before-talks-malik.html
-------
Pakistan Police vows to implement anti-sexual harassment law
October 18, 2011
ISLAMABAD: Police officials of Capital after attending a training workshop vowed to tackle the cases of sexual harassment and implementation of laws concerned with more attention and care.
This was discussed and addressed at Mehergarh (AASHA's Secretariat) that conducted a three-day residential training on anti-sexual harassment legislation. Besides the participation of police officials' others were also from private sector, educational institutions and civil society from Gilgit Baltistan (GB), Islamabad, Quetta, Lahore and Hyderabad.
The workshop focused on the two anti sexual harassment legislation promulgated: Protection Against Harassment of Women at Workplace Act, 2010 and section 509 of the Pakistan Penal Code. The trainees included representatives of Crimes Investigation Agency (CIA), Margalla, Koral and Sihala Police Stations, Agha Khan Rural Support Program, Human Rights Commission for Peace and Justice, British Counsel, Daman, and representatives from the private sector and Inquiry Committee members of Fatima Jinnah Women University. The police officials shared their experiences regarding sexual harassment cases and admitted that the training helped them gain a better understanding of the issue. The police officials, usually subjected to offensive stereotypes of society, were very sensitive with regard to the issue under discussion and showed determination and commitment to help curb the issue of sexual harassment.
http://www.dailytimes.com.pk/default.asp?page=2011\10\18\story_18-10-2011_pg11_4
-------
Pakistani women playing vital role in all departments
oct_10-2011
ISLAMABAD: Foreign Minister Hina Rabbani Khar has said that Pakistan is one of the leading country in the developing states where the women had been empowered more as compared to other countries and they are playing vital role in different departments.
She was addressing a reception hosted by British High Commissioner Adam Thomson at the British High Commission on Monday night ahead of the Commonwealth Heads of Government meeting taking place in Perth, Australia on 28th October.
The theme of the event was 'Women as Agents of Change' and the British High Commissioner was joined at the event by Australian High Commissioner Timothy George.
Hina Rabbani Khar said it was the credit of Pakistan that Shaheed Benazir Bhutto was the first woman prime minister of Muslim countries.
For Full Report:
http://www.dawn.com/2011/10/18/pakistani-women-playing-vital-role-in-all-departments-khar.html
-------
Nawaz demands end to "Dacoit-Raj"
Oct. 18, 2011
Pakistan Muslim League (N) president Mian Nawaz Sharif Tuesday demanded present corrupt government must be removed as it has failed to address problems of flood affected people in Sindh.
Addressing to flood affected people here in Shahdad Kot on Tuesday former Premier said that he came to Sindh to help flood victims adding that Punjab is supporting its brothers in tough time generously.
He said millions of Flood affected people are still suffering with water in their houses but head of the government is enjoying their life in palaces.
He asked the government to give at least Rs.100,000 to each flood victim family for rebuilding their homes.
For Full Report:
http://nation.com.pk/pakistan-news-newspaper-daily-english-online/Politics/18-Oct-2011/Nawaz-demands-end-to-DacoitRaj
-------
Troops increased at check posts with Afghan border: DG ISPR
Oct. 18, 2011
ISLAMABAD: DG Inter-Services Public Relations (ISPR) Major Gen. Athar Abbas has said regular army and FC have been sent to border areas with Afghanistan to stop militants' attacks.
Talking to Radio Pakistan, he said Pakistan will not allow militants to carry out attacks on our check-posts, border villages and kill our civilians.
The DG ISPR said about 100 personnel of police; levies and paramilitary forces have so far been martyred in militants' attacks from across the border during last 3-4 months.
ISAF was informed about these attacks, besides pointing out the location of hideouts of militants, but no action has so far been taken which may prove that safe havens and bunkers have been destroyed or militants have fled from there, he added.
He said apparently it seems that there is no presence of Afghan army or ISAF in the vast area from where militants are operating against Pakistan, about 37 security personnel were martyred in Chitral attack, which was first such attack and is a matter of great concern for us.
For Full Report:
http://www.dawn.com/2011/10/18/troops-increased-at-check-posts-with-afghan-border-dg-ispr.html
-------
Maspero violence was a 'catastrophe': Egypt's tourism minister
Oct. 18, 2011
Minister Abdel Nour panned Egypt's state-run media for inciting anti-Coptic sentiment and blamed bloody events on infiltrators
Egypt's minister of tourism weighed in on the 9 October attacks on demonstrators at Maspero, calling the incident a "catastrophe in every sense."
Minister Mounir Fakhry Abdel Nour also blamed the bloody events, which saw Coptic Christians and fellow demonstrators come under attack by the army in front of the state TV building, on last month's attack on a church in Aswan. The church was attacked by Muslim youths in the village of El-Merinab who insisted that it did not have a permit. Coptic Christians responded by taking to the streets in protest: protests which culminated in the Shubra march to Maspero on 9 October. Abdel Nour insists that he was aware of the Aswan crisis and even warned officials that the situation may spiral out of control if not handled properly.
For Full Report:
http://english.ahram.org.eg/NewsContentPrint/1/0/24434/Egypt/0/Maspero-violence-was-a-catastrophe-Egypts-tourism-.aspx
-------
Pakistani art legends mesmerise Turkish delegation
October 18, 2011
ISLAMABAD: The four-member Turkish media delegation that has been on Pakistan's one-week visit here on Monday visited Pakistan National Council of the Arts (PNCA) and National Art Gallery (NAG). The visiting delegation appreciating the 'warm hospitality' of Pakistani people towards Turkish said, "We are very pleased to be here to watch the art of legends of Pakistani artists as well as the budding artists".
Emre Solak, the leader of the Turkish delegation said, "We are on a week visit to see different places in Islamabad and Lahore and to meet different media houses, and to interact with leading media persons in the cities". Solak said he has worked in Pakistan as a correspondent from 1980-84 but it is hard to differentiate the environment of tomorrow with today, however the only similarity is the 'warm hospitality' of Pakistani people towards Turkish.
For Full Report:
http://www.dailytimes.com.pk/default.asp?page=2011\10\18\story_18-10-2011_pg11_6
-------
'Masses will resist attempts against democratic set-up'
October 18, 2011
KARACHI: Sindh Information Minister Sharjeel Inam Memon on Monday said masses and supporters of Pakistan People's Party (PPP) would strongly resist attempts to derail democratic set-up in the country.
Addressing a press conference, he took strong exception to the statements made by the leaders of Pakistan Muslim League (PML-N) about rallies to dislodge government at the centre.
For Full Report:
http://www.dailytimes.com.pk/default.asp?page=2011\10\18\story_18-10-2011_pg12_1
-------
Terrorism threat stimulates strict security measures
October 18, 2011
KARACHI: Strict security measures have been ensured for the metropolis on Tuesday (today) in the wake of potential terror threat, Daily Times has leant. Sources privy to the matter on Monday said that intelligence agencies have warned of a possible terror activity on Oct 18. They said that the terrorists could target any place in the city, particularly, the Karsaz Road where Pakistan People's Party (PPP) is due to organise prayers for the martyrs of twin blasts. The blasts had rocked the city in the welcome procession of slain PPP chairperson Benazir Bhutto, four years ago. Over 100 people were killed while hundreds of others injured. Reacting on the warning, police higher-ups have tightened the security across city especially at Karsaz Road, Sharah-e-Faisal. Police have also been ordered to enhance routine patrolling and snap checking especially at the entry and exit points of the city. As per PPP leader Saeed Ghani, the party is in coordination with the law enforcement agencies. He said that threats of terrorism are often received in the country and these measures have been stimulated by the same. staff report
http://www.dailytimes.com.pk/default.asp?page=2011\10\18\story_18-10-2011_pg12_3
URL: https://www.newageislam.com/islamic-world-news/pakistan--rockets-fired-at-mausoleum,-mosque-in-bara/d/5716