New Age Islam News Bureau
27 Oct 2017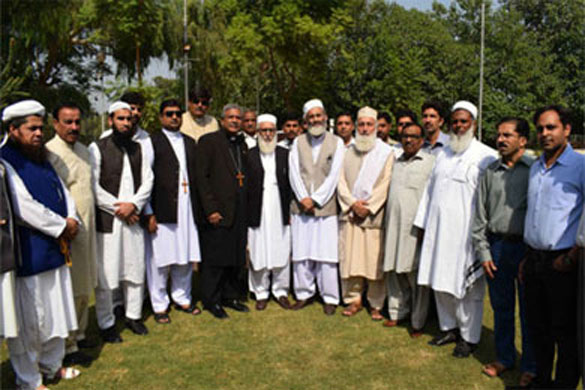 The Moderator of the Church of Pakistan, Bishop Humphrey Peters of Peshawar, with the leader of Pakistan's Jamat-e-Islami political party, Senator Siraj ul Haq, and other dignatories at the closing ceremony of the Diocese of Peshawar's two year peace and harmony project.
-----
• Pakistan Politician Says Non-Muslims Should Not Be Treated As a Minority
• Turkey's Top Soldier Objects to Term 'Islamic Terror'
• Tory Mp Hosts an Anti-Islam Extremist At Commons Event
• Quran Or Bible – Which One Is The Greatest Book? Rajshahi University Asks Admission Seekers
• Hubris and Parochialism Killed the Kurdish Dream
• Christians Safe in Muslim-Majority Kashmir: Bishop
• Bengal-Based Hindutva Leader's Speech in British Parliament Draws Ire
Pakistan
• Pakistan Politician Says Non-Muslims Should Not Be Treated As A Minority
• Pakistan University Students Tackle Intolerance Problem
• Pakistan's youthful population creates education challenges
• Tillerson-Ghani meeting speaks volumes of American failures in Afghanistan: Asif
• Local ANP leader, brother killed in blast in Balochistan's Harnai
• Pakistan sees excellent relationship with China under Xi leadership: Abbasi
• Islamabad believes Afghan situation to improve if US accepts its defeat
--------
Mideast
• Turkey's Top Soldier Objects to Term 'Islamic Terror'
• Houthi Militias Using Civilian Prisoners in Hudaydah As Human Shields
• Iraq PM wins Iran support as forces battle IS, Kurds
• US House passes sanctions on Iran-backed Hezbollah
• Iraqis' resistance against terror increased their power: Iran's Larijani
• Iran: US leaders 'ignorant', Tillerson remarks 'deceptive'
--------
Europe
• Tory Mp Hosts an Anti-Islam Extremist At Commons Event
• French Army Kills 15 Mali Jihadists
• French Government Paid Isis Fighters Social Security While They Were In Syria
• British Government's frantic response to Donald Trump's Muslim ban revealed
• Putin urges tough action against online extremism
--------
South Asia
• Quran Or Bible – Which One Is The Greatest Book? Rajshahi University Asks Admission Seekers
• Bangladesh Arrests Buddhist Charity Chief on Terror Charges
• Rohingya crisis: US Secretary of State Rex Tillerson calls Myanmar army Chief Min Aung Hlaing
• Taliban's military commission chief among 7 killed in Wardak operations
--------
Arab World
• Hubris and Parochialism Killed the Kurdish Dream
• As ISIS Is Driven From Iraq, Sunnis Remain Alienated
• Hundreds of Tribal Forces Join Syrian Army in Deir Ezzur
• US-led coalition acknowledges killing 51 more civilians in Iraq, Syria
• UN Security Council reaffirms support for Iraq's integrity after Kurdish vote
• New US sanctions aim to stir unrest in Lebanon, says Hezbollah
• After Islamic State, ruined Raqqa fears new strife
• Syrian Army Starts Cleansing Operations in Northeastern Hama
• Syrian Army Repels Terrorists' Attack in Quneitra
• UN report finds Syrian regime responsible for sarin attack
--------
India
• Christians Safe in Muslim-Majority Kashmir: Bishop
• Bengal-Based Hindutva Leader's Speech in British Parliament Draws Ire
• Two 'ISIS- Inspired' Youths in 10-Day Police Custody for Planning 'Lone-Wolf' Terror Attack
• Among Kerala arrests, the 'global citizen' who brags about his IS links
• NIA Charges Zakir Naik for Radicalisation
• Air hostess under ATS radar for links with ISIS operatives
• NIA raids Syed Salahuddin's ancestral house in J&K's Budgam
--------
Southeast Asia
• Malay World Vital for Islam's Survival, Zahid Says
• Sharia Law in Aceh to Face Legal Challenge
• Hadi: Zakir Naik accused of terror after critics failed
• In 'Shariah-Based' Shadow Budget, PAS Youth Moots Taxing the Rich
• 53 IS-linked Malaysians still in Mid East
• Philippines' Duterte Orders Army to Recruit 10 New Battalions to Crush Militants
• In Abandoned Philippine City, First Hints of a Return to Normalcy
--------
Africa
• U.S. Soldiers Were Separated From Unit in Niger Ambush, Officials Say
• In C. African Republic, UN Contractors Bribed To Aid Muslims
• Six Nigerian soldiers killed in Boko Haram raid
• Blast kills 3 UN peacekeepers in Mali
• Commentary: In Sunni North Africa, fears of Iran's Shi'ite shadow
• Nigeria: Take Islam as Way of Life, Yusuf Charges Muslims
--------
North America
• The U.S Is On a Collision Course with Iran in the Middle East
• US House Passes New Sanctions on Iran's Ballistic Missile Program
• Delaware man charged with threatening Muslim neighbors
• Canada settles with wrongly accused terror suspects for $24.6m
• Three Canadians tortured in Syria receive $31-million settlement from Ottawa
Compiled by New Age Islam News Bureau
URL: https://www.newageislam.com/islamic-world-news/pakistan-politician-says-non-muslims/d/113043
--------
Pakistan Politician Says Non-Muslims Should Not Be Treated As a Minority
October 26, 2017
The leader of Pakistan's Jamat-e-Islami political party, Senator Siraj ul Haq, has said that non-Muslims should not be referred to as minorities or put into an inferiority complex. Senator ul Haq, who has led the Islamist party since March 2014, made his comments at an event to mark the completion of the Diocese of Peshawar's peace and harmony project. "We are all Pakistanis, irrespective of creed, colour or ethnicity," he said. "I strongly feel and urge that we should not call non-Muslim Pakistanis as minority. We are one Pakistani Nation. Therefore [we] should not put any non-Muslim Pakistani into inferiority complex".
The Diocese of Peshawar's two year project to promote peace and harmony through interfaith networking in the Bannu, Dera Ismail Khan, Mardan, Swat and Peshawar districts of Khyber Pakhtunkhwa Province was sponsored and supported by World Relief Germany. During the programme, the diocese appointed peace-building officers who worked with security forces, political and religious leaders, local volunteers and civic administration to promote interaction between various faith communities to strengthen friendship ties and the acceptability for peaceful co-existence.
"These efforts produced and promoted a culture based on mutual respect, dignity, tolerance and interfaith harmony," the Diocese said in its Frontier News magazine.
The Project's closing ceremony was held at the Pearl Continental Hotel in Peshawar, attended by 120 guests, including religious leaders of various faiths, and Senator Siraj ul Haq, who was the chief guest.
Senator ul Haq said that he "highly appreciated" the peace building efforts of the diocese and its partners.
The Bishop of Peshawar, Church of Pakistan Moderator Humphrey Peters, congratulated those involved in the project "for a job well done."
http://www.anglicannews.org/news/2017/10/pakistan-politician-says-non-muslims-should-not-be-treated-as-a-minority.aspx
--------
Turkey's top soldier objects to term 'Islamic terror'
October 26 2017
The term "Islamic terror" is unacceptable and should not be used by political and military leaders, Turkish Chief of General Staff Gen. Hulusi Akar has said during a visit to the U.S.
Speaking at the Counter-Violent Extremist Organization Conference in Washington attended by the army chiefs of more than 70 countries, as well as NATO and the EU representatives, Akar said it is "inappropriate" to mention the religion of Islam alongside terrorist organizations.
Turkey's state-run Anadolu Agency reported on Oct. 26 that one of the topics discussed in the conference held at the Fort Belvoir military air base in Virginia was preventing the association of Islam with terror and the necessity of joint efforts to this end.
During his speech, Akar also spoke about Turkey's contributions to regional security and also addressed Ankara's struggle against the Fethullahist Terrorist Organization (FETÖ) of U.S.-based Islamic preacher Fethullah Gülen, widely believed to have been behind the July 15, 2016 coup attempt.
The army chief said FETÖ "attempted to endanger Turkey's national security" and urged other countries to act jointly with the country and support the fight against the group, just as they do against the Islamic State of Iraq and the Levant (ISIL).
Marine Corps Gen. Joe Dunford, chairman of the U.S. Joint Chiefs of Staff, meanwhile, gave a press briefing after the conference, during which he said that "one of the hardest challenges in defeating ISIL is eliminating the jihadist group's narrative."
Saying that noteworthy and prominent Islamic voices are very important in invalidating ISIL's narrative, Dunford said it is "important for the Islamic world to stand against ISIL propaganda."
http://www.hurriyetdailynews.com/turkeys-top-soldier-objects-to-term-islamic-terror-121463
--------
Tory MP Hosts An Anti-Islam Extremist At Commons Event
Oct 27, 2017
A Tory MP has hosted in parliament an anti-Islamic extremist who has praised the genocide of Rohingya Muslims in Burma.
Bob Blackman, a Conservative backbencher who sits on the communities and local government committee, hosted Tapan Ghosh, who is an Indian Hindu-nationalist at a Commons event called "Tolerating the Intolerant."
Mr Ghosh has previously called for the UN to control the birth rate of Muslims. He has also claimed to have created a "HIndu Defence Force" in India to protect Hindus from supposed Muslim violence.
Mr Ghosh was the keynote speaker at the meeting, held last week. He said: "Your girls and daughters are threatened by grooming but in our country our land is threatened and our existence is threatened."
Home Secretary Amber Rudd and de facto Deputy Prime Minister Damian Green also attended the event, but the Home Secretary has since distanced herself from Mr Ghosh. The Home Office said in a statement.
"The Home Secretary fundamentally disagrees with Mr Ghosh's views on Islam.
"The Home Secretary accepted an invitation from the Hindu Forum of Britain to attend an event in Parliament last week to celebrate Diwali. She did not speak to Mr Ghosh and was not present when he spoke."
Asked about his decision to invite Mr Ghosh,, Mr Blackman told The Times: Mr Blackman said: "In our commitment as a nation to fight extremism and radicalisation it is important to hear the voices of suppressed minorities."
http://www.independent.co.uk/news/uk/politics/anti-islam-tapan-ghosh-bob-blackman-rohingya-muslims-a8020656.html
--------
Quran Or Bible – Which One Is The Greatest Book? Rajshahi University Asks Admission Seekers
October 26, 2017
A question in the admission test for the 2017-18 sessions in Fine Arts Faculty, Rajshahi University (RU) has sparked a controversy among aspirants and their parents along with an outcry on social media.
The 100-mark admission test, divided into two parts – 80-mark multiple choice questions (MCQ) and 20-mark written/practical test, under I Unit was held on Wednesday.
The confusion first generated among the students who sat for the exam over MCQ No 76 of the test as many alleged that the approach of the question was communal.
The question was "What is the name of the greatest book in the world?" and the options were Holy Quran, Holy Bible, Holy Injil and Gita.
After the exam, the controversy grew when the matter was shared by many on social networking sites including Facebook, leading to protests and heavy criticism.
However, Prof Mostafizur Rahman, dean of the RU Fine Arts Faculty, said that aspirants were confused because of the question's inappropriate approach, but "it appeared in the test as arts and culture were created from religion sentiments of human beings." "Religions are considered to be the sources of all arts since ancient times and the question was made from that consideration. Most people are not aware of the matter which is why it seems communal to them," he told the Dhaka Tribune on Thursday.
He, however, added that they had informed the students at the exam hall that whatever answer they give based on their religion or beliefs would be considered correct during answer sheet evaluation. "They will get that one mark regardless of what answer they chose."
Reached for comment, educationalist and Shahjalal University of Science and Technology teacher Prof Muhammad Zafar Iqbal said such questions were unexpected and would create severance in the society.
"Each person considers their own religion and religious book as the best and a question like this will puzzle them during the test. Personally, I do not expect such questions from a university," he told the Dhaka Tribune.
Meanwhile, the MCQ No 41 of the same test has led many people to ridicule the question paper on social media as it had no right answer.
The question was "When did the Myanmar army and Buddhists launch their armed attack on Rohingya Muslims?" and the options were September 23, 2017, September 24, 2017, September 25, 2017, and September 26, 2017.
While students and many others on social media said that the correct answer – August 25, 2017 – was not even among the options, they also accused the Fine Arts Faculty authorities of invoking communalism through such inappropriate questions in the admission test.
"The question paper resembled the irresponsibility and communal mindset of RU teachers and authorities as the given options were incorrect while the questions were divisive," Mamunur Rashid, brother of an I Unit applicant told the Dhaka Tribune.
Since August 25, more than 604,000 Rohingyas have fled Myanmar's Rakhine state and taken refuge in Bangladesh's Cox's Bazar following brutal persecution carried out by the Myanmar army and local Buddhist fanatics.
The crackdown on the Rohingyas was launched after attacks on Myanmar security forces that day by insurgents.
A Mass Communication and Journalism Department teacher at RU, requesting anonymity, told the Dhaka Tribune that the questions were alarming as they did not match the concept of a university.
"There are students from all religions, castes, classes and occupations. Such questions are humiliating for them and their religions as well. These questions are also abusive and structurally incorrect," the teacher said.
Prof Mostafizur said that students would also get the mark for this question regarding the Rohingya issue regardless of the answer they chose.
Despite repeated attempts, RU Pro-Vice-Chancellor Ananda Kumar Saha could not be reached over his mobile phone for comments.
http://www.dhakatribune.com/bangladesh/education/2017/10/26/quran-or-bible-greatest-book-rajshahi-university/
--------
Hubris and Parochialism Killed the Kurdish Dream
27 October 2017
Nearly 2,000 Iraqi Kurdish peshmerga died fighting ISIS as the fractious Kurdish powers sought to advance the cause for an independent state. Their martyrdom was in vain. With the project of Kurdish independence now in tatters, Kurds need to snap out of their parochialism and help build a new, stronger Iraq as a bastion against Iranian imperialism and foreign intrigue. Arabs opposed to Iranian occupation must help them in a spirit of reconciliation.
Kurdish Isolation: The Price of Hubris
The victory of the peshmerga over ISIS in the Nineveh, Kirkuk, Salah ad Din and Diyala governorates proved to be a pyrrhic victory and fostered complacency within the Kurdistan Regional Government's (KRG) ruling factions, who thought international patronage and goodwill would carry them to independence. September's referendum, used as a bid to claim oil-rich Kirkuk, was an act of extraordinary hubris and self-delusion by KRG President and Kurdistan Democratic Party (KDP) Massoud Barzani.
The rapid retreat of peshmerga under the control of the Patriotic Union of Kurdistan (PUK) – KDP's traditional rivals in the KRG - from oil-rich Kirkuk demonstrated the true limits of Kurdish aspirations. The intervention followed an apparently coerced agreement between the PUK and the Iranian overlord Qasem Suleimani, head of Iran's Islamic Revolutionary Guard Corps' (IRGC) Qods Force, who has come to dominate Iraq. The US abandoned their allies to their fate in the face of a bigger, bolder and better organised power than ISIS' crumbling forces.
The KRG now finds itself encircled by hostile forces and Kurdish hopes of independence as a reward for their role in defeating ISIS lie dashed. Hezbollah executive council deputy head Sheikh Nabil Qaouk has called the routing of Kurdish Peshmerga forces in Kirkuk as "a victory over the US and Israel and an answer to Trump's threats to Iran".
The Kurds are the next victim ofthe IRGC's plan to consolidatethe'Shia Crescent', a huge zone of control from the Gulf of Aden through Arabian Gulf to the Mediterranean. But Kurdish indulgence in geopolitical intrigue in their singular desire for independence has left them weak, divided and alone.
Kurdish Parochialism and Iraq's Failed State
Strategic geopolitical gaming, aligning with rival powers and playing them against each other, was destined for failure. Having opted out of a project of post-Saddam country-building in favour of their internecine regional power struggles, Kurdish leaders were the architects of the tragedy that now faces their people.
Kurdish nationalist leaders were complicit in the US-Iranian project of divide and rule, which portrayed Iraq as three separate and homogeneous communities. The post-Saddam constitution was largely forged by the Shia United Iraqi Alliance and the Kurdish parties, with Sunni representation largely side-lined. Iraq'srich tapestry of religious and ethnic groups — also including Mandaean, Christian, Turkmen, Assyrian and others — was also dismissed under this new divisive order that transformed Iraq into a failed state.
Kurdish leaders tolerated Prime Minister Nouri al-Maliki's centralising, dictatorial and chauvinistic tendencies so long as he did not threaten their parochial interests in the Kurdistan Regional Government (KRG) region.
The foreign conspiracies that manipulate the rivalries of the dominant factions – the Iranian-backed PUK and the Turkish and Israeli backed Kurdistan Democratic Party (KDP) of KRG President Massoud Barzani –have also ensured that the KRG has been unable to forge coherent institutions and a civil society beyond the confines of the warring duopoly.
The Betrayal of the Anbar Awakening
The marginalisation of the Sunnis in the Kurdish-Shia bargain sowed the seeds for ISIS' rise and removed the one force that could prevent takfiri jihadism. The Sunni tribes were instrumental in defeating Abu Musab al-Zarqawi's Al-Qaeda in Iraq (AQI) in the2006 Awakening movement of the 'Sons of Iraq' tribal militias. The Awakening had come with the promise that if Al-Qaeda was vanquished, the Sunnis would be safe and the militants would be reintegrated with the Iraqi Army.
AQI's successor, ISIS, would not have come to prominence if Prime Minister Maliki had not betrayed the Awakening movement and reverted to Shia sectarianism and demagoguery, while Kurdish leaders looked on indifferently, even approvingly.
One person had the power to halt the repression of the Arab Sunnis: President Jalal Talabani, the legendary PUK guerrilla leader. But he appeared more concerned with his party's power base, shored up by decades of Iranian support and his Faustian Pact with Soleimani. Adopting the comfortable position of a ceremonial figurehead, Talabani turned a blind eye to the atrocities that would push the Sons of Iraq into the clutches of ISIS.
Maliki's subsequent actions confirmed in the minds of many embattled Sunni sheikhs that, at the very least, they needed allies to resist the Baghdad government. But the Kurds were simply not paying heed to Iraq's descent into chaos.
Talabani refused to stop Maliki from taking revenge against the secular, non-sectarian Iraqiya List, led by Ayad Allawi, a Shia ex-Baathist, which with Sunni Arab backing in Anbar and Ninevah had defeated which defeated the Shia coalition in the 2010 elections. In 2012,he muttered merely his 'surprise' and 'regret' over the warrant for the arrest of his Sunni vice-president Tariq Hashimi – the leader of Iraqi front of the Muslim Brotherhood – on charges of terrorism and the subsequent death sentence after a trial in absentia.
Non-violent protests by Sunnis, supported by secular Shia leaders, were met with brutal aggression by security forces and the Iranian-backed Hezbollah death squad, the Mukhtar Army. Meanwhile, Kurdish leaders were distracted with their fussing over the Erbil Accords on Kurdish autonomy and Talabani was incapacitated by ill-health.
With Sunnis lacking any electoral means to express their grievance and no opportunity to protest in their streets, Anbar's sheikhs felt they had no option but to pledge allegiance to ISIS. They cited their reasons as broken promises by the Baghdad government, the deployment of Shiite militiamen in Sunni areas and the collective punishment of the Sunni population. The eventual defeat of ISIS in Mosul was not a victory for the Iraqi nation, but a military triumph for Iran and its Shia militias at the expense of the Sunnis and Kurds.
Saving the Kurds from oblivion: unity in diversity
With US President Donald Trump turning his back on the Kurds in their hour of need, the KRG now faces an existential threat from the array of forces waged against it. The IRGC, Hezbollah, Hashd al-Shaabi militias and the Iraqi Army have not stopped at routing the peshmerga from the disputed Kurdish areas. They are advancing on Erbil to neuter or dissolve the KRG. The Kurds are getting the treatment meted out to the Sunnis in Anbar and could potentially lead to the kind of genocide reminiscent of the Saddam era.
Genuine sovereignty requires unity in diversity and the collectivisation of forces against foreign intervention, whether Iranian, Turkish, American or Israeli. As the Kurds cannot rely on outside allies, they may find common cause with domestic allies.
Only by playing a full role in the development of Iraq and building a civil society, rather than a separatist project pursued by an increasingly discredited Kurdish leadership, can Kurds achieve permanent peace and freedom. This need not mean giving up on their autonomy, but it would mean recognising their limitations following October's dose of reality.
https://english.alarabiya.net/en/features/2017/10/27/Hubris-and-Parochialism-Killed-the-Kurdish-Dream.html
--------
Christians safe in Muslim-majority Kashmir: Bishop
October 23, 2017
Shaded green patches of St. Mary's Garrison Church on Jammu's Satrwari Road offer respite from the heat.
A woman at the church's main gate, holding a newborn baby, asks the watchman to let her meet Bishop Ivan Pereira, who is based in the mountainous north Indian state of Jammu and Kashmir bordering Pakistan and China.
The woman and her husband have come straight from a maternity hospital hoping the bishop will bless their infant son.
Their wish is fulfilled when Bishop Pereira greets them at reception, places his right hand on infant's head and mutters a prayer.
In his office, two young women who have finished their law courses are seeking the bishop's blessing ahead of their first day in the court.
"Represent the unrepresented, never ever turn your heads away from the poor," the bishop tells them before saying farewell.
Bishop Pereira, 53, has already spent more than half his life in the region, although he was born to traditional Catholic parents in the Vasai area of western Maharashtra state. He was ordained a priest in the Jammu-Srinagar Diocese in 1993.
He became bishop of the diocese in 2015 with the aim of increasing religiosity among the Catholic community.
"Change will come only through education," he says by way of explanation of his focus on the needs of young people.
Christians constitute a tiny minority in the state of 12.5 million mostly Muslims.
There are only about 20,000 Christians, mostly Catholics.
Almost all local Catholics hail from economically and educationally disadvantaged Dalit communities, formerly known as untouchables.
However, Bishop Pereira said they faced no danger, despite secessionist violence during the past three decades.
"Christians weren't targeted or intimated," the bishop said, adding that Christians and Muslims live in harmony with other faiths.
He noted that church's social services are available to all, not just Catholics.
The diocese runs four schools for mentally and physically challenged children. It also manages five hospitals where the poor are treated free of cost.
Aiming to empower village women, the diocese has organized 784 self-help groups where women are trained to generate income from small enterprises.
And villagers are assisted to learn from each other on issues such as health and farming.
Dialogue for peaceful Kashmir
Bishop Pereira believes peace can only return to Kashmir through dialogue rather than bullets and bombs.
Three decades of violence have claimed an estimated 100,000 lives of militants, army personnel and civilians. This year, up until August, 252 people had died during various violent incidents.
Some separatists argue that the Muslim-majority region should have become part of Pakistan when British India was divided to create India and Pakistan. Others want to make it an independent state.
Both India and Pakistan claim the Kashmir region and administer different parts of it, resulting in three major wars and myriad skirmishes.
"Those at the helm need to sit together and discus what should be done to save future generations from decades of animosity and bloodshed," the bishop said.
Protagonists needed to compromise for the greater common good.
Bishop Pereira added that Kashmiri youth at risk of radicalization should be shown alternatives through an exchange of ideas.
https://www.ucanews.com/news/christians-safe-in-muslim-majority-kashmir-bishop/80533
--------
Bengal-Based Hindutva Leader's Speech in British Parliament Draws Ire
Oct 26, 2017
A far-right Hindutva leader from Bengal and his host, a conservative UK MP, came under heavy criticism from the British media for his remarks against Muslims at the UK parliament building last week.
Major UK newspapers criticised Tory MP Bob Blackman, a member of the communities and local government committee, for hosting Tapan Ghosh (63), founder of Hindu Samhati, known for his anti-Islamic rhetoric, at the Committee Room 12, House of Commons, Westminster on October 18.
Ghosh, in his 15-minute speech, called for building a 'Hindu Defence Force' to fight 'Islamic aggression' and urged the audience to put pressure on governments in Europe and the US to force west Asian countries to stop sending aids to madrasas in India.
The event, 'Tolerating the Intolerant', was organised by National Council of Hindu Temples (UK) and Ghosh was the 'keynote speaker'.
"Ghosh's presence sparked a strong backlash, given his inflammatory remarks in the past about Muslims, including calls for the UN to curb their birth rate globally and claims that British Muslim paedophiles have abused a million white children," reported hunffingtonpost.co.uk.
According to The Sun, "The meeting sparked outrage among Muslim groups and MPs because of the speaker's track record of inflammatory rhetoric."
The Times reported, "A Tory MP hosted in parliament an anti-Muslim extremist who has called for the UN to control the birth rate of Muslims, praised the genocide of Rohingya Muslims in Burma, and said Muslims should be forced to leave their religion if they come to a western country."
"Why did top Tories share platform with Hindu nationalist who wants Muslim birth-rate controls?" headlined RT.com.
Facing criticism, Blackman said he did not endorse Ghosh's views but supported Ghosh's right to freedom of speech.
After October 18, Ghosh also shared dais with Tommy Robinson, the founder of the far-right English Defence League, at a meeting on "demography and global resistance against Islamic violence and aggression".
After a 13-day trip to the UK, Ghosh returned to Kolkata on Thursday to an enthusiastic welcome by Hindu Samhati workers at the airport.
"I previously set up some support groups in the US. This time, I managed to form some support groups in the UK as well," Ghosh said.
The office of the home secretary Amber Rudd, who was invited to the event, clarified she was not present during Ghosh's speech and that she differs with Ghosh's views.
"The Home Secretary accepted an invitation from the Hindu Forum of Britain to attend an event in Parliament last week to celebrate Diwali. She did not speak to Mr Ghosh and was not present when he spoke," the home secretary's office said in a statement to Huffpost.
Ghosh, a swayamsevak since 1970s, served in various crucial capacities in ABVP and Bajrang Dal, before breaking away from RSS in 2007, accusing the Sangh's Bengal chapter of "lacking courage", and founded his own outfit in 2008.
Hindu Samhati has now spread its organisation across Bengal, besides creating footprints in Assam and Jharkhand.
http://www.hindustantimes.com/india-news/bengal-based-hindutva-leader-s-speech-in-british-parliament-draws-ire/story-r2WAqo3Fhlaltkaj0MolCM.html
--------
Pakistan
Pakistan university students tackle intolerance problem
October 25, 2017
When Muhammad Usman Farooq arrived to study at the top University in Lahore, there was animated discussion about an infamous blasphemy case against one of the lecturers.
In early 2013, former Fulbright scholar Junaid Hafeez's employment as an English lecturer at Bahauddin Zakariya University had been terminated.
Students belonging to Jamaat-e-Islaami, the largest religious-political party in the country, had protested on campus against allegedly blasphemous remarks Hafeez made during lectures and on Facebook.
Hafeez was arrested and charged in March 2013 with blasphemy, but struggled to find a lawyer to defend him. In the end Rashid Rehman, a regional coordinator for the Human Rights Commission of Pakistan, took up Hafeez's case but he was murdered in his office by unidentified gunmen. During an earlier hearing, Rehman was openly threatened by prosecution lawyers in court.
Farooq, 21, said since then NGOs had been organizing programs at the university aimed at promoting religious and cultural tolerance.
He was among 40 university students who attended a workshop organized by the Youth Development Foundation (YDF) on Oct. 7-8 in Lahore.
The workshop, which followed-up on earlier events, asked participants to come up with ways of countering campus and classroom religious intolerance.
The Project
YDF programs have involved 80 students from four universities in Pakistan.
Organizers are now planning to celebrate various religious feasts and make documentaries about what different religions have in common.
Speech competitions and "peace theatre" performances are also scheduled.
Meanwhile, Farooq and his Muslim friends want to display banners on university buses with quotes from leading Pakistani humanists.
"Photos of Muslim philanthropist Abdul Sattar Edhi and Catholic Sister Ruth Pfau (who treated leprosy patients) will be used, as both of them helped everybody and people will always respect them," Farooq said.
Many bus drivers had agreed in principle to the plan and permission from the university's vice chancellor is being sought.
Challenges
Shahid Rehmat, a Catholic and Executive Director of YDF, cites the April killing of journalism student Mashal Khan from Abdul Wali Khan University in northern western Khyber Pakhtunkhwa province.
Khan was also accused of blasphemy.
A few days later, a professor from the Ahmadiyya Islamic movement was found stabbed to death in her house in the residential area of Punjab University.
Ahmadiyya, founded in Punjab in the 19th Century, is considered by some mainstream Muslims to be heretical.
"The horrific attacks brought fresh focus to the growing intolerance and propensity for extremist violence on varsity campuses," Rehmat said.
"This is an alarming trend which requires immediate attention."
Professor Anjum James Paul, from the Government Post Graduate College in Faisalabad, blames a "sick society and class system" for religious violence at places of higher education.
He called for protection of diversity at universities where there has traditionally been political and religious wings of students and even teachers.
Out of the 186 universities recognized by Pakistan's Higher Education Commission, only four made it to the latest Times Higher Education World University Rankings.
https://www.ucanews.com/news/pakistan-university-students-tackle-intolerance-problem/80535
--------
Pakistan's youthful population creates education challenges
OCTOBER 27, 2017
Saad Sayeed
ISLAMABAD (Reuters) - Pakistani private schools, charitable institutions, and religious seminaries are stepping in to supplement government-run schools to help deal with the education needs of a fast-growing nation with an estimated 50 million school-age children.
Despite 220,000 schools nationwide, Pakistan has over 20 million out-of-school children, according to a 2016 government report.
The government has pumped money into schooling, with the education budget swelling by 15 percent every year since 2010, according to education consultancy Alif Ailaan. The United Nations puts the current budget at 2.65 percent of GDP, roughly $8 billion, or around $150 per student.
But experts say the government can't meet all the education needs and part of the problem lies in quality of teaching rather than just dearth of money.
"It's not the number of schools, it's the quality, the attitude," said Zeba Hussain, founder of the Mashal Schools which educate children displaced by war in the country's north.
Situated on the outskirts of Pakistan's capital Islamabad, the charitable schools began when Hussain met a group of refugee children while visiting the hills encircling the city.
Many private institutions criticize what they describe as a deeply flawed government education system.
"Students are labeled 'smart' or 'stupid' right from the start," said Shaista Kazmi from Vision 21, a privately-funded NGO that runs speed literacy programs for out-of-school children that compress five years of reading proficiency into one.
Federal education director Tariq Masood strongly disagreed with critiques of teachers, adding that population growth and funding were the biggest challenges faced by government schools.
"No one who is underqualified can enter the government system, there are fewer checks in the private system," Masood said.
Masood said government schools adhered to a nationwide curriculum that was being constantly reworked and innovated.
The country's poorest often send their children to one of the thousands of religious madrassas (the Arabic word for school) where students are boarded, fed, and given an Islamic education. Most operate without government oversight.
Pakistan's madrassas have become synonmous with creating militant fighters through hardline teachings of Islam and many have been linked to organizations such as the Taliban and Al Qaeda.
But many provide shelter, three full meals, and a good education to young people whose families are unable to make ends meet.
"In certain cases people send their kids because they can't even afford to feed them," said Irfan Sher from the Al-Nadwa Madrassa, where all subjects are prioritized and students are capable of analyzing what they are taught.
Sher insists that the country's future hinges on what its youth are taught.
Full report at:
http://www.reuters.com/article/us-pakistan-education/pakistans-youthful-population-creates-education-challenges-idUSKBN1CV294?il=0
--------
Tillerson-Ghani meeting speaks volumes of American failures in Afghanistan: Asif
Naveed Siddiqui
October 26, 2017
The meeting between United States Secretary of State Rex Tillerson and Afghan President Ashraf Ghani at the Bagram airbase tells a story of American failures, Foreign Minister Khawaja Asif informed the National Assembly Standing Committee on Foreign Affairs on Thursday.
"Despite the US being present in Afghanistan for the past 16 years, their secretary of state could not go out of their airbase in Afghanistan and had to meet the Afghan president inside it," Asif observed.
"This situation explains the complete story of American failures in Afghanistan," he informed the Standing Committee on Foreign Affairs. "The Afghan president became a stranger in his own country after meeting Tillerson at the Bagram Airbase," he said.
While briefing the committee on United States' new South Asia policy, Asif said that the US still feels Pakistan is using the Taliban against it in Afghanistan.
However, he was quite to say that Pakistan's influence on the Afghan Taliban has waned, which has led to them changing their bases.
Tillerson's tour
Tillerson had visited Afghanistan, Pakistan and India to discuss US President Donald Trump's new South Asia policy.
His message in Pakistan appeared significantly toned down as compared to the usual American rhetoric on alleged terrorist sanctuaries on Pakistani soil, although in essence there was little difference in the messaging.
The secretary had just a day earlier told reporters at Afghanistan's Bagram airbase that Islamabad needed to have "a clear-eyed view" of terror safe havens on its territory and cautioned that bilateral ties would be conditions-based in terms of whether or not its leaders take the "specific" actions that were being required of them.
During Secretary Tiller­son's visit it was impressed upon the US side that Washington's policy in the region had been hammered out by generals who had failed in Afghanistan, but were not ready to admit to the ground realities, Asif had told the Senate on Wednesday.
"We will cooperate with the US but will not accept being held responsible for anyone's failures," Asif said on Thursday, vowing to take the parliament into confidence regarding foreign policy. "Keeping the parliament out of relations (with other nations) is disastrous."
India collaborating with NDS to destabilise western borders
Asif also alleged during his address that India is trying to destabilise the western borders of Pakistan by collaborating with Afghan intelligence.
He said that the collaboration between India's Research and Analysis Wing (RAW) and Afghanistan's National Directorate of Security (NDS) is working against Pakistan.
Full report at:
https://www.dawn.com/news/1366419/tillerson-ghani-meeting-speaks-volumes-of-american-failures-in-afghanistan-asif
--------
Local ANP leader, brother killed in blast in Balochistan's Harnai
Syed Ali Shah
October 27, 2017
Awami National Party (ANP) local leader Abdul Razzaq and his brother were killed in an explosion in Balochistan's Harnai district on Friday morning.
Deputy Commissioner Harnai, Abdul Salam Achakzai told DawnNews that the ANP leader and his brother were killed as the bomb may have been planted in their vehicle.
According to the deputy commissioner the bomb went off as soon as the two men entered their car to travel to Pishin to participate in a public meeting.
The explosion destroyed the ANP leader's vehicle completely.
Levies forces and the police reached the spot as investigation into the incident went underway.
https://www.dawn.com/news/1366590/local-anp-leader-brother-killed-in-blast-in-balochistans-harnai
--------
Pakistan sees excellent relationship with China under Xi leadership: Abbasi
October 26, 2017
Prime Minister Shahid Kaqan Abbasi has congratulated President Xi Jinping on his re-election as General Secretary of Communist Party of China (CPC).
In his message of greeting to President Xi, the PM said the re-election on the top-position is testimony to the fact that he enjoys overwhelming confidence and support of the Chinese people and the entire CPC.
He hoped that under the leadership of President Xi, Pakistan and China will continue to enjoy excellent relationship in all sectors of bilateral interest, particularly in carrying out China-Pakistan Economic Corridor (CPEC).
"The people and government of Pakistan stand ready to take our bilateral comprehensive strategic cooperative partnership to new heights," he added.
Referring to the China's achievements during the last five years, Shahid Khaqan Abbasi said that the world marveled at the generational transformation China has achieved since the initiation of the reforms and opening up process in 1978.
China has not only achieved the status of second largest economy of the world but has also realized the miracle of bringing 700 million people out of poverty in a time span of one generation, he said.
The Belt and Road initiative and China-Pakistan Economic Corridor are the hallmarks of the spirit of this win-win cooperation, the PM added.
Meanwhile, Chief Minister Punjab Mian Shahbaz Sharif in his congratulatory message to President Xi expressed his immense pleasure over his re-election.
"The all-weather and exemplary bond between our two countries is set to enter a new era of shared development under your dynamic leadership," he added.
The Pakistan People's Party (PPP) also congratulated Chinese President Xi Jinping on his re-election as the general secretary of the CPC.
PPP Vice President Senator Sherry Rehman said that her party extends its warmest good wishes and congratulations to President Xi on his well-deserved re-election. "Under President Xi's steadfast leadership during his first term, China has achieved remarkable economic and development milestones," she said.
Senator Sherry also commented on the landmark amendment to the Chinese Constitution made during the 19th CPC Congress, saying, "it is remarkable to know that the One Belt-One Road project is now going to be a part of the Chinese Constitution."
Full report at:
http://nation.com.pk/26-Oct-2017/pakistan-sees-excellent-relationship-with-china-under-xi-leadership-abbasi
--------
Islamabad believes Afghan situation to improve if US accepts its defeat
Oct 26 201
The Pakistani officials have said there will only be room for improvement if Washingtn accepts their defeats, failures in Afghanistan, apparently lobbying for a change in the new US strategy for Afghanistan and South Asia.
The country's foreign affairs minister khawaja Asif told the Senate on Wednesday that "There will only be room for improvement if Washington accepts their defeat, their failures in Afghanistan," according to local media reports.
"They are not ready to accept this," he was quoted as saying by the local The Dawn News.
Asif further added that the talks held between Pakistani and American delegations a day earlier, asserted that Islamabad will co-operate with Washington in the 'war on terror' but without compromising its own sovereignty.
In the meantime, reports indicate that the US Secretary of State Rex Tillerson has handed over a list of around 75 terrorists which Washington believes use the Pakistani soil for the terrorist related activities.
According to the reports, the list also includes names of the Taliban leaders as well as the notorious Haqqani terrorist network.
This comes as the Afghan and US officials have long been insisting that the leadership councils of the Taliban and its associate Haqqani network are based in the key cities of Pakistan, including Peshawar and Quetta.
Full report at:
http://www.khaama.com/islamabad-believes-afghan-situation-to-improve-if-us-accepts-its-defeat-03722
--------
Mideast
Houthi militias using civilian prisoners in Hudaydah as human shields
26 October 2017
Reports suggest Houthi militias have been using civilian prisoners in the port city of al-Hudaydah as human shields and transferring them from one location to another to face the line of fire.
A report by the National Organization for Defending Rights and Freedoms (HOOD) entitled 'Human Shields in Hodeidah' said that "329 prisoners, both persons imprisoned in connection with criminal offences and persons forcibly disappeared and used as human shield for opposing the Saleh-Houthi militias have been killed".
In total, HOOD said that the Saleh-Houthi coup militias' arrests of civilians in Hudaydah "amount to 2,304 recorded cases in the period from October 2014 to the end of May 2017".
Al Arabiya's Bashayer Almutairi reports.
https://english.alarabiya.net/en/features/2017/10/26/VIDEO-Houthi-militias-using-civilian-prisoners-in-Hudaydah-as-human-shields.html
--------
Iraq PM wins Iran support as forces battle IS, Kurds
October 27, 2017
TEHRAN - Iraqi Prime Minister Haider al-Abadi, whose forces Thursday battled militants in the west of the country and Kurds in the north, won the support of Iran's supreme leader at talks in Tehran.
Ayatollah Ali Khamenei "gave his support for measures taken by the Iraqi government to defend the unity, sovereignty and territorial integrity of Iraq", Khamenei's office said in a statement after their meeting.
Abadi also held talks earlier with Iran's President Hassan Rouhani. Buoyed by the success of Iraq's separate campaign against the Islamic State (IS) militant group, Abadi has been on a regional tour that on Wednesday saw him in Ankara. The Tehran stop came as Iraqi forces launched a new assault on Kurdish forces in a disputed area of Nineveh province, sparking heavy artillery exchanges, according to Kurdish authorities and correspondents in the region.
Government forces have since last week asserted control over thousands of square kilometres (miles) of territory long disputed with the Kurds, in a feud which has boiled over since a Kurdish independence referendum held in defiance of Baghdad on September 25.
The vote organised by the leadership of autonomous Iraqi Kurdistan in the country's north also angered neighbours Turkey and Iran, both fearful of anything that might stoke separatist sentiment among their own large Kurdish minorities.
Also on Thursday, federal troops and allied paramilitaries launched an offensive up the Euphrates Valley towards the Syrian border in a bid to retake the last IS bastion in Iraq.
Tehran has poured significant resources into the war against the militants in Iraq, providing weapons, advice and training to the Shia militias which dominate the paramilitary force.
Its involvement has irked Washington but has been defended by the Iraqi prime minister, who gave a firm rebuff to US Secretary of State Rex Tillerson over his comments on the issue.
Meanwhile, Baghdad on Thursday dismissed an offer from Iraqi Kurdish leaders to freeze the outcome of a vote for independence last month in a bid to pave the way for dialogue.
A spokesman for Prime Minister Haider al-Abadi said the referendum had already been consigned to history by facts on the ground after Iraqi federal troops and allied militia overran thousands of square kilometres (miles) of disputed territory long claimed by the Kurds.
"They speak of freezing the referendum but our answer is this - the referendum belongs to the past and we have finished with it on the ground," Abadi's chief spokesman Haidar Hamada said on Facebook. Iraqi Kurdish leaders offered on Wednesday to freeze the outcome of the September 25 vote which delivered a resounding yes to independence, in a bid to ease the crisis in their relations with Baghdad.
The proposal came as world powers scrambled to avert any further escalation of the conflict between the key allies in the fight against the Islamic State group that has seen more than 30 combatants killed.
There had been no immediate response from Baghdad but the Hashed al-Shaabi (Popular Mobilisation) force, whose mainly Iran-trained Shia paramilitaries played a major role in the operation against the Kurds, said a freeze did not go far enough and demanded the outright annulment of the independence referendum.
Iraqi troops attacked the Islamic State group's last bastion in the country on Thursday as the retreating militants battled to save their self-styled "caliphate" from total collapse. The launch of the keenly awaited offensive that the US-led coalition fighting IS has dubbed "the last big fight" of the campaign came even as Iraqi troops launched a new operation against the Kurds.
There had been fears that the bitter dispute that has raged between the Baghdad government and Iraqi Kurdish leaders since they held a referendum for independence last month would hamper the battle against the militants.
But federal troops and allied paramilitaries pressed ahead with a threatened drive up the Euphrates valley towards the Syrian border in a bid to retake two Sunni Arab towns that have been bastions of insurgency since soon after the US-led invasion of 2003. Iraqi forces have retaken more than 90 percent of the territory IS seized in the country in 2014, with the militants now confined to a small stretch of the valley adjoining some of the last areas they still hold in Syria.
"The heroic legions are advancing into the last den of terrorism in Iraq to liberate Al-Qaim, Rawa and the surrounding villages and hamlets," Prime Minister Haider Al-Abadi said in a statement from neighbouring Iran where he is on a state visit.
"They will all return to the arms of the motherland thanks to the determination and endurance of our fighting heroes," he added.
"The people of IS have no choice but to die or surrender."
Regional operations commander General Qassem al-Mohammedi told AFP that government forces were advancing on four fronts - from the east, southeast, north and south.
He said that units of the federal police and the elite Counter-Terrorism Service as well as the paramilitary Hashed al-Shaabi (Popular Mobilisation) force were supporting the army.
The Joint Operations Command said that by early afternoon government forces had recaptured several military bases southeast of Al-Qaim, including an airbase.
Crucially for an offensive in an overwhelmingly Sunni Arab region, Sunni tribal volunteers in the Hashed were heavily engaged alongside the Iran-trained Shia militias that are its mainstay.
The US-led coalition said it had carried out some 15 strikes on IS targets in and around Al-Qaim and the town of Albu Kamal on the Syrian side of the border.
Al-Qaim has been renowned as a bastion of Sunni Arab insurgency for years.
US troops carried out repeated operations with names like Matador and Steel Curtain in 2005 to flush out Al-Qaeda militants.
Coalition commanders are convinced that Al-Qaim will be IS's last stand in its ambitions of territorial control of the cross-border caliphate it proclaimed in 2014.
On the Syrian side of the border, Russian-backed government forces have been pushing down the Euphrates valley while US-backed Kurdish and Arab fighters have been attacking the militants from their stronghold in the north.
The launch of the offensive against IS's last Iraqi redoubt comes with federal troops and militia engaged in an operation to reassert central government control over thousands of square kilometres (miles) of territory long disputed with the Kurds.
Loss of the territory has dealt a crippling blow to the finances of the autonomous Kurdish region and on Wednesday its leaders reached out for talks, saying they were ready to freeze the outcome of the September 25 independence referendum.
The Iraqi prime minister on Thursday dismissed the offer, saying it did not go far enough.
"We will accept nothing but the annulment of the referendum and respect for the constitution," he said in a statement released by his Baghdad office.
Abadi, whose stock has been massively boosted by the success of the fightback against IS, was in Tehran for talks a day after holding meetings in Ankara.
On Thursday, his forces launched a new assault on Kurdish forces in the disputed oil-rich Zummar area of Nineveh province, Kurdish authorities said.
An AFP correspondent reported heavy artillery exchanges as Kurdish forces put up fierce resistance.
Parts of Nineveh province north and east of Iraq's second city Mosul are some of the last areas that Kurdish forces still hold outside their longstanding three-province autonomous region.
Thursday's assault was close to the route of a strategic oil export pipeline linking the Kirkuk fields retaken from the Kurds with the Turkish Mediterranean port of Ceyhan that fell into disuse during IS's lightning sweep through northern and western Iraq in 2014.
Abadi discussed reopening the pipeline in his talks with Turkish President Recep Tayyip Erdogan on Wednesday.
"We are ready to provide any kind of support to allow the operation of the pipeline," Erdogan said.
Full report at:
http://nation.com.pk/27-Oct-2017/iraq-pm-wins-iran-support-as-forces-battle-is-kurds
--------
US House passes sanctions on Iran-backed Hezbollah
26 October 2017
The US House of Representatives on Wednesday backed new sanctions on Lebanon's Iran-backed Hezbollah militia, part of an effort to take a tough line against Tehran without immediately moving to undermine an international nuclear agreement.
Three Hezbollah-related measures passed by voice vote, without opposition. The House will vote on Thursday on another bill, to impose additional sanctions on Iran related to its ballistic missiles program.
President Donald Trump said on Oct. 13 he would not certify Iran is complying with an international agreement on its nuclear program, and threatened that he might ultimately terminate the accord.
Trump's action opened a 60-day window for Congress to act to reimpose sanctions on Iran's nuclear program that were lifted under the agreement, but there has been no move to do so in the House or Senate.
Aides said that, for now, House lawmakers are focusing on clamping down on Iran in other ways such as the Hezbollah and missile-related sanctions.
The first of the Hezbollah-related measures passed on Wednesday would impose new sanctions on any entities found to support the group, such as by providing weapons to Hezbollah. The second imposes sanctions on Iran and Hezbollah for using civilians as human shields. The third was a resolution urging the European Union to designate Hezbollah as a terrorist organization.
The United State named Hezbollah as a foreign terrorist organization in 1997. Earlier this month, Washington offered multimillion-dollar rewards for two of its officials as the Trump administration developed its strategy for countering Iran's growing regional influence.
"These critical measures will impose new sanctions to crack down on Hezbollah's financing, and hold it accountable for its acts of death and destruction," said Representative Ed Royce, chairman of the House Foreign Affairs Committee.
Full report at:
https://english.alarabiya.net/en/News/middle-east/2017/10/26/US-House-passes-sanctions-on-Iran-backed-Hezbollah.html
--------
Iraqis' resistance against terror increased their power: Iran's Larijani
Oct 26, 2017
Iran's parliament speaker, Ali Larijani, says the Iraqi people's battle against terrorists has made them stronger and proved to the world that nobody can take any aggressive action against their country.
"The Iraqi nation's resistance against terrorists showed to the world that Iraq is powerful and nobody can invade it," Larijani said at a meeting with Iraqi Prime Minister Haider al-Abadi in Tehran on Thursday.
The top Iranian parliamentarian said the Iraqis "cut the hand of terrorists" from their country and managed to prevent its disintegration "by taking necessary measures."
Referring to the US and Israeli moves in Iraq, Larijani said, "They pursue certain objectives the most important of which is to prevent the presence and activities of the popular armed forces, because they want to damage the power of Muslims by doing this."
Abadi, for his part, said the main factor, which led Iraq to victory, was the unity among all Iraqi people, noting that even the recent crisis in northern Iraq and the secession vote in the Iraqi Kurdistan Region failed to weaken that unity.
According to the Iraqi constitution, he added, the central government is responsible for maintaining the security of border regions and Iraq is a united and integrated country.
Touching on the annihilation of terrorists in Iraq, Abadi said Baghdad was trying to restore stability to the region, so that, displaced people could return to their homes.
Earlier on Thursday, the Iraqi premier met with Leader of the Islamic Revolution Ayatollah Seyyed Ali Khamenei and President Hassan Rouhani in Tehran.
Over the past three years, the Iraqi army and allied volunteer fighters have been leading a major operation to rid the country of Daesh Takfiri terrorists. At Baghdad's request, Iran has been providing military advisory assistance to Iraq in its counter-terrorism campaign.
Iraq recently witnessed simmering tensions over a controversial referendum on the secession of the Kurdistan Region, which was only supported by Israel.
The Kurdistan Regional Government held the plebiscite on September 25 in defiance of strong objection from Baghdad and Iraq's neighbors, particularly Iran and Turkey. The critics warned that the vote complicated the security situation in the Arab country. The Iraqi government responded to the referendum by taking a number of punitive measures, including taking back positions held by Kurdish forces since 2014, when they joined the fight against Daesh terrorists.
Full report at:
http://www.presstv.com/Detail/2017/10/26/539979/Iran-Ali-Larijani-Iraq-Haider-Abadi
--------
Iran: US leaders 'ignorant', Tillerson remarks 'deceptive'
Oct 26, 2017
Iran has lashed out at "impudent, deceptive and interventionist" remarks of US Secretary of State Rex Tillerson about what he called the need for the Iranian people to take back control of their government.
"The totalitarian and arrogant leaders of the United States must know that their attempt to create divisions between the people and the political and military authorities in our country is a desperate and fruitless attempt," Foreign Ministry spokesman Bahram Qassemi said Thursday.
The official was apparently referring to Tillerson's Wednesday remarks in New Delhi that Washington's "fight is not with the Iranian people," but with what he described as "the revolutionary regime."
"We know there are strong feelings and values inside of Iran that we want to promote in terms of one day the Iranian people being able to retake control of their government," the top US diplomat said.
Qassemi said Tillerson's remarks "once again depicted the true face of the United States for the Iranian people."
Iranians got furious this month after US President Donald Trump called the country a "terrorist nation" and used "Arabian Gulf" to refer to the body of waters which is internationally known as the Persian Gulf.
The outrageous remarks prompted Iranians of all stripes to take to social media and state that they were united in defending their country after Trump refused to certify a landmark nuclear agreement and hinted at consequences.
Qassemi hit out at contradictory postures of US leaders, saying their "only consequence is strengthening solidarity and national unity and increasing hatred and abhorrence of the policies of the ignorant American statesmen."
He also touched on the history of Washington's enmity with Iran even when the country was a close ally of the United States before the Islamic Revolution in 1979, including its role in a coup which brought down Iranian Prime Minister Muhammad Mossadegh.
"American statesmen, who through the 1953 coup against a legitimate government and then an all-out support for the dictatorial regime of the Shah, were an accomplice to that regime's crimes have committed the most crimes against our people under the guise of supporting the Iranian people since the beginning of the Islamic Revolution."
Washington supported the former Iraqi dictator Saddam Hussein in his eight-year war against Iran in the 1980s, providing him with vital intelligence and weapons. The war also marked direct US attacks on Iran's offshore oil facilities in the Persian Gulf and downing of an Iranian Airbus in which 290 people were killed.
Earlier this week, Trump unveiled tougher immigration measures against Iranians along with the citizens of 10 other countries. Those measures were purportedly aimed at protecting Americans from possible terrorist attacks.
No Iranian has ever been implicated in any known terrorist attack but Saudi Arabia where 15 of the 19 terrorists involved in the September 11 attacks came from is not in the list.
The US and Iran have held no diplomatic relations since the Islamic Revolution and Qassemi on Thursday summed up some of Washington's hostile moves against Iran.
"The creation of unrest and chaos inside the country, attempts to carry out a coup, military, economic, political, logistical and intelligence support of the despotic and criminal regime of Saddam in his aggressive war and the imposition of illegal sanctions against the great people of Iran are only a small and insignificant part of America's interventionist moves over the past nearly 40 years."
Full report at:
http://www.presstv.com/Detail/2017/10/26/539963/Iran-US-Bahram-Qassemi-Rex-Tillerson
--------
Europe
French army kills 15 Mali jihadists
2017-10-26
Paris - The French army said on Thursday it had eliminated an "armed terrorist group" linked to Al-Qaeda in northern Mali, killing 15 jihadists.
Army spokesperson Patrick Steiger said troops from France's regional Barkhane anti-terror operation had carried out a joint strike against the group with French special forces about 100km northeast of Kidal.
The operation, which was backed by fighter jets and helicopters, took place overnight on Monday.
It "allowed us to take 15 members of this katiba out of action", Steiger said, using a local word for a militant unit.
The group was a branch of Ansar Dine, which has links to the regional Al-Qaeda in the Islamic Maghreb (AQMI) group, he added, saying weapons and ammunition including assault rifles and grenades were destroyed in the raid.
France has had some 4 000 soldiers deployed in the Sahel region - a vast stretch of territory on the edge of the Sahara Desert - since 2014.
The announcement in Paris came as the Mali-based branch of al-Qaeda, Nusrat al-Islam wal Muslimeen, claimed an attack in the north that killed two soldiers.
US monitoring group SITE said the claims were made on the Telegram messenger channel of the group's so-called Al-Zallaqa Media Foundation.
"Fighters mounted a surprise attack on the Malian army position in Soumpi, killing two soldiers and burning military vehicles as well as those belonging to Sogea-Satom," a French road construction company that the troops had been "guarding", it said.
A second communique reported attacks on gendarmerie posts in Dioro and Ouan in central Mali on Monday and a landmine blast on a Malian army vehicle in the Mopti region on Tuesday.
On Wednesday, the Malian defence ministry said two troops had been killed and a third injured in a "terrorist" attack in Soumpi.
Islamic extremists linked to Al-Qaeda took control of the desert north of Mali in early 2012 at the expense of Tuareg rebels, but were chased out of Sahara towns by a French-led military operation launched in January 2013, which is still under way.
Mali's army, French soldiers and a UN mission (MINUSMA) are battling for control over large tracts of the country, which regularly come under attack in spite of a peace accord signed with Tuareg leaders in May and June 2015 aimed at isolating the jihadists.
Since 2015, jihadist attacks have spread to the centre and south of Mali and latterly to neighbouring countries, particularly Burkina Faso and Niger.
The creation of Nusrat al-Islam wal Muslimeen was announced on March 2 as a fusion of Ansar Dine, the Al-Murabitoun of Mokhtar Belmokhtar and the "Emirate of the Sahara," a branch of AQMI.
http://www.news24.com/Africa/News/french-army-kills-15-mali-jihadists-20171026
--------
French Government Paid Isis Fighters Social Security While They Were In Syria
By Jack Moore
10/26/17
French investigators have discovered that a significant portion of Islamists from France who traveled to fight for the Islamic State militant group (ISIS) had been receiving social security payments.
One of France's elite anti-crime units, known as the Criminal Brigade, or BAC, has been working for years to disrupt the financing of extremist organizations, an effective counterterrorism strategy that seeks to deprive jihadis of the funds they require to plot and commit attacks. They have most recently discovered a scam in which relatives of as many as 100 French ISIS fighters had been funneling their social security payments to them in Syria, according to French newspaper Figaro.
The Criminal Brigade found that as many as one-fifth of the total French ISIS fighters have been receiving payments, with family members often sending money through Turkey after picking up the fighters' own social security allowances using their documentation. In France, the unemployed can receive as much as $640 a month.
"With their photo cards, parents received the funds from the employment center or the family allowance fund before sending them...to areas of fighting via Turkey in particular," an investigator told Figaro.
In the years between 2012 and 2017, investigators identified 190 relatives who had transferred money from France to ISIS fighters, or jihadis who fought for Al-Qaeda in Syria before the group's rise in 2014. Around 210 other fraudsters were non-French nationals who came from Turkey and Lebanon.
They found that as much as 500,000 euros, or $590,000, had reached the hands of jihadis from France who would become ISIS members or who were already in its ranks. They also learned the militant group had received more than $2.3 million dollars from Europe overall last year from 420 scam payments.
France has seen as many as 1,910 of its nationals travel to Syria and Iraq to fight for ISIS, according to the latest figures released by Washington D.C.-based security consultancy The Soufan Group. As many as 271 have returned to the country and around 700 are believed to remain in the Middle East. At home, France is dealing with as many as 18,000 people suspected of being radicalized or on the verge of radicalization.
The country has already jailed relatives for sending funds to fighters who would take up arms in Syria. Last month, a French court sentenced a mother of three children to two years in prison for sending money to her young son that authorities said he used to fight for ISIS in Syria. Nathalie Haddadi, a nonpracticing Muslim from eastern France, said she had no knowledge that Belabbas Bounaga would use the money for those activities. But the court ruled that she was not telling the truth.
Full report at:
http://www.newsweek.com/isis-fighters-were-paid-social-security-france-while-they-were-syria-693489
--------
British Government's frantic response to Donald Trump's Muslim ban revealed
26 OCT 2017
Mikey Smith
British Government officials' frantic response to Donald Trump's late night announcement of the 'Muslim travel ban' has been revealed in a cache of emails.
Foreign Office documents released under the Freedom of Information Act reveal concerns about the 'Muslim ban', which was ordered "just as London is going to sleep."
The government wanted to set up an internal warning system to keep tabs on Donald Trump's increasingly erratic announcements.
And they say officials on both sides of the Atlantic were blindsided by the President's "early morning tweets.
Officials feared thousands of UK citizens with dual nationality could be prevented from travelling to the US, amid concerns about the potential impact on Anglo-American relations.
"BE (British Embassy) Washington have been trying to get clarity from State (The State Department) without luck so far," one internal Foreign Office email dated January 28 reported.
"If true, this would obviously mean thousands of dual nationals with British passports being banned from travelling to the US.
"Not great after the PM visit."
Another email, on the same day, said: "The dual nationals angle will of course be really difficult for us.
"I'll come back to you when I have more on our response."
The emails show that officials closely monitored media coverage, including Press Association reports of the developing situation, as well as tweets from individual journalists.
One Press Association report picked up by officials highlighted Sir Mo Farah's fears that he may be unable to return home to his children in the US.
"We're still guiding the that we are working with the State dept to establish the impact but grateful if we can be kept informed of any new advice to Brits looking to travel," one official wrote.
While the government secured an exemption for UK passport holders from the ban, which was subsequently struck down in the courts, the emails show officials were concerned the pace of developments in the US meant they could be caught out again.
One official complained they were "drowning under emails" while another noted the new administration was "ticking off campaign promises at a fair clip".
On January 30, Kara Owen, director of the Americas desk at the Foreign Office, suggested setting up a new internal warning system to monitor the impact of Mr Trump's executive orders on British interests.
"Many of these orders will no doubt be issued just as London is going to sleep," she said.
"I would like us to establish a system for assessing impact of the orders on UK interests (if any) and offering quick advice on what to do about it to the right readership (including senior readers in FCO and Whitehall, press and private offices).
"In addition, I would welcome any other predictions about EOs (executive orders) foreshadowed during the campaign and likely to touch on our interests, he is doing a lot of what he said he would."
Downing Street said the emails showed officials working to protect UK interests and that they had not been afraid to raise concerns with the US.
"We were working pretty quickly to establish the impact (of the travel ban) on British nationals.
"Where we have difference with the US we don't refrain from raising them," a Number 10 spokeswoman said.
"The Foreign Office is a 24/7 operation with offices around the globe.
Full report at:
http://www.mirror.co.uk/news/politics/british-governments-frantic-response-donald-11416394
--------
Putin urges tough action against online extremism
October 26, 2017
Russian President Vladimir Putin said on Thursday that law enforcement agencies must take tough action against persons and groups using the Internet for extremist ends.
"The security of Russia's Internet must be heightened, we must fight against those using the information space to spread extremist ideas," Putin told a meeting of Russia's Security Council.
"At the same time, I would like to stress that there can be no talk about restricting access of law-abiding citizens to the worldwide web, about any pervasive barriers and filters," he said.
http://nation.com.pk/26-Oct-2017/putin-urges-tough-action-against-online-extremism
--------
South Asia
Bangladesh arrests Buddhist charity chief on terror charges
Oct 26, 2017
Cox's Bazaar: Police said U Shit Maung, 67, was detained as he tried to board a flight to Myanmar at Dhaka's international airport last week.
Police only revealed on Wednesday that Maung, who heads the Rakhaing Development Foundation, had been detained after allegedly suspicious images were found on his laptop.
"The RAB (Rapid Action Battalion) arrested him over anti-terrorism charges last week from the airport and handed him to us," airport police chief Noor-e-Azam Mia said, without elaborating on the charges.
Violence in Rakhine, likened by the UN to ethnic cleansing, has driven more than 600,000 Muslim Rohingya from Buddhist-majority Myanmar into Bangladesh since August.
Many displaced Muslims in Bangladesh say the army and Buddhist mobs massacred or raped civilians and razed villages.
Maung's sister Ayethein Rakhaing said her brother, whose wife lives in Myanmar, was innocent and described the charges against him as false.
"He works for both the Muslims and Buddhists. He works there (Rakhine) for peace," said Rakhaing, a former lawmaker from the ruling Awami League.
His wife Mra Raza Linn was a prominent rebel leader turned peace activist in Myanmar, according to Maung's family.
"She is known to Aung San Suu Kyi," a family member said by phone, referring to Myanmar's de facto leader and Nobel Peace Prize laureate.
The relative added Linn heads a women's group in Rakhine and was a senior member of the Arakan Liberation Party (ALP), while she used to be a guerilla leader.
The ALP has been anti-Rohingya in recent years, a Bangladesh security officials said.
The Rohingya refugee crisis has prompted an outpouring of sympathy in Muslim-majority Bangladesh, but has also fuelled tensions with the small population of ethnic Rakhine Buddhists living there.
Some refugees living in overcrowded camps have alleged that Bangladeshi Buddhists, known locally as Moghs, have joined militias perpetrating atrocities across the border in Rakhine.
"My brother was killed by Bangladeshi Moghs," Rohingya refugee Amirul Islam, who fled from Myanmar, said at a camp in Cox's Bazar district.
Bangladesh police have bolstered security at Buddhist temples near the border, fearing local hostility among the Rohingya could boil over into reprisal attacks.
http://www.asianage.com/world/oceania/261017/bangladesh-arrests-buddhist-charity-chief-on-terror-charges.html
--------
Rohingya crisis: US Secretary of State Rex Tillerson calls Myanmar army chief Min Aung Hlaing
October 27, 2017
US Secretary of State Rex Tillerson urged Myanmar's army chief Thursday to help end the violence in Rakhine state that has forced hundreds of thousands of Rohingya Muslims to flee.
In a phone call with Min Aung Hlaing, Tillerson expressed "concern about the continuing humanitarian crisis and reported atrocities in Rakhine", according to a statement by State Department spokeswoman Heather Nauert.
"The Secretary urged Burma's security forces to support the government in ending the violence in Rakhine state and allowing the safe return home of those displaced during this crisis, especially the large numbers of ethnic Rohingya," she added, using Myanmar's former name.
More than 600,000 members of the minority Muslim group have fled across the border into Bangladesh in an intensifying crisis that began in late August.
Militant attacks on Myanmar security forces in Rakhine sparked a major army crackdown on the group, who are labelled illegal Bengali immigrants by most Burmese.
Tillerson, who paid a visit to Myanmar's giant neighbor India earlier this week, urged the military in his phone call to facilitate humanitarian aid for those who have been diplaced.
He also told the army to "cooperate with the United Nations to ensure a thorough, independent investigation into all allegations of human rights abuses and violations and to ensure accountability", said the statement.
Washington announced on Monday it was pushing for targeted sanctions against officers from the Mynanmar army involved in violence while withdrawing invitations to senior members of the security forces to visit the US, and ending travel waivers.
The move came after Tillerson had said the US holds Myanmar's military leadership "accountable" for the refugee crisis, drawing a distinction with Aung San Suu Kyi's civilian government.
Tillerson warned last week the world won't stand and "be witness to the atrocities that have been reported," adding that the military must be disciplined and "restrained."
Min Aung Hlaing has consistently defended his forces against accusations of having committed atrocities.
"One-sided statements and accusations against Myanmar and security members over the terror attacks of extremist Bengalis in the west of Rakhine State are totally untrue," he said in a post on his Facebook page Tuesday.
Supporters say Rohingyas have been systematically deprived of basic rights over decades in majority Buddhist Myanmar.
Full report at:
http://www.thedailystar.net/rohingya-crisis/us-secretary-of-state-rex-tillerson-calls-myanmar-army-chief-min-aung-hlaing-end-violence-rakhine-state-1482529
--------
Taliban's military commission chief among 7 killed in Wardak operations
Oct 26 2017
At least seven Taliban insurgents were killed during a joint operation of the Afghan security and Special Operations Forces in central Maidan Wardak province of Afghanistan.
The provincial police commandment said the military commission chief of the group was also among those killed and at least five others were wounded.
The police commandment in a statement said the operations were conducted in Deh Afghanan village and Qala-e-Ziarat located in the center of the province.
The statement further added that the Taliban leader killed during the operation has been identified as Qari Noor Aqa who was actively in charge of the group's military commission in this province.
According to Maidan Wardak police commandment, at least 50 Taliban insurgents have been killed or wounded during the operations of the Afghan forces in this province during the past one month.
Maidan Wardak is among the relatively volatile provinces in central parts of the country, located close to capital Kabul.
Full report at:
http://www.khaama.com/talibans-military-commission-chief-among-7-killed-in-wardak-operations-03721
--------
Arab World
As ISIS Is Driven From Iraq, Sunnis Remain Alienated
By DAVID ZUCCHINO
OCT. 26, 2017
KARMAH, Iraq — After the Islamic State was finally driven from the central Iraqi city of Karmah last year, Sirhan Sallom returned to his home to find it demolished.
Mr. Sallom, 70, has since waited in vain for help. In Iraq's deeply sectarian system, he doesn't expect much from the Shiite-dominated government in Baghdad. But he is angry that local and national Sunni politicians haven't come to the aid of his Sunni Muslim city either.
"These politicians are Sunni — they are supposed to help us," he said. "They're useless."
Fourteen years after the American invasion ended decades of Sunni dominance in Iraq, Iraq's Sunni Arabs are struggling to reclaim relevance and influence. After they were ousted from government jobs and from the military by the post-Saddam Hussein government, their powerlessness and rage gave rise to Sunni militant movements like Al Qaeda in Iraq and the Islamic State.
Now that those militants are being driven from the Sunni heartland, how the government responds to Sunnis trying to rebuild their lives is likely to have long-term consequences for the country's stability and security.
More than 3.1 million Iraqis, the vast majority Sunni, remain displaced from their homes after three years of occupation and battles with the Islamic State. Another 2.3 million have returned. As Sunni towns like Karmah await rebuilding, Sunni leaders have not been able to wring much help from a cash-strapped central government more focused on battling the militants and, more recently, the Kurds.
Since 2003, Sunnis, who make up about a quarter of the population, have lost out to Shiites and Kurds, who were both brutally repressed by an elite Sunni minority under Saddam Hussein. With Iraq's government now controlled by Shiites, and the Kurds governing their own autonomous area in the north, the Sunnis are in a political no-man's land.
There were high expectations when Haider al-Abadi became prime minister in 2014 that he could turn the page after the divisive sectarian rule of his predecessor, Nuri Kamal al-Maliki, and win the confidence of the Sunnis.
Instead, Sunni leaders say, he has forsaken them as he forged closer ties with Iran, the hard-line Shiite theocracy next door. Iran now wields tremendous influence over Iraq's economy, military and government.
Hamid al-Mutlaq, who represents Karmah in Parliament, said the government was more focused on working with Iran and Iranian-armed Shiite militias than helping Sunnis rebuild.
"We are now a displaced people, a completely marginalized people — and it's getting worse by the day," he said.
"We have a corrupt government controlled by a foreign power, at the expense of Sunnis," he added.
But Sunni politicians are mired in local feuds. They can hardly advance their own case when they can't even agree on where to meet to patch up differences. At a Baghdad conference two years ago, Sunni politicians threw chairs at each other as their bodyguards traded punches.
"Our politicians do nothing for us," said Ismail Jassim, 39, who relies on donations from neighbors in Karmah to survive in his home, which was burned by militants. "We never see them, except on TV at election time."
The power of Sunni politicians was greatly diminished by the power-sharing agreement adopted after the American invasion. Under its formula, the prime minister's post, along with the interior and foreign ministries, are reserved for Shiites. Kurds get the presidency and finance ministry. Sunni Arabs get Parliament speaker and defense minister, but the prime minister is commander in chief, and Shiite army commanders and militia leaders wield significant influence.
Iranian-trained Shiite militias are part of Iraq's armed forces and have battled Islamic State militants since they seized nearly a third of Iraq in 2014. The militias have been accused of atrocities against Sunni civilians, and their presence near Sunni areas has alarmed many residents. A Shiite religious flag fluttered last week at an Iraqi military checkpoint outside Karmah.
Kurds have their own army as well, known as the pesh merga. But Sunnis have no national armed force, only tribal militias blended into Iraqi security forces to fight the militants.
Some Sunni politicians have advocated an autonomous Sunni region, but those proposals have gone nowhere amid partisan bickering.
"Sunnis have no unified leadership," said Wathiq al-Hashimi, the head of the Iraqi Group for Strategic Studies, an independent research group in Baghdad. "And Sunni politicians seem to care only about narrow personal interests."
A Kurdish referendum on independence last month further divided Sunnis. Most opposed it, preferring to keep Kurds inside Iraq as a counterweight against Shiite domination; virtually all Iraqi Kurds are Sunni. Many Sunnis cheered the government takeover of contested areas, where Sunni Arabs had seethed under Kurdish control.
But even Sunnis opposed to the Kurdish vote were alarmed when Iraqi forces conducted military maneuvers with Iranian troops inside Iran along the Iraq border.
"We won't tolerate that kind of foreign interference on top of everything else," said Sheikh Ahmed al-Karim, a Sunni lawmaker who generally supports the government of Mr. Abadi, the prime minister.
In Parliament, the Sunni-led bloc has 78 seats, roughly proportionate to their share of the population, but is dwarfed by the Shiite bloc, with 182. The Kurdish bloc has 65 seats. Parliament has fallen increasingly under the sway of Iran, which is locked in a regional power struggle with Sunni countries led by Saudi Arabia.
Mithal al-Alusi, a Sunni lawmaker, has called the government "a cardboard state" because of its ties to Iran. He has asked, acidly, whether Maj. Gen. Qassim Suleimani, the commander of Iran's elite overseas military forces who has advised Iraq's Shiite militias, had a proper visa to enter Iraq.
Shiites seem driven by a sense of religious grievance and a pan-Shiite destiny. Kurds are motivated by nationalism and dreams of independence. And Sunnis?
"For the Sunnis, there's a lack of political cohesion about exactly what they want," said Maria Fantappie, a senior analyst for Iraq at the International Crisis Group.
David L. Phillips, a former State Department adviser who has worked on Iraq for 30 years, said Sunnis had failed to organize as effectively as Shiites and Kurds.
"Baghdad is perfectly content to see the Sunnis in disarray," he said.
There are a few hopeful signs. Because some Shiite factions will oppose Mr. Abadi in April, and Kurdish politics are in upheaval, he will have to court the Sunni bloc to help ensure re-election.
"The Abadi government has never needed the Sunnis more than now," Ms. Fantappie said.
But Sunnis could suffer political losses in April if hundreds of thousands of displaced Sunni constituents are unable to vote. If hard-line Shiite populists prevail, some reconstruction funds could end up going to poor Shiite regions rather than liberated Sunni areas.
The post-Saddam era has proved ruinous for many Sunnis. After 2003, a de-Baathification program stripped hundreds of thousands of soldiers and civil servants of their jobs, including doctors and teachers. Many sacked Sunni army officers joined the Al Qaeda insurgency against American forces, though Sunni tribes later helped drive out the militants in the so-called Sunni Awakening.
Elements of de-Baathification continued, however. Mr. Mutlaq, the Sunni lawmaker who had been a general in Mr. Hussein's army, said a de-Baathification commission had barred him three times since 2010 from running for Parliament. "Pure political harassment," he said.
(He appealed, and now sits on Parliament's security and defense committee.)
Under Mr. Maliki, who was prime minister from 2006 to 2014, many Sunnis who had reclaimed their jobs were purged from the military and government, some for the second time. Festering Sunni resentment helped spur the rise of the Islamic State and allowed its fighters to take over Sunni towns and cities in 2014 with relative ease.
The militants promised a new era of Sunni dominance, drawing widespread support from disenfranchised Sunnis. But they failed to deliver, and the reign of terror they imposed ultimately turned many Sunnis against them.
Now Sunni towns like Karmah, where residents initially welcomed the militants, feel abandoned by their politicians. Karmah, with a population of about 95,000, was liberated in May 2016. The United Nations has provided some aid, rebuilding schools and making emergency infrastructure repairs.
But the only sign in Karmah of the Iraqi agency charged with rebuilding liberated areas is the beginning of construction work on five schools. Mustafa al-Hiti, a Sunni pharmacist who directs the agency, said that just $140 million had been allocated by Baghdad this year for rebuilding all of the areas that had been under Islamic State rule. He estimated total costs for that job at more than $100 billion.
He said international donors had allocated billions of dollars, but much of that money has been slowed by audits amid donor concerns about Iraq's reputation for corruption.
https://www.nytimes.com/2017/10/26/world/middleeast/iraq-isis-sunni.html?mtrref=www.google.co.in&gwh=961A41BB1AE8A3AD6A96F6D7BF71C689&gwt=pay
--------
Hundreds of Tribal Forces Join Syrian Army in Deir Ezzur
Oct 26, 2017
Media activists reported that over 500 forces from al-Bu Saraya tribe in Deir Ezzur have united with the army soldiers.
They also added that they are preparing to take part in the army operation to take back control of the strategic city of Albu Kamal at the border with Iraq from the ISIL terrorists.
Field sources confirmed on Wednesday that the Syrian pro-government forces have been engaged in tough battles with ISIL in Deir Ezzur province, advancing towards the border with Syria, adding that the Iraqi forces are also preparing for large-scale operation at common borders.
The Arabic-language al-Mayadeen TV network quoted well-informed sources as saying that the Iraqi joint forces are preparing for the launch of a large-scale operation against ISIL's defense lines in the towns of Rawa and al-Qa'em and some villages in Nineveh province along the border with Syria.
In the meantime, the Syrian army men have been hitting ISIL's positions in the two flanks of the Southern direction of the newly-liberated town of al-Mayadeen and the T2 oil pumping station in Southwestern Deir Ezzur towards the ISIL-held town of Albu Kamal in Southeastern Deir Ezzur at border with Iraq.
Liberation of al-Qa'em is the first step towards restoration of security to the borders with Iraq.
Full report at:
http://en.farsnews.com/newstext.aspx?nn=13960804000507
--------
US-led coalition acknowledges killing 51 more civilians in Iraq, Syria
Oct 26, 2017
The US-led coalition has acknowledged that another 51 civilians were killed during its airstrikes against purported positions of the Daesh Takfiri terrorist group across Iraq and Syria, bringing the total toll from the raids to at least 786.
The coalition said in a statement on Thursday that during September, it assessed 127 reports and that the 51 additional deaths occurred in 16 incidents going back as far as February.
Independent monitors have time and again challenged such reports and revealed that the US-led military campaign has significantly inflicted more civilian casualties. According to the Airwars, a UK-based non-profit monitoring group, at least 5,637 civilians have been killed by coalition strikes.
The co-called Syrian Observatory for Human Rights has recently said that a total of 42,234 documented airstrikes in the country resulted in a minimum estimate of some 7,000 civilian deaths by the US-led coalition between 2014 and 2017.
The US-led coalition has been conducting airstrikes against what are said to be Daesh targets inside Syria since September 2014 without any authorization from the Damascus government or a UN mandate. Such air raids began in Iraq in August of the same year.
The airstrikes, however, have on many occasions resulted in civilian casualties and failed to fulfill their declared aim of countering terrorism.
Russia said recently that the US wiped the Syrian city of Raqqah "off the face of the earth" with carpet bombing in the same way the United States and Britain bombed Germany's Dresden in 1945.
Full report at:
http://www.presstv.com/Detail/2017/10/26/539976/US-Daesh-Syria-Iraq-Airwars
--------
UN Security Council reaffirms support for Iraq's integrity after Kurdish vote
Oct 26, 2017
The United Nations Security Council (UNSC) has "reaffirmed" support for Iraq's territorial integrity amid tensions between the central government and the Kurdistan Regional Government (KRG) in the wake of a highly controversial independence referendum the semi-autonomous region held last month in open defiance of Baghdad.
French Ambassador to the UN Francois Delattre made the remarks during a press conference at the UN headquarters in New York on Thursday, calling on Baghdad and Kurdish leaders to hold talks.
"Council members called on all sides to refrain from the threat and use of force and to engage in constructive dialogue facilitated by the United Nations upon request as a pathway to de-escalation and a means to preserve Iraqi unity," he said.
Delattre further noted that both Baghdad and Erbil had already expressed their "willingness" to sit at the negotiating table to resolve their differences, adding that the council members encouraged both sides to "expeditiously set a timetable to hold these discussions."
He went on to say that the UNSC had once again affirmed "the importance of remaining focused on efforts to defeat" the Daesh Takfiri terrorist group, which has came to its final days in the Middle Eastern country.
Iraq, along with neighbors Iran and Turkey, opposed the September 25 vote, warning that the referendum would further complicate the security situation in the Arab country that has been grappling with foreign-backed militancy in its north and west for the past three years.
Following the vote, the central government in Baghdad shut down flights in and out of the region and ordered a halt to its independent crude oil sales.
The Kurdish region further slipped into political uncertainty after Iraqi forces captured the disputed city of Kirkuk last week. The city and its surroundings, rich in oil and populated by Kurds, Arabs and Christians, have been at the heart of a long-running row between Erbil and Baghdad.
Full report at:
http://www.presstv.com/Detail/2017/10/26/539995/Iraq-Kurdistan-KRG-referendum-UNSC-integrity
--------
New US sanctions aim to stir unrest in Lebanon, says Hezbollah
Oct 26, 2017
A Hezbollah member of the Lebanese parliament says proposed new US sanctions against the resistance group aim to provoke unrest in Lebanon.
The US House of Representatives on Wednesday endorsed new sanctions against Hezbollah over the resistance group's alleged "acts of death and destruction." The new sanctions have not yet become law.
Hezbollah parliamentarian, Hassan Fadlallah, said in a televised statement on Wednesday that the sanctions law was interference in Lebanon's internal affairs.
"The sanctions law ... is a blatant interference in Lebanese internal affairs, a violation of its national sovereignty and an unacceptable targeting of the Lebanese people" Fadlallah said in the statement, adding, "America aims, through this aggressive behavior in legislation, to subjugate Lebanon, to stir unrest and deprive its people of development."
Lebanon's central bank governor, Riad Salameh, said on Tuesday that Lebanon had mechanisms already in place to deal with any new sanctions.
In October last year, US Treasury announced that it had imposed sanctions on four Lebanese men and a firm, accusing them of financing Hezbollah. The Treasury has vowed to aggressively target Hezbollah and those supporting the movement's activities.
In 2015, the White House approved a bill that imposed sanctions against banks that do business with Hezbollah.
Washington claims that the resistance movement condones terrorism despite the fact that Hezbollah has been involved in a fierce fight against Daesh terrorists in Syria.
Lawrence Davidson, a professor at the West Chester University, told Press TV on Thursday that the US congressmen who have a financial commitment to the Zionists have imposed sanctions on Lebanon's Hezbollah resistance group, rejecting the move as an act of "ignorance."
Hezbollah was founded in the 1980s following the Israeli invasion and occupation of southern Lebanon. The movement waged a long resistance campaign against Zionist troops and pushed them out of southern Lebanon in May 2000. Since then, the group has grown into a powerful military force. Israel also suffered a humiliating defeat from Hezbollah in the 2006 war.
Hezbollah has also supported the Syrian army in its fight against foreign-sponsored terrorists, who have been wreaking havoc in the Arab country since March 2011.
Full report at:
http://www.presstv.com/Detail/2017/10/26/539961/Lebanon-Hezbollah-US-sanctions-
--------
After Islamic State, ruined Raqqa fears new strife
October 26, 2017
The morning after Islamic State's defeat in Raqqa, a local militia fighter stood in a square in the ruined, deserted city center. "There will be more problems here," he said.
The 19-year-old, who gave his name as Moro, was one of few Raqqa natives to witness the aftermath of the battle for the Syrian city. Victory celebrations by Kurdish forces felt muted - there were no civilians left. It was the "liberation" of a ghost town. "Daesh is to blame for this," said Moro, an Arab who joined the U.S.-backed Syrian Democratic Forces militia alliance (SDF) to fight Islamic State , known pejoratively as Daesh, after fleeing Raqqa two years before.
"But not everyone will see it that way. If destruction remains, people will blame the coalition, and maybe us."
The cost of the campaign to oust Islamic State from its former Syrian capital is the destruction of the city, the death and maiming of hundreds of civilians and displacement of tens of thousands.
As the dust settles, Raqqa's traumatized population fears new violence.
Rebuilding Raqqa, which resembles wrecked Syrian cities like Aleppo and Homs, will take years, meaning long-term homelessness for many - an issue already fuelling resentment against the forces that helped end Islamic State's detested "caliphate".
SDF supporters worry resentment will turn into unrest, pitting them against those who were more sympathetic to Islamic State , or who oppose what is increasingly perceived as Kurdish control of the majority Arab city.
The flags of the Kurdish YPG militia that spearheads the SDF were the first to fly above former Islamic State strongholds in Raqqa. Fighters chanted Kurdish slogans. The SDF declared the city would become part of Kurdish-led autonomy plans for northern Syria.
Many residents welcomed the U.S.-backed militias even as air strikes killed their relatives, saying the SDF at least treated them well.
But euphoria is giving way to a realization there is nothing for most to go back to. The U.S. State Department says it could be months if not longer before mines and debris are cleared and people can return.
Officials say frustration will be exploited by the SDF's enemies: Turkey, which is fighting a Kurdish insurgency of its own, and President Bashar al-Assad, who has vowed to retake all of Syria.
Raqqa has in turn been controlled by Assad, rebel groups and then the jihadists in Syria's six-year-old conflict. The forces now in control promise democracy and the council staffed by locals plans to hold elections.
"We're done with Daesh. The regime can't return either," Moro said, referring to Assad's Damascus-based government.
He stood at the spot where Islamic State whipped him 130 times for missing prayers. He and his brother spied on the group for the U.S. coalition by secretly filming key locations before his brother was found out and executed, he said.
'KURDS ALLOWED IN'
Signs of Islamic State's brutality litter Raqqa. Fighters last week searched a former prison set up underneath Raqqa stadium. Some cells were not big enough to sit up in.
On Naeem roundabout, where jihadists held public executions, a local woman said she once counted 77 decapitated heads on spikes.
Some 260,000 people fled the fighting. For now, most live in crowded camps and abandoned buildings with barely any water, electricity, food or medicine.
Those who fled abroad are unlikely to return, relatives say.
The few locals to see Raqqa after the expulsion of Islamic State include SDF fighters and civilians who did not flee. Others are desperate to get in.
At a checkpoint on Raqqa's outskirts, a crowd of people displaced for months argued with militiamen, demanding to inspect their houses.
"They say the area's mined. It's not, people have been across. You need connections. Kurds are allowed in," Sara Hussein, 58, said.
"Has Raqqa not been freed? It's over. We saw the parades on TV - we want to go home."
The SDF did not immediately comment but says it fairly represents all ethnicities in areas it controls.
The residents wanted to fetch winter clothes, worrying properties would be looted. One man said the SDF questioned him and confiscated his papers.
EMPLOYEES OF THE CALIPHATE
Others have been more thoroughly interrogated. They are among those Moro fears will resent the SDF.
A former Islamic State employee, who gave his name as Abu Furqan, was pushed out of Raqqa on his wheelchair by neighbours as they fled.
The 23-year-old had lost both legs in an air strike in August, and sat outside a mosque asking Red Crescent workers for painkillers. His wounds had been sewn up in an Islamic State clinic. Raqqa has no working hospitals.
"I did odd jobs for Daesh - manning police checkpoints, and driving around distributing water to fighters. Will I be interrogated again?" he said.
Islamic State wages were good, he said.
He avoided questions about whether he still sympathized with jihadists or opposed the SDF, replying: "When Daesh first came, some people were more afraid of what the U.S. reaction would be," a reference to air strikes.
The final days of the battle for Raqqa were marked by tension between the coalition and tribal leaders who demanded air strikes stop for the sake of trapped civilians while they negotiated safe exit for some militants, council officials said.
Full report at:
http://nation.com.pk/26-Oct-2017/after-islamic-state-ruined-raqqa-fears-new-strife
--------
Syrian Army Starts Cleansing Operations in Northeastern Hama
Oct 26, 2017
The Syrian army started operations from Ithriya-Wadi al-Zib front to regain control of Northeastern Hama, advancing 10km in the Northwestern parts of Ithriya.
Meantime, the army soldiers took back control of the villages of al-Shahatiyeh and Job Abyaz in Northeastern Hama during their operations.
They also won back control of a vast area in the Northern parts of Syriatel region in the North of al-Salamiyeh-Ithriya road.
The army has sent new military equipment and fresh forces to Northern Hama and Southeastern Idlib province in the past few days.
In a relevant development on Wednesday, the Syrian and Russian fighter jets carried out joint combat flights over the positions of the al-Nusra Front (Tahrir al-Sham Hay'at or the Levant Liberation Board) in Eastern Hama, destroying terrorists' command posts and a military convoy and killing tens of the militants.
The Arabic-language al-Watan daily reported that the warplanes bombed heavily the Al-Nusra positions in the villages of al-Rahjan, al-Hamdiniyeh, al-Janinieh, Zaqbar, Jubb al-Sakar, and Boyous in Eastern Hama, killing tens of militants and destroying their equipment.
Full report at:
http://en.farsnews.com/newstext.aspx?nn=13960804000823
--------
Syrian Army Repels Terrorists' Attack in Quneitra
Oct 26, 2017
The army units engaged in fierce clashes with the terrorists who had attacked a military point near the town of Hazar in the Northeastern parts of Quneitra province from Taranjeh region on Thursday.
They warded off the terrorists' offensive after inflicting a number of casualties on on them.
Relevant reports said last Friday that the Syrian army's artillery units pounded terrorists' positions in Northern Quneitra, killing the entire members of the group.
The artillery units shelled heavily the positions of a group of terrorists in Taranjeh-Harash region in Northern Quneitra, killing all the militants stationed there.
http://en.farsnews.com/newstext.aspx?nn=13960804000933
--------
UN report finds Syrian regime responsible for sarin attack
27 October 2017
The regime of Syrian President Bashar al-Assad was responsible for a deadly sarin gas attack on a rebel-held town in April, a UN report found Thursday.
"The panel is confident that the Syrian Arab Republic is responsible for the release of sarin at Khan Sheikhun on 4 April 2017," stated the report seen by AFP.
More than 87 people died in the nerve gas attack on the town in Syria's northwestern Idlib province.
Horrific images from the immediate aftermath of the attack drew global outrage and prompted the United States to fire cruise missiles at a Syrian air base from which the West says the assault was launched.
Last month, UN war crimes investigators said they had evidence that the Syrian air force was behind the attack, despite repeated denials from Damascus.
Full report at:
https://english.alarabiya.net/en/News/middle-east/2017/10/27/UN-report-finds-Syrian-regime-responsible-for-sarin-attack.html
--------
India
Two 'ISIS- inspired' youths in 10-day police custody for planning 'lone-wolf' terror attack
October 27, 2017
Two suspected ISIS-inspired youths, arrested by the Gujarat Anti-Terrorism Squad for allegedly planning to target a synagogue in Ahmedabad, were on Thursday sent to 10-day custody. A special court in Ankaleshwar, Bharuch district, has remanded them in ATS custody till November 6 for further investigation.
The ATS on Wednesday arrested Ubed Ahmed Mirza (29), a criminal lawyer, and his associate Kasim Stimberwala (31), an echo-cardiogram technician, for planning ISIS-style "lone-wolf" terror attack on the synagogue located in Khamasa, Ahmedabad.
The FIR states that the Surat-based duo were "guided" by Abdullah el-Faisal, a radical preacher currently in Jamaica who has been involved in propagating the ideology of al-Qaeda and then ISIS. According to the FIR, electronic evidences have proved that they were in constant touch with Faisal, convicted for acts like inciting killings of the Jews, the Hindus and Americans.
The ATS produced the duo before additional chief judicial magistrate R D Mehta and sought a 14-day remand for further investigation.
While seeking remand the ATS wrote in its application that their custody is required to probe if they are "involved with any national or international terror organisation," "who all are involved with these two accused", "whether they purchased any fire arms" among others.
Defence lawyer Jamir Shaikh opposed the remand application saying that both the accused have allegedly been under surveillance since 2014. He argued, "The ATS has found everything based on which the two were arrested and subsequently FIR was registered. Therefore, there is no need to seek further remand." He also questioned jurisdiction of the court.
http://indianexpress.com/article/india/two-isis-inspired-youths-in-10-day-police-custody-for-planning-lone-wolf-terror-attack-4908511/
--------
Among Kerala arrests, the 'global citizen' who brags about his IS links
by Arun Janardhanan
October 27, 2017
For someone who is alleged to be a handler for the Islamic State, U K Hamza stands out for his outspokenness about his supposed connections, not only in the IS but also among officials of investigating agencies, both central and state.
Hamza, 57, of Thalassery in northern Kerala, was taken into custody along with four others by Kerala police Wednesday and Thursday. Until then, Hamza was seen as a harmless IS sympathiser although investigators were always watchful because of the way he bragged about his purported allegiance to the IS.
Hamza was among five men remanded in custody for alleged IS links. Three had been detained by Turkish authorities and deported a few months ago following an attempt to enter Syria illegally. The fifth was Manaf, who was stopped while trying to leave India for Syria last December, with his family including five children.
In the past, Hamza has linked himself to that, too. "I was supposed to follow them. But they were not lucky; they were sent back from Mangalore airport," Hamza told The Indian Express in July, at his village near Thalasserry town. His little village, Kuzhippangad, does not show up on Google Maps and even the local taxi driver had not heard of it. When The Indian Express followed Hamza's suggestion and asked for directions to the house of "Arabi Hamza", it drew laughs.
"Did anyone laugh at you? I tell everyone about IS here. No one takes me seriously," Hamza said, hugging and welcoming this reporter to his traditional Malabar house. Preparing for his daughter's wedding, he apologised for the way the furniture was strewn all around for renovation.
He assured everyone present that the IS he knows is far from the forbidding image it carries, and declared it is a "movement of peace". "Don't you believe me?"
The description "Arabi Hamza" comes from his attire (see photograph) as well as special Arabic cuisines he serves at weddings in Thalassery. A chef, he spent most of his life in the Middle East, and also worked in Switzerland and Austria.
"Oh, Hamza? He is a global citizen," a police officer laughed Thursday. An NIA officer, who has questioned Hamza several times, added: "He may be the only IS person in the world who had never got arrested in spite of his outspoken nature and claims about his allegiance to Daish. He would even claim that he is the head of IS in India."
Back in July, a long conversation revealed Hamza's disappointment in failing to reach Syria. "Manaf promised me that he would take me, too, but he was sent back with his entire family. I just want to go and die there," he said, reciting verses from the Hadiths.
Would he still go to Syria? "That is my dream. But at this age, I am not sure."
Asked how many IS sympathisers he knew, he began boasting about hundreds. And how many of them knew him personally? He could come up with just one name. "Fajid, who worked in a supermarket in Bahrain and fled to Syria a few years ago," Hamza said. "I hope he has become a shaheed by now."
Given his links, wasn't he under pressure from police? He dropped the names of senior NIA and state police officials who, he claimed, were friendly with him. "They know I am not a terrorist, even if I am IS," he said. Why had he not been arrested? "Maybe," he admitted, "because they don't take me seriously."
All along, Hamza was among IS sympathisers under watch of Kerala police and the NIA. TV channels are now describing Hamza with aliases including "Taliban Hamza". His links with potential sleeper cells of IS sympathisers in Kerala are being probed now, said P P Sadanandan, Kannur DySP, who arrested Hamza said
"Besides 21 people who went to Afghanistan in June 2016, and 10 arrested by the NIA from Kanakamala hilltop in Kannur, three of the five arrested had gone to Turkey to enter Syria. Fifteen people from Kannur wanted to go to Turkey," said Sadanandan.
Full report at:
http://indianexpress.com/article/india/among-kerala-arrests-the-global-citizen-who-brags-about-his-is-links-4908417/
--------
NIA charges Zakir Naik for radicalisation
Oct 27, 2017
NEW DELHI: Controversial preacher Zakir Naik deliberately insulted the religious beliefs of Hindus, Christians and Islamic sects like Shia, Sufi and Barelvi, and his speeches influenced recruits to the cause of the so-called Islamic State, the National Investigation Agency has said.
The agency has chargesheeted the "televangelist" under the Unlawful Activities (Prevention) Act for heading an 'unlawful association' and accused him of inciting youth to take up terror acts and join global terror outfits like Islamic State.
Naik's NGO Islamic Research Foundation (IRF), banned in 2016 under the UAPA, as well as private firm Harmony Media Pvt Ltd were named as co-accused for having conspired with Naik to promote enmity and hatred between different religious groups and insulting certain sects of Islam and other religions .
Naik had "deliberately" and "maliciously" insulted beliefs of Hindus, Christians and certain Muslim sects that did not subscribe to Wahhabism, with the intention to outrage religious feelings, and IRF and Harmony Media were instrumental in the circulation of incriminating speeches in the form of CDs/DVDs/TV programmes, the NIA said.
Naik, the chargesheet added, had delivered over 1,500 public lectures/talks in India and abroad since 1994. "In these lectures/QA sessions, Naik states that only Islam is the true religion. He also says that among the religious books of all religions, only Quran is in original form, all other religious texts have been corrupted. He publicly claims that all the other messengers, including Moses, Jesus as well as Sri Krishna, preached Islam. He criticises religious practices observed by other religions as well as non-Wahhabi Islamic sects such as Shias, Sufis and Barelvis, and terms them un-Islamic," the NIA said.
According to the chargesheet accessed by TOI, a witness, Noor Mohammad, who was on his way to Syria to join the IS but later aborted the plan, told the NIA that he was influenced by Naik's oratory at 'peace conferences' organised by IRF in 2007 and 2008. Later on, he was motivated by an accused in the Malad-Malwani IS module case, Mohsin Sayyed, who quoted Naik as saying that suicide bombing was permissible in Islam. "Since he considered A-1 (Naik) an authority over Islamic viewpoint, he readily agreed to join the IS to fight jihad for them," the chargesheet said.
The second case cited by the NIA is that of Arshi Asif Qureshi, an associate of Naik and an IRF employee. Around July 2016, Qureshi was arrested, in a case registered in Kerala, on charges of forcibly converting two individuals to Islam and recruiting for the IS. Qureshi is also chargesheeted in an NIA case registered in Mumbai. The third case relates to Abu Anas, a chargesheeted accused in a 2015 'IS conspiracy case' investigated by the NIA. Anas received a scholarship of Rs 1.5 lakh from IRF in instalments between 2013 and 2015. Anas, as per the chargesheet filed in the IS case, was part of a conspiracy by the IS-affiliated Junood-ul-Khilafa-fil-Hind to recruit Muslims from India to work for the terror outfit.
Full report at:
https://timesofindia.indiatimes.com/india/nia-charges-zakir-naik-for-radicalisation/articleshow/61253230.cms
--------
Air hostess under ATS radar for links with ISIS operatives
Sarfaraz Shaikh
Oct 27, 2017
AHMEDABAD: An air hostess has come under the radar of Gujarat Anti-Terrorism Squad (ATS) after her name cropped up during the interrogation of the two alleged Islamic State (ISIS) operatives arrested from Surat and Ankleshwar on Wednesday . The air hostess is reportedly close to Ubaid Mirza, the Surat-based lawyer and hotelier who was arrested along with Kasim Stimberwala, an echo cardiogram lab technician in Ankleshwar-based private hospital.
ATS sources said that the arrested duo along with other radicalized youths were planning to take the help of this air hostess to smuggle gold into India. In one of the phone intercepts between Ubaid and another radicalized youth Zabiullah of Tamil Nadu, the former suggests that they should turn to smuggling of gold, cigarettes and used cars.
"He categorically says gold smuggling will be done with help of an air hostess. We believe that the smuggling could have been planned in Tamil Nadu, Mumbai or Ahmedabad itself," said a senior ATS official. In fact, the agency is also hunting for another woman named Shazia, a friend of Stimberwala, who offered to help four other Muslim youths cross over to Bangladesh from Kolkata.
"Shazia had called up the four youths who were planning to go Syria via Bangladesh in 2014. During their stay in Kolkata, they got a call from Shazia, who claimed to be Stimberwala's friend. She asked the four youths to cross over the Indo-Bangladesh border and go to Bangoan and meet one Mandole, who would arrange fake passports to fly to Syria," the official added.
However, the four were nabbed before they could cross over and they revealed the role of Shafi Armar, his brother Altaf Armar -both from Bhatkal in Karnataka, Ubaid and Kasim of Surat, Shazia and Atiq alias Ashiq of Kolkata.
Ubaid decided to turn to illegal business after suffering heavy losses in his hookah bar and hotel business in Surat.
"He had attempted to smuggle gold and cigarettes and we probing some persons related to a few ports in Gujarat," the official added. Ubaid and Kasim were planning to attack a synagogue in Khadia area of Ahmedabad.
Full report at:
https://timesofindia.indiatimes.com/city/ahmedabad/air-hostess-under-ats-radar-for-links-with-isis-operatives/articleshow/61254069.cms
--------
NIA raids Syed Salahuddin's ancestral house in J&K's Budgam
Oct 26, 2017,
SRINAGAR: The National Investigation Agency (NIA) on Thursday raided Hizbul Mujahideen chief Syed Salahuddin's house in Soibugh village of central Kashmir's Budgam district, sources said.
The raid came two days after HM chief's son Shahid Yousuf was arrested by the NIA in a terror funding case. Shahid was sent to judicial custody for seven days by a special court on Wednesday.
Reports said the NIA team reached Salahuddin's ancestral house at about 4.30am. It recovered several mobile phones, a laptop and some documents and left around 7am, sources said. According to reports, HM chief's sons and two daughters live in the said house.
Salahuddin, whose actual name is Mohammad Yousuf Shah, crossed over to Pakistan-occupied-Kashmir in 1989 and has been allegedly involved in several terror activities in Kashmir.
One of his sons, Syed Mueed, an IT manager with Entrepreneurship Development Institute in Pampore, was rescued by the Army along with about 100 people who were caught in cross-firing when terrorists stormed the EDI building last year.
Full report at:
https://timesofindia.indiatimes.com/india/nia-raids-syed-salahuddins-ancestral-house-in-jks-budgam/articleshow/61245507.cms
--------
Southeast Asia
Malay world vital for Islam's survival, Zahid says
26 Oct 2017
THE Malay world is among the vital elements in determining Islam's survival not only in the Asean region but across the world, says Deputy Prime Minister Ahmad Zahid Hamidi.
Regarding the Malay world as an invaluable asset, Zahid said the interrelationship between the Malay world and Islam started long ago with Malay being the lingua franca in spreading Islam in this region.
"In the view of (Syed Naquib) al-Attas, the choice of Malay language usage by the religious preachers was deliberate. This is because the nature and history of the Malay language that are almost similar to that of the Arabic language… hence chosen as the language to spread Islam through the Quran.
"This is the uniqueness of the Malays, retaining their identity through usage of the Malay language and Jawi script as these two elements make the Malays remain as 'Malays' and not becoming 'Arabs'."
Zahid said this in his speech before officially opening the International Institute of Islamic Civilisation and Malay World (ISTAC), International Islamic University Malaysia (IIUM) today.
At the event, Zahid also announced an allocation of RM10 million for the institute, formerly known as the International Institute of Islamic Thought and Civilisation.
He said comprehensive studies on the links between the Malay world and Islamic civilisation which had many similarities, would much benefit the development of a more glorious Malay civilisation, just like the Islamic civilisation before.
He also drew attention to religion being a basic element in the formation of a civilisation. "In fact, in the context of Islamic civilisation since the ancient Egyptian times, Islam managed to bring about the best civilisation when its teachings stressed on excellence, welfare and peace.
"This brilliance should be understood and studied by us," he said.
Zahid said Malay society should hold strong to true Islamic teachings and not deviate from its path in facing universal diversities and said outside culture could easily and quickly influence the local community's practices.
He also hoped that the rebranding of ISTAC could make Malaysia an outstanding place in the world for studying Islam and its civilisation, while also confident that it would eventually form the perception that religion has never been an obstacle to progress and development.
Also present at the event was IIUM president Rais Yatim, who is also the socio-cultural affairs adviser to the Malaysian government.
Rais, in his speech, said studies on the connection between the Malay world and Islamic civilisation could enrich understanding of Islam's dynamic development and Islamic societies across the world.
"This is only apt as currently, there are more than 200 million Muslims in the Malay Archipelago who make up 25% of the world's Muslim population," he said. – Bernama, October 26, 2017.
https://www.themalaysianinsight.com/s/20161/
--------
Sharia law in Aceh to face legal challenge
October 27, 2017
It was the sweetener that helped end a three-decade-long independence struggle, but the unique right of Indonesia's Aceh province to impose sharia law and Islamic criminal punishments faces a legal challenge next month.
A coalition of 20 human rights groups will lodge a petition with the Supreme Court arguing Aceh's Islamic criminal code — the only one in the country — contravenes the constitution.
The case will be scrutinised in Indonesia and outside of it after a series of recent, highly publicised punishments. Last month, a 30-year-old woman had to be hospitalised after she was given 100 lashes for adultery before a crowd in the capital, Banda Aceh. In May, two gay men became the first in Indonesia to be punished — 85 lashes each — for having consensual sex.
Aceh was granted the right to introduce sharia law as part of a peace accord that ended a 29-year separatist conflict in the months after the 2004 tsunami.
In 2015, it enforced an Islamic criminal code outlawing alcohol, adultery, homosexuality and public displays of affection outside marriage for Muslims and non-Muslims. Since then, 527 people have been flogged.
Totok Yulianto, chairman of the Indonesian Legal Aid and Human Rights Association leading the legal challenge, said Aceh's Islamic laws should be repealed because they contravened the peace accord, human rights laws as well as Indonesia's constitution, which allows for only one criminal code.
"Aceh can still adopt Sharia for civil affairs like marital laws and inheritance, but a province cannot have its own criminal law. Everyone must abide by the same national law," he told The Australian, citing problematic differences such as Sharia's treatment of rape.
"Islamic law requires four witnesses whereas the criminal law only requires two pieces of evidence. So victims in Aceh are treated differently than victims elsewhere. It is much harder to prove a rape case in Aceh, creating legal uncertainty," he said.
Aceh rights groups fear the challenge could undermine their efforts to introduce positive changes within the system — such as protections for women and minorities — and even that it could revive a dormant militant independence movement.
Zulfikar Muhammad, from the Coalition of Aceh Human Rights NGOs, said Acehnese people largely supported sharia law but wanted to see it implemented equally for serious crimes such as fraud and corruption, and not misdemeanours.
"Powerful public figures in Aceh can still be prosecuted under national law and receive fines instead of sharia punishments. Sometimes, public officials don't get prosecuted at all, even if they're caught having sex outside of marriage. So it seems like the law only applies to the poor and powerless," he said.
Tim Lindsey, director of Melbourne Law School's Centre for Indonesian Law, Islam and Society, said the legal case "is going to make everyone very nervous" because it questions not only the legitimacy of traditional Islamic punishments and the Aceh ­accord, but the very fabric of Indonesian society.
Full report at:
http://www.theaustralian.com.au/news/world/sharia-law-in-aceh-to-be-face-legal-challenge/news-story/c38c455121794660eeef2a1ea6b65c6f
--------
Hadi: Zakir Naik accused of terror after critics failed
October 27, 2017
KUALA LUMPUR, Oct 27 — PAS president Datuk Seri Abdul Hadi Awang has again defended fugitive preacher Dr Zakir Naik today, claiming the latter was deliberately accused of being a terrorist.
The Islamist party leader said critics have failed to answer Dr Zakir's arguments, amid investigations by authorities in the Malaysian permanent resident's home country India for alleged terror activities.
"For Muslim individuals, even when they won by using arguments and not weapons, like Dr Zakir Naik, they are considered terrorists because their arguments cannot be countered," Hadi said in an opinion piece on Islamophobia published today in his party's mouthpiece HarakahDaily even as India's National Intelligence Agency (NIA) filed radicalisation charges against the Mumbai-born televangelist.
Hadi had compared the allegations against Dr Zakir to the act on Babylonian king Nimrod, who was said to have sentenced Prophet Abraham to be burned on a stake after he lost a debate against the latter.
Despite Abdul Hadi's claim, there have been many criticisms and refutations of Dr Zakir's arguments by both Muslims and others.
Earlier this week, PAS had wanted Malaysia to refuse India's request demanding the return of its citizen and controversial Muslim preacher Dr Zakir Naik who is being investigated by its authorities for alleged terror activities.
The Islamist Opposition party's information chief Nasrudin Hassan said Dr Zakir was a well-respected individual and that claims that the latter was radicalising or preaching terrorism was untrue.
The Malaysian government granted permanent residency to Dr Zakir five years ago. The preacher has also been reported to have gained citizenship in Saudi Arabia, though the information remains unverified.
Last month, authorities in India clarified that Dr Zakir is wanted for allegedly funding terrorism, rejecting his claim of being targeted due to his religious beliefs.
India's NIA finally filed charges against the controversial preacher whom it had previously dubbed a "terror suspect" in court today, the Times of India reported on its website.
According to the news report, chargesheet against Dr Zakir ran into "thousands of pages".
The 52-year-old was reportedly charged under India's Unlawful Activities (Prevention) Act for heading an "unlawful association"; he was also charged with inciting youth to take up terror acts and join global terror groups such as the Islamic State.
Citing from the chargesheet, the news portal reported India's NIA saying that Dr Zakir's public speeches had on a number of occasions "led to communal tension... creating serious law and order situations".
"Naik was not considered an Islamic scholar, although he had memorised the Quran and Hadith," the report quoted the NIA saying in the chargesheet, adding: "His knowledge of Islam was very poor".
Full report at:
http://www.themalaymailonline.com/malaysia/article/hadi-zakir-naik-accused-of-terror-after-critics-failed#Q0fC7TolqJ7feogG.97
--------
In 'Shariah-based' shadow budget, PAS Youth moots taxing the rich
October 26, 2017
KUALA LUMPUR, Oct 26 — PAS Youth has proposed a "luxury tax" for the rich while the Goods and Services Tax (GST) will be phased out in three years, in its "Shariah-based" shadow budget for 2018 presented today.
The Islamist party wing also planned to charge a 10 per cent tax on "luxury items", and keep financial aid such as the 1Malaysia People's Aid (BR1M) and the e-Kasih poverty data bank.
"There are various problems happening in our country that can no longer be hidden. These problems are caused mainly because we have turned our backs to Allah's guidance," wing chief Muhammad Khalil Abdul Hadi told the media.
"PAS as an Islamic party that puts the Quran and Sunnah as its main reference, we must self-reflect over all the problems that are happening today."
PAS Youth said its shadow budget themed "development for sustainability of future generation" is a Shariah-based one, with religion as one of its five main points: to build a society that "adheres to their respective religious teachings with a high tolerance attitude".
The budget aims for a total of RM215 billion of government revenue, RM125 billion of which comes from direct tax, RM50 billion from indirect tax, and the rest from non-tax revenue.
It proposed for the GST to be waived within three years owing to legal implications, during which it will be zero-rated until it is completely repealed.
The wing planned to spend RM257 billion, leading to a fiscal deficit of RM42 billion.
Among others, it aimed to reward support staff in the civil service with a bonus of one-and-a-half month's wage, one-month bonus for management posts, and just half-month bonus for top management.
It also plans to introduce a special allowance for full-time housewives of government employees, whose children are below 18 years-old, or are still studying in higher education institutions.
The shadow budget also planned to regulate house ownership by raising the Real Property Gains Tax up to a whopping 80 per cent, up from the maximum 30 per cent at the moment.
Ownership of residential properties in "major cities" will also be restricted to a maximum of two units for individuals and companies — additional purchases are allowed if the previously owned units are disposed.
The shadow budget was drafted by the wing's Institute for Policy Studies.
Full report at:
http://www.themalaymailonline.com/malaysia/article/in-shariah-based-shadow-budget-pas-youth-moots-taxing-the-rich#5kmD0rW0ddDW29xP.97
--------
53 IS-linked Malaysians still in Mid East
Oct 27, 2017
KOTA KINABALU: Fifty-three Malaysians currently in the Middle East have had their passports revoked because they are suspected of involvement with the Islamic State (IS) terror group.
Inspector-General of Police Mohamad Fuzi Harun, who disclosed this to FMT, said the 53 included women and children.
"All countries surrounding Iraq and Syria are cooperating with us," he said. "If they cross the borders and get caught, we'll know it from our security counterparts in those countries."
US-based think tank Soufan Centre said in its latest report that at least 5,600 supporters of the Islamic State (IS) terror group had returned to their home countries.
The same report said 91 Malaysians, including 12 women and 17 children, had gone on to join IS in Iraq and Syria.
Philippines defence secretary Delfin Lorenzana said on Tuesday that his government had received a "long list of names" of Indonesians, Malaysians and Filipinos who might return home from the Middle East now that IS was losing territory to forces of a coalition led by the United States.
Philippine media quoted Lorenzana as saying that the list was given in a message from the Philippine embassy in Baghdad.
He was speaking during a press conference held as a sideline of the annual meeting of Asean defence chiefs in Manila.
Speaking at the same event, Australian Defence Minister Marise Payne said her country would help Asean countries keep track of returning militants who had fought for the IS group in Iraq and Syria.
Full report at:
http://www.freemalaysiatoday.com/category/nation/2017/10/27/53-is-linked-malaysians-still-in-mid-east/
--------
Philippines' Duterte Orders Army to Recruit 10 New Battalions to Crush Militants
Oct 27, 2017
Manila. Philippine President Rodrigo Duterte on Thursday (26/10) ordered the new army commander to recruit and organize 10 new infantry battalions to crush remnants of pro-Islamic State militants, days after they were defeated in a southern city.
The military on Monday declared victory over the Maute group, which seized control in Marawi City on May 23, after killing the last 40 remaining militants, including a few foreign fighters.
More than 1,100 people, including 165 soldiers, died in the five-month conflict.
"We were instructed to organize ten additional battalions," new military chief Lieutenant-General Rey Leonardo Guerrero told reporters after Duterte installed him to head the 130,000-strong armed forces. One battalion comprises about 500 soldiers.
"We really intend to put pressure and sustain effort to be able to finish all of them and complete the resolution of armed conflict in the country."
The Philippines has been waging protracted guerrilla warfare for nearly 50 years against Maoist rebels and Muslim separatists that has killed more than 160,000 people, displaced two million and stunted growth in resource-rich rural areas.
Guerrero, who was promoted from army commander in Duterte's home region on the southern island of Mindanao, said the army had also been ordered by the president to try to defeat the 4,000-strong communist New People's Army.
Duterte broke off negotiations with the Maoist rebels early this year due to continued attacks on mines, plantations, construction and other companies to raise funds, as well as attacks on isolated army and police outposts.
The government is engaged in peace talks with Muslim separatists trying to carve out an autonomous region in the south, enlisting the main Moro Islamic Liberation Front to help fight a small group of rebels who have pledged allegiance to Islamic State.
Full report at:
http://jakartaglobe.id/international/philippines-duterte-orders-army-recruit-10-new-battalions-crush-militants/
--------
In Abandoned Philippine City, First Hints of a Return to Normalcy
Oct 27, 2017
Marawi City. After five months of crippling conflict, there are slow signs of life returning in the Philippines' battered Marawi City.
Utilities engineers were at work on Thursday (26/10) in the near-deserted outskirts of Marawi which escaped the daily air strikes that flattened vast swathes of the city.
A few groceries, motorcycle repair shops and gasoline sellers have opened, ready for the first batch of returning residents in the coming days.
Nearly 6,500 families will be headed back to the homes that were left intact, out of the 353,000 people displaced when hundreds of pro-Islamic State gunmen ran amok and seized control of central Marawi in May.
Combat operations ended on Monday, when the last fighters were killed in a fierce final stand. With vehicles crushed and overturned and buildings reduced to skeletons of mangled steel and rubble, the city appears to be in the aftermath of a war that lasted years, rather than months.
Amelah Ampaso said she decided that day to sneak back to Marawi and reopen her shop, now stocked with cooking oil and cigarettes and offering photocopying services, printing, and haircuts.
As a first-mover in a liberated Marawi, the 25-year-old is doing brisk business among the few people around.
"The other shops are closed, so people are coming here," she said. "It's safe again."
But nearby streets look like the set of a post-apocalyptic film, silent, with shutters pulled down and weeds growing between concrete slabs. Rust and decay is setting in after months of heavy rains and neglect.
Spray painted on the walls of almost every building is the word "clear", marking where police and soldiers went house-to-house checking thousands of abandoned properties for booby-traps or signs of insurgents hiding.
The fighting has taken a heavy toll, killing more than 1,100 people, mostly militants, and reducing a large part of the interior of the city to piles of rubble, leaving only shells of uninhabitable grey buildings.
Shop owner Madid Noor, 64, returned two months into the battle, reassured by detachments of soldiers and police nearby, and unperturbed by what were constant explosions and the howling of fighter jets over the city.
Full report at:
http://jakartaglobe.id/international/abandoned-philippine-city-first-hints-return-normalcy/
--------
Africa
U.S. Soldiers Were Separated From Unit in Niger Ambush, Officials Say
By Thomas Gibbons-Neff AND Eric Schmitt
OCT. 26, 2017
WASHINGTON — In the chaotic moments after an Army Special Forces team and 30 Nigerien troops were ambushed by militants in a remote corner of West Africa three weeks ago, four of the Americans were separated from the larger group.
Their squad mates immediately alerted commanders that they were under attack — then called for help nearly an hour later, as a top Pentagon official said this week — and ground forces from Niger's army and French Mirage jets were both dispatched.
About two hours later, the firefight tapering off, French helicopters from nearby Mali swooped in to the rescue on the rolling wooded terrain. But they retrieved only seven of the 11 Americans. The four others were inexplicably left behind, no longer in radio contact and initially considered missing in action by the Pentagon, a status that officials say raises the possibility they were still alive when the helicopters took off without them.
United States officials insisted that other American, French and Nigerien forces were in the area when the helicopters lifted off. When Americans suffer casualties in an operation, the wounded are typically evacuated before the dead, officials said.
The bodies of three dead Americans and the team's interpreter were found hours later. But American military officials still cannot explain why it took two more days and an exhaustive search by troops from all three countries to find the body of the fourth soldier, Sgt. La David T. Johnson, discovered by Nigerien troops in the woods near the ambush site.
New details emerging from the military's investigation into the ambush and interviews with military officials and lawmakers have revealed, once again, changes to the timeline in a shifting narrative that has bedeviled top Pentagon officials. It has prompted increasingly frustrated members of Congress to demand answers for how a shadowy mission in an austere region of Africa left four Americans and five Nigeriens dead, including the interpreter.
The questions — including the mission's shifting goals, the intelligence assessment to back it up, how the soldiers were separated and the frantic search for Sergeant Johnson's body — were at the forefront on Thursday when senior military officers and their civilian Pentagon bosses traveled to Capitol Hill to give separate two-hour classified briefings for members of the House and Senate Armed Services Committees.
Senator John McCain, Republican of Arizona, who heads the Senate panel and who has criticized the Defense Department for failing to provide lawmakers details of the ambush, praised the briefing without divulging details. But he emphasized that he still had "100 questions" that the officials could not yet answer.
Pentagon officials said they would need 30 days to wrap up their inquiry, Mr. McCain said. Other senators on the committee said it could take up to 60 days. Army Maj. Gen. Roger L. Cloutier Jr., the chief of staff of the military's Africa Command in Germany, is leading the inquiry.
"It's clearer, but there's still a lot of things that they don't know," said Senator Bill Nelson, Democrat of Florida. "Why did it take 48 hours to find Sergeant Johnson? We don't know that yet."
Senator Tim Kaine, Democrat of Virginia, said many lawmakers were surprised to learn the scope of American military missions in Africa and, in particular, the size of the military presence in Niger, where 800 United States troops conduct training missions and drone operations. "I don't think Congress has been completely kept up- to date," Mr. Kaine said.
The mystery of what happened that day only deepened as new details emerged from interviews with more than a half dozen military officers, Pentagon officials and lawmakers this week.
On the night of Oct. 3, two groups set off in rural southwest Niger. One was a team of American, French and Nigerien commandos on a clandestine operation to kill or capture an Islamic State operative, part of a broader mission code-named Obsidian Nomad. The other group — made up of about eight Army Special Forces, three American soldiers in support roles and their interpreter, along with 30 Nigerien troops — was on a separate reconnaissance patrol. At some later point, the team was asked to back up the first group if needed.
Bad weather scotched the raid, intended to be launched from helicopters. But the second group remained in the region, after being asked by commanders to search further for evidence of the Islamic State jihadist, code-named Naylor Road by the military.
On the morning of Oct. 4, the team swung through the village of Tongo Tongo to resupply and met with local elders out of courtesy. Villagers might have tipped off Islamic State militants in the area, Nigerien and American military officials have said. One military official, however, said on Thursday that a villager told the troops that an important Islamic State emir was in the area, possibly alerting them that the extremists were approaching.
Shortly after the American soldiers, who were led by an Army captain, and the Nigerien troops left the village, heading back to base about two hours away, some 50 Islamic State militants armed with machine guns and heavy weapons ambushed the group at about 11:40 a.m. local time.
Lightly armed with no heavy weapons of their own, the American and Nigerien forces tried to defend themselves. Outgunned and taking casualties, the soldiers tried to stand their ground until additional Nigerien troops rushed to the scene.
It was not clear when the Nigeriens, along with French troops, arrived, but American officials indicated that they had made it to the ambush site by the time the seven Americans were evacuated.
When troops from the elite Joint Special Operations Command were alerted to the situation, however, they were told that several Americans were missing. That calls into question Pentagon officials' earlier assertions that either the Nigerien forces or French helicopters were with the bodies of at least three of the soldiers until they were recovered — an insistence that underscores the mantra that no soldier is left behind.
"The U.S. military does not leave our troops behind," Defense Secretary Jim Mattis said last week.
Eventually, the team of American commandos originally scheduled to target the Islamic State militant the previous night were dropped near the ambush site and found the bodies of three of their comrades: Staff Sgt. Bryan C. Black, Staff Sgt. Jeremiah W. Johnson and Staff Sgt. Dustin M. Wright.
But at least one American was still missing. Commandos from Sigonella, Italy, and Djibouti rushed to Niger's capital, Niamey, while a reserve unit of Special Forces stationed at Africa Command headquarters in Germany prepared to deploy if needed. Sergeant Johnson's body was found by Nigeriens on the evening of Oct. 6.
After the ambush, American units in the region were forced to change radio frequencies because communications equipment was missing and believed compromised by enemy forces.
The American-backed operations to topple the Islamic State from its strongholds in Mosul, Iraq, and Raqqa, Syria, could increase the risks in Africa, if Islamic State fighters flee to the continent to continue their mayhem there, as some have begun to do. "The more we succeed in the Middle East, the more we're going to see the snakes run to Africa," Senator Thom Tillis, Republican of North Carolina, said on Thursday. "We've got to be prepared to advise and assist the nations there that are willing to work with us."
Some lawmakers, including Senator Richard Blumenthal, Democrat of Connecticut, called for hearings to help explain what went wrong in Niger.
"I need to be able to look families in the eye and explain what our mission is, what mistakes were made in this incident, who made them and why," Mr. Blumenthal said.
Nicholas Fandos, Adam Goldman and C.J. Chivers contributed reporting.
Get politics and Washington news updates via Facebook, Twitter and the Morning Briefing newsletter.
https://www.nytimes.com/2017/10/26/world/africa/niger-soldiers-killed-ambush.html?mtrref=www.google.co.in&gwh=43BE6896DD15353D243066F1D7683BC8&gwt=pay
--------
In C. African Republic, UN contractors bribed to aid Muslims
By Zack Baddorf
October 26, 2017
BANGUI, Central African Republic — Surrounded by hostile Christian militias, Muslim civilians in the volatile Central African Republic town of Bangassou have paid small fortunes to United Nations contractors to hide them in vehicles and take them to safety after U.N. peacekeepers repeatedly refused to do so, according to multiple people who made the journey.
Some paid $100 each to lie under the tarp of a truck escorted by armed U.N. peacekeepers for the 700-kilometer (435-mile) journey over unpaved roads through dangerous countryside held by armed groups.
Others paid off contracted pilots to be flown to safety aboard planes that had brought food and material to U.N. troops, according to one Bangassou resident who spoke on condition of anonymity because he was concerned for his safety.
Bangassou has been a flashpoint since the conflict in Central African Republic reignited earlier this year, and already nine U.N. peacekeepers have been killed in the southeastern town. U.N. Secretary-General Antonio Guterres visited on Wednesday as part of efforts to highlight what he has called a forgotten crisis.
Some 2,000 Muslim civilians have sought refuge on the grounds of the Catholic church in the town, forming a makeshift camp to escape death at the hands of militias who are nominally Christian.
Ashanta Ngaye, 35, said the threat of death loomed just beyond the gate.
"Life at the cathedral is desperate," she said. "There is no way to get out."
So in September she decided to try to reach the capital, Bangui, with her four children and two other young relatives. They made the day-long voyage with about 30 others who also had bribed the drivers. She scrounged up nearly $200 - a massive sum in a country where most people make about a dollar a day - to pay the drivers with the Dubai-based company ECOLOG International.
It appears the U.N. was aware of the practice as early as mid-August, according to an internal document obtained by The Associated Press. The document acknowledged that on one journey, rebels "targeted the ECOLOG truck transporting Muslim civilians traveling in the convoy."
The U.N. peacekeeping mission known as MINUSCA has sent a letter to the contractors demanding that they take concrete steps to prevent future unauthorized transport of civilians.
"The most severe sanctions will be applied once all investigations are concluded," MINUSCA spokesman Vladimir Monteiro told the AP.
One U.N. official, who spoke on condition of anonymity for fear of reprisal, acknowledged that militias are more likely to attack convoys if they believe Muslims are aboard.
"The issue causes security problems along already strained supply routes and feeds into the public perception that we are slanted in favor of the Muslim population," the official said.
Pierre Die Chachay, a spokesman for ECOLOG, declined to immediately comment when reached by the AP. The company, which describes itself as a "leading provider of supply chain, construction, technology, facility management and environmental services," has a $53 million logistics contract with the U.N. peacekeeping mission.
The recent violence has its roots in 2013, when Muslim militias called the Seleka violently took power in Central African Republic. Largely Christian fighters known as the anti-Balaka took up arms to fight back. The conflict left thousands of people dead and more than a million displaced inside and outside the country.
Fighting between Christian and Muslim armed groups has continued in the impoverished countryside, with levels of displacement recently reaching their highest point since the peak of the conflict.
Communities of Muslims in places like Bangassou have effectively been encircled by those who would do them harm.
In Bangassou, Muslims have sheltered on the grounds of the Catholic church since mid-May, Bishop Juan Jose Aguirre said. While guarded by a contingent of U.N. peacekeepers, Aguirre said the camp is still "extremely exposed on all sides."
"Every day they risk death," Aguirre said.
The road to safer parts of the country has its own perils. Rebel groups control an estimated 70 percent of Central African Republic, according to international human rights organizations.
U.N. authorities, though, have decided not to evacuate the Muslims from Bangassou after "clear opposition" from senior government leaders, including President Faustin Touadera, according to a person familiar with the discussions who spoke on condition of anonymity because of the sensitivity of the matter.
A government spokesman did not respond to repeated requests for comment. When asked whether they had received any requests to evacuate civilians, MINUSCA officials declined to answer.
"MINUSCA must refocus and prioritize the essential component of its mandate: the protection of civilians," said Natalia Dukhan, Central African Republic analyst for the Washington-based nonprofit Enough Project. "Unfortunately, there are too many examples of MINUSCA failing to deliver on this mandate, which tragically results in the continued grip of conflict and corruption on the people of CAR."
Civilians who made the journey on ECOLOG trucks and those still in Bangassou recounted trips dating back to mid-August. On Aug. 12, about 40 civilians paid about $100 each to hide under tarps on ECOLOG trucks that were returning to Bangui.
The following day, a U.N. peacekeeping convoy escorted another group of Muslim civilians hidden in ECOLOG trucks. This time, the Christian anti-Balaka militias were waiting. The convoy was attacked three times, according to the internal U.N. document provided to the AP.
In Bangassou, the Catholic bishop said life remains arduous for the Muslims still stuck at his church. They can't leave to go to the market, to get drinking water or to buy firewood.
Full report at:
https://www.washingtonpost.com/world/africa/in-c-african-republic-un-contractors-bribed-to-aid-muslims/2017/10/26/b927ea70-ba61-11e7-9b93-b97043e57a22_story.html?utm_term=.6d000256b59e
--------
Six Nigerian soldiers killed in Boko Haram raid
Oct 26, 2017
Boko Haram militants in Nigeria have launched an attack on a military base in the northeast of the African country, killing at least six soldiers.
Reports said on Wednesday that the fatalities had occurred a day earlier, when the militants, arriving in six pick-up trucks, raided the base in Sasawa Village, some 45 kilometers from the northeastern Yobe State capital, Damaturu.
"There was an attack by Boko Haram terrorists on a military location in Sasawa Village, which led to casualties on both sides," Colonel Kayode Ogunsanya, a provincial military official, said, without offering specifics.
Local sources said that the members of the Takfiri outfit then moved into the village — whose residents had fled amid the fighting at the base — and looted food.
"They (Boko Haram) loaded grains from the recent harvest into the pick-up trucks and moved toward Kareto and Magumeri in neighboring Borno State," said Aisami Gremaha, a local resident, adding that the crops left out to dry on farms outside a nearby village were also set on fire.
Last week, at least three soldiers were killed and five others injured in an ambush by the Takfiri militants near the town of Damboa in the restive Borno State.
Boko Haram has been largely pushed out of its main strongholds in northern Nigeria, according to the country's military and government. The group, however, is still active in its Sambisa Forest enclave in the state and launches sporadic attacks on civilians and security forces from there.
The Nigerian military launched renewed counter-terrorism offensives after the end of the rainy season in northeastern Nigeria in September. Those offensives have diminished Boko Haram's capacity to launch attacks, but the government warns that the group can still attack civilians at "soft" targets such as mosques, markets, and camps for displaced people.
Full report at:
http://www.presstv.com/Detail/2017/10/26/539923/Boko-Haram-Nigeria-military-base-Sasawa
--------
Blast kills 3 UN peacekeepers in Mali
Oct 26, 2017
Three United Nations soldiers were killed and two others wounded by an explosive device as they were escorting a convoy in northern Mali on Thursday, the peacekeeping mission in the West African nation said.
More than 80 members of the UN mission, known as MINUSMA, have been killed since 2013 in attacks by militant groups active in the country's north and center.
The mission said in a statement that the peacekeepers' vehicle struck the explosive device between the northern towns of Tessalit and Aguelhok around 2:30 p.m. (1430 GMT). It did not identify the nationalities of the soldiers involved.
"I condemn with the greatest energy such abject acts, whose only objective is to destabilize the country and harm the peace process underway in Mali," said interim mission chief Koen Davidse.
The rise of extremist groups - some linked to al-Qaeda and Daesh - in the arid Sahel has alarmed Western powers like France, which has deployed thousands of troops to the region in response.
Full report at:
http://www.presstv.com/Detail/2017/10/26/539978/Mali-UN-Peacekeepers-Death
--------
Commentary: In Sunni North Africa, fears of Iran's Shi'ite shadow
OCTOBER 27, 2017
These are challenging times for North Africa's Muslim governments. Even as Islamic State is ousted from its strongholds in Iraq and Syria, the extremist group is continuing its battle against authorities in countries like Morocco, Algeria and Egypt.
On Oct. 16, the Egyptian military announced that six soldiers and at least 24 IS militants were killed in attacks on military outposts in North Sinai. That same weekend, Moroccan police arrested 11 members of an "extremely dangerous" IS-linked cell and seized chemical products used to make bombs. Algerian forces, meanwhile, have killed at least 71 Islamist fighters so far this year – the most since 2014.
The list of arrests, shootouts and seizure of passports from citizens who want to be foreign fighters goes on. But North African leaders have to navigate a particularly tortuous sectarian path. To avoid the perception that fighting extremism amounts to the persecution of the defenders of the faith, their governments have to be seen to be making visible gestures of Islamic piety – while also cracking down on Shi'ite proselytizing so as to rebut IS claims that authorities are complicit with Iran's "plots and schemes" to carve up the region and spread Shi'ite Islam.
The Islamist PJD party in Morocco warned recently of a "sectarian Shi'ite invasion;" the Grand Mufti of Mauritania called on his country's leaders to resist the "rising Shi'ite tide." One North African government minister I interviewed denounced "the intrusion of Shi'ism through social media, university dormitories, high schools and even qur'anic schools," concluding gravely, "I ask myself whether the Persians want to dominate the Arab world."
After Iraq, Yemen, Syria, Lebanon and Bahrein, is North Africa the next realm of a more assertive Iranian foreign policy? These fears come from Iran's attempt to expand its influence in Algeria, Mauritania, Morocco, Tunisia – and its "backyard:" Senegal, Niger, Guinea and Mali.
Iran's foreign minister toured the region in June, meeting with heads of government in Algeria, Mauritania and Tunisia in search of improved ties. Iran may simply be looking for new economic partnerships to offset current sanctions, but its outreach is enough to make some local powers nervous. Around the same time, Iran launched satellites beaming Arabic-language Shi'ite religious programming into North African homes.
There are thought to be fewer than 20,000 Shi'ites in Algeria, and the government recently mandated the registration of all of them. The Algerian minister of religious affairs has said that Shi'ites have no right to spread their faith in Algeria, "because that causes sedition and other problems." "Algeria cannot play host to a sectarian war that does not concern it," he explained in an interview. "Neither Shi'ism, nor Wahhabism nor any of the other sects are the product of Algerians, nor do they come from Algeria. We refuse to be the battleground for two external and foreign ideologies." Diplomatic relations resist easy categories, however. Algeria is one of only a handful of countries, along with Iran, to maintain good relations with Yemen's Houthi rebels, who are Shi'ite. Algiers was Iranian Foreign Minister Mohammad Javad Zarif's first stop in North Africa in June.
Given the tiny number of Shi'ites living in North Africa and the tight control over mosques in the region, widespread Shi'ite religious influence on the ground is unrealistic. Whether or not the scale of proselytism justifies the level of concern, Moroccan and Algerian leaders view Iran's Africa policy as a threat to their domestic order and regional security. The prospect of sectarian strife exists for "heterodox" – i.e. non-Sunni – minorities scattered across the region, numbering in the millions who live under mainstream Sunni rule. Some of these groups are offshoots of Shi'ite Islam, but are not necessarily the source of conflict. In Algeria, their mere difference – and the government's toleration of them – sometimes provokes attack from local hardliners.
North Africa's Sunni governments struggle with the reality that two adversaries – Iran and IS – are the net beneficiaries of the invasion of Iraq in 2003 and the crushing of Sunni opposition in Syria in 2017. The decline of Saudi influence after the Sept. 11 attacks and the downfall of Sunni Baathist rule in Iraq enhanced Iran's stature while diminishing Sunni Arab influence in Afghanistan, Iraq and Syria – and opening a path for IS.
Officially, there is no Shi'ite minority in Morocco; unofficial estimates put the number at less than 2 percent. Nonetheless, the foreign ministry in Rabat has accused Iran of trying to alter "the kingdom's religious fundamentals." The bad blood is the legacy of a sour relationship between Ayatollah Khomenei and King Hassan II (the father of current Moroccan King Mohammed VI) in the 1980s. The Ayatollah's claims of Islamic supremacy over all Muslims threatened the Moroccan King's role as "Emir al Mouamine" – leader of the faithful – of scores of millions of followers across Northwest Africa. Hassan chaired the international council of Islamic scholars that declared the Ayatollah to be an apostate – "if he is Muslim, then I'm not" – and openly supported Iraq in its war with Iran.
In turn, Hassan thought he saw an Iranian hand behind his domestic travails. Tehran provided safe haven to the Moroccan armed opposition group Chabiba Islamiya, and Hassan publicly accused Iran of fomenting riots against rising living costs and the violent uprising in the northern Rif region that is home to many Berbers. Street contestation in the Rif region has again put Rabat off balance in 2017 and revived the accusations a generation later.
The contrast with neighboring Tunisia is significant. Tunis has enjoyed unbroken relations with Iran since 1990, including high-level exchanges before and after the January, 2011 revolution that sparked what became known as the Arab Spring. Trade with Iran increased significantly as a result, but hardly registered compared to much more significant trade with the EU, North Africa, China and Turkey. Tunisia prides itself on being an island of sectarian tolerance in a rapidly polarizing region. Senior religious affairs officials proudly state that they represent all religions, including Christians and Jews, although in reality the country has very few non-Sunni Muslims. After the January 15 revolution, Tunisia signed the United Nations Convention on Human Rights and helped protect religious freedom in Article 6 of its new constitution.
Saudi Arabia has maintained its natural advantage, however. A month after the Iranian foreign minister left Tunis, a Saudi government delegation arrived, including 53 businessmen. They signed agreements with the government worth $200 million in development projects, including several hospitals and the renovations of a historic mosque in Kairouan.
But not all countries in North Africa feel they have that freedom when they perceive a two-front ideological battle against IS and Iran. In response to the State Department's admonishments on religious freedoms in Algeria, the Algerian Minister said: "If they want to accuse us of defending Islam and our historic traditions, then let them."
Full report at:
https://www.reuters.com/article/us-commentary-laurence-afterislamicstate/commentary-in-sunni-north-africa-fears-of-irans-shiite-shadow-idUSKBN1CV376
--------
Nigeria: Take Islam as Way of Life, Yusuf Charges Muslims
27 OCTOBER 2017
By Daud Olatunji
A lecturer at the University of Lagos (UNILAG), Dr Tajudeen Yusuf has asked Nigerian Muslims to take Islam as a way of life, urging them to be conscious of God as they will give accounts of their deed in the Hereafter.
Dr Yusuf who stated this at the annual lecture organized by the Ogun State chapter of The Muslim Congress (TMC) at the MKO Abiola stadium in Abeokuta, described Public offices in Nigeria as too attractive, as it encourages desperation and corruption.
The University don challenged the popular economic doctrines that human needs are unlimited with scarce resources arguing that it contributed to greediness of man in amassing wealth and craziness for material needs. In his welcome address, the Chairman of the Ogun State chapter of The Muslim Congress (TMC), Alhaji Ibrahim Ogunkoya said the event was organized to "illuminate those that have impacted negatively on our society and held us down as a nation.
Ogunkoya condemned activities by groups and individual that threatened the peace, stability, corporate existence and territorial integrity of the nation in their attempt to seek redress for perceived marginalization.
While congratulating Nigerians on the occasion of the 57th anniversary of the nation's independence, the cleric asked Muslims to thank Allah for preserving the nation as one despite all odds.
The Islamic scholar criticized the Christian Association of Nigeria (CAN) for campaigning against the issuance of Sukkuk bond by the Federal Government for infrastructural development.
In his lecture titled: The Tripod Bedeviling Nigeria - Bad Governance, Political Corruption and Tribal-Religious Intolerance, Professor Taofeek Abdul-Azeez of the University of Abuja condemned those criticizing President Muhammadu Buhari administration efforts against corruption.
Professor Abdul-Azeez who was represented by Ustaz Abdur-Rauf Saheed said the allegation that the fight against corruption of the Federal Government was sectional likened it as calling for quota system in the fight against of corruption.
Full report at:
http://allafrica.com/stories/201710270089.html
--------
North America
The U.S Is On a Collision Course with Iran in the Middle East
By Liz Sly
October 26, 2017
BEIRUT — President Trump's assertive new strategy toward Iran is already colliding with the reality of Tehran's vastly expanded influence in the Middle East as a result of the Islamic State war.
The launch of the strategy signaled an important shift in U.S. Middle East policy away from an ­almost exclusive focus on fighting the Islamic State to an effort that also pushes back against years of Iranian expansion in the region.
But the strategy offers no specifics for how to confront Iran's pervasive presence on the ground in Iraq, Syria and beyond, raising questions about how easy it will be to push back against Iranian influence without triggering new conflicts.
The difficulty of changing tack on what has amounted in recent years to a tacit alliance with Iran in Iraq for the purpose of fighting the Islamic State was evident this week in a sharp ­rebuke by Iraqi Prime Minister Haider al-Abadi to Secretary of State Rex Tillerson's call for ­Iranian-backed Iraqi militias to "go home."
The militias are "part of the Iraqi institutions," Abadi responded in a statement. "The Hashd al-Shaabi should be encouraged because they are the hope of the country and the region," he said, referring to the coalition of militias known as the Popular Mobilization Forces.
One of Iraq's most powerful militia leaders went further, saying in a tweet that it is the Americans who should go home.
"Your armed forces have to prepare from this point immediately and without any delay to leave our homeland Iraq after the end of the excuse of the ISIS presence," said Qais al-Khazali, who heads the Iran-backed Asaib Ahl al-Haq militia and was imprisoned for two years by U.S. forces for his role in organizing an attack that killed five U.S. soldiers in 2006. ISIS is another name for the Islamic State.
The rising tensions risk a return to the era of proxy wars that prevailed in the middle of the last decade, when Iranian-backed militias blew up American troops and U.S. and Iranian allies kidnapped one another's operatives on the streets of Baghdad — or even in the 1980s, when Americans were driven out of Beirut by suicide bombings and the kidnapping of dozens of Western hostages by a group allied to the Iranian-backed Hezbollah movement.
The tensions also risk complicating the final stages of the war against the Islamic State, which has now been mostly confined to a desert stretch of highly strategic territory spanning the border between Syria and Iraq.
In the three years since the United States intervened in both countries to roll back the Islamic State, Iran has dispatched tens of thousands of allied militia fighters to the battlefield, asserting its presence in vast swaths of territory not previously regarded as within Iran's traditional orbit of influence.
Iranian-backed Shiite militias have fanned out into the Sunni and Christian areas of northern and western Iraq that were freed from Islamic State control — often with the help of U.S. airstrikes. Now these forces are aiding efforts by the Iraqi government to reclaim territory that has been controlled by U.S.-allied Kurds since as long ago as 1991. Alongside the Iraqi army, the militias are moving toward the small Kurdish-controlled border crossing of Fishkhabour, through which the U.S. military sends its military support to Kurds engaged in the fight against the Islamic State in Syria. A change in control of the crossing could jeopardize the ability to supply U.S. troops and allies for the fight in Syria, where they are competing with Iran and its allies for control of the last significant pocket of territory controlled by the militants.
Iran has already asserted itself as a major player in Syria by supplying, arming and training the tens of thousands of militia fighters that have proved instrumental in securing President Bashar al-Assad's hold on power.
Alongside Assad's army, they are now in a race with the U.S.-backed Syrian Democratic Forces to capture the last stretch of Islamic State territory in eastern Syria. There they hope to link up with their Iraqi allies to secure a land bridge between Tehran and their Lebanese ally Hezbollah in Beirut, securing an arc of continuous Iranian influence that stretches to the Mediterranean.
Tillerson on Thursday disputed suggestions that Syria has fallen under Iranian influence, telling reporters in Geneva that Russia is responsible for most of the government's gains. "I do not see Syria as a triumph for Iran. I see Iran as a hanger-on. Iran has not particularly been successful in liberating areas," he said.
In all of their maneuvers, the militias are operating with the blessing of the sovereign governments, making it hard to discern where Iran's agency begins and the governments' ends.
The relationships are, how­ever, part of a deliberate strategy by Iran to wield influence through local proxies that operate in cooperation with governments, said Mohammed Obeid, a Beirut-based political analyst who is close to Hezbollah. Much in the way that the Iranian-backed Hezbollah has woven itself into the fabric of the Lebanese state, Iran's allies in Syria and Iraq are establishing themselves as vital but parallel components of the national security forces, he said.
"The Iranians were smart, and they still are smart. They wanted to export their revolution. But they found that they don't need to overthrow the governments in the region," Obeid said. "They can create political and military groups alongside these governments, and Hezbollah is the prime example. Hezbollah is now part of the government, part of parliament, and it is a strong military force on the ground. Which no other force in the world can destroy.
"They are succeeding in what they wanted to do, which was to spread their influence throughout the region."
Iran's frequent boasts about the influence it commands are questioned by many analysts. The Hashd al-Shaabi in Iraq are not monolithic and include some groups answerable to the government and to the moderate Shiite clergy, said Maria Fantappie of the International Crisis Group. The Islamic State war has also helped legitimize Abadi, and Iraqis themselves are fiercely nationalistic, she said.
In Lebanon, Hezbollah has to balance the interests of its Sunni and Christian partners in government. In Syria, Iran has to contend with a population that contains few adherents of the branch of Shiite Islam represented by the Iranian leadership, giving it no natural constituency in the country.
Tehran is nonetheless in a strong position to push back against any U.S. efforts to curb its reach, said Jennifer Cafarella of the Institute for the Study of War.
"The bottom line is that the U.S. strategy against ISIS empowered Iran in the region by accepting Iran as a de facto partner in the fight against ISIS. And American leverage has been decreasing proportionate to the territory taken away from ISIS," she said.
Iran may feel it has secured enough regional clout to decide against risking its gains by confronting the United States, Cafarella added. But should Tehran feel threatened by the Trump administration's hostile rhetoric, it has plenty of tools at its disposal to resist, she said.
They include the loyalty of the same militia groups that hounded U.S. troops with lethally effective roadside bombs and mortar bombardments in the years immediately before the U.S. withdrawal from Iraq in 2011 and took Western hostages at different times in both Iraq and Lebanon.
"If somebody does that to you, you have to retaliate or leave. If you retaliate, you've got an escalation ladder and you have to go in and fight. And if you leave, you put yourself in a worse situation," said Faysal Itani of the Washington-based Atlantic Council.
The U.S. military maintains about 5,200 troops in Iraq, according to Abadi, and 500 Special Operations troops in Syria, according to the Pentagon. They are heavily outnumbered by the militias and would be vulnerable to a revival of the Shiite insurgency that was responsible for a majority of U.S. casualties in the final years of the Iraq War.
Any attempt to challenge Iran in Iraq and Syria "will have a very negative effect on the existence of American forces in the region," said Obeid. "They are surrounded by Iranians. This is a big question the Americans are going to have to face."
For now, U.S. officials seem to be pinning their hopes on a new round of sanctions against Hezbollah in Lebanon and Iran's Revolutionary Guard Corps, which commands Tehran's network of allied militias.
But sanctions alone won't dent Iran's geographical reach, and the Trump administration appears to have no appetite for a full-scale confrontation, Itani said.
Whether such a confrontation would work in America's favor is also in doubt, said Nicholas Heras of the Center for a New American Security. Leaders in both Iraq and Syria are aware that Iran will remain its neighbor throughout any shifts in U.S. policy.
"No amount of strategizing and boots on the ground short of an invasion is going to push back against Iran's ability to shape events in Baghdad and all of Iraq," he said. "And short of the U.S. Army marching on Damascus, Iran will not be ripped from Syria or Lebanon."
Karen DeYoung in Washington and Tamer El-Ghobashy in Baghdad contributed to this report.
https://www.washingtonpost.com/world/middle_east/the-us-is-on-a-collision-course-with-iran-in-the-middle-east/2017/10/26/904c38d8-b03c-11e7-9b93-b97043e57a22_story.html?utm_term=.8fb6d143a072
--------
US House passes new sanctions on Iran's ballistic missile program
Oct 26, 2017
The US House of Representatives in Congress has voted overwhelmingly to impose new sanctions against Iran's ballistic missile program, a move that could undermine the international nuclear agreement with Tehran.
The "Iran Ballistic Missiles and International Sanctions Enforcement Act" was passed on Thursday in the lower chamber of Congress with 423 votes in favor and two against.
To become law, the bill would have to pass the US Senate and be signed into law by President Donald Trump.
The measure, sponsored by Congressmen Eliot Engel and Ed Royce, requires the Trump administration to impose sanctions on companies and individuals inside and outside of Iran that provide assistance to the country's ballistic missile program.
In July, the US Treasury Department announced economic sanctions against 18 Iranian individuals, groups and networks over the Islamic Republic's ballistic missile program.
Washington claims Iran's missile program is in breach of United Nations Security Council Resolution 2231, which endorsed Tehran's nuclear deal with the P5+1 states in 2015.
However, Tehran insists its missile tests do not breach any UN resolutions because they are solely for defense purposes and not designed to carry nuclear warheads.
The new bill comes nearly two weeks after Trump refused to formally certify that Iran is complying with its nuclear agreement, known as the Joint Comprehensive Plan of Action (JCPOA, and warned that he might ultimately terminate the deal.
The president is required by US law to certify every 90 days whether or not Iran is complying with the nuclear deal. He has certified the deal twice since coming to office.
If Trump declines to certify Iran's compliance, US congressional leaders would have 60 days to decide whether to reimpose sanctions on Tehran suspended under the agreement.
Full report at:
http://www.presstv.com/Detail/2017/10/26/539968/US-House-sanctions-Irans-ballistic-missile-program-
--------
Delaware man charged with threatening Muslim neighbors
Oct 27, 2017
DELAWARE CITY, Del. — Police charged a Delaware man with a hate crime after he allegedly told authorities he was considering throwing Molotov cocktails at the home of neighbors he believed were Muslim.
The News Journal in Wilmington reports Gerard Medvec, 64, of Delaware City, had been spying on his neighbors with binoculars and told authorities he would "take the fight to them" by firebombing their house.
The neighbors were not Muslim.
Court documents indicate show Delaware City's police chief met with Medvec back on Oct. 5 to answer Medvec's concerns about Muslims entering the U.S. At that meeting Medvec mentioned he had a concealed carry permit and was willing to defend himself and the country.
Then, on Oct. 14, Medvec called 911 and said there had been a threat on his life. Authorities responded to that call and noticed the binoculars. Medvec said he used the binoculars to watch his neighbors. He said what drew his attention was "a black male wearing a 'Muslim hat' underneath a baseball hat."
On Oct. 17, a psychiatric social worker visited the home along with police. Officers said they saw two semi-automatic rifles in the home, and noticed Medvec had a pistol in his waistband. Medvec agreed to accompany the officers to the police station. It was there he told social workers about firebombing the house in order to "take the fight to them," according to the court documents.
The documents indicated he also made a comment about going into the house and "start shooting."
Medvec was arrested Friday. After consultation with the state attorney general's office, he was charged with terroristic threatening in association with a hate crime. A magistrate released him on $4,000 bond after ordering him to give up his firearms.
Full report at:
http://www.phillytrib.com/news/delaware-man-charged-with-threatening-muslim-neighbors/article_5e6d2dc4-0f10-502a-b22a-6f3c5e222b3a.html
--------
Canada settles with wrongly accused terror suspects for $24.6m
October 27, 2017
OTTAWA : Canada settled a lawsuit with three citizens who were wrongly accused of terror links and tortured in Syria and Egypt for Can$31.5 million (US$24.6 million), local media said Thursday.
Abdullah Almalki, Ahmad Elmaati and Muayyed Nureddin had been arrested and tortured just after the 9/11 attacks.
Released in 2004 without charges, they returned to Canada, proclaimed their innocence and sued the government for Can$100 million over its role in their detention.
A 2008 independent inquiry led by retired Supreme Court judge Frank Iacobucci concluded that Canada's spy agency and federal police force had been "indirectly" responsible for the three men's mistreatment.
Canada's CBC news network last year obtained exclusive documents showing that Canadian officials had fed Syrian officials questions they asked the men who were detained and tortured.
Almost a decade after the independent inquiry, the government formally apologized to the trio in March "for any role Canadian officials may have played in relation to their detention and mistreatment abroad and any resulting harm."
But officials did not divulge the amount of a settlement reached at the time.
On Thursday, Scott Bardsley, spokesman for Public Safety Minister Ralph Goodale, said: "A settlement with these three gentlemen who were seeking Can$100 million in compensation was announced earlier this year."
"However, I can't confirm the amount paid to these individuals," he told AFP.
The amount of the settlement was first reported by Montreal's Le Devoir newspaper.
It was listed in a government public accounts document released earlier this month under "settlement of a claim for general damages" launched by three unnamed individuals.
If split three ways, it is equivalent to the Can$10 million in compensation paid to Canadian computer engineer Maher Arar who was tortured in a Damascus prison in 2002, and to former Guantanamo detainee Omar Khadr.
Arar had been transferred to Syria by US officials based on a Canadian tip. He was later cleared by Canadian authorities.
Khadr had been captured in a battle in Afghanistan in 2002 and held at the US prison facility in Guantanamo Bay before being turned over to Canada and released in 2015.
Full report at:
http://nation.com.pk/27-Oct-2017/canada-settles-with-wrongly-accused-terror-suspects-for-24-6m
--------
Three Canadians tortured in Syria receive $31-million settlement from Ottawa
Oct. 26, 2017
By TONDA MACCHARLES
OTTAWA—Three Muslim Canadian men, detained and tortured in the Middle East during the security clampdown that followed 9/11, will get $31.25 million from the federal government.
The payout was kept secret until this month and is part of a legal settlement that was first reported by the Star in February and announced by the Liberal government weeks later.
The resolution and accompanying government apology put an end to a nine-year court battle for compensation that has been demanded since 2008, when a former Supreme Court judge blamed Canadian officials partly for the men's ordeals.
Between 2001 and 2003, Abdullah Almalki, Ahmad El Maati and Muayyed Nureddin were separately jailed in Syria and tortured by interrogators who acted, in part, on information from the Canadian spy agency CSIS and the RCMP. Former Supreme Court justice Frank Iacobucci concluded, in his 2008 report on their cases, that Canadian agents labelled the men Islamic extremists and shared information with other countries without proper precautions about its unreliability.
The men were never charged.
They sued Ottawa for $100 million.
In March, the Liberal government announced it had reached a settlement and Public Safety Minister Ralph Goodale apologized to Almalki, El Maati and Nureddin for "any role Canadian officials may have played" in what led to their arrests and torture.
While the government still refused to say how much it would pay each of the men on Thursday, the $31.25-million settlement was revealed in government accounting documents tabled in the House of Commons on Oct. 5 and quietly published online.
In an interview with the Star, Almalki said he's ready to try to move on from a terrible episode in his life that has stretched on for 15 years. He wouldn't discuss the settlement because it's confidential, and said people should instead focus on how to change the system so that something like this never happens again.
"We were falsely targeted based on racism and bigotry," said Almalki, 46, who lives in Ottawa with his wife and children.
"I had to fight for years to get an inquiry, and then to show that's what (Canadian officials) did. They falsely accused us of things we had absolutely nothing to do with."
Speaking in Burlington on Thursday, Prime Minister Justin Trudeau called the payout "a difficult lesson" for what happens when Canadian governments "of any stripe" allow a citizen's rights to be violated.
"I certainly hope that people remain concerned, angry and even outraged at these settlements, because no future government should ever imagine that it's a good idea or an acceptable idea to allow Canadians' fundamental rights to be violated," he said.
"When we don't stand up for people's rights, it ends up costing all of us."
On Parliament Hill, Goodale claimed the government was transparent about the settlement cost by reporting the payouts in the accounting documents published this month. He said that's what was promised when the settlement was announced in March.
Asked if the amount would have been less had the Conservatives settled after the Iacobucci inquiry in 2008, Goodale appeared to agree.
"Delay is always expensive," he said.
The Conservatives did not quibble with the payout to the three men as they did when they denounced the $10.5-million settlement for former Guantanamo Bay detainee Omar Khadr, which was announced in July.
Rob Nicholson, a Conservative MP who was minister of justice, foreign affairs and national defence during the Harper era, told reporters that "to the extent that false information was given to foreign agencies, which was apparently what this case was all about, they certainly deserved compensation."
His caucus colleague, Peter Kent, added that the three men in this case are victims who "deserved every penny" of their settlement.
El Maati, a Toronto truck driver, was the first of three men to be arrested when he travelled to Syria in November 2001 for his wedding and was stopped at the Damascus airport. He was transferred to Egypt two months later and was jailed there for more than two years.
In 2010, El Maati told the Star he was shackled, beaten and jolted with electrical shocks on his back, legs and genitals while he was detained in Egypt.
Almalki, a Syrian-Canadian dual citizen who works as a communications engineer, was arrested in May 2002, also at the Damascus airport, and detained for 22 months.
In December 2003, Nureddin was arrested by Syrian officials as he crossed into the country from Iraq, where he was visiting family. The Toronto geologist was held for 33 days.
The men were never charged.
In his 2008 report, Iacobucci called for the government to apologize and compensate the men for how officials "indirectly" or "likely contributed" to their imprisonment and torture.
The cases of the three men are similar to the more widely publicized ordeal of Canadian Maher Arar, who received $10.5 million from Stephen Harper's Conservative government in January 2007. He, too, was detained for almost a year in 2002 and tortured in Syria after Canadian intelligence wrongfully flagged him for suspected terrorist links.
The current Liberal government apologized to former Guantanamo Bay detainee Khadr in July. The Canadian-born 30-year-old, who was apprehended by American forces after a deadly firefight in Afghanistan when he was 15, also received a settlement $10.5 million from Ottawa.
Almalki said of his own circumstances that he's hoping to finally live a more normal life, without having to be an "open book" by devoting his time to clearing his name.
He added that when news of the settlement cost broke Thursday, his landline and all the cellphones in his house started ringing with inquiries from reporters.
Full report at:
https://www.thestar.com/news/canada/2017/10/26/three-canadians-tortured-in-syria-receive-31-million-settlement-from-ottawa.html
--------
URL: https://www.newageislam.com/islamic-world-news/pakistan-politician-says-non-muslims/d/113043
New Age Islam, Islam Online, Islamic Website, African Muslim News, Arab World News, South Asia News, Indian Muslim News, World Muslim News, Women in Islam, Islamic Feminism, Arab Women, Women In Arab, Islamophobia in America, Muslim Women in West, Islam Women and Feminism