New Age Islam News Bureau
1 May 2014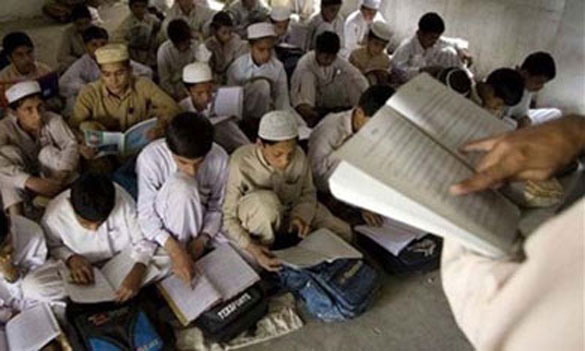 Seminaries playing courier for TTP in 'fund-raising drive', - File photo
-------------
Pakistan
• Pakistan Madrasas Playing Courier for TTP in 'Fund-Raising Drive'
• Three schools blown up in Northern Pakistan
• Strengthening of institutions key to preventing intervention: Asma Jehangir
• Maulana Fazl ur Rehman vows to espouse Nawaz government
• Drone attacks have stopped since peace talks started: Sami ul Haq
• Pakistan army chief calls Kashmir 'jugular vein of Pakistan'
• Taliban will accept Pakistan Constitution: Taliban negotiating team
Arab World
• Syria: ISIS Jihadists Hanging Victims on Public Crucifixes
• Clashes near Damascus kill 14 rebels
• Syria Britons use body scrub and iPhones but deny 'five-star jihad'
• Saudi missile parade a signal to Iran, Israeli defence expert tells 'Post'
• US, Turkey, Qatar Prepare Jihadists to Fight in Syria
• Army Destroys Bulldozer Bomb in Aleppo, Kills 6 Militants
• KSA gives Yemen $1 billion loan
• Israeli Army Simulating Invasion of Southern Lebanon, Gaza, Shells Syrian Army Sites
• Cairo University head bans 173 student from taking final exams
North America
• Hindus, Muslims and Sikhs Are Targets of Hate Violence in America: Obama
• Al Qaeda's Pakistan-based core organization diminished: United States
• 'Abu Hamza ordered young recruit to Afghanistan to learn jihad'
• Developer Scales Back Plans for Muslim Centre near Ground Zero
• 'One nation under Allah': Florida conservatives push for anti-Sharia legislation
• US: Price tag attacks against Palestinians 'largely un-prosecuted
• South Sudan war dominates as Kerry opens Africa tour
• Security guard wanted to move to Muslim country to escape Canada's 'Islamophobia,' terror trial
Mideast
• Islamic Jihad Seeks to Join Hamas-Fatah Pact
• Yemen army kills 6 'Qaeda' militants in south offensive
• New Islamic fatwa: Foreign Muslims can visit Jerusalem's Temple Mount
• Turkey calls on Europe to help prevent jihadists entering Syria
• Islamic cleric Gülen faces investigation as an espionage probe launched at TİB
• Istanbul mosque asks May Day protesters not to damage its walls with writings
• Iran wants 400 new planes by 2025 if curbs end
• Israel against U.S. naming Jewish extremist attacks as 'terrorists'
India
• AIUMB Decided To Support the Congress in some Pockets of UP
• Pentagon praises Indian developmental assistance in Afghanistan
• Chennai train blasts: TCS techie killed, ISI's role suspected
Southeast Asia
• Brunei Phasing In Antigay Law; Will Soon Allow Death by Stoning
• What are your contributions to the nation, says Isma warning non-Muslims over Hudud issue
• Hudud has no place in present constitutional structure, say legal experts
Europe
• Law Society offers Sharia training to high street lawyers
• Pakistan's enemy is our enemy: Cameron
• Subway Adopts Sharia Law for 185 UK Outlets with 'Halal Meats Only' Policy
• Human Rights Watch urges Egypt to overturn ban on youth group
• Spain Arrests Terror Suspect Active in Syria
• EU pledges €30m to Balochistan govt for education sector
South Asia
• 6 militants and one policeman killed in Farah clashes
• Prosecution for policy to cover war crime trials
• Nasheed warns of "imminent sovereign debt crisis"
• "Highly politicised and corrupt" judiciary unfit to decide life and death – MDN
• China points to suicide blast in Xinjiang attack
Africa
• South African Imams Allowed To Legally Perform Weddings
• Qaeda group claims Algeria attack that killed 11 soldiers
Compiled by New Age Islam News Bureau
URL: https://www.newageislam.com/islamic-world-news/new-age-islam-news-bureau/pakistan-madrasas-playing-courier-for-ttp-in-'fund-raising-drive'/d/76826
------------
Pakistan
Pakistan Madrasas Playing Courier for TTP in 'Fund-Raising Drive'
May 1, 2014
ISLAMABAD: Seminaries operating inside the capital are reportedly assisting Tehreek-i-Taliban Pakistan (TTP) with the collection of extortion and ransom money by arranging deals between militants and their victims, sources in civil and military intelligence agencies said. In addition, the seminaries are also providing courier services to the TTP by arranging for the money to be transported to pre-determined locations easily accessible for TTP personnel, sources said.
Intelligence officials said that an analysis of the calls made in cases of extortion and ransom demands revealed that most of them came from Miranshah in North Waziristan.
Officials cited the case of retired Lt-Gen Dr Mehmood ul Hasan, who in 2013 received a call from a man named Latif, who introduced him as the second-in--command to Hakimullah Mehsud and demanded Rs50 million in extortion money.
Following the demand, an administrator from an Islamabad-based seminary acted as the mediator and finalised their deal at Rs10 million. The man also sent two persons to collect the money from Lt-Gen Hasan.
"Then, nearly a month ago, a man named Ashfaq called Lt-Gen Hasan again, demanding a further Rs50 million within 10 days," the officials said, adding that this was followed by another call from someone who identified himself as a leader of the Taliban and asked the general to ensure they got their money within 72 hours.
"The same man who brokered the first agreement was used to negotiate the price," the officials said.
Moreover, two industrialists from Faizabad and a politician have been receiving calls for extortion since a year, the officials said, adding that they refused to pay the amount and also denied meetings with those who approached them for finalising the deal. In response, the miscreants affiliated with Quari Sanaullah, allies of Quari Mansoor affiliated with TTP based in Miranshah, are planning to target them, they added.
The officials said that the role of the religious seminaries in collecting extortion for the TTP was established and action against them has been suggested.
"It was decided to mount intelligence and vigilance around the victims and the religious seminaries which would help trace and arrest those who are behind the extortions."
The vigilance will spot them whenever they contact the victims for finalising the deal, they added.
The officials further stated that the groups of TTP involved in generating funds through extortion and kidnapping for ransom, also stay at the seminaries and get assistance from there.
The officials said that intelligence reports also revealed that the extortion and ransom money remained in the seminaries before being transported to other locations by the groups' members.
Moreover, some victims of kidnapping for ransom were also detained there before being taken to the tribal areas, they added.
Earlier, the role of religious seminaries to assist the TTP in conducting terrorism in the twin cities was unearthed last month. The report, prepared jointly by the special branches of Islamabad and Rawalpindi police, suggested that TTP got full support from religious seminaries and worship places of the likeminded Deobandi school of thought.
The report also identified 20 seminaries, all located in Rawalpindi, which were used by Taliban for terrorist attacks in the city.
They are located at Cantonment, Tench Bhatta, Girja Road, Westridge, Dhamyal Camp, Saddar, Ittehad Colony Khayaban-i-Sir Syed, Kashmir Bazaar, Pindora, Sadiqabad, Pirwadhai, Chaklala, and Dhoke Hassu.
http://www.dawn.com/news/1103435/seminaries-playing-courier-for-ttp-in-fund-raising-drive
------------
Three schools blown up in Northern Pakistan
May 1, 2014
PESHAWAR: Three primary schools were blown up on Thursday in the Mohmand Agency and Shabqadar areas of the Charsadda district.
Police said militants had blown up a girls primary school in the Saro Kalley area in Charsadda.
The militants had planted explosives at the school and blew it up in the wee hours of Thursday.
In the bordering Mohmand Agency two schools were also blown up in the Drwazgai area.
One was a girls primary school while the other one was for boys.
The political administration officials said that both the schools were built on the land of a retired Khasadar Force major Raees khan.
No loss of life was reported in the assault on the schools last night.
Station house officer of Saro police station Kausar Khan told that the school building was damaged as a result of the blast.
He said that a basic health unit was also destroyed in the same area, its five rooms and boundary wall were completely destroyed.
http://www.dawn.com/news/1103510/three-schools-blown-up-in-northern-pakistan
------------
Strengthening of institutions key to preventing intervention: Asma Jehangir
May 1, 2014
ISLAMABAD: Against the backdrop of perceived tensions between the civilian and the military leadership, rights activist and former SCBA chairperson Asma Jehangir suggested on Wednesday that national institutions should be made 'fiercely' independent to help prevent future military interventions in the country.
"We need to learn lessons from Latin American countries to be able to have smooth transitions," she told reporters at the Supreme Court in response to the ongoing friction among institutions.
Ms Jehangir cited the example of Latin American countries, apparently to stress the historic transformation of countries like Cuba, Brazil, Chile and Uruguay which have become leading democracies only by strengthening their institutions, ensuring civil liberties and developing economy.
"We need to make civil institutions fiercely independent so that whenever the military is enticed to step in it faces huge challenges," she said.
Ms Jehangir asked the political governments and the military establishment to focus on larger issues confronting the nation, instead of wasting their energy on petty matters.
She regretted that institutions were pretending to be so sensitive as if they were the paragons of virtue and said she would support freedom of expression at all costs, but never support media houses which carried out smear campaigns against institutions.
Although people must understand the importance of security forces, they also had the right to criticise them whenever excesses were committed, Ms Jehangir said, adding that at the same time the military should understand that right or wrong eventually decisions taken by civilian institutions must prevail.
"But this doesn't necessarily mean that civilian governments always have the skill to govern in harmony with the military establishment," she added.
Advocate Ahmed Raza Kasuri also had a word of caution, saying the situation developed after the last statement of the army chief that the army knew how to protect its dignity and honour showed that "we have travelled quite ahead".
He said the situation created in the aftermath of criticism of the ISI and its director general, especially in the wake of an armed attack on senior journalist Hamid Mir, was identical to the one prevailed before October 1999.
But he hastened to add that he hoped sanity would prevail and the end would not be the similar the nation had experienced on Oct 12, 1999, when the military stepped in.
Mr Kasuri said the situation became all the more complex when the prime minister had gone all the way to the hospital to inquire about the health of Mir whereas the army chief visited the ISI headquarters. This was construed by many as a tug of war between the military and the government.
"I personally feel that the chief executive should have sent his information minister to the hospital which would have helped balance the situation," he said.
He was of the opinion that instead of going to the UK, the prime minister should have visited the GHQ to attend Yaum-i-Shuhada.
http://www.dawn.com/news/1103476/strengthening-of-institutions-key-to-preventing-intervention-asma
------------
Maulana Fazlur Rehman vows to espouse Nawaz government
May 01, 2014
Islamabad- Chief of his own faction of Jamiat Ulema-e-Islam, Maulana Fazlur Rehman today vowed to back Nawaz government in case of any attempt to destabilize democracy in the country.
Talking to journalists in Islamabad, Maulana said that despite differences with the government on various issues, his party would stand by PML-N government.
"We have different point of view on various issues with the government but would support the government in case of any attempt to derail the democracy in the country", Maulana said.
Lashing out at Imran Khan, as usual, Maulana said PTI chief is still an immature and non-serious politician.
http://www.nation.com.pk/national/01-May-2014/maulana-fazlur-rehman-vows-to-espouse-nawaz-government
------------
Drone attacks have stopped since peace talks started: Samiul Haq
May 1, 2014
PESHAWAR: Drone attacks have stopped since the peace negotiations with the Tehreek-e-Taliban Pakistan (TTP) started, said Jamiat Ulema-e-Islam-Samiul Haq (JUI-S) chief Maulana Samiul Haq while addressing a tribal jirga in Peshawar.
The JUI-S chief, who is also heading the TTP intermediary committee, stated that US President Barack Obama supported the peace talks while on the other hand Pakistani politicians and anchors, instead of encouraging them, were showing resistance.
Haq remarked that everytime they start "the car" of the negotiations a "breaker" comes in front of it.
Full report at:
http://tribune.com.pk/story/702759/drone-attacks-have-stopped-since-peace-talks-started-samiul-haq/
------------
Pakistan army chief calls Kashmir 'jugular vein of Pakistan'
PTI | May 1, 2014
ISLAMABAD: Terming Kashmir as the "jugular vein" of Pakistan, the country's army chief Gen Raheel Sharif on Wednesday said the issue should be resolved in accordance with the wishes and aspirations of Kashmiris and in line with UNSC resolutions for lasting peace in the region.
Addressing the main ceremony to mark the 'Youm-e-Shuhada' (Martyrs' Day) at GHQ Rawalpindi, Gen Sharif said Kashmir was an internationally recognized dispute.
"Matchless sacrifices offered by Kashmiris will not go in vain," he said.
Sharif, who just returned from his official trip to Saudi Arabia, termed Kashmir as a "jugular vein" of Pakistan. He called for resolution of the Kashmir issue in accordance with the wishes and aspirations of Kashmiris and in line with United Nations Security Council resolutions.
The resolution of the Kashmir issue is "indispensable" for lasting peace in the region, he said.
"Pakistan Army is in favour of peace but is always ready to respond to any aggression in befitting manner," he said.
Full report at:
http://timesofindia.indiatimes.com/world/pakistan/Pakistan-army-chief-calls-Kashmir-jugular-vein-of-Pakistan/articleshow/34464638.cms
------------
Taliban will accept Pakistan Constitution: Taliban negotiating team
May 1, 2014
PESHAWAR: Member of the Taliban negotiating committee Professor Ibrahim said on Thursday that the Pakistan Army and the Taliban were the real parties to the peace talks, DawnNews reported.
Ibrahim during an address to a tribal jirga in the provincial capital said that the persisting conflict could not be solved by any army operation or militant attacks - it could only be solved through peaceful negotiations.
JUI-S Chief Maulana Samiul Haq also addressed the jirga, claiming it was easier to contact and communicate with "those sitting in caves" than those sitting in Islamabad. Both Ibrahim and Sami gave assurances that the Taliban would accept the constitution of Pakistan.
Sami said that there was a significant role played by the tribal people in the independence of Pakistan and they were also on the front line for defending Pakistan. He said that tribal people were deprived of their constitutional and legal rights. He said the all the tribal leaders were backing the peace process.
Full report at:
http://www.dawn.com/news/1103514/taliban-will-accept-pakistan-constitution-taliban-negotiating-team
------------
Arab World
Syria: ISIS Jihadists Hanging Victims on Public Crucifixes
May 1, 2014
The Islamic group which even al-Qaida has disowned for its brutality has been accused of hanging its executed victims from crosses in public squares in northern Syria.
The Islamic State of Iraq and al-Sham (Isis) has taken control of the northern Syrian town of Raqqa where photographs show onlookers watching the hanging of victims from the cross in a public area, with Arabic terminology draped across their bodies.
Abu Ibrahim Alrquaoui, a co-founder of the Raqqa is Being Slaughtered Silently group, told Fox News that the victims are themselves Muslim rebels who fought against the Assad regime.
"It's very dangerous. They threaten us directly and want to kill us," said Alrquaoui.
"They want to stay in control. Everything they do is to scare people. That's why they kill people publicly," he continued.
Full report at:
http://www.ibtimes.co.uk/syria-isis-jihadists-hanging-victims-public-crucifixes-1446675
------------
Clashes near Damascus kill 14 rebels
May 1, 2014
Clashes between Syrian government forces and opposition fighters killed 14 rebels in a flare-up overnight along a strategic corridor between Damascus and the Lebanese border, activists said on Thursday.
The fighting in Zabadani a town near Damascus and the last rebel stronghold in the area is part of the larger battle for control of the mountainous Qalamoun region, stretching from the Syrian capital to the border with Lebanon.
President Bashar Assad's forces, backed by Lebanese militant Hezbollah fighters, launched an offensive in Qalamoun in mid-November, ousting rebels from the area and cutting their supply routes from Lebanon.
Full report at:
http://www.thehindu.com/news/international/world/clashes-near-damascus-kill-14-rebels/article5966183.ece
-----------
Syria Britons use body scrub and iPhones but deny 'five-star jihad'
May 1, 2014
The militant's video is designed to persuade recruits that fighting in Syria is anything but the "five-star jihad" described in the boasts of other fighters. Yet in the background are a few home comforts unlikely to be available in the local markets.
Footage captures a can of £15 deodorant produced by Hollister, an off-shoot of the American college brand Abercrombie and Fitch, which sells itself to "Dudes and Bettys". There is also a tub of Palmer's cocoa butter body scrub with Vitamin E and a bottle of Mcllhenny's Tabasco pepper sauce.
Full report at:
http://www.thetimes.co.uk/tto/news/world/middleeast/article4075501.ece?CMP=OTH-gnws-standard-2014_04_28
------------
Saudi missile parade a signal to Iran, Israeli defense expert tells 'Post'
May 1, 2014
Saudi Arabia concluded a large-scale military exercise with a display of its Chinese- made Dongfeng 3 ballistic missiles this week, showcasing the missiles for the first time in a veiled warning to Iran, a defense expert told The Jerusalem Post on Wednesday.
The Dongfeng 3 (DF-3) has a range of up to 3,300 kilometers, and can carry two-ton warheads. It can be used to strike targets that are much closer than the maximum range, said Tal Inbar, head of the Space Research Center at the Fisher Institute for Air and Space Strategic Studies.
In 2013, a satellite photo of a Saudi missile base showed launch pads that pointed at two cites – Tehran and Tel Aviv – but the intended recipient of Saudi Arabia's missile warnings is Iran, Inbar said.
Full report at:
http://www.jpost.com/Defense/Saudi-rocket-parade-a-signal-to-Iran-Israeli-defense-expert-tells-Post-350975
------------
US, Turkey, Qatar Prepare Jihadists to Fight in Syria
May 1, 2014
TEHRAN (FNA)- Interview with a militant terrorist who says, he and many others have been fully armed and trained by the US, Turkey and Qatar to fight and kill innocent civilians in Syria.
http://english.farsnews.com/player.aspx?nn=13930211000294
------------
Army Destroys Bulldozer Bomb in Aleppo, Kills 6 Militants
May 1, 2014
TEHRAN (FNA)- The Syrian army continued targeting armed groups in different areas on Thursday, having successful operations in Aleppo and Damascus countryside.
Army regains control over fertilizer factory in Aleppo
A military source told SANA that army units advanced in al-Ramouseh and al-Ameriya neighborhoods in Aleppo and regained control over the fertilizer factory and the containers depot.
The army units killed a huge number of militants in the operation, the source added.
It affirmed the army units confronted militant groups tried to infiltrate into al-Ramouseh groves and Bustan al-Bach neighborhood from MTN area in Aleppo, killing and injuring their members and destroying their tools.
Full report at:
http://english.farsnews.com/newstext.aspx?nn=13930211000700
------------
KSA gives Yemen $1 billion loan
May 1, 2014
Saudi Arabia, which co-chaired the "Friends of Yemen Group" conference in London on Tuesday, has allocated most of the $3.25 billion in aid it pledged to Yemen, a neighboring nation grappling with a host of challenges including terrorism.
"The Kingdom has deposited $1 billion in the Yemeni Central Bank in the form of a loan," said Abu Bakr Al-Qirbi, Yemeni foreign minister, who was speaking after the conclusion of the London conference on Wednesday.
In a statement released after the meeting, the group urged Sanaa to set out a clear timetable for a referendum on a new constitution and subsequent elections, as the military continued a major offensive against Al-Qaeda militants in the south of the country.
Full report at:
http://www.arabnews.com/news/563916
------------
Israeli Army Simulating Invasion of Southern Lebanon, Gaza, Shells Syrian Army Sites
May 1, 2014
The Israeli army is presenting intensive training courses which simulates invading Southern Lebanon and Gaza Strip.
The Israeli military sources pointed out the role of the infantry troops during any war against Hezbollah and the Palestinian resistance will be essential in order to deactivate its rocketry power, Al-Manar reported.
In a different context, the Israeli army supports and coordinates with the militant groups on the Golan Heights by bombarding the sites of the Syrian arm, using highly sophisticated missiles.
http://english.farsnews.com/newstext.aspx?nn=13930211000490
------------
Cairo University head bans 173 student from taking final exams
May 1, 2014
Head of Cairo University Gaber Nassar has banned 173 students from taking their final exams due to alleged links to violent clashes at the university, Al-Ahram's Arabic news website reported.
The 173 students were suspended after an investigation proved their involvement in clashes that have frequently taken place at the university since the start of the academic term last August.
On Wednesday, Egypt's Supreme Council of Universities issued a decision allowing all detained students to take their final exams while waiting for upcoming trials.
It was also reported that around 38 students at Cairo University currently under investigation will be allowed to take their final exams.
Nassar told Al-Ahram that a group of students had appealed the university's decision to suspend them and that they would be allowed to take their exams, but without the guarantee that they would receive marks.
Full report at:
http://english.ahram.org.eg/NewsContent/1/64/100269/Egypt/Politics-/Cairo-University-head-bans--student-from-taking-fi.aspx
---------
North America
Hindus, Muslims And Sikhs Are Targets Of Hate Violence In America: Obama
Press Trust of India | Washington | May 1, 2014
US President Barack Obama has acknowledged that even today a number of people from the South Asian origin — particularly those from Hindu, Muslim and Sikh communities — are becoming victims of hate crimes in America.
"Even today, South Asian Americans, especially those who are Muslim, Hindu and Sikh, are targets of suspicion and violence," Obama said in a presidential proclamation that recognized the contribution of Asian-Americans in the Socio-political and economic milieu of the country.
"Like America itself, the AAPI (Asian American and Pacific Islander) community draws strength from the diversity of its many distinct cultures – each with vibrant histories and unique perspectives to bring to our national life," Obama said.
"Asian Americans, Native Hawaiians, and Pacific Islanders have helped build, defend and strengthen our Nation – as farm workers and railroad labourers; as entrepreneurs and scientists; as artists, activists, and leaders of government.
Full report at:
http://indianexpress.com/article/world/indians-abroad/hindus-muslims-and-sikhs-are-targets-of-violence-obama/
------------
Al Qaeda's Pakistan-based core organization diminished: United States
May 01, 2014
WASHINGTON- The United States said that while al Qaeda's Pakistan-based "core organization" had been severely degraded, affiliates of the militant group in Africa and the Middle East were becoming more "operationally autonomous" and aggressive.
The State Department said in its annual global report on terrorism that the central organization of al Qaeda, under the leadership of Ayman al Zawahiri, had been "much diminished" by international efforts and had lost many of its senior leaders.
But the report said instability and weak governments in the Middle East and North Africa had enabled al Qaeda affiliates and like-minded groups to "broaden and deepen their operations" in Yemen, Syria, Iraq, North Africa and Somalia.
Groups such as the Afghan and Pakistani Taliban and the Haqqani network continue to attack American and local targets on both sides of the Afghan/Pakistani border, and the Pakistan-based Lashkar-e-Tayyiba believe U.S. interests are "legitimate targets for attacks," the report said.
Full report at:
http://www.nation.com.pk/national/01-May-2014/al-qaeda-s-pakistan-based-core-organization-diminished-united-states
------------
'Abu Hamza ordered young recruit to Afghanistan to learn jihad'
Press Trust of India | New York | May 1, 2014
A US Muslim convert has told a New York trial court that British hate preacher Abu Hamza "ordered" him to take a young recruit to Afghanistan to learn front-line jihad.
James Ujaama, 48, who has served jail time for a related conviction, on Wednesday told the Manhattan federal court he was once "very close" to Abu Hamza, working for him at his Finsbury Park Mosque in north London in 2000 and 2001. "Sheikh Abu Hamza ordered me to take Feroz Abbasi," he said, referring to a British man arrested by US troops in Afghanistan in 2001 and later held at Guantanamo Bay.
Abu Hamza, who was extradited to the United States in 2012, is on trial accused of multiple terror and kidnapping charges that pre-date the 9/11 attacks. He is charged over the 1998 kidnapping in Yemen of 16 Western tourists, four of whom were killed, and conspiracy to set up an Al-Qaeda-style training camp in Oregon in late 1999.
Full report at:
http://indianexpress.com/article/world/americas/abu-hamza-ordered-young-recruit-to-afghanistan-to-learn-jihad/
------------
Developer Scales Back Plans for Muslim Center Near Ground Zero
May 1, 2014
The developer whose proposal to build a Muslim community center and mosque near the World Trade Center failed amid a national controversy three years ago said Tuesday that he now plans to construct a museum devoted to Islam in the same location.
Sharif El-Gamal, the developer, said through a spokesman that instead of a $100 million, 15-story community center and prayer space, he now planned a smaller, three-story museum "dedicated to exploring the faith of Islam and its arts and culture." The building would also include a sanctuary for prayer services and community programs.
To make the plan more attractive to neighbors, he said in a statement, he had commissioned a French architect, Jean Nouvel, winner of the 2008 Pritzker Prize, to design the building at 45-51 Park Place, about two blocks from the former World Trade Center in Lower Manhattan, and had included plans for a public green space.
Full report at:
http://www.nytimes.com/2014/04/30/nyregion/developer-scales-back-plans-for-muslim-center-near-ground-zero.html?_r=0
------------
'One nation under Allah': Florida conservatives push for anti-Sharia legislation
May 1, 2014
Florida conservatives, evidently alarmed by changing social and income demographics, are pushing legislation to combat what they say is the attempted indoctrination of American students with Islamic ideology.
Lawmakers are currently considering a so-called "anti-Sharia bill" which passed through the state Senate with a 24-14 vote on Monday. Sharia, which varies between cultures, is the basic path which devout Muslims try to follow. The rules, while strict by Western standards, often stretch past the confines of a mosque and regulate aspects of secular law, including crime, public policy, sex, diet, and economics.
Full report at:
http://rt.com/usa/156036-one-nation-allah-pledge-hysteria/
------------
US: Price tag attacks against Palestinians 'largely un-prosecuted
May 1, 2014
Attacks by "extremist Jewish settlers" against Palestinians in the West Bank were "largely unprosecuted," the US said on Wednesday in its State Department report on global terrorism in 2013.
It focused a small section of its report on violence by Israeli extremists against Palestinians, Israeli Arabs and Christians on both sides of the pre-1967 lines.
In the West Bank there were 399 attacks by Israeli extremists which resulted in Palestinian injuries or property damage. As part of these attacks, five mosques and three churches were vandalized, including in Jerusalem, the report said. It based its data on reports by the United Nations and nongovernmental groups.
Full report at:
http://www.jpost.com/National-News/US-Price-tag-attacks-against-Palestinian-largely-un-prosecuted-350956
------------
South Sudan war dominates as Kerry opens Africa tour
May 1, 2014
Fears of genocide and famine in war-torn South Sudan dominated the agenda Thursday of US Secretary of State John Kerry, as he launched an Africa tour focusing on the continent's most brutal conflicts.
Kerry arrived late Wednesday in the Ethiopian capital on his first major tour of Africa, which will also include Democratic Republic of Congo and Angola.
Ethiopia has been hosting peace talks between South Sudan's government and rebels aimed at ending a bloody four-month civil war.
But there is mounting outrage at the scale of killings, with both government forces loyal to President Salva Kiir and rebels backing ex-vice president Riek Machar implicated in massacres, rapes, attacks on UN bases and recruiting child soldiers.
Full report at:
http://english.ahram.org.eg/NewsContent/2/8/100242/World/Region/South-Sudan-war-dominates-as-Kerry-opens-Africa-to.aspx
------------
Security guard wanted to move to Muslim country to escape Canada's 'Islamophobia,' terror trial
May 1, 2014
A Toronto security guard on trial for allegedly attempting to join the Somali terrorist group Al-Shabab testified Monday he wanted to move to a Muslim country because of the discrimination he suffered in Canada, but insisted he did not support terrorism.
"I felt that throughout my time in Canada I felt a lot of discrimination, whether because I'm black or I'm Muslim," Mohamed Hassan Hersi said. "I felt that if I lived in a Muslim country, I probably would not experience Islamophobia."
Mr. Hersi, 28, told jurors as he began his defence that his entire clan was "hostile" to the group and its "extreme methods."
"They do tyrannical things like cut off peoples' hands," said Mr. Hersi. "I don't really like Al-Shabab."
He insisted he was opposed to terrorism, which he called immoral and anti-Islamic. Terrorists who cited Islam to justify violence were taking the Koran out of its historical context, he added.
Full report at:
http://news.nationalpost.com/2014/04/28/mohamed-hassan-hersi-wanted-to-move-to-muslim-country-to-escape-islamophobia-terror-trial-hears/
------------
Mideast
Islamic Jihad Seeks to Join Hamas-Fatah Pact
May 1, 2014
Despite last week predicting its failure, the Islamic Jihad terrorist group is trying to join in on the Hamas-Fatah reconciliation agreement.
Sources in the group told the Ma'an news agency that three senior leaders of the group traveled from Gaza to Egypt via the Rafiah crossing on Wednesday.
According to the sources, Muhammad al-Hindi, Nafith Azzama, and Khaled al-Batsh traveled through Egypt to convene with other faction leaders for meetings on the recent reconciliation deal.
The leaders will consider the ways Islamic Jihad could be involved in the unity government, which is due to be set into place within four weeks, the sources told Ma'an.
It is the first time the leaders have been allowed into Egypt since the military ouster of Muslim Brotherhood president Mohammed Morsi in July, the news agency noted.
Full report at:
http://www.israelnationalnews.com/News/News.aspx/180124#.U2K6l4FdU4U
------------
Yemen army kills 6 'Qaeda' militants in south offensive
May 1, 2014
Yemeni troops backed by aircraft killed six suspected Al-Qaeda militants as they pressed a ground offensive in the south, the defence ministry said on Thursday.
The assault that began overnight focused on the Shabwa province towns of Maifaa and Azzan, the ministry's 26sep.net news website said.
Three vehicles were destroyed and six suspected militants travelling in them killed, it added.
Residents of the two towns said fierce fighting was continuing on Thursday.
The army launched a major offensive on Tuesday aimed at clearing the jihadists from their remaining strongholds in villages and smaller towns in Shabwa and neighbouring Abyan province.
Full report at:
http://english.ahram.org.eg/NewsContent/2/8/100259/World/Region/Yemen-army-kills--Qaeda-militants-in-south-offensi.aspx
----------
New Islamic fatwa: Foreign Muslims can visit Jerusalem's Temple Mount
May 1, 2014
Decree creates possibility for hundreds of millions of Muslims from around world to visit holy site; fatwa says visits not be normalization of ties with Israel.
Visiting the Al-Aqusa Mosque on Jerusalem's Temple Mount will not be considered symbol of normalization of ties with Israel, according to a Fatwa issued in Amman on Wednesday.
The fatwa cancels a previous one that prohibited Muslims from around the world from visiting the site.
Wednesday's fatwa was issued at a meeting in the Jordanian capital called "The Way to Jerusalem," attended by prominent Islamic scholars. The purpose of the meeting was to discuss "ending the attack on Al-Aqusa" by the Israelis.
Earlier this month, The Jordanian Foreign Ministry, responding to riots at the site, asked Israeli Ambassador Daniel Nevo to convey to Israel, Jordan's protest and rejection of what it called recurring Israeli violations against the Al-Aqusa Mosque.
Full report at:
http://www.jpost.com/Middle-East/New-Islamic-fatwa-Foreign-Muslims-can-visit-Jerusalems-Temple-Mount-350925
------------
Turkey calls on Europe to help prevent jihadists entering Syria
May 1, 2014
A Turkish government minister has called on Europe to do more to stop radicals travelling through his country to join the jihad in Syria.
Hayati Yazici, Minister of Customs and Trade, wants to prevent young Muslims crossing the border to fight against Syrian government forces.
Syria has become a magnet for extremists taking part in jihad – a holy war, according to analysts.
"The Europeans let them [European jihadists] travel from their countries to Turkey and then ask Turkey to prevent them going to Syria," said Yazici. He asked, "Why do you let them leave? If you know they're going to Syria then you should prevent them from travelling."
The minister told euronews that he'd like to see European countries sharing information about the movements and activities of young radicals.
Full report at:
http://www.euronews.com/2014/04/29/turkey-calls-on-europe-to-help-prevent-jihadists-entering-syria/
------------
Islamic cleric Gülen faces investigation as an espionage probe launched at TİB
May 1, 2014
Hours after the announcement of legal action against U.S.-based Islamic cleric Fethullah Gülen on charges of attempting to overthrow the government, an espionage probe has been launched in Ankara into claims that sensitive data from the Telecommunications Directorate (TİB) was leaked to foreign countries via satellite links.
The fierce rivalry between the Justice and Development Party (AKP) government and the Gülen community acquired a new dimension after an investigation against Gülen was launched by the Ankara Chief Prosecutor's Office on charges of "attempting to annul the government of the Republic of Turkey; or attempting to partially or entirely block the government from performing its duties," according to private broadcaster CNN Türk.
Those who are accused of staging, planning or supporting military coups d'état are commonly charged with this crime.
The investigation was disclosed by Culture and Tourism Minister Ömer Çelik on April 30 during a live interview with news channel NTV, a day after Prime Minister Recep Tayyip Erdoğan said he would ask the United States to extradite Gülen, who he accuses of plotting to topple him and undermine Turkey through graft accusations and secret wiretaps.
Full report at:
http://www.hurriyetdailynews.com/gulen-faces-investigation-as-an-espionage-probe-launched-at-tib.aspx?pageID=238&nID=65777&NewsCatID=338
------------
Istanbul mosque asks May Day protesters not to damage its walls with writings
May 1, 2014
One of the landmarks of central Istanbul, Şişli Mosque, has hung a poster asking May Day protesters not to graffiti the walls of the historic building.
"We celebrate your May Day and, for God's sake, we ask you not to write anything on the historic mosque's walls," the poster said.
Şişli is a district just north of Taksim, and is one of the busiest districts in Istanbul, popular for protests and celebrations.
Police resorted to tight security measures around Şişli on May 1, along with other districts in Istanbul, as they intervened against protesters.
http://www.hurriyetdailynews.com/istanbul-mosque-asks-may-day-protesters-not-to-damage-its-walls-with-writings-.aspx?pageID=238&nID=65826&NewsCatID=341
------------
Iran wants 400 new planes by 2025 if curbs end
May 1, 2014
TEHRAN: Iran is looking to buy 400 passenger planes in the next 10 years to upgrade its aging fleet if Western sanctions imposed over its controversial nuclear program are lifted, the country's top aviation official said Wednesday.
The remark by Ali Reza Jahangirian of Iran's Civil Aviation Organization reflects Tehran's interest in attracting foreign investment and upgrading its creaking aviation industry.
It comes amid a new climate in the country following the election last June of new President Hassan Rowhani who has focused his efforts on reviving Iran's faltering economy.
"Iranian airlines will be ready to buy 40 jets a year," Jahangirian said, without disclosing specifics of what could be a multibillion dollar project.
Full report at:
http://www.arabnews.com/news/563831
----------
Israel against U.S. naming Jewish extremist attacks as 'terrorists'
May 1, 2014
Israeli police on Thursday challenged Washington's inclusion of Jewish extremist attacks on Palestinians in a global terror report, saying such incidents could not be likened to militant attacks.
For the first time, the State Department's 2013 Country Reports on Terrorism, published Wednesday, included a reference to a growing wave of racist anti-Palestinian vandalism, euphemistically known as "price tag" attacks.
"Attacks by extremist Israeli settlers against Palestinian residents, property, and places of worship in the West Bank continued and were largely unprosecuted," the report said, citing UN and NGO data.
But Israel police spokesman Micky Rosenfeld said the incidents were far from the global terror threats outlined in the report.
"There's no comparison whatsoever between criminal incidents with nationalistic motives and terrorist-related incidents," Rosenfeld told AFP.
The US report noted that "the U.N. Office of the Coordinator for Humanitarian Affairs reported 399 attacks by extremist Israeli settlers that resulted in Palestinian injuries or property damage.
Full report at:
http://english.alarabiya.net/en/News/middle-east/2014/05/01/Israel-against-U-S-naming-Jewish-extremist-attacks-as-terrorists-.html
------------
India
AIUMB Decided To Support the Congress in some Pockets of UP
May 1, 2014
In yet another indication of her expanding role in the party, which now seems to involve not just managing internal differences and bridging gaps between the old and new guard but also reaching out to external stakeholders to seek support, Priyanka Vadra met representatives of the All India Ulema and Mashaikh Board (AIUMB) in Rae Bareli last week.
According to party sources, Priyanka met AIUMB national general secretary Babar Ashraf for over two hours on April 22. AIUMB is a body of Sunni Muslims with a significant presence and influence in Uttar Pradesh, Rajasthan, Jharkhand and Chhattisgarh among other states.
Ashraf confirmed the meeting, during which he is reported to have raised the concerns and demands of his community. Significantly, Priyanka held the meeting alone — neither her mother and Congress president Sonia Gandhi nor her brother and Congress vice-president Rahul Gandhi were present, indicating a further enhancement of her responsibilities.
Party sources said the AIUMB had first sought a meeting with Rahul, but was unable to meet him due to his busy campaign schedule. A senior Congress leader then arranged a meeting with Priyanka, who, sources said, was keen to meet representatives of the organisation in order to understand issues related to the community.
Full report at:
http://indianexpress.com/article/india/politics/priyanka-seeks-support-of-sunni-clerics-shed-be-better-than-rahul-says-madani/
------------
Pentagon praises Indian developmental assistance in Afghanistan
PTI | May 1, 2014
WASHINGTON: The Pentagon has praised India's significant contribution in the peaceful development of Afghanistan, aimed at securing a stable region and facilitating economic corridors into Central Asia.
India and Afghanistan signed a strategic partnership declaration in 2011, which formalised cooperation on governance, economics, commerce, education, public administration, and security/law enforcement, it said in a report submitted to the US Congress.
Subsequent engagements are reinforcing the positive relationship between Afghanistan and India, it said.
Noting that India supports a variety of high-visibility projects and initiatives in Afghanistan, the report said these ventures are primarily focused on major infrastructure projects, including electricity generation and transmission, road construction, and mining.
Full report at:
http://timesofindia.indiatimes.com/india/Pentagon-praises-Indian-developmental-assistance-in-Afghanistan/articleshow/34468493.cms
-----------
Chennai train blasts: TCS techie killed, ISI's role suspected
PTI | May 1, 2014
CHENNAI: A 24-year old woman techie was killed and 14 others injured when a twin bomb blast rocked the Bangalore-Guwhati Express at the busy Central Railway station in the city on Thursday.
The two low-intensity bombs that went off in quick succession in S4 and S5 coaches about ten minutes after the train chugged into the platform in the morning, triggered of chaotic scenes with panic stricken passengers running for safety.
The woman killed in the mishap has been identified as Swathi, employed with Tata Consultancy Services (TCS) in Bangalore, and was travelling to her home town Guntur in Andhra Pradesh along with a friend, police said.
Fourteen injured persons, including two critically wounded, were undergoing treatment at the state-run Rajiv Gandhi General Hospital where doctors described their condition as "out of danger".
Full report at:
http://timesofindia.indiatimes.com/india/Chennai-train-blasts-TCS-techie-killed-ISIs-role-suspected/articleshow/34484506.cms
------------
Southeast Asia
Brunei Phasing In Antigay Law; Will Soon Allow Death by Stoning
May 1, 2014
The sultan of Brunei has confirmed that a law that will eventually allow death by stoning for gay sex and other so-called offenses will go into effect on Thursday.
The new penal code, based on Islamic Sharia law, will make Brunei the first country in East Asia to adopt such law. It would be the first time since 1957 that Brunei would enforce a law with the death penalty.
"Today... I place my faith in and am grateful to Allah the almighty to announce that tomorrow, Thursday May 1, 2014, will see the enforcement of Sharia law phase one, to be followed by the other phases," Sultan Hassanal Bolkiah said in a speech, Agence France-Presse reports.
Phase one of the law will allow for fines and jail terms for offenses such as "indecent behavior, failure to attend Friday prayers, and out-of-wedlock pregnancies," according to AFP. The second phase, going into effect later this year, will cover crimes including theft and robbery, making them punishable by severing of limbs and flogging. "Late next year, punishments such as death by stoning for offenses including sodomy and adultery will be introduced," AFP notes. The law was scheduled to go into effect April 22 but was postponed due to "unavoidable circumstances."
Full report at:
http://www.advocate.com/world/2014/04/30/brunei-phasing-antigay-law-will-soon-allow-death-stoning
------------
What are your contributions to the nation, says Isma warning non-Muslims over hudud issue
May 1, 2014
Muslim rights group Ikatan Muslimin Malaysia (Isma) has warned non-Muslims in the country that they have no right to oppose the plan to implement hudud, and said non-Muslims should understand that there are limitations to what they can say.
Its president Abdullah Zaik Abdul Rahman said non-Muslims "should be thankful that they have more than what they need in this country".
"I don't see what their contributions are for them to be given so many privileges in the first place," he said on the sidelines of a two-day International Muslim Thinkers Conference organised by the group in Kuala Lumpur today.
"Their strong stand against hudud gives the impression that they are in a dream world; they must realise that they have no say in determining the future of Muslims in this country," he added, in a comment on PKR and DAP opposing the plan by their Pakatan Rakyat coalition partner PAS to implement hudud in Kelantan.
Full report at:
http://www.themalaysianinsider.com/malaysia/article/what-are-your-contributions-to-the-nation-says-isma-warning-non-muslims-ove
------------
Hudud has no place in present constitutional structure, say legal experts
May 1, 2014
Hudud can be enforced in Malaysia only after a new constitution is drawn up to make the nation an Islamic state, constitutional law experts said.
They said the 1957 Merdeka constitution declared that Malaysia was a secular state and Islamic criminal law cannot co-exist with other federal penal legislation.
The lawyers said a legal challenge could be mounted even if the constitution was amended to implement hudud as this would amount to causing irreparable damage to the basic structure of the supreme law.
Furthermore, they said any attempt to introduce a private member's bill to implement hudud in Kelantan could be legally challenged for going against the constitution.
They were referring to the move to table the bill in Parliament to allow Kelantan to enforce its shariah penal code in the state which has been controlled by the Islamist party PAS since 1990.
Full report at:
http://www.themalaysianinsider.com/malaysia/article/hudud-has-no-place-in-present-constitutional-structure-say-legal-experts
---------
Europe
Law Society offers Sharia training to high street lawyers
May 1, 2014
Formal training on Sharia law is being offered to high street lawyers later this year by the professional body which represents solicitors.
The Law Society is running an "introduction to Islamic Sharia law for small firms" in a bid to help lawyers serve their Muslim client base in areas of law such as family, children, wills and inheritance.
But Baroness Cox, who campaigns against quasi-legal systems such as Sharia courts, criticised the Law Society's actions.
Disturbing
"While every citizen in this country is free to practice their religion, it is deeply disturbing that an organisation as prestigious as the Law Society appears to be encouraging the implementation of Sharia Law", she said.
Full report at:
http://www.christian.org.uk/news/law-society-offers-sharia-training-to-high-street-lawyers/
------------
Pakistan's enemy is our enemy: Cameron
May 1, 2014
LONDON: Describing Pakistan's enemy as his enemy, British Prime Minister David Cameron said on Wednesday that "Pakistan's progress is in the interest of the world".
He made the remark in a meeting with Prime Minister Nawaz Sharif at 10 Downing Street on Wednesday. The Pakistani premier is visiting the United Kingdom on the invitation of his British counterpart.
Cameron warmly welcomed his Pakistani counterpart and reiterated UK's all-out support to Islamabad in its pursuit to strengthen its economy and carry out socio-economic development. He also backed the Pakistani government's efforts to combat terrorism and extremism.
Pakistan is fully committed to eliminating terrorism from its soil, Premier Nawaz reiterated during the meeting.
Full report at:
http://tribune.com.pk/story/702629/pakistans-enemy-is-our-enemy-cameron/
------------
Subway Adopts Sharia Law for 185 UK Outlets with 'Halal Meats Only' Policy
May 1, 2014
Sandwich chain Subway has defended changing the contents of some products in line with demands by Muslims for meat to comply with sharia law.
Sandwiches at 185 Subway outlets in Britain and Ireland no longer come with ham or bacon as the pig is regarded as unclean in Islam.
The pork has been replaced by turkey in a move the company hopes will avoid offending Muslim customers. Turkey is halal, or clean, to Muslims.
Subway outlets adopting the new policy will display a window sticker reading: "All meats are halah."
But the practice of halal slaughter, which can only be carried out by Muslim men who chant "Bismillah Allahu-Akbar" (in praise of God) before the slaughter, is not without controversy. Critics say it is inhumane because sharia law demands the animal is conscious at the moment of slaughter.
Full report at:
http://www.ibtimes.co.uk/subway-adopts-sharia-law-185-uk-outlets-halal-meats-only-policy-1446781
------------
Human Rights Watch urges Egypt to overturn ban on youth group
May 1, 2014
Human Rights Watch has condemned a court ban on Egypt's leading pro-democracy movement as a violation of freedom of association and assembly.
A court on Monday banned the April 6 Youth Movement — one of the groups that engineered the 2011 uprising that toppled autocrat Hosni Mubarak. The ruling stemmed from a private lawsuit brought by a lawyer who accused the group of defaming the country and colluding with foreign parties.
"Banning political dissent won't make it go away," said Joe Stork, deputy Middle East and North Africa director at Human Rights Watch. "A judge's gavel can't turn back the clock to before 2011."
Full report at:
http://english.ahram.org.eg/NewsContent/1/64/100236/Egypt/Politics-/Human-Rights-Watch-urges-Egypt-to-overturn-ban-on-.aspx
------------
Spain Arrests Terror Suspect Active in Syria
May 1, 2014
Spanish authorities arrested a French-Algerian man suspected of participating in terrorist operations in Syria.
Spain's Interior Ministry says Abdelmalek Tanem was detained in the Southeastern region of Almeria on Wednesday, Al-Alam reported.
Tanem was helping Europeans enter Syria to join extremist groups and fight the Syrian government.
Tanem was a member of the so-called Islamic State in Iraq and the Levant (ISIL) from October 2013 to January 2014, according to the Interior Ministry.
The ministry said in a statement that the 24-year-old Tanem is accused of participating in unspecified terrorist activity in Syria with radical groups operating there and also worked on Syria's border with Turkey to help European would-be extremists get into Syria.
Full report at:
http://english.farsnews.com/newstext.aspx?nn=13930211000434
------------
EU pledges €30m to Balochistan govt for education sector
May 1, 2014
QUETTA: European Union has promised to provide 30 million Euros for development of education sector and ensuring enrollment of out of school children in Balochistan, Pakistan's least developed and resource-rich province.
Addressing a function organised at Balochistan Rural Support Program's head office, the head of the EU delegation, Berend de Groot said that all ways and means were discussed with Pakistani officials during past three months for the development of education sector.
EU and Government of Pakistan launched a seven year program spanning between 2014 to 2020 for rural development and removal of educational backwardness.
"Bringing girls in schools is our priority", Berend de Groot said.
He said government of Balochistan had come forward with ideas for promotion of education and development of far-flung areas of the province.
Full report at:
http://www.dawn.com/news/1103279/eu-pledges-eur30m-to-balochistan-govt-for-education-sector
------------
South Asia
6 militants and one policeman killed in Farah clashes
May 01 2014
At least six militants along with an Afghan policeman were killed following clashes in western Farah province of Afghanistan.
According to local government officials, the incident took place late Wednesday night in Khak-e-Safa district.
A spokesman for the provincial security commandment, Jawid Kargar said a group of anti-government armed militants attacked the district compound a number of security check posts around 10:00 pm local time.
Mr. Kargar further added that 10 militants and an Afghan policeman were also injured during the clashes.
Farah is among the relatively restive provinces in western Afghanistan. The anti-government armed militant groups including the Taliban militants are active in a number of its districts and frequently carry out insurgency activities.
http://www.khaama.com/6-militants-and-one-policeman-killed-in-farah-clashes-6047
------------
Prosecution for policy to cover war crime trials
May 1, 2014
International Crimes Tribunal prosecutor Tureen Afroz sought the formulation of a media policy on how to cover its proceedings, yesterday.
During the hearing on a contempt allegation against Channel 24 over comments made by participants of a talk show, she said: "When we have many directives on how to act on women issues or violence, then why not for the International Crimes Tribunal?"
Following the hearing, the tribunal 1 led by Justice M Enayetur Rahim set June 12 for the passing of an order whether the contempt proceedings would start or not.
On September 26 last year, responding to a prosecution plea, the tribunal asked eight persons including the top management of private television Channel 24 to explain why contempt proceedings should not be initiated for airing the "scandalous" talk show titled "Muktobaak" on September 18.
Full report at:
http://www.dhakatribune.com/law-rights/2014/may/01/prosecution-policy-cover-war-crime-trials#sthash.fGtehyww.dpuf
------------
Nasheed warns of "imminent sovereign debt crisis"
By Ahmed Naish | May 1st, 2014
Former President Mohamed Nasheed has warned of a sovereign debt crisis if the Maldives is forced to pay US$1.4 billion in compensation to GMR over the abrupt termination of a concession agreement to develop Ibrahim Nasir International Airport (INIA).
Nasheed also reiterated calls for the government to reverse the decision to cancel the contract in December 2012.
"The Maldives is now known around the world as a country that doesn't keep its promises or honour the contracts. The airport fiasco will hit each and every Maldivian because banks won't lend money and companies won't invest in our country without demanding much higher rates of interest," Nasheed was quoted as saying in a press release issued yesterday.
Full report at:
http://minivannews.com/politics/nasheed-warns-of-imminent-sovereign-debt-crisis-83850
------------
"Highly politicised and corrupt" judiciary unfit to decide life and death –MDN
By Lucy Lovell | May 1st, 2014
The Maldivian Democracy Network (MDN) has condemned the Maldivian government's decision to implement the death penalty in a press release issued on Wednesday.
The MDN expressed "great concern" over the move to break a sixty-year de facto moratorium on the death penalty in the country. New regulations allow for children as young as seven to be sentenced to death.
"Given the state of the Maldivian judiciary, which is also perceived to be highly politicised and corrupt, it is most concerning that as grave a matter as life and death of humans is to be decided by it," the MDN stated.
Full report at:
http://minivannews.com/politics/highly-politicised-and-corrupt-judiciary-unfit-to-decide-life-and-death-maldivian-democratic-network-83852
--------------
China points to suicide blast in Xinjiang attack
May 1, 2014
Chinese President Xi Jinping demands "decisive" action against terrorism after the attack, which came as he was wrapping up a four-day tour of Xinjiang
Chinese authorities said on Thursday that two religious extremists carried out a terror attack at a train station in the Xinjiang region by detonating explosives, in an apparent suicide bombing that also killed one other person and wounded 79.
The official website for Xinjiang's regional government said police identified two suspects with a history of religious extremism, including a 39-year-old man from southern Xinjiang. It did not explicitly call Wednesday's attack in the regional capital of Urumqi a suicide bombing, but said the two men detonated explosives at a train station exit and both died on the spot.
It was the third high-profile attack in seven months blamed on Xinjiang extremists that targeted civilians two of the attacks outside the region marking a departure from a previous pattern of primarily targeting local authorities.
Full report at:
http://www.thehindu.com/news/international/world/china-points-to-suicide-blast-in-xinjiang-attack/article5966463.ece
----------
Africa
South African Imams allowed to legally perform weddings
MAY 1, 2014
CAPE TOWN, May 1 — South Africa accredited over 100 imams as marriage officers, allowing the Muslim clerics to officiate at fully recognised weddings for the first time.
Deputy President Kgalema Motlanthe hailed "a new chapter in the story of the Muslim community in South Africa".
"This will enable the legal official recognition of the unions of Muslim couples," he said at a ceremony in Cape Town.
Imams had previously presided over weddings that were not fully recognised in civil law.
Motlanthe said Muslim couples would now have the "protective instruments" of the secular state, while maintaining "Koranic values"
Cape Town-based legal aid group, the Women's Legal Centre, welcomed the registration of the clergy as a "step in the right direction."
But a grouping of over 200 Muslim organisations in southern Africa, the Islamic Unity Convention claimed the broader Muslim community in the country was not consulted on the government's decision to certify the Imams.
Full report at:
http://www.themalaymailonline.com/features/article/south-african-imams-allowed-to-legally-perform-weddings#sthash.QdX7w9AM.dpuf
------------
Qaeda group claims Algeria attack that killed 11 soldiers
May 1, 2014
Al-Qaeda in the Islamic Maghreb (AQIM) claimed responsibility Thursday for an April ambush in Algeria's restive Kabylie region that killed 11 soldiers.
"On the night of April 19, mujahedeen ambushed an army convoy in the Iboudrarene region... The toll was around 30 soldiers killed or wounded, some of them seriously," said a statement posted online.
At the time, a security source said gunmen in the AQIM bastion of Iboudrarene, east of Algiers, had ambushed the convoy and killed 11 soldiers, in the deadliest attack on the military in years.
http://english.ahram.org.eg/NewsContent/2/8/100258/World/Region/Qaeda-group-claims-Algeria-attack-that-killed--sol.aspx
------------
URL: https://www.newageislam.com/islamic-world-news/new-age-islam-news-bureau/pakistan-madrasas-playing-courier-for-ttp-in-'fund-raising-drive'/d/76826