New Age Islam News Bureau
15 Jun 2014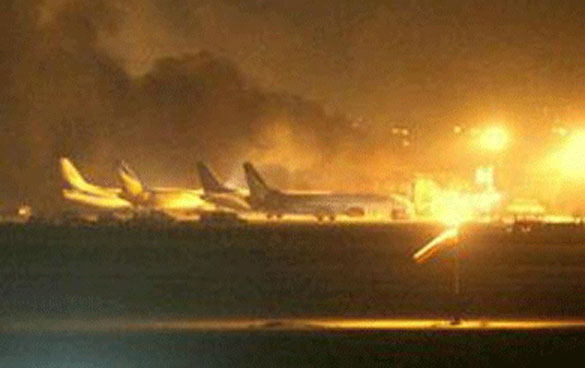 The Pakistan has been under pressure to combat the resilient insurgency after the shocking attack on the country's busiest airport
-----------
Pakistan
• Pakistan Kills 100 Extremists Including Karachi Airport Attack 'Mastermind'
• Pak Politician Says We Must-Change the Mindset of Those Who Consider Terrorists Muslim
• Govt Mulls Recourse to Law against Self-Proclaimed Religious Scholar Qadri
• Militant infighting leaves seven dead in N Waziristan
• Mostly Uzbeks killed in overnight N Waziristan bombing: army
• Forces arrest 40 suspected militants in Jamrud
• TTP extends olive branch after N Waziristan air strikes
• Coming to Pakistan to Blast off A Regime-Changing Revolution: Allama Tahir-Ul-Qadri
• Pakistan greets Afghanistan for peaceful presidential election
• Pakistan Army takes security charge in Islamabad
South Asia
• 18 Soldiers, 39 Civilians, 146 Militants Killed During Afghan Runoff Vote Day
• Explosion Kills 10 Afghan Election Workers
• Hasina: Remand Khaleda, Tarique for Zia killing
• China giving Uighurs alarm-raising passport chips
• World Bank predicts positive outlook for Maldivian economy in 2014
• Ministry to seek opinion of religious scholars on Maldivians joining Syrian war
• Ex-Taliban foreign minister prepared to mediate peace talks in Afghanistan
Arab World
• Sunni Clerics Criticize Iraq's Shiites Call To Arms
• Iraq Air Strike on Kurdish Forces Kills Six
• Ancient Egyptian Tomb Lost For Decades Rediscovered In Luxor
• Saudi Arabia: Fighting terror a global responsibility
• Photos said to show jihadists executing Iraq troops
• Jihadists' fast strike in Iraq was years in the making
• Mosul governor calls for logistical help, suggests 'air strikes' against ISIL bases
• Syrian government retakes strategic town of Kassab on Turkish border: Army
• Iraq troops claim pushing back militants
India
• Caravan of jihadists coming from Afghanistan to liberate Kashmir: Al-Qaida
• Violations by Pak must stop for dialogue to progress: Def Minister
North America
• Kerry says US help will only work if Iraqi leaders unite
• US ready to work with new Afghan govt
Mideast
• Israeli ambassador to UN: Iran is the world's primary sponsor of terrorism
• Gunman kills 8 in Yemen bus attack
• Iran 'sends 2,000 troops' to help Maliki in Iraq
• Hamas official: Netanyahu's accusations of our involvement are 'stupid'
• Turkish Foreign Ministry warns for spread of 'sectarian clashes' in Iraq
• Israeli troops arrest 80 Palestinians
Europe
• Be more British: PM issues powerful new pledge to combat extremism
• Al Qaeda affiliates threaten Af-Pak region: UN experts
• Chechen imam denies he recruited for Syria war
• Blair: Birmingham schools plot driven by same 'warped and abusive' extremism as Boko Haram
• Germany warns of regional 'proxy war' in Iraq
• Germany to Take Away Passports from Syria-Operating Fighters
Southeast Asia
• Bibles kept as proof Christian group broke state law, says Selangor mufti
• Explain why you won't return Bibles, Selangor tells Mais
Africa
• Libyan renegade general's forces attack Benghazi rebels
• Qatar says diplomat's comments criticizing Tripoli fake: Libya
Compiled by New Age Islam News Bureau
URL: https://www.newageislam.com/islamic-world-news/new-age-islam-news-bureau/pakistan-kills-100-extremists-including-karachi-airport-attack-'mastermind'/d/87549
-----------
Pakistan
Pakistan kills 100 extremists including Karachi airport attack 'mastermind'
AP | Jun 15, 2014
ISLAMABAD: Pakistani military jets pounded militant hideouts in the north-western tribal region bordering Afghanistan on early Sunday morning, officials said, killing as many as 100 militants in the second strike on the region since a deadly attack on the Karachi airport a week ago.
The Pakistani government has been under pressure to combat the resilient insurgency that has plagued the country for years after the shocking attack on the country's busiest airport that left 36 people dead, including 10 assailants. Government efforts that started months ago to negotiate with the militants appeared to be going nowhere and the airport violence has made negotiations even less likely to succeed.
Pakistani air force jets targeted eight militant hideouts in the North Waziristan tribal area, two intelligence officials said. Many of the dead were believed to be Uzbeks and other foreign fighters, they said.
One of those killed was Abu Abdul Rehman al-Maani, who is believed to have helped orchestrate the five-hour airport siege last Sunday, said two other officials. Uzbek fighters and the Pakistani Taliban both claimed responsibility for the attack on Jinnah International Airport, and the Pakistani Taliban said the two had worked together to carry it out, marking a disturbing increase of militant groups working together.
When the jets struck, the militants had been gathered to discuss a deadline given by authorities for militants to leave the area, said two of the Pakistani officials.
All the officials did not want to be identified because they were not authorized to speak to the media. The information could not be independently verified. The tribal areas are remote, dangerous and difficult for journalists to access.
Sunday's airstrike was the second against militants in the northwest. On Tuesday, Pakistani military jets targeted nine hideouts in the Tirah Valley, where the military said 25 suspected militants were killed, but the information could not be independently verified. The area is part of a lawless terrain along the Afghan border that is home to a mix of local militants and al-Qaida-linked foreign fighters.
The Islamic movement of Uzbekistan's claim of responsibility for the airport attack marked a rare instance of the group striking within Pakistan. The militant group was formed in 1991 to overthrow the Uzbek government and install an Islamic caliphate there but later expanded that goal to include all of Central Asia. The organization is believed to be based in North Waziristan and from there have attacked US and NATO targets in Afghanistan.
Pakistani Prime Minister Nawaz Sharif was elected last year in part for promising to end the years of militant violence through negotiations instead of military operations. But only one round of direct talks between the government and the Pakistani Taliban has taken place and efforts have floundered in recent weeks. Now the question is whether Sharif will authorize a much more aggressive military operation against the militants.
In another act of violence this weekend, a guard for a provincial Christian lawmaker shot and killed the legislator on Saturday, police said. Lawmaker Handery Masieh was meeting with supporters from the ruling National Party outside his home in the south-western city of Quetta when the guard opened fire, police officer Abdul Razzaq Cheema said.
One of the Masieh's nephews was wounded in the attack, he said. Cheema said it was not clear why the guard opened fire.
Government spokesman Jan Mohammad Buledi said the guard fled after the attack and police were trying to arrest him.
Quetta is the capital of Baluchistan, where nationalists groups have waged a low-scale insurgency to get a greater share of money earned from resources there, like natural gas. Pakistani Taliban and al-Qaida-linked militants also hide in Baluchistan.
http://timesofindia.indiatimes.com/world/pakistan/Pakistan-kills-100-extremists-including-Karachi-airport-attack-mastermind/articleshow/36605712.cms
-----------
Pak Politician Says We Must-Change the Mindset of Those Who Consider Terrorists Muslim
June 14th, 2014
ISLAMABAD: Religious extremists are bent upon destroying the country, while the state is paying no attention to stop their activities. There is an urgent need to change the mindset of those people who think militants are Muslims and consider them a part of our society.
This was the crux of seminar titled 'Religious Extremism and Intolerance: Effects on state and society', organised by Pakistan Peoples' Party's (PPP) Human Rights Cell on Friday.
Opposition Leader in Senate Aitzaz Ahsan said extremists had a one-point agenda of isolating the country. Besides killing citizens, they are also targeting foreign visitors, he said. "First they attacked the Sri Lankan team, and then they targeted tourists at Nanga Parbat. Meanwhile, they started killing polio workers, leading to travel restrictions by World Health Organisation. Recently, they attacked Karachi Airport to discourage international airlines from operating in our country," the senator said.
He alleged that the government is in deep slumber while terrorists are launching continuous attacks.
The PPP leader further said that the extremist elements have also been targeting minorities.
"Whenever Muslims come under attack anywhere in the world, our people sympathise by saying minorities are being attacked. Please tell me what you are doing with your minorities in Pakistan," he questioned and went on to say that Quaid-i-Azam fully respected minorities and even appointed two ministers from the minorities in his first cabinet.
He blamed Gen Ziaul Haq for promoting hatred and militancy in the minds of children by changing the syllabi.
Speaking on the occasion, PPP Senator Sardar Fateh Mohammad Hassani said terrorists and extremists had wreaked havoc in the country. "Right now, no one is ready to raise their voice against the extremists. We have to change the mindset of the people who are supporting terrorists," he said, asking for a change in the country's foreign policy. He added that law and order situation was deteriorating day by day, but the government had failed to take serious steps to curb the problem.
"Let alone other parts of the country, recently hundreds of unarmed Sikhs managed to storm into the Parliament House, exposing the failed security," he regretted.
General Secretary PPP Human Rights Cell Mustafa Nawaz Khokhar said extremist elements and mindset had destroyed peace of the country. "This region was known for Sufism, peace and love, but now nobody is safe here," he said and called upon the government to take steps to curb militancy.
"We have to take serious steps, otherwise our future generations will not forgive us," he said.
MNA Nafisa Shah, who is also the coordinator of the party's human right cell, said around 60,000 people had fallen prey to terrorism. She said Pakistan was a progressive state but religious extremists did not want to see it prosper.
"For writing a book, Malala Yousufzai was heavily criticised. But on the other hand, a library has been named after Osama bin Laden here in the federal capital," she said.
Senior journalist Zahid Hassan said: "For pulling the country out of the current crisis we have to change the mindset of the people." Recently a 15-year-old boy in Lahore killed a 50-year-old man, who was accused of blasphemy.
"Due to religious extremism and intolerance, the boy didn't think that he was committing a murder," he said and added that the self-confessed assassin of Governor Salman Taseer, is being treated as hero.
He also criticised media houses for promoting 'Talibanisation' by giving unnecessary space to militants.
Romana Bashir, director Peace and Development Foundation, cited the example of Cecil Chaudhry and questioned why major political positions in the country were not open to minorities. She claimed that people of other faiths and identities were just as patriotic like their Muslim counterparts.
Poet Harris Khaliq, through his poetry, shed light on growing intolerance and extremism and its effects on the society. Through his poem, he also highlighted the plight of Asia Bibi, a blasphemy accused. All participants of the seminar appreciated Mr Khaliq's work.
Published in Dawn, June 14th, 2014
https://www.dawn.com/news/1112667/mindset-change-needed-to-fight-extremism
--------
Govt Mulls Recourse to Law against Self-Proclaimed Religious Scholar Qadri
June 15th, 2014
ISLAMABAD: As Pakistan Awami Tehreek (PAT) Chief Dr Tahirul Qadri prepares to roar into the capital in an effort to unseat the ruling party, the government is collecting evidence which may help prove that the self-proclaimed religious scholar is misusing his organisation, the Idara Minhajul Quran (IMQ).
A source privy to the investigation into Dr Qadri's activities told Dawn that top government functionaries were recently briefed on the political activities of Dr Qadri's organisation. The PowerPoint presentation, a copy of which is available with Dawn, reveals that IMQ was registered, under the Societies Registration Act of 1860, in 1982 with Dr Qadri as its founding member and chairman.
Initially, the IMQ's purpose was restricted to the promotion of teachings of the Holy Quran and the Sunnah of the Holy Prophet (PBUH), which was later amended in 2006 and now, the institution can establish, manage and run educational institutes, healthcare facilities and orphanages.
Top figures briefed about alleged irregularities in Idara Minhajul Quran
However, the presentation points out that the IMQ had been manipulating beneficiaries for political gains, which was a clear violation of its declared objectives. Other violations committed by the IMQ include a failure to submit annual income and expenditure statements, which were only provided in 2007, 2008, and 2009.
The minutes of the IMQ annual general body meeting are also required to be provided to the government under the Societies Act. However, the IMQ submitted nine years' records in 2003 and the three years' records in 2009. Each document has been replicated and signed by the same person.
The briefing made special reference to the 'dictatorial powers' of Dr Qadri, who is not only the IMQ's patron-in-chief, but will also remain its chairman for life, oversee internal elections at all levels, be the decision-making authority on all matters, including appeals, selection of a successor, the appointment of new directors, the discharging of existing members of the governing body and the approval of all decisions and resolutions of the governing body.
The quorum for the IMQ governing body meetings is set at three, but seven of the members are from Dr Qadri's immediate family and include, among others, two sons, two daughters, the wife and a daughter-in-law.
Irregularities have also been found in the working of the Minhaj Welfare Foundation (MWF), a sister organisation of the IMQ, which was registered under the same act.
The official told Dawn the government was focusing on financial transactions that involved the transfer of large amounts of funds to both, the IMQ and the MWF, over the past year or so. The transactions, worth hundreds of thousands of dollars, originated in Canada – the country where Dr Qadri currently resides – and the United Kingdom.
"Of course, government investigators will be looking into the sources of this funding and then how it was utilised in Pakistan, for which the necessary paper work has already been initiated," he said.
On the legal front, the meeting also discussed that Section 124-A of the Pakistan Penal Code (PPC), which deals with sedition charges, could be invoked to book Dr Qadri.
The section states: "Whoever by words, either spoken or written, or by signs, or by visible representation, or otherwise, brings or attempts to bring into hatred or contempt, or excites or attempts to excite disaffection towards, the federal or provincial government established by law shall be punished with imprisonment for life, to which a fine may be added, or with imprisonment, which may extend to three years, to which a fine may be added, or with fine."
Top officials are also said to be considering using Article 6 of the Constitution, following Dr Qadri's call for the military to take over Islamabad airport on his arrival.
He had earlier stated that he couldn't trust Prime Minister Nawaz Sharif, Punjab Chief Minister Shahbaz Sharif and other senior government members, and warned that in case any harm befell him, the Sharif brothers should be held responsible.
http://www.dawn.com/news/1112850/govt-mulls-recourse-to-law-against-qadri
-----------
Militant infighting leaves seven dead in N Waziristan
June 15th, 2014
PESHAWAR. Fresh clashes between rival militant groups left seven dead on Sunday in the Shawal Tehsil of North Waziristan Agency.
Two people were also injured in the militant infighting.
Officials and tribals confirmed in earlier reports that the clashes erupted between Sheryar Mehsud and Khan Said alias Sajna. Over the last two months, the infighting within Tehreek-i-Taliban Pakistan (TTP) factions has left over 100 dead and many injured.
The Sajna and Sheryar groups of the TTP have been at odds since the death of Hakimullah and Waliur Rehman Mehsud in US drone strikes.
The rival factions have accused each other of grabbing power in order to control South Waziristan's Mehsud tribal area.
Sajna had been considered the right hand man of Waliur Rehman, whereas Sheryar was a confidant of Hakimullah Mehsud.
Their slain leaders had also been at loggerheads after the death of TTP founder Baitullah Mehsud.
http://www.dawn.com/news/1112904/militant-infighting-leaves-seven-dead-in-n-waziristan
-----------
Mostly Uzbeks killed in overnight N Waziristan bombing: army
June 15th, 2014
PESHAWAR: Fighter jets struck nearly eight militant hideouts in North Waziristan tribal region early on Sunday, killing over 50 suspected foreign militants, according to Inter Services Public Relations (ISPR) sources.
ISPR sources added that the suspected mastermind of Karachi airport attack had been killed during the operation and a huge cache of arms and ammunition had been destroyed.
Strikes took place in the Boya tehsil, Degan forests and Datta Khel tehsil of North Waziristan.
The targets were the hideouts of foreign militants of Uzbek origin, sources said, adding that the hideouts of militants were completely destroyed in the strikes. Most of those killed during the operation were Uzbek militants.
However, local security officials put the death toll far higher, saying that about 150 militants died in the air strikes, which primarily targeted Uzbek fighters in a remote area of the tribal agency.
Full report at:
http://www.dawn.com/news/1112875/mostly-uzbeks-killed-in-overnight-n-waziristan-bombing-army
-----------
Forces arrest 40 suspected militants in Jamrud
June 15th, 2014
LANDI KOTAL: The security forces on Saturday arrested more than 40 suspected militants in Jamrud tehsil of Khyber Agency during a search operation conducted in collaboration with the local political administration.
The exercise was conducted in light of the growing incidence of targeted killings, kidnapping for ransom and bomb blasts in the region, said an official in the know.
According to the official, the administration used loudspeakers of mosques to ask the people to stay indoors before the forces imposed curfew in the tehsil for the house-to-house search in Sur Kamar, Nawayabad, Gharreeza, Gudar and Ghundi areas.
All entry and exit points of Jamrud were plugged, while the Peshawar-Torkham Highway was sealed for traffic. The operation lasted for around nine hours.
Early in the morning, security officials announced the curfew would be in effect until 5pm.
Official says crackdown planned due to high incidence of targeted killings, kidnappings
However, they lifted it at around 1pm after 'achieving the search operation's objectives' as put by a security official.
Full report at:
http://www.dawn.com/news/1112865/forces-arrest-40-suspected-militants-in-jamrud
-----------
TTP extends olive branch after N Waziristan air strikes
June 15th, 2014
ISLAMABAD: As army air strikes intensified in North Waziristan, the Tehreek-e-Taliban Pakistan (TTP) have offered an olive branch to the government, saying they are still open to 'meaningful' peace talks.
"The government has constantly adopted a non-serious approach. This forced us to end [the] ceasefire and launch counter-attacks, which was our right and [an] obligation under Sharia," said TTP spokesperson Shahidullah Shahid. However, the spokesman said the Taliban are still ready for meaningful talks.
He said statements from a senior member of the government's negotiation team, Maj (retd) Aamir, have exposed the government's real intentions. "Changes of the government's team and their internal rifts have also had a negative impact on the process," he said.
The government did not release a single non-combatant prisoner and also avoided producing Taliban prisoners before the court, Shahid said.
Full report at:
http://tribune.com.pk/story/722177/ttp-extends-olive-branch-after-n-waziristan-air-strikes/
-----------
Coming to Pakistan to Blast off A Regime-Changing Revolution: Allama Dr Tahir-Ul-Qadri
June 15, 2014
London- Inviting all the political units to join hands with him, Pakistan Awami Tehreek's firebrand leader, Allama Dr Tahir-ul-Qadri, said that he was coming to Pakistan to blast off a regime-changing revolution, media reported today.
"Even the mere anticipation of that uprising has plunged the government into the depths of a nerve-wracking panic," Qadri told a private channel during an interview. The cleric said that he was trying to rally all the political forces into a grand alliance against the corrupt rulers of Pakistan.
Full report at:
http://www.nation.com.pk/national/15-Jun-2014/coming-to-pakistan-to-blast-off-a-regime-changing-revolution-qadri
-----------
Pakistan greets Afghanistan for peaceful presidential election
June 15, 2014
ISLAMABAD- Pakistan has congratulated Afghanistan on the successful completion of its second round of presidential elections.
In a statement, the Foreign Office said that the Afghan people had once again demonstrated their right to determine their future through democratic means.
The Foreign Office spokesperson, Tasnim Aslam, added that Pakistan had reinforced security arrangements along the Afghan border by deploying additional troops to support smooth transition of power. She highlighted the crucial responsibility of Afghan electoral institutions to ensure successful completion of the electoral process.
"We extend our best wishes to the Afghan people as they continue to move
forward in this historic journey," she concluded.
http://www.nation.com.pk/national/15-Jun-2014/pakistan-greets-afghanistan-for-peaceful-presidential-election
-----------
Pakistan Army takes security charge in Islamabad
June 15, 2014
Islamabad- On directive of Federal government Pakistan Army has been deployed in national capital Islamabad's security amid terrorism threats.
As many as 250 army soldiers on Sunday were deployed in red zone, sensitive and most important areas of the city. The army has taken over internal security of the federal capital from Sunday, officials said. Army men have also been deployed on diplomatic enclave to prevent any terror bid. The army men also started patrolling Margalla hills. Sources said that the security was handed over to the army to thwart the possible backlash of military operation targeting militants in Waziristan. Following the breaking and entering of Sikh protestors into the parliament house, the interior minister had expressed dissatisfaction over the police security.
http://www.nation.com.pk/national/15-Jun-2014/pakistan-army-takes-security-charge-in-islamabad
-----------
South Asia
18 Soldiers, 39 Civilians, 146 Militants Killed During Afghan Runoff Vote Day
Jun 15 2014
At least 18 Afghan soldiers were martyred and 74 others were injured during the runoff election day across the country.
Defense ministry spokesman, Gen. Zahiri Azimi, said at least 39 civilians including women and children were also killed and 88 others were injured.
Gen. Azimi further added that 176 militants were killed and 95 others were injured during the same day across the country.
According to Azimi, violence during the runoff vote was considerably high as compared to the first round of election on April 5th.
He said at least 506 threats were recorded during the runoff vote which includes 231 improvised explosive device (IED) attacks, 1 suicide attack and 273 direct fires.
Full report at:
http://www.khaama.com/18-soldiers-39-civilians-146-militants-killed-during-runoff-vote-day-6186
-----------
Explosion Kills 10 Afghan Election Workers
Jun 15 2014
At least eleven people including ten election commission workers were killed following an explosion in northern Samangan province.
According to local government officials, the incident took place in Aibak city late Saturday after the vehicle of the election commission workers struck with an improvised explosive device (IED).
Provincial security chief, Gen. Mohammad Akram Baig, said at least four women and a child were also among those killed following the blast.
Gen. Baig further added that at least three others were also injured following the explosion.
He said the incident took place while the election commission officials were returning from the polling station.
No group including the Taliban militants has so far claimed responsibility behind the incident.
Taliban militants frequently use improvised explosive device (IED) as the weapon of their choice to target Afghan and coalition security forces which normally leads to civilian casualties.
http://www.khaama.com/explosion-kills-10-election-workers-in-samangan-province-6182
-----------
Hasina: Remand Khaleda, Tarique for Zia killing
June 15th, 2014
Prime Minister Shaikh Hasina yesterday said the killers of Ziaur Rahman could be identified if Khaleda Zia and her son Tarique Zia were taken on remand.
"Why should I be in remand, rather both mother (Khaleda) and son (Tarique Zia) should be taken into remand to know the link with the killing of Zia," the premier said responding to a query of a journalist at a press conference.
The press conference was organised over her recent visit to China at her official Gonobhaban residence.
Recently, Tarique Rahman at a programme said Prime Minister Sheikh Hasina should be placed on remand to unveil the mystery of Zia killing, alleging Hasina had an involvement in the killing.
Full report at:
http://www.dhakatribune.com/politics/2014/jun/15/hasina-remand-khaleda-tarique-zia-killing#sthash.Oq6X37sn.dpuf
-----------
China giving Uighurs alarm-raising passport chips
June 15th, 2014
It has been established that China has been carrying out acts of ethnic discrimination towards the native Uighur Turks in East Turkestan (China's Xinjiang province) by placing a specially designed electronic chips in their e-passports.
When the e-passports of the Uyghur Turks are scanned through the sensors at control points, a loud alarm goes off.
After the alarm goes off, security is alerted that the individual is an Uighur. The Uighur is then pulled over into a side room where he or she is searched once again.
Chinese officials said that although the different code in Uighur and Tibetan e-passports were accepted as "unofficial" measures, the command had come from the central administration.
http://www.worldbulletin.net/headlines/139031/china-giving-uighurs-alarm-raising-passport-chips
-----------
World Bank predicts positive outlook for Maldivian economy in 2014
By Ahmed Naish | June 15th, 2014
The World Bank predicts a positive outlook for the Maldivian economy in 2014 with a projected GDP growth of 4.5 percent, according to its annual global economic prospects report.
Economic growth would be "driven by strong tourist arrivals, particularly by robust growth in the Chinese tourist segment," observed the report released last week.
"In the medium term, the economy is projected to grow at a more sustainable pace of about four percent annually, as tourism revenues from Europe pick up."
The report did warn, however, that an increasingly likely El Niño conditions in the regions represented a medium-term economic risk.
Full report at:
http://minivannews.com/business/world-bank-predicts-positive-outlook-for-maldivian-economy-in-2014-86955
-----------
Ministry to seek opinion of religious scholars on Maldivians joining Syrian war
By Ahmed Naish | June 15th, 2014
The Ministry of Islamic Affairs has decided to hold a forum on Tuesday night (June 17) for local religious scholars to discuss Maldivians leaving to fight in the Syrian civil war.
Islamic Minister Dr Mohamed Shaheem Ali Saeed revealed on social media yesterday that the ministry decided to consult scholars following inquiries and concern from the public regarding the issue of jihad.
"The ministry's opinion will be shared with the public after consulting scholars. Insha Allah," he tweeted.
Shaheem told local media that discussions at the forum – which will take place at the Islamic Centre – will focus on the question of jihad from a Shariah perspective.
Scholars are expected to determine whether fighting in Syria could be considered a religious obligation or jihad.
Full report at:
http://minivannews.com/politics/islamic-ministry-to-seek-opinion-of-religious-scholars-on-maldivians-joining-syrian-civil-war-86932
-----------
Ex-Taliban foreign minister prepared to mediate peace talks in Afghanistan
Jun 15 2014
Wakeel Ahmad Muttawakeel Ex-Foreign Minister in Taliban Government and former close aide of Taliban Leader Mulla Omar has said that he is prepared to mediate peace talks between the Afghan government and the Taliban group in a bid to end violence in the country.
Speaking during an interview with the Viewsaround, Muttawakeel said, "If the new elected government wants to have peace talks with open mind and without any pre-notions then definitely we can expect some meaningful peace talks. But in past right environment was not built for talks because of some minor issues Taliban political office in Qatar was closed. But now all parties should move forward in right direction."
Muttawakeel further added that he wants to play a positive role in establishing peace in the country if the Afghan government wants.
Full report at:
http://www.khaama.com/ex-taliban-foreign-minister-prepare-to-mediate-peace-talks-in-afghanistan-6181
-----------
Arab World
Sunni clerics criticize Iraq's Shiites call to arms
June 15th, 2014
A union of Sunni Muslim clerics criticized calls for Iraqi Shiites to fight a jihadist-led militant offensive in northern Iraq, which the body called a "Sunni revolution."
The Doha-based International Union of Muslim Scholars said developments in Iraq were a "result of oppression and exclusion of people that wanted freedom," in reference to the country's minority Sunni Arab community.
The union, which is led by influential cleric Yusef al-Qaradawi, who is linked to the Muslim Brotherhood, denounced "sectarian fatwa edicts calling for arms among our Shiite brothers" insisting they would lead to "devastating sectarian war."
"We urge our Shiite brothers in Iraq and elsewhere, and Sunnis, to avoid being the fuel for an awful sectarian war, and call on them to stand by their Sunni brothers to reach a viable solution," it said.
Full report at:
http://english.alarabiya.net/en/News/middle-east/2014/06/14/Sunni-clerics-criticize-Iraq-s-Shiites-call-to-arms-.html
-----------
Iraq air strike on Kurdish forces kills six
June 15th, 2014
An Iraqi air strike hit a convoy of Kurdish forces which have moved into an area of eastern Iraq during a militant offensive, killing six fighters, officers and a doctor said June 15.
It was not immediately clear if the Saturday night attack near Khanaqin, which also wounded some 20 others, was specifically targeting the Kurdish troops or a case of mistaken identity.
Parts of Khanaqin, located 150 kilometers northeast of the Iraqi capital, were held by militants while others were controlled by Kurdish forces as of June 14, officers said.
A major offensive by militants that overran swathes of territory has allowed Iraqi Kurds to begin realising long-held territorial dreams, moving their forces into areas that the federal government has long opposed them adding to their autonomous region.
Full report at:
http://www.hurriyetdailynews.com/iraq-air-strike-on-kurdish-forces-kills-six.aspx?pageID=238&nID=67806&NewsCatID=352
-----------
Ancient Egyptian tomb lost for decades rediscovered in Luxor
June 15th, 2014
Minister of Antiquities Mohamed Ibrahim has explained the context behind a tomb recently rediscovered in Luxor by a Spanish archaeological mission.
The tomb was first discovered in 1904 by Sir Robert Mond, but Mond didn't describe the tomb's architectural style or identify its occupant. The tomb was then abandoned and became buried beneath the sands. Egyptologists looked for it subsequently, but their efforts failed.
"It is a very mysterious tomb," asserted Ibrahim, adding that the name of the tomb had changed several times since being mentioned in A Topographical Catalogue of the Private Tombs of Thebes, by Alan Gardiner and Arthur Weigall, published in 1913.
The occupant was first known as "Hatashemro." Then in the 1950s, he was mentioned as "Seremhatrekhyt." Later studies revealed that Seremhatrekhyt was a title and not the occupant's name.
Full report at:
http://english.ahram.org.eg/NewsContent/9/40/103666/Heritage/Ancient-Egypt/Ancient-Egyptian-tomb-lost-for-decades-rediscovere.aspx
-----------
Saudi Arabia: Fighting terror a global responsibility
15 June 2014
The Kingdom reiterated that terrorism is the most serious challenge facing the international community at present and that fighting it is no longer a local matter confined to the borders of a country but a challenge for the entire international community.
Addressing the 68th General Assembly on the Fourth Review of the U.N. Global Counter-Terrorism Strategy here Friday night, Permanent Representative of Saudi Arabia to the U.N. Ambassador Abdullah al-Mouallimi, expressed Kingdom's deep sorrow over the events taking place in Iraq which led to the storming of the Consulate General of Turkey and the kidnapping of its staff and their families as well as many of the civilians working at a power station, and the act of terrorism in Pakistan in which more than 30 people were killed and many hurt.
He hoped that these painful events would make the international community more determined and united in the face of global terrorism.
Full report at:
http://english.alarabiya.net/en/News/middle-east/2014/06/15/Saudi-Arabia-Fighting-terror-a-global-responsibility.html
-----------
Photos said to show jihadists executing Iraq troops
June 15th, 2014
Militants from jihadist group the Islamic State of Iraq and the Levant (ISIL) have executed dozens of captured Iraqi security forces members, according to photos posted online.
The authenticity of the photos, which were shared on Twitter and elsewhere and said to have been taken in Salaheddin province, north of Baghdad, could not be independently confirmed.
The militants said in one photo caption that they executed hundreds of soldiers. The photos that were seen by AFP showed dozens of bodies.
A major offensive spearheaded by ISIL but also involving supporters of executed dictator Saddam Hussein has overrun all of one province and chunks of three others since it was launched on Monday.
In one photo, militants watch as men in civilian clothes, their backs bent, faces staring at the ground and feet bare, shuffle forward in a line.
The men are then loaded into trucks, including at least one captured security forces vehicle.
Another photo shows men being made to lie down in a shallow ditch, as militants including a man bearing the ISIL flag look on.
Full report at:
http://english.ahram.org.eg/NewsContent/2/8/103748/World/Region/Photos-said-to-show-jihadists-executing-Iraq-troop.aspx
-----------
Jihadists' fast strike in Iraq was years in the making
Kareem Fahim, BEN HUBBARD & Tim Arango,NYT News Service | Jun 15, 2014
IRBIL (Iraq): When Islamic militants rampaged through the Iraqi city of Mosul last week, robbing banks of hundreds of millions of dollars, opening the gates of prisons and burning army vehicles, some residents greeted them as if they were liberators and threw rocks at retreating Iraqi soldiers.
It took only two days, though, for the fighters of the Islamic State of Iraq and the Levant to issue edicts laying out the harsh terms of Islamic law under which they would govern, and singling out some police officers and government workers for summary execution.
With just a few thousand fighters, the group's lightning sweep into Mosul and farther south appeared to catch many Iraqi and US officials by surprise. But the gains were actually the realization of a yearslong strategy of state-building that the group itself promoted publicly.
"What we see in Iraq today is in many ways a culmination of what the ISI has been trying to accomplish since its founding in 2006," said Brian Fishman, a counterterrorism researcher at the New America Foundation, referring to the Islamic State in Iraq, the predecessor of the Islamic State of Iraq and the Levant.
Full report at:
http://timesofindia.indiatimes.com/world/middle-east/Jihadists-fast-strike-in-Iraq-was-years-in-the-making/articleshow/36611958.cms?
------------
Mosul governor calls for logistical help, suggests 'air strikes' against ISIL bases
June 15th, 2014
Mosul Governor Atheel al-Nujaifi, who fled from the city after it was seized by Islamic State in Iraq and the Levant (ISIL) militants, has called for logistical help and suggested that air strikes could be conducted in "uninhabited areas" against the jihadist group's bases, in an exclusive interview with daily Radikal.
"We want help, but we are not favorable to the deployment of foreign troops in our region. Air strikes might be conducted, not in the cities but on ISIL bases in uninhabited areas. We need political and logistical support, but not foreign troops," al-Nujaifi told Radikal journalist Fehim Taştekin in Arbil, where he fled after ISIL took over Mosul.
Full report at:
http://www.hurriyetdailynews.com/mosul-governor-calls-for-logistical-help-suggests-air-strikes-against-isil-bases.aspx?pageID=238&nID=67805&NewsCatID=352
-----------
Syrian government retakes strategic town of Kassab on Turkish border: Army
June 15th, 2014
Syria's army said on June 15 it had recaptured the strategic town of Kassab, near the only border crossing with Turkey in Latakia province, after it fell to rebels almost three months ago.
"After crushing many members of the mercenary terrorist gangs... units of our armed troops in collaboration with the (paramilitary) National Defence Force returned safety and security to Kassab this morning," an army statement said.
Kassab, an Armenian town, is important because it is located near the only border crossing with Turkey in sensitive Latakia province, the heartland of the Alawite sect from which President Bashar al-Assad hails.
Rebel fighters including members of Syrian al-Qaeda affiliate al-Nusra Front withdrew without a fight from the town on June 14, the Syrian Observatory for Human Rights said, leaving only a small number of men behind.
Full report at:
http://www.hurriyetdailynews.com/syrian-government-retakes-strategic-town-of-kassab-on-turkish-border-army.aspx?pageID=238&nID=67803&NewsCatID=352
-----------
Iraq troops claim pushing back militants
June 15th, 2014
BAGHDAD: Iraq said Sunday it had "regained the initiative" against militants who seized vast swathes of territory, as former UN mediator Lakhdar Brahimi blamed the crisis on global neglect of Syria's civil war.
Washington responded to the sweeping unrest by deploying an aircraft carrier to the Gulf, but Iran has warned against foreign military intervention in its Shiite neighbor, voicing confidence that Baghdad is able to repel the onslaught.
The militants, spearheaded by the powerful Islamic State of Iraq and the Levant (ISIL) jihadist group, have overrun all of one province and chunks of three more since they launched their offensive late on Monday.
Security forces have generally performed poorly, with some abandoning their vehicles and positions and discarding their uniforms, though they seem to have begun to recover from the initial onslaught and have started to regain ground.
Full report at:
http://www.arabnews.com/news/587106
-----------
India
Caravan of jihadists coming from Afghanistan to liberate Kashmir: Al-Qaida
Jun 15, 2014
LONDON: A chilling new video from the al-Qaida has asked Muslims in Kashmir to emulate "brothers" in Syria and Iraq and wage a violent jihad against India.
The video, which includes a statement read by Maulana Asim Umar, a senior leader of al-Qaida's Pakistan cell will definitely have India's security officers worried.
The video promises a "caravan of jihadists coming from Afghanistan to liberate Kashmir".
The video, titled, "The War Continues: A Statement on Kashmir's Muslims," features an audio sermon by Umar.
The video runs footages dating back to 2010 of protests on the roads of Srinagar in which civilians were killed during a standoff with India's security forces.
Interestingly, the video addresses Muslims on both sides of the line of control — both on the Indian and Pakistani side as well as to the broader Muslim populations of both countries.
In the video, Kashmiri Muslims are urged to join the global Jihadi movement.
It says "Now Muslims all over the world have picked up arms, are marching in the field of jihad. Even those who rejected armed jihad are now joining this path after being disillusioned with democratic ways of peaceful protests".
Full report at:
http://timesofindia.indiatimes.com/india/Caravan-of-jihadists-coming-from-Afghanistan-to-liberate-Kashmir-Al-Qaida/articleshow/36563717.cms
--------
Violations by Pak must stop for dialogue to progress: Def Minister
PTI | Jun 15, 2014
SRINAGAR: The Centre on Sunday asserted that dialogue with Pakistan cannot progress if ceasefire violations and infiltration continue, saying such hostilities "must stop" for the situation to "normalize".
"For the situation to normalize I think it is extremely important that these kind of violations which are taking place at the LoC must stop. That in itself is a confidence building measure before any country can proceed further," Defence minister Arun Jaitley told reporters on the second day of his maiden visit to J&K after taking charge.
He replied in the negative when asked if dialogue with Pakistan would go ahead if the ceasefire violations along the Line of Control (LoC) and infiltration in J&K continued.
"Obviously not," Jaitley, who is on a two-day visit for reviewing security measures, said, adding ceasefire violations must stop for further progress.
India has maintained that it has been its endeavour to establish peaceful and friendly relations with all neighbours, including Pakistan.
Full report at:
http://timesofindia.indiatimes.com/india/Violations-by-Pak-must-stop-for-dialogue-to-progress-Jaitley/articleshow/36603970.cms
--------
North America
Kerry says US help will only work if Iraqi leaders unite
June 15th, 2014
U.S. Secretary of State John Kerry said U.S. assistance to Iraq, which is seeking to repel a stunning militant advance, would only work if Iraqi leaders overcame deep divisions, the State Department said on June 14
Kerry spoke with Iraqi Foreign Minister Hoshyar Zebari in a call on Saturday, the State Department said in a statement.
"He emphasized to the Foreign Minister that assistance from the United States would only be successful if Iraqi leaders were willing to put aside differences and implement a coordinated and effective approach to forge the national unity necessary to move the country forward and confront the threat of ISIL," the statement said, referring to the Islamist militants who have taken over several important Iraqi cities.
Kerry also urged Iraq to quickly ratify the results of its April 30 parliamentary elections and to form a new government without the long period of wrangling that followed 2010 elections.
The advance by Sunni militants from Islamic State in Iraq and the Levant, or ISIL, toward the Iraqi capital, Baghdad, appeared to be slowing on Saturday, but a grave threat remains to the government of Shi'ite Prime Minister Nuri al-Maliki.
Full report at:
http://www.hurriyetdailynews.com/kerry-says-us-help-will-only-work-if-iraqi-leaders-unite.aspx?pageID=238&nID=67802&NewsCatID=359
-----------
US ready to work with new Afghan govt
June 15th, 2014
WASHINGTON: The United States on Saturday assured the Afghan people that it would continue to work with whoever they choose as their next ruler.
"These elections are a significant step forward on Afghanistan's democratic path, and the courage and resolve of the Afghan people to make their voices heard is a testament to the importance of these elections to securing Afghanistan's future," said a statement issued by the White House press secretary.
"We commend the voters, electoral bodies, and security forces for their commitment to the democratic process. The work of the electoral commissions in the weeks ahead will be particularly important," the White House said. "We look forward to working with the next government chosen by the Afghan people."
The White House pointed out that President Barack Obama has already reaffirmed his continuing commitment to Afghanistan beyond 2014. "While the future of Afghanistan must be decided by Afghans, the United States will support the Afghan people as they continue the hard work of building a democracy," the statement said.
http://www.dawn.com/news/1112768/us-ready-to-work-with-new-afghan-govt
-----------
Mideast
Israeli ambassador to UN: Iran is the world's primary sponsor of terrorism
June 15th, 2014
NEW YORK — Israel's ambassador to the UN, Ron Prosor, spoke at the 68th plenary meeting of the UN General Assembly on Thursday afternoon and touted his country's accomplishments in fighting insurgency and terrorism, while also calling out Iran for fueling the Syrian conflict and for being "the world's primary sponsor of terrorism."
"Since its rebirth 66 years ago, Israel has found itself under constant threat from terrorist organizations," Prosor said. "Out of this persistent need to defend our citizens, Israel became a specialist in the field of counterterrorism, with technologies and tools unmatched by any other country."
"Israelis are the targets of a terror campaign directed by the Iranian Revolutionary Guards and Hezbollah," he added.
"Iran's fingerprints can be seen on attacks from Bulgaria to Kenya to Thailand, where just a few weeks ago authorities foiled a plan by Hezbollah agents to attack Israeli tourists."
The ambassador addressed the plenary meeting about the role of the international community in fighting terrorism.
Full report at:
http://www.jpost.com/Jewish-World/Jewish-Features/Israeli-ambassador-to-UN-Iran-is-the-worlds-primary-sponsor-of-terrorism-359366
-----------
Gunman kills 8 in Yemen bus attack
June 15th, 2014
SANAA, Yemen: A gunman opened fire on a bus transporting military hospital staff in the southern Yemeni city of Aden on Sunday, killing eight people, including two women, and wounding a dozen others, security officials and witnesses said.
The attack on the bus in the commercial district of Sayla took place early in the day before rush hour. Shaher Mohammed Ali, a worker in the district, said he saw a lone masked gunman open fire on the bus after it slowed down before a ramp. The gunman then fled the scene in a car, Ali said.
Security officials had earlier said more than one gunman was involved in the attack, which they said bore the hallmarks of Al-Qaeda in the Arabian Peninsula, a powerful local militant group that has targeted military and police.
Full report at:
http://www.arabnews.com/news/587056
-----------
Iran 'sends 2,000 troops' to help Maliki in Iraq
15 June 2014
Iran sent 2,000 advance troops to Iraq to help fight an extreme jihadist insurgency effectively seizing control of major cities in the country, a senior Iraqi official told The Guardian on Saturday.
Around 1,500 basiji forces crossed the border into Khanaqin, a town in central Diyala province on Friday, while another 500 entered the Badra Jassan area in Wasat province overnight, according to the official, reported the British news website.
It confirmed Friday that Major General Qassem Suleimani, head of the Iranian Revolutionary Guards' elite Quds Force, had arrived to Baghdad to oversee defense operations in the capital.
Iranian President Hassan Rowhani announced Saturday that his country was ready to help Iraq fight the al-Qaeda-inspired Islamic State of Iraq and Syria (ISIS), an extremist-sunni jihadist group effectively controlling major cities in the country.
Full report at:
http://english.alarabiya.net/en/News/middle-east/2014/06/15/Iran-sends-troops-to-Iraq-to-fight-ISIS-insurgents.html
-----------
Hamas official: Netanyahu's accusations of our involvement are 'stupid'
June 15th, 2014
Hamas spokesman Sami Abu Zuhri denied accusations made by Prime Minister Binyamin Netanyahu on Sunday that the terrorist organization was to blame for the kidnapping of three Israeli teens.
Abu Zuhri called the accusations "stupid" and said that they were a bluff intended to acquire information, Palestinian news agency Ma'an reported.
Abu Zuhri told Ma'an that the arrests carried out by occupation forces in the West Bank were "designed to break Hamas," but they would not succeed in achieving their goal.
Hamas is behind the kidnapping of the three teenagers late Thursday night, Netanyahu said on Sunday at the start of the weekly cabinet meeting, which was held at the defense compound in Tel Aviv.
Full report at:
http://www.jpost.com/Defense/Hamas-official-Netanyahus-accusations-of-our-involvement-are-stupid-359368
-----------
Turkish Foreign Ministry warns for spread of 'sectarian clashes' in Iraq
June 15th, 2014
The violence in broad regions of Iraq continues and the crisis has gained a dimension of "sectarian clashes," the Turkish Foreign Ministry stated June 15, stressing clashes spread from one region to another at short notice.
In a written statement, the ministry called on Turkish nationals in the provinces of Mosul, Kirkuk, Salahaddin, Diyala, Anbar and Baghdad to be cautious and leave these regions as soon as possible.
Turkish Airlines is continuing its evacuation operations at the country's main airports in Baghdad, Basra, Arbil, Najaf and Suleymaniye, said the statement.
Turkey is continuing efforts for the release of 31 Turkish truck drivers kept in the Geyara district of Mosuli as well as for the hostages from the Turkish Consulate, the ministry noted.
http://www.hurriyetdailynews.com/turkish-foreign-ministry-warns-for-spread-of-sectarian-clashes-in-iraq.aspx?pageID=238&nID=67813&NewsCatID=510
-----------
Israeli troops arrest 80 Palestinians
June 15th, 2014
JERUSALEM: Israeli troops on Sunday arrested some 80 Palestinians, including dozens of Hamas members, in an overnight raid in the West Bank as Prime Minister Benjamin Netanyahu accused the militant group of kidnapping three teenagers who went missing nearly three days ago.
The crisis escalated already heightened tensions between Israel and the new Palestinian government, which is headed by Western-backed President Mahmoud Abbas but has Hamas as its partner.
Netanyahu has condemned Abbas' agreement with the militant group, and said he would hold him responsible for the safety of the youths, who disappeared apparently while hitchhiking in the West Bank late Thursday. The three, one of whom holds American citizenship, have not been heard from since then.
Palestinian officials condemned the overnight crackdown and rejected Netanyahu's contention that they are responsible. Hamas, meanwhile, praised the apparent kidnapping but stopped short of accepting responsibility.
Full report at:
http://www.arabnews.com/news/587071
-----------
Europe
Be more British: PM issues powerful new pledge to combat extremism
June 15th, 2014
Muslim clerics in the UK who inflame terrorism by denouncing free speech, equality and democracy will be opposed in a 'muscular' new defence of 'British values', David Cameron has pledged.
In a powerful intervention clearly aimed mainly at 'preachers of hate', the Prime Minister says the failure to stand up to such firebrands has 'allowed extremism – both the violent and non-violent kind – to flourish'.
He plans to use the 800th anniversary of Magna Carta – 12 months from today – to reassert British values in a 'Magna Carta for Modern Britain.'
It is time to stop being 'squeamish about Britishness' and tell everyone who lives here that refusing to accept British laws and the British way of life is 'not an option', Mr Cameron argues.
The Prime Minister will emphasise the commitment by insisting that Magna Carta becomes part of the school curriculum.
Downing Street stressed the Prime Minister's comments, which come in an article in today's Mail on Sunday, are aimed at all sections of the community, not just Muslims. However, they appear to signal a key change in the stance of successive recent governments, Tory and Labour, on this sensitive issue.
Full report at:
http://www.dailymail.co.uk/news/article-2658033/Be-British-Cameron-tells-UK-Muslims-PM-issues-powerful-new-pledge-combat-extremism.html#ixzz34lCefet4
-----------
Al Qaeda affiliates threaten Af-Pak region: UN experts
June 15th, 2014
UNITED NATIONS: Al Qaeda affiliates from Pakistan and Uzbekistan are participating regularly in attacks on Afghan military forces and pose "a direct terrorist challenge" for Afghanistan, south and central Asia and the international community, UN experts said in a new report.
The experts monitoring sanctions against the Taliban said in a report to the UN Security Council, obtained Friday by The Associated Press, that Afghan and international officials believe these Al Qaeda affiliated groups are unlikely to leave Afghanistan in the near future, which would keep them in the country as the US withdraws most of its troops.
Fighters from several Al Qaeda linked groups in Pakistan "are regularly encountered by the Afghan forces in eastern and – to a lesser extent – in southern Afghanistan," the experts said.
"In northern Afghanistan, the Islamic Movement of Uzbekistan continues to gather strength among local Afghans of Uzbek origin and continues to operate in several provinces."
The Al Qaeda linked groups "therefore present a worrying, long-term security threat" spreading from Afghanistan into the region and beyond, especially for south and central Asia which have already faced terrorist violence from individuals or groups that have trained or planned attacks in Afghanistan.
Full report at:
http://www.dawn.com/news/1112720/al-qaeda-affiliates-threaten-af-pak-region-un-experts
-----------
Chechen imam denies he recruited for Syria war
June 15, 2014
VIENNA: A Muslim cleric of Chechen origin who was arrested in Austria this month has denied allegations that he recruited young Muslim men to fight in Syria, a magazine reported on Saturday.
Authorities in Graz took the suspect, 41, into custody after raiding buildings belonging to the city's Taqwa Islamic community. The man, whose name has not been disclosed, is suspected of radicalising and encouraging several young Chechen refugees to join the uprising against Syrian President Bashar al-Assad. The authorities say four of them had died in combat.
His arrest is one of several in Europe in recent months amid fears that radical fighters returning from Syria could stage attacks on European soil. The man told Profil magazine he was innocent and that he had in fact warned Chechens against joining the war in Syria.
Full report at:
http://www.nation.com.pk/international/15-Jun-2014/chechen-imam-denies-he-recruited-for-syria-war
-----------
Blair: Birmingham schools plot driven by same 'warped and abusive' extremism as Boko Haram
June 15th, 2014
The Trojan Horse plot to take over Birmingham schools is driven by the same 'warped' Islamic extremism as Nigerian terror group Boko Harem, Tony Blair claimed this morning.
Mr Blair said the alleged plot by Muslim hardliners in Birmingham was part of a wider global problem of 'extremism based on a warped and abusive view of a religion'.
Six Birmingham schools were placed in special measures after the education watchdog Ofsted unearthed damning evidence that school children were being left at risk of being radicalised.
Mr Blair said the scandal showed Britain had a problem with extremism - like Nigeria had with Boko Harem, the terror network which sparked global outrage after kidnapping hundreds of school girls.
He said the issue was part of a wider narrative of religious extremism that had to be met head on
The former PM said: 'I have a very clear view of this. There is a fundamental problem that we face that may have originated in this region but has now spread across the world.
'And that problem is extremism based on a warped and abusive view of a religion.
'It is a problem here in the region, it's a problem in countries like Pakistan, it's a problem in the far East.
Full report at:
http://www.dailymail.co.uk/news/article-2658322/Blair-Trojan-horse-schools-plot-driven-warped-abusive-extemism-Nigerian-terrorists-Boko-Harem.html#ixzz34lDeB41j
-----------
Germany warns of regional 'proxy war' in Iraq
June 15th, 2014
German Foreign Minister Frank-Walter Steinmeier warned Sunday that the bloody conflict in Iraq could quickly spin into a regional "proxy war".
Steinmeier, speaking to the Welt am Sonntag newspaper, called on Turkey, the Gulf Arab states and Iran to do their part to stabilise Iraq.
"We have to prevent a proxy war of the regional powers breaking out on Iraqi soil," he said.
Steinmeier said these countries "could not have an interest in, beyond Syria, an enormous, ungoverned space developing in their backyards as a hotbed of mercenary groups, Islamists of every stripe, and terrorists".
Full report at:
http://english.ahram.org.eg/NewsContent/2/8/103735/World/Region/Germany-warns-of-regional-proxy-war-in-Iraq.aspx
-----------
Germany to Take Away Passports from Syria-Operating Fighters
June 15th, 2014
Germany: Federal Minister of Internal Affairs Thomas de MaiziereThe German Federal Minister of Internal Affairs and state internal affairs agreed on working against armed groups who come back from operating in Syria, media outlets reported Sunday.
German press announced that anyone who comes back from Syria to Germany and thinks that they can execute acts of terror would have their passports taken from them to restrict their freedom of movement.
The decision came after Belgium claimed that the attack on the Jewish Museum in Brussels was done by a French nationalist who had fought for Al Qaeda in Syria.
The Federal Minister of Internal Affairs Thomas de Maiziere stated that they are creating a new working group that is going to research the changes they can make with the passports. He stressed the fact that the changes were going to be 'proportional and within the constitutional laws'.
Full report at:
http://www.almanar.com.lb/english/adetails.php?eid=156561&cid=22&fromval=1&frid=22&seccatid=47&s1=1
-----------
Southeast Asia
Bibles kept as proof Christian group broke state law, says Selangor mufti
June 15th, 2014
The top religious official in Selangor has differed with the Attorney-General over the decision to return more than 300 Bibles, seized from the Bible Society of Malaysia (BSM), as he says it can be used to propogate Christianity to Muslims.
Selangor mufti Datuk Mohd Tamyes Abdul Wahid (pic) told The Star Online today that the Bibles in Bahasa Malaysia (AlKitab) and Iban-language (Bup Kudus) contained the word Allah, hence it is proof that BSM had contravened the law in the state.
"The Bibles are strong evidence that the BSM has contravened Selangor Non-Islamic Religions (Control of Propagation Among Muslims) Enactment 1988," he told the news portal, explaining why the state needs to keep the holy books.
Tamyes was present in the meeting between Jais and the Selangor Islamic Religious Council (Mais) when the decision not to return the Bibles was made.
He demanded to know how something which had been classified as evidence could be returned.
Full report at:
http://www.themalaysianinsider.com/malaysia/article/bibles-kept-as-evidence-to-proof-christian-group-broke-state-law-says-selan#sthash.SPe0hvYh.dpuf
-----------
Explain why you won't return Bibles, Selangor tells Mais
June 15th, 2014
The Selangor government has asked the Selangor Islamic Religious Council (Mais) to explain why it is ignoring the attorney-general's decision to close the Bible case and refusing to return the seized Bibles to the Bible Society of Malaysia (BSM).
"Since the Bibles were seized, the state government has been following procedures and awaiting the attorney-general's decision. Mais, too, wanted to wait for the attorney-general's decision before acting.
"So now, does Mais wish to refer to the A-G's stance or not? It must explain itself," said Sallehin Mukhyi (pic), state executive councillor in charge of religious affairs.
Mais earlier today said the 321 Bibles its officers seized six months ago from BSM's premises in Damansara Kim should not be returned and insisted action should be taken against the society for distributing Malay and Iban Bibles.
Full report at:
http://www.themalaysianinsider.com/malaysia/article/explain-why-you-wont-return-bibles-selangor-tells-mais#sthash.SKtQcMku.dpuf
-----------
Africa
Libyan renegade general's forces attack Benghazi rebels
June 15th, 2014
Forces affiliated to renegade Libyan general Khalifa Haftar on Sunday attacked with heavy weapons areas controlled by Ansar Al-Sharia rebels in the eastern city of Benghazi.
Haftar's air force commander Saqr al-Grouchi said the attacks targeted areas controlled by Ansar Al-Sharia as well as other "extremist" factions in eastern Benghazi.
"This attack will be followed by an aerial strike against a site controlled by extremists in Benghazi suburbs," al-Grouchi told Anadolu Agency.
"There are now heavy clashes in Sidi Faraj and al-Hawari (in western Benghazi). Our forces are attacking with tanks and rocket launchers," Haftar's spokesman Mohamed El Hejazi added.
He called on civilians to stay away from volatile areas.
Residents were seen packing belongings into cars and heading out of the area to escape the fighting.
Full report at:
http://www.worldbulletin.net/headlines/139037/libyan-renegade-generals-forces-attack-benghazi-rebels
-----------
Qatar says diplomat's comments criticizing Tripoli fake: Libya
June 15th, 2014
Qatar has told Libya that comments attributed to Doha's ambassador denouncing a Libyan court ruling were fake after Tripoli "urgently" requested an explanation, Libya's state news agency LANA said on Saturday.
There has been an outcry on Libyan social media and news websites about alleged comments of the Qatari ambassador on his twitter account criticizing a Supreme Court ruling, which had declared last week the election of Ahmed Maiteeq as Libya's new prime minister had violated the constitution.
Maiteeq was elected last month in a chaotic vote with the backing of independent lawmakers and the Muslim Brothers, an Islamist group that has enjoyed Qatar's backing in Egypt but which has been declared a terrorist organization in Cairo.
Full report at:
http://english.ahram.org.eg/NewsContent/2/8/103739/World/Region/Qatar-says-diplomats-comments-criticizing-Tripoli-.aspx
-----------
URL: https://www.newageislam.com/islamic-world-news/new-age-islam-news-bureau/pakistan-kills-100-extremists-including-karachi-airport-attack-'mastermind'/d/87549