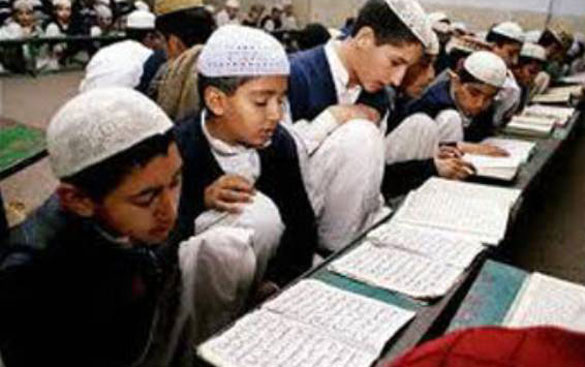 Pakistan
Pakistan Kids Taught A for 'Allah', B for 'Bandook' (Gun)
Pakistan's gun-slinging chief justice faces backlash
Director of ICAN, Islamabad Chapter demands Election for Pakistani Minorities on reserved seats in Parliament
Ending religious discrimination: 'The tolerant majority needs to take charge': Pak (retd) Judge
Pakistan's new prime minister faces formidable challenges
New judge yet to assume office, Pakistan's 26/11 trial adjourned again
Gunmen kill 9 people in Balochistan
Pakistan, US on verge of divorce
Pakistan court issues notice to Zardari
Pak PM vows to ensure supremacy of Parliament
Ex-Pakistan greats lament Kaneria ban
Africa
Wine, Women and Song Tempt Mali's Islamists
Libyan rights group condemns killing of judge al-Jazwi
Tunisia extradites Libya ex-PM Mahmoudi
Moroccan admits plot to bomb US Capitol Building
Tunisia's setback in freedom of expression
India
Muslim youths again targeted with 'Love Jihad' hate campaign in Kerala
'Amend Constitution to provide reservation to Muslims': TDP
India to Pakistan: Truce violations jeopardise peace
Arab World
Refugees in Muslim countries on the rise
Assad forms new govt, retains key ministers
Future imperfect in Egypt
OIC Vice-chancellors vow to undertake university governance reforms
Tense Egypt awaits presidential election results
S&P Indices launches Shari'ah Index with the Organisation of Islamic Cooperation
International Peace Award presented to OIC Chief
UAE opens 40 schools in Pakistan
Turkey in new air strikes on Kurdish rebels in Iraq
Northern Syria clashes 'kill 16 soldiers'
Mideast Asia
Supreme Leader : Iran Hoisting Flag of Islamic Rule in Materialistic World
Iranian commander warns Israel
50 Quran Education Centers Founded in Qom
Iran to strongly confront possible attacks: IRGC
Turkey calls Nato meeting on warplane downed by Syria
North America
US eyes return to some Southeast Asian military bases
Panetta Warns Pakistan Needs to Stop Focusing on 'Past Differences'
Europe
Germany concerned over human rights in Bangladesh
European Islamic group praises Holocaust-denier
Central Asia
Pakistani books exhibition get underway in Dushanbe
Southeast Asia
Islamophobia and the fear of 'the other' in Myanmar
East Asia
Pak's change of guard worries China
Compiled by New Age Islam News Bureau
Photo: In Pak, A for Allah, B for bandook, J for jihad
URL: http://newageislam.com/islamic-world-news/new-age-islam-news-bureau/pakistan-kids-taught-a-for-allah,-b-for-bandook-(gun)/d/7724
--------
Pakistan
Pakistan Kids Taught A for 'Allah', B for 'Bandook' (Gun)
Press Trust of India
London: Jun 24, 2012, Citing stark examples from school curriculum, a prominent Islamabad-based scholar has said that extreme religious and anti-India views fed into children in schools reinforced the cycle of extremism that showed no signs of receding in Pakistan.
Pervez Hoodbhoy, nuclear physicist and prominent commentator on current issues, showed the examples at a seminar in the King's College on the role of education in combating terrorism, organised by the Democracy Forum.
The examples showed by Hoodbhoy included images and text from a primer that mentioned the Urdu equivalent of A as 'Allah', B as 'bandook', T as 'takrao', J as 'jehad', H as 'hijab', Kh as 'khanjar' and Ze as 'zunoob'.
Hoodbhoy, whose presentation title was 'How education fuels terrorism in the Islamic Republic of Pakistan', also showed a college that is seen as going up in flames, containing images of things considered sinful - kites, guitar, satellite TV, carom board, chess, wine bottles and harmonium.
Examples cited by Hoodbhoy from another curriculum document for Class V students included tasks such as discussion on: 'Understand Hindu-Muslim differences and the resultant need for Pakistan', 'India's evil designs against Pakistan', 'Make speeches on shehadat and jehad'.
"There has been a sea change in Pakistan in the last six decades. The poison put into education by Gen Zia-ul-Haq was not changed by subsequent regimes. And attitudes have changed over the years, makes my country alien to me," Hoodbhoy said.
Recalling his growing up years in Karachi, he said the city was home to Hindus, Parsis and Christians: "They are all gone. The same is true of much of Pakistan. Minorities have no place in Pakistan today".
He held madarsas partly responsible for the situation, and regretted that efforts initiated during the regime of General Pervez Musharraf to reform them did not go far.
After the 2007 Lal Masjid incident, liberal voices were also less welcome in Pakistan's news media, he said. "Every attempt at education reform has failed to remove the hate material in curriculum, but there is a minority that wants change. The situation will remain in freefall, until something drastic is done to change the situation," he said.
Stressing on the need for pluralism and secularism in education, former Indian diplomat G Parthasarathy said tensions began when education did not foster respect for diversity and for other religions.
There was more to terrorism than education, because some of the recent perpetrators were well educated, he said. "The most important part of education is that diversity should be cherished, that unity does not mean uniformity."
Other speakers included King's College experts Professor Jack Spence from the Department of War Studies and Shiraz Maher from the International Centre for the Study of Radicalisation.
http://ibnlive.in.com/news/pak-kids-taught-a-for-allah-b-for-bandook/267645-56.html
--------
Pakistan's gun-slinging chief justice faces backlash
By Matthew Green and Qasim Nauman
ISLAMABAD | Sun Jun 24, 2012, (Reuters) - To his admirers, Pakistan's Chief Justice Iftikhar Chaudhry is a hero whose relentless pursuit of a money-laundering case against the president is teaching a generation of the country's leaders a long-overdue lesson in respect for the law.
To his critics, he is a runaway judge in the grip of a messiah complex whose turbo-charged brand of activism threatens to upend the power balance underpinning Pakistan's precarious embrace of democracy.
Last week, Chaudhry made his boldest move yet by disqualifying prime minister Yusuf Raza Gilani as punishment for his repeated refusal to obey court orders to re-activate a corruption case against President Asif Ali Zardari.
Gilani's downfall marked a watershed in a long-running showdown between the judiciary and the government that has laid bare the institutional tensions plaguing a country that has test fired ballistic nuclear missiles, but has yet to agree on how it should be run.
"In practical terms, democracy is finished because the balance of power between the parliament, the executive and the judiciary has been ruined," said a senior member of Zardari's ruling Pakistan People's Party (PPP).
The military, which has ruled Pakistan for about half of its 65 years as an independent nation, has also not hidden its disdain of Zardari's government, but has made it clear it does not wish to seize power. And it has its own problems with Chaudhry's activism.
The drama has been spiced by allegations of bribe-taking brought against Chaudhry's son by a billionaire property developer, who has himself been accused of land-grabbing and fraud. The controversy briefly put the stern-faced judge on the defensive before he regained the initiative by disqualifying Gilani.
The next chapter in the saga could start as early as Wednesday, when the Supreme Court holds its latest hearing in more than two years of legal wrangling aimed at forcing the government to re-open proceedings against Zardari.
Pakistan's political class is now transfixed by the question of whether Chaudhry will opt to pause in the wake of his victory over Gilani, or press home his advantage by demanding that Raja Pervez Ashraf, the new prime minister, re-activate the case.
Zardari, a consummate political survivor, has already sacrificed Gilani in his determination to ensure the money-laundering case, which falls under Swiss jurisdiction and dates back the 1990s, remains closed.
While many Pakistanis are happy to see his unpopular government on the ropes, the pugnacious chief justice is facing a growing backlash from those who fear his court-room victories are being bought at the price of Pakistan's stability.
"We all have a problem with corruption, we all want these guys taken to task," said Mehreen Zahra-Malik, a columnist with The News. "But I don't think it should be at the expense of the entire house falling apart."
Full Report at:
http://in.reuters.com/article/2012/06/24/pakistan-politics-idINDEE85L06F20120624
---------
Director of ICAN, Islamabad Chapter demands Election for Pakistani Minorities on reserved seats in Parliament
Washington DC: June 21, 2012. (PCP) In an upbeat daylong event of Pakistani American Congress PAC to mark PAC,s 2oth Annual Day at Capitol Hill in Washington, DC on June 18, 2012, Salma Peter John was honored with an "Achievement Award" for her services to humanity and PAC before her speech on democratic norms which are denied practicing Selection system on reserved seats for minorities and women in Pakistan.
Salam Peter John who is Director of ICAN, Islamabad Chapter specially travelled to US to participate in Pakistani American Congress moot as a special guest.
20th Annual Day of Pakistani American Congress PAC was graced by Pakistani Ambassador in USA Sherry Rehman, US State Department delegates, Pakistan Embassy officials, Ms. Anusha Rahamn MNA of PML (N) Ms. Fauzia Kasuri from Women Wing of Pakistan Tehreek Insaf, US Representative on AF/PK, scholars of Think-Tanks, journalists and Pakistani-American community leaders.
Salma Peter in her speech said "I do represent 5% of Pakistan's population who are religious minorities but I also represent women of Pakistan that makes 51% of the population of country"
Commenting on minorities, she added "the word minority is not defined by numbers alone but the conditions of being weak, being less privileged, being deprived of equal due rights and being under oppression in Pakistan"
Salma Peter asserted that women and minorities must be elected to reserve seats in parliament instead of Selection which is adopted by government of Pakistan.
The PAC moot held main objective linking to opening of NATO supply route to Afghanistan which was blocked by Pakistan after NATO forces attack on Slala Check Post killing 25 Pak armed services personals which was widely discussed by Pak Ambassador and US officials.
Pakistan Christian Post (PCP) has exclusively obtained full contents of speech of Salma Pater for our readers: rnMr. President, dignitaries, distinguished ambassadors, think-tanks scholars, media personnel, and ladies and gentlemen — Greetings with peace and blessings from Pakistan.
Yes indeed, I do represent the 5% of Pakistan's population who are religious minorities, but in addition, I also represent the women of Pakistan that make up the 51% of the population of the country.
To me, the word "minority" is not defined by numbers alone, but by the condition of being weak, being less privileged, being deprived and being oppressed. For example, the Shia population of Iraq, though more [populous] in numbers, was reduced to minority status during the time of Saddam Hussein. The Jewish population, though small in number in the United States, has rarely called itself a minority. Hence, the word "minority" is a state of being weak, less privileged, deprived, and being oppressed. For that reason, the 51% of women of Pakistan are a minority in the true sense and spirit of the word.
In fair and fortunate democracies, all citizens must be protected and treated equally before the law. Reserved seats, however, hamper this goal of equal treatment. The ten reserved seats for minority parliamentarians and the sixty reserved seats for female parliamentarians, along with other quota system in various institutions, corroborate the assertion that both women and non-Muslim population of Pakistan are a minority. The constitution deems them to be equal, but the government of Pakistan, by allocating the reserved seats, implicitly admits that both the women and non-Muslim minorities are unequal, less privileged, deprived, and oppressed.
Full Report at:
http://www.hrdi.in/?p=3243
---------
Ending religious discrimination: 'The tolerant majority needs to take charge': Pak (retd) Judge
By Our Correspondent
LAHORE: June 23, 2012, "Those who believe in peace and tolerance are a majority and must take charge of the country," Justice (retired) Nasira Iqbal said on Friday.
Justice Iqbal was addressing a convention organised by the Peace and Tolerance Alliance (PTA) in collaboration with the Strengthening Participatory Organisation Pakistan (SPO-Pak) at the Human Rights Commission of Pakistan (HRCP) offices.
She said that Jinnah had dreamt of a Pakistan where all citizens would have equal rights irrespective of their religious affiliations.
However, she lamented that religious minorities had been deprived of rights in the country.
"We have to do more than putting the rights of minorities in the constitution," she said. "We have to ensure that these rights are also upheld."
She said the blasphemy laws were being used to persecute minorities and deprive them of their property.
"Most blasphemy cases are used to unjustly occupy land," she said.
She said that a number of people that had served the country had belonged to religious minorities.
She praised the late Justice Alvin Cornelius as the most competent judge in the country's history.
Full Report at:
http://tribune.com.pk/story/397846/ending-religious-discrimination-the-tolerant-majority-needs-to-take-charge/
---------
Pakistan's new prime minister faces formidable challenges
English.news.cn
by Muhammad Tahir
ISLAMABAD, June 23 (Xinhua) -- Pakistan's new prime minister, Raja Pervez Ashraf, formally assumed office on Saturday and is facing countless and tough challenges ahead, with the most formidable ones being the energy crisis, corruption, dealing with independent judiciary, aggressive opposition groups and the revival of normal relationship with the United States.
Ashraf took over three days after the country's Supreme Court ruled that his predecessor, Yusuf Raza Gilani, is disqualified from holding office. He was convicted of contempt of court for refusing to re-open corruption cases against President Asif Ali Zardari.
The new prime minister in his maiden speech to parliament Friday evening offered talks with the opposition to deal with the country's difficult problems, but opposition leaders dismissed any possibility of reconciliation and called for fresh parliamentary polls.
Ashraf faces internal and external problems and the most challenging issue remains corruption cases that he himself and several key leaders of his ruling Pakistan Peoples Party (PPP) are presently facing.
Shortly before his election as new prime minister, Pervez Ashraf received a strong message from the Supreme Court that it is set to resume next week hearing of a controversial amnesty law, which has been the major reason for Gilani's exit.
The apex court scrapped the National Reconciliation Ordinance in 2009 and reopened all corruption cases including those against President Asif Ali Zardari and nearly 8,000 people, mostly politicians.
Full Report at:
http://news.xinhuanet.com/english/indepth/2012-06/23/c_131671452.htm
---------
New judge yet to assume office, Pakistan's 26/11 trial adjourned again
PTI, By Rezaul H Laskar
ISLAMABAD, Jun 23, 2012, The trial of seven Pakistani suspects, including LeT commander Zakiur Rehman Lakhvi, charged with involvement in the 2008 Mumbai attack was on Saturday adjourned for a week as the new judge appointed to hear the case is yet to assume office.
Court officials said the proceedings were adjourned till June 30 as Chaudhry Habib-ur-Rehman, who was appointed the judge of the Rawalpindi-based anti-terrorism court no 1 on Wednesday, was yet to take charge.
The anti-terrorism court no 1 is conducting the trial of those charged with involvement in the Mumbai attacks and the 2007 assassination of former premier Benazir Bhutto.
There have been no hearings in the Mumbai attacks case since June 5, when the last judge of anti-terrorism court no 1 was transferred and posted.
For over two weeks, no judge was appointed to replace him.
The judge hearing the Mumbai attacks case has been changed five times since proceedings began in early 2009.
The trial has dragged on behind closed doors at Adiala Jail in Rawalpindi without much progress.
The proceedings have been marred by numerous controversies and technical delays, and only a handful of over 160 prosecution witnesses have testified so far.
In September last year, there were no proceedings for several weeks as no judge was assigned to the case.
The seven suspects, including Lakhvi, have been charged with planning, financing and executing the terror attacks in Mumbai that killed 166 people in November 2008.
http://www.dnaindia.com/mumbai/report_new-judge-yet-to-assume-office-pakistan-s-26-11-trial-adjourned-again_1705915
---------
Gunmen kill 9 people in Balochistan
Karachi, Jun 23 (PTI) Unidentified gunmen shot dead nine men in two separate attacks while another man was kidnapped in the restive city of Quetta in southwest Pakistan today, police said. Gunmen riding two motorcycles opened fire at a group of men at a laundry in the busy Saryab Road area of Quetta, the capital of Baluchistan province, this afternoon. Eight men, including a policeman, were killed and another was wounded, police officials said. Police said preliminary investigations indicated that most of those killed were people from other provinces who had settled in Balochistan. The injured person was taken to the Civil Hospital, where officials described his condition as critical. A man was killed in another shooting in Faizabad area of Quetta, police said. Gunmen riding a motorcycle fired at the man, who was killed instantly. In yet another incident, armed men kidnapped a man in the city and took him away to an unknown location. The motive behind the kidnapping could not immediately be ascertained. There was no claim of responsibility for any of the incidents. Balochistan has been hit by militancy, sectarian violence between Sunnis and Shias and a separatist insurgency that has targeted non-Baloch residents of the province. Baloch nationalist groups have been waging a violent campaign since 2004, demanding autonomy and a greater say in the exploitation of the province's abundant natural resources, including oil, gas and minerals.
http://ibnlive.in.com/generalnewsfeed/news/gunmen-kill-9-people-in-pakistan/1015826.html
----------
Pakistan, US on verge of divorce
By Andrew J. Bacevich, Los Angeles Times June 24, 2012
Share on facebookShare on twitterShare on emailShare on printMore Sharing Services8
The history of US-Pakistani relations is one of wild swings between feigned friendship and ill-disguised mistrust. When the US needs Pakistan, Washington showers Islamabad with money, weapons and expressions of high esteem.
Once the need wanes, the gratuities cease, often with brutal abruptness. Instead of largesse, Pakistan gets lectures, with the instruction seldom well-received.
The events of 9/11 inaugurated the relationship's most recent period of contrived warmth. Proximity to Afghanistan transformed Pakistan overnight from a pariah — the planet's leading proliferator of nuclear weapons technology — into a key partner in the global war on terrorism. Prior to 9/11, US officials disdained president Pervez Musharraf as the latest in a long line of Pakistani generals to seize power through a coup.
After 9/11, president George W. Bush declared Musharraf a "visionary" leading his country toward the bright uplands of freedom. But seldom has a marriage of convenience produced greater inconvenience and consternation.
Pakistanis don't worry about Islamists taking over the world. Americans are untroubled by the prospect of India emerging as a power of the first rank. The US stayed in this unhappy marriage for the last decade in large part because Pakistan provided the transit route for supplies sustaining Nato's ongoing war in landlocked Afghanistan.
In addition to exacting exorbitant charges for this use of its territory, Pakistan has closed that route whenever it wishes to make a point. No more: A recently negotiated agreement with several former-Soviet Central Asian republics creates alternatives, removing Pakistan's grip on Nato's logistical windpipe.
The Obama administration now seems ready to declare this troubled union (once again) defunct. With Pakistan no longer quite so crucial in an Afghan context, and still unable to explain how Osama Bin Laden found sanctuary on Pakistani soil, evidence that this US ally remains in cahoots with various and sundry terrorist organisations has become intolerable. During a recent visit to India, Defence Secretary Leon Panetta publicly stated that U.S. leaders were "reaching the limits of our patience" with Pakistan.
As with most divorces, the proceedings promise to be ugly. Already, the US is escalating its campaign of missile attacks against "militants" on Pakistani soil. US officials dismiss complaints that this infringes on Pakistan's national sovereignty. "This is about our sovereignty as well," Panetta has explained, thereby redefining the term to grant the US the prerogative of doing whatever it wants and can get away with.
Back story
Yet there is a back story to the crumbling relationship that goes beyond US frustration with Pakistani double-dealing (and Pakistani anger over American highhandedness). A larger reorientation of US policy is under way. Occurring in two spheres — the Greater Middle East and East Asia — that reorientation reduces Pakistan in Washington's eyes to the status of strategic afterthought. In the Greater Middle East, the Obama administration has now abandoned any pretense of liberating or pacifying or dominating the Islamic world.
In East Asia, the Obama administration touts its proposed strategic 'pivot' as the emerging centrepiece of US national security policy. In Washington, however, 'pivot' is a code word, translated by those in the know as 'containing China'.
Yet while a certain logic informs the coming US abandonment of Pakistan, there are massive risks as well. Mired in poverty, burdened with a dysfunctional government and weak institutions, dominated by deeply fearful military and intelligence establishments that have little regard for civilian control or democratic practice, Pakistan possesses one trump card: a formidable nuclear arsenal. This should give US policymakers pause before they give that country the back of their hand, as the US has done so many times before.
Andrew J. Bacevich is a professor of history and international relations at Boston University.
http://gulfnews.com/opinions/columnists/pakistan-us-on-verge-of-divorce-1.1039538
--------
Pakistan court issues notice to Zardari
By Mohsin Ali, Correspondent
Islamabad: June 23, 2012, The chief justice of the Lahore High Court (LHC) has issued a notice to the principal secretary to President Asif Ali Zardari, asking for an answer within a week as to why the president has not so far given up the office of co-chairman of the Pakistan People's Party.
LHC chief justice Umar Ata Bandial issued the notice Friday while hearing a petition seeking contempt of court proceedings against the president for not relinquishing the party office.
On May 12, 2011 the LHC had ruled that President Zardari should give up the position of PPP co-chairman and that the presidency should not be used for political activities.
"The use of presidency for political activity is inconsistent with its sanctity, dignity, neutrality and independence. Therefore, it is expected that the president of Pakistan would cease the use of the premises of Presidency for political meetings of his party [PPP]," a four-judge bench of the LHC had said in its order.
The LHC chief justice reportedly observed that the full bench which had issued the order last year had expected that the president would relinquish one of his offices, but that did not happen.
http://gulfnews.com/news/world/pakistan/pakistan-court-issues-notice-to-zardari-1.1039512
--------
Pak PM vows to ensure supremacy of Parliament
IANS
Islamabad, June 23, 2012, Pakistan's new prime minister Raja Pervez Ashraf has vowed to ensure supremacy of parliament, strengthen democracy and hold free and fair elections.
"Powers to all institutions flow from the parliament," he said during his address to the nation Friday night after being elected as the
country's 25th prime minister.
"The parliament manifests aspirations of the people and we shall ensure that nobody exercises this right of the parliament and the people," Geo TV quoted him as saying.
"Some undemocratic minds try to belittle democracy and the people of Pakistan," he said adding "This is an irresponsible thinking that the country can be run against the aspirations of the people."
Recounting the sacrifices of his leaders Zulfikar Ali Bhutto and Benazir Bhutto, former Pakistani prime ministers, Ashraf also pledged to follow their path and make every effort to strengthen democratic institutions and respect the will of people.
"We are at a critical juncture of history that entrusts on political forces to manifest sagacity, unity and collaboration to take forward the democratic process and ensure free, fair and transparent elections for the continuity of democracy," Pervez said.
http://www.hindustantimes.com/world-news/Pakistan/Pakistani-PM-vows-supremacy-of-parliament/Article1-877544.aspx
----------
Ex-Pakistan greats lament Kaneria ban
AFP
KARACHI: Jun 23, 2012, Former Pakistani greats on Saturday expressed disappointment over a life ban on leg-spinner Danish Kaneria but stressed the need for tougher action against fixing to avoid such incidents in future.
The 31-year-old was banned for life from any cricket under the jurisdiction of the England and Wales Cricket Board (ECB) after being found guilty of corruption by a disciplinary panel.
Essex paceman Mervyn Westfield, who was jailed in February after admitting he had accepted £6,000 to under-perform during a Pro40 match between Essex and Durham in 2009, had named Kaneria as the link between bookmakers and players.
A statement issued by the ECB panel described Kaneria as "grave danger to the game of cricket" and branded him a "liar".
Former Pakistan captain Aamir Sohail said he was disappointed at another Pakistani punished for fixing.
"I am disappointed, but not shocked," said Sohail. "We are now accustomed (to) it. But it is high time now that we should think seriously about it and avoid such happenings in future.
Kaneria becomes the third Pakistani to be banned over fixing. Former captain Salim Malik and Ata-ur Rehman were banned for life after a Pakistani match-fixing inquiry in 2000.
Rehman's ban was overturned on appeal in 2003.
Pakistan was also in the spotlight for fixing when three of its players -- Salman Butt, Mohammad Aamer and Mohammad Asif -- were banned by the ICC and later jailed by a UK court in 2010 for fixing specific parts of a Test match.
Sohail said Pakistan Cricket Board (PCB) needs to be more vigilant.
"It (PCB) swallowed up what came up in the past," said Sohail, referring to the match-fixing inquiry in 2000. "PCB should have thought hard about things and now we cannot afford any such thing."
Another former captain Rashid Latif -- known for his fight against match-fixing -- said he has no remorse.
"If he (Kaneria) was guilty then there should be no remorse or disappointment," said Latif. "Anyone involved and found guilty should be punished and the talk of forgiving players like Butt, Asif and Aamer (is) wrong," said Latif.
"In fact I would suggest that (the) assets of these players should also be checked."
Former paceman Sarfraz Nawaz, however, termed Kaneria's life ban as harsh.
"A life ban is harsh, it should have been two to five years," said Nawaz. "This latest case has increased our responsibilities to avoid any such incident in the future."
Kaneria's ban could all but signal the end of his career as most of cricket's leading nations, including Pakistan, have signed up to a doctrine of the "mutual recognition of sanctions" put forward by the International Cricket Council (ICC) in a bid to stamp out corruption.
Kaneria took 261 wickets in 61 Tests for Pakistan. He also had 15 wickets in 18 one-day internationals.
http://timesofindia.indiatimes.com/sports/cricket/top-stories/Ex-Pakistan-greats-lament-Kaneria-ban/articleshow/14359728.cms
--------
Africa
Wine, Women and Song Tempt Mali's Islamists
AFP, Jun 23, 2012,
Wine, women and song are putting Malian Islamists to the test as they talk about the future of their divided country with regional mediators in Burkina Faso.
"The problem is that in our hotel we can't help looking at the beautiful women and listening to the music," sighed Algabass Ag Intalla, a member of the hardline Ansar Dine, one of the groups controlling northern Mali since March.
"It's a real test for us Muslims to have to look at all that as well," he added, pointing to rows of alcoholic drinks in full view from the lobby.
An Ansar Dine delegation arrived in Ouagadougou on June 15 at the invitation of Burkina Faso's President Blaise Compaore, named chief mediator in the Malian crisis by the Economic Community of West African States.
The Islamists met Compaore on June 18 and have since been continuing talks with his aides. The Burkina government has put them up in a luxury hotel in the well-heeled Ouaga 2000 district.
"President Compaore asked us to stay, So we are still here," delegation leader Algabass, dressed in a white robe and turban like his five colleagues, told AFP.
Soft music drifted through from the bar as they sat on couches in the hotel lobby.
Delegation spokesman Cheick Ag Wissa, speaking broken French, asked for the sound to be turned off, but only succeeded in having it lowered.
"The manager has told us not to switch it off until the bar is closed," a member of staff explained.
It is a sharp contrast from the situation in northern Mali, where Ansar Dine and other Islamist groups, including Al-Qaeda in the Islamic Maghreb (AQIM), are trying to impose Muslim Sharia law by force.
Their ultra-conservative doctrine punishes smokers, drinkers, adulterers and even football fans. On Wednesday, in the desert city of Timbuktu, a couple who had a child out of wedlock were given 100 lashes.
The Ansar Dine representatives, whose chief Iyad Ag Ghaly has remained in Mali, are also watching what they eat and where they pray.
"In the morning we have meat at the home of a friend, we always eat fish," Algabass said. "They say the food is halal, but we still prefer fish.
"We pray at a friend's, we don't go to the mosques here."
Cheikh Ag Wissa, like the others a member of the desert Sahel region's nomad Tuareg tribes, chimed in, "There's something else we miss: dates and camel's milk."
Also in the hotel are representatives of the secular Tuareg National Movement for the Liberation of Azawad (MNLA), which spearheaded the capture of northern Mali amid the confusion sparked by a military coup in the capital, Bamako.
The MNLA, which seeks the independence of the region, has been shunted aside by its rivals, and a merger with Ansar Dine collapsed amid dissent over the implementation of Sharia.
Despite the acrimony, the two groups are still speaking to each other, if only in Ouagadougou.
"We see each other every day, we greet each other but we don't talk politics," Algabass said.
"They are our brothers," said Colonel Hassan Ag Mehdy, a member of the MNLA delegation. "We talk to each other even if we are fundamentally opposed."
Another member of the group, Magdi Ag Bahada, added, "We are the same: the other day I had some tea brought from Mali, which I gave to Ansar Dine."
Compaore's aides meanwhile are holding separate talks with the two sides, trying to persuade them to have another shot at making up, and above all urging Ansar Dine to have nothing to do with the followers of Al-Qaeda.
"We are trying to prepare their minds to accept round-table talks which have to be held one day," a senior Burkina army officer said.
http://timesofindia.indiatimes.com/world/rest-of-world/Wine-women-and-song-tempt-Malis-Islamists/articleshow/14362439.cms
---------
Libyan rights group condemns killing of judge al-Jazwi
22 June 2012
A Libyan human rights group has condemned the killing of a judge investigating last year's murder of a defected long-time aide to Col Gaddafi.
The Libyan Observatory for Human Rights said the National Transitional Council was responsible for the killing of Jumah Hasan al-Jazwi.
Mr al-Jazwi was shot dead on Thursday, on his way to a mosque in Benghazi.
He was investigating last year's murder of Gen Abdel Fattah Younes, who had defected from Col Gaddafi's regime.
In a statement the Observatory said that the National Transitional Council (NTC), which is administering Libya's transitional governance, was deliberately delaying uncovering the circumstances around Gen Younes's killing.
'Primary suspect'
Gen Abdel Fattah Younes was killed last July
After defecting, Gen Younes became a commanding rebel leader in the fight against Col Gaddafi, whom he had helped to power in 1969.
At the time of his murder in July 2011, there were reports that Gen Younes was viewed with suspicion because of his formerly close position to Col Gaddafi.
He was killed after he was issued a warrant for questioning and recalled to Benghazi from the front line in the city of Brega.
Varying accounts of how he was killed were then given by officials at the time, including by NTC leader Mustafa Abdel Jalil.
There have also been unverified reports saying that Mr al-Jazwi issued the warrant for Gen Younes's questioning.
Judge al-Jazwi was also a "primary suspect" in the death of Mr Younes, a spokesman for Benghazi's local council told news agency AFP.
The NTC has been trying to maintain stability in a country awash with weapons left over from the conflict last year.
Clashes between tribal groups and competing militias have plagued Libya since Col Gaddafi was toppled from power and killed.
http://www.bbc.co.uk/news/world-middle-east-18551094
---------
Tunisia extradites Libya ex-PM Mahmoudi
24 June 2012
Libya's former Prime Minister al-Baghdadi al-Mahmoudi has been extradited to Libya from Tunisia, where he had fled during the uprising against Col Muammar Gaddafi last year.
The prime minister's office in Tripoli confirmed the extradition to the BBC.
Mr Mahmoudi, 70, had served as prime minister from March 2006 but fled Libya when Col Gaddafi's forces lost control of Tripoli.
He was arrested in Tunisia in September for illegal entry.
Human rights groups had asked Tunisia not to extradite him, saying he could be subject to rights violations.
However, Tunisia's president promised to hand over Mr Mahmoudi if he were guaranteed a fair trial.
Mr Mahmoudi was transferred by helicopter on Sunday, a Libyan security official told Reuters.
Agence France-Presse news agency quoted a Tunisian presidential source as saying the decision had been taken by the country's government without consulting the presidency, suggesting the president had not signed an extradition decree.
http://www.bbc.co.uk/news/world-africa-18571464
---------
Moroccan admits plot to bomb US Capitol Building
PTI
Washington: June 23, 2012, A 29-year-old Morrocan has pleaded guilty to plotting a suicide attack on the US Capitol Building here in February as part of what he believed to be a terrorist operation, the US Justice Department said.
Amine El Khalifi, a resident of Alexandria in Virginia, yesterday pleaded guilty before US District Court Judge James Cacheris to one count of attempted use of a weapon of mass destruction against the US Capitol Building, four months after he was charged in an undercover FBI operation.
As part of the plea agreement, the US and El Khalifi agree that a sentence within a range of 25 years to 30 years incarceration is the appropriate disposition of this case.
Sentencing has been scheduled for September 14, 2012.
El Khalifi, an illegal immigrant from Morocco, was arrested and charged by criminal complaint on February 17.
His arrest was the culmination of an undercover operation during which he was closely monitored by the FBI Washington Field Office's Joint Terrorism Task Force (JTTF).
The explosives and firearm that he allegedly sought and attempted to use had been rendered inoperable by law enforcement and posed no threat to the public.
"El Khalifi sought to bring down the US Capitol and kill as many people as possible," said US Attorney Neil MacBride.
"He admitted today that he picked the targets, weapons, and means of the suicide attack while working with someone he believed was an al Qaeda operative," he said in a statement.
"El-Khalifi admitted that he attempted to carry out a suicide attack on the US Capitol as part of what he believed would be a terrorist operation," said Assistant Attorney General Lisa Monaco.
Full Report at:
http://zeenews.india.com/news/world/moroccan-admits-plot-to-bomb-us-capitol-building_783426.html
---------
Tunisia's setback in freedom of expression
Amna Guellali, 24 June 2012
Tunisia has been credited with having the most effective democratic transition in the region. This now risks being derailed by the reintroduction of repressive laws.
(Tunis) - Recent violence in Tunisia set off by religious radicals' reaction to an art exhibition that they deemed offensive to Islam has revived a discussion here about defamation of religion and freedom of expression. Ennahdha, the Islamist party that is the largest political group in the National Constituent Assembly (NCA), has responded by declaring that it will introduce a law to criminalize offenses against the sanctity of Islam. Such laws could quickly create a new form of censorship under the mantle of the protection of religion.
Tunisia has been credited with not only initiating the Arab spring but also with having the most effective democratic transition in the region. This now risks being derailed by the reintroduction of repressive laws.
It all started on June 10, when dozens of people protested against four artworks at Printemps des Arts, a fair organized in a state-owned palace in the northern suburbs of Tunis. One had the words "Sobhane Allah" (Praise belongs to Allah) painted with ants. Another represented the stoning of three women and two others had caricatures of Salafists - the hardline Islamic believers.
The protesters broke into the palace late at night and vandalized some of the artworks before the police succeeded in dispersing them. The situation quickly snowballed. Riots erupted on June 11 in several locations across the country, with protesters - consisting of ultra-conservative religious groups as well as criminal gangs - setting fire to courts, police stations and other institutions, an Interior Ministry spokesman said. One person died in the violence and dozens were wounded.
The protests reached a climax when several preachers in mosques across the country condemned the art fair, some openly calling their followers to apply the 'hadd', the Islamic death sentence, against the artists for being apostates.
The violence subsided after the interior minister imposed a curfew and a ban on demonstrations planned by several Salafist groups and Ennahdha on June 15. In all, about 160 protesters were arrested.
Full Report at:
http://www.opendemocracy.net/amna-guellali/tunisia%E2%80%99s-setback-in-freedom-of-expression
----------
India
Muslim youths again targeted with 'Love Jihad' hate campaign in Kerala
23 June 2012
By Abdul Basith MA, TwoCircles.net,
Thiruvananthapuram: The Hindutva sponsored "Love Jihad" hate campaign against Muslim youths in Kerala has surfaced again after a brief lull. The campaign had already caused serious wounds to the communal harmony of the state and campaigners were back to their den soon after Kerala Police lodged cases under section 153 against websites of Hindu Janajagruti Samiti and five other Hindutva websites on charges of pressing on with the hate campaigns even after court terming it baseless and Police reports rejecting any such allegations.
But a Malayalam weekly named Kalakaumudi having majority subscriptions in regions other than Malabar has now resumed the hate campaign in their recent edition of 10th June citing unauthentic central intelligence agency reports. The Hindutva websites too have now taken up this campaign and are altogether busy reviving those earlier terms like "Love", "Romeo", "Black Money", "Land Mafia" in order to suffix "Jihad" with it.
Earlier more than any of those Hindutva websites it was the mainstream news dailies in Kerala, seemed keen on publishing such imaginative stories of 'Muslim Jihadis' pretending love towards Hindu and Christian girls to convert them to Islam. It still needs clarification on whether they took up the news from Hindutva websites or these websites took up exclusives published by these Malayalam news dailies. The news dailies, their weeklies and fortnightlies though published police clarifications and the court order calling "Love Jihad" allegations baseless in inner page columns, were never ready to make a confession. The media hate campaign brought about a situation where each and every movements and gestures of a Muslim youth in a campus or his work place was watched with suspicion by other community members.
The Kerala home ministry has taken a note of these latest allegations put forward by the Kalakaumudi weekly, which in its cover page says "Every month 180 girls are getting converted in Kerala". The home ministry is concerned regarding conspiracies and attempts from a few corners to disrupt the already deteriorating communal texture of the state by spreading such rumours and unauthentic reports. The weekly on publication underwent a high demand and within a day copies were sold out.
Earlier on an exclusive scoop regarding - Muslim specific cyber surveillance in Kerala - the Kerala govt had accused the Madhyamam weekly, of ruining the religious harmony of the state. Madhyamam actually had only published the list of 258 email addresses belonging to Muslim journalists, students and politicians in Kerala, out of the 268 email addresses, the Kerala Police intelligence snooped into by even baselessly associating them with the banned SIMI. There wasn't even a petty case registered against any of these individuals. Then instead of taking actions against those Police officers involved in the email snooping - the Home ministry then under the control of Chief Minister - was rather keen on witch hunting the weekly and the ones who leaked the news for it.
Full Report at:
http://twocircles.net/2012jun23/muslim_youths_again_targeted_%E2%80%98love_jihad%E2%80%99_hate_campaign_kerala.html?utm_source=feedburner&utm_medium=email&utm_campaign=Feed%3A+Twocirclesnet-IndianMuslim+%28TwoCircles.net+-+Indian+Muslim+News%29
----------
'Amend Constitution to provide reservation to Muslims': TDP
PTI
Hyderabad:May 29, 2012, The Telugu Desam Party on Tuesday demanded the Centre to amend the Constitution of India for providing reservation to Muslims in educational institutions and jobs.
Reacting to the quashing by the AP High Court of the reservation sub-quota for Muslims, TDP president Chandrababu Naidu said the Centre should create exclusive quota for Muslims by bringing in a constitutional amendment.
"There should not be a quota within quota (of OBCs). The Congress, both in AP and at the Centre, has been cheating Muslims on the reservation issue. The 4.5 per cent reservation was provided in haste on the eve of the UP Assembly elections to garner votes. The only way to ensure proper quota is through a constitutional amendment," Chandrababu asserted.
The Andhra Pradesh High Court had on Monday quashed the 4.5 per cent reservation for Muslims from the 27 per cent OBC quota.
A division bench of the HC headed by Chief Justice Madan B Lokur observed that the sub-quota was based on religious lines and not on any other intelligible consideration.
"There was no rationale or empirical data to justify such an action," the bench noted, indicting the Central government for handling the issue in a "casual manner".
http://zeenews.india.com/news/andhra-pradesh/amend-constitution-to-provide-reservation-to-muslims_778387.html
----------
India to Pakistan: Truce violations jeopardise peace
By IANS
Jammu: 23 Jun 2012, India has in strong words conveyed to Pakistan its concerns over targeting of the Indian border posts by the Pakistani forces and implications of such "provocative" actions for the peace at the Line of Control (LoC).
The message was conveyed during a brigadier-level flag meeting between the two forces at Chakan Da Bagh in Kashmir's Poonch district Saturday, officials said.
Last week, two Indian soldiers were killed in firings between the two sides, creating a very tense situation on the LoC.
The Indian Army personnel told their Pakistani counterparts that their actions were "provocative" and could jeopardise the ceasefire on the border, operative since November 2003, according to informed sources.
India also made it clear that the Indian soldiers had the right to retaliate to such "unprovoked" firing from across the LoC.
Earlier, after a series of ceasefire violations, the Pakistan Army cancelled a commandant-level (colonel-level) meeting scheduled in the sector June 16.
Army sources said the firings by the Pakistani forces were to divert the attention of the Indian troops to facilitate infiltration of militants in Jammu and Kashmir.
http://news.in.msn.com/international/india-to-pakistan-truce-violations-jeopardise-peace
---------
Arab World
Refugees in Muslim countries on the rise
Jeddah, 04 Shaaban 24 June (IINA) – On June 20, many countries mark U.N. World Refugee Day with events to raise awareness about the situation of refugees. In addition, their status often poses difficulties for the governing bodies of the countries that host them. And various recent conflicts have led to rising numbers of refugees, bringing these problems to the forefront of global attention, according to a report published by Common Ground News Service.
In recent years, Muslim countries especially have seen a huge growth in refugees. The United Nations High Commissioner for Refugees (UNHCR), António Guterres, recently stated that "in 2011, the 57 Organization of Islamic Cooperation (OIC) states hosted 50 per cent of the persons who are of concern to UNHCR, some 17.6 million in total." In this context, it is especially important to understand the Islamic principles relevant to refugees, the connection to international law and how both can help provide solutions for nations grappling with how to help refugee populations.
To this end, several representatives of OIC member states gathered at a conference focusing on refugees in the Muslim world in Ashgabat, Turkmenistan last month to address this issue in ways that can promote stability and peace. This issue is crucial as it may be years before those who are currently refugees can return home. Khalid Koser, an expert at the Washington, D.C.-based Brookings Institution think tank, estimates there have been approximately two million refugees who have left countries affected by the Arab Spring. It is likely that these individuals, who have moved to relatively better circumstances, will stay in their new homes until the economies in their home countries begin to thrive.
Afghan refugees in Pakistanprovide a similar example. Although they can now find secure shelter in Afghanistan, the lack of economic opportunity there has led many who had returned home to go back to Pakistan. The aims of the conference, which was co-organized by the OIC and the government of Turkmenistan, were reinforced by the launch of a second edition a poignant book, The Right to Asylum between Islamic Shari'ah and International Refugee Law by Ahmed Abou-El-Wafa. The book defines who can be characterized as a refugee, articulates their rights and looks at cases dating back to the time of the Prophet Muhammad (peace and blessings be upon him). As the book describes, Islam makes no distinction between white and black, Arab and non-Arab, insider and outsider.
Yet despite Islam's position on refugees, there are tensions between locals and "others" in countries where there has been an influx of refugees — especially in countries that have high poverty rates or poor infrastructure and find it difficult to handle newcomers. To fill this gap some groups are taking steps to support refugees. InPakistan, for instance, the Edhi Foundation provides supplies and basic services, as do several small grassroots organizations.
It is important to note that there is also overlap between Islamic principles and international law when it comes to this issue. "There is not much difference between how Islam defines a refugee when compared with the 1951 (U.N.) convention" on the status of refugees, said El-Wafa, adding that "Islam offers asylum on religious, territorial and diplomatic grounds, and a person who is given safe haven and dignity in a Muslim territory is called a musta'men", which is commonly translated as "asylum-seeker."
The U.N. convention on refugees similarly protects refugee rights to enter a country if they are escaping threats to their life or freedom, and prevents host countries from returning them. According to the saying of the Prophet Muhammad (peace be upon him) every human being has the right to receive shelter. The custom of giving shelter is not limited only to Muslims and extends to non-believers as mentioned in the Qur'an (9:6): "And if any one of the (non-believers) seeks your protection, then grant him protection so that he may hear the word of Allah, and then escort him to a place where he can be secure…" The principle of hospitality is thus embedded in the culture of many Muslim countries.
Nawabzada Malik Amad Khan, Minister of State for Foreign Affairs Pakistan, commented on the tension between ideals and practice, saying: "Hospitality and generosity is rooted in our culture and history. For generations Muslim communities have been welcoming their neighbors in need… Unfortunately, despite the exponential increase in the number of refugees, international assistance for refugee protection is dwindling. The burden is being placed mostly on those who are least able to carry it." It is through efforts to bring both religious and international principles into the discussion on refugees that there is hope that leaders can find new and realistic solutions to this pressing issue.
http://iina.me/wp_en/?p=1009325
---------
Assad forms new govt, retains key ministers
Reuters
BEIRUT: Jun 24, 2012, Syrian President Bashar al-Assad issued a decree to form a new government on Saturday, shaking up many cabinet posts but keeping the heads of the interior, defence and foreign ministries , state TV reported.
The reappointment of defence minister Daoud Rajha will quash widespread rumours , previously denied by the government, that he had been assassinated by rebels who are struggling to bring down Assad's rule.
Assad says he is pursuing reforms even as he fights a 16-month revolt he says is led by foreign-backed militants.
But critics say the Syrian president's appointment of Riyad Hijab as PM was a sign the president was turning to hardline loyalists.
Most of the top posts were given to Baathist loyalists. Critics consider the cabinet to be largely symbolic and say power in Syria remains in the hands of Assad and his close inner circle of family and security force elites. The new cabinet follows a May 7 parliamentary election which Assad said was part of the path to reform.
http://timesofindia.indiatimes.com/world/middle-east/Assad-forms-new-govt-retains-key-ministers/articleshow/14366617.cms
----------
Future imperfect in Egypt
Miniya Chatterji
Jun 16 2012,
The country will continue to be plagued by uncertainty for a while, no matter who becomes president
After over a year since the start of the revolution, Egypt votes for a president this weekend. The last prime minister under Hosni Mubarak, Ahmed Shafiq, is contesting against the Muslim Brotherhood's Mohammed Mursi in a tight run-off in the presidential election.
The presidential poll this weekend follows a wave of outrage when Egypt's Supreme Court called for the dissolution of the lower house of parliament and in a separate ruling also rejected a law that would have barred Shafiq from continuing to run for president. The ruling has prompted fears that the military wants to increase its power. His candidature is perceived as a throwback to repression and an undoing of the revolution itself. Shafiq seeks to defend the military and security establishment, which are the old regime's vanguards. On the other hand, people are nervous about the Muslim Brotherhood, fearing that if the Brotherhood ever gained power they would never let go. Also, no one knows how they would treat Egypt's 8 million Christians who represent 10 per cent of the population. The paranoia has heightened. Since the fall of Mubarak, Egypt's military had promised to hand over power to an elected president by the beginning of July; but now, not only is there no constitution, but there is the prospect of no parliament to write one either.
For Egyptian liberals it is an impossible dilemma — this choice between a candidate from the old regime and an Islamist. Many want, above all, the country to return to normalcy. Egypt's large middle class is nurturing a deep-rooted disillusionment with revolutions, freedom and democracy. The youth is confident, collaborative, deeply frustrated, and change-oriented. Over all, there is a sense of loss of the spirit of the revolution. Youthful, urban, idealistic, Egypt's revolution has transformed into a presidential run-off between old rivals. The sceptics have taken over, even the ubiquitous Egyptian humour is jaded and substituted by an air of general paranoia on the streets.
Full Report at:
http://www.indianexpress.com/news/future-imperfect-in-egypt/962508/0
----------
OIC Vice-chancellors vow to undertake university governance reforms
Ameen Amjad Khan
24 June 2012
Some 200 heads of universities from 39 member countries of the Jeddah-based Organisation of Islamic Cooperation (OIC) agreed to bring about governance reforms in higher education and increase the number of women university leaders, during a meeting in Pakistan's capital Islamabad on 12 June.
The vice-chancellors forum on "Higher Education in the Islamic World" was jointly organised by the Morocco-based Islamic Educational, Scientific and Cultural Organisation, the Federation of Universities of the Islamic World and Islamabad's COMSATS Institute of Information Technology (CIIT), which hosted the event.
Khalid Yousef Hussein Alomari, president of Jerash University in Jordon, told University World News: "Our meeting felt the need to increase women's leadership in Islamic world universities and so we recommended offering training programmes and scholarships to train women as leaders in higher education."
The proposal came from a session moderated by Professor Najma Najam, vice-chancellor of Pakistan's Karakoram International University, who told the meeting: "Women are grossly under-represented in higher education top management, and decision- and policy-making bodies.
"Is the membership of research evaluating boards, funding organisations and even journal committees gender equated?"
She later told University World News: "Women's enrolment in Islamic world universities is increasing but sadly their proportional representation in university leadership is negligible. OIC universities should have at least 40% females in top university positions."
Javaid Laghari, chair of Pakistan's Higher Education Commission – which supported the forum – told University World News that although it had themes including innovation, knowledge management and quality assurance, the fourth university governance theme was the most important as the others "depend upon how universities are governed".
Full Report at:
http://www.universityworldnews.com/article.php?story=20120621183856617
----------
Tense Egypt awaits presidential election results
24 June 2012
Egypt's election authority is preparing to announce the result of last weekend's presidential run-off vote.
The panel of judges has begun announcing its decisions on the hundreds of complaints by the campaigns of Mohammed Mursi and Ahmed Shafiq.
Security is tight, with tanks deployed around the commission's headquarters.
Both Mr Mursi, a leader of the Muslim Brotherhood, and Mr Shafiq, a former prime minister, have claimed victory and vowed to form unity governments.
Thousands of Mursi supporters have gathered in Tahrir Square to hear the result and are urging the ruling military council to respect the will of the people. Some are chanting "revolution, revolution until victory".
A pro-Shafiq rally is being held in the northern district of Nasser City.
Correspondents say the atmosphere at both gatherings has been peaceful, but tense.
Whoever wins will make history as the first democratically elected leader in Egypt's history. They face a massive challenge, to unite the country and get it back to business.
Live updates: Egypt election results
Many people are still apprehensive about the intentions of the ruling generals, who gave themselves sweeping new powers last week after the Supreme Constitutional Court ruled that the Islamist-dominated parliament should be dissolved.
Shops are closing early and people are hurrying to their homes to watch the decisive news conference at the Higher Presidential Election Commission headquarters in Nasser City.
Government employees were also advised to leave early, in another signal of the security precautions being taken, the BBC Arabic's Dina Demrdash in Cairo says.
Full Report at:
http://www.bbc.co.uk/news/world-middle-east-18563874
----------
S&P Indices launches Shari'ah Index with the Organisation of Islamic Cooperation
23, June 2012 by Robin Amlôt
The S&P/OIC COMCEC 50 Shariah Index is designed to measure the performance of 50 leading Shari'ah-compliant companies from the member states of the Organisation of Islamic Cooperation (OIC). The Index has been designed in partnership with the OIC.
Companies from all 19 countries and territories whose exchanges are members of the OIC Exchanges and are covered by S&P Indices are eligible for the index. These are: Bahrain, Bangladesh, Côte d'Ivoire, Egypt, Indonesia, Jordan, Kazakhstan, Kuwait, Lebanon, Malaysia, Morocco, Nigeria, Oman, Pakistan, Qatar, Saudi Arabia, Tunisia, Turkey and the United Arab Emirates.
The S&P/OIC COMCEC 50 Shariah Index consists of the largest 50 stocks from the eligible universe. Stocks are selected in accordance with Shari'ah compliance screenings as determined by the S&P Shariah Indices Methodology. In addition, stocks must have a minimum three-month average daily value traded (ADVT) of $1 million at each rebalancing reference date. To enhance portfolio diversification, at least one stock but no more than eight, from each country or territory must be included in the Index. The top 10 stocks (listed below) account for an aggregate total of 42.4 per cent of the new index.
Alka Banerjee, Vice President, Global Equity and Strategy Indices from S&P Indices, said, "We are pleased to partner with the OIC to create this new benchmark for Islamic countries. Demand for Shari'ah-compliant investing solutions and interest in the equity markets of Islamic countries have increased over the past several years. The S&P/OIC COMCEC 50 Shariah is unique in that it encapsulates in one index the performance of Shariah-compliant stocks from Islamic countries located throughout the world."
Ibrahim M. Turhan, OIC Member States' Stock Exchanges Forum Chairman, and Chairman & CEO of the IMKB added, "I believe that the S&P/OIC COMCEC 50 Shariah Index will fill a principal gap; since so far, there have been only a few measures to gauge the performance of Shari'ah-compliant companies. This new index is a product of the collective efforts of our colleagues in the OIC Member States' Stock Exchanges Forum and S&P Indices, and I would like to express my gratitude to my associates for their valuable contributions. Through the S&P/OIC COMCEC 50 Shariah Index, we hope to contribute to the ever-increasing interest for Shari'ah-compliant companies while adding to the visibility of the stock exchanges of OIC countries.
Full Report at:
http://www.cpifinancial.net/news/post/14581/s-p-indices-launches-shariah-index-with-the-organisation-of-islamic-cooperation
----------
International Peace Award presented to OIC Chief
Jeddah, 04 Shaaban 24 June (IINA) – The Secretary General of the Organization of Islamic Cooperation Professor Ekmeleddin Ihsanoglu has been awarded the "International Peace Award 2011-2012" by Beirut-based International Human Rights Commission (IHRC). IHRC World Chairman and Ambassador at Large Dr. Muhammad Shahid Amin Khan presented the award along with 'lifetime membership' to the OIC chief at a ceremony held yesterday at the OIC headquarters in Jeddah.
The award was in recognition of Ihsanoglu's services to the Muslim Ummah. The nomination of the OIC chief for the award came in the light of his contribution towards raising the awareness in the Muslim World about the universal norms, values and practices such as democracy, good governance and rule of law, freedom of expression, respect for human rights, women's empowerment and participation in political process, protection of Muslim minority rights and above all for his services for the establishment of the OIC Independent Permanent Human Rights Commission.
http://iina.me/wp_en/?p=1009331
---------
UAE opens 40 schools in Pakistan
(WAM) / 23 June 2012
Upon the directives of the President, His Highness Shaikh Khalifa bin Zayed Al Nahyan, the UAE Project to assist Pakistan has accomplished 40 world-class schools and institutes and handed them over to the local authorities in Khyber Pakhtunkhwa Province, Pakistan. Nearly 21,000 boy and girls have already started classes.
A grand opening ceremony was held at one of the boys' school in the presence of Abdullah Khalifa Al Ghafli, Director of the Project, Major General Zahir Shah, Commander of the GOC 45th Engineers Division of the Pakistani Armed Forces, a group of Pakistani army commanders and senior government officials.
Al Ghafli and the senior accompanying civilian and military attendants unveiled the memorial plaque declaring the official opening of the school and then paid tribute to the President Khalifa for the grant which constitutes a necessary, qualitative addition for improving and upgrading the education sector infrastructure in the Khyber Pakhtunkhwa Province. They also took a tour of the school building where they inspected classes, scientific and computer laboratories, sports facilities and other support services.
They also met with the school principal and teaching and administrative staff.
Al Ghafli also opened another school for girls and toured its various sections.
The Project, which focuses on four major sectors: education, public health, roads and bridges, comes within the framework of the good efforts by the UAE to help Arab and Islamic countries as one of the leading donors in the field of humanitarian aid and international development around the world.
During the ceremony school bags were distributed to the learners as part of the 30,000 bag programme launched by the Project to assist needy students across Pakistan.
Abdullah Al Ghafli, Director of the Project, told Emirates News Agency (WAM) that ," It's a great honour for us to implement directives and initiatives of the UAE President His Highness Shaikh Khalifa bin Zayed Al Nahyan with a humanitarian and development touch in education for the people of Khyber Pakhtunkhwa Province. The initiative underlines Shaikh Khalifa's determination to extend assistance to students so as to get learning facilities in an ideal environment."
Al Ghafli indicated that the UAE President's directives had brought to life modern educational facilities worth US$ 27.6 million accommodating up to 28,000 students. The Project has built and rebuilt 35 schools and colleges, two model schools, 40 primary to secondary schools, 11 technical , technological and vocational colleges and institutes.
He announced that the Project has already started implementing directives of the UAE President for construction of two model schools in Khyber Pakhtunkhwa and South Waziristan, with each school costing US$ 500,000.
He added that the educational facilities had been carried out in different parts of Khyber Pakhtunkhwa, South Waziristan and Bajaur, the areas where schools were destroyed and due to lack of nearby schools, students had to take a long journey to join schools in other remote regions.
He lauded the construction of these schools as a "remarkable achievement" to the UAE and its prudent leadership in significantly and efficiently contributing to the development of education infrastructure in Pakistan.
Educators and guardians praised the timely UAE humanitarian project saying the UAE President's initiatives had provided the proper learning environment to underprivileged students, and painted faces of students, parents and educators with smile and joy.
They said the Shaikh Khalifa's humanitarian initiatives would build and develop the Pakistan human being academically, intellectually and culturally. The added that these educational institutions will prepare the Pakistani children to face future challenges skillfully.
Noting the vast difference between the old and modern schools built by the UAE Project to Assist Pakistan, they said the new one stand as educational-friendly facilities providing big stimulate to both students and teachers to pursue their learning pathway.
http://www.khaleejtimes.com/kt-article-display-1.asp?xfile=data/nationgeneral/2012/June/nationgeneral_June280.xml&section=nationgeneral
----------
Turkey in new air strikes on Kurdish rebels in Iraq
24 June 2012
Turkey's military has confirmed further air strikes against Kurdish rebel bases in northern Iraq.
It said nine attacks were carried out by Turkish aircraft on hideouts of the Kurdistan Workers Party (PKK), mostly in the Qandil region.
Last Wednesday the military said it had carried out similar strikes, a day after eight Turkish soldiers and 26 PKK rebels were killed in clashes.
The air strikes come amid Turkey's row with Syria over a downed Turkish jet.
Turkey's general staff said on its website that its warplanes had hit "nine targets belonging to the separatist terrorist organisation", referring to the PKK, and that all planes had returned safely.
Several thousand PKK rebels are believed to be based in hideouts in northern Iraq.
The number of clashes between the PKK and the Turkish armed forces has risen in south-east Turkey over the past year, and the PKK has in the past carried out bombings in other parts of the country.
The BBC's Jonathan Head in Istanbul says Turkey's air strikes have had little visible impact on the PKK's campaign against the Turkish state.
Wednesday's attacks were sparked by a rebel assault on army outposts in Hakkari province that left eight Turkish soldiers dead and 16 wounded.
The PKK, which is classified as a terrorist organisation by the EU and the US, launched a guerrilla campaign in 1984 for an ethnic homeland in the Kurdish heartland in the south-east of Turkey.
It has now dropped a claim for an independent Kurdish state but says it is fighting for autonomy and the cultural rights of the Kurdish people.
http://www.bbc.co.uk/news/world-europe-18570036
-----------
Northern Syria clashes 'kill 16 soldiers'
24 June 2012
At least 16 Syrian soldiers have been killed in clashes with rebels in the province of Aleppo, activists say.
The fighting took place in the town of Darat Izza, and at checkpoints outside al-Atarib and Kafr Halab, the Syrian Observatory for Human Rights reported.
On Friday, officials accused rebels of shooting dead 25 men in Darat Izza. Activists said they were militiamen.
Syria has seen escalating violence in recent weeks, with some 116 people reportedly killed on Saturday.
'In a war'
The head of the Observatory, Rami Abdul Rahman, told Agence France-Presse news agency the clashes in Aleppo had taken place simultaneously around dawn, at the end of what he called "one of the bloodiest weeks" since the uprising against President Bashar al-Assad began in March 2011.
"It's like we are in a war," he told the AFP. "Sometimes when two countries are at war, not even 20 people are killed a day. But now in Syria, it has become normal to have 100 killed each day."
The Observatory said 77 civilians died on Saturday, including a family of six in the eastern province of Deir al-Zour, as the military attacked rebel-held areas.
The Syrian military has stepped up its assaults on opposition-held areas, including the city of Homs
Nineteen solders were also killed, while another 10 troops were shot when they tried to defect to the rebel Free Syrian Army, it added.
The Local Co-ordination Committees, an activist network, put the nationwide death toll on Sunday at 131, including 31 in Deir al-Zour.
The Syrian Arab Red Crescent also said one of its volunteers was shot in the head while on duty in the province and wearing a uniform marked with its emblem. It was not clear who was responsible for the man's death.
Mr Abdul Rahman said at least 644 people had been killed since last Monday.
He said the international community had to reach an agreement on how to resolve the crisis, and criticised the decision of the UN Supervision Mission in Syria (UNSMIS) to suspend its operations because of the violence.
The mission's 298 unarmed military observers and 112 civilian staff are in Syria to verify the implementation of the peace plan negotiated by the UN and Arab League's envoy, Kofi Annan, under which a ceasefire supposedly came into force in April.
"Either go out and observe properly or leave," Mr Abdul Rahman said.
The UN says at least 10,000 people have died since pro-democracy protests began in March 2011. In April, the Syrian government reported that 6,143 Syrian citizens had been killed by "terrorist groups".
http://www.bbc.co.uk/news/world-middle-east-18568206
-----------
Mideast Asia
Supreme Leader: Iran Hoisting Flag of Islamic Rule in Materialistic World
TEHRAN (FNA)- Supreme Leader of the Islamic Revolution Ayatollah Seyed Ali Khamenei said the Iranian nation is proud to have hoisted the flag of Islamic and Quranic rule in this materialistic world.
Addressing a meeting with participants in the 29th International Holy Quran Competitions in Tehran on Sunday, the leader said the Iranian nation should be thankful to God for its love for the holy Quran, and said, "The Iranian nation is proud that it has hoisted the flag of the rule of Quran and Islam in a materialistic world and shines this flag each day with its patience and resistance and with bearing difficulties."
The leader said the Iranian nation's continued vigilance, might, power and progress defused enemy plots and deception.
He said the glory and grandeur of the Iranian nation is indebted to the Quranic teachings, and added, "The Muslim nations learn from this radiant instance that if they have faith, believe in divine promises and persist in the path of Quran and Islam and refrain from trusting the enemy's smiles and tricks, they will come victorious over the most complicated military equipment and vast political, intelligence and economic plots of the enemies."
The Supreme Leader further noted the US and Zionists' plots and measures to confront the Islamic movement of the regional nations, and cautioned, "The blood-sucking enemies are standing against the spread and deepening of the nations' Islamic movements, but the nations' continued move on the path of Quran will make these plots fall flat."
Iran's capital city of Tehran hosted the 29th International Holy Quran Competitions with representatives from 65 countries in attendance.
The competitions started at Tehran's Milad Tower International Convention Center mid June.
Officials and reciters of Holy Quran from more than 65 Muslim and non-Muslim countries took part in the six-day event.
Hojjatoleslam Mohammadi Golpayegani, head of the Supreme Leader's office, Seyed Mohammad Hosseini, Minister of Culture and Islamic Guidance, and Iranian MPs and ambassadors were present at the opening ceremony of the event.
The jury of the contest had 14 members, 5 of whom were Iranian and the rest were from other countries.
http://english.farsnews.com/newstext.php?nn=9103083488
-------
Iranian commander warns Israel
ANI
Tehran:June 23, 2012, A deputy chief of staff of Iranian Armed Forces warned Israel against any military aggression on the Islamic republic, the semi-official Fars news agency reported on Saturday.
Israel lacks the courage and ability to harm Iran and in case it launches any attack on Iran, it will lead to an immediate end of Israel's existence, Major General Mostafa Izadi told Fars on Saturday.
The recent nuclear talks held in Moscow between Iran and the P5+ 1 - the five permanent members of the United Nations Security Council and Germany - ended last Tuesday without a deal.
Iran is under numerous Western pressures to halt its controversial nuclear program which the Islamic republic insists on its "peaceful" and "civilian" nature.
Western countries, including the United States and Israel, suspect the Iranian nuclear activities and claim that the Islamic republic is pushing its nuclear program for weapon-grade activities. The United States and Israel have not ruled out the possibility to attack Iran's nuclear facilities.
"The Islamic Revolution enjoys high capability, and if the Zionist regime wants to take an action against us, it will cause its imminent end," Izadi was quoted as saying.
In addition to military capabilities, the Islamic republic enjoys many other privileges which outrun the abilities and capabilities of Israel, said the commander.
"For instance, many islands that Iran has in the Persian Gulf have provided us with capabilities to make Iran the superior military force in the region," said Izadi according to the report.
http://zeenews.india.com/news/world/iranian-commander-warns-israel_783512.html
----------
50 Quran Education Centers Founded in Qom
Head of the Islamic Ideology Dissemination Department of Qom province said 50 Quran education centers for pre-school and elementary school students have been established by the department in the province.
(Ahlul Bayt News Agency) - Head of the Islamic Ideology Dissemination Department of Qom province said 50 Quran education centers for preschool and elementary school students have been established by the department in the province.
Speaking in a press conference on Saturday, June 23, about the Quranic activities of the department, Hojat-ol-Islam Abbas Eskandari added that permissions have been issued for establishing Quranic institutes.
He said in the past year, 12,000 individuals took Quranic courses held by the department in the fields of Tajweed and fluent reading.
Holding educational courses on themes like Ifaf and Hijab, Islamic schools of thought, Mahdism, life skills, etc, were among the other activities of the department, he went on to say.
http://abna.ir/data.asp?lang=3&id=324372
----------
Iran to strongly confront possible attacks: IRGC
English.news.cn
TEHRAN, June 24 (Xinhua) -- The commander of the Aerospace Division of Iran's Islamic Revolution Guards Corps (IRGC) said Sunday that the Islamic republic will strongly confront any possible assault against the country, the Press TV reported.
"The Islamic Republic of Iran has no interest in wars with other countries, but we will strongly confront the enemies' possible aggression and will give them a response that will make them regret the aggression," Brigadier General Amir-Ali Hajizadeh said in a meeting with foreign military attaches in Tehran on Sunday.
Threats, sanctions and pressures are "scenarios" adopted by the West against the Iranian nation over the past 33 years, he said, adding that "such pressures and threats have always resulted in opposite consequences and led to the enhancement of the country's preparedness and capabilities."
The Iranian commander said the bases of trans-regional powers in Iran's neighboring states were previously considered as threats to the country but now they are regarded as "opportunities," according to the report.
Hajizadeh stressed that all the West's plots against the Iranian people are doomed to fail and the Islamic republic is capable of turning all threats into opportunities.
A deputy chief of staff of Iran's armed forces warned Israel against any military aggression on the Islamic republic, the semi- official Fars news agency reported on Saturday.
Israel lacks the courage and ability to harm Iran and in case it launches any attack on Iran, it will lead to an immediate end of Israel's existence, Major General Mostafa Izadi told Fars on Saturday.
The recent nuclear talks held in Moscow between Iran and the P5+ 1 - the five permanent members of the United Nations Security Council plus Germany - ended last Tuesday without a deal.
Iran is under numerous Western pressures to halt its controversial nuclear program which the Islamic republic insists on its "peaceful" and "civilian" nature.
Western countries, including the United States and Israel, suspect the Iranian nuclear activities and claim that the Islamic republic is pushing its nuclear program for weapon-grade activities. The United States and Israel have not ruled out the possibility to attack Iran's nuclear facilities.
http://news.xinhuanet.com/english/world/2012-06/24/c_131673063.htm
---------
Turkey calls Nato meeting on warplane downed by Syria
24 June 2012
Syria said it engaged the aircraft in its airspace "according to the laws that govern such situations"
Turkey has called a meeting of Nato member states to discuss its response to the shooting down of one of its warplanes by Syrian forces on Friday.
Ankara has invoked Article 4 of Nato's charter, under which consultations can be requested when an ally feels their security is threatened, officials say.
Earlier, Turkey's foreign minister said the F-4 Phantom was in international airspace when it was shot down.
Syria has insisted the jet was engaged while it was inside its airspace.
It has also said no act of hostility was intended, noting that as soon as the military discovered the "unidentified" aircraft was Turkish its navy joined efforts to rescue the two crew members.
The Turkish foreign ministry said it knew the coordinates of the jet, which was in Syrian territorial waters at a depth of 1,300m (4,265ft), but has not yet found it.
The coast guard is still searching for the crew in the Mediterranean Sea, though hopes are fading of them being found alive.
Turkey's decision to call a Nato meeting to discuss the downing of one of its warplanes by Syrian air defences is a measure of the seriousness of the situation. But it also sends a signal that, for now, Ankara is looking for a concerted diplomatic response rather than taking military action of its own.
Article 4 of the North Atlantic Treaty allows for countries to consult together whenever "in the opinion of any of them, the territorial integrity, political independence or security of any of the parties is threatened".
Turkey might have sought such consultations at earlier stages in the Syrian crisis, prompted for example by the flood of refugees across its borders or shells fired by Syria landing on its territory.
Nato's deliberations will raise the pressure on the Syrian regime, but it is hard to see them having any practical effect in terms of convincing President Bashar al-Assad to relinquish power.
The government has also issued a diplomatic protest note to Syria.
'Training mission'
Nato spokeswoman Oana Lungescu said the North Atlantic Council, the principal political decision-making body within the military alliance, would meet in Brussels on Tuesday to discuss the incident.
"Turkey has requested consultations under Article 4 of Nato's founding Washington Treaty," she told Reuters.
"Under article 4, any ally can request consultations whenever, in the opinion of any of them, their territorial integrity, political independence or security is threatened."
Turkey wants to be sure of the strongest backing once it decides its official response, reports the BBC's Jonathan Head in Istanbul.
The government has promised that it will be strong, decisive and legitimate, and that it will share all the information it has with the public.
Earlier, Foreign Minister Ahmet Davutoglu became the first senior Turkish official to challenge Syria's account of the downing of the jet.
After lengthy meetings with military chiefs, he told TRT state television that the unarmed jet had "momentarily" entered Syrian airspace by mistake on Friday but had left when it was shot down 15 minutes later.
"According to our conclusions, our plane was shot down in international airspace, 13 nautical miles (24km) from Syria," he said.
Foreign Minister Ahmet Davutoglu said the aircraft was unarmed, and on a routine training mission
According to international law, a country's airspace extends 12 nautical miles (22.2km) from its coastline, corresponding with its territorial waters.
Mr Davutoglu also insisted that the jet had not been on a "covert mission related to Syria" but had instead been carrying out a training flight to test Turkey's radar capabilities.
He said the plane had not "shown any hostility", been clearly marked as Turkish, and that he did not agree with the Syrian military's statement that it had not known to whom it belonged.
UK Foreign Secretary William Hague said the Syrian military's actions were "outrageous" and underlined "how far beyond accepted behaviour the Syrian regime has put itself".
It will be held to account for its behaviour. The UK stands ready to pursue robust action at the United Nations Security Council," he said.
'Unidentified target'
The Turkish military said it lost radio contact with the F-4 Phantom at 11:58 (08:58 GMT) on Friday while it was flying over Hatay province, about 90 minutes after it took off from Erhac airbase in the province of Malatya, to the north-west.
Later, the Syrian military said an "unidentified air target" had penetrated Syrian airspace from the west at 11:40 local time (08:40 GMT), travelling at very low altitude and at high speed.
It said that in line with the laws prevailing in such cases, Syrian air defences engaged the craft, and scored a direct hit about 1km (0.5 nautical miles) from its coastline.
It burst into flames, and crashed into the sea at a point 10km (5 nautical miles) from the village of Om al-Tuyour, off the coast of Latakia province, well within Syrian territorial waters, the statement added.
Relations between Nato-member Turkey and Syria, once close allies, have deteriorated sharply since the uprising against Syrian President Bashar al-Assad began in March 2011. More than 30,000 Syrian refugees have fled the violence across the border into Turkey.
http://www.bbc.co.uk/news/world-middle-east-18568207
----------
North America
US eyes return to some Southeast Asian military bases
NEWS DESK, 24 06 12
As the Obama administration revamps its Asian strategy in response to a rising China, the US military is eyeing a return to some familiar bases from its last conflict in the region, the Vietnam War.
In recent weeks, the Pentagon has intensified discussions with Thailand about creating a regional disaster-relief hub at an American-built airfield that housed B-52 bombers during the 1960s and 1970s.
US officials said they were also interested in more naval visits to Thai ports and joint surveillance flights to monitor trade routes and military movements, Washington Post reported. The Pentagon is also seeking greater accommodations in the Philippines, including at the Subic Bay naval base and the former Clark Air Base, once the largest US military installations in Asia as well as key repair and supply hubs during the Vietnam War.
The US military either abandoned or was evicted from its Southeast Asian bases decades ago. Amid concerns about China's growing military power and its claims to disputed territories, however, Thailand, Vietnam and the Philippines have cautiously put out the welcome mat for the Americans again. In response, Pentagon leaders have flocked to the region to speed up negotiations and fortify relations. The rapprochements so far have focused on limited steps, such as port visits and joint exercises, but the administration hopes they will lead to a more extensive and persistent US military presence. "Symbolically, those places are really attached to a very recent history," said a senior US defense official, speaking on condition of anonymity.
"Part of moving forward with a lot of these nations is making amends with those symbols." US officials said they had no desire to re-occupy any of the massive Southeast Asian bases from last century. Nor do they have the money to create new ones. So they're looking for permission to operate from the old installations as guests, mostly on a temporary basis.
"I don't carry around a backpack with American flags and run around the world planting them," Army Gen Martin E Dempsey, chairman of the Joint Chiefs of Staff, told reporters after returning from a visit this month to Thailand, the Philippines and Singapore. "We want to be out there partnered with nations and have a rotational presence that would allow us to build up common capabilities for common interests." The US armed forces have been allowed, to varying degrees, to visit or conduct training exercises at its old bases for several years. But talks about expanding access have taken on a new urgency since January, when President Obama announced that the US was making a strategic "pivot" to Asia after a decade in which it was preoccupied with wars in Iraq and Afghanistan.
The administration has denied that its resurgent interest is designed to contain China, which has alarmed many neighbors by making expansive territorial claims in the resource-rich South China and East China seas. US officials said their primary goal in Asia was to maintain stability by ensuring freedom of navigation and free trade with the world's fastest-growing economies, including China. But analysts said the US strategic pivot and fresh basing arrangements were necessary to reassure allies that Washington will maintain its Asian security commitments and remain an effective counterweight to China, despite looming defense cutbacks at home.
http://www.pakistantoday.com.pk/2012/06/24/news/national/us-eyes-return-to-some-southeast-asian-military-bases/
--------
Panetta Warns Pakistan Needs to Stop Focusing on 'Past Differences'
by Jason Ditz, June 22, 2012
In an interview with Reuters, Secretary of Defense Leon Panetta said that the US could never apologize to Pakistan for the November 26 attack on Pakistani military bases, which killed 24 soldiers.
"We've made clear what our position is, and I think it's time to move on," Panetta added, saying that Pakistan was focusing too much "on past differences" and that "the time now is to move forward with this relationship."
Panetta went on to demand that Pakistan reopen the supply routes to NATO-occupied Afghanistan, which Pakistan closed in retaliation for the attack. Panetta had recently told Congress the closure was costing the US an additional $100 million a month to supply the occupation.
The US and Pakistan had been negotiating on the reopening of the route, with Pakistan initially demanding an end to US drone strikes, then an increased fee and an apology for the attack. Panetta had condemned the increased fee as "price gouging" and the US has escalated the drone war since then. Talks, needless to say, have stalled.
http://news.antiwar.com/2012/06/22/panetta-us-will-never-apologize-to-pakistan-for-attack/
---------
Europe
Germany concerned over human rights in Bangladesh
Dhaka, June 23 (IANS) Germany Saturday expressed concern over killings and the human rights violations in Bangladesh, and urged all political actors to work together to strengthen democracy and rule of law in the South Asian country.
"We are concerned about the recent killings of activists, and expect investigation into the incidents and that the perpetrators will be brought to justice," visiting German Foreign Minister Guido Westerwelle was quoted as saying by the Daily Star.
Westerwelle arrived here Saturday on a two-day visit.
At a joint press conference after a meeting with Bangladeshi Foreign Minister Dipu Moni, the German minister stressed on the need for holding a free and fair election, active role of the civil society, freedom of expression and free press to strengthen democracy in Bangladesh.
"Free and fair elections, freedom of expression are essential elements of democracy. So we urge all political actors to work together for strengthening democracy, human rights and rule of law," Westerwelle said.
He said he was highly impressed by the civil society in Bangladesh.
The German foreign minister said his country has so far provided two billion euros ($2.5 billion) as development assistance to Bangladesh.
Germany is also the biggest trading partner of Bangladesh in Europe. Bangladesh's exports to Germany stand at three billion euros a year, he said.
Germany has also provided Bangladesh with 60 million euros as soft loan for power projects.
Westerwelle is expected to call on Prime Minister Sheikh Hasina, meet representatives of the civil society and attend a meeting of the Bangladesh-Germany Chamber of Commerce and Industry.
http://www.newstrackindia.com/newsdetails/2012/06/23/331--Germany-concerned-over-human-rights-in-Bangladesh-.html
----------
European Islamic group praises Holocaust-denier
By BENJAMIN WEINTHAL JERUSALEM POST CORRESPONDENT06/24/2012
BERLIN – The Brussels-based Federation of Islamic Organizations in Europe (FIOE) issued a statement mourning the death on June 13 of French Holocaust-denier Roger Garaudy, prompting fierce criticism on Saturday from the Simon Wiesenthal Center's office in Paris.
According to the president of the Islamic organization, the "FIOE received with great sorrow the news of the death of the French thinker Roger Garaudy, known to the world as a distinguished philosopher with a life of diverse contributions and interactions across the world."
The FIOE statement, which was posted on the group's website, added that Garaudy was a "great thinker" and "whether people agree or disagree with pioneering thinkers, they cannot in any way ignore the vibrant ideological and human life of a thinker, who spent close to a whole century of our lifetime, with a keen concern for achieving understanding between nations, and interaction between civilizations."
Garaudy, a communist who converted to Islam in 1982, advocated a radical anti-Zionist policy and authored The Founding Myths of Modern Israel, which denied the Holocaust. He argued that Jews who were deported to extermination camps under the Third Reich were not intentionally murdered.
In 1998, a French court convicted him of racial incitement and he was given a suspended sentence for his denial of the Holocaust.
Dr. Shimon Samuels, head of the international division of the Simon Wiesenthal Center, told The Jerusalem Post via telephone from Russia on Saturday about the FIOE, "If one is by judged by the friends one has, this Muslim organization tarnishes Islam. The group has endorsed a Holocaust-denier, a racist, and the FIOE is complicit in his views and glorifies his views."
Samuels added that the FIOE's praise of Garaudy brings into question "whether this group is representing Islam itself.
"What does it say about Islam if they adopt him as a hero," Samuels asked. "Can you imagine the Rabbinical Council of Europe glamorizing [Norwegian mass murderer Anders Behring] Brevik in view of his hostility toward Muslims? We call on Muslim leaders to condemn the FOIE for this travesty?" Samuels said the FIOE was affiliated with Muslim Brotherhood and had its headquarters in London.
Agence France-Press noted that Garaudy won then-Libyan leader Muammar Gaddafi's human rights prize in 2002.
And according to AFP, "The head of Lebanese Shi'ite movement Hezbollah, Hassan Nasrallah, in 2006 cited his treatment as an example of the West's 'hypocrisy and duplicity.'" Garaudy also said that the 9/11 attacks were organized by the US government.
He died in the Paris suburb of Chennevieres at the age of 98.
http://www.jpost.com/International/Article.aspx?id=274966
-----------
Central Asia
Pakistani books exhibition get underway in Dushanbe
DUSHANBE, June 23 (APP): A week long book exhibition of Pakistani books was held at the Library of Academy of Sciences, Dushanbe on Friday on the occasion of 19th anniversary of establishment of diplomatic relations between Pakistan and Tajikistan. The exhibition was organized jointly by Pakistan-Tajikistan Friendship Society, Pakistan Study Centre at Tajik National University and the Embassy of Pakistan in Dushanbe.
http://app.com.pk/en_/index.php?option=com_content&task=view&id=199727&Itemid=2
----------
Southeast Asia
Islamophobia and the fear of 'the other' in Myanmar
BY IMO ADMIN JUNE 12' 2012
Chiang Mai, Thailand: The mob that set upon and killed a group of Muslims riding a bus through western Myanmar on June 3 displayed a depravity normally the hallmark of the country's military. News reports that emerged in the wake of the incident, allegedly in response to the gang rape and murder of a Buddhist girl by three Muslim men days before, described the ten victims of a frenzied beating being urinated upon before the bus was set ablaze.
Comments that circulated the internet in the wake of the massacre were almost as shocking. "Killing Kalars is good!" one person said, using the pejorative slur that has become a popular and casual way of referring to Muslims of South Asian decent (one that state media also regularly employs). It mattered little that the men accused of the rape had already been arrested.
"Medicins San Frontieres describes [the Rohingya] as being among the world minority groups 'most in danger of extinction'."
The attack was a rare incident; the reactions suggest however that heightened levels of resentment towards the presence of Muslims in Myanmar society exist on a much wider scale. This animosity is shared by senior figures in the government - current representative to the UN, Ye Myint Aung, once described the Rohingya, a Muslim minority in Arakan state who are singled out for particularly savage treatment, as "ugly as ogres", while since 1982 the government has denied them citizenship, claiming they are "illegal Bengali immigrants". Persecution of the group has been so protracted and debased that Medicins San Frontieres describes them as being among the world minority groups "most in danger of extinction".
While Myanmar's myriad ethnic groups have all suffered egregious treatment at the hands of the military government, which has sought to bring the country "under one flag", the fear of Muslims is a particular one. On the website of The Voice journal, which issued an apology after being bombarded with threats following its coverage of the massacre, one visitor wrote: "We should either kill all the Kalars in Burma or banish them otherwise Buddhism will cease to exist".
The 'other'
Treatment of Muslims as the 'other' persists despite the country's push to embrace the outside world and everything it offers. There is something of a contradiction then in the population's desire to become global players, which will see it interacting far more with non-Myanmar, non-Buddhist ethnicities. In Arakan state, where tension between Buddhists and Muslims often spills over into violence, hypocrisy is also evident in attempts by Arakanese to goad public opinion against the Rohingya in the name of "nationalism". These are the same Arakanese who, ironically, regularly accuse the government of attempting to aggressively assimilate Arakanese into the Burman way of life.
"A Rohingya couple must apply well in advance before attempting to wed; the frequent denial by authorities, as well as a strict two-child policy... has led rights groups to accuse the government of attempting to slowly wipe out the population."
Such is the treatment of Rohingya that up to 300,000 now reside in Bangladesh, which in turn sees them as illegal immigrants from Myanmar and denies them citizenship. They are the epitome of stateless, and spend their lives in unofficial camps where conditions are notoriously poor (only 28,000 are registered by the UN). Their disaffection has made them ripe for Islamic militant groups and human traffickers. Many attempt the perilous sea journey from Bangladesh to Malaysia and beyond to find work - in December last year, a boatload of more than 60 who ran into trouble off the coast of southern Myanmar were detained by Myanmar police, ironically on immigration charges.
Accusations that the government has sought to dilute, or "Burmanise", Myanmar's 135 distinct ethnic groups have existed for decades, and factor in the apparently institutional practice of rape of ethnic women by Myanmar troops, as well as the forced learning of the Myanmar language in ethnic schools.
In Northern Arakan state, where the majority of Rohingya reside, and where foreigners are barred from entering, the practice is effectively official: government policy stipulates that Rohingya babies born out of wedlock be placed on blacklists that bar them from attending school and later marrying. A Rohingya couple must apply well in advance before attempting to wed; the frequent denial by authorities, as well as a strict two-child policy reserved only for Rohingya, has led rights groups to accuse the government of attempting to slowly wipe out the population.
Racism or religious discrimination?
Naypyidaw uses the premise of "illegal migration management" and "control on population growth" to justify the persecution of this group. The "immigrant" label however does not match with evidence that modern-era Muslim political participation in Arakan state goes back to the 1930s, while the Arakanese city of Mrauk U, in its zenith in the 17th century a key trading hub in Asia, was ruled by Muslim sultans.
Nor is this a consistent measure, given the millions of Chinese that have migrated to Myanmar in recent decades to become powerful players in the economy. Is there an issue then with the often darker skin of Muslim groups in Myanmar, or that their religion conflicts with Buddhism?
Few seem to know, but one major cause for concern is that this hostility exists across the entire spectrum of Myanmar politics. The post-colonial civilian government of U Nu in the early 1950s expelled the Burma Muslim Congress and made Buddhism the state religion; then came Myanmar's first dictator, Ne Win, who used anti-Muslim propaganda to powerful effect during the mass expulsion of Indians in the 1960s. He branded the tens of thousands brought in for work by the British as colonial stooges, and exploited the subsequent anti-Islam sentiment to ban all Muslims from the army. The same key issue that fuelled the infamous anti-Chinese riots of the late 1960s and 1970s - that Myanmar were aggrieved at jobs going to foreigners - had also driven the anti-Indian and anti-Muslim riots in 1930 and 1938.
Ne Win's propaganda may have had a lingering effect, given the marked levels of resentment and suspicion of Muslims that remain, particularly in the west of the country. Nicholas Farrelly, a Southeast Asia specialist at the Australia National University, thinks however that this is consistent with the attitudes that many Buddhists elsewhere in the region have towards Muslims: "In general, they find their habits foreign, their lack of integration exasperating, and their proselytising unwelcome. When we compare them to other groups, Myanmar's Muslims enjoy none of the educational or international prestige that is widely associated with the country's Christian minorities. While Kachin and Karen Christians have suffered atrocious treatment I think there is at least some mainstream Myanmar Buddhist respect for their cultures and religion. Such respect is rarely accorded to Muslims."
"Myanmar's Muslims enjoy none of the educational or international prestige that is widely associated with the country's Christian minorities."
An 'open', but racist, Myanmar?
In an era of cautious opening, the continued inability of Myanma to debate the subject rationally is worrying. The opposition National League for Democracy, viewed by the outside world as the driving force for change in Myanmar, itself tiptoes around the subject - one party official told the BBC earlier this year that "even in our organisation the Rohingya question has not been settled". Ko Ko Gyi, a prominent pro-democracy activist, said last week that the Rohingya "are not a Myanmar ethnic race... It has become a national concern infringing on our sovereignty". Does he also think that Thailand, for example, should hold the same attitude towards the hundreds of thousands of refugees from Burma living on its soil?
Myanmar declares state of emergency in west
Aung San Suu Kyi, who has been criticised for failing to properly address the wider "ethnic issue" in Myanmar, urged the Buddhist majority to "have sympathy for minorities" in the wake of the June 3 killings, but refuses to weigh in heavily on the debate. She justified this tentativeness by saying that her party "must cautiously avoid amplifying the situation" - that may be true, but what could also be at stake is the risk of losing support from Arakan state's Buddhist population.
Even among the revered monastic community, often seen as staunch defenders of equality in Myanmar, there has been controversy. The Democratic Voice of Burma reported on a statement released by influential monk and former political prisoner, Ashin Virathu, that said: "I see that Muslims make up a larger percentage of the perpetrators in rape and murder cases". It was "reasonable", he continued, that the "[rape] victim's side see this as an insult to their people and [Buddhist] religion".
Now, despite the government announcing an investigation into the killings, race riots have erupted in western Myanmar and President Thein Sein on Sunday announced a state of emergency. At least eight people have been killed, some allegedly by government troops who opened fire on crowds.
Below the surface
The marked difference between now and past periods of heightened racial tension however is that there has been no major influx of Muslims in recent years - perhaps this points to a tension within Myanmar society that has simmered for years, unaddressed and awaiting a trigger.
"A census is due to take place in 2014 - the first time in 25 years - but at present around 800,000 Rohingya are unlikely to be included."
One hopes this grisly period will bring about some thorough and measured questioning of the catalysts behind the massacre and resultant crisis, but the often inflammatory nature of these discussions induces avoidance. Few therefore acknowledge that xenophobia and fear of "the other" exists in Myanmar, meaning it goes unchallenged.
A census is due to take place in 2014 - the first in 25 years - but at present around 800,000 Rohingya are unlikely to be included. Such discriminatory policies are a major blight on Myanmar's revamped international image, but are largely obscured by the taboo that surrounds exposure of it - observers are loath to broach the subject, given the ramifications that accompany accusations of racism.
But evidence of an ingrained hostility among civilians is there, and it needs to be recognised. The massacre is not the first such sign - a BBC report last year that carried a map depicting Arakan state as the home of the Rohingya sparked an alarming uproar, and online forums again became hubs of bitter discussions, including calls for a nationwide boycott of the BBC and demonstrations outside the British embassy in Yangon.
If Myanmar is to truly join the global community, the floor must be opened to debate. There must be acknowledgement that a malaise exists among the very Myanma that for decades have felt the pain of antipathy and isolation. Taking a sensitive but head-on approach to the problem, rather than the pussyfooting demonstrated even by powerful figures in the pro-democracy movement, would be the first step.
[Francis Wade is a freelance journalist and analyst covering Myanmar and Southeast Asia.]
http://www.indianmuslimobserver.com/2012/06/islamophobia-and-fear-of-other-in.html
----------
East Asia
Pak's change of guard worries China
Saibal Dasgupta, TNN
BEIJING: Jun 24, 2012, The Pakistan Peoples Party's (PPP) choice of Raja Pervez Ashraf as the candidate to replace the disqualified PM Yusaf Raza Gilani is that of a stranger to China, the country Pakistan refers to as its all-weather friend.
Raja Ashraf in his maiden speech to parliament on Friday used the standard hyperbole that Pakistani politicians reserve for China. "Pakistan's friendship with China is higher than mountains and China has helped us in every hour of need and we would further enhance it," he said.
However, the Chinese leaders though have strong reasons to worry about the changed circumstances in Islamabad. Ashraf is almost an unknown commodity to Beijing and he would be the first Pakistani PM since the Nawaz Sharif regime in the 1990s to be in that unchartered area with respect to China.
Ashraf has not visited Beijing in the past several years. This is significant because Pakistani politicians including President Asif Ali Zardari and former PM Yusaf Raza Gilani have been visiting China several times a year and developing their relationship with the Chinese government and the Communist Party's different agencies.
Gilani's departure is a huge loss for China because it has invested heavily in developing a close relationship with him and with Zardari. Beijing is said to be seriously-worried because Zardari's future remains in doubt.
The changing situation will be closely-watched in New Delhi because China banks on its relationship with Pakistani leaders to work out strategies concerning its relationship with India. Pakistani is known to get encouragement from China to continuously to harp on the Kashmir issue to keep India under pressure. The Zardari-Gilani tenure has seen Pakistan coming closer to China and drifting away from the US.
http://timesofindia.indiatimes.com/world/china/Paks-change-of-guard-worries-China/articleshow/14366193.cms
----------
URL: http://newageislam.com/islamic-world-news/new-age-islam-news-bureau/pakistan-kids-taught-a-for-allah,-b-for-bandook-(gun)/d/7724