• Kasuri should table document supporting statement over Kashmir resolution: JUI-F chief
Enough is enough. The hooliganism of the Punjab chapter of the Islami Jamiat Tulaba needs to be checked forthwith and immediate efforts are required to rein in the elements inclined towards violence that call the shots in that student organisation.
Friday's incident at Punjab University, which saw IJT activists thrashing security personnel, cannot be viewed in isolation. In April, IJT students attacked a professor, Iftikhar Baloch, but the principal accused managed to evade arrest, possibly on account of his political connections. Almost at will, IJT members disrupt any function at Punjab University that features music and intimidate people who choose to mingle with the opposite sex. They are dominating the campus with their obscurantist views and the administration looks the other way more often than not. Why is that? Are they scared of the Jamiat? Or could it be that the Zia era and the rule of the Sharifs saw the induction of faculty and non-teaching staff that shares the bigoted views of the IJT?
Campuses in Sindh, Balochistan and Khyber Pakhtunkhwa, isolated incidents notwithstanding, are not held hostage in this way. For all their faults, student organisations there somehow manage to counterbalance the influence of people opposed to progressive thought. In Punjab, however, the IJT does what it deems fit in any given situation and usually gets away with it. It would be unfair to say that the free rein enjoyed by the IJT in Lahore and elsewhere in the province is indicative of a Punjabi mindset. What is more likely is that the political elite of the Punjab endorses the same 'conservative' views espoused by the IJT. The student wings of the various incarnations of the Muslim League seem to be no match for the IJT, but that raises yet another question. Do they share a common cause or is the muscle of the IJT, built up over the decades with the patronage of the politically insecure, simply too intimidating to confront? The Punjab government needs to step in here and stem the rot. Otherwise it will be seen as a party to a cause that no right-thinking person can support.
http://www.dawn.com/wps/wcm/connect/dawn-content-library/dawn/the-newspaper/editorial/19-jamiats-hooliganism-250-hh-08
-------
Somalia: Mogadishu mosque blasts kill 39
By ABDI GULED
May 2, 2010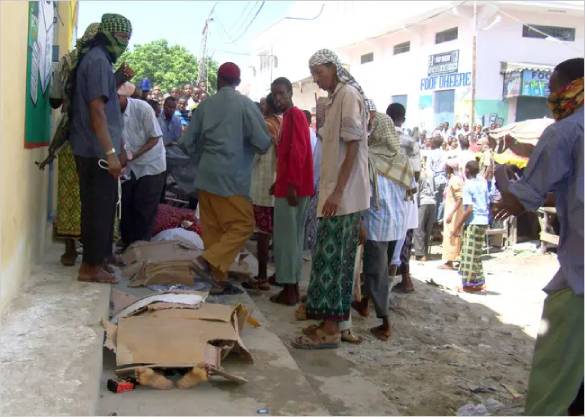 Bombs Hit Mosque in Somalia's Capital, Killing Dozens - The New York Times
----------
MOGADISHU: Two explosions at a mosque in Somalia's capital Mogadishu on Saturday killed 39 worshippers, wounded scores more and hurt a senior member of the Al-Qaeda-linked Al-Shabaab rebels.
It was the second attack this week on a mosque in Bakara Market, an area of Mogadishu dominated by members of the country's two main rebel groups, Al-Shabaab and Hizbul Islam.
Saturday's attack was at the Abdalla Shideye Mosque, which is used by Al-Shabaab officials to deliver speeches. Most of the dead were said to be members, officials and commanders of the hard-line rebel group.
Relatives bent over dead bodies in a corner of the mosque below walls pockmarked by shrapnel. Outside, sheets of cardboard covered other victims and the wounded were pushed on wooden wheelbarrows to awaiting ambulances.
Some witnesses said a senior leader of Al-Shabaab, Fuad Mohamed Khalaf, was the target. Khalaf, also known as Fuad Shongole, is on a list of people in Somalia subject to UN sanctions because of their involvement in the conflict.
"Thirty-two people died and more than 70 were wounded in the attack," Sheikh Mohamed Ibrahim Bilaal, a senior Al-Shabaab member, said. "Sheikh Fuad suffered wounds on the hands. The rescue workers are still taking people to hospitals."
Nurses at Daynile Hospital said seven of the badly wounded subsequently died, taking the death toll to 39.
According to the UN Security Council, Khalaf, who also has Swedish nationality, has raised funds for Al-Shabaab and was involved in two car bomb attacks in the capital in April 2008.
The mosque hit on Saturday is near the Abu Hureya Mosque where a land mine killed one person on Tuesday.
The mosque attacks are a new phenomenon in the Horn of Africa nation that has been plagued by violence and anarchy since a dictator was ousted in 1991. It was not clear who was behind the latest blasts. Residents suspected they could be the result of infighting between the insurgent groups, both of which are trying to topple the Western-backed government.
Information Minister Dahir Mohamud Gelle denied any government involvement, telling Reuters it would not attack the rebels where many other people were gathered.
Al-Shabaab has been fighting the Western-backed government of Somalia since the start of 2007. It now controls much of southern and central Somalia and has hemmed the government into a few blocks of the capital.
Hizbul Islam is also fighting to topple President Sheikh Sharif Ahmed's administration. While the two groups have fought together against government troops in Mogadishu, they have clashed on numerous occasions in the south of the country. The government has been promising for months to launch an offensive against the rebels to regain control of Mogadishu.
Some residents said they feared the strikes were just the latest tactic copied by Somali insurgents from Iraq, where Sunni and Shiite insurgents often target each others' mosques.
Al-Shabaab has also used suicide bombers to devastating effect over the past two years, killing five government ministers and dozens of African Union peacekeeping troops.
http://arabnews.com/world/article49118.ece
-------
Pakistan wastes 1/3rd of Indus water it gets, admits Qureshi
May 2, 2010
ISLAMABAD: Pakistan, which has often accused India of stealing its share of Indus waters, has said the authorities within this country have a tendency to "pass the buck" and exaggerate differences with New Delhi on the issue.
The mismanagement in Pakistan is resulting in the loss of 34 million acre feet of water, foreign minister Shah Mahmood Qureshi has said. Qureshi made the remarks on Friday when asked whether Pakistan had taken up the issue of India trying to block the flow of rivers in Thimphu.
Pakistan had taken up the issue but Pakistani authorities have a "tendency to exaggerate" and "pass the buck" in this regard, Qureshi said.
The average supply of water that reaches Pakistan is 104 million acre feet while the water that is consumed is 70 million acre feet. "Where is the 34 million acre feet of water going? Is India stealing that water from you? No, it is not. Please do not fool yourselves. We are mismanaging that water," Qureshi said.
http://timesofindia.indiatimes.com/World/Pakistan/Pakistan-wastes-1/3rd-of-Indus-water-it-gets-admits-Qureshi/articleshow/5882058.cms
-------
India keen to engage 'empowered' Gilani
Siddharth Varadarajan
02 May, 2010
New Delhi: The recent empowerment of Pakistan Prime Minister Yusuf Raza Gilani and his favourable disposition towards peace were important factors in India's willingness to put the dialogue process back on track.
Providing the first detailed account of the meeting between Prime Minister Manmohan and Mr. Gilani in Thimphu on April 28, senior officials said the question of 'who India should talk to' had been answered by the 18th amendment to the Pakistani constitution which enhanced the authority of the Prime Minister.
But personal equations between the two principals also mattered. "They do manage to communicate well with one another," an official said. "There is a certain chemistry." Last year, when Dr. Singh was under fire following the Sharm el-Sheikh summit, Mr. Gilani batted for him by telling reporters that what the Prime Minister had said in Parliament about the controversial joint statement 'is what we agreed.' Dr. Singh had put an Indian spin on the terror-dialogue delinking issue but the Pakistan Prime Minister chose not to score points. "We remember that," an Indian official told The Hindu. "He seems to be favourably disposed towards peace."
Full report at:
http://www.hindu.com/2010/05/02/stories/2010050259810100.htm
-------
Kashmiris welcome Indo-Pak dialogue
Shujaat Bukhari
02 May, 2010
SRINAGAR: The recent meeting between Prime Minister Manmohan Singh and his Pakistani counterpart Yusuf Raza Gillani has been widely hailed by Kashmiris who say that this will a be movement forward in the process of resolving all issues, including Kashmir.
Both mainstream and separatist parties have termed the breakthrough in Thimphu positive.
Jammu and Kashmir Liberation Front chairman Mohammad Yaseen Malik welcomed the meeting.
"We want to impress upon the leadership of India and Pakistan that Jammu and Kashmir is not a border dispute between two countries but is the question of the life and freedom of over one crore Kashmiris," he said adding that the talks had been subservient to change of mood and relations between these countries.
Full report at:
http://www.hindu.com/2010/05/02/stories/2010050256670700.htm
-------
Suicide bomber in Pakistan's Swat kills 5: officials
By Junaid Khan
02 May, 2010
MINGORA, Pakistan (Reuters) – A suicide bomber killed five people in Pakistan's Swat Valley on Saturday, police said, fuelling fears of a Taliban comeback in the area a year after a major army offensive routed the group.
Pakistan says a series of security crackdowns that began in Swat hurt militants fighting to topple the government, which is under pressure from Washington to help stabilize Afghanistan.
Renewed violence in Swat over the last few weeks has raised concerns that militants are regrouping in the area while the army tries to consolidate gains in other parts of the northwest and return displaced people to their homes.
Saturday's attacker blew himself up in a hostel after being surrounded by government forces near Sohrab Khan market in the town of Mingora, 130 km (80 miles) northwest of the capital Islamabad, Swat police chief Qazi Ghulam Farooq told Reuters.
He said the bomber killed himself, three civilians and two militants who had been apprehended and lead government forces to the location. Another militant was shot dead by security forces in a raid at the site.
"The Taliban may be trying to come back. But there is no way we will allow it. We will catch them everywhere," Farooq said.
The Swat operation last year involved 30,000 troops backed by airstrikes. Some 4,000 Taliban had taken control of Swat.
The scenic valley has witnessed a spate of killings of tribal elders in the past few weeks. Security officials said they appeared to be aimed at frightening the local leadership, which is supporting the army's operations.
People have expressed fears the Taliban will return and impose their harsh version of Islamic rule -- including public floggings and destruction of girls' schools -- if the army leaves and entrusts the underfunded police force with security.
The military, Pakistan's most powerful institution, says offensives have destroyed Taliban bases, killed hundreds of fighters and driven many others from strongholds.
Those successes have eased fears that nuclear-armed Pakistan, vital ally for the United States, was sliding into chaos, but unabated bombings are still a concern.
Taliban militants often melt away during security crackdowns and retain the ability to stage suicide bombings and bomb attacks on security forces and civilians across the country.
A roadside bomb attack on a police van wounded a senior police official and five others, including three passers-by in a town in the southwestern Baluchistan province on Saturday.
Separatist militants have waged a low-key insurgency for decades in Baluchistan on the Afghan border to demand more political and economic rights, but Taliban militants have also been active in the region.
http://news.yahoo.com/s/nm/20100501/wl_nm/us_pakistan_violence
-------
Somali feminist tells of her 'complicated' affair
By JAMES TAPPER
2nd May 2010
The mistress of multi-millionaire historian and TV presenter Niall Ferguson has revealed that she intends to start a family with him.
Speaking for the first time about their affair, Ayaan Hirsi Ali revealed that she is 'enormously in love' with the 45-year-old Harvard professor and hopes to become a mother 'soon'.
Ms Hirsi Ali also confirmed that Mr Ferguson is now involved in divorce proceedings with his wife of 16 years, Susan Douglas, a former newspaper editor who is one of Tory leader David Cameron's closest friends and a leading light in the Conservative party.
Mr Ferguson left her for the Somali-born feminist – a former Dutch MP who is in hiding under police protection after criticising Islam. They live together in the United States under police protection.
They met at a party for Time magazine's '100 Most Influential People In The World' issue in New York in May, 2009.
The affair was revealed by The Mail on Sunday in February and since then the academic, who earns an estimated £5million a year for his books, TV programmes and role as a hedge-fund adviser, has lavished gifts on his lover, including spending £30,000 on her 40th birthday party in a five-star Manhattan hotel.
She spoke about their relationship for the first time in upmarket Dutch women's magazine Libelle.
'Recently I have found new love – Niall Ferguson,' she wrote. 'He is a British historian and TV presenter. It is a complicated love affair. I am enormously in love with him.
'It is the best feeling in the world. I would love to become a mum soon. I have turned 40 and I hope it is still possible for me to have a baby.
'But he is involved in divorce proceedings and there are children involved. We are also both travelling a lot for our jobs. We have to put in a lot of effort to make sure we see each other.
'I am happier than ever. I feel so much better in my life after all the things I have gone through. '
Ms Hirsi Ali fled the Netherlands in 2006 after writing the script for the controversial movie Submission, which criticised Islam.
The film's director, Theo van Gogh, was shot dead in a street in Amsterdam and a death threat against Ms Hirsi Ali was pinned to his chest.
She had claimed political asylum in Amsterdam after fleeing Somalia in 1992 and became a Dutch MP with a reputation for holding strident opinions.
Her attacks on Islam have caused a rift with her family,she said.
'My life has become very complicated since I turned my back on religion.
'My mum is begging me to return to Islam. She claims the Western world has stolen her daughter.'
Mr Ferguson is said to have cheated on his wife eight times during the past five years.
Ms Douglas is said to have been prepared to overlook his betrayals.
She was the editor of the Sunday Express and a senior executive at Vogue publishers Conde Nast before joining the PFD talent agency as a consultant.
In 2006 she suffered serious head injuries in a riding accident, and turned her attentions to her husband and their two sons, aged 14 and nine, and 13-year-old daughter.
Meanwhile Mr Ferguson was building his career as a historian, writing books such as The Ascent Of Money, which became a Channel 4 series, and Empire And Colossus, about the rise and fall of Britain and America as global powers.
He sits on the board of Right-wing think-tank the Centre for Policy Studies, and gives lectures to hedge-fund managers for up to £60,000 an hour.
http://www.dailymail.co.uk/news/article-1270275/Somali-feminist-fatwa-tells-time-complicated-affair-millionaire-TV-historian-Niall-Ferguson.html
Muslim headscarf sparks heated debate in Spain
By Sinikka Tarvainen
02 May, 2010
Madrid - If a woman is free to exhibit her body, why should she not be free to cover it?
The question is one among the many points that are being raised in Spain as the country debates the use of the Islamic headscarf (hijab) in schools.
The case of Najwa Malha, a 16-year-old Muslim girl who was expelled from school because she refused to take her headscarf off, sparked a heated debate.
The issue has been discussed in many other European countries, such as Spain's neighbouring France, which banned all religious symbols in schools. But it had largely eluded Spain so far.
There have been several cases like that of Malha, but the government allowed schools to decide individually how to handle them, without defining a nationwide policy on the hijab.
The issue has become increasingly pressing as Spain's Muslim population has grown rapidly over the past decade. The country now has 1.3 million Muslims. The vast majority of them are of Moroccan origin, like Malha's family.
About 60 per cent of schools in the Madrid region allow pupils to wear the hijab. Others - such as Malha's school in Pozuelo de Alarcon - ban all headgear, including the hijab and the baseball cap, which can act as an identifying sign for members of Latin American street gangs.
Malha's family on Monday announced she would leave her school, making it appear that she accepted an offer to place her in another school allowing headscarves, while the controversy raged on.
Her case has sparked shows of solidarity from her fellow Muslims. Several of her schoolmates briefly put on headscarves, while an internet support forum collected hundreds of signatures.
Muslim associations pledged to take the case to court, urged imams to defend the hijab in the upcoming Friday prayers, and secular intellectuals to help them prevent a politicization of the issue.
Several human rights or immigrants' rights groups also sided with Malha, with Amnesty International saying people had the right to wear religious symbols without being discriminated against.
'We are working for a moderate Islam, but cases like this favour radicals, who take advantage of them,' said Mohammed Ali of the Spanish Federation of Religious Islamic Units (FEERI).
Far-right groups also took advantage of the situation, placing anti-Islamic stickers on the gates of Malha's school.
Prime Minister Jose Luis Rodriguez Zapatero's government took a cautious stance on the issue, calling for tolerance and dialogue.
The conservative opposition was slightly more critical, with some of its representatives openly criticizing the hijab as symbolizing the subjugation of women, while others called for a law on the issue.
The government is preparing a legal reform to increase the rights of minority religions in predominantly Catholic Spain, but the law is not expected to deal with details such as the hijab.
Even if every school will be allowed to set its own rules for the time being, Spaniards are becoming more conscious of the complexity of the hijab issue as the country grapples to come into terms with its new multicultural identity.
About 200,000 of Spain's Muslims were born in the country, but many of them feel that prejudice against them prevents them from becoming fully integrated into the general culture.
Some Muslim women put on the hijab as a sign of rebellion against such a society. Some of them describe the headscarf as a feminist symbol freeing women from being viewed as sex objects.
Others - such as Malha - follow their religious conviction or a family tradition, while a few bend to pressure from their fathers or boyfriends.
Whatever the reasons for wearing the hijab, the woman who puts it on needs guts, as she exposes herself to constant stares and discrimination on the labour market.
If women are free to wear sexy clothes, why are they also not free to cover their bodies, many young Muslim women ask, while stressing that wearing the hijab should always be the woman's own decision.
If Spain bans the hijab, it should also prohibit Catholic nuns from covering their heads, remove crucifixes from public places and stop using the Catholic liturgy at state funerals, journalist and author Javier Valenzuela argued.
Those opposing the hijab, on the other hand, say European countries are over-sensitive about the rights of Muslims while Muslim countries often do not grant comparable rights to their Christian minorities.
'Many people think that Islam is against women, and that is not so,' concluded Fatima Elidrissi, the woman whose hijab first ignited the debate on headscarves in schools eight years ago.
'But many Muslim men think so too,' she added.
http://www.monstersandcritics.com/news/europe/features/article_1551058.php/Muslim-headscarf-sparks-heated-debate-in-Spain-News-Feature
-------
U.S. support allowed Muslim Brotherhood to expand
Davis Daycock
1/05/2010
MONTREAL-BORN Pulitzer Prize-winner Ian Johnson's new book is the stuff of high drama. It is also a meticulously researched work that demonstrates first-rate investigative journalism and historical inquiry.
Here is the story of how an obscure mosque and Islamic teaching centre in Germany came under the control of "the Muslim Brotherhood," an organization that promotes a modern political, and radical interpretation of Islam.
The Brotherhood is explicitly anti-secular, anti-Semitic and hostile to western involvement in the Muslim world.
It looks with favour on such militant organizations as Hamas and Hezbollah, and, as Johnson shows, the mosque in Munich was an important source of inspiration for some of the most desperate of the Islamic jihadist militants.
Full report at:
http://www.winnipegfreepress.com/entertainment/books/us-support-allowed-muslim-brotherhood-to-expand-92574489.html
---------
Hurdles to Headley access cleared
Dhananjay Mahapatra
May 2, 2010
NEW DELHI: US has agreed to provide Indian investigators "unqualified access" to 26/11 accused David Coleman Headley, who has pleaded guilty on 12 counts nine of which relate to the terror attack on Mumbai, in bargain for a promise that he would not be given death sentence or extradited to India.
Solicitor General Gopal Subramaniam told TOI about this development after what he described as an "overwhelmingly successful" trip to US where he met several officials and convinced them to allow investigators to question Headley in connection with the Mumbai attack and alleged conspiracies he had hatched during his several visits to India putting many places under terror threat.
Full report at:
http://timesofindia.indiatimes.com/NEWS/India/Hurdles-to-Headley-access-cleared/articleshow/5880911.cms
Lashkar intercept puts Delhi on alert
Diwakar & Vishwa Mohan
May 2, 2010
NEW DELHI: The security agencies in the Capital spent a sleepless Friday night after electronic surveillance intercepted a specific instruction from Pakistan-based Lashkar commanders to attack a crowded place in the city on Saturday.
The task was assigned to a Lashkar cell drawn from Kashmiri terrorists and the real-time threat led the Centre to put Delhi Police on a full scale alert. And even though the threat passed off, the intercept with its deadly intent has underlined the continued menace emanating from Lashkar.
Sources in the government said the intercept stood out because of the precise nature of the task. The assessment of Indian agencies about an impending attack was endorsed by western intelligence as well with US, UK and Australia renewing warnings to their nationals in India. In fact, US spoke clearly of an "imminent attack" by terrorists in Delhi.
While authorities here issued an alert on Friday evening, the US, UK and Australian missions issued advisories on Saturday morning, warning their citizens against terror threats lurking in market places like Connaught Place, Greater Kailash and Chandni Chowk and near government offices.
Full report at:
http://timesofindia.indiatimes.com/India/Lashkar-intercept-puts-Delhi-on-alert/articleshow/5881042.cms
-------
Capital put on high alert after intelligence reports
02 May, 2010
NEW DELHI: The Delhi police were put on high alert on Saturday after intelligence reports indicated possible terror strikes at public places, including busy markets and malls, here during the weekend. Nearly 10,000 additional personnel have been deployed across the city.
The security was intensified after an alert issued on Friday night by the Union Home Ministry and a travel advisory issued by the United States Embassy on Saturday stating there were increased indications of "imminent" terrorist attacks.
Official sources said both the U.S. and India were monitoring the different ends of the same intelligence chain. "We issued alerts last night [on Friday night] following electronic intercepts involving specific tasking to terrorists to do something today [Saturday]," an Indian official said. Following the same intelligence chain, the U.S. embassy here issued the advisory on Saturday.
Full report at:
http://www.hindu.com/2010/05/02/stories/2010050262521200.htm
-------
Brain behind Ajmer blast identified
02 May, 2010
JAIPUR: The Anti-Terrorism Squad of Rajasthan is working on the theory that there is a link between the group which carried out the bomb blast at Ajmer Dargah in October 2007 and the forces behind the Malegaon blast almost a year later as well as the explosions at the Makkah Masjid in Hyderabad. It has identified the contacts and after their recent arrests is in hot pursuit of the person who manufactured the bomb used in the blast at Ahat-e-Noor on the Dargah premises.
"The mastermind behind the Ajmer blast, the bomb maker, has been identified. He is yet to be arrested," said Rajasthan Home Minister Shanti Dhariwal talking to The Hindu here on Saturday.
Full report at:
http://www.hindu.com/2010/05/02/stories/2010050255750500.htm
-------
Musharraf eyes Pak President's slot again
Shafqat Ali
02 MAY 2010
Islamabad, May 1: While the Pakistan People's Party (PPP) led government is considering to try him for two-time Prime Minister Benazir Bhutto's assassination, former military ruler Pervez Musharraf has some other plans — to become President once more.
Sources close to the ousted dictator say that Mr Musharraf is hopeful of winning back the post he lost in 2008 to restart the "reforms" process.
"Pervez Musharraf thinks the PPP government has done nothing for the poor and if he is voted back to power, he will change the destiny of the nation," a close aide of the former military ruler told this newspaper. The aide, who met Mr Musharraf recently, said the ex-military ruler will come to Pakistan after registration of his party — the All Pakistan Muslim League.
Full report at:
http://www.asianage.com/index.php?option=com_content&view=article&id=10992:musharraf-eyes-pak-presidents-slot-again&catid=36:international&Itemid=61
-------
Hindutva terror again
02 May, 2010
THE most significant outcome of the arrests made in connection with the Ajmer blasts is that the near synonymous association of terrorism with Islam stands belied. Our immediate reaction to every terror attack in the country is to blame Pakistan- sponsored jihadi groups and the Ajmer blasts were no exception. The arrest of Devendra Gupta on Friday and his alleged links with Malegaon blast accused Sadhvi Pragya Singh have revealed the sinister network of Hindutva terror outfits such as Abhinav Bharat and Sanatan Sanstha. These outfits are said to be behind the low intensity blasts in Margao, Thane, Parbani, Nanded and Kanpur.
This is reason for us to move beyond labels such as ' Hindu' or ' Islamic' in our understanding of terrorism. Terrorism should instead be understood in terms of the acts perpetrated and means employed, rather than the religious motivations behind them.
Their ideology involves a politicisation of religion for the achievement of their devious but essentially political ends. The Ajmer blasts were solely aimed at terrorising Indian citizens, promoting communal violence and thereby affecting our security and freedoms.
Though they claim to be nationalist, they are as much a national enemy as Ajmal Kasab and need to be brought to justice.
Mail Today
-------
Kasuri should table document supporting statement over Kashmir resolution: JUI-F chief
May 2nd, 2010
Islamabad, May.2 (ANI): Rubbishing former foreign minister Khurshid Mahmood Kasuri's claims that the long pending Kashmir issue is near a solution during his reign, Jamiat Ulema-e-Islam (Fazal Group) (JUI-F) chief Maulana Fazlur Rehman has said Kasuri should table documents supporting his statement in parliament.
Interacting with media persons at Multan Airport, Rehman said if Kasuri has any evidence supporting his claim, he should come out with it.
He also denounced the Gilani government for taking dictations from the US, saying peace cannot be restored in the country unless Islamabad sever its ties with Washington and refuses to accept its dominance.
Full report at:
http://www.thaindian.com/newsportal/south-asia/kasuri-should-table-document-supporting-statement-over-kashmir-resolution-jui-f-chief_100357255.html
Baghdad cafe waitresses break down barriers in Iraq
By Aseel Kami
02 May, 2010
BAGHDAD (Reuters) - Hind al-Bidairi's dream of owning a cafe with an all-female waiting staff haunted her for years while Iraq was gripped by sectarian violence.
Islamic fundamentalists would most likely have slaughtered her and her employees had she dared.
But now, as Iraq struggles free from widespread bloodshed and the Islamist militia and insurgents who once sowed terror by killing women they considered inappropriately dressed have retreated to the shadows, her dream has come true.
"I stand behind every woman trying to change the pattern of our society, to show that women are strong and have the right to get involved in all kinds of business," Bidairi said.
Full report at:
http://in.reuters.com/article/entertainmentNews/idINIndia-48160420100502
-------
Obama orders deployment of US drones to target Yemeni terrorist
02 May, 2010
Washington: Armed US drones have been deployed to target radical Muslim cleric Anwar al-Awlaki,one of the world''s most wanted Islamist terrorists, following reports that he was involved in last week''s failed suicide bomb attack against Britain''s ambassador to Yemen.
A Sunday Telegraph said US President Barack Obama has authorised al-Awlaki''s assassination after he was also linked to last year''s Fort Hood massacre and the attempt in December to blow up a Detroit-bound jet by a man wearing explosives in his underpants.
Senior US intelligence officials say they have stepped up their efforts to target al-Awlaki following new evidence that the American-born cleric is taking an increasingly operational role in the operation of al-Qaeda in the Arabian Peninsula, the terror group held responsible for the failed suicide bomb attack against Tim Torlot, 52, the UK envoy to Yemen.
Torlot was unhurt in the attack, which left the bomber dead and three others injured, and was said to be recovering from the experience at the ambassador''s official residence.
Al-Awlaki, who is regarded as one of al-Qaeda''s most inspirational preachers and whose sermons regularly appear on radical Islamist websites, came to prominence last year after it emerged he had communicated extensively by e-mail with Major Nidal Hassan, the army psychiatrist accused of killing 13 soldiers at Fort Hood, Texas.
http://www.duniyalive.com/?p=120877
-------
Madhuri Gupta picked up packet for Pakistani handler in Jammu
May 2, 2010,
JAMMU: Madhuri Gupta, the Indian diplomat arrested on charges of spying for Pakistan's ISI, had picked up a packet for her Pakistani handler during her visit to Jammu on March 30, intelligence sources here say.
Gupta, who was sent to 14-day judicial remand by a Delhi court on Saturday, had picked up the packet in Raghunath Bazar area of Jammu city, the sources said.
However, who handed over the packet to her could not be ascertained, the sources added.
Gupta, a second secretary at the Indian High Commission in Islamabad, had hired a local driver while doing shopping in Jammu city. She had travelled across the border in her official car with the diplomatic number plate of the Indian High Commission to the home of a doctor couple in Sunderbani, 120 km north of Jammu.
Full report at:
http://timesofindia.indiatimes.com/articleshow/5883035.cms?prtpage=1
-------
'Gurdaspur terrorists were planning 26/11-like strike in Punjab'
May 2, 2010
GURDASPUR: Security agencies probing a shootout with two trained intruders from Pakistan in Punjab's border district of Gurdaspur last month say the terrorists had come prepared for a major strike, probably like the 26/11 terror attack in Mumbai.
Security agencies say there is a similarity between the terrorists killed and those who carried out the Nov 26-29, 2008, Mumbai carnage in which 166 people were killed.
The two Pakistani intruders, killed in Gurdaspur district's border belt in the Bhamial sector April 24, had on them US manufactured equipment, used by the US security forces in Afghanistan, Iraq and other places.
Security agencies recovered from the killed fidayeen two AK-47 assault rifles, ammunition, a US-made military compass, two pistols, grenades and military jackets to carry things.
The seized pistols, believed to be from the Pakistan Army with a star marking, had its embossed manufacture origin tampered with.
Besides the weapons, the Pakistan link is hard to ignore.
Full report at:
http://timesofindia.indiatimes.com/India/Gurdaspur-terrorists-were-planning-26/11-like-strike-in-Punjab/articleshow/5883433.cms
-------
Four Indians convicted in Bangladesh were militants: Police
May 2, 2010
SHILLONG: Four Indians convicted of arms smuggling and imprisoned for 17 years in Bangladesh last week are members of the Hynniewtrep National Liberation Council (HNLC), a militant outfit in Meghalaya, a senior police official said on Sunday.
"Sketchy reports from various networks confirmed that the four convicted Indians in Bangladesh are members of the outlawed HNLC," said Additional Director General of Police (Special Branch) S K Jain.
The HNLC, a Khasi separatist outfit that carries out hit-and-run operations from its hideouts in Bangladesh, has been demanding a sovereign Hynniewtrep homeland in Eastern Meghalaya.
Full report at:
http://timesofindia.indiatimes.com/India/Four-Indians-convicted-in-Bangladesh-were-militants-Police/articleshow/5882916.cms
-------
Arab League backs resumption of Mideast peace talks
02 May, 2010
CAIRO: The Arab League on Saturday said it backed indirect peace talks between the Palestinians and Israelis, despite what it called a lack of Israeli conviction in the process.
Top Palestinian negotiator Saeb Erekat told a Cairo news conference that a final decision to resume indirect talks with Israel would be taken by the Palestine Liberation Organization's executive committee.
The Arab League decision to endorse so-called proximity talks was taken by a committee of foreign ministers after "guarantees" by US President Barack Obama in a letter to Palestinian President Mahmoud Abbas.
"Despite the lack of conviction of the Israeli side in achieving peace, the committee affirms what was agreed on the 2nd of March 2010 in regards to the time period for the indirect negotiations," a statement by the 22-member League said.
Full report at:
http://arabnews.com/middleeast/article49130.ece
-------
People misunderstood my views, says Haia official
By BADEA ABU AL-NAJA
May 2, 2010
MAKKAH: Sheikh Ahmed Al-Ghamdi, director of the Commission for the Promotion of Virtue and the Prevention of Vice (Haia) in the Makkah Province, said many people had misunderstood his views on the mingling of sexes and congregational prayer (Salat Al-Jamaa), and that as a result he and his family are being threatened and verbally abused.
Last Thursday a young man rebuked Al-Ghamdi's son in front of his house in Makkah by telling him to bring out his family to mingle with. The son then blocked the youth's car and called the police. Meanwhile, the youth called his brothers who came with light weapons. The youth ran away when they saw the police.
The young man who sparked the confrontation was then arrested by police, who were also able to arrest his brothers after giving chase. Officials from the Investigation and Public Prosecution Commission are currently questioning the five.
Full report at:
http://arabnews.com/saudiarabia/article49162.ece
-------
'Information an effective weapon against terror'
02 May, 2010
WASHINGTON: Saudi Arabia's Ambassador to the United States Adel Al-Jubeir reiterated on Friday the Kingdom's call for increased global cooperation, including exchange of information, in the war on terror.
"Information is the most effective weapon against terror and so the countries committed to fight terror should make extra efforts to exchange information to ensure general safety," Al-Jubeir said in a press statement issued by the embassy in Washington.
The Kingdom, which has been consistently supporting the global fight against terrorism, took the initiative to organize an international conference to fight terrorism in Riyadh in February 2005. Sixty countries attended the conference.
Full report at:
http://arabnews.com/saudiarabia/article48892.ece
-------
Kurdish rebels kill 4 Turkish soldiers, wound 7
May 2, 2010
ANKARA: Kurdish rebels killed four Turkish soldiers and wounded seven others in eastern Turkey in the largest attack on troops in several months, authorities said Saturday.
The rebels attacked a remote military outpost with rocket propelled grenades and automatic weapons in foggy weather late Friday, private CNN-Turk and NTV televisions said. The commander of the outpost was killed along with three other soldiers, authorities said. Two of the seven wounded were in serious condition, according to media reports.
Turkish troops launched a man hunt but helicopter gunships remained grounded due to fog near the outpost, close to the town of Nazimiye in the eastern Tunceli province, television reports said Saturday morning.
Full report at:
http://arabnews.com/middleeast/article49192.ece
-------
Militant turncoat leads Iraqis to Al-Qaeda chiefs
By QASSIM ABDUL
02 May, 2010
BAGHDAD: Leery of using a mobile phone, the militant tasked with directing some of Baghdad's deadliest recent bombings would get his orders from Al-Qaeda in Iraq's leadership by meeting a go-between near a grocery store named Mr. Milk.
So after Iraqi security forces nabbed the militant, Munaf Abdul-Rahim Al-Rawi, it was to Mr. Milk's store that he led investigators. That was the first step culminating in what Iraqi and American officials called a devastating blow to the terror group: the killing of Al-Qaeda in Iraq's secretive two top leaders in a raid last week.
In an interview this week with The Associated Press, Al-Rawi offered a rare insight into the shadowy terror group that continues to plague Iraq after years of deadly attacks aiming to push the country into civil war.
Full report at:
http://arabnews.com/middleeast/article48797.ece
-------
Ties with Pakistan 'absolutely vital': US
May 02, 2010
WASHINGTON: The US partnership with Pakistan is "absolutely vital" but it extends beyond Washington's security interest in the region to wide-ranging areas, including support for Islamabad's key energy and water requirements, a top American official told Congress.
"We have been extremely responsive to their needs in funding and other support. I think they are starting to believe that we are committed to the greater security of the region and that extends their willingness to work with us," said Michele Flournoy, undersecretary of Defence for Policy.
She was testifying on Capitol Hill in support of long-term funding for Pakistan's counter-insurgency operations, along with Marine Corps Lt-Gen John M Paxton Jr, director of operations for the Joint Staff.
Full report at:
http://thenews.com.pk/top_story_detail.asp?Id=28589
-------
Father, son among 3 shot dead in Pasni
02 May, 2010
QUETTA, May 1: A firing incident in the coastal town of Pasni on Saturday claimed the lives of three people, a father and a son among them.
According to police sources, Mir Asa, his son and two other relatives were travelling in a pick-up when unidentified people opened fire on them near a small river.
Mir Asa, son Dad Mohammad and relative Abdul Rehman died on the spot. Dad Bakhsh was injured.
After receiving information, police rushed to the site and took the bodies and the injured to Pasni civil hospital.
Police said the cause of the attack was Mir Asa's old enmity with his opponents over a land dispute.
http://www.dawn.com/wps/wcm/connect/dawn-content-library/dawn/the-newspaper/national/father,-son-among-3-shot-dead-in-pasni-250
-------
Afghan feminists battle for rights
By Jon Boone
02 May, 2010
KABUL: As a committed feminist, there are few symbols of restrictions on women that Parween hates more than the burqa.
But compromises are necessary in a country where fighting for women's rights can be a controversial and dangerous business, and she is not above donning the all-concealing garment if it helps her to stay one step ahead of the authorities.
"I don't like the burqa, but sometimes I have no choice when I'm moving around Kabul — it's a great disguise," she says. Parween, who is in her mid 20s, is not using her real name. The only personal information she reveals is that she spent much of her life growing up in a refugee camp in Pakistan, attended Kabul University, and is a member of one of the country's most intriguing and secretive organisations: the Revolutionary Association of the Women of Afghanistan, or Rawa — regarded as a dangerously subversive outfit by the authorities.
Full report at:
http://www.dawn.com/wps/wcm/connect/dawn-content-library/dawn/the-newspaper/international/afghan-feminists-battle-for-rights-250
-------
Bombs kill one, injure 100 in north Iraq: police
02 May, 2010
MOSUL: Two bombs killed one person and injured 100 others in northern Iraq on Sunday, police said, in what appeared to be an attack on the country's Christian minority.
A car bomb and a roadside bomb went off near buses carrying university students close to the turbulent and ethnically diverse city of Mosul, 390 km north of Baghdad.
The dead man was a Christian shop owner near the blast scene, police said.
The buses were transporting the students from the mainly Christian town of Hamdaniya, 40 km east of Mosul.
"All of them were Christian students. They go in buses like that to Mosul's university after the troubled times when Christians were targeted in the past," Nissan Karoumi, mayor of Hamdaniya said.
Full report at:
http://www.dawn.com/wps/wcm/connect/dawn-content-library/dawn/news/world/22-bombs-kill-one-injure-100-in-north-iraq-police-aj-03
-------
Jashn-e-Khyber Pakhtunkhwa' today
By Faraz Khan
02 May, 2010
KARACHI: In order to avoid any untoward incident, as many as 1,500 officials of security forces in collaboration with over 5,000 volunteers of the Awami National Party (ANP) have been assigned for the security of ANP's 'Jashn-e-Khyber Pakhtunkhwa', which will be held today (Sunday), police officials and ANP leaders informed Daily Times on Saturday.
These security measures have been taken in light of targeted killings, bomb blasts and suicide attacks, which claimed many precious lives in the past.
ANP's Jashn-e-Khyber Pakhtunkhwa is being organised at the main Sea View, Clifton, which will start at 3pm and continue till midnight to celebrate the renaming of NWFP with Khyber Pakhtunkhwa. Besides, cultural dances, Pukhtoon's party song and fireworks, leaders would address the celebration.
Full report at:
http://www.dailytimes.com.pk/default.asp?page=2010\05\02\story_2-5-2010_pg12_1
-------
Belgium burqa ban: More EU nations may follow suit
Nandini Jawli
02 May, 2010
The first European ban on wearing of the Islamic burqa in public is poised to come into force in Belgium. A parliamentary vote on a Bill has been passed unanimously.
Belgium's lower House of Parliament has passed the law that would ban women from wearing burqa, the full Islamic face veil in public. The measure now has only to be rubber-stamped by the Senate after June general elections to become a law.
France is already considering "emergency legislation" to ban the burqa and niqab before politicians go on holiday in August. Some members of European Parliament are also demanding that the provision should be adopted across the EU.
Full report at:
http://www.dailypioneer.com/252995/Belgium-burqa-ban-More-EU-nations-may-follow-suit.html
-------
-------
ATS seeks permission for narco-test on Ajmer blast suspect
May 2, 2010
AJMER/JAIPUR: Rajasthan Police has moved a court here for permission to conduct a narco-analysis test on alleged Hindu right-wing activist Devendra Gupta, arrested in connection with the 2007 Ajmer Dargah blast which left three dead and over 30 injured.
"We have sought permission from the Chief Judicial Magistrate, Ajmer, to conduct narco-test on Gupta and a decision on it will be taken in the next hearing tomorrow," Anti Terrorism Squad (ATS) sources said today.
The ATS has arrested three persons in the blast case -- Devendra from Ajmer and Chandrashekhar and Vishnu Patidar from Madhya Pradesh. Gupta and Chandrashekar are on police remand and being interrogated by the ATS in Jaipur while the Patidar, who was apprehended yesterday, has been brought here.
Full report at:
http://timesofindia.indiatimes.com/NEWS/India/ATS-seeks-permission-for-narco-test-on-Ajmer-blast-suspect/articleshow/5882709.cms
-------
Pak unearths smuggling racket exploiting the NATO supply route
May 2, 2010
KARACHI: Authorities here have unearthed a major smuggling racket involving transportation of contraband goods into Pakistan in containers used by NATO troops in Afghanistan.
A senior official of the Customs Intelligence Directorate did not rule out the involvement of customs officials in the smuggling racket.
"We have impounded around 30 containers registered in the name of NATO which contained alcohol, expensive spices and other contraband items," the official said.
The contraband items were being smuggled into Pakistan in containers shown to be registered for the use of NATO troops in Afghanistan, he said.
Full report at:
http://timesofindia.indiatimes.com/World/Pakistan/Pak-unearths-smuggling-racket-exploiting-the-NATO-supply-route/articleshow/5882984.cms
-------
Talibanisation of Balochistan: Two wrongs never make a right
Mir Mohammad Ali Talpur
02 May, 2010
The state and media in Pakistan seem to suffer from the 'Gaza syndrome', in which a single homemade rocket fired by the Palestinians has to be brought to world attention while the bombing of Gaza is glossed over
The killing of non-combatants in any conflict is reprehensible and deserves to be unequivocally condemned; the condemnation, however, has to be even-handed. You cannot condemn infringements of the rights of one group and neglect the travails of others. At the risk of being misunderstood, I have ventured to write about the sad and unnecessary killing of Assistant Professor Nazima Talib and condemn it. I, however, want to make it clear that my sympathies have always been and will always be with the struggle for Baloch rights.
Full report at:
http://www.dailytimes.com.pk/default.asp?page=2010\05\02\story_2-5-2010_pg3_4
-------
Bodo chief handed over by Dhaka
Manoj Anand
02 May, 2010
Guwahati, May 1: The Bangladeshi authorities handed over Ranjan Daimary, alias D.R. Nabla, the chairman of the proscribed National Demo-cratic Front of Bodoland and main accused in the Assam serial blasts of October 30, 2008, to the BSF at the Daowki border area in Meghalaya on Saturday.
Daimary was kept in confinement the past few days in Bangladesh and evicted after intense negotiations between New Delhi and Dhaka. Dhaka was initially reluctant to hand him over.
The Indian government has sought the eviction of at least seven top Northeast rebel leaders (including Daimary) who are carrying out subversive activities from Sherpur and other Bangladeshi districts.
Full report at:
http://www.asianage.com/index.php?option=com_content&view=article&id=10942:bodo-chief-handed-over-by-dhaka&catid=34:top-story&Itemid=59
-------
'Barbaric' killing of murder suspect by Lebanese mob
02 May, 2010
Lebanese officials are investigating the lynching by angry villagers of an Egyptian man accused of killing a local couple and their two grandchildren.
The suspect was with police re-enacting the crime when he was seized by a mob in a village south of Beirut, according to Lebanese media reports.
The mob stabbed him to death and then hanged him with a butcher's hook from a pole in the village square.
Officials condemned the action by villagers as "barbaric".
Interior Minister Ziad Baroud ordered an investigation and said such vigilante action was "extremely dangerous".
'Army intervention'
Full report at:
http://news.bbc.co.uk/2/hi/middle_east/8654604.stm
URL: https://www.newageislam.com/islamic-world-news/pakistan--islami-jamiat-tulaba's-hooliganism-needs-to-be-checked/d/2788