New Age Islam News Bureau
28 May 2014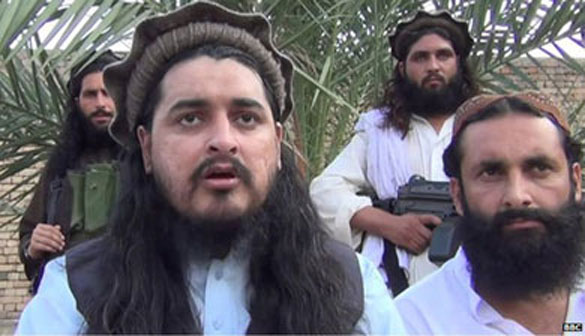 Factional infighting has increased since Taliban leader Hakimullah Mehsud was killed in November 2013
------------
Pakistan
• Pakistan Has Rejected Misplaced Ideology of Terrorists: COAS
• Taliban's Mehsud faction severs ties with TTP
• Pakistan, India achieved nothing through wars: Leader of Opposition
• Fazl ur Rehman 'endeavours' to forge alliance
• Maryam Nawaz thanks Indian PM Modi for the gift
• APA agrees on joint initiatives against terrorism, extremism
• 'Imran puppet of enemy': Punjab Minister
Arab World
• Regime attacks kill 71 in Syria
• Saudi policeman caught resting shoe on Kaaba, sparks media outrage
• ISIL Executes Abducted Archbishop
• Syria's Assad, unwavering war leader convinced of victory
• Second Maldivian killed in Syria, claims jihadist media
• Syria Blames Terrorists for Undermining OPCW Work
India
• Outcome of Sharif-Modi meeting much better than expected: Pakistan
• Muslims Are Not Minorities, Parsis Are: Minority Affairs Minister
• Kashmiri separatists welcome Modi-Nawaz Sharif talks
• Pakistan media appears sceptical about outcome of Sharif's India visit
• Whom are you talking to, on Article 370? Omar Abdullah asks Centre
Africa
• 54 killed in new attacks in Nigeria, say officials
• Oil militants say Israel wants showdown with Boko Haram
• Nigeria Captives Could Get U.S. Troops 'Tweeted Into Combat'
• Libyan rebels warn US not to interfere
• Nigeria ex-leader 'in talks' with Boko Haram
• Catholics to study Islam in Nairobi University
South Asia
• China sentences 55 Uighurs in Xinjiang mass trial
• Nine Taliban militants killed in counter-terrorism operations
• Security convoy of US diplomats attacked in Herat province
• 16-year-old suicide bomber arrested in Nangarhar province
• Maldives accepts India's leadership role, says President Yameen
• Taliban say US troop withdrawal plan is 'continued occupation'
• Afghan Fury Follows Revelations of NSA Spying
North America
• Armed With US Weapons, Iraqi Gov't Repeatedly Attacked Hospital
• Obama to let American troops train Syrian rebels - US newspaper
• Fata action to deal with terror threat: US
• US applauds Modi-Sharif meeting, says 'cautiously hopeful'
• US to have 9,800 troops in Afghanistan post-2014: Obama
Mideast
• Turkish FM rules out Cold War revivalism
• Gaza's Hamas government says ready to step aside
• Benjamin Netanyahu describes Jerusalem as 'heart' of Israel
• Turkey's Gul congratulates Ukraine's new president
Southeast Asia
• Malaysia's Halal tourism attracts Muslims from all over the world
• Muslim NGOs' jihad against Cadbury makes international headlines
• Federal Court to decide on June 23 on leave to appeal Allah ban
• Pork is 'haram' but Gambling & Corruption are bigger sins - ex-Perlis mufti
Europe
• Russia to allocate 240 million Euros to Syria for solving social problems - media
• Two Azerbaijani soldiers killed by Armenian gunfire
• Dutch bid to ward off KSA curbs
Compiled by New Age Islam News Bureau
URL: https://www.newageislam.com/islamic-world-news/new-age-islam-news-bureau/pakistan-has-rejected-misplaced-ideology-of-terrorists--coas/d/87239
------------
Pakistan
Pakistan Has Rejected Misplaced Ideology of Terrorists: COAS
May 28, 2014
ISLAMABAD: Chief of Army Staff General Raheel Sharif on Tuesday emphasized that the whole nation has rejected the misplaced ideology of the terrorists, 'who have clearly lost their cause already and are being marginalised', according to a press release issued by the ISPR.
The chief of army staff visited the headquarters of two infantry divisions headquartered in North and South Waziristan agencies to review the operational readiness of the troops as well as progress on military-run developmental projects in the area. This was his second visit to Waziristan since assuming the army's command last November.
The army chief reiterated the 'whole hearted support for tribal brethren' during his visit to the all important field formations of army, close to the area where it has been engaged in targeted crackdown in the recent days.
"Appreciating the determination and steadfastness of the troops as well as local people, the COAS emphasised that together the whole nation has rejected the misplaced ideology of the terrorists. He reiterated army's continued support for tribal brethren under all circumstances.
The army chief, according to the ISPR, commended the professional commitment of troops and paid rich tributes to them for their sacrifices in bringing peace and normalcy to the troubled regions.
The army chief's visit bears significance in the context of the peace talks with Taliban apparently nearing a collapse. The top government functionaries say the peace process is not over but reiterate that the militant violence would be paid in the same coin.
Last Wednesday, the Pakistan Army and Pakistan Air Force (PAF) jointly launched surgical strikes on the militant hideouts in Miranshah and Mir Ali subdivisions of North Waziristan Agency in which up to 60 militants were reported dead. In the military-led ground action that continued for the next three days, up to 80 militants were said to be killed whereas four security personnel were martyred. Top military commanders including Toor Wali and Zamurd Jehan, the close associates of slain military commander Jihadyar Mehsud, were purportedly targeted in the aerial strikes.
According to military sources, the army chief held meetings with the tribal delegates during his visit to Waziristan and heard their problems regarding the displacement of people in the backdrop of military action. The Mehsud tribe delegations from the NWA led by Malik Waziristani and SWA tribal representatives led by the heads of Wazir tribes including Ajab Noor Wazir and Yar Gulkhel held meetings with the COAS, the military officials informed.
According to ISPR, the COAS reviewed the progress on development projects of socio-economic significance being undertaken by the army. He appreciated the quality of work and timely completion. He particularly mentioned the construction of central trade corridor, a 714-kilometre road network linking the Indus Highway and Waziristan agencies with the Afghan Ring Road. He also visited other community development schemes in health, education, water and power sectors launched part of programmes for rehabilitation of the people.
Talking to cadets at the Cadet College Spinkai Raghzai, the army chief said the education projects completed by the army would go a long way to groom a new generation of young Pakistanis from such remote areas and integrate them in the national mainstream.
http://www.dailytimes.com.pk/islamabad/28-May-2014/nation-has-rejected-misplaced-ideology-of-terrorists-coas
------------
Taliban's Mehsud faction severs ties with TTP
May 28, 2014
PESHAWAR: The spokesman of the Mehsud faction of the banned Tehrik-i-Taliban Pakistan (TTP) Azam Tariq on Wedesnday announced that his group under the leadership of Khalid Mehsud has formally separated from the central TTP.
The spokesman of the Mehsud group, who was also a central member of the Taliban shura, made the announcement during a press conference held at an undisclosed location.
Azam said individual ideologies had created a rift among the Taliban and they were deviating from the real cause. He said that the present Taliban regime was carrying out bomb attacks on public places with bogus names and also money was being extorted from madrassahs and other institutions which was not acceptable.
He added that other Taliban factions were also becoming distrustful of the main organisation.
Azam further said that the Mehsud group had tried to reform the TTP, adding that despite its efforts, conniving elements in the organisation had emerged successful.
The spokesman said that these elements had handed over management of the central organisation into the hands of shadowy forces.
Two factions of the TTP, the umbrella grouping for disparate militant organisations, have been locked in bloody clashes for the past several weeks.
Differences emerged after Hakimullah Mehsud was killed by a US drone in November last year and with a crisis developing over future leadership of the organisation.
The conflict brought supporters of Taliban commander Sheheryar Mehsud against those backing Khan Said Sajna.
Infighting among the factions has also impeded and undermined what little progress had been made in peace negotiations with the government.
http://www.dawn.com/news/1109089/talibans-mehsud-faction-severs-ties-with-ttp
------------
Pakistan, India achieved nothing through wars: Leader of Opposition
May 28, 2014
ISLAMABAD: Pakistan People's Party stalwart and Leader of the Opposition in the National Assembly Syed Khurshid Shah said on Tuesday that Pakistan and India achieved nothing through three wars which they fought in the past.
Talking to media, he said both the countries should resolve their problems as millions of people were dying of hunger. He said good talks are held in good atmosphere.
http://www.thenews.com.pk/article-149017-Pakistan,-India-achieved-nothing-through-wars:-Khurshid-Shah-
--------
Fazlur Rehman 'endeavours' to forge alliance
May 28, 2014
LAHORE: In continuity of his efforts to cobble together religious parties in an alliance, Jamiat Ulema-i-Islam (Fazal) chief Maulana Fazlur Rehman on Tuesday visited JUP President Pir Ijaz Hashmi and other leaders here.
The Maulana had called on Jamaat-i-Islami emir Sirajul Haq on Monday.
Talking to reporters after his meeting with Mr Hashmi, he reiterated his desire to set up a platform of Islamist parties to counter the 'conspiracies being hatched to secularise the country'.
Says contacting religious leaders to resolve their mutual differences
Terming (PTI chairman) Imran Khan and (Pakistan Awami Tehreek leader) Tahirul Qadri the representatives of 'western secular ideology', he said to block them was the utmost responsibility of religious parties of the country.
He said religious parties had been cornered and were under pressure for being blamed for extremism in the country. A joint strategy was need of the hour to cope with the situation, he added.
The JUI-F chief said he was contacting religious leaders to resolve their mutual differences and create an atmosphere conducive to forging national unity and solidarity.
He said the prevailing political and security situation also figured in his talks with the JUP leadership.
Fazlur Rehman said peace negotiations with the Taliban had come to an end as a fierce military operation had been launched in North Waziristan in which scores of innocent people, including women and children, had been killed, while their houses, crops and cattle destroyed.
Saying that without the establishment's nod no political government could hold peace talks with the Taliban, he added that so far the powers that be did not seem to be in a mood to engage the militants in talks.
Mr Hashmi regretted that successive governments frustrated the people by not enforcing Sharia and the Constitution, and adopting ad hoc policies for their own interests.
He said Nawaz's visit to India would remain unsuccessful unless the core issue of Kashmir was resolved.
He said the present media crisis was the product of non-journalist anchors, who were alien to the norms of the profession.
jamaat: The Jamaat-i-Islami has demanded recovery of Pakistan's money stashed in foreign banks and fixing Rs15,000 as minimum wages for workers.
At a press conference on Tuesday, Punjab JI chief and MPA Dr Waseem Akhtar demanded the government bring back more than $200 billion plundered from the country by corrupt politicians and bureaucrats and deposited in Swiss banks.
He also demanded raising the minimum wages to Rs15,000 and 50pc raise in salaries and pensions of government employees.
Seeking a change in taxation policy, the Jamaat leader suggested fixing 75 and 25 as the ratio of direct and indirect taxes, respectively. All kinds of income, including from farms, which was above Rs600,000 should be brought into the tax net while doing away with sales tax on agriculture inputs, he said.
Dr Akhtar sought interest-free loans up to Rs500,000 for unemployed youth and payment of Rs3,000 and Rs5,000 per month as unemployment allowance to graduates and postgraduates until they secured a job.
Meanwhile, Jamaat-i-Islami Secretary-General Liaquat Baloch criticised Prime Minister Nawaz Sharif's visit to India, saying it proved counter-productive "as expected" and created more problems for the country.
http://www.dawn.com/news/1109030/fazlur-rehman-endeavours-to-forge-alliance
------------
Maryam Nawaz thanks Indian PM Modi for the gift
May 28, 2014
Lahore- When Pakistan Prime Minister Nawaz Sharif returned to Islamabad after attending Narendra Modi's swearing-in ceremony, he carried with him a gift from the new Indian Prime Minister for his mother.
The gift had Mr Sharif's daughter Maryam gushing in admiration. "Thank you very much PM @narendramodi for the beautiful shawl for my grandmother. My father personally delivered it to her," she wrote on the micro-blogging site, Twitter. She attached a photograph of the shawl along with her comment.
Full report at:
http://www.nation.com.pk/national/28-May-2014/maryam-nawaz-thanks-indian-pm-modi-for-the-gift
------------
APA agrees on joint initiatives against terrorism, extremism
May 28, 2014
ISLAMABAD: The Asian Parliamentary Assembly (APA) on Tuesday, in its declaration, agreed to support the possible joint initiatives by the Asian governments and parliaments to combat terrorism and organised crimes; violence and extremism; illicit drug trafficking; human trafficking and money laundering.
The APA meeting, which held today under the Presidentship of Senate Chairman Nayyar Hussain Bukhari, also agreed on encouraging removal of barriers, easing further interaction and cooperation among Asian countries in areas such as science and technology; trade and business; art and culture; education and research; tourism and investment; human rights, particularly the rights of women and children and other fields. The declaration also reiterated the importance of the principles of peaceful settlement of all disputes and the prohibition of threat or use of force.
Full report at:
http://www.dailytimes.com.pk/national/28-May-2014/apa-agrees-on-joint-initiatives-against-terrorism-extremism
------------
'Imran puppet of enemy': Punjab Minister
May 28, 2014
LAHORE – Punjab Minister for Law Rana Sanaullah has said that Imran Khan has become the puppet at the hands of country's enemy and his agenda is to spread disorder and anarchy in Pakistan.
Talking to journalists outside the Punjab Assembly, the minister said that Imran Khan was thinking about rigging after taking oath from the parliament. He also said that poverty, inflation, unemployment and terrorism were all result of the past 15 years.
Pakistan has started towards journey of stability under the leadership of Nawaz Sharif, he said. The Supreme Court has stopped to issue funds to MNAs and MPAs, when the verdict will come then funds will be issued to all along with the opposition members, he said.
"I ask Imran Khan when Pervez Musharraf organised a fake referendum why he could not see rigging at that time," he said. About Nawaz-Narendra Modi meeting, the provincial minister said that Pakistan and India should negotiate for solving problems so that relations become better on the both sides.
http://www.dailytimes.com.pk/national/27-May-2014/imran-puppet-of-enemy
------------
Arab World
Regime attacks kill 71 in Syria
World Bulletin/News Desk
May 28, 2014
71 people, including five women and seven children, have been killed in intensive air and ground attacks by the Syrian regime in opposition-controlled areas in several cities.
33 people were killed in Aleppo, 13 in the suburbs of Damascus, eight in Homs, six in Daraa, four in Idlib, three in Deir ez-Zor, and two in Hama and two in Latakia, according to numbers from the Syrian Network for Human Rights.
Meanwhile, the Syrian Revolution General Commission said that army helicopters attacked many regions in Aleppo with barrel bombs.
http://www.worldbulletin.net/world/137509/regime-attacks-kill-71-in-syria
------------
Saudi policeman caught resting shoe on Kaaba, sparks media outrage
28 May 2014
A picture of a Saudi policeman leaning on Makkah's sacred Kaaba with his shoes against the wall has prompted media outrage on Wednesday.
Makkah governor, Prince Mishal Bin Abdullah Bin Abdul Aziz, has ordered an investigation into the incident, saying such an attitude would not be tolerated.
Prince Mishal also called for disciplinary action against the policeman for failing to live up to the privilege and honour of serving in such a holy place.
Saudi newspapers reported the news, expressing shock at the image, while on social media, reactions to the picture varied.
Full report at:
http://english.alarabiya.net/en/News/middle-east/2014/05/28/Saudi-policeman-caught-resting-shoe-on-Kaaba-sparks-media-outrage.html
-----------
ISIL Executes Abducted Archbishop
May 28, 2014
The Islamic State of Iraq and the Levant in a statement announced that it has executed Syrian Archbishop Paulo Daloliyu who was abducted by the ISIL in Raqqa province on July 29, 2013.
"Paulo Daloliyu was executed two hours after being abducted and incarcerated by the ISIL in Raqqa governor-general's office on July 29, 2013," the Syrian Society for Defending Human Rights quoted the ISIL as saying in its statement.
Also in the past 24 hours, some Syrian opposition groups and the Free Syrian Army (FSA) in a video reported the formation of a coalition known as Mujahideen Consultative Assembly in Eastern Syria and said the reason for that is to expel ISIL from that region.
Elsewhere, Syrian militants wounded a Syrian nation in a rocket attack on a Lebanese border town.
Full report at:
http://english.farsnews.com/newstext.aspx?nn=13930307000231
------------
Syria's Assad, unwavering war leader convinced of victory
May 28, 2014
Syrian President Bashar al-Assad, who is expected to clinch re-election effortlessly next week, believes he has saved his regime from a brutal three-year insurgency, despite international isolation and calls for his departure.
Assad, 48, came to power in 2000 with the reputation of a modernist after the death of his father Hafez, who developed the rigid military-political system his son inherited.
But any hopes of change have long since evaporated, with a conflict that has now killed more than 160,000 people and wrought massive destruction on the country showing no sign of abating.
Full report at:
http://english.ahram.org.eg/NewsContent/2/8/102365/World/Region/Syrias-Assad,-unwavering-war-leader-convinced-of-v.aspx
------------
Second Maldivian killed in Syria, claims jihadist media
By Ahmed Naish | May 28th, 2014
A second Maldivian man has been killed in Syria in a gunfight with soldiers loyal to Bashar Al Assad, according to Bilad Al Sham Media (BASM), an online media group ostensibly run by Maldivians in Syria.
While the group revealed this week that a 44-year-old Maldivian man was killed in a suicide attack on Sunday (May 25), BASM claimed on social media that the second Maldivian militant – who had taken the name Abu Nuh – died during "regular combat" in the northwestern town of Ariha.
Local media has identified the deceased as Hassan Shifaz, of Galolhu New Moon in the capital Malé. The first Maldivian has also been identified as Ali Adam from the island of Feydhoo in Shaviyani atoll.
Full report at:
http://minivannews.com/society/second-maldivian-killed-in-syria-claims-jihadist-media-85809
------------
Syria Blames Terrorists for Undermining OPCW Work
May 28, 2014
The Syrian Foreign Ministry issued a statement in which it blamed the terrorists for kidnapping the OPCA's team and stressed that the Syrian government can be responsible for the security of the international team only in the areas controlled by the army.
In a statement, the Ministry said that on 27th of May, 2014, the mission's team was informed of agreement on ceasefire in Kafar Zeta area in the Northern countryside of Hama from 8 am until 6 pm to facilitate the work of the mission consisting of four SUV cars that belong to the UN, and after some members of the mission's team reached to Taibet al-Imam village, the team was informed of the impossibility of securing them after that point, but they went on at their own risk towards Kafar Zeta without a Syrian security escorting.
http://english.farsnews.com/newstext.aspx?nn=13930307000492
----------
India
Outcome of Sharif-Modi meeting much better than expected: Pakistan
TNN | May 28, 2014
NEW DELHI: Pakistan on Wednesday said the actual outcome of the meeting between Narendra Modi and Nawaz Sharif was much better than expected.
"Pak PM had a constructive bilateral meeting and also invited the Indian PM. Although the visit was for a ceremonial occasion, the outcome was better than we expected, Nawaz Sharif's national security and foreign affairs adviser Sartaj Aziz said on Wednesday at a press conference in Islamabad.
"The meeting was with a clear strategic vision and was not just a photo opportunity," Aziz said.
"The PMs agreed that it was a historic beginning for both the countries and felt the need to turn a new page in relations," he said.
On both sides there was sincerity, warmth and determination to move forward, Aziz said.
Aziz said the issues of cross-border terrorism and Kashmir were discussed but not substantially during the bilateral meeting Tuesday in New Delhi.
Full report at:
http://timesofindia.indiatimes.com/india/Outcome-of-Sharif-Modi-meeting-much-better-than-expected-Pakistan/articleshow/35669411.cms
------------
Muslims Are Not Minorities, Parsis Are: Minority Affairs Minister
TNN | May 28, 2014
NEW DELHI: Minority affairs minister Najma Heptullah on Tuesday said Muslims were not minorities by any stretch of the imagination and instead Parsis with their dwindling population qualified for the tag.
On her first day in office, Heptullah appeared determined to reorient the ministry by playing down its role in welfare of Muslims and dismissing the policies espoused by the UPA government.
"Muslims are not minorities. Parsis are. We have to see how we can help them so that their numbers don't diminish," she told reporters when asked how her government proposed to take Muslim welfare forward.
Full report at:
http://timesofindia.indiatimes.com/india/Muslims-are-not-minorities-Parsis-are-Najma-Heptullah/articleshow/35651799.cms
------------
Kashmiri separatists welcome Modi-Nawaz Sharif talks
M Saleem Pandit,TNN | May 28, 2014
SRINAGAR: A cross-section of Kashmiri stakeholders, from the moderate Hurriyat to hardliner Syed Ali Shah Geelani, welcomed the talks between Prime Minister Narendra Modi and his Pakistani counterpart Nawaz Sharif on Tuesday. While the chairman of the moderate Hurriyat faction, Mirwaiz Umar Farooq, expressed satisfaction saying Modi and Sharif had made a good beginning, Hurriyat hawk Geelani said it was good Sharif responded positively to Modi's invitation to attend his swearing-in ceremony.
The Mirwaiz, welcoming the Centre's initiative, said, "It's a matter of satisfaction that the dialogue process has been formalized, and that too on the occasion of Prime Minister Modi's swearing-in ceremony." He added any forward movement on the Kashmir issue must be discussed between the two leaderships.
Full report at:
http://timesofindia.indiatimes.com/india/Kashmiri-separatists-welcome-Modi-Nawaz-Sharif-talks/articleshow/35651151.cms
------------
Pakistan media appears skeptical about outcome of Sharif's India visit
Press Trust of India | Islamabad | May 28, 2014
Pakistan media on Wednesday appeared skeptical about the outcome of Prime Minister Nawaz Sharif's visit to India and his first meeting with Indian counterpart Narendra Modi, who cleverly bought himself goodwill internationally, but he did so in a way that conceded nothing.
In an editorial titled 'Pak-India: more of the same?', the Dawn newspaper said sticking to his pre-election script of focusing on building closer economic ties while downplaying the big, historical security issues, Sharif tried his best to sustain the feel-good factor of his presence in Delhi.
"Yet, as snippets from the meeting between Indian Prime Minister Narendra Modi and Sharif were leaked to the Indian media and then India's own diplomats chose to take a tough line in public, it became clear — as if more clarity were needed — just how difficult it will continue to be to bridge the gap between India's almost exclusive focus on terrorism and Pakistan's wanting to expand talks to encompass many ofthe long-standing issues between the two sides," it said.
Full report at:
http://indianexpress.com/article/india/politics/pakistan-media-appears-skeptical-about-outcome-of-sharifs-india-visit/
--------
Whom are you talking to, on Article 370? Omar Abdullah asks Centre
IANS | May 28, 2014
SRINAGAR: Jammu & Kashmir chief minister Omar Abdullah on Wednesday asked the central government to come clean on who are the "stakeholders" it was talking about on the contentious issue of revocation of Article 370 of the Constitution.
His comments came a day after minister of state in the PMO Jitendra Singh stirred up a controversy by declaring the new government has started the process for repealing Article 370, which grants special status to Jammu and Kashmir within the Indian republic.
Speaking to journalists on Wednesday, Abdullah said: "We will oppose the move tooth and nail. Since it is the minister of state PMO talking and hence it is a policy matter. They (central government) must come clean and share who are the stakeholders they have talked to."
Full report at:
http://timesofindia.indiatimes.com/india/Who-are-you-talking-to-on-Article-370-Omar-Abdullah-asks-Centre/articleshow/35667783.cms
------------
Africa
54 killed in new attacks in Nigeria, say officials
Press Trust of India | Lagos | May 28, 2014
Nigerian officials say that 54 people were killed in two attacks in northern Nigeria suspected to be by Islamic extremists.
Police constable Abdullahi Mohammed said on Tuesday that suspected Boko Haram members killed 24 soldiers and 21 policemen in an attack on Monday evening on Buni Yadi town in Yobe state.
And in Borno state local government official Nglamuda Ibrahim said gunmen suspected to be Boko Haram killed nine people in two remote villages, also last night.
Ibrahim said that in Ashigashiya town the armed men shot at villagers, burned their homes and held control over the area and hoisted their white flags with Arabic letters.
http://indianexpress.com/article/world/middle-east-africa/54-killed-in-new-attacks-in-nigeria-say-officials/
------------
Oil militants say Israel wants showdown with Boko Haram
World Bulletin/News Desk
May 28, 2014
Militants in the oil-rich Niger Delta on Tuesday accused Israel of pushing for a showdown with the Boko Haram militants to free abducted schoolgirls, urging the Nigerian government to seek a peaceful settlement of the crisis.
"From our experience, it is impossible for any forceful commando-style rescue in forests or creeks to be successful," Gbomo Jomo, the spokesman for the militant Movement for the Emancipation of Niger Delta, said in a statement.
"The Israelis encouraging such a move should understand that Sambisa Forest is a different kettle of fish from Entebbe International Airport," he added.
On April 14, Boko Haram militants stormed a school in Chibok, located on the fringes of Sambisa Forest in the restive northern state of Borno, loading scores of schoolgirls onto trucks before driving away unchallenged.
Full report at:
http://www.worldbulletin.net/news/137526/oil-militants-say-israel-wants-showdown-with-boko-haram
------------
Nigeria Captives Could Get U.S. Troops 'Tweeted Into Combat'
May 28, 2014
Aerica's toughest fighters, members of the elite Special Operations Forces, are watching with growing concern as the social-media hashtag #bringbackourgirls becomes an international campaign.
Some commanders worry that U.S. troops will be pushed, pressured and guilted into action to find and rescue the 276 girls who were abducted from a school in northeast Nigeria last month by Boko Haram, an Islamic militant group with an ideology similar to al-Qaeda's.
No specific order to prepare for a rescue mission, let alone to launch one, has been given, according to numerous interviews with military officials. But in internal conversations, Special Operations commanders said they think the writing may be on the wall.
According to two well-placed defense department sources, senior Special Operations commanders — those in charge of the Navy SEALs, Delta Force and the Ranger Regiment — have told their men to be ready, assuming that eventually "the hashtag will bring us out."
Full report at:
http://www.nbcnews.com/storyline/missing-nigeria-schoolgirls/nigeria-captives-could-get-u-s-troops-tweeted-combat-n115351
------------
Libyan rebels warn US not to interfere
World Bulletin / News Desk
The leader of the Ansar al-Sharia rebel group in Libya's Benghazi city warned the United States on Tuesday against interference or it would face worse than the conflicts in Somalia, Iraq, or Afghanistan.
Libya is in turmoil three years after the NATO-backed war that ousted Muammar Gaddafi, with rival groups, regional and political factions locked in a complex struggle for influence in the OPEC member state.
Four decades of Gaddafi's one-man rule left few institutions or national army to resist competing militias and brigades of former rebels who have become de facto power-brokers.
Ansar al-Sharia, listed as a foreign terrorist organisation by Washington, was accused of orchestrating the 2012 attack on the U.S. consulate in Benghazi in which U.S. Ambassador Chris Stevens and three other Americans died.
Full report at:
http://www.worldbulletin.net/headlines/137508/libyan-rebels-warn-us-not-to-interfere
------------
Nigeria ex-leader 'in talks' with Boko Haram
May 28, 2014
Nigeria's former president Olusegun Obasanjo has met with people close to Boko Haram in an attempt to broker the release of more than 200 schoolgirls kidnapped by the militants, a source close to the talks told the AFP news agency.
Reports of the talks emerged on Tuesday as Boko Haram was blamed for fresh attacks targeting the security forces, public buildings and a school in its northeastern stronghold.
The talks last weekend at Obasanjo's farm in southern Ogun state included relatives of senior Boko Haram fighters, intermediaries and the former president, the source said on condition of anonymity.
Full report at:
http://www.aljazeera.com/news/africa/2014/05/nigeria-ex-leader-talks-with-boko-haram-201452862038914141.html
-----------
Catholics to study Islam in Nairobi University
May 28, 2014
The Catholic Church has introduced a one-year course on Islam and the Arabic language through a university college in Nairobi. The course comes amid claims of religious animosity that is threatening peaceful coexistence between Christians and Muslims, especially in Mombasa.
Speaking to the Star on the phone yesterday, Father Lagho said the programme is part of the Catholic resolutions to promote interfaith dialogue. "The course mainly targets Christians who want to deepen their understanding of Islam. You cannot dialogue with someone whose religion you have little or no idea of," Lagho said. The residential certificate programme will be offered through Tangaza University College in Nairobi.
http://www.the-star.co.ke/news/article-168402/catholics-study-islam#sthash.bAZEzs5L.dpuf
----------
South Asia
China sentences 55 Uighurs in Xinjiang mass trial
World Bulletin/News Desk
Local officials in China's western Xinjiang (East Turkestan) region held a public rally for the mass sentencing of criminals on Tuesday, handing out judgements for 55 people and at least three death sentences for crimes such as "violent terrorism", state media said.
The public sentencing, reminiscent of China's revolutionary era rallies, attracted a crowd of 7,000 at a sports stadium in Yining city in the northern prefecture of Yili.
Photos showed packed stadium bleachers and trucks parked on the sports field loaded with prisoners in orange vests being guarded by armed police.
The mass trial follows a similar event last week in the region where 39 people were sentenced to jail on similar charges.
China is waging a year-long anti-terrorism operation nationwide after a series of attacks, but has focused on East Turkestan, home to a large Muslim Uighur minority.
Full report at:
http://www.worldbulletin.net/headlines/137524/china-sentences-55-uighurs-in-xinjiang-mass-trial
------------
Nine Taliban militants killed in counter-terrorism operations
May 28 2014
At least nine Taliban militants were killed following counter-terrorism operations in various provinces of Afghanistan in the past 24 hours.
The ministry of interior of Afghanistan (MoI) following a statement said the operations were jointly conducted by Afghan national police, Afghan national army and Afghan intelligence – national directorate of security (NDS) operatives.
The statement further added that the operations were conducted in Nangarhar, Laghman, Kandahar, Zabul, Uruzgan, Maidan Wardak, Kapisa, Logar and Paktiya provinces.
Interior said at least two militants were also injured and nine others were detained during the operations.
Full report at:
http://www.khaama.com/nine-taliban-militants-killed-in-counter-terrorism-operations-8162
------------
Security convoy of US diplomats attacked in Herat province
May 28 2014
A group of militants attacked the security convoy of the US diplomats in western Herat province of Afghanistan.
The incident has reportedly taken place in Injil district after the militants ambushed the convoy with the rockets.
Injil district chief, Bashir Ahmad said the militants on a motorbike attacked the convoy with rocket-propelled grenade (RPG) and managed to flee the area.
Ahmad further added that the consulate security personnel were on their way to the airport when the incident took place.
He said at least two security personnel were injured following the attack.
The US embassy in Kabul confirmed the incident and said two Americans were slightly injured following the attack.
http://www.khaama.com/security-convoy-of-us-diplomats-attacked-in-herat-province-8165
------------
16-year-old suicide bomber arrested in Nangarhar province
May 28 2014
Afghan national security forces thwarted a suicide attack plot by arresting a 16-year-old suicide bomber in eastern Nangarhar province.
The interior ministry of Afghanistan following a statement said the militants were looking to carry out the suicide attack in Bati Kot district by assigning the teenager for the attack.
The statement further added that the teenager would-be bomber was recognized as Shaheen, who has confessed that he has received suicide attack training from the other side of the border.
Full report at:
http://www.khaama.com/16-year-old-suicide-bomber-arrested-in-nangarhar-province-8164
------------
Maldives accepts India's leadership role, says President Yameen
By Ahmed Rilwan | May 27th, 2014
President Abdulla Yameen has said that the Maldives accepts India's leadership role in the international arena and that this special position would benefit SAARC countries.
Yameen's words came this morning at a meeting with the newly elected Indian Prime Minister Narendra Modi during which both leaders agreed to further strengthen bilateral relations.
Yameen is in India on a two-day state visit to attend Modi's inauguration ceremony, held yesterday evening. The Indian prime minister invited leaders from all SAARC countries to the ceremony, holding bilateral talks each of them. Yameen today congratulated Modi and thanked him for the invitation.
Full report at:
http://minivannews.com/politics/maldives-accepts-indias-leadership-role-says-president-yameen-85850
------------
Taliban say US troop withdrawal plan is 'continued occupation'
May 28, 2014
The Taliban on Wednesday condemned President Barack Obama's announcement that US troops would stay in Afghanistan until the end of 2016.
"Now that Obama has announced that he will keep around 10,000 troops until the end of 2016 and continue their occupation, Afghanistan Islamic Emirate condemns it and considers it a violation of sovereignty, religion and human rights," said a statement, using the insurgents' name for the country.
"We have always clearly expressed our stance that even if one American soldier is in Afghanistan, it is not acceptable to our nation and Jihad will continue against them."
NATO combat troops are due to withdraw from the country by December, but a residual US force is expected to remain behind for training exercises and counter-terror missions, if both countries sign a long-delayed Bilateral Security Agreement.
Full report at:
http://english.ahram.org.eg/NewsContent/2/9/102375/World/International/Taliban-say-US-troop-withdrawal-plan-is-continued-.aspx
------------
Afghan Fury Follows Revelations of NSA Spying
May 28, 2014
The Afghan government denounced on Sunday the revelations that the NSA is monitoring nearly all the phone calls in Afghanistan, saying it violates the nation's sovereignty and the human rights of its people.
The Intercept reported last week on new revelations of vast surveillance conducted by the United States in a series of countries but withheld the name of one of those target countries citing a "specific, credible concern that doing so could lead to violence." That country was subsequently revealed by WikiLeaks to be Afghanistan.
"These activities are an obvious violation of agreements based on technical use of these [telephone] stations," Agence France-Presse reports an Afghan government statement as saying. "Most importantly, it is a violation of the national sovereignty of Afghanistan, and a violation of the human rights guaranteed to all Afghans."
Full report at:
http://www.commondreams.org/headline/2014/05/27-6
----------
North America
Armed With US Weapons, Iraqi Gov't Repeatedly Attacked Hospital
May 28, 2014
The U.S.-backed Iraqi government has repeatedly struck Fallujah's main hospital with mortars and other munitions and has barrel-bombed densely populated residential areas in and around the city, according to a new report.
Published Tuesday by Human Rights Watch, the findings exposed atrocities committed in the Iraqi government's escalated campaign against armed groups in Anbar province and immediately prompted condemnation from peace and justice campaigners.
"As this report shows, the U.S. is brazenly providing Hellfire missiles and other heavy artillery to an Iraqi government that shows very little regard for the lives of people in Fallujah and areas across Iraq," Ali Issa of the War Resisters League told Common Dreams. "This must end."
According to interviews with multiple witnesses, including three employees at Fallujah General Hospital, since January the attacks have hit the emergency room, intensive care unit and other sections of the facility. While witnesses were not sure how many patients had been injured as a result, they said at least four Bangladeshi workers and three Iraqi doctors had been hurt.
Full report at:
http://www.commondreams.org/headline/2014/05/27-4
------------
Obama to let American troops train Syrian rebels - US newspaper
May 28, 2014
President Barak Obama is ready to sign a bill that approves training of Syrian armed oppositionists by American forces, US newspaper The Wall Street Journal says. The statement was made during Obama's speech at the United States Military Academy at West Point (USMA) on Wednesday. However, he didn't give precise information about the training program.
"The president intends to extend the support of Syrian opposition and its neighboring countries that face the terrorist threats," The Wall Street Journal said, citing a representative of the White House.
However, the plan is still being discussed by the government, which should also settle a wide range of issues in order to implement it. In particular, the government doesn't know what countries of the region will station American troops on their territories and how it will be able to distinguish the Syrian conservative opposition from the radical Islamists.
Full report at:
http://voiceofrussia.com/news/2014_05_28/Obama-to-let-American-troops-train-Syrian-rebels-US-newspaper-5975/
------------
Fata action to deal with terror threat: US
May 28, 2014
WASHINGTON: Terrorists pose a serious threat to the Pakistani state and citizens and the current military action in Fata is aimed at dealing with this threat, says the US State Department.
"These actions are being conducted solely by Pakistani security forces, because we know the threat that terrorism has certainly been in Pakistan — for Pakistani citizens, and the government," said the State Department's deputy spokesperson Marie Harf, when asked to comment on the action.
Full report at:
http://www.dawn.com/news/1108991/fata-action-to-deal-with-terror-threat-us
------------
US applauds Modi-Sharif meeting, says 'cautiously hopeful'
PTI | May 28, 2014
WASHINGTON: Applauding the meeting between Prime Minister Narendra Modi and his Pakistani counterpart Nawaz Sharif, the US has said it was "cautiously hopeful" about the improvement in the ties between the two neighbours.
"We are cautiously hopeful that that (Modi-Sharif meeting) could be a positive indicator, but we're also mindful that this will be very important to the dynamic going forward," a senior Obama administration said when asked about the meeting between the two South Asian leaders in Delhi.
Responding to a question, the official said the Obama administration is hopeful that the initial indication between both Islamabad and New Delhi is a positive one.
Full report at:
http://timesofindia.indiatimes.com/world/us/US-applauds-Modi-Sharif-meeting-says-cautiously-hopeful/articleshow/35662985.cms
----------
US to have 9,800 troops in Afghanistan post-2014: Obama
May 28, 2014
President Barack Obama on Wednesday said the U.S. will keep 9,800 of its troops in Afghanistan this year and will withdraw them completely by 2016 as he admitted it was "time to turn the page" on more than a decade of military intervention in the war-torn country.
"We have now been in Afghanistan longer than many Americans expected," Mr. Obama said in the White House Rose Garden. "Now we're finishing the job we've started."
He said the current 32,000-strong U.S. deployment in Afghanistan will be reduced to around 9,800 by the start of 2015. The number would be further halved by the end of 2015 before eventually being scaled back to a normal embassy presence with a security assistance component by the end of 2016.
Full report at:
http://www.thehindu.com/news/international/world/us-to-have-9800-troops-in-afghanistan-post2014-obama/article6055876.ece
-----------
Mideast
Turkish FM rules out Cold War revivalism
World Bulletin/News Desk
A resurgence of Cold War mentality in the world is something to be feared of as it can damage every joint political and security mechanism built in the last 20 years, Turkey's foreign minister said Tuesday.
"It is our hope that the relations between Russia and Ukraine will normalize following the presidential election in Ukraine," he told a joint press conference with his Russian counterpart Sergei Lavrov in Moscow after the fourth meeting of the Joint Strategic Planning Group.
He said Turkey's position regarding the situation in Ukraine supports the territorial integrity of the country and suggests inclusive constitutional reforms embracing all parties of the conflict.
As to the condition of Crimean Tatars, Davutoglu reiterated that Turkey considers them as the indigenous population of the peninsula.
Full report at:
http://www.worldbulletin.net/news/137529/turkish-fm-rules-out-cold-war-revivalism
------------
Gaza's Hamas government says ready to step aside
28 May 2014
The government installed by the Islamic militant group Hamas after its takeover of the Gaza Strip seven years ago said it held its last meeting Tuesday and is ready to hand "full responsibility" to a Palestinian unity government.
Tuesday's Cabinet statement was the latest sign that rival factions Hamas and Fatah are close to a deal on a unity government that is to end a crippling political rift and prepare for elections in 2015.
The longstanding conflict between the opponents peaked in 2007, when the Islamic militant Hamas drove the Fatah movement of Western-backed Palestinian President Mahmoud Abbas out of Gaza, leaving his forces confined to the Israeli-occupied West Bank.
Since then, both sides have run separate governments in their respective territories on the opposite ends of Israel. Abbas seeks both the West Bank and Gaza as parts of a future Palestinian state, and the internal rift is a major impediment to any potential peace deal.
Full report at:
http://english.alarabiya.net/en/News/middle-east/2014/05/28/Gaza-s-Hamas-government-says-ready-to-step-aside.html
------------
Benjamin Netanyahu describes Jerusalem as 'heart' of Israel
Press Trust of India | Jerusalem | May 28, 2014
Israel's hawkish Prime Minister Benjamin Netanyahu has described Jerusalem as the "heart of the nation" and vowed to preserve the holy city "as the undivided capital of Israel" for eternity, a position that can derail the fragile peace process with the Palestinians.
Palestinians want the Arab dominated east Jerusalem – home to sites sacred to Jews, Christians and Muslims – as the capital of their future state.
Netanyahu made the comments at the Mercaz Harav yeshiva seminary on Tuesday, which was scene to a 2008 terror attack which saw eight people murdered and 18 injured, on the eve of Jerusalem Day being marked in Israel on Wedneasday.
Full report at:
http://indianexpress.com/article/world/middle-east-africa/benjamin-netanyahu-describes-jerusalem-as-heart-of-israel/
------------
Turkey's Gul congratulates Ukraine's new president
World Bulletin/News Desk
May 28, 2014
Turkey's President Abdullah Gul congratulated Petro Poroshenko on winning Sunday's presidential election in Ukraine.
In a phone conversation with Poroshenko, Gul reaffirmed Turkey's support for the efforts to find a resolution to the Ukrainian conflict on the basis of international laws, Gul's office told Anadolu Agency on Tuesday.
In the first presidential elections since the overthrow of former President Viktor Yanukovych following months of civil unrest, Poroshenko won a landmark victory with more than 50 percent of the vote.
For his part, Poroshenko expressed his gladness that President Gul expressed his support for Ukraine's new leadership.
http://www.worldbulletin.net/news/137527/turkeys-gul-congratulates-ukraines-new-president
------------
Southeast Asia
Malaysia's halal tourism attracts Muslims from all over the world
May 28, 2014
Malaysia attracted over 170,000 visitors from the Gulf countries in 2013, and has been rated the world's top Muslim-friendly holiday destination in a survey released last year.
According to figures, Malaysia received 102,365 tourists from Saudi Arabia in 2012. The total number of tourists from the UAE was 18,233 during this period.
During the first half of 2013 (January to June), Malaysia received over 53,000 visitors from the Kingdom. In addition, the country also received more than 14,500 visitors from Oman, 9,390 from Kuwait and 7,804 from UAE during the same period.
This Asian country with a 60 percent Muslim population mostly attracts Muslim tourists worldwide and has been a frontrunner with regards to anything halal. The country can be divided into two: Peninsular Malaysia with its amazing cities, forested highlands and fringing islands, and east Malaysia, north of the island of Borneo with its dense rain forests, orangutans and animist tribes. Geographically, Malaysia is almost as diverse as its culture. 11 states and 2 federal territories (Kuala Lumpur and Putrajaya) form Peninsular Malaysia which is separated by the South China Sea from East Malaysia which includes the 2 states (Sabah and Sarawak on the island of Borneo) and a third federal territory, the island of Labuan.
Full report at:
http://www.arabnews.com/news/577851
-----------
Muslim NGOs' jihad against Cadbury makes international headlines
May 28, 2014
The Cadbury scandal has made international headlines with Britain's Daily Telegraph reporting that Muslim non-governmental organisations in Malaysia declaring jihad against the confectionery giant.
Last week, the Health Ministry revealed that traces of pork were found in samples taken from two of Cadbury Malaysia's products.
Traces of porcine DNA were found in samples taken from bars of Cadbury dairy milk hazelnut and Cadbury dairy milk roast almond.
Following the revelation, Muslim NGOs in Malaysia declared a holy war on Cadbury Malaysia, the Daily Telegraph reported.
The daily quoted Selangor Perkasa chief Abu Bakar Yahya as saying Cadbury had betrayed Muslims in Malaysia.
Full report at:
http://www.themalaysianinsider.com/malaysia/article/muslim-ngos-jihad-against-cadbury-makes-international-headlines
-----------
Federal Court to decide on June 23 on leave to appeal Allah ban
May 28, 2014
The Catholic Church will know on June 23 whether leave will be granted by the Federal Court to challenge the Home Minister's right to ban the use of the word Allah in its weekly publication Herald.
Lawyer S. Selvarajah said he received a letter yesterday from the Federal Court registry notifying the church of the date of hearing.
On March 5, a seven-man bench reserved judgment on the church's leave application to appeal against the ruling by the Court of Appeal which had upheld the home minister's ban on the use of the word Allah in the Herald.
Chief Justice Tun Arifin Zakaria had adjourned ruling after hearing the parties to the application.
Full report at:
http://www.themalaysianinsider.com/malaysia/article/federal-court-to-decide-on-june-23-on-leave-to-appeal-allah-ban
-------------
Pork is 'haram' but Gambling & Corruption are bigger sins - ex-Perlis mufti
May 28, 2014
KUALA LUMPUR - Muslim outrage here over Cadbury's porcine-tainted chocolates far eclipses their response to greater sins such as corruption and exaggerates the gravity of the issue, former Perlis Mufti Datuk Dr Asri Zainul Abidin said today.
The Islamic scholar said that while it was commendable for Muslims to protest against Cadbury as it was within their rights as consumers, they should not go overboard or go through "extreme" lengths in doing so.
"It is unfortunate that at the same time we are not up in arms against matters which are clearly 'haram' such as usury, corruption, misuse of public funds and so on.
"This is the Islamic understanding of only thinking that pork is 'haram' but not gambling, usury or corruption, despite the fact that the sins from these are bigger than consuming pork," he wrote in a posting on his official Facebook page this morning, which has so far garnered over 26,000 likes and 9,000 shares.
Full report at:
http://www.malaysia-chronicle.com/index.php?option=com_k2&view=item&id=291281:pork-is-haram-but-gambling--corruption-are-bigger-sins-ex-perlis-mufti&Itemid=2#ixzz330jGVAO6
----------
Europe
Russia to allocate 240 million euros to Syria for solving social problems - media
May 28, 2014
This year, Russia is going to allocate 240 million euros (more than 11.2 billion rubles) to Syria as financial assistance for social needs, the Kommersant daily reports on Wednesday referring to a high ranking source in the Russian government.
According to the source, earlier, the Syrian government appealed to Russia with a request to grant a non-repayable financial support to Damascus. "This year, within the framework of assistance, the Syrian government will receive 240 million /euros/, it is the agreed figure," said the source.
According to the newspaper, at the end of April, Prime Minister Dmitry Medvedev signed a decree according to which more than 46 million euros from this sum will be gratuitously transferred to the Syrian authorities from the account of the Russian Vnesheconombank.
Full report at:
http://voiceofrussia.com/news/2014_05_28/Russia-to-allocate-240-million-euros-to-Syria-for-solving-social-problems-media-0495/
------------
Two Azerbaijani soldiers killed by Armenian gunfire
World Bulletin / News Desk
Two Azerbaijani army officers were killed and another was injured from gunfire by Armenian soldiers in a border dispute, according to Azerbaijan officials.
Captain Fikret Mammadov and 23-year-old sergeant Khudaverdi Abilov died after Armenian military forces at Fuzuli district opened fire along the border close to the disputed Karabakh region, Azerbaijan defense ministry said in a statement released on Wednesday.
The ministry added that the Azerbaijani army had responded to the attack and that the situation was now under control.
Azerbaijan and Armenia, two former Soviet republics, fought a war over the disputed region of Nagorno-Karabakh in the 1990s.
Efforts to reach a peaceful resolution to the conflict, which has lasted 20 years, have so far failed. The two countries have no diplomatic relations.
http://www.worldbulletin.net/headlines/137542/two-azerbaijani-soldiers-killed-by-armenian-gunfire
------------
Dutch bid to ward off KSA curbs
May 28, 2014
AMSTERDAM: Dutch Foreign Minister Frans Timmermans is to visit Saudi Arabia to ward off possible trade sanctions against the Netherlands.
A Foreign Ministry spokesman said Timmermans will make clear during the visit that anti-immigration politician Geert Wilders' views are his own and do not represent the position of the Dutch government.
The decision to send a top member of the Dutch government came a day after a senior Dutch diplomat returned from a two-day trip to Saudi Arabia.
"The visit by our director general to Riyadh was a good first step," the ministry spokesman said.
Full report at:
http://www.arabnews.com/news/578006
------------
URL: https://www.newageislam.com/islamic-world-news/new-age-islam-news-bureau/pakistan-has-rejected-misplaced-ideology-of-terrorists--coas/d/87239