New Age Islam News Bureau
24 Jul 2020
• Prayers at Hagia Sophia Will Crown Decades-Long Muslim Campaign
• Invite All Babri Mosque Demolition Accused to Ram Temple 'Bhumi Pujan' and Honour Them: Hindutva Outfit Chief
• 'Help Us Help You:' French FM In Lebanon Urges Reforms
• US Congress Repeals Travel Ban on Muslim-Majority Countries, Unlikely to Pass Senate
• Pakistan Elected President of UN Economic and Social Council for The Sixth Time
Southeast Asia
• Pakistan Has Committed Shirk by Funding Temple Construction in Islamabad, Says Zakir Naik
• Silence of Muslim states on Uighurs' plight is chilling
--------
Mideast
• Prayers at Hagia Sophia Will Crown Decades-Long Muslim Campaign
• PM: Iraq Not to Allow Aggression against Iran
• Turkey pushing ahead with its agenda, risking the wrath of US, EU sanctions
• Israel reinforces Lebanon border after Hezbollah threats
--------
India
• Invite All Babri Mosque Demolition Accused to Ram Temple 'Bhumi Pujan' and Honour Them: Hindutva Outfit Chief
• 198 Delhi Mosque Tablighi Jamaat Event Indonesian Attendees Pay Fine, Allowed to Walk Free
• Bangladesh refused to take Imran's J&K bait: India
• India facilitating visa requests of Afghanistan's Hindu and Sikh minorities
• Pakistan has blocked review of Kulbhushan Jadhav's case, says India
• Punjab: Hearing Impaired Muslim Boy Living with Sikh Family Meets Parents 9 Years After Separation
--------
Europe
• 'Help Us Help You:' French FM In Lebanon Urges Reforms
• Islamic State Remains 'Most Significant' Threat To UK
• 'Astonishing' PM has not spoken to Sadiq Khan since May despite pandemic
• British Daesh terrorists dubbed the 'Beatles' admit mistreatment of US aid worker
--------
North America
• US Congress Repeals Travel Ban on Muslim-Majority Countries, Unlikely to Pass Senate
• Key senator mounts pressure on Trump to declassify report on Soleimani strike
• 'Trump ordered by his Israeli masters to assassinate General Soleimani'
• Arabs and Muslims welcome US House of Representatives passage of No Ban Act
• US fighter jets intercept Iranian passenger plane over Syria
• US Airstrike Hits Pro-Islamic State Militants in Somalia
--------
Pakistan
• Pakistan Elected President of UN Economic and Social Council for The Sixth Time
• Pak Govt, Opposition Debate Kulbhushan'sReview Petition
• Cleric pleads not guilty in contempt case
• LHC to hear petitions of two convicted of espionage
--------
South Asia
• Afghan Army Releases Photo of Militants Who Joined Taliban After Being Released from Prison
• Afghan tribal elder strips naked in protest to conferment of Marshal degree to Gen. Dostum
• Region, including Pakistan to benefit from Afghan peace process: NATO SCR
• Khalilzad reacts to recent wave of violence led by Afghan forces and Taliban
• Civilians among 45 killed in Afghan air raids against Taliban
--------
Africa
• Turkey Warns Egypt of 'Dangerous Military Adventure' In Libya
• Libyan National Army downs Turkish drone west of Sirte
• Russia, Turkey will continue efforts for ceasefire in Libya: Russian FM
• Boko Haram executes five aid workers
--------
Arab World
• Iraqi PM Visits Islamic State Hotbed After Sniper Kills General
• Turkey plans to increase its forces in Libya in case of Egyptian intervention: Report
• Coronavirus: Lebanon's COVID-19 cases rise, dogs trained to sniff out infections
• Dangers threatening Egypt on July revolution anniversary, El-Sisi says
Compiled by New Age Islam News Bureau
URL: https://www.newageislam.com/islamic-world-news/pakistan-committed-shirk-funding-temple/d/122458
--------
Pakistan Has Committed Shirk By Funding Temple Construction In Islamabad, Says Zakir Naik
byM R Subramani
Jul 24, 2020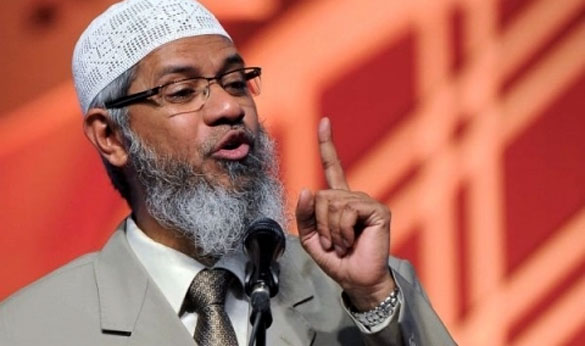 Controversial Islamic preacher Zakir Naik.
---
Pakistan is committing shirk (sin) by funding the construction of a Sri Krishna Mandir (temple) in its capital Islamabad, controversial preacher and Islamic Research Foundation founder Zakir Naik has said.
Responding to a question if a temple can be built with Muslim taxpayers money in an Islamic state, the preacher, who fled India to Malaysia in 2016, said in his video channel that "a Muslim cannot donate, support or construct a house of worship of non-Muslims".
https://swarajyamag.com/news-brief/pakistan-has-committed-shirk-by-funding-temple-construction-in-islamabad-says-zakir-naik
--------
Prayers at Hagia Sophia will crown decades-long Muslim campaign
JULY 23, 2020

Hagia Sophia
----
Daren Butler, Dominic Evans
ISTANBUL (Reuters) - When YunusGenc prays at Hagia Sophia on Friday it will mark the triumphant culmination of decades-long efforts by Islamist-rooted groups like his to convert the ancient monument, revered by both Christians and Muslims, to a mosque.
Genc's Anatolian Youth Association (AGD) held protests and organized prayers outside the 1,500-year-old Hagia Sophia, while another group waged a series of failed legal campaigns until a top Turkish court last month finally ruled in their favor, annulling its status as a museum.
President Tayyip Erdogan immediately declared the building - a Christian Byzantine cathedral for 900 years before it was seized by Ottoman conquerors and served as a mosque until 1934 - a mosque once more, with first prayers to be held this Friday.
The decisions unleashed a torrent of criticism from church leaders, who said the conversion to exclusively Muslim worship risked deepening religious divisions. Turkey says the site will remain open for visitors and its Christian artworks protected.
"We struggled for this for years," Genc said in front of the mosque, whose huge gray dome and rose-coloured walls and buttresses have marked the city skyline for a millennium and a half, joined later by four towering minarets.
"Hagia Sophia is a symbol and we, like all Muslims, wanted it opened as a mosque...When Sultan Mehmet the Conqueror came to Istanbul he bought Hagia Sophia with his own money as a symbol of the conquest, endowed it and wanted it to be a mosque."
Genc's AGD group is an offshoot of a movement founded by Turkey's first Islamist prime minister Necmettin Erbakan, whose political party was a forerunner of the AK Party which has ruled Turkey under Erdogan's leadership for 17 years.
In that time Erdogan has reshaped Turkey's modern republic, established nearly a century ago by the staunchly secularist Mustafa Kemal Ataturk, lifting a ban on Muslim headscarves in public, promoting religious education and taming Turkey's powerful military, once a bastion of Ataturk's secular values.
Amid the chaos and uprisings which shook the Middle East since 2011, Erdogan also sought to position Turkey as a regional power and champion of Sunni Muslims. The Hagia Sophia move was a sign toward "achieving freedom" for al-Aqsa mosque in Jerusalem, Erdogan said earlier this month.
ICONS COVERED
Erdogan, a pious Muslim, threw his weight behind the campaign to convert Hagia Sophia before local elections last year which dealt a painful blow to his ruling AK Party. Officials say the move addresses a deep-rooted wish within the country.
"The decision to turn the Hagia Sophia museum into a mosque is based on a long-standing demand by the vast majority of the Turkish people," presidential spokesman Ibrahim Kalin said. "We believe it makes more sense to use it... as a house of worship."
He said under Erdogan's rule, churches and synagogues serving Turkey's minority Christian and Jewish communities had also been built, or rebuilt.
In Hagia Sophia, the Christian frescoes and the glittering mosaics adorning the cavernous dome and central hall will be concealed by curtains during Muslim prayer times, but remain on display for the rest of the time.
"That's part of the Islamic legal tradition, just like the Jewish tradition where you are not supposed to have many descriptions and paintings, while you're praying," Kalin said.
"They will be covered during prayer times, and other times they will be open to everyone," he told Reuters. Icons and artwork in the building's upper floors and side galleries would remain uncovered, he added.
Pictures from inside Hagia Sophia this week have shown a large carpet being laid on the floor in preparation for the prayers.
https://www.reuters.com/article/us-turkey-hagiasophia/prayers-at-hagia-sophia-will-crown-decades-long-muslim-campaign-idUSKCN24O1QT
--------
Invite All Babri Mosque Demolition Accused to Ram Temple 'Bhumi Pujan' and Honour Them: Hindutva Outfit Chief
Jul 23, 2020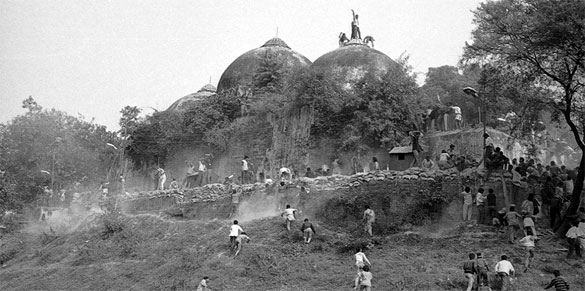 Babri Masjid Demolition
----
AYODHYA: All 32 accused in the Babri mosque demolition case should be invited to the "bhumipujan" ceremony for the construction of the Ram temple here and honoured, a Hindutva outfit leader has said.
Hindu Dharma Sena president Santosh Dubey is one of the main accused in the case.
Dubey also insisted that the Shri Ram Janmabhoomi Teertha Kshetra Trust must also invite all the four Shankaracharyas to the ceremony planned on August 5.
Prime Minister Narendra Modi is also likely to attend the event.
"The office bearers of Ram Janmabhoomi TeerthKshetra must ensure that along with all 32 accused in the Babri mosque demolition case, the families of the karsevaks who gave their lives in the Ram Temple movement must also be invited to the 'bhumipujan' ceremony and must be honoured there," Dubey told PTI.
The top court verdict in favour of the Ram temple at the site would not have been possible had the Babri mosque not been demolished, he said.
"If the Trust does not invite the karsevaks, it will a display of ego and arrogance. Without inviting the karsevaks who have been accused in Babri mosque demolition and the families of the slain karsevaks, the 'bhumipujan' will remain incomplete," Dubey added.
A special CBI court in Lucknow is recording the statements of the 32 Babri demolition accused under section 313 of the CrPC, which enables them to plead their innocence, if they so want.
The court is conducting day-to-day hearings to complete the trial by August 31 as directed by the Supreme Court.
The mosque in Ayodhya was demolished on December 6, 1992 by 'karsevaks' who claimed that an ancient Ram temple had stood on the same site. Former deputy prime minister L K Advani and BJP leader Murli Manohar Joshi were leading the Ram temple movement at that time.
https://timesofindia.indiatimes.com/india/invite-all-babri-mosque-demolition-accused-to-ram-temple-bhumi-pujan-hindutva-outfit-chief/articleshow/77124584.cms
--------
'Help us help you:' French FM in Lebanon urges reforms
23 July 2020
France's top diplomat was on a two-day visit to Lebanon Thursday in the first such trip in recent months by a high-ranking foreign politician to the crisis-hit country hoping for an international bailout.
Jean-Yves Le Drian was set to meet President Michel Aoun at 6:30 GMT, followed by meetings with Prime Minister Hassan Diab and parliament speaker Nabih Berri, the French embassy said.
A statement to the press is expected in the afternoon after he meets his Lebanese counterpart, Nassif Hitti.
Lebanon is mired in its worst economic crisis in decades, marked by a steep currency fall and runaway inflation that have plunged nearly half of the population into poverty.
The crisis has sparked mass protests since October against a political class accused of being incompetent and corrupt, and seen tens of thousands lose their jobs or part of their income.
After the country defaulted for the first time in March, the government pledged reforms and two months ago started talks with the International Monetary Fund towards unlocking billions of dollars in aid, but discussions are stalling.
Earlier this month, Le Drian said he was "very worried" by the lack of progress on reforms demanded before foreign financial assistance would be forthcoming.
"Help us help you," he urged.
Lebanon's government says it needs more than $20 billion in external funding, which includes $11 billion pledged by donors at a Paris conference in 2018 never delivered over lack of reforms.
https://english.alarabiya.net/en/business/economy/2020/07/23/-Help-us-help-you-French-FM-in-Lebanon-urges-reforms.html
--------
US Congress repeals travel ban on Muslim-majority countries, unlikely to pass Senate
22 July 2020
The US Congress on Wednesday voted to repeal the Trump administration's travel ban and further restrict the president's power to limit entry to the US, a symbolic victory for Muslim American and civil rights groups.
The bill, which passed the Democrat-controlled House 233-183, had initially been slated for action in March, before the coronavirus forced scheduling changes on Capitol Hill.
For all the latest headlines follow our Google News channel online or via the app.
The measure is unlikely to advance in the Republican-controlled Senate, where it has no GOP support. But the bill's passage by the House still elated advocates who had long pushed for formal action against a travel ban that they see as discriminatory.
The White House noted its opposition to the bill in March, saying in a statement that undoing the travel ban "would harm the national security of the United States" and that the ban has been "central to the Administration's ongoing efforts to safeguard the American people against the spread of COVID-19."
In debate ahead of the vote, Democrats repeatedly blasted the travel ban that President Donald Trump first imposed in January 2017. They called it biased against Muslims, whose entry into the country Trump first suggested blocking during his 2016 White House run.
The legislation goes beyond overturning Trump's travel ban, which was retooled amid legal challenges and upheld by the Supreme Court in 2018. The latest version of the ban affects travel from five majority-Muslim nations – Iran, Somalia, Yemen, Syria and Libya – in addition to North Korea and by some Venezuelan government officials and their families.
In addition to overturning the travel ban, the bill the House passed also prohibits religious discrimination in the application of immigration law and constrains the executive branch's ability to limit entry to the US by certain groups of people.
Trump earlier this year added new immigration curbs from six other nations, including majority-Muslim Kyrgyzstan and Sudan, as well as Nigeria, which has the world's fifth-largest Muslim population, according to the Pew Research Center.
Trump's Democratic rival in the upcoming presidential election, former Vice President Joe Biden, vowed Monday to rescind Trump's travel ban "on day one" if he's elected. His pledge came during a summit focused on Muslim voter turnout.
Muslim Americans and other civil rights advocates have said Wednesday's vote in the House would help them keep the pressure on for a future rollback of the policy.
https://english.alarabiya.net/en/News/world/2020/07/23/Congress-repeals-travel-ban-on-Muslim-majority-countries-unlikely-to-pass-in-Senate.html
--------
Pakistan elected president of UN Economic and Social Council for the sixth time
Naveed Siddiqui
24 Jul, 2020
Pakistan's Permanent Representative to the United Nations Munir Akram was on Thursday unanimously elected as the president of the United Nations Economic and Social Council (ECOSOC) for the year 2020-21.
This is the sixth time that Pakistan has been elected as the ECOSOC president and the second time that Ambassador Akram has been elected to this post, having served as its president in 2005. The only other envoy to have had this distinction was Juan Somavía of Chile, according to a statement issued by the Pakistani mission to the UN in New York.
The 54-member ECOSOC is the third principal UN organ, along with the General Assembly and Security Council, established in 1945 to promote international economic cooperation and oversee the work of all international economic organisations.
In his acceptance speech, Ambassador Akram outlined the objectives of the Pakistan presidency.
He said UN member states today faced three simultaneous challenges: the Covid-19 health and economic crisis, the realisation of the Sustainable Development Goals and the existential threat of climate change. The commitments made in each area must be implemented, he added.
Related: Economic costs of Covid-19
Stressing the need to end inequality among and within nations, Akram expressed the hope that a Covid-19 vaccine would be developed soon. "Everyone, everywhere — rich or poor — must have equal access to the vaccine," he stressed.
The envoy proposed that in the coming year, ECOSOC should focus on financing for Covid-19, SDGs and climate change goals; sustainable infrastructure investment; and application of advanced science and technology for development. He said he would convene special meetings to advance action in these areas.
He recalled the call by Prime Minister Imran Khan for a "Global Initiative on Debt Relief" and mentioned the proposals for new special drawing rights (SDRs) and other financing proposals under consideration.
He said an additional investment of over $1.5 trillion annually in sustainable infrastructure was "most essential" for the achievement of the SDGs. He also proposed the creation of an Infrastructure Project Preparation and Investment Centre.
Akram called for preferential access for developing countries to advanced technologies and for making the intellectual property regime "compatible with the SDGs".
"The digital revolution has opened vast opportunities for the developing countries, not so much to catch up with the advanced countries, but to leapfrog into a new and modern development paradigm," he was quoted as saying by the press release.
ECOSOC is the UN's central platform for economic and social development, forging consensus and coordinating efforts to achieve internationally agreed development goals.
https://www.dawn.com/news/1570725/pakistan-elected-president-of-un-economic-and-social-council-for-the-sixth-time
--------
Southeast Asia
Silence of Muslim states on Uighurs' plight is chilling
July 24 2020
Why are so many Arab and Muslim governments supporting China as it destroys the Uighurs? A Muslim community with a rich history and culture is being eradicated: through mass incarceration, deportation, enforced sterilisation and the destruction of ancient mosques and cultural sites. The Uighurs are not being exterminated. Instead this is the world's first high-tech genocide, the destruction of a nation by harnessing a surveillance state. Levelling mosques says "you were never here". Enforced sterilisation says "you never will be".
Yet the Uighurs too are part of the Ummah, Arabic for "community". Ummah is a synonym for ummat al-Islam, a community of faith where all are equal before Allah. It is one of Islam's most appealing tenets. Yet instead of standing up for their co-religionists
https://www.thetimes.co.uk/article/silence-of-muslim-states-on-uighurs-plight-is-chilling-2gqrbzwl3
--------
Mideast
PM: Iraq Not to Allow Aggression against Iran
Jul 23, 2020
Iraq will not allow its territory to be used as a ground for security threats against the Iranian nation, al-Kadhimi stressed in a meeting with Iranian Parliament Speaker Mohammad BaqerQalibaf in Tehran on Wednesday.
He hailed Iran for backing the Iraqi government and nation during the fight against the ISIL, and said Iraq will not forget that Iran is an important neighbor and thus will continue developing bilateral economic, cultural and security ties.
Qalibaf, for his part, called on neighboring Iraq to "vigorously" follow up on the US assassination of top anti-terror commander Lieutenant General Qassem Soleimani, censuring the crime as a stain on the record of American statesmen.
"The United States violated Iraqi territory and impudently assassinated those who risked their lives to crush the bones of terrorism. This is not a simple issue. The American assassination is a major case that must be pursued vigorously," Qalibaf said.
"The criminal assassination of General Qassem Soleimani, an international hero in the fight against terrorism, and the great martyr Abu Mahdi al-Muhandis and their companions, on the direct order of [US] President [Donald] Trump, is a stain of shame that will never be erased from the faces of White House officials," the top parliamentarian said.
The Islamic Republic, he added, believes that stability will not return to the region as long as foreign forces are present.
Qalibaf also highlighted the historical and religious bonds between the two neighboring nations, and said, "We fought the ISIL and Takfiris and emerged victorious. The Islamic Republic of Iran has been standing by the Iraqi government and since the start [of their anti-terror fight]."
The Parliament chief said political, economic and cultural relations between the two sides have been growing at a proper rate, calling for serious efforts to further enhance bilateral ties in various sectors.
In relevant remarks on Tuesday, Supreme Leader of the Islamic Revolution Ayatollah Seyed Ali Khamenei said that Iran will never forget assassination of General Soleimani and will definitely deal the US a counter-blow.
The Supreme Leader made the remarks in Tehran, while speaking to the visiting Al-Kadhimi.
"The US' crime in assassinating General Soleimani and Abu Mahdi Al-Muhandis is an example of its presence. They killed your guest at your home, and they flagrantly confessed to this crime. This is not a trivial thing," he said, adding, "The Islamic Republic of Iran will never forget the martyrdom of Hajj Qassem Soleimani and will definitely deal a reciprocal blow to the US."
Lieutenant General Soleimani was assassinated in a US drone strike on Baghdad International Airport in Iraq on January 3.
The airstrike also martyred Deputy Commander of Iraq's Popular Mobilization Forces (PMF) Abu Mahdi al-Muhandis. The two were martyred in an American airstrike that targeted their vehicle on the road to the airport.
Five Iranian and five Iraqi military men were martyred by the missiles fired by the US drone at Baghdad International Airport.
On January 8, the IRGC Aerospace Force started heavy ballistic missile attacks on US Ein Al-Assad airbase in Southwestern Iraq near the border with Syria and a US operated airbase in Erbil in retaliation for the US assassination of ant General Qassem Soleimani.
Ein Al-Assad is an airbase with a 4km runway at 188m altitude from sea levels, which is the main and the largest US airbase in Iraq. Early reports said the radar systems and missile defense shields in Ein Al-Assad failed to operate and intercept the Iranian missiles. Unofficial reports said the US army's central radar systems at Ein Al-Assad had been jammed by electronic warfare.
The second IRGC reprisal attack targeted a US military base near Erbil airport in Iraqi Kurdistan Region in the second leg of "Martyr Soleimani" reprisal operation.
Iraq said the attacks had not taken any toll from its army men stationed at these two bases. The US army had blocked entrance into Ein Al-Assad to everyone, including the Iraqi army.
It was the first direct attack on the US army ever since world war two.
The IRGC officials said none of the missiles had been intercepted.
Meantime, Iran announced in late June that it had issued arrest warrants for 36 officials of the US and other countries who have been involved in the assassination of the martyred General Soleimani.
"36 individuals who have been involved or ordered the assassination of Hajj Qassem, including the political and military officials of the US and other governments, have been identified and arrest warrants have been issued for them by the judiciary officials and red alerts have also been issued for them via the Interpol," Prosecutor-General of Tehran Ali AlqasiMehr said.
He said that the prosecuted individuals are accused of murder and terrorist action, adding that US President Donald Trump stands at the top of the list and will be prosecuted as soon as he stands down presidency after his term ends.
https://en.farsnews.ir/newstext.aspx?nn=13990502000464
--------
Turkey pushing ahead with its agenda, risking the wrath of US, EU sanctions
24 July 2020
Washington is growing increasingly frustrated with Turkey and its recent actions, such as purchasing Russia's S-400 missile defense systems, and bipartisan efforts are mounting to change US policy toward Ankara.
Turkey's President Recep Tayyip Erdogan has made a number of other controversial decisions and this has drawn the ire of US officials, despite US President Donald Trump so far refraining from announcing more sanctions.
Under the 2017 Countering America's Adversaries Through Sanctions Act (CAATSA), the US is required to impose sanctions on any country that makes "significant" military transactions with US adversaries, including Russia.
For all the latest headlines follow our Google News channel online or via the app.
In July 2019, Turkey received its first batch of equipment for the S-400s and ultimately was kicked out of the F-35 fighter jet program. Turkish pilots were also expelled from training on the aircraft on US soil.
After ignoring warnings and opposition from Washington and NATO allies, the US then sanctioned Turkey last October for its military operation on Kurdish posts in northern Syria. Trump subsequently increased tariffs, and sanctions were slapped on Ankara's foreign, defense and interior ministers.
Turkey then threatened retaliatory sanctions.
On Monday, the US officially expelled Turkey from the F-35 program and the US Defense Department announced its procurement of eight Lot 14 F-35A Lightning II aircraft "as a result of the Republic of Turkey's removal from the F-35 program."
The move came as part of a more than $861 million deal with Lockheed Martin.
But Turkey was unphased and pushed ahead with its own agenda.
It is currently taking part in military operations inside of Syria, Iraq, and Libya and its involvement in the latter threatens to destabilize relations with the European Union over its encroachment of Greek and Cypriot waters and potential natural gas reserves.
In Iraq, Turkey is believed to be coordinating with Iran in its operations against Kurdish forces where the Kurdish populations are viewed as a threat to the sovereignty of those nations by Ankara and Tehran. This has been condemned by Saudi Arabia, and US officials have said that Iraq must be able to call the shots inside its territory.
US legislation to sanction Turkey picks up steam
A bipartisan group of Congress members introduced a bill last week that would sanction Turkey for its purchase of the Russian missile defense systems.
Congressman Adam Kinzinger said it was time for the US "to make it very clear that [Turkey's] actions will not be tolerated and will be met with serious consequences."
The bill was sponsored by Kinzinger and co-sponsored by a Democrat and one other Republican. "Our legislation does that and makes the actions by Turkey an explicitly sanctionable offense," Kinzinger said.
Congresswoman Abigail Spangberger noted that "Turkey's recent actions are incompatible with our nation's security and the interests of our NATO allies."
In addition to the US, French President Emmanuel Macron Thursday demanded EU sanctions against Ankara for "violations" of Greek and Cypriot waters, saying the European Union should act over the crisis in Libya.
Macron said sanctions were "necessary" for a ceasefire to be reached in the Libyan crisis.
Turkey convicts US consulate employee
Just last month, Turkey convicted a local US consulate employee on charges of aiding an armed terror organization linked to US-based Turkish cleric Fethullah Gulen.
MetinTopuz, a translator and assistant for the US Drug Enforcement Agency, was sentenced to more than eight years in prison.
The move was strongly condemned by US Secretary of State Mike Pompeo it would "undermine" bilateral relations.
Erdogan's human rights violations
Since February the Turkish government has detained over a thousand people for suspected links to Gulen, who Erdogan blames for orchestrating the 2016 failed coup attempt against him. Since the coup attempt, some 80,000 people have been held and are awaiting trial; around 150,000 civil servants, military personnel and others have been fired or suspended.
Gulen, who has suggested Erdogan staged the coup attempt as an excuse to consolidate power, now lives in self-exile in Pennsylvania.
Ankara has submitted official requests for American officials to extradite Gulen back to his homeland of Turkey, along with other dissidents who fled persecution to the US. American officials have denied Turkey's requests.
Multiple US lawmakers spoke out against Erdogan last month as part of a campaign by Turkish NBA star Enes Kanter, arguably the most famous Gulen supporter in the US.
The campaign aims to draw awareness to human rights violations perpetrated by Erdogan's government.
Florida Senator Marco Rubio called on Erdogan to "end the targeting the jailing of journalists and dissidents in Turkey," in a video on Twitter.
New York Congressman Peter King said he stood "with all the people of Turkey who stand together against the brutal dictatorship of Erdogan," in a separate video.
Erdogan converts Hagia Sophia into a mosque
Last month Erdogan raised eyebrows across the globe – including with US senators and representatives – when he announced he would convert the ancient Byzantine monument of Hagia Sophia from a museum to a mosque.
Located in Turkey's capital Istanbul, the Hagia Sophia was originally built as a church in the sixth century, converted into a mosque in 1453, and then a museum following the founding of the secular Turkish Republic.
The decision likely means the site will lose its UNESCO World Heritage status and that its Christian relics and artwork will be transferred to another site, though religious authorities said the Christian relics would stay put.
Senators James Risch and Bob Menendez, Democrat and Republic, respectively, denounced Erdogan's decision and called it "a deep affront to Christians around the world who look to Hagia Sophia as a shining light and deeply revered holy site."
Congressman Steve Cohen said that Erdogan's changing of the monument's status "to appease short-term, domestic political appetites" was a mistake, while Congressman Lee Zeldin said Erdogan's decree was "a pointed attempt to unnecessarily stoke the flames of religious divisiveness."
https://english.alarabiya.net/en/features/2020/07/24/Turkey-pushing-ahead-with-its-agenda-risking-the-wrath-of-US-EU-sanctions.html
--------
Israel reinforces Lebanon border after Hezbollah threats
July 23, 2020
JERUSALEM — The Israeli military said Thursday it was reinforcing the country's northern border with infantry troops "in accordance with the situational assessment."
The announcement comes after a strike earlier this week killed a fighter from the militant Hezbollah group near Damascus International Airport. The airstrike, which also killed four other foreign fighters, was widely attributed to Israel.
Iran-backed Hezbollah has vowed in the past to retaliate for any fighter that Israel kills in Syria. The group fired a barrage of anti-tank missiles into Israel on Sept. 1 last year after two of its fighters were killed in an Israeli airstrike near Damascus days earlier.
That prompted a reprisal of heavy Israeli artillery fire in a rare burst of fighting between the bitter enemies. Hezbollah and Israel fought a 34-day war in 2006 that ended in a draw.
Israel did not comment on this week's strike and generally refrains from discussing its activities in neighboring Syria. But it is believed to have carried out hundreds of strikes against pro-Iranian forces during the nearly decade-long civil war.
Tehran has sent thousands of Iran-backed fighters in the past years to fight alongside Syrian government forces.
Israel views Iran as a regional menace and has vowed to prevent any permanent Iranian military buildup in Syria, particularly near its frontier.
https://www.washingtonpost.com/world/middle_east/israel-reinforces-lebanon-border-after-hezbollah-threats/2020/07/23/33fdf678-ccb0-11ea-99b0-8426e26d203b_story.html?utm_source=iterable&utm_medium=email&utm_campaign=1382310_
--------
India
198 Delhi Mosque Tablighi Jamaat Event Indonesian Attendees Pay Fine, Allowed To Walk Free
July 23, 2020
New Delhi: A Delhi court Thursday allowed 198 Indonesians to walk free on payment of varying fines, after they accepted mild charges under the plea bargain process, related to various violations including visa norms while attending the Tablighi Jamaat event here during the COVID-19 lockdown.
Metropolitan Magistrate Vasundhara Azad allowed 100 Indonesians to walk free on payment of a fine of Rs 7,000 each, said advocates Ashima Mandla, Fahim Khan and Ahmed Khan, appearing for them.
Metropolitan Magistrate Swati Sharma allowed 98 Indonesians to walk free on payment of a fine of Rs 5,000 each.
The court directed the 98 Indonesians to deposit their fines to PM CARES Fund.
The Sub-divisional magistrate of Defence Colony, who was the complainant in the case, Assistant Commissioner of Police of Lajpat Nagar and Inspector of Nizamuddin said they have no objection to it.
However, one Indonesian did not plead guilty to the charges against them and claimed trial before the court.
Under plea bargaining, the accused plead guilty to the offence praying for a lesser punishment. The Criminal Procedure of Code allows for plea bargaining in cases where the maximum punishment is 7-year imprisonment; offences don't affect the socio-economic conditions of the society and the offence is not committed against a woman or a child below 14 years.
PromotedListen to the latest songs, only on JioSaavn.com
The foreigners were chargesheeted for attending the religious congregation at Nizamuddin Markaz event in the national capital by allegedly violating visa conditions, indulging in missionary activities illegally and violating government guidelines, issued in the wake of Covid-19 outbreak in the country.
They were granted bail earlier by the court on a personal bond of Rs 10,000 each.
https://www.ndtv.com/delhi-news/198-tablighi-jamaat-event-indonesian-attendees-pay-fine-allowed-to-walk-free-2267652
--------
Bangladesh refused to take Imran's J&K bait: India
Jul 24, 2020
NEW DELHI: Following Pakistan PM Imran Khan's conversation with his Bangladeshi counterpart Sheikh Hasina during which he raised the Kashmir issue, the government on Thursday said its ties with Bangladesh were timetested and historic and that it appreciated Dhaka's stance that Jammu & Kashmir is India's internal matter.
In his conversation with Hasina, Khan had "stressed the importance of peaceful resolution of the J&K dispute for a safe and prosperous region".
MEA spokesman Anurag Srivastava said India and Bangladesh on Thursday marked another historic achievement towards strengthening their maritime and economic partnership. The first ever movement of container cargo from Kolkata to Agartala through the Chattogram Port was successfully concluded on Thursday.
https://timesofindia.indiatimes.com/india/bangladesh-refused-to-take-imrans-jk-bait-india/articleshow/77137802.cms
--------
India facilitating visa requests of Afghanistan's Hindu and Sikh minorities
Jul 24, 2020
India said on Thursday it has been getting requests from members of the Hindu and Sikh minorities of Afghanistan to settle down in the country following a spike in terror attacks on these communities.
"There has been a recent spurt in attacks on the Hindu and Sikh communities in Afghanistan. These attacks have been done by terrorists at the behest of their external supporters," external affairs ministry spokesperson Anurag Srivastava told a weekly news briefing.
"We have been receiving requests from the members of these communities, they want to move to India, they want to settle down here. Despite the ongoing Covid-19 situation, we have been facilitating these requests," he added.
The Indian embassy in Kabul is providing visas to members of the minority communities to come to the country. "Once they reach here, their requests will be examined and acted upon based on extant rules and policies," Srivastava said.
After Nidan Singh Sachdeva, a leader of Hindus and Sikhs in Afghanistan was released from captivity on July 18 after being kidnapped on June 22, the external affairs ministry had said the targeting and persecution of minority communities by terrorists was a "matter of grave concern".
"In a recent decision, India has decided to facilitate the return of Afghan Hindu and Sikh community members facing security threats in Afghanistan to India," the ministry had said in a statement at the time.
The controversial Citizenship (Amendment) Act provides for a speedy process for members of non-Muslim minorities from Afghanistan, Bangladesh and Pakistan to seek refuge in India.
In a separate development, India has again asked Pakistan to ensure the safety of its minorities after a Gandhara-style Buddha statue found during the excavation of a house at Mardan in Khyber-Pakhtunkhwa province was demolished on July 18 at the behest of an Islamic cleric.
This act was widely condemned and Buddhist monks in Gaya have condemned the vandalism, Srivastava said.
"We have expressed our concerns to Pakistan. We have conveyed our expectation that they would ensure the safety, security and well-being of minority communities there, as well as protect their cultural heritage," he said.
https://www.hindustantimes.com/world-news/india-facilitating-visa-requests-of-afghanistan-s-hindu-and-sikh-minorities/story-bhT4CSKPXH4TmAiNkB52WN.html
--------
Pakistan has blocked review of Kulbhushan Jadhav's case, says India
Rezaul H Laskar
Jul 23, 2020
India on Thursday accused Pakistan of blocking all avenues for an effective review of the case of Kulbhushan Jadhav, sentenced to death for alleged involvement in spying, and said it reserved its rights to avail of further remedies.
A day after the Pakistan government petitioned the Islamabad high court to appoint a lawyer to represent Jadhav for filing a review petition against his death sentence, the external affairs ministry charged Islamabad with systematically blocking access to the former naval officer, not providing documents related to his case and violating the International Court of Justice's (ICJ) order for a review of his conviction.
"[Pakistan] has blocked all the avenues for an effective remedy available for India," external affairs ministry spokesperson Anurag Srivastava told a weekly briefing.
"Pakistan has completely failed to provide the remedy as directed by the ICJ and India reserves its position in the matter, including its rights to avail of further remedies," he said, without giving details.
People familiar with developments said on condition of anonymity that India would take the next step after legal consultations. They didn't preclude the possibility of again approaching the ICJ on Jadhav's case.
The Pakistan government promulgated an ordinance on May 20 to give foreign citizens convicted in the country the right to file a review petition in courts. The ordinance was aimed at complying with ICJ's order for effective review and reconsideration of Jadhav's conviction and sentencing by a Pakistani military court.
But even here Pakistan's actions had led to confusion, Srivastava said. Pakistan created confusion over the last date for filing a review petition, initially saying it was July 19 before changing the date to July 20. Pakistan took two weeks to inform India about the ordinance and shared the copy of it only after a request from New Delhi.
India conveyed its concerns about "inadequacies and shortcomings in the ordinance" with Pakistan in June. It also informed Pakistan the ordinance "neither fulfils nor does it give complete weight to the judgment of the ICJ", Srivastava said.
India also made repeated requests to Pakistan to provide documents related to Jadhav's case and was told they could be handed over only to an authorised Pakistani lawyer. "Thereafter, India appointed a Pakistani lawyer to obtain the relevant documents. To our surprise...when the authorised Pakistani lawyer approached the concerned authorities, they declined to hand over the documents to the lawyer," he added.
In the absence of unhindered consular access to Jadhav and the documents, the Indian side tried, as a last resort, to file a review petition in Islamabad high court on July 18. "However, our Pakistani lawyer [said] that a review petition could not be filed in the absence of power of attorney and supporting documents related to the case of Jadhav," said Srivastava.
Indian officials had walked out of a meeting with Jadhav on July 16 after Pakistan breached assurances about providing unimpeded consular access. "The meeting of consular officers with Jadhav on July 16 was scuttled by Pakistan authorities. The consular officers were instructed not to hand over any document to Jadhav. Hence, the officers could not obtain a power of attorney from Jadhav," he said.
Srivastava said Pakistan was "non-serious in its approach and was not interested in implementing the judgment of the ICJ in letter and spirit". He added, "The whole exercise of not providing any documents related to the case even after repeated requests, not providing unimpeded consular access and some reported unilateral action of approaching the Islamabad high court on the part of Pakistan again exposes the farcical nature of Pakistan's approach," he said.
Jadhav, 50, was arrested by Pakistani security agencies in Balochistan in March 2016 and charged with involvement in spying. In April 2017, Pakistan announced he had been sentenced to death by a military court.
The ICJ ruled in July 2019 that Pakistan had violated Jadhav's rights under the Vienna Convention on Consular Relations and stayed his execution while calling for an "effective review and reconsideration" of his sentence.
India has rejected the allegations against Jadhav and said he was kidnapped by Pakistani operatives from the Iranian port of Chabahar, where he was running a business.
https://www.hindustantimes.com/india-news/pakistan-has-blocked-review-of-kulbhushan-jadhav-s-case-says-india/story-LBTSYmt3I9QFaPbr0yr6cI.html
--------
Punjab: Hearing impaired Muslim boy living with Sikh family meets parents 9 years after separation
Jul 24, 2020
PATIALA: Nine years ago, in 2011, a hearing and speech impaired 10-year-old boy, who wrote down his name as 'Abdul' in English, lost his way home and reached Fatehgarh Sahib. Since then he has been staying with Gurnam Singh of Bhaironpur village. On Wednesday, he finally met his father again.
Abdul's father Tahir Ali, from Farrukhabad in Uttar Pradesh, said in May 2011 he had visited his brother in Ghaziabad along with his son to spend a few days. "When we realised Abdul was missing, we lodged a complaint with the police but for years our efforts had gone in vain," he added.
Abdul, then 10, said to have boarded the wrong bus. He was then picked up by a truck driver, who dropped him in Sirhind, Fatehgarh Sahib, according to Gurnam Singh, who met Abdul in his village streets and took him to Rauza Sharif authorities to find his family.
"A street vendor found him roaming on the streets of Sirhind and took him to a mosque when he realised he is Muslim. At the mosque, Abdul met our village boy of his age, who brought him to our village. Abdul wrote his name and his parents' name. He knew nothing else. We gave him food and then took him to Rauza Sharif. He stayed at my house for a few weeks. Later, in coordination with the district administration, I got him admitted in a school under SarvSikhya Abhiyan in Meerpur village where he stayed. But the school was shut down after a few months. A teacher there recemmended a school for deaf and blind in Patiala, where he was provided accommodation too," said Gurnam.
"We never saw him as Muslim, although some people did raise objections and some even asked us to convert him into Sikh religion. I used to take him to Rauza Sharif in Fatehgarh Sahib where Abdul recite his Namaz prayers while I remain seated outside. He became part of our family and used to come home during vacations and holidays. Like our children, he used to give a list of his requirements," added 70-year-old Gurnam, who lives with his wife Rajwant Kaur. His son is settled abroad while two daughters are married. He said he is happy that Abdul is back with his mother and father.
Colonel Karaminder Singh (retired), secretary, Society For Welfare Of The Handicapped, said Abdul was admitted in their school about eight years ago. "It was during lockdown when we allowed more internet access, I encouraged Abdul to try finding out his friends or family members on Facebook. Fortunately, he managed to get in touch with one of his old classmates in Ghaziabad, who further got his family's contact and address."
Tahir said, "Words cannot explain the love Abdul had received from Gurnam's family and his school authorities. They are best examples of humanity."
https://timesofindia.indiatimes.com/city/ludhiana/punjab-hearing-impaired-muslim-boy-living-with-sikh-family-meets-parents-9-years-after-separation/articleshow/77139215.cms
--------
Europe
Islamic State remains 'most significant' threat to UK
22 July 2020
The Islamic State group (IS) remains the "most significant" threat to the UK, the defence secretary has warned.
Ben Wallace said the militant group's "poisonous ideology" endures despite it having lost territory it once held in Syria and Iraq - and a possible resurgence "should concern us all".
British aircraft have struck 40 targets as part of the fight against IS in the past year, Mr Wallace told MPs.
The "hard fight" to beat IS, or Daesh, was "by no means done", he said.
Making a statement to the House of Commons, Mr Wallace said RAF strikes had hit 40 targets since July 2019. Targets ranged from caves in remote parts of northern Iraq, to weapons bunkers and training camps, he said.
"RAF aircraft have continued to patrol the skies on an almost daily basis," he said.
Members of the group have "nowhere to hide", he said, but added that the group's "poisonous ideology" still endures.
"Daesh retains its intent to carry out and inspire attacks against us, and remains the most significant terrorist threat to the United Kingdom and our interests," he said.
"Conflict, economic collapse and inequality is creating new opportunities that they will continue to exploit, to grow and recruit."
Hundreds of 'low risk' fighters in UK
About 900 people who joined the group as fighters during the conflict came from the UK, MPs were told.
Mr Wallace said of those, about 20% had been killed and around 40% remain in the area, either at large or in detention.
The remaining 40% - an estimated 360 people - have returned to the UK, "where they have been investigated and the majority assessed now to pose no risk or a low security risk", he said.
The UK continues to provide training, mentoring, and air support to Iraqi security forces, Mr Wallace said.
https://www.bbc.com/news/uk-53507552?utm_source=iterable&utm_medium=email&utm_campaign=1382310_
--------
'Astonishing' PM has not spoken to Sadiq Khan since May despite pandemic
23 July 2020
Sadiq Khan, the Mayor of London, has accused Prime Minister Boris Johnson of not having spoken to him for the past two and a half months amid the raging pandemic.
Mr Khan said that he had been lobbying Boris Johnson on the use of face masks, but that the last time he had spoke to him was around two and a half months earlier.
"The last time I spoke to him was the last time there was a Cobra meeting, which was in early May," Mr Khan told the Press Association news agency.
"I find it astonishing the Prime Minister of a country during a pandemic isn't holding Cobra.
"I find it equally astonishing that the Prime Minister isn't engaging with the mayor of the capital city.
"But look, it's for him to explain why he's not doing so, I'm keen to make sure that we make London as safe as we can during this pandemic and our teams work with the Government, even though it's not the Prime Minister."
The name Cobra stands for "Cabinet Office Briefing Room A" and refers to the emergency council which is formed when a crisis arises which will call for various different departments to work in tandem.
As well as the Prime Minister, who usually chairs meetings, they are attended by a cross-departmental range of senior ministers, security officials, military chiefs, emergency services leaders and civil servants.
Tory contender for Mayor of London in the upcoming election, Shaun Bailey, has suggested that Mr Khan had been deliberately excluded from the briefings since the government did want him passing on details of their discussions to the public.
Mr Khan had said face masks needed to be made compulsory on public transport as early on as mid April when the government was still advising against their use for fear there would not be enough to go around.
On 18 June Mr Khan said masks should be worn in all shops, with the national government taking up his advice on 14 July a month later, for retail businesses in England.
The Mayor of London was due to be up for re-election in May, but the contest was postponed until next year on account of the pandemic. Polls suggest Mr Khan will roundly beat his Conservative opponent Shaun Bailey, who claims the incumbent has mismanaged Transport for London – a popular belief among Conservative activists.
TfL, which ordinarily receives no operating subsidy and funds its services from fares, has faced a dramatic drop in income during the pandemic as commuters stayed off public transport. The government has provided £1.6 billion in emergency funding for the operator, but with conditions such as ending free travel for the young and old and street-level measures to enable social distancing.
Mr Bailey told talkRADIO last week: "Sadiq Khan complained he wasn't invited to COBRA meetings, top level meetings with things that are being discussed in private so as to not cause a panic in the country.
"He was invited to a meeting and the first thing he did was to come out of that meeting and break that meeting's confidentiality. He told us that school might be closed down, which could have caused a great panic.
"He was asked not to divulge any information and he did. So that's why he cannot be trusted. The Government won't speak to him because everything they tell him, it turns into a political game."
https://www.presstv.com/Detail/2020/07/23/630261/PM-not-spoken-to-London-mayor-since-May-despite-pandemic
--------
British Daesh terrorists dubbed the 'Beatles' admit mistreatment of US aid worker
July 23, 2020
LONDON: Two of the British Daesh terrorists dubbed the "Beatles" further incriminated themselves in mistreating Western hostages in Syria, including American Kayla Mueller.
The two men, AlexandaKotey and El Shafee Elsheikh, for the first time admitted their involvement in the captivity of Mueller, an aid worker who was held captive and tortured and sexually abused before her death in 2015.
In interviews obtained by NBC News, Kotey said: "She was in a room by herself that no one would go in."
Elsheikh got into more detail, saying: "I took an email from her myself," meaning he got an email address Daesh could use to demand ransom from the family. "She was in a large room, it was dark, and she was alone, and she was very scared."
Daesh demanded the Muellers pay €5m (£4.55m) and threatened that if the demands weren't met, they would send the family "a picture of Kayla's dead body."
In captivity, Kayla was taken to live with a senior Daesh official, and was raped by the former Daesh leader, Abu Bakr Al-Baghdadi, US officials have said.
Kayla is believed to have died in 2015 in what Daesh said was a Jordanian airstrike
Kotey and Elsheikh are both in US military custody in Iraq amid questions over how and when they will face justice.
US and British authorities say the so-called Beatles were responsible for 27 killings, including the beheadings of Americans James Foley, Steven Sotloff and Peter Kassig, and British aid workers David Haines and Alan Henning.
https://www.arabnews.com/node/1709071/middle-east
--------
North America
Key senator mounts pressure on Trump to declassify report on Soleimani strike
23 July 2020
Pressure is growing in the United States on President Donald Trump to declassify the legal justification for a US drone attack, which killed top Iranian anti-terror commander General Qassem Soleimani in Iraq in January.
For months, Sen. Chris Murphy (D-Conn.), among others, has been working to unearth the national security secret and find out the legal justification for Trump's order of the assassination of General Soleimani.
The Trump administration sent Congress a formal notification of the assassination under the War Powers Act just after it happened, but kept it classified.
Murphy appealed to an agency called the Interagency Security Classification Appeals Panel (ISCAP), which is tasked with reviewing declassification requests.
"We've seen the Trump administration repeatedly classify information just because it is politically damaging to President Trump, and it's up to Congress to stop it," Murphy said in a statement.
"The American people deserve to know why the Trump administration chose to kill Qassem Soleimani back in January, since this event had far-reaching consequences for US security. By hiding the legal rationale for this action, there can be no meaningful public debate about the wisdom of the strike."
Democrats denounced the Trump-authorized assassination as "highly unusual," with observers saying it raised grave questions about the scope of Trump's contempt for oversight, the presidential warmaking power and the ever-waning authority of Congress over those matters, Washington Post said.
Back in February, Murphy sent a letter to the White House demanding the declassification, as did other Democratic senators, including Senate Foreign Relations Committee Ranking Member Bob Menendez and Senate Democratic Leader Chuck Schumer. The White House never answered, Murphy's office says.
The Democratic senators called for the Trump administration to immediately declassify the White House notification to Congress of the initiation of hostilities against Iran, pursuant to the War Powers Act of 1973, saying there was no legitimate justification for such extensive classification.
They said it is critical for the Trump administration to share additional information with the American people about the US military operation targeting General Soleimani, who commanded the Quds Force of Iran's Islamic Revolution Guards Corps (IRGC).
Murphy said that the Trump administration offered shifting and weak public rationales for the killing of General Soleimani.
The classified War Powers notification should contain the official reasoning and be backed up with real intelligence. It would allow us to properly evaluate that reasoning, he noted.
The Trump administration claimed at the time that the Soleimani strike was legal as an act of imminent self-defense under Article II of the US Constitution as well as the 2002 military authorization to invade Iraq.
Democrats maintained that General Soleimani was not planning any imminent attacks on US interests, raising the prospect that the strike was illegal.
The US assassination of General Soleimani and his Iraqi trenchmate Abu Mahdi al-Muhandis, the second-in-command of PMU counter-terrorism force, triggered a wave of anger and protests in Iran and beyond, with the people calling for an immediate revenge.
'Harsher revenge awaits perpetrators'
Leader of the Islamic Revolution Ayatollah Seyyed Ali Khamenei said on Tuesday that Iran will never forget Washington's assassination of General Soleimani and will definitely deliver a "counterblow" to the United States.
Ayatollah Khamenei told visiting Iraqi Prime Minister Mustafa al-Kadhimi in Tehran that, "They (Americans) killed your guest at your own home and unequivocally admitted the atrocity. This is no small matter."
The Leader had warned about a pending "harsh revenge."
Also, Iran's top security official said harsher revenge awaits the perpetrators of the attack that killed General Soleimani and his companions.
Iran's Supreme National Security Council Ali Shamkhani said on Wednesday that, "The two Iranian and Iraqi nations are avengers of blood of these martyrs and will not rest until they punish the perpetrators."
In retaliation for the US January attack, the IRGC fired volleys of ballistic missiles a US base in Iraq on January 8. According to the US Defense Department, more than 100 American forces suffered "traumatic brain injuries" during the counterstrike. The IRGC, however, says Washington uses the term to mask the number of the Americans, who perished during the retaliation.
Iran has also issued an arrest warrant and asked Interpol for help in detaining Trump, who ordered the assassination, and several other US military and political leaders behind the strike.
https://www.presstv.com/Detail/2020/07/23/630235/US-Trump-drone-strike-report-Soleimani-assassination-Chris-Murphy
--------
'Trump ordered by his Israeli masters to assassinate General Soleimani'
24 July 2020
US President Donald Trump was ordered by his Israeli masters to authorize the American military to assassinate Iran's top General Qasem Soleimani, says political analyst Kevin Barrett.
Soleimani, the commander of the Quds Force of Iran's Islamic Revolution Guards Corps (IRGC), and Abu Mahdi al-Muhandis, the second-in-command of Iraq's Popular Mobilization Units (PMU), were killed in US airstrikes at Baghdad's international airport on January 3.
A few days later, Iran responded to the assassination, striking the American airbase of Ain al-Assad in Anbar province in western Iraq and another in Erbil, the capital of Iraq's semi-autonomous Kurdistan region.
Speaking to Press TV on Thursday, Barrett said, "The Democrats in Congress are demanding that the Trump administration release its justification, its fake justification if they even have one for the murder of General Qasem Soleimani."
"Trump lied and claimed that there was information that General Soleimani was planning to kill Americans, but there has been actually no evidence presented for this," he said.
But "the real reason for killing General Soleimani was presumably because Trump was ordered to do that by his Israeli masters," he opined.
Trump was put in office by Israel, he said, adding "there are all sorts of evidence that in the summer of 2016, Israel contacted the Trump campaign and said 'you're going to lose, unless we step in'."
He went on to say that "Trump and (Secretary of State Mike) Pompeo and others should be going on trial for this murder."
For months, Sen. Chris Murphy (D-Conn.), among others, has been working to find out the legal justification for Trump's order of the assassination.
The Trump administration sent Congress a formal notification of the assassination under the War Powers Act just after it happened, but kept it classified.
Murphy appealed to an agency called the Interagency Security Classification Appeals Panel (ISCAP), which is tasked with reviewing declassification requests.
"We've seen the Trump administration repeatedly classify information just because it is politically damaging to President Trump, and it's up to Congress to stop it," Murphy said in a statement.
"The American people deserve to know why the Trump administration chose to kill Qassem Soleimani back in January, since this event had far-reaching consequences for US security. By hiding the legal rationale for this action, there can be no meaningful public debate about the wisdom of the strike."
https://www.presstv.com/Detail/2020/07/24/630302/us-donald-trump-general-qasem-soleimani-Israel-
--------
Arabs and Muslims welcome US House of Representatives passage of No Ban Act
RAY HANANIA
July 23, 2020
CHICAGO: The US House of Representatives on Wednesday approved legislation that would repeal President Donald Trump's controversial 2017 immigration ban targeting visitors from a number of predominantly Muslim countries.
The "No Ban Act" would also reign in the authority of the president to prevent a similar ban from being introduced by future administrations, and expand antidiscrimination provisions in US immigration law.
With 233 in favor and 183 against, Wednesday's vote was largely split along party lines. Although the passage of the bill in the Democrat-controlled House sent a strong message about the party's stance on immigration, it now faces a vote in Senate, which is controlled by Republicans, who support Trump.
Even if the bill passes the Senate, it would then go to the president for signing. He would be certain to veto it, forcing the House and Senate to vote again in an attempt to override his veto with a supermajority vote, which requires a two-thirds majority in favor.
"National-security experts have been clear that the 'Muslim ban' has made our country less safe," said Congresswoman Debbie Dingell. She represents Michigan's 12th District, which has one of the country's largest Arab American populations. "In fact, strong national-security policies include protecting the fundamental pillars of our democracy: freedom of religion, freedom of speech, compassion and justice.
"My constituents fled war and violence in their home countries, and their families still experience it daily. The Muslim travel ban keeps these families separated, while it runs contrary to our values as Americans, and I am proud to send a strong message that we will not allow fear and hatred to divide us.
"We must stand together as Americans to protect the values and ideals that make this nation great."
The No Ban Act — short for National Origin-Based Antidiscrimination for Nonimmigrants Act — was introduced in April 2019 by Delaware Sen. Chris Coons, and California Rep. Judy Chu.
Trump issued his executive order, titled "Protecting the Nation from Foreign Terrorist Entry into the United States" in Jan. 2017. Detractors denounced it as a ban on Muslims. The order, which has been revised several times, targets visitors from predominantly Muslim countries Iran, Libya, Somalia, Syria and Yemen, along with travelers from certain non-Muslim countries, including North Korea, and some government officials from Venezuela. Trump expanded the ban to include other countries, including Nigeria, Sudan and Myanmar
Several courts have found the order to be unconstitutional. However, the US Supreme Court ruled in June 2018 that it was within the constitutional powers of the president. Adoption of the No Ban Act would overrule this Supreme Court ruling.
Despite the slim chances of the bill progressing further, the House approval was hailed by Arab and Muslim organizations as a step toward preventing discriminatory laws being enacted by future White House administrations
It also positions anti-Muslim discrimination to be a key issue in the upcoming presidential election. Joe Biden, who is likely to be the Democrat's choice to challenge Trump in November, has denounced the ban and said that, if elected, he will repeal the executive order.
Wa'elAlzayat, the CEO of Emgage Action, a Muslim advocacy organization in Washington DC, said the legislation would end the Trump administration's discrimination against Muslims.
"Today, we came one step closer to ensuring that no human being is illegitimate, unwelcome or bannable," he said. "The Muslim ban, in all its iterations, has been absolutely antithetical to our American values of diversity, inclusion, and liberty and justice for all. Its shameful existence will forever be an undeniably dark part of our history.
"But today, we are incredibly heartened to call ourselves Americans and to continue working to uphold the values we so dearly espouse. We are proud that Congress has proven to be on the right side of history, and has contributed to an America in which all people, regardless of faith, can be American. "Now, we urge the Senate to pass the No Ban Act so that we can put an end to this vitriolic banning of humanity, once and for all."
Farhana Khera, the executive director of Muslim Advocates, said: "For the first time ever, a chamber of Congress has passed a Muslim civil rights bill. We went office-to-office and district-to-district to gain support for the No Ban Act and convince House leaders to make it a priority.
"But most importantly, this vote marks the beginning of the end of the Muslim ban, a cruel policy that continues to tear families apart. Now we must take the fight to the Senate, where we refuse to stop fighting until every senator hears from us and the bill lands on the president's desk."
Some groups questioned parts of the bill they believe to be unconstitutional and misguided, but welcomed the legislation overall.
"While this is an important first step, the act is not perfect," said a spokesman for the American Arab Anti-Discrimination Committee. "It does contain language that falsely links immigrant communities to COVID-19. This language was unnecessary and weakened the final version of the act. Moving forward, we call on lawmakers to support the full passage of this bill without the additional and unnecessary language.
"Since taking office in 2017, the Trump administration has continuously targeted immigrants and communities of color. Despite the recognition that white-supremacist violence is a serious issue, the administration continues to focus on suppressing the rights of minority and immigrant communities.
"The xenophobic immigration agenda of the administration was furthered earlier this year when additional countries, mainly in Africa, were added to the Muslim ban."
Supporters of Trump's executive order point out that of the 50 nations with predominantly Muslim populations, most are not affected by the restrictions on entering the US.
https://www.arabnews.com/node/1708706/world
--------
US fighter jets intercept Iranian passenger plane over Syria
July 23, 2020
BEIRUT: An Iranian passenger plane was intercepted by two fighter jets in Syrian airspace during a flight from Tehran to Beirut.
The pilot of the Mahan Air plane said two US jets approached the airliner forcing him to change altitude to avoid a collision, Iran's IRIB news agency reported.
Earlier, the agency said the Airbus A310 had been approached by a single Israeli jet.
The US military said its F-15 jet did pass by the Iranian plane, but at a safe distance.
There were conflicting reports as to what had happened, as Iran initially blamed Israel for the incident.
Syrian state media quoted unidentified civil aviation officials in Damascus as saying two jets, suspected of belonging to the US-led coalition, "intercepted" an Iranian passenger plane over Al-Tanf, in southwestern Syria.
US troops fighting Daesh militants have established a presence in the Al-Tanf area since 2016, which is near Syria's borders with Iraq and Jordan. The US has declared it a so-called de-conflicted zone. Beyond it, Syrian forces and their Iranian allies operate, which makes it a remaining flashpoint in the region.
The reports said the interception forced the pilot to sharply change altitude, flying low and causing slight injuries among some of the passengers.
Iran's official IRIB news agency quoted a passenger describing how his head had hit the roof of the plane during the change in altitude, and video showed an elderly passenger sprawled on the floor.
Aviation experts told Arab News that the plane, Flight 1152, landed at Rafic Hariri International Airport at 7:50 p.m. after flying from Tehran through the airspace of Iraq and Syria.
The two warplanes intercepted the plane at 6:14 p.m.
Fight tracking data showed the plane dive and then climb again.
"The pilot was forced to suddenly increase the altitude by 350ft to avoid the intercepting planes, which led to the state of turbulence inside the plane," a source from Lebanese Plane Spotters said.
Immediately after the plane landed, video circulated on social media showing the shocked passengers on board, a child with a bandaged head and another person with a head wound. The passengers' contents were scattered across seats and along the floor. Some passengers were wearing life jackets.
In another video passengers could be heard screaming and in panic.
Photos claimed to show the two intercepted planes.
All the passengers left the plane, some with minor injuries, the head of the Beirut airport told Reuters.
The plane arrived back in Tehran in the early hours of Friday, the Fars news agency reported.
Ambulances were seen on the runway in Beirut transporting four injured passengers, including an elderly man, to hospital.
The US imposed sanctions on Mahan Air in 2011, saying it provided financial and other support to Iran's Revolutionary Guards
In a separate incident, Lebanese Army Command said an "Israeli enemy reconnaissance plane" entered Lebanese airspace in the morning over the town of Kafr Kila, and carried out a circular flight over southern Lebanon.
The military added that a similar enemy plane "violated Lebanese airspace" over the town of Aitaroun shortly after.
Tensions have spiked between Tehran and Washington since 2018, when US President Donald Trump exited Iran's 2015 nuclear deal with six powers and reimposed sanctions that have battered Iran's economy.
Visual inspection
The US military's Central Command, which oversees American troops in the region, said the F-15 aircraft was conducting a visual inspection of the Iranian aircraft when it passed near the Tanf garrison in Syria where US forces are present.
Captain Bill Urban, the senior Central Command spokesman, said the F-15 "conducted a standard visual inspection of a Mahan Air passenger airliner at a safe distance of about 1,000 meters (3,280 feet) from the airliner this evening."
"The visual inspection occurred to ensure the safety of coalition personnel at AtTanf garrison," Urban said. "Once the F-15 pilot identified the aircraft as a Mahan Air passenger plane, the F-15 safely opened distance from the aircraft."
He added the intercept was carried out in accordance with international standards.
The pilot of the passenger plane contacted the jet pilots to warn them to keep a safe distance and they identified themselves as American, IRIB reported.
Diplomatic protest
Iran's Foreign Ministry said that following the incident, a protest note was sent to the Swiss Embassy, which represents America's interests in Iran, warning that if any accident happens on the plane's return flight to Tehran, it will be the responsibility of the United States.
The ministry's spokesman, Abbas Mousavi, said Iran is investigating the incident. The same note was also delivered to the UN Secretary-General António Guterres by Iran's ambassador to the United Nations, Majid Takht-e Ravanchi.
Mahan Air is a privately owned airline based in Tehran that flies across the Mideast. In 2011, the US Treasury sanctioned the airline for allegedly "providing financial, material and technological support" to Iran's Quds Force, the expeditionary arm of the paramilitary Revolutionary Guard.
The Treasury also alleged Mahan Air had carried weapons, goods and personnel for the Lebanese militant group Hezbollah.
All this comes amid heightened tensions between Iran and the US after President Donald Trump unilaterally withdrew from Tehran's nuclear deal with world powers over two years ago.
In the time since, a series of escalating incidents have occurred across the Mideast between the two countries, including the US killed an Iranian general in a drone strike and Tehran launching ballistic missiles targeting American forces in Iraq.
https://www.arabnews.com/node/1709046/middle-east
--------
US Airstrike Hits Pro-Islamic State Militants in Somalia
By Fadumo Yasin
July 22, 2020
BOSASO, SOMALIA - The U.S. military says it conducted an airstrike in Somalia's Puntland region that killed seven pro-Islamic state militants.
VOA's Somali service initially reported the airstrike on Tuesday. Local officials and witnesses told VOA that Puntland regional forces carried out a ground operation against the militants in Turmasale and Amayra, mountainous hideouts near the village of Timirshe, 140 kilometers southeast of Bosaso.
A statement Wednesday from the U.S. Africa Command said the airstrike was in response to an attack on partner forces by the militants.
"We continue to apply pressure on terrorist groups and assist our Somali partners in disrupting their operations," said U.S. Army Brig. Gen. Miguel Castellanos, deputy director of operations, AFRICOM. "We continue our support to rid Somalia of the likes of ISIS and al-Shabaab."
AFRICOM said it assesses no civilians were injured or killed as a result of this latest airstrike. This was the United States' 42nd airstrike of the year in Somalia, and the first targeting pro-ISIS forces.
Officials in Puntland issued their own statement, saying they killed 20 ISIS militants during 48-hour operation in the eastern parts of Bari region. Puntland says senior local militants and one senior foreign fighter were among those killed in the operation.
The statement did not identify the foreign fighters killed in the operation but say he was a trainer and a liaison between ISIS in Somalia and ISIS fighters in other parts of the world.
Puntland says the targeted foreign fighter has been in Somalia since 2014. Puntland also said their forces destroyed a storage for weapons, explosive materials and foods.
https://www.voanews.com/africa/us-airstrike-hits-pro-islamic-state-militants-somalia?utm_source=iterable&utm_medium=email&utm_campaign=1382310_
--------
Pakistan
Pak govt, opposition debate Kulbhushan's review petition
Jul 23, 2020
ISLAMABAD: Pakistan's opposition parties walked out of the National Assembly on Thursday to protest against the government ordinance seeking implementation of the International Court of Justice's (ICJ) 2019 ruling in the case of Indian national Kulbhushan Jadhav allowing him to file a review petition against his conviction and sentence by a military court here.
Before the walkout, a heated debate was held on the issue, with the opposition accusing the government of trying to give an "NRO" to an Indian national through the ordinance, while the treasury blamed the former Pakistan Muslim League-Nawaz (PML-N) government for opting to go to the International Court of Justice during its tenure.
The acronym "NRO" refers to the National Reconciliation Order under which Benazir Bhutto (and many others) were able to return to Pakistan from exile as cases against them were dropped. The term is now commonly used in Pakistan to describe an attempt to use an ordinance to allow someone to escape the legal process.
"A terrorist who has confessed to his involvement in terrorism in our country, against whom we have completed legal proceedings — what has happened now that we are formally legislating to facilitate him," Khawaja Asif, a PML-N stalwart and former foreign minister, asked. "When we (PML-N) were in government, Jadhav was a slur used against us. It was said that Nawaz Sharif was appeasing India," he said. "Who is appeasing India today?" Asif asked, urging the lawmakers not to allow the ordinance as it was "against national respect and honour".
Responding to Asif's speech, human rights minister Shireen Mazari said both Pakistan Tehreek-i-Insaf (PTI) and Pakistan Peoples Party (PPP) had opposed the then PML-N government's decision to contest the case in the ICJ after India took it there. "Why did you go to the ICJ then?" she asked.
"Now that you have accepted their jurisdiction and they have passed a verdict, we will have to implement it," Mazari said.
PPP chief Bilawal Bhutto-Zardari, also criticised the government for passing the ordinance in May without informing anyone. He pointed out that the rules and laws stated that an ordinance must be presented in parliament "as soon as possible" if it is promulgated when the House is in session. Both the Houses (NA and Senate) were in session in June, he said.
In response to Mazari's speech, Bilawal said: "If you did not accept the jurisdiction of international courts, it does not mean that you grant an NRO to Jadhav through Pakistan's law."
The PPP chief said the government had "already given an NRO" to Tehreek-i-Taliban Pakistan spokesperson Ehsanullah Ehsan, who had admitted his role in the Army Public School massacre of 2014. The interior minister had admitted earlier this year that Ehsan had escaped from Pakistan's custody.
Bilawal said the "opposition's conscience does not allow it" to let the session continue with the ordinance on its agenda and pointed out lack of quorum, prompting the Speaker to adjourn proceedings.
The ICJ (Review and Reconsideration) Ordinance, 2020, which was promulgated on May 20, gives foreign citizens convicted in Pakistan the right to file a review appeal in the country's courts. The ordinance was promulgated after the ICJ, in its verdict last year, ruled that Pakistan grant consular access to Jadhav and allow him to file a review appeal.
Pakistan had invited India to move a review and reconsideration petition against Jadhav's conviction before the Islamabad high court, which the Indian government did not file. A day earlier, the government approached the Islamabad HC for appointment of state counsel for Jadhav, in accordance with the ICJ's verdict.
https://timesofindia.indiatimes.com/world/pakistan/pak-govt-opposition-debate-kulbhushans-review-petition/articleshow/77135427.cms
--------
Cleric pleads not guilty in contempt case
24 Jul, 2020
ISLAMABAD: Cleric Mirza Iftikhar­uddin, who is facing contempt charges over derogatory and scandalous speech against the judiciary, on Thursday pleaded not guilty before the Supreme Court and said he would defend himself.
At the last hearing on July 15, a three-judge SC bench had framed charges against the Rawalpindi-based cleric for committing contempt of the court.
His counsel Sarkar Abbas, however, had sought time to consult the alleged contemnor to determine whether he pleads guilty or not.
But on Thursday, the accused told the court that he would defend himself and pleaded not guilty in the contempt matter, adding that he was facing two cases on the basis of one video clip.
If the accused still declines to accept the guilt despite filing unconditional apology before the court, this is his choice, observed Justice Ijaz-ul-Ahsan, also a member of the bench, adding that cybercrime and terrorism charges were independent of the contempt case.
Chief Justice Gulzar Ahmed, however, said that every department involved in the matter would function in accordance with the law and would follow its own rules.
Meanwhile, the Federal Investigation Agency in its fresh report highlighted that analysis of the call data record of his cellular phone showed communication of Mirza Iftikhar on the National Technology Council, Pakistan Telecommunication Company Limited and mobile phone numbers, besides international calls to Iran, Saudi Arabia, South Korea, Malaysia, China, Zambia and England.
The contact list of his phone showed 486 persons who include civilians and retired army officers, the report said, adding that 26 most frequent contact persons had been examined and found to be the persons with whom the accused had routine contacts. So far none of these persons could be found to have links with the matter at hand.
The report said that after conducting a raid on the cleric's residential premises on June 30, the bank record and analysis of the receipt books were seized, which showed donations in large number within and outside Pakistan as his financial source.
However, the investigation for identifying the most frequent and big amount donors from the receipt books and bank statements was under way, the report said, adding that the Federal Board of Revenue chairman had been requested to provide the record of his tax returns and wealth statements.
The report explained that Chairman of the Assets Recovery Unit (ARU) Shahzad Akbar also joined the investigation and recorded his statement in which he said that he neither had any acquaintance with the accused nor did he have any relation with this matter.
Mirza Iftikhar had uploaded 698 videos on social media and so far 175 videos have been examined and further scrutiny is continuing. Forensic analysis will be made as and when any video, which amounts to violation of any law, is identified, the report said.
The cleric's bank record suggested 19 accounts, the report said, adding that alleged complainant Abdul WaheedDogar on the complaint of whom a presidential reference was moved to the Supreme Judicial Council against Justice Qazi Faez Isa was also summoned and his statement recorded.
Mr Dogar stated that he was a professional journalist and mostly dealt with reporting of the matters pertaining to the ministries of finance and interior, law enforcement agencies, the Oil and Gas Development Company, etc.
He admitted that he had met Shahzad Akbar only once after submitting application to the ARU and denied categorically that he had any acquaintance with Mirza Iftikhar.
https://www.dawn.com/news/1570836/cleric-pleads-not-guilty-in-contempt-case
--------
LHC to hear petitions of two convicted of espionage
24 Jul, 2020
RAWALPINDI: The Lahore High Court (LHC) has admitted for hearing the petitions of retired Brigadier Raja Rizwan Haider and scientist Dr Wasim Akram who were awarded capital punishment by a military court for espionage.
Justice Sadaqat Ali Khan of LHC Rawalpindi bench overruled the administrative objections to Brig Haider's petition and directed the registrar office to fix it for hearing on a suitable date.
On May 30, Chief of the Army Staff Gen Qamar JavedBajwa had ratified the death sentences for Brig Haider and Dr Akram and 14-year imprisonment for retired Lt Gen Javed Iqbal. The then director general of the Inter-Services Public Relations (ISPR) had tweeted that the three officers were handed over to "civil jail authorities".
The convicts had challenged the military court's verdict in the Military Appellate Court, which dismissed their appeal. After that they moved the LHC, claiming in their petitions that the military authorities were not sharing with them the details related to the trial proceedings.
https://www.dawn.com/news/1570833/lhc-to-hear-petitions-of-two-convicted-of-espionage
--------
South Asia
Afghan army releases photo of militants who joined Taliban after being released from prison
24 Jul 2020
The Afghan army released a photo a couple of militants who joined Taliban ranks after being released from prison few weeks ago.
The 209th Shaheen Corps issued a photo of Taliban militants who were allegedly arrested during an operation, few weeks after after they were released from prison.
According to a statement released by Shaheen Corps, the two militants took oath by placing their hands on Holy Quran after being released from prison but arrested by joining the Taliban ranks.
The statement further added that the security forces arrested the two militants during an operation which they conducted in SheeshaKhana area of Faizabad district in Jawzjan province.
The security forces apprehended the two militants as they were planning to ambush the security forces in the area, the 209th Shaheen Corps added.
The Taliban group has not commented in this regard so far.
https://www.khaama.com/afghan-army-releases-photo-of-militants-who-joined-taliban-after-being-released-from-prison-08980/
--------
Afghan tribal elder strips naked in protest to conferment of Marshal degree to Gen. Dostum
24 Jul 2020
A tribal elder from nothernBaghlan province stripped naked during a large gathering in protest to conferment of Marhshal degree to General Abdul Rashid Dostum, the former First Vice President of Afghanistan
Hassan Ahmadzai, a resident of Baghlan province and one of the leaders of Ahmadzai tribe in the province, stripped naked during a gathering in Kabul on Thursday, protesting against the conferment of Marshal degree to Gen. Dostum.
A video of Ahmadzai has gone viral on social media in which he claims the government has compromised with the brutalities against Pashtun tribes while conferring the Marshal degree to Gen. Dostum.
He later posted a statement on Facebook, claiming that he took off his clothes to defend the rights of the supressed people, slamming Ghani for stripping them off and distributing their rights on other ethnic groups.
Ghani conferred the title of 'Marshal of Afghanistan' on Gen. Dostum earlier this month. The Office of the President in a statement said President Ghani issued a decree in this regard late in June.
According to a copy of the decree which has been published online, President Ghani approved the conferment of the Marshal title on Gen. Dostum as per the Article 19 and Item 64 of the constitution of Afghanistan.
The decree further added that the title on Gen. Dostum has been conferred for his services in resolving the political stalemates and ensuring security in the country.
The issue of conferment of Marshal title remained a hot topic during the negotiations to resolve political tensions which arose following 2019 controversial presidential elections.
The former first vice president Mohammad Qasim Fahim was previously holding the title of the Marshal of Afghanistan.
https://www.khaama.com/afghan-tribal-elder-strips-naked-in-protest-to-conferment-of-marshal-degree-to-gen-dostum-08979/
--------
Region, including Pakistan to benefit from Afghan peace process: NATO SCR
23 Jul 2020
The NATO Senior Civilian Representative for Afghanistan Ambassador Stefano Pontecorvo said regional countries including Pakistan would benefit from Afghan peace process.
He made the remarks during an interview with Khaama Press, while responding to a question regarding Pakistan's role in supporting the Taliban group as well as playing a key role in bringing the group to negotiations table.
Ambassador Pontecorvo said Pakistan will benefit much from Afghan peace process as the rest of the regional states. "Pakistan has been recognized… actually by American negotiators that they have played a helpful role."
He also pointed towards the recent interactions with Gen. Qamar JavedBajwa, the Chief of Staff of the Pakistani military while noting Pakistan's role in Afghan peace process.
Meanwhile, Ambassador Pontecorvo said a stable Afghanistan would be beneficial for the whole of South Asia.
Ambassador Pontecorvo mainly pointed towards the major infrastructural projects that would benefit the region, passing through Afghanistan, including TAPI gas pipeline and the CASA-1000 electricity project.
This comes as efforts are underway to launch intra-Afghan talks in a bid to find a negotiated political settlement to end the ongoing conflict in Afghanistan.
Washington signed a peace deal with Taliban group late in February in a bid to pave the way for further advancement of peace efforts in the country. However, there are concerns that the recent wave of violence could impede the peace process.
https://www.khaama.com/region-including-pakistan-to-benefit-from-afghan-peace-process-nato-scr-0979/
--------
Khalilzad reacts to recent wave of violence led by Afghan forces and Taliban
23 Jul 2020
The U.S. envoy for Afghan peace Ambassador Zalmay Khalilzad reacted to recent wave of violence led by the Afghan and Taliban group across the country, insisting that more graves will not bring negotiations forward.
"The last 24 hours have been very violent in Afghanistan with many losing their lives. In Herat, photos and eyewitness accounts suggest many civilians including children are among the victims of an Afghan airstrike. We condemn the attack and support an investigation," Khalilzad said in a Twitter.
He also added "Similarly, we deplore the recent Taliban attacks in which many Afghans have lost their lives."
"The Afghan people want an immediate start of peace negotiations and a settlement that is in their best interest," said, emphasizing that "More graves will not bring negotiations forward."
"Rather than setting the process back, we urge all sides to contain the violence, protect civilians, and show necessary restraint as the start of intra-Afghan negotiations is so close," Ambassador Khalilzad added.
This comes as efforts are underway to launch intra-Afghan talks in a bid to find a negotiated political settlement to end the ongoing conflict in Afghanistan.
Washington signed a peace deal with Taliban group late in February in a bid to pave the way for further advancement of peace efforts in the country. However, there are concerns that the recent wave of violence could impede the peace process.
https://www.khaama.com/khalilzad-reacts-to-recent-wave-of-violence-led-by-afghan-forces-and-taliban-08978/
--------
Civilians among 45 killed in Afghan air raids against Taliban
July 24, 2020
Air raids by Afghan security forces against Taliban fighters have killed at least 45 people, including civilians, according to a local official.
Ali Ahmad Faqir Yar, governor of Adraskan district in the western Afghan province of Herat, said on Wednesday at least eight civilians were among the dead.
"Forty-five people had been killed so far in air strikes by security forces in the Kham Ziarat area. Taliban were among those killed," he said.
It was unclear how many of the remaining 37 were civilians and how many were members of the Taliban.
Qari Mohammad Yousuf Ahmadi, a Taliban spokesman, said in a statement two air raids in Herat killed eight civilians and wounded 12. Two local officials confirmed there had been two rounds of air raids.
"Such attacks would compel recently freed prisoners who wish to live normal lives to take up arms once again against the enemy," said Ahmadi.
Acting Defence Minister Asadullah Khalid said on Thursday Taliban fighters were killed in the attacks. His ministry issued a statement saying it was investigating the reports of civilian casualties, and would make the findings public.
"The National Defense and Security Forces have the responsibility to protect the lives and property of the people, in this regard, they use all the opportunities and facilities and will not spare any effort," the statement said.
The air raids were condemned by the US envoy trying to start peace talks involving all sides.
'Spare no effort'
Habib Amini, a local official in neighbouring Guzara district, confirmed the incident and said 45 people were killed and more injured.
JailaniFarhad, spokesman for the Herat governor, told Anadolu news agency at least six key Taliban commanders involved in major assaults in Herat were targeted in the air raids.
He said the civilian casualties were caused by a land mine blast nearby.
The US special peace envoy for Afghanistan, meanwhile, condemned the attack and called for an investigation.
"In Herat, photos and eyewitness accounts suggest many civilians including children are among the victims of an Afghan airstrike. We condemn the attack and support an investigation," Zalmay Khalilzad said on Twitter, adding that Washington also "deplored" recent Taliban attacks.
The US is winding back troops under an agreement with the Taliban struck in February, which was meant to pave the way to formal peace talks between the group and the Afghan government.
However, disagreement over the release of prisoners demanded by the Taliban and rising violence around the country have hampered progress, and talks have yet to start.
The fragile Afghan peace deal hinges on the prisoner exchanges. In line with the landmark US-Taliban peace agreement, about 5,000 Taliban prisoners should have been released from government prisons in return for the estimated 1,000 captive security forces in March.
But, according to the National Security Council, the government has released 4,019 Taliban so far, while the Taliban freed about half of the 1,000 prisoners it agreed to release.
The Afghanistan Independent Human Rights Commission said recently in the first six months of this year a total of 1,213 civilians were killed, while 1,744 had been wounded in 880 incidents.
https://www.aljazeera.com/news/2020/07/air-strikes-afghanistan-kill-45-civilians-taliban-fighters-200722203403995.html?utm_source=iterable&utm_medium=email&utm_campaign=1382310_
--------
Africa
Turkey warns Egypt of 'dangerous military adventure' in Libya
23 July 2020
Turkey has warned that Egypt would embark on a "dangerous adventure" if it went ahead with a plan to deploy troops in the North African country.
Ibrahim Kalin, a top security adviser to Turkish President Recep Tayyip Erdogan, issued the warning in an interview with Reuters news agency on Wednesday after the Egyptian parliament gave a green light for possible military intervention in Libya.
Kalin underlined that any Egyptian deployment in the oil-rich African country would hamper efforts to end the conflict and would be risky for Cairo, saying, "I believe it will be a dangerous military adventure for Egypt."
Libya has been beset by chaos since the overthrow and killing of its long-serving ruler Muammar Gaddafi following a NATO operation in 2011.
The conflict has escalated into a regional proxy war fueled by foreign powers pouring weapons and mercenaries into the country.
Tensions escalated further last year after the so-called Libyan National Army (LNA) under rebel commander Khalifa Haftar moved toward Tripoli to seize the city, which was repelled by Libyan government forces.
The UN-backed Libyan government in Tripoli has the support of Turkey, while the LNA based in Benghazi is supported by Russia, Egypt and the United Arab Emirates.
A big escalation in Libya could risk igniting a direct conflict among the foreign powers that have poured in weapons and fighters in violation of an arms embargo.
Turkey and Russia agreed on Wednesday to press for a ceasefire in Libya, calling on Haftar's rebel groups to withdraw from key positions for a credible truce to take hold.
Ankara and Moscow also vowed to facilitate the "advancement of the intra-Libyan political dialogue" in line with the 2020 Berlin Conference on Libya.
In January, a conference took place in the German capital in order to start a political process and reach a permanent ceasefire in Libya.
Several countries expressed commitment to support the truce, respect an arms embargo and support the UN-facilitated political process.
https://www.presstv.com/Detail/2020/07/23/630254/Turkey-military-intervention-Egypt-dangerous-adventure
--------
Libyan National Army downs Turkish drone west of Sirte
23 July 2020
Forces from the Libyan National Army have shot down a Turkish drone west of the city of Sirte late on Wednesday, according to sources from the eastern-based forces in Libya.
The LNA warned Turkey on Wednesday against making advances toward the Libyan coast, threatening to target any hostile naval vessels present in Libyan waters.
For all the latest headlines follow our Google News channel online or via the app.
Colonel Abu Bakr al-Abyad, an LNA naval officer, said that any Turkish naval vessel that attempts to approach the Libyan coasts will be subject to destruction, adding that the LNA has "capabilities necessary to defeat any enemy approaching Libya."
Turkey supports the Government of National Accord (GNA), which is fighting for control of the country against eastern-based commander Khalifa Haftar.
Egypt, the United Arab Emirates and Russia all back the LNA forces led by Haftar.
Earlier on Monday, Egypt's parliament authorized the deployment of troops outside the country after the president threatened military action against Turkish-backed forces in Libya.
Rhetoric on the Libyan conflict has been ramping up in recent days, with Turkish President Recep Tayyip Erdogan aide FahrettinAltun tweeting "Turkey has the "power and ability to obliterate the illegitimate bloc targeting Libya's legitimate government."
https://english.alarabiya.net/en/News/north-africa/2020/07/23/Libyan-National-Army-downs-Turkish-drone-west-of-Sirte.html
--------
Russia, Turkey will continue efforts for ceasefire in Libya: Russian FM
22 July 2020
Russia and Turkey have agreed to continue efforts to bring about a long-term and sustainable
ceasefire in Libya, Russia's foreign ministry said in a statement on Wednesday.
Russia, alongside Egypt and the UAE, backs the Libyan National Army (LNA) led by commander Khalifa Haftar, whose fighters have been battling the Government of National Accord (GNA) led by Fayez al-Sarraj, which is supported by Turkey.
Turkey's intervention in May, when Ankara sent thousands of Syrian mercenaries to Libya in support of the GNA, helped lift the LNA's siege of Tripoli and put the GNA in the position to assault the strategic city of Sirte.
https://english.alarabiya.net/en/News/north-africa/2020/07/22/Russia-Turkey-will-continue-efforts-for-ceasefire-in-Libya-Russian-FM.html
--------
Boko Haram executes five aid workers
July 22, 2020
Abdulkareem Haruna
Suspected members of the extremist Boko Haram sect have shot dead five persons believed to be humanitarian workers.
The terrorist group publicized the development via a viral video it published on social media Wednesday.
The gunmen who carried out the killing said their victims were aid workers working for nongovernmental organisations.
The 35 seconds video featured five hooded armed men standing behind five abductees who were kneeling before them.
An unidentified voice speaking in Hausa said, "this is a message to the infidels who are using you to cheat and turn our people into unbelievers. You should know that your employers are just using you to achieve their aims, but they don't care about you. That's why whenever we abduct you, they don't care about you.
"Our advice for you is that you should repent and turn to God, or else we shall continue to waylay and abduct you all in all the routes that you traverse.
"And if you don't heed to our warning, what is about to happen to these five aid workers would also be fate that will befall you too."
At the end of the speech, one of the gunmen ordered them to fire the abducted aid workers.
The gunmen summarily shot at the five men whose faces were all blinded.
https://www.premiumtimesng.com/news/headlines/404486-breaking-boko-haram-executes-five-aid-workers.html?utm_source=iterable&utm_medium=email&utm_campaign=1382310_
--------
Arab World
Gen. Ali Hamid Ghaidan al-Khazraji had taken part in a military operation in Tarmiyah to clear it of Islamic State remnants.
Khazraji, commander of the 6th Infantry Division's 59th Brigade, was in a large convoy of armored vehicles when he was targeted by a sniper, a local resident told Al-Monitor in a July 19 WhatsApp exchange.
IS claimed responsibility for his killing.
The Tarmiyah resident — who this journalist had previously met with in Baghdad — said, "There are concerns some of the men protecting the general had been compromised," and asked, "How else could the sniper have known exactly which vehicle he was in?"
The source went on to say that he would be "killed if you use my name because there are IS sleeper cells in my area," close to where the general was killed, but also noted that Khazraji had prevented an unnamed armed group from firing rockets at the Taji base "about two months ago."
He noted that Khazraji had been very popular but that after that incident he had heard that "militias operating in the area" wanted to get rid of him.
The source claimed that these armed groups wanted to enter Tarmiyah and cut down the orchards, destruction he said would lead to "the displacement of inhabitants." He noted that there is a large contingent of various forces surrounding the city now, frightening residents.
A different security source from Tarmiyah had told this reporter in early 2019 that a previous commanding officer had been under investigation for being in indirect contact with IS through local Tarmiyah residents from the Mashhadani tribe and that the security situation had improved significantly after the commander was replaced.
Sheikh Saeed Jassim al-Mashhadani, who this journalist interviewed in December 2018 at his Tarmiyah home, told Al-Monitor in a WhatsApp message on July 19 that "everyone in the area loved Gen. Khazraji" and that despite this attack, security in the area is good.
The sheikh is the former head of the Arab Awakening in northern Baghdad. Three of his sons were killed in attacks by or fighting against al-Qaeda and IS. He was in one of the photos with Kadhimi during the prime minister's visit and is generally seen as one of the more powerful dignitaries in the town.
Several security incidents in and near the capital have raised concern in recent weeks.
The July 6 assassination of Iraqi counterterrorism and security expert Hisham al-Hashimi in Baghdad by as yet unknown perpetrators — though many believe the Iran-linked armed group Kataib Hezbollah may have been behind it — and continued rocket attacks on the Green Zone by anti-US armed groups mean there are several sources of potential unrest and violence.
Hashimi had spoken out against Iran-linked armed groups in the country in the months prior to being killed but had long been known mostly as the go-to expert on jihadists in Iraq.
In a 2018 interview, Hashimi told Al-Monitor that Tarmiyah was "the center of Salafi recruiting in the Baghdad area."
Hashimi also said that IS had continued to profit from fish ponds in the Tarmiyah area, among other sources of funding for the group, after Iraq officially declared victory against the transnational terrorist organization in December 2017.
Several top-level al-Qaeda and IS leaders are originally from Tarmiyah or the surrounding area and many are from its largest tribe, the Mashhadani. Khalid al-Mashhadani, for example, was the highest-ranking member of al-Qaeda in Iraq when he was arrested in 2007. He is from the Hurriya area in northern Baghdad along the road toward Tarmiyah.
Camp Taji, which in recent months has come under repeated attack from armed groups unhappy with the presence of the US-led international coalition in the country, is also between Baghdad and Tarmiyah.
A May 26 Danish unclassified situational and threat assessment cited Shiite militias as a "political and military threat" and noted that the "Taji base in northern Baghdad is particularly vulnerable" to attacks.
The United Kingdom announced July 16 that British troops had pulled out of the base. The NATO-led training mission, which will be led by Denmark starting in December, is for the moment set to continue at the base. The plan may change if the attacks continue, however.
The area north of Baghdad is key to security in the capital. Iraq will be ever less able to depend on coalition assistance and intelligence if the presence of the international coalition continues to be reduced in the country, as is expected.
With his visit to the town, Kadhimi seems to be trying to reassure residents that the state will not allow armed groups to act with impunity nor let sectarianism flourish. For him to do so effectively, however, the perpetrators of these attacks in and around the capital will have to be found and prosecuted.
https://www.al-monitor.com/pulse/originals/2020/07/tarmiya-iraq-baghdad-government-militias.html?utm_source=iterable&utm_medium=email&utm_campaign=1382310_
--------
Turkey plans to increase its forces in Libya in case of Egyptian intervention: Report
24 July 2020
Turkey put in place a military plan in anticipation of a possible Egyptian intervention in Libya, Turkish Zaman newspaper reported on Thursday citing unnamed government officials.
The report said the Turkish government prepared the plan after Egypt's parliament authorized on Monday the deployment of troops outside the country, allowing Egyptian President Abdel Fattah al-Sisi to act on his threat of military action against Turkish-backed forces in Libya.
For all the latest headlines follow our Google News channel online or via the app.
Libya has plunged into chaos since the 2011 toppling of dictator Moammar Gaddafi.
Clashes between the two main warring parties in the North African country, the Libyan National Army (LNA), commanded by Khalifa Haftar and the Government of National Accord (GNA), led by Fayez al-Serraj, have intensified recently.
Many foreign powers have backed different sides of the conflict with varying degrees of support, with the most prominent countries being Turkey backing the GNA and Egypt backing the LNA.
The Turkish sources Zaman cited said: "Turkey is ready to respond to any attack on its forces in Libya, whomever the attacker maybe," and added: "if Egypt send military forces to Libya, Turkey has a plan to increase its forces and military equipment in Libya to confront the Egyptian forces."
Turkish President Recap Tayyip Erdogan's top security adviser Ibrahim Kalin had recently said that his country did not want to escalate tensions in Libya or to confront Egypt in the North African country, but he stressed, however, Ankara's continued support to the GNA.
https://english.alarabiya.net/en/News/middle-east/2020/07/24/Turkey-plans-to-increase-its-forces-in-Libya-in-case-of-Egyptian-intervention-Report.html
--------
Coronavirus: Lebanon's COVID-19 cases rise, dogs trained to sniff out infections
23 July 2020
With Lebanon's coronavirus numbers in the midst of a troubling upswing, officials announced that they are training police dogs from the country's various security agencies to detect the smell of the virus in sweat.
Lebanon joins a number of countries that have been testing the effectiveness of canines in sniffing out COVID-19, including Germany, Finland, Chile, and the United Arab Emirates. The UAE announced that its studies had shown a 92 percent accuracy rate.
The dogs in Lebanon were trained at an Internal Security Forces barracks in the town of Aramoun south of Beirut, officials announced Wednesday.
Lebanon's Health Minister Hamad Hassan, said the program was "desperately needed."
Grandjean noted that two specially trained dogs would have the capacity to search about 4,000 people per day.
Lebanese surgeon Riad Sarkis worked on a proof-of-concept study to evaluate the efficacy of using dogs to detect COVID-19 in collaboration with a French team led by Professor Dominique Grandjean of the National Veterinary School of Alfort in France, with testing conducted in both countries.
Read more: Dogs can smell coronavirus in infected people's armpit sweat: Report
The testing involved eight dogs – originally trained as explosive detection and colon cancer detection dogs – that had been trained to recognize the smell of sweat samples from people who had tested positive for COVID-19.
"Through this experiment, we will provide additional technology to protect our society from every arrival, visitor or resident who may be infected with the coronavirus," Hassan said.
The researchers ran 232 trials using 33 positive samples in France and 136 trials using 68 positive samples in Lebanon, according to a preprint of an article released from the study. Four of the dogs had a 100 percent success rate in identifying the positive samples, with the others being between 83 and 94 percent.
"In a context where, in many countries worldwide, diagnostic tests are lacking in order to set up a mass detection of COVID-19 contaminant people, we think it is important to explore the possibility of introducing dog olfactive detection as a rapid, reliable and cheap 'tool' to either pre-test willing people or be a fast checking option in certain circumstances," the researchers wrote.
Lebanon's cases on the rise
While Lebanon's coronavirus numbers had until recent weeks remained low, they have increased substantially in recent weeks, particularly since the Beirut airport was reopened to commercial flights beginning July 1. Although all arrivals are required to undergo PCR tests, not all of the returning expats and visitors have adhered to quarantining measures prior to getting the results.
On Wednesday, the country reported 124 new cases and two new deaths, bringing the total number of cases to 3,104 and deaths to 43.
Of particular concern to health officials has been the spread of the virus among health workers.
— FirassAbiad (@firassabiad) July 23, 2020
Earlier this week, a 32-year-old doctor, Louay Ismail, died after contracting the coronavirus.
FirassAbiod, director of Rafic Hariri University Hospital, the public hospital that has been leading the country's coronavirus testing and treatment, wrote that the new numbers are concerning as the majority of them do not appear to be travel-related and almost half of new local cases have no known contact history with other cases.
"We are clearly entering a phase of community spread," he wrote.
He also noted that with more than 180 healthcare workers having been infected, hospitals will face an increased strain.
"Each infection leads to the quarantine of multiple other workers who were in contact," he wrote. "This further depletes much needed hospital capacity."
https://english.alarabiya.net/en/coronavirus/2020/07/23/Coronavirus-Lebanon-s-COVID-19-cases-rise-dogs-trained-to-sniff-out-infections.html
--------
Dangers threatening Egypt on July revolution anniversary, El-Sisi says
LAILA MOHAMMED
July 24, 2020
CAIRO: Egyptian President Abdel-Fattah El-Sisi addressed the Egyptian people in a statement marking the 68th anniversary of the July 1952 Revolution, stressing that "time has demonstrated the nobility of the goals of the revolution."
El-Sisi extended his "sincere greetings to the symbol of the revolution" — former Egyptian presidents Mohamed Naguib and Gamal Abdel-Nasser.
"The days and years pass carrying events and memories that remain glued in the minds of the people . . . generation after generation and the history of Egypt abound in the glories of those events that we use as inspiration. July 23 1952 remains one of the most important days of our glory and one of the most prominent moments of our pride. As the 68th anniversary of this glorious revolution arrives, we recall our people's struggle for freedom," the president said.
"Our celebration of the glorious July revolution has always been an occasion in which we derive determination to achieve the aspirations of our people and their hopes for a bright future for themselves and for future generations, those generations who have the right to live a decent life in a secure, stable and prosperous country," he said.
"In the spirit of the July Revolution and its goals, the country is continuing to implement a comprehensive strategic vision and unique development to build a strong and advanced homeland in all fields by setting up major national projects in all parts of the country and promoting work values and modern science and its approaches in all aspects of our lives. All this with the aim to help the Egyptian face challenges and take from his ancient legacy as a starting point toward achieving everything that he aspires to in the shortest possible time," the president said.
"Just as the generation of the July revolution was on a date with destiny, God has determined that this generation face challenges that Egypt has not gone through in its recent history. The threats to our national security make us more eager to possess the comprehensive and influential ability to preserve the rights of the people.
"You may be aware of the extreme dangers of high sensitivity currently surrounding the country and requiring that all Egyptians be confident in their abilities to pass through crises in a way that preserves Egypt's security and guarantees Egyptians their right to life in a stable homeland and a nation that seeks to value cooperation, construction and peace which are the basis for human relations among all peoples."
Al-Azhar, Islam's seat of learning, and the church also issued two separate statements in celebration of the July revolution, highlighting the need to confront the threats facing Egypt's national security.
Al-Azhar Grand Imam Ahmed El-Tayeb stressed the need to be aware of the challenges facing Egypt and join hands for the sake of the nation, and to put the nation's interest above any individual interest.
El-Tayeb praised Egypt's constant concern for peaceful solutions as a firm doctrine of the Egyptian armed forces, asking God to protect Egypt, Libya and the Arab nation from all harm.
Egyptian churches in their various denominations declared their support for the Egyptian state, the political leadership and the armed forces in facing the challenges facing the region to preserve the state. The General Milli Council and the Coptic Endowments Authority of the Orthodox Church issued a statement declaring their support for El-Sisi's position in support of the Libyan people and their struggle against the "Turkish colonizer."
"Members and deputies of the General Council and the Coptic Endowments Authority support the courageous stance taken by President El-Sisi to support the Libyan people in their struggle against the Turkish colonizer and to protect the borders of Western Egypt. At the same time, they pray for the safety of each of the brave soldiers of Egypt's army, and never forget how the Egyptian army took revenge on the martyrs of the Egyptian Copts who were martyred by the terrorist groups in Libya," the churches' statement said.
A number of political experts stressed the issue of unification of all state bodies in the face of the dangers posed to Egyptians.
"Ethiopia and Libya are two sides of the same coin, and two issues that are equally important for Egypt," political expert Hani Assal said.
"There is no priority for one issue over the other. The first is a water security issue, the second is a border security issue and the two are national security issues, a struggle for survival, and life or death for Egypt and its people," Assal said.
Assal said that there was no difference "between those who plan to kill Egyptians hoping to gain control of the south, and those who plan to kill them with weapons from the side of the Islamic State."
"Those who assume that we have to fear and that war is difficult must remember that we have been in war since 2011, and that thousands of martyrs, both military and civilian, have already fallen and we are ready to provide more, rather than give up our rights," Assal said.
"(Egypt will remain) in between wars, threats, conflicts and conspiracies forever, and we will remain a joint force, and we will come out of all of this safe and secure, God willing, and modern and far back history attests to that," Al-Ahram writer Hagar Salah said.
"We will continue to back up our leaders and our army and keep our trust in them, and have them depend on us. We do not fear wars, nor are we shaken by psychological wars, nor provocations, frustrations, conspiracies or betrayals," Salah said.
Egypt is currently facing a two-pronged foreign policy crisis. Egypt fears Ethiopia's Renaissance dam will greatly reduce its access to water. In neighboring Libya, forces loyal to the Government of National Accord (GNA), who are supported by Turkey, are reportedly planning to launch an attack on the port city of Sirte and Al-Jufra, which El-Sisi has called "red lines" in terms of Egypt's security.
https://www.arabnews.com/node/1709101/middle-east
--------
URL: https://www.newageislam.com/islamic-world-news/pakistan-committed-shirk-funding-temple/d/122458
New Age Islam, Islam Online, Islamic Website, African Muslim News, Arab World News, South Asia News, Indian Muslim News, World Muslim News, Women in Islam, Islamic Feminism, Arab Women, Women In Arab, Islamophobia in America, Muslim Women in West, Islam Women and Feminism