New Age Islam News Bureau
27 Jul 2018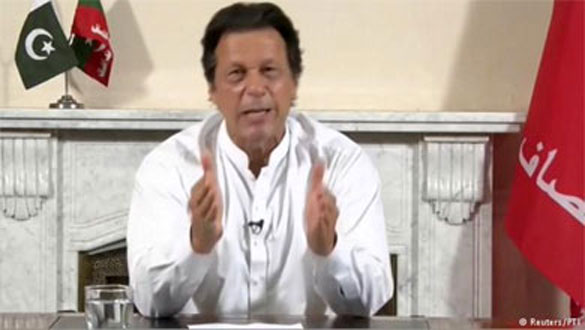 In a carefully crafted message Thursday, Tehreek-e-Insaf chief Imran Khan, poised to become the next Prime Minister of Pakistan, made a nuanced outreach to India.
----
• Pakistan Elections 2018: Fingers Crossed In Delhi, Mission Was In Touch With Team Imran
• Imran Khan Vows to Make Pakistan an Islamic Welfare State on Lines of Medina
• Duterte OKs Bill Creating Muslim Autonomous Region in South
• Saudi Arabia Deposits $80 mln to Support Palestinian Authority Budget
• Broken Promises Force Al Shabaab Recruits to Return Home
India
• Pakistan Elections 2018: Fingers Crossed In Delhi, Mission Was In Touch With Team Imran
• 'Rising Muslim Population Needs to Be Curbed, Is Reason for Increase in Lynchings', Says BJP MP Hari Om Pandey
• Imran Khan talks of 'solving Kashmir issue', Valley not very hopeful
• India Has Every Reason to Be Alarmed By Pak-China Alliance: US Lawmaker
• Hope Imran Khan Runs Pakistan Like He Did Team: Kapil Dev
• Modi focuses on global terrorism at Brics summit
• Unlike last year, Jaish-e-Mohammad, Lashkar-e-Taiba not named in BRICS statement
--------
Pakistan
• Imran Khan Vows to Make Pakistan an Islamic Welfare State on Lines of Medina
• MMA Wants Elections to Be Declared 'Null And Void'
• PML-N decides against boycotting parliament
• US looks forward to working with Imran-led govt
• Losing candidates term 'technical rigging' reason for defeat
• Imran to provide justice to Model Town victims, hopes Qadri
• Imran's ex-wife congratulates him on victory in General Elections 2018
--------
Southeast Asia
• Duterte OKs Bill Creating Muslim Autonomous Region In South
• Even If Islam Allows, Banning Child Marriages For Greater Good, Mujahid Says
• Chinese Muslims detained indefinitely 're-education camps'
• So what if non-Muslims make up 50% of the cabinet?
• Racial and Religious Hatred Act is ill-conceived
--------
Arab World
• Saudi Arabia Deposits $80 mln to Support Palestinian Authority Budget
• Iraq's Protests Continue While Bracing for Friday's 'March of a Million'
• Syrian troops liberate several villages, hoist national flag in Quneitra
• Lebanese town rejects Hezbollah, burns its flags
• Yemen's Ansarullah Bombs Abu Dhabi International Airport in Drone Attack
• Heavy Infighting Reported among Ankara-Backed Terrorists in Afrin
• Syrian Military Expert: US Gathering ISIL in Al-Tanf for Training
• Iraqi Cardinal appeals to the citizens of Iraq to come together
• Syrian Army Liberates 10 More Regions in South
--------
Africa
• Broken Promises Force Al Shabaab Recruits to Return Home
• 20 Turkish Aid Projects in Last 6 Months in S. Africa
• Erdogan warns South Africa against FETO threat
• Two cops injured, civilian missing after al Shabaab ambush in Lamu
• US air strike targets Al-Shabaab military base in Somalia
--------
Europe
• The 'Secret Agent' Of Qatar: Details Emerge Against Former UN Envoy to Yemen
• UAE leading smear campaign against opponents in UK: Report
• German minister steps back from anti-Erdogan tweet
• Violence as migrants storm Morocco-Spain border fence
--------
North America
• Canada's Politicians are in Denial on Terrorism
• Pakistani-Origin Man behind Toronto Mass Shooting Claimed By ISIS
• Turkey calls on US to return 'constructive dialogue' after Trump threat
• After 17 years, DNA advancement helps identify 26-year-old killed on 9/11
• Trump threatens sanctions unless Turkey releases American pastor
--------
South Asia
• Police: Suicide Attack on Afghan Intelligence Convoy Kills Five
• Dhaka anti-terrorism tribunal to judge Gulshan cafe attack case
• Two Bangladeshi terror suspects arrested in Greater Noida
• Imran declares support for Afghan peace after taking lead in elections
• Several ISIS militants surrender to ALP forces in Jawzjan province
--------
Mideast
• Yemeni Forces Launch Drone Strike against Abu Dhabi International Airport
• Yemen's Army: 25 Houthis Killed In an Offensive in Al-Bayda
• Houthis accused of threatening world's electricity supplies
• Yemen Warns to Attack Saudi-Led Coalition Members' Ports
• Huge Arms Cache of Turkey-Backed Foreign Terrorists Blown Out in Idlib
• Palestinian attacker who killed Israeli settler and injured two is shot dead
• South Africa's deadly involvement in Saudi war on Yemen expanding: Report
• 'We won't tolerate threats,' Turkey warns US
Compiled by New Age Islam News Bureau
URL: https://www.newageislam.com/islamic-world-news/pakistan-elections-2018-fingers-crossed/d/115958
--------
Pakistan Elections 2018: Fingers Crossed In Delhi, Mission Was In Touch With Team Imran
July 27, 2018
IN A carefully crafted message Thursday, Tehreek-e-Insaf chief Imran Khan, poised to become the next Prime Minister of Pakistan, made a nuanced outreach to India while making clear that New Delhi's response would hold the key.
Stressing that the blame game needs to stop between the two countries over Kashmir and Balochistan, 65-year-old Khan addressed his nation: "If India takes one step towards us, we will take two steps toward them…but at least (we) need a start. Right now, it is one-sided where India is constantly just blaming us."
Khan's public statement, sources said, follows India's engagement with his team through the High Commission in Islamabad. Although his statement has not been officially reciprocated by New Delhi, official sources are hopeful of "a greater policy coherence" under him as "he would be on the same page as the Pakistan Army".
Sources told The Indian Express that the Indian High Commission in Islamabad "has been in close touch with Imran's people for months," as the government was preparing itself for any election outcome. Khan's statement that "we want to improve our relations with India, if their leadership also wants it" seems to be born out of that engagement.
Sources said Chaudhry Mohammad Sarwar, former member of the British House of Commons, who served as Governor of Punjab from 2013 to 2015, is most likely to be named Foreign Minister. He resigned as governor in 2015 after terming US President Barack Obama's visit to India as a failure of the government of Nawaz Sharif. He later joined Khan's PTI and is currently a member of the Pakistani Senate.
Khan's PTI, which won 76 seats and was leading in 43 according to Pakistan's TV channels, is widely perceived to be the Pakistan Army's choice, and has been christened by the Opposition as the "laadla" (favourite son).
Aware of that image and apprehension in New Delhi, he said, "As far as India is concerned, I was a little disappointed with how the Indian media portrayed me in the past few weeks, as a villain in a Bollywood film…like everything that would be disadvantageous for India would happen due to me."
And then, he struck a familiar note, echoing the military establishment's thinking that Kashmir is the "core issue".
Khan, however, also expressed his desire to "increase trade" with India — a popular sentiment among the business community in Pakistan, especially among the influential business class in Punjab.
"I am that Pakistani who believes that to improve economics in the sub-continent, trade between India and Pakistan is important. This will be beneficial for both the countries," he said.
"Our priority should be to increase trade, but the sad part is that the core issue is Kashmir. We should sit across the table to solve this issue, instead of indulging in a blame game. The Kashmiri people have suffered a lot of human rights violation. Let's not continue this blame game over Kashmir and Balochistan. We are stuck at square one," he said.
The PTI's election manifesto had said that they will "work on a blueprint towards resolving the Kashmir issue within the parameters of UNSC resolutions. For lasting peace within our own region, especially with a neighbour India, conflict resolution and the security route to cooperation is the most viable".
In his address, Khan also tried to strike a conciliatory note, noting his ties with India. "I am that Pakistani who has travelled through India because of my cricket," he said.
What was interesting to note was that he covered almost every important bilateral relations from Pakistan's point of view, starting from China, and came to India only in the end.
Making a strong mention of improving ties with China, Khan said, "We will strengthen and improve our relations with China. We want to work towards success of CPEC. We also want to send teams to learn poverty alleviation from China. How to lift our most poor who can't even eat two meals a day."
Emphasisng that foreign policy is a "huge problem" for the country now, he said the country needs better relations with its neighbours so that it can focus on nation building.
Throughout Thursday, South Block mandarins were poring through various elements of PTI's election manifesto, which has some aspects that have got Delhi worried.
One of the key paragraphs is to "expose links between active and passive terrorists (who provide logistics support but are not part of the fighting force) and seek to win over the latter so as to isolate the hardcore elements who rely on local populations for support — the local population acts as the rear of the terrorists. By separating the passive supporters, the state deprives the terrorists of an important component of their support structure."
South Block sources, who analysed the PTI manifesto, said: "This distinction between active and passive terrorists sounds somewhat like good and bad terrorists. That's something which goes against the fight against terrorism."
Sources said Pakistan's High Commissioner to India, Sohail Mahmood, had gone to Islamabad earlier this month and had briefed the caretaker government and Foreign Secretary Tehmina Janjua about Indian government's approach towards Pakistan.
Another name being mentioned as Foreign Minister is Shah Mahmood Qureishi, who served in that capacity in Prime Minister Yusuf Raza Gilani's cabinet but was replaced mid-way with Hina Rabbani Khar.
While Khan's pre-election campaign rhetoric had been fiery, it had largely been devoid of India bashing, barring a few occasions when he had tried to paint former prime minister Nawaz Sharif as pro-India.
At his last election rally in Karachi on July 22 at the Jinnah Masouleum grounds, Khan had said, "His (Nawaz's) whole fight against the Army, it's not about democracy. It is about telling the international community that look, I can control the Army so that Pakistan can accept India's thaanedaari. This is the whole game. Pakistan establishment wants to balance India with China. India wants that like Nepal, Bhutan, Bangladesh, Pakistan should accept its thaanedaari. Standing in the way is the Pakistan Army. And [India] wants that Pakistan Army should be weakened and defamed.
In September '2016, after India's retaliatory "surgical strikes", Khan had said, "Listen, Narendra Modi, not every Pakistani is Nawaz Sharif. Not every Pakistani is so fond of money as Nawaz Sharif is. Not every Pakistani who goes to India, goes to meet Narendra Modi with his son, and has tea with (businessman) Jindal. Not every Pakistani is more fond of his business than his nation, like Nawaz Sharif. And not every Pakistani is a coward like Nawaz Sharif."
https://indianexpress.com/article/india/pakistan-elections-2018-fingers-crossed-in-delhi-mission-was-in-touch-with-team-imran-khan-5278501/
--------
Imran Khan Vows to Make Pakistan an Islamic Welfare State on Lines of Medina
July 26, 2018
Islamabad: Pakistan Tehreek-e-Insaf chief Imran Khan said on Thursday that he envisioned to set up a Medina-like welfare state which will be sympathetic towards widows and the weaker sections of the society.
In his first public address since his Pakistan Tehreek-e-Insaf (PTI) emerged as the single largest party in the general election, Khan shared his vision for Pakistan and pledged to safeguard the interests of ordinary citizens.
"I want to share the kind of Pakistan I envision - the type of state that was established in Madina, where widows and the poor were taken care of," the 65-year-old cricketer-turned-politician said.
"My inspiration comes from the last Prophet who set up an ideal welfare state in Medina. I want Pakistan to become like that. A humanistic not an animalistic state," he said in a speech made from Bani Gala in Islamabad that was broadcast via video link.
Khan said his guiding principles will be the same adopted by the last Prophet in setting up one of the "greatest civilisations".
"I pledge to our people that I will introduce a system that is for the masses, all policies will be for the people and not for the elite," he vowed.
"I will live humbly. So far we have seen that everyone who comes to power changes. That will not happen with me," he promised.
Khan said Pakistan was in "shambles" as a state and the country is facing its "biggest challenge" on the economic front.
"We are facing governance and economic challenges. Our economy has never been so abysmal. It's because institutions have not been doing their jobs," he said.
"Ours style of governance will be entirely different. The one never seen before. We will work for the betterment of the poor and downtrodden people," he pledged.
Khan has not officially been declared prime minister yet. According to results and trends available so far, his party has won 76 seats and is leading in 44 seats, while its main rival Pakistan Muslim League-Nawaz (PML-N) was way behind with 65 seats.
https://www.news18.com/news/world/imran-khan-vows-to-make-pakistan-an-islamic-welfare-state-on-lines-of-medina-1824913.html
--------
Duterte OKs Bill Creating Muslim Autonomous Region in South
July 27, 2018
MANILA, Philippines (AP) — Philippine President Rodrigo Duterte has signed legislation creating a new Muslim autonomous region aimed at settling nearly half a century of Muslim unrest in the south, where troops crushed an attempt last year by Islamic State group-linked militants to turn a city into a stronghold.
Presidential spokesman Harry Roque and another key aide, Bong Go, told reporters without elaborating late Thursday that Duterte signed the bill creating the region, to be called Bangsamoro. The autonomy deal, which has been negotiated for more than two decades under four presidents, was ratified earlier this week by both chambers of Congress.
"This is to announce that the president has just signed the BOL into law," Roque said in a cellphone message, referring to the Bangsamoro organic law.
It's the latest significant attempt by the government to end Muslim fighting that has left more than 120,000 people dead and hampered development in the country's most destitute regions. The deal was negotiated with the Moro Islamic Liberation Front, the largest Muslim rebel group in the south; although about half a dozen smaller IS-linked radical groups remain a threat in the region, the homeland of minority Muslims in the largely Roman Catholic nation.
Al Haj Murad Ebrahim, chairman of the Moro rebel front, told a news conference Tuesday that 30,000 to 40,000 armed fighters would be "decommissioned" if the autonomy deal is fully enforced. The disarming would be done in batches based on compliance with the accord, with the final 40 percent of the guerrillas turning over their weapons once there is full compliance.
Murad added that six of the largest guerrilla camps in the south were already being converted into "productive civilian communities" to help the insurgents return to normal life.
Murad appealed to the international community to contribute to a trust fund to be used to finance the insurgents' transition from decades of waging one of Asia's longest rebellions.
"We will decommission our forces, the entire forces," Murad said. He declined to immediately cite the number of weapons that "will be put beyond use."
The military has estimated the Moro rebel group's size at a much lower 11,000 fighters.
The Bangsamoro replaces an existing poverty- and conflict-wracked autonomous region and is to be larger, better-funded and more powerful. An annual grant, estimated at 60 billion to 70 billion pesos ($1.1 billion to $1.3 billion), is to be set aside to bolster development in the new region.
Murad's guerrilla force is the second in the south to drop a demand for a separate Muslim state in exchange for autonomy. The Moro National Liberation Front forged a 1996 peace deal with the government that led to the current five-province Muslim autonomous region, which has largely been regarded as a failure.
Western governments have welcomed the autonomy pacts. They worry that small numbers of Islamic State group-linked militants from the Middle East and Southeast Asia could forge an alliance with Filipino insurgents and turn the south into a breeding ground for extremists.
Murad said it's crucial for the peace agreement to be fully enforced, citing how earlier failed attempts prompted some guerrillas to break away and form more hard-line groups like the Abu Sayyaf, a brutal group listed by the United States and the Philippines as a terrorist organization.
Hundreds of militants, including those who broke off from Murad's force, were among black flag-waving fighters who swore allegiance to the Islamic State group and laid siege to the southern Islamic city of Marawi last year. Troops backed by U.S. and Australian surveillance aircraft routed the militants after five months of airstrikes and ground assaults that left more than 1,200 people, mostly Islamic fighters, dead and the mosque-studded city in ruins.
"We can roughly conclude that all these splinter groups are a result of the frustration with the peace process," Murad said.
https://www.tampabay.com/duterte-oks-bill-creating-muslim-autonomous-region-in-south-ap_entertainmenta24ca6e1a9224a9c96e46d343ebeb69a
--------
Saudi Arabia deposits $80 mln to support Palestinian Authority budget
27 July 2018
The Kingdom of Saudi Arabia, represented by the Saudi Fund for Development (SFD) transferred Saudi Arabia's partial contribution worth of $80 million to support the Palestinian Authority's budget.
Saudi Ambassador to Egypt Osama bin Ahmed Nuqali, said in a statement on Thursday that the SDF has transferred $80 million to the account of the Palestinian Ministry of Finance, representing the monthly contribution of the Kingdom to support the Palestinian Authority for the months of April, May, June and July 2018, at a rate of $20 million per month.
Ambassador Nuqali stressed that Saudi Arabia will always support the Palestinian cause at all political, economic and humanitarian levels.
On Tuesday, Saudi Ambassador to the United Nations Abdallah al-Mouallimi refuted US Ambassador to the United Nations Nikki Haley's criticism of Arab countries for not doing enough to help Palestinians.
Al-Mouallimi responded to these claims during a monthly meeting of the UN Security Council on the Middle East.
Saudi Arabia has over the past two decades provided "$6 billion to the Palestinians in humanitarian assistance, development aid and relief," a-Mouallimi responded.
The Saudi Ambassador added that "the value of assistance provided to the UN agency for Palestinian refugees (UNRWA) was $1 billion for the same period."
https://english.alarabiya.net/en/News/middle-east/2018/07/27/Saudi-Arabia-deposits-80-mln-to-support-the-Palestinian-Authority.html
--------
Broken promises force al Shabaab recruits to return home
Jul. 26, 2018
Large numbers of youth who had been radicalised and tricked into joining the al shabaab terror group in Somalia are now returning home in droves.
The majority cited poor living conditions, mistreatment and lack of remuneration as reasons for the fallout.
"It is unfortunate the miserable conditions that made me leave home are the same conditions I have to live through everyday," Omar, a returnee from Lamu County said.
Omar was recruited by his maternal uncle, a madrassa teacher in Hindi, Lamu County.
The uncle was their breadwinner after their father disappeared from home without a trace.
After completing Standard 8 in 2014, Omar's uncle told his mother he would get a job for his nephew for him take care of his five siblings.
The mother was not suspicious since his uncle lived a comfortable life.
She never inquired about the job nor the location he was going.
Like Omar, most of the returnees said low quality of life and social exclusion are some of the reasons they had joined the group.
To their surprise, they found themselves living in the same conditions they had fled from when they joined the terror group.
Sheikh Abdul from Panda Nguo said the conditions were worse than at home.
"I know we are poor back home, but it is better to return, or die than live in those conditions. At home, I had never stayed for three days without food or a week without showering, but that it was something normal for the militants," Abdul said.
None of the returnees have any financial or material gain to show for their time with the terrorists, contrary to the promises they were given.
Their hope for financial benefit was severely dampened by measly earnings.
Unlike Omar and Abdul, Rama Mohammed from Mombasa did not join al Shabaab because of poverty but his was an ideological pursuit.
He wanted to fight for Jihad - a narrative propagated by al shabaab.
He, however, laments that there is no Jihad al Shabaab are fighting for.
"I know I did everything to escape and come back home, but I'm afraid to face my mum. How do I tell her I killed other people's mothers? She would never forgive me," Rama said.
He is desperate for his mother's forgiveness. He heard she has been unwell since he left.
"Janaa is at her feet, that is the only Jihad I now seek," a sobbing Rama added.
Al shabaab supports a policy of looting and pillaging the local population in the environment they live in.
The proceeds are a reserve for leaders and leftovers are given to the local Somali born fighters.
This leaves the foreign fighters desperate and frustrated.
In addition to the poor living conditions, the continued aerial bombardment on the terrorists by Kenya Defence Forces and US Forces is an added strain to the foreign fighters to return.
Omar, Abdul and Rama are part of 10 militants who surrendered to the KDF troops last month.
They are undergoing rehabilitation, psychological support and security debrief at a secluded area before re-integration back into the society.
https://www.the-star.co.ke/news/2018/07/26/broken-promises-force-al-shabaab-recruits-to-return-home_c1793121
--------
India
'Rising Muslim Population Needs To Be Curbed, Is Reason For Increase In Lynchings', Says BJP MP Hari Om Pandey
Jul 27, 2018
NEW DELHI: A day after a BJP lawmaker from UP said Hindus should have at least five children to save Hindutva, another BJP leader has said that it's of "grave concern" that the Muslim population is increasing because that's the reason for growing incidents of terror crime and lynching, reported Times Now.
BJP MP from UP, Hari Om Pandey, further said in an interview with the TV channel that at the rate the Muslim population is growing we will see the creation of another Pakistan and that doesn't bode well for India. He further said a bill must be brought in Parliament, applicable to everyone, to control population.
"The main problem in India is because terrorism, crimes, mob lynching are increasing and the reason for this is the population of the country. There's a huge increase in the country's population today compared with the time of independence and the reason for that is one community, that of the Muslims," said Pandey.
The MP from UP's Ambedkar Nagar constituency said that Muslims don't believe in birth control or any form of planning, and Muslim religious leaders say it isn't allowed in Islam.
"They say 'Allah talaa however much our population increases it isn't enough', and because of that terrors, crime lynchings are all rising," said Pandey.
Pandey also said one Pakistan in the neighbourhood is enough - "they just had elections and already they are being called 'Aatankistan' (Terroristan)" - and unless a bill is passed in parliament to curb population "we will produce another Pakistan".
Two days before Pandey's comments, BJP UP lawmaker Surendra Singh said "Hindus must produce at least five children to keep India strong and keep Hindutva intact" in the country, reported news agency ANI.
https://timesofindia.indiatimes.com/india/rising-muslim-population-needs-to-be-curbed-is-reason-for-increase-in-lynchings-says-bjp-mp-hari-om-pandey/articleshow/65158314.cms
--------
Imran Khan talks of 'solving Kashmir issue', Valley not very hopeful
Jul 27, 2018
Pakistan Tehreek-e-Insaf (PTI) party chief Imran Khan, who looks set to become the next prime minister, harped on Kashmir, calling it the biggest hurdle in relations between the sub-continental neighbours as he made peace overtures to India.
In a nuanced message, Khan offered to take two steps if India took one and spoke of so called "human rights violations" in the Valley. "The biggest problem is Kashmir, every international organisation has said that there are human rights violations taking place in Kashmir… Kashmiris are suffering for long. We have to solve Kashmir issue by sitting across the table, If India's leadership is willing then the both of us can solve this issue through dialogue," he added.
However, people in Kashmir do not expect Imran Khan to change Pakistan's policy regarding Kashmir.
They remember Khan as a charismatic "legendary" cricketer under whom Pakistan won the Cricket World Cup in 1992, but most don't know him as a politician.
Political analyst and journalist Gowhar Geelani says the fact that Khan doesn't have a majority and the perception that he is backed by the army could prove "a stumbling block vis-a-vis any breakthrough on Kashmir.''
Indeed, Khan has shown himself to be "unpredictable" and it's "hard to know what stance he is going to adopt on Kashmir," said the former vice chancellor Islamic University of Science and Technology, Siddiq Wahid.
Geelani remembers an old Khan interview where he said the "resolution of Kashmir issue is important for peace between India and Pakistan."
Much depends on India, though, said Yasin Khan, chairman, Kashmir Economic Alliance. "Imran Khan has been saying that Kashmir is a very big issue and flash point between two nuclear powers and it needs statesmen type approach from both the sides – India and Pakistan.'' In his first speech after it was clear he had won the election, Khan extended a hand of friendship to India and said the way to solve the Kashmir issue was through dialogue.
It is unlikely he will be able to do much, said Abdul Hameed, a senior government officer.
"I don't think the policy of Pakistan will change vis-à-vis India. Under the premiership of new PM, policy will be same as Imran can't annoy the powerful (army) establishment in his country," he said.
Full report at:
https://www.hindustantimes.com/india-news/post-election-kashmir-expects-no-change-in-pakistan-s-policy-on-the-valley/story-L8gWpQONY3W4H8mzTqPVJM.html
--------
India has every reason to be alarmed by Pak-China alliance: US lawmaker
July 26, 2018
India has every reason to be alarmed by the Pakistan-China alliance, which has emerged as a threat to their neighbours and democracy in the region, a top US lawmaker said today.
China has emerged as an all-weather ally of Pakistan, where it has launched several development projects with an investment of over USD 50 billion under the China-Pakistan Economic Corridor (CPEC), as part of Chinese President Xi Jinping's ambitious Border and Road Initiative (BRI).
The CPEC, launched in 2015, is a planned network of roads, railways and energy projects linking China's resource-rich Xinjiang Uyghur Autonomous Region with Pakistan's strategic Gwadar Port on the Arabian Sea.
China has also blocked India's move to designate Pakistan-based Jaish-e-Mohammad (JeM) chief and Pathankot terror attack mastermind Masood Azhar as a global terrorist by the United Nations.
The Pakistan-China alliance is hostile to the basic tenants of democracy and hostile to its neighbours, Congressman Dana Rohrabacher said during a Congressional hearing.
"India has every reason to be alarmed by this new cooperation and coordination between China and Pakistan. Pakistan, who is immersed and its leaders are immersed in radical Islam and terrorism, not only to terrorise their neighbours, but to terrorise their own populations into submission," the lawmaker said.
He alleged that Sindhis were being brutalised and murdered. And same is the treatment with supporters of the Muttahida Qaumi Movement (MQM) in Karachi and the Balochs.
"These groups of people are being brutalised by this corrupt government in Islamabad in alliance now with China, which of course is the world's worst human rights abuser," Rohrabacher said.
Congressman Brad Sherman raised the issue of human rights violations against Sindhis.
Responding to questions, Senior Bureau Official for South and Central Asian Affairs, Alice Wells told members of House Foreign Affairs Subcommittee for Asia and the Pacific that of late there has been popular protests against the disappearances against staged encounters in Pakistan.
Full report at:
https://www.indiatvnews.com/news/world-india-has-every-reason-to-be-alarmed-by-pak-china-alliance-us-lawmaker-454740
--------
Hope Imran Khan runs Pakistan like he did team: Kapil Dev
Jul 27, 2018
NEW DELHI: Former Pakistan cricket captain Imran Khan's great Indian rival, Kapil Dev, is elated to see his contemporary poised to become prime minister of Pakistan.
"I'm very happy for him. I hope he manages Pakistan the way he managed the cricket team as captain," Kapil, like Imran a World Cup-winning captain, told TOI on Thursday. "From the very beginning, Imran worked hard for his success, and it's because of this ability to work hard consistently that he is at the peak of his political career," Kapil said.
Many ardent fans in the subcontinent wish for regular cricket ties between India and Pakistan. Kapil, who himself favours more cricket between the neighbours, feels there are bigger issues to be sorted out first. "I think country is more important than cricket. Let's hope India and Imran's government can sort out bigger issues and bring peace to the region. I think cricket will happen," Kapil said. "Both countries are going through a rough time.He should focus on bringing in more harmony between the two countries," he added.
About Imran the cricketer and captain, Kapil recalled him as a very positive cricketer who managed the Pakistani team with the utmost ease. "Handling the Pakistan team wasn't an easy job but Imran did it brilliantly. He was a tough captain and that is the reason Pakistan did well. I hope he will do a good job as PM as well."
"Imran was very tough on the field but very gentle off it. That is what is expected when you are competing at the highest level," he added.
When asked if he followed Imran's political career, Kapil said, "Not really. He is a politician now and politicians are politicians.
Full report at:
https://timesofindia.indiatimes.com/india/hope-imran-khan-runs-pakistan-like-he-did-team-kapil-dev/articleshow/65156885.cms
--------
Modi focuses on global terrorism at Brics summit
Jul 27, 2018
JOHANNESBURG/DELHI: Prime Minister Narendra Modi on Thursday reaffirmed India's commitment to multilateralism, international trade and rules-based world order as he participated in the Brics Summit.
Modi also focused on the issue of global terrorism and on the need for states to ensure that no terrorist activity was perpetrated from their soil.
However, missing from the Johannesburg Declaration was the specific mention of terror groups like LeT, JeM, Taliban and the Islamic State terror group. These groups were mentioned in the Brics Xiamen Declaration last year.
The fact that LeT and JeM were named was seen as a foreign policy success for India. In the 2016 Brics Goa summit, China had blocked the mention of these terror groups.
Full report at:
https://timesofindia.indiatimes.com/india/modi-focuses-on-global-terrorism-at-brics-summit/articleshow/65156500.cms
--------
Unlike last year, Jaish-e-Mohammad, Lashkar-e-Taiba not named in BRICS statement
by Shubhajit Roy
July 27, 2018
A YEAR after India claimed credit for the naming of Lashkar-e-Taiba and Jaish-e-Mohammad in the BRICS declaration at Xiamen in China, the grouping's declaration in Johannesburg Thursday did not contain any reference to these terrorist groups.
The latest declaration was issued after Prime Minister Narendra Modi met all BRICS leaders, and was in the process of meeting at least three of them separately.
Sources, however, told The Indian Express that once a formulation has found a mention in a declaration, "it is already a part of record". They also pointed to the "very strong" paragraphs on terrorism in the Johannesburg declaration.
Referring to terrorism, the Johannesburg declaration stated: "We deplore the continued terrorist attacks, including in some BRICS countries. We condemn terrorism in all its forms and manifestations wherever committed and by whomsoever. We urge concerted efforts to counter terrorism under the UN auspices on a firm international legal basis and express our conviction that a comprehensive approach is necessary to ensure an effective fight against terrorism. We recall the responsibility of all States to prevent financing of terrorist networks and terrorist actions from their territories."
It said: "We firmly believe that those responsible for committing, organising, or supporting terrorist acts must be held accountable. We call upon all nations to adopt a comprehensive approach in combating terrorism, which should include countering radicalisation, recruitment, travel of Foreign Terrorist Fighters, blocking sources and channels of terrorist financing including, for instance, through organised crime by means of money-laundering, supply of weapons, drug trafficking and other criminal activities, dismantling terrorist bases, and countering misuse of the Internet by terrorist entities through misuse of the latest Information and Communication Technologies (ICTs)."
In Xiamen, the BRICS declaration had said the leaders expressed concern on the security situation in the region and violence caused by "the Taliban, ISIL/DAISH, Al-Qaida and its affiliates including Eastern Turkistan Islamic Movement, Islamic Movement of Uzbekistan, the Haqqani network, Lashkar-e-Taiba, Jaish-e-Mohammad, TTP and Hizb ut-Tahrir."
This was projected by India as a major accomplishment, with the Ministry of External Affairs Secretary (East) Preeti Saran pointing out that "for the first time you would notice that there has been such a specific listing of terrorists organizations…"
Full report at:
https://indianexpress.com/article/india/unlike-last-year-jaish-lashkar-not-named-in-brics-statement-5278491/
--------
Pakistan
MMA wants elections to be declared 'null and void'
Kashif Abbasi
July 27, 2018
ISLAMABAD: The Muttahida Majlis-i-Amal (MMA) has called for declaring the entire electoral exercise "null and void" and rejected the results outright.
Speaking to Dawn after a meeting of the alliance on Thursday, MMA's secretary general Liaquat Baloch said that after reviewing the post-election situation, the MMA leadership had decided to convene a multi-party conference (MPC) in Islamabad on Friday (today) to thrash out a joint strategy.
The recently revived alliance of five religio-political parties suffered a drubbing in the elections and even its chief, Maulana Fazlur Rehman, and Jamaat-i-Islami emir Sirajul Haq tasted defeat in their native constituencies.
Mr Baloch said most of the participants were of the view the alliance should demand that the results be declared "null and void", but it was decided that a final decision would be made after consulting other parties.
In reply to a question, he said the MMA had invited all major political parties, excluding the PTI, to the MPC. He said Maulana Fazl had already contacted the leaders of other parties, including former president Asif Zardari. Mr Baloch was of the view that the whole election exercise had become doubtful after "complete failure" of the Election Commission (ECP) to ensure transparency.
Meanwhile, speaking to reporters after the MMA meeting, Maulana Fazlur Rehman alleged that the ECP had no control over the returning officers and district returning officers on polling day.
"It seemed that the ROs and the DROs had been made hostage," he said.
The Maulana, who heads his own faction of the Jamiat Ulema-i-Islam, alleged that the presiding officers had not provided Form 45 (the statement of count) to polling agents, instead providing the results to agents on loose sheets of paper. He said soldiers would take custody of polling bags and then "transport them somewhere". Maulana Fazl said the transmission of poll results was stopped after Maghrib prayers and the "prepared results" were still being issued. He said the MMA had decided to continue its struggle for the sanctity of vote.
https://www.dawn.com/news/1423194/mma-wants-elections-to-be-declared-null-and-void
--------
PML-N decides against boycotting parliament
Zulqernain Tahir
July 27, 2018
LAHORE: The Pakistan Muslim League-Nawaz (PML-N) has decided in principle not to boycott parliament on the issue of poll rigging and play an "aggressive" role while sitting on the opposition benches in the National Assembly.
The decision was taken at a meeting of the PML-N central executive committee (CEC) which was presided over by its president Shahbaz Sharif in Model Town here on Thursday.
"The meeting discussed at length the rigging issue and decided to do aggressive politics at the Centre and make efforts to form government in Punjab," a PML-N insider told Dawn after the meeting.
The party also decided to take all other major parties, including the Pakistan Peoples Party and obviously excluding the Pakistan Tehreek-i-Insaf, to formulate a joint strategy to take up the rigging issue that it believes has deprived it of majority in the coming National Assembly.
The CEC expressed strong reservations on 'rigging' and decided to use all options to expose it before the people.
PML-N spokesperson Marriyum Aurangzeb told Dawn that any decision whether or not to boycott parliament would be taken after consulting other parties at a multi-party conference (MPC) the PML-N had called on Friday (today) in Islamabad.
However, she hastened to add that unlike the PTI, the PML-N was not a party that could ever do politics which was detrimental to the country.
"We will (try to) form a 'united political front' to take up the issue of rigging. All political parties will gather in Islamabad on Friday to formulate a joint strategy against rigging. We will present constituency-wise evidence of rigging and issue a white paper on rigging after the MPC," she said.
The former information minister said that the proposed united front would finalise a future course of action after the MPC.
"Constituencies in certain cities were targeted to achieve desired results. We have witnessed a similar pattern in Rawalpindi, Faisalabad, Multan and some other areas," she said.
"Rigging had been committed in a bid to 'select ladla' (Imran Khan)," she said and called upon the authorities concerned to hold an inquiry to ascertain why the result transmission system of the Election Commission of Pakistan had broken down.
Ms Aurangzeb continued to say that pre and post-poll day rigging had been carried out. "Why polling agents were expelled and not given Form 45," she asked.
Moreover, she said, the voting process had been deliberately slowed down to deprive people of an opportunity to cast their votes.
"The PML-N's mandate has been stolen and we will expose this," she said.
Asked whether the party planned to take to the streets to protest against the alleged rigging, she said: "The country cannot afford agitation at this moment. The PML-N is not the PTI."
Earlier the CEC meeting that lasted for several hours discussed the rigging issue and examined its evidence.
Speaking at the huddle, Shahbaz Sharif said that the results of the polls did not correspond to what he had witnessed during the election campaign.
"Other political parties also have serious reservations on the elections results as systematic rigging has been carried out," he said.
Full report at:
https://www.dawn.com/news/1423182/pml-n-decides-against-boycotting-parliament
--------
US looks forward to working with Imran-led govt
Anwar Iqbal
July 27, 2018
WASHINGTON: As Pakistan forms a new government, the United States looks for opportunities to work with it to advance the goals of security and stability in South Asia, the State Department said on Thursday.
In a statement on Wednesday's election that gave Imran Khan and his party a clear edge over others, a spokesman for the State Department also expressed concern over some developments.
"As Pakistan's elected leaders form a new government, the United States will look for opportunities to work with them to advance our goals of security, stability, and prosperity in South Asia," the spokesperson said.
"We are concerned by reports of constraints placed on freedoms of expression, association, and the press leading up to the elections."
Asked to comment on the election results, the spokesperson said: "We are awaiting official results from the Electoral Commission of Pakistan and observer missions to release their preliminary findings."
Meanwhile, The Financial Times in a report observed that election in Pakistan produced a rare victory for a candidate who comes from outside the country's two major dynasties, the Sharifs and the Bhuttos.
Other media outlets also noted this change in the stories published or broadcast in the United States since Wednesday evening, when election results from Pakistan showed Imran Khan and his party emerging as a clear winner.
The FT article pointed out that Imran Khan projected himself on the campaign trail as a fighter against corruption, willing to take on the country's established political elite. "But his opponents say he has been supported and funded by the armed forces," the report added.
The Bloomberg financial wire reported that Imran Khan's win would clear the way for Pakistan to "open negotiations with the International Monetary Fund over another, much-needed bailout".
The reported noted that investors in Pakistan were "already expressing relief at the prospect of an outright win after expectations of a hung parliament".
The report warned that the PTI leader's alleged link to Pakistan's Islamists would be viewed with concern in world capitals and pointed out that in one of his past statements he threatened to shoot down US drones if they entered the Pakistani territory in his government.
Mr Khan maintains that "America's presence (in Afghanistan) puts him in direct conflict with US President Donald Trump", the report added.
Bloomberg also noted that Mr Khan, who won power as an anti- corruption crusader, has emphasised the need for more transparency in the $60 billion CPEC projects.
"For now, he may choose to focus on Pakistan's economy rather than battle the country's powerful generals over foreign policy and national security issues," Bloomberg observed.
An agency report published on some news sites noted that religious extremists and banned groups failed miserably in Pakistan's elections.
Although the extremists had fielded hundreds of candidates, only one appeared to be winning a provincial assembly seat from Karachi, it added.
A Washington Post article noted that PML-N had rejected the results, claiming the election was rigged and other major political parties were also backing this claim.
Although the rigging allegation had cast a shadow on the legitimacy of the entire electoral exercise, it would not prevent the PTI from forming the next government, the report added.
"The PTI-led government would take office, and the opposition parties would concurrently maintain a strong protest movement to pressure the new government for the foreseeable future," the Post added.
The report noted that if rigging allegations led to a protest movement, the political parties led by the PML-N, could boycott the newly elected parliament and demand a repeat election.
"But such a call would require deep coordination between all major political parties … (and) with the PPP in a strong position to easily form one provincial government, there is no obvious reason to believe they would collaborate."
The Foreign Policy magazine also carried a report on its website, noting that Pakistan's foreign relations "are the most frayed they have been in decades" as Imran Khan prepares to take over.
The report noted while the United States and Afghanistan accused Pakistan of allowing Taliban militants to operate out of sanctuaries in Pakistan, the dispute with India over Kashmir was growing tense.
"Pakistan has once more been placed on a terrorism-financing watch list by the Paris-based Financial Action Task Force, rendering it ever more internationally isolated," it added.
The report stressed the need for dealing with the growing anti-Americanism in Pakistan if Mr Khan wanted to improve his country's ties with Washington.
The report also noted that before his election, Mr Khan presented himself "as a leader of conscience who would better safeguard Pakistani honour by engaging with the United States on more equal terms".
Full report at:
https://www.dawn.com/news/1423192/us-looks-forward-to-working-with-imran-led-govt
--------
Losing candidates term 'technical rigging' reason for defeat
July 27, 2018
BADIN: Losing candidates — one each from Badin, Mirpurkhas, Sukkur and Shikarpur — alleged on Thursday that they had been defeated through "technical rigging".
Haji Rasool Bux Chandio, aspirant for NA-230 (Badin), addressed a hurriedly called press conference at Jamali House here on Thursday and alleged that the results were manipulated through massive rigging and other malpractices after 10pm on election day.
He said his agents were expelled from the polling stations by "khalaee makhlooq" and later on the results were manipulated, showing the lead of Dr Fehmida Mirza by 807 votes.
Mr Chandio said the sudden change in the direction of results in favour of his opponent Dr Fehmida Mirza, which initially showed his lead of 2,500 votes from the ballot counts of 233 polling stations, raised doubts. He said he had filed an application to the returning officer for recount of the votes.
According to Badin district PPP general secretary Haji Sain Bux Jamali, it remains unclear as to why PPP candidate Haji Taj Mohammad Mallah was shown successful by 2,400 votes against his rival candidate Dr Fehmida Mirza for PS-73, but later on the lead was reduced to only 281 votes.
He alleged that the presiding officers from 60 polling stations either left the venue or were missing from the polling process, paving way for the massive rigging.
They appealed to the Election Commission of Pakistan for putting off the result announcement till recounting of the votes.
In Mirpurkhas, MQM-P candidate for PS-47 (Mirpurkhas) Mujibul Haq has alleged that the mandate of the Haq Parast masses of Mirpurkhas has been snatched through what he termed technical rigging.
He also blamed that the pre-poll rigging plan had been made in the past by delimitation and showing less census of urban areas.
Addressing a press conference here on Thursday, he claimed that maximum number of MQM-P voters had voted for him. After completion of the polling, his polling agents were sent out of polling stations for 'rigging' and its complaint was made to the Election Commission of Pakistan, he added.
According to the results of 97 polling stations out of the total 187, he said he was leading with 17,000 votes while PPP candidate Hari Ram Kishori Lal acquired 13,599 votes. He said that PPP leaders and office bearers in the night gathered at different polling stations to change the result in favour of their candidates.
He lamented that ballot boxes were shifted to unknown places in the night and today (Thursday) Haq Parast mandate was changed in favour of the PPP candidate.
He said his polling agents were given result on plain papers by presiding officers in the city.
He appealed to the chief justice of the Supreme Court of Pakistan and chief election commissioner to look into the issue and punish the responsible officials.
In Shikarpur, Agha Taimoor Khan Pathan, candidate for PS-7 (Shikarpur-1), has expressed his deep concern over the election process and rejected elections results of PS-07.
At a press conference held at his residence, he alleged that election results had been given on blank papers and not on Form-45, which was sheer violation of the election code of conduct.He also alleged that he was kept detained for six hours after a firing incident, though his rival and his accomplices had fired at him (Agha).
A number of GDA leaders were present on the occasion.
MMA's Soomro says results manipulated in favour of Bilawal
LARKANA: Maulana Rashid Mehmood Soomro, president MMA Sindh and general secretary of JUI-F Sindh chapter, has rejected results of general election and alleged that his results have been manipulated to defeat him.
He said at a hurriedly-called press conference at the local press club on Thursday night that his party would hold province-wide protest against the results.
He said that people of Larkana had given clear verdict in his favour but Asif Ali Zardari exerted his pressure and warned that he would not accept the results if Bilawal Bhutto-Zardari lost from Larkana.
However, he did not divulge the name to whom Zardari had sent the message. He added in the same breath that his polling agents were not given ECP's Form 45 mentioning the details of the result.
They were compelled to leave the polling stations. He said 150 polling stations in his constituency were not provided Form 45 and pointed towards lacunae in the result sheet, as ballot papers and the result sheet did not match in terms of numbers of candidates contesting from the seat.
He alleged that results were manipulated. At certain polling stations, the ballot boxes were not opened in time. Two presiding officers from Naudero had brought the results on Thursday evening after 24 hours in their private car and rickshaw at the returning officer's office. He said that he had all proofs with him regarding the election and would send them to ECP.
He showed simple receipts to the media which were provided to his polling agents on plain paper that had no legal weight, he added.
He said that when such elections results were already planned then why the Election Commission of Pakistan had spent huge money on this exercise.
Flanked by his brother Maulana Nasir Mehmood Soomro who had contested NA-202 (Qambar-Shahdadkot) but could not win, he said results were also changed there.
He announced convening meeting of MMA Sindh to discuss the post-poll situation. If PPP formed government in Sindh it would not be permitted to ruin and plunder Sindh again, he said.
He claimed that Larkana was no more a stronghold of PPP and alleged that PPP was stealing people's mandate.
MQM-P protests 'rigging'
Full report at:
https://www.dawn.com/news/1423105/losing-candidates-term-technical-rigging-reason-for-defeat
--------
Imran to provide justice to Model Town victims, hopes Qadri
July 27, 2018
LAHORE: Pakistan Awami Tehreek Quaid Tahirul Qadri on Thursday congratulated Imran Khan on his overwhelming success in the general election, and said he fully endorsed the agenda that Khan announced in his victory speech.
He said: "We wish the Pakistan Tehreek-i-Insaf form government in Centre, Punjab and Khyber Pakhtunkhwa. The allegations of rigging are common in Pakistan, and the losing party always speaks of rigging; however, the Sharifs must pay respect to vote and accept verdict of the people. Now, it is responsibility of Imran Khan to provide justice to victim families of Model Town incident and hopefully Imran Khan will honour this commitment."
He said the people of Pakistan deserved a lot of appreciation for defeating the corrupt leaders. He said his decision of not participating in election under the current electoral system was based on principles, "but I still believe election should not mean change of faces, rather it should be for the welfare of country and its people."
He said Imran Khan and his team struggled to change the current system and hoped that the election result would pave the way for change in system.
Full report at:
https://www.dawn.com/news/1423103/imran-to-provide-justice-to-model-town-victims-hopes-qadri
--------
Imran's ex-wife congratulates him on victory in General Elections 2018
JULY 26, 2018
Chairman Pakistan Tehreek-e-Insaf (PTI) Imran Khan's ex-wife, Jemima Goldsmith, congratulated him on Thursday as the party embraced victory in general elections 2018.
In her Tweet, Jemima stated that after 22 years of humiliations, hurdles, and sacrifices, my sons' father is Pakistan's next PM.
She further highlighted the lesson from Imran's struggle, "It's an incredible lesson in tenacity, belief & refusal to accept defeat."
Jemima then concluded by saying, "The challenge now is to remember why he entered politics in the first place. Congratulations Imran Khan."
In another Tweet, the ex-wife recalled 1997 elections and stated, "I remember IK's 1st election in 1997- untested, idealistic & politically naive. I waited up for the call in LHR with 3 mo old Sulaiman, who I had lugged around the country."
She added, "Eventually, he called. "It's a clean sweep" & after my gasp, "… the other way." He roared with laughter."
Full report at:
https://dailytimes.com.pk/273475/imrans-ex-wife-jemima-congratulates-him-on-victory-in-general-elections-2018/
--------
Southeast Asia
Even if Islam allows, banning child marriages for greater good, Mujahid says
27 July 2018
KUALA LUMPUR, July 27 ― Any move to curb marriages involving girls who are minors is aimed at protecting them from exploitation, said Minister in the Prime Minister's Department Datuk Mujahid Yusof Rawa.
He said the government also looked at the issue in the long run and the ban on child marriages was due to many cases found to be inclined towards exploitation.
Mujahid said the issue was being discussed by the government to enhance control over child marriages.
"There is a clause 'with permission of the court' that is the problem. If we just tighten (the law), it will only be a temporary measure. Even though in Islam, child marriages are allowed, we have to understand that we should take a stance for the sake of the greater public interest, especially for the protection of children," he told reporters at the Parliament lobby yesterday.
Mujahid was commenting on a statement by PAS vice-president Datuk Mohd Amar Nik Abdullah that the government should not ban child marriages because it was allowed in Islam.
Yesterday, Mujahid said the government would draw up a strict standard operating procedure (SOP) for the approval of child marriages by the Shariah Court. ― Bernama
https://www.malaymail.com/s/1656480/even-if-islam-allows-banning-child-marriages-for-greater-good-mujahid-says
--------
Chinese Muslims detained indefinitely 're-education camps'
Meng Yihua
Jul 27, 2018
Since last Spring, China has reportedly confined over one million people in mass re-education camps, primarily in Xinjiang, the north-western region of China that borders Kazakhstan, Kyrgyzstan and Pakistan among others.
Xinjiang is an area more than half the size of India and has historically been a majority Muslim region, with the predominant group being the Uyghur Muslims.
According to Radio Free Asia (RFA), the policy is designed to counter extremism in the region after increasing numbers of violent attacks in recent years. The Chinese Government claims "Islamic extremism" is growing in Xinjiang, but critics say China has exaggerated the threat and is using it as an excuse to crack down on Uyghur culture and religion.
The detention campaign has swept across the region and the camps have been officially termed "professional education schools", where detainees are sent to 'receive political education'. People are detained for any number of reasons, including travelling abroad, having relatives abroad, or throwing away their mobile SIM card.
Conditions in the camps have been described as endless brainwashing, torture and humiliation. Most people are detained indefinitely, with no contact with their families, who are just left wondering where they went.
Kayrat Samarkand, one detainee, said he was interrogated for three days by police and was then sent to a re-education camp for three months. He described how they endured forced study of Communist propaganda since the aim of the programme is to rewire the political thinking of the prisoners, erase their Islamic beliefs, and completely reshape their identities. They face physical and mental torture in efforts to quash religious beliefs and any potential separatist movements. Detainees who most vigorously criticise the people and things they love are rewarded, and those who refuse to do so are punished with solitary confinement, beatings and food deprivation.
Kayrat Samarkand described camp punishments ranging from being handcuffed and ankle-cuffed for up to 12 hours, or long periods of time strapped into a metal contraption known as the 'tiger chair', which he himself endured. Another former inmate claims that Muslims were sometimes forced to drink alcohol and eat pork in the 're-education' camps.
Although the Chinese Government has officially denied the existence of the camps, Adrian Zenz, a leading authority on the crackdown in Xinjiang, has gathered evidence that dates the onset of the camps to March 2017. The Government campaign of 'de-extremification' through education also followed the appointment of hardline party Secretary Chen Quanguo to Xinjiang in August 2016, after his transfer from Tibet, where he presided over a similar programme involving surveillance, intense social control, and scrutinisation.
Some inmates are serving terms as long as seven years, but "most detainees are sent to camps indefinitely" said a policewoman in Aktu province, where three camps were opened between March and September 2017 alone.
In September 2017, the New York-based Human Rights Watch (HRW) called on the Chinese Government to free the thousands of Xinjiang detainees and close down the camps. Sophie Richardson, China Director at HRW, said, "The Chinese authorities are holding people at these 'political education camps' not because they have committed any crimes, but because they deem them politically unreliable".
Omir Bekali's case has drawn significant attention, as he is a Kazakh citizen who crossed the border into China for a work trip in March 2017. He was one of the hundreds of thousands of people detained without trial or access to a lawyer and forced to disavow his beliefs while praising the Communist party. Bekali, 42, broke down in tears as he described his experience, one of the most detailed accounts yet of life inside the camps. He said, "the psychological pressure is enormous when you have to criticise yourself, denounce your thinking".
He contemplated suicide after 20 days of detainment, but remained in the camp for 8 months, until a Kazakh official was able to secure his release. Rare interviews with a handful of other former detainees as well as a former instructor supported Bekali's depiction, although most spoke on anonymity to protect their families. Bekali too had initially requested anonymity for fear of his family who lived in Xinjiang, but after his sister and parents were imprisoned too, he agreed for his identity to be published.
A US commission called it "the largest mass incarceration of a minority population in the world today", but when the Chinese foreign ministry was asked to comment, it said it "had not heard" of the situation. When asked why non-Chinese had been detained, the Ministry said that the Chinese Government protects rights of foreigners in China but that they should also be law-abiding. Camps themselves operate outside the legal system and are shrouded in secrecy.
The detention programme is rooted in the ancient Chinese belief of transformation through education, a policy previously used during Mao Zedong's mass thought-reform campaigns.
Despite international commentators speaking about the terrifying extent of these human rights violations, and the ensuing multigenerational trauma, Chinese officials hold confidence in this method of curbing religious extremism. A state journal published a paper in 2017 saying that of 588 participants surveyed, most didn't know what they had done wrong when they were sent to re-education camps, but by the time they were released, 98.8% had learned their mistakes. The researcher concluded that transformation through education is a permanent cure.
Reports from Bekali and RFA said that detainees included doctors, lawyers, teachers, wealthy business executives, as well as 80-year-olds and breastfeeding mothers. Dozens of family members of naturalised US citizens who are journalists at Washington-based RFA have been detained. One Chinese official compared the re-education policy to removing weeds, saying that hidden weeds can't be uprooted one by one; it has to be a general re-education, in the same way, chemicals are sprayed on crops, and not just limited to a few people.
In further re-education efforts, the state-run China Islamic Association has instructed all mosques in China to raise the national flag in a prominent position "to promote patriotism". It also urged mosques and Muslims to study the Chinese constitution, classical Chinese culture, and core socialist values in an attempt to strengthen their concept of nation.
The China Islamic Association is a Government-affiliated body and has the sole power to accredit Imams.
In another extension of the already hugely pervasive programme of surveillance in Xinjiang, more than 1 million Communist party cadres have been dispatched to stay in the homes of Muslim families throughout Xinjiang. Although authorities claim that the police presence in Xinjiang, as well as many other restrictions, are intended to control the spread of "Islamic extremism", analysts agree that the region is becoming an open-air prison.
Full report at:
http://muslimnews.co.uk/newspaper/top-stories/chinese-muslims-detained-indefinitely-torturous-re-education-camps/
--------
So what if non-Muslims make up 50% of the cabinet?
July 27, 2018
By Clement Stanley
"Many are not aware that 50% of the present government is made up of non-Muslims. So this is not a Muslim-majority government unlike the previous BN administration" .
If these words, spoken by Lokman Noor Adam, the BN candidate for the Sungai Kandis by-election is anything to go by, a victory for him and the BN is a disaster waiting to happen in a country that voted for change.
The irony of it all is that Lokman himself was one of the earliest promoters of the Reformasi movement when he was with the PKR. Isn't what is happening now in Malaysia a response to his then demand for Reformasi ? I would venture to say his past wishes are being granted as we are witnessing a reformation that makes this country truly Malaysia.
So what if 50% of the present cabinet is made up of non-Muslims? Has a crime been committed? Does it say anywhere in our constitution that the make-up of the government is to be based on racial lines? If it does, I must have missed it when scanning through the constitution. I for one would rather have a cabinet of a mixed racial composition than one that is dominated by a particular race. Our country is after all a cosmopolitan nation. Aside from that, it is no use to anyone if we have a one-race dominant cabinet made up of corrupt, scheming, dishonest racist leaders who believe in polarisation, and not ability or meritocracy. We need leaders with integrity, ability and credibility regardless of the colour of their skin. We need leadership by example.
How do we, therefore, progress as a nation if we are to compromise on quality? Where do you even begin when you deny the people of this nation the opportunity to be served by leaders of distinction? If picking the best brains for the job means getting people of different races, so be it because this sets the motion for change in the way we think, behave and look at life in general.
We are now reforming. We are metamorphosing and becoming the agents of change. I have no qualms about that and neither should the likes of Lokman Noor Adam.
Full report at:
http://www.freemalaysiatoday.com/category/opinion/2018/07/27/so-what-if-non-muslims-make-up-50-of-the-cabinet/
--------
Racial and Religious Hatred Act is ill-conceived
July 27, 2018
By Kua Kia Soong
The Minister in the Prime Minister's Department (Religion) Mujahid Yusof Rawa told parliament on July 24 that a Religious and Racial Hatred Act would be tabled soon "… not just to deal with incidences when Islam is insulted but also when non-Muslim faiths are insulted…This is to ensure that our multi-religious and multiracial society is protected from being insulted and belittled."
There are three reasons why such a law is ill-conceived:
(i) It is framed as a "problem" rather than a solution;
(ii) It is another "fluffy" law that can be used against dissidents;
(iii) It is not "rights" based.
1. From 'problem' frame to 'solution' frame
Dr Milton Erickson, the acclaimed practitioner of medical hypnosis taught us the power of "embedded commands" and how words shape our external experience.
Thus, if we want a new society that is equal, just and tolerant, we should avoid naming a law a "Religious and Racial Hatred Act".
Why focus on hatred? Words sculpt our inner world which then shapes our perspectives on our outer world. Thus, shout at a child "Don't RUN…You'll FALL!", chances are the child is going to fall…
As they say in communication studies, the meaning of your communication is in the effect that it evokes.
So, let us focus on what it is we want to have happen.
2. Fluffily-worded laws won't do either
The old regime's National Unity Consultative Council (NUCC) drafted The National Harmony Bill, National Unity Bill and the National Unity & Integration Commission Bill.
Like these fluffily-worded bills, the originators of these Bills including the present law under discussion, are avoiding the "problem" we are trying to solve.
Sure, "national harmony" and "national security" are preferable to the embedded commands in "religious and racial hatred" and "sedition" but we know from our harrowing experience with the Internal Security Act and the Sedition Act that these nice fluffy concepts cut both ways.
Nice folks like us human rights' defenders get taken in under the same fluffily-worded laws as well.
Thus, I was arrested and detained in 1987 for threatening "national harmony" because I had spoken at a forum on the human right to mother tongue education. Since then I have never trusted fluffily-worded laws.
3. What do we want to have happen?
From the Bills, it is very clear that they are aimed at combatting a problem widely recognised by the world community at least since the Second World War; namely, racism, racial discrimination, related prejudice and intolerance.
The new Foreign Minister should take note since he has committed to the ratification of the international Covenants including the International Convention on the Eradication of Racial Discrimination.
Thus, the UK has the Equality Act 2010, the purpose of which is to align their previous Race Relations Act with the European Human Rights legislation and to extend protection to other groups not previously covered, namely, to cover age, disability, gender, religion, belief and sexual orientation.
It is not surprising that in the old and new Malaysia, legislators cannot seem to be able to frame laws in terms of "Equality" because "incitement to racial and religious hatred" would be considered a criminal offence within the scope of such an Equality Act.
Under the UK Equality Act, actions are also considered to be direct discrimination when "someone is treated less favourably than another person because of a protected characteristic".
The British Criminal Justice & Public Order Act 1994 made publication of materials that incited racial hatred an arrestable offence along with the following actions:
• Deliberately provoking hatred against a racial group;
• Distributing racist material to the public;
• Making inflammatory public speeches;
• Creating racist websites on the internet;
• Inciting inflammatory rumours about an individual or ethnic group, in order to spread racial discontent.
"Hate crimes" are criminal acts committed as intimidation, threats, property damage, assault, murder or such other criminal offences.
They are a type of crime in which the perpetrator is sending a message to the victim about their right to belong to that society.
Hate crimes violate the principle of equality between people and deny their right to achieve full human dignity and to realise their full potential.
Hate speech is defined as an expression of hatred towards another person or group of people using various means such as writing, speech or any other form of communication.
In the United Kingdom, there are a number of laws set out to provide protection to citizens from hate speech.
In 2006, The Public Order Act was amended to include religious hatred and in 2008, the Public Order Act was amended to forbid the incitement of hatred on the grounds of sexual orientation.
Anyone who uses threatening or abusive behaviour in this way can face up to seven years in prison, which is the maximum sentence. Fines can also be added to prison sentences or applied solely.
An equality & human rights commission
In the UK they also have an Equality & Human Rights Commission. For a population of more than 56 million, this commission has just ten (10) commissioners.
Now, in Malaysia, we already have a National Human Rights Commission (Suhakam). Our Human Rights Commission (Suhakam) should therefore extend its jurisdiction to incorporate an Equality Commission for after all, equality is an intrinsic part of our human rights.
Its work would be to encourage greater integration, better ethnic relations and to use legal powers to help eradicate racial discrimination and harassment.
Thus, its ambit would cover racist stereotyping in textbooks and the press; racial discrimination in the public sphere, employment, education, social services, advertisements.
Such an independent commission should be empowered to issue codes of practice and be invested with powers to conduct formal investigations and to serve notices to furnish information or documents in order to enforce the law.
No place for racists and religious bigots
Clearly, far right racial supremacists and religious exclusivists who rail about the dominance of their "race" or religion should be reined in by an Equality & Human Rights Commission and dealt with under an Equality Act and/or Public Order Act.
To take Malaysia out of the dark ages and into 21st century developed status, the new regime needs to address the main issues of racism, racial discrimination and related intolerance in our society and to propose appropriate Bills and institutions to resolve these problems.
Full report at:
http://www.freemalaysiatoday.com/category/opinion/2018/07/27/racial-and-religious-hatred-act-is-ill-conceived/
--------
Arab World
Iraq's protests continue while bracing for Friday's 'March of a Million'
26 July 2018
Iraq's Basra city was the first station for protests to erupt before it swept over other governorates in mid and southern Iraq, while popular anger is still brewing and protests continue until the people's demands are met.
On Thursday, protesters raised more demands on the government, calling for the dissolving of Basra's governorate council as well as holding some security officials accountable for the use of excessive force against the protesters.
On Thursday evening, residents of northern Basra's al-Howair area called for an open sit-in, demanding jobs for the unemployed and better public services, while other protesters put up their tents in front of the local administration.
Meanwhile, coordinated groups of protesters all over Iraq are in preparations to unite and stage a "March of a Million" on Friday, calling on politicians, tribal chiefs and religious leaders to stay away.
Husni al-Mousawai from Basra who will participate in Friday's march said to Al Arabiya English that people in Basra "no longer trust those who were part of the consecutive federal or local governments," adding that a group called "Basra youth" has been established to unify their demands with allthe other groups from all over Iraq in order to get positive results from Friday's protests.
At least 14 people have been killed in Iraq in two weeks of protests over corruption and lack of public services, Fadel al-Garawi, a member of the Iraqi High Commission for Human Rights, told AFP.
He added that 275 protestors and 470 security personnel were injured during the protests.
Meanwhile, Garawi said that 828 protestors were arrested so far, most of which have been released.
https://english.alarabiya.net/en/News/middle-east/2018/07/26/Iraq-s-protests-continue-while-bracing-for-Friday-s-March-of-a-Million-.html
--------
Syrian troops liberate several villages, hoist national flag in Quneitra
Jul 26, 2018
Syrian army troops and their allied forces have raised the national flag in Quneitra in the southwest of the Arab country, as government soldiers continue their push to retake full control of the Israeli-occupied Golan Heights, a strategic Syrian territory that borders Jordan.
A correspondent of Syria's official news agency SANA reported on Thursday that units of the Syrian Arab Army entered the village of al-Hamidiya, some three kilometers to the north of Quneitra city, the provincial capital.
It added that the army's engineering units would soon begin to comb the rural area to discover and defuse planted landmines and explosive devices by militants in order to secure the return of locals.
The correspondent further added that the Syrian national flag was also hoisted over Hamidiya as the army troopers were entering the town.
In a separate report on Thursday, SANA, citing an unnamed Syrian military official, also said that army forces had managed to liberate a number of villages and towns, including al-Sheikh Hussein, Kawkab, al-Shabrak, Mseirta, al-Lweih and Salbak in the northwest countryside of Dara'a's and Quneitra's southeastern countryside.
Syrian government troops and their allied forces, backed by Russian and Syrian air cover, have been pushing into Quneitra province following a major offensive last month that routed foreign-backed militants in Dara'a province.
During the past few weeks, Syrian forces have managed to liberate dozens of villages and towns from the clutches of Takfiri terrorists in the country's southwestern provinces. The anti-terror offensive in these provinces is significant since they border the strategic Golan Heights.
Israel seized the Golan Heights from Syria after the 1967 Six-Day War and later occupied it in a move that has never been recognized by the international community. The regime has built dozens of settlements in the area ever since and has used the region to carry out a number of military operations against the Syrian government.
Full report at:
https://www.presstv.com/Detail/2018/07/26/569346/Syria-Quneitra-flag-Daraa-villages-Daesh-Israel-Golan-Heights
--------
Lebanese town rejects Hezbollah, burns its flags
July 27, 2018
BEIRUT: Following the security operation by the Lebanese army in Brital that killed eight people, insults by the town's youth targeting Hezbollah have been circulating on social media and across media outlets.
One of Lebanon's most wanted criminals — Ali Zaid Ali Zaid Ismail — was among those killed in the operation. His mother and brother were also killed along with a Syrian worker and others in the operation carried out by the army's strike force unit and commando regiment during the ground and air raid.
The insults against Hezbollah in Brital have crossed every red line, including those drawn by the militant group.
The youths who faced TV cameras last Tuesday asked not to have any of their words censored.
One of them said: "We respect the Lebanese army's authority and we know that we are under its care, but our state has met with parties that control the state and signed the decision to shed our blood.
"To Hezbollah, we are nothing but scum. The party wants to massacre us. They do not recognize our existence and believe our lives don't matter, but we promise to prove them wrong."
Another one described Hezbollah as "worshippers of money and power."
He said: "May God curse Hezbollah and (its leader) Sayyed Hassan. They are hiding you, Sayyed Hassan, under the ground. Come out and take a look at what's happening. You are hiding from our pain.
"You fight us with our bread and for our religion. Sayyed, you are not a man of God. You take us to Syria to kill us, and if we don't die there, you come to our houses and kill us."
These were some of the many statements that held Hezbollah accountable for the killing of eight people, including Ismail, who has evaded more than 3,000 arrest warrants.
Hezbollah remained silent and did not respond to the insults, and the party's officials did not comment despite the fact that the angry protests in Brital included the burning of Hezbollah's flags.
The only official to comment on what happened was Amal MP and caretaker Agriculture Minister Ghazi Zeaiter. The Amal Movement is headed by Parliament Speaker Nabih Berri, who also received his share of insults and had his photos burned during the riots.
Zeaiter said: "The army is the protector of Lebanon, and the reactions in Brital are irrelevant individual ones."
Ali Al-Amin, who is part of Hezbollah's opposition, told Arab News: "The killing of eight people in Brital at once is not a normal incident in the town — nor in any other Lebanese town. However, what has happened in Brital is a special case.
"During the past period, Hezbollah has been creating a cover for the drug cultivation and dealing taking place in Brital. There was a sort of protection and barter.
"Hezbollah is fighting in Syria and wants its territory at home to be coherent and loyal," he added. The party has been turning a blind eye to what was happening in Brital, which is on the Lebanese-Syrian border, for long years — perhaps before the war started in Syria."
On whether he believed that the Lebanese army's security operation revealed the fragility of people's loyalty to Hezbollah, Al-Amin said: "During the municipal elections that took place years ago, Hezbollah paid a large sum of money to have the party's candidates in Brital win.
"Brital is the hometown of Hezbollah's former secretary-general, Sheikh Sobhi Al-Tufayli, who was against Hezbollah's policy.
"This makes Brital a special case compared with the other villages of the Bekaa."
He said that the killing of eight people in the town in one day "was an insult to its people, and if the same thing happened in other towns, maybe we would've seen similar reactions."
Al-Amin said that he was surprised by how aware Hezbollah critics were, especially those who warned the party through TV cameras that its end would be in the Bekaa.
He quoted dignitaries in the Bekaa, saying: "If the atmosphere in the Baalbek-Hermel remains as it is, the resentment may expand to other towns.
"The words of those who are angry about the death of their relatives in Syria because of Hezbollah convey hard feelings in the Bekaa. Hezbollah has violated many rules and did not respect the area's relationship with its neighbors.
"These hard feelings are still hidden and may surface at any moment."
A surgeon from Brital, who refused to give his name for professional reasons, said that what had happened in his town, which has a population of about 40,000 people, was the result of "suppressed anger."
He told Arab News that the dignitaries of Brital and neighboring towns had begun to form a council that includes families to manage the area's affairs.
He added: "It is true that those whom the Lebanese army has pursued were criminals, but the method in which the operation was carried out has caused families to unite. The criminal should be arrested and tried, but killing people means that the matter was no longer a security plan but a form of political discipline."
He said that people had become very cautious and that "Brital is not full of criminals and drug dealers."
"There are dozens of doctors, lawyers, and engineers in Brital, yet the town is often associated with drugs, even though there are many unemployed people and no one is helping them," he said.
Arab News spoke to Al-Tufayli through a mediator. He believes that "there was a political party behind the security operation in Brital — the army merely implemented the decision but did not make it."
Full report at:
http://www.arabnews.com/node/1346161/middle-east
--------
Yemen's Ansarullah Bombs Abu Dhabi International Airport in Drone Attack
Jul 26, 2018
Yemeni TV station Al Masirah said Ansarullah has attacked Abu Dhabi International Airport with their latest home-made drone, Samsad 3, that was unveiled just today.
The report said the drone staged several bombing raids, causing disruption in the normal operation of the airport.
Few hours later, a United Arab Emirates official denied the report, saying, "Operations at the airport are business as usual."
But the Abu Dhabi International Airport acknowledged the halt in operation on its twitter page, yet it said the disruption was due to an unspecified incident caused by a car.
On Wednesday, Head of the Supreme Committee of Yemen Revolution Mohammad Ali al-Houthi warned that the Yemeni missiles are capable of targeting the ports of other members of the Saudi-led coalition, one day after Yemeni popular forces attacked a second Saudi warship off the Western coast.
"Our missiles are able to target the ports of other member states of the aggressive Saudi-led coalition," al-Houthi was quoted as saying by al-Jazeera.
The Yemeni resistance fighters also warned all foreign companies, specially energy firms, this week to leave UAE and Saudi Arabia immediately, saying that the two states that have been at war with Yemen for more than three years now are no more safe from drone and missile attacks.
World's top oil exporter, Saudi Arabia, temporarily suspended all oil shipments through the Bab al-Mandeb Strait after it claimed that the last night attack by the Yemeni troops targeted crude-carrying vessels, while Yemen's senior officials reiterate that they aimed warships.
Following the attack, Yemen's army underlined that it had destroyed a second Warship, but hours later Saudi officials claimed that a Saudi oil tanker came under attack off the Western coast on Wednesday, announcing that they are temporarily halting oil exports through the Bab Al-Mandeb Strait.
Saudi Arabia's Energy Minister Khalid al-Falih stated on Thursday the kingdom would halt all oil shipments through the strait immediately.
The suspension will last "until the situation becomes clearer and the maritime transit through Bab al-Mandeb is safe", Falih said in a statement.
Bab Al-Mandeb is a potential choking point for Saudi oil shipments. Any lasting disruption of traffic through it would result in turmoil on the crude market. Brent crude rose 38 cents to $73.82 a barrel on Wednesday.
Several warships and military boats have been hit by the Yemeni army and popular committees since the start of the military operations conducted in reaction to the Riyadh and its allies aggression.
Ansarullah fighters have also threatened that they could strike warships and oil tankers of the Saudi-led coalition in retaliation for the blockade the military alliance has imposed on the Yemeni ports, particularly the key port of Hudaydah.
Full report at:
http://en.farsnews.com/newstext.aspx?nn=13970504000923
--------
Heavy Infighting Reported among Ankara-Backed Terrorists in Afrin
Jul 26, 2018
The sources said that the infighting in the village of Deir Balout is one of the most fierce clashes among the terrorists since occupation of Afrin, and added that all militant groups engaged in the clashes have sustained several casualties.
According to the sources, Turkish ambulances rushed to the scene to transfer the wounded to hospital after clashes intensified among the terrorists.
Infighting and plundering of civilians' properties by the Ankara-backed militants have deeply enraged people and made Afrin insecure in the past few months.
A media outlet reported on Saturday that Ankara-backed militants engaged in a fresh round of clashes over distribution of people's assets in Afrin region in Northwestern Aleppo.
The Kurdish-language Hawar news reported that Ahrar al-Sharqiyeh and Katibeh al-Farouq affiliated to the Turkish troops exchanged heavy fire in Jandaris region over their share of properties and assets looted from residential areas in the village of Kouran.
A number of gunmen from both sides were killed or wounded in the clashes, Hawar news reported.
Full report at:
http://en.farsnews.com/newstext.aspx?nn=13970504000506
--------
Syrian Military Expert: US Gathering ISIL in Al-Tanf for Training
Jul 26, 2018
The Arabic website of Sputnik news agency quoted retired General Ali Maqsoud as saying that the US has turned al-Tanf region in Syria into a center to recruit and train thousands of ISIL terrorists.
He blamed the US for ISIL's recent attacks against Sweida, and said Washington wants to prolong its military presence in Syria and claim that the ISIL still holds some power in the country.
Maqsoud said that the ISIL massive attacks against Sweida and the shooting down of the Syrian army's fighter jet by Israel are closely related to Washington's attempts to prolong the war in Syria, and said all of these incidents happened after the Syrian army's achievements in the South and the siege on the ISIL terrorists in Hawz al-Yarmouk region near occupied Golan.
The Syrian military expert also said that Israel helped the ISIL and al-Nusra Front (Tahrir al-Sham Hay'at or the Levant Liberation Board) commanders to flee from Syria among the ranks of the White Helmets, adding that Tel Aviv ordered the remaining ISIL terrorists to launch attacks on Sweida.
Media sources said on Wednesday that the ISIL terrorists' massive attacks against different towns and villages in Sweida province were launched from al-Tanf region in Homs province which hosts the US-backed militants.
The Arabic-language al-Mayadeen news channel reported that the ISIL terrorists launched heavy attacks against the towns of Douma, Tarba, Shabaki, al-Sowaimareh and Rami in Northern and Northeastern Sweida from al-Tanf region after suicide attacks.
The Syrian army and popular forces repelled the terrorists' offensives preceded by suicide attacks, killing tens of militants.
Earlier reports said that the Syrian army soldiers and popular forces engaged in fierce clashes with ISIL in the Southern province of Sweida and managed to repel their heavy attack after inflicting tens of casualties on the terrorists.
The army men, supported by popular force, exchanged heavy fire with ISIL that attacked the villages of al-Matouneh, Douma and Tima in Northeastern Sweida, fending off the terrorists' offensive.
In the meantime, residents of the village of Rami clashed with ISIL terrorists and did now allow them to enter their region.
Also, the army forces along with popular fighters fought the terrorists in Tal Basir region in Eastern Sweida and captured the region.
Meanwhile, people in the village of Shabaki and the army men laid siege on the terrorists.
Local sources reported that more than 240 civilians were killed and tens of others were wounded in ISIL's suicide attacks in a local market and in Maslakh district in Sweida city and in several villages in the city outskirt.
The sources further said that two of the suicide attackers were arrested before carrying out their attacks.
Field sources reported last month that the army sent a large convoy of military equipment to the Eastern desert of Sweida.
They added that the convoy which included several tanks, missile-launchers and vehicles equipped with heavy weapons was sent to Tal Sa'ad, the frontline of battle against the ISIL, through the village of al-Janineh in Northeastern Sweida.
Meantime, the Syrian army units engaged in fierce clashes with the ISIL terrorists in Badiyeh region of Sweida province, including al-Harmieh region.
Full report at:
http://en.farsnews.com/newstext.aspx?nn=13970504000545
--------
Iraqi Cardinal appeals to the citizens of Iraq to come together
By Francesca Merlo
Jul 27, 2018
Recently appointed Iraqi Cardinal Louis Raphaël Sako issued an appeal in a heart-felt letter to the citizens of Iraq this week. In his letter he asks for help from the people in order to promote harmony, unity and partnership in their country.
Cardinal Sako is the Chaldean Catholic Patriarch of Babylon and Head of the Chaldean Catholic Church.
Over recent years Iraq has been consumed by cycles of warfare. The country is living through an ever growing refugee crisis along with omnipresent sectarianism - which has led to the rapid spread of the so-called Islamic State extremist movement (ISIS). ISIS have seized the majority of north western Iraq, along with bordering parts of Syria, and are constantly increasing their recruitment of young Muslims worldwide. Through the approval of a new constitution and by holding parliamentary and provincial elections there has been some progress made in replacing Iraq's constitution from the Saddam Hussein era. Iraq's government does however still remain weak, thus jeopardising its long-term stability.
The mission of an Iraqi Cardinal
Cardinal Sako begins his letter by stating how thankful he is to Pope Francis "for nominating an 'Iraqi citizen' to be a cardinal and to bear such a distinct mission."
He says that this mission is to serve his "devastated country" and everyone in it, no exceptions. He realises that being Cardinal means assuming responsibilities towards the Universal Church, giving him more ground to serve and "join all those with good will to achieve the common goals that we are looking for."
Unifying the red of blood and the red of love
Cardinal Sako makes an interesting symbolic correlation between the red of the Cardinal's dress and the current situation in Iraq. The red symbolizes martyrdom – "the blood of so many martyrs that has been shed on this land…" This same red, to him, also symbolizes love, and he believes it should "inflame the heart of the person who wears it, so that he offers his life for those who he loves unconditionally." In this case the heart is his and his unconditional love goes to the people of Iraq.
Hope of reconciliation
In his letter, Cardinal Sako urges Iraqi citizens to help promote harmony, to strengthen unity and partnership among themselves and to create an "environment based on love, justice, equality, freedom, dignity and peace. Knowing that we have no future without peace and living together." He states that religion and violence are incompatible and calls upon Christian, Muslim and other religious authorities to contribute to this building of reconciliation in order to defeat extremism and violence.
Message to politicians and protestors
Cardinal Sako advises Iraqi politicians to act upon equal citizenship and not on personal interest, to put an end to this "acting war" and to speed up the formation of a strong Government, capable of eradicating corruption and improving services.
His advice to protestors is to focus on their rights avoiding violence and its consequences, stating that it is the Government's responsibility to protect them and respond to them.
Full report at:
https://www.vaticannews.va/en/church/news/2018-07/iraq-cardinal-appeal-letter-reconciliation.html
--------
Syrian Army Liberates 10 More Regions in South
Jul 26, 2018
The army forces continued clashes with the ISIL terrorists in Northwestern Dara'a and Southeastern Quneitra, retaking control of the villages of al-Basaleh, Ain Qazi, al-Hanout, Abu Haratayn, Ain Zaker, Sad al-Maqraz, West Bakar, Ma'adali, Abu Mandareh and Razaniyah Saida.
Meantime, field sources reported that the army units killed a large number of terrorists and seized their weapons and military equipment.
Also, the engineering units of the Syrian army purged the newly-liberated areas of terrorists and reopened the roads.
In a relevant development on Wednesday, the Syrian army troops stormed ISIL's strongholds in the Southwestern provinces of Dara'a and Quneitra, capturing a small but key town.
The army men, backed up by artillery units and the Air Force, engaged in fierce clashes with terrorists of ISIL near Seida region at border with the Israeli-occupied Golan in Quneitra and seized control over the town of al-Basah Sharqi.
Full report at:
http://en.farsnews.com/newstext.aspx?nn=13970504000126
--------
Africa
20 Turkish Aid Projects in Last 6 Months in S. Africa
26 July 2018
Turkey's aid agency is doing good work in a wide variety of areas in South Africa, from education to health and from art to sports.
Over 20 projects have been realized in the last six months, Mehmet Akif Sekerci, the Turkish International Cooperation and Development Agency's (TIKA) coordinator in South Africa, told Anadolu Agency.
The projects were conducted by TIKA's Pretoria Coordination Office in the provinces of Pretoria, Johannesburg, and Cape Town, as well as Lesotho and Swaziland in southern Africa, Sekerci said.
"We aim to support the development of South Africa's health sector with key strategies like building hospitals and clinics as well as technical cooperation in health care," he said.
He also said projects for equipment support, healthcare screening, providing vaccines and medications, and supporting the education of medical experts are ongoing.
Telling how TIKA is trying to spread the wisdom, heritage, and culture of Anatolia all over the world, Sekerci said the agency is
http://www.worldbulletin.net/africa/204413/brics-nations-pledge-unity-against-us-trade-war-threat
--------
Erdogan warns South Africa against FETO threat
26.07.2018
Turkish President Recep Tayyip Erdogan on Thursday warned South Africa against the threat posed by the Fetullah Terrorist Organization (FETO).
"We must be vigilant against this organization whose main goal is to pit a brother against brother," Erdogan said, addressing Muslim community leaders during a visit to Johannesburg where he is attending the BRICS Summit.
Erdogan called terrorist organizations present in Turkey such as FETO and PKK "nests of evil" that slaughter their brothers.
He also said that South Africa is only second to the U.S. among countries where FETO is most active.
"We are aware that FETO is trying to attract Muslims in South Africa, especially through educational institutions....The enemies of Islam controlled FETO that used incentives such as education, charity, dialogue to infiltrate for 40 years" Erdogan added.
FETO and its U.S.-based leader Fetullah Gulen orchestrated the defeated coup, which left 251 people martyred and nearly 2,200 injured.
FETO is reportedly present in more than 150 countries around the world, through schools, NGOs, lobbyists, media outlets, and other companies.
Full report at:
https://www.aa.com.tr/en/africa/erdogan-warns-south-africa-against-feto-threat/1215164
--------
Two cops injured, civilian missing after al Shabaab ambush in Lamu
Jul. 26, 2018
Two police officers were shot and wounded on Thursday when suspected al Shabaab militants ambushed their Land Cruiser on Lamu-Garsen road in Milihoi area.
Coast region police commander Noah Mwivanda said the officers had been heading to Mpeketoni from Lamu.
Mwivanda said the attackers fired at them, seemingly aware that they would be using that route.
He said the police car and a private vehicle were torched during the incident at about 2.45pm.
"The two officers were taken to Mpeketoni hospital and might need referrals due to their injuries," he said. "Officers are currently locked in a standoff with the suspected militants but we are winning."
The commander said the owner of the torched private car had not been accounted for but that police were searching for him.
He said they had not identified the type of car it was.
Tens of officers from the KDF and regular police were deployed to the area.
Many security officers and civilians, including Public Works PS Mariam el Maawy, her niece and four bodyguards, have died in Milihoi in attacks by the terrorists.
Full report at:
https://www.the-star.co.ke/news/2018/07/26/two-cops-injured-civilian-missing-after-al-shabaab-ambush-in-lamu_c1793580
--------
US air strike targets Al-Shabaab military base in Somalia
July 26, 2018
The United States executed an air strike against Al-Qaeda's affiliate in Somalia early this week, Garowe Online reported today.
"In coordination with the Federal Government of Somalia, US forces conducted an air strike targeting Al-Shabaab militants approximately 50 kilometres north of Kismayo, Somalia," Major Karl Wiest, a spokesman for US Africa Command, said.
Al-Shabaab was seen moving tactically and carrying a variety of weaponry in an area close to the attack. The place of attack is located in Jubaland, approximately 350 kilometres southwest of the capital Mogadishu.
The air strike follows Al-Shabaab's suicide bombing and storming of a military base in southern Somalia, which killed 27 Somali National Army soldiers. The last US air strike was executed on 2 June.
Al-Shabaab pledged allegiance to Al-Qaeda in 2012 attracting a heavy presence of US counter-terrorism operations in Somalia. Unmanned drones, sporadic air strikes and counter-terrorism raids regularly take place in Somalia, often killing civilians in the process. According to the Bureau of Investigative Journalism which tracks US activity worldwide, some 800 have reportedly been killed in Somalia by the US' use of force and 92 injured.
Al-Shabaab is battling to topple the central government and impose its rule based on its own strict interpretation of Islamic law. It has killed thousands of Somalis and hundreds of civilians across East Africa in a decade-long insurgency.
Full report at:
https://www.middleeastmonitor.com/20180726-us-air-strike-targets-al-shabaab-military-base-in-somalia/
--------
Europe
The 'secret agent' of Qatar: Details emerge against former UN envoy to Yemen
26 July 2018
More details have emerged on the charges in the lawsuit filed by a prominent US politician against the former UN envoy to Yemen Jamal Benomar for being a "secret agent of Qatar."
The lawsuit has been filed by former Republican National Committee deputy finance chair Elliott Broidy, who insists that Benomar worked on behalf of Qatar to help hack computers belonging to Broidy and his company, and disseminate information found there to reporters.
The lawsuit, filed on Monday, accuses the Zionist Organization of America president Morton Klein, of having had several phone and text conversations with the Qatari agent, Benomar, including on June 6, the day that Klein and other prominent Qatar-tied Jewish figures broke with Doha.
Klein who visited Doha in January, took two donations of $50,000 each that were later revealed to have come from Qatar.
Then, Klein again denounced the country and says he didn't know the money was from there and that he wouldn't have accepted it if he had known. He said he returned it to the man who gave it to him.
Klein's ZOA emerged as the Jewish organization with the most access to some of the now former senior advisors of President Trump.
US based outlet Forward, quoted Klein as saying he had "no idea" whether former United Nations Under-Secretary General Jamal Benomar, was in fact working for the Qataris without proper disclosure to the US Justice Department.
He admitted that he had spoken with Benomar "a number of times" but declined to disclose the details of their conversations.
Broidy's filing claims that Benomar made frequent calls and texts to Klein during the time that the ZOA was warming up to Qatar. Benomar allegedly spoke by phone with Klein two weeks after Klein returned from his January visit to Qatar.
The call was also two days after kosher restaurateur-cum-lobbyist Joey Allaham says he facilitated a second payment of $50,000 from Qatar to the Jewish advocacy agency.
Allaham later filed paperwork with the Department of Justice disclosing that he had worked as an agent of Qatar.
According to the lawsuit, Benomar had conducted phone and text correspondence with prominent lawyer Alan Dershowitz before his sponsored trip to Qatar in February. (MORE DETAILS HERE).
https://english.alarabiya.net/en/News/world/2018/07/26/The-secret-agent-of-Qatar-Details-emerge-against-former-UN-envoy-to-Yemen.html
--------
UAE leading smear campaign against opponents in UK: Report
Jul 25, 2018
The United Arab Emirates has operated a highly sophisticated, aggressive and clandestine political lobby in the UK to undermine, vilify and smear groups and individuals that it perceives as its enemies, according to a new report.
Spinwatch, which carries out research into key political issues in the UK and Europe, said in the report seen by the Press TV on Wednesday that the UAE's intense lobbying campaign over the last few years has helped shape UK government policy towards Muslims at home, and UK and US foreign policy in the Middle East.
Authors Alex Delmar-Morgan, a freelance journalist, and David Miller, a professor at the University of Bath, say the lobbying campaign has also polluted the narrative on Islam in the West, whipping up Islamophobia and hardening media coverage and public opinion against Muslims.
Spinwatch says the targets of this lobbying strategy include Qatar, the Muslim Brotherhood and Iran – all of which are perceived opponents of the UAE.
The research group says it obtained leaked emails that expose how the UAE went about this lobbying strategy, and which show the massive effort by the Emiratis to influence the British press and court influential lawmakers in the parliament.
The UAE worked with Quiller consultants, a lobbying company in London, who were allegedly asked to draw up names of Emirati dissidents in London who had claimed asylum, as well as research BBC journalists who were deemed unsympathetic to the UAE for their alleged links to the Muslim Brotherhood.
The media is another important avenue that was exploited. Journalists were briefed by London-based lobbying firms paid by the UAE government. Senior journalists were also targeted, including both those sympathetic to the UAE's politics and those who weren't, but whom lobbyists felt might be persuadable.
And UK thinks tanks and policy centers, which are supposed to be independent institutions, have received large donations from the UAE over the past few years, raising questions about whether they are more lobbyists than researchers.
Those who received large donations from the UAE included the prestigious Chatham House, one of the UK's oldest and most respected international affairs think tanks. It received between £50,000 and £99,000 from the Crown Prince of Abu Dhabi in 2015/16.
Another of the UK's most prominent think tanks received money from the UAE in 2015-16. The Royal United Services Institute (RUSI) was paid £50,000 -£99,999 by the UAE embassy.
Spinwatch approached the UAE Ministry of Foreign Affairs, the embassy of the UAE in London and the embassy of the UAE in Washington for comment, but they did not respond.
Spinwatch expressed doubts about the legality of UAE's lobbying campaign in the UK, saying the small Persian Gulf country was trying to deflect attentions from its widespread right violations.
Full report at:
https://www.presstv.com/Detail/2018/07/25/569229/UAE-lavish-lobbying-campaign-Britain
--------
German minister steps back from anti-Erdogan tweet
27 July 2018
A German minister took a step back from a controversial tweet against Turkish President Recep Tayyip Erdogan saying it was her "personal opinion," according to Turkish diplomatic sources on Thursday.
On Monday, Germany's Agriculture Minister Julia Klockner posted a tweet in which she leveled heavy accusations against Erdogan and criticized German-Turkish footballer Mesut Ozil for meeting him.
According to the sources, Klockner contacted Turkish officials through her executive assistant and said her tweet was personal and does not have any official character.
Klockner said she respects that Erdogan is a president of a government elected by the people and stressed importance of improving bilateral relations with Turkey, according to the sources, who spoke on condition of anonymity due to restrictions to speaking with the media.
On Wednesday, Germany distanced itself from Klockner's controversial comments.
Berlin considers Turkey an important partner and wants to maintain a relation based on trust, a government spokesman said.
Agriculture Ministry's spokeswoman Friederike Lenz told a news conference that the tweet was Klockner's "personal opinion", and declined to make any further comment.
Government's deputy spokeswoman Ulrike Demmer also distanced herself from Klockner's comments, and underlined the importance of ties between Germany and Turkey.
"Turkey is a close and important partner for us, and we would like to have good relations with Turkey," she said.
Germany's star player Mesut Ozil, who has Turkish origins, quitted national team on Sunday, citing discrimination and racist propaganda he faced in recent months.
Political relations between Ankara and Berlin suffered several setbacks in recent years, but both sides took steps in the recent month towards normalization of ties.
Full report at:
http://www.worldbulletin.net/europe/204428/german-minister-steps-back-from-anti-erdogan-tweet
--------
Violence as migrants storm Morocco-Spain border fence
26 July 2018
Some 400 migrants from sub-Saharan Africa reached Spain Thursday after storming a double barrier between Morocco and the Spanish territory of Ceuta, with some attacking security forces with quicklime, police said.
It comes as Spain becomes the number one destination for migrants crossing the Mediterranean by boat, surpassing Italy with 19,586 arrivals so far this year, according to the International Organization for Migration.
A spokesman for the Guardia Civil police force in Ceuta told AFP the migrants managed to climb over the double barrier, which is covered in small blades, early on Thursday morning.
They scrambled over "all of a sudden, with much violence," and some attacked police with quicklime they had in tubes and bottles.
As a result, "more than a dozen police" were injured, four of whom had to go to hospital for burns in the face and arms.
Isabel Brasero, spokeswoman for the Red Cross, said they had to attend to 30 migrants with injuries, none serious.
Eleven of them were taken to hospital for stitches and possible fractures, she added.
She said that after they had climbed over the barrier, they ran to the centre that houses migrants once they arrive in Spanish territory.
Full report at:
http://www.worldbulletin.net/europe/204412/uk-could-stay-in-eu-on-same-terms
--------
North America
Canada's Politicians are in Denial on Terrorism
By Thomas Quiggin
July 27, 2018
Despite a series of terrorist attacks since 2013, Canadian politicians are still trying to claim no systemic terrorism problem exists. Politicians and Canada' state broadcaster, the Canadian Broadcasting Corporation (CBC), have been trying to spin a narrative about the mental heath care system and gun control.
The most recent terrorist attack in Toronto again demonstrates this. Using tactical stances and reloading his 40 calibre Smith and Wesson handgun on the move, a Toronto terrorist killed two persons and wounded thirteen. The attacker's measured actions suggest an individual who is comfortable handling firearms. This 22 July 2018 attack shocked Canadians with its seemingly mechanical brutality. The two slain were eight-year-old Reese Fallon and ten-year-old Julianna Kozis. Those injured ranged in age from 17 to 59.
It had been a Sunday evening on Toronto's well-known street area known as "The Danforth." This Greektown area has evolved to where it is now a popular hangout for families and partiers with souvlaki, sushi and Thai restaurants located next to each other. The 10 PM shooting broke the atmosphere of citizens enjoying Canada's all too short summer season.
The attack also has a small personal connection. I was to have met my podcast producer on Monday morning on the Danforth at the Second Cup coffee shop, our usual hangout while in that area. The shop, and all the others in a multi-block area, were closed due to the police investigation. Yellow police tape seemed to cover everything when we approached the area on Monday.
Also on Monday, a series of bizarre media related events occurred. Earlier in the morning, the police had made a statement about the "29 year old shooter" indicating his identity was known. Yet his name was not released. It was only in the afternoon when the Ontario Special Investigations Unit revealed his identity as Faisal Hussain. At approximately the same time, a news release was sent out to selected media outlets which were attributed to the "Hussain Family". This news release was a professional sounding statement which suggested that Faisal "had severe mental health challenges, struggling with psychosis and depression his entire life."
Much of the media, led by the CBC, began a relentless series of stories claiming this was not a terrorist attack, but rather a breakdown in the mental health care system and a call out for more gun control. This extended right up to Public Safety Minister Ralph Goodale who stated that "There is no connection between that individual and national security."
The so-called "family statement" was in fact written by Mohammed Hashim, a full-time organizer and social activist who has also worked for the National Council of Canadian Muslims (NCCM). He is identified by the NCCM as being their "Stronger Together" program chairman. The NCCM was formerly known as the Council of American Islamic Relations Canada or CAIR CAN. Its parent organization, as stated in its own documents, is CAIR USA. The American parent has been identified as a terrorist entity by United Arab Emirates. CAIR USA was also identified as an unindicted co-conspirator in an American terrorism funding trial. A judge's decision in the case identifies CAIR USA as being one of a series of organizations involved in funding Hamas.
Mr. Hashim appears to have given the statement to the CBC's Shanifa Nasser, who then began to publish the mental health stories.
In contradiction to this, ISIS has now claimed the attack through their propaganda agency AMAQ. Toronto police insist there us no such connection, despite a series of reports from police sources saying he was "known to police" and had discussed such matters with friends.
Rukmini Callimachi of the New York Times may be the leading journalist in the English language world for reporting on ISIS attacks and recruiting. As she states: "The shooter's family has come out and said that he was mentally ill. Unfortunately we know that ISIS pushes its propaganda to people who are mentally vulnerable and mental illness is not a barrier to being indoctrinated by them."
Since 2013, Canada has had a series of low level terrorist attacks which have an Islamist connection. Among these have been the attempted 2013 bombing plot on a Via Rail train, the 2014 vehicle attack which killed a Canadian soldier, the 2014 gun attack on the National War Memorial and the Parliament, a 2016 attempted suicide bombing attack which was thwarted at the last minute with only the bomber dying, a 2016 knife attack on a Canadian Forces recruiting centre, a 2016 knife attack in a Canadian Tire hardware store by a woman claiming to work for ISIS, and a 2017 vehicle and knife stabbing attack.
Canadians are increasingly wondering about their own Prime Minister. Prime Minister Trudeau stated openly that ISIS fighters returning to Canada would be an asset as they are a "powerful voice for deradicalization." The Canadian government has no deradicalizaiton program. Prime Minister Trudeau also spoke in Parliament and stated that anyone who opposed the return of ISIS fighters to Canada was "Islamophobic."
The statement that Canadians were "Islamophobic" if they opposed the return of ISIS fighters was disturbing in view of the Canadian Parliament's M-103 anti-Islamophobia motion. This motion has produced official hearings and funding programs. The anti-Islamophobia motion is seen by many Canadians as being an attempt by the government to silence criticism of extremist Islam in Canada. The motion was officially entered into Parliament by Pakistani born Liberal Member of Parliament, Iqra Khalid, daughter of the well-known Dr. Hafiz Khalid.
In December of 2015, newly elected Prime Minister Trudeau sent a video message to the Toronto based "Reviving the Islamic Spirit" conference. Observers of this conference know that the conference has morphed into a "who is who" in the world of Islamists in Canada and the USA. The list of speakers has included Tariq Ramadan, the grandson of the Muslim Brotherhood founder and Imam Siraj Wahhaj, a US unindicted co-conspirator in the 1993 World Trade Center bombing. The conference was also sponsored by IRFAN Canada – until that charity lost is charitable status for funding terrorism and was later declared to be a terrorist entity in Canada.
Prime Minister Trudeau could have sent a message of integration. Instead, he chose to signal how he shared the views of the conference attendees. Specially, he referenced his "shared beliefs, his shared set of values and his shared vision" with the attendees of the conference.
Where does this leave us? We know that Faisal Hussain was the shooter on the Danforth. While his friends say they did not know of any mental issues, Faisal Hussein was capable of planning and efficiently executing a murderous attack.
Faisal Hussain had a brother named Fahad. His brother Fahad was charged with drug dealing. Fahad was released on bail and told to live with his surety, who turns out to be Maisum Ansari. Mr. Ansari was later arrested and charged with the possession of 33 guns, overcapacity gun magazines, and 42 KGS kilograms of a substance identified as carfentanil. With an alleged value of CDN $13 million, this was the largest drug bust in Canada. The haul represented about 420,000 doses.
This raises serious questions about the intersection of crime and terrorism and it leans towards supporting those who believe that the drug trade does intersect with funding for terrorism.
Canada's state funded broadcaster CBC and Prime Minister Trudeau both appear to have a pro-Islamist position and have worked to promote their cause or hide information on them. Now, after a major shooting, the politicians in Canada seem desperate to distract the attention of Canadian and the world away from the terrorist aspect of the killings and towards the false belief that "mental health issues" absolves you of guilt in crimes. Faisal Hussain was clearly "known to police" ahead of the event. What is being hidden from the population?
http://www.newdelhitimes.com/canadas-politicians-are-in-denial-on-terrorism/
--------
Pakistani-origin man behind Toronto mass shooting claimed by ISIS
Jul 25, 2018
TORONTO: A Pakistani-origin man has been identified by the Canadian police as the gunman who killed two persons and injured 13 others in a deadly mass shooting incident in Toronto claimed by the ISIS terror group.
Faisal Hussain, 29, was suffering from psychosis and was getting professional help, Canada's public broadcaster CBC News reported.
The Islamic State (also known as ISIS or ISIL), said Hussain was "one of the soldiers of the Islamic State".
"He carried out the attack in response to calls to target nationals of countries of the coalition" fighting IS in Syria and Iraq since 2014, the terror group's propaganda agency Amaq reported today.
The Ontario Special Investigations Unit said it was releasing his name due "to the exceptional circumstances of this tragic incident". On Sunday, he opened fire in Toronto's vibrant Greektown neighbourhood, killing a 10-year-old girl and an 18-year-old woman.
Thirteen people were also injured in the shooting, some with potentially life-altering injuries.
Later, Hussain died after a brief exchange of gunfire with the police on Danforth Avenue. It was not immediately clear whether he shot himself dead or was killed by the police.
The motive behind the shooting, rare in Toronto, was also not immediately knwon.
Canadian Prime Minister Justin Trudeau took to twitter to express his condolences to the affected families.
"My thoughts are with everyone affected by the terrible tragedy on the Danforth last night in Toronto, and may the injured make a full recovery. The people of Toronto are strong, resilient and brave - and we'll be there to support you through this difficult time," Trudeau said.
Hussain was not on any federal watchlists associated with the national security, Public Safety Minister Ralph Goodale said.
His family, originally from Pakistan, said in a statement that their son was in the grips of untreatable and severe mental illness for "his entire life". Neither professionals, nor medication nor therapy could help him, they said.
They said that Hussain struggled with psychosis and depression and that they were devastated by his violent actions.
Toronto police executed a search warrant at Hussain's apartment in the Thorncliffe Park area.
The federal public safety minister's office said that the police will continue to lead the investigation into Hussain's background.
"There is no national security nexus at this time," communications officer Hilary Peirce said.
Eight years ago, Hussain had disclosed to his friend Aamir Sukhera that he was suffering from psychosis and was getting professional help, the report said.
Meanwhile, there have been renewed calls for tougher restrictions on firearms after the shooting.
Full report at:
https://timesofindia.indiatimes.com/world/rest-of-world/pakistani-origin-man-behind-toronto-mass-shooting-canadian-police/articleshow/65130361.cms
--------
Turkey calls on US to return 'constructive dialogue' after Trump threat
26 July 2018
Turkey's Foreign Ministry spokesman said on Thursday the US administration should leave aside "wrongful rhetoric" and return to "constructive dialogue" after US President Donald Trump warned of sanctions unless Ankara freed an American pastor.
"It is impossible to accept the US Administration's threatening messages, which totally disregard our alliance and friendly relations between our countries," spokesman Hami Aksoy said in a written statement.
Trump: US to impose sanctions on Turkey
President Donald Trump said the United States will impose sanctions on NATO ally Turkey over a detained American pastor held on terror and espionage charges.
Shortly after the possibility of sanctions was first announced by Vice President Mike Pence Thursday, Trump wrote on Twitter that the US "will impose large sanctions on Turkey for their long time detainment of Pastor Andrew Brunson."
"He is suffering greatly. This innocent man of faith should be released immediately!" the president added from aboard Air Force One as he flew to Iowa for an event.
Turkey's foreign minister, Mevlut Cavusoglu, quickly responded, also via Twitter: "No one dictates Turkey. We will never tolerate threats from anybody. Rule of law is for everyone; no exception."
Pence's initial announcement of possible sanctions came at the close of a three-day conference on religious freedom.
Brunson, 50, an evangelical Christian pastor originally from North Carolina, was let out of jail on Wednesday, after 1 1/2 years, to serve house arrest because of "health problems," according to Turkey's official Anadolu news agency.
"Brunson is an innocent man, there is no credible evidence against him," Pence said.
Trump said on Twitter last week that the pastor's detention was "a total disgrace." One of Brunson's attorneys is Jay Sekulow, who also represents Trump in the Russia investigation.
If convicted, Brunson faces up to 15 years in prison for "committing crimes on behalf of terror groups without being a member," references to outlawed Kurdish militants and the network of a US-based Muslim cleric blamed for a failed coup attempt. He could receive another 20 years if he is found guilty of espionage.
Brunson denies the charges.
US senators previously pushed to block the sale of F-35 jets to Turkey, citing Brunson's detention as one instance of Turkish President Recep Tayyip Erdogan's disregard for the rule of law.
Pence's announcement of possible sanctions was delivered at a conference on religious freedom in Washington. Secretary of State Mike Pompeo also spoke at the conference.
Pence highlighted cases of what he said was religious repression in Nicaragua, Iran, North Korea, China and Myanmar. He also condemned ISIS group violence toward religious minorities and what he described as rising anti-Semitism in Europe.
Pompeo announced additional aid for a region of Iraq previously held by the ISIS group. Pompeo said the department would provide $17 million for de-mining efforts in Nineveh, an area of Iraq historically home to many of Iraq's religious minorities.
Ties between NATO allies Turkey and the United States have been strained by the pastor Brunson case.
Turkish President Recep Tayyip Erdogan has previously linked Brunson's return to the US to the extradition of cleric Fethullah Gulen, the cleric Turkey's government holds responsible for a failed July 2016 military coup.
Gulen, who denies orchestrating the coup attempt, lives in Pennsylvania. Turkish requests for his arrest and extradition have not been granted.
Brunson served as pastor of Izmir Resurrection Church, a small Protestant congregation, and has lived in Turkey for 23 years. He was detained by Turkish forces in the aftermath of the failed coup, The indictment against him contends he worked to convert Kurds to Christianity to sow discord in Turkey.
More than 77,000 people were arrested across Turkey after the government declared a state of emergency following the failed 2016 coup. The crackdown has targeted journalists, activists and opposition figures.
Brunson rejected evidence against him during a recent hearing, according to Turkey's state-run Anadolu Agency.
Full report at:
https://english.alarabiya.net/en/News/world/2018/07/26/Turkey-calls-on-US-to-return-constructive-dialogue-after-Trump-threat.html
--------
After 17 years, DNA advancement helps identify 26-year-old killed on 9/11
26 July 2018
Seventeen years after the September 11, 2001 attacks, the remains of a 26-year-old finance worker killed in New York has been formally identified thanks to advances in DNA testing, officials announced Wednesday.
Scott Michael Johnson is the 1,642nd person to be identified of the 2,753 people killed when two passenger jets, hijacked by al-Qaeda, destroyed the Twin Towers at the World Trade Center, the symbol of New York's financial wealth.
Johnson worked as a securities analyst at investment banking company Keefe, Bruyette and Woods, New York's chief medical examiner Barbara Sampson said.
"You get pulled right back into it and it also means there's a finality. Somehow I always thought he would just walk up and say, 'Here I am. I had amnesia, "his mother, Ann Johnson told The New York Times.
It was the first identification since August 2017, although that man's identity was not publicly revealed at his family's request.
"We made a commitment to the families of victims that we would do whatever it takes, for as long as it takes, to identify their loved ones,"said Sampson.
Full report at:
https://english.alarabiya.net/en/News/world/2018/07/26/DNA-ADVANCES-IDENTIFY-26-YEAR-OLD-MAN-KILLED-ON-9-11.html
--------
Trump threatens sanctions unless Turkey releases American pastor
Jul 26, 2018
US President Donald Trump has threatened to impose "large sanctions" on NATO ally Turkey over its detention of American Christian pastor Andrew Brunson and called on Ankara to immediately release him.
"The United States will impose large sanctions on Turkey for their long time detainment of Pastor Andrew Brunson, a great Christian, family man and wonderful human being," Trump tweeted on Thursday.
"He is suffering greatly. This innocent man of faith should be released immediately!" he added.
Trump has repeatedly demanded Brunson's release and said on Twitter last week that the pastor's detention over terrorism and espionage charges was "a total disgrace."
Shortly before Trump's tweet, US Vice President Mike Pence, leveled a similar threat directly at Turkey's president.
"To President (Tayyip) Erdogan and the Turkish government, I have a message on behalf of the president of the United States of America: release Pastor Andrew Brunson now or be prepared to face the consequences," Pence said at a religious freedom event in Washington hosted by the US State Department.
"The United States of America will impose severe economic sanctions on Turkey," he added.
The pastor's detention is one of the issues that have created tension between the two NATO allies in recent months, along with a dispute over a Turkish cleric living in the United States whom Ankara accuses of orchestrating a failed military coup in Turkey last year.
Brunson was arrested in December 2016 and later indicted on charges of having links with the Kurdistan Workers' Party (PKK) militant group and movement of the US-based opposition cleric Fethullah Gulen.
The pastor, who has denied the charges, faces up to 35 years in jail if found guilty.
Ankara views PKK militants as terrorists which have been fighting Turkey for autonomy. Turkey also accuses Gulen of having masterminded the July 2016 coup attempt against President Recep Tayyip Erdogan.
Full report at:
https://www.presstv.com/Detail/2018/07/26/569338/Pence-US-pastor-sanction-Turkey
--------
South Asia
Police: Suicide attack on Afghan intelligence convoy kills five
26 July 2018
A suicide bomber blew himself up near an Afghan intelligence convoy on Thursday, killing at least five people and wounding six, police said, in the latest deadly attack in the city.
The Taliban claimed responsibility for the attack on the National Directorate of Security (NDS), which police spokesman Hashmat Stanikzai said happened at 5:00 am (0030 GMT). Most of the victims were NDS officers, Stanikzai said.
Four members of the NDS and a civilian were killed, while five NDS personnel and a civilian were wounded. The attacker was "most likely" driving a vehicle carrying explosives, Stanikzai added.
The assault comes two days after five rockets were fired on a residential area of Kabul, wounding at least three people. There was no claim of responsibility.
And on Sunday, a suicide bomber blew himself up near Kabul international airport, killing at least 23 people, including AFP driver Mohammad Akhtar. A further 107 people were wounded.
That attack was claimed by the ISIS, which said it had targeted Afghan Vice President Abdul Rashid Dostum, who returned to Kabul after more than a year in exile.
Taliban and ISIS militants have repeatedly carried out deadly attacks in the Afghan capital, turning it into one of the most dangerous places in the country.
https://english.alarabiya.net/en/News/world/2018/07/26/N-Korea-still-making-nuclear-material-Pompeo-.html
--------
Dhaka anti-terrorism tribunal to judge Gulshan cafe attack case
2018-07-26
An anti-terrorism tribunal in Dhaka will judge the case over the 2016 attack on an upscale cafe at Gulshan that left 20 diners, including 17 foreigners, killed.
Chief Metropolitan Magistrate Saifuzzaman Hero forwarded the case to the tribunal on Thursday after receiving the chargesheet in which the police named eight suspects.
Earlier in the day, the police pressed the charges in the court of Dhaka Metropolitan Magistrate Nurunnahar Yasmin who forwarded it to CMM Saifuzzaman for his observation, Mohammad Anisur Rahman, an additional commissioner of Dhaka Metropolitan Police, said.
The tribunal is expected to receive the case dossier, including the charge sheet, on Sunday.
The judge, Mujibur Rahman, will then hear arguments of the prosecution and defence to decide whether to accept charges pressed by police on Monday.
The maximum penalty is death or life sentence and minimum 20 years jail term for the charges under the Anti-Terrorism Act.
The tribunal will also hear a petition seeking acquittal of Hasnat Rezaul Karim, who has been in jail since August, 2016, in the case.
The police have not named him as a suspect in the charge sheet, claiming the investigators did not find his involvement in the attack.
The former North South University teacher was among the survivors of the attack, but videos and photos of him speaking to the attackers raised questions.
On Thursday, Dhaka Metropolitan Magistrate Fahad Bin Amin Chowdhury rejected his bail plea, Hasib-ur-Rashid, the lawyer for Hasnat Karim, said.
Six of the living suspects are currently in prison, while two are absconding.
Those in custody are Jahangir Alam alias Rajib Gandhi, Rafiqul Islam Rigan, Soheil Mahfuz, Rashedul Islam alias Rash and Hadisur Rahman Sagor.
Warrants have been requested for the arrests of the two fugitives, Shahidul Islam Khaled and Mamunur Rashid Ripon.
Five militants entered the upscale eatery on July 1, 2016 and took those inside hostage. Besides the 20 hostages, two police officers were also killed.
Army commandos eventually stormed the cafe, killing the five attackers - Nibras Islam, Mir Sameeh Mobassher, Rohan Imtiaz, Khairul Islam Payel and Shafiqul Islam Ujjal - ending a siege which had lasted overnight.
Tamim Ahmed Chowdhury, identified as the mastermind behind the carnage, his associates Jahidul Islam, Tanvir Qaderi, Nurul Islam Marzan, Abu Rayhan Tarek, Sarwar Jahan, Basharuzzaman alias Chocolate and Chhoto Mizan were killed in anti-terror drives.
In addition to planning and coordinating the attack, some of the suspects trained the attackers and supplied arms and money, according to the police.
Full report at:
https://bdnews24.com/bangladesh/2018/07/26/dhaka-anti-terrorism-tribunal-to-judge-gulshan-cafe-attack-case
--------
Two Bangladeshi terror suspects arrested in Greater Noida
JULY 24, 2018
They were "active members" of Jamaat-ul-Mujahideen Bangladesh, police said.
Bangladesh nationals Rubel Ahmed alias Munir ul Islam and Musharraf Hussain alias Musa, suspected of having links with a terror group based in their country, were on Tuesday arrested in Gautam Budh Nagar district of Uttar Pradesh.
The police said the two were "active members" of Jamaat-ul-Mujahideen Bangladesh or JMB. They were arrested in a joint operation by the Uttar Pradesh police's Anti-Terror Squad (ATS), Noida police and the West Bengal police from the Surajpur police station area.
They had escaped from Bangalesh in March and started operating out of Noida and Ghaziabad, the ATS said in a statement.
Intelligence inputs from West Bengal police
The arrests followed intelligence inputs from the West Bengal police. The police, however, did not specify the exact nature of terror activities they were involved in. Also, no recoveries were made from the two.
"No recoveries were made initially. No arms, cash or drugs. Things will be known after a thorough joint questioning," U.P. DGP O.P Singh told reporters.
The West Bengal police will present the accused in court and request for a transit remand. A team of the U.P. ATS will go to West Bengal for further questioning and find out about the nature of their activity in Uttar Pradesh and their network.
Full report at:
https://www.thehindu.com/news/national/two-bangladeshi-terror-suspects-arrested-in-noida/article24503987.ece
--------
Imran declares support for Afghan peace after taking lead in elections
Jul 26 2018
The Chairman of Tehrik-e-Insaf Pakistan Imran Khan talked about the foreign policy of his government including the likely approach towards Afghanistan after taking lead in the elections.
"Another challenge is foreign policy. No other country needs peace like we do. We will strengthen our relations with China, they have given us a chance by investing in the China-Pakistan Economic Corridor, and we also want to learn how to improve people's lives, drag them out of poverty. Will also learn how to deal with corruption," he was quoted saying by Dawn News.
Imran further "Next is Afghanistan. They have suffered most in the 'war on terror', and before that in the Afghan jihad. Peace in Afghanistan means peace in Pakistan."
Khan also added that he envisions open borders with Afghanistan reminiscent to those within the European Union.
This comes as preliminary votes count put Imran Khan in the lead during the elections in Pakistan.
According to reports, Imran Khan's party has secured 113 seats out of the 272 seats in National Assembly of Pakistan.
Full report at:
https://www.khaama.com/imran-declares-support-for-afghan-peace-after-taking-lead-in-elections-05643/
--------
Several ISIS militants surrender to ALP forces in Jawzjan province
Jul 26 2018
Several militants affiliated with the Islamic State of Iraq and Syria Khurasan (ISIS-K) surrendered to the Afghan Local Police (ALP) forces in northern Jawzjan province of Afghanistan.
The 209th Shaheen Corps of the Afghan Military in the North said a group of 23 ISIS militants led by ISIS Commander Mohammad Qasim surrendered to the ALP forces in Darzab district.
The source further added that the militants surrendered to ALP forces on Wednesday.
According to Shaheen Corps, the militants also handed over ten Ak-47 rifles, 17 ammunition magazines, and some other military kits.
The anti-government armed militant groups including ISIS loyalists have not commented regarding the report so far.
Jawzjan has been among the relatively calm provinces in North of Afghanistan but the security situation of the province has deteriorated during the recent years.
Both the Taliban and ISIS loyalists operate in some districts of the province and often carry out terrorist related activities.
Full report at:
https://www.khaama.com/several-isis-militants-surrender-to-alp-forces-in-jawzjan-province-05642/
--------
Mideast
Yemeni forces launch drone strike against Abu Dhabi International Airport
Jul 26, 2018
Yemeni army soldiers, backed by allied fighters from Popular Committees, have reportedly launched an airstrike against a strategic economic target in the United Arab Emirates in retaliation for Riyadh's devastating military aggression against their impoverished homeland.
A Yemeni military source, speaking on condition of anonymity, said Yemeni soldiers and their allies attacked Abu Dhabi International Airport using a domestically-built long-endurance Sammad-3 (Invincible-3) unmanned aerial vehicle.
Meanwhile, Abdullah al-Jafri, a spokesman for Yemeni air force and air defense, said the drone attack on Abu Dhabi International Airport had halted flights to and from the airport, adding that this was the first time that Yemeni forces used a drone to attack the airport.
He said Yemeni forces will target the infrastructure of countries that have taken part in the aggression against Yemen in future attacks.
Emirati aviation authorities later announced that an incident involving a supply vehicle in the Terminal 1 airside area of the airport had occurred at around 4 p.m. local time (1200 GMT).
The officials, however, claimed that the development had not affected operations at Abu Dhabi International Airport, and flights continued to arrive and depart as scheduled.
The UAE is Saudi Arabia's key ally in its deadly war against Yemen.
Separate Saudi air raids leave six Yemeni fishermen dead
Meanwhile, at least six fishermen were killed and nearly two dozen others sustained injuries when Saudi fighter jets carried out separate airstrikes off the coast of Yemen's western province of Hudaydah.
Yemeni military sources, speaking on condition of anonymity, told Yemen's al-Masirah television network that Saudi warplanes struck a fishing boat in waters off the Seven Brothers Islands, also known as the Sawabi Islands or Seba Islands, in the Bab el-Mandeb Strait, killing two people and injuring eight others.
Two Yemeni fishermen also lost their lives and six others were injured when Saudi warplanes targeted a fishing boat off the coast of al-Hawak district in Hudaydah province.
Additionally, Saudi military aircraft bombed three Yemeni fishing boats off Jabal al-Tair Island northwest of the Bab el-Mandeb Strait, leaving two fishermen dead and eight others injured.
Separately, two civilians were killed and several others injured when Saudi warplanes bombed a residential building in the Beni al-Hadifa area of the Majz district in Yemen's mountainous northwestern province of Sa'ada.
Later in the day, Yemeni forces and allied fighters from Popular Committees fatally shot three Saudi-backed militiamen loyal to former president, Abd Rabbuh Mansur Hadi, in the al-Wazi'iyah district of Yemen's southwestern province of Ta'izz.
The Yemeni Ministry of Human Rights announced in a statement on March 25 that the Saudi-led war had left some 600,000 civilians dead and injured since March 2015.
The United Nations says a record 22.2 million Yemenis are in need of food aid, including 8.4 million threatened by severe hunger.
A high-ranking UN aid official has warned against the "catastrophic" living conditions in Yemen, stating that there is a growing risk of famine and cholera there.
"The conflict has escalated since November, driving an estimated 100,000 people from their homes," John Ging, UN director of aid operations, told the UN Security Council on February 27.
https://www.presstv.com/Detail/2018/07/26/569335/Yemeni-forces-launch-drone-strike-against-Abu-Dhabi-International-Airport
--------
Yemen's army: 25 Houthis killed in an offensive in al-Bayda
26 July 2018
The Yemeni National Army launched an offensive to complete the liberation of al-Malajim district in al-Bayda early Thursday.
According to General Moufreeh Bouhailh, leader of Bayhan brigade in western Yemen, the assault was launched from al-Hajfah region and reached Afar, liberating around 40 Km, with 18 Km still to be liberated in order to enter Afar's strategic junction to bloc shipments to the Houthi militias in different areas, including al-Bayda city.
The Yemeni General confirmed reports that fighting is still going on with huge casualties among the Houthis, saying around 25 members of the militia were killed including tens injured, while the Yemeni army seized different kind of weapons.
Full report at:
https://english.alarabiya.net/en/News/gulf/2018/07/26/Yemen-s-army-25-Houthis-killed-in-an-offensive-in-al-Bayda.html
--------
Houthis accused of threatening world's electricity supplies
July 27, 2018
JEDDAH: Iran-backed Houthi militias in Yemen were accused on Thursday of threatening the world's electricity supplies after they attacked two oil tankers in a crucial Red Sea shipping lane.
Saudi Arabia suspended oil shipments through the Bab Al-Mandeb strait after the missile attacks, in which one tanker — the Arsan, operated by the Saudi shipping company Bahri — suffered minor damage.
The Houthis have threatened before to block the strait, and said on Thursday they had the naval capability to hit Saudi ports and other Red Sea targets. Iran has also threatened to block another strategic shipping route, the Strait of Hormuz.
The protection of Red Sea shipping is one of the aims of the Saudi-led coalition fighting to restore Yemen's internationally recognized government. The rest of the world must now be alert to the threat posed by Iran and its Houthi proxies, analysts told Arab News.
"Saudi Arabia cannot put the lives of its men and material in danger. It is too risky in Bab Al-Mandeb, as evident from the Houthi attacks," said Dr. Hamdan Al-Shehri, a Saudi political analyst and international relations scholar in Riyadh.
"Had the attacks succeeded, it would have been catastrophic. The world, especially the European nations, must step up to the plate and play their part in neutralizing the threat from Iran and the Houthis.
"All this while Saudi Arabia and its Gulf allies have been fighting this scourge of terrorism and blackmail with little or no help from the Europeans. This is not just our fight. These militias, who are armed to teeth by Iran, pose a threat not just to us but to the entire global economy.
"Iran has repeatedly threatened that it will attack oil tankers in the Strait of Hormuz. And what has been the response from Europe? Criticism of the Saudi efforts and more pandering and cajoling of Tehran. Well, this cannot go on. They need to decide, and fast, what they want — oil to keep their economies running, or ties with Iran. Now is the time for them to take a stand."
Oubai Shahbandar, a Syrian-American analyst and fellow at the New America Foundation's International Security Program, echoed that view.
"Disrupting the freedom of movement of oil shipments and threatening the sanctity of global energy markets will be viewed by the international community as a red line," he said.
Full report at:
http://www.arabnews.com/node/1346171/saudi-arabia
--------
Yemen Warns to Attack Saudi-Led Coalition Members' Ports
Jul 26, 2018
"Our missiles are able to target the ports of other member states of the aggressive Saudi-led coalition," al-Houthi was quoted as saying by al-Jazeera on Thursday.
World's top oil exporter, Saudi Arabia, temporarily suspended all oil shipments through the Bab al-Mandeb Strait after it claimed that the last night attack by the Yemeni troops targeted crude-carrying vessels, while Yemen's senior officials reiterate that they aimed warships.
Following the attack, Yemen's army underlined that it had destroyed a second Warship, but hours later Saudi officials claimed that a Saudi oil tanker came under attack off the Western coast on Wednesday, announcing that they are temporarily halting oil exports through the Bab Al-Mandeb Strait.
Saudi Arabia's Energy Minister Khalid al-Falih stated on Thursday the kingdom would halt all oil shipments through the strait immediately.
The suspension will last "until the situation becomes clearer and the maritime transit through Bab al-Mandeb is safe", Falih said in a statement.
Bab Al-Mandeb is a potential choking point for Saudi oil shipments. Any lasting disruption of traffic through it would result in turmoil on the crude market. Brent crude rose 38 cents to $73.82 a barrel on Wednesday.
Several warships and military boats have been hit by the Yemeni army and popular committees since the start of the military operations conducted in reaction to the Riyadh and its allies aggression.
Ansarullah fighters have also threatened that they could strike warships and oil tankers of the Saudi-led coalition in retaliation for the blockade the military alliance has imposed on the Yemeni ports, particularly the key port of Hudaydah.
Full report at:
http://en.farsnews.com/newstext.aspx?nn=13970504000370
--------
Huge Arms Cache of Turkey-Backed Foreign Terrorists Blown Out in Idlib
Jul 26, 2018
Field sources reported that a huge explosion occurred in Turkistani terrorists' arms cache on Wednesday, 200 meters away from a Turkish base in the town of Eshtabraq West of Jisr al-Shaqour in Western Idlib.
They added that after the blast, the Turkish forces and Turkistani militants were on alert and the Turkish planes flew over the region.
Meantime, media activists said that a Russian warship stationed near the Syrian coasts has fired a Caliber missile at one of the terrorist's targets near the Turkish forces' base in Idlib, smashing the huge arms cache of Turkistani terrorists.
Jisr al-Shaqour is one of the most important bases of the Chinese members of Turkistani terrorist group who were granted the Turkish nationality and are affiliated to the Turkish army's intelligence organization.
The explosion of the weapons cache in Jisr al-Shaqour happened as the Syrian army is preparing for massive military operations to purge the terrorists from the region.
Field sources said on Tuesday that the army dispatched a large number of fresh forces and a large volume of military equipment to Northeastern Lattakia and to Jisr al-Shughour region in Southwestern Idlib.
The sources further said that the army was possibly mulling to launch a fresh large-scale operation in Idlib after completing Southern Syria operation, adding that the army would probably kick off its operation from several flanks to liberate al-Ghaab Plain and Jisr al-Shughour to restore sustainable security to Northeastern Lattakia.
The army men's control over Northern Lattakia, including Jabal al-Akrad and Jabal al-Turkmen would also restore security to borders with Turkey, the sources opined.
They went on to say that a large number of the army's elite forces and advanced weapons would be forwarded to Idlib after completing Dara'a operation, adding that Idlib operation would be a hard battle for the government forces due to the presence of a large number of foreign terrorists in Northwestern Syria.
Full report at:
http://en.farsnews.com/newstext.aspx?nn=13970504000261
--------
Palestinian attacker who killed Israeli settler and injured two is shot dead
26 July 2018
In the latest flare of tension between Israel and Palestinians, a Palestinian attacker was shot dead by the Israeli army after stabbing to death one settler and injuring two others after he infiltrated into an Israeli settlement in the occupied West Bank on Thursday.
According to Al Arabiya correspondent, the Israeli army shot the Palestinian when he attacked the settlers in the settlement of Adam which lies between Jerusalem and the West Bank city of Ramallah.
There was no immediate comment from Palestinian officials.
Reuters news agency reported earlier that medics were treating three people, the Israeli ambulance service Magen David Adom said. One of them was in a critical condition and another sustained serious injuries. The third person was lightly wounded.
"A terrorist infiltrated into the community and stabbed three civilians. The terrorist was shot and killed," the Israeli military said.
Israeli-Palestinian tensions have surged in the past few months.
At least 140 Palestinians have been killed in the Gaza Strip by Israeli fire in weekly border demonstrations. Israel says Hamas, the Islamist group that rules Gaza is using the protests as cover for a cross-border attacks. Hamas denies this.
Palestinian militants have in recent weeks fired hundreds of rockets into Israel from Gaza and have opened fire at Israeli troops across the border, killing one soldier and drawing fatal Israeli air and tank strikes.
Peace talks between Israel and the Palestinians collapsed in 2014 and a bid by the US administration to restart them has so far shown little sign of progress.
Palestinians want to establish a state in the Gaza Strip, the West Bank and East Jerusalem, territories that Israel captured in the 1967 Middle East war.
Full report at:
https://english.alarabiya.net/en/News/middle-east/2018/07/26/Palestinian-attacker-who-killed-Israeli-settler-and-injured-two-is-shot-dead.html
--------
South Africa's deadly involvement in Saudi war on Yemen expanding: Report
Jul 27, 2018
South Africa's arms sales to Saudi Arabia and the United Arab Emirates have grown since the start of the Saudi-led aggression against Yemen, expanding from basic weaponry to sophisticated battle hardware.
South Africa is helping Saudi Arabia develop its own arms manufacturing capacity thus becoming an accomplice to Riyadh's war crimes in the impoverished Arab country, wrote the Middle East Eye.
It added that South Africa has also been selling weapons to Saudi Arabia as well as the UAE since the start of the kingdom's deadly aggression on Yemen, helping them take the lives of more innocent people, including women and children there.
"As South African President Cyril Ramaphosa concluded visits this month to the Kingdom of Saudi Arabia and the United Arab Emirates, securing $10 billion worth of investment from each country, questions arise as to what price tag is attached to these investments," the report said.
According to the annual reports of the South African National Conventional Arms Control Committee (NCACC), South Africa supplied arms, ammunition and armored vehicles, as well as surveillance and military technology to both Saudi Arabia and the UAE in 2016 and 2017, amounting to more than three billion rands (almost $228 millions).
Despite human rights concerns and reports of serious violations of international law by members of the Saudi-led coalition in the Arab country, South Africa and several Western countries have been supplying Saudi Arabia with advanced weapons and military equipment.
South Africa is not only selling weapons to Saudi Arabia and the UAE. Mortar bombs, armored personnel carriers, artillery, ammunition, electronic attack systems and software are also amongst a range of other controlled products supplied to Riyadh and Abu Dhabi, according to the report.
In June 2016, the country's former president Jacob Zuma traveled to Saudi Arabia to launch the Al-Kharj (Military Industries Corporation) facility in Riyadh, together with the Saudi Crown Prince Mohammed bin Salman.
The $240 million projectiles factory was built in cooperation with South Africa's Rheinmetall Denel Munitions and is expected to produce a minimum of 300 artillery shells or 600 mortar projectiles per day, as well as aircraft bombs ranging from 500lb-2000lb.
In 2018, notorious South African arms dealer, Ivor Ichikowitz, announced that his Paramount Group, an African-based global defense and aerospace business, was in talks with Saudi Arabia to transfer technology and set up production plants there, the report added.
While Saudi Arabia is busy launching military factories and importing weapons, the UAE has built a formidable force of mercenary recruits, using its oil wealth to purchase arms from, among others, South Africa.
"It is well documented that the UAE has contracted private military security companies linked to Blackwater's founder Erik Prince to develop a new model army," the report said.
Another research by The New York Times revealed that this force consists of foreign troops and is trained by Western veterans and that South African mercenaries have also been employed in these private militaries in violation of the Regulation of Foreign Military Assistance Act.
Saudi Arabia and its allies launched the war in March 2015 in support of Yemen's former Riyadh-friendly government and against the Houthi Ansarullah movement.
Full report at:
https://www.presstv.com/Detail/2018/07/27/569367/Yemen-Saudi-Arabia-UAE-South-Africa
--------
'We won't tolerate threats,' Turkey warns US
Jul 26, 2018
Turkey and the United States engage in a war of words over Ankara's detention of an American pastor on terrorism charges.
On Thursday, Turkish Foreign Minister Mevlut Cavusoglu tweeted, "No one dictates Turkey. We will never tolerate threats from anybody."
"Rule of law is for everyone; no exception," he said, insisting that the pastor had to face the legal consequences of his alleged involvement in terrorism.
US President Donald Trump had earlier written on Twitter that his country "will impose large sanctions on Turkey for their long time detainment of Pastor Andrew Brunson."
He called the prisoner "a great Christian, family man and wonderful human being."
Fifty-year-old Brunson faces up to 35 years in jail if convicted of carrying out activities on behalf of two groups, which Turkey considers to be terror organizations.
One is led by US-based Turkish preacher Fethullah Gulen, whom Ankara blames for masterminding the failed 2016 coup against the Turkish government. Gulen denies the claim.
The other is the Kurdistan Workers' Party (PKK), which has been fighting a hugely-deadly separatist war against Turkey for decades.
Brunson, who used to run a Protestant church in the city of Izmir in western Turkey, was recently moved to house arrest, but Washington said that was not enough.
Over the past years, the countries have also clashed over the US' support for anti-Ankara Kurdish militants, who are based in Iraq and Syria.
Most recently, the two locked horns after Turkey said it would not be affecting its business with Iran, just because the US wanted to enforce sanctions on the Islamic Republic.
Full report at:
https://www.presstv.com/Detail/2018/07/26/569356/Turkey-United-States-pastor-Brunson
--------
URL: https://www.newageislam.com/islamic-world-news/pakistan-elections-2018-fingers-crossed/d/115958
New Age Islam, Islam Online, Islamic Website, African Muslim News, Arab World News, South Asia News, Indian Muslim News, World Muslim News, Women in Islam, Islamic Feminism, Arab Women, Women In Arab, Islamophobia in America, Muslim Women in West, Islam Women and Feminism