14 January 2021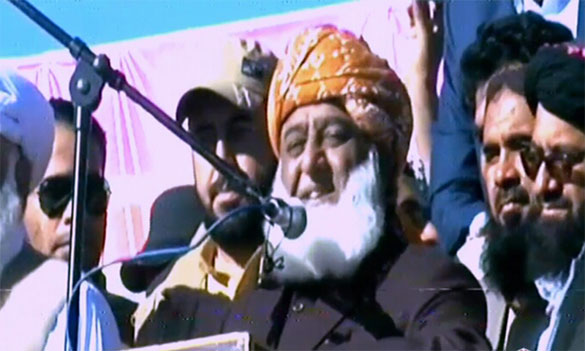 PDM president Maulana Fazlur Rehman addresses PDM supporters at a rally in Loralai. — DawnNewsTV
-----
• Human Rights Groups: Chinese Tech Patents Tools That Can Detect, Track Uighur Muslims
• US Official Reveals Israel Carried Out Attacks On Eastern Syria Using American Intelligence
• 57 Killed In Deadliest Israeli Strikes on Syria in Years: Monitor
• Iran Dismisses Pompeo's 'Warmongering Lies' On Iran Being New Base for Al-Qaeda
• UN Chief Calls for Inclusive Elections In Uganda
• Peace Talks Are Faltering, Violence Has Surged, And U.S. Troops Are Pulling Out. Can The Afghan Government Withstand The Pressure?
• 'We Know They Won't Vote For Us': Bengal BJP's Outreach Drive To Bypass Muslim Pockets
• Three Jailed UK Terrorism Offenders Charged With Attacking Prison Officer
Pakistan
• Pakistan Democratic Movement Struggle against Govt, Not Army: PDM Leaders
• Pakistan Tehreek-i-Insaf Blames Its Agent In US For 'Illegal Funding'
• Terror-Haven Pakistan Calls RSS 'Violent Nationalist Group' At UNSC, Demands Ban On Hindutva Organisation
• IHC restrains Naeem Bokhari from working as PTV chairman
• Shahzad Akbar serves PML-N's Uzma Bukhari legal notice for 'defamatory statements'
• Bilawal, Zardari not invited to Biden's inauguration: Farhatullah Babar
• In Quetta visit, Army chief assures justice to families of Mach massacre victims
• Pakistan attempts to prosecute Ahmadi US citizens for digital blasphemy
--------
Southeast Asia
• Human Rights Groups: Chinese Tech Patents Tools That Can Detect, Track Uighur Muslims
• Human Rights Watch Slams China's 'Appalling Year' Of Violations
• Malaysia saw 'reversal' in human rights after Perikatan came into power, says international watchdog
--------
North America
• US Official Reveals Israel Carried Out Attacks On Eastern Syria Using American Intelligence
• Schumer says Democrats will probe extremist groups after Capitol attack
• US designates Iran-backed Popular Mobilization Unit leader Abu Fadak as terrorist
• Israel struck Syria after US' Pompeo, Mossad's Cohen discussed airstrike: US official
• 20,000 US troops to deploy for Biden's inauguration as FBI warns of more pro-Trump violence
• A week before Trump's term ends, US Treasury imposes new sanctions on Iranian foundations
• U.S. imposes counter terrorism sanctions on 5 people: Treasury website
--------
Arab World
• 57 Killed In Deadliest Israeli Strikes on Syria in Years: Monitor
• Israeli aggression on areas in Deir Ezzor and Albu Kamal in Syria: State media
• Kuwait's cabinet submits resignation in standoff with parliament
• Iran fires cruise missiles as part of drill in Gulf of Oman: State media
• Investments in Saudi Arabia's economy will reach six trillion dollars: Crown Prince
• UAE's Emirates Post Adds Israel to Its Network of Operations: WAM
• Syria condemns new Israeli raids, urges UN action
• Is Al-Qaeda affiliate expanding attacks beyond Syrian town of Idlib?
--------
Mideast
• Iran Dismisses Pompeo's 'Warmongering Lies' On Iran Being New Base for Al-Qaeda
• Iran Fires Different Naval Cruise Missiles on 2nd Day of Massive Drills
• Zarif: Iraqi Arrest Warrant for Trump Result of Iran's Pursuit
• IRGC Commander: Israel Rotten Inwardly, Iran Not Dependent on JCPOA
• Iran Denounces US' Labelling of Cuba as Sponsor of Terrorism
• Eqtedar 99 Drill Starts in Oman Sea, Indian Ocean with Huge Vessel Joining Iran's Navy
• Aggressors who relied on Trump must stop Yemen war: Houthis
• Iran Says US Blacklisting Of Yemen's Ansarullah Will Kill Political Process, Talks
• US move to designate Houthis terrorist organization will help Yemen peace efforts: Officials, analysts
--------
Africa
• UN Chief Calls for Inclusive Elections In Uganda
• Six Nigerian Soldiers Killed In B'Haram Ambush In Yobe
• West Africa: Boko Haram Blocks Lake Chad Trade Routes
• Tensions rise at Sudan-Ethiopia disputed border
• Sudan accuses Ethiopia of violating its airspace
• Central African Republic forces thwart rebel attempt to seize capital Bangui
• Jordanian sentenced to death for 2019 tourist stabbings
--------
South Asia
• Peace Talks Are Faltering, Violence Has Surged, And U.S. Troops Are Pulling Out. Can The Afghan Government Withstand The Pressure?
• Afghan Military Releases 13 Civilians, Policeman from Taliban Prison
• Civilians, Policeman Rescued From the Clutches of Taliban
• Gov't forces free 13 from Taliban jail in S. Afghanistan
--------
India
• 'We Know They Won't Vote For Us': Bengal BJP's Outreach Drive To Bypass Muslim Pockets
• MP Civil Society Groups Write To President Kovind Demanding Deferring Of 'Love Jihad' Law
• Babri Mosque Demolition Case: HC Adjourns for 2 Weeks Hearing on Plea against Acquittal of All 32 Accused
• Don't Demolish Mosques for Road Widening: Telangana State Waqf Board
• In Kabul, Ajit Doval calls for reining in terror groups for lasting peace
• Secret tunnel on India-Pak border reveals PM Imran Khan's real plans
• UP: FIR against Muslim man from Karnataka after teen goes missing
• Court extends Munawar Faruqui remand by two weeks
• If Muslims don't trust India, they can go to Pak, says BJP's Sangeet Som amid concerns over vaccine
--------
Europe
• Three Jailed UK Terrorism Offenders Charged With Attacking Prison Officer
• French police detain 7 in probe of teacher's beheading
• France repatriates 7 minors from Syria
• UK welcomes exploratory talks between Turkey, Greece
Compiled by New Age Islam News Bureau
URL: https://www.newageislam.com/islamic-world-news/pakistan-democratic-movement-struggle-govt/d/124075
--------
Pakistan Democratic Movement Struggle against Govt, Not Army: PDM Leaders
Saleem Shahid
January 14, 2021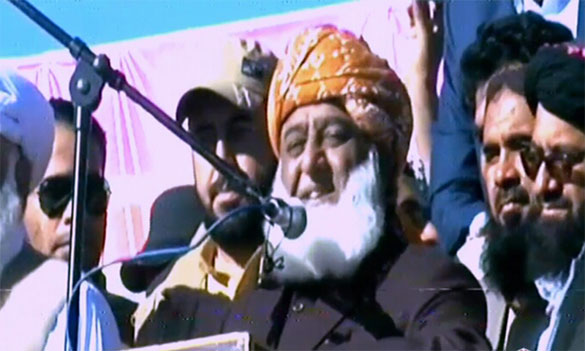 PDM president Maulana Fazlur Rehman addresses PDM supporters at a rally in Loralai. — DawnNewsTV
-----
QUETTA: Pakistan Democratic Movement (PDM) leaders said on Wednesday that their struggle was not against the army but against the government which had been imposed on the country after stealing public mandate through election rigging.
Speaking at a public meeting in Loralai, they said that a government which was "selected" against the will of the people had no right to remain in power and soon a government would be established according to the wishes of the people as a result of the democratic struggle launched by the 10-party opposition alliance across the country.
The PDM leaders said that now the political forces would accept only supremacy of the people and their elected institutions as they had launched a movement for restoration of 'real democracy', supremacy of constitution and an independent parliament.
PDM president Maulana Fazlur Rehman, vice president Mehmood Khan Achakzai, JUI-F secretary general Maulana Ghafoor Haideri, senior vice president of BNP-Mengal Abdul Wali Kakar, National Party Senator Mir Kabir Mohammad Shahi and ANP leader Asghar Khan Achakzai spoke at the public meeting. Senator Yaqoob Khan Nasar and Ali Madad Jattak represented PML-N and PPP, respectively, as Maryam Nawaz and Bilawal Bhutto- Zardari did not reach Loralai.
Resignations to be submitted at right time, Fazl tells Loralai rally
Maulana Fazl said: "Our war is not against the army. We have launched a struggle for upholding supremacy of the Constitution and for a parliament which is elected by the people in a free, fair and impartial election."
He said that the PDM wanted to make it clear to the establishment that it would continue to fight those who considered the Constitution a piece of paper at every forum, including the parliament.
The PDM president said: "We will definitely submit our resignations at the right time. The lawmakers of all member parties of PDM have submitted their resignations to their leadership."
He said that when he was in opposition, Imran Khan had told the nation that if there was inflation in the country, the prime minister would be responsible for it. "Today the people are so fed up with inflation that they are committing suicide while throwing their children into rivers but the prime minister does not care."
Maulana Fazl said if the Pakistan Tehreek-i-Insaf continued to rule it, Pakistan would face a 'horrible tsunami' that would destroy the country economically and politically.
He said that the government's foreign policy had led to the country's isolation in the world as Saudi Arabia, Iran, UAE and even China had their reservations on different issues. "Saudi Arabia and UAE are asking for return of loans they extended to Pakistan," the JUI-F chief said.
Mehmood Achakzai said the PDM had launched a movement for restoration of democracy and the emergence of a Pakistan in which rights of all the nationalities would be secure and parliament would enjoy supremacy.
"We are not begging anybody. We just want that our rights should be recognised and all nationalities living in the country should have rights on their natural resources," Mr Achakzai said.
https://www.dawn.com/news/1601356/pdm-struggle-against-govt-not-army-leaders
--------
Human Rights Groups: Chinese Tech Patents Tools That Can Detect, Track Uighur Muslims
Thomson Reuters Foundation
January 14, 2021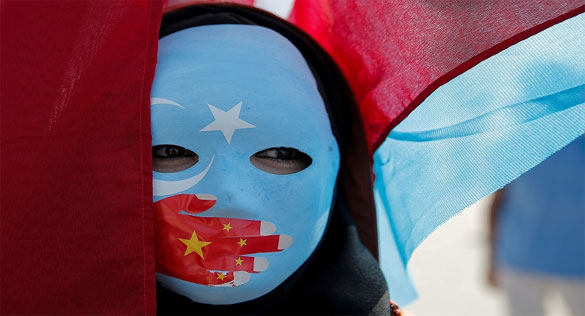 Chinese technology giants have registered patents for tools that can detect, track and monitor Uighurs in a move human rights groups fear could entrench oppression of the Muslim minority.
------
BERLIN: Chinese technology giants have registered patents for tools that can detect, track and monitor Uighurs in a move human rights groups fear could entrench oppression of the Muslim minority.
The series of patents, filed as far back as 2017, were unearthed by IPVM, a video surveillance research firm.
In a report published on Tuesday, IPVM reveals a cluster of patents for systems that could be used to analyse images for the presence of Uighurs, and hook into ongoing surveillance camera and facial recognition networks.
"We cannot ignore the fact that these technologies have been developed in order to be able to efficiently carry out … brutal oppression," Rushan Abbas, executive director of the rights group Campaign for Uyghurs, told the Thomson Reuters Foundation.
The firms could not be reached for comment, but in responses to IPVM, they denied that the patent applications represented the intended use of their technologies.
United Nations officials have said China is transforming the Xinjiang region, where many Uighurs live, into a "massive internment camp", with the patented tracing tech seen by rights groups as key to the crackdown.
"These technologies allow police in China to go through a large database of faces, and flag faces that the AI has marked as non-Chinese, or Uighurs," says Charles Rollet, a researcher with IPVM.
The UN estimates that more than a million Chinese Muslims, many of whom are from the minority Uighur ethnicity, have been detained in the province of Xinjiang, where activists say crimes against humanity and genocide are taking place.
China has denied any abuse and says its camps in the region provide vocational training and help fight extremism.
Its embassy in Washington did not immediately respond to a request for comment.
Research by human rights groups suggests that Chinese tech firms are building Uighur detection systems, using facial recognition to alert authorities to peoples' whereabouts, and predictive policing tools to identify which to detain.
Maya Wang of Human Rights Watch said the world should be alarmed by the use of tech in Uighur persecution.
"Imagine if the US were a full-on dictatorship, imprisoning Black people just for being Black, and there was technology deployed across the country to detect where Black people were, so they could be hunted down," she said.
"That's what we are seeing in China — and the world needs to pay way more attention."
US spillover
The debate over the role of corporations in China's treatment of the Uighurs is increasingly spilling over internationally, with the US applying sanctions to Chinese tech firms accused of abetting the persecution.
The incoming Biden administration this week returned a donation from former US senator Barbara Boxer, who had registered as a lobbyist for Hikvision, a video surveillance firm blacklisted by the US government in 2019.
Boxer's firm, Mercury Public Affairs, did not respond to a request for comment.
According to the IPVM report, many top China security camera manufacturers have offered "Uyghurs analytics", including the three largest firms: Hikvision, Dahua and Uniview.
Hikvision told Reuters in 2019 that the firm "takes global human rights very seriously" and that its technology was also used in shops, traffic control and commercial buildings.
One patent application, filed by the Chinese tech giant Huawei in conjunction with the Chinese Academy of Sciences, describes how AI can tell if a pedestrian is Uighur or not.
Huawei, according to IPVM, said it would amend the patent.
The company did not respond to a Thomson Reuters Foundation request for comment.
Another patent from the facial recognition start-up Megvii mentions using a tool that can tell if Uighurs are present.
Megvii said the patent application had been misunderstood, according to the report. The firm did not respond to a request for comment by the Thomson Reuters Foundation.
The scale of persecution means tech firms in China will be increasingly implicated in some form of abuse, Rollet said.
"If you're a Chinese tech company — in particular one that builds facial recognition — and the police are customers, you are going to have this kind of Uighur-detecting analytics," he said.
The report also discovered similar patents filed by firms that are not directly linked to surveillance.
A patent field by the e-commerce giant Alibaba described technology to detect race, though it did not specify Uighurs.
"I am shocked there are so many technology firms helping the Chinese government watch us," said Jevlan Shirmemmet, a Uighur activist living in Turkey who says his mother is detained in a Chinese internment camp.
"If this technology helps them persecute Uighur people — why are they making it."
https://www.freemalaysiatoday.com/category/business/2021/01/14/chinese-tech-patents-tools-that-can-detect-track-uighur-muslims/
--------
US Official Reveals Israel Carried Out Attacks On Eastern Syria Using American Intelligence
13 January 2021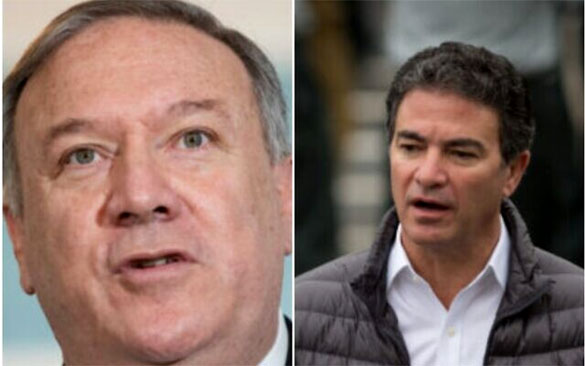 This combination of photos shows US Secretary of State Mike Pompeo (L) and Mossad chief Yossi Cohen. (Saul Loeb/Pool via AP and Miriam Alster/Flash90)
------
A senior US intelligence official says recent airstrikes on eastern parts of Syria near the Iraqi border were carried out by Israel with intelligence provided by the United States.
Syria's official news agency SANA said the air assaults were carried out on the city of Dayr al-Zawr and the town of al-Bukamal in the early hours of Wednesday.
SANA, citing a military source, said that Israel launched the air aggression "exactly 01:10 at dawn," adding that officials were assessing if any damage or casualties were caused.
The US official with knowledge of the attack, who requested anonymity, told the Associated Press that Secretary of State Mike Pompeo had discussed the raid with Yossi Cohen, chief of Israel's spy agency Mossad, at a public meeting in a Washington restaurant on Monday.
The official claimed the attack hit Iranian-linked targets, alleging the strikes targeted a series of warehouses used to store and stage Iranian weapons.
Israel has already claimed to have hit Iranian targets and positions in Syria. Iranian officials have vehemently refuted the allegations, stressing that such "lies" will not impede Tehran's advisory assistance to Damascus in its anti-terror fight.
Iran says its presence in the Arab country has always assumed an advisory form, never featuring deployment of servicemen or military units.
57 killed in deadliest Israeli raid in years
Meanwhile, the so-called Syrian Observatory for Human Rights said the Israeli air force carried out more than 18 attacks against multiple targets in the area stretching from Dayr al-Zawr to the al-Bukamal desert.
At least 57 people were killed and 37 others were also wounded in the raids, according to the Observatory.
The attacks came after Syria said last week that the country's air defense systems responded to an Israeli air strike over southern Damascus, shooting down most of the projectiles.
Syria's missile defense systems have thwarted many of the Israeli attacks against its military targets.
The Israeli army has carried out air and missile raids on Syria since a foreign-backed war broke out in the Arab country in 2011.
The Syrian government says the Israeli regime and its Western and regional allies are aiding and abetting the Takfiri terrorist groups that have wreaked havoc in the country.
Israel has been a main supporter of the terrorist groups fighting the government of Syrian President Bashar al-Assad.
Damascus has on numerous occasions condemned Israel's continued attacks on Syria's soil, calling on the United Nations Security Council to stop the recurrence of such aggression, which are in contravention of all international laws and regulations.
https://www.presstv.com/Detail/2021/01/13/642928/US-official-says-Israel-attack-against-Syria-with-American-intelligence-Iran
--------
57 killed in deadliest Israeli strikes on Syria in years: monitor
January 13, 2021
Israeli raids targeting arms depots and military positions in eastern Syria killed 57 regime loyalists, in the deadliest such strikes since the start of the conflict, a monitor said on Wednesday.
The Israeli air force carried out more than 18 strikes against multiple targets in an area stretching from the eastern town of Deir Ezzor to the Iraqi border, the Syrian Observatory for Human Rights said.
At least 14 Syrian regime forces, 16 Iraqi militia fighters, and 11 Afghan members of the pro-Iran Fatimid Brigade were among those killed, the Britain-based monitoring group said. At least 37 others were wounded.
Paramilitaries belonging to the Lebanese Hezbollah movement and the Fatimid Brigade, which is made up of pro-Iranian Afghan fighters, operate in the region, the Observatory said.
Days before the strikes, the Fatimid Brigade transported a consignment of Iranian-manufactured weapons to eastern Syria from neighbouring Iraq.
They were stored in the region targeted on Wednesday, the monitor said. The Israeli military did not immediately comment.
In June 2018, strikes on the same region had killed at least 55 pro-government fighters, including Iraqis as well as Syrians.
The latest raids came hours after separate strikes near the Iraqi border killed at least 12 Iran-backed militia fighters on Tuesday.
The Observatory said it could not identify the warplanes responsible for the earlier strikes.
The Syrian state news agency SANA reported Wednesday's raids but gave few details.
"At 1:10am (2310 GMT Tuesday), the Israeli enemy carried out an aerial assault on the town of Deir Ezzor and the Albu Kamal region," SANA said, citing a military source.
"The results of the aggression are currently being verified," it added.
It is less than a week since the last wave of Israeli strikes in Syria.
On January 7, Israel targeted positions in the south and in the southern outskirts of Damascus, killing three pro-Iran fighters.
Israel routinely carries out raids in Syria, mostly against targets linked to Iran in what it says is a bid to prevent its arch foe from consolidating a foothold on its northern border.
Observers have warned that Donald Trump and Israel could up the ante against Iran and its regional allies in the dying days of the US president's tenure.
Israel hit around 50 targets in Syria in 2020, according to an annual report released by the Israeli military.
It has carried out hundreds of air and missile strikes on Syria since civil war broke out in 2011, targeting Iranian and Lebanese Hezbollah forces as well as Syrian government troops.
Israel rarely acknowledges individual strikes but has done so when responding to what it describes as aggression inside Israeli territory.
The war in Syria has killed more than 380,000 people and displaced millions more since it erupted after the brutal repression of anti-government protests.
https://www.dawn.com/news/1601303/57-killed-in-deadliest-israeli-strikes-on-syria-in-years-monitor
--------
Iran dismisses Pompeo's 'warmongering lies' on Iran being new base for al-Qaeda
Yaghoub Fazeli
13 January 2021
Iranian Foreign Minister Mohammad Javad Zarif dismissed accusations by US Secretary of State Mike Pompeo as "warmongering lies" that Iran is the new home base for al-Qaeda terrorist group.
"[Abu Muhammad] al-Masri's presence inside Iran points to the reason that we're here today... al-Qaeda has a new home base: it is... Iran," Pompeo said in remarks delivered at the National Press Club in Washington on Tuesday.
Pompeo "is pathetically ending his disastrous career with more warmongering lies," Zarif said on Twitter, adding that no September 11 attackers came from Iran.
The New York Times reported in November that al-Masri, al-Qaeda's second-in-command, was assassinated along with his daughter by Israeli operatives in the Iranian capital Tehran "at the behest of the US. Iran denied the report, saying there were no al-Qaeda "terrorists" on its soil.
Al-Masri was accused of helping to mastermind the 1998 bombings of two US embassies in Africa.
"Tehran gives sanctuary to the terror group's senior leaders as they plan attacks against America and our allies. Indeed, since 2015, Tehran has allowed al-Qaeda figures in the country to freely communicate with other al-Qaeda members and perform many functions that were previously directed from Afghanistan and Pakistan, including authorization for attacks, propaganda, and fundraising," Pompeo said.
Tensions between Iran and the US have escalated since outgoing US President Donald Trump pulled out of the 2015 nuclear deal between Iran and world powers and reimposed crippling sanctions on the country in 2018 as part of a "maximum pressure" campaign.
https://english.alarabiya.net/en/News/middle-east/2021/01/13/Iran-dismisses-Pompeo-s-warmongering-lies-on-Iran-being-new-base-for-al-Qaeda
--------
UN chief calls for inclusive elections in Uganda
14 January 2021
United Nations (UN) Secretary-General Antonio Guterres has raised concern about reports of violence in Uganda ahead of presidential and parliamentary elections, calling for an "inclusive, transparent and peaceful" election process in the African country.
In a statement issued on Wednesday, Guterres urged all political actors and their supporters to "refrain from the use of hate speech, intimidation and violence."
"Any electoral disputes should be resolved through legal and peaceful means," he said.
The UN chief further urged Ugandan authorities, particularly the security forces, to "show maximum restraint during this period and act according to established human rights principles."
Elections were scheduled to start in Uganda on Thursday.
Ugandans are casting their ballots amid heavy security arrangements in various towns across the country.
Armored personnel carriers with mounted machine guns have been patrolling the streets of the capital, Kampala, while army helicopters and surveillance drones fly over the city in a bid to stem further violence.
Uganda People's Defense Force soldiers and police have also been patrolling the city on foot, mainly in areas perceived to be opposition strongholds.
Ugandan authorities have also cut off internet access in the country.
The military build-up has fanned fears of further election-related violence.
About 18 million voters are registered for the presidential and parliamentary vote already marred by sporadic violence, which will unfold in nearly 35,000 polling stations.
Ugandan President Yoweri Museveni is pursuing a sixth term against opposition front-runner Bobi Wine, a 38-year-old singer-turned-lawmaker.
Museveni, who took power by force in 1986, is considered a key US ally on security matters.
In November, at least 54 people were shot dead by security forces loyal to Museveni during protests against one of Wine's numerous arrests.
The run-up to polling day was marred by a sustained crackdown on Museveni's rivals and government critics, and unprecedented attacks on the nation's media and human rights defenders.
Several global rights and democracy groups have raised concerns about the integrity and transparency of the elections.
Last week, the UN Human Rights Office (OHCHR) pointed to the "deteriorating human rights situation" ahead of Thursday's vote, calling on the government to take measures to prevent electoral violence.
The European Union (EU) also said on Tuesday that the electoral process had been seriously tarnished by the use of excessive force.
Wine is the strongest of 10 opposition contenders trying to unseat Museveni.
But most observers expect the aging president and his ruling National Resistance Movement to emerge victorious.
He has never lost an election, and has been counting down the days to victory in confident campaign advertisements, promising to invest more in infrastructure, health, and education and build Uganda's economy.
But Wine, whose real name is Robert Kyagulanyi, has accused the president of presiding over corruption and failing to deliver jobs.
Wine has vowed non-violent street protests should Ugandans feel the elections were stolen. The opposition leader has urged people to turn out in large numbers and vote, saying they should not fear intimidation by the authorities.
Museveni, who has suggested Wine is supported by foreign and criminal elements, has warned his opponents against taking to the streets.
https://www.presstv.com/Detail/2021/01/14/642977/UN-chief-calls-for-inclusive-elections-in-Uganda
--------
Peace talks are faltering, violence has surged, and U.S. troops are pulling out. Can the Afghan government withstand the pressure?
By Pamela Constable
Jan. 13, 2021
KABUL — Growing uncertainty over peace talks with the Taliban, a drumbeat of targeted killings and the looming withdrawal of U.S. troops have raised tension here to a fever pitch, prompting calls for President Ashraf Ghani to step down and an interim government to take over.
Supporters of the idea say it would offer a better chance of settling the 19-year war in Afghanistan and ending the relentless bloodshed, given that the Taliban refuses to recognize Ghani's government as legitimate. Opponents call it a dangerous, irresponsible gambit that would benefit an assortment of opportunistic politicians eager to grab a share in power.
"The only way to break the current deadlock is to form an interim government," said Jafar Mahdavi, a former legislator who is involved in the peace talks process. "The Taliban won't accept Ghani's rule, and they won't join his government."
Ghani has repeatedly insisted that he will remain in office for his full five-year term and see the peace talks to fruition.
But a new round of negotiations, which have made almost no headway since they started in September, stalled this week, as two of the top Taliban negotiators failed to return to the talks in Qatar after visiting Pakistan for consultations.
The group's spokesman in Doha, the Qatari capital, tweeted Saturday that the negotiating teams were still working on preparing a substantive agenda for the talks. But delegates to the talks from Kabul said the process had been further slowed by the unexplained absence of the top two Taliban negotiators, Abdul Ghani Baradar and Abdul Hakim Ishaqzai.
Baradar, a founder of the Taliban movement, spent eight years in prison in Pakistan but was released in 2018, at the United States' request, to participate in the peace process.
The role of Pakistan in the peace talk process has taken on sudden new importance in the past several weeks. The country has long said it supports the talks and seeks a stable Afghanistan. But it has also hosted fugitive Taliban leaders for years and sheltered violent anti-Afghan militias that operate along the long, porous border between the neighboring Muslim countries.
Complicating matters for the Afghan government is a Friday deadline for U.S. troops in Afghanistan to be reduced from 5,000 to about 2,500. This was the chief demand of the militants, who signed a separate deal with U.S. officials in February.
The troop reduction could cause the Afghan government to lose much of its remaining leverage in the talks. Ghani's position was already weakened when he agreed to release about 5,000 imprisoned Taliban fighters under U.S. pressure to seal the February pact.
Pentagon officials said Tuesday that the troop drawdown was expected to proceed as planned, even though it is widely opposed in Congress. A recently enacted defense policy bill bars the U.S. government from using funds to pay for it without a "comprehensive interagency assessment of the risks and impacts" of leaving only a minimal U.S. military presence in the country.
Another stumbling block in the talks is the continued high level of Taliban attacks. A recent spate of unclaimed targeted killings, including shootings and car bombs, has left several dozen civic and democratic activists, journalists, government officials and others dead. Afghan officials have blamed the Taliban for the attacks, and U.S. military officials made the same accusation last week.
Zalmay Khalilzad, the Trump administration's special envoy for Afghan peace, made a whirlwind visit to the region this past week, holding meetings in Pakistan and Qatar as well as Kabul in an attempt to ensure the survival of the U.S.-Taliban deal and press for a nationwide cease-fire to accompany the Doha talks.
Khalilzad met with a variety of political leaders and diplomats here, but Ghani refused to see him. The president, like many Afghans, felt betrayed by the generous terms of the deal he brokered with the insurgents. Now they view Khalilzad as pushing too hard for a quick settlement among Afghans, especially amid local media reports that he was encouraging an interim government. Last week Khalilzad called on both sides to reduce violence but did not blame the Taliban for the recent targeted attacks.
The leader of the U.S. diplomatic mission in Afghanistan, Ross Wilson, said in a statement on Twitter on Wednesday that the United States is not pushing for a new government.
"We have not advocated, and the United States is not advocating, an interim government," he wrote. "The outcomes of Afghanistan Peace Negotiations are up to Afghans & we believe those outcomes should reflect the wishes & aspirations of the Afghan people."
Abdullah Abdullah, head of the government council for peace and reconciliation, has said for months that he would be open to the creation of an interim government if that would help the prospects for peace. Abdullah was Ghani's top rival for the presidency in the past two elections.
"We have to be flexible in our thoughts," Abdullah told an international virtual conference last year. "Nothing should derail us from getting to a durable, lasting and acceptable peace for all Afghans, including the Taliban."
Some Afghan officials and experts have called for an interim government to be used only as a last resort.
"To form an interim government now would be premature and irresponsible," said Davood Moradian, director of the Afghan Institute for Strategic Studies. "It would mean dismantling the current government, and the members would have no real authority to make an agreement. There would be bound to be infighting among them. This might be a possible outcome of talks, but it cannot come first."
But fears remain about what an interim government would mean for the democratic gains made since the Taliban was forced out of power.
"The people of Afghanistan are not supporting an interim government because there is no guarantee its formation could end the war in the country," said Mohammad Khalid Momand, a member of parliament. "Afghans don't want to lose the achievements of the past 18 years."
https://www.washingtonpost.com/world/asia_pacific/afghanistan-taliban-peace-talks-ghani/2021/01/13/0ea836d4-54de-11eb-acc5-92d2819a1ccb_story.html
--------
'We know they won't vote for us': Bengal BJP's outreach drive to bypass Muslim pockets
13th January 2021
KOLKATA: Bengal BJP has decided not to carry out 'Krishak Suraksha Abhiyan', an outreach drive to woo the farmers in the upcoming Assembly elections, in minority-dominated pockets of the state.
Though the party's national leadership has set a target of 40,000 villages and asked the party workers to carry out door-to-door campaign under the banner of the new initiative, the saffron camp decided not to touch the areas where Muslim electorates are the deciding factor.
"We are calculating our vote share keeping aside the minority voters' stake in Bengal's electoral practice. We know they will not vote for the BJP. So there is no point of wasting energy and time to carry out the campaign in minority-dominated pockets," said a senior BJP leader in Kolkata.
Muslim voters have a strong presence in Bengal and in at least 85 Assembly constituencies, they are the deciding factors as the minority community form 30 per cent of the total electorates. The Muslim community changed its political alignment in 2011 and voted en bloc in favour of the Trinamool Congress and since then, CM Mamata Banerjee has been enjoying their support.
The BJP initiated the outreach drive in an attempt to blunt Mamata's attack highlighting the saffron camp as an anti-farmer party. The party's national president JP Nadda flagged off the outreach initiative last week by collecting fistfuls of rice from five farmer families in East Burdwan district, the area known as Bengal's rice bowl.
West Bengal has 72 lakh farmer families who own farmland and directly depend on agriculture.
"As the central government ruled out repealing the farm laws, it is expected that Mamata Banerjee will sharpen attack on this issue ahead of the 2021 Assembly elections. We have been asked by the high-command to reach out to the farmers and convince them about the positive aspects of the Acts. In districts such as Hooghly, Howrah, South 24 Parganas, North 24 Parganas, Murshidabad, and Nadia, the number of minority farmers is considerable. But we will not reach out to them because they will not vote for us at any cost," said another BJP leader.
https://www.newindianexpress.com/nation/2021/jan/13/we-know-they-wont-vote-for-us-bengal-bjps-outreach-drive-to-bypass-muslim-pockets-2249731.html
--------
Three jailed UK terrorism offenders charged with attacking prison officer
13 January 2021
Three men convicted of terrorism offenses, including the brother of the Manchester Arena suicide bomber and an Iraqi who tried to blow up a London underground train, have been charged with attacking a prison officer, police said on Wednesday.
Hashem Abedi, 23, whose brother Salman killed 22 people at the end of an Ariana Grande concert in 2017, and Ahmed Hassan, 21, who tried to detonate a homemade bomb on a packed commuter train later that year, are accused of assaulting a prison officer at the maximum security Belmarsh Prison in east London.
A third man, Muhammed Saeed, 22, who was jailed last year after he admitted possessing articles connected to preparing for acts of terrorism, was also charged. The three have been charged with causing actual bodily harm.
Abedi, born to Libyan parents who emigrated to Britain, was also charged with assault on a second prison officer during the incident which took place in May last year.
All three are due to appear at Bromley Magistrates' Court on April 7.
Abedi is serving at least 55 years behind bars after being found guilty of murder last year, while Hassan was jailed for 34 years for his botched attack that injured 30 people.
There has been concern about how those convicted of terrorism in prison are dealt with and the danger that they might radicalize others.
In 2016, Britain announced plans to isolate radical prisoners in high security jails to limit their ability to influence other inmates amid concerns that prisons were breeding grounds for extremists.
Last October, two inmates of a British jail who tried to murder a prison officer while wearing makeshift suicide-bomb belts, were convicted after an investigation by counter-terrorism police.
https://english.alarabiya.net/en/News/world/2021/01/13/Three-jailed-UK-terrorism-offenders-charged-with-attacking-prison-officer
--------
Pakistan
Pakistan Tehreek-i-Insaf Blames Its Agent In US For 'Illegal Funding'
Iftikhar A. Khan
January 14, 2021
ISLAMABAD: In an apparent departure from its stance of denying any illegal funding from the United States, the Pakistan Tehreek-i-Insaf has now come up with an explanation that if any funds were collected illegally through two US companies registered after Imran Khan's written instructions, the responsibility lies with their agents managing the two limited liability companies.
The party adopted the latest stance in a written reply to a questionnaire given to it by the scrutiny committee of the Election Commission of Pakistan (ECP), informed sources told Dawn on Wednesday.
The ECP committee met to continue scrutiny of PTI accounts under fresh directives to expedite the process, which has been going on since March 2018.
The foreign funding case against PTI was filed in Nov 2014 by Akbar S. Babar, a founding member of the party.
Sources revealed that during Wednesday's meeting, the petitioner's lawyer, Syed Ahmad Hassan Shah, protested the committee's refusal to share the PTI's financial documents with his client. The documents include 23 PTI bank statements received on instructions from the State Bank that were mostly concealed from the ECP.
Mr Shah was assisted by Badar Iqbal Chaudhry.
Syed Ahmad Hassan Shah said that by refusing to share the documents, the committee was in violation of an ECP order dated May 30, 2018, which rejected the PTI's request to keep these documents and the scrutiny process secret.
The lawyer asserted that "we are participating in the committee process under protest as denying access to PTI bank statements and other documents is a violation of law and due process".
The body's chairman acknowledged that the PTI's bank statements and other documents were not being shared with the petitioner on the concerns of PTI. To which the petitioner Akbar S Babar complained as to how there can be an independent and transparent scrutiny and investigations when those being investigated are managing the process.
The scrutiny committee will now meet on Thursday (today).
Akbar Babar, the petitioner, told reporters after the meeting the reason for the delay despite over 80 meetings was simple: "When those who are under investigation influence the investigation process, how can there be progress?"
He said the committee refused to share PTI's bank statements with him "as the respondent (PTI) opposes it". Even an auditor was replaced upon "documented pressure from PTI", he added.
Babar said the committee could meet forever, but unless it "investigates the evidence", the scrutiny process would remain inconclusive and without credibility.
The PTI said in its reply submitted to the Election Commission that "any contribution that has been collected by the agent which may be questionable would be beyond the scope of the work/responsibility/instructions given by the principal (respondent)".
"The principal has given clear instructions and if the agent goes beyond those instructions without disclosing it to the principal, without seeking ratification of those acts and without even sending that money to the principal, then it is submitted that the principal will not be liable under section 228 and not admit/certify such contents. "The fact that the principal neither had knowledge nor has received the proceeds exhibits the bona fide of the principal," the document carrying PTI's reply went on to argue.
It was submitted through Shah Khawar.
https://www.dawn.com/news/1601343/pti-blames-its-agent-in-us-for-illegal-funding
--------
Terror-haven Pakistan calls RSS 'violent nationalist group' at UNSC, demands ban on Hindutva organisation
Jan 14, 2021
New York: Cornered by almost the entire world and out of favour even from ally China, terror-haven Pakistan continues to peddle its nefarious agenda against India on the global stage even after repeated humiliations.
In the latest instance, the country has called Hindutva organisation — the Rashtriya Swayamsevak Sangh (RSS) — a "violent extremist group during its address at the United Nations Security Council (UNSC).
Furthermore, Pakistan's Ambassador to the UN Munir Akram on Tuesday also laid out an action plan before the UNSC on how to "tackle nationalist groups" such as the RSS that "pose a clear danger to regional and international peace and security", news agency AFP reported.
https://www.timesnownews.com/international/article/terror-haven-pakistan-calls-rss-violent-nationalist-group-at-unsc-demands-ban-on-hindutva-organisation/706971
--------
IHC restrains Naeem Bokhari from working as PTV chairman
Tahir Naseer
January 14, 2021
The Islamabad High Court (IHC) on Thursday restrained Naeem Bokhari from working as chairman of Pakistan Television (PTV) while hearing identical petitions against his appointment.
Presiding over the case, IHC Chief Justice Athar Minallah observed that there needed to be a clear reason for relaxing the upper age limit for 65-year-old Bokhari, referencing the Supreme Court decision to set aside the appointment of Ataul Haq Qasmi as the PTV chairman.
The court noted that the Ministry of Information and Broadcasting had repeated the same mistakes as those in Qasmi's case and had not perused the apex court's judgement when sending the summary to the federal cabinet.
At the last hearing, the IHC CJ had observed that Bokhari's appointment appeared to have been made in violation of the guidelines set by the SC, and had advised the counsel for the PTV chairman to peruse the decision that had set aside the appointment of Qasmi.
In Nov 2018, the Supreme Court had declared Qasmi's appointment illegal. The court ordered the federal government to appoint a full-time managing director of PTV after fulfilling all legal, procedural and codal formalities strictly in accordance with the law.
The judgement had observed that public officials, particularly heads of ministries who were elected representatives of the people, owed their allegiance and loyalty to Pakistan, the Constitution and the law. They were obligated to act accordingly and without being influenced by extraneous considerations.
Public officials were not allowed to take decisions arbitrarily after circumventing the law and at their own whims to certain individuals, the judgement said.
"The federal cabinet did not take a clear decision on relaxing the age limit nor did you send the correct summary," the IHC CJ said during today's hearing, adding that "no one was above the law".
The court added that it was sending the matter to the federal cabinet so that it could take a decision in light of the SC's judgement.
However, the counsel for the ministry informed the court that the cabinet had approved the summary for the appointment of the PTV chairman.
"You should have informed the cabinet about the apex court's decision. When you move a summary without doing so, you will also embarrass the cabinet," Justice Minallah said.
"The court does not typically interfere in the executive's decisions," he added, directing the ministry to place the summary before the federal cabinet in order for it to review its decision.
The hearing was adjourned for two weeks.
Justice Minallah was hearing identical petitions filed by advocates Raja Shakeel Abbasi and Asif Gujjar.
While Abbasi challenged the appointment of Bokhari, Gujjar argued against the appointment of other members of the PTV board as well, including the acting managing director Shahira Shahid, retired Col Hassan Imad Mohammadi, Asad Ahmed Jaspal, Asghar Nadeem Syed and Waseem Raza Abid.
The lawyers termed the appointments in violation of various verdicts of the Supreme Court, including the one authored in the case of Qasmi, and the IHC that laid down guidelines for such appointments.
The petitioners said contrary to the direction of the apex court, the vacancy had not been advertised in the press and the appointment was made without inviting applications for the vacant position. They added that the federal cabinet had relaxed the upper age limit for 65-year-old Bokhari without mentioning a plausible reason in the minutes of the cabinet meeting.
Bokhari's appointment
Bokhari, who led the legal team of PTI chief Imran Khan in the Panama Papers leak case, was appointed the PTV chairman in November last year.
Interestingly, the appointment was made in apparent haste as the federal cabinet had in its meeting considered a summary for his appointment but did not endorse his induction as PTV chairman.
The cabinet had directed the Ministry of Information to "resubmit the summary, in line with the following observations: i) the composition of the Board shall be on the pattern of previous Board where independent directors/private sector members were in majority; ii) the appeal [against Islamabad High Court order of sacking Arshad Khan and other PTV directors] may be vigorously pursued and independent directors/private sector members from the previous Board shall be re-inducted in the new Board, where possible; and iii) Shahzada Naeem Bokhari be included in the Board and nominated as Chairman."
The information ministry had submitted the summary for appointment of three independent directors of PTV, recommending Naeem Bokhari, chartered accountant Syed Waseem Raza and prominent writer Asghar Nadeem Syed as principal candidates. Bokhari and Asghar Nadeem Syed were over 65 years old and, therefore, the ministry had sought relaxation from the federal cabinet regarding their age.
However, in contradiction to the observations by the cabinet regarding resubmission of the summary for the appointment of directors and chairman of PTV, the information ministry on its own had notified Bokhari as chairman.
The notification read: "The federal government is pleased to appoint Shahzada Naeem Bokhari as Independent Director of Pakistan Television Corporation Board."
It further stated: "The federal government has also approved nomination of Shahzada Naeem Bokhari as chairman PTVC Board in line with the Pakistan Television Corporation […]. The chairman shall, unless he resigns earlier, hold office for a period of 3 years. The board of directors, PTVC, is directed to ratify his nomination as chairman."
https://www.dawn.com/news/1601447/ihc-restrains-naeem-bokhari-from-working-as-ptv-chairman
--------
Shahzad Akbar serves PML-N's Uzma Bukhari legal notice for 'defamatory statements'
January 14, 2021
Adviser to the Prime Minister on Interior and Accountability Mirza Shahzad Akbar said on Thursday he had served a legal notice to PML-N leader Uzma Bukhari for "pass(ing) defamatory statements and rais(ing) false and absurd imputations" against him in a television show.
According to the notice dated January 13, which Akbar posted on Twitter, Bukhari had appeared on a show called Faisla Ap Ka aired on Aaj TV on Wednesday night where she passed "completely untrue and libelous defamatory statements" accusing the premier's adviser of demanding a kickback from Broadsheet LLC owner Kaveh Moussavi.
Bukhari was referring to a recent interview of Moussavi where he accused PML-N supremo Nawaz Sharif of offering him a bribe in 2012 to drop a corruption probe against him.
"Moussavi said Shahzad Akbar along with another person came to him (Moussavi) and [both] were asking for their cut," the notice quoted Bukhari as saying. "This is a very important thing. They asked for a cut for themselves, not the government. They said 'what will [you] give us? We will extend your contract'. This is a very big allegation [...] for a government office-bearer who is with the government.
"Shahzad Akbar's history of taking and giving briefcase is old [...] and this is not an allegation."
In a recent interview, a full recording of which is available with Dawn, Moussavi had alleged that an individual who he had met with Akbar in 2018 regarding a $1 billion bank account was more interested in getting his cut than in investigating suspects. The Broadsheet owner added, however, that Akbar may not have been aware of this individual's question about a commission.
Denying this in a statement to Dawn, Akbar clarified that he met Moussavi in 2019 twice and not in 2018. He said the context of his meetings was to negotiate the award price and to reduce the payable amount. According to Akbar, in the interview Moussavi may be referring to someone he met separately.
In the notice served to Bukhari yesterday, Akbar insisted he had been a "target of hateful media campaigns from members of the PML-N and other opposition parties" which are run in order to "discourage him from the pro-active role he is playing in curbing corruption and ensuring accountability".
The notice said Moussavi had "stated at many occasions that [Akbar] is a man of integrity". It added that Bukhari had levelled the allegations against Akbar in order to "sabotage the anti-corruption drive" and mislead the public.
The PM's adviser also rejected Bukhari's accusation that he "misappropriates public funds [...] and is involved in the offence of accepting and giving bribes". The notice also stated that Akbar had never been the prosecutor general of the National Accountability Bureau as claimed by Bukhari.
Akbar demanded Bukhari to retract her statements and issue an apology or pay Rs500 million in damages. In a tweet, Akbar said money collected in damages would go to charities.
Yesterday, the PM's adviser had also served a notice to PML-N spokesperson Marriyum Aurangzeb for similar statements in a press talk. In a tweet, Akbar said Aurangzeb "has been asked to apologise or she will be taken to court".
Broadsheet saga
Broadsheet LLC, a UK company that was registered in the Isle of Man in the Pervez Musharraf era, helped the then government and newly established NAB track down foreign assets purchased by Pakistanis through alleged ill-gotten wealth.
Broadsheet claims that it was established to enter into an Asset Recovery Agreement dated June 20, 2000, and did so with the then president of Pakistan, through the NAB chairman, for the purposes of recovering funds and other assets fraudulently taken from the state and other institutions, including through corrupt practices, and held outside of Pakistan.
Broadsheet maintains that it was created to be a company specialising in the recovery of assets and funds, and was therefore engaged to trace, locate and transfer such items back to the state.
The Broadsheet contract, signed in 2000 by Gen Muhammad Amjad, the head of NAB appointed by Gen Pervez Musharraf, maintained that the firm would receive 20 per cent of the assets recovered, with the remainder going to NAB.
The contract gave Broadsheet the authority to initiate litigation or enforcement proceedings deemed necessary to seize assets on behalf of NAB.
NAB and Broadsheet also agreed to open a bank account which would be jointly controlled by NAB and the company, and it was agreed that all assets proceeds recovered would be deposited in the account.
The agreement also stated that the contract was binding on respective successors.
A lawyer associated with the company earlier told Dawn that the Sharifs were the "top target" of the Broadsheet investigation. The contract was terminated in 2003 by NAB.
But Broadsheet LLC secured the payment of $28.7 million from the accounts of the United Kingdom High Commission last month for the long overdue payment of its services, as enforced by a UK court.
https://www.dawn.com/news/1601453/shahzad-akbar-serves-pml-ns-uzma-bukhari-legal-notice-for-defamatory-statements
--------
Bilawal, Zardari not invited to Biden's inauguration: Farhatullah Babar
Anwar Iqbal
January 14, 2021
With US President-elect Jo Biden's inauguration just days away, there has been speculation and several media reports about whether certain world leaders will be attending the ceremony.
In Pakistan, rumours that former president Asif Ali Zardari and PPP Chairman Bilawal Bhutto-Zardari had been invited were doing the rounds on social media while almost all television outlets quoted PPP sources as saying the father-son duo were invited and would be attending the inauguration.
However, setting the rumours to rest, PPP Senator Farhatullah Babar told the BBC that the former president and the PPP chairman "have not been invited to the inauguration and are not attending the ceremony".
Similar news reports have also cropped up in other parts of the world. In India, Congress supporters claimed a few weeks ago that former prime minister Manmohan Singh was invited and would be attending – the news was later denied by Singh himself.
In the US, the media circulated a similar report about Mexican President Andres Manuel Lopez Obrador forcing him to declare: "I don't have an invitation, and I have decided not to leave (the country) much" during the pandemic.
Scaled-down celebration
The coronavirus pandemic and the fear of violence has forced the organisers of the 2021 United States presidential inauguration to discourage foreign leaders from attending the ceremony.
Members of the Biden inauguration committee have indicated that they are not inviting foreign leaders to the Jan 20 ceremony and are also urging Americans to watch it from their homes.
In a recent statement, the committee has said that this year the celebration's size will be "extremely limited" while local authorities have asked people not to attend the ceremony.
"Our goals right now are to encourage Americans to participate virtually and to protect the District of Columbia from a repeat of the violent insurrection experienced at the Capitol and its grounds on Jan 6," Washington Mayor Muriel Bowser said in a statement.
In pictures: Chaos, violence, mockery as pro-Trump mob occupies Congress
The inauguration marks the start of a new presidency. It is held outside the Capitol building where the elected president and the vice president take the oath of office.
At the ceremony, Democratic leader Joe Biden will recite the presidential oath of office: "I do solemnly swear that I will faithfully execute the Office of President of the United States, and will to the best of my ability preserve, protect and defend the constitution of the United States."
Kamala Harris will also recite a similar oath as the new vice president.
After the oath, Biden will take his place as the 46th president and will formally occupy the White House later in the day, which will be his home for the next four years.
This year, more than 10,000 National Guard troops have been deployed in the US capital, with about 5,000 more available if requested — mainly because of the Jan 6 mob attack on the Capitol building.
Washington's mayor has placed the capital city under a state of emergency since the attack following a warning from US intelligence agencies that Trump supporters have planned massive demonstrations across America this weekend.
Biden has told reporters: "I am not concerned about my safety, security, or the inauguration."
But the organisers and security officials are taking no chances.
Usually, the outgoing president also attends the ceremony and welcomes the new president at the White House, but Trump has already said he would not attend.
"To all of those who have asked, I will not be going to the inauguration on Jan 20," Trump had tweeted on Friday.
Some of his supporters have even arranged a virtual "second inauguration" for Trump on the same day. More than 68,000 people have said on Facebook they will attend the online event to show their support for the outgoing president.
In 2016, Hillary Clinton joined her husband, former president Bill Clinton, at Trump's inauguration — just two months after her election defeat and a bitter campaign against the Republican leader.
Only three presidents — John Adams, John Quincy Adams and Andrew Johnson — have chosen to sit out their successor's inaugurations, and none in the last century.
The coronavirus disease, which continues to spread across America, has also forced organisers to cancel or curtail some events.
In the past, up to 200,000 tickets were distributed among the public, mostly by members of Congress and the Senate. But this year, only 1,000 tickets have been distributed so far.
Another novelty this year will be a "virtual parade," instead of the "pass in review" ceremony from Pennsylvania Avenue to the White House where the new commander in chief inspects the troops.
After the "virtual parade," the new president and the vice president and their spouses will be escorted to the White House by members of the military, including a band and drum corps.
https://www.dawn.com/news/1601455/bilawal-zardari-not-invited-to-bidens-inauguration-farhatullah-babar
--------
In Quetta visit, Army chief assures justice to families of Mach massacre victims
January 13, 2021
Army Chief Gen Qamar Javed Bajwa on Wednesday paid a visit to Quetta, where he assured families of the Shia Hazara coal miners killed in a brutal attack in Balochistan's Mach area that the perpetrators of the killings "shall be brought to justice".
During the day-long visit, the chief of army staff was given a detailed security briefing at the Southern Command headquarters and interacted with a large gathering of the Hazara community, an Inter-Services Public Relations (ISPR) statement said.
The army chief was apprised during the briefing about the prevailing security challenges in the province and the measures taken to deal with them, including border management along the Pak- Afghan and Pak-Iran borders.
Gen Bajwa spent time with the bereaved families of the Mach incident's victims and shared their grief. He "assured them that perpetrators of this heinous incident shall be brought to justice and blood of the martyrs will not go waste", the military's media wing said.
Later, while addressing the garrison officers, the COAS appreciated their preparedness and efforts for ensuring peace and stability in Balochistan "despite difficulties of terrain and distances involved".
"Balochistan is in sharp focus of our enemies due to its strategic potential," Gen Bajwa was quoted as saying on the occasion.
He said Balochistan was the future of Pakistan and progress and prosperity of the province was linked to progress of the country.
"The disruptive efforts by hostile forces won't be allowed to succeed," the army chief emphasised, saying the security, stability and prosperity of Balochistan will be ensured "to the hilt".
Earlier, on arrival in Quetta, Gen Bajwa was received by Commander Southern Command Lt Gen Sarfraz Ali.
On January 3, 11 miners belonging to the Shia Hazara community were brutally massacred in the Mach coalfield area. Armed assailants had entered their residential compound early in the morning where they were sleeping, and blindfolded and trussed them up before executing them. The militant Islamic State (IS) group, also known by the Arabic acronym Daesh, claimed responsibility for the attack.
Relatives and residents started a protest against the killings on the same day, arranging the miners' coffins on the Western Bypass on the outskirts of Quetta and refusing to bury them in a symbolic gesture until the prime minister's visit and assurance of protection.
The protests later spread to other parts of the country, including Peshawar, Lahore and Karachi, where demonstrators blocked several important roads, disrupting traffic.
After a deadlock lasting for nearly a week, talks succeeded between the protesters and the government, leading to the end of the protests and burial of the miners on Saturday.
https://www.dawn.com/news/1601307/in-quetta-visit-army-chief-assures-justice-to-families-of-mach-massacre-victims
--------
Pakistan Attempts To Prosecute Ahmadi US Citizens for Digital Blasphemy
January 13, 2021
By Aysha Khan
Pakistani authorities have asked leaders of the American Ahmadiyya Muslim community to take down its official website, claiming that the U.S.-based site violates Pakistan's strict blasphemy laws and new cybercrime regulations.
The Pakistan Telecommunication Authority said in a legal notice issued on Dec. 24 to the Ahmadiyya Muslim Community USA's spokesmen, Amjad Mahmood Khan and Harris Zafar, that failure to remove the website TrueIslam.com would result in fines of up to $3.14 million or criminal sanctions, including possible 10-year-prison sentences.
"This is a new frontier in persecution of Ahmadi Muslims in the digital space," said Khan, a lawyer in Los Angeles who has testified before Congress about blasphemy and religious freedom. "Pakistan wants to impose its abominable blasphemy laws on the whole world by targeting U.S. citizens and U.S. websites."
Brad Adams, who heads Human Rights Watch's Asia Division, said "censoring Ahmadis and using blasphemy laws to airbrush them from Pakistani society" is part of the "widespread and rampant discrimination and social exclusion" Ahmadis face in Pakistan.
In Pakistan, home to about 4 million Ahmadis, the constitution and penal code declare members of the Ahmadiyya sect non-Muslims and impose harsh penalties — including death — for those who call themselves Muslims or publicly engage in religious activities. Ahmadis accepts the sect's 19th-century founder, Mirza Ghulam Ahmad, as the messiah and as a subordinate prophet to the Prophet Muhammad, a belief many Muslims consider blasphemous.
"This is a malicious attempt to chill free speech and expression by a Muslim American website," attorney Brett Williamson of O'Melveny & Myers, which is representing TrueIslam.com pro bono, wrote in a letter to PTA on Monday (Jan. 11).
He described the takedown notice as "legally infirm, but also patently absurd in its reach."
The website is registered and hosted in the U.S. and is aimed at an American audience. Zafar and Khan are both U.S. citizens and the threat of extradition is virtually nil, but both have relatives in Pakistan and say penalties would make it impossible to travel there.
Law professor Arturo Carrillo, who directs George Washington University Law School's Global Internet Freedom Project, said this case shows that the Pakistan government is now using its controversial cybercrime laws in an effort "to repress online expression and content emanating from outside the country's borders because the government has deemed it to be undesirable and unlawful."
PTA officials did not respond to requests for comment.
In 2016, Pakistan enacted digital regulations that allowed authorities to block online content in the "interest of the glory of Islam." Last year, the government passed blanket censorship laws that would allow authorities to order tech companies to remove digital pornography, blasphemy and anti-state content, drawing ire from Google, Facebook, Twitter and other platforms.
But human rights experts say the takedown notices also come amid increased targeting of Ahmadis' online religious expression.
One day after issuing the takedown notice to TrueIslam.com, PTA also sent notices to Google and Wikipedia, threatening penalties and prosecution if the platforms failed to remove "sacrilegious content" associated with the Ahmadi sect's beliefs.
PTA said it was responding to complaints regarding an "unauthentic" Ahmadi translation of the Quran on the Google Play Store; "misleading" search results that returned the Ahmadi leader Mirza Masroor Ahmad's name when the term "Khalifa (caliph) of Islam" was searched; and "deceitful" Wikipedia articles that suggested that the Ahmadi caliph is Muslim.
Officials also demanded that all internet service providers serving Pakistan block content from Ahmadi websites, including TrueIslam.com, the English-language magazine Al Hakam and the international satellite TV network MTA.
Five of Pakistan's top Ahmadi leaders have also had cases filed against them in recent weeks over religious activity on WhatsApp, Khan told Religion News Service.
Earlier in December, Khan told a hearing of the U.S. Commission on International Religious Freedom that extremists in Pakistan were intent on using the country's cyber crime statutes to initiate blasphemy cases against Ahmadis.
But this latest action, Khan told Religion News Service, is "a very slippery slope in terms of what this could mean for other minorities. We're the canaries in the coal mine. This would mean any potential website or digital content that is quote-unquote blasphemous can be the subject of criminal prosecution."
USCIRF Commissioner Johnnie Moore described the takedown notices as "recklessly brazen" and said he expected fierce bipartisan condemnation from both the Trump and Biden administrations.
"Surely, the Pakistani government doesn't intend on threatening American citizens within the United States?" Moore asked. "Surely, Prime Minister Imran Khan doesn't want this controversy, now?"
https://religionnews.com/2021/01/13/pakistan-attempts-to-prosecute-ahmadi-us-citizens-for-digital-blasphemy-980-1000/
--------
Southeast Asia
Human Rights Watch slams China's 'appalling year' of violations
January 13, 2021
GENEVA: China had an "appalling year" for human rights in 2020, a leading advocacy group said on Wednesday, with a crackdown on dissent in Hong Kong, repression of Muslim Uighurs and the silencing of people reporting on the coronavirus outbreak.
A Chinese court last month handed down a four-year jail term to a citizen-journalist who reported from Wuhan, the epicentre of the virus before it spread across the globe, while others who did the same have disappeared.
"To crack down on whistleblowers and citizen-journalists at this particular moment … helps highlight to the rest of the world what the consequences of violations inside China can be," Sophie Richardson, China director at Human Rights Watch (HRW), said after the release of the group's World Report 2021.
HRW executive director Kenneth Roth told Reuters Television in Geneva that China remained the biggest threat to global human rights and that President Xi Jinping had "embarked on the most intense repression" in the country since the Tiananmen Square crackdown in 1989.
China last year introduced a national security law in the former British colony of Hong Kong, under which 53 pro-democracy activists were arrested in dawn raids last week, while Beijing also faced accusations – which it denies – of persecution and forced labour of Uighurs in the restive farwestern region of Xinjiang.
Richardson, speaking at a webinar, compared the Uighurs' plight to that of Rohingya Muslims in Myanmar but noted a much weaker international response.
She also said it was problematic that the European Union, after a year in which China "publicly shred" its human rights commitments, agreed on an investment pact with Beijing, only setting out vague expectations that China will consider abiding by higher standards on forced labour and other issues.
But she noted more governments were coming together to criticise China.
"Putting a dent in the Chinese government's sense of impunity for serious human rights violations is a real priority, we think, for governments and for institutions like the UN," she said.
https://www.freemalaysiatoday.com/category/world/2021/01/13/human-rights-watch-slams-chinas-appalling-year-of-violations/
--------
Malaysia saw 'reversal' in human rights after Perikatan came into power, says international watchdog
14 Jan 2021
BY SHAHRIN AIZAT NOORSHAHRIZAM
KUALA LUMPUR, Jan 14 — Malaysia has regressed in terms of human rights since the Perikatan Nasional (PN) government, led by prime minister Tan Sri Muhyiddin Yassin, took over in March 2020, global watchdog Human Rights Watch (HRW) said in its annual report.
The report released yesterday stated that the first nine months under the new coalition government showed alleged crackdown on freedom of speech and peaceful assembly, threats against the media, discrimination against migrants, and retreat from genuine police accountability.
"Malaysia has undergone an incredible reversal of human rights in 2020 — all for the worst.
"Hopes for human rights reforms have never risen so fast in Malaysia nor collapsed so quickly." its deputy Asia director Phil Robertson said in a statement.
The report stated that the downturn of media freedom was shown during Al Jazeera's coverage of Malaysia's treatment of migrants during Covid-19 pandemic back in July last year, with the authorities having probed the international media for sedition, defamation, and violation of the Communications and Multimedia Act.
"Police questioned six Al Jazeera staff members and raided the organization's offices in Kuala Lumpur. In August, Malaysia refused to renew the visas of two Al Jazeera journalists based in the country," the report said.
HRW pointed out in its report that Malaysia's effort to contain Covid-19 pandemic has resulted in discrimination of marginalised communities such as Rohingya Muslims, whose boats have been pushed back out to the sea, and overcrowded migrants in an unsanitary detention facilities prior to their deportation.
"The authorities pushed boatloads of desperate Rohingya refugees who were trying to reach Malaysia's shores back out to sea, claiming that they were doing so to prevent the spread of Covid-19.
"The authorities ultimately conducted multiple raids, ensnaring thousands of migrants and detaining them in overcrowded and unsanitary immigration detention centers to await deportation," HRW said in its 761-page World Report 2021.
The global human rights group said that police abuse remains unjustified due to its lack of accountability after the PN government rejected the previous government's bill on containing police misconducts and introduced a "toothless" Independent Police Conduct Commission bill that was short of investigative power and authorities to punish wrongdoings.
"In August, the government withdrew a Bill submitted by the prior administration to create an Independent Police Complaints and Misconduct Commission because the police objected to it.
"The government instead introduced a Bill to create a toothless Independent Police Conduct Commission that lacks both key investigative powers and the authority to punish wrongdoing," the report said.
In another effort to curb Covid-19 pandemic, Malaysia decided to close its schools while failing to provide equal access to the internet which has particularly affected rural and indigenous students, the report said.
HRW also highlighted the issues of religious freedom whereby Muslims are not allowed to practice other branches of Islam other than officially-recognised denomination of Sunni and deeming others deviants — pointing to the much-persecuted Ahmadiyyah community.
The report also said that Malaysia continues to punish the lesbian, gay, bisexual, and transgender (LGBT) people through federal law and state Shariah laws that prohibited both same-sex relations and non-normative gender expression, resulting in frequent arrests of transgender persons.
It also highlighted that activists have filed two court cases, in the High Court and the Federal Court, challenging the existence and use of these laws in Selangor.
"In July, the minister in charge of religious affairs gave 'full licence' to the religious authorities to take action against transgender people, both through arrests and religious education to 'return' them to the 'right path'," the report said.
In the report by HRW, it stated that Malaysia's religious authorities lodged a report against Nicole Fong after she responded to the religious affairs minister's statement by posting a series of infographics online critical of the mukhayyam program — a state-sponsored Islamic "rehabilitation" programme for Muslim LGBT persons.
In its report last year, HRW had said then that Malaysia remained slow in its reform agenda last year despite getting a new government in the form of Pakatan Harapan.
The delay in abolishing the Sedition Act and the use of other draconian security laws, continued gender discrimination and child marriages, asylum seekers being treated as illegal immigrants and crackdowns on Shiah Muslims clearly showed the government's failure in improving human rights, the report said.
https://www.malaymail.com/news/malaysia/2021/01/14/malaysia-saw-reversal-in-human-rights-after-perikatan-came-into-power-says/1940292
--------
North America
Schumer says Democrats will probe extremist groups after Capitol attack
BY JORDAIN CARNEY
01/12/21
Incoming Senate Majority Leader Charles Schumer (D-N.Y.) said Tuesday that Senate Democrats will launch probes stemming from the Jan. 6 Capitol attack after they take back control of the chamber on Jan. 20.
Schumer sent a letter to his caucus, a copy of which was obtained by The Hill, outlining plans for investigating both the mob violence and related issues and vowing "vigorous oversight."
"Our caucus will make sure that the events are fully investigated and every necessary security measure is in place for the upcoming Inauguration and the days leading up to it," Schumer wrote in the letter.
The Senate is getting briefed on the inauguration Tuesday amid growing security concerns about President-elect Joe Biden's swearing-in ceremony. Schumer, in his letter, also said Democrats will use the Judiciary Committee, once they take over the majority, to probe extremist groups.
"Incoming-Senate Judiciary Committee Chairman Durbin and I have already announced that the committee, as one of its first acts under Democratic control, will closely examine the rise of violent extremist groups, white supremacists and violent fringe conspiracy theorists who are intent on undermining and overthrowing the government as we saw at the Capitol on January 6th," Schumer wrote, referring to Senate Minority Whip Dick Durbin (D-Ill.).
Bipartisan leadership on the Rules Committee and Homeland Security and Government Affairs Committee have also pledged to probe the security failure that led to rioters being able to breach the Capitol.
Schumer's letter comes almost a week after a mob breached the Capitol as Vice President Pence and congressional leaders were counting the Electoral College vote, forcing lawmakers to go into hiding and suspending the proceedings for hours.
Members of extremist groups have been identified as being part of the rioters and law enforcement officials have warned about the potential for additional attacks at the Capitol and across the country.
Speaking to reporters in New York on Tuesday, Schumer said he wanted participants in the Capitol Hill riot to be included on the FBI's no-fly list. He said he had discussed the issue with FBI Director Christopher Wray.
"These insurrectionists many of whom are known to be at large should not be able to hop on a flight," Schumer said. "The insurrectionists who breached the U.S. Capitol fall under the definition of threats to the homeland."
https://thehill.com/homenews/senate/533862-schumer-says-democrats-will-probe-extremist-groups-after-capitol-attack?utm_source=iterable&utm_medium=email&utm_campaign=1897865_
--------
US designates Iran-backed Popular Mobilization Unit leader Abu Fadak as terrorist
Rawad Taha
13 January 2021
The US designated Abu Fadak al-Mohammadawi, Iranian-backed Popular Mobilization Unit leader and former secretary general of Iraqi Kata'ib Hezbollah, as a Specially Designated Global Terrorist (SDGT), the US State Department reported in a statement.
The statement added that Muhammadawi is the former secretary general of Kata'ib Hezbollah (KH), a US-designated Foreign Terrorist Organization and SDGT.
"KH, established in 2006, is an Iran-backed terrorist organization that seeks to advance Iran's malign agenda in the region and has claimed responsibility for numerous terrorist attacks in Iraq, including improvised explosive device attacks, indirect fire attacks, rocket-propelled grenade attacks, and sniper operations," the statement added.
The statement added that KH has reportedly been involved in recent and widespread theft of Iraqi state resources and the killing, abduction, and torture of peaceful protesters and activists in Iraq.
The statement added that Muhammadawi is separately working in conjunction with Iran's Islamic Revolutionary Guard Corps – Qods Force to reshape official Iraqi state security institutions away from their true purpose of defending the Iraqi state and fighting ISIS, to instead support Iran's malign activities, including the defense of the Assad regime in Syria.
"Iran-backed elements, including those in which Muhammadawi now plays a leadership role, have previously been involved in sectarian violence, including the abductions of hundreds of men from areas liberated from ISIS control," the statement added.
The State Department added that the designation seeks to deny Muhammadawi the resources to plan and carry out terrorist attacks. Among other consequences, all of his property and interests that are in the US, that hereafter come within the US, or hereafter come within the possession or control of US persons, have been blocked, and US persons are generally prohibited from engaging in any transactions with him.
Abu Fadak
The Iranian-backed Popular Mobilization Unit (PMU) militia group has named Abu Fadak al-Mohammadawi as its new leader, succeeding Abu Mahdi al-Muhandis who was killed in Iraq alongside Iranian commander Qassem Soleimani last year.
The new PMU leader, whose real name is Abdulaziz al-Mohammadawi, has been known to go by the nickname "al-Khal" or the uncle in English.
Al-Mohammadawi was considered as a close friend of Soleimani.
https://english.alarabiya.net/en/News/middle-east/2021/01/13/US-Treasury-sanctions-former-secretary-general-of-Kata-ib-Hezbollah-al-Muhammadawi
--------
Israel struck Syria after US' Pompeo, Mossad's Cohen discussed airstrike: US official
13 January 2021
A senior US intelligence official with knowledge of the Israeli attack on Syria told The Associated Press that the airstrikes were carried out with intelligence provided by the US — a rare incidence of publicized cooperation between the two countries over choosing targets in Syria.
The US official, who requested anonymity to speak about the matter, said US Secretary of State Mike Pompeo discussed Tuesday's airstrike with Yossi Cohen, chief of Israel's spy agency Mossad, at a public meeting in the popular Washington restaurant Café Milano on Monday.
The official said the strikes targeted a series of warehouses in Syria that were being used in a pipeline to store and stage Iranian weapons.
Israeli warplanes carried out intense airstrikes in eastern Syria early Wednesday, apparently targeting positions and arms depots of Iran-backed forces as the region is on high alert. At least 57 fighters were killed and dozens were wounded, according to a Syrian opposition war monitoring group.
The warehouses also served as a pipeline for components that support Iran's nuclear program, the official said. There was no immediate comment from Iran.
Syria's state news agency SANA said the strikes hit areas in and near the towns of Deir el-Zour, Mayadeen and Boukamal along the border with Iraq. An unnamed military official was quoted as saying Syrian air defenses responded to the incoming missiles. It gave no further details.
A Syrian opposition war monitoring group reported at least 18 strikes in Deir el-Zour and along the border with Iraq, saying several arms depots were hit. The Britain-based Syrian Observatory for Human Rights said 57 people were killed, including 14 Syrian troops, and the rest were Iran-backed fighters including 16 Iraqis and 11 Afghans. Dozens were wounded.
The death toll could not be independently verified. If confirmed, it would make it one of the deadliest Israeli strikes in Syria over the past 10 years.
"They burned Iranian positions in Deir el-Zour," said Omar Abu Laila, a Europe-based activist from Syria's eastern Deir el-Zour province who runs an activist collective that reports on news in the border area. He recorded at least 16 targeted buildings, warehouses or bases for Iranian, Lebanese and Iraqi militias in the towns of Boukamal, Mayadeen and Deir el-Zour.
Israel has launched hundreds of strikes against Iran-linked military targets in Syria over the years but rarely acknowledges or discusses such operations.
The Observatory said it recorded 39 Israeli strikes inside Syria in 2020 that hit 135 targets, including military posts, warehouses or vehicles. In those attacks, at least 217 people were killed, mostly Iranian-allied militiamen, according to the Observatory.
The strikes come at a time of heightened tension in the region in the final days of President Donald Trump's administration.
The Israeli military has been on a high level of defensive alert, and according to Amos Harel, a prominent Israeli military affairs correspondent, an aerial defense battery of Patriot missiles was deployed in Israel's southern seaport of Eilat. Writing in the newspaper Haaretz, he said an exceptionally large presence of fighter planes has been in the skies over the country for a considerable portion of the day.
Meanwhile, Israeli jets have been violating Lebanese airspace and crisscrossing skies over Beirut in daily, low-altitude flights that have added to jitters in the Lebanese capital.
Many fear retaliation for the US killing of Iran's Revolutionary Guard commander Qassem Soleimani last year in Baghdad may come before Trump leaves office, or that conflict could erupt to scuttle efforts by Joe Biden's incoming administration to negotiate with Iran.
Israel views Iranian entrenchment on its northern frontier as a red line, and has repeatedly struck Iran-linked facilities and weapons convoys destined for Lebanon's militant Hezbollah group.
The strikes also come amid intensifying low-altitude Israeli warplane missions in Lebanese skies that have caused jitters among residents and prompted Lebanon to file an urgent complaint to the UN about the violations of its airspace. Israeli officials have said the overflights are necessary because Hezbollah is violating the 2006 UN resolution that bars it from building up its military capabilities and operating near the Israeli border.
https://english.alarabiya.net/en/News/middle-east/2021/01/13/Israel-struck-Syria-after-US-Pompeo-Mossad-s-Cohen-discussed-airstrike-US-official
--------
20,000 US troops to deploy for Biden's inauguration as FBI warns of more pro-Trump violence
14 January 2021
About 20,000 US troops are to be deployed to Washington, DC for President-elect Joe Biden's inauguration next week as concerns rise about the likelihood of "extremist violence" ahead of the January 20 event.
"I think you can expect to see somewhere upwards of beyond 20,000 members of the National Guard that will be here in the footprint of the District of Columbia," Washington Metropolitan Police Chief Robert Contee said on Wednesday.
Earlier this week, Pentagon authorized 15,000 National Guard members to be sent to the District for the inauguration.
The FBI has warned police chiefs to be on high alert and "Overshare Intelligence", and be mindful of potential lone-wolf actors and local armed groups.
FBI Director Christopher Wray and the acting director of the United States Citizenship and Immigration Services, Kenneth Cucinelli expressed great concern about the potential for extremist violence.
The officials said they would be issuing a national threat bulletin urging all Americans to be cautious in the coming days.
The FBI officials were concerned about potential attacks on business, state capitols, federal buildings and the homes of congressional members, The NYT said.
"They're very, very worried about these, what they referred to as domestic violent extremists, embedding themselves in other protests," a police chief said.
"Christopher Wray seemed particularly concerned about what was sort of the disregard these folks have for democratic government. The focus was not to go after people engaged in peaceful protest. There were others embedded in that who were engaged in violence and criminal behavior."
The FBI has issued warnings of armed protests planned in all 50 US state capitals in the days before January 20.
Last week, Trump supporters launched a deadly assault on the US Capitol, disrupting briefly the certification of the November election results. Five people were killed in the siege.
Security has already been heightened across Washington as the US House of Representatives voted to impeach President Donald Trump a second time. He had been charged with "incitement of insurrection" over last week's Capitol siege.
Trump issued a statement Wednesday urging supporters to commit "NO violence" in his first message after his impeachment.
"In light of reports of more demonstrations, I urge that there must be NO violence, NO lawbreaking and NO vandalism of any kind," Trump said.
"That is not what I stand for, and it is not what America stands for. I call on ALL Americans to help ease tensions and calm tempers. Thank You."
Since the siege, some members of Congress, including Rep. Jason Crow, D-Colo., have requested that Army Secretary Ryan McCarthy review backgrounds of any National Guard troops involved in inaugural security.
Crow expressed "concerns about reports that active duty and reserve military members were involved in the insurrection at The Capitol."
https://www.presstv.com/Detail/2021/01/14/642978/US
--------
A week before Trump's term ends, US Treasury imposes new sanctions on Iranian foundations
13 January 2021
In its final days in power, the hawkish administration of lame-duck US President Donald Trump has imposed new sanctions on Iranian foundations.
The US on Wednesday blacklisted two Iranian foundations and their subsidies, claiming the institutions kept the ownership over large parts of the country's economy.
The designations announced by the US Treasury Department target the state organization Execution of Imam Khomeini's Order (EIKO), and Astan Quds Razavi (AQR), an organization that manages the holy shrine of Imam Reza, the eighth Shia Imam.
The sanctions, which also target the foundations' leaders and subsidiaries, freeze assets of those targeted and threaten anyone engaging in certain transactions with those individuals with US sanctions.
The fresh sanctions are the latest action to reinforce the failed "maximum pressure" campaign on Iran pursued by the Trump administration.
Tensions have risen between Iran and the US after Trump unilaterally left a 2015 historic nuclear agreement between Iran and world powers, describing the deal, which was struck by his predecessor Barack Obama, as the worst ever negotiated.
The US administration also reinstated the sanctions that had been lifted against Iran under the deal, known as the Joint Comprehensive Plan of Action (JCPOA).
The fresh sanctions come in the final days of Republican Trump's term. He is due to hand over power to Democratic President-elect Joe Biden.
Biden, who is set to take office on January 20, has denounced Trump's withdrawal from the JCPOA.
He has also expressed willingness to return the United States to the nuclear deal.
After a year of sticking to its obligations under the JCPOA, Iran suspended its commitments in response to the US measures and the Europeans' failure to trade business with Iran.
Tehran says its measures are reversible if the other side fulfills its commitments, stressing that the US needs to lift the sanctions.
Delivering a televised address earlier this week, Leader of the Islamic Revolution Ayatollah Khamenei asserted that Iran's "ultimate and definitive" position on the matter was that the US had to primarily lift its sanctions against the Islamic Republic.
The Leader called the Iranians' right to lead a sanctions-free life "a right that has been usurped" by Washington.
Foreign Minister Mohammad Javad Zarif echoed the Leader's position in an interview, saying the Iranian nation must feel the tangible results of any sanctions relief instead of the US possibly lending an "empty signature" to the nuclear deal.
https://www.presstv.com/Detail/2021/01/13/642956/US-imposes-fresh-sanctions-on-Iranian-foundations
--------
U.S. imposes counter terrorism sanctions on 5 people: Treasury website
JANUARY 12, 2021
WASHINGTON (Reuters) - The United States on Tuesday imposed counter terrorism sanctions on five people it tied to Iran, designating them each as a Specially Designated Global Terrorist (SDGT), according to the U.S. Treasury Department's website.
Reuters reported on Monday that U.S. Secretary of State Mike Pompeo plans to use newly declassified U.S. intelligence to publicly accuse Iran of ties to al Qaeda in a speech on Tuesday, two people familiar with the matter said, as part of his last-minute offensive against Tehran before handing over to the incoming Biden administration.
https://www.reuters.com/article/us-usa-sanctions-counter-terrorism/us-imposes-counter-terrorism-sanctions-on-5-people-treasury-website-idUSKBN29H23W?utm_source=iterable&utm_medium=email&utm_campaign=1897865_
--------
Arab World
Israeli aggression on areas in Deir Ezzor and Albu Kamal in Syria: State media
Tuqa Khalid
13 January 2021
Syrian air defenses confronted an "Israeli aggression" on areas in Deir Ezzor and Albu Kamal in eastern Syria near the border with Iraq, state news agency SANA and state television AlIkhbaria reported on early Wednesday.
"At 1:10 this morning, the Israeli enemy launched an aerial aggression on the Deir Ezzor and Albu Kamal areas, the resulting consequences of the aggression are currently being evaluated," the military statement read.
The bases in eastern, central and southern Syria which Israel had hit in recent months are believed to have a strong presence of Iranian-backed militias, according to intelligence sources and military defectors familiar with the locations.
Western intelligence sources say Israel's stepped up strikes on Syria in the last few months are part of a shadow war approved by the United States and part of the anti-Iran policy that has undermined in the last two years Iran's extensive military power without triggering a major increase in hostilities.
They say that the past year has seen an expansion in the targets hit by Israel across Syria where thousands of Iranian-backed militias have been involved in regaining much of the territory lost by Syrian President Bashar al Assad to insurgents in a nearly decade old civil war.
https://english.alarabiya.net/en/News/middle-east/2021/01/13/Israeli-aggression-on-areas-in-Deir-Ezzor-and-Albu-Kamal-in-Syria-State-media
--------
Kuwait's cabinet submits resignation in standoff with parliament
January 13, 2021
Kuwait's Prime Minister Sabah al-Khalid al-Sabah presented the resignation of his cabinet to the country's ruler on Wednesday, days before the premier was due to be questioned in parliament over his choice of ministers and other issues.
The standoff between the government and parliament less than a month after the cabinet was appointed poses the first big challenge to Emir Sheikh Nawaf al-Ahmed al-Sabah, who assumed power in September.
It complicates government efforts to tackle the OPEC state's deepest economic crisis in decades, caused by low oil prices and the coronavirus crisis.
Ministers had submitted their resignations on Tuesday to Sheikh Sabah, a move the government said was related to "developments in the relationship between the National Assembly (parliament) and the government".
It was not immediately clear if the emir, who has the final say in matters of state, would accept the cabinet's resignation.
The motion to question Sheikh Sabah, who has been prime minister since late 2019, was submitted by three lawmakers on Jan 5 in the first regular session of a new assembly, in which the opposition made gains in last year's election.
More than 30 other MPs in the assembly, which has 50 elected seats, supported the request to question him. The motion seen by Reuters referred to a cabinet that did not reflect the poll result and government "interference" in electing the speaker and members of parliamentary committees.
Members of the cabinet also sit in parliament as deputies.
Kuwait has the most open political system in the Gulf region. Parliament has the power to pass legislation and question ministers, although senior government posts are occupied by members of Kuwait's ruling family.
Frequent rows and deadlocks between cabinet and parliament have led to successive government reshuffles and dissolutions of parliament, hampering investment and economic and fiscal reform.
https://www.dawn.com/news/1601293/kuwaits-cabinet-submits-resignation-in-standoff-with-parliament
--------
Iran fires cruise missiles as part of drill in Gulf of Oman: State media
14 January 2021
Iran fired cruise missiles Thursday as part of a naval drill in the Gulf of Oman, state media reported, amid heightened tensions with the US.
Various kinds of surface-to-surface cruise missiles successfully hit their targets in the gulf and northern part of the Indian Ocean, the report said.
"Enemies should know that any violation and invasion of Iranian marine borders will be targeted by the cruise missiles from both coast and sea," said Adm. Hamzeh Ali Kaviani, spokesman for the exercise.
Images released by the navy showed the missiles being launched and hitting their targets.
The two-day drill began Wednesday when the country's navy inaugurated its largest military vessel. The exercise takes place amid heightened tensions over Iran's nuclear program and a US pressure campaign against the Islamic Republic.
In recent weeks, Iran has increased its military drills. On Saturday, the paramilitary Revolutionary Guard held a naval parade in the Persian Gulf and a week earlier Iran held a massive drone maneuver across half the country.
President Donald Trump in 2018 unilaterally withdrew the US from Iran's nuclear deal, in which Tehran had agreed to limit its uranium enrichment in exchange for the lifting of economic sanctions. Trump cited Iran's ballistic missile program among other issues in withdrawing.
Following the US's re-imposition of sanctions on Iran, Tehran gradually and publicly abandoned the deal's limits on its nuclear development as a series of escalating incidents pushed the two countries to the brink of war at the beginning of the year.
https://english.alarabiya.net/en/News/middle-east/2021/01/14/Iran-fires-cruise-missiles-as-part-of-drill-in-Gulf-of-Oman-State-media
--------
Investments in Saudi Arabia's economy will reach six trillion dollars: Crown Prince
Rawad Taha
14 January 2021
Saudi Arabia's Crown Prince Mohammed bin Salman says major investment opportunities in Saudi Arabia will amount to six trillion dollars over the next ten years, including 3 trillion dollars in investments in new projects, within the framework of the opportunities provided by Vision 2030, according to the Saudi Press Agency (SPA).
Saudi Arabia's Crown Prince participated in a strategic dialogue session within the activities of the World Economic Forum (WEF), in the presence of more than 160 influential international leaders and business leaders, representing 28 sectors and 36 countries.
The Crown Prince indicated that 85 percent of this huge economic program will be funded by the Public Investment Fund and the Saudi private sector, while the remainder will be through stimulating foreign capital from the Gulf countries and all countries of the world.
During the strategic dialogue session held within the framework of the activities of the World Economic Forum, Crown Prince Mohammed bin Salman reviewed the achievements made by Saudi Arabia since the announcement of Vision 2030, in terms of doubling non-oil revenues, empowering women in the labor market, raising the level of competitiveness in the business environment, the significant improvement made in environmental protection, and the Kingdom's initiative regarding the circular carbon economy, which was approved by the G20 summit chaired by the Saudi Arabia.
The Crown Prince indicated that the Kingdom's previous achievements in accordance with Vision 2030 came within the framework of rapid transformation and reforms in the past four years, and that these reforms will double in the next ten years.
The Crown Prince affirmed that the year 2020 was full of challenges and that Saudi Arabia was ready for that as the transformation journey that was launched a few years ago.
The Crown Prince added that the transformation journey took all the country's axes to new dimensions, in the economic aspects, government work and social aspects, and created quality investment opportunities.
Prince Mohammed bin Salman stressed on the role played by the Saudi Arabia in the framework of promoting development, supporting the stability of the region and preserving the energy supply market, stressing the continuation of that role in the interest of the region through establishing security and peace, and enhancing economic cooperation.
The forum also seeks to involve the most prominent leaders of politics and the private sector with the aim of forming international, regional and industrial agendas, and the forum is keen to involve a number of Competent holders, including leaders, politicians, decision-makers, leaders of the private sector, educational institutions and think tanks.
https://english.alarabiya.net/en/News/gulf/2021/01/14/Vision-2030-Investments-in-Saudi-Arabia-s-economy-will-reach-six-trillion-dollars-Crown-Prince
--------
UAE's Emirates Post adds Israel to its network of operations: WAM
13 January 2021
United Arab Emirates' Emirates Post Group has added Israel to the network of its global operations following an official agreement and establishment of full diplomatic relations between the two countries, state news agency WAM reported on Wednesday.
Emirates Post has tied up with counterpart Israel Post to facilitate access to cities and destinations across the country, WAM reported.
https://english.alarabiya.net/en/News/gulf/2021/01/13/UAE-s-Emirates-Post-adds-Israel-to-its-network-of-operations-WAM-
--------
Syria condemns new Israeli raids, urges UN action
14 January 2021
The Syrian government has condemned new Israeli airstrikes on Syrian territory, calling on the United Nations Security Council to take immediate and decisive measures to prevent the repetition of such attacks.
According to Syria's official news agency SANA, the Israeli regime launched airstrikes on the eastern parts of Syria near the Iraqi border in the early hours of Wednesday. The strikes targeted the city of Dayr al-Zawr and the town of al-Bukamal.
In a letter to the United Nations secretary-general and the president of the Security Council later in the day, the Syrian Foreign Ministry said the Israeli aggression had been synchronized with the criminal practices of the so-called Syrian Democratic Forces (SDF) against the Syrian people in Hasaka, Dayr al-Zawr, and Raqqa.
"The government of the Syrian Arab Republic, with the assistance of friendly countries and allies, affirms its determination to regain every inch of the Syrian soil and liberate it from terrorism and reconstruct what has been destroyed by terrorism," the ministry said, SANA reported.
It called on the Security Council to assume responsibility in the framework of the UN Charter, emphasizing that the Israeli regime had to be held accountable for its crimes against the Syrian people in violation of the UN Charter and relevant Security Council resolutions, particularly Resolutions 242, 338, 350, and 497.
Separately, a senior US intelligence official said the Israeli airstrikes were carried out with intelligence provided by the United States.
The official, who spoke on the condition of anonymity, told the Associated Press that US Secretary of State Mike Pompeo had discussed the attack with Yossi Cohen, the chief of Israel's spy agency Mossad, on Monday.
Meanwhile, the so-called Syrian Observatory for Human Rights said the airstrikes killed 57 people, becoming the deadliest such strikes since the conflict began in 2011.
Israel frequently carries out raids in Syria, in blatant violation of the Arab country's national sovereignty and territorial integrity, with the aim of shoring up militant and terrorist groups fighting against the government of Syrian President Bashar al-Assad.
The Wednesday Israeli raid occurred as protesters had gathered outside the residence of Israeli Prime Minister Benjamin Netanyahu to call for his resignation over corruption and the mishandling of the COVID-19 outbreak.
Netanyahu has been indicted for bribery, fraud, and breach of trust in four corruption cases.
https://www.presstv.com/Detail/2021/01/14/642988/Syria-condemns-new-Israeli-raids,-urges-UN-action
--------
Is Al-Qaeda affiliate expanding attacks beyond Syrian town of Idlib?
Khaled al-Khateb
Jan 12, 2021
ALEPPO, Syria — The Hurras al-Din (Guardians of Religion) group affiliated with al-Qaeda claimed responsibility for a recent attack on a Russian base in Tal al-Saman in the northern countryside of Raqqa, which is under the control of the Kurdish-led Syrian Democratic Forces (SDF).
The attack raised questions about Hurras al-Din's ability to carry out attacks outside the areas of its deployment in Idlib, northwestern Syria. Some wondered about the timing of this attack and the messages the group wants to convey to the various parties that share control over the Syrian territory, including Hayat Tahrir al-Sham (HTS) that controls Idlib.
A car bomb targeted the Russian base near the village of Tal al-Saman on Dec. 31. A campaign dubbed "Raqqa Being Slaughtered" published photos on Facebook from the site of the bombing, noting that clashes with automatic weapons briefly broke out after the bombing without specifying the parties involved.
The Russian forces had strengthened their military presence at the Tal al-Saman base during December 2020 following an agreement with the SDF. The Russian TASS news agency quoted the deputy director of the Russian Khmeimim air base in Syria, Maj. Gen. Vyacheslav Sitnik, as saying on Dec. 27 that additional Russian military police units have been deployed to the Ain Issa area "to step up efforts to stabilize the situation."
After the attack on the Russian base, Hurras al-Din issued a statement on social media it called "The Battle of Hardship," saying, "A secret group from Hurras al-Din managed to raid a hub of the occupying Russian forces in Tal al-Saman in Raqqa governorate."
Hurras al-Din leader Mohammed Abu Khalid al-Suri defined the objectives of the operation on his Telegram account, saying, "The mujahedeen believe that their goal in al-Sham (the Levant) is to fight the aggressive enemy, not the Muslims, nor is it to fight over the crossings, money and control, as warlords do."
He added, "With the Battle of Hardship, the mujahedeen aim to prove a point to those factions that possess tens of thousands of soldiers, millions of dollars, weapons and equipment," in an indirect reference to the opposition factions and to the HTS, which Hurras al-Din opposes and accuses of treason.
Suri added, "Targeting the bases of the Syrian regime and the Russian enemy and draining them is one of the most successful and most effective solutions in this period after the factions in the north closed the fronts, prevented invasions, concluded a truce with the enemies, and brought them into Muslim areas and dismantled the strength of the mujahedeen. We had to think outside the box to find proper solutions, which is why operations behind enemy lines were carried out to emphasize the mujahedeen's rejection of imported international agreements."
Bilal Sattouf, a researcher in jihadist groups residing in the countryside of Aleppo, told Al-Monitor, "The Hurras al-Din's attack on the Russian base outside the Idlib area carries several indications. First and foremost, it reveals a security defect in SDF-controlled areas in a way that enabled the group to carry out this operation. It also indicates Hurras al-Din's intent to expand the scope of its operations in Syria. In the future, we may witness other operations by the group outside Idlib against the Syrian regime forces and perhaps the Iranian militias, and the SDF as well."
Sattouf added, "The attack also shows the differences between Hurras al-Din and HTS when it comes to ending the battles in Idlib, since HTS is somewhat committed to the Russian-Turkish agreement in Idlib. Meanwhile, Hurras al-Din wants to showcase itself as a large and effective force capable of shuffling the cards."
He noted, "[The attack coincided] with Russian-Turkish action in Ain Issa aimed at deporting the SDF from the area. It seems Hurras a-Din wanted to prove its presence in the areas where other parties conclude agreements to share lands. Hurras al-Din also wants to tell both Russia and Turkey that the pressure exerted on the organization in Idlib could not eliminate it."
Sattouf pointed out, "Hurras al-Din can reach areas outside Idlib, and the recent attack also provides it with jihadist propaganda that helps it preserve its jihadists as well as attract new ones, especially in light of the growing operations of the Islamic State (IS) in the Syrian desert, creating competition between the two organizations to attract jihadist fighters."
HTS launched a campaign against Hurras al-Din in Idlib in 2020, which led to direct clashes and resulted in dismantling a large percentage of the organization amid internal divisions. Ever since, there have been questions on whether the clashes between HTS and Hurras al-Din pushed the latter to reconcile with IS, or even if the two (IS and Hurras al-Din) cooperated to strike the Russian base in Raqqa. This could be possible given that IS has been active in eastern and northeastern Syria, which could lead to cooperation between Hurras al-Din and IS in future attacks.
Orabi Abul-Hayy Orabi, a researcher in Islamic groups, told Al-Monitor, "I completely rule out the possibility of Hurras al-Din coordinating with IS to attack the Russian base. But there could be some sort of temporary truce between the two sides to facilitate their movements in the desert and other Syrian areas where the two sides have security cells."
For his part, Obadah al-Tamer, dean of the Faculty of Political Sciences at the Damascus University in the countryside of Aleppo, told Al-Monitor, "Hurras al-Din's attack may be linked to what might be called the proxy conflict over that area, but one operation may not be significant enough to base a logical explanation on, nor does it allow for a realistic prediction of causes."
https://www.al-monitor.com/pulse/originals/2021/01/syria-hurras-al-din-idlib-raqqa-attack-islamic-state.html?utm_source=iterable&utm_medium=email&utm_campaign=1897865_
--------
Mideast
Iran Fires Different Naval Cruise Missiles on 2nd Day of Massive Drills
2021-January-14
A variety of cruise missiles with different ranges successfully hit their targets in the North Indian Ocean and the exercises general zone.
In addition, the Iran-designed class of semi-heavy submarine, Fateh, shot its first-ever torpedo during the drills that successful hit the target.
Deputy Navy Commander for Coordination and Spokesman of the Drills Rear Admiral Hamzeh Ali Kaviani told reporters on the sidelines of the drills that Iran is in possession of different naval cruise missiles, adding that their high destruction power has turned them into effective and decisive weapons in any wars in the sea.
He added that information about some of the weapons and systems used in this exercises are classified as confidential, saying that enemies should know that in case of any aggression against the maritime borders of the Islamic Republic of Iran, they will be targeted by cruise missiles from the coast and sea.
Rear Admiral Kaviani said that various types of home-made drones were also used in the wargames which displayed proper performace.
Eqtedar 99 naval war-games kicked off in Makran Coast of the Sea of Oman and the Northern Indian Ocean on Wednesday morning, as the Iranian Navy received its largest warship, Makran.
The two-day naval drills began on Wednesday in the Southeastern region of Makran Coast and the Northern Indian Ocean while a home-grown giant vessel, Makran, was delivered to the Navy.
In the first phase of the exercises, the Army's surface, subsurface and flight units were expanded to the general zone of the wargames to continue their specialized exercises according to the specified scenario.
The huge warship Makran is a domestically-manufactured helicopter carrier that can be used for logistical purposes in support of the naval forces' maritime missions.
The war-game was attended by Chief of Staff of the Iranian Armed Forces Major General Mohammad Hossein Baqeri, Army Commander Major General Abdolrahim Mousavi, and other senior commanders.
According to Navy Commander Rear Admiral Hossein Khanzadi, Makran can carry seven helicopters and can support the Navy's missions in high waters, such as the Northern part of the Indian Ocean, the Bab al-Mandab Strait, and the Red Sea.
https://www.farsnews.ir/en/news/13991025000280/Iran-Fires-Differen-Naval-Crise-Missiles-n-2nd-Day-f-Massive-Drills
--------
Zarif: Iraqi Arrest Warrant for Trump Result of Iran's Pursuit
2021-January-13
Zarif said that the foreign ministry has been engaged in pursuit of US conviction through the UN Special Rapporteur on extrajudicial killings.
"The place for legal prosecution of the assassination of Martyr Soleimani and his companions is the courts of Iran and Iraq," he went on to say.
In relevant remarks last week, Iran's Judiciary Spokesman Gholam Hossein Esmayeeli said that Tehran has asked Interpol to issue a red notice for all perpetrators and masterminds of the assassination of Islamic Revolution Guards Commander (IRGC) anti-terror Commander Lieutenant General Qassem Soleimani.
"Iran has asked the Interpol for the apprehension of the US president and 47 others in connection with the assassination of Lieutenant General Qassem Soleimani near the Iraqi capital, Baghdad, last year," Esmayeeli announced on Tuesday January 16.
He added that Iran has identified 48 people in connection with the targeted terror attack and that includes US President Donald Trump, Pentagon officials and terrorist American forces in the region.
The spokesman said Tehran has made it clear in its request the role each individual played in the brutal assassination and emphasized that Iran would seriously pursue the case to bring the perpetrators to justice.
Lieutenant General Soleimani was assassinated in a US drone strike on Baghdad International Airport in Iraq on January 3, 2020.
The airstrike also martyred Abu Mahdi al-Muhandis. The two were martyred in an American airstrike that targeted their vehicle on the road to the airport.
Five Iranian and five Iraqi military men were martyred by the missiles fired by the US drone at Baghdad International Airport.
On January 8 and after the funeral ceremony of General Soleimani, the IRGC Aerospace Force started heavy ballistic missile attacks on US Ein Al-Assad airbase in Southwestern Iraq near the border with Syria and a US operated airbase in Erbil in retaliation for the US assassination of General Soleimani.
Ein Al-Assad is an airbase with a 4km runway at 188m altitude from sea levels, which is the main and the largest US airbase in Iraq. Early reports said the radar systems and missile defense shields in Ein Al-Assad failed to operate and intercept the Iranian missiles. Unofficial reports said the US army's central radar systems at Ein Al-Assad had been jammed by electronic warfare.
The second IRGC reprisal attack targeted a US military base near Erbil airport in Iraqi Kurdistan Region in the second leg of "Martyr Soleimani" reprisal operation.
Iraq said the attacks had not taken any toll from its army men stationed at these two bases. The US army had blocked entrance into Ein Al-Assad to everyone, including the Iraqi army.
The IRGC officials said none of the missiles had been intercepted.
Meantime, Iran announced in late June that it had issued arrest warrants for 36 officials of the US and other countries who have been involved in the assassination of the martyred General Soleimani.
"36 individuals who have been involved or ordered the assassination of Hajj Qassem, including the political and military officials of the US and other governments, have been identified and arrest warrants have been issued for them by the judiciary officials and red alerts have also been issued for them via the Interpol," Alqasi Mehr said at the time.
He said that the prosecuted individuals are accused of murder and terrorist action, adding that US President Donald Trump stands at the top of the list and will be prosecuted as soon as he stands down presidency after his term ends.
https://www.farsnews.ir/en/news/13991024000861/Zarif-Irai-Arres-Warran-fr-Trmp-Resl-f-Iran%E2%80%99s-Prsi
--------
IRGC Commander: Israel Rotten Inwardly, Iran Not Dependent on JCPOA
2021-January-13
"The Zionist Regime has become rotten inwardly and the US' condition is clear as well, however, the Islamic Republic of Iran has reached a point where it is needless of JCPOA," General Salami said on Wednesday.
He reiterated that Iran does not care if the US returns to the JCPOA or not.
"The US has become a laughing stock in the world and its conspiracies have backfired," the commander went on to say.
"The American president is a frustrated and defeated person who knocked his country to the ground," the IRGC Commander noted, stressing that today, the architect of maximum pressure and maximum pressure itself have failed.
In relevant remarks in September, 2020, Major General Hossein Salami said the US has become rotten internally and isolated externally, and asked Iranian people not to be worried about American threats.
"The United States is now rotten from inside and isolated from outside," Salami said while calling on Iranian people not to be concerned about the US threats.
He made the remarks on the sidelines of a ceremony on Monday September 21 to commemorate over one million war veterans during eight years of Sacred Defense.
Pointing to the US President Donald Trump's remarks to strike Iran "1000 times greater in magnitude" in case Iran threatens any of the US interests, Salami said the US has lost its symbols, and even the American people are now chanting "Death to America".
"American people are defacing iconic statues in the US and burning the American flag," he added.
https://www.farsnews.ir/en/news/13991024000836/IRGC-Cmmander-Israel-Ren-Inwardly-Iran-N-Dependen-n-JCPOA
--------
Iran Denounces US' Labelling of Cuba as Sponsor of Terrorism
2021-January-13
Iranian Foreign Ministry Spokesman Saeed Khatibzadeh strongly condemned the US designation of Cuba as a state sponsor of terrorism and emphasized that Tehran will stand with the Cuban government and people against the Global Arrogance.
Khatibzadeh said the claim that Cuba has been engaged in terrorist acts is a baseless accusation forged by the US, adding that the US regime continues unilateral measures against other nations in the last days of Trump administration.
He noted that Cuba has the right to develop cooperation with its neighbors in Latin America and this has nothing to do with Washington.
The spokesman further underscored boosting bilateral relations with Cuba and rejected US support for terrorist groups all over the world.
On Monday, the Trump administration again put Cuba on the list of states, claiming that the country provides assistance to international terrorism.
Also on Tuesday, US Secretary of State Mike Pompeo said Al Qaeda's new base of operations is inside Iran, however, he offered no underlying intelligence as evidence and his conclusions were contradicted by other American officials.
Iranian Foreign Minister Mohammad Javad Zarif lashed out at the outgoing US Secretary State Mike Pompeo's recent claims against Iran, stressing that the perpetrators of the Sep. 11 incidents were terrorists who had come from the countries that are Pompeo's favorites.
"All the terrorists involved in 9/11 event were from Mike Pompeo's favorite countries in West Asia, and none from Iran," Zarif wrote on his Twitter page on Tuesday.
Zarif added that the US warmongering government is engaged in branding others as terrorists and taking famous terrorist groups out of their classifications.
"From designating Cuba to fictitious Iran "declassifications" and AQ claims, Mr. "we lie, cheat, steal" is pathetically ending his disastrous career with more warmongering lies," he continued.
https://www.farsnews.ir/en/news/13991024000737/Iran-Dennces-US%E2%80%99-Labeling-f-Cba-as-Spnsr-f-Terrrism
--------
Eqtedar 99 Drill Starts in Oman Sea, Indian Ocean with Huge Vessel Joining Iran's Navy
2021-January-13
The two-day naval drill dubbed Eqtedar (Might) began on Wednesday in the Southeastern region of Makran Coast and the Northern Indian Ocean while a home-grown giant vessel, Makran, was delivered to the Navy.
In the first phase of the exercises, the Army's surface, subsurface and flight units were expanded to the general area of the war-game to continue their specialized exercises according to the specified scenario.
The huge warship Makran is a domestically-manufactured helicopter carrier that can be used for logistical purposes in support of the naval forces' maritime missions.
The war-game was attended by Chief of Staff of the Iranian Armed Forces Major General Mohammad Hossein Baqeri, Army Commander Major General Abdolrahim Mousavi, and other senior commanders.
According to Navy Commander Rear Admiral Hossein Khanzadi, Makran can carry seven helicopters and can support the Navy's missions in farther waters, such as the Northern part of the Indian Ocean, the Bab al-Mandab Strait, and the Red Sea.
The Navy will also receive a new missile-launching warship dubbed 'Zereh' on Wednesday.
The warship would enhance the Navy's combat capabilities in the Southern waters.
'Zereh' (Armor in Farsi) missile launcher is one of Iran's powerful warships with high speed and high ability of maneuver. It is equipped with advanced automatic missiles and artillery.
It is categorized in Iran's Paykan-class missile-launching warships, every component of which has been manufactured by the Iranian Navy's experts. The warship has passed all its coastal and maritime tests and is fully prepared to embark on missions.
In a relevant development in November last year, the Islamic Revolution Guards Corps (IRCG) Navy received a new home-made ocean-going, helicopter and drone carrying warship named Shahid Roudaki.
The ceremony to deliver Shahid Roudaki warship was attended by a group of Iranian civilians and military officials, including IRGC Commander Major General Hossein Salami and IRGC Navy Commander Rear Admiral Alireza Tangsiri.
The multifunctional vessel is capable of carrying and providing logistical support to fighter jets, aircraft, drones, missile systems, and radars which are being carried on board.
The 400-ton Shahid Roudaki warship is 150 meters long and 22 meters wide. It is equipped with three-dimensional radars, surface-to-surface and surface-to-air missiles. It can carry helicopters and operational vessels, all of which have been domestically-designed and manufactured.
Addressing the ceremony, Rear Admiral Tangsiri said that the warship has been equipped with different types of indigenized weapons.
Commander of the Islamic Revolution Guards Corps Navy's Second Zone General Ramezan Zirahi announced last month that the IRGC's naval forces will receive a number of ocean-going vessels in the next six months.
"A number of ocean-going vessels for deployment in free waters and oceans are being manufactured and they will join the IRGC Navy by the yearend (Iranian year which ends on March 20)," General Zirahi said.
He underlined the IRGC Navy's high preparedness to give a crushing response to any possible attack by enemies, saying the IRGC enjoys full intelligence superiority over the region and monitors all moves.
https://www.farsnews.ir/en/news/13991024000561/Eedar-99-Drill-Sars-in-Oman-Sea-Indian-Ocean-wih-Hge-Vessel-Jining
--------
Aggressors who relied on Trump must stop Yemen war: Houthis
14 January 2021
The spokesman for Yemen's Houthi Ansarullah movement says the regimes waging war under the protection of US President Donald Trump — who is leaving office following his election defeat — must now stop their bloody aggression.
In a post on his twitter account on Wednesday, Mohammed Abdul-Salam urged the aggressor regimes relying on Trump to end their offensive against Yemen completely.
"The countries that have attacked Yemen must stop their aggression and lift the siege in a comprehensive manner, and there is no place for half-measures," he said.
Saudi Arabia launched a devastating military aggression against Yemen in March 2015 in collaboration with a number of its allied states, and with arms and logistics support from the US and several Western countries.
The aim was to return to power a Riyadh-backed former regime and defeat the Houthis who have been running state affairs in the absence of an effective government in the country.
The war has failed to achieve its goals, but killed tens of thousands of innocent Yemenis and destroyed the impoverished country's infrastructure. The UN refers to the situation in Yemen as the world's worst humanitarian crisis.
The Riyadh regime enjoyed close ties with the Trump White House, but US president-elect Joe Biden is supposedly against the war and has vowed to "end the sale of material to the Saudis where they're going in and murdering children."
On Sunday, Secretary of State Mike Pompeo used his last days in office to designate the Houthi Ansarullah movement a foreign "terrorist" organization.
The designation freezes any US-related assets of the Houthis, bans Americans from doing business with them and makes it a crime to provide support or resources to the movement.
It will come into effect on January 19, the last full day in office of Trump's administration, in defiance of aid groups who fear the measure will worsen the humanitarian crisis in Yemen.
Yemen warns of consequences of US blacklisting of Ansarullah
On Wednesday, Yemen's Supreme Political Council said the US move shows the confusion and failure of the American policy in the region in general, warning that it will not only affect the humanitarian situation, but also the political process in Yemen.
"This reckless American approach confirms that it is a translation of an under-price deal with the countries of aggression to satisfy their desires and their mercenaries to prolong the aggression," it said in a statement.
The council further described Ansarullah as a major Yemeni national component around which all free people of Yemen are rallying in their battle for sovereignty and independence against the US-Saudi aggression and blockade.
'UN wants to US to reverse blacklisting of Ansarullah'
Additionally, Reuters reported that UN aid chief Mark Lowcock will on Thursday call on Washington to reverse the blacklisting of Ansarullah.
In prepared remarks for a UN Security Council briefing, Lowcock is expected to warn that the US move would push Yemen into a "famine on a scale that we have not seen for nearly 40 years."
"What would prevent it? A reversal of the (US) decision," he will say. "Aid agencies cannot – they simply cannot - replace the commercial import system."
"The data show that 16 million people will go hungry this year. Already, about 50,000 people are essentially starving to death in what is essentially a small famine. Another 5 million are just one step behind them," Lowcock will further say.
"Yemen imports 90% of its food. Nearly all that food is brought in through commercial channels. Aid agencies give people vouchers or cash to buy commercially imported food in the market."
Referring to Pompeo's claim that the US Treasury would provide licenses for some humanitarian activities and transactions related to critical commodities, the UN aid chief will explain, "It is not humanitarian agencies who are importing most of the food."
"The Yemeni companies who bring in most of the food are using words like 'disaster', 'havoc', and 'unimaginable' when they describe to us what they fear is coming," Lowcock is expected to say.
"Some suppliers, banks, shippers and insurers are ringing up their Yemeni partners and saying they now plan to walk away from Yemen altogether. They say the risks are too high. They fear being accidentally or otherwise caught up in US regulatory action."
https://www.presstv.com/Detail/2021/01/14/642984/Yemen-Houthi-Ansarullah-Trump-
--------
Iran says US blacklisting of Yemen's Ansarullah will kill political process, talks
13 January 2021
Iran has hit out at a US decision to designate Yemen's Ansarullah movement as a terrorist organization, warning that the move will impede a political solution to the conflict in the impoverished Arab country.
"Blacklisting Yemen's Ansarullah movement is a last-ditch attempt by the administration of [outgoing US President Donald] Trump to put the final finishing touches to its destructive role in the shameful, imposed war on Yemen and to impede a political solution and peace talks," Foreign Ministry Spokesman Saeed Khatibzadeh said on Wednesday.
The remarks came after US Secretary of State Mike Pompeo said on Sunday that the Department of State will notify Congress of his intent to designate Yemen's Houthi movement as a foreign terrorist organization.
The Houthis will be blacklisted on January 19 -- one day before US President-elect Joe Biden's inauguration -- unless Congress blocks the decision.
Pompeo also designated as terrorists three leaders of the movement, including their chief Abdul-Malik al-Houthi.
'US main sponsor of crimes in Yemen'
Khatibzadeh said that from the very onset of Yemen's war, the US has been the main sponsor of crimes perpetrated by the Saudi-led coalition in the Arab country and has spared no support for the aggressors, be it financial or arms supply.
He took the US government and the Department of State to task for "making every effort to ignite and continue the war and block any way out for a political solution to the crisis."
Stressing that the US move has concerned the global community, the Iranian official raised the alarm that the sanctions will disrupt humanitarian aid delivery and impede the UN mission in the war-ravaged country.
He finally expressed optimism that the international community will react to the Trump administration's "vicious decision."
A day after the US announcement, the Ansarullah movement said the group is entitled to respond to any US move to designate them as a terrorist organization, while describing the Trump administration as "terrorist."
"America is the source of terrorism," Mohammed Ali al-Houthi, a member of Yemen's Supreme Political Council, twitted on Monday. "The Trump administration's policy and actions are terrorist. We reserve the right to respond to any designation issued by the Trump administration or any administration."
The announcement also sparked condemnations and triggered concern from the international community, and even within the US.
A group of US lawmakers warned against the plan to blacklist the Ansarullah movement, urging Washington to reverse the decision.
In a post on his Twitter account, Democratic Senator Chris Murphy said, "The designation of the Houthis as a terrorist organization is a death sentence for thousands of Yemenis," adding that the move will cut off humanitarian aid and make intra-Yemen peace talks nearly impossible.
He further said President-elect Biden should reverse this policy as soon as he takes office.
Democratic lawmaker Gregory Meeks also said, "No solution in Yemen will be sustainable unless the Houthis are involved."
Republican Senator Todd Young also said Pompeo's move "will further destabilize a war-torn country" and block aid groups from delivering vital relief.
Meanwhile, the Lebanese Hezbollah resistance group also denounced the US decision, terming it as a criminal act aimed at undermining the Yemeni nation's morale.
Hezbollah said in a statement late on Monday that Washington is not content with supporting and participating in the Saudi-led aggression on Yemen, and intends to target the Ansarullah movement and three of its leaders with sanctions.
"It is a criminal move that seeks to hurt the morale of Yemenis, who have been resiliently confronting the unfair blockade and aggression," the statement added. "The United States bears the responsibility for all potential humanitarian and health repercussions."
The European Union and the UN also censured the US decision.
Josep Borrell, EU foreign policy chief, said on Tuesday the designation "risks rendering UN-led efforts to reach a comprehensive solution to the Yemen conflict more difficult."
It would also complicate the necessary diplomatic engagement with Houthi Ansarullah movement in Yemen as well as the work of the international community on political, humanitarian and developmental matters, he added.
United Nations spokesman Stephan Dujarric said during a January 11 briefing that the US intention to brand Yemen's Houthi movement as a terrorist organization is "likely to have serious humanitarian and political repercussions."
He called on the US to "swiftly grant the necessary licenses and exemptions to ensure that principled humanitarian assistance can continue to reach all people ... without disruption."
According to the official, the UN is "concerned that the designation may have a detrimental impact on efforts to resume the political process in Yemen."
https://www.presstv.com/Detail/2021/01/13/642939/Iran-says-US-blacklisting-of-Ansarullah-will-kill-political-solutions-
--------
US move to designate Houthis terrorist organization will help Yemen peace efforts: Officials, analysts
January 12, 2021
AL-MUKALLA: America's decision to designate the Iran-backed Houthis as a foreign terrorist organization will help pave the way for peace in Yemen, government officials and analysts claim.
The designation, due to come into effect the day before US President Donald Trump's administration leaves office, would curb Houthi human rights abuses and the group's resistance to peace efforts, while weakening financial sources that fuel the war in the country, they said.
But critics have argued that the move might exacerbate the humanitarian crisis, escalate violence, and encourage the Houthis to strengthen ties with Iran.
Yemen's parliament has urged American legislators to approve the designation to punish the Houthis for crimes carried out against Yemenis. It believes the move would force the Houthis into accepting unfulfilled peace agreements and current peace efforts, the official news agency SABA said.
"The Houthi militia has destroyed the land and people of Yemen and posed a threat to international peace and security," the parliament said in a statement.
Ahmed Obeid bin Daghr, former prime minister of Yemen and a senior adviser to the Yemeni president, described the US move as an "accurate and realistic description" of the Houthi movement, adding that the step would boost the Yemeni government and Arab coalition efforts to recapture state bodies from the Houthis.
In a tweet, Daghr said: "With this historic decision, the Americans have expressed their desire to achieve peace, sovereignty, and unity in Yemen and to save Yemen from Iranian interference."
Despite strong opposition from aid workers and many Yemen experts, the internationally recognized government of Yemen has stepped up diplomatic efforts to get the Houthi movement declared a terrorist organization following last month's missile attack on Aden airport that killed and wounded more than 130 people.
The Yemeni government has said that Houthi crimes and human rights abuses are on a par with those committed by other terrorist organizations such as Daesh and Al-Qaeda.
However, critics have pointed out that the US move may aggravate the world's worst humanitarian crisis in Yemen by restricting movements of international aid organizations that distribute vital humanitarian assistance to millions of hungry Yemenis and could also provoke the Houthis into escalating their military operations throughout Yemen.
Ahmed Awad bin Mubarak, Yemen's foreign minister, told Arab News that the decision would not have any impact on humanitarian deliveries inside Houthi-controlled areas, as it excluded humanitarian workers who deal with the rebels from sanctions.
"We will not allow the punishment of our people in areas under the control of the militias. The decision includes exceptions that will enable humanitarian organizations to operate," the minister said.
At the same time, Yemeni government officials who handle humanitarian activities inside Yemen backed the US move, blaming the Houthis for fueling the humanitarian crisis by blocking the distribution of life-saving aid in areas under their control.
Based on his previous experience with the Houthis, former Yemeni minister of local administration and chairman of the higher committee for relief in Yemen, Abdul Raqeeb Fateh, said the designation would have positive impacts on the delivery of humanitarian assistance since it would put an end to the plundering of aid by the Houthis.
"Since 2014, the Houthis have looted relief aid and used it to support their war efforts and refused to apply humanitarian standards. The decision will force them to back down and reduce plundering," he added in a tweet.
Abdu Abdullah Majili, a Yemeni army spokesman, told Arab News that troops were ready to confront any military action by the Houthis in response to the US announcement. "The national army is prepared to inflict defeat on the militia. The Houthis have committed heinous crimes against Yemenis since Sept. 21, 2014."
Yemeni military and political experts noted that aggressive actions by the Houthis would only consolidate grounds for the designation and would push more countries into backing the decision.
"The Houthis have no other option but to comply with peace efforts. They are responsible for ruining the biggest political process in Yemen brokered by the world," Najeeb Ghallab, undersecretary at Yemen's Information Ministry and a political analyst, told Arab News, referring to the Houthi coup.
Nadwa Dawsari, a Yemeni conflict analyst, claimed that only a military operation would put an end to the Houthi threat and push the group into accepting peace initiatives.
In a tweet, she said: "Neither political negotiations with Houthis nor their designation alone will contain their (and Iran's threat). Only a strong and well-planned ground military action that weakens them will neutralize their threat and bring Yemen closer to peace."
News of the US designation negatively impacted exchange markets in the country, causing the Yemeni currency to fall again. Local moneychangers told Arab News that the Yemeni riyal was traded at 780 against the dollar on Tuesday, falling from 715 on Sunday. The riyal regained 20 percent of its value last month when a new government was formed and returned to Aden under the Riyadh Agreement.
https://www.arabnews.com/node/1791486/middle-east
--------
Africa
Six Nigerian Soldiers Killed In B'Haram Ambush In Yobe
JAN 12, 2021
Nigerian troops killed Twenty-six Boko Haram terrorists on Saturday, hours after the terrorists killed at least six soldiers in an ambush in Yobe State.
But military authorities in Yobe said one soldier was killed and another one injured.
Credible sources said the soldiers were on their way for an induction ahead of their deployment to the North East's battlefields when the terrorists laid siege on the highway.
One of the sources said six soldiers died at the ambush spot, and many others were injured.
"The terrorists attacked our troops who were heading towards Buni Yadi and then retreated towards the dreaded Alagarno village," he told DailyTrust.
It was learnt that the terrorists ambushed the troops at Gonan Kaji, a village in Gujba Local Government Area along the Damaturu- Biu Road.
The Nigerian Army under "Operation Tura Takai Bango" confirmed that troops deployed soon after the ambush killed 28 terrorists.
In a statement signed by the acting Director, Defence Media Operations, Brigadier- General Benard Onyeuko, the Army noted that soldiers from headquarters and those from 27 Task Force Brigade, Buni Gari, and others from Special Forces Training School, Buni Yadi, repelled the attack.
"The soldiers tactically out-manoeuvred the criminals and engaged them with superior firepower resulting in high casualty on the terrorists.
"In the same vein, one Boko Haram gun truck was destroyed with its occupants while another gun truck was captured from the fleeing criminals. Other equipment captured from the criminals include 2 Anti -Aircraft guns, 13 AK 47 Rifles, four extra magazines and a vulcanizing machine."
"Regrettably, one gallant soldier paid the supreme price while one other soldier was wounded during the encounter," he said.
http://saharareporters.com/2021/01/12/six-nigerian-soldiers-killed-bharam-ambush-yobe?utm_source=iterable&utm_medium=email&utm_campaign=1897865_
--------
West Africa: Boko Haram Blocks Lake Chad Trade Routes
11 JANUARY 2021
The Boko Haram insurgency has had devastating consequences on Lake Chad boat transporters, a socio-economic group that has been the locomotive of local trade for decades. An effective crisis response must address the needs of this often overlooked group.
Interventions to deal with the Boko Haram threat have largely ignored the impact on the economic activity of boat drivers who have been affected since 2015. Not being able to cross over to Nigeria has deprived Chadian boat operators of their main, if not their only, source of livelihood.
Before the Boko Haram crisis, generations of boat drivers contributed to a flourishing formal and informal economy based on the movement of people and goods. Their activity helped make the Lake Chad Basin a sub-regional trade hub. Compared to road transport, boats offered a faster solution to delivering large quantities of goods. This meant income for traders and boat drivers, and lower prices for consumers.
Every week, canoes crowded with hundreds of people and goods (smoked fish, corn, wheat, cow and camel skins, among others), would leave Bol and Baga Sola in Chad, in the direction of Baga Kawa in Nigeria. Baga Kawa is an important commercial hub from where fishing, agricultural and livestock products are moved into Nigeria, and Nigerian manufactured products are traded into the other Lake Chad Basin countries.
Trade routes between Chad and Nigeria
On the way back, the canoes carried food products including pasta, rice, oil, soft drinks, wheat flour, sugar, tea, as well as soap and detergents, cosmetics, loincloths, clothes and cement. These manufactured goods supplied a large part of Chad. Traders and transporters interviewed by the Institute for Security Studies (ISS) estimated that the value of goods transported and exchanged weekly was in the range of thousands of euros, a fortune by local standards.
From 2009 onwards, violence in north-east Nigeria gradually spread to countries adjoining Lake Chad, making it difficult for boat drivers to move around safely. In 2015, after the first set of attacks and bombings on Chadian soil, the lakeside borders with Cameroon, Niger and Nigeria were closed. This greatly disrupted the flourishing transnational trade network.
Unsurprisingly, boat drivers who experienced first-hand Boko Haram ambushes around the lake or witnessed the killing of colleagues eventually abandoned the route to Baga Kawa. Local markets remain accessible but they don't provide the same level of income as sub-regional transport.
This raises the issue of boat drivers' day-to-day survival, especially as their activity supports entire families and communities and powers the local economy. Many have tried to turn to agriculture or fishing, but access to land and fishing equipment is a challenge. Some have left in search of viable opportunities elsewhere, including Libya, while others remain idle.
Generations of boat drivers helped make the Lake Chad Basin a sub-regional trade hub
Their fate and the implications on local economies receive little attention from governments and organisations working to secure the Lake Chad Basin area. Boat operators who spoke to the ISS said they had not received any form of help, either from the state or other development partners, to help them recover.
Cessation of transport across the lake has socio-economic implications beyond the boat drivers and their dependents. The price of some basic products has increased as a result of longer routes and higher transport costs. Some have been rerouted through Niger or Cameroon. The temporary closure of land borders as a measure to combat the COVID-19 pandemic has exacerbated these difficulties.
This situation particularly affects the economies of Bol and Baga Sola (Lac Province), two towns on the shores of Lake Chad that largely depended on cross-lake
Boat transporters are calling for a reopening of borders, but this won't be enough, as the security situation remains dire. Alternative livelihoods for boat drivers need to be found and supported, with agriculture and fishing the most promising options. They will need help gaining access to land, funds and necessary means of production in order to gain a foothold in these activities.
An effective response must be inclusive and meet the needs of victims who have silently suffered the consequences of the Boko Haram crisis over the past decade. Leaving them without alternative means of survival also makes them vulnerable to recruitment by violent extremists and other perpetrators of violence.
Action to restore peace in the Lake Chad Basin should include supporting the livelihoods of boat drivers and efforts to stabilise, secure and reopen trade and transportation routes in the region.
https://allafrica.com/stories/202101120396.html?utm_source=iterable&utm_medium=email&utm_campaign=1897865_
--------
Tensions rise at Sudan-Ethiopia disputed border
13 January 2021
Ethiopia warned Sudan on Tuesday it was running out of patience with its neighbors' continued military build-up in a disputed border area despite attempts to diffuse tensions with diplomacy.
The decades-old dispute over al-Fashqa, land within Sudan's international boundaries that has long been settled by Ethiopian farmers, erupted into weeks of clashes between forces from both sides late last year.
"The Sudanese side seems to be pushing in so as to inflame the situation on the ground," Ethiopian foreign ministry spokesman Dina Mufti told reporters. "Is Ethiopia going to start a war? Well, we are saying let's work on diplomacy."
"How long will Ethiopia continue to resolve the issue using diplomacy? Well, there is nothing that has no limit. Everything has a limit," he told a briefing in Addis Ababa.
Sudan's information minister and government spokesman Faisal Mohamed Saleh said the country did not want war with Ethiopia but its forces would respond to any aggression.
"We fear that these comments contain a hostile position towards Sudan. We ask of Ethiopia to stop attacking Sudanese territory and Sudanese farmers," he told Reuters.
Later, Sudan's foreign ministry condemned what it called an attack by Ethiopian "gangs" in al-Fashqa on Monday, five km (three miles) from the border. Five women and a child were killed, and two other women who had been harvesting were missing, it said.
Sudan said on Dec. 31 that it had taken control of all Sudanese territory in the area. Ethiopia says Sudan took advantage of its forces being distracted by the Tigray conflict to occupy Ethiopian land and loot properties.
The United Nations said in a report last week on the humanitarian situation in Tigray that there were reports of a military build-up on both sides of the border around the area.
The border tensions come at a time when Ethiopia, Sudan and Egypt are also trying to resolve a three-way row over Ethiopia's Grand Ethiopian Renaissance Dam.
Ethiopia sees the dam as key to plans to become Africa's largest power exporter. Egypt, which gets more than 90% of its scarce fresh water from the Nile, fears the dam across the Blue Nile could devastate its economy.
Egypt, Ethiopia and Sudan said on Sunday that they reached a new impasse in the dispute. Egypt and Ethiopia separately blamed Sudanese objections to the framework for the talks.
On Tuesday, Ethiopia's Dina criticized both Egypt and Sudan for delaying the negotiations. "Are the two speaking the same language? More or less. The two are speaking the same language when it comes to stalling it."
https://english.alarabiya.net/en/News/world/2021/01/13/Tensions-rise-at-Sudan-Ethiopia-disputed-border
--------
Sudan accuses Ethiopia of violating its airspace
13 January 2021
Sudan says an Ethiopian military aircraft has violated its airspace, warning Addis Ababa against repeating "such hostilities."
It has been a long-standing dispute.
The al-Fashqa border area, which falls within Sudan's international boundaries but has long been settled by Ethiopian farmers, is the bone of contention.
On Wednesday, Sudan's Foreign Ministry said in a statement the aircraft had "penetrated" the Sudanese-Ethiopian border "in a dangerous and unjustified escalation."
The ministry cautioned about "dangerous consequences" that could lead to "more tension in the border area."
The ministry urged Ethiopia not to repeat "such hostilities in the future given their dangerous repercussions on the future of bilateral relations between the two countries and on security and stability in the Horn of Africa."
Ethiopia on Tuesday accused Sudan of a military build-up in the contested border region, warning that a military confrontation could be imminent as its "peaceful" approach to the decades-old dispute "has its limit."
In response, Faisal Mohamed Saleh, Sudan's information minister and government spokesman, warned that Khartoum would respond to any aggression.
Khartoum said in late December that it had regained control of all the Sudanese territory in the area.
Ethiopia says Sudan is taking advantage of its forces being distracted by an internal conflict in the northernmost region of Tigray to occupy Ethiopian land.
Al-Fashqa borders the troubled Tigray, where armed conflict began in November between federal troops and rebel forces.
80+ civilians killed in western Ethiopia
The Ethiopian Human Rights Commission (EHRC) said on Wednesday that more than 80 people had been killed in the latest attack in the Metekel zone of the western region of Benishangul-Gumuz, which borders Sudan and South Sudan, and is home to the mega dam.
Civilians in Metekel have been targeted in fatal attacks since September.
On December 23 alone, 207 people died in one attack.
Prime Minister Abiy Ahmed has so far struggled to clarify what is driving the violence.
Reports say there is no known link between the violence and military operations in Tigray.
In October, Abiy blamed Sudan for the violence, saying the fighters active in Metekel were receiving training and shelter in Sudan. He stopped short of providing evidence, however.
Ethiopian opposition politicians believe the attacks on civilians have an ethnic motive.
https://www.presstv.com/Detail/2021/01/13/642941/Sudan-Ethiopia-airspace
--------
Central African Republic forces thwart rebel attempt to seize capital Bangui
13 January 2021
Armed rebel groups in the Central African Republic (CAR) have attempted to seize the capital Bangui, but saw their push thwarted by the security forces.
Prime Minister Firmin Ngrebada said in a post on Facebook on Wednesday that although the assailants were "in large numbers to take Bangui" at dawn, the security forces managed to "vigorously" push the rebels back.
Interior Minister Henri Wanzet Linguissara told AFP that two army brigades were targeted by the rebels nine and 12 kilometers from the capital.
The assaults were the first close to the capital and mark an escalation in the violence surrounding the December presidential election, in which Faustin Archange Touadera was declared winner on January 4.
"We heard gunfire from six this morning. We're staying home – there's panic. We're scared of stray bullets," said north Bangui resident.
Explosions were also heard during the clashes.
The United Nations mission in CAR said that a Rwandan peacekeeper had died in the assault.
"The attack was repelled by Blue Helmets together with the Central African forces," the spokesman for the MINUSCA peacekeeping mission said.
A coalition of rebel groups, accused of an attempted coup after their offensive to disrupt the December 27 election, have vowed to march on Bangui.
The army, supported by the armed forces of France, Russia, Rwanda and the United Nations, has been battling those seeking to derail the disputed election.
Former President Francois Bozize came to power in a coup in 2003. He was ousted by a rebellion in 2013.
Ever since, chaos and clashes over power have killed thousands of people and forced over a million from homes.
The former president stands accused of plotting a coup with the help of armed groups. He denies the allegation.
https://www.presstv.com/Detail/2021/01/13/642930/CAR-Bangui-rebels
--------
Jordanian sentenced to death for 2019 tourist stabbings
12/01/2021
Jordan's state security court sentenced a man to death on Tuesday for the 2019 stabbing of eight people, four of them foreign tourists, at one of the kingdom's ancient sites.
The victims, who included one Swiss and three Mexican tourists, all survived the November 2019 knife attack in the ruins of the ancient Roman city of Jerash, some 50 kilometres (30 miles) north of the capital Amman.
Mustafa Abu Ruwais, 24, was sentenced to "death by hanging for the terrorist knife attack on tourists," the court said.
There is no right of appeal against the decisions of Jordan's state security court.
Abu Ruwais, a Jordanian of Palestinian origin, was at the time of the attack a resident of the Souf camp in Jerash, which houses some 20,000 Palestinian refugees.
He was arrested immediately afterwards and charged with terrorism offences in January last year.
The charge sheet alleged that Abu Ruwais "follows the ideology of the Daesh terrorist gang", a pejorative reference to the Islamic State jihadist group, and has been "in contact with one of the members of this organisation in Syria" who gave the green light for the attack.
But there was never any formal claim of responsibility for the attack.
IS led a self-proclaimed caliphate across large swathes of Iraq and Syria between 2014 and its collapse in 2019.
Jordanian forces played a significant part in a US-led coalition that helped defeat the jihadists.
At Tuesday's hearing, the court also found two other defendants guilty, sentencing one to life imprisonment and the other to seven years for complicity.
Both are Jordanians of Palestinian origin like Abu Ruwais.
- Vital sector -
The Jordanian victims included a tour guide and a security officer who attempted to intervene.
It was not the first time a Jordanian tourist attraction had been attacked.
In December 2016, in Karak, home to one of the region's biggest Crusader castles, 10 people -- seven police, two Jordanian civilians and a Canadian tourist -- were killed in an attack that also left 30 wounded.
That attack was claimed by the Islamic State group, and 10 people were later convicted of carrying out the assault, two of them sentenced to death.
Tourism is a key lifeline for Jordan, a country lacking in natural resources and reliant on foreign aid.
The sector accounted for 14 percent of GDP in 2019, but has since been ravaged by the collapse in international travel that resulted from the coronavirus pandemic.
The kingdom, which borders conflict-torn Syria and Iraq, had been working to revive its tourism industry.
Jordan boasts 21,000 archaeological and historical sites that span millennia, according to the tourism board.
They include the Roman ruins of Jerash, the ancient city of Petra, the Dead Sea and Wadi al-Kharrar, or Bethany Beyond the Jordan, where some believe Jesus was baptised.
https://www.france24.com/en/live-news/20210112-jordanian-sentenced-to-death-for-2019-tourist-stabbings?utm_source=iterable&utm_medium=email&utm_campaign=1897865_
--------
South Asia
Afghan Military Releases 13 Civilians, Policeman From Taliban Prison
14 January, 2021
Kabul [Afghanistan], January 14 (ANI/Sputnik): Afghan commando forces released 13 civilians and one policeman from a Taliban prison in the southern Afghan province of Helmand, the Afghan defense ministry said on Thursday.
"13 #civilians and a police officer were released from #Taliban prison as a result of commando forces' operations in Washir district of #Helmand province last night. Also, several Taliban's vehicles were seized during the operation," the ministry wrote on its Twitter account.
The ministry added that the Afghan national army (ANA) killed seven Taliban militants who planned to blow up a car bomb among civilians in the northern province of Faryab.
"ANA prevented a car bomb attack in Qaisar district of #Faryab province yesterday. 7 #suicide attackers who were in the car loaded with explosives were killed as a result of the #ANA attack before they could reach their target. TB [the Taliban] had planned to blow up the car among civilians," the ministry said.
Afghanistan is still plagued by long-lasting violence that claims the lives of Afghan civilians and security personnel, despite the ongoing intra-Afghan peace negotiations that began in the Qatari capital of Doha on September 12.
In early December, Kabul and the Taliban took a three-week break in their talks for consultations on a negotiation framework. The sides resumed negotiations on January 6 in Qatar's capital Doha. However, the resumption of talks has so far failed to improve the security situation in Afghanistan. (ANI/Sputnik)
http://www.businessworld.in/article/Afghan-military-releases-13-civilians-policeman-from-Taliban-prison/14-01-2021-365353/
--------
Civilians, Policeman Rescued From the Clutches Of Taliban
By Mohammad Haroon Alim
14 Jan 2021
Ministry of Defense in a post on their Facebook page said, that commando forces rescued at least 13 prisoners from the clutches of the Taliban.
The captured prisoners were rescued from a Taliban jail in the Washir district of Helmand province.
Commando operations backed by air support conducted a mission on Taliban controlled jail during the night.
The overnight mission forced the Taliban militants to flee to nearby villages.
Security officials told the media, that 13 people including a policeman were rescued from the grips of the Taliban during the operation.
The abductees were held by the Taliban for over a year and were being held inside the prison in a poor condition.
The freed Afghan citizens, including the policeman, have returned to their families.
So far, Taliban have not commented on the incident.
This comes as Kandahar police spokesman, Jamal Nasser Barakzai told media, that around 10:30 a.m. on Thursday morning in the Chonai area of the 13th district of Kandahar city, a magnetic IED targeted a taxi.
A taxi driver was killed in the magnetic IED blast, Barakzai added.
No further details were provided in relations to the targeted IED explosion.
No group or individual have yet accepted the responsibility for the incident.
https://www.khaama.com/civilians-policeman-rescued-from-the-clutches-of-taliban-556655/
--------
Gov't forces free 13 from Taliban jail in S. Afghanistan
2021-01-14
KABUL, Jan. 14 (Xinhua) -- The Afghan National Army commandoes have freed 13 people from a Taliban prison in an operation in the southern province of Helmand, the Defense Ministry said Thursday.
"The raid was launched in surrounding areas of Washer district Wednesday night. Thirteen compatriots, including a policeman, were freed," the ministry said in a statement.
The freed people would join their families soon, the brief statement said, adding the security forces also confiscated one car, three motorcycles and three telecommunication radios following the raid.
Taliban militants frequently detain civilians and off-duty soldiers from across villages and highways and punish civilians for spying for government security forces.
The militant group has yet to make comments on the report. Enditem
http://www.xinhuanet.com/english/2021-01/14/c_139667350.htm
--------
India
MP civil society groups write to President Kovind demanding deferring of 'love jihad' law
By Sravani Sarkar
January 13, 2021
A group of prominent civil society organisations in Madhya Pradesh sent a memorandum to the President of India, demanding his intervention in what they have called 'special circumstances' in the state and demanded deferment of the implementation of the contentious 'love jihad' law, which they have termed "totally unconstitutional."
The memorandum stated that President Ram Nath Kovind is being petitioned as Madhya Pradesh does not have a full-time governor at present, and similar situation is prevailing in other states of the country too.
"As you must be aware, an ordinance has been notified in Madhya Pradesh with an objective of controlling so-called love jihad. We, the signatories are of view that as for marriages, all adults in the country have complete right to decide about it themselves and the Indian constitution has clear provision for this. Recently, high courts in different states have also made similar observations. Therefore, the ordinance clearly infringes into the rights of the citizens and is totally unconstitutional," the memorandum noted.
"We also object to the fact that the law with long-term consequences was brought it as an ordinance. The constitution gives rights to governments to bring in ordinances so that emergency situations could be dealt with, especially in times when the Parliament or the assemblies are not in session and the emergency situation does not allow the option of awaiting of commencement of such sessions.
Thus we request for immediate deferment of implementation of the ordinance, especially in the situation where the Supreme Court is looking into the decisions of various high courts on similar laws (enacted by other states). In our view, these laws will leader to situation of animosity and mutual hatred in the society," the memorandum said.
The memorandum also pointed out the some incidents led to feeling of insecurity in the society. There were incidents of confrontation between some supporters of Hindu organisations and some members of minority community reported from three districts of the state.
"It was said that some minority community members pelted stone on Hindu organisation supporters. Police registered cases against minority community members, however, they did not say as to under what circumstances the stone pelting occurred. Also, it was reported that some anti-social elements unfurled saffron flag on a mosque and recited religious hymns in front of another," the memorandum said.
It added that it was regretful that there was action against stone pelters, but in their knowledge, there was no action against those indulging in raising inflammatory slogans and desecrating Muslim religious places. "There was no action against those trying to create disharmony. The one-sided action of police has led to feeling of insecurity and anger in the minority community," the memorandum said.
The signatories include Rajendra Sharma, L.S. Herdenia, Kumar Ambuj, Ramakant Shrivastava, Subodh Shrivastava, Rakesh Diwan, Kumud Singh, Javed Anis, Upasana Behar, Asha Mishra, Shailendra Shaili, Satyam Pande, Raghuraj Singh, Sajid Ali, Ramprakash Tripathi, Rajendra Kothari, Manoj Kulkarni, S.R. Azad, Sandhya Shaili, Neena Sharma, Ashafia Jamal and Anand Muttungal.
They represent organisations like All India Secular Forum, Pragatisheel Lekhak Sangh, Sarokar, Yuva Vichar Manch, Janwadi Lekhak Sangh, All India People's Science Network, All India Democratic Women's Association and Christian Association.
https://www.theweek.in/news/india/2021/01/13/mp-civil-society-groups-write-to-president-kovind-demanding-deferring-of-love-jihad-law.html
--------
Babri Mosque Demolition Case: HC Adjourns for 2 Weeks Hearing on Plea against Acquittal of All 32 Accused
JANUARY 13, 2021
The Allahabad High Court on Wednesday adjourned for two weeks hearing on a plea against the acquittal of all 32 accused, including BJP veterans L K Advani and Murli Manohar Joshi, in the Babri mosque demolition case.
The Lucknow bench of the court adjourned hearing after the petitioners demanded some time to remove certain defects in their case file. The matter came up before a bench of Justice Rakesh Srivastava. The petition was filed on January 8 by Ayodhya residents Haji Mahmood Ahmad and Syed Akhlaq Ahmad.
Their counsel is All India Muslim Personal Law Board executive member Zafaryab Jilani, who has also been the convener of the Babri Masjid Action Committee. While filing the petition, Jilani had said the two Ayodhya residents moved court because the CBI has not yet appealed against the September 30 judgment. The petitioners have claimed that they are witnesses in the trial.
The trial judge had refused to accept newspaper clippings and video clips as evidence because the originals were not produced in court. He also held that the CBI could not produce any evidence that the accused had a meeting of minds with the `kar sevaks' who demolished the structure.
The petitioners have pleaded that the CBI court committed an error in not convicting the accused despite the presence of ample evidence on record. The trial judge did not appreciate the evidence of conspiracy in the right perspective, their petition said. The petitioners have sought that the record from the trial court be summoned, its judgment set aside and the all the 32 accused held guilty and punished accordingly.
Former deputy prime minister L K Advani, the then Uttar Pradesh chief minister Kalyan Singh, former Union ministers Murli Manohar Joshi and Uma Bharti and Ram Janmaboomi Teerth Kshetra Trust president Nritya Gopal Das were among those cleared by the lower court. The Babri mosque was demolished on December 6, 1992 by a mob of kar sevaks who believed that the 16th century structure stood at the birthplace of Lord Ram.
In November 2019, a Supreme Court ruling on the Ram Janmabhoomi-Babri Masjid land dispute paved the way for the construction of the Ram temple at the contested site.
https://www.news18.com/news/india/babri-mosque-demolition-case-allahabad-hc-adjourns-for-two-weeks-hearing-on-plea-against-acquittal-of-all-32-accused-3282953.html
--------
Don't Demolish Mosques for Road Widening: Telangana State Waqf Board
Jan 14, 2021
Hyderabad: Telangana State Waqf Board (TSWB) chairman Mohammed Saleem on Wednesday appealed to national highway authorities not to demolish any mosque or graveyard for widening roads.
At a meeting attended by the police, revenue, and national highway officials, Saleem asked the authorities not to register any Waqf property in the name of individuals. "Once the property belongs to Waqf it will always remain the same. It cannot be changed or mortgaged. Telangana government has already issued GO 15 to halt registration of Waqf lands and TSWB has sent the list of Waqf properties to all district collectors and revenue authorities requesting them not to register these properties in the name of individuals. These properties are dedicated to God," Saleem said, adding that the Waqf board is taking steps to protect its properties. "Waqf board is taking all necessary steps to protect its properties. We will ensure the removal of all encroachments and will do the needful to cancel registrations," he added.
The meeting was attended by D Prakash Reddy, DCP, Shamshabad, Dharma Reddy, executive engineer, R&B, officials of the national highway authority and Waqf officers Akbar Nizamuddin and Nisar Hussain Hyde Agha.
https://timesofindia.indiatimes.com/city/hyderabad/dont-demolish-mosques-for-road-widening-tswb/articleshow/80257947.cms
--------
In Kabul, Ajit Doval calls for reining in terror groups for lasting peace
Jan 13, 2021
NEW DELHI: After the intra-Afghan peace negotiations resumed last week, NSA Ajit Doval Wednesday held talks with Afghanistan leaders in Kabul on jointly combating terrorism and ensuring that no part of the war-ravaged country is used to perpetrate violence, particularly by Pakistan-backed terror groups, against other countries.
In his meetings during an unannounced 2-day visit to Kabul, Doval expressed concerns about the activities of international terror groups and how these could mar efforts for lasting peace in the region.
While India has been supportive of the latest peace process, which has for the first time seen direct talks between the Afghan government and the Taliban, it remains concerned about the Taliban's links with Pakistan's ISI. These concerns related to anti-India activities on Afghanistan territory were further justified by the recent disclosure that the entire Taliban leadership is based in Pakistan and that no decision was being taken by the Taliban negotiators without their advice in the ongoing peace process.
Doval called on President Ashraf Ghani and discussed, as Ghani's office said in a statement, counter-terrorism cooperation and efforts for building regional consensus on supporting peace in Afghanistan.
Ghani told Doval that Afghanistan and India in joint efforts with NATO and the US will be able to succeed in the fight against terrorism.
"President Ghani said the Afghan Defense and Security Forces are guarantors of stability in Afghanistan, and are at the forefront of war against regional and global terrorism," said the statement, adding that Doval expressed willingness to continue India's cooperation with Afghanistan.
Doval also said India was ready to continue talks with Kabul on "common interests".
The NSA also held meetings with his counterpart Hamdullah Mohib, foreign minister Mohammad Atmar and Afghanistan's chief negotiator Abdullah Abdullah. Afghanistan authorities said the 2 sides held extensive conversations on issues of strategic mutual interest, including on synchronising efforts to combat terrorism and build peace.
A series of videos had emerged last month showing Taliban representatives led by top Taliban negotiator Mullah Baradar, who were on a visit to Pakistan, disclosing the existence of all Taliban leaders in Pakistan and acknowledging their continued activities on Pakistani territory. They were also seen in the videos visiting training camps, according to the Afghanistan foreign ministry.
The Afghanistan government had said in a statement that the development posed a serious challenge to the goal of achieving sustainable peace as closure of training camps in Pakistan was vital for peaceful resolution of the Afghanistan situation. The disclosure has also set to rest speculation that the Pakistan spy agency may no longer have the the kind of influence with the Taliban as it did earlier.
India has repeatedly emphasised that while it backs the peace process, there is a need to ensure there are no ungoverned spaces left in the country for terrorist activities. Foreign minister S Jaishankar had earlier said that Afghan soil should not be used for anti-India activities.
https://timesofindia.indiatimes.com/india/in-kabul-ajit-doval-calls-for-reining-in-terror-groups-for-lasting-peace/articleshow/80256395.cms
--------
Secret tunnel on India-Pak border reveals PM Imran Khan's real plans
By Shishir Gupta
JAN 13, 2021
Indian security forces on Wednesday discovered another tunnel built by Pakistani security officials to push terrorists into Jammu and Kashmir, people familiar with the matter said. This is the second tunnel found by Indian security forces since November last.
The Border Security Force has told the national security establishment that the underground tunnel, like the last one found in November, was a professionally-engineered effort to infiltrate terrorists trained in terror camps commissioned by the Pakistan army.
The entry to the tunnel was spotted about 300 feet from the zero line; about 65 feet from the fence on the Indian side, a senior Border Security Force officer said. The 3-feet wide tunnel appears to have been constructed at a depth of 25 to 30 feet.
But this time, the BSF did not stumble upon the tunnel. "Given the sophistication of the last tunnel that had been found, we had figured that the Pakistan army had started building cross-border terrorists to create a new infiltration route and had constituted special teams to look for them," the BSF officer said.
Counter-terror officials in New Delhi said the tunnel also explained instances of ceasefire violations by Pakistani Rangers in this region.
It has been an old tactic of Pakistani security forces to open fire at border guards on the Indian side to distract them. Usually, it was to help terrorists infiltrate into India. "Now, it is also being used to draw the attention of security forces from spots where they are building tunnels," a counter-terror official said.
And there has been a sharp increase in ceasefire violations by Pakistani forces all along the border in Jammu and Kashmir in 2020.
According to statistics compiled by the Jammu and Kashmir police, there were 930 instances of ceasefire violations in 2020, a 54% increase over the 605 instances the previous year. There was also a 22% increase in recruitment of terrorists by Pakistan's deep state.
"But the security forces were on their toes," a top Jammu and Kashmir police officer said. Only 52 of the 174 terrorists recruited in 2020 are still active. "Nearly 50 of them were arrested or surrendered. Another 76 were killed in security operations," the officer said.
A national security planner in Delhi said the Pakistan army's approach to infiltrate terrorists via tunnels reflected how desperately they wanted to keep Kashmir on the boil. "The general understanding earlier was that the Pakistani side would largely pause infiltration attempts during the winter. The tunnels indicate that General (Qamar Ahmad) Bajwa does not want the terror tap to be turned off…. That he does not want a dip in terrorist attacks in Kashmir," he said.
But the desperation to keep the Kashmir Valley in the news, he said, could also be linked to Imran Khan's troubles from the opposition that has united to target the PM Khan and even the army. This would explain why PM Khan and Gen Bajwa have been trying to focus on Kashmir back home.
The Pakistan Democratic Movement, an alliance of opposition parties formed in September to mobilise nationwide protests against Imran Khan's Pakistan Tehreek-e-Insaf government is already gaining public support.
"If the economic situation is not properly controlled, Pakistan will face political instability with growing risks of government collapse," an internal assessment by the United Nations' department of safety and security said.
https://www.hindustantimes.com/analysis/secret-tunnel-on-india-pak-border-reveals-pm-imran-khan-s-real-plans-101610531648760.html
--------
UP: FIR against Muslim man from Karnataka after teen goes missing
January 14, 2021
Gorakhpur police has registered an FIR against a Muslim man from Karnataka for allegedly kidnapping a 19-year-old woman from the district and forcing her to convert.
The FIR has been lodged under sections 366 (kidnapping, abducting or inducing woman to compel her marriage, etc) and 363 (kidnapping) of the IPC and under the new anti-conversion law in Uttar Pradesh.
The FIR was registered a week after the woman's father lodged a missing person report when she did not return from college.
Police officers said one Mehboob has been named in the FIR on the basis of the woman's call records and that they are not sure about the identity of the accused. A number in the call record was traced to Karnataka and a police team from Chiluatal police station in Gorakhpur has now left for there.
On January 5, the woman's father, a retired Armyman, filed a missing person report, stating that he dropped his daughter at college the day before but she did not return.
A week later, based on the woman's call detail records, the father alleged that one Mehboob became her friend in 2019 after introducing himself as Hindu and had now kidnapped her. "I am sure that Mehboob can pressure my daughter for conversion…I have also come to know that he took my daughter on the pretext of getting her a job at a company," the father has alleged in the FIR.
Chiluatal SHO Niraj Kumar Rai said, "The allegation is that a Muslim youth lured his daughter and took her away to pressure her for conversion. The father did not have any information about the accused earlier and a missing person report was filed on January 5."
"Following that, we checked the call detail record and found a number. On checking caller ID application Truecaller, we found the name Mehboob. The girl's friends told us that she used to talk to this guy. Her father suspected that he is Muslim and based on that, the allegation of love jihad and forceful conversion has been made," said Rai.
"At this point, we cannot be sure if Mehboob is the original name of the person. Everything is based on the complaint and things would be clear once the woman is recovered. The location of the number is in Karnataka and a team has been sent there to recover her. The girl is a major and we cannot confirm 'love jihad' or if the girl has married or has changed her religion," he added.
Campiarganj circle officer Rahul Bhati said the police team is expected to reach Karnataka soon.
https://indianexpress.com/article/india/up-fir-against-muslim-man-from-karnataka-after-teen-goes-missing-7145498/
--------
Court extends Munawar Faruqui remand by two weeks
January 14, 2021
AFTER A Sessions Court rejected his bail plea, a Judicial Magistrate First Class on Wednesday extended the judicial custody of comedian Munawar Faruqui by two weeks. Faruqui has now been under arrest since January 1, and may stay behind bars till January 27. An application for bail is expected to come up for hearing at the High Court Friday.
Faruqui, 28, was arrested along with four others for alleged objectionable remarks against Hindu deities and for "hurting religious sentiments" at a show in Indore, on a complaint by Eklavya Gaud, the son of BJP MLA Malini Gaud.
The next day, Sadakat Khan was held when he came to meet Faruqui, a friend, in court. There is no video evidence of Faruqui having made the alleged remarks at the show.
The bail applications have been rejected separately of all five — apart from Khan and Faruqui, they include Nalin Yadav, Prakhar Vyas and Pritam Vyas.
Faruqui's father-in-law Yunus Badar Imani, 50, who met him in jail on Wednesday, said he had enquired if his daughter could speak with him. "But I was told that the provision is available only to people who are in prison for three months," Imani, who has been camping in Indore since coming to know of the arrest on January 2, said. The eldest of Imani's three daughters is married to Faruqui.
https://indianexpress.com/article/india/court-extends-munawar-faruqui-remand-by-two-weeks-7145492/
--------
If Muslims don't trust India, they can go to Pak, says BJP's Sangeet Som amid concerns over vaccine
Abhishek Mishra
January 13, 2021
BJP's firebrand MLA Sangeet Som has said Muslims should leave India and go to Pakistan if they don't trust the country. This comes amid the Muslim community's concerns about the presence of pig fat in the coronavirus vaccine.
Sangeet Som said, 'If the Muslims of India do not trust the country, they should leave India and go to Pakistan and show their faith in Pakistan itself.
Sangeet Som, an MLA from Sardhana in Meerut, arrived at an event on the occasion of Swami Vivekananda's birth anniversary.
Som made the statement when he was asked about some statements by some Muslim organisations in India about pig fat being found in the corona vaccine.
Replying to this Som said that if the Muslims of India do not have faith in Indian scientists, the Prime Minister PM and the police administration of the country then should leave India and go to Pakistan.
He also said that if their faith is in Pakistan, they should go to Pakistan, but should not doubt the scientists. Sangeet Som also attacked the statement of Samajwadi Party President Akhilesh Yadav in which he had linked the coronavirus vaccine to the BJP.
https://www.indiatoday.in/india/story/if-muslims-don-t-trust-india-they-can-go-to-pak-says-bjp-s-sangeet-som-amid-concerns-over-vaccine-1758680-2021-01-13
--------
Europe
French police detain 7 in probe of teacher's beheading
By JOHN LEICESTER
13 January 2021
LE PECQ, France -- French anti-terrorism police on Tuesday detained seven people suspected of having communicated via social media with the killer of a schoolteacher whose beheading last year reopened debate about France's cherished rights of expression, a judicial official said.
The teacher, Samuel Paty, was killed Oct. 16 outside his Paris-region school after showing caricatures of the Prophet Muhammad during a class debate on free expression.
His killer, identified by authorities as Abdoullakh Anzorov, was later shot dead by police. Anzorov, an 18-year-old refugee of Chechen origin who had become radicalized, according to authorities, claimed responsibility for the slaying in a text found on his phone that was accompanied by a photograph of the teacher.
The seven people detained Tuesday in the Paris region, as well as in western France and in the cities of Lyon and Toulouse, are suspected contacts of Anzorov, said the judicial official. The official wasn't authorized to publicly discuss details of the investigation and spoke on condition of anonymity.
The suspects can be held for initial questioning by anti-terrorism investigators for up to 96 hours.
A total of 14 people were already being formally investigated and face preliminary terrorism- and murder-related charges in the investigation. Of those, seven have not been granted bail.
https://abcnews.go.com/International/wireStory/french-police-detain-probe-teachers-beheading-75203966?utm_source=iterable&utm_medium=email&utm_campaign=1897865_
--------
France repatriates 7 minors from Syria
Shweta Desai
13.01.2021
PARIS
France said it repatriated seven minors Wednesday from camps located in northeastern Syria.
"These particularly vulnerable minors were taken in accordance with the authorizations given by local officials and on their arrival in France, they were handed over to the judicial authorities and are taken care of by social services," according to the foreign ministry.
It did not disclose details if the minors were born in Syria, traveled from France with their parents, or are orphans.
Following the defeat of the Daesh/ISIS terror group in Iraq and Syria, the administration of French President Emmanuel Macron, after much reluctance, adopted a case-by-case basis to repatriate minors.
Since March 2019, including the latest, 35 orphaned children, or those requiring medical attention, have returned to France from camps under the control of the YPG/PKK terrorist group in northeastern Syria.
The Al-Hawl camp, which houses mainly women and nearly 40,000 children from more than 60 countries, was formerly held by the Daesh/ISIS terror group. There are about 270 French minors at risk of sickness and radicalization at the camp, according to rights groups.
In 2019, families of French citizens who joined the Daesh/ISIS terrorist group, filed suit with the Court of Justice of the Republic (CJR), accusing Foreign Minister Jean-Yves Le Drian of "failing to provide aid" and exposing children and mothers to inhumane, degrading treatment, and the risk of death at the camps.
At least 1,300 French nationals are estimated to have traveled to Iraq and Syria since the beginning of the armed conflict in the region.
France has opposed the return of those who are suspected of joining the terror group from Iraq and Syria, where it does not have extradition agreements, instead preferring that the accused be prosecuted by authorities in Iraq and Syria where the crimes were committed.
It has, however, allowed more than 200 French nationals apprehended by Turkey, under a 2014 repatriation protocol.
https://www.aa.com.tr/en/europe/france-repatriates-7-minors-from-syria/2108756
--------
UK welcomes exploratory talks between Turkey, Greece
Burak Dağ
13.01.2021
LONDON
The UK late Tuesday welcomed the decision of Turkey and Greece to restart exploratory talks, which will take place in Istanbul on Jan. 25.
"We welcome the positive decision by both countries to restart talks later this month to seek a resolution to tensions in the Aegean - this will help ensure stability & prosperity in the Eastern Mediterranean," Wendy Morton, Minister for European Neighbourhood and the Americas, wrote on Twitter.
"Turkey & Greece remain close friends of the UK and strong @NATO allies," she said.
On Jan. 11, Foreign Minister Mevlut Cavusoglu said Turkey was inviting Greece to attend new talks hosted on Turkish soil.
On the same day, the Turkish Foreign Ministry in a statement declared that "the 61st round of the Exploratory Talks will take place in Istanbul on 25 January 2021."
The 60th round of talks, the last of the exploratory talks initiated between the two countries in 2002, took place in Athens in March 2016.
Afterwards, bilateral negotiations continued in the form of political consultations but did not return to an exploratory framework.
The issues of energy rights and maritime boundaries are certain to loom large in any Turkish-Greek talks.
Turkey, which has the longest continental coastline in the Eastern Mediterranean, has rejected the maritime boundary claims of Greece and the Greek Cypriot administration in the region, stressing that these excessive claims violate the sovereign rights of both Turkey and Turkish Cypriots.
Ankara last year sent several drill ships to explore for energy on its continental shelf, asserting its rights in the region as well as those of the Turkish Republic of Northern Cyprus.
Turkish leaders have repeatedly stressed that Ankara is in favor of resolving all outstanding problems in the region through international law, good neighborly relations, dialogue and negotiations.
https://www.aa.com.tr/en/europe/uk-welcomes-exploratory-talks-between-turkey-greece/2107916
--------
URL: https://www.newageislam.com/islamic-world-news/pakistan-democratic-movement-struggle-govt/d/124075
New Age Islam, Islam Online, Islamic Website, African Muslim News, Arab World News, South Asia News, Indian Muslim News, World Muslim News, Women in Islam, Islamic Feminism, Arab Women, Women In Arab, Islamophobia in America, Muslim Women in West, Islam Women and Feminism