New Age Islam News Bureau
12 Feb 2020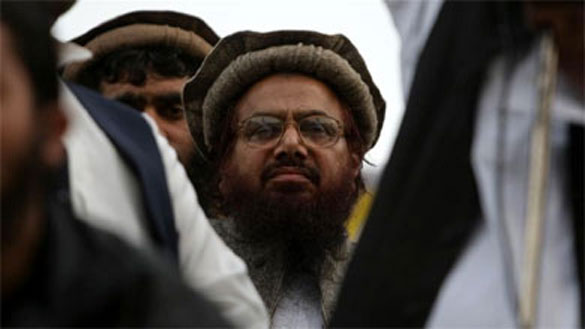 In March, Pakistan formally banned Saeed's JuD and other associated organisations, after years of allowing them to operate freely across the country [KM Chaudary/AP]
-----
• Anti-CAA Protest in Sambhal: 11 Asked To Sign Rs 50 Lakh Peace Bond
• Over 430 Dalits Convert To Islam in Coimbatore Citing Injustice, More Conversions Underway
• With Canvas and Quran, One Artist Aims To Make Islamic Calligraphy A Universal Language
• Trump Deal Makes 'Swiss Cheese' Palestinian State, Abbas Tells UN Security Council
• As Anti-Semitism Increases, Let's Remember How Morocco Saved Its Jews
• Trump Conditionally Approves Peace Deal with Taliban
• 172 Taliban Militants Surrender To Afghan Forces In Herat And Ghor, Claims MoD
• Haj and Islamic Banking Are Centralised, So Why Not Shariah Laws, Asks Ex-Mufti
Pakistan
• Pakistan Court Jails 26/11 Mastermind Hafiz Saeed For 5 Years In Terror Financing Cases
• Verdicts in six cases against Hafiz Saeed, others by weekend
• Pak court summons magistrate for charging detained activists with sedition, terrorism
• Turkish, Pakistani leaders to discuss issues confronting Muslim world
• PML-N in Senate opposes proposal of new province in Punjab
• Peshawar school massacre victims' parents move court over mastermind Taliban leader's escape
• Over 1,000 Pakistani Hindus don't return from India
• International conference to renew focus on Afghan refugees
• MQM-P urges CJP to order alternative residences for people to be displaced
• Ex-spokesman for Pakistan Taliban escapes
--------
India
• Anti-CAA Protest in Sambhal: 11 Asked To Sign Rs 50 Lakh Peace Bond
• Over 430 Dalits Convert To Islam in Coimbatore Citing Injustice, More Conversions Underway
• IS to target India? UN report says terror group could threat Afghanistan's neighbourhood
• After Malerkotla, two more indefinite protests against CAA in Ludhiana, Mansa
• Assam Decides To Tweak Its Muslim Survey, To Drop the Word 'Indigenous'
• Islamist Fundamentalists Severed His Hand, But Kerala Prof. Says His Church Did Worse
• Omar, Mufti's PSA orders skip 'radical' terms
• Pak sponsored agencies using VPN to send chain of messages: J&K DGP
• 21,348 infiltrators deported, 9,145 arrested at Indo-Bangladesh border
• Deoband is ''Gangotri'' of terrorism: Giriraj Singh
• Gujarat: Pakistani national held near Dholavira in Kutch
• SC to hear plea challenging Omar Abdullah's detention under PSA on Wednesday
• PSA detentions in J&K: One High Court judge quashes orders, another upholds
--------
Europe
• With Canvas and Quran, One Artist Aims To Make Islamic Calligraphy A Universal Language
• UK introduces emergency terror law to parliament
• Muslim Schools Chief Vows To Help Working Class White Boys In Deprived Coastal Areas
• EU clamps down on free ports over crime and terrorism links
• Manchester Arena bomb parts 'bought by brothers using mum's card'
• Urgent crackdown on terror sentences will affect about 50 inmates
• Russia Sentences Anti-Fascists on Bogus Terror Charges, Critics Say
• Greek EU lawmaker sanctioned over tearing Turkish flag
--------
Mideast
• Trump Deal Makes 'Swiss Cheese' Palestinian State, Abbas Tells UN Security Council
• Abbas Refuses to Adopt Trump's Mideast Plan as Reference for Any Future Talks
• Jewish extremists vandalize mosque, cars in Arab Israeli town
• Time to abandon your delusions: Iran FM tells US president
• India, Iran ditch US dollar and then see rise in trade
• Turkish-backed opposition forces fight against Syrian gov't march through Idlib
• Iranians would choose the 1979 Islamic Revolution again: Rouhani
• Iran stresses right to enhance space technology, rejects France 'meddlesome' claims
• Yemeni air defense forces shoot down third Saudi spy drone in less than week
• Iranian-backed Hezbollah stepping in to guide Iraqi militias after death of Qassem Soleimani
--------
Africa
• As Anti-Semitism Increases, Let's Remember How Morocco Saved Its Jews
• Suspected Boko Haram Fighters Kill at Least 30 in Nigeria
• Top EU diplomat urges Israel not to annex Jordan Valley, warns of violence
• Sudan agrees to hand Bashir to ICC for Darfur crimes
• UN to vote on endorsing road map to end the war in Libya
• Bashir refuses to deal with ICJ 'as it is a political court,' says lawyer
• Family says teenage girl killed in US airstrike that targeted Al Shabaab in Somalia
• Malian leader seeks dialogue with extremist insurgents
--------
North America
• Trump Conditionally Approves Peace Deal with Taliban
• Pentagon Slashes Funding For Islamic State Fight
• US charges five in Texas, New York with colluding to break Iran oil sanctions
• Las Vegas man who allegedly wanted to attack synagogue pleads guilty to having bomb parts
• US senator seeks public's support on Khashoggi murder
--------
South Asia
• 172 Taliban Militants Surrender To Afghan Forces In Herat And Ghor, Claims MoD
• Afghan Special Forces kill; detain 7 militants during the raids in Kabul, 2 other provinces
• At Least 15 Rohingya Muslims Killed as Boat Sinks Off Coast of Bangladesh
• Pompeo Apprises Abdullah about Developments In Reduction Of Violence Amid U.S.-Taliban Talks
• NDS Forces arrest 9 ISIS sympathizers from a landmark mall in Kabul city
--------
Southeast Asia
• Haj and Islamic Banking Are Centralised, So Why Not Shariah Laws, Asks Ex-Mufti
• Is The Pope Catholic? Ministry Apologizes For Appointing Muslim as Acting Catholic Affairs Director-General
• Indonesia Refuses to Repatriate Former Islamic State Fighters
• Indonesia Refuses to Take Back Suspected IS Militants
• Identity politics not way forward for Malaysia, says Indonesian academic
• Malaysia has much to contribute in promoting peace, understanding: Baroness Scotland
• Redevelopment of Kampung Baru will maintain Malay, Islamic identity, says project consultant
--------
Arab World
• Lebanese Government Wins Confidence Vote as Protesters Clash with Police outside Parliament
• Saudis Follow Iran's 1994 Somersault on Kashmir at OIC
• Iraq's Sadr dissolves 'blue caps' unit accused of deadly attacks on protesters
• Clashes in Lebanon injure 300 as Parliament votes on government
• Bahrain formally appoints ex-GCC chief Abdullatif al-Zayani as foreign minister
• UAE's Gargash says Iran must agree to abandon its destructive behaviors
• Third whistleblower reveals OPCW doctored report on Syria's Douma
• NATO mulling over expanding Iraq mission: Report
• Egyptian forces kill 17 terrorists in North Sinai raid
• El-Sisi orders action to reopen factories closed during revolution
• Iraq cleric Al-Sadr dissolves 'blue caps' units accused of deadly attacks on protests
Compiled By New Age Islam News Bureau
URL: https://www.newageislam.com/islamic-world-news/pakistan-court-jails-26-11/d/121045
--------
Pakistan Court Jails 26/11 Mastermind Hafiz Saeed For 5 Years In Terror Financing Cases
February 12, 2020
APakistan court on Wednesday convicted 26/11 Mumbai terror attack mastermind Hafiz Saeed in two terror financing cases and sentenced him to five years in jail, PTI said quoting Pakistani media.
The court on Tuesday had accepted a plea of the Jamaat-ud-Dawa chief (JuD) chief to club all six terror financing cases against him and his aides, and announce the verdict on completion of the trial.
The anti-terrorism court or ATC had indicted Hafiz Saeed and others on December 11 in terror financing case in day-to-day hearing.
According to the petition, four other terror financing cases against Hafiz Saeed, Zafar Iqbal, Yahya Aziz, Abdul Rehman Makki are pending before the same ATC. "As evidence has been in progress, the court may announce the verdict in six cases including the ones already concluded once the trial is completed," it said.
The official said the court after accepting Hafiz Saeed's request, ordered the prosecution to present witnesses in other four cases against the JuD leaders on Wednesday. "The court will announce the verdict once all witnesses are produced and cross-examination is done," he said.
The deputy prosecutor general opposed Hafiz Saeed's plea and argued that the trial in two cases against him and others has already been completed and under the law the court may announce the verdict. He requested the court to reject Saeed's plea and announce the verdict.
On last Saturday, Lahore ATC judge Arshad Hussain Bhutta had deferred the verdict against Hafiz Saeed in two terror financing cases till February 11.
https://www.indiatoday.in/world/story/hafiz-saeed-sentenced-to-5-years-in-jail-1645760-2020-02-12
--------
Anti-CAA protest in Sambhal: 11 asked to sign Rs 50 lakh peace bond
February 12, 2020
THE SAMBHAL district administration in Uttar Pradesh has issued notices to 11 persons staging protest against the new citizenship law and the NRC in the Nakhasa police station area, asking them to sign a personal bond of Rs 50 lakh each, stating that peace would be maintained.
The administration has sent the notices under Section 111 of CrPC (magistrate order against any person who is likely to commit breach of peace) on the basis of a report by local police.
"The 11 persons have been told in the notices that police suspect that they may get involved in violence and therefore a personal bond of Rs 50 lakh and two sureties for the same amount should be taken from each of them," said sub-divisional magistrate, Nakhasa, Rajesh Kumar. He added that the notices would be sent to 24 other people soon.
According to the police, around 500 women are staging a protest round-the-clock at a farm near Hussaina Bagh in Nakhasa police station area since last month. Police have also registered an FIR against unidentified persons under IPC sections 188 (Disobedience to order duly promulgated by public servant) and 505 (statement conducing public mischief), said station house officer, Nakhasa police station, Devendra Singh Dhama. No arrests have been made case yet.
Dhama added that a few days ago, a report mentioning names of 36 people was sent to the district administration, requesting that these persons should be told to sign a bond to ensure that peace would be maintained under section 107/116 of CrPC. "Among these are women protesters and men helping them. We prepared a list on the basis of a preliminary inquiry," said Dhama.
Two persons died and several were injured in a protest against the new citizenship law in Sambhal on December 19 and 20 last year. As many as 12 FIRs were registered in connection with the violence and 43 people were arrested. Some of the accused have been released on bail.
https://indianexpress.com/article/india/sambhal-anti-caa-protest-11-asked-to-sign-rs-50-lakh-peace-bond/
--------
Over 430 Dalits Convert To Islam In Coimbatore Citing Injustice, More Conversions Underway
Akshaya Nath
February 12, 2020
Post the tragic incident in Mettupalayam, Coimbatore, where a wall collapsed and led to the death of 17 Dalits, close to 3,000 people from the Dalit community announced that they were to convert to Islam.
Illavenil, the state secretary of the Tamil Puligal Katchi, told India Today that legally 430 people have converted to Islam and many more are in the process of the conversion.
On December 2, after heavy rains lashed Mettupalayam and the surrounding regions, a wall which was claimed by protesters in the region to be the "wall of discrimination" collapsed on three houses and killed 17 people.
This was the breaking point for many Dalits in the region who claimed that they have been regularly discriminated.
Mohammed Abubaker, originally known as Marx, converted to Islam soon after the December 2 event. "We converted to Islam all because of the prevailing caste injustice and untouchability. For example, any dalit who is underprivileged could not enter into Mariamman [Goddess Durga] temple. Tea shops have discrimination here. We can't sit with other people equally in the government bus," said Mohammed.
Illavenil, who has converted to Islam, said, "We decided to leave Hinduism according to what Ambedkar said. I need to lose my identity, which means I need to get rid of the caste remarks such as Pallar, Parayar, Sakkriyar. I can live with self-dignity only when I shed this cast-based identity. While following Hinduism because of our caste, we aren't even treated like humans."
Another youngster named Sarath Kumar who converted to Islam and changed his name to Abdhuallah said, "While 17 of our people were dead, no Hindu voiced for us. Only the Muslim brothers stood with us and protested for us. Where is Arjun Sampath who said that he would voice for the Hindus who are persecuted? Where is that leader? Our Muslim brothers invite us to their houses. Hindus never called us. Would you make me enter the common temple? We could enter any mosque though. I have visited four to five mosques after converting. I worship god there with all levels of people. But would you permit me to enter Mariamman temple and seek god?"
In regions like Coimbatore where these mass conversions are underway, there has been several reported cases of discrimination right from entry into temples to discrimination at the burial ground to discrimination towards Dalits at tea shops and public space.
They are still called by their caste names. Though many have shied away from raising their voices against this, the younger generation seems to be more vocal.
I belong to the Hindu religion, Arunthathiyar class by birth.
My family respects and follows all the principles of Hindu religion till this day. I don't have any hatred towards Hinduism.
For the past three years, I was inspired by the Islam and I decided to follow the religion because of it's religious laws and doctrines. This decision wasn't taken with any guidance.
I wholeheartedly adopt Islam and I would follow it truly.
I believe that God is one and Mohammed Nabi is the last messenger of God. I accept Islam completely and convert to be a Muslim.
Most of these youngsters have repeatedly spoken about how their complaints to officials have gone unheard and as the struggle for living with a little self-respect has become a herculean task, religious conversion seems like an easy option for a new beginning.
Abdhuallah echoed the sentiments of the many converted muslims, "You would call us Hindus, but discriminate us with caste. You call me Hindu, but you don't accept me as one."
https://www.indiatoday.in/india/story/dalits-convert-islam-coimbatore-hindu-discrimination-injustice-1645564-2020-02-12
--------
With canvas and Quran, one artist aims to make Islamic calligraphy a universal language
By KIMBERLY WINSTON
FEB. 11, 2020
BERKELEY — Given her family history, Salma Arastu may be one of the last people you'd expect to be helping to modernize Islamic calligraphy.
Her Hindu parents fled their home in Pakistan, resettling in India during the nightmare of mob violence between Muslims and Hindus when the two countries gained independence from Britain in 1947. Arastu was born in India a few years later. But unable to cope with what had happened, her father, a doctor, died soon after of a heart attack that his family attributes to the stress of the move.
"He never got over it," Arastu, now 68, said recently in her airy, skylit studio in an industrial part of Berkeley. "It was the shock, I think."
So Arastu's journey to becoming a Muslim holds special weight. After graduating from art school in India, she overcame her family's resistance and converted to Islam when she married her husband, an architect. They moved to Iran and then Kuwait, followed by Bethlehem, Pennsylvania and finally California.
It was in Iran that Arastu first encountered Islamic calligraphy, stylized writing of verses from the Quran or the sayings of the prophet Muhammad in Arabic script. Even though she couldn't yet read Arabic, she responded to its movement and grace, and she began copying it.
Years later, after the Sept. 11 terror attacks in the United States, she made the jump from sketchbook to canvas with the goal of expressing her belief that Islam is a beautiful religion and that people of all faiths are equal in the eyes of God. She is now part of a cadre of artists taking Islamic calligraphy into new styles and new ways of professing the faith, as well as into the realms of politics and protest.
Her textured fountains of bright color are displayed in galleries and museums in Washington, D.C.; Houston; St. Louis; and Portland, Ore. She is also curating two shows of Muslim female artists in the Bay Area. "The Word: Visual Interpretations by Local Muslim Women Artists" opened recently at the Arc Gallery in San Francisco. It will be followed in March by an exhibition at the Abrams Claghorn Gallery in Albany, Calif.
"My work is all about people coming together," Arastu said, ready for a day of painting in loose-fitting cotton pants and tunic with her black hair tied tight behind her head. "That is my dream. … I want to show people what the Quran has taught me about diversity, community, friendship and peace."
There are prestigious Islamic calligraphy schools in Egypt, Turkey, Iran and Pakistan, where students study strokes, pens, inks, papers and elements of style for years. The best go on to apprentice with a master before launching on their own.
But in the middle of the 20th century, some artists began breaking the rules. Lines, letters and words were exaggerated or repeated in new ways and in new mediums — glass, wire, neon and more. By the 1980s, their art had a name — the hurufiyya or letter movement.
Solo and group exhibitions of this contemporary Islamic calligraphy and its secular cousin have been staged in Egypt, Malaysia, the United Arab Emirates and Qatar. Painters, sculptors, photographers, print and lithograph makers and street artists also work now in the United States and elsewhere.
A 2006 exhibition of 90 hurufiyya artists staged by the British Museum was a kind of coming out for the art form beyond the Middle East. Today, museums in Europe and the U.S. include works by pioneers of the genre such as Dia Al Azzawi and Parviz Tanavoli, as well as younger artists like eL Seed whose "calligraffiti" street art has appeared on bridges in Paris and in Brazilian favelas.
"The script itself is so beautiful that artists, whether they are trained in calligraphy or not, can do wonderful things with it," said Venetia Porter, curator of the British Museum exhibition. "Sometimes you can read real words in the art, but sometimes it is not about the word but about the shape of the word. They are rooted in tradition but then they do elaborate and virtuosic things."
Some traditional Islamic calligraphers have concerns about the freewheeling expression in some of the new art.
Nihad Dukhan spent 11 years studying Islamic calligraphy in Turkey and now teaches and lectures about the art form in the U.S. He admires some of the work done by contemporary artists but worries that viewers confuse it with the classical form.
"It is almost a different genre," he said. "It has its own etiquette and its own following, so it is not really threatening to classical calligraphy. But 95% of the public cannot judge: Is this good calligraphy or is it not?"
"There are no calligraphy police," Dukhan said. "Really, anyone can do anything."
Carol Bier, a research scholar at the Center for Islamic Studies at Berkeley's Graduate Theological Union, said a thread connects all of this work. "What is common is the visual reference to historical calligraphy, and to Arabic as the language of all Muslims, regardless of their native language," said Bier, who has curated shows on the subject.
In the Bay Area, the anything-goes attitude is embraced by artists such as Rabea Chaudhry, whose calligraphy relies on a stamping technique; Rubina Kazi, whose works are inspired by Sufism; and Ayesha Samdani, whose calligraphy is sparked by natural forms and colors. Arastu is part of that scene. "I did not want to get into the rules," she said. "I did not want to be limited to them. For me, I look at the word and write it with the brush."
In addition to her Quran-based works, Arastu does a series that blends its verses with those of Hebrew, Sanskrit and Christian scriptures, as well as figures of dervishes. She also has done a series inspired by Pakistani miniatures, another traditional genre experiencing a modernizing trend.
Arastu recalls that she found a kind of freedom in calligraphy when she first was exposed to it.
"It freed my line," she said. "It became more lyrical. In one stroke there is a meaning and it is connecting to God. That line becomes a divine line."
But it was the Sept. 11 terror attacks that pushed her to make her art public. She and her family were living in Pennsylvania at the time.
"For the first time I realized I have to be answerable to people who say, 'Is Islam like that?'" she said. "'Your God allows you to kill people?' No. I am blessed to be a Muslim, and Islam is a beautiful religion. I started reading the Quran much more seriously."
She started writing down passages from her daily reading of the Quran. She picks ones that center on the universality of Allah, the equality of all people, the breadth of God's love and mercy. She meditates and prays over them until she feels ready to paint. She then works quickly, without sketches or plans.
"I feel like I am a tool," she said, pausing over this day's verse, "Repel evil with something better," that seems to burst from her brush in juicy black on a background of orange. "I feel like I don't do them."
It's not necessary to read Arabic to be moved by Arastu's work, said DeWitt Cheng, a San Francisco-based curator and critic. "She manages to make an ambiguity between the spiritual message of the calligraphy and the atmospheric veils of color she creates so that they become universal to people who are open to the messages."
https://www.latimes.com/entertainment-arts/story/2020-02-11/islamic-calligraphy-art-salma-arastu
--------
Trump deal makes 'Swiss cheese' Palestinian state, Abbas tells UN Security Council
February 11, 2020
Palestinian President Mahmoud Abbas rejected US President Donald Trump's peace plan on Tuesday during a meeting of the UN Security Council, but withheld a resolution urging the UN's rejection of it.
UN Secretary-General Antonio Guterres opened the Security Council meeting saying increased instability in Yemen, Syria and Libya "underscores a need for a political solution to the Israeli-Palestinian conflict, which has lasted far too long and which remains crucial for sustainable peace in the Middle East."
Saying he endorses a "two-state solution," Guterres urged Palestinians and Israelis to reach an agreement "which the international community can support."
Nickolay Mladenov, the UN's special coordinator for the Middle East peace process, gave an update on reaction to the Trump plan, noting opposition from Abbas, the Arab League and the Organization of Islamic Cooperation.
Although he said the plan received support from Israel's government, Mladenov added that the EU high representative said Trump's plan "departs from international agreed parameters," while African Union member states "also rejected the proposal at their recent summit."
Abbas later addressed the Security Council, saying Trump's plan "violates UN resolutions" and annuls the Palestinians' right to self-determination while legitimizing illegal Israeli settlements and the illegal annexation of occupied Palestinian land.
The Palestinian leader held up a map of the US proposal for a fragmented Palestinian state and said: "It's like a Swiss cheese really."
Abbas urged the international community to reject "an Israeli-American pre-emptive plan in order to put an end to the question of Palestine."
He called for the convening of an international conference "to bring real peace between the Palestinians and Israel."
A resolution was expected to have been introduced denouncing the plan, but that did not happen, leading observers to speculate that the Palestinians did not believe they could get past an almost certain US veto.
The failure to introduce a resolution prompted a positive reaction from the White House. A senior US official, who asked not to be identified, called the anticipated resolution "polarizing" and said "the old ways of doing things is over" at the UN.
"For the first time on the Israeli-Palestinian issue, the (Security) Council was willing to think outside the conventional box and not reflexively fall back on the calcified Palestinian position, which has only allowed the failed status quo to continue," the White House official said.
"We're optimistic that countries are keeping an open mind with regard to our Vision for Peace, and are willing to have an honest and open discussion on it as a possible basis to restart negotiations for a realistic two-state solution," the official added.
"As we've said all along, our plan is the start of a process, not the end. We hope the Palestinians will take advantage of the opportunity to move the ball forward."
https://www.arabnews.com/node/1626306/middle-east
--------
As Anti-Semitism Increases, Let's Remember How Morocco Saved Its Jews
February 02, 2020
"There are no Jews in Morocco; there are only Moroccan citizens." This was how King Mohammed V of Morocco responded to the Vichy government of France to the request to turn over Jewish citizens. "I do not approve of the new anti-Semitic laws, and I refuse to associate myself with a measure I disagree with," he told the French government officials. "I reiterate as I did in the past that the Jews are under my protection, and I reject any distinction that should be made amongst my people."
While other rulers made common cause with the Nazis due to their shared anti-Semitism, Mohammed V was a strong supporter of the Allies, and he took seriously his role as "Commander of the Faithful," which entailed protection not only of Muslims but of his Jewish and Christian subjects as well. During the Vichy rule, no Moroccan Jews were deported or killed.
My parents escaped from Belgium to Casablanca en route to the United States during the war and thus were saved. Recently, I met with Hillary Clinton, and she mentioned to me that she had just returned from a trip to Morocco. She asked me if I was aware of the country's history of benevolence toward its Jewish community. I told her that my own family was a beneficiary of that history and that I was traveling to Morocco myself in a few days.
During my eye-opening trip to this beautiful country, on which I was accompanied by my wife, as well as Sen. Joe and Hadassah Lieberman, I saw firsthand what created the Moroccan tradition of tolerance and respect for minorities, including and especially the Jewish minority. The Jewish community in Morocco dates to the time of the destruction of the Temple in Jerusalem. Although the Jewish population has dwindled, the country has a rich Jewish history.
Over the centuries, Morocco has been the home of many great rabbinic leaders. Going back a thousand years, the Hebrew grammarian and poet Dunash ibn Labrat lived in Morocco, and the family of the great Rabbi Isaac Alfasi stemmed from Fez. Maimonides composed his monumental commentary on the Mishnah while living in Morocco. This alone demonstrates the significant Jewish history of the country.
Before the founding of the State of Israel, a quarter of a million Jews lived in Morocco. The Moroccan Minister of Religious Affairs, Ahmed Toufiq, refers to the emigration of Jews away from Morocco as the catastrophe, which contrasts with the Palestinian view of the creation of Israel as "the catastrophe" ("Nakba").
On my trip, I was hosted by Serge Berdugo, Secretary-General of the Council of Jewish Communities of Morocco. His father, Joseph Berdugo, met secretly with Mohammed V in 1940 in the royal palace. The sultan asked Joseph Berdugo to pass on a message to the Jewish community: "I know your fears, but I ask you to assure my Jewish subjects of my constant and full protection. Let them know that nothing will affect them that did not affect first my family and myself."
Morocco, with its long tradition of tolerance and protection of minorities, can and should serve as a model of moderation for the Muslim world.
The current king of Morocco, Mohammed VI, has begun a project of restoration of synagogues and Jewish cemeteries, restoring a dozen synagogues, 167 cemeteries, and 12,600 graves, in recognition of the importance of Morocco's Jewish heritage.
Morocco also contains the largest mosque outside of Mecca and Medina, with room for more than 100,000 worshipers. The mosque's architecture pays homage to the Abrahamic Faiths - Christianity, Judaism, and Islam. The Moroccan constitution mentions the "Hebraic influences," which nourished and enriched the kingdom.
The Moroccan government insists that mosques be a place of prayer, not of politics, and fights radicalization. Of the thousands of imams in the country, a handful is dismissed each year for radicalism. The school for imams includes Judaism in its curriculum, even teaching students about the six orders of the Mishnah.
The Orthodox Union (OU) certifies many products from Morocco, and we hope to continue to work with the community to increase certification and export of Moroccan food products to bring their rich flavors to Kosher consumers around the globe. Expanding kosher certification to more Moroccan products would be beneficial both within Morocco as well as outside.
As I traveled from Casablanca to Marrakesh, and I saw the landscape change from verdant plains, to the desert, to the snow-capped peaks of the Atlas Mountains, I couldn't help but think that the diversity of the landscape was a metaphor for the variety and diversity of Morocco's population. But beyond its natural beauty, what is remarkable about Morocco is its moderation and tolerance. As a Muslim nation that respects its religious minorities, its history of having saved its Jews should be celebrated.
https://thehill.com/opinion/civil-rights/480899-as-anti-semitism-increases-lets-remember-how-morocco-saved-its-jews?amp&fbclid=IwAR2C1y43-jtp3cgjPHFgzJ3b7fhog4fvcZdIRz8izolWlyP0DO_6K3ifNUk
--------
Trump conditionally approves peace deal with Taliban
12 Feb 2020
The U.S. President Donald Trump has conditionally approved a peace deal with the Taliban group, more than a year after Washington entered into direct peace negotiations with the Taliban political leaders.
Afghan and American officials privy of the development have told The New York Times that deal will only be signed if Taliban prove their commitment to a durable reduction of violence.
The officials further added that Taliban group will have to prove its commitment over a test period of about seven days later this month in a bid to pave the way for the signing of the deal.
The deal, if signed, will result in gradual withdrawal of American troops from Afghanistan and the subsequent launch of direct negotiations between Taliban and Afghan leaders.
A senior Taliban leader has also confirmed to Times that were positive movements during the latest round of negotiations with the U.S. representatives.
This comes as Secretary of State Mike Pompeo on Tuesday apprised Chief Executive Abdullah Abdullah about the developments in U.S.-Taliban peace talks focused on reduction of violence.
The Office of Chief Executive said in a statement that Secretary Pompeo apprised Chief Executive Abdullah about the developments during a telephone conversation.
The statement further added that Secretary Pompeo expressed hopes that the recent developments would pave the way for the signing of a bilateral agreement, launch of intra-Afghan talks and attainment of eternal peace in Afghanistan, the statement added.
https://www.khaama.com/trump-conditionally-approves-peace-deal-with-taliban-04448/
--------
172 Taliban militants surrender to Afghan forces in Herat and Ghor, claims MoD
11 Feb 2020
A group of 172 Taliban militants surrendered to Afghan National Defense and Security Forces in Herat and Ghor provinces.
The Ministry of Defense (MoD) said in a statement, 160 of the militants surrendered in Shahrak district of Ghor.
The statement further added that three commanders of the group – Abdullah, Mohammad Yousuf and Mullah Sarwar also surrendered to Afghan forces. The militants surrendered in Jam, Sher Bacha and Astora Villages of the district.
The Defense Ministry also added that 12 other Taliban militants led by Nasruddin surrendered to Afghan forces in Takht Valley of Chest-e Sharif district of Herat.
The militants also handed over some heavy and light weapons to the Afghan forces, the Defense Ministry of added.
According to Ministry of Defense, at least 582 Taliban militants have surrendered in the two provinces in past one month.
The Defense Ministry said the militants surrendered to Afghan forces due to growing military pressures.
The Taliban group has not commented in this regard so far.
https://www.khaama.com/172-taliban-militants-surrender-to-afghan-forces-in-herat-and-ghor-claims-mod-04445/
--------
Haj and Islamic banking are centralised, so why not shariah laws, asks ex-mufti
Robin Augustin
February 12, 2020
PETALING JAYA: Muslims in Malaysia are being deprived of justice under the shariah due to the application of different sets of Islamic laws across the states, says a former Terengganu mufti.
Ismail Yahya said this is also why the campaign to stop underage marriage among Muslims has met with failure, as some states have the power to allow a girl as young as 16 to tie the knot.
Ismail said the authorities should adopt a single courts system with uniformed Islamic laws.
"They say, 'do we follow Islamic law or man-made law'. Please tell me where in Islam does it set the marital age as 16, 15, 11 or 9?" Ismail, a former shariah chief judge in Terengganu, said in a recent interview with FMT.
Ismail said physical and mental maturity are two different things in Islam.
He said there was a need to distinguish between "baligh sin" (puberty) and "baligh rushd" (maturity).
He said puberty does not mean a person is ready for married life, as well as the responsibilities that come with it.
He said this is why many Islamic scholars came to an agreement that 18 is the age at which a person achieves baligh rushd, or maturity.
"Some schools of thought even feel 23 is the right age, but when we discuss, the meeting point is 18, and that is not to simply follow civil law, but based on the view that 18 is the minimum age."
He said it was unfortunate that many underage marriage cases were means to "resolve" unwanted pregnancies or as financial convenience.
Ismail said a uniformed set of Islamic laws is crucial to ensure justice.
He disagreed with the argument that it could undermine the powers of the sultans as the heads of Islam.
"The sultans' status would not be diminished. He is still the head of Islam in the state and he has powers in other matters such as Malay customs, to grant clemency and so on."
He cited Tabung Haji and Islamic banking as Malaysia's success stories in the centralisation of some Islamic matters.
He said the haj was managed by the state before Tabung Haji was set up in 1963.
"Islam does not come under the federal government but why was Tabung Haji set up? Because it was about charity," he said.
The same, he said, was the case with Islamic banking, where it was regulated centrally and not under the respective states as it was about banking and not just Islam.
https://www.freemalaysiatoday.com/category/nation/2020/02/12/haj-and-islamic-banking-are-centralised-so-why-not-shariah-laws-asks-ex-mufti/
--------
Pakistan
Verdicts in six cases against Hafiz Saeed, others by weekend
February 12, 2020
LAHORE: An anti-terrorism court (ATC) on Tuesday accepted for hearing a petition seeking the simultaneous hearing and verdict of six cases against Jamaatud Dawa (JuD) chief Hafiz Saeed and his associates.
According to Deputy Prosecutor General Abdul Rauf Wattoo, in total six cases against the said individuals were pending before the same court, adding that in four of these cases presentation of evidence was in progress.
Wattoo said hearing of all four remaining cases will be concluded simultaneously at the end of the week, which is when the court will issue its verdicts. The court has already reserved its verdicts in two of the cases. The reserved verdicts, which relate to terror financing cases, will also be announced with those on other cases at the end of the week, he added.
On Saturday, the ATC had delayed announcing its verdict in the terror financing cases and had decided to hear arguments on Feb 11 on the defendants' application to hear all cases first before announcing the verdict. The application, filed by the suspects' counsel, demands that collective verdicts be issued after the completion of trials in all the cases pending against them.
A prosecutor had opposed the application and argued that the court could announce its verdict in cases for which arguments had been closed. The court, however, had deferred the decision and sought arguments on the application from both sides.
Saeed is nominated in 29 cases pertaining to alleged terror financing, money laundering as well as illegal land grabbing. The verdict was reserved against him in two cases on Feb 6.
The terror financing cases were filed by the Counter-Terrorism Department's (CTD) Lahore and Gujranwala chapters. The case filed by CTD's Gujranwala chapter was initially being heard in a Gujranwala ATC but was shifted to Lahore on the directions of the Lahore High Court.
During the trial of both cases, the court recorded the statements of 23 witnesses.
THE CASE:
The JuD chief was arrested by CTD in July last year, while he was traveling from Lahore to Gujranwala. Prior to his arrest, 23 first information reports had been registered against JuD leaders, including Saeed and JuD Naib Emir (deputy chief) Abdul Rehman Makki, at CTD police stations of Lahore, Gujranwala, Multan, Faisalabad and Sargodha in July 2019.
According to the CTD, JuD was financing terrorism from the massive funds collected through non-profit organisations and trusts including Al-Anfaal Trust, Dawatul Irshad Trust, Muaz Bin Jabal Trust, etc. These non-profit organisations were banned in April last year as the CTD, during detailed investigations, found that they had links with the JuD and its top leadership.
The crackdown on JuD last year followed a warning by the Paris-based Financial Action Task Force (FATF) to Pakistan to deliver on its commitments to curb terror financing and money laundering.
The government had announced a ban on JuD and Falah-e-Insanyat Foundation (FIF) to partially address the concerns raised by India that Pakistan supported these and six similar organisations, including Jaish-e-Mohammad (JeM) or at least considered them low-risk entities.
Law enforcement agencies over the next few weeks had intensified their crackdown on JeM, JuD, FIF and other banned outfits, and arrested more than 100 activists. Nearly 200 seminaries besides hundreds of other facilities and assets associated with them across the country were taken over by the government.
https://www.pakistantoday.com.pk/2020/02/11/verdicts-in-six-cases-against-hafiz-saeed-others-by-weekend/
--------
Pak court summons magistrate for charging detained activists with sedition, terrorism
Feb 11, 2020
ISLAMABAD: A top Pakistani court on Tuesday ordered the Islamabad City Magistrate to appear before it to explain why sedition and terrorism charges were slapped against demonstrators holding peaceful protests against the arrest of a Pashtun minority leader known for criticising the country's powerful military
Police in Islamabad last month booked 23 people for taking part in a protest against the arrest of Pashtun Tahafuz Movement (PTM) leader Manzoor Pashteen.
The Islamabad High Court (IHC) Chief Justice Athar Minallah heard the case of the activists who were released on bail.
"How can you first place sedition charges on peaceful protesters and later turn them into terrorism charges?" Chief Justice Minallah remarked.
Islamabad City Magistrate Ghulam Murtaza Chandio had included sedition charges in the FIR registered against the 23 activists who had been detained for protesting against the arrest of Pashteen. Charges of sedition were later changed into charges of terrorism.
"Why should we not start proceedings against the one who asked for the case to be registered? The magistrate should appear in court and tell us why he gave such orders," Justice Minallah said.
He ordered that the magistrate provide the court his explanation along with a sworn affidavit and warned that he could be stripped of his judicial powers.
Full report at:
https://timesofindia.indiatimes.com/world/pakistan/pak-court-summons-magistrate-for-charging-detained-activists-with-sedition-terrorism/articleshow/74086577.cms
--------
Turkish, Pakistani leaders to discuss issues confronting Muslim world
Aamir Latif and Islamuddin Sajid
11.02.2020
During a two-day visit to Pakistan this week, Turkish President Recep Tayyip Erdogan and Pakistan's Prime Minister Imran Khan are expected to discuss a string of issues confronting the Muslim world, with special focus on the U.S.' so-called peace plan and the Kashmir situation, according to local experts.
"The two leaders have a variety of issues to discuss during this visit including the Kuala Lumpur initiative, Kashmir, and the U.S.' so-called Middle East peace plan," Shahid Amin, a former diplomat, told Anadolu Agency.
Amin said both Khan and Erdogan feel strongly about the lack of unity among Muslim countries, and discussions of the issue will be an important part of the agenda.
"An initiative has already been taken in this regard," he said referring to last December's Kuala Lumpur summit, which Pakistan skipped over reported pressure from Saudi Arabia.
"But it needs to be worked out further so that there must not be any impression of more division," he said.
"Saudi Arabia and its allies are not happy with the Kuala Lumpur initiative, considering it a parallel platform, but it is equally true that Muslim world needs to be re-energized in the face of simmering challenges, especially after the announcement of Trump's so-called peace plan."
"President Erdogan is an old friend of Pakistan and he fully understands our constraints" leading to Islamabad sitting out the summit, Amin, whose diplomatic career spanned from 1958 to 1997, told Anadolu Agency.
"I am confident this visit will be a success and will bring the two nations further closer," said Amin, who served as Pakistan's ambassador to Libya, France, Nigeria, and Saudi Arabia.
Abdul Khalique Ali, a Karachi-based political commentator, sees Erdogan's visit to Pakistan as a result of growing understanding and cooperation between the two nations on several regional and international issues.
"The two sides have similar stands on several issues ranging from the ongoing situation in Kashmir to Trump's 'peace plan,' and from reconciliation in Afghanistan to Nagorno-Karabakh," Ali told Anadolu Agency.
"Turkey was among a few nations that helped Pakistan escape the blacklist of the FATF [intergovernmental Financial Action Task Force]," he said.
"It's Turkey that has kept Pakistan's interests equal to its own interests."
The two sides, he said, would also discuss ways to further bolster economic and strategic cooperation.
Visit
Erdogan will arrive in Islamabad on Thursday for a two-day official visit, Pakistan's Foreign Ministry confirmed on Monday.
"Recep Tayyip Erdogan will be visiting Pakistan on Feb. 13 and 14," ministry spokesperson Aisha Farooqui told Anadolu Agency.
This will be Erdogan's fourth visit to Pakistan since 2002 and second as president.
His last trip to the South Asian state in November 2016 was his first since assuming the presidency in August 2014.
He previously visited Pakistan twice during his tenure as prime minister.
Erdogan will be accompanied by several Cabinet ministers and a delegation of Turkish businessmen and investors.
On Friday he will address Pakistan's parliament for a record fourth time.
Erdogan already holds the distinction of being the only head of state to have addressed the country's parliament three times.
Khan, in an interview with Anadolu Agency earlier this month, said Erdogan's visit will be "comprehensive" and Pakistan will seek Turkey's cooperation in several sectors.
He identified mining and technology transfer as key areas, saying that boosting bilateral trade and economic ties is a core objective.
"It will be quite a comprehensive visit … there will be discussions on all sorts of economic ties and, of course, our strategic and diplomatic ties," said Khan.
Preparations ongoing
On Monday Khan presided over a special meeting in the capital Islamabad to review preparations for Erdogan's visit.
According to an official statement, he and his Cabinet members discussed ways to further bolster Pakistan and Turkey's bilateral ties and economic cooperation.
"President Erdogan's visit will serve as an important milestone in our efforts to further strengthen bilateral relations and increase cooperation between our two countries," Khan said at the meeting.
He directed his ministers to hold monthly meetings to ensure timely implementation of the agreements set to be signed during the visit.
Khan also hailed Turkey for its unwavering support to the people of the disputed Jammu and Kashmir region, which has been under Indian government lockdown since last August.
"The way Turkey stood with Pakistan on the Kashmir issue is highly commendable," said Khan.
Opposition parties and ordinary citizens also welcomed Erdogan's visit.
"We will warmly welcome the Turkish president in Pakistan. He is not only leading the Turkish nation but is also a voice for all the oppressed Muslims in the world," Senator Siraj-ul-Haq told Anadolu Agency.
"I hope this visit will further strengthen our relations as Pakistan and Turkey have always supported each other in trying times," said the senator, who is also chief of the country's largest mainstream religious party, Jamaat-e-Islami.
Ordinary Pakistanis are also upbeat about Erdogan's visit, with many messages of support seen on Twitter and Facebook.
"Welcome President Recep Tayyip Erdogan to Pakistan," Aamir Chishti tweeted in Turkish, with a short video of Erdogan and the flags of the two countries.
Growing cooperation
Ankara and Islamabad have boosted bilateral defense and security cooperation in recent years. In October 2018, the Pakistan Navy commissioned a 17,000-ton fleet tanker built in collaboration with a Turkish defense company in the southern port city of Karachi.
It was the largest warship ever constructed in the Karachi Shipyard and Engineering Works, and the project was completed in collaboration with Turkish defense contractor STM.
In July 2018, Ankara won a multibillion-dollar tender to supply four corvettes to Pakistan's Navy, a deal called the biggest export for Turkey's defense industry in history by then-Defense Minister Nurettin Canikli.
Full report at:
https://www.aa.com.tr/en/asia-pacific/turkish-pakistani-leaders-to-discuss-issues-confronting-muslim-world/1730420
--------
PML-N in Senate opposes proposal of new province in Punjab
Mumtaz Alvi
February 12, 2020
ISLAMABAD: Pakistan Muslim League-Nawaz Senator Mushahid Hussain Sayed on Tuesday opposed the House Functional Committee on less developed areas' proposal for creation of a new (Seraiki) province in Punjab, warning 'it would open a new Pandora's box, which would not be handled by us'.
Speaking on the Committee report, presented in the House by its Chairman Senator Usman Khan Kakar, Senator Mushahid showered praise on Sardar Kaurey Khan Jatoi for giving 11,000-acre of his land for the establishment of a university in Muzaffargarh. "People illegal occupy plots here and he has donated 11,000 acres of land for a university," he noted while referring to the report.
Explaining his opposition to a new province, the veteran legislator said that Pakistan had four provinces, which had been given rights and resources under the 18th Amendment, which needed to be ensured judiciously. "There are governance issues and we can't afford a new province in Punjab for it will then not confined to Punjab only and lead to a new political Pandora's box, which we will not be able to handle," he said.
Senators from across the aisle called for urgent attention to the less developed areas of the four provinces and among these Balochistan stood out with 99 per cent less developed areas and Punjab with 14 per cent. They decried the fact that despite being rich in terms of resources, like gold, copper, coal and other resources, the less developed areas continued to suffer. They called for provision of basic amenities in the less developed areas, like water, road, electricity, schools and colleges and healthcare.
The House was informed that hundreds of villages in four less developed districts of Punjab, including Muzaffargarh, Layyah, Rajanpur and Lodhran were without gas and electricity. It was surprising for many that piles of wheat were rotting, as local farmers were not allowed to sell their commodity to other provinces.
Earlier, the Senate passed the Foreign Exchange Regulation (Amendment) Bill, 2019, empowering the State Bank of Pakistan to issue any regulation/ instruction relating to the inland movement of foreign currencies and regulate the foreign exchange regime.
The draft bill has already been cleared by the House standing committee concerned and was put to the House by Minister for Economic Affairs Division Hammad Azhar, which was passed by majority.
According to the statement of objects and reasons of the bill, foreign exchange policy and operations are governed under the provisions of Foreign Exchange Regulation Act 1947, which empowers the SBP to regulate flows of foreign exchange into and out of the country. However, the bank does not have explicit powers under the act to issue any regulation/ instruction to the inland movement of foreign currencies.
"It has also been considered necessary to enhance punishments provided in Section 23 of the act to create firmer deterrence against contravention of various provisions of the act. The bill, therefore, seeks to enable the SBP to regulate the foreign exchange regime in Pakistan more comprehensively as well as strengthen the effectiveness of the act," it says.
The House also adopted the bill to amend the Anti-Money Laundering (AML) Act 2010 with stricter punishments to be imposed in an effort to bring individuals involved in money laundering to book. The title of the bill is: The Anti-Money Laundering (Amendment) Bill 2019.
Full report at:
https://www.thenews.com.pk/print/612800-pml-n-in-senate-opposes-proposal-of-new-province-in-punjab
--------
Peshawar school massacre victims' parents move court over mastermind Taliban leader's escape
SIMRIN SIRUR
12 February, 2020
New Delhi: Parents of the children killed in the 2014 terror attack on a Peshawar school have filed a petition in the Peshawar High Court seeking contempt proceedings against certain government officials following reports of the escape of Talibani leader Ehsanullah Ehsan from a Pakistani prison.
Ehsan, the former spokesperson of Tehreek-i-Taliban Pakistan (TTP), had masterminded the attack on Peshawar Army Public School and also shot at Nobel Prize winner Malala Yousafzai.
News of Ehsan's escape surfaced when he released an audio clip saying he fled from custody on 11 January and was currently in Turkey.
The Peshawar High Court had earlier ordered that Ehsan should not be released under any circumstances.
"Despite clear cut directions of this honourable court […], now it has come to light that [ luxurious home [was provided to Ehsan] from which the terrorist has made his escape: a fact not denied by the respondents," reads the petition.
The Pakistani army chief, the director general of the ISI, several federal and provincial secretaries are expected to respond to the petition soon. On Monday, a Senate Standing Committee had ordered a detailed probe into his escape. The interior ministry is also due to release a report in three days.
Animated short film captures a dystopic Pakistan in 2071
A new short, hand-drawn animated film called Shehr-e-Tabassum (City of Smiles) is Pakistan's first-ever cyberpunk movie that explores an alternate reality in 2071.
The film shows that no instance of violence or terrorism have been reported in the past three decades but citizens are compelled to keep smiling to glaze over any evidence of dissent or oppression.
"It is important to emphasise that Shehr-e-Tabassum is a story rooted in Pakistan and our society; we are trying to tell a story relevant to us," the film's director Arafat Mazhar said in an interview Monday.
"Today, expressions that are perceived as portraying a negative image of Pakistan, as dissent against the state, or a critique or subversion of religious ideas are not only discouraged but are a serious risk to life, actively criminalised and often punished without due process," added Mazhar.
The film will be released globally at the end of this month. But its limited release has already earned praises:
Hamzah Ahmad Khan
@hamzahkhan3110
• Feb 2, 2020
I am both very happy and maybe kinda sad at how #LMM proved to be a better stage for freedom of expression, both musical and even political than more "woke" platforms like LLF.
Hamzah Ahmad Khan
@hamzahkhan3110
From the @karachikhatmal starter to his conversation, talking about the Islamabad protests and then talking about dissent. (PS, full credit for being an amazingly fun moderator)
To the engagement after #shehretabassum 's screening. A beautiful, engaging and thought provoking film
5
12:01 AM - Feb 3, 2020
Twitter Ads info and privacy
See Hamzah Ahmad Khan's other Tweets
Young Pakistanis opting for freelance work
A new report has found that 90 per cent Pakistanis, under the age of 35, are opting for freelance work — higher than the global average of 70 per cent.
The findings, published in the Freelancer Income Report 2020, was conducted across 150 nations.
The report says both women and men in Pakistan "selected web and graphic design as the most popular freelancing field". Many, it says, preferred to work from home.
"Pakistan has remained in the top five freelancing markets in the world…Now is the time our small and midsize businesses (SMBs) grow beyond borders and drive Pakistan's digital economy," said the report's country manager Mohsin Muzzafer.
PTI is Pakistan's richest political party
Pakistan's Election Commission has released the accounting details of the country's 82 political parties and found that the ruling Pakistan Tehreek-e-Insaf (PTI) is the richest with assets worth Rs 225.3 million.
"This includes Rs 110 million received from overseas Pakistanis in the US, UK, Australia and Canada. The party says funding does not include anything from prohibited sources," reads the EC report.
Full report at:
https://theprint.in/go-to-pakistan/peshawar-school-massacre-victims-parents-move-court-over-mastermind-taliban-leaders-escape/363914/
--------
Over 1,000 Pakistani Hindus don't return from India
February 12, 2020
CHANDIGARH: Over 1,000 Pakistani Hindus who entered India in the last two months after the enactment of the controversial Citizenship (Amendment) Act (CAA) have not returned to Pakistan on the expiry of their visas, foreign media reported.
Many in the recent influx of Hindus from Pakistan to India through the Wagah-Attari border in Punjab may have set their sights on availing the benefits of the new legislation.
In January this year alone, nearly 900 out of the about 1,200 Pakistani Hindus who visited India did not return to Pakistan.
In December last year, some 220 Pakistani Hindus of about 850 who entered India did not return to Pakistan on the expiry of visas. This was also seen in November in the run-up to the passing of the new law.
Full report at:
https://www.thenews.com.pk/print/612792-over-1-000-pakistani-hindus-don-t-return-from-india
--------
International conference to renew focus on Afghan refugees
February 12, 2020
ISLAMABAD: Pakistan intends to use the international conference on Afghan refugees, being held next week, for bringing back the lost donor focus on the world's largest protracted refugee population.
The conference being co-hosted by the Pakistan government and the United Nations refugee agency will be attended by Secretary General Antonio Guterres and UNHCR chief Filippo Grandi.
Mr Guterres will deliver keynote address at the "International Conference on 40 Years of Hosting Afghan Refugees in Pakistan: A New Partnership for Solidarity" on Feb 17 (Monday). Mr Grandi will also participate in a panel discussion at the conference.
UN chief Guterres will be visiting Pakistan from Feb 16 to 19. This will be his first trip to the country as head of the world body. It will, moreover, be the first visit by a UN secretary general to Pakistan in over six years. Former secretary general Ban Ki Moon had visited Pakistan in August 2013. UN General Assembly President Maria Fernanda Espinosa, meanwhile, toured Pakistan in January 2019.
Mr Guterres, who assumed the charge of secretary general in January 2017, has, however, been to the region before. He visited India in October 2018.
"The UN secretary general's participation in the international conference is a recognition of Pakistan's exemplary compassion, generosity and resolve in hosting Afghan refugees for the past four decades and our efforts for peace and stability in Afghanistan," the Foreign Office said in a statement.
"The visit will be an opportunity to acknowledge Pakistan's contribution to United Nations' efforts in promotion and maintenance of international peace and security, especially through our valiant soldiers serving as the UN peacekeepers," it added.
Pakistan has been hosting refugees from Afghanistan since 1979 following the Soviet invasion. At one point there were nearly four million refugees. Currently, there are 1.4 million registered Afghan refugees in Pakistan, while there are over a million unregistered Afghans living here. Nearly 4.5 million refugees have been repatriated to Afghanistan since 2002 with the help of UNHCR.
Donor countries have over the years lost interest in the repatriation of refugees because of multiple global crises. Pakistan has been consistently calling on the developed countries to fulfil their commitment towards 'honorable and dignified repatriation' of Afghan refugees.
Representatives from a number of countries and donor agencies are expected to participate in the international conference. There have been speculations that UNHCR special envoy Angelina Jolie was also invited to the event, but she declined.
The UN secretary general, UNHCR chief and Foreign Minister Shah Mehmood Qureshi would also speak to the press, the UN Information Centres in Islamabad said in a separate statement.
Besides attending the refugees' conference, the secretary general would meet Mr Qureshi, Prime Minister Imran Khan and President Arif Alvi.
The FO said the Pakistani leaders in their meetings with the secretary general would share the country's perspective on the Jammu and Kashmir dispute. Mr Guterres will also speak at an event on sustainable development and climate change. He will travel to Lahore on Feb 18 for attending an event on polio vaccination campaign and visit Gurdwara Sahib in Kartarpur.
The secretary general will during his trip interact with the parliamentarians, media and youths.
Full report at:
https://www.dawn.com/news/1533964/international-conference-to-renew-focus-on-afghan-refugees
--------
MQM-P urges CJP to order alternative residences for people to be displaced
Azfar-ul-Ashfaque
February 12, 2020
KARACHI: Demanding strict action against those officials who patronised illegal constructions in the metropolis, the Muttahida Qaumi Movement-Pakistan has appealed to the chief justice of Pakistan to ensure alternative residences for all those people who are likely to be displaced.
Kanwar Naveed Jameel, the parliamentary party leader of the MQM-P in the Sindh Assembly, said this while speaking at a press conference here on Tuesday. Other MPAs belonging to the party, including Mohammad Hussain and Khwaja Izharul Hassan, were also present.
He said his party believed that the CJP's intention to restore the original face of Karachi by ordering an indiscriminate action against all illegal constructions was a step in the "right direction".
He said it was the responsibility of the federal and provincial governments to provide alternative residences to those who were going to be displaced in the aftermath of a drive against illegally built high-rises and residential complexes.
The CJP had asked the federal and provincial governments to come up with a coordinated plan at the next hearing, he said, adding: "It is our appeal to the chief justice of Pakistan that he should give clear directions to the federal and provincial governments to provide alternative residences to all those who may be displaced."
Mr Jameel, who is also a deputy convener of the MQM-P, said that the CJP had also remarked that government officials took no time in taking action against a common man but high-rise buildings and societies were illegally constructed in Karachi and no one bothered to take action against them.
He said that when the Lyari Expressway was constructed, around 28,000 families were evicted and provided with plots and money to construct their homes. "This procedure should be adopted again instead of displacing people," he said.
He said that recently houses and shops were demolished in Gharibabad to pave the way for the Karachi Circular Railway project and still the affectees were living in their demolished houses as the provincial government was not fulfilling its responsibility.
The MQM leader said that lands belonging to the Karachi Metropolitan Corporation were being encroached upon. "We appeal to the Sindh government to use its anti-encroachment force and police to remove all illegal settlements from KMC lands, including Gutter Baghicha," he said.
He said his party suspected that those who had been encroaching KMC lands enjoyed patronage from elements within the provincial government.
He said that the CJP should also order strict legal action against all those government officials and politicians who were involved in giving permission for illegal constructions of high-rise buildings, etc.
Answering a question that whether the MQM-P demanded demolition of a consulate that was constructed on the land of the Karachi Port Trust, he said it would be appropriate if the Supreme Court gave direction in that regard.
Full report at:
https://www.dawn.com/news/1533837/mqm-p-urges-cjp-to-order-alternative-residences-for-people-to-be-displaced
--------
Ex-spokesman for Pakistan Taliban escapes
FEBRUARY 10, 2020
A leading member of the Pakistan Taliban has escaped custody more than two years after surrendering to authorities, said a senior security official.
The confirmation comes days after Ehsanullah Ehsan – the former spokesman for the Tehreek-e-Taliban Pakistan (TTP) – released an audio message claiming he had escaped detention and was now in Turkey.
A senior security source told AFP Ehsan was "one of our major assets in identifying and later tracking down militants."
The source was unable to confirm claims that Ehsan was in Turkey, or provide details of how he escaped.
Ehsan was infamous for issuing chilling claims following TTP attacks and has been linked to some of the country's most bloody attacks – including the bombing at a park in Lahore during Easter 2016, and the targeting of education activist and Nobel Peace Prize winner Malala Yousafzai.
Ehsan surrendered to authorities in 2017 and later gave high-profile interviews on Pakistani television, angering many in the country who believed he was being pampered by authorities after years of helping lead the bloody insurgency.
Pakistani security officials argued, however, that he had supplied valuable intelligence in the fight against militants.
Pakistan has been battling a homegrown Islamist insurgency for over a decade, with thousands of civilians and security personnel dying in extremist attacks, especially after the TTP began their campaign of violence in 2007.
Overall levels of extremist-linked violence have dropped dramatically over the last year, with 2019 seeing the fewest deaths since the TTP was was formed in 2007.
Analysts have credited the fall to military offensives against the Taliban in the tribal areas of North Waziristan and Khyber where they were headquartered, as well as operations in the country's largest city of Karachi.
Full report at:
https://www.asiatimes.com/2020/02/article/ex-spokesman-for-pakistan-talilban-escapes/
--------
India
IS to target India? UN report says terror group could threat Afghanistan's neighbourhood
11th February 2020
UNITED NATIONS: The dreaded Islamic State's South Asia branch remains active, ambitious and threatening, and has established contacts with other terror groups like Tehreek-e-Taliban Pakistan and has the potential to exacerbate the security threat to countries neighbouring Afghanistan, a UN report has warned.
According to the report, the Islamic State in Iraq and the Levant-Khorasan (ISIL-K) came under severe military pressure from the security forces of Afghanistan and Taliban fighters towards the end of 2019, leading to its virtual expulsion from what had been its Afghan headquarters in Nangarhar Province.
The ISIL-K was formed on January 10, 2015, by a former Tehreek-e-Taliban Pakistan (TTP) commander and was established by former Taliban faction commanders "who swore an oath of allegiance" to IS and its slain leader Abu Bakr al-Baghdadi.
The group has claimed responsibility for numerous attacks in both Afghanistan and Pakistan.
The 10th report of the Secretary-General on the threat posed by ISIL (Da'esh) to international peace and security and the range of United Nations efforts in support of Member States in countering the threat said that even though the Afghan authorities took custody of more than 1,400 people, including ISIL-K fighters and their dependants, the terror group remains a threat to regional security.
"Islamic State in Iraq and the Levant-Khorasan remains active, ambitious and threatening.
"It continues its online recruitment and propaganda, for which it also conducts outreach activities in religious and academic institutions in Afghanistan, including Kabul University," it said.
"It has established informal contact with other terrorist groups, including Jamaat-ul-Ahrar, Tehreek-e-Taliban Pakistan and Lashkar-e-Islam, which regularly mount attacks on border posts of Pakistan.
"The approach of Islamic State in Iraq and the Levant-Khorasan has the potential to exacerbate the security threat to countries neighbouring Afghanistan," the report said.
The report added that most of the ISIL-K fighters taken into custody by the Afghan authorities were Afghan nationals but also included foreigners from Azerbaijan, Canada, France, India, Maldives, Pakistan, Tajikistan, Turkey and Uzbekistan.
It said the impact on the number and geographic distribution of the group's fighters is assessed as significant.
Some 2,100 fighters are now in Kunar Province, which has effectively become the group's new Afghan core area, whereas the number of fighters elsewhere in Afghanistan may now be as low as 400, giving a total estimate of 2,500 for the whole country.
Up to 25 of them constitute a covert Islamic State in Iraq and the Levant-Khorasan presence in Faryab Province, led by a former Taliban member Qari Salahuddin, the report said.
The Security Council's 1267 Al Qaeda Sanctions Committee had in May last year blacklisted ISIL-K, which is also known as 'ISIL's South Asia Branch', 'ISIL Khorasan', 'Islamic State's Khorasan Province' and 'South Asian Chapter of ISIL'.
According to the terrorism backgrounder of ISIL -K on the website of Washington-based nonprofit policy research organisation Centre for Strategic and International Studies (CSIS), in 2014, Pakistani national Hafiz Saeed Khan was chosen to spearhead IS-K province as its first emir.
Khan, a veteran TTP commander, brought along other prominent TTP members, including the group's spokesman Sheikh Maqbool and many district chiefs, when he initially pledged allegiance to al-Baghdadi in October 2014.
IS-K's early membership included a contingent of Pakistani militants who emerged in Afghanistan's Nangarhar province around 2010, just across the border from the former Federally Administered Tribal Areas (FATA) of Pakistan.
Many of these militants were estranged members of TTP and Lashkar-e Islam, who had fled Pakistan to escape pressure from security forces, the organisation said.
https://www.newindianexpress.com/world/2020/feb/11/is-to-target-india-un-report-says-terror-group-could-threat-afghanistans-neighbourhood-2102015.html
--------
After Malerkotla, two more indefinite protests against CAA in Ludhiana, Mansa
by Raakhi Jagga
February 11, 2020
Two indefinite morchas against the Citizenship (Amendment) Act, on the lines of Delhi's Shaheen Bagh, are going to start in Ludhiana and Mansa on Wednesday (February 12).
An indefinite protest is already going on in Malerkotla since January 7 near Sirhindi gate. These indefinite morchas will also be against NRC and NPR. For Ludhiana's morcha, Shahi Imam Maulana Habib Ur Rehman Sani Ludhianavi said, "It will be held near the Jalandhar bypass near the statue of Dr B R Ambedkar. As our fight is to save the Constitution, we chose this place. Our dharna will be from 10 am to 10 pm on a daily basis and people from all walks of lives will take part in this morcha."
In Mansa, the morcha will happen at Gurdwara Chowk from 9 am to 5 pm under the banner of Samvidhan Bachao Morcha which has over 20 participants from farmer unions, Left organisations, student unions etc, said Gurlabh Singh Mahal, a member and advocate. "We will also be going to villages and towns to educate the youth and masses about CAA. We will also engage youngsters to clear the doubts about CAA through social media as BJP is misguiding people over this Act," he added.
Members of the manch also said that leaders of Shaheen Bagh Delhi — Ruby Shaheen, Razia and Sultana Beghum — will reach Mansa to start the agitation on February 12. Apart from this, from JNU, Sucheta Dey, Ashutosh Kumar, Mufti Irtak Ul Hassan, Joint Action Committee Member Punjab and Dr Dharamveer Gandhi, ex-MP, will also reach Mansa. Former CPI MLA Hardev Singh Arshi from Mansa is also one of the core committee members of Savidhan Bachao Manch. Mahal said, "People from all walks of lives will be taking part, people from all religions are part of the committee." Shahi Imam meanwhile said, "To start the dharna, prayers of all religions will be offered. Every day, speakers will be addressing men and women reaching here to be part of the morcha."
Full report at:
https://indianexpress.com/article/india/after-malerkotla-two-more-indefinite-protests-against-caa-in-ludhiana-mansa-6262042/
--------
Assam Decides To Tweak Its Muslim Survey, To Drop The Word 'Indigenous'
February 12, 2020
Guwahati: The Assam government has decided to 'tweak' its ambitious plans of an 'extensive' socio-economic survey of its 'indigenous' Muslim population that many believe is aimed to 'segregate' the 'Bhumiputra' Muslims of Assam from the those who are of Bangladeshi origin. The BJP-led government in Assam has decided to drop the word 'indigenous' from this special census drive that it wants to proceed with in two months' time and rather name it based on the indigenous Muslim communities like the Goria, Moria , Deshi and Jolah.
While the decision of carrying out an indigenous Muslims head count might trigger fresh controversy in the state, on Tuesday after a crucial consultative meeting at the state secretariat chaired by Assam Minorities welfare department minister Ranjit Dutta, it was decided that the word 'indigenous' would be dropped from the nomenclature of the survey as well as the new development council that the BJP-led government has promised to the 'son of the soil' Muslims, in what appears to be the ruling party's bid to woo the Non-Bangladeshi origin Muslims in Assam after being cornered over the controversial citizenship law.
"This was our budget promise and we had earlier used the word indigenous but in today's meeting several Muslims organization who are Bhumiputras, have raised objection that the indigenous word has to be removed and it should be named as Goria, Moria , Deshi and Jolah tea tribe community development council and we have accepted the suggestion. There will he household socio-economic census to find out the head count of total number of people from each of these indigenous Muslim communities," Assam Minorities welfare minister Ranjit Dutta told NDTV.
The minister added that this survey will be carried out by three departments together - Home, revenue and Minorities welfare. The main aim is to keep out every single Muslim of Bangladeshi origin, the minister further added. The government wants to start the work within two months, official sources said.
"This is going to be a very sensitive survey since there are also chances that a Bangladeshis Muslim might try to pose and get their name enrolled in this. This is no agenda of dividing Muslims, rather we are fulfilling our last budget promise and we need to deliver this," Mr Dutaa added.
In the state budget 2019-20, Assam finance minister Himanta Biswa Sarma had proposed to conduct a socio-economic census of the indigenous Muslims of the state which will help to assess their socio-economic condition. The budget also proposed Development Corporation for the indigenous Muslims.
This also comes at a time when over 19 lakh people left out of Assam National Register of Citizens or NRC are stuck in limbo with no further decision on them and the last two months' massive anti-Citizenship Amendment Act protests in the state that had cornered the government.
Full report at:
https://www.ndtv.com/india-news/assam-decides-to-tweak-its-muslim-survey-to-drop-the-word-indigenous-2178734
--------
Islamist Fundamentalists Severed His Hand, But Kerala Prof. Says His Church Did Worse
12/02/2020
Thodupuzha, KERALA — On July 4, 2010, T.J. Joseph was returning home from Sunday mass with his family in Kerala's Idukki district when a group of seven menstopped his car, dragged him out and chopped off his right hand at the wrist. The attackers accused Joseph, a Catholic and the head of the department of Malayalam at Newman College in Thodupuzha, of blasphemy and of insulting Prophet Mohammed in a question paper he had set. The gory incident made national and international headlines and was widely condemned.
According to the National Investigation Agency, the men who attacked Joseph "with deadly weapons and explosive materials" were members of the Popular Front of India (PFI). This organisationcalls itself a social movement for the empowerment of minority communities, but is often labelled a radical outfitsuspected of political killings and links with the Islamic State militant group. Most recently, in December 2019, several of its activists were arrested for allegedly instigating violence against the Citizenship Amendment Act in multiple states.
Joseph's severed hand was surgically reattached within hours of the attack, but his life was never the same. Now, almost a decade to that day, his autobiography is making ripples in Kerala society and re-igniting the debate on religious intolerance. Not because it touches on the Islamic fundamentalists who targeted him but primarily because of his scathing account of the injustice he says he suffered at the hands of his own religious community and its leaders. Published by DC Books and released onJanuary 29, 2020, the Malayalam language book is titled Attupokatha Ormakal, which roughly translates as Un-severed Memories.
"Islamic fanatics attacked me once," Joseph told HuffPost India in an interview shortly after his book's release. "The Christian denomination to which I belong ruined my life by excommunicating me and terminating me from my job without giving any valid reason. Unable to withstand the isolation and financial crisis caused by the loss of my job, my wife died by suicide."
Calling himself a "living martyr of Christian fanaticism", the 63-year-old accused the church of making him a scapegoat to avoid a direct confrontation with the Muslim groups that attacked him.
"The church is not ready to interfere in the right of any individual to write any kind of book. Mr Joseph and his readers can reach any conclusion. As far as the church and the college management are concerned, we have always followed the rules, regulations and procedures," Fr Varghese Vallikkatt, chief spokesperson of Kerala Catholic Bishops Conference, told HuffPost India. "In the book, he is finding no difference between those who chopped off his hand and those who tried to obey the rules and regulations prevailing in this country. He has every right to do so but the church has its own reasons to believe that it followed only rules and never tried to make the professor a scapegoat."
This is the second book in recent times to drag the Syro Malabar Church into a sticky situation. As reported by HuffPost India in December, expelled nun Lucy Kalapura's memoir, also published by DC Books, was a scathing commentary on the church.
A question paper and a blasphemy charge
Joseph set the controversial question paper in March 2010 for an internal exam for second-semester BCom students. To test them on grammar, he selected a passage from a book on cinema written by P.T. Kunju Muhammed, an award-winning director affiliated with the Communist Party of India (Marxist). In the passage, a schizophrenic man asks Padachon – Malayalam for "Allah" or "god" – an inane question. God responds by calling him the son of a dog, a common insult in Malayalam.
While the man is unnamed in the book, Joseph gave him the name Muhammed in the question paper. Joseph said he named him after the book's author. He also pointed out that the question paper was approved by his superiors, and that the book was in the recommended reading list for graduate and post-graduate students of Malayalam.
Trouble started after the paper was reportedly leaked to a section of the media. A prominent Malayalam television channel, now defunct, aired an "exclusive" report, alleging that the Muhammed in the question paper alluded to the prophet and founder of Islam, and accused the professor of insulting him. The media storm that followed sparked outrage amongst Muslims, with moderate parties as well as radical organisations such as the PFI organising massive protests across the state.
As the controversy snowballed, Joseph went underground, fearing arrest. While the police went about arresting his attackers, they registered a case against him for causing communal hatred. Joseph ran from city to city. Refused accommodation almost everywhere he went, he finally found shelter in a lodge run by a Muslim proprietor in Palakkad district. It was from here that he was arrested on April 12010.
Joseph wasreleased on bail soon after. But he had no job to return to. The college had suspended him in March that year on the grounds that he had created enmity between two religions and had engaged in blasphemy. In the following months, Joseph said, a group of men appeared at his house on three separate occasions under various pretexts. Joseph avoided them, but on the fourth attempt, the attackers severed his hand.
"In the beginning, when the question paper controversy erupted, the Syro Malabar Church and the college management under it gave me their full support, vouching for my integrity," Joseph recalled. "However, a high-level meeting of church authorities in Kerala was held and thereafter, everybody changed their stands. At the meeting, a decision was taken to not antagonise the PFI and other radical Islamic outfits. Thereafter, I was all alone."
The meeting, Joseph said, was held in the second week of March 2010.
"It was the stand of the church supporting Islamic fundamentalism and the canard against me that resulted in the PFI attack and the loss of my hand."
From crisis to crisis
The attack left Joseph's right hand permanently damaged and he said he used his left hand to write the manuscript. The 431-page book gives a detailed account of the ordeals he faced, even long after the controversy died down.
After supporting him initially, the church excommunicated Joseph. This means the church officially declared that Joseph was no longer its member. His wife, two children and aged mother were also marginalised as the members of a family of an excommunicated devotee.
"For reasons best known to them, the church authorities attempted to portray me as a terrorist with heavy doses of Islamophobia," he said. "They excommunicated me and prevented priests and laity from visiting me and extending any help. There began the crisis that still engulfs my life."
On September 1, 2010, the college sacked Joseph for allegedly insulting another faith. And on September 12 that year, 120 churches in the region read out a pastoral letter at mass that said the assault on Joseph did not absolve him of his wrongs.
Three years later, a trial court acquitted Joseph in the communal hatred case. But even then, the college refused to take him back.
Joseph said the decisions taken by the church and college authorities pushed his wife Salomi into depression. In the four years that followed the attack, his legal battle against the college for reinstatement severely dented the family's savings. In March 2014, a week before Joseph was officially due to retire, Salomi died by suicide at home.
Her death caused widespread public anger against the church and the college, especially within the Christian community. As a result, the college allowed Joseph to return to work for just one day, ensuring he would receive his retirement benefits.
According to Joseph, he used those retirement benefits to renovate his house and educate his son and daughter. "My children lost their mother. She will not return," he said. "I have regained everything else with sheer determination and courage."
Moving on
Standing by Joseph at the book release event in Thrissur, film-maker Kunju Muhammed said the retired professor was a victim of the most brutal terror attack in Kerala's history.
Joseph, on his part, identifies himself as a "victim of false media manipulation propelled by both Christian and Islamic fundamentalist groups." He explained, "I am sure the Muslim organisation was misled by false propaganda. But my own people terminated me from my job, excommunicated my family, knowing fully that I am innocent. The treatment by my college and the church was worse than the punishment meted out by the fundamentalists."
In 2015, the incident received legal closure. The trial court convicted 13 accused and handed out jail terms ranging from three to eight years. It acquitted 18 others. Some loose ends remain, with a few key accused still to be apprehended. One of them surrendered before the court in 2018.
But Joseph says he has long since forgiven his assailants. "The youths who attacked me were just tools," he said. "They were brainwashed souls who acted at the behest of some sick minds. Why should I blame them?''
His book, he said, is an attempt to make his stand clear. "There are people who still misunderstand me and my intentions,'' he explained. "I have never been against Islam and never attempted to disregard [the] contributions of the Prophet. If the church authorities were ready to give face value to my explanation and convey it clearly to the Islamic groups agitating against me, my hand might have been saved. Instead, the church portrayed me [as] a villain and facilitated the extremist attack on me."
Full report at:
https://www.huffingtonpost.in/entry/t-j-joseph-pfi-kerala-autobiography_in_5e4293c2c5b6b70887074a3d
--------
Omar, Mufti's PSA orders skip 'radical' terms
Feb 12, 2020
NEW DELHI: Official orders served upon former J&K CMs Omar Abdullah and Mehbooba Mufti while seeking their detention under the Public Safety Act (PSA) have not included phrases such as "radical ideology" and "daddy's girl" that were part of the dossiers sent by J&K Police.
A PSA order is made out of three instruments - a magistrate's report, prosecution order and a police dossier.
The final order by the Srinagar administration has also kept out the contention made by J&K police against Abdullah that "he was able to convince his electorate to come out and vote in huge numbers during peak of militancy and poll boycott...".
Earlier, Abdullah's "radical methodology" and "capacity to influence people" had been cited in a police dossier as the reason for his detention being extended by three months under PSA. This was reported in TOI on Monday. The dossier on Mufti had labeled her "daddy's girl" who "glorified terrorists after death" .
PDP spokesman and Mufti aide, Naeem Akhtar, was charged - among other things - for "advising people to read Hurriyat Conference chairman Syed Ali Geelani's book 'Wullar Kinarey'."
The latest orders continue to hold Mufti and Abdullah accountable for "making provocative speeches, encouraging mass agitation against nullification of Article 370 and instigating public against the unity and integrity of the nation". While the PSA order by the Srinagar district magistrate, dated February 5, on Mufti now includes 15 controversial statements attributed to her, the one on Abdullah barely runs into two-pages.
Full report at:
https://timesofindia.indiatimes.com/india/omar-muftis-psa-orders-skip-radical-terms/articleshow/74090820.cms
--------
Pak sponsored agencies using VPN to send chain of messages: J&K DGP
Feb 11, 2020
JAMMU: Jammu and Kashmir DGP Dilbag Singh on Tuesday said that Pakistan-sponsored agencies are using a virtual private network to send a chain of messages.
He, however, said that no agency could be named 'directly' at the moment.
"There are agencies which are Pakistan sponsored that are resorting to the use of VPN (Virtual Private Networks) and send a chain of VPN messages across, but directly no agency can be named as of now," Singh told reporters here when asked if Pakistan were trying to start cyber warfare in J&K.
"I think service providers have to do a little more research and development work to see that they are able to be sure that the unwarranted sites are not accessed by people and also the unwarranted use of VPN is put to an end," he said.
https://timesofindia.indiatimes.com/india/pak-sponsored-agencies-using-vpn-to-send-chain-of-messages-jk-dgp/articleshow/74088944.cms
--------
21,348 infiltrators deported, 9,145 arrested at Indo-Bangladesh border
Feb 11, 2020
NEW DELHI: As many as 21,348 infiltrators were deported and 9,145 arrested by Indian authorities along the border with Bangladesh in the past five years since 2015, the government informed the Lok Sabha on Tuesday.
As many as 5,930 infiltrators were arrested on Indo-Bangladesh border by Border Security Force (BSF) in 2015, 5,147 in 2016, 4,706 in 2017, 3,390 in 2018 and 2,175 in 2019, minister of state for home Nityanand Rai said in reply to a question.
He added that 3,426 infiltrators were deported along the same border in 2015, 2,075 in 2016, 1,175 in 2017, 1,118 in 2018 and 1,351 in 2019.
The government said it had adopted a multi-pronged approach — including round-the-clock surveillance and patrolling on the borders and establishment of observation post; construction of border fencing & floodlighting; introduction of modern and hi-tech surveillance equipment; upgradation of intelligence setup and enhanced coordination with the state governments and concerned intelligence agencies — to tackle infiltration.
Full report at:
https://timesofindia.indiatimes.com/india/21348-infiltrators-deported-9145-arrested-at-indo-bangladesh-border/articleshow/74087474.cms
--------
Deoband is ''Gangotri'' of terrorism: Giriraj Singh
12 FEBRUARY 2020
Saharanpur (Uttar Pradesh), Feb 12 (IANS) Union minister Giriraj Singh has once again triggered controversy by claiming that Islamic seminary Deoband in Saharanpur is a factory producing terrorists.
He has termed it as "aatankvaad ki Gangotri".
Talking to the media persons in Saharanpur on Tuesday, he said that Deoband produces terrorists like Hafiz Saeed.
"I had once said earlier that Deoband is the Gangotri of terrorists. All most wanted terrorists of the world came from Deoband, including Hafiz Saeed or any of the others," said Giriraj Singh.
"These people are not against CAA, they are against India. This is a kind of a Khilafat movement," said Giriraj Singh while attacking the ongoing anti-CAA protests in Deoband.
Deoband has seen fierce anti-CAA protests by Muslim women over the past months and has faced attack from BJP leaders.
Giriraj Singh had earlier alleged that ''suicide bombers'' are being raised in Shaheen Bagh.
Referring to a video, in which a few children are purportedly making some objectionable comments against Prime Minister Narendra Modi, Giriraj Singh said poison is being drilled into the minds of kids.
Full report at:
https://www.outlookindia.com/newsscroll/deoband-is-gangotri-of-terrorism-giriraj-singh/1732216
--------
Gujarat: Pakistani national held near Dholavira in Kutch
February 11, 2020
A PAKISTANI NATIONAL has been apprehended by a patrol party of the Border Security Force (BSF) after he allegedly crossed over to the Indian side of the Indo-Pakistan international border near Khadir island in the Great Rann of Kutch in Kutch district but nothing suspicious has been found so far, police said on Tuesday.
An official release issued by the frontier headquarters of the BSF in Gujarat on Tuesday identified the Pakistani national as one Shaoib Ahmed, son of Dilawar Khan. The BSF said that Shoib, who is a resident of Shahnawaz Bhutto Colony in Karachi, was apprehended by a patrol party near border pillar No.1024/3s near Indo-Pakistan border fence at 7 am on Monday. "During search, nothing suspicious has been recovered," the release said, adding that Shoib was found to be carrying Pakistani Rupees 450, two plastic water bottles, around 150-gram sniffing powder and some personal clothing.
After primary questioning, Shaoib, 38, was handed over to Khadir police station of Kutch (east) police.
"Shaoib says he was working in a factory in Karachi but left the town around four months ago after death of his religious master. During the primary questioning, we found that does not seem to be mentally sound but he says that he ended up from Karachi to the Indo-Pak border via Umarkot, Mithi and Tharparkar. Security agencies have been questioning him. We shall hand him over to the joint interrogation centre in Bhuj on Wednesday," BJ Parmar, in-charge police sub-inspector of Khadir police station told The Indian Express.
Full report at:
https://indianexpress.com/article/india/gujarat-pakistani-national-held-near-dholavira-in-kutch-6263260/
--------
SC to hear plea challenging Omar Abdullah's detention under PSA on Wednesday
Feb 11, 2020
NEW DELHI: The Supreme Court will on Wednesday hear the plea filed by the sister of National Conference leader Omar Abdullah, challenging his detention under the Jammu and Kashmir Public Safety Act, 1978.
A three-judge Bench of Justice NV Ramana will hear the plea filed by Sara Abdullah Pilot, Omar's sister and the wife of Rajasthan Deputy Chief Minister Sachin Pilot, who said the order of detention is manifestly illegal and there is no question of him being a "threat to the maintenance of public order".
Sara said that exercise of powers by authorities under the CrPC to detain individuals, including political leaders, was "clearly mala fide" to ensure that the opposition to the abrogation of Article 370 of the Constitution is "silenced".
The plea has sought quashing of February 5 order detaining Omar Abdullah under the PSA and also sought his production before the court.
"The intent of exercise of power was to incarcerate not just him (Omar Abdullah) but the entire leadership of the National Conference, as well as the leadership of other political parties, who were similarly dealt with including Farooq Abdullah, who has served the state and the union over several years... stood by India whenever the situation so demanded," the petition stated.
The plea added that the ground for the detention order are wholly lacking any material facts or particulars which are imperative for an order of detention.
The Jammu and Kashmir administration on February 5 had invoked stringent PSA against the former Chief Minister Omar Abdullah and People's Democratic Party (PDP) leader Mehbooba Mufti.
Full report at:
https://timesofindia.indiatimes.com/india/sc-to-hear-plea-challenging-omar-abdullahs-detention-under-psa-on-wednesday/articleshow/74086337.cms
--------
PSA detentions in J&K: One High Court judge quashes orders, another upholds
February 11, 2020
Last Friday, a single-judge bench of the Jammu & Kashmir High Court, while rejecting the petition filed by J&K HC Bar Association president Mian Qayoom challenging his detention under the stringent Public Safety Act, observed that a court is not a "proper forum to scrutinise the merits of administrative decision to detain a person" and that such a detention is "not based on proof".
But two earlier judgments related to the PSA, passed by another single-judge bench of the same High Court, had quashed administrative orders, underlining that preventive detention "cannot be used as an instrument to keep a person in perpetual custody without trial".
Incidentally, Justice Sanjeev Kumar, while scrutinising the detention orders which he subsequently quashed, said though preventive detention involves the detaining of a person without trial in order to prevent him from committing certain types of offences, such "detention cannot be made a substitute for the ordinary law and absolve the investigating authorities".
This was in stark contrast to observations made by Justice Tashi Rabstan who last Friday said that the executive has "necessary powers to order preventive detention" and the "subjective satisfaction of a detaining authority to detain a person or not, is not open to objective assessment by a court".
Justice Rabstan also made three other broad observations — that a High Court does not sit in appeal over the decision of the detaining authority and cannot substitute its own opinion over that of the detaining authority; that the courts do not even go into the question whether the facts mentioned in grounds of detention are correct or false; and that the High Court "cannot interfere on the ground that in view of the fact that times have changed, further detention would be unjustified".
But Justice Kumar, in orders passed on December 27 and December 31 last year, held a different view on two separate habeas corpus petitions.
In the habeas corpus petition filed by the family of the detained Tariq Ahmed Parray, Justice Kumar, while quashing the detention order passed by the Baramulla District Magistrate, observed that "preventive detention cannot be resorted to when sufficient remedies are available under general laws of the land for any omission or commission under such laws, the Supreme Court observed".
Citing SC orders on the issue, Justice Kumar reiterated that preventive detention of a person "by a State after branding him a 'goonda' merely because the normal legal process is ineffective and time-consuming in 'curbing the evil he spreads', is illegal".
These observations had come in the backdrop of arguments made by Parray's family that the allegations made in the grounds of detention were vague, non-existent and that the government had not spelt out any compelling reasons to pass the detention order.
A similar argument was put forward in Qayoom's case. But Justice Rabstan said that a High Court has "limited scope to scrutinising whether detention order has been passed on the material placed before it" and "it cannot go further and examine sufficiency of material".
"This court can only examine grounds disclosed by the government in order to see whether they are relevant to the object which the legislation has in view, that is, to prevent detenu from engaging in activities prejudicial to security of the State or maintenance of public order," Justice Rabstan said.
In the habeas corpus petition filed by the family of the detained Asif Ahmed Bhat, Justice Kumar said Bhat's defence was that the detention on "the selfsame grounds on which earlier detention order had been passed and subsequently quashed by this Court, was sheer abuse of police power by the State".
It was pointed out that the detention order of September 18, 2018 was quashed by the High Court on April 17, 2019. But a fresh detention order was passed on April 30, 2019. "What prompted the Detaining Authority to pass a fresh order of detention, impugned in the petition, is anybody's guess. There is, however, bald assertion in the grounds of detention suggesting that normal law of the land has not deterred the detenu from indulging in subversive activities prejudicial to the maintenance of public order. There is absolutely no mention in the grounds of the detention with regard to any activity the detenu has indulged in or continued with after quashment of his earlier detention order dated 17.04.2019," Justice Kumar said.
He said "the fresh order of detention on the selfsame grounds is vitiated in the law and, therefore, cannot sustain… It is, thus, seen that the detaining authority while arriving at subjective satisfaction has not only taken into consideration the future prospectus of the detenu indulging in similar activities but has also taken into consideration the grounds on which the earlier order of detention dated 18.09.2018 had been passed. The judgment referred to above lends support to the contention of the learned counsel for the petitioner that the detention order without fresh material, is not sustainable".
A similar argument was put forward by Qayoom. He had argued that the government relied upon FIRs registered in 2008 and 2010, for which he had already been detained in 2010. Qayoom also said such material cannot be relied upon for repeating the order of detention.
Full report at:
https://indianexpress.com/article/india/jammu-kashmir-psa-detentions-article-370-6261541/
--------
Europe
UK introduces emergency terror law to parliament
Karim El-Bar
11.02.2020
LONDON
The British government introduced emergency legislation Feb. 11 to end the automatic early release of terrorist offenders, according to a government statement.
The legislation will require convicted terrorists to undergo a risk assessment by a parole board before being released.
The government aims to pass the law by Feb. 27, the day before the next terrorist prisoner is due to be automatically released.
Sudesh Amman, 20, stabbed two people earlier this month before being shot by police. He previously had been convicted of terror offenses and released from prison before completing his full sentence.
"No dangerous terrorist should be released automatically only to go on to kill and maim innocent people on our streets," said Justice Secretary Robert Buckland QC MP.
"Enough is enough," he added. "This government will do whatever it takes to keep the public safe, including making sure no terror offender is released early without a thorough risk assessment by the Parole Board."
Home Secretary Priti Patel said: "Recent months have been a stark reminder of the threat we continue to face from terrorism. We are determined to ensure that dangerous terrorists are not free to spread their hateful ideologies or harm the public."
"We are already boosting funding for counter-terrorism police and victims of terrorism and this legislation will ensure terrorist offenders are not released early unless there has been a full assessment of the risks," she added.
The law will affect current as well as future prisoners and as such will affect about 50 terrorist prisoners currently in prison.
The retrospective nature of the law is controversial among civil rights advocates and expected to draw legal challengers as it means current terror offenders due for automatic release would have to spend more time in prison than was decided at trial.
https://www.aa.com.tr/en/europe/uk-introduces-emergency-terror-law-to-parliament/1731221
--------
Muslim schools chief vows to help working class white boys in deprived coastal areas
Feb 11, 2020
A Muslim school's head has vowed to help white working-class children after analysis of pupil improvement in England showed they are lagging far behind their peers.
Data published last week by the government revealed that the top three performing schools were run by Star Academies, which focuses on developing schools in deprived inner city areas.
Star Academies has reportedly now turned its attention to deprived coastal areas whose populations are mainly white and has taken on schools in Blackpool and Morecambe on the Lancashire coast.
Hamid Patel, CEO of Star Academies, told The Times: "There is no doubt a white child has advantages.
"You only have to look at the statistics on employment, average pay, the prison system and even life expectancy.
"This underlines how severe our issues are with white working-class boys that, despite the inherent advantages, they do so badly.
"Only one in seven white working-class boys will pass their GCSE in English and maths. That is a national disgrace."
Star Academies' current portfolio of schools, Tauheedul Islam Girls' School in Blackburn, Eden Boys' School in Birmingham and Eden Girls' School in Coventry, had the highest pupil progress scores in the country.
The pupil progress scores provide a measure for how much pupils improve between primary school and GCSEs.
Government data analysed by The Times showed that coastal schools are among the worst at helping pupils progress.
Full report at:
https://sports.yahoo.com/muslim-schools-chief-help-white-pupils-150325481.html
--------
EU clamps down on free ports over crime and terrorism links
10 Feb 2020
Brussels is clamping down on 82 free ports or free zones after identifying that their special tariff and duty status has aided the financing of terrorism, money laundering and organised crime.
A set of new rules was introduced by the European commission just weeks before the launch on Monday of a UK government consultation on the creation of up to 10 free ports in post-Brexit Britain.
Authorities across the EU have been obliged since 10 January to take extra measures to identify and report suspicious activities at the ports and zones as a result of the "high incidence of corruption, tax evasion, criminal activity".
The EU's executive branch has said it will review the issue again next year owing to the popularity of such ports among high-net-worth individuals and criminal organisations seeking to circumvent recent crackdowns on bank secrecy.
Free ports or free zones are a type of special economic zone (SEZ) where business and trade laws differ from those in the rest of the country. Goods can be landed, stored, handled, manufactured or reconfigured and re-exported without being subject to customs duty.
Rishi Sunak, the chief secretary to the UK Treasury, inaccurately claimed on Monday that "the EU is pretty much the only place in the world that doesn't use free ports". In reality, the EU's customs code does allow for free ports or zones and there are 82 of them across the countries that are subject to its regulations.
The Isle of Man, a British crown dependency that is neither part of the EU nor the UK, operates a free port. The British government has said it wants the first to be opened in the UK by 2021.
In July, the commission said free ports, popular for the storage of art, precious stones, antiques, gold and wine as alternative assets to cash, posed an emerging threat in multiple ways.
The ports are said to allow counterfeiters to land consignments, tamper with loads or associated paperwork and re-export the products without customs intervention, disguising the true origin and nature of the goods, and the identity of the original supplier. The commission said they were also used for narcotics trafficking, the illegal ivory trade, people smuggling, VAT fraud, corruption and money laundering.
"Legal businesses owned by criminals remain key to money-laundering activities", the report said. "Free ports are perceived as facilities that protect their clients' identity and financial dealings, much as private banks used to."
As an example of the nefarious activities taking place at such sites, the commission noted that in December 2016, Swiss authorities seized cultural relics looted from Syria, Libya and Yemen that were being stored in Geneva's free ports.
"The looters had brought the confiscated objects to Switzerland via Qatar", the EU report said. "Three of the pieces were from the ancient city of Palmyra, a Unesco world heritage site systematically destroyed by [Islamic State] jihadists who had seized it in May 2015."
"Free ports are conducive to secrecy," the report added. "With their preferential treatment, they resemble offshore financial centres, offering a high degree of security and discretion, and permitting transactions without attracting the attention of regulators or direct tax authorities."
The British government has argued that the proposed new zones could bring thousands of new jobs and significant investment but the conclusions of trade experts have been mixed.
A report from the UK Trade Policy Observatory suggested the benefits would be "tiny", while the construction group Mace argued the creation of free ports could create 150,000 new jobs and add £9bn a year to the UK economy.
A report from the European parliament last year noted that a growing demand for free ports could in part be explained by a recent global crackdown on tax evasion.
Full report at:
https://www.theguardian.com/world/2020/feb/10/eu-clamps-down-free-ports-zones-crime-terror-links
--------
Manchester Arena bomb parts 'bought by brothers using mum's card'
10 February 2020
The Manchester Arena attacker and his brother used their mother's bank account to buy tools and equipment to make a bomb, a court has been told.
The Old Bailey heard Samia Tabbal's bank card was used to buy a battery and other items before the 2017 attack.
Mrs Tabbal had been receiving tax credits, child and housing benefit of about £550 a week, even though she left the UK for Libya in October 2016.
Hashem Abedi denies involvement in his brother Salman's attack.
The jury was told Mrs Tabbal's bank statements showed a series of large cash withdrawals of between £50 and £300 each month in the UK after she left the country.
As well as items from a B&Q superstore, her bank account was also used to pay for an industrial battery from a specialist shop in Salford, the court heard.
Analysis of her documents showed her weekly tax credit and child benefit payments continued until 19 May, the jury was told, three days before the attack which killed 22 people outside an Ariana Grande concert.
Her monthly housing benefit was last paid four days later, on 26 May.
The financial investigation also revealed Salman Abedi, who had dropped out of a business management degree at the University of Salford on 13 January, received a student loan payment of £1,002.54 four days earlier and a further one of £2,258 at the end of the month.
The court was told four cash withdrawals of £700, £710, £790 and £800 were taken from his RBS account on 23 January, before Abedi reported his bank card had been lost.
His Halifax student account card was found in the foyer of the arena after the attack.
The jury also heard from Alharth Forjani, the Abedis' cousin, who said Hashem had asked him to help buy a bomb-making chemical on Amazon.
He said he had agreed to make the purchase because "I trusted him", but he later had "a bad feeling" about what he had bought.
Mr Forjani said he had then searched for the chemical online, because "I just thought it might be to make explosives", adding: "I think that he believes in terrorism, that's what I thought."
Earlier, the trial heard Salman Abedi went to HMP Altcourse in Liverpool with two other men to meet convicted terrorist Abdalraouf Abdallah on 18 January 2017, four months before the attack.
Abdallah, who was left paralysed after being shot during the 2011 Libyan uprising, was convicted of two counts of preparation of terrorist acts by helping two men enter Syria via Turkey and funding terrorism by sending £2,000 to his own brother.
The jury was told a second meeting was set up for 6 March at the prison, but Salman did not attend.
Full report at:
https://www.bbc.com/news/uk-england-manchester-51446214
--------
Urgent crackdown on terror sentences will affect about 50 inmates
11 Feb 2020
About 50 prisoners convicted of terror offences will no longer be automatically freed halfway through their sentences, under emergency government legislation designed to prevent further jihadi attacks by recently released inmates.
The urgent introduction of a parliamentary bill on Tuesday – due to become law before the end of the month – is aimed at pre-empting the release of any more prisoners serving a fixed-length terrorist sentence.
The move follows the London Bridge knife attacks by Usman Khan in November last year and the Streatham stabbings by Sudesh Amman this month. Both men were convicted terrorists released mid-term from prison on licence.
Most of the 50 or so inmates affected by retrospective changes to enforcement of their sentences are believed to be serving time for jihadism-related crimes, though others may be far-right activists.
Of the 224 inmates serving time for terror-related offences in British prisons in September last year, 77% were classed as having Islamist extremist views and 17% were deemed to support far-right ideologies.
A total of 53 prisoners held for terror offences were released in the year up to the end of June 2019.
The Henry Jackson Society, a thinktank, estimates there are 11 terror offenders on fixed sentences who would have been eligible for early release this year before the law was changed, including five individuals who would otherwise have been freed in late February and early March.
The first is Mohammed Zahir Khan, a shopkeeper from Sunderland, who was sentenced to four years and six months in May 2018 at the age of 40 for nine counts of sharing Islamist material on social media and encouraging religious hatred, including by tweeting support for Isis and calling for the death of Shia Muslims. He is understood to have been due for automatic release on 28 February.
Others that the thinktank says are due for automatic release in March include Mohammed Ghani, from Barnet, north London, who in 2019 was sentenced to 28 months for four offences including threatening to kill police officers in a call to 999 and possessing the Isis propaganda magazine Inspire.
Mohammed Khilji, from Brent, north-west London, who was jailed in June 2018 for five years on eight counts of encouraging terrorism by sharing graphic videos of Isis beheadings and videos calling for violence against non-Muslims, was also due to be freed shortly.
Aras Hamid, jailed for eight years in January 2017 for trying to leave the country and travel to Syria to join Isis, would have been eligible for release this year. He was arrested in the back of a lorry in a layby at Dover. Hamid has also tried to make arrangements for others to travel to Syria, and was found to have possessed what the Crown Prosecution Service said was large quantities of terrorist material.
The government argues the changes, though applying to those already behind bars and effectively retrospective, do not alter the total length of sentences imposed by the courts.
Instead of being freed automatically halfway through their sentence, inmates will be forced to spend a minimum of two-thirds of their term behind bars before being referred to the Parole Board, which will consider their release. Those receiving sentences for offenders of particular concern (SOPCs) will also be affected.
The legislation will cover England, Wales and Scotland but not Northern Ireland. Anyone sentenced to less than two years for relatively minor terror offences – such as wearing a uniform or displaying an article of a proscribed organisation – will be excluded from the changes.
Robert Buckland, the justice secretary, said: "No dangerous terrorist should be released automatically only to go on to kill and maim innocent people on our streets. Enough is enough. This government will do whatever it takes to keep the public safe, including making sure no terror offender is released early without a thorough risk assessment by the Parole Board.
"We are [also] stepping-up deradicalisation measures in our prisons, introducing a 14-year minimum for the worst terrorist offenders, and giving more money to the police to deal with these horrific crimes."
Priti Patel, the home secretary, said: "Recent months have been a stark reminder of the threat we continue to face from terrorism. We are determined to ensure that dangerous terrorists are not free to spread their hateful ideologies or harm the public.
"We are already boosting funding for counter-terrorism police and victims of terrorism and this legislation will ensure terrorist offenders are not released early unless there has been a full assessment of the risks."
The government has separately pledged to introduce tougher sentences for serious terrorist offenders and a 14-year minimum for the worst terrorist offenders. It is also ending any early release from custody for those receiving an extended determinate sentence. Polygraph or lie-detector testing will be introduced for terrorist offenders freed on licence.
There have been threats to challenge any new restrictions on behalf of those forced to serve longer in jail by bringing a judicial review. However, no such cases are believed to have been lodged in the courts so far.
There is likely to be extra pressure on the Parole Board for more urgent applications from affected inmates.
Shami Chakrabarti, the shadow attorney general, said: "If this is an emergency, it's an emergency of this government's making. The emergency is [the state] of the prison system where people come out more dangerous than they go in.
Full report at:
https://www.theguardian.com/politics/2020/feb/11/emergency-legislation-prisoners-terror-offences
--------
Russia Sentences Anti-Fascists on Bogus Terror Charges, Critics Say
By Ivan Nechepurenko
Feb. 10, 2020
MOSCOW — A Russian military court on Monday handed down harsh sentences of up to 18 years to seven members of a group of left-wing activists, who in turn accused the authorities of extorting confessions through torture and threats against their families.
Critics said the charges of terrorism were fabricated and that the accused, as in other previous incidents, were entrapped by security agents. They compared the use of torture to extort testimony to the practices used by Soviet security forces during Stalin's purges in the 1930s and early 1950s.
The seven men, aged 23 to 31, were accused of creating a terrorist organization called "the Network" with the aim of launching terror attacks ahead of the 2018 World Cup soccer tournament in Russia and the presidential election that took place the same year.
The prosecutors said the organization was managed from the Russian provincial city of Penza, where the Monday hearing took place. It also had cells in Moscow, St. Petersburg and in Belarus, said officers of the Federal Security Service, or the F.S.B., who ran the investigation.
All seven men denied the charges. At least four of them initially pleaded guilty, but later switched, contending that their original pleas had been obtained under torture, that there was no such terror group and that prosecutors had invented the name "the Network."
Their lawyers dismissed the charges as absurd, saying that some members of the putative terrorist group did not know one another, while others were loosely connected through a shooting sport they competed in together and shared leftist, anti-fascist beliefs.
The lawyers said they made videos of the shooting games in a forest, which the prosecutors presented at trial as terrorist training exercises.
Four of the seven said they were brutally beaten and tortured while in custody. In testimony during a court hearing in May, Dmitri Pchelintsev, who the authorities said was the group's leader, described how the torture sessions were conducted.
"They began to pull down my underwear, in order to attach wires to my genitals," he said, according to Media Zona, a Russian news website that followed the case closely. "I said: 'O.K., I understand everything. What was the last question?' They said: 'Did you organize a terrorist group called the Network?' I said: 'Yes, that was me.' They said: 'Good boy, O.K., sit down.'"
Mr. Pchelintsev, 27, was sentenced to 18 years in prison for organizing a terrorist group and firearms possession. Ilya Shakursky, 23, who was sentenced to 16 years, also claimed he was tortured while in custody with security agents subjecting him to electric shocks after putting a sock in his mouth, according to his testimony. The F.S.B. denied any physical violence had been used against the two.
At earlier trials, members of the group who pleaded guilty were given much shorter sentences. Igor Shishkin, 27, received 3.5 years. Prison doctors and rights advocates said his body showed signs of torture.
Asked about the case on Monday, Dmitri S. Peskov, the spokesman for President Vladimir V. Putin, said the Russian leader had ordered his subordinates to examine the case and that it would not be appropriate for him to intervene any further.
"The president has repeatedly looked into this situation and repeatedly ordered everything to be checked thoroughly to make sure everything is in line with the law," said Mr. Peskov.
Aleksei A. Navalny, Mr. Putin's most prominent critic, described the sentences as "horrific" in a post on Twitter.
"These very young people's testimonies about an imaginary terrorist organization were beaten out of them using torture," said Mr. Navalny. "Any minister in the Russian government is 10 times more of a criminal and a threat to society than these guys."
The tactics used by the security forces in this case were part of a familiar pattern, critics said.
In 2018, Russian law enforcement arrested members of a group prosecutors called New Greatness, a small cell that the authorities said was plotting to overthrow the government. Lawyers for the accused and rights advocates dismissed the accusations, saying that the authorities had penetrated a simple chat group and then planted a provocateur inside who steered the conversation toward political subjects.
The critics said that the security agencies and other law enforcement groups face intense pressure to produce results, which could explain why they are reduced to fabricating cases against vulnerable people.
"All counter-extremism agencies have to fight against something all the time," wrote Ekaterina Schulmann, a political scientist, in an op-ed about the Network case.
Full report at:
https://www.nytimes.com/2020/02/10/world/europe/russia-sentences-anti-fascists-on-bogus-terror-charges-critics-say.html
--------
Greek EU lawmaker sanctioned over tearing Turkish flag
Agnes Szucs
11.02.2020
BRUSSELS
EU lawmaker Ioannis Lagos, who ripped apart a Turkish flag, was penalized, the European Parliament's President David Sassoli announced on Tuesday.
For using an insulting language and tearing apart a national symbol, Lagos will lose seven days of his daily allowance and his parliamentary activities will be suspended for four consecutive days starting on Feb. 11. The financial penalty totals €2,261 ($2,469).
The incident happened during the last plenary session in January when EU lawmakers were debating the humanitarian situation on the Greek islands. Lagos accused the EU of ignoring the rights of Greeks and described a dramatic situation in Greece.
The Greek MEP blamed Turkey for the "stream of migrants coming into" his country and "getting away with whatever it likes." He then tore into pieces a Turkish flag made of paper, and said: "Let's put an end to this."
In a swift response, the chair of the session called for restraint, adding that such behavior was not acceptable.
Sassoli started a sanction procedure against Lagos the following day.
Full report at:
https://www.aa.com.tr/en/europe/greek-eu-lawmaker-sanctioned-over-tearing-turkish-flag/1730961
--------
Mideast
Abbas refuses to adopt Trump's Mideast plan as reference for any future talks
11 February 2020
Palestinian President Mahmoud Abbas on Tuesday told the UN Security Council that the world should reject President Donald Trump's Middle East plan, which he said would limit Palestinian sovereignty in a "Swiss cheese" deal.
"We reject the Israeli-American plan," which "throws into question the legitimate rights of the Palestinians," Abbas said, brandishing a large map of Palestine as conceived by the US proposal.
https://english.alarabiya.net/en/News/middle-east/2020/02/11/Abbas-refuses-to-adopt-Trump-s-Mideast-plan-as-reference-for-any-future-talks.html
--------
Jewish extremists vandalize mosque, cars in Arab Israeli town
11 February 2020
Dozens of cars in a northern Israeli Arab village were vandalized overnight, police said Tuesday, with slogans sprayed on a mosque indicating the involvement of Jewish extremists.
The messages "Jews awaken" and "Stop assimilating" were scrawled on a mosque and another building in Jish, also known as Gush Halav, a small village in the Galilee just south of Israel's border with Lebanon.
Police said they were investigating the incident, which they condemned along with "all nationalistic hate crimes."
Jish council head Elias Elias told AFP that the tyres of over 150 cars were punctured, noting this was not the first time his village, comprised of Muslims and Christians, was targeted.
"I can only imagine what would happen if things like this would have been sprayed on a synagogue in the US or Europe," he said. "The whole world would be in an uproar."
The incident bore the hallmark of a "price tag" attack -- a euphemism for Jewish nationalist-motivated hate crimes targeting Palestinians and Arab Israelis and their property, as well as Muslim and Christian holy sites.
Israel has seen a rise in similar vandalism against Israeli Arabs in recent months, and in December, the tyres of 160 cars were slashed in annexed east Jerusalem.
Full report at:
https://english.alarabiya.net/en/News/middle-east/2020/02/11/Jewish-extremists-vandalize-mosque-cars-in-Arab-Israeli-town-.html
--------
Time to abandon your delusions: Iran FM tells US president
11 February 2020
Foreign Minister Mohammad Javad Zarif has hailed the Iranian people's massive turnout in rallies marking the 41st anniversary of the victory of the Islamic Revolution, saying it was time US President Donald Trump abandoned his delusions against the Islamic Republic.
"Iranians turned out in huge numbers to rally on the 41st anniversary of their revolution–and to honor their fallen heroes," Zarif said in a post on his Twitter account on Tuesday.
Javad Zarif
✔
@JZarif
Iranians turned out in huge numbers to rally on the 41st anniversary of their revolution–and to honor their fallen heroes.
Message to Trump (+vassals): Time to abandon your delusions
With all challenges & differences, in defending country & honor, all 82 million Iranians are ONE.
View image on TwitterView image on TwitterView image on TwitterView image on Twitter
3,533
6:33 PM - Feb 11, 2020
Twitter Ads info and privacy
1,676 people are talking about this
The top Iranian diplomat addressed the US president and America's vassal states, saying, "Time to abandon your delusions."
He emphasized that all 82 million Iranians are united despite all the challenges and differences when it comes to defending the country.
Millions of Iranians from all walks of life on Tuesday thronged the streets across the country to celebrate the 41st anniversary of the victory of the Islamic Revolution, which toppled the US-backed Pahlavi regime in 1979.
Full report at:
https://www.presstv.com/Detail/2020/02/11/618413/Zarif-Iran-US-Trump-Islamic-Revolution-delusions
--------
India, Iran ditch US dollar and then see rise in trade
11 February 2020
Iran's switch to currencies other than the US dollar is showing the first signs of paying off.
Traders say Iran overtook Russia as the top buyer of Indian tea last year, after the two countries agreed on a rupee-rial trade arrangement.
The two traditional trade partners launched the arrangement to bypass restrictions imposed by the US, which has been pursuing a "maximum pressure" policy against the Islamic Republic.
"This boost really has come because of the rupee-rial trade arrangement that we have had with Iran," Azam Monem, one of India's largest tea exporters, told Bloomberg on Monday.
Monem, who is the director at McLeod Russel India Ltd., said India's diplomacy should allow the country "to remain a partner to Iran" which is a key buyer of Indian tea and rice.
According to Bloomberg, Iran imported 53.5 million kilograms of tea from India last year, a rise of 74% from 2018.
The rise came even as Indian exports overall dropped 3% to 248 million kilograms last year as bad weather hit production in the crucial months of June and July.
Iran's Foreign Minister Mohammad Javad Zarif recently hailed longstanding relations between the two countries, emphasizing that relations between Tehran and New Delhi were unbreakable.
The remarks came less than a month after Indian media quoted Zarif as having said that India had actually put itself "on the receiving end" of US "bullying" by caving in to illegal sanctions and ending oil imports from the Islamic Republic.
"India has certainly taken a stance against the sanctions… so that's been encouraging, (but) of course, we expected our friends to be more resilient vis-a-vis US pressure," Zarif reportedly told a group of visiting journalists from New Delhi in November.
India was Iran's second largest oil customer, importing 457,000 barrels of oil a day before the US unilaterally withdrew from the 2015 nuclear deal, officially called the Joint Comprehensive Plan of Action (JCPOA), in May 2018.
India stopped importing oil from Iran In May 2019 after the White house terminated sanctions waivers for major buyers of crude from the Islamic Republic in an attempt to bring Iran's oil exports to "zero".
In December, Iran and India agreed to speed up the development of Chabahar port which New Delhi views as a gateway to access Afghanistan and Central Asia.
Indian Foreign Minister Subrahmanyam Jaishankar announced the news after meeting Iranian officials in Tehran where the two sides took a stock of the state of bilateral relations after the US reimposition of sanctions on Tehran.
For Indians, Chabahar is on course to change the whole economic geography of the region because it gives them direct unobstructed access to Central Asia, to Russia and Europe.
Indian Prime Minister Narendra Modi has said his country would spend $500 million to develop Chabahar and related infrastructure to boost growth and spur the unhindered flow of commerce in the region.
Full report at:
https://www.presstv.com/Detail/2020/02/11/618405/Iran-India-trade-rial-rupee-US-sanctions-Chabahar
--------
Turkish-backed opposition forces fight against Syrian gov't march through Idlib
11 February 2020
Turkish-backed Syrian opposition forces on Tuesday struck back against Russian-supported government forces who had made gains in their campaign to eradicate the last opposition strongholds in northwest Syria.
Earlier on Tuesday, the government forces seized control of the main Aleppo-to-Damascus highway running through Idlib province for the first time since 2012, a war monitor said.
In response, the opposition forces shot down a Syrian military helicopter and advanced toward the town of Nairab, which the Turkish defense ministry said had been been abandoned by Syrian government forces.
A Turkish official said the opposition forces, supported by Turkish artillery, had begun "a full-fledged attack" on an area recently lost near Saraqib, a strategic crossroads town on the M5 highway. An opposition forces commander told Reuters they were pushing back the government forces there.
The flare-up of violence has prompted some of the most serious confrontations between Ankara and Damascus in the nine-year-old war in which Moscow and Tehran back Syrian President Bashar al-Assad.
Idlib's fate may well be decided by Turkey and Russia as much as by Assad.
Russian has officers on the ground advising the Syrians on the campaign and some ground forces, and Russian warplanes have carried out numerous air strikes.
Ankara has sent thousands of soldiers across the border to stem the Syrian offensive.
Relief agencies meanwhile said an exodus of hundreds of thousands of civilians from the afflicted areas was the largest such movement in the war and marked a new humanitarian crisis.
Turkey, which already hosts 3.6 million Syrian refugees, says it cannot absorb any more. It said it will halt new refugee waves from Idlib and its military will remain there.
Turkish President Tayyip Erdogan said on Tuesday the Syrian government would pay a "very heavy price" for attacking Turkish troops, including five killed on Monday and eight Turkish personnel killed a week earlier.
"We gave the necessary responses to the Syrian side at the highest level. Especially in Idlib, they got what they deserved. But this is not enough, it will continue," he said in Ankara, adding he would announce on Wednesday a detailed plan for Idlib.
Talks in Ankara between Turkey and a Russian delegation ended on Monday without agreement on halting the clashes, a Turkish diplomatic source said.
Ankara told the Russians that attacks against Turkish posts must cease immediately and said it destroyed several Syrian government targets in retaliation. Erdogan has warned Turkey would drive back Assad's forces unless they withdraw by the end of the month.
The Kremlin said on Tuesday all attacks on Russian and Syrian forces in Idlib must stop.
Russian President Vladimir Putin will discuss the situation with Erdogan by phone later on Tuesday, TASS news agency said
The US envoy for Syria, James Jeffrey, is set to meet senior Turkish officials in Ankara on Wednesday and the US Embassy there said they will discuss working together toward a political solution to the conflict.
Air raids
Since the new push began in December, government forces have recaptured more than 600 square km of territory and in recent days taken control of dozens of towns and villages.
The opposition forces are a mix of nationalist factions and jihadists who have had deadly rivalries but are now closing ranks.
Last week government troops recaptured rebel-held Saraqib, where Turkey had several military personnel stationed.
On Tuesday, the Syrian Observatory for Human Rights said the government forces drove opposition forces from a foothold near Aleppo to capture the entire length of the M5 highway that connects Aleppo in the north to the capital Damascus then on to southern Deraa.
Aleppo, once Syria's economic hub, was the scene of heavy fighting between 2012 and 2016 which saw large-scale death and destruction.
Rescue teams said on Tuesday that Russian and Syrian war planes bombed several towns in Idlib, with most air raids in western Aleppo. At least 13 civilians were killed overnight in the air strikes, they said.
The rapid advances by Assad's forces in Idlib have driven nearly 700,000 people – most of them women and children – from their homes towards the closed-off Turkish border in the past 10 weeks.
"This is, from our initial analysis, the largest number of people in a single period since the Syrian crisis began almost nine years ago," Jens Laerke, spokesman for the United Nations' OCHA humanitarian agency, told reporters in Geneva.
United Nations High Commissioner for Refugees spokesman Andrej Mahecic said the harsh winter weather was making their suffering worse and shelter was hard to find.
"Even finding a place in an unfinished building is becoming nearly impossible," he said, adding that mosques were full.
Witnesses and opposition forces said a new column of Turkish reinforcements, including tanks, rocket launchers, and armored vehicles, crossed the border into Idlib overnight. ,
One influential Turkish politician urged Erdogan to go further.
"There will be no peace in Turkey until Assad is brought down from his throne. Turkey must start plans to enter Damascus now, and annihilate the cruel ones," said Devlet Bahceli, chairman of Erdogan's nationalist partner party.
The battle for Idlib is a crucial stage of a war that has killed hundreds of thousands of combatants and civilians, made millions refugees in their own country or overseas, and fractured the wider Middle East since it broke out amid the Arab Spring in 2011.
Full report at:
https://english.alarabiya.net/en/News/middle-east/2020/02/11/Turkish-backed-opposition-forces-push-back-against-Syrian-gov-t-march-through-Idlib.html
--------
Iranians would choose the 1979 Islamic Revolution again: Rouhani
11 February 2020
Iranians would choose the Islamic Republic as they did in 1979 if given a choice today, claimed President Hassan Rouhani in a speech on the anniversary of the Islamic Revolution.
February 11 marks the 41st anniversary of the 1979 revolution which led the current regime to power.
"If Iranians were to be given a choice today, they would choose the Islamic Republic again just like they did 41 years ago," Rouhani said on Tuesday in Tehran.
"The Islamic revolution was based on a choice, the people chose a religious and democratic regime over a US-dependent and corrupt one," he said.
"Iranians have a choice every year on the anniversary of the revolution to either stay at home or come to the street and pledge allegiance to the regime, and every year, they choose the latter," Rouhani said.
State TV reported that tens of thousands of Iranians had poured into the streets of Tehran and other cities on Tuesday morning to commemorate the 41st anniversary of the Islamic revolution, against a backdrop of escalating tensions with the United States. --------
However, dissidents rejected the claims as overstated and posted videos of empty streets online.
Heshmat Alavi
@HeshmatAlavi
Feb 11 - Tehran, #Iran
Jomhouri (Republic) Avenue
While regime officials are claiming a "million man march" marking the 1979 revolution, video shows merely a few dozen people in the street.#41YearsOfFailure
Embedded video
448
1:06 PM - Feb 11, 2020
Twitter Ads info and privacy
344 people are talking about this
Regional impact
The Islamic Revolution has not only impacted Iran but the region and the whole world, he said, adding that the US and Israel have been Iran's "biggest enemies" since the 1979 revolution.
"America's mistake is that it thinks it is up against a regime or some politicians, when in reality it is up against 83 million Iranians," said the Iranian President.
Iran almost got into a full-blown conflict with the United States last month after a US drone strike killed top Iranian military commander Qassem Soleimani in Baghdad on January 3, prompting Iran to retaliate with a missile barrage against a US base in Iraq days later.
Rouhani thanked the Islamic Revolutionary Guard Corps (IRGC) for targeting US bases in Iraq last month, claiming that the attacks were demanded by the Iranian people.
"I thank the IRGC, the armed forces, and the Basij for listening to the people's demands and avenging martyr Soleimani by attacking the Ain al-Assad base," he said.
Rouhani described the slain military commander as "a senior and powerful diplomat as well as a military commander," saying: "Both resistance and diplomacy are required."
"America lies when it says Soleimani was looking for war and instability," he said, claiming that the former head of the Quds Force brought about stability in Iraq, Syria, Lebanon, and the whole region.
Full report at:
https://english.alarabiya.net/en/News/middle-east/2020/02/11/Iranians-would-choose-the-1979-Islamic-Revolution-again-Rouhani-.html
--------
Iran stresses right to enhance space technology, rejects France 'meddlesome' claims
11 February 2020
Iran has dismissed France's "meddlesome" claim about its space program following a recent satellite launch, saying the Islamic Republic reserves the right to make scientific progress.
Tehran on Sunday launched its domestically-made Zafar (Triumph) satellite using a Simorgh (Phoenix) satellite carrier, but the missile fell short of reaching the designated orbit.
The satellite launch came on the same day that Iran unveiled a new missile, 'Ra'd-500 (Lightning-500),' which is equipped with a composite engine block as well as the new generation of propellant for missiles and satellite carriers.
The French Foreign Ministry on Monday condemned Iran for trying to put a satellite in space and unveiling the new ballistic missile, urging Tehran to abide by international obligations on its controversial missile program.
"In keeping with its obligations under UN Security Council Resolution 2231, Iran cannot engage in activities, including launches, connected to ballistic missiles capable of carrying nuclear weapons," said the French statement, claiming that Tehran's ballistic missile program "hurts regional stability and affects European security."
Rejecting the "meddlesome" statement on Tuesday, Iran's Foreign Ministry Spokesman Abbas Mousavi said Tehran has "an inherent right to develop science and technology."
"Iran's defensive missile program has also nothing to do with Resolution 2231 because Iranian missiles have not been designed to carry nuclear weapons," the official said.
Resolution 2231 endorsed a nuclear deal inked in 2015 between Tehran and six world states -- the US, France, Britain, Germany, Russia and China.
The US, however, abandoned the deal in May 2018 in defiance of the resolution, throwing the future of the agreement in doubt.
The European parties initially vowed to keep the deal alive but failed to fulfill their contractual obligations under intense US pressure, prompting Tehran to begin suspending the implementation of parts of its nuclear commitments on a stage-by-stage basis a year later.
Full report at:
https://www.presstv.com/Detail/2020/02/11/618423/Mousavi-missile-space-satellite-Iran-France
--------
Yemeni air defense forces shoot down third Saudi spy drone in less than week
11 February 2020
Yemeni army forces, supported by allied fighters from Popular Committees, have intercepted and targeted the third unmanned aerial vehicle belonging to the Saudi-led military coalition in less than a week, in retaliation for the alliance's military aggression against their conflict-stricken country.
The media bureau of the Ansarullah movement, citing an unnamed military source, reported that Yemeni air defense forces shot down the drone with a precision-guided missile as it was flying in the skies over al-Malahiz area in Saudi Arabia's southern border region of Jizan, situated 966 kilometers south of the capital Riyadh, on Tuesday evening.
موقع أنصار الله
@ansarollah2
موقع أنصار الله ..
إسقاط طائرة تجسسية تابعة لقوى العدوان قبالة جيزانhttps://www.ansarollah.com/archives/315938
View image on Twitter
2
7:30 PM - Feb 11, 2020
Twitter Ads info and privacy
See موقع أنصار الله's other Tweets
Separately, Yemeni soldiers and their allies repelled an attack by Saudi forces and Saudi-sponsored militiamen loyal to Yemen's former president Abd Rabbuh Mansur Hadi on the Hays district of the country's western coastal province of Hudaydah, killing and injuring tens of them in the process.
Saudi fighter jets also conducted two airstrikes against an area in the Khabb wa ash Sha'af district of Yemen's northern province of al-Jawf. There were, however, no immediate reports about possible casualties and the extent of damage caused.
Several Saudi-paid militiamen were also killed and injured when Yemen forces conducted a surprise attack in Ajasher desert of the kingdom's Jizan region.
Elsewhere in the al-Dhaher district of the northwestern Yemeni province of Sa'ada, two men sustained injuries after Saudi forces launched a barrage of artillery rounds at residential areas.
Saudi Arabia and a number of its regional allies launched a devastating campaign against Yemen in March 2015, with the goal of bringing the government of Hadi back to power and crushing Ansarullah.
The US-based Armed Conflict Location and Event Data Project (ACLED), a nonprofit conflict-research organization, estimates that the war has claimed more than 100,000 lives over the past nearly five years.
Full report at:
https://www.presstv.com/Detail/2020/02/11/618436/Yemeni-air-defense-forces-shoot-down-third-Saudi-spy-drone-in-less-than-week
--------
Iranian-backed Hezbollah stepping in to guide Iraqi militias after death of Qassem Soleimani
February 11, 2020
BAGHDAD: Shortly after Iranian Major General Qassem Soleimani was killed in a US drone strike in Iraq, the Tehran-backed Lebanese organization Hezbollah urgently met with Iraqi militia leaders, seeking to unite them in the face of a huge void left by their powerful mentor's death, two sources with knowledge of the meetings told Reuters.
The meetings were meant to coordinate the political efforts of Iraq's often-fractious militias, which lost not only Soleimani but also Abu Mahdi Al-Muhandis, a unifying Iraqi paramilitary commander, in the Jan. 3 attack at Baghdad airport, the sources said.
While offering few details, two additional sources in a pro-Iran regional alliance confirmed that Hezbollah, which is sanctioned as a terrorist group by the US, has stepped in to help fill the void left by Soleimani in guiding the militias. All sources in this article spoke on condition of anonymity to address sensitive political activities rarely addressed in public. Officials with the governments of Iraq and
Iran did not respond to requests for comment, nor did a spokesperson for the militia groups.
The discussions shed light on how Iran and its allied groups are trying to cement control in the unstable Middle East, especially in the wake of the devastating US attack on a revered Iranian military leader.
The Tehran-backed militias are critical to Iran's efforts to maintain control over Iraq, where the US still maintains some 5,000 troops. The country has experienced years of civil war since US forces toppled Saddam Hussein and more recently, the government — and the militias — have faced growing protests against Iran's influence in the country. Iran helped found some Iraqi militia groups.
In the months ahead of his death, Soleimani had waded ever deeper into the Iraq crisis, holding meetings with the Iraqi militias in Baghdad as Tehran sought to defend its allies and interests in its power struggle with the United States, one of the two Iraqi sources said.
Hezbollah's involvement marks an expansion of its role in the region. The Shiite group, founded by Iran's Revolutionary Guards in 1982, has been at the heart of Iran's regional strategy for years, helping Soleimani to train paramilitary groups in both Iraq and Syria.
One pro-Iran regional official said Hezbollah's guidance of the militias would continue until the new leadership in the Quds Force – a unit of the Revolutionary Guards led by Soleimani since 1998 – gets a handle on the political crisis in Iraq.
The meetings between Hezbollah and Iraqi militia leaders began in January, just days after Soleimani's assassination, the two Iraqi sources said. Reuters couldn't confirm the number of meetings or where they took place. One source said they were in Beirut and the other said they were either in Lebanon or Iran.
Sheikh Mohammad Al-Kawtharani, the Hezbollah representative in Iraq who worked closely with Soleimani for years to guide the Iraqi militias, hosted the meetings, the Iraqi sources said.
Kawtharani picked up where Soleimani left off, the Iraqi sources said. The sources said Kawtharani berated the groups, as Soleimani had done in one of his final meetings with them, for failing to come up with a unified plan to contain popular protests against the Baghdad government and the paramilitaries that dominate it. The government and militia groups have killed hundreds of protesters but not managed to contain the rebellion.
Kawatharani also urged a united front in picking a new Iraqi prime minister, the Iraqi sources said. Since then, former Iraqi communications minister Mohammed Tawfiq Allawi has been named — a development welcomed by Iran and accepted by the militia-linked parties it backs but opposed by protesters.
For now, Kawtharani is seen as the most suitable figure to direct Iraqi militias until a permanent Iranian successor can be chosen, although he possesses nowhere near Soleimani's clout and charisma, according to the two Iraqi sources and a senior Iraqi Shi'ite Muslim leader.
"Kawtharani has connections with the militia groups," the Shi'ite leader said, noting that he was born in Najaf, lived in Iraq for decades and speaks Iraqi dialect. "He was trusted by Soleimani, who used to depend and call on him to help him in crises and in meetings in Baghdad."
One of the Iraqi sources close to the militias said that Kawtharani also met with the Iraqi populist cleric Moqtada Al-Sadr, a powerful but unpredictable figure, to convince him to support the new Iraqi prime minister. As Reuters has reported, Sadr has given Allawi his support.
Kawtharani will face serious — perhaps insurmountable- challenges in filling the shoes of the leaders killed in the drone attack, the Iraqi sources close to the militias told Reuters.
"A lot of faction leaders see themselves as too big and important to take orders from " one Iraqi source said. "For now, because of pressure from Iran, they're cooperating with him, but I doubt that will continue and the Iranians know that."
One of the pro-Iran sources, a military commander, said Hezbollah's involvement would consist of political guidance but stop short of providing manpower and materiel to retaliate for the Solemani killing. The militias "do not need Hezbollah's intervention because they have the strength in numbers, combat experience and firepower," the commander said.
Those groups are difficult to control while Hezbollah is seen as more disciplined. But like the rest of Iran's network, Hezbollah risks stretching itself thin, a senior US official in the region and an Iraqi political leader said.
In recent years, Hezbollah's role has grown considerably. It has fought in support of President Bashar Assad in Syria and extended political support to the Iran-allied Houthis of Yemen in their war with a Saudi-led military alliance.
Iran is likely to rely partly on the clout Nasrallah, a figure who commands deep respect among Iran's allies across the region, the US official said. Nasrallah is seen as overseeing Kawtharani's efforts, according to a senior Shi'ite Iraqi leader.
"I think ideologically, religiously, he's seen as a charismatic figure to many of the Iraqi Shia militias," the US official said, requesting anonymity because he was not authorized to speak on the record.
In two lengthy televised addresses, Nasrallah has paid homage to Soleimani and vowed to avenge his death.
He has also declared it a goal of Hezbollah and its allies to eject US forces from the region once and for all . US forces have been in Iraq since 2014 as part of a coalition fighting against Islamic State.
Full report at:
https://www.arabnews.com/node/1626471/middle-east
--------
Africa
Suspected Boko Haram Fighters Kill at Least 30 in Nigeria
Feb. 10, 2020
ABUJA, Nigeria — At least 30 people have been killed in Nigeria's northeastern Borno region after suspected Boko Haram fighters set ablaze several trucks carrying passengers on Sunday night, eyewitnesses and residents told Reuters.
There was no immediate claim of responsibility, but the Boko Haram group and rival Islamic State in West Africa (ISWA) splinter group have often carried out attacks in the area.
The passengers were stranded on Sunday evening along a military check point due to the curfew imposed by the military in the town of Auno before the attack, resident Bunu Ali who witnessed the attack said.
Auno is about 15 miles from Maiduguri, the state capital. Eyewitness said the insurgents attacked on motorbikes, shooting sporadically. They set at least 18 vehicles ablaze and abducted several people, another eyewitness said.
Nigerian Army Commander said the casualty figure was much smaller because the military had recovered 10 bodies on Monday. The commander said the military closed the road to curb the insurgency.
Borno state is the epicenter of the Boko Haram and ISWA insurgency. The conflict has lasted a decade, during which time the militants have killed thousands and millions have fled from their homes in the region.
https://www.nytimes.com/2020/02/10/world/africa/nigeria-boko-haram.html
--------
Top EU diplomat urges Israel not to annex Jordan Valley, warns of violence
11 February 2020
The EU's top diplomat, Josep Borrell, urged Israel on Tuesday not to annex the Jordan Valley, a large swathe of the occupied West Bank, warning of Palestinian protests if it went ahead.
"This may happen ... You can be sure it's not going to be peaceful," he told the European Parliament.
Israel captured the West Bank in a 1967 war and the Palestinian Authority wants to make the area part of a future state. Israeli Prime Minister Benjamin Netanyahu has announced his intention to annex the valley.
https://english.alarabiya.net/en/News/middle-east/2020/02/11/Top-EU-diplomat-urges-Israel-not-to-annex-Jordan-Valley-warns-of-violence.html
--------
Sudan agrees to hand Bashir to ICC for Darfur crimes
12 February 2020
Sudan has agreed to hand ousted President Omar al-Bashir and others to the International Criminal Court (ICC) for alleged war crimes in Darfur, a member of Khartoum's ruling body said Tuesday.
The Hague-based ICC has charged Bashir and three of his former aides with genocide, crimes against humanity and war crimes in Sudan's western region during a devastating conflict from 2003.
"Those who have been indicted by the ICC, they have to go there," Mohamed Hassan Al-Taishay, a member of the ruling sovereign council, said in a statement.
"One of them is Al-Bashir and (there are) three others," he later told journalists in the South Sudanese capital of Juba, where a government delegation was meeting rebel groups from Darfur.
"We agreed that we fully supported the ICC and we agreed... that the four criminals have to be handed over," Taishay said. "We fully supported the claim that the ICC wanted them and they have to be handed over."
He did not specify when the decision would be carried out.
Taishay said the Juba talks, still ongoing, focused on justice and reconciliation in Darfur, where the United Nations says about 300,000 people have been killed and millions displaced since the conflict erupted.
Taishay said they had agreed several mechanisms for achieving peace in Darfur, including the establishment of a special court to investigate crimes in the region.
But "first, all those who have been indicted by the ICC should appear before the ICC," he said.
'Rule based on justice'
A member of the rebel delegation in Juba also confirmed the move.
"We have agreed with the sovereign council in Khartoum to rule Sudan based on justice, especially on issues related to the ICC," Nimir Mohamed Abdurahman told reporters.
The conflict in Darfur, the size of France, erupted when ethnic minority African rebels took up arms against Bashir's then Arab-dominated government, accusing it of marginalizing the region economically and politically.
The ICC has charged Bashir with genocide, war crimes and crimes against humanity for his role in the conflict. Bashir has denied the charges.
The court has also indicted three of his former aides, Ahmed Haroon, Abdulrahim Mohamed Hussain and Ali Kushied.
"We cannot achieve justice unless we treat the suffering of the victims because this is a truth that we can't escape from," Taishay said.
Sudanese government spokesman Faisal Mohamed Salih also confirmed that the four would be handed over to the ICC.
"Bashir and others will be presented to the ICC court. This is a government decision," Salih told AFP.
Bashir was ousted by the army in a palace coup last April after months of protests against his iron-fisted rule of three decades.
He was arrested following his ouster and has since been sentenced to two years in a detention center on corruption charges.
Anti-Bashir protesters, residents of Darfur and rebel groups from the region have consistently demanded that the ousted ruler be handed over to the ICC.
Full report at:
https://www.presstv.com/Detail/2020/02/12/618454/Sudan-Omar-al-Bashir-International-Criminal-Court-war-crimes-Darfur-
--------
UN to vote on endorsing road map to end the war in Libya
February 12, 2020
UNITED NATIONS: The UN Security Council is set to vote Wednesday on a resolution that would endorse a 55-point road map for ending the war in Libya and condemn the recent increase in violence.
The British-drafted resolution demands the warring parties "commit to a lasting cease-fire" and insists on full compliance with a UN arms embargo that has been repeatedly broken, as called for in the plan approved by leaders of 12 world powers and other key countries meeting Jan. 19 in Berlin.
It also recalls the commitment of all participants at the Berlin meeting to refrain from interfering in Libya's conflict and its internal affairs and expresses concern "over the growing involvement of mercenaries in Libya."
UN Secretary-General Antonio Guterres said last week that the agreement has been repeatedly violated by continuing arms deliveries to the warring parties and escalating fighting. He called the current offensives by rival forces "a scandal," saying the commitments "apparently were made without a true intention of respecting them."
Libya has been in turmoil since 2011, when a civil war toppled longtime dictator Muammar Qaddafi who was later killed.
A weak UN-recognized administration that holds the capital of Tripoli and parts of the country's west is backed by Turkey, which recently sent thousands of soldiers to Libya, and to a lesser degree Qatar and Italy.
On the other side is a rival government in the east that supports self-styled Gen. Khalifa Haftar, whose forces launched an offensive to capture the capital last April and are backed by the United Arab Emirates and Egypt as well as France and Russia.
The Tripoli authorities and US officials have accused Haftar of relying on hundreds of Russian mercenaries. Sudanese armed groups from the Darfur region recently joined the fighting on both sides, according to a report by UN experts.
The draft resolution welcomes last week's cease-fire talks between Libya's warring sides in Geneva and calls for their continuation "without further delay in order to agree a permanent cease-fire." It asks Guterres to submit his views on conditions for a cease-fire and proposals for effective monitoring of a truce, with a view to making detailed recommendations when a cease-fire is announced.
Russia and South Africa objected to an earlier text of the resolution. Russia sought some major changes that were not accepted, including changing the welcome for the Berlin conference to "takes note of" the meeting and changing the expression of concern over the growing involvement of mercenaries to "foreign terrorist fighters."
The draft does reaffirm "the need to combat ... threats to international peace and security caused by terrorist acts."
It was unclear Tuesday how Russia, especially, would vote on the resolution.
The Security Council on Tuesday voted 14-0 with Russia abstaining on a resolution extending the arms embargo, travel ban, asset freeze and other sanctions on Libya and Libyans until April 30, 2021.
It also extended the mandate of the UN panel of experts monitoring implementation of the sanctions until May 15, 2021.
Full report at:
https://www.arabnews.com/node/1626581/middle-east
--------
Bashir refuses to deal with ICJ 'as it is a political court,' says lawyer
February 12, 2020
KHARTOUM/JUBA: Sudan's government and rebel groups in Darfur agreed on Tuesday that all those wanted by the International Criminal Court (ICC) should appear before the tribunal, but a lawyer for ousted President Omar Bashir rejected the plan.
The lawyer said Bashir refused to deal with the ICC as it is a "political court" and that Sudan's judiciary was able to deal with any case.
Bashir, who was toppled after mass protests last year, is wanted by the ICC for war crimes, genocide and crimes against humanity, but Information Minister Faisal Saleh did not specifically name him when announcing the move.
The government and the rebel groups reached an agreement during a meeting in South Sudan's capital Juba that included "the appearance of those who face arrest warrants before the International Criminal Court," said Mohamed Al-Hassan Al-Taishi, a member of Sudan's sovereign council.
Al-Taishi also said that the two sides agreed to create a Darfur special court to investigate and hear cases including those investigated by the ICC. That could suggest that some will be tried in Sudan but no details were immediately available.
Bashir has said the allegations made by the ICC, the world's first permanent court for prosecuting war crimes, are part of a Western conspiracy.
Full report at:
https://www.arabnews.com/node/1626546/middle-east
--------
Family says teenage girl killed in US airstrike that targeted Al Shabaab in Somalia
FEBRUARY 10, 2020
When U.S. Africa Command announced it had conducted an airstrike on an al-Shabaab militant in the southern Somalia town of Jilib on February 2, it included an oft-repeated line: "We currently assess no civilians were injured or killed as a result of this airstrike."
But Mohamed Osman Abdi, English editor at Somalia National News Agency in Mogadishu, told The Defense Post that the casualty assessment, like many others, is wrong.
"I got a call from a friend in Mogadishu, saying 'did you know that some of your family were killed and injured in a strike which killed civilians in Jilib?'" Abdi said last week.
Abdi told The Defense Post that his brother-in-law's two daughters and his mother were sitting down to dinner when an explosion decimated their single-family home.
One of the daughters, Nurto, about 20 years old, was killed, he said. Fatima, 15, was rushed to the local clinic with shrapnel in her right shoulder and chest. His mother-in-law is in critical condition, he says.
Abdi said his family was unable to obtain photo evidence of the incident because Shabaab does not allow smartphones in its territory, but confirmed the identity of his relatives in photos posted on Twitter, and provided The Defense Post with other family photos for comparison.
Abdi is not sure who took the photos that were posted online, but the experienced journalist said it may have been members of al-Shabaab.
He said it was possible the strike may have been targeting Shabaab militants outside the house because the group fully controls Jilib, about 110 km north of Kismayo in Somalia's Middle Juba region.
Abdi said he approached an American military officer from AFRICOM's communications office during a conference in Mogadishu and detailed his story hours before the command released a statement assessing that no civilians were killed.
"He only said sorry about your relatives," Abdi told The Defense Post. "He did not tell me anything further, or ask me."
"He said we try our best not to damage or hit civilian areas," he recalled.
Ismael Mukhtar Omar, the Somalia Federal Government's official spokesperson, corroborated Abdi's account, saying he was present for the conversation with the AFRICOM officer.
"When warranted, processes and procedures exist that allow for additional information to inform post-strike analysis," AFRICOM has previously said of civilian casualty claims.
Amnesty International last year slammed AFRICOM's lack of transparency on civilian casualties in Somalia and accused the command of offering no way for victim's families to contact it to report such incidents.
The Defense Post reached out to AFRICOM with the account of the incident and asked whether the command intends to open an investigation, and what such an investigation would entail.
"We are aware of a report alleging civilian casualties resulting from this airstrike," spokesperson Major Karl Wiest replied via email.
"The command will review any information it has about the incident, including any relevant information provided by third parties," Wiest wrote.
"If the command is able to make a determination that U.S. military forces are responsible for the loss of life, limb, or eyesight, USAFRICOM will then determine the next appropriate step."
U.S. President Donald Trump eased Obama-era restrictions on targeting combatants in parts of Somalia in 2017 in response to an AFRICOM request. The regulations were intended to minimize civilian casualties.
Full report at:
https://thedefensepost.com/2020/02/10/somalia-us-africom-strike-casualties-jilib/
--------
Malian leader seeks dialogue with extremist insurgents
James Tasamba
11.02.2020
Mali's President Ibrahim Boubacar Keita said Monday his government is seeking talks with extremist groups in an effort to end an insurgency that has engulfed the country, French media reported.
At least 456 civilians were killed and hundreds more wounded last year in central Mali alone, Human Rights Watch said in a report released earlier in the day.
"The number of dead in the Sahel [region] is becoming exponential. It's time for certain avenues to be explored," Keita said in an interview published by French media.
"Why not try to contact those who we know are pulling the strings?"
The media report indicated that Keita had sent former President Dioncounda Traore -- the government's representative in central Mali -- on a mission to find people who "could be sensitive to a discourse of reason."
In 2017, a national conference gathering of the ruling party and opposition parties called for direct talks with armed groups, but the government was reluctant.
"We are ready to build bridges for dialogue with everyone at some point. We have to sit around a table and talk," Keita said.
The Sahel countries of Mali, Burkina Faso and Niger are particularly targeted by recurrent attacks attributed to al-Qaeda in the Islamic Maghreb (AQIM) and Daesh/ISIS.
Armed groups are killing, maiming and terrorizing communities throughout central Mali with no apparent fear of being held to account, the Human Rights Watch report said.
Many villagers were burned alive, while others were blown up by explosive devices, the report said, urging Malian authorities to urgently step up investigations and prosecutions of those responsible.
Last week, the UN's top humanitarian official in Mali, Ute Kollies, called for political engagement in the Sahel conflict, noting that extra troops would not resolve the crisis.
Full report at:
https://www.aa.com.tr/en/africa/malian-leader-seeks-dialogue-with-extremist-insurgents/1730174
--------
North America
Pentagon slashes funding for Islamic State fight
Jack Detsch
February 10, 2020
The Donald Trump administration is again set to slash funding for the fight against the Islamic State (IS) in a new budget request unveiled today, as Iraq's leaders have publicly demanded an end to the US-led combat mission.
The Pentagon's request would slash funding for the US-backed Syrian Democratic Forces to $200 million, down by a third from last year — money that will focus on "helping to provide wide-area security in liberated areas, addressing the ongoing [IS] threat, preventing [IS] re-emergence and setting conditions for long-term stability."
Overall, Trump is seeking $900 million for the counter-IS fight next year, a 30% cut from current year levels. Iraqi security forces, which have continued operations despite a US pause after an uptick in tensions with Iran, will receive $645 million for the IS fight.
Even as the US troop footprint in Syria winnowed to just 600 American forces after Trump allowed a Turkish incursion into areas liberated from IS, the Pentagon insists that the budget "strengthens the security capabilities of [Department of Defense] partners countering [IS] to secure territory liberated from [IS] and to counter future [IS] threats by training and equipping partner security forces."
The Pentagon has kept a residual troop presence in eastern Syria, which the administration has said is there to prevent IS from retaking oil fields in the area, though officials have indicated Russian and Syrian forces are posing a continual threat. But funding has declined.
While the Pentagon chips away at the funding for countering IS, Trump's budget forecasts funding an increased number of US troops to defeat terror, up by nearly 4,000 units to 91,233 forces for the fiscal year that starts in October.
The diminished request could foreshadow a bigger role for US forces to train Iraqi units as the Pentagon has faced political pressure to withdraw after an American drone strike killed Quds Force leader Qasem Soleimani at Baghdad's airport on Jan. 3.
The US-led Office of Security Cooperation, separate from the defeat-IS mission, will get $628 million next year, as the Pentagon attempts to build up Iraq's military over the long haul to be interoperable with American and NATO forces. The Pentagon requested just $45 million for the office last year.
https://www.al-monitor.com/pulse/originals/2020/02/pentagon-slash-funding-islamic-state-fight-iraq.html
--------
US charges five in Texas, New York with colluding to break Iran oil sanctions
12 February 2020
The US Justice Department said on Tuesday it had charged five people in Texas and New York with conspiring to violate a law on international commerce by arranging to purchase sanctioned Iranian oil and sell it to a refinery in China.
The defendants include Daniel Ray Lane, president of privately held STACK Royalties, LLC a Texas-based company that sells oil and gas mineral rights to investment funds and private equity groups.
The Justice Department charged the defendants with one count of conspiracy, and another for violating the International Emergency Economic Powers Act, based on allegations that from July 2019 to February 2020 they conspired to arrange for the purchase of oil from Iran for sale to an unnamed Chinese refinery. The charges also allege violations of US economic sanctions on Iran.
The five suspects, in addition to Lane, are Nicholas Haven of New York and Robert Thwaites, Nicholas Fuchs and Zhenyu Wang, also known as Bill Wang, of Texas.
Lane offered to further the conspiracy by laundering money through STACK Royalties, the Justice Department said. STACK did not immediately respond to requests for comment.
China is the world's only major importer of Iranian oil despite sanctions President Donald Trump unilaterally reimposed on Tehran's petroleum exports in 2018 after withdrawing the United States from the 2015 Iran nuclear deal between Tehran and six world powers.
"With the goal of illegally enriching themselves, the defendants conspired for over eight months to devise a scheme to violate US sanctions imposed on Iran, particularly the ban on foreign oil sales," said Assistant Attorney General for National Security John Demers.
The defendants agreed to use a Polish shell company as a straw seller of the illicit oil and planned two shipments of oil per month, according to the charges against them.
The Justice Department said Fuchs and Thwaites agreed to apply for foreign passports in order to set up offshore accounts that would not be reported to US authorities.
Full report at:
https://english.alarabiya.net/en/News/world/2020/02/12/US-charges-five-in-Texas-New-York-with-colluding-to-break-Iran-oil-sanctions.html
--------
Las Vegas man who allegedly wanted to attack synagogue pleads guilty to having bomb parts
Feb. 11, 2020
A Las Vegas man who allegedly wanted to attack a synagogue and an LGBTQ bar pleaded guilty Monday to possessing bomb-making components, federal authorities said.
Conor Climo, 23, faces a maximum of 10 years in prison and a $250,000 fine, the U.S. Attorney's Office in Nevada said in a statement.
He is scheduled to be sentenced on May 14.
Climo was arrested in August, after allegedly talking with members of a white supremacist group about setting fire to a synagogue and making Molotov cocktails and improvised explosive devices.
Federal authorities said he admitted to the online conversations with Feuerkrieg Division, an offshoot of the white supremacist extremist group Atomwaffen Division.
Climo also allegedly told FBI agents that he wanted to assemble an eight-member sniper platoon for the attack.
The U.S. Attorney's Office said Climo also admitted to conducting surveillance on a bar in downtown Las Vegas that he believed catered to LGBTQ patrons.
Full report at:
https://www.nbcnews.com/news/us-news/las-vegas-man-who-allegedly-wanted-attack-synagogue-pleads-guilty-n1134386
--------
US senator seeks public's support on Khashoggi murder
Servet Günerigök
12.02.2020
Washington DC
A U.S. senator urged Americans Tuesday to pressure their Congressional representatives to bring those responsible for the murder of Saudi journalist Jamal Khashoggi to justice.
"It's time for those responsible for the brutal murder of journalist Jamal Khashoggi to be held accountable," Oregon Sen. Ron Wyden, a member of the Senate Intelligence Committee, said in a video posted on Twitter with Khashoggi's fiancée, Hatice Cengiz.
In the video, the senator said he and Cengiz are seeking information from the authorities as to who is responsible for the "horrendous murder" of the Saudi journalist.
"I may have to under the rules of the intelligence committee use a special process to get this information out.
"What you can do as a citizen is tell your elected officials it is time for the truth -- the truth about who was responsible for killing Khashoggi," Wyden said.
Cengiz, for her part, said truth is the first step for justice and backed the senator's call for cooperation.
Wyden has repeatedly said he will release secret information about Khashoggi's death if the Trump administration fails to turn over a detailed report on the murder.
Khashoggi, a U.S. resident and columnist for The Washington Post, went missing after entering the Saudi Consulate in Istanbul, Turkey on Oct. 2, 2018.
After initially saying he had left the consulate alive, weeks later, the Saudi administration admitted he was killed there, blaming a rogue group of Saudi operatives.
Full report at:
https://www.aa.com.tr/en/americas/us-senator-seeks-public-s-support-on-khashoggi-murder/1731334
--------
South Asia
Afghan Special Forces kill; detain 7 militants during the raids in Kabul, 2 other provinces
11 Feb 2020
The Special Forces killed 3 Taliban militants and arrested 4 others during the operations in the past 24 hours.
The military officials said Tuesday, the Special Forces killed 3 Taliban militants during a raid in Tarin Kot district of Uruzgan.
The officials further added that the Special Forces also destroyed a small cache of weapons during the same operation.
The Special Forces arrested 3 Taliban militants during a separate operation in Deh Bala district of Nangarhar, the officials said.
The officials also added that the Special Forces arrested a Taliban militant during a separate raid in Kabul province.
Meanwhile, the officials said an airstrike killed 5 Taliban militants in Sang district of southern Helmand province.
The anti-government armed militants have not commented regarding the operations so far.
https://www.khaama.com/afghan-special-forces-kill-detain-7-militants-during-the-raids-in-kabul-2-other-provinces-04444/
--------
At Least 15 Rohingya Muslims Killed as Boat Sinks Off Coast of Bangladesh
By Hai Do
February 11, 2020
At least 15 people drowned Tuesday after an overcrowded boat carrying Rohingya Muslim refugees capsized and sank off the coast of Bangladesh .
Commander Sohel Rana of the coast guard station on St. Martin's Island, Bangladesh, said the wooden boat was setting sail for Malaysia when it hit a coral reef in shallow water. It was packed with refugees from camps around Cox's Bazar.
Fishermen alerted the coast guard, which found the vessel sinking with survivors swimming and crying for help. Navy divers joined the coast guard for the rescue operation. By nightfall, rescuers had saved 73 people and recovered 15 bodies. Among the dead were women and children.
Coast guard spokesman Hamidul Islam said the chance of finding survivors is slim, but " But added, "we are continuing the search and rescue operations."
Jamila Bibi from the Kutupalong Refugee Camp is one of the survivors. She said her husband was in Malaysia. "I was going to him. But I cannot go to my destination now," she said.
A Rohingya teenager who declined to reveal his name said, "I can't eat properly at camp. Can't move freely. I thought, 'If I go to Malaysia, maybe I can live a better life.' So I wanted to go to Malaysia by boat."
'Wakeup call'
More than 730,000 Rohingya left Myanmar after a military-led campaign against them in 2017. They were forced to live in crowded, dirty camps across the border in Bangladesh. But several attempts to repatriate Rohingya Muslims back to Buddhist-majority Myanmar have been met with resistance.
The United Nations refugee agency UNHCR says Malaysia had nearly 100,000 Rohingya refugees by the end of 2019, the second largest number after Bangladesh.
Many of the refugees in Cox's Bazar have since tried to make the hazardous sea journey to Malaysia. Last November, Bangladesh's coast guard rescued 122 Rohingya refugees when a vessel they had boarded to Malaysia started sinking because of a mechanical problem.
Full report at:
https://www.voanews.com/east-asia-pacific/least-15-rohingya-muslims-killed-boat-sinks-coast-bangladesh
--------
Pompeo apprises Abdullah about developments in reduction of violence amid U.S.-Taliban talks
12 Feb 2020
The Secretary of State Mike Pompeo apprised Chief Executive Abdullah Abdullah about the developments in U.S.-Taliban peace talks focused on reduction of violence.
The Office of Chief Executive said in a statement that Secretary Pompeo apprised Chief Executive Abdullah about the developments during a telephone conversation.
Hailing Abdullah for his support to peace efforts, Secretary Pompeo expressed hopes that the recent developments would pave the way for the signing of a bilateral agreement, launch of intra-Afghan talks and attainment of eternal peace in Afghanistan, the statement added.
The statement further added that Chief Executive Abdullah welcomed the recent developments in U.S.-Taliban talks, mainly aimed at reducing violence, emphasizing that peace is one of the top priorities of the Afghan government and the Afghan people.
Full report at:
https://www.khaama.com/pompeo-apprises-abdullah-about-developments-in-reduction-of-violence-amid-u-s-taliban-talks-04446/
--------
NDS Forces arrest 9 ISIS sympathizers from a landmark mall in Kabul city
12 Feb 2020
The Special Forces of the National Directorate of Security (NDS) arrested 9 sympathizers of the Islamic State of Iraq and Syria (ISIS) terrorist during an operation in Kabul city.
According to a statement released by NDS, the Special Forces of the Directorate arrested the ISIS sympathizers during a raid which they recently conducted in Gulbahar Center.
Led by Haris who is based out of Afghanistan, the group had established a shop 'Dar-ul-Hejab' in the second floor of Gulbahar Center, a property dealership in Qala-e Musa and a money exchange shop in Sarai Shahzada.
The statement further added that Haris had established the businesses with the support of Mohammad Edris in Kabul city in a bid to provide financial support to the terror group.
The National Directorate of Security also added that Haris collected a considerable amount of money in European countries under the pretext of supporting the poor Muslims and channeled the funds to ISIS group in Afghanistan.
Full report at:
https://www.khaama.com/nds-forces-arrest-9-isis-sympathizers-from-a-landmark-mall-in-kabul-city-04447/
--------
Southeast Asia
Is the pope Catholic? Ministry apologizes for appointing Muslim as acting Catholic affairs director-general
February 11, 2020
A bureaucratic blunder caused the Religious Affairs Ministry to appoint a Muslim official as acting head of the Catholic Community Guidance Directorate General, a move that drew online and offline criticism.
Ministry secretary-general Nur Kholis Setiawan took the blame for the gaffe, saying he had given mistaken advice to the ministry's top brass.
"I apologize for this oversight," Nur Kholis said in an official ministry press release on Monday night, adding that the ministry would soon appoint a new acting director-general from within the Catholic unit.
Nur himself had been appointed to the role in January, replacing another Muslim official, Muhammadiyah Amin, who had filled the position since the previous director-general Eusabius Binsasi, who was Catholic, retired last July.
Minister Fachrul Razi and Deputy Minister Zainut Tauhid Sa'adi had previously defended both appointments, saying that National Civil Service Agency (BKN) regulations prevented the ministry from putting a Catholic in the position.
However, it turned out the problem was of their own making, stemming from a misreading of a 2019 BKN circular that states civil servants can only be appointed as acting officials in positions "at the same level or one level above" the ones they held.
Ministry leadership apparently interpreted the wording in the circular to mean civil servants could only fill vacant spots that were at the same level or one level below their position.
"In the Catholic Community Guidance Directorate General there is only one echelon 1 position, while the rest are echelon 2 and 3, so it is impossible for the acting head to come from the Catholic directorate general," Zainut said in a statement on Monday, adding that the Nur Kholis' appointment was made merely for administrative reasons.
"The rule is that [the position] must be held by someone of the same level. It's like a general's position can't be filled by a major," Fachrul, himself a former Indonesian Military general, told reporters on Monday.
The misstep had been heavily criticized online, with several Twitter users drawing attention to the irony of having a Muslim in charge of Catholic religious affairs.
Twitter user @darmanto0802, for example, tweeted an imaginary conversation of someone who might be looking for the director-general.
OpaDarmanto
@darmanto0802
👩🦰: Selamat pagi pak, saya mau bertemu dgn bapak Dirjen Bimas Katolik
👨🦰: Maaf bu, Bapak Dirjen sedang cuti menunaikan ibadah haji
4
8:32 PM - Feb 10, 2020
Twitter Ads info and privacy
See OpaDarmanto's other Tweets
"Good morning, sir. I'm looking for the Catholic Community Guidance director-general" the questioner asks.
"I'm sorry, ma'am, the director-general is on leave to go on the haj," comes the reply.
Another Twitter user jokingly suggested that an exchange was in order.
NetizenID
@arisidid
Replying to @Je_Ly
kalo gitu, dirjen bimas islam diisi pejabat beragama katolik untuk menunjukkan toleransi @Kemenag_RI 😁
2
7:00 PM - Feb 9, 2020
Twitter Ads info and privacy
See NetizenID's other Tweets
"The Islam Community Guidance Director-General position should be filled by a Catholic official to show tolerance," @arisidid tweeted.
Nur Kholis said he made the mistake because he had not read the BKN circular thoroughly enough and had been fixated on financial administration concerns.
"Tomorrow, on Tuesday, there will be a new appointment letter for [the position] for someone within the same working unit," he said. (hol/kmt)
https://www.thejakartapost.com/news/2020/02/11/is-the-pope-catholic-ministry-apologizes-for-appointing-muslim-as-acting-catholic-affairs-director-general.html
--------
Indonesia Refuses to Repatriate Former Islamic State Fighters
BY BERITASATU
FEBRUARY 12, 2020
Bogor. The Indonesian government said on Tuesday they will not facilitate the return of nearly 700 militants who have joined the Islamic State in other countries, despite warning from human rights activists.
The decision was made in a meeting led by President Joko "Jokowi" Widodo, to ensure security and contain the spread of radicalism "virus" among the Indonesian people, the chief security minister said.
"The meeting just now decided that the government and the state must protect 267 million Indonesian people from terrorist threats and new viruses of terror," Political, Legal and Security Affairs Coordinating Minister Mahfud M.D. told reporters after a cabinet meeting at the presidential palace in Bogor, West Java.
"If we allow the FTFs [foreign terrorist fighters] to return, they may become new viruses that cause other people to feel unsafe. The government has no plan to repatriate terrorists," he said.
Mahfud said the government will work to collect accurate data about the number of Indonesian citizens who have joined with the global militant network, which seeks to establish a global caliphate through jihad.
"According to our data, there are 689 [Indonesian] terrorists in Syria, Turkey and some other countries. However, we will work for more accurate data about the number and identities of Indonesian people joining the ISIS," Mahfud said, using another acronym for the group.
The decision was taken sooner than the original plan. Mahfud said earlier the president was waiting for legal frameworks being drafted by related ministries and state agencies before he could make a decision on the matter in a cabinet meeting scheduled for June.
Indonesia's biggest Muslim group Nahdlatul Ulama has voiced firm rejection to the return of former IS fighters.
"We the Nahdlatul Ulama reject the return of ISIS combatants because they have left of their own free will and burned their passports," Nahdlatul Ulama chairman Said Aqil Siroj told reporters at his office in Jakarta.
He was accompanied by visiting Foreign Minister Retno Marsudi.
Said Aqil added the Indonesian militants had deliberately dropped their citizenship when joining the IS, meaning that the government no longer held any responsibility for them.
However, human rights group Imparsial warned that the former IS members still hold Indonesian citizenship. Imparsial director Al Araf argued that although the militants had pledged allegiance to the IS, they remain Indonesian citizens because the group is not a country by any standard.
An Indonesian citizen can only lose his citizenship if he chooses to become a citizen of a foreign country, he said.
He said that a United Nations Security Council resolution defined the so-called Islamic State as a terrorist organization, not a sovereign country.
"We consider that IS sympathizers from Indonesia still hold their citizenship according to the law and the government should accordingly take appropriate policies in handling this issue," Al Araf said.
Full report at:
https://jakartaglobe.id/news/indonesia-refuses-to-repatriate-former-islamic-state-fighters
--------
Indonesia Refuses to Take Back Suspected IS Militants
February 11, 2020
JAKARTA - Indonesia's government on Tuesday banned citizens who joined the Islamic State group in Syria from returning home because of fears they could pose a threat to national security.
A furious debate has raged in the world's most populous Muslim nation in recent weeks over how to handle hundreds of suspected militants and their families seeking to return from combat zones in Iraq and Syria, as well as those in detention, after IS lost large swathes of territory and the United States announced the withdrawal of its forces.
The country has been torn between protecting citizens' rights, especially those of women and children, and national security.
"The government has no plans to repatriate terrorists," the coordinating minister for Political, Legal and Security Affairs, Mohammad Mahfud MD, said after a Cabinet meeting to discuss the return of hundreds of Indonesians held by authorities in Syria.
"The state should provide security for 267 million Indonesians from new terrorist viruses,'' he said.
He said the government will collect more data on the identities of people who joined radical groups in the Middle East. Citing U.S. Central Intelligence Agency records, he said some 689 Indonesian citizens are currently in Syria, of whom only 228 had been identified.
The government is considering the possibility of allowing children return home, especially orphans.
Indonesian veterans of fighting in Afghanistan spearheaded attacks in the 2000s against local and Western targets, including nightclub bombings on the resort island of Bali that killed 202 people, mostly foreign tourists.
A sustained crackdown by Indonesian authorities since 2002 has reduced the threat of large-scale attacks against Western or civilian targets. But IS attacks abroad have inspired Indonesian militants to continue to plan and carry out attacks, mostly against police targets across the country, officials say.
Full report at:
https://www.voanews.com/east-asia-pacific/indonesia-refuses-take-back-suspected-militants
--------
Identity politics not way forward for Malaysia, says Indonesian academic
Hakimie Amrie and Nicholas Chung
February 12, 2020
SHAH ALAM: An Indonesian academic says identity politics is not the way forward for Malaysia, and the convergence in the people's diversity should be emphasised more than their differences.
Dewi Fortuna Anwar, a research professor at the Indonesian Institute of Sciences' Centre for Political Studies, said identity politics is not something that should be practised in Malaysia.
She said identity politics exists because it is an easy way to win votes and loyalty, but it has always been a struggle for modern nation-states to overcome it and create a common platform for all.
"The thing is, as long as there are differences, there will always be people who want to accentuate them," she said.
Quashing these differences, she said, is not the solution to the problem.
"While identity politics is not something we should nurture, repressing expressions of differences by punishing people who articulate a desire for differences is not the way to achieve harmony either," she said on the sidelines of the 2020 Regional Conference on Peaceful Coexistence here yesterday.
Asked to comment on the rumoured Pakatan Nasional pact, Dewi said she believes the nation actually wants a Malaysian identity instead of a Malay-Muslim identity since it comprises a plural society.
She said Malaysia's identity should transcend race and religion, and a Malay-Muslim dominated government will be a step back for the nation.
Citing the example of Yugoslavia, she told of how the nation broke into different republics based on religious differentiations and ethnic groups.
"We don't want that. We believe our future lies in a strong state and society, a state that is able to protect the people equally but also people who feel at home with one another.
"If we start differentiating one group from another, then we're not living in one community. I don't think that's a good model for a modern state," she said.
Asked if Malaysia's identity politics can be stopped, Dewi put the responsibility on the government to ensure education is inclusive and does not perpetuate racism and racial intolerance.
She said media also plays an important role in creating unity because it has the power to create conflicts. "Media should promote peace rather than exacerbate conflicts".
Dewi also said there should be an instrument that can ensure the prevention of fake news. She said Malaysia must focus on stopping mischievous people who use social media to spread hate speech and fake news.
On the issue of special privileges for the Malays, Dewi said Malays desire to have a race-based affirmative action policy because they do not want to be left behind.
However, she disagreed with the policy, saying: "Instead of creating social policy for a race, Malaysia should create a policy that focuses on those who are disadvantaged, like poor people, regardless of race, religion or gender.
Full report at:
https://www.freemalaysiatoday.com/category/nation/2020/02/12/identity-politics-not-way-forward-for-malaysia-says-indonesian-academic/
--------
Malaysia has much to contribute in promoting peace, understanding: Baroness Scotland
10 FEB 2020
KUALA LUMPUR: Multiethnic and multireligious Malaysia has much to offer to the international community in terms of fostering greater peace and understanding among communities and nations, said Commonwealth secretary-general, Baroness Patricia Scotland.
She noted that the Malaysian government itself has committed to inculcating the values of peace and mercy (rahmah) and showing that Islam is a religion of peace that embraces all mankind.
"Malaysia, as a much-loved member of our Commonwealth family, can give a very blessed gift to the whole world because Malaysia is the embodiment of what peace and peaceful coexistence look like."
Baroness Scotland said this when addressing the 'Faith in the Commonwealth - Commonwealth Call For Peace, Understanding and Rahmah (Mercy)' forum at the International Institute of Islamic Thought and Civilisation, International Islamic University Malaysia (ISTAC-IIUM), here today.
She also spoke of the need for deeper understanding of the contribution that belief systems - whether they be philosophical or faith-based - can make towards building mutual respect among nations and communities as well as shaping a world that is not just equitable but also more inclusive.
"And the pledge that Malaysia is making to be one of the leaders in this journey towards peace and understanding is a pledge that I celebrate and applaud," the 54-member grouping's top official said.
Alluding to last year's deadly attacks against religious targets in Christchurch, New Zealand and Sri Lanka's capital Colombo, Baroness Scotland underscored the need to speak out against those who attempt to spread hatred and create divisions.
"These people sought to divide us in our Commonwealth, they sought to drive us apart. But the wounds that we suffered in Christchurch, and then in Colombo, did not drive us apart.
"It drove the Commonwealth family together. We knew that we could not stand silent while these harbingers of hate did their work," she said.
Baroness Scotland noted that a sizeable number of Commonwealth's 2.4 billion people are Muslim and that 1.8 billion are those under the age of 30.
"So this is a young Commonwealth, a Commonwealth which needs to know and love each other and needs to share (with one another)," she said.
Present at the event organised by the Federal Territories Islamic Religious Council (MAIWP) and ISTAC-IIUM were Minister in the Prime Minister's Department Datuk Seri Dr Mujahid Yusof and MAIWP chairman Datuk Seri Syed Hussien Alhabshee.
In his speech, Mujahid explained that the government has agreed to implement what is called the 'Rahmatan Lil Alamin' or 'Compassionate Islam' as its new policy, based on the principles of 'RAHMAH' - amicable (ramah), peaceful (aman), harmonious (harmoni), genial (mesra), universal (alami) and respectful (hormat).
"The Rahmatan Lil Alamin principle, as we find in the study of Islamic scholars, offers a solution to the increasingly complex and pressing global problems," he said, adding that academic discussions on this concept will lead to solutions to current challenges which hamper the existence of multiracial societies.
Full report at:
https://www.thesundaily.my/local/malaysia-has-much-to-contribute-in-promoting-peace-understanding-baroness-scotland-DY1991984
--------
Redevelopment of Kampung Baru will maintain Malay, Islamic identity, says project consultant
11 Feb 2020
KUALA LUMPUR, Feb 11 — The atmosphere and culture of a Malay village in the 70's and 80's will be revived in Kampung Baru here through a cultural centre to be built as part of the redevelopment plan for the 100-year-old village.
According to Azril Amir Jaafar, the principal of the Veritas Design Group, a consultant company for the redevelopment, the project, called 'Malay Arts Performance and Culture Centre' is not only part of the initiative to preserve the identity, and Malay and Islamic characteristics of the village but will also be a tourist attraction and a platform to introduce the uniqueness of Malay culture.
Azril said the cultural and arts centre will be an open public space like a park that offers a variety of outdoor activities and is planned to be built near the Saloma Link which was opened to the public on Feb 5.
"Various Malay cultural performances such as kuda kepang, wayang kulit (shadow play), Malay films and outdoor cinema shows can be held at the centre. The location near the Saloma Link which connects Kampung Baru and Jalan Ampang is also convenient for people to come and it is also a perfect complement to KLCC," he told Bernama in a special interview.
Among others, the Kampung Baru redevelopment plan presented at the townhall session on Sept 21 last year, proposed the construction of a Malay Arts Performance and Culture Centre, as well as a heritage park to preserve the identity of Muslim Malays which have become a trademark of the 90-hectare village.
Azril said the development plan will also retain the landmarks of Kampung Baru such as the 'Pasar Minggu' (Sunday Market) in Jalan Raja Alang.
It will be restructured in an organised manner, highlighting the traditional Malay food 'Bubur Lambuk' which is synonymous with the area.
He said, in addition to culture and lifestyle, the redevelopment will also incorporate architectural elements which symbolise the Malay heritage.
"There are many elements that we can consider as reference such as the songket and tengkolok (traditional male headgear). The Kampung Baru redevelopment is a long-term project that is expected to take 30 years and during this time, ideas will continue to grow.
Full report at:
https://www.malaymail.com/news/malaysia/2020/02/11/redevelopment-of-kampung-baru-will-maintain-malay-islamic-identity-says-pro/1836561
--------
Arab World
Lebanese government wins confidence vote as protesters clash with police outside parliament
February 11, 2020
BEIRUT: The streets of Beirut erupted in fury once more on Tuesday as protesters tried to block members of parliament from holding a vote to approve the government of new Prime Minister Hassan Diab.
Riot police fired tear gas and water cannon, and demonstrators lobbed rocks at security forces and hurled eggs and paint at MPs and ministers as they arrived at parliament.
Protesters tore down walls to use stones as missiles, and set fire to a branch of one of Lebanon's biggest banks, BLOM. Flames engulfed the building as demonstrators smashed the facade and furniture. At least 370 people were injured in the clashes, and 45 were treated in hospital.
One MP, Salim Saadeh of the Syrian Social National Party, suffered head injuries when protesters smashed up his car. He was treated at the American University Hospital, before returning to parliament to vote with a swelling on his forehead and around his left eye.
Protesters also pelted the cars of ministers Damianos Kattar and Ghazi Wazni with stones and eggs. The Minister of Public Works and Transport, Michel Najjar, traveled to parliament on the pillion seat of a motorcycle.
In the end, the protest failed — the vote of trust in the new government went ahead, with 63 voting in favour, 20 voting against, and one abstention.
Nevertheless, the protesters, many of whom had slept overnight in freezing temperatures in Riad El-Solh and Martyrs Squares, had made their point.
"People are suffering and the government is not listening," said demonstrator Lama Tabbara, 34. "It takes a long time to uproot an old rotten tree, and that's what the government represents."
Another protester, Christopher, 26, said: "We are here to reject Diab's government and to say that the Lebanese people have no confidence in it — even if MPs vote to support it."
He said the new ministers may appear to be qualified but they still depended on "the parties that destroyed the country."
Lebanon is on the brink of defaulting on its debt and the impact is being felt throughout society, with tough restrictions on cash withdrawals and a de-facto devaluation of the lira.
One placard at Tuesday's protest carried the sarcastic message: "Of course we are confident — that they will help the banks to the detriment of the people."
In the past week, Arab News has reported that 40 percent of Lebanese are living below the poverty line, that the figure could rise to 70 percent if the economic crisis is not addressed, and that 7 in 10 educated young Lebanese want to emigrate.
At Tuesday's parliamentary session, Prime Minister Diab read out the new government's policy statement urging "painful steps" to deal with the economic crisis, including cutting interest rates and seeking foreign help.
https://www.arabnews.com/node/1626176/middle-east
--------
Saudis follow Iran's 1994 somersault on Kashmir at OIC
ftikhar Gilani
11.02.2020
Is Saudi Arabia playing with Pakistan on the issue of Jammu and Kashmir, in a similar way as Iran acted previously in 1994?
Diplomatic sources in Pakistan say that Saudi Arabia has shown reluctance to accept Islamabad's request for an immediate meeting of the foreign ministers of the 57-member Organization of Islamic Cooperation (OIC).
While speaking at a think-tank in Malaysia, Pakistani Prime Minister Imran Khan voiced frustration over the OIC's silence on Kashmir. He said: "The reason is that we have no voice and there is a total division amongst [us]. We can't even come together as a whole on the OIC meeting on Kashmir."
Cut to March 1994. On a winter morning, with the Alborz Mountains overlooking Tehran airport were still under snow, braving cold winds, a special Indian military plane touched down. Onboard was then ailing External Affairs Minister Dinesh Singh, along with three others. Barely able to walk, Singh had been dragged out of a hospital bed by then-Prime Minister Pamulaparthi Venkata Narasimha Rao to deliver a personal and a secret letter to Iranian President Ali Akbar Hashemi Rafsanjani.
Having mortgaged its gold reserves in 1992, India was on the economic brink and its old friend Russia was still licking its wounds after the break-up of the Soviet Union. The OIC was pushing a resolution at the Office of the UN Commissioner on Human Rights (OHCHR), later rechristened as Human Rights Council, to condemn India for human rights violations in Kashmir. The resolution, in case of approval, was to be referred to the UN Security Council for initiating economic sanctions and other punitive measures against India. The decisions in the OIC are adopted by consensus.
Recalling how India was saved from disgrace, former Indian career diplomat M K Bhadrakumar believes that Rao had shrewdly prevailed upon Iran to abstain from voting.
"Once there is no consensus in the OIC, the resolution was bound to fall through," said Bhadrakumar, who has served as India's envoy in Iran, Afghanistan, and Turkey.
The Iranians had no clue to the Indian minister's mission. Casting aside protocol, Iranian Foreign Minister Ali Akbar Velayati was at the airport when Singh alighted. Velayati asked what on earth could be of such momentous importance for Singh to risk a perilous journey in his precarious condition. In reply, Dinesh Singh smilingly handed over a demarche.
In the day, he went through his "Kashmir brief" diligently in meetings with his Iranian interlocutors, namely, Velayati, President Hashemi Rafsanjani and Iranian Majlis Speaker Nateq Nouri. By evening, Singh returned to his hospital bed in New Delhi, but with an assurance from President Rafsanjani to Prime Minister Rao "that Iran will do all it can to ensure that no harm comes to India."
Iran killed OIC resolution
Only after 72 anxious hours did New Delhi learn that Iran had killed the OIC move to table the resolution. This marked a new chapter in India-Iran relations with wider consequences. Iran distanced itself from Pakistan in the matter of Afghanistan; and, India joined hands with Iran to promote the Northern Alliance, which was inimical to Pakistani interests.
Pakistan was shocked by what it termed as "backstabbing". What Iran gained is a mystery? But events show that Rao had promised to grant a kind of self-rule and to give Pakistan access in the affairs and progress of Jammu and Kashmir. A year later, Rao while attending the Non-Aligned Movement summit in the West African country of Burkina Faso declared that the sky is the limit concerning the quantum of autonomy to Jammu and Kashmir. He also envisaged a gas pipeline from Iran via Pakistan calling it a peace pipeline.
The Indian delegation to the OHCHR led by leader of the opposition Atal Behari Vajpayee comprised Minister of State for External Affairs Salman Khurshid and former Chief Minister of Jammu and Kashmir Farooq Abdullah, now detained under the stringent Public Safety Act. Basking in this diplomatic victory, Vajpayee and Abdullah were unaware that, three days ago, Dinesh Singh had laid the ground for it in Tehran. Rao also never tried to steal the credit from them. Abdullah later said he had joined Indian delegation, after receiving a promise from the prime minister that the pre-1953 constitutional status will be restored that envisaged greater self-rule and opening of Line of Control -- a de facto border that divides the Kashmir valley between Pakistan and India -- with Pakistan-administered Kashmir.
Much later, it came to be known that when the Pakistani ambassador supported by Saudi envoy sought to move the OIC resolution, the Iranian diplomat in Geneva, under orders from Tehran, backed out. He argued that as a close friend of both India and Pakistan, Iran was ready to sort out their problems and there was no need to raise these at an international forum. That was the last time Pakistan tried to get a resolution on the Kashmir issue tabled in a UN forum.
Full circle, roles reversed
Now, the wheel has come full circle. 26 years later, while Iran has returned to supporting Pakistan on Kashmir, backing from Riyadh has dried up. In a role reversal, over the past few days, reports said Saudi Arabia has made several proposals to Pakistan to avoid the meeting of foreign ministers including holding a parliamentary forum or speakers' conference from Muslim countries. Islamabad's position has been that speakers' meeting is not commensurate with the seriousness of the situation in Kashmir. Pakistan also fears that parliamentary meeting will be used for Iran bashing as Speaker of Saudi Shura Abdullah bin Mohammed bin Ibrahim al Sheikh had undertaken to lobby in this regard.
According to Amir Rana, a Pakistani strategic expert, Pakistan's geo-economic and strategic challenges make it difficult for the country to fully cooperate or annoy either of the two blocs. "Pakistan is caught in a dilemma where its heart is in the Malaysian-Turkish bloc, which has been openly supporting Pakistan's Kashmir cause, but its mind is with the Saudi-led bloc, which has money and political influence that Pakistan needs for its struggling economy," he said.
Kashmir remains a core Pakistani foreign policy objective and, thus, an easy way to win the country's goodwill. But this is not enough for sustaining geo-economic and strategic interests. The diplomatic posture of a nation becomes more balanced and comprehensive when architects of its foreign policy have diverse economic, socio-cultural and political determinants insight. Indeed, there is a lot for Pakistan to ponder over when it sees some of its close friends not supporting it on Kashmir.
Full report at:
https://www.aa.com.tr/en/analysis/opinion-saudis-follow-iran-s-1994-somersault-on-kashmir-at-oic/1730770
--------
Iraq's Sadr dissolves 'blue caps' unit accused of deadly attacks on protesters
11 February 2020
Iraqi Shia cleric Moqtada Sadr announced on Tuesday he was dissolving the "blue caps," an organized unit of his supporters accused of deadly attacks on anti-government protests in recent days.
"I announce the dissolution of the 'blue caps,' and I do not accept the (Sadrist) movement's presence in and of itself at the protests, unless it is absorbed into them," Sadr said in a tweet.
Over the last ten days, men wearing blue caps have raided protest camps in Baghdad and the Shia-majority south, with eight protesters killed in the ensuing violence.
https://english.alarabiya.net/en/News/middle-east/2020/02/11/Iraq-s-Sadr-dissolves-blue-caps-unit-accused-of-deadly-attacks-on-protests-.html
--------
Clashes in Lebanon injure 300 as Parliament votes on government
11 February 2020
Clashes erupted between protesters and Lebanese security forces when demonstrators attempted Tuesday morning to break through the cement barriers placed by the government around the Parliament.
Around 300 Lebanese were wounded in the clashes, 40 of whom were hospitalized, the Lebanese Red Cross said.
Security forces fired tear gas and water canons at the stone-throwing protesters, who were seeking to prevent MPs and government officials from reaching the parliament for a vote of confidence in the new cabinet of Prime Minister Hassan Diab.
The government erected concrete barriers in downtown Beirut to try and contain the protesters, which had previously taken over parts of the city center as their own.
During the clashes, the Lebanese army tweeted that riots and violations of public and private properties are damaging the protesters' demands.
Al Arabiya English
✔
@AlArabiya_Eng
Watch: A protester plays cat and mouse with Lebanese security forces, dodging tear gas and throwing rocks, as clashes leave Beirut's downtown area in a state of chaos. Find out why here.#Lebanon #LebanonProtests @Boswall_Jacob https://english.alarabiya.net/en/News/middle-east/2020/02/11/Protesters-attempt-to-break-through-barriers-in-Lebanon-s-downtown-Beirut.html …
Embedded video
12
4:45 PM - Feb 11, 2020
Twitter Ads info and privacy
See Al Arabiya English's other Tweets
Parliament voting on new government
Later, Lebanese parliament convened a session for MPs to hold a vote of confidence on the new government led by Prime Minister Hassan Diab.
MPs are set to vote on a government policy statement that says the country needs "painful steps" to rescue it from an unprecedented financial crisis, which sparked the early morning protests.
Demonstrators have been taking to the streets of Lebanon since October and are fueled by deep resentment for a ruling class seen as mired in corruption, which drove the economy into crisis.
Speaker Berri calls for IMF help
Lebanon needs help from the International Monetary Fund to draw up an economic rescue plan and decide how to repay eurozone bonds, believes Lebanese Parliament Speaker Nabih Berri, according to a government source on Tuesday.
Berri also believes Lebanon cannot "surrender" itself to the IMF "because of its "incapacity to bear its conditions," said the government source, who spoke to Reuters on condition of anonymity, and an-Nahar, quoting Berri's visitors.
Full report at:
https://english.alarabiya.net/en/News/middle-east/2020/02/11/Protesters-attempt-to-break-through-barriers-in-Lebanon-s-downtown-Beirut.html
--------
Bahrain formally appoints ex-GCC chief Abdullatif al-Zayani as foreign minister
12 February 2020
Bahrain has formally appointed former Secretary General of the Gulf Cooperation Council Abdullatif al-Zayani as the Kingdom's foreign minister, according to a royal decree issued on Tuesday.
Al-Zayani replaces Sheikh Khalid bin Ahmed al-Khalifa, who served as foreign minister since 2005. With his official appointment on Tuesday, al-Zayani becomes the first non-royal member of the ruling al-Khalifa family to hold the post of Bahrain's foreign minister.
According to another royal decree on Tuesday, Sheikh Khalid bin Ahmed will now serve as Adviser to Bahrain's King for Diplomatic Affairs.
Prior to Sheikh Khalid bin Ahmed, Sheikh Mohammad bin Mubarak al-Khalifa held the post of foreign minister from 1971 to 2005.
The news of the appointment was first reported in early January as al-Zayani's final term as the head of the GCC approached its end.
Bahraini political columnist Abdullah Junaid said the new appointments are continuations of the King's reform policies.
"Both appointees have much to give in their respective new positions, but Dr. al-Zayani will definitely add new dynamics to the apparatus and structure of the foreign ministry," Junaid said in an interview with Al Arabiya English at the time.
Sheikh Khalid bin Ahmed thanked Bahrain's leadership in a tweet on Tuesday when his tenure as foreign minister officially ended, expressing his gratitude for their "precious confidence throughout my tenure as Minister of Foreign Affairs."
"Thank you to the Ministry of Foreign Affairs, ambassadors, officials, and employees for your patience with me and for all the sincere work you have done to help me in my work and my responsibilities," he added.
He also congratulated al-Zayani on his appointment, saying: "He is the best person in charge of leading the Bahraini diplomacy with his superior capabilities, great experience, and extensive relations with various countries of the world."
Full report at:
https://english.alarabiya.net/en/News/gulf/2020/02/12/Bahrain-formally-appoints-ex-GCC-chief-Abdullatif-al-Zayani-as-foreign-minister.html
--------
UAE's Gargash says Iran must agree to abandon its destructive behaviors
12 February 2020
Iran can never get what it wants through its nefarious activities, said United Arab Emirate's minister of state for foreign affairs Anwar Gargash at the 19th UAE-UK Taskforce meeting in London, adding that Tehran must also "abandon its destructive behaviors."
"The 2015 nuclear deal failed because it only tried to stop Iran from getting a nuclear weapon. That can never be enough. Iran must also agree to abandon its other destructive behaviors," Gargash said on Tuesday in London.
"We look forward to the day when we can productively engage with an Iran that acts more like a normal state, leading to the creation of a zone of stability and prosperity," he added.
During his speech from London, Gargash said the world will not get a political solution with Iran unless Tehran realizes that "it can never get what it wants by continuing its nefarious activity, whether directly or through proxies."
The 19th UAE-UK Taskforce meeting took place in London co-hosted by Gargash and UK Minister of State for the Middle East and North Africa Andrew Murrison.
Full report at:
https://english.alarabiya.net/en/News/gulf/2020/02/12/Bahrain-formally-appoints-ex-GCC-chief-Abdullatif-al-Zayani-as-foreign-minister.html
--------
Third whistleblower reveals OPCW doctored report on Syria's Douma
12 February 2020
Freshly leaked information has once again revealed that the Organization for the Prohibition of Chemical Weapons (OPCW) manipulated a report on an alleged chemical attack in Syria in 2018.
A third whistle-blower, backing the complaints made previously by two former OPCW employees, said on Tuesday that the organization, tasked with investigating a suspected "chemical attack" on Syria's Douma, had excluded higher-level officials from the post-mission process, distorted key evidence, and ignored the findings.
The whistle-blower, described in Wikileaks documents as a former senior official with the OPCW, stood by the two employees and said that his time with the organization was "the most stressful and unpleasant" one in his life.
The unidentified person blamed external pressure and potential threats to their family for their failure to speak out about the corruption of the Douma investigation.
The former OPCW senior official went on to denounce the removal of members of the original fact-finding team to Syria "from the decision making process and management of the most critical operations."
Ian Henderson, one of the two former OPCW employees, recently addressed a special session of the United Nations Security Council with his concerns about the Douma mission.
Henderson told members of the UN Security Council that the OPCW omitted key findings of its own inspections team which would have cast serious doubt on whether a chemical attack took place at all.
Since November 2019, the whistle-blower WikiLeaks website has released multiple OPCW documents and internal emails that not only support Henderson's claims but also deal with discrepancies in levels of chlorine found in the area of the alleged attack.
The alleged chemical "attack" on Douma occurred in April 2018 at a time when the Syrian army was about to win the battle against foreign-backed militants there.
The US and its allies blamed Damascus for the attack, an allegation strongly rejected by the Syrian government, saying the foreign-backed militants with the Western-supported White Helmets have staged the chemical attack in an attempt to frame Damascus.
However, the US, Britain and France launched a coordinated missile strike against sites and research facilities near Damascus and Homs a week later, without waiting for proof that chemical weapons had been used.
Syria surrendered its entire chemical stockpile in 2013 to a mission led by the OPCW and the United Nations.
Full report at:
https://www.presstv.com/Detail/2020/02/12/618455/Syria-OPCW-chemical-attack-Douma
--------
NATO mulling over expanding Iraq mission: Report
11 February 2020
The Western military alliance of NATO is reportedly mulling over expanding its "training" mission in Iraq with the declared aim of taking some "burden" off a US-led coalition purportedly fighting Daesh in the Arab state.
Officials and diplomats made the remarks concerning the alliance's "train-and-advise" missions on Tuesday, Reuters reported.
NATO's Secretary-General Jens Stoltenberg said the alliance's defense ministers, including US Secretary of State Mark Esper, would discuss the future of the missions in the Middle East during a two-day meeting in Brussels that will start on Wednesday.
He said, "We (NATO allies) are discussing what more NATO can do (in Iraq) but again, before we have made any final decision, I think it's a bit early for me to announce those decisions but we will see what more we can do."
NATO and the US-led coalition paused such alleged training operations in Iraq after January 3 amid fears of an escalation of tensions between Iran and the US.
That day, a series of US-led airstrikes targeted Baghdad, assassinating Lieutenant General Qassem Soleimani, the former commander of the Quds Force of Iran's Islamic Revolution Guards Corps (IRGC), Abu Mahdi al-Muhandis, a senior Iraqi anti-terror commander, and a number of others. General Soleimani, who has earned reputation as the region's most decisive and popular anti-terror military figure, was on an official visit to the Iraqi capital during the air raids.
Days later, the IRGC conducted retaliatory ballistic missile strikes against the US's Ain al-Assad Airbase in the western Iraqi Anbar Province, and another American outpost in Iraq's semi-autonomous Kurdistan region.
Also on Tuesday, US officials admitted that the number of US troops suffering from traumatic brain injuries (TBI) after the retaliation had risen to 109.
US Ambassador to NATO Kay Bailey Hutchison, meanwhile, welcomed the prospect of expansion in NATO's missions, saying, "It's part of burden-sharing."
It was not clear, however, whether the decision by the alliance to consider relieving some of the US-led coalition's "burden" had anything to do with the far-and-wide resentment that has been incurred among Iraqi political and social spheres since the deadly airstrikes.
The assassinations were followed by monumental funeral processions across the Arab country, and a "million-man" march against American presence, which had been called by influential cleric Muqtada al-Sadr.
The Iraqi parliament also voted overwhelmingly in favor of a bill calling for the expulsion of all US-led forces and former caretaker prime minister Adel Abdul-Mahdi asked Washington to cooperate towards the enabling the withdrawal.
Full report at:
https://www.presstv.com/Detail/2020/02/11/618418/Iraq-NATO-United-States-training-mission-coalition-Daesh
--------
Egyptian forces kill 17 terrorists in North Sinai raid
11 February 2020
Security forces in Egypt have killed at least 17 terrorists in a shootout in the North African country's restive region of Sinai Peninsula.
The Egyptian Interior Ministry said in a statement on Tuesday that the shootout flared as police raided a hideout in North Sinai's provincial capital of el-Arish.
They found "terrorist elements" who were planning "hostile operations" and had weapons and explosives, it added.
The ministry did not mention when the raid took place. The announcement came after the army said Sunday that seven soldiers had been killed or wounded and 10 militants killed in an attack on a North Sinai army post.
Security forces are battling long-running militancy in the peninsula, spearheaded by a group affiliated with the Takfiri Daesh terrorists.
The Sinai Peninsula has been under a state of emergency since October 2014, after a deadly terrorist attack left 33 Egyptian soldiers dead.
Over the past few years, militants have been carrying out anti-government activities and fatal attacks, taking advantage of the turmoil in Egypt that erupted after the country's first democratically-elected president, Mohamed Morsi, was ousted in a military coup in July 2013.
Full report at:
https://www.presstv.com/Detail/2020/02/11/618432/Egypt-Sinai-
--------
El-Sisi orders action to reopen factories closed during revolution
LAILA MOHAMED
February 12, 2020
CAIRO: Egyptian President Abdel Fattah El-Sisi has called for the reopening of factories that were forced to close during and after the 2011 revolution as a result of economic pressures and lack of security.
It comes after the Central Bank of Egypt launched a 100 billion Egyptian pound ($6.5 billion) initiative in December to boost the country's industrial sector.
The new measures could create more than a million job opportunities according to Magdy Ghazy, the head of the Industrial Development Authority. A strong and successful industrial sector is key to development in any country that aspires to strong economic growth and stability, he added.
Official figures reveal that the contribution by Egypt's industrial sector to the nation's GDP has risen from 11 percent in 2011 to 18 percent as a result of economic reforms. It is expected to grow further when shuttered factories resume production.
"For Egypt to achieve a real industrial renaissance, the contribution of the industrial sector should be 25 to 35 percent of GDP," Ghazy said.
Hamdy Arafa, a professor of local and government administration, said 8,324 private-sector factories have closed since 2011 as a result of financial and administrative pressures, which has cost the economy at least 560 billion Egyptian pounds a year. CBE figures show that many of the businesses accumulated debts, while tens of thousands of workers lost jobs.
Economic expert Ahmed Sayed said now is the perfect time to start reopening the factories, thanks to the economic reforms the government has introduced. These have achieved "great success" in overcoming the financial crisis, he added, and recent initiatives to boost industry are therefore a welcome sign.
During a ministerial meeting chaired by El-Sisi last week, CBE Governor Tarek Amer said a committee has been formed to examine the situation of thousands of factories and banks that were affected by the lack of security in 2011 during the nationwide demonstrations. This led to robberies and attacks which, along with strikes by workers, caused many factories to halt production. As a result, their reputations suffered at home and abroad, and many workers were laid off.
El-Sisi this week called for swift action to help businesses resume operations. Such measures will include reaching agreements with banks, providing the necessary funding through low-interest loan initiatives from the CBE, canceling government action taken against companies, and assistance to alleviate the burden on the banking sector caused by the industrial slump.
"Starting factories up again would bring hundreds of thousands of unemployed people back to work, thus providing more job opportunities," said Sayed. "Unemployment rates would go down and more products and commodities would be available in the markets.
"Moreover, there would be less dependence on imported commodities, which would lead to a decline in hard-currency imports."
Full report at:
https://www.arabnews.com/node/1626541/middle-east
--------
Iraq cleric Al-Sadr dissolves 'blue caps' units accused of deadly attacks on protests
February 11, 2020
BAGHDAD: Iraqi cleric Moqtada Al-Sadr announced on Tuesday he was dissolving the "blue caps", an organised unit of his supporters accused of deadly attacks on anti-government protests in recent days.
Al-Sadr, who has a cult-like following of several million Iraqis, had first backed the popular rallies demanding a government overhaul when they erupted in October, but has switched course multiple times in recent weeks.
He finally broke with the broader movement when he endorsed the premier-designate Mohammad Allawi, seen by protesters as too close to the elite they have railed against for months.
Since then, diehard Al-Sadr supporters wearing blue caps have raided protest camps in Baghdad and the Shiite-majority south, with eight protesters killed in the ensuing violence.
The cleric has faced growing criticism over the violence and on Tuesday, he suddenly took to Twitter.
"I announce the dissolution of the 'blue caps,' and I do not accept the (Sadrist) movement's presence in and of itself at the protests, unless it is absorbed into them," he tweeted.
In the early days of the movement, Al-Sadr supporters were seen as the most organised and well-stocked of the demonstrators but his recent tweets have infuriated activists.
After backing Allawi, he ordered the "blue caps" to help security forces reopen schools, roads and public offices shut down for months by anti-government sit-ins.
But Al-Sadr has insisted that his movement ultimately wants "reforms".
Allawi has until March 2 to form his cabinet, and is expected to govern only until early parliamentary elections.
"We hear that there are pressures from political parties and from sects over the forming of the temporary government," Al-Sadr tweeted on Tuesday.
"This could lead us to completely wash our hands of all of it."
Al-Sadr already controls the largest parliamentary bloc and top ministerial positions in the current government.
But one of his senior aides said Saturday that the new prime minister must not include members of the political elite in his new cabinet.
Full report at:
https://www.arabnews.com/node/1626301/middle-east
--------
URL: https://www.newageislam.com/islamic-world-news/pakistan-court-jails-26-11/d/121045
New Age Islam, Islam Online, Islamic Website, African Muslim News, Arab World News, South Asia News, Indian Muslim News, World Muslim News, Women in Islam, Islamic Feminism, Arab Women, Women In Arab, Islamophobia in America, Muslim Women in West, Islam Women and Feminism