New Age Islam News Bureau
11 Feb 2012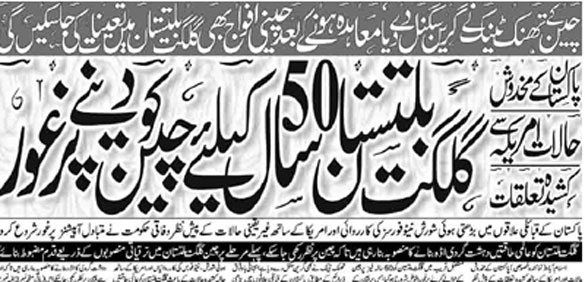 • Rising Islamism in Maldives could pose potential terror threat to India: Report
• Pakistan army tries brigadier, four officers over extremist ties
• Morocco: Weeklies Censored for Depicting God, the Prophet Muhammad
• Human rights group urges Malaysia not to deport Saudi journalist
• Pak Human rights: 'Make school curricula hatred-free'
• Baloch welcome US Congressional hearing on Balochistan
• Islamism Set Stage for Maldives Coup
• Even Taliban seduced by Afghanistan success story
• Ahmadinejad: Hegemonist powers trying to preserve Zionist regime
• Revolutionary Association of the Women of Afghanistan commemorates the 25th anniversary of Meena's martyrdom
• Yemeni protesters pin hopes for 'change' on VP
• 11 terrorists killed in Kurram
• India releases five Pakistani prisoners
• Children's Rights Activist, wins Roots education scholarship
• Senators seek explanation on NATO's use of Pakistani air space
• Pak SC orders: ISI, MI granted more time to produce 'missing' prisoners
• Pakistan blocks 13,000 'obscene' websites
• One killed, three wounded in S Arabia clashes
• One killed, another injured in Quetta blast
• Iran: Vilayati's Advisor Terms Iran's Islamic Revolution Role Model for Muslim World
• Iran, Brunei in process of finalising MoUs
• Cardiff Councillor Mohammed Islam fears for family after anti-Muslim threat letter
• Pakistan, Russia to fight drugs, co-operate in trade
• 'Made in India' show in Pakistan as both talk to boost trade
• Indian, Pakistani surgeons conduct historic liver transplant
• Mickey Narula to perform in Pakistan
Complied by New Age Islam News Bureau
Photo: Gilgit Baltistan, Pakistan Considering Proposal to Lease to China
URL: https://www.newageislam.com/islamic-world-news/pakistan-considering-proposal-to-lease-gilgit-baltistan-to-china--us-think-tank/d/6607
---------
Pakistan considering proposal to lease Gilgit-Baltistan to China: US think tank
PTI
WASHINGTON:11 FEB, 2012, Seeking to fortify its strategic ties with China amid strains in relations with US, Pakistan is considering a proposal to lease the disputed Gilgit-Baltistan region to Beijing for 50 years, an eminent US-based think tank has claimed, citing local media.
The Pakistani move is aimed at cementing its all-weather relations with China amid the irreparable rupture in US-Pak ties over the past year, said Middle East Media Research Institute in a report released yesterday, which was based on news reports in this regard in local Urdu newspapers.
The decision to launch the Pakistan-China Strategic Programme for Gilgit-Baltistan was probably taken during army chief Gen Ashfaq Parvez Kayani's visit to China in January 2012, it said.
A report, titled "Pakistan's Deteriorating Situation, Strained Relations with America: Deliberation on Leasing Gilgit Baltistan to China for 50 years', which was published in the Urdu daily 'Roznama Bang-e-Sahar', had said: "In the backdrop of the deteriorating situation in Pakistan and strained relations with America, deliberations have begun (on a proposal) to hand over Gilgit-Baltistan to China on a 50-year lease".
"A Chinese think tank has also given the green light for this move," said the Urdu daily, which was distributed in Gilgit Baltistan on December 13, 2011, less than three weeks after the November 26, 2011 NATO raid on a Pakistani border post that killed 24 Pakistani soldiers, according to the US think tank, which is headed by a former FBI official
The Urdu daily said the think tanks of China and Pakistan have begun discussions to hand over Gilgit-Baltistan region to the control of China on lease.
"In the first stage of this plan, China will formulate a strategy for development projects and in the name of working on them will gradually take over the control of this region. In the next stage, China will take over Gilgit-Baltistan under its total control for 50 years and deploy its troops there," it said.
The Roznama Bang-e-Sahar report acquires importance in view of the five-day visit of China by Pakistan army chief General Ashfaq Kayani on January 4-8, 2012, the US think tank said.
During a meeting with Chinese Prime Minister Wen Jiabao in Beijing, General Kayani had said that development of China-Pakistan strategic partnership is the "cornerstone of the two countries' policies."
In his remarks, the Chinese Premier had said that "the Chinese government and the PLA (People's Liberation Army) would continue to strengthen defence cooperation between the two countries and more frequent military-to-military exchanges."
Based on news reports published in the local Urdu press, the Washington-based think tank said that Pakistani and Chinese militaries are moving in the direction of a joint military management of Gilgit Baltistan.
The two militaries will cooperate under a specific plan designated by Pakistan as the Pak-China Strategic Programme for Gilgit Baltistan, it said.
As part of this plan, officials from Pakistan's Northern Light Infantry (NLI) and People's Liberation Army (PLA) of China would "undergo joint trainings and exchange of expertise."
According to a Pakistani newspaper, the Pak-China Strategic Programme for Gilgit-Baltistan will come into force in June 2012, the think tank said.
http://economictimes.indiatimes.com/news/politics/nation/pakistan-considering-proposal-to-lease-gilgit-baltistan-to-china-us-think-tank/articleshow/11848257.cms
----------
Rising Islamism in Maldives could pose potential terror threat to India: Report
ANI
Male,Feb 11, 2012, The emergence of hard-line Islam in the Maldives, a relatively new development for the country, has sparked off concerns in India that it could be used as a potential base for Islamist militants.
Hard-line Islamism is increasing in the political scene in the Maldives and has played a role in the overthrow of the democratically elected government, The Wall Street Journal reports.
It also raises questions about the stability of the Maldives, which is located on a strategically important sea route used for transporting a large portion of the world's crude oil, the paper said.
The rise of conservative Islam in the Maldives could also affect the tourism industry, as the development of spas and bars in the country has angered some Islamist leaders, it added.
"There are some fringe religious extremist elements and we hope the radicalism doesn't hamper the Maldives' image as a tourist destination," it quoted an Indian government official said.
According to the paper, Islamists calling for jihad played a significant role in anti-government protests against President Mohamed Nasheed leading to his resignation from office.
Nasheed's government was dealt a severe blow with exit of the Adhaalath Party, a local Islamist group from the coalition government, in protest against the government's decision to allow an Israeli airline to land in the Maldives.
The Maldives' new Home Minister Mohamed Jameel had issued a pamphlet in the local language entitled, "President Nasheed's Devious Plot to Destroy the Islamic Faith of Maldivians," according to a translation reviewed by The Wall Street Journal.
The pamphlet claimed that empty bottles of alcohol, which is proscribed for Maldivians, were found in offices of Nasheed's government.
Ahmed Naseem, the country's recently ousted foreign minister had faced opposition at home when he became the first Maldivian official to visit Israel.
Naseem claimed that around 40 Maldivians were known to have forged links with the Taliban in Afghanistan and Pakistan.
http://www.dnaindia.com/world/report_rising-islamism-in-maldives-could-pose-potential-terror-threat-to-india-report_1648721
--------
Pakistan army tries brigadier, four officers over extremist ties
AP
ISLAMABAD: Feb 11, 12Security officials say the Pakistani army has started court martial proceedings against a brigadier and four other officers over suspected ties to a banned extremist group that has called for ousting the US-backed government.
Brig Ali Khan and the four officers were detained in May, 2011 on charges of links to the Hizb-ut-Tehrir group. Khan was working at the army's headquarters near the capital Islamabad at the time of his arrest.
Two senior security officers said on Saturday the court martial started recently but did not provide any details. They spoke on condition of anonymity due to the sensitivity of the issue.
http://www.dawn.com/2012/02/11/pakistan-army-tries-brigadier-four-officers-over-extremist-ties.html
---------
Morocco: Weeklies Censored for Depicting God, the Prophet Muhammad
Press Code Undermines Constitutional Free Speech Guarantees
(Rabat) FEBRUARY 10, 2012 – Morocco should stop banning publications on the grounds that they "harm Islam," Human Rights Watch said, in a letter today to Communication Minister Mustapha Khalfi.
Khalfi said on February 3, 2012, that he had banned the February 2 issue of the French weekly Le Nouvel Observateur because it contains pictorial representations of God, which he said Moroccan law prohibits. Khalfi also banned a special issue of Le Pèlerin because it contained pictures depicting the Prophet Muhammad.
"This ban violates the right of Moroccans to read – or not to read – publications of their choosing, only months after they approved a new constitution that is supposed to guarantee freedom of expression and press freedom," said Sarah Leah Whitson, Middle East and North Africa director at Human Rights Watch.
Morocco's new constitution, ratified by voters on July 1, 2011, states in article 28, "Press freedom is guaranteed and cannot be restricted by any form of prior censorship." However, article 29 of the press code still empowers the communications minister to ban the import of publications that "inflict harm to the Islamic religion, the monarchical regime, [Morocco's] territorial integrity or the respect due the King or the public order."
The government has used this provision frequently in recent years to prohibit issues of foreign publications. As this case demonstrates, constitutional proclamations guaranteeing free expression are worth little until lawmakers revise the penal code and press code provisions that the government is using to restrict speech, Human Rights Watch said.
The issue of Le Nouvel Observateur contains an image taken from the animated film Persepolis showing the heroine talking to God depicted as a white-bearded man. Le Pèlerin's special issue entitled "50 Keys for Understanding Islam" reproduced several Turkish and Persian miniature paintings from the 16th through 18th centuries depicting Muhammad with his face hidden.
A member of the Islamist Party of Justice and Development (PJD), Khalfi became communication minister after the November 25 legislative elections in which his party won a plurality. "There is a decision by the United Nations that prohibits any infliction of harm on religions," Khalfi was quoted as saying in the news media to justify the ban on the French weeklies.
However, Human Rights Watch said, this assertion misrepresents the international law governing freedom of expression, which does not allow governments to restrict speech merely because members of a faith may be offended by it.
The International Covenant on Civil and Political Rights, which Morocco has ratified, states in article 19(2), "Everyone shall have the right to freedom of expression; this right shall include freedom to seek, receive and impart information and ideas of all kinds, regardless of frontiers, either orally, in writing or in print, in the form of art, or through any other media of his choice." While the ICCPR does prohibit "advocacy of national, racial or religious hatred that constitutes incitement to discrimination, hostility or violence" it defines this prohibition in a narrow way that is not met in this case.
http://www.hrw.org/news/2012/02/10/morocco-weeklies-censored-depicting-god-muhammad
-------
Human rights group urges Malaysia not to deport Saudi journalist
Feb 11, 2012,
Kuala Lumpur - An international human rights group on Saturday urged Malaysia not to deport a Saudi journalist accused of making comments on Twitter that allegedly insulted Islam and the Prophet Mohammed.
The New York-based Human Rights Watch said Hamza Kashgari, 23, a Jeddah-based newspaper columnist, would face almost certain conviction and a death sentence for apostasy if he is sent back to Saudi Arabia.
'Saudi clerics have already made up their up mind that Kashgari is an apostate who must face punishment,' said Christoph Wilcke, senior Middle East researcher at Human Rights Watch.
'The Malaysian government should not be complicit in sealing Kashgari's fate by sending him back,' he added.
Kashgari fled Saudi Arabia to Malaysia on Tuesday after a storm of outrage erupted when he published over a fictitious conversation with the Prophet Mohammed on his Twitter account.
On February 8, an official Saudi religious body declared him an apostate.
Malaysian Home Minister Hishammuddin Hussein said Kashgari was detained Thursday in the departure hall of the Kuala Lumpur International Airport at the request of Saudi authorities.
'The Malaysian police will contact their counterparts (in Saudi Arabia) on the next course of action,' he said.
A lawyer for Kashgari said he had not yet been granted permission to see his client in police custody in Malaysia's capital, according to Human Rights Watch.
The group also said officials for the United Nations refugee agency had sought access to Kashgari without success.
http://news.monstersandcritics.com/middleeast/news/article_1690464.php/Human-rights-group-urges-Malaysia-not-to-deport-Saudi-journalist
--------
Pak Human rights: 'Make school curricula hatred-free'
By Shamsul Islam
FAISALABAD: February 11, 2012 School curricula must be free from all kinds of hate material and promote awareness of human rights, peace, equality, harmony, tolerance and desirable social values, Father Nisar Barkat, the NCJP director said on Friday.
Father Barkat was addressing a three-day workshop at the Centre for Peace and Harmony.
More than 40 teachers, students and representatives of non governmental organisations from Faisalabad, Toba Tek Singh, Okara, Sahiwal, Jhangs, Khushpur and Lahore participated in the workshop. Speakers included human rights activists from across the Punjab.
The speakers at the seminar titled: Education for Human Rights and Peace Building urged the government to abolish all forms of discrimination in the Constitution, laws, policies and school curricula against women and religious minorities. They also stressed a need for enforcement of laws for the protection of human rights.
Father Barkat said that it was the responsibly of community leaders to raise their voices against injustice and violations of human rights. The youth, he said, could play a crucial role in promotion of a culture of peace, gender equality and inter-faith harmony.
The speakers also urged the media not to allow advertisements that preach hatred and exclusions.
Ayub Sajid, one of the speakers, said that promotion of peace was the duty of all citizens just as access to justice was all citizens' right. "Peace cannot prevail without ensuring justice and human rights to the marginalised groups," he said.
Muzzammil Hussain Asad, another speaker, said the country was in a dire need of a leader, who could raise a voice against injustice and human rights violations.
Sunil Malik said that civil society, media and political parties had equally important roles to play when it came to campaigning for human rights.
Shahid Anwar talked about providing equal opportunities to every citizen irrespective of religion, sex, sect or mother language.
He said United Nations conventions must be respected for improvement in human rights situation.
Kiran Afzaal said the situation could not be improved until some "anti human rights" articles were removed from the Constitution. Shazia George said Pakistani women had little say when it came to decision making.
Published in The Express Tribune, February 11th, 2012.
http://tribune.com.pk/story/334704/human-rights-make-school-curricula-hatred-free/
---------
Baloch welcome US Congressional hearing on Balochistan
QUETTA: February 11, 2012, Balochistan National Party (BNP) President Sardar Akhtar Mengal has applauded the US Congressional hearing on the Balochistan issue and the house subcommittees' concerns regarding appalling human rights emergency in Balochistan and endorsing Baloch people's right to self-determination.
A BNP delegation also attended the hearing and handed over a letter of thanks on behalf of the people of Balochistan.
Addressing the chair and members of the committee, Sardar Mengal wrote, "On behalf of my party and the people of Balochistan, let me sincerely thank you and members of the committee for the timely attention and understanding of human rights situation in Balochistan. Taking notice of the plight of the Baloch people by civilised world is need of the hour as situation for them is grave and serious."
Mengal further said that Baloch were living a life at gunpoint in the shadows of inhuman atrocities and their very survival as a nation had been threatened by the distortion of their history, culture and moderate social fabric. He said that their survival was at stake with organised acts of genocide.
He said that since the conflict was the direct result of oppression, the only way out was that the products of oppressions were removed, and that was to stop the oppression and the settlement of the dispute through a fair process involving the international community. The Baloch people will welcome any effort from the government and people of the United States and the civilised world for an amicable settlement of the Baloch issue, he added.
Mengal further mentioned that in any conflict resolution process it was imperative to take into consideration the essence of the conflict. The Baloch conflict was historical, cultural, economical and political in nature. It was obvious that in any conflict resolution process, the agenda should encompass all those issues, he added.
He said that before initiating a meaningful process of conflict resolution it was imperative that the Pakistan government take and practically implement some measures which were must to build a conducive atmosphere for a reconciliation process.
The measures he suggested were that all covert and overt military operations should immediately be suspended in Balochistan, all missing persons should be produced before a court of law, all proxy death squads operating under the supervision of Inter-Services Intelligence (ISI) and Military Intelligence (MI) should be disbanded, Baloch political parties should be allowed to function and resume their political activities without any interference from intelligence agencies, persons responsible for inhuman torture, killing and dumping of dead bodies of the Baloch political leaders and activists should be brought to justice, measures should be taken for the rehabilitation of the displaced people from conflict-stricken areas of Balochistan.
The Baloch will welcome any mediation efforts from the United States, the United Kingdom, the European Union and the United Nations, he added in the letter. pr
http://www.dailytimes.com.pk/default.asp?page=2012\02\11\story_11-2-2012_pg7_2
---------
Islamism Set Stage for Maldives Coup
By TOM WRIGHT
MALE, Maldives, FEBRUARY 11, 2012—This paradise for wealthy tourists has shown a very different face in recent days, where hard-line Islam is an increasing part of the political scene and played a role in overthrowing the democratically elected government.
In the weeks leading up to Tuesday's ouster of President Mohamed Nasheed, his political adversaries fomented opposition among conservative Muslims by claiming Mr. Nasheed's government was trying to undermine their faith.
Antigovernment protests came to a head Tuesday when a band of armed police and army officers forced Mr. Nasheed to resign.
On Friday, Mr. Nasheed called for the resignation of his successor, his former vice president, Waheed Hassan Manik, and for immediate presidential elections. Elections are currently scheduled for 2013.
There was no immediate compromise as Mr. Nasheed and Mr. Manik met Friday with Oscar Fernandez-Taranco, United Nations assistant secretary-general for political affairs, in an attempt to broker a deal. The U.S. and India, both of which have recognized the new government, dispatched senior envoys to Male for consultations.
At a rally Friday of thousands of his supporters, Mr. Nasheed vowed to continue protesting until he is reinstated. There were also clashes Friday in the southern city of Addu between Nasheed loyalists and security forces.
The emergence of hard-line Islam in the Maldives is stoking concern in neighboring India that it could be used as a potential base for Islamist militants. It also raises questions about the stability of a country that sits on strategically important sea lanes used to transport a large portion of the world's crude oil.
And the rise of conservative Islam could have an impact on the country's tourism industry. Spas and bars that cater to the approximately 900,000 foreigners who come each year have angered some Islamist leaders.
Ahmed Naseem, the recently ousted foreign minister, faced opposition last year when he became the first Maldivian official to visit Israel. He says religious orthodoxy has become the norm as more people go to study in Pakistan and Saudi Arabia. "This country had no one wearing headscarves 10 years ago" but it is common now, he said. The political opposition, he added, capitalized on this growing religiosity by portraying Mr. Nasheed as un-Islamic. "They're using Islam as a tool."
A Western diplomat said the nexus between Islamists and some politicians was a concern for the nation's stability.
To be sure, other factors played a role in Mr. Nasheed's downfall. His backers claim the coup plotters were loyal to former President Maumoon Abdul Gayoom, whom Mr. Nasheed succeeded in 2008 in the nation's first-ever democratic elections. Mr. Nasheed had attempted to launch a corruption investigation into Mr. Gayoom, an authoritarian leader who ruled for 30 years. When a senior judge blocked the probe, Mr. Nasheed last month asked the army to arrest the judge, igniting antigovernment protests.
Mohamed Jameel, the Maldives' new Home Minister, raised concerns about the previous president's Islamic credentials.
Mr. Gayoom, who is reportedly traveling abroad, hasn't commented. Attempts to reach him and a spokesman weren't successful.
Mr. Manik, the former vice president, was sworn in Tuesday as the new president. Some of the people Mr. Manik has installed in recent days were instrumental in efforts over the past few weeks to discredit Mr. Nasheed as un-Islamic.
The party of Mohamed Jameel, who was sworn in as home minister this week, issued a pamphlet last month claiming that empty bottles of alcohol, which is forbidden for Maldivians, were found in offices of Mr. Nasheed's government. It blamed the government for planning to sell land to Israel. And it said the then-president was working to undermine Islamic law in the country.
Mr. Jameel, in an interview Friday in his offices overlooking Male's aquamarine harbor, said Mr. Nasheed had at times lacked sensitivity toward Muslims. "It's one of the obligations of the state to protect Islam," said Mr. Jameel, who went to a religious high school in Pakistan and received his doctoral degree from the University of London.
The Maldives, a country of some 400,000 people, is almost entirely Muslim. Minority faiths aren't recognized. The legal system is a mixture of common law, a legacy of the former British colonists, and Quranic law.
Mr. Gayoom, during his 30-year rule, kept a lid on extremism and even reportedly forced politicians to cut their beards. But with the advent of democracy, expressions of conservative Islamic beliefs have risen, according to the U.S. State Department.
Floggings of women for pre- or extramarital sex are on the rise, activists say. The United Nations High Commissioner for Human Rights, Navi Pillay, called for an end to the practice during a visit to the Maldives late last year, causing complaints from some Muslims.
A group of Islamist organizations organized a rally in December in Male, the capital, which was attended by thousands of people protesting against Mr. Nasheed for failing to defend Quranic law and calling for a ban on spas and liquor parlors catering to foreign tourists.
On Friday, after prayers at Male's central mosque—a donation from Brunei—Ahmed Yusry, an eloquent 22-year-old with a bushy beard who works on a tourist boat, said he had attended the December rally because of fears Mr. Nasheed was pushing a Western secular agenda.
"We are a 100% Muslim county. We should go with all the rules of Islam," he said.
On coming to power four years ago, Mr. Nasheed at first attempted to co-opt Islamist political parties that sprouted up in the new era of democracy. He invited the Adhaalath Party, a local Islamist group modeled on Egypt's Muslim Brotherhood, into his coalition government.
But those ties frayed in recent months. Adhaalath left the coalition in September, citing the government's decision to allow an Israeli airline to land in the Maldives.
After the December rally, the participation of Muslim extremists in antigovernment protests grew. During demonstrations earlier this week, a group of Islamists, their faces covered, trashed Buddhist statues in the National Museum.
For now, tourism hasn't suffered visibly. Most visitors are ferried to their resorts on uninhabited atolls, where alcohol is allowed. But as numbers grow, more tourists also are stopping off in Male, causing frictions.
"There are some fringe religious extremist elements and we hope the radicalism doesn't hamper the Maldives' image as a tourist destination," an Indian government official said Friday.
Militant attacks at home tied to religious extremism have been rare, but a rising number of Maldivian radicals have traveled abroad.
Mr. Naseem, the former foreign minister, said around 40 Maldivians were known to have forged links with the Taliban in Afghanistan and Pakistan.
So far, the only attack on Maldivian soil took place in 2007, when 12 tourists were injured in a small bomb blast in a park in central Male. Police made some arrests but said the ringleaders escaped to Pakistan.
—Mohamed Naahii contributed to this article.
http://online.wsj.com/article/SB10001424052970203824904577215050907606404.html
--------
Even Taliban seduced by Afghanistan success story
AFP
SHARJAH ( United Arab Emirates), Feb 11, 2012: Afghanistan's first-ever one-day international against Pakistan achieved what no other sport had managed - support from the once cricket-hating Taliban, an official said on Saturday.
"Friday's match was a big milestone for Afghanistan, so much so that the Taliban sent a message of support, saying they are praying for the success of the team," Omar Zakhilwal, president Afghanistan Cricket Board told reporters.
Although Afghanistan lost by seven wickets in the first-ever one-dayer against Pakistan on Friday, they gave a good account of themselves, scoring 195 and then capturing three early wickets before succumbing.
Cricket has become the top sport in the war-ravaged country in the last three years after it was introduced by youths who learnt the game in refugee camps in Pakistan following the Soviet invasion of their country in 1979.
Under the Taliban regime no outdoor sport was allowed and grounds were primarily used for executing political opponents who defied the hardliners.
But since the ouster of the Taliban, following the war on terror led by the United States in 2001, cricket has taken root with Afghanistan winning one-day status in 2009.
Zakhilwal, also the finance minister in the Hamid Karzai-led government, said cricket is uniting the nation.
"Even President Karzai was watching the match and wished the team well," said Zakhilwal.
"Across the country 80-90 percent of the kids were watching the game as this was a big occasion for our cricket."
Zakhilwal said no other thing unites Afghanistan like cricket.
"On streets you can see kids playing, there is no other sport which mobilises the people, neither politics nor any other event, neither the reconstruction, there is nothing which can match cricket.
"This (cricket) becomes an example of progress in other areas as well. Even with little peace in our country we have achieved this much in cricket. We can achieve more - when there is a will, there is a way, with the support of the people."
Zakhilwal said his board will push other nations to play his team.
"We are pushing the top teams," said Zakhilwal, praising Pakistan for giving them the opportunity.
"It was great support from Pakistan. We are pushing India, Australia, Bangladesh and Sri Lanka and with this kind of performance and following I see no reason why they don't play us."
Zakhilwal urged the International Cricket Council (ICC) and Asian Cricket Council (ACC) for more help.
"They have done their part but they should help us get more chances against top teams," said Zakhilwal, hoping countries would not shy away from facing his team.
"My personal opinion is that top teams shy away from playing us because winning against Afghanistan is not huge but losing against them would be big for them.
"I think we are a team and have broken the ice by playing Pakistan and the team has shown maturity and strength," said Zakhilwal, predicting the day when his country would host international matches was not far ahead.
"We now have two international stadiums - in Kabul and Jalalabad - and we are open to all teams. If they can't come, they can play us anywhere in the world," said Zakhilwal.
http://timesofindia.indiatimes.com/sports/cricket/top-stories/Even-Taliban-seduced-by-Afghanistan-success-story/articleshow/11845393.cms
--------
Ahmadinejad: Hegemonist powers trying to preserve Zionist regime
Tehran, Feb 9, IRNA – IRI President in a meeting with Syria's top Sunni Mufti, said major objective of Zionists is preserving entity of Zionist regime, adding: we must have solid programs for clarifying such issues for world nations.
According to the IRNA Wednesday Night news team, the information website of the Presidential Office website, President Mahmoud Ahmadinejad added in his meeting with Dr. Ahmad Badreddin Hassoun, "America and its allies are trying to flicker the flames of another war in the region, and meanwhile break the line of Islamic resistance, but we believe relying on unity, trusting in God, and taking advantage of wisdom, we can keep resisting against them effectively."
Emphasizing that the mankind's problems are not coming from one side alone today, he reiterated, "The hegemonic powers are not least concerned about the well being and prosperity of the human beings, and are instead waiting for every possible opportunity against different nations."
Ahmadinejad criticized cooperation between the rulers of some Islamic countries and the hegemonic western governments aimed at securing their own powers for longer whiles, arguing, "The hegemonists have throughout history pursued their plans for the region relying on these very same dependent leaders, who are selfish people in love of power, wealth, and noting else, while we also believe the names of the hegemonists and the ill-wishers of the nations would be recorded in the history of the treacherous."
At the beginning of the meeting, too, Ahmad Badreddin Hassoun while conveying the appreciation and congratulations of the Syrian nation and president for the stands adopted by the Iranian president, nation and leadership, considered the Islamic Republic of Iran as the "symbol of harmony and unity within the Islamic world", arguing, "When the lecture of the President of the Islamic Republic of Iran at the United Nations began in the name of Allah, followed by saluting the Messenger of Allah (P) and his Infallible Household (P), and praying for the reappearance of Imam Mahdi (P), I told the worshippers at a Friday prayer ritual in Syria: The Iranian president conveyed the message of Messenger o Allah (P) from the tribune of the UN to the world nations after the passage of 1,400 years.
At the end of the meeting the Syrian top Mufti presented a fine copy of the Glorious Qur'an to President Ahmadinejad as an invaluable gift.
Sheikh Hassoun was born in Aleppo, Syrian Arab Republic, in 1949. His father, Allamah Muhammad Adeeb Hassoun was also a sheikh. He has five children and ten grandchildren. Hassoun studied at the University of Islamic Studies, where he graduated as Doctor in Shafi'i fiqh. Dr. Hassoun took office as Great Mufti of Syria in July 2005 after the death of Ahmed Kuftaro. Dr. Hassoun is a frequent speaker in interreligious and intercultural events, and his pluralistic views on interfaith dialogue (between different religions or between different Islamic schools of thought) have sparked criticism from stricter visions of Islam.
On September 6, 2006, Dr. Hassoun met the Armenian Foreign Minister to discuss the relationship between the two nations, as well as the two religions, among other issues. In the same travel he met the Catholics of All Armenians.
On January 15, 2008, Dr. Hassoun spoke to the European Parliament on the subject of intercultural dialogue, stressing the value of culture as a unifying rather than a dividing force. Dr. Hassoun was addressing a formal sitting of Parliament as the first speaker in a series of visits by eminent religious and cultural leaders in 2008, which had been designated the European Year of Intercultural Dialogue. He made the statement 'Abraham, Moses, Jesus and Mohamed came with one single religion', therefore 'there is no holy war, because a war can never be holy: it is peace that is holy'; later he added that it is wrong to use religion to justify killing.
Courtesy: Wikipedia for the background on Dr. Hassoun
http://www.irna.ir/News/Politic/Ahmadinejad,-Hegemonist-powers-trying-to-preserve-Zionist-regime/30808134
---------
Revolutionary Association of the Women of Afghanistancommemorates the 25th anniversary of Meena's martyrdom
Although, we still mourn the loss of their great leader, her short life is a bubbling spring of inspiration for us and for freedom-loving women all over the world
On February 6, 2012, the Revolutionary Association of the Women of Afghanistan (RAWA) commemorated the 25th anniversary of the martyrdom of our leader Meena in Kabul. Due to heavy snowfall that blocked the roads, the function had to be delayed. More than hundred girls and women attended the function which started in the morning and stretched till afternoon. The hall decorated with Meena's photos and banners with oaths of continuing her glorious path, and calling on women to continue struggling for a better Afghanistan.
Meena established RAWA in 1977 with a handful of young progressive girls in Kabul. Despite unspeakable hardships she was able to nurture RAWA by attracting hundreds of women and managed to set up social welfare projects for them. She also got the world's attention to the plight o her country in a few trips abroad. Meena was assassinated in Quetta, Pakistan on February 4, 1987 when she was just thirty. KHAD and their fundamentalist partners planned the conspiracy, killing two of Meena's accomplices as well, because Meena had become a serious threat to them.
A short biography of Meena and RAWA's many activities was read by Asma. Hamasa, a member of RAWA gave a speech condemning the occupation of our country, warlord rulers in the corrupt government and their sold-out treacherous writers. Describing the horrible conditions of women after the US occupied our country she said, "Women have to snatch our rights, fight to get them. No one is ever going to liberate us or give us equality but us." She further talked about RAWA's solidarity with freedom-loving women all over the world. "We send our warmest wishes to the women of the Arab world, India, Nepal, Iran and other countries. We stand by them in their difficult struggle against tyrannous regimes. Their success is our success."
A famous Iranian poet Riza Farmand dedicated a poem to Meena, called "Meena". The poem was recited by a girl in the function. Azada declaimed the Pashto translation of the poem written by Meena, "I Will Never Return". A couple of empowering songs dedicated to Meena and the pained Afghan women were also sung. The function ended with a slideshow depicting Meena's life, RAWA's political and social activities and images of women's struggles from all over the world.
Although, we still mourn the loss of our great leader, her short life is a bubbling spring of inspiration for us and for freedom-loving women all over the world. Our enemies may have killed our great leader but her sacrifice has lightened her path for generations to come.
---------
Yemeni protesters pin hopes for 'change' on VP
SANAA: February 11, 2012, Thousands of Yemenis rallied in cities across the country on Friday, calling for sweeping political changes as President Ali Abdullah Saleh approaches what appears to be the end of his 33-year rule. But in shift indicating more support for the plan to usher him from power, many called on the vice president to "save the country". Saleh's deputy, Abed Rabbo Mansour Hadi, is set to be rubber-stamped as the impoverished Arabian Peninsula nation's new leader in presidential elections scheduled for February 21. Under a US-backed plan brokered by Yemen's powerful neighbours, Hadi is to be the only candidate. Over the last year, Yemenis inspired by the successful uprisings in Tunisia and Egypt have staged demonstrations – tens of thousands strong – calling for Saleh's ouster. The president's security forces have often met them with force, killing more than 250 protesters. Many others have died in armed clashes with loyalist troops. The upheaval has allowed Yemen's active al Qaeda branch to seize territory in the country's loosely governed provinces, and the US and Saudi Arabia have worked hard to push the deal forward in hopes of fending off further chaos and ensuring the Yemeni government's cooperation on counter-terror operations. ap
http://www.dailytimes.com.pk/default.asp?page=2012\02\11\story_11-2-2012_pg7_27
-------
11 terrorists killed in Kurram
PARACHINAR: February 11, 2012, Forces killed 11 terrorists and wounded 19 during a crackdown in Kurram Agency on Friday, security officials said. The military fired artillery shells at three suspected hideouts in the Mamozai area of Kurram, where dozens of people have been killed in fierce fighting between soldiers and terrorists in the last few weeks. The death toll could not be independently verified and terrorists often dispute official accounts. The Tehreek-e-Taliban Pakistan, allied with al Qaeda, and the Afghan Taliban movement fighting Western forces in Afghanistan, are allegedly entrenched in the northwestern tribal areas. A series of military offensives have failed to break the group. But there has been a lull in major Taliban suicide bombings in recent months. The military has been conducting operations against terrorists in Kurram since the beginning of the year. Kurram's harsh terrain limits the movement of ground forces, and gunship helicopters and bombers are often called in for support. reuters
http://www.dailytimes.com.pk/default.asp?page=2012\02\11\story_11-2-2012_pg7_8
-----------
India releases five Pakistani prisoners
LAHORE:February 11, 2012, The Indian government on Friday released five Pakistani prisoners. Indian authorities handed over the prisoners to the Pakistan Rangers at the Wagah boarder, Rangers sources said. The prisoners were arrested for crossing the border. The Edhi Foundation provided the prisoners with food, cold drinks, juices and biscuits. Later, Pakistan Rangers handed over four of the prisoners – Muhammad Iqbal (50) from Faisalabad, Muhammad Juman (50) from Karachi, Noor Alam (51) from Tharparkar (Sindh) and Ramesh (22) from Sanghar (Sindh) – to the Edhi Foundation, which shifted them to the Edhi Home, Lahore. app
http://www.dailytimes.com.pk/default.asp?page=2012\02\11\story_11-2-2012_pg7_7
---------
Children's Rights Activist, wins Roots education scholarship
ISLAMABAD: February 11, 2012, The second day of Sixth Annual Teacher Development Conference, organised by Roots National Institute of Teacher Training and Education and in collaboration with Change in Education, took place on Friday.
The theme of the conference focused on connecting teachers to the world of collaboration, innovation and communication.
Malala Yousafzai, the children's rights activist, and many leading national and international speakers like Abbas Hussain, Dr Cusrow Dubash and Dr Moiz Hussain attended the conference.
Also in attendance were RSS directors, head mistresses, branch heads, academic coordinators and the teaching faculty.
Many of the delegates were deeply moved by speeches given by the speakers.
The executive director, Roots School System, the founder RNITTE and Change In Education were so touched by Malala Yousafzai's speech that they honoured her with an education scholarship at Roots School System.
Yousafzai is an eighth-grade Pakistani student from the town of Mingora in Swat and is known for being a children's rights activist.
At 13 years of age she gained notability for championing the cause of the people of Swat by blogging for the BBC under a pseudonym about the atrocities committed by the Tehreek-e-Taliban . The international children's advocacy group KidsRights Foundation included Yousafzai among the nominees for the International Children's Peace Prize, making her the first Pakistani girl nominated for the award. pr
http://www.dailytimes.com.pk/default.asp?page=2012\02\11\story_11-2-2012_pg7_23
---------
Senators seek explanation on NATO's use of Pakistani air space
Staff Report
ISLAMABAD, Feb 11, 12 - The opposition senators on Friday sought explanation from the government over the statement of US Ambassador in Pakistan Cameron Munter that NATO was still using Pakistan's airspace to transport supplies to Afghanistan.
Senator Prof Khurshid Ahmad raised the issue of NATO's persistent violations of Pakistan's air space in the Senate on a point of order. As there was no proper response from the treasury benches due to the absence of foreign and defence ministers, Prof Khurshid, Senator Zafar Ali Shah and several other members from the Jamaat-e-Islami (JI) and the Pakistan Muslim League-Nawaz (PML-N) walked out in protest later. Prof Khurshid voiced his strong protest against NATO's violation of Pakistan's air space, and the government's "tacit permission" as claimed by the US ambassador.
The JI senator said that NATO's use of Pakistan's air space was contrary to the assurance given by the government to the Parliamentary Committee on National Security that all NATO supplies through Pakistan had been suspended. "It is a very serious matter that the US and NATO forces are violating our sovereignty and the government and the Pakistan Air force have failed to respond to protect Pakistan's sovereignty. They have also failed to implement the parliament's resolutions on this issue in letter and spirit," he added. Interior Minister Rehman Malik, while responding to the queries of lawmakers particularly from Balochistan on the worsening security situation in the province, said it was crucial that politicians play their role in countering the conspiracies to sever Balochistan from Pakistan.
He said a "third force" was involved in the killings in the province, adding that the bullets fired at the slain family members of Mir Bakhtiar Domki were not made in Pakistan. He said that law enforcement agencies had seized a heavy cache of weapons in a raid at the house of a Baloch insurgent in Turbat. He asked who was providing luxury vehicles, satellite phones and automatic weapons to Baloch insurgents. Senator Shahid Bugti was of the view that the Balochistan issue was political in nature, and that the minister should inform what steps he had taken to settle it. He asked the interior minister what steps had been taken to recover the missing persons in Balochistan, and the progress on the killings of three Baloch leaders in Turbat and Nawab Akbar Bugti.
The Senate also passed the Shifa Tameer-e-Millat University Bill, 2011 unanimously before it was prorogued san die.
http://www.pakistantoday.com.pk/2012/02/senators-seek-explanation-on-nato%E2%80%99s-use-of-pakistani-air-space/
----------
Pak SC orders: ISI, MI granted more time to produce 'missing' prisoners
By Azam Khan
ISLAMABAD: February 11, 2012, In an unusual order, the Supreme Court on Friday directed the country's powerful intelligence agencies to present seven prisoners, who went missing from Adiala Jail, before the court by 5pm the same day.
Not surprisingly, however, the court, along with the families of the missing persons present on the day, was left waiting. Not only were the prisoners not produced, the counsel for the Inter-Services Intelligence and the Military Intelligence, Raja Muhammad Irshad, also failed to appear before the court, later in the day.
The court adjourned the hearing, before issuing a strong order to the ISI and MI chief, and the defence secretary to produce the missing prisoners safely before the court on February 13 and file a compliance report with the Registrar Office.
"Our order has not been complied with. The missing prisoners are in custody of the intelligence agencies," said Chief Justice Iftikhar Muhammad Chaudhry.
Earlier on Friday, Irshad presented a letter to the court, which entailed the details of the prisoners' medical condition, stating that they could not be moved out of the hospital.
"Bring them (the patients) in helicopters, if they cannot be brought in cars," was the chief justice's response.
He added that if the prime minister of Pakistan could be summoned to the court for not complying orders, it does not leave room for anyone else to not obey court orders.
The court in its order stated that four detainees – Dr Niaz Ahmad, Abdul Maajid, Gulroze and Abdul Basit – reportedly admitted in the Lady Reading Hospital Peshawar and three – Mazharul Haq, Shafiqur Rahman and Muhammad Shafique – who are stated to be in the Internment Centre, Parachinar, were not produced.
At the 5pm hearing, the attorney general informed the court that at around 3.30 pm, counsel Irshad had informed him that the detainees in Parachinar could not be brought to Islamabad owing to the long distance, and added that the prisoners in Peshawar will present together with the ones in Parachinar.
Eleven civilian suspects had been facing a court martial under the Army Act on charges of attacking the General Headquarters (GHQ) and ISI's Hamza Camp base.
They were picked up from Adiala Jail by intelligence agencies after they had been acquitted of charges by the court.
Four of the 11 detainees – Muhammad Amir, Tahseenullah, Said Arab and Abdul Saboor – died in the custody of the ISI and MI. According to counsel Irshad, they died under 'natural causes'.
"Right now, we want to see the surviving prisoners. Later, we will investigate the circumstances in which four prisoners died and also fix responsibility," the chief justice stated on Friday.
"…We are of the opinion that it is the responsibility of Director General, ISI, Director General, MI and Judge Advocate General, JAG Branch, to comply with the order of the Court in letter and spirit. Non-appearance of their counsel also suggests that reluctance is being shown in producing the detainees before the Court," the bench said.
The bench also asked the attorneys of the ISI and MI to explain why the patients were admitted in hospitals located outside Islamabad when there are enough hospitals in the city.
Justice Tariq Parvez observed that the whole world felt the gravity of the case, while the institutions in Pakistan "have done nothing about it so far."
The court also summoned the defence secretary and the Khyber-Pakhtunkhwa chief secretary in person at the next date of hearing.
The Khyber-Pakhtunkhwa governor has been directed to present a report through the provincial chief secretary on the condition of the prisoners who are hospitalised in Peshawar and Parachinar.
DSP Peshawar Imtiaz Ahmad appeared before the court and stated that he had no knowledge of the admission/detention of the four above named persons in the LRH.
http://tribune.com.pk/story/334795/sc-orders-isi-mi-granted-more-time-to-produce-missing-prisoners/
---------
Pakistan blocks 13,000 'obscene' websites
Press Trust Of India
Islamabad, February 11, 2012, Pakistani authorities have blocked 13,000 obscene websites
Pakistani authorities have blocked 13,000 "obscene" websites and are taking more steps to prevent the spread of such materials through the internet, a top official said.
Parliamentary secretary for information technology Nawab Liaqat Ali Khan made the remarks while responding to
2012 is turning out an important year for Internet freedom
Google, FB remove content after court warning
a calling attention notice in the National Assembly or lower house of parliament.
"It is a serious issue and we are trying to address it," Khan said.
A ministerial committee and a sub-committee had been formed to look into the matter.
Khan expressed concern at what he described as the "rapid spread of obscene websites" and said the government currently has no mechanism to block all these websites.
"However, we take action on receiving a complaint. We are trying to devise a mechanism," he said.
Though China and India have installed an "automated filtration system", such measures are very costly, he said.
Even if such a system is installed in Pakistan, authorities will not be able to block all objectionable websites, Khan said.
Most of these websites are based outside Pakistan and authorities were unable to take action against them or penalise them, he said.
After a string of cases were filed in courts across Pakistan against blasphemous and pornographic contents on the internet, authorities last year began blocking websites.
Earlier, authorities had blocked popular portals like Facebook and YouTube but the move was criticised by civil society groups. Following protests, authorities began selectively blocking only pages that contained blasphemous and pornographic materials.
http://www.hindustantimes.com/technology/IndustryTrends/Pakistan-blocks-13-000-obscene-websites/SP-Article1-809873.aspx
--------
One killed, three wounded in S Arabia clashes
RIYADH: February 11, 2012, One person was killed and three wounded when security forces exchanged gun fire with "masked men" in Saudi Arabia's oil-rich east, the official SPA news agency reported on Friday.
Activists and witnesses said the casualties came when security forces opened fire on a Shia demonstration in the Qatif district of the kingdom's eastern province.
"A security force patrol came under heavy gunfire from masked men while it was carrying out its duties in Al-Shwaika neighbourhood in the Qatif district on Thursday," SPA reported, quoting a police spokesman in the province. Security forces "responded", prompting "an exchange of fire that left four of the rioters wounded, one of whom died before reaching hospital", it added. Activists and witnesses said that security forces opened fire when a Shia procession marking the 12th of Rabi-ul-Awwal – a celebration forbidden in ultra-conservative Sunni Muslim Saudi Arabia – turned into a demonstration for reform and the release of Shia detainees.
"Munir al-Medani, 21, was wounded by a live bullet to his chest," one activist said, requesting anonymity. "He was taken to hospital where he later died of his wounds." A number of other protesters were also wounded, the activists and witnesses said.
Witnesses said the shooting prompted groups of young protesters to burn tyres and police to set up checkpoints across the district.
Medani's death raises to six the number of protesters killed since demonstrations erupted in the eastern province last March against Saudi-led military intervention to help crush Shia-led pro-democracy protests in neighbouring Bahrain. Activists say that Saudi authorities have arrested nearly 500 people since the protests started. Many have been released but dozens remain in custody, among them human rights activist Fadel al-Munasif and writer Nazir al-Majid.
In January, Saudi authorities published a list of 23 men wanted on suspicion of involvement in the disturbances. Later the same month, the Saudi Interior Ministry announced that security forces had arrested nine people suspected of involvement in the wounding of three policemen in the eastern province. Most of Saudi Arabia's estimated two million Shias live in the province, where the vast majority of the kingdom's huge oil reserves lie. They complain of marginalisation in the Sunni-dominated kingdom. afp
http://www.dailytimes.com.pk/default.asp?page=2012\02\11\story_11-2-2012_pg7_26
---------
One killed, another injured in Quetta blast
QUETTA: February 11, 2012, A man was killed and another injured in a bomb explosion in the Katan Bridge area of Khuzdar, some 310 kilometres away from the provincial capital on Friday. According to the police, the explosion took place when a man riding a donkey cart was passing by, killing the cart rider and injuring a passer-by. Police rushed to the spot and cordoned off the area, while the deceased and injured were taken to the District Headquarters Hospital. The deceased was identified as Muhammad Ibrahim, and the injured passer-by as Ghulam Qadir. Both are residents of Khuzdar city. SHO Katan Police Station Abdullah said the bomb was planted in the donkey cart. A case has been registered against unidentified persons and an investigation is underway. staff report
http://www.dailytimes.com.pk/default.asp?page=2012\02\11\story_11-2-2012_pg7_5
---------
Iran: Vilayati's Advisor Terms Iran's Islamic Revolution Role Model for Muslim World
TEHRAN, 2012-02-11,(FNA)- Senior Advisor of the Iranian Supreme Leader for International Affairs Ali Akbar Velayati reiterated that Iran's Islamic Revolution serves as a role model for the regional and world Muslims in their fight against the tyranny of their rulers and arrogant powers.
Velayati said on Friday that the Islamic Republic of Iran is the flag-bearer of the Islamic awakening in Muslim World.
Addressing a group of people in Isfahan, he said the Islamic Revolution is now regarded an exemplary model for world Muslims which put much pressure on the shoulders of Iranian nation.
Velayati, also Secretary General for Global Assembly of Islamic Awakening, said the Islamic revolution has mobilized Muslims across the world to stand against the global arrogance.
Referring to the various congresses on Islamic Awakening hosted in the Islamic Republic of Iran, Velayati said the issue has astonished the whole world.
'We are determined to pave the path of late Imam Khomeini and the Supreme Leader of the Islamic Revolution Ayatollah Seyed Ali Khamenei with much more strength,' he underlined.
Velayati added that the enemies have targeted Iran as the cradle of Islamic awakening which puts much more responsibility 'on our shoulders.'
In similar remarks in October, Ayatollah Khamenei had told a gathering of local officials in the Western Kermanshah province that the growing wave of Islamic Awakening in the region reveals that the interest of the regional nations in the Islamic discourse of the Iranian nation and shows that the Islamic Republic has set a role model for these nations.
"In these sensitive conditions in which the Iranian nation has turned into a model for the regional nations, all of us should present a more beautiful, more attractive and more harmonious picture of Iran to the nations of the region in order to thwart the constant efforts of the enemies to distort the image of the Iranian nation," Supreme Leader of the Islamic Revolution Ayatollah Seyed Ali Khamenei said.
The Supreme Leader of the Islamic Revolution said that constant conspiracies of the enemies of the Iranian nation are indicative of the progressive movement of the Islamic Republic.
"The constant propaganda, political, economic and security campaigns of the camp of the arrogant powers is a testimony to the accelerated movement of the Iranian nation towards the realization of its goals and ideals because if the nation were suffering from stagnation, backwardness and weakness, the enemy would not be trying so hard."
http://english.farsnews.com/newstext.php?nn=9010174352
-------
Iran, Brunei in process of finalising MoUs
Waleed PD Mahdini
Feb 11th, 2012 .
Brunei Darussalam and the Islamic Republic of Iran are in the process of finalising several Memoranda of Understandings (MoUs) in cultural, educational and sports cooperation and Iran is quite ready to cooperate with Brunei in the oil and gas sector, as well as new and renewable energy.
The Ambassador of Iran to Brunei, Mohammad Reza H Ashtiani, in an e-mail interview with the Weekend Bulletin on the occasion of Iran's 33rd Anniversary of the Islamic Revolution of Iran (National Day) yesterday, highlighted the visits of prominent and high-ranking officials between the two countries and added, "We expect that the visit of His Majesty the Sultan and Yang Di-Pertuan of Brunei Darussalam to the Islamic Republic of Iran will take place in the first half of this year."
HRH Prince Mohamed Bolkiah, Minister of Foreign Affairs and Trade, visited Tehran in April 1995, followed by the attendance of HRH Princess Hjh Masna to the 15th Ministerial Conference of the Non-Aligned Movement and the official visit by the Minister of Foreign Affairs and Trade II to Tehran in August 2008. Since then, Iran's Deputy Foreign Minister for Asia and Pacific Affairs, Dr Muhammad Ali Fathollahi visited Brunei in October 2010, followed by the visit of Iran Foreign Minister, Dr Ali Akbar Salehi to Brunei, in May last year, when an invitation was officially presented by President Mahmoud Ahmedinejad to His Majesty to visit the Islamic Republic of Iran.
During his visit, Dr Ali Akbar Salehi was quoted highlighting Iran's political relationship with Brunei whereby the Sultanate has a "very special position" in Iran through its support of the Islamic Republic in the "adoption of resolutions" at these international forums that "benefit the entire movement".
Both the Islamic Republic of Iran and Brunei enjoy very good cooperation in international organisations such as the Organisation of Islamic Cooperation, the United Nations and Non-Aligned Movement, said the Iranian envoy. "In most cases, the positions of the two countries are quite similar in the said organisations. The issue of human rights is one of these areas. Western countries regard the issue of human rights from a different angle of value system; secondly, they use a double-standard treatment of the human rights issue. As a whole, since Iran and Brunei abide by progressive principles of Islamic Syariah, they have close views in most international issues and defend each others' opinions in international forums."
On the signing of MoUs, Mr Mohammad Reza H Ashtiani said, "We hope that our cooperation in the fields will be materialised after the signing of the MoUs. As you are aware, the Islamic Republic of Iran has had great achievements in the way towards the promotion of research and scientific level.
"In the area of medicine, the Iranians had to use foreign physicians and specialists for their treatments, more than 90 per cent of drugs were imported. But presently we have reached self-sufficiency in regard to medical teams and treatment. Most of major surgeries such as organ transplants, cardiovascular surgeries, and others are completely carried out in Iran. Each year, a number of the people in the region's countries come to Iran for their treatment due to its high quality and low-price medical services.
"Now, the Islamic Republic of Iran has attained first rank in mathematics, mechanics, chemistry, polymer, bio-chemistry and nanotechnology in the region and 11th rank in the world.
"The Islamic Republic of Iran is among the first 10 countries of the world, which has the capability of using stem cells in various medical branches. All these achievements have been attained at a time that we have been under the illogical sanctions by the Western countries. The Islamic Republic of Iran believes that all the knowledge and technologies, which have been achieved by Iran belong to the world of Islam. We are ready to cooperate in the educational and research fields with the Muslim countries and particularly with the friendly and Muslim country of Brunei."
During Dr Ali Akbar Salehi's visit, several areas of cooperation were identified as the priority areas, ranging from the exchange of knowledge among academics, scholars, students, teachers, people-to people-exchange, economy, health and tourism.
It was also mentioned during the Iran foreign minister's visit that both governments were awaiting the final signing ceremony of an investment agreement that was expected to facilitate and encourage more investment between Iran and Brunei.
"The investment agreement has been presented again by the Islamic Republic of Iran and we are waiting for the answer and viewpoints of the Government of Brunei Darussalam. The Joint Technical Committee Meeting will be hopefully convened in Tehran this year," said the envoy.
The proposal of unilaterally waiving visa requirements for Bruneians to Iran was raised by Dr Ali Akbar Salehi during his official visit to Brunei. "We hope for good news in this respect in the near future. As the officials of the two countries have emphasised, tourism is one of the areas of joint cooperation and Islamic tourism has a good potential.
"The Islamic Republic of Iran has a lot of touristic attractions in various areas, such as historical monuments, religious places, natural beauties, handicrafts, hunting, medical treatment and so on. We are prepared to offer the necessary facilities. Your country, on the other hand, has unique natural appeal that can be attractive for the Iranian tourists," said the Ambassador.
With regards to oil and gas cooperation, Mr Mohammad Reza H Ashtiani said, "Both the Islamic Republic of Iran and Brunei benefit from the oil and gas resources. Therefore, the issue of energy can be one of the areas of cooperation between the two countries. Given its long experience and its numerous experts in different fields such as extraction, construction of refineries and petrochemical plants, as well as new and renewable energies, the Islamic Republic of Iran is quite ready for cooperation in this regard."
The Embassy of the Islamic Republic of Iran has always been active and generous during the holy month of Ramadhan, such as through the popularly recorded events when al-Qurans are distributed to religious schools throughout the country and Iftar meals hosted for orphans and the less-privileged communities in Brunei.
"The holy month of Ramadhan, as the month of blessings and mercy for the Muslim people, provides a special spiritual atmosphere in which various religious services such as the ones mentioned are performed. Hopefully, such procedures will also be pursued in the future. I am sure that the Embassy of Brunei in Tehran can definitely be active in such activities as well. They can also participate in the Quran Exhibition in Tehran which is held every year during the month of Ramadhan. The exhibition which is visited by millions of people displays various hardware and software works in different areas related to the Holy Quran such as calligraphy, gilding, and others.
"On the other hand, the Hari Raya or Aidil Fitri festivities in Brunei are very fascinating. I propose that the correspondents of the two countries pay a visit to each others' capitals during the month of Ramadhan and prepare reports of the ceremonies of our two countries," the envoy said.
http://news.brunei.fm/2012/02/11/iran-brunei-in-process-of-finalising-mous/
-------
Cardiff Councillor Mohammed Islam fears for family after anti-Muslim threat letter
By Peter Law
Feb 10 2012
A CARDIFF councillor says he is concerned for the safety of his young family after he was sent a "threatening" letter accusing him of being anti-Muslim.
The letter arrived at the home of Riverside's Plaid Cymru councillor Mohammed Islam, who is Muslim, on Thursday morning.
It makes reference to a police raid on a meeting at Canton Community Hall last month, following concerns from the city's Muslim community that the group might be affiliated to a banned extremist organisation.
Following the raid, Coun Islam told the Echo he believed many of the group's members had been "brainwashed" and "radicalised" while in prison for petty crimes.
Coun Islam says he doesn't know who posted the letter, but assumes they have links to the group whose meeting was interrupted by South Wales Police officers.
The two-page letter says he "instigated, plotted and planned against the Muslim community" and says he is an "enemy" of the faith.
"The scholars of Islam are unanimously agreed that whoever supports the kaafirs against the Muslims and helps them in any way is a kaafir like them," it continues.
Coun Islam, who has a six-year-old daughter and four-year-old son, has reported the incident to the police.
"It's very threatening to myself personally and to my family," he said.
"It's calling for me to stop talking about the Muslim community and if I continue working with non-Mulsims then I will be considered anti-Muslim. It is very offensive to say I am an enemy of Islam." he said.
"They have obviously done their homework because they know where I live. To send this letter to my family home is wrong, they should not be doing this."
He added: "It's shocking and horrific to me. My wife is worried because we have young children.
"They are trying to scare me, but I will stick to my principles and I will speak the truth on behalf of the community."
A South Wales Police spokesman said: "South Wales Police can confirm that we have received a complaint regarding a letter received by a Cardiff councillor.
"That letter had been recovered by officers for examination."
http://www.walesonline.co.uk/news/wales-news/2012/02/10/cardiff-councillor-mohammed-islam-fears-for-family-after-anti-muslim-threat-letter-91466-30306455/#ixzz1m4FOBJ2M
--------
Pakistan, Russia to fight drugs, co-operate in trade
Staff Report
MOSCOW,2012-02-10– Pakistan and Russia will co-operate to fight drug trafficking, Russian Foreign Minister Sergei Lavrov said February 8, Fergana News reported February 9, quoting RIA Novosti.
An official from Russia's Federal Drug Control Service soon will begin working in Islamabad, and Russia is preparing for a visit by Pakistani Narcotics Control Minister Haji Khuda Bux Rajar, Lavrov said after talks with visiting Pakistani Foreign Minister Hina Rabbani Khar, according to Fergana News.
Khar and Lavrov discussed potential Russian co-operation in the planned Turkmenistan-Afghanistan-Pakistan-India gas pipeline and CASA-1000 Central Asian regional electricity project, Khar said. Pakistan received a "very encouraging answer" from Russia about possible investment in construction of Pakistani steel mills, she added, according to Fergana News.
Khar arrived in Moscow February 7 for a four-day visit.
http://centralasiaonline.com/en_GB/articles/caii/newsbriefs/2012/02/10/newsbrief-11
-------
'Made in India' show in Pakistan as both talk to boost trade
Surojit Gupta, TNN
Feb 11, 2012,
Trade ties between India and Pakistan are expected to get a boost as New Delhi reaches out to the business community across the border, starting Monday to assure them about the positive impact of normal trade ties. Commerce minister Anand Sharma will undertake a rare journey to Pakistan, leading a large delegation of senior officials and top businessmen as the two hostile neighbours take baby steps to normalise trade and economic relations.
The private sector led by industry chambers has put up an "India show", in Lahore and Karachi - the first ever trade exhibitions from India where over 100 exhibitors are participating. Firms representing pharmaceuticals, textile, gems and jewellery, chemicals and petro-chemicals are showcasing products.
The move is a follow up to the efforts to normalise trade ties. The Pakistan government announced granting of Most Favoured Nation (MFN) status to India in November last year. But, criticism from a section of industry in Pakistan has forced Islamabad to take measured steps on the issue. But, officials said they were optimistic that by the end of 2012, the transition to full MFN status would be complete.
Officials said they will launch outreach programme to assure businessmen in Pakistan that Indian goods will not swamp the Pakistan market if trade is normalised. "We will tell them that there are enough trade safeguards measures to ensure that Indian goods do not flood the Pakistani market. Let us first liberalise trade and see the impact," said a senior government official.
Pakistan allows exports to India but has a positive list of 1,938 items which are officially allowed to be imported from India. Latest data shows that formal trade between India and Pakistan rose to $2.7 billion in 2010-11 from $144 million in 2001, while informal trade including third country trade is estimated at $10 billion, according to a Ficci status paper. "I have no doubt in my mind that bilateral trade, which currently stands at $3 billion, can be raised to $10 billion if trade through third countries (Dubai, Singapore and Central Asian countries) is channelised into direct exchange between the two countries," said R V Kanoria, president, Ficci.
The government has undertaken a series of measures to increase bilateral trade. There is a move to open a second gate at the Attari-Wagah border, which is expected to increase the number of trucks crossing the border to 500-600 daily from 150-200 at present. Pakistan has agreed to remove restrictions on the number of commodities traded by the land route once the infrastructure in Wagah is ready, while both countries have agreed to avoid arbitrary stoppage of goods at ports. Suggestions have been made for opening up of an additional land route at Monabao-Khokhara Par on the Sindh border for faster movement of goods.
"We are taking significant steps to improve the border infrastructure. India has invested nearly Rs 150 crore to develop infrastructure at the Integrated Check post near Attari," said a senior government official. He said the visa regime for business travel is also expected to be liberalised soon with multiple entry visas for 10 Indian cities, along with exemptions for police reporting. The formal announcement is expected to be made soon. Talks to expand trade in petroleum products are progressing, while efforts are also on to start negotiations for trade in electricity between the two nuclear-armed neighbours. Both sides have agreed on grid-connectivity between Amritsar and Lahore, which would pave the way for trade of up to 500 MW of power.
Trade experts said they were optimistic about the latest moves and said the effort will go a long way in helping faster regional integration. "The positive spin off for normalisation of trade is enormous. Pakistan has given signals and India now needs to take the initiative. Normalisation of bilateral trade relations will help in putting much of the political bickering on the backburner," said Biswajit Dhar, director-general at Research and Information System for Developing Countries, an economic and trade thinktank. Experts said there was huge potential for forging joint ventures between Indian and Pakistani companies in sectors such as information technology, fish-processing, drugs and pharmaceuticals, agro chemicals, chemicals, automobile ancillary and light engineering.
http://timesofindia.indiatimes.com/business/india-business/Made-in-India-show-in-Pakistan-as-both-talk-to-boost-trade/articleshow/11845019.cms
--------
Indian, Pakistani surgeons conduct historic liver transplant
Lahore, February 11, 2012: A group Indian doctors lent a helping hand to their Pakistani counterparts to jointly perform a complicated liver transplant procedure for the first time in Pakistan.
The living donor liver transplantation (LDLT) was performed at Lahore`s Shiekh Zayed Hospital on Friday by a team of Indian and Pakistani surgeons, officials said today.
LDLTs are "highly sensitive and complicated" surgical procedures as two lives - the donor and recipient are at risk, doctors said.
The joint operations were done by Indian surgeon Subash Gupta, a senior transplant doctor of Apollo Hospital in Delhi, and three of his colleagues and the three-member Pakistani team of Tariq Bangash, Khawar Shahzad and Umer Ali.
"The joint venture of leading Indian and Pakistani transplant surgeons has made history by opening a new era of living-relative liver transplants in Pakistan," Bangish said.
The first liver transplant was performed on Khanum Maula and the liver was donated by his close relative Irshad Bibi.
The second surgery was conducted on 45-year-old Abida Parveen and the liver was donated by her 19-year-old son.
It took 12 hours for the surgeons to complete each sensitive procedure.
Both recipients were brought to Shaikh Zayed Hospital with complete liver failures.
The Indian doctors visited Pakistan to perform the transplants at the request of the Pakistani surgeons.
Before the arrival of the Indian doctors, surgeons at Shaikh Zayed Hospital finalised arrangements for the sensitive operations and prepared the donors and recipients.
The condition of all the recipients and donors was stable and they were kept under observation in intensive care for 24 hours.
Consultants were put on high alert for post-operative care of the patients for 24 hours, a highly sensitive period for all who undergo hours-long surgeries.
PTI
http://zeenews.india.com/news/health/health-news/indian-pakistani-surgeons-conduct-historic-liver-transplant_15602.html
--------
Mickey Narula to perform in Pakistan
Richa Bhatia, TNN
Feb 11, 2012,
Mickey Narula, brother of singer Jaspinder Narula is all set to be the first Indian to perform and represent Bollywood in Pakistan.
This is for the first time ever that any artist from India is going and officially performing in Pakistan through the Government of India on the request of Pakistani Govt. This whole event is taking place on the request of the commerce ministry of both the countries. As you may be aware that some business agreement is going to be signed between the two countries on the 13th Feb 2012 and that is the occasion of this event...He will be performing at the Governor's House in Lahore on February 13, 2012.
http://timesofindia.indiatimes.com/entertainment/music/news-and-interviews/Mickey-Narula-to-perform-in-Pakistan/articleshow/11847530.cms
URL: https://www.newageislam.com/islamic-world-news/pakistan-considering-proposal-to-lease-gilgit-baltistan-to-china--us-think-tank/d/6607