New Age Islam News Bureau
16 Jan 2018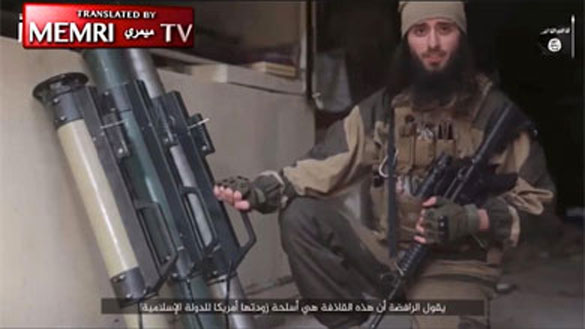 Ever since leaving the US in April 2015, Hoxha has become a prominent ISIS commander known for his recruitment capabilities. (via Amaq)
----
• Pakistan Clerics Issue Fatwa Against 'Un-Islamic' Suicide Bombings
• Somalia's Shabab Militants Forcing Civilians to Hand over Children: HRW
• Is Zulfi Hoxha – Or Abu Hamza Al-Amriki – ISIS' New American Leader?
• Clashes in Balkh Province Leaves Over 20 Militants Dead, Wounded
• Moshe Holtzberg, Kid Who Survived 26/11, Returns To Mumbai after 10 Years
Pakistan
• Pakistan Clerics Issue Fatwa Against 'Un-Islamic' Suicide Bombings
• Taliban Political Envoys from Qatar Office Land in Pakistan
• Zero Tolerance for Hate Speech, Sectarian Violence: Marriyum
• Fata merger with KP part of US agenda: Fazl
• TTP spokesperson Asad Mansoor surrenders to security forces
• Jamaat-ul-Ahrar spokesperson Asad Mansoor, aides surrender
• Five security personnel killed as vehicle attacked in Turbat
• Islamabad's ties with US should be based on mutual trust, respect: Pak foreign secretary
--------
Africa
• Somalia's Shabab Militants Forcing Civilians to Hand over Children: HRW
• 20 Killed In Clashes at Libya's Main Int'l Airport
• 3 DRC soldiers killed while repelling Uganda rebels
• Cardinal laments deadly year for Church in Central African Republic
--------
North America
• Is Zulfi Hoxha – Or Abu Hamza Al-Amriki – ISIS' New American Leader?
• Australian Islamic State Recruiter Neil Prakash Linked To New York Jihadist Planning Times Square Attack
• Phasing Out US Dollar in Interest of Muslim World: PUIC
• Report: Islamic State Appoints American Recruit 'Senior Commander'
• Meet the Muslim American appointed as Secretary of Education for the state of Virgina
• Syria militants in US seeking CIA dollars to 'confront Iran's influence'
• Judge in Canada Day terror plot wrong to acquit: Crown
--------
South Asia
• Clashes in Balkh Province Leaves Over 20 Militants Dead, Wounded
• Top US, NATO Commander Warns Taliban Not to Be Safe Anywhere
• US drones target ISIS gathering in East of Afghanistan
• Afghan forces foil 3 deadly explosions in Kabul city
• Bangladesh agrees with Myanmar to complete Rohingya return in two years
• Myanmar Sets Up Temporary Camps to House 30,000 Rohingya Muslims Ahead Of Repatriation Deal with Bangladesh
--------
India
• Moshe Holtzberg, Kid Who Survived 26/11, Returns To Mumbai after 10 Years
• Army Kills Four Pak Soldiers, Five Jaish-e-Muhammed Terrorists
• TNSM chief Sufi Muhammad released after eight years in jail
• J&K police team visits Aligarh Muslim University
--------
Mideast
• Erdoğan Accuses US of Planning To Form 'Terror Army' In Syria
• Palestinian Central Council calls on PLO to end recognition of Israel
• At least 6 civilians are killed in Saudi airstrikes in Yemen's Hudaydah province
• Yemeni snipers kill three Saudi troopers in retaliatory attacks
• Israeli soldiers shoot dead young Palestinian man in occupied West Bank
• Turkey sends armored vehicles to southern border with Syria: Sources
--------
Southeast Asia
• Malaysia Named in US Report on Trump's Conflicts Of Interest
• Citing May 13, Perkasa supports Ummah's call on scholarship
• Jamal's statements imply I am linked to IS, says Maria
• Islamic anti-vaxxers undermine efforts to prevent diphtheria outbreak in Indonesia
• Malaysia setting up special court on human trafficking as cases soar
--------
Arab World
• Bahraini Leader Reveals Al-Khalifa's Close Ties with Israel, Obedience to Riyadh
• Saudi Forces Shoot Shia Youth to Death in Kingdom's Qatif Region
• Syrian Army Drives ISIL out of More Regions in Hama Province
• Terrorist Groups' Media Spokesman Killed in Syrian Army Attack in Aleppo
• Turkish Army on Alert to Kick off Large-Scale Attack on Kurds in Northern Syria
• Thousands of Terrorists Arrive in Idlib to Slow down Syrian Army Advances
• Northern Syria: SDF Unable to Face Popular Uprising in Manbij
• Booby-Trap Kills another Senior Terrorist Commander in Northwestern Syria
• Minorities in north Iraq look to post-extremist future
--------
Europe
• French Mayor Bans Pork Substitutes in School Meals, Saying He's Defending Secularism
• Should France Take an ISIS Recruiter Back?
• Lavrov: US wants to split Syria, must accept Iran deal
Compiled by New Age Islam News Bureau
URL: https://www.newageislam.com/islamic-world-news/pakistan-clerics-issue-fatwa-un/d/113954
--------
Pakistan Clerics Issue Fatwa Against 'Un-Islamic' Suicide Bombings
Jan. 16, 2018
ISLAMABAD (Reuters) - More than 1,800 Pakistani Muslim clerics have issued an Islamic directive, or fatwa, forbidding suicide bombings, a book due to be unveiled by the government on Tuesday says.
The South Asian nation has for years been plagued by violence by Islamist militants who often use suicide bombers and preach that their struggle is a holy war to impose Islamic rule.
Suicide attacks are frequently condemned as fanatical and immoral, especially when civilians are killed, but insurgents view the tactic as their most effective weapon.
Seeking to curb "terrorism" that has resulted in tens of thousands of casualties since the early 2000s, the clerics declared suicide bombings to be forbidden, or "haraam".
"This Fatwa provides a strong base for the stability of a moderate Islamic society," Pakistan President Mamnoon Hussain wrote in the book.
"We can seek guidance from this Fatwa for building a national narrative in order to curb extremism in keeping with the golden principles of Islam."
Foreign and domestic critics of Pakistan's government and military accuse them of cozying up to radical groups for political and military purposes and say the state has for too long turned a blind eye to hate preachers in mosques.
Pakistani officials deny frequent U.S. allegations about collaborating with militant Islamist proxies in Afghanistan and India, and say vast gains have been made over the past decade against militant outfits such as the Pakistani Taliban.
But privately they also warn any moves against some popular hardline groups based in Pakistan would take a long time and need to be undertaken carefully.
Similar fatwas appear to have yielded scant results in the Middle East where the practice is used by Islamic State and other militant groups.
The Pakistani scholars, who declared that "no individual or group has the authority to declare and wage jihad (holy war)", said suicide bombings violate key Islamic teachings and were as such forbidden.
The book was prepared by the state-run International Islamic University and Hussain was due at a ceremony to mark the book's release in Islamabad on Tuesday.
https://www.usnews.com/news/world/articles/2018-01-16/pakistan-clerics-issue-fatwa-against-un-islamic-suicide-bombings
--------
Somalia's Shabab militants forcing civilians to hand over children: HRW
Jan 15, 2018
Human Rights Watch has warned that the Somalia-based Takfiri terrorist group of al-Shabab is forcing civilians to hand over their young children for "indoctrination and military training."
The international rights organization made the revelation in a statement on Monday, saying the terrorist group had launched an aggressive campaign to recruit children since mid-2017, with threats of retaliation against communities who refused to cooperate.
Since late September 2017, the al-Qaeda-linked militant group has ordered elders, teachers in religious schools, and communities in rural areas to provide hundreds of children as young as 8 or face attack, according to the statement.
The recruitment was reportedly taking place in three districts in Somalia's southern Bay region, which is largely under the control of the terrorist outfit.
"Al-Shabab's ruthless recruitment campaign is taking rural children from their parents so they can serve this militant armed group," said Laetitia Bader, senior Africa researcher at HRW. "To escape that cruel fate, many children have fled school or their homes."
The New York-based rights organization also revealed that the terrorist group had opened large religious schools in Bay region since 2015, bringing in young children and pressuring teachers to teach the al-Shabab curriculum and avoid "foreign teachings."
HRW quoted village elders near Baidoa in southwestern Somalia as saying that al-Shabab militants had ordered them in September to hand over dozens of children between the ages of nine and 15.
"They said we needed to support their fight. They spoke to us in a very threatening manner. They also said they wanted the keys to our boreholes. They kept us for three days. We said we needed to consult with our community. They gave us 10 days," the rights watchdog quoted one resident as saying.
The community refused to hand over the children, and has since received threatening calls, including death threats, according to HRW.
The UN Security Council's Somalia Eritrea Monitoring Group (SEMG) reported that al-Shabab had detained 45 elders in the region back in June, after they had refused to provide them with 150 children. The SEMG also found that 300 children had been abducted from the area since that period and forced to educate at al-Shabab schools.
"Al-Shabab's campaign only adds to the horrors of Somalia's long conflict, both for the children and their families," Bader noted. "The group should immediately stop abducting children and release all children in their ranks. The Somali government should ensure these children are not sent into harm's way."
Somalia has been the scene of deadly clashes between government forces and al-Shabab militants since 2006.
The Takfiri militant group was forced out of the capital by African Union troops in 2011, but still controls parts of the countryside and carries out attacks against government, military, and civilian targets in Mogadishu and regional towns.
http://www.presstv.com/Detail/2018/01/15/549042/HRW-Somalia-Shabab-children-
--------
Is Zulfi Hoxha – Or Abu Hamza Al-Amriki – ISIS' New American Leader?
15 January 2018
Zulfi Hoxha exhibited patterns of radicalization are undeniable, starting with the dubious internet social media accounts such as his use of Pal talk, and concluding with an ISIS propaganda video said to portray Hoxha beheading Kurdish soldiers.
If United States authorities could affirm his identity, Hoxha would be the first identified American ISIS member seen performing a decapitation.
Ever since leaving the US in April 2015, Hoxha has become a prominent ISIS commander known for his recruitment capabilities. It was not quick before law enforcement claimed his appearance in grotesque videos.
Previous cases of radicalized Americans include John Georgelas and Abdullah Ramo Pazara. There is a common factor between these individuals: they were all part of a larger extremist community in America aiding in their quick ''promotion'' to high-ranked positions in the ISIS hierarchy.
Federal records proved that Hohxa functioned under the alias name "Abu Hamza al-Amriki" ( Abu Hamza, the American). In May 2017, the ISIS media in Iraq released a video purporting a disguised 25-year-old Hoxha calling on "believers" to carry out domestic attacks in America. He spoke in the same adjusted American accent heard in the 2015 video. During this time, the US department of Justice had already narrowed down on a few names connected to Hoxha. David Wright was sentenced in December 2017 to 28 years in federal prison eventually revealing more details about his fellow partner in crime.
Many Americans previously appeared in propaganda videos but Hoxha's case was the first in which the US government confirmed an American citizen as an ISIS member. According to the Atlantic, most American ISIS supporters do not make it to Syria, with more than fifty having been arrested in the past three years before their attempted journey.
Background
Little is revealed about Hoxha's past. A non-functional twitter account is found under his name with engagement records with other ISIS supporters and the State Department's "Think Again Turn Away" account. Prosecutors during the Wright trial argued that Hoxha used video games such as Call of Duty for basic training. Investigators believe that Wright and Hoxha initially met online as early as 2010. Wright also functioned under an alias, Umar Mukhtar Abdul-Qadir. Both Hoxha and Wright were members of chatrooms on Paltalk called "The Solution for Humanity" and "Road to Jannah."
Wright's confessions
During Wright's interrogation, he claimed that Hoxha contacted him through Paltalk asking to see if he had any interest in ISIS. Wright showed great interest in the group kick starting a series of online interactions exchanging violent content until April 2015 (when Hoxha left the US to embark on his ISIS journey). Among the shared material was the burning of Jordanian pilot Muath al-Kasasbeh in February 2015, according to The Atlantic. Records also show that Wright put Hoxha in touch with his American uncle Usaamah Rahim, who helped fund Hoxha's travels and would continue to follow up on his activity via a third party- British ISIS facilitator, Junaid Hussein. Hussein was believed to help Hoxha cross into ISIS territory.
Hoxha's case helps show the mechanisms of radicalization and recruitment in the US. Research shows that the potential of the so –called "lone wolves'' attackers in America must not be undermined. Stories like Zulfi Hoxha's are a reminder that whom appear as solo functioning individuals with little connection to the main ISIS entity abroad are still vowed to the group. With one foot in each, they become ideal recruiters.
For that reason, most American foreign fighters have revealed to liaison with the lone wolves in America prior to their departure, mostly via the internet. The self-claimed ISIS caliphate is withering away, raising concern for a wave of returning western militants.
https://english.alarabiya.net/en/features/2018/01/15/US-government-announces-first-official-American-ISIS-militant.html
--------
Clashes in Balkh province leaves over 20 militants dead, wounded
Jan 16 2018
At least twenty two militants were killed or wounded during the clashes in northern Balkh province of Afghanistan, the Afghan army officials said late on Monday.
According to the officials of the 209th Shaheen Corps, the clash took place in the vicinity of Chahar Bolak district of Balkh province between the Afghan armed forces and the Taliban insurgents.
The officials further added that seven militants were killed and five others were wounded during the clashes that took place in the vicinity Salbaroon, Khwajah Roshnayi, and Samochak villages.
The anti-government armed militant groups including the Taliban insurgents have not commented regarding the report so far.
Balkh is among the relatively calm provinces in North of Afghanistan where fewer insurgency related incidents have been reported since the fall of the Taliban regime and during the recent years.
But the anti-government armed militant groups are attempting to expand their insurgency in this province as the security situation in certain Northern provinces has started to deteriorate.
In the meantime, the Afghan national defense and security forces are busy conducting counter-terrorism operations in northern Balkh and other key northern provinces to suppress the insurgent groups and prevent them from expanding foothold in the North of the country.
https://www.khaama.com/clashes-in-balkh-province-leaves-over-20-militants-dead-wounded-04273
--------
Moshe Holtzberg, kid who survived 26/11, returns to Mumbai after 10 years
Jan 16, 2018
NEW DELHI: Moshe Holtzberg, one of the three survivors of the Chabad House carnage who became the unforgettable face of hope even when confronted with the 26/11 terror attack, arrived in Mumbai on Tuesday, the first time in 10 years since his parents were gunned down by terrorists.
"It's a very special day. Thank God that Moshe could come again. Mumbai is a lot more safe now," Moshe's grandfather Rabbi Holztberg Nachman was quoted as saying by news agency ANI.
More than a 100 Israeli and Indian security personnel are deployed alongside Mumbai police for the visit.
On the night of November 26, gunmen had stormed Nariman House, seat of the Jewish Chabad on Hormustji Street, and held six Israelis hostage. Among those who died in the 48-hour siege were Moshe's parents — Rabbi Gavriel Holtzberg and a pregnant Rivka — who managed the Jewish spiritual centre.
Moshe was two days short of turning two when the attack orphaned him. Sandra Samuel, his Indian nanny had found him next to his parents lying motionless on the ground when she picked him up, dodged the terrorists and dashed out. Moshe survived and so did the bullet-pocked Chabad House which reopened in 2014.
On Thursday, Moshe now 11 will visit the nondescript five-storey grey building in the heavily congested part of Colaba, renovated and rebuilt but with the bullet marks intact as a grim reminder of the destruction and killings. All shops along the stretch will remain shut and the lane will be sealed off during the day.
Moshe's Mumbai trip comes as a reciprocal visit promised by Israeli PM Netanyahu following Modi's meeting with the family in Israel last July, when he invited Moshe to India.
https://timesofindia.indiatimes.com/india/moshe-holtzberg-who-survived-26/11-returns-to-mumbai-after-10-years/articleshow/62518109.cms
--------
Pakistan
Taliban political envoys from Qatar office land in Pakistan
Tahir Khan
JANUARY 16, 2018
ISLAMABAD: Senior Taliban political representatives from Qatar office have arrived in Pakistan amid intense diplomatic activities in Islamabad and neighbouring Afghanistan, two Taliban officials said on Monday.
Shahabuddin Dilawar, a senior member of the Taliban's Qatar-based office, is leading the three-member delegation, sources in Taliban told Daily Times on the condition of anonymity.
The visit by Taliban political envoys coincides with talks between Pakistani officials and US Acting Assistant Secretary of State Alice Wells in Islamabad on Monday, in which ambassador Wells said Pakistan's support was 'critical' to the success of the US strategy in Afghanistan.
Taliban spokesman Zabihullah Mujahid said he was unaware of the visit when a query was posted on his WhatsApp. He promised to check and respond.
In response to a text message, Foreign Office spokesman Dr Faisal also said he will 'check'.
Diplomatic sources told Daily Times that they were aware of the arrival of the Taliban delegation, but did not offer further details.
The visit of Taliban political representatives is being seen as part of Pakistan's efforts to encourage the group to join the reconciliation process. The visit comes weeks after senior Taliban leader Mullah Muhammad Abbas traveled to Qatar and conveyed Pakistan's message to the Taliban representatives to join intra-Afghan dialogue, sources familiar with the development told Daily Times.
Sources said senior Pakistani officials had also sought help from influential Pakistani religious scholars to convince the Taliban to become part of the peace process.
Two religious scholars, who are part of the move, say they have been involved in hectic activities to press the Taliban to join peace process since Army Chief General Qamar Javed Bajwa visited Kabul on October 1 last year and met President Ashraf Ghani.
On Monday, Ambassador Wells met Afghan Ambassador to Pakistan Dr Omar Zakhilwal in Islamabad and discussed wide range of bilateral as well as regional issues, Zakhilwal posted on his Twitter account.
The Afghan ambassador also received EU Special Envoy for Afghanistan Roland Kobia, accompanied by JF Cautain, EU Ambassador for Pakistan, for a "comprehensive discussion on a wide range of issues including Afghan-Pak relations, peace process & refugees."
Zakhilwal, who is also President Ashraf Ghani's special representatives for Pakistan, said the focus of his meetings was to explore ways to bridge trust gap between Afghanistan and Pakistan. "In my meeting with ambassadors of important international partners who have close relations with both Afghanistan and Pakistan and visiting dignitaries, our discussion revolved around how with their support Afghanistan and Pakistan can sustain a regular and constructive interaction and dialogue that is aimed at responding to our grievances and building more trust between our two brotherly nations," the Afghan ambassador told Daily Times.
Meanwhile, Taliban spokesman Zabihullah Mujahid dismissed as baseless reports about Taliban participation at talks in Turkey. "We have neither sent any delegation nor can any participant represent the Islamic Emirate," Mujahid said. "Such fake processes are the work of intelligence and hostile acts against the ongoing Jihad," the Taliban spokesman said in his statement.
Abdul Manan Niazi, spokesman for the breakaway Taliban faction under Mullah Muhammad Rasool, also denied his group has sent a representative to Turkey for the talks.
Sources say the talks were brokered by Hizb-e-Islami leader Hamayun Jarir, also adviser of President Ghani, member of the govt-sponsored High Peace Council, Dr Abdul Baseer and Mullah Abdul Rauf and Mullah Abdul Haleem, leaders of Rasool's group. But Niazi's denial has discredited the talks in Turkey.
Spokesman for the Turkish embassy did not respond to a query when asked as to what promoted his country to host such talks when the Taliban factions have already distanced themselves from what are now being seen as 'mysterious negotiations'.
Sources close to former Taliban leaders in Kabul insist the Afghan government had 'violated an understanding' with the former Taliban officials who wanted to hold talks with the true representatives of the Taliban.
Former Taliban official Nazar Mutmayeen said that former Taliban leaders in Kabul had been involved in negotiations with senior government officials in Kabul regarding peace process this month. The government officials had stated they wanted 'direct interaction and exchange of messages' with Taliban leaders who were empowered by the leadership.
Mutmayeen claimed later that the government officials recognize the United States as a 'party' to the Afghan conflict and that the Taliban can 'hold direct talks with the US about some issues'.
Meanwhile, a delegation of UN Security Council members wrapped up their visit to Kabul on Monday after holding talks with President Ghani and other senior leaders.
President Ghani renewed his call for intra-Afghan dialogue and peace between Pakistan and Afghanistan, adding that Afghanistan will take benefit of the experiences of other countries.
He also called for 'increased pressure on Pakistan for peace and stability in Afghanistan', Bakhtar news agency reported. He said joint efforts were required to move forward on the Afghan peace process.
https://dailytimes.com.pk/181900/taliban-political-envoys-qatar-office-land-pakistan/
--------
Zero tolerance for hate speech, sectarian violence: Marriyum
Jan 16, 2018
ISLAMABAD: Minister of State for Information, Broadcasting, National History and Literary Heritage Marriyum Aurangzeb on Monday informed the National Assembly (NA) that the government was following the policy of zero tolerance against the projection of hate speech and sectarian violence.
Responding to a question during the question hour, she said the ministry was aware of its obligations, under which it was carefully monitoring the print and electronic media to check any content related to sectarian hatred and violence.
Marriyum said that the ministry, through monitoring units established in different organisations under its administrative control, made sure that all publications, broadcasts and advertisements on national level did not contain or encourage sectarianism violence, terrorism, religious discrimination and hate speech.
The minister said the Pakistan Electronic Media Regulatory Authority (PEMRA) had always taken action against any TV channel for being involved in airing such programmes that went against the norms of the society. She said that PEMRA took action against all objectionable advertisements on television channels.
She further said that according to the terms and conditions of the license and under PEMRA Ordinance 2002 section 20, the person who was issued a license was bound to ensure that all programmes and advertisements did not encourage violence, terrorism, racial hatred, ethnic or religious discrimination, sectarianism, extremism, militancy, pornography, obscenity, vulgarity or any other material offensive to the commonly accepted standards of decency.
She also said that different organisations working under the administrative control of the information ministry monitor the national print and electronic media to point out any objectionable material.
The minister said that the Press Information Department (PID) was keeping a close liaison with the newspapers, magazines and print media organisations like CPNE, APNS, PFUJ, RIUJ and press clubs to keep them cognisant of the government policy against promoting hate speech and sectarian violence. She said that the Press Council of Pakistan (PCP) was trying hard to implement the ethical code of conduct for print media in its true spirit.
Furthermore, she said that PCP monitored the print media in the context of hate speech and sectarian violence. The professional bodies of journalists were being reminded time and again to follow PCP's ethical code and refrain from spreading hate and sectarianism in the society. PCP had sent letters to the professional bodies of journalists as well as to the editors of the newspapers to ensure the implementation of PCP's ethical code, she added.
She also said that the Press Council of Pakistan in its quarterly meetings with professional bodies of journalists had emphasised on the role of the print media in creating sectarian harmony in the country.
Full report at:
https://www.pakistantoday.com.pk/2018/01/15/zero-tolerance-for-hate-speech-sectarian-violence-marriyum/
--------
Fata merger with KP part of US agenda: Fazl
January 16, 2018
PESHAWAR - Jamiat Ulema-e-Islam-Fazl chief Maulana Fazlur Rehman has alleged merger of Fata with KP is actually part of the US agenda upon which the federal government is working speedily.
Addressing the provincial general council of JUI-F at the party's central headquarters here, Fazl said the federal government has expedited its agenda of making the tribal areas a part of the KP province under the US pressure. He claimed it is not the demand of the majority of people from Fata .
"The JUI-F is in favour of bringing reforms in Fata , but we don't support merger of these ever-neglected areas with KP. My party's demand is to make the tribal areas a separate province after seeking the people's opinion through a referendum on this very important issue," he reiterated.
The federal government is giving no weight to the wishes of the tribal people, but is only interested in implementing the US agenda , which is unacceptable to them, he averred. He alleged the federal government is making decisions in haste on the future status of Fata as the bill of extending the courts' jurisdiction to the tribal belt was passed clandestinely, Maulana Fazlur Rehman said.
He said those calling themselves champions of democracy are totally ignoring the wishes of majority of the tribesmen who are against the Fata merger with KP. He questioned why the government is not giving weight to the tribal people's opinion as it had done in the case of Gilgit-Baltistan.
The JUI-F amir averred he was surprised by JUI-S chief Maulana Sami-ul-Haq's decision of not joining the MMA, because he had formally attended all the meetings held in the past in connection with its revival.
Coming down hard on the PTI provincial government's decision of giving honorarium to prayer leaders of mosques, he termed it a conspiracy to divide Ulema.
In the past, the JUI-F had been stopped from coming into power and again certain forces are out to create hurdles in its way through money, he alleged, adding such efforts of the hidden hands would not succeed.
Full report at:
https://nation.com.pk/16-Jan-2018/fata-merger-with-kp-part-of-us-agenda-fazl
--------
TTP spokesperson Asad Mansoor surrenders to security forces
JANUARY 16, 2018
ISLAMABAD: Tehrik-i-Taliban Pakistan (TTP) spokesperson Asad Mansoor surrendered himself to Pakistan's security forces, officials said on Monday. According to the officials, Mansoor had handed himself to Law Enforcement Agencies (LEA) in Dera Ismail Khan, three weeks ago.
The details of his surrender still remained murky but officials said that it was "the result of much hard work".
Mansoor was commander of the Hakimullah Mehsud group and belongs South Waziristan.
Last year in April, key commander of JuA Ehsanullah Ehsan also turned himself in to security forces. Earlier the same month, ISPR had announced the surrender of eight JuA militants.
Full report at:
https://dailytimes.com.pk/181833/ttp-spokesperson-asad-mansoor-surrenders-security-forces/
--------
Jamaat-ul-Ahrar spokesperson Asad Mansoor, aides surrender
JANUARY 15, 2018
ISLAMABAD: Asad Mansoor, spokesperson of banned terrorist group Jamaat-ul-Ahrar (JuA) along with two aides surrendered to security forces in DI Khan on Monday.
The security officials have taken Mansoor and his allies to an unknown location for further investigation. The Afghanistan based JuA outfit has been involved in more than a 100 terrorist activities and attacks in Pakistan since 2014.
Full report at:
https://dailytimes.com.pk/181449/jamaat-ul-ahrar-spokesperson-asad-mansoor-aides-surrender/
--------
Five security personnel killed as vehicle attacked in Turbat
January 15, 2018
At least five Levies personnel were killed and six others injured when terrorists attacked their vehicle on Monday.
Security sources said that militants attacked a vehicle of Levies forces in Shepook area Turbat in Balochistan.
As a result of attack the vehicle was adversely damaged resulting in martyrdom of five Levies personnel and leaving six others injured.
The injured and dead bodies were shifted to District Headquarter (DHQ) Hospital Turbat for medico-legal formalities.
Full report at:
https://nation.com.pk/15-Jan-2018/five-security-personnel-killed-as-vehicle-attacked-in-turbat
--------
Islamabad's ties with US should be based on mutual trust, respect: Pak foreign secretary
Jan 15, 2018
ISLAMABAD: Pakistan's relations with the US should move forward in an atmosphere of "mutual trust and respect", the country's top diplomat said today, days after Washington suspended military aid to Islamabad for failing to rein-in terror groups operating from its soil.
Foreign secretary Tehmina Janjua made the remarks during her meeting with US acting assistant secretary of state Alice Wells, who was in Pakistan along with senior officials from the US National Security Council for a scheduled dialogue on bilateral and regional cooperation.
"The foreign secretary underscored that the relationship with the United States needed to move forward under an environment of mutual trust and respect," the foreign office said in a statement.
The US delegation was apprised about recent counter- terrorism actions taken by Pakistan's law enforcement agencies that contributed to visible improvement in the security situation in the country, it said.
It was mentioned that these comprehensive counter-terrorism actions would also contribute towards peace and stability in the entire region, it added.
Janjua "expressed concerns on the continued use of Afghan soil by elements hostile to Pakistan's stability."
She also drew the attention of the US delegation to the recent statement by Indian Army chief Gen Bipin Rawat and the ceasefire violations at the Line of Control.
"She asked the US side to advise restraint to India and stop its escalation tactics," the foreign office said.
Wells acknowledged Pakistan's efforts in eradicating terrorism and conveyed the US desire to work with Pakistan in furthering the shared objectives of stabilizing Afghanistan,m the statement said.
She argued that as an immediate neighbour and important country of the region, Pakistan's support was critical to the success of the US strategy for Afghanistan, it said.
Wells also underlined the need for strengthening intelligence cooperation between the two sides to improve coordination in counter-terrorism efforts.
The two sides agreed that all initiatives owned and led by the Afghans for seeking a peaceful solution should be supported by the regional countries.
Janjua reaffirmed Pakistan's commitment to continue its efforts for promoting peace and stability in the region.
US President Donald Trump has accused Pakistan of providing safe havens for terror groups like the Afghan Taliban and the Haqqani Network.
On January 1, he tweeted that the US had "foolishly" given Pakistan more than $33 billion in aid in the last 15 years and had gotten nothing in return but "lies & deceit."
Full report at:
https://timesofindia.indiatimes.com/india/islamabads-ties-with-us-should-be-based-on-mutual-trust-respect-pak-foreign-secretary/articleshow/62514457.cms
--------
Africa
20 killed in clashes at Libya's main int'l airport
January 16, 2018
TRIPOLI - Fighting at the Libyan capital's only working international airport killed at least 20 people Monday, officials said, after militiamen attacked it in an attempt to free colleagues held at a jail there.
Mitiga airport, a former military air base on the eastern outskirts of the capital, was evacuated when the clashes erupted and roads to the facility were closed.
Six Libyan aircraft on the tarmac were hit by gunfire, an airport source said.
In an updated casualty toll, the health ministry of Libya's UN-backed Government of National Accord (GNA) said 20 people were killed and 63 wounded in the clashes . It did not specify if the casualties were civilians or fighters.
Several assailants were arrested, according to Tripoli security services run by the interior ministry. "All the infrastructure of the military base and the airport are under control and undamaged," it said, although a resumption of flights had yet to be announced several hours later.
The airport source and a local resident said the assailants were repelled and that fighting moved to their headquarters around 10 kilometres (6.2 miles) to the east of the facility and had eased by late Monday. Mitiga has been a civilian airport since the city's main international airport was badly damaged in fighting between rival militias in mid-2014.
The North African country has been wracked by chaos since the 2011 uprising that toppled and killed long-time dictator Moamer Kadhafi, with rival authorities and militias battling for control of its oil riches. The airport's closure was announced after Al-Radaa, a force loyal to the GNA and tasked with keeping the facility secure, said it had come under attack.
An armed group "attacked Mitiga international airport... which is home to a prison where more than 2,500 people are detained for various" reasons, Al-Radaa said on its Facebook page.
Unidentified gunmen launched the attack in a bid "to free" some of their colleagues detained there, it said.
The GNA, in a statement, condemned "the premeditated attack on the perimeter of Mitiga International Airport... endangering the lives of passengers and the safety of civil aviation".
"This attack was aimed at the release of terrorists belonging to the Islamic State and Al-Qaeda organisations and other groups from the detention centre" run by Al-Radaa, it said.
Al-Ridaa said more than 2,500 people are detained at the centre for a variety of offences.
A Libyan pilot said earlier that the airport, the scene of frequent clashes between rival militias, was evacuated once the fighting broke out.
"All the staff and passengers who were at the airport were evacuated," the pilot said, speaking on condition of anonymity. "We saw tanks in the airport's perimeter."
With all roads to Mitiga closed, artillery fire could be heard as far away as Tajura 30 kilometres (18 miles) east of Tripoli, AFP reporters said.
Only domestic airlines operate in the country, serving domestic routes and flights to Tunis, Egypt's Alexandria, Amman, Istanbul and Khartoum. The EU has banned Libyan airlines for security reasons.
Since the 2011 revolution, Libya has descended into political and military chaos, with militias who had fought to topple Kadhafi often turning against each other.
Libya has rival administrations, with the authorities in the east not recognising the GNA based in the capital.
Al-Radaa is loyal to the GNA and also serves as a police force in Tripoli, as well as tracking suspected jihadists and drug and alcohol smugglers.
https://nation.com.pk/16-Jan-2018/20-killed-in-clashes-at-libya-s-main-int-l-airport
--------
3 DRC soldiers killed while repelling Uganda rebels
Jan 15, 2018
Three Democratic Republic of Congo soldiers died on Monday while repelling an attack in the eastern Beni region by ADF Ugandan extremist rebels, who are suspected of murdering 14 UN peacekeepers last month.
The army had on Saturday announced an offensive against the Allied Democratic Forces, one of a number of armed groups acting in North Kivu and South Kivu - the two provinces which border Uganda, Rwanda, Burundi and Tanzania.
"The ADF attacked our position in Muzambay at 4:00 am (0200 GMT)," said army spokesman Captain Mak Hazukay.
"Our forces pushed them back after heavy fighting," he said, but denied comment on casualties.
But a witness told AFP he saw the corpses of three soldiers in the morgue of Beni's general hospital. He saw four other troops being treated for wounds at the same facility.
Another source reported seeing an army ambulance transporting two bodies and five wounded soldiers to hospital.
"The firing started very early while we were still sleeping but stopped around 6:30 am," said Aimee Makinda, the wife of a soldier whose house is located near the site of the clashes.
An AFP correspondent in Beni reported hearing heavy and light weapons fire for two and a half hours from 4 am.
Present in DR Congo since 1995, the ADF was created by extremists to oppose Ugandan President Yoweri Museveni's rule.
Congolese authorities and the UN mission in DR Congo, MONUSCO, accuse the group of killing more than 700 civilians as well as combatants in the Beni region since 2014.
Full report at:
http://www.presstv.com/Detail/2018/01/15/549019/DR-Congo-Uganda-Soldiers-
--------
Cardinal laments deadly year for Church in Central African Republic
Jan 16, 2018
YAOUNDÉ, Cameroon - Cardinal Diudonne Nzapalainga of the Central African Republic has described 2017 as "an unfortunate year" in the country.
Of chief concern for the Archbishop of Bangui was the number of priests and other church workers killed in the country over the past year.
In his opening speech during the first 2018 meeting of the country's bishops' conference, the cardinal said 2017 "saw the murder and aggression of many servants of God in Bangui, but especially in our provinces: Banguassou, Alindao, Mokoyo … Churches devastated, looted or burned; faithful martyred. Last year's toll is alarming."
A civil war that erupted in 2012 when President François Bozize was ousted by the largely Muslim Séléka rebel movement has caused tensions between the two communities. The Séléka rebels were the next year ousted from the capital by Christian militias, called anti-balaka, which led to tit-for-tat killings between the movements.
On May 30, 2014, the transition government of the CAR referred the situation in the country to the ICC requesting that the court open investigations on alleged crimes against humanity that fall within the court's jurisdiction committed in the country since August 1, 2012.
According to the Prosecutor of the International Criminal Court, Fatou Bensouda, information available provides "a reasonable basis to believe that both the Séléka and the anti-balaka groups have committed crimes against humanity and war crimes including murder, rape, forced displacement, persecution, pillaging, attacks against humanitarian missions and the use of children under fifteen in combat."
The country is predominantly Christian, with 50 percent of the total population being Protestant and 30 percent Catholic. Only 15 percent is Muslim, the majority of whom live in the north of the country, which lies in Africa's Sahel region. However, there is a significant Muslim population in the south, consisting mostly of merchants.
The southern city of Bangassou has become a flashpoint in the conflict. Rebels attacked a Muslim quarter on May 13, 2017, leaving 115 dead, including six UN peacekeepers.
The Catholic cathedral in the city has become home to some 2,000 Muslims who live under the protection of the Catholic bishop, Spaniard Juan José Aguirre Muñoz.
On July 21, 2017, the African News Agency reported that Saint-Louis Catholic parish in the central town of Bria, which is also sheltering hundreds of displaced people, had been attacked and robbed by armed men after failing to receive protection from the UN peacekeeping force.
On September 2, Father Louis Tongagnessi was murdered by armed bandits in Zemio, in the south-east of the country.
"Where are we going to? What shall the people of Central Africa become in 2018?" Nzapalainga asked his fellow bishops at their January meeting.
Even though Church leaders and Church grounds seem to be becoming new targets for attacks by militias, the Catholic Church and its leaders have remained the primary hope for those seeking refuge.
"When they see us in our cassocks, they run to us because they believe we can protect them," Nzapalainga told Crux.
According to Christophe Droeven, country representative for the U.S.-based Catholic Relief Services, the Catholic Church is now the "only functioning structure" in many parts of the country, and both Christians and Muslims have fled to Catholic institutions for protection.
"Although religious leaders can't stop the fighting, they can often arrange talks, negotiate with kidnappers and mediate on the front line. But the armed groups don't distinguish between aid organizations like ours. We're unprotected and having to be very careful," Droeven told America Magazine.
A January 2018 report by OXFAM says the security situation is worsening and the "humanitarian situation is deepening."
It reports 2.5 million people are in need of protection and basic services, and the humanitarian response has been slow in coming, complicating the situation.
"The worsening security situation in various parts of the country since May 2017 is creating instability and forcing vulnerable civilians to once again bear the brunt of the crisis. It has resulted in at least 249 arbitrary killings and more than 180,000 displaced persons. Today, 600,000 people are internally displaced and 482,000 are refugees in neighboring countries," the report says.
Nzapalainga has dismissed claims by some that the violence could be drawn on religious lines.
"Were that to be the case, then you wouldn't see Muslim and Catholic leaders working together to initiate dialogue," he told Crux.
He said the conflict was being driven by the search for ownership over minerals. "Many people are growing richer from this war," he said.
In the face of the escalating violence, the cardinal urges his compatriots to look up to God for a solution.
"We have faith in the great goodness of the Lord towards us, as Pope Francis reminded us during his stay in Bangui," he told Fides, a Catholic news agency.
At the end of the bishops' conference meeting on Sunday, the bishops called on all armed groups to "unconditionally" disarm, and urged them to stop their criminal acts.
Full report at:
https://cruxnow.com/global-church/2018/01/16/cardinal-laments-deadly-year-church-central-african-republic/
--------
North America
Australian Islamic State recruiter Neil Prakash linked to New York jihadist planning Times Square attack
January 16, 2018
ALLEGED Australian Islamic State facilitator Neil Prakash has emerged as a key figure in the arrest of a New York jihadist who hoped to blow up the Statue of Liberty with pressure cooker bombs and plan a massacre in Times Square.
Prakash, a 26-year-old originally from Melbourne, is in custody in Turkey while Australia works to extradite him.
US federal prosecutors revealed in a US District Court filing on New York resident Munther Omar Saleh that Prakash was involved in attempting to verify if an FBI source was a member of the terror group.
The FBI source, known in court records as CHS 1, reached out online to Saleh in May 2015.
CHS 1 contacted Saleh soon after Saleh obtained instructions on how to construct a pressure cooker bomb similar to the device "used in the Boston Marathon terrorist attack in 2013".
Prakash is referred to as "Abu Khalid al kambodi" and "abu Kambozz" in court records.
CHS 1 used Prakash's name in an attempt to convince Saleh he was a member of IS but Saleh became suspicious after he reached out to the IS leadership to verify this.
"An akh (brother) i never met before messaged me telling me abu kambozz sent him to me," Saleh wrote in a message to British IS recruiter Junaid Hussain. " ... I have to confirm with abukambozz before we can work any further."
Saleh later told Hussain he had been in contact with Prakash and Prakash denied putting CHS 1 in touch with him.
"Our akh Abu Khalid al kambodi told me he didn't send anyone to me," Saleh told Hussain.
Saleh then quizzed CHS 1 in an online conversation before declaring: "Ok, akhi, problem is abukambozz denied sending u".
"Akhi I'm very sorry but i was ordered by dawlah (IS) officials not to talk to anyone until they produce an akh of authority to vouch for them," Saleh wrote, cutting ties with CHS 1.
Saleh was arrested about 4am on June 13, 2015 when he and a co-accused stopped their car on a busy Queens expressway and, armed with knives, ran at an unmarked FBI vehicle that had been following them.
Authorities found Saleh's notes for planned attacks.
"i was considering that The statue of liberty has a very weak point in its lower back and its tilting forward, if i can get a few pressure cooker bombs to hit the weak point, i think it will fall face down," Saleh wrote.
"Or we can hit times square which would be easier, but if i can get more akhs, we can perform simultaneous attacks all around NYC."
Saleh entered guilty pleas to conspiring and attempting to provide material support to IS, and assaulting and conspiring to assault federal officers.
He faces a 53-year jail term when he is sentenced next month.
http://www.heraldsun.com.au/news/world/australian-islamic-state-recruiter-neil-prakash-linked-to-new-york-jihadist-planning-times-square-attack/news-story/134d681facb282f3afb1e6cef69b6058
--------
Phasing Out US Dollar in Interest of Muslim World: PUIC
15 January 2018
Speaking on the sidelines of the meeting of the General Committee of the 13th session of the Parliamentary Union of the OIC Member States (PUIC) Conference, Parkhat Tolandi Of stressed the importance of expanding business and economic relations between Islamic countries.
In response to the question of whether the phasing out US dollar could contribute to the development of economic relations between Islamic countries, he replied, "undoubtedly, Muslim countries should drop the US dollar from their trade relations and choose a different currency because doing so would be in their interests. The Islamic countries must benefit from development of trade relations between themselves. Furthermore, US should not benefit from the trade between Islamic countries."
He believes that OIC meetings can play an effective role in developing trade relations between Islamic countries. He called on the Islamic countries to make use of OIC's meeting in Iran to select an alternative currency to replace US dollar.
Full report at:
https://en.mehrnews.com/news/131287/Phasing-out-US-dollar-in-interest-of-Muslim-World
--------
Report: Islamic State Appoints American Recruit 'Senior Commander'
15 Jan 2018
The son of an Albanian-American has reportedly pulled himself into the upper echelons of the Islamic State (ISIS/ISIL), allegedly becoming an executioner suspected of beheading Kurdish prisoners, reports Defense One, citing a two-year investigation.
U.S. law enforcement now assesses that Zulfi Hoxha, the son of an Albanian-American pizza shop owner in New Jersey, "has become an ISIS senior commander," reveals Defense One, noting that he is one of the few U.S. citizens to reach ISIS's upper ranks.
While highlighting online evidence that identifies the alleged American ISIS chief, Defense One notes:
None of it compares to the ISIS propaganda video that, according to multiple law-enforcement officials, shows Hoxha beheading captured Kurdish soldiers. If they are right about his identity, Hoxha is the first American Islamic State member known to be beheading individuals in such a video.
Hoxha is now known to have become a senior commander of Islamic State and one of the faces of the group's recruitment efforts, according to federal court records.
Defense One points out that there is evidence scattered across the internet that Hoxha "had sinister plans" in mind.
The news outlet notes that, through his now-defunct Twitter handle, the American attempted to discuss ISIS with a U.S. Department of State (DOS) Department counter-propaganda account.
"Then there's the fact that he used the social-networking site Paltalk, a communications platform reportedly popular among Western jihadis," adds Defense One.
Since the group broke off from al-Qaeda in Iraq in mid-2014 and officially became ISIS, the United States has struggled to defang its ideology efforts online.
By mid-2016, Sen. Rob Portman (R-OH) conceded that the United States was in "crisis mode" trying to prevent ISIS from gaining ground in cyberspace.
Now, as the group's so-called caliphate is collapsing, the U.S. National Counterterrorism Center (NCTC), a component of the Office of the Director of National Intelligence (ODNI), warned that American-led coalition and its allies have failed to take a toll on the terrorist group's global reach, particularly online.
Nevertheless, the U.S. counter-propaganda operations targeting ISIS have not all been in vain.
Authorities detected Hoxha's nefarious plans, courtesy of such efforts.
In early April 2015, the American allegedly turned ISIS executioner left the United States to join the jihadist group.
Within six months, the Islamic State featured Hoxha as one of the group's decapitators in a propaganda video, notes Defense One, citing multiple law enforcement officials.
The ISIS presence in America is often limited to so-called "lone wolves" or "stray dog" jihadists, as one U.S. national security official puts it, referring to terrorists who claim allegiance to the Islamic State without significant formal connections either to the group's members overseas or likeminded individuals in the United States.
However, "stories like that of Zulfi Hoxha are a reminder of the existence and importance of jihadist recruitment networks in the United States," notes Defense One.
ISIS has been able to retain its ability online to mobilize homegrown violent extremists (HVEs) "lone offenders attacks" against the United States even as its so-called caliphate in Iraq and Syria "collapses," according to a top intelligence official at the U.S. Department of Homeland Security (DHS).
As the ISIS caliphate falls in the Middle East, U.S. officials have expressed concerns about the return of foreign fighters to the United States and Europe from where they can enter America with ease.
Full report at:
http://www.breitbart.com/national-security/2018/01/15/report-islamic-state-appoints-american-recruit-senior-commander/
--------
Meet the Muslim American appointed as Secretary of Education for the state of Virgina
16 January 2018
Pakistani American Atif Qarni, who is also a military veteran, was appointed as the Secretary of Education for the state of Virgina by Virginia Gov.-elect Ralph Northam.
According to the Potomac Local, Qarni is an 8th-grade civics and economics teacher at Beville Middle School in Woodbridge, Virginia as well as a former sergeant in the U.S. Marine Corps Reserve who attended George Washington and George Mason University.
"It is very important to me that we have a secretary of education in the Commonwealth of Virginia that understands the classroom. Someone who knows K-12 education and has a vision of where to take K-12 in the coming years," Northam said in a statement
"If we want to build an economy that works better for every family, no matter who you are, no matter where you live, we must begin with the foundation of a world-class education. We can accomplish it if we support our educators and school support professionals, uphold accountability, invest in and expand STEAM curriculum, and make early childhood education a priority," he added.
Qarni has been active in local politics for a long time. In 2013, he challenged Robert G. Marshall for the 13th District House of Delegates seat and again in 2015 in a Primary Election against State Senator Jeremy McPike.
According to the Potomac Local, Qarni received the news of his appointment by phone, after a two-week interview process.
"I'm looking forward to using the things I've learned in the last 10 years as a classroom teacher," Qarni told the Potomac Local.
According to various news reports, Qarni will oversee policy and support to the state's K-12 schools and higher education institutions; he will be replacing current Education Secretary Dietra Trent.
After losing his local run in 2015, Qarni wrote in a Washington Post Op-Ed piece entitled 'What happened when a Muslim ran for local office in Virginia':
"Virginia Democrats claim to fight for ethics reform, represent working-class people and lead a big-tent party, yet they groom and recruit mostly white, Christian, male candidates.
There is no greater insult to a Muslim American (especially a combat veteran of the Iraq war) than to depict him as a terrorist. I was disappointed with the state of affairs in my own party.
Muslim Americans proudly serve their communities in many capacities — in the military, as public school teachers, as state and federal government employees, as doctors, as lawyers and so forth — because they love this country.
Full report at:
https://english.alarabiya.net/en/features/2018/01/16/Meet-the-Muslim-American-appointed-as-Secretary-of-Education-for-the-state-of-Virgina-.html
--------
Syria militants in US seeking CIA dollars to 'confront Iran's influence'
Jan 15, 2018
Syria militant leaders are in the United States demanding American dollars to fund an allegedly defunct CIA program to "confront Iran's influence."
Representatives of the so-called Free Syrian Army are reportedly pressing Americans to revive the program that provides military aid to the militants fighting against the government of President Bashar al-Assad.
In July, US President Donald Trump reportedly ended the clandestine program, to provide arms and supplies to the militant groups, who attempt to destabilize the situation Syria.
Trump tacitly confirmed the existence of the program later when he blamed the Washington Post for fabricating "the facts on my ending massive, dangerous, and wasteful payments to Syrian rebels fighting Assad."
Mustafa Sejari, a senior official in Syria's mainstream militant group, has now told Reuters, that they are seeking the revival of the program that was launched under former President Barack Obama, yet was never publicly acknowledged.
Anti-Assad militants 'dried up, weakened'
According to the Monday report, Sejari (pictured above) said that Iranians are "expanding without serious resistance," and; therefore, "It is time to turn words into action."
Both Iran and Russia are supporting the Syrian government in the fight against terrorism. Iran has been providing military advisory support for the Syrian forces at the request of Damascus.
Sejari asserted that since the American president ended the program to support what he described as "moderate" militants, they have "dried up and are weakened."
"With every US statement about the need to confront Iran's influence, Iran has been expanding in Syria while moderate forces that are backed by Washington see aid being dried up and are weakened," he said. "We asked for the resumption of aid and explained the dangers of leaving moderate FSA forces without support."
The FSA delegation included recipients of the CIA program, which provided weapons, cash and trainers for the militants via Jordan and Turkey.
Syria has been gripped by a deadly conflict since March 2011. The government blames certain foreign countries for the spread of the devastating militancy in the country.
Over the past few months, Syrian forces have made sweeping gains against Takfiri elements, whose main core was initially trained by the CIA in Jordan in order to fight against the Syrian government.
Full report at:
http://www.presstv.com/Detail/2018/01/15/549057/Syria-militants-want-CIA-dollars-to-confront-Iran
--------
Judge in Canada Day terror plot wrong to acquit: Crown
January 15, 2018
Federal lawyers have launched an all-out attack on the factual findings of the B.C. Supreme Court justice who acquitted the 2013 Canada Day terror plot bombers and called the scheme a police-manufactured crime.
In the opening of three days of arguments at the B.C. Court of Appeal in Vancouver Monday, prosecutors insisted Justice Catherine Bruce was wrong on nearly ever count and made "palpable and over-riding" errors that must be overturned.
"The thrust of the submission is the trial judge failed to grapple with the true facts in a critical context in arriving at the conclusion she did," said Chris Greenwood, of the Public Prosecution Service.
Bruce in July 2016 stayed a jury guilty verdict and acquitted of terrorism offences John Nuttall and Amanda Korody, impoverished Surrey residents with addiction issues who had converted to Islam in 2011.
She did not accept the findings of the jurors and concluded the duo had been entrapped by police in a lengthy multimillion-dollar RCMP undercover sting that also involved the Canadian Security Intelligence Service.
The sophisticated, five months-long operation, dubbed Project Souvenir, involved more than 240 officers, who billed $900,000 in overtime alone, and threatened "fundamental beliefs our society holds about human dignity and fairness," Bruce decided.
Its genesis remains murky and hidden behind a national security screen.
Bruce, who retired after a decade on the bench shortly after issuing the decision, said police went too far with their subterfuge.
She ruled they manipulated Nuttall and Korody into the make-believe attempt to blow up the B.C. Legislature and slaughter national-day celebrants by planting inert pressure cooker bombs among the shrubbery.
"Simply put, the world has enough terrorists," she emphasized in her judgment denouncing the Mounties' conduct.
"We do not need the police to create more out of marginalized people who have neither the capacity nor sufficient motivation to do it themselves."
But the Crown adamantly disagreed and urged the province's high court to set aside the pair's acquittal and order a new trial on charges of conspiracy to place explosives with intent to murder or maim and facilitation of terrorist activity.
Greenwood maintained Nuttall and Korody planned the heinous attack not police as Bruce found in saying the RCMP was the driving force behind the plot.
"That's not supported in the record," Greenwood said. "It was the accused that brought this plan to police."
Bruce also overlooked evidence on critical issues and failed to consider other material, he added.
"The facts establish the opposite of what the judge concluded in many instances," Greenwood asserted.
Her ruling is not an accurate account of the evidence, he maintained.
"She looked at this case through the eyes of Ms. Korody and Mr. Nuttall," in his opinion, and she adopted an approach that focused on the accused rather than assessing the objective facts.
"She failed to consider critical parts of the evidence … a fundamental flaw in the findings that were made."
He said the common-law couple was not forced or pressured to do anything against their will even though police supplied them with food, trips out of town, small amounts of money and ensured they had access to methadone.
Instead, Greenwood said, they were inspired by the Boston Marathon bombers and a Jihadi website.
Police acted reasonably, he argued, and Bruce incorrectly characterized their conduct — no ordinary person would have tried to implement the sanguinary plan.
Greenwood explained that Nuttall never indicated he was willing to walk away or abandon his extremist plans in spite of his expressed concerns about killing innocents and that such violence offended Islam.
Most of the trial before the jury was taken up with the Crown playing days upon days of video-and-audio tapes recorded by police.
Full report at:
http://vancouversun.com/news/crime/judge-in-canada-day-terror-plot-wrong-to-acquit-crown
--------
South Asia
Top US, NATO commander warns Taliban not to be safe anywhere
Jan 16 2018
The top US commander in Afghanistan General John Nicholson has warned that the enemy is not safe anywhere in Helmand province as he insisted on condition-based implementation of the new US strategy.
Gen. Nicholson who is also in command of the NATO-led Resolute Support Mission in Afghanistan made the remarks during a ceremony, the first rotation of Task Force Southwest, led by U.S. Marine Corps Brigadier General Roger B. Turner, Jr., in southern Helmand province.
"You've seen the 215th Corps this year, they've re-taken Nawa District a few weeks ago, conducted offensive operations, expanded the security zone from Lashkar Gah moving into Sangin, then moving into Nad Ali, Babaji, Garmsir," he said.
According to Gen. Nicholson "In November, we did airstrikes in the north against the narcotics labs that support the Taliban. We also struck targets in Baramcha. So, the enemy is not safe anywhere in Helmand. We will come after them everywhere in Helmand to help the people try to expand the security and try to return to their lives at home."
"The important thing to remember is we're not going on the calendar. We are here until the job is done," said Nicholson.
The top US commander also added "The new U.S. Strategy is conditions based, not time based. We will do this as quickly as we can, but what the enemy needs to understand (is) we're not leaving. We are here alongside our Afghan counterparts until the job's done."
https://www.khaama.com/top-us-nato-commander-warns-taliban-not-to-be-safe-anywhere-04272
--------
US drones target ISIS gathering in East of Afghanistan
Jan 15 2018
The US unmanned aerial vehicles on Sunday targeted a gathering of the militants affiliated with the Islamic State of Iraq and Syria (ISIS) terrorist group in eastern Nangarhar province of Afghanistan.
According to the officials of the 201st Silab Corps of the Afghan army, the airstrikes were carried out in the vicinity of Deh Bala district.
The officials further added that several militants of the terror group had gathered in meeting when the US drones targeted them, leaving at least ten militants dead.
The Silab Corps officials also added that eight foreign militants were among those killed in the airstrikes.
In the meantime, the Afghan forces also conducted an operation in Ghani Khel district during which at least ten insurgents were killed and two others were detained, the officials added.
Militants belonging to the Taliban group are mostly operating in the vicinity of Ghani Khel district while both Taliban and ISIS insurgents are operating in Deh Bala district.
This comes as the air and ground operations are underway against both the groups in the restive parts of Nangarhar province in a bid to suppress the insurgents from their attempt to expand foothold in this province.
Full report at:
https://www.khaama.com/us-drones-target-isis-gathering-in-east-of-afghanistan-04269
--------
Afghan forces foil 3 deadly explosions in Kabul city
Jan 15 2018
The Afghan national defense and security forces have foiled three deadly explosions in Kabul city during separate operations, the officials said Monday.
According to the criminal Investigation Department (CID) officials, the Afghan forces discovered and defused three Improvised Explosive Devices planted in three different locations of the city to kill the innocent civilians.
The officials further added that the IEDs were discovered during the operations conducted in the 4th, 5th, and 9th police districts of the city.
The anti-government armed militant groups including the Taliban insurgents have not commented regarding the report so far.
This comes as the anti-government armed militant groups are attempting to carry out deadly attacks in the cities of the country, including capital Kabul.
The Afghan defense officials blame the Haqqani terrorist network for the majority of the deadly attacks, specifically the attacks which have been carried out in Kabul city.
A spokesman for the Ministry of Defense General Mohammad Radmanish has told VOA that the intelligence findings reveal Haqqani Network's hands behind the attacks and not the ISIS terrorist group.
"Based on our intelligence, they [IS] do not have the ability to carry out such attacks in the capital or its suburbs," he said.
Full report at:
https://www.khaama.com/afghan-forces-foil-3-deadly-explosions-in-kabul-city-04270
--------
Bangladesh agrees with Myanmar to complete Rohingya return in two years
16 January 2018
DHAKA: Bangladesh has agreed to complete the process of returning Rohingya Muslims to Myanmar within two years after repatriation begins, the south Asian nation said on Tuesday, following a meeting of the neighbors to implement a pact signed last year.
A statement by the Bangladesh foreign ministry did not say when the process would begin. But it said the return effort envisages "considering the family as a unit," with Myanmar to provide temporary shelter for those returning before rebuilding houses for them.
The statement said Bangladesh would set up five transit camps, which would send Rohingyas to two reception centers on the Myanmar side of the border.
"Myanmar has reiterated its commitment to stop outflow of Myanmar residents to Bangladesh," it said.
The meeting in Myanmar's capital Naypyitaw was the first for a joint working group set up to hammer out the details of the November repatriation agreement.
The Myanmar government has not issued its own statement after the meeting and government spokesman Zaw Htay was not immediately available for comment.
Zaw Htay said earlier, however, that returnees would be able to apply for citizenship "after they pass the verification process."
A Myanmar agency set up to oversee repatriation said in a statement last Thursday that two temporary "repatriation and assessment camps" and one other site to accommodate returnees had been set up.
Myint Kyaing, permanent secretary at Myanmar's Ministry of Labour, Immigration and Population, said earlier this month Myanmar would be ready to begin processing least 150 people a day through each of the two camps by January 23.
The Rohingya crisis erupted after Rohingya insurgent attacks on security posts on August 25 in the western state of Rakhine triggered a fierce military response that the UN denounced as ethnic cleansing. Some 650,000 people fled the violence.
Full report at:
http://www.arabnews.com/node/1226876/world
--------
Myanmar sets up temporary camps to house 30,000 Rohingya Muslims ahead of repatriation deal with Bangladesh
Jan 15, 2018
Yangon: Myanmar is building a camp to temporarily house 30,000 Rohingya Muslims targetted for repatriation after fleeing violence in Rakhine State, state media reported on Monday, as Myanmar and Bangladesh meet to discuss how to implement a repatriation deal.
More than 6,50,000 Rohingya have headed across the border to Bangladesh after a sweeping Myanmar Army counteroffensive in response to Rohingya militant attacks on 25 August, 2017.
The crackdown has been described by the United States and UN as ethnic cleansing, which Myanmar repeatedly rejects.
Officials from Myanmar and Bangladesh meet on Monday to discuss a repatriation deal signed on 23 November. The meeting in Myanmar's capital, Naypyitaw, is the first for a joint working group set up to hammer out the details of the agreement.
The state-run Global New Light of Myanmar newspaper said a camp in Hla Po Khaung in northern Rakhine will be a temporary transition camp for people who are to be "accepted systematically" for repatriation.
"The 124-acre Hla Po Khaung will accommodate about 30,000 people in its 625 buildings," the newspaper said, adding that some 100 buildings will be completed by end of January.
Aung Tun Thet, chief coordinator of Myanmar's Union Enterprises for Humanitarian Assistance, Resettlement and Development, told Reuters that the camp in Hla Po Khaung will be a "transition place" for Rohingya refugees before they are repatriated to their "place of origin" or the nearest settlement to their place of origin.
"We will try to accept all of those who are coming back to Myanmar," he said, adding that to verify returnees' residency, they will be sent to assessment camps in Taungpyoletwei or Ngakhuya before they are moved to the Hla Po Khaung camp.
Soe Aung, permanent secretary of Myanmar's Ministry of Social Welfare, Relief and Resettlement, said returnees will spend "at least one or two months" in Hla Po Khaung before their new homes are built.
It is unclear, however, how many returnees would qualify for citizenship in Myanmar. The authorities have said Rohingya Muslims could apply for citizenship if they can show their forebears lived in Myanmar. But the latest deal - like the one in 1992 — does not guarantee citizenship.
Myanmar government officials have said the 1992-1993 repatriation deal, which followed a previous spasm of violence in Myanmar, would accept those who could present identity documents issued to the Rohingya by governments in the past.
Buddhist-majority Myanmar has for years denied Rohingya citizenship, freedom of movement and access to basic services such as healthcare and education. They are considered illegal immigrants from mainly Muslim Bangladesh.
Bangladesh officials have said it was unclear when the first refugees could actually return as the two countries need to work out how to jointly verify the identities of returnees.
Full report at:
http://www.firstpost.com/world/myanmar-sets-up-temporary-camps-to-house-30000-rohingya-muslims-ahead-of-repatriation-deal-with-bangladesh-4303609.html
--------
India
Army kills four Pak soldiers, five Jaish-e-Muhammed terrorists
Jan 16, 2018
NEW DELHI/SRINAGAR/JAMMU: The Army killed at least four Pakistani soldiers on Monday, including a major, as well as five Jaish-e-Muhammed (JeM) terrorists in separate incidents as part of its strategy to "pro-actively dominate" the Line of Control, even as General Bipin Rawat warned that his force would continue to use its "might" to teach Pakistan harsh lessons if it did not cease aiding cross-border terrorism.
The four Pakistan army soldiers were killed, while some others were injured, in the Indian Army's retaliatory fire assault after a ceasefire violation in the Mendhar sector of Poonch district early on Monday morning.
"Pakistani troops violated the ceasefire by firing on our forward posts in the Jandrot-Kotli area in Mendhar. Our troops then targeted and destroyed the Pakistan army post at Kotli, which was involved in the ceasefire, with heavy mortar shelling," a senior officer said.
There were some reports that seven Pakistan army soldiers were killed in the mortar firing but Islamabad claimed it had lost only four personnel engaged in "line communication maintenance" in the forward area. It also claimed that three Indian soldiers were killed and several injured but the Indian Army denied this.
Pakistan owning up the casualties is seen as significant. "The Pakistan army usually does not acknowledge the death of its soldiers. But this time, it seems to have done so because a major was also killed. There were no Indian casualties," the Indian officer said.
In the other incident, the Army killed five JeM terrorists while thwarting a major infiltration bid in the Uri sector along the LoC, around 100 km from Srinagar, in an overnight operation that ended on Monday morning.
"The major infiltration bid, the first of 2018, by a fierce group was foiled, averting a major tragedy on Army Day (January 15) and in the run-up to Republic Day celebrations," Brigadier Y S Ahlawat told reporters in Uri.
Alert Indian troops detected and tracked the movement of the terrorists as they were trying to infiltrate along the river Jhelum, which flows into Pakistan from India. "In the ensuing firefight, the Army neutralised five terrorists. Four bodies were recovered and the fifth is lying near the boat the terrorists had used to cross the river," Brig Ahlawat said.
Weapons, including four AK-47 rifles, three under-barrel grenade launchers, 38 UBGL grenades, 23 hand grenades, nine IEDs and "other war-like items" were seized in the operation, he added.
The stepped-up hostilities along the LoC came the day Gen Rawat, addressing the Army Day parade in New Delhi, said India may escalate its counter-terrorism military offensive by "using other measures and actions as well" if Pakistan continued to aid and abet cross-border terrorism.
Attacking Pakistan for actively aiding terrorists to infiltrate into India, the Army chief said the Indian security forces would continue to effectively retaliate to any "provocative action" by the neighbouring country. "Pakistan army has been continuously trying to help terrorists sneak into India along the LoC in J&K. We are using our might to teach them a lesson... We will not let anti-India activities succeed at any cost," he said.
The Indian Army has over the last few months repeatedly warned the Pakistan army that all its misadventures to either target Indian troops or provide covering fire to infiltrating terrorists would be met with punitive fire assaults.
https://timesofindia.indiatimes.com/india/army-kills-four-pak-soldiers-five-jaish-e-muhammed-terrorists/articleshow/62515543.cms
--------
TNSM chief Sufi Muhammad released after eight years in jail
Jan 15, 2018
ISLAMABAD: Chief of banned militant outfit Tehreek-e-Nifaz-e-Shariat-e-Mohammadi, Maulana Sufi Muhammad, was released from jail on Monday after his arrest and subsequent imprisonment in 2009 for his hate speech.
Sufi Muhammad is the father-in-law of the chief of Pakistani Taliban, Mullah Fazlulah.
The Peshawar high court had accepted his bail application last week citing his old age and precarious health and ordered his release.
Addressing a public rally in the northwestern Swat hill-station in 2009, when his son-in-law Maulana Fazlullah was the virtual ruler of the region, Sufi had called democracy, judiciary, parliament and Pakistan's constitution as "un-Islamic".
The police had booked him for hate speech against the government on July 30, 2009. Since then, a number of cases were registered against the ailing TNSM chief but, in each case, the government had failed to produce witnesses against him. Sources said some witnesses had died while some were reluctant to appear in the court due to fear.
Another reason for his non-conviction was the lack of a uniform policy against him by successive governments. In 2009, Sufi was in international headlines for his mediation between Taliban fighters led by his son-in-law and the then North West Frontier Province government.
Full report at:
https://timesofindia.indiatimes.com/india/tnsm-chief-sufi-muhammad-released-after-eight-years-in-jail/articleshow/62512027.cms
--------
J&K police team visits Aligarh Muslim University
JANUARY 15, 2018
A four-member team of the Jammu and Kashmir police on Monday began a probe into the activities of the Aligarh Muslim University (AMU) research scholar, Mannan Basheer Wani, who is said to have joined a terror outfit.
Wani hails from Lolab in Kupwara.
The team from Kupwara district, headed by sub-inspector Mohammad Zahoor Wani, visited the AMU campus with a questionnaire.
The team also visited the hostel room where Wani stayed.
According to local police officials the team is expected to stay in Aligarh till Tuesday to complete its probe.
Full report at:
http://www.thehindu.com/news/national/other-states/jk-police-team-visits-aligarh-muslim-university/article22444922.ece
--------
Mideast
Erdoğan accuses US of planning to form 'terror army' in Syria
15 Jan 2018
Turkey's president, Recep Tayyip Erdoğan, has accused the US of forming a "terror army", after Washington announced plans for a 30,000-strong force inside Syria to protect territory held by its mainly Kurdish allies.
On Sunday, the US-led coalition said it was working with its Syrian militia allies, the mainly Kurdish-led Syrian Democratic Forces (SDF), to set up the new border force. The force would operate along the borders with Turkey and Iraq, as well as within Syria along the Euphrates river, which separates most SDF territory from that held by the government. The announcement was one of the few insights into the Trump administration's longer-term thinking for Syria.
The SDF is dominated by the Kurdish YPG, and the plan for the force dashes Turkish hopes that the US would abandon the YPG once the war against Islamic State came to an end. Turkey regards the Kurdish YPG militia as indistinguishable from the Kurdistan Workers' party (PKK) operating inside Turkey, which it regards as a terror group.
"A country we call an ally is insisting on forming a terror army on our borders," Erdoğan said in a speech in Ankara. "What can that terror army target but Turkey? Our mission is to strangle it before it's even born."
Russia also opposed the plan, saying it could lead to the partitioning of Syria. For its part, the Syrian regime vowed to win back control of the entire country, including by removing any form of US-backed Syrian Kurdish force. The US plan was a blatant attack on Syrian sovereignty, Syria said.
Relations between Turkey and the US have unravelled in recent weeks, partly due to rows over the president's planned visa restrictions. Turkey is also angry at the support the US continues to provide to the Syrian Kurdish forces that formed the backbone of the SDS, which led the military assault on Islamic State troops based in Raqqa.
Turkey sent troops into Syria in 2016 to prevent Syrian Kurdish fighters from forming a contiguous entity along its border. It has also supported rival Syrian rebels and independently fought to drive Isis from parts of Syria.
Turkey, a Nato member, said it would shortly mount an assault on the Kurdish-held Syrian town of Afrin, close to the Turkish border.
Erdogan said preparations for the military assault on Afrin "are complete," adding that an operation could start any moment. He said Turkish troops are already firing artillery at Afrin from the border.
The Syrian government warned it "considers any Syrian who participates in these militias sponsored by the Americans as a traitor to their people and nation, and will deal with them on this basis".
The Russian foreign minister, Sergei Lavrov, giving his annual foreign policy press conference, described the US move as provocative and unilateral.
Russia and Iran, at the invitation of the Syrian government, are planning to keep forces inside Syria once the conflict ends. The planned border force may be seen as a bargaining chip, showing the US also has a stake in Syria's future, including a tool with which to press Russia to negotiate on Assad's future.
The US has about 2,000 troops in Syria and has said they will stay in the country until it is certain Islamic State is defeated, and progress is made in UN-led peace talks in Geneva on ending the conflict. The US is frustrated Russia has not put pressure on the regime of Syria's president, Bashar al-Assad, to negotiate at Geneva, but instead is pressing ahead with its own peace talks, the Syrian national dialogue congress scheduled this month at the Black Sea resort of Sochi.
https://www.theguardian.com/world/2018/jan/15/turkey-condemns-us-plan-for-syrian-border-security-force
--------
Palestinian Central Council calls on PLO to end recognition of Israel
Jan 15, 2018
The Palestinian Central Council has called on Palestine Liberation Organization (PLO) to suspend recognition of Israel in response to US President Donald Trump's decision to recognize Jerusalem al-Quds as the Tel Aviv regime's capital.
On Monday, the council voted in favor of ordering the PLO to halt its recognition of Israel until it officially recognizes the state of Palestine, suspends its annexation of east Jerusalem and halts its settlement activities.
It is still unclear if the council's, which is a high-ranking part of the PLO, vote is binding.
The announcement was made after Palestinian President Mahmud Abbas said that US President Donald Trump's so-called Middle East peace efforts are the "slap of the century" after his al-Quds move.
Last month, Trump announced that Washington would recognize Jerusalem al-Quds as the capital of Israel and would relocate the US embassy in Israel from Tel Aviv to the occupied city.
The entire Jerusalem al-Quds is currently under Israel's control, while the regime also claims the city's eastern part, which hosts the third holiest Muslim site.
The city has been designated as "occupied" under international law since the 1967 Arab War, which Palestinians want as the capital of their future state.
Full report at:
http://www.presstv.com/Detail/2018/01/15/549058/palestine-plo-israel-alquds
--------
At least 6 civilians are killed in Saudi airstrikes in Yemen's Hudaydah province
Jan 16, 2018
Saudi warplanes have launched a series of attacks on Yemen's western province of Hudaydah, killing at least six people.
Late on Monday, Saudi fighter planes attacked a farm in the province's al-Jerahi directorate killing two farmers and injuring several more.
Four more civilians were killed when Saudi jets launched air raids on agricultural land in the province's al-Khokha region.
Earlier in the day, eight civilians were killed and five others were wounded when Saudi military aircraft struck targeted their vehicle as it was travelling along a road in the Ahem area of Yemen's northwestern province of Hajjah.
On Sunday, a UN panel compiled a detailed report of civilian casualties caused by the Saudi military and its allies during their war against Yemen, saying the Riyadh-led coalition has used precision-guided munitions in its raids on civilian targets.
The report, which has been devised for the UN Security Council, has not been made public, but Al Jazeera said it was allowed to view a copy.
More 13,600 people have been killed since the onset of Saudi Arabia's military campaign against Yemen in 2015. Much of the Arabian Peninsula country's infrastructure, including hospitals, schools and factories, has been reduced to rubble due to the war.
The Saudi-led war has also triggered a deadly cholera epidemic across Yemen.
Full report at:
http://www.presstv.com/Detail/2018/01/16/549063/yemen-saudi-airstrikes-hudaydah
--------
Yemeni snipers kill three Saudi troopers in retaliatory attacks
Jan 15, 2018
Yemeni army soldiers, backed by fighters from allied Popular Committees, have shot dead three Saudi soldiers in the kingdom's southwestern border region of Jizan, in retaliation for the Riyadh regime's military campaign against the crisis-hit country.
Yemeni forces shot and killed the soldiers in al-Ghawi village as well as al-Dokhan and Qaem Zubaid military bases in the region, located 967 kilometers southwest of the capital Riyadh, on Monday afternoon, Arabic-language al-Masirah television network reported.
Later in the day, eight civilians lost their lives and five others sustained injuries when Saudi military aircraft struck their vehicle as it was travelling along a road in the Ahem area of Yemen's northwestern province of Hajjah.
Saudi warplanes also carried out an aerial attack against a residential area in the al-Dhaher district of Yemen's mountainous northwestern province of Sa'ada.
There were, however, no immediate reports on possible casualties and the extent of damage caused.
Elsewhere in the Haydan district of the same Yemeni province, Saudi fighter jets launched two airstrikes, with no immediate reports of casualties available.
At least 13,600 people have been killed since the onset of Saudi Arabia's military campaign against Yemen in 2015. Much of the Arabian Peninsula country's infrastructure, including hospitals, schools and factories, has been reduced to rubble due to the war.
The Saudi-led war has also triggered a deadly cholera epidemic across Yemen.
According to the World Health Organization's latest count, the cholera outbreak has killed 2,167 people since the end of April and is suspected to have infected 841,906.
On November 26, the United Nations children's agency (UNICEF) said that more than 11 million children in Yemen were in acute need of aid, stressing that it was estimated that every 10 minutes a child died of a preventable disease there.
Additionally, the UN has described the current level of hunger in Yemen as "unprecedented," emphasizing that 17 million people are now food insecure in the country.
Full report at:
http://www.presstv.com/Detail/2018/01/15/549022/Yemeni-snipers-kill-three-Saudi-troopers-in-retaliatory-attacks
--------
Israeli soldiers shoot dead young Palestinian man in occupied West Bank
Jan 15, 2018
Israeli troops have mortally injured a young Palestinian man in the head in the occupied West Bank during clashes in protest at US President Donald Trump's controversial recognition of Jerusalem al-Quds as the "capital" of Israel.
Ahmed Saleem was shot in the head in Jayyus village near the city of Qalqilyah, close to the so-called separation line between Israeli-held territories and the occupied West Bank on Monday, said Palestine's health ministry in a statement, as a number of Palestinian outlets said the young man was in his mid-20s.
Saleem was the 17th Palestinian to be killed by Israeli troopers since Trump's highly provocative declaration of Jerusalem al-Quds as Israel's capital on December 6, deteriorating the already tense situation in occupied territories. Some 3,000 other Palestinians have also sustained injuries during protests that have ensued the announcement.
On Thursday, Israeli soldiers separately shot dead two Palestinian teenage boys in the central part of the besieged Gaza Strip and the West Bank during clashes in anti-Trump demonstrations.
The entire Jerusalem al-Quds is currently under Israel's control, while the regime also claims the city's eastern part, which hosts the third holiest Muslim site. The city has been designated as "occupied" under international law since the 1967 Arab War, which Palestinians want as the capital of their future state.
Palestinians condemned the decision, asserting that the US has no credibility as a Middle East peace broker. The dramatic shift in Washington's policy vis-à-vis the city triggered demonstrations in the occupied Palestinian territories, Iran, Turkey, Egypt, Jordan, Tunisia, Algeria, Iraq, Morocco and other Muslim countries.
On December 21, the United Nations General Assembly overwhelmingly voted in favor of a resolution that called on the US to withdraw its controversial recognition of Jerusalem al-Quds as the Israeli capital, while US Ambassador Nikki Haley wielded Washington's veto against the call, prompting the Palestinian government's strong condemnation.
Full report at:
http://www.presstv.com/Detail/2018/01/15/549035/Palestine-Israel-West-Bank-Trump-Jerusalem-alQuds
--------
Turkey sends armored vehicles to southern border with Syria: Sources
Jan 16, 2018
Turkey has reportedly dispatched a convoy of over 40 military vehicles and tanks to the southern regions along the Syrian frontier amid growing Ankara-Washington tensions over a US plan to create a "border force" at Turkey's doorstep.
Military sources, speaking on condition of anonymity, told Turkey's state-run Anadolu Agency on Monday that two dozen armored vehicles had entered the Reyhanli district of Turkey's Hatay Province with military jammer vehicles "for reinforcement reasons."
Another 20-vehicle-military convoy, including tanks, had also arrived in the Viransehir district of Turkey's Sanliurfa Province to provide assistance to the military units already deployed to the Syrian border, the sources added.
The US infuriated its NATO partner Turkey on Sunday by announcing that Washington and a coalition of its allies purportedly fighting Daesh will work with US-backed militants of the so-called Syrian Democratic Forces (SDF) to set up a new 30,000-strong "border security" force.
The force would operate along the Turkish border with Iraq and within Syria along the Euphrates River.
Washington also said it is supplying weapons and training to anti-Damascus militants of the Kurdish People's Protection Units (YPG), the SDF's main backbone. Turkey views the YPG as a terrorist group and the Syrian arm of the homegrown Kurdistan Workers' Party (PKK), which has been fighting for independence over the past decades.
The US had promised to take back the weapons from Kurdish militants once Daesh falls.
Reacting to the US military's announcement, Turkish President Recep Tayyip Erdogan said Washington is "building an army of terror" on the border with Syria," and that "it is our responsibility to suffocate this effort before it is born."
He also threatened an attack on Afrin "in the days ahead" to clear the northwestern Syrian town of "terrorists." The city is controlled by Kurdish militants.
Turkish Foreign Minister Mevlut Cavusoglu echoed Erdogan's remarks, urging the US to clarify its stance.
"The US must clarify which side it is on, whether it chooses to be with its allies or terror groups," he said, warning, "We will take our own measures [against terror groups] regardless of who backs them; whether it is the US or other countries, it doesn't matter to us."
In August 2016, Turkey began a unilateral military intervention in northern Syria, code-named Operation Euphrates Shield. Ankara said the campaign was aimed at pushing Daesh terrorists from Turkey's border with Syria and stopping the advance of Kurdish forces.
Turkey ended its Syria offensive in March 2017, but has kept its military presence there.
Syria has voiced strong opposition to both Turkish and American military actions on its soil, repeatedly calling on the two NATO allies to pull their forces out.
Washington's border force plan drew angry reactions from both Syria and Russia, with Damascus describing it as a "blatant assault" on its sovereignty.
Russia also said the US was seeking to split the Syrian territory.
"In fact, that means separation of a huge territory along the border with Turkey and Iraq," Foreign Minister Sergei Lavrov said. "The actions we currently see indicate that the United States does not want to keep the territorial integrity of Syria."
'US after dividing Syria'
Meanwhile, Syrian Deputy Foreign Minister Faisal Mekdad on Monday denounced the US bid to form "an armed militia" as a desperate attempt to divide the country and prolong the crisis there.
He told Lebanon's Al Mayadeen television channel that the efforts by Washington and its agents in the Persian Gulf region as well as Turkey to undermine Syria's unity and sovereignty were in vain amid sweeping gains by the Syrian army and its allies against terrorists on the battlefield.
Full report at:
http://www.presstv.com/Detail/2018/01/16/549079/Syria-Turkey-Afrin
--------
Southeast Asia
Malaysia named in US report on Trump's conflicts of interest
January 16, 2018
WASHINGTON: Sixty-four trade groups, foreign governments, Republican candidates and others stayed at or held events at properties linked to US President Donald Trump during Trump's first year in office, a political watchdog group said in a report released on Tuesday.
The arrangements represented "unprecedented conflicts of interest" because Trump oversees the federal government and has not divested from properties he owns or that carry his name, Public Citizen, a nonpartisan group, said in the report.
Shortly before taking office last year, Trump said he would hand off control of his global business empire to his sons Donald Jr. and Eric, and move his assets into a trust to help ensure that he would not consciously take actions as president that would benefit him personally.
Many government and private ethics watchdogs said the president should have gone farther, divesting assets that could cause a conflict of interest.
The White House declined comment on the Public Citizen report, which is based on filings to the US Federal Election Commission and news stories.
It referred the issue to the Trump Organization. A spokesman there did not immediately respond to a request for comment.
Representatives of four foreign governments – Kuwait, Malaysia, Saudi Arabia and Turkey – held events at the Trump International Hotel in Washington, the report said.
That hotel, just blocks from the White House, was the most popular Trump property, accounting for more than half the 64 events.
Public Citizen has joined 17 Democratic lawmakers in suing the US General Services Administration for documents regarding the Trump Organization's 2013 lease of the property from the US government.
FEC records, which require disclosing campaign expenditures over US$100, show that 24 groups backing candidates for Congress held events, most of them fundraisers, at Trump properties. All, like the US president, were Republicans.
Also holding events at Trump properties were oil and mining interests, representatives of the vaping industry and a college football team, the report said. It did not cite a figure for the combined spending of the 64 groups at Trump properties.
http://www.freemalaysiatoday.com/category/nation/2018/01/16/malaysia-named-in-us-report-on-trumps-conflicts-of-interest-2/
--------
Citing May 13, Perkasa supports Ummah's call on scholarship
January 16, 2018
KUALA LUMPUR, Jan 16 — Malay rights group Perkasa has extended its support for former educator Datuk Raof Husin, who over the weekend had called for the government to end federal scholarships for minority students.
In a statement, Perkasa said more scholarships should be offered to Bumiputera, while reminding others that the bloody May 13, 1969 racial riots happened due to the economic divide between the communities.
"The government must review this matter and do something now before it is too late, because the economic divide of the Bumiputera is widening with days
"In this relation, we must never forget why the May 13 event happened," the group's deputy president Datuk Sirajuddin Salleh said.
Hundreds of Malaysians are believed to have died during the May 13, 1969 clashes between the Malay and Chinese communities. Although ostensibly triggered by the results of Election 1969, it was rooted in ethnic tensions between the two communities.
Sirajuddin claimed that the number of Bumiputera professionals are much smaller, and that the high cost to further education has been a barrier towards the "less fortunate" community.
"The only effective instrument is scholarships that can shoot up Bumiputera's economic dominance to a higher level," said Sirajuddin, who also leads Perkasa's education bureau.
"Therefore we see those who are opposed to scholarships for Bumiputera as those who are anti-national unity and at the same time wish to see the country's destruction."
On Saturday, Raof who represented the Malaysian Association of Former Education Officers, told a convention of Malay-Muslim coalition Ummah that the government was constitutionally bound to limit study aid to Bumiputera students.
Full report at:
http://www.themalaymailonline.com/malaysia/article/citing-may-13-perkasa-supports-ummahs-call-on-scholarship#3EHZAlqgZ0pLRCd0.97
--------
Jamal's statements imply I am linked to IS, says Maria
V Anbalagan
January 15, 2018
KUALA LUMPUR: Electoral watchdog Bersih 2.0 chairman Maria Chin Abdullah told the High Court today that Red Shirts leader Jamal Yunos implied in statements that she had links with terrorist group IS.
She said Jamal's statements, carried in the print and online media, made her look like she was a terrorist who had no respect for the law.
"This put me in a bad light in the eyes of the general public," she said in her witness statement.
Maria, who took the witness stand, said Jamal's statements in the media on Sept 28 and Oct 2, 2016 were widely published in the internet which could be accessed in Malaysia and overseas.
She said she instructed legal firm Messrs Daim & Gamany to send Jamal a letter demanding a retraction, apology and payment of damages.
"The defendant did not respond to the notice but instead tore the letter and flushed it down a toilet at the Shah Alam Umno building," she said.
Maria said Jamal never contacted her for clarification before making the irresponsible remarks.
She said Jamal and his followers had an animosity towards Bersih and they frequently resorted to violence to provoke and intimidate its supporters who fought for a free and fair election.
On Sept 12, 2016, she said, Jamal called Bersih a lap dog of the anti-establishment and that she was a "circus animal of the opposition and would bark like a dog".
She said Jamal had on Oct 20 declared an all-out war against a Bersih gathering and that he would mobilise Red Shirts members nationwide to fight her supporters.
Maria is suing Jamal for slandering Bersih during a press conference outside the Putra World Trade Centre on Sept 28, 2016.
She also claimed that on Oct 4 that year, Jamal had uttered similar slanderous words against Bersih during a media conference in the Bukit Aman police headquarters compound.
In her statement of claim filed on Oct 7, Maria said she had been brought into public scandal and had her reputation and good name tarnished.
She is seeking general and aggravated damages, as well as an injunction to stop Jamal from uttering or publishing similar words, either verbally, in print, or online.
Jamal is relying on justification and fair comment as defence to the lawsuit.
Cross-examined by Naseer Yusuf, who appeared for Jamal, she said it was true that police seized documents from the Bersih office in Petaling Jaya before a peaceful gathering in Kuala Lumpur.
She was among 14 detained by police on Nov 18, 2016 hours before the Bersih 5 rally and she spent 10 days in detention.
Police later announced that she was investigated under the Security Offences (Special Measures) Act 2012 (Sosma), which normally deals with terrorism-linked offences.
Police claimed they had obtained a document that led them to believe she could be involved in activities detrimental to parliamentary democracy in Malaysia, an offence under Section 124(c) of the Penal Code.
Full report at:
http://www.freemalaysiatoday.com/category/nation/2018/01/15/jamals-statements-imply-i-am-linked-to-is-says-maria/
--------
Islamic anti-vaxxers undermine efforts to prevent diphtheria outbreak in Indonesia
Jan 16, 2018
A child's graffiti is scrawled on the walls of a Jakarta home: tangled scribbles, simple drawings and the first letters of a five-year-old boy learning to write his name.
"Faris," written over and over in pencil.
"He wanted to be an astronaut," said Faris' dad, Zarkasih.
"He wanted me to buy him an astronaut suit to go to the moon.
"What can I say — I miss him. He reached out for my hand and kissed me each time I went to work."
Faris' mum Aitkah said "I still hear his voice".
Faris was killed by an infectious disease, diphtheria, that was once a major problem in Australia but has all but disappeared, thanks to vaccinations.
Indonesia's been hit by a diphtheria outbreak that's infected hundreds and killed 44 people.
Now, a vaccination campaign against diphtheria in Indonesia is being undermined by alternative health practitioners and some hardline Muslim clerics who claim immunisations are un-Islamic.
One of their justifications is that vaccinations are developed using products from "haram" animals like pigs and dogs.
One of the leading anti-vax campaigners is Dewi Hestyawati, who calls herself a Holistic Islam Health Activist.
She says diseases like diphtheria and polio can be warded off and treated with diet and alternative therapies.
"The Prophet shows us that immunisation should come from the regular daily consumption of healthy substances : honey, herbs, olive oil; dates and goat's milk. If we don't follow that, we can be easily infected with diseases," she said.
Around five new cases of diphtheria are being reported each day.
Dewi says 'cupping' could combat outbreak
Dewi said the diphtheria outbreak could be combatted with a treatment offered at her clinic.
"Cupping" is a form of suction therapy that supposedly draws toxins out of patient's body.
"Let's bring the diphtheria patients in for cupping treatment," she said.
"Get us involved to fight the diphtheria outbreak.
"I am not convinced that the diseases can be prevented with vaccination, most of the case the vaccines are doing harm to them, that is a fact."
She's sceptical about the cause of the diphtheria outbreak.
"We should investigate where it comes from, as many planes flying over us are spraying viruses, so people get sick," she said.
Dewi spreads her message in her book "Vaccination Side Effects" and at seminars at her clinic.
When the ABC visited there were a dozen women and children attending the clinic.
One young couple brought in their month-old baby daughter for treatment. Baby Alana was vaccinated in hospital without the parents' permission, according to her father Sasmita Bachtiar.
"It is un-Islamic to involve pig, dog or monkey organs in vaccine production. I think things which are Halal and best for my children," he said.
Dewi prescribes suction therapy for the baby to "reverse" the effect of the vaccination.
Dewi said she would not be held responsible if any of the children fell ill with a vaccine-preventable disease.
"What should I be responsible for? I can't, as my responsibility is to God," she said.
"I don't need to be responsible for anything because it is their choice to maintain their health with the Islamic way.
Full report at:
http://www.abc.net.au/news/2018-01-15/islamic-anti-vaxxers-undermining-diphtheria-vaccination-campaign/9325852
--------
Malaysia setting up special court on human trafficking as cases soar
Jan 15, 2018
Malaysia is setting up a special court to tackle rising numbers of human trafficking cases, in a move welcomed by campaigners who say it would help deliver justice to victims.
The Southeast Asian nation relies heavily on foreign domestic workers as well as laborers from countries, including Indonesia, Bangladesh and Nepal, for jobs shunned by locals, including work on plantations and in construction.
It has nearly two million registered migrant workers, according to government data, but rights groups say there are also many others who work in the country without permits.
But advocacy groups say many of the workers are victims of human trafficking and debt bondage, who had to fork out huge sums to pay recruiters in return for jobs that paid much less than the ones they were promised.
Under a pilot project, the special court is expected to be set up as early as May in the central state of Selangor, with a dedicated judge to hear cases, before it is gradually rolled out in other parts of the country.
Malaysia's Deputy Premier Zahid Hamidi said authorities hoped the court would help expedite human trafficking cases and boost public awareness of the crime, state media Bernama quoted him as saying on Saturday.
Kuala Lumpur-based group Tenaganita, which works with refugees and migrant workers, welcomed the project, saying trafficking victims have often been reluctant to fight their case in court due to a lengthy legal process and a lack of support.
"Most of the trafficking victims are foreigners, they don't want to wait for a long time to testify in court," its director Aegile Fernandez told the Thomson Reuters Foundation by phone.
"The longer you keep them, the more they are traumatized and they just want to go home, then all the efforts to get the perpetrators are wasted."
Alex Ong of advocacy group Migrant Care cautioned that the move should not be done only to appease US officials in order to get an upgrade on the State Department's annual Trafficking in Persons report.
Full report at:
http://www.presstv.com/Detail/2018/01/15/549012/Malaysia-Court-Human-Trafficking
--------
Arab World
Bahraini Leader Reveals Al-Khalifa's Close Ties with Israel, Obedience to Riyadh
Jan 15, 2018
"The Bahraini king and crown prince have met with the Israeli army and government officials, including the former president Shimon Perez," Sheikh Abdullah Saleh, the deputy secretary general of Bahrain's Islamic Action Society, told FNA on Monday.
"The Bahraini regime receives advice with the Israeli regime and it has exchanged advisors with the Quds Occupying regime," he added.
Sheikh Saleh also referred to Manama relations with Riyadh, and said, "Since al-Saud occupied Bahrain in 2011, all decisions in Bahrain are taken by the Saudis and the Bahraini king travels to Saudi Arabia for coordination on every issue and acts upon the Saudis' orders."
Thousands of anti-regime protesters have been holding demonstrations in Bahrain on an almost daily basis ever since a popular uprising began in the country in mid-February 2011.
They are demanding that the Al-Khalifah dynasty relinquish power and allow a just system representing all Bahrainis to be established.
Manama has gone to great lengths to clamp down on any sign of dissent. On March 14, 2011, troops from Saudi Arabia and the United Arab Emirates were deployed to assist Bahrain in its crackdown.
Scores of people have lost their lives and hundreds of others sustained injuries or got arrested as a result of the Al-Khalifah regime's crackdown.
On March 5, 2017, Bahrain's parliament approved the trial of civilians at military tribunals in a measure blasted by human rights campaigners as being tantamount to imposition of an undeclared martial law countrywide.
King Hamad bin Isa Al-Khalifah ratified the constitutional amendment a month later.
http://en.farsnews.com/newstext.aspx?nn=13961025000935
--------
Saudi forces shoot Shia youth to death in kingdom's Qatif region
Jan 16, 2018
Saudi Arabian troops have fatally shot a youth during operations carried out in the kingdom's Shia-populated Qatif region in Eastern Province.
Abdullah al-Qallaf was killed on Monday while driving in his car in the town of al-Awamiyah.
According to local reports, Qallaf was mistakenly shot by Saudi troops who were targeting a political activist.
Following the incident Saudi forces removed Qallaf body to a undisclosed location.
The Shia-populated Eastern Province has been the scene of peaceful demonstrations since February 2011. Protesters have been demanding reforms, freedom of expression, the release of political prisoners, and an end to economic and religious discrimination against the oil-rich region.
The protests have been met with a heavy-handed crackdown by the regime. Security forces have increased security measures across the province.
Full report at:
http://www.presstv.com/Detail/2018/01/16/549064/saudi-arabia-police-shia-qatif
--------
Syrian Army Drives ISIL out of More Regions in Hama Province
Jan 15, 2018
The army men kicked off fresh attacks on ISIL and captured the villages of Hajileh and the hills that overlook the village of al-Zankahiyeh, killing and wounding a number of terrorists.
Reports said earlier today that the army men stormed ISIL's positions in Northeastern Hama and captured the village of al-Tafahiyeh, and the hills overlooking the villages of al-Sukri, Abu Kahaf and Aniq Bajereh.
Full report at:
http://en.farsnews.com/newstext.aspx?nn=13961025001499
--------
Terrorist Groups' Media Spokesman Killed in Syrian Army Attack in Aleppo
Jan 15, 2018
The sources said that the army men continued to target terrorists' positions in Southern Aleppo, killing a number of terrorists, including Ali Khalil, the media spokesman of terrorist groups in Northwestern Syria.
Military sources confirmed earlier today that the army troops have launched a fresh offensive from Southern Aleppo towards the terrorist-held Abu al-Dhohour airbase in Southeastern Idlib.
The sources said that the army units, deployed in Southwestern Aleppo, have kicked off fresh attacks on terrorists' positions to access the Abu al-Dhohour airbase in Southeastern Idlib from one more flank.
Full report at:
http://en.farsnews.com/newstext.aspx?nn=13961025001364
--------
Turkish Army on Alert to Kick off Large-Scale Attack on Kurds in Northern Syria
Jan 15, 2018
The Arabic-language website of RT quoted the sources that are monitoring military developments in Syria as saying that the Turkish army has dispatched more military equipment to Northern Syria to enhance its forces' offensive capability.
The Arabic RT reported that the Turkish army has forwarded several Kipri military vehicles to Hatay region at the border with Syria.
In the meantime, the Ankara-affiliated Free Syrian Army that is equipped with 122mm Hawitzers has put its forces on alert for the Afrin attack.
Field sources reported Sunday that the Turkish Army forwarded a large volume of military hardware to the border with Syrian amid intensifying attacks on the SDF by the Ankara forces and their militant allies in the town of Afrin in Aleppo province.
The sources said that the Turkish army sent a military column, including five tanks, to the town of Reihanli in Hatay province at the border with Syria under strict security measures.
Full report at:
http://en.farsnews.com/newstext.aspx?nn=13961025001225
--------
Thousands of Terrorists Arrive in Idlib to Slow down Syrian Army Advances
Jan 15, 2018
The sources said that thousands of gunmen from the Al-Nusra, the Islamic al-Turkistani Party and Ahrar al-Sham have retreated from their positions in Southern Aleppo and Northern Hama in the last seven days.
The sources said that the terrorists left their positions to avoid an army siege in Aleppo, Hama and Idlib, adding that the fleeing terrorists have arrived in Southeastern Idlib to back the Al-Nusra militants to slow down the army's devastating advances towards Abu al-Dhohour airbase.
Field sources confirmed on Saturday that the army men in the last round of clashes with Al-Nusra captured the villages of al-Atshanah, al-Salehiyeh, Beit al-Hamadat, al-Jufrah, Wadi al-Hob and Tal al-Sabiyeh near the town of al-Safireh.
The sources said that the army imposed control over 60 villages and towns following its advances in Southwestern Aleppo in the last four days.
The sources said that the army has started fresh operations South of al-Safireh to access the key Abu al-Dhohour airbase, capturing 26 villages.
Full report at:
http://en.farsnews.com/newstext.aspx?nn=13961025001068
--------
Northern Syria: SDF Unable to Face Popular Uprising in Manbij
Jan 15, 2018
The sources reported that SDF Commander Shahin Shilo has asked Hamid al-Sheikh Shahazah, one of the senior tribal leaders in the town of Ra'as al-Ein to travel to Manbij along with a delegation of regional elites.
The sources further said that Shilo has asked Sheikh Shahazah to mediate between the SDF and tribal people in Manbij to restore calm again in the town.
Residents in Manbij have participated in vast demonstration in recent days, calling for expulsion of the Kurdish forces from the region.
Dissident-affiliated websites reported on Saturday that people in the key town of Manbij in Northeastern Aleppo took to the streets and condemned the Syrian Democratic Forces (SDF) for killing two young civilians after torturing them, and called for the expulsion of Kurds from the region.
The Orient net reported that hundreds of people in Manbij poured into the street and protested at the SDF's criminal and cruel measures against civilians.
The popular uprising in Manbij came after people found the tortured bodies of two young men in the village of Qabr Imo East of Manbij, the websites said, adding that the two were in SDF custody.
Full report at:
http://en.farsnews.com/newstext.aspx?nn=13961025000668
--------
Booby-Trap Kills Another Senior Terrorist Commander in Northwestern Syria
Jan 15, 2018
In the meantime, the Syrian Frees Army fighters have once again engaged in heavy fighting with rival terrorists from the Al-Nusra Front (Tahrir al-Sham Hay'at or the Levant Liberation Board) in the region.
Militant-affiliated sources conformed earlier this month that the ISIL stormed the positions of Al-Nusra Front rival terrorists in Northeastern Hama, capturing more positions near the border with Idlib and inching closer to the strongholds of the latter in Southern Idlib.
The websites said that the ISIL pushed Al-Nusra back from the villages of Rasm al-Hammam, Hawayes Ibn Hadib, Khirbet Rasm al-Tineh and Hawayes Fort in Northeastern Hama near the border with Idlib.
Full report at:
http://en.farsnews.com/newstext.aspx?nn=13961025000974
--------
Minorities in north Iraq look to post-extremist future
16 January 2018
BARTALLA, Iraq: A Christmas tree stands on a roundabout in Bartalla in northern Iraq, its base adorned by posters of Shabak martyrs killed in the fight against Daesh.
Now that victory has been declared against the extremists, Iraq's ethnic and religious minorities are taking the future into their own hands.
In Baz Gerkan village, where fighting damaged or destroyed most of the houses, Shabak residents have rebuilt their school themselves.
A few kilometers (miles) away, they have restored the shrine of Imam Rida, the eighth of Shiite Islam's 12 imams, which was blown up by the extremists who consider Shiites to be heretics.
Shabaks, who number around 60,000 in Iraq, have their own language and say they first settled in the Arab country several centuries ago from northern Iran.
Their places of worship, such as those of Christians, Yazidis and other minorities, were targeted by Daesh, and many fled their homes during the three years of extremists occupation.
There are now only 400,000 Christians in Iraq against more than one million before the US-led invasion of 2003, making up three percent of the country's population along with Yazidis, Sabeans and Shabaks.
Today, several months after the entire northern province of Nineveh was retaken from the extremists, churches and monasteries have been restored.
And for the first time in four years last December, Christmas carols were heard.
The Kurdish-speaking Yazidi minority has also managed to rebuild 20 of 23 temples destroyed by the extremists in the Bashiqa area, east of Iraq's second city Mosul.
"All this was done thanks to donations from Yazidis and other inhabitants of the region," said Hilal Ali, who is in charge of the Yazidi sites of worship.
Mutassem Abed, 47, is a Shiite who joined the Hashed Al-Shaabi coalition of paramilitary units following a call to arms in 2004 by Grand Ayatollah Ali Sistani, Iraq's most senior Shiite cleric.
The Hashed was formed specifically to counter the rise of Daesh in the country, and played a key role in the extremists' defeat in 2017.
Now that the fighting has ended, Abed is looking to his future.
"We must rebuild a sanctuary that is even more beautiful and even bigger, to say to IS (Daesh) that it did not win," the Shabak fighter told AFP, wearing a parka over his uniform.
Life may slowly be returning to normal, but many checkpoints have been set up, usually manned by members of Hashed units from the Shabak, Turkmen, Christian or Yazidi minorities.
Iraq is relying on local forces to maintain security on the ground, after declaring in December that the war against Daesh had been won.
Such fighters know the local people, speak their languages and can easily spot any intruders, commanders say.
"Even before IS (Daesh), other terrorist groups like Al-Qaeda tried to chase out minorities," said Zein Al-Abidine Jamil, a Shabak commander with the Hashed.
Another Bartalla Shabak, a policeman manning a checkpoint in the old part of Mosul, recalled the days when he could only enter the city under escort.
"Mosul? I went there on patrol. But never in a personal capacity. A lone Shiite? That would have been madness!" he said, speaking on condition of anonymity.
Sunni Muslims are a minority in Iraq, but in Mosul they form the majority and also have a presence in villages around the city.
The Shabak minority has a small Sunni community within it. But, residents say, many of them joined Daesh and were killed. Others fled with their families, joining the ranks of the displaced.
Today, several months after Nineveh province was rid of Daesh, "we are directly responsible for the security of citizens," said Jamil.
Because of their local knowledge, such fighters were a major asset to the armed forces in their fightback against Daesh.
But human rights groups have charged that some minorities targeted by the jihadists were themselves guilty of abuses.
In December, the New York-based Human Rights Watch accused Yazidi fighters of executing 52 civilians in apparent revenge killings after capturing territory from the extremists.
Full report at:
http://www.arabnews.com/node/1226786/middle-east
--------
Europe
French mayor bans pork substitutes in school meals, saying he's defending secularism
By James McAuley
January 15, 2018
BEAUCAIRE, France — This is the kind of quintessential French town that might have inspired Van Gogh, a local transplant who lived nearby: sprawling sycamores, stone houses, starry nights. But behind the surreal silence of its sleepy squares and empty cafes, a storm is brewing.
Beaucaire, in the south of France, has become the latest fault line in a battle over the place of Islam in a staunchly secular society. On the day school started back after the holiday break, Julien Sanchez, the town's 34-year-old mayor — and a member of the far-right National Front — outlawed alternatives to pork in school cafeterias, insisting that religious exceptions to the menu violate France's vaunted Republican principles.
For many, his message was clear: Being French means eating pork, Muslims (and Jews) be damned. Unsurprisingly, outrage immediately ensued from virtually every corner of society: parents, the local opposition, Muslim leaders and even the French government. Marlène Schiappa, France's gender-equality minister, called Sanchez "a typical example of someone brandishing secularism as an anti-Muslim political weapon, or anti-Jewish for that matter."
Defending — some say mandating — pork is not specifically an argument about French purity. Sanchez's forebears were Spaniards; Van Gogh, now much admired, moved to neighboring Arles from the Netherlands via Paris. The mayor says his push is about religion. His critics say it is about Islam.
"My decision is so that the Republic wins, that in France the Republic has priority and not religion," Sanchez said in an interview at Beaucaire's town hall, the entry of which featured a giant nativity display illuminated with twinkle lights even at midday. "I defend the principles of France. If sharia law is installed in France tomorrow, then there's no problem if it's the law. For now, the Republic is secular, and I don't know why pork should be a problem. If you don't want it, don't eat it."
For Muslim leaders, this is little more than a thinly veiled attack.
"I went to French public schools, and we never had this issue," said Yasser Louati, a prominent French civil liberties advocate and Muslim community organizer. "This is nothing more than a dog whistle, of saying things without actually having to say them. We know which community is targeted."
"I'm not stigmatizing anyone," Sanchez said, rejecting allegations that requiring pork targets particular minority groups. "The people who don't eat pork are welcome to come into the cafeteria. They just choose not to eat it."
What students eat at school has become nothing less than an existential debate in France, where the state is officially neutral and, by consequence, public space is meant to be free of religious influence.
In that sense, the school cafeteria is now a courtroom, where a nation's interpretation of secularism — and the identity of a nation itself — are somehow on trial.
When seeking reelection in 2016, the former president Nicolas Sarkozy, once the leader of the center-right Les Républicains party, put it this way: "If a little guy's family does not eat pork and the menu at the cafeteria is a slice of ham and fries, well, he skips the ham and eats a double helping of fries. In a republic, it's the same rule and the same menu for everyone."
Other municipal authorities — often from Sarkozy's party, not the National Front — have recently attempted to do the same as Sanchez. In 2015, for instance, the mayor of Chalon-sur-Saône, a town in Burgundy, likewise banned alternatives to pork — a move that a local court in 2017 later annulled, on the grounds that limiting options was not in the best interests of children. The Burgundy mayor vowed to appeal.
In recent years, French Muslims — citing the 2004 ban on hijabs in public schools, the 2010 ban on the face-covering burqa and the outcry over the "burkini" swimsuit in 2016 — have complained that efforts to ensure a neutral public space have often been crackdowns on Islam in the name of Republican ideals. To that end, President Emmanuel Macron cautioned in December against what he called "the radicalization of secularism," a practice that in his view sees otherwise noble French values used for political ends.
"This is a fake problem," said Laure Cordelet, a local opposition leader in Beaucaire. "Frankly, if French identity is eating pork, we have a big problem."
The mayor's decision will probably affect about 150 of the 600 students enrolled in the district, she said. There is an important socio-economic issue at play, she added: many Muslim students are among the poorest in the local community, and requiring that pork be served means forcing them to forgo a "wholesome, balanced meal" one day a week.
For school meals, students in Beaucaire have to pay 2.40 euros ($2.95) per day, which means that Muslim students will now be paying for food they cannot eat.
"My issue is in fact that [Sanchez] seeks publicity for the National Front all throughout France, but does not think of the children here in Beaucaire," said Anne Moiroud, the head of the Beaucaire school district's parents' association. Sanchez has been a spokesman for the far-right party since 2017. Moiroud and Cordelet have planned a protest picnic for the square in front of Beaucaire's town hall on Monday.
On the whole, French educators do not see a problem in providing alternative meals in schools.
"This has been going on for decades with hardly any difficulty," said Ghislaine Hudson, a mediator for the Académie de Paris, the governing body for schools in the capital, and a former director of the Lycée Français in New York.
"Our objective as educators in the cafeterias is just to feed students, and for me it poses no problem when we serve alternatives to pork. And I believe the majority of teachers in most schools agree with that," she said.
Academics and legal analysts also condemn what they see as a wrongheaded interpretation of France's secular law.
"The Republic is not at all anti-religious. Laïcité just means that the state is neutral, which is entirely different," said Patrick Weil, a leading expert on the topic, which he explored in a 2015 book, "The Meaning of the Republic." Laïcité is the French word for "secularism."
"In schools, yes, the teaching should be free of religious influence, but in the way they eat, students have every right to eat according to any creed they may choose in school cafeterias," he said. "The food served should recognize on some days the common ground, by serving vegetables, omelets, fruits — and some other days diversity by serving meats, fish and alternatives to them."
In the French press, Sanchez has couched his decision in the context of fighting the "Grand Remplacement," or "great replacement." This is a term introduced by the French polemicist Renaud Camus, whose writing is de rigueur on the far right, which suggests the colonization of France by Muslims, mostly from former colonies.
As Sanchez told Valeurs Actuelles, a conservative news magazine: "I refuse to assist in the great replacement of pork at the cafeteria."
"There is a population substitution at work in France, a migratory invasion decided by the government — that's a reality," the mayor said. . "It imposes a communitarianism we must refuse, because it's based on religion. I recognize everyone's right to worship, to have a religion — but in the private sphere. In the public space this religion should never be imposed."
Pressed about the expansive nativity scene at the entry to the town hall — a religious symbol on the grounds of a facility owned and operated by the secular French state — he insisted that a judge had authorized its presence. Said Sanchez: "It's part of the history of France."
https://www.washingtonpost.com/world/europe/french-mayor-bans-pork-substitutes-in-school-meals-saying-hes-defending-secularism/2018/01/14/3442fc98-f64b-11e7-9af7-a50bc3300042_story.html?utm_term=.b89863c060c8
--------
Should France Take an ISIS Recruiter Back?
BY MICHAEL WALSH
JANUARY 14, 2018
She was born in France, converted to Islam, left to join ISIS and now wants to come home. Should she be allowed back in?
Having spent the last five years living in Syria, where she joined Islamic extremists, Emilie König, 33, wants to come home to France. But does France want her back?
The daughter of a policeman from a small town in Brittany, she converted to Islam as a teenager. After she began covering herself from head to toe in a black abaya and veil, she felt so scorned in France that she left her two small children to go to Syria, eventually becoming a prominent propagandist and recruiter for the Islamic State. "She would like to come back; she has asked for pardon from her family, her friends, her country," her mother said in an interview with Ouest-France, a newspaper in Brittany, after speaking to her daughter by telephone two weeks ago.
"She would like to come back; she has asked for pardon from her family, her friends, her country," her mother said in an interview with Ouest-France, a newspaper in Brittany, after speaking to her daughter by telephone two weeks ago.
Ms. König's personal story is unusual, not least because she is a convert and gained prominence within the male-dominated Islamic State. Yet the quandary her case poses is an increasingly common one for France and other European countries: What should they do when citizens who are former Islamic State fighters or supporters want to return?
The answer is, of course, non. But whether France, now entering its Islamic cultural death throes, has the fortitude to stand up against a bona-fide traitoress is questionable. Treason is apparently no longer taken seriously, either in Europe or America, and the international Left's common cause with Islam is bound and determined to keep it that way.
While the estimated numbers aren't large, neither are they inconsiderable. And there's no doubt these people are dangerous:
An estimated 4,300 people had left Europe to fight in Syria and Iraq as of April 2016, according to a recent study by the Hague-based International Center for Counter-Terrorism. Others have put the number at 5,000 or even higher. French law enforcement officials estimate that about 690 French foreign fighters are still in Syria and that about 43 percent — 295 — are women, the Paris prosecutor, François Molins, said in an interview in November on FranceInfo.
Among the jihadists from France who went to fight in Iraq and Syria in 2015, nearly a third were women — a larger proportion than any other European country at the time, according to intelligence experts and French intelligence documents that are not public but were shared with the French news media. Among those women, Ms. König may have one of the highest profiles, not least for having the distinction of being listed as a terrorist and subject to sanctions by both United Nations and the United States. (Only one other woman, from Britain, made the lists.)
There's a catch, of course -- a real Catch-22. European countries consider middle-eastern hellholes like Syria incapable of conducting fair trials and subjecting European citizens to a possible death penalty, so "human rights" pressures are brought to bear on governments to repatriate people like Emilie König -- whose purposeless life in secular France sent her to Syria to look for a man:
One of her greatest wishes, as she was on the brink of going to Syria, was to find a man. "She was looking for a virile man, for a man who would fulfill her, who represented a warrior," said Ms. de Féo, adding that perhaps it was linked to having been abandoned by her father. Once she arrived in Syria, Ms. König began posting many propaganda videos on social media, which are striking for their boldness. She is shown at target practice and makes a full-throated appeal for Muslims to support the Islamic State.
"I am not a monster. I am very far from a monster."
Full report at:
https://pjmedia.com/homeland-security/france-take-isis-recruiter-back/
--------
Lavrov: US wants to split Syria, must accept Iran deal
16 January 2018
Russian Foreign Minister Sergey Lavrov has said the United States "does not want to keep Syria as a state in its current borders", accusing Washington of seeking to establish a Kurdish-controlled entity along Turkish and Iraqi border zones.
Speaking at an annual press conference in Moscow to review the past year's diplomatic activities on Monday, Lavrov also said Russia would not support Washington's attempts to change the Iran nuclear deal.
"The [US'] actions that we have been observing indicate that the US does not want to keep Syria as a state in its current borders ... The US wants to help the Syrian Democratic Forces to set up some border security zones," he said, referring to a US-backed rebel alliance dominated by Syrian Kurds, known as the SDF.
"What it would mean is that vast swaths of territory along the border of Turkey and Iraq would be isolated, it's to the east of the Euphrates river. There are difficult relations between Kurds and Arabs there. If you say that this zone will be controlled by the forces supported by the US, there will be a force of 30,000 people."
Lavrov said that the development would be "a very big deal" raising "a lot of question marks".
"There is a fear that they are pursuing a policy to cut Syria into several pieces," he said.
"But again, there is nothing in the UN Security Council resolutions that have been pointing to that and neither is it in our previous agreements, so we are expecting some clarification from the US on that."
'Blatant assault'
Shortly after his comments, the Syrian government denounced a new border force the US is building with the SDF in northern Syria as a "blatant assault" on sovereignty.
"What the American administration has done comes in the context of its destructive policy in the region to fragment countries ... and impede any solutions to the crises," state news agency SANA cited an official source in the ministry as saying.
Also at Monday's news conference, Lavrov said the collapse of the Iran nuclear deal would negatively impact a dialogue with North Korea.
"We will seek to maintain the agreements on the Iranian nuclear programme ... We will continue our efforts to make the US accept the reality. The reality is that Iran has been fulfilling all its obligations under the JCPOA, which has been regularly verified by the IAEA director general," he said.
He was referring to the Joint Comprehensive Plan of Action (JCPOA) - the nuclear deal signed in 2015 between Iran, the US, China, UK, France, Germany and Russia as well as the European Union.
Full report at:
https://www.aljazeera.com/news/2018/01/russia-lavrov-slice-syria-180115083913742.html
--------
URL: https://www.newageislam.com/islamic-world-news/pakistan-clerics-issue-fatwa-un/d/113954
New Age Islam, Islam Online, Islamic Website, African Muslim News, Arab World News, South Asia News, Indian Muslim News, World Muslim News, Women in Islam, Islamic Feminism, Arab Women, Women In Arab, Islamophobia in America, Muslim Women in West, Islam Women and Feminism